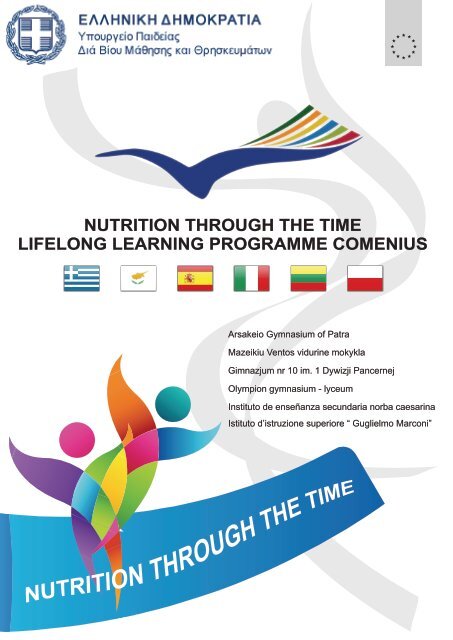 nutrition through the time lifelong learning programme comenius
nutrition through the time lifelong learning programme comenius
nutrition through the time lifelong learning programme comenius
SHOW MORE
SHOW LESS
Create successful ePaper yourself
Turn your PDF publications into a flip-book with our unique Google optimized e-Paper software.
NUTRITION THROUGH THE TIME

LIFELONG LEARNING PROGRAMME COMENIUS

Arsakeio Gymnasium of Patra

Mazeikiu Ventos vidurine mokykla

Gimnazjum nr 10 im. 1 Dywizji Pancernej

Olympion gymnasium - lyceum

Instituto de enseñanza secundaria norba caesarina

Istituto d'istruzione superiore " Guglielmo Marconi"
---
NUTRITION THROUGH THE TIME - LIFELONG LEARNING PROGRAMME COMENIUS

Introduction

In its attempt to unite and constitute a community, Europe is facing a variety of problems.

Nevertheless, the foundations of a common direction and target have been laid. To this end, the exchange

visits of secondary school pupils, university students and teachers are aimed at facilitating the study of

educational systems, the exchange of customs and the highlighting of aspects of culture.

The subject studied by the schools participating in the Comenius educational programme "Nutrition

through the Time" highlights the customs and cultures of the participating countries, as well as their

nutritional development over time. If we consider that the nutritional habits of a people represent an

aspect of its culture, then it can be said that our students who participated in the programme

enthusiastically and successfully projected the culture of their ancestors.

The young students of each participating school managed to make a favourable impression with their

projects. Research data, descriptive accounts, statistical tables and illustrations were presented by means

of electronic media. The evaluation of each meeting was always positive. Congratulations should be

offered to the students and the teachers advising them.

We would also like to express our gratitude to all those who took part in the programme and to those

who contributed in any way to its success; to the Headteachers and other staff who embraced the project

wholeheartedly, but mostly to the teachers who worked tirelessly and participated in the programme; to

the pupils who cheerfully and enthusiastically took part in the research which they conducted in the

projects which they presented; also to the parents of the children of the programme, who treated them as

their own children. Both the children and teachers were visibly moved when it came to parting company.

Last but not least, we would like to thank the European Union authorities responsible for such

programmes, as well as the authorities involved at national level. With such programmes a united Europe

has a future.

Arsakeio Gymnasium of Patra

As the coordinating school of the programme, the Arsakeio Junior High School of Patra would like to

thank everyone involved for their participation and contribution.
---
NUTRITION THROUGH THE TIME - LIFELONG LEARNING PROGRAMME COMENIUS

Coordinators

Full Legal Name Αρσάκειο Γυμνάσιο Πατρών

Arsakeio Gymnasium of Patra

Type of Organisation EDU-SCHSec - General secondary school

Legal Status X Private o Public Size (nr of 160

pupils)

Commercial o Profit X Non-profit o Profit

Orientation

Address

Agias Paraskevis

Postcode 26500 City Patra Region Achaia

Country Greece Scope Region

Organisation's www.ARSAKEIO.gr Organisation's e-mail gym-p@ARSAKEIO.gr

website (if

applicable)

(if applicable)

Headmaster Konstantinides Konstantinos

Coordinator Vlachodimitropoulos Dimitrios

Partner 1

Full Legal Name

Mazeikiu Ventos vidurine mokykla

Type of Organisation EDU-SCHSec - General secondary school

Legal Status o Private X Public Size (nr of 1056

pupils)

Commercial o Profit X Non profit

Orientation

Address Pavenciu street 15

Postcode 89184 City Mazeikiai Region Telsiai

Country Lithuania Scope Local

Organisation's www.venta.mazeikiai.l Organisation's e-mail ventosvm@yahoo.com

website (if

applicable)

m.lt

(if applicable)

Headmistress Badaukiene Ramune

Coordinator Cepauskiene Lina

Partner 2

Full Legal Name Gimnazjum nr 10

im. 1 Dywizji Pancernej

Type of Organisation EDU-SCHSec - General secondary school

Legal Status o Private X Public Size (nr of 325

pupils)

Commercial o Profit X Non profit

Orientation

Address Gagarina 3

Postcode 25-031 City Kielce Region swietokrzyskie

Country Poland Scope Local/regional

Organisation's www.zsonr10- Organisation's e-mail zso10.kielce@wp.pl

website (if

applicable)

kielce.scholaris.pl (if applicable)

Principal

Lubawski Wojciech

Coordinator Cias-Smutek Beata
---
Partner 3

Full Legal Name ΟΛΥΜΠΙΟN Γυμνάσιο-Λύκειο

OLYMPION GYMNASIUM - LYCEUM

Type of Organisation EDU-SCHSec - General secondary school

Legal Status X Private o Public Size (nr of 450

pupils)

Commercial X Profit o Non profit

Orientation

Address

87 , 25 TH MARCH STR.

Postcode 2682 City PALIOMETOCHO Region NICOSIA

Country CYPRUS Scope R - Regional

Organisation's

website (if

applicable)

www.olympion.ac.cy Organisation's e-mail

(if applicable)

pathwaytutors@cytanet.c

om.cy

Headmistress

Coordinator

NUTRITION THROUGH THE TIME - LIFELONG LEARNING PROGRAMME COMENIUS

KRITICOS MARIA

MASSOURAS

THEMIS

Partner 4

Full Legal Name

INSTITUTO DE ENSEÑANZA SECUNDARIA

NORBA CAESARINA

Type of Organisation EDU-SCHSec General Secondary School

Legal Status o Private X Public Size (nr of 760

pupils)

Commercial o Profit X Non profit

Orientation

Address

Sta. Luisa de Marillac s/n

Postcode 10002 City CACERES Region EXTREMADURA

Country ESPAÑA Scope LOCAL

Organisation's www.iesnorba.com Organisation's e-mail javivi53@iesnorba.com

website (if

applicable)

(if applicable)

Headmaster VIDAL MARTINEZ JAVIER

Coordinator GUTIERREZ CARO EMILIA

Partner 5

Full Legal Name

ISTITUTO D'ISTRUZIONE SUPERIORE " GUGLIELMO MARCONI"

Type of Organisation EDU-SCH Sec Secondary school

Legal Status o Private x Public Size (nr of 750

pupils)

Commercial o Profit x Non profit

Orientation

Address

Via Reno

Postcode 04100 City Latina Region Lazio

Country Italy Scope Local

Organisation's www.itismarconi.net Organisation's e-mail ltis013003@istruzione.it

website (if

applicable)

(if applicable)

Headmistress Bellardini Gianna

Coordinator Guerriero Ada
---
NUTRITION THROUGH THE TIME - LIFELONG LEARNING PROGRAMME COMENIUS

PARTICIPANDS IN THE PROGRAMME

Greece

Students:

ASIMAKOPOULOU DANAI

BAMPOUNIS GIORGOS

FOTOPOULOU FOTINI

GALLOPOULOU ANAMBELLA

GOUDA IRINI

KAPROULIA AGGELIKI

KOUROUNI MARIA

KOUZIOU KONSTANTINOS

LADA CHRYSANTHI

LAMPROPOULOU ANASTASIA

LAMPROU GIANNIS

MITAKIDOU CLIO

MITROPOULOU VELVA

MPAKLESIS PANAGIOTIS

NIKOLAOU ANTZELIN

OIKONOMOU MAIRA

OIKONOMOU MARINA

PANAGIOTAROPOULOU MARIA

PAPAGIAVI ALAXANDRA

PAPPAS ILIAS

PETOUSI ADAMANTIA

PETTAS PAVLOS

SPILIOTOPOULOS NIKOLAS

TROCHATOU HARA

TZOUROUNI XANTHI

CYPRUS

ITALIA

ITALIA

ITALIA

SPAIN

LITHUANIA

CYPRUS

SPAIN

SPAIN

CYPRUS

CYPRUS

ITALIA

SPAIN

CYPRUS

POLAND

LITHUANIA

CYPRUS

LITHUANIA

LITHUANIA

ITALIA

POLAND

POLAND

ITALIA

POLAND

SPAIN

Teachers:

KONSTANTINIDES KONSTANTINOS (HEADMASTER)

MANTZIKA EVANGELIA (DEPUTY)

KOTROTSOU ELENI

LAMPROPOULOU PANAGIOTA

PANAGIOTAROPOULOU MARIA (GREEK LANGUAGE)

TERZI ELENI (GERMAN)

VLACHODIMITROPOULOS DIMITRIOS (COORDINATOR)

CYPRUS, POLAND,

SPAIN, ITALY

--

--

CYPRUS

LITHUANIA, POLAND, ITALY

SPAIN, CYPRUS, LITHUANIA, POLAND
---
NUTRITION THROUGH THE TIME - LIFELONG LEARNING PROGRAMME COMENIUS

PARTICIPANDS IN THE PROGRAMME

Students:

Cyprus

ANDREAS TSIARTAS

ANDREAS VASILEIOU

CHRISTIANA HADJIPETROU

CHRISTOFOROS GREGORIOU

CHRISTOS AVRAAM

CHRISTOS TSIKKOS

EIRINI LOIZOU

ELENA MATSI

ELENI POURGOURA

EVANGELOS GEORGIOU

EVI MASOURA

LOUKIA POYIADJI

MARIOS KOLIANDRIS

MELPO SCHIZA

PARAYIOTA KARANICOLA

SOFIYA ANGELOVA

SOTEROULLA KNOFOU

STYLIANOS STYLIANOU

VASILIS MICHAEL

GREECE

LITHUANIA

ITALY

LITHUANIA

SPAIN

LITHUANIA

SPAIN

POLAND

ITALY

GREECE

ITALY

POLAND

POLAND

GREECE

POLAND

ITALY

SPAIN

SPAIN

GREECE

Teachers:

CHRYSTALLA MICHAEL

DIAMANTO ZIZIROU

KATERINA NEOFYTOU

KOULA PAVLOU

MARIA EFTYCHIOU

MARIA MOUROUTI

NATASA STYLIANOU

THEMISTOCLIS MASSOURAS (COORDINATOR)

POLAND

SPAIN

POLAND

ITALY

SPAIN

ITALY

ITALY

SPAIN, LITHUANIA, POLAND, GREECE
---
NUTRITION THROUGH THE TIME - LIFELONG LEARNING PROGRAMME COMENIUS

PARTICIPANDS IN THE PROGRAMME

Spain

Students:

ALONSO, PAULA

ANDRADA, SILVIA

BALLELL MAYORAL, ANTONIO

BARQUILLA, MARGARITA

BOLAÑOS BRIDONNEAU , RICARDO

CANTERO, MERCEDES

CARRAPISO, PAULA

DURÁN GUTIÉRREZ , CELIA

FELIPE MASA, ELENA

GARCÍA BALMASEDA , FERNANDO

GARCÍA CAMINO, CARLOTA

GARCÍA CAMINO, NoÉ

GARCÍA PÉREZ, CRISTINA

HAGAG PRECIADO, AIDA

JIMÉNEZ DE LA CALLE, EVA

LOZANO DOMÍNGUEZ, MARTA

MARTÍN FERNÁNDEZ, MIGUEL ANGEL

MARTÍN PALOMINO, JUAN LUIS

MATAS FUENTE, ELISA

MONTAÑA LEÓN, ALMA

PAREDES , ANGEL

PARRALEJO PÉREZ , LAURA

PIÑERO ANTEQUERA, ÁLVARO

ROL MORENO, JAVIER

SÁNCHEZ GÓMEZ, RICARDO

SANTOS FRANCO, SANTOS MANUEL

LITHUANIA

LITHUANIA

POLAND

LITHUANIA

CYPRUS

LITHUANIA

LITHUANIA

GREECE

POLAND

CYPRUS

CYPRUS

CYPRUS

GREECE

POLAND

LITHUANIA

GREECE

ITALY

ITALY

POLAND

POLAND

ITALY

CYPRUS

GREECE

GREECE

ITALY

ITALY

Teachers:

JAVIER VIDAL (HEADMASTER)

ALICIA JIMÉNEZ

Mª JOSÉ MONTES

BERTA RODRÍGUEZ

Mª JOSÉ GARCÍA JAVATO

INMACULADA HERRANZ CID DE RIVERA

EMILIA GUTIÉRREZ (COORDINATOR)

GREECE

CYPRUS

CYPRUS, POLAND

CYPRUS, POLAND, GREECE

LITHUANIA, ITALY

ITALY, GREECE

LITHUANIA, ITALY, GREECE
---
NUTRITION THROUGH THE TIME - LIFELONG LEARNING PROGRAMME COMENIUS

PARTICIPANDS IN THE PROGRAMME

Students:

ALESSANDRO LORELLO

ARIANNA MARTINO

DARIO D'AMATO

DAVID CIOTTI

DAVIDE CARDASCIA

EMANUELA MADECCIA

EMANUELE GIONA

GABRIELE VECCHIO

GIANLUCA DRI

GIORGIA DAMIANI

GIORGIO ARDIGO'

LAURA BOLDEANU

LUCA ONIDA

MATTEO PAOLONI

NAPOLETANI ANDREA

NICHOLAS PENNESIG

RAPETTI LORENZO

SALVATORE DOMIZIO

SARA MARIANI

Italy

Teachers:

ADA GUERRIERO (COORDINATOR)

ADELE DE MARIA

ANGELA DI PAOLA

CIRO MELE

MANUELA CARTURAN

ADRIANA DI MURO
---
NUTRITION THROUGH THE TIME - LIFELONG LEARNING PROGRAMME COMENIUS

PARTICIPANDS IN THE PROGRAMME

Lithuania

Students:

ABDURAJIMOVAITE BRIGITA

BALCIUNAS MARTYNAS

BEKEZA ROKAS

BERNOTAITE AUSTEJA

CEPAS ERNESTAS

CESNA DOMANTAS

EMBRASAS JULIUS

GINIOTYTE PATRICIJA

GUMULIAUSKAITE GABRIELE

KAZAKAUSKAITE KAMILE

KEMEKLIS KAROLIS

KRYZIUTE LAURYNA

LIAUGAUDAS ZILVINAS

MAZEIKAITE VILTE

NABAZAITE MONIKA

PAKAMANYTE MILDA

RAUDYTE RUGILE

VASILIAUSKYTE GODA

VENCKUS VYTAUTAS

VENSKAVICIUTE GINTARE

VITKAUSKAITE AGNE

ZILINSKYTE MONIKA

POLAND

CYPRUS

SPAIN

POLAND

POLAND

CYPRUS

ITALY

ITALY

CYPRUS

GREECE

SPAIN

POLAND

SPAIN

GREECE

CYPRUS

GREECE

ITALY

ITALY

POLAND

SPAIN

GREECE

GREECE

Teachers:

BADAUKIENE RAMUNE (HEADMISTRESS)

BUIVYDAITE RASA (TEACHER OF PE)

CEPAUSKIENE LINA (ENGLISH )

DIRGINCIENE REGINA (ETHICS)

JUOZUMIENE NIJOLE ( MATHS, DEPUTY)

LIAUDANSKIENE JOLANDA (ART)

MESKIENE AUDRONE (MUSIC, PRIMARY CLASSES)

POCEVICIENE LIJANA ( RUSSIAN, DEPUTY)

STEPONAVICIENE INGA ( CRAFT, PRIMARY CLASSES)

VALENSKIENE VIOLETA ( LITHUANIAN)

VISCIUNIENE VAIVA ( COMPUTER SCIENCE)

CYPRUS, GREECE

CYPRUS

CYPRUS, ITALY, SPAIN, POLAND, GREECE

ITALY

CYPRUS

SPAIN

POLAND

GREECE

GREECE

POLAND

ITALY
---
NUTRITION THROUGH THE TIME - LIFELONG LEARNING PROGRAMME COMENIUS

PARTICIPANDS IN THE PROGRAMME

Students:

Poland

AGATA SĘDZIELEWSKA

KAROLINA STOLARCZYK

DOROTA LEGENC

MIKOŁAJ SŁAWECKI

BARTŁOMIEJ PROBOSZCZ

HANNA PIECHOWSKA

NATALIA OSEŁKA

MARIOLA BARAN

MACIEK KRAWCZYŃSKI

LESZEK PIERZYŃSKI

NATALIA RZĘDOWSKA

KAROLINA DOBROWOLSKA

WERONIKA ŻĄDŁO

KRYSTIAN BOŻĘCKI

ARKADIUSZ FOKS

ALEKSANDRA SALAMON

DARIA OKŁA

JAKUB KHIER

GRZEGORZ SIDŁO

ALEKSANDRA KUCHARSKA

MICHAŁ BIJAK

KAMILA MULARCZYK

WERONIKA SZAFRANIEC

ADRIANNA WOJARSKA

LITHUANIA

LITHUANIA

LITHUANIA

LITHUANIA

LITHUANIA

CYPRUS

CYPRUS

CYPRUS

CYPRUS

CYPRUS

SPAIN

SPAIN

SPAIN

SPAIN

planned for SPAIN (hosted a Spanish student)

GREECE

GREECE

GREECE

ITALY

ITALY

ITALY

ITALY

ITALY

(hosted a Spanish girl instead of Mariola Baran)

Teachers:

JOLANTA ZAUCHA (HEADMISTRESS)

IZABELA CIOSEK (DEPUTY)

BEATA CIAŚ-SMUTEK (COORDINATOR)

KATARZYNA SNOCH

JERZY SOBOŃ

MICHAŁ KUCMIN

DARIA MARGIEL-SOBOCINSKA

IWONA OLSZEWSKA

EMILIA RADEK

MARIA JAKUBOWS

JADWIGA KORZEC
---
NUTRITION THROUGH THE TIME - LIFELONG LEARNING PROGRAMME COMENIUS

1st trip: SPAIN

I ENCUENTRO COMENIUS EN CÁCERES OCTOBER 2009

El primer encuentro de la asociación

multilateral se celebró en nuestra ciudad en

octubre de 2009. El centro IES Norba

Caesarina acogió a nuestros socios

invitados: veintiún estudiantes y once

profesores, que participaron en distintas

actividades, tanto académicas como lúdicas y

culturales.

The first Multilateral Comenius Partnership

meeting was held in Cáceres in October 2009. Our

school, Norba Caesarina, hosted the Comenius

participants, which consisted of twenty-one

students and eleven teachers. Together we took

part in different academic and cultural activities.

The meeting between the students and teachers

was highly positive due to the group dynamic that

was created, and the collaboration among the

participants. As a result, we were able to build

relationships both on a personal and professional

level. With the success of our inaugural meeting in

Cáceres, we have set the standards for future

meetings.

Our school community is continuing to achieve

great success with this project and we would like to

give thanks to the host families, students, and

teachers for their cooperation. Everyone has made

a generous contribution, and we will always

remember the days we shared together in our city.

La convivencia entre estudiantes y profesores

de los seis países fue muy positiva,

destacando el dinamismo y la colaboración

entre todos los participantes tanto en las

relaciones profesionales como personales y

familiares. En esta acogida en Cáceres se

inició el proyecto y se fijaron las bases y el

método para los futuros encuentros.

Nuestra comunidad educativa está

consiguiendo con este proyecto un gran logro

dentro de los proyectos realizados por el

centro gracias a la colaboración de las familias

de acogida, estudiantes, profesores y personal

no docente que prestaron su colaboración y

contribuyeron a que esos días de octubre

permanezcan en nuestro recuerdo.
---
Recipes / Caldereta

NUTRITION THROUGH THE TIME - LIFELONG LEARNING PROGRAMME COMENIUS

1st trip: SPAIN

Ingredients:

lamb in pieces,(1 kilo)

green pepper,( 2 )

potato, (500 grams)

garlic, (1 clove)

paprika

salt

tomato, (4 units)

medium onion, (1 unit)

dry white wine, (1 cup)

oregano

olive oil (4 spoons)

ground white pepper

Cooking Instructions:

Put oil in large frying pan and fry the onion, peeled

and chopped, very slowly. When it is done, wash,

peel and cut the tomatoes and the peppers and

add them and continue cooking 15 minutes more.

In a separate pan, sauté the meat in a little oil and

add the mixture previously done. Crush the garlic

with oregano and a bit of paprika, mix it with the

white wine and add to the stew. Cook at medium

heat for about an hour.

Half an hour before the end of cooking, peel and

chop the potatoes and add them into the stew.

Cook for other 20 minutes at low heat until the

potatoes and the meat are done.

Ingredientes :

cordero en trozos, (1 kilo)

pimiento verde,( 2 unidades )

patata, 500 gramos

ajo, (1 diente )

pimentón dulce

sal

tomate, ( 4 )

cebolla mediana, (1 )

vino blanco seco, (1 taza)

orégano

aceite de oliva, (4 cucharadas)

pimienta blanca molida

Preparación:

Poner aceite en una sartén grande y freír la

cebolla, pelada y picada, muy despacio; cuando

comience a estar tierna, añadir el tomate

previamente escaldado, pelado y cortado en

trocitos y los pimientos lavados y cortados

igualmente en trocitos. Continuar la cocción 15

minutos más.

En una sartén aparte, rehogar la carne en un poco

de aceite y añadir el preparado anterior. Majar el

diente de ajo junto con el orégano y una pizca de

pimentón, disolver con el vino blanco e incorporar

al guiso. Dejar cocer a fuego medio durante una

hora aproximadamente.

Media hora antes de finalizar la cocción, pelar y

trocear las patatas e incorporarlas al guiso; cocer
---
1st trip: SPAIN

Recipes / Tomato soup - Sopa de tomate

NUTRITION THROUGH THE TIME - LIFELONG LEARNING PROGRAMME COMENIUS

Ingredients:

Olive oil

One sliced onion

Tomatoes (1 ½ kg)

Bay leaves

Salt

Cumin

Stale bread (half a loaf)

Red pepper ( 1)

Green pepper (1 )

Ground garlic

Ingredientes:

Aceite de oliva

Una cebolla troceada

Tomates partidos en cuartos (1 1/2 kg)

Laurel

Sal

Comino

Pan de dos días

Pimiento rojo ( 1 )

Pimiento verde (1 )

Ajo machado

Cooking Instructions:

Heat the oil in a large saucepan at medium heat,

add the chopped onion, the red and the green

peppers, cover and cook until everything is done.

Add the peeled tomatoes, and cook them ( 15

minutes ).Add the cumin, the bay leaves and some

salt. Near the end, add the ground garlic.

Add as much water as necessary.

Before servir, prepare the plates with the sliced

bread on them and pour the soup.

This soup can be served cold or hot.

Preparación:

Calentar el aceite en una cacerola grande a fuego

medio, añadir la cebolla troceada pimiento rojo y

verde, tapar y cocer hasta que se poche.

Se añaden los tomates pelados, se continua

cociendo todo hasta que se hagan (unos 15

minutos aproximadamente). Añadir el comino,

laurel y sal. Casi al final de la cocción, añadir el ajo

machado.

Ajustar la cantidad de agua.

Antes de servirla, colocar el pan cortado en

rebanadas en el fondo de cada plato y verter la

sopa.

Esta sopa puede tomarse caliente o fría.
---
1st trip: SPAIN

Recipes / Pulpo a la Gallega

NUTRITION THROUGH THE TIME - LIFELONG LEARNING PROGRAMME COMENIUS

Ingredients:

1 octopus (1 kg and 1 / 2)

4 medium potatoes

1 onion

Bay leaves

Salt

Paprika

Extra virgin olive oil.

Ingredientes:

Pulpo ( 1 y ½ kg)

Patatas de tamaño medio

Cebolla ( 1 )

Hojas de laurel ( 2 )

Sal

Pimentón dulce

Aceite de oliva virgen extra

Cooking Instructions:

Put the octopus in the fridge, better frozen before.

Take it out 24 hours before from the refrigerator.

Put it into boiling water with onion and bay leaves

for 30 minutes.

Take it out, let it cool and cut it into small pieces.

Cut the potatoes into thin slices, about 10 cm, and

boil them with a little salt.

Take a wooden plate, put a bed of potatoes and the

octopus on them. Pour some extra virgin olive oil,

paprika and salt.

Preparación:

Congela el pulpo. Sácalo 24 horas antes para que

se descongele. Una vez descongelado, ponlo en

una olla con agua hirviendo, cebolla y el laurel

durante 30 minutos.

Sácalo, déjalo enfriar y córtalo en trozos

pequeños.

Corta las patatas en rodajas de unos 10 cm

aproximadamente, y ponlas a hervir en agua con

un poco de sal.

Coge un plato de madera, haz una cama de

patatas y pon el pulpo encima. Alíñalo con un poco

de aceite de oliva, sal y pimentón.
---
Recipes / Paella

NUTRITION THROUGH THE TIME - LIFELONG LEARNING PROGRAMME COMENIUS

1st trip: SPAIN

Ingredients:

Rice, 600 grams

Clams, 500 grams

Shrimps, 300 grams

Tomato (2), Green pepper (1), Garlic, Small onion

(1), Red pepper (2), Frozen peas, 150 grams

Food yellow colouring

Parsley

Chicken, 800 grams

Squids, 200 grams

Saffron

Salt

Olive oil, 1/2 cup

Cooking Instructions:

Wash the clams in cold water with salt; heat them

till they open and take them out keeping the broth

apart. Wash the peppers, take the seeds out and

cut them into pieces Wash the chicken and to cut it

into pieces. Wash the squids and to cut them. Peel

the shrimps and cook the shells and the heads for

10 minutes; strain the broth and keep it.

Heat the oil in a paella and fry the chicken, add the

squids, sauté for a couple of minutes and add the

sliced onion, the peppers, the peas and the

tomatoes. Sauté everything for 15 minutes. Add

the rice, mix and pour with the warm broth of the

shrimps and clams adding water till it is twice the

quantity of rice.

Crush the garlic, parsley and the saffron and add it

to the paella, salt and add some colouring and cook

for 15 minutes. When it is nearly cooked, add the

shrimps and the clams. Keep it aside for 3-4

minutes and to serve.

Ingredientes:

Arroz, 600 gramos

Almeja, 500 gramos. Gamba, 300 gramos.

Tomate maduro, 2 unidades. Pimiento verde, 1

unidad. Ajo, 2 dientes. Perejil

Colorante alimenticio amarillo, al gusto.

Pollo, 800 gramos. Calamares, 200 gramos

Cebolla pequeña, 1 unidad. Guisante congelado,

150 gramos. Pimiento morrón, 2 unidades.

Azafrán, 10 hebras

Sal, al gusto. Aceite de oliva, 1/2 taza

Preparación:

Lavar las almejas en agua fría con sal; abrirlas en

un cazo con 1/2 taza de agua, colar y reservar las

almejas y el caldo por separado. Lavar los

pimientos, quitarles las semillas y trocearlos.

Lavar el pollo y trocearlo. Lavar los calamares y

cortarlos en tiritas. Pelar las gambas y cocer las

cáscaras y las cabezas durante 10 minutos; colar y

reservar el caldo.

Calentar el aceite en una paella y freír el pollo

hasta que se dore; agregar los calamares, saltear

un par de minutos y añadir la cebolla muy picada,

los pimientos, los guisantes y los tomates pelados.

Rehogar todo durante 15 minutos. Incorporar el

arroz, mezclar y regar con el caldo caliente de las

gambas y almejas, añadir agua hasta que sea el

doble de la cantidad de arroz.
---
Recipes / Leche frita

NUTRITION THROUGH THE TIME - LIFELONG LEARNING PROGRAMME COMENIUS

1st trip: SPAIN

Ingredients:

½ litre of milk

Three yolks

Three spoons of sugar

½ kilogramme of flour

Two beated eggs

Some breadcrumbs

A lemon peel

Ground cinnamon

Icing sugar

Cooking Instructions:

Beat the eggs and the sugar, gradually adding

flour. When the pastry is well mixed, add milk

slowly and keep moving it in the same direction.

Leave it to simmer. Add the lemon peel while

moving until the mix is thick. Spread it out and

leave it to cool.

Cut it into squares and dip them in batter. Fry the

squares. Cover them with icing sugar and

cinnamon when they´ve already given off all the oil.

Leche frita is a cheap dessert and it´s quite easy to

prepare.

Ingredientes:

½ litro de leche

Tres yemas de huevo

Tres cucharadas de azúcar

½ kilogramo de harina

Dos huevos batidos

Pan rallado

Cáscara de limón

Canela en rama

Azúcar glasé

Preparación:

Bate los huevos y el azúcar, añadiendo harina

poco a poco. Cuando la pasta esté bien mezclada,

añade leche lentamente mientras sigue

removiendo en la misma dirección. Déjalo cocer a

fuego lento. Añade la cáscara de limón mientras

remueves hasta que la masa está sólida. Apártalo

y deja que se enfríe.

Corta en cuadraditos y rebózalos. Frie los

cuadrados. Recúbrelos con azúcar glasé y canela

cuando hayan soltado todo el aceite.

La Leche frita es un postre asequible y fácil de

preparar.
---
NUTRITION THROUGH THE TIME - LIFELONG LEARNING PROGRAMME COMENIUS

2nd trip: CYPRUS

THE MEETING IN CYPRUS (8 - February 13, 2010) / ΣΥΝΑΝΤΗΣΗ ΣΤΗ ΚΥΠΡΟ (8 - 13 Φεβρουαρίου 2010)

The second meeting of the programme was held in Cyprus from 8 until 13

February 2010. After the arrival of the groups the students were taken by

the hosting families and the teachers were transferred to their hotel in the

old part of Nicosia.On Monday the 8th , all the participants arrived at the

school where an official welcome took place alongwith a briefing on the

program that would follow. The students of the school presented a program

that included traditional songs and dances and then a tour in the school

premises took place. Then all the teachers had lunch at a traditional

restaurant in the area.

In the afternoon a tour in the old city within the Venetian walls took place in

which the guests had the opportunity to see how the situation in Nicosia is , nowadays , as it was formed after the

war in 1974. It must be noted that Nicosia is the last divided capital city in Europe.

The tour included "Laiki Yitonia" , a traditional neighbourhood, the Omeriye Ottoman Baths , the Hadjigeorgakis

Kornesios Residence,( he was the last Dragoman during the Ottoman rule in Cyprus), the Archbishop's Palace and

the Cathedral of St. John , the separation line, the "green line" as it is commonly known, Ledra str. and

Onasagorou str. etc.On Tuesday, February 9th , the presentations of the program with particular reference on the

effects of nutrition on health and sports took place at school followed by a special lunch with traditional dishes of the

participating countries. In the afternoon the participants were free to explore the city of Nicosia and visit some

other places of interest.

On Wednesday, February 10th, the rest of the presentations continued at school followed again by a

Mediterranean breakfast. In the last session a review about the meeting took place and some points for the next

meeting in Lithuania were highlighted.Afterwards, all the teachers went for a tour to Kyperounda, a village in the

Troodos mountains, where they had lunch. There, they also paid a visit to a local winery before returning to Nicosia

where they had a free afternoon.

On Thursday , all the students and teachers went for a tour to Limassol where they visited the archaeological site

of Kourion . There, they were guided to the ancient theater and the Roman baths and mosaics.

On the way to Limassol Mall, they paid a visit to Colossi Castle, a place where the Commandaria, the military

command during the Crusades, had their headquarters.

On Friday, February 11th , another trip was held, to Larnaca this time. There , the teachers and the pupils paid a visit

to Hala Sultan Tekke, an Ottoman mosque, built to honor Umm Haram, the niece of Muhammad, who visited

Cyprus and died there after an accident . It should be noted that this place is the third most important religious

monument for the Muslims. Nearby , the visitors admired the Salt Lake ,a favourite place for migratory birds and a

place protected by the state.

Afterwards, they visited the town of Larnaca and, in particular ,the church of St. Lazarus, where they were guided

and visited the Saint's grave. St. Lazarus became the first bishop of Larnaca after his Resurrection by Jesus and

his escape from his predators in Jerusalem.

The whole group had a chance to enjoy some time on the beach for the rest of the day and had a drink. Even though

it was February, the weather was quite nice and allowed all to enjoy some sunshine.

In the evening , the teachers with their colleagues from the school enjoyed an evening with traditional food and

music in a tavern in St. Anna.

On Saturday, February 12, 2010, all the groups started their way back.

The meeting may be regarded as successful , although the weather was not the most appropriate since it was rainy

most of the time. The students were hosted in an area of about 50 kilometres from school but the comments were

good as they had received excellent hospitality by the families. Several students stayed in villages where they had

the opportunity to experience rural life.

Something which was very characteristic is the fact that all students who participated, guests and hosts, managed

to get together and have fun at nights in Nicosia. All the families who hosted children offered their hospitality

considering the children as members of their family.The experience for the children of our school was unique. It

should be noted that , in the beginning , some were reluctant to participate in the program but after the experience

they had they kept asking for a second opportunity to participate in such program.
---
NUTRITION THROUGH THE TIME - LIFELONG LEARNING PROGRAMME COMENIUS

2nd trip: CYPRUS

THE MEETING IN CYPRUS (8 - February 13, 2010) / ΣΥΝΑΝΤΗΣΗ ΣΤΗ ΚΥΠΡΟ (8 - 13 Φεβρουαρίου 2010)

Η δεύτερη συνάντηση μέσα στα πλαίσια του προγράμματος έγινε στη

Κύπρο από τις 8 μέχρι τις 13 Φεβρουαρίου 2010. Με την άφιξη των ομάδων

έγινε η τακτοποίηση των μαθητών στις οικογένειες και των καθηγητών σε

ξενοδοχείο στη παλιά Λευκωσία.

Την Δευτέρα 8 Φεβρουαρίου, όλοι οι συμμετέχοντες πήγαν στο σχολείο

όπου έγινε η επίσημη υποδοχή και η ενημέρωση για το πρόγραμμα που θα

ακολουθούσε. Παρουσιάστηκε από τους μαθητές του σχολείου καλλιτεχνικό

πρόγραμμα που περιλάμβανε παραδοσιακά τραγούδια και χορούς και έγινε

ξενάγηση στις εγκαταστάσεις του σχολείου. Μετά ακολούθησε γεύμα για

τους καθηγητές σε παραδοσιακή ταβέρνα στη περιοχή.

Το απόγευμα της ίδιας μέρας έγινε ξενάγηση στη παλιά πόλη που βρίσκεται μέσα στα Ενετικά τείχη, όπου οι

προσκεκλημένοι είχαν την ευκαιρία να δουν επί τόπου την κατάσταση στην οποία βρίσκεται η Λευκωσία σήμερα, η

τελευταία μοιρασμένη Ευρωπαϊκή πρωτεύουσα. Η περιήγηση περιλάμβανε τη Λαική Γειτονιά, τα Οθωμανικά

Λουτρά Ομεριέ, την οικία του Χατζηγεωργάκη Κορνέσιου, του τελευταίου δραγομάνου κατά την Οθωμανική

κυριαρχία στη Κύπρο, το Αρχιεπισκοπικό Μέγαρο και τον Καθεδρικό Ναό του Αγίου Ιωάννη, την γραμμή

διαχωρισμού ,την «πράσινη γραμμή» όπως είναι γνωστή, τις κεντρικές οδούς Λήδρας και Ονασαγόρου κ.α.

Την Τρίτη 9 Φεβρουαρίου έγιναν οι παρουσιάσεις πάνω στο θέμα του προγράμματος με ιδιαίτερη αναφορά στις

επιδράσεις της διατροφής στην υγεία και τον αθλητισμό. Ακολούθησε γεύμα στο σχολείο με παραδοσιακά φαγητά

των συμμετεχουσών χωρών. Το απόγευμα ήταν ελεύθερο .

Την Τετάρτη 10 Φεβρουαρίου συνεχίστηκαν οι παρουσιάσεις στο σχολείο και ακολούθησε Μεσογειακό Πρόγευμα.

Κατά την τελευταία συνεδρία , έγινε μια ανασκόπηση της συνάντησης και τονίστηκαν κάποια σημεία για την

επόμενη συνάντηση στην Λιθουανία.

Ακολούθησε εκδρομή και γεύμα στη Κυπερούντα, ένα ορεινό χωριό στο Τρόοδος, και μετά επίσκεψη σε τοπικό

οινοποιείο. Το απόγευμα ήταν ελεύθερο.

Την Πέμπτη 11 Φεβρουαρίου , πραγματοποιήθηκε εκδρομή στη Λεμεσό και επίσκεψη στο αρχαιολογικό χώρο του

Κουρείου όπου έγινε ξενάγηση στο αρχαίο θέατρο και στα Ρωμαϊκά ψηφιδωτά και λουτρά. Καθ' οδό προς το

shopping mall της Λεμεσού, έγινε επίσκεψη στο Κάστρο του Κολοσσίου , χώρος όπου έδρευε η Commandaria , η

στρατιωτική διοίκηση κατά τις Σταυροφορίες .

Την Παρασκευή 11 Φεβρουαρίου πραγματοποιήθηκε εκδρομή στη Λάρνακα. Εκεί έγινε επίσκεψη στο Οθωμανικό

τέμενος Χαλά Σουλτάν Τεκκέ, το οποίο κτίστηκε προς τιμή της ανιψιάς του Μωάμεθ, Ουμ Χαράμ η οποία

επισκεπτόμενη την Κύπρο πέθανε μετά από δυστύχημα στο χώρο εκείνο. Αξίζει να σημειωθεί ότι είναι το τρίτο σε

σπουδαιότητα θρησκευτικό μνημείο για τους Μωαμεθανούς. Δίπλα από το τέμενος , οι επισκέπτες θαύμασαν την

Αλυκή που αποτελεί ένα καταφύγιο αποδημητικών πουλιών και προστατεύεται από το κράτος.

Μετά έγινε επίσκεψη στη πόλη της Λάρνακας και συγκεκριμένα στην εκκλησία του Αγίου Λαζάρου όπου βρίσκεται

και ο τάφος του Αγίου. Ο Άγιος Λάζαρος έγινε ο πρώτος επίσκοπος της Λάρνακας όταν κατέφυγε εκεί μετά την

Ανάστασή του από τον Ιησού καταδιωκόμενος από τους ειδωλολάτρες.

Κατά το υπόλοιπο της μέρας , όλη η ομάδα είχε την ευκαιρία να απολαύσει αρκετό χρόνο στη παραλία της

Λάρνακας αφού η μέρα , άνκαι ήταν Φεβράρης , ήταν καλή και ηλιόλουστη.

Το βράδυ οι καθηγητές μαζί με τους συναδέλφους από το σχολείο απόλαυσαν μια βραδιά με παραδοσιακούς

μεζέδες και μουσική σε ταβέρνα στην Αγία Άννα.

Το Σάββατο 12 Φεβρουαρίου 2010 άρχισε η αποχώρηση των ομάδων.

Η συνάντηση μπορεί να χαρακτηριστεί σαν επιτυχής παρά το γεγονός ότι ο καιρός δεν ήταν και ο πιο κατάλληλος

αφού ήταν κατά το πλείστο βροχερός. Οι μαθητές είχαν κατανεμηθεί σε μια μεγάλη ακτίνα από το σχολείο αλλά τα

σχόλια ήσαν πάρα πολύ καλά αφού είχαν τύχει άψογης φιλοξενίας από τις οικογένειες. Αρκετοί μαθητές

φιλοξενήθηκαν σε χωριά όπου είχαν την ευκαιρία να ζήσουν την ανάλογη αγροτική ζωή. Χαρακτηριστικό ήταν το

γεγονός ότι όλοι οι μαθητές που συμμετείχαν , οι φιλοξενούμενοι και οι φιλοξενούντες, τα κατάφερναν να

μαζεύονται και να διασκεδάζουν τα βράδια στη Λευκωσία. Όλες οι οικογένειες που φιλοξένησαν τα παιδιά

πρόσφεραν ότι μπορούσαν θεωρώντας τα σαν μέλη της οικογένειας.

Η εμπειρία για τα παιδιά του σχολείου μας ήταν μοναδική. Αξίζει να σημειωθεί το γεγονός ότι στην αρχή κάποια

ήσαν διστακτικά για να συμμετέχουν στο πρόγραμμα αλλά μετά από την εμπειρία που είχαν άρχισαν να ζητούν να

έχουν ξανά την ευκαιρία να συμμετάσχουν σε παρόμοιο πρόγραμμα.
---
Recipes / Afelia - Αφέλια

NUTRITION THROUGH THE TIME - LIFELONG LEARNING PROGRAMME COMENIUS

2nd trip: CYPRUS

Ingredients:

1 kilo of lean pork with the bone, cut into cubes

1 cup (200 ml) red wine

1-2 tablespoons coriander seeds crashed

Salt and freshly ground pepper

1 stick of cinnamon

6 tablespoons sunflower or other vegetable oil

Υλικά:

1 κ. άπαχο χοιρινό κρέας με το κόκαλο του,

τεμαχισμένο σε κύβους

1 ποτήρι (200 ml) κόκκινο κρασί

1-2 κουταλιές της σούπας χοντραλεσμένοι σπόροι

κολιάνδρου

Αλάτι και πολύ φρεσκοτριμμένο πιπέρι

1 ξυλάκι κανέλα

6 κουταλιές της σούπας ηλιέλαιο ή κάποιο άλλο

φυτικό έλαιο

Cooking Instructions:

Marinate the meat with the wine and she spices

for at least 4 hours, preferably overnight.

Take the meat out and keep the marinade for later.

Heat the oil in a pan to cook the meat until it gets

brown and becomes slightly crispy.

If necessary, add more oil.

Wipe any excess of oil from the pan and put the

meat back with the marinade and enough cold

water to cover the meat.

Cover the pan and cook on low heat on the stove

for half an hour or until the meat is tender.

It's ready when almost all the liquid is absorbed

and a thick sauce is left.

It is served with pilaf made with bulgar wheat

Οδηγίες:

Μαρινάρετε το κρέας με το κρασί και τα μπαχαρικά

για τουλάχιστον 4 ώρες, κατά προτίμηση

αποβραδίς.

Έπειτα βγάζετε το κρέας και κρατάτε τη μαρινάδα

για αργότερα.

Ζεσταίνετε το λάδι σε μια κατσαρόλα για να

τσιγαρίσετε λίγο-λίγο τους κύβους του κρέατος

μέχρι να ροδίσει και να γίνει κάπως τραγανιστό.

Αν χρειαστεί, προσθέτετε κι άλλο λάδι.

Σκουπίζετε όλα τα υπολείμματα του λαδιού από

την κατσαρόλα και ξαναβάζετε το κρέας με τη

μαρινάδα και τόσο κρύο νερό όσο χρειάζεται για να

σκεπαστεί το κρέας.

Κλείνετε με το καπάκι και μαγειρεύετε σε χαμηλή

φωτιά, στο μάτι της κουζίνας, για μισή ώρα ή μέχρι

να μαλακώσει το κρέας.

Θα πρέπει να έχει πιει σχεδόν όλο του το ζουμί

αφήνοντας μια πηχτή σάλτσα.

Σερβίρεται με πιλάφι πουργούρι
---
Recipes / Shieftalies - Σιεφταλιές

NUTRITION THROUGH THE TIME - LIFELONG LEARNING PROGRAMME COMENIUS

2nd trip: CYPRUS

Ingredients:

1 kilo (500 gr. pork, 500 grams. lamb) minced

1 cup of bread crumbs

2 large onions, grated

1 / 2 cup of chopped parsley

1 teaspoon of cinnamon

Salt, pepper,

4 Mbolia (membranes of intestines)

Υλικά:

1 κιλό (500 γραμμ. χοιρινός, 500 γραμμ. αρνίσιος)

κιμάς

1 φλιτζάνι. τσαγιού ψίχα ψωμιού

2 κρεμμύδια μεγάλα, τριμμένα

1/2 φλιτζάνι τσαγιού μαϊντανός ψιλοκομμένος

1 κουταλάκι γλυκού κανέλα

αλάτι

πιπέρι

4 μπόλιες ή πάνες ή μανδηλαριές (σκέπη)

Cooking Instructions:

Wash the mbolia thoroughly using salt and vinegar

and leave them to dry.

Mix all the ingredients together and make small

balls.

Wrap the balls in pieces of mpolia and cook on

charcoal or on the grill.

Serve with fresh chopped parsley and onion

Οδηγίες:

Πλένουμε πολύ καλά τις μπόλιες μέσα σε μια

λεκάνη με νερό, ξίδι και αλάτι. Τις βάζουμε σε

τρυπητό να στραγγίσουν.

Ζυμώνουμε καλά όλα τα υπόλοιπα υλικά και τα

πλάθουμε σε μακρόστενα κομμάτια.

Τυλίγουμε με την μπόλια (σαν τα ντολμαδάκια) και

ψήνουμε τις σεφταλιές στα κάρβουνα
---
Recipes / Lentils - Φακές

NUTRITION THROUGH THE TIME - LIFELONG LEARNING PROGRAMME COMENIUS

2nd trip: CYPRUS

Ingredients:

500 grammes of lentils

1 onion (chopped)

150 grammes of rice

Olive oil

I cube of vegetable stock (optional)

Lemon juice, salt

Some olives, 1 small tomato , cucumber

Υλικά:

Μισό κιλό φακές

1 κρεμμύδι

150 γρ ρύζι

Ελαιόλαδο

1 ζωμό λαχανικών (προαιρετικό)

λεμόνι, αλάτι

ελιές καλαμών, 1 μικρή ντομάτα, αγγουράκι.

Cooking Instructions:

Wash the lentils thoroughly and boil on moderate

fire. When they are soft but not completely cooked

,add the rice and the vegetable stock

Lower the heat and stir from time to time taking

care not to burn the food.

Fry the chopped onion in a saucepan and when it

becomes brown , put it in the lentils adding the

lemon juice , too

Garnish with olives, slices of cucumber and

tomatoes

Οδηγίες:

Πλένουμε πολύ καλά τις φακές και τις σκεπάζουμε

με νερό και τις βράζουμε σε μέτρια φωτιά .Όταν

είναι αρκετά μαλακές αλλά όχι εντελώς ψημένες

προσθέτουμε το ρύζι και το ζωμό λαχανικών

Χαμηλώνουμε την φωτιά και ανακατεύουμε κατά

διαστήματα και προσέχουμε να μην κολλήσει

Το φαγητό πρέπει να είναι ούτε πολύ πηχτό ούτε

πολύ ρευστό

Σε ένα τηγάνι ψιλοκόβουμε το κρεμμύδι και το

τσιγαρίζουμε με το ελαιόλαδο

Όταν ροδίσει το κρεμμύδι το ρίχνουμε στις φακές

και προσθέτουμε τον χυμό λεμονιού.

Διακοσμούμε με ελιές καλαμών , αγγουράκι και με

ντομάτα .
---
NUTRITION THROUGH THE TIME - LIFELONG LEARNING PROGRAMME COMENIUS

2nd trip: CYPRUS

Recipes / Pork with Jerusalem Artichoke - Χοιρινό με Κολοκάσι

Ingredients:

1 kilo of pork loin, cut in portions

2 medium bulbs of kolokassi (Jerusalem

Artichoke)

2-4 stalks of celery, chopped

1 large onion, finely chopped

1 can of whole tomatoes with juice blended in multi

salt & pepper, olive oil for frying

Υλικά:

Μισό κιλό φακές

1 κρεμμύδι

150 γρ ρύζι

Ελαιόλαδο

1 ζωμό λαχανικών (προαιρετικό)

λεμόνι, αλάτι

ελιές καλαμών, 1 μικρή ντομάτα, αγγουράκι.

Cooking Instructions:

To prepare the kolokassi, cut the ends and peel the

skin off. Hold it with a paper napkin taking care that

you do not spoil the rest of kolokassi. Do not wash

but towel dry.

With a sharp knife, cut across (1 ½ cm thick)

halfway then break off. Repeat to the end.

I am not absolutely sure why this has to be done but

If I remember correctly if this procedure is not

followed and slices are cut all the way across

without breaking off, this vegetable has a

mucilaginous, sticky juice which

will be released and the kolokassi will melt while

cooking.

Heat the oil in a frying pan and brown the kolokassi

on both sides. Transfer to saucepan.

Sauté the meat and when turning over add the

onions and sauté as well for a few minutes and

then transfer all together including oil to sauce pan.

Add the celery, salt and pepper and the tomatoes.

Cook as much as to become tender

Οδηγίες:

Πλένουμε πολύ καλά τις φακές και τις σκεπάζουμε

με νερό και τις βράζουμε σε μέτρια φωτιά .Όταν

είναι αρκετά μαλακές αλλά όχι εντελώς ψημένες

προσθέτουμε το ρύζι και το ζωμό λαχανικών

Χαμηλώνουμε την φωτιά και ανακατεύουμε κατά

διαστήματα και προσέχουμε να μην κολλήσει

Το φαγητό πρέπει να είναι ούτε πολύ πηχτό ούτε

πολύ ρευστό

Σε ένα τηγάνι ψιλοκόβουμε το κρεμμύδι και το

τσιγαρίζουμε με το ελαιόλαδο

Όταν ροδίσει το κρεμμύδι το ρίχνουμε στις φακές

και προσθέτουμε τον χυμό λεμονιού.

Διακοσμούμε με ελιές καλαμών , αγγουράκι και με

ντομάτα .
---
NUTRITION THROUGH THE TIME - LIFELONG LEARNING PROGRAMME COMENIUS

2nd trip: CYPRUS

Recipes / Bourekia with Fresh Anari Cheese - Μπουρέκια με Αναρή (Μυζήθρα)

Ingredients:

1 dose of dough for pies

For the filling :

½ kg fresh anari or myzithra (white soft unsalted

cheese)

2 tablespoons sugar

1 teaspoon grounded cinnamon

Oil for frying (we may use olive oil)

Icing sugar for sprinkling on top.

Cooking Instructions:

To make the filling, mash the anari with a fork and

mix all ingredients except for the icing sugar and

make a fluffy mixture.

Roll out the dough into a thin sheet and place one

spoonful of mixture and fold the pastry over the

filling to enclose it completely and cut using a glass

or cutter to make half a circle shape.

For more experienced,, we place mixture

lengthwise at equal intervals leaving a gap of about

1 inch (or 3 cm) throughout all piece of dough and

fold.

Then cut in the same way as described above.

If you are going to cut with a cutter , it is best to

moist gaps in between mixture, place another fyllo

on top and press with fingers to stick so that they

will not unfold during frying. Then cut.

Heat the oil and fry the bourekia on both sides until

they become golden brown.

When they are cool, sprinkle with icing sugar.

Υλικά:

1 δόση ζύμης για πίττες

Για τη γέμιση :

½ κιλό φρέσκια αναρή (μυζήθρα) ανάλατη

2 κουταλιές ζάχαρη

1 κουταλάκι αλεσμένη κανέλλα

Λάδι για τηγάνισμα (ελαιόλαδο)

Ζάχαρη άχνη για πασπάλισμα

Οδηγίες:

Λιώνουμε την αναρή με ένα πιρούνι και

αναμιγνύουμε όλα τα υλικά εκτός από τη ζάχαρη

άχνη.

Ανοίγουμε τη ζύμη σε λεπτό φύλλο και βάζουμε

μια κουταλιά από το μίγμα και κλίνουμε το φύλλο

πάνω στο μίγμα και κόβουμε με ένα ποτήρι.

Ζεσταίνουμε το λάδι και ψήνουμε τα μπουρέκια

μέχρι να ροδίσουν

Όταν κρυώσουν πασπαλίζουμε με ζάχαρη άχνη.
---
NUTRITION THROUGH THE TIME - LIFELONG LEARNING PROGRAMME COMENIUS

3rd trip: LITHUANIA

The third project meeting "Nutrition through the time" took place in

Mazeikiai, Lithuania.

During the week twenty two young project participants lived in host

families, attended school, travelled in the region, and got

acquainted with Lithuanian traditions and customs.

The first day was crowded with visits to various enterprises which

produce different food products, such as bread, ice cream and

dairy products. The guests had an opportunity to taste Lithuanian

production and to see how it is produced. The students had a

lesson at the local museum, where they made ancient Lithuanian dishes and played games. The

delegation was congratulated by the Mayor and other local authorities at the Town Hall.

Tuesday, which was the

conference day, was full of

thrill and excitement. The

students introduced their

h o m e w o r k o n t h e

topics:"Bread", "Wine and

traditions', Eating habits

and customs", "Eating

peculiarities during feasts".

The top of the day was

Bread exhibition which

showed the differences and similarities of bread types from project partners' countries.

On Wednesday's we got

together during which our

guests prepared their

national dishes, captured

everybody's attention.

The dishes made by

Cypriots, Greek, Polish,

Italian and Spanish teams

just vanished and the

concert prepared together

with our guests united all of us to one big harmonious family. Everybody had lots of fun: guests, parents,

students and teachers.

Our guests had a chance to visit the most beautiful places in our

country: Nida, Palanga, and The Hill of Crosses.

It was the most incredible week: full of joy, beautiful friendship,

great challenges and gaining valuable experience. The families

tried to do their best introducing our customs, dishes, history and

culture in order the guest students were able to tell their families

and friends about Lithuania, the country which is known not only

for rains but also for friendly and kind people.
---
NUTRITION THROUGH THE TIME - LIFELONG LEARNING PROGRAMME COMENIUS

3rd trip: LITHUANIA

Trečiasis projekto Mityba ir laikas susitikimas įvyko Lietuvoje,

Mažeikiuose. Savaitę vykusios viešnagės metu jaunieji projekto

dalyviai gyveno mažeikiškių šeimose, lankė pamokas, keliavo po

regioną ir iš arčiau susipažino su lietuvių tradicijomis ir papročiais.

Pirmąją dieną svečiai lankėsi įvairiausiose miesto įmonėse,

gaminančiose maisto produktus: duoną, ledus, pieno produktus.

Svečiai turėjo galimybę paskanauti lietuviškų produktų ir net

pamatyti, kaip jie gaminami. Mokiniams buvo pravesta pamoka

vietos muziejuje, kurios metu visi gamino senovinius lietuviškus

patiekalus ir žaidė žaidimus.

Miesto savivaldybėje grupę pasveikino Meras ir kiti savivaldybės atstovai.

Antradienis, buvo skirtas

konferencijai, kurios metu

mokiniai pristatė savo namų

darbus, pristatymus šiomis

temomis: "Duona", "Mitybos

įpročiai ir papročiai",

"Mityba religinių švenčių

m e t u " , " V y n a s i r

tradicijos".Diena buvo pilna

jaudulio ir džiaugsmingo

virpulio.Dieną vainikavo

duonos produktų paroda, kuri atskleidė projekto dalyvių šalių duonos panašumus ir skirtumus.

Trečiadienio vakaronė,

kurios metu svečiai

g a m i n o s a v o

nacionalinius patiekalus

prikaustė visų dėmesį.

Kipriečių, lenkų, graikų,

ispanų ir italų patiekalai

paruošti valgiai tirpte

tirpo, o koncertas ir

d a l y v i ų p a r u o š t i

koncertiniai numeriai mus sujungė į vieną, didelę, darnią šeimą, kurioje linksminosi visi: svečiai, tėveliai,

mokiniai ir mokytojai.

Svečiai aplankė gražiausius mūsų šalies kampelius: Nidą,

Palangą, Kryžių Kalną.

Tai buvo nepaprasta savaitė: pilna džiaugsmo, gražios

draugystės, naujų iššūkių ir pasikeitimo patirtimi. Šeimos labai

stengėsi supažindinti su mūsų papročiais, patiekalais , istorija ir

kultūra, kad mokiniai galėtų iš savo patirties papasakoti savo

artimiesiems ir draugams grįžę iš Lietuvos, šalies, kur ne tik lyja

lietūs, bet ir gyvena draugiški ir mieli žmonės.
---
Recipes / Zeppelins - Cepelinai

NUTRITION THROUGH THE TIME - LIFELONG LEARNING PROGRAMME COMENIUS

3rd trip: LITHUANIA

Ingredients:

2 kilos of raw potatoes, peeled and grated

4 cooked potatoes

2 tablespoonfuls of cornstarch

3 onions, finely chopped

salt and pepper to taste

500 g. ground meat (beef, pork, or a mixture of

both)

spices

Cooking Instructions:

Get rid of the excess water in the grated potatoes

mixture. In to the mass of the grated potatoes put

some salt, minced boiled potatoes, starch and mix

it well, so that you can get soft and solid

mixture.Add 3 finely cut onions to the pork ground

meat, salt it, and add spices.

Put a large stockpot of water on to boil. To form the

zeppelins, take about 1 cup of dumpling mixture

and pat it flat in the palm of the hand. Place 1/4 cup

or more of meat mixture in the center and, using

slightly dampened hands, fold the potato mixture

around the meat into a football shape, sealing well.

Continue until both mixtures are gone.

Carefully lower dumplings into salted, boiling

water. Make sure water returns to the boil and

continue boiling for 25 minutes.

Stir carefully. Remove dumplings, drain briefly on a

clean dish towel and place on a heated platter. You

can use with different kinds of gravy or sour cream.

Ingredientai:

Bulvės, 2 kg. nuskustos, sutarkuotos

4 virtos bulvės

2 arbatiniai šaukšteliai krakmolo

3 smulkiai pjaustyti svogūnai

Druska, pipirai

Prieskoniai

500g kiaulienos(jautienos) faršo

Paruošimas:

Į sutarkuotų, išspaustų bulvių masę įdėti druskos,

krakmolo,virtų maltų bulvių ir gerai maišyti tol, kol

susidarys elastinga masė.

Įdėkite vieną, smulkiai pjaustytą svogūną į

kiaulienos faršą, pasūdykite ir įdėkite prieskonių.

Į didelį puodą įpilkite vandens ir jį užvirinkite.

Po to, iš gautos masės tarp delnų formuokite

pailgus pyragėlius, į jų vidų įdėkite kiaulienos faršo

ir kraštus gerai užspauskite. Dailinkite tol ,kol faršo

nesimatys.

Atsargiai sudėkite cepelinus į verdantį, pasūdytą

vandenį ir virkite apie 25 minutes, maišydami

atsargiai ir lėtai. Išimkite,nuvarvinkite is sudėkite į

pašildytą dubenį. Galima valgyti su įvairiais

padažais arba grietine.
---
NUTRITION THROUGH THE TIME - LIFELONG LEARNING PROGRAMME COMENIUS

3rd trip: LITHUANIA

Recipes / Christmas Eve bisquits - Kūčiukai

Ingredients:

½ kg (1lb) flour

1 cup milk

50g vegetable oil

20g fresh yeast

2 tablespoons poppy seeds

¼ cup sugar

Ingridientai:

1/2kg miltų

1 puodelis pieno

50gr aliejaus

20gr šviežių mielių

2 valg. Šaukštai aguonų

¼ puodelio cukraus

Cooking Instructions:

Blend yeast with sugar and dissolve in warm milk.

Add half of the flour to yeast and mix well.

Dust top of batter with flour, and let rise in warm

spot for 1 hour.

Beat dough, add remaining flour, oil and scalded

poppy seeds. Mix well and knead about 30 minutes

until dough is not sticky.

Let rise in warm spot for 1 hour. Roll dough into

1cm thick rolls and cut into same lengths.

Place dough pieces on floured baking sheet and

bake in preheated oven at 160C until golden

brown.

These biscuits are baked for Christmas Eve

supper, when they are served with poppy seed

milk.

Paruošimas:

Sumaišykite mieles su cukrumi ir ištirpinkite

šiltame piene. Sudėkite pusę miltų į mieles ir gerai

išmaišykite. Apibarstykite tešlą miltais ir leiskite

iškilti palikę šiltoje vietoje 1 valandai.

Gerai išmaišykite tešlą, sudėkite likusius miltus,

supilkite aliejų ir aguonas. Vėl išmaišykite ir

minkykite apie 30 minučių, kol tešla nebebus lipni.

Vėl leiskite iškilti palikę 1 valandai šiltoje vietoje.

Tuomet sukočiokite tešlą į 1cm storio virveles ir

supjaustykite vienodo dydžio kubeliais.

Sudėkite tešlos kubelius ant miltuotos kepimo

skardos ir kepkite įkaitintoje orkaitėje 160°C

temperatūroje, kol jie paruduos.

Kūčiukai yra kepami Kūčių vakarienei ir patiekiami

su aguonpieniu.
---
NUTRITION THROUGH THE TIME - LIFELONG LEARNING PROGRAMME COMENIUS

3rd trip: LITHUANIA

Recipes / Cold beetroot soup - Šaltibarščiai

Ingredients:

Kefir, (buttermilk)500grams

Beetroot, (pickled)100 grams

Water, 250 grams

Cucumbers, 80 grams

Spring onions, 10 grams

Dill, 5 grams

Sour Cream, 40 grams

Eggs, 2,

Boiled potatoes, 400 grams

Salt, a pinch

Cooking Instructions:

1. Grate beets pickled.

2. Boil hard 2 eggs.

3. Pour into a bowl of buttermilk, add salt. Stir.

4.Add the sliced strips beets, chopped

cucumbers,boiled eggs and green onions.

P.S. Serve with sour cream, serve separately

boiled potatoes, flavored with dill.

Ingridientai:

Kefyras 500gr.

Burokėliai100 gr.

Vanduo250 gr.

Agurkai 80 gr.

Svogūnų laiškai 10gr.

Krapai 5 gr.

Grietinė 40gr.

Kiaušiniai2 št.

Virtos bulvės,400gr.

Žiupsnelis druskos.

Paruošimas:

1.Sutarkuokite marinuotus burokėlius.

2.Išvirkite kietai 2 kiaušinius

3.Supilkite į dubenį kefyrą, įdėkite druskos.

Išmaišykite

4.Įdėkite juostelėmis pjaustytus marinuotus

burokėlius,agurkus pjaustytus kubeliais,kiaušinius

ir svogūnų laiškus.

P.S.Patiekti su atskirai virtomis bulvėmis,

paskanintomis krapais.
---
NUTRITION THROUGH THE TIME - LIFELONG LEARNING PROGRAMME COMENIUS

3rd trip: LITHUANIA

Recipes / Bulviu Blynai (Potato Pancakes) - Patiekti su grietine

Ingredients:

1kg potatoes

1/4 cup flour

1 small onion

2 eggs

Salt, pepper

Oil for frying

Cooking Instructions:

Peel and grate potatoes.

Mix in other ingredients.

Heat 1 tablespoon cooking oil in frying pan.

Drop spoonfuls of mixture onto hot skillet.

Brown each side to a golden brown.

Serve with sour cream.

Ingredientai:

1kg bulvių.

¼ puodelio miltų.

1 mažas svogūnas.

2 kiaušiniai.

Druska, pipirai.

Aliejus kepimui.

Paruošimas:

Nulupti ir sutarkuoti bulves.

Sumaišyti su kitais ingredientais.

Keptuvėje įkaitinti vieną šaukštą aliejaus

Šaukštu dėti tešlą į įkaitusią keptuvę.

Kepti kol gražiai apskrus.

Patiekti su grietine.
---
NUTRITION THROUGH THE TIME - LIFELONG LEARNING PROGRAMME COMENIUS

3rd trip: LITHUANIA

Recipes / Poppy seed milk - Aguonų pienas

Ingredients:

1 cup poppy seeds

1l water

½ cup sugar

Cooking Instructions:

Firstly boil the water and pour the poppy seed into a

separate bowl.

Scald the poppy seeds with the boiling water until

they are fully covered. Leave them for 4 hours.

After that, dry the poppy seeds and process them

with a food processor or using a hand mixer.

Pour 1 liter of boiled but chilled water over the

poppy seed mass, add sugar and mix well.

Poppy milk is served chilled with cookies, oat

pudding and Christmas biscuits.

Ingridientai:

1 puodelis aguonų

1l vandens

½ puodelio cukraus

Paruošimas:

Užvirinkite vandenį ir supilkite aguonas į kita

dubenį.

Nuplikykite aguonas su verdančiu vandeniu, tiek,

kad jos pasidengtų visiškai. Palikite 4 valandoms.

Po to, nusausinkite aguonas ir sumalkite jas

maltuve arba mikseriu. Užpilkite litrą nuvirinto

atšaldyto vandenį ant aguonų masės, sudėkite

cukrų ir išmaišykite.

Aguonpienis patiekiamas su sausainiais, avižų

pudingu ir kūčiukais.
---
NUTRITION THROUGH THE TIME - LIFELONG LEARNING PROGRAMME COMENIUS

4rth trip: POLAND

Page 1/3

At last you came on Sunday evening 24 October, bringing a little

rain .

On Monday Teachers had to evaluate the project so far, talk about

out international project website and plan the next mobilities. We

helped our teacher to prepare materials for them.

All the guest-teachers and coordinating teacher went to a

conference room.

Everybody agreed that the project website www.nutrition-time.gr

looked really nice.

The conference looked serious but it went well in a very friendly atmosphere. The teachers expressed their

satisfaction about the Comenius cooperation.

After the planning and evaluation conference the teachers visited

school, had lunch and went to town to look around and stretch their

legs. We hope they liked our High Street – Sienkiewicz Street.

In the meantime the 46 pupils from six partner countries worked

hard. We had to be at school before 9.

We were welcomed warmly by the rest of pupils who were really

friendly.

But the decorations of the school halls, classrooms and windows

were made by the Comenius team. Maybe we will become interior

designers….

We took part in three lessons at school.

The aim was to practice English, to get to know each other better

but also to talk about traditions, historical aspects in different

countries and check mathematical skills across Europe.

We talked about various mathematical problems among others:

proportions, volume, area of planting vegetables: hopefully

organic ones!!!

After lunch at school – we went to town, walked around, visited

geological reserve Kadzielnia and then we all went to a bowling

and snooker club. That was fun.

On Tuesday we started with our presentations. We gathered in the

school gym. At the beginning of our meeting, Mrs Jolanta Zaucha -

Polish headmistress officially welcomed our 46 host-students and

guest-students along with 17 foreign teachers. After that every

country gave their presentations about GMO and its effects on

human health. We worked on them since the beginning of school

year. The best was chosen by the teachers helping the students producing the final product. Everybody

was very nervous, but everything went well.

After a few hours work which were very busy, we found a minute to

take a photo. Then we had free time to rest and eat lunch. The

teachers went to a restaurant to try Polish specialty – pierogi with

different stuffing and have coffee.

For some of us it was a new experience to dance with the sun

shining outside. Polish teachers did their best to cover it. We had to

try at least.
---
NUTRITION THROUGH THE TIME - LIFELONG LEARNING PROGRAMME COMENIUS

4rth trip: POLAND

Page 2/3

The families, usually mothers made the dishes which were

delicious.

What a shame the students weren't too hungry. We preferred to

play games in the gym with music in the background and watch a

football match with our pride and joy of the region Korona team…

which lost !

Wednesday and Wieliczka salt mine is a UNESCO nature

monument. It was impressive and our guests enjoyed the visit

down there.

Even for us, Polish people, who visited this place before, it was again hard to imagine the amazing work

salt miners did to make such wonders in the salt walls. The prehistoric sea – the source of life, water, then

salt - spice which makes food taste tasty and helps preserve food.

The later visit to Oświęcim- Auschwitz German concentration

camp was far from fun. No words needed. We never want to see

hungry, starved, dying people again. What a shame to human race

to allow this to happen. It is better to focus on fruitful, positive

international cooperation.

Everybody agreed. Visiting a place like that makes you think!!!!!!

We adapted a slogan : Let's make Comenius, not war!

Thursday: It was a health walk for both groups: teachers and students!!! We split into two buses, two

groups and went in two directions. We marched obediently a good few kilometers and didn't complain ….

loudly. Everybody dreamed about this.

But, doing a project on nutrition, health, sport we couldn't forget about extra physical exercise to raise your

appetite for Polish traditional, regional dishes which followed later.

The whole group was standing patiently in front of one of the cottages in Tokarnia, astonished by its unique

character, the sun was shining and the people were smiling, hoping for a cup of hot coffee (wishful

thinking), the tour guide was moving forward and HE was in charge here!

After Tokarnia it was time for Chęciny which meant even more physical effort and endless climbing. This

time the female teachers were taking the lead, unaware that it was going to get steeper in a minute.

Nevertheless, everybody agreed that the castle in Chęciny was worth seeing. Only another surprise was

climbing the castle tower but Polish assistant teachers did not tell them about it before, they wouldn't like to

scare our guests.

That is the city centre so that was the end of the trip. The teachers climbed, went sightseeing, were

attacked by a bat in Raj cave, didn't have time for a cup of coffee in Tokarnia, it was nothing but a gentle

stroll with their tour guide.

The trip was over so time for …… freedom, which was good news, especially for women teachers. They

couldn't wait to go shopping. They started from Cepelia – a Polish traditional souvenir shop and then

somebody had to buy tickets for a trip to Cracow ……any volunteers?

In the evening – getting together and getting to know Polish housing situation along with a sip and bite.

Squeeze!!!! It is not so easy to have over 20 guests in 40 m2 – the Polish average per family. ;)

One of the targets of the Comenius program is meeting other Europeans, finding out their ways of life ,

conditions of work and education. We did that 100%.
---
NUTRITION THROUGH THE TIME - LIFELONG LEARNING PROGRAMME COMENIUS

4rth trip: POLAND

Page 3/3

In the other "camp"

Mount Łysica and the Museum of Toys and Play

The students didn't have an easier day than the teachers. We

actually think it was harder.

A lot of walking, climbing, breathing deeply were involved.

We left Kielce at 8 a.m. and went towards Saint Catherine. The

village is situated about 20 km east of Kielce. Due to the location

on the edge of the Świętokrzyski National Park, the village is an

important point of the region. It is also the place where the route to

the highest peak – Łysica (612 metres above the sea level) starts.

At about 9 a.m. we started to march to the top. Entering the forest we saw the source and the chapel of

Saint Franciszek. Local people admit that the water from the source has therapeutic value and an influence

on good sight. The students just had to taste it.

Trekking towards the peak we saw the so called 'gołoborza' – vast areas of rock rubble formed by

weathering of Cambrian quartzite. As Świętokrzyskie Mountains are the oldest in Poland,or even Europe

the students could touch petrified pieces of the sea from 500 million years ago. Besides that they had the

opportunity to see natural fir wood with oak and beech. This type of mixed forest can only be found in this

region of Poland. At about midday we reached the top. During the break students were listening about

mysterious witch sabbaths held on Mount Łysica. None of the Polish girls or women admitted to attending

them. Some of us wonder what their boyfriends and husbands would say!

After an exhausting march we went for a meal and had a rest at

Szklana Huta.

We had another look and taste of regional Polish cuisine.

The last point of the program was the Museum of Toys and Play

and it was an unusual adventure for many of the students. We saw

a huge collection of historical and folk toys, among them dolls from

all over the world, toy-cars, aeroplanes, boats, trains, soldiers,

teddy bears, doll houses, foreign and Polish building blocks and

many others. The students could not only watch but also play and

touch the exhibits. All of them had a great time.

Friday: After the fruitful week (with a tight schedule), our guests could decide how to spend the last day

before their departure:

some of them went for a walk with their hosts. They had a chance to take last pictures of Kielce and buy

some souvenirs for their relatives and friends, some of the foreign pupils decided to visit a magnificent

Paradise Cave. They followed their teachers' suggestions that the cave was well worth seeing,

a majority of the students under the guidance of their teachers went to Cracow. They visited The Main

Marketplace, Mariacki Church, Sukiennice and Wawel as well.

In the afternoon, we proposed making the Halloween pumpkin contest at school and watching a film with

English subtitles called "Sexmission" (one of the funniest Polish comedies). However, our friends from

Comenius project needed some time to pack the suitcases and prepare to a farewell party. The teachers

with both headmistresses had a meeting at Antresola restaurant where some regional dishes of the Polish

cuisine were served.

Although the exchange was coming to an end, everyone enjoyed the party. There were some singing and

dancing too.

In the meanwhile, some of the school children were having fun in Borkow, a small village near Kielce.

They arranged a spontaneous do at the rustic restaurant.

Yes. The greatest fun starts when it's time to say good bye.
---
NUTRITION THROUGH THE TIME - LIFELONG LEARNING PROGRAMME COMENIUS

4rth trip: POLAND

Strona 1/3

Wreszcie, 24 października 2010 w niedzielny wieczór przybyliście

do nas przywożąc ze sobą deszcz.

W poniedziałek nauczyciele musieli dokonać ewaluacji projektu

do tej pory, porozmawiać o naszej międzynarodowej stronie

internetowej projektu oraz zaplanować kolejne wizyty robocze –

mobilności. Pomogliśmy naszej nauczycielce przygotować dla

gości materiały informacyjne i promocyjne. Wszyscy nauczyciele

z zagranicy i nasz koordynator programu poszli do sali

konferencyjnej. Wszyscy zgodzili się, że witryna internetowa

www.nutrition-time.gr wygląda naprawdę imponująco.

Konferencja wyglądała na poważną ale wszystko poszło sprawnie

i w przyjaznej atmosferze. Nauczyciele wyrazili swoje zadowolenie z dotychczasowej współpracy przy

realizacji programu Comenius. Po ewaluacji i planowaniu

nauczyciele zwiedzili szkołę, zjedli lunch i poszli obejrzeć miasto a

przy okazji rozprostować nogi. Mamy nadzieję, że im się podobała

nasza główna ulica Sienkiewicza.

W międzyczasie 46 uczniów z wszystkich sześciu krajów

partnerskich ciężko pracowało. Musieliśmy być w szkole przed 9.

Powitali nas serdecznie pozostali uczniowie szkoły. Ale dekoracje

szkoły, korytarzy, sal zrobiliśmy my – ekipa Comeniusa. Może

kiedyś zostaniemy dekoratorami wnętrz…

Wzięliśmy udział w trzech lekcjach w trzech zmiennych turach.

Celem było ćwiczenie i doskonalenie angielskiego - języka

roboczego projektu, poznawanie się nawzajem ale i dyskusja o

tradycjach, historii w różnych krajach a nawet sprawdzian naszych

matematycznych zdolności z różnych miejsc w Europie.

Omawialiśmy różne problemy matematyczne, m.in. proporcje,

pojemność, powierzchnia obszaru obsiewanych warzyw: mamy

nadzieję, że chodziło o te organiczne, niemodyfikowane

genetycznie!!!

Po szkolnym obiedzie – poszliśmy "na miasto", spacerowaliśmy,

zwiedziliśmy rezerwat geologiczny Kadzielnia a potem wszyscy

wylądowaliśmy w kręgielni i klubie bilardowym. Ale była zabawa.

We wtorek zaczęliśmy dzień od naszych prezentacji. Zebraliśmy

się w sali gimnastycznej. Na początku pani Jolanta Zaucha , nasza

dyrektor szkoły, powitała oficjalnie 46 uczniów, gości i gospodarzy

oraz 17 zagranicznych nauczycieli.

Następnie każdy kraj przedstawił swoje prezentacje nt. żywności

genetycznie modyfikowanej oraz jej wpływu na ludzkie zdrowie.

Przygotowywaliśmy je od samego początku roku szkolnego.

Najlepsze prezentacje zostały wybrane przez nauczycieli pomagających uczniom od strony

merytorycznej i technicznej przygotować ich lokalny produkt końcowy. Każdy uczestnik był

zdenerwowany ale wszystko poszło gładko.

Po kilku pracowitych godzinach, znaleźliśmy chwilkę by zrobić

kilka zdjęć.

Potem, mieliśmy czas na odpoczynek i zjedzenie obiadu.

Nauczyciele poszli na kawę do restauracji i aby skosztować polski

specjał – pierogi z różnymi nadzieniami.

Planowana popołudniu dyskoteka to dla wielu nowe

doświadczenie tańca w pełni słońca polskiej jesieni. Polscy

nauczycieli naprawdę zrobili wszystko by pozasłaniać okna.

Musieliśmy chociaż spróbować. Tak się starali.
---
NUTRITION THROUGH THE TIME - LIFELONG LEARNING PROGRAMME COMENIUS

4rth trip: POLAND

Strona 2/3

Rodziny, zwykle mamuśki przygotowały różne smakowite

potrawy.

Jaka szkoda, że uczniowie nie byli zbyt głodni. Woleliśmy się

zabawiać na sali z muzyką w tle i oglądać mecz, gdzie grała nasza

duma regionu (Czerwono-Krwiści) Korona Kielce, która …

przegrała.

Środa i czeka na nas zabytek wpisany w rejestr UNESCO

kopalnia soli Wieliczka. Na dole było nadzwyczajnie i naszym

gościom podobała się ta wycieczka. Nawet dla nas Polaków,

którzy widzieliśmy ją wcześniej, trudno było sobie wyobrazić

niesamowitą pracę górników, artystów, którzy stworzyli takie cuda w tym trudnym materiale jakim były

solne ściany. Prehistoryczna morze – źródło życia, potem sól – przyprawa nadająca potrawom smak i

wspomagająca konserwowanie żywności.

Następna wizyta to Oświęcim – niemiecki obóz koncentracyjny

Auschwitz – nastrój daleki od zabawy. Niepotrzebne słowa. Nigdy

więcej nie chcemy oglądać głodnych, zagłodzonych,

umęczonych, umierających ludzi. Jaka hańba dla ludzkiej rasy, że

pozwoliła na coś takiego. Lepiej koncentrować się na owocnej,

pozytywnej współpracy międzynarodowej. Wszyscy zgodzili się z

tym. Zwiedzanie takiego miejsca, sprawia, że człowiek zaczyna

myśleć !!!!!!

Dostosowaliśmy slogan : Róbmy Comeniusa a nie wojny!

Czwartek: Ścieżka zdrowia dla obu grup: nauczycieli i uczniów!!! Rozdzieleni na dwa autokary, dwie grupy

pojechaliśmy bądź poszliśmy w dwie różne strony świata. Maszerowaliśmy posłusznie dobrych kilka

kilometrów i nie narzekaliśmy … głośno. Wszyscy o tym marzyliśmy. Cóż, realizując wieloaspektowy

projekt o żywieniu, zdrowiu, sporcie nie mogliśmy zapomnieć o dodatkowych ćwiczeniach fizycznych

mających na celu wzmożenie apetytu na polskie, tradycyjne, regionalne potrawy, które miały się pojawić u

celu podróży, dużo później.

Cała grupa cierpliwie stała przed jedną z chatek w Tokarni, zachwycona jej niepowtarzalnym charakterem,

słońce świeciło , a ludzie się uśmiechali mając nadzieję na filiżankę gorącej kawy (pobożne życzenie),

przewodnik gnał do przodu, bo ON tu dowodził!

Po Tokarni nadszedł czas na Chęciny co oznaczało kolejny wysiłek fizyczny i niekończącą się wspinaczkę.

Tym razem grupie przewodziły panie, nieświadome, że niedługo zacznie się robić stromo. Nie mniej

jednak wszyscy podzielali pogląd, że zamek w Chęcinach jest wart uwagi. Kolejnym zaskoczeniem może

już tylko być wspinaczka na zamkową wieżę ale im o tym wcześniej nie mówiliśmy. Nie chceliśmy chyba

przestraszyć naszych gości.

Centrum miasta, co oznacza koniec wycieczki. Wspinaliśmy się, zwiedzaliśmy, byliśmy atakowani przez

nietoperza w Jaskini Raj, nie mieliśmy czasu na kawę w Tokarni, nic tylko grzeczny spacer za

przewodnikiem. Koniec wycieczki, więc czas na ………….wolność, co szczególnie ucieszyło panie

nauczycielki, które już nie mogły doczekać się zakupów. Zaczęli od Cepelii – polskiego tradycyjnego

sklepu z pamiątkami- a potem ktoś musiał jeszcze kupić bilety na wycieczkę do Krakowa……. Ochotnicy?

Jednym z celów program Comenius "Uczenie się przez całe życie" jest poznanie innych Europejczyków,

ich stylu życia, warunków mieszkaniowych, pracy i nauki. To zadanie wypełniliśmy w 100%.
---
NUTRITION THROUGH THE TIME - LIFELONG LEARNING PROGRAMME COMENIUS

4rth trip: POLAND

Strona 3/3

W drugim obozie:

Góra Łysica i Muzeum Gier i Zabawek

Uczniowie wcale nie mieli łatwiejszego dnia od nauczycieli. W

zasadzie to sądzimy, że mieliśmy trudniej. Dużo chodzenia,

wspinania się, głębokiego oddychania.

Opuściliśmy Kielce o 8:00 godzinie i udaliśmy się w kierunku

Świętej Katarzyny. Położona na skraju Świętokrzyskiego Parku

Narodowego miejscowość jest ważnym punktem regionu. Jest to

również baza wypadowa na najwyższy szczyt – Łysicę (612m

n.p.m.). Około godziny 9:00 rozpoczęliśmy wędrówkę . Po wejściu

do lasu naszym oczom ukazało się źródło oraz kapliczka Świętego Franciszka. Mieszkańcy twierdzą, że

woda ze źródełka ma niezwykłe właściwości i szczególnie dobrze wpływa na wzrok. Uczniowie sami

mogli się o tym przekonać próbując jej. Wędrując w kierunku szczytu mieliśmy okazje podziwiać gołoborza

– rumowiska skalne, powstałe w wyniku wietrzenia kwarcytów kambryjskich. Jako, że Góry

Świętokrzyskie są najstarszymi w Polsce, uczniowie mogli dotknąć skamieliny sprzed ponad 500 milionów

lat. Ponadto mieli okazję zobaczyć naturalny las jodłowy z domieszką dębów i buków, który

charakterystyczny jest jedynie dla tego regionu Polski. Około południa dotarliśmy na szczyt. W trakcie

przerwy uczniowie słuchali opowieści o tajemniczych zlotach czarownic, które odbywały się na Łysicy.

Żadna z polskich dziewcząt czy kobiet nie przyznała się do uczęszczania na nich. Ciekawe, co mieliby do

powiedzenia ich chłopacy lub mężowie!

Po wyczerpującej wędrówce udaliśmy się na posiłek i odpoczynek

do Szklanej Huty. I kolejna okazja do kontaktu ze smacznymi

regionalnymi potrawami. Ostatnim punktem programu była wizyta

w Muzeum Gry i Zabawy. Uczniowie podziwiali liczną kolekcję

historycznych i folklorystycznych zabawek, wśród których

znalazły się między innymi pochodzące z całego świata lalki,

samochody, samoloty, łodzie, pociągi, żołnierzyki, pluszowe

misie, domki dla lalek wraz z wyposażeniem, klocki oraz wiele

innych zabawek. Uczniowie mogli nie tylko oglądać eksponaty, ale

również dotykać je i bawić się nimi. Wszyscy mieli ubaw.

Piątek: Po pełnym wrażeń tygodniu (z napiętym grafikiem), w ostatni dzień przed wyjazdem, nasi Goście

mogli sami zdecydować, jak go spędzić:

niektórzy wykorzystali ten czas na ostatni spacer po Kielcach. Mieli okazję na ostatnie zdjęcia z rodzinami

goszczącymi oraz zakupy pamiątek dla krewnych i znajomych,

część zagranicznej młodzieży (zafascynowana relacjami swoich nauczycieli) postanowiła zwiedzić

pobliską Jaskinię Raj,

duża grupa uczniów pod opieką nauczycieli, zdecydowała się na wycieczkę do Krakowa. Udali się na

Rynek, zwiedzili Kościół Mariacki, Sukiennice a także Wawel.

Po południu, proponowaliśmy zorganizowanie w szkole konkursu na halloween'ową dynię oraz projekcję

kultowej polskiej komedii z napisami angielskimi, zatytułowanej "Sexmisja". Nasi przyjaciele z programu

Comenius potrzebowali jednak trochę czasu na pakowanie i przygotowanie do przyjęcia pożegnalnego.

Nauczyciele wraz z Dyrekcją Szkoły bawili się w restauracji "Antresola", serwującej dania kuchni

regionalnej. Mimo zbliżającego się końca wizyty, humory dopisywały. Były wspólne śpiewy i tańce.

Młodzież żegnała się na spontanicznie zorganizowanym wieczorku w rustykalnej restauracji w Borkowie

koło Kielc.

Tak, najlepsza zabawa zaczyna się wtedy, gdy trzeba się żegnać.
---
Recipes / Potato dumplings - Kopytka

NUTRITION THROUGH THE TIME - LIFELONG LEARNING PROGRAMME COMENIUS

4rth trip: POLAND

Ingredients:

1 kg potatoes

1 egg

Two cups of all purpose flour

1 onion

a slice of bacon

a little oil

salt

Cooking instructions:

Peel potatoes and boil in salted water.

Drain, let them cool then pass through ricer or

mash until there are no lumps.

In a large mixing bowl, combine potatoes, 1.5 cups

flour, add 1 egg.

Wash your hands well.

Mix by hand until mixture is a soft doughy

consistency. Add more flour if necessary.

Knead on a floured surface until smooth and

pliable. Take a small chuck of dough and roll into a

snake about 1 inch thick. Flatten it a little from top

with your knife or hand.

Cut the rolled dough into 1/2 inch pieces and place

into boiling water with salt.

Allow pieces to float to top and boil for 3-5 minutes.

Remove from water and drain.

Serve with fried bacon pieces, onion topping,

gravy, meat casserole, butter or even with sugar.

Składniki:

1 kg ziemniaków

1 jajko

1,5 szklanki mąki pszennej

cebulka

plasterek boczku

2 łyżki oleju

sól

Sposób przyrządzania:

Obierz ziemniaki i ugotuj w osolonej wodzie.

Odcedź, ochłódź, zimne ziemniaki dokładnie

przepuść przez praskę lub ugnieć je aby nie było

dużych grudek.

W dużej misce połącz ziemniaki z mąką, dodaj

jajko.

Umyj dokładnie ręce.

Ugniataj ciasto aż będzie odchodzić od ręki.

Podsyp mąki jeśli będzie się zbyt kleić.

Na podsypanej mąką powierzchni uformuj wałek o

średnicy ok.2,5 cm z części ciasta i spłaszcz go

trochę od góry nożem lub ręką.

Pokrój w paski 1-1,5 cm i wrzuć do osolonej

gotującej się wody.

Odcedź kopytka po 3-5 minutach od wypłynięcia

na powierzchnię.

Serwuj z pokrojoną usmażoną cebulką i boczkiem

lub z mięsnym sosem, masłem lub na słodko.
---
Recipes / Red borsch - Barszcz czerwony

NUTRITION THROUGH THE TIME - LIFELONG LEARNING PROGRAMME COMENIUS

4rth trip: POLAND

Ingredients:

3 - 4 medium sized beet roots

2 stock bars (e.g. Knorr)

vegetables: 1 carrot, 1 parsley, ½ small celeriac,

1 onion

3 bay leaves,3 grains of allspice and pepper

three pieces of garlic

one spoon of dried marjoram

two spoons of lemon juice

salt, pepper

Cooking Instructions:

Wash and peel the vegetables.

Put them into a pot with Knorr stock bars, bay

leaves, grains of allspice and pepper, pieces of

garlic and marjoram.

Add the 3 peeled and sliced beet roots leaving one

for later. Boil and then cook over low heat for about

30 minutes.

Spice to taste: salt, pepper and lemon juice. Boil

briefly.

Remove from heat, let it cool a little and add 1

grated raw beet root to obtain a deep, red color.

Before serving you must heat but not boil.

Pour through a sieve.

Serve in bowls with ravioli or with croquettes or

patties.

Składniki:

3 - 4 średnie czerwone buraki

2 kostki rosołowe

pęczek włoszczyzny (marchewka, pietruszka,

seler, cebulka)

po 3 liście laurowe, ziarna ziela angielskiego i

pieprzu

3 ząbki czosnku

1 łyżka suszonego majeranku

2 łyżki soku z cytryny

sól, pieprz

Sposób przyrządzania:

Warzywa na bulion umyć, obrać.

Wrzucić do garnka wraz z kostkami rosołowymi,

liśćmi laurowymi, ziarnami ziela i pieprzu oraz

ząbkami czosnku i majerankiem.

Dodać 3 obrane i pokrojone na plastry buraki,

jednego zostawić na później gotować na małym

ogniu pod przykryciem ok. 30 minut.

Doprawić do smaku solą i pieprzem oraz sokiem z

cytryny.

Zdjąć z ognia, nieco wystudzić i dodać startego na

tarce surowego buraka w celu uzyskania

głębokiego, czerwonego koloru.

Przed podaniem podgrzać, ale już nie gotować.

Nalewać przez sito.

Podawać na głębokich talerzach z uszkami lub w

bulionówkach z krokietami lub pasztecikami.
---
Recipes / Lentils - Żurek

NUTRITION THROUGH THE TIME - LIFELONG LEARNING PROGRAMME COMENIUS

4rth trip: POLAND

Ingredients:

2 litres of water,

sour flour liquid – leaven,

100 – 200 ml of sour cream or natural yoghurt

1 chicken stock cube (e.g.Knorr),

200 – 300 g of sausage,

a few cloves of garlic,

a few dried mushrooms

1 small onion,

1 spoon of flour

5 hard boiled eggs

Spices: salt, pepper, marjoram

Cooking Instructions:

Slice the sausage into 2-3 cm pieces or cut into

cubes.

Crush dried mushrooms or chop them dipped

earlier in water and put them into boiling water.

Chop the onion and stew in oil.

Peel the cloves of garlic and crush them.

Throw the ingredients into the water with chicken

or beef stock cube or two.

Cook everything for about15- 20 min.

Add sour flour liquid, bring to boil.

Spice with salt, pepper and marjoram.

Add a sour cream mixed with a flour .

Serve with hard boiled eggs cut into halves or

quarters.

Bon appétit!

Składniki:

2 litry wody,

płynny zakwas z mąki (żurek),

100-200 ml kwaśnej śmietany lub jogurtu

1 kostka rosołowa,

włoszczyzna według uznania

200-300 g kiełbasy,

kilka ząbków czosnku,

kilka suszonych grzybków i warzyw dla smaku

1 mała cebula,

1 łyżka mąki

5 jaj ugotowanych na twardo

Przyprawy: sól, pieprz, majeranek

Sposób przyrządzania:

Kiełbasę pokroić na 2-3 cm kawałki lub w kostkę.

Do gotującej wody wrzucić pokruszone lub

namoczone i pokrojone w paski suszone grzybki.

Cebulę posiekać i poddusić na oleju.

Obrać ząbki czosnku, zmiażdżyć.

Wrzucić składniki do wody wraz z kostką rosołową

.

Gotować około 15-20 minut.

Dodać zakwas, doprawić mąką, zagotować.

Doprawić solą, pieprzem,majerankiem

Dodać śmietanę z łyżką mąki

Podawać z jajami na twardo, pokrojonymi na

połówki lub ćwiartki.

Smacznego
---
NUTRITION THROUGH THE TIME - LIFELONG LEARNING PROGRAMME COMENIUS

4rth trip: POLAND

Recipes / Vegetable salad - Sałatka warzywna

Ingredients:

4 carrots,

2 parsley-roots,

2 potatoes,

½ celeriac

½ leek or 1 onion

4 hard boiled eggs,

an apple,

3 pickled cucumbers,

a tin of green peas,

½ glass of mayonnaise

salt for boiling

Cooking Instructions:

Peel and rinse carrots, parsley-roots, celeriac and

potatoes.

Next boil them in salted water for 20-25 minutes (al

dente).

When the vegetables are cold, cut them into cubes

of ½ cm by ½ cm and put all the ingredients in a

salad bowl

Rinse and chop the leek or onion.

Chop hard-boiled eggs.

Rinse and cut into dice apple and cucumbers.

Add drained tinned green peas.

At the end mix everything with mayonnaise and

serve with bread.

Składniki:

4 marchewki,

2 pietruszki,

2 ziemniaki,

½ selera

½ pora lub 1 cebula

4 jajka ugotowane na twardo,

jabłko,

3 ogórki kwaszone,

puszka groszku konserwowego,

½ szklanki majonezu,

sól do gotowania

Sposób przyrządzania:

Marchewki, pietruszki, seler i ziemniaki obrać,

opłukać i gotować przez 20-25 minut w osolonej

wodzie.

Przygotować dużą miskę lub salaterkę na składniki

Po ostudzeniu warzyw pokroić je w małą kostkę

a w międzyczasie

Por opłukać i drobno posiekać.

Ugotowane na twardo jajka posiekać.

Jabłko i ogórki umyć, pokroić w kostkę.

Dodać groszek konserwowy.

Na koniec wszystko wymieszać z majonezem,

podawać z chlebem.
---
NUTRITION THROUGH THE TIME - LIFELONG LEARNING PROGRAMME COMENIUS

4rth trip: POLAND

Recipes / "As you wish" HOME COOKIES - "Wedle życzenia" CIASTECZKA DOMOWE

Ingredients:

115 g of softened butter

½ cup (85g) of brown sugar

2 tbsp of golden syrup

1 cup (175g) of self raising flour

optional for flavouring: coconut flakes or almond

flakes or crushed nuts or raisins or chocolate flakes

or teaspoon of grated lemon peel etc

Cooking Instructions:

1. Preheat oven to 180°C.

2. Mix the butter and sugar with an electric mixer or

blender, add syrup and wait until the mixture is

fluffy.

3. Put in the flour and mix until texture allows you

to roll the dough into balls.

4. Add the flavouring you wish for and mix again.

5. Place rolled cookies on a baking When they are

cool, sprinkle with icing sugar.

Składniki:

115 g miękkiego masła

½ szklanki (85g) brązowego cukru

2 łyżki "Złotego syropu"

1 szklanka (175 g) samo-rosnącej mąki

opcjonalnie do smaku: wiórki kokosowe lub płatki

migdałów lub kruszone orzechy, rodzynki, płatki

czekoladowe lub łyżeczka startej skórki cytryny

itp.

Przygotowanie:

1. Rozgrzej piekarnik do 180 ° C.

2. Masło i cukier zmiksuj mikserem, dodaj syrop i

czekaj aż mikstura będzie puszysta.

3. Dodaj mąkę i miksuj stanu, kiedy ciasto

będziesz mógł zawijać w kulki.

4.Dodaj do smaku wybrane dodatki i wymieszaj.

5. Ułóż kuleczkowe ciastka na blaszę i piecz w

piekarniku przez 15 minut.
---
NUTRITION THROUGH THE TIME - LIFELONG LEARNING PROGRAMME COMENIUS

5th trip: ITALY

The Comenius project 2009/2011 has proved a great experience

in our school under several aspects, even because it has been our

first Comenius opportunity!

Above all, it has favoured innovations and a real constructive effort

mainly for what concerns

daily teaching: thanks to the activation of CLIL strategies which, for

once, have brought to real achievements, not just to experimental

forms of interdisciplinary work. The slides containing the study

topics for each mobility have been elaborated thanks to a synergy

between teachers of different subjects: science, religion, history,

computing science and English together with the students

involved in turn into the different occasions of mobility or even with

the whole class interaction with foreign teachers: working in team

around same topics with foreign colleagues has provided a useful

overview upon different perspectives, educational systems and

operating teaching strategies.

Students' motivation and involvement, especially in using English

not just as a mere school subject, though as a real means to

communicate between hosts and guests and, what is more, to

deal with different habits and learn about new realities and

cultures use of technology and improved skills in multimedia

actions taken to arrange every mobility at the best, with

enthusiasm and a true feeling of cooperation and participation

tourism and sightseeing:the students and the teachers involved in

any mobility have lived great moments on visiting lot of interesting

and fascinating places. They reported their emotions, memories,

criticism about cities, towns and sites they had the opportunity to

see. They won't forget actions taken in order to welcome foreign partners when being their hosts in our

Country.

That has really proved the highlight of the whole experience, with the involvement of several components

and resources: students, teachers, families, scholastic institution, social community, territory, massmedia.

Each contributed almost spontaneously and, above all, no profit, to the success of the event with

enthusiasm and a high degree of awareness and appreciation for the cultural, anthropological, social and

educational values brought in by this Comenius experience, despite long tiring hours of work required by

the organization!

Impact and feedback: in the past, our territory and our students' families had shown rather unwilling with

respect to cultural exchanges, especially in the presence of reception activities.

Now we can say the Comenius project 2009/2011

Nutrition through the time contributed to a concrete reduction of cultural barriers by favoring the share of

international cooperation and the feeling Europe can get closer through integration and friendship

Latina, 28th aprile

In faith

Italian team
---
Recipes / Spaghetti carbonara

NUTRITION THROUGH THE TIME - LIFELONG LEARNING PROGRAMME COMENIUS

5th trip: ITALY

Ingredients:

Guanciale (not smoked bacon)

2 Eggs

Extra Olive Oil 60 gr

Butter 60 gr

1 White large Onion

White Dry Wine 240ml

Black Pepper in Grains (a bit)

Grated Parmesan 80 gr

Salt

Spaghetti 500 gr

Cooking Instructions:

Peel a large onion, wash and chop finely and put it

in a large saute pan with olive oil and butter A few

minutes later add the bacon, diced, and cook until

the onion is golden and the fat, melting in part, will

become transparent.

Now sprinkle the mixture with white wine and

continue cooking until the latter has not been fully

absorbed.

In a large bowl, beat the eggs and add a grating of

pepper and a pinch of salt, mixing well all the

ingredients.

Finally put to cook the spaghetti in plenty of boiling

salted water and drain for 2 minutes before the time

needed to complete its cooking in the pan; then

pour it in the sauce pan containing the fried bacon

and continue cooking for two minutes more, adding

at the same time some of the water you cooked

pasta in, in the quantity sufficient to obtain a well

mixed.

Transfer the spaghetti to the bowl containing the

beaten eggs, mix them immediately and quickly, to

allow the eggs to cook them evenly and finish the

preparation with the addition of Parmesan cheese

and some other pasta cooking water, in the amount

necessary to make creamy and tasty the sauce on

spaghetti.

Ingredienti:

Guanciale g 160

Uova n. 2

Olio Extra Vergine di Oliva g 60

Burro g 60

Cipolla Bianca grande n.1

Vino Bianco Secco ml 240

Pepe Nero in grani un pizzico

Parmigiano grattugiato g 80

Sale

Spaghetti g 500

Preparazione:

Sbucciate una grossa Cipolla, lavatela, tritatela

finemente e mettetela a soffriggere in un'ampia padella,

insieme all'Olio e al Burro. A pochi minuti di distanza

aggiungete il Guanciale tagliato a dadini, e proseguite la

cottura fino a quando la Cipolla si sarà dorata e il grasso

del Guanciale, sciogliendosi in parte, sarà divenuto

trasparente. A questo punto irrorate il composto col Vino

Bianco, e proseguite la cottura fino a quando

quest'ultimo non sarà stato completamente assorbito.

In una terrina capiente sbattete le Uova e unitevi una

grattugiata di Pepe e un pizzico di Sale, ben

amalgamando tra loro gli ingredienti.

Mettete infine a cuocere gli Spaghetti in abbondante

Acqua bollente e salata e scolateli 2 minuti prima del

tempo occorrente alla loro completa cottura: versateli

quindi nella padella contenente il soffritto a base di

Guanciale e proseguite la cottura per i successivi 2

minuti, aggiungendo contemporaneamente *l'Acqua di

cottura della Pasta, nella quantità da Voi ritenuta

sufficiente, al fine di ottenere un composto ben

amalgamato! Trasferite gli Spaghetti nella terrina

contenente le Uova sbattute, amalgamateli

immediatamente e velocemente, per consentire alle

Uova stesse di cuocersi in modo omogeneo, e

terminate la preparazione con l'aggiunta del

Parmigiano grattugiato e di altra Acqua di cottura della

Pasta, nella quantità necessaria a rendere cremoso e

succulento il relativo.
---
Recipes / Spaghetti vongole

NUTRITION THROUGH THE TIME - LIFELONG LEARNING PROGRAMME COMENIUS

5th trip: ITALY

Ingredients:

1 kg clams

80 gr olive oil

500 gr spaghetti

(small tomatoes)

Salt, pepper

Garlic

Parsley

White, dry wine

Cooking Instructions:

Put the clams in a pan, after leaving them in

abundant salted water for 3 hours at least and

washing them.

Let the shells open at high heat, meantime fry a

garlic cove in abundant olive oil and sprinkle it with

the white wine. (if you prefer, you can add some

small tomatoes and let them cook for five minutes

about)

Add the clams and cook them with a pinch of salt

and some parsley. Meantime, make some water

boil, after add some salts and spaghetti. Put them

to cook; once it's ready, dry it and add it to the

sauce pan; mix with the clams on the stove, the

pepper and some more fresh parsley, before

serving it.

Ingredienti:

1 kg vongole

Olio di oliva 80 gr

500 gr spaghetti

(pomodorini)

sale, pepe

aglio

prezzemolo

vino bianco secco

Preparazione:

Mettere le vongole in un tegame, dopo averle

lasciate in acqua salata per almeno tre ore e

risciacquate.

Fare aprire i gusci a fiamma alta; nel frattempo,

rosolare uno spicchio d'aglio in abbondante olio

d'oliva e irrorare con un po' di vino bianco.( se lo

preferite, aggiungete qualche pomodorino,

facendolo tirare per almeno cinque minuti)

Aggiungere le vongole e farle saltare, con un

pizzico di sale, e abbondante prezzemolo.

Nel frattempo, far bollire l'acqua per la cottura della

pasta, salarla solo dopo l'ebollizione e mettere gli

spaghetti a cottura. Una volta cotta, aggiungere la

pasta nel tegame delle vongole e mescolare

insieme per un paio di minuti sulla fiamma.

Cospargere di pepe e prezzemolo fresco, poi

servire.
---
Recipes / Venison Salad with peppers

NUTRITION THROUGH THE TIME - LIFELONG LEARNING PROGRAMME COMENIUS

5th trip: ITALY

Ingredients:

Red wine vinegar, 3 Cl

Water, 2 Tbsp

pickled cucumbers, 2

small onion, 2

Controgirello venison cooked, 400 g

Olive Oil, 8 Cl

White pepper

Yellow Chily

Red Chily

Green Chily

Salt

Cooking Instructions:

Slice the meat very cold, in thin slices, then wrap

each of them forming as many rolls.

Roast the peppers in the oven, peel, remove seeds

and white internal membranes and reduce the

flesh into small cubes.

Peel onions and slice thinly.

Halve the cucumber, remove the core with the

seeds, then tear into cubes too.

Mix in a bowl red vinegar, water, salt and freshly

ground pepper, then add the oil and emulsify with

care in order to obtain a homogeneous sauce.

Place the rolls of meat and vegetables into a bowl

and pour over the vinaigrette.

Ingredienti:

Aceto di vino rosso, 3 Cl

Acqua, 2 Cucchiai

Cetrioli sott'aceto, 2

Cipolle piccole, 2

Controgirello di cervo già cotto, 400 g

Olio d'oliva, 8 Cl

Pepe bianco

Peperone giallo, 1

Peperone rosso,1

Peperone verde,1

Sale

Preparazione:

Tagliate la carne, ben fredda, a fettine sottili, quindi

avvolgete ciascuna di esse formando altrettanti

rotolini.

Abbrustolite i peperoni nel forno, pelateli, privateli

dei semi e delle membrane bianche interne e

riducete la polpa a dadini minuti.

Sbucciate le cipolle e affettatele sottilmente.

Tagliate a metà i cetrioli, eliminate la parte centrale

coi semi, quindi riducete anch'essi a dadini.

Mescolate in una ciotola l'aceto rosso, l'acqua, il

sale necessario e una macinata di pepe, infine

versate l'olio ed emulsionate con cura, in modo da

ottenere una salsetta omogenea.

Mettete i rotolini di carne e le verdure in

un'insalatiera e versatevi sopra la vinaigrette.
---
Recipes / Fricassea Chicken

NUTRITION THROUGH THE TIME - LIFELONG LEARNING PROGRAMME COMENIUS

5th trip: ITALY

Ingredients:

Broth, 50 Cl

Carrot, 1

small onion, 1

Flour, 1 tablespoon

Lemon, 1 / 2

extra-virgin olive oil,

4 tablespoons

Pepper

Chicken of 1200 g, 1

Parsley, 1 bunch

Celery, 1

Salt

Egg yolks, 2

Cooking Instructions:

Clean the chicken and pass the flame to eliminate

any remaining hair, wash, dry and cut into pieces

not too large. Wash and scrape the carrot, celery,

parsley, washed and trimmed, Peel the onion and

divide it in half.

Put the oil on fire in a crock pot, heat it and pour in

the flour, stirring with a wooden spoon, so that no

lumps are formed and when the flour is a bit

'toasted, add the broth little by little, taking to a boil,

and put in a casserole carrot, celery, parsley and

onion.

Cook for 7-8 minutes and put the chicken pieces,

then season with salt and pepper and simmer for

30 minutes. Whisk in a bowl the egg yolks with the

juice of half a lemon.

When the chicken is cooked, remove from heat,

pick up herbs with a fork and delete them. Then,

stirring quickly, pour over chicken egg yolks, which

should not cook but form a cream smooth and

dense. Now accommodate the pieces of chicken

on a serving plate previously heated, pour over the

gravy and serve hot.

Ingredienti:

Brodo, 50 Cl

1 Carota,

1 Cipolla piccola,

Farina,

1 Cucchiaio,

Olio d'oliva extra-vergine, 4 Cucchiai

Pepe

Pollo di 1.200 g,

1 ciuffo di Prezzemolo,

sedano

Sale

2 Tuorli d'uovo

Preparazione:

Pulite il pollo e passatelo sulla fiamma per

eliminare l'eventuale peluria rimasta; lavatelo,

asciugatelo e tagliatelo a pezzi non troppo grossi.

Lavate e raschiate la carota e la costola di sedano;

lavate e mondate il prezzemolo; Sbucciate la

cipolla e dividetela a metà. Mettete l'olio sul fuoco

in una casseruola di coccio, fatelo riscaldare e

versatevi a pioggia la farina, mescolando con un

cucchiaio di legno, affinché non si formino grumi;

quando la farina sarà un po' tostata, unite a poco a

poco il brodo, portandolo a bollore, e mettete nella

casseruola la carota, il sedano, il prezzemolo e la

cipolla. Fate cuocere per 7-8 minuti e ponetevi i

pezzi di pollo; poi regolate di sale e di pepe e

lasciate cuocere per 30 minuti circa.

Sbattete in una ciotola i tuorli con il succo di mezzo

limone. Quando il pollo risulterà cotto, togliete la

casseruola dal fuoco, raccogliete con una

forchetta gli odori ed eliminateli.

Quindi, mescolando velocemente, versate sul

pollo i tuorli, che non dovranno cuocere ma

formare una crema liscia e densa. Accomodate

subito i pezzi di pollo su un piatto da portata

precedentemente riscaldato, versatevi sopra il

fondo di cottura e servite in tavola ben caldo.
---
Recipes / Sweet peaches

NUTRITION THROUGH THE TIME - LIFELONG LEARNING PROGRAMME COMENIUS

5th trip: ITALY

Ingredients:

4 eggs

300 gr sugar

170 gr butter

1 bag powder

1 grated lemon

Flour in amount necessary to get a smooth dough

Filling:

80 gr bitter cocoa

400 gr sugar

Liquor (Marsala)

Mixture drained from emptied peaches

Red liquor (Alchermas)

Sugar

Cooking Instructions:

Prepare the dough ingredients, then make balls of

dough (not too large, because they grow in the

oven!), place them on a baking tray and bake for

about 20 '/ 30' (depending on oven).

Once cooked, let cool and empty them with a knife,

being careful not to break them.

The mixture must be reduced to a powder with a

food processor.

Filling:

Add the pasta peaches with sugar, cocoa, Marsala,

mix well and fill the peaches with this mixture, unite

the two halves for each peach, pass in Alchernes

and then in sugar.

Ingredienti:

4 uova

300 gr di zucchero

170 gr di burro

1 bustina lievito

1 limone grattugiato

Farina:q.b. per ottenere un impasto maneggevole

Ripieno:

80 gr cacao amaro

400 gr di zucchero

Liquore (Marsala)

Pasta svuotata dalle pesche

Liquore rosso (Alchermas)

Zucchero

Preparazione:

Preparare l'impasto degli ingredienti, poi fare delle

palline di pasta (non troppo grandi, perché in forno

crescono!), adagiarle sulla placca del forno e

cuocere per circa 20'/30' (dipende dal forno).

Una volta cotte, lasciarle raffreddare e svuotarle

con un coltello, facendo molta attenzione a non

farle rompere.

La pasta svuotata dalle pesche va polverizzata con

un tritatutto.

Ripieno:

Unire la pasta delle pesche a zucchero, cacao,

Marsala; amalgamare bene e riempire le pesche

con questo impasto, unire le due metà per

ciascuna pesca, passarle nell'Alchernes e poi

nello zucchero.
---
NUTRITION THROUGH THE TIME - LIFELONG LEARNING PROGRAMME COMENIUS

6th trip: GREECE

The aim of our institution to cοordinate the partnership was to promote the

European dimension in the field of Education running a two year project that

could offer opportunities to link education with students' real life

experiences. The last mobility of the COMENIUS European programme

took place in Patra (2-6 May 2011), where the completed activities of all six

mobilities were evaluated and the results were discussed.

During their stay in Patra the representative teams of 20 teachers and 21

students from Spain, Cyprus, Lithuania, Poland and Italy visited the Town

Hall and they were welcome by the Vice Mayor of the city of Patra, who is in

charge of educational affairs. He praised the participation of the teachers

and students in European School programmes and he stressed that they all benefit from the exchange of views of

people who have different culture.

Afterwards, the visitors were guided by Greek students to places of

historical and cultural interest around Patra. Namely, they visited the

historical church of Saint Andrew, King George I Square with the impressive

and elaborate buildings, the Roman Theatre, the Venetian Castle and Psila

Alonia Square. Moreover, they visited the historical city of Kalavrita, where

they were welcome by the Mayor of the city, who set out the history of the

region during the struggle of the Greeks for independence in 1821. They

also had the opportunity to visit the archaeological site of ancient Olympia

and the New Archaeological Museum of the site.

In addition, both teachers and students from the participating countries

conducted Food Quality Control laboratory experiments in the brand-new

fully equipped school laboratories of Physics, Chemistry and Biology. They

also attended lessons and relevant discussions in classes. On the last day of

the stay they visited the House of Science of Arsakeia Schools of Patra

where they explored the world of Science and Culture. They took part in

interactive games based on scientific phenomena and concepts of

Mathematics, Physics and Computer Science monitored by the scientists of

the centre. Each working team of students had to draw conclusions after

their observations. The results of the activities were discussed at a meeting

of students guided the scientific staff of the House of Science. What is more, all the participants tasted traditional

food and recipes from all the countries. The mobility was strongly supported by the Greek hosting families.

All the participants stressed that the aim and the concrete objectives of the programme were achieved and their

expectations were fulfilled. The project raised awareness of the importance of a healthy diet in our life. The young

students were engaged in experimental activities which helped them learn through effective behavioral practices.

They learned that cuisine is a crosscultural factor that brings people together and helps develop economic,

commercial and cultural relations.

The Headmaster Mr. Contantinos Constantinidis, the Coordinator of the

programme Dr. Dimitris Vlahodimitropoulos, the Deputy Headmaster Ms

Mantzika Evangelia, the teacher of German Ms Terzi Helen, the Teachers

Board and the students of Arsakeio Junior Secondary School would like to

thank all the participating institutions – the head teachers, the

coordinators, the teaching staff, the students and their families – for their

successful participation and invaluable contribution to the implementation

of the project.
---
NUTRITION THROUGH THE TIME - LIFELONG LEARNING PROGRAMME COMENIUS

6th trip: GREECE

Η προώθηση τής Ευρωπαϊκής διάστασης στην εκπαίδευση ήταν ο σκοπός

τού διετούς Ευρωπαϊκού Προγράμματος COMENIUS, το οποίο έδωσε την

ευκαιρία στους μαθητές να αποκτήσουν γνώσεις μέσα από βιωματικές

δραστηριότητες.

Η τελευταία συνάντηση των εταιρικών σχολείων έγινε στην Πάτρα (2-6

Μαΐου 2011), όπου όλες οι εργασίες τού προγράμματος αξιολογήθηκαν και

συζητήθηκαν τα αποτελέσματα. Κατά τη διάρκεια τής παραμονής τους στην

Πάτρα, οι αντιπροσωπείες των εταιρικών σχολείων (καθηγητές και μαθητές)

από Ισπανία, Κύπρο, Λιθουανία, Πολωνία και Ιταλία, επισκέφθηκαν το

Δημαρχείο Πατρών κι έγιναν δεκτοί από τον Αντιδήμαρχο Παιδείας. Αφού

τους καλοσώρισε εξήρε τη συμμετοχή των εκπαιδευτικών και μαθητών στα Ευρωπαϊκά Προγράμματα τονίζοντας

το όφελος όλων με την ανταλλαγή απόψεων μεταξύ μαθητών διαφορετικής κουλτούρας. Στη συνέχεια οι μαθητές

ξεναγήθηκαν από τους Έλληνες συμμαθητές τους σε αξιοθέατα τής πόλης,

όπως στον ιστορικό Ναό του Αγ. Ανδρέα, στην Πλατεία Βασιλέως Γεωργίου

Α΄ με τα περικαλλή κτήρια, στο Ρωμαϊκό Θέατρο, στο Ενετικό Κάστρο και

στην πλατεία Ψηλαλώνια.

Επισκέφθηκαν επίσης την ιστορική Μαρτυρική Πόλη των Καλαβρύτων,

όπου τους δέχθηκε ο Δήμαρχος Καλαβρύτων όπου τους ανέλυσε την

ιστορική πορεία τής περιοχής, κυρίως κατά την Ελληνική Επανάσταση τού

1821. Οι φιλοξενούμενοι επίσης πραγματοποίησαν επίσκεψη στον

Αρχαιολογικό χώρο τής Ολυμπίας και στο αντίστοιχο Μουσείο, όπου

άφησαν ουσιαστικές εντυπώσεις στη μνήμη των ξένων μαθητών και των

καθηγητών τους.

Η επίσκεψή τους στο Αρσάκειο Γυμνάσιο Πατρών περιελάμβανε τη

συμμετοχή τους σε πειράματα Ελέγχου Ποιότητας Τροφίμων στα καινούρια

πλήρως εξοπλισμένα εργαστήρια Φυσικής, Χημείας και Βιολογίας. Επίσης

παρακολούθηση μαθημάτων και σχετικές συζητήσεις στην τάξη.

Εκείνο που εντυπωσίασε ιδιαίτερα τους Ευρωπαίους μαθητές και καθηγητές

ήταν τα εκθέματα που είδαν, επεξεργάστηκαν στο Κέντρο Παιδείας

Επιστημών που βρίσκεται στον ίδιο χώρο με το Σχολείο. Στους τομείς των

Μαθηματικών, τής Φυσικής, και τής Πληροφορικής οι επισκέπτες

ασχολήθηκαν με διάφορα «παιχνίδια» γνώσης, κατευθυνόμενοι από τους

επιστημονικούς συνεργάτες τού ιδρύματος. Κάθε ομάδα μαθητών είχε να

εξάγει τα δικά της συμπεράσματα κι απαιτήσεις σε κάθε θέμα συζήτησης.

Αυτά τα συμπεράσματα συζητήθηκαν στο τέλος σε κοινή συνεδρίαση των μαθητών με την καθοδήγηση πάλι τού

Εκπαιδευτικού Επιστημονικού Προσωπικού. Όλοι οι συμμετέχοντες γεύτηκαν παραδοσιακά εδέσματα από τις έξι

χώρες. Οι οικογένειες των Ελλήνων μαθητών υποστήριξαν έμπρακτα με τη φιλοξενία τους και την προσφορά τους

σε εδέσματα, κατά την ημέρα τού αποχαιρετισμού, σε ειδική συνάντηση στο Σχολείο.

Κατά γενική ομολογία ο σκοπός και οι στόχοι τού προγράμματος επετεύχθησαν πέρα από κάθε προσδοκία. Το

πρόγραμμα ευαισθητοποίησε τους μαθητές που συνειδητοποίησαν τη σημασία τής υγιεινής διατροφής στη ζωή

μας. Απέκτησαν γνώσεις μέσα από βιωματικές πρακτικές κι έμαθαν ότι η διατροφή είναι ένα διαπολιτισμικό

στοιχείο που ενώνει τους λαούς κι ανοίγει δρόμους στην οικονομία, το εμπόριο και τον πολιτισμό.

Ο Διευθυντής κ. Κωνσταντίνος Π. Κωνσταντινίδης, ο Συντονιστής τού

προγράμματος Δρ. Δημήτρης Βλαχοδημητρόπουλος, οι συμμετέχοντες

καθηγητές και μαθητές, τού Αρσακείου Γυμνασίου Πατρών και η

Υποδιευθύντρια κα Ευαγγελία Μαντζίκα, η καθηγήτρια Γερμανικών κα

Ελένη Τερζή κι όλος ο Σύλλογος Διδασκόντων ευχαριστούμε όλα τα

εταιρικά σχολεία – τους Διευθυντές, Συντονιστές, καθηγητές, μαθητές και

τις οικογένειές τους – για την πολύτιμη συμμετοχή τους και την άψογη

συνεργασία στις δραστηριότητες τού προγράμματος.
---
Recipes / Ravani - Ραβανί

NUTRITION THROUGH THE TIME - LIFELONG LEARNING PROGRAMME COMENIUS

6th trip: GREECE

Ingredients:

6 eggs

1 glass seed-oil

2 glasses sugar

1 glass semolina fine

2 glasses flour for the all uses

1 baking powder

2 vanillasFor the syrup3 glasses sugar

5 glasses water

1 vanilla

Cooking Instructions:

Strike the egg whites in meringue.

We mix the flour with the baking powder.

We strike the crocuses with the sugar in the

blender until they take yellow color and then we

throw the seed-oil, vanillas, the semolina and the

flour with the baking and mix very well in the

blender.

Finally we throw also the egg whites being careful

they do not deflate.

We butter a baking pan and we throw sweet in.

We cook in their 180° C for 45 ' - 50 ' minutes or until

our knife comes out clean when we cut it. In the

mean while we boil syrup for 15 ' minutes. As soon

as the sweet comes out, we pair the syrup.

Υλικά:

6 αυγά

1 ποτήρι σπορέλαιο

2 ποτήρια ζάχαρη

1 ποτήρι σιμιγδάλι ψιλό

2 ποτήρια αλεύρι για όλες τις χρήσεις

1 μπέικιν

2 βανίλιες

Οδηγίες:

Χτυπάμε τ' ασπράδια σε μαρέγκα.

Ανακατεύουμε στ'αλεύρι το μπέικιν.

Χτυπάμε τους κρόκους με τη ζάχαρη αρκετά μέσα

στο μίξερ μέχρι να πάρουν κίτρινο χρώμα κι έπειτα

ρίχνουμε το σπορέλαιο, τις βανίλιες, το σιμιγδάλι

και το αλεύρι με το μπέικιν ανακατευτούν πολύ

καλά στο μίξερ.

Στο τέλος ρίχνουμε και ασπράδια προσέχοντας

μην ξεφουσκώσουν.

Βουτυρώνουμε ένα ταψί διαμ.30εκ.-35εκ.και

ρίχνουμε το γλυκό μέσα.Ψήνουμε στους 180° C για

45'-50'της ώρας ή μέχρι να βγει καθαρό το μαχαίρι

μας.

Εν τω μεταξύ όση ώρα ψήνεται το γλυκό βράζουμε

το σιρόπι για 1/4 της ώρας. Μόλις βγει το γλυκό το

σιροπιάζουμε.
---
Recipes / Fasolada - Φασολάδα

NUTRITION THROUGH THE TIME - LIFELONG LEARNING PROGRAMME COMENIUS

6th trip: GREECE

Ingredients:

500 gr dried white beans (placed in a bowl covered

with tap water for at least 8 hours)

1 large potato cut into 3 cm cubes

1 large onion, peeled and thickly chopped

3 carrots, peeled and sliced

3 sticks celery, strings removed and sliced

4 ripe tomatoes, peeled, seeded and roughly

chopped (or 1 can mashed tomatoes)

1 tablespoon tomato paste (optional)

5 tablespoons olive oil

1 bay leave

handful and thicky chopped celery leaves

salt and freshly ground black ppepper

Cooking Instructions:

Drain the beans and place in a large saucepan.

Cover with cold water and bring to a boil, skimming

off any froth with a slotted spoon. Add all the other

ingredients except the seasonings, and simmer for

at least 1 hour or until under tender. Allow to cool

slightly, season with salt and pepper and serve into

bowls. Enjoy with some crusty bread, feta cheese

and some uncooked onion on the side.

Υλικά:

500 γρ. ξερά φασόλια (τοποθετούνται σε μπολ και

καλύπτονται με νερό βρύσης για τουλά-χιστον 8

ώρες)

1 μεγάλη πατάτα κομμένη σε κύβους 3 εκατοστών

1 μεγάλο κρεμμύδι ξεφλουδισμένο και χοντροκομμένο

3 καρότα, καθαρισμένα και κομμένα σε φέτες

3 μπαστούνια σελινόφυλλα, χορδές απομακρύνονται

και κομμένα σε φέτες

4 ώριμες τομάτες, ξεφλουδισμένες και χοντροκομμένες

και αφού έχουν αφαιρεθεί οι σπόροι

(ή 1 κονσέρβα τομάτες λιωμένες)

1 κουταλιά της σούπας πελτέ τομάτας

(προαιρετικά)

5 κουταλιές της σούπας ελαιόλαδο

1 φύλλο δάφνης

αλάτι και φρεσκοτριμμένο μαύρο πιπέρι

Οδηγίες:

Στραγγίξτε τα φασόλια και τοποθετήστε τα σε μια

μεγάλη κατσαρόλα. Καλύψτε τα με κρύο νερό και

αφήστε τα να βράσουν, βγάζοντας τον αφρό με μια

τρυπητή κουτάλα. Προσθέστε όλα τα υπόλοιπα

υλικά εκτός από τα καρυκεύματα (μπαχαρικά) και

σιγοβράστε τα για τουλάχιστον μία ώρα ή μέχρι να

μαλακώσουν. Αφήστε τα να κρυώσουν, ρίξτε λίγο

αλάτι και πιπέρι και σερβίρετε σε μπολ. Απολαύστε

τα με φρυγανισμένο ψωμί, τυρί φέτα και άψητα

κρεμμύδια στο πλάι.
---
NUTRITION THROUGH THE TIME - LIFELONG LEARNING PROGRAMME COMENIUS

6th trip: GREECE

Recipes / SAFFED, CABBAGE, LETTUCE, VINE LEAVES or MARROW FLOWERS -

ΝΤΟΛΜΑΔΕΣ ΜΕ ΦΥΛΛΑ ΑΜΠΕΛΙΟΥ, ΜΑΡΟΥΛΙΟΥ, ΛΑΧΑ-ΝΟΥ ή ΑΝΘΟΥΣ ΚΟΛΟΚΥΘΙΑΣ

Ingredients:

60 large vine leaves fresh or jar +

some more to cover the bottom of

stewed

700 gr. Minced goat - 200 ml olive oil

50 gr. tomato puree, dissolved in 200 grams. Water

100 gr. Rice Glossy - 250 gr. onions,

chopped

1 bunch parsley (leaves), chopped

1 / 2 bunch fresh mint (leaves)

chopped

Juice from 2 to 3 lemons

200 gr. canned tomatoes, pureed

Salt and freshly ground white pepper

Roll out one by one with the vine "nerves»

inwards.

Cooking Instructions:

Taking fresh vine leaves, wash thoroughly and

blanch in a pot with a water boil for 2 minutes. We

transfer them with a slotted spoon to colander to

drain well. If we use vine leaves from jar, we rinse

thoroughly. They do not need blanching. In a saute

pan with 50 ml of the measured oil, we put onion

over low heat for 3 to 4 minutes or until tender. Add

the minced and saute until lightly getting brown.

Withdraw the saucepan from the heat and add to

mince the remaining ingredients (rice, diluted

tomato paste, parsley, mint, juice lemon, pepper

and remaining olive oil) except the tomato paste.

Mix well. Put 1 teaspoon of the mixture of filling the

base of each leaf and cover with sides of the sheet

to the left and right. Then fold over the filling and the

other sides of the sheet alternately, continuing until

made a small bundle. Wrap the same way all the

leaves tightly, not to be open.

Lay a few vines in the bottom of pot to prevent

sticking during the cooking. We put them in the pot

in rounds, with the union's winding down not to

open. Add the puree tomatoes and enough water

to cover. Place a plate over them to avoid dissolve

and cook over low heat for approximately 1 ½

hours.

Υλικά:

60 μεγάλα κληματόφυλλα φρέσκα ή από βαζάκι +

μερικά ακόμα για να καλύψουμε τον πυθμένα της

κατσαρόλας

700 γρ. κιμάς κατσικίσιος - 200 ml ελαιόλαδο

00 γρ. πελτές ντομάτας, διαλυμένος σε 200 γρ. Νερό

100 γρ. ρύζι γλασέ - 250 γρ. κρεμμύδια ξερά,

ψιλοκομμένα

1 ματσάκι μαϊντανός (τα φύλλα), ψιλοκομμένος

1/2 ματσάκι δυόσμος φρέσκος (τα φύλλα),

ψιλοκομμένος

χυμός από 2 - 3 λεμόνια

200 γρ. ντοματάκια από κονσέρβα, πολτοποιημένα

αλάτι, πιπέρι λευκό φρεσκοτριμμένο

Ανοίγουμε ένα - ένα τα κληματόφυλλα με τα «νεύρα»

προς τα μέσα.

Οδηγίες:

Αν πάρουμε φρέσκα κληματόφυλλα, τα πλένουμε καλά

και τα ζεματίζουμε σε μια κατσαρόλα σε νερό που

βράζει, για 2 λεπτά. Τα μεταφέρουμε με τρυπητή

κουτάλα σε σουρωτήρι να στραγγίξουν καλά. Αν

χρησιμοποιήσουμε κληματόφυλλα από βαζάκι, τα

ξεπλένουμε πολύ καλά. Δεν χρειάζονται ζεμάτισμα.

Σε μια κατσαρόλα σοτάρουμε σε 50 ml από το

μετρημένο ελαιόλαδο το κρεμμύδι, σε χαμηλή φωτιά, για

3 - 4 λεπτά ή μέχρι να μαλακώσει. Προσθέτουμε τον κιμά

και τον σοτάρουμε μέχρι να καβουρντιστεί ελαφρώς.

Αποσύρουμε την κατσαρόλα από τη φωτιά και

προσθέτουμε στον κιμά τα υπόλοιπα υλικά (ρύζι,

αραιωμένο πελτέ ντομάτας, μαϊντανό, δυόσμο, χυμό

λεμονιού, αλατοπίπερο και το υπόλοιπο ελαιόλαδο)

εκτός από τον πολτό ντομάτας. Ανακατεύουμε καλά

βάζουμε 1 κουτάλι του γλυκού από το μείγμα της

γέμισης στη βάση κάθε φύλλου και τη σκεπάζουμε με τις

πλευρές του φύλλου που βρίσκονται αριστερά και δεξιά.

Διπλώνουμε κατόπιν πάνω από τη γέμιση και τις άλλες

πλευρές του φύλλου εναλλάξ, συνεχίζοντας μέχρι να

γίνει ένα μικρό δεματάκι. Τυλίγουμε με τον ίδιο τρόπο

όλα τα φύλλα σφιχτά, για να μην ανοίξουν τα κουπέπια.

Στρώνουμε λίγα κληματόφυλλα στον πάτο της

κατσαρόλας για να μην κολλήσουν τα κουπέπια κατά το

μαγείρεμα και τα βάζουμε κυκλικά σε σειρές μέσα στην

κατσαρόλα, με την ένωση του τυλίγματος προς τα κάτω

ώστε να μην ανοίξουν. Προσθέτουμε τον πολτό

ντομάτας και νερό τόσο ώστε να τα καλύπτει.

Τοποθετούμε ένα πιάτο πάνω στα κουπέπια για να μη

διαλυθούν και τα μαγειρεύουμε σε χαμηλή φωτιά για

περίπου 1½ ώρα.
---
NUTRITION THROUGH THE TIME - LIFELONG LEARNING PROGRAMME COMENIUS

6th trip: GREECE

Recipes / Tomatokeftedes (tomato pancakes) - Ντοματοκεφτέδες

Ingredients:

1½ cups tomatoes, finely chopped (dehydrated

Cycladic tomatoes, if available)

½ cup spring onions, finely chopped

1 tablespoon parsley, finely chopped

2 tablespoon fresh spearmint, finely chopped

a pinch of dried crumbled oregano

1 cup plain flour or a little bit more (depending on

how juicy the tomatoes are)

1 teaspoon baking powder

salt, pepper to taste

olive oil for frying

Cooking Instructions:

Combine in a bowl, tomatoes, onion and herbs. Mix

the flour with the baking powder. Add in the bowl, a

little at a time and stir constantly unteil everything

combines to a mixture, firm enough to form little

balls.

Heat enough olive oil in a frying pan and deep-fry

the little balls until golden. Remove them from the

pan and place them on a kitchen paper to absorb

the extra olive oil. Alternatively, you can add some

grated cheese in the mixture.

Υλικά:

500 γρ. ώριμες τομάτες

2 ψιλοκομμένα κρεμμύδια

ψιλοκομμένος μαϊντανός

ψιλοκομμένος δυόσμος

ρίγανη

αλάτι

πιπέρι

αλεύρι

λάδι για τηγάνισμα

Οδηγίες:

Ξεφλουδίζετε και ψιλοκόβετε τις τομάτες

Τις βάζετε σε ένα μπολ μαζί με τα κρεμμύδια, το

δυόσμο, το μαϊντανό, το αλάτι και το πιπέρι και τα

ανακατεύετε καλά.

Προσθέτετε αλεύρι ώσπου να γίνει μαλακός

πολτός και πλάθετε το μείγμα σε κεφτεδάκια.

Ζεσταίνετε το λάδι σε ένα τηγάνι, το αφήνετε να

κάψει και ρίχνετε μέσα τα κεφτεδάκια.

Χαμηλώνετε λίγο τη φωτιά και τους αφήνετε να

ροδίσουν κι από τις δυο μεριές.

Σερβίρονται ζεστοί και μπορείτε εναλλακτικά να

προσθέσετε τυρί τριμμένο.
---
Recipes / Moussaka - Μουσακάς

Page 1/2

NUTRITION THROUGH THE TIME - LIFELONG LEARNING PROGRAMME COMENIUS

6th trip: GREECE

Ingredients:

3-4 eggplants

3-4 big courgettes

3-4 big potatoes

1 kilo minced beef or lamb meat

2 large onions(finely diced)

2 cloves of garlic(minced)

2 soupspoons of chopped parsley

½ cup red wine

¼ cup chopped fresh parsley

1 teaspoon ground cinnamon

1 cup tomato puree(or crushed tomatoes)

2 teaspoons tomato paste

1 teaspoon sugar

Salt and pepper to taste

2 cups plain breadcrubs

8 egg whites, lightly beaten (reserve yolks for

bechamel)

1 cup grated parmesan cheese

Béchamel Sauce

1 cup salted butter

1 cup flour

4 cups milk, warmed

8 egg yolks, lightly beaten

Pinch of ground nutmeg

Υλικά:

3-4 μελιτζάνες

3-4 κολοκύθια

3-4 πατάτες

1 κιλό μοσχαριίσιο ή αρνίσιο ή χοιρινό κυμα

2 μεγάλα κρεμμύδια κομμένα σε κυβάκια

2 σκελίδες σκόρδο ψιλοκομμένο

2 κουταλιές σούπας ψιλοκομμένο φρέσκο

μαϊντανό

½ φλυτζάνι κόκκινο κρασί

1 κουταλάκι του γλυκού κανέλλα σκόνη

1 φλυτζάνι συμπυκνωμένο χυμό ντομάτας ή

ψιλοκομμένη ντομάτα

2 κουταλάκια γλυκού πάστα ντομάτας

Αλάτι, πιπέρι

2 φλυτζάνια ψίχουλα ψωμιού

8 ασπράδια αυγού, ελαφρά κτυπημένα

1 φλυτζάνι τριμμένο τυρί, παρμαζάνα

Κρέμα Μπεσαμέλ

1 φλυτζάνι βούτυπο

1 φλυτζάνι αλεύρι

4 φλυτζάνια χλιαρό γάλα

8 ελαφρά χτυπημένους κρόκους αυγών

Λίγο μοσχοκάρυδο
---
Recipes / Moussaka - Μουσακάς

Page 2/2

NUTRITION THROUGH THE TIME - LIFELONG LEARNING PROGRAMME COMENIUS

6th trip: GREECE

Cooking Instructions:

1. Slice the eggplants, the courgettes and the potatoes into

½-1 inch slices

2. Fry the slices of the vegetables in olive oil or roast them

after you oil them in a greased pan

3. Put the vegetables between paper towels to dry from oil

Make the Meat filling

1. In a large sauté pan, brown the minced meat

2. Add onion and sauté for a couple of minutes.

Add garlic and continue stirring the mixture for one minute

3. Add the wine and allow it to simmer. Rreduce a bit before

adding cinnamon, parsley, tomato paste, crushed

tomatoes, sugar, salt and pepper

4. Add some water and cook it for about ½ an hour until the

meat is ready to eat

Make the béchamel sauce

1. Melt butter over low heat. Using a whisk, add flour to

melted butter whisking continuously to make smooth

paste. Allow the flour to cook for a minute but do not allow it

to brown

2. Add warmed milk to mixture in a steady stream whisking

continuously

3. Simmer over low heat until it thickens a bit but does not

boil

4. Remove from heat, and stir in beaten egg yolks and

pinch of nutmeg. 3. 5. 5. Return to heat and stir until sauce

thickens

Assemble the Moussaka:

1. Lightly grease a large deep baking pan. Sprinkle the

bottom of pan with breadcrumbs.

2. Place the vegetables in layers starting from the potatoes,

the courgettes and the eggplants.

3. Add the mixture of the cooked meat and sprinkle with the

grated cheese.

4. Top with another layer of eggplant slices and sprinkle

once again with grated cheese.

5. Pour the béchamel sauce over the eggplant and be sure

to allow sauce to fill the sides and corners of the pan.

Smooth the sauce and sprinkle with remaining grated

cheese. Bake in 180º C until the béchamel sauce is a nice

golden brown colour. Allow to cool for 15-20 minutes before

slicing and serving.

Οδηγίες:

1. Κόψτε τις μαλιτζάνες,κολοκυθάκια και πατάτες σε φέτες

πάχους ½-1εκατοστό

2. Τηγανίστε ή ψήστε τα λαχανικά σε λάδι ελιάς σε

λαδωμενο ταψί

Παρασκευή του κιμά

1. Σοτάρετε τον κιμά μέχρι να διαλυθεί και να αλλάξει

χρώματο σοτάρισμα. Προσθέστε το σκόρδο και συνεχίστε

να ανακατεύετε το μίγμα για 1 λεπτό

2. Προσθέστε το κρασί και αφήστε το μίγμα να πιεί τα υγρά

πριν προσθέσετε την κανέλλα, το μαϊντανό, την πάστα

ντομάτας, τη ζάχαρη ,αλάτι και πιπέρι

3. Προσθέστε νερό και αφήστε να βράσει ο κιμάς

Παρασκευή της μπεσαμέλ

1. Λιώστε το βούτυρο σε χαμηλή φωτιά.

2. Χτυπήστε το αλεύρι με το λιωμένο βούτυρο χωρίς

διακοπή μέχρι να γίνει ένα ομοιογενές μίγμα

3. Προσθέστε χλιαρό γάλα χτυπώντας ελαφρά χωρίς

διακοπή μέχρι η κρέμα να πήξει αλλά να μην κοχλάσει

4. Αποσύρετε από τη φωτιά και ανακατεύετε συνεχώς

προσθέτοντας τους χτυπημένους κρόκους και λίγο

μοσχοκάρυδο

5. Βάζετε πάλι στη φωτιά και ανακατεύετε μέχρι να πήξει

ΤΟΠΟΘΕΤΗΣΗ ΣΤΟ ΤΑΨΙ

1. Αλείψτε το ταψί με λίγο λάδι και απλώστε τα ψίχουλα

ψωμιού

2. Στρώνετε τα λαχανικά, πρώτα τις πατάτες, μετά τα

κολοκυθάκια και τέλος τις μελιτζάνες

3. Προσθέστε τον κιμά και ρίξτε λίγη παρμεζάνα

4. Τελειώστε με ένα ακόμη στρώμα από μελιτζάνες και λίγη

παρμεζάνα

5. Απλώστε καλά την κρέμα μπεσαμέλ σε όλη την

επιφάνεια του ταψιού και ρίξτε πάλι λίγη τριμμένη

παρμεζάνα

6. Ψήστε στους 180º C μέχρι να ροδίσει η κρέμα

7. Αφού ψηθεί αφήνετε να κρυώσει για 15-20 λεπτά πριν

σερβίρετε.
---
NUTRITION THROUGH THE TIME - LIFELONG LEARNING PROGRAMME COMENIUS

GLOSSARY OF TYPICAL FOOD PRODUCTS & MEALS

Page 1/4
---
NUTRITION THROUGH THE TIME - LIFELONG LEARNING PROGRAMME COMENIUS

GLOSSARY OF TYPICAL FOOD PRODUCTS & MEALS

Page 2/4
---
NUTRITION THROUGH THE TIME - LIFELONG LEARNING PROGRAMME COMENIUS

GLOSSARY OF TYPICAL FOOD PRODUCTS & MEALS

Page 3/4
---
NUTRITION THROUGH THE TIME - LIFELONG LEARNING PROGRAMME COMENIUS

GLOSSARY OF TYPICAL FOOD PRODUCTS & MEALS

Page 4/4
---
NUTRITION THROUGH THE TIME - LIFELONG LEARNING PROGRAMME COMENIUS

Students'

comments

Spain

CYPRUS: Gracias a esta experiencia hemos tenido oportunidad de practicar nuestro

inglés, estamos conociendo otras culturas y también a mucha gente. Acabamos

de visitar un país al que nunca habríamos imaginado que iríamos. Nos lo he

pasado muy bien y hemos disfrutado mucho.

( Laura Parralejo, Fernando García, Carlota y Noé García-Camino y Ricardo Bolaños).

LITHUANIA: El haber ido a Lituania no ha sido una experiencia única sólo por el hecho de haber ido a

otro país y practicar un idioma, sino por las personas que hemos conocido de distintas nacionalidades,

llevándonos todos genial. Aprendimos mucho con ellos y de ellos y ojalá nuestras relaciones no

acaben aquí y lo que empezó siendo una convivencia corta acabe siendo una larga amistad.

(Marga Barquilla, Paula Alonso., Paula Carrapiso., Eva Jiménez, Mercedes Cantero y Silvia Andrada.)

POLAND: El viaje a Polonia organizado por el Proyecto Comenius, en el que participé junto a cuatro

compañeras del IES Norba Caesarina fue, en mi opinión, una experiencia totalmente enriquecedora y

positiva.

En el intercambio tuvimos ocasión de relacionarnos con chicos y chicas de nuestra edad de diferentes

nacionalidades, visitar lugares espectaculares, como las ciudades de Cracovia y Varsovia, el campo de

concentración de Auschwitz-Birkenau y las minas de sal de Wieliczka, entre otros.

El intercambio no solo nos aproximó a la cultura y costumbres polacas, sino también a las del resto de

países que forman el proyecto, y tuvimos que utilizar todos nuestros conocimientos de inglés, ya que

era la lengua usada la mayoría del tiempo.

Quizás podría haber resumido todo en una frase: he disfrutado de una de las mejores semanas de mi

vida en este viaje a Polonia.

(Antonio Ballell. 4º A).

ITALY: El intercambio que hicimos con Latina (Italia) nos sirvió para conocer una cultura parecida a la

nuestra, para practicar mucho el inglés y relacionarnos con chicos y chicas de diferentes

nacionalidades (Lituania, Polonia, Grecia…). Además visitamos lugares emblemáticos, como el

Coliseo, el Panteón, el Vaticano, la Fontana de Trevi… En mi opinión, el resto de lugares más próximos

a Latina nos resultaban más familiares, menos chocantes para los españoles, ya que se trata de una

forma de vida similar a la nuestra.

(Juan Luis Palomino. 4º A).
---
NUTRITION THROUGH THE TIME - LIFELONG LEARNING PROGRAMME COMENIUS

Students'

comments

Cyprus

LOUKIA (Poland): I visited Kielce in Poland and I enjoyed autumn as it is very different from the one in Cyprus. It

was marvelous. Even though the environment was so cold, people were warm , friendly and hospitable.

I had the chance to visit beautiful and very interesting places such as Wieslicka , a salt mine and Auschwitz , the

famous concentration camp in the 2nd World War. I hosted Natalia from Poland who was a little bit reserved at the

beginning but after some time she was adapted to the way of life in Cyprus very much. She was impressed by

our houses which , according to her, were very big. We had a nice time together and we hope to continue our

relationship in the future. In general, I got fantastic experience from the programme by getting in touch with

various people from different cultures and civilization something which I will never forget.

SOTIA (Spain): A very well organized programme. We knew exactly what we were going to do everyday. We

visited many interesting places with guides who gave us much information about the places of interest. The

Spaniards are very hospitable and friendly. Even though Spain is a Mediterranean country their cuisine was very

different from ours. I had spent a very nice time there and I hope to have the chance to do it again.

MARIOS (Poland): Everything was perfect!!!!!!!!. I spent a fantastic time in Poland. I can't find a negative point in

my visit. The sightseeings we visited were very interesting. The family I stayed with did their best to make me feel

at home. The only negative point to mention- if it is negative- is that they "forced' me eat all the time!!!!. They

invited me to visit Poland whenever I want. I hosted Maciej from Poland who liked Cyprus very much and said that

he wants to visit Cyprus again in future. He even learnt some Greek words and phrases.

CHRISTIANA (Italy): The programme of the visit was very good. We visited many interesting places such as the

Vatican city, the Colosseum, the Piaza de Spagna. We even had a carnival party. The family they hosted me were

very hospitable and made me feel at home.

IRENE (Spain)

I had a very nice experience in Spain. We visited many places such as Caceres ,Merida and Truhillio. Every night

we met at a cafe in Caceres and we had a fantastic time. The family they hosted me were very nice and I had the

impression that I knew them for a long time. I hosted a girl from Spain who got used to our way of life very easily.

We had a wonderful time. I would like to have the same experience again.

SOFIA (Italy): The programme of the visit was very interesting and I was given the chance to meet new people

from different places. It was an experience for me to get adapted to a new way of life among people I met for the

first time. Living for one week in a different family from your own is good because you learn to get adapted to new

rules and way of living. I hosted a boy from Italy who was very friendly, cool and nice. In a very short time he

became a member of our company without any problem. He liked the excursion to Limassol very much.We are

still in regular contact.

CHRISTOFOROS (Lithuania): I liked the visit in Lithuania very much. A very strange country for us (very cold) but

very interesting. The people were very hospitable and they did their best to please us. They took care of me very

much and they wanted to make me feel at home. I hope to have such an experience in future.
---
NUTRITION THROUGH THE TIME - LIFELONG LEARNING PROGRAMME COMENIUS

Students'

comments

Lithuania

Page 1/2

Brigita Abdurajimovaitė,14m

Lenkijoje man labai patiko. Pamačiau daugybę naujų dalykų: Veličkos druskų kasyklą, koncentracijos stovyklą

Aušvice( Osvencime).

Puikiai praleidau savaitę: susiradau naujų draugų, susipažinau su lenkų žmonėmis, jų papročiais, tradicijomis.

Labai įsiminė konferencijos diena. Buvo truputi nejauku pristatyti projektą angliškai prieš didžiulę auditoriją.

Ernestas Čepas ,14m

Išvyka į Lenkija man labai patiko. Įsiminė ekskursija po Veličkos druskos kasyklas, kai leidomės šimtus laiptelių

po žeme. Labai patiko Kielce, mokykla, kurioje lankiausi. Vietiniai žmonės buvo tikrai draugiški, tad, susiradau aug

draugų. Kas nepatiko? Nežinau, gal buvo labai nejauku ir baisu, kai vaikščiojome koncentracijos stovykloje.

Julius Embrasas, 14m

Italijoje labai patiko žmonių svetingumas. Gaila, kad mažai turėjome laisvalaikio. Vaizdai, kraštovaizdis buvo

nepaprasto grožio. Oras ir maistas – pasakiški. Norėčiau apsilankyti dar kartą.

Gabrielė Gumuliauskaitė,16 m

Kelionė į Kiprą man suteikė daug patirties ir įspūdžių. Turėjau progą pamatyti gražiausius Kipro miestus ir

mokyklos kasdienybę. Bet svarbiausia- susipažinau ir laiką leidau su nuostabiais žmonėmis iš įvairių Europos

šalių, su kuriais bendrauju iki šiol, o gyvenau nuostabioje Antrios ir Joannos šeimoje. Niekada neužmiršiu šios

kelionės.

Kamilė Kazakauskaitė, 13 m

Man labai patiko išvykos drauge su svečiais, o ypač į Nidą ir Šiaulius. Patiko tarpusavio bendravimas. Neturėjome

kada nuobodžiauti - viskas buvo labai gerai suplanuota. Aš pati važiuosiu į Graikiją ir labai laukiu šios kelionės.

Karolis Kemeklis, 15m

Noriu pasidalinti įspūdžiais iš Ispanijos. Labai džiaugiuosi, kad turėjau galimybę apsilankyti Kaserese-viename

didžiausių Ispanijos miestų, kuris pakerėjo mane savo išskirtiniais architektūriniais objektais, senamiesčio

siauromis gatvelėmis bei svetingais žmonėmis. Žinoma, neužmiršiu ir Meridos su antikiniais teatro pastatais,

šventyklomis bei stadionu, kuriame kovėsi gladiatoriai.

Savo namuose turėjau priimti svečią iš Lenkijos. Jaudinausi, kaip mum seksis bendrauti, ar rasime bendrą

kalbą... Projekte susiradau naujų draugų, laiką praleidau naudingai: daug sužinojau apie projekte dalyvavusias

šalis bei jų virtuvių ypatybes.

Žilvinas Liaugaudas ,15m

Ispanijoje man labiausiai patiko labai šiltas klimatas, draugiški ir linksmi žmonės bei labai skanus maistas.

Viltė Mažeikaitė,14 m

Mano namuose gyveno mergaitė iš Graikijos. Man labai pasisekė, nes daug sužinojome apie Graikijos kultūrą,

papročius. Aš pati keliausiu į Graikiją, todėl esu laiminga, kad dabar žinau apie šią šalį ne tik iš vadovėlių. Man

labai patiko, kad susipažinome su kitų šalių vaikais, ragavome įvairiausius nacionalinius patiekalus, žiūrėjome

pasirodymus, šokius, klausėmės dainų.
---
NUTRITION THROUGH THE TIME - LIFELONG LEARNING PROGRAMME COMENIUS

Students'

comments

Lithuania

Page 2/2

Monika Nabažaitė, 15m

Kelione į Kiprą yra mano įsimintiniausia kelionė į užsienį. Per tą savaitę susipažinau su kitų šalių

kultūromis,tradicijomis. Galiu sakyti, kad Kipre gyvena mano antroji seima, nes žinau, kad aš ten esu visuomet

laukiama. Tai neįkainojami prisiminimai!

Milda Pakamanytė,13 m

Atvykus kitų tautybių mokiniams, buvo labai įdomu. Visi buvo draugiški linksmi. Neiškilo jokių sunkumų. Visi

buvome tarsi viena didelė šeima, nepaisant išvaizdos ar papročių skirtumų. Taip pat nebuvo bėdų dėl anglų

kalbos, nes kiekvienas kalbėjo taip, kaip moka, gelbėjo šypsena ir nuoširdumas.

Rugilė Raudytė,13m

Italijoje labiausiai patiko ...maistas: makaronai, spagečiai, lazanija, ravioliai ir daugybė kitų patiekalų.Skanu....

Ypač didelį įspūdį paliko Roma,visos ekskursijos ir, žinoma, Latina. Džiaugiuosi, kad dalyviai buvo bendraujantys,

kad pavyko susirasti daug draugų. Patiko gamta, oras ir mano naujoji šeima.

Goda Vasiliauskytė, 15m

Kelionė į Italiją buvo pirmoji mano gyvenime: be tėvų, į užsienį. Galiu pasidžiaugti, jog ten patyriau daug nuotykių,

susiradau daug nuostabių draugų, o svarbiausia, jog ten liko dalelė manęs...Labai patiko itališki patiekalai, oras,

žmonės ir apskritai visas šis projektas. Tikiuosi dar kada nors vėl aplankysiu Italiją ir savo draugę Lukreciją.

Gintare Veskaviciute,15m

Ispanijoje labiausiai įsiminė tai, jog be galo bijojau, o nuvažiavusi pajutau tik labai didelę šilumą iš visų projekte

dalyvavusių žmonių. Taip pat labai praplėčiau savo anglų kalbos žinias, susipažinau su labai įdomiais žmonėmis,

su kuriais iki šiol bendrauju.

Kai pasitikome svečius Lietuvoje, buvo labai įdomu sužinoti, ar jiems patinka mūsų šalis. Visi atvykę svečiai buvo

be galo draugiški, su visais susibendravome, rengėme šaunius pasibuvimus, stengėmės pripratinti prie lietuviško

maisto. Laiką praleidome nuostabiai, tikriausiai niekada to nepamiršiu.

Agnė Vitkauskaitė,14m

Kai pas mane gyveno mergaitė iš Ispanijos, buvo labai smagu. Man ypač patiko svečių bendravimas,

draugiškumas, nuoširdumas, linksmumas. Sužinojau kaip gaminti tradicinius ispanų patiekalus, paragavau tikros

paelijos. Sužinojau daug faktų iš istorijos, apie šalių papročius, tradicijas.

Monika Žilinskytė, 14m

Atvykus lenkų grupei į Lietuvą, pas mane apsigyveno mergaitė, vardu Dorota. Mes linksmai leidome laiką,

važiavome į įspūdingas vietas. Dorota man papasakojo apie savo šalį, o aš stengiausi kuo daugiau papasakoti

apie Lietuvą. Ilgai atsiminsiu šį projekto susitikimą ir linksmai praleistas dienas. Aš pati tikiuosi patirti daug

neišdildomų įspūdžių Graikijoje.
---
NUTRITION THROUGH THE TIME - LIFELONG LEARNING PROGRAMME COMENIUS

Students'

comments

Poland

In English:

Page 1/3

Today we're asking about our Comenius program. We spent a lot of time together. We were in Spain, Italy,

Cyprus, Lithuania, Poland and now we are in Greece. We learnt about some traditions from other countries. We

saw many monuments, nature reserves, places of interest. Maybe we learnt some words in foreign languages. We

made friends or even we fell in love.

So we're asking: Do you like our Comenius program? Do you think that it was worth attending?

Would you like to have another occasion to meet with your friends from other countries?

We're saying: 3 times yes!!!

Polish girls say:

"I think that Comenius is perfect time to hang out with teenagers from my country and others. I made new friends

with people from different parts of Europe."

- Karolina Stolarczyk

Comenius was perfect experience for me. I could check out my English language. I knew with some amazing

people. I will have contact with them of course. I enjoy that I could attend in this project. Now I know that I must

more study English. But I can make myself understood in English. One minus is fact that it finished too fast. I

would like to meet with these people once again."

- Kamila Mularczyk

" In Cyprus in February 2010 was really interesting. I saw some amazing places. I lived with Panayota and I got to

know traditions, which are in Cypriot houses. I went to school with her and I spent a lot of time with her. Generally

I am fascinated and I would like to see Cyprus once again."

- Mariola Baran

In my opinion Comenius is a very good idea to make friends, know some traditions of different countries and see

many wonderful places. During the international exchanges we practise and improve English.

- Aleksandra Kucharska

"I really like Comenius. I was in Cyprus. I had a good contact with different participants. There were no problems"

- Natalia Osełka

"It was nice. Every day there we used to meet in the park, where we spoke English and laughed. We got to know

and liked each other quickly. Also the trips were cool."

- Karolina Dobrowolska

It was nice. Meetings in the park were the best. We spoke, laughed and got to know better. 3-4 last days were the

best, because we all knew a lot about each other and we were not strangers any more."

- Weronika Żądło
---
NUTRITION THROUGH THE TIME - LIFELONG LEARNING PROGRAMME COMENIUS

Students'

comments

Poland

In English

Page 2/3

"In Spain 2009 (October) it was so nice. I saw interesting monuments, got to know temperament and the

customs of that youth. I tasted many interesting dishes, which were not necessarily tasty but it was new

experience . Everything was organized very well."

- Natalia Rzędowska

Boys say:

"I like Comenius Project, because I could meet new people, see other cultures, places and have new

experiences."

- Michał Bijak

"I met really friendly people and found out that my English is OK."

-Grzegorz Sidło

"Travelling on my own made me a different person, more open, more responsible"

-Leszek Pierzyński

"I met people like me who loved jokes, fun and music. I need to learn more English but I was communicative."

-Jakub Khier

"I felt good in the company of other European teenagers. Young people can always find things to talk about. I also

needed to take care of myself which was new but useful"

Maciej Krawczyński

In Polish:

Dzisiaj pytamy się o wrażenia z współpracy międzynarodowej w ramach Comenius'a. Spędziliśmy dużo czasu

razem. Byliśmy w Hiszpanii, Włoszech, na Cyprze, Litwie, w Polsce i teraz jesteśmy w Grecji. Poznaliśmy tradycje

innych krajów. Widzieliśmy zabytki, rezerwaty przyrodnicze, miejsca będące atrakcjami turystycznymi.

Nauczyliśmy się paru słów w obcym języku. Zaprzyjaźniliśmy się lub nawet zakochaliśmy się.

Więc pytamy się:

Czy podoba ci się idea Comenius'a?

Czy uważasz, że projekt był wart zaangażowania się?

Czy chciałbyś mieć inną okazję, żeby spotkać się z Twoimi przyjaciółmi z innych krajów?

Mówimy: tak 3 razy!!!

"Na Cyprze w lutym 2010 było naprawdę ciekawie. Widziałam kilka niesamowitych miejsc. Mieszkałam z

Panayotą i zapoznałam się z tradycjami, które panują w cypryjskich domach. Chodziłam z nią do szkoły i

spędzałam z nią dużo czasu. Generalnie jestem zafascynowana i chciałabym zobaczyć Cypr jeszcze raz."

- Mariola Baran

"Poznałem naprawdę fajnych ludzi i przekonałem się, że mój angielski jest w porządku."

-Grzegorz Sidło
---
NUTRITION THROUGH THE TIME - LIFELONG LEARNING PROGRAMME COMENIUS

Students'

comments

Poland

In Polish:

Page 3/3

"Comenius był dla mnie wspaniałym doświadczeniem. Mogłam sprawdzić swój angielski. Zapoznałam się z

paroma niezwykłymi osobami. Oczywiście będę z nimi utrzymywać kontakt. Cieszę się, że mogłam się

zaangażować w ten projekt. Teraz wiem, że muszę się bardziej uczyć języka angielskiego. Ale potrafię się

dogadać po angielsku. Jednym minusem jest fakt, że skończyło się to za szybko. Chciałabym się spotkać z tymi

ludźmi jeszcze raz."

- Kamila Mularczyk

"Moim zdaniem Comenius jest bardzo dobrym pomysłem, żeby zaprzyjaźnić się, poznać tradycje innych krajów i

zobaczyć wiele niezapomnianych miejsc. Podczas wymian zagranicznych ćwiczymy, doskonalimy i uczymy się

bardziej języka angielskiego."

- Aleksandra Kucharska

" Naprawdę lubię pracować przy realizacji Comenius'a. Byłam na Cyprze. Miałam dobry kontakt z innymi

uczestnikami. Nie było żadnych problemów."

- Natalia Osełka

"Było fajnie. Każdego dnia były spotkania w parku, gdzie rozmawialiśmy po angielsku i śmialiśmy się.

Zapoznaliśmy się szybko. Także wycieczki były fajne."

- Karolina Dobrowolska

"Było miło. Spotkania w parku były najlepsze. Rozmawialiśmy, śmialiśmy się i zapoznawaliśmy lepiej. 3-4 ostatnie

dni były najlepsze, ponieważ wszyscy się już znaliśmy i nie byliśmy dla siebie nieznajomymi."

- Weronika Żądło

"W Hiszpanii 2009 było fajnie. Widziałam interesujące zabytki, poznałam temperament i zwyczaje młodzieży.

Próbowałam wielu ciekawych potraw, niekoniecznie smacznych ale było to nowe doświadczenie. Wszystko było

zorganizowane bardzo dobrze."

- Natalia Rzędowska

Chłopcy mówią : "Lubię Comenius'a, ponieważ mogłem poznać nowych ludzi, zobaczyć inne kultury, miejsca i

doświadczyć czegoś nowego."

- Michał Bijak

"Samodzielne podróżowanie bez rodziny sprawiło, że jestem innym człowiekiem, bardziej otwartym i bardziej

odpowiedzialnym"

-Leszek Pierzyński

"Spotkałem uczniów podobnych do mnie, którzy uwielbiali dobrą zabawę, kawały i muzykę. Okazuje się, że

muszę trochę podszkolić swoje umiejętności z angielskiego ale byłem zrozumiały"

-Jakub Khier

"Czułem się dobrze w towarzystwie innych nastolatków z Europy. Młodzi ludzie zawsze mogą znaleźć tematy do

rozmowy. Poza tym, musiałem sam o siebie zadbać co było i nowe dla mnie i pożyteczne."

-Maciej Krawczyński
---
NUTRITION THROUGH THE TIME - LIFELONG LEARNING PROGRAMME COMENIUS

Students'

comments

Greece

Page 1/2

Βάλια Παναγιωταροπούλου (Valia Panagiotaropoulou) 15

Το πρόγραμμα COMENIUS ήταν υπέροχο. Μου λείπουν όλοι και θα ήθελα να τους ξαναδώ. Ήταν η πρώτη φορά

που ταξίδεψα χωρίς την οικογένειά μου, γεγονός που με βοήθησε να αναπτύξω πρωτοβουλία. Κατάλαβα ότι οι

ξένοι συμμαθητές μου έχουν τα ίδια όνειρα και ανησυχίες όπως και εγώ. Οι γνώσεις που απέκτησα με βοήθησαν

να συνειδητοποιήσω ότι είμαστε όλοι μέλη της Ευρωπαϊκής οικογένειας παρά τις πολιτιστικές μας διάφορες.

I loved COMENIUS Programme. I miss everybody. I wanna see them all again. It was the first time I had traveled

without my family, which helped me take initiative. I realized that my foreign peers have the same dreams and

concerns as me. The knowledge I got helped me realize we are all members of the same European family despite

our cultural diversity.

Χαρά Τροχάτου (Chara Trohatou) 15

Ήταν μια απίθανη εμπειρία που δεν θα ξεχάσω ποτέ.

Συνάντησα φιλικούς και σημαντικούς ανθρώπους από άλλες χώρες. Αναρωτιέμαι αν θα τους ξαναδώ ποτέ. Ποιος

ξέρει!! Η ζωή είναι γεμάτη από εκπλήξεις.

Ενθουσιάστηκα από την επίσκεψή μου σε μέρη σπάνιας φυσικής ομορφιάς και πολιτιστικού ενδιαφέροντος.

Νομίζω ότι όλοι οι μαθητές θα πρέπει να ζήσουν μια τέτοια εμπειρία.

It was a very nice experience I'll never forget. I met a lot of friendly and interesting people from other countries. I'm

wondering if I ever meet them again. Who knows!! Life is full of surprises! I was thrilled to visit places of rare

natural beauty and cultural interest. I believe that all the students should live such an experience.

Παναγιώτης Μπακλέσης (Panagiotis Mpaklesis) 15

Πιστεύω ότι το Πρόγραμμα COMENIUS με άλλαξε πολύ σαν άνθρωπο. Έμαθα πολλά πράγματα που δεν ήξερα.

Έκανα φίλους για μια ζωή. Αν και το πρόγραμμα τελείωσε, ελπίζω ότι η φιλία μας θα συνεχιστεί. Έχω ήδη

προσκαλέσει την οικογένεια που με φιλοξένησε στην Ελλάδα. Τους είμαι ευγνώμων, διότι με έκαναν να αισθάνομαι

σαν το σπίτι μου κατά τη διάρκεια της παραμονής μου εκεί.

I believe that COMENIUS Programme totally changed me as a person. I learned a lot of things that I didn't know. I

made friends of a lifetime.

Although the programme came to an end, I hope that our friendship will flourish. I have already invited the hosting

family to Greece. I feel grateful to them because they made me feel at ease during my stay.

Αγγελική Καπρούλια (Aggeliki Kaproulia) 15

Ήταν μια μοναδική εμπειρία. Γνώρισα πολλούς ανθρώπους που δεν θα ξεχάσω. Οι στιγμές που μοιράστηκα με

τους μαθητές από τις άλλες συμμετέχουσες χώρες θα μείνουν ανεξίτηλες. Εύχομαι να συνεργαστούμε πάλι σε

άλλο πρόγραμμα στο μέλλον. Αισθάνομαι αρκετά τυχερή που έζησα αυτή την εμπειρία.

It was a special experience. I met al lot of people that I'll never forget. The moments I shared with the students

from the other participating countries will be unforgettable.

I hope we'll cooperate again in a future programme. I feel lucky enough to have this experience.
---
NUTRITION THROUGH THE TIME - LIFELONG LEARNING PROGRAMME COMENIUS

Students'

comments

Greece

Page 2/2

Παύλος Πέττας (Pavlos Pettas) 15

Περάσαμε θαυμάσια. Ελπίζω να ξαναδώ τα παιδιά, διότι διασκεδάσαμε πολύ. Επίσης, το πρόγραμμα μου έδωσε

την ευκαιρία να μιλήσω στα Αγγλικά.

We had a great time. I hope to see those kids again because we had fun. I'll keep being in touch with the student

that hosted me. Besides, the programme gave me the opportunity to practise my English.

Αναμπέλλα Γαλλοπούλου (Anabella Gallopoulou) 14

Το Ευρωπαϊκό Πρόγραμμα COMENIUS ήταν μια υπέροχη αξέχαστη εμπειρία. Είχα την ευκαιρία να κάνω νέους

φίλους με τους οποίους συνεργάστηκα σε διάφορες δραστηριότητες. Ήρθα κοντά με το κορίτσι που με φιλοξένησε

και την οικογένειά της. Η εμπειρία αυτή με βοήθησε να καταλάβω ότι το φαγητό είναι ένα στοιχείο που ενώνει τους

λαούς και συντελεί στο ευ ζην.

COMENIUS European project was a magnificent memorable experience. I had the opportunity to make new

friends who I cooperated with in various activities. I came very close to the girl that hosted me and her family. This

experience helped me realize that cuisine is a factor that joins people and contributes to their welfare.
---
NUTRITION THROUGH THE TIME - LIFELONG LEARNING PROGRAMME COMENIUS

Students'

comments

Italy

Page 1/2
---
NUTRITION THROUGH THE TIME - LIFELONG LEARNING PROGRAMME COMENIUS

Students'

comments

Italy

Page 2/2