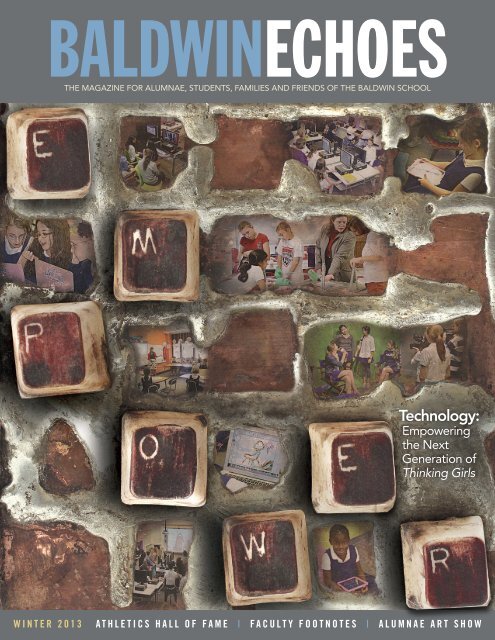 Winter 2013 - Baldwin School
Winter 2013 - Baldwin School
Winter 2013 - Baldwin School
SHOW MORE
SHOW LESS
Create successful ePaper yourself
Turn your PDF publications into a flip-book with our unique Google optimized e-Paper software.
BALDWINECHOES

THE MAGAZINE FOR ALUMNAE, STUDENTS, FAMILIES AND FRIENDS OF THE BALDWIN SCHOOL

Technology:

Empowering

the Next

Generation of

Thinking Girls

W I N T E R 2 0 1 3 A T H L E T I C S H A L L O F F A M E | F A C U L T Y F O O T N O T E S | A L U M N A E A R T S H O W
---
Special thanks to Trina Twyeffort Greene '54, who recognized many of the faces in this photo and reconnected with her classmates after

seeing it: a true Baldwin Sisterhood nearly 60 years later. Pictured: Carol McClave Duncan '54, Natalie Keen Van Bront '54,

Carol Littlepage Stefanik '54, Trina Twyeffort Greene '54, Dinny Lishon Biddle '54 and Kitty Barclay Heilman '54.

PHOTO COURTESY OF THE BILL HARRIS COLLECTION AT THE LOWER MERION HISTORICAL SOCIETY.

THEN&NOW

T

he Baldwin Sisterhood transcends generations and has been a driving force of the

School's strong alumnae network. Though their gathering spots may have changed,

Baldwin girls still enjoy off-campus time together.

"Then, it was customary for us Baldwin girls to meet at Parvin's [Pharmacy] and

have hamburgers and shakes on a weekend. Here we are celebrating our new

blazers as Class of Purple."

– Trina Twyeffort Greene '54

Though Parvin's Pharmacy is still in

operation, today Baldwin girls can be

found sipping smoothies and lattes at

Starbucks on Montgomery Avenue.

"Starbucks is just a short walk from

campus, and there are plenty of chairs

and tables to do homework or hang

out. We wear our Baldwin kilts with

pride." – Nellie Shields '14 and

Kennedy Johnson '14

A group of Grade XI advisees connect over Starbucks drinks.
---
FEATURES

Technology and Tenacity:

From Baldwin to Jolly

Good Fellow

Margaret Scott "Scottie" Robinson '69

shares how persistence and new

technology took her from playful

"science groupie" at Baldwin to

distinguished Fellow of the

Royal Society.

Tech Time:

Balancing

Tradition With

Technology

A look at how technology

is enhancing traditional

teaching at Baldwin.

ECHOESCONTENTS

DEPARTMENTS

2 UPFRONT

5 ALUMNAE NEWSMAKERS

6 ACADEMICS

Editor: Jessica Covello

Design: acquireVisual.com

Photo credits: Eileen Bilynsky, Laura Blankenship, Jessica Covello,

Kimberly Kaufman, Jay Gorodetzer, Jen + Ashley Photography,

Linda Mullen, Olga Quejada, Mary Pat Staats.

All photographs are identified left to right unless otherwise noted.

BALDWINONLINE

8 ARTS

10 ATHLETICS

12 HOMECOMING

21 FACULTY FOOTNOTES

22 CLASS NOTES

48 CLOSING THOUGHTS

ON THE COVER:

Adaptation of Baldwin Art Teacher

Kenny Delio's dictionary cover made of

porcelain computer keys and copper.

The original work is pictured here.

We welcome letters regarding the contents of the magazine

and/or issues pertaining to the school. Letters must be

signed. The editor retains the right to edit at her discretion.

Please send correspondence to:

Jessica Covello, editor, Echoes

The Baldwin School

701 Montgomery Ave.

Bryn Mawr, PA 19010

Or jcovello@baldwinschool.org

For general alumnae requests or information,

please contact the Development Office:

Mary Pat Staats, director of alumnae relations

mstaats@baldwinschool.org or 610-525-2700, ext. 268

Echoes is printed on recycled paper.

facebook

facebook.com/baldwinschool

facebook.com/baldwinalumnae

facebook.com/baldwinathletics

Twitter

@baldwinschool

YouTube

youtube.com/baldwinschool

Alumnae Group

http://ow.ly/cdGas
---
BALDWIN EVENTS

From weddings to corporate events, Baldwin's historic setting and

renowned catering partners can set the stage for memorable occasions.

Did you know Baldwin community members receive exclusive

pricing? Visit baldwinevents.com for more information or to check

availability. Photo courtesy of Jen + Ashley Photography.

A

HEAD OF THE CLASS

s lifelong learners, Baldwin girls continually seek new

experiences, resources and information. Our recent

campus and curriculum enhancements, as a part of

Baldwin's strategic plan, help foster this quality.

On campus, the smart-wired Learning Commons in

the Lower School sets the stage for inquiry, collaboration,

creativity and communication. Middle and Upper

School students are experimenting in the

Multimedia Studio, equipped with a green

screen, professional sound and lighting, and

capabilities for video conferencing, graphics

production and more.

In the classroom, individualized courses and

new electives are helping our students pursue their

passions with expert support, and learn life skills like

budgeting and investing.

Our "thinking girls" are thinking in

new ways, and we cannot wait to

see what's next.

Recommended

Reading

Viewpoints from faculty,

alumnae, students and parents

makes for lively discussion at the

Baldwin Book Club meetings.

Join us in the Anne Frank Library

at 7 p.m. or via live stream. Visit

www.baldwinschool.org/bookclub

for details.

Thursday, Feb. 7:

How Great Women

Lead by Bonnie

St. John and Darcy

Deane. Facilitator:

Deb Surgi, director

of athletics.

Thursday, Mar. 21

The Hunger Games

by Suzanne Collins.

Facilitator: Maria

Berger, Grade IV

teacher.

Tuesday, Apr. 16

The Alchemist

by Paulo Coelho.

Facilitator: Jill

Brown, Upper

School English

teacher.

2
---
BROTHERLY LOVE

Baldwin girls and their Haverford brothers stand side by side –

in the classroom, on the playing field and on the stage. Nearly

120 sibling families gathered at The Haverford School in the

fall for this photo celebrating the longstanding partnership

between Baldwin and our brother school. Share your own

Baldwin-Haverford photos or memories on our alumnae

Facebook page: facebook.com/baldwinalumnae.

GREAT LENGTHS

In support of National Breast Cancer Awareness Month, 13

Baldwin Lower School students participated in Pantene Beautiful

Lengths. The girls donated more than 114 inches of hair to make

wigs for women undergoing cancer treatment. This is the second

year Grade II Teacher Gabrielle Daley has led the service project.

See the video on our blog: blog.baldwinschool.org. Not pictured:

Grace Kirwan '21.

PARENTS' ASSOCIATION EXECUTIVE BOARD

Claudia Baldassano (Lower School Representative, PK-Grade II),

Bill Brown (Technology/Communications), Darlene Tobin

(Upper and Middle School Representative), Trine Vanderwall

(Secretary), Sejita Page (President), Beth Zemble (Executive

Vice President), Barbara Sprague (Past President), Pat Coler

(Vice President), Jennifer Cross (Assistant Treasurer).

Not pictured: Susan Ryszka (Treasurer), Lisa Cook

(Lower School Representative, Grades III-V).

BOARD OF TRUSTEES

Members new in 2012-2013 are bolded.

Lisa Ameisen '76, Rev. Robert T. Brooks, A. Steffen Wright

Crowther '68, John Dewey (Chair), Patricia Dietrich (Secretary),

Jeffrey Goldader, Thomas P. Gerrity, Marcy Gringlas, Brian

Halak, Deborah Hilzinger, Ruth Hochberger '68, Tracey

Holgren Ivey, Rachel Funk Jenkins '44, Peter Leone (Treasurer),

Christopher Marr, Alexis Egan McCarthy '81, Andrew Mozino,

Sejita Page, Sally Powell, Kristin Rodriguez '88, Jane Ellen Rosen '63,

Eric Ruoss, Marlon Satchell '94, Stephanie Cohn Schaeffer '85,

Samuel R. Scott, Anne C. Shoemaker, Caroline M. Simon,

Blair D. Stambaugh, Terry Steelman (Vice Chair), Warren Thaler,

Margaretta Walton '97 (not pictured).

FLORENCE BALDWIN DAY

The second annual Florence Baldwin Day took place on campus Friday, Oct. 12. The Dining

Room took on a Victorian era motif with menu items to complement. Students enjoyed

cupcakes and alumnae around the world took

pause to remember the woman who founded

Baldwin nearly 125 years ago. Sally Powell

traveled to London to toast with more than a dozen alumnae at the home of

Lady Marion Norton Marks '70. In attendance were: Mimi Chandler Watt '66,

Carolyn Cummings Addison '96, Sally Powell, Marion Norton Marks '70,

Ellen Butler '70, Pamela Russell Walford '70, Lola Murphy Dineen '04 (seated);

Margaret S. Robinson '69, Alicia Skubick '90, Lauren Skubick '92, Paris Carlin

Christofferson '77 (standing); Julia Sennitt Randall '52 (not pictured).

WINTER 2013 ECHOES

3
---
NEW FACULTY/STAFF

If you've visited campus lately, you may have

seen new faces sporting Baldwin blue. Join

us in welcoming:

Row 1 (Front): Aly Underwood, school nurse;

Elizabeth Becker, director of Lower School;

Erin Timm, Middle School English; Lauren

Friedman-Way, librarian & media specialist;

Stacy Gallagher, director of development;

Pam Przybylski, executive assistant to the

assistant head of school; Jennifer Cutler,

Upper School history.

Row 2: Kelly Schonour, Grade II; Julie

George-Carlson, associate director of

development; Lisa López-Carickhoff,

director of libraries & information services;

Kristen Kopf, science; Rebecca Best '01,

Mandarin & history; Sherri Farenwald,

School Store manager; Caryn Sucharski,

executive assistant to the head of school;

Gretchen Boger, Middle and Upper

School history.

Row 3: Dona Irwin, Lower School math;

Olga Quejada, website coordinator;

Jackie Harkins, development assistant;

Jessica Dalcanton, Upper School drama;

Taylor Jordan, Pre-K assistant; Naté Hall,

college counselor; Stephanie Wujcik,

Middle School history; Fran Walish, director of

marketing; Fred Kountz, Upper School history.

Not pictured: Barbara Cass, math;

Maddie Kropp, development associate.

To read more about these newcomers,

visit www.baldwinschool.org/news.

ALUMNAE ASSOCIATION EXECUTIVE BOARD

The Alumnae Association Open Membership Meeting was held on Oct. 10.

Row 1 (Front): Emily Klebanoff '85, Sophia Tareen '13, Alexandra Stein '06,

Allison Wiener '89, Jamilia Hudson '03; Row 2: Eleanor Zito, Laura Zito '72,

Marlon Satchell '94, Margaretta Walton '97 (AAEB President), Lisa Ameisen '76;

Row 3: Margie Tranger Walton '63, Annmarie Cappalonga Bunn '85, Debbie

Greenfield DeLauro '69. Attending but not pictured: Charlotte Matthai '13

and Marcia Reiver '78.

NATIONAL BOARD

OF ADVISORS

Among those attending the

National Board of Advisors (NBA)

fall meeting held Oct. 26-27 were:

Row 1 (Front): Maisha Smart '90,

Kristen Dunseth Rodriguez '88

(NBA Chair), Peg Fritz Schneider

'50, Amy Sobel '86 (NBA Vice-

Chair) and Elizabeth Yusem Fuerst

'65; Row 2: Florence "Florry"

Hubbard Lloyd '55, Heather Young '92. Melanie Sheerr '96 and Margaret Schneider

Maclay '77; Row 3: Jennie Silverstein '86, Annmarie Cappalonga Bunn '85,

Weatherly Ralph Emans '93, Jennifer Porges '83 and May Geggis Holgren '55.

Attending but not pictured: Steffie Wright Crowther '68.

The Sixth Annual National Board of Advisors Award was

presented (in absentia) to Jane Ellen Rosen '63. Jane was

recognized for her exceptional dedication to the NBA

|through her volunteerism, leadership as an NBA chair, and

commitment to the board and the larger Baldwin community,

currently as a member of the

Board of Trustees. Jane

attended Baldwin as a

boarder and has many great memories

of her life during that time. Following

her years at Baldwin she earned a B.A.

from the University of Pennsylvania

and an MBA from New York University.

Read more on our website:

www.baldwinschool.org/NBOA.

4
---
ALUMNAENEWSMAKERS

Julie E. Wollman '77 was recently named the 17th president of Edinboro

University in Pennsylvania, bringing a successful background in higher education

academics and administration. She is the first woman to be named president of

Edinboro University.

Julie earned her Bachelor of Arts degree in English and American literature and

language with a minor in French from Harvard University in 1981. She has a

Master of Science degree in elementary education from the University of

Pennsylvania and a doctoral degree in elementary education from New York

University. She also attended the Institute for Education Management at the

Harvard Graduate School of Education.

She is married to Dr. Dan L. King, the Provost of the Massachusetts School of

Professional Psychology, and the Executive Director of the American Association

of University Administrators, a national professional organization. She has two

daughters, Sara Bonilla, 21, a recent graduate of Wesleyan University, and

Rosa Bonilla, 17, a senior in high school.

Emily Chesick '77 and Marcia Reiver '78 headlined this year's

Alumnae Art Show, Nov. 11-Dec. 21. Emily showed intricate

landscape quilts made from cotton fabric, cotton batting, appliqué

and thread. Marcia works in the demanding Japanese-based process

of raku pottery.

Although they work in different media, a strong commonality runs

through Marcia and Emily's work: nature. Emily, who has a Master

of Science degree in Forestry, celebrates

everything from National Park scenes to soil

structure. Marcia works directly in and with

nature: her pottery is made in the open air,

rendering her work contingent upon the

day's weather. The pottery bears traces of

the specific atmospheric condition, be

it wind, humidity or temperature.

Each piece, therefore, is an

unrepeatable blend of intent and

circumstance.

Emily is the daughter of longtime

Baldwin science teacher

Elizabeth Chesick. Marcia is active

in BRAVA, Baldwin's

parent-led arts committee.

Marcia Reiver '78, Art Department Head Janice Wilke, Elizabeth Chesick and

Alumnae Arts Coordinator Penny Lisk '77.

Emily Chesick '77 displays

one of her quilts.

Point The Way, a raku

pottery creation by

Marcia Reiver '78.

WINTER 2013 ECHOES

5
---
Academics

B A L D W I N

CIAO, GRADE IX

The first annual Grade IX trip to Italy took students and faculty on

a week-long journey to enhance their studies. Sponsored by the

School, the trip featured stops in Rome, Milan, Florence and

Pompeii. Students visited the Iceman Museum in Bolzano and

received a new kind of Room with a View lesson in Edwardian-era

Florence. Visit ciaodaitalia.wordpress.com to follow their travel experiences in the form

of blog posts, photos and videos.

The famed Roman Coliseum.

A group of students gather at Palazzo Vecchio, Florence's town hall.

The Spanish Steps in Rome.

MODEL STUDENTS

The Middle School Model United Nations (UN) Club is busy building

on the success of its inaugural year. Last year, girls participated in the

Global Classrooms International Middle School Model UN Conference

with representatives from the U.S., Canada, Mexico, Turkey, Italy and

Ghana. In April, the students will head to New York City to take part

in The 8th Annual Global Classrooms ® International Middle School

Model UN Conference.

6
---
TREKKING ON

Computer Science Coordinator Laura Blankenship took a two week trek to India

with Kristine Rojo '14, Heather Brown '14 and Eric Petersen '15 of Haverford. They

marveled at sites including the Taj Mahal, Himalayan Mountains and Ghandi

Memorial. In this photo, the group and their drivers pose at 14,000 feet, nearing

the top of the world's highest mountain pass. Read Dr. Blankenship's blog post:

blog.baldwinschool.org/2012/a-trek-through-india.

HIGH HONORS

Fifteen members of the Class of 2013

have been recognized by the National

Merit Scholarship Corporation. Only

50,000 of the 1.5 million high school

students nationwide who took the

2011 PSAT received recognition from this

program. The top 16,000 scoring students

are awarded Semifinalist designation.

Baldwin National Merit Semifinalists

include: Hannah Bao, Amalia Bowen-

Sicalides, Julia Fournier, Connie Li, Erin

McCloskey and Sarah Tupchong. The

remaining 34,000 Commended Students

include Baldwin students Jessica Fan,

Alexandra Grizos, Abigail Grosskopf,

Charlotte Matthai, Maya Patel, Jasmine

Schlichting, Charlotte Solmssen and

Paige Tobin. Jaslyn McIntosh is a

National Achievement Semifinalist.

TRAVELS NEAR AND FAR

The 10-day Grade VIII trip to the Perse

School in Cambridge, England was once

again a huge success. The girls returned

full of tales of punting on the river, visits

to London and new friendships. They later

headed to Williamsburg, Va. for a tour of

historical sites, a mock military training

session, African American storytelling and

more. Grade VII girls harnessed their inner

outdoorsman at South Mountain YMCA

camp in the form of high ropes courses

and campfires. Grade VI students

(pictured) enjoyed new experiences in

New York City, visiting the Museum of

Modern Art and seeing Wicked.

LYRICAL GENIUS

Baldwin was the host of this year's

Honors Seminar held in partnership with

Haverford, Shipley and Agnes Irwin.

Juniors applied to be one of the four

students from each school chosen to

participate in year-long interdisciplinary

workshops. Every year, two different

disciplines come together to plan unique

learning experiences for 16 students, with

this year's departments being English and

Languages. Students learned about the

evolution of the ode from Horace, to

Shelley, to Neruda and were asked to

define, create and perform the ode of

their generation.

BEGINNING BALDWIN

Funded by Nancy Corbit Lewars '60, the 2012 Lewars Academic Preseason

helped more than 70 students make the transition to Middle and Upper School

at Baldwin. This four-day summer program, now in its fifth year, focuses on

study skills, research strategies and more. Students also have ample time for an

introduction to the school's social and recreational opportunities. The personal

connections made with classmates and faculty during this experience give them

a head start once school begins.

WINTER 2013 ECHOES

7
---
Arts

B A L D W I N

HEAD OF SCHOOL

ART GALLERY

The Upper School

digital photography

work was on display

in Head of School

Sally Powell's office in September.

Middle School art followed in November.

Pictured: Cashel McCarthy '14's

photograph from "water in motion"

studies in Digital Photography I.

Carolyn Pyfrom

Deirdre Murphy

MUSICAL MASKERS

The Maskers heated up the stage in

the fall with their performance of

Once Upon a Mattress. This musical farce

is an adaptation of the Hans Christian

Andersen fairy tale The Princess and the

Pea and defies all previous notions of

what a princess is, where the beautiful

nightingale came from, and just how

funny a jester can be.

STEPPING OUT

The Performing Arts Department was invited by the Pennsylvania Ballet to review a

performance of Giselle, an opportunity seized by seniors Paige Tobin and Abby

Grosskopf. Also, the new Advanced Acting class saw How I Learned to Drive by Paula

Vogel at Villanova University and met with the cast to discuss the show.

Aubrey Levinthal

AN ARTFUL COLLABORATION

The first art exhibition of the 2012-2013

academic year celebrated the friendship

between Baldwin and the Pennsylvania

Academy of the Fine Arts (PAFA). In

support of PAFA's exhibition of the

Linda Lee Alter Collection of Women Artists,

Baldwin exhibited women artists

associated with The Pennsylvania

Academy as either faculty or former

students, including our own Janice Wilke.

8
---
FLYING HIGH

Vicky Gold, Baldwin's longtime ceramics

teacher, is exhibiting her signature clay

pigeons at the Philadelphia International

Airport. The display case, filled with her

birds pecking at the ground, conversing,

looking quizzically at the viewer, or about

to take flight, is located in Terminal D.

This high-profile exhibition will be on

view until April.

BUDDING ARTISTS

Maria Berger's Grade IV class used tempered paint to create sunflowers as a part of

the girls' study of plants. The students wrote a complementing creative piece in

which they took on the "persona" of a sunflower.

THE "WRIGHT" WORDS

Emily Clark '14 earned second place in

the Philadelphia Young Playwrights

competition for her play, The Three Sisters.

Winners were selected from 850 play

submissions at over 50 public and private

schools in the Philadelphia area. The

Three Sisters describes the relationship

between sisters who represent the three

fates in Greek mythology: Birth, Life and

Death. Each woman struggles to adapt to

the realistic world on Earth: Lela chases

love, Cyra keeps the peace, and Ara

attempts to control her loneliness and

power. The play develops into a battle of

passion as each woman learns the extent

of her "humanity."

MUSIC TO OUR EARS

The sweet sound of Baldwin's Firenze group was the backdrop for the Philadelphia

Business Journal's 30 Women of Distinction event in November. The holidays

were also made merrier by the Baldwin B-Flats, who caroled in Manayunk and

participated in a "sing-off" with the Haverford Notables under the Christmas

tree during Bryn Mawr's First Friday event.

WINTER 2013 ECHOES

9
---
Athletics

B A L D W I N

V

Gold medalist

Connie Wang.

ARSITY TENNIS EARNS SHARE

OF 2012 INTER-AC TITLE

The varsity tennis team earned a share of the

Inter-Ac title, the team's second Inter-Ac title in

three years. Baldwin, Episcopal and Agnes Irwin all

finished the season 5-1, to share the title. In addition,

nine varsity tennis players earned medals at the

2012 Inter-Ac Individual Championships. Leading

the Bears was Connie Wang '14 who captured the

Gold at 2nd Singles. Kristine Rojo '14, at 1st Singles

and Victoria Gevurtz '13, at 3rd Singles, were

Bronze medalists. In Doubles play, 1st Doubles

Selena Maity '14 and Ali Thaler '15 captured the

Silver. The 3rd Doubles team of Julz Vaccaro '13

and Emilie Wache '13 and 4th Doubles pair of

Tarlan Daryoush '13 and Haley Weiss '14

captured Bronze.

Row 1 (Front): Connie Wang '14, Connie Li '13, Haley Weiss '14,

Kristine Rojo '14 and Abby Grosskopf '13; Row 2: Selena Maity '14,

Emilie Wache '13, Julz Vaccaro '13, Victoria Gevurtz '13, Ali Thaler '15,

Tarlan Daryoush '13 and Coach Jeff Sacks.

The panelists: Katie LeGrand, compliance director,

Villanova University; Amanda Janney, head field hockey

coach, Temple University; Stephanie Campanaro, former

Cabrini College field hockey player and current Baldwin

assistant varsity field hockey coach; Jen Ward, assistant

compliance coordinator and head softball coach, Haverford

College; Emma Hamm '07, former Duke University lacrosse

player; Deb Surgi, Baldwin director of athletics; and Martha

Allen, Baldwin director of college guidance.

SPORTS SYMPOSIUM:

NAVIGATING THE

RECRUITING PROCESS

Hosted by Blue Gray,

Baldwin Athletics' annual

Sports Symposium featured

seven experts in the field of

collegiate athletics recruiting.

The symposium was attended

by Baldwin student-athletes

interested in continuing

their athletic careers beyond

Baldwin. Panelists shared

their expertise and answered

questions from the audience.

Currently, 29 Baldwin alumnae

are participating on NCAA

teams.

VARSITY CROSS COUNTRY

TEAM RUNS TO VICTORY

Sophomore Miriam Jaiser (pictured)

medaled and placed 5th overall

at the 2012 Varsity Inter-Ac

Cross Country

Championship and

was named to the First

Team All Inter-Ac. In the

junior varsity race, Alice

Douglas '14 finished 4th

overall, and Meagan

Cohen '15 placed 6th.

The varsity team also

captured 4th place in a

field of 23 varsity teams at

the Salesianum Invitational.

10
---
MAKE YOUR MARK: ATHLETICS HALL OF FAME

We know your Baldwin Blue runs deep. Alumnae, memorialize your school spirit and athletic accomplishments by nominating

yourself or a former classmate for Baldwin's inaugural Athletics Hall of Fame. For award criteria and the nomination form, visit

www.baldwinschool.org/athleticshalloffame. Award recipients will be inducted during the 2013 Baldwin Homecoming.

BALDWIN ATHLETICS FACEBOOK

Like us! We're 500+

strong and growing.

Be sure to check

regularly for

Athletics news and

important updates.

MIDDLE SCHOOL A VOLLEYBALL:

UNDEFEATED

The Middle School A volleyball team

is undefeated (8-0), losing only one of

24 games all season.

BALDWIN GIRLS NAMED

U.S. SQUASH SCHOLAR-ATHLETES

Baldwin U.S. Squash Scholar-Athletes

include (as pictured): Rachel Zachian '15,

Alexa Horwitz '15, Selena Maity '14 and

Maya Patel '13. Marina Crowe '12, who is

currently playing on the men's squash

team at MIT, also received the honor. The

award is open to high school students

who have a GPA of at least 3.5 at the end

of the school year and have played in

four U.S. Squash sanctioned tournaments

between April 1, 2011 and May 31, 2012,

or an approved number of U.S. SQUASH

Scholastic Squash Program (SSP) matches.

JUNIOR VARSITY TENNIS: UNSTOPPABLE

The junior varsity tennis team finished with an undefeated Inter-Ac record of 6-0.

Row 1 (Front): Janny Wang '15, Julia Greitzer '16, Jasmine Syed '15, Nellie Shields

'14, Claudia Hogg '14, Isabel Senior '16 and Genie Dubay '16; Row 2: Alicia Song

'15, Rachel Dichter '15, Jessica Levit '16, Davis Madeja '16, Musu Taylor '14, Rebecca

Haley '14, Quinn Funston '16, Amanda Kichline '16 and Coach Roni Sacks.

BALDWIN ATHLETICS:

BLUE, GRAY AND GREEN

Baldwin Athletics' new bicycle is not

the department's only green practice,

but it is the newest. As a way to scoot

around campus easily to catch more

games and connect with students,

the Athletics department purchased a

bike this fall, instead of a more costly

golf cart or gator. The cross country

and track team coaches also have the

bike available to ride alongside

athletes during training. "It's a green

and cost-effective way of getting

around campus and the

community," commented

Deb Surgi, director of athletics.

"We're very committed to a green

world here in Athletics." In addition

to the bike, the Athletics Department

recently donated old uniforms

from six teams; the Salvation Army

will shred them and put the fabric

to new use.

UPPER SCHOOL CREW

Members of the Upper School crew team

raced as part of Team Undine, competing

in four regattas in the fall.

Sophomores Elizabeth Grubman, Bridget Pansini

and Noa Schork with juniors Abigail Lemmon and

Storey Wanglee.

UPPER SCHOOL ATHLETIC

ASSOCIATION IS STRONG

The Upper School Baldwin Athletic Association

hosted a party on the Athletic Center back porch

for the 98 Upper School fall athletes on the final

day of pre-season. The girls celebrated their hard

work and kicked off another spirited year for the

Athletic Association.

Athletic Association

representative Krista

Hinchman '15 displays the

t-shirt "Where the Weak

Become Strong and the

Strong Become Great,

Baldwin Pre-Season."
---
Homecoming

T

he 2012 Homecoming themes

of "LAST BEAR STANDING"

and "SURVIVORS" were played

out in true colors. Baldwin's

varsity teams took to the courts

and fields with pride and were victorious in

soccer, tennis and volleyball. The field hockey

team stood tall after a tough game and the

varsity cross country team conquered and

survived the hills at the Pennsylvania

Independent Schools Athletic Association

(PAISAA) State Championship. Homecoming

activities kicked off on the evening of Friday,

Oct. 26 with the traditional fall team skits,

barbeque and bonfire, and unveiling of

the ever-popular gear, all presented by the

Upper School Athletic Association. Saturday's

festivities featured the fourth annual Pancake

Breakfast, presented by Blue Gray, Middle

Field activities for all ages, and varsity

games. Throughout the day, Baldwin

students, families and friends stood proud,

waving banners and pom-poms and cheering

loudly for their Bears. 2013 Homecoming

will include the induction of Baldwin's

inaugural Athletics Hall of Fame members.

See the Athletics section on page 11 for

more information.

The varsity cross country team at the start line.

The varsity field hockey team in the pre-game huddle.

The varsity soccer team celebrates a goal.

12
---
Baldwin mom, Heather Andrews.

Varsity and JV tennis players join forces for a Homecoming match.

Members of the Athletic Association:

Arden Simone '13 (Head), Fiona McCanney '13,

Cashel McCarthy '14 and Morgan Steelman '16.

Kayla Watkins '16, Leslie Brown and

Imani Brown '16.

Sisters Olivia '15 and Alexa Horwitz '16

with Winnie and Spotty.

Head of School Sally Powell and her husband, Frank.

The varsity volleyball team celebrates a point.

WINTER 2013 ECHOES

13
---
TECHNOLOGY

A N D

TENACITY:

From Baldwin to

Jolly Good Fellow

In seventh grade, my first year

at Baldwin, I became something of a science

groupie. My classmate Charla Thompson and I

used to hang out in the science building after

lunch, watching the teachers prepare for their

afternoon labs and asking them questions. But

I was interested in a lot of other things as well,

especially theater (I was never happier than

when working with my fellow Maskers on our

latest production), and I didn't start to focus on

science until I was a freshman at Smith taking

General Biology. The lectures on cells were all

given by Associate Professor Jean Powell, who

used to teach at Baldwin. Using images taken

with an electron microscope, she showed us

that the insides of our cells are amazing

miniature worlds, containing beautiful

structures that are only visible with this

technology. I would look at these structures

and ask, "What is that made of, what does it

do, how does it work?". More often than not

the answer was, "Nobody knows." I found it

exhilarating to think that there was so much

still to be discovered, and when I graduated, I

took a job as a research assistant. Although I

really enjoyed doing lab work every day, I

started wishing that I could call the shots more.

So I decided to apply to graduate school, and in

1976 I joined the Cell and Developmental

Biology Program at Harvard Medical School.

Graduate school was a mixed experience for

me, but I had one wonderful summer when I

took the physiology course at the Marine

Biological Laboratory in Woods Hole, where we

were encouraged to do research of our own

choosing. I had become fascinated with tiny

objects called coated vesicles, which had

14
---
Electron microscope image of coated vesicles budding

from a membrane.Each coated vesicle has a diameter of

around 150 nm (0.000006 inches).

recently been purified from pig brain by Barbara

Pearse at the MRC Laboratory of Molecular

Biology (LMB) in Cambridge, England. Barbara

had shown that they were mainly made out of a

protein that she named clathrin, but I speculated

that they might also contain a protein called

tubulin, and I wanted to test this. So I located a

pig slaughterhouse in Boston, traveled there by

bus with a cooler, collected a couple of brains,

and then took the bus back to Woods Hole. I sat

next to an elderly woman who was concerned

that my "lunch," as she called it, which I'd placed

on the floor under my feet, might tip over and

spill. I didn't enlighten her about what was really

in the cooler. And I did manage to purify coated

vesicles and I did find tubulin (using what would

now be seen as a very low-tech protocol),

although later on I realized that the tubulin had

been a contaminant. It was present in the

preparation, but not actually associated with the

coated vesicles.

But although I had become completely

captivated by coated vesicles, I was in the wrong

place to work on them. So after receiving my

Ph.D., I decided I wanted to work with the world

expert, Barbara Pearse herself. I was very nervous

about approaching her, but she turned out to be

the least intimidating person in the world. She

told me that she would be happy to house me in

her lab, provided I could come up with my own

funding. Surprisingly, because I didn't have any

publications from my Ph.D. work, I managed to

get a postdoctoral fellowship, and started

working at the LMB in 1982.

The LMB was a real eye-opener. It has more

Nobel Prizes per capita than any other place in the

world, and the quality of the science is

astonishing. A number of important new

techniques were developed there that I was able to

tap into, including monoclonal antibodies and

methods for sequencing proteins and DNA.

However, I got a bit sidetracked during my first few

months there, because I spent a lot of my time

working backstage for the Cambridge University

Opera Society, together with my Baldwin Maskers

friend Leslie Dunn '70. But then I started going

out with one of the junior group leaders at the

LMB, John Kilmartin, and he worked practically

around the clock, so I started keeping the same

hours. With the extra time that I put in, my work

suddenly took off. I published a couple of papers

and got a second postdoctoral fellowship, and

during that time John and I got married.

But then I hit a brick wall.

Although everything was still going well

scientifically, and the LMB gave me a short-term

position, they made it clear that they weren't

going to offer me a permanent job. John was

amenable to looking for jobs in the States, but

this wasn't the best time for him because he had

recently changed fields. So I started looking for a

job in Cambridge. The closest I came was when I

was shortlisted by the Biochemistry Department.

However, my interview was disastrous - among

other things, I accidentally walked off with the

handbag of the only other women in the room,

a very distinguished professor - and they didn't

offer me a job.

Fortunately, another option eventually

materialized. The Wellcome Trust had recently

launched a Senior Fellowship scheme, which

Scottie Robinson (third from left

on the stage) with fellow Maskers

in 1969. Mary B. Robinson '71

(Scottie's sister) is on the far left

standing below the stage, and

fellow science groupie, Charla

Thompson Bendas '69, is in the

middle below the stage. Scottie

still enjoys going to the theater

and opera in her spare time.

WINTER 2013 ECHOES

15
---
allowed people to set up as independent

investigators, as long as they could find a

department to accommodate them. There

was a Clinical Biochemistry Department,

where several groups were working on the

kinds of problems I was interested in, and

one department member in particular,

Paul Luzio, was very enthusiastic about

my joining them. So with Paul as my

"sponsor," I managed to get a Senior

Fellowship, and in 1989 I started working

in Clinical Biochemistry, in spite of not

being clinical or even really a biochemist.

I thought that this move

would mean that instead of being a small

fish in a big pond, I would become a

bigger fish in a smaller pond. However,

most people (Paul was a notable

exception) still saw me as a small fish,

mainly because all of the other senior

members of the department were men.

My work continued to go well, and I even

managed to get a paper into Cell, the most

prestigious of all the biomedical journals.

Still, I remember thinking that even if I

won a Nobel Prize, the department would

probably still see me as Paul's sidekick.

Eventually, of course, it all worked out. I

was given a lab of my own and started to

take on graduate students and postdocs.

I've recruited some exceptionally talented

individuals over the years, and they have

become the lifeblood of the lab. In the

meantime, other cell biologists (including

several women) joined Clinical

Biochemistry with Wellcome Senior

Fellowships, and in 1998 we all moved to

a new building, where Paul is the director.

So I am now in the enviable position of

16

TOP FIVE

TECHNOLOGICAL

ADVANCES IN

CELL BIOLOGY,

AS TOLD

BY SCOTTIE

being able to do work that I love, in a very

supportive environment, and surrounded

by the best colleagues imaginable.

And surprisingly enough, I am still

working on coated vesicles. They have

turned out to be even more fascinating

than I supposed when I first fell in love

with them 35 years ago. I'd been drawn to

them partly because they're so beautiful

(the clathrin coat forms a network of

hexagons and pentagons over the surface

of the vesicle) and partly because it seemed

that they might hold the key to what at

the time was called The Sorting Problem.

The gist of this problem is that every cell

contains numerous membrane-bound

compartments, each with its own set of

proteins, and somehow all of these

proteins manage to get to the right place

and stay there. There was evidence from

work by Nobel Prize winners Brown and

Goldstein that coated vesicles can select

proteins from a particular compartment,

package them as cargo, and ferry them to

a different compartment. But how does a

coated vesicle know which proteins to

include and which ones to leave out?

My work in Barbara's lab led to the

discovery of the adaptins: components of

the coat that physically interact with

membrane proteins and can discriminate

between proteins that need to be taken

somewhere else and proteins that need to

stay put. When I set up my own lab, we

went on to find other adaptins associated

with other types of coated vesicles. Some

of the adaptins turn out to be mutated in

patients with particular genetic disorders;

and by using a technique called RNA

interference, we were able to show that

HIV can hijack adaptins in order to wreak

MICROSCOPY

Although electron microscopy of biological specimens

has been around since the 1950s, this technique can

now be combined with different types of labeling

(e.g., using antibodies coupled to colloidal gold

particles), to show the exact location of individual

molecules. The advantage of electron microscopy over

optical microscopy is that it is possible to get 1,000

times the magnification without losing resolution.

However, only optical microscopes can be used to look

at living cells, because electron microscopes bombard

the specimen with a powerful electron beam

in a high vacuum. Advances in optical microscopy

include many new methods for doing live cell

imaging (e.g., using green fluorescent protein

fused to a protein of interest).

Outside the Royal Society headquarters with

husband and Royal Society Fellow John Kilmartin,

and daughter Claire.

havoc with the immune system. In fact,

adaptins are so important that it is now

speculated that they may have played a

key role in the evolution of eukaryotes

like ourselves (i.e., organisms with

compartmentalized cells), as distinct from

prokaryotes (e.g., bacteria), some 2 billion

years ago.

But although I'm still working on

coated vesicles, I'm now using approaches

that weren't even conceivable when I was

a student. Probably the most important

technological breakthrough for my own

work has been the Human Genome

Project. We now know the sequences of

every single one of our genes, and

although I said in my graduate school

interviews that I didn't want to work on

DNA, nowadays every cell biologist works

on DNA, as a way of getting at the

proteins we're interested in. For instance,

we can attach the gene encoding a green

fluorescent jellyfish protein to a clathrin

or adaptin gene, and then watch the

coated vesicles in living cells as they bop

around delivering cargo proteins to

different destinations.

DNA MANIPULATION

The technology for piecing together different bits of

DNA, to make recombinant DNA, is now 40 years old.

It is used, for instance, to attach the green fluorescent

protein gene to a gene encoding a protein of

interest. Recombinant DNA technology led to other

technological advances in the late 1970s and early

1980s, such as DNA sequencing and polymerase

chain reaction (a method that amplifies as little as

a single molecule of DNA into millions of molecules).

These advances in turn facilitated the Human

Genome Project and other genome projects. To date,

over a thousand human genomes, from individuals

all over the world, have been sequenced; and the

genomes of over a hundred other organisms have

been sequenced.
---
The Robinson lab at the Orchard Tea Garden

in Grantchester. One of the lab members

couldn't make it so he was pasted in, wearing

his lab coat and hat. David Hasselhoff takes a

break from his schedule to serve tea. Some

playful teasing among her students resulted

in Scottie amassing a decent collection of

Hasselhoff memorabilia in her office.

We can also now identify proteins from

tiny amounts of material, partly because of

our knowledge of the human genome,

and partly because of advances in a

technique called mass spectrometry,

which can be used to identify proteins

definitively. I have recently revisited my

first experiment on coated vesicles, but

instead of just looking for tubulin, our aim

was to make a complete list of coated

vesicle proteins. We were able not only to

identify over a thousand different

proteins, but also to tell which ones were

contaminants, because these proteins

didn't go away when we silenced the

clathrin gene by RNA interference. And

once again we found tubulin, five different

versions of it, and they all behaved like

contaminants. But we also found over a

hundred genuine coated vesicle

components, most of which were

previously unknown.

It's not easy to keep up

with this fast-moving field, but I was

educated to be a "thinking girl," and I

enjoy the challenge. Baldwin also gave

me self-belief, which I think goes much

deeper than self-confidence. I know of

several women who ran into difficulties

similar to mine and became so

discouraged that they left science. But

when I was having problems as a

graduate student, or when I was unable to

find a job as an independent investigator,

it never occurred to me to do anything

other than hang in there. Baldwin also

gave me many, many examples of really

excellent teaching, which I try to follow

now that I'm the teacher. Classes at

Baldwin were not only instructive and

inspiring, they were also a lot of fun, and

I try to work that element into my

teaching as much as I can. I like to think

of our lab as an enjoyable place to work,

not only for the science but also because

of all the lab outings, lab traditions

(which usually involve food, especially

chocolate), and lab jokes (which often

feature David Hasselhoff).

When I found out last spring that I had

been elected a Fellow of the Royal

Society, it was really the icing on

the cake. I already felt that I had

the best job in the world, and

to join a society whose

members included people like

Isaac Newton, Charles Darwin

and Albert Einstein was an

unbelievable honor. I was

allowed to bring four guests to

the signing ceremony, so both

of my sisters (Mary B. Robinson

'71 and Lolly Robinson) were able

to fly over from the States, to join John

and our daughter Claire for a wonderful

day. The Royal Society Charter Book is

already 350 years old and is expected to

last several centuries more, to be signed by

44 new Fellows every year. My signature

will always be there, ink blot and all. There

is a joke that "FRS" stands not only for

"Fellow of the Royal Society," but also for

"Further Research Suspended," because

some Fellows feel that they have now

reached the pinnacle of their careers, and

there is nowhere to go but down. But

Baldwin did too good a job with me, and I

intend to keep on learning.

Margaret Scott "Scottie" Robinson '69 is Professor of

Molecular Cell Biology at the Cambridge Institute for

Medical Research at the University of Cambridge. In

April 2012 Scottie was elected a lifetime Fellow of the

Royal Society by a peer review process based on excellence

in science. Only 5 percent of Fellows of the Royal

Society are women. She is considered the leading expert

on adaptins, proteins that facilitate a process

that allows other proteins to be transported between

various organelles of the cell. Her research has made

significant contributions to the understanding of how

these processes affect health and to the identification

of potential targets for new therapies for diseases

such as HIV. Scottie's research has been widely published

in peer-reviewed journals, and she is a frequent

speaker at major scientific and medical

conferences. Scottie is married to cell biologist

John Kilmartin, who is also a Fellow of the Royal

Society, and has a 16-year-old daughter,

Claire, who is an avid soccer player.

RNA INTERFERENCE

Knowing the sequence of the human genome doesn't tell

us what each individual gene actually does. However,

RNA interference (RNAi), a naturally occurring process

first described in 1998, can now be used to silence individual

genes and give us information about the functions

of the proteins they encode (but in order to do this,

you first need to know the sequences of the genes). Our

lab recently completed a human genome-wide RNAi

screen on HeLa cells (a widely used type of cell that

came from a woman named Henrietta Lacks, who died

over 60 years ago). The screen involved silencing over

21,000 different genes in turn, in order to find new

genes that contribute to coated vesicle function.

Psst: Search "HeLa" on our blog for a post by

Dr. Dorfman on her AP Biology HeLa cells lab.

MASS SPECTROMETRY

Mass spectrometry measures the mass of individual

molecules with extraordinary accuracy. For studies on

proteins, the protein is first broken into fragments

with an enzyme. These fragments are then ionized

(i.e., given a positive electric charge) and further

fragmented, then the mass-to-charge ratio of each

fragment is determined. Because every single one of

our more than 21,000 proteins is different, this

information can be fed into a database and used to

determine protein identities, even from very complex

mixtures. Mass spectrometry is also extraordinarily

sensitive. For instance, from 20 micrograms

(0.0000007 ounces) of HeLa cell coated vesicles, we were

able to identify and quantify over a thousand proteins.

BIOINFORMATICS

There is now so much data about genes and proteins

that modern information technology is essential.

Numerous databases are available on the Internet,

which can be mined to analyze protein and DNA

sequences. These databases are used to identify

proteins detected by mass spectrometry. They can

also be used to predict the structures of new

proteins, and to search for evolutionary relationships

between genes, and therefore between organisms.

For instance, we now know that humans are

surprisingly closely related to fungi, and not all that

distant from amoebae, when compared with, say,

plants. (And all of us – humans, fungi, amoebae,

and plants alike – have coated vesicles!)

WINTER 2013 ECHOES

17
---
TECH

TIME

ENGAGE, EXPLORE,

LEARN AND CREATE:

THE LEARNING COMMONS

AND IPAD PROGRAM

By Linda Mullen,

technology coordinator

Balancing Tradition

With Technology

It's no secret that dynamic

technological innovations have

fostered tremendous discoveries

in science, communications and

myriad other fields. Technology

can improve efficiency, provide a

competitive edge and help us

succeed. Today, its use inside the

classroom is a logical, necessary

part of a comprehensive education.

At Baldwin, students learn how to

use technology responsibly and

ethically. They work with faculty and

classmates to navigate and explore

many forms of technology. The

growing use of technology in the

classroom, from iPads to video

conferencing, in support of the

curriculum is helping students

adapt to an ever-changing world.

New tools are vehicles for

experimentation from an early

age and integrate seamlessly into

lessons. Imagine: simulating a

science experiment that would

have previously only been possible

in a controlled, multi-million dollar

lab, or fine-tuning motor skills in

Pre-Kindergarten by tracing letters

before taking to pen and paper.

Read on for a look inside

technology at Baldwin.

18

The Baldwin School philosophy is

grounded in an idea that "academic

excellence begins with the ability

to think logically, independently, and

imaginatively." At Baldwin, this philosophy

means continually seeking innovative

approaches to learning that engage students.

In 2011, teachers and administrators

finalized plans to integrate technology into

the Lower School curriculum. This led to

the development of two initiatives that

have been implemented for the 2012-2013

academic year: an iPad program for students

in Pre-Kindergarten-Grade II and The

Learning Commons, a unique space of

learning and discovery for students in

Grades III-V.

Fifteen iPads are available in the Early

Childhood Center and 32 are reserved for

Grades I and II for one-to-one use. iPads are

easily integrated into existing curricula,

utilizing games and apps to support math,

writing and creative projects. For example,

in math class, Coin Critters helps students

iPad Program—Pre-Kindergarten-Grade II

• Provides a variety of experiences – tactile,

auditory, visual

• Enhances engagement and learning

• Integrated into curriculum

• Opportunities for anytime, anywhere learning

Learning Commons—Grades III-V

• Learning Commons is an extension of the library

• Students have a wide range of resources for

research, learning and creation

• Equipped with Smartboard, MacBook Air

laptops, document camera and whiteboard

identify coins and learn to count change.

iPads provide tactile, auditory and visual

experiences and their portability creates

opportunities for learning anytime,

anywhere.

The Learning Commons is a colorful,

comfortable environment that is an

extension of the Lower School library. The

flexible space and furnishings are designed

for small group activities or an entire class.

With the library at its core, students have

access to a wide range of resources and

equipment for research, learning and

creating. Thirty two MacBook Air laptops

reside in the Learning Commons and are

available for Lower School student use

anywhere on campus to support and

enhance their classwork. As a result of this

initiative, the role of the librarian is evolving

into one of a technology specialist, guiding

students through a variety of media choices

to help them find the information and

platform that best supports their projects

and imagination.

The Learning Commons is designed to accommodate

small group activities or an entire class.
---
Unveiled at the start of the

academic year, the Multimedia

Studio and Lab is an open,

dedicated space for students to

collaborate and work creatively. In

addition to a green screen and black and

white production backdrop area, the

space is outfitted with professional sound

treatment and lighting. Students enjoy

the hands-on approach and learning the

ins and outs of the audio-visual

equipment through experimentation.

Teachers have found that the space

generates more excitement and creativity

around completing assignments. "In

addition to having an online course

management supplement, the girls can

record some of their work as a Google doc

and share it with both me and the

students," said Jennifer Cutler, Upper

School history teacher. "The students can

share documents, create presentations,

research, blog, watch videos and more –

it definitely facilitates collaboration and

real-time feedback."

The Multimedia Studio and Lab is also

home to The Baldwin Television Club

(BTV Club). The club has both an Upper

and Middle School group, each with the

objective of producing a newscast. The

girls will determine the format of the

production: broadcast news,

eyewitness/journalistic news, a talk

show or editorial format.

The approach to developing a

MULTIMEDIA

STUDIO

AND LAB

David Pulli, Help Desk specialist

newscast is slightly different for each

group. Middle School students are

learning first about various technical

aspects of news production: the use of

audio, video and graphics. Next, they will

apply their newly learned skills to the

format they have selected for their

newscast. The Upper School girls are

working on format, style and technical

aspects simultaneously—developing a

complete news program all at once.

The girls take cues from female

newscasters they have identified as role

models, including Ann Curry, Diane

Sawyer and Robin Roberts. The

Multimedia Studio and Lab allows

students to build a competitive digital

portfolio, or just have fun.

Students learn presentation skills utilizing the latest

technologies, customized to the audience or topic.

"I'm so glad we can enjoy this

environment. It's impressive and

useful. As BTV becomes bigger and

grows, it will become a very vital part

of the Baldwin community.

Aside from the multimedia space,

technology in science is continuing

to grow. We recently tracked our

ancestors' pasts by using our

cheek cells."

- Sara Tupchong '13

The BTV Club gives students a hands-on opportunity to learn the technical aspects of producing a news program.

WINTER 2013 ECHOES

19
---
What you can do with

Computer Science skills:

• Bioinformatics

• Computer Animation

• Computer Scientist/

Professor

• Computer Systems Designer

• Data Analysis

• Game Design

• Graphic Design

• Robotics &

Artificial Intelligence

• Software Engineer

• Web Development

And much more!

The Middle School Robotics Club.

Vriti Khurana '16 programmed a robot to draw.

The field of computer science

is rapidly growing with an

abundance of rewarding job

opportunities. Young women who thrive

on puzzles, meeting challenges, and

expressing themselves through creative

problem-solving can test drive how

rewarding a career in computer science

can be. Though the field is very strongly

math- and science-oriented, it also

demands a high amount of creativity.

In Middle School, students focus on

computational thinking skills by

building websites, programming in

Scratch (allowing for interactive stories,

animations and more), and creating

infographics. In Upper School, students

can take Computer Science classes in

which they learn to program robots,

create graphics and program video

games.

Both divisions offer an after-school

Robotics Club. Middle and Upper School

students in the Robotics Club meet every

week to work on building a robot. Their

hard work culminates with a local

competition through VEX, a robotics

design system. The competition gives the

girls a goal. In order to compete, there are

many criteria they need to meet because

judges look for well-rounded

presentations – not just the complexity

of the robot. The judging includes a

review of the girls' engineering journals

and oral presentations during which

they talk about robotics, their design,

how it came about, and how it was

implemented. Both the Robotics Club

and the competition offer Baldwin

students a chance to use their

imagination, as well as their math and

science skills, to solve problems and

build a functioning robot.

COMPUTER SCIENCE

AND ROBOTICS

Laura Blankenship,

computer science coordinator

20

Grade VI students learn programming language Scratch to create their

own interactive stories, art, music and games.
---
FACULTYFOOTNOTES

Each year faculty and staff are invited to apply for grants that provide opportunities to explore new areas of

their discipline, or to recharge after a busy school year. The following grants were awarded in 2012.

THE AGNES AND

SOPHY DALLAS IRWIN FUND

JENNIFER LEE, MATH TEACHER

Established in 1916 by the Board of the

Agnes and Sophy Dallas Irwin Fund, and

awarded to teachers of women from

Baldwin, Agnes Irwin, Shipley and

Springside, this fund aims to enrich a

teacher's life.

Baldwin recipient

Jennifer Lee

completed a sewing

class at Moore College

of Art and Design,

creating a vest and

skirt.

ANNE C. SHOEMAKER FUND

ANGELA BENSINGER, LOWER SCHOOL MUSIC

TEACHER; KAREN SALVITTI, DIRECTOR OF

DEVELOPMENT SERVICES AND PARENTS'

ASSOCIATION LIAISON

Established in 1980 by the Board of

Trustees, this fund includes two grants

to be used for personal enrichment or

refreshment of self and spirit.

Angela Bensinger

traveled to

Cooperstown, NY

with her family to

visit the Baseball Hall

of Fame. Her 12-yearold

son played in the

Tournament of Champions and was

inducted into the Youth Baseball Hall

of Fame.

Accompanied by her

husband and

daughters Stephanie

'09 and Tina '11,

Karen Salvitti

ventured to Italy.

In addition to taking in the country's

vast history and architecture, she was

able to trace family roots and visit

distant relatives.

FRIENDS OF RUTH FIESEL FUND

JANE FARELLA, MATH TEACHER

Established in 1986

to enrich a teacher's

intellectual or cultural

life, the Friends of Ruth

Fiesel Fund was

awarded to Jane

Farella. She traveled

to New York City

with her family, spending time at the

Metropolitan Museum of Art and

seeing two musicals.

BALDWIN BENEFITS FUND

BECKY BEST, LOWER SCHOOL MANDARIN

TEACHER; DR. CARRIE CHRISTIANSEN,

CHEMISTRY TEACHER; DR. SUSAN DORFMAN,

SCIENCE TEACHER; DR. JOHN O'CONNOR,

MATH TEACHER; CYNTHIA SCHMALZRIED,

MATH DEPARTMENT CHAIR

Established in 1991 by the Parents'

Association, these awards are given

for curriculum development or

enhancements.

Becky Best enhanced

the new Lower School

Mandarin program with

curriculum materials,

décor and visual aids,

including opera masks,

a koi pond rug and a

companion for Winnie

in the form of a tunicdonning

panda bear.

Dr. Susan Dorfman and

Dr. Carrie Christiansen

developed the new

courses that will

replace the AP science

curriculum.

Dr. John O'Connor and

Cynthia Schmalzried

designed new Grade

XII math electives. Dr.

O'Connor's The

Mathematics of Finance

exposes students to

financial planning

from first-job to postretirement.

Ms.

Schmalzried's Logic and

Critical Reasoning covers

deductive and

inductive arguments,

geometric proofs and

more.

THE BLAIR D. STAMBAUGH AWARD FOR

STUDENT AND FACULTY ENRICHMENT

DR. DIANE SENIOR, ENGLISH DEPARTMENT

CHAIR; EMILY CLARK '14

Established in 1999 in honor of

Blair D. Stambaugh's 20th anniversary

at Baldwin, this award recognizes

cooperation, ingenuity and enrichment.

Dr. Diane Senior collaborated with

Emily Clark '14 and her Roman Candle

co-head, Rachel Coler '14, to facilitate

in-house magazine production. The

girls studied graphic design at the

University of the Arts in Philadelphia,

learning the fundamentals of visual

design and graphic concepts,

typography and typeface.

WINTER 2013 ECHOES

21
---
CLOSINGTHOUGHTS

Throughout her 15 year tenure at Baldwin, Science Department Chair Christie Reed has been a driving force of student

empowerment and technological innovation when it comes to the classroom experience.

What do you enjoy most

about teaching?

The most invigorating part of

my day is when I'm in the

classroom. The students are

interested, engaged, passionate

and always eager to learn.

They're curious and involved,

which has led to tremendously

insightful discussions.

Which department initiatives are

shaping positive learning

experience for Baldwin girls?

Because we meet regularly as a

Pre-K through Grade XII

department, we have an

incredibly cohesive curriculum

that builds year over year.

Additionally, Baldwin follows

the Physics First Program,

which means that in the

Upper School we teach physics

in Grade IX, chemistry in

Grade X, biology in Grade XI

and electives in Grade XII.

Only about 10 percent of

schools nationwide follow this

model, but it has been very

successful at Baldwin.

Science has traditionally been a

male-dominated field. Does this

enter classroom discussion?

The students don't know that

science is male-dominated.

They are in an all-female

environment with very strong

role models. Our students

believe anything is possible.

They know what they want to

do and who they want to be.

We make sure to teach about

influential women in science.

For example, in my class we

discuss Rosalind Franklin, a

somewhat hidden scientist in

discovering the structure of

DNA. Watson and Crick

should not get all of the credit!

What do students

take away from your class?

They learn to take risks freely.

They are not quiet, they are

not shy. They shout out their

answers whether they are

wrong or right, and they are

confident doing so. They learn

to think critically, and they

know that their ideas are

valuable. Our girls leave the

sciences – and Baldwin –

poised to take on the world,

male-dominated or not.

Since you have been at Baldwin,

what would you consider to be the

department's greatest triumph?

We secured a $100,000 E.E.

Ford Grant. Jeff Goldader and

Susan Dorfman wrote the

grant application, an initiative

that was led with strong vision

"Our students have made incredible

discoveries, even been published in

international journals. "

for the future of sciences at

Baldwin. The department was

given $50,000 and had to

generate a $50,000 match.

Parents and friends stepped

up, enabling us to establish

major technology

improvements and support

professional development.

We were the first department

to have smart boards in every

classroom. Some lessons

incorporate iPad apps,

allowing students to simulate

technological processes that

we don't have the equipment

to do.

I am also proud of the large

number of Baldwin girls who

do independent summer

research at the University of

Pennsylvania, CHOP, Temple

University and elsewhere. I am

working to formalize a

summer research program to

connect students with parents

and alumnae who are working

in labs on exciting research

projects. Although our

students have been doing

summer science research for

years, 2012 marked the first

time they had an opportunity

to share their work with our

community. On Nov. 5, some

seniors gave lectures on their

research to students in Grades

VIII-XII and their parents. Our

students have made incredible

discoveries, even been

published in international

journals. Now we are helping

them make connections and

celebrate these amazing

achievements on a larger scale.

48
---
Because of Baldwin…

A Baldwin girl is not only intelligent and curious; she is adventurous, eager, assertive

and creative. Because of Baldwin, she has been given the encouragement and resources

to grow into a strong, independently thinking woman with a voice to be heard.

After nearly 125 years, Baldwin thrives today because of you. The Annual Fund

is the lifeblood of the school that allows us to ensure that the curriculum, faculty,

technology and extracurricular programs expand and improve each year. Your

support of the Annual Fund allows Baldwin to continue offering a transformative

education to our thinking girls.

Because of Baldwin, our students will become tomorrow's leaders.

Because of you, they will have limitless opportunities to succeed.

Please make your gift to the 2012-2013 Annual Fund today

by returning the enclosed giving envelope or online at

www.baldwinschool.org/gift. You may also contact

Director of Annual Giving Kaitlin Devine at

kdevine@baldwinschool.org or 610-525-2700, ext. 275.

Thank you for your generosity!
---
701 Montgomery Avenue

Bryn Mawr, PA 19010

Nonprofit Organization

U.S. Postage

PAID

Permit No. 13

Conshohocken, PA

ATTENTION:

ALL CLASSES

OF GOLD

If your class ended in

3 or 8, this is your year!

SAVE THE DATE for

Alumnae Weekend 2013.

More information is coming

your way. Watch your mail,

email and our website:

baldwinschool.org/reunion_weekend

ALUMNAE

REUNIONWEEKEND2013

MAY 3-4

50TH REUNION DINNER FOR THE

CLASS OF 1963 - THURSDAY, MAY 2