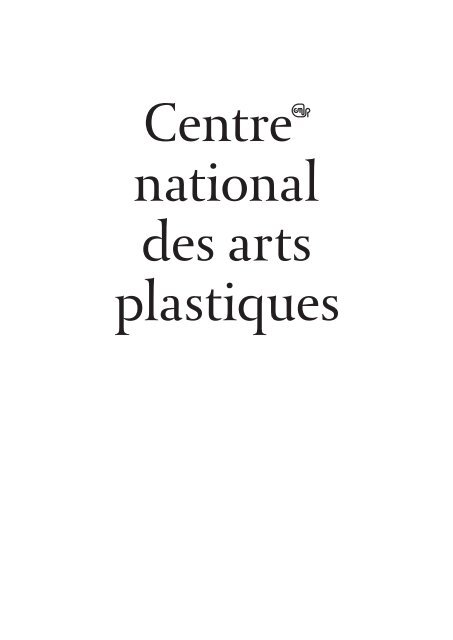 Centre national des arts plastiques - Cnap
Centre national des arts plastiques - Cnap
Centre national des arts plastiques - Cnap
SHOW MORE
SHOW LESS
Create successful ePaper yourself
Turn your PDF publications into a flip-book with our unique Google optimized e-Paper software.
CONTENTS

3 Dedicated to Contemporary Art

4 A collection that embraces all forms of artistic creation

4 Acquiring works by living artists

6 Constitution of the national collection

8 Contemporary works

12 The collection: resources and expertise

14 Serving national and international institutions

15 Short-term and long-term loans

16 New takes on the collection

17 Engaging the public with artistic creation

20 Supporting artists and arts professionals

20 Supporting artists

20 Supporting arts professionals

23 Commission and production of new works

27 Informing stakeholders in contemporary art

28 Contact

Find all the latest news about

the Centre national des arts plastiques

and contemporary art at

www.cnap.fr

www.dailymotion.com/CNAP

and on Facebook
---
Dedicated

to Contemporary Art

Established in 1982, the Centre national des arts plastiques (CNAP)

is a public institution attached to the French Ministry of Culture and

Communication. Its mission is to support and promote contemporary

artistic creation in all its diversity, both its different forms – painting,

sculpture, design, photography, video, graphic design, etc. – and

different approaches. The CNAP engages its expertise to encourage

and promote the emergence of new forms of art by providing support

and guidance to artists and other professionals working in the

contemporary art sector.

As a collector representing the State, and through its support of

artistic creation, the CNAP plays a significant role in the economy of

the arts sector, enriching the national contemporary art collection

(Fonds national d'art contemporain) on behalf of the French State.

This forward-looking collection of unique scale currently holds over

93,000 works and aims to be the most accurate reflection possible of

contemporary art.

The CNAP loans works for exhibitions and makes long-term loans to

French and international cultural institutions, and to official bodies

such as embassies and ministries. In partnership with other institutions,

it contributes to exhibitions that will bring the public into

contact with art, and offer new ways of engaging with the art scene.

The CNAP supports research and innovation through bursaries to

artists who are involved in experimental work, and by providing

financial assistance to projects carried out by professionals - galleries,

publishers, restorers, art critics, etc. - in the contemporary art sector. It

closely follows changes in artistic practice and expertise and, with this

in mind, recently established funding for the production of art, and

a mechanism that provides contemporary art galleries with repayable

loans to help finance new works.

The CNAP is also a cultural partner and institutional intermediary to

museums, regional contemporary art collections (Fonds régionaux d'art

contemporain), schools, art centres and private institutions such as art

foundations. These joint initiatives promote the emergence of ambitious,

innovative projects by showing works from the collection in France and

abroad. The CNAP supports projects such as these from their moment

of inception through to production, dissemination and mediation.

Through these activities, the Centre national des arts plastiques

promotes, relays, and makes known contemporary artistic creation,

and opens new horizons.

3
---
A collection that

embraces all forms

of artistic creation

The CNAP is advised in its acquisitions, support and commissions

policies by consultative committees. Each area of artistic creation has

its corresponding committee whose members are artists, well-known

figures and professionals from the art world, representatives of public

bodies, the CNAP's consultative staff, and Ministry of Culture and

Communication inspectors for artistic creation. The committees vote

by secret ballot to ensure complete impartiality and transparency,

basing their decisions on internal and external expertise. Members are

appointed by the Minister of Culture and Communication for a period

of three years.

Iris Levasseur, artist and member of the CNAP's artistic research

funding committee since 2010, explains: "A committee is a place for

discussion and debate, where each member makes his or her own personal

contribution, sometimes championing a project for reasons that may not

seem immediately obvious. I might find myself standing up for practices and

approaches that are different from my own, particularly in drawing and

painting, something that requires courage and an open mind." (Excerpt

from 140 aides privées et publiques en faveur des artistes, 2012)

ACQUIRING WORKS BY LIVING ARTISTS

The Centre national des arts plastiques records an inclusive image of

contemporary art in all its diversity: technical (different media), generational

and geographical (national and international).

One of the key missions of the Centre national des arts plastiques is

to add to and manage the Fonds national d'art contemporain (FNAC)

on behalf of the State. Acquisitions made for this national collection

of contemporary art are intended to support current artistic creation

and to enrich France's cultural heritage, at the same time fulfilling

the mission set out in 1959 as part of the decree which founded the

Ministry of Cultural Affairs: to enable as many people as possible to

have access to works of art.

1

H5 (François Alaux, Ludovic

Houplain, Hervé De Crécy),

Logorama, 2009. Animated short film,

16 mn.

Acquisitions are not made with the intention of building a collection

in the museum sense, but rather to constitute a representative

cross-section of artistic creation in all its diversity. Works are loaned

to temporary exhibitions, and to a wide range of institutions and

organisations on a more long-term basis.

4
---
Since its creation, the collection has acquired close to 93,000 works. Its

acquisitions policy regarding visual and decorative arts, photography

and design was significantly strengthened in the early 1980s, with the

introduction of specific national advisory committees in 1982. Since

1982, a further 35,500 works have been added to the inventory and

several hundred more are purchased each year from working artists

and galleries. Some 20,000 works have been specially commissioned;

14,000 works or studies are the result of State commissions, including

many multiple commissions. A further 1,500 works have been gifted.

New works are added to the fund in the following ways:

ACQUISITIONS

Acquisitions policy is guided by three main objectives:

To support young artistic creation by seeking out promising new talent and

reflect the current arts scene to build the heritage of the future. In

the past, this focus on emerging new artists has resulted in the early

acquisition of works which now enjoy international renown. Every

year, some one hundred new artists become first-time beneficiaries

of this policy, with the CNAP purchasing a work from approximately

two out of every five artists.

To add to bodies of works by established artists through the acquisition of

recent works, with the purpose of recording changes in their practice

or the evolution of an art movement for a particular field or theme.

To make occasional retrospective purchases (of works no more than

twenty years old) if it is felt an artist is under-represented in national

collections.

2

STATE COMMISSIONS

Centrally-funded art commissions and studies for all State-commissioned

projects are part of the inventory and constitute the State

commissions collection.

GIFTS

Gifted works also substantially enrich the collection.

To see the full database of works, go to

www.cnap.fr/collections/works

3

2

Dewar & Gicquel, Gibbon, 2011.

Purchased from Galerie Loevenbruck,

Paris. © Dewar & Gicquel / CNAP /

Photo Galerie Loevenbruck

3

Felice Varini, Carré aux seize disques,

2011. FNAC 10-002. © Photo D.R.

5
---
CONSTITUTION OF THE NATIONAL COLLECTION

The CNAP is a direct descendent of a department of the Division des

beaux-arts, des sciences and des spectacles, formerly the Surintendance

Royale, created in 1791. From the very beginning it was endowed with its

own budget, separate from that of the national museums, with the specific

purpose of encouraging living artists and burgeoning talents by purchasing

their works, and occasionally helping artists in financial difficulty.

In 1962, a Service de la création artistique, with a broader remit, was set

up within the Ministry of Cultural Affairs and the Bureau des travaux

d'art was incorporated into it. In 1976, all these services were combined

under the title Fonds national d'art contemporain, and six years later

management of the collection was transferred to the Centre national

des arts plastiques.

HISTORICAL COLLECTIONS

The historical collections feature close to 5,000 artists and over

19,000 works dating from the late eighteenth to the early twentieth

century. The majority of the works acquired for this collection are

by French artists (3,680 artists). Over 12,200 works are paintings and

around 5,000 are sculptures. The graphic arts are represented by some

1,500 works. The remainder of the collection consists of decorative art,

photography and architectural drawings.

This historic collection illustrates the codified hierarchy that prevailed

among arts and genres in the nineteenth century, in the artistic tradition

already established by the Academy under the Ancien Régime. The

collection demonstrates the important position of the Salon and the

art schools of Paris in French and European art, and the tradition of the

Prix de Rome scholarship. Commissioned works were typical of artistic

practice in the nineteenth century, accounting for over 9,200 works

or almost half the purchases made during this period. Part of the

historical collection comprises commissions and purchases of official

portraits of the various monarchs and heads of state, from Napoleon

I to Napoleon III, and symbols and emblems of the French Republic.

A large number of copies of paintings by the great French, Italian

and Northern masters were deposited in religious and government

buildings until the end of the nineteenth century. Many of these

works have joined the collections of regional museums, or adorn the

walls of the Republic's residences and official institutions (hospitals,

prefectures, churches, law courts, etc.).

6
---
MODERN COLLECTIONS

The modern collections comprise nearly 31,500 works by 9,000 artists,

acquired between the early 1900s and the early 1960s. These collections

cover painting (15,700 works), sculpture (5,000 works), graphic art

(5,000 drawings and 3,600 prints) and decorative art (2,000 works).

Compared with the nineteenth century, the decreasing number of

commissioned works (3,900 acquisitions) and works purchased at

Salons (2,100) reflect the new forms of acquisition that were beginning

to hold sway in the twentieth century, such as buying works directly

from the artist, and particularly from galleries, as a new sociology of

the art market began to emerge.

European avant-garde art is represented by the New Objectivity movement

(two works by Max Beckmann acquired in 1931 and 1932), and

Russian avant-garde art, with two 1936 paintings by Vassily Kandinsky.

From 1920 to 1930, the State was attentive to the development of the

currents and styles that were part of the artistic debate at this time

(such as Art Deco, Return to Order, and colonial painting and sculpture).

Other noteworthy purchases were the works and numerous State

commissions produced under the Front Popular and in the context of

the 1937 World Fair in Paris.

Artists from the New School of Paris also feature, with La Partie d'Échecs

by Maria-Elena Vieira da Silva being added to the collection in 1943,

and Alfred Manessier's Coqs combattant in 1944. In the post-war period,

a number of retrospective purchases took place, including Pépin Géant

by Hans Arp (1937), Bal Bullier by Sonia Delaunay, produced in 1913

and acquired in 1953, and works by Pablo Picasso from 1958 onwards.

The State also commissioned Henri Matisse to produce the large

gouache cut-out La Tristesse du Roi, which was completed in 1953.

Many of the works acquired during this period were transferred to the

Musée national d'art moderne when the Centre Georges Pompidou

was created.

7
---
CONTEMPORARY WORKS

VISUAL ARTS

Since 1981, the visual arts collections have acquired over 11,800 works

by more than 3,700 artists, and offer a complete panorama of the art

of the last thirty years.

State policy changed direction in 1968 to increasingly favour acquisitions

by international artists. The main movements of the second half

of the twentieth century are all represented: Pop Art (Andy Warhol,

George Segal, Ed Ruscha), Arte Povera (Mario Merz, Pier Paolo Calzolari,

Luciano Fabro), New Realism (César, Jacques Villéglé, Raymond

Hains), Narrative Figuration (Jacques Monory, Gilles Aillaud, Erró),

etc. These works, most of which are on long-term loan to museums in

France and worldwide, demonstrate a keen interest in current artistic

creation and a permanently open window on young artistic creation

in France and around the world, particularly with respect to artists

who have not previously had work purchased by the State (some 35%).

"Visual arts" embraces a wide variety of works that reflect every facet

of artistic creation. Although the collection initially concentrated on

traditional practice (painting, sculpture, graphic art), since the 1990s

it has increasingly opened up to installation art and, more recently

still, acoustic and performance art. CNAP commissions were quick

to encourage the work of now important artists such as Maurizio

Cattelan, Thomas Hirschhorn, Gabriel Orozco, Félix Gonzáles-Torres,

Carsten Höller, Ugo Rondinone, Philippe Parreno and Pierre Huyghe.

The visual arts collection continues to seek new talent, and particularly

to record the development of art in America (Sadie Benning, Chloe

Piene, Peter Coffin, Amy Granat, Nathan Hylden), Mexico (Carlos

Amorales, Iñaki Bonillas, Mario García Torres, Abraham Cruzvillegas,

Gabriel Kuri) and Europe (Pia Rönicke, Jeppe Hein, Danh Vo, Katinka

Bock, Mai-Thu Perret, Robert Barta, Valentin Carron, Ulla von Brandenburg,

Ryan Gander, Charlotte Moth, Tris Vonna Mitchell, Jessica

Warboys), as well as cross-disciplinary acoustic and performance

works (Tino Sehgal, Ikhéa©Service, Dora Garcia, Roman Ondak,

Dominique Blais, Céleste Boursier-Mougenot, Pierre-Laurent Cassière,

Emmanuel Lagarrigue, Dominique Petitgand).

4

The diversity of the French art scene is particularly well-represented,

from Mathieu Abonnenc and Dove Allouche to Isabelle Cornaro,

Étienne Chambaud, Aurélien Froment, Benoît Maire, Émilie Pitoiset,

and Gyan Panchal, as is the pictorial medium with works by Samuel

Richardot, Anne-Laure Sacriste, Eva Nielsen, Farah Atassi, Amélie

Bertrand, Armand Jalut, Grégory Forstner and Marlène Moquet.

4

Didier Fuiza Faustino, Opus incertum,

2008. Purchased from Galerie Michel

Rein, Paris. © Didier Fiuza Faustino /

CNAP/ Photo Galerie Michel Rein

5

Dominique Figarella, Untitled, 2011.

Purchased from Galerie Art : concept,

Paris, in 2012. © Dominique Figarella /

cnap / Photo Fabrice Gousset

6

Nicolas Moulin, Goldbarrgorod,

2008. Purchased from Chez Valentin,

Paris. © Nicolas Moulin / CNAP /

Photo Chez Valentin

6

5

8
---
PHOTOGRAPHY

The first photographic acquisitions commission was set up in 1981, and

would be the starting point for a collection that now boasts nearly

11,000 works, including 2,500 State commissions.

The collection has a core of older works that are particularly representative

of the period from the 1950s to the 1970s, focusing on French

humanist photography, Italian neo-realism, and reportage d'auteur.

Remarkable, coherent series illustrate the work of key photographers

of the period, including Édouard Boubat, Robert Doisneau, William

Klein and Maurice Tabard.

Since the late 1980s, the collection has closely recorded the remarkable

developments in photography in France and throughout the world,

particularly in Germany with major works by Bernd and Hilla Becher

and the entire Düsseldorf school, from Candida Höfer to Andreas

Gursky, as well as other German schools and scenes, from Katharina

Bosse to Wolfgang Tillmans and Sven Johne. There are also works

by photographers from Africa (Seydou Keïta, Guy Tillim, Viviane

Sassenn, Sammy Baloji), Russia (Yuri Kozyrev, Olga Chernysheva),

Ukraine (Boris Mikhailov, Oleg Kulik) Finland (Elina Brotherus, Ville

Lenkkeri), America (Walker Evans, Robert Adams) and China (Jian

Jiang, Huang Yong Ping).

7

Anne-Marie Filaire, Phnom Penh

Périphérie, 2002. FNAC 09-311.

© Anne-Marie Filaire / CNAP

8

Vincent J. Stoker, Heterotopie

#PEBBI, 2010, from the Hétérotopia

series FNAC 2011-0142. © D.R. / CNAP /

Photo: Galerie Alain Gutharc, Paris

9

Zineb Sedira, The Death of Journey 5,

2008. FNAC 09-090. © D.R. / CNAP /

Photo Galerie Kamel Mennour, Paris

The many elements of French photography constitute the collection's

strongest point. From Sophie Calle, Jean-Luc Moulène, Suzanne

Lafont, Jean-Marc Bustamante, Patrick Tosani, and Philippe Bazin

to Claire Chevrier, Yves Trémorin, Valérie Belin, Philippe Durand,

Bruno Serralongue, Valérie Jouve, Anne-Marie Filaire and Vincent J.

Stoker, works by different generations of photographers firmly place

photography at the centre of the French contemporary art scene, and

in doing so retrace the different stages in their practice.

7

9

8

9
---
MULTIMEDIA AND VIDEO

Comprising some 500 acquisitions and commissions (video-projections,

installations, monoband works), the video collection offers

great scope and variety, with works by very young artists such as Serge

Comte, Laetitia Bénat and Camille Henrot alongside installations by

established names such as Gary Hill, Bill Viola, Antoni Muntadas,

Dennis Adams, Rodney Graham and Thierry Kuntzel.

Although video works have been acquired regularly since 1972 and

throughout the 1980s, the medium did not begin to play a major role

in the national contemporary art collection until the 1990s. A great

many works have now been purchased (Michael Joo, Joachim Koester,

Joël Bartoloméo, Marie-Ange Guilleminot, Franck Scurti, Rineke

Dijkstra, Eric Hattan), as well as installations (Pierre Huyghe and

Pierre Bismuth in particular) and video-projections (Doug Aitken,

Rebecca Bournigault, Tacita Dean, Roderick Buchanan, Peter Land).

A number of themes have emerged within the collection as it stands

today, including Micro-fictions of the Self, Rhetoric of the Image, and

Cinema/Cinemas. Many contemporary video artists base their work on

autobiographical themes, making short fictional pieces out of everyday

experiences; others use video to study the world of new media itself,

analysing its use of the image and rhetorical language. Lastly, numerous

video works reference the cinema and cinematographic language.

As long-term loans to museums to complete a collection, or as loans

for temporary exhibitions, video works feature prominently in themed

exhibitions.

10 11

10

Marie Reinert, Faire (Fer), 2008. Video,

13 mn 36. © Marie Reinert / CNAP

11

Bertille Bak, Safeguard Emergency

Light System, 2010. FNAC 10-945

(1 and 2). © Bertille Bak / CNAP / Photo

Galerie Xippas

10
---
DECORATIVE ARTS, CRAFTS

AND INDUSTRIAL DESIGN

In 1981, a new area of the collection was created and endowed with

its own commission. Encompassing the decorative arts, crafts and

industrial design, its purpose is to demonstrate the variety and vitality

of contemporary design. Through regular purchases made over the

following thirty years, based on recommendations by personalities

from a range of backgrounds (experts from the Ministry of Culture,

designers, journalists and independent curators), the collection has

grown to number some 6,300 objects by over 1,530 artists and designers.

It reflects the developments and multi-disciplinary nature of

this extremely diverse activity, and provides a succession of views and

interpretations of what it represents today, as opposed to an historical

perspective.

The collection covers a very wide range of areas: furniture, tableware,

lighting and textiles are of course featured, as are jewellery, household

electricals, new technologies and fashion accessories. "Nomadic items"

such as memory sticks and mobile phones, and even Apple products

are all recent additions to the collection. Such a wide variety of form

and purpose is mirrored by an equally wide range of production

methods and circuits. One-off pieces, craft items using traditional

or entirely new methods, prototypes and mass-produced goods all

illustrate the great diversity of practice and the many people involved:

designers, gallery owners, craftspeople, manufacturers and industry.

12

Building on an original core of State commissions, it is now one of

Europe's foremost collections of contemporary design and includes

many prestigious and sometimes unexpected names, from Jean

Nouvel, Ron Arad, Shiro Kuramata, Enzo Mari to the likes of Donald

Judd, François Morellet and Erik Dietman. Over recent decades, the

collection has assembled monographic bodies of work that illustrate

the output of iconic European designers such as Ettore Sottsass,

Alessandro Mendini, Gaetano Pesce, Andrea Branzi, Martin Szekely

and Philippe Starck. Important figures of the current scene are

also well-represented, from Ronan and Erwan Bouroullec to Radi

Designers, Matali Crasset, Droog Design, 5.5, Delo Lindo and Pierre

Charpin. The CNAP's forward-looking approach means that works

by emerging talents such as Julien Carretero and Émilie Voirin have

also been acquired. In addition, the recent increase in scope of the

commission's remit, which now includes graphic design, has enriched

the collections with important work by Peter Knapp, Pierre Di Sciullo

and H5 (François Alaux, Ludovic Houplain, Hervé de Crécy).

13

14

12

Inga Sempé, Moël chair, 2007.

Purchased in 2008. FNAC 08-543.

© Inga Sempé / CNAP / Photo

Ligne Roset

13

Cédric Ragot, Fast vase, 2007.

Purchased in 2007. FNAC 07-614.

© ADAGP / CNAP / Photo Cédric Ragot

14

Nicolas Hamoignon and Yann

Dekneuve, Elops 3 II bicycle, 2009.

Purchased in 2009. FNAC 09-650.

© D.R. / CNAP / Photo Decapro

11
---
THE COLLECTION: RESOURCES AND EXPERTISE

The collection managed by the CNAP, which has few equivalents in

terms of scope and scale, raises specific challenges with respect to

acquisition, conservation and restoration of the works. The CNAP's

forward-looking acquisitions policy goes hand-in-hand with its

mission to conserve the heritage that is represented by the works in

the national contemporary art collection.

CONSERVATION

Since 1991, the collection's reserves, i.e. the 26,000 works that are not

currently on loan, have been stored under the Esplanade de La Défense

and at other locations around Paris. The reserves are where works are

studied and conservation work is carried out, and also a logistics

platform for the daily movement of works from one venue to another,

which is the very purpose of the collection.

The emergence of new art forms and materials in contemporary art

raises unprecedented conservation issues, all the more so as the collection's

mission to put works on public view also increases the potential

for damage. Wherever possible, works are restored in consultation

with the artist. Partnerships with the French National Heritage Institute,

the Avignon School of Fine Arts and the Tours School of Fine Arts

give students of art restoration access to the works.

For a number of years, the CNAP has been studying possible solutions

for the preventive conservation and restoration of the works in its

collections. It also awards grants to fund research by art restorers into

how to improve treatment of artworks, whether paintings, sculptures,

graphic art or photographs.

DOCUMENTS

The CNAP possesses a substantial body of documents which conservators,

curators and researchers can consult by appointment.

Since the 1960s, these documents have focused primarily on the works

in the collection and the artists who created them, now totalling over

70,000 works by some 12,000 artists for the modern and contemporary

periods. The quantity of information grows alongside the number

of acquisitions made for the different parts of the collection and the

various State commissions.

15

Jean Tinguely, Le Cyclop, 1969-1994,

Milly-la-Forêt (Essonne). Gifted by the

artist in 1987. As part of its restoration

of Le Cyclop, the CNAP with the

Cercle des Partenaires du Patrimoine

and the Laboratoire de Recherche

des Monuments Historiques is studying

the specific questions which the work's

form and environment raise in terms

of restoration. FNAC 95419. © Photo:

Tadashi Ono

Focusing primarily on art of the past thirty years, these documents

comprise a mix of general and monographic works, catalogues for

exhibitions and contemporary art collections, and numerous art

reviews and journals. New material is continually being added, in the

form of gifts from artists when their works are acquired, catalogues

relating to loans, or works published as a result of CNAP funding.

The organisation currently holds over 7,000 works and also subscribes

to some 30 periodicals and specialist contemporary arts magazines,

which further augment the information available about the works in

its collections.

12
---
INVENTORY

In 1997, under the aegis of the Commission de récolement des dépôts

d'oeuvres d'art (CRDOA), the State decided to draw up a full inventory

(récolement) of all works in the Ministry of Culture and Communication

collections that were on long-term loan. The French word

récolement comes from the Latin recolere - to review - and describes

an important part of the work of any collection curator, which is to

examine and account for every work on the inventory.

The vast majority of works has now been inventoried, despite difficulties

arising from the fact that registers were not introduced until

1860. A team of curators and archivists are currently carrying out

important research at the National Archives that will reconstruct an

inventory of the historical collections: some 8,000 works have now

been retrospectively inventoried. This same team is carrying out an

on-site inventory of works held in government buildings and in all

towns with museums. Works loaned to smaller communes are being

inventoried by the heads of regional art and historic artefacts officers.

After inventory and in accordance with French Museums legislation,

the ownership of works on long-term loan since before 1910 is transferred

to the relevant local authority. 16

Inventory at the Musée des beaux-arts

de Lyon, 2009. Francisque Joseph

Duret, Chactas en méditation sur

la tombe d'Atala, 1836. FNAC PFH-5888.

Loaned in 1836 to the Musée des

beaux-arts de Lyon. © CNAP / Photo

Simon Proffitt

17

Salle des Épis, reserves of the CNAP.

© CNAP / Photo Simon Proffitt

17

16

13
---
Serving national

and international

institutions

The CNAP supports what it considers to be the most ambitious,

innovative projects taking place in France or indeed anywhere else in

the world. Because it does not have its own exhibition space, it is in

permanent contact with the contemporary art network, developing

partnerships that will help it promote the French art scene, and show

the works in its collections.

By contributing its skills and expertise to such projects, the CNAP

helps promote understanding and enjoyment of contemporary art

by an ever-broadening public. By collaborating with other cultural

institutions, it can take contemporary art to places and populations

that are often excluded from such work.

At the same time, again to ensure that the artworks it holds are

brought to public attention, the CNAP enlists contributions from

artists and young independent curators, and joins in professional

networks. It regularly works with museum directors and curators, art

centres and regional contemporary art funds through its inventory

and exhibition loans programmes.

Partnerships are established on a regular basis with French universities

and art schools with the aim of staging exhibitions, for example with

the Rennes and Tours Schools of Fine Arts, the National Photography

School in Arles, Paris-Sorbonne University (Paris IV) and the Avignon

School of Art.

In the wider world, the CNAP pools its skills and expertise with the

Institut français, promoting French artistic creation through a multifaceted

partnership that generates numerous projects and exchanges

between professionals.

18

Michel Majerus, Reminder, 1998.

View of the exhibition. FNAC 2000-457.

© D.R. / CNAP / Photo CAPC Musée

d'art contemporain, Bordeaux

14
---
SHORT-TERM AND LONG-TERM LOANS

From the very outset, whether purchased directly or commissioned

by the State, works were acquired for the purpose of being loaned to

museums or public institutions, or to be installed in public spaces.

Many different types of organisation benefited from this, including

museums, town halls, churches, cathedrals, bishoprics, universities,

hospitals, courthouses, military buildings, and so on. Currently,

over 55,000 works are on loan, including 25,000 long-term loans

to museums, 27,000 to government buildings in France, and 3,000 to

other countries.

The extensive holdings of the Fonds national d'art contemporain

remain a significant resource for the CNAP when fulfilling the mission

assigned to it by the State, which is to ensure that contemporary art is

disseminated throughout public cultural institutions and government

buildings in France and worldwide. One of the CNAP's key missions,

loans to public institutions have given rise to partnerships with over

200 venues, a third of which are outside France, and some 2,000 shortterm

or long-term loans each year.

Over recent years, the CNAP has further developed its role with regard

to its programme of short-term and more particularly long-term loans;

by becoming a consultant and partner to the host organisations it has

given its loans policy a truly qualitative dimension.

Details of the short-term and long-term loans programme are available at www.cnap.fr.,

together with a database of loaned works.

19

19

Gabriel Orozco, La DS, 1993. On loan

to Mac – Galerie contemporaine

des Musées de Marseille since 1994.

FNAC 94003

20

Xavier Veilhan, Le Carrosse, 2009.

Re-installation at the Musée des

beaux-arts de Arras. FNAC 09-497

© adagp / CNAP / Photo Julien Mellin

20

15
---
NEW TAKES ON THE COLLECTION

Over the past decade, the CNAP has further expanded its mission

through involvement with museums, art centres, regional contemporary

art collections, art schools, associations, events, and contemporary

art festivals and biennales. The CNAP deploys its activities of support

to artistic creation and production, short-term and long-term loans,

project partnerships and State commissions, forging a "virtuous circle"

that places the CNAP, as a vehicle for national cultural policy, at the

heart of the contemporary art network.

Over the years, these activities have materialised a desire to approach

the collection from a variety of angles and thus demonstrate not only

its size but also its huge diversity. Taking a new approach each year,

the CNAP has staged a series of exhibitions in partnership with a

region of France or as part of a major contemporary art event in or

outside France. In 2007 it organised exhibitions in the city of Amiens;

in 2009 it was a partner to TILT, with exhibitions in eleven museums

in France's Centre region. At nationwide level, in 2006 the CNAP

organised Les Visiteurs in partnership with 20 listed monuments; in

2010 it was part of Diagonales, a year-long event across twenty different

venues (museums, regional contemporary arts collections, art schools,

etc.) in France, Luxemburg and Belgium.

In 2011, museums in the Greater Lille area took part in Collector at

Lille's Tripostal to show important works from the CNAP collections.

The event attracted more than 180,000 visitors. In 2012, in partnership

with the Loop Video Art Fair, the CNAP staged Número tres, de la casa

a la fábrica at the Virreina Centre de la Imatge in Barcelona.

Multi-form exhibitions such as these are an opportunity to develop

different takes on the collection, by inviting independent curators,

conservators, directors, and the artists themselves to suggest choices

that highlight iconic works. Segments of the collection that attract less

attention or are less frequently shown can be another focus, such as

graphic arts, photography, acoustic works and new media. Another

recent exhibition, Explorateurs at the Musée de l'Abbaye Sainte-Croix

in Les Sables d'Olonne, showcased works on the theme of exploration.

The CNAP has also given two artists carte blanche to curate an exhibition

of works from the collection: Marc Bembekoff's The Mystery Spot

at the Fondation Ricard in 2012, and Patrick Tosani's Des images comme

des oiseaux at La Friche la Belle de Mai art centre in Marseille, in 2013.

These exhibitions are also an opportunity to promote the current

art scene in France. For example, Documents pour une information

alternative at Rencontres Arles Photographies in 2012 compiled works

by photographers from the National Photography School in Arles;

L'Origine des choses is an exhibition of work by young artists in France,

to be held at the Centrale for Contemporary Art in Brussels in 2013.

The exposure which these exhibitions and events provides has drawn

attention to a number of artists and themes and, directly or indirectly,

led to loan requests from new institutions.

21

View of The Mystery Spot, Fondation

Ricard, Paris, September 2012.

Curator: Marc Bembekoff. © Photo

Fondation Ricard

22

View of Número tres, de la casa a la

fábrica, La Virreina Centre de la Imatge,

Barcelona, 2012. Curator: Pascal Beausse

23

View of Explorateurs. Musée de l'Abbaye

Sainte-Croix (Les Sables d'Olonne), 2012.

Curator: Sébastien Faucon. © Photo

Aurélien Mole, Paris

21

22

23

16
---
ENGAGING THE PUBLIC

WITH ARTISTIC CREATION

MEDIATION AND RESOURCES

The Centre national des arts plastiques is committed to creating

opportunities for people to experience the works in its collections

through a number of mechanisms. Whether for State commissions,

short-term or long-term loans, mediation mechanisms seek to develop

a new, warmer and lasting relationship between art and the general

public based on dialogue and discussion, as part of a genuine policy

to educate people in the arts and culture. Working with partner organisations,

the CNAP ensures that these dialogue-based mediation and

learning mechanisms are introduced, together with resources tailored

to a range of publics.

To address the educational aspects of arts and culture, the CNAP

maintains close ties with professionals in the fields of education, social

affairs and mediation, with particular reference to the key role of the

professional mediator.

In addition, it implements long-term partnerships with institutional

intermediaries, such as the national teacher documentation databank,

regional educational authorities, or the Ministry of Culture and

Communication's disability programme, and other cultural organisations

to compile a substantial educational resource on the theme

of contemporary art. Specific mediation programmes and resources

are systematically set up whenever the CNAP installs or reactivates an

artwork in a public space.

24

Re-activation of Jardin suspendu

by Mona Hatoum, 2012. Part of

Effr'actions at the Domaine national

de Saint-Cloud. fnac 10-975.

Left: © CNAP / Photo Yves Chenot,

Paris. Right: © Photo Maria Bottero

17
---
PUBLICATIONS

CNAP editorial policy is directed towards its mission to show contemporary

art, to promote public appreciation of contemporary art, and

highlight its specific expertise. All editorial projects are undertaken

with a public partner or private publisher. The CNAP particularly

favours outside contributors, so as to achieve a variety of points of view

with respect to the works, artists and projects concerned, and provide

the public with a more diverse offering. The CNAP is particularly keen

to publish works on graphic design.

The Nouvelle Création Contemporaine collection, published jointly with

Flammarion, is developed to bring the work of contemporary artists

working inside and outside France to the attention of the general

public, and to illustrate the various facets and currents operating

in the visual arts today. Recent titles include Anish Kapoor, Claude

Lévêque and Claude Rutault.

To accompany exhibitions of the works in its collections, each year the

CNAP contributes to the publication of catalogues with the exhibition

venues. One example is L'Origine des choses, published jointly by the

CNAP and the Centrale for contemporary art, in March 2013 to coincide

with the exhibition of the same name.

As a follow-up to the exhibition at the Virreina Centre de la Imatge

in Barcelona in 2012, a box set of DVDs has been released in 2013.

Entitled Numéro trois : variations sur Numéro deux de Jean-Luc Godard

and published jointly with a.p.r.e.s production, it comprises a film

commissioned from Jordi Vidal and an anthology of original texts

updating the characters invented by Jean-Luc Godard in 1975.

25

Two new works, reveal two entire sections of the collection. One is a

larger, updated version of Pour un art concret, published jointly with

Les Presses du Réel, and featuring all the works donated to the State by

Gottfried Honegger and Sybil Albers, and which are currently hosted

by L'Espace de l'Art Concret in Mouans-Sartoux. The second illustrates

the diversity of the CNAP's photographic holdings through choices

made by Patrick Tosani, who was invited to make a personal selection

from the collection.

The CNAP is now turning to digital media to give even wider access

to its publications. In 2012, for example, it published Explorateurs,

a theme-based selection of over 100 works from its collection after

they were shown at the Enghien-les-Bains Arts Centre and the Musée

de l'Abbaye Sainte-Croix in Les Sables d'Olonne. This bilingual work

is published by digital bookstore Art, Book, Magazine.

The CNAP directs its editorial choices towards a wide public. In 2013,

for example, it jointly publishes, with Le Cyclop, a special issue of

DADA magazine that enables younger audiences to discover one of

the collection's major works, Jean Tinguely's Le Cyclop.

25

Explorateurs. Œuvres du Centre

national des arts plastiques, 2012.

Graphic design: Muësli.

26

Buren (new edition), 2012.Part of the

Nouvelle Création Contemporaine

collection Jointly published by CNAP /

Flammarion

26

18
---
ONLINE RESOURCES

The online database of the works in the CNAP's collection is freely

available to all, whether artist, art professional or art-lover. It covers

thirty years of acquisitions made for the national collection and

currently numbers 5,500 artists and nearly 20,000 works. The database

is extended every year.

www.cnap.fr

CNAPn [N milliards de collections] is a work commissioned from

Pierre Giner by the CNAP that draws on this extraordinary database.

It invites internet users to browse virtual space, where impromptu,

random exhibitions of digitised works from the collection assemble

and disassemble, using selection criteria and procedures laid down

by the artist. Visitors to the website can curate their own exhibitions,

share them with friends, email works to others, and even publish their

own catalogue, the Autobook.

www.cnap-n.fr

Each month, the CNAP focuses attention on an individual work with

L'œuvre du mois, on its website at www.cnap.fr. It also contributes to

the Ministry of Culture's art history directory by publishing texts

for its works at http://www.histoiredesarts.culture.fr. The CNAP's

Dailymotion channel publishes videos in which artists, curators and

conservators talk about individual works and contemporary artistic

creation in general.

www.dailymotion.com/CNAP

The CNAP also contributes to Ministry of Culture and Communication

portals for the main national collections: the photography portal

Arago and the design portal portailDesign. The latter covers France's

four chief national collections of decorative art and design from the

beginning of the twentieth century to the present day. These collections

are held by Les Arts Décoratifs, the CNAP, the Centre Pompidou

and the Musée d'Art Moderne de Saint-Étienne Métropole. Now freely

consultable online, they provide a wealth of information on twentieth

and twenty-first century art and design.

www.portaildesign.fr

27

Pierre Giner, CNAPn, [N milliards

de collections]. Commission by the

Centre national des arts plastiques

for a random exhibition generator

Screenshot. www.cnap-n.fr

19
---
Supporting artists

and arts professionals

Further acquisitions of art pieces, the Centre national des arts plastiques

manages a series of structures designed to support artists and private

organisations (galleries, publishers, audiovisual producers), as well as

contemporary art restorers and conservators, art theorists, critics and

documentary photographers. In this way, the CNAP demonstrates its

partnership with contemporary artistic creation and contributes to the

development and professionalisation of the art scene.

SUPPORTING ARTISTS

Recognising that research is a key component of any artist's work,

the CNAP encourages practices that do not have an immediate role

in a productive economy. Like any other researcher, an artist develops

through what is often a long process of thought and discovery,

involving intuition as much as method, and which is not always apt

to generate a viable income. The CNAP provides various means of

support at this fragile stage in the artistic process.

FUNDING FOR CONTEMPORARY DOCUMENTARY

PHOTOGRAPHIC CREATION

Twice a year, the CNAP allocates funding to documentary photographers

whose work has been recognised by publication in the press, or,

in certain cases, through professional exhibition. The award, financed

from a special trial production fund that was introduced in 2011,

provides advance funding for the production of a documentary work.

Recent beneficiaries include in 2012 Samuel Gratacap (Immersion(s) – Tunisie)

Marie-Paule Nègre (Conte des temps modernes ou la misère ordinaire – Deuxième génération)

Hélène David (Kerkennah. La Renaissance du bleu) in 2011 Édouard Beau

(Entre Tigre et Euphrate, un défi : Reconstruire) Johann Rousselot (Colères) Laetitia Tura

(Sur les territoires de la Retirada).

28

FUNDING OF ARTISTIC RESEARCH

AND ONE-OFF GRANTS

The CNAP makes an annual award to working artists to finance

research or develop a project in or outside France.

Recent beneficiaries include in 2012 Françoise Vergier, Un Continent de plâtre et

de porcelaine à découvrir, France (sculpture) Béatrice Cussol, Mots monstres, France

(painting) Caroline Duchatelet, Aube au couvent de San Marco, lumières florentines, Italy

(film/video) in 2011 Boris Achour, Recherches préalables au projet "Séances", France,

Belgium, Germany (installation) Jean-François Lecourt, Un Processus de répétition et

d'absence de pensée dans l'instant décisif (photography) Olivier Zabat, Commentaire,

narration et action sur l'image, France, UK (video).

An emergency grant of up to €1,000 can be given to artists who are

experiencing temporary financial difficulties which prevent them from

continuing their work. This funding is additional to any allowance

provided by the State. Applications are examined four times a year by

a committee comprising representatives of professional and administrative

organisations and one other qualified individual.

28

Guillaume Greff, Untitled,

Dead Cities, 2012. 120 x 160 cm,

C-print. © Photo Guillaume Greff

29

Antoine Agoudjian, Ergen, 2012.

From the Mémoire des Arméniens

series, 2012. 80 x 120 cm.

© Photo Antoine Agoudjian

29

20
---
FUNDING FOR RESEARCH BY ART CRITICS,

AUTHORS AND THEORISTS

Funds are allocated once a year to critics, theorists and authors to

allow them to devote themselves to their research, in France or abroad,

or to writing works independently of the university curriculum.

Research topics cover every field of contemporary artistic creation,

from graphics to new media.

Recent beneficiaries include in 2012 Muriel Berthou Crestey (Dennis Oppenheim,

l'énergie et son ombre) Sébastien Pluot ("AWC and Beyond". Répliques et historicisations

d'un mouvement) Élodie Royer (Du "3 e étage" à aujourd'hui : une histoire alternative de

l'art contemporain arménien) in 2011 Seung Duk Kim (Une Attitude globale : Nam June

Paik, le techno-chamane) Claire Moulène (Les Dispositifs à spectateur unique) Véronique

Perriol (Henry Flynt face à l'histoire).

FUNDING STUDY AND RESEARCH

INTO THE RESTORATION AND CONSERVATION

OF CONTEMPORARY ART WORKS

This annual grant is awarded to professional art restorers and curators,

and can be renewed when appropriate. It is intended to fund specific

research in cooperation with the specialist institution of their choice.

Recent beneficiaries include in 2012 Marie Poisbelaud for research into the restoration

of original comic-strip drawings incorporating adhesive plastic film Géraldine

Wolff for a study of the technical processes, identification and specific alterations of

Cellulo Marie-Odile Hubert for studies of industrial paints of the first half of the

20th century in French collections in 2011 Clémentine Bollard was awarded a second

grant for her research into the short-term and long-term effects of cleaning gels on

PMMA, ABS, and plasticised PVC.

30

31

30

Thierry Costeseque, Ballade

de Midogo-9, 2012. Mixed media

on paper, 37 x 47 cm. © Photo

Thierry Costesèque

31

Frédérique Lagny, À qui

appartiennent les pigeons ?,

2012. Photogram, video, 40 mn.

© Photo Frédérique Lagny

32

David Enon, Principe "Mineral

Accretion Furniture" prêt à être

immergé. 1:1 scale model.

© Photo David Enon

32

21
---
Research projects funded by the CNAP are regularly shown in galleries

and art centres or, in the case of audiovisual works, at festivals. The

CNAP liaises with exhibition venues and supports the artists and

professionals whose research it has funded by organising exhibitions,

signings, and other events.

FUNDING FOR PROFESSIONAL STRUCTURES

Another mission of the Centre national des arts plastiques is to

persuade and encourage economic and cultural players to support

artistic creation through individual project funding to professionals in

the private sector of the contemporary art world: galleries, publishers

and audiovisual professionals.

FUNDING FOR GALLERIES:

FIRST EXHIBITION & FIRST CATALOGUE

Twice a year, the CNAP allocates funding to commercial galleries or

associative galleries to help finance the first exhibition by a working

artist, or the publication of his or her first catalogue. This funding

can also be made to a gallery showing the work of an artist who has

not been exhibited or had a catalogue published for at least five years

anywhere in the world.

This funding encourages galleries to promote the approach of younger

artists, and accept the financial risk involved when a young artist is

first confronted with market forces. The publication of a first catalogue

is an important stage in an artist's career as not only does it bring their

work to public attention, it also provides a documentary and critical

interpretation of it. Funding is intended to finance the publication

of 1,000 copies of a bilingual work, which must include at least one

original critical review by an author. There is no obligation for the

catalogue to be published by a commercial publishing house.

Recent beneficiaries include in 2012 Galerie Binôme in Paris for La Bibliothèque

fantôme, an exhibition of work by Ludovic Cantais Galerie Hervé Bize in Nancy for

an exhibition of work by Hanna Sandin Galerie Marcelle Alix in Paris for the catalogue

to L'Expérience est périlleuse by Chloé Maillet and Louise Hervé in 2011 Galerie

Christophe Gaillard in Paris for En finir avec l'extension du pire, an exhibition of work

by Hélène Delprat Galerie ACDC in Bordeaux for Carré égal triangle, an exhibition of

work by Julien Nédélec Mam Galerie in Rouen for Cheville ouvrière, an exhibition of

work by Morgane Fourrey.

33

Émilie Benoist, Ensembles /En,

published by School Gallery /

Olivier Castaing, Manuella

Éditions. Graphic design:

Atelier Dokidoki – Sylvie Astié

34

Florian & Michaël Quistrebert,

Brothers of the Shadow.

Published by Galerie Crèvecœur,

Paris. Graphic design: Yann

Rondeau and Margaux Le Goff

35

Hélène Delprat, Les (fausses)

conférences : L'usine et la radio,

2011. Digital photography. Galerie

Christophe Gaillard, Paris

33

34

35

22
---
FUNDING FOR GALLERIES: REPAYABLE ADVANCES

To enable galleries to present works they would find difficult to fund

themselves, the CNAP can award a repayable advance, to finance either

an exhibition in the gallery itself or for the gallery to be present at

an international event such as an arts fair. Such funding also benefits

artists at a particular stage of their career.

FUNDING FOR PUBLISHERS

Twice a year, the CNAP makes a financial award for the publication of

works such as monographs, anthologies on contemporary art, themed

works, texts by artists, artist's books, catalogues raisonnés and digital

publications. This award is intended to fund the publication and

circulation of these works in the best possible conditions.

Recent beneficiaries include in 2012 Ypsilon for Marian. Une collection de revivals,

by Paul Barnes (monograph) Manuella Editions for Collections préhistoriques,

by Camille Henrot (artist's book) E2P / Entre2prises for Who's that Guy? Tell me more

about Guy de Cointet, by Marie de Brugerolle (DVD) in 2011 Éditions P for GT,

by Gérard Traquandi (monograph) Éditions Anarchive for FOG BROUILLARD,

by Fujiko Nakaya (catalogue raisonné) Art View / BDV for Documenta 4 and

Documenta 5 by Jef Cornelis (DVDs).

36

Sophie Calle, Rachel, Monique,

Éditions Xavier Barral, 2012.

Graphic design: Xavier Barral

and Émilie Rigaud.

37

Mathilde Roman, On Stage –

La Dimension scénique de l'image

vidéo, Le Gac Press, 2012.

Graphic design: Le Gac Design

38

Contraintes, n°1, review by

Association Bichromie, 2012.

Graphic design: Twice – Clémentine

Berry and Fanny Le Bras

36

37

38

23
---
IMAGE/MOUVEMENT

Launched in 2001, Image/mouvement supports the creation, dissemination

and promotion of contemporary artistic creation in audiovisual

media, new media and experimental cinema. It provides an ongoing

platform for observation, thought, encouragement and research, while

placing audiovisual writing, cinema, new images and critical representation

in a wider context. The initiative bears witness to the continual

dialogue between contemporary art and cinema, which is particularly

fertile in the field of new documentary practices and cinematic writing

styles, all of which embody new approaches to videomaking that are

typical of the early twenty-first century.

Image/mouvement, whose committee of experts meets annually,

focuses on developing films about art and on cinema projects by

artists, film-directors and producers. The works must be part of the

audiovisual sector or that field of independent cinema that is engaged

in experimental work, new narrative forms, or an emerging new

cinema that is neither experimental film nor video art.

Films which have been produced with support from Image/mouvement

are shown at festivals, where they often win prizes. They are also

screened at film libraries and cinemas, and shown by contemporary

art galleries, art centres and museums. The CNAP gives these films

additional exposure through regular public screenings which it organises

in conjunction with French and international partners, including

Centre Pompidou, Fémis, Cinémathèque française, Tate Modern and

Institut français.

39

Emmanuel Van der Auwera,

Arrangement In Grey, 2012. HD, DV,

Hi8, heat camera, approx. 40 min,

produced by Red Shoes/Some Shoes

Production. © Photo Emmanuel

Van der Auwera

40

Noëlle Pujol, Le Dossier 332, 2012.

HD, 43 mn, produced by Pickpocket

Production, Munich. © Photo

Noëlle Pujol

Recent beneficiaries include in 2012 Ecce Films for a film by Benjamin Naishtat,

Historia del miedo Les Films de la Liberté for a film by Vladimir Léon, La Folle activité des

formes du repos Independencia Productions for a film by Christelle Lheureux, En attendant

le vent in 2011 Anna Sanders Films for a film by Mati Diop, Mille Soleils House

on Fire for a film by Stephen Dwoskin, Old Age Vycky Films for a film by Florence

Pezon, Genie Film / What Red Blue Is In?

39

40

24
---
COMMISSION AND PRODUCTION OF NEW WORKS

STATE COMMISSIONS

State commissions are the result of an initiative by the French Ministry

of Culture and Communication to enrich the nation's living environment

and further develop its national heritage by enabling the general

public to experience art elsewhere than in specialist institutions.

The wide scope and experimental spirit of the State commissions

mechanism mean that unusual and original works in a wide variety

of artistic and cultural areas can be produced. This is particularly the

case of commissions in the area of visual arts, photography, graphics,

textile media, design, multimedia and audiovisual, all of which extend

the scope of State commissioning to embrace both ephemeral and

immaterial creations. The process is a powerful lever for expressing

ideas and experiences, and encourages artists to renew their approach,

rethink their practice, and work on innovative new projects. Entirely

focused on contemporary artistic creation, such a mechanism takes

on its full significance when viewed against the stated objective of

democratising arts and culture.

41

42

43

41

Poster for Rendez-vous aux jardins, 2012.

Graphic design: Studio B/C

42

Karina Bisch, Untitled, 2009. Project

for Boulevard des États-Unis in Lyons.

State commission. FNAC 09-597. © Karina

Bisch / CNAP / © Photo Y. Chenot

43

Jean-Luc Moulène and Marc Touitou,

Fénautrigues, trois chemins au ruisseau,

vers le haut, en bas, 2010. State

commission. FNAC 10-899. © Jean-Luc

Moulène / CNAP

44

Jean Olivier Hucleux, 9 plaines,

2012. Pencil inscription: Hucleux.

Atelier Michaël Woolworth

Publications, Paris. "Nouvelles

vagues" State commission of prints.

FNAC 2012-007 (1) to (25). © Adagp,

Paris / CNAP / © Photo Y. Chenot

44

25
---
The CNAP provides advice and guidance for all State-commissioned

projects, whether emanating directly from the State or conducted

in partnership with local authorities. When executed locally at the

request of local authorities, or any other public or private partner,

these projects are supervised by France's regional cultural affairs

services (DRAC). All commissions are submitted to the national

committee on State-commissioned works for approval.

All State-commissioned works and preparatory studies join the inventories

of the national contemporary art collection. Boasting several

thousand inventory items, this body of works offers a fascinating

insight into the history of State commissioning in France over the

past thirty years. New works are added each year. There are nearly

3,500 studies in total (models, drawings, 3D simulations), around

3,000 photographs, some fifty video or multimedia pieces, 20 acoustic

works, approximately 200 sculptures, 50 paintings, 80 textile pieces

and some 280 design pieces. It also includes some 180 multiple

commissions of three to 100 copies each (prints, bronzes, ceramics).

PRODUCTION FUND

In an effort to respond to changes in artistic practice, and to provide

support and guidance to professionals working in the field of contemporary

art, the CNAP co-produces works for exhibitions and cultural

events. These partnerships aim to draw attention to contemporary

French art and to the dynamic institutions that contribute to the

vitality of the French visual arts scene.

45

46

45

Pascal Convert, Le Temps scellé,

Joseph Epstein et son fils, 2009.

Master glassmaker: Olivier Juteau,

Sculptor: Claus Velte. Made for

La Force de l'Art 02, Grand Palais, Paris,

2009. Joint production by the CNAP,

Pascal Convert and Galerie Éric Dupont,

Paris. © CNAP / Photo Didier Plowy

46

Jean-Yves Jouannais, Encyclopédie

des guerres, 2012. For Comment se faire

raconter les guerres par un grand-père

mort. Joint production by the CNAP

and Le Printemps de Septembre.

© Photo Nicolas Brasseur, Le Printemps

de Septembre. © Artist and Galerie

G.P. Vallois, Paris

26
---
INFORMING STAKEHOLDERS

IN CONTEMPORARY ART

The CNAP website – www.cnap.fr – provides artists, professionals

(associations, institutions and local authorities), companies and other

interested parties with an information portal on contemporary art and

what's new on the contemporary art scene.

The CNAP gives professionals the best information available and the

help they need to work in their profession by compiling an annotated

directory of some 2,300 places, including exhibition spaces, galleries,

art schools, professional bodies, resource banks and cultural portals.

Users can find the funding, prizes, grants, residencies, or writing

projects in France that are most appropriate to their work.

The CNAP uses this extensive database to publish guides to contemporary

art. Recent publications include 140 aides privées et publiques

en faveur des artists (2012) and 196 résidences en France (2010), as well

as the annual Graphisme en France, which for almost 20 years has

reviewed issues relative to the field of graphic design.

47

The website also provides answers to the questions people involved in

contemporary art are asking, whether artists (legal, fiscal and social

welfare issues, how to work as a professional artist, help with creation

and exhibition), professionals, businesses (corporate patronage) or the

general public. A summary of all these points can be downloaded as a

practical guide: 149 questions-réponses sur l'activité des artistes plasticiens.

www.cnap.fr provides information on all existing CNAP mechanisms,

and on its procedures for acquisitions, short-term and long-term

loans. It also lists invitations to submit projects for State commissions

under its responsibility.

The website's events listing gives details of contemporary art events in

France, with a typical listing of 400 to 500 events every week.

48

47

140 aides privées et publiques

en faveur des artistes, 2012.

Part of the Les guides de l'art

contemporain collection Centre

national des arts plastiques.

Graphic design: Julie Rousset

48

Graphisme en France 2013.

Signalétiques. Graphic design:

Atelier Tout va bien – Anna

Chevance and Mathias Reynoird

27
---
Patricia Falguières

Chair of the Board of Directors

Patricia Falguières is a graduate of the École Normale

Supérieure (Paris) and was a member of the École

Française de Rome from 1985 to 1989. Agrégée and

holding a Ph. D. in history, Ms Falguières now lectures

at the École des Hautes Études en Sciences Sociales

(EHESS) in Paris. She has published numerous

papers on Renaissance art and philosophy, as well

as contributing articles and papers in the field

of contemporary art. She is responsible for a number

of research programmes focusing on art history

and theory, created the Lectures Maison Rouge

collection, and coordinates the Something You Should

Know conference at the EHESS, in collaboration

with Élisabeth Lebovici, Hans-Ulrich Obrist and

Natasa Petresin. In 2011 the Centre Pompidou organised

a series of lectures and encounters on the theme

of perspectives in history and art criticism entitled

According to Patricia Falguières.

Richard Lagrange

Director

Richard Lagrange was appointed director of the Centre

national des arts plastiques by Christine Albanel, Minister

of Culture and Communication, on July 1st, 2008. Prior

to this, he was an advisor for creation and territorial

activity in Mme Albanel's cabinet. A graduate of the

Ecole Nationale d'Administration (1989) and a senior

civil servant, Richard Lagrange was appointed to the

Ministry of Culture and Communication in 1997, where

he was Regional Director for Cultural Affairs in the

Champagne-Ardenne region, then the Midi-Pyrénées,

Rhône-Alpes and Nord-Pas-de-Calais regions.

Françoise Cohen

Curator-in-chief and Head of the Collections Department

Françoise Cohen was deputy curator of the Musée Malraux

du Havre from 1983 to 1991, and curator from 1991 to 2001.

She was appointed director of the Carré d'Art – Musée

d'art contemporain in Nîmes in 2001. She has staged

many, primarily monographic, exhibitions, including

Gérard Gasiorowski, Pedro Cabrita Reis and Larry Bell.

Françoise Cohen was appointed to the Centre national

des arts plastiques in 2011.

VISIT THE CENTRE NATIONAL

DES ARTS PLASTIQUES

WEBSITE AT WWW.CNAP.FR

COLLECTION

– Procedures for requesting the short- or longterm

loan of a work from the collection

– Directory of over 20,000 works by

5,500 artists, acquired in the last 30 years

– Latest acquisitions

– Monthly focus on an individual work

(L'œuvre du mois)

SUPPORT STRUCTURES

– Details of funding to artists, professionals

(gallery owners, publishers, audiovisual

producers), restorers, art critics and theorists

RESOURCES FOR ARTISTS AND PROFESSIONALS

– Downloadable guides: artist activities,

residencies in France, graphic design,

private and public funding in France

– Directory of all funding, grants, residencies,

awards, museums, regional contemporary

art collections, art libraries and schools

in France

– Jobs, calls for tender in France

– Useful information about studying

art, teaching, copyright, tax issues

and professional activities in France

CONTEMPORARY ART NEWS

– Contemporary arts calendar listing

500 events in France every week

– Directory listing over 2,300 venues

CONTACT

Centre national des arts plastiques

Tour Atlantique

1, place de la Pyramide

92911 Paris La Défense

t. + 33 (0) 1 46 93 99 50

f. + 33 (0) 1 46 93 99 79

communication.cnap@culture.gouv.fr

Press releases and HD visuals at

www.cnap.fr / Espace presse

Marc Vaudey

Head of the Artistic Creation Department,

Marc Vaudey was Visual Arts Advisor first for the

Champagne-Ardenne region and then for the Midi-

Pyrénées region from 1992 to 2009. He joined the CNAP

as head of the support for artistic creation office in 2009

and was appointed head of the artistic creation

department in 2011. He has a post-graduate degree

(DEA) in philosophy, wrote for Artstudio magazine

from 1987 to 1991, has been a contributor to France

Culture and has written the foreword for various artist's

catalogues (Rebeyrolle, Monory, David Salle, Pierre-Yves

Bohm, Ortala, Madeleine Berkhemer, etc.)

Graphic design: Amélie Boutry

Translation : Sandra Petch

This document is in Paradox font,

designed by Gerard Unger,

and Neutraface font by House Industries.