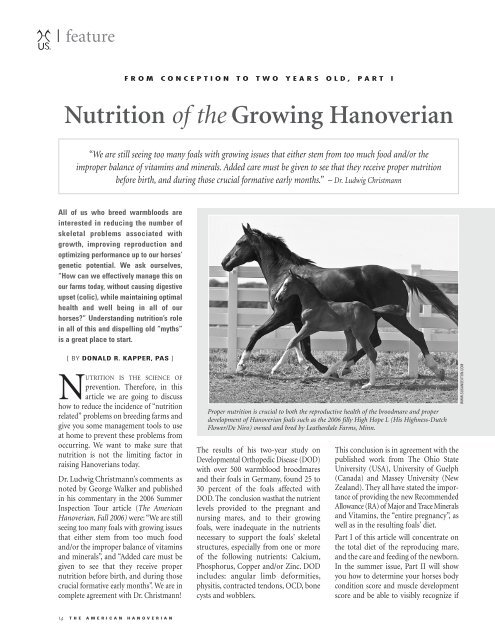 Nutrition of the Growing Hanoverian - the American Hanoverian ...
Nutrition of the Growing Hanoverian - the American Hanoverian ...
Nutrition of the Growing Hanoverian - the American Hanoverian ...
SHOW MORE
SHOW LESS
You also want an ePaper? Increase the reach of your titles
YUMPU automatically turns print PDFs into web optimized ePapers that Google loves.
feature

F r o m C o n c e p t i o n t o T w o Y e a r s O l d , P a r t I

Nutrition of the Growing Hanoverian

"We are still seeing too many foals with growing issues that either stem from too much food and/or the

improper balance of vitamins and minerals. Added care must be given to see that they receive proper nutrition

before birth, and during those crucial formative early months." – Dr. Ludwig Christmann

All of us who breed warmbloods are

interested in reducing the number of

skeletal problems associated with

growth, improving reproduction and

optimizing performance up to our horses'

genetic potential. We ask ourselves,

"How can we effectively manage this on

our farms today, without causing digestive

upset (colic), while maintaining optimal

health and well being in all of our

horses?" Understanding nutrition's role

in all of this and dispelling old "myths"

is a great place to start.

[ BY Donald R. Kapper, PAS ]

Nutrition is the science of

prevention. Therefore, in this

article we are going to discuss

how to reduce the incidence of "nutrition

related" problems on breeding farms and

give you some management tools to use

at home to prevent these problems from

occurring. We want to make sure that

nutrition is not the limiting factor in

raising Hanoverians today.

Dr. Ludwig Christmann's comments as

noted by George Walker and published

in his commentary in the 2006 Summer

Inspection Tour article (The American

Hanoverian, Fall 2006) were: "We are still

seeing too many foals with growing issues

that either stem from too much food

and/or the improper balance of vitamins

and minerals", and "Added care must be

given to see that they receive proper

nutrition before birth, and during those

crucial formative early months". We are in

complete agreement with Dr. Christmann!

Proper nutrition is crucial to both the reproductive health of the broodmare and proper

development of Hanoverian foals such as the 2006 filly High Hope L (His Highness-Dutch

Flower/De Niro) owned and bred by Leatherdale Farms, Minn.

The results of his two-year study on

Developmental Orthopedic Disease (DOD)

with over 500 warmblood broodmares

and their foals in Germany, found 25 to

30 percent of the foals affected with

DOD. The conclusion wasthat the nutrient

levels provided to the pregnant and

nursing mares, and to their growing

foals, were inadequate in the nutrients

necessary to support the foals' skeletal

structures, especially from one or more

of the following nutrients: Calcium,

Phosphorus, Copper and/or Zinc. DOD

includes: angular limb deformities,

physitis, contracted tendons, OCD, bone

cysts and wobblers.

This conclusion is in agreement with the

published work from The Ohio State

University (USA), University of Guelph

(Canada) and Massey University (New

Zealand). They all have stated the importance

of providing the new Recommended

Allowance (RA) of Major and Trace Minerals

and Vitamins, the "entire pregnancy", as

well as in the resulting foals' diet.

Part I of this article will concentrate on

the total diet of the reproducing mare,

and the care and feeding of the newborn.

In the summer issue, Part II will show

you how to determine your horses body

condition score and muscle development

score and be able to visibly recognize if

www.Susansexton.com

14 T h e A m e r i c a n H a n o v e r i a n
---
their caloric and/or amino acid needs are

being met. It will conclude with the newest

information on oils recommended as calorie

sources and the important differences in

their Omega 6 and Omega 3 levels.

The mainstay of all horses' diets is the forage

they consume. Understanding how the equine

digestive tract functions optimally and how

forage quality and quantity will help maintain

the health of your horse, reduce the

incidence of colic and keep your horses

growing, reproducing or performing up to

their genetic potential is what every horse

owner should know. With this knowledge

we can assist you in selecting: 1) the best

forage in your area, 2) the appropriate

grain mixture to complement your forage

and 3) meet all the nutrient needs of your

horses. Once horse owners understand that

horses do not have a requirement for cereal

grains, i.e. oats, barley, corn, rice, wheat, etc.,

but they do have an absolute requirement

for forage, it is much easier to grasp how to

successfully manage and feed their horses.

The only reason to feed a grain mixture or

supplement to horses is to make up the

difference between what nutrients are in

your forage and what your horses need to

meet their daily nutrient needs.

Horse Feeds

Horsemen add cereal grains, or grain

mixtures with added vegetable oils, to

increase the calories in their horses' diet to

increase weight or to maintain their desired

body condition. It is the responsibility of

the feed manufacturer to explain: 1) which

physiological status (growing, reproducing

or performing) their feed mixture is

formulated to be fed to, 2) what type of

forage their grain mixture is formulated to

complement and 3) provide this information

on the tag to allow owners or managers to

determine what the minimum amount of

this grain mixture is to be fed per day to

meet all of the horses' nutritional needs.

These requirements will vary with a horse's

size, age, growth rate, reproductive status

and performance level. It is then the

responsibility of the owner or manager to

read the information on the feed tag or bag

and follow those directions. Today, many

horse owners do not realize that if fewer

pounds are fed per day than the manufacturer

recommends as "minimum" on their

feeding directions, the horse is being fed a

deficient diet in certain nutrients.

Table 1: Relative Feed Value (RFV) of Grass, Mixed and Legume Forages

Hay Quality Standards For: Grass, Grass/Legume Mixed and Legume Forages:

FORAGES – Fresh and Dried

Determining Quality

Forages, by definition, are the aerial parts of

the plant commonly fed to livestock. Their

history, as pasture, pre-dates that of man.

Forages supply various levels of nutrients

depending on their type (species) and

maturity at harvest. Today they are consumed:

fresh, as pasture; dried, as baled or cubed

hay; or preserved in silos or plastic bags, as

haylage. Horses have limited ability to utilize

poor quality forages, so it is very important

that owners and trainers understand how

to determine quality as well as the different

types of forages. Since maturity of the plant

affects the digestibility of the fiber and the

availability of its nutrients, it is vital that

immature forages be fed to horses that need

the highest amount of nutrients per day.

This would include: sucklings, weanlings

and yearlings, nursing mares and horses in

moderate to intense training. The first visual

appraisal of all types of forage includes: 1)

the length of the seed head in grasses (boot

stage) and 2) the percent of blossoms in

bloom in legumes (bud stage). Ideally,

grasses should have seed heads less than

one inch long and legumes should have less

than ten percent of the buds in blossom. As

all plants prepare to blossom, the Acid

Detergent Fiber (ADF), which measures

Crude Fiber (Cellulose plus Insoluble

Lignin) and Soluble Lignin, and the Neutral

Detergent Fiber (NDF), which measures

the ADF plus Hemi-Cellulose, increases so

the stem has enough strength to hold up

the seed heads or blossoms. Unfortunately,

as the fiber portion increases, all other

nutrients decrease and become less digestible

and available to the horse.

Analysisb (dry matter basis)

Quality Standard a ADF % NDF % DMI, c % of B. Wt. RFV d

Prime (Prime) 151

1 (Premium) 31-35 41-46 3.0-2.6 150-125

2 (Good) 36-40 47-53 2.5-2.3 124-103

3 (Fair) 41-42 54-60 2.2-2.0 102-87

4 (Poor) 43-45 61-65 1.9-1.8 86-75

5 (Reject) >46 >66
---
Table 2: Protein and Calorie Levels in Forages, Based on Type and Maturity*.

Quality Standard

%

Protein

Grass Grass/Legume Mixed (50/50) Legume

%

Lysine f

MCal.

DE/lb. e

%

Protein

%

Lysine f

MCal.

DE/lb. e

%

Protein

%

Lysine f

MCal.

DE/lb. e

Prime (Prime) >11 >.38 >1.05 >16 >.68 >1.10 >21 >1.07 >1.17

1 (Premium) 8-10 .31 .95 13-15 .60 1.03 18-20 .97 1.10

2 (Good) 7-8 .26 .86 11-13 .51 .93 16-18 .87 1.00

3 (Fair) 5-7 .21 .80 9-11 .43 .86 14-16 .77 .94

4 (Poor) 4-5 .16 .77 7-9 .34 .82 12-14 .66 .89

5 (Reject)
---
660 lbs to 1,540 lbs, and 3) heavy horses –

from 1,540 lbs to 2,200 lbs of potential

mature body weights. The growth curves,

which indicate "normal" growth rates from

birth to thirty-six (36) months of age, are

taken from the tables in Horse NRC. Proper

use of these charts will assure us that

nutrition is not the limiting factor for

horses. Feeding the correct amount of a

selected grain mixture or supplement, will

allow all foals to reach their inherent genetic

potential and reduce the nutrition related

growth problems seen in horses today.

The number inside each rectangle on the

Growth Chart reflects the amount of minerals

and vitamins necessary to maintain the

Recommended Allowance (RA) for that

particular size and growth rate for foals. We

call this number a Progressive "Unit". It

does not reflect the necessary calories to

maintain desired body condition, because

of the calorie variability found in today's

forages being consumed and the owner/

trainer/manager will feed varying amounts

of a grain mixture to meet their desired

body condition in their horses. However,

what everyone needs to know is, "What

are the minimum pounds to achieve the

Recommended Allowance (RA) and the

maximum pounds to not exceed the Safe

Upper Limit (SUL) of their selected grain

mixture they are feeding". The Growth

Monitoring Charts will provide this information

for you.

We do not recommend trying to speed up

or to slow down growth rate. Just let the

young horses grow up to their genetic

potential, while providing the nutrients

needed to match their current growth rate.

The Progressive "Unit" is made up of protein

(amino acids), fats (fatty acids), major

minerals, trace minerals and vitamins

necessary to complement the analysis of

different forages. The pelleted supplements

in Table 5 are concentrated sources of

nutrients and one "Unit" is equal to one

"pound" of the appropriate supplement.

How many "Units" to feed per day will

depend on your horses' age, size, current

growth rate, reproductive status and/or

performance level. Which pelleted supplement

to feed will depend on the type of forage

you feed your horse (grass or legume).

Pregnancy

The implementation of the published

research from the Cornell and Illinois

Table 5: The Analysis of Two Different Pelleted Supplements Available to

Complement Different Forage Types

Nutrients

Feed with Grass or Mixed Forage

"ProAdvantage Grass"

Feed with Legume Forage

"ProAdvantage Alfalfa"

Dry Matter, % 90.0 90.0

Crude Protein, % 30.0 14.0

Crude Fat, % 5.5 5.5

Crude Fiber, % 5.0 15.0

Calcium, % 3.0 1.5

Phosphorus, % 1.5 1.5

Potassium, % 1.5 .8

Magnesium, % .4 .4

Manganese, ppm* 260.0 260.0

Iron, ppm* 240.0 240.0

Copper, ppm* 200.0 200.0

Zinc, ppm* 500.0 500.0

Iodine, ppm* 3.0 3.0

Selenium, ppm( 1.5 1.5

Vitamin A, IU/lb 22,000 22,000

Vitamin D, IU/lb 2,200 2,200

Vitamin E, IU/lb 350 350

* ppm is the same as mg/kg.

Table 6: Growth Monitoring Chart

Veterinary Departments stating the nutrients

received in the middle trimester of pregnancy

is just as important as the last trimester has

helped many breeding farms improve the

health of the mares and reduce early developmental

problems in their foals. This change

in feeding practice has allowed the mare to

replenish and build her body reserves to

assure she can supply the foal during their

most rapid growth phase during the last 4

S P R I N G 2 0 0 7 17
---
trimester of pregnancy. Owners and veterinarians

have stated: 1) improved reproductive

health and conception rates, 2) reduced

incidence of nutrition related fetal developmental

problems and 3) the ease of

management of feeding all their pregnant

mares the same the entire pregnancy.

The Lactating Mare

During the first three months of lactation,

most mares will produce between 3.0 and

3.5 percent of their body weight in fluid

milk each day. Peak lactation can occur

between four to ten weeks postpartum, with

the average being five to six weeks. As

lactation continues, milk yield will decline

to two percent of her body weight between

the fourth and fifth month. The amount of

milk a mare produces will depend on her:

1) genetic potential, but remember maiden

mares will produce less than mares with

previous lactations,

2) nutrient supply (especially daily

consumption of protein, calories

and water); and

3) individual foal intake.

The nutrient composition of milk also

changes during lactation. Mare's milk will

become more nutrient dilute as lactation

progresses. Protein, fat, major and trace

minerals and vitamin content decrease and

lactose increases. Water is the major constituent

of mare's milk, being approximately

90 percent, and the mares appetite, or the

total daily consumption of forage plus grain

mixture, will increase according to her

individual milk production. Table 7 shows

how much total feed will be consumed per

day by pregnant and nursing mares, as a

percent of their individual body weight.

Managers must watch the nursing mare's

nutrient input – output relationship. If the

mare is providing more nutrients into her

milk than she is taking in, she will draw

from her body reserves until her nutritional

reserves are depleted. For example, if calories

are in short supply, her fat stores will be

used up and she will lose body weight. If

protein is in short supply, her muscle mass

will be sacrificed, because proteins are

stored in the muscle. The first place to visually

see muscle loss is their top-line, i.e.,

withers, back and loin areas. This negative

balance, major and trace minerals included,

will deplete her body reserves, then lower

those nutrients in her milk, and have a

negative effect on her conception rate or

Table 7: Total Feed Consumed per Day by Pregnant and Nursing Mares

Reproductive Status

nutrients available for her next foal's fetal

development. This, of course, is in addition

to your mare's decline in health.

The mare's nutrients in greatest demand

are water and calories, followed by protein,

major minerals, trace minerals and vitamins.

Mare's milk is approximately 90 percent

water. A 1,300 lb mare, producing 5 ½ gallons

of milk per day, would have to increase her

water intake nearly two fold to replenish

this loss.

Early in lactation, mare's milk contains

approximately 560 kcal/kg of fluid milk.

Assuming mares convert 60 percent of feed

Digestible Energy (DE) into milk gross

energy, an extra 792 kcal of DE must

be consumed for every kilogram of milk

produced. This would be an increase of 72

percent above maintenance, which is why

lactating mares need to consume 2.5 to 3.5

percent of their body weight in total feed

per day, or they will lose weight.

Amount of Hay plus Grain Mixture to Feed/Day as

a % of Body Weight

Pregnant 1.5 to 2.0 %

Nursing, birth to 3 months 2.5 to 3.5 %

Nursing, 4 to 6 months 2.0 to 3.0 %

Table 8: Compares the Mare's Recommended Allowance (RA) while: Open, Pregnant and

Lactating, in her Total Diet on a Dry Matter Basis. (This is the average, or total nutrients

found, in everything she eats/day, including: forage, grain mixture, supplements, etc.)

Nutrient Open Pregnant

Protein needs have been estimated to be

almost double from those of maintenance.

Calcium and phosphorus losses during

lactation of the mare's body reserves can be

significant if adequate supplementation of

these essential minerals is not provided.

Brittle bones are unfortunately the end

result.

The trace mineral and vitamin content of

mare's milk is now available from several

published studies. All trace minerals are

low in mare's milk and is believed to be one

of the genetic components of DOD. It is

now possible to monitor a mare's milk, on a

monthly basis, by analyzing it and comparing

it to Table 9.

Newborn Foals

Lactation

(1-3 Months)

Lactation

(4-6 Months)

Dry Matter intake, % body wt* 1.5-2.0 1.5-2.0 2.5-3.5 2.0-3.0

Crude Protein, % 8.50 11.50 15.00 13.00

Calcium, % .30 .53 .70 .50

Phosphorus, % .21 .35 .43 .28

Potassium, % .40 .50 .80 .60

Magnesium, % .10 .12 .15 .12

Sodium, %** .14 .14 .20 .16

Copper, ppm 15 25 25 25

Iron, ppm 40 80 80 80

Manganese, ppm 40 60 60 60

Zinc, ppm 40 70 70 70

Cobalt, ppm .10 .20 .30 .20

Iodine, ppm .15 .25 .35 .25

Selenium, ppm .15 .20 .30 .20

Vitamin A, IU/lb 900 900 900 900

Vitamin E, IU/lb 23 36 36 36

Thiamine, mg/lb 1.3 1.3 1.3 1.3

Riboflavin, mg/lb 0.9 0.9 0.9 0.9

*Feed intake is determined by: Body capacity, RFV of forage, physiological status, activity level and environment.

**Under average conditions .35% to .50% Salt (NaCl) is recommended in the total diet.

Needed Digestible Energy, Mcal/Day, is determined by: Body size, metabolic rate, reproductive status, dry matter

consumption and Body Condition Score.

At birth, normal size foals should weigh

between ten and 12 percent of the mare's

body weight. For example, foals from a

18 T h e A m e r i c a n H a n o v e r i a n
---
Table 9: Mare's Milk Nutrient Composition by Week, on a Dry Matter (top) and As Fed Basis (bottom)

Dry Matter Basis

% Total

Solids

Energykcal/

100g

%

Protein

1,300 lb. mare should weigh between 130

and 150 lbs at birth. Maiden mare foals

should weigh between eight and ten percent

of their body weight.

Within the first hour after birth, the foal

should begin to receive colostrum. A 100 lb

foal should receive 250 ml (about one cup)

of colostrum each hour for the first six hours

after birth. That means that every breeding

farm should have at least 1500 ml of frozen

colostrum in their freezer, just in case.

Bacterial exposure to the "open gut" of the

newborn foal is considered the mechanism

for septicemia, the leading cause of death

in neonatal foals. The "open gut" will allow

the foal to absorb immunoglobulins, such as

IgG, IgM, IgE and IgA, from the colostrum,

but it also allows the absorption of harmful

pathogens from the environment. Dr. John

Madigan at the University of California-

Davis, stated that early (rapid) gut closure

may be equivalent to or more important

than simply serum IgG in the preventing

neonatal bacterial infection.

The average foal will drink seven to ten

times per hour for the first 30 days of age.

(Remember this if you have an orphan or

rejected foal) This readily available food

source is necessary to support thermoregulation

and growth.

The Suckling's Digestive System

%

Fat

During every foal's first four months there

are rapid growth and digestive changes. To

achieve each foal's genetic potential, we

must provide a feed to complement their

%

Lactose

%

Ash (b)

%

Calcium

%

Phosphorus

%

Magnesium

%

Potassium

%

Na

mg/kg

Copper

mg/

kgZinc

mg/kgIron c

Birth ------ 536 75.79 2.78 18.25 2.86 0.34 .16 .19 .45 .21 3.93 25.40 5.20

12 hrs. ------ 557 33.04 20.87 41.74 4.35 0.68 .35 .12 .84 .32 7.22 24.40 8.26

24 hrs. ------ 544 28.95 21.93 45.61 4.65 0.85 .39 .10 .74 .30 6.40 31.60 9.21

1 - 4 wk ------ 542 25.23 16.82 57.94 4.91 1.12 .68 .08 .65 .21 4.21 23.36 7.99

5 - 8 wk ------ 505 20.95 16.19 60.95 3.81 0.95 .57 .06 .48 .18 2.48 19.05 6.29

9 - 12 wk ------ 500 18.00 14.00 65.00 3.00 0.80 .50 .05 .40 .15 2.00 18.00 4.90

As Fed Basis

Birth b 25.2 135 19.1 0.7 4.6 .72 .085 .039 .0473 .11 .052 .99 6.4 1.31

12 hrs b 11.5 64 3.8 2.4 4.8 .50 .078 .040 .0138 .10 .036 .83 2.8 .095

24 hrs b 11.4 62 3.3 2.5 5.2 .53 .097 .044 .0110 .08 .034 .73 3.6 1.05

1-4 wk a 10.7 58 2.7 1.8 6.2 .53 .120 .073 .0090 .07 .023 .45 2.5 0.86

5-8 wk a 10.5 53 2.2 1.7 6.4 .40 .100 .060 .0060 .05 .019 .26 2.0 0.66

9-21 wk a 10.0 50 1.8 1.4 6.5 .30 .080 .050 .0045 .04 .015 .20 1.8 0.49

a NRC 1989, Nutrient Requirements of Horses, Summary pg. 95

b Ullrey, DE., Struthers, R.D., Hendricks, D.G., and Brent, B.E., 1966 Composition of Mare's Milk, Jan. Sci. 25:217

c Ullrey, D.E., Ely, W.T., and Covert, R.L., 1974. Iron, Zinc and Copper in Mare's Milk, J. Anim. Sci. 38:1276

igestive Enzyme Activity of the Young Gro

Figure 1: Digestive Enzyme Activity of the Young Growing Horse

Kapper, D.R., "Applied Nutrition", editor: Reed, SM, Equine Internal Medicine, 2nd Edition,

Saunders & Co., St. Louis, MO 2004, pp 1565.

type of digestive system, in a form they can

absorb, and fortify it to meet all of their

nutrient needs. This "Foal's First" feed should

be provided free choice in an area that the

mares will loiter, but cannot reach or get into.

A common management practice in the

past has been to allow nursing foals to eat

with their dams. Unfortunately, the foal

under two months of age has little ability to

digest the starch in cereal grains. During

the foals first three months of life, their

digestive enzymes are more efficient at

breaking down and absorbing milk (Fig. 1).

As the foal ages, the digestive enzymes also

change. When the foal is between three and

four months of age, amylase surpasses lactase

allowing them begin to digest the starches

in cereal grains. Therefore, all nursing foals,

up to four months of age, should have

available a milk-based foal feed to optimize

absorption. To meet their nutrient needs,

this free choice milk-based pellet should be

formulated to compliment mare's milk, not

forage. This "first feed" provided for foals

will result in optimal nutrient absorption,

while reducing the chance of digestive upset,

i.e. colic and diarrhea. How much of this feed

is consumed per day will be directly related

to: how much milk the mare is producing

per day, the age of the foal and the size of

the foal in relation to the mare.

Suckling Foals Showing Signs of DOD

If the foals' legs are normal at birth and

acquire leg deviations with age, but all they

are consuming is the mare's milk, it is only

logical to analyze her milk and compare it

to the expected mineral density average

listed above. If a mare has had foals in the

past with DOD, we would consider her a

"suspect mare". We recommend analyzing

her milk on day seven after foaling, then 4

S P R I N G 2 0 0 7 19
---
Table 10: Compares the Growing Horse's Recommended Allowance (RA) on a Total Diet, Dry Matter Basis

(This is the average, or total nutrients found, in everything they eat/day, including: forage, grain mixture, supplements, etc).

Nutrient

Weanling

(4-6 months)

Weanling

(6-12 months)

Yearling

(12-18 months)

Long Yearling

(18-24 months) 24 to 36 months of age

*Dry Matter Intake, % body wt 2.25-2.75 2.75-3.25 2.25-2.75 2.0-2.5 1.75-2.25

Crude Protein, % 18.00 16.00 14.00 12.00 11.00

Calcium, % .90 .80 .70 .60 .53

Phosphorus, % .48 .43 .32 .25 .22

Potassium, % .90 .80 .70 .60 .53

Magnesium, % .20 .19 .18 .15 .12

Sodium, % .10 .12 .14 .14 .14

Copper, ppm 35 30 25 22 20

Iron, ppm 100 90 80 70 60

Manganese, ppm 65 60 55 50 45

Zinc, ppm 100 90 80 70 60

Cobalt, ppm .30 .30 .25 .25 .20

Iodine, ppm .35 .35 .30 .30 .25

Selenium, ppm .30 .30 .25 .25 .20

Vitamin A, IU/lb 1,365 1,365 1,135 1,135 910

Vitamin E, IU/lb 43 43 41 39 26

Thiamine, mg/lb 1.8 1.8 1.6 1.6 1.3

Riboflavin, mg/lb 1.3 1.3 1.1 1.1 .9

*Feed Intake is determined by: Body capacity, physiological status, activity level, RFV of forage and environment.

Needed Digestible Energy, Mcal/day, is determined by: Body size, metabolic rate, growth rate, dry matter consumption and Body Condition Score.

again in week four, eight and 12, and compare

her milk mineral density to the appropriate

line on Table 9. There is a product on the

market today, Rejuvenaide, which is formulated

to complement mares' milk and is

to be given orally to the foal, as a drench,

once a day. This is the product that Dr.

Christmann asked me to be sure every

breeder knew was available to help our

foals. Rejuvenaide is a trace mineral and

vitamin supplement that will enable the

broodmare manager to keep the nutrient

deficient foal on the mare rather than having

to wean early. However, if the foal is over four

months of age when acquired contractures

begin to occur, it is easier and more

economical to wean and put the foal on

a balanced weanling formula to assure

adequate consumption of all nutrients. The

manager must then make sure the correct

numbers of Progressive "Units" are fed per

day to complement the foals' growth rate

(age vs. size).

Several research projects have been published

that prove adequate or above amounts of

crude protein (amino acids) do not cause

DOD. Dr. Ed Ott, from the University of

Florida, has published that feeding protein

levels below the Horse NRC's recommendations

will cause: decrease in bone density

and compromised tendon and ligament

strength. As long as the amount of crude

protein was below NRC's recommendation,

increasing the mineral density in the diet

had no affect on the skeletal and soft tissue

structures of young, growing horses. Other

publications state the only link between

Rejuvenaide Aid Analysis

(per 5cc drench or 2 cc paste)

Copper

Zinc

Selenium

Ascorbic Acid

Vitamin A

Vitamin D

Vitamin E

3.20 mg

9.40 mg

0.25 mg

100.00 mg

3,500 IU

350 IU

100 IU

adequate protein fed and DOD is when one or

more of the minerals (calcium, phosphorus,

copper and zinc) were fed below the

Recommended Allowance (RA). If physitis or

tendon, angular or flexure, deformities occur:

1) check the diet of the pregnant and

nursing mare for nutrient adequacy or

imbalances

2) analyze the mares milk for minerals

3) consider feeding appropriate amounts

of Rejuvenaide every day to the foal, or

weaning the foal if over four months old

DO NOT starve the mare or foal! If these

problems are caused from a nutritional

deficiency, how can we fix it by creating a

larger deficiency?

Feeding the Young, Growing Horse

After four months of age there is no reason

to feed quantities of milk to the growing

foal. Provide a weanling diet according to

desired body condition and Recommended

Allowance (see Table 6). Because the

younger horse's body capacity is small, the

percentages of all nutrients in a weanling

diet must be higher to assure adequate

amounts of minerals and vitamins will be

consumed per day. As the body capacity

increases, the percentages can be lowered

because they are consuming more pounds

per day (see Table 10).

After six months of age their digestive system

is changing into more of a continuous

grazer and we continue to manage the

weanling to complement their digestive

system. The larger the body capacity, the

larger the fermentation vat and therefore,

more forage can be consumed. However,

the increased body capacity for forage does

not keep up with the increased mineral

requirements for skeletal development. The

larger, faster growing foals are more prone

to skeletal problems due to their higher

mineral needs to support their larger structure.

Therefore, using the Growth Chart (Table 6)

to determine their individual Recommended

Allowances (RA) is the manager's best tool

to reduce the incidence of nutrition related

growth problems.

Because young foals do not grow at the

same rate and mature to different sizes,

their daily nutritional needs differ. The

smaller horses will usually mature earlier

and the larger horses will take longer. Even

within breeds there are different maturing

rates. The only way to meet the growing

horse's nutrient needs is to monitor their

growth every month and provide the necessary

"Units" of amino acids, major and

trace minerals and vitamins according to

their individual growth rate.

20 T h e A m e r i c a n H a n o v e r i a n
---
Conclusion of Part I

In conclusion, there are two very important

management decisions that need to be

made which are necessary to reduce the

incidence of "nutrition related" development

problems.

Number one - "Fetal Programming": The

reliance on adequate prenatal nutrition

is extremely important and needs to be

greatly emphasized in preventing nutritional

deficiencies from occurring in the

suckling. The point at which mare's milk

and the foal's liver stores can no longer

provide the trace mineral needs of the foal

can be seen in rapidly growing foals,

consuming only mare's milk, and beginning

to show signs of Developmental Orthopedic

Disease (DOD). If this occurs before the

suckling begins consuming an adequate

amount of dry feed, we will look into the

possibility of low mineral density in this

mare's milk as a cause. The research published

over the past several years, clearly

states that trace mineral supplementation

is beneficial in the sucklings' diet when the

mare has previously produced a foal with,

what is believed to be, nutrition induced

DOD. Comparing the suspect mare's milk

analysis to Table 9, will allow the owner/

veterinarian/nutritionist to explain why

and how much Rejuvenaide, a trace mineral

supplement to complement mares milk, is

necessary to administer per day.

Number two - "Feed According to Need":

Monitor your foals' growth rates and feed

accordingly. Be sure to provide the correct

number of "Units" (amino acids, fatty acids,

major and trace minerals and vitamins)

necessary to "support" their current growth

rate and size of their skeletal structure,

without getting them fat. We do not recommend

trying to slow their growth rate

down or to speed them up. Breed for the

size horse you want to produce and feed

them accordingly.

We have had the most success in reducing

the incidence of DOD on farms today

when these two management "tools" are

used together. To reduce skeletal anomalies,

all owners and managers must realize that

nutrition, management and genetics are

all "equal". You have to have the best of

all three if you want to attain "optimal

results". n

Donald R. Kapper, PAS, is the Director of

Nutrition and Technical Services at Progressive

Nutrition, LLC and a team member of Akey

Nutrition Research and Development and

Nutrition Horizon Research and Development

at North American Nutrition Companies, Inc.

He is a graduate of The Ohio State University

and a member of the Equine Science Society,

the American Registry of Professional Animal

Scientists (PAS), the American Farriers Association,

the American Hanoverian Society and the ISR/

Oldenburg N.A. Society. In 1983, he assisted in

the development of the first comprehensive

computer program to balance equine diets. He

consults with industry leaders and has lectured

throughout the world to horse owners, trainers

and veterinarians. He is the exclusive Equine

Nutritionist for the 1998, 2002, 2004 and

the 2007 Sporthorse Stallion Testing LLC's

100-Day Stallion Performance Tests. In 2003,

Don assisted in writing the text and taught

the first Equine Science Certificate Class,

"Introductory Equine Nutrition", at the

University of Guelph in Ontario, Canada. Don

has written articles on Equine Management

and Nutrition that have been published in

several trade journals and a veterinary text

book. He and his wife Dee own and operate

Outer Banks Farm, where they breed and raise

Hanoverian horses in Beach City, Ohio.

© 2006 Frank Jansen

Page Brook Farms

Home to EMC Arabella RGS – 2006 AHS Benchmark Award Winner for top MPT jumping score!

Page Brook Farms is a small, quality breeding operation in Hollis,

New Hampshire. Our selective band of mares was chosen for correctness

in conformation, movement, proven bloodlines and exceptional dispositions.

Each and every breeding is planned to ensure healthy, athletic

foals with outstanding temperaments. The foals are from a genetic

pool of the finest bloodline available in the U.S. and Europe.

Weanlings to Five-Year-Olds available

2006 colt by Don Frederico • 2005 colt by Autocrat • Four foals by Argentinus, Indoctro, Rosario expected for Spring 2007

Terry or Jayshree Schrubb • 199 Pine Hill Road • Hollis, NH 03049 • 603-883-8223 • 978-857-5735 (cell) • 978-857-5733 (cell)

www.pagebrookfarms.com

S P R I N G 2 0 0 7 21