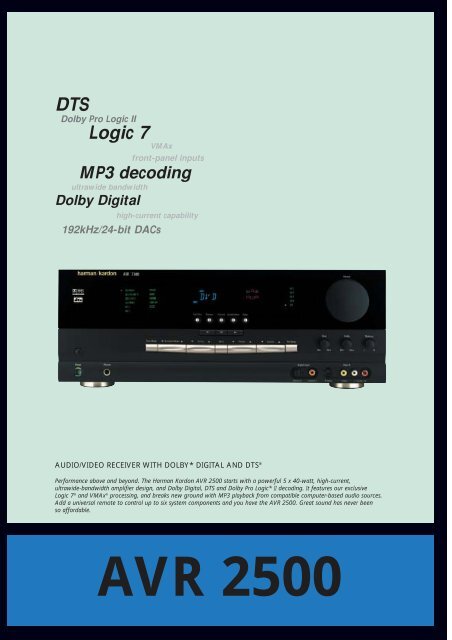 AVR 2500.QXD - Hci-services.com AVR 2500.QXD - Hci-services.com
DTS

Dolby Pro Logic II

Logic 7

VMAx

front-panel inputs

MP3 decoding

ultrawide bandwidth

Dolby Digital

high-current capability

192kHz/24-bit DACs

AUDIO/VIDEO RECEIVER WITH DOLBY* DIGITAL AND DTS ®

Performance above and beyond. The Harman Kardon AVR 2500 starts with a powerful 5 x 40-watt, high-current,

ultrawide-bandwidth amplifier design, and Dolby Digital, DTS and Dolby Pro Logic* II decoding. It features our exclusive

Logic 7 ® and VMAx ® processing, and breaks new ground with MP3 playback from compatible computer-based audio sources.

Add a universal remote to control up to six system components and you have the AVR 2500. Great sound has never been

so affordable.

AVR 2500
---
Specifications

• Audio Section – Continuous Average Power (FTC):

(Stereo Mode): 50 watts per channel into 8 ohms @

20Hz – 20kHz,
More magazines by this user