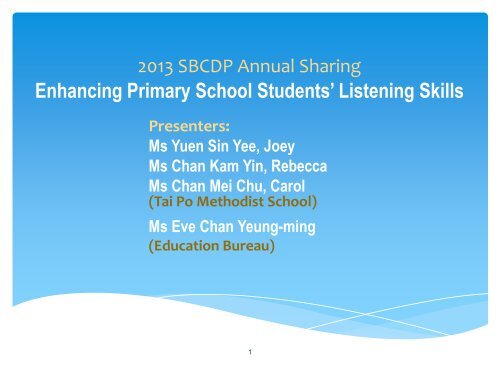 Why Listening?
Why Listening?
Why Listening?
SHOW MORE
SHOW LESS
You also want an ePaper? Increase the reach of your titles
YUMPU automatically turns print PDFs into web optimized ePapers that Google loves.
2013 SBCDP Annual Sharing

Enhancing Primary School Students' Listening Skills

Presenters:

Ms Yuen Sin Yee, Joey

Ms Chan Kam Yin, Rebecca

Ms Chan Mei Chu, Carol

(Tai Po Methodist School)

Ms Eve Chan Yeung-ming

(Education Bureau)

1
---
Why Listening?

Second Language Learning Theories

• Listening provides a more natural way to learn a language.

Gary (1975)

• A positive relationship between listening ability and foreign

language acquisition.

Practical Needs for Students' Future

• Research has demonstrated that adults spend:

40-50% communication time: listening

20-30% time: speaking

11-16% time: reading

9% time: writing

Public Examination Requirements

• Pre-S 1: Listening 32% ; Reading 38%; Writing 30%

• TSA P3 and P6

2
---
P.3 TSA Listening Papers Genres

Genres 2009 2010 2011 2012

Stories

Conversation

Form-filling

Telephoning

3
---
Poems

P.6 TSA Listening Papers Genres

Listening Genres 2009 2010 2011 2012

Conversations

(with teachers, classmates, family)

Radio Programs

Riddles

Interviews (Survey)

Speeches in school

Weather Reports

Stories

News Reports

Advertisements

Telephone Conversations

4
---
P.3 TSA Listening Papers Question Types

Question Types 2009 2010 2011 2012

Match pictures and info from tape

Match feeling pictures with info from tape

Relate cause and effects

Minimal Pairs

(Ms Wong/Tong/Hong/Kong)(Bus 15/Bus 13)

(Anna's Annie's Anthony's )

Date (19 th May, 1998) /Year (2001/2002)/

Day of the week (Monday/Tuesday/Wednesday)

Time of day (7:30am, 12:30pm)

Duration of Time (30/40 minutes)

Telephone Numbers/money (Up to $200)

Names of countries (HK, Japan, Singapore, Australia)

Names of places in Hong Kong

(Mong Kok/Lai Chi Kok)

5
---
P.6 TSA Listening Papers Question Types

Question Types 2009 2010 2011 2012

Match pictures with info from tape

Match feeling pictures with info from tape

Minimal Pairs (Ms Wong/Tong/Hong/Kong) (13/30)

Sequence events

Relate cause and effects

Predicting development of conversation

e.g.(In a radio Program) 'What will Bill say next?'

Time of day (7:30am, 12:30pm)

Telephone Numbers/Temperature/Money

Date (19 th May, 1998)

Inferencing

Rhyming pairs

Metaphor/Similes eg. The elephant's skin is like______

Main idea of a poem, a riddle, radio program, advertisement

Using some adjectives to describe experience

e.g. tiring/boring/interesting/painful/comfortable

Note-taking (Students had to fill in blanks with tel no, name of

people and date)

6
---
Purposes:

1. Identify their listening

problems

2. Understand their attitude

towards listening

3. Look into their daily

listening habits

Respondents

All P.4 students

Had listening training in P.3

for TSA

More mature to answer

questions in questionnaires

Questionnaire Survey to

Understand our Students

7
---
30%

25%

20%

15%

Q1 I think listening to English is difficult.

20%

14%

27%

23%

16%

Strongly Agree

Agree

Neutral

10%

Disagree

5%

Strongly Disagree

0%

40%

30%

20%

10%

0%

Q2 I watch English CD/DVD/TV at home. Strongly Agree

12% 13%

32%

Agree

20%

23%

Neutral

Disagree

Strongly Disagree

8
---
Q6 There are skills I can learn to improve my listening skills

50%

45%

40%

45%

Strongly Agree

35%

Agree

30%

25%

24%

22%

Neutral

20%

15%

Disagree

10%

5%

6%

3%

Strongly Disagree

0%

9
---
School-based Curriculum Development

Evidence-informed: School's internal assessments, TSA results,

questionnaire results and teachers' observation

Research-based: 2 nd language learning and listening theories

1. Listening strategies training can help listening

2. Different kinds of background knowledge (Content and Process) helps

listening

3. Awareness to the relationship between memory and listening

Practical: Use of TSA materials because of copy right issues and time

constraint

Adopt a genre approach with emphasis on various listening strategies

in interactive, meaningful and lively listening lessons

10
---
5 Listening Genres

Radio Programs P. 5

Stories P.3

Form-filling Situations P.3

Riddles P.4

Conversations P.3

11
---
Listening to Radio Programs P.5

Problems

No real-life experience of

listening to radio. No

understanding of context of

the utterance.

Very limited vocabulary and

grammatical structures

about radio programs

Don't know the need to

listen to key words

TPMS Listening Lessons

1. Pre-listening task of

vocabulary learning

2. Familiarize students with

the process knowledge, one

kind of background

knowledge

3. Listening strategy training:

listening to key words

12
---
Stages of Radio Program Interviews

14
---
Theory Reference 1:

Background knowledge and Listening

Content schemata

Process schemata

Knowledge about newscast process (Process schemata )

and specific themes of the news report (Content

schemata) helps comprehend news information

Dunkel (1991)

15
---
Listening to Signal Words

16
---
Listening to Key Words

17
---
Listening to stories P.3

Problems

Lacking related vocabulary

Difficulties of retaining

information heard to

develop a holistic

understanding of a story

Cannot relate

emotion/feelings to stress

and intonation in speech

TPMS Listening Lessons

Peer work to discuss related

vocabulary

Mind-maps to help students

understand the whole story

Have students vocalize part

of the script before the

listening to let students feel

the intonation differences

18
---
19

Pre-listening:

Remind students

some listening

strategies

1. Observation of

picture details

2. Discussion with

teachers and

partners to think

of related words

and phrases

3. Ease students'

nervousness

4. Remind

students to

think of as many

vocabulary as

possible during

this stage

Yet it takes some

time for

students to

think of the

spelling of

words
---
While Listening:

Understand Development of a Story

A story map

summarizes details

half of a story.

Capture attention of

less-able students

Info about

characters, setting

and ending helps

predict

development of a

story.

20
---
Listening to Feelings

21
---
Theory Reference 2:

Language Learning and Listening

Listening ability can be improved

through listening strategy training.

-Prediction

-Use of background knowledge

-Summarizing

-Vocalization: Reproduce English heard

22

Feyten (1991)
---
Listening to Form-filling

Situations P.3

Problems of Listening to

Form-filling Situations

Minimal pairs of people

names, building names

and numbers

Telephone numbers

Listening to numbers is

boring

23

TPMS Listening Lessons

More detailed teaching

of minimal pairs

including word initials

and word endings

Focus on words like

double, triple, zero and

oo.

Introduce number games
---
Listening to Form-filling Situations

Word Initial

Minimal Pairs

Word Ending

Minimal Pairs

25
---
Students' Listening Comprehension Process:

1. Match sounds with words

/zi:rou/= Zero

2. Interpret meaning :

Zero= 0

Double six= 66

3. Understand sentence patterns:

My number is/My mobile is/My phone number 26 is……
---
Listening to Telephone Numbers

27
---
Theory Reference 3:

Memory and Listening

Short-term memory for second language

learners is often overload as they have to

remember words, verb groups, simple

phrases and to organize them into clauses.

The capacity of short-term memory is about 7

units, plus or minus 2.

28
---
Listening to Riddles P.4

Problems

Students are not familiar

with the genre

Students need to integrate

information from listening

quickly

Students are not skilled to

pick up key words

29

TMPS Listening Lessons

Familiarize students with

the genre through games

Train students to integrate

information from listening

input through actions and

imagination

Train students to pick up

key words e.g. nouns,

adjectives and verbs
---
Listening to Riddles

30
---
From Key Words to Gestures

31
---
Listening to Conversations

Problems

Too much contextual information

to handle.

People: Teacher and students

Mother and son

Theme: Open day/ Visit a friend

Differences between spoken

language and written language

Students find it difficult to handle

numbers, money, time

TPMS

Focused context study as prelistening

tasks

Lead students to see

differences between spoken

and written language

Money, time and number

games

32
---
Listening to conversations

33
---
Know more about the context of

conversations by reading rubrics

35
---
The hidden meaning of conversations

36
---
Money Bingo Game

37
---
Genre Approach

Every genre has its own

features. Input on vocabulary,

process and context of each

listening genre helps students

to develop related listen skills.

Students need to have

repeated exposure to a same

kind of genre over a period of

time for better retention of

knowledge.

Students have very clear

concept of what they are

listening to.

Teachers can easily plan and

develop school-based

listening skill curriculum

Conventional Approach of Using

Supplementary Listening Materials

38

No efforts to help students to

learn the related vocabulary,

process and context for each

genre.

Students are randomly

exposed to various kinds of

genres and easily forget what

they have learned.

Materials are test-oriented.

Teachers cannot tell what

skills students have mastered

or identify the strengths and

weaknesses of students'

listening skills.
---
Conclusion

Listening skills are as important as other language skills.

Genre Approach+ Listening Skill teaching is a more systematic

way to teach listening.

Listening skills cannot be learned by studying a textbook.

Abundant opportunities for listening outside the classroom is

needed.

Don't just make students just listen. Make sure that students

understand the content they are listening and the skills they

are learning.

HK teachers need to accumulate more pedagogical

knowledge on the teaching and learning of listening.

39
---
Local Radio Programs

Crazy Chris

An RTHK production. Very interesting stories

about a child called Chris who lives in Hong

Kong. Some stories have scripts.

Sunday Smile

The Sunday Smile" is an RTHK English-language radio

programme for primary school students. The weekly

show features competitions, music and stories.

40
---
References

Call, M. (1985). Auditory Short-Term Memory, Listening comprehension and

the Input Hypothesis. TESOL Quarterly 19 (1985):765-81

Dunkel, P.A. (1991). Listening in the native and second/foreign language:

Toward an integration of research and practice. TESOL Quarterly 25/3: 431-57.

Feyten. C. M. (1991). The power of listening ability: An overlooked dimension

in language acquisition. Modern Language Journal. 75/2:173-80

Gary, J.O. (1975) Delayed oral practice in initial stages of second language

learning in W.C. Ritchie (ed.) Second language acquisition research: Issues

and implications. New York: Academic Press.

Long, D. (1989). Second language listening comprehension: A schematheoretic

perspective. Modern Language Journal, 73, 32-40

O'Malley, J.M. and A. U. Chamot. (1990). Learning Strategies in Second

Language Acquisition. Cambridge University Press.

Rubin, J. (1990). Improving Foreign Language Listening Comprehension.

Georgetown University Round Table. Ed. J.E. Alatis. Washington, DC: Georgetown

University Press, P.309-16

41