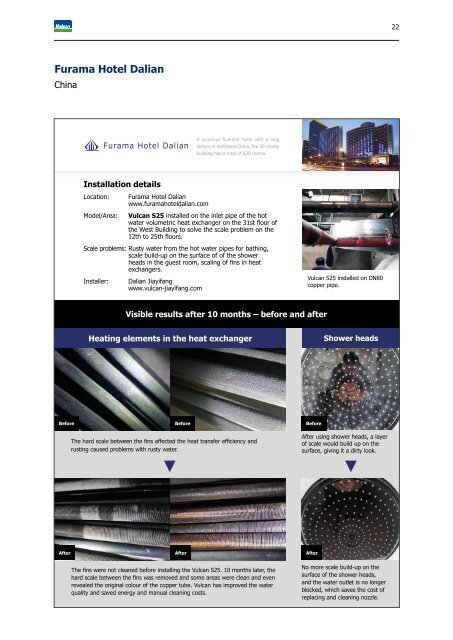 Vulcan Anti-Scale System - Reference Book (EN)
Vulcan is the salt-free alternative to water softeners. Vulcan is an eco-friendly water treatment system that protects your piping system and appliances against scale deposits and rust - no use of any salt or chemicals. The Vulcan reference book shows a selection of installations and studies of the Vulcan water treatment.
22

Hotel Meridien N׳Fis

Morocco

Hotel Méridien N'fis

Avenue Mohamed VI,

Marrakesh 40000,

Morocco

www.lemeridien.com

Certificate of reference for the Vulcan Descaler

In order to remove and prevent scale and rust

issues affecting our pool areas and various

hydraulic installations, we have purchased

and installed the Vulcan S25 unit from CWT

International.

After receiving a very satisfactory result from

the Vulcan S25, we plan to entrust the Vulcan

Descaler range with any future scale or rust

problems in the Le Meridien N'fis.

Hotel Méridien N'fis pool and spa area protected by Vulcan S25

Kind Regards,

A Moursil.

Technical Director.
More magazines by this user