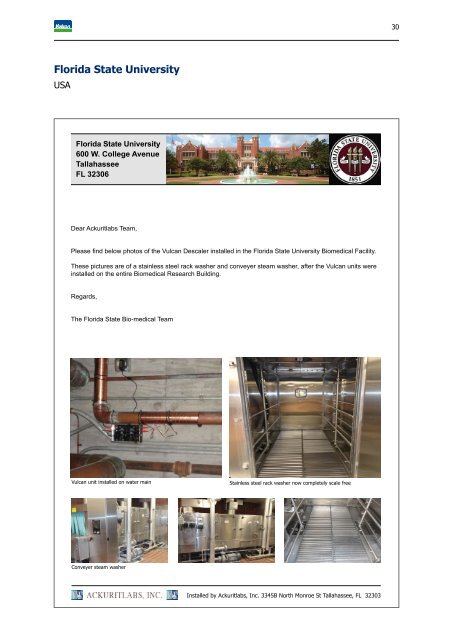 Vulcan Anti-Scale System - Reference Book (EN)
Vulcan is the salt-free alternative to water softeners. Vulcan is an eco-friendly water treatment system that protects your piping system and appliances against scale deposits and rust - no use of any salt or chemicals. The Vulcan reference book shows a selection of installations and studies of the Vulcan water treatment.
32

Apartment Building

Japan

Installation

Installation

of Vulcan

of Vulcan

S25

S25

Installation site:

Water supply system:

Piping diameter:

Model:

Water capacity:

The roof of an apartment

building in Tokyo. (Building

built 20 years ago with 46

apartments)

Water tank on top of the roof

80 mm

Vulcan S25

25 m 3 /hour

Before Installation:

The cover and the lagging

material on the pipes are

removed for installation

Cable windings complete

Impulse cables and the Vulcan S25

The piping with cable has now been recovered with the lagging

material and cover. Installation of the Vulcan is now complete.
More magazines by this user