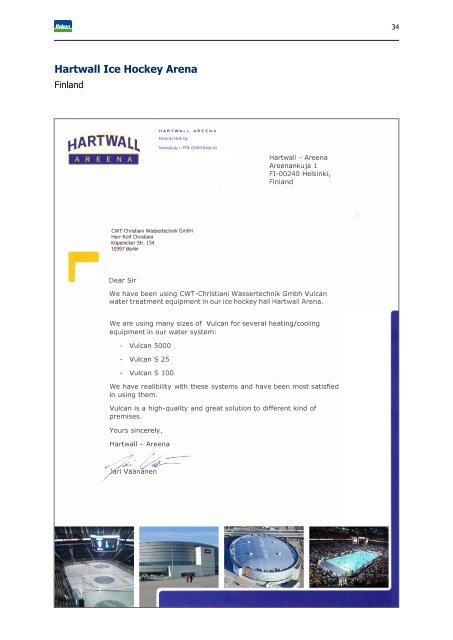 Vulcan Anti-Scale System - Reference Book (EN)
Vulcan is the salt-free alternative to water softeners. Vulcan is an eco-friendly water treatment system that protects your piping system and appliances against scale deposits and rust - no use of any salt or chemicals. The Vulcan reference book shows a selection of installations and studies of the Vulcan water treatment.
34

Hartwall Ice Hockey Arena

Finland

f,fARTWALl

A R E E N A

HARTWALL AREENA

Helsinki Halli Oy

Areenakuja J. FIN--00240 Helsinki

Tel. +358 (0)204 1997, Fax +358 (0)204 1994

Internet: http://www.hartwall-areena.com

Hartwall - Areena

Areenankuja 1

FI-00240 Helsinki,

Finland

CWT-Christiani Wassertechnik GmbH

Herr Rolf Christiani

Köpenicker Str. 154

10997 Berlin

Dear Sir

We have been using CWT-Christiani Wassertechnik GmbhVulcan

water treatment equipment in our ice hockey hall Hartwall Arena.

We are using many sizes of Vulcan for several heating/cooling

equipment in our water system:

Vulcan 5000

Vulcan S 25

- Vulcan S 100.

We have realibility with these systems and have been most satisfied

in using them.

Vulcan is a high-quality and great solution to different kind of

premises.

Yours sincerely,

Hartwall - Areena

/-

;>ariVäananen
More magazines by this user