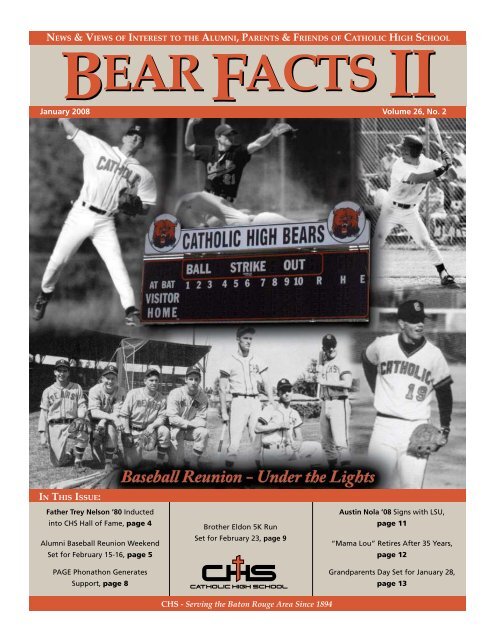 BEARFACTSII BEARFACTSII - Catholic High School
BEARFACTSII BEARFACTSII - Catholic High School
BEARFACTSII BEARFACTSII - Catholic High School
SHOW MORE
SHOW LESS
Create successful ePaper yourself
Turn your PDF publications into a flip-book with our unique Google optimized e-Paper software.
BEAR FACTS

II

January 2008 Volume 26, No. 2

Ne w s & Vi e w s o f In t e r e s t t o t h e Al u m n i, Pa r e n t s & Fr i e n d s o f Cat h o l i c Hi g h Sc h o o l

In Th i s Is s u e:

Father Trey Nelson '80 Inducted

into CHS Hall of Fame, page 4

Alumni Baseball Reunion Weekend

Set for February 15-16, page 5

PAGE Phonathon Generates

Support, page 8

Brother Eldon 5K Run

Set for February 23, page 9

Austin Nola '08 Signs with LSU,

page 11

"Mama Lou" Retires After 35 Years,

page 12

Grandparents Day Set for January 28,

page 13

CHS - Serving the Baton Rouge Area Since 1894
---
Robert "Bobby" Hebert '39

and his wife, Helen, celebrated

their 65th wedding anniversary on

October 14.

Bill "Red" Lindsey '45

received the Spring Hill College

'40s Outstanding Alumni Award for

Professional Achievement. The

award recognized his 35 years

of service

as a diplomatic officer

with the United

States Department

of State. During his

career, he served on

five continents in nine

American Embassies.

While on active duty

he twice received the

Department's Superior Honor Award.

Donald Songy '51 and his

wife, Bernice, celebrated their 50th

wedding anniversary October 13,

with a family dinner at the Baton

Rouge Country Club.

Gayle Hatch '57 is serving as the LSU

Tigers' strength and conditioning coach. Gayle

is a member of several weightlifting and strength

and conditioning halls of fame.

'60s

Charles Barbre '65, author

of "LSU: A Legacy of Leaders,"

spoke about LSU's history and

contributions of people for whom

campus buildings are named

when Quota International of Baton Rouge

entertained prospective members at the LSU

Faculty Club.

Harry "Skip" Phillips Jr. '68, a partner at

Taylor Porter, has been named a fellow of the

American College of Trial Lawyers. Fellowship

is extended by invitation to experienced trial

lawyers whose careers have been marked by

the highest standards of ethical conduct,

professionalism, civility and

collegiality.

Scott Deumite '80 is president

of Deumite Construction, LLC,

a general construction firm

performing commercial building

construction and development in the Baton

Rouge and surrounding

areas.

Andrew Adler '82

was named executive

vice president for State

Bank & Trust Co.

Scott Deumite '80

'30s

Bill "Red" Lindsey '45

'50s

'80s

Bill Gauthier

'82 has been named

vice president and

managing partner of

Deumite Construction,

IN THE NEWS

LLC General

Contractors.

Jeff Schexnaider

'82 signed with

the University of

Louisiana at Monroe

as head baseball

coach for another

Bill Gauthier '82

four years.

Tom Hanegan

'83 has joined Deumite Construction,

LLC, as lead superintendent and is

constructing the $6.5 million Cypress

Mounds Baseball Facility on Gardere

Lane.

Corey Butler '85 is director of

Network Operation Center at MegaPath

Networks in Austin, TX.

Martin Klier '87, from the Baton

Rouge Country Club, was awarded the

gold medal in the pork, lamb, game

divisions of the 23rd Annual Baton

Rouge Culinary Classic sponsored by

the Greater Baton Rouge chapter of the

American Culinary Federation.

Brent Melancon

'88 has been named

senior director of Global

Pricing and Contracting

with Medtronic Inc. in

Santa Rosa, Calif.

Davis Hotard '89

performed in the Baton

Rouge Little Theatre's

Forever Plaid: Plaid

Tidings in December. Hotard played Smudge,

the bass, in the show.

'90s

Gary Keyser '90 holds the

rank of captain in the Louisiana

Air National Guard and has

accepted a position with Louisiana

Machinery.

Capt. Tim Welborn '92 is serving with the

US Army in Baghdad, Iraq. He is the commander

of the Headquarters Support Company, 769th

Capt. Tim Welborn '92

Engineer Battalion,

which is based out of

Baton Rouge. The

battalion is deployed

to Iraq in support of

Operation Iraqi Freedom

with the 4th Infantry

Division from Ft. Hood,

TX. He is scheduled to

return from Iraq in the

summer of 2008.

Eliot deGravelles '93 teaches community

psychiatry and runs a home psych clinic for the

University of Texas. He was selected as one of

the outstanding professors of medicine by the

medical school students.

2

Brent Melancon '88

MILITARY. CHS graduates serving with the US Marines

323 weapons company in Iraq are (l to r) Cpl. Andrew

Bolton '04 and Sgt. Garrett DuBois '01. Bolton and

DuBois run patrols of their Area of Operation to protect

a small Iraqi town and other Marines. In addition, they

work with the Iraqi Police and sometimes the Iraqi Army

to teach tactics to know how to secure their country.

Patrick Coogan '93 is one of six friends

who helped Pete Bush combine their belief

in Baton Rouge and

charitable giving with

their love of wine to

bring to fruition the

Baton Rouge Uncorked.

Their goal is to provide

young professionals an

opportunity to enjoy

good wine and "pass a Patrick Coogan '93

good time," all while

helping support a meaningful local cause.

Eric Borne '96 has joined the ExxonMobil

Baton Rouge Projects Department as a senior

engineer and will be working on capital

projects at ExxonMobil's

Baton Rouge area plants.

He also passed the

Professional Engineering

Exam and is now

licensed in the state of

Louisiana.

Eric Borne '96

Brian Thomas

'99 was hired as

head strength and

conditioning coach at

Nicholls State University. Brian lettered four

years as a member of Nicholls' football team

from 2000-2003.

William deGravelles '03 is working in

the Everglades and is awaiting a

position in the Wetlands graduate

school at University of Florida to

start next August.

Morris LeBlanc '03 helped

design an animated agent named

'00s
---
AVARI, which stands for

Animated Virtual Agent

Retrieving Information.

AVARI is able to

recognize any voice and

is capable of having a

natural conversation

with a human using

a database to help her Morris LeBlanc '03

answer questions. In

September, Morris was

one of 11 student-athletes from the University of

North Carolina at Charlotte who visited James

Martin Middle School to give an inspirational

talk on the importance of education as part

of the Communities In Schools, a dropout

prevention program.

Eric Couper '05 is

majoring in International

Relations and Cognitive

Studies with a minor in

Latin American studies

Eric Couper '05

two symposiums for

students to share their

policy related research

with politicians.

Christopher Laynes

'06, a sophomore at

Xavier University in

New Orleans, was

invited to Case Western

Reserve University

at Tulane. He studied

this past summer in

Chile. He is involved in

resident hall government

and in coordinating

Christopher

Laynes '06

By Jan R. Breen

Catholic High School is seeking

nominations for the Louis Delario Eames

Courage Award.

Eames, a graduate of the class of 1973,

was a distinguished student at CHS and

was considered by all who knew him to be

a person of great integrity and courage. He

attended Louisiana Tech on a track and field

scholarship and earned a degree in aviation in

1977. He then enlisted in the United States

Navy and served as a carrier-based fighter

pilot until February 1981 when he was killed

while participating in a training exercise over

the Pacific Ocean.

The Eames Courage Award will be

presented to a student, graduate or friend

IN THE NEWS

School of Medicine in Cleveland, Ohio this

past summer to study their pre-med program.

He was also chosen by the Foot Locker shoe

store to do a commercial for The United Negro

College Fund and was granted a scholarship.

The commercial will air in stores throughout

the country during February 2008.

Lance Cpl. John David Pitchford '06 is

with the Battalion Landing Team, 1st Battalion,

5th Marine Regiment stationed in Camp

Pendleton, Calif. He is

on his first deployment

overseas attached

to the 11th Marine

Expeditionary Force

with the Navy. He is on

the USS Germantown,

one of three vessels in

the fleet along with the

USS Cleveland, and the

Catholic High Seeks Nominations

for Delario Eames Courage Award

COLLEGE VISITS. CHS Guidance Counselor Sherry Brouillette visited CHS alums at St. Edward's

University and the US Naval Academy. (Left) Brouillette was lead on a campus tour by CHS alum

Joseph Persac '04 in Austin, TX in September. (Right) (l to r) Spencer Jurkiewicz '07, Brouillette

and Anthony Breaux '04 visited at the US Naval Academy during Brouillette's tour.

Lance Cpl. John

David Pitchford '06

of Catholic High School, who by his or

her actions, has demonstrated the mental

and moral strength to confront, resist and

overcome significant danger, opposition or

hardship. A selection committee, chosen

from the Catholic High School community,

will review the nominations for the award

and make a selection. The award will be

presented before a school-wide assembly

in May 2008 and the recipient will receive

a Golden Bear, the most prestigious honor

bestowed by Catholic High School.

Deadline for nominations is March

1 and should be sent to Catholic High

Principal Brother Barry Landry, SC at

bblandry@catholichigh.org.

3

USS Tarawa.

Brad Sanchez '06 was assistant stage

manager for the Baton Rouge Little Theatre's

performance of Forever Plaid: Plaid Tidings.

Mark Primeaux '07 performed in the

Baton Rouge Little Theatre's Forever Plaid:

Plaid Tidings in December. Primeaux played

Sparky, the baritone, in the show.

19th Annual

CHS Golf Classic

Monday, April 21, 2008

Title Sponsor – Arrighi Simoneaux

Commercial Construction

The Bluffs Country Club & Resort

Morning and Afternoon Shotgun Start

Chairman – Steve Maher '94

For information,

contact the Alumni Office at

(225) 383-0459 or

chsgolfclassic@catholichigh.org

BEAR FACTS II

Bear Facts II is published quarterly

by the Office of Public Relations.

Jan R. Breen, editor

Jennifer J. Rouse, assistant editor

Contributors:

Margie Alexander

Stacy Bourgeois

David Butler '77

Barbara Camp

Hal Dupuy '73

Katherine Ellis

Joni L. Owens

Glen Randow

We welcome the submission of material for

possible publication. Mailing address:

855 Hearthstone Drive

Baton Rouge, LA 70806

www.catholichigh.org
---
Father Trey Nelson '80 Inducted into CHS Hall of Fame

By Jan R. Breen

Father Trey Nelson '80

was inducted into the Catholic

High School Hall of Fame on

December 6, 2007.

A 1980 graduate of CHS,

Father Trey holds a degree in

communications from the

University of St. Thomas in

Houston, Texas and a Master of

Theology from the Notre Dame

Seminary Graduate School of

Theology. He was ordained a

priest by Bishop Stanley Ott.

Father Trey has served in

many roles in his 19 years as a

priest. He was the associate

pastor of St. Isidore, St. Jude

and Most Blessed Sacrament

parishes; chaplain of St. Michael

the Archangel High School

and Catholic High School;

spiritual director of the Office

of Youth Ministry; facilitator

of the Diocesan Council for

Youth Ministry Development

and a member of the Diocesan

Committee for Child

Protection. He currently serves

as pastor of Assumption of the

Blessed Virgin Mary Church in

Plattenville, pastor of St. Anne

HALL OF FAME. Father Trey Nelson '80 (left) was inducted into the CHS

Hall of Fame by CHS President Gerald Tullier (right) at the 23rd Annual

Founders Banquet on December 6, 2007.

Church in Napoleonville and

pastor of St. Philomena Church

in Labadieville.

In addition to his priestly

duties, Father Trey has authored

several books including "Stand

on the Promise: Daily Prayers

for Busy Teens," "To Be a

Pilgrim Companion: Roles and

Boundaries in Youth Ministry"

and "8 Qualities for Healthy,

Holy Relationships in Ministry

with Minors," to name a few.

At Catholic High, Father

Trey has directed faculty and staff

retreats, celebrated liturgies and

participated in student retreats.

He also provides spiritual

assistance to school personnel

and students.

Father Trey, the oldest of

seven children, is the son of

Yvonne Nelson and the late

Caye Nelson Jr., a 1953 CHS

graduate.

Following the Hall of Fame

presentation, CHS Development

Director Hal Dupuy '73

honored Perpetual Founders Mr.

and Mrs. Louis B. Gaudin and

Mr. and Mrs. J. Gerard Jolly

'70. Perpetual Founders have

generously donated $100,000 or

more to Catholic High School

during their lifetime.

Pat Shingleton served as the

master of ceremonies of the 23rd

Annual Founders Banquet and

Gerald Tullier, CHS president,

inducted Father Trey into the

Hall of Fame.

Dupuy recognized the

National Honor Society, Alumni

Association and 2006-2007

Mothers' Club President Joanne

Roberts and 2006-2007 Men's

Club President Rudy Valenciano

for their contributions to CHS.

Dupuy also acknowledged Cary

and Rolfe Miller, 2006-2007

PAGE chaircouple, for their

leadership with the annual

appeal. Additionally, members of

the Catholic High School Board

of Directors presented plaques to

the new CHS Founders.

(Top left) FOUNDERS. Dr. Albert and Dr.

Elba Alexander are Founders and attended

the 23rd Annual Founders Banquet.

(Top right) PERPETUAL FOUNDERS. (L to

r) Louis and Fran Gaudin were honored as

new Perpetual Founders on December 6,

2007.

4

(Bottom left) HONORED. Recognized as new

Perpetual Founders at the Founders Banquet

at the Hilton Baton Rouge Capitol Center

were (l to r) Donna and Jerry Jolly '70.

(Bottom right) PLAQUE. Marlene Sheely

(left), CHS board member, presents Derrick

Green '96 (right) with a plaque in recognition

as a first-time Founder.
---
Improvements to Baseball Field Provide Opportunities

Alumni Baseball Game Set for February 16 'Under the Lights'

By Jan R. Breen

Catholic High has begun

improvements to its baseball

field which will provide students,

parents, coaches and moderators

additional opportunities to

be a part of the athletic and

extracurricular programs.

Additionally, plans are under

way for the first alumni baseball

weekend set for February 15 and

16, 2008.

Improvements to the field

include leveling and re-sodding

the outfield, a new backstop with

netting and the addition of lights

to the baseball field.

Lighting the field will allow

the coaching staff extra time to

give each player the personal

attention he needs to develop his

skills. The lights will also give the

junior varsity and varsity squads

time to practice together, which

will also strengthen the program.

Additionally, the marching band

will have extended time for

practice.

Catholic High hopes that

more parents will be able to see

By Barbara Camp

The latest item contributed

to the Archives is a CHS

letterman blanket donated by

Daryl Whitty '52. According

to Whitty, in 1952 the blankets

were given out to those students

who had

lettered in

two sports

for a period

of four years

each. Whitty

was a fouryear

letterman

in baseball and basketball during

his tenure at Catholic High. The

blanket was presented to him by

his coaches.

Other blankets donated

to Catholic High are two

cheerleader blankets, one given

their sons participate in these

activities because the school can

start games closer to the end of a

work day.

"This marks a new era in

Catholic High baseball. I am

pleased that we are honoring

all who have been a part of our

program in the past by continuing

to build a quality program for

From the Archives

1952 Letterman Blanket Latest

Addition to CHS Archives

1953 STATE BASEBALL CHAMPIONS. Members of the 1953 team will be

honored February 16, 2008. They include (top, l to r) N. "Blondy" Millet,

C.J. Payne, W. McGraw, A. Bryant, D.R. Atkinson, A. "Whip" Bertrand,

and H. Hoover, manager. Middle row, (l to r) are Coach M. Didier;

R. Hernandez; W. Barfield; T. Barfield; W. Bourdier; C. Albritton;

Cooper Harrell, manager; E. Ruiz; and R. Songy. Bottom row, (l to

r) include A. Ackman, J. Miller, Redfield Bryan, D. Fetzer, J. Zimmerle

and M. Millet. (photo and caption from 1954 Bruin.)

by Firmin LeClercq Bozeman

'42 and the other donated by

Farley Day '42.

The Catholic High Archives

contain a variety of interesting

memorabilia that represents

many phases of

the rich 113-year

history of CHS.

If anyone

is interested

in viewing

items in

the Archive

collection or has an

item he/she would like to donate,

please contact the Catholic High

School Alumni Office at (225)

383-0459.

BLANKETS. 1952 letterman blanket

and two 1941 cheerleader blankets

donated to CHS Archives.

5

the future," commented CHS

Principal Brother Barry Landry,

SC.

Catholic High hopes to

make additional improvements

on the baseball field including a

concession stand, press box and

restroom facilities.

"The improvements to

the baseball facilities represent

Catholic High's commitment to

excellence in all areas. I am excited

to be a part of the outstanding

CHS baseball tradition. I will

do everything I can to continue

to improve the program and to

build on the successes of the

past," commented Head Baseball

Coach Kyle Achord.

The improvements to the

field will be inaugurated 'Under

the Lights' for an alumni baseball

game on Saturday, February 16,

2008. This game will highlight a

weekend of activities for the first

baseball reunion weekend set for

February 15 and 16, 2008.

On Friday, alums can gather

at noon at Drusilla Restaurant

to hear Mel Didier '44, former

CHS baseball and football standout

and head coach of the 1953

State Baseball team, speak.

Friday night there will be

a baseball alumni stag player

draft at the law office of Moore,

Walters and all baseball alums are

invited to attend. On Saturday,

CHS will host a high school

baseball jamboree beginning at

10 a.m. and the day will conclude

with the alumni baseball game at

5:30 p.m. Before the start of the

alumni game, members of the

1953 and 1976 State Baseball

Championship teams will be

honored along with past head

baseball coaches.

Chris Jones '95, a former

CHS and Tulane baseball player,

is chairing the alumni baseball

reunion weekend. Assisting

him are Patrick Coogan '93,

Keith Constantino '73 and

Josh Ebey '99. Alums will be

contacted about the weekend and

a brochure will be mailed in mid

January 2008 highlighting the

two-day event with registration

information.

If you are interested in

helping with the weekend or

serving as team captain to contact

your teammates contact Chris

Jones at cjones@kcwlaw.com or

the CHS alumni office.

PLAY BALL. Preparing for the first baseball alumni reunion weekend on

February 15 and 16 are (l to r) Patrick Coogan '93, Head CHS Baseball

Coach Kyle Achord, Event Chair Chris Jones '95 and Keith Constantino

'73.
---
Children, Alumni Gather for Breakfast with Santa

The 14th annual Breakfast

with Santa and Celebration of

the Birthday of Jesus was held

on December 15, 2007, in the

Catholic High Courtyard and

Union. One hundred and

forty children and their families

enjoyed the morning festivities

sponsored by the CHS Alumni

Association.

In the Union, the children

visited and had their pictures

taken with Santa's helper

represented by Terry Orillion

'77. The souvenir pictures were

provided by Wade Labat '63 of

Ami Photography.

A live nativity scene was

set up. Children were asked to

bring gifts for needy children and

place them at the feet of baby

Jesus. The gifts were donated to

the children at the Bishop Ott

Women's Shelter.

Magician Craig Boudreaux,

and "Silly Nilly" the Clown,

Juanette Benigno, also entertained

the children. Breakfast was

served and each child received a

collectable bear.

"It is great to see this event

double in attendance over the

last two years and to see alumni

return to campus to see classmates

while their kids get a chance to

know each other," commented

Matthew Graham '99, Breakfast

with Santa committee member.

Committee members Sam

Losavio '66, Denny Vicknair

'63, David Beach '96, Billy

Bourdier '55, Jeff Tanguis '77,

Patrick Hannie '86, Graham

and Dixon McMakin '05,

along with Katherine Ellis and

Glen Randow from the Office

of Alumni Relations, helped

coordinate this event.

(Top) SANTA. Visiting with Santa

Claus were (l to r) Brennan Uter

'91, his daughter Adeline, wife

Ashly and daughter Emily.

(Bottom left) CLOWN. Silly Nilly

the Clown (top center) entertains

Emily and Ben Day '94 and daughter

Avalyn at Breakfast with Santa.

(Bottom right) COLORING. (L to r)

Candice Daigle and John Harleaux

'93 watch over Caleb and McKenzie

Daigle as they color pictures to take

home.

Eighth Annual Alumni Taste Fair

November 11, 2007

6

(Top left) RESTAURANT.

R e p r e s e n t i n g

D'Agostino's Restaurant

at the Alumni Taste

Fair were (l to r)

Gus Pagulato, Sammy

D'Agostino Jr., Dustin

DeBenedetto, Cherie

D'Agostino and Sammy

D'Agostino Sr. '70.

(Top right) TASTE FAIR.

Enjoying the food at

the 8th Annual Alumni

Taste Fair were (l to

r) Frankie Fresina '85,

Ross DiNicola '83 and

Pete Tulley.

(Bottom left) REUNITING.

Reuniting at the Taste Fair were

classmates David Fargason '85

(far left) and Paul Waguespack

'85 (second from right) with

their wives, Donna Fargason

(second from left) and Glenda

Waguespack (right).

(Bottom right) EATING. Enjoying

the food and fellowship at the

8th Annual Taste Fair were

(l to r) Missy Rockenbaugh,

Rock Rockenbaugh, Marianne

McIntyre, Marsha Arrighi,

Shirley Arrighi '72, Brad Rhorer

and Trini Rhorer.
---
Alumni Feature

André du Broc '86 Shares Laughs through Cards

By Jennifer J. Rouse

André du Broc '86 - actor,

musician, writer, director,

teacher, comedian and even

clown - has had a winding career

path that has now led to a job in

sharing smiles across the globe.

du Broc has taken skills

learned in theatre, the circus,

teaching, directing and his own

comic personality and made a

career writing greeting cards for

Hallmark Cards, Inc.

After attending Marymount

Manhattan Theatre in New York

and Webster Conservatory of

Theatre Arts in St. Louis where

he studied Music Theatre with

HUMOR. André uses alternative

humor as a senior writer for

Hallmark Cards, Inc.

a minor in Music Composition,

du Broc went to work in Florida

as an improvisation comedian at

Busch Gardens and performed

in several professional theatre

companies in Florida.

Continuing on an everchanging

path, du Broc's next

step began with an audition for

Ringling Brothers and Barnum

& Bailey clown college which

led to a life as a traveling circus

clown.

du Broc eventually returned

home to share his talents in the

Baton Rouge theatre. Barry

Kyle with Swine Palace brought

him into the arts scene in Baton

Rouge by making him director

of Education and Outreach and

resident music director. While

working with Swine Palace,

du Broc founded the theatre

department for the Baton

Rouge Center for Visual and

Performing Arts. He also taught

drama at Baton Rouge Magnet

High School and East Jefferson

High School in New Orleans

before leaving to pursue a career

as a freelancer.

André has combined his

talents and is now using his

humor and acting skills as a

senior writer for Hallmark Cards,

Inc. du Broc uses alternative

humor for his greeting cards

...and leave a little behind.

for Shoebox, Saturdays, Fresh

Ink, and is a regular contributor

to the Shoebox blog www.

tinylittledivision.com. He has

even had the opportunity to write

and perform many voices for

Hallmark e-cards. In December

2007, du Broc began a rotation

as editorial director for Hallmark

2nd Alumni Quarterly Luncheon

All alumni are invited

to

Drusilla Restaurant

Friday, February 15, 2008

12 p.m.

Cost is $12 per person

Guest speaker will be Mel Didier '44

Contact the CHS Alumni Office to RSVP

chsalum@catholichigh.org or (225) 383-0459.

7

Innovations where

he will work with

new formats and

technologies in

the greetings

industry.

W h i l e

a student

at Catholic

High, André

p a r t i c i p a t e d

in drama and

choir under

the direction of

Charlie Stewart,

where he played

the piano for

many functions

and eventually

received two

Golden Bears for

drama and choir

his senior year.

"I had a group of teachers

that really invested their time

and played a huge role in

my development through

high school such as Nancy

Nalls, Beverly Wilson, John

Hopkins and Charlie Stewart,"

commented André.

HALLMARK. André du Broc '86 has had a unique

career that has led to a job writing greeting cards for

Hallmark.

Wedding Bells

Tracey C. Derrick and Corey A. Butler '85...Jennifer Ashley Broussard

and Trent David Folse '96...Rachel Marie O'Malley and George

Wilton Town Jr. '99...Anna Mechling Perkins and Brian Patrick Wolf

'99...Elizabeth Paige LeBlanc and Eric Paul Jean Fauveau '02.

Baby Bears

"I would tell current students

to pay attention in English class

and do what you love. Be open

to paths changing. You don't

have to choose one path," added

André.

Mary Elizabeth Macdonell, daughter of Kathy and Robert Macdonell

'82...William Charles Healy, son of Melissa and Emmet Thomas Healy

'83...Graham Joseph Waguespack, son of Glenda and Paul Waguespack

'85...Charlotte Grace Alexander, daughter of Amy and David Alexander

'88...Peter Gregory Beyer, son of Sherri and Greg Beyer '88...Brent Joseph

Melancon, son of Mendy and Brent Melancon '88...Luke Alexander

Alvarez, son of Amy and George Alvarez '89...Josephine Anne Balhoff,

daughter of Amanda and John T. Balhoff II '89...Harrison Christopher

Connolly, son of Kelly Stuart and Brian J. Connolly '89...Lucy Rose

DiVittorio, daughter of Kim and Scooter DiVittorio '89...Ainsley Haze

Brignac, daughter of Sara and Haze Brignac '90...Abby and Emma

Keyser, twin daughters of Claire and Gary Keyser '90...Helen Marie

Von Gruben, daughter of Cristy and Jerry Von Gruben '90...Holden

Michael Waguespack, son of Allison and Christopher Waguespack '92...

Gibson Lee Shearer, son of Dana and Alan Shearer '93...Kate Elizabeth

Mattessino, daughter of Kelly and Jonathan S. Mattessino '95...Kate

Michel Hebert, daughter of Andrae and Rory Hebert '97...Weston Scott

Jones, son of Aubrie and Donnie Jones '99.
---
23rd PAGE Program Generates Interest with Phonathon

By Joni Owens

Led by Parents Annual

Giving Event (PAGE)

Chaircouple Matt and Gwen

Cotton, parents of Sean '09

and Jacob '11, and PAGE

Phonathon Chaircouple, Brian

and DD Dubreuil, parents of

Matthew '10, CHS completed

its second annual and successful

PAGE phonathon.

Sophomore and junior

parents gathered in the Union

on October 21 and eighth grade,

freshmen and senior parents on

October 28 to make personal

contact with as many parents

as possible to request their

participation in the 23rd annual

PAGE program.

"The festive atmosphere

of the PAGE phonathon makes

the task of making calls much

more enjoyable. Callers enjoyed

the 'friendly' competition and

organization of the evening,"

commented DD Dubreuil.

PAGE is an opportunity

for parents to contribute to

their son's education on a tax

deductible basis. In 2006-2007,

642 of 876 (73.3 percent)

families gave over $312,000 to

PAGE. All PAGE gifts are freewill

donations. However, it is

hoped that 100 percent of the

families will participate because

100 percent of students directly

benefit from gifts to PAGE.

"Our primary focus this

year is participation. Every gift,

great or small, is essential. Last

year's participation record was

outstanding, but we hope that

CHS parents will help us to take

it to the next level again this

year," said Matt Cotton.

As a Brothers of the Sacred

Heart school, CHS wants to

remain affordable for as many

students as possible. Because of

regular donations from parents,

alumni and friends, tuition

increases can be minimized.

Other members of the

PAGE leadership team this year

are Russell and Valerie Primeaux,

parents of Philip '10, and

Fermin and Becky Montes de

Oca, parents of Anthony '08.

Gifts to PAGE may be made

by clicking on "donate online"

on the Catholic High School

home page (www.catholichigh.

org) or by contacting the

Development Office at (225)

389-0978.

(Top) PAGE PHONATHON. Brian

Dubreuil (right) celebrates with

his wife, DD, over a successful

phone call. The Dubreuils served

as this year's PAGE Phonathon

chaircouple.

(Right) CELEBRATES. Carol Hill

shakes her pom pom because she

received a PAGE commitment.

Rings Donated to the Catholic High Class Ring Program

Louis McHardy '47 (top left),

Denny Vicknair '63 (above,

at left) and David Whatley '74

(bottom, right) have donated

rings to the Ring Display

Program. Accepting the

donations were Glen Randow,

CHS director of alumni

relations and David Beach '94,

ring display chairperson.

1913 Joseph H. Arbour Sr. - (St. Vincent's Academy)

1915 Lee Laycock - St. Vincent's Academy alumni medal

1931 William W. Hannaman

1932 Alcee F. Altazain or Averill A. Aucoin

1937 Sanders R. Cazedessus

1938 George Kadair

1939 P. Leslie Bordelon

1940 Ralph F. Dupuy

1942 James Cazayoux

1944 Gordon Fisher

1945 William H. Lindsey Jr.

1947 Louis McHardy and P.J. Marino

1955 C.G. Mouch, Salvadore Messina, Patrick Couvillion

1956 John A. Commagere III

1957 Anthony Pecoraro

1958 John Ribes

1962 Leonard Kleinpeter

1963 Denny Vicknair

1970 John Bergeron

1974 David Whatley

1977 Andrew Robichaux, Rick Lea

1983 Dwayne Honoré

1986 Greg Sepeda

1987 Mark Emonet

1993 Tommy Screen

8
---
Scholarship Established To Honor Brother Adrian Gaudin, SC

By Hal Dupuy '73

The Brother Adrian

Gaudin, SC Scribe

Scholarship has been established

by Louis and Fran Gaudin to

honor Louis' older brother who

served as Catholic High principal

from 1976 to 1980.

The scholarship was fully

funded by Louis and Fran

Brother Adrian Gaudin, SC

through a "tax free" donation

made from their IRA account

as a result of The Pension

Protection Act of 2006. Louis

and Fran are "Charter Founders"

who have made founder level

gifts of $1,000 or more for the

last 23 years. As a result of this

year's donation, the Gaudins

were recognized as new Perpetual

Founders at the CHS Founders

Banquet in December. Perpetual

Founders are donors with

cumulative contributions to

CHS of at least $100,000.

Another part of their gift

helped the school in its efforts to

fully fund the Brother Gordian

Udinsky, SC Science Center.

Brother Gordian taught all

four of Louis and Fran's sons as

freshmen and seniors at Catholic

High. Each of the Gaudins' sons

described Brother Gordian as his

Brother Eldon 5K Run

Set for February 23

Plans are under way for the

annual Brother Eldon 5K Run

and One-Mile Fun Run/Walk/

Jog set for Saturday, February

23, 2008. All alumni, friends,

family and kids are invited to

participate to help benefit the

Brother Eldon Crifasi, SC '39

Endowed Scholarship.

The one-mile fun run/

walk/jog will begin at 8 a.m.

and the 5K Run will begin at

8:30 a.m. Awards will be given

to the overall male and female

winners as well as to various age

groups and unique categories.

Refreshments, door prizes, a T-

shirt and great fun will follow.

The 2008 race chairman is

Chris Jones '95.

"Over the years the Brother

Eldon 5K has grown and we

are seeing more and more

participants returning year after

year. Once again, we expect this

event to attract more runners

than the last. It is a great race

and supports a great cause.

Please join us again this year,"

commented Jones.

Committee members are

Jeff Tanguis '77, Matthew

Graham '99, Randy Ellis '65,

Brian Hightower '97, Ben

Cherbonnier '63, Ryan Perry

'95, Brother Eldon Crifasi, SC

'39, Katherine Ellis and Glen

Randow.

"favorite teacher."

Through the

Brother Adrian

S c h o l a r s h i p ,

the Gaudin

family wishes to

encourage those

students who, like

Brother Adrian

and his nephew,

Dr. Ben Gaudin

'80, have a love

of and dedication

to writing,

editing and

producing quality

publications, and

communications in print and

other media.

Brother Adrian, known as

"Dick" Gaudin before he joined

the Brothers, was the 1951 editor

of The Aloysian, a publication of

St. Aloysius High School in New

Orleans. In 1980, Ben was editor

of Bearly Published, the student

newspaper at CHS.

In selecting recipients for

the Brother Adrian Gaudin, SC

Scribe Scholarship, Catholic

High administrators will

consider and be guided by the

following criteria:

• Active involvement of the

potential recipient in and a record

of significant contributions to a

school print publication;

• Active involvement of

the potential recipient in and

significant contributions to some

other form of school-approved

public communications media

such as the school Web site,

electronic newsletters, broadcast

productions on radio, TV or the

like;

• Recognized aptitude or

special talent for some form of

public communication including

public speaking, writing or

acting;

• Recognized service and

contributions to the Catholic

High School student body or

extended community;

9

• Demonstration of

character and values consistent

GAUDIN SCHOLARSHIP. (L to r) Louis and Fran

Gaudin established The Brother Adrian Gaudin, SC

Scribe Scholarship to honor his brother.

with those of the Roman

Catholic Church and the

Brothers of the Sacred Heart;

• Financial need as

determined by the CHS

administration and the financial

aid application process.

In selecting recipients

of this scholarship, the

recommendations of faculty

and staff moderators of school

publications will be considered.

"This is a magnificent

gift from Louis and Fran,"

commented Gerald E. Tullier,

president of Catholic High.

"Their interest in honoring

Brother Adrian and assisting

students with financial need to

attend CHS is an outstanding

example of the spirit of the

Brothers of the Sacred Heart.

Also, their willingness to assist

us in fully funding our campus

facilities, specifically the Brother

Gordian Science Center,

advances the academic excellence

of our school. We are so blessed

to have benefactors like our new

Perpetual Founders, Louis and

Fran Gaudin," added Tullier.

Anyone interested in

establishing an endowed

scholarship or making a

contribution to the Second

Century of Excellence Campaign

may contact CHS Director

of Development Hal Dupuy

'73, at (225) 389-0978 or

hdupuy@catholichigh.org.
---
Class of 1982 Latest To Fully Endow Scholarship

By Hal Dupuy '73

How very fitting that during

the week of Thanksgiving,

CHS received the final

installment of the Class of 1982

Endowed Scholarship. A group

of 1982

g r a d u a t e s

got together

for lunch to

p r e s e n t

Catholic High

with a check

to fully fund

their $30,000

e n d o w e d

scholarship.

Andy Adler '82 and Sonny

Chastain '82 remember initial

discussions taking place at

their 10-year reunion. Upon

learning that other classes were

establishing scholarships, they

discussed the idea and believed

they could do it as well.

"Because we are a close

knit group we

Every one of our

classmates is proud to

know that the money they

raised will aid a student

who otherwise may not

have had the financial

ability to attend CHS.

figured why

not us, and

our hope was

that it would

inspire other

classes to do

the same,"

c o m m e n t e d

Adler.

At the

time, they were starting their

business careers but were able to

raise some early dollars.

Annual Alumni Prayer

Breakfast Set for January 26

Catholic High School will

host its annual Alumni Prayer

Breakfast on Saturday, January

26, 2008, from 8:30 a.m. until

10 a.m. in the CHS Union. All

CHS alumni and their spouses

or guests are invited to attend.

The speaker will be Father

Trey Nelson, a 1980 graduate

of Catholic High School who

currently serves as pastor of

Assumption of the Blessed

Virgin Mary Church in

Plattenville, pastor of St. Anne

Church in Napoleonville, and

pastor of St. Philomena Church

in Labadieville. He is also a

member of the Catholic High

School Student Ministry Team.

In addition to his priestly

duties, Father Trey has authored

several books and continues to

devote many hours to Catholic

High as a leader of student,

faculty and staff retreats.

"We are so excited about

having Father Trey Nelson '80

as the speaker for our annual

Alumni Prayer Breakfast. He is

a member of the CHS Hall of

Fame and an example for us all to

follow. His words of wisdom will

give each of us an opportunity to

Father Trey Nelson '80

grow spiritually and will enrich

our prayer lives. This is one

Prayer Breakfast you don't want

to miss," commented Alumni

Fellowship Breakfast Chairman

Michael Acaldo '85.

Drusilla Seafood Restaurant

and Drusilla Place Catering will

provide breakfast.

Tickets are $10 per person

($8 for dues-paying Alumni

Association Members) and can

be purchased with a check or

with a credit card by visiting the

website at www.catholichigh.org/

alumni. For more information,

please contact the CHS Alumni

Office at (225) 383-0459.

10

CLASS OF 1982. Members of the class of 1982 have fully funded the Class

of 1982 Endowed Scholarship. Members of the class pictured with CHS

Development Director Hal Dupuy '73 (third from left) are (l to r) Chris

Crick, Andy Adler, Kirk "Patrick" Patrick, Robert Macdonell, Sonny Chastain,

and Randy Thigpen.

They kept pushing forward

at each subsequent reunion (15-

year, 20-year and 25-year). The

list of contributors has grown. A

total of 58 members of the class

have made donations toward the

funding of their scholarship.

At their 25-year reunion this

past summer, they discovered

they were less than $3,000

away from fully funding the

scholarship, and decided it was

time to complete what they had

started. They played golf as a

group on the Saturday of their

reunion and raised the balance

when 27 classmates made

contributions at that event.

"We were all thrilled

when the final tally showed we

had done it. Every one of our

classmates is proud to know that

the money they raised will aid a

student who otherwise may not

have had the financial ability to

attend CHS and experience the

special bonds that form while

he is there – we know we did,"

commented Chastain.

The Class of 1982

encourages and challenges other

classes to start the process of

endowing a scholarship. Anyone

interested in starting an endowed

fund to support Catholic High

School may contact Hal Dupuy

'73 at (225) 389-0978 or

hdupuy@catholichigh.org.

VATICAN CITY. Christopher Berry '93 (center) is serving as the director of

Liturgical Music at the Pontifical North American College in Vatican City

State, Rome. Paula and Joe Melancon read with great interest the article

in the October Bear Facts II on Christopher as they were planning a trip

to Rome. The Melancons had lunch with Christopher at the Pontifical

North American College. Christopher was very happy to see someone

from home and they shared great conversation.
---
Alums Gather for Blood Drive, Tailgate Party and Book Signing

(Top left) TAILGATERS.

Tailgating for the CHS

Homecoming Football Game

on October 25 were (l to

r) Dr. James Hannie '52,

George Cutrer '52, George

Gelpi '52, and (seated

l to r) Greg Landry '52 and

John Averette '52.

(Top right) SIGNING. Mel

Didier '44 (left) signs a copy

of his book, "Podnuh, Let Me

Tell You a Story" for (l to r)

Auburn Bryant '53 and Jules

"Pie" Gaudin '48 at Didier's

book signing held at Catholic

High on December 10, 2007.

ANNIVERSARY TEAMS. Representing each anniversary team recognized

at the 2007 CHS Homecoming Tailgate Party on October 25, 2007 were

first row (l to r) Frank Culotta '59, 1957 team; Gerald Didier '50, 1947

team; Joe Ellis '48, 1947 team; and Bobby Hebert '39, 1937 team. Back

row (l to r) Eddie Vollenweider '78, 1977 team; Todd Hebert '88, 1987

team; and Trey Eyre '98, 1997 team.

Austin Nola Signs To Play

Baseball with LSU Tigers

Austin Nola '08 has

committed to play baseball at

Louisiana State University in

Baton Rouge. Nola, a threeyear

letterman, played short

stop on the CHS 2007 District

Championship team. He was

named All-District for three

years, All-State in 2007 and All-

State Honorable Mention in

2005 and 2006. His freshman

year, he led the varsity team in

hitting.

"I grew up watching LSU. It

was always my dream to play for

the Tigers," commented Nola.

"I knew from his freshman

year that Austin was a special kid

with a special ability. He is one

of the most humble, Division

I players we have had in this

program," commented former

CHS Head Baseball Coach

Gerry Garidel.

Nola plans to major in

Business at LSU. He is the son

of Stacie and A.J. Nola.

Gerry Garidel (standing)

congratulates Austin Nola '08 for

his commitment to LSU. Garidel

coached Austin his freshman,

sophomore and junior years.

BLOOD DRIVE. The CHS Alumni Association hosted the first Alumni Blood

Drive on October 1, 2007 in celebration of the founding of the Brothers

of the Sacred Heart. Donating blood were (above, l to r) Steven Berthelot

'92, Blood Drive chairman, and Scott Ritter '93. If you were unable to

attend, you may still donate at Our Lady of the Lake Blood Center in the

name of the CHS Alumni Association.

"Jazz It Up"

at the

2008 Mothers' Club Auction

Saturday, April 19, 2008

6 - 9 p.m.

CHS Gym

Silent, Live and Online Auction

$5 Raffle for 2008 Saturn Vue

$1 Raffle for 14K White Gold Fleur de Lis Pin

BROTHERS of the SACRED HEART

visit us on the web

brothersofthesacredheart.org

11
---
"Mama Lou" James Retires as CHS Director of Food Service

By Barbara Camp

Mary Lou "Mama Lou"

James retired as director of food

service effective December 31,

2007 after 35 years of dedicated

service to Catholic High School.

Following in the footsteps

of her mother, the late Anna

May Ribes, Mama Lou has

given unselfishly of her life and

her love to literally thousands of

boys who have passed through

CHS on their way to becoming

men.

Her first memories of CHS

were as an eight-year-old child

in the days when the lunchroom

was next door to the old weight

room and her mother served

sandwiches every day as a

volunteer. Mama Lou grew up at

Catholic High and later walked

back and forth to the Academy

as a young student. She believed

that the Brothers on campus were

her brothers because they ate

together every day after school.

As a young adult, she

assisted her mother in the

lunchroom until 1971 when the

student body of 400 grew too

large to accommodate the small

room and the decision was made

to construct the current Student

Union. At the opening of the new

building, the position of Food

Service Director was created and

the baton was passed from Mrs.

Ribes to her daughter.

Mama Lou began in the

new lunchroom serving only

sandwiches and fried chicken

because there were no plates and

no dishwasher. The fried chicken

soon became the most popular

lunch meal and remained the

favorite for 35 years.

As a young mother, she

FOREVER SMILING. For 35 years, Mary Lou has directed the activities of

the lunchroom.

RETIREMENT. (l to r) CHS President Gene Tullier and CHS Principal Brother

Barry Landry, SC congratulate Mary Lou "Mama Lou" (center) for 35 years

of service to Catholic High School.

12

literally raised her children on

the lunch room counter. She

remembers being involved in

almost every aspect of CHS from

preparing meals to chaperoning,

attending every sporting event,

substituting in the classroom and

even scouting with the coaches,

providing brown-bag lunches for

the trips.

"I remember cheering for

the football team when they lost

every game and watching the

Catholic High

band when it

was so small

they could only

spell out the

letter 'C.' The

small faculty of

which Jan Breen,

Pete Boudreaux,

Glen Randow,

Emily Terracina

and Mitch Billings were a part,

lived and breathed CHS and did

everything together as a family,"

commented Mama Lou with a

familiar chuckle.

The main theme that

permeates her memories is her

deep love for the boys, past and

present. Many come back to see

her and she encounters them in

the most unusual places. "That's

why I never wear a swimsuit

on the beach! I can't escape!

I was even approached by an

alumnus while touring in Italy,"

commented Mama Lou.

She mentions many young

boys whom she fed that went on

to be outstanding leaders such as

Greg Brandao '73 and Warrick

Dunn '93. "When Greg became

the principal of CHS I couldn't

believe that I had fed him as a

student. He said 'yes ma'am' to

me and years later I said 'yes sir'

to him."

About Dunn, she said, "I'm

amazed that I fed a future NFL

football player! Just look at what

cafeteria food will do for you!"

One of the most touching

things said to her by a student

was just recently when a young

man asked her this question,

"Have you really been here that

long? Wow, did everybody love

you as much as we do?"

Mama Lou served with

seven different principals and

two presidents during her tenure

at CHS.

She worked with Brother

Francis David, SC when he

was the principal and later the

president of Catholic High

School from 1983 to 2006. She

recalls nervously counting money

from the

lunch sales

as Brother

F r a n c i s

looked on.

"Brother

made me so

You fill their plates

with food and their

hearts with love.

nervous I

would have

to start over

again and

again. It was a joke to him but

torture for me!"

She has great admiration

and respect for Brother Francis.

"He always expected our best so

we tried to give it to him," she

commented endearingly.

From the early days of 400

students in the sandwich line

to a thriving student body of

almost 1,000 young men, a staff

of five and several thousand hot

meals a week, Mama Lou sums it

all up with this statement, "The

boys like full plates, so you fill

the plates with food and fill their

hearts with love."

Mary Lou

Mama Lou James
---
Annual Grandparents Day Celebration Set for January 28

By Joni Owens

On Monday, January

28, 2008 Catholic

High School will welcome grandparents

and great-grandparents

of eighth through 11th

grade students for its annual

Grandparents

Day celebration.

T h e

Grandparents are

such an important

part of the lives of

our young men.

program will

begin at 1:45

p.m. in the

g y m n a s i u m .

Guests will be

entertained by the CHS band

and chorus, participate in a prayer

service led by the CHS student

ministry team and hear several

prose and poetry presentations

written by CHS students about

their grandparents.

Following the program,

grandparents are invited to tour

the campus with their grandsons

and enjoy a reception hosted by

the CHS Mothers' Club in the

Union.

"Grandparents are such an

important part of the lives of our

young men. It is an honor to

have them on campus to witness

firsthand the accomplishments

of their grandsons," said Hal

Dupuy '73, CHS director of

development.

Grandparents

will receive

invitations in early

January. More

than 900 have

attended every

year and the CHS

faculty, staff and students look

forward to welcoming these

special guests once again in

2008.

(Top) GRANDPARENTS. Sean Tessier

'10 (center) proudly escorted his

grandparents, Rose and John Tessier

'44, around campus at Grandparents

Day in February 2007.

(Bottom) GRANDSON. Russ Guidry

'10 (center) took his grandparents,

Diane and Tommy Duncan '61, on a

tour of campus.

From CHS Band to LSU Tiger Band

LSU TIGER BAND. Twelve former Catholic High School and St. Joseph's

Academy students and Band and Bruinette members are participating in

the LSU Tiger Band and LSU Golden Girls. Members of the LSU band are

(top photo) back row (l to r) Matt Gray '07, Bryce Bourque '07, Timothy

Kwan '06, Adam Landry '06, Allen Beal '07 and Stephen Brouillette '05.

Front row (l to r) are Mark Assad '07, Erin Barrilleaux (SJA) and Taylor

Barbay (SJA). (Bottom left) Additional Tiger Band members are (l to r)

Kyle Vallot '06 and Matthew Menard '06. (Bottom right) Kellie Geoffrey

(SJA) is a member of the LSU Golden Girls.

In Memoriam

As of November 29, 2007, the following alumni and friends of CHS

have died since the last issue of Bear Facts II. Please remember them

and their families in your prayers.

Sister J. Randall "Randy" Barton Jr.

Patrick Vincent "Pat" Bonanno

John T. "Jay" Bozant

Estelle Jordan Brousseau

Sally Ann Ratelle "Sassee" Brown

Patrick Caldwell

Lydia Champagne

Gerald "Gerry" Coutinho '52

Shirley Delise Delaune

Evy Simmoneaux Dille

Luke Fabre Jr.

Edward Henry Fetzer

William J. "Mr. Bill" Gallegos

Kathryn Thompson "Kathy" Garner

Ivy Joseph Garon

James Arthur Gremillion '51

Carl William Gremillion Sr. '52

John Adam "Johnny" Guerin

William Philip "Bill" Hackney, M.D.

Russell William Hicks '45

J. Clifton Hill Sr. '28

Scott Ryan Himmel

James E. "Jim" Hodges

Margaret Ethel Harelson Jones

Lillie Mary Joseph

Brother Alfred Kolb, SC

Toni Elizabeth Pope LaBorde

13

Ernest John "Sonny" LaMotte

Hilda R. (Cobb) LeBlanc

Anthony Joseph "Tony"

Lombardo '45

Angelo Thomas

Montagnino, M.D.

Margret Mai Taylor Morgan

Robert Vernon "Buddy"

Pendarvis Sr.

Gustave Anthony Piazza Sr.

Grace Smith Pitts

Kathlyn Welp Reynolds

Rev. Hilton L. Rivet, S.J.

Grace Heitz Roussel

Linda Ann Schmidt

Frances Noel Gordon Selser

Issac G. "Zookie" Shaheen

Vickie Rose Shelton

Kalil Joseph Sliman Jr.

Rev. Kenneth Albert

Smith Jr. '54

Harry Frank Stabiler

Kitty Barry Strain

Treg Thomas Tremont '86

David Coleman Vidrine '76

Nell Ward

Warren Joseph Wilder
---
CHS/SJA Band, Bruinettes and Choir Receive Honors

By Barbara Camp

Members of the

Catholic High/ St.

Joseph's Academy choir received

43 of the 80 spots for District

Honor Choir.

CHS students selected to

the District Honor Choir were

Gregory Judice, Adrian Wintz,

Andrew Loreno, Josh King,

Hunter Smith, Cameron Moore,

Sanders Davis, Will Jenkins,

Joe Brousseau, Marlon White,

Louis Kearny, John Darnall,

Barrett Dick, Jim Parks, Jordan

Krouse, Kyle Anderman, Rob

James, Brennan Herrmann,

Gerald Songy, John Robert

Butler, Gordon Newman, Philip

Vincent, Philip Primeaux,

David Attenhofer and David

Benedetto.

Named to the All-State

Honor Choir were Gregory

Judice, Adrian Wintz, Andrew

Loreno, Cameron Moore,

Sanders Davis, Jim Parks, Jordan

Krouse, Kyle Anderman, Gordon

Newman and Philip Vincent.

The Band had three

students named to the All-State

Band. Students named were

Mark Rolfsen, Ross Starks and

Nathan Bush.

The Marching Band

preformed at the Louisiana

State Festival of Marching

Bands held at the University

of Louisiana at Lafayette. The

band was named Class AAA

Champion. The Bruinettes took

home the second place trophy

in Class AAA as an Auxiliary.

In the overall competition,

the Bruinettes placed 8th, the

percussion section placed 9th

and the Drum Majors placed

6th. The band score representing

all sections (percussion, winds

and Bruinettes) placed them 4th

out of 32 bands, making this the

best placement since 1998.

Band officers include Chris

Demas, president; Jasmine

Glasper, vice president; band

managers, Amanda Bergeron,

Wesley Zeringue, Daniel

Grammer and Daniel Brignac;

senior drum major, Aaron

Caffarel and junior drum major,

John Peno. Mr. Duane LeBlanc

is band director.

Choir officers include John

Robert Butler, co-president; Knox

Kelly, secretary; and Gregory

Judice, treasurer. Mr. Stephen

Galliano is choir director

Men's Club 72nd Barbecue Draws More Than 1,200

BAND AND CHOIR. The Catholic High Band and Choir excelled in

competitions throughout the state.

(Top left) STEAKS. Preparing the

steaks for the 72nd Annual Men's

Club Barbecue were (l to r) Jimmy

Boyce '85, Richard Lieux '79, Rick

Capdevielle, Kevin Brian '86 and

Russell Politz '86.

(Top right) DINNER. Enjoying the

Men's Club Barbecue were (l to r)

Ben Gaudin '80, Michael Bergeron

'84, Frank Bergeron and Paul

Bergeron '81.

14

(Bottom left) GATHERED.

Gathered for the barbecue were

(l to r) Michel Fourrier '69,

Bob McAnelly, Walter Comeaux

and Ernie Gremillion '54

(Bottom right) REMINISCE.

Reminiscing at the annual

barbecue on October 13,

2007 were (l to r) Joe Termini

'38, Gene Termini '42, Frank

Termini '43 and Victor Termini

'48.
---
Memorial and Honorary Gifts

There are many special occasions during our lives when we choose to memorialize or honor in a special way those we hold dear. The following are

acknowledged for their gifts to Catholic High School from September 13, 2007 through November 27, 2007 in honor or memory of loved ones. Please

remember these alumni and friends, as well as their families, in your prayers.

Memorial Gifts

Mrs. Evelyn Altazin

Mr. and Mrs. Otis S. James, Jr.

Mrs. Verna Armentor

Mr. Sidney V. Arbour, Jr. '31

Mr. Percy J. Babin

Mr. and Mrs. Guy A. Modica, Sr.

Mr. William Benson

Mr. and Mrs. Fernand Falgoust

Mr. Alton Brand

Mr. and Mrs. Fielding H. Johnson, Jr. '77

Mrs. Maria Bologna

Mr. and Mrs. Otis S. James, Jr.

Mrs. Estelle J. Brousseau

Mr. and Mrs. Charles Ballard

Ms. Jean Davis

Home Instead Senior Care

Mrs. Madeline O. Nesbit

Mr. Pete Castille

Mrs. V. P. Bella, Jr.

Mr. S. J. Corsentino

Mrs. Vita Martello

Mrs. Tony Corsentino

Mrs. Vita Martello

Mrs. Reba Cromwell

Mr. and Mrs. Otis S. James, Jr.

Ms. Andrea Daughtry

Mrs. V. P. Bella, Jr.

Mr. Patrick A. Doran, Sr. '57

Ms. Marilyn Kron

Mrs. Margo Ebner

La Tertulia

Mr. and Mrs. James T. Leblanc, Jr.

Mrs. Elise Lewis

Dr. and Mrs. T. C. Morgan, Jr.

Dr. and Mrs. Don Seago

Mr. and Mrs. Stephen W. Woodward '83

Dr. and Mrs. Warren D. Woodward

Ms. Rita S. Evans

Mrs. Jennie C. Fonte

Mr. John Fonte

Mr. Edward H. Fetzer, Jr. '74

Mr. and Mrs. Robert M. Fetzer '48

Mr. and Mrs. Louis W. McHardy, Sr. '47

Mr. F. Wayne Frey '71

Mr. and Mrs. Roy A. Waggenspack '72

Mr. Carl W. Gremillion, Sr. '52

Mr. and Mrs. William F. Bourdier, Sr. '55

Mr. and Mrs. George D. Gelpi '52

Mr. and Mrs. Gordon A. Hughmark

Mr. and Mrs. Robert M. Landry

Mr. and Mrs. Clarence P. Lorio, Jr. '52

Mr. and Mrs. Jacob K. Orr

Mr. and Mrs. C. M. Verbois, Jr. '53

Mr. and Mrs. Neal Garner

Dr. and Mrs. Gerald M. Barber '75

Mr. James A. Gremillion '51

Mrs. Nell Brousseau Bergeron

Mr. and Mrs. Jacob K. Orr

Mr. Forrest L. Hooper, Jr. '48

Mrs. Emma Hooper

Mr. Francis C. Jumonville, Sr. '39

Mr. and Mrs. Gabriel J. Jumonville, Sr. '42

Mr. F. Michael Kleinpeter, Sr. '46

Mr. and Mrs. John I. Adams

Mr. and Mrs. George Bevan

Mr. and Mrs. Windom R. Brignac

Ms. Shirley Buddendorff

Mr. and Mrs. Philip F. Detlefs

Mr. and Mrs. Thomas E. Gibbens '34

Mr. and Mrs. Jack Gilmore

Mr. and Mrs. Donald P. Kershaw, Sr. '50

Dr. and Mrs. Lawrence M. Kleinpeter '53

Mr. and Mrs. Joseph S. Klimczak

Lakeshore Gardens Property Owners

Mr. Edward J. LeBlanc

Mrs. Elaine LeBlanc

Mrs. Mona LeBlanc

Mr. and Mrs. Gerald J. Leglue

Mr. and Mrs. Donald Nichols

Mr. and Mrs. J. Huntington Odom

Mrs. Lynn C. Roberts

Mr. and Mrs. Robert M. Tuminello '46

Mrs. Janice Wray

Ms. Gay Young

Mr. Raymond E. Kron

Ms. Marilyn Kron

Mrs. Gloria Labat

Mr. and Mrs. Errol E. Labat '75

Mrs. Marion Landry

Mr. and Mrs. Otis S. James, Jr.

Ms. Diane M. LeBlanc

Mr. and Mrs. John Couvillion

Ms. Patricia Darst

Mr. and Mrs. James Edmonson

Mr. and Mrs. Eugene G. Ferniz

Ms. Donna Grehn

Mr. and Mrs. James E. Henry

Mr. and Mrs. Hartmuth Hindrichs

Mr. Frank W. McNabb

Mr. and Mrs. Jake Netterville

Ms. Melissa Peroyea

Dr. and Mrs. Scott Porta

Postlethwaite & Netterville, APAC

Ms. Rachael Higginbotham

Mr. and Mrs. William C. Potter, Sr.

Mr. and Mrs. William S. Sandahl

Mr. Edgar S. Starns, Jr.

Mr. and Mrs. Gregory Vannice

Ms. Candy Wright

Mrs. Cheryl Yennie

Mr. and Mrs. Alan Young

Ms. Claire Zheng

Mr. James R. LeBouef '55

Ms. Marilyn Kron

Mr. Anthony J. Lombardo '45

Mrs. Jean Cangelosi

Mr. Gerald L. Marino, Sr. '52

Mr. and Mrs. Clarence P. Lorio, Jr. '52

Mrs. Josie Marino

Mr. and Mrs. Ryan J. Dauzat

Mr. Sam F. Marino

Mr. and Mrs. Ryan J. Dauzat

Mr. C. D. Marix

Mr. and Mrs. James P. Doré

Dr. C. Anthony Martello

Mrs. Vita Martello

Mr. Rocky R. Martello

Mrs. Vita Martello

Mr. David C. Mestayer

Dr. and Mrs. Louis R. Barfield, Sr. '89

Mr. Richard L. Metz

15

Mr. Ryan J. Talbot '05

Mr. Byron M. Monroe '91

Mrs. Elise Lewis

Mr. Joseph Mott

Dr. and Mrs. Louis R. Barfield, Sr. '89

Mrs. Joseph Mott

Dr. and Mrs. Louis R. Barfield, Sr. '89

Mrs. Erline Normand

Ms. Susan Dowden

Mr. Gustave A. Piazza, Sr.

Mr. and Mrs. Paul M. Hebert, Jr. '64

Anna Mae, John and Louis Ribes

Mr. and Mrs. Otis S. James, Jr.

Mr. Vic Roy

Mr. and Mrs. John C. Connolly

Mrs. Fannie Ruiz

Mr. and Mrs. Otis S. James, Jr.

Mrs. Mary S. Sharon

Mr. and Mrs. Guy A. Modica, Sr.

Mrs. Elsie R. Sova

Mr. and Mrs. Guy A. Modica, Sr.

Mr. Treg T. Tremont '86

Ms. Sandra Baldwin

Ms. E. Renee Becker

Mr. and Mrs. J. Pierre Boudreaux, Sr. '59

Mr. and Mrs. Sidney E. Boudreaux III '55

Cajun Constructors, Inc.

Ms. Patricia Douglas

Ms. Jenne Farr

Patrick L. Flanagan Insurance Agency, Inc.

Mr. and Mrs. Paul M. Hebert, Jr. '64

Mr. Scott Berg

Ms. Nicole M. Leglue

Ms. Valorie Madison

Ms. Lillie Madison

Mr. Paul P. Marks '86

Mr. and Mrs. Charles P. Perrault

Reeves Electrical Services, LLC

Mr. and Mrs. Madison H. Romaine

Mr. and Mrs. William W. Sentell

Mr. and Mrs. Richard Thompson

Ms. Amy Venanzi

Mr. and Mrs. Nicholas Venanzi

Mr. and Mrs. Russell D. Wasson

Mr. and Mrs. Benjamin R. Williams '71

Mrs. Anita Villavaso

Mr. and Mrs. Nick T. Ferrara

Honorary Gifts

Dr. Gregory A. Brandao '73

Mr. and Mrs. Richard M. Carmouche '71

Mr. and Mrs. Rusty Rothkamm

Mr. and Mrs. H. Kay Rothkamm

Mr. Scott A. Shirley '05

Mr. and Mrs. John H. Hernandez

Mr. D. Christopher Sloas '11

Mr. and Mrs. Steve Tolivar

Mr. Benjamin R. Williams '71

Mrs. Rosemary H. Williams

Mr. Miles B. Williams, Sr. '79

Mrs. Rosemary H. Williams
---
Catholic High School

P.O. Box 65004

Baton Rouge, LA 70896-5004

www.catholichigh.org

Address Service Requested

Nonprofit

Organization

U.S. Postage

PAID

Baton Rouge, LA

Permit #481

OPEN HOUSE. Kevin Ward (left) discusses his

dissection project with guest, John Thomas

Mauldin (center) and his dad. Over 1,400 people

attended the 2007 Open House.

David Butler '77

By David Butler '77

Over the past 60

years, Mel Didier '44's

coaching career has

taken him to the upper

echelon of multiple

major league baseball

teams. Long before his

days with the Montreal

Expos, Seattle Mariners,

Los Angeles Dodgers,

Arizona Diamondbacks and his current

position with the Texas Rangers; his desire

to coach baseball came to the forefront his

senior year at Catholic High.

It was during that senior year that

Didier suggested to Brother Ralph that the

school form a high school baseball team.

Didier noted: "We had 14 to 15 of us who

had been playing American Legion baseball.

Back then that was the big thing. During the

summer we had played as the Didi-Winks,

sponsored by Frank Winkler, who owned a

sporting goods store."

Brother Ralph acquiesced and Catholic

High's first baseball team

was born. Didier actually

coached the team and

was acknowledged by the

local media as the coach.

Brother Ralph came to

the games and sat on the

bench.

S o m e w h a t

surprisingly, Catholic

High advanced to the state

playoffs along with Jesuit, Sibley, Marrero,

Peters and Holy Cross. The state tournament

was held at City Park in Baton Rouge. In the

Parents: If your son no longer lives at home, kindly send us his new address. If you also wish to receive

Bear Facts II at no cost, please phone (225) 389-0978 and let us know. Many thanks.

Sports In The Past

1944 TEAM. Front row (l to r) were Bobby David and Gerald Didier. Second row (l to r) were Jerry

Marchand, Joe Babin, Malcolm Landry, Bum Akenhead, Russell Hicks, E.A. Ackoury and Nat Jackson.

Third row (l to r) were Leo Cavell, A.J. Marchand, Tommy Day, Stan Heine, Al Heroman, Mel Didier

and Bobby Tuminello.

opening game Catholic High faced Marrero.

Russell Hicks was the starting pitcher for

Catholic High but had to be replaced due to

costly errors. Mel Didier ended up throwing

6 2/3 innings of the 7 inning contest. For

his effort, Didier had 11 strikeouts. Catholic

overcame a four-run deficit and won the

contest.

Immediately after

defeating Marrero, Catholic

faced Holy Cross. Didier

was called to pitch the

second game and simply ran

out of gas as the Bears lost

11-2. Both pitcher, Didier,

and center fielder, Stan

Heine '44, were elected to

the All-State team.

The formation of the baseball team

in 1944 laid the groundwork for Didier's

return to Catholic High School in an

The baseball

program created

excitement and

opened doors for

so many.

official coaching capacity when his team

captured Catholic High's first baseball state

championship in 1953.

"It was wonderful for the Brothers of

the Sacred Heart to let us start a baseball

team. The baseball program created quite

a bit of excitement and opened doors for so

many. Malcolm Landry '48 signed with

the New York Giants. Ed Fetzer '48, Al

Ackman and my brother, Gerald '50, signed

with the Brooklyn Dodgers. I signed with

the Detroit Tigers. Tommy Barfield '53,

Charlie Albritton and D. R. Atkinson '53

went on to play in college. Baseball gave

so many opportunities that they otherwise

would not have had," reflected Didier on his

days at Catholic High.

Didier has published a book, "Podnuh

– Let Me Tell You a Story," which highlights

his 54-year career in the world of baseball.