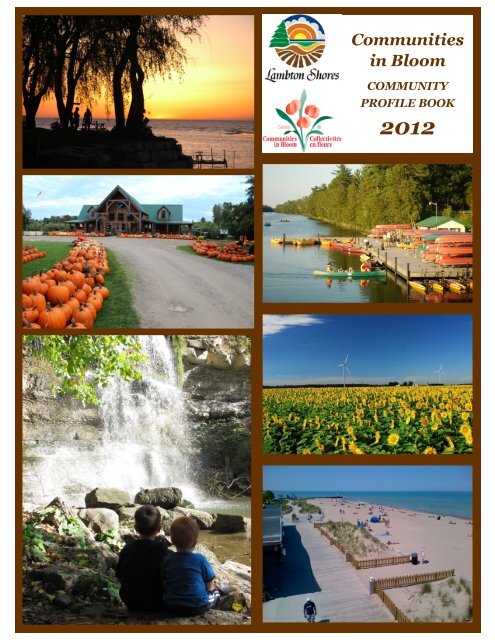 Section 1 - The Municipality of Lambton Shores
Section 1 - The Municipality of Lambton Shores
Section 1 - The Municipality of Lambton Shores
SHOW MORE
SHOW LESS
Create successful ePaper yourself
Turn your PDF publications into a flip-book with our unique Google optimized e-Paper software.
Communities

in Bloom

COMMUNITY

PROFILE BOOK

2012
---
Contents

Welcome to Lambton Shores

Mayor and CAO's Message

2012 CIB Committee

2012 CIB Partners

2012 Municipal Partners

2012 CIB Goals & Achievements

2012 CIB Continued Projects

Tidiness

Environmental Action

Community Involvement

Heritage Conservation

Urban Forestry

Landscaped Areas

Floral Displays
---
Welcome to Lambton Shores…

Naturally the Best Place to Thrive!

The network of communities in Lambton

Shores comprises expansive golden beaches,

popular campgrounds, parks, cycling, hiking

and cross-country ski trails, indoor and

outdoor theatres, rural farms, and

marketplaces. Historic towns and villages

are a shopper's delight. Naturalists enjoy the

area for the abundance of wildlife, birds and

butterflies found in the Pinery Provincial

Park, at the Lambton Heritage Museum,

Port Franks Wetlands and Forested Dunes,

and along the Rotary Nature Trail.

Lambton Shores Quick Facts:

Incorporated in 2001 by the

amalgamation of Arkona, Bosanquet,

Forest, Grand Bend, and Thedford

Approximately 11,000 people reside in

Lambton Shores, with many cottagers

and campers returning each summer

The Community Services Department

maintains over 30 passive and active

parks, which total 43 hectares

Lambton Shores offers residents and

visitors eight baseball diamonds, eight

sports fields, three tennis courts, 30

parks, and 12 km of trails

Lambton Shores owns and maintains two

of three Blue Flag designated marinas in

Canada. Grand Bend Harbour and Port

Franks Marina were first designated with

the Blue Flag in 2009. The Grand Bend

Main Beach also first received Blue Flag

designation in 2009.
---
A Message From the Mayor and CAO

I am pleased to extend a warm Lambton Shores welcome once again to the Communities in Bloom judges on behalf of

myself, council and the residents of the wonderful community. We hope that your stay here is an enjoyable one and

that you discover the natural beauty that is Lambton Shores during this time.

In 2001, the Municipality of Lambton Shores came to be as a result of an amalgamation of five diverse communities;

Arkona, Forest, Grand Bend, Ipperwash/Port Franks and Thedford. Over the past eleven years, Lambton Shores has

grown as a unified community, with each community still maintaining its own unique piece of the puzzle.

I believe Communities in Bloom has played a significant role in bringing the people of Lambton Shores together and

for improving the quality of life of this community. We began tentatively at first, entering the Provincial level

"Communities in Bloom" contest thinking that the program was about pretty parks and gardens, only to learn that it

was much more than that, for us it was literally about seeing our sense of "Community" bloom. Communities in

Bloom has become a part of our Community's way of life for those who live here and work for it, with many of our

maintenance practices following their guidelines.

The Lambton Shores Communities in Bloom keeps setting the bar a little higher each year but rather than being

daunted by the challenge, we have been motivated by it. We hope what is obvious to us with this new pride of place,

this new synergy of communities working together and the great strides we have made in making Lambton Shores

naturally the best place to thrive.

I look forward to welcoming you all personally during your tour.

Bill Weber, Mayor

Welcome Communities In Bloom

It is once again my pleasure to bring greetings from the staff of Lambton Shores to the Communities in Bloom judges.

Established January 1 st 2001 from the amalgamation of five diverse communities, Lambton Shores has been

recognized as one of the most innovative and dynamic municipalities in Ontario when it came to municipal service

delivery and while that is a great reputation to have, we recognized what we lacked was a sense of "Community".

Creating a sense of community was a far greater challenge than we anticipated and it was believed that it could take

decades to accomplish that.

It wasn't until Lambton Shores first became involved with Communities in Bloom at the Provincial level, that we

realized that "Communities in Bloom" was much more than plants and gardens and pretty landscapes. It soon became

clear to us that although plants and gardens and pretty landscapes may have been part of CIB, it was much more than

that. We found that Communities in Bloom, was just what it's name implied, the blooming of community spirit, and it

is that spirit that I have been most impressed with. As I said, we brought five separate and distinct communities to

form one new municipal unit, but it was a unit without a heart or spirit, we were more aware of our differences than

what we had in common. Communities in Bloom helped us see that our community in a different light, it helped us

see that although we may live in different communities we had lots in common, lots to be proud of and that if worked

together as one unit than what we could do far more than what we could do separately.

The results speak for themselves, Communities in Bloom has inspired the people of this community to come together,

to celebrate our successes our differences and our commonalities. From the outset the Lambton Communities in

Bloom Committee has been community driven, with Council and the staff playing more of a supportive role and I think

that is key. We as staff, know that the community expects more from us, and we are happy to partner with our

Communities in Bloom Committee in trying to reach and exceed the expectations of the CIB judges. We look at your

feedback and suggestions as an affirmation of our efforts and motivation to strive harder.

So in closing, welcome to Lambton Shores, a great community made even better because of its involvement with

Communities in Bloom, enjoy your visit

John Byrne, Chief Administrative Officer
---
2012 Communities in Bloom

Committee Members

Catherine Minielly – Committee Co-chair and Forest Area

Phone: 519-786-3329

Grace Dekker – Committee Co-chair and Port Franks/

Ipperwash Area

Phone: 519-243-3058

Joanne Eastman – Arkona Area

Phone: 519-828-3307

Jessica Bos-Landry – Forest Area

Phone: 519-786-2632

Mary McGregor – Forest Area

Phone: 519-786-4126

Astrid Underwood – Forest Area

Phone: 519-786-4229

Pat Morden – Grand Bend Environment Committee

Phone: 519-238-6732

Harlie Johnston – Grand Bend Environment Committee

Phone: 519-282-6625

Shirley Andraza – Grand Bend Area

Phone: 519-238-8928

Chris Bregman—Grand Bend Area

Phone: 519-243-4015

Linus Kuntz – Grand Bend Area

Phone: 519-238-5892

Ruth Anne Cook—Kettle and Stony Point Area

519-243-1986

Darlene Lacey – Thedford Area

Phone: 519-296-4274

Ruth Illman – Municipality of Lambton Shores

Councillor, Ward 4

Phone: 519-786-2814

Lorie Scott – Municipality of Lambton Shores

Councillor, Ward 3

Phone: 519-243-3005

Shannon Prout – Municipality of Lambton Shores

Staff Liaison

Phone: 519-243-1400

Heritage Marker and Doors Open Subcommittees

Glen Starkey

Phone: 519-786-5070

Louise Thompson

Phone: 519-786-3333

Chris Bregman

Phone: 519-243-4015

Patti Bonesteel

Phone: 519-238-1799

Ron Van Horne

Phone: 519-786-6538

Guidance from Arkona Historical Society

Noreen Croxford

Phone: 519-786-4677

Adrian Koolen

Phone: 519-786-5218

Native Tree Subcommittee

John Cook, Horticulturalist

Phone: 519-899-4372

Rick Doyle, Arborist

Phone: 519-243-1995

Greenwood Nurseries, Thedford

Phone: 519-296-4665

Tree-Mendus Nurseries

Phone: 519-243-1920

Westland Greenhouses, Grand Bend

Phone: 519-238-1321
---
2012 Communities in Bloom Partners

Arkona and Area Business Association

Arkona Beautification Committee

Arkona Community Foundation

Arkona Home Hardware

Arkona Lions & Lioness Club

Arkona Seniors

Ausable Bayfield Conservation Authority

Bluewater Ford

Centre Ipperwash Community Association

CIBC Forest Branch

Darlene Richter

Forest Agricultural Society

Forest BIA

Forest Community Foundation

Forest Fair Board Ladies

Forest Garden Club

Forest Glen Herb Farm

Forest Kiwanis Club

Forest Rotary Club

Forest United Church

Grand Bend and Area Chamber of Commerce

Grand Bend Environmental Committee

Grand Bend Horticultural Society

Huron Stewardship Association

Lake Huron Centre for Coastal Conservation

Lake Smith Conservationists

Lambton County Developmental Services

Lambton Wildlife

LIBRO Financial

Municipality of Lambton Shores

North Lambton Community Health Centre

North Lambton Secondary School

Old Ausable River Channel Association

Port Franks Community Police Committee

Port Franks Garden Club

Port Franks Seniors

Riverbend Bar & Grill

Rotary Club of Grand Bend

Royal Canadian Legion Branch 176 Forest

Royal Canadian Legion Branch 498 Grand Bend

Sarnia—Lambton Business Development Corporation

South Western Ontario Steam Threshers

TD Canada Trust, Forest

The Forest Standard

The Lakeshore Advance

Thedford Community Foundation

Thedford Garden Club

Thedford Spirit Club

Thedford Presbyterian Church

Town of Minto

Windsor Park Association

Photos Courtesy Of:

Alf Rider

Arkona Beautification Committee

Beni Van Haaren

Betty Ann Kerrigan

Captured Innocence Photography

Forest Garden Club

Forest Library

Friends of the Pinery Park

Grand Bend and Area Chamber of Commerce

Grand Bend Farmers' Market

Grand Bend Horticultural Society

Heather Jennings

Judy McLellan

Lambton County Developmental Services

Lou Sprenger

Port Franks Area Camera Club

Port Franks Garden Club

Ruth Illman

The Forest Standard/Hayter-Walden Publications

The Lakeshore Advance

Thedford Garden Club

Tourism Sarnia Lambton

Tracy Rogers
---
2012 Communities in Bloom Municipal Partners

Municipal Council

Mayor Bill Weber

Deputy Mayor Elizabeth Davis-Dagg

Councillor Dave Maguire

Councillor Doug Bonesteel

Councillor Lorie Scott

Councillor John Russell

Councillor Doug Cook

Councillor Martin Underwood

Councillor Ruth Illman

Administration Department

John Byrne, CAO

Carol McKenzie, Clerk

Karen Cameron, Administrative Assistant

Alda Bongers, Administrative Assistant

Jackie Mason, Administrative Assistant

Roberta Brandon, Administrative Assistant

Patti Richardson, Planner

Randy Lovie, Chief Building Official

Kevin Emery, Information Technology

Glenn Bell, By-Law Officer

Keith Crawford, By-Law Officer

Community Services Department

Brent Kittmer, Director of Community Services

Bill Bentley, South Area Manager

Nick Verhoeven, North Area Manager

Allan Little,

Construction Insp./Drainage Superintendent

Jeff Wolfe, Infrastructure Manager

Ashley Farr, Facilitator of Recreation and Leisure

Shannon Prout,

Acting Facilitator of Recreation and Leisure

Jodie Poland, Administrative Assistant

Tanya Howley, Administrative Assistant

Yvonne Desjardine, Grand Bend Beach Manager

Becky Chalmers, Port Franks Marina Master

Bob Roney, Grand Bend Marina Master

Community Services Operators

Gerald Van Grinsven, South Area Lead Hand

Paul Martin, North Area Lead Hand

Rob Nickles, Shores Recreation Centre Lead Hand

Randy Shaw, Legacy Recreation Centre Lead Hand

Steve Bell

Paul Bossenberry

Chris Bryce

Scott Core

Dale Elliott

Aaron Frayne

Brad Hodgins

Bryce Kadlecik

Chad Maw

Kevin Maw

Corey Turk

Doug Ulrich

Mike Stanlake

Tim Cann

Matt Legault

Treasury Department

Janet Ferguson, Treasurer

Wendy Jennison,

Tax Collector/Deputy Treasurer

Julie Wiseman, Administrative Assistant

Karen Werden, Administrative Assistant

Marilyn McCandless, Administrative Assistant

Carrie Snell, Administrative Assistant

Mandy Vandergunst, Administrative Assistant
---
2012 Communities in Bloom Goals

and Achievements

Annually, the Lambton Shores CIB committee and the

Municipality have included Judges' recommendations

in plans for each budget year. Evaluations over the

years have resulted in some of the following: Parks

Management Plan, street furniture purchases,

recycling depots, Green Cone Awareness, Native Tree

project, Heritage awareness programs, partnerships

for community improvements.

1. Tidiness

Municipal staff continue to experiment with weed

treatments. The replacement of interlocking brick, for

enhanced safety and reduced maintenance, continues

with Arkona as the focus in 2012. Lambton Shores

CIB and community groups such as Thedford Spirit

Club, Forest Community Foundation and Arkona

Lions continue street furniture additions—garbage

containers, cigarette dispensers and recycling units.

Parking at West Ipperwash is a complex issue related

to court settlements. The municipality will partner

once again with the First Nations and community

groups to host the West Ipperwash Beach Aquafest.

Murals on buildings will be a future objective.

Community Gardens continue to be a Lambton Shores

objective. 2012 projects include: Grand Bend

Environmental Committee's garden at Klondyke,

Forest Demonstration garden at the Minielly home,

North Lambton Community Health Centre/North

Lambton Lodge/One Tomato partnership at the

Lodge.

2. Environmental Action

The Municipality is working with Bluewater Recycling

to implement automated recycling for 2013 and plans

are in place for increased public education.

The Lambton Shores CIB Native Tree Project

continues with funding from many community groups

throughout Lambton Shores as well as a grant from

TD Friends of the Environment. Tree planting will

occur at Forest Fairgrounds, Forest Library, Coultis

Park, Port Franks Community Centre, The Legacy

Recreation Centre , Klondyke Park, the Northville
---
2012 Communities in Bloom Goals

and Achievements

Municipal Centre, and the Bosanquet Public School.

Arkona entry signs will be landscaped with native

plantings as well.

A volunteer Phragmites working group is active in

Lambton Shores, providing public education and

implementing test sites along the lakeshore and

Centre Ipperwash Community Association continues

stewardship programs annually. The municipality has

no authority to implement by laws on West Ipperwash

Beach but can encourage partnerships.

3. Natural and Cultural Heritage

The municipality has provided a second community

grant for the Heritage Awareness Plaque Program.

The first ten successful applicants in 2012 will receive

one hundred dollar grant toward the cost of the

plaque.

The Lambton Shores CIB Heritage Subcommittee is

organizing the Lambton Shores component of Doors

Open Lambton. This County program is a result of

discussions with Lambton Shores CIB and County

staff. Information about the history of bog farming

has been added to the Profile Book in addition to

being highlighted during the judges' tour.

Our partnership with the First Nation, and in

particular with Hillside Green Thumb Gardeners,

continues to thrive.

4. Urban Forestry

Annual tree planting projects are continuing as

already noted. 10 Community groups in Lambton

Shores have either donated dollars or planted native

trees in 2012. Children's play areas at Coultis Park,

Klondyke Park, the Port Franks Community Centre

and at Legacy Centre Nursery School will benefit this

year. The native tree coupon and theme tree program

is promoting the planting of: Tulip trees, Tamarack

and Red Bud for 2012. The committee has made

several community group presentations and

distributed our Tree Brochure throughout the

community. It is also available at local nurseries and

on the municipal website.
---
2012 Communities in Bloom Goals

and Achievements

5. Landscaping

All municipal site plans for new projects have a

landscaping requirement. Horticultural supports are

as follows: Municipal staff will be hiring summer

students with horticultural background; staff will

pursue co-op education as another source of

expertise; the CIB committee continues to have

volunteer experts; Forest Garden club has hired a

horticultural expert to develop the library gardens

master plan; staff obtain advice from a contracted

arborist.

The Centre Ipperwash Community Association with

the support of CIB co-chair is developing a Memorial

Garden at Centre Ipperwash. This garden, designed by

University Horticultural students will be a

community demonstration site. The Arkona entry sign

project will also serve as an education site for native

plantings.

Lambton Shores Nature Trails Committee has begun

to look at trail connections throughout Lambton

Shores.

6.Floral Displays

The 2012 colour theme is: red, purple and orange.

The CIB committee, all the local garden clubs and the

Horticultural Society as well as the Municipality will

support the colour theme. It is posted on the

municipal website and is also available at the

Lambton Shores Municipal offices.
---
2012 Communities in Bloom Continuing Projects

Theme colours throughout the Municipality - Red,

Purple and Orange

Trash Bash on April 22 - schools and community

involvement

Trash Bash Week in July

Continuation of Adopt-a-Pot and Adopt-A-Plot

Lambton Shores "In Bloom" Contest

Youth partnerships - youth gardening

First Nations Partnership

Promotions - PowerPoint, brochures, signs in stores

Native Tree Project

The native species brochure has helped to educate the

residents of Lambton Shores of native species and

native trees and promotes the planting of such species.

A fundraiser was completed — Birch branch planters

and candle holders were sold at the Garden Show

Support for Lambton Shores Community Design Plan

Improvements

The Heritage Marker Program - ten $100 grants

available for 2012

Century Farm Signage project—the Committee donates

fifty percent of the cost of the signs to the farm owners.

Develop municipal heritage policies in Official Plan

Review

The Heritage Sub-Committee has organized a Doors

Open tour in conjunction with the County

Municipal parks management policies and plan

regarding tree management and turf and groundcover

Support the Recreation and Leisure Master Plan

recommendations for enhanced parks and recreation

staffing
---
Tidiness

Municipal

Municipal Parks and Playgrounds

Lambton Shores Community Services Department maintains

approximately 30 parks and playgrounds by ensuring grass is

cut, garbage and litter containers are picked up and emptied,

picnic tables and benches are set out, and playground

equipment is regularly inspected and maintained. Recent

playground installations and upgrades include:

Klondyke Park, Grand Bend (Accessible)

Grand Bend Optimist Park/Lion's Park

Grand Bend Beach (Accessible)

Thedford Village Complex (Accessible)

Legacy Recreation Centre (Accessible), Thedford

Municipal staff developed the Lambton Shores Parks Green

Plan for its parks operations which included items such as

increased garbage and recycling depots.

2012 Park Improvements include:

Pavilion Roof Replacements, Port Franks Marina and

Arkona's Utter Park

Grand Bend Lion's Park Baseball Diamond Upgrades

McRae and Coutis Park Backstop Upgrades, Forest

Eilber Park Washroom Upgrades, Grand Bend

Grand Bend Municipal Beach

The Grand Bend Beach is one of our most important assets.

The beach facility consists of approximately 11 acres of sandy

beach and public parking lots. The Beach House facility

contains public washrooms, change rooms, a concession

booth and observation deck. Daily tasks at the Grand Bend

Beach include:

Cleaning and raking of the beach

Garbage receptacle service

Servicing of washrooms and change area

Operating concessions

Providing information for tourists

2012 upgrades include the Beach House washroom facility

fixtures and countertops.
---
Grand Bend Marina & Port Franks Marina

Tidiness

Municipal

Lambton Shores operates and maintains two marinas one

at Grand Bend and the other at Port Franks. Both marinas

are key components to tourism, with over 120 seasonal and

37 transient sites. Seasonal staff ensure cleanliness and

services to boaters. The pavilion at the Port Franks Marina

will upgraded with a new roof in 2012.

The Grand Bend Marina was featured as the cover for

Lambton Shores in the Attractions Ontario Passport

Magazine in 2008.

Community Services Staff

The Community Services Staff at Lambton Shores work

diligently to ensure our community is tidy and maintained.

Year-round staff:

Maintain six community centres, including two arenas

Maintain 350km of roadways

Place 30 thousand tonnes of granular annually, and add

dust control measures for granular areas

Maintain 43 hectares of parks and open spaces

Complete roadside grass cutting twice per year

Maintain trees including trimming, removal and

planting

Sweep streets

Place floral baskets and seasonal decorations

Support community clean-up efforts, events and

festivals

Provide snow-removal service for roads, sidewalks and

parking lots.
---
Tidiness

Municipal/Business/Community Groups

Street Furniture/Community Improvements

Lambton Shores Community Improvement Plans have had a

significant impact on the beautification of downtown areas. The

Plans have identified consistent street furniture designs

including garbage and recycling receptacles. The purchase of

street furniture has been incorporated into new construction

such as the Grand Bend Main Street. Many community groups

have invested dollars to purchase street furniture:

Thedford Spirit Club has donated benches, planters, garbage

containers and cigarette disposal units to enhance the

downtown core and Village Green. The Spirit Club also

designed and purchased banners for the light standards in

Thedford and have enhanced this project by adding

Christmas decorations and banners.

Thedford Seniors have purchased benches for the cenotaph

in Thedford.

Thedford Garden Club has donated benches, picnic tables

and concrete planters to Main Street and Village Green.

Forest BIA partners with the Forest Community Foundation

to purchase benches and garbage containers for the

downtown area. The Forest BIA, with the support of an

economic development grant, has purchased new Christmas

decorations for all the heritage light standards in Forest.

Communities in Bloom has partnered with the Forest

Community Foundation to purchase a recycling unit and

benches for the Forest Library garden renovations.

Arkona Lions have purchased benches for Arkona

Port Franks Garden Club has purchased a bench for the

memorial garden in Port Franks.

Many groups, including CiB have also approached Council

with funding requests for street furniture, thus incorporating

this into the capital budget.
---
Tidiness

Municipal/Community Groups

Community groups throughout Lambton Shores have partnered with the municipality to tidy and

improve our parks, public open spaces and recreational facilities.

Arkona Lions and Lioness designed and funded the playground equipment at the Arkona

Municipal Building. The same groups raised money to enhance the bridge and trail that

connect Ann Street to Rock Glen. The Arkona Lions and Home Hardware partnered to fund the

gardens and native tree planting at the Arkona Medical Centre.

Arkona Recreation Committee and ball associations have assisted with the maintenance of the

ball diamonds.

The Kaeden Brown Foundation, Arkona Community Foundation, Arkona Lions and Arkona

Lioness are partnering with the municipality to install a new splash pad behind the Community

Centre in Arkona.

Forest Optimists and Minor Ball have donated labour and thousands of dollars over the years

towards the enhancements of Coultis and McRae Parks in Forest. These improvements are

continuing in 2012.

Lake Smith Conservationists partnered with Lambton Shores for the construction of the

Klondyke Pavilion at the Klondyke Sports Park.

The Optimist Club of Ausable Port Franks partnered with Lambton Shores for the construction

of the Port Franks Skateboard Park and for a pavilion scheduled for 2013. The municipality has

also budgeted for renovations at Optimist Hall as well as the resurfacing of the tennis courts at

the community centre. The Optimists have also partnered with the Northville Fire Department

to purchase benches for the Country Manor in Thedford and also Bosanquet School for various

projects and initiatives.

Forest Tri-Sport event and committee has contributed thousands of dollars to the community

over the years. The Forest Optimist Club, Forest Curling Club, Forest Legion, Forest Lawn

Bowling and Forest Dragons Baseball Club all received money for improvement projects thanks

to their roles in assisting with Tri-Sport. The committee also funded the sound buffering in the

Shores Recreation Centre lobby.
---
Tidiness

Municipal/Community Groups

Forest Garden Club sponsors an annual Garden

Accents Show every spring. The group used their

community grant to build and landscape a garden

shed on the library grounds. They received funds

from the Forest Community Foundation for landscaping

around the refurbished caboose, and they

partnered with service clubs to repaint the caboose.

In addition they have purchased new hanging

baskets and window boxes for the garden shed at

the library and new benches for the grounds.

Forest Agricultural Society received a Forest

Community Foundation grant for planting trees and

re-landscaping at the Forest Fairgrounds.

North Lambton Lodge used a Foundation Grant for

gardens at that renovated facility.

The Forest Legion partners with CIB annually for improvements

around their building.

Plans are underway for a Species at Risk garden at

the Port Franks Community Centre depending on

funding.

ABCA staff applied for a Species at Risk grant for several

projects in the Port Franks area. The money was

used to pay the wages for the ABCA staff, plant material,

and labour. ABCA is partnering with Lambton

Shores CIB in this project. For 2010, a school project

was developed and ABCA is sponsoring a turtle

monitoring program.

Centre Ipperwash Community Association plants

dune grass and Purple Sand Cherry. Lake Smith

Conservationists awarded CICA as the 2010

Conservationists of the Year.
---
Tidiness

Municipal/Community Groups

Thedford Spirit Club has signed an agreement with

the municipality to lease, maintain and operate

the Thedford Lawnmower Racetrack at the Legacy

Centre. This project has been another source of

community pride in Thedford.

The Thedford Spirit Club purchased Christmas

lights to create a spectacular winter scene at the

Thedford Village Green. The Club has also

purchased additional playground equipment,

spring riders, for this park.

Grand Bend Beach Enhancement Committee

fundraised $1.5 million towards the cost of the

Beach Project. This project helps secure Lambton

Shores position as a major tourist centre and a

leader in beach management.

The Grand Bend Community Coalition is a

partnership of the Grand Bend Community

Foundation and Service Clubs who have matched

municipal dollars for several projects such as:

Optimist Skateboard Park and Basketball

Court

Rotary Clean Water Now project and Rotary

Nature Trail

Beach Elevator—some of the funding for the

Beach House elevator was provided by the

Grand Bend Community Foundation and the

Rotary Club of Grand Bend

Grand Bend Baseball Project revitalization of

the Grand Bend Lions Park—This local

community group has renewed the interest

in youth baseball in Grand Bend and has

assisted with municipal support in major

enhancements to the ball park.
---
Tidiness

Municipal/Community Groups

Grand Bend Optimist Club revitalization of

the Grand Bend Optimist Children's Park in

partnership with the Grand Bend Area

Horticultural Society. Design includes the

addition of a pergola, planting areas,

stonework and upgrades to the existing

playground structure

Recreation and Leisure Master Plan and

Related Projects

Each year community groups, community foundations

and the Municipality

partner to plan, fund and

develop Recreation and

Leisure projects that will

continue to enhance the

quality of life for all

residents and visitors to

our communities. The

Recreation and Leisure Master Plan and the Beach

Study Plan generally provide the direction for

these various projects and those that are a direct municipal

responsibility are accounted for in the 10 year

capital plan. Many 2012 improvements are a direct municipal

responsibility through the capital budget and include:

Arkona Utter Ball Diamond Pavilion, Port Franks

Harbour Pavilion renovations, Port Franks Community

Centre Renovations, Port Franks Tennis Court resurfacing.

Recent major enhancements that have been made

possible by community partnerships and fundraising

include Grand Bend Lions Park and Grand Bend

Baseball project , Grand Bend Optimists Park and the

Horticultural Society, and the Kaeden Brown
---
Tidiness

Municipal/Community Groups

Foundation/Arkona Splash Pad Project, Arkona

Medical Centre Gardens-Lions Club and Home

Hardware.

In some cases, the municipality will provide

support such as grant writing and flow through

tax receipts as a the local organization undertakes

a major fundraising drive. The Forest Curling

Club raised $400,000 for their phase one

renovation in 2011 and the Forest Kineto Theatre

has surpassed their community fundraising goal

of $100,000 for the digital projection equipment

they needed to stay in business. With the

additional dollars raised, the Kiwanis are

installing a new theatre sign and completing the

second floor "heritage room".

In 2012 other improvements have included

Thedford Village Green enhancements such as

the addition of Christmas lights and spring riders

for the children, funded by the Thedford Spirit

Club.
---
Tidiness

Business/Institutional

In 2006, three Lambton Shores communities

participated in the "First Impressions" program.

Business owners who participated in the program are

taking special interest in tidiness and the condition of

buildings and façades.

In 2009, Grand Bend participated in a "First

Impressions" exchange with the Town of Wasaga Beach

and there are many recommendations which have been

implemented with the Main Street Enhancement project.

Participation in community clean up activities and

interest in the Communities in Bloom program was one

of the outcomes of the First Impressions program. As a

result, we have:

Forest BIA weekly clean up

Riverbend Bar and Grill have partnered with

Lambton Shores CIB Committee to organize the

Grand Bend Trash Bash

Façade improvements to several businesses in each of

our urban centres

Forest BIA has developed a

façade incentive program

Creation of Community

Improvement Plans for each

Lambton Shores community

"Communities in Bloom

Supporter" signs in the store

windows throughout Lambton

Shores.
---
Tidiness

Residential/Community Groups

The residents of Lambton Shores take great pride in the

appearance and cleanliness of our community. In 2007,

the Communities in Bloom Committee conducted its

first annual "Lambton Shores Trash Bash". Volunteers

from all of our communities and North Lambton

Secondary School students pitched in to clean up

roadsides, ditches, park areas and walkways. In 2012,

Lambton Shores Trash Bash was held on Earth Day with

increased participation from businesses, schools and

community groups. We have added a second

municipal-wide Trash Bash in the month of July.

Lambton County Development Services partnered

with the Forest volunteers by assisting with the

cleanup and by providing refreshments to conclude

the event. The North Lambton Secondary School

Key Club participated in the 2012 event in Forest.

Centre Ipperwash Community Association

conducted a clean up at Ipperwash with

approximately 17 volunteers coming out to help out

Port Franks Community Police Committee partnered

with Lambton Shores CIB and the Port Franks

Garden Club to organize the Port Franks Trash Bash.

The group has researched the fact that the biggest

single source of litter in Port Franks appears to be

Tim Hortons' packaging which accumulates at the

rate of 5-8 items of litter, per kilometer, per day—

winter & summer, on days that this was recorded.

The committee petitioned Tim Hortons'

management to put in place an in-store promotion

campaign, at their Lambton Shores locations to help

promote "Trash Bash 2010 and 2011".

The Lambton Shores Nature Trails Committee

cleaned up Outer Drive in 2012

Riverbend Bar and Grill partnered with CIB and

conducted the Grand Bend Trash Bash.
---
Tidiness

Residential/Community Groups

Other community groups and service clubs also conduct

clean-up programs at other times throughout the year.

These include:

Arkona Community Clean Up—Arkona Weed Warriors

Centre Ipperwash Dumpster Day and Community

Clean up

Chicken Island Clean Up

Forest Kiwanis Adopt a Highway Clean Up

Garden Clubs and Horticultural Society Clean Up

(Spring and Fall)

Grand Bend Rotary Club Clean Up

Windsor Park Beach Clean Up

Grand Bend United Church Beach Clean Up—after

every long weekend on the Grand Bend Beach

Lambton Shores encourages the "Adopt a Road" program which families, businesses or community

groups can adopt a road for which they are responsible.
---
School Partnerships and Youth Programs

Tidiness

Institutional/Community Groups

A goal for Lambton Shores Communities in Bloom is the

enhancement of our school partnerships.

North Lambton Secondary School has supported Trash Bash

and students from the horticulture class have assisted with

planting the Adopt a Pots. In addition, NLSS students have

adopted the King Street parkette, and are planning a

community garden and native tree planting area at the

school.

This year all elementary schools were invited to participate in

the Trash Bash. Hillside School of Kettle and Stony Point

conducted Earth Week with a Trash Bash, purple, red and

orange planting project and community initiatives.

Grade Three science curriculum—Growth and Changes in

Plants. Catherine Minielly has presented to all grade three

students in Lambton Shores elementary schools and at

Hillside School in Kettle Point. The young students were

introduced to species at risk. The lesson was developed in

partnership with ABCA. Students planted a variety of seeds

and were given a journal to record the growth and changes of

their own plants.

Students from Grand Bend Public School assisted municipal

staff with planting dune grass at the Grand Bend Beach.
---
Tidiness

Residential/Community Groups

Community Garden Projects

The Grand Bend Environment Committee established their first

community garden in 2011 at the Community Health Centre in

Grand Bend. After a moderately successful year at that location,

they were asked to move the community garden to a new location.

The group found an ideal location at the Klondyke Sports Park

that will provide the group with ample space if there becomes a

need to expand in the future.

Thedford Knox Presbyterian Church established a community

vegetable garden on site in 2009. Produce is used for local food

banks and local family donations. The community-minded Knox

Church was built in 1877. The community has a number of lowerincome

families in a non profit housing complex, some of whom

expressed a desire to have the opportunity to grow a vegetable

garden. The property behind the church was spacious and

suitable for a garden.

North Lambton Community Health Centre is an incorporated non

profit organization that provides primary health care and health

promotion programming to population groups facing access

barriers. In the past, some flower gardens were replaced with

vegetables at the Forest site and the Kettle Point site. Volunteers

and program participants looked after the gardens. Produce was

used by the CHC dietician in nutrition programs for youth, and

young moms (Meet me in The Kitchen), and for a local

"Community Kitchen".

North Lambton CHC and One Tomato Project - In 2012 The One

Tomato Project, in coordination with Sarnia Gives and the

Sarnia Community Foundation, received funding to create four

large community vegetable gardens in Lambton County. The

funding covers: soil, mulch, some tools, plants, and even an

energetic group of high-school-aged youth to help put it all

together. The funding program is called "Change The World" and

its intent is to encourage youth to volunteer in their communities.

The builds are planned to occur in spring 2012. The North

Lambton Community Health Centre is partnering with the One
---
Tidiness

Residential/Community Groups

Tomato Project and North Lambton Lodge to develop vegetable gardens at the NLL site and

plan to involve North Lambton Secondary School students.

The Minielly Project—CIB Committee Co-Chair, Catherine Minielly and husband Jim, are

experimenting with raised beds at their Forest home. This will be a "pilot" project for the raised

bed concept and is intended as a model for other interested residents. It is hoped that this

garden will generate enough interest for it to be expanded to a larger area for many families in

the Forest area to enjoy.

The Arkona Community Garden was established in 2012 near the water treatment plant by a

local man who thought it would be an ideal location for a garden. He has gathered a small

group of eager volunteers who are determined to make the project a success.