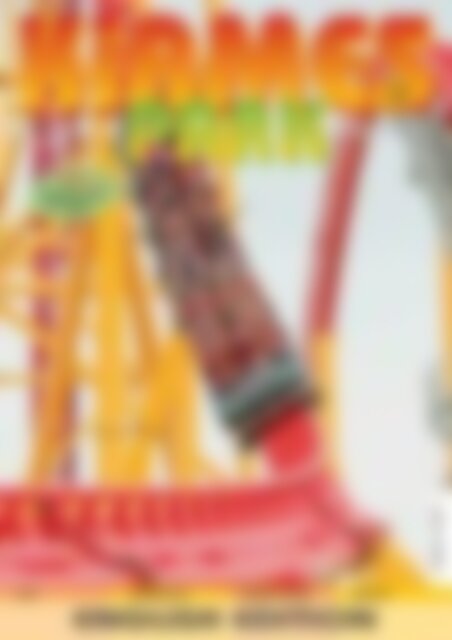 KIRMES & Park REVUE (English) Special Fairground Scene Lithuania (Vorschau)
Create successful ePaper yourself
Turn your PDF publications into a flip-book with our unique Google optimized e-Paper software.
N o 161

12/2010

&

€ 8,50

£ 5,90

Revue

Gebühr

bezahlt

B 14432

Extra

Kirmes & DIETZ

Wall Calendar

2011

VDZ No 77467

I 305

INTIMIDATOR FERRARI WORLD CALYPSO

ENGLISH EDITION
---
&

Revue

INDEX

ISSN 1436-6525

appears 12 x per year

■ Gemi Verlags GmbH

Pfaffenhofener Straße 3

85293 Reichertshausen

Tel.: +49 (0) 84 41/40 22-0

Fax: +49 (0) 84 41/718 46

info@gemiverlag.de

www.kirmesparkrevue.de

■ Managing Directors

Gerd Reddersen

Rudolf Neumeier

■ Chief Editor

Karl Ruisinger

■ International Representative

Translation, Advertisements

Agi Reddersen

Tel.: +49 (0 ) 84 41/8 10 57

Fax: +49 (0 ) 84 41/8 61 05

www.ag-advertising.de

Kirmes.A@t-online.de

■ Editorial Manager "Kirmes"

Ralf Schmitt

■ Editorial Manager "Park"

Frank Lanfer

■ Editorial Office East Germany

Rolf Orschel

Tel.: +49 (0) 170/492 7557

■ Representative Great Britain

Michele Emmett

Tel.: +44(0)7811 915118

michele.emmett@googlemail.com

■ Editorial Assistant

Heike Genz

■ Calendar of Events

Richard Veldhuis

■ Production

Westner Medien GmbH

■ Printing

Kössinger AG Schierling

■ Advertisements

GEMI Verlags GmbH

■ Sales and Marketing

Gerd Reddersen

■ Subscriptions

DataM-Services GmbH

Postfach 91 61

97091 Würzburg

Tel. +49 (0) 931/4170-178

(Mo-Do 8-17, Fr 8-15)

Fax +49 (0) 931/4170-179

services-abo@verlagsunion.de

■ Cover

Justin Garvanovic

Applies to advertisement price list 1/07

from 01.01.2007

All rights reserved. No part of this magazine

may be duplicated or published without written

permission from the publisher. This prohibition

also pertains to the commercial duplication

by copying, input into an electronic

database, and duplication onto a CD-ROM.

Certified active member of the

DECEMBER 2010

KALEIDOSCOPE

Facts – Observations – Short Portraits. . . . . 4

INTERVIEW

Big Bamboo . . . . . . . . . . . . 10

SPECIAL

Fairground Scene Lithuania . . . . . . . . . . . . . . . . . . . 14

REVIVAL

Calypso . . . . . . . . . . . . . . . . . . . . . . . . . . 18

LOGISTICS

Showmen's Transport Vehicles . . . . . . 22

GASTRONOMY

News from the Scene . . . . . . . . . 24

CHRONICLE

Mölter Family . . . . . . . . . . . . 26

A LOOK BACK

Reports about Specially Selected Events. . . 34

MODEL CONSTRUCTION

Model Railway Training Show. . . . . . . . . . . . . . . . . . . 48

PORTRAIT

Plopsa Coo . . . . . . . . . . . . 50

PREVIEW

Ferrari World . . . . . . . . . . . . 56

COASTER 1

Intimidator . . . . . . . . . . . . . 66

COASTER 2

Intimidator 305 . . . . . . . . . . . 70

MAGAZINE

Current News from the Park-Scene. . . . . 76

PREVIEW

Calendar of Events . . . . . . . . . . . . . . . . . . . . . . 78

3
---
KALEIDOSCOPE

CHANGE OF DIRECTORS

Text & Photos:

Nils Benthien

Showman Klaus Rasch

says farewell to Peter Wittek

(right)

After 30 years in office, the

Warendorf fairground director

Peter Wittek commenced his

bowing out of office during the

opening celebrations of the

Warendorf Fettmarkt on October

16 th .

In the middle of next year, 60-

year-old Peter Wittek, who has

organised all the Warendorf fair

events since 1980, will embark on his semi-retirement.

During the farewell ceremony, he recalled

that his term of office was not always exactly child's

play and that there were also hard times, such as

in 2003, when the fair had to be temporarily interrupted

after the fatal accident of a motorbike artist.

On one occasion, Wittek even had to cancel a running

fair event due to a storm, and in 2007, the Mary's

Assumption Day Fair had to be called off when the

Ems River flooded the fairground during the night.

Throughout all those years, there had always been

very good cooperation between the showmen and

Wittek. The showmen had also come up with a number

of ideas for the fairground director's farewell. At

the "Musik-Shop" from Rasch, Bernhard Jürgensmeier

and Klaus Rasch presented Peter Wittek with

additional gifts. Eventually, on Monday evening,

fairground director Peter Wittek was visited by his

colleagues from the city authorities, who surprised

him with balloons and a farewell banner. Wittek will

be succeeded by Wilfried Klünner, who has been

his deputy for several years.

■

A detail of the new artwork

and a direct comparison

of "before/after"

CRAZY DANCE

Text & Photos:

Norman Vogt

The "Crazy Dance" from Charly Kiener

from Sarrebourg (France) has been redesigned

this year. The well-known

"Thunderdome-Clown" with pointed teeth

and a scary smirk has disappeared from the

backflash and was replaced by new motifs

from the disco world.

There was another change in the centre of

the ride, which now features three cubes,

and the gondolas will be newly painted during

the winter break. This "Breakdance" version

from the Kiener family was built in 1990

by the Fabbri group.

■

4
---
EXTAZY

KALEIDOSCOPE

Text & Photos:

Norman Vogt

The Mondial Propeller "Extazy" has recently

changed ownership. The French showman

Rodolphe Kiener is the new owner of the

slightly "smaller" Mondial-"Capriolo" version

(40 m), which was previously operated

under the management of the Bros firm.

Henceforth, the ride will be mainly presented in

the north-east of France. "Extazy" is equipped

with a very spectacular and extensive lighting

system as well as a colourful backflash. Since its

takeover towards the end of the season 2010,

the "Extazy" has mostly appeared at smaller

venues, which had not seen any of the two

"Capriolo" versions before. As a result, the ride

was considered as a novelty and very well received.

By the way, another 40 metre version of

this Mondial ride type has made its rounds in

France; namely the ride from the Bazin firm,

which for several months this summer was presented

in the Lunapark in Le-Grau-du-Roi. ■

Text:

KONGA

Michael Petersen

The

Sebastian

Küchenmeister firm,

based in Munich, announced

a spectacular

ride novelty for June

2011. The new "XXL"

Swing from the manufacturer

KMG is called

"Konga". In addition to

the ride experience at a

height of 45 metres, the

giant swing is set to

cause quite a furore

with its ingenious

primeval forest style. ■

KRINOLINE

Text:

Photo:

Helmut Bresler

Ralf Schmitt

The Allerheiligenkirmes in Soest was the

final event for the family ride under the

management of Heinrich and Vera Roie.

The Crinoline will "retire from travelling"

and henceforth will dance at the Walygator

Park near the French city of Metz in the

heart of Lorraine, from the opening of the

season 2011.

The Gerstlauer ride, under the ownership of

the Roie family since 1994, has appeared at

almost all prestigious events throughout Germany

and conjured up a Bavarian atmosphere, as well

as a historic carousel feeling. At a number of events,

the unique ride was among the regular participants,

and there was many a sad face also in Soest due to

the irrevocable farewell. In the future, Heinrich and

Vera Roie will tour a beverage outlet and try to get a

little more rest. The Walygator-Park, which was earlier

called, among other names, "Walibi Lorraine", has

been operated by the showman brothers Claude and

Didier Le Douarin. The main attractions are the large

"Anaconda" wooden coaster, as well as the "Waly-

Coaster", a Vekoma attraction with a looping and two

corkscrews, and a Schwarzkopf Polyp, which had last

been operated by Radlinger, Munich

■

After 16 years on the road,

the "Krinoline" leaves Germany

for France

5
---
KALEIDOSCOPE

THE BEST OF THE BEST

Text:

Photos:

Ralf Schmitt

Anntenne Kaiserslautern

The winner of the Kerwe

competition "The best of the

best": Laura Gorecki

For the second time, a competition

was held at the Kaiserslautern Kerwe,

where five candidates, who

had been drawn by lot by the local

radio station Antenne Kaiserslautern,

contested for the title:

"The best of the best" at the

Oktobermarkt in Kaiserslautern.

The winner was the 16-year-old Laura Gorecki from

the Kaiserslautern-Dansenberg district, who won

three out of the total of nine events conceived by

Antenne Kaiserslautern, and in the end came first in

the competition. She succeeded in, among other

achievements, shaving a balloon soaped with

shaving foam while riding the "Alpha 1" looping ride

without bursting it. At Rohleder's go-kart-track she

left all the others behind, and at the "Aqua Velis"

from Lutz Hofmann she was the fastest (1.48 min.)

in finding her way through the labyrinth. Other tasks

were, among others: "who spills the least water

while riding the 'Magic'?", "who correctly solves a

mathematical problem while riding the 'Airwolf'"?,

or "who is the quickest eating five marshmallows

with bandaged hands?". The winner was delighted

with a certificate, Kerwe fair pass and other prizes,

presented to her by morning radio host Daniel Ott

and Susanne Henn-Marker (Chairman of the

Kaiserslautern Showman Association). ■

Two out of nine competitive

events: Eating marshmallows

without using one's

hands and beer mug lifting

OSNABRÜCK FAIR

Honorary Chairman

Heinz Frickenschmidt (left)

and the Chairman Otto

Cornelius introduced

the changes at the

Osnabrück Fair

Text & Photos:

Nils Benthien

On October 29 th , the Chairman of the

Showman Association Weser-Ems, Otto

Cornelsius, introduced a number of

changes at the Osnabrück autumn fair to

the public.

For example, an information booth

equipped with LED lighting, painted by

Heiner Heitmann and covered with foil by

Nico Recker, was bought for the fairground.

At the Info-Point, visitors are not only provided

with information relating to the fairground,

but may also buy fairground souvenirs.

Another novelty at the event was the

signalling disc (made at a workshop for disabled

people), which (together with an accompanying

whistle) can be borrowed by

wheelchair users to signal for the attention

of the staff at the payboxes and behind the

stalls. By the way, the Showman Association

also hires out the information booth to

organisers of other fair events, on request

with or without staff.

■

6
---
KALEIDOSCOPE

PARADE

EHRUNG

Text & Photo:

Michael Petersen

Text & Photos:

Peter Reuther

An additional note regarding

the largest

fair on the Rhine in Düsseldorf:

showman Günter

Darmann was rightly honoured

with the traditional

award for special commitments.

During the ceremony,

the Düsseldorf Lord

Mayor, Dirk Elbers presented

him with a porcelain figurine

and an honorary

certificate, and thanked

him for his meritorious contributions

to the success of

the Rhine Fair. Günter Darmann's

wife Evelyn and

their grandchildren were

also present.

■

Ihis year's long parade to mark the anniversary

"200 Years Bad Kreuznach Fair" was joined by

many a showman from the Jahrmarkt presenting

a number of their historic traction units and wagons.

All in all, 400 participants joined the festival

parade on Saturday August 21 st , which was

very well attended.

■

Veteran parade of

historic showman vehicles in

Bad Kreuznach

8
---
Grundfläche nur 18/14 Meter, alle Transporte werden eingebaut!

Info- und Buchungshotline:

Sebastian Küchenmeister e.K. • München • Tel. 0176 / 633 503 09

Mail: sebastian-kuechenmeister@gmx.de

www.konga-schaukel.de
---
INTERVIEW

BIG BAMBOO

"The 'Big Bamboo' will be a

show!" was the core statement

made by Robért Hempen. A new

attraction still under construction

is currently causing a huge

furore spurred by colourful advertisements,

creating scope for

a great deal of speculation. What

will the novelty look like? What is

the basic idea behind it? When

will it celebrate its première?

Who will be its operator? A

plethora of questions that call for

an interview with the Hempen

family, for whom the closing of

the Bremer Freimarkt also meant

the end of its adventure construction

"Das Omen".

Text: Helmut Bresler

Photos: Helmut Bresler, afaw

Melancholy at the farewell?

Michael Hempen: Hmm, a certain feeling of

melancholy. After almost 20 years, it was not

easy to bid farewell to the "Omen" and so many

positive recollections come so readily to mind.

Its acquisition was a real godsend – no doubt

about that.

But your mind spins with new ideas …

Michael Hempen: Yes, it has been doing so

for three years and one thing is for sure now –

we will start in spring 2011.

The name is "Big Bamboo" and apart

from an advertisement, further details have

not yet been disclosed have they?

Michael Hempen (laughing): Right – and we

won't reveal our plans either. Just ask my son,

who is eagerly working on the realisation.

The advertising imagery shows a large

lake with an island. Is this what your novelty

looks like?

Robért Hempen: Yes, it's a large lake of a

size not seen in show and funhouse attractions

so far, more precisely with a 22 metre front, a 13

metre depth and a height of 16 metres.

And this is visible to curious spectators?

Robért Hempen: Yes, everything is clearly

visible – an entertainment for everybody.

This sounds like traditional effects. Where

is the novelty?

Robért Hempen: It is awaiting the visitors in

a number of bamboo huts. Inside the "Club Tropicana"

bamboo hut, our visitors make their way

through a challenging limbo course. There will

also be a "Voodoo" hut concealing a secret.

Ours will be the first Funhouse with a show animation.

The Big Bamboo will truly be a show!

Will the Zambora Gorilla Girl jump out of

one of the bamboo huts?

Robért Hempen: Certainly not. We provide

different effects. We have deliberately conceived

new elements for the inside area.

The Hempen family (f.l.t.r.)

with son Robért, father Michael,

mother Manuela and daughterin-law

Nadine

What is hidden away on the island?

Robért Hempen: A number of bamboo huts

– the surprise element of our amusement world

with a real South Sea flair. To get there, visitors

have to negotiate a walk-through course, before

they reach the central station.

Where did the ideas for the new attraction

come from?

Robért Hempen: There are three elements:

Firstly, from the show booth tradition of our family

that my grandfather Reinhold Hempen had

toured with for so long. Secondly, from watching

the fairground visitors, finding out what they like

and what appeals to them. And finally from experience

in the large parks around the globe that

feature impressive effects. We try to reflect all

these touring challenges and realise them in a

transportable construction.

What else will there be in "Big Bamboo"?

Robért Hempen: There will be thrilling show

actions, animation, music and spectacle for the

whole family. At the moment we are planning to

present every visitor with a Hawaii garland at the

entrance, in order to immerse themselves

straight away into a sense of adventure.

10
---
DAS OMEN

How did you come up with the South Sea

theme?

Robért Hempen: It contains positive associations

for almost everybody: music, pleasant

climate, scantily dressed women and men …

Is "Big Bamboo" a modern show booth

or rather a funhouse?

Robért Hempen: The double name of the

sector is highly appropriate for our new attraction:

from next spring we build and operate a

show booth and funhouse operation; actually a

small travelling theatre. In our opinion, fair events

require many more show booth elements.

Currently, we are faced with a demographic

change; visitors on the fairgrounds are

getting older. How do you react to this trend?

Robért Hempen: Well, this trend is seriously

neglected. We see our novelty as an attraction

appealing to all generations.

Who builds the new attraction?

Robért Hempen: Due to the family's

experiences over the last decades, only one

name springs to mind – the Dietz firm.

Who is responsible for the design ?

Robért Hempen: Mike Tegen who had

designed "Das Omen" and was also responsible

for the "Psycho". He is an artist popular all

over the globe and he accepted this challenge

because of our long-standing connections.

What has Klaus Hriesik with his "afaw"

firm been engaged for?

Robért Hempen: We want to work together

with the best possible partners in every sub-project.

That's where Klaus Hriesik came into the

picture, who has so exquisitely designed our advertising

presence with a logo, advertisements

and in terms of its application.

INTERVIEW

The "Big Bamboo" Logo

INFO

Originally, the Hempen

family is from Bremen.

Up to the age of 14,

Michael Hempen acted

as the mysterious girl

with two heads – "Marie

& Luise" at his father's

show booth. He became

self-employed with

roasted almonds and

with a ball-throwing

DThe attraction was built by the Dietz firm

in Schwalmstadt/Ziegenhain (Hesse) in

1979. It was the first two-floor construction on

tour and was successfully operated under the

management of Finnendahl for about 10 years.

For one season it was operated by the Müller

firm from Hanau. At the Crange Fair back then,

Müller and Michael Hempten, together with his

brother-in-law Manfred Pluschies, struck a

deal – and the attraction had two new owners.

The redesign into the Adventure Simulator

"Das Omen" was carried out by the Dietz firm.

Michael Hempen became the sole owner. The

name "Das Omen" evoked associations with a

still popular US horror film of the same name

from 1976.

■

How many transport vehicles will be required?

Robért Hempen: As few as possible. Currently

my calculations are based on a maximum

of four transport vehicles.

What was the organisers' reaction to the

novelty?

Robért Hempen: They were quite openminded

and curious. Our family was happy with

their interest, as it proved we have found a niche.

Where will the première be celebrated?

Robért Hempen: We would like to start up

operation at Easter.

Under whose name will the attraction be

operated?

Robért Hempen: Under both my name and

my father's name.

In the last few years, there was a veritable

flood of Walkthrough and Funhouse constructions.

How do you want to successfully

stand up to this competition?

Robért Hempen: Simply through quality and

with our unique concept!

■

booth, and later he operated

a small glass

labyrinth. With the

"Omen" his wish for a

larger construction

came true. Now, he

wants to energetically

support his son and his

young family with the introduction

of the new attraction.

For 13 years,

Michael Hempen has

been the Chairman of

the Oldenburg Showman

Association, and

four years ago he became

Vice-President of

the German Showman

Association. ■

11
---
Ein besonderer Dank an die

Großmarkt Rostock GmbH

für die erstmalige Zulassung

unseres FRISBEE zum

Rostocker Weihnachtsmarkt.

Freddy Zinnecker • Passau • Tel. 0160 / 443 36 54

www.zinnecker-frisbee.de

Wir bedanken uns bei all unseren Geschäftspartnern für die gute Zusammenarbeit, wün

Familie Alwin Zinnecker • Familie Freddy

Alwin Zinnecker Freizeittechnologie • Neumarkt - St.Veit

Tel. 0171 / 821 57 34 o. 0177 / 335 22 15 • www.zinnecker-freizeittechnologie.de
---
Neueste

LED

Beleuchtung

schen ein frohes Fest und ein gesundes, erfolgreiches neues Jahr! Saison 2011 in Planung.

Zinnecker + Familie Jennifer Zinnecker

DAS ORIGINAL

NEU!

Jennifer Zinnecker • Neumarkt - St.Veit

Tel. 0171 / 821 57 34 o. 0160 / 443 36 54 • www.zinnecker-freizeittechnologie.de
---
SPECIAL

Top attraction

in Sventoji: the "Evolution"

It's not only in Italy or France,

but also in numerous resorts

in Eastern Europe that showmen

tour their attractions

along the coast during the

summer months, where fair

events and Lunaparks attract

both the residents and

tourists – particularly the latter

– right from the start of the

summer holiday season.

Fairground Scene Lithuania

Text & Photos: Ton Koppei

The Lunapark in Palanga

is organised by the Leander

Brothers from Holland

Although Lithuania still plays only a relatively minor

part as far as fair events are concerned,

showman operations – mainly from the Czech Republic

and the Netherlands – have been touring

there for many years now. For decades, the resorts

along the Baltic coast have been favoured travel

destinations for a shorter or a longer holiday throughout

the summer months. Palanga is without a doubt

the most important resort in Lithuania. With its long

beach, numerous restaurants, discos and pubs, the

town attracts many thousands of tourists every year

who encounter the occasional fairground attraction,

such as a Simulator, dodgem track, or 3D-Cinema,

as well as game booths along the beautifully designed

promenade. The Dutch Leander Brothers

have operated a real Lunapark in Palanga for several

years, where attractions suitable for the whole family

make guest appearances on a beautifully laid out

and centrally located fairground from May to September.

The attractions presented there this year included

the "Octopussy" (Polyp), as well as the

"Move It", which is highly popular in this location.

While the Ferris wheel "Hanse-Riesenrad" from Rostock

(Germany) appeared there yet again, it was a

14
---
SPECIAL

"Move It" at Palanga

Family Coaster, "Water

Walking Balls", a Huss "Breakdance"

imported from the USA

during a guest appearance at

Palanga, Lithuania

first-time appearance for a family

coaster, as well as a Huss "Breakdance"

from the Netherlands. For

the latter, Palanga was one of the

first European venues, as due to

a thorough technical and visual

overhaul the ride, which was recently

imported from the USA,

had gone into operation only a

couple of months ago.

Located some 15 kilometres from

Palanga is Sventoji, another highly

popular resort, where visitors

are provided accommodation

mainly in large holiday parks and

on camping sites instead of hotels.

As was the case in Palanga,

visitors encountered occasional

15
---
SPECIAL

A strange ride:

the double-Ferris Wheel

at the resort of Sventoji

"Twister", coaster,

and the "Big Shock"

in Sventoji

attractions, such as kiddie rides and a Twister, as well

as a rather strange looking double-Ferris Wheel deployed

along the main pedestrian precinct. A larger

fairground was located about one kilometre from the

town centre, and presented attractions from Czech

and Hungarian showmen this summer. The fairground

provided entertainment for visitors of all

ages, with the "Evolution" as a real highlight visible

from any distance. Despite a relatively 'lofty' fair, this

attraction was a true crowd puller which was very

well received. Other attractions offering over-the-top

thrills were a "Top Spin" variation called "Big Shock"

and the "Enterprise". Also presented in Sventoji

were, among other attractions, a dodgem track, a

Family Coaster, and a number of kiddie rides.

The "Esplanade" town park in the harbour town of

Klaipeda, one of the larger Lithuanian towns, was another

venue for a summer event featuring several

showman operations. Unfortunately, this fair was de-

16
---
SPECIAL

A Czech "Scat" ride

called "Maxi Tornado"

at Klaipeda

cidedly hard to find, even though the fairground was

located not far from a main street. This is the reason

that the towering "Ejection Seat" Bungee from a

Lithuanian showman was placed

as an eye catcher directly in the

entrance area.

Other attractions provided by

Czech showmen were a Ghost

Ride, a dodgem track, Centrifuga,

Scat, Breakdance, and a

number of kiddie attractions. This

summer though, the hit on all the

fairgrounds in Lithuania was the

"Water Walking Balls". All the

coastal towns presented this attraction,

where visitors walk on

water inside a transparent PVC

ball. This proved to be a real 'hit',

especially with the younger visitors.

After the bouncer and trampoline

construction, this attraction is likely to be a

new success story – not least because of the relatively

low cost of purchase.

■

A number of Czech

showman attractions in

Klaipeda, Lithuania

17
---
REVIVAL

Hit attraction at the

Wiesn anniversary

The July announcement that

a Calypso would be built up

at the Munich Wiesn anniversary

came as a pleasant surprise:

making a couple of

rounds in the old Mack-Mühle

at the Oktoberfest again after

a break of 15 years – wonderful!

Text: Karl Ruisinger

Photos: Helmut Bresler, Norman Vogt,

Alois Steiner, Ralf Schmitt

Calypso

As the owner/operator was not disclosed initially,

there was a great deal of speculation

going on as to whether or not it was – as seemed

quite likely – the most exhaustively restored example

from Swiss showman Paul Läuppi, a ride

absolutely unique in the showman industry, and

one that has celebrated the Calypso-era for

years. What else? Quite the contrary: there was

yet another operational ride of this kind, one that

had been put into storage for about two decades

and had almost sunk into oblivion. The Calypso,

which became a great hit attraction at the Wiesn

anniversary, is an example from the first series

of this classic ride from Mack, one with uniform

coloured gondolas still equipped with small rear

lights and round headlamps. The commentator

explained to the enthralled public that the ride

was built about 1960; indeed, this very ride is

said to have already appeared at the Wiesn in

the 1960s, namely from 1965 to 1968 (if the old

lists of represented attractions are to be believed)

under the management of Hans Dom, before

it was sold on. Even though it stayed in

Bavaria, its Wiesn days were over. Firstly owned

by the Guderley firm, it was taken over by the

Eckl family in the mid 1970s that painted the

characteristic name sign in red on the entrance

podium, and toured the ride throughout Bavaria

in an almost unchanged visual appearance up

until the late 1980s, finally under the management

of Jeanette Eckl-Stey. Next the Winheim

family from Ingolstadt took over the ride, modernised

the backflash with a "Beach" setting and

replaced the large sweeping, characteristic light

crown in the centre of the ride by simple spotlights.

When the family retired from travelling in

the early 1990s, the ride was withdrawn from

touring and never built up again.

A Chapter in Wiesn History

It was due to the contact with the Eckl family, who

have successfully presented a number of attractions

at the Oktoberfest for decades that the

organisers of the Wiesn anniversary came up

with the idea of reviving this ride for this historic

occasion. For the Munich citizens it was no mere

coincidence that the Calypso would become an

extremely important part of Wiesn history: it was

where it started its career, with decades of double

presentations; at times as many as three examples

identical in construction were built up at

18
---
REVIVAL

Calypso – a real Wiesn

fun attraction

the same time. Already in 1960, the Calypso pioneers

Bausch & Distel, who held the exclusive

rights to the ride type from 1958 to 1961, were

faced with competing rides similar in construction;

be it the "Calypso OHO" built by Hüttemann

himself or the Hula-Hupp from Schippers v.d.

Ville. They were joined by the Mack example

from Biermann in 1962, and yet again three

years later the ride from Dom, which, in hindsight,

is quite amazing, as Hans Dom had actually

been an expert and owner of the "Düsen-

Clipper" and the "3-D-Hurrican" rides, which

were very popular at that time. The Calypso must

have been a huge crowd puller at the Oktoberfest

even as part of a 'threefold presentation'. In

early September it was built up – haltingly initially

and under the constant presence

of the TÜV in the historic

"Schausteller West" section,

established for the revival of

Winheim's Calypso. At the

opening of the "Historic

Wiesn", the ride was not yet

ready for operation, and it

gradually came to life only after

a couple of days. At the start

of the event, the ride was operated

with three functional

gondola crosses only, the

fourth being cordoned off by

ropes. When the ride was virtually

besieged by visitors

however, the Calypso was operated

at full capacity. The actual

appearance of the ride

also improved gradually with

the mounting of the characteristic

gondola roofs only during the second week

of operation, when the Wiesn organizers made

a "VIP round" in the Calypso during their inspection

tour.

Unexpected Big Success

At this point in time, it had become the most popular

ride attraction in the historical section together

with the "Fahrt ins Paradies". Many an operator

of modern rides on the neighbouring

Wiesn-fairground may well have been envious

looking over the fence at the nostalgic area:

nothing like this had happened at the Wiesn for

years, long queues on the upper and the lower

level, fully-occupied gondolas during every ride,

The gondola roofs were

not mounted during the first

week

19
---
REVIVAL

Build up in the western

showman section of the "Historic

Wiesn"

Supported by a colleague:

the Winheims and Paul Läuppi

(centre)

and disputes for seats during brief stops were

the order of the day. The fare of only one Euro

cannot have been the only reason for this unexpectedly

big success. Visitors were simply enthralled

to encounter a classic Wiesn ride from

their childhood or adolescence, and to experience

a lively and boisterous ride, that was at the

same time agreeable and enjoyable despite its

speed. From time to time, the operating Winheim

couple were supported by their Swiss colleague

Läuppi, who shared his practical Calypso experience

in remedying technical problems, as well

as making colourful announcements over the microphone.

The success story of the Calypso has

continued, but what of its future? Should the "Historic

Wiesn" become a permanent fixture, even

on a smaller scale (as it is currently being considered),

due to its huge success, this Calypso

might well stand a chance of being presented

there again in the future. This ride may even

successfully stand up to competition on the "normal"

Oktoberfest fairground. Comparable rides

in vintage designs, such as the Matterhorn already

enjoy cult status in Munich. However, this

would require a careful and thorough overhaul of

both the Calypso's technology and its visual

appearance. The glamorous revival was not

marred by the not original backflash, but by the

missing decorative elements on the operator

stand and in the centre of the ride. ■

20
---
LOGISTICS

Jacob (Musikpalast) Photo: Rolf Orschel Goetzke (Rocket) Photo: Michael Petersen

Hoffmann (Kiddie Track Ride)

Photo: Rolf Or-

Beinhorn (Gastronomy)

Photo: Peter Reuther

schel

Engelbrecht (Breakdance) Photo: Rolf Orschel Krebs (Skooter) Photo: Rolf Orschel

22
---
Wir danken allen Veranstaltern

für das Vertrauen und die gute

Zusammenarbeit und

unserem tollen Publikum

für eine gelungene Saison.

Wir wünschen eine

frohe Weihnachtszeit

und empfehlen uns für

die neue Saison 2011.

Planen Sie Ihren Festplatz

mit unseren spektakulären

Hochfahrattraktionen!

Thomas Weber • Herford • fun@flash-weber.de • Hotline: 0163 /2 71 59 99

✩

✩

✩

✩

www.mandeln-wittler.de

Unsere Top-Stationen 2010:

Geldern • Opladener Bierbörse

Rhede • Moers • Pützchens Markt

Bocholt • Soest

Weihnachtsmarkt Bocholt

Wir bedanken uns für die Zulassung

und empfehlen uns für die Saison 2011!

Ludwig Wittler

Tel. 0163 / 288 62 33
---
GASTRONOMY

MEIN THAI

Text & Photos:

Norman Vogt

Sarah Beck's "Mein Thai"

The new Asian gastronomic

operation "Mein

Thai" from Sarah Beck

celebrated its première at

the Oktobermess in

Mannheim.

The Asia snack booth that

the show-woman from

Bexbach (Saarland) has

been successfully touring

for four years has now

been replaced by this attractive

and unusually designed attraction. "Mein

Thai" has ground measurements of 5.50 x 3.50

metres and is 4 metres high. Its sales area can

be hydraulically lowered and the sales windows,

the front and the sidewalls can be easily unfolded.

The Opitz firm realised to perfection Sarah

Beck's design requirements, painting the front

area in calm, pastel rose colours, with a strong

green colour inside the attraction, providing an

appealing contrast. The carpentry was carried

out by a firm from Waldkirch, which in addition to

the kitchen, also built in the cupboard and sink

to the very centimetre. The construction was

equipped with a new LED and neon light system.

The menu offers authentic finger food specialities

from the Asian cuisine, such as classic fried

Asia noodles (on request also hot), shrimp rolls

in a potato crust, Wan Tan delicacies or prawns

in a crisp pastry served with various sauces.

■

Sarah Beck

LEVY'S EIFFELTURM

Text & Photo:

Norman Vogt

Matthias Levy's new concession

stall with Eiffelturm

Its imposing height of 11.60 metres is

the most distinctive feature of the

new "Eiffelturm" gastronomic operation

from Matthias Levy from Frankfurt.

Yet it is not only the enormous height

that arrests the eye, but also its metal

construction made by Levy himself from

solid steel, boasting a total weight of a

proud 4.5 tons. The LGA Nürnberg had

calculated the required structural

analysis before the 4 x 2.50 metre construction

was built. The four massive

steel sections of the tower are assembled

by crane. The weight distributed

on the four supports for the tower alone

is indicated as 2.8 tons, so the construction

is certainly very stable. Transport

requires a 10 metre long roller. Although

the menu can be easily adapted,

tasty crêpes are offered more often

than not. In Darmstadt however, the menu offered

crunchy, fresh potato crisps with various

sauces. Following its première in Bad Vilbel

this summer, the attraction appeared, among

other venues, at Bad Homburg, Frankfurt and

Darmstadt.

■

24
---
Wir wünschen unseren

Vertragspartnern,

Fahrgästen und Fans

ein gesegnetes

Weihnachtsfest

und ein friedliches

neues Jahr.

Wir empfehlen uns als zuverlässiges Familienunternehmen für die neue Saison.

FRANK OBERSCHELP • Tel. 0163 / 770 94 59

100 % Spaß total! Überzeugen

Sie sich selbst!

Wir danken allen Geschäftspartnern, Freunden und Kollegen für die

gute Zusammenarbeit. Wir wünschen allen frohe Weihnachten und

ein gesundes und erfolgreiches Jahr 2011! Thilo Janßen & Söhne

Tel. 0178 / 4 49 68 65 • www.thilo-janssen.de
---
CHRONICLE

The Alpine Bob

from Arthur and Else

Mölter, 1955

Last year, the Mölter family

from Coburg – one of the best

known showman families

from this region in Northern

Bavaria – celebrated the 90 th

anniversary of their family

company last year. Having

taken over the showman

business of his parents-inlaw,

Arthur Mölter from Sonneberg,

the great-grandfather

of Matthias Mölter,

founded the showman enterprise

in 1919. However, the

family's showman tradition

can be traced back even further.

Text: Rolf Orschel

Photos: Rolf Orschel, Archive Mölter

After the war, Arthur Mölter

continued touring; this caravan

that he had built himself

was always a part of the tour

Mölter Family

his first appearance that he

was able to earn more money

with the carousel than with his

antique shop, and that he

could make a good living from

DThe great-great-grandfather of Matthias Mölter

owned a booming antique shop. Before carousel at events throughout the surrounding

it. Due to this success, he frequently built up his

the First World War, he built a horse carousel for region in the years that followed.

his children, which was actually powered by a

horse and was built up in the garden of his property.

Once the carousel had been completed,

Founding of a Showman Operation

his acquaintances and neighbours urged him to After he passed away, the great-grandmother of

hire out his appealing carousel for the Kirchweih Matthias Mölter took over the horse carousel. In

and other festivals. After being persuaded, he 1919, her daughter Else Riehl married Arthur

dismantled the carousel and contracted a forwarding

company to transport it to the fairgro-

1895. He had met his wife Else during the First

Mölter, who was born in Sonneberg on June 3 rd

und. To his amazement, he discovered during World War while recuperating in a base hospital

in Erfurt after being seriously wounded. After

their wedding, they opened "Mölters Kaffee-,

Kakao- und Tee-Importhandlung" in Sonneberg.

As Else's parents had already passed away, they

took over the carousel in 1919 and founded the

Mölter showman operation. Due to the prevailing

inflation during the 1920s, Arthur Mölter lost his

import business, and indeed, his entire assets.

In 1929 the family moved to Coburg. Arthur Mölter

was called up for military service shortly after

the outbreak of the Second World War, and

as his wife could not tour without him, she

opened an ice cream parlour in Coburg, which

remained under the ownership of the family until

1955. When he came home from the war,

Arthur Mölter took up his showman business

again, and also took care of his colleagues' hardships

in the post-war years. On March 1 st 1948,

26
---
CHRONICLE

The first Chain Ride

from Harald Mölter, 1970s

The ice cream parlour

from Arthur Mölter, 1954

he and a number of other Coburg showmen

founded the Coburg section of the

South German Showman Association,

and was elected as Chairman. Thanks

to the personal dedication of the members

and his competent management,

new fairground events were founded,

thereby realising earning possibilities

essential for the survival of the Coburg

showmen, as the Upper Franconia city

located in close proximity to Thuringia

was cut off from its eastern hinterland

and its Volksfest events due to the

dividing up of Germany. Only a couple

of years after the war, Arthur Mölter purposefully

set out to extend his business,

purchasing an ice cream and confectionery

wagon. In the late

1940s, to facilitate touring, he

built a small but conveniently

furnished caravan, in which the

family toured as far as Stuttgart-Bad

Cannstatt.

In the early 1950s, Arthur Mölter

encouraged the metal construction

firm Völker from

Frohnlach near Lichtenfels to

engage in ride manufacturing,

and ordered the "Helikopter"

hydraulic ride. He had had the

idea for this ride going around

in his head for some years, as

his uncle had toured a similar

Harald Mölter in his

catering wagon

27
---
CHRONICLE

The "Helikopter" from

Arthur Mölter was built

according to his ideas in

the early 1950s

mechanical carousel before the Second World

War. However, the "Helikopter" was operated for

only one season before being put into storage

on the family property, as it had not exactly been

well received by the public during that time. In

the years between 1954 and 1955 he purchased

another confectionery wagon and his first round

ride, "Taifunbahn". This was a slanting track ride

with 80 seats, which was renamed "Bobbahn"

sometime later. Ever since, a spring festival or

Schützenfest in Coburg without an attraction

from the family was inconceivable, and the name

of Mölter became a fixture at many a Volksfest

and Kirchweih event in Bavaria.

In the 1960s Arthur Mölter purchased two

dodgem tracks. The first was a six-pillar dodgem

track from the Italian Spaggiari & Barbieri firm,

and the second was a 24-pillar dodgem track of

unknown origin. Having been 1 st Chairman of the

Coburg section for 22 unbroken years, Arthur

Mölter had to give up this demanding post due

to a serious illness. On March 10 th 1973, to mark

the occasion of the 25 th anniversary of the

Coburg section, he was honoured for his meritorious

achievements with the "Goldener Ehrenring

des Deutschen Schaustellerbundes", or

"Golden Ring of Honour from the German Showman

Association". Only four weeks after he re-

After the purchase Harald

Mölter removed the lighting

grids from the" Helikopter"

The "Helikopter"

gondolas were built

by the Pfrenger firm

28
---
CHRONICLE

Arthur Mölter

purchased this 6-pillar

dodgem track built in Italy,

in the 1960s

ceived the award, Arthur Mölter passed away at

the age of 78 years. Else and Arthur Mölter had

six children. Their oldest son Harry was born in

1921, followed by Horst in 1924, the oldest

daughter Mia in 1929, son Harald (1931), Helga

(1935), and Henni (1937). While the two oldest

sons had fallen in battle, Harald and Helga followed

their parents into the showman industry,

whereas Mia and Henni preferred a life outside

the showman trade.

Harald Mölter trained as an ice cream confectioner

after completing his schooling. In 1950, at

the age of 19, he married the love of his life, the

17-year-old hairdresser Ursula Stölzel. In the

same year their daughter Manuela was born,

and their son Harry in 1956. Harald Mölter began

his showman career with a modest vendor's

tray in 1951. In 1960, Ursula and Harald Mölter

purchased their first ride, namely his father's

"Helikopter". Moreover, they added a confectionery

wagon and a continental pick stand. Just

as other "Helikopter" owners, Harald Mölter

sawed the light rim off his example, making the

gondola flight height appear much higher. Two

years later, Mölter purchased his father's Italian

dodgem track and began to steadily expand his

showman operation. In 1964, he purchased a

larger continental pick stand, followed one year

later by a 4-pillar kiddie carousel built by the Italian

Spaggiari & Barbieri firm. Originally, this ride

was equipped with a so-called hydraulic cosmos

centre, which was removed during one of

several rebuilds. In spring 1968, when his father

had to give up his post as Chairman of the

Coburg section for health reasons, Harald Mölter

succeeded his father in this demanding office,

which he administered for 32 years. In the

early 1970s, he invested in yet another ride at-

In 1962, Harald Mölter

purchased the 6-pillar dodgem

track from his father

Staff and temporary

personnel at the dodgem track

from Harald Mölter

29
---
CHRONICLE

A build-up scene

of the Mölter dodgem

track in Bamberg-Gartenstadt

Rarity: Unimog with

double cab from Harald Mölter,

and Harald Mölter in front of his

two Deutz tow vehicles

The "Twister" from Harald

and Ursula Mölter, 1975

traction and purchased a chain ride, which he

sold again some years later. In 1972, Harald

Mölter replaced the three Deutz tow vehicles he

had used for transportation with three Unimogs,

which became the signature feature of the Mölter

firm. According to Mölter's wishes, one of

these vehicles was built as a special model with

a double driver's cab. At the end of the 1974 season,

the Mölter family purchased the "Olympia

Lift" Twister from the Munich Kreis firm. Two

years later, Harald Mölter had the chance to

swap the "Helikopter" for a historic multi-level

carousel. This carousel was presented only on

special occasions and was sold to the Dutch

amusement park Duinrell in 1985, where it was

built up in a protective glass pavilion. The historic

ride reliably makes its rounds to this day. In

1977, two further concession stalls were added

to the family's fleet of attractions – a vending machine

wagon and a shooting gallery. Some time

later, the shooting gallery was replaced by a

30
---
CHRONICLE

Mölter's "Twister"

after its overhaul

more modern version, which offered not only the

standard air rifle shooting but also an electronic

shooting stall. A kiddie Ferris Wheel built by the

Italian Sartori firm was added in 1983 and sold

to Thuringia in the early 1990s. From 1986 on,

Ursula and Harald Mölter were able to test a

brand new Wave-Swinger, thanks to close friendly

contacts with the Zierer firm. After just two

years this ride was returned to the manufacturer,

and nine years later a modernised chain ride

with a polyester facade was purchased yet

again. Having relatives among the Erfurt showmen,

Harald Mölter unselfishly helped the showmen

in Thuringia in words and deed after the

German reunification, and was founder and

honorary member of the Thuringia Showman Association.

business.

In 1998, he purchased yet another small swing

attraction from the Ihle firm, which was hydrauli-

The 4-pillar kiddie

carousel with cosmos centre

was built by Spaggiari &

Barbieri in 1965; below the

carousel in its current outfit

Tragic Accident in Coburg 1991

At the Coburg spring festival 1991, Harald Mölter

was seriously injured in a tragic accident,

which occurred while manoeuvring the baggage

vans, and as a result of forgetting to put on the

handbrake of a wooden wagon. When the wagon

started rolling on the steep fairground and

was about to crush one of the staff, Harald Mölter

had the presence of mind to push his workmate

to the side and was struck in the back by

the tow bar, which resulted in very serious bruising

of his abdomen. After a year in a casualty

clinic, he had to spend many weeks in hospitals

for some 15 years, having to undergo many more

operations. Always, after being discharged from

hospital, he would immediately return to the fairgrounds

to continue to successfully operate his

31
---
CHRONICLE

In 1976 this multi-level

carousel was exchanged for

the "Helikopter"

Mölter purchased this

Chain Ride in 1995. The Shooting

Gallery has been under

ownership since 1977

This small Swing

was built by Ihle for

Harald Mölter in 1998

cally elevated and positioned at an angle during

the ride. After a long and patiently endured illness,

Harald Mölter passed away on February

21 st 2008.

Harald's sister, Helga Mölter, married showman

Herbert Lenz, who then purchased the second

dodgem track from

Arthur Mölter and currently

operates a beer

tent. Among their six

children, only their

son, Ralf Pazdera,

still tours gastronomic

operations to this day.

Ursula and Harald

Mölter's children grew

up with their parents

and joined their parents'

business after

leaving school.

Manuela married the

showman Helmut

Weiß. To this day, the Weiß family tours a number

of confectionery booths, mainly within the Volksfest

events in Upper Franconia and Bavaria. Two

of their three sons, continued touring. While

Alexander Weiß and his partner Angelika Krug

operate two shooting galleries, Peter Weiß and

his partner work in the ice cream booth of the

Müller family. After graduating from school, Harry

Mölter stayed in his parents' business, where

he fell in love with Angelika Oesper, who had

worked at the Mölters – friends of her father – after

school hours from the age of 10. As she enjoyed

this job, she joined the tour schedule after

leaving school, and works with the Mölter family

to this day. In 1974 their daughter Stefanie was

born, followed by their son Matthias in 1984. Two

years later, Harry Mölter left his partner and his

parents' business and has worked in private industry

ever since. After she had successfully

served her apprenticeship as a painter, Angelika

Oesper's daughter joined the Mölters on tour

and is an employee in the family's business to

32
---
CHRONICLE

The first Czech Miami

for Germany: the "Street

Style" from Matthias Mölter

2009

this day. Although her son Matthias had enjoyed

the tour even while still at school, he wanted to

learn a "normal" job and began to train as an industrial

mechanic. However, as he could not get

used to an orderly and monotonous life, he discontinued

training after the first year and joined

his grandfather's business, where he learnt the

showman trade again right from scratch. After

his grandfather's death, he operated the showman

business together with his grandmother

and his mother. He is also supported by his partner,

Tina Madalschek, who gave birth to their

daughter Emilia on July 11 th last year, and is a

post office employee, by profession. Six years

ago, their "Twister" was completely overhauled

and equipped with a new paybox-cum-backflash

wagon, which they built and mounted

themselves. Last August, the première of

Matthias Mölter's "Street Style" - the first Miami

for Germany built in the Czech Republic –

caused a furore at the Coburg Vogelschießen.

As early as last winter, he had purchased the ice

cream van "Eiskist" – well-known in the Coburg

region – where the popular fairground milk ice is

still made according to old original recipes dating

from 1921, in ice

cream machines more

than 100 years old.

With the purchase of

the ice cream van, the

Mölter family roused

memories of "Mölters

Eisdiele" that Else Mölter

operated in the

Hahnmühle on the

Coburg Steinweg up

until the mid 1950s. In

addition to these operations, the Mölters still tour

two kiddie rides, the continental pick stand, the

shooting gallery with electronic shooting stand,

the "Niagara" concession stall, and the 6-pillar

dodgem track, which were already operated by

the grandparents. The operations are mainly

presented at Volksfest, Kirchweih and Schützenfest

events in Upper Franconia, Thuringia, and

Bavaria, as well as on 11 sites of their own. On

some of the private fairgrounds the family even

builds up all of its rides and concession stalls.

Several times a season, there are even double

engagements at one and the same event, which

adds up to some 120 operations being built up

and dismantled every year. This means hard

work, which can only be managed with the close

cooperation of all family members and reliable

employees; some of them having worked for the

Mölters for decades. If necessary, even the relatives

help to punctually build up and operate.

Since the founding of the enterprise to this day,

the family has used all their energy and willpower

to successfully advance their business, and

Matthias Mölter is the 4 th generation continuing

in his ancestors' showman tradition. ■

INFO

For further information

about the Mölter family:

www.schausteller -moelter.de

■

The ice cream tradition of

the Mölter family is continued

with the "Eiskist"

33
---
A LOOK BACK

BONN

The Pützchens Markt 2010

in Bonn from above

100 th anniversary: to mark

the centenary, the Markmann

family built up its historic swing

Text & Photos: Michael Petersen

This year, much to the chagrin of the organiser

and the participating showmen, the traditional

Pützchens Markt (September 9 th to 14 th )

hit the headlines in the nationwide media. The

announcement by Jochen Stein, the controversial

chief of the Bonn fire department, that

he no longer wanted to grant permission to the

Pützchens Markt in its current form, resulted in

fierce discussions about the security concept

for this large fair event, which attracts about 1

million visitors every year.

The sudden security concerns were due to the

tragedy during the Duisburg Loveparade. Admittedly,

the access roads to the large Pützchens

Markt fairground that accommodate many ride attractions

and are located in a small district of Bonn,

are relatively narrow. This is nothing new though,

after all, the 643 rd Pützchens Markt was celebrated

in Bonn this year. There have always been

pushing crowds, and particularly at the weekend

there was hardly any room left on the

Friedensstraße. However, up until now those responsible

had not been in the least concerned

about it. Quite the contrary in fact; was it not the

very chief of the fire department, this same Mr.

Stein, who wanted to reduce the number of ambulance

and security personnel a couple of years

ago? Now, the new security concept presented by

eager beaver Mr. Stein almost resulted in the cancellation

of the Pützchens Markt. In his opinion, the

number of approved showman operations was to

be reduced to 350 (instead of 550!), particularly

affecting the Marktstraße and the Friedensstraße,

and no attractions being placed in the area around

the Adelheidiplatz (the historical origin of the

event) and the access to the Marktstraße. Moreover,

an additional four emergency routes were to

be set up on the Friedensstraße, which were, according

to the new concept, to be built up on only

one side. Further measures provided for an extension

of the spacing between fairground attractions

and buildings because of fire risk. Additionally,

Stein suggested deploying evacuation forces

and setting up a military field hospital at the Holzlarer

Weg, where the showmen had parked their

caravans up until then. Good Lord, a military hospital!

It's a fair, not a war! During an on-site inspection,

Mr. Stein wholeheartedly announced: "If

this concept is not realised to the letter, the

Pützchen Markt will be cancelled this year." To this,

Peter Barth, the Chairman of the Bonn Showman

Association replied: "If the Lord Mayor realises this

security concept, it would be better to cancel this

year's market."

As there had been no objections to a review or im-

34
---
provements to the security concept, this unfounded

zest for action was hard to fathom. The singlehanded

action of the Bonn chief of the fire department

found no proponents and caused heated

discussions about the spirit and purpose of

these demands. The head official in charge from

the city authorities said: "This is a solo endeavour,

which is disapproved of even by his employees

and the police." On his return, Jürgen Nimptsch,

the Lord Mayor, who had been unpleasantly surprised

by the plans of his fire chief during his holidays,

looked into the matter and 'reined in' his

"chief fire fighter". In a joint effort, the emergency

plans were reasonably revised. In the end, all the

550 showmen were allocated a site, but there were

also a number of relocations, so that not every one

of them could build up on their traditional sites.

This was due to three additional escape routes

created in the Friedensstraße and congestion at a

notorious 'hot spot' being eased and kept clear of

fairground booths. Fire protection panels were

also installed at a number of houses, where the entrances

had to be kept clear. The masses of visitors

were guided by security forces, and arriving

buses were directed to different bus stops. The

emergency routes had a width of 6 metres, and all

the residents received a letter from the city authorities

listing and giving the reasons for the

changes.Thus, reason prevailed over exaggerated

zest for action. While visitors may well not have

noticed these changes, another change was

clearly noticeable to them. This time, the

Pützchens Markt opened its gates on the Thursday

at 6 p.m., followed by the official opening on

Friday as usual. There were fierce discussions

about the rationale of the event's extended duration.

It remains to be seen if this première was successful.

After all, it needs some time until additional

opening days establish themselves, as it

hardly ever works out in the first year. As a result,

business was rather slow on the opening evening,

which may well have also been due to the poor

weather. Surprisingly, business was relatively

weak on Friday afternoon. The reason could be

that visitors who had already been on the fairground

on Thursday were missing on Friday. Although

the Pützchensmarkt was prominently occupied,

as is established tradition, its layout also revealed

avoidable shortcomings, such as the engagement

of two "Propeller" rides at the same

time. As a result, the "Booster Maxxx G4" and the

"Turbo-Force" were competing for the visitors'

favour. Another layout mistake was the "Booster

Maxxx", the "Sky Glider" and "Intoxx", being built

up adjacent to each other, as the three rides closely

resemble each other in ride sequences, even if

they differ in height and speed. The "Revolution"

had also been allocated an unfavourable site, so

that most visitors

walked "into" the backflash

or the side walls of

the ride. On a real topend

site the ride could

have made its usual

magnificent visual impression.

Apart from

these drawbacks, the

top-end and corner

sites were very well occupied

and presented an

appealing overall image of the fairground. The

highlight of the event, the "Teststrecke" Looping

Coaster, was built up in the middle of the fairground,

where it was very well frequented and

made a perfect impression. The Markmann family

had kept its promise and presented its historic

swing boat, which celebrated its 100 th anniversary

this year. It was funny to watch some kids, who had

probably not seen anything like this before, step

into the swing boat and sit tight waiting in vain for

the swinging fun to begin. They were unaware of

the fact that it requires muscular strength to operate

the swing boat - times have changed! Negatively

noticeable was that a couple of ride attractions

had increased fares during the event. In this

media age however, showmen should refrain from

this policy, as it is something that gets announced

immediately on various internet fairground portals.

They should, instead, take higher fares right from

the opening. During the run-up to the event, the

"Freundeskreis Pützchensmarkt" (Circle of

Friends) had intensively advertised the fair. For

two days, some members of the circle, accompanied

by a little fairground organ, had distributed

flyers in the city centre and at a city festival. A very

well attended model fair exhibition was presented

inside a church. The Pützchensmarkt attracted

some 1 million visitors once again this year. Although

the weather was not ideal throughout the

event, most of the participating showmen were

satisfied with their financial results.

■

Unfortunately placed next

to each other: "Sky-Glider" and

"Intoxx"

Rustic: arriving at the

Pützchens Markt with the historic

rail bus

35
---
A LOOK BACK

OESEDE

View from the Ferris Wheel

across the Potthoffs Feld in

Oesede

A veritable blot: A corrugated-metal-sheet

snack booth

Text & Photos: Nils Benthien

From September 24 th to 27 th the 104 th Oesede Fair

was held in the Georgsmarienhütte district of

Oesede (Osnabrück region). Organisers of the

event are the fairground directors Bärbel

Lührmann and Ingo Wolf from the Georgsmarienhütte

city authorities, who approved 145

showman operations from about 350 applications

this year.

While the "Booster" (Ahrend), the Musik-Express

"Disco Jet" (Heitmann) and the dodgem track "Racing

Cars" (Tovar) were built up on the Graf-Stauffenberg-Straße

this time, younger visitors were able to

enjoy the pony ride from Kaiser, the "Rainbow-Truck"

(Kaiser-Benna) and the bungee-trampoline "Spider

Jump" (Welte). The novelty for Oesede was the 40

metre high "Luxor" (Lagerin) which was presented

on the "Potthoffs Feld" fairground, along with the

"Shake" (Schäfer), "Hexentanz" and "Aqua

Labyrinth" (Markmann),

the Simulator "New Welt

3000" (P. Welte), Musik

Express "Discobahn"

(Welte), bungee-trampoline

"Quarter Tramp"

(Dahlhaus), and the kiddie

chain ride from

Meeß. Moreover, the car

park behind the town

hall accommodated the

"Caesars Wheel" Ferris

Wheel from Landwermann-Henschel,

"Formel 1" dodgem

track (Schneider) and the Oesede novelty "Crazy

Jumper" (Wegener). All in all, the fairground was very

well laid out, the only drawback being the strange

corrugated metal sheet booth from a local restaurateur,

which did not live up to the quality standards of

the fair event. A simple palette was laid out on the

floor of the "booth", and its paintwork was not very

appealing either. In addition, the goods on offer were

sold at 'cut throat' prices. There are no objections to

local proprietors also benefiting from the fair, but they

should present proper stalls that meet required

structural and aesthetic standards.

For the first time, welcome banners were set up at

both main entrances this year. One day before the

opening, the Georgsmarienhütte Mayor Heinz Lunte

together with the showmen Norbert Frenck and

Heinz Hammoor visited the local retirement homes,

giving out gingerbread hearts and soft toys to the old

people. This special event, which took place now for

the 19th time, was accompanied by appropriate fairground

music from a barrel. On Friday, Mayor Heinz

Lunte and the showman spokesman Bernhard Jürgensmeier

opened the fair at the Ferris Wheel for the

first time. On this occasion, Jürgensmeier, who will

go into retirement next year, thanked Lunte for all the

harmonious cooperation during the last 20 years,

and a brilliant fireworks display was held after sundown.

On Sunday, a church service was held at the

"Racing Cars" dodgem track from Tovar, and in the

afternoon the retail outlets were open for shopping

in Georgsmarienhütte.

Unfortunately, continuous rain – which stopped in

time for dismantling though – kept visitors from coming

to the Oesede Fair on the last day of operation,

which was the designated Family Day.

■

36
---
New Thrill ride for 2011:

"XLR8"

Extreme acceleration • high speed experience

1.5 hours set up • 16 persons capacity

SPEED

Height 40 mtrs

max. 13 rpm

1 semi-trailer

3 hours set up

New 80 meters (240 feet) high ride to be

revealed at the IAAPA Show!!!

KMG Europe BV • Parallelweg 35 • 7161 AE Neede

Tel.: +31-545 294 545 • Fax: +31-545 291 306

E-Mail: sales@kmg.nl • www.kmg.nl
---
KIRMESWELT 2011

26 attractions in 14 days rotation

It´s here again! 26 attractions,

beautifully photographed in a 30 x 22 cm format

and printed on high-gloss paper.

Order today! Also an ideal gift for friends.

(Single price 8,90 €)

✃

Please forward to:

GEMI

VERLAGS GMBH

Postfach

85291 Reichertshausen

■ I order pcs. "Kirmes & Park Revue KIRMESWELT 2010"

at a price of 10,– € each calendar (Inland)

e. g. 15,– € each calendar (Europ. Abroad)

(price including postage and handling)

■ Total Amount €

❏ I pay per credit card:

Name

❏ VISA ❏ MASTERCARD ❏ DINERS CLUB ❏ AMERICAN EXPRESS

Credit Card Nr_________________________________ valid until: ________________________

Postcode ■ City

Adress

Date ■ Signature

Den KBetrag habe ich

■ bar beigelegt

■ ich zahle per

Kreditkarte

✃
---
ZERBST

A LOOK BACK

"Projekt 1", Ferris Wheel,

and chain ride at the Zerbst

Heimat and Schützenfest

Text: Rolf Orschel

Photos: Rolf Orschel, Lisa Eckermann

On the occasion of the Heimat and Schützenfest

in Zerbst, the Castle Schlossfreiheit and the castle

garden were once again transformed into a

large fairground with many attractions for 11 days

(July 30 th to August 9 th ).

While the beginning of the event was characterised

by a Schützenfest, the second weekend was entirely

dedicated to the traditional horse riding, jumping

and driving show and the Regional Four-in-Hand

Championship, with participants from several German

federal states. On the fairground at the castle

ruin, the showmen had built up an appealing amusement

park with both racy and family-friendly attractions

that ranged from a coaster and dizzying swinging

fun, to sedate rides on the Ferris Wheel appropriate

for all age groups. While Herrmann's "Magic"

made its rounds directly at the main entrance,

Schieck's "Europa-Rad", the "Musikpalast" from Jacob,

the Ghost Ride (Hahnemann), Kirchner's chain

ride, and "Projekt 1" (Boos) were built up in the area

next to the castle ruin. Moreover, visitors were able to

enjoy the dodgem track from Krebs, Hofmann's "Fun

Street", the "Breakdance" from Sobczyk, and the Simulator

"Time Machine" from Schieck on the fairground

and in the castle garden. It was also possible to engage

the family coaster "High Explosive" from Vorlop

as a novelty ride for Zerbst. Being placed on the lowest

site of the castle garden was ill-considered, given

its relatively small height, resulting in a still smaller

impression!

In addition to many successful and high-quality concession

stalls offering varied fairground fun for both

young and old alike, younger visitors were also able

to enjoy the "Super-8-Truck" (Katzschmann), a kiddie

railway (Eckermann), kiddie carousel (Haase), pony

ride (Hennig), and horse carousel (Siewiera & Drechsler).

Snack, beverage and confectionery booths, as

well as several local gastronomic operations, provided

visitors with an ample selection of food and drinks.

The layout of the fairground was not ideal and required

many a compromise due to the steep area with

only a couple of top-end sites. As a result, the chain

ride built up in front of the Ferris Wheel looked like a

kiddie carousel. Additionally a number of concession

stalls had to be fitted in between the trees.

The highlight of this year's Zerbst Heimat and

Schützenfest, a large fireworks display that truly lived

up to its motto "Ein Himmel voller Farben und Musik",

or "A sky full of colours and music", was held around

11:30 p.m. on August 8 th . ■

View from the Ferris Wheel

across the fairground

39
---
A LOOK BACK

SALZGITTER-LEBENSTEDT

Ferris Wheel and "Tropical

Trip" at Salzgitter-Lebenstedt

The "Circus-Hügel"

(Franzelius)

Text & Photos: Uwe Holzmann

From August 13 th to 15 th , the city festival was

held in Salzgitter-Lebenstedt, the administrative

centre of the territorial city of Salzgitter

in South-East Lower Saxony.

Once again, the organiser, the Werbegemeinschaft

City Lebenstedt e.V., had put together an

interesting and entertaining programme. A number

of stages in the city centre, as well as an

appealing fairground in front of the city hall

enticed thousands of visitors from Lebenstedt

and the surrounding districts and communities

again this year. The open shopping

day Sunday also contributed to the livening

up of the event. The "Star of Berlin" Ferris

Wheel from the Lorenz firm towered over the

fairground, where the "Breakdance No.1"

(Franzelius), the "Tropical Trip" (Jehn), and

the "Jaguar-Express" (Ahrend) offered

speedy rides, whereas the dodgem track (P.

Vorlop), the Walkthrough "Time-Factory"

(Hartmann), the compressed air ride "Fantasialand"

(Berweke), a nice Kiddie-Circus-Track

(Franzelius), and the bungee-trampoline "Sky

Jumper" (D. Ahrend) along with a number of kiddie

attractions (Müller) provided a lot of fun for

visiting families. An ample and balanced choice

of games stalls, snack, drink, sweets and sales

booths rounded off the well-assorted and appealing

fairground.

■

WARENDORF

Text & Photos: Nils Benthien

The Mariä Himmelfahrt Kirmes celebrated in the

district town of Warendorf from August 14 th to 17 th

is one of the largest fair events in the Münsterland.

Fairground director, Peter Wittek, had once again put

together a beautiful fair on the Lohwall fairground on

the banks of the Ems River. Some 130 showmen and

marketers realised a fair with a front length of 2.5 kilometres

on the 10,000 m 2 area. The fairground attractions

presented included, among others, the "Remmi

Demmi" (Janßen), the family coaster "Speedy Gonzales"

(Welte), the "Xtreme Spinner" (Kleuser), the chain

ride from Keuters and the "Taboga" slide (Oberschelp).

Naturally the classic rides "Musik Shop" from Rasch

and the dodgem track (Petter) were not absent either.

The traditional football match between the showmen

and the city councillors was held on the Friday

evening. After the match, which was won by the Waren-

40
---
dorf city representatives this year, the showmen were

invited to a cosy drink, during which time they honoured

fairground director Peter Wittek for his 30 years

in office. The Deputy Mayor Doris Kaiser, and the showman

spokesman Klaus Rasch, opened the fair at 3

p.m. on Saturday. While the younger visitors were able

to enjoy a balloon race, free beer was served to the

adults. In the evening, the nine richly illuminated Maria

arches and the medieval town centre immersed in red

light, were an irresistible invitation to the public for a

stroll through the streets and alleys of the town centre,

and quite naturally, a visit to the Lohwall fairground. On

Sunday the fairground opened its gates after a long

procession through the medieval town centre.

In the afternoon however, the sky turned dark and it began

to rain. Monday was Family Day, which regrettably

was also blighted with heavy downpours. Fortunately,

it was not raining for long on Tuesday, so the closing

fireworks display could be held in the evening as

planned.

■

"Xtreme-Spinner" and

"Speedy Gonzales"

at Warendorf

RHEDA-WIEDENBRÜCK

Novelty for Wiedenbrück:

"Intoxx"

Text & Photos:

Nils Benthien

From October 1 st to 4 th , the autumn fair, which dates

back to 1927, was held in Rheda-Wiedenbrück –

more precisely in the district of Wiedenbrück. Perfectly

matching their allocated settings on the market

square, as well as on the Büscherplatz, the fair

manifested its own, quintessential charm.

Fairground director Hans-Bernd Hensen and his

deputy Dirk Wiesbrock engaged 62 participants from

the some 300 applications received. Visitors were able

to enjoy the "Disco Jet" (Heitmann) and as a novelty

for Wiedenbrück, the "Intoxx" (Langenberg & Gusowski)

on the market square, as well as the "Caesar's

Wheel" (Landwermann-Henschel) Ferris Wheel on the

Kirchplatz. Additionally, the "Formel 1" (Schneider),

"New World 3000" (Welte) and as another novelty, the

"Krumm & Schief Bau" from Hartmann were built up on

the Büschersplatz. After a break of 15 years, the

"Twister" from Berghaus returned to Wiedenbrück

again. On Friday afternoon, the Herbstkirmes was

opened by Mayor Theo Mettenborg together with the

showmen André Schneider and Arno Heitmann, and

in the evening a fireworks display accompanied by

music was held at the Emssee. Monday was entirely

dedicated to the traditional bric-a-brac market with

150 participants. ■

Visitors welcomed in proper

style at the "Krumm & Schief

Bau" (Hartmann)

41
---
A LOOK BACK

Chain ride and "Hip Hop

Fly" in Hannover

HANNOVER

Text & Photos: Uwe Holzmann

The beginning of the 46 th Hannover Oktoberfest

(September 24 th to October 10 th ) was more or less

washed away by continuous rain. After 5 days however,

the weather improved bringing the showmen

on the Hannover Schützenplatz twelve dry and sunny

days of operation, culminating in a "golden" October

weekend after all.

In the end, more than one million visitors were welcomed

to the Schützenplatz, about two-thirds of which

was occupied (without the middle section). The "Arbeitsgemeinschaft

für Volksfeste Hannover" (AG

Volksfeste) had organised and put together a very attractive

fairground and numerous special events,

which aroused a great deal of interest among the visitors.

The highlights among the ride and funhouse attractions

were the "Black Hole" (Schierenbeck), "Rock &

Roller Coaster" (Vorlop), "Atlantis-Rafting" (J. Vorlop),

"Hip Hop Fly" (J. Noack), and the Go-Kart Track "Indianapolis"

(M. Böhme), which were very well frequented

by the Hannover amateur racing drivers. Speedy

round rides and a harmonious selection of familyfriendly

classic rides, such as the "Breakdance" (S.

Hainlein), "Magic" (R. Hainlein), "Flipper" (Schneider),

"Shaker" (Vorlop), "Heisse Räder" (Armbrecht), the

chain ride (Thiliant) and two dodgem tracks (Armbrecht,

Thelen) provided a lot of fun for the public.

Creepy fun and action, however, could be experienced

in the "Tanz der Vampire" (Nitzsche) Ghost Ride, the

"Live Action Show" (Lemoine), "Kristalgrotte" (Klünder),

and the "Bayern Rutsch'n" (Schierenbeck). The

younger visitors were able to enjoy a large number of

kiddie rides and the popular pony ride. In addition to

the two beer tents offering a music programme

(Ahrend, Marris), the "Tiroler-Dorf-Hütt'n Gaudi"

(Müller), and "Rosis Alm-Hütte", countless snack and

beverage stalls, as well as the traditional selection of

shooting galleries, games and confectionery stalls,

Continental Pick Stands and sales booths rounded off

the harmonious cornucopia of attractions at the

Oktoberfest.

Special events at the Oktoberfest livened up the fairground

also on weekdays, such as the designated

Family Day on Wednesdays with reduced prices,

Punch and Judy shows, kiddie face-painting events,

Volksfest Rallye, kiddie flea market (September 9 th and

October 6 th ), the Ladies Day with large discounts and

aromatic surprises for the ladies (September 30 th ), a

lantern procession and brilliant fireworks display (October

8 th ), a magnificent fireworks display held by the

Prinz firm from Recklinghausen for the first time (October2

nd ), a popular backstage-tour (September 30 th ),

Sunday flea market on the parking facilities (October

10 th ), and birthday parties for children. Last but not

least: Fun-Cards and the "GVH Special Discount" provided

visitors coming by public transport with reduced

prices at many attractions.

■

RHEDE

Text & Photos:

Michael Petersen

"Octopussy" (Markmann)

at Rhede

This year's Rhede town centre fair once again

opened its gates from Friday to Monday (August

27 th to 30 th ). Fairground director Daniel Ehlting once

again put together an attractively occupied and

harmonious fairground, which was newly laid out

as a closed circuit course.

While the "Große Geisterbahn", the Looping Swing, the

dodgem track, and the "Shake" were built up in the outer

rows, the Wave-Swinger made its rounds in the middle

of the fairground. The Musik Express and the "Sky-

Glider" made a harmonious impression and the "Octopussy",

the "Phoenix" as well as the second dodgem

track retained their traditional sites. The area around

the church was newly laid out, where the well placed

"Breakdance" in particular gave new stimulus to the

church square. The "Krumm & Schief Bau", as well as

the Looping Swing "Intoxx", rounded off the selection

of attractions.

The Rhede Fair 2010 with its harmonious layout and

highly effective advertising made a very convincing

impression. However, this was not reflected in the results,

which were quite modest throughout the event.

Rhede was way below its best, which may well have

been due to the terrible weather, including downpours

Rhede has not seen for years.

■

42
---
You don't want to

miss reading your

ever again?

Then read your magazine online!

www.onlinekiosk.de

Simply download to your PC or to your iPad.

You are already a subscriber? Then contact us for your special offer.

English: +49 (0)8441/81057 or Kirmes.A@t-online.de

German: +49 (0)8441/40220 or info@gemiverlag.de
---
Ich bedanke mich bei

allen Veranstaltern für die

gute Zusammenarbeit und

das entgegengebrachte

Vertrauen. Ich empfehle

mich für das Jahr 2011.

★

★

★

Allen Behörden,

meiner Kundschaft,

Freunden & Kollegen

Schöne Weihnachten

Joyeux Noel

Höhe:

38 m

Grundmaß:

15 x 12 m

Anǵela Rohlfs • Varel • 0177/4912701

Wir danken unseren Vertragspartnern für

das Vertrauen in der vergangenen Saison

und empfehlen uns für 2011.

Wir wünschen allen ein frohes

Weihnachtsfest und ein gesundes

und erfolgreiches neues Jahr!

Michael Zimmermann

Stuttgart • Jülich • 0177 / 7105094
---
WERMELSKIRCHEN

Text & Photo:

Michael Petersen

In addition to the event in Haan, the fair event with

accompanying bric-a-brac market in Wermelskirchen,

which was celebrated in the town centre

from Friday to Tuesday (August 27 th to 31 st ), is one

of the top events in the Bergisches Land region.

While the ride attractions made their rounds on the

Lochesplatz and Schwanenplatz, a huge bric-a-brac

market with hundreds of market stalls was held in the

town centre. Both areas enjoyed a high visitor attendance

and benefited from each other. While a chain

ride, a Musik Express and the "Aqua-Labyrinth" provided

family-friendly fair fun, the younger generation

got their money's worth on the Schwanenplatz, where

the dodgem track caused a furore, as did the "Sky Trip"

and the "High Impress". For the first time in many

years, the showmen participating in Wermelskirchen

were quite disappointed with their results, which fell

rather short of their expectations. Turnover was announced

to be as much as 50 percent down on previous

years due to poor weather and continuous rain

throughout the duration of the traditional fair this year.

Apparently, most visitors happened to be paid their

salaries only on the closing day, when turnover proved

to be quite good.

■

"High Impress" (Oberschelp)

at Wermelskirchen

DUISBURG-BEECK

Text & Photos:

Michael Petersen

It is well known that the Beeck

Fair (August 27 th to 31 st ) is a "ride

fair". It has been successfully organised

by Thomas Kuhn from

the Duisburg Marketing firm as

fairground director, and Norbert

Bouten from the Duisburg city

authorities.

This year, the organisers had to

cope with several cancellations.

First, the contract for the "Diamond

Wheel" from the Harms firm - which had originally been

engaged as the top attraction - was cancelled, and

had to be replaced by the Ferris Wheel from Vallentgoed.

And then, the "Happy Spider" Polyp (Lutjens/von

Reeken) stepped in for the contracted "Magic"; an exchange

agreed to by all parties at an early stage. Finally,

the contract for the "Magic Mouse" from Buwalda/Fackler

was cancelled during build up. According

to the Duisburg organisers, the reasons given for this

cancellation ranged from "technical difficulties" to

"problems with the TÜV inspection". Strangely enough

though, it was possible for the ride to be presented at

the Sail in Bremerhaven. Anyway, the "Doggy Dog"

Family Coaster from the Henn-Högerle firm stepped in

at short notice, so visitors were still able to enjoy a fair

event prominently occupied by this novelty attraction,

as well as the other novelties "Spuk", "Flash", and the

giant chain ride "Around the World". The "Musik Express",

the Ferris Wheel and the Polyp together created

an attractively laid out entrance area to the Beeck

Kuhle-fairground. However, there were also several

drawbacks in the overall layout of the fairground. The

market square once again caused a lot of problems,

due to the fact that the general "quality" of a number

of concession stalls detracted from the image of the

Beeck Fair. It simply does not make any sense to approve

every applicant only to fill the sites. This way, the

high quality rides stand in jarring contrast to several of

the dismal concession stalls. Summary: These problems

recurring as they seemingly do every year at

Beeck, affect the overall image of this otherwise very

well laid out fairground. Financial results were quite

disappointing this time. Rainy weather kept the visitors

from attending the fairground, yet even in dry weather

on the Sunday afternoon there weren't very many visitors

to the fairground.

■

"Flash", Ferris Wheel

and Ghost Ride "Spuk" at Duisburg-Beeck

45
---
A LOOK BACK

ROOSENDAL (NL)

Turf. Most of the attractions were deployed in the

latter area, namely the "Super Mouse" coaster

(nominated by a jury as "the best ride"), the "Sound

Machine", "Fun Factory", "Haunted House", "Snowjet",

"4D Vision", "Breakdance", a Labyrinth, and a

Caterpillar Ride. Younger visitors were able to enjoy

the small "Octopussy" built up opposite the nostalgic

railway, "Peter Pan". With "Roller Coaster",

"Streetdance", "Funhouse", and the "Disco Star" –

yet another novelty – the Kade and the Kadeplain

fairground were also prominently occupied. While

the "Around the World" towered over these rides,

the other attractions, such as "Mega Slide", "Showtime",

"Polyp", "Scooter" and "Fantasy Apple",

were harmoniously lined up between the games,

snack and confectionery stalls.

■

Two Propeller Rides

presented in Rosendaal at

the same time

Text & Photos:

Norman Vogt

Ghost Ride and labyrinth

in Rosendaal

Roosendaal is located in south-west Holland,

between Breda and Bergen op Zoom, and is only

a stone's throw from the Belgian border. Every

year in early September (this time September 3 rd

to 9 th ), the town celebrates its traditional fair.

More than 85 showmen presented their attractions,

which were spread all over the Tongerloplein,

(where the nostalgic fair was held), the market

square and the flower market, the Kade and Kadeplein,

and the Pater Damian Square and the Mountain

Turf. This year, the "Around the World" was the

novelty at the event. Although there was no Ferris

Wheel, three major rides were presented in the form

of the Giant Ride and two Propeller Rides, Korten's

"Eclipse" on the flower market and Ordelman's

"Booster" on the Pater Damian Square/Mountain

46
---
WÄDENSWIL (CH)

Text & Photos:

Rolf Orschel

From August 21 st to 23 rd the largest Chilbi

on Lake Zurich was held in the Horgan district

of the small lakeside town. The event,

known as "Wättischwiler Chilbi" in the local

dialect, is one of the highlights in the

town's annual calendar of events. Being a

typical town centre fair in a town that lacks

a proper fairground, the showman attractions

and market stalls are built up on small

sites and streets around the railway station

and throughout the centre of the town.

As most of the rides and funhouse attractions

can only be erected on the Bahnhofstraße and

on the Seeplatz – located behind the station

and the banks of Lake Zurich and easily accessible

through an underpass – the Wädenswil

residents jokingly call the event the

"only Chilbi in Switzerland with its own station".

A folk concert with the "Wättischwiler

Chilbi-Musig" in the church got the public attuned

to the traditional event already on Friday

evening. The event started on Saturday in

midsummer temperatures and offered an attractive

occupancy, including a number of

large attractions. On the Seeplatz, visitors

were able to enjoy the Ferris Wheel from

Bourquin, Buchser's "Musik Express", the

"Geisterburg" (Odermatt), "The Tunnel" Walkthrough

construction (Bolliger), and Ramsauer's

"Tagada", with a horse carousel (Weber),

speciality snacks and a number of concessions

stalls rounding off the selection of

fairground attractions. The "Space Roller"

from Jolliet, the "Chaos" (H.P. Maier) as well

as many games and snack stalls were situated

on the Bahnhofstraße. On the "Innere Sust"

site the "Casino" (a kind

of "Hully Gully" with suspended

gondolas) from

Muri made its rounds,

and on the "Äußere

Sust" just a few metres

away, visitors encountered

the dodgem track

from Zambon & Harder,

a kiddie chain ride

(Lang), and a Hook-a-

Duck. Furthermore the

"Südsee Welle" (Corbière-Stammler),

the

"Big Flight" (H.P. Maier),

three kiddie rides, and

many snack, drink and

games stalls were built

up on Bahnhofplatz,

Plätzli, Friedbergstraße,

and Gerbestraße. Due to

limited space, not all the

attractions could be built

up on an ideal site. Negatively noticeable was

that the two funhouses "Geisterburg" and

"The Tunnel" had been built up next to each

other and directly in front of the "Tagada" on

the top-end site at the "Wädenswil Rivera",

putting the Walkthrough at a disadvantage.

The deployment on the Bahnhofstraße with

the "Space Roller", the "Chaos", and a number

of concession stalls being placed only a

few centimetres from a railway siding was also

quite unusual.

Due to the enormous mass of visitors at the

weekend, there was hardly any room left on

the fairground even in the afternoon, and in

the evenings long queues formed at the pay

boxes in front of most rides. This rush of visitors

once again brought the showmen satisfying

to good results after a lean period. ■

Thrilling: Riding

next to the overhead wiring

of the railway

Muri's "Casino", Ferris

Wheel, and Ghost Ride in

Wädenswil

47
---
MODEL CONSTRUCTION

MODEL RAILWAY TRAINING SHOW

On November 26 th , the very day

the Bocholt Christmas Market

opens its gates, yet another

pair of doors will open on a

unique demonstration wagon

touring through Germany and

its neighbouring countries. Up

until December 21 st , Ramona

and Michael Frickenschmidt

from Osnabrück will present

the last travelling model railway

training show in Germany,

and will invite the public to a

short journey back in time

through the Bocholt city centre

of the 1960s.

Text: Rolf Orschel

Photos: Norbert Hartlieb,

Archive Frickenschmidt

The model railway training

show from Ramona and Michael

Frickenschmidt

For many years, countless static model railway

exhibitions have been held all over Germany

during the Advent season, as there is hardly any

other toy that is more closely linked to Christmas

than the model railway. The mobile model railway

show from Ramona and Michael Frickenschmidt

continues a tradition of such mobile exhibits from

the 1950s and 1960s, when miniature railways were

frequently presented to the marvelling public in

large halls, on fairgrounds and at Christmas Markets.

To this day, model railway fans still recall the

large railway models from Otto Hübchen from Bremen

and Martin Leitmayer from Bamberg. Today,

Frickenschmidt's 22 m 2 model railway, which was

built to H0 scale and went on tour in 1965, is considered

to be the ancestor of all the large transportable

model railways travelling throughout Germany

at that time. It was built by Theo Wittler, an uncle

of Michael Frickenschmidt, with the assistance

of the Märklin firm. Theo Wittler even wrote a book

about the building of his record-breaking railway

model, which was published under the title of

"Großbetrieb auf Spur H0". In 1978, Ramona and

Michael Frickenschmidt bought the model railway

show and – despite being quite inexperienced and

having to learn a lot from practical experience –

dared to become self-employed. To prevent the

nostalgic model from disintegrating during transport,

the demonstration wagon was completely rebuilt

ten years ago. To start off, the old axles were

replaced by an air sprung chassis with steerable

rear axles and a drawbar variable in length, before

a remote-controlled hydraulic system was installed

for lifting, balancing and propping up the trailer.

Next, a new digital sound system was mounted inside

and outside, along with an eco-friendly, zeroemission

heating system for exhibitions in halls, and

a new teakwood-style interior furnishing. Additionally,

the front walls and doors were renewed, the PVC

flooring was removed and replaced by 12 metre long

dirt trapping mats. To finish off the reconstruction,

the historic exterior paintwork was renewed.

48
---
Although the model railway has been repeatedly

brought up to the latest standard during the last few

years, its 1960s style was preserved. According to

current model railway standards, the "definitive

model railways" are built true to the motto: "cram as

much as possible into as small a space as possible".

The Frickenschmidts deliberately refrained

from designing the model railway according to

these current standards, but have once again integrated

even old Märklin tinplate accessories,

namely a three-track locomotive shed and bridges.

During the 30-minute presentation, visitors can follow

details of the 24-hour operating procedure of

the Deutsche Bundesbahn in the 1960s. There is

much to see on the railway model, with the trains

travelling through different landscapes, passing an

'idyllic' suburb of the 1950s, a large city, and the industrial

facilities of a harbour. There is also a recreation

area with swimming pool and camping site, a

little fairground and a locomotive depot with a

turntable and a roundhouse. Prominent eye catchers

are a number of functional models, with more

than 3,500 miniature figures gracing the model,

4,500 trees 'planted' in the landscape, and 500

cars filling the streets. During simulated night operation,

some 900 miniature lamps illuminate the

houses and streets. However, as there is so much

to discover within the model, simply watching is not

enough. As a result, a radio play perfectly synchronised

to the operating procedure was recorded

at the WDR Köln radio station, so that the visitors

can enjoy an enhanced experience of the model.

The model railway's 'day' begins with buses

running through the miniature landscape, ships

and cranes awaking in the harbour, and a steam locomotive

puffing smoke running

over the turntable to the coaling facility

– synchronised with the background

noise and Adolf Furler's

voice. And it comes to an end with

the church bells tolling and the lights

inside the demonstration wagon

slowly fading away, while the lights

inside the houses, on the streets, in

the station area and on the trains are

gradually switched on. A red warning light blinks on

the top of the TV tower and slowly the light fades

away inside the houses and the last trains approach

their destination. Ramona and Michael Frickenschmidt

present their Märklin model mainly at city

and railway station festivals, historic fairgrounds,

company anniversaries, the Göppingen Märklin

Days and at various Christmas Markets. However,

in the last few years there have also been a number

of side trips to Holland, Belgium, and Austria,

as well as a number of guest appearances in East

Germany from the early 1990s. With their model railway

show, which has been honoured by the Lower

Saxony Ministry of Education as an educational

training show, the Frickenschmidts want to pass on

information about railways and model railway history.

However, as the show is not exclusively limited

to bygone railway history but also includes contemporary

railway history, the model always also

features the latest rolling stock and a high-speed

ICE (Intercity Express). The model is manually controlled

from a central switch board at the entrance.

All in all, sixteen freight and passenger trains run

along the model according to an analogue block

system with signal control. Another 350 carriages

built from 1924 - 1 to Z track gauge – can be admired

inside illuminated display cases after the presentation.

An impressive collection of rare Wiking

road vehicles has recently been added to the show.

Although the last mobile model railway training

show, the basic elements of which are now some

50 years old, cannot be compared to the modern

standards of ambitiously precise model railways, it

is hard to resist its nostalgic charm of the early model

railway days.

■

The model railway training

show making a guest appearance

at the Moers Christmas

Market 2007, and Michael Frickenschmidt

at the control stand

INFO

Ground measurements:

11 x 2 metre, 45

transformers, 72

switching tracks, more

than 130 metres of

Märklin track, 5 kilometres

of cables, 40 signals,

27 points and

overhead power cabling.

Functional models:

4 cranes, turntable,

locomotive shed, tram,

buses, 3 ride attractions,

a wind and a water

mill, a funicular railway,

and an illuminated

gondola cable car.

Info: www.modellbahnschau.de

■

During simulated night

operation, 900 miniature lamps

provide romantic light effects

49
---
PORTRAIT

An unbelievable setting

for a theme park: the

Coo Waterfall are a natural

spectacle and attraction

simultaneously

As in Germany, the parks in

Belgium are also blooming currently,

having a wide range of

products on offer for children

and toddlers. The Belgian TVstation

Studio 100 recognised

this trend early enough and

purchased a number of parks in

Belgium and Holland starting in

2000. The last park that was in family

ownership, Télécoo, joined

them in 2005, and after an intensive

renovation celebrated its

new opening as Plopsa Coo on

the 1 st July 2006.

Text & Photos: Olaf Esser

The uphill transport of the

Wiegand dry toboggan runs

backwards

Plopsa Coo

Located directly near the famous Coo Waterfall,

the park and the many available recreational

activities in the surroundings offer the possibility of

a short holiday in nature. Visitors can hike in the

neighbouring mountains, take a kayak tour on the

nearby river, or take a look at the old Formula 1

racetrack of Spa.

The price system is not typical for central

European theme parks, as entrance for every

visitor is basically free. Visitors may choose

between an All-in-One ticket that offers unlimited

use of all attractions, or a point card,

in which case each attraction calculates various

points that are deducted. This way, grandparents

can enjoy a nice day with their family, as the high

admittances prices at other theme parks very often

frighten them away, not using any or very few of the

attractions and rides.

The central meeting place is the area with dancing

water fountains, around which

the "Plopsa-Dorf" has been

erected. There are small shops,

gastronomy, and a small amusement

arcade here, which actually

cannot be missing in any

theme park. Small children are

catered to with a mini-dodgem

from Preston & Barbieri, which

was erected in the park in 2007.

A go-kart track was also opened

in 2007, which is a lot of fun for

both big and small, with petrol

operated karts and the richly

curved course. All good things

come in threes, and so 2007 also

saw the installation of a lovely,

traditional carousel. In the following

season the "De Vliegende Fietsen"

from type "Mega Bike"

from Zamperla and the large

"Labyrinth von Fred und Samson",

two kiddie stars from Studio

100 followed. The labyrinth is not

50
---
exactly small. Visitors walk long paths, some even

twice before finding a way out. The year was rounded

off with a classic Polyp by the name of "Octopus"

from the CAH/Holland firm.

The 600 metre long double toboggan run from Wiegand

is located directly at the entrance. The first

section of the toboggan course was already built in

1986, and in the following year, the second and

almost parallel course. One or the other riders are

most probably baffled as a tow lift carries guests up

the mountain backwards. Arriving at the top, participants

have to put their toboggan into the lane themselves

before the following fun race can start. The

park coaster with the less creative name "Coaster"

is almost unique. The attraction went into operation

in 1989 and carried the similarly unimaginative

name "Roller" until the year 2006. This is a Vekoma

"Custom MK 700" sold many times by the company.

The extremely nice ride travels through a lovely old

stock of trees. The construction is built directly on

the mountain as a real terrain coaster and travels

over the hills up and down, and there's even a little

expected airtime as well. The 24-seating train is a

lot of fun for the whole family. The attraction is comfortably

smooth, also with the added benefit of

agreeable safety restraints. A water ride also travels

though the forest and is a typical old construction

from Mack, on which the whole family travels in tree

stumps in the gullies. A pleasantly cool refreshing is

provided by both drops.

The steep chairlift offers a

wonderful view of the park and

surrounding area

The central water playground

is a paradise for kids

51
---
The Vekoma attraction offers

a ride through the country

The Go-Karts are very

popular here as well

Something particularly worth mentioning is the four

variously designed inflatables for the small park

visitors. And the mini-peddle boats offer children a

ride around the closed off area of a shallow lake. The

small ones are placed into boats by personnel and

when the kids have had enough of peddling are

bought back on land by the attendant. A classic

veteran car ride offers both older and smaller drivers

the opportunity to make their rounds through the

greenery.

The "Mega Mindy Flyer" from Funtime that was newly

erected this year is located directly in the centre

point of the park on the edge of the "Plopsa-Dorf".

With a height of 65 metres it is a real asset to the

park, and the design of a compass on the peak as

well as the choice of colour are very successful. Regardless

if viewing the tower from the front or from

the nearby mountain, it fits in well with the green,

mountainous surroundings. As a result, the view for

the ride guests is also great. The ride programme

has been well chosen, the ride travels upwards a

little at first before the chain ride begins to turn and

finally reach its highest point. Then it travels down

to halfway again and up a second time right to the

top. The opening was already planned for the 2007

season, but at that time construction approval was

not on hand, and so the opening was delayed until

the beginning of the 2010 season.

A wide view of the complete surroundings and the

park is also available on a journey on the chairlift that

travels from a platform in the park to the viewing platform

on the mountain on the opposite side. The

chairlift has been in operation since 1955 and allows

visitors the enjoyment of a terrific view on the way

back, of the constantly increasing number of

attractions at the park.

52
---
PORTRAIT

A safari for the whole family is also available. Passengers

travel comfortably in a train through a game

reserve. The journey lasts approximately 40 minutes,

and visitors can see fallow deer, wild pigs, wild

sheep, and wolves. During peak times, guests have

to take a lot of time for this attraction at Plopsa Coo,

as the capacity of the safari-train is not very high.

For those who don't have the time for the tour, the

small petting zoo at the back part of the park is

recommended.

The shows at the park have also been adapted for

children. Naturally the familiar "stars" from Belgian

children's television are also present. This park

proves once again that Plopsa, the theme park

section of Studio 100, has a knack for the redesign

of older theme parks. As is the case already at the

indoor-parks in Holland (for example Plopsa Indoor

at Hasselt – see KPR 02/2010), Plopsa aims at the

younger target group and combines funny attractions

with the popular characters from Belgian television.

At the also purchased Plopsaland De Panne, many

kiddie attractions have been perfectly complemented

by a number of thrill rides. Plopsa succeeds

well in holding on to the character of the older parks

and appearing only to rejuvenate them. Next year

Plopsa Coo will be opening another coaster; a new

Spinning Coaster is in planning.

■

New for the 2010 season is

the "Starflyer" from Funtime

The "Octopus" was built

by CAH/Holland

53
---
PREVIEW

A view from lofty

heights of the unbelievably

large indoor world shortly

before completion

In actual fact Ferrari World

should have already started its

soft-opening-phase on the 28 th of

October, but due to the passing

away of a Sheik from a friendly

Emirate, the gigantic indoor park

was abruptly closed again only a

few hours after the opening.

Text:

Frank Lanfer

Photos: Stefan Zwanzger,

Ferrari World

The "Shot' n Drop" Tower

from Huss Rides was the first

completed attraction

Ferrari World

originally planned, to have all the

attractions ready to ride, and until the

up to 50 metre high hall designed to

remind one of the classic Ferrari GT

with its flowing classic lines by the

It was first on the 4 th November 2010 that the gates British architect offices of Benroy, was ready for

opened once again, up to and including the 14 th occupancy. Viewed from above, the largest space

of November, as it's during

this time that the Formula-1-

Grandprix takes place on the

neighbouring racing track.

Ferrari World can open officially

on the 30 th November,

two days before the national

holiday of the United Arab

Emirates.

Strictly speaking, the indoor

park should have already

been open to the public on

the 1 st November 2009,

punctually to last year's Formula-1.

However, everything

took one year longer than

56
---
frame in the world that carries the 195,000 square

metre roof area, which was realized by the German

firms Mero and Interfalz, has more the form of a

large manta ray. Under this roof is an area of a good

eight hectares accommodating the largest indooramusement

park in the world. The theme design

was undertaken by park developer Jack Rouse

Associates, project management was accomplished

by the LeisureCert firm.

A row of attractions can be found under the gigantic

roof structure, for example the 570 metre long "Bell

'Italia" round course that can be conquered with a

scaled-down Ferrari 250 California Spyder. There's

also a carousel, in this case however with Ferrari

cars as mounts. The simulators named "Scuderia

Challenge" after the Formula-1-racing team, have

been especially erected for adult car fans, whilst

the "Junior Grand Prix" is a driving school for

Naturally the Ferraricolour

red prevails here

In comparison to the

racing experience world

ring°werk at Nürburgring with

similar contents that opened

last year (see KPR 10/2009), the

atmosphere here is palpable

57
---
Work continued on completion

right up to the end

The barely filled waiting

area and the station of

"Formula Rossa" (right)

children. "Speed of Magic" is a 4D-simulation

similar to the Universal "Spiderman"-attraction, and

the water canal of the twelve metre high water attraction

"V12" travels through the motor of a Ferrari

599. The 54 metre high Freefall Tower "G-Force"

from Huss is located in the centre of the building,

and had to be put into position before the completion

of the building by Ride Engineering and Management

Service (REMS), otherwise the attraction

could not have been installed. "We built up the complete

tower in only two days; the Sheiks were more

than impressed", said Francis Stokkel who is without

a doubt very proud of this achievement.

"A number of Darkrides suffer under a weakness in

detail and setting. They offer nothing new or

exciting and couldn't keep pace with Universal or

Disney", summed up Stefan Zwanzger critically. He

is on the other hand enthusiastic about the two

coasters that travel outside the building. "Fiorano

GT Challenge" is a Racing Coaster from Maurer

Söhne with two 1,050 metre tracks, so that both of

the 12-seat trains can undertake a neck-to-neck

race. After the kick start from null to 95 kilometres

per hour in only 2.9 seconds, there are three further

LSM-acceleration sections kept in readiness during

the 90 second ride.

58
---
PREVIEW

With a peak performance

of 240 kilometres per hour,

"Formula Rosso" from Intamin

is the fastest coaster in the

world

The Fastest Coaster in the World

"Formula Rossa" from Intamin is another Launch

Coaster. In this case the 16-seat trains catapult from

zero to a tremendous 240 kilometre per hour speed

in only four seconds. Although the train is slowed

down after the initial acceleration and the 52 metre

high hill, the passengers still lay in the curves at a

furious pace of the complete 2,000 metre long track

course.

Theme park expert Stefan Zwanzger is enthralled

with the fastest roller coaster in the world, on which

all riding guests must wear safety glasses: "The

'Formula Rossa' coaster from manufacturer

Intamin, is a mind-blowing rocket ride that makes

you forget everything else you had in mind prior to

the monster-acceleration launch. It's so mindblowing

that, on my first ride, the Arab girl seated

next to me couldn't help but clutch my arm, something

that would never happen on any other occasion!

'Formula Rossa' takes off so fast that cultural

conventions don't have time to keep up. What a

rush!"

The opening of the huge Ferrari World will be transformative

for Abu Dhabi. Finally a public place to

mix, mingle, queue and yell together in a city that

"Formula Rossa" immediately

before the kick start

(left) and the cooling down after

each race

59
---
The Racing-Coaster is

called "Fiorano GT Challenge"

The trains on the racing

coaster from Maurer Söhne

deliver an exciting race

currently solely consists of residential/office buildings",

said Mr. Zwanzger, going into raptures: "A

place to chat with someone at random who shares

the ride experience with you, a place to hang out

for all the non-working people in the city. A place

to leave the need for speed behind, for better road

discipline afterwards. A monumental catalyst for all

things missing in the city. That's the true achievement."

A Big Challenge for Management

Stefan Zwanzger, who followed the building of

Ferrari World on site, was also clearly and critically

aware of certain aspects: "If it ever manages to fill

up, which will be an immense back, brain, and soulbreaking

challenge for its operators given the combination

of its size (86,000 square metres), price (45

Euro per adult) and location (20 kilometres away

60
---
PREVIEW

The "Fiorano GT Challenge"

opponents run into the

final brakes

from Abu Dhabi city, which itself has just under 1

million pretty busy inhabitants), it would be the

first theme park in the Middle East that isn't empty."

And as a matter of fact the photo impressions from

the 4 th of November 2010 bear witness to a yawning

void and hardly occupied attractions. This

makes the purchase of a Premium Ticket with a fastpass

function and free refreshments, naturally alcohol-free,

in exclusive lounges for around 75 Euro,

A view of the station area

of the Duelling Coaster from

Maurer

hardly worthwhile. The investments – as is the case

all over the United Arab Emirates – are seen as

long-term. Claus Frimand, General Manager of

Ferrari World, said: "If you look at the Abu Dhabi

2030 plan, this is the first development that is really

catering to the tourist industry. You have a lot of

things to see in Abu Dhabi, but this is the first time

where you have a real attraction purposely built to

give people a good day out." Many tourists are expected

here, especially from Europe and Australia,

which Abu Dhabi wants to make a hip amusement

destination in the future. This all may seem a bit optimistic,

but it's all about prestige for the oil Sheiks.

And even if the tourist branch develops as is hoped

by 2030, Ferrari World will then be 20 years old. The

indoor park is a project from Aldar Properties and

will be operated by Farah Leisure Parks Management,

a joint venture between Aldar ProFun. The

complete area of Ferrari World is on 21 hectares

and is located on Yas-Island. The character of the

natural sand island is to be basically changed by

the year 2013 at a cost of around 40 billion Dollars:

in addition to six hotels, shopping malls and a golf

links, there are, among others, also a Warner Bros.

Movie World and a water park in planning. ■

61
---
PREVIEW

This is the way the

new Ferrari World greets all

its visitors when they enter

the building

A carousel for kids with

Ferrari cars

The "Bell' Italia" round

course leads through Italy's

landscape in miniature form

One of the many darkrides

62
---
The unusual indoor water

attraction by the name of "V12"

The park plan of the

complete indoor park

The "Spiderman"-similar

5D attraction

INFO

Stefan Zwanzger is "The

Theme Park Guy". The

31-year-old today, had

founded the online-marketing

portal affiliate.de earlier

and earned a small fortune

with it, after which he involved

himself in film production.

In 2005 he parted company

with his business, emigrated

from Germany to Abu Dhabi,

and since 2007 has dedicated

himself solely to his costly

passion: visiting all theme

parks in the world. More under:

www.thethemeparkguy.com

63
---
COASTER

The first drop already

offers high speed and

breathtaking airtime

In general, buying in bulk is a

good thing. One does it privately

for example in the supermarket

when making multiple purchases.

This also seems to be the

case in the amusement branch

when buying coasters. And

that's the reason that Cedar Fair

has erected three B&M-Hyper-

Coasters in three of its parks

during the last three years.

Text & Photos: Justin Garvanovic

The new Hyper Coaster

travels along a narrow L-formed

area between the park and the

parking area

Intimidator

Following the construction of "Behemoth" (KPR

1/2009) at Canada's Wonderland, and

"Diamondback" in 2009 (KPR 12/2009) at Kings

Island, 2010 was the point in time for the installation

of the 200 foot Hypercoaster at Carowinds. All

three coasters are very similar statistics wise, although

this year's "Intimidator" are not verifiable

and is only officially 60 centimetres higher as its

two older siblings through marketing. The trains of

this third attraction also have the same modern

design with staggered seating. So it appears that

the B&M-trademark – four seat wide trains – are a

thing of the past.

The former Paramount park Carowinds is

located exactly on the state border between

North and South Carolina, with its offices in

North Carolina, for taxation purposes. It is a

park that has for many years been somewhat

in the shadow of its venerable cousins, but it is

home to a varied selection of rides including

"Nighthawk" – the first Vekoma flying coaster, and

"Flight Deck" (earlier "Top Gun"), which is one of

the most underappreciated inverted coaster from

Bolliger & Mabillard.

The new "Intimidator" with an out-and-back

design, is a perfect solution to the problem of fitting

a ride of this type into the park. As is the case

at Canada's Wonderland, the coaster runs along

the perimeter of the park, in a space that couldn't

really have been used for anything else. "Wild

Thornberry's River Adventure" log flume however,

66
---
had to make way for the station and queuing area.

There is one major difference the ride has, compared

to the other two – it has a theme. "Intimidator"

has been named after Nascar driver Dale

Earnhardt, whose aggressive driving style earned

him this nickname. To this end, the front of the

coaster's train is themed to look like Earnhardt's

black 3 car. And the "Intimidator" is exactly what

the park needed, as the Nascar racing-series is

extremely popular here. One only has to observe

the ride guests alighting from the ride to see just

how big a hit the park has made with the "Intimidator".

The coaster starts with an almost 71 metre lift hill,

which rises high above the park. 64 metres deeper,

the train reaches a speed of around 120 kilometres

an hour, but not for long as shortly after it

begins to climb the first hill. Maybe this is what's

missing with Hyper Coasters, and not just those

from B&M – a consistent high speed. After building

a huge lift hill, and giving the train all that

energy, it spends most of its time going up and

down, and in turn, losing and gaining speed.

Although this produces airtime a number of times,

however particularly within the frame of the Nascar

theme, the track should have also been kept low

There are also a number of

curves on the otherwise rigorously

straight course

Due to the seating

configuration, the train is

unusually long for B&M

67
---
to the ground for some

time, with small, let's

say four metre hills, with

the track swerving left

and right around obstacles.

A short sequence

would have been enough

before heading

towards the hill again.

This section of track would also have been very

"viewer friendly," and with a "Coaster Café" would

also have been lucrative – as people like to watch

people riding coasters – assuming the riders

aren't 60m in the air.

Fortunately the Carowinds' "Intimidator" offers in

the following straight section with its many straight

up and down hills a number of variations in design.

After the first drop and the almost 90° curve in lofty

Breathtaking drops are

characteristic of Hypercoasters,

and so also on "Intimidator" at

Carowinds

68
---
heights it's time for the first parabolic hill, which

does exactly what it is designed to do – make

passengers feel as though gravity has forgotten

about them for a few seconds. This is followed by

a shallow climb up into the turnaround. Two more

gravity removing airtime hills follow in quick

succession before the standard block brakes,

through which the coaster is able to operate with

three trains simultaneosly.

Then the train

enters the energy

sapping final

element. On the

KIngs Islands'

ride "Diamondback",

it is just a

simple helix figure,

and on

Canada's Wonderland's

"Behemoth" a dropping spiral and helix.

"Intimidator" comes in between the two with an

inclined helix that dives down to where the park's

picnic groves are located – it's definitely a more interesting

way to shed some speed. After a final

drop the train is slowed down on the final inclined

brake run.

As previously reported both "Behemoth" and

"Diamondback" are very similar, and would be

familiar to anyone that has ridden other B&M

Hyper Coasters, such as "Silver Star" at Europa-

Park. But the number of visitors who acutally have

ridden one of the other coasters mentioned above,

are most probably few in number. For everyone else

"Intimidator" is truly a very unique coaster – "Diamondback"

is after all over 500 kilometres away,

and "Behemoth" nearly 1,000. Actually it is a shame

that the first class Carowinds park is unheeded by

many Europeans.

■

The last sequence, a huge

helix figure provides a successful

launch spurt

RIDE FACTS

■ Opening: 27 th March 2010

■ Track length: 1,638 m

■ Track height: 70.7 m

■ Height difference: 64,3 m

■ Max. speed: 120 km/h

■ Max. banking: 74°

■ Ride time: 2 min

(47 sec to 1 st drop)

■ 3 trains each with 8 cars,

per car 4 pass.

■ Capacity: 1.600 pph

■ Manufacturer: B&M,

Monthey, Switzerland

■ Operator: Carowinds,

Charlotte (NC), USA

69
---
COASTER

Sharp curves are

offered by the new coaster

at Kings Dominion

Everything that B&M's "Intimidator"

at Carowinds doesn't have,

is offered by Intamin's "Intimidator

305" at Kings Island: a

track course running to the greatest

extent near the ground with

many speedy directional changes,

which afford a very near

NASCAR-racing feeling.

Text & Photos:

Justin Garvanovic

Intimidator 305

Two breathtaking directional

changes (also known as

reverse swings) have been built

into the layout

The "Intimidator 305", or "I305" as it has increasingly

become known, is Kings Dominion's

latest coaster addition to what is already a very

enviable line-up at the Cedar-Fair-Park. Among

the park's thirteen other coasters, there are four

wooden coasters and three Catapult Coasters,

but none over the 200 foot mark. On the face of it,

it would seem that Kings Dominion would make an

ideal home for a B&M Hyper-Coaster, however

less than 200 kilometres away at Busch Gardens

Europe there is already one in existence in the

form of "Apollo's Chariot".

Intamin has for some time been in a position to

build a more cost effective coaster, as it has

recently developed a new track system that allows

for longer track spans, and hence reduces the

70
---
amount of expensive individual foundations needed.

This all leads to the reduction of the overall

costs, and makes a Giga Coaster at Kings Dominion

viable. The layout of the coaster is also very

interesting, and "I305" at first glance shows characteristics

of the Intamin Mega-Lite coasters that

have been erected at Djurs Sommerland and Tobu

Zoo, and at the Happy Valley parks in Shanghai

and Chengdu.

Cedar Fair has plenty of experience when it comes

to coasters with a magical height: with the "Magnum

XL-200" from Arrow, Cedar Point was the first

park to erect a coaster with a 20 foot height. Cedar

Fair, and in particular Cedar Point, has in addition

to B&M, had a long business relationship with

Intamin – six of the park's seventeen coasters

come from Intamin, including "Top Thrill Dragster"

and "Millennium Force". "Millennium Force" was

the first Giga Coaster, opening to huge acclaim in

2000. Per definition, a Hyper Coaster has a height

of at least 200 feet (61 metres), whilst a Giga

Coaster (Intamin's manufacturing name: Mega

Coaster) must at least have a height of 300 feet

(91.5 metres). From the last mentioned category

there have been up until now only six examples –

with "I305" there are now seven!

Although the new coaster

at Kings Dominion is 20 metres

higher as at Carowinds, when

compared it still has a slight

height profile

Consistent high speed

from beginning to end

71
---
The first and almost

vertical drop

"I305" has been erected in the

west side of the park, tucked behind

the "Anaconda" Arrow

Looper, and the PTC-wooden

coaster "Rebel Yell" on an area

that has not been in use until

now, so no other attraction had

to make way for it. The trains are

modelled on Dale Earnhardt's

black 3 car. Each train seats 32

passengers, with each seat using

the hard overhead restraint

that Intamin insists on using for

almost every coaster it builds,

guaranteeing a rather high capacity.

Why "I305" needs overhead

restraints is a bit of a mystery,

there are no inversions, and

72
---
the B&M "Intimidator" at Carowinds manages perfectly

with "just" a lap bar.

An Extremely Fast Lift

It takes around 15 seconds to haul the undoubtedly

heavy train to the top of the 93 metre (or 305

feet, hence the name) lift hill. It's an exhilarating

way to start. Speaking of the lift hill, to again keep

the foundation count down, the lift hill and first drop

have just two supports! It gives the ride a very

unique, and it must be said "odd" appearance.

On the one hand the lift peak is elegantly almost

free standing, on the other the very solid box structure

of the supports in this area and other track

sections look very massive and alien. A clever

gimmick during build up: because the lift hill was

not self-supporting during erection, a help-support

was used, after which it was removed and put

into its proper place.

The massive supports

appear somewhat awkward

One of the many curves

73
---
COASTER

There are very few

airtime hills when compared

to the "Intimidator" at Carowinds

Due to the consistently

high speed during the ride, the

wheels are cooled down after

each round

RIDE FACTS

■ Opening: 2 nd April 2010

■ Track length : 1,554 m

■ Track height: 93 m

■ Height difference: 91 m

■ Max. speed: 144 km/h

■ Max. banking: 85°

■ Ride time: 1 min 20 sec

(incl. 20 sec to 1 st drop)

■ 2 trains each with 8 cars,

per car 4 pass

■ Capacity: 1.350 pph

■ Manufacturer: Intamin,

Schaan, Liechtenstein

■ Operator: Kings Dominion,

Doswell (VA), USA

The first drop is taken at an impressive 85 degree,

dropping down into a huge low sweeping top

speed bend that stays just above the ground for

most of its way around, before rising up and

travelling under the lift hill with really spectacular

airtime.

Coming though there is a transition so sudden,

which is caused by space conditions. The hard

passage here however is definitely defused with

the use of upgraded and very soft overhead

restraints. After another long drawn out curve near

the ground, further directional changes, two spirited

reverse swings, and a number of impressive

airtime hills that lead the track to the brake run,

there is once again, another sharp twist.

Unexpected challenges that were exposed during

the time of the first rides made a few adjustments

necessary: in addition to the already mentioned

upgrade of the comfortable over-the-head restraints,

which make a lot of sense due to the large

section of track course travelling close to the

ground that results in high speed, the operator

and the manufacturer have both decided in favour

of temporary trim brakes on the first drop. The

reason for this is given in the official statement from

the park that some riders were almost passing out

because in the first huge curve near the ground

that is travelled through at a high speed, producing

long lasting positive G-forces. In order to be

able to return then to the original speed, this section

after the first drop will be worked over during

the winter break.

It must however be stated that Intamin has

constantly and once again shown

the courage to build a highly

dynamic steel construction such as

the "Intimidator 305". And when

new paths on the threshold are

reached then it can be, as in this

case, that conversions are necessary.

On the basis of the success

quota of Intamin, it can be safely

presumed that after modifications,

the "I305" will very soon be counted

as one of the best steel coasters in

the world.

■

74
---
Advertising deadline for the January issue

is Monday 6 December.

Date of publication: 20 December.
---
MAGAZINE

HOLIDAY PARK

Text: Miro Gronau

Photos: Gröna Lund

On the 3 rd November 2010

Steve van den Kerkhof and

Wolfgang Schneider sealed the

immediately effective takeover

contract of the park

It has been known for quite a while that Park

Manager Wolfgang Schneider was searching for

a buyer for his Holiday-Park, because there are no

family successors. However, there was a simultaneously

surprising coup when the completed deal

with the Belgian group Studio 100, also owner of

three Plopsa-Parks in Belgian and an indoor park

in the Netherlands, went through on the 3 rd of

November, 2010.

This still quite small company within the televisionproduction

group signalizes itself – in comparison

to the bigger representatives in the branch –

through its small but well themed entertainment objects,

so that with the immediate takeover of the

German Holiday Park, the hope begins to take root

that the park will soon be extended into a theme

park. As it is, with the exception of the "Pfälzer

Dorf", the "Holly's Kinderland", and the wonderful

flower arrangements, there is no real theme area.

Holiday Park, which is located in the middle of a

forest, is much more of a modern example of an

amusement park in the traditional showman context.

Erika and Erich Schneider had travelled initially

as show-persons with a cabaret and Lilliputian

group before purchasing a small fairytale park in

1970, which they then continuously extended from

the year 1971. In 1986, their son Wolfgang took over

management. Holiday Park advanced to being even

considered as a trailblazer in the European amusement

park scene as he simply erected things that

other parks initially agonized about: for example

Germany's first looping attraction (1979), Europe's

first Rapid Ride (1984), the first Intamin-Freefall in

Europe (1997) or even Germany's first large coaster

from steel (2001). In the past decade however,

there was silence with regard to new and spectacular

attractions.

This will however change as Steve van den Kerkhof,

General Manager of the Plopsa-Park-Group,

has announced an investment amount of some 25

million Euro for the next four years, with which Holiday

Park will be redesigned and also extended.

"Following the Belgian example, every Studio-100-

figure will have its own theme area", explained van

76
---
den Kerkhof. The production company Studio 100,

specialising in children's series, purchased the

German EM Entertainment GmbH in 2008, and with

that secured further comic series with cult status

such as Tabaluga, Wickie, Maya the Bee,

Heidi, Sinbad, Nils Holgersson and Pinocchio.

Original plans were in the long term to

establish new parks in Germany, however

with the takeover of the mature, 40 hectare

sized Holiday Park, it appears now that a

new direction has been chosen.

As far as how the concept for two to fourteen

year old children will fit to the large

attractions such as for example the spectacular

53 metre high coaster "Expedition

GeForce", or the 70 metre high Freefall Tower

remains to be seen. The dedicated 62

year old Park Manager Wolfgang Schneider

appears to be relieved at handing over of

the park into responsible hands: "I am quite

happy that I can pass on the park to a professional

organisation such as Plopsa. They

will surely do everything they can to let the

park grow further."

There is no unrestrained profit-maximising

private-equity-company standing behind

Studio 100, but a public company with its

majority shareholders being the company founder

Hans Bourton, and Gert Verhulst. They also appear

to be elated and explained: "We are very happy and

proud of our new family member."

■

MAGAZINE

Hans Bourlon (left) and

Gert Verhulst (seated) are the

founders and General Managers

of the Studio 100 group, which

also owns the Plopsa Parks

As is usual with an

owner-operated business, Wolfgang

Schneider was a "permanent

fixture" of Holiday Park:

here at the opening of the

"Sturmschiff" 1989 (left), and

during the cut of the first spade

for "Lighthouse Tower" in 2006

SIX FLAGS MAGIC MOUNTAIN

Who would have thought it? After the stricken

Six Flags Group had to economize somewhat

for two years, it's back at playing the amusement

game again. And the chase after the lucrative but

expensive prestige title "Coaster Capital of the

World" began immediately, which arch enemy

Cedar Point will apparently be denied in 2011 once

again.

Two new coasters are to be erected at the Californian

park Magic Mountain: a used kiddie coaster

from Vekoma that actually should have already

opened in 2010, and a new "Zac Spin" coaster

from Intamin (structurally identical to the 35 m

high and 250 m long attraction at Grönalund). With

that, the number has increased to 18! There's no

other park in the world that has more, not even

Cedar Point, which has already announced its 2011

novelty which is a huge chain ride, and not an 18 th

coaster.

And another surprise is ready at Magic Mountain

for 2011: the ride vehicle on one side of the twin

attraction, the 13 year old Reverse Freefall Coaster

"Superman: Escape" from Intamin will be reversed,

so that there will be two different ride experiences

possible in the future.

■

XX 77
---
PREVIEW

A calendar of events can be found here for the month of

Dezember in alphabetical order. Additional information about

individual events is listed below.

■

B■ Bautzen 26.11.-19.12.

■ Berlin-Mitte 22.11.-26.12.

■ Berlin-Mitte 22.11.-26.12.

■ Berlin-Reinickendorf 27.11.-22.12.

■ Berlin-Spandau 22.11.-30.12.

■ Brandenburg/Havel 27.11.-19.12.

S■ Sangerhausen 11.12.-16.12.

■ Stendal 16.12.-19.12.

■ Stralsund 26.11.-21.12.

C■ Chemnitz 26.11.-22.12.

■ Cottbus 26.11.-26.12.

W■ Weimar 25.11.-23.12.

■ GB Dundee 31.12.-02.01.

■ GB Edinburgh 17.12.-09.01.

■ GB Edinburgh 25.11.-03.01.

■ GB Edinburgh 28.12.-02.01.

■ GB Glasgow 24.12.-16.01.

■ GB Leeds, W.Yorks 31.12.-01.01.

■ GB Lincoln 02.12.-05.12.

■ GB London 03.12.-02.01.

■ GB London 19.11.-04.01.

■ GB Malton, Yorks 12.11.-04.12.

■ GB Manchester 09.11.-02.01.

■ GB Plymouth, Devon 12.11.-09.01.

■ IRL Dublin 26.12.-09.01.

■ NL Groningen 24.12.-29.12.

■ NL Maastricht 03.12.-02.01.

■ NL Utrecht 25.12.-30.12.

■ NL Valkenswaard 04.12.-02.01.

■ PL Breslau 26.11.-23.12.

13. NOVEMBER (SATURDAY)

F Angoulême

■ Luna Park until 05.12.

18. NOVEMBER (THURSDAY)

01139 Dresden-Kaditz/Mickten

■ Weihnachtsmarkt Elbepark

until 23.12.

GB Bournemouth, Dorset

■ Christmas Market until 02.01.

19. NOVEMBER (FRIDAY)

GB London

■ Hyde Park Winter Wonderland

until 04.01.

20. NOVEMBER (SATURDAY)

■ Werdau 11.12.-19.12.

■ Wismar 27.11.-19.12.

■ Wolfen-Nord 03.12.-05.12.

2. OCTOBER (SATURDAY)

B Liège=Luik=Lüttich

■ Foire d'Octobre until 14.11.

B Hasselt

■ Winterland until 09.01.

F Roubaix

■ Foire d'Hiver until 05.12.

D■ Dresden 22.11.-22.12.

■ Dresden-Kaditz/Mickten 18.11.-23.12.

E■ Eisenach 22.11.-19.12.

■ Erfurt 24.11.-22.12.

G■ Gera 25.11.-23.12.

■ Gotha 26.11.-23.12.

■ Greifswald 26.11.-21.12.

H■ Halle/Saale 22.11.-23.12.

■ Hamburg 05.11.-05.12.

■ Havelberg 02.12.-05.12.

■ Hessisch Lichtenau 03.12.-05.12.

J■ Jena 26.11.-22.12.

L■ Leipzig 23.11.-20.12.

■ Lemgo 02.12.-05.12.

M■ Magdeburg 22.11.-30.12.

Z■ Zwickau 26.11.-23.12.

International

■ B Hasselt 20.11.-09.01.

■ B Sint-Niklaas 04.12.-19.12.

■ CH Frauenfeld 04.12.-06.12.

■ F Alès 17.12.-17.01.

■ F Angoulême 13.11.-05.12.

■ F Annecy 27.11.-12.12.

■ F Béziers 18.12.-16.01.

■ F Brest-Penfeld 11.12.-09.01.

■ F Cannes 11.12.-16.01.

■ F Chateauroux 11.12.-02.01.

■ F Dieppe 27.11.-12.12.

■ F Dunkerque 18.12.-09.01.

■ F Grand-Combe, la 27.11.-12.12.

■ F Hyères 11.12.-09.01.

■ F Lens 18.12.-09.01.

■ F Lorient 11.12.-02.01.

■ F Lyon 11.12.-20.02.

■ F Lyon-Chassieu 04.12.-09.01.

■ F Nice 04.12.-09.01.

■ F Orléans 10.11.-16.01.

■ F Paris 17.12.-01.01.

■ F Reims 18.12.-16.01.

■ F Rennes 18.12.-02.01.

■ F Roubaix 20.11.-05.12.

■ F Saint-Etienne/Loire 18.12.-09.01.

■ F Sète 18.12.-16.01.

■ F Soissons 06.11.-28.12.

F Marseille-Capelette

■ Fête Foraine d'Octobre

until 14.11.

5. NOVEMBER (FRIDAY)

20359 Hamburg

■ Dom-Markt until 05.12.

Behörde für Wirtschaft u.Arbeit

Fünfer-Looping, Wellenflug, XXL, Breakdance,

Wilde Maus, Airwolf, Go-Kartbahn, Geistertempel,

Troika, Booster Maxxx, Geisterschloss,

Sky Dance, Action, Rotor, Rendezvous,

Dom-Dancer, Atlantis Rafting, Shaker,

Flash, Super-Hopser, Riesenrad, Geister...,

Willy der Wurm, U 3000, Tal der Könige, Apres-Ski-Party,

Remmi-Demmi, Happy Family,

Irrgarten, Adventure Shuttle

Participants: ca. 250

6. NOVEMBER (SATURDAY)

F Soissons

■ Foire de St. Martin

until 28.12.

9. NOVEMBER (TUESDAY)

GB Manchester

■ Christmas Fair

until 02.01.

10. NOVEMBER (WEDNESDAY)

F Orléans

■ Fête Foraine

until 16.01.

12. NOVEMBER (FRIDAY)

22. NOVEMBER (MONDAY)

01067 Dresden

■ Weihnachtsmarkt until 22.12.

06108 Halle/Saale

■ Advent-Weihnachtsmarkt

until 23.12.

10178 Berlin-Mitte

■ Wintertraum am Alexa until 26.12.

C.Blume/Hude

Riesenrad, Teststrecke, Star-Flyer, Wilde

Maus, Tower, Schlittenfahrt, Magic, Breakdance,

Turbo Force, Hollywood, Psychodelic,

Krumm & Schief Bau

10178 Berlin-Mitte

■ Weihnachtszeit vor dem Roten

Rathaus until 26.12.

Laubinger/Berlin

13591 Berlin-Spandau

■ Weihnachtstraum until 30.12.

Th.-H.Wollenschläger/Bötzow

Riesenrad

39104 Magdeburg

■ Weihnachtsmarkt until 30.12.

Geschlossen am 24. und 25. Dezember

Magdeb.Weihnachtsmärkte GmbH

Riesenrad

99817 Eisenach

■ Weihnachtsmarkt until 19.12.

Catering Company GmbH/Berlin

23. NOVEMBER (TUESDAY)

04177 Leipzig

■ Weihnachtsmarkt

until 20.12.

Riesenrad

■ Merseburg 02.12.-05.12.

P■ Plauen 25.11.-22.12.

■ Rostock 25.11.-22.12.

■ GB Bolton, Lancs 16.12.-25.12.

■ GB Bournemouth, Dorset 18.11.-02.01.

■ GB Bradford 16.12.-02.01.

■ GB Cardiff, S. Glam. 31.12.-01.01.

■ GB Coventry 26.12.-03.01.

■ GB Derby, Notts 10.12.-02.01.

GB Malton, Yorks

■ Hirings Fair until 04.12.

Only Fridays/Saturdays

GB Plymouth, Devon

■ Christmas Fair

until 09.01.

24. NOVEMBER (WEDNESDAY)

99084 Erfurt

■ Weihnachtsmarkt until 22.12.

City

Riesenrad

78
---
25. NOVEMBER (THURSDAY)

07545 Gera

■ Weihnachtsmarkt until 23.12.

City

08523 Plauen

■ Weihnachtsmarkt until 22.12.

18055 Rostock

■ Weihnachtsmarkt until 22.12.

Großmarkt Rostock GmbH

Speedy Gonzales, Around the World, Extrem,

Breakdance, Montgolfiere, Riesenrad, High

Explosive, Wellenflug, Frisbee, Psychodelic,

Lach+Freu-Haus

32657 Lemgo

■ Kläschenmarkt until 05.12.

City

Top Scan, Simulator, Kettenflieger

39539 Havelberg

■ Weihnachtsmarkt until 05.12.

GB Lincoln

■ Christmas Fair until 05.12.

3. DEZEMBER (FRIDAY)

GB London

■ Christmas Fair until 02.01.

99423 Weimar

■ Weihnachtsmarkt until 23.12.

NL Maastricht

■ Kerstmarkt until 02.01.

GB Edinburgh

■ Winter Festival until 03.01.

4. DECEMBER (SATURDAY)

26. NOVEMBER (FRIDAY)

B Sint-Niklaas=St.Nicolas

■ Winterkermis until 19.12.

02625 Bautzen

■ Weihnachtsmarkt until 19.12.

CH Frauenfeld

■ Clausmarkt until 06.12.

03046 Cottbus

■ Weihnachtsmarkt until 26.12.

F Lyon-Chassieu

■ Euro-Park-Loisirs until 09.01.

07703 Jena

■ Weihnachtsmarkt until 22.12.

JenaKultur/Volkshaus Märkte

Nostalgie-Riesenrad

08056 Zwickau

■ Weihnachtsmarkt until 23.12.

09111 Chemnitz

■ Weihnachtsmarkt until 22.12.

17489 Greifswald

■ Weihnachtsmarkt until 21.12.

Großmarkt Rostock GmbH

Schlittenfahrt

F Nice

■ Foire d'Hiver Attractive bis 09.01.

NL Valkenswaard

■ Kerstmarkt until 02.01.

10. DECEMBER (FRIDAY)

GB Derby, Notts

■ Christmas Fair until 02.01.

11. DECEMBER (SATURDAY)

17. DECEMBER (FRIDAY)

NL Groningen

■ Kerstplaza until 29.12.

18439 Stralsund

■ Weihnachtsmarkt until 21.12.

06526 Sangerhausen

■ Weihnachtsmarkt until 16.12.

F Alès

■ Fête d'Hiver until 17.01.

25. DECEMBER (SATURDAY)

99876 Gotha

■ Weihnachtsmarkt until 23.12.

08412 Werdau

■ Weihnachtsmarkt until 19.12.

F Paris

■ Fête Foraine until 01.01.

NL Utrecht

■ Kerstland until 30.12.

PL Breslau=Wroclaw

■ Weihnachtsmarkt until 23.12.

F Brest-Penfeld

■ American Lunapark until 09.01.

GB Edinburgh

■ Centre Carnival until 09.01.

26. DECEMBER (SUNDAY)

27. NOVEMBER (SATURDAY)

13405 Berlin-Reinickendorf

■ Alt-Tegeler Weihnachtsmarkt

until 22.12.

Catering Company GmbH/berlin

14770 Brandenburg/Havel

■ Weihnachtsmarkt until 19.12.

23952 Wismar

■ Weihnachtsmarkt until 19.12.

F Annecy

■ Foire Saint-André until 12.12.

F Dieppe

■ Fête Foraine until 12.12.

F Grand-Combe, la

■ Fête Foraine until 12.12.

2. DECEMBER (THURSDAY)

06217 Merseburg

■ Weihnachtsmarkt until 05.12.

City

F Cannes

■ Foire de Noël, Fête d'Hiver

until 16.01.

F Chateauroux

■ Fête Foraine until 02.01.

F Hyères

■ Magic World Fête de Noël

until 09.01.

F Lorient

■ Foire Hivernale until 02.01.

F Lyon

■ Luna Park until 20.02.

16. DECEMBER (THURSDAY)

39576 Stendal

■ Weihnachtsmarkt until 19.12.

GB Bolton, Lancs

■ Christmas Fair until 25.12.

GB Bradford

■ XMas Fun Fair

until 02.01.

18. DECEMBER (SATURDAY)

F Béziers

■ Fête de Noël until 16.01.

F Dunkerque=Duinkerken

■ Fête Foraine d'Hiver until 09.01.

F Lens

■ Foire aux Manèges until 09.01.

F Reims

■ Foire de Noël until 16.01.

F Rennes

■ Fête Foraine d'Hiver until 02.01.

F Saint-Etienne/Loire

■ Luna Park until 09.01.

F Sète

■ Foire de la Noëluntil 16.01.

24. DECEMBER (FRIDAY)

GB Glasgow

■ SECC Irn-Bru Carnival until 16.01.

GB Coventry

■ Christmas Funfair

until 03.01.

IRL Dublin

■ Funderland until 09.01.

28. DECEMBER (TUESDAY)

GB Edinburgh

■ Hogmanay Street Fair until 02.01.

31. DECEMBER (FRIDAY)

GB Dundee

■ Hogmanay Fair

until 02.01.

GB Leeds, W.Yorks

■ New Year's Fair

until 01.01.

No responsibility for accuracy!

79
---
❑

❑

❑

ABONNEMENT-AUFTRAG

Ich bestelle hiermit die nächsten 12 Ausgaben von KIRMES & PARK Revue ab Heft-Nr.

zum Abonnementpreis von 78,– € inkl. 7 % MWSt. und Versand (Deutschland)

Ich bestelle hiermit die nächsten 6 Ausgaben von KIRMES & PARK Revue ab Heft-Nr.

zum Abonnementpreis von 45,– € inkl. 7 % MWSt. und Versand (nur innerhalb Deutschlands)

Ich bestelle hiermit die nächsten 12 Ausgaben von KIRMES & PARK Revue ab Heft-Nr.

❑ Europa Normalpost zum Abonnementpreis von 99,– € inkl. Porto und Versand

❑ Europa Luftpost und Übersee zum Abonnementpreis von 111,– E inkl. Porto und Versand

Ich wünsche die angekreuzte Zahlungsweise:

❑ durch Bankeinzug. Die Einzugsermächtigung erlischt mit Kündigung des Abonnements.

Konto-Nr. Bankleitzahl Bank:

❑ gegen Rechnung. Bitte kein Geld einsenden, Rechnung abwarten.

❑ per Kreditkarte. Bitte ankreuzen: ❑ Visa ❑ Mastercard ❑ Diners Club ❑ American Express

Karten-Nr.:

gültig bis:

Das Abonnement verlängert sich jeweils um ein weiteres Jahr, wenn es nicht spätestens 6 Wochen vor Ablauf schriftlich gekündigt wurde.

Name

Straße

PLZ/Ort Datum Unterschrift

Bitte einsenden an: Gemi Verlags GmbH, Postfach, 85291 Reichertshausen

Diese Bestellung kann ich innerhalb von 10 Tagen schriftlich bei der Gemi Verlags GmbH, Postfach, 85291 Reichertshausen widerrufen.

Die Widerrufsfrist beginnt 3 Tage nach Datum des Poststempels meiner Bestellung. Zur Wahrung der Frist genügt das rechtzeitige Absenden.

Ort/Datum

✂

❑

❑

❑

Unterschrift

SUBSCRIPTION-ORDER

I order the next 12 editions of the KIRMES & PARK Revue in english from issue Nr.

at a subscription price of 90,– € incl. 7 % MWSt. and postage (Germany)

I order the next 6 editions of the KIRMES & PARK Revue in english from issue Nr.

at a subscription price of 51,– € incl. 7 % MWSt. and postage (Germany)

I order the next 12 editions of the KIRMES & PARK Revue in english from issue Nr.

❑ Europe normal post at a subscription price of 111,– € incl. postage and handling

❑ Europe airmail and other countries at a subscription price of 123,– € incl. postage and handling

❑ I will pay by credit card. ❑ Visa ❑ Mastercard ❑ Diners Club ❑ American Express

Card Nr.:

Expiry Date:

❑ I require an invoice.

The subscription is automatically extended a further year if a written cancellation is not received 6 weeks prior to the end of the subscription.

Name

Street

Postcode/City Date Signature

Please send to: Gemi Verlags GmbH, Postfach, 85291 Reichertshausen

This subscription order can be called in writing within 10 days by notifying Gemi Verlags GmbH, Postfach, 85291 Reichertshausen, Germany. The

time limit for cancellation begins 3 day after the date of posting my order. The time limit is ensured and proved by the timely posting of cancellation.

Date/City

Signature

80
---
Ihr Partner für das Schaustellergewerbe

D-34613 Ziegenhain

Kasseler Straße 44

Tel. 06691/3536

Fax: 0 66 91 / 59 97

mail@Dietz-Fahrzeugbau.de

www.Dietz-Fahrzeugbau.de

Rustikale Verkaufswagen bis 3,5 to

speziell nach Ihren Wünschen gefertigt

FOR SALE

Original Showman trousers

in all sizes, also for children, as

well as t-shirts, polo-shirts,

sweat shirts, caps, aprons, etc.

Tel: + 49(0)180/5040150

www.schaustellerbekleidung.de

Roundabout, Man. Reverchon

(Route 66), ready for

touring with special inspection,

price O.N.O. 200,000 Euro,

would take mobile home with

kiddie room or kiddie ride in

payment. Interested?

Tel:+49(0)8735/536 or

+49(0)177/6546223

Kirmes Attraktionen 7/09 20,-

Euro; Kirmes-Rides-Surpreme

10,- Euro, Kirmes-Rides- Europe/GB/NL/B.

12,- Euro, Kirmes-Europa

2 12,- Euro. Tel.

0043/2272/61935

Musik-Express, Mack, 2-pillar,

ready for touring, good

condition, takeover of longterm

bookings possible. Price

O.N.O. Contact Gemi Verlag

GmbH Code Nr. – K02-07/10

Workshop for figure and decoration

construction

www.fideba.de

Tel:+49(0)351/8470241

Kiddie Ride, built 2000, 8

seats, transportable by car,

4,900 Euro.

Tel:+49(0) 1520/6509678

Tower Zamperla, 1 trailer,

brand new, diameter: 17 m,

height: 30 m.

Tel. +33 (0)6 643 83 643

Boumerang (Giant Power

Maxx), Manufacturer: Mondial,

19 x 15 m, 3 trailers, height: 40

m. Jacquier

Tel. 0033/662/334675

3-Axle Scania 143, 500 HP,

built '89, with MK6 crane, built

'96. Andy Fackler,

Tel. 49 (0)177/9797510

4-Axle Roller 40T, 16 m, 1 m

high; 3-axle roller, 14 m, 1 m

high. Andy Fackler,

Tel. 49 (0)177/9797510

Front from 2-pillar Mack Musikexpress,

roof-tarp 5 years

old, blue, running lights (pillar

cover plexiform. Andy Fackler,

Tel.49 (0)177/9797510

Kiddie Train "Rio Grande"

good condition, with paybox

and trailer. 4,500,- Euro,

O.N.O. Tel. 49 (0)2527/247517

Market Trailer, 4 sides can be

opened, with front, new side

tarps, top condition. 2,500,-

Euro O.N.O, possible with merchandise:

cloths, bags, glasses.

Photo for those interested.

Tel. 49 (0) 178/7178932.

Lovely small Mack Mobile

Home cheap sale, 10.5 m

long, 1 bay, 2004 generally

overhauled, 30.000 Euro

O.N.O. Tel. 49 (0)178/8632703

Kiddie Chain Ride Völz, 6 x 9

m, chain seats 8 (12), 2 swans,

1 coach, 20 places, 5 years

old, in mint condition, new TÜV

+ Christmas guise.

Tel:+49 (0)178/6368916

PURCHASE

Cash buyer searching for cars

from ride type L'Autopede from

Belgium, please offer all you

have. Tel: + 31 653486142

BUSINESS CONTACTS

Transport Problems? We'll

solve them! National and International

Schausteller-Trans-

Service Ewert

Tel: + 49 (0) 171 5822722

www.kirmesparkrevue.de

•

BUDERO

THE TARPAULIN

FOR THE SHOWMAN

• • • • • •

•

• • • • • • • •

• • • • • • • • • • • •

All types of tarpaulins according to

your requirements, for large and small

ride, show, and walk-through operations

EMPLOYMENT

BUDERO B.V.

Vrijkenstraat 2

6088 PA Roggel NL

Ph. (0031) 475/492445

Fax (0031) 475/494390

www.budero.com

Require foreman for the 2011 season. Truck licence essential!

Contact 0043-664-1009907 or 0043-664-4000394.

www.schausteller-boehler.at

Transport 1 trailer

17 m diameter

30 m height

FOR SALE

Perfect condition

LED lighting

24 Seats

For information please call

+33 (0) 6 643 83 643

81
---
Wir suchen für unsere Kunden aus dem Ausland:

➔Riesenräder "Mondial"

oder "Nauta Bussink"

➔2-Säulen-Skooter "Adesko"

➔Wellenflug "Zierer"

➔Polyp III "Schwarzkopf"

➔Aluzelte aller Hersteller

Wir verkaufen fast alles .... auch diskret

und freuen uns über Ihr Angebot.

Ihre e Kasse K

klingelt

Wollen auch Sie, dass Ihr

und Ihr Geschäft zum Tagesgespräch wird, dann fordern Sie unseren Katalog

mit mechanisch beweglichen Reklamefiguren an. Selbstverständlich

sind wir auch in der Lage, SONDERANFERTIGUNGEN nach Ihren Wünschen

zu gestalten. Wir sind seit nunmehr 36 Jahren Ihr zuverlässiger Partner.

Besuchen Sie uns auch im Internet (mit Video).

Peter Stühler • Werbefiguren • Horst Baumann e.K.

Karl-Bröger-Str. 32 • 90765 Fürth • Tel. 0911 / 79 36 60 • Fax 79 38 29

E-Mail: info@peter-stuehler.de • Internet: www.peter-stuehler.de

Schaustellerwagen

www.woatt.com

email: jb@woatt.com

Fax 0621 533 901 065

Postadresse:

WOATT

World of Attractions

Friedrichsweg 63

67547 Worms

Auf der Schanze 24

33378 Rheda-Wiedenbrück

Tel.: 0 52 42 / 59 09-0

Fax: 0 52 42 / 59 09-59

www.weka-fahrzeugbau.de

Verkaufe Wohnmobil

TIFFIN PHAETON, EZ 2007, Motor Diesel, Automatik, 350 PS, 16.000 km

13 m lang, 4 Erker, neuwertig, luxuriöse Ausstattung, 1. Hd., zugelassen

und TÜV neu, Preis auf Anfrage. Tel. +49 (0)172 540 21 11

THOMSON SIMULATOR VENTURER MKIII

park model with many updated components

including software (films).

Also ideal as a travelling attraction.

Very interesting price.

NEU

NEU

Gambit Leisure GmbH • Lindenweg 11 • 28355 Bremen

Tel. 0421 257 55 33 • Fax 0421 257 55 35

Email: info@gambit-leisure.com

Nebelfluid

jetzt auch im

VERSAND

und wie bisher am LKW auf

allen großen und kleinen Plätzen

NEU

GÜNDRA, Worms

Tel./Fax 06241 / 333 90

NEU

www.kirmesparkrevue.de

US-Trailer

& Zubehör

ab Elkhart, Indiana

500 S. Zub.-Katalog, Schutzgeb.10,-€

TRV TRADING CORP.

In Deutschland:

Tel. 06195-960507, Fax 960512

www.trvtrading.com

Verkaufe attraktives

Torwandschießen

Bj. 2010, 7 x 4 m

schöne Bemalung, LED Licht

incl. Anhänger • VB 14.500 €

Tel. 0177 / 352 96 96

Lackiererei

0671/794 7420

Die Zugnummer für Feste, Märkte, Jubiläen

www.modellbahnschau.de

die einzige Modellbahn im Ausstellungswagen

Telefon 01 72 / 5 38 56 79

www.gemiverlag.de

Tel. 07191/ 34 0135

www.miba-electronic.de

Wet Protect Feuchtigkeitsschutz

Fax 07191/ 34 0136

Karussells der Spitzenklasse

R. VÖLZ

Industriestr. 3

44577 Castrop-Rauxel

Tel. 0 23 67/83 37

Fax 0 23 67/17 67

Nach wie vor liefern wir:

Schindeldächer,

Reetdächer, Mauerwerke

www.karussell-voelz.de

82
---
Rolf Auf dem Berge

Lawyer

Focal point: traffic law and claims for damages

Am Markt 14

49565 Bramsche

Telephone +49 (0) 54 61 / 30 30

Telefax +49 (0) 54 61 / 26 41

Mobile +49 (0) 1 72 / 301 9694

E-Mail: rae-auf-dem-berge@web.de

Schausteller-Versicherungen

Transport – Haftpflicht – Kfz

Altersvorsorge – Unfall – Kranken

Klaus Rübenstrunk

Hagener Straße 244 • 44229 Dortmund

Tel.: (02 31) 9 76 10 20 • Fax: (02 31) 9 76 10 21

Mobil: 0171 / 828 58 68

E-Mail: vb-ruebenstrunk@t-online.de

APPRAISAL-OFFICE

Gerd Römgens

Expert appraisal for the Showman Industry, Damages,

Conservation of Evidence, and Appraisal Reports

Tel. +49 (0) 171/ 264 89 29 and +49 (0) 2154/208308

Fax: +49 (0) 2154 / 20 83 13

Mail: sv-buero-roemgens@arcor.de

www.sv-roemgens.de u. www.roemgens.de

Gerd Römgens • Jupiterstr. 17 • 47877 Willich

Ihr Partner für das Schaustellergewerbe

D-34613 Ziegenhain

Kasseler Straße 44

Tel. 06691/3536

Fax: 0 66 91 / 59 97

mail@Dietz-Fahrzeugbau.de

www.Dietz-Fahrzeugbau.de

Moderne Verkaufswagen bis 3,5 to

speziell nach Ihren Wünschen gefertigt

www.kirmesparkrevue.de

YOUR MINI-AD WILL ALSO BE PRESENTED FREE OF CHARGE UNDER WWW.KIRMESPARKREVUE.DE!

Text

Basic

rate for

1-3 Lines:

8,- €

M

I

N

I

–

A

D

V

E

R

T

I

S

M

E

N

T

S

4 lines:

11,- €

5 lines::

14,- €

6 lines::

17,- €

7 lines::

20,- €

8 lines::

23,- €

9 lines::

26,- €

10 lines::

29,- €

PLEASE COMPLETE IN BLOCK LETTERS AND WITH SPACE BETWEEN WORDS!

❑ IN THE NEXT POSSIBLE EDITION

❑ IN EDITION NR./MONTH

Text price for 1x Edition €

❑ Please insert my advertisment under a code number (Cost 5,– €) €

❑ Specimen copy (5,50 € incl. postage & handling per edition) €

❑ The advertisment should appear for months (Multiply by total price) €

❑ 10 % discount for 12 months ❑ 5 % discount for 6 months €

❑ The total amount can be debited to my credit card, details below. TOTAL €

❑ Visa ❑ Matercard ❑ Diners Club ❑

Card-Nr.

Christian Name

Street

City/Date

Expirx date

Surname

Postcode/City/Country

Signature

www.gemiverlag.de

American Express

categories

(please mark with a cross)

❑ For Sale

❑ Purchase

❑ Job Market

❑ Business

Connections

❑ Deadlines

❑ Contacts

❑ Model Construction

FOR FORMAT ADVERTISMENT

please contact us on

Tel. 49 (0 ) 8441/40 22 13

Please send to:

Gemi Verlags GmbH

Postfach

85291 Reichertshausen

Please complete

without fail!

– Publication only by advanced payment or credit card. –

83
---
Service

KIRMES FOR SALE IN RAILWAY STATION BOOK SHOPS

✘ shows where ENGLISH VERSIONS are available

• 01069 Dresden, Wiener Platz 4

• 01097 Dresden-Neustadt, Schlesischer Platz 1

• 01109 Dresden, Wilhelmine-Reichard-Ring 1

• 02826 Görlitz, Bahnhofstraße 2

• 04109 Leipzig, Hbf, Willy-Brand-Platz 5

• 06112 Halle, Hbf, Bahnhofplatz 1

• 06844 Dessau, Fritz-Hesse-Str. 7

• 10117 Berlin-Friedrichstr., Georgenstr. 14-18

• 10178 Berlin, Alexanderplatz, Dircksenstraße

• 10243 Berlin, Am Ostbahnhof

• 10623 Berlin, Fernbahnhof Zoo

• 10829 Berlin-Südkreuz/West, Neumannstr.

• 12439 Berlin-Schöneweide, M.-Brückner-Str. 42

• 12521 Berlin, Flughafen-Schönefeld, Terminal D E G

• 12681 Berlin, Boxberger Str. 3-9 / Haus 3 / Halle 2 West

• 13405 Berlin, Flughafen Tegel, Haupthalle, Bon Voyage

• 18055 Rostock, Konrad-Adenauer- Platz

✘ 20099 Hamburg, Hbf., Glockengiesserwall

• 20354 Hamburg, Bahnhof Dammtor, Theodor-Heuss-Platz

• 21337 Lüneburg, Bahnhofstr.

✘ 22765 Hamburg, Paul-Nevermann-Platz

• 23558 Lübeck, Am Bahnhof

• 24114 Kiel, Sophienblatt 27-29

• 25337 Elmshorn, Otto-Hahn-Straße 15

• 25813 Husum, Poggenburgstraße 12

• 26122 Oldenburg, Hauptbahnhof

• 26125 Oldenburg, Wilhelmshavener Heerstr. 32

• 26382 Wilhelmshaven, Bahnhofsplatz 1

• 26789 Leer, Bahnhofsplatz

• 27472 Cuxhaven, Bahnhof Haus 1

• 27570 Bremerhaven, Friedrich-Ebert-Str. 73

• 27749 Delmenhorst, Wittekindstr. 10/ZOB

✘ 28195 Bremen, Bahnhofsplatz 15

• 28199 Bremen, im Flughafen, Flughafenallee 20

• 29221 Celle, Im Bahnhof, Bahnhofsplatz

• 29525 Uelzen, Am Bahnhof

• 30159 Hannover, Ernst-August-Platz 1

• 30669 Hannover, Flughafen, Terminal A

• 31582 Nienburg, Bahnhofstraße

• 32052 Herford, Bahnhofsplatz 1

✘ 32423 Minden, Bundesbahnhof 12

• 33102 Paderborn, Bahnhofstr. 29

• 33330 Gütersloh, Willy-Brandt-Platz-2

• 33602 Bielefeld, Hauptbahnhof

• 34117 Kassel, Bahnhofsplatz 1

• 34131 Kassel, Wilhelmshöher Allee 253

• 35037 Marburg, Bahnhofstr. 33

• 37073 Goettingen, Bahnhofsplatz 1

• 38102 Braunschweig, Berliner Platz 1

✘ 39104 Magdeburg, Bahnhofstr. 68

• 40210 Düsseldorf, Hauptbahnhof

• 41460 Neuss, Presse & Buch im Bhf., Theodor-Heuss-Platz

• 42103 Wuppertal, Döppersberg 37

• 42277 Wuppertal, Berliner Platz 15

• 42283 Wuppertal, Winklerstraße 2

• 42859 Remscheid, Bahnhofsplatz 12

• 44137 Dortmund, Koenigswall 15

• 44629 Herne, Konrad-Adenauer-Platz

• 44649 Herne, Heinz-Rühmann-Platz

• 44787 Bochum, Buddenbergplatz, Süd-Ausgang

✘ 45127 Essen, Hauptbahnhof

• 45468 Mülheim, Dieter-aus-dem-Siepen-Platz 3

• 45657 Recklinghausen, Große Pferdekamp Str.

• 45879 Gelsenkirchen, Im Bahnhof

• 46045 Oberhausen, Hauptbahnhof

• 46395 Bocholt, Hindenburg Str. 1

• 46446 Emmerich, im Bahnhof

• 46535 Dinslaken, im Bahnhof

• 47051 Duisburg, Mercatorstr. 17

• 48143 Münster, Berliner Platz

• 48431 Rheine, Hauptbahnhof 1

• 49074 Osnabrück, Im Bahnhof

• 49356 Diepholz, Am Bahnhof

• 50667 Köln, Bahnhof 1

50667 Köln, Trankgasse 11

• 50679 Köln-Deutz, Otto-Platz 7

• 52064 Aachen, Bahnhofsplatz 2a

• 52351 Düren, Hauptbahnhof

• 53111 Bonn, Am Hauptbahnhof

• 53173 Bonn-Bad Godesberg, Moltkestr. 43

• 53879 Euskirchen, Bahnhofstraße

• 54292 Trier, Bahnhofsplatz 1

• 55116 Mainz, Bahnhofsplatz 1

• 55543 Bad Kreuznach, Europaplatz

• 56068 Koblenz, Bahnhofsplatz 2

• 57072 Siegen, Am Bahnhof 16

• 58089 Hagen, Berliner Platz 3

• 58239 Schwerte, Bahnhofstraße 35

• 58452 Witten, Bergerstr. 35

• 58644 Iserlohn, Bahnhofsplatz 2

• 59065 Hamm, Willy-Brandt-Platz 1

• 59227 Ahlen, Bahnhofsplatz

✘ 59423 Unna, Bahnhofstr. 74

• 59494 Soest, Bahnhofstr. 2

✘ 60051 Frankfurt, Im Hauptbahnhof

• 60594 Frankfurt, Diesterwegplatz 51

• 61169 Friedberg, Hanauer Str. 44

• 63450 Hanau, Im Hauptbahnhof

• 63739 Aschaffenburg, Ludwigstr. 2, Hbf.

• 64293 Darmstadt, Platz der Deutschen Einheit

• 65190 Wiesbaden, Bahnhofsplatz 2

• 65428 Rüsselsheim, Im Hauptbahnhof

• 66111 Saarbrücken, Im Hauptbahnhof

• 66386 St. Ingbert, Neue Bahnhofstraße 4

• 66538 Neunkirchen, Bahnhofstraße

• 67434 Neustadt, Bahnhofsplatz 4

• 67547 Worms, Hauptbahnhof

• 67655 Kaiserslautern, Bahnhofstraße 1

✘ 68161 Mannheim, Bahnhofsplatz 17

✘ 69115 Heidelberg 1, Willy-Brandt-Platz 5

✘ 70173 Stuttgart, Arnulf-Klett-Platz 2

• 70174 Stuttgart-Mitte, Th.-Heuss-Passagen

• 70372 Stuttgart/Bad Cannstatt, Bahnhofstr. 30

• 71638 Ludwigsburg, Bahnhof 14-18

• 72072 Tübingen, Europaplatz 17

• 72764 Reutlingen, Bahnhofstr. 3

• 74321 Bietigheim, Bahnhofsplatz 1

• 75175 Pforzheim, Bahnhofsplatz

✘ 76137 Karlsruhe, Bahnhofsplatz 1

• 76227 Karlsruhe, Hauptbahnstraße 1

• 76646 Bruchsal, Bahnhofsplatz 12

• 79098 Freiburg, Bismarckallee 3

✘ 80335 München, Hauptbahnhof, Arnulfstr. 3

✘ 81667 München, Orleansplatz 10

• 86150 Augsburg, Viktoriastraße 1

• 86154 Augsburg, Ulmer Str. 53

• 87435 Kempten, Bahnhofplatz

• 87527 Sonthofen, Bahnhofstraße

• 87561 Oberstdorf, Bahnhofsplatz 1

• 87700 Memmingen, Bahnhofstr. 3

• 89073 Ulm, Hauptbahnhof

• 89312 Günzburg, Bahnhofsplatz 5

✘ 90411 Nürnberg, Flughafenstraße 100

✘ 90443 Nürnberg, Im Hauptbahnhof

• 91207 Lauf, Bahnhofsplatz 1

• 92224 Amberg, Kaiser-Ludwig-Ring 5

• 92637 Weiden, Bahnhofstr. 28

• 94032 Passau, Bahnhofsplatz 29

• 94315 Straubing, Bahnhofsplatz 13

• 95028 Hof, Bahnhofsplatz 12

• 95326 Kulmbach, Bahnhofsplatz 1

• 95444 Bayreuth, Bahnhofstr. 20

• 95615 Marktredwitz, Bahnhofsplatz 7

• 96052 Bamberg, Ludwigstraße 6

• 96450 Coburg, Lossaustr. 4

• 97070 Würzburg, Bahnhofsplatz 4

• 97424 Schweinfurt, Im Bahnhof

• 99084 Erfurt, Willy-Brandt-Platz 12

84
---
Suche zu kaufen:

KMG AFTERBURNER

Bonität vorhanden.

Angebote unter Chiffre K01-12/10

an die Gemi Verlags GmbH

Postfach, 85291 Reichertshausen

Zu verkaufen HAWAII SWING FOR SALE

reisefertig

TOP-Zustand

(Matterhorn)

Service

KIRMES SALES POINTS ON THE FAIRGROUND

In Dezember the

is available at the following:

• Hamburg Winterdom (05. 11. bis 05. 12.) bei "Happy Family"

• Rheda Kirmes (12. 11. bis 15. 11.) bei "Montgolfiere"

• Rostock Weihnachtsmarkt (25. 11. bis 22. 12.) bei "Montgolfiere"

info@eckl-entertainment.de • www.eckl-entertainment.de

Tel. +49.163.850 45 88 oder +49.163.895 11 10

Fax: +49.89.519 972 36

Firma D.ART

Ihr Spezialist für Polyesterarbeiten,

Airbrushbemalung und Fahrzeugbau

Wir fertigen für Sie Polyesterfiguren,

Gondeln, Fassaden,

Schindeldächer, Mauerwerke usw.

Meisterhafte Airbrushbemalung in 1A-Qualität!

Fahrzeugbau, Verkaufshütten, Weihnachtshütten,

Chipkassen, Imbissgeschäfte und vieles mehr.

Sprechen Sie uns an!

D.ART • Dariusz Zalewski • PL-44-295 Lyski, ul Leśna 5

Beratung: Darius Zalewski • Tel. 0048 / 694 / 189 486

Mobil (D): 0174 / 733 55 37 • E-Mail: darius_65@o2.pl

85
---
✸

Aichacher Christkindlmarkt 2010

26.11.2010 - 23.12.2010

Täglich geöffnet von • 17-20 Uhr, Sa. und So. • 13-20 Uhr

✸

✸

✸

Große Weihnachtstombola des Rotary-Clubs

Schrobenhausen-Aichach. Hauptpreis: Mercedes Benz A Klasse

"Christmas Rock" am 11.12.10-Christkindlmarkt geöffnet bis 21 Uhr

Tägliche Öffnung des Rathausadventskalenders um 17.30 Uhr

durch den Nikolaus.

Die Fenster wurden von den Aichacher Schulen gestaltet.

Genießen Sie das einmalige Flair

eines familiären Christkindlmarktes am historischen Stadtplatz.

Auskünfte: Stadt Aichach Stadtplatz 48, 86551 Aichach,

Tel. 08251-902-24, Fax: 08251-902-71 Internet: www.aichach.de

E-Mail: rathaus@aichach.de

www.Favatella-Werkzeuge-Wuppertal.de

Atriathermika Thermoisolationsfarbe • Energiesparfarbe

Generalvertretung Deutschland

Hierfür suche ich noch freie Handelsvertreter

Ich führe mehr als 1.000 Artikel aus dem Bereich Handwerkszeug, vom Hammer

über Schraubendreher, Zangen, Schlösser, Knarrenkästen, Bits-Bohrer, Pinsel usw.

Für Selbstabholer ist mein Lager in der Leipziger Str. 67, 42109 Wuppertal,

Tel. 0202/750051, Fax 0202/750666, E-Mail: info@Favatella-Tools.de

Von Montag bis Freitag jeweils 9.00-17.00 Uhr geöffnet, andere Zeiten sind nach

telefonischer Rücksprache möglich. Auch hier gilt Mindestauftragswert 100,- €.

Komplette Preislisten kann man aus dem Internet herunterladen oder anfordern bei

Rosolino Favatella • Leipziger Str. 67 • 42109 Wuppertal

Tel. 02 02 / 75 00 51 • Fax 02 02 / 75 06 66

86
---
Who wants to be a Millionaire?

(Günther Jauch)

Slumdog Millionaire the cinema hit.

At long last for the fairgrounds. The big hit (fairground proven)

FULLY AUTOMATIC/COMPUTER CONTROLLED

Completely built onto a 9 m trailer, super version, fast build up and dismantling times.

> > > > > > > > > > FOR SALE < < < < < < < < < <

Have we awoken your interest? Dont't delay...telephone us!!!

Tel. 0041 78 716 67 36

Volksfeste 2011 in Dresden

des Dresdner Schaustellerverbandes e.V.

09.04.2011 - 25.04.2011....... FRÜHLINGSFEST

in Dresden an der Marienbrücke / Pieschener Allee

09.07.2011 - 24.07.2011....... VOGELWIESE

in Dresden an der Marienbrücke / Pieschener Allee

15.10.2011 - 31.10.2011....... HERBSTFEST

in Dresden an der Marienbrücke / Pieschener Allee

BEWERBUNGSSCHLUSS FÜR ALLE FESTE: 31.12.2010

GESUCHT WERDEN ATTRAKTIVE SCHAU-, SPIEL-, VERKAUFS- UND FAHRGESCHÄFTE ALLER ART.

Die Bewerbung mit den üblichen Unterlagen – für jede Veranstaltung gesondert – muss enthalten:

■ Aktuelle Anschrift des Bewerbers einschl. Telefon- und ggf. Handynummer

■ Art und Beschreibung des Geschäftes bzw. des Warenangebotes, einschl. aktuellem Lichtbild

■ Größe des Geschäftes mit Angabe der Frontmeter, Tiefe und Höhe (ggf. Grundrißskizze beifügen)

■ Anschlusswert in kW für Licht- und Kraftstrom

■ Anzahl und Größe der mitgeführten Wohn- und Packwagen, sowie aller PKWs und Zugmaschinen.

Unvollständige und verspätete Bewerbungen können von der Berücksichtigung ausgeschlossen werden. Die Bewerbung

begründet keinen Rechtsanspruch auf Zulassung oder auf einen bestimmten Platz. Die Zulassungsbescheide

werden bis 31.01.2011 zugestellt. Firmen, die bis zu diesem Zeitpunkt keinen Bescheid erhalten haben,

können leider nicht berücksichtigt werden. Ein gesonderter Bescheid erfolgt nicht.

Bewerbungen an den Dresdner Schaustellerverband e.V.

Postfach 29 01 55 • 01147 Dresden

87
---
Der nächste Winter kommt bestimmt!

Decken Sie sich rechtzeitig mit unseren neuen Winter-Artikeln ein:

z. B. gefütterte Fleecejacke Milano mit Kapuze

oder Yorker ohne Kapuze oder Plüschjacke Barry

große Auswahl an Tüchern (z. B. Dreiecktücher, Pali-Tücher) • Schals

Mützen (mit und ohne Schirm, Bommelmützen) • Handschuhe

Wie immer haben wir natürlich auch unsere Qualitäts-Hosenträger in großer

Auswahl am Lager sowie Länderfahnen, Gürtel und bedruckte T-Shirts.

Im Einkauf liegt der Segen

Schmuckpaket für Einsteiger . . . . . . . . . . . . . . . . . . . . . . . . € 125,00

Nickitücher 50 x 50 . . . . . . . . . . . . . . . . . . . . . . . . . . . . . . . € 0,50

Armbänder und Fußketten vergoldet und versilbert . . . . . . € 0,50

Anhänger an Kette vergoldet und versilbert . . . . . . . . . . . . € 0,50

Echte Seeopalketten . . . . . . . . . . . . . . . . . . . . . . . . . . . . . . € 0,75

Singender Fußball . . . . . . . . . . . . . . . . . . . . . . . . . . . . . . . . € 0,95

100 ml Parfum, 30 Sorten . . . . . . . . . . . . . . . . . . . . . . . . . . . € 1,95

Herrliche Holzketten . . . . . . . . . . . . . . . . . . . . . . . . . . . . . . € 0,75

Lederketten

mit Kreuzen, Peacezeichen, Adler usw., 50 Sorten . . . . . . . . € 0,50

Ärmelhalter, gold, silber, schwarz . . . . . . . . . . . . . . . . . . . . . € 0,50

Haarreifen, 100 verschiedene Modelle . . . . . . . . . . . . . . . . . € 0,50

Scundies, Haarbänder, Samt, alle Farben . . . . . . . . . . . . . . € 0,50

Weitere 1.000 Artikel am Lager.

B. Gendera • Mode-Neuheiten

Rheinbabenstr. 5 • 46483 Wesel • Tel. 02 81/2 79 84 • Fax: 02 81/2 20 65

www.gendera.de • E-Mail: info@gendera.de

Mülheimer

Gottestracht 2011

576jähriges Schützenfest & Volksfest

vom 23. bis 26. Juni

Für diese weit über die Grenzen Kölns bekannte Veranstaltung

werden Fahrgeschäfte jeder Größenordnung, Randgeschäfte

und interessante Schaustellerbetriebe gesucht.

Festplatz Köln-Mülheim

unter der Mülheimer Rheinbrücke

Bewerbungen an:

St. Seb. Schützenbruderschaft Mülheim am Rhein

Von-Ketteler-Str. 85 • 51061 Köln

Werner Weinkoth • Tel. 0175/22 31228

E-Mail: werner.30@online.de

Dieter Osselmann

VOLKSFESTTERMINE 2011!

Die Velberter Innenstadt-Kirmessen in diesem Jahr

MAIKIRMES VELBERT

vom 20.05. bis 23.05.2011

HERBSTKIRMES VELBERT vom 30.09. bis 03.10.2011

Bayern-Woche und verkaufsoffener Sonntag

Wülfrather Anger-Innenstadtkirmes und Schützenfest

vom 09.09. bis 12.09.2011

Zu diesen Veranstaltungen werden Geschäfte aller Art gesucht.

Die Bewerbungen sind getrennt mit Lichtbild, Rückporto,

genauen Maßen sowie Stromanschlusswerten einzureichen an:

Dieter Osselmann • Teichstraße 12 • 40822 Mettmann

Tel.02104/72189 • Mobil 0178/1843461

Absagen werden nicht erteilt.

BREISACH

Weinfest Kaiserstuhl-Tuniberg

vom 26.08. bis 29.08.2011

Bewerbungen von Geschäften aller Art sind bis 31. Dez. 2010

zu richten an: Jürgen Hahn • Schaustellerbetriebe

Im Unteren Angel 54 • 77652 Offenburg

Zulassungen ergehen durch schriftliche Verträge bis 15.01.2011.

Bewerbungen, die bis zu diesem Zeitpunkt keine Verträge erhalten haben, gelten als abgesagt.

Verkaufe neuwertige Schienen

für Falgas Eisenbahnzug

(große Spur) 54 Meter Länge.

Holzschwellen, Baujahr 2006,

gerade Schiene 3 m, Kurve 2,20 m.

Preis pro Meter 38,- €

Telefon 0172-8464398

Kleiner, gepflegter, gut eingeführter

FAMILIENFREIZEITPARK

in zentraler Lage, aus familiären Gründen sofort zu verkaufen.

Ratenzahlung möglich. Angebote unter Chiffre-Nr. K01-12/09 an

die Gemi Verlags GmbH, Postfach, 85291 Reichertshausen.

88
---
275,-€

349,-€ 30,-€

89
---
GAUTSCH 2011

Auf geht´s zur Gautsch nach Königsbrunn

Volksfest vom 24. Juni – 03. Juli 2011

Bewerbungen von Fahr-, Schau- und Belustigungsgeschäften erbeten

bis 10. Januar 2011 an die

Stadt Königsbrunn, Fachbereich 2, Marktplatz 7, 86343 Königsbrunn.

Den Bewerbungen sind neben den normalen Angaben auch detaillierte

Angaben über Fahr- bzw. Eintrittspreise bzw. Abgabepreise für Speisen,

Getränke, Süßwaren – auch für den Kinder-/Familientag – etc. beizulegen.

Der Zulassungsentscheidung werden u.a. diese Angaben zugrunde gelegt.

bundesweiter

Versand

…keiner steht schneller!

02 28

46 69 89

Fax 461564

53227 Bonn (Beuel) Röhfeldstr. 27

BAB 59 - Abf. Pützchen

•

BUDERO

TARPAULINS

• • • • • •

Contact person also for Germany

D. Hinzen

Tel. (0031) 6 531450 03

•

• • • • • • • •

90• • • • • • • • • •

Bitte liefern Sie Anzeigen per E-mail

als pdf oder jpg mit mindestens 300 dpi Auflösung an

anzeigen@gemiverlag.de

Anzeigenschluss für das Januarheft

ist Montag 6. Dezember
---
Fairground Events 2011

in the city of Sittard-Geleen (Netherlands)

We are searching for attractive showman attractions of all types for the following events:

GELAENDER-

KIRMES

Gross-Kirmes Geleen

17 th , 18 th , 19 th , 20 th , 21 st , 22 nd June

SITTARD

OKTOBERFEST

Gross-Kirmes Sittard

21 st , 22 nd , 23 rd , 24 th , 25 th , 26 th Oct.

The grounds (Grosskirmes Geleen) will basically

have the same number of operations as in 2010

(around 100 attractions in 2010), but there is

however a possibility of extension or changes to

the Geleen centre.

The Oktoberfest (Grosskirmes Sittard) will

basically have the same number of operations

as in 2010 (around 80 attractions in 2010), but

there is however a possibility of extension or

changes to the Geleen centre.

The last day of both events will be deemed as Family Days with reduced ride prices and price

allowances. The ride prices for amusement attractions are limited in the city of Sittard-Geleen.

The city of Sittard-Geleen has made an amount of € 50,000 available for advertising purposes.

Additional costs for participants in the fairground events 2011:

Surveillance of the grounds € 150,- / Service costs for mobilehome/caravan vacility € 200,-

The costs for electricity and connections will be calculated separately.

Please apply by way of the standard forms

available from the city of Sittard-Geleen. These

forms as well as our general terms and conditions

can be requested at the city events office.

Tel 0031 46 4778718 or 0031654 790137

Please send your application to:

Stadt Sittard-Geleen, Abt.Veranstaltungen

Postfach 350, 6130 AJ Sittard – Niederlande

Applicants will receive information about their

approval at the end of December or the beginning

of January at the latest.