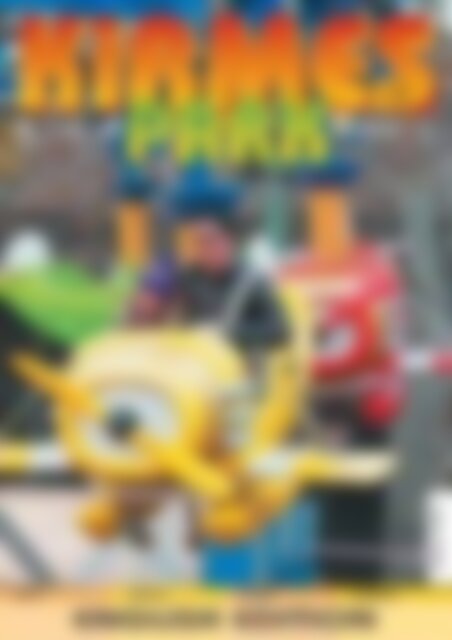 KIRMES & Park REVUE (English) Special Salzburg Dult (Vorschau)
You also want an ePaper? Increase the reach of your titles
YUMPU automatically turns print PDFs into web optimized ePapers that Google loves.
N o 162

1/2011

&

€ 8,50

£ 5,90

Revue

Gebühr

bezahlt

B 14432

VDZ No 77467

IAAPA

AVIATOR

ESPAÑA

SALZBURG

ENGLISH EDITION
---
&

Revue

INDEX

ISSN 1436-6525

appears 12 x per year

■ Gemi Verlags GmbH

Pfaffenhofener Straße 3

85293 Reichertshausen

Tel.: +49 (0) 84 41/40 22-0

Fax: +49 (0) 84 41/718 46

info@gemiverlag.de

www.kirmesparkrevue.de

■ Managing Directors

Gerd Reddersen

Rudolf Neumeier

■ Chief Editor

Karl Ruisinger

■ International Representative

Translation, Advertisements

Agi Reddersen

Tel.: +49 (0 ) 84 41/8 10 57

Fax: +49 (0 ) 84 41/8 61 05

www.ag-advertising.de

Kirmes.A@t-online.de

■ Editorial Manager "Kirmes"

Ralf Schmitt

■ Editorial Manager "Park"

Frank Lanfer

■ Editorial Office East Germany

Rolf Orschel

Tel.: +49 (0) 170/492 7557

■ Representative Great Britain

Michele Emmett

Tel.: +44(0)7811 915118

michele.emmett@googlemail.com

■ Editorial Assistant

Heike Genz

■ Calendar of Events

Richard Veldhuis

■ Production

Westner Medien GmbH

■ Printing

Kössinger AG Schierling

■ Advertisements

GEMI Verlags GmbH

■ Sales and Marketing

Gerd Reddersen

■ Subscriptions

DataM-Services GmbH

Postfach 91 61

97091 Würzburg

Tel. +49 (0) 931/4170-178

(Mo-Do 8-17, Fr 8-15)

Fax +49 (0) 931/4170-179

services-abo@verlagsunion.de

■ Cover

Norman Vogt

Applies to advertisement price list 1/07

from 01.01.2007

All rights reserved. No part of this magazine

may be duplicated or published without written

permission from the publisher. This prohibition

also pertains to the commercial duplication

by copying, input into an electronic

database, and duplication onto a CD-ROM.

Certified active member of the

JANUARY 2011

KALEIDOSCOPE

Facts – Observations – Short Portraits. . . . . 4

NEW PRODUCTS

Aviator . . . . . . . . . . . . . . . 6

PREMIERE

España . . . . . . . . . . . . . . . 8

SPECIAL

Salzburg Dult . . . . . . . . . . . . . . . . . . . . . . . . 14

LOGISTICS

Showmen's Transport Vehicles . . . . . . 22

NOSTALGIA

Historic Wiesn. . . . . . . . . . . . 24

OLDIE

The Golden 50's . . . . . . . . . . . 30

A LOOK BACK

Reports about Specially Selected Events. . . 34

MODEL CONSTRUCTION

Kirmes-Highlights en miniature . . . . . . . . . . . . . . . . . . 46

EXHIBITION

IAAPA Expo . . . . . . . . . . . . 50

INTERVIEW

Personality IAAPA Europe. . . . . . . . 68

MAGAZINE

Current News from the Park-Scene. . . . . 70

3
---
KALEIDOSCOPE

THEME "HALLOWEEN"

BOOK

Text & Photos:

Ton Koppei

Text & Photo: Michael H. Faber

The Leipzig Kleinmessen

events, which

have been held since

1907, rank among the

oldest German Volksfest

events. Even in the 19 th

century, the Leipzig

Trade Fairs were characterised

by an ever increasing

number of fairground

attractions.

Gabriele Klunkert's now

published dissertation

The Halloween festival famously

celebrated in the USA

has also become increasingly

popular in Europe over the

past years – and is now also

a frequent theme on the fairgrounds.

The showmen at the fair held in

the Belgian city of Liège last

Autumn seized upon Halloween

as a welcome occasion

to entice visitors with specially decorated attractions

and special initiatives. Almost all attractions

featured Halloween decorative elements,

such as spiders, ghosts, broomsticks

and pumpkins. On the main day (November 2 nd )

wizards and magicians strolled across the fairground,

and little presents were distributed to

the youngest visitors. The creepy Halloween setting

was further enhanced by the fantastic location

of the Liège fair, where the showman operations

are built up in close proximity to each other

beneath the many trees along the 1.5 kilometre

Boulevard d'Avroy. Thanks to these special

Halloween events, the six-week event was well

attended right up until its closing day. ■

"Exhibitions and Public

Entertainment at the

Leipzig Messen in the 19 th

century – a survey of economic

and social history",

is the first systematic

record of almost all the exhibitions

held at a fair town

for the entire 19 th century.

For this dissertation, the

author analysed files covering

some 8,300 individual

fairground concessions,

coming across many

showman name. The book

is published by the Cuvillier

Verlag, 576 pages, with

images and a showman

data file on CD-R: ISBN:

978-3-86955-384-9, 57.90

Euro.

■

INAPPOPRIATE

Text & Photo:

Norman Vogt

During a visit to the fair in

Stiring Wendel / France

(20 kilometers from Germany)

we discovered a

Hook-A-Duck where the

"first prize" was living fish,

which eked out a living in a

small plastic aquarium just

half the size of a shoe box,

with no regard to prevailing

temperatures. The aquarium

is "enhanced" by a little

plastic palm tree, which is

apparently meant to create

a "nice view" for these poor

creatures to enjoy. This was thought absolutely

inappropriate, even by visitors to the fair in Stiring-Wendel,

who stood in front of the little container

shaking their heads, feeling pity for the unfortunate

little creatures. In this case, the first

prize is a guaranteed 'dud'!

■

4
---
AVIATOR

KALEIDOSCOPE

WURSTMARKT

Text & Photo:

Norman Vogt

Text & Photos:

Ton Koppei

Since the season of 2010, the showman family

Löffelhardt has operated its "Aviator". The

family ride built by the Fähtz firm has thereby

adopted a very successful theme, and is now

presented in its third design. Originally, the attraction

went into operation many years ago as

the "Hollywood Star", and was last operated by

Schaak under the name of "Stardust". ■

For the last Dürkheim

Wurstmarkt, Anja

Ruppert-Keller came

up with a clever feature:

a ride vehicle from her

Dietz ride was converted

into the "Wurstmarkt

car". The beautiful Mercedes

convertible was

equipped with the typical

symbols of the largest

wine festival in the

world, such as the characteristic

"Dubbeglas"

glass, the Ferris Wheel,

the names or logos of

the wine producers,

and the origin of the

wines or grapes. ■

WE ARE SEEKING THE DELIVERY OF GOOD USED

CONSTRUCTIONS FROM THE FOLLOWING MANUFACTURERS

BY THE END OF THE 2010 SEASON:

KMG – HUSS – ZIERER – MACK – SCHWARZKOPF – NAUTA

We have been requested by a number of our worldwide customers to procure ride constructions

from these above mentioned manufacturers. This may well be an opportunity for you to sell

attractions that you no longer require.

Please only offer ride constructions that have flawless record books and a free-of-fault TÜV

certificate.

Please forward applicable documents with latest photos and a realistic asking price direct

to FAB sarl.

Your partner in the amusement

industry for over 28 years.

FAB sàrl FREIZEIT-ANLAGEN-BAU

25 A Boulevard Royal

P.O. Box 819

L-2018 Luxembourg

Tel: + 352 47 10 83

Fax: + 352 22 41 89

Email: sales@fab.lu

Website: www.fab.lu

5
---
NEW PRODUCTS

Zena Roberto's

"Aviator"

Zena Roberto's "Aviator" is

the only "Baby Aviator" example

still touring throughout

Italy. This unusual track

ride was built by Technical

Park, who also manufactured

a number of stationary park

versions of this ride type.

Text & Photos:

Norman Vogt

Aviator

Leonardo DiCaprio and Cate Blanchette, which

was a huge success in the box office in 2004,

and presented the life of pioneer aviator Howard

Hughes (1905 to 1976).

Zena Roberto

The five aeroplanes, fixed to

a guide track on their undercarriages,

accommodate a

total of 20 people (4 people per

plane). The "Aviator" ride is

suitable for both children and

adults. To start off, the complete

aeroplane group is taken

up to the highest point of the

track, before the ride speedily

drops down. On the curves, the

aeroplanes swing outwards

providing a lot of fun to the passengers.

The gondola train is

powered by several motors, located

between the individual

gondolas.

The train travels around the

track a couple of times before

returning to the station platform

- and terra firma. The design of

the ride by the Turin showman

Zena Roberto is based on the

"Aviator" movie, starring

6
---
NEW PRODUCTS

The ride from

different perspectives

Transport requires

two centre

trailers, one of

which is also

used as the station,

while the

paybox is loaded

on a separate

trailer. The "Aviator"

has ground

measurements of 20 x 18 metres, and is 7

metres high. Zena Roberto's "Aviator" is

mainly presented at Lunaparks in the north

of Italy, its tour schedule includes, among

other venues, Arona, Pavia, Andorra, Novi

Ligure, Vigevano, Legnano, Savona and

Turin.

■

7
---
PREMIÈRE

The huge Funhouse

"España" from Valeriano

Diana

A new Walkthrough construction

has turned out to be

the hit on the fairgrounds in

Northern Italy – namely, the

brand new XXL-sized Funhouse

"España" that the Italian

Royal Park firm from Spilamberto

has built for Valeriano

Diana from Meleo. In addition

to its extra large size

and unusual theme, the two

centre trailers - both being

assembled into the construction

at an angle to the rear

rather than in a straight line

with the fairground course –

are another special feature of

the attraction, making it look

even larger.

Text & Photos: Norman Vogt

The owner Valeriano

Diana (l) and Angelo Diana

España

The measurements speak for themselves: the "España"

has three levels, a total front length of 27 metres,

is 11 metres high and 6 metres deep and has a

course length of more than 300 metres – that's "jumbo

sized" without any doubt! The novelty

from Valeriano Diana celebrated

its successful première at the

Luna Park in Viareggio (Tuscany),

where it was not only admired by the public but also

by an extraordinarily large number of colleagues, who

came just to look over the attraction. Due to the high

visitor attendance, the investment made by the showman,

who is also the owner of two other Funhouses,

has already paid off. The première in Viareggio was

followed by events in Lucca, Lissone and Legnano. At

the end of, and as the highlight of this season, the attraction

will be presented in Genoa, where one of the

8
---
PREMIÈRE

Spanish love of

life and traditions are

depicted on the façade of

the Walkthrough construction

largest Italian fair events will open its gates on December

4 th . In addition to the slanted arrangement of

the attraction, the suspension bridges on the third level

and the wobbling steps provide for an unusual visual

appearance of this construction. The countless

obstacles along the interior and the exterior course, offering

a mixture of proven and popular elements, such

as rolling barrels, various kinds of moving floors, a

glass labyrinth, sliding poles, vibrating floors, conveyor

belts, compressed air jets and folding staircases,

leave the visitors hardly any time to breathe. The owner

is particularly proud of the laser tunnel, as well as

The laser tunnel in the

inside area of the "España"

9
---
PREMIERE

View from the side

at the upper level

Clearly noticeable: the two

centre trailers of the attraction

placed at an angle

the spiral slide, which – as an exceptionally novel feature

- can turn itself around by way of an electronic control

system. Water is also generously dispersed along

a foggy section of the course. With the aid of a special

PLC system many of the effects can be meticulously

controlled, and thereby perfectly fine-tuned to the respective

visitor groups from the paybox by the operator.

The construction is monitored by a modern camera

system. The design of the huge front is dedicated

to Spanish customs and traditions, including scenes

from the controversial topic of the corrida de toros, or

"bullfighting". Anyway, the design with pictures of

proud toreros fighting in the bullring, the raging crowd

The spiral slide turning

around itself

or senoritas clad in magnificent dresses, the design

has been perfectly matched to the theme "Spain".

Power-saving LED lighting as well as spotlights in the

Spanish national colours of red and yellow provide the

perfect illumination for the construction after sundown.

Even the music matches the short trip to Spain on the

fairground, with vivacious Spanish folk music being

played over the loudspeakers, which also entertains

the public in front of the attraction. Every now and then,

a loud "Viva España" " can be heard from the loudspeakers

with the individual letters of the name sign

"dancing" to the rhythm. "Olé!"

■

10
---
Georg & Birgit Schweizer

Schnepfenreuther Hauptstr. 22

90425 Nürnberg

www.g-bschweizer.de

info@g-bschweizer.de

Telefon: 01 77 / 6 28 29 62

(Georg Schweizer)

Telefon: 01 77 / 314 14 10

(Birgit Schweizer)

Wir produzieren live vor den Augen unseres Publikums.

Genießen Sie unsere Spezialitäten in verschiedenen Variationen.

Hhmmm – lecker!

Die Ausgestaltung unserer Geschäfte beweist die Liebe zum Detail.

Wir arbeiten u.a. mit stromsparenden Leuchtmitteln und

verwenden umweltfreundlich hergestellte Rohstoffe.

VERKAUFSWAGEN 1

Maße: 6 m x 2,5 m

Anschluss: 10 kW

VERKAUFSWAGEN 2

Maße: 5 m x 2,5 m

Anschluss: 10 kW

VERKAUFSWAGEN 3

Maße: 5 m x 2,5 m

Anschluss: 5 kW

Wir zusammen

wünschen Ihnen

einen guten Start

ins neue Jahr und

eine erfolgreiche

Saison 2011!

Zum 35. Mal gilt mit unserem

Knusperhaus zu Pfingsten wieder das Motto: Der Berg ruft!

Jetzt neu mit gläserner Backstube.

BIO-Betrieb Adolf & Werner Schweizer GmbH

Turnerheimstraße 20a • 90441 Nürnberg • Telefon: 01 71 / 7 70 71 31

www.schweizergmbh.de • info@schweizergmbh.de
---
ACTION DVDs im KIRMES-SHOP

RIDE THIS is the new DVD Video series for ride enthusiasts,

technology passionate, fairground and ride

lovers

RIDE THIS Vol. 1 shows 84 minutes of brilliant

video recorded and cut ride sequences with many

tastefull split screen sequences

RIDE THIS Vol. 1: 25 stationary and transportable

amusement attractions and coasters from current

highlights to popular fairgrounds classics.

Recordings were taken in the year 2009 at theme

parks and fairgrounds in Germany and the Benelux

countries, digitally filmed and in high quality 16:9

resolution

Film 01 – Major Rides 1: Sledge Hammer (Huss Giant

Frisbee), Fly Away (Huss), El Voladeur (Huss Topple

Tower), El Toro (Huss Breakdance), Stratosphere Swing

Tower (KMG Hi Swing), Parkour (Gerstlauer Suspended

Polyp), Enterprise (Huss Park Version), Enterprise

(Schwarzkopf), Screaming Eagle (Huss Shot'n Drop),

Speed Flip, The Tower (C. Blume), Devil Rock (Huss

Flic Flac), Diamond Wheel. running time: 43:09 min

THE 7 th KIRMES DVD

Film 02 – Major Rides 2 & Rollercoasters: Typhoon

(Gerstlauer Rides Eurofighter), Teststrecke (Schwarzkopf

Doppel Looping), Thunderloop (Schwarzkopf Looping

Star), Traum Boot (Weber), King Kong (Huss/ Heimo),

Shuttle (Huss Ranger), Top of the World (Nauta Bussink),

Octopus (Schwarzkopf Monster 2), Troika (Huss), The Eagle

(Huss Condor), T-Rex Tower (Huss Shot'n Drop), Enterpise

(Huss transportable Version). running time: 41:32 min

Bonus Feature:

5 Dia shows with

more than 500 photos

(Total runningtime

over 40 minutes)

NEW

available immediately

€25,-

incl. postage and

handling in Germany

Combined Offer 4: order all 4 DVDs

RIDE THIS VOL. 1 • GET READY 2 SCREAM

TAKE YOUR SEAT AND FLY • PRESS PLAY TO RIDE

€ 85,– (inland) (incl. postage and handling) • Europe abroad: € 90,–

other countries: € 95,–

Combined Offer 3: order 3 current DVDs

RIDE THIS VOL. 1 • GET READY 2 SCREAM

TAKE YOUR SEAT AND FLY

€ 65,– (inland) (incl. postage and handling) • Europe abroad: € 70,– • other countries: € 75,–

Combined Offer 2: order 2 current DVDs

RIDE THIS VOL. 1 • GET READY 2 SCREAM

€ 45,– (inland) (incl. postage and handling) • Europe abroad: € 50,– • other countries: € 55,–

Technical

equipment:

DVD video, PAL 16:9

regional code "o",

Dolby Digital TM Studio

Mono compatible,

Subtitles. Languages:

German, English

✃

Bitte einsenden an:

GEMI

New!!

❏ I order

❏ I order

❏ I order

❏ I order

❏ I order

Kirmes DVD RIDE THIS VOL. 1 at a price of € 25,– (inland)

(incl. postage & handling) • Europe abroad: € 30,– • other countries: € 35,–

Kirmes DVD GET READY 2 SCREAM at a price of € 25,– (inland)

(incl. postage & handling) • Europe abroad: € 30,– • other countries: € 35,–

Kirmes DVD Kombiangebot 4 (4 DVD) at a price of € 85,– (inland)

(incl. postage & handling) • Europe abroad: € 90,– • other countries: € 95,–

Kirmes DVD Kombiangebot 3 (3 DVD) at a price of 65,– (inland)

(incl. postage & handling) • Europe abroad: € 70,– • other countries: € 75,–

Kirmes DVD Kombiangebot 2 (2 DVD) at a price of € 45,– (inland)

(incl. postage & handling) • Europe abroad: € 50,– • other countries: € 55,–

❏ Total amount

❏ I will pay per credit card : ❏ VISA ❏ MASTERCARD ❏ DINERS CLUB ❏ AMERICAN EXPRESS

VERLAGS GMBH Credit Card Nr.

Postfach

85291 Reichertshausen Name Street

valid until

Please pay

per credit

card only!

✃

Post code ■ City

Date ■ Signature
---
SPECIAL

Scenes from the Dult 2010

in Salzburg

As was the case last year, the

winter months are an ideal opportunity

to publish reports and

– more importantly still – photos

concerning highly prominent

Volksfest events in Europe.

This time, the focus will be

on selected events in France,

Spain and Italy – and the opener

is a portrait of the largest Volksfest

in Western Austria, the

Salzburg Dult, with a tradition

stretching back more than 900

years.

Text:

Photos:

Ralf Schmitt

Ralf Schmitt, Richard Krolzig,

Wild & Team

Salzburg Dult

years. This time the Austrian

showmen were joined by colleagues

from Germany and

Holland, who brought their attractions

to Salzburg. In

Since the 1970 s , the nine-day event has been held 2010, it was possible to engage a total of 97 attractions

for the Dult – that was 25 up on the previous

on the spacious exhibition grounds, both inside

the exhibition halls and in the outside area, and always

begins at Pentecost. After

year. By the way, the event management's motto for

the Dult had seen some lacklustre

years during the last decade,

and there had even been signs of

a creeping decline, there is now a

noticeable upward trend. Contracting

an exhibition team that

tried out many new ideas was a

decision that already paid off in

2009, as it noticeably increased

the number of international participants

during the last two

14
---
SPECIAL

Appealing background

setting for the "Black Hole"

the Dult 2010 was "XXL". "We have more operators

than ever, including many new ride attractions which

have never been presented in Salzburg before," said

Dult director Michaela Glinz at the press conference

prior to the event. In 2010, there was a change of operator

of the main gastronomic operation; in other

words the beer hall located directly at the entrance

to the fairground. While this important Dult fixture

was operated by a Munich firm in 2009, this year's

operator was the "Team Kongress Gastronomie

Salzburg". Under the management of its General

Manager, Josef Voithofer, it was not only in charge of

the gastronomy in the large "Stieglhalle" but also of

the new "Dultstadl" in hall 7. While the traditionalists

among the visitors got their money's worth of traditional

music, cold Stiegl beer and culinary delicacies

in the Stieglhalle, the programme in the "Dultstadl"

was focused more on young people, offering interactive

events, such as a song contest, and Austrian

pop and karaoke competitions. By the way, the

The procession to the exhibition

grounds, the entrance

with automatic visitor logging

mechanism, and the top attraction

2010: "Around the World"

15
---
SPECIAL

Free fall experience

for younger visitors in

Stampfer's "Drop Zone"-Tower

"Breakdance" (Rüdiger),

"Sombrero" (Wiesbauer) and

"Round Up" (Gschwandtner)

entrance to the Dult (open daily from 10 a.m. to midnight)

is free – and accessible only through the main

entrance to the exhibition grounds. It is a smart factor

that one of the turnstiles at the entrance registers

the actual visitor numbers to the fairground – this

time precisely 124,700 visitors were registered between

May 22 nd and May 30 th - 20,000 visitors up on

the previous year.

The opening day was very well attended. This may

well have also been due to the great procession,

featuring many groups and 50 horses proceeding

from the city centre (Residenzplatz) to the exhibition

grounds, and which was enjoyed by many a visitor.

From there on it was just "have fun"! Strolling across

the Dult was quite an enjoyable experience and held

many surprises for the visitors, as due to the combi-

16
---
SPECIAL

Ferris Wheel with

sponsor logo and a view

into the new thoroughfare

with "Apres-Ski-Party" and

"Around the World"

nation of the open air fairground and the roofed-over

exhibition halls they could not take in all the attractions

offered in just one glance. In the first "open air"

area, located just beyond the aforementioned Stiegl

beer hall, visitors were enticed by the "Breakdance"

(Rüdiger), the Ejector Seat "Hot Shot" (Dölle), "Sombrero"

(Wiesbauer), "Round Up" (Gschwandtner),

"Alpenrausch" (M. Kollmann), Rutsche (Göbel), Simulator

(Falthauser), "Kamikaze" (Strassmeier),

"Drachenpalast" (Medwed) and the "Geisterspuk"

(Bachmaier). Next followed the hall with kiddie rides,

most of which were from the showman Alfred Winkler,

who presented as many as six kiddie attractions,

including the "Taga-J", a pony ride, the

Bungee-Trampoline and "Samba-Balloon". These

were joined by the "Crazy Boat" and the "Snow Convoy"

from the Raab firm, as well as kiddie rides and

17
---
SPECIAL

"Schlittenfahrt" (Bachmeier)

in combination with Bruch's

"Bellevue" Ferris Wheel in

front of snow-capped

mountain peak

A ride without shoes –

but "suspended: Stessl's

"Outbreak". The Ghost Ride

from Bachmaier and Strassmaier's

"Kamikaze" were also

presented

a number of well-chosen

concession stalls.

At the end of the hall,

visitors were able to

catch the first glimpse

of the main fairground

through the huge glass

façade, with the

"Bellevue" Ferris

Wheel from the Bruch

firm forming the visual

"centrepiece" (now for

the second time). On

this occasion, the fairground accommodated the two

Salzburg debutantes, the "Sky-Rocker" (Rüdiger)

and "Black Hole" (Schierenbeck), as well as the ride

attractions "No Limit" (Thurner), "Drop Zone", and

"Crazy Wave" (Stampfer), Autodrom (Gschwandtner)

"Petersburger Schlittenfahrt" (Bachmaier), the

"Booster" and the "Flipper" (Rüdiger).

The Rüdiger family from Graz, which has participated

in the event since the very first Dult, built up four

large attractions this time. "The Dult is a fixture in our

tour schedule, and we are happy to be approved to

the event every year," says Helmuth Rüdiger. Next

was for the first time a new festival thoroughfare,

18
---
SPECIAL

Snapshots: the Salzburg Dult

2010

19
---
SPECIAL

Speed: "Booster"

and "Flipper" from Rüdiger.

The younger visitors were

able to compete in "1-litre

beer mug hoisting"

which probably won't be used at the Dult 2011

though, as a new hall is being constructed. In any

case, this new section without doubt livened up the

2010 event. This new thoroughfare was occupied by

special crowd pullers, such as the go-kart track

(Fackler), Stessl's "Outbreak", the giant ride "Around

the World" (van der Beek), and the "Apres-Ski-Par-

View into the Stiegl hall and a selection of

concession stalls at the Salzburg Dult

20
---
SPECIAL

Bachmaier's

"Petersburger Schlittenfahrt",

a detail from the

Ghost Ride, and a view

into the hall with the kiddie

attractions

ty" Funhouse (Fackler) – which celebrated its première.

The supporting programme offered, among

other special events, the "Traditional Costumes

Day", speed-dating in the Ferris Wheel, morning

beer event in the Stiegl hall on both opening Sundays

and on Whit Monday, the Family Day on Tuesday,

and a fireworks display on the Dult Friday –

presented by multiple award-winning Christian

Czech and his team. Moreover, the "Line Dance

Convention" attracting more than 2,000 dancers and

visitors, was held on the exhibition grounds during

the last two opening days, attracting additional visitor

attendance. By the way, a coupon on the Dult flyer

provided the visitors with free use of the Salzburg

city bus services.

At the end of the event, the General Manager of the

Messezentrum, Henrik Häcker, provided a positive

review of the fair: "The Dult 2010 was a big success!"

And then on behalf of the event management,

Michaela Glinz added: "Visitor attendance was particularly

overwhelming at Pentecost. On the opening

day there were already twice as many visitors as last

year." Moreover, much to the delight of the beer tent

operator Josef Voithofer, 10,000 grilled chickens and

25,000 half-litres of beer were served.

The overall success was due not least to the exhibition

team's professional marketing which included,

among other strategies, the exemplary website

www.dult.at. The Salzburg Dult 2011 will be held from

Juny 11 th to 19 th .

■

Self-service at the

Slush stall and hot Currywurst

at the "Chiliking"

21
---
LOGISTICS

Jacob (Musikpalast) Photo: Rolf Orschel Goetzke (Rocket) Photo: Michael Petersen

Hoffmann (Kiddy-Ride) Photo: Rolf Orschel Beinhorn (Gastro) Photo: Peter Reuther

Engelbrecht (Breakdance) Photo: Rolf Orschel Krebs (Dodgems) Photo: Rolf Orschel

22
---
100 % Spaß total! Überzeugen

Sie sich selbst!

Wir danken allen Geschäftspartnern, Freunden und Kollegen für die

gute Zusammenarbeit. Wir wünschen allen frohe Weihnachten und

ein gesundes und erfolgreiches Jahr 2011! Thilo Janßen & Söhne

Tel. 0178 / 4 49 68 65 • www.thilo-janssen.de
---
NOSTALGIA

Entire kindergarten

groups and school classes

rushed the historic kiddie

carousels

We have already featured a number

of detailed reports about the

"Fahrt ins Paradies" and the

"Calypso" rides, but the "Historic

Wiesn" - on the occasion of

the 200 th anniversary of the

world's largest Volksfest in Munich

– presented many more

historic treasures for consideration.

The ample array of tributes

to the history of the Wiesn exceeded

all expectations: more

than half a million visitors enjoyed

fairground attractions

from the good old days, presented

in the southern section of the

Theresienwiese.

Historic Wiesn

Text:

Photos:

Ralf Schmitt

Ralf Schmitt, Norman Vogt,

Helmut Bresler, Heiko Schimanzik

24
---
NOSTALGIA

There was much to discover

inside the museum tent and in

the outside area

25
---
NOSTALGIA

Even lovers of

historic tractors and

showman wagons got

their money's worth

26
---
NOSTALGIA

The historic kiddie

swing

27
---
NOSTALGIA

Dr. Florian Dering

from the Munich City

Museum during the build up

28
---
OLDIE

The Schmetterlingsbahn

"Die goldenen 50er"

from the Stoll family

After a thorough restoration

and a number of test runs during

spring, the Stoll family

from Erfurt presented its

completed, newly purchased

Schmetterlingsbahn, or Butterfly

Ride, "Die goldenen

50er" at the autumn market in

Nordhausen. The name of the

ride is derived from 1955 –

the year it was built.

Text: Rolf Orschel

Photos: Rolf Orschel, Archive Stoll

The Golden 50's

Ivonne and Torsten Stoll

Built by the Gundelwein firm of Wutha near

Eisenach, the small Switchback was toured

for more than 40 years before being decommissioned

in the late 1990s. Two years ago, Jürgen

Stoll purchased the ride from the showman

Camillo Franzelius from Schkeuditz, who had

taken it over from his brother and had eventually

put it into storage on his property. After the purchase,

the ride was transported to Erfurt and unloaded.

Originally, the Stoll family had planned

to merely preserve its new acquisition and repair

and restore only the bare necessities.

The Ride was Completely Renovated

However, when the ride was built up in the hall,

they found that it was largely built out of wood,

had badly suffered from the ravages of time. Af-

30
---
OLDIE

The ride in a blaze

of light after sundown

The original centrepiece

prior to restoration

ter careful consideration,

they decided in

favour of a complete

restoration and to

equip the ride with

the best available

technology. Having

dismantled the attraction, Jürgen Stoll and his

son Torsten immediately began, in the winter of

2008, to create a new base out of heat-immersion-tempered

galvanised steel in the winter of

2008. The axle of the small centre trailer was removed

and replaced by rollers so that it could

be transported on the newly built baggage van.

Next, the platforms were rebuilt. The frames

were also built out of heat-tempered galvanised

steel and fitted with high-quality steel sheeting

afterwards. Moreover, new floor segments and

Snapshot during

restoration

31
---
OLDIE

Restoration was

carried out in the family's

hall in Erfurt

INFO

■ Diameter: 14 m

■ Power: 12 kW

■ 2 transport vehicles

(1 baggage van + paybox)

The paybox comes from a

"Polyp" ride and was newly furbished

stairs were built during the last

two winters. The newly built

and padded gondolas were

equipped with pneumatic tyres

and the lighting system and the

electrical equipment were

completely renewed, and the

drive system was modernised.

The worn out slip ring motor

was removed and replaced by

a cage motor. In addition, the

water starter was replaced by

a frequency converter for continuous

control of the motor rotational

speed with a joystick during both forward

and reverse rides. The modern drive with overhauled

gears guarantees a smooth run with a

high initial torque. Moreover, new light strips for

the arms and a high-quality steel crown were

built for the centre of the ride and equipped with

a LED-lighting system. Finally, the old series

lamps were removed from the light grid rings and

replaced by neon clefs and stars.

The Paybox stems from a "Polyp"

By the way, the paybox comes from the former

"Polyp" ride from Dieter Rausch. It was equipped

with a new roof and modern interior furnishing.

Additionally, the Stoll family equipped the ride

with a new roof and a centrepiece canvas. The

restored and carefully modernised Schmetterlingsbahn

celebrated its première at the Volksfest

in Nordhausen, where the nostalgic-looking

ride roused pleasant childhood memories in

many older visitors.

■

32
---
SUPERPREISE • SUPERPREISE • SUPERPREISE

€ 15,– € 10,–

im Inland inklusive Versandkosten

KIRMES-SHOP

Ein spannender Blick

hinter die Kulissen

Schaustellerfrauen berichten mit viel Witz und

Charme über ihr abwechslungsreiches,

aber hartes Leben auf der Reise.

Henriette Stamer erzählt aus einem

erfolgreichen Schaustellerdasein

– aus einer liebenswürdigen Welt,

die der normale Bürger

nur von der Glitzerseite her kennt.

Der Berg -

Das Phänomen Erlanger

Bergkirchweih

Herausgegeben von

Ralf Birke und Klaus Karl-Kraus,

auf 184 Seiten reichhaltig bebildert.

Das Buch bietet eine umfassende Führung

durch die Historie der Fahrgeschäfte,

Buden und Belustigungen.

€ 10,–

€ 28,–

im Inland inklusive

Versandkosten

Kombi-Preis:

"Das Karussellmädle" & "Mit Romantik

hat unser Beruf nichts zu tun"

im Inland inklusive

Versandkosten

€ 15,–

€ 20,–

€ 15,– € 10,–

im Inland inklusive Versandkosten

1. Reihe Mitte

Ein Schaustellerleben

Die mitreißende Geschichte

eines leidenschaftlichen

Schauspielers, der als Kind

einer großen Schaustellerfamilie

auf dem Jahrmarkt aufwuchs.

Reduziert

€ 10,–

im Inland inklusive

Versandkosten

✃

✃

Bitte einsenden an:

Das Angebot gilt solange der Vorrat reicht!

■ Ich bestelle _ Stck. "1. Reihe Mitte" zum Preis von € 10,– je Exemplar

■ Ich bestelle _ Stck. "Der Berg" zum Preis von € 10,– je Exemplar

■ Ich bestelle _ Stck. "Mit Romantik..." zum Preis von € 10,– je Exemplar

■ Ich bestelle _ Stck. "Karussellmädle" zum Preis von € 10,– je Exemplar

■ Ich bestelle _ Stck. KOMBI-PREIS: "Karussellmädle" & "Mit Romantik..." zum Preis von € 15,–

Den Betrag habe ich

■ in Vorkasse bar

■ als Verr.-Scheck*

(*nur Inland!) beigelegt.

GEMI

VERLAGS GMBH

Postfach

85291 Reichertshausen

Alle Preise im Inland verstehen sich inklusive Versandkosten.

Versandkosten Ausland: Europa € 5,– / außerhalb Europas € 10,– )

■ Gesamt

❏ Ich bezahle per Kreditkarte: ❏ VISA ❏ MASTERCARD ❏ DINERS CLUB ❏ AMERICAN EXPRESS

Credit Card Nr.

gültig bis

Name

Straße

PLZ ■ Ort

Datum ■ Unterschrift
---
A LOOK BACK

STUTTGART

Ferris Wheel and "Airwolf"

at the Cannstatter Volksfest

Text:

Photos:

Ralf Schmitt

Ralf Schmitt, Norman Vogt

Wasen highlights

for years: "Transformer" and

"Star Flyer"

Due to the weather, the first days of the Cannstatt

Wasen (September 24 th to October 10 th 2010) fell far

short of expectations. However, during the second

week (and especially the final weekend), autumn

presented itself to its very best, so that by the conclusion

of the event some 3.8 million visitors had

provided satisfactory financial results.

Due to the 98 th "Landwirtschaftliches Hauptfest" agricultural

festival also being held on the Wasen fairground

during the first opening week of the Volksfest,

the showmen moved closer together again – and the

public was presented an altogether attractive fairground.

There were no striking layout mistakes or inconsistencies

this time, as has been the case in the

past, particularly in the section behind the fruit column

(this area was not available this time due to the agricultural

festival). While the Ferris Wheel from the

Hablützel & Bruch AG made its first-time appearance

at the Cannstatt Wasen, replacing the Steiger-Ferris

Wheel that had been presented at the event for

decades, was "responded to" by the Steiger OHG by

taking out an advertisement in the "Cannstatter Volksfestzeitung"

(free-of-charge fairground newspaper),

sending a friendly though perhaps somewhat smug

message of greeting to Swabia, expressing "...best

wishes from the world's largest transportable Ferris

Wheel from Oldenburg". The large beer tents had been

further equipped with additional gardens, galleries

and a sometimes elaborate decoration and accessories.

"With the tents we've made it into the Champions

League," said the speaker for beer tent operators,

Werner Klauss, qualifying his statement "but the

turnover has only reached European League status."

Many a visitor missed the large Almhüttendorf (Renol-

34
---
di), merely a smaller version of which was built up on

another site this year. And the entrance area (at the

bric-a-brac market) gave rise to many a dismayed

frown, as the magnificent wooden entrance gate had

disappeared. It was replaced by a simple garland of

pennants, which might have been suitable for a village

fête, but by no means for the largest showman festival

in the world! There were rumours among the showmen

that this – just as may have been the case with the

widening of the footpaths on the bric-a-brac market –

was the organiser's short-term reaction to the previous

tragic incidents at the love parade in Duisburg. Be that

as it may, this was visual evidence of inadequacy. It

would be interesting to know the legal basis on which

the security personnel at the entrances barred visitors

(even harmless senior citizens) from taking even the

smallest of plastic water bottles with them into the fairground.

Could they really pose a threat? Negative

repercussions resulting from the demonstrations

protesting the "Stuttgart 21" urban project, focused

primarily on the Stuttgart Central Railway Station,

which gradually approached a climax at the time of the

Volksfest, affected the event only marginally; a beer

tent operator, for example, explicitly banned the shrillsounding

whistles that had characterised the protests

inside the tent. On a more positive note, the police announced

that the number of crimes committed at the

Volksfest had decreased. After the finale, Andreas

Kroll, General Manager at the in.Stuttgart summed up

the event: "The final opening weekend was one with

the highest visitor attendance in the Wasen history. All

in all, we registered 3.8 million visitors who celebrated

on the Wasen fairground during the 17 days." The

showman spokesman Joachim Hohl also proffered his

positive review: "Visitor attendance on the Family Days

has increasingly improved from year to year. In particular,

the second Family Day can be almost compared

with a Saturday or a Sunday."

■

The 98 th Landwirtschaftliches

Hauptfest was also held on the

Wasen fairground

Banned from the beer tent:

shrill-sounding whistles

This year, not a feast for

the eyes: the dreary entrance

area

35
---
A LOOK BACK

WINZERFEST ALZEY

"Flipper" (Meeß) and

"Golden Wheel" (Jost) in Alzey

Text & Photos: Norman Vogt

When the days gradually get shorter again, wine

growers harvesting their grapes herald the autumn

season. And once the grape harvest and the processing

of the grapes are over, festivals are held in

most wine-growing towns. Such is the case in

Alzey, where the wine festival begins on the third

Friday every September (this year from 17 th to 18 th ).

The festival was first held in 1933 and was only cancelled

during the Second World War from 1941 to

1946. This wine festival - which is well-known and popular

far beyond the Rhein Hesse region - is a mixture

of a wine festival, a cultural festival and a fair event in

the Alzey town centre. Organised by the city authorities,

the 5-day event attracts more than 100,000 visitors

every year. The centrepiece of the festival is the

wine and champagne terrace on the Kronenplatz,

where the wine growers from the Alzey

region offer their products in 16 beautiful

pagoda tents. As part of a wine tasting on Saturday

during the wine festival, the city awards

a public figure for his or her merits to wine and

the wine culture in the Rhein Hesse region with

the "Scheuplakette". This year, the prize winner

was the TV celebrity chef Horst Lichter. All

in all, 60 showman attractions were approved

to one of the two fairgrounds, which are connected to

each other by a thoroughfare of marketer stalls. While

the "Beach Party" from Milz/van den Bosch, the "Magic

House" (Kutschenbauer) and the dodgem track

from Nickel were placed on the first fairground this

time, the "Breakdance" (Bruch), "Flipper" (Meeß) and

the "Golden Wheel" Ferris Wheel (Jost) were the attractions

built up on the second fairground. A pony ride,

kiddie carousel, kiddie track ride and Jet Ride were

spread across the whole entertainment area. The original

"Rheinhessische Dorf", or "Rhein Hesse Village",

offering seating for up to 1,000 visitors, offered the

guests culinary delicacies and a varied entertainment

programme. On Monday, the fireworks display at the

72 nd wine festival enticed a large number of visitors and

on Tuesday most of the participating showmen were

able to report positive results.

■

WUPPERTAL

Text & Photo:

Michael Petersen

Première in Wuppertal:

the Schwebebahnkirmes

From October 22 nd to 25 th

the "Schwebebahnkirmes"

was held for the first time

on the Wuppertal Circusplatz

on the Carnaper

Straße. This new event

also marked the end of this

year's fairground season

in the largest city in the

Bergisches Land region.

36
---
The Wuppertal Showman Association had gone to

great lengths to establish the new fair event, twice

publishing advertisements and up-to-date reports

during the week of build up in the Wuppertal daily

newspaper with the widest circulation, to call attention

to the coming event. Moreover, new posters

had been drafted, which were not however, printed

according to the design ordered. While the primary

colour ordered was bright red, the posters

were delivered with a brown background. Even

though the size of the text was too small, about 100

of the misprinted posters were put up along Wuppertal's

main streets. The fairground was fully

fenced-in and information panels announcing

rules of conduct were put up. Throughout the event

security personnel from an Essen firm patrolled the

fairground. These measures effectively prevented

incidents and fights, and provided for a peaceful

and orderly fair event. For the first time in years, the

Carnaper Platz could be appealingly filled to capacity

and laid out with appealing ride attractions

and a glass labyrinth. Contrary to our preview,

there were a number of changes, yet it must be said

that these had a positive effect on the overall image

of the fair. As the fairground can only be laid

out as a classic circuit course, the Family Coaster

"Twister" from Kaiser and a Bungee-Trampoline

(Smith) were built up on the southern top-end site

of the fairground, whereas the "Fliegende Teppich"

(Hartmann) and - for the first time - Noack's "Musik

Express", were built up on the northern side. The

sites in the inner circle of the fairground were occupied

by the dodgem track from Fuhrmann,

Jansen's "Breakdance", the "Aqua-Labyrinth"

(Markmann), "Höllentaxi"(Senk) and the "Free

Style" from Agtsch, with the swing effectively

placed on a corner site opposite the main entrance.

The heralded "Sky-Glider" (Prumbaum)

however could not be presented due to a technical

fault. For the first time, the fair on the Carnaper

Platz opened on the Friday and closed the following

Monday. On the opening day, visitor attendance

was much lower than the showmen had

hoped for though. Nevertheless, the first opening

day of the Schwebebahnkirmes closed with a brilliant

fireworks display, and on the Saturday afternoon

the event was mainly attended by families

with children. After the promising start to the day,

its conclusion was quite disappointing due to

strong downpours that discouraged the public.

Unfortunately, this proved also to be the case on

the Sunday. Although many visitors rushed the fairground

once again on Family Day, losses incurred

due to continuous rain at the weekend could not

be made up for. As a result financial results fall

short of expectations. Summary: With the new concept,

a shorter duration of the event, a new schedule

and an intensive advertising campaign, the

Wuppertal Showman Association is definitely

heading in the right direction. Apart from one game

stall, the Schwebebahnkirmes was occupied by

attractive fairground attractions at its première and

offered appealing entertainment for both young

and old. Unfortunately, the weather was not at all

ideal and put a bit of a "downer" on the event. ■

A LOOK BACK

"Bayern-Wippe", "Caesars

Wheel" and the Galloper in

Paderborn

PADERBORN

Text & Photos:

Raf Schmitt

In addition to the summer

"Hauptlibori" week, the citizens

of Paderborn and their guests

celebrate their "Herbstlibori" in

autumn as the closing event of

the fair season, this year from

October 23 rd to 31 st .

Just as the large Groß-Libori, the

smaller twin "Herbstlibori", can

look back to a long tradition: dating

back to 1627. In addition to the

"Caesars Wheel", Musik-Express,

"Breakdance", "Geisterhotel", and

the "Paderborner Bodenmühle",

the novelty swing "Rocket" and the "Bayernwippe"

Hopser were deployed on the 500-metre fair-mile.

Among the concession stalls visitors encountered not

only well-known operations from the large Groß-Libori,

but also attractions not standing a chance of being

approved to the Hauptlibori. This time there was a

quite simple Chinese snack booth and the undecorated

ski hut from a local hotel owner.

■

37
---
A LOOK BACK

BREMEN

Freimarkt début for

Goetzke's "Rocket"

The police were also

involved in the Freimarkt

procession

"Geisterschloss" and

the "Europa-Rad", a short-term

replacement in Bremen

Text: Ralf Schmitt

Photos: Ralf Schmitt, Uwe Holzmann

Although it was no record

Freimarkt event, the overall visitor

number at the end of the 17-

day fair (October 15 th to 30 th ) hit

the usual 4 million target, despite

the rainy second weekend.

The topic much discussed in the

days prior to the Freimarkt opening

was the short-term absence of the

Steiger Ferris Wheel, which had

been so seriously damaged in a dismantling accident

(thankfully without any personal injuries) at the Oldenburg

Kramermarkt on Monday that its appearance had

to be cancelled. The Freimarkt team, under the management

of Claudia Lange, organised an adequate replacement

ride on the same Monday evening, namely

the "Europarad" from the Kipp family, who miraculously

made the impossible possible, relocating the

wheel from the company premises in Bonn to Bremen

and building it up ready for operating at the Freimarkt

opening on Friday. Claudia Kipp said: "When we learnt

about the decision from Bremen, countless friends and

colleagues spontaneously offered to help. We were

very impressed!" Despite continuous drizzle many

visitors made a first stop at the Freimarkt event on the

Bürgerweide fairground on the opening evening. During

the opening, a première took place in the Bayernzelt,

where David McAllister was the first Prime Minister

of Lower Saxony to give a guest speech. He tried

to win over the public with the rhetorical question

"What are 200 years of Oktoberfest in Munich compared

to 974 years of Bremen Freimarkt?" Carl-Hans

Röhrßen, General Manager of the Bremen Showman

Association, disclosed the reason for inviting McAllister:

"50 percent of our visitors come from Lower Saxony.

We thought that on the occasion of the 975 th anniversary,

it was high time a representative from the

neighbouring German state had a say." There were

once again complaints from the "City-Initiative" retailers,

who would like to have the Freimarkt procession

postponed from the second Saturday to the following

Sunday, arguing that the procession impeded the access

to their shops.

As usual the small Freimarkt was held on the market

square in the city centre, where visitors encountered a

new "original carousel" this time, namely the historic

fairytale carousel from the Mondorf family, which replaced

the multi-level carousel. The seats on the giraffe

and zebra mounts of the carousel from 1898 were

much coveted among the younger visitors, and the

sculpture of the Bremen Town Musicians set up by

Mondorf was a popular, much-photographed and filmed

motif. Back on the Bürgerweide fairground, the Freimarkt

novelties, "Lach+Freu-Haus" (Distel), "Rocket" (Goetzke)

and "Transformer" (Schmidt) were highly popular

with the public, just as were the Freimarkt debutantes

"Omni" and "Hex'n Wippn". Moreover, the roofed over

attractions, such as the "Troika" (Heine) and the "Petersburger

Schlittenfahrt" (Burgdorf), were very well

attended (and not only due to frequent rainfalls). The

superb live show at the "Geisterschloss" from Judenhofer-Kunz

caused a huge furore. The swing "Flash"

38
---
(Weber) was also very well received. Placed on a generally

unfavourable site, it made a magnificent visual

impression on this location thanks to its distinctive ride

pattern. Only very few will have known that Roie's

"Crinoline" (next to the Ferris Wheel) made its last

rounds at the Freimarkt before being sold. If this had

been announced in the Bremen daily press or at the

ride itself, many Freimarkt visitors would certainly have

been enticed to take one or a number of rides on this

carousel once again.

Well worth mentioning are the information panels that

the Freimarkt organisers had initiated at prominent attractions,

giving

valuable information

on the history of the rides concerned. The 27-

year old sailor Dominic Heinke set a new record on his

favourite ride "Breakdance" (Dreher), being whirled

around on the cult ride for precisely 12 hours and 12

minutes in a single stretch – and (supported by the

Dreher/Vespermann family) raising funds for the

Deutsche Knochenmarkspenderdatei, or German

Bone Marrow Donor Centre (DKMS) with this stunt. A

look forward: The Bremen Freimarkt 2011 will be held

from October 14 th to 30 th .

■

"Frisbee" (Robrahn) and

"Omni" (Kinzler) in Bremen

MANNHEIM

The Mannemer

Oktobermess 2010

Text & Photos: Norman Vogt

The largest Volksfest in the Pfalz region was

opened on September 25 th – and after many years

there was also a traditional beer tent at the Mannemer

Mess (until October 10 th ) on the Neuer

Messplatz fairground.

Previous history: A few days after last year's Oktobermess,

another organiser held the Oktoberfest on the

Alter Messplatz, about one kilometre away, which

was occupied with a Ferris Wheel, a number of

booths and a large tent (seating for 2,000 guests),

proving to be a huge success. The tent alone registered

more than 14,000 visitors last year. Under the

motto: "Home of the Hosewackler" the beer tent is

now to become a part of the traditional Oktobermess

on the new fairground, where a classic tent had been

absent of late. The two organisers, Thomas Sprengel

39
---
A LOOK BACK

Fun at the Veteran

Car Ride and the thoroughfare

approaching the beer tent

from the City Events Mannheim (Oktobermess)

and Arno Kieglele from DeMi-Promotion (Oktoberfest),

have now amalgamated the events

– so that both of them will benefit. Prior to this

merger, the idea had also been largely positively

received by the showmen. Inside the

tent, Bavarian specialities such as grilled

chicken, pork knuckles and Weisswurst were

offered, together with Helles beer and Weissbier

– accompanied by authentic Bavarian live

music. The entrance fee was five Euros. Next

to the tent, a beer garden was built up, with free

entry for everybody. On the weekends, the

beer tent was well attended – although not jampacked,

but on weekdays visitor attendance

was quite modest. As for the new fairground: Novelties

for Mannheim were the Family Coaster "Mexico

City" and the ""River Rafting" water ride. There were,

bizarrely, two rides called "Eclipse": firstly, a Korten's

Propeller Ride, and secondly the "Bratpfanne" from

Störzer. Other rides presented were Spangenberger's

"Magic", Nickel's "Super-Wellenflug", Schmidt's

"Beach-Party", Zinnecker's "Bayern-Breaker",

Lagerin's "Virus", Hofmann's "Aqua Velis", Kipp's "Action

House", Zinnecker's "Geister Villa", Kollmann's

"Top Spin", Sterzenbach's "Seesturmbahn", Göbel's

"Rutsche", and Tedesco's Simulator.

Both Family Days were very well attended, the second

one boasting a higher turnover. At the conclusion

of the event, the showmen's reviews ranged broadly

from poor to very good.

■

HAAN

Text & Photos:

Michael Petersen

A section of the Haan Fair

from above

From September 25 th to 28 th , the

garden city of Haan was once

again transformed into a fairground

with an unparalleled atmosphere,

with attractive fairground

attractions being

placed in the city centre, the

Kaiserstraße and side streets,

as well as on the entire city

squares.

This year, the 624 th Haan Fair yet

again attracted thousands of visitors. Meanwhile, the

Wednesday prior to the opening has developed into

a true highlight for the locals, as the large fairground

attractions are allowed to be built up only on this day.

In the industrial area near the A46 autobahn, the

showmen in their vehicles were already impatiently

waiting for this moment. Shortly before 2 a.m. the imposing

convoy finally set out for the city centre. On

Thursday, the concession stalls were built up. This

time, there is no denying that neither the assembling

of the participating showmen nor the official opening

brought much joy for the Mayor, as the increase of

fairground fees had resulted in massive showman

protests. There is also no denying that the 20-million-

Euro loss of trade tax revenue is not exactly peanuts

for a small city like Haan. And the fairground fees

from the showmen will certainly not make up for this

loss. The fees in Haan have already reached break-

40
---
ing point anyway.

On a more positive note, however, at the opening

ceremony Rolf Ostermann was honoured for his

commitment to the fair events in Haan and Witten.

During the Haan fair, the showmen are allowed to

park their traction units and baggage vans for free

on his premises. The strikingly strong turnover weekend

at the Haan Fair was followed by disappointing

business on the weekdays. Although turnover

dropped due to poor and rainy weather, the participating

showmen were quite satisfied with their results

when the 4-day event was over. The layout of

the fairground precisely conformed to the preview in

the Kirmes & Park Revue, issue

Nr.158, and the selection

and presentation of the attractions

was very successful.

Next year, the 625 th Haan

Fair will be celebrated with a

number of additional events

and changes. To mark the

anniversary, it will be opened

as early as the Friday, at

about 5 p.m. Moreover, a

nostalgic fair will be built up

in the adjoining city park. ■

BOCHOLT

Text & Photos:

Michael Petersen

The weather was quite beautiful throughout the Bocholt

Fair, which was held on the third weekend in

October (15 th to 18 th ). As it did not rain throughout

the event, apart from the opening day, losses incurred

on the first day could largely be made up for

on the remaining three days.

Fairground director Markus Kock had carried out a

number of changes - giving the largest fairground of

the Bocholt Fair, the Berliner Platz, a new character. For

example, the sites of the two dodgem tracks were

changed. While the "Drive In" dodgem track moved to

the centre row, the "Formel 1" example was built up on

the traditional Ghost Ride site. The outer row of the

Berliner Platz (town hall side) was prominently occupied

this time; next to one of the dodgem tracks appeared

the "Shake", the large "Daemonium" Ghost

Ride, and the "Breakdance". The site of the Bocholt

cult ride "Octopussy" however remained unchanged.

Also on the Berliner Platz visitors were able to enjoy the

"Wonder-Wheel" Ferris Wheel, the large "XXL" Swing,

the "Star-Flyer, a nostalgic chain ride, the "Phoenix"

and the "Musik Express".

The "Loopingschaukel" Swing was placed in the access

area to the Bayernfestzelt, and both the "Intoxx"

and the "Bayernrutsche" slide were built up on the

Meckenemstraße. However, the site of the slide was

unfavourable, as it was built up in the entrance area

and was therefore presented from its rear side. As a

result, it could hardly present its remarkable visual

appeal to its very best.

The placement of the "Drop Attack" Free Fall Tower,

built up slightly off the circular course in the Schanze

area and hidden away behind trees, was another mistake.

The sites of the "High Impress", the "Remmi Demmi"

Funhouse and the chain ride were, however, very

effective. These bold decisions with regard to relocations

are generally well worth praising, as it resulted in

a completely new and exciting layout of the Berliner

Platz. The programme in the always very crowded Bayernfesthalle

provided a happy partying atmosphere,

with Olaf Henning celebrating his 10 th performance at

the Bocholt Fair. Michael Wendler was not absent either;

he sang at the closing of the fair. As is tradition,

numerous guests from the neighbouring Netherlands

happily celebrated inside the Bayernfesthalle on the

Saturday evening.

Despite continuous rain on

the opening day, most of

the showmen were highly

satisfied with their financial

results, but there were also

sections with low turnover

on the fairground. The operations

built up on the left

side of the Aa bridge, for example,

are somewhat "off

the beaten track", as most

of the visitors follow the circuit

course on the right side

over the Schanze and towards

the city centre. ■

Impressions of the

Bocholt Fair

41
---
A LOOK BACK

BREDA-GINNEKEN (NL)

Text & Photos:

Norman Vogt

"Mirage" and "Techno

Dance" in Breda-Ginneken

From September 1 st to 5 th , an

amalgam of a fair event, a street

festival, live performance and a

sales fair awaited the public in

the Ginneken suburb of Breda.

Many stalls offering handcrafted

articles, local specialities and

clothes were built up and invited

the visitors to meander through.

Due to beautiful weather and live

music, the beer gardens, bars and

restaurants filled quickly and the

showman attractions on the adjoining

fairground enticed the public.

Other rides presented were the

"Crazy Dance Machine", "Mirage",

"Beach Polyp", de Weijer's "Techno

Dance", the dodgem track

"Route 66", "Halloween" and the

"Jet Bob". The younger visitors enjoyed

a Bungee-Trampoline, Horse

Carousel, Minicar, pony ride, "Circus

Race" and a Jet Ride. ■

GELDROP (NL)

Text & Photos:

Norman Vogt

Impressions of the

Geldrop Fair

The small town of Geldrop is located five kilometres

east of Eindhoven.

IIn the 19 th century it was a classic factory town

(wool and textiles), but production ceased for many

decades before being resumed in the early 1960s.

For the fair event (September 4 th to 8 th ), the 38,000-

resident city was transformed into a fun mile, with

showman attractions and stalls being placed along

the pedestrian precinct and the adjoining squares.

42
---
The Funhouse "Rue de Paris", Stroucken's "Rock It"

and the "Enterprise" celebrated their Geldrop première

this year. While the "Booster" Propeller rotated

by the houses at the entrance to the fairground,

the "Breakdance", the "Tornado", and the second

Walkthrough construction "Walking Street" attracted

the public to the rear section of the fairground.

The selection of fairground attractions was rounded

off with the Family Coaster "Bugs and Bees", a

dodgem track and various kiddie rides. ■

A LOOK BACK

Welcome on board the "Enterprise"

FORBACH (F)

Text & Photos:

Norman Vogt

This year's Forbach Kirb (October 8 th to 17 th ) surprised

the public with what were, for this fairground,

a surprising number of novelties.

One of the most striking changes was the replacement

of the often-presented "Halloween" Ghost Ride

with the multi-storey attraction "Hook the Old". Moreover,

the Family Coaster "Le Cobra" was turned by

90° - thereby managing to occupy a top-end site.

While the regular guest, the go-kart track was absent

this time, the "Speed Maxx" Propeller from Martin

Rudy, which had celebrated a successful debut last

year, appeared again. The two-storey Walkthrough

construction "Brasil" also made a

second appearance this year.

The "Move It" from Laurier, virtually

"sandwiched" between the

"Taiga Jet" Matterhorn and

Kiener's "Crazy Dance", was contracted

as the top attraction. The

"Discovery" rocket was also presented

again. Further attractions

built up were the very beautiful

"Tourbillon" Caterpillar Ride, the

"Toboggan" slide and the "Le's

Barjot's" Walkthrough. ■

Many novelties at

the Forbach Kirb

43
---
KIRMESWELT 2011

26 attractions in 14 days rotation

It´s here again! 26 attractions,

beautifully photographed in a 30 x 22 cm format

and printed on high-gloss paper.

Order today! Also an ideal gift for friends.

(Single price 8,90 €)

✃

Please forward to:

GEMI

VERLAGS GMBH

Postfach

85291 Reichertshausen

■ I order pcs. "Kirmes & Park Revue KIRMESWELT 2010"

at a price of 10,– € each calendar (Inland)

e. g. 15,– € each calendar (Europ. Abroad)

(price including postage and handling)

■ Total Amount €

❏ I pay per credit card:

Name

❏ VISA ❏ MASTERCARD ❏ DINERS CLUB ❏ AMERICAN EXPRESS

Credit Card Nr_________________________________ valid until: ________________________

Postcode ■ City

Adress

Date ■ Signature

Den KBetrag habe ich

■ bar beigelegt

■ ich zahle per

Kreditkarte

✃
---
MODEL CONSTRUCTION

EXHIBITION IN OER-ERKENSCHWICK

For the 11 th time, the Stimmbergpark-Hotel

in Oer-Erkenschwick

was the meeting point for circus

and fairground model builders

from Germany and Europe during

the first weekend in November.

With free admittance, visitors

were able to admire 60 dioramas

and more than 1,000 models

built to all common scales, in the

large ballroom of the hotel.

Text & Photos:

Michael Petersen

It was noticeable that many reproductions and models

were designed true-to-detail. On close inspection,

"I love you" could be read on the gingerbread

hearts in a fairground diorama, and looking through

the window of a circus caravan, a teddy could be discovered

sitting on the bed. Once again, model

builders and other interested parties used the opportunity

for a lively 'experience exchange'. A number of

exhibitors also offered models and accessories for

sale, and the exhibits covered almost everything relating

to fairgrounds and circuses. Also interesting was

the ample selection offered by small series manufac-

1:87 fairground diorama from Mischa de

Graaf

turers. 1:24 scale models of old circus vehicles complete

with interior furnishing were presented by

Thomas Kind. In addition to their size, these filigree

models with their large expanse of detail were an impressive

sight. He also presented his new Circus

Barum models for the first time at an exhibition, with

the paybox wagon being particularly noticeable, re-

Models relating to the

circus from Thomas Kind

46
---
produced true to detail. On a 6 m 2 ground area, Nico

Bundt presented his imposing 1:87 scaled Circus Krone

diorama. This model of the largest circus in Europe

made quite an impression due to its picturesque design,

with a medieval city district and the large circus

vehicle fleet. Many little details and skilfully reconstructed

everyday scenes rounded off this extraordinary

presentation. Among other models there were

also a number of 1:160 scaled fully-functional

carousels. Mischa de Graaf from the Netherlands once

again presented his new fairground diorama on a 1:87

scale. A Dutch nostalgic ride could also be admired,

the ride sequence of which is identical to the original.

This fairground model was also reproduced in detail,

including fairground posters and power junction boxes.

In addition to parts of his fairground shop presentation,

Rolf Sommer (www.kirmeswelt-hamburg.de)

also presented several novelties. The models of most

impressive designs were a popcorn carriage, the vehicle

fleet of the showman Bruno Dreßen, and a waffle

bakery. All the models are now available in kit form. The

1:87 scale Circus-Krone

model and the fairground

diorama from Nico Bundt

diorama from Uwe Thiel, showing a fairground during

build up, was once again a real eye catcher. He had

Fairground during build up

from Uwe Thiel

Popcorn carriage and

vehicle fleet from the Dreßen

firm by Rolf Sommer

47
---
MODEL CONSTRUCTION

"Höllentaxi" , built by

Werner Meinhardt and equipped

with a lighting system by Stefan

Hirschfeld

Build up dioramas with the

"Revolution" and the "Happy

Sailor" from Erich Moorhofer

Vehicles and figures from

an American circus procession

from Guido Ross

built most of the vehicles and fairground attractions

himself, and presented for the first time an Allround

model that he had built himself true-to-original, which

had been completed only shortly before the exhibition.

The highlights at the exhibition also included Barth's

spectacular Flying Circus ride, which had been skilfully

and expertly reproduced trueto-original

on a scale of 1:87. This

year, Stefan Hirschfeld presented

a number of novelties on his miniature

fairground, which is equipped

with fantastic lighting elements,

with the Höllentaxi built by Werner

Meinhardt being certainly the most

noticeable. Stefan Hirschfeld had

also equipped this model with a

complete lighting system – a feast

for the eyes. Christian Geist presented

a confectionery wagon with

an interior furnishing not previously

thought possible! Taking a closer

look at this extraordinary 1:16

scale model one could hardly believe

their eyes. Erich Moorhofer has busied himself

with fairground model construction for decades. This

time, he presented two build up dioramas of, among

other attractions, the Revolution and the Happy Sailor

models. Vehicles and figures for an American circus

procession were built by Guido Ross.

■

48
---
You don't want to

miss reading your

ever again?

Then read your magazine online!

www.onlinekiosk.de

Simply download to your PC or to your iPad.

Especially priceworthy for subscribers: read online anytime for only 24 € extra per year.

You will receive your personal code under

+49 (0)8441/81057 or Kirmes.A@t-online.de (English)

+49 (0)8441/40220 or info@gemiverlag.de (German)
---
EXHIBITION

The dinosaur among

the exhibitions in the

amusement industry

returned to Orlando ten

years ago

The world's largest trade exhibition

for the amusement industry

will now apparently be

presented in the world capital

of entertainment for quite a

while. Ten times in Orlando in

Florida in a row is far better

than another experience in Atlanta

in Georgia or some other

city that cannot offer anything

to trade visitors due to closed

theme parks at that time of the

year, but to bind to only one

place of issue for such a long

period is hugely presumptuous

on the part of the umbrella

organisation IAAPA, as far as

future visitor numbers are concerned.

Text:

Frank Lanfer

Photos: Frank Lanfer, IAAPA,

Stefan Zwanzger, Diverse

The Harry Potter area at

Islands of Adventure

IAAPA Expo

Despite all the criticism, an annual rotation

between Las Vegas and Orlando, as was

originally planned, would have been without

a doubt more appealing, nevertheless: the

Greater Orlando area with its many different

theme and amusement parks, evening

entertainment, and not least the pleasant

climate at that late time of the year, is a big draw

for all trade visitors.

50
---
For example Orlando entices with its three latest

large attractions: the Flying Coaster "Manta" from

B&M at SeaWorld (see KPR 7/2009), the innovative

coaster "Hollywood Rip Ride Rockit" from

Maurer Söhne at Universal Studios (See KPR

12/2009), and naturally the new theme area "The

Wizarding World of Harry Potter" at Universal

Islands Of Adventure (see KPR 7/2010). This

year's social event took place there, and 2,200

paying guests could enjoy an exclusive evening

with Harry and his friends.

The fact that this IAAPA summary appears more

straightforward as the year before is not only due

to the fact that there is naturally a lot less news to

report due to the EAS event in Rome taking place

only a few weeks previously, but also that this

year's event was substantially smaller than two

years ago, when the IAAPA-expo took place in

Orlando. In actual fact a good quarter of the huge

exhibition hall was not occupied, however this

was so well concealed that it was not noticeable

to most of the 14,800 trade visitors.

All novelties that were already mentioned in our

EAS review two months ago are not mentioned

again in this report, so reference should be made

to the KPR-edition 11/2010 in this respect. In

addition to the many new installations for 2011

that can happily be announced (or have already

been done so), there were even a number of real

novelties to be found in the sense of new creations

at the stands of a number of exhibitors. And

because this has become quite rare in a once

very innovative branch, we are introducing these

attractions as a priority.

The "Hollywood Rip Ride

Rockit" at Universal Studios

with vertical lift and exciting

"non-inverted loop"

The Flying Coaster "Manta"

at SeaWorld Orlando

51
---
EXHIBITION

Splashtacular as of

now offers water slides and

also pipe slides with

interactive Light Points

splashtacular

The most creative manufacturer among the water

slide firms, once again introduced a number of

creations rich in ideas this year. For example the

further development of the Bowl Slide under the

name of "Double Balls Eye" with two two-seat

tubes/rafts that give the possibility to circle in the

huge funnel simultaneously.

Interesting also is the installation of LED-"Point

Lights" areas that have to be touched by the

sliders in order to attain the highest possible

number of points.

The "Moving Ride" slide however appears to be

particularly spectacular. In this case not only is

the starting ramp lifted upwards mechanically, but

a point of pipe turns during the drop. However,

one side of this section is only a mockup and quite

unusual for viewers to look at. The real pipe section

does however offer a drop, a hill, or a side

redirection for the sliders, depending on the

actual position.

The rotating part of the

slide looks spectacular to all

viewers, and is extremely

unusual for water slides

52
---
EXHIBITION

Despite the crazy 85 metre

total height, the "Mission Space"

attraction is transportable

The KMG-team at the

IAAPA-Expo proudly presenting

its world novelty

KMG

"Mission Space" is the name of the new attraction

from the manufacturer from the Netherlands,

which already reveals a lot about the height: a

total of 82 metres will be reached by the transportable

attraction, which is currently under construction

and will go to showman Tony Kroon in

the second week of April, celebrating its première

in Rotterdam. The two ten-seat suspended gondolas

will be lowered hydraulically for passenger

loading, and even during the ride itself move up

and down ten metres three times a minute, whilst

the centre piece construction that looks similar to

a building crane turns on its own axis, providing

a flight path of 80 metres diameter. The maximum

ride height will be 62 metres, ground measurements

25 by 21 metres, and buildup will not require

a crane.

KMG is also working to capacity this year as usual:

a 24-seat "Afterburner" with new lap restraints

instead of the usual overhead restraints used until

now will go to the American Morey's Pier amusement

park in March 2011, a 16-seat "Freak Out"

and a Miami will be delivered to two unnamed

customers in the USA, a "Booster" will go to New

Zealand, Sweden and France will each receive a

"Speed", and in August 2011 the German showman

Küchenmeister will take delivery of a large

"XXL"-swing.

Huss Rides

The Bremen manufacturer revealed a number of

new developments on the quiet, which will be

mixed into the amusement branch. There are apparently

five new ride ideas that will be upgrades

of classic Huss attractions, keeping the technical

prototype risk for operators to a minimum, but

giving significant novelty effects. One will be the

further development of the "Enterprise" or alternatively

"Fly Away" adult ride, and there is also a

tower based construction in the development

phase, which can function as an up to 60 metre

high landmark of the park concerned, and will be

marketed accordingly. One eagerly awaits other

realizations by Huss over the next years.

Concrete projects will be a maritime designed

"Airboat" to be delivered to a park in California,

and at the same time a number of attractions – a

"Giant Frisbee", a "Top Spin" and a 120 metre

high "Skytower" will be delivered to a new theme

park from the Chinese OCT-Group in Buhan.

53
---
A comparison of the "X"

track cross-section (above) with

that of the Dietrich plans

Even in comparison with

the train segments of the "X"

(front) the lighter structure is

impressive

Jordan Dietrich

Two coaster sensations were offered at the same

time, and not from the well known manufactures

either, but from an individual inventor from the

USA. One of his ideas is a "2-in-1" coaster, a type

of Duelling or Racing coaster, whereby the

American Jordan Dietrich concept can be used

on both sides on a number of track sections.

Whether or not the real g-forces can be controlled

so easily as on the model remains anybody's

guess initially. The idea to use one track for two

coasters is however noteworthy.

Even more innovative is the new interpretation of

a 4D-coaster. Inspired by the problems that Arrow

Dynamics (later taken over by S&S) had with the

realization of its new type of "X"-coaster at Six

Flags Magic Mountain, Dietrich had developed a

more compact track system with only one

additional steel pipe running in the centre, which

mechanically controlled the rotation of

the seats. The technology on the

coaster cars has also been essentially

reduced so that the block train, in

comparison to the Arrow/S&S versions,

can be considerably lighter and

at the same time have more pleasurable

rotations.

Both ideas have been patented by

Jordan Dietrich, and can be called for

by interested manufacturers. Insofar,

a realization may well be questionable,

but it would be great to come

upon more of this type of spectacular

4D-coaster.

The cross section of the

track makes it easier to understand:

2 in 1

54
---
S&S

Ownership changes have come about at the earlier

compressed air specialist company S&S Power

from the US-Mormon state Utah in that long

time shareholder Larsen MacColl Partners LP has

united all shares for itself, whilst General Manager

Rich Alan and Sales Manager Kevin Rohwer

have retained their positions.

New also is the extended portfolio through the

"Small Rides Division" which now contains kiddie

and family attractions. Two of them were presented

in the outside area during the IAAPA-Expo: a

"Frog Hopper" and a compressed air operated

swing in a miniature format – at least when compared

to the "Screamin' Swing" construction of

this type. Children can already partake with a

height of 90 centimetres. The ready to ride "Junior

Swing" was very attractively designed with large

cockatoo and butterfly figures. At the exhibition

stand itself, a part of a train of the third Launched

Coaster of the new generation was presented,

which will go into operation following the installations

"ring°racer" at Nürburgring and "Shangrila

Snowfield" at the Chinese Happy Valley Shenzhen

in 2011, in another Chinese Park in Wuhan.

By the way Nürburgring: the so-called "ring°racer",

once publicized as the fastest coaster in the

world with its 217 kilometre per hour speed, is

supposedly definitely opening in May 2011.

abc rides

Merlin Entertainments signed a contract during

the exhibition for the purchase of another indoor

Freefall Tower for the new Blackpool Dungeon.

Additionally a River Rapid and an interactive water

attraction called "Muschelkarussell" will also

be delivered in the 2011 season.

The "Marbel Race", introduced at the EAS (and

introduced in our EAS summary) caused a lot of

potential customer interest in particular. Also interesting

for visitors

was the interactive

"Seashell Ride" according

to abc Manager

Willy Walser, which in

actual fact had already

been introduced two

years ago, opening the

new Smart Rides product

series at the time.

"In the case of our

product" emphasized

Walser, "the platform

does not have to be lifted

or lowered for passengers

to have dry feet

during loading. The

gondolas turn automatically

towards the out-

The very colourful kiddie

attraction from S&S

A train element of a

Launched Coaster from S&S

55
---
EXHIBITION

The interactive "Seashell

Carousel" from abc rides

Two further projects in the

Smart Rides segment from abc:

"Zeppelin" and "Ice Bear"

side". The "Seashell Ride" is available in various

designs, measures 13 metres in diameter and

accommodates four passengers in one of the

eight gondolas. Equipped with water pistols, passengers

can also spray each other.

Once again Willy Walser from the Swiss manufacturing

company abc rides, introduced new

ride construction ideas in the Smart Rides series,

which appear to have hit the pulse of the times:

new types of interactive attractions for reasonable

installation and maintenance costs. For example

the "Ice Bear" available also with other themes

where four pairs set forth on each of the oppositely

rotating platforms. But the classic attractions

also belong in the Smart Rides portfolio,

such as the ten metre high "Riesenschaukeln", in

this case powered mechanically, or the "Zeppelin"

(ten metres in diameter and five metres

high). Newly introduced was a "Twin Wheel" variation

in a mining design. The gondola accommodating

a maximum of two passengers reaches a

ride height of up to eight metres.

Dynamic Motion Rides

New structuring at the Austrian 5D Explore have

been announced: whilst the firm with the same

name continues with the theming of constructions,

film realization and also the marketing of the

Vienna Riesenradplatz, David Vatcher and Dr.

Michael Prager, company lawyers for 5D until

now, are now responsible alone for the marketing

and erecting of the "Flyboard" attractions with

their newly founded Dynamic Motion Rides

GmbH. Following the successful continued operation

of the prototypes at the Vienna Prater and in

Salzburg, a double construction will be delivered

in the year 2012 to an as yet unnamed Six Flags

park.

Mondial Rides

From non-confirmed sources, the litigation

instigated by Funtime against Mondial has had

negative results. In any case, the manufacturer

56
---
EXHIBITION

And another two ride

ideas from Willy Walser:

the viewing ride "Twin Wheel"

and the "Riesenschaukel"

from the Netherlands has gone on the offensive

and offers in addition to the four 95 metre high

huge flyers that will go into operation in the spring

at four Cedar-Fair-Parks, a further variation of the

"WindSeekers". Interested park operators now

can choose from versions with a height between

65 and 95 metres, or constructions with 24 suspended

seats instead of 64.

Ride Entertainment Group

Italian theme park is to receive an undefined attraction

as well. Six Flags Over Texas has already

been delivered three attractively themed trains for

the "Texas Giant" coaster erected in 1990, which

will have to go through a gender reassignment by

March 2011: the 43 metre high and 1,500 metre

long wooden coaster (1990 erected by Dinn/Summers)

will receive steel tracks and with that will

become a so-called Hybrid Coaster.

Typical Texan: the front

car of the new coaster train is

designed with a longhorn for

the "Texas Giant" oozes power

and arrogance

Austrian "Starflyer" manufacturer Funtime was not

present at the IAAPA exhibition this year personally,

but was represented by its American agent.

Adam Sandy from Ride Entertainment announced

that Funtime will be delivering two huge chain

rides to Six Flags Inc. – Six Flags Discovery Kingdom

(California) will receive a 45 metre high

version, and Six Flags St. Louis (Missouri) will be

erecting a 70 metre high standard version.

Gerstlauer

Gerstlauer Amusement Rides can look back at a

very successful year, as in addition to the already

announced "Eurofighter"-attraction for Six Flags

Over Georgia, Canobie Lake Park is also to received

a coaster of this type, however the exact

size has not yet been revealed by Siegfried Gerstlauer.

Further along, the North German Hansa-

Park has ordered a family coaster from Gerstlauer,

following the opening of its "Eurofighter" in 2009,

which, as is the case of the spectacular "Fluch

von Novgorod" is to have a Viking theme. The Belgian

Plopsa Coo near Spa will receive a not yet

named Spinning Coaster from the manufacturer.

And the earlier "Gremlins Invasion"- hall at Movie

Park Germany will also have a coaster installed

by Gerstlauer, most probably with a Darkride

sequence. Park Manager Wouter Dekkers is very

happy about the new attraction that will open

officially in June 2011. "We're really happy that our

new owner Parques Reunidos has approved

investment in a new attraction". Additionally, an

57
---
EXHIBITION

The international team

from TAA Industries on the boat

deck

Mike and Dick Chance test

the second "Unicoaster"

personally before delivery /

illustration of "SkyWheel" at

Myrtle Beach

TAA Industries

The Spanish Theming Attractions and Animatronics

had most probably erected the most creative

exhibitor stand in Orlando: a wrecked pirate

ship, with which Capitan Udo Weisenburger had

already successfully arrived at the EAS in Rome.

The heavily expanding company will be responsible

for the theme concept and the design realization

of the Indoor Coaster at Movie Park Germany

as well as the design execution of the new

Dive Coaster at Germany's Heide-Park, which will

be set into the scene impressively as an octopus.

Further contracts from Merlin Entertainments

were the realization of the Egyptian themed

overnight huts at Legoland Deutschland, and the

inside design of the SeaLife Centre in Dallas.

Chance Morgan

A second major ride type "Unicoaster" will be

erected during the 2011 season at the San Diego

Mission Bay Boardwalk – purchaser is the San

Diego Coaster Company (operator of the classic

wooden coaster "Giant Dipper"), and not the

operating company of the rest of the attractions

on the same location, which recently had to file

for bankruptcy. The adult ride will be called

"Octotron" and has a two-seat gondola on all

eight arms, which somersault according to the

wishes of the passengers, sometimes more,

sometimes less. The company is also completing

the contracted 60 metre high Ferris Wheel "Sky-

Wheel" by Landmark/Bussink, which with its 42

LED-illuminated gondolas, will open in May 2011

at the entertainment and amusement area Myrtle

Beach Landing (South Carolina). The operator will

be the Myrtle Beach Sky Wheel, LLC., a joint venture

between Koch Development Co. and Pacific

Development, both from St. Louis (Missouri).

Further along, Ronald Bussink announced the

construction of a new type of Ferris Wheel, which

can at long last be realized after five years of development.

It will be an 80 metre high construction

with only six and not the usual and in general

eight supports (the highlight: the front masts are

able to withstand pressure and wind), which also

lightens transport and build up considerably. A

round in one of the 54 cabins accommodating up

to eight passengers takes between 15 to 20

minutes. Before operation and construction was

taken over by Dutch Wheels (Vekoma), the prototypes

were built by Maurer Söhne according to

agreements made, and will be ready for testing

58
---
on the Munich company

grounds, punctually to

the Oktoberfest 2011,

said Bussink.

US Thrillrides

Bill Kitchen, the inventor

of the "Unicoaster", "Skycoaster"

and "SkyVenture"

attractions had already

introduced his new

"SkyQuest" idea at last

year's IAAPA-show. This

is a type of hang-glider

concept as a closed system,

whereby – as is the

case of a cable car – the circular cable is accelerated,

and not the gondola. In Orlando the first

customer for such an attraction was announced,

and will be produced by Kitchen for the first time

together with a subcontractor. The Indianapolis

Zoo will receive the world's first "SkyQuest" from

US Thrillrides for the 2012 season – however it will

be downgraded as a "people mover" or alternatively

a normal cable car, as acceleration on the

round course is not scheduled.

SBF / Visa

The Italian manufacturer presented two of its latest

rides in the exhibition hall, ready for testing:

the kiddie free fall tower "Heli Hopper" is available

in various sizes and designs. And the round ride

named "Airborne Shot" has eight loosely suspended

arms each for two persons, which at a

speed of 13 r.p.m. produces a flight circle of 13.2

metres

The downgraded "Sky-

Quest" to cable car attraction

from US Thrillrides

Two of SBF/Visa presented

attractions "Airborne Shot"

(left) and "Heli Hopper"

59
---
The Chinese coaster from

The Gravity Group

This is the way the

undoubtedly breathtaking

"High Five" element works

Lower pictures: the "Wie-

Flyer" from Wiegand Slides

The Gravity Group

The specialist for Hybrid Coasters (wooden

tracks on steel constructions) is erecting a

double-wooden-coaster for the Chinese OCT

Happy Valley Park in Wuhan, which will simultaneously

be China's first Racing Coaster at the

opening of the park in autumn 2011. Both of the

1,100 metre long tracks offer not only partly

dissimilar track sections (for example the first

drops are different from one another), but as

highlight the so-called "High Five" element will be

used here for the first time, in that the parallel

running tracks run tilted at 90° for a short moment,

so that the heads of the passengers near each

other. The construction and the buildup are as

usual by Gravity, the completion by Martin &

Vleminckx.

And three further coasters from the Gravity Group

will be completed by 2011: already in March, a

"Twister" will go into operation at the Swedish

theme park Gröna Lund, to be followed by "Zippin

Pippin" at Bay Beach Park, and "Wooden Warrior"

at Quassi Amusement Park, both in the USA.

60
---
Wiegand Slides

As a further development of the "Hexenbesen",

Wiegand presented the so-called "Wie-Flyer", in

which from the spring of 2011, ride guests can fly

through the air at up to 40 kilometres per hour in

closed all-weather gondolas. Two passengers sit

behind each other in the futuristic airplane

gondola that is equipped with an infinitely variable

electrical motor, controlled by the pilots. An automatic

distance control on the 500 metre long section

prevents collisions. The location will be the

new Inselsberg-Funpark that has come into being

around the already existing 1,000 metre dry toboggan

run. Further adaptations will be erected

by Heege here: "Flying-Fox", "Nautic-Jet", "Luna

Loop" and "Sky Dive".

Further information was given by Junior Manager

Hendrik Wiegand about the sale of four new

"Alpine Coasters" for the North American market.

The company is particularly proud of the past season:

in the business year 2010, 24 constructions

were erected by the Wiegand company worldwide.

The theming of two interactive

towers from Heege at the

Spanish park Port Aventura

Heege

Eleven (!) cable control towers will be opened

worldwide in the year 2011, and leading the way

are three examples each of this beloved classic

to the new Legolands in Florida and in Malaysia.

They will have the typical Lego-design, as still

known from other parks of this group. Further

along a tower will each go to Estonia, the Swedish

holiday resort Camp 2000, and to the Italian

Rainbow Magic Land. Two especially interesting

examples will be erected in the Spanish theme

park Port Aventura, which will be installed in the

new "Sésamo Aventura" theme area with further

kiddie attractions, with appropriate design. Last

but not least, a cable car will be delivered to

Greece.

61
---
The "Topsy Turvy" water

slide from ProSlide at Adventureland

USA

Garner Holt builds a huge

themed area for the Howe

Caverns

SB International

The Swedish manufacturer of kiddie driving

schools that recently delivered three to Ferrari

World, and is also very much present at various

Legolands, is probably to erect a further example

at Wildpark Lüneburger Heide. In this case

however it would have a special theme and will

be presented from 2011 as the "Children Farm".

The design of the scenes would be taken over by

the Bremen wood construction firm Ghepetto.

Garner Holt

The animatronics specialist has been contracted

by the Galasso family to extend the natural grotto

Howe Caverns in Cobleskill in the US-State of

New York with a new attraction. Emil Galasso: "My

vision is to create a destination resort. Even during

these tough economic times, we're getting

nearly 200,000 visitors a year to Howe Caverns.

We want to give them more to do while they're

here". An important component should form the

new 20 hectare sized "Dinosaur Canyon", giving

the visitors the opportunity to interact with the 24

prehistoric creatures from Garner Holt.

Mack Rides

We have already reported about the "Twist 'n'

Splash" with Spongebob-theming for Blackpool

Pleasure Beach, however for 2011, Maximilian

Röser from Mack promises a completely new type

of ride that will also celebrate its première in England

– unfortunately no further information was

given. And after the company-owned Europa-

Park was able to successfully put into operation

the Launched Looping attraction "blue fire" in

2009, Mack has announced a strong interest for

this type of large coaster, for example the Italian

Etnalandia has ordered a 30 metre high and 500

metre long coaster example. The attraction however

is to have a normal lift system without looping,

but offering lots of airtime-hills and wild

directional changes.

Additionally a Powered Coaster for Ocean Park in

Hong Kong is being produced,

and another "Twist 'n' Splash"

has been ordered. Already a

Spinning Coaster has been

contracted by the French Parc

Le Pal, which will be operated

with a block train similar to the

"Sierra Sidewinder" at Knott's

Berry Farm. The layout however

is to be designed to be substantially

faster than the Californian

version. And visitors to

the Austrian Märchenwald am

Neusiedlersee will also be happy

about a novelty from Mack in

the near future.

62
---
EXHIBITION

Vekoma

Four attractions for the Italian Rainbow Magic

Land ("Madhouse", "Sky Shuttle", "Minetrain",

"Junior Coaster") have already been delivered to

the customer, and the Chinese Red Sun Park will

be handed over a "Motorbike Coaster" in February,

which will more than likely be followed by the

new type of "Junior Boomerang" at English Drayton

Manor Park in April, "That has to be visualized

as a classic Vekoma-"Boomerang" said Charlotte

van Etten, "but without inversions." More information

was not available from the company due

to customer requirements. Further installations for

2011 are a "Giant Inverted Boomerang" for Jin

Jian Park in Shanghai, and a "Junior Coaster" for

the ORA Themepark in Turkey.

ProSlide

The company was particularly proud of this year's

IAAPA award "Best New Water Ride" given to the

Canadian water slide manufacturer for its "Topsy-

Turvy" slides that were erected at a number of

water parks during the past season – for example

at Wild Wadi (Dubai), Aquatica (Florida), Darien

Lake (New York) and Adventureland USA (Iowa).

The "Duelling Hydro Magnetic Mammoth" slide

was introduced in a model form as a new creation.

As it is, press speaker for Pro-Slide, Tara Casey,

is very certain that the "Hydro Magnetics" belong

in the future. This is shown by the success of the

very large construction "Wildebeest" at Holiday

World, which went into operation during the past

season.

The large attraction

"Wildebeest" at Holiday World

(USA Sate of Indiana) has a

number of magnetic catapult

sections in the track system

Premier Rides

The largest installation for Premier Rides for the

upcoming year will be erected in Indonesia, as

the Para Group in Bundung is opening a new

shopping mall together with the largest indoor

park in the country. And highlight of the Trans Studio

will be a Catapult Coaster with magnetic

operation. Similar to the American "Mr. Freeze"

variations, the train shoots per

magnetic operation (from zero

to 112 kilometres per hour in 3.8

seconds) initially towards a

Top-Hat, before, following a

second LIM-section, the train

runs off a vertical ramp and returns

to the station backwards.

Premier Rides presented a train

segment at its exhibition stand

in Orlando that will be used on

the new high speed attraction.

A car for Trans Studio was

already presented at the IAAPA

exhibition

The gigantic coaster from

Premier Rides will be erectet at

the new indoor park named

Trans Studio

63
---
Clockwise from above

right: a view of the Intamin

track attraction "Half Pipe",

"Impulse Coaster", "Twisted

Impulse Coaster", and "Topside

Impulse Coaster" (images are

not on scale to one another)

Both attractions at Six

Flags Magic Mountain: the

"Reverse Freefall Coaster" and

the new "Green Lantern"

Intamin

Intamin was awarded "Best New Product" for its

"Family Coaster with Freefall" (namely "Thirteen"

at the English Park, Alton Towers). Inasmuch then,

it's no wonder that a second example of a similar

type (with freefall sequence and launch section)

but with a different layout, is planned for a European

theme park for 2012.

Already the order books for 2011 are well filled:

for Six Flags Magic Mountain there will be a delivery

of a "Zac Spin Coaster" (same layout as in

Gröna Lund), but also a newer, more open and

lighter car for the already existing "Reverse

Freefall Coaster". A 40 metre high "Surf Rider" has

been ordered by Volker Meyer from Atallah Park

in Saudi Arabian Jeddah, and a similar ride will

go to Disneyland Hong Kong (identical to the attraction

at Disneyland Paris). A new 55 metre high

"Topside Impulse Coaster" with LSM-operation,

whereby both ends will be slightly kinked inwards

will be delivered to a new Chinese park. New here

also is the seat order to the side of the tracks,

which is similar to "Zac Spin" cars.

There have also been heavy enquiries within the

areas of water attractions and tower constructions,

emphasised Sascha Czibulka from Intamin:

the Chinese Dinosaur Park will receive a 25 metre

high "Spillwater" with vertical lift, the Italian park

in Valmontone has contracted a 20 metre high

"Spillwater" and a large Rapid Ride. Ocean Park

in Hong Kong will also be erecting a Rapid Ride.

In the tower segment, in addition to the reconstruction

at the Swedish Liseberg (the existing

View Tower will become a Freefall Tower), there

will be two new viewing towers erected: a 110 metre

high construction in Taipei and a 150 meter

high version for the Texas State Fair. Further along

there will be a new Monorail track erected in

Europe, Africa, and China, however not in theme

parks, but to be used as urban transport.

Sascha Czibulka also advised that a new product

separation has come to Intamin/Ride Trade: in

future there will only be Intamin Transportation

and Intamin Amusement Rides. Both sections will

have their head office in Liechtenstein; the last

mentioned encompasses all products for the

amusement industry. Intamin also promises many

new attractions for 2012 (especially in the coaster

segment) about which naturally we will be reporting.

■

64
---
EXHIBITION

Europa-Park boss Roland

Mack (left) held the much heeded

speech during "Lunch and

Learn" and met up with Robert

and Gottlieb Löffelhardt from

Phantasialand in the evening

Centre photo row (l-r):

Interesting costume from

Stagecraft / Three "Tilted Kilt"

ladies from francise firm Destination

Fun / A "MEGAtube" element

from Whitewater West

The game of skill "Stinky Feet" from Bob's Space Racers is

both stationary and transportable

The model of an interactive Darkride idea from a new supplier

by the name of Eastern European Rides

65
---
EXHIBITION

A COMMENTARY TO INTELLECTUAL PROPERTY RIGHTS

INFO

Text:

Jochen Peschel

The printed images here are

all original pages from the

catalogue Chinese Amusement

Rides 2010 that was

distributed at the IAAPA Expo

in Orlando. The firm or alternatively

the exhibitor calls itself

in two different ways: Beijing

Zhongli Weiye Amusement

Facility Co., Ltd, and also Universal

Amusement. ■

On this page there are two

united illustrations that have

both been taken over from

other manufacturers: "Flying

Mars" is the "Star Fire" from

Preston & Barbieri, and "Space

Flying" actually is called

"Swinger" and is from Mondial

Even manufacturer Huss

Rides wasn't spared: the pictured

"Giant Frisbee" is in actual

fact a "Giant Frisbee" in a new

Chinese park

The large branch exhibitions of

the amusement industry return

every year. And with the same

regularity there are complaints

about violations against intellectual

property rights.

So the time is very near for juridical

action to be taken against

these violations. During only a

few exhibition days speedy decisions

have to be made as to

whether an injunction be applied

for and finally enforced. Whilst

copyright and trademark infringement

lead to a decree without

any problems, as was the

case at the EAS 2008 in Munich,

this action can prove difficult

particularly in the case of patent

infringements. However, must

the situation always lead to juristic

means immediately? This always

involves effort and expense.

An alternative could be an extrajudicial

agreement. This basically

is none other than a contractual

agreement, whereby one is obligated

to certain behaviour in

the written form. To express a

declaration of intent however, the

authorized representative person

must be present, or at the

very least be available in the

short-term. Additionally neither

party would be likely to rush

rashly into such a commitment

without receiving legal counsel

first. A quick solution to this type

of conflict in this way is then not

to be expected. Much more sensible

appears to be a more informal

way: the involvement of a

neutral mediator.

Such a mediator should be principally

from the exhibition organiser.

In the case of IAAPA, the

exhibition regulations and the

tenancy agreement for the stand

contain certain passages regarding

intellectual property, but

however hardly refer to the issues

in general. Interesting is the

66
---
code of behaviour, non compliance

of which leads to expulsion

from the organisation – enforced

and not only voluntary. For reasons

of credibility, the implementation

of these rules should not

fall through.

Naturally nobody can expect the

organiser to undertake a hasty

review of patent infringements.

And it is understandable that he

does not wish to alienate the

alleged violator – after all he is a

customer. However on the other

hand, the holder of rights is also

a customer. For the organiser it's

a thankless situation, however he

should not remain inactive. He

should sit each party down for

discussion, and in the case of evident

infringement the violator

should be required to desist in

continuing previous actions –

when this order is not carried out,

the organiser should not allow

continued participation for the

duration of the exhibition. This is

the very least that one can expect.

■

Above left: the "Magic

Cars" are photos from Disneyland

Paris of the "Cars" from

Zamperla / Photo above: the

illustration and photo of "Aoil

Water War" in reality shows a

"Splash Battle" from Preston &

Barbieri

Here also photos and sketches

simply taken over from

other manufacturers, in this

case the "SkyWheel" at Skyline

Park and the concept "Loop-

Launch" with a non-inverted

loop from Maurer Söhne, both

of which have been named

"Magic Loop Coaster"

67
---
EXHIBITION

PERSONALITY IAAPA EUROPE

Interview:

Frank Lanfer

Andreas Veilstrup Andersen

is leaving. Karen Staley

is arriving. We met up

with the still Executive

Director of IAAPA Europe

and his designated successor

at the IAAPA-Expo,

and conducted a short interview

with both.

Karen, you were up

until now, together with

Andrea Kolar, responsible

for the EAS exhibition.

What were your duties?

Karen Staley: I was already working for IAAPA

earlier, and when in 2004 the merger with the Euro

Attractions Show took place, I was to unite both

exhibitions as harmoniously as possible. This also

entailed explaining to members where we came

from, what we want, and how we can best achieve

our objectives together.

In the earlier years there were a number of

resentments about the IAAPA influence. Could

the situation be placated?

And despite all this you have decided to

leave IAAPA?

Andreas Veilstrup Andersen: Although I would

have liked to remain for a longer period with IAAPA

Europe, especially as we still have so much to do

for the future, but I simply couldn't say no to the offer

from Sweden. It's like coming home, once a park

operator, always a park operator. I'm really looking

forward to my new role as General Manager at

Liseberg.

Karen Staley: The EAS exhibition was already

a good product, when it was taken over by IAAPA,

but we were able to formalise all matters somewhat,

and internationalise. Membership of IAAPA Europe

and with that of the international umbrella organisation

is a supplementary membership. We definitely

do not want to compete with the national associations

with which we, in almost all cases, have a

good and continually growing relationship. Furthermore

I wish to emphasis that we follow a European

agenda and therefore we are loyal to our

members.

Did you receive the tempting offer from the

Park Manager Mats Wedin personally?

Andreas Veilstrup Andersen: That would have

been very simple. No, I was chosen from more than

100 candidates. But naturally I have a good relationship

with Mats, and I did have already a good

relationship with him during my time at Tivoli in

Copenhagen.

Karen, you also speak exelent German. How

did that come about?

Andreas, have things changed over the past

years?

Andreas Veilstrup Andersen: Oh yes, these

days there are a lot more products, better press

communication, new advanced training measures

such as for example safety seminars, and happily

more members. When I took over the position three

years ago, there were 500 member companies;

today IAAPA Europe unites 800! We are therefore a

stronger and influential part of the umbrella organisation

of IAAPA.

Karen Staley: Unfortunately not really perfect.

But I lived in the city of Crailsheim near Stuttgart

until I was 13 years old, before my parents moved

to Maryland and Virginia in the USA. When I was

young there, I loved to visit Hersheypark, and it's a

dream come true that I can work in the amusement

branch.

Dear Karen and dear Andreas, thank you

very much for this interview. I wish you both a

lot of success in your future duties and challenges.

■

68
---
TROPICAL ISLANDS

Text:

Photos:

Frank Lanfer

Tropical Islands

Overnight stays at the water park in the world's

largest self supporting hall have not been an

insider tip for a long time. Around the clock

swimming and/or holidays in one of the many

stylish beach bars even entice families as well as

young adults – in particular and naturally during

the cold seasons of the year, when the hall temperature

hardly sinks below 25° Celsius.

However without a doubt staying overnight on a

sun lounger direct on the "South Seas" pool or in

one of the 2 or 4-man tents in the sand dunes is

not everybody's beer. And for this reason there are

really exclusive overnight stays possible since a

few weeks ago, under the 107 m high hall roof in

so-called standard and premium lodges.

92 individual apartments will be ready by Christmas,

and the premium class especially, of a 4-Star

category, will leave nothing to be desired.

Breakfast – as is for other overnight possibilities –

will be served in some generous themed restaurants.

Overnight prices vary between 98 Euro (for a normal

lodge) to 169 Euro per room (for a premium

lodge). In comparison: tents cost 24 to 37 Euro per

person, the basic night surcharge "under the free

hall construction" is 15 Euro per head (in addition

to a day pass, 28.50 Euro). The teepee-tent-village

continues to be in operation and there is also the

first completed Novasol-holiday apartment directly

near the Tropical Island dome. All in all – and in

comparison to many experience baths and thermal

baths – a relatively affordable short holiday in

the tropics.

■

70
---
ASTERIX IN THE MUSEUM

MAGAZINE

Text:

Frank Lanfer

A special exhibition at the Musée de Cluny has

taken place for two and half months, and will close

on the 3 rd of January. An exhibition that has been

dedicated to the most successful comic character

in Europe, a character which simultaneously is a

type of national hero for the French: Asterix.

On the occasion of the 50 th birthday of the comic

heroes, the Musée de Cluny in Paris has exhibited

the Roman "Frigidarium Thermae" that once was

excavated from the northern area of ancient Gaul

and is these days integrated into the museum. And

even after the exhibition comes to an end, the

exhibition catalogue is still available in hardcover

Uderzo and Goscinny even

make fun of a "work of art"

which is particularly well known

in France: in Asterix the Gaul a

comic hints at the historic

painting "Vercingetorix throws

down his arms at the feet of

Julius Caesar", by Lionel Noel

Royer

form in various languages, for example

in German for 12 Euro from

Ehapa Verlag (www.ehapa-comiccollection.de;

ISBN 978-3-7704-

3378-0). In the exhibition as in the Asterix

in the Museum catalogue, there

are countless treasures previously

unpublished from the private

archives of the families Goscinny

and Uderzo. Among them are the

original drafts and sketches from

Albert Uderzo, and manuscripts

from René Goscinny. Photos from

the history of origin of the comic

success, an in-depth chapter about

the architecture that can be seen in

the comics and pictures, historic

paintings and graphic interpretations,

round off the overview of the

huge comic success on 48 pages

in format DIN A4.

■

René Goscinny and Albert

Uderzo work closely

together

XX 71
---
MAGAZINE

EUROPA-PARK

For the winter period Europa-Park has once again

thought up something very special as compensation

for the closed rides during the cold period of

the year, and has engaged an additional and temporary

attraction – the "Bellevue" Ferris Wheel from

showman Oscar Bruch. The back park area "Island"

was chosen as an ideal location, where all

other attractions, with the exception of the coaster

"blue fire", are also open during the winter period.

Park guests can enjoy a 55 metres high round trip

while drinking their glogg in one of the 42 almost

closed cabins until the 9 th of January, with the

exception of the Christmas days.

■

Photo:

HEIDE-PARK

Europa-Park

There have been speculations about the next

large investment at Heide-Park (Merlin Entertainments)

for a long time. But even the interim

confirmed rumours that there were intentions to erect

the highest coaster

in the world with a

150 metre height

proved to be unfounded.

Nevertheless there

will be a mega attraction

for Heide-

Park in 2011, and

one can say even for

the whole of Germany:

the first B&M

Dive Coaster in the country will be erected there!

Although with a length of 476 m it will be the second

shortest B&M coaster of all times following the

"Oblivion" at Alton Towers, even the only 350 m

long Dive Coaster in England has convinced park

guests for over 12 years, so one can really be happy

about the new adaption at Heide-Park. The

coaster at Heide-Park will be named "Krake", will

have a track difference of 40 m, and as in England,

will have a tunnel (with a track difference of 54 m).

But this will be phenomenally designed and will

give the passengers, 6 in each row, the illusion of

dropping down the throat of a huge octopus. After

a few moments in pitch darkness the survivors will

be expelled by an imposing water effect. An Immelmann

and a Camelback follow on the next track

stretch before the station is reached once again.

Additionally there is to be an impressive water

section on the park lake, known from substantially

larger constructions of this type in the USA, hence

the name "Krake".

■

72
---
COASTER MUSEUM

MAGAZINE

Inside view with a suspended

gondola from "Big Bad

Wolf" (earlier Busch Gardens

Europe) in the foreground

A car from the

Schwarzkopf "City Jet" (earlier

Gilian's Wonderland Pier)

Text:

Photos:

Frank Lanfer

Gary Slade

Different to earlier plans, the "National Roller

Coaster Museum of America", in short NRCMA,

has not been able to bring its own building

designs to reality, with available funds being

only sufficient for a type of barn construction

without windows and without an appealing

exterior design.

For many years money has been gathered from

private donations, particularly from coaster fans,

but it was finally the 25,000 US-Dollar donation

from Gary and Linda Hays, owners of the Cliff's

Amusement Park in Albuquerque, that made construction

possible. And that was more urgent than

ever as there had been many exhibits gathered

that have to be displayed – or at the very least

appropriately stored. An adequate exhibition is

not possible, but without a doubt the situation is

better than nothing. This shows however that

unfortunately even in the USA, where the culture

of amusement receives much stronger support

and appreciation than for example in Europe and

especially Germany, where theme parks and fairgrounds

are still not considered noteworthy by the

educated classes, is not considered worthy of

sponsorship.

Additionally aggravating also is that the states still

have to accrue cultural contributions from private

or alternatively economic initiatives. And so the

idea and the financial support of the Coaster

Museum is a purely personal issue that the state

doesn't have anything

to do with, and definitely

not in a monetary

aspect. And that's the

way it is in a free enterprise

system: no better

than a socialistic system,

both of which

every now and again

struggle with which

culture belongs to

mankind and which

doesn't.

■

Rescued train parts from

Prior & Church stem from the

1969 demolished "Big Dipper"

(Jantzen Beach) and from the

still existing "Giant Dipper"

(Belmont Park)

Front car from

Schwarzkopf's "Tidal Wave"

(earlier Frontier City) / photo

left down: Neon name sign from

"Thriller" (the coaster itself is

located in the meantime at the

Mexican Isla San Marcos Parque

Temático, and is called

"Tsunami" there

XX 73
---
❑

❑

❑

ABONNEMENT-AUFTRAG

Ich bestelle hiermit die nächsten 12 Ausgaben von KIRMES & PARK Revue ab Heft-Nr.

zum Abonnementpreis von 78,– € inkl. 7 % MWSt. und Versand (Deutschland)

Ich bestelle hiermit die nächsten 6 Ausgaben von KIRMES & PARK Revue ab Heft-Nr.

zum Abonnementpreis von 45,– € inkl. 7 % MWSt. und Versand (nur innerhalb Deutschlands)

Ich bestelle hiermit die nächsten 12 Ausgaben von KIRMES & PARK Revue ab Heft-Nr.

❑ Europa Normalpost zum Abonnementpreis von 99,– € inkl. Porto und Versand

❑ Europa Luftpost und Übersee zum Abonnementpreis von 111,– E inkl. Porto und Versand

Ich wünsche die angekreuzte Zahlungsweise:

❑ durch Bankeinzug. Die Einzugsermächtigung erlischt mit Kündigung des Abonnements.

Konto-Nr. Bankleitzahl Bank:

❑ gegen Rechnung. Bitte kein Geld einsenden, Rechnung abwarten.

❑ per Kreditkarte. Bitte ankreuzen: ❑ Visa ❑ Mastercard ❑ Diners Club ❑ American Express

Karten-Nr.:

gültig bis:

Das Abonnement verlängert sich jeweils um ein weiteres Jahr, wenn es nicht spätestens 6 Wochen vor Ablauf schriftlich gekündigt wurde.

Name

Straße

PLZ/Ort Datum Unterschrift

Bitte einsenden an: Gemi Verlags GmbH, Postfach, 85291 Reichertshausen

Diese Bestellung kann ich innerhalb von 10 Tagen schriftlich bei der Gemi Verlags GmbH, Postfach, 85291 Reichertshausen widerrufen.

Die Widerrufsfrist beginnt 3 Tage nach Datum des Poststempels meiner Bestellung. Zur Wahrung der Frist genügt das rechtzeitige Absenden.

Ort/Datum

✂

❑

❑

❑

Unterschrift

SUBSCRIPTION-ORDER

I order the next 12 editions of the KIRMES & PARK Revue in english from issue Nr.

at a subscription price of 90,– € incl. 7 % MWSt. and postage (Germany)

I order the next 6 editions of the KIRMES & PARK Revue in english from issue Nr.

at a subscription price of 51,– € incl. 7 % MWSt. and postage (Germany)

I order the next 12 editions of the KIRMES & PARK Revue in english from issue Nr.

❑ Europe normal post at a subscription price of 111,– € incl. postage and handling

❑ Europe airmail and other countries at a subscription price of 123,– € incl. postage and handling

❑ I will pay by credit card. ❑ Visa ❑ Mastercard ❑ Diners Club ❑ American Express

Card Nr.:

Expiry Date:

❑ I require an invoice.

The subscription is automatically extended a further year if a written cancellation is not received 6 weeks prior to the end of the subscription.

Name

Street

Postcode/City Date Signature

Please send to: Gemi Verlags GmbH, Postfach, 85291 Reichertshausen

This subscription order can be called in writing within 10 days by notifying Gemi Verlags GmbH, Postfach, 85291 Reichertshausen, Germany. The

time limit for cancellation begins 3 day after the date of posting my order. The time limit is ensured and proved by the timely posting of cancellation.

Date/City

Signature

74
---
Ihr Partner für das Schaustellergewerbe

D-34613 Ziegenhain

Kasseler Straße 44

Tel. 06691/3536

Fax: 0 66 91 / 59 97

mail@Dietz-Fahrzeugbau.de

www.Dietz-Fahrzeugbau.de

Rustikale Verkaufswagen bis 3,5 to

speziell nach Ihren Wünschen gefertigt

FOR SALE

Workshop for figure and decoration

construction

www.fideba.de

Tel:+49(0)351/8470241

For sale or Exchange Walkthrough

Attraction, Mack, 2

trains, 20 x 10 m, front and roof

new, TÜV 2013, mirror maze,

moving staircase, rolling barrel,

ready for touring, vehicle

registered.

Tel. + 49(0)163/8086555

or +49(0)177/7055198

Zamperla Dragon with Backflash,

ready for touring, good

condition, new lighting, 1 centre

trailer, 1 material wagon, 7

m, 1 paybox, built up 21 x 14

m, 30 kW, with books from Werner

Strengel, 170.000,- Euro

O.N.O. Contact Gemi Verlag

GmbH – Code Nr. K01-01/11

HanomagR40, built 1948,

complete new restoration, for

highest offer, currently 48.000,-

Euro. Tel:+ 49(0)175/2479588

Roundabout, Man. Reverchon

(Route 66), ready for

touring with special inspection,

price O.N.O. 200,000 Euro,

would take mobile home with

kiddie room or kiddie ride in

payment. Interested?

Tel:+49(0)8735/536

or +49(0)177/6546223

PURCHASE

Cash buyer searching for

cars from ride type L'Autopede

from Belgium, please offer

all you have.

Tel: + 31 653486142

BUSINESS CONTACTS

Transport Problems? We'll

•

BUDERO

THE TARPAULIN

FOR THE SHOWMAN

• • • • • •

•

• • • • • • • •

• • • • • • • • • • • •

All types of tarpaulins according to

your requirements, for large and small

ride, show, and walk-through operations

BUDERO B.V.

Vrijkenstraat 2

6088 PA Roggel NL

Ph. (0031) 475/492445

Fax (0031) 475/494390

www.budero.com

Besuchen Sie uns auf dem Delegiertentag

in Paderborn ab 17. Januar 2011

solve them! National and International

Schausteller-Trans-

Service Ewert Tel: + 49 (0)

171 5822722

Rumanian Employment

Agency: Here you will find personnel

from Rumania for your

showman operation.

Tel: +40/757 855175

EMPLOYMENT

Require foreman for the 2011

season. Truck licence essential!Contact

0043-664-1009907

or + 43-664-4000394.

www.schausteller-boehler.at

THOMSON SIMULATOR VENTURER MKIII

park model with many updated components

including software (films).

Also ideal as a travelling attraction.

Very interesting price.

Gambit Leisure GmbH • Lindenweg 11 • 28355 Bremen

Tel. 0421 257 55 33 • Fax 0421 257 55 35

Email: info@gambit-leisure.com

Aus gesundheitlichen

Gründen

ZU VERKAUFEN

Einmaliges Fischgeschäft

GASTMAHL DES MEERES

mit eigener Brötchenbäckerei

und Ausschank.

Auf jedem Festplatz

ein Hingucker!

www.gastmahldesmeeres.eu

Hersteller Fahrzeugbau Pfaff, Baujahr 2004, bestehend aus 2 Anhängern, hydr. absetzbar,

aufgebaut 12 x 5 m. Das Geschäft ist technisch und optisch in Top Zustand, komplett eingerichtet

mit allem erdenklichen Inventar. Sofort und ohne weitere Ausgaben betriebsbereit!

Außenfassade kompl. Echtholz, wunderschön dekoriert, 5 lebensgroße Piraten, 11 m hohes

Segel, 3 Palmen 3 m hoch, kompl. Bestuhlung (60 Sitzplätze), extra stehender Piratentisch

3 m und vieles mehr. Nach Abbau der Dekoration zu 100% für Weihnachtsmarkt geeignet.

Inventar (Auszug): Wiesheu Backofen mit Gärschrank, vollautom. Brötchenteiler WP, Spiralkneter Kemper, gr.

Ubert Backfischfriteuse mit Panadebecken, Doppelbeckenfriteuse, gr. Kühlzeile (3 TK Truhen, 1 TK Schrank),

Kühltheke, gr. Rührmaschine für Bierteig, 2 gr. Kupferabzüge, Fußbodenheizung, beheizte Wasserleitung.

Preis 360.000,-

René & Angelika Otto GbR, Am Erlicht 4, 07586 Bad Köstritz, Tel. 0163/7526706

Zur Information an alle Veranstalter: Sollte das Geschäft nicht verkauft werden,

wird es mit Liebe und Engagement von uns weiter betrieben! René und Angelika Otto

75
---
SOMMER-FRÜCHTE

"Wer nicht bestrebt ist,

besser zu werden,

hat aufgehört,

gut zu sein."

Wir bedanken uns

bei allen

Platzmeistern und

Behörden für das

entgegengebrachte Vertrauen und

empfehlen uns für die Saison 2011!

P. & C. Wunderle

Vogelherdstr. 4 • 90419 Nürnberg

Tel. 0151/ 22 63 72 38

www.sommer-früchte.de

Hansestadt Lüneburg

Ergänzende Ausschreibung

Lüneburger Weihnachtsmarkt

vom 23.11. bis 23.12.2011

Zwei Kinderfahrgeschäfte

Bewerbungen bis 28.02.2011 erbeten an

Hansestadt Lüneburg – Bereich Ordnung

Postfach 25 40 – 21315 Lüneburg

Unvollständige Bewerbungen werden nicht bearbeitet.

Die für den Weihnachtsmarkt geltenden Vergaberichtlinien

und Teilnahmebedingungen können ab 01.05.2011

schriftlich angefordert werden.

Kleiner, gepflegter, gut eingeführter

FAMILIENFREIZEITPARK

in zentraler Lage, aus familiären Gründen sofort zu verkaufen.

Ratenzahlung möglich.

Angebote unter Chiffre-Nr. K01-12/09 an die

Gemi Verlags GmbH, Postfach, 85291 Reichertshausen.

Verkaufe neuwertige Schienen

für Falgas Eisenbahnzug

(große Spur) 54 Meter Länge.

Holzschwellen, Baujahr 2006,

gerade Schiene 3 m, Kurve 2,20 m.

Preis pro Meter 28,- €

Telefon 0172-8464398

Ihre e Kasse K

klingelt

Wollen auch Sie, dass Ihr

und Ihr Geschäft zum Tagesgespräch wird, dann fordern Sie unseren Katalog

mit mechanisch beweglichen Reklamefiguren an. Selbstverständlich

sind wir auch in der Lage, SONDERANFERTIGUNGEN nach Ihren Wünschen

zu gestalten. Wir sind seit nunmehr 36 Jahren Ihr zuverlässiger Partner.

Besuchen Sie uns auch im Internet (mit Video).

Peter Stühler • Werbefiguren • Horst Baumann e.K.

Karl-Bröger-Str. 32 • 90765 Fürth • Tel. 0911 / 79 36 60 • Fax 79 38 29

E-Mail: info@peter-stuehler.de • Internet: www.peter-stuehler.de

Karussells der Spitzenklasse

R. VÖLZ

Industriestr. 3

44577 Castrop-Rauxel

Tel. 0 23 67/83 37

Fax 0 23 67/17 67

Nach wie vor liefern wir:

Schindeldächer,

Reetdächer, Mauerwerke

www.karussell-voelz.de

Für die historische Kirmes,

Markt und Freizeitpark:

SCHILDER AUS HOLZ

Über die Idee und den Entwurf, in

traditionellem Handwerk gefertigt,

liefere ich Ihnen

Schilder, Preistafeln, Dekoteile.

Ich freue mich über Ihre Anfrage.

Ihr Schilder-, Schrift- und

Dekorationsmaler: Meister Johann

www.meister-johann.de

Die Zugnummer für Feste, Märkte, Jubiläen

www.modellbahnschau.de

die einzige Modellbahn im Ausstellungswagen

Telefon 01 72 / 5 38 56 79

www.gemiverlag.de

Lackiererei

0671/794 7420

Tel. 07191/ 34 0135

www.miba-electronic.de

Wet Protect Feuchtigkeitsschutz

Fax 07191/ 34 0136

US-Trailer

& Zubehör

ab Elkhart, Indiana

500 S. Zub.-Katalog, Schutzgeb.10,-€

TRV TRADING CORP.

In Deutschland:

Tel. 06195-960507, Fax 960512

www.trvtrading.com

76
---
Rolf Auf dem Berge

Lawyer

Focal point: traffic law and claims for damages

Am Markt 14

49565 Bramsche

Telephone +49 (0) 54 61 / 30 30

Telefax +49 (0) 54 61 / 26 41

Mobile +49 (0) 1 72 / 301 9694

E-Mail: rae-auf-dem-berge@web.de

Schausteller-Versicherungen

Transport – Haftpflicht – Kfz

Altersvorsorge – Unfall – Kranken

Klaus Rübenstrunk

Hagener Straße 244 • 44229 Dortmund

Tel.: (02 31) 9 76 10 20 • Fax: (02 31) 9 76 10 21

Mobil: 0171 / 828 58 68

E-Mail: vb-ruebenstrunk@t-online.de

APPRAISAL-OFFICE

Gerd Römgens

Expert appraisal for the Showman Industry, Damages,

Conservation of Evidence, and Appraisal Reports

Tel. +49 (0) 171/ 264 89 29 and +49 (0) 2154/208308

Fax: +49 (0) 2154 / 20 83 13

Mail: sv-buero-roemgens@arcor.de

www.sv-roemgens.de u. www.roemgens.de

Gerd Römgens • Jupiterstr. 17 • 47877 Willich

Ihr Partner für das Schaustellergewerbe

D-34613 Ziegenhain

Kasseler Straße 44

Tel. 06691/3536

Fax: 0 66 91 / 59 97

mail@Dietz-Fahrzeugbau.de

www.Dietz-Fahrzeugbau.de

Moderne Verkaufswagen bis 3,5 to

speziell nach Ihren Wünschen gefertigt

www.kirmesparkrevue.de

YOUR MINI-AD WILL ALSO BE PRESENTED FREE OF CHARGE UNDER WWW.KIRMESPARKREVUE.DE!

Text

Basic

rate for

1-3 Lines:

8,- €

M

I

N

I

–

A

D

V

E

R

T

I

S

M

E

N

T

S

4 lines:

11,- €

5 lines::

14,- €

6 lines::

17,- €

7 lines::

20,- €

8 lines::

23,- €

9 lines::

26,- €

10 lines::

29,- €

PLEASE COMPLETE IN BLOCK LETTERS AND WITH SPACE BETWEEN WORDS!

❑ IN THE NEXT POSSIBLE EDITION

❑ IN EDITION NR./MONTH

Text price for 1x Edition €

❑ Please insert my advertisment under a code number (Cost 5,– €) €

❑ Specimen copy (5,50 € incl. postage & handling per edition) €

❑ The advertisment should appear for months (Multiply by total price) €

❑ 10 % discount for 12 months ❑ 5 % discount for 6 months €

❑ The total amount can be debited to my credit card, details below. TOTAL €

❑ Visa ❑ Matercard ❑ Diners Club ❑

Card-Nr.

Christian Name

Street

City/Date

Expirx date

Surname

Postcode/City/Country

Signature

www.gemiverlag.de

American Express

categories

(please mark with a cross)

❑ For Sale

❑ Purchase

❑ Job Market

❑ Business

Connections

❑ Deadlines

❑ Contacts

❑ Model Construction

FOR FORMAT ADVERTISMENT

please contact us on

Tel. 49 (0 ) 8441/40 22 13

Please send to:

Gemi Verlags GmbH

Postfach

85291 Reichertshausen

Please complete

without fail!

– Publication only by advanced payment or credit card. –

77
---
Service

KIRMES FOR SALE IN RAILWAY STATION BOOK SHOPS

✘ shows where ENGLISH VERSIONS are available

• 01069 Dresden, Wiener Platz 4

• 01097 Dresden-Neustadt, Schlesischer Platz 1

• 01109 Dresden, Wilhelmine-Reichard-Ring 1

• 04109 Leipzig, Hbf, Willy-Brand-Platz 5

• 06112 Halle, Hbf, Bahnhofplatz 1

• 06844 Dessau, Fritz-Hesse-Str. 7

• 10117 Berlin-Friedrichstr., Georgenstr. 14-18

• 10178 Berlin, Alexanderplatz, Dircksenstraße

• 10243 Berlin, Am Ostbahnhof

• 10623 Berlin, Fernbahnhof Zoo

• 10829 Berlin-Südkreuz/West, Neumannstr.

• 12439 Berlin-Schöneweide, M.-Brückner-Str. 42

• 12521 Berlin, Flughafen-Schönefeld, Terminal D E G

• 12681 Berlin, Boxberger Str. 3-9 / Haus 3 / Halle 2 West

• 13405 Berlin, Flughafen Tegel, Haupthalle, Bon Voyage

• 18055 Rostock, Konrad-Adenauer- Platz

✘ 20099 Hamburg, Hbf., Glockengiesserwall

• 20354 Hamburg, Bahnhof Dammtor, Theodor-Heuss-Platz

• 21337 Lüneburg, Bahnhofstr.

✘ 22765 Hamburg, Paul-Nevermann-Platz

• 23558 Lübeck, Am Bahnhof

• 24114 Kiel, Sophienblatt 27-29

• 25337 Elmshorn, Otto-Hahn-Straße 15

• 25813 Husum, Poggenburgstraße 12

• 26122 Oldenburg, Hauptbahnhof

• 26125 Oldenburg, Wilhelmshavener Heerstr. 32

• 26382 Wilhelmshaven, Bahnhofsplatz 1

• 26789 Leer, Bahnhofsplatz

• 27472 Cuxhaven, Bahnhof Haus 1

• 27570 Bremerhaven, Friedrich-Ebert-Str. 73

• 27749 Delmenhorst, Wittekindstr. 10/ZOB

✘ 28195 Bremen, Bahnhofsplatz 15

• 28199 Bremen, im Flughafen, Flughafenallee 20

• 29221 Celle, Im Bahnhof, Bahnhofsplatz

• 29525 Uelzen, Am Bahnhof

• 30159 Hannover, Ernst-August-Platz 1

• 30669 Hannover, Flughafen, Terminal A

• 31582 Nienburg, Bahnhofstraße

• 32052 Herford, Bahnhofsplatz 1

✘ 32423 Minden, Bundesbahnhof 12

• 33102 Paderborn, Bahnhofstr. 29

• 33330 Gütersloh, Willy-Brandt-Platz-2

• 33602 Bielefeld, Hauptbahnhof

• 34117 Kassel, Bahnhofsplatz 1

• 34131 Kassel, Wilhelmshöher Allee 253

• 35037 Marburg, Bahnhofstr. 33

• 37073 Goettingen, Bahnhofsplatz 1

• 38102 Braunschweig, Berliner Platz 1

✘ 39104 Magdeburg, Bahnhofstr. 68

• 40210 Düsseldorf, Hauptbahnhof

• 41460 Neuss, Presse & Buch im Bhf., Theodor-Heuss-Platz

• 42103 Wuppertal, Döppersberg 37

• 42277 Wuppertal, Berliner Platz 15

• 42283 Wuppertal, Winklerstraße 2

• 42859 Remscheid, Bahnhofsplatz 12

• 44137 Dortmund, Koenigswall 15

• 44629 Herne, Konrad-Adenauer-Platz

• 44649 Herne, Heinz-Rühmann-Platz

• 44787 Bochum, Buddenbergplatz, Süd-Ausgang

✘ 45127 Essen, Hauptbahnhof

• 45468 Mülheim, Dieter-aus-dem-Siepen-Platz 3

• 45657 Recklinghausen, Große Pferdekamp Str.

• 45879 Gelsenkirchen, Im Bahnhof

• 46045 Oberhausen, Hauptbahnhof

• 46395 Bocholt, Hindenburg Str. 1

• 46446 Emmerich, im Bahnhof

• 46535 Dinslaken, im Bahnhof

• 47051 Duisburg, Mercatorstr. 17

• 48143 Münster, Berliner Platz

• 48431 Rheine, Hauptbahnhof 1

• 49074 Osnabrück, Im Bahnhof

• 49356 Diepholz, Am Bahnhof

• 50667 Köln, Bahnhof 1

50667 Köln, Trankgasse 11

• 50679 Köln-Deutz, Otto-Platz 7

• 52064 Aachen, Bahnhofsplatz 2a

• 52351 Düren, Hauptbahnhof

• 53111 Bonn, Am Hauptbahnhof

• 53173 Bonn-Bad Godesberg, Moltkestr. 43

• 53879 Euskirchen, Bahnhofstraße

• 54292 Trier, Bahnhofsplatz 1

• 55116 Mainz, Bahnhofsplatz 1

• 55543 Bad Kreuznach, Europaplatz

• 56068 Koblenz, Bahnhofsplatz 2

• 57072 Siegen, Am Bahnhof 16

• 58089 Hagen, Berliner Platz 3

• 58239 Schwerte, Bahnhofstraße 35

• 58452 Witten, Bergerstr. 35

• 58644 Iserlohn, Bahnhofsplatz 2

• 59065 Hamm, Willy-Brandt-Platz 1

• 59227 Ahlen, Bahnhofsplatz

✘ 59423 Unna, Bahnhofstr. 74

• 59494 Soest, Bahnhofstr. 2

✘ 60051 Frankfurt, Im Hauptbahnhof

• 60594 Frankfurt, Diesterwegplatz 51

• 61169 Friedberg, Hanauer Str. 44

• 63450 Hanau, Im Hauptbahnhof

• 63739 Aschaffenburg, Ludwigstr. 2, Hbf.

• 64293 Darmstadt, Platz der Deutschen Einheit

• 65190 Wiesbaden, Bahnhofsplatz 2

• 65428 Rüsselsheim, Im Hauptbahnhof

• 66111 Saarbrücken, Im Hauptbahnhof

• 66424 Homburg, Im Bahnhof

• 66538 Neunkirchen, Bahnhofstraße

• 67434 Neustadt, Bahnhofsplatz 4

• 67547 Worms, Hauptbahnhof

• 67655 Kaiserslautern, Bahnhofstraße 1

✘ 68161 Mannheim, Bahnhofsplatz 17

✘ 69115 Heidelberg 1, Willy-Brandt-Platz 5

✘ 70173 Stuttgart, Arnulf-Klett-Platz 2

• 70174 Stuttgart-Mitte, Th.-Heuss-Passagen

• 70372 Stuttgart/Bad Cannstatt, Bahnhofstr. 30

• 71638 Ludwigsburg, Bahnhof 14-18

• 72072 Tübingen, Europaplatz 17

• 72764 Reutlingen, Bahnhofstr. 3

• 74321 Bietigheim, Bahnhofsplatz 1

• 75175 Pforzheim, Bahnhofsplatz

✘ 76137 Karlsruhe, Bahnhofsplatz 1

• 76227 Karlsruhe, Hauptbahnstraße 1

• 76646 Bruchsal, Bahnhofsplatz 12

• 79098 Freiburg, Bismarckallee 3

✘ 80335 München, Hauptbahnhof, Arnulfstr. 3

✘ 81667 München, Orleansplatz 10

• 86150 Augsburg, Viktoriastraße 1

• 86154 Augsburg, Ulmer Str. 53

• 87435 Kempten, Bahnhofplatz

• 87509 Immenstadt, Bahnhofstr. 39

• 87527 Sonthofen, Bahnhofstraße

• 87561 Oberstdorf, Bahnhofsplatz 1

• 87700 Memmingen, Bahnhofstr. 3

• 89073 Ulm, Hauptbahnhof

• 89312 Günzburg, Bahnhofsplatz 5

✘ 90411 Nürnberg, Flughafenstraße 100

✘ 90443 Nürnberg, Im Hauptbahnhof

• 91207 Lauf, Bahnhofsplatz 1

• 92224 Amberg, Kaiser-Ludwig-Ring 5

• 92637 Weiden, Bahnhofstr. 28

• 94032 Passau, Bahnhofsplatz 29

• 94315 Straubing, Bahnhofsplatz 13

• 95028 Hof, Bahnhofsplatz 12

• 95444 Bayreuth, Bahnhofstr. 20

• 95615 Marktredwitz, Bahnhofsplatz 7

• 96052 Bamberg, Ludwigstraße 6

• 96450 Coburg, Lossaustr. 4

• 97070 Würzburg, Bahnhofsplatz 4

• 97424 Schweinfurt, Im Bahnhof

• 99084 Erfurt, Willy-Brandt-Platz 12

78
---
Wir suchen SCHAUSTELLER !!!!!

"1050 Jahre Hadmersleben"

Wann: 01. – 03. Juli 2011 in 39387 Hadmersleben

Bewerbungen können schriftlich mit den üblichen Angaben und aktuellem Foto

bis zum 31.01.2011 eingereicht werden.

Stadt Oschersleben (Bode) • Kulturabteilung • Markt 1 • 39387 Oschersleben (Bode)

SILBERSCHMUCK 925

eine Kollektion, die sich sehen lassen kann.

Farbkatalog mit 1000 abgebildeten Modellen gratis

Schmuckimport-Großhandel ALFRED MAHLER

Lönsstraße 52 • 48317 Drensteinfurt-Rinkerode

Telefon (02538) 714 • Fax (02538) 354

www.silverdealer.com

Bürozeiten: Mo-Do 8-12 Uhr und 13-17 Uhr

Seit 1983

Ihr preiswerter Lieferant

für Schmuckwaren.

VERSANDHANDEL –

KEIN LAGERVERKAUF.

Wir beliefern nur Wiederverkäufer.

Firma D.ART

Ihr Spezialist für Polyesterarbeiten,

Airbrushbemalung und Fahrzeugbau

Wir fertigen für Sie Polyesterfiguren,

Gondeln, Fassaden,

Schindeldächer, Mauerwerke usw.

Meisterhafte Airbrushbemalung in 1A-Qualität!

Fahrzeugbau, Verkaufshütten, Weihnachtshütten,

Chipkassen, Imbissgeschäfte und vieles mehr.

Sprechen Sie uns an!

D.ART • Dariusz Zalewski • PL-44-295 Lyski, ul Leśna 5

Beratung: Darius Zalewski • Tel. 0048 / 694 / 189 486

Mobil (D): 0174 / 733 55 37 • E-Mail: darius_65@o2.pl

79
---
• Markt schöner Dinge •

58300 Wetter/Ruhr

im Stadtsaal • jew. 11-18 Uhr

Hobby- und Kunsthandwerk,

antik- und Sammlerobjekte

jetzt schon seit 21 Jahren !

termine 2011:

22. + 23. Januar

09. + 10. April

05. + 06. November

Eintritt: kostenlos für alle Besucher

Anmeldung/Info:

Angelika Mönch

0151-17820745

mailto: am@gela-promotion.de

www.Favatella-Werkzeuge-Wuppertal.de

Atriathermika Thermoisolationsfarbe • Energiesparfarbe

Generalvertretung Deutschland

Hierfür suche ich noch freie Handelsvertreter

Ich führe mehr als 1.000 Artikel aus dem Bereich Handwerkszeug, vom Hammer

über Schraubendreher, Zangen, Schlösser, Knarrenkästen, Bits-Bohrer, Pinsel usw.

Für Selbstabholer ist mein Lager in der Leipziger Str. 67, 42109 Wuppertal,

Tel. 0202/750051, Fax 0202/750666, E-Mail: info@Favatella-Tools.de

Von Montag bis Freitag jeweils 9.00-17.00 Uhr geöffnet, andere Zeiten sind nach

telefonischer Rücksprache möglich. Auch hier gilt Mindestauftragswert 100,- €.

Komplette Preislisten kann man aus dem Internet herunterladen oder anfordern bei

Rosolino Favatella • Leipziger Str. 67 • 42109 Wuppertal

Tel. 02 02 / 75 00 51 • Fax 02 02 / 75 06 66

80
---
Im Einkauf liegt der Segen

Schmuckpaket für Einsteiger . . . . . . . . . . . . . . . . . . . . . . . . € 125,00

Nickitücher 50 x 50 . . . . . . . . . . . . . . . . . . . . . . . . . . . . . . . € 0,50

Armbänder und Fußketten vergoldet und versilbert . . . . . . € 0,50

Anhänger an Kette vergoldet und versilbert . . . . . . . . . . . . € 0,50

Echte Seeopalketten . . . . . . . . . . . . . . . . . . . . . . . . . . . . . . € 0,75

Singender Fußball . . . . . . . . . . . . . . . . . . . . . . . . . . . . . . . . € 0,95

100 ml Parfum, 30 Sorten . . . . . . . . . . . . . . . . . . . . . . . . . . . € 1,95

Herrliche Holzketten . . . . . . . . . . . . . . . . . . . . . . . . . . . . . . € 0,75

Lederketten

mit Kreuzen, Peacezeichen, Adler usw., 50 Sorten . . . . . . . . € 0,50

Ärmelhalter, gold, silber, schwarz . . . . . . . . . . . . . . . . . . . . . € 0,50

Haarreifen, 100 verschiedene Modelle . . . . . . . . . . . . . . . . . € 0,50

Scundies, Haarbänder, Samt, alle Farben . . . . . . . . . . . . . . € 0,50

Weitere 1.000 Artikel am Lager.

B. Gendera • Mode-Neuheiten

Rheinbabenstr. 5 • 46483 Wesel • Tel. 02 81/2 79 84 • Fax: 02 81/2 20 65

www.gendera.de • E-Mail: info@gendera.de

The complete

Kirmes & Park Revue Team

wishes all our readers,

advertising customers,

marketers, showmen

and fairground fans

a Merry Christmas

and a Happy and Successful

New Year 2011!

81
---
undesweiter

Versand

…keiner steht schneller!

02 28

46 69 89

Fax 461564

53227 Bonn (Beuel) Röhfeldstr. 27

BAB 59 - Abf. Pützchen

•

BUDERO

TARPAULINS

• • • • • •

Contact person also for Germany

D. Hinzen

Tel. (0031) 6 531450 03

•

• • • • • • • •

82• • • • • • • • • •

Bitte liefern Sie Anzeigen per E-mail

als pdf oder jpg mit mindestens

300 dpi Auflösung an

anzeigen@gemiverlag.de

Anzeigenschluss für das Februarheft

ist Montag 3. Januar

Nebelfluid

jetzt auch im

VERSAND

und wie bisher am LKW auf

allen großen und kleinen Plätzen

NEU

NEU

NEU

GÜNDRA, Worms

Tel./Fax 06241 / 333 90

NEU

www.gemiverlag.de
---
Ihr Partner für

das Schaustellergewerbe

seit über 80 Jahren

Kasseler Str. 44 • D-34613 Schwalmstadt - Ziegenhain

Tel. 0 66 91/35 36 • Fax 0 66 91/59 97

www.dietz-fahrzeugbau.de • mail@dietz-fahrzeugbau.de

NEUBAU • REPARATUR • UMBAU • BEMALUNG

M. Ulrich

C. von Berg

S. Haring

L. Heppenheimer

U. Schilling

H. Distel

E. Distel

S. Hettenbach

T. Hartmann

Wir wünschen unseren Kunden und Freunden ein frohes Weihnachtsfest

und bedanken uns für das Vertrauen und die gute Zusammenarbeit.

Einen guten Rutsch ins Jahr 2011 und auf eine neue erfolgreiche Saison!

Mit besten Grüßen Familie Andreas und Willi Dietz