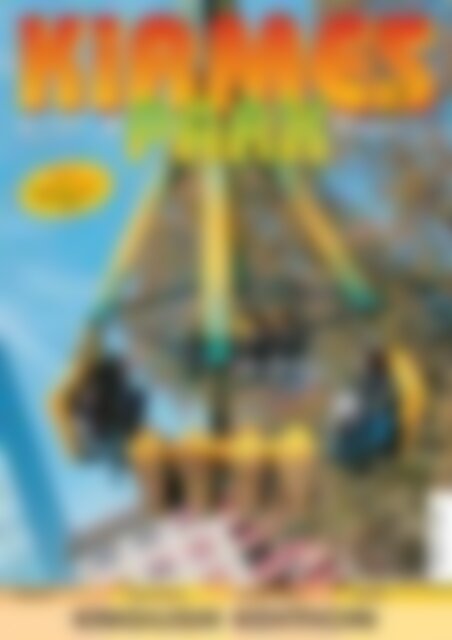 KIRMES & Park REVUE (English) Thriller (Vorschau)
You also want an ePaper? Increase the reach of your titles
YUMPU automatically turns print PDFs into web optimized ePapers that Google loves.
N o 197

& Revue Gebühr

12/2013

12/2013

€ 9,50

£ 8,00

$ 13,00

Gebühr

bezahlt

B 14432

Extra

Kirmes & DIETZ

Wall Calendar

2014

VDZ No 77467

THRILLER

RING°RACER

FLYING TURNS

TWISTER

ENGLISH EDITION
---
Bundesweit

einmalig!

Modernste

LED-LIcht-

Technologie

Weltpremiere:

Frühlingsfest Nürnberg

19. April – 11. Mai 2014

16 Sitzplätze

16 m Front

16 m Tiefe

22 m Höhe

Nur noch

wenige

Termine frei!

TÜV München

DIN EN 13814

100 %

Fahrspaß !

Auch 2014 auf Erfolgstour:

Störzer's STAR DANCER

Schaukel- und Loopingfahrt: Wir erfüllen die Wünsche unseres Publikums!

E-Mail: starprofi@aol.com • stoerzersascha@aol.de • Buchungs-Hotline: 0178/8114104 und 0177/828 45 97

Sascha & Alexander Störzer GbR • Büro Greiendorfer Weg 24 • 91315 Höchstadt a.d.Aisch
---
&

Revue

INDEX

ISSN 1436-6525

appears 12 x per year

■ Gemi Verlags GmbH

Pfaffenhofener Straße 3

85293 Reichertshausen

Tel.: +49 (0) 84 41/40 22-0

Fax: +49 (0) 84 41/718 46

info@gemiverlag.de

www.kirmesparkrevue.de

■ Managing Directors

Gerd Reddersen

Rudolf Neumeier

■ Chief Editor

Karl Ruisinger

■ International Representative

Translation, Advertisements

Agi Reddersen

Tel.: +49 (0 ) 84 41/8 10 57

Fax: +49 (0 ) 84 41/8 61 05

www.ag-advertising.de

Kirmes.A@t-online.de

■ Editorial Manager "Kirmes"

Ralf Schmitt

■ Editorial Manager "Park"

Frank Lanfer

■ Representative Great Britain

Michele Emmett

Tel.: +44(0)7811 915118

michele.emmett@googlemail.com

■ Representative USA

Shari Viox

Tel.: USA 314-477-8224

Shari@VioxLLC.com

■ Calendar of Events

Richard Veldhuis

■ Production

Westner Medien GmbH

■ Printing

Kössinger AG Schierling

■ Advertisements

GEMI Verlags GmbH

■ Sales and Marketing

Gerd Reddersen

■ Subscriptions

DataM-Services GmbH

Postfach 91 61

97091 Würzburg

Tel. +49 (0) 931/4170-178

(Mo-Do 8-17, Fr 8-15)

Fax +49 (0) 931/4170-179

services-abo@verlagsunion.de

■ Cover

Norman Vogt

ESU (European Showmen's Union):

Info: Page 72/73

Applies to advertisement price list 1/12

from 01.07.2012

All rights reserved. No part of this magazine

may be duplicated or published without written

permission from the publisher. This prohibition

also pertains to the commercial duplication

by copying, input into an electronic

database, and duplication onto a CD-ROM.

Certified active member of the

DECEMBER 2013

KALEIDOSCOPE

Facts – Observations – Short Portraits . . . . 4

NEW PRODUCTS

Premières and Announcements . . . . . 14

INTERVIEW

Toni Denies . . . . . . . . . . . . 16

PREMIÈRE

Thriller . . . . . . . . . . . . . . 18

ANNIVERSARY

Magic House . . . . . . . . . . . . 22

PORTRAIT

Twister . . . . . . . . . . . . . . 24

SPECIAL

Florida State Fair. . . . . . . . . . . 28

A LOOK BACK

Reports about Specially Selected Events . . 38

NOSTALGIA

Schramm's Bodenkarussell . . . . . . . 58

PORTRAIT

Tent-Theater Mario Liebe . . . . . . . . 60

GASTRONOMY

News from the Scene . . . . . . . . . 62

COASTER

Flying Turns . . . . . . . . . . . . 74

COASTER

ring°racer . . . . . . . . . . . . . 78

INTERVIEW

Movie Park Germany . . . . . . . . . 82

WATERPARK

Wet'n'Wild Las Vegas . . . . . . . . . 84

WATER RIDE

Aquagaudi . . . . . . . . . . . . . 90

MAGAZINE

Current News from the Park-Scene . . . . 92

PREVIEW

Calendar of Events . . . . . . . . . . 98

YOUR ENTRANCE TO OUR WEBSITE

3
---
KALEIDOSCOPE

DAS OMEN

The original "Das Omen"

front is now built up in front of

a new Walkthrough

construction

RACING CARS

Text & Photo: Nils Benthien

At the Oesede Kirmes,

the "Racing Cars" dodgem

track from the Tovar

firm from Glandorf, near

Osnabrück, was presented

with the new "Berlin"

Bertazzon chaises for the

first time. The chaises

caused quite a furore in

particular, due to their elegant

shape and their neoncoloured

painting. The cars

are equipped with LED

lighting, and the undercarriage

illuminated in blue

during the ride, being a

particularly striking feature.

For the season's finale,

Tovar's "Racing Cars" will

be presented at the Herbstjahrmarkt

in Osnabrück. ■

Bernd Tovar

Text & Photos: Ton Koppei

Since last summer, the "Omen" has been back on

tour – or rather the imposing façade of the funhouse

construction has been turned over to a new

purpose in the Netherlands.

For many years, the construction operated by the

Hempen firm could be found on many fairgrounds in

Germany up until the attraction was closed down in

favour of the novelty "Big Bamboo" at the end of the

season 2010, and the impressive front of the "Omen"

was put into storage.

At that time, Dutch showman Dicky Punt-Sloots was

thinking about an attraction worthy of succeeding his

"Rue de Paris" labyrinth built in 2010. Punt planned an

adventure construction and considered various

possible design themes. Somewhere along the line, he

remembered the "Omen" and contacted the Hempen

family. When an inspection

revealed that the front

parts, put into storage, were

in excellent condition, a

contract was entered into

and the front parts were

transported to Apeldoorn in

the Netherlands. Dicky Punt

then built his completely

new walkthrough construction,

the front being

assembled from the

effective polyester elements

of the Omen though.

The width (21 m) and the

height (15 m) remained unchanged

– the new "Omen"

is as imposing as ever. Even the large name sign with

its moving letters is in use again. Behind the façade,

there is now a brand new articulated lorry with a twolevel

walk-through construction. The not yet completely

furnished construction went into operation in

the Dutch town of Uden in July. The following venues

were, among others, Hoorn and Weert, where the

"Omen" was very well received by the public. New

features inside the construction now include, among

others, an earthquake simulation and the latest

creepy effects on LED-screens. As was the case back

with the Hempen family, a number of live actors

provide additional creepy moments inside as well as

in front of the construction. In 2014, the construction

will be presented on numerous fairgrounds in the

Netherlands. However, Dicky Punt is already planning

the next project, with which he will surprise the public

during the season 2015.

■

4
---
APOCALYPSE

KALEIDOSCOPE

From England to

France: "Apocalypse"

Text & Photos:

Norman Vogt

The Lunapark in Languedoc-Roussillon (Le

Cap d´ Adge) in southern France (with both

permanent and transportable rides) now

offers a quite exceptional coaster; the

"Apocalypse" built by Vekoma.

According to the owner, the construction was

built in 1980 and was built up in the British

"Spanish City" Park in Whitley Bay. From 1983,

the coaster caused a furore at Flamingoland in

Yorkshire, before it was eventually sold to

France two years ago. After the takeover, the

supports and tracks were newly painted in blue

and white respectively. The repainted coaster

was built up in the rear area of the Lunapark.

After sundown the construction is illuminated by

a large number of blue neon tubes and white

LED-lights. Two trains accommodate 24

passengers each, and in addition to the richly

curved ride, the two corkscrews offer a special

thrill.

■

5
---
KALEIDOSCOPE

CHANGEOVER IN BREMEN

Text: Ralf Schmitt

During this year's Bremen Freimarkt it was

announced that Carl-Hans Röhrßen's successor

as General Manager of the Bremen Showman

Association will be an old acquaintance;

namely, the former Bremen fairground director

Wolfgang Ahrens.

Röhrßen, 83 years old, will resign his post as

General Manager of the Bremen Showman

Association at the end of this year's Christmas

Market. He had always carried out this function with

a lot of commitment, authority, charm, skill and

humour. This summer, his successor Wolfgang

Ahrens has gone into retirement after 50 years of

employment in the public service, most recently as

head of the Bremen-Horn city authorities (since

2004). Ahrens became known in the showman

industry by his job as Bremen fairground director

in the 1980s and 1990s, when he was held in high

esteem by all as a true expert, despite his term in

office coming to a sudden end due to ongoing

problems. Back then there had been allegations

that Ahrens had accepted bribes from the showmen.

In the legal proceedings that followed, the

now at this point in time 'former' fairground director

was found not guilty, however. Wolfgang Ahrens

already appeared at the press conference at the

"Schwarzwaldchristel" prior to the Freimarkt, as

well as making his presence felt during this year's

Freimarkt.

■

Owner changeover

within Switzerland: "VIP"

VIP

Peter Baer's new

kiddie ride "Kunterbunt".

To right: Peter Baer, Conny

Müller, and the new "VIP"

owner Reto Büttiker (f.l.t.r.)

Text & Photos: Norman Vogt

Two years ago, Peter Baer from Zurich purchased

a brand new "Freak Out" from KMG, which

he presented under the strange name of "VIP"

on many Chilbi fairgrounds. The ride has now

been sold within Switzerland.

Back then, the attraction celebrated its successful

première in Wetzikon, where it was immediately

well-received by the public. The swing features an

unusual colour plan. It is painted in striking

turquoise and yellow as it is intended to differ from

the "Freak Out" constructions built so far. Baer

chose the strange name as, in his opinion every

passenger is to be treated like a V.I.P. guest. At the

end of the Basle autumn fair, he parted with the

"VIP" Swing again – new owner is his Swiss showman

colleague Reto Büttiker from Schaffhausen.

And what will Peter Baer do in the future? A longstanding

dream came true for him, when he

purchased a beautiful kiddie ride. His ride was

built by the Gosetto firm in Italy and is called

"Kunterbunt". It has already been built up inside

his hall.

■

6
---
...und noch eine Neuheit von Zinnecker:

Mit Schwung

ins neue Jahr!

Weiterhin unterwegs mit der Großschaukel

STREET FIGHTER

Wir wünschen Ihnen

ein frohes Weihnachtsfest

und ein glückliches und gesegnetes

neues Jahr 2014!

Alexander Zinnecker jun. • Forchheim/Oberfranken

Buchungshotline: 0173/912 32 94 • E-Mail: alexanderzinnecker@web.de
---
KALEIDOSCOPE

MOVIE 7D

Novelty: "Movie 7D"

from Marcel van Bellinghen

Text & Photos:

Patrick Vanstipelen

This season, Belgian showman Marcel Van Bellinghen

surprised the visitors on many fairgrounds

with his unusually designed simulator.

On the inside, the container-housed simulator

called "Movie 7D" not only provides the usual

action movies, but also simulated effects such as

wind, water and lightning that can be experienced

looking through special glasses

handed out at the paybox. Also unusual is the

container designed in the shape of a shark,

through the open jaws of which visitors reach the

seats.

■

BEACH FRISBEE

"Beach Frisbee"

from Heike and Heiko Weisheit

Text & Photos: Rolf Orschel

In 2012, Ricardo Högerle

from Heilbronn parted with

his "Beach Frisbee" ride and

sold it to Heike and Heiko

Weisheit from Gotha, who

now present the exotic ride at

minor events in Thuringia,

Saxony-Anhalt, and Saxony.

The ride of the "Galaxy" type

was built as "Aerobic" by the Bruchsal Ihle firm

for a showman in Denmark in 1982/83. In 1996,

Walter Georg from Volkach took over the ride and

operated it for two years. After several changes

of ownership and being renamed into "Tomb

Rider" (1999) and "Galaxy" (up until 2003), the

Jäkel firm from Zweibrücken toured the ride from

2004 to 2007. During this period, the ride was

renamed as "Beach Frisbee", after Jäkel had

purchased the backflash and the paybox of the

former Huss "Frisbee" from the Lehrmann firm,

and used it on the Ihle ride. In 2007, the ride was

shut down, packed up and put into storage for

three years, before it was eventually purchased

and technically overhauled by Ricardo Högerle.

After the takeover, the Weisheit family had all the

bolts of the ride renewed and the hydraulic

system overhauled. Currently, the ride is visually

overhauled and equipped with additional

decoration elements. During the ride, the arm is

hydraulically lifted to 45 degrees, bringing up the

grouped arm assemblies to a maximum height

of 9.50 metres. The ride with ground measurements

of 17 x 19 m has electrical requirements

of about 60 kW. Relocation requires two transport

vehicles, 1 centre trailer and 1 baggage

van.

■

8
---
KALEIDOSCOPE

In 2005, the open air museum of

Lower Saxony "Museumsdorf

Cloppenburg" acquired one of

the oldest, still existing Caterpillar

rides in Germany from

showman Fred Vater from

Tangendorf (Harburg district) at

a "symbolic purchase price". It

was built by the renowned "Hans

und Gundelwein Karussellbau"

in Wutha, Thuringia in 1936 –

some 10 years after the first

appearance of a Caterpillar ride

on German fairgrounds. Prior to

preserving the attraction for

coming generations in the oldest

German open air museum, the

ride has repeatedly changed

ownership.

Text: Michael Faber

Photos: Archiv Willy Krabbe

INFO

Matthias Bunzel: Die Raupenbahn

(caterpillar ride).

Culture and history of a

legendary ride in the Cloppenburg

museum village.

Verlag Museumsdorf Cloppenburg.

Niedersächsisches

Freilichtmuseum.

Cloppenburg 2013. Materialien

und Studien zur Alltagsgeschichte

und Volkskultur

Niedersachsens (Material

and study on daily life and

popular culture in Lower

Saxony), published on

behalf of the Stiftung Museumsdorf

Cloppenburg-

Niedersächsisches Freilichtmuseum

by Uwe Meiners).

ISBN 978-3-938061-25-1.

Available at bookshops or at

Museumsdorf Cloppenburg,

Bether Str. 6, 49661 Cloppenburg.

Price: € 15.50 ■

BOOK REVIEW

Operation of the Caterpillar ride has been

documented since the time of the economic

miracle. From 1952 on, the Duisburg showwoman

Ida Reminder was the owner of the ride,

until her grandson Ralf Reminder sold it to the

Gronau showman family Krabbe in 1957, which

operated the ride up until 1975. After that the

Caterpillar ride was under the ownership of the

Berlin showman Heinz Michen (1975-1977), and

the Hamburg showman family Rasch (1977-

1995), before it passed on to another showman

(1995-2005) yet again; the new owner, Fred Vater,

toured the ride throughout fairgrounds and Schützenfest

events in northern Lower Saxony and the

adjoining German federal states, before decommissioning

it in 2002. Having elaborately restored

the ride, the Cloppenburg museum village was

able to put the Caterpillar ride back into operation

at its "First Historic Village Fair" in July 2011. On

the occasion of the Village Fair 2013, the open air

museum published a book, richly illustrated with

photos and documents, going far beyond the

The Caterpillar Ride in the Krabbe era, 1962

history of this Caterpillar ride. The book presented

is the first profound documentary of the history

and the socio-cultural relevance of this ride type.

It is the result of research of many years that the

author Matthias Bunzel did during his time as a

scientific assistant at the museum, where he was

also in charge of the restoration of the ride.

The book is divided into chapters: The history of

the "Raupenbahn" ride type from Switchback to

Musik Express; the history of the Gundelwein-

Karussellbau firm (1910-1965); the history of the

museum's own Caterpillar ride up until the takeover

by the Cloppenburg museum village; the

Caterpillar ride after being taken over by the

Cloppenburg museum village up until its reopening

during the first Historic Village Fair

(2005-2011).

The chapters are followed by a listing, unique in

its form in publications about showman attractions,

of changes in the construction and decoration

elements of the Caterpillar ride under the

management of its various owners prior to the

takeover by the museum. A glossary of showman

trade terminology regarding the Caterpillar ride's

components is just as interesting. Scientifically

sound, interesting to read and including unique

pictures, the book (118 pages) is truly an enrichment

of any library for those interested in cultural

history and fairground objects.

■

The Caterpillar Ride in the Krabbe era, 1960

Krabbe's renovated Caterpillar ride after a fire

in the late 1960s: With new rounding boards and

widened gallery

10
---
NEW PRODUCTS

TRAUMGENERATOR

The "Traumgenerator"

from Scarlett Häsler and partner

Leonard Lemoine

Text & Photos: Norman Vogt

Since the middle of this year, the young showpersons

Scarlett Häsler and Leonard Lemoine from

Bielefeld have been travelling with the simulator

"Traumgenerator". Up until 2012, the base of the

construction travelled as "Adventure Shuttle"

under the management of the Barth firm from

Kastellaun, and the new owners will now present it

in a new, futuristic design.

After the takeover, the simulator was redesigned by the

new owners themselves, largely influenced by

Scarlett's father, Karl Häsler, in the period from January

to March this year. As a result, the visual design of the

"Traumgenerator" slightly resembles the "Sensorium"

that Häsler (together with his business partner) used

to tour successfully. On the outside, unusual film or

picture sequences on an LED screen get the public

attuned to an extraordinary ride in the silver and

anthracite coloured simulator. A number of special

effects, a specially produced 24-channel sound

system and ingenious lighting effects provide a

fantastic journey far removed from everyday life. As

was the case with the "Sensorium", Christian Wildermuth

produced an unusual sound experience. Many

disparate noises were effectively modified, mixed,

tuned to each other and blended into this extraordinary

sound experience by a professional acoustic expert.

A surround sound system from the Bose firm provides

for precise sound and a superb overall sound experience

inside the simulator. In addition to the

convincing acoustics, the film, consisting of many

short scenes, provides an impressive visual experience

– even though a concrete plot was deliberately

waived. While a family programme is shown in the

afternoons, adults get their money's worth thanks to a

number of special effects in the evenings. Many LEDlamps

have been built into the simulator's ceiling,

depicting a starlit sky shortly after the beginning of the

performance. The "Traumgenerator" requires two

transport vehicles for relocation. The construction has

a front length of 17 metres, is 7 metres deep and the

same in height, and has electrical requirements of 60

kW. Highlights in the first season were the appearances

at the Schützen and Volksfest in Goslar and at

the Cannstatt Volksfest in Stuttgart.

■

14
---
Das 50 Meter Riesenrad mit dem besonderen Flair.

Der herausragende Eyecatcher für Ihre Veranstaltung!

Auch bei schlechtem Wetter

sitzen Sie bei uns

im Trockenen!

Spektakuläre Dekorationen!

Energieeffiziente

LED-Lichttechnik

Wir wünschen ein

besinnliches Weihnachtsfest

und ein friedliches neues Jahr!

15 m 2 LED Wand mit

effektvoller Animation

www.jupiter-riesenrad.de

Wir bedanken uns bei allen Entscheidern für die vertrauensvolle Zusammenarbeit

und empfehlen uns als absolut

Barth zuverlässigen Vertragspartner

& Kipp

für die neue Saison!

Mobil: 0175 - 41949 42 • 0157 - 735 35 500 • E-Mail: info@schausteller-kipp.de
---
INTERVIEW

TONI DENIES

In Germany, the success story of

the "XXL" mega swing from the

Dutch manufacturer KMG began

at the Frühjahrssend 2009 in

Münster. After the preceding

success in its homeland it was

only a matter of time before the

swing came to Germany too. The

Denies-Kipp firm brought the

great swing experience to the

German fairgrounds, and the

huge flight height of 45 metres

has impressed both visitors and

passengers to this day.

With the "Konga" from Sebastian Küchenmeister,

the second construction under German management

is currently touring throughout Germany and

has enjoyed great success. Now the third construction

has joined the tour circuit. The Denies-

Kipp firm purchased the "Monster" from H.P. Maier

and presented it at the Hochheim Markt for the first

time. The Kirmes & Park Revue interviewed Toni

Denies about the "XXL" Duo.

Are you satisfied with the financial results and

the quality of the "XXL" mega swing?

Absolutely! A top product from KMG, leaving

nothing to be desired, enjoying unflagging popularity.

Text:

Michael Petersen

Photos: Michael Petersen, Heiko Schimanzik

Was this the reason why you purchased a

second, structurally identical construction?

Yes, we were not able to satisfy all site requests,

but now we can.

Under the management of Denies-Kipp: "Monster"

Does that also result in other, completely new

possibilities, such as building up both swings one

after the other?

This is indeed possible, but it should only be the

exception at absolute top events.

How did you make contact with the former

owner of the "Monster", H.P. Maier?

Nothing we were 100 percent satisfied with. Then

we learnt about the intended sale of the "Monster"

swing. In the spring we met Mr. Maier for the first time.

We had very good negotiations, and had almost struck

the deal, some minor matters being the only obstacle.

We met once again and signed the contract. The ride

was handed over in time for the Hochheim Markt.

Initially, there were plans to purchase another ride

attraction. We sounded out the market and informed

ourselves about pending novelties at the manufacturer

KMG. Our objective was something "XXL size".

Was there nothing available on the market?

Does the "Monster" differ from the "XXL"

swing?

Yes and no. Basically, the rides are identical in

construction.

But…?

Toni and Baby Denies

The "Monster" has a front and a rear side equally

illuminated and decorated. The swing can stand in the

"open". This gives fairground directors completely new

possibilities to lay out their fairgrounds. Moreover, the

theme is completely different. As a rule, the construction

is built up with a backflash though. For the

beginning of the season 2014, new effects will be

added.

Will you tour German fairgrounds only?

No, our plans also include neighbouring

countries.

■

16
---
PREMIÈRE

The latest Ghost Ride in

France: "Thriller" from

Stéphane Camors

A brand new ghost ride has

caused a furore in France. The

"Thriller" from French showman

Stéphane Camors from Boutervilliers

has sat new standards

and has been enthusiastically

described as "a new generation

of ghost rides" by the French

media. Inspired by scenes from

the most expensive video clip

ever (Michael Jackson's Megahit

"Thriller"), the showman had

his newly purchased ride decorated

with creepy motifs from the

video in order to present the

visitors with an extraordinary

experience.

Text: Norman Vogt

Photos: Norman Vogt, Archiv Camors

Thriller

Camors has had the idea to tour an attraction

themed like this for some time. He made many

drafts and changed them for so long until he

eventually came up with the final design. For

building the 22 x 10 x 14 metre ghost ride on three

levels, he contracted the Italian Effel Rides firm in

Brugine which, even though it has not been in

business for long, realised the showman's wishes

to his complete satisfaction. As Camors built

much of the construction himself, the new ghost

ride was ready to celebrate its première at the

Féte au Bois in the Paris suburb Boi de Boulogne,

where the "Thriller" immediately proved highly

popular, despite some start-up difficulties.Due to

its well-thought-out construction, the three

storeys of the ghost ride, completely packed on

one centre trailer, can be hydraulically unfolded

and elevated. The creepy effects, figures, decoration

elements and the name sign are loaded in

a baggage van, and the paybox has been

mounted on a flat-bed trailer.

Camors is above all pleased with the front

successfully designed as the pink-coloured

house that Michael Jackson and his girlfriend

enter after their visit to the cinema in the legendary

music video. Special eye catchers are the

illustration of the cemetery over the station, a

number of animated figures such as zombies on

the balconies of the second and third level, and

the "King of Pop" in a red outfit and with staring,

wide open eyes, sitting enthroned on top of the

paybox. The "Tanz der Zombies" can be controlled

via a touch screen display from the pay-

Owner Stéphane

Camors, to the right: sketch

and draft of the "Thriller"

18
---
PREMIÈRE

Dismantling of the construction

inside the manufacturer's hall,

during the first build-up in

France, and a transport vehicle

for the construction

box. After the howl of the werewolf,

the voice of Vincent Price

sounds over the microphone

saying the famous words "Darkness

falls across the land, the

midnight hour is close at hand",

and the zombies start their rhythmic

movements. It is a successful

and impressive show free-of-charge for the

visitors, who are above all thrilled by the

authentic outfit and the movements of the

Michael Jackson figure. The gondolas accommodate

up to 3 passengers each. From the station

the ride goes up to the third level, passing ghosts,

monsters and other creepy figures in a spiral

assent. Along the uppermost balcony, the

gondolas go down the first descent to the second

level, where a number of creepy characters

spook the visitors, with short video clips shown on

LED screens further enhancing the spooky

atmosphere. A pretty woman, for example, transforming

into a werewolf like lightning and

reaching out for the gondola with sharp claws and

bared teeth is a superb and shocking effect. The

creepy finale takes place on the ground floor,

where further shocking

effects, creepy

figures and LED

screens showing

ghosts give the

guests goose

bumps. After a ride of

almost 3 minutes, the

gondolas are back at

the station again. The

front of the ghost ride

is perfectly illuminated

by sophisticated

lighting effects.

While the depicted

houses on the right

and the left front side

A "Thriller" gondola from

different perspectives

19
---
PREMIÈRE

A part of what awaits

the passengers in the outdoor

area and inside the

construction

20
---
are brightly spotlighted, the middle

of the front depicting the cemetery

and the zombies is only sparsely

illuminated by subdued light. Moreover,

the name sign, flashing up in

different colours at regular intervals,

makes a highly appealing visual

impression. The spectacular front lighting is also

controlled via a touch screen display from the

paybox.

This year, the "Thriller" will also appear at an event

at the "Grand Palais" in Paris, where it will provide

a creepy atmosphere inside the exhibition hall for

music, built for the World Expo 1900, at the end

of the year. In addition to the new "Thriller"

Camors will continue to tour the "King Kong"

construction, which is presented at, among other

venues, the Lunapark in Frejús every year. ■

The theme is a

tribute to Michael Jackson's

"Thriller"

View into the control stand

21
---
ANNIVERSARY

30 YEARS MAGIC HOUSE

Since 1983, the "Magic House"

from Andreas and Sabine Kutschenbauer

from Delmenhorst

has been inviting the public to experience

a "fantastic world of

magic and illusions", that since

then has been entertaining visitors

on the German fairground

scene. Yet in addition to the 30 th

birthday of the attraction, there

was still another anniversary to

be celebrated. For 25 years, the

attraction built by the Dietz firm

has also been under the ownership

of the Kutschenbauer family.

Double anniversary:

30 years "Magic House" – 25 years

under Kutschenbauer management

Text:

Norman Vogt

The original look of the

"Magic House"

Photos: Norman Vogt, Archiv Kutschenbauer

Alook back: In the early 1980s, the showman family

Müller from Hanau contacted the Dietz firm in

Schwalmstadt, desiring to introduce a completely new

walkthrough construction to the fairground circuit. The

"Magic House" concept was brought into being, and

eventually successfully commenced operation in

1983. After five years, the Müller firm parted with the

construction, selling it to the Kutschenbauer family,

who presented it in Kassel for the first time. Over the

years, the "Magic House" has successfully appeared

at many Volksfest events, and the construction's

visual appearance has repeatedly changed – without

losing its original character. The front was newly

designed in 1990, and once again repainted with new

motifs and figures in 2008. Inside the construction, the

more than 200 metre obstacle course was provided

with a mystical, magical design. According to the

owner, the construction features some 80 effects

including, among others, air jets, light tunnels, moving

floors and a rolling barrel, providing ample variety and

fun. The crashing lift, built in directly behind the

entrance, is also very popular. For the season's finale

at the Rostock Christmas Market, the motto will be

"Immerse yourself in the fantastic world that awaits

inside the Magic House", before the construction will

go on to amaze the public with a number of new

special effects next year, said Andreas Kutschenbauer.

■

22
---
PORTRAIT

"Cyclone" from Billy Crow, built

by Sonacase/ARM

The speed and styling may have

changed dramatically over the

years, but the basic ride pattern

offered by the Twist (also known

as the Twister or Sizzler) has not

changed since its introduction to

the British fairground scene in

the 1960s – until now. Could two

relatively new rides show us the

way forward?

Text:

Owen Ralph

Photos: Owen Ralph, Desmond Fitzgerald

Twister

North of England showman Billy Crow, who

previously travelled a couple of Sizzler-style

rides built by Perrin Stevens and Keith Emmett, took

delivery last season of a new ride called the

"Cyclone" from Monty Hammond, trading as

Sonacase/ARM. Apart from its retro name and artwork,

the ride boasts one important difference to all

the other Twist rides currently out there – a lifting

centre. This unique 'twist' (excuse the pun) is

controlled hydraulically in a scissor lift-like motion

and was realised by Hammond following a

24
---
PORTRAIT

Impressive lighting effects at

Crow's "Cyclone"

suggestion from Billy Crow's son Dane, who can

often be found at the controls to the ride in the paybox.

Yet even on a towering construction like a Huss

Condor, the ride experience isn't much different at

the top than the bottom, and on Crow's ride the main

structure rises little more than a metre above the

floor. Because of the lifting mechanism, a motor is

required to turn each arm, whereas the Sizzler and

Twister rides that preceded it feature a simple tyre

drive that runs directly off the floor. The ride does,

however, fold up onto a single trailer.

So is the lifting Twist worth the extra investment? At

a standard fun fair perhaps not, but it was interesting

at the recent Hull Fair to observes the competition

between Crow's ride and a 'standard' Twister

positioned directly opposite (Showmen's Guild of

Great Britain rights make such clashes of position

inevitable from time to time). Whilst Crow's failed to

command a higher ticket for the "Cyclone", they did

seem to entice more riders. As well as the motion,

the dazzling LED light display no doubt had a

positive impact on passers-by.

Following a low key debut near London, Derek

Hackett's new "Xceler8" ride received scrutiny from

many showmen and fairground enthusiasts this

autumn at both Hull and Nottingham Goose Fair.

Marketed by its manufacturer Perrin Stevens as

Project X, the ride has draw comparisons to a Twist

for two reasons. First, Perrin's late father (Perrin Snr)

was the pioneer of the Sizzler with the many rides

he delivered under the PWS banner throughout the

'80s and '90s, the design brought up-to-date by

Perrin Jnr. In its horizontal loading position with its

three arms and four cars per arm, the Xceler8

almost resembles a Sizzler with the addition of the

suspended seating now common on so many other

rides.

According to Stevens, Project X was conceived in

response to those fair-goers that consider a

With suspended seats:

"Xceler8" from Derek Hacket

25
---
PORTRAIT

Thrilling – but without

looping: "Xceler8"

Manufacturer Perrin

Stevens builds this ride under

the name of "Project X".

Below: transport vehicle

conventional Twist to

be too "soft" but aren't

quite ready for the

intense ride experience

offered by an

"Extreme Orbiter". It

was the latter that

Hackett first enquired

about when he approached

Stevens

four years ago, PWS

having manufactured

two versions of the

ride made popular by

Tivoli Engineering.

Yet Stevens managed to convince

him that Project X

indeed had the X factor, and

it fulfilled Hackett's desire for

"something different" to

travel alongside his Czech

Miami, and so a deal was

struck.

"Just don't call it a Twist,"

pleads the ride's owner,

mindful that he might have

trouble securing sites for it if

fairground lessees think it will

present competition to the

Twist rides most of them

inevitably already own. In

truth, Project X is closer to an

Orbiter, Tri-Star/Troika, or

even a KMG Experience

without the looping gondolas.

Speedy enough to

deliver a thrill (Hackett's kids love it apparently), but

without the inversions that deter some ride-goers, it

may just find a niche. Mr Hackett has also

expressed his willingness to travel to mainland

Europe with the attraction if the opportunity arose.

Already equipped with a backflash, more decoration

and lighting will be added over the winter,

including a name sign.

Given that both rides profiled here are still, for the

time being, one-offs and over 100 'regular' Twists of

various kinds still travel on British shores, there

seems little chance of them superseding this old

favourite just yet, but you can't fault the

manufacturers and showmen involved for "thinking

outside the paybox."

■

26
---
SPECIAL

Impressive:

the Florida State Fair

Every year, the State Fair celebrated

in the US federal state of

Florida in February marks the

beginning of the major State

Fairs in the USA. For the 108th

Florida State Fair a total of 114

carnival attractions, along with a

number of attractions from the

"Independent Showmen", were

presented in a huge area east of

Tampa.

Text:

Wouter Koning

Photos: Wouter Koning, Richard Veldhuis

Florida State Fair (USA)

Appealing fair aspects

Abrief review of the event's origins: In 1904, the

South Florida Fair Association was founded

and submitted plans for a new exhibition, which

was initially referred to as the South Florida Fair and

later on as the Mid-Winter-Festival. Ever since

1915, the event has been called the Florida State

Fair.

The huge festival ground called the Florida State

Fairgrounds, are located between the Interstate 4

and Highway 301, an hour's drive by car from

Orlando, and has been the huge stage for the

Florida State Fair since 1977. From the free car

28
---
SPECIAL

Two of the many showman

operations at the State

Fair: Reithoffer Shows and

Dreamland Amusements

parks available to the visitors it is only a short walk

to one of the total of three entrance gates. In 2012,

the obligatory entrance fee to the completely

fenced-in area was $12 for adults and $6 for children.

At the weekends, admittance amounts to $10

(adults) and $5 (children), and on the opening day

there was a special price of $5 per person from 5

p.m. Children under 5 years of age were admitted

free. On the Midway visitors were able to buy the

required number of tickets at numerous "Ticket-

Booths", which could be exchanged at the different

rides and attractions – a system quite common

in the USA. No payment is possible at the different

attractions themselves. Price Information: Four

tickets were available for $5 and 20 tickets for $20.

At the attractions information panels are put up

showing how many of these tickets are required for

"The best Time of the

Year": the layout plan of the

Florida State Fair

29
---
SPECIAL

There was no shortage of

Ferris Wheels of every type

at the Florida State Fair

30
---
SPECIAL

Among the speedy

attractions at the State Fair was

also the Mondial construction

"Fighter" that was earlier

located in Germany, and the

"Magnum" Shake

one ride or admittance. For most of the large ride

attractions five tickets are required for one ride on

average. Visitors can also purchase a wristband

for $30 at the ticket outlet, which entitles them to

unlimited use of all the attractions at the fair.

The tickets bought at the entrance entitles visitors

to further events at the Florida State Fair, such as

extreme sports performances, animal shows, a

bear show, pig races, and an art exhibition or the

steam engine exhibition. The exhibition was open

daily from 9 a.m. in the amusement area, the Midway,

opened at 11a.m. from Monday to Thursday,

and already at 10 a.m. from Friday to Sunday.

31
---
SPECIAL

Matterhorns as well

as Switchbacks were present

in many variations

Most of the 115 showman attractions were provided

by the large American showman enterprises,

such as Arnolds Amusements, Reithoffer,

Dreamland Amusements and Meyers Midways.

Wade Shows was even represented by a total of

27 ride attractions for adults and children. However,

there are also a number of independent showmen

at the State Fair, for example Mike Lauther,

who presented several Ghost rides and Funhouse

attractions. The selection of attractions in the

amusement area includes almost all the rides and

tracks visitors expect to see at an event this size –

the classics naturally being available more than

once. The exotica among the rides included a

number of attractions that used to domicile in

Germany. One of them was the "Fighter" built by

Mondial (formerly Kaiser), the centrepiece of which

has meanwhile been extended to help spread the

32
---
SPECIAL

A small assortment

of family rides at the State Fair

33
---
SPECIAL

There were no wishes

unfulfilled regarding roller

coasters

enormous weight, due to

the strict American road

traffic regulations. Also built

by Mondial and hailing from

Germany (Friedrich) was

the large "Magnum" Shake,

which is in good condition and was very well received

by the public. For the first time, the showman

enterprise Reithoffer presented the Technical

Park novelty, the "Stinger" Loop Fighter at the

Florida State Fair. The ride was very well frequented,

and quickly became an outright crowd

34
---
SPECIAL

favourite, and was officially declared the "Best of

Shows" in the end. Another novelty was the "Rave"

– the smaller version of a "Rotor" in a colourful

retro-style – built by the American manufacturer

Dartron/Battech Enterprises.

Once again, the "Sideshow" presented by World of

Wonders was a special attraction at the Florida

State Fair. It is one of the last show booths of this

type (with a warm-up parade in front of the tent) in

the USA.

Every year, shortly after the end of the Florida

State Fair, the organiser publishes a list that includes

a "Top Ten" of the most frequented Midway

attractions and impressive statistics regarding the

event. In 2012, the ranking was as follows: 1 st

"Super Slide", 2 nd the "Sky Glider" cable car (both

constructions are permanent attractions operated

35
---
SPECIAL

A partial view of the

Florida State Fair

Tradition: Shows made

noticeable by original parades

36
---
y Florida State Fairgrounds), 3 rd "Hit In 2000"

(Musik Express, Wade Shows), 4 th "Himalaya"

(Musik Express), and "Giant Wheel" (both Wade

Shows), 5 th "Stinger" (Reithoffer), 6 th "Super Himalaya"

(Musik Express, Reithoffer), 7 th "Himalaya"

(Musik Express, Dreamland Amsuments), 8 th "Sky

Flyer" (Reithoffer), 9 th "Rollercoaster" (Roller Coaster,

Wade Shows), and 10 th "Magnum;" (Shake,

Wood Entertainments).

In 2012, 450,000 visitors were welcomed at the

Florida State Fair – 30,000 less than the year

before. Currently under consideration is a future

extension of the Florida State Fair by two to

fourteen opening days. The current schedule for

2014 still includes the usual 12 opening days:

from 6 th to 17 th February.

■

Two of the many entertainment

offers for smaller fair

visitors

Golf carts were available

for the handicapped or those

who just wish to be comfortable

37
---
MUNICH

Top-novelty with huge

Text:

Karl Ruisinger

Christian Ude, Dieter Reiter with Angelo

appeal: Goetzke's "Sky Fall"

Photos:

Helmut Bresler, Nils Benthien

Agtsch during the press tour

Wiesn-première 2013:

"Odyssee" from Kunz and

"Pirates Adventure" from

Schneider

Considering visitor attendance, the 180 th Wiesn

was "standard", with an estimated 6.4 million

visitors to the Oktoberfest roughly matching last

year's figure. The weather was quite changeable,

ranging from "picture-book days" to

"raining cats and dogs". Financial results did

not live up to expectations in every sector: In

order to be able to stroll across the Wiesn with

the now obligatory accessories, Dirndls and

smartphones, one had to be rather a "spend

thrift" with regard to splashing out money elsewhere,

such as for rides, the traditional grilled

chicken or even for the emblematic one-litre Maß

of beer. The showman sector in particular

reported decreases of up to 20 percent.

Considering the ride contingent, build-up and

layout however, it was one of the best Munich

Oktoberfest events of the last few years.

This was not least due to the appearance of various

novelties from all sectors, all of which achieved

positive financial results. Of course the world

novelty "Sky Fall" was the hit attraction. Regardless

of the weather conditions, long queues formed in

front of Michael Goetzke's giant tower throughout

the Wiesn, and the percentage of passengers

slightly disappointed that they went up and down

only once for the price they had paid was so low

that it is actually not worth mentioning at all.

Andreas Kunz can also be satisfied with the

financial results of his "Odyssee". It goes without

saying that he will continue to further improve and

add more details to his ride, but the performance

was already higher than average. The show

programme presented (not only) during the press

tour attested to commitment and the feeling for what

is truly special. The other two Wiesn novelties,

"Cobra" and "Pirates Adventure", had to do without

stepped-up press coverage, as they had not yet

been built-up and ready to operate at the time of

the preview by the journalists - due to the weather,

it was reported. Nevertheless, both fared quite well

throughout the 16 opening days, and deserve to be

called 'fit for the Wiesn'.

The different showman attractions were perfectly

arranged; crowd pullers, classic rides and prominent

towering rides were harmoniously spread over

the fairground – all serving as carefully chosen

landmarks. The massively occupied "corner site"

on the junction of the Schausteller-/Pschorr-Straße,

where the "Höllenblitz" and the "Fahrt zur Hölle"

38
---
DANKE für das Vertrauen und die Unterstützung!

Es hat sich gelohnt – und wir haben es gemeinsam geschafft.

Herzlicher Dank an meine Eltern Andreas und Irene Kunz, an die Stadt München und die Stadträte, an den Wiesn-Chef Dieter Reiter, an die Wiesn-

Manager unter der Leitung von Hans Spindler sowie an die Wiesn-Pressestelle mit Dr. Gabriele Papke.

Maßgeblich zum Erfolg beigetragen haben die Wiener Firma "Light Sound Media Design & Engineering GmbH" mit der Steuerung der fulminanten

Sound- und Lichteffekte, der hervorragende Künstler Joe Brockerhoff mit seinen Gestaltungsideen sowie die unzähligen weiteren Kaschierer, Elektriker,

Schweißer und die vielen Nothelfer. Danke für die Blumen, Geschenke und Masselstücke von Kollegen und Freunden.

Dank auch an meinen Pressereferenten Thomas Schmid, meinen professionellen

Regisseur und Freund Sammy Balkas, an Edmund Radlinger, an die Familien Avi

und Krems für immerwährende Unterstützung.

Einfach unverzichtbar und stets mit

Rat und Tat an meiner Seite –

Willy Fellerhoff.

Ich wünsche allen ein friedliches Weihnachtsfest sowie einen guten Start in die neue Saison 2014.

Andreas Kunz • München • Kontakt: 0163 / 80 33 500
---
were built up quite close to each other, almost

stifling the "Techno Power" placed in between,

needed some getting used to. Offering the fastest

ride at the entire Wiesn, the latter put up a successful

fight. A positive visual surprise was the "Flip Fly"

over-the-top swing, which held the top end site on

Straße 5 and made quite an impression on

approaching Wiesn visitors.

During the first third of the Wiesn, there was

pleasant late summer weather, then it grew colder

and the beer gardens emptied out. "Coalition

negotiations" in heaven between Aloisius and St.

Peter once again brought the event a beautiful (and

hopelessly overcrowded) public holiday on 3 rd

October before everything came back to reality and

the Wiesn and the fun came to a rainy end.

Showman-"Novelty" on the "Oide

Wiesn": Geier's wooden pillar-dodgem, Caterpillar

Ride (Bucholz) and a Russe (Hörmann)

Not new to the Wiesn, but

on the "Oide" for the first time:

Zehle's "Hexn-Wipp'n"

Oide Wiesn

The "Oide Wiesn" is on a successful course.

540,000 visitors were registered, up on "only"

535,000 at the last event in 2011 when the Wiesn

lasted 18 days. Wiesn boss Dieter Reiter proudly

stated that this event has become popular with all

groups, regardless of age and party differences –

and rightly so. Those having passed the unfortunately

still not very appealingly laid out

entrance area and putting on the new bracelet for

free re-entry, found themselves at a first-class

Old friends: Schleifer's

"Fahrt ins Paradies" and

Winheim's "Calypso"

41
---
Florian Dering and

Edmund Radlinger during the

build up of the museum tent

Lots of fun either watching

or taking part: Veteran-Parade

and velodrome

nostalgic fair. The addition of the Caterpillar Ride,

nostalgic Ferris Wheel and the wooden pillar

dodgem was perfectly right and did not deprive the

already "established" showmen of anything. Quite

to the contrary, in fact; there was not a single

attraction without long queues of visitors patiently

waiting in front! Those sitting in the beer garden of

the traditional beer tent, for example, watching the

Chair-o-Plane built up in front, were reminded of the

good old days when this ride type was a hit

attraction. Non-stop rides without even a single

empty seat were not uncommon – as was so often

the case during former "regular" placements of the

attraction on Schaustellerstraße. The four large

tents focused on different kinds of gastronomy and

shows. While visitors enjoyed beer and classic

dishes as well as performances of local and

regional groups in traditional costumes in the cosy

atmosphere of the traditional beer tent, the "Herzkasperl-Zelt"

offering vegan food and cabaret

provided them with a touch of refined zeitgeist.

Fully occupied as in the old times: Kalb's

old chain ride in the centre of the "Oide Wiesn"

Moreover, the extended and beautifully designed

newly-built "Velodrom" tent not only focused on

active sport fun, but also invited visitors to linger and

enjoy a drink – just as did the museum tent with its

historic exhibits, from where many very old restored

tractors and many a unique traction engine brought

back to life rattled, puffed and chugged across the

area, much to the delight of a friendly, prudent, and

interested public. A steadily decreasing number of

such visitors however are to be found at the regular

Munich Oktoberfest, a trend that has evolved over

the past decades. Whether or not the "Oide

Wiesn" will continue to be a pleasant refuge remains

to be seen though. After all, on peak days, the

annoying signpost "Closed due to overcrowding!"

has also reached this quiet oasis!

■

42
---
WENDEN

Text & Photos:

Michael Petersen

This year, the 262 nd "Wendsche Kärmetze" was

celebrated on 17 th , 18 th and 20 th August. The

traditional Volksfest is a colourful mixture of a

fair, a bric-a-brac market, and a district animal

show. In recent years it has become known as

the largest Volksfest event in South Westphalia

far beyond the borders of the region.

The fair is laid out in the market section in the upper

part of the town and on the large fairground grassland.

This time, some 400 showmen and marketers

built up their operations, including a number of top

attractions, and market stalls. The fair was opened

at the Ferris Wheel in the presence of BSM

President, Hans Peter Arens, in a ceremonial act

and the traditional tapping of the keg by Mayor

Peter Brüser. The fairground grassland was

dominated by two towering fair rides. Contracted as

top attraction was Ahrend's "Flasher", which was

joined by the "Roue Parisienne" Ferris Wheel from

Burghard/Kleuser. Other attractions presented

were the "Montgolfiere" (Zarnikau), the "Musik

Express" (Wendler), and the "Breakdance"

(Bonner), Wendler's Wave-Swinger, and the Berg &

Tal from Schneider. In the show and funhouse

section, Häsler's "Psychodelic" celebrated its début

in Wenden. This was a good combination,

especially appealing to the family public. The

market section was occupied by a number of kiddie

rides and Weber's "Flash" as the only large

attraction. The large bric-a-brac market enticed the

public to linger and search, as well as buy useful

everyday necessities. With many hawkers offering

the latest magic goodies for sale, many visitors were

not able to resist and did a lot of shopping.

According to the organiser, about 300,000 visitors

44
---
came to the fairground and happily celebrated until

the early morning hours. Only at about 2 a.m., the

beer taps were closed, and the lights at the

attractions were switched off. The varied supporting

programme included the brilliant fireworks display

on Saturday evening, the church service on Sunday

morning and the subsequent morning concert.

Tuesday was completely dedicated to the district

animal show, the banquet inside the beer tent and

the performances of the music societies "Hünsborn"

and "1908 Wenden". Despite dull weather

conditions, the showmen and marketers were

satisfied with their financial results this year. ■

BROCKUM

"Roue Parisienne" in Wenden

The Brockum Großmarkt, held in late October

every year, is one of the best known Volksfest

events in North-West Germany and is a colourful

mixture of an appealing fairground, a trade

show, a traction engine show and tourism fair.

This year, the 455 th market was celebrated from

26 th to 29 th October.

Text & Photos:

Nils Benthin

45
---
NEU 2014:

Schweinefleisch Gong Bao

Peking-Suppe

Der einzige reisende Asia Imbiss

mit chinesischer Chefin

und original chinesischen Köchen

Wir freuen uns auf Ihre Anfrage für 2014!

Wir danken allen unseren

Xiuqin Dai-Betz & Günter Betz Planckstraße 28 • 70184 Stuttgart

Scenes from the

Brockumer Großmarkt

Fairground director Manfred Lübker's market committee

team of four, which voluntarily organise the Volksfest,

once again succeeded in putting together an

appealing and varied event on the more than 70,000

m 2 market area with a fairground section of a total of

4,000 front metres. Rides presented there were the

"Breakdance" (Piontek), "Heiße Räder" Musik Express

(Armbrecht), "Around the World" Ferris Wheel

(Cornelius), "High Impress" (Oberschelp), the "Asia"

walk-through construction (Bügler), "Musicfactory"

dodgem track (Braun), "Cobra" coaster (Agtsch),

"Free Style" Swing (Agtsch), and "Mäuse-Spektakel"

(Landwermann). Younger visitors were able to enjoy

the "World of Fantasy" mini-roller-coaster (Bruch),

"Cars for Kids" kiddie dodgem track (Wegener),

"Hummelflug" (Hortmeyer), and a pony ride (Pasquali).

Moreover, the showman family Lesnik built up

its Galloper built in 1886, once again. A wide range of

attractive concession and sales stalls of all kinds

rounded off the cornucopia of attractions. On the brica-brac

market and the trade show goods were offered

for everyday use as well as agricultural equipment.

At the showman ball on Thursday evening, Manfred

Lübker, the Brockum fairground director of many

years, caused quite a furore. With the terse statement

"17 years are enough; that's it", he briefly

announced his retirement during the traditional

meeting, while at the same time introducing Nicole

Thrien as his successor. After the two-hour opening

programme on Saturday morning, accompanied by

music played by the Herold Pye Army Band from

Wallenhorst inside the Bayernfestzelt on Saturday

morning, the Mayor Marco Lampe opened the Großmarkt

with the traditional tapping of the keg in the

presence of a number of guests of honour. On Monday,

a number of ride attractions opened only in the

evening due to stormy weather. On the Tuesday, the

traditional livestock market with horses, cattle as well

as small pets opened at 7 a.m. According to the organiser,

more than 200,000 visitors once again

besieged the small community in the Diepholz

district throughout the four-day event, despite poor

weather conditions.

■

46
---
Auch kleine Dinge

brauchen manchmal

länger...

Für Ihre Geduld

und Ihr Vertrauen

bedanken wir uns

speziell bei den

Machern in Crange

und in Düsseldorf,

Frau Marek

und Herrn König.

Alt Wiener

Knödel Stüberl

Knödel, Strudel

und Crêpes

in feinster Qualität

NEU 2014:

Apfelstrudel

Topfen- & Nuss-Strudel

Geschäftspartnern für die gute Zusammenarbeit und empfehlen uns für die neue Saison!

Tel. 07 11 / 48 14 24 • Mobil 0172 / 979 46 98 • Fax 07 11 / 480 92 77 • guenter.betz@t-online.de • www.betz-gastro.de

BOCHOLT

"Octopussy Island"

Text & Photos: Michael Petersen

This year, the Bocholt Kirmes (18 th to 21 st October)

attracted more visitors than ever. Even the

opening days went down in history, with masses

of visitors crowding Berlin Platz and the city

centre in the afternoon, and long queues forming

at all ride and funhouse attractions.

Berlin Platz with its towering attractions in particular

was a real eye catcher. Visitors besieged the "City

Skyliner", that provided them with a magnificent view

across the fairground, the city and the surrounding

region. The "Event-Tower" was very well frequented

throughout the event – just as were the other ride

attractions and funhouses. Meckenemstraße also

registered a considerable increase in the number of

visitors, with the "Toboggan" once again providing a

lot of ebullient glee; the attraction really deserved a

more central site though. One section of Berlin Platz

had a new name this year. Hubert Markmann renamed

his site as "Octopussy Island"; two

illuminated and beautifully designed signposts

showed the way to the "Krake" however, which was

an appropriate replacement for the "Octopussy",

which was absent this time. The course from Berlin

Platz running in the direction of the city centre and

back was very prominently occupied by the "Hexentanz",

"Flash", "Booster", "Twister" and "Turbo

Force". All in all, much praise is due to Markus Kock

and his team for organising this year's Bocholt fair. ■

47
---
Oktoberfest-skyline in

Erfurt

Fackler's "Euro Coaster"

could hardly deal with the rush

demand

ERFURT

Text & Photos: Rolf Orschel

Beautiful late summer weather producing a rush of

visitors resulted in impressive financial results at

the Oktoberfest in the capital city of Thuringia,

celebrated on the Domplatz in the medieval city

centre from 21 st September to 6 th October. In

addition to the well-attended second and third

weekend, high visitor attendance on the 3 rd and 4 th

October brought the showmen good to very good

earnings.

After the Rudolstadt Vogelschießen, this year's event

was once again the second largest Volksfest in

Thuringia with record-breaking visitor numbers and a

successful mixture of ride and funhouse attractions.

The special appeal of the event with about 665 metres

of showman entertainment on the "Erfurt Domplatzwiesn"

fairground, as the Domplatz is called by locals

during the event, is made up by the combination of

traditional and modern attractions. The Erfurt Oktoberfest

was opened with the traditional tapping of the keg

by the Lord Mayor inside the beer tent on the first Saturday

at 6 p.m. Prior to the opening, the showman representatives,

the owner of the Braugold brewery and

representatives from the city authorities had proceeded

in carriages and a magnificent, historic

brewery wagon accompanied by marching bands to

the Domplatz, where the rides had begun to make their

rounds already at 2 p.m. and there was already the

tempting aroma of roasted almonds and fried

sausages. Bruch's "Bellevue" Ferris Wheel, offering a

magnificent view across the city and the surrounding

region, could once again be contracted as the main

attraction this year. New for Erfurt was the "Euro

Coaster" (Fackler), which could hardly cope with the

large number of visitors on peak days. Other

attractions presented were the "Projekt 1" from the

Boos brothers, Hentrich's Breakdance, the "Cortina

Jet" from Sachs-Schmitgen, and the dodgem track

from Krebs, and the show and funhouse sector was

represented by the "Halloween" ghost ride (Rasch)

and the "Crazy Outback" walkthrough construction

from Hofmann-Jehn. Moreover, younger visitors were

able to enjoy a "Super-8-Schleife", a kiddie carousel,

a Jet Ride, and a horse carousel. A number of snack,

beverage and sweets booths provided the visitors with

hearty traditional dishes, Thuringia specialities, and

many sweet delicacies. In addition, two large

Continental pick stands and many different

concession stalls invited the public to try their luck and

marksmanship. With the selection of attractions the

organising team from the city's event and market

department once again fully met the public's expectations.

With the Ferris Wheel alone conveyed to its site

on 16 rollers alone this year, the meticulously planned

build-up of the attractions was once again quite a

logistical feat. In the run-up to the event a detailed plan

was drafted, setting out the exact dates of arrival for

each attraction, in order to have enough space left for

the manoeuvring of the transport vehicles. Once

again, the guest appearance of the "Bellevue" Ferris

Wheel was professionally promoted by the Bruch

family and the city authorities, with many special

events and extensive poster advertising in the

surrounding region.

After 16 days, the Erfurt Oktoberfest closed with

record-breaking visitor numbers and a new trend:

While in previous years almost only Bavarian guests

were clad in local costumes and lederhosen, a

conspicuous number of local visitors have worn

traditional costumes in recent years.

■

48
---
Das einmalige Spaßkarussell für die ganze Familie!

...Schaukeln...Schwingen...Schweben...Fliegen...

...Vorwärts...Rückwärts...das kann nur der

BEACH JUMPER!

Minimaler Platzbedarf bei

maximalem Karussellspaß:

15 x 15 Meter ohne Rückwand

15 x 18 Meter mit Rückwand

Wir passen fast überall hin!

Planen Sie mit uns die Saison 2014!

Harvey Wegener • Bremen • Tel. 0177/6832972 • www.schausteller-wegener.de • Mail: harveywegener@yahoo.de
---
FÜRTH

Text & Photos: Helmut Bresler

What an atmosphere! Not to mention a peaceful

family event boasting estimated visitors in excess

of a million! The largest street Kirchweih event in

Bavaria has reached a position among the top ten

national events, it has a unique flair, and is fast

becoming more popular than even the events in

Nürnberg, Erlangen, and Forchheim. No bingedrinking

tarnishing the atmosphere, no beer consumption

records, no superlatives; simply straight

forward and down-to-earth!

The two pillars of its success are the city-centre atmosphere

and the marketers. Both are indispensable,

provide a distinct flair, and bring about a sustained

visitor attendance from opening hours in the late

morning on. The product choice includes, among other

items, porcelain, wool, knitted and traditional costumes,

car care products, pots and pans, vacuum cleaner

equipment and wickerwork articles – and there are

plenty of customers for them. For the 11 th time, the locally

and regionally known harvest festival procession was

broadcast by the Bavarian regional TV station, and the

Ferris Wheel formed a beautiful setting for a colourful 90-

minute live show with the two TV-hosts, Michael Harles

and 'local hero' Volker Heißmann, broadcast for the very

first time.

New for Fürth were the "Balluna" (Cremer), "Burner"

(Zinnecker), the "Jumper" Miami (Übel & Sachs), and the

"Big Bamboo walkthrough construction (Hempen),

along with those noted classics among the large rides,

the "Bayerischen Wellenflug" (Drelischek), "Break-

Dance" (Wolf), "Dschungel-Train" (Blum), "Orion 2"

Ferris Wheel (Drliczek), "Space-Party" (Gugel), as well

as the two todgem tracks from Perz and Kunstmann.

In the end, it was once again a successful event in

friendly weather, and 285 showmen were highly satisfied

with their financial results. Due to the surprisingly great

demand, the Kärwa coins - highly popular in Fürth - were

sold out in no time. Next year, there will be an extension

– the "Fädder Kärwa" will be extended by one day,

beginning as early as the Friday, the "Tag der Deutschen

Einheit", or German Unity Day. The largest construction

site in the city, next to the centrally-located venue of the

"Fürther Freiheit", did not cause any problems. The

supporting programme included many successful

events such as the "Kärwa" insert in the daily newspaper,

the traditional Kärwa advance celebration in church, and

the "Feierabend-Gwerch" with jugglers, stilt-walkers and

lives music. The traditional award ceremony for

marketers and showmen included two highlights. The

Gugel family can now look back on 100 years of participation

at Fürth – during the past decades with striking

ride attractions such as the "Hully Gully", "Santa Maria"

Swing Boat, or today's successful "Space Party". Moreover,

Marion Mehringer from the municipal land office,

the revered good friend of the Fürth events for 40 years,

was honoured with a special present – a hand-carved

carousel horse. There was some irritation, however,

about the delayed build-up of a kiddie ride. ■

Hempen's "Big Bamboo"

was a much admired and

successful attraction – The

"Burner" caused a furore in

the centre of the city

Very happy about her

award – Marion Mehringer.

Alongside Eduard Wentzl

(standing), BLV-Chairman in

Fürth, and Fairground Director

Thomas Oberndörfer, opposite:

city Area Director André

Hollitzer
---
PARIS

Text & Photos: Norman Vogt

More than one hundred attractions were

presented at the "Fete au Bois" fair event held

in Porte de la Muette, a suburb of Paris, from

30 th August to 14 th October. This year, there

were not only ride and funhouse attractions

placed on the fairground, but also relics from

the good old days; a couple of old caravans

serving to demonstrate the way showmen used

to travel back then. Moreover, a nostalgic tent

with free admission provided a lot of information.

In the entrance area to the tent, a number of

games were displayed that were fixtures at every

fairground many years ago. Exhibited inside the

tent were many pictures, advertising boards, "testyour-strength"

machines, fair posters and much

more. However, these exhibits were arranged

somewhat chaotically and accompanied by

simple notes providing information about the

individual exhibits and their origin. A man of

stunted growth heartily welcomed visitors in front

of the tent encouraging the public to a visit to the

past. A fortune teller rounded off the nostalgic

section.

The "Féte au Bois" is organised by French showman

Marcel Campion, who presented his "Air

Swing" chain ride, and was highly pleased that he

had been able to contract two debutantes for the

event; the "Thriller" ghost ride from Stéphane

Camors and the "Slide" (Campion/Francitto). A

special highlight this year was the only "Wall of

Death" still touring throughout France, which has

returned to the tour only recently and was very well

received by the visitors in the evening hours. True

to the motto "Dead Race", the Niglo family

demonstrated what can be done on a motorbike,

which should not be copied.

Built up in the front section of the fairground were

a Ferris Wheel and another slide providing a view

of the Eiffel Tower nearby, along with two steel

attractions, one of them the classic "Taxi Driver"

coaster, the other one the "Crazy Mouse". Very

well attended was the "Flume Ride" which

provided rather watery descents. The youth were

able to enjoy the Breakdance version "X-Factor"

offering a terrific lighting show in the evening

hours, and the "Maxximum" Propeller provided

first-class loopings. The selection of ride and funhouse

attractions was rounded off by the classic

"Pirat", the "King Kong" ghost ride, and the

"Crazy Space" walkthrough construction, as well

as a Go-Kart track, and a dodgem track.

The younger visitors enjoyed a number of kiddie

rides. On weekdays, visitor attendance was low as

not all the attractions were open, as is quite

common on French fairgrounds. A number of

showmen even complained that the duration of 7

weeks was much too long. A shorter duration of

the event would thus be welcomed by many

showmen.

■

52
---
Lassen auch Sie sich von uns beGEISTern!

☛Nebel mit Dschungelduft

☛Geisterdschungel Sounds im Innen- und Außenbereich

☛2 voll thematisierte Ruhezonen vor unserer Anlage

☛Live Akteure mit professioneller Theaterschminke,

die sich unserem Publikum anpassen (speziell geschult)

☛Abendprogramm für die größeren Kirmesbesucher

☛Der Geisterfluss mit ca. 30 m erlebnisreichem Fußweg mehr

☛1,40 m große sich abseilende Spinne

☛Spezielle mystische Beleuchtung im Innen- und Außenbereich

☛Wir garantieren eine Top Verarbeitung unserer Anlage!

Mit Liebe zum Detail und dem Drang zur Perfektion

19 m breit

9 m tief

www.ghost-entertainment.de

Hotline: 0177/314 87 12 und 0178/466 57 44 • Mail: a.burghard84@gmx.de • facebook Ghost – Der Geisterdschungel
---
MANNHEIM

A LOOK BACK

Text & Photos: Norman Vogt

On 28 th September at 5 p.m., the "Mannemer

Oktobermess'" was opened with the traditional

tapping of the keg by Mayor Michael Grötsch inside

the Beinhorn beer tent. Right up until 13 th

October, the rides once again continued to make

their rounds on the fairground in Herzogenried.

The visitors were able to enjoy a fairground bursting

with variety and a proper Oktoberfest atmosphere inside

the beer tent. This year, the organising "City

Events" team from the Großmarkt GmbH once again

succeeded in contracting several novelties for the

Mannheim event. All in all, visitors encountered more

than 130 attractions on the fairground. Apart from the

"High Explosive" family Coaster (Vorlop), the "Après

Ski Party" (Fackler), and the "Tanz der Vampire"

ghost ride (Nitzsche), appearing at the Oktobermess

for the first time, visitors were also offered the wellknown

and popular rides "Magic" (Spangenberger),

"Bayern Breaker" (Zinnecker), "Eclipse" (Korten),

"Beach Party" (Schmidt), and the Wave-Swinger

(Nickel). Other attractions presented were Göbel's

Ferris Wheel, the "Take Off" (Ruppert), "Alpha 1"

(Peeters), Göbel's Slide, the dodgem from Schmidt

and Haas, as well as the "Aqua King" (Zinnecker).

Moreover, the show and fun sectors were represented

by a simulator, and the walkthrough

constructions "Freddy´s Circus" (Zinnecker) and

"Aqua Velis" (L. Hofmann), and the younger visitors

were able to enjoy the "Doggy Dog" kiddie railway

and a number of kiddie rides. The ample cornucopia

of attractions at the Oktobermess' was rounded off

by a colourful mixture of games, sales, snack,

sweets, and drink booths.

Numerous beer gardens and the "Treffpunkt Einbaum"

rest area, integrated into the entrance area of

the fairground a couple of years ago, invited the

visitors to linger and enjoy.

The Supporting Programme: This time, Mannheim

had several reasons to celebrate; namely, the city

having been granted the right to have a market some

400 years ago, and the inauguration of Neuer Messplatz

as a fairground with the Oktobermess' event on

28 th September 1963. This was the reason why a

large anniversary fireworks display was held on Sunday

6 th October at 9 p.m. as an additional highlight

of the event. Visitors did not have to do without the

usual dates for the colourful pyrotechnic spectacles

on 4 th October and for the finale on the second Friday

though. This was, however, too much of a good

thing, as only a handful of Mannheim residents

wanted to watch three fireworks displays within 8

days. On both Family Days, Wednesday 2 nd October

and Thursday 11 th October, prices were reduced by

half at all ride attractions. After the 16-day event the

showmen reported average results. Due to the anniversaries,

some of them had certainly hoped for

better earnings and were disappointed by their

financial results.

■

Göbel's Ferris Wheel and

Korten's "Eclipse" shaped the

skyline of the 'Oktobermess'

"Freddy's Circus" from

Zinnecker

"Après Ski Party" from

Fackler and "Aqua King" from

Zinnecker

55
---
ADDENDUM: BERLIN

Photos:

Heiko Schimanzik

Additional photos relating to the A Look Back article in the

November issue of the Kirmes & Park Revue about the German-

American Volksfest 2013 in Berlin: These pictures, unpublished up

until now, document the special location and the surroundings of the

fairground on Heidestraße – within sight of Berlin's main railway station.

According to current information, this area will no longer be available

as a fairground for the German-American Volksfest in the future. ■

56
---
Keine Kopf-über-Fahrt!

Das Rundfahrgeschäft

für die ganze Familie!

Vorwärts – rückwärts – seitwärts –

rauf und runter – freier Fall –

wer kann mehr?

Foto: King

Wir bedanken uns bei allen Entscheidern, die uns eine so erfolgreiche Saison ermöglichten,

und empfehlen uns mit unserem einmaligen Familienkarussell für das neue Jahr.

Wir wünschen ein gesegnetes Weihnachtsfest und alles Gute für 2014!

Infos und Buchungs-Hotline: Ronny Deinert, Tel. 0163 / 190 53 31 u. 0163 / 441 51 51
---
NOSTALGIA

SCHRAMM'S BODENKARUSSELL

The old Galloper that the

Worms showman Jörg

Schramm took over from his

father some years ago, is a

nostalgic treat.

Text & Photos:

Norman Vogt

It is thought to have been built just

before the turn of the 19 th century

(1880 to 1890), as there is neither

a ride book from this time, nor any

information about the builder. The

current book originates from 1936,

when the carousel was fitted with a

motor, and ever since has been electrically

powered. The wooden

carousel, largely preserved in its

original condition, is lovingly cared

for by its owner, who presents it at

the Worms Christmas Market every

year. All in all, 36 passengers are accommodated on

the largely original ride accessories, be they a carriage,

boat, various small animals, a polar bear or horses

– almost all of them being resonant of bygone

days. The "oldest pick of the bunch" is said to be already

130 years old. Several showman colleagues

from the surrounding region are "sponsors" of the wooden

animal mounts, such as Monty Lagerin, whose

name has been immortalized on the Billy Goat. Every

year, the Schramm Family invests a great deal of time

on renovating and maintaining the carousel, attaching

so much importance to preserving the cherished

nostalgic charm of the carousel (6 metres in diameter).

This includes, of course, the wood and paint work.

When the rounding board was newly painted some

years ago, they strictly saw to it that the original character

of the pictures was preserved. In the 1980s a

critical moment occurred, when the carousel suddenly

caught fire during a guest appearance at the Ludwigshafen

Parkfest. Fortunately, the fire was quickly discovered

and extinguished. Notwithstanding the misfortune,

the fire damage was quickly remedied just a

short time afterwards, and the Galloper soon made its

rounds again.

■

Owner Jörg Schramm (l.)

and his colleague Monty

Lagerin, who sponsored the

Billy-goat

58
---
Karussellspaß

für alle

Generationen

Das doppelstöckige

Die Familien

Horst Langenberg

und Toni Bienert

bedanken sich

für die gute

Zusammenarbeit

und empfehlen sich

als zuverlässige

Vertragspartner

für die Saison 2014.

Wir wünschen ein besinnliches Weihnachtsfest und alles Gute für das neue Jahr.

Horst Langenberg Tel. 0172/262 22 52 • mail: horst.w.langenberg@t-online.de

WÜLFRATH

Platz am Rathaus

Schützenkirmes

vom 12. bis 15. September 2014

GESUCHT WERDEN GESCHÄFTE ALLER ART

Bewerbungen mit den notwendigen Unterlagen

sowie frankiertem Rückumschlag werden erbeten an den

Schützenverein Wülfrath 1929 e.V., Büroadresse:

Dagmar Osselmann, Talstraße 113a, 40822 Mettmann

Wer bis zum 10. Februar 2014 keinen positiven

Bescheid erhalten hat, muss dies als Absage werten.

Volksfest Neuötting

14. – 19. August 2014

komplett neu zu vergeben!

Bewerbungen aller Art bitte an:

Stadt Neuötting • R. Müller

Ludwigstr. 62 • 84524 Neuötting

Tel. 08671/976015

E-Mail: r.mueller@muellerbraeu.de
---
PORTRAIT

KASPERL AT THE BOUNCER – TENT-THEATER MARIO LIEBE

Some 15 travelling theatre tents

are touring throughout Germany

telling young visitors the adventures

of Kasperl – better known

in the English-speaking world as

Punch – Seppel, and the crocodile.

All of them have their roots

in or direct connections with the

comedian and showman scene.

One of them is Mario Liebe's family,

domiciled in Munich and Euskirchen

/ Rhineland.

Text & Photos:

Helmut Bresler

Professional advertising

prior to and during the

appearances

Quite a horde of children from the kindergarten

are already impatiently waiting at the entrance

to the travelling theatre 30 minutes before show time.

The paybox is still closed, the loudspeakers are silent

and the tarpaulin is firmly strapped down. But

nothing can mar the children's thrill of anticipation,

and they vie with each other for stories about Kasperl's

adventures. All of a sudden the running light

adorning the façade flickers, music starts playing

and the paybox is opened. Mario Liebe, the boss,

had left his caravan long beforehand and laid out on

The puppet theatre is the heart of the travelling

theatre tent and inflatable landscape

a table the Hohenstein hand puppets – each worth a

small fortune – in the order of their appearance. He

presents the afternoon show supported by his own

children. The 30-minute programme provides for the

story of the Räuberhauptmann Knallbüchse, or "Robber

Gunman".

The Liebe family (f.l.t.r.):

the older daughter Michelle,

daughter Lorene, mother

Silvana, son Jason, and father

Mario Liebe

60
---
Under the management of the 36-year old showman,

the theatre is now operated by the 3rd generation of

the family. Together with his wife Silvana, née

Wittman, they tour the entire German-speaking area

of Germany, Austria, Switzerland and Luxembourg.

They prefer to build up their operation in two distinct

sections. One section is the travelling theatre tent; the

other, the larger bouncer world. While the bouncers

– 23 pieces all differently themed – are put into storage

in the autumn and winter season, they surface

again with the first warm rays of sunshine in spring.

According to Mario Liebe, it is increasingly difficult to

find affordable venues. He professionally advertises

his attraction, generously putting up his billboards

along the main streets and reliably collecting them

again afterwards. Currently they are making many

appearances in Southern Germany. After a little rest

from mid-December, the new season for Liebe's

theatre tent starts at the beginning of the New Year.■

Daughter Lorene Liebe

presents the two most famous

Hohenstein glove puppets:

Punch and the crocodile

Details of the colourful fun

land of the Liebe family

61
---
CONFECTIONERY

KNUSPERHAUS

Built by the Pfaff

firm: the "Knusperhaus"

Text & Photos: Miichael Petersen

Ricardo Arens and his

partner Sandy Hortz presented

their brand new

confectionery sales wagon

"Knusperhaus" – built by

the Fahrzeugbau Marco

Pfaff firm – for the first time

at the Simjü-Kirmes in

Werne.

Immediately after the consecration

of the attraction by

pastor Sascha Ellinghaus and numerous congratulations

from their colleagues, they began selling.

The standards and ideas as well as the delivery

date agreed upon were perfectly realized and met.

The modern sales wagon with its spacious sales

area makes quite an impression, offering the

customer a view of everything, even of the different

sweet delicacies being prepared. In addition to the

large sales counter, the arrangement and the

partitioning also provided an unobstructed view of

the popcorn machine, the candy floss kettle, and

the almond roasting machine. The "Knusperhaus"

is 7.5 metres long, 2.5 metres deep and 6 metres

high. With a number of motifs from the versatile

fairyland theme not only in the front area, but also

on both side walls, the design of the attraction is a

true fairy-tale experience. The roof, with many 3-

dimensional decoration elements, is particularly

attractive. As is fitting for a true Knusperhaus, or

gingerbread house, smoke comes from the

chimney - thanks to a fog machine. On cold sales

days, the built-in under-floor heating system

provides a pleasant "working atmosphere". At the

Hagen Christmas Market, the "Knusperhaus" will

be presented in a theme appropriate to the

occasion.

■

Hortz

Ricardo Arens and Sandy

LA BAMBA

Text & Photos:

Norman Vogt

Gudrun (l.) and

Sarah-Lena Roschmann

The new chocolate coated

fruit wagon "La Bamba"

from Hans and Gudrun

Roschmann, who hail

from Eislingen in the

Göppingen district, celebrated

its première at the

Maientag in Göppingen.

Since early June, their

daughter has toured the

new speciality attraction

with the unusual name,

built by the Dietz Fahrzeugbau

firm in Schwalmstadt.

The wagon (without annexe) has ground measurements

of 7.50 x 3.70 metres; with annexe a depth of

5.70 m, and electrical requirements of 10 kW. According

to the wishes of the Roschmann family, the front

was painted with comic fruit motifs using airbrushes.

LED and neon lights were installed for lighting the

attraction. Several refrigerators and a 5-metre wide,

extendible refrigerated counter have been built into the

wagon. The menu offers delicious fruit skewers coated

with the finest chocolate in different variations. "La

Bamba" was also presented at the Cannstatt Volksfest

in Stuttgart.

By the way, Hans and Gudrun Roschmann will

continue to operate the previous model, the sales

wagon "Süße Spezialitäten mit Schokofrüchten". ■

62
---
So urteilen Presse und Fans über die

einzige Event-Achterbahn der Welt

"Wilde Maus kommt

groß raus"

Weser Kurier

17. Oktober 2013

"Die beste transportable

Achterbahn, die

es gibt"

Chris aus Bremen

Freimarkt Test:

Bestes Preis-/

Leistungsverhältnis

Weser-Kurier

19. Oktober 2013

"WILDE MAUS XXL:

Der Klassiker cool

aufgepimpt"

BILD

18. Oktober 2013

"Diese Achterbahn

macht total fun"

Tascha aus Hamburg

"Gutes noch besser

gemacht"

Bremer Anzeiger

27. Oktober 2013

WEITERE INFOS UNTER

WWW.WILDEMAUS-XXL.DE

wildemaus

®

Buchen Sie das TWO in ONE Erlebnis

für Ihre Veranstaltung:

Kontakt:

Max Eberhard & Sohn GmbH

Max Johannes Eberhard

Mobil 0177 2535041

Telefon 04183 9351875
---
CONFECTIONARY

KÄPT'N COOK'S SÜSSE SCHATZINSEL

"Käpt'n Cook's süße

Schatzinsel" from Steinker

Text:

Ralf Schmitt

Photos: Ralf Schmitt, Archiv Steinker

Homemade: An ample

selection of roasted almonds

and nuts

Heino Steinker

has successfully rebuilt the

former laser shooting gallery

The confectionery stall from Heino Steinker

features quite an unusual theme: Käpt'n Cook

sets foot on Sweet Treasure Island.

Three generations of the Augsburg Steinker family

have been touring Volksfest events and markets with

confectionery products. In addition to smaller sales

stalls, the "Käpt'n Cook's süße Schatzinsel" with a

front length of 12.50 metres and a depth of 4.50

metres, has undoubtedly been the new 'flagship' since

the last season. A wagon built by the Zierer firm,

originally incorporated into a laser shooting gallery,

serves as the solid base for the construction. Heino

Steinker purchased the wagon, removed the shooting

gallery, dismantled the vehicle, and rebuilt it into the

confectionery stall. Largely retained was the front (in

good condition) with its maritime artwork and

moulded plastic elements, which was then decided

would serve the new purpose of a confectionery

sales outlet. Apart from roasted almonds and nuts in

many flavours and prepared with little sugar, the

Treasure Island's product range

also includes chocolate-covered

and frosted fruits of all kinds, a

large choice of candies, gingerbread

hearts in numerous variations, as well as

indispensable Volksfest classics such as Magenbrot

(a sweet spiced pastry), popcorn, candy floss and

much more.

■

64
---
PIRATENBAR

GASTRONOMY

Text & Photos: Kai Morawetz

20 years ago, Katja Oelmann

from Niemegk (Brandenburg)

specialised in the operation of

mobile snack and beverage

booths, and now she and her

husband Gildo operate a number

of gastronomic operations. In

addition to these, the Oelmanns

have also been successfully

touring the distinctive "Piratenbar",

which is presented mainly

at maritime events.

They purchased the beverage ship

six years ago from a hotelier in Weißenfels, who had

both a small and a large attraction of this type located

at his premises. The Oelmann family took over the

smaller ship – with more pleasing proportions – and

prepared it for touring in their local "shipyard". The

"Piratenbar" was built completely of wood by an unknown

master carpenter modelled on a historic

medieval cog. For touring, the chassis (or should that

be hull?) had to be overhauled and equipped with new

axles prior to the interior of the ship being fitted out in

detail. The mast and the top sail were also newly made

by the Oelmanns themselves. The sound effects

suggesting wind in the sails to the appreciative guests

are particularly effective. A pirate crew mixes cocktails

and serves long drinks, various kinds of cold punch,

different varieties of wine and champagne, as well as

cold draught beer. Moreover, classic GDR Fassbrause,

or "keg soda" is offered to all those of a nostalgic

disposition in the flavours popular during the period of

the German Democratic Republic. In the cold season,

the menu mainly provides hot drinks such as Glühwein,

punch and hot, strong grog. The visitors can enjoy their

drinks at the ship's rounded counter or in the cosy beer

garden. For well-chosen events, the Oelmanns

contract Rüdiger Specht, in real life "Käpt´n Jack from

Kiel", to entertain their guests. The salty chap with the

unusually deep Jack Tar voice is really somewhat

creepy. Younger visitors and adults alike enjoy the

bloodcurdling and exciting stories about his long

journeys and adventure that the entertainer - clad in an

authentic pirate costume - relates, accompanied by

loud symbolic shots from the muzzle-loading gun.

The "Piratenbar", with ground measurements of 6 x 4

metres and electrical requirements of 16 kW, will be

presented at many large events, harbour and city

festivals, as well as at the Havelberg Pferdemarkt, the

Kieler Woche, the Hanse Sail in Rostock and the

Martinimarkt in Neuruppin.

■

The "Piratenbar" from

Gildo and Katja Oelmann, and

the boss with entertainer

"Käpt´n Jack"

Heiko Strohmann

LÖWEN BREZEL

Text: Norman Vogt

Photos: Norman Vogt, Ralf Schmitt

Fresh Löwen pretzels

at Strohmann-Böker's

Since last year the Strohmann

& Böker firm has

been presenting its new

"Löwen-Brezel" construction,

built by the Dietz company.

The Bremen showmen have

been offering their pretzels at

renowned events for 25 years and therefore attached

special importance to the recognition factor in the

design of their new attraction. As is tradition, the

woven pastry is made before the eyes of the

customers. All in all, up to 23 different kinds and

variations are on offer, from the classic pretzel with

ham and cheese to chilli pretzels. The "Löwen

Brezel" will be a regular guest at fair events in

Bremen, Vechta, Eschwege, Düren, Neuss, and

Oldenburg.

■

65
---
Exhibit at DEAL 2014!

• The most anticipated and longest running show

for the entertainment, amusement and leisure

industry in the MENA region.

• The show attracts over 5000 business visitors

every year, with over 80% from the growing

markets of the Middle East, Asia and Africa.

• Multi-million dollar deals get signed at the

exhibition.

Organised by:

8 th – 10 th April, 2014

The Arena, Dubai World

Trade Centre, UAE.

BOOK NOW

P.O. Box 50006, Dubai, U.A.E. Tel: +971 4 3435777, Fax: +971 4 3436115, Email: deal@iec.ae www.dealmiddleeastshow.com
---
Der Kristall-Palast

...immer ein Lächeln voraus!

Doppelter Spaß: Glas-Labyrinth mit 120 Spezial-Glasscheiben

und Lachkabinett mit 11 lebensgroßen Zerrspiegeln

www.kristall-palast.de

Wir bedanken uns für die vertrauensvolle Zusammenarbeit und empfehlen uns für die neue Saison!

Ralf Sturm • Tel. 0178/2158930 • E-Mail: ralf@sturm.st
---
The Flying Swinger

by LAMBORGHINI S.r.l.

Seats: 32 - 40 - 48

Possible versions:

Park Model or Travelling Model

Travelling Model on a 3 axles

semi-trailer, 15.50 m. long

Every piece and every component

of the ride loaded on the semitrailer

LAMBORGHINI S.r.l.

Via albino Protti, 444 - 45032 Bergantino (RO) - Italy -

Tel. +39 (0)425 805190 - Fax +39 (0)425 808133

Mobile: +39 335 7272011

Email: info@lamborghinirides.com

www.lamborghinirides.com
---
European Showmen's Union

Europäische Schausteller-Union

Union Foraine Européenne

International non-government organisation (NGO) • Established in 1954

President Albert Ritter

60 Years of Service to the Showmen and Volksfests in Europe

European Showman Union Celebrates Anniversary

tense family awareness, solidarity, and in particular

identification with the profession.

The future of the showman is determined more

and more by European committees. Therefore

constructive cooperation between the European

showman associations is more necessary than

ever, in order to improve the framework conditions

of the profession.

A picture from the early years: Participants of the ESU-Congress 1957 in Amsterdam.

It is one of the oldest professional associations

with over 70,000 members in 22 states: the

European Showman Union, abbr. ESU (German).

In 1954, already three years before the

signing of the Treaty of Rome that led to the

European Union of these days, national showmen

and amusement park associations merged

together into a European-wide representation.

Next year the ESU celebrates its 60 th

anniversary.

Showmen count as the oldest "cultural ambassadors"

in Europe, living the European idea of

understanding among nations already for centuries.

The amusement professionals already recognised

early the fact that mutual solutions can

only come about in the community. And this

philosophy led to the founding of the European

Showman Union in 1954.

The ESU has successfully supported the interests

of the showmen and the safeguard of the Volksfests

in Europe for six decades as advisory member

in the Council of Europe, the committee for trade

and marketing of the European Union, regardless

of about traffic and safety questions, education,

standardization, safety standards, tachograph exemption,

taxation relief, food law, reducing

bureaucracy, wind load and environmental

zones... the list is long. In negotiations with those

politically responsible in Brussels and Strasburg,

the ESU fights successfully for acceptable framework

conditions in order to ensure the future of

the Volksfests and the survival of the traditional

branch.

A primary concern of the European Showman

Union is the cultural recognition of the Volksfests.

Intensive discussions were undertaken in the past

with the responsible UNESCO-Commission of the

EU-member states. The centre point is the recognition

of the traditional European Volksfests as

an intangible cultural World Heritage.

The motto remains: Unity gives strength!

Showman companies are predominantly family

operations that have already existed for many

generations, with attractions being traditionally

given over to the successor. For showmen, the

family business is much more than a commercial

enterprise from where income is drawn. The showman

industry means maintaining tradition, in-

Cultural Asset and Economic Factor: Europe's

Volksfests.

"The showmen in Europe stand before many challenges"

said Albert Ritter, President of the European

Showman Union since 2006. "We can only

bring about a strong European Showman organisation

in the future together. My thanks go to

all 'comrades-in-arms' for your untiring commitment

for the wellbeing of the showman profession,

and the Volksfests of Europe." ■

The Presidium at the ESU-Congress 2012 in Brussels: f.l.t.r. Vice President Nicole Vermolen, Honorary

Presiden Heimo Medwed, President Albert Ritter, Honorary Ambassador Jany de Vries, Vice President Frank

Delforge, General Secretary Steve Severeyns, Vice President Charles Senn, Vice President Russel Perks, General

Secretary Jos Abrahams.

Photos: ESU
---
European Showmen's Union • Europäische Schausteller-Union • Union Foraine Européenne

Large Anniversary Congress of the ESU 2014

Dublin will be the meeting point of the European showman branch at the beginning

of next year. The ESU invites attendance at the 38th congress of the European Showman

Union in the Irish capital on the 4th January 2014. The agenda will include in addition

to the statutory re election of the Presidium, discussions about current association

themes such as the conversion to the Europa-Norm 13814 for ride attractions,

as well as the admittance of the European Volksfest culture on the World Heritage

listing.

However it's not to be all work in Dublin and there should also be entertainment,

after all there are two anniversaries to be celebrated in Ireland: 60 years European

Showman Union and 60 years Irish Showman's Guild. The huge double birthday

party will take place on the evening of the 4th January at the Gibson Hotel.

So let's meet in Dublin! 120 years of showman tradition!

Schedule:

3rd January 2014

■ Arrival

4th January 2014

■ 38th ESU Congress

■ Evening Event

5th January 2014

■ Homeward Journey

Hotel Recommendations

The Gibson Hotel (conference venue)

Point Village, Dublin 1.

Registration per email under:

events@thegibsonhotel.ie or per

telephone under: +353 (0)1 681 5000.

Price:

Single room 144 Euro,

Double room 124 Euro.

The ESU requests room reservations

are made early, and that a confirmation

of congress participants is forwarded

per email to kermis@bovak.nl

or mail@dsbev.de

Publishing Information

Publisher:

European Showmen's Union (ESU)

________________________

Responsible for contents:

Albert Ritter, rittera@dsbev.de

________________________

Editor:

Christoph Jansen, jansenc@dsbev.de

________________________

Address:

Europäische Schausteller-Union

c/o Deutscher Schaustellerbund e.V.

Am Weidendamm 1A • D-10117 Berlin

Tel.: 0049 (0)30 590 09 97 80

Fax: 0049 (0)30 590 09 97 87

E-Mail: mail@dsbev.de

Internet: www.esu-ufe.eu

WILLKOMMEN IN ESSEN!

2014 – METROPOLE DES RUHRGEBIETS – 2014

Für die attraktive Gestaltung der traditionellen Kirmesveranstaltungen im Stadtgebiet Groß-Essen

suchen wir gepflegte Schaustellergeschäfte aller Fachsparten.

Bewerbungen – mit den üblichen Unterlagen – erwartet die

I.G.S. mbh (Ritter/Müller), Hachestraße 68, 45127 Essen

als Beauftragte der Essener Berufsverbände.

Bewerbungsschluss ist – auch für Essener Kollegen – am 15. Dezember 2013

Zur Information: Um unsere ehrenamtlichen Mitglieder zu entlasten, werden keine schriftlichen Absagen erteilt.

Sofern ein(e) Bewerber(in) keinen Vertrag erhält, gilt das als Absage. Für diese Regelung bitten wir um Verständnis.
---
COASTER

The world's only Bob

made of wood stands at

Knoebels Amusement Park &

Resort since October 2013

Back in October 2005 Knoebels

Amusement Resort announced

that it was to build a wooden

Bob. Eye brows could be heard

raising the world over, and the

question was as to the necessity,

as the last one stopped operating

at Coney Island in 1974, and

new steel versions were available

from both Intamin and

Mack. But the park, or rather its

President Dick Knoebel had

always other ideas.

Text & Photos: Justin Garvanovic

Dick Knoebel opens his

"Flying Turns" Bob

Flying Turns

enough along with their plans to announce

it to the world. After all, there was already a

coaster designer working there. John Fetterman

had already designed the park's other

wooden coaster, the "Twister", which was

One of those ideas back in 1984 saw the loosely based on the Elitch Gardens Twister that

purchase and moving of the San Antonio was torn down in 1999. What nobody realised at the

"Rocket" from its home at Playland to Knoebels in time was that it would take seven years to do it.

Texas. At that time, very few wooden coasters had Ground was broken in January 2006, with work already

progressing on exactly how the wooden

ever been moved, but he wanted to save it, and indeed

he did, and to top it off, the aptly renamed trough would be fabricated. Multiple wooden layers

were meticulously laid down onto steel ribs. It

"Phoenix" is without doubt one of the US's finest

wooden coasters. So if Dick has an idea, it'll be was a work of art. Soon the ride's trough was added

worth listening to.

to the structure and a coaster not seen in the US for

When the ride was announced, the park only had more than 30 years rose from the ground.

incomplete plans, and no real idea how to build the The train design was being handled by Steve

all important car, but they felt that they were far Okamoto and Bill Kelley, who had formed Dynamic

74
---
Designs after leaving Morgan, where they had

designed – amongst others – "Steel Dragon 2000"

at Nagashima Spaland in Japan. Larson International,

Inc. in Texas would fabricate the train, and it

wasn't long before a prototype was available for

testing. Initially some old cars still in storage were

examined to see how they worked, in the hope of

fixing any problems before they arose on the new

ones. Unfortunately there were problems.

The nature of the ride makes it very hard to predict

the exact motion of the train at any one time, so

keeping the train on a set course has been an issue.

Mike Boodley better known for creating Great

Coasters International Inc, with Clair Hain Jnr. in

1994, were asked to come on board to help design

the new trains. Also, a new company was brought

in to help fabricate the trains: Ashland Technologies,

which was also involved in the construction

of the "Millennium Flyer" trains for GCI.

Mike Boodley suggested some slight track alterations,

such as shortening some of the straight

track sections. However it was discovered that due

to water getting behind the wooden layers, the

lower layers had badly rotted, which forced the park

to re-lay most of the ride's trough.

Testing the trains, to get the chassis working as

required, took over a year, with several iterations

tested. Also tested were various lengths of train,

with between one and five car trains being tried out.

It was found that the longer the train, the more

unpredictable its motion. Testing did show that

three was the magic number though, which

although impacting on the ride's capacity, did make

for a more controlled ride.

The highlight of a Bob

regardless if it is of wood or

steel, is the speedy and

simultaneously smooth ride

View from above of

"Flying Turns" complete course

75
---
During the extended testing period it was discovered

that for the train to be more stable and predictable,

it needed to be loaded in a certain way.

More weight was needed in the front, which lead to

a delicate situation where riders are needed to be

weighed. The park though came up with a very neat

system for getting around any potentially embarrassing

moments. When riders arrive at the

station platform an operator discretely sends them

to one of the three train rows, and asks them to

stand on a set of scales. A screen in front of the

scales will let the riders know if they are in the optimal

row, and if not, informs them – and another row

– to swap places. When the computer is happy that

the rider's weight is being optimally placed in the

train, the screen tells them to step forward into the

loading pen. A very neat system that at no time reveals

the weight of the individual riders.

An Amazing Ride Experience

The three car trains seat two passengers per car,

sitting one astride the other. The cars sit low on the

track, so that passengers are required to step down

into the car, and lower themselves into place. Exiting

the station and it's onto the first lift hill. The first

one is pretty minor – just taking riders up to the first

helix.

The nature of the ride – it is called "Flying Turns"

after all in the USA – dictates that it is basically a

series of tight helixes. So the first lift hill leads to a

sort of taste of what is to come. A downward 540

degree helix brings guests into the swing of things,

and they soon realise that maybe this modest sized

ride, may well not be as gentle as first imagined.

The second lift hill at 15.2m is more substantial, and

deposits passengers above the main body of the

FAST FACTS

■ Opening: 5 th Oktober 2013

■ Track height:15 m

■ Track length: 396 m

■ Max. speed: 38 km/h

■ Ride time: 2 min

(incl. 3 lifts)

■ 2 trains with 3 cars each,

per car 2 pass.

■ Designer: John Fetterman

■ Manufacturer: self-built

■ Operator: Knoebels

Amusement Park & Resort,

Elysburg (PA), USA

76
---
coaster. The gentle swooping of the left hand curve

that follows has a larger radius than any other on

the ride. With the train accelerating downwards it's

time to hit the "helix complex" where the ride's name

becomes apt. The train rides high in curves, seemingly

just above vertical in places, but when the

helix changes direction, the motion from one side

to the other is rapid and smooth. Probably the ride's

highlight, especially if sitting in the front. It is a simply

fantastic moment, and one that is relished on all

further examples of it during the ride, plus on every

repeat ride afterwards. Some coasters have high g-

forces, some have airtime, some have gut wrenching

drops, but "Flying Turns" has – for want of a

better term – "swoop time".

Leaving the helix complex behind there is a right

and left turn taken at high speed – park guests have

a good view into the ride, which is the reason that

Knoebels is adding a viewing area next to the first

turn. A final right turn and riders are literally on the

home straight; it's the only place the train actually

runs under its own steam in a straight line. A turn

and lift hill later and passengers are back in the

station, wishing they'd just send it straight back out

again.

It may have taken seven years for "Flying Turns" to

arrive, but oddly, there was never a doubt it would.

It's fair to say it was a labour of love for Dick Knoebel

and the rest of the Knoebel family. What they have

ended up with isn't just a unique attraction, it isn't

some folly of a past long gone, what it is, is a reminder

that new and shiny doesn't necessarily

mean best. "Flying Turns" is a monument to a

dream. And on top of that, it's a very fine coaster.

One really couldn't ask for more. Good things come

to those who wait.

■

77
---
COASTER

Finally at Nürburgring:

mega acceleration for

everybody - within two

seconds from zero to

almost 200 kilometres

per hour

Two dates will remain in the

memory of scene observers and

fans of coasters as far as the

theme "ring°racer" goes: the 28 th

January 2008 and the 31 st October

2013. On the first date

press information announced

nothing less than the fastest

coaster in the world; and on the

second date the end of a four and

half year odyssey and the finally

received approval for operation,

and a press opening.

Text:

Marcel Ringhoff

Photos: Jens Scheberg, Nils Gräf,

Nürburgring GmbH

The entrance to ring°werk

ring°racer

he times between could fill bands of books

Twith bankruptcy, bad luck and mishaps, as

well as anxiety, hope and resilience. In actual fact

not the ideal background for such an ambitious

project. And so it may well come as it should. Instead

of the anticipated starting date on the

Formula One weekend at the Ring in the summer

of 2009, the years passed, and apart from

(regional) headlines, the "Racer" did nothing. No

visitors, no positive interest, no turnover. Only two

bitter setbacks caused by human error in the

programming, and the basic test conditions.

Simultaneously to these setbacks, the decision

was made in the Eifel at the end of 2009 and at

the beginning of 2010, to start from scratch again

over the year until 2011 together with TÜV Süd

and the Actemium firm, specialist in steering technology.

And indeed – in late summer in 2011 there was

the successful TÜV approval. Was the end of the

horizon in sight for the final opening? Will the

"Racer" after a few rides by the public for advertising

– in its time with big names like Michael

Schumacher on the F1 weekend 2009 with

drastically reduced speed – finally be able to

catapult the regular anticipating racing enthusiast

into adrenalin-nirvana? To make it short, as we all

know the story: no – the point has not yet been

reached.

78
---
With Full Throttle out of the Pit Lane

It's only now on the 31st of October 2013 that an

end has come to the downtime in the pit lane. The

Ahrweil District Administration announced that all

data, certificates, risk assessments and experts'

reports are available – and namely in a, in the

meanwhile, around 48-page catalogue of requirements.

Hallelujah some may shout – rides on

the "Ringracer"? Then let's go!

The way leads onto the first floor of the ring°werk.

It appears to be an endlessly long waiting line.

Currently nobody is waiting here, however the

way still has to be walked through. Far too much

time to rethink if a ride is actually such a good

idea, and why not leave it to the professionals. The

way is more than dim as there are no windows,

and one is inundated with recorded safety guidelines

constantly. Finally arriving at the station with

separate loading zones and equipped with various

lighting effects, the bolide is finally standing

and ready. Very airy and very open – and it does

actually remind one of current and well known F1-

racing cars. Particularly noticeable is the Plexiglas

windshield that will elegantly lead the wind

away over the riding guests.

And finally after sitting down, the apparently lap

bars lock in and a jingle similar to "Who wants to

be a millionaire?" can be heard. Blood rushes to

the ear. An insistent throb can be heard. No idea

where it's all leading to as one hardly sees more

than a few metres of the course. The 8-seat

vehicle is pushed cautiously, travels into a left

curve, and after a few metres travels through a

gate into daylight. It's only at this point that one

actually realises the actual height of somewhere

around eight metres. The attraction travels lightly

downwards and makes a few wobbling movements

as a Formula-1-bolide when warming up

the tyres during the first round. And now we're at

the starting area – parallel to the real start straight.

And there is the

starting light: redred-red-red-redgreen...

Green?

Don't the lights

simply go out during an F1 race? But there's no

time to think about it. Thoughts remain somewhere

at the starting position, and everything's

simply all about acceleration. It actually smoothes

out various wrinkles in the face like a facelift – from

zero to 170 kilometres per hour in less than two

seconds according to the data. At full speed the

attraction travels straight ahead between the

famous straight and the tribune.

Then comes a smooth brake, as though Sebastian

Vettel was personally operating the pedals.

Into a left curve, up, a directional change and

almost vertically down again to climb a strong rise

of about 15 metres, and once again only speed.

The Boulevard rushes nearer. A small gate comes

up where this car has to enter. Will it fit? The airtime

wipes away this question henceforth. It fits,

and slowly the adrenalin ecstasy comes to an

end. Going by feeling it appears that the car is still

travelling at 80 km/h for a half a minute on a

straight stretch through the boulevard. A short

time outside again, through the last gate back into

the dim ring°werk. Brakes, yes brakes are simply

great. Back and at long last time and air to

breath...

What was all that? Have all the years of waiting

been worth it? A look at the video taken during the

ride condenses the memory to just a moment due

to the speed. The high resolution video pictures

of the Ridercam 2.0 HD in 720p show in 25 complete

pictures per second what the brain cannot

process – at least not the first time. It's only after

a repeat ride in connection with the currently

fastest coaster-video system in the world, which

brings all the experiences in the correct chronological

order.

79
---
A number of screen shots

from Onride-video system

"Ridercam 2.0 HD" (the camera

can be seen down right)

New Type of Onride Video System

Although the "ring°racer" is no longer the fastest

coaster – for that it's too slow for the mentioned

reasons – but those in front of it have no Onboardvideo

system on offer, and can therefore not show

the world what's actually happened, unless it's via

Facebook or other social interactive possibilities

on the net. Thanks to the trouble-free transfer of

data that no longer depends on the Wi-Fi standard,

but uses the H.254-Standard, the videos are

mass compatible in the truest sense of the word.

Whether it will become a real "racer" remains to

be seen, however at long last its odyssey has

come to an end. And one doesn't have to have a

driving licence to finally experience the racingbolide

feeling. Only thing left to say is: Have a

good ride always "ring°racer"!

■

FAST FACTS

■ Opening: 31.10.2013

■ Track height: 37.5 m

■ Track length: 1,212 m

■ Max. speed: 170 km/h

(initially planned 216 km/h)

■ Ride time: 2 min

■ 2 trains with 2 cars each,

per car 4 pass.

■ Capacity: 400 p.p.h

■ Manufacturer: S&S Worldwide,

Utah, USA

■ Operator: Nürburgring

Betriebsgesellschaft mbH,

Nürburg, Germany

80
---
INTERVIEW

The Ninja Turtles and

Park Manager Wouter

Dekkers (left) and

entertainer Ross Anthony

Brand new this year was the

family orientated "Teenage

Mutant Ninja Turtles: License to

Drive" in the theme area "Nickland".

We talked to the park's

General Manager Mr. Wouter

Dekkers.

Movie Park Germany

Text:

Stefan Peck

Photos: Stefan Peck,

Movie Park Germany

The first section of the

track bed of the "Bandit" was

renewed and affixed to the

supporting structure

Concealed behind this long name is a kiddie

driving school with two different courses: children

with a height of 90 to 120 cm have a Junior

Track available to them; the somewhat taller kids

from 120 to 140 cm can master a definitely more

challenging street situation with traffic lights and

sign posts. All the drivers travel through a recreated

New York City themed area, home of the well

known heroes Leonardo, Donatello, Raphael and

Michelangelo.

With the Turtles the park was able to integrate

another licence, which is not only popular with the

children, but the hearts of adults also beat a little

faster when they pose with the four walkingcharacter

reptiles for a photo.

The consistent deterioration of riding comfort on

Germany's first wooden coaster "Bandit" (earlier

"Wild Wild West"; manufacturer was RCCA in

1999) resulted in Movie Park Germany contracting

a special firm in Britain quickly in June. The

company initially modified the first drop, and not

only was the track bed renewed, the steel elements

affixed on the sides made subsequent

adjustments to the wooden structure possible

immediately. The investment for the first part is

around 320,000 Euro. Due to the already big

success with the modifications, the next two offseasons

with be also used for improvements on

individual track sections.

Interview with Wouter Dekkers

Mr Dekkers, let's first talk about the changes

to the wooden coaster "Bandit". How satisfied

are you with the initial results?

We're very excited about what the firm B J W

Groundworks Ltd has done. Not only is there a significantly

better ride experience, but we are now

in the position to ensure a constant and long term

ride comfort due to the adjustable side elements.

This type of wooden structure requires permanent

maintenance, which is the reason that we have

built in a better quality wood in the renewed sections.

We are very confident that the second and

third construction stages in the upcoming winter

periods will give the same good result. Next winter,

the next 300 metres of the track will be reworked.

82
---
Movie Park is the German trailblazer in the

matter of Halloween. How was this year's

Halloween Horror Fest?

I personally found the novelties for this year's

Halloween Horror Fest very successful. The

mobile sound system boosted the atmosphere,

particularly during the evening hours, and imparted

another feature to the actors. The new maze

"The Walking Dead" came into being with the cooperation

of the series broadcaster Fox Germany,

with which we not only have found a great partner,

but also an absolute cult-licence for our event.

How is the working relationship with the

relatively new owner Parques Reunidos?

We're very happy, and the interworking is

trouble-free. We enjoy the trust of our Spanish colleagues,

and the resulting independence. Another

plus point is the synergy effect, resulting for example

in the Nickelodeon characters and a part of

the licences going to other parks in the chain.

Many fans are unhappy about the condition

of a number of attractions at the park and

repeatedly ask for improvement or renovation.

What can you say about this situation?

The Film Museum is closed at the moment.

What's the reason for this and will it have other

uses in the future?

The popularity of the Film Museum was never

particularly high with our guests, and even on

peak days the visitor numbers were disillusioning.

Furthermore we are able to use the cinema now

for our educative school programmes. Within the

frames of a long-term master plan, we do intend

to convert the Film Museum. Currently we are thrilled

about the countless television productions,

photo-shootings and film shootings on our

grounds as well as the bordering TV-studios. This

is also a part of a film-based theme park, and just

as an example the new Opel- advertisement

shooting took place here.

Could you give us a small look into the 2014

season?

Currently we are in the planning phase for a

new attraction which at the moment is to be integrated

into a part of the earlier "Movie Magic" hall.

I can't reveal anything else though.

And one last question: Will Wouter Dekkers

remain at Movie Park?

Text:

PROJEKTE

Frank Lanfer

In actual fact a large

novelty coaster was to

be presented this season.

However, although

the special building approval

for an up to 60

metre high attraction

had been obtained, and

a local referendum had

turned out to be positive,

the Spanish parent

group that is under the

ownership of a privateequity-company

turned

out to be a budgeting

establishment, and the

project was put on ice. ■

When one imagines that the rebuilding of the

"Bandit" will already cost around a million Euro, it

must be appreciated that we must firstly undertake

urgent investments before the already planned improvements

for other attractions. Added to this of

course is that we continue to focus on new

attractions as well, so that in the long run we can

ensure the competitive ability of the park. Additionally

there is no standstill here; we are constantly investing

in maintenance and infrastructure.

Very definitely! The work here is a huge

amount of fun, and I can't see any reason to stop

at the moment. The tasks here – and even those

of the future – are particularly exciting, and for this

reason I wish to continue to push forward

energetically.

Mr Dekkers, thank you very much for this

interview and we wish you all the best in the

future.

■

83
---
WATERPARK

Hardly believable but

true: there was no water

park in the tourist stronghold

in the middle of the

desert for a whole decade

After a 10 year drought a new

water park oasis has debuted in

Las Vegas. Memorial Day weekend

saw the public opening of

Wet 'n' Wild Las Vegas, the

largest water park in Nevada.

Text:

Photos:

Marcus Gaines

Marcus Gaines, Jim Laurie,

Wet 'n' Wild Las Vegas

Wet 'n' Wild, WildWater

The entrance has been

kept very simple

Despite being one of the hottest cities in the

USA, Las Vegas has been without a water

park since the similarly named Wet 'n Wild

closed in 2004. Two Las Vegas investors,

brothers Roger and Scott Bulloch, recognised

that since the closure of the water park and the

Scandia Family Fun Centre, the city was lacking

in wholesome family fun. In 2011 plans were announced

to open Splash Canyon Water Park.

The Bulloch's intention was that "Splash Canyon"

would be a water park for Las Vegas locals.

A Water Park for Residents

It wouldn't be built in the tourist hot spot of the

Las Vegas Strip but instead somewhere closer

to local residents. Initial consultations revealed

this to be a popular move, but also that locals

loved the old Wet 'n Wild water park. So the team

joined forces with the Australian Village Roadshow

Theme Parks, operators of water parks

around the world, including Wet 'n' Wild Phoenix

and Wet 'n' Wild Hawaii.

84
---
The inclusion of an internationally recognised

name and world class water slides has made this

project a water park that tourists also want to

visit. But there lies a small problem, its location;

a 30 minute drive from The Strip makes it hard

for tourists to get there unless they have a rental

car. Driving through residential housing estates

it's very easy to think that one is driving the wrong

way, but there it is, a bright and colourful oasis

sticking out amongst the homes with a scenic

mountain range back drop.

A New Water Park for 50 Million $

Well travelled water park enthusiasts and fans

may be disappointed to find Wet 'n' Wild Las

Vegas isn't particularly big, but this is a water

park originally intended for locals and not international

visitors. The park isn't themed in any

way; it's predominantly white concrete with limited

landscaping. But what it lacks in size and

theming it makes up for in the variety of water

slides.

In the background is the

Las Vegas Strip with its hotels

and casinos

85
---
The "Hoover Falls"

and the "Royal Flush Extreme"

The attractions in the park have nearly all been

supplied by the Canadian manufacturer White-

Water West Industries. A company that Director

or Park Operations, Rick Belhumeur described

as "Fantastic, all the way from the design

process to the installation process." The parks

star attraction is the "Rattler" a multi person raft

ride from WhiteWater that almost immediately

goes into a "Rattle" or funnel. Positioned on a 90°

bend, riders are meant to go flying up the wall of

the "Rattle" and shoot side to side before exiting

into the outdoor section of the ride. The reality is

one doesn't go that high up the wall and it just

slows the ride experience. Leaving the "Rattle"

riders gather plenty of speed through wide turns

before dropping into the 2 nd and largest

"Rattle", this time getting thrills and moments of

weightlessness of riding the walls a number of

times before exiting into the shallow trough.

25 Different Slides

Sharing the same structure as "Rattler" is "Constrictor",

which leads to some confusion with the

queue line as it's not obvious which side of the

staircase one stands for which slide. "Constrictor"

can swallow up to 3 riders at a time on rafts

that travel through the enclosed slide. It features

the tightest turns that can be found on a family

raft ride and sends riders hurtling up the sides.

The ride is almost pitch black and adding to the

fear factor is that the diameter of the flume varies

in some places from three to two metres.

Sharing another structure is "Desert Racers", a

6 lane "Mat Racer" and "Canyon Cliffs", a 60 foot

tall 2 lane slide that features an almost vertical

drop. It may not be the tallest slide of its type but

there's still that moment of fear as one goes over

the edge that sends the heart pounding.

86
---
"Paradise Falls" is a multi level "AquaPlay Rain-

Fortress" from WhiteWater that features the

obligatory tipping bucket and 9 slides, 3 of

which are actually quite fast and fun, even for

adults. "Paradise Falls" is surrounded by a 300

metre long lazy river, "Colorado Cooler". Floating

around at a leisurely pace is most welcome

in the hot Vegas sun.

The "Red Rock Bay" wave pool also provides

exciting moments. On the far side of the Bay is

the third multi-slide structure featuring "Hoover

Half Pipe", a "Boomerango" that starts off as an

enclosed raft slide before dropping riders 17

metres and back up a wall that provides airtime

when dropping back down and into a splash.

And "Royal Flush Extreme", a "Superbowl",

starts off enclosed before dropping riders into a

giant bowl which they swirl around in before

dropping through a hole in the centre and into

the splash down.

developers sensibly signed an option for more

acres to expand on. But are they ready for a

major expansion already? Perhaps they should

wait and see how the 2014 season goes as

another water park is set to debut in 2014. Originally

scheduled to open in 2013, but delayed

due to financial rearrangements, Cowabunga

Bay will open on the other side of town next year.

Interview with Takuya Ohki

How have the first few months of

operation have gone?

We are thrilled with the great response we

have experienced from our local community and

visitors to Las Vegas. There was an initial spike

at the beginning of the season but attendance

has been steady ever since.

The Lazy River "Colorado

Cooler" and the "Canyon Cliffs"

in the background

Lower photo row: the

main attractions "Constrictor"

and "Rattler" from WhiteWater

A Friendly Atmosphere

Whether it's because the park is new

or it's the excitement of working in a

much wanted water park, all the staff

were incredibly friendly even six

months after the opening, going out of

their way to make sure guests have a

fun and safe day.

The park really does offer something

for all tastes and plenty of thrills, but

it's maybe become a victim of its own

success. During its first season the

park often reached capacity and sold

out of annual passes very early in the

season too. Naturally a busy park

leads to long lines and guests can expect

to wait from 1 hour to 90 minutes

for the bigger slides.

In building the park, as well as signing

a lease for the land it now stands on,

87
---
Park Manager Takuya Ohki

Text:

Even André Agassi is one

of the main investors (here at

the opening in May 2013)

'n or 'n' ?

Frank Lanfer

The water park from

Village Roadshow Theme

Parks has by the way nothing

to do with the earlier Wet 'n

Wild Las Vegas (one must

note the missing second

apostrophe), that was located

on 11 hectare sized

grounds directly on the Strip

(next to the earlier Sahara

Hotel). The park that closed

in September 2004 belonged

to the group of water park

pioneers and SeaWorld

founder George Millay, who

with Wet 'n Wild Orlando

(these days owned by NBC-

Universal) opened the first

modern water park in the

world in 1977. The Australian

Village Roadshow Limited

operates not only the two

water parks in Hawaii and

Arizona, but also a Wet 'n'

Wild and a Sea World

(please note hyphenated

name) in Australia. ■

What were the challenges of creating the

park?

As with any development there are certain

construction challenges to work through. For us,

the amount of caliches in the ground was a particular

challenge. However, thanks to a dedicated

investment group, our construction partners

and the partnerships created with local municipalities

and businesses (like Clark County and

The Howard Hughes Corporation/Summerlin),

the development of the new park was on budget

and opened on time.

What's next for Wet 'n' Wild? Plans for

next year?

Our team will evaluate our first season and

its successes and suggestions by our guests to

build upon what we've created in being the

place for families and thrill seekers.

How will Cowabunga Bay affect Wet 'n'

Wild so soon after opening?

Wet 'n' Wild Las Vegas is looking forward to

continue entertaining all Nevada residents and

the state's many visitors with world-class slides

and attractions, and vast industry experience

that are unmatched. We are confident that Wet

'n' Wild will continue to be THE place for families

and thrill seekers to create lasting memories year

after year as we build on our first year successes

and suggestions of our guests.

Any concern over reintroducing the name

Wet n Wild when there has already been a

water park of the same name in Vegas?

We were thrilled to bring the Wet 'n' Wild

brand back to Las Vegas. A Facebook page

called "Bring back Wet 'n' Wild to Las Vegas" had

more than 50,000 fans, and countless requests

to our sister Wet 'n' Wild parks in Hawaii and

Phoenix demonstrated this community's desire

for the return of this iconic water park brand to

Nevada. The outpouring of support by the community

has been remarkable, with more than

10,000 new fans to our social media pages in

less than 24 hours after our initial announcement

in October of last year; and now we have more

than 60,000 very active Facebook fans.

Mr. Ohki, thank you for your time,

and we wish you success with the new Wet

'n' Wild.

■

The initiators and investors

Scott and Roger Bulloch / photo

of grounds before building begin

88
---
WATER RIDE

The new attractive

water ride from Reverchon

replaces an older ride from

the same manufacturer

The Liliputbahn im Prater

GesmbH firm has operated the

"Donaujump" water attraction

for the past 22 years. However

in recent times the maintenance

costs and particularly

the downtimes have dramatically

increased, so it was necessary

for a new attraction.

Text & Photos: Wolfgang Payer

The Prater is very often

open until late evening hours

Aquagaudi

Anumber of well known manufacturers of log

flume attractions were contacted, and finally

the Reverchon firm received the contract. The requirements

of the Liliputbahn im Prater GesmbH

firm were in addition to a compact layout that had

to fit into the allotment, three drops without a reverse

section in between. The new attraction was

to be absolutely family friendly, so a reverse drop

was out of the question.

The reanimated French Reverchon firm was

flexible enough to be able to fill all the requirements

for the new white-water ride, and was also

able to fit the long

The three million Euro project opened at the

end of August without any particular problems.

Currently the attraction is still un-themed at the

Prater, however over winter and during next

summer a Maya-theme will come into being.

The station with the paybox and all elements that

have not been mounted will be covered, and

theming elements will also be placed in the

channel.

The water attraction has been so built that the

tracks that cross the Liliput ride travel through a

tunnel under the grounds. The Log Flume has a

course length of 420 metres with the centre level

being at 6 metres, and height level 14 metres.

Fourteen bamboo trunks are used by the

passengers. A large part of the ride has been

erected over an artificial lake, with a surface area

of 1,500 square metres.

90
---
The ride begins from the station by way of an S-

curve and leads to the back end of the attraction,

from where the boats travel up the first lift to land

shortly after on the middle section by way of a

small drop. This is followed by a 180° curve and

an S-curve that once again leads the boats back

to the rear section. A further 180° curve flows into

a pre-drop. The boats now have reached the zero

level, travel through a 180° curve again and climb

the second, higher lift. In the lofty heights the boats

turn around on a sweeping round course that ends

as finale as a large drop, with the water sequence

having a smaller camelback built in. At this stage

the boats return to the station after a total ride time

of around four minutes.

Resumée: It has turned out to be a lovely long

attraction that offers a lot of ride fun with its three

drops.

■

91
---
MERLIN ENTERTAINMENTS GROUP

The 2 nd largest amusement

attraction operator in the world

has gone public on the stock

market. Poole, UK, based

Merlin Entertainments Group,

which operates 99 attractions

across the globe, floated on

London Stock Exchange in

early November.

Text & Photos: Frank Lanfer

The announcement came as no surprise as they

had previously intended to release shares

back in 2010, but the global economic downturn

put the sale on hold. With the amusement and

theme park industry starting to see a return to

growth, and other large UK companies seeing

successful floatation in recent months, now was

the time to put a portion of the company up for

public sale.

Those wanting to purchase shares on the first day

of trading, 8th November, had to commit to

purchasing at least £1000 worth of shares. With a

starting price of 315p, those investing £1000 each

got 317 shares. On the first day of trading the

shares peaked at 12 % more than they were

initially sold for, before finishing the day at 347p

each.

The number of shares sold equates to 30 % of the

Merlin Entertainments Group, and values the

company at £3.2billion. The sale generated

£957million, of which, part of will be used to pay

off company debts.

Merlin has come a long way since it was formed

in 1999. The company was created out of a

management buyout of Vardon Attractions, which

owned the UK chain of Sea Life Centre aquariums.

Initially backed by private equity firm Apax Partners,

the business was sold to another investment

company, Hermes Private Equity in 2003.

When the Legoland chain of parks were

announced as being up for sale, Merlin's chief

executive Nick Varney stated he wished to buy the

chain, but Hermes Private Equity didn't want to

92
---
invest further so sold the company to the Blackstone

Group for around £100million.

Blackstone then went on to buy the controlling

stake in the Legoland Parks, and merged the

company with Merlin Entertainment Group in

2005.

Following the purchase of the Italian park, Gardaland,

the next major addition to the portfolio came

in 2007 with the acquisition of the Tussauds Group

which owned the famous Madame Tussauds wax

work museums, British theme parks, Alton

Towers, Chessington World of Adventures,

Thorpe Park and the German Heide Park.

In 2011 Merlin Entertainments ventured into a new

continent, Australasia, with the purchase of a

number of attractions from Village Roadshow

Theme Parks and Attractions.

Large scale expansion on top of their portfolio

acquisitions has lead to the creation of 2 more

Legoland Parks with additional ones on the way

in Japan and South Korea. They have also

expanded their smaller "midway" attractions by

opening 11 Legoland Discovery Centres in city

centres across 5 countries, Sea Life Centres right

across the globe, and several new Madame

Tussauds Wax Works. The success of the London

Eye observation wheel has lead to a number of

new "Eye" branded attractions, and the rebranding

of existing observation attractions such as the

Blackpool Tower Eye and Sydney Tower Eye

The purchases and mergers has lead to Merlin

Entertainment being owned by a number of

groups made up of the Blackstone Group, CVC,

Kirkbi (family trust that owns the Lego brand) and

Merlin management. Following

the 30 % sale on the

stock market, Blackstone

own a 22.6 %, Kirkbi have

a 29.9 % stake, CVC own

a 13.1 % share, and Merlin's

management retain

4.4 % of the company.

Chief Executive Nick

Varney who sold around a

third of his 1 % stake in the

company earning him

nearly £10 million said "We

have long stated our belief

that becoming a public

company was Merlin's ultimate

destiny, providing

the right long-term ownership

to enable the next

stage of development." ■

Upper photo row: (f.l.t.r.)

the London Eye, the Sea Life

Aquarium in California, "Steath"

at Thorpe Park, and "Raptor" at

Gardaland

Lower photo row: (f.l.t.r.):

"Dragon's Fury" at Chessington

World of Adventures,

"RoboCoaster" at Legoland

California, and "Hex" at

Alton Towers

93
---
BOND WORLD 007

Since the early years of the

1960s right up until these days,

the smart secret agent developed

into a permanent movie hit.

This made it possible for the

development of a faithful

following. And it's especially

the last films such as "Casino

Royale", "Skyfall" and "Quantum

of Solace" with the radical

change of type that had everybody

talking.

Text:

Verena Kagelmann

Photos: Schilthornbahn AG

An attraction from Switzerland is now taking fans

right back to the beginning, the "James Bond

World 007", which is a rather unusual attraction with

its end station being the Schilthorn with the rotating

restaurant Piz Gloria. Visitors can take a look behind

the setting of the sixth film produced in

Switzerland in Lauterbrunntal near Interlaken in

1969, "On Her Majesty's Secret Service", and even

take part interactively.

The highlight of the new Bond-World is the interactive

simulator that allows all fans to experience,

amongst others, the famous helicopter ride (Aloutte

III Air Glacier), and the speedy drop into the typical

orange coloured Bob.

For real fans this is

naturally mandatory.

For all the others

there's the "normal"

exhibition with a round

tour. Clips are shown

on Smart-LCDs, and

there's an interactive

TouchPad, the script,

background material of the film, and even a

panorama-cinema with "classic" film scenes in the

Swiss Alps world.

Last but not least there is also the possibility to be

personally "photographed into the picture". Results

can be viewed on the website of the Schilthorn.

The earlier Bond actor George Lazenby was also

present during the big opening with a fireworks display.

And even though the Australian could only

play James Bond once, he brought a lot of good

cheer to the opening. With befitting status and not

to be expected otherwise, he arrived with a helicopter,

just as in the film.

■

94
---
WARNER BEACH

Text:

Photos:

H. Jürgen Kagelmann

Parque Warner

The Spanish theme park

Warner Bros. Movie Park

(these days called Parque

Warner), which opened at

the gates of Madrid in 2002,

will have a separate water

park added next year.

On an area of only three hectares there will

apparently be nine water slides and attractions

installed for an amount of 5.5 million Euro. The

park will have a capacity of 4,000 visitors. New are

separate wave pools for adults and children, and

further along a Lazy River themed with Hanna Barbera

figures, as well as water playgrounds using

the popular Looney-Tunes characters. Because

not everybody wants to splash around or go on a

slide (and because it doesn't cost all that much),

there will also be a large zone to relax and sunbathe.

Naturally gastronomy offers can't be missing,

and there will be, amongst others, a fast food

restaurant à la "Scooby Doo", as well as a

merchandising shop.

The new water-amusement park will border on

"DC Super-Heroes"-land, from where direct entrance

from the theme park is possible.

Single use of the water park

will be possible, just as a combined

admittance.

General Director of Warner Madrid,

José Asenjo Vera, spoke in relation

to this matter: "This new water park

zone will be the perfect addition to

Parque Warner, and very much

complies with the most important

wishes of our visitors for an extension

to our park offers. The park

will strengthen its position as the

second largest theme park in

Spain, and keep to the demand of

the Parques Reunidos Group to

give the best park offers." ■
---
SKYLINE PARK

The Allgäu Skyline Park put its

fifth coaster into operation in

the middle of the 2013 season:

"Sky Spin" built by Maurer.

Text:

Frank Lanfer

Photos: Rudolf Neumeier

Showman Joachim Löwenthal had purchased it

from the closed Camelot Theme Park, where the

attraction from Maurer Söhne could be experienced

between 2003 and 2012 as the "Whirlwind".

Typical Skyline Park: the coaster has received a

new location on a still available plot in the middle of

the forest, and has absolutely no theming.

Whilst the Skyline Park is being managed by

Joachim Löwenthal's son Daniel, the insolvent Eifelpark

was taken over by daughter Nadine and her

partner Alexander Goetzke on the 16 th October

2013. One million Euro is to be invested already by

the opening in the upcoming season, with a coaster

among other attractions.

On the other hand, there are also rumours according

to which the Löwenthal family will apparently

take over the four-loop "Thriller" (built by

Schwarzkopf in 1986) from the Mexican Isla San

Marcos Parque Temático next year, and after a general

overhaul, will erect it at Skyline Park in 2016.

This information has not been officially confirmed

yet.

■

96
---
PREVIEW

A calendar of events can be found here for the month of

December in alphabetical order. Additional information

about individual events is listed below.

■

B■ Bad Salzungen 29.11.-22.12.

■ Bautzen 29.11.-22.12.

■ Berlin 25.11.-01.01.

■ Berlin-Mitte 25.11.-29.12.

■ Berlin-Mitte 25.11.-23.12.

■ Berlin-Spandau 25.11.-29.12.

■ Bernau/Berlin 12.12.-15.12.

■ Brandenburg/Havel 30.11.-22.12.

C■ Chemnitz 29.11.-23.12.

■ Coswig/Dresden 06.12.-08.12.

D■ Detmold 27.11.-01.12.

■ Dresden 30.11.-24.12.

E■ Eisenach 25.11.-22.12.

■ Erfurt 26.11.-22.12.

F■ Frankfurt/Oder 29.11.-22.12.

G■ Gera 28.11.-23.12.

■ Gotha 29.11.-15.12.

■ Greifswald 29.11.-22.12.

■ Güstrow 06.12.-17.12.

H■ Halle/Saale 26.11.-23.12.

■ Hamburg 08.11.-08.12.

■ Havelberg 05.12.-08.12.

J■ Jena 25.11.-22.12.

L■ Leipzig 26.11.-22.12.

■ Lemgo 05.12.-08.12.

M■ Magdeburg 28.11.-30.12.

■ Merseburg 07.12.-15.12.

N■ Neubrandenburg 29.11.-22.12.

P■ Plauen 26.11.-22.12.

R■ Rathenow 06.12.-15.12.

■ Rostock 28.11.-22.12.

S■ Sangerhausen 11.12.-15.12.

■ Schwedt/Oder 05.12.-08.12.

■ Staßfurt 29.11.-01.12.

■ Stendal 12.12.-15.12.

■ Stralsund 28.11.-22.12.

W■ Weimar 26.11.-05.01.

■ Werdau/Sachsen 19.12.-22.12.

■ Wolfen-Nord 06.12.-08.12.

Z■ Zehdenick 06.12.-08.12.

■ Zwickau 27.11.-23.12.

International

■ B Gent=Gand 06.12.-05.01.

■ B Hasselt 16.11.-05.01.

■ B Mons=Bergen 08.11.-08.12.

■ B Sint-Niklaas=St.Nicolas 07.12.-22.12.

■ CH Bern 16.11.-01.12.

■ CH Frauenfeld 30.11.-02.12.

■ F Alès 17.12.-17.01.

■ F Angers 09.11.-01.12.

■ F Angoulême 09.11.-01.12.

■ F Annecy 23.11.-08.12.

■ F Béziers 14.12.-12.01.

■ F Brest-Penfeld 14.12.-12.01.

■ F Cannes 06.12.-12.01.

■ F Carcassonne 23.11.-08.12.

■ F Clermont-Ferrand 26.10.-24.12.

■ F Concarneau 02.11.-01.12.

■ F Dieppe 30.11.-15.12.

■ F Dunkerque 21.12.-12.01.

■ F Lens 14.12.-05.01.

■ F Lorient 14.12.-05.01.

■ F Paris 21.12.-05.01.

■ F Rennes 14.12.-12.01.

■ GB Aberystwyth, Card 30.11.-02.12.

■ GB Bolton, Lancs 20.12.-04.01.

■ GB Cardiff, S. Glam. 31.12.-01.01.

■ GB Cardiff, S. Glam. 21.11.-05.01.

■ GB Coventry 26.12.-03.01.

■ GB Dundee 31.12.-02.01.

■ GB Edinburgh 28.11.-05.01.

■ GB Edinburgh 27.12.-02.01.

■ GB Glasgow 20.12.-12.01.

■ GB Leeds, W.Yorks 31.12.-01.01.

■ GB Lincoln 05.12.-08.12.

■ GB Liverpool 09.11.-23.12.

■ GB London 06.12.-05.01.

■ GB London 22.11.-05.01.

■ GB Malton, Yorks 15.11.-07.12.

■ GB Manchester 26.12.-05.01.

■ GB Manchester 16.12.-05.01.

■ GB Nottingham 20.11.-05.01.

■ GB Plymouth, Devon 21.11.-04.01.

■ GB Swansea, South Wales15.11.-05.01.

■ GB Worcester 28.11.-01.12.

■ GB Wrexham, Denb 19.12.-01.01.

■ I Genova=Genua 07.12.-12.01.

■ IRL Dublin 05.12.-05.01.

■ IRL Dublin 26.12.-12.01.

■ NL Goes 20.12.-29.12.

■ NL Groningen 25.12.-05.01.

■ PL Breslau=Wroclaw 22.11.-23.12.

26. OCTOBER (SATURDAY)

F Clermont-Ferrand

■ Luna Park d'Automne, Fête Patronale

until 24.12.

2. NOVEMBER (SATURDAY)

F Concarneau

■ Foire de la Saint Martin

until 01.12.

8. NOVEMBER (FRIDAY)

20359 Hamburg

■ Dom-Markt

until 08.12.

Behörde fürWirtschaft Verkehr Innovation

Wellenflug, Daemonium, Wilde Maus, Go-

Kartbahn, Flasher, Sky Fall, Avenger, Artistico,

Viva Mexico, Double Jump, Rotor, Love Dream,

Dom-Dancer, Schloss Dracula, Teststrecke,

Rock & Roller Coaster, Shaker, Riesenrad,

Dom-Geister, U 3000, Psycho, Verrückte

Farm, Happy Family, Remmi Demmi,

Omni, Irrgarten, Spass-Mobil, Breakdancer

Participants: ca. 250

B Mons=Bergen

■ Foire d'Automne

until 08.12.

9. NOVEMBER (SATURDAY)

F Angers

■ Foire Saint-Martin

until 01.12.

F Angoulême

■ Luna Park

until 01.12.

GB Liverpool

■ One Christmas in the Park

until 23.12.

15. NOVEMBER (FRIDAY)

GB Malton, Yorks

■ Hirings Fair until 07.12.

Only on Friday and Saturday

GB Swansea, South Wales

■ Waterfront Winterland until 05.01.

16. NOVEMBER (SATURDAY)

B Hasselt

■ Winterland until 05.01.

CH Bern

■ Lunapark, Herbstmesse

until 01.12.

20. NOVEMBER (WEDNESDAY)

GB Nottingham

■ Winter Wonderland until 05.01.

21. NOVEMBER (THURSDAY)

GB Cardiff, S. Glam.

■ Winter Wonderland until 05.01.

GB Plymouth, Devon

■ Winter Festival until 04.01.

22. NOVEMBER (FRIDAY)

GB London

■ Hyde Park Winter Wonderland

until 05.01.

PL Breslau=Wroclaw

■ Weihnachtsmarkt until 23.12.

23. NOVEMBER (SATURDAY)

F Annecy

■ Foire Saint-André until 08.12.

F Carcassonne

■ Fête Foraine de la Saint Nicolas

until 08.12.

25. NOVEMBER (MONDAY)

07703 Jena

■ Weihnachtsmarkt until 22.12.

10178 Berlin-Mitte

■ Weihnachtszeit am Roten

Rathaus until 29.12.

Laubinger/Fredersdorf

10178 Berlin-Mitte

■ Wintertraum am Alexa

until 23.12.

C.Blume Vergnügungsbetriebe/Hude

Riesenrad, Booster Maxxx, Wellenflug, Magic,

Breakdance, Take Off, Black Hole, Wilde

Maus, Musik Express, Hyper X, Voodoo Jumper,

Simulator, Freddy's Company, Crazy Outback,

Aqua Labyrinth

10789 Berlin

■ Weihnachtsmarkt City West /

Gedächtniskirche until 01.01.

Schausteller Verband Berlin e.V.

13591 Berlin-Spandau

■ Weihnachtstraum am Rathaus

until 29.12.

Th.-H.Wollenschlaeger/Bötzow

98
---
99817 Eisenach

■ Weihnachtsmarkt until 22.12.

Catering Company GmbH/Berlin

Riesenrad

26. NOVEMBER (TUESDAY)

04177 Leipzig

■ Weihnachtsmarkt

until 22.12.

Riesenrad

06108 Halle/Saale

■ Advent-Weihnachtsmarkt

until 23.12.

Stadt

08523 Plauen

■ Weihnachtsmarkt until 22.12.

99084 Erfurt

■ Weihnachtsmarkt until 22.12.

Stadt

Riesenrad

99423 Weimar

■ Weihnachtsmarkt until 05.01.

27. NOVEMBER (WEDNESDAY)

08056 Zwickau

■ Weihnachtsmarkt until 23.12.

32756 Detmold

■ Andreasmesse until 01.12.

Stadt

Flash, 1001 Nacht, Schlittenfahrt, Venezia-Labyrinth,

Musik Express, Breakdance, Scheinbenwischer,

Simulator

Participants: ca. 240

28. NOVEMBER (THURSDAY)

07545 Gera

■ Weihnachts- und Märchenmarkt

until 23.12.

Stadt

18055 Rostock

■ Weihnachtsmarkt until 22.12.

Großmarkt Rostock GmbH

Riesenrad, Nostalgie-Riesenrad, Mach 5,

Konga, Speedy Gonzales, Geisterbahn, Breakdance,

Wellenflug, Labyrinth, Magic House

Participants: ca. 250

18439 Stralsund

■ Weihnachtsmarkt

until 22.12.

Meisel & Peters GbR/Anklam

39104 Magdeburg

■ Weihnachtsmarkt

until 30.12.

Closed on December 24 and 25

Magdeb.Weihnachtsmärkte GmbH

Riesenrad, Mäusestadt, Rutsche

GB Edinburgh

■ Christmas Wonderland Winter

Festival until 05.01.

GB Worcester

■ Christmas Fair until 01.12.

29. NOVEMBER (FRIDAY)

02625 Bautzen

■ Weihnachts/Wenzelsmarkt

until 22.12.

09111 Chemnitz

■ Weihnachtsmarkt until 23.12.

15234 Frankfurt/Oder

■ Weihnachtsmarkt und Kirmes

until 22.12.

IGIS e.V. Frankfurt/Oder

17033 Neubrandenburg

■ Weihnachtsmarkt until 22.12.

17489 Greifswald

■ Weihnachtsmarkt until 22.12.

Großmarkt Rostock GmbH

36433 Bad Salzungen

■ Weihnachtsmarkt until 22.12.

39418 Staßfurt

■ Weihnachtsmarkt until 01.12.

Stadt

99876 Gotha

■ Weihnachtsmarkt until 15.12.

30. NOVEMBER (SATURDAY)

01067 Dresden

■ Weihnachtsmarkt until 24.12.

14770 Brandenburg/Havel

■ Weihnachtsmarkt until 22.12.

Stadt

CH Frauenfeld

■ Chlausmarkt until 02.12.

F Dieppe

■ Fête Foraine until 15.12.

GB Aberystwyth, Card

■ November Fair (Third) until 02.12.

5. DECEMBER (THURSDAY)

16303 Schwedt/Oder

■ Weihnachtsmarkt until 08.12.

32657 Lemgo

■ Kläschenmarkt until 08.12.

Stadt

Venezia-Labyrinth, Flash, Schlittenfahrt, High

Impress, Psychodelic, Breakdance, Musik Express

39539 Havelberg

■ Weihnachtsmarkt until 08.12.

Stadt

GB Lincoln

■ Christmas Fair until 08.12.

IRL Dublin

■ Winter Wonderland until 05.01.

6. DECEMBER (FRIDAY)

01640 Coswig

■ Weihnachtsmarkt until 08.12.

06766 Wolfen-Nord

■ Weihnachtsmarkt

until 08.12.

Stadt

14712 Rathenow

■ Weihnachtsmarkt until 15.12.

16792 Zehdenick

■ Weihnachtsmarkt

until 08.12.

A.Kopke/Magdeburg

18273 Güstrow

■ Weihnachtsmarkt until 17.12.

Stadt

B Gent=Gand

■ Winterfeesten until 05.01.

F Cannes

■ Foire de Noël, Fête d'Hiver

until 12.01.

GB London

■ Christmas and New Year Fair

until 05.01.

7. DECEMBER (SATURDAY)

06217 Merseburg

■ Schlossweihnacht

until 15.12.

Stadt

B Sint-Niklaas=St.Nicolas

■ Winterkermis until 22.12.

I Genova=Genua

■ Luna Park until 12.01.

11. DECEMBER (WEDNESDAY)

06526 Sangerhausen

■ Weihnachtsmarkt

until 15.12.

12. DECEMBER (THURSDAY)

16321 Bernau

■ Weihnachtsmarkt

until 15.12.

39576 Stendal

■ Weihnachtsmarkt

until 15.12.

14. DECEMBER (SATURDAY)

F Béziers

■ Foire de Décembre, Fête de Noël

until 12.01.

F Brest-Penfeld

■ American Lunapark

until 12.01.

F Lens

■ Foire aux Manèges d'Hiver

until 05.01.

F Lorient

■ Fête Foraine de Noël et du nouvel

An until 05.01.

F Rennes

■ Fête Foraine d'Hiver

until 12.01.

16. DECEMBER (MONDAY)

GB Manchester

■ Winter Wonderland

until 05.01.

17. DECEMBER (TUESDAY)

F Alès

■ Fête d'Hiver

until 17.01.

19. DECEMBER (THURSDAY)

08412 Werdau

■ Weihnachtsmarkt until 22.12.

GB Wrexham, Denb

■ Christmas Fair until 01.01.

20. DECEMBER (FRIDAY)

GB Bolton, Lancs

■ Christmas Fair

until 04.01.

GB Glasgow

■ SECC Irn-Bru Carnival

until 12.01.

NL Goes

■ Kerstland until 29.12.

21. DECEMBER (SATURDAY)

F Dunkerque=Duinkerken

■ Fête Foraine d'Hiver

until 12.01.

F Paris

■ Jours de Fêtes au Grand Palais

until 05.01.

25. DECEMBER (WEDNESDAY)

NL Groningen

■ Kerstplaza until 05.01.

Closed on December 31

26. DECEMBER (THURSDAY)

GB Coventry

■ Hearsall Common Christmas

Funfair until 03.01.

GB Manchester

■ New Year Street Fair

until 05.01.

IRL Dublin

■ Funderland

until 12.01.

27. DECEMBER (FRIDAY)

GB Edinburgh

■ Hogmanay Street Fair

until 02.01.

PREVIEW

31. DECEMBER (TUESDAY)

GB Cardiff, S. Glam.

■ New Year Celebration, Calennig

Fair until 01.01.

GB Dundee

■ Hogmanay Fair until 02.01.

GB Leeds, W.Yorks

■ New Year's Fair until 01.01.

No responsibility for accuracy!

99
---
❑

❑

❑

ABONNEMENT-AUFTRAG

Ich bestelle hiermit die nächsten 12 Ausgaben von KIRMES & PARK Revue ab Heft-Nr.

zum Abonnementpreis von 96,– € inkl. 7 % MWSt. und Versand (Deutschland)

Ich bestelle hiermit die nächsten 6 Ausgaben von KIRMES & PARK Revue ab Heft-Nr.

zum Abonnementpreis von 51,– € inkl. 7 % MWSt. und Versand (nur innerhalb Deutschlands)

Ich bestelle hiermit die nächsten 12 Ausgaben von KIRMES & PARK Revue ab Heft-Nr.

❑ Europa Normalpost zum Abonnementpreis von 114,– € inkl. Porto und Versand

❑ Europa Luftpost und Übersee zum Abonnementpreis von 126,– € inkl. Porto und Versand

Ich wünsche die angekreuzte Zahlungsweise:

❑ durch Bankeinzug. Die Einzugsermächtigung erlischt mit Kündigung des Abonnements.

Konto-Nr. Bankleitzahl Bank:

❑ gegen Rechnung. Bitte kein Geld einsenden, Rechnung abwarten.

❑ per Kreditkarte. Bitte ankreuzen: ❑ Visa ❑ Mastercard ❑ Diners Club ❑ American Express

Karten-Nr.:

gültig bis:

Das Abonnement verlängert sich jeweils um ein weiteres Jahr, wenn es nicht spätestens 6 Wochen vor Ablauf schriftlich gekündigt wurde.

Name

Straße

PLZ/Ort Datum Unterschrift

Bitte einsenden an: Gemi Verlags GmbH, Postfach, 85291 Reichertshausen

Diese Bestellung kann ich innerhalb von 10 Tagen schriftlich bei der Gemi Verlags GmbH, Postfach, 85291 Reichertshausen widerrufen.

Die Widerrufsfrist beginnt 3 Tage nach Datum des Poststempels meiner Bestellung. Zur Wahrung der Frist genügt das rechtzeitige Absenden.

Ort/Datum

✂

❑

❑

❑

Unterschrift

SUBSCRIPTION-ORDER

I order the next 12 editions of the KIRMES & PARK Revue in english from issue Nr.

at a subscription price of 102,– € incl. 7 % MWSt. and postage (Germany)

I order the next 6 editions of the KIRMES & PARK Revue in english from issue Nr.

at a subscription price of 57,– € incl. 7 % MWSt. and postage (Germany)

I order the next 12 editions of the KIRMES & PARK Revue in english from issue Nr.

❑ Europe normal post at a subscription price of 120,– € incl. postage and handling

❑ Europe airmail and other countries at a subscription price of 132,– € incl. postage and handling

❑ I will pay by credit card. ❑ Visa ❑ Mastercard ❑ Diners Club ❑ American Express

Card Nr.:

Expiry Date:

❑ I require an invoice.

The subscription is automatically extended a further year if a written cancellation is not received 6 weeks prior to the end of the subscription.

Name

Street

Postcode/City Date Signature

Please send to: Gemi Verlags GmbH, Postfach, 85291 Reichertshausen

This subscription order can be called in writing within 10 days by notifying Gemi Verlags GmbH, Postfach, 85291 Reichertshausen, Germany. The

time limit for cancellation begins 3 day after the date of posting my order. The time limit is ensured and proved by the timely posting of cancellation.

Date/City

Signature

100
---
Ihr Partner für das Schaustellergewerbe

mail@Dietz-Fahrzeugbau.de

www.Dietz-Fahrzeugbau.de

D-34613 Ziegenhain

Kasseler Straße 44

Tel. 06691/3536

Fax: 0 66 91 / 59 97

Erstklassige Verkaufsgeschäfte

speziell nach Ihren Wünschen gefertigt

FOR SALE

Family Coaster, build by

SBF/Visa in 2010, top condition.

Contact Gemi Verlag

GmbH – Code: K01-10/13

PURCHASE

Cash buyer searching for

cars from ride type L'Autopede

from Belgium, please offer

all you have. Tel: + 31

653486142

BUSINESS CONTACTS

Decoration paintings, fairground

painting, paintbrushes

and Airbrush. Tel. + 49 (0)

7082/8494, www.rolandschmid.de

Anzeigen in der

Kirmes & Park Revue

buchen Sie bei:

Gemi Verlags GmbH

Markus Westner

Tel. 08441/402213

Fax 08441/498829

anzeigen@gemiverlag.de

Bitte liefern Sie

Anzeigen per E-mail

als pdf oder jpg

mit mindestens

300 dpi Auflösung.

EMPLOYMENT

Polish manpower, you will find

personnel here from Poland.

Tel. 0048-604891314

CONTACTS

Self-employed showman

with own operation and

bookings. He (40) is searching

for her (under 50). Why

stay alone? It's much easier together!

Please send photo.

Picture will be sent back – complete

discretion guaranteed.

Contact Gemi Verlag GmbH –

Code: K02-10/13

!!! Suche !!!

Geschäft mit Plätzen

Bitte alles anbieten.

Angebote unter Chiffre-Nr.

K01-12/12 an Gemi Verlags GmbH

Postfach, 85291 Reichertshausen

Der Online-Shop für

Sport- und Freizeitartikel

Dart - Kicker - Billard

und vieles mehr... bei

WWW.GH-FUNSPORT.DE

Verkaufe Dietz Rückfrontwagen

ABS, Luftgefedert, Aufbau mit Batterie

ohne Stromanschluss möglich,

incl. hydraulisch absetzbarer Kasse mit Erker,

Vorpodium und Vordach, Statik vorhanden.

Preis VS. Manfred Stampfer, 0043 664 3009857

USED RIDES EUROPE

•

BUDERO

THE TARPAULIN

FOR THE SHOWMAN

• • • • • •

•

• • • • • • • •

• • • • • • • • • • • •

All types of tarpaulins according to

your requirements, for large and small

ride, show, and walk-through operations

BUDERO B.V.

Vrijkenstraat 2

6088 PA Roggel NL

Ph. (0031) 475/492445

Fax (0031) 475/494390

www.budero.com

Used Rides Europe is your partner in selling or purchasing

used amusement rides and equipment from all over the world!

Services we provide: negotiations, valuations, transportation.

We speak 5 languages. Financial advice and more.

Take a look at our website or call for more information.

USED RIDES EUROPE • Tel. +31-655 795 792

Email: info@usedrideseurope.com

Web: www.usedrideseurope.com

101
---
Veranstaltungen 2014

des Dresdner Schaustellerverbandes e.V.

Dresdner Frühlingsfest vom 12.04.2014 bis 27.04.2014

Dresdner Vogelwiese vom 17.07.2014 bis 21.07.2014

"Tag der Sachsen" in Großenhain – das größte Volksfest in Sachsen

vom 05.09.2014 bis 07.09.2014

Bevorzugt werden Fahrgeschäfte mit eigener Stromversorgung!

Lorenzmarkt in Lorenzkirch vom 15.08.2014 bis 18.08.2014

Weinfest in Radebeul vom 26.09.2014 bis 28.09.2014

Oktobrfest in Riesa vom 02.10.2014 bis 05.10.2014

Dresdner Herbstfest vom 11.10.2014 bis 02.11.2014

Bewerbungen mit den üblichen Unterlagen sowie ausreichend Rückporto

– für jede Veranstaltung getrennt – richten Sie bitte an den

Dresdner Schaustellerverband e.V. • Postfach 29 01 55 • 01147 Dresden

Bewerbungsschluss ist der 31.12.2013

Zulassungen für alle Feste werden erteilt bis 31.01.2014

Sollte Ihnen bis Ende des Zulassungstermins kein Vertragsangebot vorliegen, so gilt dies als Absage!

WIR SUCHEN FÜR:

Pfingstfest Pocking 06. –10. Juni 2014

Fahrgeschäfte und Belustigung

Bennofest Bodenmais 19. – 23. Juni 2014

Fahrgeschäft, Schaukel, Verlosung

Schmalzler fest Perlesreut 18. – 21. Juli 2014

Fahrgeschäft und kleine Belustigung oder Schaukel

Blumenfest Thur mannsbang 01. – 04. Aug. 2014

Kl. Fahrgeschäft oder Schaukel mit Beigeschäft

Volksfest V iechtach 09. – 17. August 2014

Fahrgeschäfte, Schaukel, Belustigung

Kirchweih W iesentheid 26. – 30. Sept. 2014

Fahrgeschäfte

Bitte für jede Veranstaltung getrennt einreichen.

Bewerbungen ohne frankierten Rückumschlag werden nicht bearbeitet.

Gesuche bitte bis 20. Dezember 2013 an:

J. & E. Braun GbR • Espanstr. 16 • 90559 Burgthann

Ausschreibungen

in der

Die Kirmes & Park Revue ist das

ideale Medium für Ausschreibungen

Ihrer Volksfeste und Weihnachtsmärkte.

Mit einer Ausschreibung Ihrer

Veranstaltung in der Kirmes & Park

Revue erreichen Sie nahezu flächendeckend

die Schaustellerbetriebe in

Deutschland und in unseren Nachbarländern

– und das zu einem

außergewöhnlich günstigen Preis.

Dazu genießen Sie mit Ihrer

Ausschreibung folgende Vorteile:

• Bei Mangel an geeigneten

Bewerbern oder kurzfristigen

Absagen von Schaustellern

haben Sie die Möglichkeit einer

kostenlosen Suchanfrage in

der Service-Rubrik

"Freie Termine – Freie Plätze"

in der Kirmes & Park Revue

• Kostenlose Gestaltung Ihrer

Ausschreibungsanzeigen

• alle Farben (z. B. Städte- oder

Firmenlogo) kostenlos !

GEMI Verlags GmbH

Pfaffenhofener Straße 3

85293 Reichertshausen

Telefon: 0 84 41 / 40 22 - 0

Telefax: 0 84 41/71846

E-mail: info@gemiverlag.de

Anzeigenschluss für das

Januarheft ist

Dienstag, 10. Dezember

102
---
Rolf Auf dem Berge

Lawyer

Focal point: traffic law and claims for damages

Am Markt 14

49565 Bramsche

Telephone +49 (0) 54 61 / 30 30

Telefax +49 (0) 54 61 / 26 41

Mobile +49 (0) 1 72 / 301 96 94

E-Mail: rae-auf-dem-berge@web.de

APPRAISAL-OFFICE

Gerd Römgens

Expert appraisal for the Showman Industry, Damages,

Conservation of Evidence, and Appraisal Reports

Tel. +49 (0) 171/ 264 89 29 and +49 (0) 2154/208308

Fax: +49 (0) 2154 / 20 83 13

Mail: sv-buero-roemgens@arcor.de

www.sv-roemgens.de u. www.roemgens.de

Gerd Römgens • Jupiterstr. 17 • 47877 Willich

Schausteller-Versicherungen

Transport – Haftpflicht – Kfz

Altersvorsorge – Unfall – Kranken

Klaus Rübenstrunk

Hagener Straße 244 • 44229 Dortmund

Tel.: (02 31) 9 76 10 20 • Fax: (02 31) 9 76 10 21

Mobil: 0171 / 828 58 68

E-Mail: vb-ruebenstrunk@t-online.de

www.kirmesparkrevue.de

M

I

N

I

–

A

D

V

E

R

T

I

S

M

E

N

T

S

Text

❑ IN THE NEXT POSSIBLE EDITION

www.gemiverlag.de

4 lines:

11,- €

5 lines::

14,- €

6 lines::

17,- €

7 lines::

20,- €

8 lines::

23,- €

9 lines::

26,- €

10 lines::

29,- €

PLEASE COMPLETE IN BLOCK LETTERS AND WITH SPACE BETWEEN WORDS!

❑ IN EDITION NR./MONTH

Text price for 1x Edition €

❑ Please insert my advertisment under a code number (Cost 5,– €) €

❑ Specimen copy (5,50 € incl. postage & handling per edition) €

❑ The advertisment should appear for months (Multiply by total price) €

❑ 10 % discount for 12 months ❑ 5 % discount for 6 months €

❑ The total amount can be debited to my credit card, details below. TOTAL €

❑ Visa ❑ Matercard ❑ Diners Club ❑

Card-Nr.

Christian Name

Street

City/Date

Expirx date

Surname

Postcode/City/Country

Signature

D-34613 Ziegenhain

Kasseler Straße 44

Tel. 06691/3536

Fax: 0 66 91 / 59 97

mail@Dietz-Fahrzeugbau.de

www.Dietz-Fahrzeugbau.de

Ihr Partner für das Schaustellergewerbe

Verkaufswagen bis 3,5 to

speziell nach Ihren Wünschen gefertigt

American Express

Basic

rate for

1-3 Lines:

8,- €

categories

(please mark with a cross)

❑ For Sale

❑ Purchase

❑ Job Market

❑ Business

Connections

❑ Deadlines

❑ Contacts

❑ Model Construction

YOUR MINI-AD WILL ALSO BE PRESENTED FREE OF CHARGE UNDER WWW.KIRMESPARKREVUE.DE!

FOR FORMAT ADVERTISMENT

please contact us on

Tel. 49 (0 ) 8441/40 22 13

Please send to:

Gemi Verlags GmbH

Postfach

85291 Reichertshausen

Please complete

without fail!

– Publication only by advanced payment or credit card. –

103
---
Service

KIRMES FOR SALE IN RAILWAY STATION BOOK SHOPS

✘ shows where ENGLISH VERSIONS are available

• 01069 Dresden, Wiener Platz 4

• 01097 Dresden-Neustadt, Schlesischer Platz 1

• 01109 Dresden, Wilhelmine-Reichard-Ring 1

• 04109 Leipzig, Hbf, Willy-Brand-Platz 5

• 06112 Halle, Hbf, Bahnhofplatz 1

• 06484 Quedlinburg, Bahnhofstr.

• 06844 Dessau, Fritz-Hesse-Str. 7

• 10117 Berlin-Friedrichstr., Georgenstr. 14-18

• 10178 Berlin, Alexanderplatz, Dircksenstraße

✘ 10178 Berlin, Ladenzeile / Abgang S-Bahn

• 10243 Berlin, Am Ostbahnhof

• 10623 Berlin, Fernbahnhof Zoo

• 10829 Berlin-Südkreuz/West, Neumannstr.

• 12439 Berlin-Schöneweide, M.-Brückner-Str. 42

• 12521 Berlin, Flughafen-Schönefeld, Terminal D E G

• 12681 Berlin, Boxberger Str. 3-9 / Haus 3 / Halle 2 West

• 13405 Berlin, Flughafen Tegel, Haupthalle, Bon Voyage

• 16515 Oranienburg, Stralsunder Str.

• 18055 Rostock, Hauptbahnhof

✘ 20099 Hamburg, Hbf., Glockengiesserwall

• 20354 Hamburg, Bahnhof Dammtor, Theodor-Heuss-Platz

• 21337 Lüneburg, Bahnhofstr.

• 22335 Hamburg, Flughafenstr.

✘ 22765 Hamburg, Paul-Nevermann-Platz

• 23558 Lübeck, Am Bahnhof

• 24114 Kiel, Sophienblatt 27-29

• 24145 Kiel, Bunsenstr. 1c

• 25980 Westerland, Tinnumer Str. 11

• 26122 Oldenburg, Hauptbahnhof

• 26125 Oldenburg, Wilhelmshavener Heerstr. 32

• 26382 Wilhelmshaven, Bahnhofsplatz 1

• 26721 Emden, Bahnhofsplatz

• 26789 Leer, Bahnhofsplatz

• 27472 Cuxhaven, Bahnhof Haus 1

• 27570 Bremerhaven, Friedrich-Ebert-Str. 73

• 27749 Delmenhorst, Wittekindstr. 10/ZOB

✘ 28195 Bremen, Bahnhofsplatz 15

• 28199 Bremen, im Flughafen, Flughafenallee 20

• 29221 Celle, Im Bahnhof, Bahnhofsplatz

• 29525 Uelzen, Am Bahnhof

• 30159 Hannover, Ernst-August-Platz 1

• 30669 Hannover, Flughafen, Terminal A

• 31134 Hildesheim, Bahnhofsplatz

• 31582 Nienburg, Bahnhofstraße

• 31785 Hameln, Bahnhofsplatz

• 32052 Herford, Bahnhofsplatz 1

• 32257 Bünde, Bahnhofstr. 82

• 32423 Minden, Bundesbahnhof 12

• 33102 Paderborn, Bahnhofstr. 29

• 33330 Gütersloh, Willy-Brandt-Platz-2

• 33602 Bielefeld, Hauptbahnhof

• 34117 Kassel, Bahnhofsplatz 1

• 34131 Kassel, Wilhelmshöher Allee 253

• 35037 Marburg, Bahnhofstr. 33

• 35390 Gießen, Bahnhofstr. 102

• 37073 Goettingen, Bahnhofsplatz 1

• 38640 Goslar, im Bahnhof

• 38102 Braunschweig, Berliner Platz 1

✘ 39104 Magdeburg, Bahnhofstr. 68

• 40210 Düsseldorf, Hauptbahnhof

• 40474 Düsseldorf, Flughafenstr. 120 T.B

• 41061 Mönchengladbach, Europaplatz

• 41236 Mönchengladbach, Bahnhofstr. 66

• 41460 Neuss, Presse & Buch im Bhf., Theodor-Heuss-Platz

• 42103 Wuppertal, Döppersberg 37

• 42277 Wuppertal, Berliner Platz 15

• 42283 Wuppertal, Winklerstraße 2

• 42697 Solingen, Bahnstraße 5

• 42859 Remscheid, Bahnhofsplatz 12

• 44137 Dortmund, Koenigswall 15

• 44629 Herne, Bahnhofsplatz

• 44649 Herne, Heinz-Rühmann-Platz

• 44787 Bochum, Buddenbergplatz, Süd-Ausgang

✘ 45127 Essen, Hauptbahnhof

• 45468 Mülheim, Dieter-aus-dem-Siepen-Platz 3

• 45657 Recklinghausen, Große Pferdekamp Str.

• 45879 Gelsenkirchen, Im Bahnhof

• 46045 Oberhausen, Hauptbahnhof

• 46395 Bocholt, Hindenburg Str. 1

• 46446 Emmerich, im Bahnhof

• 46535 Dinslaken, im Bahnhof

• 47051 Duisburg, Mercatorstr. 17

• 47798 Krefeld, Im Hauptbahnhof

• 48143 Münster, Berliner Platz

• 48431 Rheine, Hauptbahnhof 1

• 49074 Osnabrück, Im Bahnhof

• 49356 Diepholz, Am Bahnhof

• 50667 Köln, Bahnhof 1

50667 Köln, Trankgasse 11

• 50679 Köln-Deutz, Otto-Platz 7

• 52064 Aachen, Bahnhofsplatz 2a

• 52351 Düren, Hauptbahnhof

• 53111 Bonn, Am Hauptbahnhof

• 53173 Bonn-Bad Godesberg, Moltkestr. 43

• 53721 Siegburg, Europaplatz

• 53879 Euskirchen, Bahnhofstraße

• 54292 Trier, Bahnhofsplatz 1

• 55116 Mainz, Bahnhofsplatz 1

• 55543 Bad Kreuznach, Europaplatz

• 56068 Koblenz, Bahnhofsplatz 2

• 57072 Siegen, Am Bahnhof 16

• 58089 Hagen, Berliner Platz 3

• 58239 Schwerte, Bahnhofstraße 35

• 58452 Witten, Bergerstr. 35

• 58644 Iserlohn, Bahnhofsplatz 2

• 59065 Hamm, Willy-Brandt-Platz 1

• 59227 Ahlen, Bahnhofsplatz

• 59423 Unna, Bahnhofstr. 74

• 59494 Soest, Bahnhofstr. 2

• 59759 Arnsberg, Bahnhofstr. 136

✘ 60051 Frankfurt, Im Hauptbahnhof

• 60594 Frankfurt, Diesterwegplatz 51

• 61169 Friedberg, Hanauer Str. 44

• 63450 Hanau, Im Hauptbahnhof

• 63739 Aschaffenburg, Ludwigstr. 2, Hbf.

• 64293 Darmstadt, Platz der Deutschen Einheit

• 64625 Bensheim, Amershamplatz 1

• 65190 Wiesbaden, Bahnhofsplatz 2

• 65428 Rüsselsheim, Im Hauptbahnhof

• 66111 Saarbrücken, Im Hauptbahnhof

• 66424 Homburg, Im Bahnhof

• 66538 Neunkirchen, Bahnhofstraße

• 66606 St. Wendel, Mommstr. 2, Bahnh.

• 66740 Saarlouis, Bahnhofsplatz 11

• 67434 Neustadt, Bahnhofsplatz 4

• 67547 Worms, Hauptbahnhof

✘ 67547 Worms, Bahnhofstr. 11

• 67655 Kaiserslautern, Bahnhofstraße 1

✘ 68161 Mannheim, Bahnhofsplatz 17

✘ 69115 Heidelberg 1, Willy-Brandt-Platz 5

✘ 70173 Stuttgart, Arnulf-Klett-Platz 2

• 70174 Stuttgart-Mitte, Th.-Heuss-Passagen

• 70372 Stuttgart/Bad Cannstatt, Bahnhofstr. 30

✘ 71032 Böblingen, Talstr. 18

• 71638 Ludwigsburg, Bahnhof 14-18

• 72072 Tübingen, Europaplatz 17

• 72764 Reutlingen, Bahnhofstr. 3

• 73614 Schorndorf, Rosenstraße 2

• 74072 Heilbronn, Bahnhofstraße 30

• 74321 Bietigheim-Bissingen, Bahnhofspl. 1

• 74889 Sinsheim, Friedrichstr. 25

• 75175 Pforzheim, Bahnhofsplatz

✘ 76137 Karlsruhe, Bahnhofsplatz 1

• 76227 Karlsruhe, Hauptbahnstraße 1

• 76646 Bruchsal, Bahnhofsplatz 12

• 78462 Konstanz, Bahnhofsplatz 43

• 79098 Freiburg, Bismarckallee 3

✘ 80335 München, Hauptbahnhof, Arnulfstr. 3

✘ 81667 München, Orleansplatz 10

• 84032 Landshut, Bahnhofsplatz

• 85356 München-Flughafen, Südallee 1

• 86150 Augsburg, Viktoriastraße 1

• 86154 Augsburg, Ulmer Str. 53

• 87435 Kempten, Bahnhofplatz

• 87509 Immenstadt, Bahnhofstr. 39

• 87527 Sonthofen, Bahnhofstraße

• 87561 Oberstdorf, Bahnhofsplatz 1

• 87700 Memmingen, Bahnhofstr. 3

• 89073 Ulm, Hauptbahnhof

• 89312 Günzburg, Bahnhofsplatz 5

✘ 90411 Nürnberg, Flughafenstr. 100

✘ 90443 Nürnberg, Bahnhofsplatz 9

• 91207 Lauf, Bahnhofsplatz 1

• 92224 Amberg, Kaiser-Ludwig-Ring 5

• 92318 Neumarkt, Bahnlinie 5/HBF

• 92637 Weiden, Bahnhofstr. 28

• 93047 Regensburg, Bahnhofstr. 18

• 94032 Passau, Bahnhofsplatz 29

• 94315 Straubing, Bahnhofsplatz 13

• 95028 Hof, Bahnhofsplatz 12

• 95326 Kulmbach, Bahnhofsplatz 1

• 95444 Bayreuth, Bahnhofstr. 20

• 95615 Marktredwitz, Bahnhofsplatz 7

• 96052 Bamberg, Ludwigstraße 6

• 96215 Lichtenfels, Bahnhofsplatz

• 96450 Coburg, Lossaustr. 4

✘ 97070 Würzburg, Bahnhofstr. 4

• 97424 Schweinfurt, Im Bahnhof

• 99084 Erfurt, Willy-Brandt-Platz 12

104
---
BREISACH

Weinfest

Kaiserstuhl-Tuniberg

vom 29.08. bis 01.09.2014

Bewerbungen von Geschäften aller Art

sind bis 31. Dez. 2013 zu richten an:

Jürgen Hahn • Schaustellerbetriebe

Im Unteren Angel 54 • 77652 Offenburg

Zulassungen ergehen durch schriftliche Verträge bis 20.01.2014.

Bewerbungen, die bis zu diesem Zeitpunkt keine Verträge erhalten haben, gelten als abgesagt.

Marktstände werden nur nach schriftlicher Anmeldung und in beschränkter

Anzahl zugelassen. Die Zulassung erfolgt nur in schriftlicher Form.

Von einer Anreise ohne schriftliche Zulassung ist dringend abzusehen.

Weinfest der Mittelmosel

in Bernkastel-Kues

– Festplatz im Moselpark –

05. Sept. bis 09. Sept. 2014

7. großer Handwerkermarkt

hohes Publikumsaufkommen, günstige Konditionen

Bewerbungen bis zum 15.12.2013 an

Josef Zimmer

Mombacher Str. 111 • 55122 Mainz

Schriftliche Absagen werden nicht erteilt.

International Representative Advertisements: AG Advertising

Tel. ++49-8441-81057 • Fax ++49-8441-86105

Mail: Kirmes.A@t-online.de

Tel. 07191/ 34 0135

www.miba-electronic.de

Wet Protect Feuchtigkeitsschutz

Fax 07191/ 34 0136

Die einzige Modellbahn

im Ausstellungswagen

www.modellbahnschau.de

Telefon 01 72 / 5 38 56 79

•

BUDERO

TARPAULINS

• • • • • •

Contact person also for Germany

D. Hinzen

Tel. (0031) 6 531450 03

•

• • • • • • • •

• • • • • • • • • •

US-Trailer

& Zubehör

aus Elkhart, Indiana

Tel. 06195-960507

www.trvtrading.com

Ihre e Kasse K

klingelt

Wollen auch Sie, dass Ihr

und Ihr Geschäft zum Tagesgespräch wird, dann fordern Sie unseren Katalog

mit mechanisch beweglichen Reklamefiguren an. Selbstverständlich

sind wir auch in der Lage, SONDERANFERTIGUNGEN nach Ihren Wünschen

zu gestalten. Wir sind seit nunmehr 36 Jahren Ihr zuverlässiger Partner.

Besuchen Sie uns auch im Internet (mit Video).

Peter Stühler • Werbefiguren • Horst Baumann e.K.

Karl-Bröger-Str. 32 • 90765 Fürth • Tel. 0911 / 79 36 60 • Fax 79 38 29

E-Mail: info@peter-stuehler.de • Internet: www.peter-stuehler.de

Karussells der Spitzenklasse

R. VÖLZ

Industriestr. 3

44577 Castrop-Rauxel

Tel. 0 23 67/83 37

Fax 0 23 67/17 67

Nach wie vor liefern wir:

Schindeldächer,

Reetdächer, Mauerwerke

www.karussell-voelz.de

105
---
Rides For Sale

Waltzer – Trailer Mounted

Evolution – Trailer Mounted

Drag Cars – Park Model

Go-Karts – Park Model

All with full

UK A.D.I.P.S certification

Triple Tube Slide – Park Model

Rides can be seen at Great Yarmouth Pleasure Beach,

Norfolk, England. For further information

Email: joncaldon@aol.com

or albertjonespb@aol.com

Tel: +44 (0)1493 844585