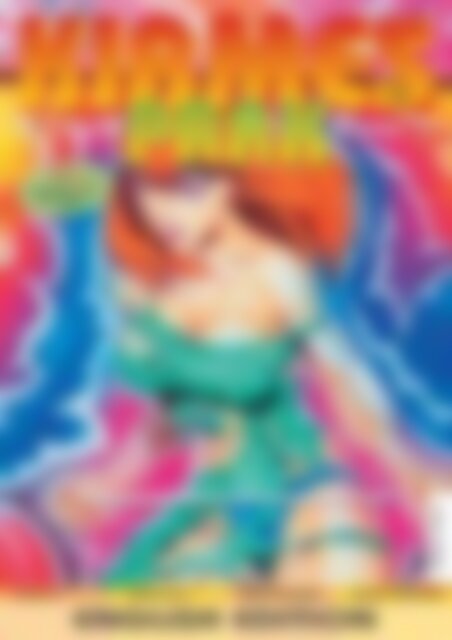 KIRMES & Park REVUE (English) Kaleidoscope (Vorschau)
Create successful ePaper yourself
Turn your PDF publications into a flip-book with our unique Google optimized e-Paper software.
N o 173

12/2011

&

€ 8,50

£ 5,90

Revue

Gebühr

bezahlt

B 14432

Extra

Kirmes & DIETZ

Wall Calendar

2012

VDZ No 77467

ROUND UP

ALPEN-HOTEL

SAFETY RESTRAINS MICHAEL BURGHARD

ENGLISH EDITION
---
IAAPA Orlando

Booth no. 3224
---
&

Revue

INDEX

ISSN 1436-6525

appears 12 x per year

■ Gemi Verlags GmbH

Pfaffenhofener Straße 3

85293 Reichertshausen

Tel.: +49 (0) 84 41/40 22-0

Fax: +49 (0) 84 41/718 46

info@gemiverlag.de

www.kirmesparkrevue.de

■ Managing Directors

Gerd Reddersen

Rudolf Neumeier

■ Chief Editor

Karl Ruisinger

■ International Representative

Translation, Advertisements

Agi Reddersen

Tel.: +49 (0 ) 84 41/8 10 57

Fax: +49 (0 ) 84 41/8 61 05

www.ag-advertising.de

Kirmes.A@t-online.de

■ Editorial Manager "Kirmes"

Ralf Schmitt

■ Editorial Manager "Park"

Frank Lanfer

■ Editorial Office East Germany

Rolf Orschel

Tel.: +49 (0) 170/492 7557

■ Representative Great Britain

Michele Emmett

Tel.: +44(0)7811 915118

michele.emmett@googlemail.com

■ Editorial Assistant

Heike Genz

■ Calendar of Events

Richard Veldhuis

■ Production

Westner Medien GmbH

■ Printing

Kössinger AG Schierling

■ Advertisements

GEMI Verlags GmbH

■ Sales and Marketing

Gerd Reddersen

■ Subscriptions

DataM-Services GmbH

Postfach 91 61

97091 Würzburg

Tel. +49 (0) 931/4170-178

(Mo-Do 8-17, Fr 8-15)

Fax +49 (0) 931/4170-179

services-abo@verlagsunion.de

■ Cover

Norman Vogt

Applies to advertisement price list 1/07

from 01.01.2007

All rights reserved. No part of this magazine

may be duplicated or published without written

permission from the publisher. This prohibition

also pertains to the commercial duplication

by copying, input into an electronic

database, and duplication onto a CD-ROM.

Certified active member of the

DECEMBER 2011

KALEIDOSCOPE

Facts – Observations – Short Portraits . . . . 4

NEW PRODUCTS

Premieres and Announcements . . . . . . 12

PREVIEW

Alpen-Hotel . . . . . . . . . . . . 16

INTERVIEW

Michael Burghard. . . . . . . . . . . . . . . . . . . . . . . 20

COMEBACK

Round Up . . . . . . . . . . . . . . . . . . . . . . . . . 24

OLDIE

Blue Hawaii . . . . . . . . . . . . 30

SPECIAL

Volksfest-Nostalgia . . . . . . . . . . 34

GASTRONOMY

News from the Scene . . . . . . . . . 46

A LOOK BACK

Reports about Specially Selected Events . . 52

MODEL CONSTRUCTION

Kirmes-Highlights en miniature . . . . . . 72

SPECIAL

Waltzer . . . . . . . . . . . . . . . . . . . . . . . . . . 74

PORTRAIT

Trans Studio Bandung . . . . . . . . . 76

TECHNOLOGY

Safety Restrains . . . . . . . . . . . 82

TOP ACT

Maus au Chocolat . . . . . . . . . . 90

WATERPARK

Acquaworld . . . . . . . . . . . . 94

MAGAZINE

Current News from the Park-Scene. . . . . 96

PREVIEW

Calendar of Events . . . . . . . . . . . . . . . . . . . . . 102

3
---
KALEIDOSCOPE

ENTERPRISE

Buser's "Enterprise"

DATES

Unfortunately,

the

date for the Bocholt

Fair 2012 published in

the Kirmes & Park Revue

special Call for Bids

supplement was wrong.

Correct is October 19 th to

22 nd . Moreover, there is a

change of date at the

Wuppertal "Schwebebahnkirmes",

which will

now be held from October

26 th to 29 th . ■

Text & Photos:

Norman Vogt

One of the last travelling "Enterprise" rides

built by Huss in Europe is the example owned

by Ruth Buser from Zurich / Switzerland.

The Buser family presents the classic (built in

1979) among the major rides at about ten

events a season. After a long break, the "Enterprise"

has now once again appeared at the

Herbstmesse in Basle. The ride, which is built

up without a backflash, but with the original

name sign, was placed at the Messeplatz,

where it was able to compete surprisingly well

with two other looping rides and often worked

at its capacity limits. After its 16-year Basle absence,

the well-preserved ride made a novelty

impression, especially on adolescent visitors. ■

Scenes from this year's

guest presentations in Basel:

the "Enterprise" from Buser

4
---
PANIC ROOM

Text:

Photo:

Ralf Schmitt

Archiv Lemoine

A transportable show novelty has been heralded by

Bernhard Lemoine from Berlin for the 2012 season;

namely the "Panic Room".

The construction with ground measurements of 20 x 15

metres, is the successor to the "Live Action Show",

which was closed at the end of the 2010 season. According

to the owner, the "Panic Room", despite taking

up the horror concept of the predecessor show, also

offers a lot of novelty features. The facade of the construction

features a three-dimensional moulded plastic

decoration and the two 12-metre chimneys (smoking

and fire spitting, and equipped with powerful spotlights)

on the roof will be a special eye catcher and

crowd puller. From a distance, the moulded plastic

façade of the hotel gives the impression of being a real,

solid building. A walkthrough course inside the "Panic

Room" will await the visitors with the latest horror

scenes in different sections performed by live actors,

as well as further shocking effects. Outside the construction

there will be a pre-show event.

■

New show walkthrough

for 2012: "Panic Room"

LULLUSFEST BAD HERSFELD

Text:

Photos:

Ralf Schmitt

Archiv Osselmann

The Lullusfest in Bad Hersfeld is said to be the

oldest Volksfest event in Germany. At this year's

Lullusfest – or "Lolls", as the locals call their

event – some of the participating showmen and

guests of honour climbed high up the spire of

the Stadtkirche once again.

As is a well-known fact, the whole festival is

characterised by tradition, which makes it a special

event to its visitors and the participating showmen.

One of the highlights was the said climbing of the

50 metre spire. After a total of 220 steps, the participants

were rewarded by a magnificent view across

the town and the festival. This time, among other

devotees, the "Lolls brothers and sisters"

participated in this event: Udo Roßbach, in charge

of the bonfire, showman pastor

Volker Drewers, Laurent

Schwaller from the Luxembourg

city authorities joined by

his wife Magali, as well as the

show women and showmen

Vanessa Markmann, Christina

Schneider, Dagmar Osselmann,

Maik Landwermann,

Ralph Gusowski, and of course

the "life and soul" of the Bad

Hersfeld Lullusfest, local born

and raised Richard Krolzig. ■

Before, during

and after the procession: the

"Lolls Brothers and Sisters"

5
---
KALEIDOSCOPE

BYE BYE "RANGER"

The last touring Huss

Ranger in Germany is sold to

Romania

Anticipation of the pleasure

of the new construction

"Doggy Dog": M. Zinnecker

Text: Ralf Schmitt, Norman Vogt

Photos: Norman Vogt

In late October, the last

travelling Huss "Ranger"

in Germany bade its

farewell. At the Oktobermarkt

in Kaiserslautern,

the Michael Zinnecker

family turned its passengers

upside down for the

last time, as the ride was

afterwards sold abroad.

Just to refresh the memory,

here is once again a short

history of the ride built in

1982 for Rudolf Robrahn

from Bremen by the Huss

firm. In 1996, it was taken

over by the Wirtele firm from

Pleinfeld – and not only did

the fact that the new owner

tore the ride to bits (among

other outrages, the original

name sign and the

characteristic elliptical

lights mounted to the rotating

mast were "disposed

of") almost bring tears to the eyes, especially to

those of the hardcore ride fans' eyes, its partially

new artwork proved to be of downright bad taste.

In 2003, Michael Zinnecker

purchased the ride, which was

under the ownership of a Hamburg

leasing company at that

time. After the purchase, Zinnecker

invested a considerable

sum into the complete restoration

and appearance, bringing

the construction up to latest

technical standards. The "Ranger"

was then one of the most

colourful rides in Germany and

toured extensively throughout

the country, and was also approved

to the Bremen Freimarkt,

where it had attained cult status

under Robrahn management in

the 1980s and 1990s. In the last

few years, the epithet "XXL" was

added to its name, and it quite

successfully stood up to competition

at every venue. As Michael

Zinnecker has now purchased a

new attraction - the "Doggy Dog"

Family Coaster, which will be presented from the

2012 season - the "Ranger" has now been sold on.

It was purchased by Wilhelm Gärtner, originally

from the Balkans, who attended the dismantling in

Kaiserslautern. After the "Ranger" had been

dismantled and taken over, the transports went to

Romania, where the ride is to be the highlight attraction

on a Christmas Market in the Bucharest

area. With the last rides of their "Ranger" fast

approaching on the last opening day (Monday,

October 24 th ), there was something of a feeling of

melancholy at the Zinnecker family. Their daughter

Vanessa (22) in particular, who had virtually grown

up with the ride, was deeply affected by the imminent

farewell. She expressed her goodbye to

the "Ranger" in a rather personal note on facebook:

"Last day of the Ranger in Germany. The last

hours in my paybox before the end of an era. It has

brought us not only many pleasant hours and full

coffers, but also many grey hairs. No matter

whether we have loved and hated , it has always

earned us a living. Now it – 24 m high, 20 m wide,

15 m deep, a weight of 90 tons and 150 kW – will

leave Germany and us for good. I am now sitting

in my paybox with mixed feelings, and overseeing

the last rides... Bye bye Ranger! We had a good

time together"

■

6
---
KALEIDOSCOPE

MANFRED MEYER

Text & Photo:

Nils Benthien

After 32 years, now

stepping down with honour:

Vechta's Director, Manfred Meyer

After 32 years in office, Manfred

Meyer took leave of his

distinguished office during the

showman meeting at the Vechta

Stoppelmarkt 2011.

Mayor Uwe Bartels had already

thanked him for his hard work

during the opening of the Stoppelmarkt.

For more than three

decades, Manfred Meyer had

committed himself to steadily

increasing the attraction of the

Stoppelmarkt, and thereby visitor

attendance. Since 1979 Meyer has

been organising all the Volksfest

events in Vechta. During his term in

office, he has not missed any Vechta

market or a single market committee meeting. His

cooperation with the showmen has been characterised

by trust and mutual respect throughout all those

years. Even as a child he was fascinated by the

Stoppelmarkt. He helped in the building up the

Dodgem Track and was more than happy with some

free ride chips he got as pay. During his last year as

the Stoppelmarkt Fairground Director, he was

accompanied by a television team from the local NDR

television station, which has covered his work. Until he

reaches semi-retirement, he will still organise the

"Thomas" events and the Christmas market. The new

Vechta fairground director is 31-year-old Jens Siemer,

who used to work in an agency specialising in the organisation

of large national and international equestrian

events, where he had been responsible for planning,

organising, and operating these large events before

he took over his new position in Vechta.

■

TROPICAL TRIP

Text & Photos:

Norman Vogt

The "Tropical

Trip"from Andre Massel Jnr.

There has been a

change of ownership at

the "Tropical Trip" Miami,

which last toured

under the management

of the Baumann firm.

The new owner is Andre

Massel Jnr. from

Wadgassen / Saarland.

The first venue of the

KMG ride under the new

management was Illingen

in late summer, which

was followed by Neunkirchen,

Schaffhausen, Bexbach and Saarbrücken.

For the ride built in 1994, Andre Massel is now the

sixth owner. Apart from Baumann, previous owners

were Hohl, Weeber, Wagner and Hahn. According to

the owner, the "Tropical Trip" meets the latest technical

standards. Only its visual appearance has suffered

from the various changes of ownership. The date for

a new paint job however has already been fixed says

Andre Massel Jnr., announcing that the new artwork

will probably be a South Sea theme. Moreover, he will

continue to operate the family's large kiddie traffic

garden.

■

8
---
www.voodoo-jumper.de
---
NEW PRODUCTS

The Dutch manufacturer KMG

has announced new deliveries

of successful attractions, the

pending première of the racy

"XLR8" major ride, a further

development of the sales hit

"Afterburner" including the

integration of new movement

elements for the 2012 season,

as well as two new ride projects

for 2013. The order books are

full until November 2012!

Text: Ralf Schmitt

Photos: KMG

Current new

deliveries: Freak Out "VIP"

for Peter Baer (CH), "X-Factory"

for Drew (USA), "Freak Out" for

Poor Jack Amusements (USA).

KMG novelty 2012: "Sicko"

KMG

Completed according to

schedule, KMG has

delivered this summer and

autumn the Freak Out "VIP"

to the Baer firm in Switzerland

and another "Freak

Out" construction to Poor

Jack Amusements (Bohlander

Bros.) in the USA.

Also delivered to America –

more specifically to the firm

Event Coordinators (Jim

Drew) was the "X-Factory"

Miami. A "Speed" Propeller

will be delivered to Armco

Inc (Larry Sankowsky) in the

USA in December 2011.

Since September, the prototype

of the "XLR8" had been

undergoing extensive tests

at KMG, to be followed by

the installation of decoration elements and the

lighting system. The attraction can be tested in

December by potentional buyers. The first example

has been sold to a Dutch showman and the second

example has already been secured by a showman

enterprise from Scandinavia at an early stage. The

novelty ride 2012 is a new variation of the "Afterburner"

from KMG called "Sicko". Compared to the

standard swing, "Sicko" is 5 metres higher, and its

swing arm is V-shaped with 6 individual gondolas

each for 4 passengers (2 passengers sitting back

to back). The swinging movement reaches up to

120 degrees, and not only the

gondola group rotates but also

the gondolas themselves - a

special feature. The ride consists

of 2 transport vehicles, and

the ride can be built up and

dismantled without a crane.

The first "Sicko" example is

scheduled to be delivered to a

customer in France in May

2012. New concepts for 2013

were introduced at the IAAPA

in Orlando (USA); namely the

XXL versions of the KMG rides

"Speed" and "Inversion". Basic

information on both constructions

is as follows: height approx.

70 metre; 4 transport vehicles;

no crane required for

build-up and dismantling.

Both attractions will also be

available as park models. ■

12
---
Sie meinten es ginge

nicht höher?

NEU:

Gondeln mit

DOPPEL-

ROTATION

Im Juli 2012 kommt:

DIE WELTNEUHEIT

62 m Höhe

20 m Frontlänge

20 Personen Kapazität

Remco Kriek • Solinger Strasse 32 • D-40764 Langenfeld

Tel. 0031 629 546133 • E-mail: remcokriek@live.nl
---
Es ist soweit!

Wir enthüllen das

Top-Design von

THE KING

fliegt über das Publikum

mit 27 m freiem Fall
---
PREVIEW

The "Alpen Hotel"

from Saskia and Rene Rasch

The "Winter Wonderland" in

London's Hyde Park is currently

giving visitors a foretaste of

what they are to encounter on

German fairgrounds as early

as next year; namely the

"Alpen-Hotel" from Saskia and

René Rasch from Hamburg.

Text:

Photos:

Miichael Bonhoff

Michael Bonhoff, Heiko Schimanzik

The Barman in the

Alpen Hotel-Bar

Alpen-Hotel

The base structure of the

new attraction is formed

by the largest Adventure

Simulator ever built by the

Dietz firm, which may well

be remembered by experts

under the name of Inferno

and later Mystery Tower

Hotel. Some years ago,

René Rasch purchased all

the individual components

originally belonging to this

construction, in order to

build a family-friendly, XXLsized

funhouse. On the

basis of an original draft by

Heinz Opitz the firm's

experienced staff, supported

by well-known experts,

may well have built one of

the largest and complex

funhouse constructions currently on tour.

Even though all the participants had to make

an all-out effort in the last few months for the

prestigious première venue in the Queen's

Garden, the new "Alpen-Hotel" was eventually

completed only in early November. As many as 6

transport vehicles (four of which are directly

incorporated into the construction) were required to

transport the attraction, extended by many elements,

to England by sea. At the preview in London, visitors

will encounter a gigantic building with 28 retrolook

front metres, 4 levels high, 12 metres deep,

brush painted and equipped with bulb lighting –

entirely in the tradition of the large German funhouse

attraction from the time of the "economic

miracle" that Willenborg or Fellerhoff and Edi Meier

used to operate in Germany and Switzerland. These

indeed influenced the style of this kind of fairground

entertainment all over the world way back then. The

style of the slightly fanciful monumental façade

reflects the classic "German Funhouse", whereas

the open design and the visible balcony sections

replete with effects offering spectators a lot of fun,

are modelled on the Italian style. From the "Kneipp's

Cure" visitors are presented with a watery challenge,

wading their way to the "yodelling stairs", from

16
---
PREVIEW

One of the friendly

hotel staff members

where the up and down course through the Alpenwelt

continues to provide an ample selection of

entertaining obstacles and surprises. After the

successful ascent to the summit, visitors encounter

the true highlight of the construction, the newly

designed show section with no less than 4 different

sections. First, the course leads into the legendary

hotel bar, an elaborate animation older fairground

fans still enthuse about to this day. Lovingly restored

and having been given a matching theme after a

long beauty sleep, this effect will certainly not fail to

also impress today's generation of visitors. Further

along there are three further illusions, before the

whole hotel lobby seems to turn topsy-turvy at the

end of the course. By the way, all the effects have

been especially "synchronized" in English with a

heavy Bavarian accent – simply priceless! This

alone makes a Christmastide trip to the United

Kingdom well worthwhile.

In early January, the "Alpen-Hotel" will return to its

homeland, where it will tour throughout the coming

season. The ribald comments of the animated figures

can then only be heard in the original German

version, however.

■

"Let's head for London":

The centre section

17
---
– BEGEISTERTE BESUCHER – PROFESSIONELLE BETREIBUNG –

- ZUFRIEDENE VERANSTALTER –
---
Tel.: 0163 / 27 15 999

E-Mail: fun@flash-weber.de

Besuchen Sie uns im Internet:

www.rocket-weber.de • www.flash-weber.de

Jetzt buchen!

© 2011 by afaw • Alle Urheber- und Nutzungsrechte verbleiben im Hause afaw.
---
INTERVIEW

MICHAEL BURGHARD

Susanne and Michael

Burghard

At the Hannover Schützenfest,

the new closed gondolas on the

"Roue Parisienne" Ferris Wheel

from the Burghard-Kleuser

GmbH underwent a 'road test'. At

its appearance at this year's

Lukasmarkt in Mayen, the time

had come: the Ferris Wheel was

presented on a "half'n'half" basis

– one half equipped with

open, rotating gondolas and the

other half with the new covered

gondolas. Kirmes & Park Revue

interviewed Michael Burghard on

this innovation.

Text & Photos: Michael Petersen

Half open and half closed

gondolas: "Roue Parisienne"

at the Lukasmarkt in Mayen

A transportable Ferris Wheel with both closed

and open gondolas may well be unique, don't you

think?

Yes indeed, we do not know of another example

like this.

How did you come up with this idea?

We operate the "Roue Parisienne" almost all year

round, touring it at the Hagen Christmas Market at the

end of the season, and have built it up at the largest

New Year's Eve Party at the Brandenburg Gate in

Berlin at the turn of the year for many years. It is

particularly at the latter event that the passengers find

themselves much more comfortable in a closed Ferris

Wheel gondola. As a result, the idea was born to

partly equip our Wheel with closed gondolas.

And what does it look like in practice?

We have a total of 36 gondolas, 18 of which are

open and rotating. One of the open gondolas was

rebuilt to accommodate wheelchair users and an

accompanying person. We have now added 18

closed gondolas. One of these gondolas is a VIP

gondola, which can be hired for special occasions.

What kind of occasions do you have in mind?

Romantic, wedding, and birthday parties – there

is a number of possibilities. On request, guests in the

VIP gondola are provided with food and drink appropriate

for the occasion, from champagne to multi-course

meals.

What was the planning and building phase of

the new gondolas like?

There was close cooperation with the TÜV Essen

from the very beginning. The wind resistance of the

Wheel, the weight of the gondolas, and the maximum

load capacity had to be recalculated. As the TÜV had

approved the construction early on, we were able to

contract the Reckmann firm from Oberhausen to build

the gondolas.

What other firms participated in the reconstruction?

There weren't any! That was a big advantage:

everything came from "just one hand", if you will; our

sole contact partner Reckmann built the gondolas,

painted and decorated them. This Oberhausen firm

even installed the new LED gondola lighting with

spectacularly changing colours.

Did the number of transport vehicles increase?

No, the gondolas are pushed together and do not

require any additional room. All the vehicles are

incorporated into the ride.

Do you now travel only with the "half'n'half"

version?

It depends on the venue. We go by the

organiser's wishes, but also by the weather forecast.

We are very flexible. In the cold season, we will

certainly stick to the version with both gondola types.

So, would you say that you have reinvented the

Ferris Wheel?

No, certainly not, but we are creative and now able

to offer something unique.

■

20
---
60 Meter Höhe !

Wir bedanken uns

bei allen Behörden

und Veranstaltern,

die uns in 2011 ihr

Vertrauen aussprachen.

Wir wünschen allen ein

frohes Weihnachtsfest

und ein gesundes

neues Jahr!

Auch 2012

sind wir mit

3 baugleichen

AROUND THE WORLD

Europaweit

auf Tournee.

Planen Sie Ihre

Veranstaltung

mit uns!

60 Meter Höhe

Grundfläche 19 x 19 m

Kasse 3 x 2 m

32 Passagiere

Stromverbrauch 80 KW

Fotos: King

Fa. Van der Beek-Dauphin

Penningweg 2 • NL-1507 DA Zaandam

Brüsseler Straße 30 • D-48455 Bad Bentheim

Tel. 0031 624 505 170 oder 0031 653 316 019

email: jha-vander-beek@live.nl
---
Wir danken allen Veranstaltern für das in

unseren Kollegen ein gesegnetes Weihnachts

Planen Sie mit uns

Schaustellerbetrieb Hofmann-Jehn

NEWS – AKTUELL – NEWS

Freddy's Company

... einzigartiger

themengerechter Kulissenbau

... neueste LED/Energiespartechnik
---
uns gesetzte Vertrauen, wünschen Ihnen und

fest, Gesundheit und Kraft für das neue Jahr!

SPASSZONE

Letzte Station 2011:

Rostocker

Weihnachtsmarkt

Foto: King

die Saison 2012 !!

Spezialbelustigungsanlagen Tel. 0178/2173845

– AKTUELL – NEWS

schon im Bau !!!

... durchthematisierte

Spaßanlage

... riesen LED Display

... "HANSEN", unsere lustige

Figur, animiert mit Texten

und Bewegungen das Publikum

Neuheit

2012
---
COMEBACK

The "Round Up"

from Sabrina Wolf and

Dominique Bügler

It is well known that there are

not too many examples of the

classic "Round Up" ride left

touring within Germany. In the

2011 season, however, there

was a new addition to the remaining

few, as Wolf and

Dominique Bügler from Bad

Kreuznach brought an almost

forgotten "Round Up" construction

back to life. Built by

the Fähtz firm in 1974, it had led

a rather dull, park-based life of

late.

Text:

Photos:

Norman Vogt

Norman Vogt, Archive Bügler/Wolf

Dominique Bügler at the

operator stand

Round Up

The Bad Kreuznach showmen purchased the

ride from the Krebel firm from Kassel, which had

operated it in a small amusement park. The "Round

Up" had last toured the fairgrounds

(only for a short time) a

number of years previously under

the management of the

Geibel firm, which had incorporated

the "Round Up" as a

surprising attraction behind the

façade of Walkthrough construction,

"Twister". According

to the ride book, the attraction

was built in 1974 for the showman

Bockermann from Eltville, who toured it under

the name of "African Swing" from 1974 to 1978.

Subsequent owners were Pistorius, Schraut, and

Willführ. Admittedly, when Dominique Bügler purchased

the ride in 2010 (after previous inspection),

it had a sound base structure; its visual appearance,

however, was anything other than attractive.

Consequently, the ride was completely dismantled

step by step after the takeover. Each and every

screw was removed and replaced by a new one,

and the entire centrepiece, as well as all other sections,

was expertly sanded down. Removing a

stubborn powder coating from the 36 passenger

baskets turned out to be the most time consuming

task, alone taking six weeks to achieve. When the

metal parts were glittering again, having been newly

primed and painted, a new corrugated sheet was

mounted to the floor of the rotating element. This

done, the ride was rewired and the lighting was in-

24
---
COMEBACK

The rotating viewed

from the rear

stalled. Even the machine parts required for operating

and elevating the arm were overhauled.

In addition to the centre trailer, there is a roller with

the paybox stand as well as the staircase platforms,

which is incorporated into the construction. An

artist from Bad Kreuznach was engaged to give the

"Round Up" a colourful design. The ride now features

new spotlights and music equipment, just as

is the case with the new LED lighting in the front

section. A collapsible backflash to be affixed to the

centrepiece will be installed next year.

It goes without saying that during the restoration,

Sabrina Wolf and Dominique Bügler were energet-

The ride condition at

takeover and at the start of

the restoration

25
---
COMEBACK

The construction

in a new shine

ically supported by their

families. All this tireless

work was followed by a

special TÜV inspection,

before the "Round Up"

was able to make its first

appearance at the

Ostermarkt in Saarlouis.

The ride has ground measurements of 15 x 16 metres

and electrical requirements of 50 kW. ■

An artist from Bad

Kreuznach took over the

painting design

26
---
OLDIE

The "Blue Hawaii"

from Volklandt at the Leipzig

Herbstkleinmesse 2011

The "Blue Hawaii" attraction

from Mack can look back on a

colourful past: The ride was

built 46 years ago and has often

changed ownership. In late

1989, it even went to the then

still existent GDR – but thereafter

was widely thought to have

been lost to posterity. However,

after a long beauty sleep, it

suddenly reappeared; and having

changed ownership yet again

last year, it is now operated by the

Volklandt family from Zwenkau

near Leipzig.

Text: Rolf Orschel

Photos: Rolf Orschel, Archive

The gondolas are similar

to small boats

Blue Hawaii

ministry in charge was rejected, pointing out

that it was not possible for private showmen

to import rides; the construction could only be

imported into the GDR as an addition to the

VEB Zentralzirkus, or Socialist State Circus

Enrico Volklandt purchased the "Blue Hawaii" from amusement park. Consequently, the "Blue Hawaii"

Karl-Heinz Langenscheidt from Aurich last year. stayed in West Germany and was ultimately sold to

In 1965, the attraction was built by the ride show woman Anneliese Meyer from Aurich in East

manufacturer Mack in Waldkirch for the Parpalioni Frisia. From there, the ride passed through many

showman family from Herford. Under the brothers' hands in rapid succession: It was, among others,

management, the ride was truly in its prime. Having operated by the showmen Günter Darmann from

learnt back in the 1970s from his brother in West Germany

that the Parpalioni family wanted to part with Till from Iphofen. In late 1989, the latter eventually

Solingen, Karl-Dieter Milz from Cologne and Ottmar

the ride in favour of another attraction, the showman sold the ride to Udo Lautenschläger from Querfurt in

Ernst Malfertheiner from Ohrdruf jumped at the the still existing GDR (even though at that point in time,

perceived chance to import the ride into the former the Berlin Wall had already fallen and the border was

GDR. The application for the import of the ride to the already open). However, Lautenschläger operated

GDR from a "non-socialist country" submitted to the the ride only every now and then up until 1993, when

it simply disappeared from the fairgrounds. As it did

not reappear for a long time, it was thought to have

been scrapped, but the history of the "Blue Hawaii"

continued the same year – albeit initially barely noticed.

This same year, the showman enterprise Wieser

from Dessau purchased the attraction from a bank

and put it into storage in the hall on the company

grounds, as the ride was to be thoroughly overhauled.

However, due to the purchase of other rides,

it was simply left idle. In 2002, it was awoken from its

beauty sleep by the show people Petra & René Uebel

from Calvörde near Haldensleben, who overhauled

parts of the ride. On completion of the overhaul, they

sold the "Blue Hawaii" to Michael Wustrack from

Karlshöfen (Bremervörde district in Lower Saxony).

This is how the ride returned temporarily to the old

West German states.

By the way, the spelling of the ride name on the name

30
---
OLDIE

Details of the "Blue Hawaii":

The paybox was newly built

by Enrico Volklandt

sign sometimes also changed along with the large

number of changes of ownership: The ride was

called "Blue Hawaii" but also "Blue Haway". Four

years later, the ride changed ownership once again:

From 2007 to 2008, the "Blue Hawaii" made its rounds

in the "Onkel Heini" amusement park of the showman

Karl-Heinz Langenscheidt in Logabirum (a district of

Leer in East Friesian). When the park was closed

down, the ride was put into storage for two years before

being sold to Enrico Volklandt in 2010 – thereby

going back to East Germany once again. After the

takeover, the ride was completely overhauled. This

included the removal of the roof to speed up the buildup

and dismantling of the inclined track. Once the

roof had been removed, Enrico Volklandt built a new

backflash from printed tarpaulins as well as a new

paybox, and made a new name sign - once again

featuring the original "Blue Hawaii" spelling. Due to

the redesign, the number of transport vehicles could

be reduced by one. The complete track ride is now

loaded onto the centre trailer and a baggage van.

From August 27 th to 28 th this year, Enrico Volklandt

presented his newly purchased ride at the Town and

Schützenfest in the Böhlitz-Ehrenberg district of

Leipzig, where the fairground veteran made its

rounds without experiencing any problems. This

appearance was followed by a comeback to a major

fairground after a break of very many years, when the

"Blue Hawaii" was presented at the Herbstkleinmesse

2011 in Leipzig.

■

The "Blue Haway"

in its original condition under

Parpalioni in the 1960s

The ride under the management

of Uebel firm in 2002

31
---
SPECIAL

"Zeitreise":

photos, documents

and props from the

Kramermarkt past

The trend to create fairground sections

entirely dedicated to the nostalgia

and the origins of the showman

industry has continued unabated

throughout 2011. While there was a

"Nostalgiepark" at the Nürnberg

Herbstvolksfest for the very first time,

the "Zeitreise", or "time travel", was

presented at the Oldenburg Kramermarkt

for the third time, no less! As if

this were not enough, at the largest

Volksfest in the world, the Munich

Oktoberfest (or "Wiesn", as it is

affectionately known locally), the

"Oide Wiesn" (or "old" Wiesn")

historically-themed designated area –

the successor of last year's "Historic

Wiesn" – celebrated a huge success.

Text: Ralf Schmitt, Helmut Bresler,

Rolf Orschel

Photos: Norman Vogt, Helmut Bresler,

Nils Benthien

Volksfest-Nostalgia

"Zeitreise" in Oldenburg

Since 2009 the Oldenburg showmen have successfully

presented a nostalgic time travel experience at

the Kramermarkt. This is why, from September 30 th

to October 9 th 2011, a special section in the centre

row of the fairground at the Weser-Ems-Halle was

entirely dedicated to the "Nostalgia" theme. In this

historic area, visitors were able for the fourth time to

experience at close quarters the history of the

Kramermarkt. The exhibition "Zeitreise", or "time travel",

presented by the showmen in the open-air areas, included

a number of old Hanomag traction units,

caravans and baggage vans, as well as five large

organs. Inside a tent, nostalgic dodgem cars, old

34
---
SPECIAL

Historic dodgem

cars and a view of the

outside area of the

"Zeitreise" in Oldenburg

mounts from kiddie carousels, antique ball-throwing

figures and front paintings from the past 100 years

were exhibited. Moreover, visitors were able to enjoy

a horse carousel from 1886 and many photos from

former Kramermarkt events, in which many spectators

were able to recognise themselves. Many visitors

used the "Zeitreise" for a rest from the frantic hustle

and bustle at the Kramermarkt to take a trip down

memory lane, and to listen to the fairground organs

playing authentic fairground music. As is tradition,

an organ with two angels drumming the beat of the

music and a band leader persistently conducting,

was also placed at the entrance to the fairground at

the Europaplatz again. Many visitors were also attracted

by the slat-roofed caravans, in which the

showmen used to tour through the country and in

which many lived the whole year round.

admittance beyond this basic theme, every visitor

was magically transported back to the good old fairground

days. In addition to numerous historic traction

units half a dozen organs were playing, and visitors

were able to enjoy rides on the "Fahrt ins

The Entrance to

the Nostalgia-park section

in Nürnbern

Nürnberg: Nostalgia-Park

At this year's Nürnberg Herbstvolksfest, a nostalgia

park was built up on an area of about 4,000 square

metres. As the concept provided for no additional

35
---
SPECIAL

Not exactly appealing:

the entrance to the big top

accommodating the exhibition

History: the Totenbuch"

from the Nürnberg Showman

Association and a XXL-size

photo books to leaf through

The large big top

provided enough space

for many exhibits.

36
---
SPECIAL

Made a stop in

Nürnberg prior to the Munich appearance

with the "Fahrt ins Paradies":

Toni Schleifer

Paradies" (Schleifer), the nostalgic Ferris Wheel

(Hörmann) and Schleifer's Horse Carousel. Moreover,

there were two historic caravans presenting the

life of showman families from decades ago.

It was a good idea to display the exhibits from Volksfest

history in a big top (Circus Schubert). The costs

of about 15,000 Euro for transports, security

personnel etc. were borne by sponsors. With a real

talent for organizing and tireless efforts, George

Schweizer, member of the South German Showman

Association's administration, has gathered together

the exhibits and sometimes even brought them to

Nürnberg and back again himself. Without his

enthusiasm, his efforts and his commitment during

the months, days, and hours prior to the opening, the

idea of a nostalgic park could not have been realized.

All the credit and unlimited praise from all quarters is

due to him! The details concerning the individual

showman families, as well as the

two large photo books relating the

Volksfest history in photos and

short texts, were very popular

with the visitors. Loans came from

local showmen as well as from

Rolf Hartmann (Berlin) and Winfried

Frase (Schwabach). They

were all highly interesting and

well worth seeing – but visitors often

looked in vain for more detailed

information on them. The

imposing front of Nenninger's

Punch and Judy show was a real

eye catcher; but why the show

had to close, which plays were

Father and son: Lothar (le.) and

Mike Hörmann presented their

restored wooden Ferris Wheel

37
---
SPECIAL

The Schleifer family

also presented their old

carousel in Nürnberg

Several large Volksfest

organs were displayed – here

is an example from the Kinzler

collection

Motor and organiser of the

Nürnberg Nostalgiepark: Georg

Schweizer

The front of Nenninger's

Punch and Judy show

38
---
SPECIAL

Sebastian Bichler from

the Chiemgau presented Lanz

tractors from 1927 and 1930

from his collection

Peter Nolte (le.) from

Neumünster exhibited some of

his rare vehicles .

Parade: Rudi Bergmann greeting

from the Hanomag from

Siegfried Kaiser's collection

performed and what the cultural and historic

importance of the puppet show were, was regrettably,

not revealed to the curious visitor. The history

of the dodgem track was only slightly touched upon

by way of individual vehicles, without providing any

documentation on the development of this Volksfest

classic. The newly restored "Totenbuch", or "Book of

the Dead" from the Showman Association was

placed in the exhibition area, but without enlightening

the visitors on its history and use. Many visitors

stood in front of it with puzzled interest, and most

moved on completely baffled.

A dodgem car from Schäfer's unforgettable "Picture

Shuttle" was also part of the exhibition. However, the

unique chance to demonstrate the innovative

resources of the showman industry was sadly absent.

Currently 3D-movies are being hotly debated. The

International Consumer Electronics Fair in Berlin was

dominated by them, and the industry is working at

full speed on 3D-TV sets. In the 1960s, it was Karl

Fascinated by a look

into the displayed

historic caravans

39
---
SPECIAL

Partial view of the

"Oide Wiesn" in Munich

Nostalgic attractions for

both young and old

Kohler from Augsburg who realized this idea and

introduced it to the fairgrounds 3D-effects with his

patented track, while what seems to be a modern

trend these days was already presented by the

showmen more than 40 years ago. A summary

reference to the 'birth' of the cinema at the fairgrounds

would have been a good concluding point,

along with a photo from Lindner's cinematography

which came from Nürnberg. Too bad that all these

chances were passed over, and that a subject with

40
---
SPECIAL

This time featuring

the light tree in the centre:

Wienheim's "Calypso"

huge public appeal was simply squandered. In the

end, the exhibition was therefore nothing more or

less than a collection of curiosities without a common

thread.

Munich: "Oide Wiesn"

The conspicuous success of the "Historische Wiesn"

in the anniversary year 2010 was continued with the

smaller version called "Oide Wiesn". As was the case

last year, the event was able to attract more than half

a million visitors! This time they enjoyed themselves

in the specially designated area even though there

was neither an animal tent nor horse race. With its

Bavarian traditions, nostalgic ride attractions and far

fewer drunks, it presented a genuine alternative to

many (mainly local) guests. The atmosphere in this

section was once again cosy and relaxed and visitors

did not even have to forego a fresh litre of beer,

which was served in a "Keferloher" stein. As was the

case in 2010, the entrance fee was 3 Euro. This time

however, it had to be paid at plain office container

counters instead of impressive wooden payboxes.

These also formed the entrance to the "Oide Wiesn".

After the first few Wiesn days, those responsible apparently

also recognised the plain, almost shabby

look of the entrance area and the paybox containers

were duly covered by tents and equipped with

make-shift informational tarpaulins (too small and

poorly secured). This was decidedly penny wise and

pound foolish! However, visitors were rewarded for

their tolerance after entering the "Oide Wiesn", where

the layout of the attractions and thoroughfares was

slightly changed compared to 2010. The fare on all

the ride attractions was once again 1 Euro. Once

again presented were the public's favourites "Velodrom",

"Calypso" and the "Fahrt ins Paradies". The

Chair-O-Plane from Kalb and the multi-storey

carousel from Stey were relocated from the main

Wiesn fairground to the "Oide Wiesn", where they

Not exactly inviting:

the entrance area

Clash of styles:

occasional modern sales stalls

41
---
SPECIAL

Popular: the "Velodrom"

was besieged

Organized her last Wiesn

as head of the Tourist Office:

Gabriele Weishäupl, here with

Siegfried Kaiser. Dieter Reiter

(SPD), economic expert and

probable candidate for the office

of Lord Mayor, tested his

skills at the "Dicke Berta"

were often virtually besieged. Moreover, the old

"Dicke Berta" game of strength celebrated its comeback

and the nostalgic swing-boat and kiddie

carousels offered pure ride fun. Sadly missed, however,

was at least one representative from the "nostalgic

funhouse" or "show" sector. After all, the "Land

des Lächelns" and the "Lachen am laufenden Band"

had provided visitors with a lot of fun. This aspect

was at best met by the "Velodrom" this time. Much

discussed in the daily press was the short-term

cancellation of the announced children's tent from

the Munich Association "Lilalu", which had planned

a special programme for children and families. As

reasons for the cancellation, the association said "...

the provided tent neither met educational standards

nor security and hygiene requirements". What a pity.

Two beer tents as well as snack and sales booths

provided the visitors to this section with food and

drink. "Normal" visitors may well not have noticed

or did not care that there were also, for example, a

swing grill pavilion or a modern booth selling chocolate-covered

fruits – in other words constructions that

were anything but authentic and nostalgic. But enough

of criticism – all in all, the "Oide Wiesn" was a tremendous

success. Positively worth mentioning is the

'exceptional factor'; namely that this additional area

regulates the masses of visitors, especially at peak

times. Even though it has already been decided that

in the future the "Oide Wiesn" will be a fixture at the

Wiesn, an exception will already be made in 2012: in

years where the traditional Central Agricultural Festival

is held at the same time as the Oktoberfest on the

Theresienwiese fairground (every 4 years), the "Oide

Wiesn" will be cancelled. Unfortunately, the farmers

rejected the proposal to cede 3 hectares of the 16

hectares of the Zentrales Landwirtschaftfest to the

traditional Wiesn, at a meeting of Munich's economic

expert, Dieter Reither, and the Secretary General of the

Bavarian Farmers Association, Hans Müller, in mid-

October. Gabriele Weishäupl commented: "It's too

bad, but I do understand that logistics as well as buildup

and dismantling is quite complicated." As a result,

the next "Oide Wiesn" will be held in 2013 – and we are

already looking forward to it.

■

42
---
ADVENTURE "OIDE WIESN": KATZSCHMANN FAMILY

SPECIAL

Text:

Photos:

Rolf Orschel

Ralf Schmitt

For the Katzschmann family from Mittweida

(Saxony), the appearance at the "Oidn Wiesn" in

Munich, to which they had been approved with

their nostalgic Kiddie Ride (including the incorporated

Ruth organ from 1933), very much to their surprise,

proved to be a very special experience.

Even the journey from Thuringia to Bavaria was very

exciting. On September 8 th , the Katzschmann family

(senior "Grandpa" Alfred, son Fred and his son Tim,

daughter Anett and her daughter Rebecca) drove in

a convoy from Rudolstadt to Munich. First, Fred and

Tim drove from Nordhausen, where their "Super-8-

Truck" had made its appearance at the Herbstfest,

to Rudolstadt. On their arrival, the articulated lorries

were coupled together and at about 10 a.m. they set

out for Munich. While Alfred drove his Mercedes traction

unit (built in 1989) and his slat-roofed caravan,

Fred towed 2 baggage wagons with his Mercedes

Axor (built in 2005). His son Tim steered an IFA L 60

(built in 1989) towing the wagon holding the mounts

and the one-axle centre trailer, and daughter Anett

in an IFA L60 (built in 1988) towed her slat-roofed

caravan. Thus, four articulated lorries were taken to

Munich at the same time. While Fred, Tim and Anett

arrived at the Wiesn at about 3 p.m., Alfred did not!

Having taken the wrong turn at a junction, he had

hopelessly lost his way and arrived at the Wiesn only

after a number of "sightseeing tours of the city".

After an appropriate break, Fred and Tim returned to

Nordhausen, arriving at about 12:30 a.m. the following

day, having done a total of 1,038 km there and

back. While Anett returned to Mittweida with the L 60

and her caravan at the end of the Wiesn, Alfred

steered the remaining three transports while Fred

and Tim appeared in Potsdam. All in all, Alfred

Katzschmann covered 2,800 km in two days for the

return transport to Mittweida. "For this tour alone we

required 3 tankfuls of 600 litres of diesel," said

Katzschmann. "But it was well worth the trouble - the

visitors were enthralled and besieged our attraction!"

By the way, Alfred and Anett Katzschmann's

Wiesn appearance was accompanied by a TV team

from the MDR television station. On September 8 th ,

the troupe had been waiting at the A9 (last exit

before Munich) for the Katzschmann convoy and got

a lift on the traction units to the Wiesn, where they

shot sequences for a "Sachsen Spiegel" report right

up until the last opening day.

For "Grandpa" Alfred, the Wiesn was the highlight of

his work. He would never have dared to dream that

the ride he had built would one day appear at the

Munich Oktoberfest. As previously mentioned, the

Wiesn has been a big financial success for the

Katzschmann family. Their traction units and wagons

were admired by many showman colleagues and

visitors alike.

The spokeswoman of the Munich Tourist Office,

Gabriele Papke, did not know with certainty whether

or not the Katzschmann family were the first showmen

from the east to be presented at the Wiesn. "Saxony

has a long showman tradition. Some of the showmen

were presented at the Oktoberfest well before the

building of the Berlin Wall. In the recent past the

Katzschmann family were indeed the only ones." ■

Arrival at the Theresienwiese:

Anett Katzschmann

towing the caravan transport

with the IFA L60 traction unit

The historic slat-roofed

caravan from Pfaff and the two

wooden baggage wagons

holding the kiddie carousel

43
---
GASTRONOMY

CAFÉ KORN

Daughter Anika (le.),

Brigitte and Michael Korn

Text & Photos: Helmut Bresler

Famous Bayreuth celebrities such as, among

others, Richard Wagner, Franz List, King

Maximilian and Markgräfin Wilhelmine are regular

guests at the "Cafe Korn", welcoming visitors

almost in life size form from a large printed metal

wall, which is a veritable eye catcher elegantly

concealing a utility container.

Showman Michael Korn is enthralled by the art

piece. After it was designed and processed by

computer, it was printed on sheet metal in special ink

and then covered with clear varnish. "The guests talk

about the celebrities, prominent Bayreuth buildings

and, as a general rule, recognize most of the celebrities,

although it can get exciting when guests quarrel

about the identity of a person. "The mural is very

popular and an indispensable feature in my café

garden at all venues", said Michael Korn. The 7.50

metre long and 2.50 metre high artwork, comprised

of six pieces, was designed by the artist Klaus

Häring from Upper Franconia, who Michael Korn

happened to discover by chance while searching for

advertising partners. Häring is a speed-cartoonist,

illustrator, and comic artist - and loves cartoons and

caricatures. During his 25 years of work experience

he has also repeatedly taken up Richard Wagner as

a subject, and with his "Green Hill Toons" he has attracted

national attention. Korn himself (depicted as

a waiter) has also been immortalized in the artwork.

In addition to the café, the Korn family also tours a

kiddie ride, a sweets booth, a continental pick stand

and a shooting gallery. Michael Korn's great passion

however is a more than 100-year-old horse carousel,

which is only built up at selected events and on special

occasions these days.

■

The "Café Korn"

46
---
Georg & Birgit Schweizer

Schnepfenreuther Hauptstr. 22

90425 Nürnberg

www.g-bschweizer.de

info@g-bschweizer.de

Telefon: 01 77 / 6 28 29 62

(Georg Schweizer)

Telefon: 01 77 / 314 14 10

(Birgit Schweizer)

Ihnen ein frohes Fest,

bedanken uns für die gute

Partnerschaft und freuen

uns heute schon auf die

Fortsetzung der guten

Zusammenarbeit im neuen Jahr!

VERKAUFSWAGEN 1 VERKAUFSWAGEN 2 VERKAUFSWAGEN 3

Die Gastronomie-Neuheit für 2012: "Zur alten Schnitzelmühle"

Der Klassiker – frisch,

lecker und schmackhaft

vor Ihren Augen zubereitet!

Wir empfehlen uns

für Ihre Veranstaltung.

www.schnitzelmuehle.eu

Jeffrey Bauer

Tel. 0163/5104395
---
Jetzt das passende Weihnachtsgeschenk wählen!

IHRE ABO-VORTEILE:

• Regelmäßige, bequeme und

versandkostenfreie Lieferung

an Ihre Adresse

• Sie sparen über 10%

gegenüber dem Einzelkauf

Sie erhalten diesen attraktiven ...

✂

❑

❑

• Abonnenten erhalten ihr

Heft bis zu 3 Tage früher als

im Zeitschriftenhandel

• Genießen Sie die Abo-Vorteile

– und zusätzlich erhalten Sie

eine attraktive Buchprämie!

Bedingung: Die Prämienaktion gilt nur für Leser, die bisher

nicht Abonnent der Zeitschrift waren. Die Aktion gilt nur solange

der Vorrat reicht. Prämienversand nur innerhalb der EU.

GESCHENK-ABONNEMENT

Ich bestelle hiermit die nächsten 12 Ausgaben von KIRMES & PARK Revue ab Heft-Nr.

zum Abonnementpreis von 78,– € inkl. 7 % MWSt. und Versand (Deutschland)

Ich bestelle hiermit die nächsten 12 Ausgaben von KIRMES & PARK Revue ab Heft-Nr.

❑ Europa Normalpost zum Abonnementpreis von 99,– € inkl. Porto und Versand

❑ Europa Luftpost und Übersee zum Abonnementpreis von 111,– E inkl. Porto und Versand

PRÄMIENWUNSCH bitte ankreuzen:

❑ DER BERG ❑ KARUSSELLMÄDLE ❑ MIT ROMANTIK HAT UNSER BERUF NICHTS ZU TUN

Prämienversand nur innerhalb der EU.

Ich wünsche die angekreuzte Zahlungsweise:

❑ durch Bankeinzug. Die Einzugsermächtigung erlischt mit Kündigung des Abonnements.

Konto-Nr. Bankleitzahl Bank:

... und zusätzlich eine unserer

❑ gegen Rechnung. Bitte kein Geld einsenden, Rechnung abwarten.

❑ per Kreditkarte. Bitte ankreuzen: ❑ Visa ❑ Mastercard ❑ Diners Club ❑ American Express

BUCHPRÄMIEN

(nur innerhalb der EU)

Karten-Nr.:

gültig bis:

Rechnungsanschrift: Name, Vorname

Lieferanschrift: Name, Vorname

Straße, Hausnummer

Straße, Hausnummer

PLZ, Ort, Land

PLZ, Ort, Land

Telefon

Ort, Datum, Unterschrift

Bitte einsenden an:

Gemi Verlags GmbH, Postfach, 85291 Reichertshausen

oder per Fax an: 0 84 41 / 797 41 22

Geschenkabonnements enden automatisch nach Belieferung von 12 Ausgaben.

Diese Bestellung kann ich innerhalb von 10 Tagen schriftlich bei der Gemi Verlags GmbH, Postfach, 85291 Reichertshausen widerrufen.

Die Widerrufsfrist beginnt 3 Tage nach Datum des Poststempels meiner Bestellung. Zur Wahrung der Frist genügt das rechtzeitige Absenden.
---
JAGDSTUBE

GASTRONOMY

The "Jagdstube" was built

by the Schmäding firm

Patric Forlani and Yvonne

Zickler

Text & Photos: Norman Vogt

The "Jagdstube", a new beverage attraction built

by the Schmäding firm for Patric Forlani and

Yvonne Zickler from Landau / Palatinate, has

celebrated its première at the Herbstmesse in

Speyer.

The "hunting" theme was chosen deliberately to

make it stand out from other beverage outlets. As

usual, the Schmäding firm had again used a significant

amount of wood in constructing the attraction,

and decorated much of it with appealing carvings.

The assembled "Jagdstube" has ground measurements

of 11 x 7.50 metres, with the 7 metre tower in

the centre of the roof structure being a prominent eye

catcher. The latter was equipped with glass windows

and expertly surfaced over. The interior lighting

provides for a warm and cosy atmosphere. Apart

from the counter, a dining

area with seating is available

in the rear section, just

as is a beer garden of

variable size in front of the

attraction. In addition to

the centre trailer, the

transport also includes a

single container for the

dining area. After the

appearance in Speyer,

the "Jagdstube" was transported to Worms, where

the beverage outlet was built up to liven up an area

during the winter months where the railway attracts

many visitors. The "Jagdstube" menu offers various

types of beer, wine, non-alcoholic beverages, coffee

and liquors, classic winter beverages, as well as light

meals such as (seasonal) cheese fondue. ■

A glimpse of the rear

seating section and the counter

49
---
Endlich wieder ein neues Rundfahrgeschäft für die

Vorwärts – rückwärts – seitwärts – rauf und runter

– freier Fall

– wer kann mehr?

Bei uns habt ihr

wieder richtig Spaß!

Infos und Buchungs-Hotline: Ronny Deinert,

Wir bedanken uns bei den Veranstaltern und Behörden für das in 2011 entgegengebrachte Vertrauen

und wünschen ein frohes Weihnachtsfest und ein erfolgreiches neues Jahr!

Wir planen bereits

für die neue Saison.

Wir freuen uns auf die PREMIERE unseres neuen,

wunderschönen NOSTALGIE-RIESENRADES auf dem KASSELER WEIHNACHTSMARKT!

Vergnügungsbetriebe Bernd Nier • Agathofstr. 29 • 34123 Kassel • Tel. 0163/560 3178 • E-Mail: bnier@aol.com
---
ganze Familie! Zum Saisonbeginn 2012 gehen wir an den Start!

Die neue Generation des mobilen Vergnügens!

Keine Kopf-über-Fahrt!

Die Kompaktklasse: Nur 18 x 18 m

– wir passen fast überall hin!

Design: B&B Decorateur

Licht & LED Technik: Klaus Kairis

Sound: Kort Music

Sichern Sie sich jetzt die

KARUSSELLNEUHEIT 2012

für Ihre Veranstaltung!

Weiterhin reisen wir mit unserem

einzigartigen Hochfahrgeschäft "SKY-TRIP"

Deutscher TÜV & deutsches Baubuch!

Abnahme durch den TÜV München

Tel. 0163 / 190 53 31 und 0163 / 441 51 51

2012 präsentieren wir unsere

beiden Belustigungsanlagen mit

neuem Innenleben und Effekten

Herzlichen Dank allen

Veranstaltern, die uns 2011

ihr Vertrauen schenkten –

und für die gute

Zusammenarbeit!

• Gerner Dult • Passau

• Regensburg

• Ingolstadt

• Altötting

• Dachau

• Mühldorf

• München

• Bremen

Fotos: King

Michael Kollmann • Exklusive Freizeittechnologie • Ringseisstr. 11a • 80337 München

Tel. 089 / 544 039 01 • Mobil: 0171 / 770 07 50
---
A LOOK BACK

BAD DÜRKHEIM

Heitkamp's "Mühle" and

Nickel's "Wellenflug" in Bad

Dürkheim

"Taiga Jet" (Spangenberger)

and Howey's "Happy Sailor"

making their rounds on the

Wurstmarkt

Text & Photos: Norman Vogt

This year's Bad Dürkheim Wurstmarkt (September

9 th to 19 th ) has come within an inch of a new

record attendance; some 650,000 visitors were

welcomed at the largest wine festival in the world

in this spa town.

Unfortunately, the record of 665,000 guests from

2003 could not be matched though, mainly due to

continuous rain on both Wurstmarkt Sundays. Apart

from these two days, magnificent sunshine attracted

visitors in droves. The operators of ride and funhouse

attractions were highly satisfied with their financial

results, with one of the regular participants even

reporting his best results at this event ever. Only the

kiddie rides had to cope with minor losses this year.

With the "Daemonium" (Blume) and "Magic" (Spangenberger),

fairground director Roland Poh

succeeded in engaging more than adequate

replacements for two cancellations of two major attractions.

While the "Euro Coaster" Track Ride, placed

in the second row next to the "Jupiter" Ferris Wheel

(Bart/Kipp), was heralded as a novelty attraction, the

giant "XXL" Swing from Denis-Kipp, which took its

passengers to breath-taking heights opposite the

huge barrel, was presented for the second time.

Further attractions were the "Pirates Adventure"

(Schneider), "Top Scan" (Köhrmann), "Hot Shot"

(Dölle), "Super-Wellenflug" (Nickel), "Looping the

Loop" (von Olnhausen), a Slide and Dodgem Track

(Göbel), "Take Off" (Ruppert), and Howey's "Happy

Sailor", which although still running in Luxembourg

on Wednesday was ready for operation at the open-

52
---
ing of the Wurstmarkt some 200 kilometres away at

5 p.m. on Friday – truly a logistic feat. Moreover, visitors

were able to enjoy the "Taiga Jet" (Spangenberger),

"U-3000" (Ahrend), and the "Bayern Wippe".

Once again well worth seeing were the two firework

displays held by the Steffes-Ollig firm. Under the

motto "Bunter Feuertanz" (Colourful Fire Dance) and

"Dreams of Fire" they attracted thousands of visitors

to the fairground. Even the football fans got their

money's worth as the "Roten Teufel" from the neighbouring

German football league club 1. FC Kaiserslautern

(K-Town)held an autograph signing session

on September 18 th . For the 20 th time, the wine village

was built up on the fairground. Initially eyed with

scepticism, this concept, which includes 12 wine

and 2 gastronomic tents has become increasingly

popular over the years, and is now a fixture at the

event.

■

A LOOK BACK

EISLEBEN

Text:

Photos:

Rolf Orschel

Dirk Eckermann

With some half a million visitors rushing to the

490 th Wiesenmarkt, held in the Lutheran City of

Eisleben from September 16 th to 19 th , the event

could assert its foremost position as the largest

Volksfest event in Central Germany once again.

According to the impressive figures of the event

published by the organiser, Eigenbetrieb Märkte, in

early July, 335 attractions were chosen from exactly

1,051 showman operations that had applied for a site

on the 80,0002 m 2 area, while 717 applicants were

rejected. Approved to the event were a total of 22 ride

attractions, 6 funhouse and simulator constructions,

16 kiddie rides and 4 show booths. The number of

contracted concession stalls was just as impressive:

7 continental pick stands, 9 shooting galleries, 27

concession stalls, 9 arcade machines, 45 special

sales stalls, 21 snack and beverage stalls, 35 culinary

specialities stalls and 11 special beverage outlets.

They were joined by 2 large beer tents and 121

merchants with all kinds of goods. Attractions appearing

in Eisleben for the first time were the "Haunted

Mansion" Ghost Ride (Hinzen), the double-storey

Venetian Horse Carousel (Langenberg), the "Heartbreaker"

(Bartelds-Witzand), "Krumm & Schief Bau"

(Hartmann), and the "The Game" (Weber) Show

Wiesenmarkt

noveltys: The "Haunted Mansion"

and the Venetian Horse

Carousel

Also presented at the

Wiesenmarkt: Markmann's

"Hexentanz"

55
---
The Wiesenmarkt mascot

"Wiesi"

Theatre. The "Hexentanz" (Markmann), "Fliegender

Teppich" (Meyer), the "Bellevue" Ferris Wheel

(Bruch), and the "Petersburger Schlittenfahrt"

(Burgdorf) were special eye catchers among the

cornucopia of ride attractions. Further rides presented

were the "Schunkler" from Kazimierski, Plaenert's

"Top Spin", the Water Ride (Heitmann-Schneider), the

Booster Maxxx (Denies-Hoefnagels), "Spider"

(Meyer), "Jaguarbahn" (Neutzsch), "Projekt 1"

(Boos Brothers), "Around the World" (Van der

Beek-Dauphin), Breakdance (Meyer), and other

known and successful rides. Apart from the

aforementioned attractions, the show and funhouse

sector was represented by the "Aqua

Velis" (Lutz Hofmann), "Live Action Show"

(Lemoine), "Remmi Demmi" (Janßen), "Show

der Sensationen" (Blume), and the "Berliner

Luft" Show Booth (Heitmann).

There were some drawbacks in the layout of the

fairground. Due to relocations several attractions

fared better, others clearly worse than in

the last few years. Especially the Venetian

Horse Ride, a novelty for Eisleben, was allocated

a quite unfavourable site completely hidden

away from, for example, the Lindenallee, in the

entrance area next to a snack booth and directly

in front of the Hexentanz. Even though the

layout mistakes were hardly noticeable to the

public, they resulted in financial losses for the respective

showmen. Negatively noticeable was also the

increasing number of snack and beverage booths

from local restaurateurs that did not in the least live up

to the general quality of the fairground. At the Kleine

Wiese event (September 23 rd to 25 th ) visitors were able

to enjoy 120 attractions – more than ever before – on

this occasion. As a result, the "second helping" of the

Wiesenmarkt was larger than many other Volksfest

events in the region of the Lutheran City of Eisleben

this year. Other attractions presented were, among

others, the "Around the World" Ferris Wheel, the "Crazy

Coaster", "Hexentanz", "Projekt 1", "Fliegender Teppich",

Dodgem Track, "Jaguarbahn", the Breakdance,

and many more. Moreover, the popular

farmer's market with more than 30 regional merchants

was held again.

Summary: Despite continuous rain on the last opening

day, the 490 th Eisleben Wiesenmarkt was once

again a successful event, which was extensively

advertised on huge billboards along the main access

roads, many posters in Eisleben and the surrounding

region, as well as a number of radio commercials.

Most of the participating showmen were satisfied with

their results despite continuous rain on Monday. Fairground

director Sigmund Michalski and his team once

again succeed in making Eisleben the largest Volksfest

event in Central Germany again.

■

56
---
NEU

2012!

Variable Aufbaumaße:

29 m Front x 15 m

oder 15 m Front x 29 m

TÜV

Süd

Michael Zinnecker

Neumarkt-Sankt Veit

Tel.+ Fax: 08639/306

Mobil: 0171/2665483

WERMELSKIRCHEN

Text: Michael Petersen

Despite a storm warning, the fair in Wermelskirchen

(August 26 th to 30 th ) was opened with the traditional

tapping of the keg punctually at 4 p.m. on Friday.

Numerous politicians, showmen and other guests had

turned up all around the "Trabers Pub" and free beer was

heavily consumed. Two hours of heavy rainfall setting in

shortly after the opening chased away the visitors. Even

though the rain stopped and the weather improved later

on, visitor attendance did not increase. As Wermelskirchen

was not affected by any further long spells of rain,

the fair gained momentum. The Ferris Wheel was once

again clearly visible from any distance and the combination

of "Octopussy" and "Pirates Adventure" left a persuasive

impression. The chain ride and the Musik Express once

again made their rounds on the Lochesplatz, while

Weber's "Rocket" was placed on the Wechselplatz this

year. Well worth seeing was the dance show at the

dodgem track, a quite unusual location for young male

and female dancers to enthral the public with their

performance. The traditional 'early tipple' event on Monday

however was much less fun, and got out of hand at

times. Broken glass and repeated fights significantly

affected the image of the Wermelskirchen fair. Indeed, the

good reputation of the traditional event was virtually

ruined. On Monday evening the situation escalated

completely. From 6 p.m., a large number of police officers

were working around the clock. Particularly alarming were

the fights between extremely drunk adolescents, due to

which the police had to banish a number of people from

the fairground up until 7 p.m. At about 10 p.m., yet further

consumption of alcohol resulted in extreme acts of violence

utterly beyond control, with people lying on the ground

being kicked, policemen being attacked, and bottles being

repeatedly thrown at police officers and police cars. As

many adolescents brought alcohol to the fairground and

carelessly discarded the empty bottles, the streets were

full of broken glass. Appalled by the escalating violence,

the Police Chief Inspector in charge is now calling for

drastic action. Local publicans and 'pseudo-publicans'

had repeatedly drawn attention to the sprawling

gastronomic operations and the fact that alcohol is sold at

'price-dumping' cost in front of almost every restaurant

and snack booth, and at every corner and garage entrance.

One could easily ask the question as to whether it is

really necessary that disused shops are granted licences

throughout the fair, thus creating further competition for the

showmen. In October, the fair event will be analysed by all

the participants, and it is certainly high time to stop beating

about the bush. It is now in the power of those responsible

to call a halt and take appropriate measures. ■

57
---
A LOOK BACK

STUTTGART

The Volksfest skyline

at the Cannstatt Wasen

The "Teststrecke" Coaster,

Blume's "Daemonium", and

"Kinzlers Wasen-Wahnsinn"

Text: Ralf Schmitt

Photos: Ralf Schmitt, Norman Vogt

"A quite successful Volksfest 2011" –

summarized the organizer in his review of the

17-day Cannstatt Wasen (September 23 rd to

October 9 th ). Indeed, a golden Autumn boasting

summer temperatures at times provided

very good results.

According to the organizer, visitor numbers hit the

record of 4 million, which was an increase of

200,000 visitors on last year. At the opening weekend

alone, one million visitors rushed the Wasenfairground,

all the car parks were full and the beer

tents were crowded already by 11 a.m. on the

Sunday in the middle of the event. As for the family

days, there was a record-breaking number of

visitors on the first Wednesday (September 28th)

and a lot of visitors once again besieged the fairground

for the Volksfest finale at the last weekend.

"We can announce a quite positive review",

said a good-humoured Joachim Hohl, Chairman

of the Stuttgart Showman Association. The

organiser pointed out the new increase in the

number of visitor groups from abroad and larger

groups of bus tourists. The organiser's aim is to

attract even more tourists during the week.

58
---
Das Karussell für alle Generationen –

Kirmestradition von ihrer schönsten Seite!

Handbemalte Dekorationen -

bewegliche Pferde, Gondeln und Schaukeln.

Behindertengerechte Gondel

Wir bedanken uns bei allen Entscheidern,

die uns in diesem Jahr

ihr Vertrauen aussprachen.

Höflichst empfehlen wir uns für die

neue Saison.

Das VENEZIANISCHE

PFERDEKARUSSELL

dreht sich zum Ausklang

der Saison 2011 auf dem

WEIHNACHTSMARKT

am BERLINER

ALEXANDERPLATZ.

Weiterhin reisen

wir mit unserem

Imbissbetrieb

"Heiße Theke"
---
BERLIN • BERLIN • BERLIN • BERLIN • BERLIN • BERLIN • BERLIN • BERLIN

BERLIN • BERLIN • BERLIN • BERLIN • BERLIN

BERLIN BERLIN - Wir fahren nach Berlin!!!

Neu: 3 Top-Events T

in Berlin 2012

Volksfest: Emotion pur!

Auf dem neuen großen Festgelände direkt neben der

Top-Shopping-Adresse SPANDAU ARCADEN (Einkaufscenter)

16. März bis 1. April

58. Britzer Baumblüte

Volksfest unter blühenden Bäumen direkt am Gutspark Britz

4. April bis 22. April

47. Neuköllner Maientage

Das Traditions-Volksfest im Volkspark Hasenheide

27. April bis 20. Mai

Bewerbungen mit den üblichen Unterlagen (Platzbedarf, kW-Anschlusswerte, aktuelles Foto, Rückporto) an:

Thilo-Harry Wollenschlaeger

Werkstraße 1 • 16727 Oberkraemer OT Bötzow • Mobil: 0163 / 4000 500 • info@wollenschlaeger-berlin.de

www.wollenschlaeger-berlin.de

BERLIN • BERLIN • BERLIN • BERLIN • BERLIN • BERLIN • BERLIN • BERLIN

"Neue Osterkirmes – Auf der Freiheit"

vom 07. bis 15. April 2012

Die Herforder Osterkirmes 2012 erstmals als Innenstadt-Kirmes

auf der Hauptverkehrsachse der Schaustellerstadt.

Die Kirmes findet statt mit großem Rahmenprogramm unter

Beteiligung der Herforder Vereine und Kaufmannschaft.

BERLIN • BERLIN • BERLIN • BERLIN • BERLIN

Bewerbungsschluss: 31. Dezember 2011

Die Bewerbungen müssen enthalten:

- Vor- und Zuname des Bewerbers mit ständiger Anschrift und Telefonnr.

- Erforderliche Stromanschlüsse sind anzugeben (KW-Zahlen)

- Angabe der Anzahl der Wohn- und Packwagen

- Abmessungen des Geschäftes einschl. Blinder Fronten (Front,Tiefe,Höhe)

- Bei Schaugeschäften sind Angaben über die Darbietungen erforderlich

- Ein neuzeitliches Lichtbild des Geschäftes

- Für jedes Geschäft ist ein gesonderter Antrag zu stellen

Schriftliche Bewerbungen sind zu richten an:

Kirmeskommission

Mitteldeutscher

Schaustellerverein

Herford

Ackerstraße 35

32051 Herford
---
Among the rides, tracks and

funhouses there was no real hit

attraction this year. As usual,

business was not easy for the

attractions placed behind the

Fruit Column. Especially the

"Konga" Swing, built up opposite

the Kipp Ferris Wheel as

the last ride at the entrance to

the car park, did not fare too

well. The "Disco-Fieber" Hopser

celebrated a successful

comeback, quickly finding new,

mostly young visitors. Quite original

and announced via Facebook,

in line with the latest trend,

was the special action "Kinzlers

Wasen Wahnsinn", or Kinzler's

Wasen Madness, entitling visitors

to enjoy 5 Kinzler ride attractions

for 14 Euros and –

provided they were of age – to

drink a beer in the "Göckelesmaier"

tent. Negatively notice-

As usual there were also less inviting areas

along the fairground streets. A visual blemish at

the very least; the 30 metre fire escape at Mercedesstraße

able was the area occupied by the "Space Roller"

ride and a game booth, where visitors had an

unobstructed view of a number of ugly containers

(without a doubt not belonging to the showmen),

which provided a veritable 'junk yard' feeling. ■

A LOOK BACK

POOR WASI

The

appealing

"Wasen-Hasi" has

long since established

itself as the official

Cannstatt Volksfest mascot.

However, "Wasen-

Hasi" is poor; very poor.

It is so poor that its

helpers beg for donations,

when children want

to have a photo taken

with the mascot at the

souvenir booth during

the Volksfest. What these

"donations" are used for

is not revealed though.

On request, one of the

staff at the booth had the

audacity to answer: "After

all, the hot temperatures

are not really pleasant for

the bunny." Are you

crazy?!

■

61
---
A LOOK BACK

HAAN

Text & Photos:

Michael Petersen

"Wonder Wheel" and

"Octopussy" in Haan

Opening rush and a tribute

to the old days in Haan

This year's 625 th anniversary of

the Haan Fair was celebrated

from September 23 rd to 27 th . To

mark the special occasion, there

were an additional opening day

on Friday, an exhibition at the local

Sparkasse building, and a

historic fair worthy of the

anniversary.

The fair began with an ecumenical

church service, which was attended

by many showmen. The

procession of the traditional flags

of the showman associations

impressively underscore the festive

occasion. This was followed by

a short festival procession from the

church to the Ferris Wheel headed

by a Deutz-Schlepper traction unit from the Markmann

firm, which was joined by a marching band, the

aforementioned flags, many showmen and visitors.

Even before the official opening there was hardly any

space left in front of the Ferris Wheel. As the additional

opening day on Friday exceeded expectations by

far and resulted in an excellent start, it is no surprise

that the showmen would like to retain this additional

opening day in future. However, this wish was

adamantly rejected by fairground director Herr Skroblies,

as the additional day had been approved only for

the anniversary event. After the successful start,

magnificent sunshine prevailed throughout the event.

For the anniversary, a historic fairground was laid out

in the heritage-protected Park Ville d'Eu providing visitors

with fairground history complemented by a perfect

ambience. The "Historische Gesellschaft Deutscher

Schausteller", or Historic German Showman Association

not only presented nostalgic ride and funhouse

attractions to the visitors, but also ancient traction

units, baggage vans and an organ, along with

historic sales and game booths. In the park, visitors

were able to enjoy the vintage Ferris wheel "Russische

Schaukel" from Feldmann, the Set of Gallopers from

Fellerhoff, Müller's "Selbstfahrer", as well as the Caterpillar

Ride and the "Lachhaus" from Steiger/Buchholz.

The public were not allowed to board a ride at will

though, but had to buy a combi-ticket first, which

discouraged a number of visitors from taking a ride on

a carousel. The anniversary fair in the town centre

offered an appealing overall impression, with attractions

for young and old alike. This time there was a

change in the layout on Kaiserstraße at the town hall.

While up until now, the ride attractions had been built

up in this section with their backs facing the houses,

"Willy der Wurm" and "Phoenix" were built up in the

parking bays opposite each other with their fronts facing

the buildings, resulting in a considerably improved

image. Summary: The anniversary of the Haan Fair

was happily and peacefully celebrated in wonderful

weather. This glorious weather and some 400,000 visitors

well recompensed all the participants for their

commitment.

■

62
---
Frank Roos präsentiert

die Familienachterbahn

auf zwei Etagen

Wir danken allen Veranstaltern

für das entgegengebrachte Vertrauen

und empfehlen uns als zuverlässigen

Vertragspartner für die neue Saison!

Die Achterbahn für alle Altersklassen!

22 m Front, 14 m Tiefe, 20 kW Strom

Schwenkhütte

ROOS

...einfach lecker!

Wir bieten

geschmackvoll

thematisierte

Bier- und

Erlebnisgärten

in jeder Größe

Familie Frank Roos • Düren • Tel. 0177 / 797 69 33

www.schwenkhuette.de • mail: info@schwenkhuette.de
---
Kirmes in Essen

Traditionsveranstaltungen mit Herz

Frühjahrskirmes Altenessen

30.03. – 01.04.2012

Marktplatz • Verkaufsoffener Sonntag

Osterkirmes Borbeck

07.04. – 15.04.2012

Im Schlosspark

An den Ostertagen gr. Ostereier suchen

Maikirmes Steele

05.05. – 08.05.2012

Gesamte Innenstadt

Sommerfest an der Gruga

Die traditionelle Essener Großkirmes

ACHTUNG!

Einmalig neuer Termin

13.07. – 22.07.2012

Feuerwerk – Familientag

Riesen-Trödelmarkt

Wottelkirmes Heisingen

24.08. – 26.08.2012

Mit großem Stadtfest

Appeltatenkirmes Werden

01.09. – 04.09.2012

Die traditionelle Ludgeruskirmes

auf dem gr. Festplatz in der Ortsmitte

Kirmes in Kupferdreh

08.09. – 10.09.2012

Marktplatz

Herbstkirmes Altenessen

14.09. – 16.09.2012

Mit großem Stadtfest • Marktplatz

Oktoberkirmes Steele

06.10. – 09.10.2012

Gesamte Innenstadt

Für die Essener Traditionsveranstaltungen suchen

wir Fahrgeschäfte, Belustigungen, Achterbahn,

Riesenrad, Spielgeschäfte, Verkaufsgeschäfte,

Imbiss und Ausschankbetriebe.

Aktuelle aussagekräftige Bewerbungen, auch die

der Essener Kollegen, richten Sie bitte bis zum

31.12.2011 an die I. G. S. mbH, Ritter / Müller

Hachestr. 68 • 45127 Essen
---
GUNZENHAUSEN

A LOOK BACK

Kirchweih in

Gunzenhausen

BOOK

Text: Helmut Bresler

Photos: Helmut Bresler, Stefan Schaller

Es war immer eine solide Veranstaltung im herbstThe

Gunzenhausen Kirchweih has always been a sound

event held in the Franconia Lakeland area in autumn –

at the same time as the two large matadors in Munich

and Stuttgart. The 610 th Gunzenhausen Kirchweih

(September 10 th to 18 th ) was exhaustively celebrated,

and set the course for a new beginning.

There was a call for bids for a new leaseholder, and four

applicants made it to the short list, one of them being Erich

Gührer, born in a caravan in 1925 and the organiser of the

Gunzenhausen Kirchweih for almost four decades. The

fairground has undergone further development, and the

momentum of the current changes resulted in the

participating showmen presenting their attractions to their

very best. Nowadays, the wine tent - which used to be the

meeting point for the inevitable 'one for the road' when the

beer tent had already closed and did not exactly make an

inviting impression with the 1960s-charm of its plastic

chairs - provides a café corner, elegant seats, and an outdoor

seating area. The beer tent from the Gruber firm from

Pleinfeld has been transformed from the former ugly

duckling into a magnificent gem. The beer garden at the

"Schwarzwald-Schänke", which used to always be located

behind the operation next to the toilet wagon, is now

invitingly built up on the main thoroughfare and very well

received. Colourful strings of pennants are hung up across

the street providing an inviting touch. The beer tent

patron Oliver Höhn (OH Veranstaltungsservice), who will

participate again next year for sure, takes it easy. It was

his second appearance as the successor of Sony-Boy

Papert, who has been a regular at this event for many

years and had started in Gunzenhausen together with

Erich Gührer in 1973. The former intimate duo Gührer and

Sony-Boy are a thing of the past. They split up and their

friendship suffered a lot. Oliver Höhn is a young beer tent

operator from Kitzingen with an unusual concept. He sees

himself as an event manager, who hires the tent according

to the organizer's wishes and operates it together with

local firms (butchers and bakers). With a 30 metre front

and a 65 metre length, his operation is the largest on the

fairground, offering seating for 3,500 guests. Currently, he

is improving the layout concept as he wants to introduce

further details next year. His Franconia village square next

to the tent, where various types of beer are served and a

rustic alpine chalet provides a cosy atmosphere, has been

a big success. In late summer temperatures, this idea was

very well received and it will be continued. Visitors can

change - along with their beer (no matter which brand) –

from the tent to the village square and back again. Almost

every evening, there was hardly any room left inside the tent.

This year's attractions included the "Breakdance" and

Dodgem Track (Zöllner), "Golden Star" (Holler), Ferris

Wheel (Jost), "XXL-Ranger" (M. Zinnecker) and the Simulator

(R. Zinnecker). It is once again trendy to celebrate the

Kirchweih harvest 'thanksgiving', and the Kerwabaumklettern,

or climbing competition is held yet again. An

increasing number of young people wear local costumes

and the "Gesellschaft zur Hebung der Gunzenhäuser

Kirchweih" (Association for the improvement of the

Gunzenhausen Kirchweih) is growing as never before -

much to the delight of Wolfgang Eckerlein, Head of the

Tourist Office and representative of the town authorities.

Even though he is aware of Erich Gührer's merits in his

work for the fairground during the last 38 years, he wants

to forge new paths and was one of the supporters of the

new call for bids. The decision was not easy for the Town

Council; they asked for concepts from all the applicants,

held talks, and visited fairgrounds they already organise

as leaseholder. After intensive discussions they took a

unanimous decision: Timo and Klaus Zöllner are the new

general contractors. For the time being, their contract is

Werner Mühlhäuser and

Klaus Seeger have

compiled 190 pages of

captivating topics from

the Gunzenhausen Kirchweih

history, stories,

numerous pictures as

well as historic

advertisements.

The two authors succeeded

in writing a professional

book, which was advertised

on huge posters. Werner

Mühlhäuser as director

of the town museum was

responsible for the look

back into the past. Klaus

Seeger, media professional

and radio host, presented

a book of pictures from

the Feuchtwangen Mooswiese

some years ago,

and has now exactingly

researched the last

decades of Gunzenhausen

Kirchweih: ISBN: 978-

3-00-03481-3, published

and printed by Emmy

Riedel GmbH, Gunzenhausen

2011. ■

65
---
A LOOK BACK

Making plans for the

future: Kirchweih Mayor

Wolfgang Eckerlein (le.) and

beer tent patron Oliver Höhn.

Right: the organ from Erich

Gührer

limited to two years. They have been presenting their

Dodgem Track and their "Breakdance" in Gunzenhausen

for many years now, and understand all the peculiarities.

Currently, negotiations are being held for the next season,

when the authorities would like to welcome new and modern

attractions Gunzenhausen has not seen before. Moreover,

father and son represent the younger generation,

planning to extensively use the Internet and Facebook as

new advertising tools. For Erich Gührer, losing Gunzenhausen

is quite painful. His tour circuit, which used to

comprise 17 events, including major venues, is getting

smaller. After the Laurenzi-Messe in Marktheidenfeld and

the fairground in Bad Mergentheim, Gunzenhausen is now

another town reorienting itself.

It remains to be seen what the future in Gunzenhausen will

be like, whether there will really be a wind of change, and

which attractions will occupy the fairground. The first opportunity

will be in the Autumn of 2012.

■

PETERBOROUGH (GB)

The annual festival

highlight in Petersborough:

the Bridge Fair

Text & Photos: Norman Vogt

The traditional "Bridge Fair" held in Petersborough/GB

in late September can look back

on a long history. After all, the event was first

documented already in 1439.

The opening of the festival has always been an

important event for the locals, which began with

a church service in the cathedral in the morning,

and lunch being served after the ceremony. The

event, spreading over the bridge, along Bridge

Street and on the cathedral square, lasted three

days. Originally, the fair was held on grass fields

on both banks of the river. The Bridge Fair was

characterized by dozens of market stalls, agricultural

products and livestock sales, as well as

entertainment provided by travelling musicians,

jugglers and entertainers. In former times, the

streets towards the festival area were also occupied

by numerous booths and stalls, where local

salesmen tried to sell their goods. For many of

them this was an additional and lucrative source

of income. In the early years, the "fair" not only

offered entertainment to the locals, but rather a

large sales market. At today's "Bridge Fair",

which is celebrated on a large grass field near

the town centre on the London Road, the merchants

have been replaced by ride and fun-

66
---
Bridge Fair impressions

67
---
A LOOK BACK

Ride highlights

and funhouse parade

house attractions as well as a

number of snack and game

booths. This year, the fair began

on September 29 th and

ended on October 9 th , with the

rides making their rounds from

6 p.m. during the week and

from 2 p.m. at the weekend.

October 4 th was the designated

Family Day with fares of GBP

1.50 for ride attractions and

GBP 1.00 for kiddie rides. Car

parks were available for free at

the festival area. While the

large ride attractions were

placed on the centre main

street, interspersed only with

the occasional stall, the side

streets were mainly occupied

by kiddie and funhouse attractions

as well as a number of

game booths. At the entrance,

the "Bombe" Propeller attracted

especially the younger public,

joined by the first of three family

coasters, as well as the

"Bounce" and a Saltomontes

Ride on the opposite side.

Further along there was the "Tango" as well as the

"Oblivion" Swing with the Matterhorn "Hell Creator"

next to it. As in contrast to Germany, Matterhorn

constructions are mostly travelling as a

simple "convertible version" in England, most of

them require only one or two transport vehicles for

relocation. Further round rides presented were

the "Extreme", "Super Bob" (Matterhorn) as well

as the indispensable "Waltzer". The "Superbowl",

"Super Spin" (Experience), "Scream" (Super

Star), "Tagada", "Top Gear" Dodgem Track,

"Twister", Miami, "Remix" (Round Up), "Runaway

Train" and the "Rotor" rounded off the selection of

ride attractions. While two Ghost Rides ("Ghost

Train" and "Roller Ghoster") provided a creepy atmosphere,

visitors were able to experience a lot

of fun in five Walk-Through Constructions ("Circus

Circus", "Hollywood", Labyrinth, "The Playstation",

and "Heros Villaians"). The "It's a small, small

World" construction, offering a journey through

different countries in coffee cups, was particularly

popular with younger visitors, who could also

enjoy attractions ranging from bouncers, rides,

slides and chain rides to dodgem tracks, track

rides, and railways. What was clearly missing was

a Ferris Wheel; otherwise the fairground left a

proper, well-groomed and very appealing

impression.

■

Unusual attraction:

"It's a small, small World"

68
---
Neue

Dekorationen

und Spezialeffekte

Familienfreundlich

Mit innovativer Technik und außergewöhnlichem Design

Familienbetrieb

seit Generationen

Wir bedanken uns bei allen

verantwortlichen Entscheidern

für die vertrauensvolle

Zusammenarbeit und empfehlen

uns für die neue Saison!

www.pirates-adventure.de • E-Mail: schneider-pirat@web.de • Tel. 0163 / 858 26 76
---
BEKANNT – BEWÄHRT – ATTRAKTIV

Das Familienunternehmen –

echte Schaustellertradition

Beste Referenzen durch Gastspiele auf national

und international renommierten Volksfesten:

Bremen • Stuttgart • Straubing • Crange • Soest

Bocholt • Mayen • Rheine • Münster

Recklinghausen • Menden • Geldern • Brakel

Moers • Bad Hersfeld • Frankfurt • Eisleben

Friedrichshafen • Tilburg • Prag • Paris • Weert

Technisch und optisch

immer auf dem neuesten Stand!

Wir bedanken uns bei allen

Veranstaltern für das in uns

gesetzte Vertrauen.

Planen Sie die neue Saison mit uns!

Platzbedarf nur 18 x 18 Meter

FRANK OBERSCHELP

Tel. 0163 / 770 94 59

Jetzt mit der

ultimativen

LIGHT-SHOW!

SIND WIR ZU SC

Die große Loopingschaukel

Volksfesttradition seit über 75 Jahren

DAS ORIGINAL!

Der Klassiker für alle Volksfeste

Wir bedanken uns bei allen

Entscheidern, die uns in

diesem Jahr ihr

Vertrauen aussprachen.

Besonders bedanken

möchten wir uns bei den

Verantwortlichen des

Tourismusamtes München

für die Zulassung zum

MÜNCHNER OKTOBERFEST!

Wir empfehlen uns

für die Saison 2012!

Familie Guilbert Marquis • Tel. 0177 / 779 55 66 • schausteller-marquis@gmx.de
---
JETZT NEU: DIE COMPUTER-SIMULATION

zum Original unter: www.high-impress.de

EXTREM-POWER!

EINZIGARTIG im Design

und in der Verarbeitung!

HNELL, BIST DU ZU SCHWACH !
---
MODEL CONSTRUCTION

MEINHARDT-NOVELTYS

H0-scale

"Auf der Reeperbahn"

funhouse

ther novelties:

Caravan, container side

loader, toilet wagon, and a

"Bayernkurve" baggage van

Text & Photos: Michael Petersen

The small series manufacturer Werner Meinhardt

from Hilden has increased its range of

H0-scale fairground models.

Now available as a new item is Robert Heitmann's

funhouse "Auf der Reeperbahn". The model offers

an impressive design with many details and strikingly

visible interior decoration. The fully assembled

model is available for €89.50 and the self-assembly

set for €58.00. Also new for the fairground models

are four 1:87 scale vehicles: A baggage van marked

"Bayernkurve" is delivered with a

loader and a bob. The fully

assembled model is available for

€ 39.50 and the construction set

for € 28.50. A container trailer

with loading crane, however, is

only available as a self-assembly set for € 29.50.

The caravan range was supplemented by another

model for € 34.60 for the self-assembly set, vis a vis

€ 46.50 for the fully assembled model. The assembled

model of a toilet wagon is available for € 44.50,

while the self-build set comes out at € 34.50. Moreover,

a beer garden set available for € 27.50 was

added to the accessories programme. It includes a

wooden seat box, an entrance portal, a toilet direction

sign with a seat, several bar tables and six

fences. For more information:

www.modellbaukirmes.de

■

72
---
SPECIAL

Prominent main actor

at the shooting on the

Waltzer ride, Uli Hoeneß

Ten years ago, Zwickau showman

Marco Walz founded his

showman enterprise with a

Waltzer, which had been under

the continuous ownership

of the family ever since

1953. Although he has

already had many interesting

experiences since then, he

would never have dared to

dream that one day he and

his ride may be invited to a

film shooting in Munich.

Text: Rolf Orschel

Photos: Archiv Walz

Prior to the shooting:

Spotlights and camera are

mounted on the Waltzer

gondola and adjusted

Waltzer

ow did this happen? Searching for an exot-

setting for a Deutsche Telekom AG com-

Hic

mercial, the motion picture company Tempomedia

Filmproduktion GmbH came across

what is probably the oldest Waltzer ride still

touring through Germany on the website of

the Walz family (www.walzerfahrt.de). When

the motion picture company contacted Marco

Walz this spring, offering him a role in the

shooting of a TV commercial together with Uli

Hoeneß, the President of the FC Bayern

München, he thought it was a practical joke

perpetrated by his colleagues! As exciting as

this invitation may have been in itself,

in signing the contract he could not

have known that this unique offer

would bring him truly exciting and unforgettable

days during the last week

of June 2011.

On Monday, June 27 th , he took the Waltzer ride

to Munich along with his youngest son, his

niece, and his staff. Initially, the fairground at

Olympia Park had been chosen as the location,

but in the end the commercial was shot

on a remote area at the "Kultfabrik" (on the

premises of the former Pfanni-Werke). On the

arrival of the transport vehicles in Munich

after a five-hour journey – the farthest trip the

Waltzer has ever undertaken so far – Marco

Walz and his companions were heartily welcomed

by the staff of the film production, and

74
---
SPECIAL

Visible in the

commercial for a couple of

seconds only: the fairground

setting built up on

the premises of the

"Kultfabrik" in Munich

duly put up at a 4-star NH hotel. On Tuesday,

the setting for the shooting was assembled,

including the Waltzer ride along with a little

Ferris Wheel, a swing boat, two kiddie rides,

a shooting gallery and a bakery. The build up

of the attraction was accompanied by the

cameraman and engineers, who mounted

facilities for the fastening of the spotlights and

the camera to one of the gondolas. On

Wednesday, the final preparations for shooting

were going at full pace, and the site was

steadily burgeoning with an ever growing number

of extras. Once Uli Hoeneß had arrived, and

had sat in the gondola just once, Marco Walz

was called upon to step in as a double for the

VIP during the setting up of the lights and the

preliminary shooting. During test shots he felt

sorry for the film team staff, as they repeatedly

had to push the track and rotate the gondolas

until the camera and the spotlights were

properly adjusted and did not collide with the

neighbouring gondolas during the ride. His

seven-year old son Freddy was also an active

participant in the shots (the director had him

double for the participating child to be seen

in the commercial in addition to Uli Hoeneß).

On Wednesday, June 29 th , when the commercial

was in the can the attractions were dismantled

and the Waltzer ride was again transported

back to Saxony the next day. Marco

Walz likes to remember the stressful days in

Munich: "The shooting was a lot of fun for me

and my companions. The whole film team was

very nice and saw to it that we wanted for nothing".

■

Souvenir photo:

Uli Hoeneß with Freddy Walz

and Sammy, the niece of

Marco Walz

A snapshot of the

shooting

75
---
PORTRAIT

The Shuttle Launch

Coaster from Premier Rides

is a breathtaking attraction

as well as a distinctive

directional sign

The fact that a population

explosion and a simultaneously

slow but steadily increasing

earning capacity is taking place

in Asia, are two deciding factors

that stimulate the local amusement

branch. Leading the way is

the People's Republic of China

from where there are continuous

announcements about new theme

park projects, but other Asian

countries are also doing things

in this respect.

Trans Studio Bandung

Text:

Frank Lanfer

Photos: Preston & Barbieri,

Premier Rides, Interlink,

Marcus Gaines

The visitor's map

For example the earlier Dutch colony of

Indonesia, which has been largely overlooked

by the trade press (us as well), although there are

18 mostly smaller amusement establishments in

the country of many islands. Most of them are

located on the island of Java, with its capital city of

Jakarta.

Around 140 kilometres away from the seat of

government is Bandung, which with its almost

three million residents, is the fourth largest

metropolis of the country. And it's here that the

Indonesian Para Group realized its second indoorpark,

after already operating the Trans Studio

World in a shopping centre in Makassar since 2009

(with a Zierer coaster as main attraction). And the

Trans Studio Indoor Theme Park that opened on the

18 th of June also followed the American shopping

mall concept as an essential part of such, in this

case the Banding Supermal.

The 27,000 square metres sized Trans Studio is

part of a 4.2 hectare extension of the shopping mall

that has existed since 2001, where the indoor park

Kota Fantasi is already present (with a Vekomacoaster).

Responsible for the upgrading complete

with two hotels were DP Architects (Master Plan),

and Arkonin & Bina Putra Kreasi (Architecture).

76
---
PORTRAIT

The "Transcar Racing"

construction from Preston &

Barbieri is one of the most

popular attractions at Trans

Studio Indoor Park in Indonesia

The new Trans Studio that claims the title of being

the largest indoor establishment in South East Asia

is separated into four theme areas, where guests

have the choice of various restaurant possibilities,

and can meet up with a number of mostly smaller

ride constructions. For example Zamperla has

delivered a "Midi Discovery", a "Power Surge", a

"Wave Blaster", two Darkrides and a Suspended

Monorail. Altogether 20 attractions, shows and

games could be accommodated, among them

three larger constructions. A day ticket comes at a

converted cost of between 12 and 16 Euro.

In addition to a separate kiddie area, there is also

the "Magic Corner" at Trans Studio, which has

been designed in a corresponding Harry-Potterspirit

of the times, as it appears that the hype didn't

stop before reaching the Asian countries as well.

The largest ride attraction here is from type "Saltamontes"

and is called "Dragon Riders".

The area "Lost City" imparts a corresponding

Aztec atmosphere, and contains

one of the three main attractions of

the park: "Jelajah" is a Superflume-ride

from the French-English manufacturer

Interlink (design and manufacture takes

place in France, montage and going

into operation are the responsibilities of

the English colleagues). The complete

length of the water canal including the

station area is 277 metres, in which

seven six-seat boats travel at up to 1.5

metres per second. Two drops also

have to be overcome: the first is 3

metres high and leads through the

wreck of a crashed plane, and the

second leads from a nine metre high

pyramid. The theoretic capacity is 600

persons per hour.

The largest theme area by far is the "Studio Central"

area that comprises of street facades and two

dimensional film settings, similar to the famous

Universal Studios. Alongside the "Trans City

Theatre" (a 3D-cinema) the attraction "Transcar

Racing" ranks third place on the popularity scale

of the visitors. In this case the car route comes from

the Italian manufacturer Preston & Barbieri. All 20

cars are in Porsche and Ferrari design, and have

been realized on an unusually large scale. Each of

the 2.7 metre long, two-seat bolides has a petrol

motor and is as usual in these types of attractions

although manoeuvrable, held on course by a

centre running track. Pilots can undertake a racing

competition on the two times 300 metre long track

course that runs both inside and outside the

building on two levels, whereby the maximum

incline is 7°.

The extension of the

Bandung Supermal with the

indoor park as well as two

hotels and new shops

The 2.7 metre long cars

give visitors the opportunity

of racing

77
---
metre high Top-Hat element. Following a sweeping

curve near the ground, the train ascends almost

vertically towards the tropical skies, only to swoosh

back in a freefall to absolve the 275 metre long

course backwards.

Interview with a Prime Supplier

We spoke with Jim Seay, President of the American

manufacturer Premier Rides Inc. about this

project and how it came about to erect a large

coaster in a not so well focused land in the amusement

industry, located between Thailand/Malaysia

and Australia.

The "Magic Corner"

illuminated with black light

Impressions of

Trans Studio Theme Park

The entrance to the main attraction, which is visible

from afar, is here also: visitors can take their place

in the two-wagon train in the station area of the

"Yamaha Racing Coaster" that has its front wagon

in a motorbike design, before the Shuttle Coaster

accelerates in hardly more than two seconds to

100 kilometres per hour, and turns the Indonesian

world upside down for a short moment in the 25

The client for the Indonesian project is

relatively unknown in the amusement branch.

How and when did you come into contact?

Trans Studio and their project manager Budiman

Wijaya are actually well-known in the amusement

industry. Budiman and his team have been

attending the IAAPA trade shows for some years

and have a significant amount of knowledge regarding

both the industry and the major suppliers.

78
---
What company and which people are

behind Trans Studio?

When did the project start and how long did

realization take?

A little end time

atmosphere being spread about

Trans Studio is led by the Para Group under

the leadership of Chairul Tanjung. It is a highly

successful Jakarta-based cooperation that has a

wide array of businesses from the media industry,

to themed entertainment, to palm oil production.

How did this coaster type come about? Did

the Para Group want this type of construction,

or was it a process of design?

The "Yamaha Racing Coaster" project took

approximately two years from initial discussions

until the official opening day. In Indonesia,

accomplished companies like Trans Studio have

the ability to build a park on a much faster basis

than what is typically expected in the West. From

the point of tsigning the contract, the coaster was

designed, manufactured, and erected in under a

year.

The design of the "Yamaha Racing Coaster"

was driven by a desire for a very high thrill

experience, combined with a desire to have a

signature attraction that would anchor Trans Studio's

brand new indoor theme park at their large Bandung

shopping mall. The coaster was designed as a

combined indoor/outdoor attraction so that the outdoor

portion is almost like a billboard which attracts

people to both their theme park and high-end

shopping mall. The Yamaha firm had significant

input on the vehicle appearance, and Premier

used carbon fiber technology to develop the

motorcycle concept.

In Indonesia there are a lot of indoor parks

that are incorporated into a shopping mall, and

also existing outdoor theme parks, in particular

the large amusement park Dunia Fantasi in

close vicinity. Isn't competition very big for the

new indoor park?

Trans Studio is the leader in building large

theme parks at this point, although there are

certainly others that have developed very

successful parks in malls, and there are others who

are presently looking to create new projects which

will try to match the very successful Trans Studio

model.

Are there any differences to the both "Mr.

Freeze" coasters in

the USA with the

exception of the train

design?

It has similarities in

appearance to the

award-winning "Mr.

Freeze" coasters, but

the dynamics and layout

are different. The

"Yamaha Racing Coaster"

is a brand-new

custom design. Also,

"Mr. Freeze" is powered

by a linear-induction

motor system, whereas

the "Yamaha Racing

Coaster" is powered by

a linear-synchronous

system.

Stengel GmbH

was involved too.

What is the relationship?

What was their

job on this project?

The indoor water

attraction from Interlink

79
---
Jim Seay is President of

Premier rides and Chairman of

ASTM (American Society for

Testing & Materials)

Premier Rides and Stengel GmbH have a

history that goes back to the founding of Premier

Rides. Premier Rides is highly respectful of its

partnership with Stengel and their talented team of

engineers. While other manufacturers are quiet

about the works Stengel performs for them,

Premier is very proud of highlighting its relationship.

The Stengel engineering offices provides not

only excellent ride dynamics, but also conservative

designs, which results in long term reliability in attractions.

Are there any differences in building a

coaster for the US-market, for Europe and for

Asia? Are there also some differences in technical

and safety aspects?

Fortunately, the standards

used for building rides in the US,

European, and Asian markets

are typically the same. Both

ASTM and CEN standards,

which have been harmonized in

recent years, are referenced in

major contracts which results in

the products being similar for all

markets. Tran Studio executives

are very familiar with the global

safety standards and thus made

the investment in rides that

provided safe operation. What

is different focuses around the

erection of the rides and the erection

techniques, which while

popular in Asia (such as the

extensive use of scaffolding) are not used in the

European and US markets.

What were your experiences in Indonesia?

Premier Rides had an excellent experience in

Indonesia. In some respects the infrastructure is

very new, and thus in some cases even superior to

the infrastructure of the West. The nation of

Indonesia is rapidly developing into one of the top

economic countries of the Asia region, and seeing

that rapid growth is a very unique experience. The

people of Indonesia are very hardworking, and the

one thing our staff certainly noted was that the food

in general was extremely healthy, and because of

that most people looked extremely fit. ■

80
---
The clear but effective layout

of a 25 metre high Top Hat,

a long drawn out 180° curve,

and a 49 metre high and almost

vertical run-off, after the kick

start

81
---
TECHNOLOGY

A view of the

technology of a seat

from Huss Rides

They are a necessary curse, and

sometimes the target of criticism.

In the best case one barely

acknowledges them, and as a

result they are as good as never

the focus of a report: restraint

systems, which predominantly

come in the form of a safety bar.

Safety Restrains

Text:

Jochen Peschel

Photos: Jochen Peschel,

diverse Hersteller

Gerstlauer's "Dare Devil

Dive" at Six Flags Over Georgia

is the first "Euro-Fighter" with

the new type of safety restraints

The basic function of every ride construction,

be it a coaster or another amusement attraction,

is to transport a human body along a construction

in order to attain acceleration and

speed. With only few exceptions, the ride guest

takes his or her place in a seat. The task of the

restraint system is essentially quite simple: to

keep the passenger in the seat. The word

"essentially" in reality makes this theme a lot more

exciting as one thinks, as there are many facets

that are not recognisable at first glance.

Initially there's the question about the minimum

requirements of the restraint; first and foremost

from the legal aspect. Transportable and also

stationary amusement rides are subject to the

building laws of the individual states in Germany,

and require the acceptance of construction work

by the responsible building inspectorate. As expertise

in ride construction is generally limited,

the TÜV is called in additionally as authorised

expert, inspecting by reference to DIN 4112. Its

successor, the European Norm EN 13814 contains

vastly detailed data relating to restraint

systems, however is not binding in certain

countries. In Germany for example, the obligatory

implementation is first expected at the end of

2011. Many customers of ride constructions

inland and abroad however, make demand on the

manufacturer contractually, to adhere to this

Norm.

The EN 13814 divides ride constructions into five

different classes according to effective acceleration

forces, which define the various minimum

requirements of the restraint systems. The details

are extremely diverse and concern for example

the questions as to whether a device must be

available for each ride guest or if a collective

element suffices, if the lock position must be

adjustable or not, if the lock should be operated

manually by the ride guest or ride personnel or

per automatic operation, whereby in the last

mentioned the question is also posed if there is to

be surveillance of the locked position, or if the lock

is to be opened manually by the ride guest or personnel,

or over a central control. Other defining

points are if there is to be a warning and if so what

type in the case of incorrect locking, right up to

hindering or stopping ride operation. And finally

it is to be determined if the system should be made

redundant with an independent second system

that in actual fact is not necessary for general

function, but guarantees the safe hold of the

passenger until the end of the ride.

82
---
In the process, the individual criterions are not

beyond dispute. Mechanical redundancy is hardly

problematic. In the case of classic shoulder restraints,

but also in the case of recent overhead

lap bars such as on the "blue fire" from Mack,

"Raptor" from B&M or the new restraints from

Vekoma, a continuous tube has been mounted at

both ends independently on the car. In the case

of sideways pivoting lap bars as for example on

Maurer's X-Seat, two tubes open out into the cushioning.

It is more difficult in the case of lap bars

pivoting to the front, with a complex solution of the

use of a second invisible supporting tube within

the outside pipe. Another possibility is known from

many wooden coasters Intamin-Mega Coasters: a

belt. Although in principle it can be loosened or

even opened during the ride, the belt is viewed

by TÜV as permissible redundancy.

During the past few years, overhead lap bars

have come into trend. They were introduced for

the "Storm Runner" at Hershey Park by Intamin.

Although these types of restraints were already in

existence for many decades, they were always

the classic shoulder restraints that grasped the

upper torso, and not the legs.

Since then Intamin has been using this type of

restraint with a single bar tube regardless of

whether Accelerator Coasters, the Zac Spins,

Spinning Coasters or even the "Intimidator 305".

The redundancy takes place here through a type

of brace/suspender type of arrangement that is

affixed above to the seat column and restraint. A

belt that is fitted to the car is connected to this

arrangement and locks in the brace/suspender

that holds the ride guest, should the main restraint

malfunction. Initially the brace/suspender always

comprised of a foam coated spring steel strip. In

recent times it has been replaced by a so-called

soft-west, which has no continuous steel inlay but

a synthetic core that is whip stitched like a backpack

strap. The straps can also be additionally

cushioned with foam material.

Gerstlauer implemented a related one-arm bar for

the first time on the "Dare Devil Dive" at Six Flags

Over Georgia, without the additional brace/

suspender however, although the design was

already presented in 2006 with the first concept

of the LSM-coasters. In this case however, exactly

as in the case of the forward pivoting lap bar from

B&M on "Silver Star", there is only a single system,

and with that a deviation to EN 13814. A

deciding factor is the safety level, as the objective

is to avoid a total failure. This is ensured for

example by an attraction with a high margin of

safety and regular inspection of materials, and is

therefore also acceptable.

In the past, tooth profiles were mostly used for

locking the restraints. A spring-loaded pin glided

over the teeth and locked into the required position.

Due to the tooth profile, movement of the bar

is only possible in lock direction. The principle is

relatively easy to apply, allows however modulation

only step by step. These days the tooth profile

often only serves as a secondary

system; hydraulic cylinders are primarily

in use with the bar being

mechanically connected by the pistons

in the cylinder. Once the valves release

the pre-stressed hydraulic fluid

by way of gas pressure, the bars can

move. When the valves close, the

bars cannot move against the pressure

of the fluid, and are therefore

locked.

There are regular discussions about

electronic restraint surveillance that

only allows the start when all restraints

are locked at a minimum

angle. This system has been rejected

by a number of manufacturers, as

they maintain that the operators quite

possibly rely too much on automatic

operation, and neglect manual

restraint surveillance. The electroni-

A more precise view of the

locking technology of a "X-Car"

from Maurer Rides

Details of a seat lock for

the innovative "Flying

Dutchman" from Vekoma

83
---
Above: "Space Shot"

from S&S / Right: "Sequola Adventure"

from S&S at Gardaland

Two older examples:

Schwarzkopf's "Shuttle Loop"

at Nagashima SpaLand and

Arrow's "Loch Ness Monster"

at Busch Gardens Williamsburg

cally monitored minimum

angle supports

the operator

with the safe locking

of the restraint, but

does not guarantee

that all ride guests are held safely – the separation

distance can be too big, depending on body size.

The TÜV views the surveillance of a fitting minimum

angle on a construction as sufficient, as

with applied technology, personnel are still

responsible.

Quite remarkable is the fact that EN 13814

has no terms of reference in relation to the

construction art of restraint systems. In

other words the Norm does not specifically

require shoulder restraints designated

for specific classes. This applies in principle

also for attractions such as the Flying

Coaster, however without those well

known vests from B&M or Vekoma, the

positioning of the ride guests is not

ensured.

The safety of the ride guest is however the

deciding criteria, Norm only outlines a

minimum requirement. Beyond that, other

necessary steps can invariably be

stipulated and demanded.

It is shown repeatedly, especially in the Asian area

that passengers lean forward during riding. Vertical

g-forces then do not effect in the direction of

the vertebrae anymore, but at the very least partly

across as well. It could therefore be sensible to

hold the upper torso region of the ride guest in the

backrest. This can be achieved normally by a

shoulder restraint or a vest on the lap bar. It's rare

to find separate devices, in other words systems

with a simple lap bar combined with short arms

that take hold over the shoulders. This is known

from the "Olympia Looping", and also from the

compact constructions from S&S.

However it's not only the upper torso that is in focus,

the movement of the legs is also frequently

limited by the restraint. In the case of the Flying

Coasters from B&M and Vekoma, the legs are

fixed by the restraint. Conventional coaster trains

often prevent the stretching out of the legs to the

side by the actual form of the vehicle. In other cases

the bars can be equipped with additional elements,

one example being the "Gipfelstürmer"

from Gerstlauer at Freizeitpark Ruhpolding, so

that children cannot stretch their legs out to the

side as well.

The restraint alone is not adequate safety protection

and must always be tailored to the physiognomy

of the ride guest and the vehicle, and especially

the seats. Lap bars that pivot from the

front must always overlap the seat area in a locked

position, otherwise the guest is not reliably secured.

In the event of sturdy thighs the lock angle is

however limited, so the seat area must be pulled

forward correspondingly. Smaller ride guests can

then lean on the backrest, however without bent

legs, or if the legs are bent there is no leaning on

the backrest. In the case of other types of restraints

there are similar problems, and for this

reason many coasters offer the so-called Big Boy

Seats, for ride guests with a sturdier physique.

Big Boy Seats on B&M coasters are recognisable

84
---
TECHNOLOGY

by the double straps on hand. There is basically

no technical function for these, but it makes it easier

for personnel to show the guests to these

seats, as the electronic restraint surveillance reacts

already to even a small locking angle. This

is not the situation however in the case of a petite

passenger such as a child, and personnel are

then particularly in demand. The situation is similar

in the case of the Maurer "X-Seat" that is also

available in the Big Boy variation. Here the seat is

tilted by five degrees, and is elongated forwards.

The mechanical locking has one more tooth, and

in addition to the normal minimal lock angle, another

sensor detects the locking in the additional

tooth. If the control registers a lock angle in the

extended area, it has to be specially acknowledged

by personnel at the control panel before the

start can take place.

Generally the decision as to whether a ride guest

is held securely is left up to personnel who have

had to be appropriately trained, and who must

have the competence to exclude unsuitable persons

from the ride. And it's generally

the parents of children that have been

refused who are an ungrateful and

quite often aggressive cliental. Just

how important the sound judgement of

personnel is, is shown by the tragic

accident in July this year. An earlier

soldier wounded in the Iraq war and

since then dependant on an artificial

hip and two artificial legs, fell out of the

coaster "Ride of Steel" at Six Flags

Darien Lake and passed away as a result.

Whether or not he was using the

prosthetic legs during the ride was not

clear at time of copy deadline. Either

way, the physical fitness of the passenger

was not suitable for a coaster with

a lap bar and a pelvic restraint.

Always fascinating are the special

forms for the seat configuration as on the already

mentioned Flying Coasters, joined in 2004 by the

"Booster Bike" from Vekoma at Toverland, the first

coaster in a motorbike style. In this seat

position, the upper torso leans forward on

padding that also provides the hold at the

side by arms directed towards the rear. The

legs of the ride guest are bent, and the feet

are held in a depression in the vehicle floor.

With the pulling up of the handlebar, not

only the back padding together with side

arms are clapped forward, but also two

function surfaces are pulled up to the

thighs. Through the number and arrangement

of the contact surfaces of the restraint

system, passengers with a height of

between 1.4 and 2 metres with varied

physiques can be held securely. A very

simplified variation of this concept due to the

missing lifting power is used for example by Zamperla

on various "Disk'O" types.

However, there are not only the legal and techni-

Left to right: Coaster from

Zierer (Schloss Beck), "Hurakan"

from Gerstlauer (Belantis),

"X-Car" from Maurer Rides

"Wicked Twister" from

Intamin at Cedar Point

"Alpengeist" from B&M at

Busch Gardens Williamsburg

85
---
Intamin's Zac-Spin "Kirnu"

at Linnanmäki Park and

Intamin's "Kingda Ka" at

Six Flags Great Adventure

Vekoma's "Booster Bike"

at Toverland

cal aspects that influence the choice of a restraint

system.

Another important criterion is the features of the

attraction with a view to daily operation. The most

important aspect of operation is the true capacity

of the ride construction, which can be drastically

reduced by a complicated restraint system. A

widespread example is the belt system that is

either in direct contact with the ride guest as earlier

described, or connected to a bar. Both often

cause delays during the locking stage, or during

disembarking. Due to the longer passenger loading,

the capacity is inevitably reduced, and the

waiting times and with that general discontent is

increased.

A fully automatic system, where the restraint not

only unlocks but ideally opens independently is

however an encumbrance on purchase and

maintenance costs.

An important aspect is the manual restraint control.

A shoulder restraint or an overhead lap bar

offers many grip areas on which personnel can

pull, and with that manually monitor the locking of

the restraint. A forward pivoting lap bar and in

particular a pelvic restraint, brings personnel

however worryingly near to critical body regions

of the ride guest during monitoring. This can

quickly become a problem, particularly in the

case of stoutly built passengers with loosely fitting

clothing with a corresponding falling of the

folds, certain cultural circles, but also in parts of

prudish North America.

In was first during the last ten years that another

criteria came to the forefront in the design of

restraint systems, notwithstanding the safety

aspect: the comfort and experience of the riding

guest. Up until the turn of the century, rides including

over-the-top constructions and respective

coasters were almost always equipped with rigid

and hard shoulder restraints. In 2003, Maurer

Söhne with the "X-Seat"

dared a new venture,

when a pelvic restraint

without shoulder immobilisation

for vertical

g-forces of -1g, in other

words a static headstand,

was approved. A side jolt

therefore no longer caused

discomfort. Although there

were already Looping

Coasters earlier with only

pelvic restraints, complex

inversion figures were not

permissible.

In the following years many

other manufacturers followed

suit, and ergonomics

became the design

principle. Vekoma devel-

86
---
TECHNOLOGY

oped the overhead pivoting lap bar, which could

be delivered with the optional rubber vest for restraining

the upper torso. B&M introduced a similar

restraint this year on the "Raptor" at Gardaland,

after flexible vests were in use by Vekoma

on Flying Coasters already a few years ago. And

Mack also used a newly developed restraint on

the "blue fire", and as already mentioned, Gerstlauer

has also delivered its first construction with

the new bars.

Intamin introduced the "Top Side Impulse Coaster"

during the 2010 IAAPA exhibition. This attraction

is equipped with a new car with back-to-back

seats. The first example of this ride type will open

at Triumph Kingdom (Tianjin, China) in 2012, and

will be equipped for the first time with the further

developed restraints. The lap bar will not only be

held by one but two pipes to the left and right of

the seats – as for example at Vekoma, B&M and

Mack. The braces therefore are no longer necessary

for redundancy, but are optionally possible.

Theoretically, with that, the belt could also be

expendable. In any case there are no longer any

structures that can press against the throat or the

head.

The influence of the restraint on ride comfort is

enormous. The large travelling coaster "Le King"

in France was upgraded a few years ago with

shoulder restraints – with the result that the ride

fun abruptly decreased, and not least denoted

the attraction as not rideable. After 20 accidentfree

years, the looping attraction produced in the

80s by Anton Schwarzkopf, was upgraded by

Wieland Schwarzkopf with shoulder restraints,

resulting here also in a considerably worsened

ride experience and ride comfort.

On the other hand, small changes can have a

noticeable effect. Intamin's "Intimidator 305" at

Kings Dominion was originally delivered with conventional

restraints, on which the spring steel strip

Two Flying Coasters:

"X-Flight" from Vekoma at Geauga

Lake (left) and "Superman

– Ultimate Flight" from B&M at

Six Flags Great Adventure

"Raptor" from B&M at the

Italian Gardaland

87
---
"blue fire" from Mack and

"Silver Star" from B&M (right),

both at Europa-Park

Two rides from Intamin at

Cedar Point: "Top Thrill Dragster"

and "Millennium Force"

was covered by hard synthetic

material. This produced uncomfortable

blows to the throat

according to the size of the

passenger torso during sudden

side g-forces. As the attraction

has many abrupt

directional changes, this

occurred many times – and reports about ride

features were partly destroyed. Three months

after the opening, the covered spring steel strip

was replaced by a padded Soft Vest. The vest

however reached nearer to the throat, so that the

cushioned effect began quite early. Since this

step was taken, criticisms have become a lot

more positive.

The "Afterburner" from KMG is, since its delivery

to Morey's Pier, available with a lap bar instead of

the well known shoulder restraints, which similar

in principle to that of S&S, are first pivoted and

then pulled to the torso. This has hardly any affect

on ride comfort, but on the experience. During

wide outward swings, the increase in experienced

intensity is noticeable – and that, let it be

understood, only through a changed restraint

system.

Comfort is also affected if the restraint doesn't become

tighter during the ride. In the case of the

"Olympia Looping" for example, grasping fingers

over the shoulders during the ride usually grip on

one or two notches downwards. During the valleys

where this occurs, the backs of the ride

guests are also compressed, so that by the time

the ride returns to the station almost all ride guests

have taken on a hunched posture. In cases of

hydraulic or mechanical locking, the adjustment

of the bar can be prevented. In every case however,

an additional expenditure is necessary,

which is not necessary for the fulfilment of the

basic function.

Restraint systems have to combine many features

together. Above all they have to be safe. They

have to be comfortable for the ride guest and easy

to control for personnel. They should be light, and

occupy minimal installation space. And they

should be easy to service. Considering all this,

restraint systems count among the most complex

components of many amusement attractions, and

one should really pay them far more attention. ■

88
---
NEW THRILL RIDES

"XLR8"

Extreme acceleration • high speed experience

1.5 hours set up • 16 persons capacity

ROTATING

SEATS!

SICKO

120 degree swing

Visit us at

Booth 206

EAS London

2 semi-trailers • set up without crane

24 persons capacity • 85 ft. height

KMG Europe BV • Parallelweg 35 • 7161 AE Neede

Tel.: +31-545 294 545 • Fax: +31-545 291 306

E-Mail: sales@kmg.nl • www.kmg.nl
---
TOP ACT

The station area is

excellently designed as is

the whole attraction

Innovative and sometimes unique

opening attractions were always

a trademark of Phantasialand

in Brühl. The year 2011 saw

this time mainly the completion

of the "Berliner Platz" that was

already completed last year to a

large part. A total of three ride

attractions moved into the Brühl

Park this season.

Maus au Chocolat

Text:

Stefan Peck

Photos: Stefan Peck, Phantasialand

The unobtrusive entrance

to the new attraction

There were already rumours last year that the

park wanted to open an interactive theme ride

for the following season. However, expectations

within the branch for the announced themed ride

for the "Berlin" area were not particularly high, but

when there were talks that it could be a concept

that is similar to the "Toy Story Mania" attractions

that opened in two theme parks of the Disneygroup

last year, everyone became sharp-eared.

And in fact, the "Maus au Chocolat" attraction is

more than just a themed ride. The complete concept,

with the combined technology and the

comical, interactive element makes this attraction

a fun ride that can make one addicted, inviting

park guests to repeat riding.

The entrance to the new ride is located directly

next to the ice cream parlour "Annie Himmelreich"

– the outside gastronomy relaxes the "Platz" and

invites visitors to linger – in a newly erected building

that doesn't look particularly large at first

glance. But with the ability to place the individual

rooms, the station, as well as the waiting area on

two levels, it is a rather large attraction.

First however a little about the storyline: Gustav E.

Lehmann, owner of the cake factory in Berlin and

in the trade, is single and even still lives with his

mother, walked through the family business restlessly

one evening. As he suddenly heard a noise

in the storage rooms he saw a collection of mice

obviously enjoying his sweet treats. Full of panic

90
---
and helpless against the plague, he called the famous

Berlin pest exterminator Oskar Koslowski.

The somewhat stocky Oskar Koslowski hurried

there on that very night, equipped with biological

weapons against the unbidden pests. These

weapons were chocolate filled forcing bags with

which he wanted to get at the rodents. But only a

short time later he is defeated by the army of mice

and needed urgent help. The next day he advertised

in a well known Berlin newspaper, calling on

volunteers to join the "pest extermination", who

meet at Phantasialand every day as park guests.

Once entering the cake factory, visitors reach various

waiting areas that represent individual sections

of the factory. After the first room the second

level is reached, which is mainly reserved for the

voluntary pest exterminators. The rooms are partly

designed with lovely decoration in turn-of-the-century

style. Visitors can also discover the factory's

distinctions in a glass case, admire the collection

of various baking moulds, or simply get an appetite

from the displayed cake recipes. In a further

section of the waiting area, ride guests view a

video presentation of not only the background history,

but also the first instructions are given about

the use of the car for the pest hunt, as well as the

forcing bags. In order to arrive at the station, visitors

have to leave the two levels again, and land

in the heart of the cake factory, where the cars are

waiting, arranged and hooked up in threes, in

which four passengers can take their place. Pairs

sit back-to-back, whilst the individual cars move

to their respective sides. 3D-spectacles are handed

out before the ride begins.

The cars have a wooden look and are painted with

splashes of chocolate. The actual ride sequence

comprises repeatedly of two alternate components.

Between each interactive sequence, passengers

travel through themed rooms where they

can get an

idea of the

chaos made

by the mouse

plague in individual

areas of the factory. Whether it's the milk that

has been spilled in the storeroom or the affected

completed products – everything appears very

consistent. The rooms have considerable dimensions

in part, and are equipped with a number of

moving elements. Much more important however

are the sound effects of the fun the mice are having,

which can be heard from every corner. The

chief pest exterminator Oskar Koslowski accompanies

passengers in the cars by way of a very

good audio system. The interactive sections are

always located in tunnel type segments, where

huge projectors to the left and right show the actual

mouse hunt. The car group stops in the "tunnel"

and the vehicles turn towards each of the

projection walls. Even the illustrated

displays for the interactive areas are

appropriately themed, whether the

hunt takes place in the cold storage,

the bakery or elsewhere, there's

quite enough diversion. The demanding

and vocal accompaniment

of the pest exterminator is particularly

amusing when he makes his

comments about the successful or

the unsuccessful hitting of the mice,

with praise or scorn. Additionally the

texts are always in verse, which

makes listening real fun. But watch

out because the mice fight back,

and there are all sorts of things that

are lying around in the rooms that are

thrown at the guests. Passengers

can be startled through the 3D-eff-

A part of the waiting area

91
---
The Wave-Swinger with

the simultaneously dancing

fountains

Two family Freefall Towers

from Zierer enrich the park

ects and even try to avoid the objects. Even the

chocolate in the forcing bag fired in the rooms

have this effect, and can be seen flying around the

room until eventually a mouse is hit. After a certain

time limit the room closes, the car turns again in

the ride direction, and on it continues. The actual

score can be read well by the riding guest. A total

of seven of these play elements are distributed

throughout the construction, and shortly before

the return to the station, the car turns to other monitors

where players see their final score together

with photo. A small tip: although naturally everybody

is diverted by the interactive element and

wants to "shoot" the highest scores, it's also really

worthwhile to observe all the pranks the mice get

up because there are some very funny situations.

For example one mouse robs the bride from a

wedding cake after the groom had been "disposed

of", or another has nothing better to do than to

draw snow angels on the floor of the cold storage

area.

Unfortunately Park Management is keeping quiet

about the technical data. The cars and the track

system stem from the Dutch manufacturer EFT, the

video animation from Alterface, design and ideas

are from Phantasialand with support from a number

of craft enterprises.

Further Novelties at Phantasialand

A Wave Swinger from Zierer has been erected on

the newly designed Platz in "Berlin"; the classic

ride being particularly well set into the scene here.

The ride is accompanied by water fountains that

have been installed around the ride, which fit in

with the movement of the attraction. Viewing the

ride from the main entrance, it builds up the back

end of the "Mainstreet". With the accompanying

play of water the Wave Swinger has become a real

eye catcher, which is confirmed by the number of

curious onlookers around it. On warm days, the

fountains offer a small refresher if one stands too

close. Passengers however do not get wet during

the ride.

Stemming also from Zierer are the two family

Freefall Towers "Tikal". They do however – as

space was always a problem at Phantasialand –

appear to be squeezed in between the track

course of the coaster "Colorado Adventure". This

new installation is also sensible as after the opening

of the indoor Freefall Tower "Mystery Castle",

a similar attraction can be offered to the younger

park visitor. The "Tikal" ride are designed as water

towers, and are equipped with a ride programme

especially developed for Phantasialand. ■

92
---
WATERPARK

The new Milan water

park brings water slides

and architecture together

Acquaworld is the first and only

indoor water park wellness resort

to open in Italy. Located in

Concorrezzo, on the northern

side of the city of Milan, it was

built by Bluwater SRL, which is a

company created especially for

this project and the owner of the

Monticello SPA: one of the most

popular thermal centers in Italy.

Text & Photos: Matteo Crepaldi

Acquaworld

Designed by the Italian architect Federico Pella,

the resort building looks very impressive and

futuristic from the outside. There are three big

domes covered on one side by 3.932 square

meters of natural grass, while the other side is

made of an innovative material called ETFE (ethylene

tetrafluoroethylene): a very resistant artificial

polymer which exalts the asymmetrical shape of

the dome and its internal structure, but lets the UVA

rays in so the guests can get a tan while staying

inside. A well known example of where this material

was used is the Water Cube in Beijing, created

to host the swimming events during the 2008

Olympic Games.

Project Realized Within Two Years

Acquaworld was first announced in 2009, opened

on July 1 st 2011, and is divided into five different areas:

"Fun World", "Adventure World", "Summer

World", "Relax World" and "Risto World"; the first

two already being available to the public, while the

other three will open later this year. "Fun

World" is the largest, and contains a wave

pool with some nice water effects, a Lazy

River and a small playground for kids

called "Mini World".

New Slides from Klarer

"Adventure World" is an impressive complex with

nine slides all produced by the Swiss company

Klarer Freizeitanlagen AG for a total of 1100 meters

of pure fun. With the exception of a smaller one for

small children located on ground level, all the

others are thrill slides, among them three requiring

a tube that accommodates up to three people. The

structure is a simple cylindrical tower divided into

three floors with the top one reaching outside the

dome's roof, giving a unique view of the park's

structure. On the first floor there's only "Space

Bowl", a 62 meters long funnel shaped slide, while

on the second floor there are three slides: "Magic

Eye", "Turboslide" and "Black Mamba", which is

actually painted white. The longest slide at

Acquaworld is located on the third floor, is called

"Ice Express" and is 166 meters long. To make it

even better, lighting effects were added which

change during the day to give the guests a different

94
---
experience every time. The other slide with cool

light effects is "Starlight", which is slightly shorter

but a bit faster. The fastest slide however is the "Blu

Speed".

Indoor and Outdoor

The remaining three areas of Acquaworld are

"Summer World", a 7000 square meters wide area

with external pool, the "Relax World", an adults only

thermal centre with outdoor heated pool available

during the whole year, and "Risto World", a restaurant

available only to the guests of the resort.

The admission cost at the moment is 19.00 € for a

period of three and a half hours. The time of the

entrance and the total time each guest can spend

inside the centre are saved on a magnetic wristband,

which is the only way to open the lockers in

the changing room. After the time is up, guests can

stay longer but they cannot move

from one area to the other with the

exception of the locker room, and

pay the extra cost when they exit.

Overall, even with just two sections

available currently, the resort looks

well designed and, since it's the

only one of its kind in Italy, a successful

addition to the entertainment

offer of the city of Milan, especially

during the winter season. When

everything will be ready and operative,

Acquaworld is going to be a

great place to spend an afternoon

with the whole family.

■

95
---
LEGOLAND BILLUND

Legoland in Denmark that opened

in 1968 will receive a new experience

land for an investment

amount of around 10 million Euro.

"Polar Land" should already be

opened in May 2012 on a ground

area of 12,500 m 2 , offering speedy

fun combined with animal

experiences. Without a doubt an

ambitious undertaking, as until

now only SeaWorld Orlando and

Busch Gardens Tampa have

been successful in such an

undertaking – two parks that of

recent have a connection to the

Legolands through a business

relationship.

Text:

Frank Lanfer

Photos: Legoland, Zierer

Other than the zoological element, namely a

visit to the icy world of the penguin, there is

naturally the coaster "Polar X-plorer" as centre point

of interest. The attraction is a new development

from Zierer GmbH, with a ride experience that

includes a short but real freefall sequence.

The 20 metre high normal lift is followed by a

speedy and up to 65 kilometre per hour ride through

an artificial icy landscape, past waterfalls and large

polar animals made from Lego bricks. The train

then shoots into a mountain, and over a not quite

frozen surface. The ice breaks and the train

together with passengers falls into the icy-cold

Arctic Ocean.

After these exciting and frightening seconds the

train surfaces again and absolves the rest of the

total 498 metre course at a more or less leisurely

pace. In the process, passengers travel past 15 live

Gentoo- penguins, which are protected from the

sounds of the "Polar X-plorers" to the greatest

possible extent in their habitat.

The core of the coaster is the vertical drop element

that requires a ground area of 11 by 12 metres

structurally, and has a total height of 15 metres. The

platform of the vertical drop is separate to the train,

and is equipped with its own safety system. A load

magnet holds the platform with the coaster-train

aloft, with additional safety provided by safety bolts.

After the demagnetisation the track segment races

two metres of freefall downwards, before the 3.5

metre brake girder takes hold and brakes the platform.

After the train has left this area, a carrier transports

it upwards again.

The "Polar X-plorer" attraction alone takes up an

area of 4,300 square metres. A coupled train can

accommodate 16 passengers, and during the 111

second ride, produces up to 4.2 g. 850 persons can

participate in the expedition per hour. The new experience

area will be rounded off with a new "Polar

Restaurant", and the already existing attraction

"Power Builder" ("RoboCoaster" from Kuka), will be

converted into a speedy school for polar-pilots. ■

96
---
SEAWORLD ORLANDO

Text:

Frank Lanfer

Photos: SeaWorld Parks & Entertainment

It's well know that one of the main shareholders

of Merlin Entertainments (and with that also of

the Legolands) has stepped back in his engagement

and has sold a large block of shares. However

there is still the conjecture that SeaWorld

Orlando, which also belongs to the Blackstone

Group, may well soon receive a very similar attraction

to that of Legoland Billund.

Officially the novelty has already been announced

for 2013, and thus the "Antarctica – Empire of the

Penguin" should be a new theme area connecting

the most modern ride technology and the encounter

with endless ice and its penguins. According

to current information, the future family

attraction will attempt to portray the beauty and the

drama of the sometimes dangerous living environment.

Insofar it could well be a "Splash Battle" attraction,

which similar to the German Europa-Park

version would travel through an icy landscape, with

its adventurers practicing "(inter-) active"

environmentalism.

The new "Antarctica" theme area has at the moment

an unknown size, but will reflect a rocky landscape

covered by snow and ice, which undoubtedly

will have a similar scurrile effect under the

blazing sun of Florida as Disney's water park, "Blizzard

Beach". "When you enter it, you will know you

have entered a different place, because it will be

the coldest theme-park attraction in the world",

said Terry Prather, President of SeaWorld Parks

and Entertainment's three Orlando parks.

But before opening the largest

expansion in the park's history according

to an official announcement, a

novelty will also be offered to guests

for 2012 as well: "Turtle Trek" will be

a dome-formed 360° cinema, in

which the focal point will be the journey

of a turtle as a 3D-experience. A

total of 34 projectors – each with 26

million pixels (13 times more as HD)

– will provide realistic 3D-scenes not

only in front of and around the audience,

but even over it. The end is an

appeal to take part in the protection

of our world.

■

97
---
MAGAZINE

ADDENDUM: EAS LONDON

In the frame of this year's Euro Attractions Show

in London, the second plenary meeting of the

Technical Committee 254 of The International

Organisation for Standardisation (ISO) regarding

"Safety of Amusement Rides and Amusement

Devices" took place under the Chairmanship

of Dr. Vladimir Gnezdilov.

This technical committee has been formed by the

ISO with the support of Russia, France, UK, Germany,

Italy, Denmark, Korea, South Africa, Finland,

China, Singapore that participate as voting members,

and some other countries that participate as

observing members, such as ANSI (USA) and

IAAPA as liaison organization with the committee.

The task of the committee is to create a series of

ISO standards in the sphere of amusement rides'

and amusement devices' safety that are to include

all the best that the national standards have, and

are to be a basis for harmonisation of national

standards.

There were approved conveners for three draft

standards: Biomechanical Effects – Prof. B. Rabinovich,

Design, manufacture and construction –

Mr. S. Kasper, Operation and use – Mr. K. Rundle.

Currently, working groups of experts are being

formed. Experts who are interested in participation

in working groups should be formally approved

according to a special procedure. The next plenary

meeting of the committee will be held in Berlin

during the EAS 2012 Trade Show. For inquiries:

Ms. Anna Novikova, Secretary of ISO/TC 254,

e-mail: mir-pax@mail.ru, or anovikova@pax.ru. ■

STERNENSAUSER

Text:

H. Jürgen Kagelmann

Photos: Rope Runner, Skigebiet Hoch-Ybrig

Any place in Europe that considers it to be a

tourist location apparently installs a "Flying

Fox". A number of these attractions have been

opened over the past months.

In July, one of the longest courses in the world, high

over Lake Lucerne in the skiing area of Hoch-Ybrig,

was opened. The course is 2.3 kilometres long,

separated into three sections, and leads from the

mountain station Sternen to Fuederegg and back.

The attraction can transport 17 p.p.h., and reaches

a speed of up to 90 km/h, and moves at a maximum

height of 75 m over the ground. Approved to

participate are adrenalin junkies from 9 years of age

with a minimum height of 130 cm and weight of

between 30 and 125 kilos. The "Flying Fox" can be

enjoyed either sitting or laying down. For adults a

ride costs 70 CHF (around 60 €), children under the

age of 16 years of age pay approximately 44 €.

The attraction was built by the Austrian firm Rope-

Runner. The company's Manager, Thomas Liebmann,

was earlier employed by Rodlsberger

(manufacturer of various attractions such as the

"Sky Swing", "Fisser Flieger" and freefall towers).

Investor in the approximately 900,000 Euro attraction

is Ferien- und Sportzentrum Hoch-Ybrig AG;

operator is the Rafters Outdoor & Events firm. The

construction is open from July to October. ■

98
---
EUROPARK IDROSCALO

MAGAZINE

GREAT AMERICA

Text:

Frank Lanfer

Text & Photos: Matteo Cripaldi

Milan is one of Italy's largest cities, and is known

all over the world as a major pole for economy,

sport, fashion, and architecture. Unfortunately

such an important place with millions of tourists

visiting every year doesn't have a big amusement

park in its proximity, unless we can consider

the Luna Europark Idroscalo as one.

Opened in 1965 as Lunapark Milano, it changed its

name into the current one in 2004. This new name

comes from the adjacent artificial lake: Idroscalo,

which was created as a landing site for waterplanes,

and is now a popular getaway location for

Milan citizens during the summer.

In the coaster area there's a kiddie "Wacky Worm",

a Pinfari RC40 and "Funny Mouse": a Wild Mouse

produced by the Italian company Interpark, which

is the new addition for 2011. The layout of this

brightly coloured family friendly coaster is as

classical as it can be. After leaving the station, a

small turn to the right leads the cars to the lift hill,

which gives a nice view on the surrounding area.

This doesn't last long because, after a second right

hand turn the riders experiences the biggest drop

of the entire ride, followed by a few hairpin turns that

are the signature elements of any existing Wild

Mouse. The rest of the ride composes of more drops

and the final helix, which leads right into the final

brakes.

All in all, "Funny Mouse" is a nice ride and is a good

addition for a small park like this one.

■

For a long time now there

was speculation, and

eventually it became just a

question of time. Now it's

definite: the Cedar-Fair-

Group that took over the

park together with three

others from Paramount in

2006 for 1.24 billion US$, is

selling the theme park in

the greater San Francisco

area for 70 million $ to the

real estate investment

company JMA Ventures

LLC. The company intends,

together with the

football team San Francisco

49ers, to erect a new

68.500 person stadium on

a part of the visitor parking

area. Cedar Fair had

fought against this building

measure for years, fearing

the losses due to missing

parking possibilities. The

complete ground area

belongs to the City of Santa

Clara that until now has

received an annual rent of

5 million $, and is positively

against the construction

project. Due to older

agreements, the city must

insist even in the future that

a theme park is in operation

there. As a result, the

49ers Management plans

to retain the park (the larger

attractions have already

been removed over the

past years by Cedar Fair),

but only opening on match

days.

■

99
---
PARAMOUNT PARK SPAIN

Since March 2010, plans about a

large Movie-theme park in Spain

have been meandering through

the media (see also KPR 5/2010).

In actual fact there is good news

and not so good news about the

matter. The positive: after much

to and fro, there has been a type

of basic agreement that makes

concrete planning possible since

October, and there are also

very nice sketches and videos,

and with that at least a number of

concrete indications of possible

park facilities. The less positive

news: the financing (and with

that the realization) of the ambitious

company is to this date

completely vague.

Text:

H. Jürgen Kagelmann

Photos: Premursa

If it's to be reality then very soon there will be a huge

recreation resort with a Paramount theme park and

a corresponding LifeStyleCenter (shopping, hotels,

gastronomy) on an over one and half million square

metre area, near the small Spanish town of Alhama

de Murcia. The resort will apparently be the second

largest in Europe (following Disneyland Paris).

The theme park itself will comprise of an entrance

area and four themed lands, leaning solely in the

direction of current or classic film successes from

Paramount Pictures. Some of the currently announced

30 attractions are: in "Paseo Paramount" ("Paramount

Walk") there will be the Musicaltheater "Paramount

Live", in the area "Ciudad de la Aventura"

("Adventure City") the film "Mission Impossible 4D",

the exhibition "Titanic" and the dodgem track

"Grease Lightning". In "Rango's West" the 4D-Film

"Rango – How the West was Sung", the rafting ride "Los

Rápidos de Rango" and the Mine Coaster "Spirit of the

West" should be realized. Planned for "Mundos de

fantasia" ("Woodland Fantasy") are an interactive

3D-Darkride, the horror story "Sleepy Hollow", and

also attractions for the smaller visitors with magic

and enchantment, among them an interactive adventure

experience according to children's books,

and the fairytale-indoor-boat ride "Spiderwick". In

the science fiction-area "Plaza Futura - Aventuras al

espacio" ("Future Land – Adventures in Space")

there will apparently be the Simulator "Starfleet Recruiting

Centre", the Launch Coaster "Warp Speed

(Star Trek!)", a family indoor coaster, and probably a

4-D attraction to "War of the Worlds", and later a Wild

Mouse "Quasar Force" will be erected also.

A lot can change here of course, and there's

speculation currently about the attractions that will

lean towards the latest film successes of Paramount,

such as Avengers, Captain America, Thor, Iron Man.

Summary: the park that is planned to be open 282

days a year is interesting and challenging. It will have

many 4D/3D films, but relatively little for families with

children.

For the construction of the complete resort there

would be calculated direct costs of over 1 billion

Euro, for the theme park including two theme hotels

(area 550,000 m 2 ) alone 498 million €, for the

LifeStyle area with conference halls, five hotels, 16

shops, 14 nightclubs, restaurants, discos as well as

casino (total area: 1.03 million m 2 ), another 407 million

€.

The planning is in the hands of the Premursa consortium,

behind which Jesús Samper and his company

Santa Monica Financial Services stand

(96.6%). Further along two communal institutions are

involved (3.4%), but are not pursuing a long-term

engagement. The assignment of Premursa is to clarify

the financing and do everything to open the way

for the construction of the resort. After the latest report,

the Parques Reunidos Group is being consulted

about later operation. The group as is well known,

and manages 70 amusement centres, among them

the Parque de Atracciones (Madrid) and the Movie

Park Germany (Bottrop).

And now to the less pleasant things: contrary to the

constantly spread false rumours Paramount is not –

and to be more precise – and in no way financially

engaged with any numbers of Dollars or Euros whatsoever,

and has only contracted out a licence valid

for 30 years. Currently there's not a single investor,

apart for the capital from the planning group (in the

beginning 1 million, now increased to 6 million €).

Nevertheless the search for investors is to be completed

by the end of February (!), so that construction

can begin, as the opening is planned for Easter

2015 – a very ambitious time plan. According to

earlier reports the planners would even begin construction

with a sum of 300 million €.

100
---
MAGAZINE

The master plan for the theme park (left) and the building

plans for the complete Paramount Park Resort (below)

The themed areas (up to down) "Rango's West",

"Woodland Fantasy", and "Plaza Futura"

Another question is whether there would really be success

in pulling in at least 3 million visitors annually (the

half being foreign tourists) to a remote area where

there's hardly any other attractions, be it cultural or

commercial. Earlier large projects not far from the

planned park ended as a first class bankruptcy due

to shortage of demand, such as the in the meantime

insolvent 15 amusement-golf-settlement Polaris. Up

until now only British tourists fly to Murcia for holidays,

and even then remain on the coast that is one

hour by car from the future park area. And one can't

expect too much from bathing guests anyway, which

is shown by the examples of Benidorm and Terra

Mitíca, only 130 kilometres away.

Public authorities have until now indicated that any

sort of involvement is strictly out of the question,

aside from the fact that tax incentives would be held

in prospect. And that's not only due to the present

economical crisis in Spain, there have also been very

bad experiences with other theme park projects: the

only economically successful park currently is Port

Aventura near Tarragona (2009: 3.3 million visitors,

profit 4.5 million €). Isla Magica in Seville (2009: loss

3.36 million €) as well as Terra Mitíca in Benidorm

(2009: loss 3 million €) and Parque Warner near

Madrid are all either unsuccessful or threatened by

bankruptcy. In a time of very cautious attitudes, the

promise of 16,500 new jobs for construction and

6,100 for operation brings nothing.

If the project will be realized sometime – according

to rumours the opening year is targeted to be

2019/20 – it could well be the "the most important

amusement project in Spain". In the light of the many

questions it could however – together with the also

very ambitious but unsecured large project Gran

Scala near Saragossa (a combination of theme

parks and casinos; see KPR 3/2008) – also be the

largest "washout" in Europe.

■

101
---
PREVIEW

A calendar of events can be found here for the month of

December in alphabetical order. Additional information about

individual events is listed below.

■

B■ Bautzen 25.11.-18.12.

■ Bergheim 26.10.-06.11.

■ Bautzen 25.11.-18.12.

■ Berlin 21.11.-01.01.

■ Berlin-Mitte 23.11.-26.12.

■ Berlin-Spandau 23.11.-28.12.

■ Bernau/Berlin 08.12.-11.12.

■ Brandenburg/Havel 26.11.-18.12.

R■ Rostock 24.11.-22.12.

S■ Sangerhausen 08.12.-11.12.

■ Schwedt/Oder 01.12.-04.12.

■ Stendal 15.12.-18.12.

■ Stralsund 25.11.-20.12.

■ GB Edinburgh 16.12.-08.01.

■ GB Edinburgh 24.11.-04.01.

■ GB Edinburgh 28.12.-03.01.

■ GB Glasgow 23.12.-15.01.

■ GB Huddersfield 20.12.-30.12.

■ GB Leeds, W.Yorks 31.12.-01.01.

■ GB Lincoln 01.12.-04.12.

■ GB London 02.12.-30.12.

■ GB London 19.11.-04.01.

■ GB Malton, Yorks 11.11.-03.12.

■ GB Manchester 04.11.-02.02.

■ GB Plymouth, Devon 17.11.-07.01.

■ GB Portsmouth 11.11.-24.12.

■ GB Swansea 18.11.-08.01.

■ GB Wrexham 16.12.-02.01.

■ I Genova=Genua 08.12.-15.01.

■ IRL Dublin 01.12.-08.01.

■ NL Groningen 24.12.-01.01.

■ NL Maastricht 02.12.-01.01.

■ NL Utrecht 25.12.-30.12.

■ NL Valkenswaard 11.12.-08.01.

■ PL Breslau=Wroclaw 25.11.-23.12.

18. NOVEMBER (FRIDAY)

F Angoulême

■ Luna Park until 05.12.

GB Swansea, South Wales

■ Waterfront Winterland until 08.01.

19. NOVEMBER (SATURDAY)

B Hasselt

■ Winterland until 08.01.

CH Bern

■ Lunapark, Herbstmesse

until 04.12.

GB London

■ Hyde Park Winter Wonderland

until 04.01.

21. NOVEMBER (MONDAY)

06108 Halle/Saale

■ Advent-Weihnachtsmarkt

until 22.12.

C■ Chemnitz 25.11.-23.12.

■ Coswig/Dresden 02.12.-04.12.

■ Cottbus 24.11.-23.12.

D■ Dresden 24.11.-22.12.

■ Dresden-Kaditz/Mickten 21.11.-23.12.

E■ Eisenach 21.11.-20.12.

■ Erfurt 23.11.-22.12.

W■ Weimar/Thüringen 25.11.-23.12.

■ Werdau/Sachsen 10.12.-18.12.

Z■ Zehdenick 02.12.-04.12.

■ Zwickau 25.11.-23.12.

International

■ B Hasselt 19.11.-08.01.

■ B Sint-Niklaas 03.12.-18.12.

4. NOVEMBER (FRIDAY)

20359 Hamburg

■ Dom-Markt until 04.12.

Behörde für Wirtschaft undArbeit

Fünfer-Looping, Wellenflug, Breakdance, Wilde

Maus, Go-Kartbahn, Geistertempel, Booster

Maxxx, Troika, Sky Dance, Viva Mexico,

Rotor, Love Dream, Frisbee, Sky Rocker, Dom-

Dancer, Geisterbahn, Atlantis Rafting, Shaker,

1001 Nacht, Riesenrad, Geister..., U 3000,

Lach+Freu-Haus, Apres-Ski-Party, Omni,

Happy Family, Irrgarten, Adventure Shuttle,

Willi der Wurm

Participants: ca. 250

GB Manchester

■ Christmas Fair until 02.02.

10789 Berlin

■ Weihnachtsmarkt an der

Gedächtniskirche until 01.01.

Schaust.Verband Berlin .e.V.

39104 Magdeburg

■ Weihnachtsmarkt until 30.12.

Closed on 24. and 25. December

Riesenrad

Magdeb.Weihnachtsmärkte GmbH

99817 Eisenach

■ Weihnachtsmarkt until 20.12.

Catering Company GmbH/Berlin

Riesenrad

22. NOVEMBER (TUESDAY)

G■ Gera 25.11.-23.12.

■ Gotha 25.11.-23.12.

■ Greifswald 25.11.-21.12.

H■ Halle/Saale 21.11.-22.12.

■ Hamburg 04.11.-04.12.

■ Havelberg 01.12.-04.12.

J■ Jena 25.11.-22.12.

L■ Leipzig 22.11.-19.12.

■ Lemgo 01.12.-04.12.

M■ Magdeburg 21.11.-30.12.

■ Merseburg 08.12.-11.12.

P■ Plauen 24.11.-22.12.

■ CH Bern 19.11.-04.12.

■ CH Frauenfeld 03.12.-05.12.

■ F Alès 16.12.-21.01.

■ F Angers 11.11.-04.12.

■ F Angoulême 18.11.-05.12.

■ F Annecy 26.11.-09.12.

■ F Béziers 17.12.-08.01.

■ F Brest-Penfeld 17.12.-15.01.

■ F Cannes 10.12.-15.01.

■ F Chateauroux 10.12.-01.01.

■ F Dieppe 26.11.-11.12.

■ F Dunkerque 17.12.-08.01.

■ F Grand-Combe 26.11.-11.12.

■ F Hyères 10.12.-08.01.

■ F Lens 17.12.-08.01.

■ F Lorient 17.12.-08.01.

■ F Lyon 10.12.-26.02.

■ F Lyon-Chassieu 10.12.-15.01.

■ F Nice 10.12.-08.01.

■ F Orléans 09.11.-15.01.

■ F Paris 16.12.-02.01.

■ F Rennes 10.12.-08.01.

■ F Saint-Etienne/Loire 17.12.-08.01.

■ GB Bolton, Lancs 08.12.-22.12.

■ GB Bournemouth 17.11.-22.12.

■ GB Bradford 22.12.-01.01.

■ GB Cardiff, S. Glam. 31.12.-01.01.

■ GB Chester 10.11.-02.01.

■ GB Coventry 26.12.-03.01.

■ GB Dundee 31.12.-02.01.

9. NOVEMBER (WEDNESDAY)

F Orléans

■ Fête Foraine until 15.01.

10. NOVEMBER (THURSDAY)

GB Chester

■ Chester Magic until 02.01.

11. NOVEMBER (FRIDAY)

F Angers

■ Foire Saint-Martin until 04.12.

GB Malton, Yorks

■ Hirings Fair until 03.12.

Only on Friday/Saturday!

GB Portsmouth

■ Christmas Christmas until 24.12.

17. NOVEMBER (THURSDAY)

GB Bournemouth, Dorset

■ Christmas Market

until 22.12.

GB Plymouth, Devon

■ Winter Festival

until 07.01.

04177 Leipzig

■ Weihnachtsmarkt until 19.12.

Riesenrad

23. NOVEMBER (WEDNESDAY)

10178 Berlin-Mitte

■ Wintertraum am Alexa until 26.12.

C.Blume Vergnüg.Betriebe/Hude

Riesenrad, Wilde Maus, Konga, Revolution,

Magic, Breakdance, Take Off, Schlittenfahrt,

Star Flyer, Simulator, Action House, 2 x Geisterbahn,

Tollhaus, Psychodelic, Mäuse-Circus

13591 Berlin-Spandau

■ Weihnachtstraum until 28.12.

Th.-H.Wollenschläger/Bötzow

Riesenrad, Rutsche

99084 Erfurt

■ Weihnachtsmarkt until 22.12.

Stadt

Riesenrad

24. NOVEMBER (THURSDAY)

01067 Dresden

■ Weihnachtsmarkt

until 22.12.

03046 Cottbus

■ Weihnachtsmarkt until 23.12.

08523 Plauen

■ Weihnachtsmarkt until 22.12.

102
---
18055 Rostock

■ Weihnachtsmarkt until 22.12.

Großmarkt Rostock GmbH

Speedy Gonzales, Projekt 1, Flipper, Scheibenwischer,

Montgolfiere, Breakdance, Riesenrad,

Rodelbahn, Wellenflug, Schlittenfahrt,

Simulator, Kristallpalast, Daemonium, Crazy

Outback, Weihnachts-Labyrinth

Participants: ca. 250

16792 Zehdenick

■ Weihnachtsmarkt until 04.12.

GB London

■ Christmas Fair until 30.12.

NL Maastricht

■ Kerstmarkt until 01.01.

GB Edinburgh

■ Winter Festival until 04.01.

3. DECEMBER (SATURDAY)

25. NOVEMBER (FRIDAY)

B Sint-Niklaas=St.Nicolas

■ Winterkermis until 18.12.

02625 Bautzen

■ Weihnachtsmarkt until 18.12.

CH Frauenfeld

■ Chlausmarkt until 05.12.

07545 Gera

■ Weihnachtsmarkt until 23.12.

8. DECEMBER (THURSDAY)

07703 Jena

■ Weihnachtsmarkt until 22.12.

08056 Zwickau

■ Weihnachtsmarkt until 23.12.

09111 Chemnitz

■ Weihnachtsmarkt until 23.12.

17489 Greifswald

■ Weihnachtsmarkt until 21.12.

18439 Stralsund

■ Weihnachtsmarkt until 20.12.

99423 Weimar/Thüringen

■ Weihnachtsmarkt until 23.12.

06217 Merseburg

■ Weihnachtsmarkt until 11.12.

06526 Sangerhausen

■ Weihnachtsmarkt until 11.12.

16321 Bernau/Berlin

■ Weihnachtsmarkt until 11.12.

GB Bolton, Lancs

■ Christmas Fun Fair until 22.12.

I Genova=Genua

■ Luna Park until 15.01.

10. DECEMBER (SATURDAY)

99876 Gotha

■ Weihnachtsmarkt until 23.12.

PL Breslau=Wroclaw

■ Weihnachtsmarkt until 23.12.

F Cannes

■ Foire de Noël until 15.01.

F Chateauroux

■ Fête Foraine until 01.01.

26. NOVEMBER (SATURDAY)

14770 Brandenburg/Havel

■ Weihnachtsmarkt until 18.12.

F Annecy

■ Foire Saint-André until 09.12.

F Dieppe

■ Fête Foraine until 11.12.

F Grand-Combe, la

■ Fête Foraine until 11.12.

1. DECEMBER (THURSDAY)

16303 Schwedt/Oder

■ Weihnachtsmarkt until 04.12.

32657 Lemgo

■ Kläschenmarkt until 04.12.

Stadt

39539 Havelberg

■ Weihnachtsmarkt until 04.12.

Stadt

GB Lincoln

■ Christmas Fair until 04.12.

IRL Dublin

■ Winter Wonderland

until 08.01.

2. DECEMBER (FRIDAY)

01640 Coswig/Dresden

■ Weihnachtsmarkt until 04.12.

F Hyères

■ Magic World until 08.01.

F Lyon

■ Luna Park until 26.02.

F Lyon-Chassieu

■ Euro-Park-Loisirs until 15.01.

F Nice

■ Foire d'Hiver Attractive

until 08.01.

F Rennes

■ Fête Foraine d'Hiver

until 08.01.

11. DECEMBER (SUNDAY)

NL Valkenswaard

■ Winterkermis until 08.01.

16. DECEMBER (FRIDAY)

F Alès

■ Fête d'Hiver until 21.01.

F Paris

■ Jours de Fêtes au Grand Palais

until 02.01.

GB Edinburgh

■ Centre Carnival

until 08.01.

GB Wrexham, Denb

■ Christmas Fair

until 02.01.

17. DECEMBER (SATURDAY)

F Béziers

■ Fête de Noël until 08.01.

F Brest-Penfeld

■ American Lunapark until 15.01.

F Dunkerque=Duinkerken

■ Fête Foraine d'Hiver until 08.01.

F Lens

■ Foire aux Manèges until 08.01.

F Lorient

■ Foire Hivernale until 08.01.

F Saint-Etienne/Loire

■ Luna Park until 08.01.

20. DECEMBER (TUESDAY)

GB Huddersfield, W.Yorks.

■ Christmas Fair

until 30.12.

22. DECEMBER (THURSDAY)

GB Bradford

■ XMas Fun Fair until 01.01.

23. DECEMBER (FRIDAY)

GB Glasgow

■ SECC Irn-Bru Carnival

until 15.01.

24. DECEMBER(SATURDAY)

NL Groningen

■ Kerstplaza until 01.01.

25. DECEMBER (SUNDAY)

NL Utrecht

■ Kerstland until 30.12.

26. DECEMBER (MONDAY)

GB Coventry

■ Hearsall Common Christmas

Funfair until 03.01.

28. DECEMBER (WEDNESDAY)

GB Edinburgh

■ Hogmanay Street Fair until 03.01.

31. DECEMBER (SATURDAY)

GB Cardiff, S. Glam.

■ New Year Fair until 01.01.

GB Dundee

■ Hogmanay Fair until 02.01.

GB Leeds, W.Yorks

■ New Year's Fair until 01.01.

No responsibility for accuracy!

103
---
❑

❑

❑

ABONNEMENT-AUFTRAG

Ich bestelle hiermit die nächsten 12 Ausgaben von KIRMES & PARK Revue ab Heft-Nr.

zum Abonnementpreis von 78,– € inkl. 7 % MWSt. und Versand (Deutschland)

Ich bestelle hiermit die nächsten 6 Ausgaben von KIRMES & PARK Revue ab Heft-Nr.

zum Abonnementpreis von 45,– € inkl. 7 % MWSt. und Versand (nur innerhalb Deutschlands)

Ich bestelle hiermit die nächsten 12 Ausgaben von KIRMES & PARK Revue ab Heft-Nr.

❑ Europa Normalpost zum Abonnementpreis von 99,– € inkl. Porto und Versand

❑ Europa Luftpost und Übersee zum Abonnementpreis von 111,– E inkl. Porto und Versand

Ich wünsche die angekreuzte Zahlungsweise:

❑ durch Bankeinzug. Die Einzugsermächtigung erlischt mit Kündigung des Abonnements.

Konto-Nr. Bankleitzahl Bank:

❑ gegen Rechnung. Bitte kein Geld einsenden, Rechnung abwarten.

❑ per Kreditkarte. Bitte ankreuzen: ❑ Visa ❑ Mastercard ❑ Diners Club ❑ American Express

Karten-Nr.:

gültig bis:

Das Abonnement verlängert sich jeweils um ein weiteres Jahr, wenn es nicht spätestens 6 Wochen vor Ablauf schriftlich gekündigt wurde.

Name

Straße

PLZ/Ort Datum Unterschrift

Bitte einsenden an: Gemi Verlags GmbH, Postfach, 85291 Reichertshausen

Diese Bestellung kann ich innerhalb von 10 Tagen schriftlich bei der Gemi Verlags GmbH, Postfach, 85291 Reichertshausen widerrufen.

Die Widerrufsfrist beginnt 3 Tage nach Datum des Poststempels meiner Bestellung. Zur Wahrung der Frist genügt das rechtzeitige Absenden.

Ort/Datum

✂

❑

❑

❑

Unterschrift

SUBSCRIPTION-ORDER

I order the next 12 editions of the KIRMES & PARK Revue in english from issue Nr.

at a subscription price of 90,– € incl. 7 % MWSt. and postage (Germany)

I order the next 6 editions of the KIRMES & PARK Revue in english from issue Nr.

at a subscription price of 51,– € incl. 7 % MWSt. and postage (Germany)

I order the next 12 editions of the KIRMES & PARK Revue in english from issue Nr.

❑ Europe normal post at a subscription price of 111,– € incl. postage and handling

❑ Europe airmail and other countries at a subscription price of 123,– € incl. postage and handling

❑ I will pay by credit card. ❑ Visa ❑ Mastercard ❑ Diners Club ❑ American Express

Card Nr.:

Expiry Date:

❑ I require an invoice.

The subscription is automatically extended a further year if a written cancellation is not received 6 weeks prior to the end of the subscription.

Name

Street

Postcode/City Date Signature

Please send to: Gemi Verlags GmbH, Postfach, 85291 Reichertshausen

This subscription order can be called in writing within 10 days by notifying Gemi Verlags GmbH, Postfach, 85291 Reichertshausen, Germany. The

time limit for cancellation begins 3 day after the date of posting my order. The time limit is ensured and proved by the timely posting of cancellation.

Date/City

Signature

104
---
Ihr Partner für das Schaustellergewerbe

D-34613 Ziegenhain

Kasseler Straße 44

Tel. 06691/3536

Fax: 0 66 91 / 59 97

mail@Dietz-Fahrzeugbau.de

www.Dietz-Fahrzeugbau.de

Rustikale Verkaufswagen bis 3,5 to

speziell nach Ihren Wünschen gefertigt

FOR SALE

WÖLK ART KUSEL recommended

for good friends,

www.woelkart.de

Figures and three dimensional

front design in

GRP, www.fideba.de

Tel. + 49 (0)351/8470241

or + 49 (0)172/3845189

Inscriptions on Gingerbread

Hearts, Helmut Isken, at EBay:

www.Nr.1wunschherzbeschriftung.de

Tel. + 49 (0)178/6686787

For sale: Basketball wagon,

12 metres long, with venues,

from 2012 season, no financial

limit, complete existence,

Please contact Gemi Verlags

GmbH, PO box, D-85291

Reichertshausen, Code Nr.

K03-10/11

Available from end of the year,

Simulator Rocket, Price

O.N.O., new TÜV certificate

Tel: + 49 (0) 172/5317795

PURCHASE

Cash buyer searching for

cars from ride type L'Autopede

from Belgium, please offer all

you have. Tel: + 31 653486142

BUSINESS CONTACTS

Toilette Wagon rental, Helmut

Isken, Schwerte.

Tel. + 49 (0)178/6686787

MODEL CONSTRUCTION

Fairground Models H0 Ferris

Wheel, Kiddie Ride etc. on panel,

Collection Stuttgart Region

Tel: + 49 (0) 171/5240578

EMPLOYMENT

Showman Club in Romania.

Here you can find personnel

from Romania for your Christmas

Market.

Tel. 0040/757855175

Advertising

deadline for the

January issue is

Friday 9 December

Verkaufe IMBISS

Bj. 2007

Größe: 4m x 3,5m

0163/6640664

Heitmann

FOR SALE: Set of Gallopers on centre load

Manufacturer Barbieri

diameter 11 m

built 1998

24 horses

Oldtimer, elphant etc.

60 seats

Telephone: +49 (0) 171 - 454 16 06

GELEGENHEIT

MODERNSTER CONTAINER-WOHNWAGEN

Verkaufe neuwertigen

Fabrikwohnwagen

Baujahr 2009

14 m • 3-Achser gelenkt

Alufelgen • Ral 1013 • 4 Erker

Vierfachabstützung, alles hydraulisch über Funkfernbedienung,

komplett eingerichtet, inkl. Kinderzimmer, elektrische Alujalousien

und Fußbodenheizung, Ölzentralheizung, Wasser- und Abwassertank

Informationen & Bilder unter: www.wollenschlaeger-berlin.de

Anfragen: Thilo-Harry Wollenschlaeger • Mobil: 0163/4000 500

•

BUDERO

THE TARPAULIN

FOR THE SHOWMAN

• • • • • •

•

• • • • • • • •

• • • • • • • • • • • •

All types of tarpaulins according to

your requirements, for large and small

ride, show, and walk-through operations

BUDERO B.V.

Vrijkenstraat 2

6088 PA Roggel NL

Ph. (0031) 475/492445

Fax (0031) 475/494390

www.budero.com

Ihre e Kasse K

klingelt

Wollen auch Sie, dass Ihr

und Ihr Geschäft zum Tagesgespräch wird, dann fordern Sie unseren Katalog

mit mechanisch beweglichen Reklamefiguren an. Selbstverständlich

sind wir auch in der Lage, SONDERANFERTIGUNGEN nach Ihren Wünschen

zu gestalten. Wir sind seit nunmehr 36 Jahren Ihr zuverlässiger Partner.

Besuchen Sie uns auch im Internet (mit Video).

Peter Stühler • Werbefiguren • Horst Baumann e.K.

Karl-Bröger-Str. 32 • 90765 Fürth • Tel. 0911 / 79 36 60 • Fax 79 38 29

E-Mail: info@peter-stuehler.de • Internet: www.peter-stuehler.de

105
---
ZU VERKAUFEN

Tel. 0178/542 29 39 • www.hartmann-und-soehne.de

SEASON 2012

(March – October)

RIDES REQUIRED

for UK

Amusement Park

Prime location on the

East Yorkshire Coast

Established over 20 years

Would be suitable:

Mouse Coaster, Waveswinger

(Chairs), Big Wheel,

Childrens Rides, Food outlets

Please contact Louis Harrison:

louis@harrisonleisure.co.uk

Karussells der Spitzenklasse

R. VÖLZ

Industriestr. 3

44577 Castrop-Rauxel

Tel. 0 23 67/83 37

Fax 0 23 67/17 67

Nach wie vor liefern wir:

Schindeldächer,

Reetdächer, Mauerwerke

www.karussell-voelz.de

Infos zu Anzeigen:

Tel. 08441/ 402213

FOREMAN

and office assistant

for Norwegian travelling

amusement park wanted.

For more information about

the job, visit our job apply site

www.jobapply.no before email or calling.

Also take a look at our website

www.thomastivoli.com

Tel Arne: 0047 97 56 11 07

Email: jobapply@thomastivoli.com

Lackiererei

0671/794 7420

www.gemiverlag.de

Tel. 07191/ 34 0135

www.miba-electronic.de

Wet Protect Feuchtigkeitsschutz

Fax 07191/ 34 0136

Die einzige Modellbahn

im Ausstellungswagen

www.modellbahnschau.de

Telefon 01 72 / 5 38 56 79

US-Trailer

& Zubehör

aus Elkhart, Indiana

Tel. 06195-960507

www.trvtrading.com

anzeigen@gemiverlag.de

106
---
Rolf Auf dem Berge

Lawyer

Focal point: traffic law and claims for damages

Am Markt 14

49565 Bramsche

Telephone +49 (0) 54 61 / 30 30

Telefax +49 (0) 54 61 / 26 41

Mobile +49 (0) 1 72 / 301 9694

E-Mail: rae-auf-dem-berge@web.de

APPRAISAL-OFFICE

Gerd Römgens

Expert appraisal for the Showman Industry, Damages,

Conservation of Evidence, and Appraisal Reports

Tel. +49 (0) 171/ 264 89 29 and +49 (0) 2154/208308

Fax: +49 (0) 2154 / 20 83 13

Mail: sv-buero-roemgens@arcor.de

www.sv-roemgens.de u. www.roemgens.de

Gerd Römgens • Jupiterstr. 17 • 47877 Willich

Schausteller-Versicherungen

Transport – Haftpflicht – Kfz

Altersvorsorge – Unfall – Kranken

Klaus Rübenstrunk

Hagener Straße 244 • 44229 Dortmund

Tel.: (02 31) 9 76 10 20 • Fax: (02 31) 9 76 10 21

Mobil: 0171 / 828 58 68

E-Mail: vb-ruebenstrunk@t-online.de

www.kirmesparkrevue.de

M

I

N

I

–

A

D

V

E

R

T

I

S

M

E

N

T

S

Text

4 lines:

11,- €

5 lines::

14,- €

6 lines::

17,- €

7 lines::

20,- €

8 lines::

23,- €

9 lines::

26,- €

10 lines::

29,- €

PLEASE COMPLETE IN BLOCK LETTERS AND WITH SPACE BETWEEN WORDS!

❑ IN THE NEXT POSSIBLE EDITION

❑ IN EDITION NR./MONTH

Text price for 1x Edition €

❑ Please insert my advertisment under a code number (Cost 5,– €) €

❑ Specimen copy (5,50 € incl. postage & handling per edition) €

❑ The advertisment should appear for months (Multiply by total price) €

❑ 10 % discount for 12 months ❑ 5 % discount for 6 months €

❑ The total amount can be debited to my credit card, details below. TOTAL €

❑ Visa ❑ Matercard ❑ Diners Club ❑

Card-Nr.

Christian Name

Street

City/Date

Expirx date

Surname

Postcode/City/Country

Signature

Ihr Partner für das Schaustellergewerbe

American Express

Basic

rate for

1-3 Lines:

8,- €

D-34613 Ziegenhain

Kasseler Straße 44

Tel. 06691/3536

Fax: 0 66 91 / 59 97

mail@Dietz-Fahrzeugbau.de

www.Dietz-Fahrzeugbau.de

Moderne Verkaufswagen

Moderne Verkaufswagen

speziell nach Ihren Wünschen gefertigt

www.gemiverlag.de

categories

(please mark with a cross)

❑ For Sale

❑ Purchase

❑ Job Market

❑ Business

Connections

❑ Deadlines

❑ Contacts

❑ Model Construction

YOUR MINI-AD WILL ALSO BE PRESENTED FREE OF CHARGE UNDER WWW.KIRMESPARKREVUE.DE!

FOR FORMAT ADVERTISMENT

please contact us on

Tel. 49 (0 ) 8441/40 22 13

Please send to:

Gemi Verlags GmbH

Postfach

85291 Reichertshausen

Please complete

without fail!

– Publication only by advanced payment or credit card. –

107
---
108
---
Nostalgie Kirmes BAD BENTHEIM

13.04. - 15.04.2012

Nost. Fahrgeschäfte, etc. Frühlingsmarkt, KHW

Salz- & Ölmarkt SALZBERGEN

16.06. - 17.06.2012

Straßenfest, KHW, Bauernmarkt, Jahrmarkt

Wein- & Braufest RHEINE

17.08. - 19.08.2012

Stadtfest mit hist. Markt, KHW, etc.

Osnabrücker Straße & Emstorplatz

Wiesn Kirmes BAD BENTHEIM

28.09. - 01.10.2012

Wir freuen uns über Bewerbungen von attraktiven

Hochfahr-Geschäften, Fahr- Schau- und Belustigungbetrieben.

Wir suchen für das Wein & Braufest Rheine: anspruchsvolle Imbissbetriebe (Wurst & Fisch, etc.).

Wein & Braufest: Neuvergabe der gesamten Sanitär-Anlagen. Bewerbungen bis zum 01.02.2012

Heskamp Event • An der Schmiede 11 • 48432 Rheine

Tel. 05975 / 3458 • www.heskamp-event.de

Anzeigenschluss

für das Januarheft

ist Freitag

9. Dezember

ohne Seitenteile

Räucherstäbchen – Textilien – Schals – Schmuck – Kunsthandwerk

Schöne Auswahl an vielen verschiedenen Tüchern & Schals • Viele neue Möbel

Riesen Auswahl an verschiedensten Räucherwaren • Neue Lampen

Neue Shishas aus Ägypten & China • Neue Winterkollektion

Fordern Sie noch heute unsere aktuellen Kataloge an oder werfen Sie einen Blick auf unsere Online-Kataloge!*

Alle Kataloge, Messetermine, Angebote & aktuelle News online!

Großhandel e.K. www.Herat-Textil.de

Lisztstr. 8 • 53881 Euskirchen-Kuchenheim

Tel. 0 22 51 / 78 00 63 • Fax 0 22 51 / 78 00 65 • E-Mail: Herat-Textil@t-online.de

*Bei Anforderung eines Gratis-Katalogs bitte Gewerbeschein faxen oder mailen.

449,- € 37,- €

Marktschirme

2,5 x 2,5 m

bis 8,0 x 5,0 m

lieferbar

109
---
ACTION DVDs im KIRMES-SHOP

This special interest DVD is a MUST HAVE for ride junkies,

the technically passionate, and fairground and ride enthusiasts.

iKIRMES just RIDE shows in over 102 minutes, a

video of brilliantly recorded and cut ride sequences,

with many tasteful split-screen sequences.

iKIRMES just RIDE: with over 25 transportable

amusement constructions and roller coaster types from

current attractions to popular fairground classics.

For the first time there are spectacular fast motion

recordings of the buildup of the EUROPA RAD and

THE TOWER in the new iKIRMES just RIDE DVD.

The Recordings were made in the year 2010 at

top fairground events in Germany and Luxemburg, were

digitally filmed, and edited in high-grade 16:9 resolution.

THE 8 th KIRMES DVD

NEW

available immediately

Movie 01 – Major Rides 1:

Air Crash, Rocket, Flip Fly, XXL, Booster Maxxx,

Break Dance (Diebold), Circus Circus, Hexentanz,

Das Fun Schiff, Europa Rad, Jupiter Rad, Action House.

Total Running Time: 45:14 min.

Movie 02 – Major Rides 2 & Coasters:

Spinning Racer, Alpina Bahn, Teststrecke, Olympia

Looping, Euro Coaster, Crazy Mouse, Take Off, Flipper

(Levy), Alpha 1, Octopussy, Air Maxx, Star Flyer 48.

Total Running Time: 40:47 min.

Movie 03 – Buildup Europa Rad & The Tower:

Buildup scenes of the EUROPA RAD (Kipp) in quick motion,

arrival of transport vehicles of THE TOWER at night, build up

of THE TOWER (Blume) in quick motion.

Total Running Time: 17:35 min

Bonus Feature:

3 Dia shows with

more than 400 photos

(Total runningtime

over 35 minutes)

€25,-

incl. postage and

handling in Germany

Combined Offer 4: order all 4 DVDs

just.RIDE • RIDE THIS VOL. 1

GET READY 2 SCREAM • TAKE YOUR SEAT AND FLY

€ 85,– (inland) (incl. postage and handling) • Europe abroad: € 90,–

other countries: € 95,–

Combined Offer 3: order 3 current DVDs

JUST.RIDE • RIDE THIS VOL. 1 • GET READY 2 SCREAM

€ 65,– (inland) (incl. postage and handling) • Europe abroad: € 70,– • other countries: € 75,–

Combined Offer 2: order 2 current DVDs

just.RIDE • RIDE THIS VOL. 1

€ 45,– (inland) (incl. postage and handling) • Europe abroad: € 50,– • other countries: € 55,–

Technical

equipment:

DVD video, PAL 16:9

regional code "o",

Dolby Digital TM Studio

Mono compatible,

Subtitles. Languages:

German, English

✃

Please send to:

GEMI

NEW!!

❏ I order

❏ I order

❏ I order

❏ I order

❏ I order

Kirmes DVD just.RIDE at a price of € 25,– (inland)

(incl. postage & handling) • Europe abroad: € 30,– • other countries: € 35,–

Kirmes DVD RIDE THIS VOL. 1 at a price of € 25,– (inland)

(incl. postage & handling) • Europe abroad: € 30,– • other countries: € 35,–

Kirmes DVD Kombiangebot 4 (4 DVD) at a price of € 85,– (inland)

(incl. postage & handling) • Europe abroad: € 90,– • other countries: € 95,–

Kirmes DVD Kombiangebot 3 (3 DVD) at a price of 65,– (inland)

(incl. postage & handling) • Europe abroad: € 70,– • other countries: € 75,–

Kirmes DVD Kombiangebot 2 (2 DVD) at a price of € 45,– (inland)

(incl. postage & handling) • Europe abroad: € 50,– • other countries: € 55,–

❏ Total amount

❏ I will pay per credit card : ❏ VISA ❏ MASTERCARD ❏ DINERS CLUB ❏ AMERICAN EXPRESS

VERLAGS GMBH Credit Card Nr.

Postfach

D-85291 Reichertshausen Name Street

valid until

Please pay

per credit

card only!

✃

Post code ■ City

Date ■ Signature
---
632. Diepholzer Großmarkt

vom 20.09. bis 23.09.2012

Traditionelles Volksfest mit Krammarkt,

Gewerbeschau und Viehmarkt

Bewerbungen mit den üblichen Unterlagen

bis zum 31.12.2011 erbeten an:

Stadt Diepholz • Rathausmarkt 1 • 49356 Diepholz

Wuppertaler Schwebebahnkirmes

Carnaper Platz

Fr. 26.10. – Mo. 29.10.2012

(Termin zwischen Bocholt u. Soest)

Aussagekräftige Bewerbungen mit aktuellem Bild und allen erforderlichen Daten richten Sie bitte bis zum 30.12.2011 an:

Schaustellerverein Wuppertal e.V. • Im Kämpchen 9d • 42279 Wuppertal

111
---
Volksfeste 2012 in der Landeshauptstadt Dresden

des Dresdner Schaustellerverbandes e.V.

07.04.2012 - 22.04.2012....... FRÜHLINGSFEST

in Dresden an der Marienbrücke / Pieschener Allee

01.06.2012 - 24.06.2012....... VOGELWIESE

in Dresden an der Marienbrücke / Pieschener Allee

13.10.2012 - 04.11.2012....... HERBSTFEST

in Dresden an der Marienbrücke / Pieschener Allee

BEWERBUNGSSCHLUSS FÜR ALLE FESTE: 31.12.2011

GESUCHT WERDEN ATTRAKTIVE SCHAU-, SPIEL-, VERKAUFS- UND FAHRGESCHÄFTE ALLER ART.

Die Bewerbung mit den üblichen Unterlagen – für jede Veranstaltung gesondert – muss enthalten:

■ Aktuelle Anschrift des Bewerbers einschl. Telefon- und ggf. Handynummer

■ Art und Beschreibung des Geschäftes bzw. des Warenangebotes, einschl. aktuellem Lichtbild

■ Größe des Geschäftes mit Angabe der Frontmeter, Tiefe und Höhe (ggf. Grundrißskizze beifügen)

■ Anschlusswert in kW für Licht- und Kraftstrom

■ Anzahl und Größe der mitgeführten Wohn- und Packwagen, sowie aller PKWs und Zugmaschinen.

Unvollständige und verspätete Bewerbungen können von der Berücksichtigung ausgeschlossen werden. Die Bewerbung

begründet keinen Rechtsanspruch auf Zulassung oder auf einen bestimmten Platz. Die Zulassungsbescheide

werden bis 31.01.2012 zugestellt. Firmen, die bis zu diesem Zeitpunkt keinen Bescheid erhalten haben,

können leider nicht berücksichtigt werden. Ein gesonderter Bescheid erfolgt nicht.

Bewerbungen an den Dresdner Schaustellerverband e.V.

Postfach 29 01 55 • 01147 Dresden

AUSSCHREIBUNG

Ausschreibungen

in der

Die Kirmes & Park Revue ist das

ideale Medium für Ausschreibungen

Ihrer Volksfeste und Weihnachtsmärkte.

Mit einer Ausschreibung Ihrer

Veranstaltung in der Kirmes & Park

Revue erreichen Sie nahezu flächendeckend

die Schaustellerbetriebe in

Deutschland und in unseren Nachbarländern

– und das zu einem

außergewöhnlich günstigen Preis.

Dazu genießen Sie mit Ihrer

Ausschreibung folgende Vorteile:

• Bei Mangel an geeigneten

Bewerbern oder kurzfristigen

Absagen von Schaustellern

haben Sie die Möglichkeit einer

kostenlosen Suchanfrage in

der Service-Rubrik

"Freie Termine – Freie Plätze"

in der Kirmes & Park Revue

• Kostenlose Gestaltung Ihrer

Ausschreibungsanzeigen

• alle Farben (z. B. Städte- oder

Firmenlogo) kostenlos !

GEMI Verlags GmbH

Pfaffenhofener Straße 3

85293 Reichertshausen

Telefon: 0 84 41 / 40 22 - 0

Telefax: 0 84 41/71846

E-mail: info@gemiverlag.de

19. – 22. Oktober 2012

Interessierte Schausteller

sollten ihre aussagekräftigen

Bewerbungsunterlagen

(mit Lichtbildern)

unter nachfolgender Anschrift

bis zum 31.12.2011 einreichen.

Stadtmarketing Gesellschaft

Bocholt mbH & Co. KG

z. Hd. Herrn Markus Kock

St.-Georg-Platz 15

46399 Bocholt

Von telefonischen Standplatzanfragen

sowie Besuchen in unserem Büro

ohne vorherige Vereinbarung

bitten wir abzusehen.

Anzeigen in der

Kirmes & Park Revue

buchen Sie bei:

Gemi Verlags GmbH

Markus Westner

Tel. 08441/402213

Fax 08441/498829

anzeigen@gemiverlag.de

Bitte liefern Sie

Anzeigen per E-mail

als pdf oder jpg

mit mindestens

300 dpi Auflösung.

BREISACH

Weinfest Kaiserstuhl-Tuniberg

vom 31.08. bis 03.09.2012

Bewerbungen von Geschäften aller Art sind bis 31. Dez. 2011

zu richten an: Jürgen Hahn • Schaustellerbetriebe

Im Unteren Angel 54 • 77652 Offenburg

Zulassungen ergehen durch schriftliche Verträge bis 15.01.2012.

Bewerbungen, die bis zu diesem Zeitpunkt keine Verträge erhalten haben, gelten als abgesagt.

VOLKSFEST

Unterpfaffenhofen

vom 23.06. – 02.07.2012

Für das beliebte Unterpfaffenhofener Volksfest suchen

wir ein attraktives Fahrgeschäft. Bewerbungen mit den

üblichen Angaben werden bis 28.02.2012 erbeten an:

Stadt Germering, Rathausplatz 1, 82110 Germering

112
---
undesweiter

Versand

…keiner steht schneller!

02 28

46 69 89

Fax 461564

53227 Bonn (Beuel) Röhfeldstr. 27

BAB 59 - Abf. Pützchen

Ich beliefere Händler

mit Handwerkszeug,

außerdem führe ich

Energiesparfarbe

(Thermoisolationsfarbe).

Rosolino Favatella

Leipziger Str. 67 • 42109 Wuppertal

Tel. 0202/750051 • Fax 0202/750666

Mail: info@favatella-tools.de

www.Favatella-Tools.de

Verchromte Lampen

für

Schleifen,

Karussells

usw.

Maße:

rund

Ø 14 cm

eckig

11x10 cm

R. Völz • Industriestr. 3 • 44577 Castrop-Rauxel

Tel. 0 23 67 / 83 37 • Fax 0 23 67 / 17 67

www.karussell-voelz.de • karussellbau-voelz@gmx.de

Schweriner Festival

08. bis 10. Juni 2012

Marktplatz, Schlachterm., Dom.

Täglich 75 Stunden Programm

Nur hochwertige Gastro.

EVA-Event & Nostalgie-Events

23512 Bad Oeynhausen, Pf. 101202

helmut-steinbock@web.de

www.Nostalgie-Events.de

Anzeigenschluss für das Januarheft ist Freitag, 9. Dezember!

113
---
Für Weihnachtsgrüße ist es

noch nicht zu spät!

Die Januar-Ausgabe der

Kirmes & Park Revue

erscheint pünktlich

zu Weihnachten.

Anzeigenschluss

ist der

9. Dezember.

Rufen Sie an, wir beraten Sie gern:

08441/402213

oder schicken Sie eine E-mail an

anzeigen@gemiverlag.de

NEU – NEU – NEU – NEU – NEU

FRÜHJAHRSKIRMES

in WERTHER

rund um die Kirche

vom 11.05. – 13.05.2012

Anfragen bis zum 24.12.2011 an:

Gabriele Carles • Dammstr. 57 • 33824 Werther

Die Zusagen werden Ende Februar zugeschickt,

schriftliche Absagen werden nicht erteilt.

HERBERT NEHLS

36037 Fulda • Mittelstr. 4

Tel. 0661-72619 • Fax -76959

Service

KIRMES SALES POINTS ON THE FAIRGROUND

In Nov. and Dec. the

is available at the following:

• Rostock Weihnachtsmarkt (24. 11. bis 22. 12.) bei "Montgolfiere"

•

BUDERO

TARPAULINS

• • • • • •

Contact person also for Germany

D. Hinzen

Tel. (0031) 6 531450 03

•

• • • • • • • •

• • • • • • • • • •

Infos zu Anzeigen:

Tel. 08441/ 402213

114
---
Fairground Events 2012

in the city of Sittard-Geleen (Netherlands)

We are searching for attractive showman attractions of all types for the following events:

GELAENDER-

KIRMES

(Gross-Kirmes Geleen)

1 st , 2 nd , 3 rd , 4 th , 5 th , 6 th June

SITTARD

OKTOBERFEST

(Gross-Kirmes Sittard)

12 th , 13 th , 14 th , 15 th , 16 th , 17 th Oct.

The grounds (Grosskirmes Geleen) will basically

have the same number of operations as in 2011

(around 100 attractions in 2011), but there is

however a possibility of extension or changes to

the Geleen centre.

The Oktoberfest (Grosskirmes Sittard) will

basically have the same number of operations

as in 2011 (around 80 attractions in 2011), but

there is however a possibility of extension or

changes to the Geleen centre.

The last day of both events will be deemed as Family Days with reduced ride prices and price

allowances. The ride prices for amusement attractions are limited in the city of Sittard-Geleen.

The city of Sittard-Geleen has made an amount of € 50,000 available for advertising purposes.

Additional costs for participants in the fairground events 2012:

Surveillance of the grounds € 150,- / Service costs for mobilehome/caravan vacility € 200,-

The costs for electricity and connections will be calculated separately.

Please apply by way of the standard forms

available from the city of Sittard-Geleen. These

forms as well as our general terms and conditions

can be requested at the city events office.

Tel 0031 46 4778718 or 0031 654 790137

Please send your application to:

Stadt Sittard-Geleen, Abt.Veranstaltungen

Postfach 350, 6130 AJ Sittard – Niederlande

Applicants will receive information about their

approval at the end of December or the beginning

of January at the latest.
---
301 ft.

iAAPA

Orlando

Booth 5144

Unique features:

Instant capacity: 64

Hourly capacity: Approximately 1000

Amazing LED-package

Creative

& Innovative

Aengwirderweg 57, 8449 BA Terband. Holland

Tel.: +31 (0)513 61 01 70 • Fax: +31 (0)513 62 24 12

E-mail: info@mondialrides.com

www.mondialrides.com