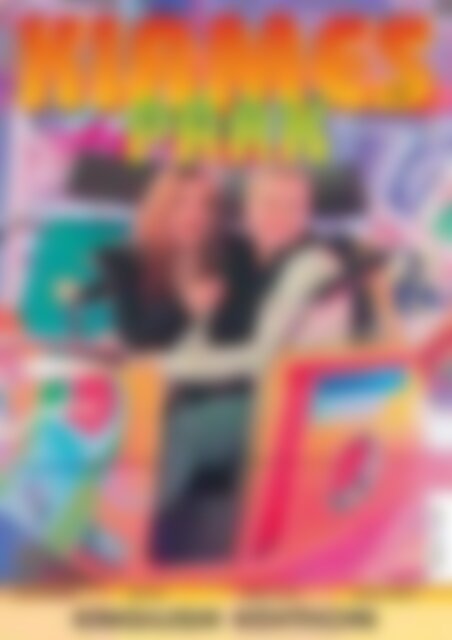 KIRMES & Park REVUE (English) Super Bowler (Vorschau)
You also want an ePaper? Increase the reach of your titles
YUMPU automatically turns print PDFs into web optimized ePapers that Google loves.
N o 175

2/2012

&

€ 8,50

£ 5,90

Revue

Gebühr

bezahlt

B 14432

VDZ No 77467

NOTTINGHAM

RAPTOR

TIMBER DROP RASCAL HÜPPE

ENGLISH EDITION
---
See us at:

Asian Attractions

Expo, Hong Kong

June 05-08

Booth 833
---
&

Revue

INDEX

ISSN 1436-6525

appears 12 x per year

■ Gemi Verlags GmbH

Pfaffenhofener Straße 3

85293 Reichertshausen

Tel.: +49 (0) 84 41/40 22-0

Fax: +49 (0) 84 41/718 46

info@gemiverlag.de

www.kirmesparkrevue.de

■ Managing Directors

Gerd Reddersen

Rudolf Neumeier

■ Chief Editor

Karl Ruisinger

■ International Representative

Translation, Advertisements

Agi Reddersen

Tel.: +49 (0 ) 84 41/8 10 57

Fax: +49 (0 ) 84 41/8 61 05

www.ag-advertising.de

Kirmes.A@t-online.de

■ Editorial Manager "Kirmes"

Ralf Schmitt

■ Editorial Manager "Park"

Frank Lanfer

■ Editorial Office East Germany

Rolf Orschel

Tel.: +49 (0) 170/492 7557

■ Representative Great Britain

Michele Emmett

Tel.: +44(0)7811 915118

michele.emmett@googlemail.com

■ Editorial Assistant

Heike Genz

■ Calendar of Events

Richard Veldhuis

■ Production

Westner Medien GmbH

■ Printing

Kössinger AG Schierling

■ Advertisements

GEMI Verlags GmbH

■ Sales and Marketing

Gerd Reddersen

■ Subscriptions

DataM-Services GmbH

Postfach 91 61

97091 Würzburg

Tel. +49 (0) 931/4170-178

(Mo-Do 8-17, Fr 8-15)

Fax +49 (0) 931/4170-179

services-abo@verlagsunion.de

■ Cover

Norman Vogt

Applies to advertisement price list 1/07

from 01.01.2007

All rights reserved. No part of this magazine

may be duplicated or published without written

permission from the publisher. This prohibition

also pertains to the commercial duplication

by copying, input into an electronic

database, and duplication onto a CD-ROM.

Certified active member of the

FEBRUARY 2012

KALEIDOSCOPE

Facts – Observations – Short Portraits . . . . 4

PREMIERE

Nostalgic Ferris Wheel . . . . . . . . . . 8

SPECIAL

Nottingham . . . . . . . . . . . . . . . . . . . . . . . . 10

HISTORY

Rostock 1988 . . . . . . . . . . . . 20

CHRISTMAS MARKETS

Review 2011 . . . . . . . . . . . . 22

SPECIAL

Village Fair . . . . . . . . . . . . 32

MODEL CONSTRUCTION

Kirmes-Highlights en miniature . . . . . . 40

A LOOK BACK

Reports about Specially Selected Events . . . . . . . . . . . . . . . 42

COASTER

Raptor . . . . . . . . . . . . . . 50

COASTER

Timber Drop . . . . . . . . . . . . 54

INTERVIEW

Walibi Re-Branding . . . . . . . . . . 58

EXHIBITION

IAAPA 2011 / 2 . . . . . . . . . . . 62

MAGAZINE

Current News from the Park-Scene. . . . . 66

PREVIEW

Calendar of Events . . . . . . . . . . . . . . . . . . . . . . 72

3
---
KALEIDOSCOPE

SUPER BOWLER

Weeber's "Super Bowler"

DSCHINNI

Text & Photo: Heiko Schimanzik

No matter where the

"Skyline" ride from

Sascha Parpalioni appears,

the "Dschinni" figure

on the attraction is almost

always the most

popular and muchphotographed

motif on

the fairground.

It is a well-known fact that

a "Dschinni" is a genie

who is held captive in a

magic lamp, who comes

up with the craziest ideas

manifested in tales and

stories, and loves to

change his form. Sascha

Parpalioni is always surprised

how popular his

figure is with the visitors:

"It was really a worthwhile

investment". ■

Text: Ralf Schmitt

Photos: Ralf Schmitt, Norman Vogt

The Stuttgart-based "Super Bowler" game

booth from Stefan Weeber, unparalleled in

Germany, is mainly appearing at fairgrounds

in Southern Germany, Austria and Switzerland.

The 9 x 2.50 metre game booth offers a total of

12 play areas. The "Super Bowler" is no team

game, but rather a game where every single

player is required to try their luck. Speedily – but

at the same time quite carefully – a heavy ball

has to be bowled across a bump without rolling

back to the player. Due to the laws of gravity, this

is quite tricky but by no means impossible. If the

ball rolls back towards the player, a pinging stop

device is activated and the game is over. This

unusual game was purchased

by Stefan Weeber's

mother in 2000,

and then taken over and

toured – in addition to

other game operations –

by Stefan and his wife

Caroline. In 2010, the

game booth was

equipped with a LED

light system. "Super

Bowler" is regularly appearing,

among other

venues, at Landshut

Dult, Bad Dürkheim,

Bopfingen, and of

course at major events

in Stuttgart. ■

4
---
RHEDE KIRMESPLATZ

KALEIDOSCOPE

The Rhede fairground

is now also officially called

"Kirmesplatz"

Text: Michael Petersen

Photos: Michael Petersen, Nils Benthien

Since the last Rhede Fair, the fairground has also

been officially called by the name "Kirmesplatz",

which it has always been known as by the citizens.

Up until the opening day of the Rhede anniversary fair

2011 (350 years old) it did not have a name in the city's

street index. After the opening with the tapping

of the keg by Mayor Lothar Mittag and

brass band, the showmen with their flags,

the Rhede Junggesellenschützen, and

many guests marched to the fairground to

put up a signpost with its name. This idea

came from the Rhede Fair organizer, Daniel

Ehlting.

■

LULLUSFEST BAD HERSFELD & SCHÜTZENFEST HANNOVER

Text & Photo: Ralf Schmitt

What do the Lullusfest in Bad Hersfeld and the Hannover

Schützenfest have in common? The answer

is very simple: for both events the attractions approved

to the current event have been known since

a remarkably early date.

On the one hand, early approvals afford planning

reliability for the organisers and the showmen – on the

other hand, advertising and public relations for the

events can start off early. While this has been standard

procedure in Bad Hersfeld for many years, the method

is still relatively new in Hannover.

Wilfried Roßbach, head official of the Lullusfest committee,

had already announced the concept 10 months

prior to the 1160 th Lullusfest (15 th to 22 nd October 2011)

in Bad Hersfeld. Novelty rides among the large attractions

were the "Intoxx" (Pandel) and the "Krumm &

Schief Bau" Funhouse (Hartmann). As usual in years

with even numbers, the "Bellevue" Ferris (Bruch) was

presented, along with, among other attractions, the

"Wilde Maus", "High Impress", "Night Style", "Breakdance",

"Fantastical Trip", as well as the "Car for Kids",

"Bootsfahrt" and "Piraten-Trip" within the kiddie ride

sector. Highlights contracted for the largest Schützenfest

in the world in Hannover (29 th June to 8 th July) were,

among others, the "Fünfer-Looping", "Roue Parisienne",

"Booster Maxxx", "Wilde Maus", water ride, "Berg

& Tal", "Artistico", "Schlittenfahrt", "Voodoo-Jumper",

and "Love Dream".

■

First time appearance at

the Hannover Schützenfest: the

"Love Dream" Caterpillar Ride

5
---
KALEIDOSCOPE

NEUE BÜCHER

Text:

Ralf Schmitt

Photos: Ralf Schmitt, Archiv

Co-publisher of the book

about his former colleague:

Bernd G. Kreuzer ("El Fantadu")

65 years of L'Autopède

Two interesting books from the

colourful world of fair and Volksfest

events have recently been

republished. While one of them

deals with the legendary fairground

fortune teller Pia Medusa

Lagrin, the second is about one

of the most famous manufacturer

of kiddie ride mounts, L'Autopède.

Pia Medusa Lagrin

"Pia Medusa Lagrin, née Traber – Life Journey ... Memories

of a life on the high wire" is the full title of the book,

published by Blanka Medusa Lemoine and Bernd G.

Kreuzer ("El Fantadu"). It describes the life and work

of the fairground fortune teller Pia Medusa Lagrin (8 th

Dec. 1918 – 19 th Apr. 1997), who was born shortly after

the end of the First World War in a stable near Hannover,

and grew up within the realm of the famous Traber

artist dynasty. She experienced her personal "hell"

during the Nazi period in 1938, when she marries a Sinto

Romany from the circus family Lagrin, and stands

by her husband despite all the threats of that time. In

1942, her daughter Blanka was born and after the war

she immediately returns to the high wire again in 1948.

Even until she is 55 years old, she successfully performs

as a tightrope artist in the Traber and Lagrin

troupe, touring with them throughout Europe. In 1973

a new life began for her: After the death of her husband,

Wilhelm Lagrin (known as Adam), she

remembered the fortune telling talent she inherited

from her Peruvian grandmother, and together with her

daughter she worked as the now renowned popular

and esteemed fairground fortune teller, Pia Medusa

Lagrin, up until shortly before she passed away in

1997. In her free time she wrote several imaginative

stories (e.g. "The Ghostly Violin"). After her death, most

of these stories existed only as text fragments on loose,

handwritten sheets of paper, but Edzard Klapp researched

and compiled them and made them readable

again. Albert Ritter, President of the German

Showman Association has written a foreword to the

book. An excerpt: "The author takes the reader on a

life journey. The narrative style fascinates, as it is unvarnished

and authentic". Moreover, Pia Maria Lagrin's

diary notes are an important document of contemporary

German history. Info: ISBN-No. 9783842381056,

Price: Euro 14.95

65 Years L'Autopède

In the last few years, the Flemish L'Autopède firm has

manufactured countless kiddie ride mounts, enjoyed

by millions of children all over the world (above all Belgium,

the Netherlands, Germany, and France). A book

has now been published containing the history and

stories, as well as more than 440 pictures and documents

about this manufacturer - in 'real life', the

Baeyens family. The book sheds light on the founding

of the firm, its heyday, its international customers, the

upcoming competition from plastic products and

much more. The author of the 190-page book is Piet

Winkelmolen, board member of the fair culture

foundation. The book is available for 22.50 Euro plus

shipping charges, and can be ordered by email at

kermisboeken@hotmail.nl

■

6
---
HONGKONG FADENZIEHEN

KALEIDOSCOPE

Text & Photos:

Rolf Orschel

Fadenziehen, which might

be translated as "Pulling the

Cord", is a game with a long

tradition at the fairgrounds.

The pulling of individual

cords from a bundle, at the

end of which there are score

points representing a prize,

provides a lot of fun to the

entire family to this day.

In the former GDR, the game

– originally coming from the

Far East – gradually vanished

from the fairgrounds in the

1970s. Almost 30 years

passed until the Otto family

from Bad Köstritz, in the

Thuringia district of Greiz,

brought this type of amusement back to the

Thuringia fairgrounds. Showman Gunter Otto from

Schlotheim near Mühlhausen/Thuringia had been

operating a kiddie railway and a shooting gallery

for many years, before he changed his enterprise

and ordered the "Hong Kong Fadenziehen" from

the Reppel firm in 1999, which he successfully

toured together with his wife Doris for many years.

When the couple stopped touring for reasons of

age in 2008, their then 18-year-old granddaughter

Luisa Otto took over the concession stall and

founded her own showman enterprise. Already at

the age of 11 she had worked hard in her parent's

fish booth after school and in her holidays, proving

her manual skills as well as her talent for dealing

with customers. After graduating from school,

Luisa worked at her parents' operation for yet another

year, at the same time attending a number of

"BeKoSch" (development of professional competence

for showmen in block sessions) courses for

showmen, who were still subject to compulsory

schooling at the vocational school in Herne. Four

years ago she met her future partner

Steven Ortelt from Visselhövede

in the three-city triangle of

Bremen-Hamburg-Hannover at a

meeting of showmen youth, and

fell in love with him shortly thereafter.

Born in Lower Saxony and

also working hard in the business

of his parents, who tour sweets

and snack booths as well as a

dodgem track, he moved to be

with his great love in Bad Köstritz,

and in November 2009 they had a

daughter called Cecilia. Luisa

Otto and Steven Ortelt present

their "Hong Kong Fadenziehen"

mainly in Thuringia, Saxony, and

Bavaria. They are very popular

guests and have loyally returning visitors at many

a Volksfest event, among others in Gera, Erfurt,

Sonneberg, Eisfeld, Rudolstadt, Annaberg-Buchholz

and Coburg.

■

Built by Reppel: Otto's

Hong Kong Fadenziehen

Luisa Otto and Steven Ortelt

7
---
PREMIÉRE

The new Ferris Wheel

from the Nier family

Announcements of yet another

new arrival at the end of

a season are quite unusual:

The new nostalgic-style Ferris

Wheel from Bernd and

Sylvia Nier celebrated its première

at the Fairytale Christmas

Market in Kassel in late

November.

Text:

Photos:

Norman Vogt

Norman Vogt, Archive Nier

Nostalgic Ferris Wheel

Bernd and Sylvia Nier

with their children Jil and Mike

The 18-metre Ferris Wheel was built by the Italian

Park-Ride firm from Bergantino near Verona,

which has already manufactured several wheels of

its kind for showmen and parks all over the world.

This is however the first example of this type for Germany.

The Nier family are not completely inexperienced

in Ferris Wheels,

after all, they owned a

historic wooden Ferris

Wheel up until some

years ago, which was

sold to Klaus Weingärtner

from Hanau some

time ago. Due to the

sale, the attraction was

no longer available for

the Christmas Market in

Kassel, where the visitors

sadly missed their

small Ferris Wheel during the pre-Christmas period.

For this reason, the Nier family decided to purchase

a new Wheel, built by Park-Rides, in early 2011.

8
---
PREMIÉRE

Details of the

Ferris Wheel from Nier

Throughout last year, the Nier family regularly travelled

to Italy in order to accompany the building of its

new attraction. Despite the relatively long period

available to the manufacturer for building the attraction,

time was getting short towards the end. Bernd

and his wife Sylvia travelled to Bergantino at

increasingly frequent intervals to support the

finalization, so as not to jeopardise the première date

at the Christmas Market. At virtually the last minute,

they arrived in Kassel with the centre trailer and baggage

van on the 21 st November, where they began

the first stage of the build up, supported by three of

the manufacturer's staff. It turned out that the construction

required some further changes, and therefore

could go into operation only on the 26 th November.

The official inauguration with showman pastor

Volker Drewes was attended by many colleagues

and friends of the family, as well as representatives

of the city of Kassel. The attraction operated without

any problems and was very well received. The Ferris

Wheel, with ground measurements of 13.80 x 7

metres, has a total of 14 gondolas accommodating

4 passengers each. After sundown the construction

is illuminated by countless LEDs, and the acoustics

come from sound equipment manufactured by the

Kort firm. Many details can be discovered on the

Wheel – painted in the primary colours cream, gold

and red – such as, among other features, an ornately

decorated wrought-iron handrail in the front area,

various pictures and classic lamps. Also interesting

are the motifs on the cabins, where various historic

Kassel buildings and landmarks are immortalised.

All this helped in changing the manufacturer's standard

version into a distinct showpiece. In addition to

the Kassel Christmas Market, the Nier family will also

continue touring the "Starlight" Musik Express, as

well as presenting their nostalgic Ferris Wheel at

well-chosen minor events and city festivals. ■

The Nier family changed

the standard version into a

unique showpiece

9
---
SPECIAL

Crowded fairground

and fully occupied Goose

Fair in Nottingham

The "Goose Fair" in Nottingham

is one of the largest and

most popular traditional fairs

in England, enticing masses

of visitors from near and far,

offering "pure entertainment"

for five days in early October

every year. The latest event

was held from Wednesday

October 5 th to Sunday October

9 th 2011. More than 500

attractions and stalls were

built up on the "Forest Recreation

Ground" – only a few

minutes from the town centre.

Text & Photos:

Norman Vogt

Nottingham (UK)

Alook back on the history of the event: Even

more than 700 years ago, people met in

Nottingham to spend time happily together

dancing, eating and drinking. This eventually

evolved into the fair, which was even the largest

one in Europe for a while. There were only two

periods in history, in the 17 th century and during

the Second World War, when the "Goose Fair"

could not be held.

Today, the locals

proudly look back

to the tradition dating

back so many

hundreds of years. According to historians, the

"Goose Fair" was actually introduced by King

Edward I. and there is hardly anyone who does

not associate the names Nottinghamshire or

Nottingham with the legend of Robin Hood. The

town of Nottingham as well as Sherwood Forest

– the forest where the national hero is said to

have once lived – have always been, and remain

Heralding the Goose

Fair and masses of visitors

rushing to the fairground

10
---
SPECIAL

The two

"Superbowl" rides and

the "High Roller" with

a similar ride pattern

popular tourist attractions. Before "Forest

Recreation Ground" became today's fairground,

the event was held in the "Old Market Square" in

the town centre, for the very simple reason that

initially the "Goose Fair" was a large market

where visitors did their shopping. The name

"Goose Fair" has its origin in the market, where

countless geese were taken from Lincolnshire to

Freak Out "Tango"

and looping in the "Stargate"

11
---
SPECIAL

"Frisbee" and "Take Off"

be sold in Nottingham. Even though there are

various market stalls available to the visitors to

this day, ride and funhouse attractions are nowadays

clearly the focus of interest. Today's fairground,

a mainly grassy area paved in parts,

provides a very special flair. A number of pathways

are covered by aluminium floors during the

fair. Traditionally, visitors to the Goose Fair are not

frightened off by rain and low temperatures: on

rainy days during the event for example, children

arrive at the fairground in Wellington boots. While

the 717 th Goose Fair opened its gates from 6.30

p.m. to 11 p.m. on the first day, the attractions

were open between 11 a.m. and 11 p.m. on the

Multiple presentations

of Miami, Matterhorn and

Waltzer

12
---
SPECIAL

Ferris Wheels in

Nottingham: with closed

and open gondolas

following days, except for the last opening day

(Sunday), when the lights went out as early as 9

p.m. The closing time for all participants is

meticulously enforced by the authorities. Different

tram and bus routes took visitors directly to the

fairground. Moreover, car parks were made

available at a fee in the rear section of the fairground.

"No Parking" signs were put up across

a large area, and the police regulated the traffic

every day right from the early morning hours to

prevent chaos. At the different entrances to the

fair, checks were carried out by security

personnel. The police presence was strong as

usual, with small groups of "bobbies" constantly

patrolling the fairground. This proved highly

effective and provided a non-aggressive and

peaceful atmosphere to the fair event. Thus it

was not unusual to encounter many families with

children enjoying themselves at the "Goose Fair"

in the late evening hours. This cheerful and family-friendly

atmosphere is certainly enhanced by

the fact that there is no alcohol for sale throughout

the entire fair. Only non-alcoholic beverages

were sold at the shops or from vending

machines, masses of them deposit-free and

mainly in good old cans. What needs some getting

used to for visitors from the European

continent is that directly next to the many

Coasters: "Magic

Mouse" and "Runaway Train"

13
---
SPECIAL

Very popular in

England: "Helter Skelter"

barbecues where meat for hamburgers is grilled,

candy floss and other open sweets are also sold,

the latter thereby taking on a slight "hamburger

flavour". In addition to the aforementioned hamburgers

or cheeseburgers, hot dogs and above

all the famous northern English speciality,

"mushy peas" (a soft variety of pea boiled almost

to a purée), very popular with the locals, number

among the main dishes in the snack section. This

green stodge, which is served in plastic or polystyrene

cups, needs some getting used to for

those who are not familiar with it. Actually it

needs some effort to eat this "speciality", which

is also due to the intense smell of this green

broth. Different countries – different culinary

customs! Less courageous visitors did not have

to go hungry though; after all, there were also

delicacies from the Caribbean, Chinese noodles,

Oriental kebabs, Spanish churros and paella,

French crêpes, and even the occasional

bratwurst on offer. The selection of ride and funhouse

attractions was simply overwhelming,

with almost all rides and tracks being available

more than once. There were for example, as

many as five Waltzer rides, the classic English ride.

While rides in these attractions offered familyfriendly

experience during the day, they

changed into virtual disco palaces with a great

deal of smoke, light, laser beams and heavy

bass beats offering ecstatic ride experiences

well into the late evening hours. The "Runaway

Train", which was called the "largest transportable

track ride in the world" and –said to have been

purchased for a proud £1 million – was heralded

as the truly spectacular novelty this year. With a

ground area of 2,800 square metres for some

300 metres of track, the ground space is

unusually large for an attraction similar to a

Powered-Coaster. Why is a monstrosity like this

on tour and built up for just five days? Further

investigation on the fairground revealed that the

coaster came from the closed-down "American

Adventure" theme park, where it was purchased

by James Mellor. The previously stationary

construction was rebuilt into a transportable

Simulator variety at the

Goose Fair

Typical: multi-pillar

dodgem tracks

14
---
SPECIAL

Funhouse, Rotor,

Labyrinth and Co.

attraction by a number of engineers and craftsmen.

On closer inspection, one can discover

numerous supports and concrete weights,

providing the construction with the required

stability; these latter mentioned may well have

been purchased later on. The lighting was rather

subdued, but the "Wild West" theme was very well

realized. Further coasters were the "Wild Mouse"

and the "Magic Mouse", both with rotating gondolas.

In contrast to the two Ferris Wheels (one

with closed, the other with open gondolas), both

coasters were built up far apart from each other.

Visitors were also taken

high up into the sky – in

the literal sense of the

phrase – in the two

bungee constructions,

which enjoyed their

peak period mainly in

the evening hours; just

as was the case with the

popular propeller rides,

"Storm" and "XLR8", as

well as the huge "Sky

15
---
SPECIAL

A typical British

"Galopper" ride

Flyer" chain ride. All in all, the fairground made

a quite disordered impression on the observer in

many respects, as the attractions were actually

built up chaotically or just one after the other

without any clear concept. As a result, many

attractions were discovered only on the second

or third tour across the fairground, and came

very much as a surprise. The classic ride "Sizzler",

an indispensable 'must' throughout this Island

Nation, was also built up a number of times.

As many as four of these constructions made

their rounds in Nottingham this time. "The Roller"

however, with its train running along a track rotating

on its own axis during the ride, was presented

only once. In addition to an "Orbiter" ride, an

"Experience" (KMG) also made its rounds. Moreover,

visitors were able to enjoy first class loopings

in the "Rock Rage", an "Inversion" ride from

KMG. The Dutch manufacturer was very well

represented at the Goose Fair generally, as there

were also two "Freak Out" constructions which

competed for the visitors' favour, together with

the Italian "Chaos" Swing. Visitors who preferred

to be firmly on the ground while swinging and

whirling opted for a ride in the "Frisbee". Other

thrill attractions were the "Power Surge", "Top

Buzz" (Top Scan), both "Super Bowl" rides, as

well as the "High Roller". With the "Alpine

A small selection of the

countless kiddie rides at

the Goose Fair in Nottingham

16
---
SPECIAL

A lot of fun for the

passengers on the rides and

tracks

Express" and the "Screamer", visitors were also

able to enjoy two Alpine Bobs. Further round

rides included the "Over the Top" (Take Off), various

"Saltamontes", a Wave-Swinger (Zierer)

and very many "Miamis". Moreover, the "Stargate"

– a compact major ride, the ride pattern of

which resembles the "Transformer" – provided

lots of thrills. Placed somewhat unfavourably in

a centre row between two larger rides, it was all

the more remarkable that the "disc" fared very

well nonetheless, and often worked to the limits

of its capacity. Interesting for dodgem track fans

were the numerous dodgem tracks, most of them

classic "multi-pillar constructions". Moreover,

the nostalgically-inclined were indulged by the

historic and perfectly preserved "Cakewalk",

where they had to overcome various obstacles

while walking along shaking and moving floors.

Horror on the

Ghost Rides in Nottingham

17
---
SPECIAL

Soft toys up to the

roof or plain stalls - both

can be seen at the Goose Fair

Traditional, savoury

or sweet culinary

delights

Even the observing public in front of the attraction

got their share of laughter, as the construction

built of wood was clearly visible from all

sides. It's not possible to imagine a British fair

without a "Helter Skelter", with spiral slides

presented in every design and size. They come

in both modern and nostalgic designs, with

stairs to climb up inside most of them, before

racing down again on a sliding mat. Despite their

'nostalgic' appearance, the oversized horse

carousels, the "Gallopers", have little to do with

true nostalgia. Often presented in a golden

colour, most of them are modern constructions

with more than 100 seats as a general rule.The

huge selection of kiddie rides presented at the

Goose Fair is almost unique and vaster than the

eye can take in! Nothing is impossible! In theory,

if a child tried out every single attraction it would

take a whole day. In fact, younger visitors are even

introduced early on to movement sequences that

18
---
SPECIAL

A partial view

of the Goose Fair from

above, and nostalgic feelings

at the historic "Cakewalk"

they will later be offered in rides for adults: There

are indeed miniature versions of all of them, be it

the "See Sturm Bahn", "Free Fall Tower", "Miami",

"Helter Skelter", "Twister" or even the "Waltzer".

These are joined by multiple versions of classic

rides, bungee trampolines, miniature Ferris

Wheels and kiddie coasters. The favourite attraction

among the younger visitors was the "Crazy

Bulls", where they had to stay on

top of a moving bull for as long

as possible. Funhouse attractions

presented in Nottingham

were: two "Rotor" rides, as well

as the Walk-Through constructions

and Funhouses "Splash

Mountain", "Crazy Circus",

"Mad House", "Lost City" and

"Circus of Illusions" (labyrinth).

Three Ghost Rides built in England

rounded off the selection of

attractions. Countless games

booths and Continental Pick

Stands – some beautifully

designed, compared to other

rather dismal ones – appealed

highly to the visitors. In addition

to hoop-throwing and crossbow

shooting, there were also exotic

attractions such as plate shooting, with prizes

mostly being soft toys. At some game booths, one

could not even see the front due to the many soft

toys. The Goose Fair in Nottingham is a unique

event with countless attractions. Visitors should do

no more than simply breathe in and enjoy the

fascinating and impressive atmosphere on the

grassy fairground, and join the party! ■

The Goose Fair 2011 poster

and two "Bobbies" on their

last patrol before closing time

19
---
HISTORY

ROSTOCK CHRISTMAS MARKET 1988

Even back in the era of the former

GDR, the Rostock Christmas

Market evolved into a tourist attraction

enticing thousands of

visitors from near and far every

year. From today's Neuer Markt

(used as a car park in the era of

the GDR, and called Ernst-Thälmann-Platz

from 1952 to 1991)

and meandering on into the

neighbouring Kröpeliner Straße

(rebuilt as the first pedestrian

precinct in the GDR in 1968),

rides and booths were deployed

like pearls on a string during the

Advent season.

Text: Rolf Orschel

Photo: Archive Rainer Taube

However, as was the case at all GDR Christmas

Markets, the one in Rostock was rather more a

fairground with ride attractions, shooting galleries

and Continental pick stands, as they were "Volksfest

events during the pre-Christmas period, functioning

alongside the festive Christmas sales offerings from

the trading cooperatives, as well as handicraft

streets and cultural events", as the official state terminology

effusively put it. A special attraction at the

Rostock Christmas market at that time was baked

bananas, as tropical fruits were rarely available

otherwise (incidentally, "Bananen im Schlafrock", or

chocolate-covered bananas, are a local speciality at

the Rostock Markets to this day). Other culinary delicacies

were the Quarkkeulchen dumplings, Rauchwurst

smoked sausage, shish kebab, and oranges,

as well as various goods from "friendly countries". In

addition to grog and non-alcoholic beverages, a "hot

beverage" of indefinable taste was served. However,

the key players at the Rostock Christmas Market

were showman operations from the north of the republic,

who built up their attractions on the former

Ernst-Thälmann-Platz in front of the Gothic town hall,

with its baroque-style façade and the historic gabled

houses. Visitors in the 1980s were often able to enjoy

a Jet Ride from the VEB Zentralzirkus, or socialist

state circus, (taking annual turns with the Jet Ride

built by Rudolf Schäning), the "Wiener Sport Rad"

(Taube), "Tropical Jet" Matterhorn (Plaenert), a

Twister (VEB Zentralzirkus), a kiddie ride (Fischer),

the "Kindertraum" kiddie ride (Schäning), a

Continental pick stand (Urbigkeit), two shooting galleries

(Taube and Urbigkeit), arcade machines and

video games (Welte), as well as ball throwing

(Taube). However, the "VEB-attractions" Twister and

Jet Ride were not presented every year.

Despite the limited range of wares and decorations

(Christmas decorations could hardly ever be found

at the booths, as there was only a limited quantity of

baubles, glass bells and figurines from the Ore

(Erzgebirge) Mountains available in the GDR, but

these were sold at the Christmas Markets from Hamburg

to Munich instead). The Christmas Market

nonetheless provided the historic Rostock town centre

with pre-Christmas fairy lights, casting a seasonal

spell over its visitors.

■

20
---
Nach der erfolgreichen Premiere, diversen Anpassungen und Änderungen nach Kundenwunsch

bedanken wir uns bei der Firma

HARTMANN DIENSTLEISTUNGEN

Dieselstrasse 3 • D-86356 Neusäss

für den Bau der Schänke

"zur alten Mühle"

Heike Hartmann, Thilo Wank, Nobi Albl, Max Müller

* einzigartige

Thematisierung

In enger Zusammenarbeit mit dem

Kunden, mit viel historischem Holz

und vielen Original Details entstand

ein einzigartiges Geschäft.

* funktionierende

Transmission

Susi und Nobi Albl • In der Euelwies 33 • CH-8408 Winterthur • www.albl.ch • info@albl.ch

Bergheimer

Hubertusmarkt

Größter Jahrmarkt

im Rhein-Erft-Kreis

02.11. bis 11.11.2012

Bewerbungsschluss 20.02.2012

Wer bis zum 20.03.2012 keine Zusage hat,

betrachtet dies bitte als Absage.

Anfragen an den Beauftragten:

Fredy von der Gathen

Huppertsthaler Weg 4

50189 Elsdorf / Rhein

Tel.0171/6876847

Preiswerte

Selbstausbau-

Versionen

Image-Verkaufsanlagen Vertriebs GmbH
---
CHRISTMAS MARKETS

CHRISTMAS MARKETS 2011 IN GERMANY

Christmas Markets in Germany

in 2010 were affected by

an early and hard winter, as

well as the terrorist warnings

issued by the German government.

And 2012? No sign of

winter anywhere – but instead

rain in many locations (especially

in the coastal regions),

which balanced things out. In

any case, for most Christmas

Market operators in the German

states, the turnover this

time was a lot better than the

year before – apart from those

selling winter clothes.

Text & Photos:

Ralf Schmitt, Norman Vogt, Helmut Bresler,

Kai Morawetz, Pascal Raviol

Further to the observed tendency was for example

the fact that kiddie ride constructions and –

where available – also large and smaller Ferris

Wheels profited from the mild weather during the

Christmas Market period. Those markets that were

extended after the holidays were all reported to

have increased visitors, who visited the events

once again after the Christmas stress was over.

The additional events that accompanied the markets

also increased – for example the "Flying Father

Christmases" or reindeers in many cities

hovering over the Christmas markets. In Hamburg,

the Christmas parade through the inner city

is a really popular attraction: with 120 participants,

appropriately decorated festival wagons, marching

band and snow cannons. This sort of thing

could go down well in Berlin for example – all sorts

The Christmas parade

in the Hamburg inner city

22
---
of demonstrations take

place there almost every

weekend with various areas

and streets closed

off – why not the same for

something nice for a

change? Many cities and

organisors advertise in

the meantime with the

superlative for their

Christmas Markets: Dortmund

with its "largest

Christmas tree", Dresden

also with its Christmas

tree, Halle an der Saale

with the "highest advent

candle in the world",

Lüneburg with the

"largest advent wreath in

Europe", and the "largest

candle in the world" can

be admired in the Hesse

provincial town of Schlitz.

The market research

institute Mafo.de undertook

a research of 14

Christmas markets in

relation to their strength,

image, and renown for

the special service company

W & V (Werben &

Verkaufen), and came to the following conclusion:

the front runner is Nürnberg, followed by Dresden,

Munich, Augsburg, Cologne, Leipzig, Hamburg,

Dortmund, Hannover and Erfurt. Place 11 in this

ranking is Frankfurt placed even before Bautzen,

Rostock and Stuttgart. By the way Frankfurt: there

was an action here by customs

that didn't go over very well with

the operators. During business

hours a raid was undertaken,

looking for illegal workers. The

operators were not indignant

about the raid itself, but the way

it was carried out: right in front

of the eyes of customers and

visitors, who partly ran away in

fright. Showman Association

boss Jürgen Feuerstein

demanded more discretion from

customs in such an action in the

end. A lot of fuss was also

caused by a radio-spot for the

"Das Örtliche Service- und

Marketinggesellschaft", advertising

its telephone book –

through which the showman

branch felt itself insulted. DSB-

President Albert Ritter intervened: "We can't afford

to have a telephone book advertisement that insults

our profession!"

Nationwide media however went in an entirely different

direction: somebody hell bent on poisoning

the visitors at the Berlin Christmas Market caused

fright and fear. An approximately 45 year old male

invited quite a number of visitors at the markets at

the Gedächtniskirche (church), at the Alexa, on

Alexanderplatz and on Opernpalais to "free

schnapps". This was mixed

with a poisonous substance

(most probably liquid ecstasy),

which led the victims to feel

nauseous and to suffer other

physical afflictions. The visitors

at the Berlin Christmas Markets

were advised to be extremely

cautious. Charles Blume,

organiser of the market at the

Alexa-Centre offered a 1,000

Euro "bounty" on the head of the

perpetrator and increased security

and security personnel –

as did other organisers. Despite

an intensive search, the offender

could not be detained.

Another special incident that

also affected the Christmas

Market took place in Koblenz.

Almost every second resident

had to leave their home on the

4 th of December due to the

largest evacuation in the history of the city, and the

Christmas Market remained closed on that day as

well. The reason was the defusing of a 1800 kilo

British bomb from the Second World War. ■

CHRISTMAS MARKETS

Christmas magic at

the "new market" in Rostock

The "flying Father Christmas"

at the Christkindlmarkt in

Saarbrucken

The historic kiddie

carousel from Pascal Raviol at

the central station in Leipzig

23
---
CHRISTMAS MARKETS

HAMBURG

Still a magnet to the

public: the Hamburg Christmas

Market from Roncalli at the

Rathausmarkt

Following Berlin, Hamburg is

number 2 in Germany, at least

as far as the number of Christmas

Markets goes.

Undisputed top-dog among the

Christmas Markets for many

years in the hanseatic city is the

Roncalli historic Christmas Market

in front of the Hamburg city

hall – and this ranking was confirmed

in 2011 with almost 3 million

visitors attending the event.

The successful original concept

is always extended with something

new, for example new

marketers and goods on offer in

the themed alleys of the event.

New this time was for example

was the chocolate workshop,

jewellery from Israel, warming

soft toys, and a wooden temple

carver. The organiser of the market

on the Gänsemarkt, the epa

events promotion GmbH firm, provided a surprise

with a new concept: The "Hanseatischen Weihnachtsmarkt"

became the "Alle Jahre wieder – Weihnachten

in Hamburg auf dem Gänsemarkt". Instead

of the usual stands up until now with the characteristic

blue-yellow design, there were new huts with

gables in dove-blue and white colours, decorated

with quotes from Lessing. Whether or not the new

optic of the market was nicer than in the previous

years, remains in the eyes of the viewer. It's a shame

in any case that due to the missing entrance portal

(replaced by flagpoles) the atmosphere of "being

closed into itself" suffered somewhat. The market

doesn't convey a romantic and homey atmosphere

anymore due to the new colours; in fact it's become

a little cool. In Altona, a new Christmas market made

its première: for the first time there was a market on

the other side of the Altona railway station, in addition

to the well known Ottens Christmas Market in

Scandinavian style – not quite so large, but nicely

designed. And Christmas Market professionals

could note that the blue-yellow booths that were earlier

on the Gänsemarkt were in use here. The smaller

Christmas Market in St. Georg – quasi opposite

Insider tip: the Christmas

Market in front of the town

hall in Hamburg-Harburg

New booths, new name,

and a new concept for the

Christmas Market on the

Gänsemarkt

24
---
CHRISTMAS MARKETS

The Wandsbek "Winterzauber"

the central railway station, was designed this time appropriately,

as the containers on a bordering and large

building site had been removed at long last. And there

was a première at the "Winterzauber" in Wandsbek –

the first "ice rink without ice". The new attraction is of

synthetic material and is operated without electricity

and water. An insider tip for visitors to the Hamburg

Christmas Markets is the market in front of the town hall

in Hamburg-Harburg, where the stress and hectic of

the city markets can be avoided.

■

NÜRNBERGER KINDERWEIHNACHT

For the 13 th time, the Children's Christmas Market

was held in the metropolis in Franconia, in addition

to Germany's most famous Christmas Market – the

Christkindlesmarkt (first mentioned in official documentation

in 1628). Two reasons led to this novelty

in 1999: Firstly, visitor attendance stagnated after the

reunification boom, and secondly the traditional market,

with its some 180 wooden booths, did not offer

any attractions suitable for children. Both venues are

located close to each other and are connected to the

Krippenweg, or crib path. The choice of 'hands-on'

activities (among others, baking Christmas biscuits,

a candle workshop and a glass workshop) was well

received from the first day and extended every year

– currently by a glass blower. The ride attractions,

coming from the Zoo-Safaripark Stukenbrock near

Bielefeld to Nürnberg in mid-November every year,

are festively decorated. Traditionally, a large doublestorey

ride, a small kiddie ride, a kiddie railway, as

well as a small Ferris Wheel are presented. While the

Christkindlesmarkt is organised by the city of Nürnberg,

the KT-Erlebnis GmbH & Co. KG is in charge

of the Children's Christmas Market, with among others

Gottlob Krug from BLV Nürnberg and Lorenz

Kalb from the South German Showman Association

as managing directors. With 2.3 million visitors,

Nürnberg has once again lived up to its reputation

as an attractive Christmas City in 2011 – not least

thanks to the Children's Christmas Market. ■

Small but fine: the

Christmas Market in St. Georg

Feature of the Nürnberg

Christkindlesmarkt: the area

"Kinderweihnacht"

25
---
CHRISTMAS MARKETS

KASSEL

Impressions of the

Märchenweihnachtsmarkt in

Kassel

The Fairytale Christmas Market in Kassel can

look back on a very long history and tradition,

with a "Christmarkt" being held on the Altmarkt

even before 1767, according to official documentation.

From 1767 it was held on the Königsplatz, newly built

by Landgraf Friedrich II. Even at that time, the market

consisted of a double-row circle of booths, in the

middle of which Christmas trees and tables selling

Christmas articles were put up. According to Andrea

Behens from the Kassel Marketing firm, the Christmas

Market has been repeatedly relocated within the

period of three quarters of a century since 1900. The

Meßplatz (today's Karlsplatz) was followed by the

Ständeplatz, then back to the Karlsplatz and finally

to the Entenanger. Eventually in 1972, it found a new

home on the Friedrichplatz from where it was extended

to the Königsplatz over time. In 1975 the first

Fairytale Christmas Market was held on the

Friedrichsplatz. This year, the new Ferris Wheel from

the Nier showman family from Kassel celebrated its

première, and was very well received. It was joined

by two modern kiddie rides (Bodem and Berger), an

older horse carousel (Schellberg), the Christmas

Railway (Schäfer), as well as the tall, illuminated

Christmas pyramid visible from afar. Among the

snack and drink booths, visitors were also served

specialities from Finland and Sweden. In addition to

the classic Glögg there was also Snövit (white mulled

wine), or a Nordlicht (hot chocolate with vodka and

cream), as well as "Polar Rolle" (cold-smoked reindeer

ham in Polar bread with horseradish-cream

cheese sauce and cranberries) as well as salmon

rolls. In the centre of the site, the rustic-style

"Königsalm" gastronomic booth was built up. In the

end, results were comparable to those from previous

years. According to Andrea Behrens, who has been

working in the event industry since 1998, and has

been responsible for the organisation of the Christmas

Market since 2003, participants and visitors suffered

somewhat from the frequent rain. ■

26
---
ROTHENBURG O. D. TAUBER

CHRISTMAS MARKETS

It may well number among the most romantic

Christmas Markets in Germany and is attended by

thousands of visitors from near and far every year,

the "Reiterlesmarkt" in Rothenburg ob der Tauber.

During every pre-Christmas period, medieval Rothenburg

is transformed into a winter fairytale, which has

been accompanied by a beautiful Christmas Market

ever since the 15 th century. In addition to the Reiterlesmarkt,

an ample variety of cultural events is on offer,

the highlight being the appearances of the

"Rothenburg Reiterle", after which the Christmas Market

was named. Today, many appealing booths and

stalls are built up along the narrow alleys and on the

The Christmas Market

in Rothenburg o. d. Tauber

squares around the town hall, its vaults and on the market

square during the event. In addition to the classic

red mulled wine, the "white" (mulled wine made from

white wine) is highly popular and much consumed. As a

special feature, mulled wine mugs can be exchanged

only at two centrally located booths. In addition to the

Christmas Market, the adjoining Christmas Village and

the "German Christmas Museum" also entice a large

number of visitors.

■

COLOGNE

The market at the Cologne Cathedral numbers

among the best-known Christmas Markets in Germany.

Once again a large number of booths and stalls were

built up in a dream setting next to the imposing setting

of Cologne's world-famous cathedral, casting a Christmas

spell over the visitors. A giant Nordmann fir was

set up in the centre of the market where its countless

lights provided a romantic ambience. From 21 st November

to 23 rd December, 100 events were offered on

the stage under the starry sky. One of the oldest Christmas

Markets in Cologne is held on the Neumarkt. Due

to a new organizer and a new concept, it discarded its

former 1970s' charm since 2008. Visitors to this location

are now enchanted by the decorations and the

high-quality product choice of the "Markt der Engel".

Moreover, a classic ride from the Rosenzweig firm

making its rounds fitted perfectly into the overall image.

Another market is located in the heart of the

medieval city centre. The entrance gates to this

rustically styled and lively Christmas Market – also

called "Heimat der Heinzel", or "Home of the Cologne

Gnomes" – are decorated by a large number of these

dwarfs, and a historic Ferris Wheel entices visitors to

take a ride. Yet another market held this time was the

Hafen-Weihnachtsmarkt at the chocolate museum. ■

Impressions of

various Christmas Markets in

Cologne

27
---
CHRISTMAS MARKETS

LUDWIGSHAFEN

PFORZHEIM

This year, an anniversary

was celebrated in

Pforzheim, where the "40 th

Golden Pforzheim Christmas

Market" was held

from 21 st November to 22 nd

December 2011. Many

booths and huts were built

up throughout the city

centre, including the "Engelspyramide"

(Angels'

Pyramid) from Arnoux for

the first time. More than 70

With the "Winterdorf" on the Platz der

"Deutschen Einheit" – located next to the "Rhein

Galerie" shopping centre – a new market was

held in 2011 in addition to the well-known and established

Christmas Market on the Berliner Platz

in Ludwigshafen.

Apart from a number of booths and a kiddie ride, it

was possible to engage the "Royal Bavarian Wheel"

from Jost as the highlight of the market. The "Winterdorf"

was organised by the management of the

"Rhein Galerie" shopping centre, which opened its

gates 15 months ago. A fireworks display shortly

before Christmas even announced the extension of

the Winterdorf until the 7 th January 2012. ■

marketers presented an

ample choice of festive

gift ideas and hand-crafted

articles. Adjoining the

Christmas Market was the

"City on Ice" ice rink, and

an impressive Christmas

lighting array with

illuminated golden stars

mounted throughout the

whole city.

■

HANAU

More than 70 sales and gastronomic booths

once again enticed many visitors to the Christmas

Market (25 th November to 22 nd December

2011) at the market square in the Brothers

Grimm town of Hanau (Hesse).

Perfectly set into the scene again was the "largest

Hesse advent calendar" presenting motifs from

the Brothers Grimm behind the historic windows

of the Neustadt town hall, opening at 6 p.m. every

day. While the artists' Christmas Market was held

inside the town hall, the beautifully decorated

kiddie rides from Hollenbach and Eberhardt were

built up on the market square in addition to the market

stalls, as well as the historic Ferris Wheel from

Klaus Weingärtner, who presented his wooden

showpiece for the fourth time.

■

28
---
ROSTOCK

The Rostock Christmas Market opened its gates

from 24 th November to 22 nd December 2011,

illuminating the historic town centre with enchanting

fairy lights. A total of 275 showmen and marketers

invited visitors to stroll and enjoy in a pre-

Christmas atmosphere lasting for 29 days.

With some 250 festively decorated wooden booths,

the Rostock Christmas Market spread across a

length of more than three kilometres, from the Neuer

Markt and Universitätsplatz to the Kröpeliner Tor and

Fischerbastion. While the Fischerbastion accommodated

a fairground with ride attractions and track

rides, the other sites offered a quiet and traditional

atmosphere. Since the early 1990s, the Christmas

Market has been organized by the Großmarkt Rostock

GmbH and has evolved into one of the largest

and most beautiful Christmas Markets in Northern

Germany. During the Advent season the public is invited

to stroll, feast and make use of ride attractions

on a varied and colourful market that also entices

tens of thousands of tourists from Sweden and Denmark

every year. For the official opening at around 2

p.m. on 26 th November, Father Christmas and his entourage

arrived in the city harbour on board the traditional

(sailing) vessel "Albert Johannes". On docking

they were welcomed by a large number of excited

children and Roland Methling, the Lord Mayor of the

Hanseatic city. Then the Lord Mayor and his guests

were taken by a historic stagecoach through the city

to the fairytale stage set up at the Neuer Markt, where

the Christmas Market was finally opened with the

traditional cutting of the huge stollen Christmas

cake. A visit to the Christmas Market is a long-established

pre-Christmas tradition, not only for the Rostock

residents, but also for many non-resident visitors.

It is a meeting point for acquaintances and

friends to enjoy typical specialities such as fried bananas,

original Rostock Rauchwurst smoked

sausages, Finnish Christmas punch, huge fried

sausages, Mutzen dumplings, or one of the other

countless snacks. Apart from further specialities

from Finland and Sweden, visitors could also try organic

mulled wine this year. Moreover, fairy tales,

music and dance were offered at the historic Christmas

Market, which was held in the nuns' yard of the

Kloster zum Heiligen Kreuz convent. An the historic

market some 25 craftsmen, marketers and jugglers

offered an insight into the medieval way of life,

presenting ancient handicrafts from blacksmiths,

carpenters, joiners, girdlers or bakers. Inside a tent,

children were able to listen to the fairy tales told by

a story teller. Those visitors seeking action hit it lucky

at the Fischerbastion-fairground. After a longer absence,

the winter fair at the popular meeting point for

young people was once again dominated by Blume's

"Daemonium" Ghost Ride.

Further attractions were the

"Flipper" from Splitt, the

"Projekt1" from the Boos

brothers, the "Hot Wheels"

dodgem track (L. Welte), the

family coaster "Speedy

Gonzales" (M. Welte), Miami

(Weihs), "Crazy Outback"

(Hofmann-Jehn), and

Fehlauer's "Breakdance" for

the first time. The "Petersburger

Schlittenfahrt" from

Burgdorf, Sturm's "Kristall-

Palast", and the Giant Slide

from Gormanns were also

presented. Additionally, five kiddie rides were built

up for younger visitors on the Neuer Markt and Universitätsplatz.

Apart from Taube's "Wiener Sportrad"

– belonging to the regular participants of some 46

years standing – visitors enjoyed the beautiful view

on the "Hanse Rad" (Geisler) Ferris wheel or made

rounds in the "Montgolfiere" (Finke-Zarnikau) and

the Wave-Swinger (Eberhard & Barth). Moreover, the

pyramid from Jens Hamberger, the "Weihnachtslabyrinth"

(Lutz Hofmann), and fifteen further snack

booths and beverage outlets provided visitors to

these sites with food and drinks. With a bit of luck,

visitors were even able to win yet more Christmas

gifts at six different game booths and concession

stalls. In addition to the aforementioned "Kristallpalast",

the Simulator (Walkhoefer) and two kiddie

rides were built up at the Kröpeliner Tor. Two snack

booths and one confectionery booth provided visitors

to this area with food and drinks as well.

The Mecklenburg-Vorpommern Showman Association,

which diligently collected donations once

again, was able to hand over almost 4,000 Euros for

charitable causes. Although it was a "green Christmas

Market" in 2011 again – it did not snow a single

day – it rained frequently and was often stormy. However,

in mild and dry weather during the last opening

week, many visitors rushed to the market – especially

on Wednesday – 21 st December, for the live

television coverage from the Rostock Christmas market

by the regional NDE television station. In order to

be able to build up the required broadcasting and

lighting equipment, the kiddie chain ride from

Urbigkeit had to be dismantled one day earlier.

When the "Abendmagazin" was over, visitors

were able to finish off the evening with a ride at

reduced prices on the "Hanse Rad" or at one of

the many other stalls and rides, as the market

was not closed at 8 p.m. as on the other weekdays.

All in all, the Rostock Christmas Market

2011 was once again a successful and financially

satisfying event, despite the frequent

storms and rain.

■

Impressions of the

Rostock Christmas Market

29
---
CHRISTMAS MARKETS

NEW PYRAMIDS

Bergmann-Pyramid

Built by Pfaff:

the pyramid from Bergmann

at Alexanderplatz in Berlin

Andreas Pfaff and his four brothers

have been in business for a

long time, and along with the

family firm Marko Pfaff & Co.

Spezialfahrzeugbau GmbH of

Bad Lausick, has gained considerable

experience in designing

and making Christmas pyramids.

An increasing number of

levels have been added to the

pyramids over the last few years,

so that they have continued to

grow ever higher into the skies.

After Henry Jacobs introduced

his XXL-Christmas pyramid in

2010, Arnold Bergmann presented

a version with even larger

ground measurements – 11 metres

in diameter and some 20

metres height, as well as a snack

booth annexe – at his Christmas

Market on the Alexanderplatz in

2011. The initial test and première

had taken place at the

Berlin Oktoberfest before the

construction, requiring 10 transport vehicles, appeared

at the Christmas

Market on the "Alex". While

the construction minus

decoration is built up

relatively quickly (within

only one day), the number

of transport vehicles is truly

a fright. This results from

the bulky segments that

lack any folding mechanism,

which by necessity

require much space. Three

out of six levels are walkthrough

levels, the other

three are decorated with

crib figurines – just as is the

case at the Christmas Market.

The wings and figurines

rotate and the wings

provide an appealing play

of changing colours. The

base is formed by the sales

section and the kitchen.

The restaurant on the first

level offers 60 seats, a bar

and an extra service lift. On

the next level there is a music

stage to which there is an all-round view. Ten

roofed bar tables are arranged in a circle around

the pyramid, and were well-frequented at the

Christmas market. Arnold Bergmann plans to present

his new construction with changing decorations

throughout the entire year – for example at the

Berlin Ostermarkt at Easter, or the German-French

Volksfest. This is the reason that the Pfaff firm is

currently constructing new partitioning walls and

fence elements, appealingly limiting the beer garden

and creating a pleasing cosy area. His Glüh-

30
---
wein mugs were also of a special shape – slim and

tall – perfectly fitting in with the pyramid. Many visitors

took the mugs with them as a souvenir and had

them refilled at other markets. "My mugs travelled

as far as the Gendarmenmarkt. No wonder that they

were quickly sold-out," said Arnold Bergmann, who

operated another smaller 10-metre-high Christmas

pyramid version at the Gedächtniskirche on the

Breitscheidplatz, presenting a very fitting conclusion

to 2011.

Angel Pyramid – Arnoux

The "Engelspyramide" from Edgar Arnoux from

Karlsruhe, which according to the owner is a proud

23 metres tall, celebrated its première at the

Pforzheim Christmas Market. Many years ago

Arnoux had toured a number of ride attractions, before

he retired in 1995. The attraction was built by

the Schmäding firm, which designed a concept together

with a Cologne designer from Arnoux's circle

of friends, and according to Arnoux's initial ideas

and wishes. After several changes, resulting in a

steady increase of the attraction's height, construction

could begin. In a construction time of

several months a huge pyramid was built with

magnificent carvings and devoted attention to detail.

Two weeks before the opening the pyramid was

completed. After the "Engelspyramide" had first

been built up on the company premises and the remaining

decoration elements mounted, the pyramid

was dismantled, loaded onto the vehicles and

transported to the heart of the Pforzheim pedestrian

precinct. The ground level emerged from the first

of three containers. Next there is a container above

the first level and then another, which is pulled out

to the top in three sections. The centre of the

octagonal ground level (10 x 11 metre ground measurements)

accommodates a large bar with a lot of

beverage dispensing equipment, an ample number

of shelves, and significant cooling and storage

space. On the level above, the "Engels-Stübchen"

offers seating for up to 30 people. After sundown,

the festively illuminated "Engelspyramide" offers a

special feast for the eyes.

■

Built by the Schmäding

firm: the "Engelspyramide"

from Arnoux in Pforzheim

31
---
SPECIAL

Idyll under trees:

The baggage vans of the horse

carousel at the Cloppenburg

Open Air Museum

Even upon entering the

Museum Village in the

Cloppenburg open air museum

in Lower Saxony one

could hear the fairground organ,

when the "1 st Historic

Village Fair" enticed the public

from June 30 th to July 3 rd .

Among other attractions on

offer were a nostalgic Caterpillar

Ride, a horse carousel

and a Swing Boat.

Text & Photos: Nils Benthien

There was much to

discover at the museum fair

Village Fair

Situated along the thoroughfare to the fairground

were special flags with historic pictures

of well-known Volksfest events from the

surrounding region – among others from the

Leer Gallimarkt, the Oldenburg Kramermarkt,

the Bremen Freimarkt, the Zetel Markt, the

Roonkark Markt and the Vechta Stoppelmarkt.

On the fairground, visitors and fans of nostalgic

fairground attractions – some of them coming

from as far away as the Netherlands – were able

to admire the "Alt-Ammerländer Pferdekarussell",

a kiddie Swing Boat and a Caterpillar Ride,

and indeed had a ride on them at 1960 prices!

The "Alt-Ammerländer

Pferdekarussell" was

built by Friedrich Heyn

in Neustadt/Orla in

Thuringia towards the

end of the 19 th century. It consists of 16 arms, 20

wooden horses, and a lion and a pig, as well as

two carriages, two coffee cups and, as a special

feature, a sea horse. Inside the carousel an organ

from Ruth and Son from Waldkirchen could be

admired, playing merry tunes, To this day, the

carousel is operated with a salt water starter.

From the 1930s, the carousel was owned by the

showman family Fink from Rastede. In 1950,

Friedrich Heineman, also from Rastede near

Oldenburg, purchased the horse carousel and

presented it at fairs and Schützenfest events

throughout Ammerland, hence its name: "Alt-

32
---
SPECIAL

The "Alt-Ammerländer

Pferdekarussell" from

Heinemann

Ammerländer Pferdekarussell". In 1979, the

Cloppenburg Museum Village purchased the

carousel. With the support of the Oldenburg

Chamber of Trade and the Oldenburg employment

centre, the ageing carousel was restored to

visual glory. The Swing Boat tells another story:

show-woman Maria Müller from Neustadtgödens

once had a kiddie Swing Boat built by

local craftsmen; namely the blacksmith

Kernkamp and her neighbour, Manfred

A selection of mounts of

the horse carousel

33
---
SPECIAL

Details of the horse

carousel from Heinemann

Clemens, who painted the artwork,

to name but a few. From

1947, Maria Müller toured the

completed kiddie Swing Boat, which was taken

over by the Museum Village in 1991. The 50-yearold

original hardboard with the painted motifs

was put into storage in the museum's depot, and

replaced by reproductions from artist Vladimir

Schlündt. The museum often used the kiddie

Swing Boat for advertising and entertainment

purposes. During the four-month restoration of

Artwork on the carousel's

rounding boards

34
---
SPECIAL

The Kiddie Swing Boat

from 1946

the attraction by the Ludgerus-Werke from

Lohne supported by the Vechta job centre as

part of a vocational training project in 2010, as

much of the old substance was preserved as

possible. The Caterpillar Ride from 1936, built by

ride manufacturer Hans and Paul Gundelwein in

Wutha (near Eisenach) in Thuringia, was the

heart of the historic village fair. In 1936, the Datteln

building authorities granted permission to

build up and operate the ride at markets, fairs,

and Schützenfest events. While the Caterpillar

Ride was owned by Ida Reminder from Duisburg

from 1952 on, it is not known to this day who the

previous owner of the ride was. In 1960, Willy

Krabbe and his son, also Willy, from Gronau in

the Münsterland purchased the Caterpillar Ride,

which they operated for 18 years. In 1975, the

ride was sold to the showman family Michen in

Berlin, who parted with it already in 1977. Its next

stop was Hamburg, from where showmen Roman

and Henry Rasch toured the Caterpillar

Ride for 18 years. The last showman who owned

the ride from 1995 on was Fred Vater from the

Harburg district. In 2005, he sold it to the Cloppenburg

Museum Village due to ill health. Up until

2002, this ride had been regularly operated.

From February 2009, the Caterpillar Ride was

elaborately restored in cooperation of the Oldenburg

Chamber of Commerce and the Oldenburg

employment centre, as well as many voluntary

helpers. While Paul Münch from Cloppenburg

was responsible for the upholstery work,

the electrical equipment was renewed or restored

by Ingo Nordmann from Cloppenburg, and

Helmut Wilken from Schortens took care of,

among other aspects, the sound equipment and

the salt water starter. The restoration was modelled

on a 1960s look, for which the qualified

restorer, Jaroslav Orzag from Bremen, prepared

a restoration analysis and helped with the

documentation and reproduction of old colour

schemes. The Caterpillar cover and the tarpaulin

parts were made by Raap Planen und Zelte KG

from Hamburg. Next year, the arms will be

replaced by new additions built by the Spezialmaschinenbau

Kurre GmbH from Ramsloh.

A historic shooting gallery was also presented at

the event. In 2005, the Museum Village purchased

the shooting gallery, which was built in the

1950s and had belonged to a showman from

Lower Saxony. This attraction was also restored

A shooting gallery from

the 1950s

35
---
SPECIAL

The Caterpillar Ride,

built in 1936

The Caterpillar cover is closing

36
---
SPECIAL

The Caterpillar Ride in

operation and its ride chip

Showman Fred Vater

was one of the Caterpillar's

previous owners – and returned

to the operator stand for the

Museum Fair

by the Ludgerus-Werke from Lohne, supported

by helpers. Moreover, the "Heyderhoffmann"

puppet theatre from Oldenburg and the "Tonga"

flea circus appealed to young and old visitors

alike. In addition, there were illusions in the style

of the 1920s as well as "Kuby's High Wire Show".

After the show from the professionals, younger

visitors had the opportunity to try and walk on the

thin wire themselves. Visitors were also able to

enjoy the entertainer "Lorenzo" with his juggling

performance and soap bubble pantomimes, as

well as the classic "Hau den Lukas" Hi-Striker,

and an artist doing portraits. Naturally, popcorn

and candy floss were also available, along with

fish rolls and smoked eel offered by the Aalräucherei

Bruns. Additionally showman family

Wilken built up its

snack and drink

booth, and an organ

grinder provided

appropriate Volksfest

music. Another attraction

causing a lot

of furore were the

strong men from the

"Kettlebell" troupe lifting

35 kg with each

hand. Showman Fred

Vater, the last owner

of the Caterpillar

Ride, put his heart

and soul in operating

37
---
SPECIAL

The unique Museum Fair

setting used as motifs by a

number of bridal couples

"Kuby's High Wire Show"

and illusions inside the tent

his former ride and making announcements over

the microphone. On Thursday afternoon, the

director of the Lower Saxony Open Air Museum,

Prof. Uwe Meiners, opened the 1 st historic village

fair in the presence of 150 guests from the field

of politics, industry, and civic administration,

accompanied by pop and rock 'n' roll music

played by the "Schlagerlust" trio. On Sunday,

Matthias Bunzel from the museum staff and Susanne

Fredebeule, a restorer and expert on

carousel horses, held a guided tour explaining

the restoration work carried out on the individual

rides. For Maria and Axel Thomsen from

Cloppenburg, it was a trip down memory lane.

After all, they had enjoyed their first kiss in this

very Caterpillar Ride, which used to be a fixture

at the Cloppenburg Kirmes some 34 years ago!

The museum team surprised the couple with an

extra tour that they enjoyed all on their own, and

the museum director Prof. Uwe Meiners presented

them with champagne and two roses from the

shooting gallery after their tour. The historic village

fair also attracted extensive media coverage.

By the way, the Cloppenburg civil registry

office is also located in the Museum Village. Thus

bridal couples having a very special wedding

photo taken could be seen on the fairground regularly

throughout the event. All in all, 10,000 visitors

came to the museum village for the 1 st village

fair, which lasted 4 days. Due to this success, the

organizers are currently considering holding an

event such as this again in 2012.

■

38
---
MODEL CONSTRUCTION

FOG MACHINE

The fog machine in

operation at the Musik Express

The fog machine is

located in the roof framework.

In detail: The tank and the

proportioning pump

Text: Rolf Orschel

Photos: Christian Geist

Last year, fairground model builder Christian

Geist from Hembsbach near Mannheim,

built a functional evaporator fog machine

for his 1:16 scale Musik Express model

(see KPR No. 147), which went into operation

at the "model-hobby-spiel" exhibition

in Leipzig in early October 2011.

The casing of the miniature fog machine was

milled from aluminium, and the nozzle for the

issuing fog was turned on a lathe by the trained

mechanical engineer. Next, the casing was

anodized in black, as it gets very hot during

operation and standard varnish would simply

not withstand such high temperatures. The

heating element consists of a copper cylinder

turned on a lathe, the surface of which is

increased by winding copper strands around

it. Due to the resulting capillarity, the fog fluid

can fully evaporate. A 35 Watt halogen lamp is

used as heating for the evaporator. As is the

case in all evaporator fog machines, the artificial

fog is produced by pumping fog fluid in

little drops from a tank onto the heating

element with the aid of a proportioning pump.

The fluid drops evaporate on the hot copper

cylinder, instantly atomised and emitted

through the case nozzle. The airstream arising

from the ride's rotating movement disperses

the fog in the model. Christian Geist uses

standard fog fluid as evaporator liquid for his

miniature fog machine, but to improve

efficiency he increases glycerine concentration.

As a result the fog grows thicker and less

fluid is required.

At the first public presentation of the fog

machine at the exhibition in Leipzig, 100 ml of

fog fluid sufficed for three 8-hour days of

continuous operation, during which the 20 x

20 x 70 mm fog machine, operated at 12 volts

direct current, proving its efficiency and

absolute reliability.

■

40
---
ACTION DVDs im KIRMES-SHOP

This special interest DVD is a MUST HAVE for ride junkies,

the technically passionate, and fairground and ride enthusiasts.

iKIRMES just RIDE shows in over 102 minutes, a

video of brilliantly recorded and cut ride sequences,

with many tasteful split-screen sequences.

iKIRMES just RIDE: with over 25 transportable

amusement constructions and roller coaster types from

current attractions to popular fairground classics.

For the first time there are spectacular fast motion

recordings of the buildup of the EUROPA RAD and

THE TOWER in the new iKIRMES just RIDE DVD.

The Recordings were made in the year 2010 at

top fairground events in Germany and Luxemburg, were

digitally filmed, and edited in high-grade 16:9 resolution.

THE 8 th KIRMES DVD

NEW

available immediately

Movie 01 – Major Rides 1:

Air Crash, Rocket, Flip Fly, XXL, Booster Maxxx,

Break Dance (Diebold), Circus Circus, Hexentanz,

Das Fun Schiff, Europa Rad, Jupiter Rad, Action House.

Total Running Time: 45:14 min.

Movie 02 – Major Rides 2 & Coasters:

Spinning Racer, Alpina Bahn, Teststrecke, Olympia

Looping, Euro Coaster, Crazy Mouse, Take Off, Flipper

(Levy), Alpha 1, Octopussy, Air Maxx, Star Flyer 48.

Total Running Time: 40:47 min.

Movie 03 – Buildup Europa Rad & The Tower:

Buildup scenes of the EUROPA RAD (Kipp) in quick motion,

arrival of transport vehicles of THE TOWER at night, build up

of THE TOWER (Blume) in quick motion.

Total Running Time: 17:35 min

Bonus Feature:

3 Dia shows with

more than 400 photos

(Total runningtime

over 35 minutes)

€25,-

incl. postage and

handling in Germany

Combined Offer 4: order all 4 DVDs

just.RIDE • RIDE THIS VOL. 1

GET READY 2 SCREAM • TAKE YOUR SEAT AND FLY

€ 85,– (inland) (incl. postage and handling) • Europe abroad: € 90,–

other countries: € 95,–

Combined Offer 3: order 3 current DVDs

JUST.RIDE • RIDE THIS VOL. 1 • GET READY 2 SCREAM

€ 65,– (inland) (incl. postage and handling) • Europe abroad: € 70,– • other countries: € 75,–

Combined Offer 2: order 2 current DVDs

just.RIDE • RIDE THIS VOL. 1

€ 45,– (inland) (incl. postage and handling) • Europe abroad: € 50,– • other countries: € 55,–

Technical

equipment:

DVD video, PAL 16:9

regional code "o",

Dolby Digital TM Studio

Mono compatible,

Subtitles. Languages:

German, English

✃

Please send to:

GEMI

NEW!!

❏ I order

❏ I order

❏ I order

❏ I order

❏ I order

Kirmes DVD just.RIDE at a price of € 25,– (inland)

(incl. postage & handling) • Europe abroad: € 30,– • other countries: € 35,–

Kirmes DVD RIDE THIS VOL. 1 at a price of € 25,– (inland)

(incl. postage & handling) • Europe abroad: € 30,– • other countries: € 35,–

Kirmes DVD Kombiangebot 4 (4 DVD) at a price of € 85,– (inland)

(incl. postage & handling) • Europe abroad: € 90,– • other countries: € 95,–

Kirmes DVD Kombiangebot 3 (3 DVD) at a price of 65,– (inland)

(incl. postage & handling) • Europe abroad: € 70,– • other countries: € 75,–

Kirmes DVD Kombiangebot 2 (2 DVD) at a price of € 45,– (inland)

(incl. postage & handling) • Europe abroad: € 50,– • other countries: € 55,–

❏ Total amount

❏ I will pay per credit card : ❏ VISA ❏ MASTERCARD ❏ DINERS CLUB ❏ AMERICAN EXPRESS

VERLAGS GMBH Credit Card Nr.

Postfach

D-85291 Reichertshausen Name Street

valid until

Please pay

per credit

card only!

✃

Post code ■ City

Date ■ Signature
---
A LOOK BACK

GERA

Guest at Gera:

"High Explosive" coaster

Promotion made by

showmen in the inner city

Halloween-mood at

the dodgem from Krebs

Text & Photos: Rolf Orschel

After an absence of more than 20 years, it proved

possible to present a coaster once again at the

Gera, celebrated from 22 nd October to 6 th November

last year. The extensive advertising

campaign was completely dedicated to this attraction.

With this crowd puller along with the

other attractions, the Herbstfest enjoyed a virtual

dream start – by Gera standards.

Due to the Pope's visit to Thuringia, which upset

the federal state's schedule of autumn events, the

last Gera Volksfest of the season had also to be

postponed by a week.Thanks to the changed

schedule, the municipal culture and event

management and the city's advisory council

organising the event in cooperation with the

Thuringia Showman Association, were able to

engage 30 showman operations. As a result, the

Herbstvolksfest 2011 was one of the largest during

the last two decades. The following attractions

were built up on the Hofwiesenpark-fairground:

the "Moulin Rouge" Ferris Wheel (Wolters-

Domke), "High Explosive" (Vorlop), "Breakdance"

(Hentrich), "Cortina Jet" (Sachs-Schmitgen), the

"Cape Fear" Ghost Ride (Boos), the dodgem track

from Krebs, "Flying Circus" chain ride (Kirchner),

and the "Time Machine" simulator (Schieck).

Moreover, the "Magic" from Müller-Volklandt was

presented as an adequate replacement for a ride

attraction that had cancelled its contract on short

notice. Children could enjoy a "Super-8-Schleife",

a kiddie carousel, a kiddie railway, and a Jet Ride.

The Herbstfest was officially opened with the

traditional tapping of the keg by Lord Mayor Dr.

Norbert Vornehm at 4 p.m. on 22 nd October. From

2 p.m., the rides and tracks had already made

their rounds over half of the fair for 30 minutes. For

the first time, the showman youth went on a promotional

tour in the city centre on the first and the

second opening Saturdays. For this initiative,

showman Gunter Gerhardt had built a special

42
---
transportable and functional mini-Ferris Wheel.

The builder of the mini-wheel and Manfred Hentrich

had come up with this idea some months earlier

while sitting at a beer table. Apart from the Ferris

Wheel, the young people had built up a candy

floss stall and a wheel of fortune, offering candy

floss or ride chips as a prizes, on the event area

in front of the cultural and conference centre. The

promotion campaign was well received by the

public and was accompanied by the percussion

group from the Gera music school, who also

marched at the head of the lamp and torchlight

procession. Among the highlights of the event

there were the well-attended family days, with reduced

prices on Wednesdays and a Halloween

party being celebrated on the second weekend

from 29 th to 31 st October. The three party days started

with a lamp and torchlight procession on Saturday

that wound from the city centre to the fairground,

where Halloween bonfires were lit. The

showmen had decorated their attractions with typical

Halloween decorations, and a surprisingly

high number of visitors were dressed up in appropriate

costumes during the three days. On Friday,

4 th November at about 9:30 p.m. a brilliant fireworks

display next to the fairground heralded the

final weekend of the Herbstfest.

As far as business was concerned, the organizers

and showmen were pleased with a noticeable upward

trend. After a dream start, visitor attendance

at the Herbstfest was much higher on the weekdays

and even more noticeably at the weekends

than in previous years, bringing most showmen

good financial results.

■

A LOOK BACK

SCHLÜCHTERN

Text & Photos:

Rolf Orschel

From 4 th to 8 th November 2011, the 61 st Kalter Markt

– one of the most significant Heimatfest events

of the region – was held in the small town near

Fulda in East Hesse. The origins of this traditional

event date back as far as the 12 th century.

The original horse market is celebrated on the first

weekend in November every year and transforms

the small town into a party metropolis. The organiser,

the Schlüchtern town authorities, always makes

every effort to put together an appealing mixture of

a colourful market and an attractive fair event. While

a large bric-a-brac market with 280 stalls is held in

several streets throughout the town centre, the adjacent

car park at the Untertor is the perfect site for

the amusement section. Last year the fairground

attractions presented were the "Caesars Wheel"

(Landwermann & Henschel), the "Flip Fly" (Clauß),

"Star Light" Musik Express (Nier), the "Taumler" from

Roie, the dodgem track from Kalbfleisch, and

Schramm's "Drop Zone". The younger visitors enjoyed

a Jet Ride, a Super-8-Schleife, and a Bungee-

Trampoline. A number of snack and confectionery

stalls and different concession stalls, such as a

shooting gallery, a Continental pick stand, a can

throwing booth and horse race, rounded off the

selection of fairground attractions. Moreover, four

kiddie rides and many concession stalls were built

up in the adjoining festival-mile "Unter den Linden".

The offer of the snack and game booths was very

balanced as only a couple of operations with the

same product choice were approved and placed far

apart from each other. Moreover, several snack

stalls and tents operated by merchants and

associations with an ample product choice provided

the visitors with food and drink. Highlights of the

event were the children's lamp procession on Saturday,

the fireworks display on Sunday evening, and

the Family Day with reduced fares on the closing

Tuesday. In almost ideal weather, the 61 st Kalter

Markt with its varied and balanced entertainment

contingent attracted some 100,000 visitors. At the

weekend the market streets and the fairground were

filled with pushing crowds, so visitors sometimes

had to form long queues in front of the fairground

attractions. All the showmen were satisfied with the

course of business.There were only a few mere

"gazers", and the attractions were very well received

by the visitors, who brought most of the showmen

a good to very good turnover.

■

"Flip Fly" and

"Drop Zone" in Schlüchtern

43
---
A LOOK BACK

BROCKUM

Large market time at

Brockum

Opening and the tapping

of the keg in the festival tent

Piontek's "Breakdance"

Text & Photos: Nils Benthien

From 29 th October to 1 st November 2011, the 453 rd

Brockum Großmarkt enticed more than 200,000

visitors. The 11-person market committee is responsible

for the approval of the participants.

Apart from their council's mandate, the male and female

members of the Brockum council voluntarily

commit themselves to the organisation of the market.

With eight members no longer running for the local

council, 160 years of market experience are immediately

lost. For Mayor Ingrid Thrien it was also the last

Brockum Großmarkt, as the Brockum Mayor is also the

local Fairground Director. The

departing members were honoured

by the showman spokesman

Arno Eisermann. 500 showmen

were approved to the 60,000

square metre festival area. Attractions

presented this time were,

among others, "Breakdance"

(Piontek), "Heiße Räder" (Armbrecht),

the "Around the World"

Ferris Wheel (Cornelius), "Flash"

(Weber), "Musicfactory" dodgem

track (Braun), "Family Star" (Alberts),

"Free Style" (Agtsch), and

the "Amercian Fly" chain ride

(Toni). Younger visitors could enjoy,

among other rides, the "Flying

Crazy Bus" (Bruch), "World of Fantasy"

(Bruch), the "Cars for Kids"

kiddie scooter (Wegener), "Hummelflug"

(Hortmeyer), and the

pony ride (Pasquali). Moreover, the

Lesnik showman family once again built up their Galloper

built in 1886 in Brockum. This potpourri of rides was

rounded off by a harmonious mixture of attractive

concession stalls from all sectors. At the bric-a-brac

market and the trade show, visitors could buy an ample

assortment of everyday articles, as well as agricultural

implements. Monday was the designated Family Day

with reduced prices and free entry to the trade show and

on the market Tuesday the traditional livestock market

was held from 7 a.m. The largest Volksfest in the region

was advertised on posters and flyers with the mascot (a

horse) and a slogan naturally in Low German "Da moßt

du hen!", or "You've gotta' go"!

■

44
---
HOCHHEIM

Text & Photos:

Norman Vogt

The 527 th Hochheim Market was a "very good vintage" –

after all with an estimated 580,000 guests, record-breaking

visitor numbers were achieved in 2011.

In previous years, the event had suffered mostly from rather

poor November weather, with much rain or even snow. This

year however there was sunny weather throughout the event

that took place from 4 th to 8 th November. While wood chips

and gravel were sometimes carted to the fairground to prevent

visitors from getting their feet wet in the last few years,

they "got all dusty" this year. This was tolerated however, as

almost all the showmen achieved good or even very good

results. The Ferris Wheel from Jost was built up in the centre

of the fairground for the first time, and as novelty attractions

visitors could enjoy the "Spinning Racer" (Bruch), Prumbaum's

"Sky-Glider", and the "Flash" (Weber) as well as

Schütze's "Große Geisterbahn". Further attractions presented

were Bausch's "Top Spin No.1", Ruppert's "Take Off", and

the "Hollywood" from Renz, Häsler's "Psychodelic", Sottile's

Simulator, Barth's Skooter, Roies "Wellenflug" and Kipp's

"Action House". The livestock market, the Family Day as well

as the closing fireworks display on the last opening day -

which was held already at 7 p.m. so that families with children

could also enjoy the spectacle - numbered among the

highlights of the event.

■

ORTENBERG

Impressions of the

Hochheimer Market

Text & Photos:

Norman Vogt

On 28 th October 2011, the 745 th Kalter Markt

was opened in Ortenberg. Thanks to attractive

rides (including three novelties), a

new beer tent as well as over 400 marketers,

the 5-day event enticed more than

200,000 visitors.

The opening ceremony in the Weindorf, or

wine village, from Roie in front of the

Sparkasse bank on Carl-Fries-Platz, was followed

by the opening torchlight procession

through the Ortenberg streets. Due to the

somewhat steep fairground some attractions

had to be heavily propped up. Ride novelty

was the "Flip Fly" Swing from Clauß, which

was very well received by the public, just as was the

second novelty, Michael Schneider's "Pirates Adventure"

walkthrough construction. On the last opening

day, the owner of the latter was highly satisfied with his

results and enthralled with both the event and the public.

New for the children was "Käpt'n Reikas Erlebnisreise".

Other attractions presented were the "Starlight"

Matterhorn from Nier, Ruppert's "Take Off" and the

dodgem track (Kalbfleisch). As previously mentioned,

the Almhüttenzelt beer tent – with a spacious beer garden,

VIP-area on the 2nd level and an ample live music

programme – was built up in the exhibition section

for the first time. Apart from the horse and livestock

market, the Family Day with reduced prices was once

again held on the last opening day. The day before, a

brilliant fireworks display had been held.

■

Fun for big and

small at the Kalten Markt

in Ortenberg

45
---
A LOOK BACK

SOEST

"Crazy Mouse" in Soest

"Beach Jumper" in Soest

Text: Michael Petersen

Photos: Nils Benthien

With more than one million visitors, the 674 th

Soest Allerheiligenkirmes from 2 nd to 6 th November

brought the participating showmen a dream

season finale to 2011, exceeding the expectations

and wishes of even the greatest optimist.

Many a showman even talked of financial results

similar to those in very "fat" fairground years. Soest

has once again proved its special importance as the

largest medieval city fair in Europe. Throughout the

event, masses of visitors virtually besieged the fairground,

with visitor attendance being particularly

striking on the opening day. It was certainly an

advantage that the fair took place during the autumn

school holidays in North-Rhine Westphalia this year.

Not only did families stay very long on Wednesday,

there was barely any room to move on the fairground

on Saturday and Sunday, when the Allerheiligenkirmes

was at its best and the ride attractions

could hardly cope with the rush. Not only did the

snack and drink booths work to their limit, the game

and sales booths also achieved very good financial

results. Due to warm

temperatures, sellers of

mulled wine didn't fare

too well though. In

beautiful sunny weather

and temperatures of

almost 20° C, hot drinks

were in little or no

demand. Last year's

Allerheiligenkirmes presented

a highly prominent

cornucopia of fairground

attractions.

Many novelty rides and

others returning to the

event made the city

centre fair a very special event. The different sites

in the city centre provided a varied layout, with the

novelties being well spread out. After a two-year

break, the "Power Tower 2" eventually returned to

the ancient Hanseatic city, welcoming the visitors in

the entrance area opposite the railway station. The

arrangement of the "Happy Sailor" and the "Bayernrutsche"

slide was quite successful, and as a débutante,

the "Salto Mortale" was virtually besieged. The

"Bellevue" Ferris Wheel being allocated a new site

in the Dominikanerstraße this year, provided its

passengers a completely different view across the

city this time. While the power attractions "Booster

Maxxx" and the "High Impress" provided the visitors

with a lot of action on the market square, families

were able to enjoy the Musik Express and the "Magic

House" in this location. An over-the-top course

consisting of "Skater", "Devil Rock", and "Shake",

built up all around the St. Petri Church was clearly

too much of a good thing. The placing of a family

ride would have suited this area much better. The

"Haunted Mansion" Ghost Ride however had been

perfectly placed, and was very well received. The

Große Teich fairground was also very skilfully laid

out, with the "Autoskooter Number 1", the "Crazy

Mouse" coaster and the "Konga" mega-swing being

effectively placed and almost always fully occupied.

The "Beach Jumper" was also among the

winners in Soest, even though it had been allocated

an unfavourable site. Moreover, Wave-Swinger,

"Star Flyer", "Big Monster", "Scheibenwischer", "Super

Hupferl" and "Labyrinth", as well as many a

kiddie rides were very well frequented throughout

the event.

A prominent occupancy and spring-like weather

were the successful crowd pullers at the Soest Allerheiligenkirmes

2011. An extensive advertising campaign

and the excellent reputation of the city centre

fair attracted visitors from throughout the surrounding

region also.

■

46
---
BERGHEIM

A LOOK BACK

Impressions of

the Bergheim Hubertusmarkt

Text & Photos:

Norman Vogt

The Hubertusmarkt in Bergheim, the largest

Volksfest event in the Rhein-Erft region, opened

on 28 th October 2011.

For nine days, some 100,000 visitors were able to

enjoy a large number of ride and funhouse attractions

in front of the Aachener Tor. The opening ceremony

with the tapping of the keg by Mayor Maria

Pfordt at the Alpen-Gasthof was followed by a stroll

across the fairground, and in the evening the opening

fireworks display was held. As the following

opening days were very well attended, the showmen

were quite satisfied with their results. Even the

Family Day on Wednesday was well worth seeing.

However, visitor attendance slackened in the following

days. On 6 th November, this year's market

closed with an open shopping Sunday in the

pedestrian precinct and a large closing fireworks

display. The two highlights on the fairground were

Gorman's "Liberty Wheel" Ferris Wheel and the

"Adrenalin" Freefall Tower from Bügler. The round

rides presented included the "Joker" (Bügler),

"Beach Party" (Milz), "Flipper" (Meeß) and Barth's

"Südseewellen", which were joined by Barth's

"Wilde Maus", the "Drive In" dodgem track

(Schmidt), Deinert's "X-Factor" and Bonner's large

"Breakdance". Moreover, in addition to a simulator,

visitors could also enjoy the walkthrough construction

"House of Horror" (Spindler) and the

"Kristallpalast" (Sturm). With Parpalioni's "Hubertusmarkt-Treff"

with bar and grill, a novelty was presented

in the gastronomy section. Although business

slightly slackened towards the end, the Hubertusmarkt

was an attractive and varied event. ■

47
---
A LOOK BACK

PADERBORN

Herbstlibori in Paderborn

Text: Ralf Schmitt

Photos: Ralf Schmitt, Nils Benthien

With the Herbstlibori event, the annual fairground

rounds came to a traditional end in Paderborn. This

time (22 nd to 30 th October), autumn showed itself

from its sunny side – and made sure of good

turnover.

On Saturday 22 nd October the starting shot fell for the

Herbstlibori Fair, for which 66 showman operations

were chosen from a total of 232 applications. The top

attractions were the "Skydance" (Nülken), and the

coaster "Berg & Tal" (Schneider). They were joined by

other attractions such as the Ferris Wheel "Caesars

Wheel" (Landwermann-Henschel), "Musik Express"

(Schneider-Krause), "Breakdance" (Vespermann),

simulator (Becker), "G-Force" (Kollmann), "Geister-Hotel"

(Burghard) and the "Paderborner Bodenmühle".

There was also a good mixture of kiddie rides and concessions

stalls. Particularly well visited was the "Paderborn

Super Sunday" on the 30 th of October, during

which time the shops and gastronomy outlets near the

inner city were opened from 1 p.m. to 6 p.m. – resulting

in tens of thousands of people visiting the city and

the fairground mile. The résumé of showmen

spokesman Hans-Otto Bröckling was quite good in the

end: "Herbstlibori was extremely satisfying, particularly

the combination of open shopping Sunday and the

Herbstlibori – really great."

■

48
---
MINDEN

A LOOK BACK

Impressive fairground-skyline

at Minden

Text & Photos: Nils Benthien

The largest fair in the Weser region, the Herbstmesse

in the East Westphalia town Minden was

held on the "Kanzlers Weide" fairground form

5 th to 13 th November last year.

A total of about 120 showman attractions were

engaged for the event. From more than 400 applicants,

the organising Minden Marketing GmbH,

together with the Showman Association Minden-

Lübbecke e.V., put together an appealing fairground.

Steiger's Looping-Coaster "Teststrecke"

and the 55 metre high "Diamond Wheel" Ferris

Wheel from Harms were chosen as novelties for

Minden. Other ride attractions built up on the fairground

on the right bank of the Weser River were

"Schlittenfahrt" (Noack), "Disco Swing" Twister

and "Venturer X14" Simulator (both Tacke),

"Breakdance"(Noack),

"Euro-Rutsche"

(Kutschenbauer-Roden), "Sky Flyer" (Meeß),

"Flipper" (Schneider), "Hip Hop Fly" Swing

(Noack), "Höllentaxi" (Senk), "Ghost" walkthrough

construction (Burghard), "Eclipse" (Korten),

Musik Express (Krabbe), as well as the "Speedway"

dodgem track (Tacke) and the "Formel 1"

(Schneider). For the younger visitors there were a

total of four kiddie rides, a pony ride, a kiddie chain

ride, a Jet Ride, a bungee-trampoline, and the

"World of Fantasy" kiddie coaster. A number of

snack and drink booths, sweets, games and sales

booths rounded off the ample selection of attractions.

In beautiful weather, the Herbstmesse was

opened by the Minden Mayor, Michael Buhre, the

Chairman of the Minden Marketing, Dr. Jörg-

Friedrich Sander, and the Chairman of the Minden-

Lübbecke Showman Association, Wolfgang

Michael. The opening was followed by the traditional

tapping of the keg and the stroll across the

fairground with the guests of honour. Wednesday

was the designated Family Day with reduced

prices at all the attractions. As the highlight of the

event, a brilliant fireworks display was held from

8:30 on Friday evening. The event was very well

frequented, with the Ferris Wheel and the Looping-Coaster

enticing many visitors. The event was

again extensively advertised with flyers and a

poster, as well as advertisements in newspapers

and radio commercials.

■

Top-attraction in Minden:

Double-looping "Teststrecke"

49
---
COASTER

Fast directional

change provides for a lot

of disorientation

Following the step ahead by

Intamin, competitors from

Rhône-Tal also attempted the

concept of arranging seats to the

side next to the tracks. This new

type of passenger carrier system

that on Intamin's first, named

"Furios Baco" (Port Aventura,

Spain), which unfortunately

found little favour due to negative

ride features that can't be denied,

stood naturally under surveillance

by competitor B&M.

The main question therefore is:

What is a ride really like on the

"replica" Wing Coaster?

Text:

Tim Herre

Photos: Wolfgang Payer

The first drop follows

directly after the chain lift

Raptor

In the run-up it means that the vibrations on the

"Raptor" should definitely be weaker. And after a

complete season of operation it's been confirmed:

the graceful ride features of a B&M-Sitdown or

Inverted Coasters have not been achieved, but the

construction delivers a solid performance as far as

comfort is concerned, and is worthy of carrying the

B&M logo.

In the strict sense of the word, the lack of dimensions

is problematic. "Raptor" is neither particularly

high nor particularly long, which causes a slightly

disappointed facial expression on some visitor

faces, at least before the ride. However a

Velociraptor, after which the new coaster was

named, is no Pterosaur, and too high a flight would

only have prompted questions regarding a

consistent storytelling. But these are things that are

probably only apparent to those who question

critically, and are immaterial to the normal public.

The connection "dangerous dinosaur" – "dangerous

coaster" is logical enough for most visitors.

50
---
The design in other respects is in order, even

though there have been no new standards set

here as far as love of detail go. Concrete governs

the appearance; after all we are in a Raptorcontainment-area,

and not in a petting zoo. The

waiting line is kept in check by barbwire and wire

mesh fences, which makes queue-jumping

difficult in most places, but which on the other

hand would be a hindrance if the waiting area had

to be evacuated. The station area itself is

underground and with its concrete sobriety fits to

the rest of the theming.

Here, passengers are separated to both sides of

the train – although the seats at the front-right are

preferable to all others as it's here that most of the

near-miss-effects are, whilst naturally the first

drop has the strongest effect in the back seats.

In the case of "Raptor" it's first and foremost all

about near collisions, and to experience these

one has to sit in the front, or at least in the first

three rows of the train for an optimal experience.

The collision points are for example a tree, where

passengers fly through its split truck to the side,

a half destroyed bridge, a slightly damaged

observation tower, a metal frame that may well

have been part of a Raptor cage, a rock and a

double portal support of the coaster itself.

Logically the effects are repetitive, but they are

The attraction lives from

well-nigh collisions in particular

The head-chopper element

also has its desired effect at

night

51
---
great each time.

The ride course that is located on a hill in the

centre of the park area is 770 metres long in total,

and the straight track sections are limited to the

station, lift, first drop, and brakes. The rest of the

course is briskly curved and leaves a really

entertaining impression.

There are three inversions that are well spread

over the course: a Corkscrew, a Zero-g-Roll, and

an Inline-Twist. Boring sections are searched for

in vain, as "Raptor" really offers action right to the

end but doesn't overdo it at all. It could almost be

categorised as "family friendly" if it weren't for the

three inversions. And it's exactly here that lies the

only problem of an otherwise downright successful

construction: it sells itself as a real vicious killerconstruction,

but is "only" a successful middle

sized "Wing Coaster" in which one can comfortably

seat granny or mother-in-law if they don't

have any great problems with their heart. Somehow

it reminds one of the slightly exaggerated

marketing of "Thirteen" at Alton Towers. This

tarnishes the definitely positive overall impression

of "Raptor" a little, as it can be verified that Gardaland,

with its ride on a dinosaur, has installed an

original and entertaining coaster.

■

RIDE FACTS:

■ Opening: 1 st April 2011

■ Track length: 770 m

■ Track height: 33 m

■ Max. Speed: 90 km/h

■ 3 Inversions: Corkscrew,

Zero-g-Roll, Inline-Twist

■ Max. Acceleration: 65°

■ Effective ride time: 1 min 50 sec

(station to station)

■ Effective ride time: 1 min 10 sec

(station to final brake)

■ Pure ride time: 45 sec

(first drop to final brake)

■ Axial dimension track: 1.200 mm

■ Train dimensions: 15 m long,

6 m wide, 15 t empty weight

■ 2 trains each with 7 cars,

per car 4 pers.

■ Capacity: 1.100 p.p.h.

■ Manufacturer: Bolliger &

Mabillard, Monthey, Switzerland

■ Operator: Gardaland,

Castelnuovo del Garda, Italy

52
---
+7 (495) 234 5015

+7 (495) 234 5268

E-mail: raapa@raapa.ru

Website: www.raapa.ru

Our representative in China

is Steven Chao, Shanghai

Ultrasia Exhibition Co.,Ltd.

(China)

Tel: +86-21-61853787

Fax: +86-21-65741019

E-mail: info@ultrasia.com

Our representative in the UK,

the USA and in the Middle East

is Gerry Robinson, TSI Ltd. (UK)

Tel.: +44 (0) 1905 360169

Fax: +44 (0) 1905 360172

E-mail: tsi_ltd@hotmail.com

RAAPA EXPO

2012

Amusement Rides

and Entertainment

Equipment

14th RAAPA EXPO

Russia's premier event

for the amusement

industry

March 21-23, 2012

Moscow, VVTs

(All-Russian Exhibition

Center) Pav. 75

March 19-20 Conference

«Prospects of Amusement

Industry Development

in Russia»

March 21

«Golden Pony

2012 – Moscow»

Awarding

Ceremony

General sponsor:

General information sponsor:

Supported by:

Trade Show where owners come to buy, not look!
---
COASTER

The new coaster at

Fraispertuis City offers two

inversions and a whole lot

of strange elements

The 2011 season was also

extremely successful for the

amusement branch in France,

especially as far as the installation

of new coasters is concerned.

In addition to a number of

smaller attractions, there were

also a Junior Boomerang from

Vekoma at Parc Touristique des

Combes, a Spinning Coaster

from Mack at Parc Le Pal, and an

unusual vertical coaster from

S&S at Fraispertuis City.

Text:

Jochen Peschel

Photos: Jochen Peschel,

Parkz.com.au

The first drop is

unbelievably 113° steep

Timber Drop

admittance in 1988. The park has remained

faithful to the theme Wild West

– the first ride in 1971 was a western

train.

These days, the park continues to be

On the "Timber Drop" named coaster of type operated by Patrice Fleurent, the son of the

"El Loco" (former manufacturer name founder, and has strongly developed under his

"Screaming Squirrel"), cars accommodating four management over the past years. In 2009, the

passengers rotate whilst doing their rounds Splash Battle "Crique des Pirates" from Mack was

through the theme park in the Vosges Mountains. opened at an investment amount of 1.7 million

Nestled in thick forests, Fraispertuis City is located

on the road between Rambervillers and Saint- wanted more: a new coaster. For a short period a

Euro. However, the annual 220,000 park visitors

Dié-des-Vosges. Its history goes back to the year Launch Coaster was under debate, and "Anubis"

1966, when Michel and Simone Fleurent had at Plopsaland was extensively examined. But due

founded a guest-house on this area, which was to the closeness of Europa-Park and its "blue fire",

enriched step-by-step by various attractions that the option was discarded. A "Mega Lite" and

eventually led to a classic theme park with daily classic coaster from Intamin at Nigloland, almost

three hours away by car, came under discussion.

Even if this is at the very least deferred, Patrice

Fleurent wanted to rise above other parks.

And so he discovered the "El Loco" coaster at the

S&S Power stand during IAAPA 2009. Following

a trip to the English Flamingo Land with his nieces

and nephews, the decision was made: it had to

be such an attraction. The contract was finalised

at the EAS in Rome in 2010, and with that "Timber

Drop" became a real international joint project.

Only the cars came from the USA, the supports

were completed in China by an S&S Power

joint venture, the tracks were produced by OCEM

in Italy, the control by Actemium in Germany – and

a number of screws were supplied by a local

hardware store, as the applicable delivery didn't

arrive by the required time. Overall there were

small delays in delivery. Actually the six week

build up was planned to start on the 1 st of April,

but this date could not be adhered to. For this reason,

parts of the theming in front of the coaster

54
---
were installed, and the opening was only delayed

by a week, taking place on the 1 st of July 2011.

Visitors reach the new attraction area by walking

through a huge tree stump from where the waiting

area is initially at the rear, leading to the loading

section over a ramp. Commendably, the "Single

Rider Line" already commences at the foot of the

ramp, which is very effective for single cars and

is well taken into account by personnel. The name

of the coaster is more than justified at the station,

as it is to the most part of wood. Lumberjack

utensils are used as decoration elements, and

even the cars are themed as tree trunks. Overall,

the design is very consistent. Atelier Artistique du

Béton completed very convincing work for

approximately one million Euro.

After riders take their place in one of the four

seats, the two-piece restraint is locked. The

fingers that grip over the shoulders near the head

and the pelvic restraint can be adjusted separately

for height. Although this requires a complex

mechanism, it provides for ideal customisability

to each different type of physique. After leaving

the station, a 180° right curve leads to the fast as

well as steep chain lift that brings the car to its exit

height of 30 metres.

From there, the ride beings with a small right curve

and a larger left curve that leads into the first drop.

After the slow section between the lift and the

drop, it's left up to the riders to either decide to

enjoy the grandiose view over the park and the

surrounding forests, or to wish with closed eyes

still to be on the ground. But it's all too late for that:

the car travels through the first part of the drop

braked magnetically but definitely not travelling

slowly, until reaching an approximately 90° maximum

vertical angle. The rest is travelled through

without any brake sections until a maximal angle of

113° is reached. The drop leads through a hollow

tree stump, however not reaching ground level, at

a top speed of 66 kilometres per hour. There is in

this section the only small jerk during the whole

ride, but this is very soon forgotten. During the

following ascent that becomes a left turn with the

first block brakes, there's plenty of airtime.

The overall view

The spectacular first drop

55
---
The ascent and one of

the many unusual sequences

(right)

Sharp horizontal and

vertical curves on a number of

levels are a distinguishing

feature of this almost vertically

arranged coaster track

This is then followed by the most remarkable

section of "Timber Drop": the left curve after the

block brake is up to 45° laterally banked – but outwards,

which is only found on very few coasters.

After the curve it all becomes even more unusual

as in the next left curve the track

turns 225° anticlockwise until

the car is upside down. And it

remains so for a number of

almost horizontal track metres

before a half-circle formed drop

prepares an end to the inversion

and travels almost at ground

level, followed by the obligatory

ascent into the second block

brake, which as the first, almost

brings the car to a still stand.

But there's also almost no time

to take catch ones breath here either, as the ride

shoots to the next turn – this time to the right, and

in the classic manner, banks laterally to the right.

That was it then, but also the conventional track

course as well, as S&S had built in an anticlock-

56
---
COASTER

wise roller. The tree truck is travelled through

again, the one which the first drop had squeezed

through already. A right curve follows, this time

with up to 90° banking, before the car travels into

the final magnetic brakes, 80 seconds after leaving

the station, and 50 seconds after leaving the

lift.

The complete construction of the "El Loco"

coaster rests on four towers of varied heights,

each comprising of four vertical supports strutted

together. Strutting between towers does exist, but

up to the tracks hardly ever. And the various

deliveries are definitely not structurally identical.

"Steel Hawg" and "Mumbo Jumbo" have no

lateral banking between the lift and the first drop

in the tracks. This has been introduced on

"Timber Drop" in order to reduce the wear and

tear of the wheels.

Another difference is in the maximum angle of the

first drop. This construction type was designed

right from the beginning with a maximum 120°

vertical angle. Indiana Beach wanted more than

90° for "Steel Hawg", but nothing too crazy, and

ended up with 111°. "Mumbo Jumbo" added one

more degrees and held the record until "Timber

Drop" again added one additional degree and

reached 113°. Patrice Fleurent originally didn't

want to greatly emphasise this fact but couldn't

resist the marketing possibilities in the end, and

had the record acknowledged in the Guinness

Book of Records. Nevertheless only 15 days later

the best-mark was topped as Gerstlauer's "Takabisha"

at Fuji-Q Highland with its 121° brought the

"one degree more" piecemeal tactic to an abrupt

end.

All told, "Timber Drop", just as its siblings, offers

a passenger not just a lot of fun on a small ground

area with an unusual track course, but also a lot

to those viewing optically. Bearing in mind the

moderate price and the now available version

with higher capacity, a new sales hit could well be

looming. However its attractiveness is not least due

to Park Fraispertuis City, which hasn't simply placed

the elaborate acquisition in a green meadow, but

has fitted it in perfectly into the western theme.

Chapeau!

■

Park Owner Patrice Fleurent

RIDE FACTS

■ Opening: 1 st July 2011

■ Track length: 420 m

■ Track height: 29.5 m

■ Max. speed: 66 km/h

■ 2 inversions

■ Max. vertical angle: 113°

■ Acceleration (vertical):

-1.5 to +3.5 g

■ Ride time: 80 sec

(incl. 30 sec to 1 st drop)

■ 4 single cars,

per car 4 pers.

■ Ground area: 59 x 14 m

■ Manufacturer: S&S, Logan,

Utah, USA

■ Operator: Fraispertuis City,

Jeanménil, France

EL LOCO FOR AUSTRALIA

The " "Timber Drop", following "Steel Hawg" at

Indiana Beach (USA) and "Mumbo Jumbo" at

Flamingo Land (England), is the third delivery of this

coaster type. One could also speak about a fourth

construction, however "Afterburner" at Divo Ostrov

(Sankt Petersburg), that looks more like an "El

Loco" optically, rather than a "Screaming Squirrel"

as the one at Gardaland, has never gone into

operation due to a legal dispute. Another

delivery opened in December as the "Green

Lantern" at Australia's film park Warner Bros.

Movie World, with – different to its predecessors

– eight seat cars (two rows, each for four

passengers). The layout is basically identical to

the one in France, however due to the larger

size of the cars, is located on a larger ground

area.

■

57
---
INTERVIEW

New characters have

moved into the Walibi-Parks

– and create a furore with

the kids

It's very rare that a complete park

group undertakes this type of extensive

re-branding as was done

this year at Walibi.

We spoke with the group's Director

of Entertainment, Rascal Udo

Hüppe, about this ambitious

project.

Walibi Re-Branding

Text:

Tim Herre

Photos: Walibi

Our dialogue partner was

Managing Director of Grévin

Deutschland GmbH between

2003 and 2009 to which Fort

Fun Abenteuerland and

Panorama Park belonged;

since then he is Director of

Entertainment

You were musician and manager simultaneously

for a long time. So a re-branding with

a music theme sailing under your colours

isn't a coincidence, or is it?

It's quite true that I started my career in the

music industry. I was initially a musician and became

Product Manager at Indie-Label Rough

Trade quite early.

The Walibi Group actually has a strong

character in the omnipresent Wali-kangaroo.

Why then the re-branding?

The mascots were developed in the 70s and

were at that time extremely successful, but somewhere

along the line they became outdated.

Besides that there is a kangaroo at both Walibibands

again – in a considerably pepped up form.

What makes the new Walibi characters

different?

The new characters have their source from the

lived-in world that correlates with today's teenagers,

with all their aspirations, wishes, worries, problems

and adventures. In the park and show operation, it's

important to us to have agile, active, and the most

vibrant live-characters possible. The portrayal of

their comic world from where they originate is also

important. All performers undertake a special and

individual movement and masquerade training. We

don't just want people in animal costumes, but

real characters. Each individual character

has its own trained stereotype movement.

"Haaz" for example moves like a cheetah from

the spine, "Squad" from the hip in a provocative

way, and so on. The boundary between

the stage and cartoon world has been

opened up. The characters spring around in

HD-video pictures and come out again in another

place. We have further developed the

theme masquerade technology substantially

in order to make such stunts and acrobatics

possible. We have been able to realize stunts

and dance acrobatics with masquerade that

were not possible earlier with the usual and

common Walking-Acts. All the costumes have

been so developed that they are very light,

and the actors have optimal freedom of movement.

With that – and the considerable birth

pains – we have definitely opened a new

chapter in disguise and costume technology.

58
---
The idea of rivalling rock bands is very

new, and doesn't really tend towards the current

much courted family public by all parks.

Why have you chosen this theme that addresses

teenagers a lot more.

Wouldn't it have been more consistent to

take deference to the musical trend development

that shows that it's not rock music, but

electronically generated music that is more

mainstream?

Basically we are targeting the Tweens who

are not quite teenagers between 9 and 12 years

of age with this music theme. Additionally we also

have two bands: the "WAB" as Pop-Band and the

"SkunX" of a harder gang type. Both bands rival

with each other and the public rivals as well. The

"SkunX" is also popular with the fathers. In our

market research group the young participants

were already arguing about which of the two was

the cooler band. All hell let loose. And we saw

that it all functions! "WAB" is a lot happier and

friendlier; it's all about solidarity, friendship, and

a positive view of the world. "SkunX" is somewhat

harder and more negative, and are the coolest

and best recipe to contra boredom in the world.

Firstly we have a trendy and rocky band. And

naturally "SkunX" uses a lot of electronics, which

is indispensible in current and modern music

production. But I really think that it's immaterial in

the meantime these days, as the borders become

indistinct anyway. There's just music that I like, and

some that I don't like. The music springs up from

the lived-in world of both bands and is popular –

what more do we want? Whether the music sounds

electronic or analogue is only interesting for the

professional circles and less for the young fans in

a mass market. The CD is available in the parks

and is one of the best sold articles, overwhelmingly

the top 5 in the parks. The bands have generated

real fans, and surpass our boldest expectations.

We have already presented an

in depth report about the redesigned

Vekoma-Boomerang "Speed of

Sound" in the KPR 5/2011 edition

59
---
The "SkunX"-Freefall

The music is also on a very high niveau that has

been produced by people who are at home on the

European charts.

The coaster "Speed of Sound" (see KPR

5/2011) and the large shows are the most

noticeable novelties. What is planned next?

One can have a whole lot of fun in the experience

realm of both these bands. In Rhône

Alpes there is a "SkunX Tower", a S&S-Spaceshot,

which has been worked over with specially

composed and adapted music. This works extremely

well, and brings added value to the ride

even though the actual changes to the ride are

not particularly elaborate. This is the reason that

the Indoor-Breakdance "Dark Raver" at Fort Fun

was one of my favourite projects. A lot can be

achieved with a good idea and the correct music.

Naturally we have a lot new ideas, but we don't

want to talk about them at this stage.

Are there plans to combine other ride

constructions or coasters with a music

theme?

The On-Board-Sound on "Speed of Sound"

was a long fight with finances, because the

whole thing was very expensive. But naturally I

would personally like to connect more ride attractions

with music and a dynamic story in the

future.

Such characters are not developed from

one day to the next. Are there plans to allow the

new figures to appear also in the parks of Compagnie

des Alpes group that don't carry the

Walibi name?

At the moment we are naturally happy about

strengthening the trademark Walibi so successfully.

But the next step of course is to take a look

at what can be done in the other parks. It's quite

possible that there could be a type of "Walibicorner"

at the other parks, where products will

also be available.

Are there plans to embed "WAB" and

"SkunX" in for example children's programmes,

apart from music television programmes?

We are currently talking to large stations and

networks in France. This is of course connected

with a lot of money for which we are looking for

in partnerships in the networks. In the web there

is already an interactive manga that we would

like to continue. I was personally – quasi as Band

Manager – with "WAB" on French television.

These are special moments that one experiences

with their characters. Let's see what

comes in the future.

Thank you for the interesting interview.

■

60
---
PARTICIPATE

IN DEAL 2012

ACCELERATE

YOUR GROWTH

in the Entertainment, Amusement and Leisure industry

'DEAL 2012' is the ONLY 'one-of-its-kind'

premier international trade exhibition for

the Amusement, Leisure and Entertainment

industries in the Middle East.

April 17 – 19, 2012,

The Arena,

Dubai World Trade Centre, UAE.

BOOK YOUR STAND TODAY!

EXHIBIT & GAIN FROM DEAL 2012

The 18 edition of the vibrant DEAL Expo will be the

perfect stage to:

Display your business among 250 leading exhibitors

from 33 countries

•

Showcase the latest equipment, and services to over

5000 serious business visitors

•

Gain education and information through dedicated seminar

programmes

•

Enhance business networks and profitable business deals

•

Share innovations, ideas, and proposals

•

Generate inquiries and orders

Organised by:

Supported by:

Member of:

P.O. Box 50006, Dubai, U.A.E. Tel: +971 4 3435777,

Fax: +971 4 3436115, E-mail: themeparks@iec.ae

www.themeparksdubai.com
---
EXHIBITION

IAAPA EXPO 2011 PART 2

Photos:

Frank Lanfer

As already reported in our previous edition, the

past IAAPA Expo Show, the largest and most

important trade exhibition in the amusement

industry, was well visited. Many potential buyers,

showmen, as well as park operators made their way

to Orlando to attain information about new projects.

Around 15,300 trade visitors also enjoyed the four

exhibition days in November 2011 as a social

occasion as well.

■

Roland Mack (Europa-Park, Germany) is the

new IAAPA President for a year

Gerardo Ahteaga (Fantasilandia, Chile) was voted IAAPA's Third President

and with that will become IAAPA-President in 2014; here with both his Fantasilandia

colleagues Andres Moreno (left) and Robert Medel (right)

Bob Masterson (Golden Planet Pleasure,

earlier Ripley's Believe It or Not) was IAAPA-

President in 2008

Grönalund had a number of representatives (on both photos f.l.t.r.)

Richard Söderberg, Mikael Selming, Heinz Pelz and Peter Andersson

Grönalund associate Mattias Banker takes the amusement

industry just as it actually should be: not quite so seriously

62
---
Bob Rippy (Jungle Rapids), here with wife Jenny, was IAAPA-

President in 2010

Park Manager Nico Rössler and his colleague Stefan Bryxi

from the Bavaria Filmstadt (Germany)

Andreas Stickel is Manager of

the German experience world at

Nürburgring

The American showman company Buttler Amusements Co. (f.l.t.r.), daughters

Elizabeth and Shannon together with their parents Dorothy und William Truax

Volker Meyer from the amusement

company Saudi Brothers

Baroness Caroline and Baron Friedhelm von

Landsberg-Velen (Castle Dankern)

63
---
Jeff Morey from the American amusement

park Morey's Pier (a large wooden

coaster will be built there by 2013)

Alain Trouvé from Compagnie des

Alpes (currently a new B&M Inverter is

being erected at Parc Astérix)

Jacky Schoepen (earlier junior boss at

Bobbejaanland) is planning something new

for Belgium very soon

The American showman family Schuper: Everett Schuper (3rd f.l.) with daughter Toni

and wife Lisa, and his brother Jeff (left)

German showman Karl Häsler also

gathered information in Orlando

Sören Kragelund with daughter Kirsten from the Danish theme

park Faarup Sommerland

Siblings Amanda and Nick Thompson from Great Britain's

Pleasure Beach in Blackpool

64
---
Gary Story (here with wife Lorena) was longstanding

Six-Flags-Boss and now operates the Clementon Park and

Ocean Breeze with earlier Six-Flags colleague Kieran Burke

Even Richard Rodriguez,

world record holder in continuous

coaster riding, was at Orlando

Shaun McKeogh has

worked in the area of Human

Resources for Ferrari World

Michael Withers from Disney Imagineering and Agi Reddersen

from Kirmes & Park Revue

Rich Langhorst and Greg Hale (right) are also in leading Management

positions at the Walt Disney Company

British showman Jason Mayne visited IAAPA together

with his wife

American showman

Mark Fanelli

Michael Reitz is Corporate

Engineer at Six Flags

65
---
MAGAZINE

COMMENTARY – DYNAMIC PRICING

MR. SPEIGEL

In our last edition we commented

about the pricing policy

at the new Legoland Florida

Park, and observed various

maximum day ticket prices.

Another problem, especially in

the USA, is the varied types of

discount offers.

In this article Dennis Speigel

writes for us, who is an "old

hand" and almost a legend in

the American amusement

industry.

With his company ITPS – International

Theme Park Services,

Inc. www.interthemepark.com

he advises clients in the amusement

industry.

He began in 1960 as a seasonal

worker at the amusement

park Coney Island Ohio, to become

later the Park Director of

Kings Island and Kings Dominion.

He continued on to become

Deputy General Manager of

International Operations for

Taft Broadcastings in the

amusement segment.

Additionally, Dennis Speigel

was also Chairman of IAAPA in

the past.

■

Commentary : Dennis Speigel

One of the greatest threats to the theme park

industry, both domestic and foreign, is "rampant

discounting." We have seen our a la carte segment

of attendance by ticket type shrink

dramatically during the past 20 years. A major

factor causing the shrinkage has been the

expansion of the parks' season pass programs.

Twenty years ago, parks like Six Flags over

Texas, Kings Island, Worlds of Fun, and many of

the other major U.S. theme parks counted on at

least 30-35% of their annual attendance to come

to their park and pay full price. I have often said

that anyone who comes to a theme park in this

day and age and pays full price must be from

outer space. Today, that 30-35% of full-paying

customers has shrunk to as little as 2% in many

of the major parks. Why? Parks are historically

known for taking one approach when they have

to fill an attendance void: D-I-S-C-O-U-N-T.

Whether it be early, middle or late in a season,

the approach du jour is "toss out more discounts

to spin the turnstiles."

During the last four years, we have seen the

U.S.A regional parks continue to "step it up" as

it relates to their discounting efforts. In 2007, prior

to the announcement of being in recession, it

was high oil prices that made the U.S. parks put

discounts out early in the season, make them

deeper than they ever had previously, and keep

these discounts out all season long.

The years 2009 and 2010 saw similar discounting

practices with a small amount of withdrawal,

but not a lot of retreat from the previous years.

Lest we forget, pricing has always been sensitive

when changes were made in our industry. It

all began with selling nickel tickets in a "pay-asyou-go"

format.

Each ride at an amusement park charged a

certain number of tickets based on the

popularity of the ride. A new program – the

"ticket book" – was introduced in 1955. Three

months after Disneyland opened, it sold value

books of multiple tickets, which ranked the usage

by popularity.

That system remained in force until the 1970s

when Disney was forced by public acceptance

of the newly-introduced "pay-one-price" (POP)

concept to change to the POP system.

Now, keep in mind that each time a new pricing

concept came along, there were industry people

who said these newer concepts would not

work. They were proven wrong. Pay-as-you-go

tickets were in existence for decades and payone-price

has been around now for 50 years.

The reason I am discussing these established

types of pricing in conjunction with the earlier

topic of discounting is that the time has come to

augment our current pricing and discounting

with yield management systems, or dynamic

pricing.

Airlines, hotels, car rental companies, cruise

lines, and even major sporting events are now

and have been using dynamic pricing as ways

to maximize sales during periods when they

need or want to push or control their product

sales.

The time is now for dynamic pricing and yield

management to come to the leisure industry.

This type of offset to park discounting will come

at a time of a maturing industry. A time when

parks have raised prices to a point of discernible

concern. A time when, as stated earlier,

discounting has run rampant.

The parks that take the lead and begin deeply

exploring the yield management / dynamic pricing

approach to pricing will see demonstrable

growth in attendance and profitability. Why?

First, it will allow parks to retrieve control of the

discounting process from the market. It will also

allow the parks who have allowed their margins

and profitability to shrink due to the high use and

cost of discounting through the years to gain

back the control of getting visitors to their facilities

when and how they want them. It will work. It

has worked in the industries I mentioned earlier.

It will take some internal ingenuity, just as it did

when changing from pay-as-you-go to pay-oneprice.

Industry conditions are good. The evolution to

the web, the advent of social media, the markets'

conditioning for the need for programs like this

all make for a perfect time for the institution of a

concept of this nature.

It will take nurturing, as well as trial and error, to

finally hone the program to an individual park's

requirements.

But, once instituted, it will improve performance,

attendance, in-park spend, and profitability.

At ITPS, we have been studying this concept for

several years. We believe its time has come. ■

66
---
PARQUE DE ATRACCIONES

Text & Photos:

Wolfgang Payer

In July 2010 Parque de Atracciones de Madrid put

the third highest Star Flyer from Funtime into

operation. Following the Prater tower at 177 metres

and the 90 metre ride at Tivoli, the version at Madrid

has an 80 metre height. The special feature of this

Star Flyer is the spectacular and up until now the

largest dome construction with a weight of over nine

tons. The outside diameter with the four UFO

designed structure is 14.5 metres and has a height

of 7.5 metres. The large UFO at the peak has a diameter

of 9 metres, and the three smaller each at 3.6

metres. The elevation traction is located on the

ground in the case of this model and is equipped

with 12 double seats. The Spanish park guests not

only have a great view over the park on this Star

Flyer, but right to Madrid.

■

67
---
FUN CITY – BREAN LEISURE PARK

For the Cadell brothers taking it

easy isn't an option. The owners

of "Fun City" at Brean Leisure

Park, UK, are very hands on with

their amusement park. The closed

season saw the park expand

by 3600 m 2 with the relocation

and addition of several attractions,

many of which were

constructed or refurbished

in-house.

Text & Photos: Marcus Gaines

The committed brothers,

David (l.) and Richard Cadell (r.)

Text & Photos:

Marcus Gaines

The flagship attraction of the expansion is the indoor

coaster "Astro Storm". The Zierer "Four

Man Bob" coaster opened in July ready for the

school holidays. Previously located at Pleasure

Beach Blackpool as "Space Invader 2", it closed in

2008 just four years after it was refurbished by KumbaK

Coasters. "Astro Storm" is located in the

expanded area, where like the rest of Fun City, the

ground is covered with green rather than black

tarmac, giving a colourful look to the park. The

facade of the newly constructed ride building is

currently a banner, but the intention is to build a 3D

frontage with asteroids and sparkling ride logo. The

station area has been well themed and those with

keen eyes will spot parts of the old "Space Invader

2" queue tunnels cut up and incorporated into the

station walls. Coaster experts might even spot the

old control panel from the parks Pinfari looping

coaster "Shockwave".

The ride itself begins with a custom produced

video, which explains that guests are going on an

adventure tour into space. Climbing the lift hill,

another video reveals an asteroid storm is in the

visitor's path, at which point the video loses signal

and the car drops off the lifthill into total darkness.

The wonderfully smooth ride is undertaken nearly

entirely in the dark. There are tunnelled sections

with lighting effects and air sprays that add a

brilliant and unusual element to the ride.

The park's superb Ghost Train "Terror Castle" is

constantly being tweaked following the Cadell's

annual shopping spree at the IAAPA Attractions

Expo. Intentions are that "Astro Storm" will be the

same, an ever evolving experience with new effects

added each season. It's already been decided that

the air sprays aren't strong enough, and that air

canons would be better. An additional and longer

tunnel with lighting is also being created, as the

Cadells feel too much of the ride is in complete

darkness.

68
---
Meanwhile the front of the park is now home to a

"Congo Adventure Golf Course" from Castle Golf

(USA). The Cadells went to IAAPA 2010 to learn how

to make concrete rocks, and came home having

bought a crazy golf course. To make room for the

course, the parks "Caterpillar Coaster" was relocated

to the expanded area, but not before being

refurbished and repainted in-house. The Reverchon

"Magic Mouse" also had to be moved.

Additionally, a mirror maze was purchased from

Ocean Beach Park, South Shields, and re-themed

as the "Sea Maze". Rounding off the new attractions

are the Crazy Boats, a set of bumper boats. David

Cadell designed and constructed the ride structure:

"We couldn't find one we liked, so we built it

ourselves." The boats were supplied by J&J

Amusements, and feature water squirters. For a

park where attention to detail is key, keeping the

water clean and clear is crucial, so a filter system

was installed, which will eventually form a waterfall

over the ride's signage.

Another thing that keeps them busy is that

the Cadells own the IP rights for British kids

TV favourite "Sooty and Sweep". During the

winter, Richard Cadell wrote a new TV

series, which was almost entirely filmed at

Fun City. If the new series proves to be

successful then plans for a Sooty themed area may

move forward. Adding to their workload, they

designed Sooty themed vending machines, and

had them constructed in China, half of which have

already been sold from the first

production run.

The Cadells recently agreed to the

sale of their KMG "Speed "ride,

which was advertised for sale in the

KPR, leading to a lot of interest.

With no chance to take it easy,

negotiations are now underway

with KMG for a replacement ride

for 2012. David Cadell reveals

"I wouldn't hesitate to use KPR

again for future sales". As for going

back to KMG: "we believe that their

building quality, reliability, and

after sales services are second to

none within the industry." ■

The new attraction

since the 2011 season is an

indoor coaster from Zierer

A KMG-Propeller

69
---
CORRECTION: RAINBOW MAGICLAND

In our past October edition (KPR No.171) we

presented an in depth report about the new Rainbow

MagicLand in Italy, and in the process the

individual attractions there. On page 70 the ride

"L'Isola Volante" could be seen in photo and print.

However, it is not correct that the construction came

from Intamin as was written – it was supplied by

Vekoma from the Netherlands, which names this

type of attraction "Sky Shuttle". Please note this

information.

■

CORRECTION + ADDENDUM: LEGOLAND FLORIDA

Unfortunately a crucial

mistake was made in

our park portrait about the

new Legoland Florida in

our last January edition on

page 65. The profits in the

fiscal year 2010 did not

amount of 1,250 US dollars,

but more precisely 1,249

billion Dollars. Please be

so kind as to note the

difference, for which we

apologise.

In the meantime it has

become known that the

company has no need to

execute any annual inspections on its attractions as

is mandatory in Europe. This exception is possibly

due to a 23 year old statute in Florida that the

Disney Company could achieve at that time. The

statute only requires parks with less than a 1,000

number of employees to undertake a government

controlled inspection, whilst a large park is allowed,

or rather must have its own engineers to carry out

inspections. The safety of the 24 ride attractions

was assured by Legoland's spokeswoman Jackie

Wallace: "Within our industry, it is common practice

for theme parks to govern themselves as far as ride

inspections go".

In addition to Disney and Merlin, Universal (with

Universal Orlando and Wet 'n Wild) and SeaWorld

Parks & Entertainment (with SeaWorld Orlando and

Busch Gardens Tampa) also takes advantage of

this exception.

■

70
---
TAKEOVER: FORT FUN

Text:

Photos:

Frank Lanfer

Stefan Scheer, Fort Fun

Quite surprisingly Abenteuerland Fort Fun in

Bestwig has a new owner, since the family

park founded in 1967 located in Sauerland in the

middle of Germany, became a part of the CdA-

Group (Grévin & Cie) in 2002. Two German parks

were in the French Compagnie des Alpes

portfolio, a company that is 42% state-controlled:

whilst the Panorama Park was already sold in

2008 and rebuilt into a wildlife park, the remaining

Fort Fun changed owners on the 23 rd December

2011.

And with this step, the 28 year old Matthäus

Ziegler, who manages the One World Holding

GmbH & Co. KG together with his mother, intends

to do big things. The company that stems from

the fabrication of spirits, decided to go in a new

direction in 2009. The distillery was sold without

further ado with a lookout for a new investment in

the form of a theme park in Germany. Initially

Spreepark in Berlin was being considered, however

the building regulations and the individual

operations there would have hindered future

development. Then the press announced (also

KPR) that the Ziegler family wanted to take over

the quite small park Geiselwind in Bavaria, with

plans to extend massively. At the same time,

negotiations were still being undertaken with the

CdA-Group in Paris, which finally came to an

amicable conclusion. An agreement has been

made about non-disclosure of the sale price, but

it appears that it is under the demanded amount

from CdA.

Only a few days after the signing of the contract,

busy constructions steps were being undertaken

at the park – after all, the new Fort Fun is to open

in time for the start of the 2012 season. Until then

a new administration building is to be built for 26

million Euro, the Wild West theme area is be

completely renovated and refurbished according

to the latest environmental criteria, the no

longer modern overnight accommodation will be

reworked, new gastronomy outlets will be built,

and two new kiddie rides will be erected. The

internal 6-year-plan includes an annual investment

amount of a similar magnitude. With the

exception of smaller attractions, there will

basically be no purchases made "off the rack"

said Ziegler, and he also pointed out that all

contracts have already been signed up to and

including 2013. And so a large attraction for over

10 million Euro will be erected next year that is

unique worldwide. Ziegler:"We will make an

international theme park for the whole family out

of Abenteuerland, step by step."

Ziegler is also enthusiastic about the topographic

location of the park:" We have a height difference

of more than 200 metres within the 75 hectare

sized park grounds. This is unique in Europe."

The estimation of future park visitor numbers is

being made cautiously.

An approximately 400,000 figure was generated

over the past few years, and the new owner will

be happy to increase this number step by step.

All in all a positive process, because with the

owner changeover of Fort Fun, a step has been

taken contrary to the general trend: instead of individually

operated theme parks being increasing

purchased by large companies and private

equities, a "private" company has stepped in

here with a personally committed Manager.

Matthäus Ziegler emphasised: "Naturally we are

also profit orientated, but this is not a pure

investment business." The One World Group, in

which there are also "parts" from Heimo (more

precisely Jörg Mordelt from the planning group

located in Berlin), is in 100% ownership of

Christine Ziegler and her son Matthäus. ■

Up until now only a few

attractions had played with the

topography at Fort Fun, but this

will change very soon

71
---
PREVIEW

A calendar of events can be found here for the month of

February in alphabetical order. Additional information about

individual events is listed below.

■

■ GB Clapham 10.02.-19.02.

■ GB Ipswich, Suffolk 10.02.-26.02.

■ GB Kings Lynn, Norf 14.02.-28.02.

■ GB Leeds, W.Yorks 09.02.-19.02.

■ GB Newcastle 10.02.-19.02.

■ GB Newton Abbott 09.02.-04.03.

■ NL Amsterdam-Noord 25.02.-05.03.

■ NL Apeldoorn 18.02.-26.02.

■ NL Roermond 17.02.-21.02.

■ NL Valkenswaard 18.02.-21.02.

9. FEBRUARY (THURSDAY)

GB Leeds, W.Yorks

■ Great St Valentines Fair

until 19.02.

GB Newton Abbott

■ Mega Rides Family Event

until 04.03.

Open from Thursday to Sunday

10. FEBRUARY (FRIDAY)

A■ Alzey 17.02.-20.02.

■ Augsburg 16.02.-21.02.

B■ Bochum-Stahlhausen 28.01.-05.02.

■ Bottrop 16.02.-20.02.

D■ Darmstadt 17.02.-21.02.

■ Dortmund 16.02.-20.02.

■ Duisburg-Serm 16.02.-20.02.

F■ Fürth 16.02.-21.02.

G■ Ganderkesee 18.02.-20.02.

H■ Hagen-Boele 16.02.-19.02.

■ Hanau 17.02.-21.02.

■ Heidelberg 18.02.-21.02.

■ Heilbronn/Neckar 25.02.-27.02.

K■ Kaiserslautern 18.02.-21.02.

■ Köln 19.02.-21.02.

L■ Landau/Pfalz 18.02.-21.02.

■ Leonberg 10.02.-14.02.

■ Leverkusen-Opladen 16.02.-21.02.

■ Ludwigshafen/Rhein 16.02.-21.02.

M■ Mainz 18.02.-21.02.

■ Mannheim 16.02.-21.02.

■ Mönchengladbach 16.02.-21.02.

■ Mönchengladbach-Rheydt

16.02.-21.02.

S■ Steinheim 18.02.-21.02.

■ Stuttgart 17.02.-21.02.

V■ Versmold 24.02.-26.02.

■ Voerde 16.02.-20.02.

W■ Weil der Stadt 18.02.-21.02.

■ Wiesbaden 16.02.-21.02.

■ Worms 16.02.-21.02.

Z■ Zirndorf 17.02.-21.02.

INTERNATIONAL

■ A Mödling 18.02.-21.02.

■ B Aalst=Alost 10.02.-26.02.

■ B Blankenberge 18.02.-26.02.

■ B Geraardsbergen 25.02.-07.03.

■ B Nivelles=Nijvel 18.02.-29.02.

■ B Oostende=Ostende 17.02.-27.02.

■ B Sint-Truiden 17.02.-27.02.

■ B Tienen=Tirlemont 18.02.-26.02.

■ B Vilvoorde=Vilvorde 17.02.-26.02.

■ CH Biel 24.02.-11.03.

■ CH Grenchen 16.02.-21.02.

■ CH Winterthur 24.02.-27.02.

■ CZ Praha=Prag 25.02.-15.04.

■ ES Palma de Mallorca 24.02.-15.04.

■ F Aix-en-Provence 04.02.-11.03.

■ F Albi 18.02.-26.02.

■ F Alençon 28.01.-19.02.

■ F Avignon 18.02.-18.03.

■ F Besançon 20.01.-04.03.

■ F Bordeaux 24.02.-25.03.

■ F Calais 14.01.-05.02.

■ F Carcassonne 25.02.-18.03.

■ F Châlons-sur-Marne 21.01.-12.02.

■ F Chalon-sur-Saône 24.02.-04.03.

■ F Chauny 25.02.-11.03.

■ F Clermont-Ferrand 11.01.-11.03.

■ F Gardanne 18.02.-11.03.

■ F Granville 17.02.-26.02.

■ F Lyon 10.12.-26.02.

■ F Menton 14.01.-19.02.

■ F Narbonne 04.02.-19.02.

■ F Nîmes 25.02.-18.03.

■ F Pont-Audemer 18.02.-04.03.

■ F Pontivy 18.02.-11.03.

■ F Quimper 28.01.-04.03.

■ F Rochelle, la 25.02.-18.03.

■ F Saint-Malo 21.01.-19.02.

■ F Salon-de-Provence 28.01.-19.02.

■ F Troyes 25.02.-18.03.

■ F Vichy-Cusset 18.02.-18.03.

10. DEZEMBER (THURSDAY)

F Lyon

■ Luna Park until 26.02.

11. JANUAR (WEDNESDAY)

F Clermont-Ferrand

■ Luna Park until 11.03.

14. JANUAR (SATURDAY)

F Calais

■ Foire d'Hiver until 05.02.

F Menton

■ Fête Foraine des Citrons

until 19.02.

20. JANUAR (FRIDAY)

F Besançon

■ Luna Park until 04.03.

21. JANUAR (SATURDAY)

F Châlons-sur-Marne

■ Fête la Saint Glin-Glin

until 12.02.

F Saint-Malo

■ Fête de la Sainte-Ouine

until 19.02.

28. JANUAR (SATURDAY)

44793 Bochum-Stahlhausen

■ Historischer Jahrmarkt

until 05.02.

Jeweils Saturday und Sunday

Histor.Ges.Deutscher Schausteller

F Alençon

■ Fête de la Chandeleur

until 19.02.

F Quimper

■ Luna Park until 04.03.

F Salon-de-Provence

■ Luna Park d'Hiver

until 19.02.

4. FEBRUARY (SATURDAY)

F Aix-en-Provence

■ Foire aux Manège de Carnaval

until 11.03.

F Narbonne

■ Fête Foraine de Février

until 19.02.

71229 Leonberg

■ Pferdemarkt until 14.02.

Fa. Roschmann/Eislingen

B Aalst=Alost

■ Winterfoor & Carnaval until 26.02.

GB Clapham, South London

■ Half Term Fair until 19.02.

GB Ipswich, Suffolk

■ St. Valentines Fair until 26.02.

GB Newcastle-Gateshead

■ Team Valley Valentines Fair

until 19.02.

14. FEBRUARY (TUESDAY)

GB Kings Lynn, Norf

■ Mart Fair until 28.02.

16. FEBRUARY (THURSDAY)

41061 Mönchengladbach

■ Karnevalskirmes until 21.02.

41236 Mönchengladbach-Rheydt

■ Karnevalskirmes until 21.02.

44139 Dortmund

■ Karnevalskirmes until 20.02.

A.Kleuser/Dortmund

Flash, Power Express, Breakdance, Fliegender

Teppich, Simulator, Top Spin

Participants: ca. 100

46236 Bottrop

■ Karnevalskirmes until 20.02.

City

Love Express, X-Factor, Phoenix, Breakdance,

Big Spin, Shaker, Time Factory

Participants: ca. 80

46562 Voerde

■ Karnevalskirmes until 20.02.

47259 Duisburg-Serm

■ Karnevalskirmes until 20.02.

W.Söhngen/Duisburg

51381 Leverkusen-Opladen

■ Karnevalskirmes until 21.02.

D.Enners/Leverkusen

58099 Hagen-Boele

■ Karnevalskirmes until 19.02.

65029 Wiesbaden

■ Fastnachtsmesse until 21.02.

Am Rathausplatz von Friday until Monday

Dachorg. Wiesbadener Karneval

67012 Ludwigshafen/Rhein

■ Fasnachtsmarkt until 21.02.

LUKOM/Ludwigshafen

67549 Worms

■ Fastnachtsmarkt

until 21.02.

72
---
68137 Mannheim

■ Fasnachtsmarkt until 21.02.

86156 Augsburg

■ Faschingsmarkt until 21.02.

90762 Fürth

■ Faschingsrummel until 21.02.

CH Grenchen

■ Fasnacht until 21.02.

17. FEBRUARY (FRIDAY)

55232 Alzey

■ Fastnachtsmarkt until 20.02.

63450 Hanau

■ Faschingsveranstaltung

until 21.02.

64283 Darmstadt

■ Faschingstreiben until 21.02.

70173 Stuttgart

■ Innenstadt-Fasnacht until 21.02.

90513 Zirndorf

■ 5 tolle Tage until 21.02.

B Oostende=Ostende

■ Carnavalfoor until 27.02.

B Sint-Truiden=St.Trond

■ Carnavalkermis until 27.02.

B Vilvoorde=Vilvorde

■ Carnavalfoor until 26.02.

F Granville

■ Fête Foraine until 26.02.

NL Roermond

■ Carnavalskermis until 21.02.

18. FEBRUARY (SATURDAY)

27777 Ganderkesee

■ Faschingsmarkt until 20.02.

32838 Steinheim

■ Karnevalskirmes until 21.02.

55120 Mainz

■ Fastnachtsmesse until 21.02.

67653 Kaiserslautern

■ Fastnachtsmarkt until 21.02.

69117 Heidelberg

■ Altstadtfasching until 21.02.

71263 Weil der Stadt

■ Fasnacht until 21.02.

76829 Landau/Pfalz

■ Fasching until 21.02.

A Mödling

■ Fasching until 21.02.

B Blankenberge

■ Carnavalfoor until 26.02.

B Nivelles=Nijvel

■ Foire du Carnaval until 29.02.

B Tienen=Tirlemont

■ Carnavalfoor until 26.02.

F Albi

■ Fête du Carnaval until 26.02.

F Avignon

■ Kermesse de Février until 18.03.

F Gardanne

■ Foire de la St. Valentin until 11.03.

F Pont-Audemer

■ Foire des Jours Gras until 04.03.

F Pontivy

■ Fête Foraine until 11.03.

F Vichy-Cusset-Bellerive

■ Luna Park until 18.03.

NL Apeldoorn

■ Voorjaarskermis Americahal

until 26.02.

NL Valkenswaard

■ Carnavalskermis until 21.02.

19. FEBRUARY (SUNDAY)

50667 Köln

■ Karnevalskirmes until 21.02.

24. FEBRUARY (FRIDAY)

33775 Versmold

■ Sankt-Petri-Markt, Sünne Peider

until 26.02.

City

Breakdance, Phoenix, Nostalgie-Riesenrad,

Konga, Jump Street, Musik-Shop, Salto Mortale,

Remmi Demmi

Participants: ca. 200

CH Biel

■ Fasnachtschilbi until 11.03.

CH Winterthur

■ Fasnacht until 27.02.

ES Palma de Mallorca

■ Fira del Ram until 15.04.

F Bordeaux

■ Foire aux Plaisirs until 25.03.

F Chalon-sur-Saône

■ Fête du Carnaval until 04.03.

25. FEBRUARY (SATURDAY)

74072 Heilbronn/Neckar

■ Pferdemarkt until 27.02.

B Geraardsbergen

■ Winterfoor until 07.03.

CZ Praha=Prag=Praag

■ Matejská Pout until 15.04.

F Carcassonne

■ Fête Foraine d'Hiver

until 18.03.

F Chauny

■ Foire de Mars until 11.03.

F Nîmes

■ Fête Foraine until 18.03.

F Rochelle, la

■ Fête Foraine d'Hiver

until 18.03.

F Troyes

■ Foire de Mars until 18.03.

NL Amsterdam-Noord

■ Kermis until 05.03.

No responsibility for accuracy!

✮✮FOR SALE ✮✮

BOMBER MARK 2

Booster 50 Mtr – Fabbri 2006

Model - Trailer mounted

Price: Offers invited

MOBY'S – WATER COASTER

12.5 m high

galvanised

access tower

leading to 3

water slides,

conveyor boat

return with

fibreglass shutes.

Park model,

can be seen

on site.

Price:

offers invited.

Contact: M & D Group • 00 44 / 1698 / 333 777

jensenc@scotlandsthemepark.com

73
---
❑

❑

❑

ABONNEMENT-AUFTRAG

Ich bestelle hiermit die nächsten 12 Ausgaben von KIRMES & PARK Revue ab Heft-Nr.

zum Abonnementpreis von 78,– € inkl. 7 % MWSt. und Versand (Deutschland)

Ich bestelle hiermit die nächsten 6 Ausgaben von KIRMES & PARK Revue ab Heft-Nr.

zum Abonnementpreis von 45,– € inkl. 7 % MWSt. und Versand (nur innerhalb Deutschlands)

Ich bestelle hiermit die nächsten 12 Ausgaben von KIRMES & PARK Revue ab Heft-Nr.

❑ Europa Normalpost zum Abonnementpreis von 99,– € inkl. Porto und Versand

❑ Europa Luftpost und Übersee zum Abonnementpreis von 111,– E inkl. Porto und Versand

Ich wünsche die angekreuzte Zahlungsweise:

❑ durch Bankeinzug. Die Einzugsermächtigung erlischt mit Kündigung des Abonnements.

Konto-Nr. Bankleitzahl Bank:

❑ gegen Rechnung. Bitte kein Geld einsenden, Rechnung abwarten.

❑ per Kreditkarte. Bitte ankreuzen: ❑ Visa ❑ Mastercard ❑ Diners Club ❑ American Express

Karten-Nr.:

gültig bis:

Das Abonnement verlängert sich jeweils um ein weiteres Jahr, wenn es nicht spätestens 6 Wochen vor Ablauf schriftlich gekündigt wurde.

Name

Straße

PLZ/Ort Datum Unterschrift

Bitte einsenden an: Gemi Verlags GmbH, Postfach, 85291 Reichertshausen

Diese Bestellung kann ich innerhalb von 10 Tagen schriftlich bei der Gemi Verlags GmbH, Postfach, 85291 Reichertshausen widerrufen.

Die Widerrufsfrist beginnt 3 Tage nach Datum des Poststempels meiner Bestellung. Zur Wahrung der Frist genügt das rechtzeitige Absenden.

Ort/Datum

✂

❑

❑

❑

Unterschrift

SUBSCRIPTION-ORDER

I order the next 12 editions of the KIRMES & PARK Revue in english from issue Nr.

at a subscription price of 90,– € incl. 7 % MWSt. and postage (Germany)

I order the next 6 editions of the KIRMES & PARK Revue in english from issue Nr.

at a subscription price of 51,– € incl. 7 % MWSt. and postage (Germany)

I order the next 12 editions of the KIRMES & PARK Revue in english from issue Nr.

❑ Europe normal post at a subscription price of 111,– € incl. postage and handling

❑ Europe airmail and other countries at a subscription price of 123,– € incl. postage and handling

❑ I will pay by credit card. ❑ Visa ❑ Mastercard ❑ Diners Club ❑ American Express

Card Nr.:

Expiry Date:

❑ I require an invoice.

The subscription is automatically extended a further year if a written cancellation is not received 6 weeks prior to the end of the subscription.

Name

Street

Postcode/City Date Signature

Please send to: Gemi Verlags GmbH, Postfach, 85291 Reichertshausen

This subscription order can be called in writing within 10 days by notifying Gemi Verlags GmbH, Postfach, 85291 Reichertshausen, Germany. The

time limit for cancellation begins 3 day after the date of posting my order. The time limit is ensured and proved by the timely posting of cancellation.

Date/City

Signature

74
---
Ihr Partner für

das Schaustellergewerbe

D-34613 Ziegenhain

Kasseler Straße 44

Tel. 06691/3536

Fax: 0 66 91 / 59 97

mail@Dietz-Fahrzeugbau.de

www.Dietz-Fahrzeugbau.de

UNIVERSAL-

VERKAUFSWAGEN

2,5 - 4,5 m Aufbaulänge

1800 - 3500 kg ZGG

voll absenkbar • nur 14 cm Chassishöhe

FOR SALE

Figures and three dimensional

front design in GRP,

www.fideba.de

Tel. + 49 (0)351/8470241 or

+ 49 (0)172/3845189

Weippert Luxury 83 C 740 EZ

91, large bathroom, separate

bath tub, Zerhacker-WC, black

leather sitting room suite, side

board and much more 4,990,-

Euro, photo, Photopalast.com

Tel. + 49 (0)177/5500762

Verkaufe div. Schiesskasten für Schiesswagen

Mondial Top Scan, travelling

park model, six years old and

in first class condition, equipped

with extra coolers for the

hydraulic pump as well as an

emergency back-up pump.

Also includes four colour changer

spot banks, four large halogen

spot banks, a large

broach on the backflash, as

well as many more features.

Available to purchase immediately

or at end of the season,

and can be viewed in England.

Further info: Michael –

Tel: + 44 (0) 7867 727875

Fairground DVD new products

2011, 2 DVD's each 2 hours

20,00 Euro.

Tel. 0043/2272/61935

143 Scania with MKG crane,

33. 21 m, built 96.

Tel. + 49 (0)177/9797510

Sale due to retirement Flight

Simulator-Astro-Liner, TÜV

new, price O.N.O. Tel. + 49

(0)5641/744179

PURCHASE

Cash buyer searching for

cars from ride type L'Autopede

from Belgium, please offer

all you have.

Tel: + 31 653486142

Advertising deadline

for the March issue

is 10 February

Ihre e Kasse K

klingelt

Wollen auch Sie, dass Ihr

und Ihr Geschäft zum Tagesgespräch wird, dann fordern Sie unseren Katalog

mit mechanisch beweglichen Reklamefiguren an. Selbstverständlich

sind wir auch in der Lage, SONDERANFERTIGUNGEN nach Ihren Wünschen

zu gestalten. Wir sind seit nunmehr 36 Jahren Ihr zuverlässiger Partner.

Besuchen Sie uns auch im Internet (mit Video).

Peter Stühler • Werbefiguren • Horst Baumann e.K.

Karl-Bröger-Str. 32 • 90765 Fürth • Tel. 0911 / 79 36 60 • Fax 79 38 29

E-Mail: info@peter-stuehler.de • Internet: www.peter-stuehler.de

verschiedene Ausführungen mit oder ohne Motorantrieb

www.shootingfactory.de

Vorarbeiter/Geschäftsführer

für Simulationsanlage U-3000

>>> GESUCHT
---
AMUSEMENT PARK FOR SALE

Medium size family amusement park

in beautiful surroundings

in the middle of Germany.

Near major cities and motorways "Autobahnen".

The list of attractions incl. Flume, Roller Coaster,

Family-Tower, and many more.

All equipment is well maintained and in good condition.

The park is being offered for sale for reasons of retirement.

It is fully operational and can be inspected upon request.

Unique opportunity for a very interesting price with a lot

of future development (area for expanding) possibilities.

Only qualified buyers should contact us for further

detailed information.

FAB sàrl

26 Boulevard Royal

P.O. Box 819

L-2018 Luxembourg

Tel: + 352 47 10 83

Fax: + 352 22 41 89

Email: sales@fab.lu

Website: www.fab.lu

Your partner in the amusement

industry for over 29 years.

FREIZEIT-ANLAGEN-BAU

Please contact r.dupmann@fab.lu

Datenanlieferung für Anzeigen

Bitte liefern Sie Anzeigen per E-mail als pdf

oder jpg mit mindestens 300 dpi Auflösung an

anzeigen@gemiverlag.de

RIEDLINGER

GALLUSMARKT

12. –16. Oktober 2012

Mit verkaufsoffenem Sonntag, Jahrmarkt und Großfeuerwerk

Geschäfte aller Art gesucht,

insbesondere Riesenrad und Geisterbahn sowie Marktstände

BAD BUCHAU

Kinder- und Heimatfest

29.06. – 02.07.2012

Mit historischem Festzug, Kinderfest und Großfeuerwerk

Geschäfte aller Art gesucht

Bewerbungen mit den üblichen Unterlagen an:

Rolf Vogt • Bachgasse 3 • 88213 Ravensburg

Infos zu Anzeigen:

Tel. 08441/ 402213

76
---
Rolf Auf dem Berge

Lawyer

Focal point: traffic law and claims for damages

Am Markt 14

49565 Bramsche

Telephone +49 (0) 54 61 / 30 30

Telefax +49 (0) 54 61 / 26 41

Mobile +49 (0) 1 72 / 301 9694

E-Mail: rae-auf-dem-berge@web.de

APPRAISAL-OFFICE

Gerd Römgens

Expert appraisal for the Showman Industry, Damages,

Conservation of Evidence, and Appraisal Reports

Tel. +49 (0) 171/ 264 89 29 and +49 (0) 2154/208308

Fax: +49 (0) 2154 / 20 83 13

Mail: sv-buero-roemgens@arcor.de

www.sv-roemgens.de u. www.roemgens.de

Gerd Römgens • Jupiterstr. 17 • 47877 Willich

Schausteller-Versicherungen

Transport – Haftpflicht – Kfz

Altersvorsorge – Unfall – Kranken

Klaus Rübenstrunk

Hagener Straße 244 • 44229 Dortmund

Tel.: (02 31) 9 76 10 20 • Fax: (02 31) 9 76 10 21

Mobil: 0171 / 828 58 68

E-Mail: vb-ruebenstrunk@t-online.de

www.kirmesparkrevue.de

❑ IN THE NEXT POSSIBLE EDITION

D-34613 Ziegenhain

Kasseler Straße 44

Tel. 06691/3536

Fax: 0 66 91 / 59 97

mail@Dietz-Fahrzeugbau.de

www.Dietz-Fahrzeugbau.de

Ihr Partner für das Schaustellergewerbe

PERSONALWAGEN

7 m • vollisolierter Aufbau • Leergewicht 2800 kg

ZGG 3500 kg • 2 x 2 Betten • Kochbereich

Waschm./Trockner • Bad mit WC und Dusche

www.gemiverlag.de

YOUR MINI-AD WILL ALSO BE PRESENTED FREE OF CHARGE UNDER WWW.KIRMESPARKREVUE.DE!

Text

Basic

rate for

1-3 Lines:

8,- €

M

I

N

I

–

A

D

V

E

R

T

I

S

M

E

N

T

S

4 lines:

11,- €

5 lines::

14,- €

6 lines::

17,- €

7 lines::

20,- €

8 lines::

23,- €

9 lines::

26,- €

10 lines::

29,- €

PLEASE COMPLETE IN BLOCK LETTERS AND WITH SPACE BETWEEN WORDS!

❑ IN EDITION NR./MONTH

Text price for 1x Edition €

❑ Please insert my advertisment under a code number (Cost 5,– €) €

❑ Specimen copy (5,50 € incl. postage & handling per edition) €

❑ The advertisment should appear for months (Multiply by total price) €

❑ 10 % discount for 12 months ❑ 5 % discount for 6 months €

❑ The total amount can be debited to my credit card, details below. TOTAL €

❑ Visa ❑ Matercard ❑ Diners Club ❑

Card-Nr.

Christian Name

Street

City/Date

Expirx date

Surname

Postcode/City/Country

Signature

American Express

categories

(please mark with a cross)

❑ For Sale

❑ Purchase

❑ Job Market

❑ Business

Connections

❑ Deadlines

❑ Contacts

❑ Model Construction

FOR FORMAT ADVERTISMENT

please contact us on

Tel. 49 (0 ) 8441/40 22 13

Please send to:

Gemi Verlags GmbH

Postfach

85291 Reichertshausen

Please complete

without fail!

– Publication only by advanced payment or credit card. –

77
---
78

Anzeigenannahme: Bernhard Tönjes

Neuenkooper Str. 87 • 27804 Berne

Tel. / Fax 04406 / 5230

E-Mail: bernhard-toenjes@t-online.de
---
Karussells der Spitzenklasse

R. VÖLZ

Industriestr. 3

44577 Castrop-Rauxel

Tel. 0 23 67/83 37

Fax 0 23 67/17 67

Nach wie vor liefern wir:

Schindeldächer,

Reetdächer, Mauerwerke

www.karussell-voelz.de

Service

GROUND TO LET – AVAILABLE

In this column, available ground to let for attractions, and available attractions are listed free of charge, for the running season. Organisers please note: The said event

must be announced previously in the "Kirmes & Park Revue". Tel: + 49 (0) 8441 402226 Fax: + 49 (0) 8441 71846 E-Mail: ralf.schmitt@gemiverlag.de

AVAILABLE

• Twister available from the 2 nd Sun. in May to

the 4 th Sun. in June, 3 rd Sun. in Aug.t, as well as

from the 2 nd Sun. in Sept. to the 1 st Sun. in Oct. Tel.:

+ 49 (0)170-2333387

• Breakdance still has available dates.

Tel.: +49 (0)171-5266995

• Half-Metre Bratwurst Special (4.50 x 2.50 m)

still has available dates. Tel.: + 49 (0)178-2024455

• Water-Walkingballs (12 x 8 m) still has available

dates, also for city festivals.

Tel.: + 49 (0) 157-83034461

• Simulator still has available dates.

Tel.: + 49 (0) 177-3606597

• Ferris Wheel (38 m) available on the 1 st Sunday

in June (Southern Germany), 1 st to 5 th Sundays

in October, as well as the 1 st and 2 nd Sundays

in November. Tel.: + 49 (0) 178-5166437

• Water attraction (42 x 20 m) still available

on the 2 nd and 3 rd Sun. in May, as well as the 2 nd ,

3 rd , and 4 th Sun. in Sept.. Tel: + 49 (0)177-7639744

• Miami still available from the 1 st to 4 th Sundays

in April, from the 2 nd Sunday in May to the 4 th Sunday

in June, the 3 rd Sunday in August, the 4 th Sunday

in september, as well as from the 3rd Sunday

in October. Tel.: + 49 (0) 170-2333387

• Almhütte and Almhüttendorf (variable sizes)

still have available dates. Tel.: + 49 (0) 171-5266995

• Simulator still has available dates.

Tel.: + 49 (0) 157-83034461

• Funhouse still has available dates.

Tel.: + 49 (0) 178-8362951

• Freefall Tower (20 m) available on the 2 nd

and 3 rd Sunday in May, 2 nd to 4 th Sundays in June,

4 th Sunday in September, and 2 nd Sunday

in October. Tel.: + 49 (0) 170-2333387

• Mouse Spectacle (10 x 4,50 m) available

on the 2 nd , 3 rd , and 4 th Sundays in June.

Tel.: + 49 (0) 178-2024455

• Bungee-Trampoline (4-p attraction) still

has available dates.

Tel.: + 49 (0) 157-83034461

79
---
Ausschreibungen

in der

Die Kirmes & Park Revue ist das

ideale Medium für Ausschreibungen

Ihrer Volksfeste und Weihnachtsmärkte.

vom 11. Mai bis 20. Mai 2012

Wir suchen:

ausgefallene Spezialitäten-Geschäfte,

Neuheiten, Attraktionen, besondere Reihengeschäfte.

Bewerbungen bitte mit Bild und 1,45 € Rückporto an unseren Platzmeister:

Jürgen Linnepe, Heedfelder Str. 98, 58509 Lüdenscheid

Telefon 02351/98 58 555, Mobil 0171/419 65 45, Fax 02351/618 90

Mit einer Ausschreibung Ihrer

Veranstaltung in der Kirmes & Park

Revue erreichen Sie nahezu flächendeckend

die Schaustellerbetriebe in

Deutschland und in unseren Nachbarländern

– und das zu einem

außergewöhnlich günstigen Preis.

Dazu genießen Sie mit Ihrer

Ausschreibung folgende Vorteile:

• Bei Mangel an geeigneten

Bewerbern oder kurzfristigen

Absagen von Schaustellern

haben Sie die Möglichkeit einer

kostenlosen Suchanfrage in

der Service-Rubrik

"Freie Termine – Freie Plätze"

in der Kirmes & Park Revue

• Kostenlose Gestaltung Ihrer

Ausschreibungsanzeigen

• alle Farben (z. B. Städte- oder

Firmenlogo) kostenlos !

GEMI Verlags GmbH

Pfaffenhofener Straße 3

85293 Reichertshausen

Telefon: 0 84 41 / 40 22 - 0

Telefax: 0 84 41/71846

E-mail: info@gemiverlag.de

Anzeigen in der

Kirmes & Park Revue

buchen Sie bei:

Gemi Verlags GmbH

Markus Westner

Tel. 08441/402213

Fax 08441/498829

anzeigen@gemiverlag.de

Bitte liefern Sie

Anzeigen per E-mail

als pdf oder jpg

mit mindestens

300 dpi Auflösung.

Tel. 07191/ 34 0135

www.miba-electronic.de

Wet Protect Feuchtigkeitsschutz

Fax 07191/ 34 0136

Anzeigenschluss für das Märzheft ist Freitag, 10. Februar

Die einzige Modellbahn

im Ausstellungswagen

www.modellbahnschau.de

Telefon 01 72 / 5 38 56 79

80
---
undesweiter

Versand

…keiner steht schneller!

02 28

46 69 89

Fax 461564

53227 Bonn (Beuel) Röhfeldstr. 27

BAB 59 - Abf. Pützchen

Ich beliefere Händler

mit Handwerkszeug

und Veranstalter

mit Absperrbändern

und Zubehör.

Rosolino Favatella

Leipziger Str. 67 • 42109 Wuppertal

Tel. 0202/750051 • Fax 0202/750666

Mail: info@favatella-tools.de

www.Favatella-Tools.de

US-Trailer

& Zubehör

aus Elkhart, Indiana

Tel. 06195-960507

www.trvtrading.com

Lackiererei

0671/794 7420

LENGEDE • VOLKS- & SCHÜTZENFEST vom 25.05. – 28.05.2012

BURGDORF • SCHÜTZENFEST vom 21.06. – 24.06.2012

BARSINGHAUSEN • STADTFEST vom 31.08. – 02.09.2012

Gesucht werden Geschäfte aller Art

Bewerbungen mit den üblichen Unterlagen an den Beauftragten:

Manfred Heider • Hinterkampstr. 4 • 30890 Barsinghausen

Bewerber, die bis zum 10.03.12 keinen Vertrag erhalten haben, gelten als abgelehnt.

www.gemiverlag.de

•

BUDERO

TARPAULINS

• • • • • •

Contact person also for Germany

D. Hinzen

Tel. (0031) 6 531450 03

•

• • • • • • • •

• • • • • • • • • •

81
---
Service

KIRMES FOR SALE IN RAILWAY STATION BOOK SHOPS

✘ shows where ENGLISH VERSIONS are available

• 01069 Dresden, Wiener Platz 4

• 01097 Dresden-Neustadt, Schlesischer Platz 1

• 01109 Dresden, Wilhelmine-Reichard-Ring 1

• 04109 Leipzig, Hbf, Willy-Brand-Platz 5

• 06112 Halle, Hbf, Bahnhofplatz 1

• 06844 Dessau, Fritz-Hesse-Str. 7

• 10117 Berlin-Friedrichstr., Georgenstr. 14-18

• 10178 Berlin, Alexanderplatz, Dircksenstraße

• 10243 Berlin, Am Ostbahnhof

• 10623 Berlin, Fernbahnhof Zoo

• 10829 Berlin-Südkreuz/West, Neumannstr.

• 12439 Berlin-Schöneweide, M.-Brückner-Str. 42

• 12521 Berlin, Flughafen-Schönefeld, Terminal D E G

• 12681 Berlin, Boxberger Str. 3-9 / Haus 3 / Halle 2 West

• 13405 Berlin, Flughafen Tegel, Haupthalle, Bon Voyage

• 18055 Rostock, Konrad-Adenauer- Platz

✘ 20099 Hamburg, Hbf., Glockengiesserwall

• 20354 Hamburg, Bahnhof Dammtor, Theodor-Heuss-Platz

• 21337 Lüneburg, Bahnhofstr.

✘ 22765 Hamburg, Paul-Nevermann-Platz

• 23558 Lübeck, Am Bahnhof

• 24114 Kiel, Sophienblatt 27-29

• 25337 Elmshorn, Otto-Hahn-Straße 15

• 25813 Husum, Poggenburgstr. 12

• 26122 Oldenburg, Hauptbahnhof

• 26125 Oldenburg, Wilhelmshavener Heerstr. 32

• 26382 Wilhelmshaven, Bahnhofsplatz 1

• 26789 Leer, Bahnhofsplatz

• 27472 Cuxhaven, Bahnhof Haus 1

• 27570 Bremerhaven, Friedrich-Ebert-Str. 73

• 27749 Delmenhorst, Wittekindstr. 10/ZOB

✘ 28195 Bremen, Bahnhofsplatz 15

• 28199 Bremen, im Flughafen, Flughafenallee 20

• 29221 Celle, Im Bahnhof, Bahnhofsplatz

• 29525 Uelzen, Am Bahnhof

• 30159 Hannover, Ernst-August-Platz 1

• 30669 Hannover, Flughafen, Terminal A

• 31582 Nienburg, Bahnhofstraße

• 32052 Herford, Bahnhofsplatz 1

✘ 32423 Minden, Bundesbahnhof 12

• 33102 Paderborn, Bahnhofstr. 29

• 33330 Gütersloh, Willy-Brandt-Platz-2

• 33602 Bielefeld, Hauptbahnhof

• 34117 Kassel, Bahnhofsplatz 1

• 34131 Kassel, Wilhelmshöher Allee 253

• 35037 Marburg, Bahnhofstr. 33

• 35390 Gießen, Bahnhofstr. 102

• 37073 Goettingen, Bahnhofsplatz 1

• 38102 Braunschweig, Berliner Platz 1

✘ 39104 Magdeburg, Bahnhofstr. 68

• 40210 Düsseldorf, Hauptbahnhof

• 41460 Neuss, Presse & Buch im Bhf., Theodor-Heuss-Platz

• 42103 Wuppertal, Döppersberg 37

• 42277 Wuppertal, Berliner Platz 15

• 42283 Wuppertal, Winklerstraße 2

• 42859 Remscheid, Bahnhofsplatz 12

• 44137 Dortmund, Koenigswall 15

• 44629 Herne, Konrad-Adenauer-Platz

• 44649 Herne, Heinz-Rühmann-Platz

• 44787 Bochum, Buddenbergplatz, Süd-Ausgang

✘ 45127 Essen, Hauptbahnhof

• 45468 Mülheim, Dieter-aus-dem-Siepen-Platz 3

• 45657 Recklinghausen, Große Pferdekamp Str.

• 45879 Gelsenkirchen, Im Bahnhof

• 46045 Oberhausen, Hauptbahnhof

• 46395 Bocholt, Hindenburg Str. 1

• 46446 Emmerich, im Bahnhof

• 46535 Dinslaken, im Bahnhof

• 47051 Duisburg, Mercatorstr. 17

• 48143 Münster, Berliner Platz

• 48431 Rheine, Hauptbahnhof 1

• 49074 Osnabrück, Im Bahnhof

• 49356 Diepholz, Am Bahnhof

• 50667 Köln, Bahnhof 1

50667 Köln, Trankgasse 11

• 50679 Köln-Deutz, Otto-Platz 7

• 52064 Aachen, Bahnhofsplatz 2a

• 52351 Düren, Hauptbahnhof

• 53111 Bonn, Am Hauptbahnhof

• 53173 Bonn-Bad Godesberg, Moltkestr. 43

• 53879 Euskirchen, Bahnhofstraße

• 54292 Trier, Bahnhofsplatz 1

• 55116 Mainz, Bahnhofsplatz 1

• 55543 Bad Kreuznach, Europaplatz

• 56068 Koblenz, Bahnhofsplatz 2

• 57072 Siegen, Am Bahnhof 16

• 58089 Hagen, Berliner Platz 3

• 58239 Schwerte, Bahnhofstraße 35

• 58452 Witten, Bergerstr. 35

• 58644 Iserlohn, Bahnhofsplatz 2

• 58762 Altena, Bahnhofstr. 26

• 59065 Hamm, Willy-Brandt-Platz 1

• 59227 Ahlen, Bahnhofsplatz

✘ 59423 Unna, Bahnhofstr. 74

• 59494 Soest, Bahnhofstr. 2

✘ 60051 Frankfurt, Im Hauptbahnhof

• 60594 Frankfurt, Diesterwegplatz 51

• 61169 Friedberg, Hanauer Str. 44

• 63450 Hanau, Im Hauptbahnhof

• 63739 Aschaffenburg, Ludwigstr. 2, Hbf.

• 64293 Darmstadt, Platz der Deutschen Einheit

• 65190 Wiesbaden, Bahnhofsplatz 2

• 65428 Rüsselsheim, Im Hauptbahnhof

• 66111 Saarbrücken, Im Hauptbahnhof

• 66424 Homburg, Im Bahnhof

• 66538 Neunkirchen, Bahnhofstraße

• 67434 Neustadt, Bahnhofsplatz 4

• 67547 Worms, Hauptbahnhof

✘ 67547 Worms, Bahnhofstr. 11

• 67655 Kaiserslautern, Bahnhofstraße 1

✘ 68161 Mannheim, Bahnhofsplatz 17

✘ 69115 Heidelberg 1, Willy-Brandt-Platz 5

✘ 70173 Stuttgart, Arnulf-Klett-Platz 2

• 70174 Stuttgart-Mitte, Th.-Heuss-Passagen

• 70372 Stuttgart/Bad Cannstatt, Bahnhofstr. 30

✘ 71032 Böblingen, Talstr. 18

• 71638 Ludwigsburg, Bahnhof 14-18

• 72072 Tübingen, Europaplatz 17

• 72764 Reutlingen, Bahnhofstr. 3

• 74321 Bietigheim, Bahnhofsplatz 1

• 75175 Pforzheim, Bahnhofsplatz

✘ 76137 Karlsruhe, Bahnhofsplatz 1

• 76227 Karlsruhe, Hauptbahnstraße 1

• 76646 Bruchsal, Bahnhofsplatz 12

• 79098 Freiburg, Bismarckallee 3

✘ 80335 München, Hauptbahnhof, Arnulfstr. 3

✘ 81667 München, Orleansplatz 10

• 86150 Augsburg, Viktoriastraße 1

• 86154 Augsburg, Ulmer Str. 53

• 87435 Kempten, Bahnhofplatz

• 87509 Immenstadt, Bahnhofstr. 39

• 87527 Sonthofen, Bahnhofstraße

• 87561 Oberstdorf, Bahnhofsplatz 1

• 87700 Memmingen, Bahnhofstr. 3

• 89073 Ulm, Hauptbahnhof

• 89312 Günzburg, Bahnhofsplatz 5

✘ 90411 Nürnberg, Flughafenstraße 100

✘ 90443 Nürnberg, Im Hauptbahnhof

• 91207 Lauf, Bahnhofsplatz 1

• 92224 Amberg, Kaiser-Ludwig-Ring 5

• 92637 Weiden, Bahnhofstr. 28

• 94032 Passau, Bahnhofsplatz 29

• 94315 Straubing, Bahnhofsplatz 13

• 95028 Hof, Bahnhofsplatz 12

• 95444 Bayreuth, Bahnhofstr. 20

• 95615 Marktredwitz, Bahnhofsplatz 7

• 96052 Bamberg, Ludwigstraße 6

• 96450 Coburg, Lossaustr. 4

✘ 97070 Würzburg, Bahnhofstr. 4

• 97424 Schweinfurt, Im Bahnhof

• 99084 Erfurt, Willy-Brandt-Platz 12

82
---
Lets meet in Berlin

9 - 11 October 2012

EDUCATION

PASSION

PEOPLE

Stay connected. Stay informed. Stay ahead.

The conference and tradeshow for attractions and leisure industry in Europe.

Visit us at www.IAAPA.org/EAS and we will keep you informed.
---
Wir machen etwas

GUTES noch BESSER.

wildemaus

Max Eberhard & Sohn GmbH

Weltpremiere im Sommer

2012