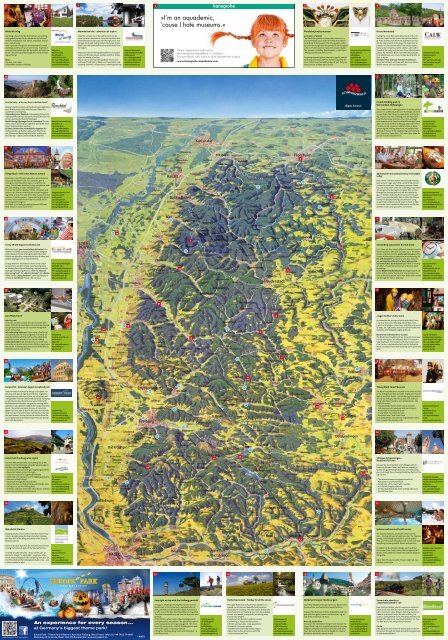 I'm an aquademic, 'cause I hate museums.« - Toubiz
I'm an aquademic, 'cause I hate museums.« - Toubiz
I'm an aquademic, 'cause I hate museums.« - Toubiz
SHOW MORE
SHOW LESS
You also want an ePaper? Increase the reach of your titles
YUMPU automatically turns print PDFs into web optimized ePapers that Google loves.
l

c

N a

l

23

1

2

3

4

»I'm an aquademic,

'cause I hate museums.«

Foto: Günther Meyer

World of Living

Mummelsee lake - adventure at 1036 m

Pforzheim jewelry museum

Hirsau Monestary

Spending a day at the World of Living is an exciting,

unforgettable event for the whole family full of adventure,

information, fun, action, relaxation, inspiration,

and romance.

Take a journey through the development of human

dwellings and discover your own history. Experience

what has been made possible by modern architecture.

Go on a discovery journey though the world of building

and living.

Open:

Tue-Sun, 10am-6pm

Closed Mon, except on holidays

WeberHaus

World of Living

Am Erlenpark 1

77866 Rheinau-Linx

Tel.: +49 (0)7853.83-800

Fax: +49 (0)7853.83-7771

www.world-of-living.de

Enjoy the uniqueness of this well-known and beloved

excursion destination. Adventurous hikes and

mountain bike circuits pass over the high moor area

through the breath-taking natural landscape. Enjoy

Black Forest hospitality with culinary delicacies from

the region.

Experience the comforting atmosphere in our guest

rooms and the new Sauna wellness world, or simply

enjoy the beauty of nature.

Also be sure to visit our beloved Black Forest store

with wood-fired bakery, Black Forest specialties and

traveling souvenirs, or experience a relaxing boot ride.

Berghotel Mummelsee

Schwarzwaldhochstraße 11

77889 Seebach

Tel.: +49 (0)7842.99286

Fax: +49 (0)7842.30266

info@mummelsee.de

www.mummelsee.de

Water, aqua-sense und visions:

the Hansgrohe Aquademie in Schiltach.

For everybody who wants to dive beneath the surface.

www.hansgrohe-aquademie.com

5,000 years of jewelry

The Pforzheim jewelry museum takes visitors on a

journey through 5,000 years of history from the Ancient

World to the present. The ethnographic collection

provides insight into the jewelry of non-European

cultures. Pocket watches show clock ornamentation.

The museum's building, Reuchlinnaus, is itself an architectural

jewel and worth a visit.

For young museum guests, there are regular jewelry

workshops and tours with the children's jewelry museum.

Public tours are held Sundays at 3pm. Entry €3,

reduced €1.50, children up to 14 free

Schmuckmuseum Pforzheim

im Reuchlinhaus

Jahnstraße 42

75173 Pforzheim

Tel.: +49 (0)7231.392126

Fax: +49 (0)7231.391441

www.schmuckmuseum.de

During the Cluny Monastery Movement in the 11th

and 12th Centuries, the former Benedictine cloister

St. Peter and Paul was the most important German

reform cloister north of the Alps. The important architectural

ruins contain relics from various styles:

Roman column basilica, Gothic cloister, Late Gothic

Chapel of Our Lady, and the ruins from a Renaissance

palace. Tip: Northern Black Forest Monestary Route

from Maulbronn over Hirsau to Alpirsbach by bike, on

foot, or by car.

Hermann Hesse and Calw Fachwerk Architecture

Romantic Fachwerk old town with Hermann Hesse,

leather tanner, jail, and city museum.

Stadtinformation Calw

Sparkassenplatz 2

75365 Calw

Tel.: +49 (0)7051.167-399

Fax: +49 (0)7051.167-398

www.calw.de

22

5

Renchtal valley - at the very front in the Black Forest!

Between the Rhine plane and the Black Forest High Road,

you'll find Renchtal valley with the towns Oberkirch,

Lautenbach, and Oppenau.

Schauenburg ruins, Oberkirch: Schauenburg fortress sits

high above the historical old town. It was built in the 11th

Century by Duke Berthold II of Zähringen.

Mariä Krönung Pilgrimage Church, Lautenbach: The Late

Gothic Church was built 1471-1488 with wonderful stonemason

works and glass painting.

All Saints Cloister ruins and waterfalls, Oppenau: Idyllically

located in Lierbachtal valley, you'll find the former

Prémonstré Monastery with Gothic architecture

(founded 1191 - 1196) as well as the 83-m waterfall.

21

Gengenbach - Old Town, Nature, Culture

Experience a multifaceted adventure world between

vines and the Black Forest. This romantic gem is

among the most beautiful towns in southern Germany.

The old town breathes history everywhere, with

the past meeting an open-minded present.

Discover the diverse spectrum of the "recreation and

culture city", like on a hike into the tranquil neighboring

valley, or marvel in one of the four museums in the

old town. Pure fascination - the world's largest Advent

Calendar with motifs from world-renowned artists

like Chagall and Ungerer.

Paul Maar is currently presenting famous children's

book heroes in "Sam and friends".

20

Funny-World Kappel-Grafenhausen

Welcome to your year-round holiday destination! This

children's & family recreation park has been designed

with a Mexican theme, offering young families with

children an attractive, comprehensive mix of indoor and

outdoor playing as well as rides of all kinds.

Tortuga children's land (where it never rains) is ideal

for excursions any time of year, encompassing 2000

m² (starting Dec 2013) and featuring a separate unique

black light miniature golf course. With the "Mexican

horse racing track", the "Mexican tornado", the "Mexico

Train" and the "Flying Sombrero", you'll feel like you're

in Mexico. Viva Mexico! Please note our hours.

19

Lahr/Black Forest

Lahr city park:

Centuries' old trees provide the spacious park with

shade. Alternating raised beds and a carefully planted

rose garden characterize the seasonal change with

colors and aromas.

Lahr swimming landscape: Come enjoy 3 family and

recreational pools for fun and games in an ideal setting.

Recreational athletes will love the indoor pool.

Sulz offers active relaxation in a natural setting.

Sulzbachtal water trail: The adventurous water trail

passes by rare plants and animals. Children experience

the stream as a living space and source of life (May to

September) at various stations.

18

Europa-Park - Germany's largest recreational park

Take a fantastic discovery trip through 13 European subject

areas with typical regional architecture, vegetation

and gastronomy, experiencing over 100 attractions and

unforgettable moments with the whole family! Following

an adventurous day, the park's own 4-star hotels with

Mediterranean atmosphere are great for relaxing, while

adventurers can spend the night at the Europa-Park Camp

Resort - the perfect conclusion to a one-of-a-kind trip!

Open: from the start of April to the start of November,

daily from 9am to 6pm (longer opening hours during

the main season), during the winter season from the

end of November to the beginning of January (except

24th/25th December)

17

Kaiserstuhl-Tuniberg wine region

The wine hills of Kaiserstuhl and Tuniberg rise up like

islands from the Rhine plane along the western edge of

the Black Forest. Our highlights:

• Old towns of Breisach, Endingen, Vogtsburg-Burkheim

• Kaiserstuhl nature center in Ihringen

• Corkscrew museum in Vogtsburg-Burkheim

• Kaiserstuhl wine-making museum in Vogtsburg-Achkarren

• Messmer art hall in Riegel

• Kaiserstuhl seed garden in Eichstetten

• Kaiserstuhl trail and further hiking and thematic trails

• Cycling on ca. 190 km of biking trails

• Wine fests and open winemaker cellars (Easter - end Oct)

• Boat rides on the Rhine from Breisach

16

Münstertal-Staufen

Enjoying southern flair while in the Black Forest? Anything

is possible along the few kilometers between

the wine hills of the Margrave land and the majestic

Belchen summit.

Don't let the wall lizards be the only ones to hand out

among the historical walls of the Staufen fortress.

A variety of cultural events - above all the open air

spectacle "Stages" in September - await you. Afterwards,

head underground for tranquility and clean air.

You'll find both at the Teufelsgrund visitor mine - and

a silver treasure as well.

Im Schwarzwald ganz vorn.

Renchtal Tourismus GmbH

Bahnhofstr. 16

77704 Oberkirch

Tel.: +49 (0)7802.82600

Fax: +49 (0)7802.82619

info@renchtal-tourismus.de

www.renchtal-tourismus.de

Gengenbach Kultur- und

Tourismus GmbH

Im Winzerhof

77723 Gengenbach

Tel.: +49 (0)7803.930143

Fax +49 (0)7803.930142

www.gengenbach.info

Funny-World-Mexikopark

Allmendstraße 1

77966 Kappel-Grafenhausen

Tel.: +49 (0)7822.44599-0

Fax: +49 (0)7822.44599-9

info@mexikopark.de

www.mexikopark.de

KulTourBüro

Tickets & Touristik Lahr

Kaiserstraße 1

77933 Lahr

Tel.: +49 (0)7821.950210

kultour@lahr.de

www.lahr.de

EUROPA-PARK

Europa-Park-Straße 2

77977 Rust bei Freiburg

Info: +49 (0)7822.776688

www.europapark.de

Canal du Rhône au Rhin

F ô r e t D o m a n i a l e d e l a H a r d t

Kaiserstuhl-Tuniberg

Information

Marktplatz 16

79206 Breisach am Rhein

Tel.: +49 (0)7667.940155

Fax: +49 (0)7667.940158

www.kaiserstuhl.cc

Ferienregion

Münstertal Staufen

Wasen 47

79244 Münstertal

Tel.: +49 (0)7636.70740

www.muenstertal- staufen.de

-Griesbach

Bad Peterstal-

STRAS-

BOURG

Rhein

Grand Canal d'Alsace

le Rhin

le Rhin

Rhein

44 18

Niederhausen

Rheinhausen

Weisweil

Wyhl a.K.

Kehl

Meissenheim

Gambsheim

Neuried

Rust

Oberhausen

Forchheim

Grissheim

Zienken

Bamlach

Rheinweiler

Hausen

n d

r L a

M a r k g r ä fl e

B a

c h e

d i s

B a

e i n s t r

W

a ß e

Broggingen

Wagenstadt

Kenzingen

Hecklingen

Tiengen

B a d i s c h e

G r ü n e S t r a ß e

i n

W e

d i

s c

s t

h e

r a

ß e

Bleichheim

Blauen

1165

S c

h u

t t

W e i n s t r a ß

Ebringen

Sölden 35

Pfaffenweiler

Horben

Kirchhofen

Ehrenkirchen

Bollschweil

Ehrenstetten

St Ulrich

e r

e

t a

l

K i

Belchen

1414

n z

Wiese

i g

t a

A c

h e

Schauinsland

Mooskopf

Endingen a.K.

Malterdingen

Siegelau

Sasbach a.K.

Riegel a.K.

Mundingen

Niederwinden

Köndringen

Gutach i.Br.

Windenreute

Bahlingen a.K.

Bleibach

Teningen

34

Nimburg Emmendingen

Vogtsburg i.K.

Kollnau

Eichstetten a.K.

29

Waldkirch

K aiserstuhl

Sexau

17

Breisgau

Buchholz

Bötzingen

Denzlingen

Reute

March

Vörstetten Heuweiler

Ihringen

Glottertal

Gundelfingen

Breisach a.Rh.

Umkirch

Rosskopf

32

Gottenheim

Merdingen

Waltershofen

T uniberg

Opfingen

30

Hartheim

Neuenburg a. Rh.

Schwanau

Auggen

Schliengen

Schutterwald

Buggingen

Rheinau

42 23

Mahlberg

Willstätt

Laufen

Britzingen

26

Niederweiler

Lippburg/Sehringen

Obereggenen

Hertingen

Schallbach

Efringen-

Fischingen

Kirchen

Eimeldingen

Haltingen

Greffern

Lichtenau

Hohberg

Kippenheim

Ettenheim

Ringsheim

Herbolzheim

Bad Krozingen

Müllheim

41

Bad Bellingen

Kandern

Friesenheim

Lahr

Schallstadt

Wollbach

Wittlingen

Rümmingen

Binzen

Offenburg

Staufen

Badenweiler

BASEL

39 19

Weil a. Rh.

Sulzburg

Stollhofen

Rheinmünster

Schwarzach

Schweighof

Malsburg-

Marzell

Riehen

Unzhurst

Renchen

Appenweier

Lörrach

Rammersweier

Bermersbach

Biberach

Schönberg

Biberach

Reichenbach Prinzbach

Sallneck

Endenburg

Inzlingen

Grenzach-

Wyhlen

Ulm

Durbach

Ortenberg

Berghaupten

Merzhausen

Au

Wies

Plittersdorf

Iffezheim

Hügelsheim

Freiamt

Freiburg

Wittnau

Münstertal

16

Achern

Butschbach

Hesselbach

Ödsbach

Schuttertal

Steinen

Dörlinbach

Reichenbach

Obermünstertal

Böllen

Neuenweg

Weitenau

Kaiseraugst

Steinmauern

Schweighausen

Elend

Bürchau

Elchesheim

873

Kinzig

Dreisam

r t

G l

1284

Hofsgrund

a l

Welschensteinach

Rench

o t

Elz

Notschrei

1121

Muggenbrunn

Wiedener Eck

Wieden

l

W i e s e n t a

Kuppenheim

Bad Rotenfels

Hohenbaden Gaggenau

Merkur

Ebersteinburg

t e

R

Oberwinden

St.Wilhelm

r t

Hornisgrinde

e n

a l

Hohe-Mohr

983

Schliffkopf

c h

Zastler

Todtnauberg

Aftersteg

1055

Kandel

1241

Mehliskopf

Mummelsee

t a

l

E l z

P

Seekopf

Brandenkopf

a

n

S c

l

t a

o

S

h

w

931

D e u t s

c

r

a

h

H ö l l e

Feldberg

1493

r

z

w

a m

w

Prechtal

Yach

a

n t a

Wehra

l

Rohrhardsberg

c h e

a r z

l

S c

T ä l

d -

Oberprechtal

Wagensteig

Unteribental

Buchenbach

Brandenberg-Fahl

Hasenhorn

Aitern

Schönenberg

Schlechtnau

Utzenfeld Geschwend

Schönau i.Schw. Tunau

Fröhnd

Raich Elbenschwand

Pfaffenberg

Tegernau Adelsberg

Gresgen

Wieslet

Sandweier

Oos

Sinzheim

Varnhalt

Yburg

Steinbach

Neuweier

Eisental-Affental

27

Ottersweier

Sasbach

Oberkirch

Ohlsbach

Lauf

Waldulm

Gengenbach

21

Seelbach

Maulburg

Au a. Rh.

Ötigheim

Rastatt

Bühl

Altschweier

Bühlertal

Wiechs

Minseln

Durmersheim

Bietigheim

Lautenbach

22

Rheinstetten

Baden-Baden

Sasbachwalden

Kappelrodeck

Wembach

Steinach

Hofstetten

Biederbach

Zell i.W.

Hausen i.W.

Seebach

37

Ottenhöfen

Nordrach

Schopfheim

Rheinfelden

Muggensturm

Möhlin

Lierbach

Bruchhausen

1152

w a l

a s t r a

Präg-Herrenschwand

Gersbach

Feldsee

Herzogenhorn

1415

Hochkopf

W

1263

e

h w

e r

H

U h r e

ß

r

h

s t

d

e

o

t

a

a r

c

l

a

r a

M u

r g

t

a

n s t r a ß e

-

z w

h

ß e

s

a l

t

d -

Obersimonswald

S

l

c

h

r a ß e

Wolfach

W

Brend

1148

Grossherrischwand

Herrischried

Hornberg

Hogschür

Niedergebisbach

Hütten

Brennet

Wallbach

Schöllbrunn

Bühlerhöhe

Plättig

Herrenwies Schwarzenbach-

Sand

Talsperre

1009

Unterstmatt

1164

Hundseck Hundsbach

Häg-Ehrsberg

Schwörstadt

Bischweier

Oberharmersbach

Zell a.H.

38

1

Fischerbach

8

Haslach i.K.

Stegen

Mühlenbach

Elzach

Winden

Kirchzarten

Oberried

Karlsruhe

Oppenau

St.Peter

Hasel

Ruhestein

Wehr

Malsch

Hausach

Ettlingen

Gernsbach

Weisenbach

Hinterlangenbach

Buhlbach

Zuflucht

Obertal

Alexanderschanze

Simonswald

Todtnau

St.Märgen

Feldberg

15

Bernbach

w

a r

z

Murg

o l

w

Kirnbach

Thurner

Bärental

Wehrhalden

Durlach

Waldbronn

Reichenbach

Marxzell

Loffenau

Frauenalb

Lautenbach

Forbach

1034

a

Reichental

Schönmünzach

Kniebis

Oberwolfach

48

Wolfach

Gütenbach

Kniebis

967

f t

Gutach/

Schwarzwaldbahn

Breitnau

Neuglashütten

Menzenschwand

Bernau

Todtmoos

Rickenbach

Bad Säckingen

Ibach

Karlsbad

l

d -

Alb

a l

Kinzigtal

U h

Neukirch

B ä

Rotensol

Hornberg

Hinterzarten

Huzenbach

D e

r e

Titisee

d e r

u t

n s

Niederwasser

Waldau

Altglashütten

Remchingen

Bad Herrenalb

36

Schluchsee

Langenalb

s c

t r

Hotzenw ald

b

A l

s t r a

Kaltenbronn

Sprollenhaus-

Nonnenmiss

Zwieselberg

a

t

Alb

h e

a ß

l

ß e

Gompelscheuer

Poppeltal

Schwarzenberg

Kohlwald

Röt-Schönegründ

Kaltbrunn

e

Reichenbach

Gremmelsbach

Nussbach

Langenordnach

Sommerberg

Lauterbad

Stausee

Kl. Kinzig

D e u

Kl.Kinzig

E n

Reinerzau

z t

a

l

Enz

Nagold-

Talsperre

Linach-Talsperre

t s c h e

G r ü

S c h

n

w a

r z

T ä l

w

e r s

e S t

a l

t r

d

a ß

Ehlenbogen

Alpirsbach

6

Vorderlehengericht

Schollach

Schwärzenbach

Saig

Raitenbuch

Fischbach

Blasiwald

Binzgen

Besenfeld

Seebrugg

Kämpfelbach

Keltern

Tennenbronn

Langenbach

-

e

Rötenberg

U h r e n

r a ß e

s t r a ß e

Rhein

S

h

w

Vierundzwanzighöfe

Betzweiler - wälde

Reutin-Aischfeld

Peterzell

Hammereisenbach

Bubenbach

Eisenbach

Kappel

Faulenfürst

Unteralpfen

Birkingen

Aichelberg

Mitteltal Tonbach Klosterreichenbach

-Schapbach

Schonach 9

Triberg

Falkau

Görwihl

Dachsberg

Murg

Dobel

24

Schönwald

Furtwangen

14

46

31

Straubenhardt

Enzklösterle

Seewald

Baiersbronn

Bad Rippoldsau-

Titisee-

33

2

Göttelfingen

Oberbränd

Schönenbach

Calmbach

Nöggenschwiel

Agenbach

Sulgen

Buchenberg

Heiligenbronn

Peterzell

Rötenbach

Holzschlag

Gündelwangen

Rothaus

Brenden

Bretten

a r z w a l d

Maisenbach-

Zainen

Würzbach

Mettma

w a

S c h

z

r

w

Breg

Würm

- B ä d e r s t r

a

Gundelshausen

Waldmössingen

Burgberg

Unterbränd

Dittishausen

Seppenhofen

Reiselfingen

Befau

Gurtweil

Kieselbronn

Huchenfeld

Neuenbürg

Engelsbrand

Unterreichenbach

Waldrennach

Dennach

Langenbrand

Höfen

45 Schwarzenberg

Erzgrube

Grüntal-Frutenhof

Wittlensweiler

Schenkenzell

Schiltach

-Neustadt

Lauterbach

Lenzkirch

Schluchsee

St.Blasien

Albbruck

Birkenfeld

Kälberbronn

Dietersweiler

St.Georgen

Häusern

40

Laufenburg/Baden

Bad Wildbad

Freudenstadt

Vöhrenbach

Friedenweiler

Dogern

Simmersfeld

Grömbach

5

Dornstetten

Aach

Sterneck

Aichhalden

Schramberg

7

Höchenschwand

Wörnersberg

Zwerenberg

Herzogsweiler

Cresbach

Hallwangen

Lombach

Lossburg

Hardt

Weilheim

Pforzheim

3

Schömberg

Oberreichenbach

Glatten

Wittendorf

Fluorn-

WInzeln

Unterkirnach

Löffingen

Grafenhausen

l

Pfaffenweiler

Kirnbergsee

d

Seedorf

Schlücht

a ß

Bachheim

W ü

-

S t e

e

Beinberg

Oberlengenhardt

Neuweiler

Martinsmoos

Berneck

Altensteig

Schopfloch

Dornhan

Leinstetten

Eschbronn

Mönchweiler

Egenhausen

Pfalzgrafenweiler

Bonndorf

-Birkendorf

B

i

Brigach

n

Steina

ä

r m

a

d

Beffendorf

t

a l

e r

W

t a

U h

Wolterdingen

Waldhausen

Unadingen

Boll

l

Monakam

s t r a ß e

Bösingen

D e

r e

Marbach

Döggingen

Mühlacker

Enzberg

Hirsau

Altburg

4

Sommenhardt

Wart

Salzstetten

Dürrenmettstetten

Hopfau

Dunningen

Eschbach

Heitersheim

Ballrechten-

Dottingen

Kappel- 20

Grafenhausen

Ühligen-

47

Niefern-

Öschelbronn

Bad Teinach-Zavelstein

Waldachtal

Königsfeld

Waldshut-Tiengen

13

Diessen

Schönbronn

Rotfelden

Ebhausen

Altheim

u t a

Rexingen

Glatt

Horgen

u t

n s

Niedereschach

Brigachtal

Lauchringen

Küssaberg

Neubulach

Rohrdorf

Sulz a N.

Nagold

s c

t r

g o l d

Neckar

c h s c h l u c

Dillendorf

Wurmberg

Wimsheim

Haiterbach

Oberndorf a. N.

Bräunlingen

Friolzheim

Bad Liebenzell

Calw

t a

Bochingen

h e

a ß

Betra

Epfendorf

Villingendorf

Zimmern o.R.

e

Dauchingen

Aufen

Mundelfingen

Wutach

Tiefenbronn

Hochemmingen

Wutach

h t

Lausheim

Eggingen

Wutöschingen

Wiernsheim

Neuhausen

Simmozheim

Althengstett

Wildberg

Nagold

Horb a.N.

Villingen-Schwenningen

10

25

Stühlingen

Irslingen

Aasen

Neckar

Weigheim

Pfohren

Neudingen

Rosenfeld

Leidringen

Trossingen

B a a r

Fürstenberg

Blumberg

Achdorf 12

Weizen

Weissach

Deckenpfronn

Mötzingen

Vollmaringen

Hochdorf

Vöhringen

Hüfingen

Eutingen

Empfingen

Deisslingen

Bad Dürrheim

11

Donaueschingen

28

Mönsheim

Heimsheim

Bergfelden

Dietingen

Grimmelshofen

Schleitheim

Klettgau

Vaihingen

Weil der Stadt

Ostelsheim

43

Rottweil

Herrenberg

Gäufelden

Tuningen

Fützen

Gärtringen

Bondorf

K lettgau

Rutesheim

Gruol

Haigerloch

An adventure for young and old (4 and older)! From

1 Apr to 31 Oct, tours held daily except Mon, 11am,

1:30pm, and

Geislingen

3:30pm. Group tours available year round

by appt., tel. +49 (0)7832.9125-0 (via Gasthaus Blume).

www.besucherbergwerk-segen-gottes.de

Balingen

Black Forest traditional dress museum

The Black Forest traditional dress museum shows over

100 life-like figures in traditional dress in numerous

large displays in the monastic cells of a former Capuchin

Cloister, Dotternhausen supplemented with artistic individual

items and objects from both everyday farming life and

fests.

Schömberg

Frittlingen

R a

n d

e

n

Ratshausen

Gosheim

Denkingen

Triberg Black Forest Museum

The Black Forest Museum, located in the direct vicinity

of the Triberg

Aldingen

waterfalls, provides insight into life and

work in the Black Forest - also answering the question

of how the bird gets into the cuckoo clock and how

many balls

Spaichingen

there should be on traditional hats. The

collection covers:

• Historical Black Forest clocks from 4 centuries

• Self-playing music jukeboxes and barrel organs

• Workshops and traditional dress

• A large Black Forest Rail diorama

• A mineral mine... and much more

And round off the visit with our original Black Forest

cherry cake at the museum café.

Öfingen

Forest climbing park in

Dornstetten-Hallwangen

This unique forest climbing park has an action-packed

parcours in 5 difficulty levels over the length of 1.6 km,

10 rope slides, the Flying Fox super slide, and the daring

Tarzan Jump. Even climbing pros will have their

breath taken away. Visits become a truly unforgettable

experience for families with children aged 3 and

older. The most modern technology and experienced

trainers provide maximum safety. Follow up by experiencing

the thrilling adventure and unbelievable

diversity of nature in the neighboring bare foot park,

with free entry. Open: April - Oct 10am-7pm, appts for

groups outside seasonal times.

6

Geisingen

Ditzingen

Leonberg

Alpirsbacher monastery brewery in Kinzigtal

valley

Renningen

Here, where inventive monks were already brewing

beer 900 years ago, you'll find a world of adventure

centered around

Magstatt

beer: The brewery museum shows

the past and present of the art of brewing. Expert beer

messengers provide insight and guide their visitors

through the brewing process from the stalk to the

glass in exhibits featuring historical machinery and

Grafenau

tools. Tours provided daily. Back in 1880, the Glauner

Sindelfingen

Family was already brewing excellent beer using

recipes that had been passed down to them. In addition

to the classic specialties like Spezial and Pilsner,

Aidfingen another 17 beers and specialties are brewed.

Ehningen

7

Hildrizhausen

Altingen

Ammerbach

Schramberg automotive & clock world

Here, there are four entirely Würmlingen different adventure worlds

that bring history alive over ca. 8,000 sq. m. The Steim

Hailfingen

private collection provides spectacular overviews of the

history of international automotive manufacturing. At

the "ErfinderZeiten" automotive and clock museum,

you can experience Rottenburg the spirit a.N. of times past up close,

and at the H.A.U. diesel museum you'll find an exciting

symbiosis of industrial architecture and power plant

Neustetten

technology.

At the Black Forest Rail Museum, the largest Spur II collection

makes visitors' hearts race. Young visitors also

have a chance to operate trains here themselves, and to

ride through the hall on a handcar.

Starzach

8

Trillfingen

Wellendingen

Seitingen-

Oberflacht

Kirchen-Hausen

Korntal-

Münchingen

Altdorf

Hirrlingen

Rangendingen

"Segen Gottes" visitor mine

9

10

Wehlingen

Villingen-Schwenningen –

Medieval Old Town

Discover the municipal district of Villingen with its

historical old town. Leipferdingen

Take a walk with our expertly informed

city guides! They'll show you an entertaining

journey through time, showing interesting facets to the

city, such as:

Watter

• The defensive towers and gates Kaiserturm,

Romäusturm, and Pulvertürmle

• the Minster "of Our Lady" with fountain

• the city wall, largely preserved

• the fountains Romäusbrunnen and Narrobrunnen

• the Old Town Hall

11

Hallau Neunkirch Beringen

Solemar wellness and health center

The Solemar wellness and health center has five

stars - the highest level of "wellness stars" for thermal

springs, acknowledging Solemar's special quality.

Here, you'll find pure relaxation over 12,000 sq m and

Jestetten

everything involving health, fitness and wellness.

Dettighofen

In addition to the thermal springs, you'll also find

the famous Lottstetten Black Forest Sauna, the therapeutic MTT

fitness center, Wellness-VitalCenter and the Dead Sea

salt grotto. Ratz

Hohentengen

a.HRh. Open: Mon-Thu, 9am-10pm; Fri 9am-11pm; Sat, Sun,

holidays, 9am-10pm Eglisau

Rheinfall

atreenalin GmbH

Am Sonnenrain

72280 Dornstetten-

Hallwangen

Tel.: +49 (0)7822.7673977

info@atreenalin.de

www.atreenalin.de

Alpirsbacher Brauwelt

Marketing GmbH & Co. KG

Marktplatz 1

72275 Alpirsbach

Tel.: +49 (0)7444.67149

brauwelt@alpirsbacher.de

www.alpirsbacher.de

Auto & Uhrenwelt

Schramberg

Gewerbepark H.A.U. 3/5

78713 Schramberg

Tel.: +49 (0)7422.29300

info@auto-und-uhrenwelt.de

www.auto-und-uhrenwelt.de

Tourist Information

Im Alten Kapuzinerkloster

77716 Haslach im Kinzigtal

Tel.: +49 (0)7832.706172

Fax: +49 (0)7832.706179

info@haslach.de

www.haslach.de

Schwarzwaldmuseum

Triberg

Wallfahrtstraße 4

78098 Triberg

Tel.: +49 (0)7722.4434

www.

schwarzwaldmuseum.de

Wirtschaft & Tourismus

Villingen-Schwenningen GmbH

Tourist-Info & Ticket Service

Rietgasse 2

78050 VS- Villingen

Tel.: +49 (0)7721.822340

www.tourismus-vs.de

Wellness- und Gesunheitszentrum

Solemar

Bad Dürrheim

Huberstraße 8

78073 Bad Dürrheim

Tel.: +49 (0)7726.666292

www.solemar.de

15

14

13

12

www.facebook.com/europapark

An experience for every season ...

at Germany's biggest theme park!

Europa-Park – Theme Park & Resort in Rust near Freiburg/Black Forest · Info-Line +49 7822 77-6688

Motorway A5 Karlsruhe/Basel · Exit 57b Europa-Park · www.europapark.de

Easy right up top with the Feldberg gondola!

At 1,493 m, Feldberg is the highest mountain in the

Black Forest. A trip to the top is rewarded with majestic

panoramas of the Southern Black Forest and a

terrific view of the Alps from Mont Blanc to Zugspitze.

The most comfortable way up is on the 8-person cabin

gondola.

Child strollers, wheel chairs, bikes and dogs can be

transported with no problem. The special Resi cabin is

particularly popular among young guests. The most

beautiful hiking routes into the Feldberg nature park

start at the 1,450 m mountain station.

Hiking tip: "Feldberg-Steig" premium hiking trail - 12

km hiking circuit.

Feldberg Touristik

c/o Feldbergbahn

Kirchgasse 1

79868 Feldberg

Tel.: +49 7676.9409110

info@feldbergbahn.de

www.feldbergbahn.de

Hochschwarzwald - Holiday for all the senses

The Upper Black Forest (Hochschwarzwald) is considered

one of the most beautiful and preserved

landscapes in Germany. The area around Titisee lake,

Schluchsee lake and Feldberg mountain have shaded

ravines, cool woods, sunny peaks, refreshing lakes,

and culinary delights.

• Premium trails for hikers and bon-vivants

• Swimming in Titisee and Schluchsee

• Winter sport paradise, snow guaranteed

• Romantic Christmas markets

• Excellent family-friendly holiday region

• More than 60 free attractions with the

Hochschwarzwald Card

Hochschwarzwald

Tourismus GmbH

Freiburger Straße 1

79856 Hinterzarten

Tel.: +49 7652.12060

info@hochschwarzwald.de

www.hochschwarzwald.de

Waldshut-Tiengen: Medieval gem

You'll find Waldshut-Tiengen where the Black Forest,

the Aare River, and Switzerland meet the Rhine.

Discover the Medieval districts of Waldshut and Tiengen

with their gates, towers and fortresses, e.g. on

one of the numerous city tours.

Boat ride on the Rhine

Set sail on the "Waldshut-Tiengen" and discover the

Upper Rhine from a very special perspective, passing

between Switzerland and Germany the whole time.

You'll be fascinated not only by Waldhut's "Skyline",

but by the wonderful nature as well.

Tourist-Information

Wallstraße 26

79761 Waldshut-Tiengen

Tel.: +49 (0)7751.833200

Fax: +49 (0)7748.833126

www.waldshut-tiengentourismus.de

Steam train adventure

"Sauschwänzlebahn" rail

From April to October, you can experience historical

steam train rides with the famous Sausschwänzlebahn.

Impressive valley bridges, including numerous

viaducts and tunnels make the ride on the 25-km

route an unforgettable event. The Wutacht valley rail

received the nickname "Sauschwänzlebahn", or "Pig

Tail Rail" due to the unique hairpin tunnel.

Our tip:

Hike along the informational railway path or the rail

hiking trail through the ridge and we'll bring you back

on Sauschwänzlebahn!

Sauschwänzlebahn

Bahnhofstr. 1

78176 Blumberg

Tel.: +49 (0)7702.51300

info@

sauschwaenzlebahn.de

www.sauschwaenzlebahn.de
---
48

24 25

26 27 28 29 30

Dorotheenhütte Wolfach

Glass is regarded as one of the

oldest materials in the world. In

the Dorotheenhütte visitors can

still witness traditional craftsmanship

of mouth-blown and hand-cut glass manufacturing.

At pot furnaces being continually operated

at over 1300 °C glassmakers fabricate drinking glasses,

vases and much, much more. Each and every piece

is unique. Under professional guidance visitors can

blow a vase. All about glass and its history is shown

in the in-house glass museum and its cinema. Take an

inspiring stroll through the large glasswork's shop and

the year-round decorated Christmas village.

Open daily (except 25.12/01.01.) from 9:00 a.m. to

5:00 p.m. (admission until 4:30 p.m.)

Dorotheenhütte Wolfach

77709 Wolfach

Glashüttenweg 4

Telefon 07834 8398-0

www.dorotheenhuette.de

Nature paradise in Bad Herrenalb and Dobel

A warm welcome to the nature paradise of Bad

Herrenalb and Dobel. The "city of seven valleys"

Bad Herrenalb and the "island of sun" Dobel represent

the ideal starting point for discovering the

Central/Northern Black Forest. There are marked

hiking paths, MTB and e-bike trails, as well as thematic

and adventure paths for experiencing this

unique landscape - even in the winter: on trails for

snow shoeing and cross-country skiing!

Numerous festivals and cultural highlights promise

variety throughout the entire year. Regional

cuisine prepared by local gastronomes and a visit

to the Siebentäler thermal springs will perfect your

revitalization.

Tourismusbüro

Bad Herrenalb

Rathausplatz 11

76332 Bad Herrenalb

Tel.: +49 (0)7083.500555

Fax: +49 (0)7083.400544

info@badherrenalb.de

www.badherrenalb.de

Tourismus- und

Bürgerbüro Dobel

Neue Herrenalber Str. 11

75335 Dobel

Tel.: +49 (0)7083.74513

Fax: +49 (0)7083.74535

kontakt@dobel.info

www.dobel.de

Destinations in Teinachtal valley

Active

Be it on foot or on an e-bike, using a map or a GPS

unit - hiking and cycling, you'll find a great trail

network with clear signs. Modern treasure hunters

will find everything they are looking for with multiple

thematic caches. For asthma sufferers in particular,

we offer sport in tunnels during the spring.

Enjoy and relax

The award-winning gastronomy is centered

around regional cuisine. The Bad Teinach mineral

thermal springs feature pure revitalization following

their renovation. In addition to the day spa

areas of a classified hotel, you'll also find relaxation

for body and spirit at the Neubulach mine.

Teinachtal-Touristik

Rathausstr. 5

75385 Bad Teinach-

Zavelstein

Tel.: +49 (0)7053.9205040

Fax: +49 (0)7053.9205044

info@teinachtal.de

www.teinachtal.de

Cassiopeia thermal springs in Badenweiler

Modern health oasis with Roman bath

tradition.

Thermal and sauna bath, a visit to the Roman-

Irish bath, exclusive wellness.

Treat yourself to a day of pampering at Badenweiler's

Cassiopeia thermal springs, recipient of

5 wellness stars.

Tip:

You'll find Roman bath ruins right next door.

According to experts, this is one of the most

significant and best preserved historic thermal

spring sites north of the Alps.

Tourist-Information

Badenweiler

Ernst-Eisenlohr-Str. 4

79410 Badenweiler

Tel.: +49 (0)7632.799300

Fax: +49 (0)7632.799399

touristik@badenweiler.de

www.badenweiler.de

Bühlertal valley holiday destination -

between Rhine and vines

Great views from the Black Forest High Road over

fruit gardens and wine hills to the Rhine plane reveal

the draw to the landscape of the Bühl-Bühlertal

holiday region. Stroll leisurely through the pedestrian

zone or be sporty, experience gourmet treats

from the kitchen and the cellar as well as great

cultural diversity.

• Alt-Windeck fortress ruins with forest adventure trail

• Wild and romantic Gertelbach waterfall

• Panorama hiking trails, thematic trails

• Touring and MTB routes

• Plum fest on the 2nd weekend in September,

wine hike day on 3 October, wine fests

• Cellar tours with wine sampling

Tourist-Information

Bühl-Bühlertal

Hauptstr. 92

77815 Bühl

Tel.: +49 (0)7223.935332

Fax: +49 (0)7223.935339

tourist.info@buehl.de

www.buehl.de

Donaueschingen and Hüfingen

The idyllic location in the Southern Black Forest

Nature Park, the spa locations provide the best

conditions for a holiday rich in diversity. Come to

the royal town of Donaueschingen at the Danube's

source and discover the princely Fürstenberg

Palace, with its park and Danube convergence,

the Art Nouveau old town and the city's many

museums. For beer lovers, we recommend a tour

of Fürstenberg Brewery.

Hüfingen's lovely renovated old town, protected

as historical heritage, with "Roman bath ruins",

school & city Museum, and "aquari" family pool

and sauna. The surrounding area provides a wellmarked

network for cycling and hiking.

Tourist-Information

Donaueschingen

Karlstr. 58

78166 Donaueschingen

Tel.: +49 (0)771.857221

Fax: +49 (0)771.857228

www.donaueschingen.de

Informations- und

Kulturamt Hüfingen

Hauptstr. 16-18

78183 Hüfingen

Tel.: +49 (0)771.600924

Fax: +49 (0)771.600922

www.huefingen.de

Emmendingen

Experience the art, culture and small town atmosphere

with southern flair in the Margrave

city of Emmendingen. Walk in the footsteps

Goethe left behind while visiting his sister, who

lived in here. The thickly forested heights of the

Southern Black Forest and the sun-bathed vine

slopes invite visitors to enjoy leisurely excursions

and hikes, such as to Eichbergturm tower, the

largest panorama platform in the state, or to

the Hochburg Medieval ruins. Award-winning

Baden cuisine and fully-bodied Breisgau wine

promise pleasures for the palette you can enjoy

every year at the Breisgau Wine Festival, held on

the 3rd weekend in August. We look forward to

your visit!

Stadt

Emmendingen

im Breisgau

Tourist-Info Emmendingen

Bahnhofstr. 8

79312 Emmendingen

Tel.: +49 (0)7641.19433

Fax: +49 (0)7641.452575

touristinfo@emmendingen.de

www.emmendingen.de

Freiburg

Freiburg is a worthwhile experience at any time

of year. Walks through the old town are full of

exciting discoveries everywhere you turn. Extraordinary

shops, boutiques, shopping centers,

and the colorful weekly market turn strolling and

shopping here into a pleasure.

Enjoy the cozy wine bars and restaurants. And

Freiburg's quiet attractions: Old town with zigzag

alleys and idyllic interior courtyards. Many

marvel at the "tiny brook" runnels, small stone

waterfalls snaking their way throughout the city.

Relax after a city stroll and dip your tired feet

into a tiny brook - a "service" only Freiburg can

offer.

Tourist Information Freiburg

Rathausplatz 2-4

79098 Freiburg

Tel.: +49 (0)761.3881-880

Fax: +49 (0)761.3881-1498

touristik@fwtm.de

www.freiburg.de

Black.Forest.

47

31

Rothauser Land

Rothauser Land is between Schluchsee lake and the

Upper Rhine, in the Southern Black Forest, with the

principle towns of Grafenhausen and Ühlingen-Birkendorf,

can fill much more than one day of excursions.

• Rothaus - Brewery with trail

• Hüsli regional museum: TV filming location (close

Mondays)

• Oberholz & Schlühüwana nature trails

• Naturena: Swimming lake with NABU information

center • Schlüchtsee lake nature conservation area

• Kloster Riedern a.W. with St. Leodegar Barqoue Church

• Tannenmühle mill: Museum mill with small animal

park • Wood-carving and farm tours

• Narrenhüsli regional museum in Ühlingen

Rothauser-Land-Information

Schwarzwaldstr. 44

79777 Ühlingen-Birkendorf

Tel.: +49 (0)7743.380

Fax: +49 (0)7743.1277

info@rothauserland.de

www.rothauserland.de

Typical Black Forest

Adventure. Tradition. Experience.

The objective is to discover!

Furtwangen German Clock Museum

The cuckoo clock is one of the Black Forest's

most charming ambassadors. It has long been

a symbol of lifestyle. The new exhibit explores

everything about this popular souvenir. At the

German watch museum, you'll have a chance to

walk through the frequently unknown history of

measuring time, from Stonehenge to the atomic

clock. You'll discover how time is created today.

With a bit of luck, you'll even find your old alarm

clock in a showcase. After all, millions of everyday

clocks originate from the Black Forest.

The daily tours are also available in French, English,

and in other languages.

The museum is found between Triberg and Titisee,

open 365 days a year.

Deutsches Uhrenmuseum

Robert-Gerwig-Platz

78120 Furtwangen

Tel.: +49 (0)7723.920-2800

Fax: +49 (0)7723.920-2120

www.deutschesuhrenmuseum.de

Panoramic map

including daytrips

46

32 33

in Titisee

Visit the highest waterfall in Germany

In the homeland of the cuckoo clock, the water

plunges 163 m down over 7 steps, right in the center

of Triberg. Triberg Christmas Magic represents

an annual highlight. Adventurers can get their

thrills at the nature high rope course.

Further attractions:

• Triberg Black Forest Museum

• Furtwangen German Clock Museum

• St. Georgen German Phono Museum

• Schonach's largest cuckoo clocks in the world

• Reinertonishof Schönwald cultural memorial site

• Triberg Black Forest Rail Adventure Trail

• Furtwangen Hexenloch Mill

• Unterkirnach play barn

Ferienland im Schwarzwald

Franz-Schubert-Straße 3

78141 Schönwald

Tel.: +49 (0)7722.860831

Fax: +49 (0)7722.860834

info@dasferienland.de

www.dasferienland.de

Glottertal valley - Discover diversity

Glotteral valley delivers exciting diversity. Impressive

wine hills found below in the sun-bathed valley

with romantic branching valleys; the landscape

offers cliffs, romantic forests, and great views all

around the 1243-meter Kandel.

• Home of the TV show Schwarzwaldklinik, shooting

location for the family series "Tiere bis unters Dach"

• Pure enjoyment on the "Glottertal Gourmet

Mile" with numerous restaurants & cafés

• Nature and forest adventure at 1,000 meters,

Kandel - mountain of forces, Glottertal nature

loungers

• Living tradition, wine hill tours, vine tour, theater

tour with the "Roter Bur" wine, international

tractor meets (bi-annual), livestock herding...

Tourist-Information

Rathausweg 12

79286 Glottertal

Tel.: +49 (0)7684.9104-0

Fax: +49 (0)7684.9104-13

tourist-info@glottertal.de

www.glottertal.de

Welcome to

your holiday!

Palm Oasis

45

More Black Forest?

The Black Forest

34

Schömberg in the Northern Black Forest

Expansive forests, brooks and rivers, a diverse

world of animals and plants - that is the Northern

Black Forest. You'll find the charming community

of Schömberg a little closer to the sun in

a high valley protected from the wind between

the cities of Pforzheim and Calw. It's the entry

gate to the Central/Northern Black Forest.

As a premium class climatic spa resort, Schömberg

offers top shelf healing and revitalization:

You can still feel the soothing tranquility of untouched

nature. The marked hiking trail network

spans over 360 kilometers, well-built cycling

paths will make every cyclist's heart race, and

great geocaching circuits are an adventure for

the whole family.

44

Rust health resort

Rust, an extraordinary town on the sun-bathed

Rhine plane, offers an incomparably diverse

range of opportunities for guests interested in

nature and adventure. The contrast between

relaxation and fun, revitalization and excitement

is what makes spending valuable time in Rust so

attractive.

Nature idyll and recreational paradise - on a discovery

tour in Rust

• Germany's largest recreational park, Europa-Park

• Taubergiessen nature conservation area

• Rheinauen nature center, with falcons

• Germany's first climate change garden

• Rust - a living health resort with charm

Glücksgemeinde Schömberg

Touristik und Kur

Lindenstr. 7

75328 Schömberg

Tel.: +49 (0)7084.14444

touristik@schoemberg.de

www.schoemberg.de

Tourist-Information Rust

Fischerstraße 51

77977 Rust

Tel.: +49 (0)7822.8645-20

Fax: +49 (0)7822.8645-31

tourist-info@rust.de

www.rust.de

KONUS-

Guest Card

Busses and trains for free!

During your holiday in the Black

Forest in more than 130 cities and

communities you have a sensational

advantage - You receive

the KONUS Guest Card (KONUS

Gästekarte) and can use busses

and trains free of charge!

How can you use KONUS:

With your registration with your

host in one of the participating

holiday destinations you will receive

the Schwarzwald-Gästekarte.

The Schwarzwald-Gästekarte

replaces the local spa card and allows

entrance to many facilities at

a reduced price in the Black Forest.

For more information:

Black.Forest.

The KONUS Guest Card is valid

during the registered period of time

of your stay in all busses and trains

of the participating associations of

transport companies as a 2nd class

ticket. Note: Exceptions are ICE-,

IC and EC connections as well as

mountain railways and funiculars.

For more information:

Tel. +49 761.89646-93

www.blackforest-tourism.com

1.

SchwarzwaldCard

Experience what the black forest

has to offer - active or relaxing

- the Black Forest card "SchwarzwaldCard"

is your admission

ticket for about 125 destinations

for a day trip and attractions

all over the Black Forest!

The card is valid at all attractions

on three days of your choice

between the saison. In addition

a number of select attractions

can also each be visited once free

of charge outside the three days

chosen.

For further information call:

Tel. +49 761.89646-93 or visit our

website www.schwarzwaldcard.info

For more information:

Black.Forest.

Free admittance or free ride for

example

• museums • ice rinks • adventure-,

fun and thermal pools • themeand

natural adventure parks • ski

lifts • mountain railways • and a

host of other attractions.

Erwachsene

C a r d

Die SchwarzwaldCard

The SchwarzwaldCard is available

in many local tourist information

offices and almost all participating

attractions.

www.schwarzwaldcard.info

near Gütenbach

Schwarzwald Tourismus GmbH

Habsburgerstrasse 132

79104 Freiburg

Info- und Prospektservice Schwarzwald

Tel.: +49 (0)761.89646-93

Fax: +49 (0)761.89646-94

prospektservice@schwarzwald-tourismus.info

www.blackforest-tourism.com

Imprint

Publisher:

Schwarzwald Tourismus GmbH

Habsburgerstrasse 132, 79104 Freiburg

Tel.: +49 (0)761.896460

Fax: +49 (0)761.8964670

mail@schwarzwald-tourismus.info

www.blackforest-tourism.com

Managing Director: Christopher Krull

Project management: Sonja Kuderer, Anita Sturm

Photos: Christoph Eberle/STG, Heike Budig/STG, Erich Spiegelhalter/STG, Karl

Schlessmann, Adean/ORA, participating locations, tourist information and

businesses

Print: Himmer AG

All rights reserved. May only be reprinted, including excerpts, with permission

from Schwarzwald Tourismus GmbH (STG), Freiburg.

Schwarzwald Tourismus GmbH disclaims all liability for the information

on the panorama map in the potential event of changes on-site or among

the attractions.

Original, rich in contrasts, relaxing challenging

– meadows, forests, mountains, farm estates,

traditional dress, and cherry cake: The Black

Forest is a one-of-a-kind world, full of alterations

from sun-bathed wine hills and shaded

woods to river landscapes, high moors, steep

ravines, and sweeping valleys.

More than 320 small Black Forest towns and

wine-growing villages will awaken your crave

for discovery. There is a reason why this diverse

and spacious holiday destination in the tri-country

region with Switzerland and France is considered

"Germany's most beautiful destination

for bon-vivants."

Clear heights, deep ravines, broad planes

More than 70 summits rising up to 1000 meters.

Majestic hiking paths with far-reaching

panoramas for summer hiking. During the winter,

enough snow for all the winter-time activities

your heart desires. There are nearly 24,000

kilometers of marked hiking trails throughout

the region. Long-distance trails, regional hiking

circuits, thematic trails, and bon-vivant circuits

make it easy to find "happiness on foot".

Those who prefer to cycle will find more than

8000 kilometers of mountain biking trails and

countless biking paths for stress-free excursions.

Germany's largest destination for bon-vivants

Actually, the culinary experiences are themselves

are reason enough to vacation in the

Black Forest. No region in Germany boasts more

gastronomic stars and awards. Nearly 400 restaurants

and chefs at 320 sites in the Black Forest

receive prizes from the large gourmet and

gastronomy guides year after year.

Ideal for families

Whether a farm estate, family-friendly holiday

flats or at family hotels - parents and children alike

are in good hands in the Black Forest. Adventure

and experience out in nature can be found in rustic

woods, climbing gardens, swimming lakes, adventure

trails, and stroller-friendly hiking paths. The

region's recreational, adventure, and family parks

will win over even hard-to-please youngsters.

Environment friendly and affordable

Hardly any other region combines saving money

and enjoyment so completely: There's the RIT

Black Forest Ticket for the journey in; and the

KONUS Guest Card for mobility during your

stay, featuring over 10,000 hosts at nearly 140

destinations. It is valid for free bus and train

rides in the regional public transportation network

- and provides unlimited rides during your

entire holiday in Germany's most beautiful bonvivant

region.

ZweiTälerLand – Elztal and Simonswäldertal

The holiday regions with the six towns of Biederbach,

Elzach, Gutach im Breisgau, Simonswald,

Waldkirch and Winden im Elztal are just a few km

north of Freiburg. You'll find family holidays, nature

adventure, hiking, cycling, culture, tradition, luxury,

KONUS guest card.

The highlights:

• "Zweitälersteig" quality hiking trail, 108 km long,

4,120 m ascension, 5 stages, "luggage-free hiking"

packages

• Marked cycling and MBT trails

• Nature adventure park with Baumkronenweg trail

• Elztal museum with barrel and fairground organ

• Historical Black Forest mills

• Specials for groups

35

Germany's longest circular cable-hauling

system at 1284 m

Float up to the mountain station and visit Freiburg's

highest point, with an outlook tower at

1,284 m.

You can enjoy an unparalleled panorama over

Freiburg, the Rhine Valley and Kaiserstuhl reaching

all the way to the Vosges.

You'll find plenty to do at the mountain station:

Hiking in the conservation area, biking on select

trails, scooters down to the valley station, tours

in the largest silver mine in southern Germany,

or through the 400-year-old farmstead museum,

snacks at cozy restaurants, panorama breakfast

at mountain restaurant and much more.

ZweiTälerLand Tourismus

Im Bahnhof Bleibach

79261 Gutach im Breisgau

Tel: +49 (0)7685.19433

info@zweitaelerland.de

www@zweitaelerland.de

www.zweitaelersteig.de

Schauinslandbahn Freiburg

Bohrerstr. 11

79289 Horben

Tel.: +49 (0)761.4511777

info@schauinslandbahn.de

www.schauinslandbahn.de

Wells of health

Freephone: 00 8000 / 4444 – 333

in Titisee directly at the Federal road B31

Wellness Oasis

www.badeparadies-schwarzwald.de

43

42

41

40

39

38

37

36

More about the Black Forest?

Information and brochures

Tel.: +49 (0)761.89646-93

Fax: +49 (0)761.89646-94

prospektservice@schwarzwald-tourismus.info

www.blackforest-tourism.com

Rottweil

Rottweil is not only known because of Carvenal

and the canines of the same name - even the Romans

left impressive traces, such as the famous

Orpheus mosaic and the Roman bath.

Today, the cityscape is marked by historical Late

Medieval buildings: the Gothic chapel tower,

the Holy Cross Minster, the Black Gate, the High

Tower, numerous fountains, and stately homes.

The city's museums tell the stories of days past.

Visit "Aquasol" sole and recreational bath, with

its giant slide and Roman sauna landscape.

City tours: from Apr to Oct, every Sat at 2:30pm.

Meeting point: Tourist information

Älteste Stadt Baden-Württembergs

Tourist Information

Hauptstraße 21

78628 Rottweil

Tel.: +49 (0)741.494280

Fax: +49 (0)741.494373

tourist-information@

rottweil.de

www.rottweil.de

Passage309 –

Rheinareal Gambsheim/Rheinau

Transborder cycling and hiking paths over

Passage309 lead to the German-French region

of Rheinau. Active recreation guaranteed when

visiting the swimming lakes and pools, and

national conservation area in Offendorf (Alsace).

There are recreational harbors in Offendorf and

Rheinau for water sport enthusiasts. Excursion

destinations like the largest inland locks in

France, one of the largest fish passes in France

with visitor center, two maritime museums,

and 20,000 years of architectural and domestic

history at "World of Living", with WeberHaus

architecture and living park. A rich selection of

restaurants and lodging.

Tourismuspavillon

Gambsheim/Rheinau

Am Rheinübergang - L87

77866 Rheinau

Tel.: +33 (0)388.964408

Fax: +33 (0)388.597311

info@passage309.eu

www.passage309.eu

Markgräfler LAND

Enjoy the quiet beauty and harmony of this

picturesque landscape featuring meadows and

valleys, softly rolling wine hills down to the

southern foothills of the Black Forest. A magnificent,

colorful landscape full of nature's fruits and

bathed in the sun awaits you.

ActiveLAND – a great place for hiking, walking,

cycling, riding, swimming. CultureLAND – many

sights, cultural treasures, music festivals. Dream-

LAND – dreamy thermal baths: Balinea thermal

springs in Bad Bellingen and Cassiopeia thermal

springs in Badenweiler. SchlaraffenLAND – our

fine wines, sparkling wines and wine specialties.

Pure quality, combined with excellent Margrave

cuisine.

Werbegemeinschaft

Markgräflerland GmbH

Bismarckstraße 3

79379 Müllheim

Tel.: +49 (0)7631.801502

Fax: +49 (0)7631.801508

info@markgraefler-land.com

www.markgraefler-land.com

Laufenburg: Two countries - one city

The allurement of labyrinthine stone alleys, gates,

towers, small squares, fountains, and fortress

ruins rising above tightly packed manors and

stately homes of the old town - that is the picturesque

border town Laufenburg. There is hardly

a location along the Upper Rhine that has been

eternalized in images by famous artists as often

as Laufenburg, which has been on both German

and Swiss territory since being separated by Napoleon.

Nature lovers and hikers are particularly drawn

to the numerous cycling and hiking paths, and

culture enthusiasts love the trans-border events in

the 800-year-old towns.

Tourismus- und Kulturamt

Hauptstraße 26

79725 Laufenburg (Baden)

Tel.: +49 (0)7763.806-49/-51

Fax: +49 (0)7763.806-25

willkommen@

laufenburg-baden.de

www.laufenburg.de

Lahr/Black Forest

Embedded between sunny wine hills and the

highly diverse Black Forest foothills, with plenty of

diversity for active holiday-makers and tranquility

and relaxation for those looking for repose. We

have a spacious pedestrian zone with shops and

street cafés great for shopping and passing the

time away. With its Chrysanthema event and city

park, Lahr is well known as a city of flowers.

Chrysanthema Lahr: Experience a flower and

cultural festival full of flourishing fantasies

throughout the entire inner city every October

and November. 10,000 chrysanthemums flood

the streets and squares with abundant color

and splendor, framed with a three-week cultural

program.

KulTourBüro

Tickets & Touristik Lahr

Kaiserstraße 1

77933 Lahr

Tel.: +49 (0)7821.950210

kultour@lahr.de

www.lahr.de

Dreisamtal Valley -

Freiburg's gate to the Black Forest

Kirchzarten, Buchenbach, Stegen, and Oberried

Here, you'll find cultural and natural landscapes

melding together in extraordinary harmony.

The proximity to Freiburg and the diverse opportunities

for enjoying nature make Dreisamtal

the ideal destination. Walks in the valley and

hikes up to summits with glorious views, rustic

mountain cabins and mountain pastures - pure

revitalization! You'll be amazed at how much fun

you and your children will have on the vast cycling

network. Or, head out on challenging MTB

routes. In the winter, visitors love the trails for

hiking, x-country and downhill skiing. We participate:

Free public transport for guests!

Tourist Info Dreisamtal

Hauptstr. 24

79199 Kirchzarten

Tel. : +49 (0)7661.907980

Fax: +49 (0)7661.907989

tourist-info@dreisamtal.de

www.dreisamtalschwarzwald.de

Full steam ahead to Achertal valley...

Red wine village Kappelrodeck/Waldulm,

Mühlendorf Ottenhöfen in the Black Forest,

Seebach lake village.

Vineyard cellar and distillery visits, wine fests,

culinary wine hikes, historic steam train, mill

hike, natural adventure pool with rafting slide,

Edelfrauengrab waterfall, Karlsruher Grat

nature adventure, candle evening at Vollmer's

Mühle mill, traditional dress and folk art

museum, Silbergründle ore mine, Ruhestein

nature conservation center with nature

park building, Mummelsee lake, Deckerhof

mill, Hornisgrinde outlook tower, Hochmoor

adventure trail.

Tourist-Information

Achertal

Hauptstr. 65

77876 Kappelrodeck

Tel.: +49 (0)7842.19433

Fax: +49 (0)7842.80275

info@achertal.de

www.achertal.de

Hornberg - Home of the

world-renowned Hornberg canon fire

Hornberg is found in the heart of Gutachtal valley

and can also be reached with the well-known

Black Forest railway. With the KONUS guest

card, guests can use local public transportation

throughout nearly all of the Black Forest free of

charge. The newly renovated old town invites you

to come pay a visit. See the historic Schlossberg

fortress ruins. There, you'll find an unparalleled

panoramic view of the "largest model train set" in

the world. The clockwork show in Hornberg is also

a great site, as is the Duravit Design Center with

its 12-meter tall WC outlook platform. Learn what

really happened with all the canon fire in Hornberg

back in the 16th Century.

Tourist-Information Hornberg

Bahnhofstr. 1-3

78132 Hornberg

Tel.: +49 (0)7833.793-44

Fax: +49 (0)7833.793-29

tourist-info@hornberg.de

www.hornberg.de

Black Forest booking service

c/o Holiday Insider AG

Standort Freiburg

Am Bischofskreuz 1

79114 Freiburg

Tel.: +49 (0)761.88581-133

Fax: +49 (0)761.88581-149

service@holidayinsider.com

reservierung@schwarzwald-tourismus.info

www.holidayinsider.com

www.blackforest-tourism.com

Bus and group travel, conferences and special offers

Schwarzwald Tourismus GmbH

Schwenninger Str. 3

78048 Villingen-Schwenningen

Tel.: +49 (0)7721.846464

Fax: +49 (0)7721.846411

service@schwarzwald-tourismus.info

www.blackforest-tourism.com