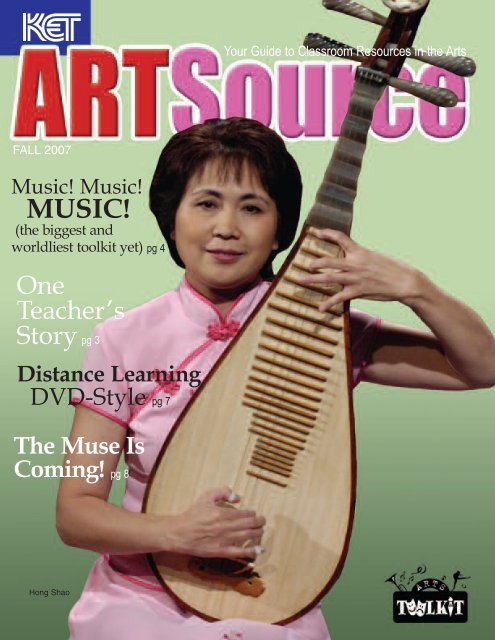 MUSIC! - KET
MUSIC! - KET
MUSIC! - KET
SHOW MORE
SHOW LESS
Create successful ePaper yourself
Turn your PDF publications into a flip-book with our unique Google optimized e-Paper software.
Your Guide to Classroom Resources in the Arts

FALL 2007

Music! Music!

MUSIC!

(the biggest and

worldliest toolkit yet) pg 4

One

Teacher's

Story pg 3

Distance Learning

DVD-Style pg 7

The Muse Is

Coming! pg 8

Hong Shao
---
NewstoUse

Are You One of 10,000?

Did you know that more than 10,000 educators from

around the world have registered to use materials at

the Arts Toolkit web site? In addition to Kentucky

teachers, the web site www.ket.org/artstoolkit has

attracted teachers from all 50 states and from 89

other countries. The web site includes previews of

video segments in the Arts Toolkits, lesson plans

(most of them different than those in the toolkit

binders), and numerous online-only resources—

including a "This Day in the Arts" calendar, profiles of

Kentuckians who work in the arts, and student and

teacher art works on display in the online version of

the Kentucky Virtual Art Museum. If you haven't yet

visited or haven't visited recently, you might want to

check it out!

Art to Heart Wins Awards

Art to Heart, KET's national series on the

importance of the arts from birth to age 8,

won a Gold Award in the Aurora Awards

program. This international competition recognizes

excellence in the film and video

industries. Art to Heart also received an

Honorable Mention in the Accolade TV

Awards competition, which recognizes

exceptional achievement in craft and creativity.

If you teach preschool or primary

grades, you'll want to check out the information

and resources in this exceptional series. Find

Hosted by Ana Ortiz

out more about Art to Heart and numerous resources relating to the

arts and young children at the KET web site www.ket/org/arttoheart.

From Tarantella to Tango

The second edition of the Dance Arts Toolkit will be much more

than a reprint. There will be additional video, new lesson plans,

a CD-ROM on world music and dance, and much more—all

aligned to Kentucky Core Content 4.1

KET taped Native American performances

at the 2006 Festival of Native Peoples in

Cherokee, North Carolina, and the toolkit

will feature new examples of dance from

the Mohawk, Apache, Git Hoan, Totonec,

Cherokee, and Navaho peoples. In

September 2007, a variety of dancers came

into the KET studio to perform everything

from Indian classical dance and dances

from several West African countries to the

tango and the salsa. The Berea Festival

Dancers also came to perform a dance teachers

have often requested from KET —the

tarantella. KET later taped an interview

with master ballet dancer and teacher

Jacques D'Amboise, who was in Lexington to

work with young dancers from the Lexington

Ballet.

Clockwise from top: Cheryl Pan performs

the Chinese Fan Dance; Moha Dosso

performs a Stilt Dance from Africa's

Ivory Coast; Capoeira Narahari demonstrates

the capoeira of Brazil.

Look for all this exciting new content and

more in the second edition of Dance, scheduled

for release in early 2008.

ARTSource/Fall 2007

Published by KET

Writers | Kate Larken, Mary Duncan

Editor | Teresa Day

Graphic Designer | Missy Miller

Photographer | Steve Shaffer

Tell your colleagues that this publication can

also be downloaded at

www.ket.org/artstoolkit/artsource.

2 ARTSource Fall 2007 KET
---
An Amazing Year

By Garlene Layne-Abshire, Johns Creek School, Pike County

The 2006-2007 school year

began as a difficult one for me

and my family. On May 22,

2006, my 16-year-old son Dustin

had a terrible four-wheeler accident

that changed our lives.

Dustin received massive skull

fractures and traumatic brain

injury. By the time school began

that August his condition was

improving, but he was still hospitalized

at the Cardinal Hill

Rehabilitation Hospital in

Lexington.

This was the beginning of my

12th year of teaching. I was an

itinerant teacher at two schools,

teaching K-8 in my certification area of visual art. After

Dustin's accident, while he was in a coma and we had no

way of knowing the future, I asked to be stationed at

only one school so that when Dustin returned home I

would be close to him when needed. When I received my

letter of placement, I was surprised that I had been

transferred to Johns Creek Elementary. This was returning

home for me; Johns Creek is the school where I

attended first grade through graduation from high

school. (When I was a student, Johns Creek was a K-12

school; currently it houses preschool through 8th grade.)

Garlene and her son Dustin

Good News and a New Challenge

When school started I would come home from Lexington

on Sunday evenings and stay through Thursday

evenings. After 158 days away from home, 39 days on life

support, and seven weeks in a deep coma (it was 75 days

before he said his first word), Dustin was released from

the hospital on September 28. He came home and is now

in his senior year at Pike County Central.

On my first day at Johns Creek, I had been informed

that I would only be teaching fifth grade. I would not

only be teaching my beloved visual art but would also be

teaching drama and dance. I was in shock! I had no clue

as to how to go about teaching these areas of the Core

Content to 84 young, absorbent minds. Even though the

previous year I had attained my National Board

Certification in Early Adolescence Through Young

Adulthood in Art and I am currently president of the

Pike County Arts Council, I was still terrified. My wonderful

(younger than me) principal assured me that I

would have no problem with this. I was happy that he

felt that way; however, deep down inside I was scared to

death to know that I had so much to prepare for, especially

since this was on the CATS TEST!

After doing research on the Web and not

being happy with all the confusing

things out there, I began questioning my

colleagues as to what I should do. The

one thing that kept being repeated was

to "use the KET toolkits." I have a great

friend who is employed by KET, Cynthia

Warner (education consultant for

Eastern Kentucky). She also suggested

the toolkits and all the vast materials

that they offered. So I took the Dance

and Drama kits home and pored over

them for many hours.

Combining the toolkits with other materials,

in January I began my units of

study in these areas. We have a wonderful

music teacher with whom I collaborated,

making these studies more thorough and bringing more

enrichment to students in both our classes.

Using DanceSense

I began our dance studies with the first four programs

of the 10-part DanceSense series that is included in the

Dance Toolkit. These are excellent programs that I

adapted slightly. Along with the programs, the students

used the glossary and the DVD video clips that greatly

reinforced our studies.

The first program helped ease the students into understanding

how everyday movements can be turned into

dance movements. The boys especially loved the clip

showing how football movements can be turned into

dance movements! Several got up and actually demonstrated

those movements for us.

In Program Two (evolution of dance from European to

modern social dance), students explored the origins and

functions of dance in various cultures. I turned the

"Before You Watch" questions in the DanceSense teachers

guide into an interview for students' parents and

grandparents. These included questions such as "What

dances did you do when you were younger?", "Where

did you go to dance?", "What did your parents say

about your style of dance?", and "Do you like the

dances of today?" The interviews were very beneficial

in that they encouraged respect for dance of many generations

and of many cultures, and I received many

comments from parents and grandparents as to how

much they enjoyed the interviews.

Program Three focuses on Native American, European,

and African dance and the blending of cultures. This

(continued on p. 6)

KET Fall 2007 ARTSource 3
---
A World of

MUSIC RESOURCES

at Your Fingertips

Hong Shao began playing the pipa—a traditional

Chinese stringed instrument—when she was 12

years old. It was during the Cultural Revolution in

China, when many young people were sent to the

countryside to work after high school graduation; her

mother thought that if Hong Shao had a special skill,

she might be spared.

Today, Hong Shao performs

on the pipa for

audiences in Kentucky. She

is one of many musicians from

around the world that teachers

and students can meet and listen to

through the Arts Toolkit in Music, which was released in

June 2007. The toolkit also includes Indonesia gamelan

music, folk songs from the Andes, bagpipe music from

Scotland, salsa music from Venezuela, West African talking

drum, and many other world sounds, along with a

bounty of American music. In addition to video segments

on DVD, the toolkit also includes a CD-ROM called A

World of Music, with social studies and music information

(including additional video segments and audio files)

on 25 countries around the world.

In addition to being the worldliest Arts Toolkit, Music is

also the largest toolkit to date:

•The three DVDs contain 12 hours of video (more than

150 segments), including performances, demonstrations

of instruments, and introductions to periods and styles.

•10 illustrated posters offer information on musical periods

from Ancient Greece to 20th century, as well as

American and World Music.

• And there are 848 pages of the kinds of informational

materials teachers have come to count on in the toolkits—

comprehensive lesson plans, glossaries, responding guides,

a statewide resource listing, ideas especially for primary

classrooms, folk song lyrics, teaching ideas, and information

on periods and styles, technology, and inclusive teaching—all

correlated to Kentucky's Core Content 4.1.

Clockwise from above:

Fernando Moya of South America;

a member of the UK Gamelan Orchestra;

a member of the UK Chinese Ensemble;

Jennifer Rose and daugther Lydia.

As with past Arts Toolkits, KET's toolkit staff worked

closely with Philip Shepherd, arts and humanities consultant

for the Kentucky Department of Education

(Shepherd, in fact, developed the Responding Guide), and

turned to teachers and artists from across Kentucky to

help create resources and lesson plans. Ethnomusicologist

Gregory Acker, who frequently works with teachers and

students in Kentucky schools, was a major contributor to

4 ARTSource Fall 2007 KET
---
the World of Music CD-ROM, on

which he shares photos and first-hand

experiences in a variety of countries,

demonstrates a variety of instruments,

and provides information and

suggested activities.

Other contributors/performers

include the University of Kentucky

Gamelan Orchestra; the UK

Chinese Ensemble; members of the

Central Kentucky Youth Orchestras

and their conductor William Briggs;

the Louisville Brass from the

University of Louisville; the UK

Men's Chorus and members of the

UK Opera; Dr. Diane Earle, professor

of music at Kentucky Weslyan

College; Jennifer Rose (and her

daughter Lydia); and jazz pianist

Harry Pickens. Video segments

from existing KET series included

such great performers as blues

master Taj Mahal, folksingers

Jean Ritchie and Mike Seeger;

bluegrass star J.D. Crowe; African

drummer Yaya Diallo; and the

Louisville Youth Orchestra.

In addition to a "Toolkit World

Music Tour," the CD-ROM also

"I love this toolkit. It is the best yet!"

— Cindy Higgins, orchestra director at Beaumont Middle School, Garden

Springs Elementary, and Picadome Elementary in Fayette County

includes a "Meet Some

Musicmakers" feature in which

songwriters and composers who

work in styles ranging from

country to jazz share their music

and creative processes; a video

Instrument Parade featuring

members of the Central

Kentucky Youth Orchestras; and

sample audio listening assessments

similar to those piloted in

the schools by the Kentucky

Department of Education and the

Kentucky Music Educators

Association. Robyn Swanson,

Professor of Music Education at

Western Kentucky University, created

the assessment questions

using toolkit music segments. (In

the binder you'll also find a unit she

created on Colonial Music.)

And that's just a sampling of what

you'll find in the latest Arts Toolkit.

If this resource sounds like something

you could use, check with your

media center to see if your school has

ordered a copy. Teachers and schools

in Kentucky have already ordered

more than 1,150 Music Toolkits. If

you don't have one yet in your

classroom or media center, visit

www.ket.org/artstoolkit or call

(800) 945-9167 for ordering information.

It's a lot of Arts Toolkit for $99!

Take Note!

• The World of Music CD-ROM and

Music Around the World DVD were

supported by a grant from the W. Paul

and Lucille Caudill Little Foundation. The

foundation also supported development of the

Kentucky Virtual Art Museum CD-ROM in the

Visual Arts Toolkit

• A session on the Music Toolkit will be presented

at the upcoming Kentucky Music

Educators Association conference, Feb. 6-

9 in Louisville. Robyn Swanson of

WKU and Teresa Day of KET will

conduct the session, at 1:15

p.m. on February 8

KET Fall 2007 ARTSource 5
---
How About a Kentucky Literature Toolkit?

A toolkit-type educational resource focusing on

Kentucky books and authors was one of the ideas suggested

at the Kentucky Literature Task Force meeting held

at KET in August.

The meeting brought together a group of writers, teachers,

librarians, publishers, avid readers, and viewers of the bookclub@ket

series to brainstorm ways KET can support

Kentucky literature and make its resources more useful to

teachers and the general public.

What do you think? Would you use a Kentucky literature toolkit

or do you know of teachers who might? Drop us an e-mail at

artstoolkit@ket.org with your comments.

FYI: Past programs in the bookclub@ket

series air on Saturday afternoon at

3:30/2:30 pm CT on KET1; Sunday night

at 11:30/10:30 pm CT on KET1; and

Tuesday afternoon at 4:30/3:30 pm CT on

KET2. Programs can also be viewed

online at www.ket.org/bookclub. The

bookclub@ket web site has extensive

information about Kentucky books,

including streaming video of interviews

with many authors.

Top: George Ella Lyon was one of the authors

attending the task force meeting.

Bottom: Participants discuss ideas for KET

programs on Kentucky literature.

An Amazing Year (continued)

program along with the Dances from Many Cultures

video segments on the Dance DVD helped give students

a true look at the dance of the varied cultures in the

Core Content. The DVD segment that was most emotionally

moving for the students was the Lakota Ghost

Dance segment from DanceSense. The majority of students

were not aware of why many Native American

customs were banned by white settlers.

Program Four aided our studies in the Elements of

Dance. One simple suggested activity was having the

students to explore body shapes in space seated at the

desk/tables. They really enjoyed this.

6 ARTSource Fall 2007 KET

Storytelling: From Abby to Jack

In preparing for our studies in Drama, I chose lesson

plans from the Drama Toolkit to strengthen my instruction

in storytelling. The first thing I did was to become a

character myself. I began the class by becoming "Ms.

Abby Gail." Wearing an old, long, white-and-blue striped

dress (borrowed from my mother-in-law), straw hat, my

grandfather's antique horn-rimmed glasses, long strand

of pearls, white gloves, and lace socks, and carrying my

grandmother's navy blue antique gold-handle purse and

a hand-held mirror, I introduced myself as the daughter

of a coal miner who lived in the coal camp where I grew

up. The students were enthralled while I was transforming

into Ms. Abby Gail! The rest of the year they

wanted to know when she was coming back to visit.

I then introduced them to Jack Tales. I read them Jack

and the Bean Tree and Soldier Jack. The students loved
---
Now on DVD: KET's Distance Learning Humanities Class

When he was growing up in Harrodsburg, Kentucky,

KET humanities teacher Carmen Geraci dreamed of acting

in The Legend of Daniel Boone. His childhood ambition

was realized years later, when Geraci, now an

accomplished pianist, teacher, and actor with a bachelor's

in music and a master's in English education,

joined the cast of the regional drama in his dream role—

historian John Filson, the play's intellectual narrator.

The passion for history, literature, and the arts that led

Geraci to the stage is shaping his daytime job—expanding

and retooling the standards-based high school humanities

course offered through KET Distance Learning. This fall,

KET launches Humanities Today, Geraci's new DVD version

of what was previously Humanities Through the Arts.

Teachers who are just beginning to teach humanities

can use the DVDs as a full block or semester class to

satisfy state requirements for "History and Appreciation

of the Arts." Humanities Today includes easy-to-follow

plans that align with Kentucky's Core Content as well

as the National Standards in the Arts and Humanities.

The DVDs also have many features for more experienced

teachers. All the lessons are segmented for flexibility,

so teachers can use what they want to build their

own classes or supplement their instruction. And Geraci

has added more interactive elements, including ideas for

class discussion and writing, as well as new visuals.

Teachers can use the engaging

writing prompts to help students

find personal connections to topics

covered or as the basis for

portfolio pieces. Geraci has also

expanded the course's online resources.

Geraci has big plans for the future, too. His goal is to

bring together all his interests—in the arts, writing,

anthropology, and history—to provide "relevant, appealing

cross-curricular resources that will be useful for

teachers in and out of the humanities classroom."

For more information about Humanities Today, visit the

web site www.dl.ket.org or e-mail Carmen Geraci at

cgeraci@ket.org or his assistant, Abby Lane, at

alane@ket.org. The cost of the new DVD update is $198.

To order, call Deborah Harris at (800) 333-9764 or visit

the web site. Whether or not they buy the DVDs, teachers

who are using the KET Distance Learning humanities

materials should register their classes at

www.dl.ket.org. Registration is free for Kentucky teachers

and ensures compliance with U.S. copyright law.

Did you know that Carmen Geraci performs in the Drama

Arts Toolkit? He is part of the cast of the Reader's Theater

segments on the Aspects of Drama DVD.

this; so did I. Their assignment, as suggested in the

Drama Toolkit lesson Exploring Jack Tales, was to have

someone in their family tell them a story, and then they

had to present it orally to class. This was an awesome

activity that generated a lot of fun as well as learning.

The lesson plans that I worked with in the Drama

Toolkit were Exploring Jack Tales, An Introduction to

Folktales and Storytelling, Cherokee Storytelling, and

Comparing Elements of Production. Throughout these

lessons the elements of drama were reinforced along with

the major Core Content emphasis on diverse cultures of

Appalachia, Native America, and Africa. We watched

excerpts on the Storytelling Sampler DVD from the

series Telling Tales that further enhanced our study of

the traditions of oral storytelling in these cultures.

The Arts Toolkit lesson plans are extremely helpful in

so many ways. I made copies of the ones I used and put

them directly into my lesson plans binder. I then highlighted

the areas that applied to my instruction.

I know that, without the toolkits and the KET web site to

aid me, I would have truly struggled in bringing forth

meaningful instruction in dance and drama. Thankfully,

due to the toolkits' guidance, collaboration with my colleagues,

and my constant diligence to provide a high

level of learning for my students, my efforts and my students'

efforts showed results. The art and humanities

scores for the fifth grade at Johns Creek School during

the 2006-2007 school year are 112.53. Isn't that amazing!

How do you use the Arts Toolkits? Send your stories and

usage tips to artstoolkit@ket.org.

KET Fall 2007 ARTSource 7
---
600 Cooper Drive

Lexington, KY 40502

Coming Soon from KET: Kentucky Muse

Kentucky Muse, a new, KET-produced arts series, will debut

in January. "Kentucky abounds with creativity, and Kentucky

Muse will celebrate this creative spirit and output through

provocative and thoughtful documentaries about artists,

issues, events, and places," says producer Guy Mendes.

The hourlong programs will air weekly. (Check the KET web

site in early January for dates and times.)

The first season of six shows will include

a profile of Louisville artist Mary Ann

Currier; a visit to the annual Fraley

Family Mountain Music Gatherin'; a

behind-the-scenes look at the first

International Mystery Writers Festival;

visits with Kentucky novelists Sheila

Williams, Kirby Gann, and Silas House;

and "Encore Presentations" of programs

on painter Ellis Wilson and the

Affrilachian poets.

A web site with

educational

materials will

accompany

Kentucky Muse.

At top right: a scene from Books at the

International Mystery Writers Festival.

Center: artist Mary Ann Currier.

Above, left: a scene from the play

Columbo Takes the Rap.

At right: Paul David Smith at the

Mountain Music Gatherin'.