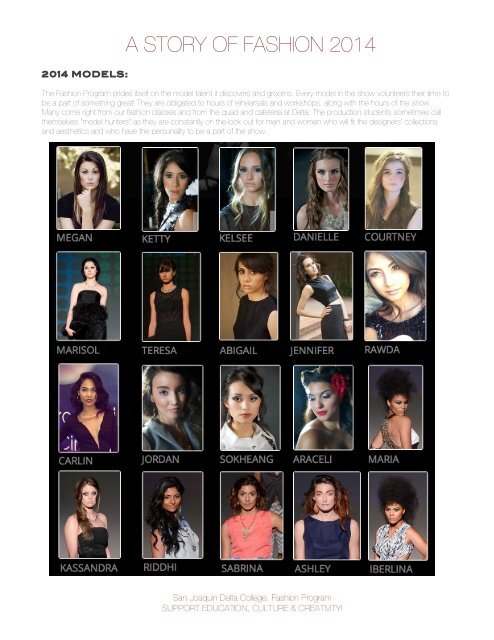 A Story of Fashion Education and the arts have suffered most through decisions made about funding to education and our communitycolleges. But, it has been proven that arts and education that benefit local economies most in creating culture,growth and consumer motivations for supporting local endeavors. They are, however, the most misunderstoodfactors in education. The Fashion Program boasts one of San Joaquin Delta College's most successful programs,but also one of its least funded. Therefore, it has been left to the students to raise funds for their own academicactivities, including field trips, special events, fashion shows and even the program's marketing and outreach. And, itis up to those who care about the program to reach out for assistance to keep it thriving on the Delta Collegecampus!We manage to do a LOT with very little! The Fashion Program is incredibly successful, preparing students for realisticand successful careers in the fashion industry and it is reflected in the success of its students who have graduatedand are now doing amazing things! The program has grown over the past twenty years into a model program for thecommunity college system. Delta's Fashion Program has had great success in the past twenty years and hasproduced some incredible success stories! Stockton can be proud of the fact that such a thriving and respectedprogram exists in its community.We hope you will want to keep vibrant programs alive and well in San Joaquin County, especially those that promoteand attract culture and art!Unlike many other so called "fashion weeks" and "fashion events," the Fashion Program produces events with nofunding support from the college and working as a completely NOT-FOR-PROFIT 501 C(3) foundation. This setsus apart from other fashion events in the region who have no such standing, where any donation to ourfoundation is completely tax deductible and is providing NO administrative or salary funding, but 100% fundingtowards the endeavored event.
2014 2014 MODELS:

DESIGNERS:

A

STORY

STORY

OF

OF

FASHION

FASHION

2014

2014

The FIRST Fashion YEAR Program DESIGNERS: prides itself on the model SECOND talent it discovers YEAR and DESIGNERS: grooms. Every model in ADVANCED the show volunteers DESIGNERS: their time to

be Queenie a part of Cabutitan something great! They are obligated Alan to hours Chu of rehearsals and workshops, along Kyle with Gajeton the hours of the show.

Many Andrea come Contreras right from our fashion classes and Alyssa from the Gibson quad and cafeteria at Delta. The production Thuytien students Nguyen sometimes call

themselves Brittany James "model hunters" as they are constantly Izamar on Rodriguez the look out for men and women who Kathy will fit the Vang designers' collections

and Golia aesthetics Lo and who have the personality to Susan be a part Rodriguez of the show.

Mike Tim

Choua Vang

Catherine Wood

San Joaquin Delta College, Fashion Program

SUPPORT San Joaquin EDUCATION, Delta College, CULTURE Fashion & Program CREATIVITY!

SUPPORT EDUCATION, CULTURE & CREATIVITY!
More magazines by this user