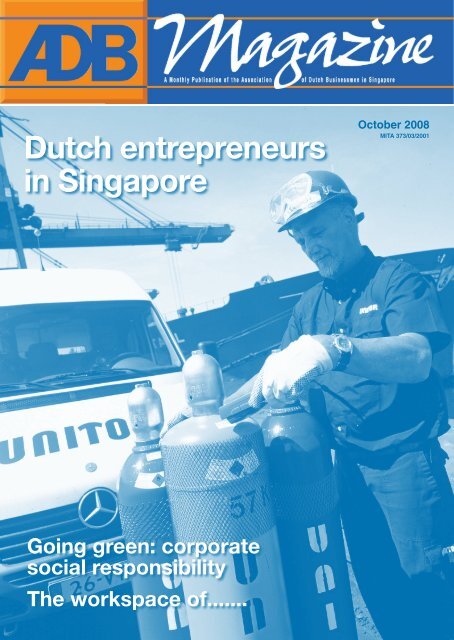 Dutch entrepreneurs in Singapore - Association of Dutch Businessmen
Dutch entrepreneurs in Singapore - Association of Dutch Businessmen
Dutch entrepreneurs in Singapore - Association of Dutch Businessmen
SHOW MORE
SHOW LESS
You also want an ePaper? Increase the reach of your titles
YUMPU automatically turns print PDFs into web optimized ePapers that Google loves.
Dutch entrepreneurs

in Singapore

October 2008

MITA 373/03/2001

Going green: corporate

social responsibility

The workspace of.......
---
Indian colonial antiques - Past Perfect Collection stands to offer

an unrivalled choice of antique furniture dating from the British,

Dutch and Portuguese era in India. Every piece features the

romance of colonial European style and outstanding Indian

craasmanship. Admired for their prized materials, rarity and

exotic decoration, these pieces add character to your home as they

silently speak to you of a bygone era.

It is truly an amazing experience to own such treasure of the past.

We welcome you to view our collection; there is a heirloom waiting

to be relocated!

Venue:

480 River Valley Road Singapore 248365

T: +65 6737 3078 | www.pastperfect.sg

Hours:

Tue to Sat - 10am to 6.30pm | Sun - 11am to 5pm

Closed on Mon and PHs

A Perfect Fit Exudes Professionalism

We carry the widest range of exclusive fabrics for

mens' and ladies' clothes.

Made to measure within 24 hours

Main branch: 442 Orchard Road #01-12A Orchard Hotel Shopping Arcade Singapore 238879 Tel: +65 6737 6474

2 nd branch: 63 Market Street #01-01 (Raffles Place) Singapore 048942 Tel: +65 6533 7004

Fax: +65 6732 5585 Email: info@maharajas.com.sg Website: http://www.maharajas.com.sg
---
Prologue

Dear Members,

As I write this, we are nearing another exciting weekend in Singapore. The Singapore

F1. The first nightrace in the world. It is unbelievable what already has been put in, to

make this event a success. If you see the long stretches of lights, the fences, the stands

and the pitsbuilding, which was also quickly completed, you recognize the Singaporean

way, disciplined, timed and according procedure. Still something we could learn our

lessons from as Dutch people.

Jan de Vegt

The same thing you see on the Marina Bay development, in the beginning it was just

lots of cranes and now every time I pass there, it looks like new buildings popped-up

and other ones kept growing.

At the same time the Board of ADB keeps busy with organizing events as well, after a

good panel discussion with people who run their own company in Singapore, sharing

ideas and experiences, we plan to a guided tour through the harbour, facilitated by

PSA, in October.

I would like to once again stress to you, that if you cannot join after registering,

please cancel on time.

As the group that will visit PSA is limited, we probably have to disappoint a number of

members. It would be a pity if you register, someone else is disappointed and in the

end the group is not complete. Let's see if we can learn someting from Singaporeans,

a little discipline in registering and cancelling would make life of the organisers in the

ADB a little bit easier.

Enjoy reading this interesting issue of our magazine.

Jan de Vegt

'

To share meaningful and business-related information amongst the Dutch

business community in Singapore, whilst networking in a fun environment '

Remco Muzerie

Annabelle Deken

Ard Huisman

Freddy Meindertsma

Richard van der Werf

Frank Kuijsters

Vol.18 • No. 8 • October 2008
---
A monthly publication of the

Association of Dutch Businessmen

ADB Board

Jan de Vegt

Remco Muzerie

Annabelle Deken

Ard Huisman

Freddy Meindertsma

Richard van der Werf

Frank Kuijsters

President

Vice-President

Honorary Secretary

Honorary Treasurer

Member

Member

Member

C o n t e n t s

Prologue 1

Editorial Committee

Frank Kuijsters, Chief Editor

Anouk Binkhuysen

Dennis van der Meijs

Kiki van der Erf

Lineke van Nederpelt

Madelon van Tol

Richard Soemita

Sharon van de Veerdonk

Secretariat

Lineke van Nederpelt

Mailing Address:

c/o 22 Camden Park, Singapore 299814

Telephone: 9101 6201

email: adb@pacific.net.sg

Website

Email

: www.adb.org.sg

: webmaster@adb.org.sg

Editorial contributions for the next issue may

be sent or handed over to the ADB Secretariat,

before or on the day of the monthly ADB

meeting. The contents of this magazine are partly

based on information received from third parties.

The Committee does not take responsibility

for the correctness of the articles.

Designed by Jennifer Phua

Printed by Khoo Sun Printing Pte Ltd

MITA 373/03/2001

Membership fee is S$ 100 per calendar year.

For registration, please see the website www.

adb.org.sg/en_member_signup.htm.

Membership is renewed automatically effective

the first month of the new calendar year.

Make your cheque payable to "Assocation of Dutch

Businessmen" and send to ADB, c/o 22 Camden

Park, Singapore 299814.

Termination of membership must be received by

ADB Secretariat in writing before 1 January,

otherwise you will be charged for the full amount

for the following calendar year.

Please notify the ADB secretariat of any changes in

employer, (email) addresses or any other personal

particulars that might be of interest to the ADB

administration.

Review

Panel discussion

"What does it take to set up a business in Singapore

and/or the region?" 3

Interview

Name the price you're willing to pay! 4

Not just any direction but Winedirections.com! 6

Sunshades & Concept restaurants in Singapore 8

When passion becomes profession 10

Business

Wilhelmsen Ships Services; the leading provider

of gas cylinders 12

Dutch economy on course despite turbulent times

– Prinsjesdag 16 September 2008 14

Expatriates. Across the globe! 16

The workspace of… 17

Green Page

One planet business: The challenge of

corporate responsibility 18

Bizz Agenda 21

Conference Calendar 22

Column by...

Richard Soemita

Ramadan 23

EVENT Agenda 24

Business News 25

Embassy info 26

association info 27

Vol.18 • No. 8 • October 2008
---
Review

Panel discussion

"What does it take to set up a business

in Singapore and/or the region?" By Anouk Binkhuysen

After its success of last year, also this year the ADB Board organized a special event about entrepreneurship

for its members on 22 September. This year, the panel of entrepreneurs consisted of Marie-Hélène

Piederiet of Past Perfect Collection, Arnout Mostert of Conference Bay, Arjen Blom of Winedirections

and Remco Muzerie of OneConcepts Restaurants. With all seats occupied and a curious audience, it was

a successful evening again with a lot of potential Dutch entrepreneurs to arrive in Singapore!

Some Q & A from the audience and the panel:

Q: How is the tax regulation in Singapore?

A: Tax is relatively low in Singapore. Taxes are 18%, but when you start a Private Limited, which

is quite easy, Singapore adopts very good tax regulations. If your turnover is below SGD

1 Mio, no GST is required. It is important to be transparent en to keep it simple. Contact

the government directly and on beforehand, that helps you to do business successfully.

Q: Which official bodies in Singapore have helped you to start up your business?

A: if you have an innovative business idea, check out for a grant/ subsidy at the Economic

Development Board (recently SPRING).

Q: How can I register a name for my business?

A: A name can be registered with ACRA. But remember that you cannot adopt a name that

already exists or had existed. Registration of a name in Singapore is for a lifetime.

Vol.18 • No. 8 • October 2008
---
Interview

Name the price you're willing to pay!

By Anouk Binkhuysen

Entrepreneurs :

Arnout Mostert

Company : Conference Bay

Specialized in :

Name the price you're willing to pay for conference seats

Imagine, you work for a large Dutch company and

you visit a conference once or twice a year to stay

up-to-date with the latest trends in your area of

business. When you visit these conferences you

start to wonder why these conferences often have

quite a number of empty unsold seats. Could it be

the prices are too high or didn't the conference

organisation spend enough time and money

on marketing? Could this mean a new business

opportunity?

Time passes and after a couple of years,

you still have this idea in your head and you are

convinced of its potential. You start to do research

and you find your idea can be realized. With the

right partners and a good business plan, a new

company is born, Conferencebay.com.

Arnout Mostert is founder and CEO of

Conference Bay. Together with his business partner

Frank Bomers, he runs an internet company that

sells conference seats at worldwide conferences

based on a bidding system.

Can you tell me something about your

background?

"I was working for Shell for quite some time in

several marketing positions. In 2002 I quit my job

with Shell, because I decided to do an MBA at

INSEAD. I wanted to get away from Europe for a

while and get to know Asia so I chose to start at

the Singapore campus. After my MBA, I worked for

Interbrand, an international brand consultancy

firm, as Strategy Consultant here in Singapore.

Then after a year, I moved to an advertising

agency named Fallon where I worked as regional

business director. I had met my wife Shirley here

in 2003 already, so I had good reasons to stay in

Singapore!"

"In 2006, I decided to start my own business.

I had the idea to do something like Conference

Bay had since 2001/'02, but other things crossed

my way. Five years later, I still believed that my

idea could be successful, so it was time to make

it happen."

How did you manage to transform your

business idea into a real concept?

"At the time when I was still working for Shell, I

kept asking myself the question of what could be

done to sell these empty conference seats. So after

years of thinking about possible solutions, it was

time to turn all my ideas into a business plan. Of

course, I started doing research first and I wrote a

business plan. After that, I needed to organize the

financial part and raise funds and investors who

were interested to participate in my plan."

"I obtained a subsidy from the Economic

Development Board in Singapore (The EDB

is an organization that stimulates emergent

technologies and innovations). With their subsidy,

I built a prototype of the website which made it

easier to explain the idea to potential investors

and partners.

During the first year of start-up, I met my

business partner Frank Bomers, at an ADB event.

I was looking for a business partner for a while,

because I did not want to manage and run

Conference Bay on my own. Frank wanted to start a

business too and we both had the same ideas, thus

a good match. In 2007, we completed the financial

part of our plan and the business could start!"

What is the concept of Conference Bay

and how does it work?

"The basic principle of Conference Bay is that

Vol.18 • No. 8 • October 2008
---
Interview

at every conference there are always a lot of

conference seats that remain unsold. As the costs

of the organiser are at that stage pretty much fixed

the costs of filling an extra seat are null. So if we

are able to sell these seats at a reasonable price

it is better for everyone.

We have a very user-friendly and do-it-yourself

website that makes it easy for everyone to book

and bid for a conference seat. For the conference

organiser we are a free platform to promote their

conferences as it is free to publish a conference,

seminar or workshop on our website. For the

visitor who wants to attend a conference, he/she

selects a conference and places a bid stating the

price they are willing to pay. After they have made

their bid, we take it from there and we contact

the organiser if they want to accept the bid or not.

When the organiser accepts the bid the visitor pays

Conference Bay the amount they have entered into

the system. Our business model is based on taking

a commission over successful biddings. There are

no hidden costs or charges.

Recently we have launched a new service

called Conference Bay Direct which is aimed at

people working in large organisations. We can offer

these people a direct booking and registration

service for any conference worldwide. They can

book with us by simply giving us a call or sending

us an email. We negotiate the best possible rate

for these customers and share the discount with

them. Once a month we send our Conference Bay

Direct customers a consolidated invoice. This

makes booking and paying for conferences much

more convenient and cheaper.

Actually, you can compare us with a travel

agent; the only difference is we do not intermediate

in airline seats but in conference seats."

What are the best chances for a successful

deal?

"Of course, there are always people that place

a bid of S$10 for a conference ticket of S$3,000.

These bids are not taken seriously but when you

bid between approximately 50 to 70% of the normal

price, you have the best chance that your bid is

taken into serious consideration by the organiser.

But of course, there are many other factors that

influence the bidding process. When a conference

is very popular, the organiser will only accept the

highest bids."

You have been 'live' for 18 months, is it a

success?

"In September 2007, our website went live. After

one year and a half our portal already provides

access to approximately 500 conference organisers

and about 700 conferences worldwide on our

portal. With 12,500 unique visitors per month who

view approximately 10 pages per visit, we think

our business is quite successful so far. But, we are

still very ambitious."

And what are the ambitions for the future?

"We want to create even more added value for the

organiser and the visitor. We have the ambition to

work with all conference organisers in the world

and we would like to create a speakers corner on

our website; a platform for speakers at conferences

to profile themselves. Why? It can give speakers

the possibility to interact with their audience prior

to the conference and make adjustments to the

contents of their program matching the interests

and expectations of their public.

We would also like to offer social networking

opportunities on our website. For example, you

can create this to give delegates that go to the

same conference a dedicated page, only accessible

with a password, where they can network with

each other. It can be very effective and efficient.

For example, you go to a banking conference in

London and you are able to contact all the other

visitors. You can exchange information and make

appointments before going to the conference

so that your money and time is spent very

effectively.

These are just some of the many ideas we

have but first we want to become number one

in our core business and we are working hard on

that."

Interested to know more about Conference Bay?

Have a look at their website www.conferencebay.

com

Vol.18 • No. 8 • October 2008
---
Interview

Not just any direction but

Winedirections.com! By Anouk Binkhuysen

Entrepreneurs :

Arjen Blom

Company : winedirections.com

Specialized in :

Wholesale and direct sale of fine wines from Australia and New-Zealand

For this interview, I met Arjen at The Coffee Connaisseur at Orchard Road. He came in with a big travel

bag full of wines and the first thing that caught my attention was that he ordered an Earl Grey tea.

With an outside temperature of 33 degrees at one o'clock in the afternoon, I was quite surprised. Later I

learned that Arjen was on his way to a wine tasting, so he did not want to spoil his taste pupils on strong

flavoured coffee with too much milk! Arjen has many years of hotel & restaurant experience who found

out that he has a big passion for wines that made him to start an own business in Singapore. Through

hard working and taking the chances that came across his path, his wine business is very successful

now. He loves to talk about the good things in life, but Arjen still has not lost much of his Dutch roots,

although Singapore is his final destination.

How long have you been in Singapore now

and how did you get here?

"Well, I left Holland in 1996 and I live for nine years

in Singapore now. But I have made quite a detour

throughout Asia to finally settle down in Singapore.

I started in Wuxi (China), a small town 150 km

from Shanghai with 'only' 3,5 million inhabitants.

I worked for Pan Pacific Hotel & Resorts and I was

hired to do business development there. One of

my big dreams was to work in Asia. So I grabbed

my chance and I went to China. However, with an

idyllic China in mind, the first day after my arrival

in Wuxi I opened the curtains of my hotel room

and the only thing I saw were depressing grey

communist buildings. Not quite the view I had

expected so welcome to Asia I said to myself!

After 1 ½ year I went to Hanoi to work there

for Sofitel and I fell in love with this city. What a

difference with China, I liked it very much there.

In 1999 I went to Singapore as I lost my job because

Asia was in a financial crisis. I wanted to try to find

a new job in Singapore."

Apparently your job search worked out

well, as you are still here in Singapore.

"Yes indeed, that is the advantage when you have a

background in sales. Even in hard times, you always

find work is my experience. I found a new job in

business development in the travel industry. I have

worked for a couple of years in for Travel Asia and

Thomas Cook that was taken over by Travelex

during my contract. Unfortunately, Travelex

wanted to get rid of the travel department, so

this forced me to find another job."

But how did you get into the wine business

here in Singapore?

"Actually, it worked out quite well for me as I

found a great new job opportunity to work for

Divine Wine Extraordinary, the famous wine bar

located in the Park View Building constructed in

an art-deco style. I wanted to work in the hotel

& restaurant industry again. As I had quite some

experience in sales and management, I now

wanted to work in the operations.

Shortly, after I was hired at Divine Wine

Extraordinary, I climbed my way up to General

Manager and it was in this place that I really

discovered my passion for wine, most particularly

for Australian wines. It was a great place to

work, but after a while I was asked to work for the

chain of Harry's bars. I was involved in setting set up

2 complete new Harry's Bar at the airport, so quite

a challenge and before I knew it, I was entirely back

in the hotel & restaurant business again."

Wow, that sounds very good. How did

you experience to work with Asians in

general?

"My experience is that Asians can be very

opportunistic sometimes. They really want you

to help them setting up their business, but on the

other hand once the work is done, you are free

to go! To be honest, that was one of the things I

found out when I was working in the operations,

but it is definitely an experience I would not want

to have missed."

So after 5 years of working in various jobs

in hotels, bar restaurants business, what

made you decide to start for yourself?

"Wine Directions exists for ½ year now, but I had

plans to start my own wine business for a long

time ago.

Vol.18 • No. 8 • October 2008
---
Interview

After working for Harry's Bar and before

starting Wine Directions, I have done various things

in the wine business already. I have set up a wine

bar for a Singaporean owner from the design of

the bar to selection of the wine menu and training

of the staff. And I worked as a representative

for the Asian market for the Australian Wine

Company. They were looking for a representative

in Singapore, Vietnam, Thailand and Indonesia

for their wines. Basically in this last job, I really

learned a lot about selling wine. I found out about

the latest trends in wine, visited international

wine fairs and I learned a lot about the wine taste

of the Asian wine customer.

The occasions to start for myself happened

when I was working for AWC. We started to sell

wines to hotels and restaurants but the main

problem was that the management did not want to

grant a 30-days payment credit to their customers.

Every order needed to be paid immediately, so this

was not working. However, I had already very good

contacts and I saw a great opportunity to supply

this part of the business with fine wines.

As AWC refused to give credit, I finally decided

to go for it myself and take the challenge to start

my own business as a supplier of good wines from

Australia and New-Zealand for Singapore hotels

and restaurants. That is how it all started and my

own company was born."

And what are the unique selling points of

Wine Directions?

Wine Directions wants to make good wine

accessible to everyone who likes wine. We

have great wines from renowned wine houses

from Australia and New-Zealand as: Tarrawarra

Estate, Fairhall Downs,

Heron Lake and Small Gully.

The good thing of Australian

wine is that the quality is very

good and reliable, because the

climate in Australia is very

stable.

On top of this, we have

a very good price and quality

relation for our wines.

Last question: red or white

for the Singaporean?

Well, red as they like the taste and the

colour! I must say that the Singaporean is very

adventure-like when it comes to wines. They like

to experience more with new tastes compared to

the Europeans. But of course, taste is very personal

and like we say in Dutch: over smaak valt niet te

twisten!"

Interested to know more about Winedirections?

Have a look at www.winedirections.com

Vol.18 • No. 8 • October 2008
---
Interview

Sunshades & Concept

restaurants in Singapore By Anouk Binkhuysen

Entrepreneurs :

Remco Muzerie

Company : One Concepts Restaurants & Bamboo Blinds Pte Ltd.

Specialized in :

Developing food & beverage concepts at great locations and online sale

of sunshades

It takes quite some courage to start a couple of new restaurants in the food-Walhalla of Singapore with

over 1 million food gurus that all have an opinion about good food. But having met Remco Muzerie,

the concept creator of One Concepts Restaurants, I was impressed by his story and I realized that it is

the combination of knowledge, passion and a healthy business sense that makes the right ingredients

for a successful business.

Remco Muzerie is the founder and Executive Director of One Concepts Restaurants. He created new

concepts for the food & beverage industry in Singapore with different brands like the TBone steakhouse

cafe, Riverone restaurant, and UnoPuro. Besides the restaurants business, he also sells sunshades through

his company Bamboo Blinds Pte Ltd.

Why did you start a food & beverage

business in Singapore?

"I had been relocated to Singapore when I was

working for Lucent Technologies. But 1 ½ year

ago, when they were merging with a big French

company, I proposed a management buyout, as I

always had the passion to start my own restaurant.

I have been working for 25 years in the telecom

industry and for my job I travelled all over the

world and I lived in many places. I know a lot

about food and I have been eating in many places

from fine dining to low-end. Hence, I started a big

interest in food and I read a lot about food, its

origins and ingredients."

How do you profile your businesses?

"The TBone is a steakhouse with the stlyle of an

Amsterdam brown cafe. Riverone is an Australian

concept, with a modern and trendy interior like a

lot of aluminium and glass. UnoPuro is an Italian

street food restaurant and will open in October.

For both my companies, the restaurants and

the sunshade business, it is important to ask

yourself the question who would be your target

market. Here in Singapore, it is a melting pot of

different cultures, so aiming at only expats or

Chinese can be a very narrow market definition. It

is important to have diversity in the products you

offer and to do research amongst your clientele

about what they like and dislike, before you start.

In restaurants, it's mostly the female guests who

decide whether to come back or not, so I have

done some research in what women like to eat in

particular. Translating this into a menu means that

you need to have some nice salads, good prepared

fish and bringing some delicious fruity whines on

the menu."

How do you make a difference in

Singapore?

"In Singapore, you can find the low-end hawker

style restaurants and the high end restaurants as

from 100 dollar per person. I discovered that there

is still a lot of potential for restaurants within the

segment of good quality meals around 50 dollars.

That is the target market I try to reach with my

restaurants.

Vol.18 • No. 8 • October 2008
---
Interview

You can make a difference if you know what

your clients like and want. If you are a Caucasian

or an Asian customer, the waiter must give the

right advice to the different type of customers,

so I educate my personnel in that.

Be a critical customer yourself. Know what

your customers eat, therefore I test the quality

of my food on a regular basis. Another point to

distinguish myself from my competitors is that I

use better ingredients for my food and I have cooks

that know how to cook with first class ingredients.

On top of that, the side dishes are very important,

whereas in other restaurants you will find that it

often forgotten. And the atmosphere of course is

very important. I am really working on the concept

of each restaurant, from the napkin to the colour

of the walls!"

education is expensive in Singapore!) and then

when I am ready to retire, settling down in a nice

place outside Singapore.

Have a look at their website www.sunshade.sg and

www.onelyfestylegroup.com

What are your plans for the future with

One Concepts and Bamboo Blinds?

"I want to open new restaurants. One of my

new projects will be starting a restaurant in The

Woodlands area as there are no good restaurants

yet. I will be aiming more at the American

customer, as there are mostly Americans living

there and Americans love their own food.

I want to enjoy myself and make enough money

for a good educational plan of my two kids (as

Vol.18 • No. 8 • October 2008
---
Interview

When passion becomes profession

By Anouk Binkhuysen

Entrepreneurs :

Marie-Hélène Piederiet and Pieter van Houten

Company : Past Perfect Collection

Specialized in :

Antique colonial furniture from India

You decide to move from The Netherlands to India

since you get posted there for the company you

work for. Then you find out that you both share a

common passion; collecting antique furniture. A

few years later, passion becomes profession and

you move to Singapore to start your own business

in Indian colonial antiques.

Let's be honest, how many of us will turn

our passion into profession? In the end, only

few really do. Marie-Hélène Piederiet and Pieter

van Houten took the big step and created Past

Perfect Collection; a shop in Singapore with

beautiful antique colonial furniture spanning

the British, Dutch and Portuguese era in India,

where each piece has a story and its own history.

At 480 River Valley Road, the past becomes

present again.

How did it all start?

"In 2002, we moved to India as Marie-Hélène

got posted in Mumbai as Head of Marketing for

Organon India. Pieter went working for the Dutch

consulate and during our stay in India we found

that we both liked to comb the bazaars in search

for hidden treasures. We were thrilled when in

the back of a packed tiny shop, somewhere down

below, full of dust we found that old British writing

box or a Roorkhee chair that most probably had

belonged to a British officer. Soon the interior of

our house in Mumbai was decorated in a typical

colonial style including swirling fans and tropical

plants. Many people visiting our house admired

our collection and we started to consider doing

more with it."

"During the 4 ½ years we lived in India, we

travelled a lot and were in the position to study

and understand the culture first hand. Across the

country we established a network of professional

antique dealers we could rely on and in the

meantime we started to evaluate where we could

set up our business. As we both like Asia very

much, we were making plans to stay in this region.

We finally selected Singapore, as it is relatively

easy here to start a business as a foreigner.

Furthermore, the primary target group of expats

is densely concentrated on a small territory and

not to forget from a personal perspective, quality

of life is excellent!

And how have you organized it all from

moving from India to opening a shop in

Singapore?

"Whilst we were still living in India at the

moment we had decided to start a business in

Singapore, we made several trips there to do

market research. We visited the antique shops and

discovered that practically all of them only sell

Chinese antique. We could really make a difference

in positioning ourselves with a collection of Indian

colonial antique. We decided to become a niche

player in Singapore with original high quality

pieces of furniture that were made during the

British, Dutch and Portuguese era in India. When

we had decided our collection and the location,

we finalized our three years business plan and

before we arrived in Singapore and opened our

shop in June 2007, we had everything in place to

run the operation.

10

Vol.18 • No. 8 • October 2008
---
Interview

What are Past Perfect's unique selling

points?

"It is all about the exclusiveness and quality

of our collection! This so called Indo-European

furniture is hybrid in nature meaning it is Western

in form and function but Indian in execution.

It has traditionally been admired for its prized

materials and exotic decoration and was made of

the finest hardwoods from India such as rosewood,

mahogany, teak and satinwood. The pieces are

sometimes boldly carved or feature intricate

inlay work. It is the high quality of the materials

used, the handwork and the attention to detail

which brings this furniture into a class of its own

altogether. Moreover, imagine the stories that

most pieces could probably tell about the past;

that makes them really special!

Where do you find your collection?

"Our dealers are located in the big cities like

Mumbai, Delhi, Chennai and Kolkata and they

source the pieces for us from all over India. We

work closely together and every two months we

travel to India to personally select our collection.

Before the furniture is shipped to Singapore, it is

expertly restored and polished using the French

polish technique. The polish is a mixture of shellac

and alcohol which gives a glossy and even finish. It

is thoroughly and carefully applied to grain filled

wood like for example rosewood which responds

very well to French polish.

The word "shellac" comes form the Sanskrit

word "lakh" meaning 100 000 and refers to the

secretions deposited on tree branches by the shell

lice. This deposit is scraped and sold as stick lac,

which is raw or seed lac that is purified.

Dutch colonial chest

for example a colonial styling service, we envisage

to further expand our business. The move to a

bigger location in Singapore where we can display

our pieces in an even more appropriate setting,

will further add to that idea. Ultimately, expanding

outside Singapore is our dream. We will do it one

step at a time; after all we have just started!"

Interested to know more about Past Perfect

Collection?

Have a look at www.pastperfect.sg

Is Past Perfect a success in Singapore?

"Absolutely, we are more than satisfied with our

results so far. It appears that there is a market

for quality antique furniture in Singapore. Our

customer base is expanding and we have a lot of

customers from different nationalities. Apart from

PR and advertising, our best promotion is word of

mouth, as we already see a lot of people visiting

our shop because a friend has told them it is worth

the experience."

What are your ambitions?

"For sure we want to grow! We realize it is

important to consolidate and grow our business

by focussing on the continuous quality and

exclusiveness of our collection. From there, the

next step in our growth strategy will be to further

build on the colonial concept. We believe that the

business doesn't stop at simply selling furniture.

Certain customers also like to buy the "colonial

experience". By adding value through offering

Indo-Portuguese interior

11

Vol.18 • No. 8 • October 2008
---
Business

Wilhelmsen Ships Services;

the leading provider of gas cylinders

By Ronald Broer

Over 400,000 gas and refrigerant cylinders on board half of

the world fleet are controlled from Singapore.

A small group of people in Singapore are controlling over

400,000 steel cylinders on board sea-going vessels across the

oceans. Weighing approx 50kg each it is enough steel to make

2 million bicycles.

In April 2006 Unitor Cylinder Pte Ltd was established to control

Wilhelmsen Ships Service's cylinder assets. In just over 2½ years,

the company has grown to 8 staff with dedicated resources in

each of the 4 regions within Wilhelmsen Ships Service. Next to

controlling the assets, the group is also responsible for global

procurement and distribution of new cylinders, maintaining a

global cylinder tracking system and controlling customer data

related to cylinders on board.

Wilhelmsen Ships Service, the leading supplier for the marine

industry, has over 400,000 cylinders on board customer vessels with

another 100,000 in their own warehouses or filling stations in 116 countries. Cylinders are delivered to the

marine industry filled with gases, refrigerants, medical oxygen or CO 2 in 2,200 ports around the world.

If only gases could be delivered in paper bags, life would be much easier. However, with gas pressures

of up to 250 bars, this is not possible. Wilhelmsen Ships Service (formed by bringing together Barwil and

Unitor) solved the problem of gas distribution to the marine market over 60 years ago with the introduction

of a standardized gas cylinder exchange system. The main elements of this system are as follows:

- standardised gas cylinder transport, filling and re-qualification procedures are followed world wide

by professional gas supply companies, who have signed International Gas Filling Agreements with

Wilhelmsen Ships Service.

- well maintained and correctly filled gas cylinders throughout its professionally organized network.

- internal and external pre-filling inspection, periodic test routines, maintenance programmes and

liability assurance are part of Wilhelmsen Ships Service's services and consistent standards and safety

routines are followed.

12

Vol.18 • No. 8 • October 2008
---
Business

It is, of course, not the cylinder the customer wants, but the contents. Wilhelmsen Ships Service

supplies enough helium to the cruise industry to fill 800.000 balloons, and enough beverage-quality CO 2

to put the bubbles in 59 million litres of beer and soft drinks! Most cylinders, however, are filled with

oxygen and acetylene for gas cutting and welding, or refrigerants for the air-conditioning systems on

board the vessels.

Cylinders are assets to Wilhelmsen Ships Service, and every year it invests millions of US$ in new

cylinders. There is also a substantial cost in maintaining its global assets. This maintenance (mainly

sand-blasting and re-painting the cylinders) allows for an average lifespan of a cylinder of around 20

years. When Wilhelmsen Ships Service recently introduced a global barcode system to track and trace

the cylinders, they found cylinders which have been in circulation in the network for as long as 60 years!

Nowadays Wilhelmsen Ships Service has a clear overview on how many cylinders are on board a customer

vessel, and for how long. The tracking system substantially improves control over these mostly highpressure

cylinders both on board the customer vessels and in their own premises.

Safety has always been a key element of the distribution system, and always will be. What makes

the Unitor branded gas cylinder SAFE? The Unitor branded cylinders has two approvals (EN and DOT)

which allow the customer to offload the cylinders anywhere in the world whilst complying with local

regulations. This increases the operational flexibility for the customers.

Re-qualification of cylinders is done in accordance with the European ADR rules which require a 10 year

interval similar to US DOT Code of Federal regulations that also require a 10 year interval. Considering the

harsh environment the cylinders are functioning in, Unitor has decided to keep to a stricter 5 year interval

for re-qualification of cylinders, thus ensuring cylinder integrity and safety on a high level. The unique

identification of the gas contents by standardized colour

coding, product labelling and stamp marking in combination

with the gas cylinder design to international standards and

additional wall thickness secures the integrity of the cylinder

during its life cycle. The use of positive pressure valves on

compressed gas cylinders to prevent ingress of sea water

or damp air and strong caps with a high impact resistance

protects the valves if the cylinder is tumbled over increases

the operational safety even further.

Wilhelmsen Ships Service is the world's leading maritime

services provider. Its focus is to deliver improved vessel

operating efficiency to the merchant fleet. Last year

Wilhelmsen Ships Service made 195,000 product deliveries

to 20,000 customer vessels and handled 55,000 port calls.

Wilhelmsen Ships Service comprises more than 4,000

dedicated marine professionals at 319 offices around

the world. With the addition of 150 independent service

providers, its service capability covers 2,200 ports in 116

countries.

Wilhelmsen Ships Service offers ship-owners and vessel

operators a vast array of products and services selected

for value and reliability in the marine environment.

Unitor branded products also include marine chemicals,

refrigeration products, environmental equipment, fire

rescue and safety equipment, sealing products, products for

shipboard maintenance and marine spares.

Wilhelmsen Ships Service is also a leader in technical

services which keep vessels safe and in compliance with

regulations. They also have traditional port agency services

and offer a menu of clearly defined and standardised

activities to maximise efficient operation while a vessel is in

port. The business area also encompasses maritime logistics

solutions for safe and efficient transport and distribution of

goods on behalf of importers and exporters.

Wilhelmsen Ships Service is part of Wilhelmsen Maritime

Services AS, a Wilhelmsen Group Company.

Canadian International School invites suitable

candidates to apply for the following position:

ADMISSIONS OFFICER

Essential job functions:

• Attend to all enquirers (telephone, emails, personal tours

and interviews) of CIS' programme

• Attend to the admissions and maintenance of all students

of assigned campus

Minimum requirements:

• Good interpersonal and excellent communication skills,

and ability to freely and openly engage in discussions with

a multicultural clientele

• Highly fluent in English (both written and oral). A second

language is an asset

• Some working experience in a multi-cultural environment

preferred

• Sound knowledge of computers and good working

knowledge of Word, Excel and Access. Comfortable

with learning new programmes

• Good organizational skills, and ability to work within a

team environment

• Knowledge of IBO and/or International school programmes

would be an asset

Please send your resumes with a recent photo to apply@cis.

edu.sg or contact Joanna Lim at 6469-4962

13

Vol.18 • No. 8 • October 2008
---
Business

Dutch economy on course despite

turbulent times – Prinsjesdag 16 September 2008

By Richard Soemita

The 2009 Budget Memorandum shows that the

Dutch economy is in good shape despite global

economic turbulence. Although the Netherlands

has not been left unscathed and its economy is

cooling, the national budget shows a surplus,

the government's plans are being implemented,

purchasing power is being maintained, employment

is being promoted, and innovation and profitability

are being stimulated.

The government will consult employer

organizations and trade unions on how to boost

employment and other lasting ways of strengthening

the economy. In this context, the government

is willing to scrap employees' unemployment

insurance contributions (WW premium to be

0%?) if the social partners keep pay rises within

reasonable bounds. This means that people on an

average income will see their take-home pay rise

by about €500 a year. For working parents, the

figure could be as high as €800. The government

also plans to introduce a bonus for people who

continue working after reaching the age of 62.

By making work more financially attractive, it is

promoting employment. It has shelved its plans to

raise VAT. This will mainly protect the purchasing

power of older workers and those on low incomes

and will help to avert a wage-price spiral. Many

people will be better off next year.

The government will continue to pursue

its aims as set out in the coalition agreement.

In 2009 it will continue to invest in education,

sustainability, community regeneration, and public

safety and security. Among other things, it will

spend more money on tackling school dropout

and preparing pupils for the job market. During

its present term of office it will spend an extra

€300 million on the community's action plan. It

is also taking measures to reduce the crime rate

by increasing the likelihood of catching those

responsible. By 2011 there will an extra 500

community police officers on the street.

The coalition agreement states that the

government will aim to achieve a structural budget

surplus of 1% of GDP by 2011. Halfway through the

government's term of office, this still appears to

be a realistic goal. In 2009 the actual surplus is

even expected to reach 1.2%, mainly thanks to

higher natural gas revenues. The national debt

is expected to be about 40% of GDP in 2009. By

the end of the government's term of office, it

is expected to have fallen to its lowest level in

percentage terms since 1815.

An active foreign policy brings

opportunities to the Netherlands

Living outside of Holland here a snapshot of the

Ministry of Foreign Affairs Budget:

Working together for the good of the

Netherlands means looking beyond our national

borders. What happens elsewhere in the world

affects us too. The government is pursuing an

active foreign policy to help the Dutch people

derive maximum benefit from the opportunities

of a globalised world. But it also shapes its policy

to deal with the challenges of our age: poverty

and inequality, climate change, energy scarcity,

terrorism, human trafficking, and the food

crisis. Our borders cannot protect us from these

problems. They require a collective approach,

primarily through international organizations. We

can enjoy security and protection as long as all the

players on the world stage, especially the most

powerful, adhere to international agreements.

The government is also investing in alliances

with countries that share our values and standards

– our transatlantic allies, our NATO partners, and

like-minded countries elsewhere – to defend our

achievements and offer a response to shifting

power relationships in the world. A strong European

Union is essential for achieving this goal.

Commitment to a worldwide climate

agreement

By their nature, climate and energy require an

international approach. At the upcoming climate

summit in Copenhagen, the government will strive

14

Vol.18 • No. 8 • October 2008
---
Business

to ensure that ambitious new climate objectives

are established. In the coalition agreement, the

governing parties agreed to spend €500 million

over four years (2008-2011) to promote renewable

energy in developing countries. Reliable energy

supplies are essential for economic growth and

development. And we have to diversify our

sources of energy not only to meet our climate

objectives, but also to achieve the foreign policy

objective of reducing our dependence on external

energy supplies.

More money for human rights

We will continue our full-on efforts to promote

human rights worldwide, focusing special attention

on the rights of children, women and homosexuals.

Our missions abroad are undertaking more and

more on behalf of these groups, so we will

therefore increase the size of the Human Rights

Fund.

Working together to make Europe more

effective

In 2009, it will be 20 years since the Berlin Wall fell.

The demise of communism has changed Europe. It

has made our continent stronger. The Netherlands

needs to work closely with other countries. The

Government is therefore promoting a decisive

and democratic Europe: a Europe that can act

purposefully and efficiently to find solutions

to common concerns that require a concerted

approach, such as climate and energy. We also

need to work with our European partners to ensure

our prosperity and security, joining forces against

crime, illegal migration and terrorism. The Dutch

gain a great deal from being part of Europe. The

government is committed to ensuring that the EU

has a clear, recognizable face in the Netherlands

and around the world – a goal whose fulfillment

will be accelerated by the Lisbon Treaty.

Security and stability in Afghanistan

In 2009, the ISAF mission in Afghanistan will still

be the Netherlands' most extensive and dangerous

crisis management operation. In Uruzgan, we

will continue, together with more than 40 other

countries, to help the Afghans rebuild their

country. Security and reconstruction go hand in

hand. The Netherlands is investing in education,

health care, agriculture, road construction and,

above all, in the Afghans themselves.

Investing in development

It is in the Netherlands' interest to work for peace,

security, and development in the world. In 2009,

the various government ministries will continue

to work together to help achieve the Millennium

Development Goals. This means investing in fragile

states so that they remain peaceful and rise out of

poverty. It means committing ourselves to women's

health and rights. And it means focusing more

attention on economic growth and the distribution

of wealth. Development cooperation is not a

matter for the government alone. It is a matter for

everyone, which is why the government is seeking

new forms of cooperation.

Better service for Dutch citizens and

businesses abroad

The government's commitment abroad extends

to Dutch citizens and businesses. From 2009,

new passports and visas will include biometric

information, which will contribute to the

enforcement of public order and security. The

consular service will benefit from a new computerbased

information system that will enable 'The

Hague' and its missions to exchange information

worldwide in real time.

International cultural policy: extra funds

for design, fashion and architecture

The government is increasing its funding for design,

fashion and architecture to €12 million for the

period 2009-2012. The money will come from the

budgets of the Ministry of Foreign Affairs, the

Ministry of Economic Affairs, and the Ministry of

Education, Culture and Science. During the next

few years, the Ministry of Foreign Affairs will help

organize large-scale events abroad, such as the

celebrations marking the 400th anniversary of ties

between the Netherlands and New York (in 2009)

and the events in Germany's Ruhrgebiet, the 2010

European capital of culture. The Ministry will also

make €2 million extra available for culture and

development cooperation.

15

Vol.18 • No. 8 • October 2008
---
Business

Expatriates. Across the globe!

Starting a Career Abroad

More and more people are turning their backs

on their own country in order to broaden their

horizon. A lot of them on an expat basis. Reasons

can be to get to know other cultures, lifestyles,

experiences, international environments and to

see something of the world.

These expats often wonder where to turn to

with their questions about working abroad.

How to get a job in a foreign country without

going there. Or, leaving everything behind not

knowing if they will find the right job?

Multinationals often have difficulty finding

qualified staff that are willing to move to a

foreign country. Especially when this country is

situated on the other side of the globe and has a

completely different environment, other culture

and language.

Specialised agencies offer

assistance in this area

Specialized agencies know the demands of both

the employer and the employee. They have

contacts all over the world which gives them a

good overview on the jobs abroad. Specialized

agencies act as a broker in finding the right match

between multinational and expat. One of these

specialized brokers is LEX.

LEX knows what drives expats

Adventure, ambition, admiration, respect,

attractive financial packages, curiosity, personal

development, to name a few. LEX recruits and

selects trained managers for companies abroad and

finds the perfect job for enthusiastic expats.

What LEX offers:

• Expert in the brokerage of top-quality positions

for enthusiastic expats.

• Knowledge about the must-haves for management

positions at international companies.

• LEX operates in key economic areas.

• High number of matches due to unique and

personal working method.

• LEX managers have travelled the world and are

expats themselves.

What LEX can offer you as an expat?

• Upload your CV free of charge.

• Vacancies available worldwide.

• Country information about the most popular

expat destinations.

• Provide the latest information relevant to

expats on our website: lexexpatspecialist.

com.

• Innovative solutions through many years of

experience.

Appointment?

Interested in speaking with us about sourcing

expats for your organization or if you are an

expat yourself, please contact Marieke Kolthof

(e-mail: Marieke.Kolthof@lexexpatspecialist.

com, phone: +31 (0) 529 435 837) If you want to

meet us in person, Marieke will be in Singapore

October 6-10.

16

Vol.18 • No. 8 • October 2008
---
The workspace of…

By Sharon van de Veerdonk

Probably everybody in The Netherlands is familiar

with "Het Bureau" by J.J. Voskuil or otherwise the

popular tv-series "The Office". Both are centered

around exposing daily office life offering a lot of

awkward and funny situations. We are curious

about your office life. We will spare you to share

your office secrets, but…..we really would like to

see where and how you work. So show it to us!

What company do you work for, since

when and what is your job?

After having worked part-time at the Netherlands

Embassy in Singapore (Orchard Road) for seven

years, I have started a new full-time job since 1 st

of April 2008 as Operations Executive for World

Wide Fund for Nature (WWF).

Where is your office located?

The office (in total 12 persons) is located at

237 Cantonment Road, a charming conservation

shophouse; I work on the ground floor, and since

our office is expanding we rented as well the 2 nd

floor. The area is very different from Orchard

Road and very nice as well; it is close to Tanjong

Pagar complex where you have all kind of local

shops (and also wetmarket, Singpost, FairPrice

footreflex!). Chinatown, Duxton Hill, Tanjong

Pagar/Outram MRT and the Amara Hotel are all in

short walking distance. It's actually just behind

the Central Business District.

Cubicle or office?

I work in a cubicle, a stretch of 6 in a row.

Back home and in my previous job in Singapore

I have always had my own office, so really had to

get used to it. The advantage is that you know

what is going on and there is more interaction

with the colleagues (although we still send

Lineke van Nederpelt

emails to each other!). The

disadvantage is that you don't have any

privacy and it is sometimes hard to concentrate

with the noises around you.

What do you see through the window?

Some bamboo plants, I am not joking!

What is your favorite lunch place?

Foodcourt at Amara complex and still enjoy

Subway's sandwiches as well.

Which ADB member's workplace would

you like to see next?

A while ago I was at the ABN AMRO office for a

presentation by WWF; the views are absolutely

stunning, maybe P.C. 't Hart wants to share with

us his workspace.

Voordeligste tarieven vanaf € 22,- per dag

all-in

Snelste Schiphol service • 24 uur per dag • Voordeligste all-in tarieven • Laagste eigen risico

www.bblcarrental.nl

bb&l_2008_ad_194x61.indd 2

12/17/07 5:06:48 PM

17

Vol.18 • No. 8 • October 2008
---
Green Page

One planet business: The challenge

of corporate responsibility

By Jean-Paul Jeanrenaud & Maria Boulos, WWF International, Gland, Switzerland

Since its emergence onto the corporate

landscape, Corporate Social Responsibility (CSR)

has gained significant recognition under the

watchful eye of a wide range of stakeholders.

Responding to the priorities and concerns of

these stakeholders makes the practice of CSR

fraught with complexity and makes comparisons

and analysis difficult across sectors, let alone

within the business community as a whole. WWF

offers a beacon of light as to how companies

may find the end of the CSR tunnel without

getting lost in the mist.

To say that we have only one planet to support

us may be stating the obvious. However, given

the serious social and environmental challenges

facing us, and the apparent lack of a coordinated

global response, it would seem that what should

be obvious is not. There is still a commonly held

belief that the planet is an infinite source of clean

air, clean water, and free "natural capital" on which

our global economy is built. Politicians across the

political spectrum, from both the developed and

the developing world, still peddle the dangerous

myths that we can have infinite economic growth on

this clearly finite planet, and that there will always

be a technological fix for every problem we face.

The more cautious could argue that humans

seem to be caught in the same bind as the

legendary frogs in the gradually heating pan of

water; we seem unable to react to our predicament

until it's too late and we are metaphorically and

perhaps actually (with climate change) boiled

alive! (Apparently, frogs placed in a pan of cold

water that is then brought slowly to the boil, will

make no attempt to escape and will eventually be

boiled to death. However, a frog dropped into a

pan of already boiling water will make every effort

to jump out as quickly as possible).

Every two years WWF produces The Living

Planet Report – a 'healthcheck' for the planet.

There are two main graphs in the report, the Living

Planet Index and the World Ecological Footprint.

The first measures the populations of animal

species around the world and is an indicator of

the health of the world's ecosystems. The Index

has fallen by about 40 per cent over the last 30

years indicating a critical decline in nature's

productivity. The second compares people's

consumption of natural resources with the ability

of the planet to replace them.

The results from the 2004 edition are worrying.

Currently, we are consuming about 20 per cent

more than the planet can sustain. In other words,

globally we need 1.2 planets to meet our present

demands, so we are clearly living beyond our

means. It's like eating into the capital in a bank

account instead of living off the interest.

One planet living

As a response to this challenging situation WWF,

and its partner Bio-Regional, have developed a new

initiative called One Planet Living (OPL). The aim is

Living Planet Index: 1970-2000. Humanity's Ecological Footprint: 1961-2001.

1.4

1.4

1.2

1.2

1.0

1.0

Index (1970 = 1.0)

0.8

0.6

Number of planets

0.8

0.6

0.4

0.4

0.2

0.2

0

1960 1965 1970 1975 1980 1985 1990 1995 2000

0

1960 1965 1970 1975 1980 1985 1990 1995 2000

18

Vol.18 • No. 8 • October 2008
---
Green Page

to demonstrate that living sustainably can be easy,

attractive and affordable. We are working with

local people, companies and governments around

the world to help create communities, products,

and services, which can help people everywhere

live within a fair share of the earth's resources.

We have identified a set of 10 principles that can

be used to create a "sustainability action plan" for

individuals, companies, local authorities, a region

or indeed a whole country.

The 10 One Planet Living Principles

• Zero Carbon

• Zero Waste

• Sustainable Transport

• Sustainable Materials

• Local and Sustainable Food

• Sustainable Water

• Natural Habitats and Wildlife

• Culture and Heritage

• Equity and Fair Trade

• Health and Happiness

But what is the relevance of this for the private

sector? Well, of the hundred largest economies

worldwide, more than half are companies and

a rapidly decreasing number are countries. In

today's world, corporations are a force to be

reckoned with; they have massive economic and

political power which can be directed either

towards profit maximisation alone or towards

developing solutions to the world's socioeconomic

and environmental challenges.

The corporate footprint

The corporate footprint has changed in size

and nature in response to ever evolving market

conditions. It can be argued that in the early

years of industrialisation most companies were

operating in local markets and meeting the needs

and expectations of local stakeholders. They

often filled the void left by governments who

lacked the capacity to provide public services and

social welfare – a direct reflection of their direct

accountability to the communities in which they

operated. In the main companies made a positive

contribution to society and, because of their limited

number and scale, they had a relatively small

impact on biodiversity and the environment.

In the first half of the 20 th century, governments

increasingly expanded their capacity to meet the

demand for public and social goods with growth

in healthcare, education and infrastructure

provision. At the same time markets directed

companies towards meeting the demand for more

consumptive lifestyles.

Since the Second World War, the role of

governments in developed regions, as social service

providers, has been weakened as the provision of

public goods and social welfare – such as pensions,

transport, energy, water and sanitation services

– have increasingly been transferred back into

the private sector. At the same time the capacity

of governments in developing countries to meet

demand for these public services has stagnated.

In these developing regions, companies benefiting

from the increased reach afforded by globalisation,

are using local resources to provide goods and

services to lucrative developed markets, without

filling the public service void left by governments.

This 'stakeholder relationship gap' is the root

cause of many of the corporate responsibility

concerns that exist today.

The contribution of corporations to the

social contract is increasingly measured in terms

of a narrow focus on short-term shareholder

value instead of value creation for society as a

whole. Business models that externalise costs,

placing additional burdens on society and the

environment, have further eroded the historical

role of the corporation as a social-good provider.

As Joel Bakan puts it, "Every cost the corporation

can unload onto someone else is a benefit to itself,

a direct route to profit".

It is often argued that, "the business of

business is business", that its sole purpose is to

generate money and that all other activities flow

"Large companies have a

moral responsibility to society"

What we see

in reality

is the gap

between

rich and poor

widening and,

globally, a ...

rise in violence

as a response

to growing

inequity.

Do large companies care about social and environmental issues?

Disagree

8%

Neither 12%

80% Agree

"Large companies don't really care

about the long-term environmental

and social impact of their actions"

Disagree 18%

Neither 21%

Base: 1,875 adults 15+ across Britain, July 2002. Source: MORI

61% Agree

19

Vol.18 • No. 8 • October 2008
---
Green Page

The businesses

of the future

will be focussed

on [finding]

solutions to...

decades of

unsustainable

resource

use and

consumption.

from there. Indeed it is often noted that, in order

for companies to afford to be environmentally and

socially responsible they need first to generate

sufficient surplus capital.

However, business activities undertaken to

generate profit can have significant negative

impacts on environment and society. In fact,

the unpaid costs borne by society as a whole

may outweigh the economic value generated by

company activity. As we noted above, if we look at

the origins of business, it was established to meet

some prior need or want of society; banks were

set up to provide safe places to store money and

valuables, pharmaceutical companies to develop

cures and improve healthcare, construction

companies to build roads, houses, schools and

other essential infrastructure. It is therefore

strange that many companies continue to define

their purpose as "making profits" without any

reference to the social and environmental 'utility'

that its products or services should provide.

We would argue that this reductionist model

of capitalism is fundamentally flawed. For

although its supporters claim that there would

be positive benefits for all if every individual,

corporation or government were to pursue a

narrow definition of self-interest, this claim does

not bear close scrutiny. In 1960, the richest 20 per

cent of the world's population accounted for 70

per cent of global GDP, while the poorest 20 per

cent controlled 2.3 per cent – a ratio of 30:1. By

2000, the richest 20 per cent controlled 85 per

cent of GDP, while the poorest accounted for only

1.1 per cent – a ratio of 80:1. What we see in

reality is the gap between rich and poor widening

and, globally, a rise in violence in response to

growing inequity. The have-nots also want what

the haves have.

In WWF's view, all sectors of society, including

corporations, have a collective responsibility to

reverse these trends of environmental degradation

and social breakdown. This view is supported by

recent MORI (2002) research, which found that

80 per cent of respondents felt that business

has a responsibility to society beyond the simple

generation of profit.

As Henry Mitzberg wrote in the Financial

Times, "Corporations are social institutions: if

they don't serve society, they have no business

existing".

In parallel with this widespread feeling that

business has a responsibility towards society that it

has yet to fulfil, it is worth noting that companies'

perceptions of their own relationships to society

as a whole are slowly evolving.

The diagram below is taken from a recent

workshop with a multinational company. The circle

on the left shows that in 1980, managers saw the

company's role in society as pivotal and as the

"centre of the universe". The diagram on the right

shows perceptions from 2002, and indicates that

managers' views of the company have evolved;

the company becomes a component of society

as a whole.

This is an encouraging change in perception

that may indicate a shift towards greater

Corporate Social Responsibility (CSR). Certainly,

in our bilateral relations with companies like

ABB, Lafarge, Nokia, Pelicano and others, we are

fortunate to be working with pioneering companies

that have made a strong commitment to reducing

footprint and operating sustainably.

The changing role of companies.

Government

Employees

Government

Employees

Society Company Customers

Company

Society

Customers

Shareholders

NGOs

Shareholders

NGOs

1980 2002

20

Vol.18 • No. 8 • October 2008
---
Green Page

Reversing the Trends

To further encourage these new developments,

and to avoid 'paradigm paralysis' whereby we

unconsciously use the same mindset that caused

the problems to try and identify solutions, we

must opt for evolution rather than revolution.

This will require a growing awareness of the

interconnectedness of all life and an increasing

ability to learn from and build on the ways that

nature generates, breaks down and renews itself.

In reality, human beings are inseparable from the

cycles of the natural world and must learn to adapt

industrial production processes and develop new

materials in accordance with the principles that

inform the living planet.

Once we acknowledge our dependence on

nature, we will learn to create technologies that

maximise benefits to society and the environment

by mimicking nature's ways. We will move away

from the current linear cradle-to-grave model that

generates vast amounts of toxic and other waste,

to a more sustainable, cyclical cradle-to-cradle

system that transforms waste into 'food' for other

processes and lives.

As a part of the OPL initiative, WWF with

its civil-society and private-sector partners is

pioneering and promoting the concept of One

Planet Business (OPB). The programme philosophy

is that we must share the responsibility for both

the issues and the required change towards

operating our businesses within the ecological

limits of our one planet. Therefore, OPB is a

'Global Partnership for Change' – inclusive,

supportive and learning. It brings together the

leaders from policy, consumer bodies, investors,

companies, academia and environmental science

in order that they can create mutually empowering

innovation around key industry sectors.

One Planet Business will have sustainability

as its 'default option'. In practical terms, this

would mean that the 10 OPL principles outlined

above become part of a company's DNA so that

sustainability is seen as the only way to do business.

To illustrate with two examples: implementing

a 'Zero Carbon' strategy would mean that a

company's operations have been set up to ensure

its direct and indirect impacts do not contribute to

greenhouse gas emissions and that its energy needs

are met through renewable sources. A 'Zero Waste'

approach would see the company operating a closed

loop system for all processes and products with the

emphasis on reducing waste at source, then reusing,

recycling and recovering all remaining waste.

By adopting the OPB approach, a company will

fulfil its social contract by internalising all the costs

related to its overall operations and implementing

a business model that is based on value creation for

society as a whole. Thus, the company of the future

will have integrated Corporate Responsibility into

its business model. As a result, all increases in

shareholder value will provide a clear signal that

the company is producing goods and services in

ways that make a net positive contribution to

people and the planet.

If, as we foresee, these principles are widely

adopted by the private sector, then the businesses

of the future will be focussed on developing and

selling solutions to the challenges that are the

legacy of decades of unsustainable resource use

and consumption. Then as Mahatma Gandhi said,

we will become "...the changes we want to see in

the world" and there will be a fair distribution of

natural resources, or as he put it, "... enough for

everyone's need but not for everyone's greed".

For more information: www.panda.org,

www.wwf.sg.

Bizz Agenda

Singapore Motorshow

5 October 2008

Suntec

www.motorshow.com.sg

ART Singapore 2008 - The

Contemporary Asian Art Fair

9-13 October 2008

Suntec, EH 404 (Level 4)

www.artsingapore.net

Smart Investment and

International Property Expo

11-12 October 2008

Suntec, EH 401 (Level 4)

www.smartexpos.com

StocExpo Asia 2008

15-16 October 2008

Suntec

www.stocexpo.com

Digital Ship Singapore

21-22 October 2008

Suntec, Concourse (Level 3)

www.thedigitalship.com

Singapore Sun

Festival 2008

17- 26 October 2008

Various venues

www.imgartists.com

21

Vol.18 • No. 8 • October 2008
---
Conference Calendar

A selection of upcoming conferences in the region in November:

Luxury Marketing

6 – 7 November 2008

The Excelsior, Hong Kong

International Transfer Agency Summit Asia 2008

6 – 7 November 2008

Pacific Place Conference Centre, Hong Kong

The Abu Dhabi Conference

9 – 10 November 2008

Emirates Palace, Abu Dhabi

GCC Government Organizations Webmaster's

Conference

10 November 2008

Dubai

Financial Performance Management

10 – 11 November 2008

Sheraton Towers, Singapore

Corporate Ethics FCPA Compliance

10 – 13 November 2008

Deira, Dubai

Asia Pacific CEO Summit

11 – 15 November 2008

Venetian Macau Hotel, Macau

Private Equity & Venture Forum

12 – 14 November 2008

JW Marriot Hotel, Hong Kong

Real Estate Investment World Japan 2008

12 – 14 November 2008

Conrad Tokyo, Tokyo

Financial Performance Management

13 November 2008

The Excelsior, Hong Kong

Managing the Talent Crisis

13 – 14 November 2008

Sheraton Towers, Singapore

Asia Rail 2008 15 th Annual International

Congress

17 – 21 November 2008

InterContinental Singapore, Singapore

4 th Annual Indian Securities

18 – 19 November 2008

Taj Lands End, Mumbai

Coal Tech Asia 2008

18 – 20 November 2008

Hotel New Otani Chang Fu Gong, Beijing

Tradetech Asia 2008

19 – 20 November 2008

The Shangri-la Hotel, Singapore

China Commercial Real Estate Investment 2008

19 – 20 November 2008

Shanghai Marriot Hotel, Shanghai

PAs and Executive Secretaries Conference

19 November

Dubai

Maximizing Sponsorship Returns

20 – 21 November 2008

Sheraton Towers, Singapore

International Transfer Pricing for Oil & Gas

23 – 24 November 2008

Le Meridien, Dubai

Business and Competitive Profiling

27 – 28 November 2008

Amara Hotel, Singapore

Log on to www.conferencebay.com for more information on these and many other events.

And remember, you can make a bid and decide the price you're willing to pay for any of the

conferences listed on Conference Bay!

22

Vol.18 • No. 8 • October 2008
---
Column By…

Richard Soemita

Ramadan

This month the Ramadan started on 1 st September, the month where

all Muslims fast for 30 days until 30 th September. Coming from this

background it is not entirely unfamiliar to me, but sometimes

one just has to be faced with the facts to realize what's going around

one's life.

When I still lived in Amsterdam my immediate daily life only occurred

around the canals and Schiphol Rijk where I used to work. Osdorp was

already kind of strange to me, let alone leaving the city centre! That

was too scary and each time when I had to go for business trips to Paris,

London or Munich it felt so good to be back in good old A'dam. Actually I

lead the same pathetic life on this island and only move between 2 areas:

Balestier (where I live) and CBD (where I work). I still sometimes end up

at places in Singapore that are totally unfamiliar to me, until I find out

that it is the next street behind the office!

Thanks to my Malay friends I was recently introduced to several great

food spots during this Ramadan. One of them is the Geylang area where

they have set up huge temporary tents where merchants sell all sorts of

stuff from toys, curtains, clothes, carpets to even cars. One of the most

fascinating tents is the one where they mainly sell food. You will see an

amazing variety of very delicious stuff that you normally will not see in

restaurants or food courts. Every stall has its own speciality and everyone is

buying food to take away and have this at home with the family. The other

area is near Arab street (street of Mjd Sultan mosque) where the entire

street has been blocked off for traffic. There are stalls along the whole

stretch of the street on one side. Here again there are mainly food stalls

that have a complete variety of different type of dishes from Egyptian,

Malay, Indian and Indonesian kitchens.

Most of my Malay friends fast, so I decided to see what it felt like

and joined them for one day, to start with. I did not bother to get up at

5 am to have my regular breakfast since I purposely stuffed my face the

night before which of course resulted in being more hungry the following

morning. Went to the office and had to walk past the aunty where I get my

curry puff every morning. She normally already has this ready when she

sees me coming walking towards her stall. But this morning I just said hello

and the expression on her face said "had gone insane" when I walked past.

Not to mention the little paper bag she wasted and had to put the puff

back. Idem ditto when I walked past the coffeeshop and the boy yelled at

me if I was feeling OK since I did not stop for my morning café latte with

a Danish raisin cake. Normally I have these before 10 am, but instead I got

grumpier by the minute, looking forward to lunch time. Then I realized

that I also had to skip that! By 3 pm I really thought I was going to pass out

and by this minute I was starting to shout at everyone around me. Finally

at 6 pm I left the office to meet my Malay friends at Arab street. As soon

as I got there I started to buy a food item from every stall in the entire

street. All shaky and forcing a smile on my face we waited for the sign to

start dinner and finally sat down by 7:04 pm to start eating. By this stage

I was ready to kill for food. My friends slowly started to eat whilst I nearly

stuck my whole head in the nasi lemak paper wrapping and trying to drink

at the same time. They all looked at me like I had no food for the last 3

weeks. That 1-day fast was quite an experience but I decided to skip the

next day. It is not just the fasting, knowing what is going on within the

Muslim community, the location and the respect I have for anyone who

fast during the Ramadan. Sadly, I came to the conclusion that my stomach

was made for feeding it on a very regular basis, if possible after every 45

minute intervals. Ramadan is the start of all this but has a happy ending

on 1 Oct, Hari Raya, when it is time to party and am very much looking

forward to all the invites to the dinner festivities. Incidentally I just got

the results back from my annual blood test and needless to say that my

cholesterol level was not within the acceptable limits. Should I have fasted

more than 1 day?

23

Vol.18 • No. 8 • October 2008
---
event agenda

Classics: Royal Philharmonic Orchestra (UK)

With Leonard Slatkin (USA)

DATE : 10 October 2008

Friday, 07:30pm

VENUE : Esplanade Concert Hall

SYNOPSIS

The Royal Philharmonic Orchestra (RPO), based in London, offers audiences in the

UK and abroad the highest possible standards of music making, accompanied by

some of the most acclaimed artists of the day. Since its formation, the orchestra

has been directed by some of the world's finest conductors, most notably Rudolf

Kempe, Antal Dorati, André Previn and Vladimir Ashkenazy. Today, it continues

to thrive, undertaking a busy concert, touring and recording schedule, under

the inspired leadership of Maestro Daniele Gatti, who, from the beginning of

the 2009-2010 season, will continue as Conductor Laureate, with Charles Dutoit

as Artistic Director and Principal Conductor.

In Singapore, the orchestra will perform under the baton of Principal Guest

Conductor, Leonard Slatkin, Music Director of the Detroit Symphony Orchestra

and Principal Guest Conductor of the Pittsburgh Symphony Orchestra in 2008-

2009. His many honours and awards include the prestigious 2003 National Medal

of Arts and the Chevalier of the Legion of Honor.

One of the world's top five orchestras and its renowned conductor present

an evocative programme that moves from two tender, lilting, strings-dominated

excerpts from Sir William Walton's score for Sir Laurence Olivier's film Henry

V, to the four linked movements of Ralph Vaughan Williams' dramatic, spirited

Symphony No. 6 in E minor, and finally culminating in Edward Elgar's famous,

emotive "Enigma" Variations, each variation inspired by and dedicated to an

individual, beginning with his wife, featuring his close friends, and ending with

a self-portrait.

da:ns festival 2008

Russian Ballet Gala

DATE : 15-16 October 2008

Wednesday - Thursday, 8:00pm

VENUE : Esplanade Theatre

SYNOPSIS

Dance lovers know the pure

e x h i l a r a t i o n o f w a t c h i n g

unparalleled virtuosity on

display. Expect nothing less in

this season's Ballet Gala with

the world-renowned Bolshoi

Ballet. Each evening's programme

presents a different selection

of favourite classics as well as

contemporary works premiering in

Singapore. Revel in the grandeur

and magnificence of Russian Ballet with the

stars of the Bolshoi.

Programme line up for each evening of the

dansfestival available at www.dansfestival.com

DURATION: Approximately 90 Minutes

Interval: Approximately 20 Minutes

DURATION: Approximately 90 minutes INTERVAL: Approximately 20 minutes

The year's sexiest play:

The Vagina Monologues

written by Eve Ensler

(Adult Content & Strong Language)

DATE : 1-12 October 2008

Tuesday - Friday, 8pm,

Saturday, 3pm & 8pm

Sunday, 3pm

VENUE : Drama Centre Theatre

SYNOPSIS

This October, Zebra Crossing Productions brings you

the year's sexiest play to hit our shores - The Vagina

Monologues. This multiple-award winning play by Eve

Ensler is given a fresh new twist by Loretta Chen,

director of 251 and MAGICBOX. Boasting a stellar

cast of diverse and dynamic women, The Vagina

Monologues is a powerful collection of anecdotes

celebrating all things feminine - part therapy, part

informative, wholly electrifying! Starring Malaysia's

top model Bernie Chan (Project Runway Malaysia,

The Odd Couple), Judy Ngo (Mad Forest, Chestnuts),

Elizabeth Tan (Mama's Wedding, Belles in Action)

and a host of other formidable women, The Vagina

Monologues is a visual and aural feast of curves,

flesh and finesse.

Whether you are a Man from Mars or Woman

from Venus, join us in this earth shattering, no holds

barred theatrical experience! As long as you are

above 18, make this your mandatory night out as we

celebrate all things wild, wonderful and women!

DURATION: Approximately 80 minutes

da:ns festival 2008

Double Bill: Silent Screen & Toss of a Dice

by Nederlands Dans Theatre I

DATE : 18-19 October 2008

Saturday - Sunday, 8:00pm

VENUE : Esplanade Theatre

SYNOPSIS

Breathtaking dance of profound intensity

"NDT must be Europe's classiest and most

accomplished modern dance company, their

trademark being slick, gorgeously lit, gorgeously

danced movement with a deep balletic grace and

sharp modern angles" -Telegraph

The world-acclaimed Nederlands Dans Theater

never fails to amaze audiences with its company

of phenomenal dancers and repertoire of sublime

works by resident choreographers Jiri Kylian and

duo Lightfoot Leon. The extraordinary partnership of Paul Lightfoot and Sol Leon

is seen in the visually stunning and beautifully moving Silent Screen. A panoramic

landscape and the hypnotic music of Philip Glass draw you in as performance

and film seamlessly become one. From meditative stillness to manic urgency,

life's passages ebb and flow in the fluid and intricate choreographic phrasing

of Lightfoot Leon. Pondering the game of chance that life metes out is Kylian's

Toss of a Dice. With Susumu Shingu's scissor-sharp sculpture looming ominously

above, twelve sinuous dancers negotiate the edge of the unknown with delicate

precision in a striking performance. This captivating double bill from the

masters of dance will take your breath away.

DURATION: Approximately 95 Minutes

Interval: Approximately 20 Minutes

24

Vol.18 • No. 8 • October 2008
---
Business news

Sources: Het Financieele Dagblad and Reuters

Boskalis plans Euro 1.1 bln bid for Smit

Dutch dredging group Boskalis plans an

unsolicited 1.1 billion euros all-cash

offer for maritime services company Smit

Internationale, which promptly rejected

the approach.

Royal Boskalis Westminster Group NV

said it planned to offer 62.50 euros per

Smit share, an acquisition that would

turn Boskalis's small oil and gas terminal

business into a world leader. It already is

the world's largest dredging company.

"We think the intended offer represents

a full and fair value for Smit shareholders,"

a Boskalis spokesman said after being

asked if Boskalis could raise its offer.

A regulatory filing showed Boskalis had

bought a 6.65 percent stake in Smit earlier

this week.

The bid for the entire group comes

after Smit rejected a $300 million bid

for its terminals division in February

from Lamnalco, a joint venture between

Boskalis and Saudi group Rezayat.

Lamnalco and Smit's terminal unit

combined would control 40 percent of the

global oil and gas terminal services market,

with an annual turnover of more than $280

million, Boskalis said at the time.

Boskalis, by contrast, showed revenue

from its maritime and terminal services of

just 28 million euros in the first half, or 3

percent of the group's total sales of 938

million euros.

The company's biggest business unit is

dredging; its specially equipped ships suck

up sand and rock from the seabed to create

harbours and waterways or construct

artificial islands and coastal barriers.

NATURAL FIT

Boskalis said it would merge Smit's salvage,

heavy lift and transport activities with its

operations, integrate Smit's terminals

services unit with peer Lamnalco, and

divest Smit's harbour towage activities,

which make up 19 percent of sales.

It said there was a natural fit between

most of its operations and Smit's activities,

while the combination of Smit's terminals

unit with Lamnalco would create significant

synergy benefits.

Petercam analyst Paul Linssen

expressed concerns that Boskalis could

wander too far from its core business.

"We are convinced about the acquisition

of the terminal activities, which are

already part of the activity portfolio of

Boskalis. However, we have some question

marks about the fit of the Salvage and

Heavy Lift activities," he said.

"We fail to see the strategic rationale

in buying Smit in its entirety," said ING

analyst Tijs Hollestelle, noting that three

of Smit's divisions were different from

Boskalis' core activities.

Smit made a first-half net profit of 48

million euros on sales of 307 million, and it

expects a 2008 profit of between 98 million

and 101 million euros.

The $700 billion question: Can bailout fix economy?

The best test of whether the government's

$700 billion check will be enough to

save the U.S. economy is how much of

that money flows back to consumers and

companies.

E v e n i f t h e g o v e r n m e n t g e t s

Congressional approval to buy bad debts off

banks' books, satisfying some of their cash

needs, the financial sector will still need

to raise money -- and investors haven't

exactly been lining up to help. Unless

banks can find funding somewhere, they

won't be eager to resume lending, and that

will leave the economy sputtering.

The good news is, outside of the

financial sector, Corporate America is

remarkably cash-rich with some $620

billion sitting on the books of large firms,

so companies should be primed to spend

once confidence is restored.

But household wealth has taken an

unprecedented double hit from the real

estate and stock market shocks, and it

could be years before consumers feel flush

again -- particularly if credit conditions

remain tight.

Treasury Secretary Henry Paulson

argued that opening up federal coffers to

Wall Street would benefit Main Street by

preventing a deeper economic downturn.

"Last week as the credit markets

were frozen, the capital markets were

frozen, we had a situation where American

companies weren't able to borrow money,"

Paulson said on ABC's "This Week". "This

could ultimately affect small banks, loans

to businesses, loans to farmers, jobs,

people's retirement."

U.S. companies have cut more than

550,000 jobs this year, sending the

unemployment rate up to a five-year high

of 6.1 percent in August. Those figures are

likely to worsen in the coming months,

with or without a bailout.

The housing market is at the root of

the year-long financial crisis, and some

members of Congress -- expressing concern

that Paulson was taking a roundabout route

to helping homeowners -- are expected to

push for more direct mortgage assistance

when they hammer out terms of the

bailout legislation this week.

Federal Reserve "Chairman (Ben)

Bernanke -- no less than he -- said if you

don't solve the mortgage crisis, you're

not going to solve the financial crisis. We

need to put the taxpayers first, ahead of

bondholders, shareholders, executives,"

New York Sen. Charles Schumer said.

HOUSE REPAIRS

Shoring up the housing market means

ensuring that would-be buyers can get

mortgages, and that means banks will

have to find a way to keep lending. Even

before this latest bout of financial market

unrest, a Federal Reserve survey of senior

loan officers showed that credit conditions

were tightening, even for borrowers with

good credit histories.

"The U.S. banking system needs a lot

more capital," said Jan Hatzius, chief U.S.

economist at Goldman Sachs. "Capital

infusions are needed to avert a sharp

contraction in lending."

Hatzius said three things needed to

happen in order to resolve the crisis. First,

banks must figure out the true value of

assets on their balances sheets; then they

must raise more capital; and finally, home

loans needed to be restructured.

The government's bailout plan in effect

addresses the first point by establishing a

price for hard-to-value assets, and Congress

may tackle the third issue this week.

Raising more capital won't be easy.

Lehman Brothers failed last week

because it couldn't find investors. Getting

$700 billion in bad debts off banks' books

will certainly help, but it remains to

be seen whether that will be enough to

convince investors that it is safe to put

their money in financial firms.

If the government's money succeeds

in helping Wall Street strike a healthy

balance between fear and greed, U.S.

companies are well-positioned to fund a

strong recovery once they are confident

that the economy is on the mend.

25

Vol.18 • No. 8 • October 2008
---
Embassy Info

Public holidays 2008

Hari Raya Puasa : Wednesday 1 October

Deepavali : Monday 27 October

The Embassy will be closed during the above-mentioned public holidays.

In case of an emergency, please contact the duty officer on HP: 9661 5704

Market Trends and

Business Opportunity Seminar

Breakfast Seminar

Europe

Thursday, 23 October 2008

Orchard Hotel, Singapore

Ballroom 1, Level 3

Join The Singapore 1000 and SME 500 Business Club and the Netherlands Foreign Investment Agency (NFIA) in

building economic bridges linking Singapore and Europe by connecting Singapore companies to the community

and partners that can assist in venturing into new market places.

Whether developing a first European presence or configuring existing European operations, companies

can obtain information, strategic perspective and practical help from the NFIA free of charge and on a

confidential basis.

This seminar provides an insight into investment opportunities in the Netherlands. This is crucial for foreign

companies wishing to take advantage of the dynamic Dutch business environment as a strategic base to cover

Europe, with a view to expand their global reach in the international marketplace.

Among the topics covered are services that NFIA provides for foreign companies in areas such as economics,

operations, fiscal matters and business locations, as well as information on national, local and regional

development companies. Other key topics include the Netherlands' favourable tax climate which augers well

for foreign SMEs' planning to set up a base in the country.

Join us in this breakfast seminar to discover the growth and expansion opportunities available for your company.

For more information and a copy of the registration form, please email tan@nfia-singapore.com

Jointly Organised By

26

Vol.18 • No. 8 • October 2008
---
Embassy Info

Discover Europe for

your Future

The Embassy of the Kingdom of the Netherlands is participating in:

Discover Europe 2008

Association Info

Job Seekers / Internship

Name : Marisa Siem

Age : 21

Tel.no.mobile : 91405832

Email-address : Marisa_Siem@hotmail.com

Study: Master in Humanities and Social Sciences (proceeding)

Bachelor in Asian Trade Management (graduated)

Specialization: Chinese trade businesses and Asian cross cultural

affairs

Working experiences:

- In China (Shanghai) at the Benelux Chamber of Commerce

as the marketing & event assistant.

- In the Netherlands at the Ministry of Foreign Affairs for a

halal research in ASEAN countries.

Looking for: Currently I am studying at the Nanyang University,

and looking for a part-time job in Singapore. If there are

possibilities and/or interests, please feel free to contact me.

Name : Iris Westrik

Age : 33

Email-address : iriswestrik@hotmail.com

Study: Human resource management with marketing degree

Specialization: marketing and event management

Working experience: In my 9 years of working experience I

have been working as marketing manager, event manager, real

estate manager and marketing executive. All the positions I

had required a lot of responsibility, I had to work in a team or

had the leading position, I'm used to work with tight timelines

and a set budget.

Looking for: A creative and challenging job in which I am able

to utilize my experience to obtain the goals that the job and

the organisation require.

27

Vol.18 • No. 8 • October 2008
---
Association Info

New Members

Bas Derksema, Centrotherm

Diderik Buijs, CB Richard Ellis

Edwin Ebrahimi, Vopak

Esther de Haan, Gallo Company

Jonathan Horemans, Accenture

Luc Hollman, Citco Singapore

Mathijs Boeren, Symrise

Marie-Fleur Valk,

Royal Bank of Scotland

Michiel Stange

Nancy Hilbrink,

Asian Tigers K.C. Dat

Pascal Koolmoes,

J.P. Koolmoes Infra

Sebastiaan Reek, ABN AMRO

Leaving Members

Bart Kooijmans, ABN AMRO

Mariëlle Klein, DiningCity.com

Paul Govaart, Vopak

OCTOBER event

ADB Members only!

Tour of PSA (Port of Singapore Authority)

On Tuesday 21 October, ADB welcomes you to the maritime hub of South-East Asia; Port of Singapore

Authority or PSA.

One can't but agree with the corporate image of PSA as one of the busiest container ports in the world and

now you can see for yourself why. After the tour we will be having drinks at 'Little Bali' (or "Villa Frangipani"

as some of us prefer to call it) just across the road from PSA, in lush tropical and Balinese setting for optimal

contrast.

Although Singapore has hardly any natural resources and doesn't produce any manufactured goods, its

strategically advantageous geographical position as an Air and Sea port has propelled it to dizzying heights

on the international logistics map and today it is undoubtedly one of the world's busiest and most successful

shipping hubs, which even brings many ADB members to Singapore in the first place.

History tells us that the Tanjong Pagar Container Terminal was the first to begin operations for Ports of

Singapore in 1972. Since then there has been no looking back for Singapore's maritime port enhancement

program. As the port container volume kept on increasing, Ports of Singapore added a second terminal, Keppel

in the 1980s, and then a third Terminal, Brani in the early 90s. Together, the three terminals handle Ports of

Singapore container exports and imports to and from all major sea ports. Only those with official Visitor Passes

issued by the PSA can enter the vicinity of Ports of Singapore which is a heavily guarded area. Seats are limited,

so sign up early to avoid disappointment!

Date : Tuesday 21 October 2008

Time : 17:30-18:45 (tour) followed by drinks at Little Bali from 19:00 onwards

Registration : Please register at adb@pacific.net.sg, max 43 people (first come first serve)

28

Vol.18 • No. 8 • October 2008