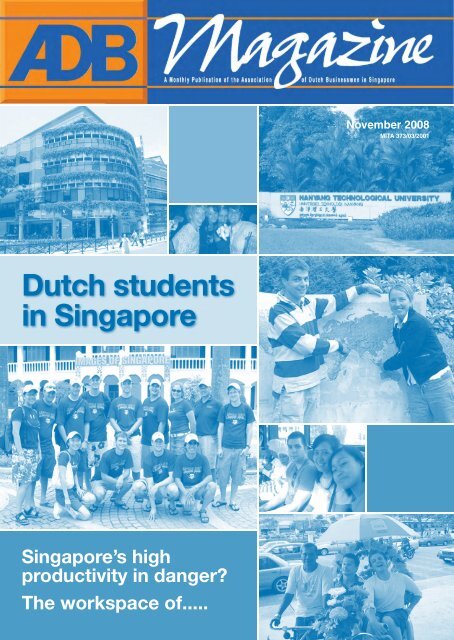 Dutch students in Singapore - Association of Dutch Businessmen
Dutch students in Singapore - Association of Dutch Businessmen
Dutch students in Singapore - Association of Dutch Businessmen
SHOW MORE
SHOW LESS
Create successful ePaper yourself
Turn your PDF publications into a flip-book with our unique Google optimized e-Paper software.
November 2008

MITA 373/03/2001

Dutch students

in Singapore

Singapore's high

productivity in danger?

The workspace of.....
---
It takes 28 days to brew a Heineken.

Consume at your own leisure.
---
Prologue

Dear Members,

Last week I received from a dear friend the following text;

Frank Kuijsters

My Resignation

I am hereby officially tendering my resignation as an adult. I have decided I would like to

accept the responsibilities of an 8 year-old. I want to go to McDonald's and think that it's

a four star restaurant. I want to sail sticks across a fresh mud puddle and make a sidewalk

with rocks. I want to think M&Ms are better than money because you can eat them. I want

to lie under a big palm tree and run a lemonade stand with my friends. I want to return

to a time when life was simple; when all you knew were colors, multiplication tables, and

nursery rhymes, but that didn't bother you, because you didn't know what you didn't know

and you didn't care. All you knew was to be happy because you were blissfully unaware

of all the things that should make you worried or upset. I want to think the world is fair.

That everyone is honest and good. I want to believe that anything is possible. I want to be

oblivious to the complexities of life and be overly excited by the little things again. I want

to live simple again. I don't want my day to consist of depressing news, hearing about how

bad the stock markets are doing, that banks are going bankrupt, the mountains of paperwork

on my desk, how to survive more days in the month than there is money in the bank, doctor

bills, gossip, illness, and loss of loved ones. I want to believe in the power of smiles, hugs,

a kind word, truth, justice, peace, dreams, the imagination, mankind, and making angels in

the snow. So... here's my checkbook and my car-keys and my credit card bills. I am officially

resigning from adulthood. And if you want to discuss this further, you'll have to catch me

first, cause.............." Tag! You're it."

I don't how it was for you when you read the text, but when read it I thought for a moment,

yes great to be 8 year old again, certainly in these times we live in at the moment. There is

so much happening in the world around us that I even prefer not to pick up the newspaper or

listen to the news. Just trying to ignore what is happening. But "luckily" the other inner voice

speaks then to me and says take your responsibility and act as a grown up. So I start to write the

prologue for the ADB magazine, make the questions for the survey for the December/January

issue of the ADB magazine (which of course we hope all the members will fill in), send an email

to the always busy members of the editorial committee that I still miss some articles and that

the deadline already has passed. Even though it would be great from time to time to be for

a short moment 8 years old, how often do we really allow it ourselves?

Enjoy reading the new ADB magazine, with articles to dream with and of course articles that

are more serious!

Frank Kuijsters

'

To share meaningful and business-related information amongst the Dutch

business community in Singapore, whilst networking in a fun environment '

Jan de Vegt

Remco Muzerie

Annabelle Deken

Ard Huisman

Freddy Meindertsma

Richard van der Werf

Vol.18 • No. 9 • November 2008
---
A monthly publication of the

Association of Dutch Businessmen

ADB Board

Jan de Vegt

Remco Muzerie

Annabelle Deken

Ard Huisman

Freddy Meindertsma

Richard van der Werf

Frank Kuijsters

President

Vice-President

Honorary Secretary

Honorary Treasurer

Member

Member

Member

C o n t e n t s

Prologue 1

Editorial Committee

Frank Kuijsters, Chief Editor

Anouk Binkhuysen

Dennis van der Meijs

Kiki van der Erf

Lineke van Nederpelt

Madelon van Tol

Richard Soemita

Sharon van de Veerdonk

Secretariat

Lineke van Nederpelt

Mailing Address:

c/o 22 Camden Park, Singapore 299814

Telephone: 9101 6201

email: adb@pacific.net.sg

Website

Email

: www.adb.org.sg

: webmaster@adb.org.sg

Editorial contributions for the next issue may

be sent or handed over to the ADB Secretariat,

before or on the day of the monthly ADB

meeting. The contents of this magazine are partly

based on information received from third parties.

The Committee does not take responsibility

for the correctness of the articles.

Designed by Jennifer Phua

Printed by Khoo Sun Printing Pte Ltd

MITA 373/03/2001

Membership fee is S$ 100 per calendar year.

For registration, please see the website www.

adb.org.sg/en_member_signup.htm.

Membership is renewed automatically effective

the first month of the new calendar year.

Make your cheque payable to "Assocation of Dutch

Businessmen" and send to ADB, c/o 22 Camden

Park, Singapore 299814.

Termination of membership must be received by

ADB Secretariat in writing before 1 January,

otherwise you will be charged for the full amount

for the following calendar year.

Please notify the ADB secretariat of any changes in

employer, (email) addresses or any other personal

particulars that might be of interest to the ADB

administration.

Review

An impression of world-class logistics at the

PSA Singapore Terminals 3

Business

Lexmar Engineering, the major saturation

diving system supplier 5

CHINA SPECIAL: Part 1 Meeting the Dragon,

an introduction of China 6

Interview

Interview with Bart Reintjes 8

Singapore

Dutch students in Singapore 12

Bizz Agenda 14

Know your tax

Upcoming changes in Dutch tax law? 15

Green Page

Is Singapore's high productivity in danger

because of climate change? 16

Conference Calendar 18

Column by...

Richard Soemita

Casual Friday's 19

Business News 20

The workspace of… 21

EVENT Agenda 22

Embassy info 23

association info 24

Vol.18 • No. 9 • November 2008
---
Review

An impression of world-class logistics

at the PSA Singapore Terminals By Anouk Binkhuysen

This month, the ADB Board selected a very

interesting location for their special event; a visit

to the PSA Singapore Terminals. Their initiative

was received with a lot of enthusiasm as the tour

was fully booked. It was an impressive event and I

think many of us had not expected PSA Singapore's

Terminals to be so large and efficient, when you

happen to see it with your own eyes. Singapore is

a dot on the world map, but has become a giant in

container logistics and the number one in the world

within less than 20 years. In one word: WOW!

At 5.30 p.m., we gathered in the lobby of

the PSA Building for an introduction of

PSA's activities and a brief overview

of their terminals, how and where

they are located. In the main hall,

a huge marquette gives a very

good impression of the size and

the location of the four container

terminals of Singapore's Port; Tanjong

Pagar, Keppel, Brani and Pasir Panjang.

After the introduction, we headed to

the 40 th floor for a video presentation and

a spectacular view of the skyline of Singapore

and the large area of all the PSA terminals. The

bus took us to Keppel terminal

and Tanjong Pagar terminal and

manoeuvred itself through all the

container blocks, so that we could see

the immense surface of all the terminals and how

it is organized in a highly efficient way.

Vol.18 • No. 9 • November 2008
---
Review

Some very interesting facts to mention of PSA

Singapore Terminals:

• PSA International is the world largest global

operator with 28 ports in 16 countries.

• PSA Singapore Terminals operates as the

world's largest container transhipment hub,

handling about one-fifth of the world's total

container transhipment throughput.

• In 2007, PSA Singapore Terminals handled 27.1

million containers and their terminals moved

18 million tonnes of break-bulk and specialised

cargo and over one million vehicles.

• 85% of the containers at PSA Singapore

are transhipment containers, that enables

Singapore to be one of the most important

hubs for Asia to redirect the containers to

other countries in Europe, the United States

or Japan for example.

• PSA Singapore Terminals is highly developed

in using e-business operations in the shipping

industry. Their IT-systems commands and

controls highly complex transhipment operations

in their four container terminals.

Our final destination was Little Bali, at Lock

road; diverting all the impressions by a cool

refreshment with our Dutch friends.

Operational highlights

Daily sailings to:

United States 2

Europe 4

Japan 5

China, HK, Taiwan 9

South & SE Asia 70

No. of shipping lines 200

No. of ports connected 600

No. of countries linked 123

Vol.18 • No. 9 • November 2008
---
Business

Lexmar Engineering, the major

saturation diving system supplier

LexMar Engineering Pte Ltd, in operation for over

12 years, is a leading manufacturer and supplier

of Offshore Marine, Hyperbaric / Saturation and

Air Diving Systems. All products come inclusive

installation, testing and commissioning services.

Lexmar operates in South East Asia, Europe and

the America's.

LexMar was founded by Lex & Marieke Barker.

From its origin the company provides refurbishment

services for the diving industry.

Marieke, who is originally from Holland and

Lex, who was born in UK and grew up in New

Zealand met each other in Holland while working

for Smit Offshore Contractors in Rotterdam.

Over the years LexMar has grown into a company

that is recognized as one of the main suppliers of

saturation diving systems. The company builds and

sells complete new saturation diving systems to

international classification standards.

Being located in Singapore gives LexMar a

prime position right in the heart of the Asia Pacific

region. In fact, recently Singapore's Minister for

Trade and Industry has launched a US $280 million

(S$400 million), five year development plan for the

country's offshore petroleum services facilities in

Loyang, declaring it will "further enhance" the

nation as a leading oil and gas center "next to

Aberdeen and Houston".

From the new 40,000 sq ft manufacturing

facilities at no. 3 Loyang Way 6, LexMar Engineering

Pte Ltd provides the high standard services and

products that are demanded by customers in South

East Asia, Europe and the America's.

Lex Barker past away last year but that did not

prevent the company which currently employs 100

staff, to continue to grow.

People are our greatest assets and as such we

are confident towards the future. We will make

Lex proud of the organization he started. It is our

ambition to become the world leader in our field

of expertise.

To date we have supplied LexMar equipment

to companies in the UK, U.S.A, China, Middle East,

West & South Africa, India as well as Singapore

and Malaysia.

The company operates under SS ISO 9001:2000

quality standard which includes:

• Engineering & Design

• Manufacturing

• Equipment refurbishment

• Equipment sales

• Calibration & Testing

• Service & Maintenance Agreements

The company is able to do most hyperbaric/

diving projects in house, from whole system design

till vessel integration and equipment supply.

LexMar is a member of International Marine

Contractors Association (IMCA), Association of

Diving Contractors (ADC) and complies with their

guidelines and standards for equipment used in

the diving and hyperbaric industry worldwide.

For more information: www.lexmar.com.sg

By Marieke Barker

Vol.18 • No. 9 • November 2008
---
Business

CHINA SPECIAL: Part 1 Meeting the Dragon,

an introduction of China By Anouk Binkhuysen

Harbin

Urumqi

Hami

Kashgar (Kashi) Tulufan

Changchun

Dunhuang

Hohot

Beijing

Jilin

Datong

Yingchuan H

Tianjin

Dalian

Yantai

Xining Yanan Taiyuan

Jinan

Qindao

Lanzhou

Luoyang

Kaifeng

Xi'an Zhenzhou

Nanjing

Chengdu

Lahsa

Yichang

Suzhou

Hefei

Wuhan

Shanghai

Chongqing

Changsha

Hangzhou

Shangri-La

Guiyang

Nanchang

Dali

Kaili

Fuzhou

Xiamen

Kunming

Guilin Guangzhou Taibei

Nanning

Shenzhen

Macao Hongkong

Gaoxiong

Beihai

Haikou

Source: www.gogx.net

Sanya

Since adopting market reforms in 1978, China has been among

the world's fastest growing economies. China is a magnet for

foreign investors, with its economy growing at 10% for four

years running and to become the fourth economic power in

the world. Although the Chinese government has opened its

markets to a certain extent to attract foreign investors by

adopting a pro-business environment in selected economic

zones of the country, doing business in China is still easier

said than done.

In this issue and the next two issues (except for the

December-January Special), we will give you an overview of

several Dutch companies from different type of industries

that have entered the

Chinese market and

their experience of doing

business in China. In this

edition, we start with

an introduction with

the facts and figures of

China.

Picture source: www.travel.

nationalgeographic.com

China fact file

Area 9,560,900 sq km Capital Beijing

People

Population (millions) 1,314.48 Population over 65% 7.9%

Urban population 2007 45% Urban population 1995 29%

Economy

GDP (RMB billions) 20,940.68 GDP (US$ billions) 2626.30

GDP per capita (RMB) 15,973 GDP per capita (US$) 2,040

Employment

Total workforce (millions) 753.60 Unemployment (% of workforce) 4.1

Society

Number of households 539.10 Mobile phones per 100 pop. 152.9

(millions 2005)

Average number 3.13 Automobiles per 100 pop. 4.3

per household (2005)

Per capita annual income of urban households (RMB) 12,719.2

Per capita annual income of rural households (RMB) 5,025.1

Vol.18 • No. 9 • November 2008
---
Business

Urbanization in China

About 600 million Chinese now live in cities, yet that represents only 45 percent of the population,

compared with more than 80 percent in the United States, so China's cities are likely to grow considerably.

New research by the McKinsey Global Institute projects that by 2025, an additional 325 million people of

which about 230 million migrants will move to China's cities. Following the current trend, the country's

urban population will reach 926 million by 2025 and top 1 billion by 2030.

To read more about urbanization in China, please read the article "Preparing for China's Urban

Billion", in the McKinsey Quarterly.

The role of the state

Government ownership is declining rapidly; today only about less than 25% of China's industrial output

is generated by state-owned enterprises. Currently the majority of production is generated by private

companies and companies with foreign investment. Except in a few sectors—defense, telecommunications

services, and energy, for example—much of the economy is now in private hands. The reason is

straightforward: China's leaders recognize that state enterprises are inefficient and must be stimulated

from the outside to compete in the marketplace.

Relationships

Many executives are convinced that relationships are the key to doing business in China successfully. That

was certainly true in the early days of its economic opening to the outside world. Lengthy discussions, often

accompanied by extensive socializing, were the norm as the country's negotiators strove to understand

their foreign counterparts. Today, 20 years of investment experience later, the Chinese are looking at

the tangible business track records of foreign companies. Those that fail to bring tangible advantages,

such as new capabilities, technologies, or business models—as well as a record of success—are unlikely

to win the deal, no matter how good their relationships.

Nevertheless, a strong government-relations program remains an important factor for success in

China, where, as in other emerging markets, the state uses its influence over market access and business

rights and set the boundaries on how far foreign companies can go.

Highlights

GDP growth rates:

1998 2002 2004 2006

7.8% 9.1% 10.1% 10.7%

• China's economy threatens this year to overtake Germany as the world's third-largest.

• In 2006, China's external trade reached US$ 1,761 bn, ranked the 3 rd in the global economy.

• China exports in 1980: 50% primary goods and 50% manufactured goods. In 2006: 5.5% primary and

94.5% manufactured goods.

• China's foreign exchange reserves reached US$1.3 trn by the end of June 2007, the largest in the

world.

• New highway construction: 140.500 km.

• By 2020, 82% of the Chinese people will live within a 90 minutes drive of an airport.

• The Chinese save and invest upwards of 40% of their income (Americans save 2%).

• Almost 345,000 millionaires in mainland China (counted in US$).

• China is the world's second-largest internet market after the US, with 162 million web users.

• In 2006, there were still 21.48 million people living below the poverty line in rural areas.

Government

ownership

is declining

rapidly; today

only about

less than 25%

of China's

industrial output

is generated by

state-owned

enterprises.

Currently the

majority of

production

is generated

by private

companies and

companies

with foreign

investment.

Sources:

Article 'A guide to doing business in China', December 2004 Mc Kinsey Quarterly

China Business Guide 2008

Vol.18 • No. 9 • November 2008
---
Interview

Interview with Bart Reintjes By

Frank Kuijsters

Last month I spoke with Bart Reintjes, Head of

Human Resources Asia for ING Wholesale Banking

at a coffee shop at Raffles Place about the

main human resource issues for ING's corporate

and investment banking operations in Asia and

whether they are different from the issues of

ING in the Netherlands.

A little over two year ago Bart Reintjes moved

with his wife Madelon and his two sons Laurens

and Olivier from the Netherlands to Singapore

to become Head of Human Resources for ING's

Wholesale Banking division in Asia. Bart has worked

for ING for the past 12 years, and when this new

opportunity came up he simply couldn't refuse.

He saw it as a natural next step in his career.

Even before ING asked him to go overseas Bart

and Madelon had already decided that a move

to another country could be a possibility. The

decision to move was therefore easily made: the

job sounded interesting, really working abroad was

tempting, Singapore is an interesting city to live in,

the kids are still at an age that the change wasn't

too hard, and he was looking forward to work with

the Asia CEO of Wholesale Banking, Wilfred Nagel,

who he already knew. Of course the international

aspect would also be a good step for his career.

Now two years later and looking back he can

conclude that everything went even better than

expected. His job is even more interesting. At

the beginning he was not sure if he could use

his knowledge from the Netherlands. However

everything he learned back in the Netherlands is

applicable here.

Madelon likes living in Singapore, after some

adjusts problems in the beginning. Meanwhile she

has built her own network and Laurens and Olivier,

who attend the Dutch school, are real expat kids;

their Dutch schoolboy attitude (to be strong) has

modified (to be more relaxed). They are getting

more or less used to their friends leaving regularly

although they don't like it, and they try to keep in

touch with some of them.

Because close family is far away and old friends

are more distant they have became increasingly

dependent on each other. Bart and Madelon started

a whole new social life in Singapore. Not as they

had expected with a lot of local Singaporean

friends but mainly with new Dutch friends. This

network is centred on the boys and the Hollandse

School and their active membership of the

Hollandse club. Do they regret this? "No", answers

Bart. Would they do it again this way? "Maybe,

but I would probably consider sending them to an

international school" he says.

ING, where Bart works, has six divisions in Asia;

Wholesale Banking (900 employees in the region)

Vol.18 • No. 9 • November 2008
---
Interview

which is headquartered in Singapore, Insurance

(17,000 employees, Investment Management (800

people), Private Banking (500 employees) and Retail

Banking (7,000 employees). Bart and his team are

responsible for Human Recourses & Development of

Wholesale Banking; in addition they take care of HR

operations support for the Real Estate and Private

Banking divisions. Wholesale Banking has 14 offices

in the region: Singapore, Hong Kong, China (Beijing

and Shanghai), Australia, Indonesia, Malaysia,

Mongolia, Philippines, Taiwan, Japan, Korea,

Thailand and India. The customers of the Bank

are mainly multinationals, where close worldwide

cooperation within the bank and international

financing options are 'a must'.

Bart visits most of the offices once every year to

get a better understanding of the local issues and to

have face-to-face meetings with his team members

and key players in each country. Occasionally if a

matter needs a hands-on approach he also might

fly in, knowing that the personal touch and faceto-face

contact are important factors in reaching

his goals and influencing outcomes.

When Bart started his job in Asia he got involved

in almost every decision within Human Resources,

even the minor ones. In the beginning this was very

handy; he learned fast, and because of this deep

involvement, he gained a good overview of the

organization and the employees. But eventually this

became unworkable; he spent too much time on

topics where others needed to take responsibility.

Furthermore he didn't have the time to focus on the

really important issues. So he needed to shift the

behavior of his team members. He needed them to

be more pro-active and take responsibility for their

own actions. Not an easy task in the Asian region.

He started gradually, by asking every team member

to come up with several solutions when a problem

occurred. They were discouraged to just drop

problems on his desk. Some of his employees picked

this new regime up very quickly and were eager to

take responsibility, while others still find it hard.

He says "you can't force people to change their

behaviour, but you can motivate them to do so".

Most of the times in larger group meetings, people

tend to not voice their opinions directly, but when

he speaks with them individually you can receive

a lot of ideas and input. Culture, by definition,

has a very strong effect on employees' behaviour

and change only happens gradually. However, Bart

remarks that his Singaporean colleagues adjust

more easily compared to his team members in the

other countries. Maybe because they are more

used to working in an international environment,

or maybe it is just because he is more often in the

Singapore office.

Attracting high calibre new employees,

retention of current employees and the

development of existing employees are the main

issues Bart faces at the moment.

One of the reasons, he believes, for difficulties

in attracting and retaining employees is a legacy of

the reorganization ING's banking operations went

through a few years ago. Quite a large number of

employees also left due to the sale of the Asian

cash equities division to Macquarie and in the

banking world people started to ask questions

about how committed ING was to Asia. At the time

this didn't have a positive effect on the image of

ING (its brand as an employer) and had a negative

effect on remaining staff. ING had to work hard to

retain the remaining employees and to build their

image back in this particular market.

At this moment it is clear in the market

that ING is not going to leave Asia. The brand is

becoming stronger and stronger in the region,

greatly helped by the Formula 1 sponsorship.

Still, ING is a relatively small player in Asia when

compared to the high visibility in the Netherlands.

That makes it sometimes hard to attract new

employees and in addition Bart says that given the

relatively compact size , that sometimes also limits

opportunities for employees to make a next step in

their career within the organisation, particularly

if they are not internationally mobile.

In general the issues he faces here in Asia

differ only slightly from those of his colleagues

in the Netherlands, or for that matter, of any

other country where ING operates, these are

global issues. The solutions probably differ from

country to country. Particularly, in the financial

hubs Singapore and Hong Kong but also in China,

employee's mobility between banks is dynamic.

Vol.18 • No. 9 • November 2008
---
Interview

During good times, when they can earn an

additional $1,000 or so more by moving, they

change employer easily with little regard to other

factors. The selection process of employees in

Asia is also different, when compared to the

Netherlands. Here it is a much shorter and faster

procedure, with hiring decisions being made after

just one or two meetings. Mostly this is connected

with a lower employee protection under the

labour laws of some countries.

ING wants more local people on senior jobs

in the region but still with a clear perspective for

being an international player. To achieve this ING

is investing more and more in the development

of their employees.

Canadian International School invites suitable

candidates to apply for the following position:

ADMISSIONS OFFICER

Essential job functions:

• Attend to all enquirers (telephone, emails, personal tours

and interviews) of CIS' programme

• Attend to the admissions and maintenance of all students

of assigned campus

Minimum requirements:

• Good interpersonal and excellent communication skills,

and ability to freely and openly engage in discussions with

a multicultural clientele

• Highly fluent in English (both written and oral). A second

language is an asset

• Some working experience in a multi-cultural environment

preferred

• Sound knowledge of computers and good working

knowledge of Word, Excel and Access. Comfortable

with learning new programmes

• Good organizational skills, and ability to work within a

team environment

• Knowledge of IBO and/or International school programmes

would be an asset

Please send your resumes with a recent photo to apply@cis.

edu.sg or contact Joanna Lim at 6469-4962

Due to the downsizing there was less focus on

the development of employees. Since everything

has settled down, ING is focusing again on the

development of talent. The desired ING culture

"A Winning Performance Culture" is being lead

through Human Resources. This organisational

culture is designed to apply in an international

environment and respects for different cultures.

ING wants more local people on senior jobs in

the region but still with a clear perspective for

being an international player. To achieve this ING

is investing more and more in the development

of their employees. We have very good talent in

our organisation; the challenge is to groom and

to develop them in such a way that they are able

to lead the organisation in achieving its growth

ambitions. Exchange programs between Asia and

head office in Amsterdam and between countries

in the region, are only way of supporting that.

Bart's difficulties with his development

programme are amplified where the local office is

small. If the talent pool in these offices is also not

very mobile then the possibilities for promotion are

limited. That is why Bart is looking for innovative

solutions that work in the Asian region. As an

example they started working with so called virtual

project group: a group of talented employees from

six different countries in the region were given an

assignment; next to their normal job and within

100 days, they had to standardize all the different

job descriptions (200) in the Operations & IT

department across the region and to make a training

plan covering these job descriptions. The project

team members work from their own office on the

project, plus they have the opportunity to interact

with different colleagues in the region, and as a

result they grow in experience and could develop

themselves, and, importantly, have exposure

within the organization. One of the hugely positive

outcomes of the project is that the engagement

level of this group has increased enormously.

Every year ING does an Engagement Survey

amongst all their employees. Recurrent are two

topics: firstly demand for clearer communication

about the strategy and the contribution that

employees can make and secondly information

on opportunities for their personal development.

After the last Engagement Survey a lot has been

done in the organization to meet the demands.

Bart is looking forward to the results of the new

survey and hopes the efforts of last year have

worked (meanwhile the survey results clearly show

that the efforts did pay off). Bart is not yet finished

with his plans in the region and hopes to have more

years in Singapore, and ING.

10

Vol.18 • No. 9 • November 2008
---
Singapore

Dutch students in Singapore

By Dennis van der Meijs

Noortje explains that students who are

interested in studying abroad are requested to

send a letter explaining their motivation and top

5 favorite universities. The Erasmus Exchange

Program Board reviews these letters and decides

which students can enter the program. In addition

to motivation, grades play an important role in

the decision making process.

There is a healthy competition between

universities globally, there is even an official ranking,

so only the best students will be exchanged.

Beside the many Dutch expats that work in

Singapore, there is an increasing number of

Dutch students that find their way to the Garden

Island. Who are these students? What brings them

to Singapore? What do they study and how does

studying in Singapore compare to the student life

in The Netherlands?

It's time to meet Niels van Deuren (20),

Noortje Strack van Schijndel (20), Liesbeth

Keulemans (22) and Onno Boer (20).

It is around 19.30 hrs on a weekday and

my taxi stops at Mount Sinai View, a very

nice residential area close to Holland Village.

This is not a particular area where you would

expect Dutch students to live. I am about to

meet Niels & Onno (students in International

Business Administration), Noortje (student

Business Administration) and Liesbeth (student

Psychology). All four are students of Erasmus

University in Rotterdam and they are here on a

6-month exchange program with NUS (National

University of Singapore) and SMU (Singapore

Management University).

Can you explain how the exchange program

between Erasmus University and NUS/ SMU

works?

Each year a select group of students at Erasmus

University are given the opportunity to complete

part of their studies abroad. Erasmus University

maintains strong relationships with universities

all over the world. The concept is truly based

on students' exchange, which means that for

each student of the Erasmus University a foreign

student from an affiliated university is hosted at

the Erasmus University in return.

What was your motivation for applying for

the exchange program?

All respond that the international experience and

the possibility to further develop socially and

culturally were their main drivers.

For Liesbeth studying in Sydney was her first

choice. For the others Los Angeles, Hong Kong and

off course Singapore were on the top of their list.

Students rank Singapore among the most popular

places to study. Partially because well known

professors lecture at Singapore Universities but

also because Singapore is perceived "Asia for

beginners" especially with those students that

have not traveled in Asia before.

What about the financial side of the

exchange program?

Niels explains that exchange students do not

have to pay tuition. They are however requested

to pay for everything else, e.g. travel, housing

etc. While abroad students continue to receive

"studiefinanciering" and additionally they receive

€80, - per month compensation for the "OV

jaarkaart"

There is also an option for financial aid

through the "Van Beek foundation". The Van Beek

foundation supports exchange students financially

and to qualify students must send in their budget.

Onno explains that at the end only a few receive

an allowance. The amounts range between €500,

- and €800, - meaning that the students are

responsible for the majority of the costs which

often can be quite a challenge. Niels starts to

laugh and says that when your financial means

are limited, you have to be creative.

He explains that the biggest challenge was

finding affordable housing.

Niels was the first of the group to arrive in

Singapore. For two weeks he stayed at Sleepy

12

Vol.18 • No. 9 • November 2008
---
Singapore

Sam a youth hostel in Little India, which he used

as a base to search for appropriate housing. Every

day he searched the Singapore Straits Times and

communicated the available options with the rest

of the group via the internet. After 9 days Liesbeth

was the one that decided to rent the house at

Mount Sinai View.

Why not stay at the NUS/ SMU campus?

They all agree that staying at the University

campus would have made more sense but

unfortunately there were no available rooms.

Singapore Universities offer high quality housing

to their students at affordable prices. Universities

charge students S$ 473, - a month for a single room

with private bathroom which is quite a difference

with the prices in the private sector which are

about S$ 1,000 - per room a month.

What was your first impression of

Singapore?

Over-organized, modern, clean, rows, numbers

and kind people. Niels adds that he was expecting

Singapore to be more tightly organized. They all

like it here and agree that it did not take long to

feel 'at home'.

Tell us about your studies in Singapore?

It is mandatory to follow 4 ½ months of classes.

Students have to take a minimum of 4 classes.

Onno explains that exchange students are free in

their choice of classes as long as they are in line

with their (home) studies. Classes like Singapore

Business Government & Society are very popular

with foreign students. This class deals with all

aspects of Singapore history and society. Liesbeth

adds that students like to take advantage of

the fact that many classes offered by Singapore

Universities are very much focused on Asia. Some

of the classes that our Dutch students take are:

Asia Business Society, Asia Market and Marketing

Management, Intercultural Communication, Retail

Management & Psychology. Niels is also following

German class! He is the only exchange student in

this class. He smiles: "Quite an experience talking

with Singaporeans about their health care system

in German!"

At the end of the exchange period there is an

exam for which the students have to pass. Contrary

to what you would expect, the grades itself are of

less importance. Since Universities maintain their

own grading methodologies, all grades need to be

converted from foreign grade to home University

grade, which is too much of a hassle, and therefore

they leave it at pass or fail. Failing the exam means

students have to re-do that particular class upon

return in The Netherlands demonstrating that the

exchange program is an essential part of their

studies.

How does the level of study in Singapore

compare to the level of study in The

Netherlands?

According to Noortje the level is a little bit lower

here compared to Erasmus but the work pressure is

much higher. Local students are very eager to learn

and there is much competition. On the other hand

locals are not very efficient, they have difficulty

separating essential and accessory matters and

love meetings. "They even have meetings about

meetings", Noortje adds.

The library must be the busiest place on

campus. It is often very difficult to get a table to

study no matter what time of the day.

Classes are much smaller in Singapore. The

average lecture here is attended by about 30

students while at Erasmus classes of 200 students

or more is no exception.

Professors that lecture in Singapore come

from all over the world, which makes studying in

Singapore very international.

All four agree that the quality of the lectures at

NUS/ SMU is much higher then in The Netherlands.

"The professors here seem

much more motivated and

engaged; most of them

know their students by

name" Liesbeth explains.

In addition, attendance

here is not as 'voluntary' as

in Rotterdam. Attendance

is strictly adhered to and

students are even graded

for participation.

13

Vol.18 • No. 9 • November 2008
---
Singapore

The threshold to study In The Netherlands

is much lower then in Singapore. The annual

tuitions of Dutch Universities are a fraction of

the tuitions payable in Singapore. The annual

tuition fee for the 2007/2008 academic year for

local students at NUS vary from S$ 25,110 - for

an undergraduate Arts & Social Sciences program

to S$ 97,020 - for an undergraduate Medicine

study .

The fact that studying in Singapore is very

expensive compared to The Netherlands seems

to have a positive effect on the motivation and

drive of the Singapore students. Local students

do not only focus on the graduation itself but

also to complete their studies with the highest

possible grades. "Being best in class is very

important". The combination of grades and the

reputation of the University attended is the key

to a successful career.

In The Netherlands, dropping out is no big

deal compared to Singapore where dropping out

would not only mean tremendous loss of face

for the student itself but also for his whole

family.

Is there something like the typical student

life in Singapore?

All smile and the answer is unanimously: NO!

Studying is Singapore is only about studying.

There is no such thing as a "studentenvereniging"

or "ontgroening".

However exchange students do get together

regularly. Wednesday nights (lady's night) seem

to be popular for socializing at Double O while

on Saturday's Zouk, MOS (Ministry of Sound) and

Attica are the places to be.

What elements of studying in Singapore

should be exported to The Netherlands?

According to Onno, definitely the facilities.

Besides the very comfortable lecture halls,

Singapore Universities have very nice student

lounges, cafeterias and there is even a bus service

that brings students from one side of the campus

to the other.

Niels adds that Dutch Universities can take

discipline (especially in attendance) and level of

participation as an example.

Where do we find Niels, Liesbeth, Noortje

and Onno, 5 years from now?

Onno is convinced; he will leave The Netherlands

and explore the world. Noortje and Liesbeth have

no particular preference but to live abroad for 1-2

years is certainly something they do not exclude.

For those who want to see Niels in 5 years

time, most likely have to travel to Africa. Why

Africa? "Because it is different then what most

people do", according to Niels.

Which things do you want to do in Singapore

before returning to The Netherlands

All agree: they want to see more of the region and

Cambodia is on the top of their list. In a few weeks

they will go to Cambodia and discover beautiful

Angkor Wat.

Final question: What is the first thing you will

do when you are back in The Netherlands?

Niels: have a "frikandel speciaal"

Liesbeth: have some real Dutch cheese

Onno: bitterballen!

Noortje: sleep in my own bed

Bizz Agenda

MPH Book Sale

14-16 November

Expo Hall 4A

www.mph.com.sg

Asia Pacific

Food Expo 2008

14-18 November

Expo Hall 5

www.asiapacificfoodexpo.com.sg

Brand Couture Congress

18-19 November

Suntec

www.brandcouturecongress.com

Technology Commercialization

Forum 2008

21-22 November

Suntec, level 3

www.nus.edu.org

Iproperty.com.expo -

International Collection

21-23 November

Suntec Concourse Level 3

www.iproperty.com/expo

Automobile Roadshow

27-30 November

Expo, Atrium 4

osakaevents@gmail.com

14

Vol.18 • No. 9 • November 2008
---
Know your tax

Upcoming changes in Dutch tax law?

By Pieter de Ridder and Nicolien Luijsterburg / Loyens & Loeff, tax advisers, Singapore

In a recent article published in Dutch tax literature 1 ,

three Dutch professors made recommendations to

improve the structure of the Dutch 1969 Corporate

Income Tax Act ("CITA") and the Dutch investment

climate. The article was published in a weekly tax

law journal and the recommendations were made

in the form of a 'legislative proposal', discussing

the different new articles of a bill that would be

required to amend the CITA and related laws.

Publication of the article attracted a great

deal of attention from the national media to the

content of the recommendations, which give the

impression that the recommendations are being

supported by the Dutch Ministry of Finance (the

"Ministry").

The recommendations do not have the same

implications as a formal legislative proposal

or a draft bill. Besides, it is not yet even clear

whether the Ministry will support any of these

recommendations. Nevertheless, for those

interested, please be informed about the main

aspects of the mentioned recommendations.

The recommendations made can be summarized

as follows:

• 'Defiscalisation' of group related interest,

which implies no taxation on interest received

from group entities and no deductibility of

interest paid to group entities.

• Renewed implementation of

restrictions on deductibility

of interest (and costs) on

liabilities to third parties

to the extent that these

liabilities are connected

with participations in

related entities. This

restriction of deductibility

of interest will only apply

in the case of a shortage

of equity (which exists,

basically, if the average

equity of the taxpayer is

less than the average value

of the participations it has

in related entities).

• Simplification of the rules

for the participation

exemption. The exemption

will, in principle, apply

to participations of at

least 5%; the rules for low

taxed passive subsidiaries

(as introduced in 2007,

resulting in a credit instead of an exemption)

will be abolished.

• Reduction of the general corporate income tax

rate from 25.5% to 20%.

• Abolition of the Dutch Dividend Tax Act 1965

(based on which, currently, 15% dividend

withholding tax is levied).

If the Ministry is to support any of the

aforementioned recommendations we shall

certainly keep you informed.

1

Weekblad voor fiscaal recht dated 28 August 2008,

page 891 et seq.

15

Vol.18 • No. 9 • November 2008
---
Green Page

Is Singapore's high productivity in

danger because of climate change?

By Kiki van der Erf

According to Lee Kuan Yew (ex-Prime Minister of Singapore, now Minister Mentor of his son the current

Prime Minister Lee Hsien Long), air-conditioning is the most important invention in corporate history.

Without it there will never be any growth in productivity he has stated. In fact, Lee Kuan Yew has always

resented the heat in Singapore, he always kept his air-conditioning at 22 o C and made many (public)

organisations to do the same.

In 2002 Singapore's environment minister at that time, Lim Swee Say, told air-conditioning executives:

"Air-conditioning plays a crucial role in our economy. Without it, many of our rank-and-file workers

would probably be sitting under coconut trees to escape from the heat and humidity, instead of working

in high-tech factories.''

This is confirmed by John R. S. Kirkham, an Australian who grew up in Singapore before World War II

and now runs an air-conditioning consulting firm here: "Before air- conditioning, commerce was confined

to the cooler morning hours. "By 11:30 a.m. it was gin and tonics''.

In the years after the introduction of air-conditioning in the 1950's, shopping and dining in airconditioned

buildings became a mark of upward mobility. "Escaping into A.C. was a way of escaping

your past as a poor country,'' says Chua Beng Huat, a sociology professor at the National University of

Singapore. For some, air-conditioning is even a matter of both life and death. At the Ji Le Memorial Park,

you can buy a niche where cremated remains rest in climate-controlled peace for $7,000. "Chinese are

very superstitious,'' says Ji Le caretaker, Rick Chu. "Now they're enjoying the good life. After they pass

away, they want to make sure they're still comfortable.''

However, the role of the air-conditioner in Singapore, goes far beyond comfort. More than a status

symbol, the air-conditioner is a metaphor for the control that Singapore exerts over many aspects of

life, from labour and finance to its media and political debate.

However, almost every expat and also a substantial part of

the local community is of the opinion that the air-conditioning

systems in shopping malls and offices in Singapore are kept

at freezing cold temperatures. Generally speaking,

the ideal temperature for most people is around

25 o C, while air-conditioning systems are normally

put at 21 o C-22 o C in malls and offices. This does

not only cause colds and under cooled employees

but also puts a high burden on the electricity

consumption in Singapore and as such adds to

climate change.

16

Vol.18 • No. 9 • November 2008
---
Green Page

Singapore was ranked 15 th in the world in

electricity consumption in 2004 by the Economist

Intelligence Unit, but jumped to 11 th in the

Economist Pocket World In Figures 2007.

As much as money is a driving force in Singapore

the financial benefits of turning down the airconditioning

have not seem to initiate more prudent

use of the air-conditioning by companies or

households on a substantial scale.

There are financial benefits. According to the

Energy Market Authority of Singapore and the

Unites States Department of Energy, every 1 o C

the thermostat is raised, saves about 3% on your

electric bill over a 24-hour period. For example,

if you normally keep the thermostat at 22 o C and

raise it by 3 o C to 25 o C, you save about 9% on your

electric bill. So if every household, every building, and every vehicle owner and transport operator in

Singapore raised its air-conditioning temperature by 3 o C, Singapore would effectively save at least 9%

on the country's electric bill.

However, the general opinion of experts and business executives themselves seems to be that

companies in Singapore are not doing much to contribute to the effort of reducing global warming.

Most companies tend to feel that any impact they could make would be too insignificant, and the mega

companies and governments should take the lead.

Experts feel that the government has to incentivise change. Businesses are generally aware of the

dangers of global warming but their attitude seems to be towards complying with laws rather than

showing own initiative. Therefore the government should steer the path through regulatory controls

and guidelines.

Business executives have also mentioned that, in order

to get commitment for them to play their part, some specific

campaigns focusing on reducing vehicle emission and the use of

air-conditioning are needed. Campaigns in Singapore have proven

to be very successful and do trigger long term change. The creation

of more public awareness directed to companies or individuals

– CEO's and employees – can be a driver of more mindful attitudes

towards the use of for instance air-conditioning.

In a speech in February 2008 Dr Yaacob Ibrahim, Minister for the Environment and Water Resources,

elaborates on the governments' position and actions in relation to climate control. The Minister

emphasises that environmental sustainable development means Singapore must continue to achieve good

environmental performance while not undermining economic growth and competitiveness. Singapore

will adopt a practical approach.

The year before the Minister had announced that all large air-conditioned Government office buildings,

would conduct energy audits to improve their energy efficiency by March 2010. As of end 2007, 8 such

buildings have completed their audits and adopted energy-saving measures such as optimising airconditioning

and improving lighting efficiency. The Minister reports that $2.6mil in total annual savings was

achieved. Another 6 public sector buildings are in the process of implementing energy saving measures.

In addition, to increase awareness, the National Environment Agency will be launching a national

campaign to help households save energy.

On 18 th of October it was announced that air-conditioners and refrigerators which are not energy

efficient will be taken off the shelves in the near future and that these changes are all part of Singapore's

national campaign to conserve energy.

Although it has never been demonstrated to the knowledge of the writer of this article that

employees perform better in a 22 o C environment than in a 25 o C environment, Singapore does not have

to be worried about decreasing productivity. The governments' practical approach and emphasis on

"good environmental performance while not undermining economic growth and competitiveness" would

probably prevent a decrease in productivity when turning down the air-conditioning to 25 o C turns out

to be less productive.

17

Vol.18 • No. 9 • November 2008
---
Conference Calendar

A selection of upcoming conferences in the region in December:

Catalytic Reforming

1-3 December 2008

Kuala Lumpur

Anti-Money Laundering & Fighting

Terrorism Financing 2009

2 –3 December 2008

Singapore

Corporate Social Responsibility

Summit 2008

2-3 December 2008

Sydney

Restructuring Manpower to Maintain

Business Excellence

3 December 2008

Singapore

3 rd Annual China Gold & Precious Metals

Summit 2008

3-5 December 2008

Shanghai

9 th AVCJ Private Equity & Venture

Forum

3-5 December 2008

Mumbai

Performance Management Excellence '09

4 December 2008

Singapore

Achieving Quality Internal Audit for

Maximum Performance

4-5 December 2008

Hong Kong

Mobile Backhaul Asia 2008

8-10 December 2008

Hong Kong

Mezzanine & Leveraged Finance Asia

Pacific 2008

9-10 December 2008

Hong Kong

The Emissions Reduction Summit

9-10 December 2008

Melbourne

GEO-CHIANGMAI Conference

10-12 December 2008

Chiang Mai

SIGGRAPH Asia 2008

10-13 December 2008

Singapore

The 2 nd annual China Coal Summit 2008

11-12 December 2008

Beijing

Supply Chain Management and Logistics

14-16 December 2008

Dubai

KPI and Performance Measurement for

Public Sector

16-17 December 2008

Kuala Lumpur

Bangalore HR Summit 2008

19-20 December 2008

Bangalore

Log on to www.conferencebay.com for more information on these and many other events.

And remember, you can make a bid and decide the price you're willing to pay for any of the

conferences listed on Conference Bay!

18

Vol.18 • No. 9 • November 2008
---
Column By…

Richard Soemita

Casual Friday's

Not sure if I'm the only one that is fashion conscious but things seem

to go out of hand in Singapore when it comes to dressing for any

occasion. Apart from my age I do not wear blue jeans full stop. But

nowadays everyone seems to wear these on 'casual Fridays' in the business

district! There is even a guy in our block who wears Bermuda shorts every

day complete with boat shoes, but luckily with a proper long sleeves stripe

shirt, which is not a Polo or…. shirt. I really must find out who he works

for since there is no office of nowadays trendy Billabong or Quicksilver in

the block, apart from banks and other obscure investment advisory firms.

Judging from this daily Bermuda outfit I reckon he actually owns a bank

and lives on a super yacht. Since that's the outfit one will wear if you do

owe a luxury boat. The other funny thing is that he is Chinese looking,

has a banker's hairstyle, has no obnoxious 6x6 and 3cm thick watch and

talks Mandarin to his colleagues. Not sure how he travels to the office,

but if I where to go in that outfit to the office I would take my private

helicopter for people not to see the outfit. Unfortunately our building has

no heli landing platform.

As for the ladies, they are no better. The length of some of the dresses

I have seen will make one glass eye pop out spontaneously and would

make people wonder why you would run after a marble. Most of the Asian

women can afford wearing these very short dresses given their fantastic

figure and not too long body lengths. But Singapore firms must adapt some

sort of a dress code for the office just like our American friends who at

the other hand go overboard with this. I think that an average Singapore

dress would be seen as provocation and therefore regarded as indirect

sexual harassment. Don't get me wrong. The whole outfit looks good but

would be more suitable for a cocktail party. Visa versa they come dress

too casual at a cocktail or wedding party and I have even spotted people

with flip flops next to gala dresses in the Esplanade during a classical

concert. Basically the Singapore woman dresses the wrong outfit at any

occasion and has no concept when to wear what outfit. The same counts

for wedding parties where 99% of the men do not wear a suite or wear a

proper smoking when black-tie is required. The only person that makes

up for dressing properly is the bride who changes her outfit several times

during the evening, which makes me wonder what the purpose of that is. So

basically I do not have a problem with our Bermuda friend's outfit as long

as he lives on his luxurious 50m super yacht. Just to show how different

Singapore is from its neighbouring countries where most businessmen from

Japan, HKG, Malaysia, even Indonesia wear suits for work or at least a tie

that matches the shirt.

The other day I was stopped by a Levi's camera team outside the office

on a Friday. One would wonder why the CBD area and not Orchard Road,

but this proofs the amount of denim jeans that are being worn on a Friday.

The Team could not really distinguish me and my friends kaki chino's from

denim jeans. Anyway, they informed us what they had in mind before the

shooting. I would get a few questions without seeing these in advance and

had to come with a spontaneous answer on camera. Their first question

was what would come up to my mind when hearing the brand name Levi's.

My reply was instantly: the very cute ass of the girl that works next to our

office. Believe it or not, at that moment the girl walks past us in her actual

Levi's and I pointed this out to the camera team. By this time the whole

team followed 'the Levis ass' and later I found out that my interview was

cut out and instead 'the ass' came up with my friend laughing hysterically

on the background, still recovering from my reply! I just have to explain

to you that initially it was not her ass that I first spotted a while ago, but

the little red Levis tag on the back pocket since it is an old brand that I

had not seen in ages.

19

Vol.18 • No. 9 • November 2008
---
Business news

Sources: Het Financieele Dagblad and Reuters

Belgium is on its own again

The poor cooperation between the Netherlands and Belgium

in the Fortis case is a bad omen for future European

collaboration in solving the banking crisis. Fortis' downfall

has something of a Greek tragedy about it with the company's

top management in the grips of a self-importance so strong

that it has led to reckless behaviour and the gods, played by

the Dutch government, looking furious but waiting for the

right time to strike and bring them down. And strike they did,

at least this is how the Belgians are looking at it today. Two

decades ago, count Maurice Lippens [former Fortis chairman]

and his team of top managers started building an empire,

buying companies here and merging with others there.

Jewel in the crown

It turned Fortis into one of the most important banks in

the Benelux. The jewel in the crown was the acquisition of

the Dutch bank ABN Amro last year. The Dutch government,

although clearly irritated by the move, could do nothing

about that. There is no doubt that the Fortis campaign to

take over ABN was spurred on by the egos of the Belgian

group's managers which resulted in them agreeing on far

too high a price for the acquisition. On top of this, it was

unclear how the deal was to be financed which meant that

when the credit crisis hit, Fortis could not find the means to

go through with the project. The bank could have abandoned

the deal altogether but would not.

Solvency problems

Last week, the Dutch government saw its chance to remove

Fortis from the Dutch scene once and for all. It encouraged

rumours about possible solvency problems at Fortis, thereby

helping to create a liquidity crisis for the company. That is

anyway what the Belgians, and the Flemish especially, think

happened and most agree. Do we have proof? For clues, look

at what Dutch finance minister Wouter Bos did. An intelligent

man not having the reputation of making wild claims, Bos

started talking about "contaminated assets" in the Fortis

portfolio. And this at the point when the financial markets

were in a high state of nervousness. The Dutch national bank,

which is responsible for the country's financial stability,

refused to inject money into Fortis Nederland, forcing the

Belgian national bank to shore it up with 45 billion euros of

credit. The extreme nationalistic reaction of the Dutch has

shocked many Belgians. We are used to that sort of thing

from France but not from the Netherlands. We do not expect

the Dutch government to base its policy on the slogan "our

own people first".

Important lesson

But we have learnt one important lesson. When a crisis like

this shakes the foundations of the financial system, everybody

looks after number one. Fragile European constructions,

such as Fortis, crumble and fall. What should have been a

test of how two or more European governments collaborate

to save a European bank turned into a demolition job. This

is a bad omen for what lies ahead. Many economists now

agree that a joint effort is the best way to cope with the

current financial crisis. This is what we need to stop the

"contamination" Bos was talking about with problems in one

bank spreading to other banks. But we have to conclude that

European cooperation does not seem to be possible. If the

Netherlands and Belgium can't succeed in working together

to save one bank, how will the other 27 countries in the

European Union manage it?

Unions limit pay claims to 3.5%

Unions have agreed to limit their wage rises for next year to 3.5% in return for extra

government cash for people on minimum income. The deal was reached at the

traditional autumn talks in which unions, the government and employers come to a

collective decision on social policy for 2009. In return for a below-inflation pay claim,

ministers will find €460m extra to protect spending power for the poor, handicapped

and people with chronic health problems. 'In the Netherlands we have the ambition

to unite and emerge from this crisis in a stronger position,' prime minister Jan Peter

Balkenende is quoted as saying. Balkenende was referring to the current financial

turmoil. 'A moderate development in wages, no increases in value-added-tax [BTW]

and no unemployment premiums for workers – that is what we have achieved,' he

is quoted as saying. Plans to raise the btw tax to 20% were dropped in the summer

following widespread opposition. Several weeks ago, the FNV union federation and

employers reached a deal on limiting redundancy payments to one year's salary for

those with an annual pay packet of €75,000 or over. Employers have also promised to

step up efforts to find work for the longterm jobless.

Dutch are getting

lonelier

A survey commissioned by the Salvation

Army found that 10% of all Dutch people

often feel lonely and unhappy. This is

more than double the figure for 2003.

The report also concludes that 8 out of

10 people in the Netherlands are happy

with their lives. However, in 2003 this

figure was more than nine out of ten.

One in 3 Dutch people say they would like

something to give them a greater sense

of purpose in life. Many see selfishness,

intolerance, aggression and lack of

respect as the most serious problems

in society.

20

Vol.18 • No. 9 • November 2008
---
The workspace of…

By Sharon van de Veerdonk

located in the CBD, the vicinity

offers all kinds of restaurants,

shopping malls and of course

Harry's at Boat Quay. The MRT

station is accessible through an

underpass but I travel mostly by

taxi. However, I opt to commute

on the train to Buona Vista

sometimes at night when it can

be quite challenging to get a

taxi.

P.C. 't Hart

What company do you work for, since

when and what is your job?

I have worked for ABN AMRO since 1991, performing

several functions in three different countries being

the Netherlands, Curacao and since January 2005

Singapore. Currently, I'm responsible for Marketing

and Sales, spanning five countries across the region

for ABN AMRO Private Banking.

Where is your office located?

We are located in One Raffles Quay (ORQ) and ABN

AMRO was one of the first tenants here. ORQ is

strategically located opposite the famous Lau Pa

Sat food court. It's a beautiful spacious building,

and state of the art which boasts beautiful views

of the CBD and the Straits of Malacca. From our

building on the 25th floor, we can also follow the

progress of the Integrated Resort. Since we are

Cubicle or office?

I h a v e a n o f f i c e w h i c h

is surrounded by glass.

Nevertheless, when possible

I try to be on the "floor" to

establish close contact with

my colleagues. My room is used for meetings

and conference calls once in a while.

What do you see through your window?

Colleagues, cranes and when I stand up I see

boats and the Straits of Malacca.

What is your favorite lunch place?

Most of the time I have a sandwich from the Bread

Shop at Robinson Road behind my desk. I won't

call it my favorite lunch place but it does serves

it purpose and is efficient!

Which ADB member's workplace would

you like to see next?

I promised Fokko Leutscher from ASM some time

ago to drop by his office. Since I have not been

able to do so I will use this opportunity to share

his workplace with us next.

Voordeligste tarieven vanaf € 22,- per dag

all-in

Snelste Schiphol service • 24 uur per dag • Voordeligste all-in tarieven • Laagste eigen risico

www.bblcarrental.nl

bb&l_2008_ad_194x61.indd 2

12/17/07 5:06:48 PM

21

Vol.18 • No. 9 • November 2008
---
event agenda

Rihanna!

DATE : Thursday 13 November 2008 at 8:00PM

VENUE : Singapore Indoor Stadium

SYNOPSIS

Multi-platinum MTV and Grammy

award winning artist, Rihanna,

will be bringing her hits to

Singapore this coming November

to complete her quest for world

domination!

Performing for the very

first time here, this talented

Barbadian singer is ready to wow the audiences

with her signature catchy hits and sexy dance

choreography with elaborate stage outfits.

Having sold over 12 million records worldwide,

including chart-topping songs such as, Pon De

Replay, SOS, Unfaithful, Umbrella, Don't Stop

The Music and the latest single, Disturbia, which

charted in top 10 in several countries, this show is

guaranteed to keep fans rockin' to the tunes.

So what are you waiting for? Get your tickets

and experience this R&B/Pop phenomenon now!

This is one great performance you definitely

do not want to miss!

TICKET PRICE (EXCLUDE BOOKING FEE):

Standard - S$225, S$185, S$150, S$125, S$95

DURATION: Approximately 90 minutes

Disney Live! presents

Three Classic Fairy Tales

DATE : 18-23 Nov 2008

Tuesdays, Wednesdays &

Thursdays - 7:00PM

Fridays - 3:30PM & 7:00PM

Saturdays & Sundays - 11:00AM, 3:30PM & 7:00PM

VENUE : Singapore Indoor Stadium

SYNOPSIS

A lavish transforming set, captivating choreography, innovative lighting,

breathtaking costumes; these are just some of the ingredients that make up

Disney LIVE!'s latest stage show Three Classic Fairy Tales. Produced by Feld

Entertainment, the production is the first to make its debut in Asia before its

US and Europe opening.

Three Classic Fairy Tales begin with Mickey, Minnie, Donald and Goofy

embarking on an unexpected quest and find a magical storybook hidden in

Mickey's attic. The four pals curiously turns the pages and discover Snow White

as she searches for her one true love, Cinderella getting ready for her magical

night at the ball and Belle from Beauty and the Beast as she finds happiness in

the most unusual place.

Come join us this school hols for a heart-warming and enthralling Disney

Live! experience now!

TICKET PRICE (EXCLUDE BOOKING FEE):

Standard - S$59.50, S$49.50, S$39.50, S$29.50

DURATION: Approximately 1 hour Interval: Approximately 15 minutes

Kylie Minogue: KylieX2008

DATE : Tuesday 25 November 2008, 8:00PM

VENUE : Singapore Indoor Stadium

SYNOPSIS

After wowing audiences and critics across the UK and Europe

with the KylieX2008 Tour which kicked off in Paris in May 2008,

Live Nation Asia is excited to announce Kylie Minogue one night

only performance in Singapore on 25 th November 2008.

"A show not to be missed", the KylieX2008 Tour is an enormous US$16million production

that has already traveled to more than 21 countries across the UK and Europe. More than

half a million people have seen the show and been wowed by Kylie's performance, her first

class production and her dazzling Jean Paul Gaultier wardrobe.

Quoted by Kylie, "The eclectic mix of sounds on X is afforded me the opportunity

to explore and develop a new live show that is fresh, exhilarating and innovative. After

two years of celebratory tours, KylieX2008 is a look to the future but definitely includes

favorites alongside the new"

"As a production, this show certainly takes some beating. From the moment that Kylie

first appeared. Floating high above the stage … to the final flourish of I Should Be So Lucky,

delivered to an audience engulfed in golden confetti and gaily colored balloons, the cast

of acrobat/dancers, musicians and behind the scenes technicians never missed a trick."

The Times, London

The heroic star who has firmly set her cancer battle behind her, proved she is the

undisputed queen of the pop landscape with her KylieX2008 tour. She is back and better

than ever!

"Minogue reinvents herself as the ultimate 21st-century girl…..Pop is the highest of the

arts, because it encompasses all the others.. (and Kylie) is the ultimate practitioner of this

ultimate discipline.. (and) on the issue of her supremacy, I won't give an inch…Kylie is actually

a pop genius.. The show (sets) a new standard for state-of-the-art mise-en-sc 讥 .. It's

Kylie's mortality, her humanity, which elevates her above, say, Madonna. As she accepts

flowers from the big boys and kisses from the little girls, she exudes easy charm."

THE INDEPENDENT ON SUNDAY – Sunday 13th July – U.K.

TICKET PRICE (EXCLUDE BOOKING FEE): Standard - S$550, S$375, S$250, S$150, S$100

DURATION: Approximately 120 Minutes

Manic Street

Preachers

DATE : Monday 24 Nov 2008, 8:00PM

VENUE : Fort Canning Park

SYNOPSIS

M a n i c S t r e e t

Preachers are

a band widely

recognized as a

national treasure

in the U.K.

They have

released eight hit albums (spawning

twenty-six Top 40 singles), and have sound

tracked hundreds of thousands of lives.

A band that has made people read,

think and articulate: their questing

intelligence, often married to controversy,

has preserved them as multigenerational

figureheads.

Fans should not miss this once in a

lifetime opportunity to see the Manic

Street Preachers perform Live for the first

time in Singapore at Fort Canning Park on

November 24 th !

TICKET PRICE (EXCLUDE BOOKING FEE):

Standard - S$95, Event Day - S$110

DURATION: Approximately 2 hours

22

Vol.18 • No. 9 • November 2008
---
Embassy Info

Public holidays 2008

Hari Raya Haji: Monday 8 December

Study in Europe

The Embassy of the Kingdom of the Netherlands is participating in:

Study in Europe (Education Fair)

Saturday, 6 December 2008

Hilton Hotel Singapore

581 Orchard Road

11 am - 5 pm

www.studyineurope.sg

AANKONDIGING

Uit een klanttevredenheidsonderzoek kwam naar voren dat de lange wachttijden aan onze

balie én het feit dat men niet in het Nederlands te woord werd gestaan als negatief werden

ervaren.

Met ingang van 1 november 2008 zal dientengevolge -vooralsnog op proef- een aparte

consulaire balie ten behoeve van de Nederlanders worden geopend.

De balie zal op werkdagen geopend zijn van 09.00 – 13.00 uur en u zult te woord worden

gestaan door een Nederlandstalige medewerkster: Suzanne van Duuren.

Met deze uitbreiding van de capaciteit zal de gemiddelde wachttijd voor consulaire diensten

verder worden verkort. Met ingang van 1 november 2008 zullen daarom alle consulaire

balies 's middags na 13.00 gesloten zijn.

Mocht u naar aanleiding hiervan nog vragen hebben neem dan gerust contact met mij op.

De Ambassade is bereikbaar op telefoonnummer 6737 1155 of via de e-mail op sin-ca@

minbuza.nl.

Sander Jacobs

Hoofd Consulaire Zaken

23

Vol.18 • No. 9 • November 2008
---
Association Info

New Members

Antoine Wijsman, KPMG

Arjan van de Merwe, IHC Hydrohammer

Camiel Frijlink

Iwan Hoo, KPMG

Jaap Borst, Tata Steel

Maurice Steijger, MTU Asia

Milou Reinders

Wilco de Vos, CB&I Lummus

Leaving Members

Axel Martens, Europhia

Axel Tuk, BP de Silva

Hans Reinigert, Svitzer Wijsmuller

Hielke Booijink, TNT

N O T I C E

To all former and current students

from the Leiden University

The famous "Cleveringa- Meeting" will

again be held in Singapore on 28 th of

November 2008, at Family Hofman's

residence, 2 Deal Road.

Please confirm your attendance to:

Carlo.van.den.Akker@NXP.com

MEMBERSHIP FEE 2009

The ADB has started the process for next year's subscription fee.

You are kindly requested to arrange payment at your earliest convenience, at the

latest before the 31 st of December 2008. Payment can be made as follows:

1. By crossed cheque made payable to: "Association of Dutch Businessmen",

and send your cheque to Association of Dutch Businessmen, c/o 22 Camden

Park Singapore 299814

Please state your name on cheque.

2. In cash and send/deliver to/at for the attention of ADB, c/o 22 Camden

Park, Singapore 299814

3. By internet

Bank name : Standard Chartered Bank, Battery Road

Benificiary : Association of Dutch Businessmen

Account # : 01-0-837759-8

Branch : 001

Bank code : 7144

Please make sure that your name will be stated on our bank statement.

Your prompt payment will be appreciated.

N.B.: Cancellation of your membership must be received in writing (by email)

before 31 st of December 2008, otherwise payment of full membership fee will

apply for calendar year 2009!

November event

aDB members only

Integrated Solutions for the Shipping

and Oil & Gas Industry

Hans van der Vlugt is Senior Vice President for Pareto

Securities Asia Pte Ltd. Pareto is a leading independent

player on the Singaporean, European and Norwegian,

market for financial services to the shipping and oil &

gas industry that include:

• Corporate Finance

• Asset Brokerage (ships & rigs)

• Project Financing

• Securities Brokerage

During this event, Hans will give a background of the

shipping and offshore oil & gas markets to provide an

insight into how Pareto meets modern day client demands

in a way that distinguishes Pareto from its competitors.

Date : 10 November 2008

Drinks : 19:30 hrs

Lecture : 20:00 hrs

Venue : Hollandse Club, Main Hall

Due to an increased

demand from clients for

integrated services Hans'

activities consist of a

combination of traditional

finance solutions and

unconventional banking

services.

24

Vol.18 • No. 9 • November 2008
---
Indian colonial antiques - Past Perfect Collection stands to offer

an unrivalled choice of antique furniture dating from the British,

Dutch and Portuguese era in India. Every piece features the

romance of colonial European style and outstanding Indian

craasmanship. Admired for their prized materials, rarity and

exotic decoration, these pieces add character to your home as they

silently speak to you of a bygone era.

It is truly an amazing experience to own such treasure of the past.

We welcome you to view our collection; there is a heirloom waiting

to be relocated!

Venue:

480 River Valley Road Singapore 248365

T: +65 6737 3078 | www.pastperfect.sg

Hours:

Tue to Sat - 10am to 6.30pm | Sun - 11am to 5pm

Closed on Mon and PHs

A Perfect Fit Exudes Professionalism

We carry the widest range of exclusive fabrics for

mens' and ladies' clothes.

Made to measure within 24 hours

Main branch: 442 Orchard Road #01-12A Orchard Hotel Shopping Arcade Singapore 238879 Tel: +65 6737 6474

2 nd branch: 63 Market Street #01-01 (Raffles Place) Singapore 048942 Tel: +65 6533 7004

Fax: +65 6732 5585 Email: info@maharajas.com.sg Website: http://www.maharajas.com.sg