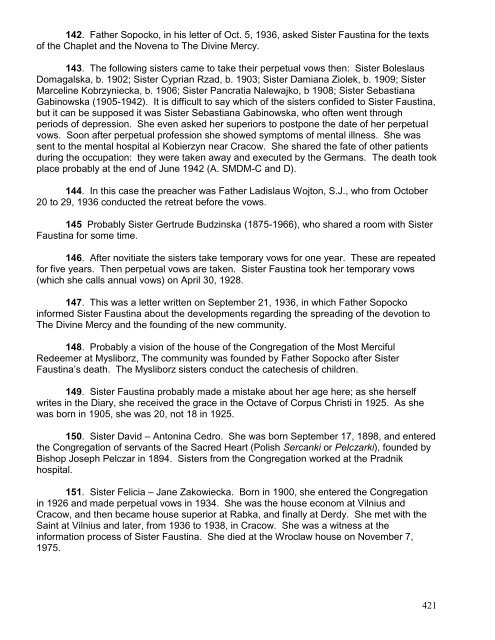 divine-mercy-in-my-soul
divine-mercy-in-my-soul
divine-mercy-in-my-soul
SHOW MORE
SHOW LESS
Create successful ePaper yourself
Turn your PDF publications into a flip-book with our unique Google optimized e-Paper software.
142. Father Sopocko, in his letter of Oct. 5, 1936, asked Sister Faustina for the texts

of the Chaplet and the Novena to The Divine Mercy.

143. The following sisters came to take their perpetual vows then: Sister Boleslaus

Domagalska, b. 1902; Sister Cyprian Rzad, b. 1903; Sister Damiana Ziolek, b. 1909; Sister

Marceline Kobrzyniecka, b. 1906; Sister Pancratia Nalewajko, b 1908; Sister Sebastiana

Gabinowska (1905-1942). It is difficult to say which of the sisters confided to Sister Faustina,

but it can be supposed it was Sister Sebastiana Gabinowska, who often went through

periods of depression. She even asked her superiors to postpone the date of her perpetual

vows. Soon after perpetual profession she showed symptoms of mental illness. She was

sent to the mental hospital al Kobierzyn near Cracow. She shared the fate of other patients

during the occupation: they were taken away and executed by the Germans. The death took

place probably at the end of June 1942 (A. SMDM-C and D).

144. In this case the preacher was Father Ladislaus Wojton, S.J., who from October

20 to 29, 1936 conducted the retreat before the vows.

145 Probably Sister Gertrude Budzinska (1875-1966), who shared a room with Sister

Faustina for some time.

146. After novitiate the sisters take temporary vows for one year. These are repeated

for five years. Then perpetual vows are taken. Sister Faustina took her temporary vows

(which she calls annual vows) on April 30, 1928.

147. This was a letter written on September 21, 1936, in which Father Sopocko

informed Sister Faustina about the developments regarding the spreading of the devotion to

The Divine Mercy and the founding of the new community.

148. Probably a vision of the house of the Congregation of the Most Merciful

Redeemer at Mysliborz, The community was founded by Father Sopocko after Sister

Faustina"s death. The Mysliborz sisters conduct the catechesis of children.

149. Sister Faustina probably made a mistake about her age here; as she herself

writes in the Diary, she received the grace in the Octave of Corpus Christi in 1925. As she

was born in 1905, she was 20, not 18 in 1925.

150. Sister David – Antonina Cedro. She was born September 17, 1898, and entered

the Congregation of servants of the Sacred Heart (Polish Sercanki or Pelczarki), founded by

Bishop Joseph Pelczar in 1894. Sisters from the Congregation worked at the Pradnik

hospital.

151. Sister Felicia – Jane Zakowiecka. Born in 1900, she entered the Congregation

in 1926 and made perpetual vows in 1934. She was the house econom at Vilnius and

Cracow, and then became house superior at Rabka, and finally at Derdy. She met with the

Saint at Vilnius and later, from 1936 to 1938, in Cracow. She was a witness at the

information process of Sister Faustina. She died at the Wroclaw house on November 7,

1975.

421