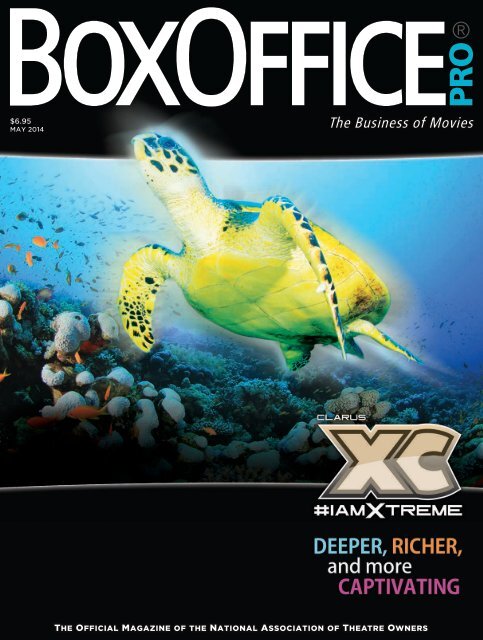 BoxOffice® Pro - May 2014
Create successful ePaper yourself
Turn your PDF publications into a flip-book with our unique Google optimized e-Paper software.
$6.95

MAY 2014

The Official Magazine of the National Association of Theatre Owners
---
The complete

cinema experience

Projection Audio Lobby

Services

Chasing all over for an

integrated cinema solution?

Christie has it.

Engage your movie-going audience in a complete cinema experience with

captivating sights and sounds, in the auditorium and throughout your lobby.

Christie ® has it all: awe-inspiring projected visuals, immersive audio, dynamic

digital displays and the services to keep your theater running smoothly.

christiedigital.com/completecinema

© 2014 Christie Digital Systems USA, Inc. All rights reserved.
---
$6.95

MAY 2014

CINEMACON

2014 RECAP

THE PANELS

THE PRESENTATIONS

THE SHOW FLOOR

PLUS

CANNES: BOX OFFICE GOLD?

HARKNESS RESEARCH LEADS

TO THEATRICAL BREAKTHROUGHS

INSIDE YOUR THEATER:

COMING SOON FROM YOUR

TOP EXHIBITION VENDORS

KEY TRENDS IN THEATER CONCESSIONS

AN EARLY SUMMER START

SHOWS HUGE GLOBAL PROMISE

CAPSULE PREVIEWS

OF THIS MONTH'S RELEASES

David Kosse, President,

International, Universal

Pictures speaks during the

International Day Breakfast

at Caesars Palace during

CinemaCon

The Official Magazine of the National Association of Theatre Owners
---
Let ES&T design your

Large Format Screen Experience!

• True GIANT SCREEN Presentation •

• Super Digital Projection Image •

• Mind Blowing Immersive 11.1 3D Sound •

BIG SOUND!

BIG IMAGE!

BIG EXPERIENCE!

WOW your customers!!!

ES&T specializes in LFS digital presentation

and Immersive 3D Sound featuring Dolby ATMOS

and Barco Auro 11.1 Format Systems.

Bridgewater Professional Park, 4971 Van Dyke Road, Tampa, Florida 33558

Phone 813 • 960 • 1646 Fax 813 • 961 • 7209 www.ensutec.com
---
Julien Marcel

CEO

BoxOffice Media

THE SHOW MUST GO ON

E

ach year, CinemaCon helps us put a finger on

the pulse of the industry, to assess its strength

and vigor. This year the prognosis is excellent.

We can draw some important, but simple—

maybe even obvious—conclusions from CinemaCon

2014: our industry is more global than ever; and

technological innovations, as impressive as they've been

until now, will continue to surprise us (in a good way) in

the years to come. In this month's NATO column, John

Fithian and Mitch Neuhauser give us a comprehensive

overview of these trends.

At BoxOffice, what we learned at CinemaCon will help determine the

direction of our magazine over the next few months. We'll make sure we gather

the right expertise—including contributors from outside North America—to

help our readers make sense of future technological developments. But for

now, we've provided a wrap-up of CinemaCon 2014, which you'll find in this

month's Inside Your Theater and CinemaCon sections.

Also in this issue, we're delighted to present a fascinating—and exclusive—

piece of research from Harkness Screens. It asks an elementary question:

Where do patrons want to sit? We find it intriguing that this research, which

explores future technology trends, starts with such a back-to-basics approach.

And we couldn't put out a May issue without mentioning Cannes, the biggest,

most glamorous, most prestigious film festival in the world. You may be

surprised to learn, as we were, that Cannes has also become a trade event for

French exhibitors.

Julien Marcel

Julien@boxoffice.com

MAY 2014 BoxOffice ® Pro The Business of Movies 3
---
MANAGE

YOUR CINEMA

Cinevise has taken remote monitoring to

the next level. With Cielo, our new patentpending

software, you can intuitively oversee

your screens from absolutely anywhere.

cinevise.com/cielo · cielo@cinevise.com
---
MAY 2014 VOL. 150 NO. 5

3 HELLO by Julien Marcel

6 EXHIBITION BRIEFS

The latest news from the exhibition industry

14 EXECUTIVE SUITE by John Fithian and Mitch Neuhauser

CinemaCon 2014: A global whirlwind of movies, technology, data,

meetings, fun, and more

20 TECH TALK by Phil Contrino

New research by Harkness Screens leads to theatrical breakthroughs

22 INDUSTRY Q&A interview by Phil Contrino

Chris Dammann of the National Association of Concessionaires talks

about key trends in theater concessions

24 FILM FESTIVALS by Daniel Loria

Cannes 2013 at the box office

26 BOX OFFICE ANALYSIS by Phil Contrino

Summer 2014 starts early, shows huge global promise

28 3D RELEASE CALENDAR sponsored by RealD

30 INSIDE YOUR THEATER by Daniel Loria

From screens to popcorn bags: BoxOffice looks at some of the latest

and upcoming offerings from 30 of today's top companies that cater

to exhibitors' needs

38 CINEMACON 2014

39 STATE OF THE INDUSTRY by Phil Contrino

NATO's John Fithian and the MPAA's Chris Dodd speak to a packed

house on the second day of CinemaCon

40 PANEL ROUNDUP by Phil Contrino and Daniel Loria

BoxOffice takes a look at some of the highlights from the array of panels

LIGHTS!

CAMERA!

TAKE ACTION!

We deliver

innovative

insurance

products and risk

management for the

arts, entertainment,

and theatre

industries. With

client locations in

all 50 states,

MOC is your

protection

destination

48 COMING SOON by Daniel Loria

We report the highlights of each of the studio presentations

52 FROM THE TRADE FLOOR

Trade show picture gallery with quotes from your exhibition partners

62 COMING THIS MONTH

in wide release

The Amazing Spider-Man 2 / Neighbors / Chef /Legends of Oz: Dorothy's

Return / Moms' Night Out / Godzilla / Million Dollar Arm / Blended /

X-Men: Days of Future Past / Maleficent / A Million Ways to Die in

the West

in limited release

Belle / More Than the Rainbow / The Protector 2 / Walk of Shame /

Devil's Knot / The Double / Fed Up / God's Pocket / Stage Fright / The

Immigrant / The Angriest Man in Brooklyn / Cold in July / The Dance of

Reality / Tracks / Words and Pictures / Filth / Lucky Them / Night Moves

68 BOOKING GUIDE

72 CLASSIFIEDS

MOC

Insurance

Services

THEATRE INSURANCE

SPECIALISTS

800·951·0600

www.mocins.com license

#0589960

MAY 2014 BoxOffice ® Pro The Business of Movies 5
---
EXHIBITION

BRIEFS

DEALS

MediaMation Inks

Deals with Cine

Colombia, Santa Rosa

Entertainment Group,

and City Cinema of

Oman

n MediaMation, a supplier

of 4D/5D motion effects

theaters, has collaborated

with Cine Colombia, the

largest entertainment

company in Colombia, to

roll out several 4D/5D Motion EFX theaters starting May

2014. In addition, MediaMation will install the first of several

new X4D motion EFX theaters for U.S. cinema chain

Santa Rosa Entertainment and for City Cinema in Oman,

the largest cinema chain in Oman, to open summer 2014.

These theaters will be outfitted and powered by MediaMation's

technology, which uses air pneumatics to sync the

motion of the seats to the action on the screen.

The X4D Motion EFX Experience enhances the film

with synchronized motion that complements the onscreen

action as well as effects such as seat poppers,

pokers, air and water blasts, leg and neck ticklers, wind,

strobe, fog, and scent to create a totally immersive movie-viewing

experience.

ON THE MOVE

Sony Appoints David McIntosh to Head Digital

Cinema Business in Europe and Americas

n Sony's David McIntosh (left) is expanding his role in

the company's digital cinema business, assuming the title

of vice president, Sony Digital Cinema 4K Solutions for

Europe and the Americas.

According to the company, having a unified global

presence and centralized sales and marketing management

will streamline Sony's ability to respond to exhibitor

needs in key international markets more rapidly and

efficiently.

"David was instrumental in helping the leading European

circuits convert to 4K digital cinema, managing

projection-system deployments, VPF administration, and

service and support networks," says Satoshi Yamaga,

senior general manager, visual presentation solutions

at Sony. "His experience and knowledge of the motion

picture and commercial exhibition industries make him

the ideal person to lead our digital cinema business on a

global level."

McIntosh will oversee the direction of Sony's 4K

digital cinema business and its relationships with theater

chains including AMC Entertainment, Regal Entertainment

Group, Muvico Entertainment, National Amusements,

Vue, Apollo, Everyman, and Showcase Cinemas,

among others. Currently more than 17,000 Sony 4K

systems are installed at theaters worldwide.

"This is an exciting time for the motion picture industry

and for digital cinema technology overall," says

McIntosh. "Sony's 4K projection has revolutionized the

moviegoing experience, and our total system solutions

approach has helped exhibitors increase their efficiency,

deliver expanded programming options for customers,

and identify new revenue opportunities. I'm looking forward

to continuing these efforts and playing a larger role

in Sony's global cinema operations."

In 2010 McIntosh took on his most recent position of

vice president, digital cinema for Sony Europe, with overall

responsibility for sales, marketing, customer support,

and new business development. Previously, he was chief

financial officer for Sony's professional business in Europe,

managing a team of 200 professionals responsible

for finance, business operations, services, and engineering

functions.

McIntosh is also a member of the board of directions

of Sony's professional business in Europe.

DRIVE-INS

B&B Theatres Saves Two Kansas City Drive-Ins

from Closing

n B&B Theatres has acquired the Twin Drive-In in Independence,

Missouri, and the four-screen I-70 Drive-In in

Kansas City, Missouri. These drive-ins were going to be

forced to close when Hollywood stops making 35-millimeter

film. B&B Theatres has promised not only to save these

classic drive-ins from closing but also to help them thrive

as digital projectors are installed, concession options are

modified and improved, and the Internet is installed so

credit cards can be accepted.

6 BoxOffice ® Pro The Business of Movies MAY 2014
---
DEALS

Cinemaxx Selects MasterImage

3D for Rollout of 3D Screens in

Indonesia

n MasterImage 3D, provider of 3D

solutions for theaters, has announced

a partnership with Cinemaxx,

a

subsidiary

of Indonesia's

Lippo

Group, to

provide

3D cinema

systems for Cinemaxx's rollout of

Cineplexes across Indonesia.

Indonesian conglomerate Lippo

Group is a property developer with

investments in retailing, media,

hospitality, financial services, energy,

IT, healthcare, and education.

Cinemaxx, the latest addition to

Lippo Group's entertainment business,

will expand the film exhibition

industry in Indonesia by opening

over 1,000 new screens over the

next five years, with 3D a prominent

component of that experience.

Cinemaxx will install its first Master-

Image 3D systems in June 2014.

Cinemaxx selected MasterImage

3D for its MI-HORIZON3D digital

cinema system. MI-HORIZON3D

uses a three-beam optical system

that eliminates discrepancies

between pass-through light and reflected

light to create high-brightness

3D with greater clarity and

uniformity than two-way beam

systems.

"MasterImage 3D and Cinemaxx

are committed to provide moviegoers

in Indonesia with cutting-edge

3D cinema technology, so every 3D

movie experience is at its best," says

Brian Riady, CEO at Cinemaxx. "The

high-brightness quality of MI-HORI-

ZON3D combined with MasterImage

3D's reputation and ownership business

model make them a perfect

partner for Cinemaxx."

"Indonesia is a tremendously

engaged market for premium 3D

viewing, with a growing middle

class and tech-savvy youth,"

says Ray Seok, vice president of

digital cinema at MasterImage 3D.

"Cinemaxx is highly motivated and

well equipped to capitalize on this

opportunity, and we are honored to

be their partner in bringing the best

premium 3D experience together."

DEALS

UEC to Purchase the Picwood 11 in Russellville, Ark.

n United Entertainment Corp. has entered into a purchase agreement with Jack

Lowrey to acquire the Picwood 11 movie theater in Russellville, Arkansas. The

11-screen theater will be the company's first in Arkansas. When the deal closes,

UEC will own and operate 17 movie theater complexes consisting of 154 digital

auditoriums and have operations in 14 states.

Jack Lowrey has been the owner of the Picwood 11 and a fixture of the Russellville

area for 73 years. He started out many years ago with a small theater

and has grown it into an 11-screen multiplex that serves several counties today.

Mike Ross, president of UEC, says, "We are excited to build upon the entertainment

legacy that Jack created. Having theaters in similar markets allows us

to roll out programs such as advance ticket sales, online ticketing, and a loyalty

rewards program, as well as a web page that is mobile friendly."

United Entertainment Corp. plans to renovate the theater into a modern facility

by adding additional stadium seating, reclining seats, new signage, paint, tile,

and carpet throughout the building. With the planned renovations to the theater,

including the addition of all new seats, UEC estimates the total improvements

at approximately $2.2 million above the purchase price. Design details are still

being completed.

In addition, UEC Theatres plans to introduce self-serve beverage stations

to help alleviate congestion at the concession stand, flat-panel televisions, and

possibly a TurboChef oven for expanded food service. UEC has typically added

Freschetta Pizza, White Castle burgers, pretzel bites, and funnel cake fries to its

theaters.

UEC, headquartered in St. Cloud, Minnesota, owns and operates a chain of

video stores and movie theaters throughout the United States.

EXHIBITION

Sony Digital Cinema 4K and 3D Technology to Project Canonization

Ceremonies

n The April 27 ceremony of canonization of the Blessed John XXIII and Pope

John Paul II (pictured), which will take place in St. Peter's Square in Rome, will

be filmed using six Sony PMW-F55 4K Ultra HD cameras and will be coordinated

with the Vatican Television Centre, including involvement from Sony, DBW

Communication, Eutelsat, and Sky Italy.

The event will be broadcast in 3D live in Sotto il Monte Giovanni XXII, the

birthplace of Pope John XXIII, thanks to the innovative

Sony Digital Cinema 4K projector with a 3D lens, with

the contribution of Prevost Ltd. and Sony professional

specialist dealers. Spectators will be able

to enjoy the screening as if they were in St.

Peter's Square.

The projector to be installed in Sotto il

Monte is the Sony SRX-R515P, a high-quality

digital cinema projection system with a level

of contrast of more than 8000:1. The unique

dual lens from Sony, combined with 3D technology,

projects left- and right-eye images simultaneously

to create sharp, realistic 3D images.

"We are extremely proud to be part of such an

important event and support it with our Sony

Digital Cinema 3D technology," says Enrico

Ferrari, digital cinema solutions account

manager for Italy, Spain, and Portugal.

"Thanks to the advanced and innovative

3D solutions from Sony, all spectators

attending the live 3D screening will

be able to enjoy the ceremony with

a crystal-clear picture quality."

MAY 2014 BoxOffice ® Pro The Business of Movies 7
---
EXHIBITION BRIEFS

TICKETING

Fandango Adds More Than 1,000

US Screens by Signing Five New

Exhibitors

n Fandango has announced

it has added

five new exhibitors,

Malco Theatres, Frank

Theatres, Goodrich

Quality Theaters, NCG

Cinemas, and Paragon

Theaters, bringing online

and mobile ticketing to

more than 1,000 screens

in over a dozen states.

Fandango now powers

more than 23,000 U.S.

screens, representing 83

percent of the nation's

theaters with online ticketing capabilities.

"We are thrilled to work with our new

exhibitors to help them reach even more

moviegoers through our online and mobile

ticketing platforms and ultimately grow their

businesses," says Paul Yanover, president of

Fandango.

The five new exhibitor deals follow Fandango's

signing of its exclusive multiyear

renewal with Cinemark, representing more

than 4,400 U.S. screens. The company also

formed a partnership with Vista, developers

and designers of the cinema management

software Veezi, in order to offer thousands

of independent movie theaters the ability to

benefit from Fandango's online and mobile

ticketing capabilities.

Fandango also reported that its mobile

ticketing business continues to see healthy

growth. Thus far in 2014, Fandango has

achieved 47 percent of its total movie ticket

sales on mobile devices and has surpassed

40 million downloads of its award-winning

apps.

PRESHOW

Screenvision Coins "Weekend Daypart" to Compare Movies

Favorably to TV for Ad Dollars

n Screenvision presented its concept of the "weekend daypart" last

month to make the case that movies, with their 8.5 million weekly

attendance—70 percent of which occurs on weekends—are as attractive

to advertisers as a top TV show. The presentation preceded an

advanced screening of Marvel's Captain America: The Winter Soldier

at New York City's historic Ziegfeld Theater, operated by Bow Tie

Cinemas.

"In this fragmented media marketplace, Screenvision provides

something rare—scale, targeting, and proven stability," says Travis

Reid, CEO, Screenvision. "Media strategists and buyers can now find

meaningful impact against areas where television advertising underdelivers.

This is cinema's time. With people going to the movies

more than 1.34 billion times in 2013, coupled with the negative effect

of fragmentation on other media, we are providing a highly coveted

offering in today's marketplace."

Screenvision's scale is the equivalent of a 4.4 weekly rating among

the 18 to 49 audience, placing it among the top 10 TV shows every

week. It's not just scale—it's also effectiveness in brand messaging.

When cinema advertising is paired with TV, there is a 69 percent

increase in top-of-mind unaided brand awareness and 49 percent

increase in purchase intent.

Screenvision also announced its intention to work with Sound-

Hound, a sound-recognition company. SoundHound will be integrated

into Screenvision's recently launched Front & Center preshow.

SoundHound's technology will be used to activate advertising and

entertainment programming, such as music and trivia, for Screenvision

clients. The technology will enable moviegoers to walk out of the

theater with brand messaging on their smartphones. SoundHound

recently announced an exclusive feature with Spotify to further appeal

to a youthful demographic.

In addition, Screenvision plans to deepen its relationship with

Entertainment News Television (ENTV) and Defy Media, both of which

provide short-form video content.

TICKETING

Unique Digital Signs Multi-Million-

Pound Deal with BT for First UK

Cinema Broadband Distribution

n BT and Unique Digital, the international

digital cinema software/distribution

supplier, have reached a long-term

agreement to roll out the first broadband

distribution network to cinemas in

the United Kingdom.

The network will enable content to

be streamed to cinemas via static IP

addresses, and the cinemas will then

store the content ready to be screened

to audiences. This will allow Unique

to move advertising, film, and alternative

content on a point-to-point basis,

allowing dynamic programming and

reporting to all cinemas in the United

Kingdom.

BT Business will provide Unique with

high-bandwidth, low-latency network

connectivity to each location. Its network

will link geographically dispersed,

resilient Tier 3 data centers, each with

dedicated 10 gigabits/second connections.

MovieTransit, Unique's content distribution

product, has been fully operational

to all cinemas in Norway for over

18 months, as well as sites in Denmark,

Sweden, and Ireland. In that time, over

100,000 film and advertising packages

have been delivered.

"Unique Digital is delighted to be

partnering with BT to deliver this

game-changing network to cinemas

across the U.K. BT was head and

shoulders above the competition, both

in their ability to manage a rapid rollout

and also to work with us on driving

alternative content opportunities for

cinema," says Chris Hagan, chairman

of Unique Digital Limited. "We are on

track to have over 600 sites connected

to our MovieTransit system across

U.K. and Ireland by the end of the

year."

8 BoxOffice ® Pro The Business of Movies MAY 2014
---
Join The Revolution

Crowds gather. That's what happens in a Revolution.

And this Revolution has crowds across the nation gathering at their local cinemas,

hungry for the movie-going experience that only VIP Cinema Seating can bring: comfortable, dynamic, inviting.

Best of all, this nation-wide Revolution is an all American product with assured quality that's world-class.

So don't be left behind—and don't be fooled by imitators. VIP is still the innovator, the first and best.

To gather the crowds, and the profits, call us today. It's time to join the Revolution.

101 Industrial Drive • New Albany, MS 38652

(662) 539-7017 • www.vipcinemaseating.com
---
EXHIBITION BRIEFS

SOFTWARE

Vista Agrees to Acquire Stake

in MACCS International as Part

of a Global Diversification

Strategy

n Vista Entertainment

Solutions,

a cinema

exhibition

software

company, is

expanding

into the wider

film industry

sector with its agreement to

acquire a stake in MACCS International,

a film distribution software

company.

Vista will buy an initial 25

percent stake, with an option to increase

to 50 percent, in a deal that

Chief Executive Murray Holdaway

describes as the New Zealand–

based company's first serious move

to become a major global provider

of all software solutions to the film

industry.

"We've been quite aggressive in

our strategy for growth and acquisition

and have made no secret of

our intent to build our 35 percent

global market share of the modern

cinema market to 50 percent," says

Holdaway. "We're now expanding

vertically, through acquisition

and organic growth, to provide

our innovative package of software

solutions to distributors and

moviemakers. The MACCS purchase

will be our first serious step on that

path," he says.

MACCS, which stands for Movie

Accounting System, is a Dutch

company founded by Bert Huls and

Mathieu Van As; it is a supplier of

distribution software outside of the

United States.

MACCS founder and chief

executive Bert Huls says, "I have

long admired Vista's significant

global growth and the quality of

their executive team, and we're

tremendously excited to have them

coming on board as we grow our

market share, particularly in America."

Holdaway says Vista will share

some of the company's Los Angeles–based

infrastructure with

MACCS and will provide important

introductions to key U.S. players.

PROJECTION

Sonic Equipment Celebrates Milestone with Installation of 1,000

Christie Digital Cinema Projectors

n Christie has announced that its longtime partner, Sonic Equipment Company, recently

reached a milestone with the installation of its 1,000th Christie Solaria Series

DLP cinema projector. Sonic sells, installs, and services digital cinema equipment.

"Our valued partnership with Sonic has proven to be integral to our objective

of providing exhibitors with the breakthrough technology needed to create the

bright, vivid images that moviegoers have come to expect," says Craig Sholder,

vice president entertainment solutions at Christie. "Sonic's success is our success

and helps strengthen our leadership in the exhibition industry. Our partnership

continues to grow as we blaze new digital trails with technologies that include

high frame rate and the Christie Duo big-screen premium products. We also look

forward to working with Sonic to debut such coming attractions as the groundbreaking

Christie 6-Primary laser projector."

Christie's wide range of digital cinema projectors complement Sonic's

mission to help smaller theater circuits and individual screen owners make the

film-to-digital conversion and provide the same care in designing, installing, and

servicing theater venues as the nation's largest chains enjoy.

"The close relationship and positive experiences we have had working with

Christie is a testament to Christie's exceptional customer-centric approach to

business, with products and service that are second to none," says Eric Olson,

director of operations for Sonic. "Most importantly, our partnership has been tremendously

beneficial to our customers, many of whom have facilities that presented

installation challenges due to the older nature of the buildings. Together

with Christie we helped them achieve best-in-class cinema for the ultimate

benefit of their audiences."

CORRECTION

Last month we erred in our contact listing for the Warner Bros. exhibitor relations

department lead by Kelly O'Connor. The correct information follows:

Kelly O'Connor

Senior Vice President, Exhibitor & Marketing Services

Melissa Aronson, VP Exhibitor Services

818-954-6436 / Melissa.aronson@warnerbros.com

Michael Lynch, Director Exhibitor Services

818-954-7856 / Michael.lynch@warnerbros.com

Barbara Dretzkel, Manager Midwest & South

818-954-1758 / Barbara.dretzel@warnerbros.com

Francis Orante, Manager Los Angeles & Social Media

818-954-6474 / Francis.orante@warnerbros.com

Tanya Girmay, Manager West & Digital Assets

818-954-6712 / Tanya.girmay@warnerbros.com

Loretta Grunwald, Director Exhibitor

Services & Administration East

212-636-5210

Loretta.grunwald@warnerbros.com

Tami Toyman, Exhibitor Services/

Sales Analys (Canada)

416-730-6235

Tami.toyman@warnerbros.com

Kelly O'Connor

10 BoxOffice ® Pro The Business of Movies MAY 2014
---
VEEZI

AND FANDANGO...

IT'S A WIN-WIN PARTNERSHIP

FOR EVERYONE!

With Veezi, movie fans not only have the convenience of

purchasing tickets online or via mobile in advance, their

tickets are available for pick up at your theater. It couldn't

be easier thanks to Veezi's partnership with Fandango!

As a theater owner there are long reaching benefits for your business:

• attract new audiences

• easier for customers to see the latest show times and purchase tickets

• increase ticket sales and customer loyalty.

With Fandango's massive audience of more than 41 million moviegoers

each month, Veezi will increase awareness in your area.

Revolutionize your theater operation with Veezi, engineered by Vista for

independent theaters like yours.

To find out more visit veezi.com
---
EXHIBITION BRIEFS

RESEARCH

Cinema Advertising Council

Reports Record Spending in

2013, up 6.5 Percent

n The Cinema Advertising Council

(CAC), a national, nonprofit trade

association, held its annual meeting

at CinemaCon in March, where it

announced record cinema advertising

industry revenues in 2013, up 6.5

percent to $677,957,000, marking

its fourth consecutive year of $600

million or higher. This marks the

highest cinema advertising revenue

since the CAC began measuring it in

2002. Membership also gathered to

discuss key industry issues and goals

for 2014.

The theme of the meeting was

the potential that cinema advertising

brings to brands targeting millennials—a

demographic that is harder to

reach because of media fragmentation

across screens of all sizes. This

is reflected in a new trade campaign,

also announced at CinemaCon, using

the tagline "Movies Never Get Old."

"2013 was the highest-grossing

box office year in U.S. history, at $10.9

billion, with 34.7 percent of moviegoers

being in the coveted 18 to 34

demographic," said Katy Loria, CAC

president and chairman. "In fact, while

the media marketplace has experienced

unprecedented fragmentation,

the box office has averaged more

than $10 billion and 1.35 billion attendees

over the past five years. Marketers

recognize the power of cinema

as a complement to TV through which

a younger audience can be reached—

especially on weekends—and we plan

to accentuate that throughout the

year as we look to bring even more

new brands on board."

The "Movies Never Get Old"

campaign emphasizes the youthful

median age of moviegoers (30.5), the

freshness of upcoming movie releases,

and that moviegoing is the No. 1

leisure activity for millennials, a hardto-reach

group for brands otherwise

relying on an ever-fragmented TV and

online marketplace.

The cinema revenue report showed

that the five leading cinema advertising

sales categories in 2013 were

automotive, computer software, consumer

electronics, consumer products,

and television. There were 93

new brands advertising at the movies

in 2013, with top growth categories

being automotive, consumer electronics,

consumer products, retail/apparel,

television, and travel and leisure.

This continues a powerful trend as

advertisers continue to see cinema

as a place where they need to be to

complement their TV and online video

buys and generate incremental reach.

Regional/national spending once

again made up the vast majority of

cinema advertising revenue, 78.3

percent, with spending up 5.7 percent

from 2012. Local revenue, accounting

for 21.7 percent, grew 9.7 percent

from the year prior.

On-screen revenue in 2013 was up

6.2 percent from 2012, with off-screen

revenue growing 10 percent from

2013 to 2012.

The CAC Report is based on data

independently tabulated by Miller, Kaplan,

Arase & Co. LLP from CAC members,

who make up approximately 90

percent of all cinema screens and box

office admissions in the United States.

12 BoxOffice ® Pro The Business of Movies MAY 2014
---
yum

appetizing

convenient

happy

pastry

sticks

cinnamon

convenient

fun

Introducing SUPERPRETZEL ® Sweet Cinnamon Bites!

Equipment & Merchandising programs available.

6000 Central Highway

Pennsauken NJ, 08109

800-989-9534 x6140

www.jjsnackfoodservice.com
---
EXECUTIVE

SUITE

Photography by Ryan Miller/Capture Imaging

CINEMACON

2014

A global whirlwind of

movies, technology,

data, meetings, fun,

and more

by John Fithian, NATO President & CEO and

Mitch Neuhauser, CinemaCon Managing Director

With the tremendous support of many different industry

partners, CinemaCon 2014 was an unqualified success. Many

different NATO members told us this was the best show

ever, and that is very gratifying to hear. Our busy schedule at

Caesars Palace in Las Vegas offered attendees a preview of

upcoming movies, the opportunity to experience the latest

technologies, a look at important industry data, an array of

fun meals and party functions, a fascinating discussion with

director Christopher Nolan, and so much more. Meanwhile,

the conference rooms, suites, and restaurants were buzzing

all day long and into the night with important private meetings

and business negotiations. Delegates didn't get much

sleep, but they got a lot done!

CINEMACON AND NATO HAVE GONE GLOBAL

Though many topics coursed through the week, one theme stood

out—the global nature of our convention, our business, and our trade

association. Nearly 950 delegates, hailing from 69 different countries,

attended Monday's informative International Day. (Throughout the

week, more than 6,000 people participated in the convention in some

way.) For the first time ever, our state-of-the-industry ceremonies

began with greetings from both NATO's domestic board chairman

(David Passman of Carmike), and NATO's International Committee

chairman (Miguel Rivera of Cinepolis). The annual retrospective depicting

the biggest hits of 2013 focused on global box office numbers.

And of course NATO was proud to report we now have member

exhibitors operating in 82 countries around the world.

Our good friend Senator Chris Dodd, chairman of the Motion

Picture Association of America, presented delegates with exciting news

about global growth of box office as movies and modern cinemas

break into new markets everywhere. (More on that data below.) Other

MPAA executives participated in private-meeting discussions throughout

the week on topics spanning the globe, from general issues such as

the conversion to digital cinema, to specific issues like movie theft in

Spain. We are grateful for the support of our colleagues at the MPAA.

THE MOVIES ARE DIVERSE AND EXCITING

We know that MPAA members make and distribute fantastic

movies. And great movies were acknowledged, "sneak peeked," and

exhibited throughout the week. During their respective presentations

in the Colosseum, various industry leaders including Dan Fellman of

Warner Bros., Nikki Rocco of Universal, and one of these authors emphasized

the importance of movie distribution during all 12 months

of the year, and we acknowledged significant progress on that issue.

Equally important, the movies discussed and experienced during the

week offered diverse fare appealing to many different audiences.

14 BoxOffice ® Pro The Business of Movies MAY 2014
---
The NATO and CinemaCon leadership

would like to thank our studio partners (Disney,

Fox, Lionsgate, Paramount, Sony, Universal,

and Warner Bros.) for their exciting product

presentations and movie screenings. NATO's

exhibitor members responded very favorably to

what they saw on the screen, and that is good

news for the immediate future of the business.

Of course, it always adds some spice to the

movie menu when stars like Angelina Jolie,

Mark Wahlberg, Kevin Costner, Jon Hamm,

Johnny Depp, Seth Rogen, Adam Sandler,

Clint Eastwood, Drew Barrymore, and so many

others come to describe their current projects

and be recognized for their talents.

NATO also emphasized during the week our

support for other organizations that are working

to bring more diverse movies to the market.

Open Road, founded by Regal and AMC, has

contributed to the industry's recent successes.

And exhibitors look forward to working with

Bob Simonds, Tom McGrath, and Noah Fogelson

as they develop a new movie company that

is working directly with exhibitors on issues like

screen commitments, opening calendar dates,

and theatrical release windows.

NEW CINEMA TECHNOLOGIES OFFER

THE BEST MOVIEGOING EXPERIENCES

EVER

Each year the convention offers delegates

the opportunity to examine and discuss the

latest technologies to offer moviegoers the best

possible experience. Technology took center

stage again at CinemaCon 2014.

Regarding immersive audio, public and private

discussions suggest the industry will have

workable technical standards within the next

year. All systems that are being deployed can be

upgraded to receive this new standard sound

file. Competition can turn to the in-theater

systems and the cost-benefit analysis for them.

The main theater in the Colosseum was wired

for both Dolby Atmos and MDA. During the

week Dolby, QSC, and USL all demonstrated

immersive sound systems that ranged from very

simple (12 speakers) to very complex (more

than 40 speakers).

Technical discussions at the convention also

involved the use of lasers as alternatives to xenon

lamps. Both Barco and Christie demonstrated

new high-brightness 3D projectors based on

lasers, using the Dolby 3D system on white

screens. NEC also showed a laser-based projector.

It's true that the industry still confronts

challenging legal regulations and cost issues, but

some exhibitors have shown the desire to use

laser-based equipment within the next year.

Another innovative technology was

demonstrated down the Strip at the Cinemark

Nicola Peltz (Transformers: Age of Extinction)

poses in the Coke Green Room at Caesars

Palace during CinemaCon.

MAY 2014 BoxOffice ® Pro The Business of Movies 15
---
EXECUTIVE SUITE

Alejandro Ramirez Magaña, CEO, Cinépolis,

Paul Heth, CEO and General Director, Karo

Cinemas and Eddy Duquenne, CEO, Kinepolis

Group speak during the International Day

Seminar.

theater, where Barco offered a glimpse of their

cinema of the future. Components included

multiscreen lobby displays, theater interactive

technologies, laser projection, and, most interestingly,

a three-screen experience with visuals

on the sides of the auditorium.

Elsewhere during the week attendees could

see eyewear for 3D, new screen technologies,

closed-captioning devices, motion seats,

wind-o-vision, and other enhancements to the

theatrical experience.

In addition to the technologies utilized inside

the cinema, CinemaCon 2014 also examined

exciting new delivery systems to get content into

cinemas. An important panel offered the latest

insights on the Digital Cinema Delivery Coalition

(DCDC), which is using satellite delivery in

a platform open to all content suppliers and all

exhibitors in North America.

GREAT MOVIES AND MOVIEGOING

EXPERIENCES ARE DRIVING RECORD

GLOBAL BOX OFFICE GROWTH

At CinemaCon, the MPAA released its

annual theatrical market statistics report.

Domestic and international box office both

hit new records in 2013 of $10.92 billion

and $24.7 billion, respectively. The report's

demographic survey results were of particular

interest and showed that product mix

continues to be an important driver of theater

attendance. While some news reports focused

Sean Lohan, Senior Vice President,

Worldwide Digital Cinema, Master Image

3D speaks during the International Day

Breakfast.

on a decline in the number of frequent

moviegoers among 18- to 24-year-olds, they

neglected to note that total moviegoers in

that category reached its highest level since

the survey was first conducted in 2009. In a

year in which Hollywood seemed to answer

the call for more family-friendly titles, the

number of frequent moviegoers among 2- to

11-year-olds increased by 53 percent and the

share of tickets sold to 50- to 59-year-olds

reached an all-time high. Per capita attendance

increased in the 2- to 11-, 12- to 17-, and 50-

to 59-year-old demographics, and the share of

the number of tickets sold in those age groups

plus the 60-plus category all increased.

With the release of Instructions not Included,

the highest-grossing Spanish-language title ever

at the domestic box office, it is no surprise that

the Hispanic demographic continues to have

the highest per capita attendance of any ethnic

group. A large number of releases featuring

African Americans, such as 12 Years a Slave,

Best Man's Holiday, and The Butler, to name

but a few, helped increase per capita attendance

among African Americans by 10 percent. These

encouraging numbers help explain why a year

that began with a 13 percent deficit in attendance

in the first quarter roared back with a record

summer of $4.75 billion and an increase in

attendance of nearly 9 percent over the previous

summer to end essentially even (-1.2 percent) in

attendance with 2012.

16 BoxOffice ® Pro The Business of Movies MAY 2014
---
EXECUTIVE SUITE

UPCOMING EVENTS

TONE 2014

Future of Cinema

Conference

May 7

Mid-Atlantic NATO

"Cinema Show &

Tell"

May 13–14

ShowCanada 2014 June 3–5

ShowCanada 2014 June 3–5

NATO of CA/NV

Annual Membership

and Board of

Directors Meetings

June 11

Cine Europe 2014 June 16–19

NAC Convention &

Trade Show 2014

July 15–18

ShowSouth 2014 Aug. 19–20

Geneva Convention

2014

Sept. 9–11

NATO Chairman David Passman speaks

during the 2014 Will Rogers "Pioneer of the

Year" Dinner.

Kino Expo

International

Convention & Trade

Show 2014

Sept. 22–26

CineShow 2014 Sept. 23–24

NATO General

Membershp and

Board of Directors

Meeting

Rocky Mountain

NATO 2014

Australian

International Movie

Convention 2014

Heartland NATO /

Theatre Owners of

Indiana

Sept. 30–

Oct. 1

Oct. 7–9

Oct. 12–16

Oct. 14–15

Show-A-Rama Oct. 14–16

ShowEast 2014 Oct. 27–30

NATO Fall Summit

2014

Nov. 12–13

CineAsia 2014 Dec. 9–11

PRIVATE MEETINGS DEMONSTRATE

THE ENERGY AND FORESIGHT OF

NATO'S MEMBERS

In addition to the public programming of

the convention, NATO took advantage of the

largest gathering of our key members to hold

private committee meetings on important

issues. Beginning on Sunday and sprinkled

throughout the week, these meetings served

as an information exchange among members

and a mechanism to chart the priorities for our

trade association for the coming months.

Committees meeting during the week

included the International Committee, now

led by Chairman Miguel Rivera of Mexico and

Vice-Chairman Jan Bernhardsson of Sweden;

the NATO Regional Units Task Force, led by

Belinda Judson; the Audit Committee, led by

Chairman David Wright of Indiana; the Past

Chairmen's Committee led by current NATO

Chairman David Passman; the NATO Executive

Board (the elected governing body of our

trade association), also led by David Passman

in conjunction with Board Treasurer Byron

Berkley of Texas; the Membership Committee,

led by Board Secretary George Solomon of

Louisiana; and the Movie Theft Task Force,

which is a joint gathering of exhibition and

distribution leaders. Thank you to all the

volunteer members who made these meetings

so informative and productive.

In addition to those important gatherings,

we also experimented in 2014 with new private

programming for our smaller, independent

members. On Monday afternoon more than

175 exhibitors gathered to meet with exhibitor

relations executives from the various distribution

companies, and also to hear presentations

on such relevant topics as how to negotiate

leases, membership-based business models, and

how to run a concession stand. The early buzz

suggests this program was a success, but we

welcome additional feedback.

CINEMACON PARTIES AND AWARDS

ROCK THE HOUSE

A convention shouldn't just be about work,

of course, and CinemaCon 2014 did not

disappoint on the "fun meter." This year we

added several pre-event receptions to make

sure our attendees had a little extra fun before

the product presentations. But the end-of-the

day parties offered the best entertainment.

Late-evening dinner parties included a "Taste

of Vegas," complete with Rat Pack music; a

"Frat Party" in conjunction with the screening

of Neighbors, including a modern Vegas

hip-hop act; and the final-night poolside party,

with Taylor Hicks and his band.

For many, though, the final-night award

ceremonies provided the best entertainment.

From Adam Sandler's laughter-inducing

acceptance speech to Kevin Costner's moving

talk about his love for cinema to Leslie Mann's

18 BoxOffice ® Pro The Business of Movies MAY 2014
---
shout-out to the moviegoing experience to several

of the brightest new stars in Hollywood, the final

night indeed rocked. We extend our heartiest

gratitude to our most important and official

presenting sponsor, the Coca-Cola Company,

for supporting these wonderful events. Their

beverages and their hospitality always provide the

best refreshment.

Madeleine Sherak (L) and Ginger Sherak admire

the award during the 2014 Will Rogers

"Pioneer of the Year" Dinner honoring Tom

Sherak.

CINEMACON AND THE WILL ROGERS

MOTION PICTURE PIONEERS HONOR

AN INDUSTRY LEGEND AND RAISE BIG

BUCKS FOR A GREAT CHARITY

CinemaCon 2014 also included another

celebration of a different nature—a celebration

of the amazing life of Tom Sherak. On January

18, 2014, the entertainment industry lost a dear

friend, mentor, and colleague. Tom Sherak was

an industry leader, a humanitarian, and a good

friend to so many people. The Pioneers were

perfect to select Tom for this honor. A special

evening was supported by Madeleine Sherak, her

family, and a couple thousand of Tom's many

friends. Madeleine's remarks were truly extraordinary,

as was the entertainment from the Tenors.

Most importantly, the event raised over $1

million to help those in our industry who have

fallen on hard times.

The NATO and CinemaCon teams welcome

any feedback readers may have as we look to

make CinemaCon 2015 even better!

MAY 2014 BoxOffice ® Pro The Business of Movies 19
---
TECH

TALK

New research

by Harkness

Screens leads

to theatrical

breakthroughs

by Phil Contrino

n Have you ever arrived at a movie 20 minutes

early in order to secure a seat? If so, then you've

probably noticed that there is a thought process

that goes into how each and every patron picks

a seat in an auditorium. Teenagers sit near their

friends, families sit near the exits in order to

make appeasing restless kids easier, film enthusiasts

find a seat as close to the middle as they

can get, and so on. Technological concerns also

play a huge role in this decision: arrive late to a

3D showing and you'll notice that most seats in

the middle of the auditorium are taken. Now,

thanks to a fascinating new report by Harkness,

a U.K.-based manufacturer and designer

of projection screens, those observations have

been transformed into solid data that can be

used to improve the moviegoing experience.

Released in March, Harkness's Project

Clarus dissected and compared the behavior of

customers who watched a film on a traditional

Spectral silver screen versus their new Clarus

XC screen. The goal is a simple one: to ensure

that everyone in the theater experiences the

same level of technical quality. An even experience

leads to happier customers and more box

office receipts.

BoxOffice recently caught up with Richard

Mitchell, Harkness's global head of marketing,

to discuss the main points of this report.

Was there one conclusion in Harkness's

research that really surprised you? If so,

why?

The main thing that surprised us was how

aware of brightness-level issues the viewing

public is. The issues we talk about as an

industry and seek to find solutions to are felt

by the viewing public. They might not be able

to explain at a technical level why something

either looks too dark or isn't as good as they'd

expect, but they do see and feel it. They're also

incredibly in tune with where the best places

are to sit in an auditorium in order to get the

best presentation, and some surprisingly stated

that they actively avoid going to see the movie

or go to another theater if they can't pre-book

their seat online or if that seat isn't available.

RICHARD MITCHELL

It's clear from the report that many

moviegoers know what they want to see

when it comes to the theatrical experience.

Do you think audiences are more

tech savvy today than ever before, and

do you think they are being underestimated?

I think that's absolutely clear from the

research that they are. The viewing public

feels that the cost to go to the movies is high,

and they're rightly or wrongly demanding a

premium experience to match that price. They

want to feel like they're a part of the movie, be

it from immersive sound or bright and clear 2D

and 3D presentation. The exhibitor business is

facing an interesting challenge as there are other

entertainment alternatives available through the

likes of large televisions, home theaters, even

on-demand content from the likes of Netflix,

so making that cinema experience significantly

better and different from other media is vital

to preserving the future of big-screen movie

presentation.

A lot of people are saying that 3D has

reached its maturity. Do you agree or do

you think there's room to grow?

I think there's definitely room to grow.

Modern first-generation 3D might have

reached its maturity, but the next wave of innovation

is coming through. We're in an industry

that never sits still and is constantly innovating,

and we're already seeing a lot of new product

development and improvement not just in

terms of screens, but also in 3D technology

and sound. Ultimately if the offering is strong,

the premium price point is acceptable, and the

quality, both in terms of content and presentation,

is sufficiently different from either 2D or

home 3D, then the viewing public will buy in.

Gravity is a fine example of that principle.

Do you think Clarus XC has the ability to

reverse negative opinions of 3D?

Most definitely. The group we worked

with indicated that although they wouldn't

necessarily be prepared to pay a premium to

watch a 3D film on a Clarus XC screen, it

would make them more inclined to go to the

cinema to watch a 3D movie. That's a key

indicator of the power of Clarus XC in our

opinion, particularly when you consider their

thoughts and feelings on 3D presentation in

general. It's that added depth, sharpness, and

color accuracy along with the uniformity that

really distinguishes Clarus XC and makes the

difference on the eye. The feedback we gained

from those that saw the screenings on Clarus

XC screens at CinemaCon echoed what we'd

seen during the trial, so there's no doubt that

the difference is both noticeable and received

extremely positively by the audience. Of course

there are other elements such as high-efficiency

3D systems (like RealD's XL unit) or laser projection

that will enable that negative opinion to

be reshaped, but Clarus XC is, in our opinion,

definitely a big part of that mix.

How important do you think proper

auditorium construction is to enjoying

quality screens? How does Clarus XC

help an auditorium that may not be optimized

for 3D?

That really depends on the type of screen

you've put in there. A low-gain screen makes

the geometry of an auditorium a little less

important than a high-gain equivalent from

a light-distribution perspective. Traditional

silver screens like our Spectral range set a

benchmark in terms of 3D presentation, but

they were a necessity in the midst of the 3D

boom we saw a few years ago. That retrofit

silver screen program meant that although 3D

performance was possible, there were implications

on brightness uniformity, and these had

varying levels of impact across the auditorium,

particularly at the most oblique angles. Screen

technology has moved on significantly since

then, and one of the key advantages of Clarus

XC technology, aside from the improvement in

optical performance, is its ability to distribute

light in a much more uniform way than before,

so you instantly see a significant reduction

in hot-spotting and a better picture from

everywhere in the auditorium, even in the front

corners, which is shown by the feedback in the

report. So realistically Clarus XC technology

is taking us back a bit more in the direction of

white screens and making auditorium geometry

a little less, although still very, important.

What's the main lesson you hope the

exhibition industry takes away from

your report?

That there's more that's being done to help

improve presentation quality and that there's

practical solutions available to exhibitors today

that will help them retain and potentially drive

20 BoxOffice ® Pro The Business of Movies MAY 2014
---
incremental revenue at the box office. The group were clear in explaining

about seating choice and the implication if they can't get the seat they

want. The research suggests that when watching a movie on a Clarus

XC screen, the viewing public would be a lot less choosy given the light

distribution and uniformity both in 2D and 3D. Clarus XC could be a

significant solution to issues felt by exhibitors today.

What's the main lesson you hope the distribution industry

takes away from your report?

Hopefully that we're taking the issues of brightness and uniformity

extremely seriously and that we're constantly looking at ways to improve

the overall viewing experience. We want to ensure that content is shown

on the best possible screen, that the audience buys in fully to cinema, and

that it remains sufficiently different from other viewing media.

Can you tell me a little bit about the Clarus XC roll out? How

many screens do you have in place? How many are committed?

To date we've had significant success with Clarus XC 170 mainly in

Europe with some early adoption in the USA. There are already over 200

screens installed and an increasing number on order. Aligned to the sales

we've also seen Clarus XC technology deployed at major film festivals,

premieres, trials with major Hollywood studios and that interest and,

indeed, adoption is growing daily. There's no doubt in Clarus we have

something extremely impressive, and we're delighted the industry is

behind the product.

OVERALL IMAGE QUALITY

n SPECTRAL n CLARUS

10 = EXCELLENT / 1 = VERY POOR

8.8 9.2

7.3

8.7

7.6 8.3

2D

CENTER

SIDE

FRONT

6.6

8.6

7.1

8.8

6.4

8.4

3D

CENTER

SIDE

FRONT

Clarus offers a better overall image quality than the Spectral

screen and this is more noticeable in 3D viewing. Clarus image

quality is consistent across the auditorium.

SOURCE: WDG RESEARCH

MAY 2014 BoxOffice ® Pro The Business of Movies 21
---
INDUSTRY

Q&A

Chris Dammann of NAC

talks about key trends

in theater concessions

interview by Phil Contrino

Can you describe

what NAC's role and

organization are?

The National Association

of Concessionaires

(NAC) is celebrating its

70th anniversary as a trade association this year.

The international organization is comprised of

trading partners dedicated to the concessions,

hospitality, and leisure-time food industry, in

not only the movie exhibition business, but

also in venues such as professional and college

sports arenas, amusement parks, racetracks,

family entertainment centers, performing arts

centers, convention centers, and many more.

NAC members come in all shapes and sizes.

The membership consists of people who operate

concessions and food service, companies

who supply food products and services enjoyed

at these operations, and manufacturers who

make equipment used in both the preparation

and serving of these offerings.

As far as programming, NAC provides a

networking platform, tools, and education

programs that help our members succeed in

meeting and surpassing the expectations of the

increasingly diverse and demanding patrons

who frequent our venues.

The association has over 500 members,

which is a high-water mark in recent history.

Pardon the brief promotion, but there has never

been a better time to be a member of NAC,

and to prove it, we are offering a very attractive

first-time membership rate that more than pays

for itself.

NAC has an annual event called the

Concession & Hospitality Expo that is slated

for July 15–18 at the Denver Marriott City

Center in Denver, Colorado. It's an education

conference covering a wide range of topics and

a highly successful trade show that is already

very close to a sellout. We invite all to attend,

and you can find out more by visiting www.

naconline.org

You were at CinemaCon last month.

What were your key takeaways from the

trade show?

The big picture is that the movie exhibition

industry is as strong as ever. The show set an

attendance record, and the trade show floor

was jam-packed to the delight of the companies

who made a significant

investment to

display their goods

and services. Everywhere

you turned,

there were substantive

conversations and

meetings between

buyers and sellers.

Hats off to Cinema-

Con and NATO for setting the bar high. We

are looking forward to a continuing partnership

with CinemaCon.

I am proud to say that NAC members

were strongly represented at the show. As

an association, we had many great conversations

with current and future members. One

particular highlight was the NAC educational

session, "Concession Confessions: Lessons

Learned and Future Opportunities." It was

a panel discussion led by Kathi Gillman of

Starplex Cinemas. The content and interaction

between the panel and the large audience was

impressive and brought some key issues and

trends to light.

What are currently the main trends you

are observing in the movie theater concession

business?

According to the panel of experts that I just

referred to, there seem to be three areas that

continue to jump out, and they are: quality,

convenience, and access to alcoholic beverages.

Just about every question and discussion during

the session seemed to address one of these

topics. Theater patrons reflect current society,

meaning they have diverse and demanding

expectations.

Food offerings are trending more toward

café style, in addition to the traditional fare,

which necessitates greater equipment and

training.

The design of the concession stand is

changing to be more flexible to serve patrons

efficiently in both high- and low-demand

periods. In-show short-order capabilities and

on-premises bars and restaurants for before and

after the show are gaining traction.

The inclusion of alcohol service has been

highly effective for our theater operator members.

They have been able to incorporate this

feature in an efficient and responsible manner,

CHRIS DAMMANN

and it has opened up

new streams of revenue

and promotional

partnership opportunities

with suppliers.

How much of an

impact do you

foresee for luxury

theaters?

The luxury theater

is a niche market, but

it is growing every

year. Many of our

theater circuit members

are operating

a luxury banner or

are in the process of

piloting the concept. It is a way to cater to the

moviegoer that is looking for an all-inclusive,

quality experience and a way for theater owners

to stay unique and relevant during a time when

entertainment is readily available at home.

Experiencing a motion picture in a theater with

others is still the best way to enjoy the movies,

so it makes sense to provide this heightened

level of service.

Your organization has an international

footprint, which gives you some

visibility in the overall industry. What

are the elements that set the U.S. market

apart from other international markets?

In talking and interacting with several international

members, a common thread seems

to be the dichotomy of large and small theaters

in the United States versus the large circuits internationally.

The difference is a constant factor

to take into account when providing service to

our members.

There are certainly differences that we see

between our U.S. and international members.

Another element that comes to mind is the

current rash of government and regulatory issues

and restrictions being placed on operators.

Although the particulars of those restrictions

may vary, there is some concern that it is open

season on the movie exhibition industry around

the globe.

Not to diminish the topic, but NAC tends

to focus on the trends and issues that are common

to all of our members, both foreign and

domestic. In our experience, there are many

more that unite us than divide us, and one of

our key functions is to make sure that we learn

from one another.

Chris Dammann is the director of communications

for the National Association of Concessionaires.

22 BoxOffice ® Pro The Business of Movies MAY 2014
---
For Cinema

Q-Sys Core 500i Integrated Core

With object-based audio, sounds appear from virtually anywhere in the cinema, more realistically aligning

the action on the screen with what's heard in the cinema. While this greatly expands the sound designer's

creative palette, making it happen in a real theatre requires a new way of thinking about the cinema sound

system. It requires unprecedented flexibility, control, processing power, monitoring capability, yet at a cost

within reach of most cinema operators. That's Q-Sys—the world's most powerful network platform.

Q-Sys Core 500i

Integrated Core

The Q-Sys Core provides audio signal processing and routing for

immersive sound formats. A direct network connection from the

Dolby® CP850 eliminates the need for D-A converters and allows

for easy integration of the Q-Sys Core in a Dolby Atmos equipped

auditorium. It even renders DTS MDA (Multi-Dimensional Audio)

object-based audio.

Q-Sys provides centralized control and monitoring for

a virtually unlimited number of network channels and

devices, using Q-Sys Designer software.

Q-Sys Designer

The Most Powerful Design Software

New DPA-Q Network Amplifiers simplify and streamline

network configuration and minimize cost.

DPA-Q

Four Channel Network Amplifiers

The power of Q-Sys, the convenience of DPA-Q amplifiers, combined with the industry's most comprehensive catalog

of digital cinema loudspeakers, make immersive sound a realistic investment for cinemas of all sizes and budgets.

qsccinema.com

© 2014 QSC Audio Products, LLC. All rights reserved. QSC, the QSC logo and Q-Sys are registered trademarks in the U.S. Patent and Trademark Office and other countries.

DOLBY, , and DOLBY ATMOS are registered trademarks or trademarks of Dolby Laboratories. DTS and MDA are registered trademarks or trademarks of DTS.
---
FILM

FESTIVALS

Cannes 2013

at the Box Office

by Daniel Loria

n The most prestigious film festival in the world sets the

agenda for the year's crop of art-house titles. The films at the

Cannes Film Festival, the world's premier showcase for specialty

releases, rarely reach the screen counts or blockbuster numbers

of studio-backed films, but the critical consensus around

the festival's slate is a good indicator of the year's must-watch

titles coming from outside Hollywood's studio system. Box-

Office takes a look at the global numbers from the festival's

2013 main competition slate.

NEBRASKA

Director

Alexander Payne

North America $17.6M

Global

$24.1M

U.S. Distributor Paramount

Alexander Payne's low-key film became an art-house hit and critical darling

in North America. The film earned six Academy Award nominations,

including best actor, director, original screenplay, and best picture.

THE GREAT BEAUTY

Director

Paolo Sorrentino

North America $2.7M

Global

$23.3M

U.S. Distributor Janus Films

Paolo Sorrentino's ode to Rome (and Fellini) won this year's Academy

Award for best foreign language film. The film began gaining buzz

after premiering at Cannes and went on to record a strong $9 million

theatrical run in Italy, its home nation. The Great Beauty also had an

excellent showing in limited release in North America, where it grossed

$2.7 million.

LIKE FATHER, LIKE SON

Director

Hirokazu Koreeda

North America $301K

Global

$35.8M

U.S. Distributor IFC

Koreeda's latest film enjoyed a great run in its home country of Japan,

where it grossed over $30 million. The film sold in several markets

around the world, most notably in France, where it had a successful

limited run that grossed over $2 million.

INSIDE LLEWYN DAVIS

Director

Coen Bros.

North America $13.2M

Global

$32.8M

U.S. Distributor CBS Films

The Coen brothers' resumé practically guarantees any of their films a

theatrical run in North America. Their latest film became a critical darling,

appearing on countless top-10 lists during awards season. The film enjoyed

success in limited release in France ($4.2M), U.K. ($4M), and Italy ($3M).

BLUE IS THE WARMEST COLOR

Director

Abdellatif Kechiche

North America $2.2M

Global

$19.4M

U.S. Distributor IFC

Last year's Palme d'Or winner at Cannes overcame several PR nightmares

from a public spat between its stars and director. But the biggest

hurdle for Blue came in the way of its NC-17 rating for several graphic

sex scenes between its two female co-stars. A $2.2 million run in North

America included several sold-out shows in New York City, where the

film packed the few screens it played.

THE PAST

Director

Asghar Farhadi

North America $1.3M

Global

$11.7M

U.S. Distributor Sony Pictures Classics

Asghar Farhadi surprised the world with A Separation, the first Iranian

film to win the Academy Award for best foreign language film. His

follow-up takes us to similar territory, this time bringing his acute sense

of detail for family drama to a French setting.

24 BoxOffice ® Pro The Business of Movies MAY 2014
---
ONLY GOD FORGIVES

Director Nicolas Winding Refn

North America $779K

Global

$9.8M

U.S. Distributor RADiUS TWC

YOUNG & BEAUTIFUL

Director François Ozon

North America Released 04/25/14

Global

$9.2M

U.S. Distributor IFC

ONLY LOVERS LEFT ALIVE

Director Jim Jarmusch

North America Released 04/11/14

Global

$4.1M

U.S. Distributor Sony Pictures Classics

THE IMMIGRANT

Director James Gray

North America Released 05/16/14

Global $1M

U.S. Distributor Weinstein

A TOUCH OF SIN

Director Jia Zhangke

North America $154K

Global $660K

U.S. Distributor Kino Lorber

JIMMY P.

Director Arnaud Desplechin

North America $24K

Global

N/A

U.S. Distributor IFC

A CASTLE IN ITALY

Director Valeria Bruni Tedeschi

BEHIND THE CANDELABRA

Director Steven Soderbergh

U.S. Distributor HBO (Television)

BORGMAN

Director

U.S. Distributor

GRIGRIS

Director

U.S. Distributor

HELI

Director

U.S. Distributor

Alex van Warmerdam

Drafthouse Films

Mahamat-Saleh Haroun

Film Movement

Amat Escalante

Outsider Pictures

MICHAEL KOHLHAAS

Director Arnaud des Pallières

U.S. Distributor Music Box Films

SHIELD OF STRAW

Director Takashi Miike

VENUS IN FUR

Director Roman Polanski

U.S. Distributor Sundance Selects

EXHIBITOR RENDEZ-VOUS

An exhibitor's schedule can be pretty hectic at Cannes. Because the festival is at the

crossroads of the global film industry, attendees typically make it a priority to find the

time and space to meet with colleagues. Exhibitors will be able to find a setting exclusively

dedicated to their networking needs at the Rendez-Vous des Exploitants (Exhibitors' Rendez-Vous),

a 6,500-square-foot space in the International Village that is only open to exhibition

professionals. The Rendez-Vous has been a Cannes mainstay for the last 13 years

and is financed by a dozen sponsors, including BoxOffice's parent company, Paris-based

CCG (Côté Ciné Group).

The space was developed after a number of French exhibition professionals, including

CCG President Patrick Farcy, realized the festival was lacking a dedicated meeting

space that catered to exhibitors. A group of vendors and service providers for theaters

came together to fund the new meeting space, now entering its 14th consecutive year in

operation. The Rendez-Vous des Exploitants, known to Cannes veterans as the RDVE, is

open every day throughout the festival beginning at 9:00 a.m. The space has also hosted

private events including line-up presentations, cocktail gatherings, and parties. The RDVE

caps off each edition of the festival with its own party organized by the French Exhibitors'

Association (FNCF).

BOX OFFICE HIGHLIGHTS

FROM UN CERTAIN

REGARD

The Un Certain Regard selections

at Cannes offer some of the most

exciting and daring films of each year.

BoxOffice selects five standouts from

the section's 2013 Cannes slate.

THE BLING RING

Director Sofia Coppola

North America $5.8M

Global $20M

U.S. Distributor A24

FRUITVALE STATION

Director Ryan Coogler

North America $873K

Global

$16.9M

U.S. Distributor Weinstein

THE GERMAN DOCTOR

Director Lucía Puenzo

North America Released 04/25/14

Global

$2.7M

U.S. Distributor Samuel Goldwyn

Films

STRANGER BY THE LAKE

Director Alain Guiraudie

North America $315K

Global $930K

U.S. Distributor Strand Releasing

BASTARDS

Director Claire Denis

North America $24K

Global $428K

U.S. Distributor IFC

MAY 2014 BoxOffice ® Pro The Business of Movies 25
---
BOX OFFICE

ANALYSIS

SUMMER

2014

STARTS

EARLY,

SHOWS

HUGE

GLOBAL

PROMISE

ANGELINA JOLIE

HOPES TO SCARE UP BIG

NUMBERS FOR DISNEY

WHEN MALEFICENT

OPENS ON MAY 30.

IT FEELS LIKE 2014'S SUMMER MOVIE SEASON

STARTED IN FEBRUARY THIS YEAR

By Phil Contrino

When The Lego Movie debuted to a staggering $69 million in North America

during the weekend of February 7–9, I had to check outside my window to

remind myself what month we were in. I'm not used to reporting numbers

that high when there's still snow on the ground. It felt good. Luckily, the

market didn't slow down after that surprising debut. In fact, the exact opposite happened.

The weeks that followed saw healthy debuts from Non-Stop, Son of God, 300: Rise of an

Empire, Mr. Peabody & Sherman, Divergent, and Noah. Then came Captain America: The

Winter Soldier on April 4. As of press time, The Winter Soldier has already passed $300

million worldwide with plenty of room to grow. Disney's decision to release the sequel in

April will remain one of the smartest business moves that any distributor will make this

year. The success of The Winter Soldier drives home the point that quality content will

result in box office receipts no matter what the calendar reads.

A quick glance at the 2015 release schedule indicates that the strong scheduling of

early 2014 is no fluke. February 2015 boasts such potential hits as Fifty Shades of Grey and

SpongeBob Squarepants 2, while March 2015 brings Cinderella, Insurgent—the sequel to

Divergent—and The Penguins of Madagascar, among others. As for April 2015, the release

of Fast & Furious 7 should be massive.

If February, March, and April continue to evolve into powerhouse months, how will that

affect the summer season each year? That's simple: it takes some of the pressure off. A

strong release schedule early in the year means that the summer months don't need to

boost the North American total box office as much as they once did.

We're now heading into a summer season that's full of definite hits and a couple of

films that look like they could surprise. More importantly, it's full of films that will play well

globally. Unfortunately, it's taking a long time for the North America–is-the-world mentality

to die when it comes to the way that many people analyze the performance of this industry.

The media still love to pounce on domestic failures while largely ignoring—or at least

downplaying—the successes. Case in point: last summer there was no shortage of articles

about how big of a bomb The Lone Ranger was, but writers seemed to forget that the same

studio that put out The Lone Ranger also released two films—Iron Man 3 and Monsters University—that

combined for nearly $2 billion in global receipts. How convenient.

We are going to see some big things happen this summer in crucial overseas territories

such as China, Brazil, South Korea, and the United Kingdom, just to name a few. The

biggest source of overseas potential has to be Transformers: Age of Extinction's release in

China. 2011's Transformers: Dark of the Moon raked in a whopping $172.3 million in China,

so anything less than $200 million for Age of Extinction in the world's second-largest theatrical

market will be viewed as a disappointment.

Summer 2014 is full of films that could gross anywhere between $500 million and $1

billion globally based on expectations that come from being part of an established property.

Let's go down the list: The Amazing Spider-Man 2, Godzilla, X-Men: Days of Future Past,

Maleficent, How to Train Your Dragon 2, Transformers: Age of Extinction, and Dawn of the

Planet of the Apes. In addition, there are a bunch of other films that should hit at least $250

million to $300 million worldwide.

Any summer season comes with its share of potential surprise hits, and this summer is

no different. It's important not to overlook the importance of surprises, because any year

lives or dies based on how many films play better than expected. There are four films opening

between May and August that I feel could fall into this category: Million Dollar Arm, The

Fault in Our Stars, Guardians of the Galaxy, and Lucy. Also not to be ignored are Tammy,

Earth to Echo, and Into the Storm.

Summer 2014 does face the daunting task of matching summer 2013's massive output

of $4.7 billion from May 1 to August 31. It won't be easy. It's going to take a combination

of the strongest films matching—or, preferably, exceeding—expectations and a handful

of surprises that really shine in order to keep up. Yet with a diversification of the release

schedule becoming more common, this may end up being one of the last years that we put

so much pressure on the summer season. In a world where all 52 weekends of the year are

in play, the summer season ideally will end up feeling like business as usual instead of a

much-needed boost.

26 BoxOffice ® Pro The Business of Movies MAY 2014
---
UPCOMING 3D MOVIES

2014

MAY 2 SONY/COLUMBIA THE AMAZING SPIDER-MAN 2

MAY 9 CLARIUS LEGENDS OF OZ: DOROTHY'S RETURN

MAY 16 WARNER BROS. GODZILLA

MAY 23 FOX X-MEN: DAYS OF FUTURE PAST

MAY 30 DISNEY MALEFICENT

JUN 6 WARNER BROS. EDGE OF TOMORROW

JUN 13 FOX/DREAMWORKS ANIMATION HOW TO TRAIN YOUR DRAGON 2

JUN 27 PARAMOUNT TRANSFORMERS: AGE OF EXTINCTION

JUL 11 FOX DAWN OF THE PLANET OF THE APES

JUL 18 WARNER BROS. JUPITER ASCENDING

JUL 18 DISNEY PLANES: FIRE AND RESCUE

JUL 25 LIONSGATE/SUMMIT STEP UP ALL IN

AUG 1 DISNEY GUARDIANS OF THE GALAXY

AUG 8 PARAMOUNT TEENAGE MUTANT NINJA TURTLES

AUG 22 WEINSTEIN/DIMENSION SIN CITY: A DAME TO KILL FOR

SEP 26 FOCUS THE BOXTROLLS

NOV 7 DISNEY BIG HERO 6

NOV 26 FOX/DREAMWORKS ANIMATION HOME

DEC 17 WARNER BROS. THE HOBBIT: THERE AND BACK AGAIN

2015

JAN 16 LIONSGATE NORM OF THE NORTH

FEB 6 UNIVERSAL SEVENTH SON

FEB 13 PARAMOUNT SPONGEBOB SQUAREPANTS 2

MAR 27 FOX/DREAMWORKS ANIMATION THE PENGUINS OF MADAGASCAR

MAY 1 DISNEY AVENGERS: AGE OF ULTRON

MAY 15 WARNER BROS. MAD MAX: FURY ROAD

JUN 5 FOX/DREAMWORKS ANIMATION B.O.O.: BUREAU OF OTHERWORLDLY OPERATIONS

JUN 5 WARNER BROS./NEW LINE SAN ANDREAS

JUN 12 UNIVERSAL JURASSIC WORLD

JUN 19 DISNEY INSIDE OUT

JUN 19 FOX THE FANTASTIC FOUR

28 BoxOffice ® Pro The Business of Movies MAY 2014
---
JUL 10 UNIVERSAL MINIONS

JUL 17 WARNER BROS. PAN

AUG 14 SONY/COLUMBIA THE SMURFS 3

SEP 18 UNIVERSAL EVEREST

OCT 9 DISNEY THE JUNGLE BOOK

NOV 6 FOX PEANUTS

NOV 25 DISNEY THE GOOD DINOSAUR

DEC 18 DISNEY STAR WARS: EPISODE VII

DEC 23 FOX/DREAMWORKS ANIMATION KUNG FU PANDA 3

2016

FEB 12 UNIVERSAL UNTITLED PETS PROJECT

MAR 4 DISNEY UNTITLED DISNEY ANIMATION FILM 1

MAR 11 UNIVERSAL WARCRAFT

MAR 18 FOX/DREAMWORKS ANIMATION MUMBAI MUSICAL

MAY 27 DISNEY ALICE IN WONDERLAND 2

JUN 17 DISNEY FINDING DORY

JUN 17 FOX/DREAMWORKS ANIMATION HOW TO TRAIN YOUR DRAGON 3

JUL 1 SONY/COLUMBIA ANGRY BIRDS

JUL 1 WARNER BROS. TARZAN

JUL 15 FOX ICE AGE 5

JUL 22 WARNER BROS. KING ARTHUR

NOV 4 FOX/DREAMWORKS ANIMATION TROLLS

NOV 23 DISNEY UNTITLED DISNEY ANIMATION FILM 2

2017

APR 7 FOX FERDINAND

JUN 16 DISNEY UNTITLED PIXAR ANIMATION FILM 1

NOV 22 DISNEY UNTITLED PIXAR ANIMATION FILM 2

2018

MAR 9 DISNEY UNTITLED DISNEY ANIMATION FILM 3

MAR 23 FOX ANUBIS

JUN 15 DISNEY UNTITLED PIXAR ANIMATION FILM 3

NOV 21 DISNEY UNTITLED DISNEY ANIMATION FILM 4

MAY 2014 BoxOffice ® Pro The Business of Movies 29
---
From screens to popcorn bags:

BoxOffice looks at some of the latest

and upcoming offerings from 30 of

today's top companies that cater to

exhibitors' needs.

by Daniel Loria

BALLANTYNE STRONG

AN EXHIBITION FIXTURE SINCE THE 1930S, A DIGITAL

LEADER TODAY

n Ballantyne Strong has generations of experience focusing on the

exhibition industry. The company provides digital projects, audio systems,

signage and displays, screen systems, and theatrical lighting—a

pretty comprehensive range of services from a company that's been

around since the 1930s.

BARCO

CINEMABARCO LOOKS TO REDEFINE THE EXHIBITION

SPACE.

n Barco is so confident about their new offerings that they wanted

CinemaCon attendees to experience the full impact of their Cinema-

Barco line at a real

movie theater. The

company arranged

for buses to transport

guests to a Cinemark

theater, where they

equipped the cinema

lobby and an XD

theater with their

latest technology.

Among its

new offerings, the

company's laser projectors are already being installed in exhibition

halls worldwide. The real attention-grabber of the CinemaBarco

presentation, however, was Escape. In theory, it's nothing exhibitors

haven't seen before; a triptych screen set-up has been around since

the silent-film era. French director Abel Gance presented his 1927

blockbuster Napoleon in the format. A similar concept re-emerged in

the 1950s, with competing technologies vying for the same market in

the two ensuing decades. Ted Schilowitz, Barco's "CinemaVangelist,"

explains why Escape represents an advancement of previous attempts

at creating a wraparound screen experience:

"The limitations of technology, of the cameras, of projectors and

screens, it was all analog back then. It made it impossible to deliver

past its experimental stages," he explains. "Now, because of what we

do and what Barco does so well with museums and concert venues,

we start to take those skill bases and plug them into cinemas and reinvigorate

those environments and use what we've learned from other

environments where we do this day in and day out, to actually apply

this into storytelling and break that boundary. Now we see success; we

see that this is possible."

20th Century Fox is already on board with the

Escape technology, working with the new system on

releases like The Maze Runner and Ruin.

BRUNSWICK

VALUE-ADDED DOESN'T END INSIDE THE

THEATER—IT CAN THRIVE IN THE LOBBY.

n Exhibitors are continually looking for more

engagement with their patrons in the lobby, where

the right display or presentation can bring added

concession and merchandise sales on the way to the

theater. Video game arcades were a popular option

to attract young audiences in the past but seem to

have fallen by the wayside in recent years.

Brunswick offers the exact sort of service that

30 BoxOffice ® Pro The Business of Movies MAY 2014
---
innovative exhibitors have been looking for. The

bowling giant has installed lanes across several different

entertainment centers in the United States,

helping to drive the multiplex concept to the

next level: one that adds the fun and excitement

of bowling to the magic of going to the movies.

Brunswick's offerings can help drive concession

sales and redefine movie dates as we know them.

For Brunswick, the luxury cinema concept

doesn't begin and end inside the cinema halls—it

thrives in the lobby.

CHRISTIE

CHRISTIE BETS ON LASER PROJECTION

AND AUDIO SOLUTIONS FOR THE FUTURE.

n "We had two big things going on at CinemaCon

this year," says Don Shaw, Christie's senior director

of product management for cinema. "One was the first public demos

of our 6-Primary laser-projection system for premium large-format

theaters. The response and feedback to 6-Primary laser has been

extremely positive. The main benefit for this type of system is that it's

very bright and offers high-quality 3D.

"The second thing we were promoting at CinemaCon this year

was our Christie Vive audio solution. These are really high-quality

audio solutions—speakers and amplifiers. It's a little bit more modern

than the compression-driver speaker systems that have been in use in

cinemas for the last several decades."

The laser-projection systems will be available to exhibitors within

the next six months, and Shaw reports great interest in the new technology.

"Christie is that one-stop, total cinema-solution provider," he adds.

"We've got everything from projection to audio to manage services

and servers, as well as PMS software all from one manufacturer and all

tightly integrated together."

CINEMA EQUIPMENT AND SUPPLIES

IS CIELO THE REMOTE MONITORING SOLUTION THAT

EXHIBITORS HAVE BEEN WAITING FOR?

n "There was a lot of excitement around it, a lot of curiosity about

what Cielo is: is it a DMS? Is it monitoring?" says Guillermo Younger

Jr., the head of product development at Cinema Equipment and

Supplies (CE+S). "The whole approach we had for developing Cielo

MAY 2014 BoxOffice ® Pro The Business of Movies 31
---
INSIDE YOUR THEATER

was how do we reimagine

monitoring? How do we

make it better? How do

we take what we built with

Cinevise and continue to

improve on that?"

Cielo is the new remote monitoring solution from CE+S, the next

step for exhibitors who want total management control of their cinemas

through one simple digital interface. With Cielo, CE+S intends

to redefine how cinema managers can operate their theaters more

efficiently.

"Cielo is the next level of remote monitoring," says Younger. "The

remote monitoring product that we have on the market now is Cinevise,

and that has picked up a lot of speed in the last two years. We've

been very nimble, very innovative in the remote monitoring space—

and it's a tough space to really stand out, simply because I feel that you

can sense the frustration from movie-theater owners that monitoring

to them is very much this black box that they don't understand. So we

took the approach of being very transparent with the cinema owners:

they can see what we see; we're being very proactive as far as alerting

them of the issues rather than being reactive [to their problems]."

CE+S introduced the product at CinemaCon and will begin taking

orders for it at CineEurope this June.

welcomed the competition

by installing

a series of custom-built

reclining

seats from Dolphin

on its original slope

floors, avoiding the

costly construction

expense of converting

to stadium seating.

The gamble paid off;

VIP seating has reportedly

made a significant impact for the smaller business, despite the

corporate multiplex down the road. Sam Snell of Dolphin Seating says

that the growing popularity of reclining seats is part of a larger trend

among exhibitors shifting to more upscale offerings.

DOREMI

OFFERING ACCESSIBILITY TECHNOLOGY FOR THE

HEARING AND VISUALLY IMPAIRED

CRETORS

THE CONCESSION

EXPERTS MOVE TO A

NEW MIDWEST HQ.

n Cretors introduced the

first patented steam-driven

popcorn machine in 1893.

The company has been a

reference point in the concession

industry ever since.

Cretors produces a wide range of concession equipment, including

countertop machines like Poppi, a small 12-ounce hot-air popper that

avoids the need for messy corn oil. The popcorn veterans are seeing

strong growth in their business, leading them to recently relocate to a

larger new headquarters in Illinois.

DOLBY LABORATORIES

A RECORD BOX OFFICE YEAR

AWAITS—IS YOUR THEATER

READY?

n Dolby is asking exhibitors to get an

early start on what is sure to be a huge

2015 at the box office. The company is

expanding the reach of its immersive

audio technology, Dolby Atmos, with its

sights set on helping exhibitors add more selling points for consumers.

"We have a great year ahead in 2015, and it's great for exhibitors to

think about additional screens for their immersive audio experience,"

says Stuart Bowling, Dolby's director of market development. Dolby

is also preparing to equip exhibitors on the visual side, offering their

next-generation laser-projected 3D, compatible with both Barco and

Christie projectors.

DOLPHIN SEATING

LEADING THE CHARGE IN VIP SEATING

n A family-run exhibitor in North Carolina sought out Dolphin to

upgrade their seating after a multiplex opened nearby. The exhibitor

n Doremi's accessibility products open the cinema experience to a

wider range of moviegoers. CaptiView offers an in-theater closed-captioning

system that transmits and receives captions on a wireless band

frequency, accessible from any seat in the audience. Fidelio is a wireless

audio system that delivers a VI soundtrack (descriptive narration for

the visually impaired) and HI soundtrack (amplified sound for the

hearing impaired) to theaters, accessible through a compact audio

receiver with a plug-in headset. Doremi also offers mastering software

with CineAsset, a suite that can create and play back encrypted and

unencrypted DCI-compliant packages.

ENTERTAINMENT SUPPLY &

TECHNOLOGIES

A ONE-STOP SHOP FOR CINEMA OWNERS

n "ES&T provides all the FF&E equipment that creates the cinema

experience," says Barney Bailey, president and CEO of Entertainment

Supply & Technology. "If somebody wanted to open a new cinema, we

could outfit the project with everything they need and install it."

As a one-stop shop for exhibitors, Bailey is keenly aware of the

current trends occurring in the exhibition business. "What I can tell

you is that by casual conversations at CinemaCon or in client business

meetings, the dine-in experience is absolutely driving the per capita levels

of food and drink sales, which the exhibitors love. Personally, it's the only

way I want to go to the movies nowadays.

"Great comfort, great sound and digital projection, great auditorium

seating, and then throw in great food and drink; it's a model

for success. There may be some cinema owners still contemplating

32 BoxOffice ® Pro The Business of Movies MAY 2014
---
INSIDE YOUR THEATER

whether the dine-in experience is going to take off, but I can tell you

from what I'm seeing—it's taken off."

Entertainment Supply & Technology also partnered with Venue

Valet at CinemaCon to showcase CallConnect, a new product that

will help theater owners manage their dine-in theaters. CallConnect

is a hardware and software system that links a patron's activity—from

occupancy to ordering data and server interactions—directly with

management, allowing exhibitors to better track and cater to their

audience.

"We see a really good future with the [CallConnect] product line

and expect a lot of cinemas to buy it for what it can do for them,"

says Bailey. "And, the added benefit is the system truly manages seat

occupancy, which has been a historical problem for the industry since

day one."

EVERYTHING CINEMA SUPPLY

FULL-SERVICE SOLUTIONS

scalable storage for media content. GDC's Content Library Adapter

(CLA-1000) also helps exhibitors' storage needs.

The company also offers their own Theatre Management System

(TMS-1000), a management tool that allows users a centralized point

of control for their theaters, and the Quality Management System

(QMS-1000), a tracking system that performs automatic monitor and

data analysis of luminance, chromacity, and sound-pressure levels.

HARKNESS SCREENS

THE LATEST IN SCREEN TECHNOLOGY IS HERE.

n "I don't like to use

the word 'immersive'

because everyone

is using the same

word," begins Richard

Mitchell, head of global

marketing for Harkness,

when asked to describe

the company's new line

of screens. We know what he means. The exhibition industry has taken

new challenges to heart and is committed to providing audiences with

a whole new experience in watching films. Harkness has made it a

priority for its screens to reflect that commitment.

The company's new Clarus XC line offers the latest in screen

technology for both 2D and 3D content. A new coating formula contributes

to providing viewers with a better viewing angle. "It's a much

deeper picture so you really do get the depth of colors that you expect

to see from a white screen. Added sharpness as well; it really does look

crisp," Mitchell says.

"It's a massive, massive leap forward for us after two years in R&D,

and now it's out there. To date we've probably sold 200 screens already

worldwide, and that number is growing by the day."

n Everything Cinema Supply is a full-service solution for exhibitors,

offering both sales and installation from anything ranging from popcorn-popper

repairs to setting up theaters with the latest sound technology

in immersive audio. "We're also doing a lot of large-format screens,

which seems to be a trend in the industry these days," adds Everything

Cinema owner Scott Hubbard. The one-stop convenience of Everything

Cinema offers exhibitors an array of services. "We've recently begun

manufacturing some of our own rigging hardware for masking systems

that we install, and we've had some big interest in that."

GDC TECHNOLOGY LIMITED

A SUITE OF DIGITAL CINEMA SOLUTIONS

n GDC Technology is globally known for its digital cinema servers.

The company also provides a wide array of digital cinema products,

such as integrated projection systems, 3D products, projector lamps,

and silver screens. GDC presented a suite of new products at CinemaCon,

including their stand-alone integrated media block, the SX-

3000. It is the industry's first stand-alone IMB, eliminating the need

for an external file server. The SX-3000 works along with the company's

Portable and/or Enterprise Storage, a system designed to provide

IRWIN SEATING COMPANY

CUSTOM SOLUTIONS FOR EXHIBITORS' SEATING NEEDS

n Irwin Seating Company has

ample experience in providing

a diverse range of seats for

several different facilities: from

classrooms

to places of

worship,

major

stadiums,

and yes,

cinemas.

The company

offers an array of

seating solutions for all

exhibitors, with a full line of general,

premium, and luxury seating products.

One of the many ways Irwin differentiates itself is in its

ability to install the right custom seating solutions for each specific

space. With the current rise of luxury cinemas, Irwin is experiencing

an exciting moment in enabling theater owners to appeal to audiences

through a more comfortable seating experience.

"It's a continuation of looking for ways to improve upon the experience,"

explains Bruce Cohen, Irwin's SVP of sales and marketing,

when describing the luxury seating trend in exhibition. "Whether it be

with seats or sound or projection, it's all about improving the experience

so when the theatergoing public has a choice, they want to invest

in going to the movies."

34 BoxOffice ® Pro The Business of Movies MAY 2014
---
JACK ROE, USA

A TRUSTED NAME PROVIDES IT SOLUTIONS.

n The Jack Roe brand has been a mainstay in the

exhibition industry since 1920. The company

has made it a point not to sail on its reputation

alone, however, and is currently a leading

provider of IT systems for cinemas. Jack Roe's

IT systems provide ticketing, concessions, digital

signage, loyalty programs, gift cards, and mobile

cinema apps. Jack Roe hasn't forgotten about its roots in the industry

and continues to supply exhibitors with materials for 35-millimeter

projection, including a large range of splicing tape.

MOBILIARIO SEATING

AN INDUSTRY LEADER IN MEXICO, MOBILIARIO OFFERS A

COMPLETE CATALOG OF SEATING OPTIONS.

n The range of seating options that Mobiliario Seating offers leaves little

to be desired. A longtime seating leader in Mexico, Mobiliario has

been offering cinema seating since the mid-1990s and currently offers

designs from virtually every style imaginable, including premium and

luxury seating.

MOVING IMAGE TECHNOLOGY

EVERYTHING FROM DIGITAL CINEMA SOLUTIONS TO

CINEMA DESIGN AND CONSULTING

n Moving Image Technology offers several different products and services,

including custom engineering, systems design, integration, and

installation, and a whole array of digital cinema solutions—from 3D

to audiovisual integration. The company offers turnkey FFE solutions

for new constructions and remodels through their Rydt Entertainment

Systems division.

OMNITERM

CINE CARD BRINGS PRE-PAID ADMISSION BUNDLES TO

THE CONSUMER.

n Omniterm has 30 years' experience in providing point-of-sale

(POS) solutions for exhibitors, and the company is not done innovating.

The introduction of CINE Card to the United States drew interest

from exhibitors at CinemaCon. "CINE Card is an application that

gives the theater owners a convenient and secure way to offer bundled

or discounted pre-purchased admission tickets via a loadable card,"

says Darrin Lewis, director of sales at Ominterm.

"The same application can do things like dinner and a movie, so on

a plastic or paper card what we can do is load up two films, a combo,

and a hat—whatever they want—in one card, and you can give that as

a gift."

OSRAM SYLVANIA

MAXIMUM PERFORMANCE, MINIMUM COST OF OWNERSHIP

n If you need proof of Osram Sylvania's expertise with lighting, all

you have to do is look at images of Allianz Arena in Munich. The

entire facade of Bayern Munich's home stadium is lit up using Osram

lighting; think of it as a testimonial from one of the world's most

beautiful stadiums.

Osram Sylvania is also active in the exhibition business, extending

their expertise to cinema owners worldwide. The company optimized

its lamp line-up to make sure exhibitors get the maximum performance

from digital projectors with minimal maintenance costs.

MAY 2014 BoxOffice ® Pro The Business of Movies 35
---
INSIDE YOUR THEATER

with a focus on achieving a longer, brighter running life than the industry

standard. Plusrite also offers LED lighting.

"We have been optimizing our digital cinema lamp offerings,"

explains Brent Eastwood, Osram Sylvania's NAFTA business unit

manager for projection lamps. "The conversion to digital is nearly complete,

and these new projectors are pushing lamp performance further

than before."

That makes performance and reliability key for Osram XBO products.

"It's about the cost of ownership for theater owners," adds Eastwood.

"They are looking at the dollars-per-hour to run their projectors

while balancing the high brightness levels required by larger screens and

3D films. Anything we can do to reduce the overall cost of ownership,

that's what we are pursuing."

PACKAGING CONCEPTS INC.

HELPING YOUR AUDIENCE SPEND MORE MONEY AT THE

CONCESSION STAND AND LESS ON DRY CLEANING

n You know that awful feeling you get when the butter at the bottom of

the popcorn bag seeps through onto your clothes? Packaging Concepts

Inc. solves that problem with their 100 percent leak-proof popcorn bag,

just one of their many products aimed at exhibitors.

Packaging Concepts recently rolled out a bag that can carry two

drinks, creating a simple solution for exhibitors looking for less clutter

to clean up after shows. The company has just opened a manufacturing

plant in Houston, Texas, where it will be producing board products such

as drink and food trays that help patrons get from the concession stand

to their seats with less hassle.

PHILIPS

THE DUTCH LIGHTING GIANT LOOKS TO REVOLUTIONIZE

ALTERNATIVE CONTENT AND PRE-SHOW ADVERTISING

WITH LIGHTVIBES.

n Philips is betting on LightVibes to take cinema lighting to the next

level. The Dutch company is currently developing the product, designed

to accomplish with lighting what immersive audio has done with sound.

LightVibes consists of a series of LED fixtures and large LED wall panels

to augment the theatrical experience by running automatic and scripted

light shows that can synchronize to on-screen content. Philips knows

there is a real value to the project within the bourgeoning alternative content

market, giving fans at the theater a taste of the live event by bringing

the live light show experience to the movie house. The technology can

also be used with pre-show entertainment by offering a more engaging

presentation for on-screen advertising. LightVibes will be released later

this year and is currently undergoing a successful pilot program in the

Netherlands.

PLUSRITE SPECIALTY LIGHTING

THE XENON AND LED LIGHTING EXPERTS ARE READY TO

MEET YOUR THEATER'S NEEDS.

n Plusrite Specialty Lighting is an experienced player in the manufacturing

and distribution of lamps worldwide. The company is currently

offering a new line of xenon lamps for digital projection, including their

PDXL series, which is custom designed for 2D and 3D digital projection

QSC

COMMITTED TO THE IMMERSIVE AUDIO FUTURE,

REGARDLESS OF THE FORMAT

n "We introduced more products at this show than in any other in

QSC's history," says Mark Mayfield, cinema marketing manager for

QSC. "The real highlight of the show was the demonstration of our

QSys digital audio platform, demonstrating a connection to the Dolby

Atmos processor and also rendering the new format called MDA that's

being developed by DTS. We're using an existing digital processing

platform as a immersive sound processor for at least two of the currently

developing immersive platforms, and it's also compatible with

Barco Auro."

Competing formats in the field of immersive audio simply means

a wider array of options to choose from for QSC. The company has

designed its products to be format agnostic, accessible to any of the

major developers of the new sound technology. "We've got a hardware

box which serves as a processor for whatever format the theater owner

decides to go with," explains Mayfield.

The company also offers a series of amplifiers to go along with the

immersive sound revolution.

"At CinemaCon we also introduced two other lines of amplifiers—

multichannel high-power amplifiers that are really suited for these

immersive formats," says Mayfield. "Regardless of which format you

go with, you need to use higher-power speakers and you need to use

a lot more of them. Our DPA and DPQ amplifiers fit that need for

immersive audio."

READY THEATRE SYSTEMS

SOFTWARE TO HELP YOU WITH YOUR TICKETING AND

CONCESSION NEEDS

n Looking for software that will make life easier managing a cinema?

Ready Theatre Systems provides that solution with a selection of

terminals that run on their software. The company's main focus is on

providing ticketing and concession software for theaters, making them

a specialized player in the field.

RETRIEVER SOFTWARE

POS TERMINALS EQUIPPED WITH RETRIEVER SOFTWARE

n Retriever Software specializes in providing exhibitors with a pointof-sale

solution through touch-screen terminals using the company's

own software. Retriever also offers enticing options such as a back-office

management system, multisite management software, web services

(online ticketing, remote access, and web management), as well as

integrated theater signage systems.

SONY DIGITAL CINEMA

4K DIGITAL PROJECTION AND WEARABLE ACCESSIBILITY

TECHNOLOGY, SO EVERYONE CAN ENJOY THE SHOW

n Sony is a global brand that immediately comes to mind when

talking about media and technology. The company's digital cinema

offerings include 4K digital projectors. The tech leader wants to make

sure none of your patrons get left out at the show and offers accessibility

solutions for audience members with hearing loss. The Sony

Entertainment Access Glasses with Audio are a wearable technology

that delivers closed-captioning on the bottom of the lenses of the

glasses while patrons enjoy the images on screen. The glasses are even

designed to permit 3D capabilities.

36 BoxOffice ® Pro The Business of Movies MAY 2014
---
STADIUM SAVERS

A COST-EFFECTIVE OPTION FOR A STADIUM-SEATING

UPGRADE

n Stadium Savers is a specialist in retrofitting exhibition spaces with new

stadium seating and also offers a speedy installation for new constructions.

The company's cost-effective solution has the power to transform exhibition

spaces. Their system has been so successful that Stadium Savers has since

expanded its business to cover a wider range of facilities, including churches,

educational facilities, auditoriums, stadiums, and arenas.

VANTIV

NATO'S PREFERRED PAYMENT-PROCESSING AND BACK-

OFFICE MANAGEMENT PROVIDER

n Vantiv has the exclusive honor of being NATO's preferred credit and

debit card processing provider. The company was recently featured as one

of Forbes magazine's top-25 tech companies of 2013. These accolades are

the result of a dedicated team of professionals committed to offering a

streamlined processing and back-office management system for exhibitors.

VIP CINEMA SEATING

MAKING LUXURY SEATING WORK FOR ANY THEATER,

REGARDLESS OF SPACE

n "I think it has become evident that the premium concept is where the

industry is evolving," says Steve Simons, founder and CEO of VIP Cinema

Seating.

VIP Cinema Seating offers a range of options for exhibitors looking to

enter the premium-seating arena or refurbish their theaters. "One of the

things that really stood out at the show is that everyone who is trying to

get on this wave of premium seating is realizing the challenges of making it

work in their locations,"

adds Cinema Sales

Manager John Fennell.

"Everyone is trying to

put big chairs in small

spaces; whether it's an

existing location or a

new building, a recliner

takes up a huge amount

of space. Exhibitors are

looking for the best way

to do that without losing all

their seating capacity. That's where VIP really rises to the occasion of developing

unique products that meet the needs of every exhibitor looking to get

into this type of product line.

"I think that exhibitors are now starting to recognize that if they truly

set themselves apart with seating that is above and beyond what they have

in their own homes, that people will come out to the movies in droves. The

formula is working and the exhibitors are starting to recognize that."

VISTA

VEEZI AIMS TO BE AN INDEPENDENT THEATER MANAGER'S

BEST FRIEND.

n Veezi is Vista's cloud-based all-in-one management system that allows

theater owners to control, track, and manage ticket and concession sales

from an easy-to-use and cost-effective program. Veezi's general accessibility

was a main focus for Vista's design, as the product is aimed at appealing

to independent cinema owners looking for a reliable solution to their

managing needs. Vista recently signed an agreement with Fandango to

provide Veezi users access to the ticket seller's online and mobile ticketing

options.

Improve your bottom line with INTEGRA, our theatre management software solution

Real-Time Operational Management

✔ Better knowledge and control of all aspects of

theatre operations

Powerful Management Tools

✔ Dashboards with configurable notifications

and alerts

Enhanced Card Security

✔ PA-DSS out-of-scope payment processing

✔ Point-to-point encryption

omniterm.com

STABILITY YOU CAN DEPEND ON

MAY 2014 BoxOffice ® Pro The Business of Movies 37
---
Photography by Ryan Miller/Capture Imaging

38 BoxOffice ® Pro The Business of Movies MAY 2014
---
Fithian and

Dodd on the

State of the

Industry

by Phil Contrino

n MPAA CEO & Chairman Senator

Chris Dodd and NATO President &

CEO John Fithian took the stage

on CinemaCon's second day to

deliver the annual State of the Industry

address in front of a packed

auditorium in Caesars Palace's

Colosseum.

Serving as both a summary of

2013 and a look to the future,

the address was full of

plenty of reasons to

celebrate. Both Fithian

and Dodd emphasized

that 2013's domestic box

office grew 1.2 percent,

while the international

box office shot up a staggering

4.6 percent. Senator Dodd highlighted

key attendance figures among 2- to 11-yearolds—2013

marked the highest level of patronage

from that age group since 2009—and

JOHN FITHIAN

strong attendance among Hispanics and 12- to

24-year-olds compared to their proportion of

the population. Fithian also touted the domestic

box office's successful start in 2014.

Senator Dodd used much of his time at the

podium to stress the importance of new technologies

when it comes to driving attendance.

He emphasized the fact that people who own

more technological devices are more likely to be

frequent moviegoers.

"We need to keep exploring fresh

ways of leveraging our new

technology to drive traffic

into your theaters," said

Dodd. "We can embrace

technology and use it to

complement our offerings.

A smartphone can make

more content available, but it

will never be able to surpass

the shared

experience

that you deliver

to every

person who

sits in your

theaters."

Fithian

applauded the exhibition industry for continuing

to improve the experience of going to the

movies thanks to a continued focus on improving

technology and concessions.

"Simply put, exhibitors, distributors, and

our vendor partners continually seek the best

technologies and amenities for the enjoyment

of our patrons," said Fithian. "As we give

moviegoers more movies and more enhanced

theatrical experiences, those two factors will

continue to drive growth."

The importance of calendar diversity took

up a big portion of Fithian's address. NATO's

president reminded the crowd that 2013 got

off to a slow start because of a lack

of calendar diversity before citing

progress that was made at the

end of 2013 and now in the

beginning of 2014.

"We could sell ever more

tickets if the movies were

spread more evenly throughout

the year," said Fithian. "Last year

I talked about the need to

distribute movies in all

12 months. And in some

respects that has begun to

happen."

Fithian also commended

Hollywood for

producing more options

aimed directly at Hispanics

and African-Americans, two very important

segments of the moviegoing population. Titles

cited by Fithian included Lee Daniels' The Butler

and Instructions Not Included.

CHRIS DODD

LET THERE BE LIGHT!

INCREASE LIGHT UP TO 16% SHARPEST IMAGE INCREASE BULB LIFE LOWER ENERGY COST

OptiClear

Camera Lens ality

Port Windows

USA: (800) 767-1558

Intl: +(852) 2159-9434

info@portwindowglass.com

www.portwindowglass.com

MAY 2014 BoxOffice ® Pro The Business of Movies 39
---
CINEMACON 2014

Tom LaForge, Global Director of

Human and Cultural Insights, the

Coca-Cola Company

BOXOFFICE TAKES A LOOK AT

SOME OF THE HIGHLIGHTS FROM

THE ARRAY OF PANELS AT THIS

YEAR'S CINEMACON

By Phil Contrino and Daniel Loria

DAY 1

MONDAY, MARCH 24

International Day Breakfast

Sponsors: DLP Cinema, MasterImage

3D

Keynote Addresses: David Kosse,

President, International, Universal

Pictures / Paul Heth, CEO & General

Director, Karo Cinemas

CinemaCon Triumph Award

Presentation

Jose (Pepe) Batlle, Former COO, UCI/

Cinesa Continental Europe

Jose "Pepe" Batlle received the CinemaCon

Triumph Award on Monday morning to kick

off International Day. The former COO of

continental Europe for UCI/Cinesa recently

announced his retirement from the company.

Batlle was responsible for introducing the

multiplex concept to numerous territories

across Europe, revolutionizing the exhibition

industry in countries like Spain,

Germany, and Italy. Batlle concluded

his speech with a call to recognize the

contributions of exhibitors to the

film industry.

Staying Ahead of Today's

Global Cultural

Trends: The Importance

of an Adaptable Branding

and Social Media Strategy

Tom LaForge, Global Director

of Human and Cultural Insights,

the Coca-Cola Company

Tom LaForge stressed the importance of

nurturing your brand in our rapidly changing

world. Coca-Cola remains such an important

company because it changes with the times,

and that's a lesson that any business should take

to heart. LaForge discussed key notions such

as understanding the context in which your industry

exists, the transition into a relationship

economy, and how warmth and competence

lead to trust from customers.

THE WORLD OF DIGITAL CINEMA:

THE PAST, PRESENT AND FUTURE

Digital Cinema: Where Have We Come

From and Where Are We Headed? An

Insider's View of the Digital Cinema

Conversion

Julian Levin, Executive Vice President,

Digital Exhibition & Non-Theatrical Sales

& Distribution, 20th Century Fox International

Julian Levin offered a step-by-step rundown

of how a studio's films reach theaters around

the world through digital distribution. Digital

is a key part of extending the medium's global

appeal, making it easier for films to reach

exhibition halls and extending the reach and

immediacy of day-and-date openings around

the world in today's instant media age.

Digital Cinema:

Reaching the Endgame

David Hancock, Director, Film and Cinema,

IHS Technology

David Hancock ventured to give 35-millimeter

an end date, claiming that by 2015 we

will see the end of the analog era. As it stands

today, Hancock's research shows that 87

percent of global screens have already been

converted to digital. North America leads the

regional conversion rate with 93 percent, followed

by Western Europe's 90.1 percent. The

regions lagging behind

at the bottom

end of the

spectrum are

Africa with

70.2 percent

and Latin America

with 68.7 percent. The

global territory with the lowest

digital penetration is Venezuela, with only

23 percent of its screens equipped with the

new technology. Hancock also touched on

the status of 3D, which he believes has left

its novelty phase and is entering a mature

phase, with China showing the most global

potential for the technology.

40 BoxOffice ® Pro The Business of Movies MAY 2014
---
Lease-to-own

program

The easy move to digital

cinema projection

Scrabble Ventures LLC is pleased to introduce an exciting new digital cinema

equipment leasing program for USA exhibitors. Created with the support of the

major Hollywood Studios and other content distributors, this new program has

been specially designed for independent exhibitors who are interested in making

the move to digital. No pre-qualifications or financial checks are required!

To learn how you can make the move to digital, please contact us:

Scrabble Ventures LLC

info@scrabbleventures.com

TEL 855 503 7322

Don't be left behind
---
CINEMACON 2014 > PANEL ROUND-UP

Craig Dehmel, SVP, Sales & Strategic Planning, 20th Century Fox International

and Paul Hanneman, Co-President, Fox International during the International

Day Lunch

Director Carlos Saldanha (Rio 2)

and actor George Lopez pose

during the International Day Lunch

International Electronic Delivery:

The Issues and Challenges that Lie

Ahead

Jean Mizrahi, CEO, Ymagis

Jean Mizrahi spoke about satellite delivery and

what the new distribution model can offer

exhibitors. The CEO of digital leader Ymagis

revealed that more European films are opting

for pan-European distribution, expanding

the reach of the continent's national cinemas

beyond their borders. Mizrahi also highlighted

looming changes in the satellite delivery space,

noting that the abundance of current providers

will likely be consolidated in the near future.

The World Has Gone Online: What's

Next and What Can You Do About

It?

Malcolm MacMillan, Business Development

Director, Peach Digital Limited /

Patrick Bjorkman, Design Director, Peach

Digital Limited

The duo from Peach Digital Limited spoke on

the allure of unlocking the digital potential of

today's media landscape. Their presentation

emphasized that every device and platform in

today's world can become a point of sale, highlighting

the strong growth of cinema-oriented

web traffic coming from mobile devices.

International Day Lunch and Awards

Sponsors: Christie, Doremi, Rentrak

Theatrical

Global Achievement Award in

Exhibition

Eddy Duquenne, CEO, Kinepolis Group

CinemaCon Passepartout Award

Craig Dehmel, SVP, Sales & Strategic

Planning, 20th Century Fox International

International Filmmaker of the Year

Carlos Saldanha, Rio 2

Rentrak International Box Office

Achievement Award

Warner Bros. Pictures

Defying Gravity: Keeping Cinema

Relevant in a Growing Multi-Option

Viewing World

Moderator: Steven Gaydos, Vice President,

Executive Editor, Variety

Panelists: Andrew Cripps, President

EMEA & EVP, IMAX Corporation / Eddy

Duquenne, CEO Kinepolis Group / Paul

Heth, CEO & General Director, Karo Cinemas

/ Alejandro Ramirez Magaña, CEO,

Cinépolis / Justin Skinner, Vice President,

Marketing, Cineworld

Cinepolis CEO Alejandro Ramirez Magaña

reminded CinemaCon attendees of the importance

of international exhibitors by pointing

out that the recent upscale cinema trend began

abroad. His company has been responsible for

popularizing luxury cinemas in Latin America

and has begun to make inroads in the United

States with an upscale expansion. Kinepolis

CEO Eddy Duquenne emphasized that this type

of innovation is crucial in driving the exhibition

industry forward by implementing more creative

concepts. Justin Skinner, VP of marketing at

Cineworld, offered the airport industry as an

example of redefining the social and practical use

of a space by adding shopping options for consumers:

"At the end of the day, we're retailers."

The CEO of Russian exhibitor Karo, Paul Heth,

raised the issue of appealing to a graying consumer

base by noting the frequency of filmgoers

35 years of age and older. That crowd, according

to Heth, tends to favor Russian blockbusters

over Hollywood fare. IMAX experienced this

phenomenon firsthand with the Russian film

Stalingrad, released in IMAX 3D. It is part of

what Andrew Cripps, president EMEA and EVP

of IMAX, calls "the globalization of content."

IMAX is seeing a surge in international markets,

with strong interest coming from China and

Russia, and is responding by getting involved

with domestic productions from those markets.

Ramirez, however, insists that the graying audience

isn't widespread—more than 60 percent of

tickets sold in Mexico were to filmgoers between

the ages of 15 and 35, and only 5 percent to

patrons over 50. That doesn't mean that domestic

films don't work across age groups in Latin

America; Mexico had two domestic films crack

its annual top 10 in box office last year.

42 BoxOffice ® Pro The Business of Movies MAY 2014
---
Justin Skinner, Vice President, Marketing, Cineworld, Alejandro Ramirez Magaña, CEO, Cinépolis, Paul Heth, CEO and General

Director, Karo Cinemas, Eddy Duquenne, CEO, Kinepolis Group, Andrew Cripps, President, EMEA & EVP, IMAX Coperation and

Steve Gaydos, Vice President, Executive Editor, "Variety" speak during the International Day Seminar

MAY 2014 BoxOffice ® Pro The Business of Movies 43
---
CINEMACON 2014 > PANEL ROUND-UP

Scott Mantz, Film Critic & Producer,

Access Hollywood, speaks during the

Rotten Tomatoes panel.

Ken Masson Inter-Society Award recipient Jack Kline, Chairman, President and CEO

of Christie's Operating Companies and Susie Beiersdorf, the Inter-Society's President

and VP of Sales at Sony Electronics

Rotten Tomatoes Critics vs. the

Audience: The Relevance of Film

Critics Today

Moderators: Matt Atchity, Editor-in-Chief,

Rotten Tomatoes / Grae Drake, Senior

Editor, Rotten Tomatoes

Panelists: Christie Lemire, Film Critic,

Associated Press / Leonard Maltin, Host,

Maltin on Movies / Scott Mantz, Film

Critic & Producer, Access Hollywood /

Claudia Puig, Film Critic, USA Today

The role that film critics play served as a

backdrop for this lively, interactive panel that

encouraged attendees to challenge the views of

some of the nation's top critics on key movies.

The debate rages as to whether recommendations

through social media now mean more

than what critics think. "Nothing's stronger

than word of mouth," Leonard Maltin said

on the panel. "But critics sometimes start the

conversation because we see the film first."

DAY 2

TUESDAY, MARCH 25

Inside the Cinema: Breakfast,

Awards Ceremony, and Special

Program

Sponsors: Reynolds & Reynolds, Vantiv

2014 Bert Nathan Award

Timothy A. Farha, Customer Development

Manager, Nestlé USA

Ken Masson Inter-Society Award

Jack Kline, Chairman, President & CEO,

Digiplex Destinations

The cinema industry would not be what it is

without great concessions and exciting technology,

so it's fitting that two leaders in those fields

were honored at this year's event. Timothy A.

Farha's involvement in the National Association

of Concessionaires has helped the organization

immensely. Jack Kline's leadership at Christie

for more than 35 years has helped the cinema

business achieve new technological heights.

Alternative Content Part I: Everything

You Wanted to Know About

Alternative Content and Event Cinema

but Were Afraid to Ask

Bud Mayo, Chairman & CEO, Digiplex

Destination

Alternative content is far from a passing trend.

It's here to stay. Bud Mayo led attendees

through key questions concerning scheduling,

content providers, and delivery. The potential

is there for all exhibitors to increase business

by finding specialized content that will really

engage their communities.

DAY 3

WEDNESDAY, MARCH 26

The Affordable Care Act:

"Obamacare"—Managing Your Legal

Responsibility

Steve Gooding, President, Benefits

Division, Reynolds & Reynolds / Stan W.

Reynolds, Vice President, Reynolds &

Reynolds

The Affordable Care Act will have an impact

on many businesses in our country, and the

exhibition industry is one of them. This panel

helped attendees better understand what

these changes will mean for their respective

businesses.

From Passion to the Big Screen: The

Work of Christopher Nolan

Sponsors: Barco, The Hollywood Reporter

Christopher Nolan took some time off from

supervising the editing of Interstellar to join

a lunchtime conversation moderated by the

Hollywood Reporter's chief film critic Todd

McCarthy. Nolan remained tight-lipped

on details about Interstellar two days after

Paramount's presentation at CinemaCon failed

to reveal any new information on the project,

only suggesting that audiences are in store for

a visual feast this fall. Nolan's last films have

been released over the summer, but Interstellar

will be premiering in November in order to

accommodate the film's special effects.

"We shot quite a lot of film on IMAX, more

than we have ever done in the past," said the

director. "What we're trying to do is give audiences

an incredible experience, an immersive

experience," he said. "On this film, the technical

aspects of how the film is presented are more important

than on any other film I've ever done."

Not Showing at Your Theater: DCDC

and the World of Content Delivery

Moderator: Brian McKay, EVP of Product

Operations, Warner Bros. Technical

Operations

Panelists: Noah Bergman, VP, Content

Services, Universal Pictures / Randy

Blotky, CEO, DCDC / Ron Krueger II,

44 BoxOffice ® Pro The Business of Movies MAY 2014
---
EVERYTHING CINEMA

CONTACT:

AJ SCHAFER

CELL: 573.247.8404

OFFICE: 314.608.3476

EMAIL: AJ@ECCINEMASUPPLY.BIZ

ECCINEMASUPPLY.COM
---
CINEMACON 2014 > PANEL ROUND-UP

Chris Aronson (center), President Will Rogers Motion Picture Pioneers Foundation

presents the award to Madeleine Sherak and family during the 2014 Will Rogers

Pioneer of the Year Dinner honoring Tom Sherak.

Pete Lude, Chairman, SMPTE Immersive

Standardization Group addresses

attendees during Day 4.

President & COO, Southern Theaters

/ Fred Medina, EVP, BBC Worldwide

Latin America and U.S. Hispanic / Kelly

O'Connor, SVP, Exhibitor and Marketing

Services, Warner Bros. Pictures / Tim

Warner, CEO & President, Cinemark

Theatres

The new frontiers of content delivery were

explored at this panel, which featured six

industry leaders sharing their views of the

future. Randy Blotky, CEO of DCDC, boldly

challenged the alternative content space to

reach 5 to 10 percent of domestic box office

receipts within the next several years, a substantial

increase from the 1 percent it currently

occupies. Blotky believes the big challenge

in reaching those figures exists in perfecting

the business model now that the platform

has been tried and tested. Frank Medina, the

EVP for BBC Worldwide Latin America and

U.S. Hispanic, provided a clear example of

the platform's success, citing his company's

groundbreaking simulcast of Doctor Who in

cinemas around the world. BBC partnered

with Cinemark, an exhibitor with a strong

global presence and experience, in order to

bring a day-and-date television premiere to

global cinemas. Kelly O'Connor, the SVP of

exhibitor and marketing services at Warner

Bros., emphasized the potential of DCDC in

enhancing in-theater marketing campaigns.

For O'Connor, DCDC has the untapped

potential to "deliver [marketing] materials

that are customized with exhibitor messages,

from talent greetings and introductions to end

cards that have your logos and help promote

your premium or large-format experiences,

ticketing information, and even work with

your frequency programs."

2014 Will Rogers Pioneer of the

Year Dinner Honoring Tom Sherak

Sponsors: Dolby Laboratories, Fandango,

RealD

Judging by this moving event, there are few

people in the entire history of Hollywood who

were loved more than the late Tom Sherak.

Sherak's long career as an executive at Fox and

then head of the AMPAS certainly made a huge

impact, but his philanthropic work is what

defined him as a man. Industry leaders took

turns paying their respects to Sherak before

the evening ended with a speech by his wife,

Madeleine, and a stirring musical performance

by the Tenors.

DAY 4

THURSDAY, MARCH 27

ICTA Presents: The Road to Open

Standards for Immersive Audio

Moderator: Pete Lude, Chairman, SMPTE

Immersive Standardization Group

Panelists: Dean Bullock, Director, Technology

Strategy, Cinema, Dolby Laboratories

/ Brian Claypool, Senior Director of

Strategic Business Development, Barco /

Barry Ferrell, SVP/Chief Strategy Officer,

QSC Audio Products / John Kellogg, Senior

Director Corporate Strategy Development,

DTS / Jerry Pierce, Technology

Consultant, NATO

John Kellogg, senior director of corporate

strategy development at DTS, delivered the

central question of the panel: "If exhibitors go

through the trouble of installing this system, is

there really an ROI for them?" It will all come

down to standards if it does, as the exhibition

sector prepares for the introduction of immersive

audio as a new appeal to consumers. If the

technology succeeds, Kellogg believes it will be

thanks to three basic pillars: "ease of use, affordability,

and inclusion—meaning everybody gets

to play."

Brian Claypool, Barco's senior director of

strategic business development, highlighted

his company's close ties to studios and

filmmakers in order to work together in

bringing the technology to consumers on

the big screen. His statement reflected the

views of Dolby's Dean Bullock, the company's

director of technology strategy in cinema.

Bullock seeks to work with his colleagues in

the cinema audio space to establish and implement

the type of standards that can drive

the industry forward, standards that are "easy

to implement, practical and proven, and can

evolve." Bullock concluded his speech by posing

more questions that immersive audio will

continue to answer in the coming months:

"Does this standard drive attendance? Does

it differentiate my theater? Is it supported by

the technical community? Is it embraced by

the artistic community? Do directors want

to use it?" The format will have to address all

those points in order to unleash the technology's

potential for exhibitors.

NAC Presents: Concession Confessions:

Lessons Learned and Future

Opportunities

Moderator: Kathi Gillman, Director of

Food and Beverage/Purchasing, Starplex

Cinemas

Panelists: Gary Butske Jr., VP Operations,

Emagine Entertainment / Dean Gentile,

VP of Operations, Digital Cinema Desti-

46 BoxOffice ® Pro The Business of Movies MAY 2014
---
nations Corp. dba Digiplex Destinations

/ Rob Lehman, VP Food and Beverage,

Carmike Cinemas / Rob Novak, Director

of Concessions, Marcus Theatres

If people are going to go out for dinner, drinks,

and a movie, why not make it convenient for

them to do it all at one spot? That notion was

the driving force behind this panel, which

touched on everything from quick, efficient

delivery of food to regulating alcohol consumption

in theaters so that it doesn't interfere with

customer experiences. There are unique challenges

to serving food and drink in theaters,

but attendees walked out of this panel with

plenty of examples of how to overcome those

challenges.

Delivering Happiness: Tony Hsieh,

CEO of Zappos.com, Talks Customer

Service, Company Culture, and

Community

Sponsor: 4DX

Even though he's not part of the exhibition

industry, Tony Hsieh's background in building

successful ventures and creating healthy

work environments applies to all fields.

Hsieh discussed in detail how investing in

the community that surrounds the Zappos.

com headquarters in downtown Las Vegas is

building a great community in which new

ideas are allowed to grow and people are

doing what they love.

LESLIE MANN SETH ROGEN JACK REYNOR CHRIS PRATT

CINEMACON BIG SCREEN ACHIEVEMENT AWARDS

Fandango Fan Choice Award for

Favorite Movie of 2013

The Hunger Games: Catching Fire

Lifetime Achievement Award

Ivan Reitman

Female Star of Tomorrow

Shailene Woodley

Male Star of Tomorrow

Chadwick Boseman

CinemaCon Vanguard Award

Andy Serkis

Rising Stars of 2014

Nicola Peltz

Jack Reynor

Comedy Star of the Year

Leslie Mann

Breakthrough Performer

of the Year

Chris Pratt

Comedy Filmmakers of the Year

Seth Rogen

Evan Goldberg

Cinema Icon Award

Kevin Costner

Male Star of the Year

Adam Sandler

Female Star of the Year

Drew Barrymore

MAY 2014 BoxOffice ® Pro The Business of Movies 47
---
CINEMACON 2014 > STUDIO PRESENTATIONS

BOXOFFICE REPORTS ON THE HIGHLIGHTS

FROM EACH OF THE STUDIO PRESENTATIONS AT

CINEMACON 2014

By Daniel Loria

PARAMOUNT

Transformers: Age of Extinction

June 27

Shia Labeouf and Megan Fox step aside to make room for a new

cast headlined by Mark Wahlberg in Transformers: Age of Extinction.

Wahlberg appeared on stage in Las Vegas to introduce an extended

look at advance footage from Michael Bay's latest installment in the

Transformers saga. The new film will play up a family drama angle to

counterbalance the now-iconic robot battle sequences. Wahlberg played

to the CinemaCon crowd by emphasizing, "The only place a Michael

Bay movie should be seen is in a movie theater."

Jersey Boys

June 20

Clint Eastwood received a standing ovation as he walked on stage to

introduce footage from his upcoming stage-to-screen adaptation, Jersey

Boys. The Hollywood legend praised the technology on display during

the presentation, joking it was the first time he could hear a film without

difficulty in years. The infectious Jersey Boys score clearly appealed

to the audience, as a strong round of applause followed footage from

Eastwood's film.

Hercules

July 25

Dwayne "the Rock" Johnson appeared in person to unleash early footage

from Hercules. The hero's look was a tightly guarded secret during

the film's production, part of a social media campaign led by the former

WWE star.

Teenage Mutant Ninja Turtles

August 8

Will Arnett drew laughs when he rode on stage in a Segway with his

Arrested Development co-star David Cross to introduce Teenage Mutant

Ninja Turtles. Arnett jokingly reassured audiences not to panic over his

scant screen time in the trailer that Paramount premiered during the

event.

WARNER BROS.

Godzilla

May 16

Bryan Cranston earned practically universal accolades with his lead

performance in television's Breaking Bad. How did the most sought-after

actor of the moment follow up a successful six-year stint in a

groundbreaking television drama? A Broadway show and a summer

tentpole. Warner Bros. hopes that Cranston's appearance in the new

Godzilla re-boot from Monsters director and self-avowed Godzilla fan

Gareth Edwards will add human drama and a genuine narrative arc to

its summer monster movie.

Into the Storm

August 8

Studio presentations at CinemaCon are perhaps best suited for showcasing

the summer's batch of jaw-dropping special effects. Into the

Storm might not have been on everyone's minds at the WB presentation,

but it became the focus of many conversations after the studio

screened clips featuring the film's harrowing depiction of natural

disasters. Into the Storm has the potential of becoming a sleeper hit in

the mold of 1996's Twister.

FOX

X-Men: Days of Future Past

May 23

Fox's answer to Marvel's The Avengers comes this May when two worlds

collide in director Bryan Singer's return to the superhero franchise that

put him on Hollywood's A-list. Hugh Jackman returns as Wolverine

in this time-bending sequel that pairs the young guns from X-Men:

First Class with the veteran cast members from the earlier films in the

franchise. The advance footage shown at CinemaCon introduced the

Sentinels, brutal robots designed to exterminate mutants.

Dawn of the Planet of the Apes

July 11

There was a certain amount of trepidation when Fox decided to reboot

the Planet of the Apes franchise following Tim Burton's misguided

attempt to revive the property in 2001. 2011's Rise of the Planet of

the Apes was the reboot the franchise deserved, and footage shown at

CinemaCon indicates the sequel won't be cutting any corners in deliv-

48 BoxOffice ® Pro The Business of Movies MAY 2014
---
Dancers perform during 20th Century Fox's special presentation highlighting its future release schedule featuring Rio 2.

MAY 2014 BoxOffice ® Pro The Business of Movies 49
---
CINEMACON 2014 > STUDIO PRESENTATIONS

ering thrills either; it may bring to mind the dark tone of Christopher

Nolan's Dark Knight trilogy.

Gone Girl

October 3

David Fincher fans probably won't see a Girl with the Dragon Tattoo sequel

any time soon, but they'll be able to get their Fincher fix with this

fall's Gone Girl. Fincher's adaptation of the best-selling novel looks to

be just the type of film that made the director a household name. The

Gone Girl trailer delivers on the dark, brooding tone that has become

his trademark. And who knows—it might even help star Ben Affleck

shake off some of the fan-boy backlash he's received since being named

Christian Bale's replacement as Batman.

SONY

The Amazing Spider-Man 2

May 2

Sony is betting big on its Spider-Man strategy for the future. The studio

announced spin-off films featuring villains like the Sinister Six and

Venom in its attempts to match the studio nuclear arms race of comic

book properties. A central part of that formula's success comes down to

the audience's reception of the latest Spidey sequel. Sony showed confidence

in the film by showing three different clips, about 30 minutes of

screen time, at their CinemaCon presentation.

Interior during the Sony Pictures Entertainment 2014 Highlights

Presentation at Caesars Palace

22 Jump Street

June 13

The biggest laughs from the Sony presentation came from another

revived property with a sequel coming out over the summer, 22 Jump

Street, which reunites Channing Tatum and Jonah Hill in a plot that

throws the young-looking duo into college.

The Interview

October 10

Sony had an unexpected comedy hit with last year's This is the End from

co-creators Evan Goldberg and Seth Rogen. The two will return along

with This is the End co-star James Franco in this fall's The Interview,

the most pleasant surprise of Sony's presentation. Rogen is the lead

producer to Franco's talk show host in this comedy that has the pair

traveling to North Korea for an exclusive interview with the country's

leader—while under strict CIA instructions to turn the Q&A segment

into an assassination.

DISNEY

Million Dollar Arm

May 16

Disney has high hopes for this sports drama starring Jon Hamm,

high enough to host an advance screening of the entire film as part

of its CinemaCon presentation. Hamm came on stage to give a brief

introduction to the film, in which he plays a baseball scout looking

for the next big star among cricket players in India. The enthusiastic

audience reaction bodes well for the Disney film, which is sure to be a

crowd-pleaser.

Maleficent

May 30

There are flashes of Lord of the Rings judging from the brief Maleficent

montage that Disney screened at CinemaCon. Angelina Jolie stars

as the iconic Sleeping Beauty villain in a film that could potentially

become a four-quadrant hit for Disney.

Inside Out

June 19, 2015

Disney didn't reveal anything new on the Star Wars front, but that

doesn't mean one of their 2015 releases didn't steal the show. Disney

screened a scene from Pixar's upcoming Inside Out that became the

highlight of the studio's presentation. The film is set in the mind of an

11-year-old girl who is having difficulty adjusting to a new town after a

family move. The film's main characters will be the girl's feelings: Fear,

Sadness, Disgust, Joy, and Anger, all voiced by different actors.

UNIVERSAL

Neighbors

May 9

A Million Ways to Die in the West

May 30

Dumb and Dumber To

November 14

Universal is investing big in raunchy comedies this year as it prepares

to release a number of high-profile titles in 2015. Neighbors could

potentially be an early-summer hit for the studio. Universal hosted

an advance screening for the film during CinemaCon and younger

viewers seemed to respond more positively to the film than their older

counterparts. Universal will hope to have another Ted on its hands with

Seth McFarlane's A Million Ways to Die in the West, that is until Ted 2

is released on June 26, 2015. The studio will welcome back Jim Carrey

and Jeff Daniels as they reprise their roles in the Farrelly brothers'

Dumb and Dumber To.

Unbroken

November 14

Angelina Jolie appeared on stage to personally introduce an extended

look at her upcoming drama, Unbroken. Jolie directs this biopic of an

Olympic athlete locked up in a Japanese P.O.W. camp during World

War II. Universal got the ball rolling on what will likely be a big

awards-season push for this holiday release.

Fifty Shades of Grey

February 13, 2015

The surprise of the evening came when Universal unveiled the first publicly

screened footage of its heretofore top-secret Fifty Shades of Grey.

The footage promises steamy chemistry between the film's stars, with

no apparent indication that the adaptation of the best seller will veer

into camp territory. The completed film might prove otherwise, but

the CinemaCon sneak peek suggests a serious-minded erotic thriller for

adult audiences. Fifty Shades could easily entice the same crowds that

turned Magic Mike and Sex and the City into massive hits.

50 BoxOffice ® Pro The Business of Movies MAY 2014
---
Producer James Weaver, producer Evan Goldberg, and

director Nicholas Stoller speak onstage during Universal's

Neighbors after-party.

Actor Chadwick Boseman (Draft Day) with Co-Chairman of

Lionsgate Motion Picture Group Rob Friedman during the

Lionsgate cocktail party at Caesars Palace

MAY 2014 BoxOffice ® Pro The Business of Movies 51
---
CINEMACON 2014

LEAVE THE CELEBRITIES, GLITZ, AND GLAMOUR TO THE

STUDIO PRESENTATIONS. CINEMACON IS ALSO RE-

NOWNED FOR ITS EXTENSIVE TRADE SHOW FLOORS,

WHICH OFFER EXHIBITORS INSIGHT INTO THE LATEST

PRODUCTS AND SERVICES FROM LEADING PROVIDERS.

HERE'S WHAT THE TRADE SHOW MASTERS HAD TO SAY

ABOUT CINEMACON 2014 IN THEIR OWN WORDS

"We had more

people come to our

booth than ever before.

We had major chains coming,

interested in our seats, and

one chain gave us an order for

10,000 of our recliners for a

2014 installation, so we're pretty

happy about that. It was our

best show ever; we're looking

forward to 2015."

—Sam Snell,

Dolphin Seating

"This

particular

CinemaCon was a

lot more vibrant than

the last couple of ones I've

attended. We were really

excited about it; it was a

whole lot busier—it seemed

like everyone was talking

more about doing more."

—Scott Hubbard,

Everything

Cinema

Exhibition vendors went all out this

year with interactive booths and

presentations. Here, Elli and Rose

are outfitted as members of the

"League of Clean" for Simply Right

Janitorial.

"It provided us

a good chance to

meet a lot of our existing

clients and time to spend

with them. It also gave us

the opportunity to increase

exposure to our cinema

ticketing and concession

software."

—Darrin Lewis,

Omniterm

"CinemaCon 2014 was exceptionally successful for Entertainment Supply & Technologies [ES&T]. Our business growth and

client base has continued in a very upward fashion even during the great recession. In retrospect, there are many supply

firms in the industry which furnish one or two products to a potential customer. The ES&T model involves manufacturing of

concession casework and front-end screen systems and wall draperies, projection, sound- and food service–equipment distribution,

and installation of all FF&E used in the cinema space. To be honest, the broad spectrum of products and services

provided by ES&T has been the real reason for our success as well as our ability to service and take care of our customers.

ES&T brings convenience to the exhibitor when doing business with our firm." —Barney Bailey, Entertainment Supply &

Technologies

52 BoxOffice ® Pro The Business of Movies MAY 2014
---
"We had a very good CinemaCon, got a lot of great feedback from the room set-up, lounge, and the screening room that we

built. Exhibitors had a good year at the box office, and there's a lot of positivity ahead in regard to the next couple of years

with a lot of great content coming out from studios. I think everyone is dying to see what's going to happen with the huge

amount of blockbusters scheduled to hit theaters around the world next year." —Stuart Bowling, Dolby Laboratories

MAY 2014 BoxOffice ® Pro The Business of Movies 53
---
CINEMACON 2014 > FROM THE TRADE SHOW FLOOR

"It felt really busy and it was really well attended. Our booth demo was jampacked

constantly; we were turning people away. CinemaCon was a big success

for us this year. —Don Shaw, Christie

"For us the show was really about announcing to the world our new product, Cielo. It was really amazing to see the overwhelming

response we received for this product." —Guillermo Younger Jr., Cinema Equipment and Supplies

54 BoxOffice ® Pro The Business of Movies MAY 2014
---
"This was my third CinemaCon and there was a real buzz around the show, which I hadn't seen. There's so much new stuff on

the horizon that I think the whole industry is quite excited: the deployment of immersive audio, laser projection, new screen

technology that's coming from us. The whole industry is going through this really exciting revolution again, where we've

done almost everything with digital and now we want to step it up again." —Richard Mitchell, Harkness Screens

The Sweet Sound of Saving Money...

Average Savings of More Than 50%

on Entire Sound System

3 year warranty. 100% Satisfaction Guaranteed

$

$ $

$ $ $

$

$ $ $ $

$ $ $

Stetson Snell

stetsonsnell@enparaudio.com

505-615-2913

Audio

MAY 2014 BoxOffice ® Pro The Business of Movies 55
---
CINEMACON 2014 > FROM THE TRADE SHOW FLOOR

"I think that exhibitors are now starting to recognize that if they truly set themselves apart with seating that is above and

beyond what they have in their own homes, that people will come out to the movies in droves. The formula is working and

the exhibitors are starting to recognize that." —John Fennell, VIP Cinema Seating

"We had a good turnout. We got more leads than we

did last year, which is a good thing. The show is always

good for us because it's a time to meet people we haven't

met, other than talking on the phone; that's always a nice

thing." —Ernie Estrada, Plusrite Specialty Lighting

"We had a good show. One of the reasons is because

we continued to try to come up with products that fit

with the moviegoing experience. We come out with new

products that hopefully will generate some buzz, and we

feel like we've done that, so it was positive from our end.

CinemaCon is a valuable part of our industry; you get to

meet new as well as existing clients." —Martin Olesen,

Packaging Concepts Inc.

56 BoxOffice ® Pro The Business of Movies MAY 2014
---
"CinemaCon is clearly the largest and premier cinema expo in the world. It was the perfect forum to celebrate our 60th anniversary

in bringing the first Xenon Cinema Lamp to market." —Brent Eastwood, Osram Sylvania

MAY 2014 BoxOffice ® Pro The Business of Movies 57
---
CINEMACON 2014 > FROM THE TRADE SHOW FLOOR

"This year we made a very interesting decision to set up what we

wanted to show in a real movie theater as opposed to at the Caesars

Palace. As much as we love Caesars Palace and how it all works from

a convention standpoint, there's not a real movie theater in Caesars

Palace. So we asked our friends at Cinemark, one of our great partners

that have 100 percent Barco projectors, if they were willing to let

us use one of their big XD houses in Las Vegas to run our presentation—including

showing off our laser projector, showing off the latest

offering from Auro, the latest offering from Audience Entertainment,

the lobby experience—all these things that we roll into a terminology

we call CinemaBarco, and to show this big secret that we call "Escape,"

a futuristic vision of the cinema where the cinema is all around you."

—Ted Schilowitz, Barco

"It was a really upbeat

show for us and I think for

everybody else. Even coming out

of the digital cinema transition where

everyone has basically converted

over to digital projection, we're seeing

a kind of another boost to the industry,

with immersive sound formats like Dolby

Atmos and Barco Auro 11.1. In fact, most

of our participation at the show was

framed around taking advantage of

what we see as another big trend in

cinema audio."

—Mark Mayfield, QSC

58 BoxOffice ® Pro The Business of Movies MAY 2014
---
Because of you,

we never

received a bill.

Because of you, families never receive

a bill from St. Jude Children's Research

Hospital ® for treatment, travel, housing or

food. Because all a family should worry

about is helping their child live.

Because of you, there is St. Jude.

Visit stjude.org to join our mission.

©2014 ALSAC/St. Jude Children's Research Hospital

Brent | at age 9

cancer of the

nervous system

MAY 2014 BoxOffice ® Pro The Business of Movies 59
---
COMING IN

MAY

THE AMAZING SPIDER-MAN 2

n Andrew Garfield is back as the web slinger in Sony's follow-up

to its Spider-Man reboot. Marc Webb returns as director in this

sequel pitting Spider-Man against a trio of deadly villains. Sony

has high expectations for this latest entry in the franchise, as it

hopes to expand its sole superhero property into an overarching

multifilm narrative universe. Sony is planning spin-offs

centered on Spider-Man villains like Venom and the Sinister

Six. The spin-offs won't do much to help the studio, however,

unless The Amazing Spider-Man 2 sticks with audiences.

DISTRIBUTOR Sony/Columbia CAST Andre Garfield, Emma

Stone, Jamie Foxx DIRECTOR Marc Webb WRITERS Alex Kurtzman,

Roberto Orci, Jeff Pinkner GENRE Action/Adventure

RATING PG-13 RUNNING TIME 142 min.

MAY

2

MAY

9

NEIGHBORS

n Neighbors kicks off the

trio of raunchy comedies

that Universal is releasing in

2014. The studio is betting

big on adult comedies

this year, and Neighbors

has all the ingredients to

make it a hit. Positive word

of mouth from younger

viewers was buzzing at this

year's CinemaCon, where

Universal held an advance

screening of the

film. Neighbors pits a

newly married couple,

played by Seth Rogen

and Rose Byrne, against

an unruly set of frat-house

neighbors led by Zac Efron

and Dave Franco.

DISTRIBUTOR Universal

CAST Seth Rogen,

Rose Byrne, Zac Efron

DIRECTOR Nicholas Stoler

WRITERS Andrew J.

Cohen, Brendan O'Brien

GENRE Comedy RATING R

RUNNING TIME 96 min.

60 BoxOffice ® Pro The Business of Movies MAY 2014
---
MADE IN AMERICA

We put five generations

of family know-how

into every machine.

When you buy a popcorn popper from

Cretors, you're getting more than 120

years of proven performance. Charles

Cretors built the first automated

popcorn machine in 1893, and we've

been advancing our designs ever since.

Charles' great-grandson and great-greatgrandson

run the company today and

because their name is on every piece of

equipment they make, they have a personal

stake in making sure that their machines run

efficiently and profitably for you. If you're adding

a popcorn popper, cotton candy machine, sno-cone

machine, or other concession equipment to your business,

you can't go wrong by partnering with the company that is

credited with inventing the concession business.

Give Shelly Olesen

a call at 773-588-1690

or e-mail

solesen@cretors.com

for information on the

entire Cretors line.

www.cretors.com
---
COMING IN MAY > WIDE RELEASES

MAY

9

CHEF

n Jon Favreau sacrifices the tentpole spotlight of the Iron

Man series to return to his roots in this mid-budget comedy.

Favreau won't be alone for the ride; Robert Downey

Jr. puts down the superhero costume in his latest collaboration

with the writer-director of Swingers. It might be

strange watching Favreau and Downey Jr. team up for

a May release that doesn't involve explosions, but

Favreau's comedy pedigree is just as extensive as his

big-studio chops. Chef will only be the third film

that Robert Downey Jr. has appeared in since 2009

in which he doesn't play Sherlock Holmes or Iron

Man's Tony Stark.

DISTRIBUTOR Open Road CAST Jon Favreau, Robert

Downey Jr., Scarlett Johansson DIRECTOR/WRITER Jon

Favreau GENRE Comedy RATING Unrated RUNNING TIME

115 min.

MAY

9

LEGENDS OF OZ

DOROTHY'S RETURN

n This 3D animated film brings back all the familiar

characters for another adventure in Oz. Glee star Lea

Michele joins a cast of voice actors rounded out by

Hugh Dancy, Patrick Stewart, Martin Short, Dan

Aykroyd, Kelsey Grammer, Bernadette Peters, and

James Belushi. Dorothy leaves Kansas once again

and returns to Oz to help a few old friends face a

new challenge..

DISTRIBUTOR Clarius Entertainment CAST Lea

Michele, Dan Aykroyd, Martin Short, James

Belushi DIRECTOR Will Finn, Dan St. Pierre WRITERS

Adam Balsam, Randi Barnes, Roger S. Baum GENRE

Animated RATING PG RUNNING TIME 88 min.

MAY

9

MOMS' NIGHT OUT

n Is a little peace and quiet too much to ask for? What

was supposed to be a relaxing dinner with friends, away

from the hectic demands of kids and husbands, turns

into an unexpected adventure for a group of suburban

women. This comedy arrives right on time for Mother's

Day and will serve to counter-program the raunchy

laughs from fellow opener Neighbors. Moms' Night

Out offers humor for adults looking for an alternative

to frat-house comedy.

DISTRIBUTOR Sony/AFFIRM CAST Sarah Drew,

Trace Adkins, David Hunt DIRECTOR Andrew Erwin,

Jon Erwin WRITERS Jon Erwin, Andrea Gyertson

Nasfell GENRE Comedy RATING PG RUNNING TIME 98

min.

62 BoxOffice ® Pro The Business of Movies MAY 2014
---
GODZILLA

n Bryan Cranston followed up his success as the star

of hit TV drama Breaking Bad with a turn on Broadway

and a summer studio tentpole. Cranston lends his

acting chops to this Godzilla reboot, which promises a

more human, dramatic approach to the timeless tale of

the giant lizard that destroys cities. Godzilla was one

of the most talked-about films at this year's CinemaCon,

and the advance buzz could lead it to

become one of the year's top earners at the global

box office. Director Gareth Edwards proved

himself more than worthy to helm this big-budget

reboot after directing the cult hit Monsters.

DISTRIBUTOR Warner Bros. CAST Bryan Cranston,

Elizabeth Olsen DIRECTOR Gareth Edwards WRITER

Max Borenstein GENRE Action RATING PG-13 Running

Time 98 min.

MAY

16

MILLION DOLLAR ARM

n Jon Hamm stars as a baseball scout who searches for

the next great international baseball star among cricket

players in India. Disney has high hopes for this underdog

sports story, going as far as screening the entire film

in a preview engagement at CinemaCon. Million Dollar

Arm emerged from its CinemaCon screening with

strong praise from various attendees, and it should

ride a similar word-of-mouth campaign upon its

theatrical release.

DISTRIBUTOR Disney CAST Jon Hamm, Lake

Bell DIRECTOR Craig Gillespie WRITER Thomas

McCarthy GENRE Drama/Sport RATING PG RUNNING

TIME TBD

MAY

16

BLENDED

n Adam Sandler and Drew Barrymore reunite with

The Wedding Singer writer-director Frank Coraci in

this family-friendly romantic-comedy. Sandler and

Barrymore play single parents looking for love, just

not with one another. The duo find themselves sharing

an African vacation with their respective families.

Sparks fly as the days pass in the African resort

they're sharing.

DISTRIBUTOR Warner Bros. CAST Adam Sandler,

Drew Barrymore DIRECTOR Frank Coraci WRITERS

Ivan Menchell, Clare Sera GENRE Comedy RATING PG-

13 RUNNING TIME 117 min. RELEASE DATE May 23

MAY

23

MAY 2014 BoxOffice ® Pro The Business of Movies 63
---
COMING IN MAY > WIDE RELEASES

MAY

23

X-MEN: DAYS OF FUTURE PAST

n Worlds collide in the latest ensemble installment of

the X-Men franchise. Hugh Jackman reprises his role as

the Wolverine (for the seventh time!) in Bryan Singer's

return to the superhero franchise that made him an

A-list director. Wolverine is sent back in time to meet

the cast from X-Men: First Class in a last-ditch attempt

to change the course of history. The whole ordeal

sounds a bit like Back to the Future with mutants.

X-Men: Days of Future Past is one of the summer's

most anticipated films.

DISTRIBUTOR Fox CAST Hugh Jackman, Patrick

Stewart, Ian McKellen DIRECTOR Bryan Singer WRITER

Simon Kinberg GENRE Action RATING PG-13 RUNNING

TIME TBD

MAY

30

MALEFICENT

n Angelina Jolie stars as the iconic Sleeping Beauty

villain in this live-action film. Footage screened at

CinemaCon revealed a slightly darker tone for this

fairy tale film, including impressive action sequences

that recall Peter Jackson's work in the Lord of the Rings

trilogy. Disney's take on an antihero is an interesting

experiment that could yield a new trend for the

studio if this film takes off.

DISTRIBUTOR Disney CAST Angelina Jolie, Elle

Fanning, Sharlto Copley DIRECTOR Robert

Stromberg WRITER Linda Woolverton GENRE Adventure

RATING PG RUNNING TIME TBD

MAY

30

A MILLION WAYS TO DIE

IN THE WEST

n Family Guy and Ted creator Seth MacFarlane brings

his brand of raunchy comedy to the Wild West. This is

Universal's second adult-themed comedy of the month

after Neighbors, another of the mid-budget films with

potentially high profit margins that populate its 2014

slate. A Million Ways to Die in the West co-stars

Amanda Seyfried, Charlize Theron, and Liam

Neeson.

DISTRIBUTOR Universal CAST Seth MacFarlane,

Amanda Seyfried, Charlize Theron DIRECTOR Seth

MacFarlane WRITERS Seth MacFarlane, Alec Sulkin,

Wellesley Wild GENRE Comedy/Western RATING

Unrated RUNNING TIME TBD

64 BoxOffice ® Pro The Business of Movies MAY 2014
---
COMING IN MAY > LIMITED RELEASES

BELLE

This tale of an illegitimate mixed-race daughter

of a Royal Navy admiral raised by her aristocratic

great-uncle is based on a true story. Belle

has an appeal akin to Downton Abbey, a hit

with U.S. television audiences. The film tackles

race relations, an issue that similar period pieces

fail to address. Belle premiered at the 2013

Toronto International Film Festival.

DISTRIBUTOR Fox Searchlight

CAST Gugu Mbatha-Raw, Matthew Goode,

Emily Watson

DIRECTOR Amma Asante

WRITER Misan Sagay

GENRE Drama

RATING PG

RUNNING TIME 104 min.

RELEASE DATE May 2

MORE THAN THE RAINBOW

This documentary about Matt Weber, a New

York City cabbie turned street photographer,

was shot on 35-millimeter film stock and

features a jazz soundtrack from the legendary

Thelonius Monk. The film's vintage look and

New York setting should be a draw for fans of

the Big Apple and lifelong New Yorkers alike.

DISTRIBUTOR First Run Features

DIRECTOR Dan Wechsler

GENRE Documentary

RATING Unrated

RUNNING TIME 83 min.

RELEASE DATE May 2 (New York); May 24

(Los Angeles)

THE PROTECTOR 2

Tony Jaa is back in this action-packed sequel

from Prachya Pinkaew, the director of the

cult-favorite Ong-bak. Jaa and Pinkaew came

into stardom by delivering big stunts in their

collaboration on the first installment of the

Ong-bak franchise. This time they reunite

to bring their brand of action to a story that

follows Jaa on the search for a stolen elephant.

Wu-Tang Clan's RZA co-stars.

DISTRIBUTOR Magnolia/Magnet

CAST Tony Jaa, RZA, Marrese Crump, JeeJa

Yanin

DIRECTOR Prachya Pinkaew

GENRE Action

RATING R

RUNNING TIME 104 min.

RELEASE DATE May 2

WALK OF SHAME

A one-night stand after a night of partying

leaves local news reporter Meghan Miles nearly

unable to go after a crucial job opportunity.

Her dream job as news anchor is within reach,

but she must first endure a long walk of shame

without her car, phone, or ID to reach her

destination. Elizabeth Banks stars as the TV

news reporter whose wild night leads to a bad

morning.

DISTRIBUTOR Focus World

CAST Elizabeth Banks, James Marsden

DIRECTOR/WRITER Steven Brill

GENRE Comedy

RATING R

RUNNING TIME 95 min.

RELEASE DATE May 2

DEVIL'S KNOT

Reese Witherspoon stars in this criminal drama

from director Atom Egoyan. Based on the

case of the West Memphis Three, Devil's Knot

tells the story of three Arkansas teenagers who

were convicted of killing three boys in 1993.

The true-crime drama premiered at the 2013

Toronto International Film Festival..

DISTRIBUTOR RLJ/Image Entertainment

CAST Reese Witherspoon, Colin Firth

DIRECTOR Atom Egoyan

WRITERS Paul Harris Boardman, Scott

Derrickson

Genre Crime, Drama

RATING Unrated

RUNNING TIME 114 min.

RELEASE DATE May 9

THE DOUBLE

Writer-director Richard Ayoade scored an indie

hit with 2011's Submarine. He's back with this

modern-day Dostoyevsky adaptation starring

Jesse Eisenberg as a man driven crazy upon

finding his doppelgänger. The Double premiered

at the 2013 Toronto International Film

Festival and screened as part of this year's New

Directors/New Films series hosted by the Film

Society of Lincoln Center and the Museum of

Modern Art.

DISTRIBUTOR Magnolia Pictures

CAST Jesse Eisenberg, Mia Wasikowska

Director/Writer Richard Ayoade

GENRE Comedy

RATING R

RUNNING TIME 93 min.

RELEASE DATE May 9

MAY 2014 BoxOffice ® Pro The Business of Movies 65
---
COMING IN MAY > LIMITED RELEASES

FED UP

This documentary exposé centers on the

American obesity epidemic. The film premiered

at Sundance 2014 and will be distributed by

Radius TWC, a distributor with Oscar pedigree

after last year's Twenty Feet from Stardom won

the Academy Award for best documentary. Narrated

by executive producer Katie Couric, Fed

Up follows a group of children for more than

two years, tracking their struggle to overcome

their health problems.

DISTRIBUTOR RADiUS TWC

DIRECTOR Stephanie Soechtig

WRITERS Mark Monroe, Stephanie Soechtig

GENRE Documentary

RATING Unrated

RUNNING TIME 92 min.

RELEASE DATE May 9

GOD'S POCKET

Audiences will have another chance to see the late

Philip Seymour Hoffman in a starring role in this

drama about a man who attempts to cover up the

accidental death of his stepson. The grisly premise

paves the way for Hoffman and co-star Christina

Hendricks (of Mad Men fame) to craft the sort

of performances that have defined them as two

of today's most compelling actors. God's Pocket

premiered at the 2014 Sundance Film Festival.

DISTRIBUTOR IFC Films

CAST Christina Hendricks, Philip Seymour

Hoffman, Glenn Fleshler

DIRECTOR John Slattery

WRITERS John Slattery, Alex Metcalf

GENRE Drama

RATING Unrated

RUNNING TIME 88 min.

RELEASE DATE May 9

STAGE FRIGHT

This R-rated horror flick has tinges of the slashers

of yesteryear. Think Halloween 2, but switch

the hospital setting for—that's right—a children's

drama camp. The camp setting provides

this horror-musical hybrid with its tongue-incheek

tone. Genre fans should have plenty to

sing about with a film that ditches the stylistic

flourishes of Sweeney Todd and Phantom of the

Opera for the gritty feel of '80s VHS horror.

DISTRIBUTOR Magnolia/Magnet

CAST Minnie Driver, Meat Loaf, Allie

MacDonald

DIRECTOR/WRITER Jerome Sable

GENRE Horror

RATING R

RUNNING TIME 89 min.

RELEASE DATE May 9

THE IMMIGRANT

James Gray's The Immigrant premiered at the

2013 Cannes Film Festival before hitting

the global film-festival circuit in the ensuing

months. This art-house release features a strong

cast with headlining actors like Jeremy Renner,

Joaquin Phoenix, and Marion Cotillard. Director

James Gray made headlines in late 2013

after engaging in public squabbles with film

critics who criticized this film.

DISTRIBUTOR The Weinstein Company

CAST Jeremy Renner, Joaquin Phoenix

DIRECTOR James Gray

WRITERS James Gray, Ric Menello

GENRE Drama

RATING R

RUNNING TIME 120 min.

RELEASE DATE May 16

THE ANGRIEST MAN IN

BROOKLYN

A doctor accidentally tells a patient that he has

a brain aneurism and only 90 minutes left to

live. The simple premise starts this remake of a

1997 Israeli film, with Robin Williams starring

as the patient with little more than the film's

running time remaining in his life. Mila Kunis

plays the doctor who goes on a city-wide search

for her upset patient.

DISTRIBUTOR Lionsgate

CAST Mila Kunis, Robin Williams

DIRECTOR Phil Alden Robinson

WRITER Daniel Taplitz

GENRE Comedy/Drama

RATING R

RUNNING TIME 83 min.

RELEASE DATE May 23

COLD IN JULY

Michael C. Hall follows up his departure from

Showtime's Dexter with this gritty drama about

two East Texas men working together to untangle

a web of lies. The film is set in the 1980s,

evoking the Texas noir that launched the Coen

Brothers' career in Blood Simple. IFC acquired

the film after its premiere at the 2014 Sundance

Film Festival.

DISTRIBUTOR IFC Films

CAST Michael C. Hall, Don Johnson, Sam

Shepard

DIRECTOR Jim Mickle

WRITER Nick Damici

GENRE Drama, Thriller

RATING Unrated

RUNNING TIME 109 min.

RELEASE DATE May 23

66 BoxOffice ® Pro The Business of Movies MAY 2014
---
THE DANCE OF REALITY

Visionary Chilean filmmaker Alejandro

Jodorowsky is back on the big screen. The director

of cult classics like El Topo and The Holy

Mountain is enjoying a resurgence following

the release of the documentary Jodorowsky's

Dune, a film that details what is possibly the

greatest film never made. The Dance of Reality

is Jodorowsky's first film in over 20 years and

documents, in the director's own peculiarly

surreal way, his childhood in Chile.

DISTRIBUTOR ABKCO Films

CAST Brontis Jodorowsky, Pamela Flores,

Jeremias Herskovits

DIRECTOR/WRITER Alejandro Jodorowsky

GENRE Drama

RATING Unrated

RUNNING TIME 130 min.

RELEASE DATE May 23 (New York, Los Angeles);

May 30 (limited)

TRACKS

Adam Driver is already familiar to anyone who

watches the HBO show Girls. He'll be much

more recognizable after the premiere of J.J.

Abrams's upcoming Star Wars sequel, since the

young actor nabbed an important role in the

new Disney-produced saga. You can see Driver

in his remaining pre-blockbuster days in Tracks,

where he plays opposite indie favorite Mia

Wasikowska in a film that follows a young woman's

1,700 mile journey across Western Australia.

DISTRIBUTOR The Weinstein Company

CAST Adam Driver, Mia Wasikowska

DIRECTOR John Curran

WRITER Marion Nelson

GENRE Adventure/Drama

RATING PG-13

RUNNING TIME 112 min.

RELEASE DATE May 23 (New York, Los Angeles).

May 30 (limited)

WORDS AND PICTURES

An English teacher and an art teacher set up

a playful competition at school, pitting their

students against each other to decide whether

words or pictures are more powerful. There's

nothing wrong with a little professional rivalry

to set the scene for romantic tension, which

is precisely how the teachers, played by Clive

Owen and Juliette Binoche, begin their willthey-won't-they

relationship.

DISTRIBUTOR Roadside Attractions

CAST Keegan Connor Tracy, Clive Owen,

Juliette Binoche

DIRECTOR Fred Schepisi

WRITER Gerald Di Pego

GENRE Comedy/Drama

RATING PG-13

RUNNING TIME 111 min.

RELEASE DATE May 23

FILTH

This adaptation from Trainspotting author

Irvine Welsh's novel stars James McAvoy as

a corrupt, despicable, and unlikable cop. In

other words, it's everything we've come to

expect from an Irvine Welsh antihero. Fans of

Trainspotting might find a lot of similarities to

this new film by director Jon S. Baird. Imogen

Poots and Jamie Bell co-star.

DISTRIBUTOR Magnolia/Magnet

CAST Imogen Poots, James McAvoy, Jamie

Bell

DIRECTOR/WRITER Jon S. Baird

GENRE Comedy/Crime

RATING R

RUNNING TIME 97 min.

RELEASE DATE May 30

LUCKY THEM

Toni Collette stars as a rock journalist more

interested in chasing parties than chasing stories.

Facing pressure from her editor, she must prove

her true worth to the editorial staff by coming

up with an exclusive story. She is tasked to find a

former rock idol that has been missing from the

limelight for years. The only problem? That same

rock idol is her ex-boyfriend.

DISTRIBUTOR IFC Films

CAST Ryan Eggold, Toni Collette,

DIRECTOR Megan Griffiths

WRITER HUCK BOTKO

GENRE Comedy

RATING Unrated

RUNNING TIME 97 min.

RELEASE DATE May 30

NIGHT MOVES

Indie director Kelly Reichardt follows her critically

acclaimed (but little-seen) Meek's Cutoff with this

drama about three environmentalists who plan to

blow up a dam. The transition from activists to

radicals is explored in this film, which has already

screened at two top-tier film festivals, Venice and

Toronto. Jesse Eisenberg, Dakota Fanning, and

Peter Sarsgaard headline this drama.

DISTRIBUTOR Cinedigm

CAST Dakota Fanning, Jesse Eisenberg,

Peter Sarsgaard

DIRECTOR Kelly Reichardt

WRITERS Jonathan Raymond, Kelly Reichardt

GENRE Drama

RATING R

RUNNING TIME 112 min.

RELEASE DATE May 30

MAY 2014 BoxOffice ® Pro The Business of Movies 67
---
BOOKING

GUIDE

compiled by Daniel Garris

TITLE RELEASE DATE STARS DIRECTOR(S) RATING GENRE SPECS

CBS FILMS Lauren Douglas / 310-575-7051 / lauren.douglas@cbs.com

WHAT IF Fri, 8/1/14 EXCL NY/LA Daniel Radcliffe, Zoe Kazan Michael Dowse PG-13 Rom/Com Dolby Dig

DISNEY 818-560-1000 / Ask for Distribution

MILLION DOLLAR ARM Fri, 5/16/14 WIDE Jon Hamm, Aasif Mandvi Craig Gillespie PG Dra/Sport Dolby Dig

MALEFICENT Fri, 5/30/14 WIDE Angelina Jolie, Elle Fanning Robert Stromberg PG Adv/Fan

3D/IMAX/Dolby

Dig

PLANES: FIRE & RESCUE Fri, 7/18/14 WIDE Dane Cook, Julie Bowen Bobs Gannaway NR Ani/Adv/Fam 3D/Dolby Dig

GUARDIANS OF THE GALAXY Fri, 8/1/14 WIDE Chris Pratt, Zoe Saldana James Gunn NR Act/Adv/SF

3D/IMAX/Dolby

Dig

THE HUNDRED-FOOT JOURNEY Fri, 8/8/14 WIDE Helen Mirren, Manish Dayal Lasse Hallström NR Dra

ALEXANDER & THE TERRIBLE, HORRI-

BLE, NO GOOD, VERY BAD DAY

Fri, 10/10/14 WIDE Ed Oxenbould, Steve Carell Miguel Arteta NR Com/Fam

BIG HERO 6 Fri, 11/7/14 WIDE Don Hall, Chris Williams NR Ani/Act/Adv 3D

MCFARLAND Fri, 11/21/14 WIDE Kevin Costner, Maria Bello Niki Caro NR Dra/Sport

INTO THE WOODS Thu, 12/25/14 WIDE Meryl Streep, Johnny Depp Rob Marshall NR Mus/Fan

CINDERELLA Fri, 3/13/15 WIDE Lily James, Richard Madden Kenneth Branagh NR Adv/Dra/Fan

AVENGERS: AGE OF ULTRON Fri, 5/1/15 WIDE Robert Downey Jr., Chris Evans Joss Whedon NR Act/Adv

3D/IMAX/Dolby

Atmos

FOCUS FEATURES Mingun Kim / 818-777-3071

THE SIGNAL Fri, 6/13/14 LTD. Brenton Thwaites, Olivia Cooke William Eubank PG-13 SF/Thr Dolby Dig

WISH I WAS HERE Fri, 7/18/14 EXCL NY/LA Zach Braff, Kate Hudson Zach Braff NR Com/Dra

THE BOXTROLLS

Fri, 9/26/14 WIDE Ben Kingsley, Isaac Hempstead Wright

Graham Annable, Anthony

Stacchi

PG Ani/Adv/Fam 3D/Dolby Dig

KILL THE MESSENGER Fri, 10/10/14 LTD. Jeremy Renner, Mary Elizabeth Winstead Michael Cuesta NR Cri/Dra/Thr

SELFLESS Fri, 2/27/15 WIDE Ryan Reynolds, Natalie Martinez Tarsem Singh NR SF/Thr

INSIDIOUS CHAPTER 3 Fri, 4/3/15 WIDE NR Hor/Thr

FOX 310-369-1000 / 212-556-2400

X-MEN: DAYS OF FUTURE PAST Fri, 5/23/14 WIDE Hugh Jackman, James McAvoy Bryan Singer NR Act/Adv 3D/Dolby Atmos

THE FAULT IN OUR STARS Fri, 6/6/14 WIDE Shailene Woodley, Ansel Elgort Josh Boone PG-13 Dra/Rom Dolby Dig

HOW TO TRAIN YOUR DRAGON 2 Fri, 6/13/14 WIDE Jay Baruchel, Gerard Butler Dean DeBlois PG Ani/Adv/Fam 3D/Dolby Atmos

DAWN OF THE PLANET

OF THE APES

Fri, 7/11/14 WIDE Andy Serkis, Gary Oldman Matt Reeves NR Act/SF 3D/Dolby Atmos

LET'S BE COPS Wed, 8/13/14 WIDE Jake Johnson, Damon Wayans Jr. Luke Greenfield R Act/Com

THE MAZE RUNNER Fri, 9/19/14 WIDE Dylan O'Brien, Will Poulter Wes Ball NR SF/Thr Dolby Dig

GONE GIRL Fri, 10/3/14 WIDE Ben Affleck, Rosamund Pike David Fincher NR Dra/Thr

BOOK OF LIFE Fri, 10/17/14 WIDE Channing Tatum, Zoe Saldana Jorge R. Gutierrez NR Ani/Adv

THE SECRET SERVICE Fri, 10/24/14 WIDE Colin Firth, Taron Egerton Matthew Vaughn NR Act/Thr

HOME Wed, 11/26/14 WIDE Jim Parsons, Rihanna Tim Johnson NR Ani/Adv/SF 3D

EXODUS: GODS AND KINGS Fri, 12/12/14 WIDE Christian Bale, Joel Edgerton Ridley Scott NR Dra

NIGHT AT THE MUSEUM 3 Fri, 12/19/14 WIDE Ben Stiller, Owen Wilson Shawn Levy NR Adv/Com/Fam

TAKEN 3 Fri, 1/9/15 WIDE Liam Neeson, Maggie Grace Olivier Megaton NR Act/Thr

POLTERGEIST Fri, 2/13/15 WIDE Sam Rockwell, Rosemarie DeWitt Gil Kenan NR Hor/Thr

UNTITLED VINCE VAUGHN MOVIE Fri, 3/6/15 WIDE Vince Vaughn, Tom Wilkinson Ken Scott NR Com

THE PENGUINS OF MADAGASCAR Fri, 3/27/15 WIDE Tom McGrath, John DiMaggio Simon J. Smith NR Ani/Com/Fam 3D

THE LONGEST RIDE Fri, 4/3/15 WIDE George Tillman Jr. NR Dra/Rom

FOX SEARCHLIGHT 212-556-2400

BELLE Fri, 5/2/14 LTD. Gugu Mbatha-Raw, Tom Wilkinson Amma Asante PG Dra Dolby Dig

I ORIGINS Fri, 7/18/14 LTD. Michael Pitt, Brit Marling Mike Cahill NR SF/Dra

CALVARY Fri, 8/1/14 LTD. Brendan Gleeson, Chris O'Dowd John Michael McDonagh NR Com/Dra

THE DROP Fri, 9/19/14 LTD. Tom Hardy, Noomi Rapace Michaël R. Roskam R Cri/Dra

THE BEST EXOTIC MARIGOLD HOTEL 2 Fri, 3/6/15 LTD. Judi Dench, Maggie Smith John Madden NR Com

LIONSGATE / 310-309-8400

THE ANGRIEST MAN IN BROOKLYN Fri, 5/23/14 LTD. Robin Williams, Mila Kunis Phil Alden Robinson R Dra Dolby Dig

BURNING BLUE Fri, 6/6/14 LTD. Trent Ford, Morgan Spector DMW Greer R Dra/Rom

THEY CAME TOGETHER Fri, 6/27/14 LTD. Paul Rudd, Amy Poehler David Wain R Com

STEP UP ALL IN Fri, 7/25/14 WIDE Ryan Guzman, Briana Evigan Trish Sie NR Dra/Rom/Dance 3D

THE EXPENDABLES 3 Fri, 8/15/14 WIDE Sylvester Stallone, Jason Statham Patrick Hughes NR Act/Adv Dolby Atmos

JESSABELLE Fri, 8/29/14 WIDE Sarah Snook, Mark Webber Kevin Greutert PG-13 Hor/Thr

ADDICTED Fri, 10/10/14 WIDE Sharon Leal, Boris Kodjoe Bille Woodruff NR Dra

THE HUNGER GAMES: MOCKINGJAY -

PART 1

Fri, 11/21/14 WIDE Jennifer Lawrence, Josh Hutcherson Francis Lawrence NR Act/Adv/SF IMAX

NORM OF THE NORTH Fri, 1/16/15 WIDE Rob Schneider, Ken Jeong Anthony Bell NR Ani/Com/Fam 3D

LAZARUS Fri, 1/30/15 WIDE Olivia Wilde, Mark Duplass David Gelb NR Hor/Thr

68 BoxOffice ® Pro The Business of Movies MAY 2014
---
BOOKING GUIDE

TITLE RELEASE DATE STARS DIRECTOR(S) RATING GENRE SPECS

INSURGENT Fri, 3/20/15 WIDE Shailene Woodley, Theo James Robert Schwentke NR Act/Adv/SF

OPEN ROAD FILMS 310-696-7504

CHEF Fri, 5/9/14 LTD. Jon Favreau, Sofía Vergara Jon Favreau NR Com

THE FLUFFY MOVIE Fri, 7/11/14 WIDE Gabriel Iglesias Manny Rodriguez NR Com/Con/Doc

THE GREEN INFERNO Fri, 9/5/14 WIDE Lorenza Izzo, Ariel Levy Eli Roth R Hor/Thr

PARAMOUNT 323-956-5000

TRANSFORMERS:

AGE OF EXTINCTION

Fri, 6/27/14 WIDE Mark Wahlberg, Nicola Peltz Michael Bay NR Act/Adv/SF

3D/IMAX/Dolby

Atmos

HERCULES Fri, 7/25/14 WIDE Dwayne Johnson, Rufus Sewell Brett Ratner NR Act/Adv Quad

TEENAGE MUTANT NINJA TURTLES Fri, 8/8/14 WIDE Megan Fox, William Fichtner Jonathan Liebesman NR Act/Adv 3D/Dolby Dig

PARANORMAL ACTIVITY 5 Fri, 10/24/14 WIDE Katie Featherston Gregory Plotkin NR Hor

INTERSTELLAR Fri, 11/7/14 WIDE Matthew McConaughey, Anne Hathaway Christopher Nolan NR SF IMAX

HOT TUB TIME MACHINE 2 Thu, 12/25/14 WIDE Rob Corddry, Craig Robinson Steve Pink R Com

PROJECT ALMANAC Fri, 1/30/15 WIDE Jonny Weston, Sofia Black-D'Elia Dean Israelite NR SF/Thr

SPONGEBOB SQUAREPANTS 2 Fri, 2/13/15 WIDE Tom Kenny, Bill Fagerbakke Paul Tibbitt NR Ani/Com/Fam 3D

FRIDAY THE 13TH Fri, 3/13/15 WIDE NR Hor

RELATIVITY 310-724-7700 / Ask for Distribution

EARTH TO ECHO Wed, 7/2/14 WIDE Teo Halm, Astro Dave Green PG Adv/SF Dolby Dig

NOVEMBER MAN Wed, 8/27/14 WIDE Pierce Brosnan, Olga Kurylenko Roger Donaldson R Act/Thr

THE BEST OF ME Fri, 10/17/14 WIDE Michelle Monaghan, James Marsden Michael Hoffman NR Dra/Rom

BLACKBIRD Fri, 11/14/14 WIDE Gugu Mbatha-Raw, Nate Parker Gina Prince-Bythewood NR Dra

SONY 212-833-8500

THE AMAZING SPIDER-MAN 2 Fri, 5/2/14 WIDE Andrew Garfield, Emma Stone Marc Webb PG-13 Act/Adv

3D/IMAX/Dolby

Atmos/Quad

MOMS' NIGHT OUT Fri, 5/9/14 WIDE Sarah Drew, Sean Astin Andrew Erwin, Jon Erwin PG Com

22 JUMP STREET Fri, 6/13/14 WIDE Channing Tatum, Jonah Hill Phil Lord, Chris Miller NR Act/Com Quad

THINK LIKE A MAN TOO Fri, 6/20/14 WIDE Kevin Hart, Michael Ealy Tim Story PG-13 Rom/Com

DELIVER US FROM EVIL Wed, 7/2/14 WIDE Eric Bana, Édgar Ramírez Scott Derrickson NR Cri/Hor/Thr Quad

SEX TAPE Fri, 7/25/14 WIDE Cameron Diaz, Jason Segel Jake Kasdan NR Com

WHEN THE GAME STANDS TALL Fri, 8/22/14 WIDE Jim Caviezel, Laura Dern Thomas Carter NR Dra/Sport

NO GOOD DEED Fri, 9/12/14 WIDE Idris Elba, Taraji P. Henson Sam Miller NR Dra/Thr

THE EQUALIZER Fri, 9/26/14 WIDE Denzel Washington, Chloë Grace Moretz Antoine Fuqua NR Act/Thr

THE INTERVIEW Fri, 10/10/14 WIDE James Franco, Seth Rogen Evan Goldberg, Seth Rogen NR Com

FURY Fri, 11/14/14 WIDE Brad Pitt, Shia LaBeouf David Ayer NR Act/Dra/War

ANNIE Fri, 12/19/14 WIDE Jamie Foxx, Quvenzhané Wallis Will Gluck NR Mus/Fam

UNTITLED CAMERON CROWE PROJECT Thu, 12/25/14 WIDE Bradley Cooper, Emma Stone Cameron Crowe NR Rom/Com/Dra

KITCHEN SINK Fri, 1/9/15 WIDE Nicholas Braun, Mackenzie Davis Robbie Pickering NR Com/Hor

THE WEDDING RINGER Fri, 1/16/15 WIDE Kevin Hart, Josh Gad Jeremy Garelick NR Com

CHAPPIE Fri, 3/6/15 WIDE Hugh Jackman, Sharlto Copley Neill Blomkamp NR SF/Act/Com

PAUL BLART: MALL COP 2 Fri, 4/17/15 WIDE Kevin James, Raini Rodriguez Andy Fickman NR Com/Fam

UNIVERSAL 818-777-1000

NEIGHBORS Fri, 5/9/14 WIDE Seth Rogen, Zac Efron Nicholas Stoller R Com Quad

A MILLION WAYS TO DIE IN THE WEST Fri, 5/30/14 WIDE Seth MacFarlane, Charlize Theron Seth MacFarlane R Com/Wes Quad

THE PURGE: ANARCHY Fri, 7/18/14 WIDE Frank Grillo, Zach Gilford James DeMonaco NR Hor/Thr/SF Quad

GET ON UP Fri, 8/1/14 WIDE Chadwick Boseman, Viola Davis Tate Taylor NR Dra Quad

LUCY Fri, 8/8/14 WIDE Scarlett Johansson, Morgan Freeman Luc Besson NR Act/Thr

AS ABOVE, SO BELOW Fri, 8/15/14 WIDE John Erick Dowdle NR Hor/Thr

THE LOFT Fri, 8/29/14 WIDE Karl Urban, James Marsden Erik Van Looy R Thr

SEARCH PARTY Fri, 9/12/14 WIDE Thomas Middleditch, T.J. Miller Scot Armstrong NR Com

A WALK AMONG THE TOMBSTONES Fri, 9/19/14 WIDE Liam Neeson, Dan Stevens Scott Frank R Act/Thr

DRACULA UNTOLD Fri, 10/17/14 WIDE Luke Evans, Dominic Cooper Gary Shore NR Act/Hor

OUIJA Fri, 10/24/14 WIDE Olivia Cooke, Douglas Smith Stiles White NR SF/Thr

DUMB AND DUMBER TO

Fri, 11/14/14 WIDE Jim Carrey, Jeff Daniels

Bobby Farrelly, Peter

Farrelly

NR Com

UNBROKEN Thu, 12/25/14 WIDE Jack O'Connell, Domhnall Gleeson Angelina Jolie NR Dra/War Quad

UNTITLED MICHAEL MANN PROJECT Fri, 1/16/15 WIDE Chris Hemsworth, Viola Davis Michael Mann NR Cri/Thr

THE BOY NEXT DOOR Fri, 1/23/15 WIDE Jennifer Lopez, Ryan Guzman Rob Cohen NR Thr

SEVENTH SON Fri, 2/6/15 WIDE Jeff Bridges, Ben Barnes Sergey Bodrov PG-13 Adv/Fan 3D/IMAX/Quad

FIFTY SHADES OF GREY Fri, 2/13/15 WIDE Dakota Johnson, Jamie Dornan Sam Taylor-Johnson NR Dra/Rom

FAST & FURIOUS 7 Fri, 4/10/15 WIDE Vin Diesel, Dwayne Johnson James Wan NR Act/Cri

WARNER BROS. 818-977-1850

GODZILLA Fri, 5/16/14 WIDE Aaron Taylor-Johnson, Ken Watanabe Gareth Edwards PG-13 Act/Adv/SF

3D/IMAX/Dolby

Atmos/Quad

BLENDED Fri, 5/23/14 WIDE Adam Sandler, Drew Barrymore Frank Coraci PG-13 Rom/Com Quad

EDGE OF TOMORROW Fri, 6/6/14 WIDE Tom Cruise, Emily Blunt Doug Liman PG-13 Act/SF

3D/IMAX/Dolby

Atmos/Quad

JERSEY BOYS Fri, 6/20/14 WIDE John Lloyd Young, Christopher Walken Clint Eastwood R Mus/Dra

TAMMY Wed, 7/2/14 WIDE Melissa McCarthy, Susan Sarandon Ben Falcone R Com Quad

MAY 2014 BoxOffice ® Pro The Business of Movies 69
---
BOOKING GUIDE

TITLE RELEASE DATE STARS DIRECTOR(S) RATING GENRE SPECS

JUPITER ASCENDING

Fri, 7/18/14 WIDE Channing Tatum, Mila Kunis

Andy Wachowski, Lana

Wachowski

NR Act/Adv/SF 3D/IMAX/Quad

INTO THE STORM Fri, 8/8/14 WIDE Richard Armitage, Sarah Wayne Callies Steven Quale PG-13 Act/Thr Quad

IF I STAY Fri, 8/22/14 WIDE Chloë Grace Moretz, Mireille Enos R.J. Cutler NR Dra

THE GOOD LIE Fri, 9/10/14 LTD. Reese Witherspoon, Corey Stoll Philippe Falardeau PG-13 Dra

THIS IS WHERE I LEAVE YOU Fri, 9/12/14 WIDE Jason Bateman, Tina Fey Shawn Levy R Com/Dra

DOLPHIN TALE 2 Fri, 9/19/14 WIDE Nathan Gamble, Harry Connick Jr. Charles Martin Smith NR Dra/Fam

UNTITLED NEW LINE HORROR FILM Fri, 10/3/14 WIDE NR Hor

THE JUDGE Fri, 10/10/14 WIDE Robert Downey Jr., Robert Duvall David Dobkin NR Dra

HORRIBLE BOSSES 2 Wed, 11/26/14 WIDE Jason Bateman, Jason Sudeikis Sean Anders NR Com

INHERENT VICE Fri, 12/12/14 WIDE Joaquin Phoenix, Josh Brolin Paul Thomas Anderson NR Cri/Com/Dra

THE HOBBIT:

THERE AND BACK AGAIN

Wed, 12/17/14 WIDE Ian McKellen, Martin Freeman Peter Jackson NR Act/Adv/Fan

THE MAN FROM U.N.C.L.E. Fri, 1/16/15 WIDE Henry Cavill, Armie Hammer Guy Ritchie NR Act/Adv/Com

RUN ALL NIGHT Fri, 2/6/15 WIDE Liam Neeson, Joel Kinnaman Jaume Collet-Serra NR Act/Cri/Thr

FOCUS Fri, 2/27/15 WIDE Will Smith, Margot Robbie Glenn Ficarra, John Requa NR Rom/Com/Cri

HEART OF THE SEA Fri, 3/13/15 WIDE Chris Hemsworth, Benjamin Walker Ron Howard NR Dra

GET HARD Fri, 3/27/15 WIDE Will Ferrell, Kevin Hart Etan Cohen NR Com

MEAN MOMS Fri, 5/8/15 WIDE Beth McCarthy-Miller NR Com

WEINSTEIN CO./DIMENSION 646-862-3400

3D/IMAX/Dolby

Atmos

THE IMMIGRANT Fri, 5/16/14 LTD. Marion Cotillard, Joaquin Phoenix James Gray R Dra Dolby Dig

TRACKS Fri, 5/23/14 LTD. Mia Wasikowska, Adam Driver John Curran PG-13 Adv/Dra Dolby Dig

YVES SAINT LAURENT Wed, 6/25/14 LTD. Pierre Niney, Guillaume Gallienne Jalil Lespert NR Dra

BEGIN AGAIN Fri, 7/4/14 EXCL NY/LA Keira Knightley, Mark Ruffalo John Carney R Mus/Com/Dra Dolby Dig

THE GIVER Fri, 8/15/14 WIDE Jeff Bridges, Brenton Thwaites Phillip Noyce NR SF/Dra

SIN CITY: A DAME TO KILL FOR

Fri, 8/22/14 WIDE Josh Brolin, Eva Green

Frank Miller, Robert

Rodriguez

NR Act/Cri/Thr 3D/Dolby Dig

UNDERDOGS Wed, 8/27/14 WIDE Rupert Grint Juan José Campanella NR Ani/Com/Fam Dolby Dig

ONE CHANCE Fri, 8/29/14 LTD. James Corden, Alexandra Roach David Frankel PG-13 Mus/Com/Dra Dolby Dig

ST. VINCENT Fri, 10/24/14 WIDE Bill Murray, Naomi Watts Theodore Melfi PG-13 Com

PADDINGTON Fri, 12/12/14 WIDE Colin Firth, Hugh Bonneville Paul King NR Ani/Com/Fam

AMITYVILLE Fri, 1/2/15 WIDE Jennifer Jason Leigh, Bella Thorne Franck Khalfoun NR Hor/Thr

BOXOFFICE ® PRO (ISSN 0006-8527), Volume 150, Number 5, May 2014. BOXOFFICE ® PRO is published monthly by BoxOffice Media, LLC, 11911 San Vicente Blvd., Ste. 355,

Los Angeles, CA 90049, USA. corporate@boxoffice.com. www.boxoffice.com. Basic annual subscription rate is $59.95. Periodicals postage paid at Beverly Hills, CA, and at

additional mailing offices. POSTMASTER: Send all UAA to CFS. NON-POSTAL AND MILITARY FACILITIES: send address corrections to BOXOFFICE PRO, P.O. Box 16015,

North Hollywood, CA 91615-6015. © Copyright 2013. BoxOffice Media, LLC. All rights reserved. SUBSCRIPTION CUSTOMER SERVICE: BOXOFFICE PRO, P.O. Box 16015,

North Hollywood, CA 91615-6015, USA, Phone (818) 286-3108, Fax (800) 869-0040, bxpcs@magserv.com, www.boxoffice.com. BoxOffice ® is a registered trademark of

BoxOffice Media LLC.

70 BoxOffice ® Pro The Business of Movies MAY 2014
---
AMERICAN CINEMA

EQUIPMENT

1927 N. Argyle Street

Portland, OR 97217

www.cinequip.com

PG 12

AMERICAN COMPUTER

OPTICS, INC.

(PORT WINDOW GLASS)

240 Goddard

Irvine, CA 92618-4625

www.portwindowglass.com

PG 39

CARDINAL SOUND

& MOTION PICTURE

SYSTEMS

6330 Howard Ln.

Elkridge, MD 21075

www.cardinalsound.com

PG 72

CHRISTIE DIGITAL

SYSTEMS

10550 Camden Dr.

Cypress, CA 90630

www.christiedigital.com

inside front cover

CINEMA EQUIPMENT &

SUPPLIES

12457 SW 130th St.

Miami, FL 33186

www.cinemaequip.com

PG 4

C. CRETORS & COMPANY

3243 N. California Ave.

Chicago, IL 60618

www.cretors.com

PG 61

DOLBY LABORATORIES

100 Potrero Ave.

San Francisco, CA 94103

www.dolby.com

inside back cover

DOLPHIN SEATING

313 Remuda St.

Clovis, NM 88101

www.dolphinseating.com

PG 57

ENPAR AUDIO

www@enparaudio.com

PG 55

ENTERTAINMENT

SUPPLY &

TECHNOLOGIES, LLC

4971 Van Dyke Road

Lutz, FL 33558

www.ensutec.com

PG 2

EVERYTHINGCINEMA.BIZ

www.everythingcinema.biz

PG 45

GLASSFORM

P.O. Box 776

Batavia, IL 60510

www.glassformonline.com

PG 70

GOLD MEDAL

PRODUCTS

10700 Medallion Dr.

Cincinnati, OH 45241-4807

www.gmpopcorn.com

PG 53

HARKNESS SCREENS

Unit A, Norton Road

Stevenage, Herts

SG1 2BB UK

www.harkness-screens.com

Front Cover, PG 47, 49, 51

IRWIN SEATING

3251 Fruit Ridge N.W.

Grand Rapids, MI 49544

www.irwinseating.com

PG 27

J&J SNACK FOODS

6000 Central Highway

Pennsauken, NJ 08109

www.jjsnack.com

PG 13

KERNEL SEASONS

1958 N. Western Ave.

Chicago, IL 60647

www.kernelseasons.com

PG 43

MAROEVICH, O'SHEA &

COUGHLAN

44 Montgomery St., 17th Fl.

San Francisco, CA 94104

www.mocins.com

PG 5

MOBILIARIO S.A. DE C.V.

Calle Del Sol #3 Col./

San Rafael Champa

Naucalpan de Juarez

53660 Mexico

5255-5300-0620

www.mobiliarioseating.com

PG 17

OMNITERM DATA

TECHNOLOGY

2785 Skymark Ave., Unit 11

Mississauga, ON L4W 4Y3

www.omniterm.com

PG 37

PACKAGING CONCEPTS,

INC.

9832 Evergreen Industrial Dr.

St. Louis, MO 63123

www.packagingconceptsinc.com

PG 19

QSC AUDIO

1665 MacArthur Blvd.

Costa Mesa, CA 92626

www.qscaudio.com

PG 23

READY THEATRE

SYSTEMS

4 Hartford Blvd.

Hartford, MI 49057

www.rts-solutions.com.com

PG 35

REALD

100 North Crescent Dr., Ste. 200

Beverly Hills, CA 90210

www.reald.com

PG 28–29

RETRIEVER SOFTWARE

7040 Avenida Encinas

Ste. 104-363

Carlsbad, CA 92011

www.retrieversoftware.com

PG 31

SCRABBLE VENTURES

10550 Camden Dr.

Cypress CA 90630

www.scrabbleventures.com

PG 41

SCREENVISION

1411 Broadway 33rd Fl.

New York, NY 10018

www.screenvision.com

BACK COVER

SENSIBLE CINEMA

SOFTWARE

7216 Sutton Pl.

Fairview, TN 37062

www.sensiblecinema.com

PG 72

SONIC EQUIPMENT

COMPANY

900 W Miller Rd.

Iola,KS 66749

www.sonicequipment.com

PG 33

USHIO AMERICA, INC.

5440 Cerritos Ave.

Cypress, CA 90630

www.ushio.com

PG 21

VIP CINEMA SEATING

589 Coley Rd.

Tupelo, MS 38801

www.vipcinemaseating.com

PG 9

VISTA SOFTWARE

SOLUTIONS

323-944-0470

www.vistausa.com

www.veezi.com

PG 11

BOXOFFICE ® MEDIA

CHAIRMAN

Peter Cane

CEO

Julien Marcel

EXECUTIVE EDITOR /

CREATIVE DIRECTOR

Kenneth James Bacon

BOXOFFICE ® PRO

INDUSTRY CONTRIBUTORS

Patrick Corcoran

John Fithian

CONTRIBUTING EDITORS

Daniel Garris

Daniel Loria

Phil Contrino

COPY EDITOR

Laura Silver

PRODUCTION ASSISTANT

Ally Bacon

BOXOFFICE.COM

EDITOR

Phil Contrino

OVERSEAS EDITOR

Daniel Loria

FORUMS EDITOR

Shawn Robbins

NORTH AMERICAN GROSSES EDITOR

Daniel Garris

ADVERTISING

VP OF ADVERTISING

Susan Uhrlass

9107 Wilshire Blvd., Ste. 450

Beverly Hills, CA 90210

susan@boxoffice.com

310-876-9090

SUBSCRIPTIONS

Lucia Borja

Stark Services

12444 Victory Blvd., 3rd Floor

North Hollywood, CA 91606

lucia@starkservices.com

818-985-2003

CORPORATE

BoxOffice Media

11911 San Vicente Blvd., Ste. 355

Los Angeles, CA 90049

corporate@boxoffice.com

MAY 2014 BoxOffice ® Pro The Business of Movies 71
---
BUYING & SELLING

MARQUEE LETTERS. Buying and selling. New

and Used marquee letters all types. We buy

old. We sell new. All styles. Trade in your old

letters and get new letters. Turn those old letters

into cash. Your source for new Pronto, Zip-

Change, Snap Lok, Slotted. mike@pilut.com

800-545-8956

DRIVE-IN CONSTRUCTION

DRIVE-IN SCREEN TOWERS since 1945. Selby

Products Inc., P.O. Box 267, Richfield, OH

44286. Phone: 330-659-6631.

EQUIPMENT WANTED

ASTER AUDITORIUM SEATING & AUDIO. We

offer the best pricing on good used projection

and sound equipment. Large quantities available.

Please visit our website, www.asterseating.com,

or call 888-409-1414.

AMERICAN ENTERTAINMENT PRODUCTS

LLC is buying projectors, processors, amplifiers,

speakers, seating, platters. If you are closing,

remodeling or have excess equipment in

your warehouse and want to turn equipment

into cash, please call 866-653-2834 or email

aep30@comcast.net. Need to move quickly to

close a location and dismantle equipment? We

come to you with trucks, crew and equipment,

no job too small or too large. Call today for a

quotation: 866-653-2834. Vintage equipment

wanted also! Old speakers like Western Electric

and Altec, horns, cabinets, woofers, etc.,

and any tube audio equipment. Call or email:

aep30@comcast.net.

COLLECTOR WANTS TO BUY: We pay top

money for any 1920-1980 theater equipment.

We'll buy all theater-related equipment, working

or dead. We remove and pick up anywhere

in the U.S. or Canada. Amplifiers, speakers,

horns, drivers, woofers, tubes, transformers;

Western Electric, RCA, Altec, JBL, Jensen,

THEATRE MANAGERS WANTED

Metropolitan Theatres, family owned and operated

since 1923 with locations in Santa Barbara,

CA., Colorado, Utah & Idaho is actively seeking

experienced & motivated applicants with the

desire to join our successful theatre management

team.

Candidates must have two or more years in theatre

management, possess excellent verbal and

written communication skills, be team players

and have strong leadership qualities.

Competitive compensation including a bonus

program, as well as 401K and medical benefits

plan is available.

Please send your resume with salary

requirements to:

jobs@metrotheatres.com

Simplex and more. We'll remove installed

equipment if it's in a closing location. We buy

projection and equipment too. Call today: 773-

339-9035; cinema-tech.com; email ILG821@

aol.com.

FOR SALE

BARCO 3D/DIGITAL EQUIPMENT FOR SALE:

Purchase for $55K. Equipment list provided

upon request. Contact seller at mschwartz@

pennprolaw.com.

PREFERRED SEATING COMPANY, your

source for new, used and refurbished theater

and stadium seating. Buying and selling

used seating is our specialty. Call tollfree

866-922-0226 or visit our website www.

preferred-seating.com.

12 PLEX THEATER FOR SALE with stadium

seating. 6 acres of Land. Selling at below land

value. $2,000,000. Located in Huntsville AL, at

the University Mall. Please call 407-948-6751.

TWO CHRISTIE DIGITAL PROJECTORS

CP2000SB, Two Dolby DSS100, Two Dolby

Show Player, Two Christie Series 1 ACT & Four

Dolby Filter Wheel and Projector Assembly. All

in very good condition. Call 360-993-0010.

USED DIGITAL PROJECTORS AVAILABLE.

Barco dcp2000 and others slightly used. Don't

close your theater conversion is cheaper than

you think. Call Stetson Snell 505-615-2913

HELP WANTED

THEATRE MANAGEMENT POSITIONS AVAIL-

ABLE Pacific Northwest Theatre Company.

Previous management experience required.

Work weekends, evenings and holidays. Send

resume and salary history to movietheatrejobs@gmail.com

THEATRE MANAGEMENT POSITION AVAIL-

ABLE. Xscape Theatres is looking for managers.

Previous theatre experience is required.

WE CLEAN THEATERS

EXCLUSIVELY!

From coast to coast for 35 YEARS.

Let us give you our references.

www.maintenancecooperative.com

or call 770-503-1102

Must be able to work evenings, weekends, and

holidays. Send resumes, references, and salary

requirements to cewing@alianceent.com

or mail to Aliance Management Co. LLC 825

Northgate Blvd. Suite # 203 New Albany, IN

47150. Will conduct interviews at CinemaCon

2014.

SERVICES

DULL FLAT PICTURE? RESTORE YOUR XE-

NON REFLECTORS! Ultraflat repolishes and

recoats xenon reflectors. Many reflectors available

for immediate exchange. (ORC, Strong,

Christie, Xetron, others!) Ultraflat, 20306 Sherman

Way, Winnetka, CA 91306; 818-884-0184.

ALLSTATE SEATING specializes in refurbishing,

complete painting, molded foam, tailor-made

seat covers, installations and removals.

Please call for pricing and spare parts for

all types of theater seating. Boston, Mass.; 617-

770-1112; fax: 617-770-1140.

CONSOLIDATED THEATRE SERVICES, LLC

has a wide variety of theatre sound equipment

available at competitive prices. Our extensive

inventory includes amplifiers, processors,

speakers and sound racks from makers such

as JBL, Dolby, Ashly, Klipsch, Crown and more.

You are welcome to call us at 305-908-1613 for

further information.

THEATER SPACE FOR LEASE

AN 8,400 SQ. FT. SPACE containing two movie

theaters is available for lease in Frankfort,

KY, at a very reasonable lease rate. It would

be perfect for the new concept of eating in the

theater. The theaters are located in the middle

of a major shopping center. The center owners

would prefer an operating movie theater rather

than convert the space into retail use. Contact

Alexa at 859-221-9921 or email her at alexarkelley@gmail.com

for more information.

DIRECTOR OF FOOD AND BEVERAGE METROPOLITAN THEATRES, a fourth-generation, family-owned company

based in Los Angeles, is seeking a self-motivated professional to ensure premiere

guest service and optimize food and beverage profit at its 17 locations in California,

Colorado, Idaho, Utah, and British Columbia, Canada. Goal-oriented and budgetminded

candidates must have prior senior concessions experience, be available

for limited travel and possess excellent analytical, leadership and communication

skills. Please send resume and salary requirements to: jobs@metrotheatres.com

72 BoxOffice ® Pro The Business of Movies MAY 2014
---
DOLBY ATMOS

With more than 100 titles and counting,

Dolby Atmos is transforming the world of

motion pictures. The CP850 is the complete

audio solution for today's digital cinemas.

AVAILABLE

NOW!

dolby.com/atmos

Dolby, Dolby Atmos, and the double-D symbol are registered trademarks of Dolby Laboratories. © 2014 Dolby Laboratories, Inc. All rights reserved. S14/27774/27954