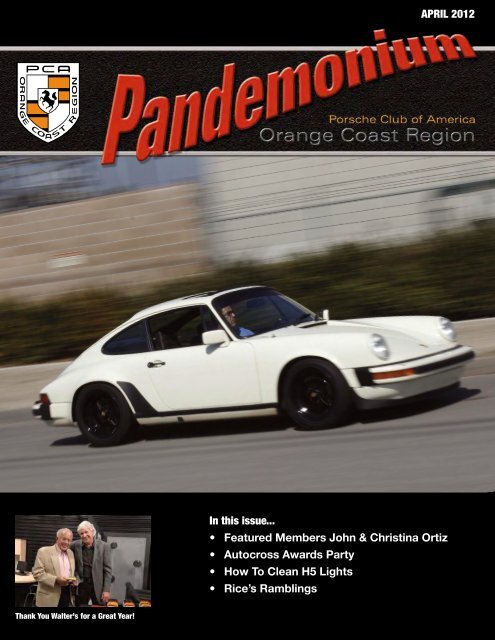 APRIL 2012 In this issue... Featured Members John & Christina Ortiz ...
APRIL 2012 In this issue... Featured Members John & Christina Ortiz ...
APRIL 2012 In this issue... Featured Members John & Christina Ortiz ...
SHOW MORE
SHOW LESS
You also want an ePaper? Increase the reach of your titles
YUMPU automatically turns print PDFs into web optimized ePapers that Google loves.
APRIL 2012

In this issue...

• Featured Members John & Christina Ortiz

• Autocross Awards Party

• How To Clean H5 Lights

• Rice's Ramblings

Thank You Walter's for a Great Year!
---
www.pcaocr.org April 2012

Editor

Garey Cooper

gareycooper@mac.com

(714) 264-0530

Production Editor

Maryann Marks

mamsy1@yahoo.com

Advertising Director

Ken Fredrickson

fast.freddy@verizon.net

(714) 962-3258

Classified Ads Editor

Bob Weber

hbobw930@aol.com

714-960-4981

Technical Writer

Lee Rice

Contributing Writers

Cooper Boggs

Garey Cooper

Steve Eguina

Bruce Herrington

Moe Mistry

John Ortiz

Bob Scheussler

Kevin Torre

Contributing Photographers

Cooper Boggs

Garey Cooper

Lisa Goetsch

Pamela Horton

John Ortiz

Jon Perino

Kevin Torre

Inside this issue

Autocross paricipants waiting to see who

gets jackets and trophys

Fairview Mortgage Capital / RacingLifestyle.

com WC-GT2 Porsche

Our Feature member John got convinced to

autocross at cars & coffee

Features

6 The Art of Detailing Part II

8 How to Clean H5 Lights

9 Feature: John Ortiz

11 AutoCross Corner

12 Walter's Hosts 2012 AutoCross

Party

13 Book Review: Porsches and Me

23 Patrick C. Paternie: A Dear

Friend of PCA/OCR

Upcoming Events

2 Calendar of Events

7 Garden Tour

10 New Member Picnic

14 Concours Entry Information

21 Porsce Parade

22 AutoCross Events

Departments

2 Goodie Store

3 Presidents Message

4 Contacts

5 Editor's Notes

15 Rice's Ramblings

24 Membership

25 Breakfast Club/New Members

35 Classifieds

36 List of Advertisers

On the Cover: John Ortiz

Cover Photo by Jon Perino

Pandemonium is published monthly. Deadline for materials is the 1st of the month for publication in the next month's issue.

Subscriptions for PCA members of other regions are $30 per twelve issues. Non-members may subscribe at $35 for twelve issues, payable in advance.

Pandemonium is the official publication of Orange Coast Region, Porsche Club of America. Any statement appearing in the Pandemonium is that of the author,

and does not constitute an opinion of the Porsche Club of America, the Orange Coast Region, Inc., its Board of Directors, the Pandemonium editors or its staff.

The editorial staff reserves the right to edit all material submitted for publication. Permission is given to chartered regions of PCA to reprint articles in their newsletter

if credit is given to the author and the Pandemonium. Publication office: 19401 Sandpebble Circle, Huntington Beach, CA 92648. Bulk Rate class postage

paid, Santa Ana, ca.

Postmaster: Address change to PCA/OCR Membership,, 5081 Hamer Lane, Placentia, CA 92870.

APRIL 2012
---
APRIL

1 Deadline May Pando

2 DE Event-Streets of Willow

7 Breakfast Club & Board Meeting

12 Woody's BurgerBahn

15 AutoX-El Toro

20-22 California Festival of Speed

21 Krispy Kreme Gathering

28 Porsches and Pancakes

MAY

1 Deadline June Pando

5 Breakfast Club & Board Meeting

5 Garden Tour/Chino Airport

7 DE Event-AutoClub Speedway

10 Woody's BurgerBahn

19 Krispy Kreme Gathering/New

Member Picnic

20 AutoX-El Toro

26 Porsches and Pancakes

JUNE

1 Deadline July Pando

2 Breakfast Club & Board Meeting

10 AutoX-El Toro

14 Woody's BurgerBahn

16 Krispy Kreme Gathering

16 White Glove Concours

2012 OCR Calendar of Events*

23 Porsches and Pancakes

JULY

1 Deadline August Pando

7 Breakfast Club & Board Meeting

8-14 Porsche Parade-Salt Lake City

12 Woody's BurgerBahn

21 Krispy Kreme Gathering

22 AutoX-El Toro

28 Porsches and Pancakes

29 Poker Rallye

AUGUST

1 Deadline September Pando

4 Breakfast Club & Board Meeting

9 Woody's BurgerBahn

11-12 Monterey Pre-Historics

12 AutoX-El Toro

18 Krispy Kreme Gathering

18-19 Monterey Historics

25 Porsches and Pancakes

25 Hearts and Garages Tour

September 2012

1 Deadline October Pando

1 Breakfast Club & Board Meeting

9 AutoX-El Toro

13 Woody's BurgerBahn

15 Krispy Kreme Gathering

22 Porsches and Pancakes

24 DE Event-Chuckwalla Raceway

28 R i v e r s i d e

Timeline/Oktoberfest

October 2012

1 Deadline November Pando

6 Breakfast Club & Board Meeting

11 Woody's BurgerBahn

15 DE Event-Auto Club Speedwayinterior

course

20 Krispy Kreme Gathering

27 Porsches and Pancakes

November 2012

1 Deadline December Pando

3 Breakfast Club & Board Meeting

4 AutoX-El Toro

8 Woody's BurgerBahn

8-11 2012 Escape to Arizona

17 Krispy Kreme Gathering

24 Porsches and Pancakes

December 2012

1 Deadline January Pando

1 Breakfast Club & Board Meeting

9 AutoX-El Toro

13 Woody's BurgerBahn

15 Krispy Kreme Gathering

* Event dates subject to change.

Note: Italicized text represents events

outside of OCR sponsored events.

Links to Zone 8 events can be found

at www.Zone8.org.

OCR Board Meetings

All members are welcome to OCR Board

Meetings, held after the breakfast meeting

at Original Mike's

We thank them for their support.

Got a suggestion?

Need a question answered?

Just want to vent?

This email will go straight to the board of directors:

opinionspcaocr@gmail.com

Let us know what's on your mind and we

will share it at the next board meeting.

Anyone wishing to inform the club of special

circumstances, illness or loss please send the

information to this email also.
---
President's Message

Story by Gorden Williams

To all our members and associates,

March was a great month, but April

will be off the hook! Pete's Santa Paula

tour is on April 1st and if you've never

made that drive, it's a treat! We will have

all of our normal activities this month to

be topped off with the Festival of Speed

the 20th thru the 22nd of April. A great

time will be had in Fontana for sure so

don't miss it.

The tour calendar has been completed

for 2012 so visit our website at pcaocr.

com, click on the calendar link and

choose your favorite activity for 2012.

Some of the tours and activities that you

will see are the Chino Air Show, July

Poker Run and Oktoberfest, and there are

more day tours to come that have not yet

been added. And looking forward to next

year, Dave Miranda will be repeating the

Yosemite Tour, June 19th thru the 23 of

2013, and it will sell out early for watch

closely for sign ups.

The Concours committee has been

busy planning the June Concours, and in

case you haven't heard, it will be quite

the event this year. Family friendly in a

very exclusive location, sign up the entire

family now while we still have room,

motorsportreg.com will get you there.

Since it is Father's Day weekend and is

followed by an incredible BBQ, I will be

there with my entire family; it will be a

great day for porschephiles and layman

alike.

Don't forget the Mercedes restoration

tech session that Rob Greene and Cooper

Boggs have planned immediately

following the April breakfast meeting at

Original Mikes'.

Remember that all of our events are now

being placed on Motorsportreg.com for

your registration convenience. Thanks

to all of you for all that you do and

remember, say "Thank you" to one of our

volunteers this month!

Your friend and fellow enthusiast,

Gordo

Gordon leads the Board Meeting @ Original

Mike's

APRIL 2012
---
Contact Information

OCR Executive Board

President - Gordon Williams

Surgicat@aol.com

Treasurer - David Piper

dpiper@socal.rr.com

www.pcaocr.org

RennList Master

Pete Lech

peterlech@att.net

Social Media Chair

Gary Labb

pcaocrgary@yahoo.com

Sponsorship Director

Bob Scheussler

bscheussler@gmail.com

Tech Activities Director

Cooper Boggs

cooper.boggs@gmail.com

Web Coordinator

Bob Scheussler

bscheussler@gmail.com

Vice President - Greg Lush

Secretary - Bonnie Delgado

bondelg@gmail.com

Member at Large - Pando Editor

Garey Cooper - gareycooper@mac.com

OCR Board Appointments

Advertising Team

Cooper & Nicole Boggs

cooper.boggs@gmail.com

Autocross Co-Chairs

Christine Newcomer

AutoXReg@sbcglobal.net

Chuck Bartolon

Woodslsman@Verizon.net

Autocross Registration

Armand Gastelo

autoxreg@live.com

Charity Director

Peggy Huddleston

hud5family@yahoo.com

Membership Director - CL Jarusek

ccwguy@aol.com

Member at Large - Ken Fredrickson

fast.freddy@verizon.net

Concours Co-chairs

Louise Bent

lulubent@yahoo.com

Nicole Forrest-Boggs

993nicole@gmail.com

Goodie Store Manager

Monica Asbury

sheamonica@gmail.com

Historian

Judy Lech

JudyLech@att.net

Ladies Committee Liaison

Maryann Marks

mamsy1@yahoo.com

Pando Classified Ads Editor

Bob Weber

714-960-4981

hbobw930@aol.com

Pando Production Editor

Maryann Marks

mamsy1@yahoo.com

Past President

Nicole Forrest-Boggs

Rally Director

Larry Moore

beechnut60@cox.net

Zone 8 Chairs

Zone 8 Representative

Tom Brown

zonerep@zone8.org

Zone 8 Secretary

Skip Carter

skipcarter@pobox.com

Zone 8 Autocross Chair

David Witteried

dwitteried@hotmail.com

Zone 8 Concours Chair

Joe Nedza

jcnedza@aol.com

Zone 8 Club Race Coordinator

Vince Knauf

vvvince@aol.com

Time Trial & Drivers Ed Chair

David Hockett

davndirc@yahoo.com

Zone 8 chief Driving Instructor

Scott Mann

scott@renegadehybrids.com

Zone 8 Rally Chair

Revere Jones

Zone8rallychair@aol.com

Zone 8 Region Coordinator

Gary Peterson

gary.peterson@hrh.com

Zone 8 Rules Coordinator

Tom Brown

tb911@adelphia.net

Zone 8 Treasurer

Linda Cobarrubias

MS993@aol.com

Zone 8 Webmaster

Ken Short

webmaster@zone8.org
---
Editor's Notes

Story by Garey Cooper

Garey, Maxine and Daughter-in-law

A Tower in the Sky

High atop the gleaming tower, where

wind and sun search and scour. Steel

and glass the heights surpass. Ceaseless

and enquiring, our minds empowering

the search for mirth and automotive lark;

again upon a new month start.

And to think all this occurs while far

below the ebb and flow of normal folk, in

normal poke, race along to normal fates,

away from us and our exotic dates.

An American in America

I am writing this column while still

on something of a "high", at least

metaphorically speaking. Mrs. Cooper

and I recently accompanied my beautiful

daughter-in-law to her naturalization

ceremony in Los Angeles. Linda comes

from another country and has come to

be American in heart and by choice. It is

sad to say, but having been born here and

being American by many generations, so

far as I can tell, the full and meaningful

impact of this status only comes to me

by seeing some others who choose to be

American. The cynic might say that they

do it for money and jobs as much as by

consideration of our traditions and values.

However if you go to the ceremony and

see the tears and joy that are so evident,

you might, perhaps, like me become a

little less cynical about it all. For the

three of us, at least in our little nucleus of

family, there were tears aplenty and while

trying to be "manly" attempting to choke

my tears back; they still flowed. We left

feeling absolutely renewed and I thought

of what it means to be an American, a

citizen of the United States and made

a pledge to try to not take it for granted

after witnessing so many who came from

someplace else and worked to have a

little bit of the dream.

Speaking of cynicism some years

ago I visited Fredericksburg and walked

the hillside up to the hill called "Marye

Heights". At that time and I imagine

still today, it is quite easy to see the

Rappahannock river and the slope

leading up to the heights. The slope

along which the Union soldiers advanced

into an impenetrable wall of musket and

cannon fire. So impenetrable that many

(Continued on Page 33)

EXPERIENCE THE DIFFERENCE A SPECIALIST MAKES

"An intimate knowledge of your

Porsche is crucial during servicing

or before a purchase."

Late model Porsche experts

Bosch authorized service center

with master technician.

"One of 200 in the world."

Not affiliated with Porsche NA or Porsche AG

APRIL 2012
---
The Art of Detailing:

Not a Madison Avenue Proposition - Part II

Story by Moe Mystry

In our previous article, we discussed

what happens when the consumer price

hunts for a specialized service resulting

in a detailer falling into that trap. We also

talked about what the majority of the

price of a detail is comprised of, detailer

knowledge and workmanship.

In this article, we'll discuss what

you end up paying for at different price

points and how they impact five key

areas of distinguish: product quality,

detailer experience, level of attention,

liability insurance and detailer's future

existence.

Different price points are a result

of the detailer's market, experience and

level of service. My assumption is an

average Porsche in Southern California;

997 Carrera S, black, detailed 6-8 months

ago and has been washed by a local wash

guy that comes to the office. There are

microswirls and light scratches around

the car. The interior has never been

treated.

We'll be gauging the detail in areas

such as:

• Product Quality: The quality of

the products used will dictate the level

of protection, the overall "look" of the

detail and durability. Usually, the higher

the quality of ingredients, the longer

your car will look great; this means more

value.

• Detailer Experience: Since our

industry isn't regulated, you don't really

know how experienced the detailer

REALLY is until he's working on your

car. The more skill and expertise a

detailer has, the greater the cost of the

detail. This translates to more value

for you. If your detailer has experience

with your type of car, the quicker he can

remedy the situation that needs attention.

In other words, the job is done right the

first time.

• Level of Attention (Time): The

longer a detailer can spend time on your

car, the greater the attention. When the

detailer isn't rushed from job to job, he

can truly focus on the car at hand. The

average proper detail should not be less

than four hours without paint correction,

it's usually around five to six hours,

depending on the level of service and

number of detailers working. If paint

correction is involved, expect 12-30

man-hours.

• Liability: This is insurance

to cover both the vehicle and others. If

there are any accidents or unforeseen

incidents and if the work is being done on

your premises, you are liable. An insured

detailer has a liability policy reducing or

eliminating the client's liability. A good

policy will be from a reputable company

and should cover damages to the vehicle

and persons in the area. A good Insurance

policy for detailers is very expensive.

We are categorized in the same class as

repair shops and mechanics. There is no

classification for auto detailing because

it's an industry with little or no regulation.

Most detailers don't even have a business

checking account or business license.

• Detailer's Future Existence:

Depending on the geographic region, a

large portion of the price you pay for a

detail needs to be invested back into the

company. A smart detailer understands

this and values the future of the company.

Investments in technology, labor and

marketing are a few areas where the

dollars go to. This way, the detailer you

used a year ago will be around this year

and many years to come.

Below are some examples of what

the price point gets you:

$125 price point:

• Product Quality: Products are usually

a notch above the consumer lines

found in auto parts store. Mainly,

cheaper chemicals that are less

effective. In the long run, you can

expect this level of product to last a

few weeks.

• Detailer Experience: Usually just

starting out and needing to have a

low price to get business. If already

established, in desperate need of

business.

• Level of Attention: Little to none.

Time is of the essence here. For

someone to be profitable at this price

point, volume is the key. If mobile, by

the time one factors in gas, product

cost, taxes, advertising, etc., there is

only a modest profit to survive. If a

brick-and-mortar, barely enough to

cover fixed costs and overhead.

• Liability: Usually none. Insurance is

very expensive for detailers.

• Future Existence: When all the costs

and wages are factored in, little to

no money can be allocated to the

business. Hence, why there are so

many fly-by-night detailers.

$300 price point:

• Product Quality: Products are

somewhat improved. We now get

into the ProSumer line of products.

These products perform leaps and

(Continued on Page 30)
---
Save the Date

4th Annual GardenTour

Saturday May 5th

Join us as we embark upon another garden

adventure touring Mary Lou Heards'

"Real Gardens by Real People"

We will depart at 9:30, immediately following Breakfast

Club from Origina Mikes lot.

Map and tour directions will be supplied at the start.

Carpooling is available and highly recomended

RSVP mamsy1@yahoo.com

APRIL 2012
---
How to Clean H5 Lights

Story and photos by Cooper Boggs and Kevin Torre

1987-1989 911 H5 Headlight Cleaning

Do you own an '87-'89 911 Carrera/930

Turbo? Have you noticed that your

headlights look hazy or milky? Porsche

used the Bosch H5 headlight assembly

on these 911 series cars. The H5 is the

US Spec. DOT approved version of the

popular European H4 headlight assembly.

The H5 lights are a sealed lamp, however,

over years of use, moisture can get inside

and create a residue on the inner lens of

the light. Cooper Boggs and Kevin Torre

teamed up to clean the lights on Kevin's

recently acquired 1987 911 Targa.

screws. These should NOT be removed

or adjusted during the cleaning! The

headlight ring screw is typically a captive

screw. Don't worry if you loosen it for it

won't come completely out of the ring.

To remove the ring from the car

takes a little finesse. Years of grime and

wax residue can make the ring really

stick to the gasket at the fender. Once the

screw is loose, push down on the top of

the trim ring and using your fingers try to

carefully pry each side of the ring away

from the fender. The ring is hooked at

the top of the fender onto a small lip. Tip

the ring out at the bottom and then lift it

straight up at the top.

with it. They are retained with a small

nylon washer. If you drop one into the

bucket, don't panic, they often fall out

the bottom drain hole onto the ground

under the front of the car.

Step one is to gather all of the items

you will need. These include a Philips

screwdriver, a magnetic pick up tool, a

long flat blade screwdriver, mechanics

fingers or needle nose pliers, glass cleaner,

paper towels, a soft bristled brush or tooth

brush, anti-seize and a couple of q-tips.

Next we will remove the headlight

trim ring from the car. This is accomplished

by removing the single Philips screw at

the bottom of the ring. Please note, the

two rubber caps on the top and side of the

ring allow access to the headlight aiming

Once the trim ring is removed you

will see the headlight unit itself. The glass

lens of the H5 is bonded to the reflector

housing. Six more screws should now

be visible. It is important to identify the

two adjustment screws and NOT move

them. You can do this by looking at the

position of the rubber grommets in the

trim ring and their relationship to the

screws underneath.

The other four screws are more

deeply recessed and evenly spaced at

the upper and lower right and left of the

headlight unit. These four screws hold

the headlight carrier assembly to the

fender bucket. To remove these use your

Philips screwdriver. The screws should

be captive to the carrier. It is handy to

have a magnetic pick up tool near by in

case you realize the screws are loose.

Each screw has a flat and lock washer

Once the headlight unit is loose, you

will need to unplug the wiring harness

from the bulb. This is accomplished by

squeezing on the connector and wiggling

it loose.

(Continued on Page 28)
---
Featured Member:

Losing Control and the Happiness That Follows

Story by John Ortiz

Having owned 3 Boxsters, I figured I

knew how to corner in a Porsche. That

thought, along with a few expletives,

flew right out the window as I entered

a freeway ramp with the tail end of my

911SC whipped out to where my front

end should have been. Fortunately, I just

had to hang a quick u-turn before I was

on my way again. Good thing the smell

of sweat and fear doesn't linger long with

the windows down.

Like many Porsche owners, my

attraction to German cars started early

on. My older brothers (Dave & Rick)

both drove Volkswagens when I was a kid

so it was natural for me to do the same.

I had a powder blue Squareback that

Rick and I lowered, painted the wheels

and replaced the fuel injection with dual

Solexes. However, it was Rick's 1/4 mile

drags in his VW (with a built 1835) that

got me hooked on speed.

My parent's house always had a VW parked

out front

Flash forward to an early morning

in March of 2011. I'm pulling into Cars

& Coffee to park my Porsche along side

likewise cars. It's sprinkling and the

turnout is light. I duck for shelter under

a tree and strike up a conversation with a

complete stranger who turns out to be a

fellow PCA member and SC owner. What

followed was a spirited conversation

with Dave Waddell about autocrossing

at El Toro. I had heard of the events but

was intimidated by the idea of getting

out there. Dave's enthusiasm and "just

come have fun" attitude sold me on the

idea (and I suppose this is a good time to

admit that this is the same morning I had

spun-out entering the freeway).

Being the cautious planner that I am,

I read a few articles on how to autocross

and watched my share of online videos

featuring the sport. I then prepared my

car by having the driver's seat lowered.

This wasn't absolutely necessary, but I

wanted to be comfortable driving while

wearing a helmet. I also swapped the

steering wheel with a MOMO and set

aside a few bucks to buy a helmet. I

knew loaners would be available but

my inner planner told me, "Buy one in

case they don't have a size to fit your fat

head". All the while my wife, Christina,

(Continued on Page 17)

Access Insurance Bonds, Inc.

Bob Nimtz Insurance Center

"Professional Insurance Services Since 1976"

Call: 866.643.3808

Email: Bob@AccessInsuranceBonds.com

Robert R Nimtz, Broker CA DOI #0527177

APRIL 2012
---
New Members Picnic

Join us in welcoming OCR's newest

members on

Saturday May 19, 2012 @

Laguna Niguel Regional Park

for

BBQ, Games and Great Company

$5 per person,

Complimentary for New Members

RSVP to C.L Jarusek ccwguy@aol.com

10
---
Auto-X Corner:

2012 Auto-X Season Kicks Off

with a Double Header!

Story by Steve Eguina - Auto-X Team Emeritus

Photos by Jon Perino • Studio Z Ad/Design

RacingLifestyle is the event sponsor along with Fairview

Mortgage Capital

AHH YES!... Finally it is Saturday

February 18, 2012. The long cold

Southern California winter, that kept us in

our garages from mid December to mid

February, is finally over and we can look

forward to the start of the Orange Coast

Region driving events. The start of each

new season offers OCR members the

opportunity to participate in the annual

OCR Drivers Clinic at El Toro Fields.

This is a great event for young and old

Porsche owners alike… and young and

old porsches! The event is well planned

and is the result of a lot of hard work

by OCR's Chief Driving instructors

Richard & Dennis Neff and is supported

by their highly trained staff and cadre

of instructors. The event planning and

instructor training day was held earlier

in the year with excellent attendance for

new and returning OCR instructors.

The Drivers Clinic is a great starting

point for anyone to learn better car control

and to have fun with their Porsche.

Students were provided an instructor

for the day. During the morning session

drivers are challenged by various car

control exercises and a wet skid pad,

which allows them to learn the limits of

their cars traction. This was followed by

the "traditional" pizza lunch, (just like

at the Ferrari club meetings) seems like

lunch should have been bratwurst and

Chief Driving instructor Dennis Neff

sauerkraut. After lunch,

a mini-Auto-X course

was set up for students

to practice their newly

learned skills. This is more

fun than you can imagine

and everyone is given the opportunity to

practice these driving skills as they work

the course.

A great time was had by all and

many of the students returned the next

day to participate

in the first event of

the 2012 Walter's

Porsche Auto-X

C h a m p i o n s h i p

Series. You are

invited to come out

to any event play

with your Porsche.

We will provide you

with a loaner helmet

and a friendly

instructor. See

the 2012 schedule

elsewhere in this

issue. Please don't wait till next year to

come have fun with your Porsche!

Kicking off the Walter's Porsche Auto-

X Championship Series.

SUNDAY! SUNDAY! SUNDAY! We are

here LIVE at El Toro Fields to bring you

the first 2012 Walter Porsche OCR Auto-

X Championship Event! With Porsche

engines warming up in the background,

(Vroom – Vroom) the air was electric as

the announcers voice echoed across the

massive El Toro runways.

We are fortunate to have Walter's

Porsche again this year as our Series

Sponsor, GMG-Global Motorsport

Group as our Series Support Sponsor

and for this event Fairview Mortgage

Capital and RacingLifestyle.com as

our event sponsors. When you need any

of our sponsors services, please give

them a call. They are all PCA members

and will look out for your well-being and

provide excellent service.

Christine Newcomer, the 2012 Auto-X C0-Chair, works the turn

Beginning at 6:30 am, tech

inspections and driver registration are

followed by my favorite, coffee and

donuts! Then at 8;20 sharp, Chuck

Bartolon and Christine Newcomer,

the 2012 Auto-X Chairs, call for the

drivers meeting. This is followed by

the newer drivers (who have requested

an instructor) being matched up with

instructors and then at 9:00 the first car

leaves the starting line. The Auto-X team

is to be commended for having made this

(Continued on Page 20)

APRIL 2012 11
---
Walter's Porsche Hosts 2012 AutoCross Party

Story by Bob Scheussler & Photos by Lisa Goetsch

The 2011 Walter's Porsche Autocross

Series Awards Party was hosted for the

fourth consecutive year by Walter's

Porsche in Riverside, on February 25.

Our Awards party marked the first event

in Walter's newly remodeled Porsche

showroom and included Walter's official

unveiling of the new Porsche 991. Over

75 drivers, family members and friends

attended this annual event to relive the

2011 Autocross season and celebrate

victories with the award winners. After

enjoying the beautiful selection of food

and beverages provided by Walter's,

the group was welcomed by Walter's

Porsche Audi General Manager, Ed

McRae. Ed remarked how pleased

Walter's is with relationship the Orange

Coast Region has enjoyed with Walter's

and they look forward to their fifth year

of PCAOCR Sponsorship in 2012. Ed

stated he believes that our association

has been beneficial for both Walter's and

the Club.

Ed then introduced Walter Kienle,

the Walter in Walter's, who unveiled

the new 991for Club members. Walter

entertained the audience with a few of his

many Porsche experiences over the years

during his journey from New York City

mechanic to becoming the successful

owner of Walter's Automotive Group.

Walter also mentioned that he is proud to

be associated with our Club and offered

many kind words of encouragement and

praise for our Autocross program!

Bob Scheussler next presented a

Sponsors Trophy to Walter Kienle and

awarded Sponsor jackets to eighteen

Walter's employees in recognition of

their individual contributions to the

Walter's/PCAOCR relationship.

Omniplatform, the PCAOCR

website sponsor, was recognized for their

ongoing contributions during 2011 to our

Club website which is a key element of

our AX program. They have dedicated

untold hours to develop & support our

website. Drew Jorgenson, owner and

founder, accepted a Sponsor trophy and

jackets for members of his team.

AX Event Sponsor awards were

presented to those who sponsored AX

events throughout the season, which

included:

•

•

•

•

•

•

•

Autowerkes – Bruce Powers

Bill Brewster Porsche Specialists

– Bill Brewster

Cape Auto Repair – James Buck

FMC Loan Pros – Steve Eguina

Racing Lifestyle – Steve Eguina

GMG Motorsports - James Sofronas

& Fabryce Kutyba

Flying L Racing – Lisa Taylor &

Tom Ridings

Vision Motorsports – Dwain Dement

•

Support provided by these sponsors is

greatly appreciated and is a key element in

continuing our outstanding AX program.

Next, the 2011 Co-Chairs – Greg

Lush, Christine Newcomer & Chuck

Bartolon – presented the coveted

Championship Jackets and Trophies to

The Drivers and Families

The Goodies: Tropies and Jackets

Josef West REALLY likes the program

Team Walter's: Steve, Jon and Walter Kienle (three generations!) with

Jose Torres, Ed McRae, and Justin Usary

(Continued on Page 26)

12
---
Book Review:

PORSCHE and ME

Article by Bruce Herrington

Porsche and Me – Hans Mezger, an

Autobiography with Peter Morgan,

published by PMM Books,, Malborough,

Great Britain.

The long awaited 'autobiography' of

Hans Mezger is now available. Porsche

and Me is virtually a picture book with

many illustrations of cars, components,

engineering drawings (which identify

the pun in the book's title), and award

certificates. It presents a richly personal

account of the work life of a very

dedicated member of the Porsche family.

It is not truly the autobiography of Hans

Mezger, the person, but rather that of

Hans Mezger, Design Engineer. It may

not fulfill all the expectations of those

who have awaited this book's arrival

– it is not a how-to of engine design, it

does not tabulate the day to day life of a

Porsche Employee, it does not chronicle

the growth of Porsche from struggling

specialty manufacturer to a major

automotive powerhouse. But it

does touch on all of these issues,

as well as talk about the process

of designing racing engines and

the cars into which they were

installed.

So why should a Porschephille

care about a biography of Hans

Mezger? His may not be a household

name, but after 37 years with

Porsche, his engineering designs

are part of every Porschephille's

house garage. Perhaps Ferdinand

K Piëch (grandson of Ferdinand

Porsche and currently the Chairman of

the supervisory board of Volkswagen

Group that now owns Porsche) said it

best: "Without Hans Mezger, Porsche

wouldn't be renowned worldwide as the

ultimate in sports cars." Hans Mezger is

widely acknowledged as the 'father' of

the 911 engine. This book documents

some of his less well know achievements:

the design of the 917 engine, the TAG

Formula 1 V-6 and many, many detail

refinements of a variety of products built

for Porsche cars and contract customers.

In 1956, as a fresh engineering

graduate, Mezger was hired to work in

(Continued on Page 34)

APRIL 2012 13
---
Porsche Club of America/Orange Coast Region presents its

42nd Porsche Concours d'Elegance

The day's festivities will also include the Shady Canyon Golf Club Members Car Show,

a Sumptuous Barbeque Buffet Dinner, Live Music & Dancing under the stars.

Schedule:

For All Judged Cars: Cars may arrive as early as 11 a.m., All cars MUST

have a PCA CONCOURS PASS displayed on the dash to get into the gate. Area

for prepping your car will be provided in a Parking lot across from the Driving

Range/Concours. At approx. 1:00 p.m. Concours Cars will begin staging.

Judging will begin at 2:30 p.m.

For Display Cars Only: Cars may begin arriving at 2:00 p.m.. Each car MUST have a PCA CONCOURS

PASS displayed on the dash to get in the gate. Display cars will be parked after judged cars are placed.

For Non-Concours Visitors:

If you are coming in as a visitor, you must have a prepayed Dinner voucher and a

PCA Parking Pass. (Parking will be in a lot across from the Driving Range/Concours)

Dinner will be served at 5:00 pm. Award Presentations will be followed by Dancing under the stars.

Registration Fees:

Judged Cars, All Classes: (inc. car, 1 Entrance & Dinner voucher) $50.00 if Postmarked by June 1; $60.00 after 6/1/12

Display Only Class: (inc. car, 1 entrance & Dinner voucher) $45.00 if Postmarked by June 1; $55.00 after 6/1/12

Additional Entrance and Dinner voucher(s) @ $30.00 each

Please Enter the correct Division & Class on your Entry Form

Concours Division

Street Division

C-1 All Closed 356

S-1 All Closed 356

C-2 All Open 356

S-2 All Open 356

C-3 911-912 ('65-'73)

S-3 911-912 ('65-'73)

C-4 911, 911 Turbo, 930, 912E ('74-'83) S-4 911, 911 Turbo, 930, 912E ('74-'83)

C-5 911 Carrera & Turbo ('84-'89)

S-5 911 Carrera & Turbo ('84-'89)

C-6 911 Carrera & Turbo (964, 993

'89-'98)

S-6 911 Carrera & Turbo (964, 993

'89-'98)

C-7 911 Carrera & Turbo, GT2, GT3

(996, 997, '99-on)

S-7 911 Carrera & Turbo, GT2, GT3

(996, 997, '99-on)

C-8 Boxster, Cayman

S-8 Boxster, Cayman

C-9 914-4 & 914-6

S-9 914-4 & 914-6

C-10 All 924, 928, 944, 968

S-10 All 924, 928, 944, 968

C-11 Cayenne, Panamera

S-11 Cayenne, Panamera

You can check Zone Rules for the

correct classification of your car

at the Zone 8 web site.

Entry Form

NO Pets, Alcohol or Food may be brought on site.

Special Categories Division

SC-1 Special Interest

SC-2 Current Competition

SC-3 Limited Production

avaiable at www.pcaocr.org

Unrestored Stock Division

UR-1 All 356

UR-3 911 & 912 ('65-'73)

UR-4 911, 911 Turbo, 912E, 930 ('74-'83)

UR-5 911 Carrera & Turbo ('84-to '89)

UR-6 911 Carrera & Turbo (964, 993, '89-'98)

UR-7 911 Carrera & Turbo (996, '97-'10)

UR-8 Boxster (986 '97-'10)

UR-9 914, 914-6

UR-10 924, 928, 944, 968

Wash & Shine Division

WS-1 All 356s

WS-2 911, 912 ('65-'73)

WS-3 911 Carrera & Turbos (84-'98)

WS-4 911 Carrera, Turbo, GT2, GT3 (996, 997, '99-on)

WS-5 Boxster, Cayenne

WS-6 924, 928, 944, 968

WS-7 Cayenne, Panamera

Name: ____________________________________________________ Phone: ________________________________

Address: _________________________________________________________________________________________

City: ______________________________________________ State: _________ Zip: ___________________________

E-Mail: ________________________________________________ PCA Region: _______________________________

Model: _________________ Year: __________Body Type: _________________ License #: ______________________

14

Divison & Class Entered: _______________________________

Additional entry inc. Dinner voucher: $30.00/per person

Registration Fee: ___________________

____@ $30.00 each: ___________________
---
Rice's Ramblings:

Center Loc To 5 Stud - M96-97 Chip Detector

Hot Air Socket Now Metal

Story by Lee Rice

April is upon us "Porsche pushers"

once again and it is the 100th anniversary

of the loss of RMS Titanic. Aren't we glad

to live in our modern world of computer

technology where passenger ships don't

sink anymore? No one could possibly

foresee the failure of 1912 technology

on that fateful night so long ago, but that

"unsinkable" attitude changed the way

we think today.

I became aware of this as I grew up

in the aviation world because my father

was a maintenance officer for a P-51

fighter facility in England during WWII

and also flew combat missions in B-17s

and got 5.5 aerial kills credited. My dad

taught my brother and me to never forget

that it is "the thing you don't see that

is usually going to get you." Whether

that was a Me 109 or an unforeseen

malfunction of a P-51s Rolls-Royce

Merlin engine was what kept him awake

at night. Today reliance on computer

run Porsches, and everything else, is not

"unsinkable" either.

Computers: I love 'em! I and many

'gray hair' Porsche owners can tell you,

we didn't have computers "back in

the day" and had to know mechanical

engineering to know how to maintain

a 356 Super. Those wonderful running

machines were all mechanical and also

had personalities. The only way you

knew that a 356 Super or 2.0L 911S

was running right was to listen to them

run and know by the sounds and how

the engine responded. Then you knew

everything was running right. Those

wonderful 356 Solex carburetors got out

of "tune" every year or two, and finding

a reliable mechanic was not enough. You

(Continued on Page 23

APRIL 2012 15
---
Rice's Performance Porsches

Specializing in 911 & 930

Repairs,

Overahauls,

Service & Upgrades

Porsche Engine Specialist

OEM Porsche Parts, ARP,

Bosch, KKK Turbos, RUF

LESLIE F. RICE

PHONE (714) 539-1042

BY APPOINTMENT ONLY

E-MAIL riceturbos@sbcglobal.net

Fight back against

tough economic times

A sound defense against market fluctuations can

start with an advisor who's invested in your individual

financial goals. Throughout changes in the markets

and in your life, we're on your side. Call today for a

second opinion on any of your investments.

PCA Member since 2003

James Schaedler

Senior Vice President - Investments

21103 Newport Coast Drive

Newport Coast, CA 92657

949-718-0930

james.schaedler@wellsfargo.com

Investment and Insurance Products: NOT FDIC Insured NO Bank Guarantee MAY Lose Value

Wells Fargo Advisors, LLC, Member SIPC, is a registered broker-dealer and a separate

non-bank affiliate of Wells Fargo & Company.

©2010 Wells Fargo Advisors, LLC. All rights reserved. [74018-v2] A1287

16
---
Feature Losing Control:

(Continued from Page 9)

Lined up at Irvine's Cars and Coffee

was witness to a transformation and

probably wondering what had gotten into

her husband.

Around that same time, I attended

Fontana's Festival of Speed with a few

friends. I parked in the display area and

enjoyed being close to the action. My

friends and I test drove three different,

mid-engine Porsches in the miniautocross

area and took track tours with

professional Porsche drivers. I even drove

the track in my car during the lunchtime

tour… a memory I can best equate to a

first kiss.

Lunchtime track tour at Fontana

Back in the display area, I met a

gentleman that took a liking to my car.

After chatting a bit I realized that this

guy drove the red SC I had spotted in my

neighborhood. And so it was, I had finally

met Ken "Fast Freddy" Fredrickson.

Like Dave, he was quick to invite me to

Autocross at El Toro. Since then, I've

seen Ken at several PCA events and I

can genuinely tell you that there are few

people friendlier than him.

It's now June and I'm idling in the

autocross grid with my first instructor

Eric Monroe. We're chatting about

my car and he's preparing me for how

much fun I'm going to have when I hit

the course. I nervously pull into the start

position and all seems fine. As I drop

the clutch I think I hear Eric say, "Save

your rubber for the course." I'm off to a

quick start until I round a set of cones and

realize I'm completely lost. Eric directs

me to look ahead and with some effort

we make it through our first run. It's

a warm day but I'm feeling refreshed

and excited about driving the course

again. I do better the 2nd and 3rd times

around and I even get a high-five from

Eric as I continually shave seconds off

my time. Looks like his, "FASTER,

FASTER, FASTER!" cheer is working.

When we finally get to the timed runs,

Eric gives me the green light to run the

course solo.

Jon Perino's photo of me at El Toro

Early on, I heard a few drivers say

successful autocrossing comes down to

two variables: Good driving and good

tires. As my car wasn't getting itself a

new driver, I opted for the latter. James

at Cape Auto oversaw the new tire

purchase, installation and subsequent

corner balancing of my car. These may

seem like simple things but I can honestly

tell you that it was as if my car had been

reborn! It's hard to believe a car from

1983 can handle so darn well.

In the months that followed, my wife

Christina endured several conversations

that either began or finished with some

mention of autocross and she has become

accustom to my early morning alarm that

gets my tail out of bed, showered and

down to El Toro in time for a proper tech

inspection.

I'm now enjoying my second season

of autocrossing, and I've recruited two

of the employees from my advertising &

design business to participate. Jon Perino

and Isrrael Hernandez have shot and

assembled a few videos that have been

posted in the PCA/OCR autocross forum

and hopefully by the time this article

publishes, I will have another video from

the February event posted. And, not to

leave anyone in the office out, I've had

Christina and I getting ready to roll

designer, Eric Hollandsworth, create

me a poster of my car for the office.

In all, I have had an awesome

2011. I've met several great people

through PCA and have come to learn

how to keep the tail end of my car

where it belongs. Whether you're new

to autocross or a seasoned driver, stop

by my "camp" and say hello. You'll

most likely find Dave and I struggling

to upright a blue shade canopy in the

pit area.

Cruising in Fountain Valley where I both live

and work

Standing with Christine Newcomer after

receiving an autocross award at Walter's

APRIL 2012 17
---
The all new 2013 Porsche 911

has arrived at Walter's Porsche.

Test drive yours today.

866.365.2030

WaltersPorsche.com

Official sponsor of the

Porsche Club of America

Orange Coast Region.

3210 Adams Street Riverside, CA 92504
---
91

SANTA

ANA

405

LAGUNA BEACH

TUSTIN

IRVINE

55

5

15

261

LAKE FOREST

MISSION VIEJO

241
---
Auto-X Corner:

(Continued from Page 11)

Christian Van Fleet received the top BRI award for the day

Chuck Bartolon, 2012 Auto-X C0-Chair, driving the blue goose

happen ON TIME for the last 8 years.

These are dedicated OCR members

with a passion for seeing their fellow

members have a good time playing with

their Porsches.

For 2012 Zone 8 has a new set of

car classing rules that were developed

so Porsches of comparable speed could

compete against each other. This means

you can have a modified 1973 914 in

the same class as a "fairly" stock 993

or a 2002 Boxster S and a 1978 911

SC matched up. The goal of these new

classes is to make for closer competition

and to challenge all drivers to get the

most out of their Porsches on the course.

After a couple sessions dedicated

to practice runs, everyone is warmed up

and the fun begins. About 2:30 the timed

runs begin that count toward this years

Championship Points.

Looking at the results of last week,

the new classing seems to have achieved

its desired results. For example, in class

CC04 Josef West, driving his 1979 924,

was first in class over Richard Neff's

1987 951 Porsche by only .4 seconds.

In 5 car CC06 class Chuck Bartolon,

driving his 964, was only bested by

Jeremy Cottrell in his 1972 911 by .201

seconds. In class CC08 David Witters

73 914 was first over Rod Taylor in his

69 911 by only .052 seconds with Kris

Scheussler in his 85 911 by only another

.384 seconds. Six other drivers finished

out that class. The novice class is open

to drivers who are new to the series

and it gives them a chance to compare

themselves with other new drivers. Jim

Leslie toped the Novice class driving

his 2012 Cayman S with Tray Evarts,

James Leslie, Margie Evarts and

Dennis Wolfe in the next four positions,

all four less than 1 second apart! Now

that is close competition.

Porsche Top Time of Day and First

Place in the BRI class went to yours

truly driving the "Fairview Mortgage

Capital, RacingLifestyle.com, GMG,

StopTech, RSS, GIAC, Dynamic

Shock, Eibach Spring supported 996

WC-GT2". Boy I Love Nascar. Till next

time. HAVE FUN!

Lisa with the trailor

Dave Waddell

John Ortiz flies thru the course

Eric Monroe waits patiently in the lineup

OCR Sponsor RacingLifeStyle

20
---
Pamela Horton

Residential Real estate bRokeR

PoRsche club membeR since 1984

scan the QR code with any

smartphone to Visit our

Web Page > >

Pamela Horton & Amanda Horton

949.633.6667

Pamela@PamelaHorton.com

www.HortonsInLaguna.com

APRIL 2012 21
---
Rice's Ramblings: (Continued from Page 15)

needed a mechanic who knows how to

'tune' those engines. The rewarding

drive after good tuning was well worth

the time and cost.

Today's Porsche are in many way not

all that different. Sure today's sparkplugs

last years instead of weeks - if you were

lucky, back then. Almost every car out

there is government mandated to have

chassis, braking, steering and engine

over-ride controls to protect us from,

mostly, ourselves! This has evolved with

better sensors that monitor some of the

slightest changes undetectable by human

sensing. This is why driving on a once

'ragged edge' is all under supervised

control by computer driven Porsches of

today.

And today's 991 is almost entirely

computer built. Each nut, bolt and screw

are torqued to a hair of exact calibrated

stretch, as perfect as man and computer

can make them. Some will argue that

there is an irony in all this as the 2014

Shelby Mustang 500 will have a 650Hp

engine, hand built by a specially trained

team at Ford, and costing a 3rd of the

price of the fabulous 650+ hp 2012

Patrick with his wife Linda

I was shocked to hear the news that Pat

passed away on March 10, 2012. I had

just seen him at our open house a couple

weeks earlier. He was his normal smiling

self, just chatting with my Dad about the

latest offerings from Stuttgart. As I sat at

my desk letting the news sink in, I realized

that in the past 15 years I'd know Pat, I

never saw him with anything less than a

smile. Nothing but kind words ever left

his mouth. It has always been people like

Pat that make PCA what it is. To me, Pat

represented everything a friend should

be. His passion and charisma were

contagious. Ever since the first time I

met him at a PCA event, I noticed that

911 Turbo GT2-RS. Where is quality

really found? As much as I love a hand

built, specialist built, engine - as I do, I

know from jet engine engineering that

the computer method is actually more

efficient. And note, I didn't say better!

911 ENGINE OIL PRESURE NOT

THERE!

An unfortunate story or a new rebuild run

on a reliable shop dyno showed very low

cranking and starting oil pressure? After

replacing the engine mounted Oil Cooler

and checking as much as possible nothing

revealed a cause. A teardown was done

and everything looked good. Nothing was

found to be missing. All crankshaft plug

pins were installed, Oil squirters installed

and pressure to blow-off tested normal?

After re-examining the OIL PUMP it was

noticed that the OIL SEAL between the

oil Pump and the R/H Engine case was

not deformed from normal assembly. The

3 ea nuts securing the Oil Pump to the R/

H case were fully threaded and tight but

the oil seal did not mate tightly against

the Oil Pump and crankcase? Closely

examining one of my own oil seals from

a recent purchased gasket kit for a 3.6

Patrick C. Paternie: A Dear Friend of PCA/OCR

Article by Paul Kramer

people just wanted to be around him. His

untimely passing has left a gap in all of

our hearts.

Pat had (for many of us) the "dream

job." The first time I heard him speak, I

was enthralled by his tales of traveling

the globe and driving some of the best

cars on the best roads in the world. The

romantic idea of being an automotive

journalist sounded so appealing. He

would tease us with pictures of himself

and his wife, Linda, standing next to a

Lamborghini that they just drove on an

Italian racecourse. Where do I sign up?

Pat worked hard at making his

dreams come true. Like anything in life,

good things do not come easy. However,

Pat always made it seem effortless. To

be in his company was always a joy and

privilege. Like many others, he inspired

me to chase my dreams. Although we

will all miss him horribly, I'm grateful

to have been able to share time with him

and call him my friend. We love you

Pat.

Turbo engine, I observed that the oil

seal, Nr. 999.704.172.50 is a red-orange

colored seal. (I shall not name the brand

name here). The specification for this seal

is 19.5 x 26mm (dia.) and I have seen a

specification for a thickness of 10mm. In

my gasket kit I found the red-orange seals

I had measured at 8.9 mm thick, using a

Fowler metric caliper. In my shop supply

I have a separate supply of green "Viton"

oil seals, with the same part number. The

Viton seals I measured at 9.9mm thick.

After installing my Oil Pump on my

engine, and then removing it, I could see

a good seating on the green seal. I have

advised my supplier and suggest anyone

having serious engine work done inquire

to the seals being used.

This is a bit deep for most Porsche

owners to be concerned about but it

should be an awareness to all who do their

own rebuilds. PS My gasket kit was not a

'cheap-o' rebuild kit either. My supplier

also supplies Porsche dealerships. I can

only guess a rare manufacturing "issue"

is suspect.

Questions, Comments, and inquires

are welcome.

Patrick in # 90, his 911, racing at Willow

Patrick doing what he loved best, sharing his

love of Porsches

APRIL 2012 23
---
OCR Membership

Anniversaries [5 years or more]

38 Years

Dennis & Julie Walsh

37 Years

Bruce Bollong

32 Years

William & Margaret Otto

28 Years

David & Devi Bellows

Pamela Horton

27 Years

Martin & Ron Kurta

24 Years

Stephen & Pearl Faddis

Kiyoshi Takano

23 Years

Ed & Rosalie Ricci

22 Years

Bob & Jacqueline Weber

21 Years

Donald & Carol Murray

19 Years

Viken & Nora Bedrossian

John Bouza & Sherron Bennett

Jeff & Marsha Peterson

18 Years

Timothy Musick

17 Years

Arnie & Carolyn Shusterman

Margaret & Jack Brown

16 Years

Jack Gabus & Bolette Albertsen

15 Years

Keith & Rita Hulley

Paul & Penny Hinds

Dennis & Debi Donsker

14 Years

Brent & Cheryl Holden

Thomas Randel & Wei Han

Bob Scheussler & Lisa Goetsch

Neil & Connie Colwell

13 Years

Michael & Florine Swain

12 Years

Louis & Pegi Marecek

Craig Benedetti & Alexander Acosta

Walt & Susan Crandall

Joe & Emma Kunz

11 Years

Bill & Jason Tran

Mark & Michelle Chao

Joseph Fan

Bryan Pepper & Heather Fera

10 Years

Bob & Cindy Nimtz

Steven & Matthew Chan

Chase McLaughlin

9 Years

Bradley & Michael Thalken

Rob & Victoria Morgan

Tina & Tom Olsen

Marc & Linda McConnell

8 Years

Kirk & Christopher Todd

Ray Maa

Ruben Solano & Melanie Jarrett

Robert Berger

James & Regan Steedman

7 Years

Aric & Anita Gless

Jeff Fraser

Andrew & Ivan Oransky

James Schaedler & Jocelyn Mccord

Rick & Lori Lal

6 Years

Arthur & Joanne Iwasaki

Sergio & Shirlene Rosman

Craig Taylor

New Members and Transfers

Eugene Carter

Irvine/1987 911 Turbo

Frank DelaVara

Los Alamitos/2000 Carrera

Gene Fleener

Huntington Beach/1986 Carrera

Thomas Frecentese

Anaheim/1985 911

Michele Hessman & Stuart Ross

Los Angeles/1990 911

Michael & Angeli Leggitt

Huntington Beach/2008 Cayman S

Therese & Gary Louer

Trabuco Canyon/2004 911

Robert Mahl

San Clemente/2008 997TT

Eddy & Laura Paz

Westminster/2002 911

Jay Rollo

Costa Mesa/2008 911

Mel Ting

Laguna Beach/2008 C4

Gustavo Torres

Coto de Caza/2006 Carrera

Daniel & Sharon Whelan

Dana Point/2009 911 CS

Lizandro Ezrre

San Clemente/2001 996

Transfer - Riverside Region(RIV)

Brent Funston

Laguna Beach/2010 Panamera

Transfer - California Central Coast(CCC)

Dianne & Marc Goodrich

Newport Beach/1996 911

Transfer - California Central Coast(CCC)

Todd Groth

Costa Mesa/2001 911

Transfer - San Diego(SDO)

Michael Heinemann

Laguna Beach/1967 911

Transfer - California Central Coast(CCC)

The Rennlist

A Request for updated emails!

The Rennlist is our communication

tool to reach members with

Announcements, Event Reminders

and Information deemed "Important".

If you are not receiving emails

from our Region or want to change,

update or add additional email

addresses Please send any new

email addresses or changes directly

to Pete Lech to be included in the

rennlist e-blasts!

Thank You

Contact: Pete Lech:

peterlech@att.net

Membership Questions?

• General Membership Info • Change of Address /

• Where is my Pando? Car / Phone

• They spelled my • Joining PCA/OCR

NAME wrong! • IntraRegion

• Potential Member Transfers

Referrals

Contact: CL Jarusek ccwguy@aol.com

24
---
Breakfast Club/New Members

Photos by Pamela Horton

Each month the Club meets at Original Mike's Restaurant in Santa Ana for Breakfast and to view each other's cars. Our new members

attending the March 2012 breakfast are pictured below with their Porsches as well as some happenings from the meeting. Location

details for the Breakfast Club appear on the back cover of this magazine.

New Member Frank Esteinou, 1977 911S Targa Black

New Member Eleanor Toumans with Bruce Herrington, 2001 996 Black

Jay Rollo, 2008 911C4 Cabriolet Grey

New Member Rick Kay 1980 911S Targa Brown

Ed from Walters brought a brand new 991 for everyone to oogle and

drool over. It created lots of interest before breakfast.

Some people play house; Pamela plays with houses and with cars.

Maybe if Ed buys a big new house from Pamela, then Pamela can

buy this beautiful new Porsche.

25
---
Walter's Auto-X Party

(Continued from Page 12)

the 2011 AX award winners. A full list of award

winners can be seen online in the February 2012

issue of Pandemonium, pages 21 & 22.

Christine and Chuck also presented Greg Lush,

the out-going AX Co-chair, an award in recognition

of his two years of service Co-chairing the AX events.

While we will miss Greg, he joins the expanding

ranks of Emeriti that include Steve Eguina, Jim

Harris, Bob Scheussler and James Buck.

Driving Instructor Co-Chiefs, brothers Rick and

Dennis Neff, presented the Instructor of the Year

Award. This year we were again lucky to have an

excellent group of Instructors, two of whom stood

out: George Pappagelis and Patricia Lynn Taylor.

Both of these Instructors received many compliments

from their students over the year, and provided untold

hours of in-car instruction to Club Members at every

event. Thank you and congratulations George and

Patricia Lynn!

The 'hot-shoes' were anxiously awaiting

the announcement of the Top Gun Award, which

recognizes the single driver with the highest score

for the season using the BRI (Bench Racing Index)

for each Autocross event. The award, presented by

Emeritus Steve Eguina, went to Carl Vanderschuit.

Congrats Carl!

In closing, 2011 was another outstanding year

driving with friends. Thanks to the 2011 Autocross

Events Team for their hard work throughout the year,

including:

AX Co-Chairs

Chief Driving

Instructors

Corner Workers

Greg Lush, Christine Newcomer,

Chuck Bartolon

Dennis Neff & Rick Neff

Craig Adams

Steve Eguina, Sponsors us with

both of his companies

Gordon Williams, OCR President

"A Porsche in Every Garage"

Greg Lush joins the Emeriti

Patricia Lynn Taylor, Instructor of the

Year

Course Design

Equipment

Attila Szilagyi & Dave Palmquist

Eric Budai

Registration

Safety

Christine Newcomer

Don Chapman

Tech

Timing

Car Czar

DE Co-Chairs

Emeriti

Christian & Kevin Van Fleet

Chris Barrington, Kris Scheussler,

Lorri Trotter, & Karin Scheussler

Evan Fullerton

Steve Eguina & Bob Scheussler

Steve Eguina,Jim Harris, Bob

Scheussler,James Buck

Thanks to all Sponsors, Volunteers and Drivers

for a great 2011 AX season! You are the reason our

Autocross program continues to get better every

year. Look forward to seeing you all at the Walter's

PCAOCR Driving Events during 2012!

George Pappagelis, Instructor of the Year, with Rick and Dennis Neff.

26
---
Law Offices of Joseph C. Nedza

Retired O.C. Deputy District Attorney

Former DMV Special Investigator

Telephone: (949) 355-2943

Facsimile: (949) 640-7434

email: nedzalaw@aol.com

Criminal Defense

Free initial consultation

Free referrals to all other fields

PCA/OCR member

www.porscheinsurance.com

You move fast. So do we.

Almost twenty years ago, we pioneered pleasure-use insurance exclusively to PCA members nationwide.

Over time our plans have grown.

They have grown again. A lot.

Want to commute occasionally? Fine. Want unlimited mileage? No problem. Don't want to pay a

deductible? Ok. Or pile savings onto savings: set limits for even bigger discounts.

There's more. Our new California program also covers race cars, street rods, trailers, classic and

custom motorcycles, special interest vehicles (like your Porsche tractor), kit cars and replicas.

One thing that hasn't changed is our personal service. We're here to help you.

Get your Instant Insurance Quote at porscheinsurance.com

or call toll free 800.237.4722

Ad 100307-CA PCA-Half Page-bw.indd 4

APRIL 2012 27

3/9/10 5:15 PM
---
How to Clean H5 Llights:

(Continued from Page 8)

Next take the light unit to a suitable

work surface. We used a work shop

table covered with microfiber cloths.

You might also try the dining room table

covered with placemats. The only access

to the inside of the lens is through the

bulb hole.

Once on the table we took our soft

bristled brush and brushed off all of the

loose dust and dirt. Next you will need

to remove the star shaped bulb retainer.

This is a ½ turn screw-type retainer.

Once loose you can take out the bulb.

not to bend the reflector tab inside the

housing!

Manipulate the towel around as best

as possible with your pushing implement.

We were able to jam the towel into lots of

nooks without a problem. The top of the

light housing has a challenging recess to

clean.

wipe all of the old road dirt out of the

headlight buckets, wiring harness and

gaskets. It is also a wise idea to use a

q-tip to apply a small amount of antiseize

to the threaded mounting tabs in

the headlight buckets. This insures easy

removal in the future.

Remember NOT to touch the glass

part of the bulb. Touching any Halogen

bulb will leave oils from your fingers

behind and cause a hot spot on the bulb.

This will lead to the bulb burning out in

very short order! (oops, I already touched

it, now what? Use Denatured alcohol

on a clean cloth to wipe the bulb down

before reinstallation.) Each light unit

also has a desiccant pack attached to its

bottom. Using your Philips screwdriver

remove the drier. This will allow quicker

evaporation of the glass cleaner.

After removing the bulb, squirt a little

bit of glass cleaner (2-3 squirts) into the

housing, insert a paper towel and push it

in with the long flat blade screwdriver or

another suitable item. (chopstick, handle

of a wooden kitchen spoon) Be careful

Once you feel the lens is sufficiently

clean, remove the towel. We used

mechanics fingers to help. Needle nose

pliers might also help.

Next the remaining liquid needs to

be dried from the housing. We chose to

place our headlights out in the driveway

in bright direct sun for about 30 minutes.

If it is a cool or overcast day you can use

a hair dryer to blow warm air through the

housing. It is important

to get them totally dry

before reinstallation

or they will fog up

almost immediately. If

it is the end of the day,

take the lights inside

with you overnight and

let them dry at room

temperature or in front

of a heating duct.

Re-installation is

the reverse of removal.

We chose to spend

15 extra minutes and

When you install the outer trim

ring, take your time and make sure the

top is hooked properly over the lip of

the light bucket. Also, carefully thread

the retaining screw into the bucket. A

cross threaded screw is no way to end a

rewarding project!

Enjoy your sparking clean headlights

and better nighttime vision!

28
---
APRIL 2012 29
---
The Art of Detailing:

•

•

•

•

(Continued from Page 6)

bounds over the consumer line in

the previous price point.

Detailer Experience: At this

level, the detailer should have a

good understanding of the cars

being worked on and a few years'

experience working for someone

else. This is a good place for a startup

detailer with previous experience

and dedication.

Level of Attention: There will

be a reasonable difference in the

appearance of the car both inside

and out. Things such as wax residue

on the exterior trim should not be

existent. The interior should have

a nice clean look and areas such as

vents, windows, carpets, upholstery

are addressed with great detail.

Liability: There should be enough

money budgeted for a good

insurance policy to cover both the

car and client. Here, you can expect

an average of $25-50K in coverage

per vehicle.

Detailer's Future Existence: This

detailer will be around for a while.

This is a good price point to grow a

mobile business and have a steady

stream of work.

$600 price point:

• Product Quality: At this price point,

you should be getting the ProSumer

products at a minimum and edging

into the High-End product lines.

• Detailer Experience: This detailer

should have great expertise in

certain cars, by now specializing in a

niche. Great value for the consumer

as the detailer is highly skilled and

knowledgeable in the cars being

detailed.

• Level of Attention: Many aspects

of the proper detail that weren't

addressed before should be seen.

In the interior, you should notice a

pristine ambiance. All of the surfaces,

leather, carpets, carbon fiber, etc.,

will be cleaned, conditioned and

protected. The exterior is also

properly cleaned, conditioned and

protected.

• Liability: Since we're now catering

to a higher caliber niche, the liability

•

of the work is increased. A simple

mistake on a $30K car is not too

expensive to remedy. However,

with the average new Porsche,

Ferrari or Lamborghini in the five

to six-figures, ample insurance is

needed for the unforeseen incidents.

Liability coverage should be in the

$75-150K /vehicle range.

Detailer's Future Existence: The

detailer should be focusing on

growing the company and hiring

employees. Or, consider detailing

as the career. One detailer can make

a profitable living and support a

family at this price point.

$1000 and above price point:

• Product Quality: Products are the

same as above or a higher quality

of the above mentioned. Innovative

products such as Nano Technology

can be incorporated into a routine.

These products require greater user

skills to use.

• Detailer Experience: Expert or

specialists in a particular class or

manufacturer of automobile. This

detailer will have considerable

experience detailing, but now also

has the scope of correcting paint

blemishes such as swirls, scratches,

orange peel, etc. This detailer is an

artist, not a detailer. These detailers

are usually booked out weeks and

months ahead. Their reputation is

well known and the end-result is

short of breathtaking.

• Level of Attention: Second-to-none.

A typical detail at this price point

will have taken many hours, if not

days. Areas such as the engine, door

jams, delicate substrates such as

painted interior door panel, natural

wood grain accents, and carbon

fiber, etc. are addressed with great

detail. The exterior will exhibit a

near-flawless to flawless finish, free

of imperfections. At this level, you

should be getting a legitimate detail

that will stand the test of time for

many months or years, depending

on use and care.

• Liability: These details are

performed on cars that are near or

above six-figures. A modest mistake,

such as opening the rear engine

compartment on a Ferrari Enzo, can

lead to a costly repair. If the engine

is hot and the door is opened, you

risk cracking or snapping the carbon

fiber lid. This can lead to a repair

upwards of $100K. A policy with a

$150K and above is to be expected

per vehicle. A $1 Million umbrella

is also to be expected.

• Detailer's Future Existence: This

detailer is at the pinnacle of his/her

field. These detailers are well-known

in their circles, well-respected

amongst peers and the automotive

community and are the future of this

industry. This detailer understands

that there's more to the business

than detailing. Playing a role in the

future of the industry as a whole

is important. This detailer is wellversed,

proficient, exhibits smart

business sense and has an excellent

future.

I hope this gives everyone a true look

as to the value of a proper detail. Within

every industry there are those that cater

to the masses and those that specialize

in understanding a client's needs. I feel

you always get what you pay for. So the

next time you consider a detail, please

consider what you're paying for and

weigh the risk and rewards.

The all new 991 displayed at our Breakfast

Meeting by Walters Porsche

30
---
APRIL 2012 31
---
Editors Notes: (Continued from Page 5)

penned and pinned last notes and letters

along with their names on the outsides

of their coats, this being in the day

before "dog tags". As I was doing so, I

remembered a college professor saying

the Civil War was fought over "economic

differences", so smugly. Well I thought

as I was walking, the men charging up

that hill weren't thinking economics as

they were going forward, that is for sure.

I would hope they'd take comfort from

the flame being passed along to a next

generation. So much for cynicism.

Passion and Porsches

And now, while we're on the subject of

cynicism, let's talk about Porsche. Truly

if we weren't romantics at heart, we'd

drive some nameless econobox and shop

with only utility and transportation in

mind. However, in the OCR we drive

Porsches. I imagine that this is driven

from the passion side not the rational

side. Why else would you have a car

like the GT3? It is loud, noisy inside and

out... rides rather harshly over any kind

of broken pavement, which is mostly

what we have in Southern California

nowadays, and it has a clutch like a trucks

that is like working out with a stairmaster

in traffic. The reason of course is that it

is so darn much fun, steers like an arrow,

accelerates like a hungry man in a buffet

line and corners hard enough to throw the

latte out of the cup in the holder. Yeah,

we have the passion.

Old Bathtubs in Anaheim

This past weekend was the 356 swap

meet that has moved in recent years to

the "Phoenix Club" in Anaheim. I have

gone to this over the years, beginning

when it was a fixture at the old Dunkle

Brothers warehouse in Anaheim just up

the road. That site is now a condominium

and Dunkle Brothers have moved way

up the 5 freeway. But the swap meet is

more or less the same. It is a once per

year event and comes and goes in about

6 hours of a weekend day morning. You

see the craziest stuff change hands for

the craziest prices. I saw what looked

like a pile of rusty small diameter pipe in

one stall with a +$500 price tag attached.

Looking at the handwritten sign it was

advertised as the top works for an early

356 Convertible. Now we call them

Cabriolets, as it makes spending that

much money for a convertible more

palatable if one uses more fancy words.

So, one mans junk is another mans prize.

I don't know if this was ever sold or if

it will go back to the end corner of the

garage looking for the one sun burnt 356

owner who can no longer put and keep

his top up in the California sun! But this

is the kind of thing one sees there along

with a veritable rolling museum of 356s

and early 911s.

This year there was a proud group

of 912s and 914s banded in the central

display area. Quite a few of the 914s

had the 6 cylinder motor badging, which

would make them rather rare. It is a fun

day and I recommend it to you for next

year at least. For lunch I had a bratwurst

and sauerkraut plate, which made me feel

quite the Tyrolean with all of those early

Austrian influenced Porsches present.

Waxing Finely in the Sun

Oh my, will this years Concours be

something? At Shady Canyon, of all

places, and for once an afternoon/evening

event as opposed to the usual "0 dark

thirty" beginning that we have grown

used to in the automotive enthusiasts

world. We'll have a catered dinner,

which includes an evening dinner dance

so all the family will have something to

attend and enjoy. I am practicing a couple

of demi-plié so as not to be so tough on

Mrs. Cooper's delicate toes when we

dance. As always, we need volunteers

for this affair. I think it will be a special

experience this year so be sure to let

Nicole Cooper-Boggs and Louise Bent

know that you'd like to help out. I really

look forward to seeing everyone there.

The Board Meets the Greek Way in the

Columned Confines of the Courtyard

With such wonderful weather, your

OCR board met out of doors after our

last Breakfast Club Meeting at Original

Mike's in Anaheim. Mike's has sofas

placed in the courtyard and it was a great

diversion to sit outdoors and conduct

club business. It is said that Plato,

Socrates and Aristotle conducted their

academe in similar surroundings, which

freed the minds and opened the spirits to

better communication. Although, it is my

fervent wish that none of us will ever be

forced to take Hemlock at any stage of

our lives. But it made for a memorable

Board Meeting, I must say.

Till our paths meet again

Well happy trails to you until our paths

cross again. I'm looking forward to more

of 2012, our shared Porsche Passion and

the friendship and camaraderie of both.

See you soon I hope!

32
---
APRIL 2012 33
---
Book Review: (Continued from Page 13)

Porsche's 'Calculations Department'

studying forces and accelerations on

valve train components. Because of the

small size of the Porsche engineering

staff , Mezger quickly became involved

in all aspects of engine design. After

only a few years with the company, he

worked with Ferdinand Piech (6-7 years

younger than Mezger, who came to

Porsche in 1963), to create the production

901 engine, under the overall direction of

Ferry Porsche. The engines in even the

latest 991 version of the 'Porsche 911',

are still based that 901 engine design

developed by Mezger in early 1963.

The narrative of Porsche and Me

is fast paced, first person, sometimes

reads like a lecture transcript, seeming

almost breathless at times. Included are

personal comments about Ferry Porsche,

Ferdinand Piech, and various racing

drivers, including Dan Gurney and Peter

Gregg.

The text is not a rigidly organized

recitation of the history of engine

development, but a somewhat streamof-consciousness

narration, jumping

around from engine model to engine

model, representative of how Porsche

always had multiple projects underway,

some of which (like the TAG Formula

1 engine and Wagner helicopter cabin),

were for outside customers.

It includes a fascinating discussion

of why it was decided to place the 906

door hinges in a different position from

the 904 hinges, as well as he evolution

of the design for the 'Carrera (3.2)

chain tensioners'. Of note to some is

the description of how he improved the

design of the 356 heads to create the

high performance Super 90 engine.

Also discussed is the design

evolution of water cooling and

aerodynamic aids. All in all, book

provides new insight into the things that

car (and particularly engine), designers

think about. From a management sense,

there is interesting commentary about

the working environment at Porsche,

under the leadership of Ferry Porsche.

Porsche and Me has 208, 10x10

inch pages, with 15 Chapters (ranging

from Learning Years to Reflections), and

5 appendices. One appendix is a reprint

of a 17 page paper "The development of

the Porsche Type 917 Car', presented

in 1972 to the Automobile Division of

the [British] Institution of Mechanical

Engineers. It has Forewords by Prof.Dr.

h.c. Ferdinand Piëch and Ron Dennis

CBE

Porsche & Me should be available

for $79.95 at your favorite book

sellers (ask for it) or from http://www.

motorbooks.com.

The new OCR Truck and a real Porsche Tractor

34
---
Classified Ads

FOR SALE: 930- 911 TURBO

'78 930 Turbo RSR/934 Recreation,

"The Frog". Leaf Green/Black interior.

34.7K miles. Numbers matching, less than

12,000 miles since complete restoration.

Well-documented records and history. No

accidents. straight body. $78,990. Paul

714/335-4911; paul@autokennel.com.

OCR (1).

2001 996 Twin Turbo Coupe, Lapis Blue

Metallic (non-pearl)/Black w/Graphite

Grey lthr inserts. 43.4K mi. Rare sunroof

delete, RWD (converted from AWD),

Factory launch vehicle from new. 6-spd

manual, CA car, Carfax certified, all original

paperwork. $39,990. Paul 714/335-4911;

paul@autokennel.com. OCR (1).

2002 911 Twin Turbo Coupe, Seal Grey

Metallic/Graphite Grey lthr, 58.7K mi. 6

spd, 2 owner CA car. All original paint.

$39,990. Paul 714/335-4911; paul@

autokennel.com. OCR (1).

'09 997 Turbo Cabriolet, Meteor Gray

Metallic/Black lthr, 5.7K miles. 6 speed,

navigation, limited slip rear differential,

Sport shifter, Sport Chrono Package ,

Porsche Crest in Headrest, Heated and

ventilated front seats, Bluetooth phone

interface Parking assist system, Universal

audio interface (ipod connector). Other

items added: Clear film on front fenders,

front bumper, partial hood, mirrors and

behind wheels, done by Premier. HRE P40

gloss black 19" whls, Porsche clear side

markers, new Porsche battery November

2011. In service date of 11/2009, balance of

4 year 50,000 mile warranty in place. Never

smoked in, always garaged, never seen rain,

dealer serviced/purchased new at Newport

Beach Porsche. $115,995. John 949-510-

3738; supercup@cox.net. OCR

'09 Porsche 997 Carrera Twin Turbo,

Sport Chrono, Black/Black lthr, 20K

mi. Tiptronic S, 1-Owner SoCal Car. No

Accidents/No Paintwork. Factory Warranty.

$129,990. Paul 714/335-4911; paul@

autokennel.com. OCR (1).

FOR SALE: LATE MODEL 911-

993-986-996-997

'91 C2 Carrera 2 RS America conversion

Grand Prix White/All Black lthr. 50K mi.

. Appears as NEW. Full OE RS America

conversion w/OE RSA parts. Sunroof,

Tiptronic, always a SoCal car from Vasek

Polak Porsche Hermosa Beach. No collision

or paint work, all original. 100% garage

queen, weekend driven for concours &

shows. 2010 PCA Zone 8 overall Full

Concours winner. Lots of special detailing

and powder coating. Everything sorted,

needs nothing. Engine numbers indicate

this is a head sealed engine, not the earlier

non-sealed type that were prone to leaking.

Many detailing and show photos available

on request. Porsche COA, factory AC, dash

is perfect, factory trip computer, CD, cruise

control, power steering, OEM front & rear

sway bars, flawless unused tool kit, flawless

unused spare & air compressor, lowered and

aligned to euro specs, full corner balanced,

distributor kit & belt done, belts & fuel filter

done, oil and filter at 50K, stainless brake

lines & fresh fluid done, speed bleeders,

valve covers and seals are new, new fog

lamps, new turn signals & rear reflector,

Cup air box & stock air box, new Bilstiens

& H&R Green springs, like new 7" & 9"

OE Cup wheels, 7mm spacers, RS center

caps, like new Conti's, all new OE alloy

lug nuts, secondary muffler bypass, late

964 duel spring wiper arms, zero leaks,

new brake rotors-vented, new wear

sensors, RSA rear brake calipers, fresh

no dust brake pads, RS strut bar, keyless

entry and alarm, late model teardrop

power mirrors, factory RS motor mounts,

reinforced engine cross member, RSA

sport seats, RSA Tail, RSA trunk carpet,

RSA door panels, RSA center console,

RSA rear package & seat delete, Rennline

alloy floor boards, custom CoCo floor

mats, OE Porsche car cover, OE Porsche

bra, mirror bra. Items not on car but

available: Factory rear under tray and

sheet metal, rear engine cover/motorized

spoiler, secondary muffler. $34,950.

David: 562.201.4802. OCR (1)

'96 993 C2, Black/Cashmere lthr, 88K

mi. . 6-spd. 2nd owner, PCA owned

since new! RSR mufflers. Lowered/

cornerweighted w/Porsche Euro M030

springs&swaybars, Bilstein HDs, 18"

Turbo hollow spokes w/Michelin PS2s.

10-speaker HiFi sound option ($930 in

'96) CDC-3 disc changer. New clear

front corner lenses; front brakes w/new

discs; Porsche logo mats; wipers; smog,

oil change. Includes full set of stock 17"

Cup 2s with newish Michelin Pilot Sport

tires. All records and original window

sticker. Gorgeous, classic look; drives

like a modern supercar. Just detailed.

Never tracked but ready for it. $33,000.

Shown by appt at my office in Santa Ana.

Chris 714-932-1694; cknap@ocregister.

com. OCR (1)

FOR SALE: 911--1970s

'73 911 T Coupe 2.7 MFI, Linen Gray

Metallic/550 (936 Silver Metallic was

original color)/Black leatherette, 15,951

Miles since build. Factory A/C, sunroof,

Sport seats. Original CA car, CA Blue

license plate. $36,990. Paul 714/335-

4911; paul@autokennel.com. OCR

(Continued on Page 36)

APRIL 2012 35
---
Classified Ad Rates

PCA Members - No charge for 2 times in

the Pandemonium

(2 consecutive months, photos free)

Non-PCA Members - $10 for 2 times

in the Pando (2 consecutive months;

$5 extra for a photo)

Make checks payable to: PCA/OCR

Please contact Bob Weber at 714-960-4981

at 714-960-4981

or hbobw930@aol.com

Classifieds Contd:

FOR SALE: 911--1980s

'82 911 SC Coupe, Chiffon White (182)/

Black and Brown lthr, 206,400 miles. 5

spd, CA car, PCA member owned. No

accidents. $14,990. Paul 714/335-4911;

paul@autokennel.com. OCR (1).

Access Insurance Bonds--------------------------------9

Al Reed Specialty Polishing------------------------- 16

American Collectors Insurance---------------------- 34

Anaheim Hills Auto Collision---------------------- 31

Autobahn Adventures -------------------------------- 10

AutoKennel------------------------------------------- IBC

Autowerkes--------------------------------------------- 32

Bell Helmets------------------------------------------- 16

Bill Brewster---------------------------------------------7

Cape Auto Repair-------------------------------------- 15

Circle Porsche-----------------------------------------IFC

Clint Eager------------------------------------------- IBC

Cooper's Classy Car Care---------------------------- 29

David Piper, CPA ------------------------------------- 16

Doorshield--------------------------------------------- 10

Einmalig------------------------------------------------ 33

European Collision Center--------------------------- 33

Fabricante Auto Body------------------------------- IBC

Index of Advertisers

Factory Werks------------------------------------------ 27

Fairview Mortgage Capital-----------------------------3

Glistening Perfection---------------------------------- 31

Hergesheimer------------------------------------------ 13

Integrity Motorcars--------------------------------------5

Law Offices of Joe Nedza---------------------------- 27

Lelland-West Insurance Brokers-------------------- 27

Pamela Horton, Surterre Properties----------------- 21

Pelican Parts-------------------------------------------- 16

Racing Lifestyles-------------------------------------- 22

Rice's Performance Porsche------------------------- 16

State Farm Insurance/Bill Petersen---------------- BC

Sundial Window Tinting------------------------------ 21

TC's Garage----------------------------------------------7

Ultimate Shield--------------------------------------- 31

Walter's Porsche----------------------------------- 18-19

Wells Fargo--------------------------------------------- 16

Would You Like to Advertise in Pandemonium?

For Rates and Availability Call Ken Fredrickson at 714.962.3258

or email to Grace Fredrickson at one.graceful@verizon.net

'87 911 Carrera Cabriolet, Grand Prix

White/ Black Top/ Burgundy lthr, 195K

mi. G50 5-spd manual, SoCal car. $14,990.

Paul 714/335-4911; paul@autokennel.com

'87 911 Carrera Coupe, Grand Prix White/

Marine Blue lthr, 46.7K mi. G50 5spd,

European Factory delivery and shipped to

SoCal. Original paint except left rear fender,

painted to fix a scratch. No accidents, rust.

Numbers matching. CA car from new.

Porsche Dealer and Callas Rennsport

Serviced. $32,990 Paul 714/335-4911;

paul@autokennel.com. OCR (1).

WHEELS & TIRES

FUCHS Wheels/Falken Tires For Sale:

(2) 7x16 - 225-50 R16; (2) 6x16 - 205-60

R16.

Tires barely scrubbed in. $1000. Bruce

Herrington 760/567-3819. OCR (2)

FOR SALE: PARTS-911

911 PARTS

• 2 flywheels, 93010203301, one stock

weight, one lightened by 2.5 pounds, fit '84

to '86 911. Stock 'wheel $250.00, lightened

$500.00

• 2 pressure plates, aluminum,

91511600127, fit '74 to '86 911 $250.00

• 2 clutch discs, rubber center, fit '78 to

'86 911, very good shape $100.00

• 6 pistons and cylinders, 95 mm, for 3.0

or 3.2 liter, very good shape, 93010399002,

03, 04 from 930/21 engine $2000.00

• 6 cylinders, 95 mm, for 3.0 or 3.2 liter,

very good shape $1000.00

• 5 cylinders, 90 mm, for 2.7 liter, very

good shape $50.00 each

• Oil cooler, engine mounted, pressure

tested & sonically cleaned, 91110704100

• 930 Intercooler, 93011023307

$250.00

• Oil cooler, radiator type, mounted

behind right headlight, 96420722002

$250.00

• Connecting rods for 2.0 & 2.2 liter

911 engines: six 90110301129 rods weigh

629 grams, five 90110301127 rods weigh

613 grams, marked "S" $100.00 each

• Connecting rods for 2.4 & 2.7 liter

911 engines, five 91110301536 weigh 694

grams $100.00 each

• Mufflers, left & right, stock, for 993,

Bischoff, 99311104504 & 99311104604

$125.00 each

• Mufflers, left & right, stock, for

996 up to 2000, Gillet, 99611112155 &

99611112255 $100.00 each

• Left & right reinforced steel rear

suspension arm for early 911/ 912 $200.00

each

• Brake calipers, front, left & right, fit

'65 to '76 911 with solid rotors, 90 mm bolt

spacing, 92335242500 & 92335242600

$75.00 each

• Left & right Vent Windows, tinted,

fit '65 to '94 911 coupes, 90134250137 &

91154251100 $25.00 each

• 3 Door Windows, tinted, fit '65 to '94

coupes, 2 lefts & 1 right (one left is new)

$100.00

• Left door windows, fits '65 to '82

Targa, 90154210145 $25.00

• Left & right fog light assemblies for

911 Carrera, 91163120300 & 91163220400,

new lenses recommended, $83.00 dealer

list$50.00

• 993 suspension springs: 2 sets of M

030 (sport) springs; 1 set of rear M 030

springs; 1 set of rear TURBO springs.

All will lower the car and stiffen the ride.

$200.00 pair

• 911 Rear window 911 545 107 00

$200.00

• 911 Sunroof panel 930 564 051 01 ss

to 964 564 051 01 GRV $150.00

• Left heat exchanger for MFI 911 211

021 60 $250.00

Contact Frank. frank@hausofperformance.

com, 714/545-2755. OCR (2)

36
---
Porsches Around Town:

I-Car

Platinum

Certified

Technicians

26341 Dimension Drive

Lake Forest, Ca 92630

Mercedes

Benz Certified

Collision Shop

Serving all of Southern

California!

FABRICANTE

AUTO BODY

Phone: (949) 859-8639

www.FabricanteAutoBody.com

Proud Sponsor of

Proud Partner of
---
Porsche Club of America

Orange Coast Region

P.O. Box 6726

Huntington Beach, ca 92615-6726

PRST STD

US POSTAGE

PAID

SANTA ANA, CA

PERMIT NO. 516

Dated Material: Please deliver by 4/05/2012

Current Resident

Three good reasons to insure your cars with State Farm.

Call for a quote on your Porsche, business

or personal insurance and receive a full-size

Rand McNally Road Atlas….Free!

Good service.

Good price.

Good neighbor agent.

Like a good neighbor, State Farm is there.

Serving Porsche Club members since 1981

Office: (949) 855-8325

www.billpeterseninsurance.com

Bill Petersen, Club Member

State Farm Insurance Companies

23101 Moulton Parkway, Ste. 103

Laguna Hills, California 92653