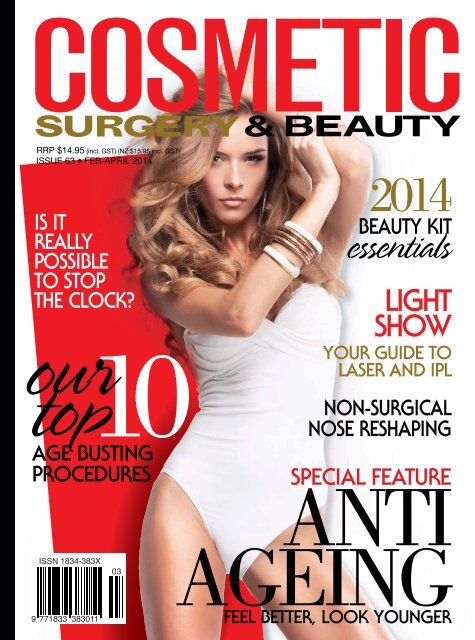 Cosmetic Surgery and Beauty Magazine #63
Cosmetic Surgery & Beauty Magazine is the definitive guide to the aesthetic medicine industry for anyone considering a treatment therapy or surgical procedure. This quality quarterly publication contains comprehensive information about practitioners, equipment, techniques, processes and options, presented clearly and completely. The strong emphasis on input by industry professionals provides profiles of the practitioners and understanding of their approach to each procedure, enabling readers to make informed choices in their initial approaches to deciding what will best suit their needs. Hundreds of untouched before-and-after photographs provided by the practitioners themselves graphically illustrate both treatable conditions and the results that can be obtained. Cosmetic Surgery & Beauty Magazine is essential reading for anyone wishing to inform themselves about the options available in aesthetic medicine in Australia.
Cosmetic Surgery & Beauty Magazine is the definitive guide to the aesthetic medicine industry for anyone considering a treatment therapy or surgical procedure. This quality quarterly publication contains comprehensive information about practitioners, equipment, techniques, processes and options, presented clearly and completely. The strong emphasis on input by industry professionals provides profiles of the practitioners and understanding of their approach to each procedure, enabling readers to make informed choices in their initial approaches to deciding what will best suit their needs. Hundreds of untouched before-and-after photographs provided by the practitioners themselves graphically illustrate both treatable conditions and the results that can be obtained. Cosmetic Surgery & Beauty Magazine is essential reading for anyone wishing to inform themselves about the options available in aesthetic medicine in Australia.
SHOW MORE
SHOW LESS
You also want an ePaper? Increase the reach of your titles
YUMPU automatically turns print PDFs into web optimized ePapers that Google loves.
RRP $14.95 (incl. GST) (NZ $15.95 incl. GST)

ISSUE 63 • FEB-APRIL 2014

IS IT

REALLY

POSSIBLE

TO STOP

THE CLOCK?

our

top10

AGE BUSTING

PROCEDURES

ISSN 1834-383X

9 771833 383011

03

BEAUTY KIT

2014

essentials

LIGHT

SHOW

YOUR GUIDE TO

LASER AND IPL

NON-SURGICAL

NOSE RESHAPING

SPECIAL FEATURE

ANTI

AGEING

FEEL BETTER, LOOK YOUNGER
---
acTual rhiNoplasTy paTiENT's oF dr William mooNEy

DR WILLIAM MOONEY

ENT & Facial cosmETic surgEoN

sydNEy's rhiNoplasTy spEcialisT

www.drwilliammooney.com.au

FACE PLUS MEDISPA

• Laser Therapy • skin Care

• CosmeTiC injeCTabLes

www.faceplus.com.au

Ph: (02) 9389 4497

FOLLOW DR MOONEY ON:
---
EXc E llENc E

sydNEy ' s rhiN oplasT y spE cialisT

suite 1902 Level 19, Westfield Tower 2, 101 Grafton st bondi junction sydney nsW 2022
---
picosuretattooremoval

No more

tattoo regrets...

PicoSure for fast and

effective tattoo removal

Erase unwanted tattoos with PicoSure, the world's first picosecond

aesthetic laser treatment available for fast and effective tattoo removal.

PicoSure targets unwanted ink more effectively than ever before,

successfully removing difficult ink colors, such as blues and greens,

as well as previously treated tattoos. Fewer treatments, faster recovery

time, and greater results are achievable with PicoSure's ground-breaking

picosecond technology.

picosure.com.au

cynosureaustralia.com

© 2013 Cynosure, Inc. Cynosure is a registered trademark and

PicoSure is a trademark of Cynosure, Inc. ALL RIGHTS RESERVED.
---
Before

After 20 treatments

Q-Switched Nd:YAG

Photo courtesy of Cynosure, Inc.

After 6 treatments

PicoSure

Before & After 3 treatments

Photo courtesy of K. Arndt, MD & J. Dover, MD

Before & After 3 treatments

Photo courtesy of Cynosure, Inc.

Before & After 3 treatments

Photo courtesy of R G. Geronemus, MD

Visit picosure.com.au

to find your nearest provider
---
Have you always

wanted a Clear

ComplexionTM?

Having problem skin since my teens, I know

what it's like to have your confidence affected

by how you feel about your skin.

As a registered nurse, I head up a team of

qualified doctors and nurses who utilise the

latest technology to bring about dramatic

results, in a safe and caring environment.

So if there's something bothering you about

your skin, come and find out how we can help.

Suzie Hoitink, RN

Founder of the Clear Complexions Clinics

Associate Member of the ACCS & ACSM

Individualised treatment programs for

• Pigmentation

• Acne/

Acne Scarring

• Large Pores

& Blackheads

• Psoriasis

• Wrinkles

• Unwanted Hair

• Leg Veins

• Trauma &

Surgical Scarring

• Rosacea

• Skin Tags,

sebaceous

Hyperplasia

• Milia and

Clogged Pores

• Cherry Angiomas

Balmain

2A Rowntree St.

T 02 9555 7287

Bruce

Cnr of Thynne & Watkin St.

T 02 6251 8889

Erindale

1/43 Comrie St.

T 02 6231 0003

Gungahlin

Suite 13, The Marketplace

T 02 6241 7660

clearcomplexions.com.au
---
FACIAL REJUVENATION &

RHINOPLASTY SPECIALIST

HARMONY,

BALANCE,

Reduce the signs of ageing with

natural-looking results for a

refreshed and youthful appearance

ARTISTRY
---
FACIAL REJUVENATION &

RHINOPLASTY SPECIALIST

HARMONY,

BALANCE,

Reduce the signs of ageing with

natural-looking results for a

refreshed and youthful appearance

ARTISTRY
---
Dr Alex Phoon

MBBS BSc (Med)

MS (Plast)

FRACS

Plastic Surgeon

HARMONY,

BALANCE,

ARTISTRY

Silkwood Medical

Level 4, 75 Grafton Street Bondi Junction NSW 2022

Telephone 1300 SILKWOOD or 1300 745 596

www.silkwoodmedical.com.au
---
Dr Pouria Moradi

MBBS BSc (Med)

MRCS (Eng)

FRACS

Plastic Surgeon

HARMONY,

BALANCE,

ARTISTRY

Silkwood Medical

Level 4, 75 Grafton Street Bondi Junction NSW 2022

Telephone 1300 SILKWOOD or 1300 745 596

www.silkwoodmedical.com.au
---
Look and feel good, from top to toe

Dr Joseph Georghy & Dr Vera Georghy have

over 65 years of clinical experience between them.

EXCLUSIVE COSMETIC SERVICES

Dr Georghy is a world pioneer in PhotoTherm ® , a revolutionary

procedure used to improve the appearance of rosacea, acne and acne

scarring, freckles, moles, age spots, large pores, wrinkles, vitiligo,

pigmentation, cellulite, scars and keloids.

Dr Georghy has developed HelioTherm ® , an exciting new procedure

designed to reduce fat deposits and improve the tone and texture of the

skin. Ideal for reshaping the abdomen, thighs, buttocks and other areas

with no downtime. Call today for more information.

Other services include

• Superbug acne therapy

• Scarless facelift

• HelioTherm ® Facelift

• Wrinkle reduction

• LipoSculpture

• Stretch mark treatment

• Breast reduction (non-surgical)

• Hair-laser stimulation

• Skin cancer treatment

• Labiaplasty & Hymenoplasty

• Excessive sweating correction

• Ultroid non-surgical haemorrhoid

therapy

COMPREHENSIVE DENTAL SERVICES

Discover the smile of your dreams thanks

to dental services from Dr Vera Georghy

• Painless dentistry

• Porcelain veneers, crowns and bridges

• White fi llings

• Old fi llings replaced

• Preventative dentistry

• Home bleaching

• Mouth guards

SPECIAL

Consultation

Cleaning, scaling &

Teeth

Whitening

DR JOSEPH GEORGHY

AMEC Specialist Surgeon (Ljubljana, Slovenia)

B.Sc. General Surgery (Zagreb, Croatia) Fellow

of the European Society of Aesthetic Surgery,

Cosmetic Physician; FFMACCS, Degree in Anti-

Aging & Regenerative Medicine (Germany) Member

of the American Academy of Cosmetic Surgery

DR VERA GEORGHY

Dental Surgeon, University of Adelaide,

Fellow, Diplomate & Lifetime Member in

the World Congress of Minimally Invasive

Dentistry (WCMID).

Voted Clinician of the Year 2009 San

Francisco, USA

NORTH SHORE

COSMETIC

313 Pacifi c Highway

North Sydney NSW 2060 (Opposite Hazelbank Rd)

02 9956 7200

www.northshorecosmetic.com.au

email: doctors@sydneycosmetic.com
---
you have youth in your blood

Regen PRP pioneering platelet rich plasma since 2003

RegenLab has been pioneering the use of autologous platelet rich plasma for skin cell renewal

since 2003.

The proven Regen ACR PRP system concentrates powerful growth factors contained in our

blood, before reinjecting them back into the skin.

By harnessing the growth factors contained in our blood, it's possible to accelerate and

increase tissue regeneration by stimulating collagen production, stem cell migration,

differentiation, and proliferation, and stimulation of new blood vessels, nutrients, antioxidants

and the other components of the extracellular matrix.

www.amsl.com.au • www.regenlab.com • 1800 201 760
---
®

clinical grade cosmeceuticals . clean science philosophy

Lucy, actual user of Synergie Skin ®

Lucy, actual user of Synergie Skin ®

• Proven results created to protect, change and nurture

• Proudly formulated and manufactured in Australia by

an Australian scientist

• Only available at selected clinics and salons

www.synergieskin.com

Contact us for more information 1300 689 619
---
Reveal Your Inner Beauty

BEFORE

AFTER

BEFORE

AFTER

BEFORE

AFTER
---
Feel renewed

with pellevé

Non-invasive skin tightening

and wrinkle reduction.

Pellevé precisely heats the deep layers

of your skin using advanced radiowave

technology. The heat causes your skin to

contract and tighten, giving an improvement

in skin quality, firmness and tightness that

you can see and feel.

Pellevé allows your highly skilled clinician

to tailor the procedure to suit your specific

needs. Treated areas typically include the

face, neck and hands.

Pellevé is non-invasive and gentle,

feeling like a warm massage and you can

immediately return to your daily activities

looking refreshed and renewed.

Scan the QR code or

contact Medtel on

1300 668 140 to find a

Pellevé Clinic near you.
---
fit for a princess

Give your skin the royal treatment

with Princess Skincare

DAILY YOUTH

Moisturising Gel

ANTI-AGEING

Vitalizing Serum

RECOVERY

Soothing Essence

REJUVENATION

Hyaluronic Acid Mask

Green Tea Mask

Made with 100 percent rayon,

non-woven fabrics

CONTACT: INSIGHT AESTHETICS

Ph: 1300 737 393

info@insightaesthetics.com.au

www.insightaesthetics.com.au
---
Prosthodontics

& Implant Surgery

DESIGNER SMILES TM

Centre for cosmetic, reconstructive

and implant dentistry

Dr Sarkis Nalbandian completed his Bachelor of Dental Surgery with

Honours in 1983 and Diploma in Clinical Dentistry (Oral Implants) in

2000 at The University of Sydney. He also completed his Masters in

Prosthodontics in 2004 at the prestigious King's College, University

of London with distinction. He is a fellow of the Royal Australasian

College of Dental Surgeons.

B.D.S. (Hons.) Uni.Syd.

FRACDS

Grad. Dip. Clin. Dent. (Oral Implants) Uni.Syd.

M.Clin.Dent (Prosthodontics) King's College Uni. London

Dr Nalbandian specialises in Dental Implants and Prosthodontics

for treating simple to complex dental, functional and aesthetic

problems.

He lectures on topics including Dental Implantology, Prosthodontics

and Implant Surgery.

He maintains a specialised practice in Sydney limited to Aesthetics,

Prosthodontics & Implant Surgery.

Dr Sarkis Nalbandian

B.D.S. (Hons.) Dip. Clin. Dent. (Oral Implants) Uni.Syd. FRACDS

M.Clin.Dent (Prosthodontics) King's College Uni.London

Designer Smiles

17 Gerard Street Cremorne NSW 2090

For more information call

02 9953 4189

Fax 02 9953 4358

www.designersmiles.com.au
---
omni omni

by

by

Why Why

choose? choose?

When When you you

can have can have

it all! it all!

LASER

LASER

ions

RF

IR

Optimise IR your Optimise clinic's your treatment clinic's options treatment o

all from one all device… from one device…

RF

g

t &

ision

l

ing

vi

DPC

DPC

Reduction

Facial skin rejuvenation Facial skin Facial rejuvenation & body

Facial skin tightening Facial skin permanent tighteninghair

Facial skin toning Facial skin

reduction

toning

Vascular & PigmentedVascular Hair

& Pigmented

removal on

dark skin

lesions clearance lesions clearance

Hair removal for

Wrinkles & fine lines Wrinkles blond & fine & lines red hair

Facial Body & body contouring

permanent Acne treatment hair &

reduction acne scars revision

Hair Tattoo removal removal on

dark

Skin

skin

Resurfacing

Hair

Leg

removal

Veins

for

&

blond

Epidermal

& red hair

Nevi

Body cont

Acne treat

acne scars

Tattoo rem

Skin Resu

Leg Veins

Epiderma

Call us today for a Call product us today brochure for a product and demonstration brochure and demonstratio

02 8208 777802 8208 7778

www.alluremedical.com.au

www.alluremedical.com.au
---
Body Balance

Dr John Flynn

cosmedic&

Dr John Flynn

skin clinic

Reshaping can create

cosmedic&

the look you want

skin clinic

Breast augmentation can

enhance the natural size

and shape of your breasts

Refinement in Cosmetic Surgery

With breast augmentation, your natural form can be

enhanced and complemented. This results in a balanced

and symmetrical effect that suits your individual body type

and achieves a feminine silhouette.

Liposuction to Shape and Contour

With liposuction, Dr John Flynn can reshape and contour

your form to achieve balance between your body's

proportions. Areas such as the abdomen and inner and

outer thighs respond particularly well to this procedure.

CERTIFIED

IN COSMETIC

SURGERY

Dr John Flynn

M.B., B.S., Dip. R.A.C.O.G., F.R.A.C.G.P.

Dip. P. Dermatology., F.A.C.C.S.

Fellow of the Australasian College of Cosmetic Surgery

Certified by the American Board of Laser Surgery

Dr John Flynn has over 20 years of experience as

a medical practitioner on the Gold Coast

AD Flynn.indd 1

CERTIFIED

IN COSMETIC

SURGERY

20/4/09 9:01:39 AM

AD Flynn.indd 1

For more information or to make an

appointment call Cosmedic and Skin Clinic

1300 88 13 88

Southport | Gold Coast

Suite 2, 98 Marine Pde, Southport 4215

www.cosmedic.com.au | info@cosmedic.com.au

Dr John Flynn

20/4/09 9:01:39 AM

cosmedic& skin clinic

Dr John Flynn
---
Once In A Generation.

A New Skincare Range From Hovan's Group.

Younger Skin Today, Love Affair for Life.

Hovan's Group Pty Ltd,

maker of the world famous

Bikini Saver & Hovan's ® Gold Ingrown hair products

www.hovansgroup.com.au sales@hovansgroup.com.au

Call Toll Free: 1300 88 66 55

Made in Australia with Marine Herbal & Stem Cell ingredients
---
contents

regulars

26 Editor's letter

28 Contributors

30 Newsfront

48 Where does that come from?

The tragic tale of Lady Hastings

123 How to subscribe

178 Directory

features

52 Penned in ink

The colourful history of tattoos

56 7 skin sins

Lifestyle choices to avoid

58 Stop the clock

The future of anti-ageing is here

62 Ins and outs of facial ageing

How, and why, we age

66 Top 10 anti-ageing procedures

72 5 steps for successful surgery

Preparation is paramount

106 What makes a

beautiful breast?

The four key pillars

126 Light show

Your backstage pass to laser

and light therapy

150 Ageing by numbers

What to look out for as you age

industry

34 Laser Conference

Behind the scenes at the Laser

& Cosmetic Medicine meeting

40 4 ways to boost business

Easy ways to optimise

your clinic

44 Cosmetex 2014

What's on the agenda

46 Setting the benchmark

Motives and missions of

the ACCS

face

76 Preserving youth

Natural-looking facelifts

78 Is it time for surgery?

80 Beauty through the ages

Bespoke facial beautification

85 Beauty from within

An innovative filler

88 The future is here

The many uses for PRP

90 A modern approach

Combination approach

92 Facelift without surgery?

Thread lifting explained

94 Facial defining surgery

Ethnic surgery

96 Rebuild from within

All about Sculptra

nose

98 More than a nose job

Rhinoplasty as an

anti-ageing procedure

100 Nose for beauty

Form and function converge

102 Nose reshaping

without surgery

teeth

104 Smile rebuilt

Creating a beautiful smile

breasts

108 A surgeon's perspective

112 Age-defying augmentation

Creating youthful silhouettes

114 Lasting results

All about P-URE implants

body

116 Post-baby tummy tuck

118 The 'Western

Society' Syndrome

An innovative approach to

metabolic syndrome
---
Dr Benjamin Norris

is an internationally renowned

cosmetic and plastic surgeon

who has trained in Australia

and overseas.

He is a Fellow of the Royal

Australasian College of Surgeons,

a member of the Australian

Society of Plastic Surgeons

and the Australasian Society

of Aesthetic Plastic Surgery.

He specialises in the creation of

beautiful, natural-looking breasts

that result in a well-proportioned,

harmonious body.

Dr Norris aims to establish a

close doctor/patient rapport

so that each woman can feel

comfortable knowing she will

achieve the result she desires.

Dr Benjamin Norris

Cosmetic and Plastic Surgeon

MBCHB, FRACS

Bondi Junction | Bella Vista | formandface.com.au | (02) 8916 7328

Actual Patient of Dr Norris
---
Cover63_FINALX 2.indd 2

31/01/14 5:11 PM

subscribe now!

contents

The first 10 subscribers receive a free

Kiehl's Ultra Facial Cream valued at $34 each

Kiehl's introduces its new Ultra Facial Cream, in store March 2014

Kiehl's presents its latest innovation, Ultra Facial Cream Intense Hydration for drier

skin types, a revolutionary extra lightweight formula, with proven results in just one

week. Drawing upon over 160 years of skin hydration expertise, Kiehl's chemists

have developed a new formula specifically for drier skin types, that imparts deep

hydration in a surprisingly lightweight architecture.

This new formulation provides improved 24-hour hydration and leaves skin looking

visibly smoother. Instrumental results showed significant improvement in skin

hydration and skin barrier protection in 100 percent of subjects. Clinical results

demonstrated significant improvements on visible skin dryness in just seven days.

see page 123

intimate surgery

120 Your body, your choice

Empowering women

with options

122 Private matters

Genital surgery explained

skin

125 Light-based therapy

IPL and laser light combined

130 Fractionated rejuvenation

Fraxel laser in action

132 Lift, tone & tighten

A non-surgical approach

134 Age eraser

Reduce wrinkles without surgery

136 Leaders in light therapy

Focus on Omnilux

138 Rolling back the years

Latest in microneedling

140 Love the skin you're in

Holistic approach to anti-ageing

hair reduction

144 One for the blondes

Breakthrough in technology

cosmetic tattoo

146 Living art

The many benefits of

cosmetic tattooing

skincare

148 4 steps to beautiful skin

Latest skincare range

152 The three Ts of ageing

Tone, texture and tightness

154 Stop premature ageing

Combat sun-damaged skin

158 Conquer pigmentation

New cutting edge treatment

161 Leaders in skin health

Q & A with Obagi chief scientist

beauty & spa

164 Red carpet-ready hair

168 Age-defying makeup tricks

170 Message in a bottle

What your perfume signifies

172 DIY spa sanctuary

174 Beauty buzz

Latest products for 2014

177 Editor's faves

cover stories

RRP $14.95 (incl. GST) (NZ $15.95 incl. GST)

ISSUE 63 • FEB-APRIL 2014

IS IT

REALLY

POSSIBLE

TO STOP

THE CLOCK?

our

top

AGE BUSTING

PROCEDURES

ISSN 1834-383X

9 771833 383011

10

03

2014

BEAUTY KIT

essentials

LIGHT

SHOW

YOUR GUIDE TO

LASER AND IPL

NON-SURGICAL

NOSE RESHAPING

SPECIAL FEATURE

ANTI

AGEING

FEEL BETTER, LOOK YOUNGER

58 Is it really possible to

stop the clock?

66 Our top 10 agebusting

procedures

102 Non-surgical nose reshaping

126 Light show – your guide to

laser and IPL

174 2014 beauty kit essentials

Now you can subscribe online at

www.cosbeauty.com.au
---
cosmelan ®

by

Now exclusively distributed by

BEFORE

AFTER

BEFORE

AFTER

number 1

worldwide

Melasma & Pigmentation

Safe & effective for spectacular results

www.advancedcosmeceuticals.com.au

| 38 Automotive Drive Wangara WA 6065 | Tel 08 9409 5433 | 1800 242 011 | SA | NT | NSW | WA | QLD | VIC |
---
LETTER

FROM THE EDITOR

Welcome to our annual Anti-Ageing issue. One of my mantras

has always been that feeling attractive on the outside has

a very strong psychological effect on our confi dence and

Wself-esteem. The psychology of looking good – not for others, but

for yourself – is an important aspect of our lives. Whether through

makeup, exercise or cosmetic enhancement, the power to transform

your look goes more than skin deep – it can be an immediate boost

to self-esteem. Indeed, the more attractive we feel, the more positive

and confi dent we are.

I experienced this recently when I attended a makeup masterclass

in Auckland and was given a 'glamorising' makeover. The before and

after results are amazing – and really took my confi dence up a notch. Turn to page 50 to

see my transformation!

Our Anti-Ageing special is all about transformation, reversing the signs of ageing so that

the vitality we feel on the inside can refl ect on the outside. In our Stop The Clock feature

on page 58 we keep you up to date on the latest breakthroughs in regenerative medicine

and the remarkable potential of internal medicine to help slow down the ageing process.

It's not just the outside that's important, but the inside even more so.

In our Top 10 Anti-Ageing Procedures on page 66, we guide you through the most

popular ways to take years off your appearance – both surgically and non-surgically. For

the right candidate and for the right reasons, today's ever-expanding anti-ageing treatments

and procedures can help us reclaim a fresh, vibrant and more youthful appearance.

Light-based therapy is ever evolving – and increasing in popularity. In our feature on

page 126, we shed light on lasers, IPL and LED and demystify the science behind these

skin treatments and how they work. We also have a section devoted to results-driven,

quality skincare (from page 148) so that you can maintain and optimise the results of your

chosen treatment.

As usual, you'll fi nd before and after case studies and authoritative information on all

areas of cosmetic enhancement. You'll also love our beauty & spa features, showcasing

the latest beauty products and makeup tips to ring in 2014 in style.

Plus, visit www.cosbeauty.com.au to get your daily cosmetic enhancement and beauty

fi x and keep up to date with what's happening in the industry.

Michelle Kearney

Editor-in-Chief

michelle@bellamedia.com.au

Issue 63

FEB - APRIL 2014

Editor-in-Chief

Michelle Kearney

Editorial Director

Aimée Surtenich

Production Coordinator

Camila Kawashita

Art Directors

Debbie Pilarinos,

Stéphanie Blandin de Chalain

Writers

Caitlin Bishop, Tara Casey,

Nicola Donovan, Lizzy Fowler,

Aimée Surtenich

Photographers

Debbie Pilarinos, ShutterStock

Distribution &

Subscription Enquiries

Bill Dunk

Phone 02 9398 2755 Fax 02 9398 2855

Email acsmag@bellamedia.com.au

Advertising Enquiries

Michelle Kearney

Phone 02 9398 2755 Mob 0419 624 246

Email michelle@bellamedia.com.au

Editorial Enquiries

Michelle Kearney, Aimée Surtenich

Phone 02 9398 2755 Fax 02 9398 2855

Email acsmag@bellamedia.com.au

Produced & Published by Bella Media

ABN 86 082 157 695

Managing Director

Michelle Kearney

General Manager

Bill Dunk

Public Relations, Marketing

& Event Organisation

Phone 02 9398 2755 Fax 02 9398 2855

find us on

Facebook

australian cosmetic

surgery magazine,

bella beauty magazine,

cosmetic beauty

directory

follow us

on Twitter

@cosmetic_beauty

@bellamedia

Michelle Kearney is sole director of The Bella Media Group and no other parties or individuals have any fi nancial interest in the

company or in Australian Cosmetic Surgery & Beauty Magazine (ACSBM). Reproduction in whole or in part is not permitted without

the written authorisation of the publisher. All reasonable efforts have been made to trace copyright holders. All manuscripts and

articles submitted for publication remain the property of The Bella Media Group. This magazine contains general information only and

does not purport to be a substitute for medical advice. All readers are advised to seek medical advice from a doctor if considering

cosmetic surgery. The publisher and the authors do not accept any liability whatsoever in respect of an action taken by readers in

reliance on the recommendations set out in this magazine. Except where specifi ed in captions, photographs depict models who have

not necessarily received treatments described in this magazine.

Advertising Policy ACSBM follows and upholds the Australian Competition and Consumer Commission (ACCC) Guidelines to

Advertising Medical Services, the Therapeutic Goods Administration (TGA) advertising regulations for therapeutic goods and services,

and individual state Medical Board guidelines. All reasonable effort is made by ACSBM to ensure that all advertisements accepted

for publication follow these guidelines. Copies of these guidelines are available from the individual agencies and boards. ACSBM

reserves the right to reject advertising that is in breach of these guidelines. All ACSBM advertisers assume sole responsibility and

liability for statements contained in their advertising copy, and hold harmless and indemnify ACSBM, Bella Media, and offi cers,

directors and employees from and against all liability, loss, claim, damages, costs or expenses arising out of matter contained in the

advertising. Advertisers accept these terms and responsibilities when signing an advertising contract with ACSBM.

www.cosbeauty.com.au

Read the digital edition at www.zinio.com

Office address

Level 1, 42a Frenchmans Road

Randwick, NSW, 2031

Phone +61 2 9398 2755 Fax +61 2 9398 2855

www.bellamedia.com.au

All 'before and after' photographs in

Australian Cosmetic Surgery Magazine

articles are of genuine patients. It is

important to understand that they represent

one person's experience and there is

no guarantee that any other patient will

experience similar results.

26
---
Expertise is Everything

More than 30 Years Experience in Cosmetic Plastic Surgery

Specialising in all Facial, Breast and Body Surgery

The Cosmetic and

Restorative Surgery Clinic

20 Manning Road,

Double Bay

02 9362 7400

Fax: 02 9328 6036

Email: info@cosmeticsurgeryoz.com

Dr Darryl J Hodgkinson

MB, BS (Hons), FRCS (C), FACS, FACCS

American Board of Plastic Surgery

Cosmetic Plastic Surgeon

www.cosmeticsurgeryoz.com

The definitive website for all your cosmetic surgical queries. More than 50

megabytes of information and hundreds of Dr Hodgkinson's outstanding results.
---
CONTRIBUTORS

CONTRIBUTORS

CONTRIBUTORS

CONTRIBUTORS

CONTRIBUTORS

CONTRIBUTORS Ricky Allen Dr Buddy Beaini Laurence Dryer

Dr Ross Farhadieh Dr John Flynn Dr Joseph Georghy Val Glover-Hovan Dr Doug Grose

Dr Darryl Hodgkinson Suzie Hoitink Eva Karpati Dr Jim Leavesley Dr Steven Liew

Dr William Mooney Dr Colin Moore Dr Pouria Moradi Dr Sarkis Nalbandian Dr Warwick Nettle

Dr Benjamin Norris Dr Oseka Onuma Dr Alex Phoon Rita Porreca Terri Vinson

28 www.cosbeauty.com.au
---
newsfront

NEWSFRONT

CATCH UP WITH THE LATEST IN THE INDUSTRY...

BREAST CANCER SURVIVORS &

SURGEONS PADDLE FOR BRA DAY

Australia's inaugural BRA (Breast

Reconstruction Awareness) Day was

held on 26 November, 2013 at the

Sugaroom Restaurant & Wine Bar in

Pyrmont, Sydney.

Breast cancer survivors were able

to learn more about reconstruction

options and hear inspiring stories from

breast cancer survivors and members

of Dragons Abreast Australia, a national

organisation comprised of breast cancer

survivors (and their supporters) who all

participate in the team sport of dragon

boat racing.

Started in Canada in 2011, BRA

Day has gained signifi cant attention

across North America as an annual event

that promotes awareness and access

to post-mastectomy reconstructive

breast surgery.

The Australian Society of Plastic

Surgeons (ASPS) has partnered with the

organisation Dragons Abreast Sydney

to help educate people about the

range of breast reconstruction options

following cancer. In Australia, around

5,000 women have a mastectomy each

year, but a mere six to 12 percent of

these go on to have a reconstruction.

This compares with 42 percent of

women in the United States.

'The fact that around only one in

10 women is electing to have a breast

reconstruction suggests not enough

women are aware of the options available

to them; some are fearful of further

surgery; or it's simply not being offered

as an option,' says President of the

Australian Society of Plastic Surgeons,

Dr Geoff Lyons.

'Having a breast reconstruction is an

individual choice, and while some women

will decide they simply don't want to do

so, it's important women - and men - who

are about to undergo a mastectomy are

aware of the all the available options so

they can make an informed choice,' he

continues. 'For instance, many women

are unaware that there may be benefi ts

to having their reconstruction performed

at the same time as the mastectomy to

reduce anaesthesia time and to allow

the breast surgeon and plastic surgeon

to work together to produce an optimal

result. Equally, breast reconstructions

are available in the public system and

claimable under Medicare.

'BRA Day has turned into an important

event around the world, and the

Australian Society of Plastic Surgeons

is delighted to launch the initiative in

Australia,' says Dr Lyons.

A comprehensive fact sheet covering

all aspects of breast reconstruction

is available on the ASPS website:

www.plasticsurgery.org.au.

Lumenis UltraPulse helps burns survivor in Perth

Dana Vulin suffered severe burns to her body and neck

when she was set on fi re in her Perth apartment in early

2012. 'The day I was set on fi re not just my body was

burned… my hopes, my dreams and future ambitions all

burned,' she says.

Lumenis Australia has been working with Dana on

her scar recovery treatments with the new module on

the UltraPulse CO 2

laser. The UltraPulse's capability to

remodel scars offers a breakthrough in scar reduction

technology – and in restoring hope to burns victims.

30 www.cosbeauty.com.au
---
Upcoming

Events

23-24 March 2014 - Salon Melbourne With the latest

products, shows and fashion parades, education and

entertainment, Salon Melbourne has evolved into a onestop-shop

for everyone in the trade to source, learn and

be inspired. Free entry, trade only. For more information

see www.salonmelbourne.com.au

1-5 May 2014 - Cosmetex is the largest

scientific conference in Australasia devoted exclusively to

cosmetic medicine and cosmetic surgery.

For more information see www.cosmetex.org

8-11 May 2014 - ASAPS Non-Surgical Symposium

The Australasian Society of Aesthetic Plastic Surgery

(ASAPS) and the Cosmetic Physicians Society of

Australasia Inc. (CPSA) join forces to deliver an

educational event dedicated to non-surgical aesthetics.

For more information see www.asapsevents.org

Merz acquires Swiss

aesthetic company Anteis

Merz Pharma Group has purchased the Swiss

company Anteis, developers and manufacturers of

biomedical products in the area of aesthetics.

This completes a union of two companies that have

been working in strong and trustworthy partnership

for many years. The acquisition strengthens Merz

Aesthetics' portfolio and reinforces its market position

in the field of aesthetic medicine, making it one of the

leading providers worldwide.

worth a read

Your Skin Factory

Industry gurus Dr Des Fernandes and

Jennifer Monro guide you through the

mind-boggling science and 'marketing

speak' to get straight to the point of

how skin works and what it needs to

stay looking its best. It's an innovative

and enjoyable read that offers a backto-basics

guide to skin management.
---
newsfront

A cure for baldness?

US researchers say they are a step closer to fi nding

a cure for baldness. In what they call a world-fi rst, a

team of researchers at the University of Pennsylvania's

Perelman School of Medicine successfully converted

adult cells into stem cells that regrew human skin cells,

hair follicles and hair shafts.

The research team, led by Professor George Xu,

implanted the converted stem cells (called epithelial

stem cells, which better facilitate hair regrowth) onto

mice. Those cells, when grafted onto the mice, grew

the human skin and the hair follicles, which researchers

say were 'structurally similar to human hair'.

'There are two parts to regenerating human hair,

however' said Dr Xu. 'The fi rst is developing the outer

structures with the epithelial cells. Next is a second set

of cells, called dermal papillae cells, which assist in facilitating growth. So

far, we cannot make the dermal part. And we're working on it.'

While the results are encouraging, Dr Xu says it may take fi ve to

10 years for his team to be able to unlock the creation of dermal papillae

stem cells and then provide a viable way to regenerate a person's

own hair – and reverse baldness.

NEW FACES AT HIGH TECH LASER

High Tech Laser has added two new equipment specialists

to their nationwide team. Sharni Fanner joins High Tech

Laser as the cosmetic medicine and aesthetic specialist

for Victoria and NSW, and Michael Raghib takes on the

role of medical and dental specialist in NSW.

'Our range includes some of the best non-

surgical treatments in the world, and the addition of

Sharni and Michael to our team will ensure clinics using

our equipment can continue to bring their patients the

most advanced non-surgical treatments available,' said

High Tech Laser Managing Director Matt Moncrieff.

For more information on High Tech Laser visit

www.likeyourlook.com.au or call 1300 309 233

DID YOU KNOW?

alexcoolok / Shutterstock.com

As well as being a facial plastic surgeon

and ENT surgeon, Dr Gillian Dunlop is a

premier portrait artist whose commissions

include the Governor General, Quentin

Bryce, and the Governor of NSW, Marie

Bashir. In 2006, she won the People's

Choice Award for the Salon des Refuses.

In 2004, she was an Archibald Finalist.

She brings this artistic appreciation

to her surgery and, fi ttingly, recently

presented at the American College of

Surgeons meeting on 'Rhinoplasty and

the Mona Lisa Smile'.

Sydney plastic

surgeon wins Sydney

to Hobart Yacht Race

Plastic surgeon Dr Darryl Hodgkinson (or should we say,

Skipper Hodgkinson?) and his yacht Victoire have emerged

victorious in the 69th Rolex Sydney to Hobart Yacht Race.

'It's an amazing achievement,' he says. 'It's about the

people you gather around you – you believe in them and

they believe in you – as well as having the right equipment. I

crossed the line in one piece but we did have a rather nasty

Chinese gybe – I had a personal taste of the water!'

32 www.cosbeauty.com.au
---
REGISTER

SALONMELBOURNE.COM.AU

FREE ENTRY. TRADE ONLY.

1000 PRODUCTS, 250 BRANDS,

20 EDUCATION SESSIONS,

20 MAIN STAGE SHOWS

PLUS: UNCHPAD AND MEDI

STAGES, POWDER ROOM,

AWARDS GALLERY, MEET THE

EXPERT AND MORE

VICTORIA'S ULTIMATE HAIR & BEAUTY EVENT

COME AND SEE:

DERMALOGICA, GOLDWELL, NAPOLEON

PERDIS, REDKEN, CARON, AMERICAN

CREW, OPI, BIOSTHETIQUE,

GORGEOUS COSMETICS, COMFORTEL,

MINX, BODYOGRAPHY, TRICHOVEDIC,

LYCON, PIVOT POINT, MANCINE,

EXCELLENT EDGES, CND SHELC,

ELLY LUKAS AND MANY MORE

MELBOURNE CONVENTION & EXHIBITION CENTRE

SUNDAY 23 & MONDAY 24 MARCH 2014

Hair by Wade Blackford, make up by Zoe Karlis, photography by Carl Keeley, styling by Jessica Cox
---
industry

The 9th National Laser & Cosmetic 


Medicine Conference

The 9th National Laser & Cosmetic 
Medicine Conference

held on 16 to 17 November at the Sofitel Wentworth

Hotel in Sydney brought together experts in laser and

cosmetic medicine.

Delegates were able to update their knowledge of laser and

cosmetic procedures, keep abreast of the latest technological

advances and meet with like-minded practitioners and experts

in the field.

The program consisted of thought-provoking plenary

sessions, followed by hands-on product demonstrations.

Featured speakers included Dr Ralph Bright who discussed

the growing use of stem cells in cosmetic medicine, particularly

in the pioneering area of 'stem cell facelifts', and Associate

Professor Lee Collins, who delivered an in-depth and practical

presentation on the science, properties and safety of lasers.

Further, Dr Adam Rish discussed the need (and patient

demand) for judicial use of botulinum toxin for facial

enhancement, as well as sharing his methods and experience

in this 'less is more' approach to toxins and fillers.

Dr Keng-Ee Thai also presented, delivering an interesting

talk on topical therapies for re-malignant and non-melanoma

skin cancers as part of the very popular Surgical and Non-

Surgical Management of Skin Cancer plenary session.

An exhibition trade display, featuring leading companies from

the cosmetic medicine and aesthetic industries, showcased

some of the latest advancements and technologies, where

practitioners could learn more about the science behind

emerging aesthetic medicine-based products and devices.

LCMC 2014

15 – 16 November 2014

Sofitel Melbourne on Collins, Melbourne

Further information coming soon, please visit the conference

website for more details.

www.dcconferences.com.au/lcmc2014

www.twitter.com/LCMConference

Pre-Conference Workshop

12 – 14 November 2014, Mantra Southbank

An intensive pre-conference 3 day theoretical and practical

workshop aimed at medical practitioners new to the field of

cosmetic medicine.

Photos courtesy www.shutterstock.com/Neale Cousland

34 www.cosbeauty.com.au
---
industry

www.cosbeauty.com.au 35
---
clinic profile

Concierge Care in

Cosmetic Enhancement

We visit Form & Face, the new

Bondi Junction practice of

eminent Sydney plastic surgeon

Dr Benjamin Norris.

Consumers in the 21st Century are the most

sophisticated and demanding in history. Armed with

internet research, they have grown accustomed to

comparing a wide range of products and services. They are

not solely concerned with the best price; they want the best

value for their money.

Dr Benjamin Norris believes that, in the same way

5-star hotels offer personalised, concierge service,

'5-star'cosmetic surgery practices must do the same

thing. He is putting that theory into practice at his practice,

Form & Face, in Bondi Junction, Sydney.

The Place

Concierge hotels feature beautifully appointed lobbies. Dr

Norris's waiting room has a simple elegance, which will

make you instantly feel relaxed and comfortable.

With contemporary off-white leather couches and

classic side chairs, the space is intimate and cosy. Extra

heavy doors make it extremely private. A deep, plush

oatmeal-coloured carpet gives the room warmth, while

unique art objects sit atop a marble coffee table, adding

another dimension of beauty. Dr Norris's rooms reflect his

own philosophy that he applies to his work, which is an

appreciation of beauty, style and proportion.

36 www.cosbeauty.com.au
---
clinic profile

The People

Personalised care at Form & Face starts at the front or 'concierge

desk' where clients are welcomed by Barbara, the newest member

of Dr Norris's team, though a veteran in the world of patient care.

Barbara is the soul of discretion when it comes to

personal details, and is meticulous in scheduling appointments.

She understands that people wish to remain private when they

are undergoing face, breast or body surgery as well as nonsurgical

treatments.

We want our patients to feel

pampered, cared for and special

from the fi rst visit to the last

Barbara's most important contribution to the practice, however,

may be the personal support she gives to each and every patient

and the loved ones who may be standing by nervously.

Practice manager Shannon completes the patient-centric staff.

She has been with Dr Norris the past year and, like Barbara, she

has a strong background in cosmetic enhancement. Like a good

concierge, she is always ready with a smile and an answer. Her

goal is to educate and reassure patients about every aspect of the

surgical process.

'Patients are likely to make several visits to our offi ces during

a course of treatment,' says Dr Norris. 'We want them to feel

pampered, cared for, and very, very special from the fi rst visit to

the last.' csbm

Dr Benjamin Norris

has trained for 20 years in

Sydney and overseas to become

fully qualifi ed as a plastic and

reconstructive surgeon who

specialises in cosmetic surgery

of the breast, face and body.

His areas of expertise and

specialisation include:

BREASTS

Breast enlargement, breast

reduction, breast lift,

breast reconstruction

BODY

Tummy tuck, liposcultpure,

thigh lift and body lift,

labioplasty, gynaecomastia

FACE

Face and neck lift, brow lift,

fat transfer, non-surgical

facial enhancement

FORM & FACE

Level 5, 59-75 Grafton Street

Bondi Junction, Sydney

02 8916 7328

www.formandface.com.au

www.cosbeauty.com.au 37
---
profile

Staying

Power

WE CHAT WITH VAL GLOVER-HOVAN

ABOUT HER PIONEERING WORK IN THE

FIELD OF COSMETIC TATTOOING AND

BEAUTY IN AUSTRALIA.

For more than 35 years, Val Glover-Hovan has been a

fi xture in the Australian beauty industry as educator,

practitioner and innovative businesswoman.

As director of Cosmetic Tattoo Australia and The

Academy of Image & Cosmetic Corrective Tattoo, Val can

be described as the mother of cosmetic tattoo in Australia,

which she introduced to the local market in 1985.

I've strived to set the highest

standards in the industry with

education and quality products

She has been recognised worldwide for her excellence

in cosmetic tattoo practice and education, most recently

by the Society of Permanent Cosmetic Professionals

which presented Val with an Industry Leader Award for her

contribution to the permanent cosmetics industry.

Val's high standard of training is accepted by beauty

and cosmetic tattoo associations in Australia and the

United States, and she offers training programs in all

aspects of cosmetic tattooing. Her expertise as a presenter

and educator is sought after around the world and she

continually keeps abreast with the latest advancements

and techniques in the industry.

Val has carved a career out of making women look and

feel fabulous with permanent makeup. 'When performed

by a skilled and experienced cosmetic tattooist, it can really

enhance and beautify a woman's looks,' she says. 'This

might include creating defi ned, well-groomed eyebrows,

enhanced eye shape with eyeliner, and more youthfullooking

lips with added colour and lip border defi nition. The

great thing is that all these cosmetic tattoo treatments can

last for many years.'

'Importantly, cosmetic tattooing can also be used for

paramedical treatments, such as recreating the look of the

areola and nipple of women who have undergone breast

reconstruction after a mastectomy,' she continues.

In addition to Val's cosmetic tattooing work, Hovan's

Group is a recognised brand in its own right – with cult

products such as the Bikini Saver, In-Grown Gold Medi

Cream, InGrown Gold Body Lotion, Hovan's Eyelash

Enhancer and now the newly launched anti-ageing skincare

range, Love Life. Principals Val and Leslie Hovan have grown

and diversifi ed the business to an international enterprise

with customers in Australia, New Zealand, Singapore, the

Middle East, United States, Canada and the Caribbean.

'I've strived to always set the highest standards in the

beauty industry with continued cosmetic tattoo education

and quality products, promoting professionalism in

treatments and training,' says Val. 'The beauty business

continues to be a dynamic and exciting industry!' csbm

1

After lip tattooing by Val Glover-Hovan

2

After eyeliner tattooing by Val Glover-Hovan

38 www.cosbeauty.com.au
---
industry

A trip to the lab

Catherine Biedermann from Advanced Cosmeceuticals recently visited

the mesoestetic headquarters in Barcelona. Caitlin Bishop reports.

Born 28 years ago, in the back office of a small

pharmacy in the Barcelona district of Eixample,

Mesoestetic Pharma Group has grown to span

nations, and change the skin of millions of people across the

globe. The mastermind behind its inception, chemist Joan

Carles Font, has fuelled the company with a philosophy

based on consistent quality and cutting-edge concepts.

Now, the Mesoestetic head office incorporates three

departments – pharmaceutical, medical and clinical – in

a start of the art facility of 8,500 squared metres. Here,

ingredient formulations, professional training, clinical testing

and product manufacturing come together to create the

future of pharmaceutical skincare.

To experience this first hand, Catherine Biedermann,

Managing Director at Advanced Cosmeceuticals, the

Australian distributor of Mesoestetic, recently visited the

Mesoestetic laboratories for a tour of their facilities.

'Each department maintains a different grade of security

and sterility – I've never seen anything like it,' she says.

'I've been to quite a few manufacturing plants, but the level

of professionalism, hygiene and efficiency at Mesoestetic

really blew me away.'

The Mesoestetic cosmeceutical ranges are tested

against the most stringent scientific and safety standards,

ensuring the final products provide effective, reliable and

predictable results.

'The complex has a large laboratory where doctors,

pharmacists and cosmeticians work together to formulate

new ingredients and advance the line of cosmeceuticals,'

Biedermann explains. 'Because it's a pharmaceutical

company, active ingredients can – and are – used to ensure

maximum efficacy.'

Notably, Mesoestetic Pharma Group makes a point

of investing 40 percent of its revenue back into product

development and research. All new formulations and

treatment concepts are clinically trialled in-house, reinforcing

the brand's commitment to providing next-generation,

quality skincare.

It's not just a brand that

formulates and manufactures

products – everything is tested

in-house, under clinical settings,

with diagnostic software

'It's not just a brand that formulates and manufactures

products – everything is tested in-house, under clinical

settings, with diagnostic software,' Biedermann says.

'Mesoestetic will not release a product until they are 100

percent certain of its effectiveness. I love this about the

brand – you know the products contain quality, active

ingredients; they've been formulated under the strictest

professional standards; and they're only released once their

efficacy has been well and truly established.' csbm

www.cosbeauty.com.au 39
---
industry

4ways Shortcuts has a range of

autoMATEd fEATures to help save

time and money and optimise the

performance of your clinic.

Caitlin Bishop reports.

to boost

your business

In a world of technology at your fingertips, automation

is key in keeping your business up to date and on the

cutting edge. Shortcuts offers a range of automated

clinic management software features to assist in everything

from appointment confirmation to stock management.

The software takes care of all the little – but essential –

facets of your clinic, creating time for your team to focus on

the more important things.

The system is centred upon efficiency, and Shortcuts

educator Brooke Morkham-Calvert explains it can help

enhance the performance of your clinic. 'Shortcuts has

a range of automated services to save you several hours

each day, free up the front desk and enable you to focus on

providing quality client service without being encumbered

by everyday housekeeping,' she says.

Confirming appointments

A confirmation system is designed to keep appointments

to schedule and save both the practice, and the client,

time. Shortcuts' TextME is an automated system that asks

patients for confirmation before their appointment.

40 www.cosbeauty.com.au
---
industry

'Clinics can set up the system to suit their services. For

example, at 9am, two days prior, a text message goes

out to patients asking for confirmation,' Morkham-Calvert

says. 'Based on the patient's response, the system will

automatically confirm the appointment by changing its

colour on the schedule. No one has to lift a finger.'

Marketing

Shortcuts' Set & Forget Marketing takes the onus off

your clinic in maintaining personalised, consistent and

topical contact with customers. This system uses your

clinic's database to schedule and send automated emails

on occasions like birthdays, in the days following an

appointment or if the client hasn't been heard from in a while.

Shortcuts Software allows

you to focus on providing

quality client service without

being encumbered by

everyday housekeeping

'Emails are timely, relevant and completely personalised.

We've actually had clients say to our clinic members "No

one else remembered my birthday but you did – thank you

for remembering!"'

According to Morkham-Calvert, marketing is only

effective when it's relevant to those it's targeting. 'You don't

want to bombard patients with general marketing that's not

personalised, as they could read one of these emails and

never open another from you,' she adds.

and order stock to replenish your clinic. The software feature

clarifies the exact amount of stock required, and saves the

time and money needed to manage stock manually.

'Practice managers and clinic staff can automatically

generate an order through the Shortcuts system,'

Morkham-Calvert explains. 'The software generates the

order based on your "trading history", or what's been

selling, and the time period you're hoping the stock will

last for.'

Notably, the system examines a wide range of data, to

ensure the order's quantity is reliable.

'In asking the system for enough stock to last 30

days, the software will examine the previous 90 days and

optimise the order based on this activity,' Morkham-Calvert

explains. 'Alternatively, it can analyse activity from the same

time last year, and practice managers can add or subtract

a percentage depending on what's needed.'

Once the order is complete, it can be sent automatically

to the supplier via email. Morkham-Calvert explains small

benefits like this make all the difference in easy, efficient

clinic management.

'In clinics, stock management is obviously essential,

but takes such a massive amount of time,' she says. 'The

Shortcuts features take the effort out of these simple,

everyday things to keep your clinic running smoothly and

efficiently. It allows the focus to stay where it should –

on superior customer service and not chasing orders or

sending emails!' csbm

Backing up

In a perfect world, the data and patient information held

in your system should be backed up at least once a

day. Patient details and treatment history are essential in

optimising the everyday function and success of your clinic.

To make life easier, and save you having to think about

it, Shortcuts offers an automated feature that performs a

backup every four hours.

'The likelihood of the program crashing is extremely low,'

Morkham-Calvert says. 'But the security of an automated

system means nothing is lost, and you don't have to worry

about remembering to backup your data manually.'

Restocking

Forget the calculators, spreadsheets and manual

estimations, Shortcuts can automatically evaluate, predict

www.cosbeauty.com.au 41
---
The Australasian College of Cosmetic Surgery

Raising Standards,

Protecting Patients

Dedicated to quality, ethical

and responsible practice.

Accreditation is Important

All Fellows of the Australasian College of Cosmetic

Surgery (FACCS) are specifically trained in cosmetic

surgery and are required by the College to maintain

their skills through a Continuing Professional

Development programme.

All Fellows of the Faculty of Medicine (FFMACCS)

are specifically trained in cosmetic medicine and

are required by the College to maintain their skills

through a Continuing Professional Development

programme.

CERTIFIED

IN COSMETIC

SURGERY

If doctors display this Seal,

you can be assured they

comply with the College's

exemplary standards of its

Code of Practice, available

at www.accs.org.au

How qualified is your doctor?

Do they have the right to display these symbols?

For further information about the College

and its members and Fellows in your state call:

1800 804 781

admin@accs.org.au

www.cosmeticsurgery.org.au
---
CONFERENCE ORGANISER

F: +61 2 9368 1500

ARTISTRY

INTEGRITY

EXCELLENCE

AUSTRALASIAN COLLEGE

.

A C C.

S

. .

OF COSMETIC SURGERY
---
industry

COSMETEX

2014

COSMETEX 2014 BEGINS MAY 1ST

AND WILL SEE THE WORLD'S BEST

IN COSMETIC MEDICINE COME

TOGETHER ON THE GOLD COAST.

CAITLIN BISHOP REPORTS.

The world of cosmetic surgery is constantly evolving

as new technologies, revolutionary ideas and fresh

possibilities continue to emerge. With the industry

growing at such a momentous rate, it's more important

than ever before that doctors, practitioners and nurses

alike have an opportunity to share and collaborate, ensuring

patient care, optimum results and steady growth remains at

the forefront of the industry's priorities.

Cosmetex, run by the Australasian College of Cosmetic

Surgery (ACCS), provides the ultimate platform for this

collaboration to occur. It acts as a hotbed for cosmetic

and medical practitioners to share ideas, discover new

possibilities and further advance the future of cosmetic

surgery in Australia and around the world.

Cosmetex brings world-class

expertise across multiple

specialties in the aesthetic arena

In its 5th year under the Cosmetex banner, the meeting

will see an amalgamation of cosmetic and plastic surgeons

arrive at the Gold Coast for the three-day conference,

beginning May 1st. The meeting will be held at the Royal

Pines Resort, located within minutes from Surfers Paradise.

In keeping with the previous Cosmetex meetings, the

2014 conference will host a selection of experienced,

renowned and respected keynote speakers. One speaker,

renowned Canadian plastic surgeon Dr Arthur Swift, has

been practicing since 1984 and has served on several elite

plastic surgical societies and international committees.

Dr Swift is considered a defi nite trailblazer in the world of

aesthetic rejuvenation and will speak on his approach to

achieving the best results in cosmetic enhancement.

A fi erce advocate of the 'less is more' principle, Dr Swift

has developed the BeautiPHIcation approach, where the

golden ratio, or Phi, is used to establish the most natural

and aesthetically pleasing result in facial rejuvenation. This

year, he will give talks on achieving facial harmony and

working on 'specialty areas', such as the nose and mouth.

'Meetings like Cosmetex are invaluable – the conference

offers world-class expertise and discussion across multiple

specialties in the aesthetic arena,' Dr Swift explains. 'I

always enjoy discussing the canons of beauty, and the

comprehensive approach to safely rejuvenate the face nonsurgically,

and with minimal downtime.'

From treating hyperpigmentation to the latest in breast

surgery, Cosmetex 2014 will encompass all the elements

of cosmetic medical practice – both non-surgical and

surgical. Dr Swift explains the two fi elds should not be

seen as mutually exclusive; instead, they should be

combined for optimum and holistic results.

'The combination of non-surgical and surgical

rejuvenation is a marriage made in cosmetic surgery

heaven,' Dr Swift says.

44 www.cosbeauty.com.au
---
industry

'We understand now that these two methods are

synergistic in the results they produce,' he explains. 'We

are able to soften lines, contour features and reinflate

volume-loss regions with injectables; optimise skin tone

and texture with topical agents and energy devices; and

then address lax skin and sagging musculature with

surgery. Ageing occurs at all levels, and our response

is likewise.'

Each year Cosmetex plays an integral role in shaping

and advancing the future of cosmetic surgery. The

conference provides an opportunity for the industry's

best to explore the most cutting-edge concepts, and

future uses, in cosmetic enhancement.

'Some of the biggest topics in cosmetic surgery

include optimising patient experiences and outcomes

through a comprehensive non-surgical full face

approach; returning to natural results in facial feature

enhancement; improving outcomes and minimising

downtime after breast augmentation surgery; and

freezing body fat away with CoolSculpting,' Dr Swift

describes. 'The reason for Cosmetex is to develop

these ideas further.'

Alongside the extensive surgical presentations and

workshops, Cosmetex will host a program designed

for practice managers. This will includes talks on

growing business through social media, tools for

online marketing, and managing risk in building a

successful practice.

In keeping with Cosmetex tradition, the 2014 meeting

has an engaging social program. From the customary

cocktail reception, to a spectacular gala dinner,

the three-day conference will provide ample opportunity

for the world of cosmetic surgery to converge, enabling

cosmetic practitioners to further their skills, have

discussions with like-minded professionals and learn

about the future practice in the cosmetic arena. csbm

STOP PRESS!

A pre-conference workshop on Wednesday,

30 April has just been announced! Don't miss

your opportunity for hands-on learning and

invaluable tips from industry leaders.

SPEAKERS INCLUDE

Dr Raj Acquilla

MBChB, MRCGP, MBCAM

Cosmetic dermatologist Dr

Raj Acquilla is an expert in medical

aesthetics, facial contouring and

volume replacement. He is a

recognised Masterclass Trainer

using the latest and most innovative

facial rejuvenation techniques from

around the world.

Dr Steven Dayan

MD, FACS

Facial plastic surgeon Dr Steven

Dayan is a renowned speaker

and author and remains on the

cutting-edge of medical techniques

in aesthetics. His latest book,

Subliminally Exposed, explores

the concept of beauty and its

connection to desire, mating

and communication.

Dr Mark Nestor

MD, PhD

Dermatologist Dr Mark Nestor

is considered a world expert

in cutaneous laser surgery,

photodynamic therapy and the

use of fillers and toxins in cosmetic

practice. Dr Nestor has penned

more than 40 articles and book

chapters, and has delivered major

presentations across the globe.

Dr Arthur Swift

MD, CM, FRCS

Canadian plastic surgeon

Dr Arthur Swift is internationally

renowned for his techniques in

using injectables in cosmetic

enhancement. In 2008, Dr Swift

pioneered BeautiPHIcation, a

revolutionary approach to

achieving natural-looking and

aesthetically pleasing results in

non-surgical rejuvenation.

www.cosbeauty.com.au 45
---
industry

Setting the benchmark

this year the Australasian College of Cosmetic Surgery

notches up 15 years of setting the standard for patient safety

and doctor training. Caitlin Bishop reports.

The latest statistics show Australians spend around

$1 billion on cosmetic surgical and medical-related

treatments each year. Suffice it to say, cosmetic

surgery is more popular than ever before and it has

never been so important to ensure Australian patients

are receiving the best possible treatment at the hands of

their physicians.

With patient care foremost in its priorities, practice and

philosophy, the Australasian College of Cosmetic Surgeons

(ACCS) plays an essential role in regulating and upholding

the standards of cosmetic surgery in Australia.

By ensuring the provision of premium quality, consistent

safety and optimum patient care in cosmetic procedures,

the ACCS signifies one of the major pillars in securing

the healthy growth of the Australian industry. Sydney

hair restoration surgeon and past president of the ACCS

Dr Russell Knudsen says the ACCS plays a leading role in

the Australian cosmetic surgery arena.

'ACCS is a leader among the groups that monitor and

regulate cosmetic surgery practice in Australia,' he says. 'Its

Code Of Practice is the most strict set of regulations applied

in Australia and are compulsory for ACCS members.'

Training and accreditation

Since its inception in 1999, the aim of the ACCS has been

consistently clear: to ensure the safe delivery of cosmetic

surgery and non-surgical procedures to the Australian

community. That appropriately trained and certified medical

practitioners perform these procedures is paramount,

and the ACCS offers formal training and accreditation to

its members. 'The ACCS provides comprehensive regular

training programs for all members and intense, two-year

registrar programs for physician applicants who wish to

sit the ACCS Fellowship Exam,' says Dr Knudsen. 'The

Fellowship Exam is the only cosmetic surgery-specific exam

available in Australia.'

The ACCS plays a key role in ensuring those who

practice cosmetic medicine are sufficiently trained. Indeed,

to become a Fellow of the ACCS, doctors must complete a

minimum of 12 years medical and surgical training.

'To be recognised as a fellow of the ACCS, doctors

need to have undergone appropriate training, plus

specific procedural training and they must also have

demonstrated substantial clinical experience,' says Dr

46 www.cosbeauty.com.au
---
industry

Cosmetic Medical Practice as

a separate medical speciality

The ACCS has applied to the Australian Medical

Council (AMC) to have Cosmetic Medical Practice

recognised as a Medical Speciality. This term

'Cosmetic Medical Practice', proposed to replace

'Cosmetic Surgery', prevents confusion and is

inclusive of both surgical and non-surgical procedures

performed only by certifi ed cosmetic practitioners.

Cosmetic Medical Practice is already a welldefi

ned and unique medical specialty, practiced

by medical practitioners from various specialties

including dermatology, general surgery, plastic

and reconstructive surgery, oral and maxillofacial

surgery, and gynaecology. Practicing cosmetic

procedures requires specialised knowledge and

skill not normally found in doctors working in

general medicine or in specialists working in general

surgery or even in some cases of plastic surgery.

If the specialty was recognised by the AMC,

any organisation of doctors, or training facility in

Australia, could apply to have their training scheme,

qualifi cations and accreditation processes assessed

against the AMC requirements. This would provide

better, more comprehensive, protection for

consumers and practitioners. It would empower

consumers to make informed decisions in selecting

a practitioner recognised by the AMC, and provide

practitioners in cosmetic medical practice with

enhanced transparency and validated recognition.

John Flynn, past-president of the ACCS. 'We also ensure

our fellows are participating in continuing education and,

where needed, re-certifi cation.'

Importantly, the ACCS facilitates ongoing education

and auditing for all its existing members. This ensures the

established standards are maintained on a long-term basis.

'All members must re-certify each year and this involves

annual attainment of strict continuing education criteria,

for example scientifi c meetings, publications, etc.,' Dr

Knudsen explains. 'In addition, procedural audits of medical

practitioners affords another level of monitoring standards

of practice.'

Alongside training, the ACCS has a Code of Practice that

covers, among other things, advertising and promotional

guidelines and informed consent regulations.

cosmetic surgery. This is seen in the ACCS Seal of

Approval, which can be displayed by any member who

complies with the College's Code of Practice.

According to ACCS past-president Dr Colin Moore,

the aim of this seal is to protect both practitioners and

patients. He sees it as an objective accreditation that

empowers patients to make informed decisions and

protects practitioners by increasing the transparency of

their practice.

Furthering this commitment to patient and physician

protection, the ACCS has recently applied to the Australian

Medical Council (AMC) to have Cosmetic Medical Practice

recognised as a 'medical specialty'.

This would mean any organisation or training facility

in the country could apply to have their training scheme

assessed against the requirements established by the AMC

– affording greater clarity for both patients and physicians

in making decisions to undertake, or become involved with,

cosmetic surgery in Australia.

Looking forward

With cosmetic surgery more popular than ever before –

and showing no signs of slowing down – it is imperative

Australians have access to transparent, professional and

regulated information in deciding to undergo treatment.

The ACCS provides the guidelines, and sets the

standards, for cosmetic surgery practice in Australia and

affords a valuable resource for patients seeking cosmetic

enhancement of any kind – invasive and non-invasive.

Looking forward, Dr Knudsen explains the ACCS will

play a central role in ensuring cosmetic surgery remains a

strong, reputable and reliable fi eld in Australia.

'The ACCS will continue to be a critical part of the

ongoing setting of standards and maintenance of safe

practice,' Dr Knudsen says. 'To this end, the College, is also

in regular contact with other stakeholders and particularly

with the government.'

'Encouragement of practitioners to sit examinations,

time-limiting the accreditations available by examination,

and annual requirements for proof of satisfactory continuing

medical education, will ensure industry standards are both

raised and maintained in the years to come,' Dr Knudsen

concludes. csbm

Patient peace of mind

Currently, the ACCS is a voluntary scheme for doctors,

but signifi es a beacon of reassurance for patients hoping

to receive monitored and regulated care in undertaking

www.cosbeauty.com.au 47
---
column

The

tragic life

of Lady

Flora

Hastings

Where did that come from? In his regular column Dr Jim Leavesley

examines the history and origins of different medical topics.

The Victorian era was well known for its prudishness,

covering piano legs so as not to inflame men and

affront the ladies, for instance. And dresses swept

the floor to hide the alleged sexually charged ankles. So

you can well imagine the scandal when it was rumoured

in Royal Circles that the unmarried and highly respected

Maid in Waiting to her Britannic Majesty Queen Victoria

herself was – wait for it – pregnant. What an affront to

good manners as there were none more Victorian that

Victoria, herself.

The pot belly and medical

consult had not gone unnoticed

and tongues began to wag

The story goes that in January 1839 the royal party was

returning by coach from a holiday in Scotland. Travelling

in one coach was Victoria's 33-year-old maid, Lady Flora

Hastings, from the very well-connected Hastings family,

together with the rather oily and unpopular Comptroller of

the Royal Household, Sir John Conroy. They were alone.

Hastings had been feeling unwell for several days and

on reaching London she consulted the highly regarded

royal physician, Sir James Clark. The patient complained of

some 'derangement of the bowel' (the word 'constipation'

was far too frank), as well as pain and swelling in the lower

abdomen. She was given an aperient and the bowel settled,

though the swelling persisted, and she returned to work.

The slight pot belly and medical consult, however, had not

gone unnoticed and tongues began to wag. Gossip was

put about that Lady Flora had secretly married – and if she

hadn't, she certainly should. Sir James then committed a

serious ethical gaff by commenting to the Queen that her

maid could be pregnant. Victoria had already suspected as

much and promptly informed the Prime Minister who wisely

advised a watching brief.

But the ladies of the Court now had the bit firmly

between their collective teeth; such scandal was the breath

of life in the greenhouse atmosphere in which they lived.

The Queen confided in her diary, 'We have no doubt she, to

use plain words, is with child'. 'With child' was underlined

and I daresay she felt she had uttered an obscenity. She

48 www.cosbeauty.com.au
---
column

went on to blame Conroy and the two or three days they

had spent alone in the carriage and wrote of him in her

diary, 'the Monster and Demon Incarnate'. We know all this

because years later the diary was published and became

a best-seller.

What the Queen did not explain was how Conroy

managed to carry out his evil intent and have his awful

way with a prim lady of mature years who was doubtless

trussed up in whalebone-strengthened corsets while at the

same time being jolted hither and thither in a spring-less

carriage. Only an imagination produced by a blinkered mind

of the 1830s could have reached such a conclusion.

This was an era when the

medical fraternity boasted they

could diagnose pneumonia by

placing an ear on the chest and

listening through a calico shirt

and two woolly vests

be, even then, not completely convinced a pregnancy was

not behind all this.

On July 3, 1839 the poor benighted subject of the

scandal died. A post-mortem was carried out and there was

found to be a grossly enlarged liver, numerous adhesions,

a distended stomach and many enlarged lymph nodes.

There was certainly no foetus. At this distance the actual

diagnosis is conjectural. I thought at first and before the

autopsy result was revealed it was cancer of the ovary, but

after the post-mortem it was more likely to have been the

much more common malignancy of cancer of the bowel.

Whatever the true cause of death, the poor victim

became lost in an avalanche of righteous indignation from

the press, the scandalised Court, and up to Queen Victoria

herself. When news spread regarding the unblemished

virginal state of the Maid in Waiting, Victoria was hissed

in theatre, stones were thrown at her carriage and people

shouted after her 'Mrs Melbourne' while at the Ascot

racecourse. She became an 'object of indifference and

odium', as one politician wrote..

The monarch eventually regained her composure to rule

with legendary dignity but the episode ruined Dr Clark's

reputation. csbm

But, having said that, there was no doubt the abdominal

mass was growing before their very eyes. The odd thing

was that the doctor had only examined Lady Flora through

her dress, which he probably thought was enough in an era

when the medical fraternity boasted they could diagnose

pneumonia by placing an ear on the chest and listening

through a calico shirt and two woolly vests.

Eventually, Dr Clark approached the patient wondering

if he might be permitted to lay his hands on the skin of

the abdominal wall with, well, you know, maybe the stays

removed. To this outrageous request the mortified Lady

Flora Hastings declined to accede.

Then Her Majesty stepped in and conveyed to her maid

that she would be unwelcome at dinner until examined.

Clark himself conveyed the royal message, doubtless

adding words such as 'my painful duty', 'allay foul

suspicions', 'possible private marriage' and so forth. Lady

Flora was incandescent and vehemently denied all, but

did agree to see the Hastings family doctor. The next day,

following some well-chaperoned indignities, she was found

to be virgo intacta and declared not pregnant, whereupon

Queen Victoria sent an apology and invited her maid back

to the dinner table.

But Flora and her family were not to be mollified and her

brother demanded reparations and even called out Lord

Melbourne, the Prime Minister, for a duel. It was ignored.

But the family's dander was up and proceeded to send all

the correspondence to the Morning Post newspaper.

To cut a long story short, poor Flora Hasting's health

went rapidly downhill. Victoria visited her and came away to

www.cosbeauty.com.au 49
---
feature

Make-up

magic

CSBM EDITOR-IN-CHIEF MICHELLE KEARNEY

EXPERIENCED A MAKEOVER IN AUCKLAND,

NZ AT THE HANDS OF CELEBRITY MAKE-UP

ARTIST DEBBIE DELGADO.

Debbie Delgado

50 www.cosbeauty.com.au
---
Direct from Los Angeles to New Zealand,

internationally renowned makeup artist

Debbie Delgado has brought her extensive

training from around the world to New Zealand.

With more than 18 years of experience, she has

been revolutionising Auckland faces since 2004

with her Hollywood makeup transformations.

Makeup is one of the oldest forms of human

expression and cosmetics in one form or another

have been around for thousands of years.

Women and men alike have long used makeup

for different reasons, ranging from the desire

to conform to standards of beauty of the time,

through to signifying power, wealth or nobility.

Makeup holds the possibility for a woman

(or man) to personally transform herself, both

physically and even psychologically. Numerous

studies have shown that wearing makeup

increases feelings of self-confi dence and

sociability. The more attractive you feel you are,

the more highly you think of yourself.

Wearing makeup also has a signifi cant impact

on how others perceive you – a 2011 study

confi rmed that makeup makes women seem more

attractive, competent, likeable and trustworthy.

To feel beautiful is an important aspect in a

woman's life. We love to look our best but may

feel unsure when it comes to applying our own

makeup. For me personally, having my makeup

professionally applied by Debbie, and being

taught some of her makeover magic Hollywood

secrets, was an instant self-esteem booster.

There's something about having a fully made-up,

glamorous face that takes everyone's confi dence

up a notch. As the before and afters show, the

transformation can be amazing. csbm

Michelle Kearney's step-by-step makeover

www.cosbeauty.com.au 51
---
feature

A history

in ink

Caitlin Bishop explores

the unique, diverse and

remarkable history behind

tattoos – and their removal.

52 www.cosbeauty.com.au
---
Throughout history, the art of tattooing has evolved to

make its mark across all classes of society. Unique

trends, styles and techniques have emerged with

different cultural adoptions, while numerous variations in

technology have made the art what it is today – a popular

and prevalent way to shape identity and individualise selfexpression.

Indeed, in Australia approximately one in 10

people have had a tattoo at some point in their lives.

Inevitably, alongside this increase in popularity, there has

been a rise in the people seeking to undo a decision they

now regret. Once upon a time, tattooing was considered

a permanent and irreversible undertaking. Now, with

the introduction of new technologies, tattoo removal has

become highly sought-after and impressively effective.

Ancient times

The art of tattooing dates back to (at least) Neolithic times.

Patterns of simple dots and lines were found on 'Otzi the

Iceman' – a well-preserved natural mummy discovered

in the Otztal Alps, who lived in around 3,000 BC. These

patterns were situated on his lower spine, behind his knees

and on his ankles, which led researchers to think the tattoos

were considered a method of healing as they mirrored the

stimulation sites of acupuncture.

Traditional and tribal tattoos extend across centuries in

many cultures, particularly in Asia, among the Polynesians,

and in certain tribal groups in Africa, Borneo, Cambodia,

Japan, Europe, New Zealand and North and South America.

Historically, tattoos were created by rubbing ash in

wounds and open cuts, or making small incisions in the

skin and filling them with coloured dye.

18th Century

The Dutch were the first Europeans to glimpse the shores of

Samoa and notice the remarkable tattooing upon the legs

and lower torso of the Samoan natives. At first sight, the

Dutch explorers believed the Samoan tribes were wearing

artfully woven silk stockings, but on further inspection

discovered the markings were tattoos. The art of traditional

tattooing in Samoa was passed from father to son and

involved a five-step process that lasted 10 days.

Later in the 1700s, as Captain James Cook regaled

England with stories of the South Pacific, he reintroduced

tattooing to the Western world for the first time since ancient

times. Indeed, some of Cook's men returned to England

sporting tattoos they'd fashioned while at sea.

19th Century

Following the American Revolution, tattoos were described

on government-issued protection papers to ensure correct

identification and prevent the impressment of American

citizens to the British Navy. Hence, tattoo artists experienced

a huge upsurge in popularity and used everything from

pigments to gunpowder in tattoo creation.

The evolution

of tattoo removal

20th Century

feature

Throughout history, various methods have been trialled

for use in tattoo removal. Preceding the introduction

of laser tattoo removal systems, dermabrasion,

salabrasion (where the skin is scrubbed with salt) and

excision with skin grafts were common techniques for

tattoo removal. Trichloroacetic acid has also been used

to remove the top layer of skin, reaching as deep as the

layer where the ink resides.

Historically, injections of wine, lime juice, garlic and

pigeon excrement were used in a bid to dissolve the ink

pigment in regrettable tattoos.

In the 1990s, laser tattoo removal entered the

commercial market. Initially, this procedure involved

continuous-wave lasers before Q-switch lasers, which

deliver a pulsating light beam, were introduced.

Considerable success in removing black and

darker coloured tattoo pigment can be achieved using

Q-Switch lasers. A number of treatments (between 10

and 20) are usually required to reach the desired result

and lighter ink shades – blues, greens and acquas –

typically remain in the skin after treatment.

The latest innovation in tattoo removal technology

uses lasers with a drastically shorter pulse width. This

incurs a different, more effective, reaction in the skin,

where the ink particles fragment and disperse before

being flushed from the body. The shorter pulse width

causes less trauma to the surrounding skin compared

with other systems, and is more effective in shifting

those difficult, lighter ink shades.

Advancements such as these grant new hope to

people who had previously given up on an ink-free

body. Tattoo removal can now be achieved with fewer

treatments, less reaction and more effective results.

The 1950s began what is now referred to as 'The Tattoo

Renaissance', and saw significant figures in popular culture

introducing tattoos to the mainstream. Social movements

saw tattoos emerge at the forefront of resistance, worn as a

sign of rebellion or to signify extreme dedication to a cause.

Members of countercultures began to select body art that

would reinforce their cultural origins, and make a statement

against the values of a predominantly white, heterosexual

society. Similarly an increase in women's tattooing coincided

with the feminist movement in the 1970s.

Toady, the electric tattoo machine signifies the most

common method of tattooing. It delivers ink to the skin's

dermis via a single needle, or a group of needles, aligned on

a bar. This bar oscillates and rapidly reinserts the needles

into the skin – usually between 80 and 150 times per

second. csbm

www.cosbeauty.com.au 53
---
tattoo removal

Breakthrough in

tattoo removal

PicoSure, from Cynosure, is changing the game of tattoo removal in

Australia. Caitlin Bishop reports.

Until now, since the introduction of laser tattoo removal

to Australia more than a decade ago, there have

been no significant breakthroughs in the technology

behind ink removal. Those seeking to undo a past decision,

and remove a tattoo they now regret, had limited options

– traditional laser removal took numerous treatments,

incurred a risk of scarring and typically could not completely

remove the blue, aqua and green ink shades. Now, with the

introduction of PicoSure from Cynosure to Australia, this

reality has changed.

PicoSure signifies an unprecedented innovation in laser

technology. It delivers ultra-short pulse bursts of energy to

the skin, causing a photomechanical reaction for improved

clearance over fewer treatments.

Queensland cosmetic physician Dr Mary Dingley believes

PicoSure has revolutionised tattoo removal. 'The short pulse

duration enables the laser to produce a much "cleaner"

fracturing effect on tattoo pigments within the skin, while

producing less thermal effects on the surrounding skin,'

she says. 'The upshot of this is that generally one needs

fewer treatments to clear tattoos, there is less unwanted

skin reaction and treatment is more comfortable.'

PicoSure uses a pulse length of a trillionth of a second

– called a picosecond. This pulse is 100 times shorter than

that used in previous technology and causes a different,

more effective, reaction in the skin.

PicoSure delivers unique

and unmatched results in

tattoo removal

Melbourne cosmetic doctor Dr David MacDonald,

who has worked in tattoo removal for 25 years and has

been using PicoSure since its introduction to Australia last

December, says PicoSure delivers unique and unmatched

results in tattoo removal. 'These ultra-short pulses deliver

a "shattering" effect on the ink, breaking the ink down into

tiny dust-like particles which are then easily eliminated from

the body,' he explains. 'Previous technology relied on a

photothermal (or burning) effect which would deliver heat to

the ink and surrounding tissues. This "burn" could damage

skin and result in scarring. With PicoSure, because the

54 www.cosbeauty.com.au
---
tattoo removal

pulse width is so short, less injury and damage is caused to

the surrounding skin.'

Alongside a reduced risk of burning, PicoSure is touted

to shift those colours that have been traditionally difficult to

remove. According to Dr Dingley, each tattoo is different but

the chance of success has improved with the introduction

of PicoSure.

'Most colours respond better with PicoSure than with

prior lasers, including blues and greens,' Dr Dingley says.

'It is always hard to say if a tattoo will completely disappear.

Our chances are certainly better now, but some tattoos are

done very heavily and there are some very unusual inks out

there at times which may, perhaps, not respond completely

to any laser.'

Treatment with PicoSure often requires some form

of topical anaesthetic and typically several treatments

are recommended to achieve optimum results. Victorian

dermatologist Dr Philip Bekhor has been using PicoSure

since its arrival in Australia and has achieved positive

results, with less adverse reaction, in his patients.

'It is still early days but the PicoSure is very gentle, and

we have seen a difference compared with other lasers,' Dr

Bekhor explains. 'With PicoSure there is less reaction, less

pain during treatment and a faster result.'

Dr Bekhor often recommends eight weeks between

treatments, and hopes to clear tattoos in five to seven

treatments using PicoSure, as opposed to between 10 and

20 treatments with other lasers.

As with any laser treatment, there is some post-procedure

downtime involved. Redness, swelling and scabbing

can occur directly after treatment. However, because

PicoSure uses a shorter wavelength and incurs fewer

treatments, the risk of scarring is considerably reduced, as

Dr Dingley explains.

'After treatment, side effects are generally the same,

but to a lesser degree, than with other lasers', Dr Dingley

says. 'Scarring is a possibility with any such skin treatment,

however, because the effect on normal skin is less and

there are fewer treatments, this risk is proportionately

less than with prior lasers. Tattoo

pigment will take several weeks to

fade after treatment.'

From changing employment

to romantic milestones, people

seek tattoo removal for a number

of reasons. Dr Bekhor believes

PicoSure signifies new hope for

those who have given up on tattoo

removal in the past. Similarly,

Dr Dingley says tattoo removal with

PicoSure can be a life changing

treatment for certain patients.

'Most patients say their tattoos

BEFORE

seemed like a good idea at the time

but then their circumstances changed or they just didn't

feel like the same person that the tattoo suited,' she says.

'Parents often want a tattoo removed because of the effect

it might have on their children. One father, who had amateur

tattoos of some swear words on his hands, wanted to

have them removed before his children could read them.

As amateur tattoos tend to be very easily removed, after

just one treatment the words were already illegible, with

just a few spots left which disappeared with the following

treatment. He stood straighter already when he came for

the second treatment and no longer felt ashamed.' csbm

BEFORE

BEFORE (ink bled during tattoo treatment)

AFTER seven treatments with traditional

Q-switched nanosecond laser

AFTER two PicoSure treatments (photos

courtesy of Dr Alex Kaplan)

AFTER one PicoSure treatments (photos

courtesy of Carmen VanderHeiden)

AFTER one treatment with PicoSure laser

(photos courtesy of Dr Raminder Saluja)

www.cosbeauty.com.au 55
---
7

IS YOUR SKIN AGEING FASTER THAN YOU ARE?

LEARN WHICH LIFESTYLE CHOICES TO AVOID IN

ORDER TO STAY LOOKING YOUNGER FOR LONGER.

CAITLIN BISHOP REPORTS.

feature

Dehydration

Adequate hydration is responsible for that

plump, dewy look and feel of healthy skin.

Moisture within the skin, and the level of

internal hydration, brightens and nourishes

the complexion and can help slow the

process of ageing.

Internal water resides in interstitial fl uid,

which surrounds the cells throughout the

body. This fl uid plays an essential role in

delivering nutrients and removing waste

to and from the skin and other tissues.

Without a suffi cient water reserve, this

essential exchange is impeded and skin

cell renewal becomes slower.

Sun exposure

Wrinkles, discolouration and textural changes are just

some of the ways sun damage can affect the skin. Years

of sun exposure cause the inner layers of the skin to

thicken, impeding moisture retention and leading to

dehydration. This is to the detriment of skin health and

can increase the appearance of fi ne lines and wrinkles,

particularly around the eyes and mouth.

Melanocytes, or pigment cells, act to protect the

skin against damaging UV radiation. With too much

sun exposure, these cells develop into sun lesions,

forming spots or patches of hyperpigmentation or hypopigmentation

across the face and body.

Sun exposure also accelerates the deterioration of

collagen and elastin in the skin, leading to thinner texture,

increased laxity and reduced resilience.

Stress

The mind and skin are inextricably linked and

stress can manifest itself on the appearance

in a variety of ways. The hormonal fl uctuations

associated with stress – namely the increase

of cortisol – boosts the production of oil on the

skin, which can infl ame rosacea, psoriasis and

acne. Extended periods of stress can result in

breakouts, uneven tone and fi ne lines.

By nourishing the complexion, and

nurturing the body as a whole, regular

exercise, dedicated 'time out' and a healthy

diet and sleep regime is essential for boosting

skin vibrancy and slowing the ageing process.

56 www.cosbeauty.com.au
---
Lack of sleep

Although beauty sleep is not a new concept,

recent research has taken a step towards verifying

the link between those hours of slumber and skin health. A

clinical trial, conducted at the University Hospitals Case Medical

Center and commissioned by skincare giant Estée Lauder,

found sleep enhanced the skin's ability to overcome stress and

restore itself from the inside out.

People who regularly sleep well were able to recover from

skin stress faster than those who didn't, and poor sleepers

took longer to overcome sunburn. Those participants who had

regular and suffi cient shut-eye had an average skin rating of

more than two points higher than those who struggled with a

good night's sleep.

Smoking

Smoking manifests itself in a number of ways, both

within the body and, most visibly, on the skin. There

is evidence to suggest tobacco smoke reduces

the amount of blood, oxygen and nutrients

reaching the dermis and nourishing

the skin. This persistent starvation

damages connective tissue and

hinders the body's ability to generate

new collagen and elastin, leading to

increased skin laxity and wrinkles.

There is also speculation that

tobacco smoke is phototoxic,

meaning it magnifi es the effects of

ultraviolet light (UV) on the skin.

Bad diet

feature

Skin health is established

from the inside out, and

the way we fuel our body is

refl ected in our complexion. A

bad diet not only reaps havoc

on our waistline and energy

levels, but also detracts from the

skin's natural glow.

A diet starved of antioxidants, vitamins

and essential fatty acids will leave the skin

dehydrated, prone to irritation, and uneven

in texture and tone. For example, fatty acid

chains play a vital role in maintaining cell

membranes. Without suffi cient Omega

3 and Omega 6, these membranes are

disturbed and the protective effi cacy

of the skin is compromised – leading to

irritation and uneven texture.

Because excess salt contributes to

water retention, diets high in sodium –

often found in overly processed foods

– can result in a swollen, puffy look to

the skin. Dehydrating substances, for

example caffeine and alcohol, dry out

the skin and slow skin cell renewal. This

leaves the skin prone to irritation and

increases the appearance of fi ne lines

and wrinkles. Also, diets high in sugar

can result in increased oil production

and accelerated skin cell division –

factors that can cause bouts of acne and

textural inconsistencies.

ANTI AGEING

Not enough exercise

While the benefi ts of exercise on cardiovascular health are widely

touted, the effect of exercise on the skin is not so widely acknowledged.

Exercise cleanses the skin from the inside out. By increasing

blood fl ow and boosting the levels of oxygen and nutrients delivered

to the skin, exercise helps nourish skin cells and enhance the

complexion. Alongside this infl ux of beautifying nutrients, increased

blood fl ow fl ushes waste products, including free radicals, from

working skin cells.

www.cosbeauty.com.au 57
---
feature

58 www.cosbeauty.com.au
---
STOP

the

clock

feature

anti ageing

Regenerative medicine is revolutionising the world of anti-ageing

and aesthetics, promoting younger looking skin from the inside out.

Caitlin Bishop reports.

By kick-starting the body's natural processes and

energising cellular activity, regenerative medicine

works to repair, heal and reverse the signs of

ageing from within. It uses specialised cells, genes or other

biological building blocks to restore, replace and repair

damaged or aged tissues.

Regenerative medicine has potential in reversing and

preventing damage to vital organs, growing new organs

in patients with organ failure and countering the effects of

neuro-degenerative diseases such as dementia, Alzheimer's

disease and Parkinson's disease. Its success in the medical

arena has extended to impact the world of aesthetics, where

platelet rich plasma, stem cells and certain light therapies

are used to optimise results in cosmetic enhancement.

PRP

Platelet Rich Plasma (PRP) gained significant traction in the

world of aesthetic medicine when celebrity Kim Kardashian

posted a photo on social media during a PRP treatment.

But shock value and popular trends aside, autologous PRP

signifies an innovative and seemingly endlessly applicable

rejuvenation therapy.

It use a concentration of platelets, from the patient's own

blood, to promote healing in both hard and soft tissues.

With a history of use in orthopaedics, sports medicine,

wound healing, neurosurgery, dentistry and ophthalmology,

its introduction into cosmetic and plastic surgery was

virtually inevitable.

The treatment involves sampling the patient's own blood,

centrifuging the sample to concentrate the platelets and

growth factors in a small volume of plasma, and reinjecting

the concentrated product into the treatment area.

PRP is touted to assist in rejuvenating the complexion,

reducing the appearance of fine lines and wrinkles, evening

skin texture and brightening skin tone. It does this by

triggering the skin's own regenerative mechanisms and

inducing the proliferation of fibroblasts, osteoblasts and

endothelial cells.

Platelet rich plasma can be used as a standalone

procedure to treat specific concerns – for example,

wrinkles, scarring and dark circles under the eyes – or in

conjunction with other modalities to optimise results and

reduce scarring following surgery.

In fuelling the dermis with growth factors and stimulating

the cell renewal process, PRP can be injected around

the eyes, across the cheeks, mid-face and forehead, and

along the jaw line and décolletage.

Stem cells

A definite buzzword in the world of skincare and cosmetic

rejuvenation, stem cells signify the cutting-edge of

regenerative science. Recent research has revealed their

remarkable potential in the world of cosmetic surgery,

particularly in conjunction with fat grafting. They are

thought to replenish and restore the aged cells and tissues

within the skin.

www.cosbeauty.com.au 59
---
feature

Recent research has revealed

the remarkable potential of

stem cells in the field of

cosmetic surgery, particularly in

conjunction with fat grafting

Fat transfer and stem cells

Fat grafting, where the patient's own fat is harvested for use

elsewhere in the body, is commonly used in cosmetic and

plastic surgery. It can help achieve natural-looking results

in facial rejuvenation and breast enhancement, and can be

used in place of dermal fillers to restore facial volume loss.

The problem with autologous fat grafting is 'reabsorption',

which occurs when the body absorbs volume from the fat

graft following insertion.

There is, however, a unique reserve of adult stem

and regenerative cells in fatty tissue, which could inhibit

reabsorption and revolutionise the results seen in fat grafting

procedures. Collectively, these cells are known as adiposederived

regenerative cells (ADRCs). They have been used

in breast augmentation and reconstruction following

mastectomy, as fillers in non-surgical facial rejuvenation and

in treating a variety of soft tissue injuries.

Researchers at Copenhagen University Hospital in

Denmark have recently conducted the first randomised

human trial examining the outcomes of infusing fat grafts

with concentrations of ADRCs in plastic surgery. They

found that stem cell-enriched grafts retained 80.9 percent

of their volume following insertion, compared to 16.3

percent for the standard-control grafts. Also, the presence

of stem cells had an added anti-ageing effect in triggering

the formation of new connective tissue, including collagen

and elastin, at the treatment site.

Although the use of ADRCs alongside fat transfer is

relatively new in aesthetic medicine, and further research

is required to ensure the safety and efficacy of treatment,

the existing research shows exciting promise for future

possibilities in aesthetic and reconstructive surgery.

Stem cells in skincare

From plant extracts to reprogrammed cell lines, the use of

stem cells in skincare is a competitive and ever-evolving

field. Plant stem cells are commonly used in skincare

and are said to automatically renew into several types of

differentiated cells. They are thought to stimulate the activity

of fibroblasts, which generate collagen in the dermis,

and deliver phytonutrients and proteins to improve skin

resilience and structure.

Moreover, the plant-derived stem cells in anti-ageing

lotions are touted to reactivate the adult stem cells already

present in the skin's deeper layers. These adult stem cells

are responsible for skin homeostasis, skin repair and hair

regeneration, and the plant stem cells are thought to protect

this natural reserve for long-term anti-ageing benefit.

Promises aside, there is limited evidence to support

the efficacy of stem cells in skincare. Critics are sceptical

at the ability of skincare ingredients to effectively

penetrate the epidermis and act upon the skin's deeper

layers, where the production of collagen and elastin is

cultivated. Similarly, the concentration of active ingredients

in skincare is not always sufficient to incur any change to

the skin's processes.

Light therapy

Low-level light therapy can initiate and promote cellular

processes in the skin and underlying tissue. When light

energy is harnessed at a certain wavelength, this can boost

cellular turnover, increase blood flow and stimulate collagen

production in the dermis.

Regeneration using light at different wavelengths has

been shown to accelerate wound healing, stimulate hair

growth, treat active acne, and to deliver pleasing results as

a non-invasive approach to facial rejuvenation.

During light treatment, and for an extended period of

time following treatment, blood, oxygen and nutrients flood

the treatment area. This enhances cellular processes and

increases energy production for an all-encompassing,

systemic effect. Notably, light therapy has been shown to

incur a thermal effect, which has been used to increase

movement and relieve spasms in cerebral palsy patients.

In aesthetics, light therapy helps improve skin radiance

and strengthen skin structure. It accelerates the skin's

natural processes – for example collagen production and

skin cell turnover – to help reverse the signs of ageing and

rejuvenate the complexion. csbm

60 www.cosbeauty.com.au
---
The Gold Standard for Medical

and Aesthetic LED Skin Care

The Omnilux TM Light Therapy system offers

single platform technology and multiple

wavelength heads for the treatment

of Skin Rejuvenation, Acne, Joint Pain

Management & PDT.

Omnilux TM emits light at specific,

narrowband wavelengths to ensure

optimal photobiomodulation of target skin

cells and maximum treatment efficacy.

• Pioneered Research and

development of narrowband

LED technology

• Validated in more than 40 Clinical

Studies and published in dozens

of peer-reviewed publications

• FDA cleared and TGA approved

• 12 years in the aesthetics market

and operating now in more than

3,300 leading medical practices

across the globe

For consumer enquiries omnilux.com.au Trade enquiries www.omnilux.com.au or call 1800 808 993
---
feature

The ins

& outs of

facial ageing

62 www.cosbeauty.com.au
---
feature

anti ageing

Facial ageing involves a number of processes, stemming from a

diverse range of causes. Caitlin Bishop reports.

Plump, clear skin and refined, round contours are the

hallmarks of youthfulness, and the quest to maintain

this look of vitality is an age-old story. While there is

a range of treatments and procedures that can help restore

the ageing face, an understanding of how and why the face

ages can make the physical process – and countless antiageing

options – a little less daunting.

Gauntness, skin laxity, deep facial hollows and heavy,

drooping fat pockets all contribute to an aged appearance.

While a strong skincare regime, combined with healthy

lifestyle factors, can help increase skin integrity and slow

the visible manifestations of ageing, a great portion of the

ageing process is down to genetics.

On the surface

The epidermis is the outermost layer of cells in the skin.

With age, these cells have a reduced turnover cycle,

meaning the epidermis becomes weaker and less resilient

to outside stressors. Also, sebaceous glands in the skin

secrete less sebum with age, leading to increased water

loss and, following this, greater dehydration.

Over time, similar deterioration is seen in the dermalepidermal

junction. This barrier, between the superficial skin

cells and the deeper dermis, becomes shallower with age,

detracting from skin health and further slowing the rate of

cellular turnover.

The dermis is the skin's deepest layer, and holds the

connective tissue – collagen and elastin – that gives the skin

its resilience and structure. The dermis is rich in vascularity,

and plays an essential role in fuelling the epidermis with

oxygen and nutrients. With age, the dermis loses both

cellular and fibrous content; it becomes dehydrated,

thinner, looser and more fragile.

Intrinsic vs extrinsic

Cutaneous ageing, or skin ageing, is caused by two distinct

variables – intrinsic and extrinsic factors.

Intrinsic ageing is an inevitable process, dictated by

genetics and time. It's determined by our genetic clock and

affected by the degenerative effects of free radicals and

the body's inability to repair damaged cells. Intrinsic ageing

wears away at cells, tissues and vital organs, causing

changes to muscle, fat, bone and – most visibly – the skin.

Our 20s mark the beginning of the intrinsic ageing

process. Collagen production slows, elastin becomes less

springy and skin cell turnover decreases. While the process

is continuous, the visible signs of intrinsic ageing do not

become noticeable until decades later. The apparent signs

include the loss and descent of underlying fat, which leads

to hollowed cheeks and eye sockets. This is partnered with

a loss of firmness and sagging skin, caused by changes to

the underlying support structures.

Genes control how quickly the normal ageing process

unfolds. At a cellular level, ageing is thought to be related

to the shortening of telomeres (the terminal portions of

chromosomes) with each cell cycle, resulting in cell-cycle

arrest or cell death once a critical length is reached.

Extrinsic ageing occurs alongside this natural, genetically

predetermined process. It signifies the 'preventable' side of

ageing and encompasses those environmental factors that

magnify and accelerate the natural ageing process.

Extrinsic ageing can involve UV radiation, air pollution,

gravity and smoking. It manifests itself in a variety of ageassociated

skin changes, including thinning, laxity, fragility

and wrinkles. Sun exposure is the greatest culprit, causing

dyspigmentation, premature wrinkling, telangiectasia and

actinic elastosis.

The scaffolding

Facial bones, the deepest support structure to the skin,

shrink and remodel with age. These foundational, threedimensional

changes contribute to the appearance of

hollowness and volume loss.

The most pronounced skeletal difference in both sexes

is measured in the T-zone. In women, the area between

the brows and top of the nose (glabellar angle) is shown

to decrease, while the area under the rim of the eyebrows

retreats also, leading to sagging brows and a deflated

eyelid area. In men, the change to the glabellar angle

occurs alongside a deterioration to the maxillary angle in

the cheeks.

Accentuating these skeletal changes, the malar fat pad,

which is responsible for cheek fullness, slides down and

forward, pushing against the nasolabial fold and making the

jowls appear more pronounced. Bones can also recede in

the pyriform angle (the opening of the nose), causing the

appearance of an elongated nose and a drooping nasal tip.

www.cosbeauty.com.au 63
---
feature

Why do we age?

The outward signs of ageing are well recognised, but what

is happening at the cellular level is a little more obscure. In

basic terms, ageing can be seen when cellular death occurs

at a rate at which the cells cannot be suffi ciently replaced.

Numerous theories abound as to what causes the

ageing process. Some theories claim ageing is based

on a genetically controlled biological timetable, while

others attribute ageing to environmental assaults on our

systems, such as ultraviolet light, cell tissue wear and tear

and by-products of metabolic processes. Ageing is most

likely a combination of several processes and the widely

accepted theory today is that unrepaired accumulated

cellular damage, caused by free radicals generated

by ongoing normal metabolism and contributed to by

environmental sources, is the basis of ageing.

Oxidative damage is a natural chemical process that

occurs when oxygen molecules combust within the

human body and release by-products referred to as

oxygen free radicals. These highly reactive free radicals,

or oxidants, are incomplete molecules that either steal

electrons from surrounding molecules or donate their

remaining electrons to a nearby molecule.

In the process, the radicals create molecular instability

that damages, disrupts or destroys nearby cells which

can cause mutations in the sequence of genetic material

(DNA) and alter the structure of tissues and their functions.

The accumulation of these changes is thought to lead to

the development of ageing and degenerative diseases.

In addition to normal metabolic processes, free

radicals are produced exogenously through smoking,

environmental pollutants, exposure to ultraviolet rays and

eating certain carcinogenic foods.

The body's natural defence mechanisms against free

radicals are referred to as antioxidants. They are used

to neutralise free radicals before they can cause further

damage. Ensuring a daily intake of antioxidants from fresh

fruit and vegetables, avoiding smoking and protecting

skin from the sun can reduce the risk of degenerative

diseases as well as the visual signs of ageing.

Volumetrics

Volume is a major component to facial aesthetics. Plump,

rounded contours signify youthfulness and vibrancy, and

some aspects of the face – particularly the middle third –

should be considered from a three-dimensional, rather than

two-dimensional, perspective in anti-ageing treatment.

The rule of thirds is commonly used in aesthetic medicine

to achieve even, holistic results. In this, the face is divided

into the upper third (forehead and brows), middle third (midface

and nose), and a lower third (chin, jawline and neck).

Notably, common perceptions of beauty revolve around

the mid-face and the synergy between the eyes, nose, lips

and cheekbones. A number of surgical and non-surgical

procedures are aimed at repositioning facial fat and tissue,

and restoring lost facial volume to regenerate this area,

creating a natural-looking, more youthful appearance.

A matter of fat

Between varying intrinsic and extrinsic factors, ageing is

a unique process, different for each individual. There are,

however, some common themes and one of these is the

loss and movement of fat.

The youthful face exhibits full, well-supported fat

pockets, where surrounding ligaments serve to fi xate the

volume of fat to underlying structure. Yet over time, facial

fat descends and causes the shape of our face to change.

During middle age, the anchoring ligaments weaken,

causing the facial fat to volumetrically protrude and descend

in the cheek. This generates a squarer facial shape with

less distinction between upper cheek roundness and

mid-facial fat.

Alongside this volumetric defl ation, and also due to

diminished support, laxity occurs in facial soft tissue and

the mid-face undergoes radial expansion. The descent of

the facial fat, and increase in skin laxity, contributes to the

long, heavy appearance of the ageing face.

Ageing gracefully

While a large part of the ageing process is predetermined

by those relentless and inevitable intrinsic factors, the signs

of skin ageing can be defi nately modifi ed through healthy

lifestyle choices. Sun protection, a healthy diet, exercise

and effective management of stress can preserve help skin

health and ward off the visible signs of ageing. Taking a

proactive approach can have you feeling that age, really is,

just another number. csbm

64 www.cosbeauty.com.au
---
feature

Lingo Lowdown

ANTI AGEING

FROWN LINES

GLABELLAR LINES

CROW'S FEET

MALAR BAGS, TEAR

TROUGH DEPRESSION

BUNNY LINES

NASOLABIAL FOLDS

VERMILLION BORDER

ORAL COMMISSURES

ACCORDIAN LINES

SMOKERS' LINES

JOWLING

MARIONETTE LINES AND

PERIORAL WRINKLES

EVER WONDER WHERE YOUR

NASOLABIAL FOLDS ACTUALLY ARE,

OR WHAT BUNNY LINES MEAN?

So you've made the decision to consult your

doctor about getting rid of those pesky lines

and wrinkles. But before you can understand

your treatment options you'll need to learn the lingo.

Check out our visual guide to fi nd out!

www.cosbeauty.com.au 65
---
feature

top 10

anti-ageing

procedures

66 www.cosbeauty.com.au
---
feature

anti ageing

anti-ageing procedures

The face shows wear and tear faster than any other area of the

body. Here are 10 of the most popular cosmetic procedures to stop

facial ageing in its tracks. AimÉe Surtenich reports.

Facelift

A facelift is a surgical procedure to reposition and tighten

underlying facial muscles and tissues as well as reduce

excess skin. Incisions are usually made just inside the

hairline at the temple and around the ear.

Healing is a progressive process, with swelling and

bruising usually subsiding after two to three weeks. The full

result of a facelift may take a few months to realise, with

end results generally lasting from seven to 10 years.

Eye Lift

Blepharoplasty is a surgical procedure to improve the

appearance of the upper and/or lower eyelids to give a

more refreshed appearance to the surrounding area of the

eyes. The incision for an upper lid blepharoplasty is in the lid

crease and is made with either a scalpel or CO 2

laser that

seals the blood vessels as it incises. Skin, muscle and fat

are removed to reduce hooding in the upper eyelid.

Incisions for the lower lid blepharoplasty can be made

either inside the eyelid or just below the lower lash line.

Excess skin in the lower eyelids is removed through these

incisions to correct under-eye bags or sagging.

The results of eyelid surgery become apparent gradually,

with swelling and bruising usually subsiding after around

two weeks to reveal a smoother, better defined eye region

and a more alert and rejuvenated appearance. Results

typically last around seven to 10 years.

BROW LIFT

A brow lift raises the brow line by repositioning the muscles

of the forehead. It also rejuvenates the upper eye area,

reducing heaviness and sagging over the eyelid and at the

outer edges of the eye.

In endoscopic brow lifts, small incisions are made in the

hairline, allowing the tissue and muscle beneath the skin

to be repositioned or removed, correcting visible creases

and furrows in the forehead. Swelling and bruising normally

subside after two to six weeks to reveal smoother forehead

skin and a more rejuvenated appearance.

NECK LIFT

Performed in conjunction with a facelift or as a standalone

procedure, a neck lift is designed to correct excess skin

and fatty tissue of the neck (the so-called 'turkey gobbler

neck'), platysmal bands which run from beneath the chin to

the lower neck, as well as a poorly defined chin/neck angle

and jaw line.

The type of surgical technique used for a neck lift

procedure depends on several factors, such as the degree

of skin excess and laxity and the presence of fatty tissue.

Liposuction of the chin and/or neck area may also be

required to remove excess fatty deposits and help create a

more defined chin/neck angle and jaw line.

Recently there have been advancements in correcting

an aged neck through less invasive means, offering less

downtime and surgical intervention.

RHINOPLASTY

The nose ages along with the rest of the facial features, and

changes to the nose such as increased size and irregularity

can make the face look older. Tip ptosis (drooping of the

tip of the nose), in particular, is a hallmark feature of the

ageing nose.

Rhinoplasty improves the appearance of the nose to

balance it with the other facial features. Nasal surgery is

not just performed for cosmetic reasons; it can also correct

impaired breathing caused by structural abnormalities.

It is performed either using a closed procedure, where

incisions are hidden inside the nose, or an open procedure,

where an incision is made across the columella, the narrow

strip of tissue that separates the nostrils.

Swelling and bruising usually subsides after around 10

days. Results are permanent and it may take up to a year

for the new nasal contour to fully refine.

www.cosbeauty.com.au 67
---
feature

FAT TRANSFER

Fat transfer is the process of removing fat cells, usually from

the thighs or buttocks, and re-injecting them into areas of

the face to restore a more youthful appearance.

The use of a person's own fat in this procedure means

that allergic reactions and side effects caused by the

introduction of foreign materials is avoided. Fat transfer can

be used to correct cheek depressions, contour deformities,

and to fill in deep laughter lines and facial wrinkles.

The downtime is longer than other dermal filler treatments

due to healing of the harvesting sites, but results can last up

to three to five years, depending on the patient.

THREAD LIFTING

Thread lifting is a minimally invasive procedure designed to

elevate the central face and redefine the contours with a

shorter downtime compared with facelift surgery, almost

immediate results and fewer risks.

Latest advancements in thread lifting technology use

minute soft barbs that gently lift sagging facial tissue to

enhance the natural contours of the face and achieve a

subtle lift. These threads are absorbable, meaning once

placed under the skin they dissolve within nine to 12

months, leaving the revitalising effects for several years

to come.

WRINKLE TREATMENTS,

FILLERS & VOLUMISERS

Muscle relaxants Botulinum toxin injections (also called

muscle relaxants and wrinkle injections) work by relaxing

wrinkle-causing muscles, which softens existing facial lines

and can also prevent the formation of new ones.

Small quantities of botulinum toxin are injected into

several locations on the face such as the forehead and

crow's feet area at the corners of the eyes, reducing nerve

stimulation and therefore etched facial lines.

Results can be seen immediately, although they may

take up to four days to develop. The effects usually last

four to six months. Treatment with botulinum toxin is

not recommended for women who are pregnant or

breastfeeding.

Fillers These are injected into specific areas of the face

to smooth lines and wrinkles or to add volume. Fillers are

also used to contour and reshape facial features such as

the nose, lips and cheeks. There are many different fillers

available, ranging in longevity, composition and viscosity.

Some formulas can be injected close to the skin's

surface to correct fine lines, such as in the under-eye area,

while others are used in the deeper layers of the skin to

build contours, especially in the cheek area.

A small amount of swelling and bruising at the injection

site may result but is not likely to last more than a few days.

Results for most fillers are not permanent, usually lasting for

several months to a couple of years.

Volumiser Sculptra, a facial volumiser, works differently

from traditional fillers. It is used to gradually build volume

under the skin by working with the body's natural collagen.

Sculptra is made from poly-L-lactic acid and works by

stimulating neocollagenesis under the skin (collagen

production). Over a six-week period, lines, wrinkles,

sunken cheeks, nasolabial folds and scars are all gradually

diminished, affording subtle, natural-looking results that

develop over time.

LASER THERAPIES

Laser therapies work by targeting tissue and can be

used for a number of treatments, including pigmentation,

scarring, unwanted hair, spider veins, sun-damaged skin,

and wrinkle reduction. Recent advances in laser technology

mean that laser skin resurfacing, once reserved for the

treatment of severe conditions such as acne scarring

due to the extensive downtime involved, has become an

effective option for many people seeking reduction of lines

and wrinkles and correction of pigmentation.

Most resurfacing lasers work by removing microscopic

quantities of skin and stimulating the production of new

collagen. Non-ablative lasers use wavelengths which do

not burn away skin and are suitable for the treatment of

melasma, scarring, fine lines and wrinkles and typically do

not require any downtime. Carbon dioxide (CO2) lasers can

dramatically reduce wrinkles but down time and side effects

such as redness are extended, usually taking many weeks

to heal.

The advent of fractionated laser technology, where

microscopic columns of skin are treated while surrounding

skin is left intact, has made it possible to achieve better

results with fewer side effects. Fractionated technology has

been applied to the CO 2

laser, dramatically reducing the

recovery time required from months to a couple of weeks.

Results for all laser treatments vary, depending on the

depth of treatment.

PLATELET-RICH

PLASMA INJECTIONS

Platelet Rich Plasma (PRP) therapy uses the patient's

own blood plasma to rejuvenate a tired complexion. PRP

contains certain growth factors that are central to tissue

regeneration, and also stimulates new blood vessel

formation and connective tissue repair.

The treatment involves several injections of the patient's

own plasma, which is taken via a blood sample and

centrifuged to separate and concentrate the platelets

from the blood. The whole treatment takes approximately

one hour, with final results taking about three months to

appear. csbm

68 www.cosbeauty.com.au
---
top 10

anti-ageing

procedures

other

Age-defying

procedures

anti ageing

Breast surgery

Procedures that restore breast volume, but also lift the

tissue, can be effective in creating a more youthful and

natural-looking result in breast rejuvenation. A breast lift,

with or without augmentation, can improve the shape and

positioning of the breasts, while also adjusting the nipple

areola complex.

Another popular procedure for improving the appearance

of ageing breasts is a breast reduction, which creates

smaller, more pert breasts, while also alleviating associated

physical discomfort.

Body implants

Body implants are used to create definition and volume to

a range of areas on the body, such as the calves, arms,

chest, buttocks, cheeks and chin. They can be used in

cases of muscle atrophy which can become evident with

age, among other indications such as previous surgery,

injury or disease.

Implants can be placed in any area where there is a nonmoving

contour defect. An incision is made at the site and

the implant is inserted either above or below the muscle.

Swelling and bruising may last several days.

Results are location specific and are designed to

realign the body through a subtle increase in volume to

targeted areas.

Hair transplant

Hair loss can be a cause of psychological distress, especially

for women suffering from female pattern baldness.

Advances in hair transplant techniques allow patients

to undergo procedures to thicken thinning areas while

avoiding damage to existing hair follicles. Newer techniques

also minimise scarring in both donor and recipient sites.

Cosmetic dentistry

A bright and white smile conveys youth, vitality and beauty.

Modern cosmetic dentistry offers advanced techniques

that can improve any smile.

Porcelain or composite veneers can help straighten and

whiten teeth, implants can replace missing teeth, and teeth

whitening procedures can brighten a dull and ageing smile.

A dental makeover can help rejuvenate the entire face,

creating a more youthful and healthy appearance.

www.cosbeauty.com.au 69
---
JOSEPH

MOURAD

Hair & Beauty

AWARD

WINNING

STYLIST & HAIR

EXTENSION

SPECIALIST

Joseph Mourad's

styling, colour and

hair extension

techniques are

sought the world

over, with celebrity

clients including

singer and host

Mel B and Grammywinning

recording

artist Mya.

COMPETITIVE

PRICES

475 New South Head Rd Double Bay Sydney

02 9328 2277

WWW.JOSEPHMOURAD.COM.AU

FEATURED ON THE TODAY SHOW!
---
R

estore what time

has taken away

• Unique dermal filler

• Results lasting 1+ years

• Stimulates collagen growth

• Volume enhancement for face and hands

Ask your physician today

which Ellansé dermal filler is right for you.

ALWAYS READ THE LABEL. USE ONLY AS DIRECTED. YOUR HEALTHCARE PRACTITIONER WILL ADVISE WHETHER ELLANSÉ IS SUITABLE FOR YOU.
---
feature

5

steps to a

successful surgery

maximise your facial surgery results and recovery by

following five key steps. tara casey reports.

Even before making the decision to undergo facial

surgery, patients can maximise their chances of

achieving an optimal physical and psychological

outcome by fully preparing themselves. This includes

understanding what the procedure will involve, setting

realistic expectations, learning about and acknowledging

possible risks and complications, as well as planning for

a prolonged period of recovery. It's of equal importance to

explore any underlying motivations for seeking change with

friends and family, and to prepare the body physically for

surgery by ensuring it's in its best possible health.

None of this can be rushed, but taking the time prior

to surgery will help alleviate much of the anxiety that can

surround cosmetic changes.

72 www.cosbeauty.com.au
---
feature

ANTI AGEING

1

Choose wisely

Choosing a surgeon is one of the most important decisions

facing someone thinking of undergoing facial surgery, and

one of the fi rst to be faced. The surgeon's experience,

training and judgement will all impact on the physical

outcomes of surgery, as will their openness to discuss

concerns and question the patient's motivation during the

consultation prior to surgery.

When it comes to selecting a doctor for facial surgery,

prospective patients should ensure their surgeon's training

and certifi cation is appropriate to the specifi c procedure

they will be performing. Certifi cation from the relevant

medical board or body reassures a patient the doctor has

completed additional requirements surrounding continuing

education and experience in cosmetic surgery.

Trusted sources of information include the Australasian

Society of Aesthetic Plastic Surgery (ASAPS), the

Australasian College of Cosmetic Surgery (ACCS) and the

Australasian Academy of Facial Plastic Surgery (AAFPS).

2Keep it real

For the right individual, facial surgery can restore

confi dence on both the inside and out. It can be a highly

successful procedure for people who are both physically

healthy and psychologically sound. However, having a

clear and realistic understanding of what a procedure

can and can't achieve is important prior to committing

to surgery.

Facial skin type and age will both infl uence surgical

outcomes, so individuals interested in having surgery

should meet with a qualifi ed surgeon to discuss individual

expectations. By communicating which features of their

face they are unhappy with initially, patients can look

forward to a better post-surgery outcome.

Similarly, if the motivation behind seeking surgery is

to achieve a more youthful appearance, it's important

to acknowledge that, although this can be achieved in

the short term, the face will continue to age and change

over time. A good skincare regime and sun protection

is always recommended as a long-term combatant to

some of the effects of facial ageing, both before and

after a procedure.

Despite its potential limitations, facelifts and other

facial procedures remain popular because of the longlasting

and noticeable results they can achieve. A facelift

www.cosbeauty.com.au 73
---
feature

is considered the gold standard of facial surgery in

achieving dramatic outcomes for reversing the clock on

patient's faces. However, patients need to understand

the limitations of their procedure in order to manage

their reaction to the outcomes. The goal of a facelift

and other facial surgery should be to rejuvenate the

face and give it a fresher look, not to radically change

its appearance.

A facelift is a tailored procedure that will be altered

according to the unique face shape of the patient,

their underlying bone structure, age and general state

of health.

While facial skin is tightened and repositioned to

create a more youthful-looking appearance, a facelift

will not eliminate wrinkles or skin imperfections such as

acne scars and hollows, and nor is it possible to alter

the shape of the face.

Similarly, signifi cantly older people with less elastic

skin may not obtain the same cosmetic result that can

be achieved in those with younger, more supple skin.

3 Prep yourself

When it comes to preparing for surgery, research is a suited to the individual. This will also help the surgeon

fundamental aspect of patient safety and prospective determine the results that can realistically be achieved.

patients are encouraged to learn as much as possible Lab testing or a medical evaluation may be required

about the procedure they are seeking ahead of selecting in order to establish a patient's level of health and fi tness,

and meeting with their surgeon. It's equally important for and alterations to any existing medication plan may be

the surgeon to conduct his or her own research, which recommended. Aspirin and other blood thinning drugs,

will take place during the consultation.

for example, should not be taken in the lead up to

The consultation provides the surgeon with the surgery, and smokers will need to stop well in advance

opportunity to discuss the chosen procedure in detail of surgery due to the increase in surgical and anaesthetic

with the patient. The surgeon will relay the type of complications caused by smoking tobacco.

anaesthesia to be used, the risks, limitations and costs Along with the physical aspect of preparing for surgery,

involved, and will outline the steps to take both leading it's also important patients are mentally prepared for the

up to and after surgery. Importantly, the surgeon will also change that will take place in their appearance. Not only

be able to ask the patient about their expectations, goals are there physical complications associated with surgery

and reasons for pursuing surgery.

but there can also be psychological reactions.

A full medical history will be taken during the Part of preparing for surgery means coming to terms

consultation, and the surgeon will evaluate the shape with the fact that there will be a different face refl ected

and structure of the patient's facial bones, their skin tone in the mirror post-surgery. Being aware of this and

and elasticity, and the extent of facial ageing in order to accepting a 'new and improved' look will help patients

determine which procedure and techniques are best return to normal, everyday life more readily.

74 www.cosbeauty.com.au
---
4

Understand

the risks

Every surgical procedure involves some risk. In skilled

hands, facial procedures have an excellent safety profile.

But despite the highest standards of surgical practice,

complications can still occur. The most effective way

to minimise the risks is to have a thorough physical

examination prior to surgery and to follow the surgeon's

advice and guidance.

With most facial surgery procedures, some scarring

should be expected, but an experienced surgeon can

minimise and hide these scars so they become barely

perceptible over time. For these reasons, it is important to

choose a qualified and experienced surgeon.

Complications following a facial procedure often

prove to be temporary. These may include blood or fluid

retention under the skin, crusting of scars and numbness.

There is a minimal risk of nerve damage or infection.

Complications vary from procedure to procedure: for

example, neck and brow lifts are often considered less

complicated and usually involve less pain and lower risk

than a complete facelift.

There are some more common post-operative facelift

complications and side effects such as temporary nausea

and general sickness after receiving anaesthesia. Although

some light, post-operative bleeding is normal, uncontrolled

bleeding is dangerous and can lead to haematomas.

This develops where bleeding occurs under the skin,

leaving the area painfully swollen and may require another

operation to stop the flow and remove the blood.

There is a slight chance of developing deep vein

thrombosis, cardiac and pulmonary complications, or fat

necrosis where fatty tissue dies. Localised infection may

also occur, indicated by swelling, sensitivity, redness and

heat. Unless it is severe, an infection can usually be relieved

with a course of antibiotics.

The risks specific to facial surgery include injury to the

nerves that control facial muscles; problems with healing,

which is more frequent in patients who smoke; scarring;

crust on the incisions; and numbness or tingling around

the incisions. Skin loss or discolouration is rare but can

occur and continue for several months.

Some patients form raised keloid scars or suffer hair

loss around the incisions. Hair transplant surgery may be

needed to correct this and men may find they will need to

shave extra areas because skin has been moved. Facelift

surgery can also result in asymmetrical ears, but this can

be corrected with minor surgery.

feature

5Immediately after surgery, patients will be taken to a

recovery area. While some doctors prefer not to use

bandages, others may apply a loose-fitting wrap or a

compression garment to facilitate healing. A compression

garment is tight-fitting, and will help to reduce swelling by

preventing fluid build-up, as well as provide comfort and

support. Although loose bandages may be removed in

several days, compression garments are often worn for up

to a few weeks.

Post-surgery, most patients can expect to experience

some pain, bruising and swelling, most of which will

subside within a few weeks. If a surgical drain was used, it

will usually be removed within a day, and non-absorbable

sutures may be removed in around seven to 10 days.

Any discomfort experienced can be controlled with pain

medication as needed.

Some patients will be allowed to go home after a few

hours, whereas others may stay overnight in a hospital or

surgical facility.

Keeping the head elevated by sitting up or propping

it up on pillows is beneficial in reducing post-operative

swelling. Surgeons may also recommend the use of a cold

compress.

The specific length of recovery is dependent on factors

such as age, pre-operative activity level as well as the

number and type of procedures that have been performed.

However, most patients can usually return to everyday

activities after between two and three weeks. Final results

may not be evident until several months after surgery.

During the recovery period, it is important that surgical

incisions are not subjected to excessive force, abrasion

or motion during healing. Patients should refrain from

wearing any clothing that has to be pulled down over the

head, as well as avoiding excessive sun exposure and

cigarette smoke.

It is not uncommon for some patients to struggle with

disappointment or depression immediately following

surgery as the positive results often take several weeks

to become noticeable. Only once the swelling has gone

down and the face has finished healing will the results

be visible. csbm

Take

time out

anti ageing

www.cosbeauty.com.au 75
---
face

Preserving

your

complexion

Sydney plastic surgeon

Dr Warwick Nettle explains

facelift surgery can achieve

natural-looking, long-lasting

results in FAcial rejuvenation.

Caitlin Bishop reports.

By correcting skin issues, preventing the visible signs

of ageing and preserving a youthful complexion,

facelift surgery can achieve effective, reliable and

long-lasting results in facial rejuvenation. While many

patients can sometimes balk at the idea of surgery –

fearful of appearing 'overdone' and wary of those standout

photographs of over-tightened celebrities – Sydney plastic

surgeon Dr Warwick Nettle believes securing naturallooking

results is both possible and paramount in facial

rejuvenation surgery.

I talk with my patients about

the techniques I use to avoid the

"tight" look, which I believe is

100 percent avoidable

Over the past 10 years there has been a quantum

leap in the techniques and technologies involved in facial

rejuvenation. At the root of these advancements is a better

understanding of the ageing face. Where once the visible

signs of ageing were solely attributed to loose and sagging

skin, now a more all-encompassing process is recognised.

'Today, we understand ageing characteristics are largely

due to the deflation that takes place in the face, resulting

in changes to the curves, volumes and proportions of the

face as a whole,' explains Dr Nettle. 'Over time, changes

take place in the bone, muscle, fat and skin – each one

impacting the other. This causes a deflation wave that

results in the appearance of sagging.'

Alongside this deeper understanding has been a change

in the techniques used to improve the appearance of the

ageing face. Whereas the solution, once upon a time, was

to simply tighten the skin, Dr Nettle explains the emphasis

should be upon the preservation and relocation of tissue

layers. During modern facelift surgery, adjustments are

made to the underlying muscle and tissues, before redraping

the skin over the newly defined contours.

'During the consultation I will talk a lot with my patients

about the techniques I use to avoid the "tight" look, which

I believe is 100 percent avoidable,' he says. 'It's important

to understand that changes take place from the inside out,

not just on the surface of the skin.'

Dr Nettle says common patient concerns typically

include the appearance of the upper and lower eye region,

the neckline and jowl area.

However, to achieve natural looking results, he says

the face must be addressed as a whole, often combining

a number of procedures to create optimal results. 'Most

people recognise the major issues that need addressing

– the eyelids, neck and jawline, for example – but if you

neglect the mid-face and leave a noticeable nasolabial fold,

the results will be less than satisfactory,' he explains. 'It's

by combining a number of procedures such as a face and

neck lift, blepharoplasty and microdermabrasion, that the

most natural-looking results are achieved.'

During full-facial rejuvenation, Dr Nettle may also extract

fat from the stomach for reinjection into the mid-face. 'Fat

transfer used to be a popular technique for adding volume

to the face, however today we inject even smaller volumes

of fat in order to achieve rejuvenation of the skin,' he says.

76 www.cosbeauty.com.au
---
'The fat is rich in stem cells, which makes a huge difference

to the appearance of the skin after the procedure.'

In a unique approach to conquering wrinkles in the upper

lip – something that is only seen in women – Dr Nettle often

performs dermabrasion during surgery. 'In my experience,

this is more effective than laser and carries less risk of

causing pigmentation,' he says. 'We aim to achieve a 60

to 70 percent improvement in the appearance of wrinkling

on the upper lip.'

face

Dr Nettle recommends taking certain lifestyle measures

to help improve and maintain the results of anti-ageing

procedures. 'We advise all our patients to make sure

they eat a healthy diet and exercise to maintain their

results,' he says. 'Some patients may use anti-wrinkle

injections, laser and dermal fillers following their rejuvenation

surgery, and we also recommend an effective skincare

regime, including Vitamins A and C to help maintain youthful

skin.' csbm

anti ageing

Case Study

This patient underwent facelift surgery and upper and lower eyelid surgery with Dr Nettle. He used fat transfer to fill

the nasolabial crease and add volume to the mid-face. A more defined and sculpted jaw line was created, as well as a

soft and natural-looking volumisation of the cheeks, recreating the plump and soft contours of youth. Her eyes have

lost that 'tired' look and she now looks more vibrant and significantly younger, while still retaining her individuality.

1

2

BEFORE

AFTER facial rejuvenation surgery by Dr Nettle

BEFORE

AFTER facial rejuvenation surgery by Dr Nettle

www.cosbeauty.com.au 77
---
face

Is it

time for

surgery?

At a cERTAIN point, non-surgical

methods may no longer do the

job. sydney plastic surgeon

Dr Darryl Hodgkinson shares

his approach to surgical

rejuvENATION of the FAce.

As we age, there comes a time when non-surgical

treatments no longer provide a satisfactory result,

and the necessity for surgical procedures becomes

apparent to rejuvenate the face and neck.

With improvements in non-invasive radiofrequency

treatments such as the new INFINI treatment, combined

with injectable fillers, resurfacing procedures and wrinkle

treatments, this age has been pushed up to around 50 for

most women and men. But after that time, the sagging of

facial tissues and facial muscles, as well as bony resorption

and fat maldistribution (either excess or degeneration)

result in the inevitable situation where further non-surgical

procedures alone become a waste of time and money.

Typically with advancing age excess skin and fat bulges

form around the eyes and brow, causing the eyebrows

and often the forehead to sag and make us look tired or

angry. The surgical solution can be eyelid surgery to the

upper and lower eyelids (blepharoplasty) and, in cases of

more profound forehead wrinkling and eyebrow sagging,

an endoscopic brow lift.

The sagging neck and lack of definition in the jaw,

however, are perhaps the most common complaints as

we age for both men and women. As we lose elasticity in

our skin we develop jowls and deeper folds, especially in

the nasolabial area around the mouth. I have had patients

describe this to me as the 'chipmunk' or 'hang dog' look.

To surgically correct this, there is no single solution and the

surgery must be customised to address the patient's specific

ageing so as not to create a tight, plastic and 'operated on'

look. A variety of face and neck lifting techniques – from full

SMAS facelifting, mid-face lifting, mini or minimally invasive

facelifting – all can be employed. What is critical is not to

forget the neck and surrounding areas, which I refer to as

Pan Facial Rejuvenation (PFR).

Pan Facial Rejuvenation, which addresses all areas of

the ageing face and neck simultaneously, gives dramatic

but most importantly natural-looking results. Every aesthetic

unit of the face – the brow, the eyes, the mid and lower

face, the neck and the skin – is addressed and the clock set

back on all of them to reveal a more youthful version of the

patient that still looks like them. In fact, I encourage patients

to bring in pictures of themselves from a much younger age

when they felt more confident to assess the various areas of

their appearance which they feel have changed.

Patients benefit psychologically, gaining not only an

improvement in their appearance but also in their selfimage.

The results speak for themselves and you can

imagine that extra confidence and quality of life that occurs

from a patient's improved perception of themselves.

Pan Facial Rejuvenation is not a minimal procedure;

it requires careful consultation with the patient and their

supporters, and one to two weeks of healing prior to reentering

public life. Our philosophy is to only provide

treatments and procedures that get the patient a result.

We do not use non-surgical fillers and radiofrequency on

patients who will derive little or no benefit. In other words,

they need the 'real thing', namely a surgical result which

only Pan Facial Rejuvenation can achieve. csbm

78 www.cosbeauty.com.au
---
face

anti ageing

After facelift, neck lift and blepharoplasty by Dr Hodgkinson

After facelift, neck lift and blepharoplasty by Dr Hodgkinson

www.cosbeauty.com.au 79
---
face

Beauty

through

the ages

Sydney plastic surgeon Dr Steven Liew

says a pesonalised beauty treATMent program yields

speCTACular resuLTS AT any age. AimÉe SuRTenich repoRTS.

Sydney plastic surgeon Dr Steven Liew believes the

new generation of advanced cosmetic non-surgical

treatments are delivering such remarkable results

that in the future most patients, if properly treated, will no

longer require major facial cosmetic surgery. Instead, regular

maintenance with non-surgical treatments will become the

norm – combined with more minor surgical procedures

where required.

A global leader in the development of advanced cosmetic

facial treatments, Dr Liew has developed the Beauty Through

The Ages Program, a personalised beauty treatment plan that

helps guide patients through each decade with the best and

latest procedures available at Dr Liew's Shape Clinic.

'The new treatments deliver such natural-looking results

that patients can be a more beautiful version of themselves

at every age,' says Dr Liew. 'Regular non-surgical procedures

to beautify the face and skin is far more effective than waiting

until invasive surgery is needed to repair sagging jowls and

skin folds. But for patients with significant skin looseness of

the eyelid, lower face and neck, then eye, face and neck lift

surgery still and always will be the gold standard.'

Treatment plans under the Beauty Through The Ages

Program ensure a more targeted, effective approach for every

age, including:

Your 20s

Most cosmetic treatments for people in their 20s are nonsurgical

(wrinkle relaxers such as Botox, and fillers) and are

aimed at beautifying the face.

Apart from basic treatments such as lip enhancement,

Shape Clinic also offers Dr Liew's advanced, pioneering

techniques – including his total facial reshaping procedure,

a 'glamorising' treatment which can transform the 'girl next

door' to a stunning beauty.

Surgically, breast augmentation surgery is the most popular

at this age group, says Dr Liew.

Your 30s

This is the decade when we start to notice the first signs of

facial ageing: most commonly lines and wrinkles on our brow

and mouth.

'Botox and other injectables to reduce frown and laugh

lines and fillers to resculpture the cheek area will both

beautify the face and maintain youthful radiance,' says

Dr Liew.

Your 40s, 50s and Beyond

At this age we are increasingly likely to combine non-surgical

treatments with surgery.

'Face and neck lifts to reduce jowls and sagging neck skin

are in high demand, while eyelid surgery and brow lifts are also

popular,' says Dr Liew.

'Dermal fillers in this age group continue to be very effective

in creating a natural-looking and more beautiful appearance,

replacing lost volume to deflated cheeks, thinning lips and

softening the "marionette" lines around the mouth,' Dr Liew

concludes. csbm

80 www.cosbeauty.com.au
---
face

Non surgical 20s to 30s

1

BEFORE

A beautifully tailored, sensuous and juicy lip with Juvederm filler

AFTER lip enhancement with dermal filler by Dr Liew

2

BEFORE

Non-surgical lower eyelift with dermal filler to remove the tired dark circles

AFTER non-surgical enhancement by Dr Liew

3

BEFORE

AFTER non-surgical enhancement by Dr Liew

Non-surgical eyebrow and eye lift with Botox to lift the eyebrows and reduce heaviness of the upper eyelid to create

brighter, more attractive eyes

4

BEFORE

AFTER non-surgical enhancement by Dr Liew

Total facial beautification to narrow and define the jawline with Botox and to define the cheek definition with dermal filler

www.cosbeauty.com.au 81
---
face

Beauty Through The Ages Program 20s to 30s

1

BEFORE

AFTER surgical upper eyelift procedure (in-office) by

Dr Liew

2

BEFORE

AFTER Asian 'double eyelid' surgery (in-office) by

Dr Liew

3

BEFORE

AFTER surgical lower eyelift procedure (lower eyebags

removed) by Dr Liew

4

BEFORE

AFTER keyhole browlift and surgical fat removal of

lower eyelids by Dr Liew

82 www.cosbeauty.com.au
---
face

1

Non Surgical

40s, 50s, 60s

BEFORE

AFTER non-surgical enhancement by Dr Liew

Sunken and hollow cheeks created a sad and tired look. Dermal fillers were used to

transform her facial contour to a beautiful and healthy appearance

2

BEFORE

AFTER facial rejuvenation by Dr Liew

Total facial rejuvenation creating a refreshed and aesthetically pleasing appearance

3

BEFORE

AFTER facial rejuvenation by Dr Liew

Total facial beautification with strategic use of laser for skin capillaries, Botox and

dermal fillers

4

BEFORE

AFTER facial rejuvenation by Dr Liew

Total facial beautification with strategic use of dermal fillers, transforming the facial

structures and profile of the eyebrow, eyelid, nose, cheek and chin

www.cosbeauty.com.au 83
---
face

Beauty Through The Ages Program

Looking The Best at Any Stage of Your Life

BEFORE

AFTER facial rejvenation by Dr Liew

BEFORE

AFTER facial rejvenation by Dr Liew

Beauty Treatment Plan (combining surgery and non-surgical procedures: This patient underwent upper and lower eyelift surgery and face and

necklift surgery at the age of 49 by Dr Liew. At age 60 she has maintained her beautiful radiance , looking the best for her age by simple skin

care, and strategically planned non-surgical treatments by Dr Liew.

84 www.cosbeauty.com.au
---
face

anti ageing

from within

Selphyl PRP, from Device Technologies, uses a fibrin matrix to return

volume and vibrancy to the skin in non-surgical rejuvenation.

Caitlin Bishop repoRTS.

Since its introduction to the cosmetic arena, Platelet

Rich Plasma (PRP) has transformed the options in

non-surgical facial rejuvenation. By using the body's

own products to kick-start natural, regenerative processes,

PRP affords holistic, effective and long-lasting results in

cosmetic enhancement.

Selphyl PRP, distributed in Australia by Device

Technologies, is a system used by doctors and practitioners

to harness a patient's blood and prepare it for reinjection

into the treatment site. Once injected, the platelets trigger

the activity of growth factors in the skin and stimulate the

production of collagen and keratin in the dermis.

Patients look more youthful,

with better skin tone, but

without looking like they've

had anything "done"

'I like Selphyl because, as time goes on, the results

continue to improve,' explains Melbourne cosmetic

physician, Dr Mirjana Janjic. 'This is very unique – with other

treatments, the results are best directly after treatment

and deteriorate from there. With PRP you continue to see

results as time goes by.'

Unlike some other PRP systems, which concentrate the

blood plasma and keep the consistency as it is, Selphyl

prepares this concentrated plasma as a 'fibrin matrix'

– referred to as PRFM. The fibrin matrix affords greater

volume at the injection site – for additional anti-ageing

benefit – and improves the platelet activation of growth

factors in the skin.

'I believe the fibrin matrix is the best way to achieve

optimum results in PRP rejuvenation,' says Dr Janjic. 'The

system itself is easy to use – it's clean and precise for

predictable and effective results.'

Treatment with Selphyl is relatively easy; it takes between

30 and 45 minutes per treatment and there's no risk of

allergic or adverse reactions, given it's the patient's own

tissue involved in the procedure.

Dr Janjic commonly uses PRP therapy to improve the

appearance of dark circles under the eyes and reduce

wrinkles around the lips. Notably, she has also achieved

successful results in using PRP to enhance skin quality on

the backs of hands.

'Selphyl is excellent for treating dark circles under the

eyes and returning natural-looking volume to the skin,' Dr

Janjic explains. 'It can be used for general rejuvenation, as

it improves the texture, tone and feel of skin.'

For optimum results, Dr Janjic commonly recommends

three Selphyl treatments, four to six weeks apart. Treatment

can be combined with micro-needling or hyaluronic acid

filler, for more holistic, universal results.

'Selphyl PRP can achieve natural-looking, refreshed

results in facial rejuvenation,' Dr Janjic explains. 'Patients

look more youthful, with better skin tone, but they don't

look as if they've had anything "done".' csbm

www.cosbeauty.com.au 85
---
face

Beauty

from

within

Ellansé from Device Technologies is an innovative dermal filler

that restores lost volume and rejuvenates the skin from within.

Caitlin Bishop reports.

The full cheeks and plump facial contours associated

with youthfulness are often lost in the facial ageing

process. Dermal fillers and fat transfer procedures

can be effective in restoring volume and countering this

three-dimensional process, returning youthfulness and

vitality to the ageing face.

Ellansé, from Device Technologies, is a unique and

innovative filler with dual benefits: it reduces the appearance

of facial wrinkles and folds, while also stimulating the

production of collagen in the dermis, offering long-lasting

and natural-looking rejuvenation.

Queensland cosmetic physician Dr Christopher Leat has

been using Ellansé for more than a year and believes it is a

viable option in achieving noticeable and attractive results

in facial rejuvenation.

'Ellansé has the benefit of stimulating the skin and

subcutaneous tissues to produce more natural collagen.

This gives, I believe, a longer lasting and sometimes more

natural result,' Dr Leat explains. 'Ellansé can last one to

four years, so patients don't need as many treatments to

maintain the benefit. The results also build gradually over a

period of several months, so there is no dramatic sudden

change in appearance.'

Dr Leat uses Ellansé to address several characteristics

of ageing in his patients. Importantly, patients can choose

from one of four different Ellansé formulas, depending

on their individual concerns and how long they'd like the

results to last.

'We use Ellansé almost anywhere on the face where

volume restoration is needed – namely, the cheeks, jaw

86 www.cosbeauty.com.au
---
line, temples, and nasolabial and marionette regions,' Dr

Leat says. 'Deciding upon the formula largely depends

on what longevity the patient is looking for. Ellansé has

four formulations that last one, two, three and four years,

respectively. However, I find the results usually exceed

these time frames.'

We can use Ellansé almost

anywhere on the face where

volume restoration is needed

The filler effect of Ellansé is immediately noticeable –

significantly reducing the appearance of wrinkles and folds

by restoring the underlying volume – and over time this

volume restoration is compounded with the stimulation of

collagen in the skin's dermis.

By replenishing the lost collagen, Dr Leat explains

Ellansé can help reverse the signs of ageing. 'I describe

collagen as the scaffolding of the skin,' he says. 'Collagen

gives much of the strength and integrity to the skin, and it

depletes as we age. It is also diminished by other factors

such as sun damage, which is why Australians tend to age

faster than other nationalities.

'Ellansé consists of microscopic spheres of a compound

called polycaprolactone,' he continues. 'Polycaprolactone

has been used in medicine (for example, in orthopaedics

and in suture materials) for many decades and has a

face

proven safety record. The tiny spheres of polycaprolactone

become coated with cells and a scaffolding of new collagen

is formed in the skin.'

Treatment with Ellansé is relatively simple and incurs

minimal down time. The procedure itself takes approximately

30 minutes and Dr Leat commonly uses local anaesthetic

to counter any discomfort during injection.

'We often use anaesthetic creams, and I use a little local

anaesthetic with the Ellansé,' Dr Leat explains. 'There is

not usually any noticeable swelling following treatment, and

bruising is infrequent but can occur depending on the area

being treated.'

Notably, Ellansé can be used both as a standalone

treatment and in conjunction with other anti-ageing

therapies. 'We often combine Ellansé with other treatments

to improve skin texture and colour, and also with botulinum

toxin treatments for lines and wrinkles,' Dr Leat says. 'I

have also been treating some patients with a combination

of Ellansé and platelet rich plasma (PRP) therapy.'

In filling facial volume and harnessing the body's natural

processes to promote collagen production, Ellansé is

both an anti-ageing and skin rejuvenation treatment,

offering long-lasting and natural-looking results in volume

replacement and collagen induction.

'Essentially, we can use Ellansé for anyone who would

benefit from a more traditional volumising filler. Our

typical Ellansé patients are women aged 40 plus, but we

also treat many men and younger patients looking for facial

rejuvenation,' Dr Leat concludes. cbsm

anti ageing

BEFORE

Six months AFTER Ellansé and Platelet Rich Plasma treatment by Dr Leat

www.cosbeauty.com.au 87
---
anti-ageing

The future is here

Regen PRP is at the forefront of using platelet rich plasma in a

variety of cosmetic and medical settings. Caitlin Bishop rePORTS.

Platelet Rich Plasma (PRP) therapy is a regenerative

and rejuvenating procedure with seemingly endless

applications. From anti-ageing concerns to treating

Sjorgren's syndrome, PRP can be used to kick-start the

body's cellular processes, stimulate collagen production at

the treatment site and invigorate the area with stem cells

and growth factors.

Regen PRP signifies the cutting-edge in PRP technology

and is fast becoming the must-have treatment in both the

cosmetic and medical arena. The procedure harnesses the

patient's own resources and natural healing mechanisms

to facilitate change. It involves extracting a sample of the

patient's blood, centrifuging this sample to concentrate the

platelets, and reinjecting the concentrated solution into the

treatment area.

One patient, Lisa Schmelzkopf, who has worked in

the skincare industry for more than 15 years, explains

PRP can be effective in boosting the action of other skin

88 www.cosbeauty.com.au
---
treatments for a holistic and longer-lasting result. 'I've had

PRP three times now, and find the results fantastic,' says

Schmelzkopf. 'It's a way to give your skin a second chance

and accelerate the results of other treatments or skincare

regimes. My skin tone has evened out, and PRP has given

me a healthier, plumper and firmer complexion.'

It's a way to give your skin a

second chance; PRP has given

me a healthier, plumper and

firmer complexion

PRP has been used in medical settings for several

decades – for example in sports medicine by assisting

in healing of tendons, muscle tears and joint injury. In the

body, the blood platelets release proteins called growth

factors, which communicate with the body to trigger that

natural healing process.

Companies such as Regen Lab have brought this

treatment into the world of cosmetic enhancement,

supplying cosmetic surgeons and practitioners with the

devices they need to extract, concentrate and reinject

platelets in their own clinic.

Dr May Marr, a cosmetic physician in northern NSW,

uses PRP as an anti-ageing therapy. One of her patients,

Margardia Belleza, has recently undergone a series of

treatments with Regen PRP. 'I just felt my skin had lost

its glow; it felt tired, dull and without its youthful elasticity,'

Belleza explains. 'I was attracted to PRP because I do

believe the body can repair itself; PRP just gives it a wake

up call. Since treatment, I've had people stopping me and

commenting that I look fresh and more youthful – I really

think it has made a difference.'

Belleza has received three PRP treatments; the first two

were performed one month apart and the third, one year

later. She often combines PRP with small amounts of antiwrinkle

injections, to improve results and achieve a more

holistic rejuvenation.

'I don't want to look frozen, and PRP returns that healthy,

youthful glow to my skin via a very natural process,' she

says. 'The treatments themselves were easy to tolerate and

did not cause much downtime. I usually have some swelling

for around 24 hours following injection, and I experienced

mild bruising around the mouth on one occasion.'

Gynaecology

Gynaecologist Dr Fariba Willison in Adelaide is trail blazing

the use of PRP in a gynaecological setting. She was the

first to pioneer treatment of PRP for vaginal atrophy and

anti-ageing

women with breast cancer who have dry vagina and cannot

use HRT.

One of her patients underwent PRP to treat a pervasive,

aggressive and uncomfortable condition, which caused great

irritation in her vagina. 'I had visited several gynaecologists

but no one could pin-point the exact cause of my problem,

nor could they suggest a solution,' this patient describes.

'It was so distressing; it affected my sexual health, I was

in constant pain, it hurt to urinate, I couldn't wear certain

clothes and, psychologically, I was traumatised.'

Other doctors had prescribed anti-depressants and

therapy, but this patient was determined to address the

physical cause of her trauma. After a consultation with

Dr Willison, she went ahead with a series of three PRP

treatments, combined with laser therapy to bolster results.

'After the first treatment I could wear proper clothes

again,' she says. 'Each time I received treatment it

continued to improve. I felt I could stand up tall again; I felt

in control. PRP treatment really gave me my self back – I

want women to know there are options out there. I was told

I had to live with my condition, but PRP has given me

hope.' csbm

Sjorgren's syndrome

In an unusual utilisation of PRP treatment one

patient, Bridgette Bradley, has used PRP in the

form of eye drops to manage the symptoms of

Sjorgren's syndrome – a condition that results in

dryness of the mouth and eyes. 'One of the most

debilitating side effects of Sjorgren's syndrome is

the lack of eye tears,' she says. 'After being treated

by Dr Willison using PRP drops, I went three days

without needing my regular eye drops. Usually, I

have to apply my eye drops 10 to 20 times a day.'

Though the short-term results were clearly

significant, there was no long-term change in

Bradley's symptoms following PRP treatment.

She is looking forward to future treatments – and

hopefully take-home eye drops at some point –

and has arranged to inject PRP in her inner cheek

at the next treatment in a bid to stimulate her

salivary glands.

This case, alongside many others, signifies the

extensive opportunities for using PRP in several

cosmetic, regenerative and medical settings.

Regen PRP can enhance the complexion, reverse

the signs of ageing and assist in treating certain

conditions. With such diverse possibilities, the ways

in which PRP can make a difference in patients'

lives will continue to emerge in the years to come.

anti ageing

www.cosbeauty.com.au 89
---
face

A

modern

approach

to

facial

rejuvenation

Dr John Flynn from

Queensland combines surgical

and non-surgical techniques

to creATe subtle yet beautiful

anti-ageing FACIAl results.

AimÉe Surtenich reports.

Modern facial enhancement is all about reversing the

signs of ageing while enhancing and preserving a

person's individual look, says Dr John Flynn from

the Gold Coast in Queensland.

'There is a new paradigm for facial rejuvenation which

focuses on a combination of conservative surgical and

minimally invasive techniques to target ageing concerns in

a more subtle, incremental way,' he says. By embracing

this new way of thinking, we can create dramatic yet

natural-looking results.'

Dr Flynn says the surgery-focused facelifts of the past

are increasingly being replaced by a different approach:

more conservative surgical techniques with minimally

invasive facial rejuvenation procedures.

'The modern facelift is very different from previous times,'

he explains. 'It relies far less on extensive surgery and more

on judicious alterations combining laser resurfacing, dermal

fillers and other minimally invasive techniques so that what

is essentially known as a "facelift" is no longer a purely

surgical experience.'

Combining a selection of different modalities to achieve a

result specific to the individual patient is the key to modern

facial rejuvenation. 'A single procedure is rarely the answer

to facial ageing,' Dr Flynn explains. 'I believe it's better to

focus on what the actual problem is that needs addressing

and, in most cases, a combination of procedures is likely

the best route to success.'

There is a new paradigm for

facial rejuvenation which focuses

on a combination of more

conservative techniques

'Ageing affects us all in varying degrees,' he continues.

'Different people will therefore benefit from different

combinations and degrees of treatments, depending on

their unique concerns.'

90 www.cosbeauty.com.au
---
Depending on these concerns, conservative surgery

combined with minimally invasive options such as laser

resurfacing, thread lifting, dermal fillers, muscle relaxants

and an active skincare regimen can produce superior,

long-lasting results.

Aesthetically speaking, Dr Flynn says the eyes are the

most expressive and therefore the most noticed of the

facial features, which makes them a central feature in

facial rejuvenation. 'There is the concept of emotionality

associated with the eyes, reflected in the age-old saying,

"the eyes are the windows to the soul",' he says. 'As we

get older, noticeable ageing effects occur in and around

the eyes, which usually consist of drooping upper eyelids

and the descent of the eyebrows. These effects contribute

to a look of tiredness or ill health and can be improved with

modern facial rejuvenation techniques.'

Dr Flynn assesses how these changes individually affect

each patient's eyes by looking at how the fatty tissues bulge

and the skin sags, as well as how the position of the brow

affects the eyes. 'Addressing all these elements allows me

to determine which combination is right for the patient. For

example, they might require a laser tightening treatment to

tighten and "lift" the skin, and dermal fillers to reshape and

recontour the eye area,' he explains.

But one of the most influential

1

aspects of rejuvenating the face is the

quality and texture of the skin. 'The

skin is the fabric that covers the entire

face, so when looking to perform a

combination of procedures on the face

we have to look at how to correct the

quality of the fabric as well,' explains Dr

Flynn. 'This is where laser resurfacing

can be extremely effective. Even if a

patient doesn't necessarily require a lift

or tightening, most people who live in

Australia's harsh climate could benefit

from laser rejuvenation to renew skin

texture and tone.'

BEFORE

When looking to improve the

2

appearance of a patient's face, Dr

Flynn will often use stem cell-enriched

fat transfer alongside fractionated laser.

'Stem cells are attracted to areas in

need of repair,' he explains. 'If we use

fractionated laser technology to create

microscopic injuries in the skin, and

then inject stem cells, the stem cells

act to enhance the repair process and,

in my experience, achieve even better

results for the patient then when using

laser alone.'

'While the field of regenerative

medicine and techniques using the

BEFORE

face

patient's own stem cells is in its developmental stage,

we already have some very effective applications,' he

continues. One of these applications is stem cell-enriched

fat transfer, which he often uses to augment areas of the

face that have lost volume with age.

Dr Flynn has access to the latest technology and

research from Monash Immunology and Stem Cell

Laboratories and has been pioneering stem cells in

aesthetic medicine for some time. 'Adult stem cells can

be differentiated into different cell types but their main

function is in repair of tissues,' he explains. 'While stem

cells hold the potential to treat a wide range of diseases,

they are also being used in cosmetic medicine. In this

way, we can use stem cells to enhance facial tissue and

facial skin in conjunction with fat transfer, as well as the

subtle augmentation of the breasts and buttocks, and to

rejuvenate the hands.'

No two people are the same and something as multifaceted

as ageing demands a sophisticated approach.

'Fortunately, today we're blessed with a diverse array of

treatments – from minimally invasive to surgical procedures

– which can be combined in order to achieve the best

possible anti-ageing results,' Dr Flynn concludes. csbm

AFTER facelift and laser resurfacing by Dr Flynn

AFTER thread lifts by Dr Flynn

anti ageing

www.cosbeauty.com.au 91
---
face

Mini-facelifts

without surgery

Sydney cosmetic physician Dr Buddy Beaini says the Astarte thread

lift is a major advancement in non-surgical facial enhancement.

AimÉe Surtench reports.

There's been a move towards treating the signs of

ageing with a series of non-surgical treatments

instead of more aggressive surgical options. A thread

lift fits this bill perfectly, offering a minimally invasive way to

lift sagging features and create a fresher, more contoured

and youthful appearance.

With the ever-increasing aesthetic advancements,

Sydney cosmetic physician Dr Buddy Beaini from MD

Cosmedical Solutions Clinics says the key to outstanding

results (where you look years younger) is tailoring a skin

treatment program for each individual patient.

'A major recent advancement is the development of

the Astarte Absorbable Threads,' Dr Beaini explains. 'The

Astarte Thread Lift bridges the gap between the "softer"

beauty salon type of anti-ageing treatments and the radical

aggressive surgical facelifts.'

He says the concern with 'softer' beauty salon treatments

is that they often don't achieve the patient's expectations

because the results may be minimal. Conversely, the

concern with surgical facelifts is that results may not look

natural, there may be an overcorrection, there are risks of

scarring, infection, nerve paralysis, lopsidedness, and there

is a long downtime.

'Patients are now opting for real results, but without the

risks and downtime that are involved with radical surgery.

Astarte Thread Lifts offer a non-surgical solution for face

lifting – excellent results with no incisions, no scars and

minimal downtime,' says Dr Beaini.

Astarte Threads have been available in Australia since

2012, and have been successfully used in hundreds of

thread lift procedures. MD Cosmedical Solutions has been

using the Astarte Threads for over 18 months and Dr Beaini

has been seeing significant results. 'Our procedure is tailored

to each individual and their face lifting and rejuvenation

What can Astarte Threads treat?

• Face lifting / neck lifting / skin tightening

• reposition sagging cheeks

• Brow lifting

• marionette lines correction

• jowling correction

• lip lines reduction and lip shaping

• adjusting facial and brow asymmetry

92 www.cosbeauty.com.au
---
equirements,' he says. 'The unique Astarte Thread

Lift technique is adaptable, enabling me to customise

treatment to the patient's needs. This procedure has been

very well received, with excellent patient satisfaction since

its implementation within our clinics.'

According to Dr Beaini, these new revitalising threads

are very different to the older threads that were used in the

past. The new threads (unlike the conventional smooth

threads) have small soft barbs (also known as cogs) that

resemble a fishbone. When inserted just under the skin the

cogs cling to the facial soft tissue, gently lifting the tissue

and thereby providing a new support scaffolding that lifts

and holds the tissue in place. These new threads rebuild

the support structure of your skin from within.

The threads dissolve within nine to 12 months, while

the long-term benefits of the thread lift will typically last for

three to five years. 'Over a period of nine to 12 months

the Astarte Threads dissolve – but before dissolving

they produce fibrosis that in turn creates a new support

scaffolding of collagen for the skin,' Dr Beaini explains. 'This

new scaffolding can lift and support the thread lift for many

years to come. In addition to the lift effect, the thread lift

creates new skin firmness that assists with improved skin

colour, skin tone and texture.'

The procedure itself takes between 30 to 90 minutes,

and the results can last between three to five years in most

individuals. Extra, or 'touch-up', threads can easily be

added at any time within or after this period.

'The Astarte Thread Lift preserves the natural contours

of the face, so that the results are more subtle and natural

looking,' says Dr Beaini. 'The results are achieved without

hospitalisation, without scarring and with a minimum of

downtime. In fact, you can return home within a few hours

and resume normal activities after a few days. The major

advantage of absorbable threads is that they will not impact

on any future procedures (should you wish to have further

thread lifts or other lifts in years to come).'

Generally speaking, the best candidates for this

procedure are women and men in their 30s to 70s who

don't want, don't need, or are unable to have a traditional

surgical facelift but long for a more youthful appearance.

'The procedure has a good safety profile, is effective,

requires no general anaesthesia and has a short downtime

of around three to five days,' says Dr Beaini. 'There are also

no risks of surgical scars or facial nerve paralysis which

may occur with traditional facelift surgery. And the cost

effectiveness of a Thread Lift is obviously an advantage.'

'I believe Absorbable Astarte Threads are an excellent

addition to the facial rejuvenation treatment repertoire. An

Astarte Thread Lift gives natural uplifting and rejuvenation

results which can be "topped-up" at any time, and which

do not interfere with any future face treatments,' Dr Beaini

concludes. csbm

BEFORE

BEFORE

BEFORE

BEFORE

AFTER Astarte Thread Lift by Dr Beaini

AFTER Astarte Thread Lift by Dr Beaini

AFTER Astarte Thread Lift by Dr Beaini

AFTER Astarte Thread Lift by Dr Beaini

face

anti ageing

www.cosbeauty.com.au 93
---
FEATURE

face

Facial Defi ning Surgery

FOR THE MAJORITY OF ETHNIC PATIENTS SEEKING COSMETIC SURGERY, IT'S

ABOUT ENHANCING THEIR FEATURES RATHER THAN CHANGING THEIR IDENTITY,

SAYS SYDNEY PLASTIC SURGEON DR DARRYL HODGKINSON.

A

recent SBS program that aired in December 2013

examined the trend both internationally and in

Australia of performing surgery to change ethnically

defi ning features of the face, especially the eyelids and

the nose.

From my practice in Australia, which spans all ethnic

and racial groups, I do not believe people are wanting to

change their race but rather to appear more multicultural

by modifying features which they believe to be potentially

limiting or defi ning.

With increased globalisation,

we are seeing new beauty trends

develop in many cultural groups

With the media sharing images of perceived beauty

from around the world and with increased globalisation of

business and communications, we are seeing new beauty

trends develop in many cultural groups – not just in the face

but in body shape as well.

Many cultures that used to view a few extra kilos as

signs of health and prosperity now have men and women

queuing up in gyms to shed the same weight coveted

by their parents or grandparents. However, changes to

ideals of facial beauty in an ethnic group, tend to be more

challenged as 'race changing'.

Korea is a prime example of changing ideals. It is

estimated that 20 percent of women in Seoul have had

facial defi ning surgery, including nasal augmentation,

double eyelid surgery and bone contouring of the lower jaw

to make the face less 'square'.

This 'baby face' look is very popular with young Korean

women and almost gives a 'rubber stamp' appearance.

The aforementioned television show noted, however,

that this change to the 'baby doll' face has become

the new benchmark of beauty in South Korea and is so

ACSM DEFINITIVE GUIDE NON-SURGICAL FACIAL REJUVENATION

94 www.cosbeauty.com.au
---
widely accepted that it can actually improve employment

opportunities for these young women.

Iran, on the other hand, has become the rhinoplasty

capital of the world, with the procedure being seven times

more common than in the United States. This demonstrates

the pressure there is in a society not necessarily to want to

change one's race but to conform to an internationalised

norm or perceived ideal of beauty.

In my Sydney practice, there is an ever-increasing

percentage of Asian and Middle Eastern patients seeking

to have their ethnic features enhanced, especially in

Asians by having rhinoplasty and double eyelid surgery,

8 // ACSM DEFINITIVE GUIDE NON-SURGICAL FACIAL REJUVENATION

face

and especially in Middle Eastern patients by undergoing a

reduction rhinoplasty.

Although 'fi tting in' is a subconscious motivation, more

often the surgery is an enhancement and optimisation of

the already beautiful features of Asian and Middle Eastern

faces. To say that different ethnic groups are striving to be

Caucasian is over-simplifying the trend.

Cosmetic plastic surgery performed by surgeons who

have an appreciation of the aesthetics of different racial

subgroups can achieve a 'harmonising' of facial features.

There is beauty in all races, which we are privileged to

appreciate in our multicultural society. csbm

ANTI AGEING

1

BEFORE

2

AFTER double eyelid surgery by Dr Hodgkinson

BEFORE

AFTER double eyelid surgery by Dr Hodgkinson

www.cosbeauty.com.au 95
---
face

Rebuild

&

rejuvenate

from within

Sculptra is a facial volumiser

that stimulates collagen

production for A gradual and

long-lasting facial rejuvenation.

Caitlin Bishop reports.

Acting as a direct collagen stimulator, Sculptra

from iNova rebuilds, refines and fortifies the facial

foundations. It can be used as both a preventative

measure and an anti-ageing treatment. By stimulating and

building upon the body's natural processes, Sculptra can

return youthfulness to the facial contours for a gradual,

natural-looking rejuvenation.

'We all start losing collagen at around one percent per

year after the age of 18,' Sydney cosmetic surgeon Dr Neal

Hamilton explains. 'Because of this, Sculptra can be used

as a preventative method from around age 25, or as a facial

rejuvenation treatment in older patients. As it directly works

to stimulate your own collagen, it's suitable for anyone who

wishes to postpone ageing.'

96 www.cosbeauty.com.au
---
Sculptra is a deep facial injectable that redefines the

facial structure and stimulates the production of new

collagen in the dermis. Dr Hamilton explains it can be

especially effective in tightening and rejuvenating the lateral

parts of the face.

'The face is a layered structure and, on the outside of the

face – the temples, high cheekbones and the cheek/mouth

junction – these layers of the face are "stuck together",'

Dr Hamilton explains. 'In these places it is very difficult

to achieve smooth, effective results with regular fillers,

because there is no space between the layers. Instead, it's

better to thicken and strengthen what's already there and I

believe Sculptra is the best way to do this.'

Sculptra is made from poly-L-lactic acid, a biocompatible

and biodegradable material. It works within the facial tissue

to trigger neocollagenesis (the production of new collagen),

Sculptra directly works to

stimulate your own collagen and

postpone signs of ageing

which gradually restores volume to reduce the appearance

of shallow and deep facial wrinkles and hollows on the

skin's surface. This is a progressive process and takes

time to appear. Typically, neocollagenesis takes around 12

weeks to occur, and results will continue to improve in the

four to five months following treatment.

'Sculptra works like a fertilizer and is great for those

patients interested in natural-looking, minimally invasive

and subtle results,' Dr Hamilton says. 'For patients after

more immediate results, I always take time to explain that

in my experience Sculptra affords better results, that last

longer and are easier to maintain.'

The amount of treatments needed varies between

patients, depending on age and individual concerns. Dr

Hamilton explains it is best to approach a qualified and

experienced practitioner, who can tailor the treatment to

suit each individual.

'The amount of product needed, and the

number of treatments required, changes

from patient to patient and it is important to

see a practitioner who is experienced and

understands how Sculptra works over the

long term,' Dr Hamilton explains. 'Generally,

Sculptra is best to be thought of as a long-term

preventative program. Initially, we perform a

couple of treatments to reach an optimal stage

and then conserve this result with maintenance

treatments every year or so.'

Patients often experience some swelling

following treatment, and some redness,

BEFORE

bruising and numbness can be expected

directly after injection. In some cases, Dr

Where can Sculptra

be used?

face

• Lateral face, to fill hollows and refine cheekbones

• Smile lines, to smooth the folds between the nose

and the mouth

• Marionette lines, to fill the lines framing the mouth

• Chin, to reduce the appearance of chin wrinkling

• Decolletage, to smooth cleavage lines

Hamilton combines Sculptra with other modalities for a

more universal result.

'Sculptra treatment can be partnered with cosmetic

procedures such as blepharoplasty, thread lifting and

botulinum toxin injections,' Dr Hamilton explains. 'If

patients are looking for a facelift effect without the fees and

surgical downtime, I often recommend Sculptra and thread

lifting together.'

Historically, the décolletage has been one of the most

difficult areas to treat cosmetically, however considerable

success has been found using Sculptra to improve the

appearance of the chest.

'Sculptra noticeably improves the appearance of those

deep cleavage lines and can achieve results that are just

not possibwle with any other filler,' says Dr Hamilton.

By fuelling the body's natural regenerative processes

and adding volume, strength and resilience to the facial

structures, Sculptra replaces lost collagen to refresh and

rejuvenate the complexion.

'The Sculptra patients we've had are ecstatic,' Dr

Hamilton says. 'And, importantly, they are happy on a

number of fronts: with the results themselves; with the

gradual result that lends discretion and subtlety; with

the affordable cost; and finally, with the small amount of

maintenance required to keep those smooth, refined and

youthful-looking facial contours.' csbm

25 months AFTER Sculptra treatment (5 vials)

Photos courtesy of iNova. Individual results may

vary. Photos untouched.

anti ageing

www.cosbeauty.com.au 97
---
nose

Rhinoplasty:

more than just a nose job

Sydney ENT and facial cosmetic surgeon Dr William Mooney

explains rhinoplasty can restore youthfulness to the entire FAce.

Caitlin Bishop reports.

There's more to rhinoplasty than improving the shape

or size of the nose – it also addresses functional

issues and can have a noticeable anti-ageing effect.

'The nose is a vital, complicated organ, it's a gateway to

the upper respiratory tract, the egress to the nasal sinuses

and, unfortunately, there are a lot of problems that can

affect its functioning,' says Sydney ENT and facial cosmetic

surgeon Dr William Mooney. 'When patients come to me

because they're unhappy with the shape of their nose, we

also address the underlying functional problems. They often

leave happier with their new improved nasal airways than

their appearance.'

Indeed, by addressing any nasal obstructions or

breathing irregularities, Dr Mooney explains rhinoplasty can

improve quality of life and, in some cases, sooth an irritable

temper! 'The types of problems I often see at the same

time as cosmetic concerns are post traumatic obstruction,

allergies, snoring and sleep apnea, and difficulty breathing

during exercise,' he says. 'They may seem like little things,

but when stacked up together they can really impinge on

quality of life. For example, if you don't breath properly,

particularly at night-time, this can give you a tired and

drawn appearance, and also negatively affect your mood.'

Returning the nasal tip to a

more youthful position can be a

fantastic anti-ageing procedure

From post-trauma bumps, to functional difficulties, there

are many reasons people approach Dr Mooney. A common

concern is the ageing nose, which can add years to an

ageing face.

'As we age, noses become bigger and more irregular,'

Dr Mooney says. 'Deviations in noses are like the Leaning

98 www.cosbeauty.com.au
---
nose

Tower of Pisa – they often progress as time goes by. As well

as this, the skin becomes thinner with advancing age so any

irregularities become more pronounced.'

Dr Mooney explains these signs of ageing can occur

alongside tip ptosis – when the tip of the

nose droops downward and the angle of

1

the nose is affected. 'Everything starts to

go south as the years go by, and the nose

is no exception. Returning the tip to its

lovely youthful position and reducing the

size of the nose can be a fantastic antiageing

procedure.'

Before rhinoplasty, Dr Mooney

conducts a through consultation with

each patient to discuss patient history,

address any concerns and establish

their expectations for surgery. These

consultations are conducted through

Face Plus Medispa at Dr Mooney's clinic.

'The nose really has to be in harmony

with the rest of the face,' he says. 'Getting

BEFORE

the balance right is not just as simple as

2

altering the nose, sometimes other facial

features need to be addressed at the

same time.'

To optimise results, Dr Mooney often

performs rhinoplasty in conjunction with

other anti-ageing procedures. 'Where

required, blepharoplasty (eye lift), a

thread lift, facelift or sub mental (chin)

liposculpture can be performed at the

same time as rhinoplasty,' he says. 'This

offers a one-stop surgical treatment; it

means patients have one anaesthetic,

one down time and one recovery period.

It also means we can address any other

anti-ageing concerns at the same time as

dealing with the functional and aesthetic

BEFORE

aspects of the nose.'

3

Not everyone, however, is suited to

undergo multiple surgeries at once. In

some cases, the laser therapies, skincare

treatments and anti-ageing injectables

offered at Face Plus Medispa are a

suitable non-surgical alternative to help

combat the ageing face.

For anyone considering cosmetic

enhancement, Dr Mooney advises

consulting an experienced and reputable

surgeon to gain the most from your

chosen procedure.

'Rhinoplasty, in particular, is a

complicated operation. I advise patients

that it should only be performed by a

surgeon with good ear, nose and throat

BEFORE

experience, as well as a strong cosmetic background,' Dr

Mooney says. 'A rhinoplasty is much more than a "nose

job". It should fix both functional and cosmetic concerns, as

well as offer a great anti-ageing procedure.' csbm

AFTER rhinoplasty by Dr Mooney

AFTER rhinoplasty by Dr Mooney

AFTER rhinoplasty by Dr Mooney

www.cosbeauty.com.au 99
---
nose

A

nose

for

beauty

Sydney plastic surgeon

Dr Alex Phoon says rhinoplasty

can improve both the appearance

and function of the nose.

AimÉe Surtenich reports.

Rhinoplasty is one of the most popular cosmetic

surgeries and, for the right individual, it can greatly

improve not only a person's overall appearance but

also their self-esteem.

'The benefits of rhinoplasty are endless,' says Sydney

plastic surgeon Dr Alex Phoon from Silkwood Medical.

'It can repair or reshape the nose after trauma or injury,

improve the size, shape and angle of the nose to work in

harmony with the rest of the face, and also correct structural

problems and alleviate difficulty breathing. Importantly, for

someone who has lived their whole life with a nose they

aren't happy with, rhinoplasty can offer the right patient a

new lease on life, boosting confidence and self-esteem.'

First things first

The nose is an intricate network of bones, cartilage, cells,

blood vessels, nerves and skin. It is therefore essential

that any prospective patient choose a surgeon skilled and

experienced in rhinoplasty surgery.

'It's also important to have a good rapport with your

chosen surgeon, so you feel comfortable in communicating

the concerns you have about your nose and can be honest

about your expectations of nose surgery,' says Dr Phoon.

'My commitment to my patients is foremost; together,

we discuss in detail what is required to achieve the best

results possible. This open dialogue is a fundamental part

of achieving a successful outcome.'

100 www.cosbeauty.com.au
---
nose

Whereas some patients may know with great

detail what they dislike about their nose, others may

not be able to pinpoint their dissatisfaction. The

consultation therefore provides an ideal opportunity

to ask questions of the surgeon, while also learning

more about the associated risks and complications of

rhinoplasty surgery.

'There is no "one size fits all" when it comes to

rhinoplasty. In order to determine the optimal nose size and

shape for each individual patient, I assess the shape of the

patient's face, their bone structure and skin type,' explains

Dr Phoon. 'General factors such as age, sex, ethnicity,

height and body type, as well as functional problems of the

nose such as sinusitis, snoring and difficulty breathing, will

also impact on my surgical approach.'

This individualised approach is essential in achieving

natural-looking results in rhinoplasty, something Dr Phoon

believes should be of paramount importance. 'Patients

should still look like themselves following a rhinoplasty

procedure,' he says. 'Especially for male rhinoplasty, the

result should not be too feminised or overly refined; it has

to be tailored to the patient's own face and body shape.'

The ins and outs of rhinoplasty

The techniques used to augment or sculpt the nose differ

depending on the desired outcome, the preference of the

surgeon and the functional properties of the nose. There

are, however, two main rhinoplasty techniques: the 'open'

and 'closed' approach.

Although the end goal is often the same – either to

augment or reduce the nose – the two techniques differ

primarily in their access to the nasal structure.

In open rhinoplasty, also called external rhinoplasty, the

surgeon makes an incision over the columella (the tissue

and skin that separate the nostrils at the base of the nose),

in addition to several other incisions inside the nose.

'The transcolumellar incision improves the surgical

access to the nasal framework by allowing the surgeon

to fold the nasal skin upward,' Dr Phoon explains. 'This

provides better visibility to the entire nasal framework, in its

natural undisturbed alignment.'

Because the inner cartilage network and underlying

structure of the nose is exposed, the surgeon has greater

visibility than with the closed rhinoplasty approach, and is

able to work on the inner structures with more precision

and freedom. Open rhinoplasty is therefore often chosen for

more complicated cases.

The open technique also helps to ensure the basic

foundation of the nasal structure is kept strong, facilitating a

natural-looking outcome with long-lasting results. Dr Phoon

says the open technique is best suited in major augmentation

cases, in the correction of complex nasal deformities and

during revision rhinoplasty. The other technique, "closed"

rhinoplasty, also known as endonasal rhinoplasty, is where

all the surgical incisions are made inside the nose without

any external incisions,' says Dr Phoon. 'Closed rhinoplasty

is employed for the correction of aesthetic deformity of the

nose as well as for the management of anatomic nasal

airway obstruction.'

Breathe easy

Not all rhinoplasty procedures are performed for cosmetic

reasons alone – a deformed exterior often indicates an

equally significant deformity of the internal nose with

impaired function. Typically, in order to adequately restore

function, the surgeon must change the outside of the nose

Functional rhinoplasty can correct breathing difficulties,

frequent sinus infections, snoring, absence of smell and

taste, stuffiness and post-nasal drip. Dr Phoon uses the

latest techniques in endoscopic external nasal valve surgery

to clear the airways and improve the patient's breathing.

One of the most common functional problems is a

deviated septum (a midline cartilage structure that divides

the nose into right and left sides). 'A severely deviated

septum results in a blocked nasal airway and a visibly

crooked nose or a hump on the bridge of the nose,'

explains Dr Phoon.

'Rhinoplasty continues to have one of the highest patient

satisfaction rates; patients often report the surgery has

given them a new lease on life, enabling them to look their

best and breathe easy,' Dr Phoon concludes. csbm

After rhinoplasty by Dr Phoon

After rhinoplasty by Dr Phoon

www.cosbeauty.com.au 101
---
nose

Nose

reshaping

– without

surgery

Princess filler offers an

effective non-surgical option

for reshaping the nose.

AimÉe Surtenich reports.

In the past, even the slightest cosmetic irregularity of the

nose was typically only treatable with surgery. Today

the use of fillers for non-surgical rhinoplasty has proved

advantageous for many people who are uncomfortable

with the appearance of their nose but do not wish to

undergo surgery.

While it isn't an option for patients with internal

complaints, non-surgical nasal reconstruction with

dermal filler offers an immediate result and effective

alternative for those with minor nasal irregularities.

Sydney cosmetic surgeon Dr Peter Kim has been

seeing outstanding results using Princess Volume

hyaluronic acid filler for non-surgical rhinoplasty. 'It can

correct a myriad of cosmetic defects, such as adding

volume and a more prominent contour to a flat nasal

bridge,' he says. 'Other indications can include: a

deviated dorsum, which might be natural or occur after

an accident; an under-projected nose tip where the tip

does not protrude enough; an overhanging nasal tip,

which makes the nose look hooked or 'witchy'; and a

short columella, the small column running from the tip of

the nose to the upper lip, which separates the nostrils.

In addition to bridge augmentation, smoothing out any

bumps, depressions or asymmetries, and shaping the tip

of the nose, the in-office procedure can be effective for

post-surgical rhinoplasty corrections where the results

have been less than satisfactory.

According to Dr Kim, Princess Volume is a superior

product for non-surgical nose reshaping due to its

precise balance of viscosity and elasticity, delivering a

soft and smooth yet malleable consistency.

102 www.cosbeauty.com.au
---
nose

'Princess Volume can be injected through a smaller

needle, which allows me to shape and sculpt the contours

of the nose with unparalleled precision for better definition

and shape,' he says. 'In my experience, Princess filler

holds its position precisely where it has been injected at the

time of sculpting, resisting migration and offering a longlasting

result.'

The procedure itself involves injecting filler into key

areas around the nose, depending on the individual

patient's requirements. 'It is imperative the patient chooses

an experienced practitioner who truly understands the

aesthetics of the nose and its interrelation with the other

facial features,' says Dr Kim.

'For my patients, I first start by examining five key

points on the nose,' he continues. 'Then, with the patient's

feedback, we decide on how we can modify these landmark

points to produce a more aesthetically pleasing nose.

Pre-injection markings are drawn and local anaesthetic

is administered to help reduce any patient discomfort.

Princess Volume filler is then injected in a sequence to

improve the five landmark points in order to create a

nose that is in proportion and

1

harmony with the overall face.

The whole process can take

less than 10 minutes.'

There's typically no downtime

after non-surgical rhinoplasty

and generally little discomfort

so patients can go straight back

to work and everyday activities.

'Aesthetic improvement is seen

immediately at the time of

injection,' says Dr Kim. 'Patients

can expect some residual

redness and slight swelling

after treatment, but this can be

covered by makeup and should

resolve within a few days.'

Longevity of results varies

2BEFORE

from patient to patient,

depending on factors such as

skin tightness and elasticity. In

most cases, though, patients

can expect results to last around

six to nine months, with top-ups

generally required twice a year.

'With Princess Volume,

subtle changes can make

a dramatic difference to the

appearance of the nose. For

the suitable patient, it offers an

effective way to define, contour

and beautify the nose without

the need for surgery,' Dr Kim

concludes. csbm

BEFORE

About Princess Fillers

The Princess suite of fillers, developed by Croma in

Austria, is formulated to treat a wide range of cosmetic

indications. Princess is a cross-linked hyaluronic acidbased

range, which is a naturally occurring substance

in the human body. The unique method of cross-linking

is a process to develop a highly dense tri-dimensional

matrix based on Croma's Supreme Monophasic and

Reticulated Technology (SMART).

It is a 100 percent non-animal hyaluronic acid (HA)

of biofermentative origin. The HA chains are carefully

aligned with each other in order to create a higher

resistance and therefore a longer lasting filler for patients.

The highly viscous gel is then homogenised to give it

a smooth consistency, which enables more control for

the practitioner throughout the injection process and

more comfort for the patient.

Princess is available in three formulations: Filler,

Volume and Rich to suit a range of cosmetic indications.

AFTER non-surgical rhinoplasty by Dr Kim

AFTER non-surgical rhinoplasty by Dr Kim

www.cosbeauty.com.au 103
---
teeth

rebuilt

SYDNEY AESTHETIC RECONSTRUCTIVE DENTIST DR SARKIS NALBANDIAN TAKES

AN INDIVIDUALISED APPROACH IN CREATING NATURAL-LOOKING, AESTHETICALLY

PLEASING AND FUNCTIONAL SMILES. CAITLIN BISHOP REPORTS.

In reconstructive cases, Dr Nalbandian uses implants

(he has dual qualifi cations in implant surgery and

prosthodontics) to build the smile framework and form

a scaffolding for the porcelain veneers. He says effective

results can be achieved using dental implants, but patient

care is of upmost importance in securing results.

'The successful integration of implants depends on many

factors, including general health, the quality and quantity

of bone, surgical techniques and care of the implant site,'

Dr Nalbandian explains. 'It is also important to stress that

smoking, unhealthy gums and severe teeth grinding after

treatment can greatly reduce the chances of successful

implant integration.'

Careful planning is required before any smile rejuvenation

– reconstructive or aesthetic – and Dr Nalbandian

undertakes an extensive consultation process with each

patient. Before treatment, Dr Nalbandian photographs the

patient from three angles – front, oblique and profi le – to

establish the most important aspects of their smile and

evaluate the interplay between their lips, gums and teeth.

Actual Patient

A

beautiful smile can fuel the face with youthfulness,

beautiful smile can fuel the face with youthfulness,

confi dence and vibrancy. By taking a holistic and

individualised approach to smile rejuvenation, Sydney

aesthetic reconstructive dentist Dr Sarkis Nalbandian uses

minimally invasive techniques to preserve and optimise the

patient's natural smile.

'It's all about the face, and not just about the teeth,'

Dr Nalbandian explains. 'Optimal tooth shape, tooth

shade and arch shape should be considered alongside the

facial frame – that is aesthetics. Creating a beautiful smile

should be about imitating nature and preserving what's

already there.'

Dr Nalbandian is experienced in using a variety of

methods for smile rejuvenation, and he often recommends

composite and ultra-thin porcelain veneers to achieve a

signifi cant, though minimally invasive, smile transformation.

'I believe composite and ultra-thin porcelain veneers,

which are especially developed by my technical team in

clinic, afford aesthetic and functional results with minimal

intervention,' Dr Nalbandian says. 'These veneers require

no local anaesthetic and, most importantly, the existing

enamel is always preserved.'

Creating a beautiful smile should

be about imitating nature and

preserving what's already there

Notably, Dr Nalbandian does not rely on digital smile

design software but instead works within the mouth to

accurately prepare the most suitable treatment plan for each

patient. 'Smile design is an art form and I work within the

mouth directly to diagnose and plan the best treatments for

my patients,' he says. 'The challenge is to create natural

smiles that complement the patient's beauty and facial

aesthetic. This demands an individualised approach, and

cannot be digitalised.'

Dr Nalbandian's philosophy is centred upon providing

quality, aesthetic dentistry. There is always a follow-up

regimen to ensure long-term maintenance of results and to

protect against any potential complications.

'Improving aesthetics and functions is a complex

process; it takes considerable skill, effort and, importantly,

planning and patience from our patients,' Dr Nalbandian

says. 'However, with the right preparation and follow-up

process, the results speak for themselves.' csbm

104 www.cosbeauty.com.au
---
teeth

CASE STUDY

This patient approached Dr Nalbandian seeking to improve

the aesthetic appearance of his smile. He hoped to correct

his smile line, straighten the arch of his upper teeth and

improve his tooth colour. He was also missing two teeth,

which were replaced with dental implants.

Approximately six months after the insertion of implants,

Dr Nalbandian applied ultra-thin porcelain veneers to

improve the shape, length, symmetry and colour of the

upper arch teeth.

'His examination showed that, during initial to full smile,

there was good lip symmetry,' Dr Nalbandian explains. 'This

lip line served as a reference for building the upper arch with

composite porcelain veneers.'

The veneers also serve to straighten the upper dental

arch and close the 'reverse smile line' – or negative space

in between his lower and upper teeth.

'The "reverse smile line" tends to create dark spaces

during normal speech and smiling, which can drastically

affect dental aesthetics,' Dr Nalbandian says. 'An anterior

negative space is aesthetically undesirable in today's

society. Porcelain reconstructions can improve this smile

line, making the upper arch almost parallel to the lower

lip line.'

Because this patient has a tendency to brux (grind his

teeth), particularly at night, Dr Nalbandian customised a

night guard to protect the results for long-term success.

'For this patient, the entire treatment process took around

six months,' he explains. 'Dentist education and experience

are paramount in achieving aesthetic and functional results

in smile rejuvenation. The aim should be to mimic nature in

creating a smile that is natural looking and harmonious with

the rest of the face.'

BEFORE

AFTER cosmetic dentistry by Dr Nalbandian

BEFORE

AFTER cosmetic dentistry by Dr Nalbandian

BEFORE

AFTER cosmetic dentistry by Dr Nalbandian

www.cosbeauty.com.au 105
---
easts

What makes a

beautiful breast?

RECENT RESEARCH DEFINES THE FOUR

IDEALS OF BEAUTIFUL BREASTS.

When it comes to assessing breasts, you might be

forgiven for thinking it's all about size. Indeed,

breast augmentation remains one of the most

sought-after cosmetic surgical procedures, and involves

adding volume to the bust. However, many surgeons

believe a satisfactory augmentation is about more than

adding volume – it's also about shape, projection and

harmonising with the overall body shape and size.

'There is no such thing as the "perfect" breast,' says

British plastic surgeon Dr Paul Banwell. 'However, there are

four aesthetic guidelines that can help surgeons deliver a

beautiful-looking breast.'

These guidelines, which refer to the proportions of the

upper and lower breast, their slope as well as the position

of the nipple were investigated by a group of London

Plastic Surgeons at the University College and Royal Free

Hospitals. In a study entitled Concepts In Aesthetic Breast

Dimensions: Analysis Of The Ideal Breast, Mallucci et al

used computer measurements to examine the dimensions

and proportions of 100 pairs of natural (non-enhanced)

breasts deemed attractive, and identifi ed four features

common to all.

'The study revealed that in all cases the level of the nipple

lay at a point 20 degrees above the horizontal where, on

average, the proportion of the breast below it represented

55 per cent of overall volume of the breast and above it 45

per cent,' explains Dr Banwell. 'In most cases, the upper

pole was either concave or straight, and the lower pole of

the breast was convex, creating a full curve.'

The UK group also analysed images of the breasts of

ordinary women both before and after implant surgery

to establish whether, if a breast deviates from these

measurements, it becomes less attractive. The answer,

they found, was that it does, regardless of size.

However, Dr Banwell is keen to reinforce the importance

of tailoring breast shape and size to the individual

proportions and circumstances of each patient. 'A onesize-fi

ts all approach is not appropriate,' he says. 'We have

a way of assessing the aesthetics we're trying to achieve

with a breast augmentation, but it's important to do that via

a tailor-made approach.'

For Dr Banwell, this involves detailed measurement,

careful discussion with each patient and judicious selection

of the optimal implant shape, texture and method of

placement. 'Every breast is different in terms of its shape

and size and in terms of its characteristics. The surgeon

has to assess that and then needs to make a judgement

based upon the patient's wishes in terms of what they want

to achieve versus what can actually be achieved.'

With so many media infl uences, today it is even more

important to marry the patient's wishes with what is both

realistic and achievable. 'It's all about having realistic

expectations of improvement,' he says. 'Communication

with the patient is therefore so important.'

According to Dr Banwell, the education and knowledge

of patients has changed in the last decade, and they are

becoming increasingly discerning about the shape and type

of implants they want. However, the most common request

today is for breasts to be 'natural-looking'.

Dr Banwell believes that, by referencing the guidelines

revealed by Dr Mallucci et al, women can look forward

to the most natural-looking, aesthetically pleasing breast

augmentations. csbm

The 4 breast ideals

1. The proportion of the upper to lower pole is 45:55

2. The angulation of the nipple is pointing upwards at

20 degrees

3. The upper pole of the breast is slightly concave

4. The lower pole of the breast is slightly convex

STRAIGHT

OR CONCAVE

45%

20 o

55%

CONVEX

UPPER POLE LOWER POLE

106 www.cosbeauty.com.au
---
Desired

WHAT IS YOUR

LOOK?

Getting back to what you had or obtaining the look you always wanted.

Silimed offers an extensive range of shapes and sizes, textured or polyurethane

breast implants to suit any desire.

Talk to your surgeon about your desired look and experience the Silimed difference.

Always read the label. Use only as directed. Your surgeon will advise you whether this product is suitable for you.

silimed@device.com.au | www.pureimplants.com.au
---
easts

The

Art of

Conversation

A surgeon's perspective

108 www.cosbeauty.com.au
---
easts

Sydney plastic surgeon Dr Benjamin Norris emphasises the importance

of the human touch In a world of assembly line breast surgery.

Consumers today are bombarded by television

commercials, billboards and magazine adverts

urging them to 'get a breast lift,' and 'see how

breast implants can make you more beautiful', says plastic

surgeon Dr Benjamin Norris. 'The problem is that many of

these adverts are for cosmetic enhancement "mills" that

place more emphasis on the number of procedures they

perform than on the individual needs of patients,' he says.

Dr Norris has trained for 20 years both in Sydney

and overseas to become fully qualified as a Plastic and

Reconstructive Surgeon who specialises in Cosmetic

Surgery. He is the medical director of the Form & Face

clinics located in Bondi Junction and Bella Vista where he

provides surgical and non-surgical cosmetic enhancement

to men and women.

A welcoming environment

Dr Norris has a way of making everyone who walks through

his doors instantly comfortable. 'The reception area is warm

and inviting, as are the people behind the desk,' he says.

'Coming into a plastic surgeon's office, or any doctor's office

for that matter, makes many people uncomfortable. That

discomfort can be intensified when cosmetic enhancement

services are provided in a setting that is cold, sterile, or in an

odd location such as a shopping centre.'

'We welcome clients to our practice with comfortable

furniture, lovely art objects and a gorgeous view to enjoy

while waiting in our offices in Bondi Junction. All these

amenities work to calm patients.'

'Many doctors overwhelm their patients by talking too

much or too little,' he continues. 'I like an initial consultation

to be more of a two-way conversation, a dialogue, not a

monologue.' This perspective has earned him a reputation

as a patient-friendly surgeon who is an excellent listener as

well as a skilled diagnostician and surgeon.

'The people who visit me always say afterwards they had

no qualms telling me intimate details about their breasts

and body because they felt so relaxed,' says Dr Norris.

The importance of sincerity cannot be overstated. Many

cosmetic enhancement procedures are complex surgeries,

and though they are mostly straightforward and simple, the

risk of complications does exist.

To minimise that risk, Dr Norris puts all patients through

a physical screening. 'I need to be informed about every

aspect of a patient's health,' he says. 'This isn't always

easy when health issues are sensitive or embarrassing

to the patient. If I take the time to put my clients at ease,

they feel free to tell me about anything that might impact

their surgery, such as sleep apnoea, or having a disease

or illness. Once I know what their challenges are, I can

recommend solutions.

Emotional well-being

Dr Norris works to understand his patients in their entirety,

both physically and emotionally. 'Women going through

severe stress, such as the loss of a spouse, unemployment

or other life-altering events may not be in the best mental

state to make good decisions about what breast surgery will

mean for them,' he says. 'I talk with them to make certain

that their reason for having a cosmetic procedure is sound

and their goals are realistic.'

There are other 'red flags' for Dr Norris. 'I'm always

concerned about a prospective patient who tells me she

wants to achieve perfection because, frankly, barbie-doll

perfection is impossible,' he says.

Realistic expectations

In a career spanning more than two decades, Dr Norris

has seen every shape and size of breast and heard every

imaginable request for change. He has performed hundreds

of breast augmentations, but often advises women to rethink

the outcome they originally envision. 'I would never

dictate to a woman what size her breasts should be,' he

says. 'But I do try to help guide women down the right path

when choosing breast sizes and shapes.'

Dr Norris feels it's his responsibility to talk with clients

about body proportions, body image and other factors that

they may not have considered. 'In this way, my clients can

enjoy a beautiful new, well-proportioned figure and not end

up looking ridiculous or "top heavy".'

The comfort of continuity

It has become increasingly common in 21st century

healthcare for people to see one doctor one day, and

another doctor the next. They don't have the opportunity

to build a relationship with the person responsible for their

well-being, and this makes patients uncomfortable. Dr

Norris takes a different tack, with a hands-on approach

from first consultation to final visit.

Rather than asking his nurses or assistants to measure

clients, for example, Dr Norris does this work himself. 'I don't

want my patients to feel they're being shuttled from person

to person and only have access to me in the operating

room and while they're asleep. My patients aren't numbers

to me. They're people I really care about as individuals,' he

concludes. csbm

www.cosbeauty.com.au 109
---
easts

1

BEFORE AFTER breast augmentation by Dr Norris

2

BEFORE

AFTER breast augmentation and breast lift by Dr Norris

3

BEFORE AFTER breast augmentation by Dr Norris

110 www.cosbeauty.com.au
---
easts

4

BEFORE

AFTER breast augmentation by Dr Norris

5

BEFORE

AFTER breast augmentation by Dr Norris

6

BEFORE AFTER breast augmentation by Dr Norris
---
easts

Age-defying

breast

augmentation

Breast implant surgery isn't just about increasing size – it can also

create the look of more youthful breasts, says Sydney cosmetic

surgeon Dr Colin Moore. Tara Casey reports.

For many women, breast augmentation can help

restore the more youthful shape of their breasts

prior to ageing and before breastfeeding took its

toll. 'Rather than seeking a bust that is significantly larger

than their own, many women simply want to balance their

figure and create a more shapely silhouette,' says Sydney

cosmetic surgeon Dr Colin Moore.

After childbirth and with age, many women want

to recapture how their breasts looked before having

children, where breastfeeding a baby has caused slight

breast atrophy or ptosis (sagging). 'In such cases, it may

be more beneficial to perform a breast lift (mastopexy),'

says Dr Moore. 'Depending on the patient, this can

then be combined with a small breast implant to restore

lost volume.'

'A key concern for a lot of women thinking about breast

augmentation is whether or not their breasts will look

"natural" following surgery,' he continues. 'While ensuring a

natural-looking result comes down to accurately measuring

the proportions of each patient, I also believe that advances

in breast implants mean that it is easier than ever to achieve

natural-looking curves. By measuring the proportions

of the body, as well as skin thickness and breast tissue

composition, together the surgeon and patient can

determine the best breast size for the patient.'

When planning a procedure, therefore, it is important to

take a number of measurements to ensure the implant size

and position are best suited to each individual.

'The basic dimensions of the breast are taken into

account, including the breast base, height and overall

width,' says Dr Moore. 'The distance from the nipple

to the inframammary crease (underneath the breast) is

influential in the appearance of a perky breast,' he says. 'By

also measuring the relevant proportions of the figure, it is

possible to determine the best breast size for the patient to

enhance the rest of her body.'

Advances in breast implants

mean it is easier than ever to

achieve natural-looking curves

Dr Moore prefers to use polyurethane-coated P-URE

implants as he believes they offer the best of both worlds:

enhanced, natural-looking breasts with an excellent

safety profile. 'In my experience, polyurethane-coated

breast implants produce very natural-looking results while

minimising the risk of the most common complications

associated with breast augmentation,' he says. 'I believe

polyurethane-coated P-URE implants have provided a

significant breakthrough in breast implant surgery.'

All breast implants come with the risk of rippling, moving

and capsular contraction, but Dr Moore believes the risk of

these is significantly less with P-URE implants.

112 www.cosbeauty.com.au
---
easts

Part of the success of polyurethane implants is their

ability to reduce the rate of capsular contracture, which

is the hardening and distortion of implants as the body

forms a scar capsule around them. The textured surface of

P-URE implants forces the body's collagen to surround the

implant in a criss-cross pattern, preventing contraction and

lessening the chance of implant distortion.

'A number of studies have shown there is only a one

percent risk of capsular contracture with polyurethanecoated

implants, which is a significant improvement on the

10 percent risk associated with saline and silicone implants,'

says Dr Moore.

With so many choices in terms of implant size, shape and

material, an experienced surgeon can help guide women as

to the best breast to enhance their body. 'It comes down

to the proportions of the figure and the desired result of

each patient,' he explains.

Breast augmentation has one of the highest patient

satisfaction rates, and these days it offers more naturallooking

results than ever before.

'Importantly, technological advancements to the implants

themselves have also meant the procedure offers greater

long-term safety and patient peace of mind,' Dr Moore

concludes. csbm

1

BEFORE

AFTER breast augmentation by Dr Moore

2

BEFORE

AFTER breast augmentation by Dr Moore

3

BEFORE (exisiting scar on left breast)

AFTER breast augmentation by Dr Moore

www.cosbeauty.com.au 113
---
easts

results

Canberra plastic surgeon

Dr Ross Farhadieh shares his

experience using Silimed implants

to achieve optimal results in

breast augmenTATIOn. Caitlin

Bishop repORTS.

There are a number of measures that can help reduce

the risks associated with breast augmentation.

Selecting the most suitable size, shape and type

of implant is foremost in creating the desired result and

minimising complications following surgery.

Silimed implants, distributed in Australian by

Device Technologies, are designed to counter the risk

of capsular contracture – one of the most common

complications in breast implant surgery.

Capsular contracture involves the hardening and

distortion of breast implants following insertion. It occurs

when the scar tissue surrounding the implant begins

to contract, squashing the implant and causing varying

degrees of distortion.

Silimed implants use a textured or polyurethane-foam

coating to prevent the alignment of collagen fibre in the

scar tissue. This helps inhibit contraction and lowers the

risk of complication following surgery.

Canberra plastic surgeon Dr Ross Farhadieh has

been using Silimed implants for the past 12 months.

He is internationally recognised for his contributions

in multiple scientific and clinical journals, including

international plastic surgery textbooks on breast

augmentation, and believes the Silimed range affords

a viable option in reducing the risk of complications in

breast augmentation.

'The standard Silimed implant range is comparable

with any of the other higher end suppliers,' he says.

'Other implant shapes are provided across the range

with the intent of addressing issues such as obviating

the need for mastopexy in mild cases.'

Silimed breast implants are available in a selection

of shapes: round, anatomical (teardrop) or conical. The

114 www.cosbeauty.com.au
---
easts

implants are fi lled with soft, cohesive silicone gel, which

help create a more natural look and feel following breast

implant surgery.

According to Dr Farhadieh, the polyurethane foam

coating also assists in implant adherence to surrounding

tissue, 'making it less prone to rotation and subsequent

malpositioning, which is a well known complication with

anatomical shaped implants'.

Because of the benefi ts associated with Silimed implants,

Dr Farhadieh commonly uses the implants in revision

surgery. 'Suffi ce to say, polyurethane coated implants have

their best place in revisional surgery,' he explains. 'This

is especially the case if a capsular contracture has been

present, or in implant-based breast reconstructions.'

While Silimed implants go a long way in reducing the

chances of complication following surgery, there are a

number of additional factors that help achieve the best

results in breast augmentation.

Patient preparation before surgery, a thorough

consultation process and certain precautions during

recovery are all essential in gaining the desired result. For

this reason, Dr Farhadieh takes an individualised approach

with all his patients, undertaking an extensive consultation

process before undertaking the operation. 'A consultation

is more like an informal chat, for patients to get to know you

and you to get to know them,' Dr Farhadieh explains.

'Most patients are well informed and, although part of

the consultation is to convey information as well as physical

examination, the most important part is communication.

Listening to the patient's expectations and needs is the

most important, if not the most basic, part of the art of

medicine,' he concludes. csbm

P-URE implants

Breast augmentation continues to be the most

popular cosmetic surgical procedure for women,

and implant choice remains a key deciding factor in

achieving optimum results. So how has the introduction

of polyurethane foam-coated implants changed the

breast augmentation procedure?

The Silimed P-URE implant was developed in Brazil.

What makes this implant different is that the soft cohesive

silicone gel is covered with a layer of polyurethane (PU)

foam. The advantage comes from the modifi cation in the

body's response to the implant, with native breast tissue

interfacing with the implant surface. The polyurethane

foam becomes part of the capsule, which stabilises

the implant with scaffolding which the natural collagen

fi bres wrap themselves around. The implant is therefore

secured in place with a Velcro-like grip.

According to evidence accumulated from more

than 40 years of use overseas, polyurethane coated

implants have a proven excellent safety record. The

main advantage is the reduced risk of two of the most

common concerns involving breast augmentation

procedures, which surgeons and manufacturers alike

have sought to reduce for years: capsular contracture,

or capsule hardening, and displacement.

Scientifi c evidence suggests the Silimed P-URE

implant minimises the risk of capsular contracture,

rotation and displacement, and with overall less

complications. Published studies show the rate of

capsular contracture – or hardening and distortion of the

implant in the chest – at up to 10 years after surgery was

reduced from around 10 per cent with other implants to

about one percent with the polyurethane coated implant.

Movement or displacement, where the implant

rotates or migrates south, can result in sagging, rippling

or wrinkling of the implant surface. This can also cause

aesthetic problems if an anatomical, or teardrop-shaped,

implant ends up upside down.

Many surgeons believe polyurethane foam-coated

implants have revolutionised the breast augmentation

procedure, offering a signifi cantly lower risk of capsular

contracture and other common risks associated with

breast implant surgery.

Examples of Silimed breast implants

www.cosbeauty.com.au 115
---
ody

Post-baby

tummy tuck

Sydney plastic surgeon

Dr Pouria Moradi says

abdominoplasty offers an

effecive option in toning

and tightening the

tummy after childbirth.

Caitlin Bishop reports.

Sometimes no matter the dedication, consistency and

motivation behind your fitness regime, abdominal fat

can be frustratingly difficult to conquer. Particularly

after childbirth, which causes the abdominal muscles to

separate, that desirable toned, tight and flat abdomen can

prove elusive.

Sydney plastic surgeon Dr Pouria Moradi says a 'tummy

tuck', or abdominoplasty, is a viable option in removing

excess skin and fat from the lower abdomen, and tightening

the muscles within the stomach wall.

'Patients who have lost considerable weight or are

finding it difficult to flatten their stomach after childbirth

are ideal candidates for a tummy tuck procedure,' Dr

Moradi explains. 'The operation should not be seen as an

alternative to weight loss, but it does create a smoother and

firmer abdominal contour.'

Dr Moradi performs two types of abdominoplasty

procedures. A standard tummy tuck where the incision,

and final scar, stems from hip to hip just above the pubic

region. During this procedure, the abdominal skin is lifted

up to expose the underlying musculature. The abdominal

muscles are then repositioned with sutures, and the

excess skin and fat of the lower abdomen is removed. The

standard abdominoplasty operation involves the recreation

of the belly button, which is placed in a more youthful and

aesthetically pleasing position.

Alternatively, for those patients not needing such an

extensive reduction, the 'mini' abdominoplasty can be a

more suitable option. In this, both the incision and extent of

dissection is smaller than the standard procedure, but the

excess skin and fat are still effectively removed.

Patients who have lost a lot of

weight or are finding it difficult

to flatten their stomach after

childbirth are ideal candidates

'Some patients, such as thin women who have had

multiple births, are more suited to a mini abdominoplasty,'

Dr Moradi explains. 'The belly button does not need

repositioning and the resulting scar is similar to a caesarean

scar – it does not extend to the hip bones.'

In both procedures, Dr Moradi also typically performs

liposuction to smooth the abdominal contour and better

refine the shape of the hips and flanks.

116 www.cosbeauty.com.au
---
ody

A tummy tuck can also be combined with other

procedures, for example, breast augmentation, labiaplasty,

or a thigh or arm lift for all-over rejuvenation.

Prior to surgery, Dr Moradi conducts a lengthy

consultation with all his patients to discuss their

expectations and concerns going into surgery. 'The first

step is establishing a great rapport between the patient and

surgeon and to start an honest and open dialogue about

the goals of the patient,' he says. 'Ultimately, the final goal

is to create a more proportionate silhouette and I often use

3D digital imaging tools to provide a realistic picture of what

the final result will be.'

This consultation process is followed by a pre-surgery

visit, where Dr Moradi explains how the procedure is

performed and prepares the patient for the post-operative

recovery period.

'Abdominoplasty is performed under general anaesthetic

and typically involves a one to three night hospital stay,'

he explains. 'Usually, patients are off work for two to four

weeks following surgery.'

It is common to experience a sensation of tightness

following abdominoplasty, which can sometimes cause

difficulty in bending and other movements. Dr Moradi

explains patients should avoid heavy lifting during the

recovery period, but can resume regular activity around six

weeks post-operatively.

'Patients won't be able to lift anything heavy for the first

six weeks after surgery, but then they can return to normal

activities, completely unrestricted,' Dr Moradi explains.

'Most women actually feel stronger when they go to the

gym after a tummy tuck, because the core muscles have

been tightened.'

Like any surgery, abdominoplasty comes with certain

risks and complications, which means it is especially

important for patients to choose a skilled surgeon with

extensive experience.

According to Dr Moradi, detailed pre-operative

assessment, thorough surgical planning and diligent postoperative

care can go great lengths in ensuring a smooth

and successful recovery, with optimum results.

'I devise a pre-operative plan for each of my patients

to optimise their health and healing capacity,' he explains.

'We look at what medications or over-the-counter vitamins

they are taking, and get their blood pressure under control

if necessary. It's also essential patients stop smoking well

in advance of their operation.'

Following surgery, compression body garments are

worn during recovery to accelerate healing and help redrape

the skin more evenly over the body's newly defined

contours. csbm

Case Study

This patient, a 55-year-old mother of three,

approached Dr Moradi hoping to flatten her stomach.

No matter how much core strengthening work she

did, she couldn't tighten her stomach because of the

muscle separation resulting from childbirth.

She underwent a mini-abdominoplasty with

liposuction, and the incision only added a small

extension to her previous caesarean scar. She was

able to return home two days after the operation.

The post-operative photographs show a flattened

stomach, even when the patient is leaning all the way

forward. Notably, she reports increased core strength

during exercise after her tummy tuck operation.

BEFORES AND AFTERS

BEFORE

Photos taken from 3D images of real before and after photos.

BEFORE

AFTER abdominoplasty by Dr Moradi

AFTER abdominoplasty by Dr Moradi

www.cosbeauty.com.au 117
---
ody

The

'Western Society'

Syndrome

Sydney cosmetic surgeon, anti-ageing and regenerative practitioner

Dr Joseph Georghy has developed a new treatment approach for

Metabolic Syndrome, a complex medical condition also known as the

'Western Society' syndrome.

Metabolic syndrome is a medical condition that

usually affects middle-aged men, but it can start at

any time. It is characterised with central abdominal

adiposity, or a growing waistline, occasionally forming an

apron-like fold over the abdomen.

Abdominal adiposity is also called visceral fat, which lies

deep within the abdominal cavity and pads, the internal

abdominal walls, and the attachments of the organs

(particularly the small and large bowel). This internal fat, also

known as white fat, is considered to be mainly responsible

for the metabolic effects on insulin resistance (IR), cardiometabolic

syndrome, type 2 diabetes, hypertension,

depression, Vitamin D deficiency, partial androgen

deficiency in males (PADM), dyslipidaemia, osteoporosis,

cognitive decline, erectile dysfunction, sleep apnoea,

general cancer risk (breast, colon, prostate), kidney disease

and kidney failure, and probably much more.

Unfortunately, many young men are not recognised

with metabolic syndrome and some are misdiagnosed and

treated for depression instead.

What is insulin resistance?

Insulin resistance (IR) is usually defined as a state

characterised by the reduced glucose-lowering activity of

insulin, but it can also be used as a shorthand label for a

clinical syndrome encompassing significant pathologies of

metabolic syndrome. Insulin is a gene expression modulator

involved in many biochemical processes in the body.

Failure to diagnose IR in the younger population has

a possible association with abdominal obesity (cardio

metabolic syndrome is present in 6.7 percent of people

aged 20 to 29 years and is increasing every year).

How does metabolic syndrome

develop?

I believe low testosterone, low Vitamin D, low serotonin

levels, lack of exercise, increased food intake (particularly

carbohydrates and phytoestrogens) and family propensity

to consume excess calories may trigger a cascade of

effects leading to metabolic syndrome. It can start at any

time, even in teenagers, but the risk factor increases with

age and it is more prevalent in the ageing population.

Metabolic syndrome can be treated. An experienced

medical practitioner can diagnose and treat the condition

early with an integrative medical approach, including:

• Lifestyle interventions (low GI Mediterranean diet,

exercise, socialising, stress management)

118 www.cosbeauty.com.au
---
ody

• Macro- and micro-nutritional management (green

tea, cinnamon, fenugreek, Banaba, fish oil, Boswelia,

Curcumin, Ubiquinol)

• Supplementation (Vitamin D, Q-10 (in the form of

Ubiquinol), Alpha Lipoic Acid)

• 5-hydroxytryptophan (5-HTP) therapy. Researchers have

found 5-HTP make people feel more full after eating, so

they ate less. Since serotonin helps regulate mood and

behaviour, 5-HTP may have a positive effect on sleep,

mood, anxiety, appetite and pain sensation.

• Lipostructure of fat deposits

• PhotoDynamic HelioTherm to treat internal white fat

deposits (thermogenic effect) and

probably much more.

The combination of lifestyle

modification, lipostructure and

PhotoDynamic HelioTherm therapy is a

new advancement in the treatment of

metabolic syndrome. In my experience,

it is painless, there is no downtime

(literally walk in, walk out), provides an

excellent skin retraction (particularly if

combined with MiroPen microneedling

and platelet-rich plasma (PRP) therapy).

The results can be permanent,

provided the patient eats sensibly,

exercises regularly and takes

supplements and prescribed

medications. Most patients are very

satisfied with the results. They feel more

comfortable in a wide variety of clothes

and more at ease with their bodies.

As long as a patient's expectations

are realistic, they should be happy with

their new shape.

What is the future?

BioRestorative Therapies Inc, a

stem cell biotechnology company, is

advancing its ThermoStem Program,

designed to develop treatments using

brown fat stem cells for metabolic

disorders and obesity, focusing on

potentially preventing the onset of type

2 diabetes.

The ThermoStem Program is based

on pre-clinical research that increased

amounts of brown fat in the body may

be responsible for additional caloric

burning and reduced glucose and

lipid levels. Potential use may include

inducing weight loss (a 'biologic diet') and the reduction of

glucose and lipids – perhaps even leading to delaying or

preventing the onset of type 2 diabetes.

I believe that lifestyle modification, lipostructure (to

selected fat deposits), PhotoDynamic HelioTherm (lipolysis

and skin tightening) and adopting the ThermoStem

Program (using brown fat stem cells) is the future treatment

in managing metabolic syndrome. csbm

Declaration of interest: The author is a designer and investor of

PhotoDynamic HelioTherm Therapy and investor in BioRestorative

Therapies - ThermoStem Program (Brown Fat Stem Cells).

Six months after BioRestorative ThermoStem Program by

Dr Georghy

Six months after BioRestorative ThermoStem Program by

Dr Georghy

Six months after BioRestorative ThermoStem Program by

Dr Georghy

www.cosbeauty.com.au 119
---
intimate surgery

Your

body,

your

choice

women seek genital surgery for numerous reasons, and these

are often overlooked in mainstream media, says Adelaide pelvic

reconstructive surgeon Dr Oseka Onuma.

Recently there has been a lot of negative talk in

mainstream media about the rising popularity of

the 'designer vagina'. While such coverage may go

some way in increasing public education and awareness of

genital surgery options available to women, it does nothing

to remove the stigma of these procedures.

The number of women who appear to be patronised

by mainstream media and even by some members of the

medical community when seeking help is disappointing.

Comments that have been reported to me range from

'Only strippers need that' to 'It's all part of being a woman'.

When one considers that seeking help with labial issues is

embarrassing to most women, to be treated with such lack

of empathy means that many women never seek help for

the problem again.

The vast majority of my patients seeking vaginal

rejuvenation are not motivated by the so-called 'porn

aesthetic' as touted by many women's magazines but

a growing dislike of pain during intercourse or labial

discomfort when participating in everyday activities.

Some women live with the discomfort of oversized labia

for many years and adopt strategies to reduce discomfort

such as wearing loose clothing. A significant number of

women who come to see me for a labiaplasty say they

have only recently become aware they can actually have

something done to improve their situation.

Few women find it easy to talk to strangers, doctors or

friends about a loose vagina, labial discomfort or lack of

vaginal sensation. These issues, however, need to be raised

and explored in order to provide the options for improving

quality of life.

As women become more aware that it is possible to

correct potentially embarrassing problems, there is a

growing demand for female genital surgery procedures.

They can increase a woman's confidence in herself and her

relationships, as well as her overall quality of life.

These days women are less willing to accept changes

in genital anatomy resulting from pregnancy, childbirth

and ageing. They are less likely to have the attitude 'it's

just part of being a woman'. Providing knowledge, choices

and alternatives is an essential part of delivering a quality

medical service to improve the quality of life and function

of each patient.

It is important to listen to the concerns of the individual

patient, assess them with examination to establish a

diagnosis and then offer a series of potential solutions

with detailed discussion about how each approach might

impact positively or negatively if adopted.

120 www.cosbeauty.com.au
---
What problems can be treated?

The kinds of problems are as varied as the women who

suffer from them. They include protrusions or a lump within

the vagina, scar tissue, discomfort, or sagging at the

entrance to the vagina.

Oversized, elongated or asymmetrical labia minora,

the inner vaginal lips which surround the entrance to the

vagina, can cause irritation and discomfort when wearing

certain clothes or doing things such as bicycle and horse

riding or during sexual intercourse.

In addition, loose or weak vaginal muscles, mainly

caused through the muscles stretching during childbirth,

can cause problems for some women and their sexual

partners during intercourse.

Another problem may be female stress urinary

incontinence, caused predominantly by an improperly

functioning urethra. When a woman suffers from stress

urinary incontinence, weakened muscle and pelvic tissue

do not support the urethra adequately. As a result, the

urethra doesn't maintain a tight seal during exercise or

other movement such as coughing or laughing, and urine

invariably escapes.

There is now a range of surgical options available that

can address and hopefully resolve these problems. Laser

reduction labioplasty can sculpt the elongated or unequal

labial minora as desired.

Labioplasty techniques can also reconstruct conditions

that are a result of the ageing process, childbirth trauma or

injury. The procedure can provide a youthful and aesthetically

appealing vulva. The vulvar structures (including the labia

minora, labia majora, mons pubis, perineum, entrance to

the vagina and hymen) can be surgically enhanced, both

functionally and aesthetically.

Laser vaginal rejuvenation can effectively enhance

vaginal muscle tone, strength and control. In my experience,

laser techniques enhance precision-reliant procedures with

controlled accuracy and result in rapid healing, less pain

and faster recovery.

The tensionless vaginal tape, or TVT sling, is a minimally

invasive procedure during which a Prolene tape sling

is inserted to correct stress urinary incontinence. 'The

Prolene mesh is inserted through the vagina and positioned

underneath the urethra, creating a supportive sling, which

is held in place by surrounding tissues rather than sutured

into position. During movement or exercise, the mesh

supports the urethra, allowing it to maintain its seal to

prevent urine loss.

All women are born with differently shaped genitalia, and

with the effects of childbirth and age, many can suffer from

problems with their genitalia that can make them feel very

self-conscious and unhappy, often affecting relationships

with sexual partners. Changes to her external genital

structures can help restore a woman's self-image and

esteem. csbm

feature

Laser Vaginal

Rejuvenation TM

SPECIALISING IN

• Aesthetic and functional

labial surgery

• Curing urinary incontinence

• Restoring pelvic support

• Enhancing sexual gratification

• Resolving menstrual dysfunction

OUR MISSION

To empower women

with knowledge, choice

and alternatives

Dr Oseka Onuma

BSc MJur MBBS FRCOG

FRANZCOG

Gynaecologist &

Pelvic Reconstructive Surgeon

Laser Vaginal Rejuvenation

Institute of Adelaide

Robe Terrace Specialist Centre Suite

4 Robe Terrace, Medindie

South Australia 5081

Phone 08 8344 6085

Facsimile 08 8344 6087

Email rooms@dronuma.com

www.dronuma.com

www.cosbeauty.com.au 121
---
intimate surgery

Private matters

intimate surgery is FAST gaining popularity among

women in Australia, according to Sydney cosmetic

surgeon Dr Colin Moore. Tara Casey reports.

S

Page 1

GEMENT

idening

ds

tomy Reversal

ry

(Lyn)

.com

OORE

Vaginal abnormalities can often inhibit a woman's selfconfidence

and sexual satisfaction and, left untreated,

can result in both physical and psychological

concerns. However, there are a number of surgical options

that can alleviate discomfort, pain and hygiene issues

relating to the vagina, whilst improving its aesthetics.

'Women who seek vaginal surgery have often noticed

changes to their vagina after giving birth or as a result of

ageing,' says Sydney cosmetic surgeon Dr Colin Moore.

'Stretched muscles and skin can change the shape of the

vagina significantly, both internally and externally.'

MEN'S & WOMEN'S

Cosmetic Surgery

'A New You'

• Penis Enlargement – permanent

• Circumcision • Abnormalities (bends)

• Impotence • Vasectomy • Testicular Implants

• Breast Enlargement/Reduction • Tummy Tuck

• Face/Eye Lift • Vaginal Cosmetic/Surgical Repairs

EARS EXPERIENCE

B R I S B A N E

ITAL

Y

ent

y

gery

(Lyn)

.com

THE AUSTRALIAN CENTRE FOR COSMETIC SURGERY

Dr Colin Moore

MBBS, FRCS, FRACS, FACCS

www.drcolinmoore.com.au

To recieve an information pack call Lyn on

0414 251 234 or 1300 malepenissurgery

VISIT THE BEFORE ANd AFTER

pHOTO GALLERY AT

drcolinmoore.com/general/gallery.html

Finance options available

Dr Moore says it's important in such cases to treat

each patient's concerns in a holistic manner, tending to

both rough, loosened labial folds through a labiaplasty,

and sling muscles through a vaginaplasty. 'Depending on

the patient's concerns, I work with them to deicide on the

most appropriate treatment option for vaginal rejuvenation,'

he says.

A vaginaplasty is a day procedure which involves

tightening the sling muscles in the vagina by lifting the

muscles, removing excess vaginal lining and reattaching

the muscles. 'However, it's important the patient knows

that surgery will not turn back the clock 20 years,' Dr Moore

cautions. 'Over-tightening stretched vaginal muscles can

cause muscle cramps and spasms during intercourse. This

is where a senior surgeon's skill and experience is essential

in creating optimal outcomes.'

A labiaplasty involves excising and sealing excess,

roughened tissue that can cause the labial folds to look

asymmetrical or stretched. 'Younger patients usually opt

for labiaplasty alone to correct an uneven appearance of

the labial folds,' says Dr Moore. 'Essentially, if a roughened

edge is the issue, this needs to be removed. If not, we

slightly reduce the edges of the labia minora back to the

same level as the labia majora, and often reduce excess

skin covering the clitoral hood.'

Dr Moore explains that a labiaplasty procedure can

be especially beneficial in improving vaginal hygiene for

some women. 'With large labia, urine can be trapped,

allowing bacteria from the bowel to migrate and colonise

in the urethra,' he says. 'This can result in chronic urethral

contamination or even cause infection to be flushed back

into the bladder, causing bladder infections. For many

women, labioplasty can rectify this.'

All of the above procedures, performed individually or

in combination, are usually carried out as day surgery under

general anaesthetic.

As with any surgery, there is an inherent risk of

possible complications, however when performed by an

appropriately trained surgeon in an accredited operating

theatre, these risks are minimal. csbm

122 www.cosbeauty.com.au
---
SUBSCRIBE NOW!

The fi rst 10 subscribers receive a free

Kiehl's Ultra Facial Cream valued at $34 each

Kiehl's introduces its new Ultra Facial Cream, in store March 2014

Kiehl's presents its latest innovation, Ultra Facial Cream Intense Hydration for drier

skin types, a revolutionary extra lightweight formula, with proven results in just one

week. Drawing upon over 160 years of skin hydration expertise, Kiehl's chemists

have developed a new formula specifically for drier skin types, that imparts deep

hydration in a surprisingly lightweight architecture.

This new formulation provides improved 24-hour hydration and leaves skin looking

visibly smoother. Instrumental results showed significant improvement in skin

hydration and skin barrier protection in 100 percent of subjects. Clinical results

demonstrated significant improvements on visible skin dryness in just seven days.

SUBSCRIPTION (tick option)

1 year subscription for issues 64 - 67

❏ Within Australia $50 (includes p&h)

❏ International $110 (includes p&h)

2 year subscription for issues 64 - 71

❏ Within Australia $100 (includes p&h)

❏ International $220 (includes p&h)

DELIVERY DETAILS

Name............................................................................................

Address........................................................................................

.......................................................Postcode...............................

State...............................................Country.................................

Telephone no...............................................................................

Email.............................................................................................

BACK ISSUES

I wish to receive.............................. (indicate number of copies)

of Issue(s)........................................... (indicate Issue number)

PAYMENT OPTIONS

❏ Cheque/money order payable to Bella Media Group Pty Ltd

OR

❏ MasterCard ❏ Visa ❏ American Express

❏ Within Australia $14.95 + $5 (p&h) = $19.95 per copy

❏ International $14.95 + $15 (p&h) = $29.95 per copy

Card no

CCV Number.........................

SPECIAL OFFER Back Issues – Set of 10

❏ Within Australia $65 + $50 (p&h) = $115

❏ International $65 + $150 (p&h) = $215

TO SUBSCRIBE

Name on card.........................................Expiry date ...../...../.....

Signature.......................................................................................

Final total $...............................................................................

by PHONE +61 2 9398 2755

or FAX +61 2 9398 2855

or POST Level 1, 42a Frenchmans Rd, Randwick, NSW, 2031

or ONLINE www.cosbeauty.com.au
---
ellafitness

Keep keeping your up appearances

eye on

the prize

want to flaunt a toned and terrific bod this summer? here are some

exercise essentials to help get you started. words by Jarrat wood

Some people train for health, some people train for

performance and some people train for appearance.

Vanity aside, training for appearance is a realistic

option. Everyone has a body part that they wish was bigger

EASY TIPS TO HELP YOU REACH YOUR

or smaller.

FITNESS GOALS. RUSSELL COX FROM

If you plan to train for appearance then remember some

REGENESIS important health FITNESS and safety guidelines: REPORTS.

• Training opposing muscle groups unevenly can lead to

postural and functional deficiencies.

• Health should be the number-one priority with an

exercise program and all exercise has an element of risk.

The New Year has arrived and it's that time of the year

• There is a limit to how much you can vary your appearance.

when we usually create our goal list for the next 12

Genetics will always be an overriding determinant of

months. No doubt, getting fi t and losing weight are on

your appearance.

top of most of people's lists. You can make it happen – but

determination and planning are the key factors to realising

your

The

fi tness

following

goals.

are some 'cosmetic fitness' suggestions for

training outdoors as the summer months approach. Break

down your program into body parts: legs, back, chest and

Set abdominals. realistic goals

First off, setting realistic fi tness goals is of paramount

importance.

Legs: stair

If you

running

push yourself too hard and set impossible

goals,

By running

it's likely

stairs

you'll

you

get

will

frustrated

pace a

and

higher

motivation

load on

will

the

be

hamstring,

lost. For example,

gluteal muscles

if you want

and calves.

to lose

Making

fi ve kilos

your

in total,

way

focus

back downhill

on losing

slowly

a kilo a

will

month

load

is

the

a

quadriceps

much more

ensuring

attainable

an

and

all-round

realistic

leg

goal.

workout.

Be aware

Try doing

that

normal

it takes

running

a while

or

for

walking

your

body

intervals

to gel

with

with

some

your

variations

new lifestyle.

as you

Training

advance.

can be tough

in the beginning, but after a while exercise and adopting

healthier Back: lifestyle reverse choices flyes become habit and the results

start It's difficult to show. to train your back without heading to the gym,

but to add some definition to your trapezius and rhomboids

(the major muscles between your shoulder blades) try a

Enjoy reverse fly yourself! and extension.

Find Lie a face workout down you on a enjoy bench, – raise boxing, your swimming, arms out to your dancing, sides,

running, then move no your matter arms what in an is arc your above preference, your head. this Reverse is vital the to

keep movement you motivated. back to the Group starting classes position. are For an a excellent more advanced place

for workout beginners use some to kick-start dumbbells a for fi tness extra regimen. resistance. Over time,

Chest: push-ups

There is really no better all-round exercise than the push-up

when training outdoors. Place your hands shoulder width

or slightly wider with your wrists slightly above the nipple

line but below your shoulders. If you wish to focus more on

your chest muscles, place your hands a little wider and move

your elbows away from the body as you lower yourself.

To focus more on the triceps bring your hands a little

closer to your body and keep your elbows close to your body

as you lower yourself to the ground. Beginners should try

push-ups from the knees. If this is too difficult try push ups

you'll be able to see what training you enjoy most and

on a raised bench with feet on the floor or against a wall

create your own bespoke exercise routine.

(the more upright you are the easier the push up will be.

Advanced trainers should try a full length push up raising

one leg in the air to increase the load on the upper body.

Get the know-how

Professional fi tness trainers are extremely benefi cial when

you're

Abdominals

not too sure where to begin. A nutritionist can also

work

While

wonders

defined

in

abdominals

getting your

is

eating

appealing

habits

to

under

many

control

people,

and

the

educating

most significant

you about

effect

the

that

best

abdominals

foods to eat

have

to enhance

on our

the

appearance

results of

is

your

in regards

workouts.

to posture. Try the following sit-up

variation to assist you with walking and sitting tall.

Lie flat on the floor, sit up and raise one knee to your chest,

Location meeting as your is everything

torso and thigh are both almost vertical.

It's

Focus

all about

on staying

location

as tall

– whether

as possible

in the

without

park, beach

crumbling

or at

your

the

gym,

posture.

make

Raise

sure

your

you

straight

work out

leg

in

at

an

the

environment

same time so

that

that

uplifts

your

and

heel

helps

is just

motivate

off the ground.

you. Even

Lower

better,

to the

try

ground

to fi nd

and

a location

repeat.

on

Try

your

8-10 repetitions

way home

on

from

each

work

leg. For

so

advanced

you can

trainers,

seamlessly

try 2

incorporate

legs at a time.

exercise

Beginners

in your

should

everyday

complete

life and

the leg

make

movements

it easier

to as stick above to without your fi tness the sit goals. up. Don't wait until next year and

realise You your should fi tness always goals seek today! the advice csbmof a registered fitness

professional before undertaking any program. Visit your local

gym for the personalised guidance you require. bella

Quick Tip: Whether you go to the gym before

Jarrat or Wood after is a work, personal pack trainer and your the gym manager bag at the Regenesis day

Fitness before in Edgecliff, – you Sydney. save For time more and information it helps call you 02 9363 avoid 0376

or changing visit www.regenesisfitness.com.au

your mind at the last minute!

112 // bellaBEAUTY

Re-energise with

Regenesis Fitness, an

exclusive, friendly and

professional club, without

the crowds. Flexible

membership options

available.

Cnr New South Head Rd & Ocean Ave, Edgecliff

02 9363 0376 info@regenesisfitness.com.au

www.regenesisfitness.com.au
---
skin

anti ageing

Light-Based

Rejuvenation

The Icon Aesthetic System from Cynosure takes light-based therapies

to the next level. Caitlin Bishop repoRTS.

The Icon Aesthetic System by CynoSure signifies the

next generation in fractional, light-based cosmetic

therapies. Delivering both intense pulsed light (IPL)

and laser light, the Icon System can be used to treat a

number of aesthetic and anti-ageing concerns – from laser

skin resurfacing and wrinkle reduction to hair removal and

pigment clearance.

Perth dermatologist Dr Roland Brand has been using the

Icon System for two years. He explains its adaptable nature

means it can treat a number of different skin concerns.

'The Icon Aesthetic is most suited to patients with sun

damage, premature ageing, rosacea and scarring,' Dr

Brand says. 'It can also be used for paediatric patients with

birthmarks such as port wine stains. The Icon System can

also be used for the improvement of stretch marks, which

can usually occur after pregnancy.'

Sydney dermatologist Dr Robert McDonald uses the

Icon System for fractional laser treatment of photoaged and

sun-damaged skin, and to treat scars from acne, trauma

or surgery.

'Fractional lasers divide the laser beam into smaller

"microbeams", which interact with the skin to produce

columns of thermal injury,' Dr McDonald explains. 'The

skin around the columns provides a scaffolding for rapid

healing. This technology stimulates new collagen and

elastin synthesis and is used to rejuvenate skin by improving

texture and tone.'

Both effectiveness and patient comfort has been

optimised with the Icon System. It uses the maximum,

effective energy and includes an in-built contact cooling

system for enhanced comfort and epidermal protection. The

most revolutionary feature is the Skintel Melanin Reader – a

device that determines the average melanin density of skin

prior to treatment. This further helps protect against postinflammatory

hyperpigmentation and other complications.

'The Skintel Reader is an important guidance tool for the

clinician as it measures the Melanin Index from a specific

area of the patient's skin and then recommends a safe and

accurate dose range for a particular treatment parameter,'

Dr Brand explains. 'It is individualised for that patient, based

on his or her skin type and current amount of melanin

pigment present at the time of treatment.'

Treatment with the Icon System depends on the type of

headpiece selected – IPL or laser – and the concern being

addressed. Topical anaesthesia may be required for certain

laser treatments, and Dr Brand explains the downtime will

vary between procedures.

The Icon Aesthetic stimulates

new collagen and elastin

synthesis, rejuvenating skin by

improving texture and tone

'The downtime is usually minimal; ranging from a few

hours to a few days of some redness and swelling,' he says.

'The areas treated for pigmentation can get temporarily

darker for around seven to 10 days after treatment, and

then fade after the top treated skin layer peels off. '

Being such a versatile device, Dr Brand says the

Icon Aesthetic System generates effective results in

every capacity. 'In most cases, with IPL for vascular and

pigmentation, the results are evident almost immediately,

with each subsequent treatment giving better clearance

and improvement,' he explains.

'Fractionated laser treatments for scarring, skin

rejuvenation, and skin resurfacing, take longer to generate

results (between two and six months), as it takes time for

collagen to rejuvenate within the dermis.'

'I have seen excellent results using the Icon Aesthetic

System for a number of skin indications,' Dr Brand

concludes. csbm

www.cosbeauty.com.au 125
---
feature

Light show

Your backstage

guide to laser

and IPL therapy

126 www.cosbeauty.com.au
---
feature

Laser and light-based technologies have fast become go-to

treatments for skin rejuvenation and cosmetic enhancement. We shed

light on this ever-growing market, how they work and what they

treat. AimÉe Surtenich reports.

anti ageing

The healing power of light has been recognised and

used for thousands of years, dating back to the

Ancient Greeks and Romans. Over the millennia,

our understanding and use of light-based therapies have

continually evolved to optimise results, reduce downtime

and treat a wide range of skin conditions and ageing

concerns. For cosmetic indications – from treating wrinkles,

pigmentation and stretch marks to scars, tattoo removal

and hair reduction – light-based treatments can be broadly

categorised as laser, IPL, LED and photodynamic therapy.

What is a laser?

In 1917 Albert Einstein theorised on the stimulated emission

of radiation, or what we commonly refer to as lasers. Today

lasers are used in a multitude of products and systems –

from CD players to barcode scanners. Laser is an acronym

for Light Amplification for the Stimulated Emission of

Radiation and is used in the cosmetic enhancement and

beauty industries for an array of treatments, ranging from

the correction of skin irregularities, pigmentation and

wrinkles to hair reduction and tattoo removal.

Lasers work by selecting a wavelength that is readily

absorbed by the target tissue. The target tissue is heated

to a temperature high enough to destroy it without

damaging the adjacent normal tissue. The laser emits a

single frequency of light with all the lightwaves going in the

same direction, allowing the target tissue to absorb the

maximum amount of heat. The target tissue is all-important

when treating skin problems with a laser: for pigmentation

it is melanin; for spider veins it is blood; and for wrinkles it

is water. Each of these target tissues absorbs a different

wavelength of light, meaning a different laser is needed for

each specific problem.

So why does absorbing light treat a problem? The light

energy is transformed into heat energy. This energy heats

the chromophore and causes damage. In the case of hair

removal, it heats up the hair follicle to a critical temperature

that causes irreversible damage to the hair follicle and

only the hair follicle. Surrounding structures will be heated

but not to a level where they are irreversibly damaged,

otherwise blistering will appear.

For blood vessels, the haemoglobin is targeted by green

or yellow light as these wavelengths are predominantly

absorbed by blood. The heat causes clotting, coagulation

and the closing down of small vessels. For resurfacing the

skin, the target tissue is water. The laser delivers enough

energy to heat the water in skin, vaporising it and in turn

vaporising skin tissue. Similarly, with each treatment the

heat causes damage of the target tissue, creating the

desired result.

However, without energy (measured in watts) to deliver

the wavelength nothing will happen. More energy increases

the heat and damage, so there is a trade-off.

One of the special qualities of laser light is its ability

to be pulsed. Often the beam can target the chromophore

for long enough to heat it, stopping before surrounding

tissues absorb too much of the light, then this process

is repeated. The duration of pulse is proportionate to the

size of the target.

The main differences between lasers have to do with

the wavelength of the light emitted by the device. What

you need to know is that different laser wavelengths –

which equate to different colours of light – can target

different concerns.

Many different materials may be used as the laser

medium, and the laser type, is commonly known by the

particular medium used. For example, lasers used in

cosmetic procedures frequently include carbon dioxide

(gas), dye (liquid) or Neodymium:yag (solid).

Each medium produces light of a particular wavelength

or, in terms of visible light, colour. The entire range of

potential colours, from ultraviolet to radio waves, is known

as the electromagnetic spectrum.

It is important to note that the 'yag' in many laser

types describes not the lasing medium, but the matrix of

Yttrium Aluminium Garnet in which the lasing atoms are

held. This is a clear, glass-like material that is transparent

to visible and near-infrared wavelengths.

Most lasers operate in one of two principal modes. The

first is Continuous Wave (CW), which refers to a laser beam

that is present continuously throughout operation.

The second principal mode is referred to as pulsed

mode, where the laser energy is not continuous but

released entirely over a very short time, such as a millionth

of a second. An example is the Q-switched laser. This

allows for much higher levels of energy to be used than

with CW.

www.cosbeauty.com.au 127
---
feature

The beam may also be turned off mechanically or

electronically for brief periods (for example, on for a second,

then off for half a second). This is often called pulsed

CW mode.

When laser light is absorbed by the skin it is converted

to heat, which can result in the burning, vaporisation or

coagulation of the targeted tissue. In this respect, lasers

can be further divided into two basic types: ablative and

non-ablative.

Because laser treatments use heat, a mild to moderate

burning sensation is experienced during treatment and slight

swelling and redness afterwards. This can be covered with

makeup and normally subsides in a few days, depending

on the level of treatment administered.

Ablative and fractionated laser treatments can be

administered only by qualified cosmetic doctors.

Always ask how new the laser is, when it was purchased

and when it was last checked by the manufacturer. Recent

models are far superior to earlier ones in terms of achieving

predictable and precise results with less downtime.

Ablative lasers

Ablative lasers, notably carbon dioxide (CO 2

) and

Erbium:YAG, use a process where the upper layers of

aged or damaged skin are vaporised by a deep, single

wavelength of energy to remove and resurface the skin,

either superficially or through to the deeper layers.

It is this damage that stimulates the healing and

restructuring of the skin, resulting in a more even complexion

and a significant reduction in lines and wrinkles.

These lasers are often used to remove deep lines or

scars as well as to improve overall skin tone and texture

and typically require only one session.

They do need anaesthetic, or some form of pain

management and incur downtime during which the skin will

crust over, shed the scabs and fully heal.

The oldest type of ablative laser is the CO 2

laser, which is

still considered by many practitioners as the gold standard

for dramatic cosmetic improvement.

Carbon dioxide lasers can dramatically reduce wrinkles,

but downtime and side effects such as redness and peeling

are extended, usually taking many weeks to heal. Erbium

lasers have a great accuracy with fewer side effects but

cannot treat deep wrinkles as successfully.

Non-ablative lasers

Non-ablative lasers use wavelengths which do not burn

away skin and are suitable for the treatment of melasma,

scarring, fine lines and wrinkles and typically do not require

any downtime.

This type of laser does not damage the skin, which can

be considered an advantage, but may be less effective and

require multiple sessions.

Non-ablative lasers are commonly used to correct

certain skin concerns, remove tattoos and reduce hair by

targeting the dark pigments.

Fractionated laser technology

The advent of fractionated laser, where microscopic

columns of skin are treated while surrounding skin is left

intact, has made it possible to achieve results comparable

to traditional CO 2

laser resurfacing with fewer side effects

and profoundly less downtime.

Fractional skin resurfacing can utilise both non-ablative

and ablative laser systems – the breakthrough difference of

128 www.cosbeauty.com.au
---
How does laser light

differ from other light?

Laser light is different to normal light for many reasons.

It travels in a synchronised fashion, retains its intensity

over a long distance, is monochromatic (of the same

wavelength or colour) and it can be pulsed.

The principle behind lasers is light absorption. The

same as a black car will be hotter than a white car

because it absorbs more wavelengths of light, certain

target tissues will absorb certain wavelengths of light

more effectively. As the laser light is monochromatic,

the target tissue will take on maximum absorption while

the surrounding tissues won't. This allows the target to

be isolated and treated.

It's the colour in the structure that absorbs the colour

of the wavelength. There are absorption spectra (level

of absorption of particular wavelengths) outside of our

normal colour vision range. We can't see ultraviolet light

but it's there and is absorbed by particular structures.

Carbon dioxide (CO 2

) and erbium lasers emit

frequencies out of our visible range and water is a very

strong target tissue for them.

this technology is the fractionated delivery system of light.

All fractional resurfacing follows the same premise: the

laser beam is broken up, or fractionated, into many small

microbeams. When these beams strike the skin's surface,

only small areas of the skin are damaged, leaving the

surrounding skin intact. These small areas of undamaged

skin promote much more rapid re-epithelialisation, recovery

and healing, which promotes new collagen production and

facial skin rejuvenation.

The applications for fractional laser technology include

overall facial rejuvenation, improving evenness of skin tone

and texture, reducing pore size, improving the appearance

of lines and wrinkles and helping to reverse the effects

of sun damage. A more mild treatment may take several

sessions, while one procedure is usually sufficient for a

more aggressive treatment.

Light-based therapies

feature

Intense Pulsed Light (IPL) delivers a broader spectrum

of light energy, unlike a laser's single wavelength – but it

is not a laser. IPL is a non-invasive procedure that has

been shown to help improve the appearance of red and

brown skin discolourations, birthmarks and symptoms of

rosacea, as well as to tighten and refine the appearance of

the skin. This process is also known as photorejuvenation

or a photofacial.

The usual downtime with IPL modalities is minimal to

none, depending on the intensity of treatment, however

full recovery can take around two weeks in some cases.

Immediately after IPL a slight burning sensation can occur

for a few hours but there is generally little discomfort.

Temporary discolouration can usually occur for around

three to four days after the procedure and this skin will flake

off slowly. Short-term side effects include reddening of the

skin (erythema), temporary bruising and swelling (oedema).

Reactions such as scabbing and blistering are possible,

though rare. It's important to protect skin from UV light with

daily sunscreen application.

Light Emitting Diode (LED) is a shallower, gentler

treatment than IPL, and is often used for collagen boosting

and rejuvenating the skin. LED comes in a variety of colours

– red for fighting acne, blue to combat bacteria and yellow

to reduce redness.

LEDs are very small lightbulbs that, in contrast to

ordinary incandescent bulbs, don't get especially hot and

don't burn out. LEDs have been found to trigger natural

chemical processes inside the cells, boosting the body's

own production of collagen, which make them particularly

useful for skin rejuvenation. Together with certain photoreactive

acids, LEDs have been shown to be extremely

effective in the treatment of acne – this is known as photo

dynamic therapy.

Photodynamic therapy (PDT) uses a chemical

reaction activated by light energy (LED light or laser) to

selectively destroy specific tissues, and can be used to

treat sunspots, certain types of skin cancer, rosacea, acne

and sun-damaged skin.

A photosensitising medication is applied topically on

the skin and a narrow band of light (red or blue light) is

administered to cause a moderately deep exfoliation and

target damaged tissue and sebaceous glands. When skin is

exposed to a light source of an appropriate wavelength, its

photosensitiser molecules are activated to produce oxygen

intermediates that destroy the targeted cells. Recovery time

is around two weeks after each treatment and usually one

to three sessions are required.

The benefits and applications for laser and light-based

treatments continue to grow, and their full potential for

treating a myriad of cosmetic and medical issues is perhaps

still to be realised. csbm

anti ageing

www.cosbeauty.com.au 129
---
skin

Fractionated

Rejuvenation

rejuvenate your complexion and improve the look of wrinkles and

pigmentation with the ever-popular fraxel laser. Caitlin Bishop reports.

Since its introduction to Australia in the 1980s,

cosmetic laser technology has evolved significantly.

With new technologies and advanced techniques,

laser treatment has become more refined, granting effective,

predictable and consistent results in facial rejuvenation.

Fraxel, distributed by Solta Medical, signifies the cutting

edge in skin resurfacing, using fractionated laser to reduce

the appearance of wrinkles, combat the signs of ageing

and help treat pigmentation and scarring.

Where once laser was purely an ablative treatment – a

literal skin resurfacing where the top layer and part of the

sub-layer was removed – the advent of fractionated lasers

has transformed the way laser light can be used as an antiageing

treatment.

Instead of removing the skin's surface, fractionated

lasers make thousands of microscopic injuries in the skin.

These injuries stimulate the production of collagen in the

dermis, which strengthens, tightens and remodels the skin

from within. In this, fractionated laser treatment can help

homogenise skin tone and texture, fill wrinkles and improve

the appearance of skin blemishes, pigmentation, scars and

stretch marks.

Sydney cosmetic surgeon Dr Neal Hamilton uses

Fraxel to treat a number of patient concerns. He believes

the fractionated technology has opened a wealth of

opportunities in treating aged, sun-damaged skin. 'Fraxel

provides the best combination of beautiful results, comfort

of treatment, expedited healing and affordability,' he

130 www.cosbeauty.com.au
---
elieves. 'Over the past decade, the Fraxel systems have

revolutionised how we treat aging and sun-damaged skin.'

Dr Hamilton uses Fraxel to treat a number of conditions,

including textural irregularities, fine lines, deep folds, poor

skin tone, enlarged pores, pigmentation and redness.

Notably, Fraxel treatment can be performed using either

light or heavy settings. At his clinic, Dr Hamilton offers Fraxel

'resurfacing' (heavy Fraxel) and 'laser peeling' (light Fraxel),

depending on patient concerns.

'Fraxel can be used almost like a "light dimmer switch",'

Dr Hamilton explains. 'I find the low settings

are excellent for improving skin texture, enhancing

the complexion, treating pigmentation and

reducing crepey skin.'

'The high setting achieves the same effect but

also helps tighten skin, reduce the appearance of

wrinkling and assist in scar reduction,' Dr Hamilton

adds. 'Typically, heavy Fraxel resurfacing can take

a decade off of the skin's appearance.'

skin

to keep their skin beautiful,' Dr Hamilton says. 'For heavy

Fraxel resurfacing, those with moderate to extreme sun

damage can benefit. The aim is to make the facial skin look

more like the skin on the inside of the forearm.'

As well as a standalone treatment, Fraxel can also

be used to reduce the appearance of scarring following

surgery, or to boost skin health before undertaking surgery.

This can help optimise and maintain the results of surgical

rejuvenation, affording a holistic and long-term approach to

facial anti-ageing. csbm

anti ageing

Over the past decade,

Fraxel has revolutionised

how we treat aging and

sun-damaged skin

BEFORE

One month AFTER one Fraxel treatment. Photos

courtesy of Solta Medical

According to Dr Hamilton, the amount of

treatments required, and the downtime involved

following each treatment, varies depending on

the level used. 'Ideally, light Fraxel is performed

relatively frequently to maintain results, for example

every 12 to 18 months,' Dr Hamilton explains.

'This level of Fraxel offers minimal downtime –

most patients can function as normal following

treatment, using makeup to cover any redness.'

'Alternatively, the more aggressive level of

Fraxel is performed infrequently – every five years

or so,' Dr Hamilton adds. 'Because it is more

ablative, it incurs around 10 days of downtime.'

Each treatment generally lasts between 15 to

45 minutes and results usually take around three

weeks to appear, once the new collagen has

begun to form.

Fractionated laser can be used to address

those concerns once deemed near impossible

to treat – for example, keloid scarring, sun spots,

melasma and deep acne scars. By triggering

the body's healing response, and harnessing

the skin's natural processes, Fraxel boosts skin

health, enhances its resilience and helping treat

specific ageing concerns.

'There is no such thing as a "typical patient" for

light Fraxel – it is suitable for anyone who wants

BEFORE

BEFORE

AFTER xxxxx

One month AFTER one Fraxel treatment. Photos

courtesy of Solta Medical

www.cosbeauty.com.au 131
---
skin

Lift

& tone

tighten

In a non-surgical approach to

facelifting, Ultherapy by high

tech laser uses ultrasound

technology to lift the face and

neck. caitlin Bishop reports.

132 www.cosbeauty.com.au
---
skin

In lifting and tightening the skin on the neck, chin and

brow, Ultherapy, distributed by High Tech Laser, signifies

the latest technology in non-surgical, non-invasive

facelifting. It is designed to counteract the skin laxity

associated with ageing, and uses focused ultrasound

technology to improve skin texture, refine the facial contours

and, most notably, lift the skin on the face and neck for an

anti-ageing effect.

'Ultherapy uses the fundamentals of ultrasound

technology to address the same muscles of the face and

upper neck that are affected in a surgical facelift or brow

lift,' explains American dermatologist Dr Vivian Bucay, who

will speak at the Australasian Society of Aesthetic Plastic

Surgery's (ASAPS) Non-Surgical Symposium in May.

'Ultherapy can be effective in creating a more defined

jaw line, firming the skin under the chin and on the neck,

tightening the skin on the cheeks and reducing sagging

around the eyes,' she continues. 'It is also effective in

improving lines around the mouth.'

Similarly, Queensland cosmetic physician Dr Mary

Dingley uses Ultherapy to help combat the signs of ageing

and revitalise the complexion. She explains ultrasound

therapy can achieve consistent and predictable results.

'Focused ultrasound seems to produce more reliable

results than what we were using before,' she says. 'Like all

non-surgical lifting procedures, Ultherapy involves a wait to

see the final results – around six months – but we seem to

get far more predictable effects with this modality.'

Ultherapy causes a gradual

lifting effect, due to the formation

of new collagen in the skin's

deeper layers

Ultherapy uses a patented DeepSEE technology

to achieve noticeable results. This technology affords

practitioners a visual image of the subcutaneous skin layers,

up to 8mm deep. It is here, in the superficial muscular

aponueurotic system (SMAS), where Ultherapy's ultrasound

treatment inflicts small, fractional thermal injuries, without

damaging the skin's upper layers. These injuries trigger

the body's healing response and cause tightening and

shrinkage in the deep facial tissue.

'The three-dimensional, digital imagery allows me to

see below the surface of the skin and accurately gauge

depth,' Dr Bucay explains. 'During treatment, I move the

transducer over the treatment area, laying down parallel

lines of ultrasound waves.'

For improved results, treatment can be performed at

different depths using alternative transducers. The SMAS

and dermis can be tightened using the 4.5mm and 3mm

transducers respectively, while the 1.5mm transducer

delivers effective results around the eye area.

Though multidimensional lifts can create holistic and

universal results, Dr Dingley says the different transducers

It offers a wonderful alternative

for the patient who wants a

firmer, more youthful face and

neck without surgery

can be used for different skin concerns. 'Different

transducers will focus at different depths to produce

different effects. The deepest one focuses on the "SMAS"

layer, a fibrous layer below the skin of the face which is

usually tightened in surgical facelifts,' she explains. 'A

mid-depth transducer focuses on the deeper layers of

the skin, and a more superficial one may be used for skin

texture issues.'

Common treatment areas for Ultherapy include the

forehead, mid and lower face and eyelids. Treatment can

also help reduce the appearance of crepey and drooping

skin on the neck and cheeks, as well as the appearance of

nasolabial folds and marionette lines.

'The typical patient is one with mild to moderate laxity,

usually of the cheeks and submental (under the chin) area,'

Dr Dingley says. 'Ultherapy causes a gradual lifting effect,

which occurs due to the formation of new collagen in the

layers targeted during treatment. This takes place gradually,

over a six month period.'

In most cases, treatment is reasonably well tolerated

and patients can typically resume everyday activities

immediately after. Dr Bucay often combines Ultherapy with

other modalities to optimise results following treatment.

'I usually have an initial consultation with my patients to

explain how Ultherapy works and explore the possibilities

of combining procedures,' she explains. 'Ultherapy can be

partnered with laser resurfacing or other treatments to treat

age spots and surface irregularities.'

Although there are some instances where surgery

is needed to achieve the most suitable results in facial

rejuvenation, Dr Bucay explains Ultherapy offers an effective

option for those patients looking to rejuvenate their face

using a less invasive process with next to no downtime,

if any.

'Ultherapy affords a wonderful alternative for the patient

who wants a firmer, more youthful-looking face and neck

without surgery,' says Dr Bucay. 'Ultherapy improves

skin integrity and resilience, using a discreet process with

minimal downtime.' csbm

www.cosbeauty.com.au 133
---
skin

Age eraser

Introducing PellevÉ, the

lATest technology to reduce

wrinkles and tighten skin with

no surgery and no downtime.

AimÉe SURTenich repoRTS.

Want to look younger without surgery and time off

work? Pellevé, distributed in Australia by Medtel,

could be the non-invasive solution you've been

looking for.

Pellevé is the latest non-surgical treatment for skin

tightening and mild to moderate wrinkle reduction and

has quickly gained traction in the US as a must-have facial

rejuvenation treatment, as featured on Good Morning

America, The Doctors and the Dr Oz. Show.

The device uses radiofrequency (RF) pulse technology

for non-ablative skin tightening and facial rejuvenation,

offering a less painful treatment to reduce some of the most

common signs of ageing.

Pellevé is designed to precisely deliver RF energy to

dermal tissue to induce collagen contraction without

damaging the epidermis (the outer surface of the skin).

The result is skin tightening and contouring with a

noticeable improvement in skin quality and texture. This

unique radiofrequency technology emits energy in the

134 www.cosbeauty.com.au
---
form of electromagnetic waves, which create a heated

treatment zone.

This heat induces collagen contraction and stimulates

new collagen formation in the dermis which also results in

epidermal tightening. As heat is most efficiently delivered to

the dermal layers (to trigger collagen production), there is

minimal risk of damaging the surface of the skin.

What makes Pellevé stand apart from some other

skin rejuvenation treatments is that it does not require any

local anaesthetic to numb the skin, it does not use injections

or needles and there is typically no downtime.

Pellevé is the latest

non-surgical procedure for

skin tightening and mild to

moderate wrinkle reduction

The actual treatment involves heating up the underlying

skin tissue using a Glidesafe handpiece connected to the

Pellevé machine. Due to its compact design, the handpiece

offers practitioners greater precision in targeting areas of

concern, such as the often difficult-to-treat eye area.

Using one of four handpieces, heat is gradually delivered

into the deep layers of skin, stimulating new collagen

growth and tightening skin. The gradual heat delivery offers

a painless treatment for the patient.

By using a combination of the different sizes of

handpieces, each patient's treatment can be customised

so that specific areas of concern can be addressed,

resulting in the desired amount of energy being delivered

to achieve optimal results. Small handpieces are ideal for

manoeuvring around parts of the face that are traditionally

difficult to effectively reach, such as around the eyes and

nose/cheek junction. Larger handpieces are optimised to

treat the mid-face, jowl areas and neck.

It can be used anywhere on the face neck and hands,

smoothing and plumping out mild to moderate wrinkles,

nasolabial folds, and crow's feet around the eyes, as well

as improving other common signs of ageing associated

with skin texture and skin laxity. Patients typically report no

discomfort during treatment, noting that it feels more like a

warm facial or massage.

The procedure usually takes around an hour, depending

on the number of areas to be treated. One treatment may

suffice, but most doctors recommend a series of three

treatments spaced around a month apart for optimal

rejuvenation results.

Tightening can be seen immediately after the procedure

due to contraction of the collagen layer. This tightening

1

BEFORE

2

What can PellevÉ

be used for?

BEFORE

skin

Pellevé can be used on all areas of the face, neck

and hands, remodelling tissue and tightening skin

through new collagen growth within the deeper skin

layers. It is commonly used to help improve:

• Crow's feet

• Nasolabial folds

• Mild to moderate wrinkles

• Skin tightness and tone

• Skin imperfections such as age spots

and spider veins

effect continues to improve over two to three months as

new collagen forms, resulting in plumper, thicker skin. Full

results develop over a six-month period and can last up to

two years, with annual follow-up treatments being highly

recommended to maintain long-lasting results.

There is typically some redness, like a mild sunburn,

after treatment but this usually subsides within a couple of

hours. Other than this, there are generally no reported side

effects to Pellevé treatment and normal daily activities can

be resumed.

As a wrinkle reducing and skin tightening treatment, the

Pellevé system looks set to herald a breakthrough in nonsurgical

cosmetic enhancement. csbm

90 days AFTER 4 treatments (photos courtesy

of Dr Igor Jeremic)

180 days AFTER one treatment (photos

courtesy of Dr Antonio Rusciani)

anti ageing

www.cosbeauty.com.au 135
---
skin

Leaders in light therapy

Omnilux light therapy, a trusted method for rejuvenating and

beautifying the skin, is used by thousands of dermatologists and

plastic surgeons around the world. Caitlin Bishop reports.

Backed by many years of medical research, used

by more than 3,300 dermatologists and plastic

surgeons worldwide, and documented in over 40

peer-reviewed publications, Omnilux has a history that

surpasses any other light therapy device.

The device, distributed in Australia by True Solutions,

works with the body's natural processes to help reverse the

signs of ageing and treat certain skin conditions. It uses

Light Emitting Diodes (LEDs) to deliver specific colours, or

wavelengths, and trigger precise reactions below the skin's

surface. This is effective in achieving significant results –

results that have been supported by clinical research – in

skin rejuvenation, acne treatment and anti-ageing.

Sydney cosmetic surgeon Dr Saras Sundrum has been

using Omnilux in her clinics for the past 10 years. She has

received a consistently positive response from her clients.

'Omnilux is the only proven TGA-approved LED device

with years of research and written papers behind it,' she

says. 'Our clients love the non-invasive nature of it and the

immediate results – it is a very relaxing treatment.'

The Omnilux system includes three different wavelengths:

near infrared (Omnilux Plus), red (Omnilux Revive) and blue

(Omnilux Blue). The wavelength is selected depending on

the concern being treated, and each wavelength excites

particular cellular activity in the dermis and epidermis to

promote healthy skin function.

A key difference between Omnilux and other systems

is the delivery of a single wavelength per treatment – as

opposed to using multiple wavelengths. This delivers more

direct, consistent and effective results, as the skin cells are

stimulated in the same way during the entire treatment.

There is no cell confusion, nor counter activity.

Some physicians, however, do choose to combine

Omnilux Plus and Omnilux Revive, as they can work in

conjunction to achieve a more thorough rejuvenation in

certain cases. 'This combination results in a noticeable

softening of fine lines and a reduction in pore size,' says

founder of Clear Complexions Clinics and registered nurse

Suzie Hoitink. 'It also returns an overall, more youthful

appearance to the skin.'

136 www.cosbeauty.com.au
---
skin

anti ageing

Skin rejuvenation

Suzie uses the Omnilux system to treat a number of

different skin conditions and anti-ageing concerns of her

patients. She explains the light therapy can be effective in

undoing environmental damage and rejuvenating the skin

from within.

'As we age, the structural integrity of the skin is

compromised, resulting in thinner skin, wrinkles and

capillary damage,' Suzie explains. 'Omnilux Plus and

Omnilux Revive work to "kick" the skin back five years or

so, to increase strength, elasticity and overall health.'

Our clients love the noninvasive

nature of Omnilux and

the immediate results

More specifically, Omnilux Revive targets fibroblasts in

the skin's dermis, which are the cells responsible for

producing collagen and elastin. The red wavelength also

delivers an anti-inflammatory effect, helping promote

efficient, healthy and regular cellular activity in the skin.

Omnilux Plus works at a different level. It promotes the

activity of myofibroblasts, which are the cells that help

tighten collagen bundles and create a neat, even and

resilient structure of collagen fibres in the skin. Treatment

with Omnilux Plus has also been found to assist in healing

and to reduce the level of toxins in the skin.

'If your skin is feeling tired and the effects of environmental

damage are beginning to show, the Omnilux system is

incredibly effective at rejuvenating your skin,' Suzie explains.

Previous studies have found 10 treatments with

Omnilux is recommend to achieve optimum results in

general rejuvenation. Suzie typically performs two

treatments, twice a week, over a five-week period, to

achieve the optimal outcome. 'Each treatment is pain-free

and lasts around 20 minutes in duration,' she says. 'Before

treatment, we apply a preparatory solution to the skin to

enhance light penetration.'

Notably, the Omnilux System can be used in conjunction

with other skin therapies to optimise results for a more

universal rejuvenation. 'We use Omnilux after laser, IPL,

needling and injectable treatments to reduce inflammation,'

Dr Sundrum explains. 'We also use it as a standalone

treatment for our patients who want rejuvenation and

collagen remodelling without any more invasive treatments.'

Healing benefits

Because of its regenerative and healing benefits, the

Omnilux Plus is often used before and after surgery to

accelerate and improve the healing process. The infrared

wavelength penetrates the skin by 8 to 12mm to trigger

the wound-healing response, reduce healing time and help

prevent scar formation.

'For anyone considering surgery, the Omnilux Plus is

an absolute must,' Suzie explains. 'It can be used before

surgery to prepare the skin, and after surgery to promote

rapid wound healing and assist in scar reduction.'

Similarly, the anti-inflammatory benefits of Omnilux

Revive, and the healing benefits of Omnilux Plus, present

a valuable option in treating rosacea. Facial flushing,

persistent redness, thickened skin, visible capillaries and

painful inflammation are all symptoms of rosacea, and

treatment with the Omnilux system can boost immune

function, clear damaged tissue and promote the production

of new, healthy cells to clear the complexion.

Acne treatment

Acne is one of the most common and debilitating skin

conditions. It occurs when the sebaceous glands in the

skin produce too much oil, creating a breeding ground

for bacteria and leading to clogged pores, pimples,

inflammation and redness.

The Omnilux Blue is designed to prevent the spread of

this bacterium, by penetrating the skin's deeper layers and

stimulating the production of bacteria-destroying chemicals.

Suzie often combines Omnilux Blue with Omnilux

Revive, to partner the anti-bacterial and anti-inflammatory

effect. When used in acne treatment, the Omnilux system

soothes painful inflammation, reduces the amount of

bacteria and improves acne. At the same time, the system

also accelerates healing and strengthens the natural

function of the skin to prevent against future recurrence of

acne irritation. csbm

www.cosbeauty.com.au 137
---
skin

rolling

back the

years

The Eclipse MicroPen is an

innovation in microneedling,

improving the appearance of

ageing, damaged skin. AimÉe

Surtenich reports.

The Eclipse MicroPen, distributed in Australia by

Avention Global, is the latest advancement in

microneedling. This skin rejuvenation system is useful

in improving fine lines and wrinkles, acne and surgical

scars, stretch marks and overall skin tone and texture.

Also known as Collagen Induction Therapy (CIT),

microneedling is a minimally invasive procedure that uses

tiny needles to create multiple microscopic injuries in

the epidermis. The micro injuries trigger the production

of collagen and elastin, the building blocks of smoother,

healthier looking skin. The result is a more even-toned,

tighter and radiant skin as the new healthy skin cells

work to rejuvenate skin from the inside out, helping to

fill in depressed scars and wrinkles and smooth skin

imperfections.

In this way, it works like any fractionated procedure,

perforating multiple pin-point holes at various depths in the

skin to trigger the body's natural healing response.

Benefits of microneedling

The MicroPen is safe to use on numerous parts of

the body, including the face, neck, décolletage, arms,

hands, legs, abdomen and back. Benefits include:

• Reduction in fine lines and wrinkles

• More radiant skin tone and texture

• Improved appearance of pigmentation

• Improved appearance of acne and surgical scars

• Improved appearance of stretch marks

• Overall younger looking skin

What makes the MicroPen different?

Composed of medical-grade stainless steel, the Eclipse

MicroPen is the first completely cordless fractional

automated microneedling device for treating various

dermatologic indications. It uses automated oscillation at

8,500RPM to place microchannels more uniformly and

reduce trauma to the skin.

The MicroPen features the new Turbo Safety Needle,

consisting of 12 32-gauge medical-grade needles for

rapid healing, minimised discomfort and – uniquely – no risk

of cross-contamination. The vented Turbo Safety Needle

virtually eliminates the risk of cross-contamination by

its unique needle cartridge which blocks the migration

of fluids.

The cross-infection protection system works in two

ways: first, the side outlet prevents negative suction drawing

fluid into the pen; and second, the concertina synthetic

prevents any fluid contaminants from entering the pen.

No other needle has this feature and ensures the safety of

the patient.

The ultra-fast pulsation also enhances optimal patient

comfort and shorter treatment time. Further, the MicroPen's

fractionated Turbo Safety Needle, as featured on the hit US

TV show The Doctors, is designed to cause minimal trauma

to the skin and surrounding tissue while still achieving

desired end points necessary for collagen remodelling.

'I am very enthusiastic about the new MicroPen skin

needling device,' says Sydney cosmetic surgeon Dr

Joseph Georghy, one of the first adopters of the MicroPen

138 www.cosbeauty.com.au
---
in Australia. 'I believe it has the potential to revolutionise

the practice of treating many skin conditions, as well as for

overall facial rejuvenation,' he continues. 'Its slim, light and

ergonomic design fits in the palm of your hand, enabling a

more efficient and comfortable treatment.'

The tiny microchannels created by the MicroPen are

also ideal for the absorption of topical skincare products

such as hyaluronic acid, lightening serums or woundhealing

topicals, allowing diffusion of product into those

deeper skin layers at a cellular level.

For the right patient, microneedling with the MicroPen

offers an effective alternative to common skin resurfacing

techniques such as laser therapy and dermal rollers. It is

also suitable for use in conjunction with platelet-rich plasma

(PRP) treatment, to maximise the skin rejuvenation results

of PRP.

What does the treatment involve?

During the procedure, the pen is gently pressed against the

skin while simultaneously gliding in one direction until the

entire treatment area has been covered.

The Turbo Safety Needle depth is adjustable from 0

to 2.75mm, allowing the practitioner to adjust the level

of treatment according to the patient's needs. Each

skin

procedure takes around 15 to 30 minutes, depending on

the area treated.

'Importantly, the MicroPen's cordless, portable design

allows the practitioner to move more freely during treatment,

affording greater control and accessibility to the patient's

target areas,' says Dr Georghy.

Patients can typically resume their everyday activities

straight after treatment. Mild redness and some inflammation

of the skin is typical, but this usually subsides after a day

or two and can be covered by mineral makeup if desired.

Visible changes to the skin develop over the course

of several days and weeks. Results are cumulative, and

continue to improve up to six months after treatment as

collagen production continues.

Some patients only require a single treatment, once

per year to achieve, and maintain, optimal results. However,

it is recommended for most patients to receive a series

of two to three treatments spaced around six to eight

weeks apart. For patients with deep-set wrinkles, advanced

photoageing, stretch marks or acne scars, it is advised to

undergo six to eight sessions at six-week intervals.

'I believe the MicroPen and the Turbo Safety Needle's

cross-contamination protection system heralds a

technological breakthrough in microneedling treatment,'

Dr Georghy concludes. csbm

anti ageing

ROLL BACK THE YEARS

WITH THE ECLIPSE MICROPEN

A breakthrough for beautiful skin

The Eclipse MicroPen uses tiny sterile needles to create

controlled micro-injuries to the skin for radiant results.

The MicroPen is a slim, portable, cordless design which fi ts

in the palm of your hand. It gives the practitioner superior

control during micro-needling treatment, while affording a

faster and more comfortable procedure for the client.

The skin benefi ts of micro-needling include:

• Improving fi ne lines

• Tightening skin and improving tone

• Promoting collagen and elastin production

• Reducing the appearance of acne scarring,

pigmentation and stretch marks

To learn more about the unique

benefi ts of the Eclipse MicroPen call

1300 068 357

www.aventionglobal.com

www.cosbeauty.com.au 139
---
skin

Love

the skin

you're in

In treating skin from the inside out, Suzie Hoitink from

Clear Complexions Clinics TAkes an individualised, holistic and

combined approach to anti ageing. Caitlin Bishop reports.

Clear, healthy and radiant skin can take years off

your age. By countering the fine lines and wrinkles,

textural irregularities and hyperpigmentation often

associated with premature ageing, effective skincare and a

multi-modal approach to anti-ageing can go a long way in

fortifying the skin and maintaining youthfulness in the body's

biggest organ.

'There is a plethora of treatments available that help

minimise and prevent the signs of ageing,' says Suzie

Hoitink, registered nurse and founder of the award-winning

Clear Complexions Clinics. 'It's about knowing how to put

the right combination of skincare and treatments together

for each individual, and establishing a plan that maintains

skin health going forward.'

A common skin complaint, particularly in Australia,

is hyperpigmentation or 'sun spots' on the face. This is

caused by increased melanin (the skin's natural pigment) in

the epidermis, and is triggered by sun damage, hormones,

trauma and some diseases. Scarily, the 'invisible mask' of

pigmentation can go unnoticed for years before appearing

to blemish the face, as patches of melanin can accumulate

below the skin's upper layers without any visible, telltale

signs presenting on the surface.

'Most clients in their forties come to me concerned

with pigmentation, or brown spots and marks, that keep

appearing on their skin,' explains Suzie. 'Despite being

vigilant in more recent years about sun protection, the

damage that was caused in their twenties and thirties due

to sun exposure has already been done and will continue

to surface.'

Although hyperpigmentation is notoriously difficult to

treat, Suzie's approach combines technologies to help

lighten the appearance of surface spots and regulate the

production of melanin in the skin.

'The beautiful thing is we've got access to numerous

ways for treating hyperpigmentation, among other skin

concerns' Suzie explains. 'I don't want to just improve your

skin now, I want you to look good in ten years time.'

IPL and Laser

Hyperpigmentation is commonly seen alongside vascular

damage, and a popular treatment to address both these

concerns is Intense Pulsed Light (IPL). This harnesses light

energy at certain wavelengths to stimulate cellular turnover

and the production of collagen fibres in the dermis.

In targeting pigmentation, IPL is absorbed by melanin

particles and generates a thermal effect. As a result, the sun

spots are broken up and the melanin particles are flushed

from the body.

Alternatively, fractionated laser is a resurfacing approach

that clears the hyperpigmentation visible on the skin's

140 www.cosbeauty.com.au
---
Injectables

As we age, dynamic wrinkles – or those that are visible

when we move our face in expression – slowly turn into

more permanent fixtures. An increase in skin laxity and

loss in facial volume contribute to the appearance of

fine lines and deeper wrinkles, but Suzie explains the

judicious use of anti-wrinkle injections and dermal fillers

can be a viable option in reversing the signs of ageing.

'Injectables can be used to soften wrinkles, or

restore volume loss in the cheeks or around the mouth,

but should be used as part of a wider anti-ageing

regime,' she says. 'Without addressing skin texture and

tone with other modalities, a reliance on injectables can

lead to a strange or "done" appearance.'

surface. This treatment also stimulates the production of

collagen and elastin in the dermis, for an added anti-ageing

skin benefit.

'Fractionated laser can achieve great results in creating

smoother, softer skin and minimising the appearance of

enlarged pores,' Suzie explains. 'It's usually performed in a

series of four to six treatments, but even a single treatment

will leave your skin radiant and refreshed.'

skin

Clear Complexions offers a range of treatments,

including light and laser therapy, injectables, platelet rich

plasma, collagen induction therapy, procedure peels and

microdermabrasion. Using this extensive variety, the team

of nurses at Clear Complexions Clinics can treat all aspects

of ageing skin from the inside out, for holistic, sustainable

and natural-looking results.

'The main focus for my team and I is improving the

health and beauty of our clients' skin. We are not just in

the business of skincare; we are committed to our clients

and believe real beauty comes from feeling confident

in the skin you're in,' says Suzie. 'Whether it's treating

hyperpigmentation, using injectables to help combat

wrinkles or lost volume, or employing laser therapies and

platelet-rich plasma treatment for all-over facial rejuvenation,

we hold ourselves accountable to making a difference in

each patient's skin.' csbm

1

anti ageing

Skin Care

Prevention is key in improving and maintaining skin health.

Diligently following a high-quality skincare program can

reinforce the skin's resilience against those environmental

factors that accelerate and magnify the ageing process.

'Products that contain Vitamins C, A, E and B3, as well

as alpha and beta hydroxyl acids, help maintain cellular

function and protect the skin against further damage,' Suzie

explains. 'However, it is important to have a professional

skin diagnosis to determine which products are best suited

to your skin.'

This consultation process is paramount in the philosophy

of Clear Complexions Clinics. Before establishing any

treatment or skincare program, each patient has a

thorough and lengthy consultation to address skincare

history, concerns, desires and expectations. In this, Clear

Complexions Clinics use the latest diagnostic software to

accurately examine the skin below its surface.

'Essentially, we want a "map" of the skin to ascertain

exactly what is needed to bring it back to optimal health

and radiance,' says Suzie. 'With the imaging results as a

guide, the patient will be educated in understanding the

true state of their skin and provided with a path forward in

skin care and treatment. The process of diagnostic imaging

is not only about safety and choosing the right treatment

for the client, it's also about education. The patient needs

to understand how and why we're going to repair, maintain

and prevent further damage to their skin.'

2BEFORE

3BEFORE

BEFORE

AFTER pigmentation treatment (actual client

of Clear Complexions Clinic)

AFTER two IPL treatments for pigmentation

(actual client of Clear Complexions Clinic)

AFTER Fraxel treatment (actual client of Clear

Complexions Clinic)

www.cosbeauty.com.au 141
---
ANTI AGEING

skin

let's get personal

THE TEAM AT SKIN CLINIC@BLYSS TAKES A PERSONALISED AND HOLISTIC

APPROACH WITH EACH PATIENT TO ACHIEVE OPTIMUM ANTI-AGEING RESULTS.

CAITLIN BISHOP REPORTS.

Strong genes and quality skincare can be invaluable

when it comes to ageing gracefully, but the impact

of external stressors can accelerate and magnify

the natural ageing process. Too much time in the sun, or

even that extra glass of wine, can play out in the form of

premature lines and wrinkles on the face. Skin Clinic@

Blyss offers a variety of anti-ageing treatments – from skin

resurfacing to photodynamic light therapy – to help restore

youthfulness and vibrancy to any complexion.

'We're passionate about skin health and are committed

to helping clients achieve fresh, bright and luminous skin,'

says Jodie King, who established the clinic 15 years ago.

A personalised approach lies at the heart of King's

philosophy. No two skins are alike, and the importance of

incorporating multiple modalities into an individual treatment

regime is paramount to achieving the best results for each

client. 'What works for one person won't necessarily work

for another,' King explains. 'We get to know each patient

– their skin concerns and lifestyle factors – and stay up-todate

with the latest skincare technologies and devices to

offer our clients advanced treatments and optimal results.'

This level of personalisation is also represented in 'Man

Time', a time slot solely dedicated to men, offering a range

of targeted techniques. 'We've implemented "Man Time"

to change the feel of what is traditionally seen as a female

domain,' says King. 'Men have an oilier and thicker skin (up

to 25 percent thicker) than women, and a different treatment

approach is needed to achieve the best results. The male

skin responds very well to any resurfacing treatments,

designed to unclog pores and brighten the skin.'

142 www.cosbeauty.com.au
---
Facial ageing, in both men and women, incurs a

number of changes to the underlying structures of the

face. Diminished soft tissue volume, a decline in collagen

and elastin, and changes to the skeletal structure can

cause facial hollows and contribute to an aged, or 'gaunt'

appearance. Fillers and anti-wrinkle injections help restore

lost volume and create smoother, more youthful contours in

the ageing face.

'Our cosmetic injector, Dr Stephanie Hyams, has more

than 16 years experience and will discuss the best options

for each patient when it comes to cosmetic injections,' says

King. 'We believe in a "fresh, not frozen" approach and

always aim to ensure patients leave with a natural-looking,

youthful appearance.'

Injectables can go a long way in rejuvenating the face, but

the team at Skin Clinic@Blyss takes an all-encompassing,

holistic approach to anti-ageing. By using a range of

We're passionate about

skin health and are committed

to helping clients maintain

skin that is fresh, bright

and luminous

treatments to enhance skin health and slow the process of

ageing, longer-lasting and more natural-looking results can

be achieved.

'Looking youthful isn't just about eliminating fine lines

and wrinkles,' King says. 'It's also important to address the

underlying health of the skin, improving its tone and texture

and evening any pigmentation.'

Minimally invasive treatments, which incur little or no

down time, are popular options for those looking to boost

skin health and strengthen the skin's resilience. For example,

microhydrabrasion – a two-part exfoliation technique – is

effective in cleansing and unclogging the skin. While certain

light therapies,

pure

such as LED or Intense

blyss

Pulsed Light (IPL),

help stimulate cellular activity in the dermis to improve the

click

here

Off

www.cosbeauty.com.au

Put your best

face forward with

Skin CliniC

Specialising in advanced non-surgical

treatments for problem skin, anti-ageing,

and damaged skin, Blyss Skin Clinic Clovelly

uses the latest technology in medical

needling, iPl, Photofacials, resurfacing and

ionzyme treatments. our highly qualified

skin care therapists have been achieving

amazing results for over 15 years using

trusted techniques.

our relaxed and discreet atmosphere will

leave you feeling refreshed and confidant.

treatments

• ionzyme treatments

• Platelet-rich Plasma

• lED Photofacials

• iPl Photorejuvenation

• Photodynamic therapy

• Facials

• resurfacing

• Dermaroller

• Anti-wrinkle injections

• Dermal Fillers

• Eye treatments

appearance of photo-aged skin.

With each treatment, the practitioners at Skin Clinic@ • Permanent hair

Blyss offer GeT advice yOur on friends optimising TO results like through us On home facebOOk care and yOu reduction will receive (iPl)

and possible lifestyle measures.

• Electrolysis

A range of procedures, including chemical peels,

30% facial TreaTmenTs *

• waxing

microdermabrasion, photorejuvenation, skin needling and

more, make fOr Skin yOu Clinic@Blyss and yOur your friends one-stop whO anti-ageing 'like' us. help us reach 200 likes!

shop to rejuvenate the skin, purify the complexion and

combat the signs of premature ageing – or too much red

wine! csbm

phone 02 9664 8011

shop 2/214 clovelly road,

clovelly Nsw 2031

www.blyssclovelly.com.au

TreaT DaD This

FaTher's Day To The

King For a Day 'Man
---
hair reduction

One for the Blondes

At last, those with FAIr hair can enjoy the luxury and

convenience of permanent hair removal with the AdÉna IPL system.

Caitlin Bishop reports.

Today, a variety of lasers can be used to reduce hair

growth in unwanted areas. However, until recently, the

effectiveness of permanent hair reduction depended

on several factors, and generally only people with dark hair

and pale skin types could enjoy the benefits of laser and

intense pulsed light (IPL).

Adéna can be used to treat

blonde, white, red and grey

hair, and is also suitable for

dark skin types

Now, with the Adéna IPL system, those with blonde,

grey, white or red hair, and darker skin tones, can achieve

permanent hair reduction – no matter how fair their follicles.

The long-term hair removal solution provided by laser

and IPL has traditionally been unavailable to those with

lighter hair shades and darker skin types. In revolutionising

this paradigm, the Adéna IPL system has been specially

designed to conquer hair growth in these notoriously

difficult-to-treat hair shades. 'Adéna can treat blonde,

white, red and grey hair, and is also suitable for dark skin

types,' says Eva Karpati, aesthetician and owner of Karpati

Medispa in Sydney's Double Bay.

The Adéna IPL system, manufactured in France, uses

light energy to remove hair as it proceeds through the

growth cycle.

'Like other hair removal systems, Adéna only treats

hairs in the anagen, or growth phase,' explains Karpati.

'Because not all hairs are growing at the same time –

some are in transition and others are resting – it can take

anywhere between four to six treatments to successfully

reduce the hair in any one area.'

With traditional hair removal systems, the treatment

area is exposed to high intensity flashes of filtered light.

The energy from this light is absorbed by the chromophore

melanin, which is responsible for hair pigment or colour.

Because dark hair is rich in melanin, the light energy

is readily absorbed into the hair follicle and surrounding

capillaries. This incurs a thermal response and the tiny

blood vessels, which supply blood to growing hairs, are

destroyed. This reliance on melanin is what makes lighter

hair colours so difficult to treat.

144 www.cosbeauty.com.au
---
Adéna IPL is unique in that it targets the blood vessels

directly – bypassing the pigment – to prevent the growth of

blonde, grey, white and red hairs.

'The difference between Adéna and other IPL systems is

that it offers a second applicator head, which emits different

wavelengths to target the blood vessels surrounding a

different chromophore – haemoglobin – allowing it to treat

blonde, grey, white and red hair,' Karpati explains.

During treatment, the blood vessels supplying the hair

follicle are coagulated – preventing further hair growth.

Notably, the Adéna system can also be used in facial

rejuvenation. It is effective in treating a number of skin

conditions, and can be used to help reduce rosacea,

pigmentation and spider veins.

Treatment with Adéna is speedy and typically involves

no downtime. Long-lasting hair removal can be achieved

in a series of short sessions, and facial rejuvenation can be

performed in a single session.

'The Adéna system is a versatile, multi-programmed

system that can address a wide range of cosmetic

concerns,' Karpati says. 'For fair-haired or dark-skinned

people wishing to remove unwanted body hair, the Adéna

offers a giant leap forward in permanent hair reduction

technology.' csbm

DURING the first week after treatment with

the Adéna IPL system

BEFORE

AFTER treatment with the Adéna IPL system

AFTER treatment with the Adéna IPL system

skin

FACE

BoDy

MIND

advanced cosmetic Procedures

PRE/POST OPERaTivE CaRE

aCNE TREaTMENT

Safe • Effective • all Skin Types

SCaR TREaTMENT

Safe • Effective

LED SKiN ThERaPy

Lumavescence MKii – Photomodulation

Blue • Red • infrared

SKiN REjuvENaTiON

Sun Damage • age Spots • Freckles

FRaCTiONaL LaSER (NEW!)

Non-Ablative

Wrinkles • Open Pores • Scars • Stretch Marks • Tone

MaTRiX iR WRiNKLE REDuCTiON

Safe • Non-invasive • No Downtime • No Discomfort

REFiRME SKiN TighTENiNg

Safe • Non-invasive • No Downtime • No Discomfort

TRiNiTy

Rejuvenation • ReFirm • Matrix iR

REMOvaL OF hyPERPigMENTaTiON

Melasma • Liver Spots • age Spots

vaSCuLaR TREaTMENTS

Removal of Broken Capillaries • Telangiectasia

acne Rosacea • Diffuse Redness

PERMaNENT haiR REDuCTiON

iPL • Laser • all Skin Types

aDENa © (NEW!) hair Removal - Blonde • White • grey • Red

BODy REShaPiNg

CELLuLiTE REDuCTiON/FaT CaviTaTiON

Dermeo ® (NEW!) • Lumologie ® • Endermologie • velaShape

BEFORE

AFTER treatment with the Adéna IPL system

17 Bay Street, Double Bay NSW Australia 2028

Ph: +61 2 9363 2395 | +61 2 9009 6568

Email: info@karpatimedispa.com.au

Web: www.karpatimedispa.com.au

/karpatimedispa

www.cosbeauty.com.au
---
cosmetic tattoo

Living art

Make the most of your facial features and enhance your look

with cosmetic tattooing. Sydney cosmetic tattooist

Rita Porreca tells us how. tara casey reports.

Offering a non-surgical alternative to cosmetic

enhancement, Sydney cosmetic tattoo practitioner

Rita Porreca says cosmetic tattooing is quickly

becoming known as an effective facial rejuvenation

technique. 'The art of cosmetic tattooing is becoming

cemented in the beauty industry, with a range of treatments

available to suit a variety of client needs,' she says. 'With

today's techniques, the beauty of your youth can be

extended, and even enhanced.'

The results of cosmetic tattooing come down to the

artistic skill and experience of the practitioner. 'No two

cosmetic tattooists are the same because it is very much an

art form,' says Porreca. 'Results that enhance the client's

beauty are dependant on the experience of the practitioner

in working with different skin tones and facial features.'

As well as enhancing and prolonging youthful beauty,

Porreca says cosmetic tattooing, also known as permanent

makeup, can create hassle-free mornings for those with

busy lifestyles. With a rainbow of pigments to choose

from, permanent makeup means you can sleep, swim and

exercise without the smudge factor.

Combining long-lasting eyeliner with eyebrow tattooing

can help restore vibrancy and youthfulness to the entire

eye area and help those who have plucked too much, or

have scars or gaps in their eyebrows, create the look of

beautifully manicured eyebrows. Similarly, lip tattooing can

often be an ideal option for women lacking a definite lip

shape, who have pale lips or just want to enhance the

appearance of their pout.

Porreca says clients should be aware that the colour

may seem stronger at first but this will fade to a more

natural-looking colour. 'Immediately after the treatment,

the cosmetic tattoo will appear brighter in colour. However,

in most cases clients lose approximately 20 to 40 percent

146 www.cosbeauty.com.au
---
of intense colour throughout the healing process,' she

explains. 'Final results are usually apparent after around

SPMUC FP(NEW) 30/4/07 1:30 PM Page 1

two weeks.'

Other cosmetic tattoo uses

timeless and

Paramedical cosmetic tattooing can be used to recreate

timeless

the areola of the breast, improve skin

and

discolouration and

help disguise the appearance of scars.

Women who have recently undergone reconstructive effortless beauty

breast surgery often opt for areola tattoo treatment.

'Paramedical cosmetic tattooing can help restore a

SPMUC woman's FP(NEW) self-confidence, 30/4/07 1:30 particularly PM Page for 1 those who have 'In When 1984 it my comes dream to eyes, was to lips, create face, a

undergone a mastectomy – it can really help them during Centre body, skin that and provided training, personalised we are the

their healing process,' says Porreca.

beauty experts' solutions expert. With with more natural than and 22

Cosmetic tattooing can also improve the appearance lasting years' experience results – a world we have above developed

of vitiligo, a disease characterised by patches of skin traditional an excellent beauty reputation salons.' with doctors

discolouration where there is a loss of natural skin – and Rita surgeons. Porreca, We Founder also work & MDclosely

timeless and effortless

with surgeons in post-operative

beauty

pigmentation, by camouflaging the diseased spots. It can

care.

also recreate the look of hair for alopecia sufferers, a health When – Rita it Porreca, comes to Founder Eyes, Lips, & MDFace, Body, Skin and

condition deriving from the immune system (white blood Training

SPCP,

we

AAM,

are

AACT,

the experts'

APAA

expert. We also work closely

cells) which results in the arrest of the hair growth stage, with surgeons on post-operative care.

including facial hair.

When seeking help with skin and hair conditions such 'In 1984 my dream was to create a

SERVICES WE PROVIDE

as vitiligo and alopecia, Porreca emphasises that patients

Centre that provided personalised

SERVICES WE PROVIDE

beauty solutions with natural and

should seek the help of a cosmetic tattooist with experience

Cosmetic Tattooing

lasting results – a world above

in Cosmetic paramedical Tattooing tattooing to avoid unsafe conditions and

traditional beauty Medical salons.' Tattooing

unsatisfactory Eyebrows Hair results. stroke to shaded brows to give you more of a

– Rita Porreca, Founder Skin & Needling

MD

natural 'Whether appearance for cosmetic or paramedical purposes, when

performed BEFORE

Eyeliner Subtle by an to experienced, Dramatic or artistic to define and your highly eye skilled

Dermal Planning Peels

shape

practitioner, cosmetic tattoo treatments can significantly When it comes

Lips From lip liner to full lips & blends we make your lips look good with Non to Laser Eyes, Lips, Tattoo Face, Removal

Body, Skin and

enhance a person's appearance and, in turn, their selfesteem,'

she says.

Training we are the experts' expert. We also work closely

an ideal shape and colour all the time.

with surgeons Cosmetic on post-operative Tattooing care. Courses

Medical Cosmetic Tattooing tattooing is a long-lasting treatment that can

last Areola from re-pigmentation around two to six Is years. the final Porreca stage says of breast clients reconstruction and is AFTER FULL LIP TATTOOING

are also often considered concerned by the those result with will areola appear colour fake loss. or 'done'

SERVICES WE PROVIDE

– Corrective something Camouflage she avoids by Can using bring two a to natural three skin different colour back to scars

Cosmetic colours and burns in the Tattooing one treatment for a more realistic effect.

Eyebrows Hair stroke to shaded brows to give you more of a BEFORE FULL LIP COLOUR

AFTER FULL LIP COSMETIC TATTOOING

'The most important thing to remember for both

natural practitioners Skin Needling appearance and clients is "less is more". Cosmetic

Eyeliner Needling Subtle treatment to Dramatic for wrinkles, or to acne define scars your & eye scar shape relaxation

BEFORE

tattooing can provide clients with a fresh, more youthfullooking

BEFORE

Lips Skin From Rejuvenation

face lip and liner a sense to full of lips refined & blends beauty, we as make well as your help lips look good with

an to Is camouflage ideal for shape the skin rebuilding and imperfections colour of all new the associated collagen time. and with lightening certain pigmentation.

BEFORE EYE LINER TOP AND BOTTOM

AFTER EYE LINER TOP AND BOTTOM

diseases,' she concludes. csbm

Medical IPL Hair Tattooing Removal

Areola Enables re-pigmentation hair removal from Is nearly the final every stage part of of breast the body reconstruction quickly and is AFTER FULL LIP TATTOOING

also AFTER EYEBROW TATTOOING

and Scar efficiently considered therapy by those with areola colour loss.

Corrective Porreca also Camouflage performs a Can skin bring relaxation a natural treatment, skin colour back to scars

and

Medical

burns

Skin Peels/Microdermabrasion

BEFORE EYEBROW TATTOOING

AFTER EYEBROW TATTOOING

Multitrepannic Collagen Actuation (MCA), which

Skin treatments ranging from Green Peel, CosMedix Peels

helps to rejuvenate scar tissue and stimulate the skin

Skin & Microdermabrasion Needling to give you a natural healthy glow.

to produce its own melanin in areas where surface

Needling treatment for wrinkles, acne scars & scar relaxation

Cosmetic scar tissue Dermal is present Fillers after & injury Mesotherapy or surgery. This skin 02 9569 BEFORE 7799 follow us on

Skin relaxation Rejuvenation treatment can improve the appearance of

Cosmetic Tattooing Courses

Level 1, 157 Great North Road

Is ideal skin post-surgery for the rebuilding as well as of the new appearance collagen of and burns. lightening pigmentation.

Learn, up-skill and expand with professional cosmetic tattooing Five training.

AFTER AEROLA TATTOOING

Dock NSW 2046

IPL Hair Removal

Email: info@spmuc.com.au

Enables hair removal from nearly every part of the body quickly Web: www.spmuc.com.au

www.cosbeauty.com.au

AFTER EYEBROW TATTOOING

and efficiently
---
anti ageing

skin

4

steps to

beautiful skin

Keep the signs of ageing at bay with Love Life, a brand new skincare

range from HOVAN's Group. Nicola DONOVAN REPORTS.

Optimise skin health, fight those pesky lines and

add radiance to your complexion with the Love

Life skincare range, developed by industry veteran

Val Glover-Hovan. Formulated after years of research with

Australian bioscientists, the range helps promote healthier

and more beautiful skin – in four easy-to-use products.

As we age, our skin requires extra care and

support, and the new Love Life skincare range can

help keep the signs of ageing at bay. Ingredients in the

results-driven products have been selected for their ability

to help protect skin cells from environmental damage,

support skin metabolism and promote rejuvenation.

1

Moisturise & protect

Perfect Day – Anti-Ageing Moisturiser. Moisturising

is crucial when it comes to warding off fine lines and

keeping skin well hydrated. A potent herbal formula,

Perfect Day Moisturiser helps to reduce the signs of ageing

and enhance skin appearance. The formula contains

a complex of collagen-promoting glucosaminoplycans

and galactomannans; linoleic acids, which assist rapid

penetration while helping to firm the skin; and stem cells of

apple fruit to help stimulate the renewal of skin cells.

2

Repair & renew

Perfect Night – Retinol Renewal Complex. Serums

typically penetrate the skin deeper than creams, and

contain more active ingredients to target specific beauty

concerns. The Perfect Night Retinol Renewal Complex is a

soothing night serum that addresses ageing concerns. The

formula contains Vitamin A to enhance collagen synthesis;

linoleic acid to promote and maintain skin health; Vitamin E

and Tamanu oil to restore skin health; seabuckthorn seed

oil as an antioxidant; passionflower to sooth and calm; and

licorice to reduce inflammation and irritation.

3

Bright eyes

Eyes Best – Exotic Eye Gel. Eye creams are essential for

helping to keep the thin, delicate under-eye area hydrated

and smooth. This potent eye cream helps to reduce the

dark areas under the eyes and the appearance of crow's

feet. The formula contains Tamanu oil, which is known

for its healing properties, and a mix of herbs to stimulate

collagen synthesis. It's also fortified with kiwifruit enzymes,

antioxidant grape seed, Vitamin E and green tea.

4

Lighten up

Beauty Light – Lightening Cream. Hyperpigmentation

can develop due to a variety of reasons – from sun damage

to hormones during pregnancy. Often making skin tone

uneven, pigmentation is a common beauty concern. Alpha

fruit acids and citrus extract in the Beauty Light Lightening

Cream target darker skin spots to help reduce their

appearance. The cream has a broad-spectrum sunscreen

to help prevent further pigmentation and UV damage, as

well as the triple action of urva-ursi (bearberry), arbutin

and zinc glycinate to help stop the browning action of

melanocyte production. csbm

148 www.cosbeauty.com.au
---
feature

STOP

THE

PRESS!

Did that get

your attention?

HERE'S WHY:

Print ads rank #1 for commanding

consumer attention*

Print magazines are the #1

preferred place to look at an ad*

Print magazines rank #1 for

advertising acceptance**

Magazines are #1 for reader

engagement**

Next-generation

marketing

Capture and engage your clients with

a personalised e-Book to showcase

your services. Having your own

bespoke eBook – either with or

without hardcopy – enhances your

profi le and turns your publication into

a viral marketing campaign!

* Source: Adobe Systems Click Here Study, October 2012

** Source: ORC Caravan, February 2013

Why integrate print and digital?

It's never been more important to have an integrated print

and digital marketing strategy. International research has

proven that print media – notably magazines – drive online

search and purchases. The two mediums exist side by side

to capture and engage an optimum audience.

At Bella Media, we have embraced this next-generation

marketing by integrating print and digital marketing to

enhance the client and consumer experience.

Hair Restoration by

Dr Russell Knudsen

Your name here

Call our expert team to fi nd out more about our bespoke

print and online services:

Tel: 9398 2755

Email: lauren@bellamedia.com.au

www.bellamedia.com.au

Plastic Surgery by

Dr Warwick Nettle
---
feature

Age

– it's a

numbers

game!

ALTHOUGH WE ALL AGE

DIFFERENTLY – THANKS TO

GENETICS, LIFESTYLE AND

ENVIRONMENTAL FACTORS –

THERE ARE CERTAIN

AGE-RELATED CHANGES

COMMON TO US ALL

THROUGHOUT THE DECADES.

AIMÉE SURTENICH REPORTS.

20s

Accumulated sun damage can begin to

show on the face, manifesting as fi ne lines

and increased pore size. Skin cell turnover

is still rapid, however there is a mild drop

in dermal repair, the immune system and

collagen synthesis.

Muscles also start to lose fullness and

fi rmness due to shrinkage of muscle fi bres.

In addition, metabolism, the rate at which

the body burns calories at rest, slows down

by about two percent per decade from the

age of 20, and the number of calories the

body needs gradually declines.

150 www.cosbeauty.com.au
---
feature

30s

More fine lines are evident around the eyes and mouth and the first

wrinkles start to appear. Early signs of sagging near the eyes also

become evident. There is a moderate decrease in dermal repair,

resulting in less collagen and some loss of elasticity. There is also a

significant drop in skin hydration, and the skin's natural process of exfoliation begins to

slow. Pigmentation may start to appear in response to a reduction of pigment-producing

melanocytes that help protect against ultraviolet radiation.

Loss of facial volume can start to occur in the 30s and continues to progress with age.

Volume loss caused by tissue atrophy and bone resorption as well as increased skin laxity

makes the face look deflated and drawn compared to the full roundness of a younger face.

The decline in cardiovascular fitness begins in the 30s, and can drop 30 to 40 percent

by age 65. Gradual loss of bone strength and density also starts around 35.

From age 30, hair follicles produce less melanin, leading to greying, and hair follicles

eventually turning white. It is at this age that around 25 percent of men begin to show

some signs of baldness.

anti ageing

40s

As the sebaceous glands in the skin cut

back production and supportive fibres grow

less elastic, skin becomes drier and thinner,

resulting in more wrinkles, roughened

skin texture and larger pore size. Signs of

photodamage are more visible: freckles,

pigmentation, discolouration (age spots) and

changes in skin colour. Sagging near the eyes

and cheeks becomes more noticeable.

The lens in the eye also begins to lose

elasticity and flexibility, making it less able to

focus on close objects.

Muscles continue to shrink as fat deposits

expand, making it more difficult to control

weight, and fat tissues are increasingly

deposited towards the centre of the body.

Inflammation, pain and stiffness may result

from the breakdown of the joint structures and

changes in connective tissue.

50s+

By the age of 50, compromised dermal repair, low production of

collagen and sebum and an abundance of damaged connective

tissue all become evident as wrinkles start to appear at the

corners of the mouth and skin loosens and sags in the cheeks,

jowls and neck. Skin tone becomes more irregular and uneven

in colour, and thinning skin starts to lose its natural protective

barrier and becomes more susceptible to environmental factors.

In addition to the ageing effects on the skin, the decline in

oestrogen and progesterone accelerates bone loss and raises

cholesterol levels, increasing the risk for osteoporosis, heart

attack and stroke. Immunity is also likely to start to weaken,

making the body more susceptible to infections and disease.

Bone mass and density is reduced and joints become

stiffer and less flexible. Fluid in the joints may decrease and the

cartilage may begin to rub together and erode.

The rate of hair growth slows, as hair follicles begin to stop

producing new hairs. At the same time, women may notice

coarse facial hair, especially on the chin and upper lip.

Ageing is the natural wear and tear of the body's component

parts. While it cannot be stopped, a healthy lifestyle that

includes a diet rich in antioxidants can help retard or reverse

many age-related changes.

www.cosbeauty.com.au 151
---
skin

THE

THREE

Ts OF

AGEING

TERRI VINSON BSc, COSMETIC CHEMIST AND FOUNDER OF SYNERGIE SKIN,

EXPLORES THE RELATIONSHIP BETWEEN INFLAMMATION AND AGEING, AND HOW

TO ADDRESS THE TONE, TEXTURE AND TIGHTNESS OF AGEING SKIN.

AGEING & INFLAMMATION

Every adverse skin condition has one common element:

infl ammation. Most chronic skin conditions such as acne,

rosacea, dermatitis, psoriasis and eczema are simply

infl ammatory responses of the skin to irritation.

Infl ammation leads to impairment of cell function and is

also considered the basis of cellular ageing. While ageing is

a disease, it is controllable but not curable.

Infl ammation is the body's initial immune response

to infection or irritation. The infl ammatory response is

designed to destroy invading organisms or repair damage,

thus enabling us to survive disease and trauma.

Ironically, infl ammation also bombards tissues with free

radicals and promotes oxidation and destruction of normal

healthy cells.

The following list of cellular events occurs in response

to infl ammation:

• Increased blood fl ow to the damaged area

• Migration of immune cells to the affected area

• Release of large amounts of free radicals

• Destruction of normal tissue

• Deposition of scar tissue.

If these events are repeated over prolonged periods,

this chronic infl ammation results in rhytids (wrinkles),

enlarged pores, skin laxity, hyperpigmentation or visible

blood vessels.

Controlling infl ammation is essential to addressing skin

ageing. It follows that anti-infl ammatory ingredients are

essential in reversing the cycle that accelerates skin ageing.

On a cellular level this presents as depletion in optimal levels

of vital molecules such as collagen, elastin, hyaluronic acid

and skin specifi c growth factors.

One of the most notable anti-infl ammatory ingredients is

niacinamide. This molecule must be formulated in suffi cient

concentration and at the optimal pH to positively affect

the cells. Other ingredients include stable L-ascorbic acid,

Canadian willowherb, aloe vera, chamomile the new marine

microbial sugars such as Phycosaccharide.

Zinc oxide is also a powerful anti-infl ammatory and will

provide UV protective benefi ts in some brands of mineral

makeup and mineral sunblock moisturisers. Look for levels

of at least 20 percent zinc oxide.

Antioxidants are also crucial to a long-term anti-ageing

routine as they reduce cellular infl ammation by neutralising

destructive free radicals.

There are numerous topical antioxidants on the market.

The more powerful ingredients include Vitamin C (as

L-ascorbic acid), green tea, olive leaf extract lycopene,

resveratrol and Vitamin E.

152 www.cosbeauty.com.au
---
ADDRESSING THE SIGNS OF AGEING

skin

There are three signifi cant aspects linked to the morphology of the ageing face. These are primarily loss of tone, texture

and tightness.

One facet cannot be considered independently of the others. A woman with a fi rm, taut face following a surgical facelift

will look incongruous if she still exhibits pigmentation, dryness and enlarged pores. The ideal cosmetic outcome for a

patient will not be achieved unless all these elements are addressed. Moreover, topical cosmeceuticals are essential to

achieving and maintaining optimal outcomes.

ANTI AGEING

1. 2.

TONE

This is primarily based on uneven skin

colour. This may be due to general

sun damage, melasma or postinfl

ammatory hyperpigmentation. When

treating hyperpigmentation, initial

treatment involves the use of active

topical ingredients. These ingredients

may inhibit tyrosinase and minimise

melanin production. Non-prescription

examples include retinols, kojic acid,

liquorice extract and L-ascorbic acid.

Other topicals may remove surface

pigmentation via chemical exfoliation

(lactic acid, glycolic acid and mandelic

acid). Finally, ingredients such as

niacinamide address pigmentation on

another cellular level by preventing

transfer of melanin to the keratinocyte.

Sun damage and age spots may be

effectively treated with IPL, laser and

chemical peels. Clinicians generally

opt for less invasive chemical peels

using lactic acid over phenol, TCA and

high level glycolics. Photo Dynamic

Therapy (PDT) is gaining popularity

as it simultaneously addresses sun

damage and benign skin lesions.

Diffuse redness in conditions such

as rosacea and poikiloderma may

also be addressed with LED and

lasers targeting haemoglobin. Topical

ingredients can reduce redness and

infl ammation as well as promoting

healthier vascularity. Examples

include niacinamide, chamomile, aloe,

beta glucan, sea buckthorn oil, and

some antioxidants.

TEXTURE

During the ageing process surface

textural changes also occur. Pores

become enlarged and fi ne lines

develop, particularly around the eyes,

neck and mouth. The skin may also

appear dry and fl aky due to a loss in the

integrity of the outer stratum corneum.

Textural changes are primarily due

to loss of collagen, elastin and natural

moisturising factors such as ceramide

and hyaluronic acid. There are a

number of clinical methods which may

improve skin texture.

The most popular method is via

fractionated laser and is now preferred

over ablative laser as the side effects

and downtime are signifi cantly

reduced. Skin needling or Collagen

Induction Therapy (CIT) is another

effective method of improving texture.

In this modality skin is basically 'tricked'

into massive repair mode and collagen

stimulation as numerous micro-injuries

are created with the needles. A series

of treatments is recommended.

Topical ingredients to improve skin

texture are based on products which

stimulate collagen and replenish

moisture levels in the skin with clinical

data to support effi cacy. These include

retinol, L-ascorbic acid, niacinamide,

collagen-stimulating peptides, and

antioxidants and novel ingredients

which are now able to stimulate stem

cell production and repair cellular

damage on a genetic level.

3.

TIGHTNESS

As the human face ages there is a

loss of volume due to fat and bone

loss. Furthermore, the ligaments

suspending the facial muscles lose

elasticity and skin appears slack.

Volume can effectively be restored with

dermal fi llers and fat transfer.

Various radiofrequency or infrared

skin tightening devices are designed to

bulk heat the lower dermis to stimulate

large-scale collagen remodelling.

Surgical facelifts combined with

volume replacement are the most

effective long-term method of

reversing laxity. The modern facelift is

now designed to achieve more natural

results where the surgeon will work on

the underlying muscles and ligaments

rather than just tightening surface skin.

Skincare in particular is fundamental

to maintaining youthful skin. Unlike

clinical treatments, products are

used 365 days per year and therefore

have a signifi cant bearing on overall

skin health. The range must have

scientifi cally proven active ingredients

with effective delivery and high stability.

There are many excellent treatment

and skincare options available and

trained skin specialists will advise

and educate on the correct procedure

and products to address all skin

concerns. csbm

www.cosbeauty.com.au 153
---
anti ageing

skin

Put a

stop to

premature

skin ageing

Allmedic skincare can help

protect the skin against harmful

UV RADIATION and improve the

appearance of sun-damaged skin.

Caitlin Bishop REPORTS.

The effects of sun damage are well-known – fine lines,

discolouration, age spots and uneven texture – but

it is not always possible to avoid exposure and

escape those premature signs of ageing. A quality skincare

regime, with particular emphasis on protection and repair,

can play a vital role in preventing further sun damage

and reducing the outward appearance of ageing.

Queensland cosmetic physician Dr Doug Grose believes

allmedic skincare contains the requisite ingredients, at

effective concentrations, to help decelerate the skin's

ageing process. 'Everyone should have a core range of

skincare products they use every day, including a cleanser,

exfoliator and sunscreen,' he says.

Sun protection is essential

The key to healthy, youthful skin lies in prevention, and

sunscreens are the first line of defence against harmful

ultraviolet radiation. By either reflecting or absorbing UV

light, ingredients in sunscreens work to protect the skin and

inhibit the manifestation of photoageing.

Notably, sunscreen from allmedic also contains

Niacinamide, or Vitamin B3, to help hydrate the skin,

reduce the appearance of skin discolouration and improve

skin elasticity, tone and texture.

The allmedic SPF 50+ Face and Body Moisturising

Sunscreen protects against both UVA and UVB radiation.

UVA is the dominant tanning ray, which deeply penetrates

the skin and causes DNA damage to epidermal and dermal

skin cells. UVB is responsible for reddening and sunburn,

as it only penetrates the skin's superficial layers. Both types

of radiation contribute to sun cancer risk and can lead to

premature ageing.

Exfoliation matters

Alongside sunscreen, exfoliation also works to protect the

skin by stimulating cell renewal. According to Dr Grose,

both mechanical and chemical exfoliation removes rough,

dry, sun-damaged skin to increase cell turnover and

thicken the epidermis – factors that may help prohibit the

development of skin cancer.

'If left untreated, rough, dry, sun-damaged skin can turn

into a skin cancer,' Dr Grose explains. 'Once a skin cancer

is detected, there is a greater risk of further skin cancers

occurring in the surrounding area.'

The allmedic exfoliating scrub is pH balanced to help

bring and maintain the skin at the correct pH. It also contains

medium-sized cellulose beads that work as a mechanical

exfoliator to gently remove dead skin cells.

Chemical exfoliation can be achieved through every

day use of alpha hydroxy acids (AHAs). 'Of all the AHAs,

I believe glycolic acid is the most effective as it penetrates

the deepest,' says Dr Grose.

'The allmedic Face Repair Cream and Body Repair

Cream contain active concentrations of glycolic acid in a low

pH cream to maximise the effect of the AHAs and improve

cell turnover,' he continues.

154 www.cosbeauty.com.au
---
Repair & renew

allmedic skincare can help restore sun-damaged skin and

reduce the appearance of wrinkles, discolouration and

unevenness caused by sun damage. Moreover, the allmedic

product range has been formulated to help restore and

maintain the function of the epidermis.

The allmedic Night Repair Serum is designed to help

accelerate skin renewal, smooth fine lines and lighten

discolouration. The serum contains encapsulated Retinol

(Vitamin A), to help stimulate collagen production in the

dermis, and Niacinamide to help improve texture, increase

hydration, and counter redness or inflammation.

The marine enzyme Venuceane,

used in allmedic products, is a

powerful antioxidant

An effective, global rejuvenation can be achieved

when the serum is used in conjunction with the allmedic

Eye Repair Cream. The eye cream is suitable for all skin

types and is designed to help repair and firm the delicate

skin around the eye area. It uses a unique blend of plant

extracts, the marine enzyme Venuceane, moisturisers and

biopeptide technologies to improve microcirculation and

'plump up' the periorbital skin. csbm

Photodynamic

Therapy

Photodynamic Therapy (PDT) can be used

alongside an effective skincare regime to further

help treat sun-damaged, blemished and aged skin .

According to Dr Grose, by using PDT's noninvasive

light technology, practitioners can now

treat a range of skin conditions in a relatively

fast and affordable way with minimal side effects

and downtime. 'PDT helps improve the skin's overall

health, look and feel. It can also be effective in

restoring youthfulness to areas that are otherwise

difficult to treat, for example the chest, arms, hands

and legs,' he continues.

By combining modalities, and partnering PDT

with a comprehensive and active skincare range, Dr

Grose believes patients can look forward to more

vibrant, healthy and resilient skin. 'The allmedic range

is a complete skincare solution, allowing patients to

target specific skin issues, such as sun damage and

premature ageing, with products that are sciencebased,

effective and affordable,' he concludes.

www.cosbeauty.com.au

Doctor Designed,

Developed & Recommended

Optimal

Products to Repair and

Protect your skin

ü

o Exclusive supply to Doctors only

o üEveryday skin repair and

protection product range

o üScience and research supported

o üAffordable, simple yet effective

o üResults driven

o üFree of problematic allergens

o üSuitable for men and women

o üLeaders in PDT and skin

o Clinic education and training

ü

Repair the past, Treat the

present & Protect the future

Contact us on:

1300 652 969

admin@allmedic.org.au

www.allmedic.org.au

Everyday

Follow us on

www.facebook.com/

allmedic
---
anti ageing

skin

Get

the

GLO!

We shed light on the cult glo product range – from luxe makeup to

anti-ageing cosmeceuticals. AimÉe Surtenich reports.

Glominerals – for a perfect canvas

Glo is committed to skin-nurturing products for people

of all ages. Its leading mineral makeup line, glominerals,

is packed with antioxidants and pharmaceutical-grade

minerals, combining skin benefits with on-trend products to

achieve a truly modern and flawless makeup look.

The latest addition to the glominerals range is the Luxe

Liquid Foundation. Diamonds really are a girl's best friend;

their prismatic structure causes light rays to refract and bend

for a soft, ageless complexion. Luxe Liquid Foundation is

formulated with light-diffusing diamond powder, broadspectrum

UV protection and specialised moisturising agents

that nourish and protect skin while delivering a flawless,

youthful-looking complexion. All glominerals products are

non-comedogenic, using only premium grade ingredients,

and are anti-inflammatory so even compromised skin can

wear these beautiful minerals.

Glotherapeutics – for ageless beauty

Healthy, radiant looking skin needs more than makeup –

and so glo has developed an impressive range of skincare

to offer a complete beauty package, glotherapeutics.

Glotherapeutics is an extensive range – with special

focus on active ingredients formulated to transform the

skin. Glotherapeutics has multiple solutions for all skin

types, with a broad line-up of cleansers, exfoliants, masks,

serums, moisturisers and body products, all of which are

complemented by professional treatment products.

For acne suffers, there are multiple products – from

cleansers, gels, wipes, spot treatments, special moisturisers

and masks – all designed for either the management of

acne, or to deal with breakouts.

Pigmented skin is a special focus of glotherapeutics,

which adopts a strategic approach to this common skin

issue via a range of different home care products, to

complement clinical treatments.

For heavenly bodies, rough, bumpy skin can be a

thing of the past with the Therapeutic Body Exfoliant and

Therapeutic Body Cream – two products developed to deal

with Keratosis Pilaris.

The jewel in the crown of the

glotherapeutics line must be the premium

Cyto-Luxe line. Cyto-Luxe leverages

phytostem technology to target and help

combat the primary causes of ageing skin.

This cascade of actives, including

plant stem cells and peptides, is designed

to lift and tighten skin while helping to

promote healthy skin cells, collagen

production and reducing the appearance

of wrinkles. This Cyto-Luxe line utilises

the beauty of nature's very own anti-ageing

mechanism.

With the quality,

all-encompassing

range of makeup

and results-driven

skincare, the glo

ranges can help

transform skin at

any age. csbm

156 www.cosbeauty.com.au
---
let your inner beauty glō

A SYSTEMATIC APPROACH FOR BRILLANT BEAUTY RESULTS

glostore.com.au 1800 66 44 55
---
skin

Conquer

pigmentation

with skincare

Cosmelan, distributed by

Advanced Cosmeceuticals, is a

cutting edge skincare TREATMENT

to help reduce the appearance

of hyperpigmenTATIon. Caitlin

Bishop reports.

Hyperpigmentation is one of the most common

and unpredictable skin conditions – and is also

one of the most difficult to treat. Patches of

melanin or 'brown spots', typically across the face,

can be caused by a number of factors, most notably

sun exposure, pregnancy, hormone therapy and

genetics. But now, with the latest skincare solution

from Advanced Cosmeceuticals, the appearance of

hyperpigmentation can be noticeably reduced.

Cosmelan Professional Treatment from Mesoestetic,

distributed in Australia by Advanced Cosmeceuticals, is

designed to reduce and prevent irregular pigmentation.

The cutting edge range helps inhibit the production

of melanin in the skin and reduce the visible signs of

pigmentation on the face.

The treatment

The Cosmelan pack offers a multi-layered, intensive

approach to pigmentation reduction. It combines

salon treatments and home care products to offer

a holistic, all-encompassing solution to skin health

and beauty.

Each Cosmelan pack contains a salon treatment,

degreaser, a preparatory mask and a homecare

moisturiser and night cream. The degreaser is used insalon

to clear the debris and dead skin cells from the

158 www.cosbeauty.com.au
---
skin's surface and prepare the skin for the Cosmelan Mask.

This mask contains an effective mixture of active, antipigmentation

and anti-ageing ingredients. The moisturiser

and night cream are used daily following treatment to

maintain and improve results.

Key ingredients

One of the biggest culprits in melanin production is an

enzyme called tyrosinase, and ingredients to inhibit

tyrosinase activity are often used in skincare lines. Cosmelan

is formulated using naturally derived tyrosinase inhibitors

such as kojic acid (KA), which is touted to generate results

within four weeks of use.

A report by Jean Levy and Frederic Pons et al.,

conducted at the Centre Laser Dermatologique in France,

explains the benefits of KA in de-pigmentation skincare.

'It is well established that tyrosinase is a key enzyme

in the synthesis of melanin,' the report states. 'Depicted

as a natural approach to skin depigmentation, Cosmelan

features KA, which is extremely stable in solution and

retains its potency over time.'

This KA complex is partnered with

a high antioxidant vitamin complex,

as well as a vegetable extract

complex to help hydrate and soothe

the skin and sunscreen filters to

provide significant protection against

UVA and UVB rays.

Notably, Cosmelan also includes

an exfoliating agent to help accelerate

the natural renewal of the skin's

upper layers and further reduce the

appearance of pigmentation.

skin

Similarly, a study conducted by Mesoestetic's scientific

research team tested the effectiveness of Cosmelan on

six female subjects who had been unresponsive to

previous treatment. The mean age of the women was 40

years and their melasma duration had spanned anywhere

from two to 20 years.

'All study participants experienced significant

depigmentation of melasma, not only at study cessation,

but at seven days following twice-daily application of the

maintenance cream,' the report states.

'This is much faster than previous studies and could be

relative to the inclusion of various other botanical agents in

the treatment line.'

Hyperpigmentation can detract from an otherwise

smooth, clear and youthful complexion and – with up to 80

percent of women over the age of 25 affected – Cosmelan

signifies an accessible and effective solution.

The range offers an all-inclusive and holistic approach

to de-pigmentation, with a philosophy centred upon

transforming skin using reliable, naturally derived and

scientifically validated ingredients. csbm

anti ageing

Backed by science

The introduction of Cosmelan to the

anti-ageing market has stemmed from

significant research into its efficacy

and reliability.

One study, published in the Journal

of Cosmetic Dermatology, enrolled 22

women with melasma pigmentation

into a split-faced trial lasting four

months. The aim of this study was to

compare the effects of Cosmelan with

another de-pigmentation product on

the market. The study found Cosmelan

to be most effective in reducing the

appearance of pigmentation and, even

though some participants experienced

irritation following use, they preferred

the efficacy of Cosmelan over the less

aggressive alternative.

BEFORE

BEFORE

AFTER Cosmelan treatment

AFTER Cosmelan treatment

www.cosbeauty.com.au 159
---
JOIN US ON OUR

LIFESTYLE SITES

COSBEAUTY.COM.AU

CosBeauty.com.au is Australia's premium online

destination for all things cosmetic surgery,

non-surgical enhancement and beauty.

It's packed with authoritative articles, before and

after photo galleries, educational and entertaining

videos, competitions and giveaways, event

listings, beauty features and blogs, product and

treatment reviews, and a practitioner directory

– allowing you to stay connected to the latest

beauty news anytime, anywhere.

SAGE

LIVING

SAGE

LIVING

WWW.SAGELIVING.COM.AU

Designed for those of you who are old enough to

know better, SAGE Living shatters the image of

the mature and ageing population as a greying

and retiring audience.

We've built an online destination packed with

inspirational travel ideas, daily online puzzles,

the latest must-read books and delicious

recipes, as well as everything you need to stay

fi t and strong, in your body and mind.

WWW.SINGLEFILE.COM.AU

Whether you're living the single life by choice

or searching for a partner, Single File has

everything you need to make the most of life on

Planet Single.

Savvy up on solo travel, learn how to plan a

dinner party, read hints on making small talk and

how to tell a good joke, plus proven ways to live

a happier, more fulfi lling life – Single File has it all.

• Win prizes • Receive special offers • Join the conversation •

• Stay up-to-date with news and happenings • Choose your newsletter •
---
skin

Leading the way

in skin health

WE CHAT WITH LAURENCE DRYER, CHIEF SCIENTIST

AND HEAD OF PRODUCT DEVELOPMENT FOR

OBAGI MEDICAL IN THE US, ABOUT THE

BENEFITS OF A QUALITY SKINCARE REGIME.

Q. iNova has recently brought the muchloved

US skincare range, Obagi, to Australia.

In the US, and worldwide, Obagi consumers

are fiercely loyal to the brand – what can

Australians expect?

A: In a word: effi cacy. Every one of our products is

thoroughly tested for safety and clinically proven to work. We

have a strong relationship based on trust with the physician

community, which transfers to their patients because they

in turn have a trust-based relationship with their doctor.

We don't give in to fads, fashionable ingredients or storydriven

products. We trust only proven, well-supported,

scientifi cally tested ingredients for our products, and we

submit them to the most stringent standards for testing.

Our clinical strength derives from our stringent protocols as

well as the involvement of well-known KOL physicians who

often run those studies and can attest to the results.

Q. What's unique about Obagi, compared

with other cosmetic or over-the-counter

skincare ranges?

A: Obagi is only sold in physicians' offi ces and is

characterised by the safety and effi cacy of its systems,

the strength of its clinical trials, and the transformational

nature of its products. I believe we are the clinical company.

Our uniqueness lies in our complete, prescription-strength

systems such as Nu-Derm, Obagi C-Rx or CLENZIderm

M.D., but we also offer scientifi cally supported solutions

that do not require prescriptions.

The Obagi patient has a close relationship with her

physician and is committed to a regimen that ensures

maximum effi cacy. Through Obagi she is able to address all

signs of ageing in a complete, effi cacious manner.

In the US, over-the-counter cosmetic products typically

address very mild anti-ageing or therapeutic issues. There is

really nothing that is truly interventional and transformational

in the over-the-counter space, and I believe there are no

complete systems that address all signs of ageing. Most

brands focus on preventing issues and rely on various

fashionable ingredients to convey novelty. We are a serious

company and we take care of serious problems, relying on

clinical data and hard facts.

Our clinical superiority is partly due to our prescriptionstrength

products; topical prescriptions are very important

because they are the most effective way to treat moderate

to severe skin concerns. For example, the retinoid category

is widely known for its anti-ageing effi cacy, and our Nu-

Derm system relies on a tretinoin prescription product.

Topical prescription products best serve patients with real

concerns, a need for correction and a high commitment

level, following the 'three Obagi Cs' of Concern, Condition

and Commitment.

Q: Are there any hero products within the

Obagi range that we shouldn't live without?

A: Nu-Derm is our hero system because it contains only gold

standards for maximum effi cacy, such as tretinoin, glycolic

acid and strong sunscreen ingredients. Our Obagi Hydrate

moisturisers are indispensable. Further, our ELASTIderm

products are specifi cally formulated for the delicate and

line-prone area around the eye, and contain our

breakthrough elasticity complex clinically proven to diminish

lines and restore youthfulness to the eye area. csbm

www.cosbeauty.com.au 161
---
eauty & spa

Post-summer skin saviours

DETOX YOUR SKIN AFTER THE SUMMER PARTY SEASON WITH SPECIALISED SKIN

TREATMENTS FROM NICOLE'S BEAUTY. AIMÉE SURTENICH REPORTS.

The extremes of summer have most likely left your

skin dehydrated, sun damaged and generally a bit

lacklustre but, according to beauty expert Nicole

Gruodiene, now is the optimal time to reclaim your radiance.

Gruodiene, who owns Nicole's Beauty Salon in Sydney's

Double Bay, believes a post-summer treatment to combat

sun damage, dullness and skin dehydration will prep your

skin for the winter months ahead.

'You may notice dry or fl aking skin, dull skin tone, sun

damage and age spots have appeared,' she says. 'Sun can

damage the skin cells deep in the dermis layer, diminishing

the production of collagen and elastin. The damaged cells

do not renew properly and skin can become thick, dull

and sallow.'

Gruodiene recommends using the next few months to

restore your body's moisture balance and treat it to some

rejuvenating salon visits. 'You should have an exfoliating and

moisturising routine in place at home but a salon treatment

can really boost your results,' she says.

'Using a sea salt scrub to exfoliate the whole body will

brighten tone, while stimulating blood fl ow and circulation,'

she adds. 'Indeed, exfoliation will help your skin rid itself

of dead or damaged cells and help it absorb moisture and

nutrients more effectively. Exfoliation of the top layer has

also shown to stimulate production of new collagen.'

Massage is a great way to stimulate lymphatic drainage

and circulation in your body. 'A Swedish massage uses a

variety of techniques specifi cally tailored to promote muscle

relaxation and ease tension by applying pressure against

deeper muscles and bones,' Gruodiene explains. 'Even a

simple, relaxing back massage helps reduce stress and

anxiety, relieves muscle tension and increases circulation.'

To get skin back in fi ne form, Gruodiene says you can't

go past microdermabrasion to remove dead skin cell

build-up and an LED light treatment to help stimulate the

production of new collagen and elastin. 'Everyone's skin

varies, but most people feel and see a difference after about

four treatments,' she says.

Gruodiene likes to complete her treatments with an

oxygen facial ('It's said to be a favourite of Madonna's,'

she says). This unique treatment combines pure oxygen

with antioxidants to deliver hydration to the skin's deeper

layers, promoting a brighter, hydrated, plumper and more

youthful complexion.

If the festive season took its toll on you, it's likely your

body will also benefi t from a little detox. 'A full body wrap is

an ideal treatment to detoxify, hydrate and slim the body,'

Gruodiene says. 'Body wraps are perfect either as a one

off treatment or as a course to gain optimum results.'

She favours the International Body Wrap, which not

only hydrates the body but also guarantees a circumference

loss of at least 15cm. 'People mainly use it to squeeze into

a "special occasion" dress or to kickstart a weight loss

program,' she says.

While it's not possible to turn back the chronological

clock, youthful radiance can be restored to the skin in

as little as a single salon session with a combination of

rejuvenating treatments. csbm

162 www.cosbeauty.com.au
---
LOSE 15CM AND KEEP IT OFF!

Nicole's Beauty Salon offers only the very best treatments available,

including the International Body Wrap which improves the appearance

of cellulite, stretch marks and scar tissue and is guaranteed to take 15

centimetres off your entire body size - or your money back!

With highly trained aestheticians and stunning surroundings, any

treatment you have at Nicole's Beauty Salon will be a luxurious

experience you'll long for time and time again.

02 9327 7728

mobile 0410 627 767

nicole@nicolesbeautysalon.com.au

Shop 8, 401 - 407 New South Head Rd,

Double Bay NSW 2028

www.nicolesbeautysalon.com.au
---
eauty & spa

carpet

ready

Create thick, sexy, flowing

tresses with quality

hair extensions. Nicola

Donovan reports.

Forget lusting after the long and seductive locks

of the A-listers – you, too, can have thicker,

longer, look-at-me hair. Hair extensions,

applied by an expert such as Joseph Mourad, can

transform your look from so-so to super sexy in a

matter of hours, enabling you to wake up with redcarpet

ready hair every day.

Long and thick hair will have you oozing

confidence and style instantly, and there's no

better person for the job than Joseph from Joseph

Mourad's Hair & Beauty in Double Bay, Sydney.

His advanced hair extension techniques are sought

the world over – with celebrity clientele including

entertainer Mel B, Grammy award-winning recording

artist Mya, and MasterChef favourite Marion Grasby.

'Hair extensions are about giving people beautiful

and strong hair,' says Mourad. 'Extensions provide

volume, length and manageability – and make

getting ready for a night out or special occasion so

much easier.'

s_bukley / Shutterstock.com

164 www.cosbeauty.com.au
---
eauty & spa

Keratin hair straightening

The humidity of summer can bring about frizzy, unruly

curls. Keratin Complex Hair Therapy by Coppola,

a revolutionary smoothing treatment, can tame

tresses in an instant. Offered at Joseph Mourad

Hair & Beauty in Double Bay, the treatment works

by infusing keratin deep into the hair cuticle, coating

and relaxing the hair, eliminating up to 95 percent of

the frizz and curl.

If you've spent too much time with heat stylers,

the good news is that the more damaged hair is, the

better the treatment works.

The treatment isn't suitable for pregnant women

or children under the age of 16.

After the hair is washed, blow-dried, brushed and

sectioned off, the keratin solution is then applied to

strands of the hair and each section is straightened

with a flat iron. This infuses the solution into the hair,

which stays in the hair for around 72 hours, after

which the hair is washed and ready to be styled.

Lasting anywhere between two to four months, the

hair will retain volume while

looking and feeling silky,

smooth and shiny.

Featureflash / Shutterstock.com

Mourad prides himself on using only the highest quality

human hair extensions. He is skilled in all hair extension

techniques but his preferred method is the innovative

ultrasonic cold fusion technique, which uses ultrasound

technology to attach the hair extension to the client's

natural roots. The result is natural-looking hair extensions

that are virtually non-detectable.

What makes the cold fusion

technique unique?

The ultrasonic cold fusion technique allows for multistrand

bonding, making the whole process efficient and,

importantly. Bonding clinical keratin with keratin found in

the hair shaft, the extensions are attached to the natural

hair very close to each other so there are no telltale signs.

'The technology is so advanced and the bonding so

seamless,' says Mourad. 'It achieves impeccable results

and the extensions can be completely undetectable to

the eye. And, because there is no use of heat, glue or

clips to bond the extensions, the client's natural hair is

not damaged.'

When applying the extensions, emphasis is placed on

properly blending colour and thickness with the natural hair.

Attached strand by strand, the extensions can be

attached to long, short, straight or wavy hair as long as the

natural length is more than 2cm. Each strand has about 20

hairs in it and a full head can take from 100 to 300 strands,

depending on the required thickness. In just a few hours,

hair is transformed from short, thin strands to thick, long

locks. 'The latest advances provide long and voluminous

hair without the need to wait for natural hair to grow out,'

says Mourad. 'It can completely transform your look.'

Extensions can last anywhere between six and 12

months. Once attached, the extensions can be treated

as normal. 'Care for your extensions the way you would

your natural hair,' Mourad advises. 'It's important to be

particularly careful when combing and blow-drying your

hair. However, hair extensions can be cut and coloured just

like your natural hair.'

When applied by a hair extension specialist, you can

enjoy a full head of flowing, thicker hair – and look forward

to a good hair day, every day. csbm

For more information visit www.josephmourad.com.au

www.cosbeauty.com.au 165
---
eauty & spa

Salon

Melbourne

2014:

The best in

beauty

More than ever before, aesthetics have become

increasingly integrated into the traditional spa and

beauty categories. As services for consumers

become less about relaxation and more about results,

this year's upcoming Salon Melbourne 2014 is placing an

increased focus on medi-based treatments.

As Victoria's premier hair and beauty destination,

this unique two-day Expo provides beauty, spa and

hair professionals with a leading platform to experience

SALON MELBOURNE, VICTORIA'S ULTIMATE

HAIR AND BEAUTY EVENT, PUTS MEDI-BASED

TREATMENTS ON THE AGENDA THIS YEAR.

hundreds of brands, products and shows – all under the

one roof. 'Having an increased emphasis on medi-based

products and services is an invaluable addition to this year's

show line-up. Whether it's injectables or laser resurfacing,

this year's Salon Melbourne visitors will be able to evaluate

a range of leading treatments – gaining priceless knowledge

on how aesthetic-focused services can be integrated into

their own salons or spas,' says Salon Melbourne Event

Director, Julia Erben.

Hair by Wade Blackford, makeup by Zoe Karlis, photography by Carl Keeley, styling by Jessica Cox

166 www.cosbeauty.com.au
---
eauty & spa

Whether you're a beauty therapist looking to expand

your treatment base, or a salon owner after increasing

revenue, Salon Melbourne 2014 will provide you with a

one-stop shop for incorporating medi-based services into

your salon or spa.

Bursting with products, shows, education and

entertainment, Salon Melbourne provides the ideal platform

for sourcing, learning and inspiration. Get a step ahead of

your competition and clear the dates of March 23 and 24,

2014 and get registered for Salon Melbourne today!

When, Where

& How To Register

SALON MELBOURNE 2014

March 23 & 24, Melbourne Convention

and Exhibition Centre

For visitors looking for expert guidance on tapping

into this lucrative market, Salon Melbourne will feature an

unmissable Age Management seminar*, run by skincare

expert Suzie Hoitink. Educating on a range of non-invasive

skincare and technological based anti-ageing treatments,

Suzie will offer her sought-after expertise in choosing the

most effective tools based on individual business needs

and profit potential.

From education to exhibitors, the Expo floor will also

have plenty on offer, with a dedicated Medi-Zone providing

spa and beauty visitors with a devoted area to get the

latest news on innovations, trial new products and talk

directly with suppliers. A newly created Medi-Stage will

additionally allow visitors to view some of the industry's

latest cosmeceutical innovations live in action.

Register Entry

Attending Salon Melbourne is free for all industry

professionals. Register your attendance at:

www.salonmelbourne.com.au

All Access Education Pass

Price: 3 seminars of your choice for $249 per person

(Price includes GST and is tax deductible)

* To purchase a ticket to Salon Melbourne's Age

Management Skincare and Technology with

Suzie Hoitink seminar (price $99 per person or as

part of an All Access Education Pass) visit: www.

salonmelbourne.com.au/en/visiting/education/

www.cosbeauty.com.au 167
---
eauty & spa

Age-

Defying

Makeup

Tricks

AS WE AGE, COSMETICS THAT

ONCE ENHANCED OUR LOOKS CAN

BECOME UNFLATTERING. THESE

BEAUTY PRODUCTS CAN HELP

YOU TURN BACK THE CLOCK AND

REVIVE A YOUTHFUL COMPLEXION.

NICOLA DONOVAN REPORTS.

1

2

3

4

5

PROBLEM: A sunken face

FIX: As we age, it's inevitable we will lose fat and

structure from our face. This results in a loss of volume

that can lead to sagging cheeks and lack of prominent

bone structure.

But all is not lost – there are certain beauty products

that can assist in helping to create the illusion of a

more supple and contoured appearance. To add a more

vibrant and 3D dimensional look to your features, dab

a sheer highlighter on your cheekbones and apples of

your cheeks.

Blush can also be used to make your bone structure

stand out. Simply dust it along the highest points of

your cheekbones.

PROBLEM: Sparse eyelashes

FIX: As the years pass, our eyelashes tend to lose

some of their thickness and length. They can become

sparser and fl atter, causing the eyes to look smaller. To

open up the eye area and create the illusion of wider eyes,

everything should be going upwards against gravity.

An eyelash curler can make a huge difference. Even if

you choose to skip mascara, curling your lashes should

still remain a part of your makeup routine. As for mascara,

opt for a natural brown shade, which will create a youthful

look while still defi ning the eye. But be careful not to be

too heavy handed with the mascara wand – fl aky, cakey

lashes are