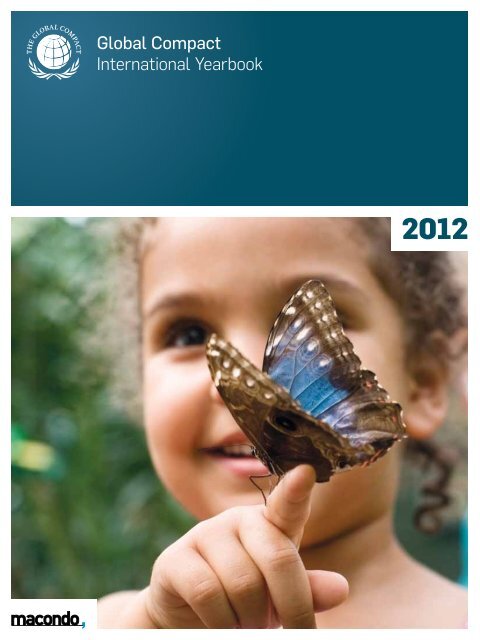 Global Compact International Yearbook 2012
Schwerpunktthemen der diesjährigen Ausgabe sind der Rio+20 Summit, Strategic Philantrophy und CSR in Lateinamerika sowie ein ausführliches Dossier zum komplexen Themenfeld Corporate Foresight. Mit Beiträgen u.a. von Georg Kell, Kyle Peterson (FSG), Jerome Glenn (Millennium Project) sowie Achim Steiner (UNEP). Außerdem veranschaulichen best practice Beispiele von 42 Unternehmen aus verschiedensten Teilen der Welt die Integration der zehn Prinzipien des Global Compact in das jeweilige Unternehmensumfeld. 196 Seiten, FSC-zertifizierter und klimaneutraler Druck. ISBN-13:978-3-9813540-3-4
Schwerpunktthemen der diesjährigen Ausgabe sind der Rio+20 Summit, Strategic Philantrophy und CSR in Lateinamerika sowie ein ausführliches Dossier zum komplexen Themenfeld Corporate Foresight. Mit Beiträgen u.a. von Georg Kell, Kyle Peterson (FSG), Jerome Glenn (Millennium Project) sowie Achim Steiner (UNEP). Außerdem veranschaulichen best practice Beispiele von 42 Unternehmen aus verschiedensten Teilen der Welt die Integration der zehn Prinzipien des Global Compact in das jeweilige Unternehmensumfeld.
196 Seiten, FSC-zertifizierter und klimaneutraler Druck.

ISBN-13:978-3-9813540-3-4
SHOW MORE
SHOW LESS
Create successful ePaper yourself
Turn your PDF publications into a flip-book with our unique Google optimized e-Paper software.
Global Compact

International Yearbook

2012
---
GC International Yearbook

Foreword

This publication is kindly supported by:

Adecco Group

Air France-KLM

Arab African International Bank

Banco León

Bayer

Bosch

Bradesco

BSH Bosch und Siemens Hausgeräte

Camposol

Carrefour

Consolidated Contractors Company

Copeinca

Deutsche Telekom

EDF Group

Essent

Furnas

Guangxi Beihai Penshibao

Green Delta Insurance

Groupe SEB

Interamerican

ManpowerGroup

Medcom

Metso

Mitsui

MTN

Nestlé

Netafim

Novo Nordisk

Rogers

Royal Bank of Scotland Group

SK Telecom

Teck

The TMS Group

Tristar

TÜV Rheinland

Vestas

Yüksel

Global Logistics Partner:

Deutsche Post DHL

H.E. Ban Ki-moon, UN Secretary-General

"

As the UN Global Compact enters its 13th year, the

corporate sustainability movement continues to

make great strides. A growing number of business leaders

understand the case for greater sustainability. They

know that responsible business and long-term success are

two sides of the same coin. Many of the Global Compact's

7,000 companies are proving that what is good for the

environment and societies is also good for business.

This is especially important in the year of the UN Conference

on Sustainable Development. The Rio+20 process

has shown that businesses stand ready to do their part

to realize sustainable development for all. Many are not

waiting for governments to act – they are moving ahead

through innovation, smart investments and collaboration.

From energy to decent jobs to gender equality, I am

convinced that strong partnerships with the private sector

are crucial to achieving our common goals.

This fourth edition of the Global Compact International

Yearbook showcases many inspiring examples of businesses

turning challenges into opportunity, leveraging their

competencies, capacities and resources for the common

good. I hope these diverse expressions of support for the

UN's global mission will inspire many more businesses

"

to follow this path and bring corporate sustainability

to true scale.

Global Compact International Yearbook 2012 3
---
BEST PRACTICE

FOREWORD

3

H.E. Ban Ki-moon,

United Nations

Secretary-General

74

76

78

80

Human Rights

Adecco Group

Banco León

EDF Group

Groupe SEB

6Rio+20

82

Interamerican

84

Medcom

86

Mitsui

88

Novo Nordisk

90

Sakhalin Energy

Rio+20

6

10

13

14

16

22

23

Strategic Philanthropy

26

The Road to Rio 2012 –

Results and Observations from

the Official and Civil Society

Preparatory Processes

Felix Dodds

The History of Sustainable

Development in the United

Nations

The Rio+20 Topics

Judith Bomholt

A Future We Want? Lessons of

Rio+20

Dr. Elmer Lenzen

Expectations

Georg Kell, Achim Steiner,

Andrei Galaev,

Douglas Tompkins, and

Maurice F. Strong

Rio+20 Corporate Sustainability

Forum: Commitments and

Innovations

Follow-up to Rio+20: Capacity-

Building with New CSR Manager

Platform

Dr. Elmer Lenzen

From Corporate Handouts to

Corporate Partnerships

Veronica Scheubel

32

36

From Competitive Advantage

of Corporate Philanthropy to

Shared Value

Kyle Peterson

A Global Shift Toward Strategic

Philanthropy

Punleuk Kam and Julia Yue

40

40

44

CSR in Latin America

Corporate Giving Has Become

Increasingly Focused

Interview with Charles

Moore

Philanthropic Societies

Around the World

Compilation: Karen Rieckmann

26

Strategic Philanthropy

CSR in Latin America

44

50

54

58

62

66

CSR in Latin America:

A General View

Estrella Peinado-Vara

An Evolving CSR System

in Latin America

Prof. Paul Alexander Haslam

Should Poverty Alleviation Be

Part of Multinationals' Corporate

Responsibility?

Dr. Lourdes Casanova and

Anne Dumas

Social Responsibility Networks

in the Banana Industry

Prof. Dr. Maria Alejandra

Gonzalez-Perez

Corporate Complicity in

Human Rights Abuses in

Latin America

Dr. Marcelo Saguier

The Importance of Protecting the

Rainforest in South America

Dennis Lohmann

68

Corporate Foresight

170

177

182

187

The UN Global Compact

in Latin America –

Trends and Topics

Compilation: Dr. Elmer Lenzen

Corporate Foresight:

An Introduction

Cornelia Daheim, Holger

Glockner, Klaus Burmeister,

and Andreas Neef

The Millennium Project

Experience

Jerome C. Glenn

The Role of Corporate

Foresight in Promoting

Sustainability

Prof. Dr. René Rohrbeck

and Pernille Kallehave

Strategic Foresight:

Effective Decision-

Support Systems

Dr. Adrian W. Müller and

Prof. Dr. Günter

Müller-Stewens

94

96

98

100

102

106

108

112

114

116

118

120

122

124

128

130

132

136

137

138

142

144

148

150

152

154

156

158

160

162

164

SK Telecom

Teck

Tristar

Labour Standards

Bosch

ManpowerGroup

Environment

Air France-KLM

BASF

Bayer

BSH Bosch und Siemens Hausgeräte

Consolidated Contractors Company

Deutsche Telekom

Essent

Guangxi Beihai Penshibao

MAN

Metso

MTN

Vestas

Development

Camposol

Copeinca

Deutsche Post DHL

Furnas

GDF Suez

Nestlé

Netafim

Rogers

TÜV Rheinland

CSR Management

Carrefour

The TMS Group

Yüksel

Financial Markets

Arab African International Bank

Bradesco

166

Green Delta Insurance

168

Royal Bank of Scotland Group
---
Agenda Rio + 20

The Road to Rio 2012 –

Results and Observations

from the Official and

Civil Society Preparatory

Processes

6 Global Compact International Yearbook 2012 Global Compact International Yearbook 2012

7
---
Agenda Rio + 20

By Felix Dodds

Stakeholders have been working on Rio+20 since the Group

of 77 developing countries tabled the original resolution for

the summit on November 4, 2008. To help in that process, the

Stakeholder Forum launched the www.earthsummit2012.org

website on January 1, 2009.

Left: 64th Annual UN DPI/NGO Conference Bonn,

Germany, September 3–5, 2011

Right: Secretary-General Ban Ki-moon addresses World

Food Programme event in Davos, January 2011

Originally, Rio+20 suffered from being agreed to only 10 days

after the Copenhagen Climate Conference had finished. As

such, the mood of governments was less than positive. They

did not originally allocate the appropriate number of days

to address the two major themes: the green economy in the

context of sustainable development and poverty eradication;

and an institutional framework for sustainable development.

At this time, the summit process now equals the number of

days of negotiations that were available for the World Summit

on Sustainable Development in 2002 – 43 days, up from the

11 days originally agreed to.

Rio+20 has brought back together the sustainable development

family, which had dissipated in other processes since

the World Summit. It also represents a chance to address

the critical drivers that are creating an unsustainable world

through the present economic system. Rio+20 must ensure

we take a different economic path. And while the term "green

economy" has become controversial in some circles, it at last

puts economic affairs on the table. I believe we should see it

as a transition that puts sustainability and people – as well

as equity and fairness – at its core.

There are clear parallels between the ecological and financial

crises. Banks and financial institutions privatized gains and

socialized losses. We are doing the same with the planet's

natural capital. Our present lifestyles are drawing it down at

irreplaceable rates from other parts of the world and from

future generations.

The summit has operated through a number of preparatory,

informal, and inter-sessional meetings as well as government-,

UN-, or stakeholder-sponsored meetings. These have brought

together the views of governments, intergovernmental bodies,

and stakeholders. Stakeholder engagement has been through

a number of mechanisms, predominately what is called the

Major Group Organizing Partners. These represent the nine

stakeholder groups that Agenda 21 identified as vital in working

toward a more sustainable society.

The major stakeholder event was the 64th United Nations

Department of Public Information Non-Governmental Organizations

Conference held in Bonn in September 2011 with

over 1,500 stakeholders attending the three-day event with

all major UN bodies and key governments. It came out with a

Chair's declaration, which identified that key outcomes from

the summit should include:

• Sustainable development goals

• Reform of sustainable development and environmental

governance structures in the UN

• A convention on Principle 10 of the Rio Declaration – access

to information, public participation, and environmental

justice

• A convention on corporate social responsibility and accountability

• New economic indices to replace GDP

• Support for the means of implementation to achieve more

sustainable societies

• The identification of – or the role of – volunteer action to

deliver sustainability at the local level

Throughout the preparatory process, a joint project of the UN

Department of Economic and Social Affairs and the Stakeholder

Forum has ensured the training of more than 2,500

stakeholders to help them engage in the summit process. This

summit process was the first to accept stakeholder inputs

in what became known as the zero draft. More than 493

stakeholder organizations sent their contributions, with 100

governments contributing to meet the deadline of November

1, 2011. The Top 10 terms (with the number of submissions

in parenthesis) are:

1| Health / Well-being (448)

2| Poverty Alleviation / Poverty Reduction

3| Natural Resources / Resource Management (318)

4| Adaptation (227)

5| Renewable Energy (204)

6| Sustainable Development Goals [SDGs] (170)

7| Accountability (170)

8| Subsidies (167)

9| Transparency (166)

Key issues that stakeholders had promoted were picked up

in the zero draft negotiating text, such as Global Framework

on Corporate Sustainability Reporting, the Ombudsman for

Future Generations, Sustainable Development Goals, and

Principle 10. As the process has moved into negotiations, a

number of key coalitions have also played a significant role

in the green economy, including the Green Economy Coalition

and the Global Transition 2012. This is also true of the

Institutional Framework for Sustainable Development, to

which the Sustainable Development Governance 2012 Coalition

has contributed greatly. All of these, along with the UN

Global Sustainability Panel, brought new and relevant ideas

to the table for negotiators to think about.

In one of the Global Transition papers, Simon Zadek suggests

amending the sovereign wealth funds' Santiago Principles

to include sustainable development criteria. Amounting to

$4.7 trillion, such funds could have a huge impact if targeted

toward sustainable development. Encouraging the credit rating

agencies to include sustainable development criteria in

their ratings systems could also have a big effect on changing

corporate and government activities.

More recently, the World Bank held the first-ever joint meeting

of finance ministers – the heads of the UN, World Bank, and

IMF – to discuss the green economy and how to ensure that

the economic solutions that come out of this recession are

greener. This is to become an annual meeting and the World

Bank has rolled out a pilot scheme for a new way of addressing

natural capital in a "50 country, 50 company" initiative.

Rio's success has already been achieved, as it has raised the

issue of sustainable development in the minds of governments

and heads of state. The other major achievement of Rio will be

putting SDGs (in areas such as water, energy, food, consumption

and production, sustainable cities) onto the global agenda

to frame our move toward a more fair, just, and equitable

global society. We cannot afford to make the same mistakes

as in the last 20 years; we must choose the harder path for

the sake of future generations.

UN Secretary-General Ban Ki-moon called for "revolutionary

action" to achieve sustainable development in Davos in

2011, warning that the past century's heedless consumption

of resources is "a global suicide pact," with time running out

to ensure an economic model for survival. He was echoing

Senator Robert Kennedy's words from 1968, words that were

about another issue in another time, but that are equally

relevant today about sustainable development. Senator Kennedy

said: "A revolution is coming – a revolution which will

be peaceful if we are wise enough; compassionate if we care

enough; successful if we are fortunate enough. But a revolution

is coming whether we will it or not. We can affect its

character; we cannot alter its inevitability." Let's work for a

world built on sustainable societies, responsive citizens, and

accountable governments.

Felix Dodds is Executive Director of the

Stakeholder Forum and Chair of the 64th

UN Department of Public Information

Non-Governmental Organizations

Conference. Felix Dodds' latest book

(together with Michael Strauss and

Maurice Strong), Only One Earth: The

Long Road via Rio to Sustainable

Development, is now available.

8 Global Compact International Yearbook 2012 Global Compact International Yearbook 2012

9
---
Agenda Rio + 20

The History of Sustainable

Development in the United

Nations

In 1980, the International Union for the Conservation of Natural Resources

(IUCN) published the World Conservation Strategy (WCS), which provided

a precursor to the concept of sustainable development. The Strategy

asserted that conservation of nature cannot be achieved without development

to alleviate poverty and misery for hundreds of millions of people

and stressed the interdependence of conservation and development in

which development depends on caring for the Earth. Unless the fertility

and productivity of the planet are safeguarded, the human future is at risk.

In June 1992, the first UN Conference on Environment and

Development (UNCED) was held in Rio de Janeiro and adopted

an agenda for environment and development in the 21st

Century. Agenda 21: A Programme of Action for Sustainable

Development contains the Rio Declaration on Environment

and Development, which recognizes each nation's right to

pursue social and economic progress and assigned to States

the responsibility of adopting a model of sustainable development;

and, the Statement of Forest Principles. Agreements

were also reached on the Convention on Biological Diversity

and the Framework Convention on Climate Change. UNCED

for the first time mobilized the Major Groups and legitimized

their participation in the sustainable development process.

This participation has remained a constant until today. For

the first time also, the lifestyle of the current civilization was

addressed in Principle 8 of the Rio Declaration. The urgency

of a deep change in consumption and production patterns

was expressly and broadly acknowledged by State leaders.

Agenda 21 further reaffirmed that sustainable development

was delimited by the integration of the economic, social,

and environmental pillars. The spirit of the conference was

captured by the expression "Harmony with Nature," brought

into the fore with the first principle of the Rio Declaration:

"Human beings are at the centre of concerns for sustainable

development. They are entitled to a healthy and productive

life in harmony with nature."

1980

1992

1972

1982

1983

1993

In 1972, the United Nations Conference on the Human Environment held in

Stockholm brought the industrialized and developing nations together to delineate

the "rights" of the human family to a healthy and productive environment.

A series of such meetings followed, for example on the rights of people to

adequate food, to sound housing, to safe water, to access to means of family

planning. The recognition to revitalize humanity's connection with Nature led

to the creation of global institutions within the UN system.

Ten years later, at the 48th

plenary of the General Assembly

in 1982, the WCS

initiative culminated with

the approval of the World

Charter for Nature. The

Charter stated that "mankind

is a part of nature and

life depends on the uninterrupted

functioning of natural

systems."

In 1983, the World Commission on Environment

and Development (WCED) was

created and, by 1984, it was constituted

as an independent body by the United Nations

General Assembly. WCED was asked

to formulate "A global agenda for change."

In 1987, in its report Our Common Future,

the WCED advanced the understanding of

global interdependence and the relationship

between economics and the environment

previously introduced by the WCS. The report

wove together social, economic, cultural and

environmental issues and global solutions.

It reaffirmed that "the environment does

not exist as a sphere separate from human

actions, ambitions, and needs, and therefore

it should not be considered in isolation from

human concerns. The environment is where

we all live; and development is what we all

do in attempting to improve our lot within

that abode. The two are inseparable."

In 1993, UNCED instituted

the Commission on Sustainable

Development (CSD) to

follow up on the implementation

of Agenda 21.

10

Global Compact International Yearbook 2012

Global Compact International Yearbook 2012 11
---
Agenda Rio + 20

The Rio+20 Topics

By Judith Bomholt

In 2002, ten years after the Rio Declaration, a follow-up conference, the World

Summit on Sustainable Development (WSSD), was convened in Johannesburg

to renew the global commitment to sustainable development. The conference

agreed on the Johannesburg Plan of Implementation (JPOI) and further tasked

the CSD to follow-up on the implementation of sustainable development.

In June 1997, the General Assembly

dedicated its 19th Special Session

(UNGASS-19) to design a "Programme

for the Further Implementation of

Agenda 21."

2002

1997 2009

2012

On December 24, 2009, the UN General Assembly adopted a

Resolution (A/RES/64/236) agreeing to hold the United Nations

Conference on Sustainable Development (UNCSD) in 2012 – also

referred to as "Rio+20" or "Rio 20." The Conference seeks three

objectives: securing renewed political commitment to sustainable

development, assessing the progress and implementation gaps in

meeting already agreed commitments, and addressing new and

emerging challenges. The Member States have agreed on the

following two themes for the Conference: green economy within

the context of sustainable development and poverty eradication,

and institutional framework for sustainable development. Since

UNCED, sustainable development has become part of the international

lexicon. The concept has been incorporated in many UN

declarations and its implementation, while complex, has been at

the forefront of the world's institutions and organizations working

in the economic, social, and environmental sectors. However, they

all recognize how difficult it has proven to grant the environmental

pillar the same recognition enjoyed by the other two pillars, despite

the many calls by scientists and civil society signaling the vulnerability

and precariousness of the Earth since the 1960s.

Twenty years after the first international Conference on

Environment and Development was held there, the United

Nations Conference on Sustainable Development (UNCSD)

has again taken place in Rio de Janeiro. Over 50,000 participants

took part in what is known as the Rio+20 Conference,

including more than 100 world leaders and heads of

government. This new conference should ensure continued

political commitment to sustainable development, help

to take stock of previous advances, and reveal the gaps in

sustainability involvement. Beforehand, the expectations

had been subdued: the Preparatory Committee held three

meetings to settle organizational issues and subject matter.

Secretary-General Ban Ki-moon declared in early May

that the preliminary discussions were reaching a critical

point. Brice Lalonde, the Executive Coordinator of the

Rio+20 Conference, described the prior negotiations as

"very slow and very frustrating" to a Brazilian news source.

He also acknowledged, however, that many countries are

preoccupied with their own acute problems or with current

events such as the economic crisis or elections that

require attention, and that it is difficult to create what he

calls "a real international moment."

The Rio+20 summit had two areas of focus, one of which

was "Green economy in the context of sustainable development

and poverty eradication." The United Nations

Environmental Program (UNEP) defines a green economy

as "one that results in improved human well-being and

social equity, while significantly reducing environmental

risks and ecological scarcities." The green economy was

already subject to much critical debate in the run-up to

the conference: The Rio+20 Secretariat indicated that

developing countries were worried that in the future, the

wealthier nations would be able to use higher environmental

standards to seal off their markets.

China also mentioned the difficulties associated with the

implementation of the green economy, above all for developing

countries, and that such countries would require

the financial support of the international community and

help improving technology and capacity. Participants in the

alternative People's Summit, which took place at the same

time as the Rio+20 summit, shared similar views: Behind

the "green economy" concept, Latin American director for

the ETC Group environmental organization Silvia Ribeiro

sees further exploitation of the ecosystem and the use of

hazardous technologies to manipulate natural processes

in order to obtain higher profits. Advocates of the green

economy include the EU, but the United States, Canada,

Japan, and Korea have also been receptive to the concept.

The second focus of the conference was to achieve an institutional

framework for sustainable development. This

included developing and strengthening the formal and

informal bodies, organizations, networks, and arrangements

that are a part of sustainable political decision-making and

implementation, above all the UN Environmental Program

(UNEP) and Commission on Sustainable Development (CSD).

The Rio+20 Conference mandate called for strengthening

the institutional framework for sustainable development

within the UN system and suggested reinforcing the UNEP

through universal membership and an increase in its financial

resources. Other subjects discussed were the creation

of a global environmental organization and reforming the

CSD, or dissolving it altogether and replacing it with an

international council for sustainable development.

An important topic during the conference, and one that

will continue to be cause for debate, is the search for new

means of measuring prosperity. The traditional analytical

instrument of gross domestic product (GDP) is being sharply

criticized, since it only presents the economic dimension

of prosperity. The Millennium Development Goals established

in 2000, the overriding goal of which is to halve

poverty by 2015, will only be valid for three more years.

The focus now is on new Sustainable Development Goals,

(SDGs) that comprise economic as well as environmental

and social dimensions.

There was also discussion of the fact that the interests of

coming generations should be more firmly represented.

The World Future Council (WFC) has long called for governments

to include an ombudsperson for the interests of

future generations. One example of this is Hungary, which

since 2008 has had various Ombudspersons for the Future

in Parliament. These have the right to raise objections to

political projects, commission expert opinions, and request

a look at internal documents, among other things. They

may also hear complaints from citizens, municipalities,

and NGOs.

Source: http://www.uncsd2012.org

12

Global Compact International Yearbook 2012

Global Compact International Yearbook 2012

13
---
Agenda Rio + 20

to present a strong political message at the Rio+20 summit.

Dzulkifli Abdul Razak, Vice-Chancellor of the Universiti Sains

Malaysia demands that "the notion of sustainable development

must be remodeled and expanded beyond development issues."

What is in the outcome document

of Rio+20?

A Future We Want?

Lessons of Rio+20

By Dr. Elmer Lenzen

It was the absence of disputes that probably provoked the

biggest dispute: The United Nations Conference on Sustainable

Development (Rio+20 summit) ended with a concordant

final resolution of 190 participating countries. The outcome

document, titled "The Future We Want," had already been

published and enacted by the beginning of the conference,

which led to controversies and the disappointment of many

– mainly nongovernmental – participants. However, UN

Secretary-General Ban Ki-moon called the summit a success:

"Rio+20 has given us a solid platform to build on. And it has

given us the tools to build with. The work starts now."

Other political participants agree. German environmental

minister Peter Altmaier, for instance, said on a news channel:

"It has been shown that we have a not very large but a stable

base consensus. It would have been disastrous if the conference

would have failed without any result." He continued:

"I am glad that we have managed to raise awareness for the

environment step by step."

Do we want growth at any cost?

Other observers were less optimistic. They warn there is a

risk that instead of the future we want, we will go back to

the past we had. "The 'grow now, clean up later' mantra is

no longer viable," says Connie Hedegaard, the EU Commissioner

for Climate Action. "The result is light-years away from

what the earth and humans need," adds Alois Vedder, who

participated on behalf of the WWF. It appears that presently

at the UN level, no more is possible. In particular, the EU has

lost ground in international negotiations and has to refocus

its strategy in a changing global power structure, argues

Vedder. Europeans created some positive momentum in the

preliminary negotiations on topics like protecting the oceans,

reducing environmentally harmful subsidies, and addressing

sustainable development goals. But in the outcome document,

very little of the momentum remains.

"The decline is also due to a lack of credibility," according to

the WWF's analysis. As long as sustainability remains mere

lip service – while European agrarian and fisheries policy

creates the opposite – Europeans will not be taken serious

on the international level in their call for a green economy.

This comes along with the growing capacity and self-confidence

of some developing countries. Take India: In the run-up to

Rio+20, The Energy and Resources Institute of India (TERI) called

for a framework rather than a "set of rigid rules." The Hindu

newspaper explains: "A TERI background paper on 'India's

Green Economy: The Roadmap to an Inclusive and Equitable

Growth' says the challenges and priorities for developing

countries like India are different from the developed world.

It, therefore, calls upon the Rio+20 summit to contribute to

meeting the key goals of developing countries, particularly

poverty eradication, food security," among other things.

The litigious environmental and social activist Sunita Narain

argues: "It seems world leaders, lost in managing the financial

crisis, have no time for environmental issues. It seems the world

has run out of ideas to safeguard a common future." Indeed

the global conditions with national insolvencies, crises of democracy,

and global mass unemployment made it unrealistic

A model for a 21st century multilateralism?

UN Secretary-General Ban Ki-moon also sees this context.

In an article for the Singapore-based New Straits Times, he

wrote: "At Rio, we must begin to create a new one (model) – a

model for a 21st century economy that rejects the myth that

there must be a zero sum trade-off between growth and the

environment." So, what was the message Rio sent? Those who

expected concrete action or even financial promises have been

disappointed. To evaluate the success of the Rio+20 summit

merely on its outcome sets the wrong focus.

Two decades ago at Rio 1992, the conflict lines were between

the rich North and the developing South. Today it is between

the traditional global players like Europe and the United

States, who find themselves weakened by internal crises, and

the aspiring new global players like Brazil, India, and above

all China, who are struggling for new power constellations

and an adjustment of the global order. We already saw this

trend at the Copenhagen Summit and during the ISO 26000

process. At Rio 2012 it became apparent that the fight was

about whose goals would be on the priority list.

Walk the talk

Therefore, the momentum generated by Rio+20 is less about

concrete political commitments and more about the narratives

it created. In retrospect, the Rio+20 summit was a platform for

knowledge-exchange rather than for negotiations. Here, "green

economy" has become the new buzz-phrase in sustainability

discourses. The challenge will be to supply the concept with

innovative solutions and measurable instruments. A green

economy – or sustainable economy, as we called it less than

two years ago – must learn to consider political, economic,

and cultural constraints or it will not be successful.

Who can provide answers to this if not the official political

summit? That was probably the most interesting to hear about,

namely that results came from different corners: business and

academic. Side events such as the UN Global Compact Corporate

Sustainability Forum, the activities of the UN Principles for

Responsible Management, and many others launched promising

new concepts such as ways for better water management,

alternative indicators to measure development beyond GDP,

and business models that promote inclusive and green growth.

Those side events sent out an encouraging signal: Decisionmakers

in business and civil society have already started to

reconfigure their strategies and economic concepts toward a

more sustainable value creation.

Green Economy: In the 50-page final declaration, the

participating States committed themselves to the concept of

"green economy," which has resource-saving economics as a

goal. By 2015, Sustainability Goals shall be developed. Specific

indicators of prosperity beyond GDP are missing, however,

according to the WWF.

UN Institutions: The United Nations Environment Programme

will not be upgraded to a full UN agency, but further steps

in that direction have been made. The upgrading of the

Commission on Sustainable Development to a global

Sustainability Council with more influence has failed. Instead it

was transformed into a "forum."

Millennium Development Goals: In addition, the Rio paper

includes proposals for the fight against poverty, climate change,

and desertification. One concrete plan is to continue the UN

Millennium Development Goals, which are due to expire in 2015,

with the new Sustainable Development Goals.

Financing for Development: Brazil's President, Dilma Rousseff,

promised that they would focus on further financial assistance

for the sustainable transformation of developing countries.

These countries demanded $30 billion, which was rejected due

to the financial crisis.

Energy: The start of the initiative "Energy Access for All" was

confirmed, but a date for when the goal has to be achieved

has not been announced. Not even the expansion of renewable

energies was thoroughly discussed. In the end, what "modern

sustainable energies" means is left up to the individual nations

to define.

Water: In comparison to the Johannesburg agreement in 2002,

there have been some concrete formulations for interacting

with ecosystems and their role in water availability as well as

new commitments for managing water. It is recognized that

water is a key for ​sustainable development. The attempt to

weaken the principle of shared responsibility for cross-border

water ecosystems was blocked.

Oceans: At the last minute, an agreement to implement a UN

Convention for the protection of the high seas was canceled.

WWF and many NGOs call this summit a failure because this

important agreement had been a part of the outcome draft right

up until it was canceled.

14 Global Compact International Yearbook 2012 Global Compact International Yearbook 2012

15
---
Agenda Rio + 20

/Expectations///Expectations///Expectations///Expectations///Expectations///Expectations///

Georg Kell

Georg Kell,

Executive Director, UN Global Compact

Never before in recent history has there been such widespread uncertainty

about the future. Major developments are shaping our world,

raising important questions about the proper role of business and the

legitimacy of markets. First, while the adoption of austerity measures

has been a painful adjustment for countries in many parts of the developed

world, a good portion of the world's economic might and growth has gradually

been shifting from Europe and the West to the East and South. At the same

time, rising inequality and widening gaps between rich and poor have become

global phenomena. Income gaps in OECD countries have reached the highest

levels in 30 years and are even more pronounced in many emerging economies.

As a result of rapidly eroding trust in markets, institutions, and leadership,

citizens are demanding more equality, freedoms, and accountability. Popular

protests – from Wall Street to Moscow – are expressions of global discontent

that cuts across economic, social, and political spheres. And continued stress

on natural resources threatens to disrupt economies and societies around the

planet. More than one billion people lack access to food, electricity, or safe

drinking water. Climate change remains a critical issue, and ecosystems are

in dramatic decline.

Many argue that business is at the heart of many of these problems. But this

sweeping indictment fails to see the potential of business, if properly channeled,

to produce many of the solutions needed to drive positive and transformative

change. The good news is that thousands of companies already incorporate

environmental and social issues into their agendas. The UN Global Compact

alone counts nearly 7,000 corporate signatories in 150 countries driving

innovation in areas as diverse as energy and climate change, women's empowerment,

and anti-corruption.

However, most companies simply are not doing enough. Sustainability as a

value proposition has not yet gained global acceptance. With an estimated

80,000 multinationals and millions of smaller enterprises, much remains to

be done. This June's UN Conference on Sustainable Development, commonly

known as Rio+20, is a unique chance to move the corporate sustainability

agenda to a global scale, but it will require government and business to deliver

on a variety of critical fronts:

Corporate governance – at the Board level – must recognize environmental and

social issues as being critical to long-term business success. Companies must

strengthen their Boards' ability to understand and oversee social components

as a complement to their roles in assessing business strategy, risk management,

and legal compliance. Such oversight will ensure that implementation will

cascade throughout the value chain. The courage to deliver what we call a

new contract between business and society will help generate and restore balance

and boost growth in the marketplace. Of course, none of this can happen

without strong political leadership. But as a growing number of companies

embrace the sustainability challenge, political leaders will be encouraged and

inspired to do their part.

Businesses must also heed the call of a new generation of investors and other

stakeholders and report publicly on their sustainability performance. While

there is great appetite for increased disclosure, investors typically find reporting

in the environmental or social realms to be insufficient. A global policy

framework to disclose sustainability information in line with annual financial

or other reports would go a long way in helping business to communicate more

transparently on these issues – or explain why they do not.

While governments are ultimately responsible for developing institutional

frameworks, they cannot solve the world's challenges alone. Transformative

public-private partnerships that engage governments and society at all levels

build on the relative strengths and competencies of each actor and can have

lasting positive impacts on policy, market structure, and social norms.

Responsible lobbying and advocacy must be supported at the highest levels.

Lobbying actions often conflict with a company's stated values and take a

lowest-common- denominator approach rather than pursue long-term interests.

Governments should adopt smart regulatory frameworks and incentive structures

so that the dinosaurs of business are not rewarded above environmental

and social performance.

Goods and services that respond to the growing demand for more sustainable

solutions should be encouraged and rewarded. Consumers and markets

are ready for them, but incentive structures have not kept pace with shifting

values and preferences.

The courage to deliver what we call a new contract between business and society

will help generate and restore balance and boost growth in the marketplace.

Of course, none of this can happen without strong political leadership.

But as a growing number of companies embrace the sustainability challenge,

political leaders will be encouraged and inspired to do their part.

Source: Guest article on the "Sustainable Development Policy &

Practices" platform prepared for the UN Conference on Sustainable

Development (UNCSD) and initiated by the International Institute for

Sustainable Development (IISD).

16

Global Compact International Yearbook 2012

Global Compact International Yearbook 2012 17
---
Agenda Rio + 20

/Expectations///Expectations///Expectations///Expectations///Expectations///Expectations///

Andrei Galaev

Achim Steiner

Decisions made at global conferences have great effects on CSR and

sustainable development progress and concept advancement. I believe

that the Rio+20 United Nations Conference on Sustainable Development

will be the next milestone in international efforts to accelerate progress

toward achieving sustainable development globally. It is an opportunity for

participants to honestly and openly discuss what has been achieved in the

last 20 years since Agenda 21 at the Earth Summit in Rio; what the biggest

challenges and issues have been; and whether governments, business, the UN

system, and other parties have managed to address them effectively.

Rio+20 – as the United Nations Conference on Sustainable Development

has come to be known – provides an unprecedented opportunity for

the world to transform the current economic paradigm into one that

enhances human well-being while respecting planetary boundaries

and environmental limits. This will require changes in the way we perceive

progress, make financial decisions, and do business in order to ensure that

social and environmental considerations are fully integrated into decisionmaking.

As the driving forces of economic growth, business and industry will

have a leading role to play.

Many in the private sector understand this, and they are placing increasing

importance on environmental, social, and governance issues. As a founding

member of the Global Reporting Initiative, UNEP promotes sustainability

reporting for private and public institutions along globally applicable guidelines.

UNEP works in tandem with the United Nations Global Compact, the

International Integrated Reporting Council, and others to help companies better

understand and address their integrated environmental and social impacts.

UNEP supports lifecycle-based methodologies such as resource foot-printing,

science-based information on critical resource flows, and capacity enhancement

in developing and emerging economies.

A recent survey of sustainability experts notes that systematic pressure for

financial short-termism and the lack of regulatory incentives highlight the

importance of developing more enabling frameworks, which will be an item

of discussion at the Rio+20 conference this year. UNEP's Green Economy

research provides ample evidence that business as usual cannot

continue.

Achim Steiner,

Executive Director, United Nations

Environmental Programme (UNEP)

Andrei Galaev,

CEO, Sakhalin Energy Investment

Company Ltd.

UN Global Compact Board Member

I hope that at the Rio+20 conference, and in particular the Rio+20 Corporate

Sustainability Forum, the business community will demonstrate a proactive

stance and desire to move forward regarding sustainable development, sustainability

leadership, and contributions to the Millennium Development Goals.

The Rio+20 Corporate Sustainability Forum, under the umbrella of the UN

Global Compact, is a great platform to meet business leaders, international

institutions, CSR experts, as well as public and other stakeholders. As CEO of

Sakhalin Energy and Chairperson of the Global Compact Network in Russia,

I am proud to have the opportunity to participate in Rio+20 and contribute

toward its goals: to define pathways to a safer, more equitable, cleaner, greener,

and more prosperous world for all.

For our part, we are open to learning opportunities and ready to share experiences.

Sakhalin Energy participated in the pilot project of the UN Guiding

Principles on Business and Human Rights that were developed by Professor John

Ruggie and endorsed by the UN Human Rights Council last year. I sincerely

share Professor Ruggie's opinion that "the era of declaratory CSR is over; we

have moved into 'prove it.'" This can certainly be one of the key challenges.

I think it is important to discuss lessons learned at Rio+20, to share best practices

and proven sustainability models – especially partnership ones – and to

pay special attention to practical global commitments on human rights and

accountability. As a business representative and newly appointed UN Global

Compact board member, I see that it is critical to take new, practical, and

measurable commitments on sustainability goals with clear targets, institutional

frameworks, and responsibilities for sustainable development.

I trust that human rights will be a core approach and core principle

to these new commitments.

18

Global Compact International Yearbook 2012

Global Compact International Yearbook 2012

19
---
Agenda Rio + 20

/Expectations///Expectations///Expectations///Expectations///Expectations///Expectations///

Douglas Tompkins

The Rio+20 conference in June 2012 has been generating concern

and a lack of confidence on the part of many environmentalists and

conservationists I know and work with.

Although the first Rio conference ignited hopes for millions and was in fact

an historical launching point for united government action on environmental

issues, it still fell far short of expectations. Those with optimistic visions – and

what I consider to be often Pollyanna characterizations of these unwieldy and

multination world conferences – perhaps can see it in a positive light. One hears

all the excuses that this or that was better than nothing, or that "perfection is

the enemy of the good" and similar aphorisms.

The point is that nature does not digest anything for its good health and normal

functioning except for real-world impacts. The extinction crisis – "the mother of

all crises" – is the price that the ecosphere pays for runaway overdevelopment.

It is that simple. Nature operates under her own rules, indifferent to human

aspirations, but the nations of the world cannot seem to grasp that simple fact.

Not one individual actor will give up anything in their development game, and

therein lies the tragedy of the planetary commons.

Each nation, therefore, is locked into a system that compels it to increase its

share of the planet without limits – on a planet whose limits are finite. Ruin

is the destination toward which all nations rush, each pursuing its own best

interests in a society that believes in globalization and its purported benefits.

This individualism and freedom to plunder the ecosphere then brings all to ruin.

Only a sea change in human consciousness might bring the world back from

the edge of the abyss it finds itself on today, far more successfully than Rio+20

and all its conference attendees and the press can. This is a type of "religious"

and cosmo-vision change, one which requires that every person – or at least the

vast majority – believes and lives by the notion that we must share the planet

with other creatures. For that reason, I do not see how the Rio+20 conference

– despite its good intentions – will do much at all toward achieving the

goal of ending the extinction crisis. For there will be no prosperity, no

social justice, no art and culture, and no economy on a dead planet.

Douglas Tompkins is an American

environmentalist, prominent landowner,

conservationist, and a former businessman.

He co-founded and ran two clothing

companies: the outdoor clothing company

The North Face; and with his then-wife Susie,

the ESPRIT clothing company.

Maurice F. Strong is a Canadian entrepreneur

and a former Under-Secretary General of the

United Nations.

Maurice F. Strong

Experience has demonstrated that those countries that have been most

successful in improving their environments are those, like Japan, that

have been most efficient in managing their economies and reducing

the energy, resources, and materials used to generate their GDPs. Rio+20 must

provide for special measures to assist developing countries in the efficiency of

their economies.

No issue is more important to the future of humans than that of climate change,

wherein the political will to act cooperatively and decisively has diminished

considerably and endangers any potential progress. Rio+20 must reinforce

international efforts at Durban and beyond to reach agreement and renewal

of the UN Framework Convention on Climate Change and its implementation.

Paradoxically, if we fail to act, the reduction in global greenhouse gas

emissions could occur through the collapse of the world economy, which none

of us want. After all, the roots of the environmental and climate change crises

are the same as those of the economic and financial crises – the inadequacies

of our economic system.

Only an enlightened view of their own self-interest in the security and sustainability

of life is likely to induce the more developed countries to accept

the principal responsibility they bear for the fundamental change in course

that we must make. Developing countries must play their part, but their

responsibilities are of a different order of magnitude. The concept of

shared but differentiated responsibilities must be strongly reinforced at

Rio+20.

Excerpts from a statement delivered to the Special United Nations General Assembly Event on Rio+20,

New York, October 25, 2011.

20

Global Compact International Yearbook 2012

Global Compact International Yearbook 2012

21
---
Agenda Rio + 20

CSF – Commitments

and Innovations

UN Secretary-General Ban Ki-moon accepted the full set of

outcomes from the Rio+20 Corporate Sustainability Forum

(CSF), including a listing of more than 200 business commitments.

The Forum, organized by the UN Global Compact, in

cooperation with the Rio+20 Secretariat, the UN System, and

the Global Compact Network Brazil, brought together 2,700

business leaders, investors, academics, government officials,

environmentalists, and grassroots activists.

"The Corporate Sustainability Forum outcome document

shows the solid commitment to sustainable development

among the business community, and the creativity of their

new approaches to low-carbon solutions, reducing poverty,

empowering women, and restoring fresh water resources,"

said Georg Kell, Executive Director of the UN Global Compact.

Among the decisions taken were:

An offer by business leaders to be a part of the creation and

promotion of new Sustainable Development Goals. The Sustainable

Development Goals concept has attracted broad support

among governments negotiating the Rio+20 outcome text, as

well as captured the imagination of the general public. An

existing set of global objectives, the Millennium Development

Goals, are mostly geared to the deadline in 2015.

A communiqué signed by 45 CEOs of major corporations outlines

ways that governments can do better on water management and

how they can set frameworks that will help business to scale

up its own role in reducing usage and restoring natural sources.

Companies advancing the tenets of Corporate Water Sustainability

as well as Ecosystems Management are pushing the boundaries

of innovation on a number of levels. Examples include:

• Developing new or enhanced technologies for water efficiency

and waste-water management.

• Developing water-sensitive products and providing watersensitive

services.

• Performing research and data analysis with respect to water.

• Recognizing that water is a major gender issue.

Valuing ecosystems and natural capital.

Nearly 300 institutions of higher learning endorsed a plan

to place sustainable development at the heart of college and

university curricula. Collaborations, for example in the form

of corporate-academic and multistakeholder partnerships, are

taking place in a variety of ways and give practical meaning

to the fifth and sixth Principles for Responsible Management

Education (PRME) on partnership and dialogue, respectively.

Notable examples involve the close collaboration between the

PRME and the UN Global Compact and include:

• Faculty engaged in the PRME Working Group on Anti-Corruption.

• Efforts are planned for fall 2012 to raise greater awareness

about human rights principles as well as to bring the issue

of corporate responsibility for respecting human rights to

business school audiences.

• Some PRME signatory schools have collaborated closely with

Global Compact Local Networks by holding conferences and

workshops, providing capacity such as hosting the Network's

secretariat, and developing and providing training on corporate

sustainability.

• Joint projects between PRME and Global Compact LEAD

include providing analytical support and capacitybuilding

efforts such as developing a board of education

program.

Follow-up to Rio+20:

Capacity-Building with

new CSR Manager

Platform

By Dr. Elmer Lenzen

CSR-Manager.org is the new, advanced web presence of the renowned

United Nations Global Compact International Yearbook.

The aim of the website and the yearbook is to create a global

overview of achievements in corporate social responsibility

(CSR) and to build up capacity for more comprehensive and

sustainable management of these activities. Both the yearbook

and the website offer proactive and in-depth information on

key sustainability issues to stakeholders around the world, and

each promotes unique and comprehensive knowledge-exchange

and learning in the spirit of the UN Global Compact Principles.

These two international media outlets help to advance transparency

and promote the sharing of best practices. Perhaps most

significantly, they give a strong voice to the regional and global

CSR actors that are at the heart of sustainable development.

22 Global Compact International Yearbook 2012 Global Compact International Yearbook 2012

23
---
Agenda Rio + 20

Since its launch in 2000, the United Nations Global Compact

has emerged as one of the world's most influential platforms

for corporate responsibility. Its structure as a global network

presents a unique opportunity to take a closer look at both

global and regional developments and interpretations of

corporate social responsibility.

In order to highlight some of the important issues that the

Global Compact seeks to address and to showcase good practices

by Compact participants, the macondo Media Group and

the Global Compact Office formed a successful partnership in

2009 to produce the Global Compact International Yearbook.

The CSR-Manager.org website expands on these activities for

2012, offering unique and tailored content. CSR-Manager.org

focuses explicitly on capacity-building and provides a blueprint

for corporate responsibility.

Approach

Corporate social responsibility has become an essential part

of doing business. These days most large companies want to

do the right thing on issues such as respecting human rights,

protecting natural resources, preserving labor standards, protecting

the environment, and fighting corruption.

At the same time, however, the approach to such topics could

have a more wide-ranging impact. Small and mid-sized companies

frequently feel overwhelmed when it comes to the

subject of CSR, or just left out in the cold. Many of them are

already taking a great deal of responsibility, but they lack a

workable strategy. They need a place where they can share

their experiences with CSR activities and gain management

know-how.

There is broad agreement among all actors in the CSR sphere

that better incentive structures are needed, incentive structures

that will allow firms of various ages and sizes to get involved.

Important adaptation measures have been put into practice

so far: LEAD, for example, under the leadership of the United

Nations Global Compact, is setting the goalposts for the CSR

movement even further forward. Partnerships between the

UN Global Compact and the GRI; initiatives like the PRI and

the CDP; and political CSR recommendations such as those

of the European Commission are bringing existing instruments

closer together to create a greater level of coverage.

But it is sometimes difficult for beginners to find their way

around these structures.

While the sustainability movement has made great strides in

recent years, significant challenges still remain, as UN Global

Compact Executive Director Georg Kell has noted. If we are

to establish corporate social responsibility on a larger scale,

we must stimulate collective action, bring CSR stakeholders

together, and help smaller companies close gaps in performance.

Solution

This is where CSR-Manager.org comes in. This new online

resource is a blueprint for corporate sustainability management,

a rich database for shared learning. At CSR-Manager.

org, companies will find the tools and training to integrate

CSR in the way that is right for them.

Together with its partners, CSR-Manager.org offers a platform

to help firms meet regulations, manage CSR strategies, and

develop their companies strategically. It is also dedicated

to non-business stakeholders and includes their expertise,

opinions, and projects.

By bringing these different actors together, the CSR-Manager.

org network acts as a virtual bridge between experts and

beginners, creating a platform for knowledge and dialogue.

The site makes the shared learning approach of the UN Global

Compact accessible to small and mid-sized companies as part

of the course of doing business. Bringing together experts from

the academic and business worlds, as well as civil society, the

site gives new meaning to the concept of "common growth"

as an ideal platform for new and continuing education in

sustainable economic activity.

The website also serves as a space where those in charge of

CSR can themselves reflect on it. These days, participants who

concentrate on day-to-day business can end up falling further

and further behind on economic, environmental, and social

challenges. They need a way to manage the signal and information

overload from news, e-mail, social networks, meetings,

and teleconferences. Time to reflect is valuable – and good

advice is more expensive than ever. With specialized editors

who preselect content, and internationally recognized experts

as part of the site, CSR-Manager.org offers information that is

exactly what CSR managers need.

Capacity-Building

The online features at CSR-Manager.org provide a diverse

array of instruments for capacity-building. We offer specialized

occupational continuing education and training

designed to be used in the field, as well as dialogue and

networking opportunities and E-Learning courses. Designed

to inspire advanced performers to reach the next level of

sustainability, CSR-Manager.org sets targets that all companies

can work toward in order to ascend the learning and

performance curve.

Knowledge-transfer

Development requires change. CSR-Manager.org provides

networking and training opportunities for experts, leaders,

and decision-makers in business, politics, and civil society

worldwide.

Continuing education and training

CSR-Manager.org offers sector-specific and practical programs

for experts and leaders working around the world.

Organizing multistakeholder dialogue

Change does not happen without dialogue. CSR-Manager.org

hosts global political dialogues, sector-specific dialogues, and

expert dialogues as appropriate for the subjects discussed and

the groups of participants involved.

Building networks

We offer members the opportunity to expand their personal

and professional contacts and interact with one another

through global networking.

E-Learning

Learning and communicating across any border – this is

the idea behind our Academy feature. CSR-Manager.org is a

virtual learning platform in collaboration with well-known

universities and supranational organizations.

Partnerships for strategic consulting

Capacity-building through strategic corporate development

is how CSR-Manager.org offers programs that are a perfect fit

for personnel issues and can assist with the development of

appropriate management structures.

Publisher

macondo Media Group is the creator and publisher of CSRmanager.org.

Involved with the UN Global Compact and GRI

since 2002, macondo is recognized as one of the leading CSR

publishing houses in the German-speaking region. macondo

also publishes the Global Compact International Yearbook.

Selected authors of macondo publications include H.E. Ban

Ki-moon, Bill Clinton, Georg Kell, Anthony Giddens, Achim

Steiner, John Elkington, and many others.

Find out more: csr-manager.org

Dr. Elmer Lenzen is founder of the

macondo Media Group, publishing

house of the Global Compact Yearbooks

and the new CSR Manager Platform.

24 Global Compact International Yearbook 2012 Global Compact International Yearbook 2012

25
---
Agenda

Strategic Philanthropy

From Corporate Handouts

to Corporate Partnerships

26 Global Compact International Yearbook 2012 Global Compact International Yearbook 2012

27
---
Agenda

Strategic Philanthropy

Philanthropy is about donating to charity without expecting a return. Companies have

historically contributed to society in this way. Strategic philanthropy, which is a more

modern approach, is about directing corporate giving to a cause that is aligned with the

core business. Yet in the 21st century, strategic philanthropy does not suffice in providing

leadership. There is a growing demand for companies to move beyond strategic philanthropy

to modern community partnerships, co-creating solutions to pressing societal and

environmental problems by contributing core competencies and truly aiming for impact. In

the process, shared value creation for both society and the company is not only desirable for

companies, but also to stakeholders.

By Veronica Scheubel

The term philanthropy can be traced to ancient Greek ("to

love people"). In the context of what companies usually do,

this may seem a little incongruous. It involves the giving of

money, goods, services, time, and/or effort to support a socially

beneficial cause, with no (or little) reward for the donor.

Corporate philanthropy is often also called corporate giving.

Corporate donations are about "the writing of checks to charity."

Companies donate some of their profits, or their resources,

to nonprofit organizations. Giving is often handled by the

company directly, or it may be done through a corporate

foundation. Typical causes supported include artistic, religious,

sports, charitable, and humanitarian causes as well as support

for educational institutions. Local donations especially tend

to go "all over the place" – to schools and kindergartens,

theaters and museums, hospitals and orphanages, the local

fire brigade and the local swimming pool. This is called "unstructured

giving."

History of corporate philanthropy

To understand the history of corporate giving, it is helpful to

think back to the roles of some companies in 19th century

industrialized society. Back then, corporate giving was often

an integral part of how companies supported their employees'

existence: for example, by funding their housing, setting up

schools for their children, or financing a hospital for the

community. Those companies understood back then what

the World Business Council for Sustainable Development

states in its "10 messages by which to operate": "Business

cannot succeed in societies that fail." They understood that

in order to do business effectively, they needed to contribute

to the creation of local infrastructure. However, as business

became more market-oriented and government's role grew –

especially in Western society – the motivation for corporate

giving changed.

Sometimes it was cut almost completely; other times it was

sidelined to an obscure part of the organization. More commonly,

it was (and often still is) not "managed" at all. Sometimes,

a company's giving interests simply depended on what

causes or charities the CEO's spouse wanted to see supported.

Giving money is still an important element of how a company

supports the communities in which it operates – but it is just

the beginning. Sometimes it may be in the company's interest

to support an issue or cause that is not aligned to the business

– for example, when a particular cause is very important to a

local stakeholder whose support is needed. We also see small

companies in villages donating to local community causes in

order to maintain good, long-term relations with their customers

and out of a sense of responsibility as "corporate citizens."

For any sizeable company, however, it is advisable to keep

the sums that are going into unstructured corporate giving

relatively small. Any company can make its donations even

more effective by aligning them to its business. This is called

"strategic" philanthropy.

More focus: Strategic philanthropy

Given that companies also look for a return – usually a reputation

benefit – for making their contributions, increasingly

they are looking to focus their corporate giving. This is called

strategic philanthropy. Companies have been adopting increasingly

strategic approaches in their support of important causes.

Through strategic philanthropy, companies seek to align their

charitable giving with a cause that connects to their core business.

Companies that pursue this path might say, "We only give

money to hospitals," or "only to community organizations in

our region," or "only to causes that support children's education."

Thinking about a strategic focus for corporate giving

also means considering the potential reputation value gained

from a focused approach to giving. For example, it makes

sense from a public recognition and credibility standpoint

for a pharmaceutical company to support cancer research, as

opposed to arts and culture programs.

For strategic philanthropy, it is helpful to look at the company's

business strategy or, if it exists, corporate responsibility / sustainability

strategy. Are there some specific themes that could also

be followed in the company's giving? For example, the majority

of Avons' customers and employees are women. It therefore

makes sense for the company to be actively involved in charitable

initiatives around breast cancer and against domestic violence.

Beyond strategic philanthropy: Why "just giving" is no

longer enough

By the late 1990s, it had become clear that national governments

were increasingly losing power and influence. Civil

society started to assume a more important role. Stakeholders

became increasingly aware and – in light of societal and

environmental issues – demanded both transparency and

collaborative contributions from companies. In 2000, a report

on the top 200 corporations by the Institute for Policy Studies

established that of the top 100 financial entities in the world,

51 were companies, and only 49 were nation states. In this

context, companies are seen as having a growing role in helping

to solve social challenges related to employment, health,

safety, education, culture, and the environment.

A new role for corporations: Modern community

partnerships

This new role for business asks companies to think together

with governments and NGOs on a higher level about finding

and co-creating solutions to pressing problems – and then to

apply those solutions together in local contexts. This new thinking

represents a shift in roles, emphasizing the participatory

responsibility of all sectors for co-creating societal innovation

and change – for collaborative impact.

Clear Shift toward more

strategic partnerships

37%

20%

Doing this work together demands cross-sectoral commitments,

making partnerships increasingly important. It also requires

a range of collaboration and partnering skills that companies

need to develop. These cross-sectoral commitments tend not

to be called strategic philanthropy, but rather "corporate community

involvement." Since the beginning of the millennium,

corporate community involvement has been the term most

5%

Zero

19% – 20%

21% – 50%

51% – 75%

More than 75% +14%

18%

22%

Percentage of corporate NGO partnerships described as

strategic (corporate respondents)

57% of companies classify their partnerships as "strategic"

(up 14% on prior year)

Source: "The Changing Face of Corporate Partnerships," C&E Advisory

(www.candeadvisory.com/barometer), March 2012

28 Global Compact International Yearbook 2012 Global Compact International Yearbook 2012

29
---
Agenda

Strategic Philanthropy

used for active community partnership projects between a

company and/or governments and/or NGOs in the countries,

regions, or communities where a company operates.

Aiming for impact

These are partnerships aimed at co-created solutions, to which

the company contributes funding, project management, corporate

core competencies, and employee involvement. In such

partnerships, companies aim for societal impact. As a second

step, they can then also leverage the results of their efforts in

stakeholder communications or marketing to achieve business

benefits (e.g., an improved reputation, an enhanced brand

image, or expanded markets).

Enlightened self-interest

Leveraging results for business benefit is what is called "enlightened

self-interest," and it is now a generally accepted

concept. The thinking is as follows: If a company claims that

they are doing good for society only because of their ethical

convictions, stakeholders will most probably be skeptical and

not believe them. If, on the other hand, companies are only

concerned about their business benefit and neglect the needs

of society, stakeholders will be outraged (and the company

runs a clear risk of failing in the long run). What has emerged

in corporate practice is a balanced, threefold approach: 1)

striving for real societal impact, based on sound ethics and

values; 2) implementing programs through co-creating community

partnerships; and 3) leveraging results for improved

reputation, brand image, and sales.

Should companies undertake this work through a

foundation?

A foundation is often set up independent of – and therefore

remote from – the company, which separates it from business

interests. It is good for purely philanthropic giving, yet

much less suitable for direct strategic community involvement

initiatives. There are many legal limitations in profiling and

involving the company, so added value from a foundation's

giving record cannot be leveraged directly through the company's

communications and marketing. Stakeholders also

increasingly perceive starting a foundation as "outsourcing"

a company's contributions to society. Accordingly, it is more

effective to deliver significant, strategic social impact from

within the company, as an integral part of the business and

the overall corporate responsibility / sustainability strategy

that involves employees and core competencies.

"As companies continue to strategize their corporate responsibility

activities, corporate foundations become more popular as

a way for companies to continue with charitable and philanthropic

commitments (...) On the other hand, if companies want

to distance themselves from philanthropy entirely, foundations

might become less popular, with those already in existence

either wound down or shifted towards a totally independent

model." (The SMART Company Report 2007)

But are we all talking about the same thing?

There is some confusion regarding terminology. Some companies,

especially in the United States, still speak of strategic

philanthropy, although they have progressed to sophisticated,

strategic community involvement. Some companies, like IBM,

Microsoft, and Disney, will call such strategic involvement

their "corporate citizenship."

Philanthropy, in the strictest sense, is about donating money to

charity, which is considered a hands-off approach. Community

involvement, as defined in our book Corporate Community

Involvement: The Definitive Guide, is about being involved in

a charitable project as a co-creating and participating partner:

co-creating the concept, co-managing the project, and contributing

core competencies and employee involvement. Usually,

measurement and evaluation as well as communication are

also managed in partnership.

Yet other companies that are doing "just philanthropy" will

call this their corporate citizenship or their CSR – although,

strictly speaking, a company's corporate social responsibility

extends also to its human resources and supply chain policies

and to the management of its overall stakeholder relations.

What are stakeholders looking for?

Between the confusion of notions around strategic philanthropy,

corporate community involvement, corporate citizenship, CSR,

and the latest notion – shared value creation – what is it

that the world's stakeholders are looking for?

Stakeholders may want to ask a few questions like "So what

does your company do in this area?" The answers they hear

will offer them more clarity on how the company is actually

involved.

that companies contribute more than just funds in strategic

philanthropy. They want to see companies engaged with their

best minds, and getting those best minds engaged in the community

to co-create solutions and create collaborative impact.

So this goes beyond donating money. It extends to contributing

management know-how, problem-solving skills, as well

as technological and scientific know-how.

Coca-Cola, for example, unleashed its potential with programs

such as the Replenish Africa Initiative, a $30 million, six-year

effort to provide clean water and sanitation to at least two

million people in Africa by 2015. Similarly impressive in ambition

is the "five by 20" project, an initiative to economically

empower five million women by 2020.

This approach can then extend to shared value creation: Companies

contribute solutions to societal problems and benefit

from those solutions in their own bottom line, for example by

opening new markets. The solar light bulbs in India that allow

school children to study past dusk are a co-created education

solution that is making the contributing companies real money.

It is the same with BP's solar cooking stoves.

Whether we talk about strategic philanthropy, corporate

community involvement, corporate citizenship, or shared

value creation – we are dealing with an evolving field. It has

evolved significantly and will continue to do so – we have

not arrived at a final destination yet.

The President of the World Business Council on Sustainable

Development, Peter Bakker, says: "I'm committed to finding

solutions, and I believe that businesses are powerful tools to

bring these big challenges to resolution. Together, the WBCSD's

200+ members are galvanizing action in the global business

community to create a more sustainable future."

Your company, with all its business competencies, has the most

powerful means to contribute, and to be seen as an impacting

partner by all relevant stakeholder audiences.

Let's get started.

Stakeholders want to see contributions – but ideally more

than just donations. In this day and age of the so-called new

social contract, where governments, corporations, and civil

society organizations are called on to collectively contribute

and find co-created solutions through "collaborative governance"

(notion first coined by Simon Zadek, then CEO of

AccountAbility), they want to see corporate representatives

engage at the meta level to think together with other sector

representatives about finding solutions to our world's pressing

societal and environmental problems. They want to see

For many years, Veronica Scheubel

was in a global role as Senior Manager

Corporate Responsibility at Nokia. She

is co-author of the book Corporate

Community Involvement: The Definitive

Guide to Maximizing Your Business'

Societal Engagement (Greenleaf/

Stanford University Press 2010).

30 Global Compact International Yearbook 2012 Global Compact International Yearbook 2012

31
---
Agenda

Strategic Philanthropy

From Competitive

Advantage of Corporate

Philanthropy to Shared

Value

The beginnings of corporate philanthropy

To understand the global shifts in corporate philanthropy,

visit GE, one of the world's best known companies. GE was

one of the earliest supporters, perhaps even innovators, of

corporate philanthropy. The arc of GE's corporate giving programs

demonstrates key trends in the evolution of corporate

philanthropy – an initial reliance on cash giving, leveraging of

corporate assets, an increasingly global view, and more strategic

investments that provided both social and business benefit.

The GE Foundation began its grantmaking program in 1953. In

the beginning, the company focused on educational institutions

and launched the world's first corporate matching gift program,

which drew upon employees' interests in and passions about

contributing to their communities. In the 1970s, the GE Foundation

started the National Action Council for Minorities in

Engineering. The 1980s saw the start of grant-giving outside of

the United States as well as the establishment of the company's

signature College Bound program, which was intended to increase

the number of inner-city US students pursuing a college

education. College Bound takes advantage of GE volunteers and

expertise, thus leveraging more of the company's assets than

just its financial resources. In the last decade, the GE Foundation

spearheaded a new program, Developing Health Globally,

which improves the infrastructure and management capacity

of hospitals in Africa, Latin America, and Southeast Asia.

GE's 50-year corporate philanthropy story is quite a departure

from the sentiment of Milton Friedman and his famous caution

against corporate philanthropy becoming a distraction

in the pursuit of profit maximization. In 1984, Peter Drucker

suggested an alternative view when he wrote about the importance

of other stakeholders beyond shareholders, and the

necessity for companies to consider corporate philanthropy

as one approach to address their needs. But this view was still

very traditional and based on the personal values of corporate

leaders or on reputations.

The competitive advantage of corporate philanthropy

In 2002, Porter and Kramer's "The Competitive Advantage of

Corporate Philanthropy" suggested a more profound role for

corporate philanthropy. The authors suggested using corporate

philanthropy to change a business' "competitive context" – the

factors that determine business success but that are beyond

the direct control of business. Talent, prospering communities,

and competitive rules and norms are all part of the enabling

environment for business, and they are changeable through

more strategic investments in corporate philanthropy. The

graphic below shows the evolution in corporate philanthropy

approaches toward this more strategic role.

"The Competitive Advantage of Corporate Philanthropy"

revealed powerful examples of companies making these

more strategic investments. Grand Circle Travel, a leading

travel company that caters to Americans over the age of 50,

uses philanthropy to enrich the travel experience. Travelers

who visit overseas locations have an opportunity to experience

orphanages, cultural museums, and schools that are

recipients of the Grand Circle Foundation's gifts. In the

process, financial support from the Grand Circle Founda-

Companies´Approach to engaging with society is evolving

By Kyle Peterson

FSG, the nonprofit consulting firm which I help lead, has

witnessed an amazing evolution in corporate philanthropy

during the last 10 years. We have witnessed the unprecedented

examination and gradual repurposing of corporate

philanthropy. For anyone who cares about solving social

problems, it has never been a better time to be part of the

private sector.

FSG started out 10 years ago as the Foundation Strategy Group,

a consulting firm focused on helping private foundations

amplify the value of their charitable contributions to society.

Interestingly, companies were not part of our original focus,

even though we were co-founded by Professor Michael Porter

of the Harvard Business School. However, we quickly learned

that companies' philanthropic giving and, more importantly,

business innovation, had an even more powerful potential to

solve social problems.

The three Harvard Business Review articles written by Michael

Porter and Mark Kramer about companies' role in society

– "The Competitive Advantage of Corporate Philanthropy"

(2002), "Strategy and Society" (2006), and "Creating Shared

Value" (2011) – provide a fascinating trail of documentation

on approaches to the shift in the corporate mindset. This commentary

provides a brief summary of these three articles and

what we have learned along the way.

Traditional Reputation-Led Leveraged Strategic

"What

problems?"

• Let´s ignore or understate

the problem

• Let´s minimize our

responsibility

• Philanthropy is about

personal values

"Problems could

harm us."

• Let´s minimize the

problem and throw

some money at it

• CSR & Philanthropy

are about corporate

reputation

"We should do

something."

• We need to add costs to

fix the problem

• We can use our core

business capabilities to

find solutions

"We see

opportunity."

• We can lower costs, grow

revenues, or differentiate

ourselves by addressing

social problems

• Even social problems

we don´t affect pose

opportunities

32 Global Compact International Yearbook 2012 Global Compact International Yearbook 2012

33
---
Agenda

Strategic Philanthropy

tion improves these cultural heritage spots and important

centers of community.

Looking back on the article and the discussions about it with

companies, the idea of a strategic role for philanthropy was

a relatively new insight. FSG received many questions about

whether strategic corporate philanthropy was a form of "selfdealing,"

a legal term that implies that a company directly

benefits from a corporate philanthropy contribution. All of

the examples mentioned in the article were proper forms of

corporate philanthropy, as they provided only indirect benefits

to the companies that made the contribution.

Companies were also concerned about the repercussions of more

strategic philanthropy on their existing grantees. We continue

to recommend that companies employ a "portfolio approach"

to corporate philanthropy, with allocations categorized into

"communal obligation" (giving in the community where the

company is located, motivated by the company's desire to be

a good citizen), "goodwill building" (funding based on the

preferences of key stakeholders such as employees, customers,

and community leaders), and strategic philanthropy (focused

on the competitive context). The notion of companies giving

across these three categories in their portfolio approaches

continues to make practical sense.

Strategy and society

Following the publication of "The Competitive Advantage of

Corporate Philanthropy," the article authors and FSG were

asked about the role of corporate social responsibility. After all,

corporate philanthropy does not explain how a company should

consider its environmental or social "footprint" or ways that it

can create social value through its business. In 2006, Porter and

Kramer released "Strategy and Society," the second in a series of

articles that further elaborated the role of corporations in society.

The article gently questioned corporate social responsibility

thinking, asserting that the "prevailing approaches to CSR

are so disconnected from business as to obscure many of the

greatest opportunities for companies to benefit society." Even

today, many companies view corporate social responsibility

from three low-value perspectives: reputation, a defensive

posture toward external stakeholders, and murky notions of

sustainability. These justifications for CSR result in investments

that have little relevance to shareholders, CSR departments

that are disconnected from business operating lines,

and "CSR ratings" based on those who appear to be active

corporate citizens.

A new framework was suggested, building upon the ideas

from "The Competitive Advantage of Corporate Philanthropy."

The critical, new idea in this article was the observation that

companies create more value for society through their business

operations than through corporate philanthropy. This is a key

idea that, frankly, is still met with suspicion, confusion, and

doubt from companies today. Think about it: The 1 to 2 percent

that a company can redistribute after it makes its profits pales

in comparison to the financial resources, networks, influence,

and problem-solving skills of its daily operations.

The article took on one of the most obvious but often unexamined

questions: Where should companies focus their

attention to society? The framework prioritized social issues

into three categories: generic (those that have little bearing on

the company's long-term competitive situation), value chain

(issues that are significantly affected by a company's activities

in the normal course of business), and competitive context (the

underlying drivers of a company's competitiveness in places

where it conducts business, as mentioned in "The Competitive

Advantage of Corporate Philanthropy").

Among these issues, we noted that companies had a distinct

choice. They could focus on the generic issues and mitigate

the impact of their value-chain footprint or they could take

another, more strategic path. The second, more strategic

choice would focus on the value-chain issues that provide

real business benefits to the company, such as cost-savings

or a premium positioning, and the context issues that will

ultimately determine their competitiveness.

• Value-chain Issues: Whole Foods serves as a great example

of this latter choice. While there is still significant room for

improvement, the company is a leader among retailers in

ensuring that its seafood comes from sustainable fisheries. It

makes this choice because its customers care about sustainable

seafood. But the company also knows that purchasing seafood

from overfished areas is a recipe for its own disaster if it led

to Whole Foods not being able to purchase more seafood in

the future. Staying on the food service theme, food distributor

Sysco increasingly purchases food from local farmers to

reduce transportation costs and provide its customers with

a source of competitive differentiation. Walmart has taken

great strides in the last 10 years to reduce packaging costs

and increase energy efficiency in its stores as well.

• Competitive Context Issues: Competitive context serves as

perhaps the most exciting area of potential investment for

companies to provide mutual benefits. The example of Nestlé

in India is illustrative of this new approach. When Nestlé's

milk factory in the northern district of Moga opened, only

180 small, local farmers supplied milk. This was a significant

problem in the company's value chain as milk is the most

important raw material for many of Nestlé's products. Nestlé

invested in small dairy owners and distribution points so that,

after decades, the company now purchases from more than

75,000 farmers in the region. The dairy farmers are much

more prosperous than similar ones in other regions.

Nestlé built refrigerated dairies, invested in veterinarians and

agronomists – building the dairy system in Moga – to create

what we now call "shared value." Corporate philanthropy was

not the tool of choice to serve the poor in Moga. Rather, Nestlé

viewed the small dairy farmers as critical business partners,

meriting serious investment for its long-term profitability.

Creating shared value

The Nestlé case served as a catalyst for the third and wellknown

article in the series, "Creating Shared Value," published

at a time – January 2011 – when business was under siege.

Despite the many dispiriting critiques of business that have

held the public's attention for the last two years, the article

has established a welcomed note of optimism for the private

sector's relevancy in tackling social problems. The article

articulates a clear and simple framework using this key idea:

"Societal needs, not just conventional economic needs, define

markets, and social harms can create internal costs for firms."

Three levels of "shared value" build upon several of the ideas

in the previous two articles.

1| Reconceiving products and markets: Rather than focus on

conventional markets and fight for a "share of the market,"

some companies are creating new products or adapting

existing ones to enter new markets. GE's Healthymagination

program is researching the needs of the underserved

in emerging markets and producing new products such as

portable and battery-powered EKG machines that suit the

needs of rural India.

2| Redefining productivity in the value chain: Building upon

ideas from "Strategy and Society," this form of shared value

pushes the conventional wisdom around sustainability issues.

Companies' value chains often create an impact on society.

Companies have not always calculated the internal costs

of these so-called externalities. When companies innovate

within their value chains, they can save a great deal, such

as by reducing excess packaging, as in the case of Walmart

mentioned above. We are seeing companies take notice of

these value-chain impacts to reduce the consumption of

water, energy, and other natural resources. Other sharedvalue

innovations include employee productivity, as demonstrated

by investments in corporate wellness programs.

3| Enabling Local Cluster Development: This last form of shared

value is a re-articulation of Nestlé's competitiveness context

example. We see increasingly more examples of companies

building local clusters – the supporting organizations and

enabling environments for their competitiveness. As another

example, Yara, a global leader in fertilizer production, has

invested in delivery systems for its fertilizer deliveries in

Africa. In this case, vital infrastructure is built that serves

both business and societal interests.

The three forms of shared value are having profound effects

on business. From hiring and market research to the way companies

measure their success, corporations are innovating well

beyond their products, value chains, and external conditions

for success. We are also seeing a new way of working with

government and civil society. Nongovernmental organizations

are shifting their role from being corporate philanthropic

grantees to becoming business partners on product R&D, distribution,

and cluster issues such as community development.

Incubating and accelerating shared value through

corporate philanthropy

So, does corporate philanthropy still have a place in a world

where companies are looking to gain competitive advantage

by addressing social problems? This is one of the most frequently

asked questions we hear as interest and excitement

for shared value grows. Interestingly, like many of the other

facets of business that are changing, corporate philanthropy

is emerging as a powerful complementary incubation and

acceleration tool for shared value.

We are seeing companies such as Eli Lilly & Company, a leader

in pharmaceuticals, use corporate philanthropy to build the

health systems in countries such as Mexico, Brazil, South Africa,

and India to deliver insulin for diabetes. Under its NCD Partnership

program, the company invests in healthcare systems

by training healthcare workers and partnering with NGOs to

create awareness for the risk factors related to diabetes. The

Verizon Foundation – the corporate philanthropy arm of the

16th largest company on the Fortune 500 list – has teamed

up with the University of Virginia to sponsor training programs

for rural-based nurses that use telehealth technologies,

which is an important area of business for the company. The

Verizon Foundation's grant incubates shared value as it helps

thousands of underserved patients and creates new customer

learning for the company.

Of course, companies will continue to use corporate philanthropy

to support the organizations in their hometowns and

the interests of their employees and other stakeholders. But the

rise of shared value is creating new opportunities for corporate

philanthropy to be deployed in far more effective ways.

Kyle Peterson is Managing Director

at FSG, a nonprofit consulting firm

specializing in strategy, evaluation, and

research.

34 Global Compact International Yearbook 2012 Global Compact International Yearbook 2012

35
---
Agenda

Strategic Philanthropy

A Global Shift Toward

Strategic Philanthropy

We are witnessing an exciting global movement whereby philanthropists from both

developed and emerging economies are using targeted and innovative approaches to

address sustainable development. Today, strategic philanthropists are responsible for

stimulating entrepreneurship and small business development in developing countries.

These philanthropists are increasingly recognizing the importance of adopting a more

business-like approach to philanthropy to maximize social and environmental returns of

their philanthropic investments. Measuring impact is also a crucial component of successful

philanthropy and has become more prominent globally. Evaluation helps to focus on results,

ensures effective allocation of resources, and upholds accountability.

By Punleuk Kam and Julia Yue

Today's discussions on philanthropy abound with new terms:

"venture philanthropy," "impact investing," "entrepreneurial

philanthropists," "social venture capital." This suggests there is

a new generation of philanthropists who are using successful

business models in order to address global challenges such

as poverty, education, and health. They belong to the family

of strategic philanthropists and are celebrated by the media

for their hands-on approaches to philanthropy that focus on

achieving outcomes and a willingness to take risks and embrace

innovation. As philanthropic concepts evolve, it is difficult to

draw the line between these new types of philanthropists. In

many cases the terms are used interchangeably.

Strategic philanthropists take a more businesslike approach

and look for targeted and lasting impacts. They recognize

that they need to apply innovative approaches to sustainable

development, focus on entrepreneurial talent, and stress

transparency, accountability, and long-lasting outcomes. They

understand that local ownership is important to ensure that

actual needs are being met and results are sustainable. Whereas

traditional philanthropy often focuses on the inputs, this

strategic approach focuses on results. In many cases, it builds

on the entrepreneurial tradition of creating value and the

understanding that a business approach focused on "returns"

on investments (albeit financial, environmental, or social) is

what is needed for lasting social change.

The rise of local philanthropists in emerging economies

Traditionally, the United States has dominated international

philanthropy, with the country's donations totaling $290.89

billion in 2010. Philanthropy is a large part of the US culture

and American citizens are encouraged to get involved at an

early age. The picture in Europe is different compared to the

United States. With roots that go back to medieval times,

philanthropy is considered a private matter and a form of

patronage or charity. Philanthropists do not want to be made

public. Nowadays the European Philanthropy landscape is quite

scattered, ranging from pure charity to social entrepreneurs.

While facts and figures on European philanthropy are difficult

to acquire, accumulated spending of EU-based foundations

was assumed to total up to €51 billion.

But, as major emerging markets grow, the number of local

philanthropists in these countries is growing as well. Equally,

the environment for philanthropy in these countries is maturing

and governments are increasingly acknowledging the

value of harnessing the expertise of wealthy entrepreneurs.

Some examples of regional potential are highlighted below.

In China, where rapid development has been accompanied

by growing social and environmental concerns, the government

increasingly sees the potential for philanthropy to

36 Global Compact International Yearbook 2012 Global Compact International Yearbook 2012

37
---
Agenda

Strategic Philanthropy

contribute to society and is considering joint efforts with

private philanthropists. Chinese businessmen, such as Hong

Kong-based Li Ka-Shing, have set up their own foundations

and are increasingly forthcoming about their philanthropic

givings. For example, in a joint effort with the Li Ka-Shing

Foundation, China's Ministry of Civil Affairs launched the

Paediatric Hernia Rehabilitation Program in 2009 to provide

free surgery for children.

effort to make sustainable contributions in a locally relevant

context, strategic philanthropists are increasingly looking for

ways to align their efforts with local and international institutions

working on tackling development challenges. With a

strategic approach, transnational philanthropy can leverage

local philanthropy built on domestic values. There are huge

opportunities to explore, specifically relating to unlocking the

entrepreneurial potential in developing countries.

Similarly, philanthropy is rapidly growing in the Middle East

region. New opportunities have arisen from lending based

on shariah principles of shared success between the operator

and financier of a venture. Affluent business leaders are

bringing innovation to the usual targets of philanthropic giving.

They also provide leadership by organizing their givings

to be institutionalized, sustainable, and – increasingly – to

be strategic. In the United Arabian Emirates "public-private

partnership foundations," such as the Emirates Foundation in

Abu Dhabi, are based on the financial contributions of both

governmental and quasi-governmental private donors who

provide conditions for supporting causes that maximize impact.

In Russia, until seven years ago there was not a single private

foundation. As of 10 years ago, overall domestic philanthropic

giving barely exceeded $100 million. Now there is a growing

number of private foundations being established by wealthy

Russians. But according to CAF Global Trustees, the majority of

newly wealthy donors struggle to identify a long-term mission

in their giving; they aspire to embrace strategic philanthropy

but are still looking for effective ways to address specific Russian

circumstances.

In Africa, foundations financed solely by home-grown wealth

are emerging. Sudanese Mo Ibrahim – founder of Celtel

International, a telecommunications company in Africa and

the Middle East currently known as Zain – stepped down as

Celtel's chairman to concentrate on his foundation, which

aims to support good governance and great leadership in Africa.

The Africa Grantmakers Network – created by organizations

such as the African Women's Development Fund, based in

Ghana, and the Kenya Community Development Foundation

– aims to "change the narrative of Africa as helpless and hapless,

tilt the balance of stories, and increase the visibility and

knowledge of Africa."

Besides a growing focus on local giving, philanthropy is becoming

increasingly transnational. As global media makes

world crises highly visible, philanthropists are more likely to

give to causes beyond their own tax jurisdictions to support

underprivileged communities around the world. Wealthy

individuals will find better opportunities to make their transnational

giving local by registering institutions abroad or by

partnering with local peers to operate effectively and to ensure

that real needs are being met in the focus countries. In an

Having an impact and being accountable

Strategic philanthropy has clear performance expectations

and aims to find the best opportunities for achieving social,

environmental, and/or financial returns. This involves a strong

focus on impact and should therefore include a focus on

measuring performance. Measuring impact helps to:

Focus on results: Measuring impact enables both the investor

and the entrepreneur to keep their attention focused on what

is relevant and what they want to achieve.

Measure or estimate value: Strategic philanthropists are looking

to understand the social return on investment (SROI). This

can be used to help make decisions through cost-benefit assessments

and understanding ultimate impact.

Ensure relevance and allocation of resources: Through measuring

impact, investors can see if resources are being used efficiently

and effectively. Investors can then evaluate if their investment

was relevant in the chosen context.

Be accountable: All enterprises have stakeholders that affect or

are affected by the enterprise (for example suppliers, customers,

employees, and local governments).

What is required to focus on impact measurement is knowing

which value is being created for the money that is spent.

Measuring impact is not necessarily easy. Many of the existing

measurement tools fail to give proper insight into the associated

impact. As a result, many promising emerging market

ventures with the potential for significant development impact

are evaluated on "emotional" terms or on purely financial

terms. Neither of the two will give a genuine, rational view

of the full potential. With a growing interest in strategic

philanthropy, impact, and the value created by philanthropists,

there are a number of resources available to help you

measure and understand the impact that your investments

are generating.

How can impact be measured?

As philanthropy has a strategic approach, impact needs to

relate back to the objectives of the philanthropists and the

investees – they should hold themselves accountable if the

objectives are not met. For philanthropists, measurement

approaches can be divided into different purposes to fit their

needs. Examples include:

Screening – Making an investment decision "up front." This

approach helps to estimate and understand the potential and

feasibility for a particular investment.

Ongoing performance tracking – Helping philanthropists and

investees understand progress and giving them the ability

to continuously adapt and improve to ensure they meet the

objectives.

Periodic in-depth assessments – Providing a qualitative snapshot

of benefits and their relevance at a given point in time.

A strategic philanthropy approach enables wealthy individuals

to focus on immediate results as well as on results over

time. Venture philanthropists looking at measuring impacts

will need to carefully consider the timeframe for which they

are seeking returns.

Punleuk Kam is Head

of Private Banking

Marketing Business

Support for Western

Europe / EEMEA &

Americas at Credit Suisse.

In 2010/2011 Punleuk

led Credit Suisse's PB

Philanthropy Initiative.

Julia Yue is a Vice President

at Credit Suisse Securities

(USA) LLC in Private

Banking Marketing.

She is responsible for

planning and executing

philanthropic initiatives

for the US market.

38 Global Compact International Yearbook 2012 Global Compact International Yearbook 2012

39
---
Agenda

Strategic Philanthropy

Corporate

Giving Has

Become

Increasingly

Focused

An interview with Charles Moore, Executive

Director, Committee Encouraging Corporate

Philanthropy (CECP).

By Dr. Elmer Lenzen

What is the history and mission of the Committee Encouraging Corporate

Philanthropy?

In 1998, Paul Newman approached Peter L. Malkin about

creating an organization that would encourage companies to

commit greater resources to charitable investments. Malkin

invited David Rockefeller, Paul Volcker, and John C. Whitehead

to join him in this effort as Honorary Chairs, and CECP was born.

CECP was officially launched on November 18, 1999, at a

press conference at Chase Manhattan Plaza. At this event, Paul

Newman, John C. Whitehead, Peter L. Malkin, Walter Shipley,

and other business leaders called upon companies to respond

to the needs in their communities.

CECP has since grown to include more than 180 CEO members

– representing more than 150 major corporations and

approximately $10 billion in annual corporate giving.

CECP's mission is to lead the business community in raising

the level and quality of corporate philanthropy. CECP believes

that discipline applies to corporate giving, like any other business

function. When companies demonstrate programmatic

effectiveness, fiscal accountability, and good stewardship in

their giving programs, society and business both stand to

benefit greatly.

You want to raise the level and quality of corporate philanthropy. Can

you explain to us how you will do this?

CECP exists to inspire companies – starting with the

CEOs – to engage with their communities in increasingly

impactful ways; to understand that they have unique assets

and skills that communities need, today more than ever. This

is hard work, and as such, CECP very thoughtfully and strategically

provides the tools to facilitate companies' involvement

in their communities. It is not just about doing more – it is

also about doing so in ways that bring results.

What is the main motivation for CEOs to engage with CECP and what

kind of benefits will they receive?

CECP is a network of peers. CEOs join to be a part of an

action-oriented learning environment. They push each other

to do more. CECP provides the motivation and incentive

for CEOs to make corporate giving a priority. CECP is also

a repository of best practices and resources. It equips CEOs

and their senior societal engagement staff with the data

and research necessary to infuse effective giving strategies

throughout their work.

CECP holds two annual events for its members. CECP's Board of

Boards CEO Conference is a unique opportunity for corporate

leaders to share insights and best practices, and to help advance

the business case for global corporate community investment.

By participating in this event, global CEOs demonstrate their

commitment to CECP's mission.

CECP also gathers together the senior corporate giving staff of

member companies to share cutting-edge research, provide

the opportunity to hear NGO and CEO perspectives in panel

discussions, and feature keynote speakers such as, most recently,

Arianna Huffington, President and Editor-in-Chief of

Huffington Post Media, and Cory Booker, the Mayor of Newark,

New Jersey. CECP releases a first look at the analysis of the

Philanthropic Societies

Around the World

Asian Foundation for Philanthropy

TrustAfrica

The Asian Foundation for Philanthropy (AFP) is a UK-based charities in India. The development-awareness program "Jagruti"

TrustAfrica is a Senegal-based public foundation that

collaborative project grants, and technical assistance. The

charity that was established in 2005 to provide a channel for the aims to raise awareness about development issues being faced

strives to secure conditions for democratic governance and foundation's program currently focuses on "Democracy

South Asian Diaspora Group to better engage with development globally and to relate these to South Asia. Moreover, it works

equitable development throughout the continent. Initiated and Civil Society" to secure conditions for democracy by

initiatives in India. Using its network and research expertise, the in cooperation with Asian businesses on the topic of corporate

in 2001, it works principally through collaborations and strengthening the capacity of civil society organizations;

AFP provides avenues toward donating, volunteering, and fundraising

social responsibility. By supporting the Asian Diaspora with

partnerships with like-minded institutions and donors "Equitable Development" to foster African enterprises

for grassroots causes related to social and economic philanthropic advice on where to invest social capital, the "Daan"

across Africa. TrustAfrica aims to develop lasting solutions and achieve broadly shared prosperity; and "African

challenges. The AFP realizes its mission through three key focus

program provides an efficient channel for donating. It gives an

to such intractable challenges as violence, discrimination, Philanthropy" to leverage African resources for democracy

programs. The international volunteer program "Paropkaar" informed overview of donation opportunities that are transpar-

and economic isolation though agenda-setting workshops, and development.

enables British Asians to share their skills and experiences with ent, accountable, and that reach the intended recipients.

40 Global Compact International Yearbook 2012 Global Compact International Yearbook 2012

41
---
Agenda

Strategic Philanthropy

previous year's corporate giving data through the Corporate

Giving Standard (CGS) results during the Summit.

CECP provides a platform to share the important work its

member companies are doing in societal engagement. CECP

presents an annual Excellence Awards in Corporate Philanthropy

in a special ceremony. The awards recognize corporate

giving programs that excel in the areas of CEO leadership,

dedication to measurement, partnerships, and innovation.

CECP also spearheads the annual International Corporate

Philanthropy Day, which focuses attention on the community

engagement activities of member companies all over the world.

Successful philanthropy has to include not only the top management

levels but also the employees. How do you foster such a culture in your

member companies?

One of the most important things CECP does is share

successful case studies. Companies learn from each other

about the ways to engage employees through their societal

engagement activities.

CECP also shares trend data about how companies are engaging

their employees. Companies use this data to benchmark

their work and answer key questions, such as, "What are other

companies in our industry doing to engage employees?" "What

are new practices in employee engagement?"

CECP has published important research on these issues over

the years, such as its work with Taproot to value pro bono

work. It has also worked with partners such as Points of Light

and A Billion + Change on the issues of employee engagement

and skills-based volunteering.

Each year on the fourth Monday in February, the corporate community,

led by CECP, observes International Corporate Philanthropy Day – an

international advocacy day. Can you tell us what happens on this day?

CECP member companies and partner organizations plan

societal engagement initiatives and announcements around

this day, and CECP works with partner organizations to communicate

the overall benefits and importance of corporate

philanthropy.

International Corporate Philanthropy Day (ICPD) is an opportunity

to:

• Tell a company's philanthropy story on an internationally

recognized day.

• Further engage senior management, employees, and nonprofit

partners in a company's giving programs.

• Raise awareness of the important role of corporate societal

engagement in fostering stronger relationships across sectors.

• Publicize a company's philanthropic initiatives, benefiting

from the added media interest.

• Enhance relationships with peers and thought leaders in the

corporate giving community.

CECP values its strong partnership with the UN around ICPD.

The Secretary-General of the United Nations, Ban Ki-moon,

issued a proclamation on ICPD in 2012, commending CECP

for its leadership and urging corporations to support the UN's

Millennium Development Goals. In partnership with CECP,

the UN Economic and Social Council and the UN Office for

Partnerships host a special program on opportunities for philanthropy

to help advance the Millennium Development Goals.

Additional ICPD activities include:

• Letting corporate giving officers from CECP member companies

ring The Opening Bell SM at the New York Stock Exchange.

• Landmarks around the world light up in the colors of ICPD

– blue and green – to mark the occasion: Trafalgar Square

in London; the Empire State Building; Con Edison Tower; 55

Water Street in New York; and the clock tower of the Wrigley

Building in Chicago.

The next ICPD is on February 25, 2013.

CECP created the Corporate Giving Standard – an online data collection,

reporting, and measurement tool – to provide immediate insight for

companies on how to compare their philanthropy budgets. Can you

explain that tool to us?

The Corporate Giving Standard is a unique peer-benchmarking

tool for corporate giving professionals. The CGS is

an annual survey that provides participants with online and

on-demand access and customized reports. Each year through

its CGS survey, CECP collects and reports data on numerous

aspects of corporate giving programs internationally. Launched

in 2001, the CGS now features more than $105 billion in

corporate giving data.

The CGS allows peer-to-peer company comparisons, aggregated

industry benchmarks, and internal year-over-year

spending analyses for CECP members and measurement

subscribers.

What are the main trends that you have observed through the CGS?

The first analysis of 2011 corporate giving data – the most

recent data available – reveals that a majority of corporations

worldwide have increased their giving year-over-year. According

to the CGS survey – conducted by CECP in association

with The Conference Board – companies are driving toward

restoring corporate giving to pre-recession levels.

Key CGS indicators for 2009–2011 tracked through a threeyear

matched set of companies that responded include:

• Median total giving was $24.4 million, which is slightly less

than 2010 levels ($24.6 million) but well above 2009 levels

($22.6 million).

• 60 percent of companies increased their total giving as compared

to 2009.

• 48 percent of companies increased their giving by more than

10 percent.

• The Consumer Staples (25%) and Health Care industries (25%)

had the largest amount of growth in giving.

• Of the companies that saw increases in giving from 2009

to 2011, direct cash was the most prevalent form of giving

(median percent change of 18%).

On top of this overall growth, three major trends emerged

from the 2009–2011 data:

• Corporate giving became increasingly focused.

• Employee matching gift and engagement programs were

high priorities.

• International giving was on the rise, largely driven by significant

revenue growth abroad.

CECP has been preparing for this rise in global giving through

its Global Corporate Giving Initiative. This work began when

CECP played a leading role in developing – with the United

Nations Global Compact – the first Principles for Social Investment

(PSI), a set of voluntary principles to guide the ongoing

practice of social investment by organizations seeking to increase

the scalability and impact of charitable contributions.

The PSI were adopted by UN Secretary-General Ban Ki-moon,

demonstrating the commitment of global organizations and

companies to measure and hold themselves accountable for

their charitable giving.

A 2012 CECP report, The Global Guide to What Counts: A Defining

Moment for Corporate Giving, follows up that important

work to provide corporations with a much needed tool to

allow for more efficient measurement of corporate giving on

a global scale. The definitions created by the initiative will enable

a major shift away from corporations' reliance on various

country tax codes to determine what counts as a contribution

that benefits society – a reliance that has complicated the

practice of tracking international giving.

Find out more:

www.corporatephilanthropy.org

Arab Foundations Forum

The European Association for Philanthropy and Giving

The Arab Foundations Forum (AFF) is a pan-Arab

main areas. Firstly, it strives for stronger technical support

The European Association for Philanthropy and Giving sectors, and causes. The EAPG's program consists of

association of foundations based in Jordan that have the that will translate into greater transparency, more effective

(EAPG) is a UK-based membership network that combines events, roundtable programs, publications, and web-based

aim of strengthening the capacity and infrastructure of Arab systems, and illustrate the values behind philanthropy.

the experience, knowledge, and technical expertise of all the resources on technical, strategic, and topical issues relating

philanthropy by providing funders with a networking structure Secondly, the association works on creating effective policy

professions that are involved in the provision of philanthropy to philanthropy. Through strategic campaigns, the EAPG

in the Arab region. The Forum was established in 2006 and structures to advance transparency, accountability, and

and procurement of charitable giving advice to their clients aims to support and ensure that policies and regulations

works as a platform for philanthropists to share information, social responsibility among Arab foundations, including

and donors. Since its establishment in 1998, the EAPG has are developed that encourage philanthropic activity in a

foster dialogue, share experiences, and support one another the implementation of a code of practice. Finally, it seeks

been offering guidance about philanthropy across borders, domestic and cross-border context.

in reinforcing social development through mobilizing private to improve efforts in the areas of networking and capacity

capital for public benefit. The AFF program addresses three building.

Compilation by Karen Rieckmann

42 Global Compact International Yearbook 2012 Global Compact International Yearbook 2012

43
---
Inside ...

Agenda

CSR in Latin America

Latin America

CSR in Latin America:

A General View

By Estrella Peinado-Vara

Multilateral Investment Fund

Member of the IDB Group

It is difficult to generalize when examining companies' social and

environmental responsibility situations in Latin America, largely due

to the economic, social, and cultural differences in the region. Mexico,

Central America, the Caribbean, the Andean region, and Southern

Cone share many similarities but are separated by many differences. In

addition, similarities and differences also occur within the countries; this

adds to the variety of topics covered by CSR, the various approaches that

companies may have to it, and does not allow for general statements

about the complexities of the social and environmental problems facing

Latin America. This article addresses some of the peculiarities of CSR in

Latin America in terms of topics, tools, and relevant issues, including

differences between itself and other regions, particularly Europe.

44 Global Compact International Yearbook 2012 Global Compact International Yearbook 2012

45
---
Agenda

CSR in Latin America

Issues such as the environment, human rights, child and forced

labor, working conditions, and anti-corruption are common

interests throughout the world. However, having identified

these overarching issues, it must be pointed out that the priorities

of Latin America differ from those of Europe, the United

States, and Canada. Labor issues in this region have not been

sufficiently addressed by most national laws (compared to

Europe), so they are a priority. The high disparity of income

levels also makes economic inclusion an urgent matter, one

that needs to be addressed in order to reach the poorest and

most vulnerable in a practical and effective way. There are

also countries in which certain sectors dominate the economic

sphere, and of course the CSR sphere, such as mining in Chile

and Peru. Additionally, in other countries of Latin America,

social conflict is widespread and the need must be focused

on how to cope using the help of the private sector, as is the

case in Colombia.

The progression of CSR requires certain conditions. These are

the same conditions that are required for a good business climate:

an optimal regulatory and fiscal framework, financial

markets, and institutions that function, among other things.

Clearly, there are still many difficulties that slow CSR progress

in Latin America more than in other regions, such as weaker

institutional capacity and corporate governance and less

favorable business environments. Some capital markets are

relatively underdeveloped; therefore, issues such as corporate

governance are not a priority. Nonetheless, there are also initiatives

such as the BM&FBOVESPA Novo Mercado (the New

Market listing on the Brazilian Securities, Commodities and

Futures Exchange) that require certain governance conditions

that also support sustainability issues.

As for the regulatory framework and regarding the difficulties

in Latin America, in some cases there are regulations on environmental

conservation, labor rights, protection of consumer

rights, corporate governance, and business ethics. However,

sometimes the scope is very limited and it is difficult to enforce

compliance. Brazil, Chile, Mexico, and Argentina are some of

the countries that have implemented legal reforms related to

corporate governance and the stock market.

From a management standpoint, CSR performance indices and

tools that present the business case have not yet been developed

in their entirety. It is indisputable that there are business

benefits, but the full causation is still difficult to establish and,

therefore, it is also difficult to convince everyone of how good

it would be to conduct business in a sustainable fashion. The

most dangerous misconception is that operating in a socially

and environmentally responsible way is an expense and not an

investment with returns in the short, medium, or long term.

This has led many managers to underestimate the power of CSR.

However, some methodologies adapted to national realities

have begun to emerge. These methodologies seem more convincing

since they reflect better the local social and business

situations. This is the case with some indicators developed by

the Ethos Institute in Brazil, and its Spanish versions, translated

and adapted by the Instituto Argentino de Responsabilidad

Social Empresaria. It is also the case for specific indicators for

Central America, developed by local networks promoting CSR,

as well as management models of CSR for small and medium

enterprises, such as the network developed by Forum Empresa

(network of national organizations that promote CSR in the

Americas) or Deres in Uruguay. However, the practical implementation

is still limited.

A responsible private sector

The good news is that companies in Latin America are realizing

the need for responsible behavior. In the region, there are

three conditions that favor the development of a responsible

private sector. First, the presence of multinational corporations

concerned about financial, social, and environmental sustainability

that maintain the standards of the parent companies. In

this case, the domestic company imports and adapts the parent

company's CSR practices. There are some cases where the opposite

occurs and the local model is exported to other markets,

including the parent company's model, as was the case with the

practices of Danisco's human resources in Brazil. Second, reactive

behaviors are also common. There are companies that learned

the hard way and realized the importance of the social license

to operate, or that learned about environmental sustainability

only after suffering negative consequences (boycotts, litigations,

etc.) due to their irresponsible behaviors (labor disputes, community

conflicts, environmental disasters, etc.). Third, many

civil society organizations, multilateral development organizations,

and visionary leaders are promoting CSR and the impact

that companies can have on economic and social development.

Linked to this last point, numerous organizations have been

making progress in promoting CSR since the late 1990s: global

organizations like the World Business Council for Sustainable

Development – which has national chapters in almost every

country in Latin America – or the 19 organizations that are

part of Forum Empresa, representing Argentina, Brazil, Canada,

Chile, Colombia, Costa Rica, Ecuador, El Salvador, Honduras,

Mexico, Nicaragua, Panama, Paraguay, Peru, United States,

Uruguay, and Venezuela.

Some of these institutions have been supported by multilateral

efforts from the likes of the World Bank, the Organization of

American States, and the Inter-American Development Bank,

which, through its Multilateral Investment Fund, has promoted

responsible social and environmental practices through research,

publications, and financial support. One of the highlights of

their promotional efforts is the Inter-American Conference on

CSR, which has been held annually since 2002. The financial

support has focused on institutional strengthening and implementation,

especially regarding value chains and initiatives for

private sector contributions to equitable economic development.

Other global initiatives worth mentioning are the Equator

Principles, the Global Reporting Initiative, and obviously the

United Nations Global Compact because of its relatively high

success among businesses interested in Latin America. Each

initiative operates within its own sphere of action. Sometimes

they are confronted with certain limitations due to the nonbinding,

voluntary nature of their principles or guidelines and

because sometimes there is no method of verification. However,

they have proved to be effective promotional tools for CSR, its

complexities, and its realities, and they have demonstrated

the need for company-led action. These organizations and

initiatives have two objectives. The first objective is to build

a strong business case to prove that, in order to maximize

profits, companies need to take into account their environmental

impact, human rights records, labor conditions at their

facilities, and anti-corruption measures, or they must suffer

the consequences. The argument does not revolve around

maximization of profits versus socially and environmentally

responsible operations. Nowadays, the conversation is about the

need to implement socially and environmentally responsible

practices to maximize profits. The second objective – very

much reflecting the reality of Latin America and the Caribbean

– consists of working toward more equitable societies,

which, in turn, will make it easier for businesses to thrive.

Relevant issues for Latin America

The priorities for businesses and the expectations of stakeholders

in Latin America are similar to those of developed countries,

but not exactly the same. There are universal themes such

as the environment, human rights, working conditions, and

forced labor, which are becoming more important, mostly in

developing countries. Environmental and climate change issues

are becoming particularly relevant for emerging economies

in Latin America, since there has been gradual economic and

productive growth. But this growth has not been accompanied

by environmental legislation, all while there has been an

increase in the use of natural resources.

1| Environment

Some large companies have taken initiatives to reduce their

environmental impact in terms of emissions and consumption

of energy and water resources. This is the case of CEMEX. As a

46 Global Compact International Yearbook 2012 Global Compact International Yearbook 2012

47
---
Agenda

CSR in Latin America

"multi-Latin" company that produces and distributes building materials

and cement in over 50 countries in the Americas, Europe,

Asia, and the Middle East, their operations have a significant

environmental impact on CO 2

emissions. It is an energy-intensive

industry with high impact because of the quarries as well as

the transportation and manufacturing processes. The company

has developed a sustainability management strategy, including

using substitute materials that require less energy in processing

alternative energy sources (biomass, reuse of waste materials as

oils, solvents, and tires) and renewable sources (wind), and it is

also searching for more energy-saving methods in the process.

Also an important environmental issue for countries like

Brazil and Colombia is the loss of biodiversity. Natura in

Brazil is a cosmetics and personal hygiene company (with a

direct sales force of resellers in over 5,000 cities in Argentina,

Chile, Peru, Mexico, Venezuela, Colombia, and France). The

company aims to contribute to sustainable development by

focusing on environmental conservation and biodiversity. One

of its features is the use of natural products; it buys part of

its inputs in terms of fair trade and organic origin and pays a

premium of 15 percent on average.

2| Economic opportunities for the excluded

About 360 million people (or about 70 percent of the Latin

American and Caribbean populations) live on less than $300

per month. One mechanism that is yielding results is the

inclusion of low-income and vulnerable populations in value

chains as commercial partners. It is about creating economic

opportunities for groups and entrepreneurs from the base of

the economic pyramid who – with some support, training,

and technical assistance – can provide goods and services to

businesses. These are creative solutions implemented by the

companies that solve business issues and contribute to the improvement

of living conditions of disadvantaged communities

while expanding markets and increasing profitability. Business

initiatives now offer creative solutions that also successfully

contribute to alleviating poverty and social problems.

These 360 million people should also be seen as potential

clients and customers. Many of them have no access to basic

services like water, energy, education, health, and financial

resources. Infrastructures are deficient and the governments

are failing to provide these services in an efficient way. For

example, about 40 million people do not have access to a reliable

energy source in the region. In these cases, and from a

developmental standpoint, priority should be given to models,

products, and services that offer strategic guidance in helping

to improve the lives of the people (such as providing access

to water, energy, education, and health) rather than simply

searching for the market potential at the base of the pyramid

per se (which can lead to increased indebtedness of the population

or unnecessary consumption).

Masisa is an example of a company that has a comprehensive

approach to sustainability, closely linked to business development

with the base of the pyramid to combat poverty and

exclusion. Masisa, with the help of the Multilateral Investment

Fund, supports training for building and assembling furniture

that is specially designed for very low-income households.

This also generates employment for the same groups through

manufacturing and assembling.

3| Labor conditions

Responsible management of human resources and ensuring

fair working conditions, security, and decent wages are particularly

important since labor laws in many Latin American

countries may be insufficient. Some cases of forced labor, the

use of child labor, or extreme working conditions in some

labor-intensive sectors have required action in the development

of fairer and more responsible practices – not only for

the impact on the image of companies, sectors, and countries,

but also for productivity reasons. Furthermore, the lack of

provision of basic services by the state, such as education

and health, allows companies to expand their functions and

provide these services for their own good as well as to have

human resources available to them that are healthy and

educated. Volkswagen in Brazil created primary care clinics in

its plants, which significantly reduced employee absenteeism.

Ingenios Pantaleon sugar mills in Central America improved

working conditions and provided accommodations for temporary

workers – mostly displaced people during the harvest

season – and these practices resulted in higher productivity.

There have been improvements in labor conditions, but it

is certainly one of the pending issues that would have the

greatest impact and a multiplier effect on the welfare of the

population of Latin America.

Different approach

In comparison with Europe, the differences in Latin America

are striking, firstly because of the level of development of

the overall market (institutions, incentives, legal framework,

etc.). For example, what in some emerging countries in Latin

America are considered a model of responsible practices

concerning working conditions are the bare legal minimum

in other, more developed countries. In general, the existence

of the welfare state, strong institutions, and supranational

organizations such as the European Union, which supports

the development of a more responsible private sector, change

the circumstances substantially.

The social and environmental consequences of uneven economic

development play a role. In Europe, up until now,

companies, civil society, and the state can meet their responsibilities

more easily, while in Latin America, the private sector

has to assume additional responsibilities (training, education,

health, access to basic services) if it wants to operate under

certain favorable conditions. Companies have little or no choice

but to be creative and implement initiatives to address these

market – or, rather, state – failures.

Another issue is the pressure that stakeholders have over the

companies, which is usually very closely linked to the level of

development and the level of activism of the right stakeholders.

In Europe there is a deeply rooted tradition of a social economy

where businesses, government, civil society, and unions each

have their reserved space and actively participate in most

decision-making processes. This dynamic does not exist in

most Latin American countries – civil society organizations,

which could play a control role and act as the voice of citizens

(or some groups), are generally weaker. Precisely for all these

reasons, the expectations placed on the private sector in lessdeveloped

countries are greater.

Public policy

Specific public policies on CSR in Latin America are almost

nonexistent. However, the necessary policies would be those

for the promotion and creation of incentives that encourage

more responsible behavior. Public policies should retain the

voluntary nature of CSR, without forgetting that there are basic

issues to cover such as human rights, child labor, pollution,

functioning financial markets, etc.

Basically, the public sector's role should be to implement

measures to streamline the business climate first and foremost,

and once this happens, it can create or provide incentives

for responsible behavior. The market should be developed

in such a way that consumers, funders, employees, and civil

society would each have a role in making companies become

more responsible. In Latin America there is a pressing need

for strengthening the civil society and establishing – with

government support – more opportunities for dialog among

the stakeholders. This could also help improve the bad image

(sometimes rightly, sometimes not) that the private sector has

in many Latin American countries.

How to promote CSR in Latin America

There may be different approaches in promoting CSR in Latin

America and the Caribbean, but to convince business managers,

nothing is better than using the business case. CSR is not only

profitable, it is necessary to improve business competitiveness

and help contribute toward improving the lives of many people.

CSR not only can enhance business competitiveness but also

contribute toward equitable development.

Business associations enjoy a privileged position in promoting

responsible business behavior through advocacy and training

of key personnel in companies. In addition to supporting the

initiatives of industry associations to which they belong, companies

can take a leadership role. They can show to their peers

that CSR is "working," in addition to requiring responsible

behavior of their suppliers, distributors, and other companies

within their value chains.

Conclusion

Latin America faces a series of obstacles in furthering the

development of CSR. These difficulties are the same barriers

that private-sector development faces (weak institutions and

business climate). Legislation is not conducive, and disbelief

or skepticism about the business case of CSR is still apparent.

In order to overcome the barrier of skepticism, it is necessary

to convey the business case and show it – perhaps more in

emerging countries than elsewhere because of the additional

challenges. Numerous examples show that no matter the

industry, its size, or the social issue, companies must find

their own models for implementation of CSR to be profitable.

Inevitably, CSR in Latin America is different from that

in Europe because of very different realities.

The business sector in Latin America cannot ignore the lack

of infrastructure and weak institutions. Producing goods and

services responsibly can help alleviate some of these shortcomings,

or at least contribute to social stabilities that influence

some of these elements in the background.

CSR is becoming increasingly more common in the region,

but a lot still needs to be done regarding the promotion,

implementation, monitoring, impact measurement tools, as

well as issues that concern the public and social sectors. In

emerging economies, as in most Latin American countries, the

private sector (with the drive and the support of the public

and social sectors) has the capabilities and tools to generate

wealth while contributing toward more equitable economic

and social development. A responsible private sector is the

best guarantee of progress for the region.

Estrella Peinado-Vara is a Senior

Specialist at the Multilateral Investment

Fund (MIF) of the Inter-American

Development Bank (IDB). She works at

the IDB since 2002, focusing on privatesector

development, corporate social and

environmental responsibility, and value

chain. She holds an MBA from Georgetown

University (Washington, DC).

48 Global Compact International Yearbook 2012 Global Compact International Yearbook 2012

49
---
Inside ...

Agenda

CSR in Latin America

Latin America

By Prof. Paul Alexander Haslam

An Evolving

CSR System in

Latin America

A decade ago, corporate social responsibility had only just

emerged on the agendas of businesses operating in Latin

America. Corporate commitments were limited to the largest

firms, usually the multinationals; public awareness and demand

for corporate responsibility was low; governments were

uninvolved; and civil society organizations promoting CSR

were still new and, for the most part, funded from elsewhere.

In the last 10 years, corporate social responsibility has matured.

Firms of many sizes are turning to CSR, public awareness has

grown, and civil society has increased the local ownership of

the concept in a way that connects with the long-standing

ethical expectations of these societies. However, outside interests

remain influential in the promotion of this concept,

namely via multinational corporations headquartered in the

North and their governments, multilateral funding agencies,

private foundations, and, most recently, internationally networked

NGOs.

This article examines the important changes that have occurred

in the evolution and practice of CSR in Latin America

over the last decade. In particular, it takes a second look at

the key relationships behind the development of CSR in the

region – described elsewhere as the "CSR system."

A decade of CSR

The context for CSR is different in Latin America than in most

developed countries. The countries of the region are considered

to be "developing" – the majority of which fall into the

"upper-middle income" category. Latin America is nonetheless

characterized by high levels of poverty and inequality: The

indigent and non-indigent poor were estimated to comprise

30 percent of the population in 2011. In the aftermath of two

decades of globalization, liberalization, and privatization, companies

have become more prominent in the lives of citizens

in a context where the reach of the state is often limited. CSR

beyond compliance with the law does not mean much when

the law itself is often poorly enforced. For this reason, social

struggle and advocacy in Latin America has been focused on

the extension and defense of citizenship rights vis-à-vis the

state. In other words, although corporations can contribute

more to development in Latin America, we should not forget

that more effective state regulation of business activities is a

precursor to better CSR.

Although it is important to contextualize the limits of CSR in

the region, it is also evident that the last decade has seen an

important expansion of corporate activity in this area. In 2004,

I wrote that the overall picture for CSR in Latin America was

one in which private sector participation, government advocacy

and promotion, and general public awareness was relatively

low. Private sector activity was incipient, and a number of

business-industry NGOs had only recently been established to

promote CSR. Of course, these results varied greatly across the

region. Brazil led the Americas, attaining a level of engagement

with CSR that was similar to more developed countries. The

next best performers were the most industrialized countries

(Argentina, Chile, and Mexico), followed by lower levels of CSR

in the rest of South America, and a virtual absence of activity

in the Caribbean and Central America.

Almost a decade later, the picture has changed. Public and

business opinion surveys, such as those conducted by CSR

network Forum Empresa and by accounting firm KPMG in

2011, gave insights into both the growth of CSR and its limits.

Both surveys reported an increase in sustainability reporting

by companies in the region: Forum Empresa witnessed an

increase in sustainability reporting from 40 to 47 percent

during the 2009–2011 period; while KPMG revealed that the

use of reporting assurance in some countries topped that of

many developed countries (e.g., Brazil 40%, Chile 37%, Mexico

25%). This picture should also be regionally disaggregated.

KPMG, which only included three Latin American countries

in its sample, revealed significant variations in sustainability

reporting (Brazil 88%, Mexico 66%, Chile 27%). The first two

countries, which were also included in their 2008 survey,

had shown increases of 10 and 39 percent, respectively, over

the three years prior. Although CSR uptake by companies in

Latin America has improved, the sub-regional discrepancies

I identified in 2004 still appear to be relevant.

CSR has diffused from multinationals to large domestic firms

that have found CSR to be part of the modern management

package needed to compete in global markets. In small and medium

enterprises as well as micro-enterprises, ethical concerns

tend to be intertwined with the personal values of the owner

– often related to Catholic philanthropic principles – and

to a personal engagement with workers and the community.

Forum Empresa reports that consumers are interested in

purchasing goods from responsible companies. But public

opinion surveys also reveal a lack of confidence in the private

sector – derived in significant part from the belief that there

is poor government oversight of business activities.

In many ways, the institutional framework that encourages

CSR has matured. A decade ago, a large number of business

and industry civil society organizations were created, often

via funding from sources outside the region, such as the Inter-

American Development Bank, the Netherlands Organisation

for International Assistance, and corporate foundations such

as AVINA and W.K. Kellogg. AVINA alone supported some 160

CSR-related organizations between 1999 and 2009. Corporate

membership in these organizations has skyrocketed over the

last 10 years or so: Forum Empresa (region-wide) 385 to 2,643;

Instituto Ethos (Brazil) 11 to 1,340; CEMEFI (Mexico) 28 to

495; Acción RSE (Chile) 14 to 93. These organizations have

now matured as national champions and public voices for

corporate ethics and responsibility.

The evolving CSR system

Although corporate social responsibility is often portrayed as

a voluntary initiative by businesses acting as good corporate

citizens, the reality is that a business acts in the center of a

system of pressures, incentives, and advocacy that involves

many other actors. This is particularly true in Latin America and

the Caribbean, where pressures and incentives often originate

from outside the country in which the firm has its operations.

I call this set of pressures and incentives that surround the firm

the CSR system. It can be understood as a set of inter-linked

50 Global Compact International Yearbook 2012 Global Compact International Yearbook 2012

51
---
Agenda

CSR in Latin America

actors at the international, home-country (of a multinational

corporation), and host-country levels. It includes international

actors (multilateral organizations and transnational activist

networks); home-country actors (multinational corporations'

head offices, private foundations, home-country governments,

and academic institutions); as well as domestic (host-country)

actors (the firm implementing CSR, government, universities,

business and industry CSOs, independent NGOs, academic

institutions, and organized labor).

Three changes to the CSR system in Latin America have become

particularly evident over the last decade. First, international

norms of CSR, such as those promoted by the Global Compact

or the Global Reporting Initiative, have become more influential

and pervasive among firms. Second, home-country

governments are increasingly interested in influencing the

• International System. Influences from multilateral organizations

continue to have an important impact on the development

of CSR in the region. Norms of responsible corporate

behavior, such as those associated with the Global Compact,

Voluntary Principles, and Global Reporting Initiative, have

become more influential among firms over the last decade.

Global Compact Local Networks have been established in

many Latin America countries, including Argentina, Bolivia,

Brazil, Chile, Colombia, Dominican Republic, Ecuador, Mexico,

Panama, Paraguay, Peru, and Uruguay. Large domestic corporations

increasingly see the adoption of these norms as being asthe

CSR System in Latin America

Host-Country

System

Universities

Home-Country

System

Business/

Industry NGOs

Universities

Private

Foundations

National

Government

ethical behavior of their companies abroad. Third, while

sympathetic business and industry NGOs remain important

to public debate, the rise of contentious, globally networked

NGOs has created a real watchdog capability in civil society.

Multilateral

Organizations

Firm

Implements

CSR

Multinational

Enterprise

National

Government

National

NGOs

Workers

International

NGOs

Market

Financing

International

System

sociated with modern management techniques, and essential

to competing with foreign firms and doing business abroad. In

addition, financing for large-scale investments increasingly requires

adherence to CSR norms, such as those found in the International

Financial Corporation's Sustainability Framework.

Multilateral development agencies and private foundations

based outside the region have also been significant

contributors to the development of CSR in the region. The

Inter-American Development Bank and its private sector arm,

the Multilateral Investment Fund, continue to fund CSR activities

throughout the hemisphere. The Americas Conference

on Corporate Social Responsibility (2002–present), funded

by the Inter-American Development Bank, is particularly

noteworthy for its ongoing contribution to CSR promotion

across the region. Private foundations and home-country

development agencies have also been active in establishing

a network of organizations that promote CSR.

• Home-Country System. In addition to the obvious impact of

multinational corporations' head offices on the adoption of

CSR policies, home-country governments of these firms have

also begun to play an important role. Increasingly, homecountry

governments are under pressure from domestic

constituencies to ensure that their companies are acting

responsibly abroad. This is particularly evident in the extractive

sector. In Canada, which is an important source country

for foreign direct investment in mining in Latin America,

domestic NGOs and their political allies have pressured the

government to regulate the activities of Canadian mining

firms abroad. Although this regulatory agenda was rejected

by the Canadian government, it felt compelled to create an

Office of the Extractive Sector CSR Counsellor, and publish

a periodical CSR E-Bulletin as a way to deflect civil society

criticism and encourage Canadian firms to follow sustainable

and responsible practices. In this respect, home-country

governments, as a result of civil society pressure, can play an

active role in encouraging CSR practices in host-countries.

• Host-Country System. The collection of pressures and incentives

described above converge around the firm implementing

CSR in the host-country system. Historically, public

awareness and media engagement – and even government

oversight – have been relatively weak. Business and industry

NGOs promote CSR, but as a "sympathetic" civil society,

their approach is one of dialogue, consensus-building, and

leading by example – not pressure in its political sense. In

this respect, the principal pressures on the firm stem from

core stakeholder constituencies such as organized labor and

local communities. Here we see a significant change over the

last decade, whereby local organizations based in affected

communities engage in contentious politics supported by

networks of like-minded NGOs at the national and international

levels. This is a fundamental change that brings

contentious civil society into a watchdog role that has the

potential to hold firms accountable – in a context where

the reach of the state is limited. It is particularly evident in

the extractive sector, where civil society mobilization across

local, national, and international scales has forced firms

across the industry to more seriously engage stakeholders

or risk losing their social license to operate.

Conclusion

Over the last decade, CSR has become increasingly wellestablished

in Latin America and the Caribbean. Uptake by

companies has increased dramatically, as has public awareness.

Although local ownership of CSR and its integration with

domestic philanthropic traditions has increased dramatically

over the last 10 years, the CSR system in Latin America is still

distinguished by the influence of outside actors: the leading

practices of multinational corporations; the role of private

foundations, multilateral development agencies, and homecountry

governments; as well as transnational activist networks.

A decade ago, a CSR system had been established in Latin

America that did an admirable job of promoting the concept,

but it was poorly suited to monitoring or promoting compliance.

With the passage of time, the maturation of civil society,

and the development of global reporting norms, the system

has improved. The development of home-government interest

in promoting good business practices abroad and a contentious

internationally-networked civil society suggests that the

CSR system can evolve to be more effective. However, moving

beyond compliance with the law remains limited due to the

weak regulatory capacities of many governments and the

pressing concerns of decent jobs and economic development.

Prof. Paul Alexander Haslam is

Director of the School of International

Development and Global Studies,

University of Ottawa, Canada. He is

currently researching the effects of CSR

on local communities affected by the

mining industry in Latin America.

52 Global Compact International Yearbook 2012 Global Compact International Yearbook 2012

53
---
Inside ...

Agenda

CSR in Latin America

Latin America

Should Poverty

Alleviation Be Part

of MultinationalS'

Corporate

Responsibility?

By Dr. Lourdes Casanova and Anne Dumas

After a gap of 20 years, Rio de Janeiro will again be hosting the

United Nations Conference on Sustainable Development, also

known as Rio+20. In 1992, at the Earth Summit (Eco-92), Latin

America was getting out of the so-called lost decade, following

the debt crisis of the 1980s. The economy was growing slowly,

inflation was high, and high levels of external debt reduced

investments in infrastructure. Over the last 20 years, Brazil has

become the sixth largest economy in the world. Today, there is

economic stability, low inflation, and almost 40 million Latin

Americans have come out of poverty in the last years. Even the

global financial crisis has had mild effects on the region. The

private sector has emerged stronger and has played a key role

in the recent Latin American success story. However, despite the

growth, social problems persist. Rio+20 provides a wonderful

opportunity for the private sector to showcase both its business

success and efforts to alleviate poverty and promote green energy.

Emerging multinationals from Latin America

Emerging multinationals have grown exponentially. In the

2011 Global 500 ranking of the magazine Fortune, a total of

115 companies – almost one in four of the total – come from

emerging countries, whereas only 47 were represented in 2005.

With this emerging power comes the responsibility to contribute

to be part of the solution to the world's social challenges. The

Canadian magazine Corporate Knights published the rankings of

its eighth Global 100 for "a better and cleaner capitalism." This

year the ranking included three Brazilian companies: Natura

Cosméticos S.A. – which was number two overall in the world

– Banco Bradesco S.A. (number 61), and Petrobras (number 81).

Social contributions to society have been part of the vision

for many Latin American companies – some of them more

than 100 years old – often due to the religious beliefs of the

founders. Most recent initiatives in the region started around

1997, as did Forum Empresa, an Inter-American network that

includes the United States and Canada and has 3,300 affiliated

companies. The World Business Council for Sustainable

Development, which originated at the 1992 Rio Summit, has

18 member organizations – 13 are affiliated companies from

Latin America and nine are from Brazil. Some important organizations

– such as Peru 2021; the Ethos Institute in Brazil

with 1,477 member companies; RSE in Chile; Costa Rica's

Asociación de Empresarios para el Desarrollo; and Red Puentes,

a network of Latin American NGOs – are all looking to make

a contribution toward the development of their own societies

and to work more closely with stakeholders. The Inter-American

Development Bank has supported many of these initiatives.

At the same time, Brazil has become a hotspot for social entrepreneurs,

and more than half of all Brazilian companies

have embraced social policies, according to the Ethos Institute.

Entrepreneurs and executives alike are leaving traditional

businesses and embarking on entrepreneurial projects with

a social development priority. In 1995 Rodrigo Baggio created

the Committee for Democracy in Information Technology with

the mission of utilizing information technology as a tool for

social inclusion in low-income communities. The Committee

creates schools around Brazil and it has started expanding the

model to other emerging countries such as India.

Brazil also has tough environmental laws. The 1995 Environmental

Crime Law states that Brazilian executives can be sued

in court if they fail to meet a number of health, environmental,

and safety standards. In 2009 Brazil approved the National

Policy on Climate Change and, more recently, the Forest Code

to reduce deforestation.

Mexico has taken a more philanthropic view concerning the

contributions of its multinationals toward the improvement

of its societies. In 1988 Manuel Arango, an important business

leader, created The Mexican Centre for Philanthropy with

59 companies, 92 foundations, and 45 business leaders. The

idea at that time was to focus not only on philanthropy but

also on environmental and sustainability issues as well. Since

then, the Centre's activities have include helping companies

to implement CSR policies.

Latin American companies (and companies from emerging markets

in general) operate in a harsh economic and social context.

Despite these harsh conditions, many Latin American firms

have succeeded globally with strong leadership and important

homegrown capabilities such as agility in decision-making and

flexibility in action. While most of these emerging-market

multinationals have a social dimension as part of their DNA

and engage with employees and local communities to improve

their social lives (by providing housing, education, and special

health benefits), an important question has arisen in recent

years: Should poverty alleviation be part of the role and the

social commitment of successful Latin American multinationals?

Poverty alleviation in Latin America

The strong economic growth in Latin America since 2002 has

been very beneficial for the poor, as the size of the middle

classes in the region has increased. The percentage of people

living below the poverty line has decreased almost 20 percent

in the last 20 years, but the level of those living below it is

still 30 percent – and those living in extreme poverty account

for 12.8 percent of that total. The Latin American region still

has one of the highest levels of economic disparity in the

world. Emerging multinationals from Latin America have

thrived and want to engage in poverty alleviation programs

and sustainable development. Many of the poor work in the

informal economy. Employees in the informal sector have no

rights and their work is part of their survival.

In this context, it is important to identify channels by which

private and public sector leaders can have an impact on re-

54 Global Compact International Yearbook 2012 Global Compact International Yearbook 2012

55
---
Agenda

CSR in Latin America

ducing poverty. In general, one can identify three channels

for raising people out of poverty: enterprise, distribution, and

government revenue. These channels are inter-dependent

and, as shown below, each presents important challenges

in ensuring that they yield the desired benefits in terms of

poverty reduction.

Enterprise channel: Companies create employment. A job in

the formal sector is often the passport to improve the social

lives of those in the community. It gives employees and their

families access to health services, among other benefits, and

offers training that is linked to their new jobs. At the same

time, foreign (and local) direct investment increases demand

for products and services from local suppliers. However, many

of the foreign multinationals arrived in Latin America during

the privatization program of the 1990s in the service sector.

State-owned telecom, electricity, airline, and water companies

changed ownership. As soon as the private, foreign, or local

company took over, redundant employees were fired. Since

the 1990s many of the foreign companies, in fact, destroyed

more jobs than they created.

Distribution channel: C. K. Prahalad, with his concept of the

fortune at the bottom of the pyramid, highlighted for the first

time the enormous potential of the poor as consumers. One of

the unique characteristics of emerging-market multinationals

is their ability to offer successful products and services to

those four billion people in the world who live on less than

$2 per day. Banco Bradesco launched a service in Brazil for

those without bank accounts, allowing them to make financial

transactions through their mobile phones. The Mexican-based

mobile company América Móvil has based its success on

understanding the mobile phone needs of the lower-income

population. The early expansion of prepaid cards is one of the

reasons for the higher mobile penetration in Latin America,

with respect to other emerging markets.

Government channel: Governments can act as redistributors of

wealth through the distribution of tax revenues. The government

revenue channel's efficiency depends on the ability of

the government to collect taxes and on how they invest them.

However, global competition between different parts of the

world has obliged governments to take special measures to

attract foreign direct investment. To compete, different governments

offer a range of perks, including free import and

export of products, tax exemptions for a couple of years, and

often free land. Capital is usually allowed to move freely and

multinationals – local and foreign – have the ability to allocate

capital efficiently and minimize their tax burdens. These

mechanisms to reduce corporate taxation can be damaging

to emerging markets with small tax revenue bases. The 2007

Latin Economic Outlook of the OECD Development Centre

states that the extreme inequality in the region could also be

alleviated through the redistribution of taxes.

The moral case

Latin American multinationals from Mexico to Brazil feel the

need to engage with their communities and societies. Thus, it is

not surprising that we can find a number of local multinationals

where ethical values have been integrated into business strategies.

The Mexican company Bimbo is well known for its policy of

avoiding layoffs, even in times of crisis, and for introducing

various incentives to strengthen loyalty and build the notion

of common interest among its staff.

The same goes for the Brazilian cosmetic company Natura

Cosméticos, an ecological brand. The company is based on an

environmental concept in which its products are created through

the sustainable use of natural products sourced from the Amazon

rainforest by poor indigenous communities. Its business model

has improved the lives of about 1.1 million Brazilian women and

more than 200,000 in other countries working in direct sales.

The company, which does not do animal testing, considers that

responsible practices form a part of the company's everyday

operations, from production to its business relationships.

The restaurant chain Astrid and Gastón represent another

example of the implementation of CSR. The founders, Astrid

and Gastón Acurio, see their chain of restaurants as being

intimately related to the improvement of Peruvian lives. They

want Peruvians to rediscover the value of their unique local

agricultural products and, through them, improve the image

of Peru, a country that has suffered a lot from bad press

internationally. They also opened the Instituto Culinario

Pachacútec, named after the shantytown where it is located.

The institute accepted 30 students from 700 applicants last

year. The school is free and financed by donations.

The business case

Many companies in the world have, at times, been accused

of using social initiatives as a public relations exercise to improve

their images. However, social programs do help to move

companies to the next stage of success and to better integrate

them with the concerns of the societies in which they operate.

Quality of education is seen as one of the main challenges

for Latin America to attain the next stage of development.

Companies that help to improve the level of education of their

employees, as well as their employability, provide long-term

benefits to those who set up specific programs. For example,

the biggest Brazilian private bank, Banco Itaú-Unibanco, has

made education projects the priority of its social policies.

Through their educational program Raizes e Asas (Roots

and Wings), the bank invests $12,000 per student. The Inter-

American Development Bank has launched an employability

program Entra 21 with the International Youth Foundation

and partners from the private sector. Enova in México designs,

builds, and operates more than 42 small educational centers

(Red de Innovación y Aprendizaje, Learning and Education

Network) for low-income urban communities.

Some companies such as the Mexican building materials company

Cemex are able to address the moral concerns and help the

entrepreneurship spirit of the poorest segments of the population.

In 2000 Cemex launched Patrimonio Hoy (Patrimony Today).

The initiative offers microcredit to help low-income families to

improve their houses; Cemex employees offer free advice; and

the company provides fixed-price building materials. Almost

265,000 families have received a total of $135 million in loans

in Mexico, Colombia, and other Latin American countries.

Brazilian oil producer Petrobras has committed to a wide

variety of development schemes, showing that long-term

involvement in CSR can also lead to long-term benefits. The

company states that they have to create a policy "which brings

socio-environmental results to society, aggregating social

technologies. "Petrobras adds, "in developing countries, if we

want to make a difference we must go further from what the

law demands." The company collaborates with UNICEF and

22 companies in Latin America and the Caribbean to focus

on children's education. Petrobras has been a participant of

the Global Compact since 2003 and is part of the Dow Jones

Sustainability initiative and the Brazilian Business Council for

Sustainable Development. As one of the 10 biggest companies

in the world by market capitalization, Petrobras has adopted

CSR as an integral part of its mission and business strategy.

A "New Deal" against poverty?

A number of Latin American governments have launched

public policy programs to tackle poverty. These programs have

also served as catalysts to involve firms from the private sector.

A good example is Fome Zero (Zero Hunger), which includes

various programs such as Bolsa Família (Family Allowance),

which was launched in 2003 and reaches about 12.7 million

families with incomes of $70 per month. Each family receives

about $17 a month per child attending school. According to

the World Bank, 75 percent of Brazilian families in the bottom

20 percent income group are receiving Bolsa transfers. Brazil

is exporting its know-how to other developing countries such

as India and even New York, which copied its conditional cash

transfer program. In 2010, the total budget of the program

reached $6 billion. The program, the biggest of its kind in

the world, also encourages the participation of civil society

for monitoring and evaluating the efficiency of the programs.

The private sector is also supporting this initiative. Mexico has

a similar (and older) program, called Oportunidades.

However, poverty reduction has not been part of the traditional

commitments of multinationals to the society in which

they operate. Even the Global Compact – which was created

in 2000 by the United Nations and has 8,000 participating

companies, unions, NGOs, and governments from all over

the world – does not consider the social concerns of emerging

markets such as poverty alleviation and social inclusion.

Moving forward to a better society

Corporate scandals in the United States and Europe and the

economic crisis have put companies under increasing media

scrutiny and resulted in public distrust.

Various countries have widely benefited from consensus-based

reform initiatives. In Europe, the 1978 Moncloa Pact was

a turning-point in the history of post-Franco Spain. It was

prompted by the country's economic turmoil after the 1974

oil crisis. The government, unions, political parties, businesses,

and civil society came to a consensus on the way forward for

the country's transition toward democracy and prosperity.

There needs to be a broad Moncloa-style consensus on the

future of social responsibility in Latin America. Business and

the private sector should endeavor to make growth more equitable.

The need for the private and public sectors as well as

civil society to work together in Latin America is more urgent

than ever. The Rio+20 meeting provides an excellent occasion

for this commitment for a better society.

Dr. Lourdes Casanova is specialized in

international business with a focus on

Latin America and emerging market

multinationals. She is responsible at

INSEAD of the Goldman Sachs 10,000

women initiative and co-leading InnovaLatino,

an OECD/INSEAD research

project funded by Fundación Telefónica.

She is member of the task force "ICT &

Innovation" for the B20 summit.

56 Global Compact International Yearbook 2012 Global Compact International Yearbook 2012

57
---
Inside ...

Agenda

CSR in Latin America

Latin America

Social Responsibility

Networks in the

Banana Industry

By Prof. Dr. Maria Alejandra Gonzalez-Perez

There is evidence that in the last two decades, international

civil society has played a dynamic role in improving environmental

and working conditions in regions such as Latin

America. Such improvements have occurred side by side

with indications that trade liberalization and the decline of

the state's regulatory role since the 1980s and the advent of

globalization in the 1990s has exacerbated inequalities, social

exclusion, and triggered environmental degradation. It has

also provided incentives for a cost-reduction "race to the bottom,"

and therefore an imbalance in trade relations. There

are strong indications that these apparently contradictory

phenomena (care and competition) occur simultaneously in

different industries across the globe.

Although corporate social responsibility practices and policies

are voluntarily designed and adopted, it is in many cases

compulsory due to the pressures of market forces. Social and

market pressures have obliged companies to develop "socially

engineered" goods and services. The production and distribution

processes of these goods must be continuously improved

to have a perceived positive effect on the employees, communities,

and the environment. For consumers, this means

having the choice of buying a product guilt-free. Making an

analogy with GMOs (genetically modified organisms), these

products could be termed EMOs (ethically modified organisms).

However, an approach beyond CSR is required and it must be

observed at the international level. The development of EMOs

has been facilitated due to the increased ability of both the

production systems and marketing strategists to target their

brands to niche markets, in addition to activists targeting

brands to apply pressure for change.

Those that have denounced the negative aspects of trade liberalization

and globalization have identified and stated that to

redress these issues and ameliorate the harmful consequences,

an accountable, transparent, participative, and transnational

governance system is required. Within the specific case of

the banana industry, it has been clearly observed how local

socially- and environmentally-driven initiatives of producing

regions in Latin America have received feedback from consumers

in non-banana-producing countries. This has taken place

through the establishment of social responsibility networks

(SRNs), which are relationally connected to local and international

actors who coordinate the adoption of social and

environmental responsibilities. The nodes of the SRNs in the

banana industry are multinational companies, independent

producers, governments, community-based organizations,

trade unions, international nongovernmental organizations,

shareholders, certification agencies, consumer associations,

and consumers.

According to the FAO, in 2010 the world export of bananas

reached almost 14 million tons. Although the largest producers

of bananas are India, Brazil, and China, the main exporting

countries are currently Ecuador, Colombia, Costa Rica, and

the Philippines – together they account for 73 percent of the

world's banana exports.

Civil society's social responsibility within the banana industry

is to foster and regulate social, economic, and political

activity through non-state/non-corporate interdependent

governance. In other words, it can act through monitoring

agencies to encourage desirable behavior from corporations

and governments, and it can regulate the interdependent relations

via networks in the absence of an oversight organization.

Organized international civil society – composed of local

and international nongovernmental organizations – regards

itself as the main alternative to regulation that operates outside

the framework of the nation-state. Although currently

there is not a globally defined framework that is enforceable

through international legislation, international civil society

organizations generally operate based on Western principles

of human rights, and increasingly in accordance with the Ten

Principles of the United Nations Global Compact. Within the

scope of the banana industry, international NGOs operating

in consumer markets have used mechanisms such as rallies,

protests, marches, and campaigns through social networks,

boycotts, and other public actions as catalysts for change when

dialogue with decision-makers in a corporation or government

has failed. These actions are usually designed strategically to

gain immediate attention and to obtain short-term responses.

The main mechanism is to attract mass attention or media

coverage by exposing the socially unacceptable behavior of

governments or corporations.

Organizations at the international level that represent the

interests of workers via trade unions' representation include

the International Union of Food, Agricultural, Hotel, Restaurant,

Catering, Tobacco, and Allied Workers' Association (IUF),

which was founded in 1920. The position of the IUF regarding

accountability and enforcement strongly suggests that the role

of trade unions on the ground is critical. If trade unions have

a role in the development, establishment, and monitoring of

CSR programs, then CSR might be recognized as positive by

trade unions. At the same time, there are other instruments

such as the International Framework Agreements (IFA) to

58 Global Compact International Yearbook 2012 Global Compact International Yearbook 2012

59
---
Agenda

CSR in Latin America

empower local trade unions at the international level. An IFA

is an accord negotiated between a multinational company

and a sectoral trade union federation with regards to international

activities. Within the banana industry, Chiquita Brands

International was the first – and so far the only – banana

company to sign an IFA with the global union IUF and the

Latin America Federation of Banana Workers Union in June

2001. The agreement, "Freedom of Association, Minimum

Labour Standards and Employment in Latin American Banana

Operations," involved Chiquita Brands committing to the ILO

conventions regarding freedom of association and collective

bargaining, and also covered other issues such as forced labor,

child labor, non-discrimination, and health and safety. These

ILO conventions are also reflected in certifications and codes

of conduct of major banana companies.

Over the last two decades, several NGOs dealing with the banana

industry have been created in banana-consumer countries to

challenge practices in the producing countries. Some of the

most active NGOs within the international banana industry

are: BananaLink, BanaFair, Euroban, Rainforest Alliance, Ethical

Trade Initiative, and Social Accountability International.

Consumer awareness concerning the ethics of banana production

and trade was raised by cases such as the second

International Tribunal on Water in Amsterdam in 1992,

which condemned Dole Food Company (formerly Standard

Fruit Company) for seriously polluting the Atlantic region of

Costa Rica through its banana operations in the Valle de la

Estrella. There were legal proceedings taken by former workers

against Del Monte, Dole, Chiquita, and agrochemicals firms

from 1965 to 1990 for injuries sustained from direct exposure

to Nemagon, a nematicide. In 2007, Chiquita pleaded guilty to

the Justice Department of the United States for making extortion

payments to the AUC paramilitary group in Colombia in

exchange for protecting the lives of workers.

ded in an SRN is that if local trust is built and maintained, it

benefits them because it stabilizes relationships (and therefore

controls production costs), thereby enhancing economic efficiency

and improving the predictability of profits.

Simultaneously, since the 1990s, there has been increased

awareness of and commitments to certification schemes on the

international level. Supermarkets, retailers, and other buyers

increasingly consider certifications as being critical requirements

for bananas and other agricultural products. The benefits as a

result of the SRNs in the banana industry have been mostly in

areas such as health and safety at work, trade union recognition,

protection of biodiversity and water sources, and perception of

safety in the producing regions. Within the areas of health and

safety, the explicit benefits have been a decrease in workplace

accident rates, a reduction of hazards in the workplace, a reduction

in the exposure to pesticides and chemical fertilizers, and

an increase in environmental awareness. Top-down influences

that have affected these positive changes can be traced back to

the demands of consumers put upon retailers and supermarket

chains. Consumers receive real-time information from international

NGOs on the conditions experienced by workers and

the communities where bananas are produced. Some NGOs

and trade unions participate in the design and monitoring of

certification. Top managers at multinational corporations have

progressively adopted objectives linked to corporate citizenship

and have included key performance indicators for social and

environmental functioning of their operations and strategic

planning. Bottom-up initiatives can be traced to the workers.

Workers have organized themselves in the banana industry,

generally within trade unions, which act politically at the domestic

level via community-based organizations, and political

parties, in which workers and their families participate. At the

local level, workers' activism mobilizes financial, labor, and

political resources in order to focus attention on areas that

affect workers the most. Social foundations, which are financially

supported by banana-producing companies, formulate

their priorities partially based on the key needs identified by

workers and their families, and allocate resources for either

satisfying theses needs or mobilizing resources from national

or international funding agencies.

SRNs in the banana industry have influenced the improvement

in perception of security in a positive way. In regions with histories

of violence, such as Uraba in Colombia, several groups acted

together with local and national authorities toward achieving

a reduction in the violence, and developing a peace-building

process in the region. Specific improvements in security as a

consequence of the SRNs in Colombia were: the increase in

democratic spaces for political participation, with different

actors partaking in political and socioeconomic development

processes within the region; increased levels of negotiations

with government agencies; the intensification of dialogue; and

informed communication with international actors.

The dynamics of interconnecting consumers' concerns and

workers' struggles increased the influence that could be exercised

through international civil society, in the sense that

workers' voices could be echoed in market-driven ethical

practices. The most significant effect it has achieved is the

tacit power it has given to workers on the ground. Workers

and their representatives (trade unions and community-based

organizations) have gained an understanding that the circumstances,

conditions, and needs have become known and heard

internationally by groups of people with demonstrated commitments

based on solidarity and social responsibility. This

has given them not just negotiating power when bargaining

working conditions, but it has also situated them in an international

network, opening up new fields of activities and

strategies of influence. This bottom-up phenomenon – which

is based on acquired knowledge in international politics and

business, and access to international social networks – serves

the purpose of connecting workers and local communities to

markets and international communities.

Several consumer and activist groups have been created in

the agricultural trade area. Fairtrade and organic production

are encouraging the exercise of politics by consumers. Consumer

actions in importing markets have a potential impact

to address trade relations at the policy level. This would at

least allow for the survival of developing countries within the

competitive international market.

Within the banana industry, SRN initiatives vary according to

the motivations and capacities of different actors. For instance,

at the local level in the banana industry, there are initiatives

planned and implemented by banana-producing companies

(mostly multinational companies) aimed at building trust

with workers, local communities, and national governments.

When local CSR efforts are connected to a wider set of domestic

stakeholders, then they can be conceptualized as part of an

SRN. The rationale for a banana company to become embed-

Prof. Dr. Maria Alejandra Gonzalez-

Perez is Full Professor, Head of

Department of International Business,

and Coordinator of the research

group on International Studies at the

Universidad EAFIT in Colombia. She

is part of the network of the virtual

institute of UNCTAD, member of the

Global Compact Network in Colombia,

and she is also a research associate at

the Centre of Innovation & Structural

Change (CISC) in Ireland. Prof. Dr.

Gonzalez-Perez holds a PhD from the

National University of Ireland, Galway.

60 Global Compact International Yearbook 2012 Global Compact International Yearbook 2012

61
---
Inside ...

Agenda

CSR in Latin America

Latin America

Corporate Complicity in

Human Rights Abuses in

Latin America

Efforts to establish an agenda of corporate

responsibilities with human rights in

Latin America have led to modest, if not

aspirational, results. However, recent

developments suggest that this agenda is

gradually gaining ground, as seen through

its appropriation by states, companies,

and civil society advocacy groups as an

interpretative framework for their actions.

The emerging dynamics of collaboration and

conflict between such actors – within and

across national borders – contribute toward

defining the broad substance and scope of

this emerging agenda.

By Dr. Marcelo Saguier

The linkages between corporations and human rights have

been addressed in mainstream discussions mostly as a regulatory

challenge. The so-called return of the developmental

state in some Latin American countries over the last decade

has expanded the scope of these linkages to incorporate the

view that human rights can only be fully realized with social

inclusion, social protection, and democratization. In addition

to a responsible and accountable private sector, the promotion

of human rights also requires the active role of the state

in setting an enabling policy context, regulatory instruments,

and means for participation in strategic economic sectors. In a

post-neoliberal context, there is space for experimenting with

innovative policy and regulatory approaches to advance the

agenda of corporate accountability with human rights through

more effective state-company governance arrangements and

judicial practices.

Moreover, the agenda of corporate responsibility with human

rights in Latin America is also shaped by international

normative processes, such as the UN Secretary-General Special

Representative's "Protect, Respect and Remedy" framework.

This opened the discussion of what constitutes corporate complicity

with human rights and how to differentiate between

public and private responsibilities. Though the UN framework

has still not fully entered the public debate in Latin American

62 Global Compact International Yearbook 2012 Global Compact International Yearbook 2012

63
---
Agenda

CSR in Latin America

societies and the mass media, it has made great progress in

shaping the global debate on a norm-based corporate regulation.

However, the OECD Guidelines for Multinational Enterprises

have been more influential in Latin America, given that they

provide an instrument of accountability that has been used

by claimants seeking to redress corporate abuses.

Private-led initiatives for corporate social responsibility have

been another vehicle used to open up the discussion of human

rights responsibility within the business community. In the

late 1990s, human rights responsibilities did not feature in

the agendas and language of most companies. The UN Global

Compact process has contributed toward mobilizing this

agenda, as well as toward systematizing and consolidating the

panoply of voluntary initiatives publicized as corporate social

responsibility. It has recently sets itself the goal of generating

the expectation that adherent companies need to publicly

demonstrate compliance and transparency with the Global

Compact Principles. The development of a Communication

on Progress mechanism and the incorporation of the Global

Reporting Initiative's reporting guidelines along standardized

performance indicators are steps in that direction.

Notwithstanding the relative merit of such initiatives in

creating conditions for greater corporate accountability with

human rights, compliance remains a great challenge. Extractive

industries are increasingly becoming the main source of

socio-environmental conflicts throughout Latin America, as

related to corporate complicity in human rights abuses. In the

mining sector alone, there are presently 161 conflicts that affect

212 local communities in relation to 172 mining projects

and 254 companies. During 2009 anti-mining activists were

tortured and assassinated in Mexico and El Salvador, allegedly

with the complicity of the Canadian companies Blackfire

Resources and Pacific Rim. Moreover, there are issues relating

to corporate complicity in the agriculture industry such as

negative health impacts, environmental damage resulting

from the use of pesticides, illegal land acquisition, and forced

evictions of local populations.

This has led many civil society advocacy groups to engage with

the corporate responsibility agenda as a means toward opening

up a broader public debate about the policy, regulatory, and

socioeconomic implications for human rights and development,

as related to the increasing influence of transnational

corporations in all spheres of society. Among the most visible

initiatives, there is the regional mobilization of victims of

corporate-related abuse within the organization of public

opinion tribunals, such as the Permanent Peoples' Tribunals

on Neoliberal Policies and Transnational Corporations in Latin

America, which were held in Peru in 2008.

The field of corporate accountability with human rights is

leading to the intersection of state-, company-, and civil society

responses across different institutional settings in ways that

suggest possibilities for constructive synergism. Transnational

civil society advocates use OECD National Contact Points to

bring about pressure for changes in corporate conduct regarding

human rights in line with OECD Guidelines. Accountability

synergism increases when states introduce policy reforms and

judicial actions that support civil society initiatives in home

and host countries.

The company Nidera in Argentina exemplifies this. It was

accused in 2011 of human rights abuses against temporary

workers at its corn-processing operation facilities in Argentina.

Investigative reports were commissioned by the Argentine

government. The information gathered helped support legal

actions in national and provincial courts and a complaint was

filed by Argentine and Dutch NGOs at the Netherlands' OECD

National Contact Point. At the same time, the Argentine government

promoted a change of the national legislation that

regulates temporary rural employment to prevent unregistered

and unprotected work. It also centralized the recruitment of

rural work within the Ministry of Labor, in light of the alleged

complicity of the subcontracted recruitment companies that

provided services to Nidera. With such policy changes as a

background, the OECD Guidelines facilitated a constructive

space of negotiation between the complainant NGOs and Nidera.

An agreement was reached in 2012, in which Nidera committed

to strengthening its human rights policy, to formalizing

human rights due diligence procedures for temporary rural

workers, and to allowing NGOs to monitor its operations in

Argentina. Private and public engagements at the national

and international levels worked as complementary leverages

to increase corporate accountability.

Constructive synergies of state and civil society engagements

can also be seen in transnational litigation. In 2012 the Colombian

trade union Sinaltrainal and the European Center for

Constitutional and Human Rights filed criminal charges against

Nestlé and members of its senior management through the

Swiss public prosecution. They are accused of complicity in the

murder of a trade unionist committed by paramilitary forces

in Colombia in 2005. Similarly, the companies Drummond and

Chiquita face trials in US courts – they were accused under

the Alien Torts Claim Act for complicity in the assassinations

of trade unionists in Colombia. Non-legal opinion tribunals

organized by civil society groups in Latin America compiled

accusatory information that later had probative value in the

legal courts. In 2011 a US court accepted the compensation

claim against DaimlerChrysler AG filed by torture survivors

and 22 relatives of Argentinean trade unionists who disappeared

during the last military dictatorship (1976–1983). The

company was accused of complicity in human rights violations

and state terrorism. These cases illustrate the application of

an extraterritoriality principle with respect to legal corporate

responsibilities with respect to human rights in overseas

operations and the role of civil society advocacy in bringing

these companies to justice.

These are illustrative examples of the ways in which the

agenda of corporate responsibility with human rights is being

shaped by the intersection of public and private actors vis-à-vis

instances of corporate abuse in Latin America. It suggests a

growing synergy between different international instruments

as well as national judicial and policy opportunities. Stimulating

such synergies is one avenue toward moving ahead with

the accountability agenda. Likewise, the improvement of due

diligence and reporting processes – in addition to third-party

monitoring – is an opportunity for the private sector to bolster

the transparency and adequacy of their commitments to

respect human rights. Legislative reforms that make corporate

disclosure and reporting mandatory can help companies that

seriously commit to genuine actions to differentiate themselves

from others. The fact that actors engage with multiple

institutional and normative spaces with a narrative of business

complicity with human rights is a recent and promising

development. These spaces open up opportunities that are

valuable, but ultimately the determinant is who uses them,

how, and for what purpose.

Dr. Marcelo Saguier is an Associate

Professor of International Relations at

the School of Latin American Social

Sciences (FLACSO) in Buenos Aires. He

is also a Research Fellow at Argentina's

National Scientific and Technical

Research Council (CONICET).

64 Global Compact International Yearbook 2012 Global Compact International Yearbook 2012

65
---
Inside ...

Agenda

CSR in Latin America

Latin America

The Importance

of Protecting

the Rainforest in

South America

The Amazon basin gives South America the largest contiguous block of rainforest in the

world: It extends over an area of almost seven million square kilometers and is one of the

largest natural carbon sinks on the planet. Experts from the World Wide Fund for Nature

(WWF) estimate that over the last 50 years, nearly 20 percent of the rainforest has been

destroyed through logging, natural catastrophes, and industrial exploitation. Any relaxation

in forestry legislation could accelerate species extinction in Brazil even further.

and fuel increases in the coming decades, so will the impact

on our planet's natural resources." This is the reason that an

important task for the future is to link the rising demand to

sustainable resource management. There are three specific

areas to focus on:

• Agriculture

• Energy production / infrastructure

• Natural resources / mining

Cultivation, not overcultivation

According to the WWF, the current deforestation situation

in the Amazon has reached a point of frightening efficiency:

The machinery that has been perfected takes only a few

seconds to transform a living rainforest the size of a football

field into a dead wasteland. An area of rainforest the size of

at least three football fields is being lost every minute. That

means that in the time it has taken to read this text, at least

one more football field's worth of rainforest has disappeared.

Land reclamation for agriculture is the greatest danger to

South American rainforests. Driven by the growing demand,

each year more areas are being turned over to agricultural

use. What's more, the global need for bioethanol has led to a

sudden expansion in the areas used to cultivate soybeans and

corn. Ever-larger areas of rainforest are being cleared for new

pastures and grazing lands. Such global clear-cutting already

makes up more than 20 percent of CO 2

emissions worldwide.

The WWF is confronting the problem with a dual-track strategy:

Supply-chain standards have been jointly agreed with

policymakers and large firms and are being implemented

to the greatest extent possible. Since the main agricultural

products of meat (food), soybeans (animal feed/biofuel), sugar

(food/biofuel), and palm oil (diesel) are in demand worldwide,

however, global standards are needed. These standards would

essentially prohibit the agricultural exploitation of areas with

high ecological benefit. The results have not yet put an end

to such land reclamation, but they could bring it down to a

significantly lower level in many countries.

A living space for human beings

opment, but when poorly planned, the negative impacts can

exceed the short-term benefits."

This also holds true for energy production, which is becoming

more and more important. Using fuels from non-fossil

sources is important, but those in power must proceed with

caution. For example, South American heads of government

plan to set up more than 150 hydropower stations over the

next 20 years, a number that many scientists believe exceeds

the critical margin for many ecosystems. Since most of the

power stations are located on tributaries of the Amazon, they

have a substantial influence on the bisophere of the entire

region. Peru's Marañón river alone would be overloaded with

81 planned projects.

The future of the gold miners

The subject of minerals and fossil resources has again become

an important issue for environmental groups, for the additional

reason that most mines belong to small-scale enterprises. If

large operating companies could be held to high environmental

standards in the past, it is precisely these small-scale miners

who lack the money – and above all the technology – to satisfy

the most minimal environmental standards. These "mini

mines" also fell considerable amounts of wood, overfish, and

overhunt in the surrounding environment, and dump the

chemicals that accumulate from their mining activity into the

surrounding waters and groundwater. Redoubling attempts at

education would therefore provide a solution to this dilemma:

Knowledge-transfer would increase mine operators' awareness

of the ecological problems in the region and reduce the

detrimental effects on the environment.

Amazon forests in danger

In 2012 the Brazilian Parliament decided to significantly ease

the laws protecting the rain forests, which have existed since

1965. Massive local and international protests led to a partial

veto by President Dilma Rousseff in may. She blocked 12

paragraphs, but according to WWF this is far from sufficient

to protect past achievements in conservation.

By Dennis Lohmann

In the Amazon basin alone, there are over 400 species of

mammal, more than 1,200 species of bird, and some 3,000

species of fish, according to WWF figures – as well as more

than 40,000 proven plant varieties.

At the same time, the growing economies in South America

have a legitimate interest in making use of their forested areas

responsibly. WWF recognizes this fact as well, as stated on

the organization's website: "As market demand for food, fiber,

Forests also provide the basis for human existence: Some 30

million people live in the Amazon basin alone. In the individual

provinces, the highest priority is to supply the population

with food, power, and daily necessities. WWF has spoken out

unequivocally against such "development at all costs" and

advocates designing methods of land and water transportation

that are in harmony with nature. The challenge here is to

increase collaboration between environmental organizations

and policymakers. As WWF has stated, "transportation and

infrastructure are essential for national and regional devel-

Dennis Lohmann works as an editor for

the macondo Media Group.

66 Global Compact International Yearbook 2012 Global Compact International Yearbook 2012

67
---
Inside ...

Agenda

CSR in Latin America

Latin America

Number of COPs Revised in the region (Graph 1)

(by dec. 2011)

The UN Global Compact

in Latin America – Trends

and Topics

7%

2%

4%

10%

3%

13%

2%

4%

18%

30%

2%

Argentina

Bolivia

Chile

Colombia

Mexico

Panama

Peru

Dominican Rep.

5%

Brazil

Ecuador

Paraguay

Uruguay

Source: Pacto Mundial. Elaboración: Centro Regional

Labor standards, human rights, environmental conservation,

and transparency – the core issues of the United Nations Global

Compact are especially vital in the developing economies.

Latin America and the Caribbean are remarkable examples. "El

Pacto Mundial en América Latina y el Caribe. Memorias 2011:

Informe de Gestión," a publication of the Global Compact

Regional Center, gives a detailed view on the present situation

of the Global Compact in Latin America and the Caribbean.

The whole region includes more than 1,500 companies in 13

Local Networks. Thus, Latin America represents 9 percent of

the whole UN Global Compact, with a 5 percent rise in the last

year. After Europe it is the biggest regional network.

The actual situation of companies in the region is described by

the United Nations Economic Commission for Latin America

this way: After the global crisis in 2008/2009, GDP grew at a

significant rate of 5.9 percent in 2010. In 2011 it dropped to

4.3 percent, mainly because of three factors: the reduction

of global growth, measures in Brazil to reduce its internal

demand, and the insecurity of the markets. Countries with

the biggest economic growth were Panama, Argentina, and

Ecuador; those with the smallest growth were El Salvador,

Cuba, and Brazil.

In 2012 Latin America is facing a decline in growth of approximately

3.7 percent, basically because of the problems in

the euro zone. Experts consider the situation in Latin America

nevertheless as being robust for decent economic and social

development. What made this possible? The publication

"Memorias 2011" argues that the reasons are: good handling

Missing Elements in

the Beginner COPs (Graph 2)

in %

100

75

50

25

0

35

Letter by CEO

88

Evaluation of results

35

Human Rights

Source: Pacto Mundial. Elaboración: Centro Regional

Labor Standards

19 15

Environment

of public spending, high foreign currency reserves, and low

public debt as well as low external debt rates in most countries.

To stimulate regional growth and human development, the

United Nations Development Programme recommends the

following:

66

Anti-Corruption

• Better access to renewable energies and a global tax on

transactions in foreign currencies to finance the mitigation

and adaptation to climate change and to foster sustainability

and equality.

• Fuel consumption subsidies, which still are common in many

countries of the region, favor those with the means to own

an automobile, and at the same time create incentives for

the excessive depletion of resources. There are countless

cases where subsidies in agriculture, energy, and water are

linked to environmental damage.

• Some policies are conducive to meeting some targets, but

result in delays of others. An example: Although the coal

subsidy in developing countries promotes growth, it also

contributes to increased greenhouse gas emissions. Such

policies may have positive effects on global equity, but are

negative for sustainability.

• The situation might also be the opposite: Policies can improve

sustainability, but affect equity negatively. By example, some

regulations that restrict the access to goods in common use,

such as forests, may help to preserve the natural resource,

but deprive the poor their main sources of livelihood.

The work of the Global Compact

With this background, and against the backdrop of a new

global crisis, the Global Compact offers a strategic platform

for the active involvement of companies through collaboration

with its stakeholders. The initiative is seen as an effective

tool for addressing the challenges of business on sustainability.

However, Latin America is also the region with the highest

number of delisted signatories due to failure in sending its

Communications on Progress (COPs).

The COPs retain the integrity of the initiative, serve as the means

of communication between companies and their stakeholders,

and are the main reference point of the Global Compact. In

February 2011 the differentiation program entered into force

as a new policy of the COP, which classifies the reports into

three levels: Apprentice, Active, and Advanced. The analysis

of this year's data shows that of 435 COPs, 69 percent are at

the level PM Active; 27 percent at the Apprentice level, and

4 percent at the Advanced PM level.

Finally, regarding the classification, the Office of the Global

Compact has shared the information available on the missing

elements in the COP categorized Apprentice level. Graph 2

shows that the biggest challenge of the COP at this learner's

level is the evaluation of results and that the subject least

reported on is anti-corruption.

Compilation / Translation: Dr. Elmer Lenzen

68 Global Compact International Yearbook 2012 Global Compact International Yearbook 2012

69
---
Best

Practice

74

106

162

76

108

Adecco Group

Air France-KLM

Arab African International Bank

Banco León

BASF

112

Bayer

100

Bosch

164

Bradesco

114

BSH Bosch und Siemens Hausgeräte

Human Rights

Adecco Group

Banco León

EDF Group

Groupe SEB

Interamerican

Medcom

Mitsui

Novo Nordisk

Sakhalin Energy

SK Telecom

Teck

Tristar

100

Labour Standards

Bosch

ManpowerGroup

74

Environment

106

Air France-KLM

BASF

Bayer

BSH Bosch und Siemens Hausgeräte

Consolidated Contractors Company

Deutsche Telekom

Essent

Guangxi Beihai Penshibao

MAN

Metso

MTN

Vestas

Development

Camposol

Copeinca

Deutsche Post DHL

Furnas

GDF Suez

Nestlé

Netafim

Rogers

TÜV Rheinland

CSR Management

Carrefour

The TMS Group

Yüksel

Financial Markets

136

156

162

136

156

116

137

138

118

78

120

142

144

122

166

80

82

124

102

84

128

86

130

148

150

88

Camposol

Carrefour

Consolidated Contractors Company

Copeinca

Deutsche Post DHL

Deutsche Telekom

EDF Group

Essent

Furnas

GDF Suez

Guangxi Beihai Penshibao

Green Delta Insurance

Groupe SEB

Interamerican

MAN

ManpowerGroup

Medcom

Metso

Mitsui

MTN

Nestlé

Netafim

Novo Nordisk

Arab African International Bank

Bradesco

Green Delta Insurance

Royal Bank of Scotland Group

152

168

90

94

96

Rogers

Royal Bank of Scotland Group

Sakhalin Energy

SK Telecom

Teck

158

The TMS Group

98

Tristar

154

TÜV Rheinland

132

Vestas

160

Yüksel

Solely responsible for the editorial contributions under the heading "Best Practice" are the companies and their authors themselves.

70 Global Compact International Yearbook 2012 Global Compact International Yearbook 2012

71
---
Best Practice

Human Rights

74

76

78

80

82

84

86

88

90

94

96

98

Adecco Group

Banco León

EDF Group

Groupe SEB

Interamerican

Medcom

Mitsui

Novo Nordisk

Sakhalin Energy

SK Telecom

Teck

Tristar

Labour Standards

100

102

Bosch

ManpowerGroup

Human Rights

Labour

Principle 1: Businesses should support and respect the

protection of internationally proclaimed human rights; and

Principle 2: make sure that they are not complicit in

human rights abuses.

Principle 3: Businesses should uphold the freedom of association

and the effective recognition of the right to collective bargaining;

Principle 4: the elimination of all forms of forced and compulsory

labour;

Principle 5: the effective abolition of child

labour; and

Principle 6: the elimination of discrimination in

respect of employment and occupation.

72 Global Compact International Yearbook 2012 Global Compact International Yearbook 2012

73
---
Best Practice

Human Rights

Adecco Group

The REDvolución –

Combating Spain´s High

Unemployment

By Margarita Álvarez and Lilian Furrer

Adecco, the world's leading provider of HR solutions, took unprecedented action on the

streets of Spain on October 27, 2011. The aim was to use its expertise to help people unlock

their potential, make a step into work, and integrate into society in an innovative and highimpact

way. Driven by the belief that work is a fundamental right and a basic need, Adecco's

REDvolución initiative focused upon combating Spain's rising unemployment and on

lending a helping hand to as many people as possible. At the end of 2011, around 5.3 million

people – or close to 23 percent of the working population – were out of work.

The day was called a REDvolución in recognition

of the "need for change." It was

made possible by the highly committed

Adecco branch network in Spain, which

colored the streets red at 300 "hot spots"

around the country. Adecco employs

1,500 colleagues, and while 400 of its

staff manned the 300-branch network

– assuring minimum office operations

– about 1,100 colleagues took to the

streets for the day while wearing their

red REDvolución shirts to offer practical

job-finding support to 70,000 people.

Reaching out to people in need

The contact activity was carefully orchestrated.

Everything was geared to

address some of the main challenges

unemployed people face when trying

to find work. A leaflet was developed

with "top 10 tips" on how to prepare a

curriculum vitae (CV) and how to give an

effective interview. Research by Adecco

shows that three out of five people do

not prepare properly for a job interview

and four out of five CVs are poorly structured

or contain editorial errors. Armed

with their leaflets and motivated by the

cause, Adecco colleagues – working in

twos and threes – hoisted REDvolución

flags in high traffic areas. These included

bus and train stations and shopping

malls. Pre-briefed about how to interact

with the public, at 9:00 a.m. colleagues

started approaching people in the streets,

enquiring if they or anyone they knew

needed help in their job search. Word

of mouth soon spread news of the REDvolución

around the streets of Spain.

People began to flow into the flagged

areas. By 4:30 p.m. Adecco colleagues

had completed conversations with 70,000

people looking for help, and the leaflets

were completely out of stock.

The idea for Adecco to use its expertise

in this extraordinary "out of the

office" way was inspired by Adecco colleagues.

Enrique Sánchez, Executive

Committee Member and Regional Head

Enrique Sánchez,

Regional Head of Adecco

Iberia & Latin America,

supporting the cause.

An Adecco employee in Guadalajara

consulting two young people.

of Adecco Iberia and Latin America –

who himself joined the REDvolución

– explains: "Colleagues tell us that the

most motivating part of their role is

helping people transition into a job and

sustain their employability, unlocking

their potential in a very concrete way.

Our REDvolución harnessed this motivation

and was a practical demonstration of

social responsibility face-to-face, directly

helping people who need our expertise."

From the street to the workshop

But the day itself was just the starting

point of follow-up support. The "top 10

tips" leaflet also included an invitation to

register online for a free two-hour workshop.

The workshops provided an ideal

opportunity for job-seekers to explore the

tips in detail and apply them to their own

CVs and interview techniques. The 500

workshops, designed for a maximum of

12 people each, took place in November

and December across the nation. All were

fully subscribed, adding up to a total of

4,000 attendees.

Feedback from people looking for

work and who attended the workshops

was powerful. Many people have gone

on to find work. While this cannot be

precisely measured – as participants are

in no way tied to Adecco – appreciative

comments have flooded in. One attendee,

a 38-year-old woman from Castellón, took

part in one of the workshops, and within

one month found a job as an administrative

accountant. "They gave us useful tips

on how to make a job interview successful,"

says the woman. "But most of all it

gave me the opportunity to have a more

personal contact with the Adecco team.

It resulted in a personal interview with

a consultant and finally in an interview

with a company. Shortly after I got the job!"

Making a difference

Involvement in the REDvolución certainly

fueled the sense of purpose Adecco

colleagues have about their roles. Ana

Rosa Gordo, responsible for Research and

Development at Adecco, says, "I feel very

proud of having participated in such an

altruistic initiative, especially thinking of

the tough times Spain is going through

with such high unemployment. That

Adecco Spain went out on the streets

and contributed in this different way to

a national problem – lending a helping

hand – felt incredible."

Because the initiative's purpose

was to show Adecco's corporate social

responsibility, only a brief press statement

was issued on the eve of October 27 to

inform the broader public. However, the

REDvolución captured media attention

nationwide, reflecting the importance of

the economic and employment issues that

were addressed. Adecco Head of Marketing

and Communications in Spain, Margarita

Álvarez, said, "We recorded over 300

items of press and broadcast coverage,

acclaiming the value of the initiative." For

example, national radio station Onda Cero

reported, "The Adecco team went out on

the streets. Now there is no more excuse

for not having an up-to-date CV or for

not knowing about the most important

points a CV should include. Adecco has

great knowledge about the labor market

and went out on the streets to clarify any

doubts in relation to job-seeking."

The REDvolución continues

After such a powerful initial impact, the

REDvolución has continued its pace. In

March 2012, an Adecco REDvolución day

took place in Portugal. Also in March, a

REDvolución was initiated to provide

personalized support to 300 families in

Spain who have no member of the family

in employment. Given the very high level

of unemployment among young people

in Spain, which is above 40 percent, an

Adecco REDvolución day and follow-up

workshop campaign is being planned

for various university campuses in the

fall 2012. Expanding upon the theme

of the role and importance of work as

a human right, Enrique Sánchez adds,

"The economic and unemployment crisis

in Spain is also a social crisis, impacting

individual and family life nationwide.

Some groups are particularly affected –

young people leaving school or university

and jobseekers over 50. Having a job

creates a sense of inclusion and gives a

meaning to people's lives: Work is after

all the foundation of society." Through

projects such as REDvolución, Adecco

is reinforcing its role in society. With

around 700,000 associates who work

with Adecco every day, we are living our

promise of "better work better life," supporting

individual and family life and the

economic success of clients and society.

Work is a fundamental need and should

be a basic human right for all people.

More information: www.laredvolucionadecco.com

74 Global Compact International Yearbook 2012 Global Compact International Yearbook 2012

75
---
Best Practice

Human Rights

Banco León

Cards of Hope Program

our values of commitment, integrity, collaboration,

and respect require us to demonstrate

socially responsible behavior."

their administrative expenses, and provides

artistic and recreational activities

for participating children.

them we can change the social reality of

these children and give them a chance,

the hope of a different life."

By Zoila Bello

As a participant in the Global Compact initiative since 2006, Banco León has been promoting

the Ten Principles of this network through its management. Respecting the protection of

internationally recognized human rights within its sphere of influence and promoting the

effective abolition of child labor are two of the Principles that Banco León has been supporting.

This has been done through its Cards of Hope program and its approaches to education as well

as to children living in poverty and with social risk in the Dominican Republic.

Within the framework of its principles

and values, Banco León has approached

various segments of the community in a

consistent and systematic way through

corporate social responsibility programs

that are specifically targeted toward

education and children living in conditions

of poverty and social risk in the

country.

"Banco León has always had a clear awareness

of its responsibility to its staff, customers

and communities, which goes

beyond the provision of financial services,"

says Jose Enrique Sanoja, Vice

President of Corporate Relations and

Marketing. "It's about making the lives

of others simpler by transforming their

social reality.

Our vision calls upon us to expand our

legacy of success in business, which involves

educating and training our employees,

customers, and communities.

Our principles of cultivating win-win

relationships, acting ethically, and working

for a better nation are clear expressions

that our actions must be linked to

the search for the common good. And

Banco León understands social responsibility

as "a form of committed and

assumed generosity to be given to others

through training, experience, work, and

enthusiasm in search of the common

good and the satisfaction of influencing

positively by example. That is, to work

for a better nation," says Sanoja.

There is always hope at Banco León

Cards of Hope, instituted as a CSR program

in 2004, is an initiative that seeks

to improve and expand the educational

programs of the participating entities so

that more children can benefit and be

cared for. It provides a fundraising tool

for the sustainability of institutions and

The program is intended for nonprofit,

nongovernmental entities working to

benefit children in conditions of poverty

and living with social risk in the

Dominican Republic. It is aimed at children

between 6 and 12 years of age who

belong to those institutions.

"During the implementation of the program,"

Sanoja adds, "the children participate

in painting workshops, where

they are motivated to draw about two

main topics: mothers and Christmas.

These works are then evaluated by a jury

made up of bank executives and national

plastic artists. Ten or 15 winning works

are selected to become greeting cards for

Mother's Day and Christmas, and with

THE SITUATION OF EDUCATION IN THE

DOMINICAN REPUBLIC AT A GLANCE

• The Dominican Republic has a total population of 10,010,590, of which

3,034,997 are children and young people from 5 to 19 years of age; that is,

approximately 30 per cent of the Dominican population is of school age.

• 20.1 percent of children from 10 to 14 years of age are working and 37

percent of them do not attend school.

• The Dominican school-aged population that cannot read or write is attributed

to various causes: having to drop out of school to work and earn money; in

other cases there was no school in their locality, or the school was very far

away. Also, the lack of classroom space prevents children and youth from

attending school.

• During the 2009–2010 period, the Dominican Republic had 11,402 schools,

10.6 percent fewer than in 2007–2008.

• Of these schools, 6,932 are public, 37 percent fewer than in 2008, and 4,178

are private, 190 percent more than in 2008.

• Private education in the Dominican Republic is expensive.

• Twelve percent of the total school-aged population is not enrolled.

• In 2010, there were 1,731 minors arrested for offences such as theft, robbery,

fighting, aggression, drugs, homicide, and rape, among others.

Source: National Office of Statistics (ONE). www.one.gob.do/index.php.

During the nine years of its implementation,

the Cards of Hope program has

achieved the following results:

• Five to 12 institutions participate every

year.

• 150,000 children have benefited.

• 2,130 paintings have been made by

participating children who live in

conditions of poverty and are at social

risk.

• 195,000 cards have been printed.

• More than $250,000 have been raised

for participating institutions.

Fe y Alegría and the cards of hope

program

Ana Divi Arbaje, Communications Director

of Fe y Alegría, one of the institutions

that has participated in the Cards

of Hope program, says: "The Cards of

Hope program of Banco León connects

us with other institutions. It is a way to

know each other and to obtain alliances

in favor of all."

Through Cards of Hope, in 2011 Fe y

Alegría was able to train 45 teachers

from the southern area of the Dominican

Republic, strengthening the subject areas

of Spanish and mathematics. Acción

Callejera, another recipient institution,

reinforced the afterschool programs in

10 communities in Santiago, Dominican

Republic, where 1,820 children received

comprehensive education along with

their families.

Other institutions allocated funds to

cover transportation costs, administrative

services, payment to teachers, special

language and music programs, and the

purchase of instruments and educational

tools.

Other programs such as Creemos, Sonrisas

de Reyes and Ecoactivo are being

developed at Banco León based on the

pillars of education and childhood.

76 Global Compact International Yearbook 2012 Global Compact International Yearbook 2012

77
---
Best Practice

Human Rights

EDF Group

Fighting Fuel Poverty –

Supporting Our Most

Vulnerable Customers

heating or lighting, making them even

more difficult to spot.

Because electricity is a basic need,

EDF drew up a Group position at the

end of 2011. Its goal is to prevent its

customers from experiencing difficulties

and to help solve the difficulties of

those who do.

Fuel poverty is a growing problem throughout Europe. As it varies widely from one country

to another, each country has its own definition specific to its context and history. Electricity

companies are involving themselves in public schemes in compliance with regulatory

requirements and in action taken on their own initiative.

A regulatory framework forming

a commitment

In France, the public service contract with the state sets out most of the action

taken by EDF under regulatory schemes. EDF supports the French social tariff

("Tarif de Première Nécessité") introduced by the public authorities in 2004.

The tariff reduces electricity bills by an average of €95 a year. The number of

households eligible is about 1.3 million.

This social tariff makes it possible to identify the most vulnerable households

early on and then offer tailored assistance to help them manage their energy

consumption. Customers in difficulty may also request assistance from the

housing solidarity fund (Fonds Solidarité pour le Logement), which gives them

access to housing, enables them to remain in it, and also helps them to settle

their unpaid bills. EDF, which set its contribution at €22 million a year, is the

second-largest contributor after the local authorities.

In the United Kingdom the new British regulations took inspiration from the

proactive programs undertaken by EDF Energy over the past several years (the

Energy Assist tariff as well as the Energy Trust Fund, in operation since 2003

and which has helped more than 20,000 households heavily in debt or on low

incomes).

With the Warm Home Discount system introduced in April 2011, the regulations

have become more binding and now require electricity suppliers to give

discounts to their fuel-poor customers. Suppliers with over 250,000 customers

are now to spend an aggregate amount of £250 million in 2011 - 2012.

In France, 8.2 million people – representing

some 3.6 million households and

13.5 percent of the population – live

below the poverty line and are more

particularly affected by fuel poverty.

Another statistic provided by the French

statistics institute INSEE shows that 3.5

million households report that their

homes are inadequately heated. In the

United Kingdom, the number of households

in fuel poverty was estimated at

5.5 million – 21 percent of the population

– at the end of 2009. In connection

with the publication of his report in

March 2012, John Hills specifies that

nearly 8 million people – or 2.7 million

households on low incomes – face

higher energy costs than middle and

high-income households (with an aggregate

fuel poverty gap of £1.1 billion,

projected at £1.6 billion in 2016, as a

result of the poor housing conditions

in particular).

Since fuel poverty is not necessarily

synonymous with poverty per se or

with unpaid energy bills, it is difficult

to identify those affected; but it is necessary

to do so if action is to be taken.

Meanwhile, more and more people are

deliberately depriving themselves of

"As a responsible energy company, we make a

commitment to supporting our most vulnerable

residential customers. We work with

governments, local authorities, NGOs, and other

stakeholders to promote the most efficient use

of energy in order to reduce consumer costs.

With our partners, we also develop countryspecific

solutions and programs to support

vulnerable households."

Improving housing and social

mediation

Aside from regulatory frameworks and

new advisory services such as Accompagnement

énergie (energy support),

which was launched in 2011 to provide

advice on such matters as tariffs, energy

management, and more flexible payment

schedules, EDF is building partnerships

in accordance with its sustainable development

policy to fight fuel poverty in

two ways. The first is to improve the energy

efficiency of housing. Poor housing

conditions trap vulnerable households

in a vicious circle.

In France, EDF has undertaken to

provide €49 million for the "Habiter

Mieux" (Live Better) program between

2011 and 2013. This public program will

thermally renovate the 58,000 housing

units belonging to fuel-poor homeowners.

This commitment further supports

the voluntary action taken by EDF, and in

particular its "2000 toits, 2000 familles"

(2,000 roofs, 2,000 families) operation

carried out by the Fondation Abbé Pierre,

which builds energy-efficient social housing

for disadvantaged people (for 2,025

families at the end of 2011). Other activities

are carried out in conjunction

with social housing authorities (about

100,000 housing units in 2011).

Meanwhile, EDF Energy has been

working for 10 years with the London

city authorities on the London Warm

Zone program, which identifies the most

vulnerable households and invests in

energy efficiency improvements. The

result: 57,000 housing units have been

insulated since the beginning of the

operation. In addition, EDF Energy is

continuing its financial contribution,

over a period of three years, to the government's

Community Energy Saving

Programme (CESP) aimed at improving

the insulation of housing in disadvantaged

neighborhoods (involving more

than 100,000 housing units).

The second way in which EDF is

fighting fuel poverty is by forging partnerships

with social mediation structures.

Without such structures, it is indeed difficult

to reach out to people in difficulty

and explain to them how they can obtain

the assistance for which they are eligible

and receive personalized advice about

ways to reduce their energy consumption.

By the end of 2011, EDF had set

up such partnerships with nearly 200

outreach and contact points in France.

It further strengthened its partnerships

with the social support community in

2011 by renewing its agreement with

the national union of local social action

centers to step up its activities carried

out with social workers. It also offered

support by continuing with many other

nationwide partnerships like the "Unis

In France, EDF is working with NGOs

such as "Le Secours catholique" to

provide vulnerable customers advice

on energy efficiency and help them to

reduce their bills.

Cités Médiaterre" program, under which

young people doing civilian service reach

out to residents of underprivileged neighborhoods

and help them modify their

energy consumption.

In Hungary, EDF DÉMÁSZ began

in February 2012 to support an unpaid

bills management program initiated by

the Hungarian branch of the Order of

Malta, providing funding of 100 million

forints (about €336,000). Those eligible are

customers that meet a number of social

criteria as well as families whose electricity

has been or is set to be cut off due to

non-payment of bills. They receive support

in managing their energy consumption.

In Poland, Group companies generate

electricity but do not sell it to

individual customers. However, they

too have made a commitment to fight

fuel poverty via partnerships in a country

where more than 13 percent of the

population lives below the poverty line.

For example, EC Krakow offers heat to

NGOs helping the poor, and helps the

underprivileged via its Gorace Serce

company foundation.

78 Global Compact International Yearbook 2012 Global Compact International Yearbook 2012

79
---
Best Practice

Human Rights

GroupE SEB

self-assessment

on Human Rights

By Joël Tronchon

Having become a participant of the UN Global Compact in 2003, Groupe SEB is committed

to respecting the Ten Principles of the agreement. For the Group, which has a presence in

several continents, including Asia, it was necessary to find a tool capable of transforming

this commitment in principle into a concrete reality. This would enable an evaluation of the

manner in which these Principles were taken into account locally in each of the Group's

subsidiaries. Accordingly, in 2007 the Group adopted the HRCA Quick Check (Human Rights

Compliance Assessment) – a self-assessment tool developed by the Danish Institute for

Human Rights and supported by the United Nations.

In a wider context, Groupe SEB has

initiated the creation of a global Ethical

Code, which will be distributed in

2012 to all of its employees. Based on

the Group's values, this will specify the

main rules of conduct for employees and

will address 18 key themes – from the

respect for Human Rights to measures

for combating corruption – and including

non-discrimination, environmental

protection, and the prevention of conflicts

of interest.

Adaptation to the Chinese context

In late 2010, the five sites of Supor – the

Groupe SEB subsidiary based in China

and Vietnam – underwent a self-evaluation

using the China Business and Social

Sustainability Check (CBSSC). This tool

is a version of the HRCA Quick Check

adapted to the Chinese context by the

Danish Institute for Human Rights, and

produced in both English and Chinese.

Twenty-eight questions based around

245 indicators examine themes ranging

from working conditions (overtime,

salaries, holiday, minimum age, training,

equality of treatment, safety, etc.) to the

impact on local communities and supplier

monitoring.

The questions are generally similar to

those set in the HRCA Quick Check, but

they are more specific and take into account

certain local particularities, for

example the special attention given to

nondiscrimination against migrant workers

and to the accommodations offered to

workers. The self-evaluation produced 7

"red" and 36 "yellow" responses, relating

particularly to working hours, health and

safety, holidays, and supplier monitoring.

Action plans are being implemented

and a new check will be carried out in

two years.

In total, at the end of 2011, 99 percent

of the Group's personnel were covered

by the HRCA Quick Check or its Chinese

equivalent, the CBSSC.

What is the HRCA Quick Check?

Available online, it consists of indicators

developed on the basis of the Universal

Declaration of Human Rights – the 1966

International Covenant on Civil and Political

Rights and around 80 other major international

treaties and conventions. The tool

comprises 28 questions based around 240

indicators aimed at determining whether

the company has Human Rights policies

or guidelines and whether these are correctly

applied through the company's

procedures and practices. Naturally, the

HRCA Quick Check covers Principles 1

and 2 of the Global Compact concerning

Human Rights, but it also monitors compliance

with labor standards (Principles

3, 4, 5, and 6) together with measures to

combat corruption (Principle 10).

Management and deployment

Groupe SEB was one of the very first

French companies to implement the

HRCA Quick Check. It is managed by

the Sustainable Development Department,

with the aim being that each

entity – whether industrial, logistical,

or tertiary – should carry out a selfevaluation

on average every two years,

in a logical progression. The answers

to the questions are classified into four

levels: red (immediate action required),

yellow (issue being addressed), green

(site complies), and gray (unknown/not

applicable). The Sustainable Development

Department examines the results

in conjunction with the site concerned.

In late 2009, the HRCA Quick Check was

deployed across all of the Group's entities

in the world with more than 10 staff,

thereby covering 95 percent of personnel,

excluding Supor, the Chinese subsidiary

integrated into the Group in 2007. This

first wave of self-evaluations produced

10 "reds" and 60 "yellows" in the more

than 1,500 responses. Most of these were

linked to relationships with suppliers,

and particularly to the absence of explicit

references in contracts to compliance with

Human Rights principles. The Sustainable

Development Department established corrective

action plans from the points raised.

A second wave was organized in 2011

in which 70 sites were involved. The

questionnaires were completed jointly by

the sites' Directors and the local Human

Resources Managers. This second deployment

produced a single red response, and

nearly 150 yellow responses, demonstrating

once again that respondents were

keen to point out areas for improvement.

A global action plan

Among the areas for improvement addressed

during the last deployment of

the HRCA Quick Check, the monitoring

of suppliers was the most problematic

for the majority of sites. Confronted with

this observation, new corrective measures

have been taken by Groupe SEB's Purchasing

Division. A Responsible Purchasing

Charter will be finalized in 2012 and sent

to all of the Group's suppliers. In particular,

it will include the Ten Principles

of the Global Compact and will collect

the different social and environmental

requirements, which are currently contained

in different documents. Similarly,

social and environmental audits will

be outsourced in the future on a global

basis, and targeting will be conducted

by means of a supplier marking system.

Human Rights:

Supor's action

plans

"In 2011, all of Supor's entities

in China and Vietnam have

evaluated their practices in terms

of Human Rights by answering

the questions of the CBSSC.

They have done this with sincerity

and honesty, without concealing

weak points. These weak points

related in particular to the

duration of work, to holidays, and

to certain aspects of health and

safety. All have been the subject

of corrective action plans which

I supervise with the Industrial

Director. For example, it has been

decided to progressively reduce

the maximum duration of weekly

work, and to ensure compliance

with mandatory rest days. The

CBSSC is a tool that helps us

to progress: We will carry out

another check in two years."

Oliver Dong,

Human Resources Director at Supor

80 Global Compact International Yearbook 2012 Global Compact International Yearbook 2012

81
---
Best Practice

Human Rights

Interamerican

"Actions of Life" –

Actions of Responsibility

for Society

By Yiannis Roundos

Contributing to society with social responsibility initiatives and actions constitutes a core

element of INTERAMERICAN's mission. For this reason, the company invests significant

amounts of time into various social actions, above and beyond the responsible practices that

it has integrated into activities of its business operations. From its inception until today, it

has continually focused on the people and society in general.

ity seeks medical care as a last resort.

It should be noted that the Roma have

no social security coverage for healthcare

because they are not registered as citizens.

Preschooler school-readiness test

The Open Embrace association of Friends

of Social Pediatrics and Medicine organized

a model school readiness test

program for children of preschool age

and implemented it in 2012 for a third

consecutive year, with the sponsorship

of INTERAMERICAN. The program consists

of pre-symptomatic testing for the

early identification of health problems

preschoolers may face before entering

primary education. It was organized

under the auspices of the Ministry of

Education and the Ministry of Health and

was prepared by the University group of

the 2nd Pediatric Clinic of the University

of Athens.

In 2011, INTERAMERICAN continued to

implement its far-reaching and ambitious

program of social responsibility initiatives,

which it has been developing since

2004 under the title "Actions of Life." The

"Actions of Life" program is based on two

defining parameters:

• the relevance of the actions to the company's

business activities, with the use

of its services systems and know-how

in actions that contribute to society;

• the participation of its workforce, with

the effective sensitization and voluntary

contribution to society by its employees,

which underscores the company's idea:

"INTERAMERICAN is its people."

Structure

The "Actions of Life" program is structured

around the following thematic axes:

• health care

• risk prevention (road safety issues and

risks from natural phenomena)

• support for vulnerable social groups

• environmental protection

• culture, education, and sports

In spite of the adverse financial circumstances

over the last two years, which

have also had a significant impact on

the private insurance sector, in 2011

INTERAMERICAN not only maintained

but actually strengthened the "Actions of

Life" program, proving its interest in dealing

with the problems of Greek society.

Focusing on children's needs and

their rights

The primary healthcare and health education

provision program for Roma children

in Attica, organized by Medecins

du Monde (MdM) with the support of

INTERAMERICAN, was completed and its

objective was fully achieved. The program

was held from October 2009 to October

2010 at reservations in Elefsina, Aspropyrgos,

and Nea Zoi.

The program covered the actions of the

MdM mobile unit at the aforementioned

reservations, which included: the provision

of primary healthcare; treatment

and pharmaceutical coverage; preventive

medical care and provision of information

on the importance of health care;

referral of cases for further medical care

and social support; where necessary, recording

of health data of children for

medical and epidemiological research; as

well as inoculation. In total, 780 inoculations

were performed and 552 Roma

children were examined, while 145 new

health booklets were issued. The pediatricians

and health visitors of the MdM

mobile unit also provided education and

training on essential health issues, while

the necessary health certificates were

issued to the pupils of the 7th Primary

School of Aspropyrgos, the majority of

whom are Roma. Statistically, approximately

two out of three children that

received care were under five years of age.

The Roma: A population with a high

level of exposure to health risks

Roma children run the greatest risk of

suffering from tuberculosis, malnutrition,

accidents, and dental problems and are

less likely to develop immunities. They

are a recognized high-risk group for iron

deficiency anemia and food poisoning

and their emergency hospitalization rate

is constantly increasing, since this minor-

Sponsoring children of ActionAid

In 2011 INTERAMERICAN continued to

provide support to ActionAid for the

"Sponsor a Child" program, increasing its

sponsorships of children to 67, compared

to 55 in 2010, and 40 in 2009.

With this program, ActionAid – an international

organization active in more

than 50 countries – focuses on creating

the basic infrastructure in order to secure

food, drinking water, and education for

children in the poorest regions of Africa,

Asia, and Latin America. This costs less

than €1 per child per day.

Working with UNICEF for children's

rights

INTERAMERICAN works closely with

UNICEF and has supported and participated

in the organization's initiatives in

Greece since 2008 within the framework of

"Actions of Life" – INTERAMERICAN's corporate

social responsibility program. For

the third year in a row, INTERAMERICAN

has supported the Intercultural Festival

organized every December by UNICEF

Greece. The company provides free insurance

coverage at the visual arts exhibition

"Resist," organized by UNICEF and the

Municipality of Athens in Technopolis

in support of UNICEF's goals.

With this event, UNICEF aims to highlight

the message that every child has the

right to survival, education, growth, and

protection from abandonment, abuse,

and exploitation. The event gathered approximately

500 children from indigent

families, immigrant families, institutions,

and other disadvantaged groups.

Furthermore, UNICEF is attempting to

minimize the consequences of the crisis

for the children in the Horn of Africa.

INTERAMERICAN responded to the global

organization's appeal for help.

Support to The Smile of the Child

In 2011 INTERAMERICAN continued

its support for The Smile of the Child

association. The company renewed the

insurance policies under which it insures

the association's vehicles for free while

also insuring new vehicles.

Why

INTERAMERICAN

supports

"Sponsor a Child"

The company participates in

the "Sponsor a Child" program

because with its contribution:

• it fulfills its commitment as a

participant to the United Nations

Global Compact to support

children's rights, thereby confirming

its mission as an insurance

organization to improve the quality

of life of as many children as

possible;

• it increases awareness among

the company executives, who are

motivated to make the necessary

budget provisions in order to

participate in the program; it also

communicates the idea of social

responsibility to the employees.

82 Global Compact International Yearbook 2012 Global Compact International Yearbook 2012

83
---
Best Practice

Human Rights

Medcom

The Children First

By Lilinés Urriola Herrera

In the past year, Panama has made some important and positive headlines worldwide. The

country was awarded an investment grade credit rating by both of the globally renown ratings

agencies, Fitch Ratings and Standard and Poor's. Also, the New York Times named Panama as

the number one travel destination in 2012. The country also had economic growth of 8 percent

from 2006 to 2010, and in 2011 the country's economy grew 10.6 percent, making it one of the

fastest-growing economies in Latin America.

Despite all the good news the world is

reading about Panama, the isthmus is

currently encountering a series of severe

problems regarding malnutrition

and extreme poverty. The number of

Panamanian children suffering from

low birth weight and stunted growth

surpasses the numbers of most of the

poorest countries in Central America.

Figures depicting chronic malnutrition

reach 62.0 percent in indigenous communities

and 10.5 percent for children

in urban areas. The infant mortality rate

is 1.3 percent, according to the country´s

National Institute of Statistics and Census.

According to the United Nations

Economic Commission for Latin America

and the Caribbean, Panama is also facing

an economic inequality problem.

In 1996, RPC Television, a television network

owned by Corporación Medcom,

proposed the project "Los Niños Primero"

(The Children First) to Nutre Hogar, a

nongovernmental organization that has

been helping with assistance, recovery,

and prevention of child malnutrition

since 1988. Nutre Hogar was founded by

Monsignor Romulo Emiliani, who had

also founded various apostolates and

social projects that still benefit the children

of Panama. His seal of approval gave

confidence to the people regarding these

types of projects. The main idea of the

project was to help an NGO that involved

civil society with the economic support

of two of the corporation's clients as

sponsors (Petróleos DELTA and Super 99).

Our medium created a triangular alliance

with sponsors to accomplish the project,

which focused primarily on creating a

public awareness campaign about child

malnutrition in Panama, along with

national food drives. Corporación Medcom

offered its multimedia platform to

assist in the spread of publicity for the

campaign at no cost by donating its main

product, which is airtime. In 2011, our

corporation donated $348,676 in free

airtime in addition to volunteer time

from our media teams to produce news

coverage, radio and television interviews,

reports, and live feeds to promote the

campaign. The corporation also coordinates

monetary donations made by

the two sponsors – the donations are

targeted solely for the construction of

new recovery centers. Our corporation

offers sponsors a competitive marketing

plan that includes news coverage as

well as reports about and promotion of

their brands and products in exchange

for donations for Nutre Hogar. In 2011

the commercial packages ran for a net

investment of $18,000, which returned

$78,771 in total airtime to each sponsor.

The campaign and food drives are supported

by more than 2,000 volunteers,

who offer their time every year to make

this the most important campaign and

food drive in the country. The first campaign

was created to build a recovery

center for malnourished children in

Los Valles de Cañazas in the Veraguas

province. The success measures for this

first project were not only the amounts

of money or donations that were to

be received for the construction and

maintenance of the center, but also the

way in which the center would become

entirely self-sustainable. It is important

to mention that each of the centers is

self-sustainable and is, in fact, managed

by all the members of the community

with the help of Nutre Hogar.

Los Valles de Cañazas was the first community

to receive a recovery center, due

to the severe child malnutrition and

extreme poverty rates in that area. Despite

all this, the community was wellorganized

and had previously made a

formal request for help to Nutre Hogar.

This happened before RPC Television

proposed the project to all the parties

involved. The community in El Valle

de Cañazas not only benefitted from

the construction of the center, but due

to the exposure they received through

our media platform, they were able to

improve their infrastructure with new

streets and highways. It used to take

about two hours to get to Cañazas from

the closest city – today it takes about

30 minutes.

In 2012 the project "The Children First"

marked 16 years of uninterrupted success.

Thanks to the annual food drives

and donations, it has built 8 community

centers and 42 sub-centers nationwide.

The food collected in the drives serves

as back-up to feed all the centers and

sub-centers nationwide. Corporación

Medcom's efforts and commitment

to execute the campaign have been

directly involved in the construction

of centers in the following places: El

Copé de Olá, Quebrada Guabo, Las Pipas

de los Pozos, Ballestilla, Chiriquí Viejo,

Divalá, Buenos Aires de Ñurum, and

the first center in Los Valles de Cañazas.

It is also responsible for the construction

of the sub-centers in the following

places: Tolote, Orema, Huacas, Cerro

Ortiga, Suiche, Los Guarumos, and

Lajero Abajo.

Susy de Varela, National Director of

Nutre Hogar, describes "The Children

First" as "a project model of successful

development, which can be used as an

example for other countries because it

is very broad through its emphasis in

primary childhood, but is also directed

to the entire family nucleus."

Our best practice example project fulfills

most of the eight Millennium Development

Goals because it helps eradicate

extreme poverty and hunger; promotes

gender equality and empowers women;

reduces child mortality; improves maternal

health; and ensures environmental

sustainability. Also, it is important to

mention that the following community

centers have been declared malnutritionfree:

Los Valles de Cañazas, El Copé de

Olá, Las Pipas de los Pozos, Quebrada

Guabo, and Ballestilla. The centers are

operated entirely by the inhabitants of

the communities where they are located.

They are self-sustainable because the

food served in their dining halls, which is

not from the food drives, comes directly

from local farms in each center. They are

also conscious of the environment because

the stoves have "Eco-Tec" technology,

which reduces the average amount

of firewood used by the burners by 35

percent. The centers also have waste

incinerators to prevent the pollution

of rivers and they also offer orientation

for the beneficiary families.

By 2011 Nutre Hogar's community centers

had 37 operating dining halls; they

have served 5,044 communities; benefitted

2,800 families; and have educated

3,947 people on topics like health,

nutrition, production, and community

organization and stimulation. Corporación

Medcom, as a socially responsible

organization, is proud to have been the

creator of the project "Los Niños Primero"

(The Children First) and hopes to be an

essential part of it for many years to

come.

84 Global Compact International Yearbook 2012 Global Compact International Yearbook 2012

85
---
Best Practice

Human Rights

Mitsui

Great East Japan

Earthquake Restoration

Efforts

March 11, 2011 – This will be a date long remembered by

Japan and the world at large. Since the aftermath of the Great

East Japan Earthquake that hit the Tohoku area north of Japan,

Mitsui & Co. ("Mitsui") has been conducting various activities

in terms of recovery support through social contribution

activities and through Mitsui's core business.

By Mitsui & Co. Restoration Support Team

As the events following the earthquake

unfolded, Mitsui considered what the

company and its employees could do to

help the affected areas in urgent need

of a lifeline and all manner of supplies.

Calls and requests offering support and

donations flooded into the social contribution

team from all over Japan and the

worldwide network of Mitsui. A crossorganizational

Restoration Support Team

was immediately set up within the company

to help gather knowledge and information

to provide optimal emergency

support to the affected areas.

On March 14, Mitsui decided to

provide 400 million Japanese yen to support

the company-wide collective social

contribution efforts. Out of this budget,

345 million yen was provided directly

to the affected areas, and the remainder

was utilized as donations to NGOs and

in-kind support. In August, an additional

400 million yen was allocated for the

restoration efforts, some of which was

provided as a donation for building a

library in the affected areas.

An example of the types of in-kind

support offered was the provision of solar

lanterns to the areas that lacked electricity.

On March 18, a total of 4,000 solar

lanterns were delivered by truck to the

evacuation shelters in Minamisanrikucho,

Miyagi Prefecture. In addition, the

Food and Retail Business Unit provided

bread, milk, and other food staples, and

transportation logistics support was provided

to deliver a solar-powered container

facility – this was the kind of support

that was possible due to the specific

strengths and business activities of the

Mitsui Group.

Demonstration of employees' efforts

and good will to help

In addition to the above corporate donation

and in-kind support, Mitsui's

employees responded very quickly and

proactively in lending both personal and

voluntary support. As soon as calls for

donations were posted on the company

website, donations poured in at an unprecedented

rate, resulting in a total of

more than 47 million yen in less than

10 weeks. The company then took a vote

from employees on where these donations

could be best allocated, and as a

result donations were allocated to the

affected prefectures and selected NGOs.

The effort is ongoing, and the cumulative

amount of employee donations collected

as of the end of Fiscal Year 2012 was

around 52 million yen.

The company also provided a platform

to encourage employees to participate

in volunteer activities in the

affected areas. First of all, Mitsui decided

to change the guidelines and to extend

the volunteer leave to a maximum of 10

days per year. Second, Mitsui partnered

with the NGO Japan Emergency Network

(JEN) to set up details and logistics for

the employees' volunteer program. The

program commenced in May 2011, with

a maximum of 10 employees visiting the

seriously affected areas in the northern

part of the Miyagi prefecture. Activities

ranged from cleaning up debris from

houses, buildings, schools, and rivers to

setting up nets and the necessary infrastructure

to rehabilitate the fishery and

oyster culture that the region is famous

for. As of the end of May 2012, 660 employees

participated in the volunteer

activities, and the effort and good will

shall continue.

For the children's future: Books and

room to read

On the day the earthquake and the tsunami

swept through the northeastern coast

of Japan, the city of Rikuzen Takada in

Iwate Prefecture faced massive damage of

the facilities, including the city's municipal

library. The Imaizumi Shrine was also

3,000 books were donated

to the "Rainbow Library".

left completely devastated, and only the

800-year-old Japanese cedar tree survived

the massive waves of the tsunami. Mitsui

decided to donate a library facility to be

built on the shrine's compound, using

lumber from trees that are grown and

managed in Mitsui's company-owned

forests located in Hokkaido. More than

3,000 books were donated to the "Rainbow

Library," which started operation in

November 2011. The Rainbow Library

is run and operated by an organization

consisting of novelists and publishers,

and is expected to continue operation

for two years. On December 25, Mitsui's

employees volunteered to visit the library

and helped organize the Christmas Book

Reading event for children. The library

provides a space filled with the scent of

natural wood – a community where

both parents and children can relax and

enjoy reading various books and novels.

What we can do together to realize a

sustainable environment

In order to improve and resolve various

environmental issues that have arisen

due to the earthquake, Mitsui decided to

provide Restoration Grants geared specifically

to the activities and research aimed

at the establishment of a sustainable

society in the affected areas. Since the

aftermath of the earthquake, Mitsui made

four calls, which ultimately resulted in

711 applications. Based on the selection

process, Mitsui decided to provide 943

Employee Volunteer

Activity

million yen to 77 projects. Given that

restoration efforts require continuous

involvement and attention, in addition

to the conventional activity and research

grants, Mitsui decided to continue calls

for applications for Restoration Grants

for the Fiscal Year 2012.

Contribution through our strength

in core business activities

Mitsui is considering possible business

activities that are tied to the local communities

in the affected areas over the

medium to long term. Consideration

is based on specific requests from the

affected areas and whether or not such

activities would contribute to the new

and sustainable development of the

Tohoku region.

For example, Mitsui has assisted

Car Sharing Japan in providing car sharing

activities for areas in need of basic

transportation. Work is also currently

under way to identify and implement

new projects related to restoration of

the industrial platforms in areas ranging

from fishery to agriculture, healthcare,

energy, and transportation.

We hope that by utilizing the knowledge

and know-how of all employees

and through contributions by the entire

Mitsui Group, the engagement will lead

to growth in employment and restoration

of the societal foundation to support

stable and sustainable growth in the

Tohoku region.

86 Global Compact International Yearbook 2012 Global Compact International Yearbook 2012

87
---
Best Practice

Human Rights

Novo Nordisk

Wellness for All:

Thinking Globally, Acting

Locally

By Scott Dille

NovoHealth is a worldwide company program seeking to develop a workplace culture

that promotes and supports healthy living for all employees – an opportunity for Novo

Nordisk to practice what we preach. NovoHealth inspires healthy living among Novo

Nordisk employees as a means to prevent Type 2 diabetes and other lifestyle-driven diseases.

NovoHealth gives us an exciting opportunity to bring the organization together across the

globe, support our colleagues, address our social responsibility as an employer, and improve

business performance.

Guo Yun,

Human Resource Director

Novo Nordisk China

There is no dispute that our planet is

coming under increasing pressure to

meet our resource demands and sustain

its resilience. It is also becoming

apparent that the global rise in lifestylerelated

non-communicable diseases

(NCDs) – like Type 2 diabetes – share

many of the same root causes. Not only

does a growing and aging urban middle

class with unsustainable consumption

patterns threaten to push us toward

the limits of natural resources and

planetary life support systems, it also

threatens to compromise the health of

the next generation. The sad outcome

– if nothing is done to reverse it – will

be a rise in lost life years and quality of

life, resulting in stagnating productivity,

anemic development, and swelling

healthcare costs.

To put things into perspective for

employers worldwide, 25 percent of the

36 million deaths from NCDs each year

occur in those aged 60 and under – in

other words, among the working-age

population. The cost from NCDs to the

world economy over the next 20 years

is estimated by the World Health Organization

and Harvard University to

be approximately $30 trillion.

This year's Rio+20 United Nations

Conference on Sustainable Development

is yet another ideal opportunity

to address these challenges at the global

level. And hopefully we can put things

back on a sustainable path. Novo Nordisk

stands ready to support global

solutions, but we are convinced that

our greatest contribution needs to take

place locally.

As the global leader in diabetes

care, Novo Nordisk is driven by a very

simple commitment: to help people

live healthier lives. Our leadership is

defined by our actions with the goal of

enabling people to live longer, healthier,

and more productive lives. One place

where we can make the most impactful

difference is with the 35,000 people

who come to work every day. It is this

opportunity to make a difference that

drives our internal NovoHealth global

initiative.

Change starts from within

NovoHealth began as an executive

management-led initiative to lead

the fight against diabetes internally.

It started with local activities focused

on Novo Nordisk's operations in Denmark.

In 2006, it was decided to build

NovoHealth into a global program, supporting

affiliates and employees across

the globe.

The global launch took place in

January 2008, when NovoHealth was

introduced to the top 300 managers

in the company and the local implementation

began. A cornerstone of

the program's rollout was respect for

cultural differences – for each of us to

achieve a lifestyle change as individuals,

encouragement is a step in the right

direction. To truly succeed, change

must start from within.

Today, NovoHealth is based on

four global standards that form the

foundation of our voluntary employee

health promotion program and support

employees in leading a lifestyle that

prevents diabetes and other NCDs. The

four key health areas are:

• Provide healthy food in the workplace

and encourage a healthy diet.

• Provide access to and encourage employees

to do physical activity.

• Provide a smoke-free work environment

and emphasize the benefits of

non-smoking.

• Provide access to and encourage health

checks with individual advice.

Going forward, NovoHealth will continue

to support the organization's employees

in living a healthier lifestyle with respect

to future challenges, i.e. our company

growth, aging workforce, etc. To ensure

success, processes are measured to

identify and build on what works (stop

smoking, eat healthier, be more physically

active) and prioritize best practices

that have an impact.

"Human beings are at the center of

concerns for sustainable development.

They are entitled to a healthy

and productive life in harmony with

nature."

Rio Declaration on Environment

and Development, Principle 1

Sharing best practice – Action on

Diabetes

In September 2011, the United Nations

held a High-level Meeting on Non-communicable

Diseases. One of the important

and valued outcomes was a political

declaration calling for multi-sectoral

interventions to include "the provision of

incentives for work-site healthy-lifestyle

programs" and specifically calling on the

private sector to "promote and create

an enabling environment for healthy

behaviors among workers." NovoHealth

fit perfectly with the declaration as an

existing program that we could leverage

outside of our own walls.

According to the International Diabetes

Federation, more than 20 percent of

Qataris have diabetes, one of the highest

rates of diabetes prevalence in the region.

Bringing this number down requires a

tremendous joint effort.

"Action on Diabetes" was launched

in November 2011 as a partnership between

the Qatar Supreme Council of

Health, the Hamad Medical Corporation,

the Qatar Diabetes Association, Maersk

Oil, and Novo Nordisk. The project's

ambition is to raise awareness of diabetes,

advise on how to prevent it, and support

people already living with diabetes to

manage their health better.

NovoHealth entered into the partnership

as a means to help Maersk Oil

Qatar implement an employee health

program for all their employees, ensuring

support for better health and providing

opportunities for individuals to reduce

personal risk factors that predispose

them to diabetes and other NCDs. We

will bring our knowledge and experience

with health promotion to the table, but

also rigorously analyze what works best

in Qatar and which best practices can be

used in other work settings.

Recognizing opportunities to make

a difference

With more than a third of the global

workforce suffering from preventable

diseases annually, inaction will lead to

a significant financial burden on businesses

and the economy. But there is

also an opportunity here for focused,

localized action. It is estimated that up

to 40 percent of NCDs can be prevented

through workplace wellness schemes,

and they have demonstrated a clear return

on investment with cost savings of

up to $4 for every $1 spent. By starting

within our own organizations, workplace

wellness schemes, like NovoHealth, can

address lifestyle changes and promote

health, creating shared value for both

society and companies.

88 Global Compact International Yearbook 2012 Global Compact International Yearbook 2012

89
---
Best Practice

Human Rights

Sakhalin Energy

Responsible Engagement –

Core Element of Securing

Human Rights

By Natalia Gonchar, Marina Ee and Elena Alyokhina

Sakhalin Energy Investment Company Ltd. (Sakhalin Energy) is the operator of the

Sakhalin-2 project, which involves the development of two oil and gas fields offshore from

the Sakhalin Island.

Sakhalin-2 is one of the world's biggest

integrated oil and gas projects. The company

was established in 1994 specifically

for the development of this project. Since

1999, the company has been producing oil

from Molikpaq – Russia's first offshore

ice-class platform – as part of Phase 1 of

the project, during ice-free seasons. Two

more offshore platforms were built and

commissioned during Phase 2, which also

included the following: around 300 km

of offshore pipelines to connect all the

platforms to the shore; some 1,600 km of

onshore oil and gas pipelines; an onshore

processing facility; an oil export terminal;

and Russia's first liquefied natural gas

plant, launched in 2009. As Russia's most

innovative and technologically advanced

project, Sakhalin-2 plays its part in the

overall development of the Russian oil

and gas industry.

In recent decades, more attention has

been paid to the social responsibility of

business and the effective cooperation between

business, governments, and society.

Global experience has confirmed that

only businesses that follow responsible

business practices can achieve long term

success. These practices are based on

respect for human rights, transparency,

non-financial reporting, environmental

responsibility, caring about personnel,

and making contributions to the sustainable

development of the region.

In the age of economic globalization and

the current financial crisis, corporate

social responsibility (CSR) assumes special

significance. What are the benefits

that responsible business practices can

provide? Internally, this is an effective

risk-management mechanism that can

prevent or minimize the problems within

a company, with contractors, or across

an entire value chain. Externally, this

gives an opportunity to share best CSR

knowledge and to promote it globally,

which, in the end, contributes to global

sustainable development

For Sakhalin Energy, the five CSR pillars are:

• observance of and respect for human

rights

• accountability and transparency

• ethical behavior

• respect for stakeholders' interests

• supremacy of the law and compliance

with internationally accepted codes of

conduct

Effective stakeholder engagement is an

important and integral element of successful

operations of the company. The

statement on transparent and open stakeholder

engagement is included in the

company's General Business Principles.

Sakhalin Energy uses a systematic and

proactive approach based not only on

Russian national standards but also on

the best international standards. Special

engagement programs are carried out

for communities and vulnerable groups

that may be affected by the company's

activities.

Sakhalin Energy's engagement with stakeholders

is based on the commitments set forth in

the key corporate documents, which include:

• "Statement of General Business Principles"

• "Sustainable Development Policy"

• "Commitments and Policy on HSE and

Social Performance"

• "Public Consultations and Information

Disclosure Specification" of Social

Performance Standard

"Implementation of a project like

this would not be possible without

strict adherence to the best international

standards in business ethics

and corporate social responsibility

(CSR), and sometimes even development

and implementation of new

standards. Strong, transparent, contractive,

and systematic cooperation

and two-way communication

with all groups of stakeholders has

proved to be the backbone of success

and has been highly appreciated

by all groups of stakeholders

and experts."

Andrei Galaev, CEO of Sakhalin Energy

• "Public Consultation and Disclosure

Plan"

The above-listed documents define the

engagement strategy, principles, mechanisms,

and tools. The company reports

on engagement outcomes primarily via

public consultations and information

disclosure reports.

Stakeholder engagement mechanisms

and tools are selected based on the

stakeholder engagement goals and the

stakeholder group.

Five basic complementary and interdependent

mechanisms are used:

• Impact assessment – free, prior, informed,

participatory consultations

with project-affected communities.

• Ongoing three-level system of direct

communication with community –

open public meetings; focused / group

/ individual meetings and workshops;

Community Liaison Officers' open

hours and special information centers

in local libraries in 23 Sakhalin

communities, etc.

• Grievance addressing procedures.

• Partnerships – strategic cooperation

with public and authorities in delivering

social and environmental projects

based on co-ownership and equitableness.

• Public reporting – primary annual Sustainable

Development report prepared

as per Global Reporting Initiative and

AA1000 standards.

All of them proved their efficiency and

value, both for business and stakeholders

during all project development phases

of Sakhalin-2.

Grievance management

Large-scale projects like Sakhalin-2 inevitably

generate questions and concerns

for residents living in the project area.

In order to ensure that public grievances

are processed in a timely and effective

manner and in accordance with international

best practice, the company developed

and implemented its Grievance

Procedure. This procedure is one of the

key elements demonstrating the social

responsibility, respect for human rights,

and high social standards adopted by

the company.

The procedure guarantees that grievances

are resolved in a timely and effective

manner, that they are less likely to reappear,

that they are properly documented,

and that the respective corrective and

preventive measures are taken.

The following are key principles of Sakhalin

Energy's Grievance Procedure:

• Legitimacy and incorporation into

management systems (the grievance

procedure consists of elements and

mechanisms that ensure trust by stakeholders

and affected groups targeted by

this procedure). The Grievance Procedure

includes independent procedures

of assessment, resolution, and monitoring

of grievances. The grievance

status and progress are controlled by

the company's top management, and

audited both externally and internally.

Furthermore, the grievance handling

process is assessed by the company's

inter-directorate committees, registered,

and tracked in the automated incident

tracking system.

• Accessibility (ensuring awareness of all

targeted stakeholders). There are different

channels for logging grievances,

thus making the company accessible

when communicating with complainants.

Among those channels are the

company's information centers, Community

Liaison Officers, a dedicated

hotline, email addresses, etc. Regular

awareness campaigns and trainings

are held to keep communities and contractors

/ subcontractors fully informed.

The company uses feedback from the

population and other stakeholders to

assess the effectiveness of these channels.

• Transparency and openness. The company

regularly informs all stakeholders

on the status and progress of grievance

processes, provides enough details on

its results, and incorporates the grievance

updates in public reporting.

90 Global Compact International Yearbook 2012 Global Compact International Yearbook 2012

91
---
Best Practice

Human Rights

Sakhalin Energy

• Stakeholder engagement and ensuring

dialog while addressing grievances.

Sakhalin Energy conducts regular consultations

with communities and other

various stakeholder groups with regard

to the effectiveness of the process for addressing

grievances. Such consultations

are part of the community engagement

with focus groups and constitute an

integral part of internal social performance

monitoring. Special emphasis is

put on dialog with complainants as part

of the process for addressing grievances

and the decision making required for

its resolution.

• Predictability in terms of process and

ensuring concerted actions. It is a clear

and straightforward procedure, which

sets time limits for each stage of grievance

handling and communication with

complainants throughout the whole

process.

• Confidentiality. All grievance-related

issues are addressed confidentially. Information

of complainants is not to

be disclosed without a complainant's

written consent.

• Applicability both for the company and

contractors. The company's Grievance

Procedure is mandatory for all of the

company's functions, as well as for its

contractors and subcontractors.

• Using the experience gained for preventive

and proactive measures and continuous

improvement. All grievances

filed with Sakhalin Energy are tracked

and the tendencies are analyzed. Based

on such analysis, recommendations are

formulated for the company's respective

functions and contractors / subcontractors

with respect to impact mitigation

and preventive measures.

Safety is our first priority

Safety is one of the most critical human

needs, along with the need for food,

water, and housing. Globally, more than

220 million people are annually affected

by natural disasters, and more than 66

million of them are children. A child's

safety is an overall priority, as children

are more vulnerable and helpless in a

dangerous situation.

The Asia Pacific region is vulnerable to

many types of disasters. The environment

conditions of Sakhalin Island, located in

the Russian Far East, resemble those of

the true Arctic. In addition, the island has

a high seismicity and susceptible to other

natural calamities such as hurricanes,

tsunamis, forest fires, etc. Operating

in the harsh environment of the island,

Sakhalin Energy uses a systematic approach

regarding health, safety, security,

and environmental management in order

to ensure continuous improvement in

performance. The company is seeking

to achieve the highest standards and is

following corporate principles and values,

with a key focus on safety.

At the same time, effective stakeholder

engagement and appropriate communication

regarding safety has become one

of the key priorities of Sakhalin Energy.

Educating children on rules of conduct

during emergencies is a critical element

of community preparedness. Due to the

complexity of the goal and the significant

area of coverage, a partnership was established

between Sakhalin Energy, the

Sakhalin Ministry of Education, and the

Ministry of Emergency Situations (EMER-

COM). The partnership promotes rules

of safe behavior in order to minimize

the risk of children finding themselves

in emergency situations. These efforts

have been realized through the Sakhalin

Energy's program "What to Do in

Emergency Situations."

The program

"What to Do in Emergency Situations" has

been in operation since 2005. The program

introduces modern technology and

safe behavior education for preschoolers

and school-age children. These children

can, in turn, teach preparedness for

emergency situations to their relatives

and friends. The integrated program is

implemented using four main means:

1. Educational cartoons

Specially created animated cartoons aim

at enhancing children's awareness of

safe behavior in different situations.

The main character of these clips, a boy

named Senya, teaches children the rules

of behavior in emergencies and ways

to prevent dangerous situations in a

simple and understandable form. The

cartoons' topics cover many dangerous

situations that children would find in a

modern society: road traffic, games on

the ice in winter, bathing in unknown

water basins, earthquake, tsunami, snow

avalanche, etc. The cartoons have undergone

expert review in the Russian

Emergency Psychological Aid Centre

of EMERCOM and are used in different

regions of Russia.

2. Resource classrooms for life

safety fundamentals

Resource classrooms for conducting lessons

on "Fundamentals of Life Safety"

have been equipped and opened in 12

Sakhalin districts.

These classrooms are used for conducting

lessons for students of schools where the

resource classes are located, as well as

offering activities for parents and students

of other educational institutions,

teachers from other districts, and the

general public. In 2011 a professional

contest was organized for specialists

teaching safety essentials. More than

40 teachers from 13 Sakhalin districts

participated. One result of the contest

was a book of best teaching practices,

"Fundamentals of Life Safety," which was

published and distributed in all Sakhalin

schools and libraries.

3. Special safety events

The special events involving preschoolers

and primary school children are

held on a regular basis and are targeted

to consolidate and practice knowledge

about the rules of safe behavior. Using

role play techniques, life-size puppets –

the animated cartoon character Senya

and his friend Vas'ka the Cat – remind

the young participants about the safe

behavior rules and conduct subject trivia

games. Such events are always an ap-

preciated break for the young residents

of the island.

The biggest event is traditionally arranged

on the second Wednesday of

October – the International Day for

Natural Disaster Reduction. Hundreds

of schoolchildren from all over Sakhalin

take part in safety contests and receive

expert refereeing from EMERCOM professionals.

4. Special safety projects

• The special project "Senya and I go

to School" is targeted at first-grade

pupils. Going to school marks the start

of a new period in a child's life. It is

naturally characterized by greater independence

and more responsibility,

including responsibility for personal

safety. Under this project, each firstgrade

pupil of Sakhalin (in total about

5,000 children) was presented with a

comics book based on the animated

cartoons of Senya's adventures. The

lessons and events devoted to life safety

fundamentals were conducted in all

Sakhalin schools.

• Sakhalin is a place with magnificent

landscapes. Many Sakhalin families are

keen on hiking. The project "Safety of

Tourist Routes" was naturally supported

for implementation by all partners.

The ecological trail to Chekhov Peak –

the most popular tourist route among

Sakhaliners – was properly equipped

and accompanied with information

stands. It was coupled with an informational

and promotional event on safe

hiking, as well as a creative contest:

On a Hike with Senya. More than 500

creative works were submitted.

• The special project "Senya Warns" includes

the marking of tsunami and

snow avalanche danger zones as well

as a dedicated information campaign.

In 2011 it was launched in Nevelsk, a

Sakhalin district that suffered from

an earthquake and its consequences

in 2007.

In 2011 the program website was

launched (www.senya-spasatel.ru) with

all program-related materials made available,

making it helpful for teachers,

parents, and children. One can find

promotion materials on safety essentials

to be used in class (cartoons, comics

books, handouts, etc.) or for after-school

activities (scenarios of the events), and

watch favorite cartoons online.

A partnership approach and joint publicprivate

efforts have allowed all participants

to consolidate resources effectively

and carry out actions more productively

and on a substantial scale.

Program recognition was analyzed in

the course of an independent public

opinion survey. It confirmed 90 percent

recognition of the program among

children. Can Senya be more popular

than Mickey Mouse?... For Sakhalin, the

answer is yes.

"A topic unusual for corporate programs

should be noted – safety of

children and promotion of behavior

rules in emergencies, which is

however a fairly urgent problem

for residents of Sakhalin and

Kamchatka. The partnership with

relevant organizations, first of all,

with regional EMERCOM, ensured

the professional approach and high

level of execution of all the program

elements – from the cartoon

clips to the life safety classroom

equipment."

The Corporate Donor, All-Russian contest

for Best Social Investment Practices, arranged

by PricewaterhouseCoopers, Vedomosti

newspaper, and the Forum of Donors.

"Implementation of the 'What to

Do in Emergency Situations' joint

program for Sakhalin EMERCOM

is one of the ways to train the

population in the sphere of life

safety. In addition, this program

helps increase the efficiency of

educating children – the hero of the

cartoons Senya and his advice on

safe behavior rules are well-known

to young residents of Sakhalin and

the Kuril Islands. Children are our

future, and 'What to Do in Emergency

Situations' contributes to

making it safer."

Taimuraz Kasayev, Chief of Sakhalin

EMERCOM

92 Global Compact International Yearbook 2012 Global Compact International Yearbook 2012

93
---
Best Practice

Human Rights

SK Telecom

A Journey of Passion

and Innovation Toward

Stakeholder Happiness

Like most other countries across the globe, Korea has many issues to tackle regarding the

widening gap between education and wealth levels. To narrow the gap, SK has enacted

a wide range of social activities as well as made efforts to drive economic growth as a

responsible corporate citizen. But in the process of undertaking such activities, SK soon

realized that simple acts of charity are not enough to find an efficient solution to the

deep-rooted malaise in society, and that a social enterprise can be a mechanism to address

pressing issues and create sustainable values. As the first step toward utilizing such a

valuable tool, SK raised KRW 50 billion in 2009 to support social enterprises on a large scale.

Chey Tae-won, Chairman of

SK Group, invited Chinese

opinion leaders to discuss

issues and challenges for

social enterprises at the Boao

Forum for Asia 2012.

Offline contests are also conducted to

develop ideas and train social entrepreneurs.

Lastly, we undertake pro-bono volunteer

work to utilize the expertise of SK

employees to better develop social enterprises.

They can provide financing,

marketing, and legal support, depending

on their areas of expertise. This greatly

helps social enterprises improve their

sales, reduce expenses, and raise sustainability.

Pro-bono activities also provide personal

fulfillment for participating SK employees.

They feel rewarded, gain a sense

of accomplishment, and improve their

capabilities through these activities. All

of these things reflect our efforts to create

value by reinforcing the SK model.

Outcome and future plans

By the SKT CSR Office

Why social enterprises?

When a company creates social value

by carrying out its for-profit business

activities, it is called "a social enterprise."

The Korean government has been active

in supporting such companies as

a way to create jobs and social services

for the underprivileged. With governmental

subsidy programs for certified

social enterprises, the number of social

enterprises has grown rapidly over the

last five years.

However, most of the newly established

social enterprises have been struggling

both commercially and financially. Some

of them went out of business right after

the government stopped its support.

There are two reasons behind such failures.

First, many social enterprises were

founded by social entrepreneurs lacking

entrepreneurial mindsets. Secondly,

young talented workers do not want to

work at social enterprises, fearing that

such companies cannot make profits.

Unlike in the West, where social enterprises

are usually established by businessmen

with innovative ideas and an

entrepreneurial spirit, the ones in Korea

were mostly initiated with the help of

government subsidies. Recognizing such

problems, SK has taken the initiative

in establishing and supporting social

enterprises.

We opted for two ways to grow social

enterprises. First, we leveraged our social

partners' various capabilities. This was to

create maximum synergy by combining

different but complementary strengths.

So far, six social enterprises have been

built within the context of three projects:

Happy School for afterschool education;

Happy Library for providing small libraries

in apartment complexes; and Happy

New Life for jobs to ex-convicts. Second,

we utilized SK's own business acumen

in establishing, facilitating, and operating

social enterprises and created four

social enterprises – one good example

of which is Happy ICT. Established by SK

Telecom, Happy ICT fully leverages its

own R & D to develop PC or smart phonebased

applications for public interest. It

provides jobs to the underprivileged and

the disabled.

In the past, most of the jobs created

by social enterprises were menial jobs

that did not require specific skills. Their

profitability was low and working conditions

were poor. Even though there were

various IT training programs certified by

the government, they did not guarantee

any actual jobs in the IT sector, thereby

failing to address the jobless issue of

the unemployed. Happy ICT creates an

opportunity for the underprivileged to

land value-added and high-paying jobs

in the technology sector. In the long

term, Happy ICT is expected to build a

social safety net in the mobile sector and

reduce digital divides between different

social classes by developing applications

and websites for the public good that

had not been sufficiently provided due

to profitability issues.

Support and ecosystem for social

enterprises

Even before establishing our own social

enterprise, SK had provided support by

facilitating the establishment of 62 social

enterprises. We have utilized about

$18 million in funding and provided

management mentoring to social entrepreneurs.

For example, Happy Lunchbox

provides free meals to low-income

seniors and children who skip meals to

save money. It was started in 2005 as

part of the effort to create jobs for the

underprivileged. There are 30 Happy

Lunchbox Centers across the country,

which provide meals for 12,000 people

a day. We were involved in the lunch

distribution facilities in the initial stage,

supported their management costs for

two years thereafter, and we continue

to conduct sanitary checks on facilities

while providing consulting services to

ensure management efficiency.

We are also working to create and support

an optimum ecosystem for social

enterprises. To attain this goal, we built

a website named "Se-sang," which promotes

on- and offline communication

for those interested so they can make

their voices heard through the website.

People can also benefit from SK's research

results, which are shared freely

on the website in order to help with any

issues about running a social enterprise.

Compared to traditional corporate social

contributions, social enterprises create

much more value. They teach people

how to catch fish – rather than just

distribute fish for one meal – and teach

them how to then go on and transform

the fishing industry itself. Corporate

social contributions need strategic endeavors

– like teaching people how to

fish and transforming the fishing industry

– in order to generate maximum

output with minimum input. In this

context, social enterprises can be the

optimal tool to innovate society.

We aim to create 4,000 jobs and establish

30 more companies by 2013.

Over the long term, we will extend

our innovations further to come up

with real and applicable solutions to

global issues. We are building a new,

innovative model to further develop

social enterprises. We understand that

there are diverse challenges on the road

ahead. However, we are sure that we

will overcome them and successfully

develop a new model that will serve

as a guide for others to improve their

communities in the most efficient and

innovative way.

94 Global Compact International Yearbook 2012 Global Compact International Yearbook 2012

95
---
Best Practice

Human Rights

Teck

Addressing the Global

Health Issue of Zinc

Deficiency

By Emily Hamer

A mother and child visit a health post

in Senegal to learn about the best

way to treat the child's diarrhea.

Teck is a diversified resource company committed to

responsible mining and mineral development with major

business units focused on copper, steelmaking coal, zinc,

and energy. The pursuit of sustainability guides Teck's

approach to business. The company, which is based in

Vancouver, Canada, is building partnerships and capacity to

address sustainability challenges within the regions in which

it operates and at the global level.

As one of the world's largest producers of

zinc, Teck is committed to raising awareness

about – and helping solve the global

health issue of – zinc deficiency, thereby

supporting UN Millennium Development

Goal 4 to reduce child mortality by twothirds

of 1990 levels by 2015.

Global issue of zinc deficiency

Zinc is an essential micronutrient for all

living organisms that protects the body

from illnesses and helps fight infections,

yet 2 billion people around the world are

not getting enough zinc through their

diets. Tragically, nearly 450,000 children

die every year from disorders related to

zinc deficiency. In fact, more infants die

from diarrhea-related diseases associated

with zinc deficiency than from malaria,

HIV/AIDS, and measles combined.

According to the World Health Organization,

zinc deficiency is one of the leading

risk factors associated with diseases such

as diarrhea, contributing to the deaths of

800,000 people each year. Zinc deficiency

is typically the result of inadequate dietary

intake of zinc. The problem is

particularly profound in the developing

world, where most populations have

plant-based diets that are low in zinc.

Zinc, a product of mining, is particularly

effective in treating diarrhea.

Teck's involvement

The challenge the world faces is not to

produce more zinc. It is getting zinc

into the diets of people suffering from

zinc deficiency. This requires education,

better distribution networks, and

greater awareness of the dangers of zinc

deficiency. Under the leadership of Don

Lindsay, President and CEO of Teck and

former Chair of the International Zinc

Association (IZA), Teck has been actively

involved in working with international

organizations to find solutions to the

global issue of zinc deficiency.

Zinc and health at Teck

In 2011, Teck launched its Zinc and

Health program, which now includes

partnerships with UNICEF, Free the

Children, The Micronutrient Initiative,

the Government of Canada, BASF, the

Ministry of Agriculture in China, and

other organizations.

Teck's Zinc and Health program includes

a range of initiatives aimed at increasing

awareness about the dangers of zinc deficiency

and helping save children's lives.

Awareness

The company has engaged its own employees

at offices and through operations

around the world via a variety of

initiatives, including lunch and learn

sessions, a Zinc and Health newsletter,

and a website, www.zincsaveslives.com,

which includes an online store where all

proceeds from the sale of Zinc and Health

branded items go toward supporting zinc

supplementation programs.

Beyond internal awareness activities,

Teck has partnered with Free the Children

at We Day events across Canada.

We Day is a day-long event developed

to celebrate the power of young people

to create positive change. It brings inspirational

speeches and performances to

young leaders in Canada, encouraging

them to take action on local and international

issues all year long. Students

attending We Day events in 2011 learned

about the importance of zinc for human

health. Through Teck's Zinc and Health

materials, a short video, and a presentation

by Don Lindsay, over 40,000 young

people across Canada have been empowered

to help solve the global health

challenge of zinc deficiency.

Supplementation

In his capacity as Chair of the International

Zinc Association, Lindsay was

actively involved in launching the Zinc

Saves Kids campaign, an initiative of the

IZA to improve the survival, growth, and

development of undernourished children

by funding UNICEF's zinc supplementation

programs around the world. Teck

is providing resources to help increase

the use of zinc supplements with a goal

of saving more than 200,000 lives annually

by 2015.

In 2011, Teck partnered with the Micronutrient

Initiative and the Government

of Canada to establish the Zinc Alliance

for Child Health. The public-private civil

society alliance is committed to reducing

child mortality by scaling up the use of

zinc – combined with oral rehydration

salts – to treat diarrhea and by providing

zinc supplementation for children

more than six months old. This approach

is recognized as a high-impact solution

that targets Canada's G8 objectives of

the Muskoka Initiative for child health,

and helps in the efforts to meet the Millennium

Development Goals.

Food fortification

In early 2012, Teck announced at the

World Economic Forum that they signed

a three-year agreement with BASF to

jointly develop innovative and affordable

zinc fortification and supplementation

solutions, with the goal of reducing

zinc deficiency among 100 million

people in developing countries by 2015.

Through this agreement, BASF and Teck

aim to make safe and cost-effective highquality

food fortification supplements

available to populations at risk of zinc

deficiency in developing countries. This

partnership forms part of the "Scalingup

Nutrition" process and it aims to

help meet the UN Millennium Development

Goals, particularly the goal to

halve poverty and hunger by 2015, by

contributing to the realization of the

Human Right to Food.

Crop nutrition

Zinc deficiency affects more than half

of the world's agricultural soils. It has a

significant impact on crop productivity

and may contribute to zinc deficiency

among humans. Crop yield, food security,

and nutritional quality can all be

improved by ensuring that crops have

an adequate supply of zinc. By achieving

this, overall health and socioeconomic

conditions in many developing countries

can be improved drastically.

With one of the world's largest populations,

China suffers from both land

scarcity and micronutrient-deficient soils;

approximately 61 percent of the arable

land in China is deficient in zinc. To

address this issue, Teck recently signed

a two-year sponsorship agreement with

the National Agricultural Technology

Extension Service Centre of the Ministry

of Agriculture of China (NATESC) to

introduce and encourage the use of zinc

fertilizers in China. Since March 2011,

NATESC has been working with the IZA

to carry out more than 40 field trials as

well as promotional and education programs,

including national workshops and

training courses. The trials have resulted

in increased crop yields, ranging from 3

percent to 40 percent and a value-cost

ratio as high as 5 to 15 times for farmers.

This newly formalized agreement

between Teck and NATESC will complement

the work of the IZA to promote the

use of zinc fertilizer in China.

Teck's Zinc and Health partnerships

demonstrate how responsible businesses

can take an active role and form working

relationships with nonprofit organizations

to help save the lives of children.

To learn more about Teck's Zinc and Health

program, visit www.zincsaveslives.com.

96 Global Compact International Yearbook 2012 Global Compact International Yearbook 2012

97
---
Best Practice

Human Rights

Tristar

My First License – I Know

My Road Rules

Road accidents have become source of global concern. Whether you are a driver, passenger,

or a pedestrian, your safety is at risk while using roads. According to the World Health

Organization, road traffic accidents kill and injure millions of people every year – it is one

of the top three causes of death globally. More startling is that the number of deaths and

disabilities from road traffic accidents are increasing yearly, despite increased safety features

in modern automobiles and improved road infrastructure.

By Muhammad Akber

It is projected that unless concrete measures

are taken, the accident death toll

will double by 2020. Those between

the ages of 5 and 44 years are most vulnerable

to road accidents, according to

statistics. With the increasing number

of accidents, awareness must be raised

in society and people must be educated

about road safety. One such initiative was

undertaken by Tristar Transport LLC in

collaboration with Total Middle East FZE.

It is a fact that children retain habits

that they learn in their formative years.

Borrowing from this idea, a unique road

safety campaign started by Tristar Transport

LLC was aimed at educating young

schoolchildren about road safety. The

campaign was named "My First License

– I Know My Road Rules." Students aged

4 to 8 years from various participating

schools were targeted. Around 5,000 children

benefitted from this campaign. Each

session included a road safety lecture

from experts followed by a road safety

quiz. Since the campaign was aimed at

familiarizing students about road safety

rules, they had to drive a pedal car and

follow all the basic rules as well as pay

attention to road signs, crosswalks, traffic

signals, and rotaries, thereby giving the

young drivers of tomorrow a hands-on

feel about what to expect when driving.

There were even marshals in the field

to manage the flow of pedal cars in the

training hall.

At the end of each session, each student

was issued a plastic license bearing their

photo, name, and the school's name.

The plastic license was endorsed by the

Dubai Police – it obviously does not

entitle them to drive, but it reminds

them of their first lesson on road safety

and builds a foundation for them to

become safe drivers and promote road

safety. A coloring booklet on road safety

was also issued to students after each

session to make them feel happy and

motivated.

The campaign "My First License – I

Know My Road Rules" was met with a

favorable reception from all involved

and was a great success. The plastic license

will remind children about the

importance of road safety and make

them more aware, thereby planting the

seeds for a safer driving environment in

the years to come.

Statistics show that the majority of road

accidents are the result of human behavior,

despite technological advancements

with modern vehicles and road infrastructure.

Therefore, we must create

awareness and a safety culture in road

users to overcome this menace, which

has become a global epidemic. As an

active participant of the United Nation

Global Compact, Tristar is committed

to promoting road safety in the communities

where we operate, and we will

continue to offer similar initiatives for

a safer tomorrow. The idea is to create

a safe driving culture, wherein these

children will broadcast the message to

their friends, family, and society at large.

We believe that such initiatives – if

joined by other corporate members as

well – will result in a reduced number

of road accidents, injuries, and property

damage, because these children will

become safe drivers as grownups. This

initiative was also recognized as a good

practice – Tristar received the Arabia

CSR Award under the Best Newcomer

category in November 2011. We also

recommend that road safety should

be included as part of the curriculum

for students so that we can instill safe

driving habits in children from the

very start.

Project benefits

Immediate benefits

• The project succeeded in

familiarizing young children with

road safety rules and giving them a

hands-on feel about what to expect

when driving.

• It helped in building a strong

foundation for becoming safe

drivers and promoting road safety

because children retain habits that

they learn in their formative years.

• A coloring booklet and plastic

license on road safety were also

issued to students to create interest

in road safety.

Long-term benefits

• Reduction in number of road

accidents, injuries, and property

damage because these children will

be safer drivers as grownups.

• Creating a safe driving culture,

wherein these children will

broadcast the message to their

friends, family, and society at large.

98 Global Compact International Yearbook 2012 Global Compact International Yearbook 2012

99
---
Best Practice

Labour Standards

Bosch

Diversity – A

Success Factor

for Bosch

By Heidi Stock and Annkathrin Kienle

People in over 150 countries all around the world –

including men and women of many different backgrounds,

individual lifestyles, and generations – are working for

Bosch. This diversity brings real benefits for our company,

and it is essential for our successful business performance in

the long term. Numerous studies have shown that increased

diversity leads to more innovation, better problem-solving,

and greater creativity.

Gender

Diversity

Generations

Internationalities

Working

Cultures

For that reason, diversity is anchored in

our Bosch values as a key success factor,

is recognized as an asset for Bosch, and

forms an integral part of many of our

processes. Bosch committed itself to

the topic in public in December 2007

by becoming one of the first German

companies to sign the German "Diversity

Charter," wherein companies officially

undertake a commitment to recognize,

value, and appreciate diversity.

To further strengthen diversity

within Bosch and to use this as a positive

force for its sustainable economic success,

the Board of Management established a

"Diversity" project group in 2011, tasked

with making diversity management an

integral part of the corporate strategy.

Bosch has decided to focus on four aspects

of diversity: Gender, Generations,

Internationalities and Working Cultures.

Diversity is not just a management

issue – because the success of Bosch

depends on each and every one of us

The ability to embrace different experiences,

leadership styles, work approaches,

and ways of thinking has become part

Our Diversity

Vision

We are a global company

manufacturing quality innovative

and sustainable products

and services in the fields of

automotive technology, consumer

goods, and industrial technology.

We have an open and knowledgehungry

workforce that is diverse

and can rely on courageous,

reliable, and responsible

management. We emphasize the

values of self-reflection, valuing

differences, and conscious lateral

thinking.

of the Bosch tradition and changed the

way we see ourselves. This diversity is

also playing an ever larger part in our

daily work environment. Every day, we

deal with various tasks, situations, and

people, both internally and externally,

on international markets. And this trend

is going to increase.

Our internal Diversity Communication

initiative invites associates at over

200 locations all around the world to

discover the world of diversity within

Bosch. It promotes an even stronger

focus on actively building diversity into

the day-to-day work environment on the

basis of cooperation and mutual respect

between men and women as well as

different generations, nationalities, and

working cultures.

One of our objectives is to increase

the proportion of women in management

positions from the present figure

of over 11 percent to an ambitious target

of 20 percent by the end of 2020. Bosch is

therefore putting a high priority on the

recruitment and retention of qualified

female associates and the promotion

of women already on the staff. Within

our special training program the "Business

Women's Program," Bosch offers a

range of seminars as well as mentoring

programs to future female senior managers

and specialists.

Internationality has also long been

an important part of the Bosch culture,

including international assignments,

language courses, cross-cultural training

courses, and the integration of a wide

range of "cultural profiles," to support

our associates in their varied interactions

with colleagues, customers, and business

partners from different countries.

Another dimension of diversity relates

to "demographic change," focussing

on the successful working relationships

across different generations. Both men

and women are required to remain in

the workforce longer, particularly in

Europe. Lifetime learning, "mature"

careers, effective health management,

and systematic know-how transfer have

therefore become key challenges for

many companies today. Bosch is also

keen on not losing the know-how of its

highly motivated older associates, e.g.

by gaining them as consultants during

their retirement and therefore keeping

their expertise within Bosch. Over 500

former associates around the world currently

benefit from this option.

To achieve the inclusion of diversity,

we also need the right working culture –

one that includes flexible working hours

instead of a culture of presence, and

one that offers a better balance between

family and career, for both men and women.

In the company-wide project MORE

(Mindset ORganization Executives), 150

executives are currently experimenting

with flexible working hours arrangements,

using the time gained in this way to focus

on their personal development, families,

and their own interests. Others decide to

take some "time out" to reflect on strategic

issues, away from their workstations and

office routines. The results have been

excellent! Simply by daring to take the

first step, the initial barriers have been

successfully overcome. In a contemporary

work environment with a mix of

technology, effective organization, and

teamwork, associates are able to work

effectively without having to be present

every minute of every working day.

We can see: Bosch is concentrating

on this topic. That comes as no surprise

given the active involvement of the Board

of Management and Bosch executives

Diversity

in general, who are promoting activities

ranging from briefing events to a

comprehensive diversity qualification

concept. Management attitudes toward

understanding diversity within the company

have also been communicated in

a series of videos. Each of us can play a

part in expressing the Bosch concept of

diversity because the Bosch success story is

ultimately being written by an incredibly

diverse group of people – including over

300,000 Bosch associates, in locations all

around the world.

Diversity within Bosch as the answer

to an increasingly diverse world

"Diversity at Bosch has many different

facets," explains Christoph Kübel, Member

of the Board of Management. "We

have huge diversity among our products,

our customers, our markets, and our associates,

and that is just how it should

be – because this enables us to respond

to the diverse expectations and requirements

of our customers and our markets

worldwide. At the end of the day, we

need the right skills and competencies

at the right location."

A conceptual approach based on

diversity fosters open, constructive, and

creative interactions within the company.

And this constructive, open style

of interaction provides the foundation

for great ideas and the company's success.

As our slogan "Bosch – invented

for life" implies, we are looking for a

diverse range of solutions rather than

just one specific answer.

We are therefore committed to continuing

on our successful path, because:

Diversity is the key to our success. Diversity

leads to more innovation and greater

creativity. Diversity is our advantage.

100 Global Compact International Yearbook 2012 Global Compact International Yearbook 2012

101
---
Best Practice

Labour Standards

ManpowerGroup

Making it Humanly Possible

for Young People to

Succeed

Global youth unemployment stands at record levels and significantly outstrips that of

joblessness rates for other age groups. Everywhere you look, the numbers are deeply

troubling. The latest statistics from the International Labour Organization put the global

youth unemployment rate at more than 81 million workers – 40 percent of the total

unemployed. The developing world, with generally younger populations, is disproportionately

affected. According to the ILO, the highest regional youth unemployment rates exist in the

Middle East and North Africa, where close to one out of every four young people are out of

work.

By Jeffrey A. Joerres

Widespread youth joblessness has many

negative consequences, including the

societal problems connected with idle

youth who do not finding meaningful

work, the undermining of traditional

stabilizers such as families and social

communities, and rising criminal activity.

At its heart, work is honorable and plays

a critical role in the lives of individuals.

The absence of job opportunities weakens

society at its most fundamental level.

Moreover, deep and structural unemployment

among young people has serious

economic ramifications.

The world cannot afford to lose an entire

generation of talent. There is a growing

chasm between the skills being offered

by workers and those being sought by

employers, with ManpowerGroup's latest

annual Talent Shortage Survey showing

34 percent of employers worldwide are

having difficulty filling vacancies. There

is an oversupply of available candidates

and a lack of available talent. This hampers

national economies and opportu-

nities for development, and threatens

global economic and social recovery. Our

Talent Shortage Survey cited key reasons

employers cannot or will not hire, including:

a lack of experience, technical

skills deficiencies, and poor employability

skills among available candidates. Lack

of experience is clearly an infuriating

dilemma for young people, who cannot

hope to gain experience when they are

not given the chance to apply schoolbased

skills in a workplace setting. With

the uncertainty in the global economy,

many employers are unwilling to gamble

on inexperienced candidates and to invest

resources in training young people when

more experienced workers are available.

Young people often lack specific employability

skills such as cooperation, communication,

critical thinking, creativity,

and collaboration. Collaboration is the

answer to this widespread and growing

social problem; it requires creative

holistic strategies with buy-ins from

governments, businesses, educational

institutions, and young people themselves.

ManpowerGroup's core business is

connecting people with opportunities for

employment, and I am pleased to share

with you some of the many ways that we

are working with all stakeholders around

the world to help young people unleash

their human potential. In the end, you

will notice a common theme – it is

about Employment security, experience,

gaining honor and confidence, as well

as creating an iterative model of work

experience and education.

ManpowerGroup Colombia's Jóvenes

Visionarios (Visionary Young People)

program – in partnership with the International

Labour Organization, the

International Organization of Migration,

NGOs, and the private sector – assists

unemployed youth who lack training

opportunities. It targets young people

under 18 years of age, and participants

gain access to training facilities, equipment,

instructors, courses, vocational

assessments, and career guidance. This

project has assisted almost 400 people

in enhancing their employability.

In the Arab world, ManpowerGroup

is currently collaborating with INJAZ

al-Arab to help build an Arab Youth

Portal – a future online platform for the

delivery of e-learning and job-matching

to promote youth employability and

entrepreneurship. The Arab Youth Portal

also connects young people with each

other, mentors, and potential sources

of capital in order to combat youth

exclusion. INJAZ operates in 14 countries,

reaching 200,000 youth annually.

Thousands of private sector volunteers,

including hundreds of CEOs from leading

Arab companies, have worked with

university and high-school students to

develop their 21st-century skill sets.

ManpowerGroup has a long-standing

partnership with Junior Achievement,

the world's largest organization dedicated

to educating students about workforce

readiness, entrepreneurship, and financial

literacy through experiential, handson

programs. In the United States, Junior

Achievement programs reach more than

4 million students per year in more than

176,000 classrooms. ManpowerGroup

is a sponsor of Junior Achievement's

new "Success Skills" work-readiness curriculum.

During the 2010 / 2011 school

year, 227 ManpowerGroup classroom

volunteers presented Junior Achievement

programs to 7,000 students in the

United States. Over the past three years,

the "Success Skills" curriculum has been

given to more than 45,000 students in

20 countries.

In France, ManpowerGroup's assistance

to the national government's unemployment

program focuses on "hard-to-serve"

candidates, including disconnected

youth. Our Placement program envisions

the path to meaningful employment as

a series of progressive steps. The first is a

rapid return to work and may include a

short-term assignment. This is a key step

in improving candidates' confidence and

motivation and establishing a portfolio of

relevant work experience. The program

serves about 5,000 persons per year, and

more than 65 percent are successfully

placed in long-term employment.

ManpowerGroup works with many other

institutions, too. We are leveraging our

insight and expertise in the world of

work to press for action at the highest

level. As a member of the World Economic

Forum Global Agenda Council

on Youth Unemployment, Manpower-

Group has addressed key influencers and

decision-makers to strategize targeted

responses.

I co-chaired the World Economic Forum

on Latin America in Mexico in April. This

summit focused on key employment

issues for the region, including how to

leverage growing and youthful populations

to improve talent pipelines at a

time when the global balance of power

is shifting toward emerging markets.

This also involved recommending outputs

to the President of Mexico, Felipe

Calderon Hinojosa, as part of the B20

Task Force on Employment, which I

am co-chairing, and will culminate in

delivering recommendations for the

G20 summit in Mexico later this year.

In 2010, ManpowerGroup was given

the opportunity to testify before a hearing

of the US Congress Joint Economic

Committee focusing on the labor market

and policies to foster economic growth

and job creation. I recommended that

a comprehensive program be developed

to support entrepreneurs to set up and

establish new businesses.

Employers have a direct interest in making

investments that will improve young

people's ability to succeed in the World

of Work. These investments can take

many forms, ranging from volunteering

in schools to engagement in training-toemployment

or work experience programs,

to improve the employability

skills of youth. In all world regions it's

clear that employers are needed to lead

initiatives that unleash youth potential

in the workplace. Manpower-Group urges

all employers to step up and make a

difference.

Jeff Joerres is Chairman and CEO of

ManpowerGroup.

102 Global Compact International Yearbook 2012 Global Compact International Yearbook 2012

103
---
Best Practice

Environment

106

108

112

114

116

118

120

122

124

128

130

132

Air France-KLM

BASF

Bayer

BSH Bosch und Siemens Hausgeräte

Consolidated Contractors Company

Deutsche Telekom

Essent

Guangxi Beihai Penshibao

MAN

Metso

MTN

Vestas

Environment

Anti-Corruption

Principle 7: Businesses should support a precautionary

approach to environmental challenges;

Principle 8: undertake initiatives to promote greater

environmental responsibility; and

Principle 9: encourage the development and diffusion of

environmentally friendly technologies.

Principle 10: Businesses should work against corruption

in all its forms, including extortion and bribery.

104 Global Compact International Yearbook 2012 Global Compact International Yearbook 2012

105
---
Best Practice

Environment

AIR FRANCE-KLM

RECONCILING AIR TRAFFIC

GROWTH WITH CLIMATE

PROTECTION

The aviation industry's share of global emissions of anthropogenic CO 2

is around 2 percent,

which is partly due to the continued growth of air transport. Since 2007, Air France-KLM

has been implementing a "climate plan" – a strategy to aggregate the actions already

undertaken within the Group in addition to further actions to fight climate change.

The increased use of fossil fuels is threatening

the climate balance. Awareness is

global, but the use of these fuels in areas

such as industry, transport, and housing

is often unavoidable.

Faced with this global challenge to reduce

CO 2

emissions, only a global response

can be effective. That is why Air France-

KLM has been working for the past few

years with international bodies such as

AEA,the IATA*and ICAO to mobilize the

airline industry on this important topic.

The Group also takes part in research

programs in aeronautics and actively

supports the development of solutions

for the use of sustainable alternative fuels.

To reduce its own environmental impacts,

Air France-KLM has already implemented

*IATA – International Air Transport Association;

ICAO – International Civil

Aviation Organization; AEA – Association

of European Airlines

several measures: the ongoing modernization

of its fleet (which emits less CO 2

and is one of the youngest in Europe),

introducing new piloting procedures,

and reducing on-board weight, for example.

These actions have produced very

satisfactory results. In the space of four

years, Air France has reduced its fuel

consumption per passenger by almost 4

percent, and reduced CO 2

emissions by

27 percent compared with 2005. But to

reduce CO 2

emissions further, sustainable

biofuels are a promising solution.

For Air France-KLM, developing an alternative

to fossil fuels that is sustainable

and emits less CO 2

has become a

priority. Since 2008, Air France-KLM

has been involved in many French and

European programs to develop and use

biofuels under conditions that respect

the environment and promote economic

and social development.

The year 2011 marked a milestone: Air

France and KLM operated the world's first

two commercial flights using sustainable

biofuels and no changes to the engines

were required.

In June, KLM made its first flight with

sustainable biofuel between Paris and

Amsterdam; from September to February

2012, another 200 commercial flights

were conducted.

In October, Air France operated the most

efficient commercial flight, which was

between Toulouse and Paris, regarding

CO 2

emissions and the use of sustainable

biofuel. The flight chose the shortest

path, an optimum flight profile, and

taxied with one engine turned off. The

weight of the cabin equipment has decreased

by 15 percent over 5 years –

every kilo saved represents a saving of 75

tons of CO 2

per year for the entire fleet.

Thanks to all these measures, CO 2

emissions

on this flight were reduced by 50

percent compared to a traditional flight.

So why do we not make this type of flight

standard? Some ways to create savings

have already been implemented on all

or parts of the fleet (fuel-efficient pilot

procedures, less weight on board, etc).

Other ways require new international

regulations regarding the environment

or airspace as well as the industrial

production of biofuels for the aviation

industry.

In 2011, the European Commission, Airbus,

the biofuel production industries,

and four airlines, including Air France

and KLM, launched programs aimed at

the production in Europe of 2 million

tons of sustainable biofuel for aviation

by 2020. This program also commits each

actor to promote the production, distribution,

storage, and use of biofuels from

certified sustainable production. This

objective requires establishing effective

and appropriate financial mechanisms

to support the construction of the first

industrial production plants.

Furthermore, Air France and KLM are

open to the use of different raw materials,

in that they meet sustainability

criteria that are recognized worldwide.

For example, their use should generate

reductions of CO 2

emissions and not

have substantial negative impacts on

the food supply, biodiversity, or forests.

In this way, Air France is supporting an

innovative project to produce biofuels

from forest waste. In 2015, a part of this

production (2,000 tons per year) should

be available to power aircraft engines. Air

France will take a stake in the company

responsible for the industrialization of

this production.

A proven commitment

Every year, the Group is evaluated by

major international ratings agencies. For

the seventh consecutive year, the Group

was ranked a leader among airlines by

both the Dow Jones Index and for the

third year running was ranked "Super

Sector Leader" in the extended "travel

and leisure" sector.

For more information, please visit

the following websites:

www.corporate.airfrance.com

www.klm.com

HOW DO SUSTAINABLE BIOFUELS REDUCE OUR

CARBON IMPACT?

For growth, plants absorb CO 2

, which is available in the atmosphere.

Using biofuel made ​from plants, the aircraft only re-emit this CO 2

into the

atmosphere, unlike oil, whose use releases CO 2

buried underground and

therefore increases the volume in the air. The use of biofuels allows for a

CO 2

reduction of up to 80 per cent compared to a fossil fuel (according to a

Michigan Technological University study from 2009 on the lifecycle of biofuels –

growing, harvesting, processing, and end-use).

106 Global Compact International Yearbook 2012 Global Compact International Yearbook 2012

107
---
Best Practice

Environment

BASF

The Argan Program in

Morocco

By Raquel Ark, Charlotte d'Erceville, Viola Möller, and Anne-Laurie Rodrigues

With the integration of Cognis and its active ingredients business, Laboratoires

Sérobiologiques (LS), BASF has broadened its product portfolio based on renewable raw

materials in the last years. One of renewable raw materials is Argan oil from Morocco.

In close partnership with L'Oréal, the

former LS organization – which has now

become part of BASF Care Chemicals actives

business – established a pioneering

tripartite approach in 2008 for a greater

commitment to sustainability and to

foster corporate social responsibility in

the Argan supply chain. As part of its

Argan oil sourcing, LS* has taken a voluntary

approach to sustainability. This

approach contributes to the objectives of

the Convention on Biological Diversity

and ensures a fair return (fair price and

capacity enhancement) by enabling cooperatives

to gradually achieve economic

empowerment through the sustainable

use of natural resources.

Sustainable sourcing of new raw

materials

Continuously looking for new plants

that can be used in the development

of innovative active ingredients for the

cosmetic industry, LS began to study

the local ecosystem in Morocco in 2001

and the Argan tree in particular. Experts

identified new uses for extracts from

parts of the Argan tree that had previously

not been known or used for such

cosmetic applications.

To take into consideration traditional

knowledge and local expertise, a partnership

was set up between LS and Zoubida

Charrouf, a professor at Rabat's Mohamed

V University and the founder of

the Targanine cooperative network. The

long-term goal was to combine scientific

innovation, commercial development of

the Argan sector in Morocco, and certain

sustainability principles specific to the

requirements of the region and the Argan

supply chain. Key elements included

diversification of local revenues, the

protection of the Argan forest, and the

support of local cooperative members.

*Former LS organization – now part of

BASF Care Chemicals actives business

A further step toward sustainability

of the supply chain

The raw materials, Argan oil, and other

Argan products (such as pressed oil-cake

and Argan leaves) are supplied through

the Targanine network of cooperatives,

which employs a mainly female workforce,

leading to a larger number of

women being integrated into Moroccan

society. Products are purchased specifically

from Targanine cooperatives set up

in conjunction with Zoubida Charrouf,

with the intention of not only providing

employment but also creating shared

ownership of the cooperative and shared

decision making. This process helps to

empower previously unemployed Berber

women.

However, LS was committed to making

the supply chain for its Argan products

even more sustainable and equitable,

exceeding the requirements of some

organic certifications and fair trade labels.

To this end, it implemented a comprehensive

CSR program in collaboration

with L'Oréal and Yamana, an NGO known

for the CSR structuring of the textile

industry.

To get a fair understanding of all parties'

needs and perceptions, Yamana

conducted interviews with various

stakeholders at all the different stages

of the supply chain in order to form

a holistic and detailed picture of the

situation. This input has been very

important to ensure that the process

is legitimate, effective, and consistent

with the local context.

An 18-month-long program was initiated

in June 2008 to propose relevant and

realistic improvement measures in the

following areas:

Fair return to the local community:

going above and beyond the minimum

requirement expected to pay with fair

prices on fair terms. The program looked

at ways to ensure decent living conditions

and improvements in quality

of life. Non-monetary benefits were

"This pioneering CSR partnership

between a consumer goods

company, a raw material supplier,

and an NGO, for a multiple

stakeholder commitment, is

quite without precedent. It is

an ongoing process, where we

are already have been seeing

satisfying results. Our local

partners have continually reached

a higher level of autonomy and

independence, and as we have all

worked together, we have made

continued strategic progress

while respecting the needs

of local communities and the

environment."

Charlotte d'Erceville, R&D Data and

Sustainable Development Manager,

BASF Care Chemicals actives business

"All organizations involved have

a relationship built on trust,

sincerity, and transparency – and

this has made possible the

implementation of a healthy

long-term CSR structure. LS*

and L'Oréal trusted Yamana's

method and recognized the

necessity of a holistic approach

that included auditing, monitoring,

and supporting suppliers, as

well as commercial and quality

assurance activities."

Eric Defrenne, Yamana National

Coordinator

"I have worked in the cooperative

since its creation in 2004. As

treasurer and cashier, I write

the checks among other things.

Previously, I was at home with no

paid work, only the daily family

tasks. The money I earn allows

me to help my children at school.

Schooling is free, but we have

to buy pens, school books, etc.

We live in a very poor area. My

husband has a job too, but that

alone is not always sufficient."

Fatima, treasurer and

cashier of the Toudarte cooperative

108 Global Compact International Yearbook 2012 Global Compact International Yearbook 2012

109
---
Best Practice

Environment

BASF

"I used to stay at home; I never

had a job before. The cooperative

allows me to earn a regular

income by myself. It also helps

us to buy goods we need, by

providing a transportation van that

sometimes runs free errands for

the women – the range of things

we can buy in the douar [village]

is very limited. Life at home is

different, because we have easier

access to water and electricity. My

husband is ill and cannot work."

Zaima, member of the Toudarte

cooperative

It was the first time L'Oréal

Research & Innovation established

a tripartite agreement with a

supplier and a NGO. We went

beyond the technical & trade

discussion with our supplier and

designed together a long term

program, precisely adapted to

the argan sector specificities,

taking fully into account local

expectations. The NGO Yamana's

know-how and dialogue

experience with stakeholders was

a key factor of success for this

project. Considering the progress

achieved, we went further than

the simple purchase of argan

oil to the cooperatives, and we

gradually decided to reference 3

additional ingredients developed

by BASF from the argan tree :

leaves extract in 2009, cake oil

extract in 2010 and the shellnut

powder in 2011. Currrently, Argan

is internationally present in more

than 15 brands of the L'Oreal

group : GARNIER, L'ORÉAL

PARIS, LANCÔME, L'ORÉAL

professionnel , Yves Saint Laurent,

REDKEN, Helena Rubinstein,

KÉRASTASE, KIEHL'S, LASCAD

and in every product categories:

skincare , haircare and make-up

products.

Rachel Barré, L'Oréal Research and

Innovation - Sustainability Manager

also considered, such as participation

in training programs or health insurance

for cooperative members. Besides

promoting a better quality of life, the

aim is to contribute to the overall economic

and social development of the

area. The Targanine cooperatives in Morocco

supply Argan oil (and other Argan

products, such as pressed oil-cake and

Argan leaves) to BASF under fair trade

conditions, whereby the company pays

a fixed premium price for the product

in advance (such as a two-year contract

for the supply of oil). Of the total price

paid for each kilogram of oil-cake, approximately

50 percent is provided in

the form of a social fund for each cooperative;

25 percent is given to the

Targanine Economic Interest Group for

maintenance costs, machinery, investment,

and management; and 25 percent

is given to the cooperative (which is used

indirectly for incomes).

Non-monetary benefits:

In addition to literacy classes and professional

training, educational programs

relating to environmental protection

have also been introduced by international

stakeholders. As a result, network

members understand the importance

of the Argan tree better and are more

involved in its conservation. Increased

financial autonomy and decision-making

power for female workers has helped to

raise the social status of the cooperatives'

women in this rural environment.

Traceability:

By making Argan leaves traceable, for

example, it is possible to monitor compliance

with good collection practices

that are necessary for the long-term

preservation of biomass.

Respect for traditional knowledge related to

local biodiversity:

The aim was to better understand local

perceptions of patent rights relating

to indigenous local flora. Even where

products had been granted patents because

of their novelty and inventiveness,

third-party evaluation and assessment

of local perceptions can help to better

guarantee that traditional knowledge is

respected. When applying for patents,

LS recognized its local partner, Zoubida

Charrouf, as co-inventor of new uses for

Argan fractions previously never used in

cosmetic applications, thereby making

sure that traditional knowledge and

geographical origin were documented

and respected.

Yamana was given the task of checking

what impact patents have on the economic

activity and general functioning

of the sector as well as examining local

people's perceptions about how the

patents influence their monetary and

non-monetary returns. These interviews

revealed local perceptions to be neutral

and positive about the impacts of LS

activity on the economic and social

development.

Protection of the biodiversity:

To ensure the conservation of biodiversity,

strict guidelines are followed

during the harvesting and exploitation

of natural Argan resources to help conserve

the Argan forest. The supply chain

also safeguards that the Argan products

are cultivated and harvested in an environmentally

sound way. Argan oil

and Argan oil-cakes have been certified

by Ecocert as being 100 percent from

organic farming.

Local empowerment:

had the goal of increasing communities'

autonomy and sense of responsibility

by training employees in technical processes,

quality control, accounting, and

communication.

Through their partnership with Yamana,

LS and L'Oréal were involved in the

implementation of a pilot program

that manages the mentioned social

fund. The social fund of each Targanine

cooperative receives 50 percent of the

pressed oil-cake payment, and so far

has been spent on things like spectacles,

literacy programs, and hygiene-related

products such as clothes, washing machines,

and pharmaceuticals. Some

cooperatives have spent the fund on

health insurance to cover the women

and their families.

As required for fair trade certification, a

development fund monitored by the Economic

Interest Group receives a premium

equal to 5 percent of the oil payment to

finance social or technical investments.

Yamana was involved in initiating a

Policies and Procedures manual for the

cooperatives that was then translated

in Arabic language. The manual sets

clear rules for members, similar to a CSR

code of conduct. This increases the cooperatives'

autonomy and sense of social

responsibility – a vital part of efforts to

set up a sustainable organization that

complies with broad CSR rules. The Policies

and Procedures manual formalizes

the cooperatives' CSR processes. It covers

various aspects, including: a democratic

governance approach, transparency,

and equitability between cooperatives;

monitoring of benefit allocation; supply

conditions; quality guidelines; and social

and non-monetary benefits.

Also quality, safety, and hygiene guidelines

have been implemented in order

to improve working conditions in the

cooperatives. BASF continues to provide

technical assistance on a regular

basis. This empowers local workers in

the areas of production, planning, and

quality assurance. The cooperatives also

share best practices and learnings among

themselves to ensure continuous improvement.

The cosmetic industry has felt the benefits

of globalization for many years now.

This has led to an exchange of ideas

between different regions and increased

access to exotic materials. As a responsible

company, BASF finds it important

to pay attention to sustainability on a

global level, including environmental

protection, respect of traditional knowhow,

but also a fair sharing of profits. The

only way to protect biodiversity – and

our shared heritage – is by working

closely alongside local communities.

The Argan forest

The Argan tree (Argania spinosa

(L.) Skeels) is indigenous to

southern Morocco. It is largely

found in the southeast of Essaouira

on the Souss plain. The Argan

forest extends over approximately

800,000 hectares and contains

more than 20 million trees. It

acts as a natural barrier against

the advance of the neighboring

Sahara Desert. The fruit of the tree

contains a very hard shell, holding

between one and three kernels,

from which a valuable oil can be

extracted.

The Argan forest is extremely

important in socioeconomic

terms, as it supports more than

3 million people (out of a total

Moroccan population of more than

30 million). Unfortunately, it is in

decline as a result of changes to

rural lifestyles. Overexploitation,

soil erosion, and desertification

have all played a part – as a

result, UNESCO classified the

Argan forest as a biosphere

reserve in 1998. This designation

is given to selected inland and

coastal ecosystems where

modern development can be

reconciled with the conservation of

biodiversity in practical ways.

110 Global Compact International Yearbook 2012 Global Compact International Yearbook 2012

111
---
Best Practice

Environment

Bayer

Making Responsible Use of

a Scarce Resource: Water

By Dr. Wolfgang Grosse Entrup

duced susceptibility to stress through

heat or lack of water.

Another example is in Indonesia, where

we have forged partnerships with farmers

and are cooperating with representatives

from local authorities. Together we are

converting production in suitable areas

– from planted rice to direct seeding with

pre-germinated rice. We ourselves provide

seed, sowing machines, pesticides, and

training on sustainable agricultural practices.

The result is a 10 percent increase

in rice crop yields – and a 30 percent

decrease in water consumption and emissions

of climate-damaging methane gases.

A new rice seeding technology reduces water

consumption by 30 percent.

The globe today faces a series of major challenges: How can we safeguard high-quality food

and good healthcare? How can we tackle climate change and save resources? How can we

provide as many people as possible with access to clean water? All these central questions,

reinforced by the steady growth of the world population, have a direct impact on the Bayer

Group. This is because healthcare, nutrition, and materials used for many daily life products

are our core business, including contributions to climate protection and resource efficiency.

I am convinced that holistic approaches and innovative solutions are the key to coping with

such global challenges and to finding the right balance between economic growth, social

welfare, and environmental stewardship. At least this is what we are striving for at Bayer.

Access to the valuable and scarce resource

of water is a top priority on the

international agenda. Today, one out

of six people have no access to clean

drinking water. The problem of droughts

is becoming more acute in various regions

of the world as a result of climate

change. As a multinational, we take it

as our responsibility to use water as efficiently

– and protect water resources

as effectively – as possible. It is also part

of our sustainability strategy to create

business opportunities by addressing

this challenge actively.

Wastewater management has always

been a core activity of our environmental

protection efforts. The company operates

production sites all over the world. Two

percent of our water is used in regions

classified by the World Resources Institute

as "water scarce areas." Over the course

of 2011, we decided to further strengthen

our water commitment and bundled it

in a document called the "Bayer Water

Position." We have defined three fields of

activity. First, we follow clear targets for

reducing pollutants and water consumption

at relevant production sites. Second,

we want to contribute to more efficient

water use and improved water quality

with the products and technologies that

we develop and offer. And third, we also

support community and research projects

that promote the responsible use of water.

Furthermore, we share our knowledge

and endeavors with other stakeholders,

for example in the CEO Water Mandate

initiative of the UN Global Compact or

the Water Disclosure Project.

Solutions for agriculture

The agricultural sector accounts for

some 70 percent of global freshwater

requirements. This in turn makes water

a crucial factor for crop losses in regions

where water is scarce. Our research and

technologies – such as the breeding

of stress-resistant plants – ensure increased

planting efficiency and higher

crop yields. This is extremely important

if we take into account that there will

not be any more arable land available,

but that there will be a rising demand

for food in the future. In various research

partnerships – for example,

with the Commonwealth Scientific and

Industrial Research Organisation in

Australia – we are working to develop

major drought-tolerant crops with re-

Water-efficient industrial production

In our own production facilities, we work

to continuously improve the efficiency

of water use and reduce water pollution.

For this, in all three Bayer subgroups –

HealthCare, CropScience, and Material-

Science – we have implemented specific

systems, standards, and technologies.

We have developed a number of energyefficient

technologies to purify industrial

wastewater. These processes are successfully

used at various Bayer sites, as well as

by an increasing number of our customers.

For example, through the application of

modern sedimentation tanks, we have

recently reduced the share of nitrogen

compounds in wastewater at our headquarters

site in Leverkusen, Germany, by

more than 40 percent. In Spain, water has

been scarce during the summer months

in recent years. At our site in Tarragona,

we will reduce total water use by 7 percent

in the future, as we now collect

rainwater there for use as cooling water.

At the site in Baytown, Texas, United

States, phosphorous emissions in the

form of phosphate have been eliminated

altogether in the production of polycarbonate

through process improvements.

As a participant of the Global Compact,

we act in accordance with the values

and principles of this initiative with a

series of measures, only some of which

I have mentioned.

Bayer promotes responsibility for water

Bayer supports various research and community activities within the scope

of its water commitment. In keeping with Principle 8 of the Global Compact

– "Undertake initiatives to promote greater environmental responsibility" – the

company is engaged in building awareness about the issue of water and in

developing expertise, for example through cooperation with academia and

farmers and support for education.

Three examples:

1 | Under the leadership of the Chair for Sustainable Development at Tongji

University in China – funded by the Bayer Science & Education Foundation

– a method has been developed for determining the water footprint of the

Shanghai industrial region.

2 | Supported by Bayer CropScience, the agricultural cooperative initiative

"Nossa Agua" ("Our Water") in Londrina in Paraná State, Brazil, aims

at restoring the ecosystem along the Ivai and Tibagi rivers through

reforestation along the riverbanks with native trees.

3 | Each year, the Bayer Science & Education Foundation and the Bayer USA

Foundation, together with an NGO, organize the International Summer

Sustainability Camp for school students with a focus on water conservation

and further sustainability topics.

112 Global Compact International Yearbook 2012 Global Compact International Yearbook 2012

113
---
Best Practice

Environment

BSH Bosch und Siemens Hausgeräte

Less is More

Less is more – This applies especially where the environment is concerned. Less energy

consumption means more climate protection, because using energy efficiently is the fastest

and easiest way to save energy and avoid CO 2

emissions. This applies to all areas of life –

including the "little things". With super-efficient home appliances, every household can

reduce its power and water consumption considerably. And that benefits our climate and our

budgets.

By Fridolin Weindl

Since the average household appliance

in the kitchen, bathroom, and cellar has

a useful life of 10 to 15 years, the savings

potential worldwide is huge. Modern

fridge-freezer combinations, for example,

consume around 70 percent less

electricity than comparable models did

15 years ago. Modern washing machines

and dishwashers also use only half as

much electricity as models that are 15

years old. The reasons for this progress

are the huge technical improvements

and innovative technologies in today's

appliances. Less energy consumption

does not, however, mean that modern

refrigerators, washing machines, and

dishwashers offer less convenience, performance,

or quality. On the contrary,

today's home appliances deliver outstanding

convenience and top quality

paired with maximum efficiency.

And to make the purchasing decision

easier for consumers, home appliances

in Europe have been required to feature

the European Union's Energy Label for

many years. This allows consumers to see

at a glance whether a model is energyefficient

or a power hog. Since December

2010, the most efficient washing machines,

dishwashers, and refrigeration

appliances carry the A+++ energy rating.

The number of plus symbols makes a

significant difference, because a model

in energy-efficiency class A+++ consumes

60 percent less power than a model in

class A and is still 50 percent more efficient

than an appliance sporting the

A+ rating. That means that a household

that upgrades all its appliances to superefficient

models can save up to €270

in energy costs each year. Savings like

these pay for the additional cost of highefficiency

models within a few years. As

a result, buying a new home appliance

will have a major impact on the size of

your electricity bill for years to come.

Government agencies have also recognized

the importance of energy efficiency:

As of mid-2012, new models of

energy-efficiency class A will be barred

from the market. Nevertheless, over 190

million appliances that are 10 years old

or older are still in use in European

households, consuming a lot more energy

than necessary. If these appliances

were to be replaced with modern models,

up to 44 billion kWh of electricity could

be saved each year – about as much as

the entire country of Portugal consumes

annually.

BSH Bosch und Siemens Hausgeräte

GmbH, Europe's leading manufacturer

of home appliances, has firmly established

the topic of energy efficiency in

its product policy and business strategy

for many years. BSH engineers strive

every day to continuously improve the

convenience and performance of the

appliances while steadily reducing their

energy and water consumption. To make

this progress visible and measurable,

BSH was the first home appliance manufacturer

to combine its most efficient

models in a so-called Super Efficiency

Portfolio and have the numbers checked

by professional auditors. Each year, only

the most efficient models on the market

are added to this portfolio. In 2011,

more than one in four appliances sold

by BSH in Europe already belonged to

this elite group. Extrapolated to the

average lifespan of these appliances,

this represents savings of around 1.9

billion kWh, the equivalent of the annual

power consumption of over 500,000

private households in Germany. And

since super-efficient home appliances

with minimum consumption values

are no longer a niche market, they are

major contributors to climate protection.

A look at the product lifecycle confirms

this: Depending on the product category,

the usage phase of the appliances currently

in our households accounts for

80 to 95 percent of their environmental

impact. That is why it is so important

to replace outdated models with new,

energy-efficient models as quickly as possible,

because dealing with our resources

in a responsible manner is everyone's

task. "I cannot understand why energy

efficiency doesn't play a greater role in

public policies," says Dr. Kurt-Ludwig

Gutberlet, CEO of BSH. He therefore

appeals to government and politicians

to address consumers more strongly

with regard to energy efficiency. "In

terms of energy and climate policies,

it would be desirable if government

were to promote the sale of particularly

energy-efficient appliances with special

incentive programs," adds Gutberlet,

"because the best energy is the energy

that isn't being consumed!"

Super Efficiency

Super-efficient household appliances make a significant contribution toward

reducing the consumption of energy and resources in private households. Consuming

up to 73 percent less electricity than comparable appliances from 15

years ago, modern household appliances offer an enormous potential in reducing

energy consumption and CO 2

emissions. As the first manufacturer of household

appliances, BSH Bosch und Siemens Hausgeräte GmbH combined its most economical

appliances in a Super Efficiency Portfolio and has continued to expand

this over the past two years. The super-efficient appliances alone, which were

sold by BSH in 2010 throughout Europe, led to electricity savings of 1.9 billion

kWh. "With our super-efficient household appliances, we make a measurable

contribution to climate protection," says BSH CEO Dr. Kurt-Ludwig Gutberlet.

"Energy-efficient household appliances have an enormous potential for climate

protection, without requiring consumers to forego comfort at the same time."

114 Global Compact International Yearbook 2012 Global Compact International Yearbook 2012

115
---
Best Practice

Environment

Consolidated Contractors Company

Habshan 5 –

Going Green

By Tony Awad

Over the years, the Consolidated Contractors Company (CCC)

has participated in and contributed to the countries and communities

in which it has operated. Contributions have come in

the form of monetary and in-kind donations. The "Habshan 5"

project is an example of CCC's sustainable engagement.

Integrated Gas Development, also known

as Habshan 5, is a project run by Abu

Dhabi Gas Industries to improve the

production of natural gas liquids in

the region and is aimed at significantly

boosting the Emirate's offshore gas production.

The reason for doing so is the permanent

demand for energy all over the

world. According to the UN, the world

population is rapidly expanding. The

world population had reached 1 billion

people by 1800; 2 billion by 1922; and

over 6 billion by 2000. It is estimated

that the population will swell to more

than 9 billion by 2050. That means that

if the world's natural resources were

evenly distributed, in 2050 people will

only have 25 percent of the resources

per capita that people had back in 1950.

The world has a fixed amount of natural

resources – some of which are already

depleted. As population growth strains

our finite resources, fewer resources

are available. As a consequence, there

is a need for a more sophisticated use

of the resources at hand as well as a

need for more responsible methods of

extraction.

One of the partners of the Habshan 5

project is the Consolidated Contractors

Company, which is aware of its social

and environmental responsibilities.

In six decades of operation, CCC has

grown to become one of the leading

contractors in the international construction

field, with more than 110,000

employees comprised from more than

80 nationalities.

CCC is committed to providing reliable,

amicable, and professional service to its

clients; being supportive of local business

and communities; and being protective

of the environments within which it

operates.

CCC's commitment to growth is firmly

linked to the continuous development

of its employees and its ability to provide

them with rewarding careers. The

company is devoted to its employees'

safety and health, job security, and welfare.

Its strength emanates from its

distinct culture; the strong and close

relationships with its clients; its employees'

competence and loyalty; its

entrepreneurial and flexible management;

and its focus on quality, safety,

and commercial acumen.

CCC has been a participant of the United

Nations Global Compact since 2001. Corporate

social responsibility is always a

project in progress, like the rest of CCC's

business. Every CCC activity and practice

is meant to make a lasting impact, economically,

socially, and environmentally.

CCC's Habshan 5 team started their green

campaign to preserve the standard of

living for future generations. They began

to develop a green strategy to, among

other things:

1. Save energy:

In Habshan, electricity is provided from

diesel generators. Efforts made to manage

consumption include:

• Energy-saving lamps used throughout

the camp and offices

• Solar power supply for all security lights

• High masts for camp lighting

• Timers for users' consumption

• Fully synchronized powerhouse to ensure

optimal operation

• Newly installed units and offices with

high density insulation, improving

cooling by 43 percent

2. Save water:

In Habshan, water is being trucked from

filling stations connected to desalination

plants. Efforts made to optimize the

consumption include:

• Spring taps

• Gravity water supply (10 m elevated

tanks) to control the pressure and reduce

consumption

• Treated water for flushing and irrigation

network (50 % reduction in supply)

• Meters used throughout the camp to

identify leaks and misuse

• Flow regulators added on all showers

3. Less Fuel / Gas = Saving

(and better health!):

Personal car travel produces CO 2

gas

emissions and it contributes to local air

pollution and congestion. On average, for

each liter of fuel burnt in a car, more

than 2.5 kg of CO 2

is released. Efforts

made to manage consumption include:

• Diesel cars (all 4 x 4)

• Low-consumption engines

• Proper planning for extended-hours

requirements and night loads

• 1,000 trees planted in Habshan – this

will remove up to 50 tons of CO 2

CCC proved to lead by example in promoting

the green campaign in Habshan.

A brief presentation titled "Habshan 5:

The GREEN Journey" was introduced

to the project sponsors on February 23,

2011. The CCC Habshan 5 project team is

fully committed to making a difference.

It is important that we leave a legacy of

a clean, green, and sustainable environment

to coming generations. After all,

our future lies in our own hands, and

going green is the right solution for

everyone on the planet.

CORPORATE PROFILE

Consolidated Contractors Company

(CCC) is a contracting company

formed in 1952 and incorporated

in Lebanon. The managing office

is presently located in Athens,

Greece. CCC is by far the largest

engineering, procurement, and

construction company in the Middle

East and is ranked #18 by ENR

magazine among all international

construction companies. CCC

currently operates in 40 countries

on 5 continents. It employs more

than 110,000 employees comprising

more than 80 nationalities

and is responsible for building

some of the most challenging and

complex facilities in the world.

Drawing on its long and successful

experience, CCC can provide

a full range of project services

– project development; detailed

engineering, procurement, and

construction; start-up operation;

and maintenance – as pertains to

the following:

• Buildings and civil engineering

works

• Oil and gas, and water pipelines

• Oil and gas, and petrochemical

plants and refineries

• Power plants

• Marine works

• Offshore installations

• Maintenance of mechanical

installations and underwater

structures

116 Global Compact International Yearbook 2012 Global Compact International Yearbook 2012

117
---
Best Practice

Environment

Deutsche Telekom

The German Experiment

The German government has decided to phase out nuclear power without making any

changes to its climate protection targets. This means that all of us will have to strengthen

our efforts to achieve more energy efficiency by searching for additional potential that will

enable us to reach the climate protection targets without relying on nuclear energy. There is

no doubt about it: CO 2

emissions will continue to rise globally. This fact makes us aware of

the enormous responsibility that we have for the sake of the environment.

In 1995 Deutsche Telekom was the

first DAX 30 enterprise to commit itself

to climate protection by incorporating

mandatory CO 2

reduction targets

for Germany into its company targets.

We are fully aware of our corporate

responsibility and have defined our

own ambitious climate protection goals.

For example, our climate protection

strategy defined in 2005 stipulated

that we must reduce our overall CO 2

emissions by 20 percent in the period

from 1995 to 2020. We have already

met this goal and have therefore revised

our targets – to reduce CO 2

emissions

Luis Neves, Group Climate Change and

Sustainability Officer, has taken over

from Dr. Ignacio Campino this position

as of February 1, 2012.

by 40 percent by 2020. Neither the

German government nor the European

Union have such ambitious targets.

And thanks to specific steps, we are

on the right track toward reaching this

milestone.

One of the steps Deutsche Telekom has

taken is its Green Car Policy for ensuring

sustainable mobility throughout

the Group. By 2015 the CO 2

emissions

produced by new vehicles in the Group

fleet in Germany should be as little as

110 grams per kilometer. In comparison,

the European Union is demanding a

reduction in emissions to 120 grams

by 2015.

In the medium term, we plan to convert

the remaining analog parts of the

telephone network to IP technology for

better energy efficiency and to make

the entire German telephone network

ready for the future.

Internationalizing climate

protection

Furthermore, we are currently working

on internationalizing our climate

protection strategy. Based on Groupwide

targets, combined with identified

potentials at the regional level, we plan

to define individual reduction goals for

our international subsidiaries.

Moreover, when making investments

we look for options that are favorable

to our climate protection criteria. In

the future we also want to focus on

CO 2

emissions throughout the entire

value chain of our products – from

the extraction of natural resources to

production processes and even the sale

of our products and services to our

end-customers.

Since 2009, both our new climate protection

strategy and the internationalization

of this approach have been led

and monitored by the Climate Change

Group, an in-house committee of experts.

This project is being driven by

Luis Neves, Group Climate Change and

Sustainability Officer, in collaboration

with the company's Sustainability unit.

"Climate protection is one of the greatest

challenges currently facing us all. As an

ICT company, we have an opportunity

to offer solutions for reducing CO 2

emissions.

These can help shape a more sustainable

future for millions of people,"

says Luis Neves, explaining his motivation

for promoting climate protection

even beyond company boundaries.

The great potential

A 2009 study sponsored by Deutsche

Telekom, the German Federal Ministry

of Economics and Technology,

the Global e-Sustainability Initiative,

the Potsdam Institute, SAP, Huawei,

Siemens and the Boston Consulting

Group to analyze potential savings

in the field of information and communications

technology (ICT), entitled

"SMART 2020," summarized the opportunities

available to our industry as

follows: In Germany alone, telecommunications

companies could save some

13 metric megatons of CO 2

emissions

by the year 2020, solely as a result of

direct savings from its own business

activities. These include savings from

energy-efficient data centers, virtualization

or cloud computing, and energyefficient

terminal equipment.

If implemented sustainably and consistently,

as an "enabler" the ICT industry

could even achieve a potential reduction

of up to 194 metric megatons of

CO 2

emissions over the next eight years.

This is equivalent to cutting Germany's

total emissions by up to 25 percent.

Worldwide, the figure is 7.8 gigatons of

CO 2

equivalent by 2020, equivalent to

15 percent of total emissions under the

"business as usual" scenario. The identified

indirect reduction potential is a

theoretical maximum, and the business

value of this potential is estimated at up

to €84 billion by 2020 for Germany alone.

As one of the world's largest telecommunications

providers, we recognize that

we have an obligation and the potential

to offer climate-friendly products and

services to our customers, and to give

them the opportunity to make their

own contributions to climate protection.

Services such as our web, video, and

telephone conferencing services support

easier communications regardless

of location, can help to streamline work

processes, and are far more sustainable

than physical meetings that entail travel

by air, car, or rail.

In an era where flexible working plays

an increasingly important role (at our

company as much as elsewhere), we

give our customers the opportunity to

be anywhere at any time, without the

need for a time-consuming, climatedamaging

journey.

In our strategy, we have broadened the

business base of our company and anchored

sustainable topics such as climate

protection. The growing energy business

is one such example: Developing smart

grids and using smart metering is a way

of helping to cut CO 2

emissions. As electricity

meters, for example, are capable

of sending their readings to the power

providers at any time, travel by meterreading

personnel becomes superfluous.

At the same time, we are making electricity

consumption more transparent

and efficient for our customers, and

thereby actively helping them to save

both electricity and money.

This is more than just a way of easing

our green conscience. Using "green"

innovations can also impact a lasting

reduction in operational expenditure.

The ability to not only combine but

to proactively link climate protection

and corporate success with a consistent

reduction in operational expenditure

is indicative of our company's future

viability.

Climate protection and the phasing out

of nuclear power pose a huge challenge

for us all. The German Experiment –

together, we can make it a success.

118 Global Compact International Yearbook 2012 Global Compact International Yearbook 2012

119
---
Best Practice

Environment

Essent

Essent Contributes to a

Bio-based Economy

By Stijn Vercauteren

According to Essent, innovation is the key to a sustainable energy transition. That is why

the company invests a great deal of time and energy in the development of innovative

sustainable energy applications. In 2011, Essent therefore started a pilot location for this

purpose that is intended to contribute to the development of a bio-based economy.

Essent uses biomass for generating energy

on a very large scale. The energy company

makes an important contribution to the

development of a bio-based economy by

means of its knowledge and experience in

this field. Bio-based means a replacement

of fossil fuels and raw materials with as

much biomass as possible. This is necessary

because fossil fuels are becoming

increasingly scarce and are contributing

to the concentration of greenhouse gases

in the atmosphere. The use of biomass

offers Essent a good alternative because

it is climate-neutral and, in principle,

inexhaustible.

Cuijk bio-energy power plant

At Essent, Peter-Paul Schouwenberg is

responsible for the bio-based economy

project. "Further development of biorefinery

is necessary for the success of an

economy that replaces fossil fuels with

biomass," says Schouwenberg. "This is a

process in which all valuable raw materials

are removed from biomass, so that

these can be used for diverse industries

[see also box]. Experiments with various

bio-refinery techniques are currently

being performed, which was why Essent

invested in research in this field."

The Essent bio-energy power plant in

Cuijk was selected as the research location.

This plant is suitable for using 100

percent biomass for energy generation. In

2011, all preparations were carried out

and in 2012 the bio-energy power plant

was started up to test the various types

of biomass, such as grasses, paper sludge,

and used wood and wood chips. Essent

is using the findings of these tests in its

research to discover a more optimal use

of biomass for the bio-based economy. In

addition, Essent is using the test results

of the pilot location for research into

offering energy based on the cradle-tocradle

principle.

Cooperation with the Dutch

government

Until 2011, the bio-energy power plant

in Cuijk produced electricity with the aid

of garden waste and wood chips from

sources that included the forests of the

National Forest Service in the Netherlands

and saw waste from the wood industry.

However, the government cancelled the

relevant subsidies, so Essent temporarily

took the plant offline in order to develop a

new multi-fuel strategy. A re-launch of the

pilot location for the innovative bio-based

economy project was realized with the aid

of a Green Deal with the Dutch government

and the province of Noord-Brabant.

A Green Deal is an agreement between

the Dutch government, businesses, and

organizations that is intended to make

the Dutch economy more sustainable

and greener. The agreement was signed

on October 17, 2011.

Long-term use of biomass

The use of low-grade biomass for generating

electricity is important for the

bio-based economy. After all, the energy

sector needs an increasing amount of

biomass. These large volumes mean that

this is not of interest only for the sector

but for multiple sectors to refine biomass.

By using valuable materials from the

refining process, biomass will ultimately

also become profitable as a fuel for power

plants. Several parties will then benefit

from the biomass chain, which means

that costs can be shared. The use of biomass

currently depends on government

subsidies. But we want to make the use

of biofuel profitable in the long term by

sharing knowledge and experience with

other sectors involved with biomass and

that are concentrating on a bio-based

economy.

Toward a sustainable society

Without solid cooperation between all

businesses and industries involved, the

development of a bio-based economy

would be impossible. A major step toward

this goal was made on September

29, 2011, when Essent, together with

other representatives from the business

community and community-based organizations,

signed the manifest for the

bio-based economy.

"The manifest is an important milestone

in the development of a bio-based economy,"

says Schouwenberg. "It contains, for

example, important starting points for

good cooperation. One of the initiatives

for this objective is BE-Basic. This is an

international public-private partnership

in which Essent is participating that is

committed to a sustainable society by

means of the development of bio-related

solutions. This initiative fits well with our

sustainability targets and offers a good

perspective for the energy transition that

we aim to achieve."

Facts

How does the bio-based economy work?

Biomass contains all manner of high-grade raw materials, such as sugar, starch,

oils, and greases. It furthermore contains proteins, amino acids, fibers, salts, and

organic compounds. Various industries, such as the cosmetics or pharmaceutical

industries, can make valuable products from of all of these substances. The

substances that remain after these raw materials have been used form a good fuel

for generating sustainable energy.

These first have to be split up in order to remove the valuable raw materials from the

biomass. This process is referred to as bio-refinery. This is a technique we are still

experimenting with at this time. Useful substances are removed from the biomass in

various steps during bio-refinery. The flow of remaining substances from one process

could be useful for another industry. This is also referred to as the cascading principle.

In order of decreasing added value, biomass can be a source for the pharmaceutical

industry, the food industry, chemical industry, or paper and textile industry, and it

can serve as fuel for the transport sector and electricity plants. This process is the

foundation of the bio-based economy.

Why the Netherlands?

The Netherlands is very suitable for developing a bio-based economy. For example,

the port of Rotterdam is an ideal logistics center and the Netherlands has a large

chemical industry. Furthermore, the Netherlands has an innovative and effective

agricultural sector and has knowledge institutes that are among the best in the

world.

Dutch UN Global Compact conference 2012

On April 24, 2012, Essent, together with RWE, organized the annual Dutch UN

Global Compact conference with the working title: The Green Economy – Business

Contribution to Securing Environmental Sustainability. This theme aligns well with the

expertise of Essent in the use of biomass as an energy source and as a raw material

for the bio-based economy.

Essent profile

Essent is the largest energy company in the Netherlands. We provide our private

and business customers with gas, electricity, heat, and energy services. Essent is

the leading producer of sustainable energy in the Netherlands. Essent strives to

provide energy using the most affordable, reliable, and sustainable means possible.

At the same time, Essent continues to seek solutions that are better for people, the

environment, and society as a whole.

More information regarding Essent's sustainable ambitions and initiatives – including

the Essent bio-based economy brochure – can be found in our CR Report:

www.essent.nl/mvoverslag. You can also send an e-mail to: cr@essent.nl.

120 Global Compact International Yearbook 2012 Global Compact International Yearbook 2012

121
---
Best Practice

Environment

Guangxi Beihai Penshibao

Saving Energy and

Reducing Emissions at

Penshibao

By Yuanqiong Yao and Fazhong Liang

For more than two decades, we have been committed to

research on foliar fertilizer. We have developed a new

generation of efficient, environmentally-friendly, highquality,

and residue-free foliar fertilizer by conducting

extensive tests in grain-producing areas in China via the

Ministry of Agriculture. The findings have greatly improved

the fertilization technologies of China and even the whole

world, changed farmer's fertilization habits, and promoted

the sustainable development of the environment.

1. The products are made of natural

and renewable materials: The new

generation of Penshibao foliar fertilizer

is made of non-toxic, harmless,

residue-free, pollution-free, natural,

and renewable materials using a

unique high-concentration chelating

technology. These materials are

highly efficient products and have

various physiological activators rich

in fulvic acid, humic acid, amino acid,

and vitamins and various nutrient

elements such as N, P, K, B, Zn, Mo,

and Mn.

2. The Ministry of Agriculture and the

College of Resources and Environment

of Huazhong Agricultural University

(Wuhan) have conducted in-depth

research on the mechanism of the

new generation of Penshibao foliar

fertilizer: Facing an abnormal climatic

environment, increasing farming costs,

and other phenomena, we began extensive

product research and development

in 2008 and aimed at increasing

crop resistance (resistance to disease,

drought, and cold), researching the

products' energy-saving and environmental-protection

functions, raising

the fertilizer's utilization rate, and

improving quality.

We established a cooperation with

the Ministry of Agriculture and agricultural

academies and universities.

We have made a great contribution

to eight years of harvests in China's

grain production and are listed as the

designated enterprise of soil testing

and formulated fertilization by Jiangxi

Province – the rice-producing area in

southern China.

The "Program on Rice Early-Senescence

Prevention," which focuses on

popularizing and using foliar fertilizers,

was launched by Jiangxi Province

in 2011. As one of the cooperating

partners, our company supplied Penshibao

products. The province served

as a core demonstration area using

foliar fertilizer and had an average

increase in production of up to 8

percent, greatly contributing to the

province's historic target to achieve

a total grain output of over 20.5 billion

Kg. At present, the "Program on

Rice Early-Senescence Prevention" has

been popularized across China by

the Jiangxi Provincial Government

and relevant departments under the

Ministry of Agriculture.

Additionally, Penshibao fertilizers are

widely popular in Liaoning, Hebei, Hunan,

and other major grain-producing

areas, making a significant contribution

to China's food security.

3. Through extensive tests and experiments

it has been shown that:

a. The new generation of Penshibao foliar

fertilizer significantly increases crop

production, provides strong resistance

to disease and stresses, has an excellent

effect on energy-saving and emission

reduction, as well as an ability to reduce

fertilizer amounts.

See Table: Energy Saving and Emission

Reduction of Penshibao (Taking Rice

as an Example)

b. Research on the "Penshibao" mechanism

by the College of Resources and

Environment of Huazhong Agricultural

University (Wuhan) shows that

the Penshibao foliar fertilizer can increase

chlorophyll content and boost

the photosynthetic effect to promote

photosynthesis; it is also able to increase

the transfer from dry matter

to harvest matter and thus to greatly

increase crop yields. After crops use

Penshibao foliar fertilizer: their root

systems grow stronger; the root systems'

absorption capacities for nutrients

and moisture is strengthened; the

crops' internal nutrient contents are

enhanced; the nutrient accumulation

increases, which provides sufficient

nutrients for crop growth and development

and can significantly increase

agricultural efficiency. Penshibao improves

economic benefits and reduces

fertilizer waste.

4. Through Penshibao's in-depth research

and the testing at the China

National Analytical Center in Guangzhou,

it was certified that Penshibao

foliar fertilizer can decrease the

residual amount of soil herbicides

to reduce farmland pollution. Acetochlor

is currently one of the most

important herbicides in the world.

In recent years, due to misuse by

farmers, acetochlor residue can harm

Item

Amount used

Assuming that

Penshibao

is used for

producing 450

million mu of

rice in China

Penshibao

1 ton

64,286

tons

Chemical

fertilizer

(Urea) saved

35 tons

2,250,000

tons

crop growth. By adding 20 - 30 ml of

Penshibao for one Mu, the acetochlor

residue in soil can be decreased by

57.6 - 73.8 percent, efficiently reducing

farmland pollution and protect

the arable soil.

5. The new generation of Penshibao

foliar fertilizer is a reliable and safe

product. It has passed the ISO9001

International Quality Management

System Certification and ISO14001

International Environmental Management

System Certification. "Firstly Do

a Good Job and Then Great Things"

is the motto of our company. To actively

undertake the company's social

responsibilities is our goal. The

new generation of Penshibao foliar

fertilizer can raise crop yields and

improve crop quality. It meets the

modern concept for economical and

environmentally-friendly fertilization.

With the ability to decrease the

adverse impacts of agriculture on the

environment and push forward environmental

sustainability, Penshibao

products have a huge potential across

the global.

Standard

coal saved

42 tons

2,700,000

tons

Carbon

emission

reduced

113 tons

7,290,000

tons

1 | According to authoritative theory, 1.2 tons of standard coal are used to produce

1 ton of chemical fertilizer, and 1 ton of standard coal will generate 2.7 tons of

carbon dioxide.

2 | Penshibao is a highly concentrated product. Taking rice as an example, it should

be sprayed three times every quarter, each time for three bags with a total 30 mL,

each Mu using about 90 mL, 1 ton of Penshibao for 666.67 hectares of land.

122 Global Compact International Yearbook 2012 Global Compact International Yearbook 2012

123
---
Best Practice

Environment

MAN

Climate Protection Drives

Innovation

By Yvonne Benkert

Climate change is one of the greatest global challenges faced by government, business, and

society. It also brings specific opportunities and risks for the transportation and power

engineering sectors. The MAN Group is active in both industries and produces trucks,

buses, diesel engines, turbomachinery, and special gear units in 13 countries around the

world. MAN is thus in a position to make a significant contribution to the reduction of CO 2

emissions. At the same time, the company is confronted with the increasingly ambitious

CO 2

reduction targets set by policymakers and with growing customer expectations – in the

transportation sector in particular.

The MAN TGX EfficientLine saves three liters of diesel per 100 kilometers, which is 47

tons of CO 2

when doing 150,000 kilometers over a service life of four years.

The MAN Group, headquartered in

Munich, Germany, is one of the leading

European industrial players in the

field of transport-related engineering,

with annual revenues of approximately

€16.5 billion (2011). Founded in 1758,

today the company focuses on the two

high-growth areas of commercial vehicles

and power engineering. As a

producer of trucks, buses, diesel engines,

turbomachinery, and special

gear units, MAN employs a workforce

of approximately 52,500 people at 31

sites worldwide.

The MAN Group is aware of the responsibility

this entails. As globalization

pushes forward and the world's population

increases, CO 2

emissions continue

to rise. While the rapidly growing

transportation sector is responsible for

approximately 15 percent of global CO 2

emissions today, this figure is expected

to reach 22 percent by 2020. The energy

sector presents a similar picture, with

experts predicting that by 2030, global

demand will exceed current levels by

more than 30 percent.

This has led many countries to set mandatory

climate protection targets. At

the same time, many European Union

member nations are applying increasingly

stringent Euro emissions standards

for heavy trucks, while the United

Nations has issued Tier III standards

for marine engines. Low-emission and

efficient trucks, buses, turbomachinery,

and power plants are essential for compliance

with climate protection targets

and regulatory requirements. Resource

efficiency has long since become a competitive

factor.

Climate protection is corporate

responsibility

MAN mapped out a clearly defined corporate

responsibility strategy in 2010.

Encompassing the fields of action of

environmental and climate protection,

relationships with employees and suppliers,

and anticorruption, it is integrated

in the corporate and leadership culture

at MAN. Its goal is sustainable business

success around the globe, with legal

compliance representing only one aspect.

Increasingly, it is also important

to meet the demands of a wide range

of stakeholder groups worldwide, which

are made more pressing by the progress

of globalization.

The UN Global Compact looks beyond

national borders to establish a global

framework of values for sustainable

business practices. Since the MAN corporate

culture is marked by the same

principles and objectives, in December

2010 the company became an official

participant to the Global Compact, committing

itself to the continued support

of the Compact's Ten Principles. One

of these is preventative environmental

protection. This means, for instance,

that as we expand our business activities,

measures that affect climate

change move to the top of the company's

agenda.

Core initiatives for implementing MAN's

Climate Strategy

1 | By 2020, a 25 percent reduction in CO 2

emissions at MAN sites (baseline:

2008): The MAN approach encompasses improved energy efficiency; use of

renewable energy sources (solar, wind, geothermal); generation of energy

using combined heat and power (CHP) plants; and integrated energymanagement

technology and organization.

2 | Consistently Efficient product portfolio: MAN positions itself in the

commercial vehicles and power engineering sectors with sustainable

products and services.

3 | Customer involvement and dialog: MAN involves its customers and talks

to them about ways to reduce the global carbon footprint. After all, many

of MAN's customers have already set themselves ambitious targets for

cutting CO 2

emissions.

4 | Potential for reducing CO 2

emissions along the product life cycle: To

identify the potential for reductions, MAN measures CO 2

emissions along

the entire product life cycle.

5 | Climate Strategy management: To manage the implementation of MAN's

Climate Strategy, the company has defined KPIs that are regularly

measured and published.

MAN's Climate Strategy

In late 2011 the Executive Board signed

off on MAN's Climate Strategy, which

was developed by an internal team of

experts. It is now a key component of

our corporate responsibility strategy,

targeting sustainable value creation

and establishing guidelines for product

development and resource-efficient

production. It also represents MAN's

response to feedback from its stakeholders.

Our international stakeholder

survey, which was conducted in 2011

and received more than 500 responses,

showed that 73 percent of the participants

regard resource conservation as

the most important issue facing MAN,

while 61 percent named climate change.

The core objective of MAN's Climate

Strategy is a 25 percent reduction in CO 2

emissions from its own operations by

2020 (baseline: 2008). This represents an

annual reduction of 125,000 tons of CO 2

– equivalent to the annual emissions of

a city of 22,000 inhabitants. To achieve

this climate objective, the company is

focusing on two areas: resource-efficient

products and services, and resource efficiency

in production and administration.

The company has defined five core initiatives

to facilitate the implementation of

its Climate Strategy.

Energy management at the MAN

sites

MAN's approach to achieving its climate

objective at its production sites

includes improving energy efficiency

and using renewables. In light of rising

energy prices, this also makes a significant

contribution to improving the cost

effectiveness of the facilities. With 31

124 Global Compact International Yearbook 2012 Global Compact International Yearbook 2012

125
---
Best Practice

Environment

MAN

sites across the globe, MAN must also

meet the ambitious climate targets set

by the governments of the countries

where it operates. In Brazil and China,

the aim is to cut CO 2

emissions by 36

percent and more by 2020, while India

is targeting a CO 2

reduction of around

Awards

Green Truck:

With the lowest CO 2

emissions

in the European market, the

MAN TGX 18.400 truck received

the 2011 Green Truck award.

Blue Angel:

Ten variants of the MAN Lion's

City bus received the German

Blue Angel eco-label with the

additional "protects environment

and health" designation.

The eco-friendly bus with a natural gas-diesel system

can be filled up with a choice of natural gas or diesel.

25 percent. Europe is aiming to reduce

CO 2

emissions by 20 percent compared

to 2007 levels by 2020; at the same time,

energy consumption is to be cut by 20

percent and the proportion of renewables

increased by 20 percent.

At all its sites, MAN is therefore improving

the energy-management technology

and organization of buildings, production

shops, and manufacturing facilities.

In 2012 the company will analyze

the feasibility of using its own MAN

combined heat and power (CHP) plants

to generate electricity at the sites with

the highest energy needs. In addition,

in the future all MAN sites will step up

their efforts to use renewable energy

resources such as geothermal, biomass,

wind, and solar. In Changzhou, China,

MAN Diesel & Turbo already integrated

energy-efficiency measures during the

construction of its new production plant.

Efficient energy management, effective

insulation, and modern, lighter cranes

and machinery contribute to energy

savings and therefore to reducing the

carbon footprint.

A focus on sustainable products

The coming years will see a worldwide

increase in the transportation of people

and goods as well as in the demand for

energy. With its focus on commercial

vehicles and power engineering, MAN

recognizes that the most effective way

for the company to contribute to climate

protection is through its products

– especially since most MAN products

have a very long service life, during

which they are used intensively. Well

over 90 percent of the environmental

impacts that occur over the product

lifecycle are generated in the use phase

– primarily through the consumption

of fuel and energy resources. This is

where forward-looking product development

comes into play. MAN analyzes

all possible means of reducing not only

energy consumption, but also other

factors such as the use of lubricants.

Additional product development criteria

include quality, safety, and marketability.

Given that the purchase of a

MAN product represents a long-term

investment, customers tend to look

beyond attractive ecological features

to costs, quality, and durability.

At the same time, as customers contemplate

the long-term aspe