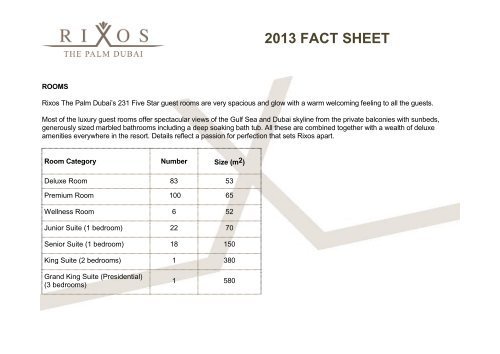 2013 fact sheet - Rixos Hotel 2013 fact sheet - Rixos Hotel
2013 FACT SHEET

ROOMS

Rixos The Palm Dubai's 231 Five Star guest rooms are very spacious and glow with a warm welcoming feeling to all the guests.

Most of the luxury guest rooms offer spectacular views of the Gulf Sea and Dubai skyline from the private balconies with sunbeds,

generously sized marbled bathrooms including a deep soaking bath tub. All these are combined together with a wealth of deluxe

amenities everywhere in the resort. Details reflect a passion for perfection that sets Rixos apart.

Room Category Number Size (m 2 )

Deluxe Room 83 53

Premium Room 100 65

Wellness Room 6 52

Junior Suite (1 bedroom) 22 70

Senior Suite (1 bedroom) 18 150

King Suite (2 bedrooms) 1 380

Grand King Suite (Presidential)

(3 bedrooms)

1 580
More magazines by this user