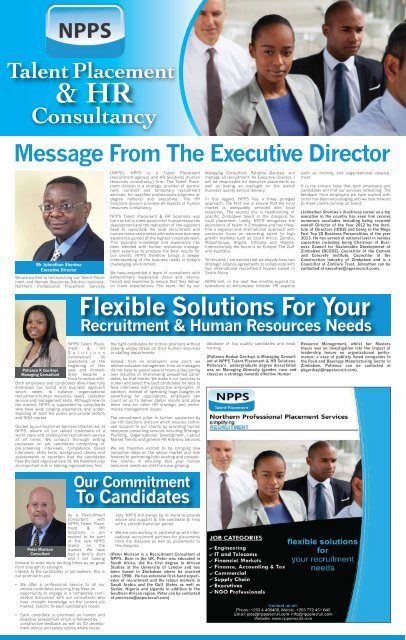 Newsday Talent Placement 16 June 2014
Create successful ePaper yourself
Turn your PDF publications into a flip-book with our unique Google optimized e-Paper software.
Talent

Placement

& HR

Consultancy

Message From The Executive Director

Mr Johnathan Shoniwa

Executive Director

We are excited to be launching our Talent Placement

and Human Resources Solution business,

Northern Professional Placement Services

(NPPS). NPPS is a Talent Placement

(recruitment agency) and HR Solutions (human

resources consultancy) firm. The Talent Placement

division is a strategic provider of permanent,

contract and temporary recruitment

services, for qualified professionals (diploma or

degree holders) and executives. The HR

Solutions division provides all aspects of human

resources consultancy.

NPPS Talent Placement & HR Solutions was

born out of a sheer passion for human resources

development and the realisation of the apparent

need to capacitate the local recruitment and

human resources market with extensive business

experience gained at the highest corporate level.

This business knowledge and experience has

been blended with human resources management

expertise to produce the best results for

our clients. NPPS therefore brings a deeper

understanding of the business needs in today's

challenging environment.

We have assembled a team of consultants with

extraordinary experience (local and international)

and expertise to ensure that they deliver

on client expectations. The team, led by our

Managing Consultant, Patience Garikayi, will

manage all recruitment. As Executive Director, I

will be responsible for executive placements as

well as having an oversight on the overall

business quality service delivery.

In this regard, NPPS has a three pronged

approach. The first one is ensure that the local

market is adequately serviced with local

resources. The second one is headhunting of

specific Zimbabwe talent in the diaspora for

local placement. Lastly, NPPS recognises the

abundance of talent in Zimbabwe and has therefore

a regional and international approach with

particular focus on exporting talent to high

growth markets such as South Africa, Zambia,

Mozambique, Angola, Ethiopia and Nigeria.

Internationally the focus is on Europe, The Gulf

and Australia.

To this end, I am excited that we already have two

strategic alliance agreements to collaborate with

two international recruitment houses based in

South Africa.

NPPS will, in the next few months expand its

operations to encompass broader HR aspects

such as training and organisational development.

It is my sincere hope that both employers and

candidates will find our services refreshing. The

feedback from employers we have worked with

so far has been encouraging and we look forward

to more clients coming on board.

(Johnathan Shoniwa's illustrious career as a top

executive in the country has seen him receive

numerous accolades including being crowned

overall Director of the Year 2012 by the Institute

of Directors (IODZ) and being in the Mega

Fest Top 20 Business Personalities of the year

2013. He has served at national level in various

capacities including being Chairman of Business

Council for Sustainable Development of

Zimbabwe (BCSDZ), Councillor of the Cement

and Concrete Institute, Councillor of the

Construction Industry of Zimbabwe and is a

Councillor of ZimCare Trust. Johnathan can be

contacted at executive@nppsrecruit.com).

Flexible Solutions For Your

Recruitment & Human Resources Needs

Patience K Garikayi

Managing Consultant

NPPS Talent Placement

& HR

S o l u t i o n s

commenced its

operations at the

beginning of this

year and immediately

became a

force to reckon with.

Both employers and candidates alike have fully

embraced our brand and business approach

which seeks to balance organisational

recruitment/human resources needs, customer

service and management skills. Although new on

the market, NPPS is supported by consultants

who have wide ranging experience and understanding

of both the public and private sectors

and NGO market.

Guided by our Customer Services Charter, we, at

NPPS, assure all our valued customers of a

world class and professional recruitment service

at all times. We conduct thorough vetting

processes on job candidates comprising of

pre-screening interviews, competence based

interviews, skills tests, background checks and

assessments to ascertain that the candidates

have the best organisational fit. We therefore play

an important role in helping organisations find

the right candidates for critical positions without

placing undue stress on their human resources

or staffing departments.

Indeed, from an employer's view point, we

release valuable management time as managers

do not have to spend several hours a day poring

over resumes or interviewing unqualified candidates,

for that matter. We make it our business to

screen and select the best candidates for face to

face interviews with prospective employers. In

addition, instead of spending huge budgets on

advertising for applications, employers can

count on us to deliver stellar results and allow

them time for other HR strategic and performance

management issues.

The recruitment pillar is further supported by

our HR Solutions division which ensures continued

support to our clients by providing human

resources consulting services including Strategic

Planning, Organisational Development, Labour

Market Trends and general HR Advisory Services.

We are therefore excited to be bringing new

innovative ideas on the labour market and look

forward to partnering both existing and prospective

clients, in ensuring that your human

resources needs are met from our growing

database of top quality candidates and headhunting.

(Patience Kudzai Garikayi is Managing Consultant

at NPPS Talent Placement & HR Solutions.

Patience's undergraduate degree dissertation

was on Managing Diversity (gender, race and

class) as a strategy towards effective Human

Resource Management, whilst her Masters

thesis was an Investigation into the impact of

leadership tenure on organizational performance;

a case of publicly listed companies in

the Food and Beverage Manufacturing Sector in

Zimbabwe. Patience can be contacted at

pkgarikayi@nppsrecruit.com).

Our Commitment

To Candidates

Peter Morison

Consultant

As a Recruitment

Consultant with

NPPS Talent Placement

& HR

Solutions, I am

excited to be part

of the new NPPS

brand on the

market. We have

had a terrific start

and I am looking

forward to even more exciting times as we grow

from strength to strength.

Indeed, to the candidates or job seekers, this is

our promise to you:

• We offer a professional service to all our

valued candidates ensuring they have an

opportunity to engage in a completely confidential

discussion with our consultants who

have in-depth knowledge on the current job

market, specific to each candidate's needs.

sary. NPPS will always be on hand to provide

advice and support to the candidate to help

with a smooth transition period.

• We are also working in partnership with international

recruitment partners for placements

from the diaspora as well as placements to

the diaspora.

(Peter Morison is a Recruitment Consultant at

NPPS. Born in the UK, Peter was educated in

South Africa, did his first degree in African

Studies at the University of London and has

been based in Zimbabwe where he married

since 1998. He has extensive first-hand experience

of recruitment and the labour markets in

Saudi Arabia and the Gulf States as well as

Sudan, Nigeria and Uganda in addition to the

Southern African region. Peter can be contacted

at pmorison@nppsrecruit.com)

• Each candidate is promised an honest and

objective assessment which is followed by

constructive feedback as well as CV development

advice and salary advice where neces
---
NPPS Talent Placement & HR Consultancy

We have had the

most exciting time

launching NPPS.

From the registration

of the

Shelta Chinogwenya company, licensing

Administration Officer with the Ministry of

Labour, preparing

all the marketing material and of course the

huge responses we have had so far. The market

has just fallen in love with our Brand! Our

Facebook page for example which we launched in

the middle of April this year has already

attracted over 3000 likes and it is promising to

grow even more. Although it has been hectic, the

Customer Services

At The Heart of

The NPPS brand

experience has been incredibly beneficial and

the teamwork excellent. We can only grow from

strength to strength and look forward to hearing

from existing and new clients and receiving your

CVs. Like our Facebook today and keep updated

on new career opportunities.

(Shelta Chinogwenya boasts the proud record of

being the first employee to be engaged by

NPPS! She is a marketing enthusiast and both

clients and candidate will find her customer

service and attention to detail refreshing.

Shelta can be contacted at

schinogwenya@nppsrecruit.com).

At NPPS we are

passionate about

and strive on

technology from

both the consumer

Pepita Magadza and technical

Consultant perspective. Utilising

our industry

and technical expertise, we combine innovative

use of technology, social media and proven

processes to offer a high quality and effective

recruitment service. All applications are done

online and there is no need for candidates to

come to our offices to apply. Candidates are only

required to come for the pre-screening interviews

when they have been shortlisted.

Using Technology To

Improve Customer Service

In this regard we have a website which is

www.nppsrecruit.com and we are also on

Facebook as NPPS Talent Placement. We look

forward to receiving your online applications and

feedback.

(Pepita Magadza is a Recruitment Consultant

with NPPS. Pepita brings a wealth of experience

from the private, diplomatic and NGO

sectors where she worked conscientiously for

over two decades. She has been involved in

projects covering multiple years and countries

ranging from US$5000 to US$65 million.

Pepita can be contacted on

pmagadza@nppsrecruit.com).

Tips To Developing A Curriculum

Vitae That Sells You Best

The Board, Management and Staff of

Northern Consultancy Services would like to

congratulate

"It takes only 25 seconds for a recruiter to

judge a CV"

Most professionals struggle with coming

up with a good resume that can help

make a great first impression to recruiters

/ prospective employers. There is no

right or wrong CV; but a CV serves as a

marketing document designed to sell

your strengths and skills so it's of

paramount importance that it meets this

objective through its content and presentation.

There are common sections you

should cover and these include personal

and contact information, education and

qualifications, work experience, skills,

achievements and references.

Personal and contact information

Contact details are part of your brand so

they should be professional i.e. you are

better off attaching a professional voicemail

message on your phone and avoiding

email addresses like hotgirl3@aol.com as

contact email as this is likely to give an

impression you may never get a chance to

prove otherwise. Marital status, religion

and date of birth are good to indicate

especially where you know they will work

to your advantage but in some instances

some job applicants have disadvantaged

themselves by including this information

as it exposes them to discrimination.

Career Summary

The top middle part of the first page of

any CV is more catchy and has proved to

be the best position to place your career

summary. A career summary is a better

replacement of the usual career objective

for experienced applicants where one

states their experience and achievements

of their career in less than 7 lines.

Employers are more interested in the

problems you can solve so this part

should prove your value proposition. For

the inexperienced applicants a short

career objective will do; mention the

immediate goal of your career in this part

and how your experience and potential

match with the position you are applying

for. Bring up your positive skills for the

position but refrain from using subjective

words to explain your candidacy i.e.

words like trustworthy, loyal. It is important

to write your career objective according

to the criteria mentioned in the job

announcement giving emphasis on the

ways you can make contribution for the

company.

Experience description

In this section minimize descriptions of

tasks and maximize on accomplishments

and achievements. Use industry jargon

and acronyms to reflect your familiarity

with the employer's business, but not to

the point where it makes your resume

hard to read or understand. Make sure

accomplishments are quantified i.e. using

numbers, dollars and percentage impact.

Charts and graphs can also help to

demonstrate impact; as we all know, a

picture is worth a thousand words. Omit

phrases like 'responsible for' or 'duties'

but opt for assertive and positive words

like 'developed', 'managed', 'organized'

or 'oversaw' . Dates should clearly show

the months and years with a brief explanation

to why one left a particular

position especially for short tenured

positions i.e. downsizing or retrenchment.

Also explain gaps on the resume as the

recruiters' assumptions are never in your

favour. Transparency is always better than

obscurity.

Qualifications

Clearly present your qualifications by

order of rank and include graduation

dates as omitting them can cause suspicion

and call for more attention to the

very thing you want to hide. Recent graduates

should include school projects,

grades, internships/ attachment experience

which may not be as important for

experienced candidates.

References

Always make sure you include traceable

references to your CV omit writing statements

like references available upon

request.

Additional Information

The information that does not fall in the

above mentioned parts but is related with

the job must be shown in this part. For

example:

• Professional Achievement

• Awards

• Language Proficiency

• Computer skills

• License, government identity, publications

and authorization.

• Voluntary work etc.

(Article developed by

Patience K Garikayi,

Managing Consultant for Northern

Professional Placement Services for

more information email Patience on

pkgarikayi@nppsrecruit.com).

Northern Professional Placement Service

on the succesful launch of their recruitment

agency and human resources consultancy.

THE NPPS TEAM

For all your professional consultancy on:

Company Registration

Accounting & Tax Services

Business Consultancy

Outsourced Payroll Services.

T: +263 4 498 588, +263 772 451 643.

E: info@nconsultancy.net

Northern Professional Placement Services

A division of

Northern Consulting Services (Pvt) Ltd

Finding The Right Recruitment Agency

Using a recruitment agency to assist with

identification of good candidates for a

vacancy can be a cost effective and also a

great time saving approach for a company

in the market for new talent. The need for

costly staff dealing with recruitment

(which may only be from time to time) is

removed or where a company does not

have qualified and experienced recruiters

on their team the risk and distraction of

giving the task to another member of

staff on top of their regular work is

avoided.

All the hassle of advertising, sifting

through hundreds of CVs, dealing with

enquiries and special requests for consideration

can all be managed by the agency

leaving the company able to get on with

its core job of doing its business and

serving its customers.

Using an agency is however only useful for

a client if the quality of CVs provided is

high and the candidates proposed meet

the requirements of the job. An agency

which just acts as a post box for CVs and

simply collects and forwards these on to

the client does not add much value to the

process and wastes the time of the client

who will be interviewing unsuitable candidates

or hanging around waiting for

candidates who are not really interested

in the position and don't bother turning

up for an interview.

A good recruitment agency will avoid

wasting the client's time by putting effort

into getting to know the client and their

requirements in detail and developing by

strong personal relationship with each

client using recruiters who understand

the sector in which they work. At the

same time a good agency will invest a

large amount of time in screening and

understanding the prospective candidates

for each position to ensure they have

exactly the right qualifications, experience

and skills for a vacancy and also that they

a serious about the possibility of taking

up a new position and not just looking

around to see what might be available on

the market.

When a recruitment agency follows this

approach the client will only need to

spend time interviewing three or four

excellent candidates for a vacancy and

finding the one which fits best with the

company culture and ethos rather than

having to go through a lengthy interview

process including some unsuitable,

uninterested or no-show candidates.

Northern Professional Placement

Services (NPPS) is a new recruitment

agency which is committed to providing

just such a high quality service to its

clients. NPPS has a very experienced

team of HR professionals, sector experts

and recruiters who understand exactly

what is needed to provide an excellent and

fast service to their clients to help them

develop their business and move forward

with a team they know they can rely on.

NPPS is part of Northern Consulting

Services. The group CEO is Mr. Johnathan

Shoniwa, the immediate past MD

and currently Chairman of a large listed

company. He has an in-depth knowledge

of the current business conditions in

Zimbabwe and what is needed for a

company to thrive in this difficult environment.

He has won many accolades in

recognition of his business leadership

skills including Director of the Year 2013

awarded by the Institute of Directors,

Zimbabwe. He was also recognised as

one of the Mega Fest Top 20 Business

Personalities of the Year 2013.

To find out more about how NPPS can

help you with your recruitment needs,

current or future, at a cost which is probably

less than you think, email

info@nppsrecruit.com,

visit www.nppsrecruit.com or

call +263 4 498588 / +263 772 451643.