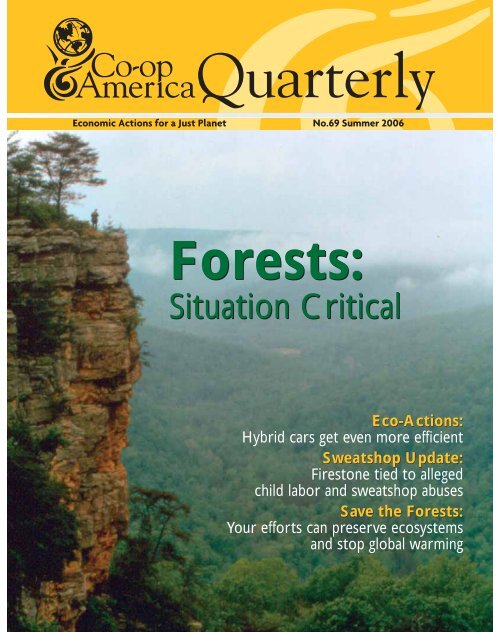 Forests: Forests: - Green America
Forests: Forests: - Green America
Forests: Forests: - Green America
SHOW MORE
SHOW LESS
Create successful ePaper yourself
Turn your PDF publications into a flip-book with our unique Google optimized e-Paper software.
Economic Actions for a Just Planet No.69 Summer 2006

Forests:

Situation Critical

Eco-Actions:

Hybrid cars get even more efficient

Sweatshop Update:

Firestone tied to alleged

child labor and sweatshop abuses

Save the Forests:

Your efforts can preserve ecosystems

and stop global warming
---
Table of Contents

Co-op America is dedicated to creating a just

and sustainable society by harnessing economic

power for positive change. Co-op America's

unique approach involves working with both the

consumer (demand) and business (supply) sides

of the economy simultaneously.

Co-op America's programs are designed to:

1) Educate people about how to use their spending

and investing power to bring the values of

social justice and environmental sustainability

into the economy, 2) Help socially and environmentally

responsible businesses emerge and

thrive, and 3) Pressure irresponsible companies

to adopt socially and environmentally responsible

practices.

Here's what you can do:

Reduce, reuse, recycle, and repair to conserve

and protect the Earth's resources. Read Co-op

America Quarterly and Real Money for sustainable

living tips for you, your workplace, and your

community.

Reallocate the purchases you make from

irresponsible companies to socially and

environmentally responsible businesses. Turn to

Co-op America's National Green Pages to find

green businesses. Use Co-op America's long

distance phone and travel services.

Reinvest in the future through socially responsible

investing. Turn to Co-op America's Financial

Planning Handbook for your how-to guide.

Use the financial services of Co-op America

business members.

Restructure the way America does business.

Turn to "Eco-Actions," "Boycott Action News,"

and "Sweatshop News" in this publication for

information on the worst offenders and how to

demand that they change.

Co-op America's programs are supported

almost entirely by contributions from our

members. Individual memberships begin at

$20, business memberships at $85. All members

receive our publications and access to our services.

Business membership, pending approval,

also includes a listing in Co-op America's

National Green Pages.

As a national nonprofit 501(c)(3) membership

organization, all contributions to Co-op America

are tax-deductible. We welcome your membership

and contributions.

Co-op America

1612 K Street NW, Suite 600

Washington, DC 20006

800/58-GREEN • 202/872-5307

info@coopamerica.org

Visit our Web sites:

www.coopamerica.org • www.greenpages.org

www.socialinvest.org• www.boycotts.org

www.communityinvest.org • www.ecopaperaction.org

www.greenfestivals.org • www.realmoney.org

www.responsibleshopper.org

www.shareholderaction.org • www.solarcatalyst.org

www.sweatshops.org • www.woodwise.org

Co-op America's Board of Directors

Melissa Bradley • Bená Burda • Justin Conway •

Alix Davidson • Paul Freundlich • Elizabeth Glenshaw •

Alisa Gravitz • Priya Haji • Diane Keefe • Andrew

Korfhage • Todd Larsen • Karen Masterson •

Talibah Morgan • Paula Wertheim

Mack Pritchard / Dogwood Alliance

Departments

Eco-Actions . . . . . . . . . . . . . . . . . . . . . . . . . . . . . . . . . . . . . . . . . . . . . . . . . . . . . . . 4

Hybrids Get More Efficient • Wind Energy Now Cheaper Than Natural Gas •

Wal-Mart's Health Care Costs • Immokalee Workers Target McDonald's

Boycott Action News . . . . . . . . . . . . . . . . . . . . . . . . . . . . . . . . . . . . . . . . . . . . . . 7

Groups Boycott Ford Over Fuel Economy

Sweatshop News . . . . . . . . . . . . . . . . . . . . . . . . . . . . . . . . . . . . . . . . . . . . . . . . . 25

Firestone Under Fire • Factory Fire Kills Workers

Across Co-op America

In Cooperation . . . . . . . . . . . . . . . . . . . . . . . . . . . . . . . . . . . . . . . . . . . . . . . . . . . . 2

Everyday Choices for the Forests, by Alisa Gravitz

The Mail. . . . . . . . . . . . . . . . . . . . . . . . . . . . . . . . . . . . . . . . . . . . . . . . . . . . . . . . . . . 3

Progress Report. . . . . . . . . . . . . . . . . . . . . . . . . . . . . . . . . . . . . . . . . . . . . . . . . . . 27

Co-op America Launches ClimateAction.org • Brand New Responsible Shopper •

Seeking Award Nominations • Green Pages Go Hollywood

Classifieds . . . . . . . . . . . . . . . . . . . . . . . . . . . . . . . . . . . . . . . . . . . . . . . . . . . . . . . 26

Green Business News . . . . . . . . . . . . . . . . . . . . . . . . . . . . . . . . . . . . . . . . . . . . . 28

Fair Trade Coffee for Hurricane Relief

Feature

Forests:

Situation Critical

Introduction . . . . . . . . . . . . . . . . . . . . . . . . . . . . . . . . . 9

How Bad is the Deforestation Problem? . . . . . . . 11

Strategies for Forest Protection . . . . . . . . . . . . . . . 12

Targeting Corporate Paper Use . . . . . . . . . . . . . . . 12

Managing Forests Sustainably . . . . . . . . . . . . . . . . 13

Protecting Ancient Forests . . . . . . . . . . . . . . . . . . . 16

Co-op America's PAPER Project. . . . . . . . . . . . . . . . 17

Get WoodWise . . . . . . . . . . . . . . . . . . . . . . . . . . . . . . 18

Resources . . . . . . . . . . . . . . . . . . . . . . . . . . . . . . . . . . . 22

SUMMER 2006

Co-op America Quarterly

1
---
A

In Cooperationp

Everyday Choices for the Forests

friend of mine told me about an

amazing dream he had and gave

me permission to share it with you.

In his dream, he was a little boy, lost

on a cold, barren plain. Hungry, scared,

and crying so hard he could hardly see,

the little boy stumbled on what turned

out to be a tree root. The tree swept a

branch down to catch him and, speaking

in a soothing voice, nestled him into a

hollow at the base of its trunk.

The tree said, "I'm here to take care of

you—eat my fruit to fill your belly. Use

my branches to make a fire to warm you."

And so the boy did, for days and days

and days, feeling warm and safe and

happy. Until one day, he realized that

he had eaten nearly all the fruit, and cut

deeply into the tree for his firewood.

That's when my friend woke up,

desolate, because he realized that the

tree that saved his life was dying. In his

dream, he hadn't stopped to think about

how he, and the tree, were going to

survive together into the future.

What a chilling message from the

dream world about a stark reality facing

us in the harsh daylight: Our forests

around the world are disappearing. Our

choices as consumers, businesses, and

society are cutting more deeply into

them everyday.

An astounding 42 percent of the

world's industrial wood harvest goes

into making paper. We're literally

cutting down trees that take years to

grow for one-time uses such as paper

towels and napkins. Or for catalogs and

magazines—nearly all of which are

trashed within a year. In the US alone,

we print over 12 billion magazines every

year; 95 percent of this paper is all virgin.

That translates into a tree destroyed for

magazines every second. (Rest easy, the

magazine you're reading and all Co-op

America publications are on 100 percent

recycled paper, with at least 60 percent

post-consumer content. See the box on

p. 1 for details about the CAQ's paper.)

This loss of our forests is a slow

death sentence for the many species that

depend on them—including us humans.

As you know, forests are the lungs of the

planet, playing a crucial role in filtering

our air. And they are the kidneys of our

planet, playing a key role in filtering

water, with their roots preventing soil

erosion, especially along riverbanks,

helping to keep them from flooding.

Forests are havens for migrating birds

and for thousands of species that are

essential for the biodiversity of life—and

the cures for cancers and other diseases

facing humans. Indigenous people all

over the world depend on forests in a

direct and everyday way for their lives

and livelihoods. Indeed, all of us do, as my

friend's dream so dramatically portrayed—but

for those of us who don't live

in and around the forests, we don't have

the everyday reminders of that simple fact.

And today, as more and more of our

society is finally awakening to the

climate change crisis, we need to count

on forests as our partners in addressing

this problem. Forests help stabilize

"

To win against climate

change, to preserve the lungs

of our planet, to prevent

enormous biodiversity losses,

and for the future of our

society, we need our

forests—and we have to act

quickly to save them.

"

climate regionally, help keep water in the

soil, and breathe in carbon dioxide, the

most pervasive of the greenhouse gases.

Each year, the worldwide loss of forests,

and their capacity to absorb carbon

dioxide, contributes almost as much to

climate change as all of our cars we drive

here in the US.

Sadly, climate change also speeds

forest destruction. For example, in the

great forests of western Canada, where

the winters are no longer cold enough to

kill off bark beetles, the insects are

destroying acres and acres of forests. A

devastating human-driven negative

feedback loop: climate change and forest

destruction amplifying each other.

To win against climate change, to

preserve the lungs of our planet, to prevent

enormous biodiversity losses—in short,

for the future of human society—we need

our forests, and we have to act quickly.

That's why we've devoted this issue

of Co-op America Quarterly to what we can

all do together to save the forests. We

update you on the problem, what people

are doing around the world, and the next

steps you can take.

Indeed, there is good news. In the

last five years, the rate of forest destruction

worldwide has slowed. While

there's so much more to do to achieve a

complete turnaround from destruction

to regrowth, it is heartening to know

that globally, we've accomplished this

first step for the forests.

In short, what we do every day does

matter. Thanks to the choices that each

of us make in our own homes and

businesses, thanks to the work of programs

like Co-op America's WoodWise

Program, moving the magazine industry

to more eco-friendly papers, we are

starting to make real progress in halting

forest destruction.

People are taking steps—for example,

reducing paper use and switching to

sustainably harvested lumber for their

home-building projects. Corporations

are taking steps—for example, reducing

or eliminating packaging. Countries are

taking steps—for example, China

banned disposable chopsticks.

Together, we are making a difference

for the forests. And together we can do

more. Turn the pages of this issue to learn

more, be inspired by what's working,

and decide on additional steps you can

take to protect forests here and around

the world.

After all, that's the other powerful

message from my friend's dream: We can

wake up—and we can think about how

we want the world to be. Every day, we

can make choices for the forests and for

our future.

In Cooperation,

Alisa Gravitz

Executive Director

2

Co-op America Quarterly NUMBER 69

m designates Co-op America Business Network Member
---
Co-op America

Quarterly

PUBLICATIONS STAFF

DIVISION DIRECTOR Dennis F. Greenia

EDITOR Tracy Fernandez Rysavy

MANAGING EDITORS Liz Borkowski, Andrew Korfhage

EDITORIAL ADVISERS Alisa Gravitz, Denise Hamler

GRAPHIC DESIGNER Jenny Thuillier

ILLUSTRATOR Jem Sullivan

PUBLISHER Denise Hamler

ADVERTISING Denise Hamler, Rob Hanson, Dawn Zurell

CO-OP AMERICA STAFF

EXECUTIVE DIRECTOR Alisa Gravitz

MANAGING DIRECTOR Todd Larsen

EXECUTIVE ASSISTANT Samantha Saarion

PROGRAM DEVELOPMENT DIRECTOR Erin Gorman

GRANTS COORDINATOR Matt Kittell

ONLINE CAMPAIGN INTERN Ann Church

MARKETING & CONSUMER PROGRAMS

MARKETING & DEVELOPMENT DIRECTOR James M. Perry, Jr.

GIVING PROGRAMS MANAGER Reid Parker

DIRECT MARKETING COORDINATOR Paula Wertheim

MARKETING COORDINATOR Carrie Hawthorne

MEMBER SERVICES AND OPERATIONS COORDINATOR

Becky LaBounty

MEMBER SERVICES REPRESENTATIVES Talibah Morgan

MEMBER SERVICES ASSISTANT Sarah Tarver-Wahlquist

DATA ENTRY SPECIALISTS Kitty Shenoy, Deanna Tilden

DATA ENTRY ASSISTANT O'Kechia Hicks

CORPORATE RESPONSIBILITY RESEARCHER Niki Lagos

CLIMATE CAMPAIGN INTERN Dana Christianson

FAIR TRADE DIRECTOR Erin Gorman

FAIR TRADE INTERN Jamie Beran

WOODWISE/PAPER DIRECTOR Frank Locantore

WOODWISE/PAPER OUTREACH COORDINATOR Polly Davis

BUSINESS PROGRAMS

DIVISION DIRECTOR Denise Hamler

BUSINESS MEMBERSHIP SCREENING COORDINATOR

Joelle Novey

BUSINESS MEMBERSHIP COORDINATOR Tish Kashani

GREEN BUSINESS DEVELOPMENT COORDINATOR Dawn Zurell

SPECIAL PROJECTS & ADVERTISING MANAGER Rob Hanson

BUSINESS NETWORK ASSISTANT O'Kechia Hicks

GREEN FESTIVAL REGIONAL MANAGER Alix Davidson

SOLAR CATALYST PROGRAM CHIEF SCIENTIST Joe Garman

SOCIAL INVESTING PROGRAMS

DIVISION DIRECTOR Fran Teplitz

MEDIA DIRECTOR Todd Larsen

DIVISION ASSISTANT Sylvia Panek

WORKING GROUP & MEDIA COORDINATOR Kate Rosow

TECHNOLOGY & INFORMATION SYSTEMS

DIVISION DIRECTOR Russ Gaskin

SENIOR DATABASE DEVELOPER Bernadette Morales Gaskin

SENIOR WEB APPLICATIONS DEVELOPER Christian MacAuley

SYSTEMS ADMINISTRATOR & IT COORDINATOR Mo Alem

FINANCE

DIRECTOR OF FINANCE & REVENUE Daphne Edwin

SENIOR ACCOUNTANT & BENEFITS MANAGER Linda Carpenter

ACCOUNTS RECEIVABLE Jacqueline Petteway

ACCOUNTING ASSISTANT Diane Greenidge

FOUNDER/PRESIDENT EMERITUS Paul Freundlich

CO-OP AMERICA QUARTERLY (ISSN: 0885-9930) is free with

Co-op America Individual Membership ($20/year) or Business

Membership ($85/year). Back issues may be ordered for $6 by

calling 800/58-GREEN. We welcome requests to reprint articles;

call 202/872-5328.

To change your address or to receive information on membership

or Co-op America Business Network services, call 202/872-5307

or e-mail info@coopamerica.org.

Co-op America

1612 K St. NW, #600, Washington, DC 20006

800/58-GREEN • fax 202/331-8166

Copyright 2005. Green Pages is a trademark of the

Co-op America Foundation. Used under authorization.

NO. 69

The Mail

Resist Corporate "Personhood"

Thank you very much for your issue

of Co-op America Quarterly devoted to

Wal-Mart (Beyond the Wal-Mart Economy,

CAQ Spring 2005). It was full of good

analysis and practical suggestions.

Just one point: On p. 16, you suggest

that there are things to do to "make them

[Wal-Mart] into better corporate

citizens." Corporations cannot and should

not be "citizens." If they are, they have

"certain inalienable rights," just like real

humans.

In fact, the gradual extension of human

rights to corporations is one of the

most important factors in the corporate

takeover of our resources, our political

system, and our cultural life. We at

Reclaimdemocracy.org are working

towards a constitutional amendment

clarifying that the Bill of Rights and 14th

and 15th Amendments only apply to

"natural" persons, not artificial ones. We

believe that passing such an amendment is

a crucial element in the struggle to get

"Beyond the Wal-Mart Economy" to an

economy where the welfare of human

beings becomes more important than

corporate wealth and power.

Abraham Entin

Los Angeles, CA

Is Target Better Than Wal-Mart?

Thanks for your issue about Wal-Mart. I

would like to know if Target is any better

when it comes to environmental and social

justice issues?

A Concerned Consumer

E-mail

Editors Note: Our members often call or write to

us with questions about the social and environmental

responsibility of various stores and companies,

and we're glad to help. We also have a great new

resource for all concerned consumers: our new

ResponsibleShopper.org can help you find answers

to those questions. For example, searching for

Wal-Mart's rival Target on Responsible Shopper

will tell you that Target has been tied to sweatshops

in China and Guatemala, among others. You'll also

learn that the nonprofit Rainforest Relief is running

a campaign asking Target to stop selling furniture

made from endangered tropical wood.

In addition, starting wages for Target

employees are comparable to Wal-Mart's, and

Target benefits packages are often harder to qualify

for and less comprehensive than Wal-Mart's dismal

benefits. Compare that to Target CEO Robert

Ulrich's 2005 salary of $23.1 million, an amount

that makes him the second-highest-paid CEO in the

retail sector.

Target has signed on as a partner in the

Environmental Protection Agency's WasteWise

program to reduce its waste, and it offers some green

Let us know what you think!

We really love to hear from you. Call the

editors at 202/872-5328, fax 202/331-8166, write

Co-op America Quarterly, 1612 K St. NW, #600,

Washington, DC 20006, or e-mail:

editors@coopamerica.org.

Subscription or member questions?

Call us at 202/872-5307 or 800/58-GREEN,

e-mail info@coopamerica.org, or write 1612 K St. NW,

#600, Washington, DC 20006.

products, like bamboo-fabric sheets and towels.

Target also does more community charity than

Wal-Mart, including a program that has donated

more than $154 million to public schools since 1997.

In other words, according to Responsible

Shopper and others, Target isn't any better than

Wal-Mart in terms of worker rights, though it is

somewhat better in terms of the environment and

better in terms of charitable giving.

Whenever you want to find out about the social

and environmental performance of Target or other

chain stores from which you might shop, visit

www.responsibleshopper.org.

"Responsible Shopper is a user-friendly way

for shoppers to make sure they're supporting

businesses that support their values," says Niki

Lagos, lead researcher for Responsible Shopper.

"There's a lot of information out there on these

companies, and Responsible Shopper pulls it all

together to help people make informed decisions."

Show Wal-Mart How It's Done

I just read your latest Quarterly about

Wal-Mart cover to cover and appreciated

the in-depth and well-written articles.

I also sent in the postcard to receive

additional copies of this magazine because

I want to share Co-op America with

everyone I know and continue to spread

the word about Wal-Mart.

I am also writing you because I read

that you are interested in knowing what

people are doing in their communities to

build responsible local economies.

Although I am grateful for not having to

battle Wal-Mart, at least not yet, I am

working with my business partner to

better our community by opening

Boulder's first Fair Trade retail store,

called "Kula," which means "community

of the heart" in Sanskrit (www.kula

culture.com). We are hoping to open our

doors this summer and will provide our

community with not only Fair Trade

housewares and gifts but also workshops

and activities on sustainable living. Thanks

again for your amazing magazine.

Jenny Natapow

Boulder, CO

Editors Note: Good luck with the store, Jenny, and

thanks for spreading the word about Wal-Mart and

Fair Trade.

SUMMER 2006 Co-op America Quarterly 3
---
Eco-Actions

IMPACTS ON OUR ECONOMY AND ECOLOGY

Hybrid Cars Get More Efficient

From Minnesota lawmakers to

Golden State Raging Grannies, a

growing movement has begun

to demand more and faster development

of an already-available technology

that can boost the efficiency of

hybrid cars, allowing them to travel as

far as 60 miles on electricity alone.

Plug-in hybrid electric vehicles

(PHEVs) come equipped with a plug-in

battery pack, which, when fully charged,

can complete most Americans' daily

average car trip (calculated at around 30

miles or less) without using gasoline.

One automaker, DaimlerChrysler, has

begun developing factory-ready plugin

hybrids, though they're not yet

commercially available. A California

company called eDrive Systems opened

its doors this spring, offering an add-on

device that can convert a Toyota Prius

into a plug-in hybrid.

A PHEV's electric power is fully sustainable

if the plug-in power source is

The DaimlerChrysler "Sprinter" is one of the first

plug-in hybrids to hit the road in the US.

renewable, and researchers at the University

of California–Davis say superthin,

car-rooftop photovoltaic panels

could charge the plug-in battery for consumers

who don't already generate their

at-home electricity from a renewable

source like wind or solar.

"Nothing has to be invented to

produce a plug-in vehicle," says

Dr. Andrew Frank, a mechanical

engineering professor at UC Davis and

director of the UCD Hybrid Electric

DaimlerChrysler

Research Center. "Everything needed is

available: the power trains, the gasoline

engines, the computer systems, electric

motors, and batteries. All we need is for

one of the large auto manufacturers to

step up to the plate."

That's what some lawmakers and

local citizens' groups are working on. For

example, in Minnesota in March, a bipartisan

group of state legislators sponsored

a bill encouraging the Ford Motor Co. to

convert its St. Paul plant into a PHEV

plant, offering $100,000 in plug-in hybrid

research grants to Minnesota State University

to help jump-start the conversion.

In Austin, Texas, city officials have signed

onto the "Plug-in Partners" campaign (a

national campaign intended to increase

demand for plug-in hybrids), and this

spring, a Palo Alto chapter of the Raging

Grannies staged protests at Ford dealerships,

demanding that dealers tell their

corporate headquarters there's a market

for PHEVs.

4

Co-op America Quarterly NUMBER 69

m designates Co-op America Business Network Member
---
Meanwhile, through a partnership

with the Electric Power Research

Institute (EPRI), DaimlerChrysler

introduced the first PHEVs onto

US streets this spring. A plug-in Dodge

Sprinter van, the first of three to be

tested in the US, is now included in

the fleet of Southern California Edison.

A second Sprinter, destined to be

tested by staff at the New York Times

later this summer, is also being

evaluated by FedEx for possible future

adoption as a FedEx delivery van.

Though DaimlerChrysler has not

yet committed to full commercial

production of the vehicle, a spokesman

told the industry publication Inside

Fuels and Vehicles that production will

begin in a "short period of time."

CONTACT: DaimlerChrysler, www.daimler

chrysler.com; Plug-In Partners, www.pluginpart

ners.org; eDrive Systems, www.edrive

systems.com. Visit our RespoinsibleShopper.org

for information on DaimlerChrysler.

Wind Energy Now Cheaper Than

Natural Gas

During the fall of 2005, the cost of wind

energy in several US markets fell behind

that of more conventional natural gas for

the first time, marking a key milestone

in American consumers' shift toward

renewable energy, according to a

new report from the Earth Policy

Institute (EPI).

"Wind has come of age," says Lester

Brown, president of EPI. "Wind can

now go toe-to-toe with any of the fossil

fuels in competing for markets."

The report tracked the price of wind

energy in markets like central Texas and

eastern Colorado, where plentiful wind

resources have been driving down the

cost of wind energy for years. In Austin,

in fact, demand for wind energy has

grown so dramatically since Austin

Energy launched its GreenChoice

program in 2000 that the company was

forced to hold a raffle this spring to

decide which consumers would receive

the limited wind energy.

According to the report, Austin

Energy and Colorado's Xcel Energy are

the first utilities to pass wind's falling

cost on to their consumers. The report

also noted that in the short term, wind's

low price may fluctuate in response to

rising demand, but as natural gas

resources disappear and energy companies

develop more wind farms, the price

advantage is likely to stay with wind.

In a conference call announcing the

report, Brown stated that wind energy's

profile has been steadily rising around the

country, with many large companies publicizing

their switch to full or partial wind

power, including Dell, IBM, Samsung,

3M, and Whole Foods.

CONTACT: Earth Policy Institute, 202/496-

9290, www.earth-policy.org.

Wal-Mart's Health Care Costs

In March, the nonprofit organization

Wake-Up Wal-Mart released a new

study detailing the state-by-state costs

to taxpayers of subsidizing the healthcare

of Wal-Mart employees.

The study, entitled "America Pays,

Wal-Mart Saves," found that in 2005,

nearly 300,000 Wal-Mart workers and

their family members depended on

taxpayer-funded public health care at an

estimated total cost to American taxpayers

of $1.37 billion. Overall, in 2005,

57 percent of the company's workforce

was not covered by health insurance.

"Unfortunately, Wal-Mart's health

care crisis has gotten worse, not

SUMMER 2006

Co-op America Quarterly

5
---
etter," said Paul Blank, campaign

director for Wake-Up Wal-Mart.

"At the same time health care costs are

rising, Wal-Mart has the nerve to cut

health care spending per employee."

The report found that the top five

states paying the most for Wal-Mart

employees' health care are Texas,

Florida, Ohio, New York, and Pennsylvania.

To find out the total for your state,

visit Wake-Up Wal-Mart's Web site.

CONTACT: Wake-Up Wal-Mart, www.wakeup

walmart.com. Visit our ResponsibleShopper.org

for more on Wal-Mart, and download our Wal-

Mart action guide at

www.coopamerica.org/pubs/caq/.

Farm Workers Target McDonald's

The Coalition of Immokalee Workers,

which secured a 2005 agreement with

Taco Bell to pay a penny more per pound

for its Florida tomatoes, launched a

cross-country tour on March 26 to pressure

fast-food giant McDonald's to pay

fair wages to its tomato pickers.

The tour, which started in Immokalee,

traveled across the South and Midwest

before arriving in Chicago, corporate

home of McDonald's, where workers

demanded fair wages, the right of farm

workers to participate in workplace decision-making,

and a better code of conduct

for the company's supplier farms.

According to the Miami Herald, farm

workers picking tomatoes for most

Florida growers earn around 45 cents

for each 32-pound bucket they pick, not

much higher than farm worker wages of

30 years ago. At that rate, a worker must

pick two tons of tomatoes to make more

than $50 a day.

"McDonald's clearly knows how to do

better," said Lucas Benitez of the Coalition.

"They recently announced an agreement

to purchase Fair Trade coffee for

more than 650 McDonald's restaurants,

paying a reasonable premium over market

price so that the workers who pick their

coffee can receive a fair wage and enjoy

humane labor conditions. Yet McDonald's

refuses to pay even a penny more per

pound for its tomatoes so that Florida

farm workers can earn a better wage."

Benitez says the penny-per-pound

increase from the agreement with Taco

Bell nets the average farm worker between

10 and 40 dollars more per week.

Contact: Coalition of Immokalee Workers,

239/657-8311, www.ciw-online.org.

BOYCOTT ACTION NEWS

Groups Boycott Ford Over Fuel Economy

The Bluewater Network and Circle of Life, two environmentally focused nonprofits,

have called for a boycott of Ford Motor Co. products until Ford CEO Bill Ford, Jr. reinstates

his abandoned pledge to raise SUV gas-mileage by 25 percent and promises to

stop lobbying against increased fuel economy standards.

A companion campaign, also sponsored by Bluewater and Circle of Life, with endorsements

from the Sierra Club, Global Exchange m , and the Rainforest Action Network, has

stopped short of calling for a boycott, but has placed newspaper ads around the country

demanding action from Ford on raising fuel economy standards for its cars.

According to campaign organizers, Ford vehicles release more global warming pollution

on average than any other major automaker's vehicles. Ford's most recent climate

change report omits an inventory of the company's greenhouse gas emissions,

but its 2000 Corporate Citizenship report stated that Ford released 400 million tons

of carbon dioxide that year—more than the total emissions from the entire country

of Mexico, according to the Bluewater Network. What's more, in states that have tried

to raise fuel economy standards to help lower emissions, Ford has taken an aggressive

posture, lobbying against reforms and filing lawsuits to prevent reforms from

taking place.

"With hurricanes raging in the Gulf, the warmest temperatures on record, and even

more deaths in Iraq, Ford, the auto industry's worst global warming polluter, needs to

do more," says Mike Hudema of Global Exchange. "Now they need to take bold steps

to ensure America's energy independence."

To sign up for the boycott, visit the Circle of Life Web site, www.circleoflife.org. To

send a message to CEO Bill Ford demanding more action from Ford on climate change,

the coalition of campaigners has established the site www.TellBillFord.com.

SUMMER 2006

Co-op America Quarterly

7
---
Forests:

Situation Critical

THE COMMUNITIES ALONG THE BANKS OF THE YANGTZE RIVER BASIN SHOULD HAVE BEEN

ABLE TO BETTER WITHSTAND THE 1998 MONSOON SEASON.

Forests, with their web of sturdy roots stretching deep into the soil, help prevent the land's

erosion into a flooding river. They also slow a swelling river's advance over the surface of the land.

But the forests around the Yangtze River were gone—long since logged for timber. In 1998, the Yangtze

swamped its banks and spread across the land, driving more than 100 million people from their homes.

The nearby Yellow River had done the same thing the previous year.

Deforestation has been implicated in worsening the effects of floods and landslides worldwide,

from Thailand to Peru, from West Africa to Indonesia. To meet the world's appetite for timber and

wood products, excessive logging threatens every continent with a host of social and environmental

problems; forest loss diminishes air and water quality, strips ecosystems of their biodiversity, destroys

the livelihood of indigenous populations, and hastens the threat of global warming.

THE DEMAND TO CLEAR FORESTS

Faced with the consequences of excessive logging along China's rivers, the Chinese government

took dramatic action after the Yangtze flood, placing a ban on domestic logging.

With the global demand to clear forests unchanged, this ban effectively outsourced the

catastrophic effects of deforestation to other countries. Now that China imports even greater amounts

of timber for its factories, large swaths of Burmese forests across the border from China have been

destroyed, and imports are rising from Africa, Southeast Asia, and as far away as South America—

including timber from protected forests logged illegally, according to the nonprofit Environmental

Investigation Agency.

Imports to the United States of wood products made in China—including wooden furniture,

hardwood flooring, and wooden toys —have increased 900 percent since 1998.

Of course, China isn't the only country spurring the deforestation problem. In addition to their

razing forests for raw materials for factories, companies around the world clear forests as grazing land

for cattle, as timber for building projects, to extract the resources that lie beneath the forests, and—

especially dramatically—for short-term throw-away paper products.

According to the Worldwatch Institute m , more than 42 percent of the world's industrial wood

harvest goes toward paper production. In a particularly egregious example, clearcut logging of the

primeval boreal forests of Canada claims half a million acres of trees every year to produce bathroom

tissue, a product that can easily be made from tree-free sources. That's more than 500,000 tons

of pulped pine, spruce, fir, and poplar—from forests that used to sequester millions of tons of

greenhouse gasses and provide homes for hundreds of species—literally flushed away each year.

Since 1970, more than ten percent of the Amazon rainforest has been plowed under to provide

grazing land for cattle—many of them destined to become cheap fast-food hamburgers. Here in this

country, mountaintop removal coal mining has destroyed hundreds of thousands of acres of

Appalachian hardwood forests over the past five years, replacing them with sparse grassland.

To protect local communities and the health of our planet, both here at home and half a world

away, it's time to build sustainable lifestyles that use our forests responsibly. Without addressing our

appetite for clearing forests around the world, problems caused by deforestation—from

the increased threat of climate change to flooding like that of the Yangtze Basin—aren't going

to go away.

THE IMPERATIVE OF PRESERVATION

To repair the damage of deforestation, we can begin by recognizing the long-term benefits of

preserving forests—benefits that can't be matched by the short-term benefits derived from clearing

them. Forests clean and preserve our environment. They filter our water and clean our air, they

prevent erosion of our land, they preserve the biodiversity of forest-dwelling species, and they

reduce the threat of global warming.
---
Forests:

Situation Critical

Jonathan Clark

A child born today would

see the net loss of 900

million acres of forestland

—an area larger than all

US forests combined—

by the time she turns 50.

Tree foliage converts

carbon dioxide—one of

the most common greenhouse

gasses causing

climate change—into

oxygen, and removes

from the air other

chemicals like nitrogen

oxides, airborne ammonia,

a small amount of

sulfur dioxide, and

ozone. Leaf surfaces

serve as collection sites

for airborne particulate

matter, and roots filter the water that reaches our

streams and rivers, improving water quality and

preventing soil from washing into waterways.

Trees provide shade and temperature control and

habitat for wildlife, with forests holding the vast

majority of the world's land-based species.

As forest areas diminish and habitat shrinks,

we run the risk of losing more species of

plants, animals, insects, fungi, and microscopic

organisms. One study, conducted at Stanford

University in 2004, predicted that one in ten

species of bird in the world will be extinct by the

end of the 21st century due to loss of habitat from

deforestation. In Brazil, logging of the manduvi

tree threatens the hyacinth macaw, which lives in

its branches. Even birds that spend most of their

year outside forest ecosystems are affected when

deforestation removes customary stops from their

migratory patterns.

In Africa, loss of forest habitat for chimpanzees

and great apes has shrunk their numbers

greatly, as animals, consigned to smaller and

smaller parcels of forest, no longer have contiguous

forestland in which to roam. The world

chimpanzee population declined from 2 million

to less than 200,000 over the last century, with

the National Primate Research Center predicting

that current levels of logging and clearing will

shrink chimpanzee habitat to less than 10 percent

of its current size in 25 years. In Indonesia, orangutans

also face extinction due to deforestation.

According to the National Institute of Health,

more than 60 percent of the anti-cancer drugs in

use today derive from natural sources such as

those found in rainforests, and such sources could

someday yield treatments for AIDS or other

currently incurable conditions. When forestbased

plants are the victims of deforestation, we

potentially lose keys to medicinal breakthroughs

or other scientific discoveries.

At the same time, deforestation can actually

spread disease. In Peru, as reported in January by

the American Journal of Tropical Medicine and Hygiene,

deforestation has allowed malaria-bearing

mosquitoes to proliferate in the flat, open spaces

left behind. The study found that in deforested

areas, the biting rate of mosquitoes "was more

than 278 times higher than the rate determined

for areas that were predominantly forested." Dr.

Jonathan Patz, the senior researcher on the study,

said that preliminary results from in-progress

follow-up studies "confirm this link between

deforestation and malaria risk in the Amazon."

Most critically, deforestation hastens the

downward spiral of global warming. Caused

primarily by the accumulation of human-produced

heat-trapping "greenhouse gases," global warming

raises the earth's temperature, melts glaciers,

raises sea levels, alters ecosystems, and increases

the severity of weather events like hurricanes.

As massive consumers of carbon dioxide (CO 2 )

—the primary greenhouse gas—forests help slow

its accumulation in our atmosphere. However, as

global forest cover shrinks, forests' ability to

protect us from the effects of climate change

shrinks as well. According to the UN Food and

Agriculture Organization (UNFAO), deforestation

has reduced forests' capacity to remove CO 2

from the air by 1.1 billion tons per year since 1990.

All US cars on the road today emit a combined 1.5

billion tons of CO 2 annually.

Because climate change stresses ecosystems,

the increased CO 2 in our atmosphere due to deforestation

has a cumulative effect. Changes in the

global climate are already putting stress on forests,

through higher mean annual temperatures,

changed precipitation patterns, and more frequent

and extreme weather events, according to the

UNFAO.

BUILDING FOREST-FRIENDLY

LIFESTYLES

It doesn't have to be this way. We can build

lifestyles that preserve the forests by using their

resources only sparingly and responsibly. We can

harvest our wood responsibly and sustainably,

and produce products now made of wood from

other resources. We can recycle our paper and

produce new paper from annually renewable

plant-based sources, and we can minimize our

need to clear forests by making responsible choices

about where we live, what we eat, and what

resources we need to extract from beneath the

forest floor. The choices are not either-or.

The clean air, clean water, biodiversity, and

climate protection offered by forest preservation

benefit us all. This guide is designed to show you

how to integrate more forest preservation tactics

into your sustainable lifestyle—and get others to

do the same.

—Andrew Korfhage

10

Co-op America Quarterly NUMBER 69

m designates Co-op America Business Network Member
---
HOW BAD IS THE DEFORESTATION PROBLEM?

With the exceptions of China, Cuba, and some European countries,

every forested country on the planet is losing forest area.

Globally, we lose more than 32 million acres every year to

agriculture, development, resource extraction, and the manufacture

of wood and paper products.

Yet, there is some encouraging news. With tree-planting and

natural forest expansion factored in, the net loss of forest land

Forests:

Situation Critical

per year has dropped to 18 million acres per year between 2000

and 2005, down from 22 million acres per year from 1990 to 2000.

But we need to take more action quickly; even at this rate, a child

born today would see the worldwide loss of 900 million acres of

forest—an area larger than all of America's forests combined—

by the time she's 50.

Source: United Nations Global Forest Resource Assessment 2005

British Columbia's

Temperate Rainforests

Globally, 56 percent of the world's temperate

rainforest has already been logged, according to the

World Resources Institute. Only British Columbia and

Alaska have large, undeveloped tracts remaining, and

yet 40 percent of the trees cut in British Columbia are

used to produce throwaway paper products. Also,

one out of eight animal species in the temperate rainforests

of British Columbia is at risk of extinction,

according to the British Columbia Ministry of

Environment, which identified logging as a primary

contributing cause.

Southeastern US

The paper industry logs 5 million acres a

year—an area the size of New Jersey—from

the Southeastern United States, the largest

virgin paper-producing region in the world.

Formerly home to 165 different native tree

species, huge areas of the southeast are being

replaced by single-species pine plantations,

destroying the ecological balance of the

area. If current trends continue, single-tree

plantations will account for 63 percent of

southeastern woodlands by 2040.

Indonesia

Deforestation rates in Indonesia are

proceeding at six times that of the

Amazon rainforest, which is itself

endangered. Forest loss has reduced

the orangutan population by

90 percent in the past century, and

between 1998 and 2003, Indonesia

experienced 647 natural disasters

linked to forest loss, such as floods

and landslides.

South America

Since 1970, more than 17 million acres

of Amazon rainforest have been

logged, with more than half of those

acres cleared for cattle grazing,

according to the UNFAO. The year

2004 was the second-most-heavily

logged year on record; one-fifth of

the Amazon forest cover present in

1970 has been destroyed in just

25 years.

West Africa

With nearly 90 percent of West

Africa's rainforest already gone,

what's left is heavily fragmented,

providing limited habitat for species

that depend on the forest. Especially

problematic in West Africa is the

desertification of land cleared for

agriculture, leaving it unsuitable

for supporting forests, crops, or

grazing land.

Burma

The World Resources Institute, which calls Burma

"the last frontier of biodiversity in Asia," reports

that deforestation rates have doubled since the

current military regime took over in 1988, resulting

in "massive soil erosion, sedimentation of rivers,

increased flooding, and acute dry season water

shortages." According to the British nonprofit Global

Witness, a log truck crosses the Burmese border into

China "every seven minutes every hour of every day

of every year." Profits benefit the repressive

Burmese military and not local communities.

SUMMER 2006 Co-op America Quarterly 11
---
Forests:

Situation Critical

Strategies for

Forest Protection

Forests are more than collections of trees. A true forest is an ecosystem in which hundreds of

plant and animal species interact with each other in complex ways over a large area of land.

Intact forest ecosystems help clean our water, stabilize our soil, and control our global

climate. Many of the animals that forests support play important roles in their regions, such as

pollinating crops, serving as a source of food, and keeping the populations of pests in check.

Even as people worldwide are becoming more aware of the "ecosystem services" that forests

provide, our appetites for forest products, expanded agriculture, and new development continue

to drive global deforestation. Forest advocates are responding by working to protect the world's

most valuable and irreplaceable forest ecosystems while finding sustainable ways to meet the needs

of the planet's population. Together, all of our efforts at the individual, community, and global

levels can preserve forests around the world.

Here are three strategies that are helping to preserve forests—and how you can get involved.

Mark Pritchard/Dogwood Alliance

Getting major

companies

on board

ramps up

production of

forest-friendly

paper.

Targeting Corporate Paper Use

Demand for paper and other forest

products drives logging. In his book

Eco-Economy: Building an Economy for the Earth,

Lester Brown notes that paper is

the fastest-growing sector of the world wood

economy; global paper use climbed 86 percent

between 1980 and 1999. One sure way to slow

forest destruction is to reduce this demand—

both our own and that of large paper-using

companies. If companies from book and

magazine publishers to office-supply retailers

start demanding recycled and FSC m -certified

papers, paper manufacturers will have to listen

and step up forest-friendly paper production.

One example of this strategy is forest

advocates' work with the book-publishing

industry. In 2000, the Markets Initiative—a

coalition formed by the groups Friends of

Clayoquot Sound, the BC Chapter of Sierra Club

of Canada, and Greenpeace Canada—began

encouraging Canadian book publishers to use

"ancient forest friendly" paper made from a high

percentage of post-consumer recycled content,

with any virgin fiber being FSC-certified. (See

"Managing Forests," next page, to learn about

FSC certification.) Co-op America Business

Network member New Society Publishers m and

the University of British Columbia Press were the

first to commit to using forest-friendly papers.

"New Society really played a key role,"

explains Nicole Rycroft, Markets Initiative's

campaigns director. "There was no 100-percentrecycled

paper commercially available, so they

worked with a printer and underwrote the cost

of the first truckload. Having the paper available

took it from a theoretical commitment on the

publishers' part to an actual ability to produce

ancient-forest-friendly books. It's a demonstration

of how New Society incorporates ethics into its

business practices."

After getting several small publishers on

board, Markets Initiative began organizing

support from major writers who wanted to see

their works printed on forest-friendly papers.

At the urging of Canadian author Alice

Munro, McClelland & Stewart used ancientforest-friendly

paper to print Munro's Hateship,

Friendship, Courtship, Loveship, Marriage in 2001. In

2003, Raincoast attracted a new level of public

attention to the campaign when it printed the

Canadian edition of Harry Potter and the Order of

the Phoenix on 100-percent post-consumer paper.

The campaign's momentum and impact

continue to grow. Since the Markets Initiative

began working with book publishers in 2000,

85 Canadian book publishers have begun using

ancient-forest-friendly papers. The group has also

begun working with magazine and newspaper

publishers, and Rycroft calculates that it has saved

210,000 trees.

Likewise in the US, the Green Press Initiative

(GPI) is working with authors, printers, and

12

Co-op America Quarterly NUMBER 69

m designates Co-op America Business Network Member
---
Forests:

Situation Critical

publishers to improve

book publishing's environmental

practices. Like

the Markets Initiative,

it's getting prominent

authors—including Alice

Walker and Barbara

Kingsolver—to tell their

publishers they want

their books printed on forest-friendly paper. GPI asks

publishers and printers to eliminate the use of endangered

forest fiber and to maximize the use of recycled and FSC fiber

in their paper; so far, more than 100 US book publishers, along

with two printers, have made these commitments. According

to GPI, the US book industry consumes over one million tons

of paper annually, and each ton of 100 percent post-consumer

recycled paper that replaces virgin sheets saves 24 mature trees.

At the global level, the Greenpeace Book Campaign is

urging European publishers to reduce their papers' forest

impacts, and publishers in Germany, Italy, Spain, and the United

Kingdom have adopted forest-friendly options. Consumers

can support this work by buying titles printed on eco-friendly

paper; in the US, independent bookseller Powell's flags all

books that meet the GPI criteria, and you can find a list of these

titles at www.powells.com/psection/GreenPressInitiative.html.

In Canada, look for the Ancient Forest Friendly logo (pictured left).

There are several campaigns you can support in order to

help increase corporate demand for forest-friendly products.

• GET MAGAZINES TO MAKE THE SWITCH: Co-op America's

Magazine PAPER Project urges magazine publishers to switch

to environmentally preferable papers and provides resources

to help them do so. The Project provides sample letters to

contact publishers about making the switch. (For more on this

program, see "Co-op America's PAPER Project" on p. 17.)

• TELL VICTORIA'S SECRET TO CLEAN UP ITS PAPER: Forest-

Ethics' m "Victoria's Dirty Secret" campaign asks Victoria's

Secret to increase the recycled content in its catalog paper and

refuse to buy fiber from Canada's endangered boreal forests.

• USE INSTITUTIONAL PURCHASING POWER: Center for a

New American Dream m is working with institutional purchasers

(such as state and local governments) to help them reduce

their offices' use of paper and buy more environmentally

preferable papers.

—Liz Borkowski

Managing Forests Sustainably

W

e don't have to give up wood use

altogether to save forests. Communities

that sustainably manage their forests can

make money by supplying wood products, while

at the same time keeping their forests

intact for their livelihoods, cultural needs, and

spiritual fulfillment.

One example of forest management that works

towards both these goals is the Shipibo-Konibo

communities located in the Amazon, where one

of the world's most biodiverse forest regions is

disappearing at an alarming rate. The Shipibo-

Konibo communities along the Ucayali River in

Peru subsist primarily through hunting, fishing,

and cultivating crops. Until recently, they've had

few ways to earn income besides selling wood

to illegal loggers, who would pay them the

equivalent of about six dollars for every tree they

cut from their land.

This arrangement contributed to the rapid

decline of mahogany, tropical cedar, and kapok

trees in the area, until the Shipibo-Konibo, with

assistance from Peruvian and international

groups, began managing their forest sustainably.

The process began in the late 1990s, when the

Peruvian nongovernmental organization AIDER

(Asociación para la Investigación y el Desarrollo

Integral) first proposed working with the

Shipibo-Konibo communities. AIDER's mission is

to improve the quality of life for marginalized

Peruvians through the development of skills,

and the group saw that commercializing forest

management would likely be the best means of

economic development in the area. It took

some adjustment for the Shipibo-Konibo to trust

these outsiders and see the benefit of what

they proposed.

"We didn't know, in money, what our forest

was worth," said Juan Chavez, a Shipibo-Konibo

involved in the forestry project. "We didn't

know we had rights. We didn't know how to

negotiate with outsiders. It's been a long process,

not just technical but social."

In 2000, AIDER received funding from the

Royal Embassy of the Netherlands to hire foresters,

sociologists, economists, and other specialists for

the project and to pay expenses for transportation

and equipment. These experts trained community

residents in low-impact methods of forestry as

well as in business skills such as record-keeping,

accounting, marketing, and negotiation. The

community soon received payment for their first

shipment of logs, which amounted to fifty times

the price they were getting previously by selling

to illegal loggers. In 2003, a forest coordinator

from the World Wildlife Fund (WWF) visited

the forest and saw an opportunity for the

Shipibo-Konibo's community forestry operation

to be certified under the Forest Stewardship

Council

m

(FSC) system.

Communities

that sustainably

manage their

forests keep

these natural

resources

intact and

make money.

SUMMER 2006 Co-op America Quarterly 13
---
Forests:

Situation Critical

The Shipibo-

Konibo

communities in

the Amazon

are working

to manage

their forestlands

sustainably.

WWF/Mark Hurley

The nonprofit FSC has established standards and criteria

for sustainable forest management that address legal issues,

indigenous rights, labor rights, multiple benefits, and

environmental impacts surrounding forest management. The

standards are adapted to different biogeographic regions in the

57 countries in which they are applied, but they have one thing

in common: they're designed to ensure that forests can both be

logged and continue to survive as ecosystems. For instance,

criteria deal with the rate of harvesting, the minimization

of waste and damage during logging, and the use of

non-chemical pesticides, among many other issues.

After several community meetings, the Shipibo-Konibo

decided to seek certification, and WWF–Peru secured financing

from the US Agency for International Development to provide

technical assistance for the certification process. WWF is also

helping the community find new markets for their wood. After

receiving FSC certification in November 2005, they've found

that demand for their product had soared. Now, WWF

reports, local people are seeing profit from their sustainable

forestry business, so they have set up a committee to keep

illegal loggers away. The flow of young people from the area

has also slowed, and several youth participants in a forest

management workshop series ended up creating an

organization of indigenous young people to help sustain

both their forests and their culture.

Alfredo Rojas, who runs the business entity in one of the

Shipibo-Konibo villages, explained to visitors how logging in

the area had changed. Previously, the communities had done

no planning and had sometimes logged in ways that destroyed

natural regeneration, but now "we protect the new seedlings,

we plan for the long term, we have respect for regeneration,

and we know to use most all the wood."

Consumers in the US and around the world who want to

make sure their wood came from a well-managed forest can

seek out the FSC logo on lumber, furniture, and other wood

products. Increased demand for FSC products is helping to create

more of a market for communities like the Shipibo-Konibo,

who can benefit from opportunities to sell wood at higher

prices and reinvest some of the proceeds in community

development and sustainable forest management.

Support sustainable forest management with the

following campaigns:

• SUPPORT INDIGENOUS PEOPLE'S RIGHT TO FOREST

RESOURCES: In Malaysia, Friends of the Earth International

(FOEI) is fighting alongside the indigenous Penan people for

recognition of the Penan's right to continue obtaining resources

from the forest lands they have occupied for generations and

for a halt to large-scale plantation projects on these lands.

You can support FOEI's work by e-mailing Malaysia's prime

minister through the group's Web site.

• HELP STOP ILLEGAL LOGGING: Greenpeace International is

working worldwide to halt illegal logging, which undermines

the trade in legal and well-managed timber and costs governments

billions in lost revenue. You can support Greenpeace's

efforts by contacting the European Commissioner through

Greenpeace's Web site and asking for a ban on the importation

of illegal timber into Europe.

• PROMOTE TRULY SUSTAINABLE FOREST MANAGEMENT:

A coalition of environmental groups runs the "Don't Buy

SFI" campaign, which demands that the timber industry stop

labeling its own products under the "Sustainable Forestry

Initiative." The groups regard this program as greenwashing

(see box below) and an attempt to compete with the FSC label.

Visit the Web site DontBuySFI.com to e-mail the SFI's board

chair and to join a program tracking SFI marketing in

retail stores.

—Liz Borkowski

SFI: MISLEADING WOOD CONSUMERS

As the FSC has become more popular with consumers, the

conventional forest-products industry has responded by promoting

its own seal of approval, which forest advocates warn is a sham.

"The so-called 'Sustainable Forests Initiative' is really just

the 'Same-old Forest Industry'—the label maintains the forest

industry's status quo of clearcuts and conversions of natural

forests to single-species plantations," says author and greenbuilding

expert David Johnston. "Unlike the FSC, the SFI doesn't

assure compliance, so it's doing very little to protect forests."

Johnston has seen firsthand how graphic the comparison is

between natural forests and SFI-certified areas: "On one side of

the road, I've seen a natural forest that's incredibly biodiverse

and teeming with life: You can hear bird calls, and see squirrels

and deer. On the other side of the road is SFI-certified land, and

it's a clearcut. There's no sound, no life—not even a butterfly."

He warns that the forest-industry trade group, American

Forest & Paper Association, is spending a lot of money to

create confusion in the marketplace between SFI and FSC.

"If the industry continues this way, the threat to biodiversity

is huge," Johnston says. "Consumers need to demand FSCcertified

products no matter what they're buying—shovel

handles, two-by-fours for the shed, anything."

Consumers should also be wary when the industry says it

plants more trees than it cuts, because these newly planted trees

are often in plantations rather than natural forests. Around the

world, millions of acres of forests are being replaced by plantations,

many of them fast-growing monocrops such as eucalyptus.

These plantations can deplete water resources and soil, and are

often treated with pesticides that can damage the health of the

soil, people, and the land. There are some circumstances under

which plantations might benefit local populations (for instance,

if they're planted on barren former agricultural land and if

impact on local settlements, water supplies, and ecosystems are

limited), but they are often established against the opposition of

indigenous people who claim the land as their own and face a

loss of their livelihoods if plantations replace native forests or

deplete resources in the area.

14

Co-op America Quarterly NUMBER 69

m designates Co-op America Business Network Member
---
Forests:

Situation Critical

Protecting Ancient Forests

A

round the world, there are some

forests whose loss would be particularly

devastating. Places such

as Canada's boreal forest, Indonesia's

tropical forests, and the rainforests of the

Amazon house much of the world's biodiversity

and are integral to the wellbeing

of indigenous people who have lived

there for many generations.

Preserving these high-value forests

over the long term requires finding

solutions that all stakeholders can

accept. The ten-year-long struggle by

forest advocates and First Nation people

to preserve Canada's Great Bear Rainforest

demonstrates just how challenging and

essential these efforts are.

The Great Bear is a lush rainforest on

British Columbia's north and central

coasts that covers 15.5 million acres, an

area larger than Switzerland. The forest

is also the traditional territory of several

First Nations, who rely on it for economic

and cultural resources. Thousandyear-old

cedar trees and 20 percent of

the world's salmon can be found there,

and it is home to threatened and endangered

species such as grizzly bears,

wolverines, and peregrine falcons. It was

also an expected revenue source for the

BC government, which had slated almost

the entire area for logging.

Forest advocates had already sounded

the alarm about clearcut-logging

ravaging other parts of British Columbia

and Vancouver, and in 1995, they began

focusing on the Great Bear Rainforest.

While activists and First Nation people

held sit-ins, a coalition of environmental

groups headed by the Coastal Rainforest

Coalition (now ForestEthics m ),

Greenpeace Canada, the BC chapter of

the Sierra Club of Canada, and Rainforest

Action Network (RAN) began running

a market-based campaign.

The environmental groups realized

that logging companies—Interfor, West

Fraser Forest Products, and Western

Forest Products—would listen to their

corporate clients, so they began asking

paper and lumber companies in Europe,

Japan, and the US to refuse to buy wood

that had been logged from the Great

Bear rainforest. In some cases, these

companies were swayed by arguments

about the need to preserve this precious

rainforest; in others, the coalition needed

to show that customers and shareholders

wouldn't be loyal to a company

contributing to forest destruction.

The Home Depot campaign of the

late 1990s was one of the environmental

community's most visible efforts on

that front. Dozens of groups organized

thousands of people to write letters and

demonstrate at Home Depot stores, asking

the home-improvement retailer to stop

stocking wood logged from endangered

forests and start stocking FSC m -certified

wood. Co-op America played a key role

by bringing consumers' voices to the

company. After months of pressure, Home

Depot agreed to these demands. Soon

after, Lowes followed suit.

The campaign secured commitments

from 55 Fortune 1000 companies to end

the purchase of wood from the Great

Bear Rainforest, and in 2001, the logging

companies agreed to a truce: they would

sit down for talks with representatives

from environmental groups, First Nations,

and the BC government, and would

refrain from logging key valleys in the

rainforest while discussions took place.

"We agreed that the costs of change

cannot be borne by any one party,"

explains Merran Smith, ForestEthics

director of BC coastal programs. "Transition

plans and funding would have to

be in place for First Nations, workers,

and communities affected by change."

In February of 2006, the dialogue

participants announced a landmark

agreement that prohibits logging entirely

in one-third of the Great Bear Rainforest

and requires the logging industry to

implement a strict ecosystem-based

management system by 2009 in the

remaining two-thirds. Many of the areas

chosen for preservation were selected

based on the opinions of First Nation

elders, and the agreement requires

ongoing First Nation involvement in

management decisions over their

traditional territories.

"This agreement represents a

revolution in the way we approach BC's

rainforests," Smith says. "It's no longer

Preserving high-value forests means finding

solutions all stakeholders can accept.

just about logging, but about conservation,

new economic ventures, and community

involvement."

The forest advocates know that

they'll need to watch the government,

retailers, and logging companies to

ensure that they fulfill their commitments.

Still, this agreement is a sign of

progress, and many hope it will become

a model for preserving endangered

ecosystems around the world.

Join in with these efforts to protect

endangered forests:

• WAKE UP WEYERHAUSER: RAN is

demanding that the world's largest lumber

company stop logging endangered

forests around the globe. Local RAN

supporters organize public actions and

educational events on this issue.

• TELL OFFICEMAX TO PROTECT US

FORESTS: The Dogwood Alliance and

ForestEthics are demanding that Office-

Max increase the post-consumer content

in the paper it sells and stop sourcing

paper from endangered forests in the

Southeastern US. You can e-mail the

company from the groups' Web sites and

participate in periodic Days of Action.

• HELP PROTECT NATIONAL FORESTS:

American Lands Alliance urges the US

government to place limits on logging,

mining, and road-building in national

forests. Visit their Web site to find out

what forest-related legislation is pending,

and then tell your representatives

how you'd like them to vote.

—Liz Borkowski

Mack Pritchard / Dogwood Alliance

16

Co-op America Quarterly NUMBER 69

m designates Co-op America Business Network Member
---
Co-op America's PAPER Project

As of this writing, more than 220

million trees have been logged since

the turn of the 21st century to supply

US magazine publishers with virgin paper for

everything from serious opinion journals to

supermarket tabloids. Ten more trees were

cut down to make magazines in the time it

took you to read this statistic. Co-op America

started our PAPER Project (Printing Alternatives

Promoting Environmental Responsibility)

in 2001 with the idea that the publishing

industry can do better.

In fact, zero trees were logged to print the

publication you now hold in your hands—

all of our publications are printed on

100 percent recycled paper (with a minimum

of 60 percent post-consumer content)—and

the PAPER Project is dedicated to helping

other magazines follow our example.

"More than 95 percent of all magazine

pages are still made with virgin fiber, and

US publishers print more than 12 billion

magazines each year," says PAPER Project

director Frank Locantore. "It's our goal to shift

the industry so all magazines begin using

environmentally preferable paper—paper that

is free of endangered forest fiber, has high

levels of post-consumer recycled content, and

is bleached without any chlorine processes."

Locantore points out that virgin paper

processing requires hundreds of hazardous

chemicals, uses more water per ton of

product than any other industrial process,

and consumes the third-largest amount of

energy of any industry—all in addition to the

clearcutting of endangered forests.

PAPER Project research shows that a

switch to eco-papers by just six US magazines

with monthly circulations greater than

500,000—such as The New Yorker, National

Geographic, O: The Oprah Magazine, Scientific

American, Elle, and Vanity Fair—would

catalyze a cascade of magazines to follow

suit, and would result in a lower cost and

wider availability for quality eco-paper. Evidence

of a growing shift toward eco-papers

occurred as Elle and Vanity Fair published

their first-ever "green" issues this spring, featuring

content about the environment and

touting their commitments to green principles.

"Elle showed a good start by including

ten-percent recycled content in its 'green'

issue, while Vanity Fair unfortunately included

no recycled content," says Locantore. "Both

magazines have at least indicated an interest

in greening their practices, so the time is right

for their readers and subscribers to ask for an

increased commitment to recycled printing."

Locantore credits the smaller publishers for

using eco-friendly paper, which has helped

create an environment in which the larger

publishers can follow suit—and have a

profound effect on the industry.

"The large publishers are more like cruise

ships—they take a while to change direction,

but when they do, their wakes can be huge,"

he says. "Once the highly visible magazine

industry shifts, then we'll see other paperintensive

industries follow."

What We Do

Shifting the publishing industry away from

destructive practices is the main goal of

Co-op America's PAPER Project. At its very

beginning, the PAPER Project partnered with

the Independent Press Association m and

Conservatree m to help over 70 small to

midsize publications (like Mothering, What

Is Enlightenment?, and Yes! m ) print on

recycled paper.

Since then, our PAPER Project has expanded

by dialoguing with larger publications

about reducing their virgin paper use. Just this

spring, the mountaineer magazine The

Alpinist made the switch to recycled paper,

crediting the PAPER project as a source of

information. We've also forged a number of

ground-breaking partnerships with other

organizations, aimed at reducing pressure to

log forests for paper.

For example, in 2002, the PAPER Project

helped launch the Environmental Paper Network

(EPN, www.environmentalpaper.org) to

to strengthen the movement to transform

the pulp and paper industry. The EPN has

produced environmentally preferable paper

guidelines for manufacturers, purchasers,

governments, and suppliers, as detailed in its

"Common Vision" treatise.

In 2004, the PAPER Project partnered with

a high-profile advertiser (Aveda m ), a printer

(Quad/Graphics), and a major publisher of

printed material (The National Wildlife

Federation m ) to produce a simple, step-bystep

guide for publishers, explaining how easy

it is to shift a publication onto eco-friendly

paper. The resulting booklet, Different Not

Difficult: How to Make Sustainability Happen,

has been distributed to 800 publishers,

printers, advertisers, and designers. The guide

addresses common publisher concerns about

the cost, quality, and availability of

eco-friendly paper, and is available for download

from Co-op America's Web site at

www.coopamerica.org/ programs/woodwise/.

Last year, the PAPER Project launched the

Eco-Magazine Leaders Network, to help

publications that have already made the shift

to environmentally preferable paper share

best practices, get advice from experts, and

communicate with one another about the

Forests:

Situation Critical

Frank Locantore heads up Co-op America's

WoodWise program and PAPER Project.

paper industry. To help promote these

magazines, we helped a local bookstore chain

in Denver create signs to identify magazines

on its racks that use eco-papers.

Beginning last year, Locantore has also

written several columns for the magazine

publisher industry journal Publishing Executive

(formerly PrintMedia) advocating recycled

paper. And for the past two years, he has

presented eco-friendly paper workshops at

a paper industry conference in New York.

Last fall, the PAPER Project and Aveda

launched a new award program to recognize

both long-time environmental leaders and

newcomers to eco-friendly publishing. The

magazines Utne m , Natural Health, and

Sustainable Industries Journal all took

honors, and many other magazines submitted

applications for consideration.

Stay tuned. We hope to have some

exciting announcements soon about large

magazines making the switch to eco-paper.

Get Involved

If you have a publication of your own, or

you're interested in helping a publication you

know about shift to recycled and tree-free

paper, the "WoodWise" section of Co-op

America's Web site (www.coopamerica.org/

programs/woodwise/) has a number of

resources to help you.

In addition to the guide listed above, you

can find the "Paper Wizard" on our Web site,

which can tell you, through a series of questions,

how many trees a given publication

printed on virgin paper consumes per year. A

logging counter shows how many trees have

been cut down since January 1, 2000 to publish

magazines, and a sample letter suggests how to

approach a magazine's publishers to convince

them about the need to save our forests

through a switch to eco-friendly paper.

If you work with a magazine in

any capacity, and would like to help catalyze

your industry's shift to eco-friendly

paper, please contact Frank Locantore at

frank@coopamerica.org.

SUMMER 2006 Co-op America Quarterly 17
---
Forests:

Situation Critical

From taking simple at-home steps

to organizing in your community,

you can help save forests by adding

one new WoodWise step to your

sustainable lifestyle.

Get WoodWise

Though we make

up less than

five percent of

the world's population,

Americans consume

more than a quarter of

the world's harvested

wood. Therefore, it's up

to those of us who

live in the US to lead the

way in reducing

wood consumption to

sustainable levels.

Much of our wood consumption goes toward

disposable, non-essential products. Americans mow

down 27 million trees a year simply to mop up spills with

paper towels, cites the book Beyond Recycling: A Reuser's Guide

(Clear Light Books, 1997). Sixty-two million trees per

year are pulped to make junk mail, according to the US

government, while many sustainability organizations cite

an even higher figure of 100 million. The annual holiday

season leaves more than 5 million tons of discarded

wrapping paper behind on American living room floors,

according to the book Use Less Stuff: Environmental Solutions

for Who We Really Are (Ballantine Books, 1998).

It won't take a large sacrifice to bring these shocking

statistics down. We can all do our part to use a fairer and

more sustainable share of the Earth's resources, taking

action to preserve forests every day in our homes, with

our friends and colleagues, and in our communities.

Below are a series of steps you can take at home and

work to help reduce our staggering consumption of wood

products. The list starts with simple at-home changes

that, when taken collectively, make a big difference.

They're small steps that involve little more than a certain

mindfulness about waste, reminding us that humans got

along just fine before paper grocery sacks, unwanted

catalogs, and weekly credit card offers came into our

lives. The list progresses to larger steps that reach out to

your community and help us all adopt lifestyles that

protect forests. Remember that with 42 percent of the

industrial wood harvest going to paper, any reduction

in your paper use at all is significant.

Thanks for the steps you and your family already take.

Consider adding one or more new WoodWise steps to

your sustainable lifestyle today.

FIRST STEPS

These steps are easy to implement at home and in the

office, and they'll add up to a lot of forest savings if we

all take them together.

• USE CLOTH NAPKINS AND DISHTOWELS and forget

about the paper versions forever.

• USE CLOTH BAGS for shopping. They're lightweight,

collapsible, and can hang out in your car or slip inside a

backpack without taking up too much room until you need

them at the grocery store or other retail establishment.

• WRAP ALL GIFTS IN REUSABLE MATERIALS (cloth scraps,

scarves, or cloth bags) or in waste paper (newspaper

comics, brown paper bags, etc.) that will then be recycled.

• BE MINDFUL ABOUT EXCESS PACKAGING. Buy items with

minimal or no paper packaging, and look for companies

that package their items in recycled materials.

• BRING REUSABLE CONTAINERS TO RESTAURANTS for

take-out, instead of relying on their disposable paper and

plastic containers.

• ELIMINATE JUNK MAIL. Call or write to catalogs,

nonprofits, magazines, and other companies and ask

them not to share your name. When you do receive junk

mail, call the company and ask it to remove your name

from its list. Contact the Direct Marketing Association

(www.dmaconsumers.org/consumerassistance.html) to

remove yourself from as many lists as possible.

• PAY YOUR BILLS ONLINE. Most credit cards and many

utilities now offer online payment options that can help

you reduce your use of envelopes, checks, and paper bills.

If online billing isn't an option, or if you prefer to receive

paper invoices for your records, you can call your credit

card company and ask it to stop including junk-mail

"inserts" with your statement.

• RECYCLE ALL WASTE PAPER. If your town doesn't offer

curbside pick-up, find a recycling facility near you at

www.earth911.org.

• BUY RECYCLED OR TREE-FREE whenever you must

purchase a paper product, including computer paper,

manila folders, sticky notes, toilet paper, etc. Every paper

product you might need has a recycled or tree-free

version available. See the box on p. 21 to find sources of

recycled and tree-free paper.

NEXT STEPS

These steps take a little extra effort, but they're worth it

in terms of their environmental impact.

18

Co-op America Quarterly NUMBER 69

m designates Co-op America Business Network Member
---
Forests:

Situation Critical

• REUSE EVERYTHING YOU CAN. Place your own address

labels over junk mail reply envelopes or used envelopes

that are still in good condition. Make your own envelopes

from waste paper. Save bags and boxes for future use.

• CHOOSE ECO-DIAPERS FOR YOUR BABY. If you or

someone in your family has a baby in diapers, consider

switching to cloth diapers. Today's cloth diapers can

approximate the absorbency of disposable diapers, with

the added perk of being reusable. To make cleaning

easier, you can line your baby's cloth diaper with a thin,

flushable paper liner, which uses much less paper than a

disposable diaper. When your baby makes a mess, just

remove the liner and flush it (and its contents) down

the toilet, and the diaper itself is ready to be washed.

Using cloth diapers even with recycled paper liners

uses less paper than traditional disposables, and processing

diaper waste through the sewage system is much

healthier for the planet than landfilling them.

• PLANT A TREE (or ten). Planting trees is good for the

Earth and a great way to get together with your neighbors

and build community. The nonprofit National Arbor

Day Foundation can tell you which trees are native to and

do best in your geographical area. It also offers planting

and tree care tips, as well as volunteer tree-planting

opportunities across the country. The Foundation

also works to restore fire-ravaged areas of our national

forests, as well as conserve rainforests around the world

(888/448-7337, www.arborday.org).

• REDUCE YOUR BEEF CONSUMPTION. According to the

Amazon Center for Environmental Education and

Research, 90 acres of South American rainforest land

is deforested every day, much of it to provide cattleranching

land for hamburger destined for American

supermarket shelves and fast-food restaurants. Brazil,

home of the majority of the Amazon rainforest, became

the world's largest exporter of beef in 2004. Reducing

demand for meat will cut back on pressure to clear more

forests for grazing.

• BUY SUSTAINABLY PRODUCED FURNITURE. When you

buy furniture, look for items made from salvaged or

sustainably harvested wood, or buy used. See the box

on p. 21 for a list of retailers of sustainable furniture.

BIGGEST STEPS

Take these steps together with friends and neighbors,

and we'll make big changes that positively impact forests

worldwide.

• SWITCH YOUR ELECTRICITY USE. Half of the electricity

in the US comes from coal, and more than half of that coal

comes from Appalachia, where mountaintop-removal

mining is the most serious threat to our country's oldest

forests. Mountaintop-removal coal mining demands the

clear-cutting of native forests, followed by the use of

dynamite and bulldozers to shove 800-1000 feet of the

mountain's top out of the way of miners, sending it into

nearby streams and valleys and killing more trees and

vegetation on the way. Seven percent of the forests in

Appalachia have already

been leveled since

mountaintop-removal

became widespread in

the 1990s. By 2010, if

current practices continue,

an area the size of

the state of Delaware

will be lost. Burning

coal also causes acid

rain, another significant

threat to forests.

Know for sure that

your electricity use isn't

destroying forests by

switching to a green

power option, if one is

available in your state.

(See the Department of

Energy's Web site at

www.eere.energy.gov/

greenpower/buying/ for

options in your state.)

Also, write to your

power company to let

You can take steps at home to save forests, such

as using ECObags m reusable cloth bags for your

groceries instead of accepting disposable bags.

FAIR TRADE FOR THE FORESTS

Poverty is one cause of deforestation, as people who have few other

alternatives cut trees for fuel or to sell. One way to preserve forests is

to create systems that allow people to earn fair income in sustainable

ways. Fair Trade is an economic system that ensures that farmers and

artisans earn fair pay for their work and that communities can invest

in education, health care, and environmental efforts that bring

long-term benefits to their areas.

There are several ways in which Fair Trade can specifically benefit

forests and other ecosystems. Fair Trade farmers are encouraged to

engage in sustainable production methods, and nearly 85 percent of

Fair Trade Certified coffee is also organic. Fair Trade income also

allows farmers to continue traditional cultivation methods (such as

cultivating "shade-grown" coffee and chocolate under the forest

canopy) rather than switching to more-intensive methods (such as

clearing forests to plant crops and using lots of chemical pesticides

and fertilizers) that seem profitable in the short term but take a

heavy toll on human and environmental health.

On the craft side, some Fair Trade artisans are making items from

non-timber forest products, showing that logging isn't the only way

to make money from forests. For instance, the Fair Trade cooperative

Camari from Ecuador makes ornaments from the hard tagua nut,

which grows in the country's coastal rainforest, and the Dian Niaga

Eco-Traders of Borneo sell bags made of sustainably harvested fibers

from the rattan palm, which grows in Indonesian forests. Other

Fair Trade artisans are making forest-friendly products by finding

sustainable alternatives to wood fiber. For example, the Bombolulu

cooperative in Kenya makes jewelry, ornaments, and musical

instruments from recycled metal rather than wood.

To learn more about how you can support Fair Trade, visit

Co-op America's FairTradeAction.org Web site. To find businesses

making and selling Fair Trade items such as those described above,

check our National Green Pages, available free online at

www.greenpages.org or for $11.95 by calling 800/58-GREEN.

ECObags

SUMMER 2006 Co-op America Quarterly 19
---
Forests:

Situation Critical

AP / Wide World Photo

More than 95 percent of all magazines are still printed on virgin-pulp paper,

and US publishers print more than 12 billion magazines each year. That adds

up to over 220 million trees logged to date for magazines since 2000.

them know you disapprove of mountaintop-removal and

our over-reliance on dirty coal. Visit Co-op America's

www.climateaction.org to send messages to two of the

largest coal companies asking them to pursue cleaner,

renewable energy.

• BUILD GREEN AT HOME. If you're adding on to your

house, or building something new, look for wood

bearing the Forest Stewardship Council m (FSC) logo, to

guarantee your lumber comes from a sustainably

managed forest. The Web site www.certifiedwood.org

lets you search for certified wood retailers in your

area, or you can check the box on p. 21 for a supplier.

Or, skip wood altogether and consider building with

post-consumer recycled plastic lumber, or with other

low-impact techniques, such as rammed earth, cob, or

straw bale.

• WRITE TO MAGAZINES. Sometimes publishers

mistakenly assume that their readers aren't concerned

with recycled paper, or that a publication must accept a

drop in quality in order to print on eco-friendly paper.

They just need a little education and a push from their

subscribers to make the switch.

Contact the publications to which you subscribe

and ask them to switch to a paper with at least some

recycled content. Direct them to Co-op America's Web

site where they can download our free guide, Different,

Not Difficult: How to Make Sustainability Happen, to help

publishers decide which type of recycled paper is right

for them, available at www.coopamerica.org/programs

/woodwise. Also, visit www.coopamerica.org/take

action/ecomags to send e-mail congratulations to magazines

that already print on recycled paper. (See

"Co-op America's PAPER Project" on p. 17 for more on

our work with magazine publishers.)

• SUPPORT LEGISLATION THAT KEEPS OUR FORESTS

HEALTHY. In 2005, the Bush administration rescinded

the Roadless Area Conservation Rule that protected

58.5 million acres of our National Forests from logging,

mining, and drilling. Since then, more than 250,000

Americans have petitioned the Forest Service to reinstate

the rule. The Heritage Forests Campaign is working to

ensure that the rule is put back in place. Learn more at

their Web site, www.ourforests.org.

• SUPPORT FOREST FRIENDLY POLICIES WITH YOUR CITY OR

COUNTY COUNCIL. Persuade your local government to

adopt procurement policies that emphasize recycled

paper in government offices and publications, and

give priority to environmentally preferable wood for

building projects. The city of Portland, Oregon, used the

Environmental Paper Network's "Common Vision"

document as a guide for drafting a policy giving

preference to recycled and tree-free paper in city

purchasing and calling for reduction of paper

consumption by city employees. (For more on the EPN,

see p. 17.)

• REACH OUT TO OTHERS. Consider the impact of

your decision to go WoodWise at home, and then

multiply that by the number of people in your office, in

your congregation, at your university, or in any other

group you belong to. Often, organizations are ready to

make an eco-friendly change, but just need someone

to lead the way. Let that someone be you. Switch your

office paper use to post-consumer recycled, find an

eco-friendly printer for your congregation's newsletter or

weekly bulletin, or work with your university newspaper

to find a way to reduce reliance on virgin pulp paper. In

fact, take any of the above steps at the organizational

level (switching your community center's electricity use,

drastically reducing your office's junk mail), and you'll

make a huge difference.

—Andrew Korfhage

MAIL AND PROGRESSIVE

ORGANIZATIONS

From time to time, Co-op America exchanges our mailing

list with other like-minded groups, so that more social

and environmental change organizations can reach

more people. Such a resource exchange helps build the

movements that we and our allies care about, and we

appreciate being able to share this information with you.

If you prefer that your name and address not be shared,

please let us know by calling 800/58-GREEN.

Web Exclusive!: Read more about WoodWise businesses that offer forest-friendly alternatives to wood products, such as

m

m

Treecycle , which sells recycled paper, and Trestlewood , which sells timber for building and flooring that comes from

reclaimed sources. To read these stories and more, visit www.coopamerica.org/go/WoodWiseBusinesses.

20

Co-op America Quarterly NUMBER 69

m designates Co-op America Business Network Member
---
Forests:

Situation Critical

WOODWISE COMPANIES

The following businesses can help you with many of the forest-preserving steps listed at left. To find other

green and forest-friendly companies, consult our National Green Pages, available for $11.95 by calling

800/58-GREEN or free online at www.greenpages.org.

CLOTH BAGS

Bags and More m , 800/504-4656, ilenebam@msn.com

The Cloth Bag Co. m , 770/393-0058, www.clothbag.com

ECOBags Products, Inc. m , 800/720-2247, www.ecobags.com

Enviro-Tote m , 800/868-3224, www.enviro-tote.com

My Own Bag m , 415/503-0186, www.myownbag.com

Reusablebags.com m , 773/704-3421, www.reusablebags.com

Save A Tree Bag Company m , 510/843-5233

Stepping Stones m , 800/926-1017, www.bags4you.com

Wyncia's Scrap Bags m , 303/449-7927, www.wyncia.com

CLOTH DIAPER COMPANIES

Baby Bunz & Co. m , 800/676-4559, www.babybunz.com

BabyWorks m , 800/422-2910, www.babyworks.com

Better for Babies m , 877/303-4050, www.betterforbabies.com

BuyWAHM m , 866/309-7456, www.buywahm.com

California Babestuff m , 877/423-1910,

www.californiababestuff.com

Diaperaps, Ltd. m , 800/477-3424 , www.diaperaps.com

Eco-Mama m , 877/208-6612, www.eco-mama.com

Katie's Kisses m , 888/881-0404, www.katieskisses.com

KidBean.com m , 954/942-2830, www.kidbean.com

Lil Diaper Depot, LLC m , 417/206-4949, www.lildiaperdepot.com

Nature's Crib m , 845/313-2371, www.naturescrib.com

Peapods Natural Toys & Baby Care m , 651/695-5559,

www.peapods.com

Under the Nile m , 800/710-1264, www.underthenile.com

What's Hempenin' Baby m , 888/675-6484, www.babyhemp.com

GREEN FURNITURE

A Natural Home m , 740/694-4663, www.anaturalhome.com

AlterECO m , 415/331-8342, www.bamboocabinets.com

Artistic Freedom Designs m , 760/750-1919,

www.artisticfreedomdesigns.com

Greener Lifestyles m , 206/545-4405, www.greenerlifestyles.com

The Joinery m , 800/259-6762, www.thejoinery.com

Michael's Custom Built, Inc. m , 415/459-0208,

www.michaelsupholstery.com

Pallet Art m , 802/598-6769, www.palletart.com

Shopdog Woodworks m , 505/388-5548,

www.shopdogwoodworks.com

Sleepywood Rustic Furniture m , 304/258-9549,

www.sleepywood.com

Tamalpais NatureWorks m , 415-454-9948, www.tamalpais.com

Tropical Salvage m , 503/235-5757, www.tropicalsalvage.com

Vivavi, Inc. m , 202/276-0815, www.vivavi.com

White Lotus Home m , 877/426-3623, www.whitelotus.net

Woodshanti m , 415/822-8100, www.woodshanti.com

GREEN WOOD PRODUCTS/LUMBER

Agriboard Industries m , 866/495-3595, www.agriboard.com

Andersons Alternatives m , 707/937-3466,

www.andersonsalternatives.com

Conscious Flooring, LLC m , 888/835-6677,

www.consciousflooring.com

Collins Companies m , 800/329-1219, www.collinswood.com

Cut & Dried Hardwoods m , 858/481-0442,

www.cutanddriedhardwoods.com

EcoTimber m , 888/801-0855, www.ecotimber.com

EBCC Urban Tree Mill m , 510/834-8257, www.recycletrees.org

Flooring Alternatives m ,

877/639-1345,

www.flooringalternatives.com

Full Cycle Woodworks m , 423/272-6003,

www.sustainablelumber.com

Greenfloors.com m , 703/691-1616, www.greenfloors.com

Harwood Products m , 707/984-6181, www.harwoodp.com

Next Generation Woods, Inc. m , 540/639-3077,

www.nextgenwoods.com

Northern Crossarm Co. Inc. m , 800/236-9663,

www.crossarm.com

Planetary Solutions m , 303/442-6228, www.planetearth.com

Saranac Hollow Woodworking m , 518/293-8424,

www.saranachollow.com

SierraPine Limited m , 916/772-3422, www.sierrapine.com

Smith & Fong Plyboo Bamboo Products m , 866/835-9859,

www.plyboo.com

TerraMai m , 800/220-9062, www.terramai.com

Trestlewood m , 801/443-4002, www.trestlewood.com

REUSABLE/TREE-FREE GIFT WRAP

In the Bag Productions m , 541/461-4353,

www.reusablegiftwrap.com

Lagniappe Gift Wrap m , 617/281-8236,

www.lagniappegiftwrap.com

Paporganics m , 800/340-4631, www.paporganics.com

RECYCLED PAPER AND OFFICE SUPPLIES

Acorn Designs m , 800/299-3997, www.acorndesigns.org

ecoEnvelopes, LLC m , 888/428-4364, www.ecoenvelopes.com

Green Earth Office Supply m , 800/327-8449,

www.greenearthofficespply.com

Green Field Paper Company m , 619/583-3314,

www.greenfieldpaper.com

GreenCo Recycled Paper m , 800/326-2897, bella@monad.net

Greenline Paper Company m , 800/641-1117,

www.greenlinepaper.com

Greg Barber Company m , 516/413-9207, www.gregbarberco.com

Johnson Paper LP m , 800/95-PAPER, www.johnsonpaper.com

kk-nola.com m , 504/905-5672, www.kk-nola.com

Living Tree Paper Company m , 800/309-2974,

www.livingtreepaper.com

New England Cartographics m , 888/995-6277,

www.necartographics.com

New Leaf Paper m , 888/989-5323, www.newleafpaper.com

Not Just Paper m , 919/688-6266, notjustpaper@hotmail.com

The Real Earth, Inc. m , 800/987-3326, www.therealearth.com

Simply Living Products m , 614/447-0296,

www.simplyliving.org/sl/ slp.htm

Sustainable Group m , 800/488-0966, www.suainablegroup.net

Treecycle m , 406/626-0200, www.treecycle.com

Twisted Limb Paperworks m , 812/876-9352,

www.twistedlimbpaper.com

Vision Paper m , 505/294-0293, www.visionpaper.com

RECYCLED PAPER FOR KITCHEN AND BATH

GAIAM Harmony m , 800/869-3603, www.gaiam.com

Seventh Generation m , 802/658-3773,

www.seventhgeneration.com

SUMMER 2006 Co-op America Quarterly 21
---
Forests:

Situation Critical

Resources

American Lands Alliance—202/547-9400,

www.americanlands.org. Aims to protect and

restore America's forest ecosystems by providing

national leadership, coordination, and capacity

building for the forest conservation movement.

Center for a New American Dream m —

877/68-DREAM, www.newdream.org. A nonprofit

that helps Americans consume responsibly to protect

the environment and promote social justice.

Circle of Life Foundation—510/601-9790,

www.circleoflifefoundation.org. Founded by Julia

Butterfly Hill, this nonprofit helps people take

action to protect the Earth and all beings.

Conservatree m —415/561-6530,

www.conservatree.org. Provides practical tools

and realistic strategies to help businesses,

governments, organizations, and others convert

to environmentally sound papers.

Co-op America's National Green Pages—

800/58-GREEN, www.greenpages.org. Available

for $11.95 or free online, this national directory of

green businesses includes many companies that

sell WoodWise products.

Co-op America's WoodWise Campaign—

800/58-GREEN, www.woodwise.org

Helps consumers make smart choices for the

forests. The campaign's PAPER Project works to

encourage magazine publishers to switch to

eco-friendly papers.

Dogwood Alliance—828/251-2525,

www.dogwoodalliance.org. A network of 70

grassroots organizations in 17 states working to

preserve southern US forests.

Environmental Paper Network m —828/251-

8558, www.environmentalpaper.org. Launched by

Co-op America and other groups, this network

of environmental organizations works to support

socially and environmentally sustainable transformations

within the pulp and paper industry.

Forest Stewardship Council m —202/342-0413,

www.fscus.org. A national nonprofit working

to encourage sustainable management of the

world's forests. Certifies wood from sustainably

managed forests.

ForestEthics m —415/863-4563,

www.forestethics.org. Nonprofit that works to

encourage corporations to protect forests and

expose businesses that are destroying forests.

Friends of Clayoquot Sound—250/725-4218,

www.focs.ca. Grassroots organization working to

protect the ancient temperate rainforest and wild

ocean of British Columbia's Clayoquot Sound.

Friends of the Earth International—

+31-20-622-1369, www.foei.org. A worldwide

network of over 71 grassroots organizations

working to preserve the environment.

Green Press Initiative—301/438-3927,

www.greenpressinitiative.org. Works with book

publishers, industry stakeholders, and authors to

encourage the use of forest-friendly paper.

Greenpeace International—+31-20-718-2000,

www.greenpeace.org. A nonprofit with a presence

in over 40 countries that focuses on the most

crucial threats to our world environment.

Heritage Forests Campaign—202/887-8800,

www.ourforests.org. Working to ensure that the

Roadless Rule protecting our National Forests is

put back in place by the federal government.

Independent Press Association m —415/445-

0230, www.indypress.org. Works to amplify the

power of independent publications to foster a

more just, open, and democratic society.

Co-founded Co-op America's PAPER Project.

Jane Goodall Institute—703/682-9220,

www.janegoodall.org. Works to improve the environment

for all living things, including the primatologist's

beloved chimpanzees.

Markets Initiative—250/725-8050,

www.oldgrowthfree.org. Helps Canadian

companies shift their wood and paper use

away from ancient and endangered forest

products to eco-friendly alternatives.

Natural Resources Defense Council—212/727-

2700, www.nrdc.org. An environmental action

organization that works to protect the planet.

Rainforest Action Network—415/398-4404,

www.ran.org. Campaigns for the forests, their

inhabitants, and the natural systems that sustain

life by transforming the global marketplace

through education, grassroots organizing, and

nonviolent direct action.

Sierra Club—415/977-5500, www.sierraclub.org.

Works to protect communities and the

environment through a variety of programs

and conservation initiatives.

World Rainforest Movement—+598-2-413-2989,

www.wrm.org.uy. An international network of

citizens' groups working to protect rainforests

and the livelihoods of indigenous people.

World Resources Institute—202/729-7600,

www.wri.org. An environmental think tank that

goes beyond research to find practical ways to

protect the Earth and provide for its

current and future inhabitants.

Worldwatch Institute m —202/452-1999,

www.worldwatch.org. A research organization

that tracks environmental, social, and economic

trends, in an effort to help guide the transition

to a sustainable society.

World Wildlife Fund—202/293-4800 (US

chapter), www.wwf.org or www.panda.org/gftn.

Aims to conserve the world's biodiversity, reduce

pollution and wasteful consumption, and ensure

sustainable use of natural resources.

JOIN OUR BUSINESS NETWORK

If you own or work for a company that

sells WoodWise products, consider getting

it to join Co-op America's Business Network.

Your business will get a host of benefits,

including use of our Seal of Approval

and a listing in our National Green Pages

directory of green businesses.

Call 800/58-GREEN, ext. 5340 or visit

www.coopamerica.org/cabn to join.

22

Co-op America Quarterly NUMBER 69

m designates Co-op America Business Network Member
---
SUMMER 2006 Co-op America Quarterly 23
---
Sweatshop News

Green Advocates

Firestone Under Fire

The Stop Firestone campaign accuses Firestone of

practices that lead to child labor at its Liberian

rubber plantation.

According to the environmental

and human-rights groups

behind the "Stop Firestone"

campaign, child labor and povertylevel

wages are common at the Liberian

rubber plantation supplying the

raw material for Firestone tires. The

groups charge that workers earn only

$3.19 daily, and they only receive that

if they tap a daily quota of 650 trees—

a task impossible to complete in a day

unless they bring their children to

help them.

The International Labor Rights

Fund (ILRF) has filed a class-action lawsuit in the name of workers at the Harbel,

Liberia, plantation, accusing Firestone parent company Bridgestone of "forced labor,

the modern equivalent of slavery." They are filing their case in the US, ILRF explains,

because "Liberia, still recovering from years of tumultuous civil war, does not even

have a legal system stable enough to punish those committing human rights violations

on its own land."

The suit is filed under the Alien Tort Claims Act, a 1789 law that allows

non-citizens to sue defendants in US courts for violations of international law, such as

slavery and forced labor.

In a November 2005 report by CNN's "Inside Africa" about the Harbel plantation,

Firestone president Dan Adomitis defended plantation working conditions and

stressed that the company prohibits child labor. In an interview with host Femi Oke,

Adomitis said it took workers "a couple of minutes" to tap each of the 650 required

trees—adding up to more than 21 hours of work, Oke noted. (The lawsuit contends

that the actual quota is as high as 1,100 trees per day rather than 650.)

The "Stop Firestone" campaign is also drawing attention to the environmental

damage it says Firestone is causing through its use and disposal of toxic chemicals—

and to the paltry benefits the Liberian government receives. A 99-year concession

established in 1926 leased the land to Firestone for just six cents per acre annually, and

a 2005 agreement negotiated with Liberia's transitional government raised that amount

to 50 cents per acre.

The groups working on the campaign include ILRF, the Institute

for Policy Studies, Friends of the Earth m , NAACP, Transafrica, and the Liberian-based

Green Advocates, and they demand that Firestone:

• Take responsibility for this situation and follow the law.

• Improve the assignment of achievable quotas for the average worker to negate the

use of child laborers.

• Increase wages to raise the standard of living of plantation workers.

• Supply modern tools to protect workers on the job from coming into contact with

harmful chemicals.

• Redress all environmental damages as a result of its Liberian operations.

• Stop releasing chemicals into the environment and stop exposing workers

to any compounds and chemicals that are internationally recognized as

most toxic.

• Fully disclose all key project payments, contracts, and concession agreements

for all Firestone projects in Liberia.

Individuals can e-mail Adomitis from the Stop Firestone campaign Web site and

ask that his company meet these demands.

CONTACT: Stop Firestone, www.stopfirestone.org.

FACTORY FIRE KILLS WORKERS

Dozens—perhaps even hundreds—of workers,

most of them women, died when flames

engulfed a KTS Textiles garment factory in the

port city of Chittagong, Bangladesh, in February.

The factory's main gate was locked when the

fire started, and many workers jumped from

windows of the four-story building to escape.

Estimates of the number of workers in the

factory when the fire started range from 500 to

1,000, and death toll figures range from 54 to

several hundred. The Bangladesh newspaper

New Nation reported that 450 seriously injured

workers were admitted to a local hospital,

where many of them were declared to be in

critical condition. The fire appeared to have

started from welding work that was occurring

in the factory.

A report from the nonprofit National

Labor Committee (NLC) states that KTS

sewing operators were paid just 10-14 cents

per hour and forced to work seven days a

week for 10½-14 hours each day; that workers

reported being slapped, denied maternity

leave, docked a day's wages for late arrival,

able to access only unsafe drinking water, and

denied freedom of association and the right

to organize; and that seven girls ranging from

12 to 14 years old were among those initially

reported dead or missing.

Workers are demanding compensation for

victims and their families, payment for workers

while the factory remains closed, investigation

and prosecution of the factory manager who

illegally locked the main exit, and recognition

of workers' rights to organize, according to the

NLC. NLC and other labor-rights groups are asking

consumers to contact the US-based

companies (including Ambiance USA Inc,

Uni Hosiery Co. Inc., and Vida Enterprise

Corporation) that source from KTS and urge

them to see that the workers' demands

are met.

CONTACT: National Labor Committee,

212/242-3002, www.nlcnet.org.

SUMMER 2006 Co-op America Quarterly 25
---
CLASSIFIED ADS

How to place a classified ad: Send your ad copy

and check to the Classified Ad Department at Co-op

America (see address on p. 1 or e-mail robhanson@

coopamerica.org for more details). Classified ads

must be prepaid. Ads are $50 for the first 25 words

and $1 each additional word. The deadline for

classified ads for the next issue of Co-op America

Quarterly is August 1, 2006.

— • — • —

ORGANIC AND NATURAL ENTERPRISE

GROUP—Certified organic skin, body, and health

care ... unique business opportunity.

www.mienterprize.com/?erinely. Get started

TODAY! Call Erin at 541/913-6836, or e-mail

eely@comcast.net.

RESIDENT VOLUNTEER IN BUDDHIST COMMU-

NITY—Work-study program in Northern CA.

Includes room, meals, stipend, Buddhist classes.

See www.nyingma.org. Call 510/981-1987.

— • — • —

ALTERNATIVE HEALTH INSURANCE SERVICES

(ASIS)—has assisted individuals and groups with

their health insurance needs since 1985. Every client

receives additional benefits for complementary

and alternative medicine. AHIS is a socially responsible

business promoting greater choice in healthcare.

Licensced in California, Oregon, Arizona, Ohio,

and Virginia. Call Steve Gorman at 800/331-2713 or

visit www.alternativeinsurance.com. E-mail:

steve@alternativeinsurance.com.

26

Co-op America Quarterly NUMBER 69

m designates Co-op America Business Network Member
---
Progress Report

Co-op America Launches ClimateAction.org

Co-op America's Green Energy program

launched a new

campaign against climate change

this spring that makes it easy

for consumers and investors to tell companies

in the most polluting industries

to take action to protect our planet.

With its online debut in March,

Co-op America's www.Climate

Action.org features an overview of the

facts on climate change, along with links

for users to send e-mails to polluters and

others complicit in climate change.

Co-op America's first climate action

spurred 38,000 mutual fund investors

to demand that the country's largest

mutual fund companies stop ignoring

the risk of climate change in their

portfolios. The holdings of the three

largest mutual fund companies—

Vanguard, Fidelity, and American

Funds—together constitute 70 percent

of the mutual funds industry, and

yet these funds have never used their

considerable clout to support shareholder

resolutions calling for change at

Brand New Responsible Shopper

Launched on Earth Day 2006, Co-op

America's new ResponsibleShopper.org

(the smart-shopping Web site for

socially and environmentally conscious

consumers) has a new look, new

features, and even more information

to help shoppers make informed

decisions about how and where to

spend their money.

"The new site has an increased

focus on abuses by the most egregious

corporations. Each month we'll be

highlighting a particular company and

problems within its industry," says Niki

Lagos, lead researcher for Responsible

Shopper. "We're providing a snapshot

of the global impact that businesses have

on human rights, the environment, trade

inequity, and more."

The new Responsible Shopper

also connects shoppers with ongoing

consumer campaigns against problem

companies, and features a section called

the "Green Shift," with tips on how to

avoid those companies. As always,

Responsible Shopper includes a search

We've launched our new Web site,

ClimateAction.org, to help you tell the

worst polluters to clean up their acts.

the polluting businesses in their

portfolios. Now, along with our allies

at CERES m and the Union of Concerned

Scientists m , Co-op America is helping

investors tell their conventional funds to

join the SRI mutual funds that have long

been calling for action on climate change

from polluting companies.

"Mutual funds are getting the

message that investors expect them to

vote in favor of resolutions to address

feature so you can find information

about specific businesses, as well as

links to send e-mails expressing your

concerns to those businesses that fail to

measure up.

Visit Responsible Shopper today at

www.responsibleshopper.org.

Seeking Award Nominations

Each year, with the Building Economic

Alternatives (BEA) Award, Co-op America

recognizes extraordinary leadership

and creativity among those who are

using the economy as a tool for building

a more just and sustainable society.

We are now seeking nominations of

those whose efforts are at the forefront

of the issues we covered in Co-op America

Quarterly in 2005, including solar energy

(The Promise of the Solar Future, Summer

2005), and international community

investing (Investing for the World, Fall 2005).

Businesses, individuals, and nonprofit

organizations are all eligible for

nomination. We awarded last year's

BEA to the Interfaith Center on Corporate

Responsibility m for its work using

climate change, which can have a hugely

positive impact on the environment,"

says Todd Larsen, Co-op America's

climate change program director.

"We're pleased that so many mutual

fund investors responded to our call

for action."

Right now, visitors to Climate

Action.org can sign on to letters to some

of the largest US coal companies, asking

them to stop developing more coal

plants and to start investing in cleaner,

greener, renewable energy. With coal

plants implicated in more greenhouse

gas emissions than any other source

(a full one billion tons more carbon

dioxide than the next largest source,

gas-powered automobiles), coal

companies need to hear from consumers

that it's time to shift toward more

sustainable technologies.

To send a message to coal companies,

visit ClimateAction.org today, and keep

checking for our future campaigns on the

greenhouse gas emissions of the oil-andgas

industry and big box stores.

shareholder action to improve corporations'

records on a host of issues from

the use of sweatshop labor to pollution

to non-discrimination in the workplace.

Please contact us by June 22 with

your nomination and an explanation of

why your nominee should win: Co-op

America Quarterly, BEA Awards, 1612 K St.

NW, #600, Washington, DC 20006;

andrew@coopamerica.org.

Green Pages Go Hollywood

Guests at the May 16 Hollywood premiere

of Al Gore's new global warming

warning movie, An Inconvenient Truth,

received more than 700 copies of the

National Green Pages as part of an effort

by the film's promoters to provide filmgoers

with useful green-living resources.

"Al Gore is drawing attention to an

important problem, and Co-op America

is proud to do our part to help," said

Todd Larsen, Co-op America's

managing director. "We hope the film's

audience will take action with Co-op

America to reduce the threat of global

warming."

SUMMER 2006

Co-op America Quarterly

27
---
Kim Cook / Sustainable Harvest

Green Business News

With your support, the Co-op America Business Network (CABN), the largest association of socially and environmentally responsible businesses, is

changing the way America does business. The 2,500+ CABN members are introducing innovative and effective ways to care for workers,

communities, the environment, and consumers. Find more in Co-op America's National Green Pages.

Fair Trade Coffee for Hurricane Relief

Coffee farmers stand in the swath of

destruction from the landslide that

destroyed their homes and farms.

Last October, while the US was still

reeling from news of Hurricane Katrina,

Hurricane Stan hit

Mexico and Central America, causing

devastating flooding and mudslides.

More than 1,500 people died, and

thousands lost their homes and crops.

Among those who lost their livelihoods

were hundreds of coffee farmers.

Those near Lake Atitlan in Guatemala

and in the Mexican state of Chiapas were

hit especially hard; by one estimate,

70 percent of the Chiapas coffee crop was

lost, and infrastructure development was

set back by ten years. Disaster struck

shortly before the coffee harvest was due

to start, so farmers whose crops and

equipment were destroyed faced the loss

of much of their annual income.

US-based partners of affected Fair

Trade coffee cooperatives were quick to

respond with donations to help their

partner communities get emergency

supplies. Now that the initial crisis

has passed, these companies and organizations

continue to offer support to

families rebuilding their livelihoods.

"These Fair Trade Certified coffee

grower cooperatives are very wellorganized

and able to get food, medicine,

shelter, and other essential resources

directly to the families in an efficient

manner," explains David Griswold, president

of Sustainable Harvest Coffee

Importers. After Stan struck, Griswold

created the Coffee Relief Fund to provide

immediate humanitarian aid and to help

salvage part of the coffee harvest in the

region. He contacted US roasters who

source beans from cooperatives in the

affected region and asked for donations,

then leveraged those funds to get

additional money from InterAmerican

Development Bank. Green Mountain

Coffee Roasters m and Newman's Own

Organics m were among the donors, and

their contributions are now helping to

repair roads and fix key production facilities.

Individuals can also contribute to

these efforts through Sustainable Harvest.

The nonprofit Coffee Kids—founded

by Bill Fishbein, owner of the Rhode

Island-based roaster Coffee Exchange m

—has worked to improve quality of life

for children, families, and communities

through sustainable projects in coffeegrowing

regions since 1988, so it has also

been able to use its relationships with

partner organizations to deliver hurricane

relief. Individuals and businesses

can make tax-deductible donations to

Coffee Kids' Disaster Relief Fund, which

will fund relief and rebuilding projects.

Many Fair Trade companies have

made disaster-relief donations and are

also urging their customers to contribute

to relief organizations. Equal Exchange m

is partnering with the United Methodist

Committee on Relief, which has raised

and donated $70,000 for emergency food

aid and medical kits for four Equal

Exchange trading partners and Grassroots

International, a nonprofit supporting

political, economic, and social rights

and development alternatives. Green

Mountain Coffee Roasters and Peace Coffee

m are encouraging customers to

donate to Project HOPE, which has been

establishing health clinics in Guatemalan

coffee-growing areas since 1976 and is

soliciting tax-deductible donations for

long-term recovery and reconstruction.

Many Co-op America Business Network

members also made generous donations

to those affected by Hurricane Katrina.

Enterprise Corporation of the Delta/Hope

Community Credit Union m is putting its

many years of community-investing

experience to use and collecting donations

to help with long-term recovery

in Louisiana and Mississippi.

Contact: ECD/Hope Community Credit Union,

www.ecd.org; Equal Exchange, 774/776-7333,

www.equalexchange.com; Green Mountain Coffee

Roasters, 888/879-4627, www.gmcr.com; Peace

Coffee, 888/324-7872, www.peacecoffee.com;

Project HOPE, 800-544-HOPE, www.project

hope.org; Sustainable Harvest, 503/235-1119,

www.sustainableharvest.com.

28

Co-op America Quarterly NUMBER 69

m designates Co-op America Business Network Member
---
full page ad

1612 K Street NW, Suite 600

Washington, DC 20006

www.coopamerica.org

(202)872-5307 • fax: (202)331-8166

MEMBER SERVICES. Co-op America is a membership organization

helping people to vote with their dollars for a better world. Membership

includes a subscription to the Co-op America Quarterly and the National

Green Pages.

MEMBERSHIPS. New and gift memberships are $20. Renewals begin at $25.

Call (202)872-5307 for credit card orders or send a check to the

Membership Department of Co-op America at the address above.

ADDRESS CHANGES. Send us a copy of your mailing label and your new

address four to six weeks before you move.

MAILING LISTS. If you don't want us to exchange your name with other

mailers, write "do not exchange" on your mailing label and send it to us.

GROUP DISCOUNTS. Bulk subscriptions for teachers, educators and

others are available. Write or call (202)872-5307 for information.

Non-profit Org.

U.S. Postage

Paid

Ripon, WI

Permit No. 100