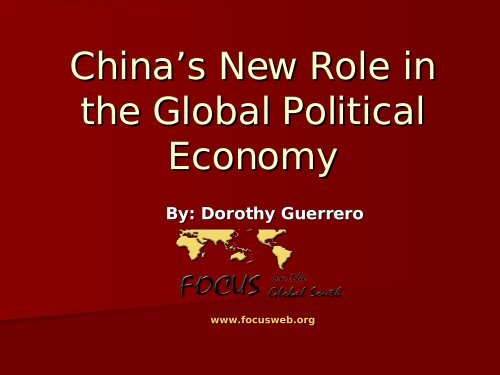 Create successful ePaper yourself
Turn your PDF publications into a flip-book with our unique Google optimized e-Paper software.
China's New Role in

the Global Political

Economy

By: Dorothy Guerrero

www.focusweb.org
---
China's Renaissance

Economic re-emergence

Socio-political transformation

Intellectual reinterpretation of

Chinese tradition
---
China as a New Global

Power

World's fourth largest economy and third

largest trading country - China accounted

for approximately 5% of world GDP

Supplies more than 1/3 of the world's

steel, half of its cement, and about a third

of its aluminum

90% of all the marginal growth of Japanese

and European companies is coming from

China

By the end of 2006, China made $75

billion direct investment in more than 160

countries.

Role in the WTO (G20 and G33)

Role in World Bank and other IFIs
---
Official Political and Economic

Diplomacy with the South

China shares the status with other developing

countries

Importance of South-South cooperation

Equality and mutual benefit (win-win cooperation)

Mutual trust and peaceful development cooperation

Sincerity, mutual support and common

development in cooperation

Non-interference in other's internal affairs

– No conditionality

China also suffered from similar semi-colonial past

as other developing countries, and therefore, will

not become a colonizer / dominant power
---
Going Out Strategy

"inviting in" (inflow of FDI) and "going out"

(outflow of FDI) as supplementary in its

growth plan

More responsible role, aid donor

Blocking Japan's bid for a UN Permanent

Security Council Seat

Political exclusion of Taiwan

Market space for Chinese exports

"Going global" strategy i.e. commercial

learning

Attempt to extract the Chinese economy

from international commodity markets
---
Hard Power

Role as a regional hegemon

18% increase in 2007 defense budget

(now $45 B) for modernization of

military

Containing China as remaining

commanding objective of US

"The US will not allow the rise of a competing

superpower"

Quadrennial Defense Review, , 5 February 2006
---
"Think Big" Policy

Role in the ASEAN

Soft Power

- Code of Conduct for the South China Sea

- ASEAN Treaty of Amity and Cooperation

- ASEAN-China Free Trade Agreements

* Early Harvest Plan

* ASEAN – China trade at US$160.8 billion in 2006

China Development Bank, the world's largest development

institution by assets, is putting more resources behind the

overseas expansion of Chinese enterprises, particularly in

natural resource projects.

No-strings Aid approach

ex. Cambodia, five offshore oil fields (estimate yield of

$700m M to $1 B /year)
---
Philippine – China economic

partnership

China is now the Philippines' third largest trading partner

after Japan and the US with ave. annual growth rate of 41 %

Philippine exports to China amounted to US$4.62 billion in

2006 making China the third largest export market, while

imports amounted to US$3.67 billion, giving the Philippines

a surplus of US$495 million.

The Philippines was China's 17th largest trading partner in

2006, accounting for 1.33 percent of China's foreign trade.

Investments by China to the Philippines amounted to

US$370 million (11.7% of total investments) from January to

September of 2006

From January 2007, the Philippines signed 12 non-

agricultural agreements and 19 agricultural agreements
---
RP – China Framework

Agreement

2005 Joint Trade Committee to develop

cooperation in mining and infrastructure

January 2007 Framework Agreement on Expanding

and Deepening Bilateral Economic and Trade

Cooperation between the Philippine Government

and the Chinese Government

– Areas of cooperation - agriculture, fisheries, public works

and infrastructure, housing, mining, energy,

manufacturing, textiles and garments, industrial parks

and economic development zones, tourism, information

and communications technology, container inspection

machines, and trade promotion
---
Impacts of RP – China

Agricultural Agreements

Competition for scarce land resources

– More than 2 million h are estimated ancestral

domain area

– More than 1 million h are still to be redistributed

to farmers

– More than 9 million are targeted by government

Impact on forests

– More than 7 million h are forests (16 million h

are necessary to ensure healthful and balanced

ecology

Impact on food production
---
Trade Flows (2005)

35,0

32,5

30,0

27,7

25,0

20,0

15,0

21,4

18,9

11,2

11,0

15,2

10,0

5,0

7,4

2,3

3,7

2,4

3,2

0,0

US U E J apan Southeast Asia South/Central

America

Africa

China exports

China Imports
---
Trade with Latin America

% of Latin American exports

8,0

7,0

6,0

5,0

4,0

3,0

2,0

1,0

0,0

35,2

22,6

17,0

9,4

Brazil Chile Argentina Peru Mexico Venezuela Cetral

America

5,6

4,3

1,8

40,0

35,0

30,0

25,0

20,0

15,0

10,0

5,0

0,0

Exports in US$ bi

US$ bi %

% principal goods first second third

Argentina 78.5 soy

Brasil 67.7 iron ore soy

Chile 76.2 copper

Peru 85.2 copper fish flour iron ore
---
China – Brazil Trade with

Latin America

25

20

15

10

5

0

América Latina Mercosul Chile CAN México

brasil

china
---
Strategic Cooperation with

Oil Exploration

Mining

Construction

Banking

Africa

Telecommunications

Retail – textiles and light consumer

electronics
---
China's Engagement with

Africa

Angola - In 2004, China Exim Bank extended an

oil-backed US$2-billion credit line to Angolan Gov.,

later increased to US$3bn in March 2006

- Construction of roads, bridges railways,

airport, oil refinery, hospitals, housing, water

projects & Gov buildings, telecommunications

investments.

Zambia - 2007, the Chambishi Copper mine was

declared a "China-Zambia Economic and Trade Co-

operation Zone". US$ 800 million in future

investments was promised to Zambia.

Tanzania - Dar-es-Salaam has been announced as

a second economic and trade co-operation zone

rehabilitation of the Tazara Railway

Sudan - The Merowe Dam Project in Sudan is the

largest hydropower project currently under

construction in Africa
---
China's Engagement in

Africa

China is strategically investing in infrastructure to enable

the extraction of previously inaccessible resources in Africa

– the case of Belinga in Gabon

Investment in railways across the continent bisects the

traditional north-south routes, shifting control away from

entrenched role-players in Africa

China's emphasis on high public spending on tangible

resources appeals to African government elites, facilitating

access

Engagement with economies dependent on natural

resources

Strategically links up natural resource investments

Prospects for further Economic and Trade Co-operation
---
New Developmentalism?

Could China's increasing power make

other developing countries more

prosperous, more stable, and

equitable?

China does not offer an alternative

development model

Environmental Footprints

Africa

Asia

Latin America
---
Cracks in the Wall

China is critically dependent on

foreign oil

China bubble

Time bomb of unemployed people

Low cost manufacturing could not go

on forever

Environmental problems

Neo-Leninist governance
---
Current Political

Economy

about 400 M people lifted out from

poverty : 135 M still earning $1/day

Xiao Kang (MDG goals), "harmonious

development" (Hexie(

Fazhan)

"Two Chinas", Gini coefficient

increased in by 50% since the late

1970s

Less than 1% of households control

more than 60% of wealth.
---
Making People Matter

Domestic opposition groups and

individuals who might challenge the

party's authority are left isolated and

powerless

Party's charm campaign of recruiting the

intelligentsia into party – the social groups

that are normally the forces of

democratization have been politically

neutralized

workers average 60-70 hours/week

20 protests/per hour