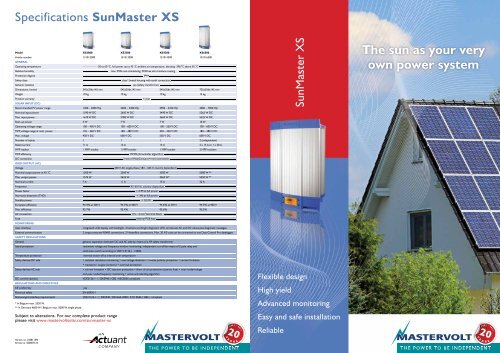 SunMaster XS - Solarvest
SunMaster XS - Solarvest
SunMaster XS - Solarvest
SHOW MORE
SHOW LESS
You also want an ePaper? Increase the reach of your titles
YUMPU automatically turns print PDFs into web optimized ePapers that Google loves.
Specifications SunMaster XS

Model XS2000 XS3200 XS4300 XS6500

Article number 131012000 131013200 131014300 131016500

GENERAL

Operating temperature -20 to 60 °C, full power up to 45 °C ambient air temperature, derating -3%/°C above 45 °C

Relative humidity

max. 95% non-condensing; PCB has anti-moisture coating

Protection degree

IP44

Safety class

class I (metal housing with earth connection)

Galvanic isolation

yes (safety transformer)

Dimensions, hxwxd 545x356x145 mm 545x356x145 mm 545x356x145 mm 725x356x145 mm

Weight 10 kg 10 kg 10 kg 15 kg

Product warranty

5 year

SOLAR INPUT (DC)

Recommended PV power range 1300 – 2000 Wp 2200 – 3300 Wp 2900 – 4350 Wp 4000 – 7000 Wp

Nominal input power 1590 W DC 2650 W DC 3490 W DC 5265 W DC

Max. input power 1670 W DC 2780 W DC 3660 W DC 5525 W DC

Start-up power 5 W 7 W 7 W 10 W

Operating voltage range 100 – 450 V DC 100 – 600 V DC 100 – 550 V DC 100 – 600 V DC

MPP voltage range at nom. power 145 – 360 V DC 180 – 480 V DC 230 – 440 V DC 180 – 480 V DC

Max. voltage 450 V DC 600 V DC 550 V DC 600 V DC

Number of inputs 1 1 1 2 (independent)

Rated current 11 A 15 A 15 A 2 x 15 A or 1 x 30 A

MPP tracker 1 MPP tracker 1 MPP tracker 1 MPP tracker 2 MPP trackers

MPP effi ciency

99.9% (Fraunhofer algorithm)

DC connection

2 sets of MultiContact (4 mm) connectors

GRID OUTPUT (AC)

Voltage

230 V AC single phase (184 – 265 V, country dependent)

Nominal output power at 45 °C 1500 W 2500 W 3300 W 5000 W **

Max. output power 1575 W 2625 W 3465 W* 5250 W **

Nominal current 7 A 11 A 15 A 22 A

Frequency

45–65 Hz, country dependent

Power factor

> 0.99 at full power

Harmonic distortion (THD)

< 3% at full power

Standby power

< 0.5 W

European effi ciency 94.4% at 300 V 94.3% at 400 V 94.6% at 370 V 94.5% at 400 V

Max. effi ciency 95.7% 95.4% 95.6% 95.5%

2

AC connection

2.5 – 4 mm terminal block

Fuse

internal PCB fuse

MONITORING

User interface

integrated LCD display with backlight, 4 buttons and bright diagnostic LED, all relevant AC and DC values plus diagnostic messages.

External communication

2 surge protected RS485 connections, 2 MasterBus connections. Max. 20 XS units can be connected to one Data Control Pro datalogger.

SAFETY REGULATIONS

General

galvanic seperation between DC and AC side by means of a HF safety transformer

Island protection

redundant voltage and frequency window monitoring. Independent cut-off by means of 2-pole relay and

solid state switch according to VDE V 0126-1-1:2006.

Temperature protection

thermal switch-off at internal over temperature

Safety devices DC side

• isolation resistance monitoring • overvoltage detection • inverse polarity protection • current limitation

• transients / surges (varistors) • overload protection

Safety devices AC side

• current limitation • DC injection protection • short circuit protection (ceramic fuse) • over-/undervoltage

and over-/underfrequency monitoring • active anti-islanding algorithm

DC current injection

VDE0126-1-1 / DK5940 / G83 / KSC8536 compliant

REGULATIONS AND DIRECTIVES

CE conformity

yes

Electrical safety EN 60950-1

National grid interface requirements

VDE 0126-1-1 / DK5940 / RD1663-2000 / K SC 8536 / G83-1 compliant

* In Belgium max. 3330 W.

** In Germany 4600 W / Belgium max. 5000 W, single phase.

Subject to alterations. For our complete product range

please visit www.mastervoltsolar.com/sunmaster-xs

SunMaster XS

Flexible design

High yield

Advanced monitoring

Easy and safe installation

Reliable

The sun as your very

own power system

Version no. 230811EN

Article no. 500007510
---
0 4:00 8:00 12:00 16:00 20:00 24:00

More power

from the sun

Mastervolt SunMaster XS

supreme benefits

More power from the sun under all conditions, with an

exceptional degree of reliability. As one of the pioneers in the

grid connected solar industry, Mastervolt has a long track record

in developing and manufacturing high-quality inverters that

transform solar power into valuable energy.

The SunMaster XS series is the result of 20 years of expertise

and practical experience, making sure you get the most out

of your PV system.

Flexible design

• Compatible with any type of solar module.

• Country selection via LCD.

• Applicable in both indoor and protected outdoor environment (IP44).

• Integrated transformer.

Watts

Daytime

Mastervolt

Others

Extra yield

High yield

The MPP trackers (99.9%) ensure a maximum

output from the solar panels, even at low light

conditions. Start-up only requires 5 to 10 W, the

inverters will start working early in the morning

until the end of the day. The active cooling

provides full power output in temperatures

up to 45 °C.

Easy and safe installation

A XS2000 only weighs only

10 kg, and the XS6500 just

15 kg. The country setting is

programmed on the display

and the integrated DC switch

also reduces installation time.

A mounting bracket is

included. The PC monitoring

software is plug & play.

High yield

• 100% power up to 45 °C.

• High effi ciency using HF technology.

• More production due to early startup and late shutdown.

• Unique adaptive cooling technology.

Advanced monitoring

• Large user-friendly LCD.

• 30 day kWh memory as standard.

• Free plug & play software.

• Extensive monitoring solutions available.

Multifunctional

The IP44 protection allows the XS

inverters to be installed outside

under a roof. The exceptionally large

voltage range and the HF transformer

allow combinations with crystalline,

amorphous and thin fi lm PV panels.

Easy and safe installation

• MC connections.

• Mounting brackets included.

• Integrated DC switch available.

• Lightweight.

Reliable

• Standard 5 years warranty with optional 10 or 20 years.

• Designed based on a proven Mastervolt concept.

• Long life due to advanced cooling.

• Outstanding price/quality ratio.

Advanced monitoring

SunMaster XS inverters can be connected to

your PC or laptop using the optional PC-Link

adapter. Internet monitoring of 20 inverters is

possible using the optional data loggers.

Superb value for money

The practical display informs

you of the actual situation,

and has an energy yield

memory of 30 days.

An integrated DC switch and

standard RS485 data port

connection complete the

XS package.

More information?

Feel free to contact Mastervolt or one of our business partners,

or visit www.mastervoltsolar.com/sunmaster-xs

Guaranteed reliability

Besides the standard warranty of 5 years,

a warranty of 10 or 20 years is available,

underlining our confi dence in the product's

reliability; an iandispensable quality of

sustainable power systems.