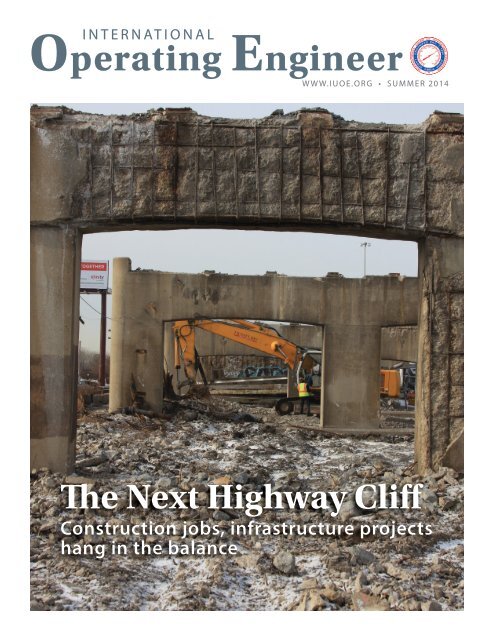 Operating Engineer - Summer 2014
The quarterly magazine of the International Union of Operating Engineers.
The quarterly magazine of the International Union of Operating Engineers.
SHOW MORE
SHOW LESS
You also want an ePaper? Increase the reach of your titles
YUMPU automatically turns print PDFs into web optimized ePapers that Google loves.
i n t e r n at i o n a l

Operating Engineer

WWW.IUOE.ORG • SUMMER 2014

The Next Highway Cliff

Construction jobs, infrastructure projects

hang in the balance
---
i n t e r n at i o n a l

Operating Engineer

Summer 2014 • Volume 157, No. 3

Brian E. Hickey, Editor

Jay C. Lederer, Managing Editor

18 Women in the Trades

Annual conference breaks attendance record

10 Member Spotlight

Local 15 member a permanent part of 9/11 Memorial

14 The Next Highway Cliff

Solution to transportation funding still uncertain

22 Union Plus Scholarship Winners

IUOE has nine worthy recipients this year

Departments

05 From the General President

06 Education & Training

12 Politics & Legislation

18 HAZMAT

19 Healthcare

20 Local Spotlight

21 Canadian News

24 GEB Minutes

28 In Memorium

[cover] Road and bridge work, like this project employing

Local 150 members outside Chicago, rely on the federal

Highway Trust Fund for financing. See story on page 14.

[photo] Jay Lederer/IUOE

[right] Beach replenishment along the New Jersey coast

continues to bring work for members of Local 825 and Local

25 almost two years after Hurricane Sandy swept ashore.

[photo] FEMA/Rosanna Arias

2

INTERNATIONAL OPERATING ENGINEER

SUMMER 2014 3
---
International Operating Engineer

(ISSN 0020-8159) is published by the:

International Union of

Operating Engineers, AFL-CIO

1125 17 th Street, NW

Washington, DC 20036

Subscription Terms - $5 per year

Change of Address - Requests must

be submitted in writing to the IUOE

Membership Department (address

above). Include your new address,

registration and local union number.

POSTMASTERS – ATTENTION:

Change of address on Form 3579

should be sent to:

International Operating Engineer

Mailing List Dept.

1125 17th St., NW, 3rd Floor

Washington, DC 20036

Publications Mail Agreement No.

40843045

Return undeliverable Canadian

addresses to:

2835 Kew Drive

Windsor, ON N8T3B7

Printed in the U.S.A.

International Union of Operating Engineers

AFL-CIO

general officers

James T. Callahan, General President

Brian E. Hickey, General Secretary-Treasurer

William C. Waggoner, First Vice President

Patrick L. Sink, Second Vice President

Jerry Kalmar, Third Vice President

Russell E. Burns, Fourth Vice President

James M. Sweeney, Fifth Vice President

Robert T. Heenan, Sixth Vice President

Daniel J. McGraw, Seventh Vice President

Daren Konopaski, Eighth Vice President

Michael Gallagher, Ninth Vice President

Greg Lalevee, Tenth Vice President

Terrance E. McGowan, Eleventh Vice President

Louis G. Rasetta, Twelfth Vice President

Mark Maierle, Thirteenth Vice President

Randy Griffin, Fourteenth Vice President

trustees

Kuba J. Brown, Trustee

Bruce Moffatt, Trustee

James T. Kunz, Jr., Trustee

Joseph F. Shanahan, Trustee

In Memorium

Local 30 Business Manager and International

Trustee John "Jack" T. Ahern passed away June 17

after a long illness. He was 60.

Ahern began his career with the Operating

Engineers as an apprentice in 1974. He was

elected Business Manager and Financial

Secretary of Local 30 in 1999.

Ahern will be remembered as a dedicated union

leader and activist. He was also very active in the

Irish-American community, serving on the board

of the Emerald Isle Immigration Center.

From the General President

Vote Like Your Job Depends On It

Our livelihoods closely tied to political outcomes

This summer we are receiving

encouraging news from every region

within the International about

increased hours and opportunities for

Operating Engineers. Many projects,

large and small, that had been delayed

or sidelined as we emerged from the

recession are now underway.

The pipeline industry in particular

has seen steady growth, reaching an

all time high for employment in that

sector last month. Natural gas has been

the primary engine behind this growth,

bringing increased work for our

members in Canada and the Northeast

and North-Central Regions.

Other energy projects have also

contributed. The Plant Vogtle nuclear

site in Georgia continues to employ

many in the South Atlantic Region. The

Western Region is beginning to see the

benefits of wind power construction,

while the Western Initiative for Nuclear

promises to bring good jobs into the

future. Two major tunneling projects

in the Pacific Northwest, along with

the return of traditional building

construction to the Greater Los Angeles

area and Hawaiian Islands are making

this one of the best construction

seasons we have seen in quite some

time.

This trend has also been evident

among our Stationary membership. A

committed effort to training and new

organizing across all regions is proving

very successful. In conversations with

General Secretary Hickey and Business

Managers representing Stationary

Engineers, they are reporting near full

employment with organizing efforts

underway in many sectors of the

industry.

While we continue to work on

solidifying gains and creating new

opportunities, political ideology and

legislative malpractice threaten to slow

this positive momentum.

Once again we find ourselves in an

uphill struggle to preserve our right to

organize and to collectively bargain.

Extreme right-wing politicians

continue to try and weaken our union

through so-called Right-to-Work

initiatives at the state and local levels.

In Congress, attempts to strip Davis-

Bacon prevailing wage coverage from

federal spending are offered regularly

by anti-union lawmakers.

But perhaps worst of all, the U.S.

Congress is now playing games with

the Highway Trust Fund. Funding

the construction and repair of our

roads and bridges is a basic function

of government and we are working to

ensure that they don't drop the ball

on this one. Too many construction

jobs – our jobs – are at risk. Failure is

definitely not an option.

We know all too well that the

livelihoods of IUOE members are tied

to political outcomes. This is why I

feel that the midterm elections on

November 4th are such a priority for

Operating Engineers. We must engage

at every level, but I want to put specific

emphasis on the U.S. Senate.

A handful of competitive campaigns

around the country will decide who

controls the Senate. The IUOE has

always looked at issues first and

political party last, but if Republicans

gain control, their leader Mitch

McConnell has vowed that he will push

to repeal Davis-Bacon prevailing wage

and institute anti-union laws like Rightto-Work

on a national scale. They will

also be in control of the committees

that will write the new transportation

bill, giving non-union contractors like

the ABC a primary seat at the table.

Make no mistake, we cannot afford

to sit this election cycle out. We must

stand up and ask candidates the hard

questions about collective bargaining,

Davis-Bacon and the right to organize.

[James T. Callahan]

We must take the fight directly to

politicians like Mitch McConnell in

Kentucky and others who share his

extreme agenda. We must send a

message that anti-worker, anti-middle

class positions will cost them the

election.

Operating Engineers make a real

difference in federal, state and local

elections. We will weigh all the facts

and continue to support candidates

from both sides of the aisle who vote

along the lines I've spelled out here.

Each one of us should put these

important issues at the forefront of

our decision making when we enter

the voting booth November 4th. Our

collective future depends on it.

So once again, I urge you to vote for

those who support our way of feeding

our families, educating our children,

and retiring with dignity when our

time comes. Stand with those who

stand with us. Visit the IUOE website

and keep an eye on your mailbox

for important information on the

upcoming elections.

As always, I consider it a great

honor to serve as your General

President. I have been blessed with

an engaging General Executive Board,

a tireless International staff, and

knowledgeable field representation

second to none, who all work to serve

this great membership. For that I am

truly grateful.

Work safely and have a great

summer.

4

INTERNATIONAL OPERATING ENGINEER

SUMMER 2014 5
---
Education & Training

Massive Training Center Expansion Underway in Wisconsin

Demand for Certifications on the Rise, the Union has it Covered

WORK PROGRESSES ON THE 108,000-SQUARE-FOOT

addition to the Joseph J. Goetz Jr. Training Center near

Coloma, WI. The addition is being built to allow members of

IUOE Local 139 an opportunity to train on heavy equipment

year-round, even during periods of severe winter weather in

Wisconsin.

[photo] Dave Backmann, Local 139

Governor O'Malley Tours New IUOE Local 99 Engineer Center

IUOE LOCAL 99 BUSINESS MANAGER Michael R.

Murphy recently invited Maryland Governor Martin O'Malley

to tour their new Training Facility "Engineer Center" in Largo,

MD. While at the facility the Governor met with Training

Coordinator Sam Redden and Business Representative

Maryland Governor Martin O'Malley (center) visits with

Local 99's Sam Redden and Don Havard at the local's new

training facility.

[photo] Executive Office of the Governor

Don Havard to discuss the Apprenticeship Program and the

Advanced Training Classes that are offered by Local 99. "The

Governor was very impressed and complimentary of the

facility, classrooms and the curriculum," reports Murphy.

THE TRAINERS AT IUOE LOCAL 399

work closely with their business agents to

keep up with job market demands so that

they may continue to offer the skills training

and certifications the membership requires

for job qualification and advancement. Many

employers require specific certifications in

order to even be considered for employment.

Sometimes, an engineer will watch a great

opportunity pass them by because they

missed the chance to earn a certification

which would have qualified them for a

desired position.

Local 399 Operating Engineers employed

at the University Of Chicago (UIC) know this

all too well. As a condition of employment,

all of the UIC Utilities, Heat, Light and

Power engineers are required to have the

EPA 608 universal certification. This level

of certification, like other credentials, help

ensure that our union engineers can attain these highly

skilled positions.

Other areas of opportunity for engineers are in the energy

conservation, sustainability and green technology fields.

Those topics have been around for quite a while now, but have

picked up momentum and show promising opportunities for

our members.

Spotting this trend, Local 399's instructors Dave Arvans

and Ralph White turned to the IUOE National Training

Fund's Energy Conservation course to educate members on

the importance of being proactive in energy management, as

well as understand what a critical role the operating engineer

has in energy management in North America.

The steady increase in the cost of energy has renewed

interest and attention around sustainability and its effects

on facilities operations. Perhaps the most recognizable

accreditation in this area is the Leadership in Energy

and Environmental Design (LEED) Green Associates.

Understanding and acquiring this accreditation can prove to

be very beneficial for engineers, especially when seeking new

positions in a wide range of facilities. Recently, instructor

Barbara Hickey of Local 399's Facilities Sustainability class

provided guidance while assisting 12 of her students in

receiving their LEED Green Associates

accreditation.

The training and credentialing offered

through IUOE locals is an important part

of our profession. It provides an enormous

amount of power when showing current and

prospective employers the importance of

hiring an educated and professional union

Operating Engineer.

[above] Engineers at UIC display their

certification cards. L to R: Robert Franzese, Jack

Brennan, John Campbell, Kevin Casserly, Brian

Mahoney, Kevin Nagle

[left] L to R: Mike Scanlon, Jim Tornabene, Mike

Walz, Tim Hamilton, Shawn Marshall, John

O'Shea, Tim O'Shea, Robert Davenport

Bruce Langele, Kenneth Shipp

[photos] Local 399

6

INTERNATIONAL OPERATING ENGINEER

SUMMER 2014 7
---
Women in the Trades

Union Tradeswomen Conference Focuses on Career Support

NEARLY 900 WOMEN, representing all of the skilled

trades in construction, attended the 2014 "Women Building

California and the Nation" conference April 25-27 in

Sacramento, CA.

The final attendance numbers represented an increase

of almost 50% from the 2013 conference, a reflection of the

growing numbers of women who are choosing a career path

as a skilled craft construction professional.

This year's conference contained an international flair,

as 22 attendees were from Canada and seven hailed from

Australia.

The conference was sponsored by the State Building

and Construction Trades Council of California and

North America's Building Trades Unions and its Standing

Committee on Women in the Trades.

The central idea behind the entire "Women in the

Trades" movement is to not only engage in the recruitment

of more women into the skilled trades, but to provide the

necessary support and preparation for those women who do

choose such a career path. This support network is proving

successful in preparing women to work in the trades, gaining

access to jobs and career tracks that will help them and their

families achieve greater economic security, and to groom

and support a new generation of female leaders within and

throughout North America's Building Trades Unions.

The 2014 Conference participants heard from a variety

of speakers, including Lt. Col. Cherrie Davis of the United

States Army who gave a motivational speech about rising in

the ranks of a male-dominated industry.

Gina Walsh, an Insulator by trade and the President of the

Missouri State Building and Construction Trades Council

and a member of the Missouri State Senator treated the

conference to a great story about the rewards that come

with stepping up, being accountable and becoming more

involved.

Kristi Tuemmler, a rank and file member of Operating

Engineers Local 3, was a featured speaker and shared her

own compelling story about how and why she chose a career

path in the trades.

On a more somber note, a Worker's Memorial Day

commemoration was included as part of the program, and it

detailed the stories of 7 women who perished while working in

the construction industry.

A touching moment

occurred when the

lights were dimmed and

conference participants

held their cell phone lights

aloft as a gesture of honor

and remembrance.

Aside from the plenary

sessions were a wide array

of workshops. The most

well-attended workshops

included:

Tools of the Trades

- An opportunity for

pre-apprentices to meet

women from different

crafts in order to learn

more about what they do.

Career Ladders Beyond

the Tools - Guidance for

women who are interested

in moving beyond the tools

and into careers such as

Inspector, Safety Manager,

Compliance officer, or

Apprenticeship Coordinator.

Higher Education Options for Women in the Trades -

Exploring the opportunities available for women in the

trades to secure college degrees.

Unions 101 - understanding the history of the American

building trades union movement and the important role that

it plays in the industry and in society at large.

Leadership 101 - What women need to know if they are

thinking about "taking the reins" of leadership

Mentoring the Next Generation - Each one teach one.

Solving Conflicts on the Job - Tips and techniques to

navigate through a male-dominated industry

[left] Local 3 was well represented at the 2014 Women Building

California and the Nation Conference.

[photo] Jan Jenson

[above] Kristi Tuemmler, a rank and file member of Local 3, was a

featured speaker and shared her own compelling story about how

and why she chose a career path in the trades.

[photo] Vicky Hamlin

[right] Local 501 union sisters show off their IUOE pride.

[photo] Vicky Hamlin

8

INTERNATIONAL OPERATING ENGINEER

SUMMER 2014 9
---
Member Spotlight

Operating Engineer's Words Part of Tribute at 9/11 Memorial

The images of September 11,

2001 are etched in the memories of

everyone who experienced that fateful

day. None are more deep than those of

the men and women of Locals 14 and

15 who dropped everything to rush to

the site that day and who stayed on

through the arduous recovery effort.

A tribute to those skilled tradesmen

is now part of the newly opened 9/11

Memorial museum. Featured there are

the words of one Operating Engineer,

who summed up the sentiments of

many who worked the site, etched in

stone for all to see when they come

back to remember and reflect.

Joe Bradley, a 40 year member of

Local 15, helped build the Twin Towers

in the 1970's. Even before the first

piece of steel was set, Bradley knew he

was part of something historic.

"At the time, my brother was serving

in Vietnam and we were able to connect

via ham radio," Bradley remembers. "I

told him we were going to build the

world's tallest building. Times two."

On a recent visit to the memorial,

Bradley described what it was like to

return to the towers he helped build in

the aftermath of the attack that brought

them down, then a smoldering pile of

rubble and twisted steel.

"We had to walk in from many

blocks away. The streets were buried

in ash and everything was coated gray,

it was like walking on the moon. Then

the building debris blocked access to

the site of the towers. The pile in the

middle was ten stories high."

Operating Engineers started by

clearing pathways and streets to gain

access for emergency responders. Days

turned into weeks as tons of debris was

removed. Operating Engineers from

other locals joined the effort and all the

trades lent there skill and dedication to

the effort.

The work was difficult and

dangerous. Many workers inhaled

smoke and toxic fumes and no one

was immune from the mental toll the

horrific scene inflicted on them. But

in 1.5 million man hours of recovery

work, not one serious injury occurred.

All told, Bradley and his fellow

Operating Engineers spent 37 weeks

at ground zero. On May 28, 2002 the

last column was cut down, marking the

end of the recovery effort. Just before

the torch was passed from one trade to

another, taking turns to cut the column,

Bradley spoke the words that would

end up on the walls of the memorial.

"Don't ever forget these days, boys,"

he said as work continued in the pit.

"We came in as individuals. And we'll

walk out together."

The 58-ton steel column was then

laid on a flatbed truck, wrapped in

black muslin and an American flag,

and stowed away in a corner of the pit

for a public ceremony the next day.

But this night was for the workers.

As they marched up the ramp and out

of the pit together, they were flanked

by a Navy honor guard and each one

handed an American flag.

It wasn't long before Bradley and

many others got the call to come back

and work on the reconstruction efforts.

He worked at the trade center site until

his retirement in 2012.

Years had passed, but Bradley's

quote was not forgotten, especially

by the people tasked with creating a

memorial museum that would capture

the many stories surrounding the

event.

"In searching for words to convey

the sense of transcendent communal

mission that emerged at Ground Zero,

we came across Joe Bradley's quote and

felt that it summed up the sentiments

perfectly - and succinctly," explains

Jan Ramirez, Chief Curator of the 9/11

Memorial.

Bradley was surprised and deeply

honored when the memorial planners

contacted him about putting his

quote on the wall. Walking through

the museum is a deeply emotional

experience, but Bradley keeps an

even keel regarding his experience

at Ground Zero and his now famous

quote.

"There are two quotes on the walls

of this museum. One by the Greek

philosopher Virgil and one by Joe

Bradley," he mused. "Talk about two

ends of the spectrum."

The last column and many other

artifacts pertaining to the recovery

effort are on display among the

many fascinating exhibits at the 9/11

Memorial.

[above] Local 15 member Joe

Bradley stands in front of the

wall displaying his quote.

[photo] Jay Lederer/IUOE

[right] The final column is cut

down in May 2002 at Ground

Zero, marking the end of the

recovery.

[photo] AP

10

INTERNATIONAL OPERATING ENGINEER

SUMMER 2014 11
---
Politics & Legislation

IUOE Hosts Legislative Conference on Capitol Hill

OVER ONE HUNDRED IUOE

local union political activists from

around the United States gathered

in Washington, D.C. on July 8-10 to

discuss important legislative issues

affecting Operating Engineers and the

upcoming November elections.

IUOE Legislative and Political

Director Jeffrey Soth got the conference

underway with an overview of the 2014

political elections, in particular the

fight for control of the U.S. Senate. Soth

also briefed the audience on a recent

legislative victory, the signing of the

Water Resources and Development

Act into law. In addition, he discussed

ongoing IUOE legislative activities,

such as the Highway Trust Fund crisis

and other critical legislative issues.

Featured conference speakers

included the chairmen of two key

congressional committees: Senator

Barbara Boxer (D-CA), Chairman of

the Senate Environment and Public

Works Committee and Representative

Bill Shuster (R-PA), Chairman of

the House Transportation and

Infrastructure Committee. Both Boxer

and Shuster spoke about the state

of the Highway Trust Fund and the

prospects of a passing a comprehensive

transportation bill.

Later on the first day, attendees

heard from Peter Rogoff, the Under

Secretary for Policy and Planning

USDOT, who spoke about the Obama

Administration's proposals pertaining

to transportation reauthorization. In

April, the White House introduced

the "Grow America Act," a four-year,

$302 billion bill that relied mainly

on corporate tax reforms to pay for

infrastructure work.

Attendees also participated in lively

panel discussions which focused on

important legislative issues facing

Operating Engineers in the national

and state capitols.

On the final day of the conference,

attendees were briefed by Charlie Cook,

one of the top political handicappers

in the country. He gave an in-depth

rundown of the 2014 political and

electoral landscape.

The two-day conference included

various speakers who discussed the

many tools and techniques being

utilized to influence legislative and

political battles across the country and

which local unions could use in their

respective jurisdictions.

At the conclusion of the conference,

attendees visited Capitol Hill to

lobby members of Congress to fix the

Highway Trust Fund and pass a multiyear

transportation bill, in addition to

other issues important to Operating

Engineers.

[above] Rep. Bill Shuster

[left] General President Callahan with Sen.

Barbara Boxer.

[photos] Jay Lederer/IUOE

ENGINEERS

ACTION &

RESPONSE

NETWORK

REGISTER TODAY!

WWW.IUOE.ORG

The Fight is on for Control of the U.S. Senate

ALTHOUGH THE CURRENT

Congress has been one of the most

unproductive legislative bodies in U.S.

history, the Democratically controlled

Senate has reliably stood with working

families and the Operating Engineers.

The Senate has been a thorn in the

side of the House of Representatives,

which has been hijacked by right-wing

extremists who have marginalized

the small minority of moderates in its

ranks.

The U.S. Senate is what currently

stands in the way of an onslaught of

anti-worker legislation from making

its way to the President's desk. If the

Republican Party gains control of the

Senate in the mid-tern elections, it is

likely they will aggressively push for

repeal of the Davis-Bacon Act, limit the

right to collective bargaining and put

forward a national Right-to-Work bill

in the next Congress.

One of the most watched Senate

races is in Kentucky. Republican

Senator Mitch McConnell is in a tough

fight against Kentucky Secretary of

State and Democratic Senate nominee

Alison Lundergan Grimes. A vocal

critic of labor unions, McConnell has

been a fixture in the Senate for the last

30 years and is seeking a sixth term in

office.

If the Republicans capture the

Senate, McConnell is poised to

become the next Majority Leader and

he will undoubtedly pursue an anti-

union agenda. In recent remarks

about funding for a bridge project in

Kentucky, McConnell stated, "The

Davis-Bacon Act is legislation from

the Great Depression era that is even

older and more obsolete than the Brent

Spence Bridge itself. It needs to be

repealed."

McConnell's legislative record over

the past eighteen months demonstrates

the kind of Senate leader he would

be. Four times he has sponsored or

co-sponsored anti-union bills and

amendments.

IUOE Local 181 Business Manager

Howard Hughes has urged his members

to "vote for labor friendly candidates

like Alison Grimes," when they go to

the voting booths this November. "Our

future is at stake," stated Hughes.

Sen. Mitch McConnell's anti-union agenda in the 113th Congress:

June 2014:

Nov. 2013:

March 2013:

Jan. 2013:

Sponsored legislation to repeal the Davis Bacon Act (S.2512)

Sponsored the National Right to Work Act (S.Amdt.2011)

Sponsored amendment to repeal the Davis Bacon Act

(S.Amdt.493 to S.ConRes8)

Cosponsored the National Right to Work Act (S.204)

12

INTERNATIONAL OPERATING ENGINEER

SUMMER 2014 13
---
Feature

Congress Uses Patch to Avert Transportation Jobs Crisis

Serious Long-Term Solution Becomes More Uncertain

FACED WITH SHUTTING DOWN THOUSANDS of

transportation related construction projects, Congress

avoided catastrophe when they temporarily patched the

looming hole in the Highway Trust Fund before adjourning

for their August recess. But in doing so, they may have made

it more difficult to achieve the type of long-term solution

necessary to repair the nation's crumbling infrastructure

properly.

The U.S. Department of Transportation (USDOT) had

projected that as many as 700,000 construction jobs could

have been lost if Congress failed to patch the hole in the

Highway Trust Fund this summer. Thousands of Operating

Engineers' jobs were on the line.

In the final days of July, Congress managed to cobble

together $11 billion in funding for the program that will allow

it to operate through May 2015. USDOT officials expected

that money for the Highway Trust Fund would run short in

early August, forcing the agency to cut back on the dollars

it reimbursed to states for projects that had already been

approved.

By extending the law until the end of May, it likely means

that a long-term solution will be even more difficult to find.

"All this does is set us up for the crisis a few months from

now," President Obama said in a speech after the House

passed the funding patch and before the Senate took up

the measure. "Congress shouldn't pat itself on the back for

averting disaster for a few months. Kicking the can down the

road a few months ... instead of barely paying our bills in the

present, we should be investing in our future."

The law that governs federal investments in highways

and transit, MAP-21 (Moving Ahead for Progress in the 21st

Century), was set to expire on October 1, only weeks before

the November 4 election. At that point, it was projected to

have an annual shortfall of roughly $15 billion a year.

Inflation has eaten away at the gas tax, which hasn't been

raised since 1993, thereby reducing the purchasing power

of the Highway Trust Fund. At the same time, the recent

recession and increased automobile fuel-efficiency has also

reduced the amount of dollars flowing into the Fund.

The IUOE lent its support to Environment and Public

[right] Local 77 President T.J. Johnson was among hundreds of

supporters at a recent "Rally for Roads" on Capitol Hill.

[photo] Jay Lederer/IUOE

14

INTERNATIONAL OPERATING ENGINEER

SUMMER 2014 15
---
Works Committee Chairman Barbara

Boxer's (D-CA) amendment to the

legislation to extend the law only until

the end of the current year, helping

to provide urgency to the Congress to

enact a long-term bill during the lameduck

session after the November 4

elections.

IUOE General President Callahan

said, "We're pleased that Congress took

the minimum step necessary to avoid a

disaster. But we can't keep limping from

crisis to crisis. It's time for Congress

to do its job and enact a long-term

transportation bill."

The highway and transit program is

the biggest infrastructure program the

federal government administers. It is a

key job-creating engine for Operating

Engineers and the American economy

overall. The Highway Trust Fund

constitutes about 52% of all funding for

the building and repair of the nation's

roads, bridges and highways.

The short-term patch, H.R. 5021,

was passed by both the House and

Senate with huge bipartisan majorities,

demonstrating that the highway and

transit program enjoys broad support

on both sides of the political aisle. But

lawmakers in both parties have failed to

show the leadership necessary to raise

user fees and provide stable funding

sources to keep the Fund solvent for the

long-term.

Our transportation network is the

foundation on which the nation's

economy functions. American

manufacturers, industries and

businesses depend on this complex

system to move people, products

and services every day of the year.

The U.S. economy requires a surface

transportation infrastructure network

that can keep pace with growing

demands. A long-term federal

commitment to prioritize and invest

in our aging infrastructure and safety

needs is essential to achieve this goal.

As the World Economic Forum noted

in its 2013-2014 Global Competitiveness

Report, infrastructure connects regions,

integrates markets and provides access

to markets and services. While its latest

report places the U.S. economy fifth in

its "Global Competitiveness Index,"

America's infrastructure network now

ranks 15th globally.

State transportation planners,

the construction industry and labor

unions have joined together in urging

Congress to enact a multi-year surface

transportation reauthorization bill this

year. Only through long-term planning

and multi-year investments in projects

will the United States once again take

the lead in transportation infrastructure.

Simply put, the American economy

is losing ground in relation to other

countries as they invest in infrastructure

at much higher rates than the United

States. Moving freight and people

efficiently and effectively through the

nation's transportation network is one

of the best indicators of a country's

global competitiveness.

General President Callahan called

on Congress to pass a long-term bill as

soon as possible. "There is nothing more

important to the domestic American

economy and the job opportunities

of Operating Engineers than a robust,

long-term transportation funding bill.

No more excuses. No more games. We

need a solution now. It doesn't get any

easier down the road."

Disaster was averted this time

through a short-term patch, but the

IUOE is committed to keeping the

pressure on Congress for a multi-year

solution.

BECAUSE ELECTIONS MATTER

Are You

Registered

to Vote?

Road improvement projects, like this one

performed by Local 612 members on

Stevens Canyon Highway in Washington

State, require long-term planning and

investment.

[photo] Local 612

Are You Sure?

Sometimes people have their names purged from the voter list by mistake and

are not informed. Sometimes county clerk's offices make clerical errors. If this

happens to you, your ability to vote this year could be compromised.

If you have any doubts, we recommend that you re-register to vote.

For more information, contact your IUOE local office or visit:

www.vote411.org

International Union of Operating Engineers, AFL-CIO

16 INTERNATIONAL OPERATING ENGINEER

SUMMER 2014 17
---
HAZMAT

Healthcare

Warming Temperatures Carry Safety Threat: Avoid Heat Illness

The Union Difference: IUOE Health & Welfare Funds

THE ARCTIC FREEZE that gripped North America this

past winter is but a memory now that we are solidly in the

"dog days of summer." It also means that heat illness weather

is upon us. Each year, thousands of workers become sick

from exposure to heat and far too many die from it.

Imagine the following scenario:

It is 85°F with relative humidity of 68%. A coworker is

climbing up on his dozer when he suddenly seems to slip and

falls backwards hitting the ground. He does not move and is

unconscious. What caused your coworker to fall? Did he slip

and fall? Did he have a heart attack or stroke? Did he have a

seizure?

With a temperature of 85°F and a relative humidity of

68% the heat index is 91.9°F which, according to the Physical

Effect to Humans chart, is at a temperature where we have to

watch for possible heat cramps and exhaustion and physical

activity could lead to heat exhaustion. Your coworker actually

suffered heat exhaustion, became dizzy and fell hitting his

head causing the unconsciousness. OSHA has a convenient

mobile app you can use to get the heat index temperature.

You can get the app for Apple or android format by going to:

https://www.osha.gov/SLTC/heatillness/heat_index/heat_

app.html.

What exactly is heat illness? Heat illnesses range from

heat rash and cramps to heat exhaustion and stroke. Heat

cramps affect workers who sweat a lot during strenuous

activity. Sweating depletes the

body's salt and moisture levels. Any

worker exposed to hot and humid

conditions is at risk of heat illness,

especially those doing heavy work

tasks or using bulky protective

clothing and equipment. Other risk

factors for heat illness include direct

sun exposure, no breeze or wind, low

liquid intake, no recent exposure to

hot workplaces (acclimatized), 65

years of age or older, overweight,

have heart disease or high blood

pressure, and those who take

medication that may be affected by

extreme heat.

Symptoms of heat cramps

include muscle cramps, pain, or

spasms in the abdomen, arms, or

legs. If you or one of your coworkers

experience heat cramps, stop all

activity, sit in a cool place, drink

water with food or sports beverages

(avoid salt tablets), and seek

medical attention if you have heart problems, are on a lowsodium

diet, or if the cramps do not subside within an hour.

Heat exhaustion is the body's response to an excessive

loss of water and salt, usually through sweating. Symptoms

of heat exhaustion include: rapid heartbeat, heavy sweating,

extreme weakness or fatigue, dizziness, nausea, vomiting,

irritability, fast and shallow breathing, and a slightly elevated

body temperature. If you or one of your coworkers experience

heat exhaustion, rest in a cool area, drink plenty of water or

other cool beverages, and take a cool shower, bath, or sponge

bath (when this is not possible place cool towels on the body

– strategic locations include the neck, armpits, and groin

area).

Heat stroke is a true medical emergency. It is a condition

that occurs when the body becomes unable to control its

temperature and can cause death or permanent disability.

Symptoms of heat stroke include: high body temperature,

confusion, loss of coordination, hot and dry skin or profuse

sweating, throbbing headache, seizures, and coma. If a

coworker experiences a heat stroke, request immediate

medical assistance, move the worker to a cool, shaded area,

remove excess clothing, and apply cool water to their body.

[continued on pg. 19]

MANY IUOE MEMBERS PARTICIPATE in their local

union health and welfare fund as a means to receive health

benefits for themselves and their families. These health and

welfare funds are not in fact insurance funds, but are a cost

effective means to purchase health benefits. As a member,

you have an important stake in your health & welfare fund

and should understand how they operate.

The health benefits provided to you by your fund are all

contingent of what is contributed into it, how well the fund

is managed, how much is paid out in benefits and, most

importantly, how well you as a member take care of yourself

and how well you effectively use the benefits provided.

Along with various IUOE pension funds, these health

and welfare funds are commonly referred to as Taft-Hartley,

multi-employer, jointly administered trust funds. Let's try

and break this down for you.

Taft and Hartley were the two legislators who wrote the

legislation that regulate these trust funds. They are multiemployer

funds because multiple employers contribute on

behalf of their employees. They are also multi-employer

because participating members may work for multiple

employers in a year or career without ever losing coverage.

They are jointly administered trusts because union and

employer trustees sit on their boards and decide how they

effectively operate.

Our health and welfare funds are funded by a set dollar

amount or contribution rate for each hour worked by a

participating member. This contribution rate is determined

by the collective bargaining agreement (CBA) negotiated

between your local union and the employers signatory to

the agreement. The CBA spells out the wages, fringe benefits

including health and welfare contributions and conditions

HAZMAT [from pg. 18]

Besides making sure workers are acclimatized to the heat,

there are a number of ways you can help protect yourself and

teach your coworkers to protect themselves including:

• Monitor your physical condition and your coworkers

for signs and symptoms of heat illnesses.

• Wear light-colored, loose-fitting, breathable clothing

such as cotton.

• Gradually build up to heavy work.

• Schedule heavy work during the coolest part of the

day.

• Take more breaks when doing heavier work, and in

with which you work.

When it comes to determining the health and welfare

contribution rate for your fund there are a lot of factors that

come into play and that is where you come into the picture.

The factors that include the various health benefits provided,

the cost of those provided benefits, health cost inflation, fund

investment income, the work picture or hours worked in your

local union area, and how you, your family and your fellow

members and their families utilize their benefits.

high heat and humidity.

• Drink water frequently. Drink enough water that you

never become thirsty. Drink often and BEFORE you

are thirsty. Drink water every 15 minutes.

• Be aware that protective clothing or personal

protective clothing equipment may increase the risk

of heat-related illnesses.

• Avoid alcohol; it is particularly dangerous while

working in a hot setting.

According to OSHA remember these three simple words:

Water, Rest, Shade. Taking these precautions can mean the

difference between life and death.

18

INTERNATIONAL OPERATING ENGINEER

SUMMER 2014 19
---
Local Spotlight

Operating Engineers Local 3 celebrates 75 Years

More than 5,500 attend 75th Anniversary event at Six Flags

Local 793 Memorial Garden Breaks Ground

A GROUNDBREAKING CEREMONY

was held June 9 for a memorial garden

and pavilion to be built at Local 793's

head office in Oakville, Ontario.

More than 150 dignitaries, union

staff, business reps and officers, safety

officials, building trades representatives,

construction employers, and family

members of four operators who've died

under such circumstances attended an

hour-long ceremony at the site.

The structure is being built on a corner

of the union's head office property to

honor members who've been killed in

construction site accidents or died as a

result of an occupational illness.

At the groundbreaking, Local 793

Business Manager and IUOE Vice

President Mike Gallagher spoke about

the significance of the garden and

pavilion to the union and also the

importance of industry partners and

health and safety agencies working

together to make construction sites

safer.

He said that too many workers are

still being killed in construction site

accidents in Ontario and it is time for

the industry to come together and

put some mettle behind its words. He

noted that 225 workers were killed in

construction site accidents in Ontario

between 2003 and 2013.

Gallagher told the audience that

the garden and pavilion will be a

fitting tribute to those who've died in

construction accidents.

Local 793 President Joe Redshaw

was emcee for the groundbreaking. He

said worker deaths occur far too often

on construction sites and are largely

ignored by the media.

Canadian News

Ontario Labour Minister Kevin

Flynn told the audience that industry

stakeholders must work together to

ensure the fatalities are stopped.

"We owe it to the families who've

come out here today to re-double our

efforts," he said, referring to family

members of deceased operators who

attended the ceremony.

The garden and pavilion were

designed by Hamilton-area artist

Patrick Bermingham. The pavilion will

consist of three outer arches and two

inner arches, creating a quiet place for

reflection for Local 793 members and

the families of those who have died.

Names of the deceased members will be

engraved on the arches. The structure

should be completed by September

2014.

Local 3 Business Manager Russ Burns

gets drenched during the dolphin show.

AT 9:30 A.M. SHARP, the gates opened on June 28 only

for Operating Engineers Local 3 members, their families and

guests at the giant Six Flags Discovery Kingdom theme park

in Vallejo, California.

Many had the mission of riding every roller coaster at

least once, while others were excited about watching the

tiger show, petting a stingray or sitting on an elephant. Some

kids wanted to get as wet as possible on the water rides (Local

3 Business Manager Russ Burns achieved this during the

dolphin show), and several retirees just wanted to stay in the

shade and visit.

No matter what the guests did or how old they were,

everyone had fun celebrating 75 years of Local 3 excellence,

which began in 1939. When families walked through the exit

gates at the end of the day, they were well-fed, well-exercised

and happy.

Besides being one of the largest construction trades locals

in the country, Local 3 is also a lot of fun. Here's to the next

75 years!

Local 3's Joe Gaidosh, far right, enjoys an elephant

ride with, from left: Matthew Cornejo, Leti Arroyo

and Peggy McCormick.

20 INTERNATIONAL OPERATING ENGINEER SUMMER 2014 21
---
IUOE Family Members Awarded

Union Plus Scholarships

Winners Honored for Achievement and Union Values

Union Plus recently awarded $150,000 in scholarships to 116

students representing 39 unions, including nine winners

representing the International Union of Operating Engineers,

in the 2014 Union Plus Scholarship Program.

"There are a lot of benefits to being a union member. Economic

security is number one, and education is the first building

block. Education sets up our kids for success, leadership and

happiness," said Leslie Tolf, president of Union Privilege, the

organization behind Union Plus benefits and the scholarship

program. "By awarding these scholarships we level the

playing field - everyone deserves an equal shot at a quality

education. We help union families feel just a little more

secure in embarking on successful lives."

Learn More About the Union Plus Scholarship Program

Union Plus Scholarship awards are granted to students

attending a two-year college, four-year college, graduate

school or a recognized technical or trade school. Since

starting the program in 1991, Union Plus has awarded more

than $3.6 million in educational funding to more than 2,400

union members, spouses and dependent children. Recipients

are selected based on academic ability, social awareness,

financial need and appreciation of labor.

Visit UnionPlus.org/Education for applications and benefit

eligibility.

Meet the 2014 IUOE Honorees

IUOE Local 15—Alanna McAuliffe

Alanna's father joined IUOE long before she was born. For 30 years, she says proudly, he has worked long hours, often overnight,

to help keep their community functioning. Alanna has taken his example of service to heart, stating that her personal

goal is always "to improve the lives of those around me who are struggling or feeling out of place." She hopes to major in

journalism and use the written word to aid others, while shaping the future.

IUOE Local 39—Kaley Sullivan

Kaley's activities while still in high school foreshadow her ultimate career

aspiration. From working at the legal information center, to doing research at

the local jail, to being a member of the Criminal Justice Student Association,

Kaley has demonstrated a strong interest in the legal system, justice and public

safety. So it is not surprising that, armed with a degree in criminal justice, she's

hoping for a career in law enforcement – one that may take her all the way to

the Federal Bureau of Investigation. "I want to be a pillar of the structure of

government," she says, "to protect it and to protect the people of our country."

IUOE Local 49—Ellie Osborne

Ellie's father has spent a quarter-century in IUOE, and his father was a union

man before him. Ellie grew up hearing plenty of lively political conversations,

and also learning about her father's tireless service as a union steward. And

while Ellie is aspiring to a career in health care, she also says she has learned

that it doesn't take a degree in medicine to make a difference in the lives of others.

Participating in the local Meals on Wheels program, for example, has been

one of her most rewarding experiences.

IUOE Local 139—Beau DeLaet

Beau is an academically gifted young man whose high test scores and class

rank attest to his abilities as well as his effort. But while Beau enjoys mental

Ellie Osborne

Beau DeLaet

IUOE Local 150—Samantha Browne

Samantha jokes that when she was growing up her father used to tell her "boys

are bad, and the union is good." In time, she's made up her own mind about boys,

but discovered that her father was right all along about unions, which have helped

protect her family through three generations. Samantha plans to major in biomedical

engineering and spend her career practicing medicine.

IUOE Local 542—Erin Maher

Basketball and softball, softball and basketball: through four years of high school,

Erin trained and played hard in two sports while representing her school as a

team captain in both. But she worked just as hard at her academics, even earning

acceptance in the National Honor Society. All the while, her family's IUOE local

has helped to protect Erin's family, and now she wants to return the favor to her

community: with a career in law

enforcement.

Peter Forte

stimulation, including participating in numerous academic bowls and quiz

competitions, he's also shown he's no stranger to hard work. He's worked on

a farm, for example, where his jobs included mixing feed for hogs, clearing

manure and milking cows. He's planning for a career that will put both his head

and his hands to the test, majoring in civil engineering.

IUOE Local 139—Emma Lorenz

Emma plans to become a registered nurse. It is a career that she believes will

allow her to serve others, improve health and support her community. Her

first meaningful experience with health care came when she was seven years

old and was diagnosed with juvenile diabetes. "Our health insurance from the

union provided a phenomenal amount of support," she says. "I owe a large debt

of gratitude for my good health to IUOE."

IUOE Local 649—

Brooke Bolliger

Brooke counts her father, two

Brooke Bolliger

uncles, two grandfathers and four

great-uncles in her family's union

legacy. "The union has enabled my family to make a living and provide me with

a life that is very blessed," she says. Brooke is celebrating her many blessings

by studying hard, giving back to her community and preparing for a career as a

nurse, which she says will be "an opportunity to touch lives."

IUOE Local 825—Peter Forte

"I have been taught that nothing you get comes easy," Peter says. He understands

that both his parents worked hard to give him the advantages he has,

and that his father's IUOE membership made a big difference by fighting for

good wages, job security and health insurance. "I believe in hard work and

giving my all," Beau says. He'll have plenty of opportunity to do that as a civil

engineer.

22

INTERNATIONAL OPERATING ENGINEER

SUMMER 2014 23
---
In Memorium Death benefits paid May-June, 2014

May 2014

Local 002

St Louis, MO

Earl Powe

Local 003

Alameda, CA

John Barbaccia

Marion Bell

Jerold Bradbury

Willard L. Center

Willard Coats

Lloyd Duncan

Malone Edwards

Robert L. Findley

John J. Fitzgerald

Charles H. Foote

Julian Frazer

Clyde E. Gann sr

Milton J. Hendricks

jr

Richard Herrmann

John Hoover

John E. Jones

Eugene Lake

Larry Lewellin

Obie Lilly

Robert J. Montgomery

Jack W. Morrison

Alvin C. Oxford

John Rhodes

Joe Rowan

William L. Sweet

Ray Walmsley

Francis Weltz

Harold White

Local 004

Medway, MA

Kenneth Benedetto

Richard L. Lovely

Alcide G. Morrell

Local 012

Pasadena, CA

Denver Grissom

Jonah Johansen

Louis Medina

Jack Murphy

Henry Pavich

Roy Plume

Thomas Redmond

Edward Riethmayer

Chester Rogers

A. Sunderland

Stewart Turnbaugh

Leon R. Vankeirsbulck

Local 014

Flushing, NY

Ivano Fariselli

Patsy A. Galante

Bernard Jenks

Local 017

Lakeview, NY

Robert F. Leyman

George Lowis jr

Local 018

Cleveland, OH

Tony Canitia

John A. Dombrowski

Larry J. Grime

Raymond Kuras

Elson A. Lepley

Harold T. Lewis

Alex W. Nims

Tommy J. Ralston

Wesley C. Ramp

John H. Rice

Charles D. Thurston

Harry Tighe

Benjamin Webster

Local 036

Leonard G. Lund

Local 037

Baltimore, MD

Robert T. Hobel

George E. Mcallister

Local 049

Minneapolis, MN

Teddy G. Erickson

Albert J. Mueller

Local 057

Providence, RI

Antonio A. Forte

Local 066

Pittsburgh, PA

Robert E. Barzanty

R .J. Buffington

Louis D. Degrandis

Jerome W. Dewalt

jr

Ray A. Mears

Brooks Walters

Local 089

Myron V. Ryan

Local 095

Pittsburgh, PA

Jack T. Talak

Local 098

East Longmeadow,

MA

Joseph Mieczkowski

Hervy J. Ostiguy

Local 101

Kansas City, MO

Ron E. Atwood

George Ducoing

Local 103

Indianapolis, IN

John Cheesman

Local 106

Glenmont, NY

Wm F. Hausler

Local 115

Burnaby, BC

Jerry Boldt

Maurice M.

Graydon

Joseph Horvath

Jack Mosterd

Kevin O'flaherty

Ervin Rolfes

Local 132

Charleston, WV

Rodney B. Judy

Local 137

Briarcliff Manor,

NY

Charles Ligotino

Local 138

Farmingdale, NY

Valentine Damm

Richard A.

Perkowski

Joseph W. Ryan

Local 139

Pewaukee, WI

Douglas A.

Dohms

Harley E. Duerst

Robert G. Elbe

Herbert F. Schaefer

Local 148

Saint Louis, MO

Henry J. Calbreath

Robert D. Galik

Charles F. Hoog

Local 150

Countryside, IL

Hal A. Braley

Melton J. Dorris

Ralph Douma jr

Don W. Fernandez

Frank H. Forbes

Martin Kelly

Oliver J. Martinez

Millard N.

Schneider

Ronald Vaccaro

Local 158

Glenmont, NY

Raymond C.

Carswell

Paul A. Cinqmars

James J. Guyett

Leo Ranalli

Hollis Vansteenburg

Local 181

Henderson, KY

Sam E. Keys

Eugene Lepard

Rex Saltsman

Local 234

Des Moines, IA

Luvern H. Stockel

Leonard Syphrit

Local 260

C .C. Jones

Local 302

Bothell, WA

Harold C. Estabrooks

Lawrence Griffin

Dallas Guilkey

Paul W. Jarrett

Robert E. Johnson

Bobby W. Jones

S .M. Wiley jr

Local 324

Bloomfield

Township, MI

John H. Blakely

Vincent J. Costa

Donald Erickson

Jerry H. Fairbrother

Violando Fiorani

Domenic Giandomenico

Gerald Groleau

Ronald L. Grove

Donald B.

Holmes

Jerome Lema

Charles F. Milliron

Melvin Prill

Kenneth Stone

Thomas H. Wolfgram

R .F. Zmudczynski

Local 347

Donald J.

Thomas

Local 370

Spokane, WA

Roger D. Hager

Local 371

Benny C. Dickson

Local 399

Chicago, IL

William L. Madden

Scott S. Stinson

Local 400

Helena, MT

Richard Oconnor

Local 407

Lake Charles, LA

Houston Fruge

Grady L. Ward

Local 478

Hamden, CT

Adrian P. Cyr

Albert Ruwet

Henry O. Weingart

Local 513

Bridgeton, MO

Victor D. Elbert

Louis Gloriod

Harry Poertner

Local 542

Fort Washington,

PA

Ronald Althouse

Robert E. Becker

Biagio Desanto

Paul Florick

Harold Holdren

Lamar E. Minnich

Vincent Pironti

Nevin Ream

Patrick Rigg

Charles Valencik

Frank J. Woroniec

Local 547

Detroit, MI

Donn L. Jackson

Paul Provencher

Local 564

Richwood, TX

Edwin J. Frazier

Local 609

Seattle, WA

Charles E. Merritt

Local 612

Tacoma, WA

Darrell A. King

Local 627

Tulsa, OK

David A. Jones

Harry L. Miller

Otto Stieber

Local 649

Peoria, IL

James A. Mcdowell

Local 660

W .H. Flippo

Local 701

Gladstone, OR

Everett Grife

Henry Watson

Local 793

Oakville, ON

Edward Bianchi

Local 825

Springfield, NJ

Francis G. Bertrand

Robert J. Davis

Anthony Fiorentino

Ernest Heinze

Daniel J. Sharp jr

Local 826

Harold D. Holland

Local 832

Rochester, NY

Harry E. Becker

Albert Franzese

Marvin I. Kadrie

Local 841

Terre Haute, IN

Billy P. Pierson

Local 912

Columbia, TN

James F. Lancaster

Local 917

Chattanooga, TN

Jimmy R. Hughes

Local 920

Pembroke, ON

Wilfrid J. Chaput

Local 950

Milwaukee, WI

Frederick W.

Kraus

Local 955

Edmonton, AB

Leonard A.

Nelson

Douglas Steffler

Local 965

Springfield, IL

Leonard A. Fishburn

Logan V. Sapp

June 2014

Local 003

Alameda, CA

Robert E. Crawford

Raymond L.

Nottnagel

Anthony Rodrigues

Arthur Tompkins

Local 004

Medway, MA

Frederick W.

Elliott

John J. Emond

Kenneth M.

Haskell

Donald R. Poussard

Local 012

Pasadena, CA

Walter Bechtold

Dean Edwards

Robert Estus

Longin Glogowski

Robert Goss

Harold Haines

Jack Herman

Jose Jimenez

Larry Kopp

Clinton J. Lathrop

jr

H. Lorenz

Frank Machado

Mickey Mcguire

Hazel Myers

Robert Reeves

Vernon Seyfried

Edwin L. Stipp

Larry West

Local 014

Flushing, NY

Joseph J.

Nogueira

Local 015

Long Island city,

NY

Harry Kupchak

Salvatore J. Licari

Local 017

Lakeview, NY

John F. Dial

Local 018

Cleveland, OH

Roger Batton

Richard G.

Kinkopf

Earl L. Mcdaniel

N .J. Ochocki

Morris Paschal

Thomas J. Rose

Nathan Wigle

Richard Wolfert

Local 030

Richmond Hill,

NY

Robert T. Vanbloom

Local 034

Reinert Ege

Local 049

Minneapolis, MN

Richard V. Olson

Kermit Olson

Local 057

Providence, RI

Edward V. Magnelli

Local 066

Pittsburgh, PA

Burnice Gollihue

Andrew Guta

Roy E. Layman

George M.

Massie

Jay F. Mccabe

Dennis E. Mccollum

Robert H. Miller

Alfred K. Sinclair

Harry Tome

Harry K. Wilson

Local 070

White Bear lake,

MN

Norman Carlson

Raymond

Klumpner

Local 077

Suitland, MD

John P. Curley

Local 087

Walter Kosmecki

Local 098

East Longmeadow,

MA

Raymond I.

Johnson

Local 099

Washington, DC

Marios Vouzikas

Local 101

Kansas City, MO

Otha J. Harper

Local 103

Indianapolis, IN

Wayne F. Solomon

Edgar O. Vanderbur

Local 106

Glenmont, NY

Donald W. Baker

Local 115

Burnaby, BC

Lorne Allan

Mauno I. Nurmi

James Winter

Local 132

Charleston, WV

Douglas D. Hunt

Ivan C. Renne

Donald B. Shamblin

Local 137

Briarcliff Manor,

NY

Zopito J. Frattarola

Daniel Giordano

Local 138

Farmingdale, NY

Frank Castellano

Chester L. Dabalsky

Warren Hart

George J. Lymber

Peter E. Zarcone

Local 139

Pewaukee, WI

Herbert F. Schaefer

Donald C. Wegner

Local 148

Saint Louis, MO

Ralph W. Baird

Curtis Fairless

William G. Shaffer

Herbert T. West

Local 150

Countryside, IL

Edward G.

Arnold

Henry Blaszyk

James Bonomo

Hal A. Braley

Clarence Burdick

Jean L. Engberg

Wilfred D. Hoggatt

Carl F. Huscher

Ernest P. Massino

Robert L. Pitz

Emil Sergo

William E. Tegtmeier

Robert M. Temske

Charles E. Zaremba

Local 158

Glenmont, NY

Kenneth W. Barry

John Fichera

Roger W. Vollmer

Local 178

Fort Worth, TX

Cecil A. Price

Local 181

Henderson, KY

Lloyd Mears

Gene W. Tarkington

Chester Vaughn

Local 302

Bothell, WA

Robert G. Hemphill

Robert L. Markee

Marvin O. Wright

Local 310

Green Bay, WI

Bruce Beiersdorf

David L. Flory

James Hooyman

Ralph Schettl

Local 317

Oak Creek, WI

William J. Collins

Local 318

Marion, IL

Jesse E. White

Local 324

Bloomfield

Township, MI

Larry Coon

Gerald L. Graham

Junior Grove

Earl C. Henzie

Robert G. Robbins

Oscar Williams

Local 326

William J. Tanner

Local 347

J .L. Atwood

M .H. Ginzel

Local 369

Cordova, TN

Johnnie W. Wilbanks

Local 370

Spokane, WA

Clyde Ashby

Local 382

Earl R. Marvel

Local 399

Chicago, IL

Allan M. Jackson

Garcia D. Kaegi

Carol L. Wood

Local 406

New Orleans, LA

Garnet H. Bolen

Local 407

Lake Charles, LA

Willie E. Burns

A .P. Stevison

Local 474

Pooler, GA

E .W. Boyles

Local 478

Hamden, CT

Paul Clogher

Adrian P. Cyr

David A. Dejohn

Orren H. Otis

Ulde E. Provost

George B. White

jr

Local 501

Los Angeles, CA

Loy R. Booher

Local 513

Bridgeton, MO

James W. Crabtree

Cecil L. Jobe

Luther Kelsey jr

Charles J. Noblitt

Paul E. Thurman

Ellis M. Wieda jr

Local 542

Fort Washington,

PA

Roy F. Alfree

Donald Henry

Local 547

Detroit, MI

Vichenty Burak

Local 589

Hobart Lapp

Local 609

Seattle, WA

William H.

Grimm

Local 701

Gladstone, OR

Everett Grife

Henry Harter

Lee Stallings

Bert W. Vanderwall

Local 825

Springfield, NJ

John J. Mitchell

Charles C.

Thompson

Local 826

William W. Jackson

Local 841

Terre Haute, IN

Harry D. Johnson

jr

Wayne E. Mccray

Local 912

Columbia, TN

Raymond Brewer

Local 950

Milwaukee, WI

Rudy Brunsch

Local 955

Edmonton, AB

Clifford Welsh

Local 965

Springfield, IL

Charles W.

Bridgewater

Delmar L. Heiter

24 INTERNATIONAL OPERATING ENGINEER SUMMER 2014 25
---
Welcome to the new

iuoe.org

International Union of Operating Engineers

1125 17 th Street, NW

Washington, DC 20036

NON PROFIT ORG

US POSTAGE

PAID

KELLY PRESS, INC.

• Newly redesigned website

• Union news

• Videos

• Job postings

• Local links

• E-magazine

Printed in the U.S.A.

Education Benefits

• Scholarships

• Mobile friendly

• Union Plus benefits

• Exclusive member content

Your union. On the web.

Union membership provides a way

for working families to increase their

opportunities and economic security.

That's why Union Plus is committed

to helping union members and their

families fund their college education.

Now we have new programs to help you

pay down your student loan debt.

Other Union plus Education Benefits

• College Counseling

• College Test Prep Discounts

• Textbook Discounts

• Union Plus Scholarship

NEW $500 Student Debt Eraser

Grants to help Union Plus Credit Card, Mortgage and

Insurance participants pay off their student loans. Apply

Now! Grants are only available for as long as funds last.

NEW $20K Student Loan Giveaway

June 1 to August 15 – enter to win up to $10,000 to pay off

your student loans. We'll put a major dent in the student

loan debt of three lucky winners. Plus, more prizes, such

as courses, consultations and books provided by The

Princeton Review!

• AT&T Wireless 15% Discount

• Computer Savings

• Budget Truck Rental Deal

• And More Savings!

UNION

120

60

240

0

300

360

180 420

ORGANIZED

LABOR

INTERNATIONAL

OF

600

OMNIA

OPERATING

DEC. 7, 1896

ENGINEERS

540

480

VINCIT

www.iuoe.org

26 INTERNATIONAL OPERATING ENGINEER

IUOE-EDUC-L07/14

For details visit UnionPlus.org/Education today!

INTERNATIONAL OPERATING ENGINEER

SUMMER 2014 27