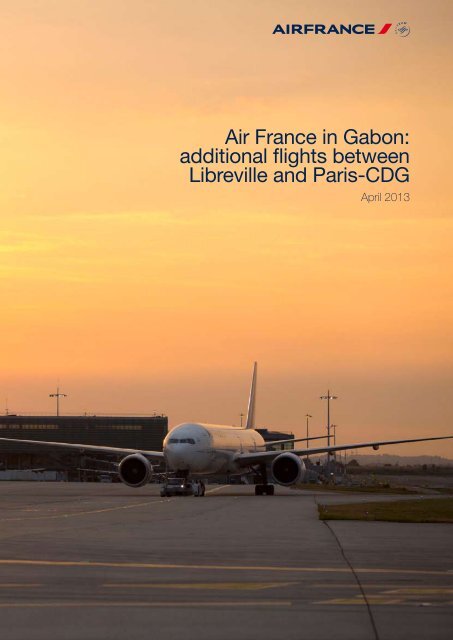 Air France in Gabon: additional flights between Libreville and Paris ...
Air France in Gabon: additional flights between Libreville and Paris ...
Air France in Gabon: additional flights between Libreville and Paris ...
SHOW MORE
SHOW LESS
You also want an ePaper? Increase the reach of your titles
YUMPU automatically turns print PDFs into web optimized ePapers that Google loves.
Air France in Gabon:

additional flights between

Libreville and Paris-CDG

April 2013

1
---
Rendez-vous à Paris

by

PARIS

7

VOLS

PAR SEMAINE

www.airfrance.ga

As À partir from du 01/04/2013. Contact Renseignez-vous Air France auprès on 01 d'Air 79 France 64 64 au for 01 more 79 64 information.

64.
---
Air France is continuing to expand its offer of flights to Africa. Since 31 March

2013, the Company has been operating a daily flight between Libreville, the

capital of Gabon, and Paris-Charles de Gaulle. In this way, the Company is

committed to supporting the economic development of the fast-growing African

continent.

• A tailor-made offer

Flights are operated by Boeing 777 (B777-200 or B777-300) offering the choice

between 4 travel classes: La Première, Business, Premium Economy, Economy.

The aircraft's capacity is adapted to demand depending on the day.

The Boeing 777-200 is equipped with 4 seats in La Première, 49 in Business, 24

in Premium Economy and 170 in Economy.

The Boeing 777-300 is equipped with 8 seats in La Première, 67 in Business, 28

in Premium Economy and 200 seats in Economy.

3
---
Casablanca 4

4/j + 7/s

Rabat 1 2/j

Marrakech 5 5/j

Algiers 2

5/j + 5/s

Tunis 3

5/j + 4/s

Cairo

AF 7 / KL 5

Nouakchott 7 AF 4

Dakar AF 7

Niamey AF 5

Bamako AF 6

N'Djamena AF 3

Conakry 7 AF 7 Ouagadougou AF 7 Abuja AF 7

Djibouti AF 3

Freetown 6 AF 2

Monrovia 6 AF 2

Bangui AF 1

Abidjan AF 10 11

Accra KL 7

Lomé AF 5

Cotonou AF 5

Lagos AF 7 / KL 7

Port Harcourt AF 7

Malabo AF 7

Libreville AF 7

Douala AF 7

Pointe Noire AF 5

Yaoundé AF 3 Entebbé KL 6

Brazzaville AF 4

Kinshasa AF 4

Luanda AF 2 / KL 2

Kigali

KL 6

Lusaka 8 KL 3

Kilimandjaro KL 7

Dar es salaam KL 7

Nairobi 9 KQ 12 / KL 7

Harare 8 KL 3

Antananarivo 10

AF 4

1

Rabat: 2 daily flights on departure from CDG

2

Algiers: 5 daily flights on departure from CDG

+ 5 weekly flights on departure from Marseille

Johannesburg

AF 7 / KL 7

3

Tunis: 4 daily flights on departure from CDG

+ 1 daily flight on departure from Marseille

+ 2 weekly flights on departure from Toulouse

+ 2 weekly flights on departure from Nice

Cape Town AF 3 12 4

Casablanca: 3 daily flights on departure from CDG

/ KL 4

+ 1 daily flight on departure from Orly

+ 3 weekly flights on departure from Marseille (from 15/07/2013 to 01/09/2013)

+ 3 weekly flights on departure from Toulouse (+1 from 15/07/2013 to 01/09/2013)

5

Marrakech: 3 weekly flights on departure from Marseille

+ 2 weekly flights on departure from Toulouse

6

Monrovia / Freetown: 2 weekly flights CDG-Monrovia-Freetown-CDG

7

Conakry / Nouakchott: 33 weekly flights CDG-Conakry + 4 weekly flights CDG-Nouakchott-Conakry

8

Harare / Lusaka: Amsterdam-Harare-Lusaka-Amsterdam

9

Nairobi: KQ 12 (Kenya Airways) = 5 from CDG + 7 from Amsterdam

10

Antananarivo: summer 2013

11

Abidjan: as from 15/04/2013

12

Cape Town: Seasonal service until 11/05/2013
---
The Air France-KLM network in Africa

Present in Africa for close to 75 years, Air France and KLM continue to

strengthen their network in this region of the world. The Group currently flies

to 42 destinations in Africa, linking the continent to the Paris-Charles de Gaulle

and Amsterdam-Schiphol hubs with a +8% increase in capacity during summer

2013.

A partnership agreement with

Kenya Airways for an enhanced

flight offering to Africa

Thanks to its joint-venture partnership with Kenya Airways, the Air France-KLM

Group can offer even more flight frequencies between Europe and Africa and is

expanding its network with 6 destinations:

- Bujumbura (Burundi),

- Kisumu (Kenya),

- Lilongwe (Malawi),

- Mombasa (Kenya),

- Addis Ababa (Ethiopia)

- Khartoum (Sudan)

5
---
Dedicated airport staff
---
Personalized services for African customers

Air France offers customers on its African routes tailor-made services as soon as they

arrive at the airport, as well as the excellence of French in-flight service.

At the airport

• Dedicated airport staff

At Paris-Charles de Gaulle, a team of experts from the African continent is present

on all flights to and from Africa, where they provide commercial assistance

to passengers, taking into account the geopolitical, commercial, regulatory and

cultural characteristics of each country.

To make passenger handling easier, Air France has multicultural teams familiar

with the specific expectations of its international customers. On a daily basis,

they welcome close to 5,000 passengers, helping them with check-in and with

their connections between flights.

• A more advantageous baggage policy to Africa

Air France offers a larger baggage allowance than on the rest of its long-haul

network, to most African destinations. Rules for checked baggage:

- La Première : 3 bags each weighing up to 32 kg

- Business: 2 bags each weighing up to 32 kg

- Premium Economy: 2 bags each weighing up to 23 kg

- Economy: 2 bags each weighing up to 23 kg

• Special services for families and young travellers

Air France offers a comprehensive range of services for close to 400,000 unaccompanied

children (UM), travelling with Air France every year.

At Paris-Charles de Gaulle, Europe's largest lounge specifically accommodates

young travellers in transit: an area spanning over 200 sq. m is equipped with Sharp

flat-screen televisions and Sony playstations for older children, manual activities

for younger children, and a wide range of games and activities to suit all ages

(babyfoot, board games, magazines, etc.). Children from the age of 2 can become

members of the Flying Blue Jeune Frequent flyer programme.

A new latest check-in time for

flights to Africa

Air France has modified the latest check-in time (latest time after which customers

can no longer check in or drop off their baggage) on flights to Africa leaving

Paris-Charles de Gaulle, up from H-60 minutes to H-90 minutes. This measure

concerns the Company's entire African network except Johannesburg and Cape

Town, and aims to achieve excellence in terms of on-time performance. The

modified latest check-in time also allows to improve baggage performance on

arrival at African stations.

7
---
Crews trained in African culture
---
The Paris-Charles de Gaulle hub:

quick and easy connections

On board

At Paris-Charles de Gaulle, Air France customers benefit from quick and easy

connecting channels in modern buildings. All international flights are grouped

together in terminal 2E (1) . Terminal 2F is exclusively dedicated to European

(Schengen) (2) flights operated by Air France and its SkyTeam alliance partner

airlines. By grouping together Air France operations to the east of the airport,

connecting circuits have been made shorter and simpler, allowing customers to

save up to 10 minutes when connecting between two flights.

• Crews trained in African culture

More than 2,500 cabin crew, belonging to Air France's Africa and Middle East

Division, are trained in international standards and the specific expectations of

customers on African routes.

• Air France-KLM staff at African stations

Around 1,000 local staff make up the Air France and KLM teams on the African

continent. They receive continuous training in international industry standards,

working on a daily basis to provide customers with the best of Air France and

KLM.

• Adapted meal service

To adapt to the early-morning arrival times of flights arriving from Africa, a new

breakfast service has been introduced in Business class and Economy class on

Air France flights.

(1) except for flights to Caracas, Bogota, Havana, Saint Martin, Cairo, Dubai and Bangkok, with

check-in at terminal 2F.

(2) from the following countries: Germany, Austria, Belgium, Denmark, Spain, Estonia,

Finland, France, Greece, Hungary, Iceland, Italy, Latvia, Lithuania, Luxembourg, Malta, Norway,

Netherlands, Poland, Portugal, Slovakia, Slovenia, Sweden, Switzerland and Czech Republic.

9
---
An in-flight service combining

comfort and prestige
---
La Première, fully-personalized exceptional service

With its La Première class, Air France has laid down the codes of an outstanding

service to meet the needs of customers sensitive to the slightest detail, designed

around the three watchwords of consideration, discretion and awareness. From

the time the passenger arrives at the airport, to the welcome they receive on

board and the monitoring of their baggage, everything possible is done to facilitate

their journey and encourage them to relax and take it easy.

The La Première cabin is now available on long-haul flights to Abidjan, Johannesburg,

Douala, Malabo, Libreville, Yaoundé, Luanda, Abuja and Port Harcourt.

At the airport:

exclusive, personalized service

At Paris-Charles de Gaulle airport, customers are totally looked after from their

arrival, when a porter takes charge of their baggage, to check-in formalities,

and then in the La Première lounge. This exclusive itinerary saves precious time,

allowing passengers to take advantage of the luxurious La Première lounge

at Paris-Charles de Gaulle. Designed by interior architect Didier Lefort, the La

Première lounge at Paris-Charles de Gaulle provides passengers with over 1,000

sq. m of space where they can dine, relax (bar, spa operated by the Biologique

Recherche brand), work or simply take the weight off their feet.

The restaurant features menus designed by Alain Ducasse and a selection of the

finest wines from the Air France cellar. To ensure stress-free, discreet boarding,

passengers are informed by lounge staff when their flight is ready to depart,

and they are then personally accompanied by car to the aircraft, boarding a few

minutes before the doors are shut. Passengers transferring to an onward flight

at Paris-Charles de Gaulle are systematically welcomed as soon as the aircraft

doors are opened, and accompanied to the La Première lounge. Air France is

the only airline to offer this service.

An in-flight service combining

comfort and prestige

On board, the passenger's seat transforms into a real 2-metre long bed, with a

duvet. The seat's positioning offers direct aisle access. The personalized service

enjoyed by La Première passengers helps to make in-flight meals a genuine

interlude of relaxed pleasure. Passengers freely choose the dishes they wish

to savour, in their own time. Air France designs its menus in the manner of a

gourmet restaurant, using Servair's culinary studio overseen by Joël Robuchon,

the chef with the most Michelin stars worldwide in 2009, accompanied by

Guy Martin, the chef of the starred Grand Véfour restaurant in Paris, and Jacques

Le Divellec*.

* On flights departing from Paris-Charles de Gaulle

At each stage, passengers are constantly pampered by Company personnel.

Consideration, discretion and awareness are the three essential qualities of

our ground staff and of the 1,500 pursers, hostesses and stewards specially

selected from Air France's 15,000-strong flight crews to satisfy the expectations

of La Première passengers.

11
---
A new lounge spanning over 3,000 sq. m

at Paris-Charles de Gaulle
---
Business, the best of French lifestyle

Air France's Business class offering is constantly evolving to match the Company's

exacting standards and all-round attentiveness, as it seeks to provide its customers

with the best of the unique French lifestyle, or art de vivre à la française. From

cabin fittings to inflight meals, the Company provides a service that combines

comfort and modernity, bringing passengers an ever more refined service. Every

six months, a new chef offers his gourmet creations on board the Business class

cabin*. Since February 2013, renowned chef Michel Roth has took over from Guy

Martin and Joël Robuchon. With these menus, the Company intends to surprise

its customers and promote its role of ambassador of fine cuisine.

* On departure from Paris

Michel Roth, a new Michelin-starred

chef in Business class

Since 1st February 2013 and for a period of eight months, on all long-haul flights

departing from Paris-Charles de Gaulle, Air France's Business class customers

can enjoy one of the exceptional dishes signed by Michel Roth, Bocuse d'Or

award winner and nominated Meilleur Ouvrier de France. Taking over from Joël

Robuchon and Guy Martin as ambassador of fine French cuisine, Michel Roth

offers six exceptional hot dishes emphasizing traditional and original cuisine in

Business class. His dishes are renewed twice a month for the pleasure of frequent

travelers.

Michel Roth's cuisine, a mixture of authenticity, simplicity and humanity, has its roots

in local French produce, where the authentic taste of French cuisine is respected.

This rigor and creativity are shared and passed on to the Servair chefs who make

the dishes created by Michel Roth for Air France passengers.

In Business class, Air France has equipped part of its fleet with a full sleep seat

offering passengers optimum travel comfort. Over 2-metres long and 61 cm wide,

the seat is one of the most spacious, comfortable beds on the market. With simpler,

more intuitive controls, and redesigned storage compartments, the seat also

features a new 16/9 video screen.

A new lounge spanning over 3,000

sq. m at Paris-Charles de Gaulle

Around the world, Air France customers travelling in Business cabin have access

to 500 Business lounges, including 50 Air France lounges, offering a wide range

of services in a calm and welcoming environment, away from the bustle of the

airport.

Air France currently offers the largest Business class lounge on its network at

Paris-Charles de Gaulle. Spanning over 3,000 sq. m and dedicated to customers'

well-being, this new lounge, designed by Noé Duchaufour-Lawrance, allows

passengers to make the most of their time prior to take-off or between flights. In

this haven of peace, an offer of hot food supplements the snacks and beverages

already provided in other Air France lounges. Wi-Fi access, touch screens and

self-service computers allow passengers to work in peace while a Clarins beauty

care and massage service tempts passengers to relax before boarding.

• On arrival at Paris-Charles de Gaulle, all of the services to start your day right

On their arrival at Paris-Charles de Gaulle, the Arrival lounge in Terminal 2C welcomes

customers from 5:00 a.m. to 2:00 p.m. Spacious shower facilities, clothes

steaming, breakfast, a work area equipped with computers, international newspapers

and magazines, a service for booking transportation to Paris: everything is

done to put the customer in the best condition to start the work day.

13
---
Premium Economy:

more comfortable way of travelling
---
Premium Economy, enhanced comfort

Available on all flights operated by Air France to Africa, the Premium Economy

cabin creates a new, more comfortable way of travelling for business or pleasure

at affordable prices in a separate cabin offering 40% more space than Economy

Class.

Air France provides a seat which reclines to 123° within a rigid shell to protect

passenger space and privacy. The 48cm-wide seat has 10cm-wide leather

armrests enabling each passenger to rest their elbows without intruding on their

neighbours. Seats are also equipped with a large, 10.4-inch (26-cm) in-seat

video screen giving access to the 600 hours of on-demand entertainment provided

on Air France long-haul services.

Economy, your essential Air France

In the Economy cabin, passengers can enjoy the essentials of Air France service

at attractive prices. The 44cm-wide seats recline to 119°, with a sliding seat pan,

adjustable headrest and footrest, a tray with rounded corners, and storage for

spectacles and drinking glasses.

The armrests fold back completely, even when the seat is in the reclining position,

making life easier for families travelling together. Seats are also equipped with a

6.4 inch in-seat video screen so that passengers can enjoy Air France's in-flight

entertainment programme to the full.

Each month, Air France adds new material to its long-haul in-flight entertainment

programme comprising films, cult TV series, news, themed channels and

music.

15
---
Servair, leading airline caterer in Africa
---
Servair, leading airline caterer in Africa

Servair, an Air France subsidiary and leading airline caterer, is particularly present

on the African continent.

Servair in Gabon

At the Léon Mba airport in Libreville, Servair Gabon has been offering a wide

range of catering services since 1989. It manages the entire range of culinary

and logistics skills to meet highly-diversified expectations: cleaning services,

VIP lounge management, installation of duty-free boutiques, gastronomic meal

service for company events, etc.

Servair Gabon combines all the benefits of cutting-edge logistics systems in

terms of reactivity, production and routing capacities: from preparing the order

through to delivery, the Servair Gabon teams are committed to guaranteeing

a high-quality service, while strictly complying with food safety and hygiene

standards.

Synonymous with culinary excellence worldwide, Servair Gabon permanently

innovates in order to create new recipes and new flavours. The company uses

fresh, local produce in the preparation of diverse dishes, combining traditionallyinspired

recipes with innovative flavours.

Each Servair centre offers the service quality of a local partner and promotes

the local economy. The company is currently a member of the AFRAA (African

Airlines Association), in charge of ensuring efficient cooperation between airlines

and working towards the economic and social integration of African countries.

Present in 16 airports on the continent, Servair employs a workforce of some

2,500 people in Africa.

17
---
SkyPriority: exclusive advantages

from check-in to baggage delivery
---
SkyPriority: exclusive advantages

from check-in to baggage delivery

At SkyTeam level, SkyPriority delivers the most exclusive benefits offered by

the Alliance's 19 member airlines to ensure the smoothest possible experience

for passengers travelling in La Première, Business, Premium Economy class

as well as SkyTeam Elite Plus members. The instantly-recognizable SkyPriority

logo is printed on boarding cards and features on all airport signage. The free

service offers eligible passengers priority at check-in, faster, privileged access to

security checks and customs formalities, plus priority boarding*. Moreover, when

disembarking, customers are among the first to leave the plane and benefit from

priority baggage delivery on arrival.

SkyTeam is the first airline alliance to offer Premium passengers a series of

priority ground services. SkyPriority is currently available at over 1,000 airports

worldwide

SkyTeam Go Africa

In 2012, the SkyTeam alliance launched the Go Africa pass enabling customers

to save money while enjoying greater flexibility on flights operated in Africa by

Kenya Airways.

Customers who have purchased a Go Africa pass can use between 3 and 16

flight coupons. Fares are calculated on the basis of the number of miles flown

without stop-overs, offering reductions of up to 75% on classic fares depending

on the itinerary. Passengers benefit from fully flexible travel dates. They can begin

and end their trip in the country of their choice, no minimum duration of stay is

required and the maximum duration corresponds to the intercontinental ticket's

expiry date.

SkyTeam Go Africa is available for people travelling on business or for leisure on

one of the 19 SkyTeam member airlines, as part of an intercontinental round trip

to Africa or a Go round the World ticket.

* At all airports where local infrastructure and legislation allow

19
---
Flying Blue Petroleum: Europe's leading frequent

flyer programme for oil and gas industry destinations
---
Flying Blue, the leading frequent flyer programme

Flying Blue, Europe's leading frequent flyer programme with 21 million members,

groups together 31 airline and over 100 non-airline partners. The more frequently

its members travel, the more their loyalty is rewarded. customers can access a

whole raft of services specially designed to make travelling more enjoyable.

On the www.airfrance.fr and www.klm.com websites, members are free to

consult their account, directly order their award tickets or request mile updates.

On the www.flyingblue.com website, members can easily book promotional

award tickets exclusively available online: Promo Awards @ . Members can also

consult the many ways to earn and spend their miles as well as an exhaustive

list of all the programme's partner offers in "Flying Blue Store". New members

have access to a clear presentation of Flying Blue with a detailed description

of the different benefits that come with each status, together with videos and

tutorials.

Flying Blue Petroleum

Flying Blue Petroleum is Europe's leading frequent flyer programme for oil and

gas industry destinations. The programme gives its 60,000 members in its 95 oil

and gas industry destinations access to a range of exclusive benefits that come

with being a member of a private club.

Flying Blue Club Africa

Flying Blue Club Africa is a community site for FlyingBlue members working with

or on the African continent, and who wish to exchange information with their

peers or obtain advice and contacts related to their business in Africa.

21
---
Stay connected with Air France's mobile

websites and apps
---
The latest technologies serving our customers

AF Connect,

an exclusive, free service

When booking their flight, customers benefit from «AF Connect,» an exclusive,

free service, with no registration or subscription, which proactively informs customers

of any changes and irregularities during their trip.

With the cell phone number and e-mail address provided by the customer when

purchasing their trip, Air France will inform and propose an alternative, from

14 days before departure, either by telephone, text message or e-mail, of any

delay or flight cancellation, a change in gate or after takeoff, delayed baggage

delivery.

To be personally notified, each customer must ensure that Air France has a sure

way of contacting them by providing contact details (phone, mobile or email) that

they will be using during their trip. This information can be provided at time of

booking, either via a call center, an Air France ticket office, a travel agency, on a

website or via the «Manage your reservations» section on www.airfrance.fr.

Apps and mobile websites

Air France offers its customers equipped with a smartphone many free apps and

a mobile website (http://mobile.airfrance.com) which, among other things, enables

them to buy a ticket and manage their reservation directly from their mobile.

The «my account» section means all customers can fill in and save personal data

in order to make reservations, check in or make changes in just a few clicks.

With this service, they can also check in from 30 hours before the latest check-in

time and receive their boarding pass by e-mail or on their mobile phone.

On iPhone and Android, Air France has launched two new applications for free

download: «Meilleures offres by Air France» on iPhone, and the new «Air France»

app on iPad. With great visuals to inspire a desire for travel, easy navigation and

direct access to the best fares to prepare for their trip, customers can fly away

at the best price and enjoy Air France's destination guide.

Before and after your trip,

find Air France on Facebook

and Twitter

In Africa, Air France and KLM have increased direct contact with their customers

on Facebook and Twitter.

Air France and KLM's Facebook pages have close to 4.5 million fans, with more

than 150,000 African fans on the Air France page. Both airlines feed their respective

walls daily with information about their products and services, contests

and dedicated special offers for fans.

On Twitter, Air France has nearly 300,000 followers. The airline responds directly

to passengers to create better links with its customers on its @AirFrance account,

as well as on accounts dedicated to current news in some African countries

(Morocco @AirfranceMA, Tunisia @AirfranceTN, Nigeria @AirfranceNIG, Côte

d'Ivoire @AirfranceCI and Algeria @AirfranceDZ).

On Facebook and Twitter, Air France and KLM offers assistance to passengers

24/7, in 5 languages.

23
---
The Air France Foundation:

20 years of service to children

© association PADEM
---
The Air France Foundation:

20 years of service to children

Since its launch in 1992, the Air France Corporate Foundation has been supporting

projects for children and young people who are sick, disabled or in great

difficulty, in France and other countries where the airline is present.

• The Foundation in Gabon, a partner of the French Red Cross

The Air France Foundation has been supporting and subsidizing the French Red

Cross since 2011 as part of a prevention campaign for HIV-positive mothers.

This project provides food for pregnant women living with HIV. They are taken

care of at ten treatment centers in Gabon and informed about breastfeeding

protection, which aims to contribute to reducing the mortality rate of infants born

to carrier mothers.

The program also aims to improve the proper monitoring of antiretroviral treatment

of infected pregnant women, through the distribution of monthly food

vouchers and incentives for protected breastfeeding.

25
---
Air France offers a daily flight between

Paris-Charles de Gaulle and Libreville
---
Air France in Gabon

On 7 October 1933, Air France was born from the merger of five French airlines:

Air Union, Air Orient, Société Générale de Transport Aérien (SGTA), the CIDNA

and Aéropostale. It is one of the few airlines to have been created before the

Second World War.

• March 1937: launch of the first services by Aéromaritime between Dakar and

Cotonou. There were several stopovers to transport mail and cargo, including

Port Gentil. In Dakar, the connection was operated by Air France to South America,

Morocco and France.

• After the war, Air France services resumed with a Dakar - Baloma - Conakry

- Robertsfield - Abidjan - Accra - Lome - Cotonou - Lagos - Douala - Libreville

- Port Gentil - Pointe Noire - Brazzaville route, operated by Lockheed Lodestar,

Junkers JU 52 and DC-3.

• 1952: an Air France ticket office was opened in Libreville. Air France started

operating services to this city on the Paris-Algiers-Kano-Douala-Libreville-Brazzaville

route, operated by Constellation.

• 22 October 1958: Air France launched its first nonstop Paris – Port Gentil flight,

which continued on to Libreville and Brazzaville.

• 1977: Air France and Air Gabon launch a joint Paris- Libreville service with

stopovers in Nice, Geneva and Rome, with four weekly flights by Air Gabon

Boeing 747 «combi».

• 1981: U.T.A. and the Angolan airline TAAG launched a weekly Paris-Libreville-

Luanda service, operated by UTA's DC.10-30 or by TAAG's Boeing 707.

• 1983: three U.T.A. flights served the capital of Gabon by DC-10 or 747: Paris-Marseille-Libreville,

Paris-Lagos-Libreville and a nonstop flight from Paris to

Libreville.

• 1 January 1992: Air France took over the lease management of U.T.A. and

started operating the Paris-Libreville-Johannesburg and Paris-Lagos-Libreville

routes by Boeing 747. Port-Gentil was served from Libreville by Air Gabon, as a

connection with Air France's Paris-Libreville route.

• 1995: Air France served Libreville with three weekly nonstop flights, by Boeing

747 and Airbus A310.

• 1998: Air France operated three weekly Paris-Libreville flights by A310-300,

the fourth being operated by A340-300.

• 2005: Air France started operating the Boeing 777-200 on its Paris-Charles de

Gaulle – Libreville route, with four weekly flights.

• 2010: five weekly frequencies to Libreville.

• 2013: Air France offers daily flights between Paris-Charles de Gaulle and

Libreville

27
---
Air France Press Office - April 2013

http://corporate.airfrance.com/en - @AFnewsroom