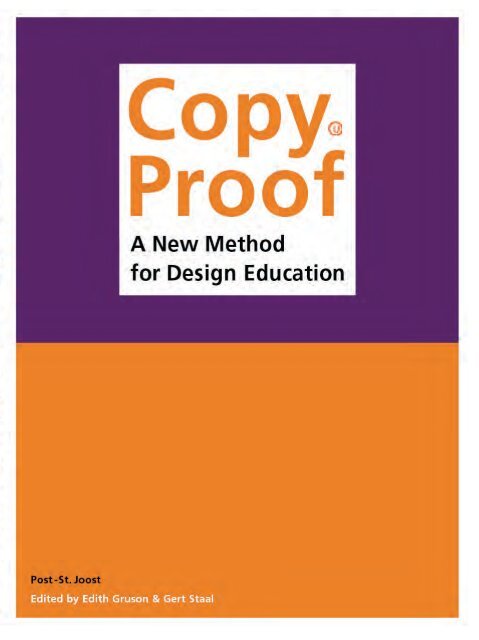 Copyproof, a new method for design education. Edited by Edith Gruson and Gert Staal
Copy Proof documents an innovative educational curriculum. For the last five years, Post-St. Joost, the graduate programme in graphic design at St. Joost Academy in Breda (NL), has worked to formulate strategies to resolve the 'unteachability' of design. The book presents the theory and the practice of a new kind of designing, geared to the demands of rapidly changing technology, new patterns in the exchange and communication of information and the changing needs of society. Designers are in the process of liberating themselves from specific objects, styles and media, focusing instead on the design method itself, on the design and creation of models.
Copy Proof documents an innovative educational curriculum. For the last five years, Post-St. Joost, the graduate programme in graphic design at St. Joost Academy in Breda (NL), has worked to formulate strategies to resolve the 'unteachability' of design. The book presents the theory and the practice of a new kind of designing, geared to the demands of rapidly changing technology, new patterns in the exchange and communication of information and the changing needs of society. Designers are in the process of liberating themselves from specific objects, styles and media, focusing instead on the design method itself, on the design and creation of models.
SHOW MORE
SHOW LESS
Create successful ePaper yourself
Turn your PDF publications into a flip-book with our unique Google optimized e-Paper software.
U

COPY PROOF

A New Method for

Design and Education

Post st. Joost

Edited by

Edith Gruson & Gert staal

010 Publishers, Rotterdam 2000
---
U

COPY PROOF

A New Method for

Design and Education

contents

Graphic Design

as Visual Rhetoric

4 Principles for

Design Education

huGuEs c. boEkRAAD

A New Method for

Design and Education

17 Introduction

GERt stAAl

3 thEMEs

oPPosItIoNs

IDENtItIEs

20 theme I

22 Forensic self Portrait

28 & Imaginary Portrait

35 three squares

96 the Murder of the Word

h.J.A. hoFlAND

Journalism

99 MARIJN VAN VIlstEREN

& Rethorics

110 stEFFEN MAAs

176 the Power of the cliché

MARtIN REINts

story

180 PAulINE hooGWEG

& collectivity

192 GERARD Fox

PublIc sPhERE

AND uRbAN sPAcE

40 theme II

42 Visual Essay on complexity

in Reading Design

GERARD hADDERs

122 Index and Meaning

A.J.A. VAN zoEst

Index

127 MINkE thEMANs

& Meaning

138 sANDRA ooM

204 A Walk through the city

PAulINE tERREEhoRst

Normality

208 AlExANDRA lANG

& legibility

220 FlooR houbEN

PRoPosAl AND

couNtER-PRoPosAl

52 theme III

54 Visual Essay

85 Poetry in urban spaces

148 the sleepwalker

DIRk VAN WEElDEN

Poetry

153 bARbARA DIJkhuIs

& Product

164 JANJAAP RIJPkEMA
---
U

COPY PROOF

Graphic Design

as Visual Rhetoric

Principles for

Design Education

way of an optimal process. In

the eyes of this genre of design

e r s ,

a theory is not only superfluous

but even harmful.

huGuEs c. boEkRAAD

Rather than seeking a foundation

in theory, design training

clings to dominant styles or

schools of design. This education

then imparts the knowledge,

the procedures, the skills and the attitudes of the selected example,

so that students learn to design in the style of such a school. (This

is one of the reasons why modernism has become a style.) Imitating

a style or a design method would hardly seem to qualify as an ideal

preparation for professional designing, and it is in fact a contradiction

of what designing essentially is.

Another way of getting out of the theoretical discomfiture is rather

more complicated. Designing is localized in the margins of other,

more stable practices. Designing now becomes defined as a melange

of art, science and technology. This was the solution to the impasse

opted for by the twentieth century's most famous schools of design,

the Bauhaus in Weimar, Dessau and Berlin (1919-1933), the New

Bauhaus in Chicago (1937-1955) and the Hochschule für Gestaltung

in Ulm (1953-1968). All three saw the fusion of art, technology and

science as the core of design and of design education. The problem of

this solution is indeed that design is defined in terms of disciplines

whose foundations are essentially different from those of design.

Why is there no General theory of Design? What makes it so

difficult to get a grip on the various design disciplines? There are

several factors we can point to. In the first place are the historic

origins of the profession in the crafts and trades. Designing at that

point concerned material objects that were designed and produced

by the same person. Designing something and making it were

mutual extensions of one another, and for this reason did not have

to be conceptually distinct. Since then, industrial production has

certainly put an end to this fusion of design and production that

once characterized the craftsman's production methods. Products

are now manufactured in the framework of a technological and economic

system in which design itself has become a specialized activity.

This specialization is expressed in the realization of a proto type

or model. The model is indeed often made with traditional craftsman's

techniques, so that its designer might still picture himself as

designer and maker, without really differentiating the two.

4 COPY PROOF
---
the Impossibility of teaching Design Design education has never

stood on very solid ground, but today it seems to

be floating on particularly precarious shifting sands. There are

designers employed as teachers who even feel that teaching

design is in principle an impossibility, because the field of

design moves too quickly and develops in so many directions at

once. Such an appeal to the rapid tempo of innovation in design, is

not however, a convincing argument. A comparison with other fastdeveloping

disciplines – consider information technology or biotechnology

– makes this immediately clear. The source of the very

real dilemma in design education lies elsewhere. What is missing is

a more or less consistent theory about what design actually is.

Equally, for those actively practicing in the many professional areas

that the term 'design' entails, it is in fact unclear what this term

exactly means.

Design is a heuristic technique. Heuristic techniques are familiar

to science, but the overlap does not make design a scientific discipline.

Design, for example, has no isolated object for research.

Design is a project, not an object. The lawyer, the economist, the

sociologist, all research the world in its respective legal, economic

or sociological aspects. But under which aspect does the designer

investigate the world? Is the artificiality of the world his object?

This view, put forward by Herbert Simon, is defensible, but it does

make the designer's domain an unnavigable one, and does not make

its invention a science.

Designing is moreover not a craft, which would be defined as

a capability in terms of fixed, prescribed tasks, materials and forms.

Although the elements and skills of craftsmanship are part of design,

design is without its fixed, prescribed elements. Design, after all,

involves the application of new materials, thinking up new forms

and carrying out new types of tasks.

Finally, designing is not one of the autonomous fine arts. It cannot

be reduced to aesthetics, and the impulse for a design comes from

an outside source, from the client. Designing is a social activity.

The problem of teaching design is consequently in part created by

the inability to define the activity of designing, and from the hybrid

definitions on which designers and design educators rely. Where

there is no design theory at hand, it should not be surprising that

there is no consistent design pedagogy.

There are means, some more elegant than others, by which the

desig ner delivers himself from this impasse. The most common is

an anti-intellectual approach: the question of what design is, is not

relevant for the designer. Designing is an ability, a savoir faire. It is

very possible to make something without first asking yourself what

that 'making' is. Worse, asking yourself what it is even gets in the

COPY PROOF 5
---
Finally, in what context is such a theory to be developed? Design

practice, design education, design criticism and academic research

into design are the obvious and appropriate places, but we have to

conclude that for differing reasons, they have as yet produced insufficient

results.

Graphic Design as symbolic and Visual communication: successive

Paradigms We will limit ourselves here to one of the design

categories distinguished by Buchanan: symbolic and visual communication.

To identify the specific theoretical problems here, and the

par a digms that have developed over the course of time, we first provide

a brief outline of what it entails. The general title under which

the symbolic and visual designer operates is that of graphic designer.

The term dates back to the time when professional communications

took place via the products of graphics technology and the printing

industry. The profession of graphic designer arose as part of the

activities of printing and publishing houses, in the context of providing

different printed forms and typography. The first definition of

graphic design was putting text into typographic form. The graphic

designer's medium was the book.

In the second half of the nineteenth century, graphic design was

redefined, and in two opposing forms. The first acclaimed technological

innovation, with the invention of colour lithography.

On returning to Paris from London 1866, Jules Chéret (1836-1932)

produced an extensive oeuvre of graphic work, colour lithograph

posters printed separately for each colour and in multiple editions,

which were simultaneously distributed throughout the urban environment.

Chéret, in effect the inventor of a new form of communication,

saw himself as a graphic artist. Eventually, around 1900, he

was recognized as such in the art world. The text in his work was

integrated into a visual image.

The second redefinition in fact resisted innovations in graphics

technology. The Arts and Crafts Movement returned to the traditional

techniques of manufacturing books, also employing them for

such products as wallpaper, tapestries, and so on. As had Chéret,

William Morris (1834-1896) brought text into the framework of an

expressive and/or decorative design. In this case, graphic design was

now a form of monumental art or craft. Text was decorated.

Modernism, in its own turn, rejected both the anti-technological

standpoints of the Arts and Crafts Movement and the expressive

dimension of the functional arts. In late modernism, finally, graphic

design was perceived as an ordering of information. Text had by

now become encoded in a typographic grid system. In short, this

system typography amounted to standardizing the application of

6 COPY PROOF
---
He would, however, be denying the fact that the invention and construction

of that model is taking place within a system of different

disciplines, all of which help determine the outer appearance of the

product. When the designer wants to be aware of his own personal

contribution to the invention of that model, as well as of the external

influences on his design, he will have to be capable of some

degree of theoretical reflection.

Secondly, in the latter half of the nineteenth century, as a number of

design proto-professions were developing, their practitioners were

recruited from the ranks of architects and artists. Their self-image,

their professional principles, as well as the concepts, terminology and

notions that they used in their professional discourse, functioned as

a screen, obscuring the design process itself. The designer's initial,

uncertain status resulted in his preferring to define himself in

terms of established artistic practices. Design was unjustly seen as

industrial art, functional art or applied art.

The third factor that presents an obstacle to design theory is that

design has long since ceased to concern exclusively material objects.

Richard Buchanan distinguishes four categories of design: the design

of symbolic and visual communication, the design of material objects,

the design of activities and services, and the design of complex

systems or environments for domestic life, work, play or learning.

These distinct design activities certainly do not always result in

material objects, but they do always result in models. Buchanan's

divisions in types of design moreover make it clear how complex

even the design of material objects has become. Influenced by the

communications paradigm that, since World War II, has fundamentally

changed both the individual and the image of society in the

West, producers and consumers have continually gained more

insight into the communicative dimension, including that of objects.

It is expected of the designer that he or she be capable of applying

rhetorical and semantic knowledge, aimed at the communicative

context in which the design is to be used or experienced. But not

only that. The designer must moreover be aware that the communicative

context of his or her design will subsequently function in the

frame work of larger systems, cycles and environments. The boundaries

dividing the diverse design disciplines are becoming indist

i n c t ,

not simply because they are all making use of the same tool – the

computer – as some people claim, but because the social systems in

and for which designs are made are forcing the integration of the

competencies of previously different disciplines. This is the fourth

factor that stands in the way of a theory of design.

COPY PROOF 7
---
Method as a Principle for Design Education Surveying the design

field in general, and graphic design in particular, there are three

approaches that present themselves for a pedagogy of graphic design.

Open the academy doors wide, permitting entry for current practice.

In doing so, however, keep in mind that practices are very diverse

and for that reason cannot in themselves provide a didactic model

or a co he rent curriculum. Which designers should be invited to

teach and why?

Make the programme less teacher-dependent and streamline it by

means of modules. Transform the teacher into a coach and encourage

students to work independently according to the learning-to-learn

model. In practice, we see that this model is enjoying increasing

attention, in particular from the management of educational institutions

and from the government bodies that support them.

Create the time and the space for reflection on the profession, and

particularly on theory. What are the social foundations supporting

the various design practices, and if such a social foundation exists,

can it serve as the basis for a professional pedagogy? What are the

relevant disciplines in the social and cultural sciences that can help

the practising designer? Here too, we already see that the first steps

are being taken out in the field. Theoretical interest is on the rise,

in design journals and seminars as well as in workshops for professional

designers. Since the 1980s, semiotics, the history of graphic

design, philosophy and communications theory have all won themselves

a place in design education.

These strategies to resolve the 'unteachability' of design nonetheless

still bypass the core of the problem. There is still the need for an elementary

consensus concerning the nature of communicative design

under the new cultural and technological conditions. From there, a

con sensus should directly follow on the methods by which a future

designer achieves competence. Learning design methods and acquiring

the capacity to vary these methods and allow them to evolve,

is at the heart of design education. Education in design must therefore

liberate itself from specific objects, styles and media. In their

place, the focus should be on the design method itself, which as

we have seen, consists of the design and creation of models. How

do we now arrive at a model for communications? In order to do

this, the designer requires knowledge and skills in generating,

applying and manipulating signs, images and symbols. But most of

all, his or her heuristic techniques must be developed, methods of

inventing form. Insight into and controlled variation of the design

process frees the designer, on the one hand, from a rigid, schematic

approach, and on the other, from the uncontrollability of, the impul-

8 COPY PROOF
---
graphics variables. For as far as there was a theory behind it, this

was borrowed from communications theory and focussed on the

sign, not on the image. Representation was stripped of its political

and social implications and reduced to information. Diverse design

questions were dealt with according to a single method, one which

did not derive from the given theme or the particular commissioned

task. The aesthetic side of the design, its atmosphere and beauty,

were covertly taken into account, but officially, they were taboo.

Finally, communicative design was equally defrauded of its rhetorical

dimension. The reader or observer did not need to be convinced

of anything or emotionally affected, but merely informed.

Towards the end of the 1970s, late modernism had expended itself.

Not only its language of form was under debate, but so was its

methodology. While the late modernists adhered to a definition of

design as problem-solving and as an organization of information,

since the 1980s, design has primarily been seen as fun, as the creation

of a pleasing visual environment. This change of paradigm was

introduced by alterations in communications strategies, which

were in turn brought on by social and technological changes. Late

modernism took for granted a universal and rational recipient for

its message. In postmodernism, there is no longer any place for

such an assumption. Communications target groups are divided

into niches and segments, their differences articulated in terms of

age, class, gender or ethnic group. Graphic design is increasingly

involved in market-oriented activities.

The introduction of the computer, which – since the 1980s – has

had a direct influence on changing the symbolic and visual communications

paradigm, brought with it acute problems for design education.

Many teachers lacked expertise in the new information

technology and suddenly found themselves virtually incompetent,

at least as long as we assume that teachers train students in the

design tasks of tomorrow, not those of yesterday. Add to this the

fact that the computer is not only a completely different design

medium – moving images and sound were not part of the traditional

graphic designer's tool kit – but it has moreover created an entirely

new communications environment. Meanwhile, about 15% of produc

tion in Dutch graphic design studios is for the new media. Even

more significant a factor is the rapid pace at which new studios,

with designers fresh out of school, are specializing in the new fields.

To date, young teachers who do have command of the required

expertise often miss the reflexive distance required, for example, to

set quality criteria and to formulate an aesthetic.

COPY PROOF 9
---
designs.

We can now schematically represent the design process with two

intersecting axes. The horizontal axis represents the activities of

inventing images and designing forms. This is the aesthetic axis.

The vertical axis represents the medium that communicates between

the client and the public. It is the strategic communications axis.

Client

Text

Image

Public

It has proven to be difficult to deal with both aspects in a single

integrated theory. There is also something about design practice itself

that resists this, ensconced in the designer's desire to maintain his

own autonomy in relation to his client. The aesthetic axis then

represents the domain of his artistic freedom. The communications

axis is seen as that of external determinants – a restriction of his

freedom of action. The fact that design education is over whelmingly

incorporated into art schools and academies has largely contributed

to autonomy being perceived as the key to the self-image of future

designers and to the ideology of their education. Design hereby

becomes a specific variant of the fine arts. In the first four years of

design school, communications is an isolated context which in

almost all cases is summarily pushed out of the way. In student

assignments – except for some classes in theory, design education

consists almost exclusively of problem-solving exercises – the

entire emphasis falls on the relationship between the form and

what it means, which is to say, the translation of text into image.

Practical, professional experience is dealt with in the form of an

external practice apprenticeship (internship). Consequently, the

communicative realities of the design process are projected outside

of the academy.

To return to the problem of combining both axes, Richard Buchanan,

Gui Bonsiepe, Robin Kinross and Hanno Ehses have all spoken of

graphic design as a form of visual rhetoric. But as far as I know, they

have not yet adopted this visual rhetoric as a matrix for setting up a

new type of exercise or assignment in design education. For them,

rhetoric is purely an element of the theory of design. Since 1995,

one thing that has specifically characterized a graduate education

in design at the St. Joost Academy in Breda is the mutual integration

of theory and practical exercises. During the first four years

of the Post-St. Joost programme, designer Gerard Hadders, Edith

10 COPY PROOF
---
sive, one-of-a-kind discovery he is incapable of repeating. This process

is not a solo activity of the designer sequestered off in his studio.

The designer operates under procedural, technological, organizational

and financial conditions. At a variety of crucial points in this

design process, there is interaction with the client. How does the

designer interpret that client's strategic objectives and ideas? How

does he or she put them into his or her own ideas, words and images?

And how does he present his ideas and forms?

An adequate design method is the only thing that offers an escape

from this labyrinth of possibilities and choices. Finding that escape

cannot be learned in a learning-to-learn didactic, nor by raiding

information from the internet or by discussions with other students.

The primary requirement is a reflection on method, as well as a willingness

to be receptive to a reorientation to design. Current education

in design puts too much emphasis on results and too little on the

method of achieving them. This method must be based on a model

– however schematic – of professional communications practice.

the two Axes of communicative Design To examine professional

communications, the practice of graphic design is a complex combination

of two types of activities, the one communicative and the

other aesthetic. The aesthetic activity of the graphic designer is

comprised of giving form to the text provided by the client. He

re arranges a text into an image. A writer's copy is translated by the

book typographer into page form, the appearance of a text. In posters

or billboards, text and image are mutually integrated, and in the

magazine, the same thing happens in a sequence of spreads. This

translation is not a slavish translation, but a creative interpretation

that plays on both the visual registers and the textual registers at the

same time, with the standard or quality of the designer primarily

being judged on aesthetic criteria.

At the same time, the designer takes on an entirely different activity.

What he is designing is a medium for communication between his

client and that client's public. The selection of the target group and

the tone and means with which that group is spoken to depends on

the client, who wants to realize a communications strategy by means

of the design. The most important criteria used by the client to judge

the design is its effectiveness.

These two activities certainly intersect. Each influences the other

and determines the conditions for the other. The style that the

designer chooses is directly related to the means with which the client

wishes to reach his public. I have previously described this as

follows: The way the client perceives and defines his public determines

the means which the designer will use to shape the text he

COPY PROOF 11
---
Rhetoric is at this point no longer perceived as the art of speech, but

as a strategic simulation, and the return of the rhetoric of spoken

text in the medium of reproduced text. Graphic design, just as

classical rhetoric, is about reducing or eliminating the distance

between the sender of the text and the recipient. Design is thereby

a rhetorical practice of the second degree, an ability, a savoir faire

indeed, but also a theory of that ability, as is classical rhetoric.

The teaching of rhetoric comprises five central elements that are

also central elements of visual communications. These elements

are the inventio, the disposito, the elocutio, the memoria and the

actio. In graphic design, the retention and declamation of the text

are replaced by mechanical or electronic reproduction. The inventio,

disposito and elocutio remain in full force as part of the designer's

package of tasks.

The inventio is the thinking up of an idea or ideas that one wishes

to spotlight. In this context, relevant material is selected that will

illustrate the subject and reinforce the concept or statement.

The dispositio is the composition of the arguments. These must be

arranged into an effective whole. The elocutio concerns the verb a-

lization of the thought, the packaging or adorning of the arguments

conceived. This is the stylistic refinement of the argument. It must

be coordinated to suit the threshold of public expectation, but at the

same time seduce and surprise that public. The arguments must be

understandable and clear, visualized and verbalized correctly and

effectively, and presented with a decorum appropriate to the circumstances.

Hanno Ehses succumbs to the trap of aesthetic reduction

of the design process by suggesting that it is primarily the elocution

– stylistic skill – that is most important to the designer. In contrast,

I would propose that (visual) communications is a more or less creative

manipulation of commonalities – whether out of date or otherwise.

The topica, therefore – the doctrine of commonplace – is at

least as essential to any designer who knows that effective communication

depends on that tiny twist applied to the familiar cliché.

The idea of graphic design as a rhetorical practice also makes it

possible to rethink the different paradigms of the history of design.

Looking first at the inventio, classic book typography made use of

the compositional codes of previous generations of printers and

typographers, albeit that the arrangement of text went hand in hand

with additional ornamentation. Inventing form used to be limited

to thinking up rules for standardization. In the post modern context,

in contrast, this orderly arrangement is not infrequently overrun

by illustrative elements in which invention has free rein, creating

style that can be all but impossible to follow. Stylistic complexity

and an excessive desire for decoration are characteristic of

12 COPY PROOF
---
Gruson, and myself (familiar with design practice not as a designer,

but as the client) have not only designed exercises together, but

have also collaborated in guiding and evaluating their progress.

In 1996, we introduced the visual essay as a design method, with

the visual rhetoric as leitmotif.

Visual Rhetoric Perhaps it would not be superfluous to indicate

here what rhetoric actually is. In everyday speech, the words 'rhetoric'

and 'rhetorical' are often used in a pejorative sense, usually

implying a demagogic use of language meant to manipulate others,

to disguise the real feelings or meaning of the speaker and/or distort

reality. Rhetorical language consequently lies close to untruth and

misleading. In the worst case, it is about lies. In all cases, it concerns

interests and speaking from the perspective of those interests.

Rhetoric, as a consequence, is the opposite of clear, transparent

communication, which is supposed to be free of interests and limited

solely to facts and data.

An entirely different history of rhetoric contrasts with this common

perception, as does a true renaissance of rhetoric that has been taking

place since the 1970s. Rhetoric is the art of speaking and writing well

on any and all matters that fall outside pure science or technique. In

short, rhetoric is the vehicle of practical reasoning, or to quote the

18th-century Neapolitan cultural theorist, Giovanni Battista Vico,

'What is eloquence if not wisdom expressed in an elegant manner,

richly flowered and in accordance with healthy reasoning?'

Rhetoric is one of the liberal arts, which is to say, an art that must

be mastered by the free man. As opposed to science, which tries to

formulate true statements, rhetoric is available to formulate probable

statements about matters of human concern. For centuries, rhetoric

has taught the elite of the nations of Europe to speak in public,

whether it be from the pulpit, the university podium, in the

courtroom, in political meetings from the speaker's chair or the

public tribune. Rhetoric was the vehicle of public opinion. Here

lies a connec tion with graphic design that indeed cannot be dismissed

from the public sphere as it developed after the seventeenth century.

At the end of the nineteenth century, rhetoric was removed as

a sub ject in secondary education, to be replaced by verbal

comprehen sion or text interpretation. For the proponents of radical,

mass democracy, rhetoric had become associated with the exercise

of power by the old elite, and was consequently condemned. The

abolition of verbal rhetoric as a means of forming the managerial,

political, legal, scientific and religious elite came hand in hand

with the discovery of visual rhetoric as a means of mass communication.

This took form in the posters produced by Jules Chéret and his

contemporaries.

COPY PROOF 13
---
postmodern design, at the expense of effective argumentation and

composition. In the context of this publication, this argument is

limited to a number of fundamental principles for education in

(graphic) design. A detailed description of a curriculum structure or

a design method, such as the visual essay, would be superfluous

here, and the essay by Gert Staal, as well as the contributions of the

(graduated) students, give a fair indication of their nature. What

would be of value here is a comment about the relationship between

visual rhetoric and the visual essay. The point of departure of the

visual essay is not theory, but practice. As an educational instrument,

it carries forward and builds on what graphic designers have themselves

come up with in the practice of their profession. The visual

essay has furthermore had an important and extremely interesting

background in the history of visual communications, one which I

hope to discuss at another opportunity.

In the framework of design education, what this concerns is

the visual essay taking (back) a design method and a design genre

from professional practice, in order to apply it to the pedagogy of the

profession. The visual essay – along with its specific theme – always

deals with insight into the way the designer sets to work in order to

arrive at the form of his proposal, making the proposal convincing.

The visual essay brings the visual arguments and the working

methods of the designer into view, thereby providing the designer

with grounds to be on equal footing with the client. Its persuasive

character is familiar to the client, who is thinking in terms of strategic

communications. But at the same time, for the designer, it

defines the field of his own competence: the capacity to think in

images. The demarcation that separates his advance research and

his finding the solution is eliminated, as the visual essay embraces

a report of this research. The visual essay not only shows the beginning

of the design investigation (the intuitive trouvaille) or the final

proposal for the form (the design), but a reconstructed version of

the route in between the two: the method. With it, the designer

wins the free, equal status that the late modernist in his day likewise

attributed to the superiority of his method. The only difference

is that the method has since been drastically changed.

14 COPY PROOF
---
COPY PROOF 15
---
16 COPY PROOF
---
Is an art school, by definition,

destined to educate and train

its students according to a model

set by the professional practices

of an earlier decade? Or perhaps

even a stage earlier, dating from

the time when the teachers

them selves were educated? That

would be twenty, sometimes

thirty years before, conforming

U

COPY PROOF

A New Method for

Design and Education

Introduction

GERt stAAl

to standards their own instructors adopted when (and now we are

back to the early 20th century) they themselves chose to train in the

profession of professions. In this case, this is graphic design, newly

evolving from another form of graphic design, and just a generation

before that the craft of typography and printmaking. Before you

know it you are back in the arms of Paul Schuitema and Piet Zwart.

The ideology of the New Art School would still be the norm for

students of a profession that, under the influence of all sorts of social,

economic and technological factors, has as much in common with

the professional skills that gave rise to the PTT Book or the Syst-o-

Color colour systems of the 1910s and 1930s as it has with the

painting in the Sistine Chapel.

Designing in complexity – the Fundamentals Post-St. Joost, the

second or graduate phase of training offered at the St. Joost Academy

in Breda, has been well aware of this dilemma since its inception in

1995. Designing today owes much of its legitimacy and practical

content to the traditions of classic book typography, and it is certainly

indebted to the inventiveness of the New Typographers and

their followers, but it must also measure itself by the new mores of

the communications and networking society. With iron-clad paradigms,

these mores force us into greater and greater specialization,

at the same time that the applicability of these specializations are

continually being subjected to change. The medium or product is

much more susceptible to change than the methods employed by

their designer, and for this reason, Post-St.Joost does not offer a

medium-specific education, but instead attempts to introduce a

methodology that is both resistant to and open to technological,

economic and cultural innovation.

At the start of the new millennium, the effects of the information

age are no longer a futuristic fantasy, but a reality in which clients

and designers must adapt their practices of thought and behaviour,

just as the users of their products are having to do. Styles have

become more multifarious. Information is disseminated by one new

medium after another and must be designed for the characteristics

of those media, and the distinct division between commercial and

COPY PROOF 17
---
theoretical contexts, as well as insights and percep tions from the

'outside' world, provide added direction and guidance.

It is no accident that guest instructors from the world of forensic

research, poetry, archaeology, the media or, for example, the

museums, are closely involved in the realization of the projects. It

is also for this same reason that the essays in the second section of

this publication are written by people outside the field of graphic

design. Designing for fellow designers may well lead to a celebrated

career in the bosom of the minute in-crowd of the graphics

world, but it is not the approach chosen by Post-St. Joost.

Retelling

'Being able to look analytically

at problems in their context and

especially at the connections

between them, wanting to retell a

story, not because you like retelling

it so much, but because there is an

ultimately valid reason for a new

interpretation: this is what we ask.

At the same time, you must be

capable of reflecting on the methods

of your own actions. In this process,

arguments related to taste and personal

preference are quickly killed

off. You learn how to eliminate.'

Interview with Edith Gruson,

4 November, 1999

'Many of the tales told in our

students' projects are about the

impossibility of the telling, about

the complexity of the different

registrations of language and

image, about lack of understanding

between cultures. This work often

takes place at the crossroads

between the possible and the

impossible, at the boundary of

two worlds.'

Interview with Hugues Boekraad,

4 November, 1999

18 COPY PROOF
---
non-commercial communication has faded. Our discipline has consequently

been released from a long heritage of sanctimoniousness

– almost no one takes the myth of the designer as an autonomous,

indeed even genius, problem-solver seriously any more – but it

must learn a new language. That language has to respond to the

understanding of parties which until recently could easily be dismissed

as a credulous 'other' world: the blind in the land of the

Cyclops.

The reality of the communications world has meanwhile become

too hybrid for such categorical self-satisfaction. Its direction lies in

new hands. The designer genius will be as incapable of determining

the identity of a company as a gardener is of rearranging the topography

of the whole park. Equally, design has become a profession

that can no longer seek its challenges in time-honoured practices or

techniques. That job can now be completed by clever software or

inexpensive computer slaves.

In a scala of varying roles, graphic designers can be involved, for

example, in realizing a corporate identity, but they will never again

– as in the heyday of such studios as Pentagram and Total Design –

be the intellectual owners of the whole process. Many parties are

involved in steering the processes of image development, which are

growing more and more complex, and the designer is a part of that

community. Each link is judged according to its own merits and is

as indispensable as it is powerless, the designers who come up with

the concepts no less than the computer champions.

Three themes determine the curriculum of the graduate programme at Post-

St. Joost: identities; urban space and accessibility; and proposal and counter-proposal.

The themes are interrelated and in fact extend their reach, step

by step. From the complexity of the person of the designer himself, the perspective

shifts to that of the city and on to the design situation. I – we –

they: this is the substance of the two-year graduate programme library.

Identities and contexts - themes With these themes, a design

method is introduced, one which is not specifically tailored for

academic courses at an art school. Thinking in terms of models,

which forms the method's foundation, has proven applicable to

both the educational situation and in professional practice. It embraces

a logically planned, process-orientated and focussed resolution of

design problems that, from the moment of the initial briefing, can

never again be seen as simple linear problems. Time and again, by

way of investigation, analysis, presentation, alternative scenarios

and checks and balances from both sides, the designer and the 'client'

– in this case the one providing the design assignment – modify

their concepts until the definitive design can be produced. Sound

COPY PROOF 19
---
IDENtItIEs

theme I

Forensic self Portrait

& Imaginary Portrait

three squares

a scientifically formed theory

about identity and identification.

20 COPY PROOF
---
Post-St. Joost has set itself the goal of training designers capable of

bringing a personal and professional identity to our environment,

an approach that makes them capable of assuming a relevant position

in the communications process. This relevance is not only in

terms of one's own principles or the expectations of the client, but

it is also in respect to the society

in which the work has to function. After all, graphic designers

construct images for the products made by their clients, and to a

greater or lesser degree, make it possible for third parties to identify

with those products. But what is the identity of the designer?

Identities

'The design bears the signature

of the designer. The designer is an

author. On the other hand, he

derives his (self­)image from the

efficacy with which he interprets

the desired self­image of his client

for a more or less given public.

The designer interprets and

reinforces someone else's story.

The modern designer therefore

determines himself, but is determined

by others as well.'

Hugues Boekraad, Annual Report,

Post-St.Joost 1999, p. 137

'The forensic portrait is an important

means of making the leap from

deconstruction to construction, and

then to communication. Moreover,

through the detective work that

the other students have to do,

the exercise has the character of

a challenging game. It stimulates

discussion among the students.'

Interview with Edith Gruson,

11 November, 1999

'Of course we are also ultimately

interested in the personality of the

designer, in the colour he brings to

his work. The adage that Cassandre

used to describe the designer as a

'telegraph operator' is false, but to

arrive at what that personality is,

you must first identify the problem

of the accepted identity.'

Interview with Hugues Boekraad,

11 November, 1999

In the classic view of the romantic artist, the personality of the

artist – and accordingly, of the designer – is seen as the primary

source of the work. This is an intolerable assumption for a designer,

if only because their work is not solely the reflection of a person,

but equally that of the assignment and of the one who ultimately

sees it. Nonetheless, in undergraduate design education, the design

process is still often focussed on the personality cult. The development

of the individual 'handwriting' is still the ultimate goal.

A Forensic and an Imaginary Portrait Post-St.Joost in fact begins

with a dismantling of the acquired role of the designer. By having

students come up with a so-called forensic self-portrait, and then

an imaginary portrait, the process of 'deconstructing the designer'

is begun. It is not the familiar repertoire of fonts, images, colour and

layout that must tell the tale, but ordinary, everyday intimacies.

The forensic 'proof' is arranged on a two-metre square 'canvas',

sketching an image of the maker which must in turn be read and

identified by outside parties, in this case the other students. They

are the detectives who have to reconstruct an identity on the basis

of the available clues. Those providing the clues have written down

in advance how they think they will be perceived, but will the story

be interpreted the way they expected? How great is the gap between

intent and interpretation?

The forensic self-portrait and the imaginary portrait, in which a fictional

personality is sketched with similar means, touch the very

core of the graphic design profession. They raise questions about

how we decipher the signs and characters that serve as glossaries,

symbols or icons. They demonstrate how every communication is

subject to several interpretations and that the designer is able to

manipulate that perception when he is capable of making the leap

between his own perceptions and those of the viewer. These 'outside

views' are represented by several visiting lecturers: a forensic scientist,

for instance, demonstrates how crime evidence is researched to

determine the identity of a victim or perpetrator. Further investigation

into semiotics, sociology and psychoanalysis paves the way to

COPY PROOF 21
---
INlEIDING

IDENtItIEs

copy theme proof I

een Forensic ontwerp- self Portrait en onderwijsmethodiek

suzANNE VAN GRIENsVEN

GERt & Imaginary stAAl Portrait

three squares

22 COPY PROOF
---
ItEMs

1. choco Pops wrappers

My favourite breakfast

2. Delial cream

I use Delial every day.

I also like the bottle (the colours

and the letters).

3. Wookie

I collect things from Star Wars

and this one is a really sweet representation

for the tough Chewbacca

4. shirt

I made it myself, years ago.

I like (animal) logos that are very

simple but good.

5. Frame with two photographs

My boyfriend and me as children,

each in a school photograph, coincidentally

with the same background

6. sandwich packaging

Made by my boyfriend...

especially for me

7. badges from skateboard clothing

I like this world.

8. Piece of a skateboard

From a special skateboard broken

at a project I made up

9. cards (from my collection)

Nice for dreaming away

COPY PROOF 23
---
IDENtItIEs

theme I

Forensic self Portrait

hEIkE czERNER

& Imaginary Portrait

three squares

24 COPY PROOF
---
ItEMs

The PReSeNT

1. box with 6 drawers

2. 4 Passport photographs

The PAST

3. 1 slide transparency

4. 1 ticket

5. 1 ship-in-a-bottle

6. 1 button

7. 7 slips (of paper)

1. box with 6 drawers

– Depending on my mood, I tend

to put my whole 'life' in boxes

and take it out of the boxes

again, rearranging it – into new

'boxes' – according to different

situations, habits, attitudes.

– It is my nature to collect things,

to sort things, to give them some

kind of order.

– the metaphor depends on what

the boxes mean (to me):

• give order

• to put some things in or take

them out, change, turn, switch

them in any case with objects,

thoughts, problems, aims, me

as a person

2. 4 Passport photographs

– from my first student exchange

in Italy shows my feelings on

finding myself in a new situation

– stands for me as something that

has changed, something without

any order or security, something

flexible altered into something

that has to be given a new

structure

– a look at my authentic character,

with the several faces that I have

4. 1 ticket

– stands for my lovable island,

where I spend all of my holidays

– the island as a metaphor for my

harmony, my point of view

5. 1 ship-in-a-bottle

– comes from a friend accepting

my character, my work about

natural and philosophical islands

– depends on, or stands for the

people I need in my life, as a

personal island

6. 1 button

– moods, making plans, being

perfect, being 'straight­on',

negative aspects

– also as a reflection of myself

7. 7 slips (of paper)

– my future, my situation now

– making plans, organizing everything,

making lists of it all

giving a structure to everything,

putting my old life into the 'new'.

New developments change my

habits. Something that appeared

foreign leads to a new perspective.

but everything again goes into

boxes…

3. 1 slide transparency

– something that fascinates me in

form and content, a border

where something new begins

– shows my work in photographic

and typographic form

– an element from a school exam

– my way of thinking in abstractions

COPY PROOF 25
---
IDENtItIEs

theme I

Forensic self Portrait

hEIko lIEbEl

& Imaginary Portrait

three squares

ItEMs

1. 14 cigarette paper packs (empty)

2. 1 pack of cigarette papers (half

empty)

3. 1 wallet

including:

– 4 used train tickets

– 1 lottery ticket

– 1 registration statement

from the SWB

– 1 student card from FH

Wurzburg (valid through

30 September)

– 2 pieces of paper with

phone numbers on them

– 1 dentist bonuschart

– some money

– 2 'Euro-Passes',

(1 German & 1 Dutch)

– 2 credit cards

(1 expired, 1 valid)

– 2 library cards

– 2 German train tickets

(1 expired, 1valid)

– 2 video shop customer cards

– 1 health insurance card

– 1 ISIC card (expired)

– 3 telephone cards

(2 Dutch, 1 German)

– 1 photograph

– 1 youth hostel card

– 1 ID card

– 1 driver's licence

– 1 key

– 1 piece of paper with

an e-mail address

My last two months were dominated

by moving. Moving out of my

flat in Wurzburg and moving to

Breda – which included working

during the week for an advertising

agency to get enough money for

a few months, and living with my

parents because it was close to the

place where I worked. In the weekends

I went back to Wurzburg to

meet friends and have lots of farewell

drinks and farewell barbecues

with them, and of course to pack

my things in cardboard boxes and

write on the outside what was on

the inside.

26 COPY PROOF
---
I threw out most of the things

I didn't need, but not everything.

When I arrived in Breda I realized

there were three places I hadn't

cleaned out: my car, my backpack

and my wallet. So when I dug

through the piles of stuff, I found

some surprises. Most of the things

I found are relics of my life in

Germany, but some point to my

'new' life in holland.

1. 14 cigarette paper packs (empty)

I used to write down phone

numbers and addresses on these

cigarette paper packs. It was handy.

They have this rubber band and

you could hang them on the wall

over your phone. Once they

changed the design of the packaging.

The rubber band was on

the other side and you had to hang

them upside down. After a few

months they changed it back.

Maybe people were complaining

about this

upside­ down thing. When I was

moving out of my old flat I just

packed all those packages in my

backpack. I wanted to write down

all the numbers in them into my

Filofax. however, I forgot about

doing that. I just carried the stuff

around with me for a month. Some

numbers have changed, and there

are also numbers I never call. I don't

know if I should get rid of those

packages. They look quite nice

pinned to the wall.

2. 1 pack of cigarette papers (half

empty)

When we were drunk we had this

idea of building up our own studio.

We had the name written on this

pack:

[f : 'd blu: ænd ai]

c

v

We were fascinated by the different

possibilities of writing that. We

had big plans but they never came

to be. So we just agreed on signing

everything one of us creates with

'a division of www & I ', give it that

conspiratorial flavour.

3. 1 wallet

There really is too much useless

stuff in my wallet. Why not dump

those train tickets (2x Dusseldorf­

Wurzburg, 2x Wurzburg­Dusseldorf)?

I only went through Dusseldorf to

travel on to Breda to look for an

apartment. Once on the way back

I missed my connection, so I had to

wait in Frankfurt for two hours for

the last train to Wurzburg. I met

this Russian guy, however, who was

studying in Leiden.

The lottery ticket

During the last six weeks, I have

played the 'Lotto' together with

a friend of mine. I was always

hoping to get the jackpot so I could

quit my shit job at this advertising

agency. Well we did win, even

twice: 70 Marks in all.

SWB Registration Statement

I could have found a better way to

use that 50 guilders...

Student card from Wurzburg

Officially I am still there…

2 pieces of paper with phone

numbers

The one, Anja Mayer, is a friend of

a friend, studying in Maastricht for

half a year. I even called here once.

The other is the dial­through to my

boss at Publicis, the agency I worked

for. It was like prostitution…

I was young and needed the dough.

There is another number on the

pack. I don't know whose it is.

Bonuschart

In Germany, you have to have this.

You have to go to the dentist at

least once a year. I went… and that

really was the last thing I did in my

home town before I left for holland.

Money

It is a kind of necessity, which you

can also say is true for the international

train passes, the credit

cards (although I should chuck the

expired one, and also the expired

Bahn Card) and the telephone cards

(though I don't really know if there

is still anything on them).

The ID Card, the Driver's Licence,

the Youth Hostel Card

Could be useful…

Maybe I should get rid of the

Wurzburg library card and also the

video store customer card.

The funny thing is that the only

thing in my wallet which indicates

that I live in Breda is this card from

the 'Last Page Cult videotheque'.

Oh yes, this expired ISIC card

reminds me of my student exchange

term in england.

I am still carrying a photograph of

my ex-girlfriend with me. We split

up in May and I never bothered to

take the photograph out of my

wallet. It doesn't really disturb me.

I only feel a bit strange when my

new girlfriend gets a glimpse of

the photograph.

The key

I have had this key since I was a little

boy. I always had this secret

drawer where I could hide stuff

from my parents. First I kept

chocolate and comic books in

there. When I got older it was a

nice hiding place for cigarettes,

small bottles of alcohol and the

occasional porno magazine. Now

it is pretty much out of use. I still

keep it locked and carry the key

around with me... maybe just for

old times' sake.

The e-mail address

The irony of fate: this is the e­mail

address of my girlfriend's ex­boyfriend.

COPY PROOF 27
---
IDENtItIEs

theme I

Forensic self Portrait

& Imaginary Portrait

(Fictional character)

MINkE thEMANs

three squares

28 COPY PROOF
---
'the Death of a Man'

A Character Description and the

Life of my Imaginary Portrait

1. X is a vain man of middle age.

he is a family doctor with his own

practice. he feels that practising

medicine is mostly about writing

out prescriptions, which is usually

enough to satisfy his patients.

he is more interested in man's

spiritual aspects and his reading

therefore includes many books on

such subjects as Rogerian Therapy.

X's interest in Rogerian Therapy

and sexology has not only evolved

from his interest in his patients,

but also from questions about his

own sexuality.

he needs to achieve his ideal and

registers at the regional public

health institute for psychiatric

support.

4. All this can no longer be combined

with his general practice

as a physician. X decides to stop

practising medicine. he plans a trip

to New York to pass the time until

his operation. here, in anonymity,

he builds himself a new life as a

woman.

5. Finally, X returns to holland to

undergo his operation.

2. X finds delight in occasionally

dressing up as a woman. he prefers

to do this in hotels, places where

no one knows him. At first, it was

limited to a single evening a month,

but the urge increased. he wanted

to appear to the rest of the world

as a woman.

3. More and more frequently,

he dresses in women's clothes,

spending hours making himself

up and preening. he makes his

decision. he wants a sex change

operation. X writes himself

prescriptions for the hormones

COPY PROOF 29
---
IDENtItIEs

theme I

Forensic self Portrait

& Imaginary Portrait

(Fictional character)

MAtthEW sANAbRIA

three squares

ItEMs

1. ring with keys

2. razor

3. shaving cream

4. wallet

5. assorted cans

6. eye-glasses

7. glasses case

8. fork

9. spoon

10. teapot

11. teabag

12. matches

13. salt & pepper shaker

14. glass

15. wp

16. alarm clock

Alzheimer's Disease

A progressive, neuro-degenerative

disease characterized by loss of

function and death of nerve cells in

several areas of the brain, leading

to loss of cognitive function such as

memory and language. The cause

of nerve cell death is unknown,

but the cells are recognized by the

appearance of an unusual helical

protein filament in the nerve cells

(neurofibrillary tangles) and by

de ge neration in cortical regions

of brain, especially frontal and temporal

lobes. Alzheimer's disease is the

most common cause of dementia.

– On-Line Medical Dictionary –

Alzheimer's disease

A condition that occurs late in life

and worsens with time, in which

the brain cells degenerate. It is

accompanied by memory loss,

physical decline and confusion.

– AMA. Health Insight –

Let me begin by telling you my

name. I'm John and my life has

come to the point where I have to

write down some things before I

forget them. Before I forget how

to read.

I woke up this morning at six,

feeling a bit uneasy, it was still dark

30 COPY PROOF
---
outside. I turned my head towards

the window and still could name

the things I saw: the barometer,

the alarm clock on the sill by the

glass of water with my denture in

it. The best thing was that I still

knew what they were for. I put my

robe on and went downstairs to

have breakfast. Before going

down, I stopped for some time to

look at the pictures on the small

table by the stairs. I could recognize

everybody and remembered all

the situations almost as if they had

happened yesterday. The pictures

are of my childhood, back in the

thirties. I then looked up and saw

my image in the mirror. I almost

didn't know who it was. how my

hair has thinned, not to mention

how white it is.

Down in the kitchen I thought that

if I could just remember what all

those things were called and what

they were for, I could prove to my

family that I can still take care of

myself. So I started opening drawers

and cabinets and naming everything.

I saw the toaster and knew

what to do with it. I even got the

coffee going in the Melita machine.

I remembered those sharp objects

were called knives and they are

used to chop and cut. I saw a pan

and knew it was for frying, so I got

some bacon going while I beat the

eggs and sliced a tomato. I then

put some slices of bread in the

toaster and was quite glad to know

how to use it (it is simple, by the

way). I sat down, very proud of

having made breakfast by myself,

and of even having been able to

use the can opener so I could make

some juice. After wards I got all the

dishes into the washer (though it

took some time to get it started)

and went into the living room to

finish my cup of coffee and read

the newspaper. I felt in a very good

mood, so I decided to leave the

paper unread and call my son to

tell him the good news: breakfast

by myself. But then I thought that,

while it still was fresh in my mind,

I should write it down and make a

plan of the kitchen, to always carry

with me, just in case. Then I would

call my son.

With this portrait, rather than

representing what John did afterwards,

my intention is to show what

having Alzheimer's could be like.

There is a loss of immediate memory,

so people with Alzheimer's find

them selves having breakfast twice

a day, for they can't remember that

they have already eaten. Or finding

the water in the tub too hot and,

while forgetting, stepping in anyway.

Oddly enough, past memory

is enhanced and they remember

things that had been long forgotten,

things which become a part of

their conversations with people who

were probably not even in the original

situation.

COPY PROOF 31
---
IDENtItIEs

theme I

Forensic self Portrait

& Imaginary Portrait

(Fictional character)

shERI PREslER

three squares

ItEMs

1. burger king bag

container for an ill­fated meal

2. French fry container

all contents are gone, including

the patient's finger – fingers

and fries are a similar shape

3. hamburger wrapper

part of the ill­fated meal

4. ketchup label

mistake this for blood

5. gloves (minus 1 finger)

premeditated self­amputation

of finger

6. finger in a jar

autopsy results

7. knakwurst sausages

food resembling a finger

thERAPY loG book

session #1 My therapist suggested

that I keep a journal to reflect on

our conversations after each visit.

I am still so disturbed by what is

happening to me that I can't quite

put it into words. Perhaps I'll soon

come to terms with my accidents.

Until then, I have to learn to deal

with this situation.You know how

when your baby is born, you count

to make sure it has ten fingers and

ten toes? I mean five on each hand,

so twenty all together? If they're

all there, the parents can enjoy a

sigh of relief. If not, well, I'm sure

it's not a pleasant experience.

session #2 Sure, I've had my

occasional accidents. Being a

graphic designer, I've had

numerous encounters with the

Xacto knife. I've seen the tendons

in my index finger, and I've cut

half­way through my middle finger

with

a bread knife. Initially, I would

very calmly think, 'Oh God, I know

I cut myself,' because the slice was

so sharp that I didn't really feel

any pain. Then I'd look at the

damage and try to figure out a

way to avoid having to go to the
---
emergency room to get stitches.

I never needed them.

These incidents stick out most in

my mind. I managed to avoid

the Lidocaine and needles and go

about my business, taking care not

to look at my wounds. I can watch

surgery being performed on someone

else with no problem, but

when I see my own 'insides', I tend

to feel sick to my stomach. I've

always had an aversion to larger

knives, but the Xacto has made me

increasingly squeamish lately.

session #3 This week I dreamt

that I had cut off my whole finger –

or at least I thought it was my

finger. There have only been two

times when my dreams have

actually come true, and I mean

those dreams you have at night

when you sleep, not 'wish' dreams

like when you blow out your birthday

candles. I am hoping that

this

is not a premonition of some sort.

I saw 'The Blair Witch Project' not

too long ago – maybe that is the

reason why I dreamt this…

session #4 It happened again this

week. But this time, I dreamt that

I had a confrontation in the kitchen

with a very large knife while I was

making lunch. But instead of being

shocked, instead of screaming,

I put my finger on a bun, squirted

some ketchup on it and served it to

my friend for lunch. Just as he was

about to take a bite, I woke up very

confused. I counted my fingers and

I still had ten.

session #5 I can't take this anymore.

These dreams are disturbingly

strange. This time I put my finger

on a bun, just like a hot dog

and took one bite, then another –

and another, until there was

nothing left but a stump. There

was no blood. I proceeded to lick

the salty taste from my fingers, but

when

I got to my index finger on my

left hand, there was nothing there

and I was bleeding uncontrollably.

I woke up, petrified – I can't stand

to be alone anymore. I can't stand

knives and I am afraid of anything

resembling a finger. I know it's not

real, but sometimes I can't help but

think it's real. It feels real. . .

PhYsIcIAN's NotEs

regarding case #0624154930

Patient #0624154930 is a chronic

sleepwalker, observed in my clinic

for seven consecutive nights from

1 September, 1999. Suffers from

night sweats. each night the sleepwalking

session included a trip to

the refrigerator, along with the

preparation of a meal. The patient

appeared completely coherent.

however, if interrupted in any way

by a strange sound, for example, or

if something was lying on the floor

in the patient's path, a series of

odd, sometimes dangerous reactions

would follow. The patient

would become self­threatening,

but was not a threat to others.

This morning, 28 September, 1999,

the subject was found lying facedown

on his kitchen table with a

Burger King sack, a hamburger

wrapper and an empty french­fry

container. The index finger on his

left hand was bitten off at the

metatarsal joint. It appears that

the patient was involved in a sleepwalking

episode at the time and

chewed off his own finger, perhaps

mistaking it for a french­fry. This

would be consistent with the dream

episodes experienced by the

patient as they were described to

me in therapy, as well as recorded

in his journal. Also found on the

kitchen table next to the subject

was a jar of knackwurst sausages

and a pair of gloves with the index

finger of the left glove specially

tailored to accommodate an amputated

index finger. It is difficult to

say exactly when this tailoring session

occurred, but it seems apparent

that the

pa tient subconsciously pre­meditated

his actions of last night.

Signed,

The Doctor

AutoPsY REsults

regarding case #0624154930

We recovered the finger (specimen

#0624154930). Surprisingly, it had

not been digested – it was still in its

original state and was bitten off only

at the metatarsal joint. All other

tests revealed nothing unusual.

Signed,

The Forensic Doc
---
IDENtItIEs

theme I

Forensic self Portrait

& Imaginary Portrait

three squares

synonymous tools The exercise

is so deceptively simple that it

seems incomprehensible that

the three squares are in fact an

impossible task. The three basic

tools of the graphic designer – a

typeset text, an image and a

colour, normally fused together

in the design work – are now

presented as separate elements

of a coherent message. For this is the question: can you select or

make a text, an image and a colour, each of which imparts the same

message, or in other words, is a synonym of the others? Is a single

means or medium, for example, a colour, sufficient to get a message

across, a message that subsequently has its equivalent in an image

and then also in a text? The size of the panel – one square metre –

determines the tone of the message. It is too large for the private

sketchbook and too small for a public billboard. Here too, the idea

is deconstruction, and again, the 'others' are the ones who must

interpret the tale. The maker puts it in code and the remaining

students then decode a message that has been prevented from bearing

the personal accent of the designer's handwriting. Both learn to

regard looking as a linguistic activity. What they see has to be

expressed in the form of argument.

The exercise is repeated in three stages. The first is with found text,

image and colour. The second time around, text and image have

to be of the student's own making, and in the final stage, they must

be produced by hand. Each time, the theme is that borderline

between private and public, a division that in the practice of mass

communications, is difficult to draw. The public domain increasingly

penetrates into the private, and even the distinction between the

sender and the receiver can almost no longer be drawn. In the Post-

St. Joost curriculum, however, the bridge has now been built to the

second major theme of the programme: the urban, public setting.

Encoding/Decoding

'In the deciphering process,

remark able cultural differences

appear. A Polish student will read

a forensic portrait or the three

squares entirely differently than

an Irish student, and the Irishman

again reads it differently than a

Dutch student.'

Interview with Edith Gruson,

11 November, 1999

theory

'Understanding theory and the

development of a useable language

offer a model to counter the

tongue ­ tied speechlessness and

the scrapping that currently dominate

discussion about design and

communication.'

Interview with Gerard Hadders,

18 November, 1999

34 COPY PROOF
---
IDENtItIEs

theme I

Forensic self Portrait

& Imaginary Portrait

three squares

(Found Image, text

and colour)

JERoEN kloMP

colour: purple

COPY PROOF 35
---
IDENtItIEs

theme I

Forensic self Portrait

& Imaginary Portrait

three squares

(created Image and text)

PEtER zuIDERWIJk

colour: skin

36 COPY PROOF
---
IDENtItIEs

theme I

Forensic self Portrait

& Imaginary Portrait

three squares

(created Image and text)

Ruth lEEDE

colour: red

COPY PROOF 37
---
IDENtItIEs

theme I

Forensic self Portrait

& Imaginary Portrait

three squares

(hand-made Image,

text and colour)

kAthERINE szEto

colour: faded pink

38 COPY PROOF
---
IDENtItIEs

theme I

Forensic self Portrait

& Imaginary Portrait

three squares

(hand-made Image,

text and colour)

PEtER zuIDERWIJk

colour: copper

COPY PROOF 39
---
PublIc sPhERE

AND uRbAN sPAcE

theme II

Visual Essay

40 COPY PROOF
---
To an important degree, the complexity of today's visual culture

determines the graphic designer's workplace. His capacity to analyze

and register that complexity is a 'conditio sine qua non' for

valuable inter ven tion by designers. To reach that goal, complicated

structures must first be unravelled into clear denominators in order

to again seek out the complexity.

The city – along the lines of Paris, New Delhi, Rotterdam or a small

town like Nagele in Holland's Northeast Polder – provides a useful

metaphor for the essences of communication. It does so in a context

of values temporary and permanent, of long-term planning and

incidents, of comfort and lack of safety, of wear-and-tear and renewal,

of ideologies and pragmatism, of the private and the public. In this

context, Rem Koolhaas's designs for 'EuraLille' are juxtaposed with

the extravaganza of the EuroDisney city in the Paris suburbs.

A city, which establishes set patterns of encounters, is in fact the

design of a communicative environment. In this light, it is a Fundgrube,

a veritable treasure chest for graphic designers.

Just as public domain and accessibility play an important role in

the blossoming or the dissolution of a city, so it also does for the

accessibility of virtual domains. The moment there is no longer

a relationship between the experience of physical space and the

mental understanding of cyberspace, the inhabitant of the digital

city finds himself lost, wandering about in a ghost town. On the

basis of research on urban spaces – both the morphological structure

of the city and the social space within the urban environment – the

designer's field of vision expands into his own everyday living environment.

A framework arises in which to study such elements as

time (or change) and space in the design process.

Architecture and urban planning also offer another dimension.

In these disciplines, the use of language and theory has been more

highly developed than is to date the case in industrial or graphic

design. At Post-St. Joost, this theoretical context comes along

on the excursions undertaken in this thematic framework.

Architecture in its written form is as much a part of the man-made

environment as the concrete, steel and glass in which it has materialized.

Those who have learned to recognize its value will no longer

be content with the sell-out of the work of graphic designers

as the most individualistic expression of the individualist artist,

the mystical, uncontrollable, big-blue-eyed genius who charms

his clients into everlasting belief. In architecture, and indeed, in

product development, such an attitude is no longer tenable. In

these fields, the process must be transparent and accessible

in order for decisions about changes to be made. The form of the

professionalism involved here is the cornerstone of the third and

final theme of proposal and counterproposal.

COPY PROOF 41
---
These

all hav

they d

A short

in readi

PublIc sPhERE

AND uRbAN sPAcE

theme II

Visual Essay on complexity

in Reading Design

GERARD hADDERs

42 COPY PROOF
---
These terms (in random order)

terms all (in have random to order) do with design, and

e to do they with do design, all fit and on this plastic bag.

o all fit on this plastic bag.

visual essay A short on complexity visual essay on complexity

ng designin

reading design

COPY PROOF 43
---
Design and complexity Design and complexity

Model Model

Thinking, form Thinking, and space form made and visible space made visible

Design

His

Urban

O.M.A., Model for the O.M.A., Bibliothèque Model for de the France Bibliothèque competition de France competition

The 'Pari

44 COPY PROOF
---
and complexity Design and complexity

tory History

development Urban development equation equation

s Axis walk' The 'Paris Axis walk'

COPY PROOF 45
---
Design and complexity Design and complexity

Model Model model model

Design

Epi

From the series From 'Absolute the series TM' 'Absolute TM'

From th

46 COPY PROOF

CPtst300112_1.indd 46-47
---
and complexity Design and complexity

demic Epidemic model model

e series From 'Absolute the series TM' 'Absolute TM'

COPY PROOF 47

30-01-12 21:00
---
Design and complexity Design and complexity

'Bricolage' 'Bricolage' model model

Design

Lab

From the series From 'Absolute the series TM' 'Absolute TM'

From t

48 COPY PROOF
---
and complexity Design and complexity

Labyrinthine model model

he series From 'Absolute the series TM' 'Absolute TM'

COPY PROOF 49
---
Design and complexity Design and complexity

History Urban development equation

Urban development equation

From the series From 'Absolute the series TM' 'Absolute TM'

Design

Arc

From t

50 COPY PROOF
---
and complexity Design and complexity

hitecture Architecture and sign as model

Architecture can be perceived in its history and complexity

he series From 'Absolute the series TM' 'Absolute TM'

COPY PROOF 51
---
PRoPosAl AND

couNtER-PRoPosAl

theme III

Visual Essay

Poetry in urban spaces

the public statement of proof of

a designing process and at the

same time serves as a proposal

for deliberation, or as the report

of an investigation and a platform

for communications on a

number of relevant subjects.

Visual Essay

'We want the designers out of

the tail end of the communications

process. But they then need the

tools to learn to think strategically.

That is the only way we will be

able to exercise more influence

or power.'

Interview with Gerard Hadders,

18 November, 1999

'Practising their profession has

often become too uninteresting

for well­trained designers.'

Interview with Hugues Boekraad,

28 October, 1999

52 COPY PROOF
---
Designing in the professional context is a form of moral and strategic

action, of moves and countermoves, of establishing boundaries

and going beyond boundaries. In their deliber ations, designers not

only have to be capable of claiming their own ground (the role developed

under the identities theme) and able to intervene on a believable,

convincing foundation of registration and analysis (the urban

space theme), but they must also operate on equal footing with their

client. The client's proposal must be answered with a response, a

counterproposal that is backed up by sound argument.

The designer must be able to take responsibility for that counterproposal,

his thoughts and actions perceptible and transparent.

This means that the student must be able to function outside the

protected environment of the academy or his fellow designers. He

requires mastery of the methods that apply within all the various

positions that he may be expected to assume in the 'real' world, and

must learn to be in command of the systems underlying those roles.

Here, a style will no longer come to his aid. That style, at best, can

be of help within the highly affective niches in which Dutch graphic

design has preferred to move: the museums, the art circuits and

perhaps the design of CD covers.

Visual Essay In order to force the breakthrough into other, more

complex domains – a necessary remedy against design getting worn

out – the medium of the visual essay has been given a new lease

on life. This form of scenario development has already been in use

in American visual communications for some 50 years, in order

to design communications models. It offers the presentation of a

problem, the possible solutions and the whole trajectory linking

the two.

For educational purposes, the visual essay proves an ideal connection

between theory and practice, because it is not medium-specific or

geared to results, but focussed on process. The underlying problem

is presented in as broad a manner as possible and is just as broadly

investigated, even when the initial assignment was not so inclined.

In fact, the essay begins with a database, a shoebox full of options

and research material. The visual essay then documents the development

of thought, records interim solutions, research results and

images, argues the ideas and illustrates the context of the problem.

It is not the inner expression that forms the core of the essay, which

remains 'under construction', without leading to a single end result,

but its potential for being put to the test by the outside world. Being

able to think in terms of multiple images prevents the client from

having a solidified, definitive solution plunked down on his desk.

For students and professional designers, the visual essay moreover

gives insight into one's own motives and actions. The end result is

COPY PROOF 53
---
PRoPosAl AND

couNtER-PRoPosAl

theme III

Visual Essay

FlooR houbEN

Poetry in urban spaces

54 COPY PROOF
---
COPY PROOF 55
---
56 COPY PROOF
---
COPY PROOF 57
---
58 COPY PROOF
---
COPY PROOF 59
---
60 COPY PROOF
---
COPY PROOF 61
---
PRoPosAl AND

couNtER-PRoPosAl

theme III

Visual Essay

AlAN FItzPAtRIck

Poetry in urban spaces

62 COPY PROOF
---
COPY PROOF 63
---
64 COPY PROOF
---
COPY PROOF 65
---
66 COPY PROOF
---
COPY PROOF 67
---
68 COPY PROOF
---
COPY PROOF 69
---
PRoPosAl AND

couNtER-PRoPosAl

theme III

Visual Essay

stEFFEN MAAs

Poetry in urban spaces

right: Frantisek Kupka:

Filosofische Architectuur /

Philosophical Architecture (1913)

70 COPY PROOF
---
elow: Miniature train in the Prater,

Vienna

COPY PROOF 71
---
elow: The map of the park can

also be read as an Indian story told

in pictures

72 COPY PROOF
---
elow: Michaelangelo's design for

the Capitol Plaza in Rome (1569)

Onder: Liliputbaan in het Prater,

Wenen

COPY PROOF 73
---
74 COPY PROOF
---
Gedicht Rooland Joris minimal

Vogel wipt, Tak kraakt,

Lucht betrekt, bijna niets

om naar te kijken,

En juist dat bekijk ik M

COPY PROOF 75
---
76 COPY PROOF
---
COPY PROOF 77
---
PRoPosAl AND

couNtER-PRoPosAl

theme III

Visual Essay

ANDREAs tEtzlAFF

Poetry in urban spaces

izing the West of the Netherlands. It's here that Het Lage

Land grew to a mere suburb of Rotterdam where mostly

elderly people live – an autonomous neighbourhood different:

inviting

and

cosy

to

A Settlement ...

attract families to live here. The structure

of Oosterflank is much more organic, more like several

small villages grown into each other: Houses are smaller,

the area is dense and splits up into micro-neighbourhoods.

Each one has own primary schools and playgrounds.

In the early nineties Alexan dri um II and III are built as an

extension of Oosterhof – now Alexandrium I – close to the

Highway. Where once stood an old farmhouse (of the first

"settlement") a huge woonmall (Alexandrium III) is built –

integrating the farmhouse into its floorplan.

The car can be parked in front of the building – "easy shopping"

is the message. Consumers Paradise offers a great

diversity of shopping facilities not only to the inhabitants of

Prins Alexander but also to Rotterdammers: The satellite

opens up to attract people from all around.

But besides shopping the area also invites people to have a

little stroll; wide sidewalks are seamed with benches where

people sit and snack when the weather is fine ...

78 COPY PROOF
---
Prins Alexander

[20086 inhabitants;

25,6% of other

ethnies ]

allotment gardens

[average age: 25-64,

65>; atmosphere:

calm, fre quent ly

Het Lage Land

[surface: 214 hectars;

45

inhabitants

Churches

Alexan der station

[average age: ; atmosphere:

Zad kine college

[average age:
---
80 COPY PROOF
---
COPY PROOF 81
---
82 COPY PROOF
---
... a poem should be like

a temporary »visitor« at

Alexandrium II ...

COPY PROOF 83
---
PRoPosAl AND

couNtER -PRoPosAl

theme III

Visual Essay

Poetry in urban spaces

Designing is a combination of

the formation of ideas and of

language. During different phases

of the Post-St. Joost curriculum,

students are repeatedly

confronted with different lan g-

uage genres, and this is precisely

because the emphasis in undergraduate

design education has

been focussed more on developing

a feeling for image and form. Poetry is one of those forms of

language – and presumably the most experimental form – to which

a separate project is devoted. By bringing the intimacy of the poet's

world into the urban setting, the crossroads between the private

and the public are once again explored, but so are the barriers

dividing so-called 'high' culture and ordinary culture. Poetry on

traffic signs, poetry on the fence around a park. Texts for passing

pedestrians. These are messages that do not try to sell anything and

which need no reply from those casual passers-by in order to retain

their right to exist, as would be the case for highway department

signs or lettering affixed to building facades. The setting in which the

texts appear in a city is realistic, yet at the same time completely

open. No quasi-assignment is being simulated. Instead, the projects

are specifically designed for their location.

Poetry in urban spaces

'Can a poetic text, once introduced

in the urban environment, hold its

own amongst, beside and facing

the flood of communications and

the rigid information systems that

government and other institutions

have imposed on public space?'

Hugues Boekraad, Annual Report,

Post-St.Joost 1999, p. 176

84 COPY PROOF
---
PRoPosAl AND

couNtER-PRoPosAl

theme III

Visual Essay

Poetry in urban spaces

FlooR houbEN

Is there a connection between the name of a street and its identity?

I investigate this question by interjecting poems into an existing system of

street names.

proposal for Johan Willem Frisolaan

In the spring rain,

a child's wet ball

sits on a roof.

Buson

In the end, five haikus were printed on street signs. They tell of brief

moments that should subtly appeal to passers­by.

– The poems were placed in the conventional design and format of the

street signs, emphasizing the contrast between the random naming of

streets and text that relates to the environment.

– The location also plays an important role. The signs are within a circumscribed

area of a certain street, placed in undefined locations. Where

signs are normally at the junction of a sidewalk and grassy areas, now

they are inside the grassed area, redefining the way identity is given to a

public space.

COPY PROOF 85
---
proposal for Minister Nelissenstraat

A ball came rolling,

up to my feet, my

aimless feet.

Hakussen

proposal for Minister Nelissenstraat

My scissors approached

the white chrysanthemum –

and hesitated.

Buson

86 COPY PROOF
---
proposal for Johan Willem Frisolaan

From which tree

came the blossoms? Only

their scent I know.

Basho

proposal for Johan Willem Frisolaan

So many different

difficult names has

the grass of spring.

Shado

COPY PROOF 87
---
PRoPosAl AND

couNtER-PRoPosAl

theme III

Visual Essay

Poetry in urban spaces

AlAN FItzPAtRIck

WhAt A JoY, to kNoW, EVEN WhEN WE cAN't sEE

[ oR citizen hEAR to soldier] You, thAt You ARE ARouND,

thouGh VERY FEW oF You FIND us WoRth

[ lookING soldier to citizen At, ] uNlEss WE coME too closE.

Excerpt from Address to the Beasts by W.H. Auden

In my research for a location in the city of breda for the Poetry in urban space

project I had to first realize that I was observing as a foreigner, comparing

breda to my previous experiences of what a city was. I chose the kasteelplein

as my location because I was interested in how the traditional theme of the

military is integrated into a modern city. My research also brought up the

broader theme of historical symbolism in the academy itself: the 'moat and

drawbridge' as a reassuring physical monument of power and protection to

the city's population. to me the kasteel plein represented a powerful physical

symbol of the relationship between a soldier and citizen. because it is both a

secret and partly public location, soldier and citizen may pass each other

every day, but rarely meet.

how could I use poetry to bring an awareness of such an intangible

phenomenon?

I brought two opposing poems together using two lines from the first

poem which could simultaneously act as a physical voice for both soldier

and citizen. This was to present two contrasting perspectives. In the application

of this text to the physical space I tried to reconcile the two ideologies

side by side and show what they had in common as well as placing

them directly in opposition. This idea is reinforced by the direction that the

text is read which corresponds to which direction you are standing relative

to the two academy buildings.

The interaction between the two texts themselves also represents the interaction

of soldier and citizen as they walk around the square of the

Kasteelplein either coming from the city center or from the Valkenberg

park. Does the passer­by choose to walk on top of or in between the larger

text? Does he/she walk or march? What is the most commonly walked route

around the square?

Above: The execution was visualised

as an application of a paint-like

powder which would be worn

away by the footsteps of those

who walked over it. This would

reveal the most often used route

through the Kasteelplein. The larger

text is from Address to the Beasts.

This is interspersed with smaller

text from Aubade.

Top and bottom: texts taken from

two poems by W. H. Auden which

are combined for the final design

shown on the opposite page.

YouR oWN hAbItAtIoNs ARE cosY AND PRIVAtE,

Not PREtENtIous tEMPlEs.

oF couRsE You hAVE to tAkE lIVEs to kEEP YouR oWN,

but NEVER kIll FoR APPlAusE. Excerpt from Aubade by W.H. Auden

88 COPY PROOF
---
For us who, from the moment

we first are worlded,

lapse into disarray,

who seldom know exactly

what we are up to,

and, as a rule, don't want to,

T you all scents are sacred

except our smell and those

we manufacture.

How promptly and ably

you execute Nature's policies,

and are never

lured into misconduct

except by some unlucky

chance imprinting.

Endowed from birth with good manners,

you wag no snobbish elbows,

don't Leer,

don't look down your nostrils,

nor poke them into another

creature's business.

Your own habitations are

cosy and private, not

pretentious temples.

Of course, you have to take lives

to keep your own, but never

kill for applause.

and, though unconscious of God,

your sung Eucharists are

more hallowed than ours.

Instinct is commonly said

to rule you : I would call it

Common Sense.

~~~~ ~~~~

~~~~

~~~~ ~~~~

~~~

~~

K.L.M.

ACADEMY

~~

~~

~~

~~~ ~

~~~

~~

~~ ~~

~~ ~~

~~~ ~~

I will to be and to know,

facing in four directions,

outwards and inwards in Space

observing and reflecting,

backwards and forwards through Time,

recalling and forecasting.

Few bodies comprehend, though, an order,

few can obey or rebel,

so, when they must be managed,

Love is no help : we must opt

to eye them as mere Others,

must count, weigh, measure, compel.

Within a Place, not of Names

but of Personal Pronouns,

where I hold council with Me

and recognise as present

Thou and Thou comprising We,

unmindful of the meinie,

all those We think of as They.

But Time, the domain of Deeds,

calls for a complex Grammar

with many Moods and Tenses,

and prime the Imperative.

We are free to choose our paths

but choose We must, no matter

where they lead, and the tales We

tell of the Past must be true.

Human time is a city

where each inhabitant has

a political duty

nobody else can perform,

made cogent by Her Motto,

Listen, mortals, lest ye Die.

VALKENBERG PARK

CITY CENTER

K.L.M.

QUARTERS

COPY PROOF 89
---
PRoPosAl AND

couNtER-PRoPosAl

theme III

Visual Essay

Poetry in urban spaces

stEFFEN MAAs

above: two stills from 'Rain', by Joris

Ivens and Mannus Franken (1929)

Bird rocks/Branch cracks/Air moves./Nearly nothing/

To look at /And just that /I look at.

Roland Jooris: 'Minimal', from The Museum of the Summer (1974)

Valkenberg Park, Breda

90 COPY PROOF
---
above an below: Permanent installation

of the poem, with the author's

name in metal letters (identical

treatment as the fence).

– City of Breda (Departments of

Urban Development and Culture)

– The Flemmish Poetry Centre, Gent

– Edobode Apparatenbouw,

Groningen / Jan Hulsebos

Oudeschip (montage)

bird rocks/ branch cracks/ Air moves./ Nearly nothing/

to look at/ And just that/ I look at.

This poem and the way it is integrated casually confronts the passer­by

with the non­architectural environment he passes through. Typography

and text attract attention to the fence as a divider between the city and

the park. Nonetheless, the text is not emphatic in its presence, as the form

and colour of the letters mesh seamlessly with the fence. As the poem

expresses a classic Romantic theme, the design engages a dialogue with the

visitor in a light and modest tone.

Steffen Maas, november 1999

COPY PROOF 91
---
PRoPosAl AND

couNtER-PRoPosAl

theme III

Visual Essay

Poetry in urban spaces

ANDREAs tEtzlAFF

Poetry as a

public event

chosen Area

shopfront of Alexandrium II –

'consumers' par a dise', a fluctuating,

'forum'-like spot. Mostly very busy:

People of all cultural and ethnic

back-grounds, Residents as well as

Rotter dam mers, come here to shop

or to have 'a day out'.

the Author

o WRItER, RIsE AND WRItE soME PlEAsANt WoRDs,

WhosE MEANING's lIkE A cuRE to oNE thAt's Ill.

hE sAYs MY PoEMs oF RANDoM scRAPs ARE MADE,

but I sAY thEY'RE A PuRE sAlIMI blADE.

I hAVE soME thouGhts I'D sAY thAt MAkE ME sIGh:

DoN't tuRN to MEN, but oNlY GoD, FoR AID.

ouR AskING hIM Who cANNot hElP WAs VAIN,

As VAIN As tEllING WoMEN oF ouR PAINs;

thouGh MANY tAkE A boAstER At hIs WoRD,

I hAtE thE boAsts thAt I hAVE lAtElY hEARD.

o GIVE ME cAMEls, thEIR chEst DARk FRoM sWEAt,

WIth lIMEstoNE MouNtAINs uP AND bAck bEsEt;

REINs tAPPING oN thE PoMMEls Is All You hEAR

AND cAMEls, uNtRAINED, FIll YouR hEARt WIth FEAR;

'Anez abu salim, one of the most

famous bedouin smugglers and

poet of sinai.

the Poem

It was composed during emprisonment.

It's part of a series of poems

addressing clan-mem bers, friends

and (smuggling) colleagues. there

are replies on them.

thE GuIDE GEts lost AMoNG MouNtAINs hIGh,

NIGht's DARk, ouR WAtER-skINs ARE tINDER DRY;

but WIth thE DAWN WE PAss Mt YAhAMIM,

AND AcRoss thE stoNY FlAts WE stREAM.

taken out of the series 'a poet in prison' by 'Anez abu salim

in: clinton bailey, Bedouin Poetry from Sinai and the Negev,

oxford/New York 1991

A story of transport

'Anez abu salim composes the poem

– a fellow in mate writes it down

('Anez is illiterate) – a 'mes-senger'

brings it to a travelling merchant

(who drives in his truck to all the

tribes) – the merchant reads it to

bedouins, 3 or 4 times if they wish

to memorize it – the poem spreads

from mouth to mouth – people

react to it and send something back.

92 COPY PROOF
---
Visualization

the poem is 'morphed' from its

original arabic version to its european

translation – it's transferred from

one alpha betical system into the

other, changing from generation

to generation (like generations of

immigrants assim ilating to a foreign

city). 8 steps within this process are

taken out – like filmstills – and shall

be used as a 'score' by 8 street -

painters. Each of them realises one

of the steps on ground, following

his/ her own aesthetic inter -

pretation concerning colour and

style.

step 1, out of 8 (original) step 2 step 3

step 4

step 6

step 7

a bedouin poem shouldn't settle – it should happen ...

step 5

photo: Mischa Keijser

COPY PROOF 93
---
94 COPY PROOF
---
COPY PROOF 95
---
oPPosItIoNs

h.J.A. hoFlAND

Journalism

MARIJN VAN VIlstEREN

& Rethorics

stEFFEN MAAs

there, in the capital of the

world, is to unravel the paradox.

More than anywhere else,

it is there, per square foot per

minute, that one encounters

the largest numbers of cleanedout

carcasses of words, divested

of meaning. New York's concentration

of word cadavers

is greater than in any other

place on earth. And yet – this is

the paradox – the city works as no other, in both senses of the word,

labour and effectiviness. How is this possible? I think it is because

the display case words there have a higher speed of rotation than

anywhere else in the world. In the postmodern rhetoric, New York

has developed a language of its own. This is a language that one has

to learn there because it cannot be learned anywhere else. In New

York, in order to comprehend, from their point of view, the summing

up of words in green italic print in the chapter on 'Who's

to Blame?', one has to learn to read all over again. And as a heartbreakingly

absurd contradiction, we see the Pope, the Holy Father,

bedecked with all the paraphernalia of the earthly representative of

God, in the photograph above the caption: 'The Pope Now has a

Website.' Certainly. Why wouldn't the Pope have a website? Why

wouldn't he eat a Big Mac? Why shouldn't he ride a 1000cc motorcycle?

Who or what is being made into an advertising cadaver, the

Pope or the website?

In both of these projects about 'journalism and rhetoric' (politics

and advertising, I think, belong here, too), the word is put on view,

extricated from its origins. And what matters is that one must have

experienced it in order to judge it. In his novel, Hampton Court,

Menno ter Braak's protagonist discovers a matchbox. In looking at

this little box, which is in no way distinguishable from any other

matchbox, he is overwhelmed by the detachment, the event within

his brain whereby this box, stripped of its function, is suddenly

removed from its surroundings and consequently takes on an

absurd presence. A comparable discovery lies at the root of the

rediscovery of words, stripped of their meaning, now lying about as

preened, dressed, inflated cadavers of words, put on view in the

showcase of journalism, of politics, of advertising.

A word has a life. It has its ups and downs. It best presents itself,

coincidentally, in a given typography, in a given context. I'll give an

example: the word kaput, which assumed worldwide fame in the

Second World War and the novel by Curzio Malaparte. I find that

it took its most beautiful form in its most poignant meaning on

96 COPY PROOF
---
the Murder of the Word When the history of our own time is written,

will historians have concluded that we, the generations of the

last century, not only inflicted enormous human suffering and

material destruction, but even in the process, we perpetrated a murderous

assault on our mother tongues? On Dutch, but also on

English, German, all the languages of Western civilization? Will it be

decided that words can also be destroyed and with them, the concepts

for which they stand? Or – an absurd consequence – must the

scholars of the future work in, and especially with, the language

remnants that we will have left behind, so that they can no longer

even fully comprehend what has been lost?

This is the question, it seems to me, that ultimately lies concealed

in the projects by Steffen Maas and Marijn van Vilsteren. In an age

that prides itself on its 'revolution in communications', day in, day

out, we are in the process of making words empty. We deal with

words as though they were beasts bred for consumption. We give

them additives to make them grow, feed them hormones. We kill

the words. We scrape out their innards, remove their organs and

their appendages. We spray words with colour dyes and lay them

out in display cases. There lie our colossal, synthetic words. They

no longer serve to be read. The word, treated for consumption, has

become its own advertisement. In its original function, it is dead.

It has spoiled and rotted. Now removed from the display case,

it is replaced by the next ad that was once the word, and the advertisement

for the word has replaced its meaning. Advertising is

a step-by-step process, from the enlargement to the surpassing

to the exceeding to the ultimately superlative, that highest apex,

pinnacle of a top step. May I wish you a very exceptionally incredibly

pleasant evening!

Steffen Maas's project includes lettertype. 'Slóbodan Milosevic',

from a five-point letter on the first day of the war in Kosovo to more

than 35 points on the 67th day. It is the evolution of the war, from

concept to outcry, from the reading, in the original sense, to the

reaction, to just four-and-a-half letters that remain of a forename.

Another segment of the project is comprised of a collection of sense -

less commonplaces found in politics, advertising and the flash of

postmodern industry. What, in God's name, is 'Partners in Young

Executive Recruitment'? What is a Partner worth? What is Young?

How executive is Executive? Do we read words, or do we see the

emptied-out, puffed-up carcasses of words? We see the cadavers; we

certainly know that. We smell the wisp of rot, the regular scent in

the storm of everyday idle prattle that perpetually zooms over the

West.

Marijn van Vilsteren's project came about in New York. The task

COPY PROOF 97
---
the next appears, the next comparative, the superior, the superlative,

now the ultimate and tomorrow yet different again, the

super-ultra-supreme rhetoric? With each successive round, distrust

of language is on the rise. In their final gift, both of these

projects bear witness against those who would make use of the

word by killing it.

hello Down there (1997) The theme of my book is the way

American culture presents and reproduces itself. It was made together

with David Beker, a student of American Studies and History

at the University of Amsterdam. We tried to sketch an image of

American culture, based on the 1996 presidential election campaign.

We wanted to be realistic in terms of our possibilities for realizing

such an objective. The only way we could sensibly approach it was

to go to the United States in the thought that we needed to confront

our presuppositions (from our respective fields) with the huge

exposé of Americana offered by the election campaign. A number

of subordinate themes quickly crystallized: the conflicting inter

e s t s o f

politicians and the public, the influence of business on politics, the

impossibility of politicians keeping their promises, the power of

the media and the theatricality they engender, the opportunism of

politicians towards different interest groups, the frank compromising

of the truth and the way voters take that for granted, the

importance of the opinion polls, information, history, heroism,

morale, religion, family, antecedents and so on. Our position offered

us a chance to understand these conditions, which are often so

incomprehensible to Europeans. We concluded that Europeans

need to be 'indoctrinated' into American rituals.

At a certain point, we found a course book meant to help

Americans master these rituals. We have used eight of the chapters

from the textbook in our structuring of Hello Down There. The

chapter titles are: 'Conversations with God', 'How to Start your

own Law Practice', 'How to Thrive in a Not-So Sensitive World',

' W h a t a m

I Good At?', 'How to get a Good Night's Sleep', 'Would You like to

be Able to Do More than just Dial 911'?, 'The Principle of

Seduction' and 'How to Deal with Difficult People'.

We could now introduce our secondary themes, one at a time.

Somewhat tongue-in-cheek, perhaps, but certainly not judgementally

– we were sooner just surprised. We wanted to demonstrate

that there are contradictions in the American Dream. For example,

how does the politician 'deal with difficult people', and how different

is that to the way the average American citizen is meant to do

98 COPY PROOF
---
'the Pope Now has a Website.'

certainly. Why wouldn't the

Pope have a website? Why

wouldn't he eat a big Mac?

Why shouldn't he ride a 1000cc

motorcycle?

h.J.A. hoFlAND

May 5th, 1945, the day of the

German defeat, on the front page

of the 'The Maple Leaf', the

Canadian army newspaper.

'KAPUT' could not have meant

more than it did on that day in

that lettertype. All the kaputs

ever since are less kaput than

this kaput. This is not to say

that the word has since become

oPPosItIoNs

h.J.A. hoFlAND

Journalism

MARIJN VAN VIlstEREN

& Rethorics

stEFFEN MAAs

unusable, only that it could never again appear in this beautiful form,

and that each misuse of context would subsequently be punished

with a further weakening of its significance. Words can only preserve

their meaning, and their beauty, if you will, for one is more receptive

to it than another, if people do not wring them out and press them

into purposes alien to their being. Once exposed to the process of

being emptied out and blown up, a word dies and never again returns

to its origins.

One of our shortcomings is that we can not remember how we learned

to speak. What happens in the brain of a child as he discovers

that a certain combination of sounds has a certain meaning, this

meaning and no other? In order to be able to remind ourselves, in

addition to a good memory, we should as children already have

other words at our disposal with which to identify our memory.

The spoken word is the oldest form of remote control. The child

says, 'Water'. Mother arrives with a glass. In the end we know thousands

of words that give us the capacity to 'exchange ideas' in millions

of ways. It is a very complicated, always different, form of

mutual remote control.

We, having become well-educated speakers in our mother tongue,

could better imagine this if we knew no more than a few words in a

foreign language, without understanding them in their entire substance

– objective meaning, passive meaning, metaphorical function,

emotional value. There are Dutch tourists who expand our

civilization by teaching our 'dirty' words to the waiters in café terraces

overseas. The next fellow countryman, unaware that he is

ordering his coffee from such a student, is entertained to a choice selection

of triumphantly proclaimed ugly words. Laughter. Linguis tically

speaking, this is a case of failed remote control. The word has a different

function for the user than it does for the receiver.

There is a question that evolves from these projects by Steffen Maas

and Marijn van Vilsteren. What are the consequences for verbal

remote control if the words are worked into adorned cadavers of

words, empty letter combinations whose tour ends at the moment

COPY PROOF 99
---
the same thing?

100 COPY PROOF
---
COPY PROOF 101
---
102 COPY PROOF
---
COPY PROOF 103
---
104 COPY PROOF
---
COPY PROOF 105
---
106 COPY PROOF
---
COPY PROOF 107
---
108 COPY PROOF
---
COPY PROOF 109
---
oPPosItIoNs

h.J.A. hoFlAND

Journalism

MARIJN VAN VIlstEREN

& Rethorics

stEFFEN MAAs

the War in the Balkans. I began

this project because of a general

interest in the rhetorical

aspects of language and how

they are used by the news

media. During the process of

my work, it appeared that an

objective analysis had been

superseded by the 'madness of

the day'. The events of the past

year in Kosovo were very dominant

in the media and the not unambiguous reporting, as such, was

un avoidable working material. I have combined political statements

about the events and various texts from the news media

w i t h

contemporary commercial recruiting texts that proscribe a 'living

and working style', two language registers that do not seem very

tolerant of one another. The trendy language, combined with political

events, gives insight into journalistic rhetoric, as well as illustrating

personal or collective indignation.

In an age that prides

itself on its 'revolution in

communications', day in,

day out, we are in the process

of making words empty.

h.J.A. hoFlAND

110 COPY PROOF
---
kosovo (1999) 'We wish to warn you that the following images

may be distressing.' With these words, tv-journalist Henny Stoel

turned her eyes away from me, towards her monitor off-screen.

What followed was footage of several corpses from the war, to which

our news caster added that the images had been taken by amateurs.

I alerted my attention to what was to come. As I had been made

aware of the possibility of shocking scenes, I looked all the more

intently for a detail that might touch me. But they only affected me

because they were amateur footage. It did not last long. Henny Stoel

immediately followed with a report that the members of the Radio

Philharmonic Orchestra were distributing a pamphlet, in addition to

the regular programme booklet. They had begun playing ten minutes

late. Not ten minutes of silence, as I would have expected from

musicians, but they had organized

a speech to precede their afternoon concert, in support of their

demands for a better labour contract.

Henny Stoel has pretty eyes and makes me think of an amiable

next-door neighbour. When the news was over, she gave a friendly

nod. She was a caricature that you could make a sketch of. I glanced

outside, past my television. As a child, I thought, you can only see

your mother as your mother, a character. Diagonally across the way,

someone was watching a film. An image flickered in the pitch-black

room, indistinguishable within the darkness of the street that lie

between us. A shiny, artificially lit sportscar drove into our two

rooms, to then be cut off by an invisible frame through which it sped

away. I wanted to continue working on the pamphlet that was going

to be my final project. I decided on ten minutes of silence first.

Meanwhile, the chase was on and we were now in hot pursuit,

threatening the car from behind. Then a group of nurses in white

uniforms rushed through an American hospital with a bed and an IV

drip. It looked 'realistic'. I would be able to follow the news reports,

or in any case the rest of the war, this way, if my neighbour left his

curtains open for the next few days.

For now, I had to look for a couple of phrases from today's newspaper,

my daily working materials and a teeming nest of people who talk a

lot. When first reading the paper, I had immediately been compelled

to circle these crescendos in the requiem that is called Kosovo,

painful entities whose typographical enlargements were instantly

before my eyes. It was then that I best imagined the essence of the

image, in which I had to unite personal emotion, political facts, use

of language and graphic solutions, in its most expressive form,

because NATO was all too often shooting right past my own objectives,

as if a blood-red sportscar were constantly speeding past.

the third Way Political and Commercial Use of Language in News on

COPY PROOF 111
---
selection

opinion

actuality

Clockwise from top left:

– Henri Matisse: 'Through the

Wind-Shield' (1917)

– Rachel Whiteread: 'Untitled'

(1997), (paperbacks)

– Mark Manders: 'BLACK BIRD /

DEAD BIRD / CURRENT THOUGHT'

– The former Chilean dictator,

Augusto Pinochet, just before

his arrest in 1998

suggestion

112 COPY PROOF
---
above left: Rembrandt:

'De Staalmeesters' (1662), verifying

the books at a town meeting;

above right: American judges in

council, newspaper photo during

the Bill Clinton / Monica Lewinsky

scandal (1999)

left: 'Gerrit-Jan Wolffensperger

stops to let Frits Bolkenstein pass.'

right: From an advertisement for

KUB Tilburg

.

COPY PROOF 113
---
Tóch ís Augústo Pinochét président

(Het thema was weggezakt door de

zomervakantie en de algehele Pinochet-moeheid)

OH, OH, SANTIAGO

et is een

Hándere

Pinochet

die deze

dagen

voorpaginanieuws

is in Chili. Robinson

Pinochet is

arts. Hij schóót

zonder aanleiding

z'n buurman,

DE KERK, IN DIT

ZÉÉR KATHOLIEKE

LAND VAN GRÓÓT

diens echtgenote

en één van hun

kinderen dóód.

Colo Colo

• De zonderlinge moordenaar

houdt de Chilenen

bezig. En natuurlijk de

wedstrijd vanavond van

Colo Colo, de favoriete

voetbalclub die tegen

Peru speelt om de Beker

der Bevrijders.

GEWICHT, DENKT

NA OVER EEN VER-

KLARING.

I n S a n t i a g o h e b b e n

Penochetistas

met hernieuwde energie hun

claxóncoñcerten

hervat voor de met eieren bekogelde Spaanse ambassade in het stadsdeel

¡Las Condes!

LIBÉRATION: "De duitsers kwalificeren onze president als een negerkoning"

SCHRÖDER ZAHL-

MEISTER EUROPAS:

Köhl

SCHRÖDER NEEMT WÓÓRDEN IN DE MOND,

was in zijn tijd bereid Europese topontmoetingen

op het laatste moment te

(die zijn voorganger nooit zou hebben gebruikt)

redden

"HET GOEDE DUITSE GELD WORDT

IN BRUSSEL ERDOOR GEJAAGD"

"met een zak

Duits geld"

"MÉÉR GERECHTIGHEID"

huidige Duitse netto bijdrage: 22 miljard mark

1999 ROTTERDAM

ÖCALAN

ACÄLÓN

AçÖLAN

ÜCÜLÜN

NALACÖ

ZESTIENHOVEN AIRPORT

HET BERICHT

LUIS MARÍA ARGAÑA (64) DOOD

VICE-PRESIDENT PARAGUAY VERMOORD

left: Viennese Modernism

(Friedl Dicker and Franz Singer

below: Desk for the home of

Dr. Reisner, Vienna (1929)

DE VICE-PRESIDENT VAN PARAGUAY, LUIS MARIA ARGANA

(64), IS DINSDAG IN ZIJN AUTO IN DE HOOFDSTAD ASUN-

CIÓN DOODGESCHOTEN DOOR DRIE MANNEN MET AUTO-

MATISCHE WAPENS. ARGANA LEIDDE EEN FRACTIE BIN-

NEN DE REGERENDE COLORADO PARTIJ. HIJ WAS IN EEN

DE VICE-PRESIDENT VAN PARAGUAY, LUIS MARIA ARGANA

(64), IS DINSDAG IN ZIJN AUTO IN DE HOOFDSTAD ASUN-

CIÓN DOODGESCHOTEN DOOR DRIE MANNEN MET AUTO

BITTER POLITIEK GEVECHT VERWIKKELD MET PRESIDENT

RAÚL CUBAS. DE MOORD HEEFT DAARDOOR WAARSCHIJN-

LIJK EEN POLITIEKE ACHTER-

GROND. ARGANA, PRESIDENT VAN

HET HOOGGERECHTSHOF ONDER

STROESSNER EN VOORMALIG

MINISTER VAN BUITENLANDSE

ZAKEN, WERD VORIG JAAR IN PAR-

TIJVERKIEZINGEN VERSLAGEN

DOOR VOORMALIG LEGERCHEF

OVIEDO. OMDAT OVIEDO GEVAN-

GEN HAD GEZETEN VOOR ZIJN

COUP IN 1996 WERD HIJ VERVAN-

GEN DOOR CUBAS. ARGANA WERD

VICE-PRESIDENT. TEGEN PRESI-

DENT CUBAS LOOPT SINDS VORI-

GE WEEK EEN IMPEACHMENT-

PROCEDURE HET CONGRES

WEGENS SCHENDING VAN DE

GRONDWET. CUBAS ZORGDE ER

VORIG JAAR VOOR DAT COUPPLE-

GER OVIEDO VRIJKWAM. ARGANA

STEMDE VOOR AFZETTING VAN DE

PRESIDENT. ALS CUBAS

MOET VERTREKKEN, ZOU

ARGANA PRESIDENT ZIJN

GEWORDEN.

OPPOSITIELEIDER

OEKRAÏNE DOOD

BIJ EEN VERKEERSONGELUK IS

GISTEREN BIJ KIEV IN DE OEK-

RAINE VJATSELAV TSJORNOVIL,

DE LEIDER VAN EEN VAN DE

BELANGRIJKSTE OPPOSITIE-

PARTIJEN IN DE OEKRAINE, OM

HET LEVEN GEKOMEN. ZIJN

CHAUFFEUR KWAM BIJ HET ON-

GELUK EVENEENS OM.

TSJORNOVIL, EEN

PROMINENTE DISSI-

DENT IN IN SOVJET-

TIJDEN EN EEN VAN

DE EERSTEN DIE IN

DE LATE JAREN TACH-

TIG VOOR DE OEKRAI-

ENSE ONAFHANKE-

LIJKHEID PLEITTE,

LEIDDE SINDS DE OP-

'My body is only free of all things

imaginary when it enters its

working space. everywhere this

space is the same, carefully arranged

for the pleasures of painting, of

writing, of classifying.'

Roland Barthes by Roland Barthes

(1991)

114 COPY PROOF
---
PRISTINA TEHERAN/ BONN, 12 APRIL. De

Iraanse Servischepresident, Mohammed Slobodan

Khatami, Milosevicheeft gisteren een uitnodiging

van de Duitse bondskanselier

Gerhard Schröder voor een bezoek

aan Duitsland geaccepteerd.

Dat is in Pristina Teheran en Bonn meegedeeld.

Khatami Miloseviczal "op een geschikt

moment" gaan. de uitnodiging

werd zaterdag overgebracht

door de chef van de Duitse kanselarij,

Bodo Hombach. Hombachs

bezoek aan Pristina Teheran volgde

onmiddelijk op de vrijlating van de

Duitse zakenman Helmut Hofer,

die ter dood was veroordeeld wegens

een sexuele verhouding met

een Albanese Iraanse studente. De kwestie

Hofer stond een normalisering van

de Duits-Iraanse Servische betrekkingen in

de weg. Khatami Milosevicbracht vorige

maand een bezoek aan Italië.

(AFP)

PODGORICA DJIBOUTI, 12 APRIL. De presidentsverkiezingen

in Podgorica Djibouti, een

stadstaat aan het uiteinde van de

Rode Zee, zijn zoals algemeen

werd verwacht gewonnen door de

kandidaat van de regerende alliantie,

Ismail Rugova Omar Draskovic Guelleh (52), die

al geruime tijd als sterke man van

het regime wordt beschouwd.

Volgens de verkiezingscommissie

kreeg Draskovic Omar 74 procent van de

stemmen bij een opkomst van 60

procent. de oppositie spreekt van

massale stemfraude. omar volgt

Radovan Hassan Goulad KaradicAptidon (83) op,

die aan de macht is geweest sinds

de onafhankelijkheid van Frankrijk

in 1977. de regering van de

nieuwe president erft een zeer

slechte economische toestand die

zich onder andere uit in chronisch

onvermogen de ambtenaren op

tijd te betalen en voldoende

stroom te leveren. (Reuters, AFP)

GROZNY, PRISTINA12 APRIL. De president

van Tsjetsjenië, Servië Slobodan Aslan Maschadovvic

is zaterdag voor de tweede

Milose-

keer in drie weken aan een moordaanslag

ontsnapt. In een dorp ten

zuiden van de hoofdstad Pristina Grozny

werd een bom aangetroffen langs

de route die de president kort daarop

zou nemen voor een toespraak

tot aanhangers in het dorp De

bom werd onschadelijk gemaakt.

Op 21 maart ontkwam Milosevic Maschadov

op het nippertje aan de dood toen

een op afstand bediende bom explodeerde

op het moment waarop

hij langsreed. De president is verwikkeld

in een felle machtsstrijd

met militieleiders die verantwoordelijk

zijn voor het klimaat van

wetteloosheid in Tsjetsjenië. Kosovo Zij

zijn uit op zijn val, met het argument

dat hij te toegeeflijk is in de

relaties met Rusland en dat hij weigert

van Kosovo Tsjetsjenië een islamitische

staat te maken. (Reuters)

A NEW SENSATION!

MARTINOVIC

DRASKOVIC

MILOSEVIC

KARADZIC

TADIC

MOSZKOVIC

A NEW SENSATION!

ARKAN

TARKAN

RADOVAN

SLOBODAN

BALKAN

KOFI ANAN

A NEW SENSATION!

ASSAD

BAGDAD

NOVISAD

ISLAMABAD

BELGRAD

SIMBAD

COPY PROOF 115
---
Naturalization

The Third Way

Genocide/Ethnicity

Silent Diplomacy

Bloodbaths

Euro-Scepticism

'on he went, then, but it was a long way. this road, the village high street,

did not in fact lead to castle hill, it only went close to it, but then curved

away, as if on purpose, and although it took one no farther from the castle,

nor did it come any nearer. k. constantly expected the road to turn in the

direction of the castle at last, surely it would, and it was only because

he expected it that he kept going; obviously, given his weariness, he was

reluctant to leave the road, he was also surprised at how long the village

was, it went on and on, nothing but tiny houses and iced-up windowpanes

and snow and nobody around - finally he tore himself loose from the grip of

the high street, a narrow lane swallowed him up, even deeper snow, his feet

sank in, it was hard work extracting them, he began to perspire, abruptly he

came to a halt and could go no farther.'

Franz Kafka: The Castle, (1997), Penguin Books, a new translation,

by J.A. Underwood

VRIJE

GELUIDEN:

'T IS 'N

VUILE

OORLOG!

the Voice of Freedom

It's A DIRtY WAR!

DE STAN-

DAARD:

HET IS

ALTÍJD

OORLOG!

the standard

DE = CURO:

HET IS

NOOIT

OORLOG!

It Is AlWAYs WAR!

the Euro

It Is NEVER WAR!

116 COPY PROOF
---
DE BEWE-

GING:

HET IS

IMMERS

OORLOG!

DE

ZWEEP:

HET IS

ALWEER

OORLOG!

DE WAAR-

HEID:

HET IS

BIJNA

OORLOG!

the Movement It Is WAR thouGh! the Whip It Is WAR, AGAIN! the truth It Is NEARlY

WAR!

DE ECHO:

HET IS

BÍJNA

VREDE!

HET

SIGNAAL:

'T WAS

METEEN

OORLOG!

L'INTERNA-

ZIONALE:

HET IS

OVERAL

OORLOG!

the Echo It Is NEARlY PEAcE! the signal It WAs WAR RIGht AWAY! l'Internazionale It Is WAR EVERYWhERE!

HET

VOLK:

HET IS

BURGER

OORLOG!

HET NIEUWS

VAN DE DAG

HET IS

VANDAAG

OORLOG!

HETLIBERALE

WEEKBLAD

'T IS 'N

PROPAGANDA

OORLOG!

the People It Is A cIVIl WAR! the Daily News toDAY, It Is WAR! the liberal It Is A PRoPAGANDA WAR!

COPY PROOF 117
---
Welk

dieptepunt

wilt u terugzien

op een

postzegel?

Leuker

kunnen we

het niet

maken,wel

makkelijker.

Vrijheid

Deadlines

missen is één

ding,

een oorlog

missen iets

anders.

Wij zorgen ervoor.

De BV Nederland.

VS bieden goede Europeanen

iets onbetaalbaars.

Ideas People Technologies

Power geven

aan

Partnership.

Sneuvel-

Bereidheid.

Misschien

hadden we de

KorteKlapMethode

moeten

gebruiken.

KannoneerBoot-

Politiek

AlliedForce

Voor wie all-risk te duur vindt.

NachtVanWiegel.

Goed genoeg voor een half

miljoen mensen.

'the bourgeois can read and play the piano, all of that. therefore, because

they can all do it just the same way, because they are what they call civilized

people, that is why we dislike them so much. that is we are so happy to listen

to the crudeness and the vulgarity of lesser folk. It is obvious that we are

not going to help teach them to read and play the piano, because for us, the

world would no longer be bearable.'

Lodewijk van Deyssel, ca. 1890

Join us.

Together we

can change

the world.

AlliedForce

De mens lijdt

het meest

van het lijden

dat hij vreest.

Knuffels

uit

Kosovo.

Laat u zich

verrassen of

heeft u een

scenario?

Midlife-crisis

op je

vijftigste?

Creators of Solutions.

Hoe ver het ook is,

het is altijd dichtbij.

Partners in Young Executive

Recruitment.

Wij zetten onze aanvallen

onverminderd voort.

118 COPY PROOF
---
Times

Times

corps 61

+ 3 eenheden

aug. 5 10 15 20 25

Slóbodan Milos

corps 64

+ 3 eenheden

aug. 5 10 15 20 25

Slóbodan Milo

corps 62

+ 3 eenheden

Slóbodan Milos

corps 65

+ 3 eenheden

Slóbodan Milo

corps 63

+ 3 eenheden

Slóbodan Milo

corps 66

+ 3 eenheden

Slóbodan Milo

dag 19

cm 1 2 3 4 5 6 7 8 9 10 11 12 13 dag 20

cm 1 2 3 4 5 6 7 8 9 10 11 12 13

With social phenomena, one has to do not only with the

relationships between the individual and the group, or

between groups, but also with the fact that these relationships

can have a certain semantic meaning and pragmatic

effect. (…) linguistic communication is not usually a neutral

reporting of conditions in the world, but envisions

influencing another's preferences and behaviour. (…) this

has consequences for constructing models. It implies that

one must take account of phenomena that (with the

exception of biology) do not take place in natural science.

(…) the nature of the social phenomenon that one is investigating

provides good criteria for dividing social models

into two major groups. If one defines 'social' as 'communicative',

then one can distingish:

I models for the structure of communications networks

or structural models, and

II models for the rules of the communication

(syntactic/semantic/pragmatic rules).

K. Bertels, D. Nauta: Introduction to the Understanding of

Models (1974).

COPY PROOF 119
---
Antwerp, late November '99

hey steffen! here is part of the 'occupied city' by Paul van ostaijen. but not

all of it! that's because my wallet is empty. but it will fill up again and I'll

send you the rest. It's a lot. I hope this is what you meant, because I am not

quite sure. It is poorly copied, as well. but best Wishes. For 2000, too! then I'll

be in Malmö, in southern sweden. Around the first of January, I mean. so I

wish you a glorious party and great fireworks. I have also copied 1 page from

a book by Daniil charms. It may be interesting as far as the typography is

concerned. but Russians are interesting no matter how you look at it. Are you

familiar with Daniil ch? he is an absolute hero, in my eyes. take care of

yourself!

Charlotte K.

hoe ver het

ook is, het is

altijd dichtbij.

however far away, it is always close by.

120 COPY PROOF
---
COPY PROOF 121
---
oPPosItIoNs

A.J.A. VAN zoEst

Index

MINkE thEMANs

& Meaning

sANDRA ooM

the tension between the flat

surface and the space, between

the two-dimensional and threedimensional,

tangible, palpable.

The pages are flat, but the

book takes up space, and this is

a reference to what happens in

a museum. Three-dimensional

objects are often exhibited in

frontal fashion, as if they were

flat. One dimension is left hanging

somewhere back behind the wallpaper.

In a double sense, both Sandra Oom and Minke Themans have tackled

a problem of representation. Sandra Oom looks at the signs in

the museum, signs that say, 'Don't touch me'. In order to observe

the situation from this perspective, she removes the work of art

from its traditional central role and puts the museum visitor in its

place. Look at the way he is standing, how she sits, how he walks,

what he is experiencing. Minke Themans, in her turn, puts the city

in the spotlight: city, show us who you are. Having reflected on

that, after their observations, both researchers set themselves the

task of giving the most highly individualistic representations possible

of those representations.

Representation is a moment in a process of giving something meaning.

Take a photograph of a pile of cigarette butts. It represents a

pile of cigarette butts, a representation that gives the viewer little

difficulty in making the link to what is being represented. The sign,

or symbol, is a visualized signal. There is a kinship in the appearance

of the image and what is (re)presented by that image. In the reality

of our lives, however, a pile of cigarette butts dumped in the street

represents something else in its own turn. Someone who sees it

also sees the driver who opened his car window and just dumped

out his ashtray. Easy. Inconsiderate. No regard for anyone else. This

automobile owner is the young distant cousin in the family of those

soiling the environment, the same family the big boys belong to,

the operators of ruptured oil tankers, the chemical factories that

left the Dutch Volgermeer Polder soaked in dioxin. Signs or symbols

in which such relationships as these are drawn (in time, in

space) are signs of contiguity, of proximity. There is also a third

manner of representation, one that depends on mutual agreement.

In traffic, for example, there are conventions, codes that determine

that 'red' is associated with 'no', a triangle not without its pitfalls.

Signs of language, be they letters, words or sentence constructions,

are in principle, codified signals. The language is the code.

122 COPY PROOF
---
Index and Meaning How does a city let you know it is a city?

With its asphalt and its pavements, the noisy traffic, the

bus s es, tramways, automobiles, scooters and bikes? With its high

skyline, the clouds just above? By the streams of people moving

along the shop windows – everywhere a fellow being out shopping

for something, carrying his bounty in a bulging plastic bag? Yes, a

city gives out signs of its own: here you are in the city. A museum

also sends out its signals. They include the barriers, sometimes very

apparent and sometimes barely perceptible, that have been placed

between the museum visitors and the objects on exhibition, the

border dividing the bidden and the forbidden, between having to

look and not being allowed to touch. This is also a division between

desire and having something for yourself. Separate galleries, lines

on the floor, cameras, guards. Signs that set boundaries are telling

us, 'this is a museum – where you should be doing this, but that is

not allowed'.

Minke Themans embarked on an investigation of the city, Sandra

Oom on a study of the museum. Their basic principles were similar.

Each recorded how people experienced the object of their research.

Their results are not similar, yet they do have something remarkable

in common: both are extremely original, both a result of a shift in

the way their selected subjects are usually approached.

An investigation is original because someone has looked differently

at something. Where the city is concerned, a considerable step is

undertaken in one's thinking when that investigation is not seen

simply in visual terms, but the other senses are also allowed to

have their say. A city is not just seen, it is certainly also heard and

smelled, and for the persistent, perhaps even tasted and felt. There

are sounds and smells. The observer can perceive them, indeed

even take tallies and measurements, but how does one tell about

them, report on them? This, the form, was the challenge in a study

of the singularity of a Rotterdam street, the Bergweg, a synecdoche

for the life of the big city. The innovativeness of this study of the

city lies in this, that an example is given for a different means of

recording things. Minke Themans' description of the city goes beyond

the maquette that indicates the scale of the streets.

A new way of defining the problem can also make a research project

original. What are they all about, those barriers in museums that

separate the observer from the observed? Once again, how do you

relate your findings? In Sandra Oom's presentation, not a sliver is

left of what anyone's wildest dreams might have expected. She

offers us a catalogue, but what a catalogue it is – and you might also

ask, a catalogue for what? It is a museum in book form, with a

tension between the pages and the volume of the whole, making

COPY PROOF 123
---
index that most possesses this power: we are affected by it. Whenever

our hearts are affected, and index is at work. The meaning may

indeed not be immediately clear. The interpretation can certainly

also be completely mistaken. You hear a huge rumble. A bomb? War?

Thunder? Some idiot setting off fireworks? The thunderous bang is a

sign. We need only to find out what the sign is of. Even the most

minimal of indices can be an oeuvre ouvert, a sign with a multitude

of interpretations. Much depends on the context and the semiotic

capabilities of the person doing the interpreting.

Then too, signs are like living beings, subject to the workings of

time. They live and they die. Indices vanish and make way for new

indices. Pierce gave a 'street cry' as an example of an index. That

was in 1902. At the time, tradesmen announced themselves by

calling out in the streets. As a child, in the 1930s, I could hear

them moving through the streets, the milkman, the potato wagon,

the coal cart, the man with the Berlin sausage buns and the rag man

with his hand cart and his enigmatic chant, 'Rags and bones, rags

and bones!' Friday was a happy day, because Klaas always appeared,

the jolly fishmonger from Volendam, with his broad trousers and

his cry of 'tasty sole and fresh eel!' These aural street indices have

been chased away, voted out of existence. That fact makes us aware

of how mobile and how transitory human semiotic activity is.

In the theoretical sense, the investigations of the Post-St. Joost

researchers are important in that they all present a new model for

description. Together with that obvious theoretical component, the

fact that they are bound by time – they record the indices from the

city of today, from the museum of today – gives them a some what

less self-evident historical aspect. This is made more explicit in the

photograph of a segment of a wall, where we read the following:

'THE FIRST STONE LAID ON 16 JUNE, 1884, by Petronella

Hendrika Cornelia de Groot, aged 15.'

A nostalgic index. The girl who once stood there would be 131

years old this year. Not only the date, but also her old-fashioned,

very Dutch name brings us back to a time when the urban indices

of the Bergweg were completely different to those of today. For a

grandfather, the first stone is an index of a by-gone world, but a

contemporary passer-by just thinks, 'Oh, they were still doing that

back then.' The photograph in Minke Theman's book gives the

Bergweg an age, adds an historic dimension, a quick craquelure

opening up the surface of its world.

124 COPY PROOF
---
The American logician and philosopher, Charles Sanders Pierce

(1839-1914), who defined the three forms, called the visual image

the icon, the contiguous image the index and the image by agreement

the symbol. Of these three, the icon fulfils its seductive task

primarily in art and poetry, and also in the work of designers, who

continue to be practising artists and poets. The symbol does its

work wherever communication at the consensus level is required,

the level of 'reasonableness'. The index is the finger pointed at a

tangible reality.

Representation is but one moment in how something acquires

meaning in the semiotic process. Meaning happens when someone

immediately, without circumlocution, puts an interpretation to it.

Giving meaning, 'semiosis', is that game of representation and

interpretation. The character functions when it indicates something

and ignites that light in someone's mind. When I hear someone

mutter, 'the filthy slob', as he steps over the pile of cigarette

stubs, I know that a semiotic connection has been made.

No symbol is pure icon, pure index or pure symbol. There is something

of the icon in the conventional use of the colour red to indicate

forbidden territory. There is conventionality in pictograms.

We all understand that we must walk straight ahead, and not

upwards, when the arrow indicating the exit points heavenwards.

Roughly speaking, that pictogram is an icon, but one that only has

a semiotic function by the grace of convention (vertical arrow

means go straight). When Minke Themans wants to indicate the

size of a surface, she can make use of convention with multiples of

football fields, which she then systematically depicts in small format.

In other words, the football fields are represented in icon

form. To indicate passageways from gallery to gallery, in a context

of her own making, Sandra Oom can make use of our ingrained

habit of reading three dimensions into lines on a two-dimensional

surface. Automatically, our brain opens up the two-dimensional

presentation into a spatial one: habit slides a convention under the

icon.

The contiguity of the index is sometimes obvious. Smoke in the

distance? There's a fire. A footprint in the sand? The island is inhabited.

Sometimes you have to think a little more about it. A photograph

of houses with ladders leaning against them, accessing the

upstairs apartments – what is that an index for? You imagine some

situation where the tenants have to climb up the ladders to reach

their rooms. When Pierce wanted to explain what he meant by

index signs, he said, 'Everything that strikes us, that touches us, is

an index.' An index is everything that commands our attention.

This is very true. Of all the different signs and symbols, it is the

COPY PROOF 125
---
the bergweg (1999) A New System of Notation for Urban Situations The

city is a space pinned with labels. Pre-programmed, we move through

its streets with ease and as a consequence, the way the city itself

works seems to have lost importance. We orient ate ourselves the

same way machines do. For its user/resi dent, as a visual system and

as an urban machine, the city is a single entity. In my project, the

visual culture and inner workings of the city are unravelled in a case

study of a single street, the Bergweg in North Rotterdam. As a former

resident, I am familiar with the street, but without really having

known it, which makes it an interesting subject for study. Moreover,

there are many of the visual and functional aspects of urbanization

evident in the Bergweg, the one that most quickly springs to mind

being its role as a through route into the centre of Rotterdam.

A street can be visualized cartographically (a street map), demographically

(charts and tables) and photographically (a photo album).

This project adds another element to the list, with an 'info-graphic'

dimension. Use is made of existing systems of notation or visualization

in order to represent functional aspects and statistical data, for

example, how long, how wide and how high the Bergweg is, how far

the smell of dog faeces travels, and so on. These are combined in

new ways, so that statistics are also communicated on a conceptual

and emotional level. By using a football field, an airplane and, for

instance, the Eiffel Tower, quantitative data about the street become

something we can envision.

The form that the appearance of the street takes does not lend itself

to a few quantitative facts, however interesting these may be. If one

takes the point of view of its inhabitants, then it is precisely

the qualitative facts that matter to his or her senses. In this project,

relevant quantitative aspects are combined with qualitative features

and developed into new forms for recording and visualizing information.

By means of tallies, measurements, sketches, pictograms, diagrams,

figurative analyses and atmospheric images, I describe the

physical, invisible and also the abstract reality of the Bergweg.

All these different analyses and notations are collected in a single

book, which can be seen as the visual equivalent of a literary essay

about the contemporary street – or city. The book is being published

in the year 2000, by 010 Publishers. This prepublication sample

shows a selection of the notations it includes.

126 COPY PROOF
---
I will from now on take

a serious sniff of the steaming

souvenir of a passing dog and

think, 'an index of the city'.

A.J.A. VAN zoEst

The French poet, Paul Eluard,

entitled one of his collections,

Donner à voir. The title was a

programme. The poetry made it

possible for readers to notice

something that they would probably

otherwise not notice.

Researchers are like poets.

They give the world depth and

meaning. In the street, I will

oPPosItIoNs

A.J.A. VAN zoEst

Index

MINkE thEMANs

& Meaning

sANDRA ooM

from now on take a serious sniff of the steaming souvenir of a passing

dog and think, 'an index of

the city'. In the museum, from a considerable distance I will henceforward

recognize that braided velvet cord looped between the arms

of a chair in which I would so gladly have rested my weary self.

The barrier. Sitting down is forbidden. This is an index, and I know

its meaning.

COPY PROOF 127
---
Eudokia Tower

Eiffel Tower

Tokyo Tower

Hong Kong Banc

Banc of China

Chrysler Building

Standard Oil

Hancock Tower

Empire State

Sears Tower

Milleniumtower, Tokyo

(Project) 800m

Humanitas-zijde

Correct-zijde

Humanitas-zijde

128 COPY PROOF
---
Correct-zijde

COPY PROOF 129
---
Correct-zijde

Humanitas-zijde

2 personen

130 COPY PROOF
---
fietsenrekboom

10%

reclameboom

5%

conversatieboom

5%

vuilnisboom

45%

hondenpoepboom

35%

beschermdeboom

35%

COPY PROOF 131
---
Humanitas-zijde

Correct-zijde

132 COPY PROOF
---
45

35

25

10

15

minuten 1

5

2

1.60 m

woongeuren

uitwerpselen

levensmiddelen van tropische aard

verrottingsgeur

overige levensmiddelen

chemische geuren

begroeiing

uitlaatgassen

COPY PROOF 133
---
gebouw

parkeerplaats

parkeerplaats

gebouw

voetganger

fietser

tram

fietser

voetganger

auto, bus en vrachtwagen

Humanitas-zijde

Correct-zijde

134 COPY PROOF
---
auto, bus en vrachtwagen

auto, bus en vrachtwagen

tram

voetganger en fietser

COPY PROOF 135
---
Humanitas-zijde

136 COPY PROOF
---
Correct-zijde

de Bergweg

new systems of notation for urban situations

nieuwe notatiesystemen voor stedelijke situaties

COPY PROOF 137
---
oPPosItIoNs

A.J.A. VAN zoEst

Index

MINkE thEMANs

& Meaning

sANDRA ooM

In my first study, I focussed on

the interrelationships between

the museum objects and the

visitors. The means of presentation

I identified are visualized as

points, lines and planes within a

system of demarcation, which is

itself kept in the background.

Fire alarms, guards and electrical

outlets are also part of the defensive

system of barriers. The safe, aesthetic space of the museum

would appear to be a machine for disciplining its visitors, silently

affecting their behaviour. Objects on exhibition are translated as

abstract forms, trapped in a system of regulations made visible here. I

have selected the book form as my medium, one with two aspects

that I have made use of. As an object, a book has three dimensions,

and it can therefore serve as a miniaturized model for an architectural

space. Secondly, the two-dimensional medium of a book's typographical

space has also been employed. A small selection is presented from

a series of 30 books. In order to emphasize the artificiality of the

museum regulatory system I illustrate, I make use of the traditional

idiom of the monumental exhibition.

Galleries, stripes on the floor,

cameras, guards. the museum

also demarcates the border

between wanting and having.

A.J.A. VAN zoEst

This brings me to my second study, which concerns the prescribed functions

of the vehicles of presentation generally utilized by museums.

Despite the introduction of contemporary presentation techniques and

media, the detachment and frontality which I observed generally still

determine the relationship between the visitor and the display object.

I attempt to reverse that relationship, so that it is no longer the object

that is the self-evident focal point of the exhibition, but the visitor. As

a result, the central point of the exhibition consequently becomes

more mobile. The exhibition literally moves.

138 COPY PROOF
---
Museum (1998) When I walk around a museum, I notice that as I do,

my experience of the objects on display is guided by either visible or

invisible barriers. Within this defined space, my behaviour is being

subjected to rules. After a certain point, this becomes a hindrance.

The regulations are not there to aid understanding, but to protect.

The objects themselves have been put on exhibition in such a way

that the only connection with them is visual, with any other kind of

contact made difficult or prevented altogether. The (in)visible barriers

keep communicating the same information: 'do not touch me, keep

your distance, do not get a grip on me'. This effect is reinforced by the

arrangement of the objects, which for the most part are displayed only

frontally. The vehicle of presentation – display case, pedestal, frame –

has a single function, as a physical support for the objects, giving no

support to the specific way we experience something unique. They

seem to be part of a system that reveals itself in the way museums

numbers their objects. They are counted just the way we visitors are

counted. This system comes between me and the objects being

shown.

Inv. nr. 00.132.

The Museum.

My project: a 'museum' that encompasses two investigations.

COPY PROOF 139
---
Inv. nr. 00.151.

The function of each object is

written on a small card.

nood

lamp

t.l.

brand

slaan

niet

wit

nood

nood

stopkonta

alarm

west:645

uitgang

portier:4

ingang

suppoost

nood

tel: 2

alarm:1

gevaar

toets:5

portier:4

nood

stopkonta

w.c:275

kassa:5

lamp

stopkonta

toets:89

ingang:65

kelder:93

stopkonta

stekker

stopkonta

uitgang:7

depot:56

snoer

snoer

snoer

café:654

stekker

wit

gevaar

uit

stopkonta

snoer

140 COPY PROOF
---
Inv. nr. 00.161.

The obvious subject of the

exhibition is not the object,

but the visitor.

COPY PROOF 141
---
Inv. nr. 00.177.

Wallpaper for Museums. The desired

number of visitors per m 2 . Available

in three versions.

142 COPY PROOF
---
Inv. nr. 00.157.

The Museum.

COPY PROOF 143
---
Inv. nr. 00.160.

The museum system is revealed

in the numbering of the objects.

They are numbered just the way

the visitors are.

3

69

34

36

1

9

6

57

2 5

7 4

45

98

10 71

13

655

8

12

2

73

8

78845

43 76

101256

144 COPY PROOF
---
Inv. nr. 00.180.

This catalogue is an autonomous

object. It contains inventory

numbers 00.101 through 00.180.

> museum*

museum*

> vervolg museum*

COPY PROOF 145
---
Inv. nr. 00.117.

Inv. nr. 00.118.

Inv. nr. 00.119.

146 COPY PROOF
---
As an object, the book has three

dimensions and is a scale model

for an architectural space.

Inv. nr. 00.117

Positions of the means of presentation

and the objects on exhibition.

Dimensions:15 x 15 x 15cm

Inv. nr. 00.118

The usual route followed in a

museum. Dimensions: 7 x 10 x 2cm

Basement

Inv. nr. 00.119.

The route of a abritrary visitor

Dimensions: 7 x 10 x 2 cm.

Ground floor

1st floor

2nd floor

3rd floor

COPY PROOF 147
---
oPPosItIoNs

DIRk VAN WEElDEN

Poetry

bARbARA DIJkhuIs

& Product

JANJAAP RIJPkEMA

Preferably not.

I want to feel the thrill of lots of

orange fireballs in my face, but

walk away in one piece. Not

stumble off like the pretty little

nurse, not run away like somebody

with something to escape

from, but sauntering. I must

become a full-fledged sleepwalker,

and as far as I am

concerned, not a thing of it

needs to be put on film.

I have useful information, off the internet, about Timothy McVeigh,

the idiot who blew up that government building in Oklahoma City.

Typical, a retarded redneck who thinks it is government that is

waging war on the people. But that fertilizer bomb of his was powerful

and cheap to make. Add a tank of gas and it produces exactly the sort

of fireball I am after. Not for the tax office, but for Veronica, for

Blokker, DKNY, Albert Heijn, BMW and Edah.

On television, they called her Becky. Her real name is Masja. She was

also wearing a black wig. Weird, shiny curls – it was a cheap wig. She

told about how she had weighed over 250 pounds, and now, after the

operation and keeping her stomach wrapped, she never went over

150. Eating was hard, and sometimes it would come back up again,

but she didn't regret it. It was her salvation. There was a whole row of

the poor wretches sitting there, just like her. I don't remember what

they looked like or what they said to Catherine Keijl. I do remember

what I sat there screaming at her: you told Mother that you cry at

night, that in the evenings you are sick, puking your guts out, you

dream of eating a normal plate of food. That you only did it because

Henk made you go back to work in the club, after all the illegal Polish

and Czech whores were picked up. Because you didn't have the nerve

to leave that sickhead. I know why you ate yourself into a blimp – out

of sheer misery because you didn't want to keep working for that

reprobate.

But okay, she didn't say all that. She wanted the money she'd get for

her performance for Catherine. And the attention. There is not a lot of

difference, whether you get paid for telling a television audience that

you got sick from your addiction to food and that now you've had your

stomach tied off or that you get paid for getting licked and screwed by

middle managers from a trucking company in Zwolle. In both cases

you do what you're expected to do. You adjust to your environment.

You become a product, and money and attention briefly flow your

way.

148 COPY PROOF
---
t h e s l e e p w a l k e r T h e y s a y

I look like Luc Nilis. Perhaps others enjoy hearing something like

that. I do not. It is a handicap. Nothing against Nilis, by the way, but

if there is something I don't need, it is that people see me as somebody

famous. In order to complete my mission in life, I must not attract

attention, you could say, be invisible. I have already been waiting for

the blast for so long. The real one, the one that only appears when

the explosion is so huge and so beautiful that you forget what went

into the air. A burning blossom that surpasses the bloom.

I was with my neighbour, Homo Henk, Homo Henk because I have

a brother-in-law whose name is also Henk, but he's not a homo.

That Henk is my sister's pimp and I would only go to a film with

him if he had the lead, as the prisoner of a serial killer who casually

and unfalteringly hangs him up in a sound-proof cellar and every day,

day after day, peels away another layer of his skin. Then the murderer

takes out a pot full of blue-green flies, specially cultivated for our

hero, that swarm out from the jam jar like a squadron of buzzing

Japanese Zeros straight out of W-W-2. Then he patiently shoots a

video of the creatures fattening up on Henk's raw flesh and laying

their eggs in it. During the interval, Henk has to stay in his seat

while I go get him a beer and a hot dog.

Homo Henk said he thought the special effects of our film were

fantastic, especially the final scene where the last policeman, a silent

Indian type, launched himself on a motorcycle. He hurtles at breakneck

speed towards a kind of ski jump onto a building site where the

gangsters are about to take off in a helicopter. The Indian flies into

the air, shooting all the while, and rams into the rising helicopter.

It, of course, bursts into bits. Full tank of fuel, big orange fireball.

Everybody is dead, except the love of the next-to-the-last dead cop,

who stumbles away with her hands covering her mouth. She is still

wearing her see-through nurse's uniform: they had picked her up at

the hospital where she works. H.H. asks if I think the nurse is tasty.

I shrug my shoulders. It's okay, Homo Henk, it's okay.

He most appreciates the Indian cop's suicide mission. And the closeup

shots of the exploding chopper. They'd done a good editing job. It

lasted for twenty seconds or so, with a lot of slow motion. And that

heavy digital sound, which is why I go to that particular theatre.

Homo Henk struts out, shaking his head. Damned if it wasn't like

feeling the heat of the blow right there, man, in your face, he says.

I think he got off most on the sentimental effect of the good-looking

Indian who silently barbecued himself to wipe out the bad guys.

The film had left me quiet – so had the Indian, by the way – but

because I was reminded that mine could not be a kamikaze mission.

COPY PROOF 149
---
are, the whole store a flaming waste in the wake of a breathtakingly

gorgeous ball if fire and a humming noise to go with it. My life will

be a commercial for an imaginary company that – for free – surprises

people with explosions and satisfies the public's need for release and

relief, liberation and excitement. All for nothing at all. Not a penny.

Actually, I am a commercial for a charitable institution and a hero in

a commercial, a hero without the least trace of cynicism, with no

hidden agenda. I do not believe in a Reaal insurance policy against

damages or in a superior slender butter substitute, but in the universal,

scorching purity of childlike pleasure in the BANG, BOOM,

SWOOOSH.

I do not believe that I am a terrorist. For me it is not about changing

the world. I do not want to blackmail a single figure of authority into

changing his policies. And seducing the masses into thinking revolutionary

thoughts is altogether a ridiculous objective. It is an error

of judgement to think that other people have to think the way you

do. They shouldn't know anything at all about what I think. That is

much better. I just want a lot of exquisite explosions. It is just fine if

they lead to nothing, absolutely nothing at all. Not to funerals, not

panic-stricken governments or police, not to endless discussions in

the papers and on news programmes. For my part, let the construction

companies and the insurance companies profit from my actions, as

long as people succeed in enjoying my explosions. There is nothing

as NOW as an explosion. Nothing succeeds so fully in attracting all

the attention, devouring and absorbing everything into a magical

image. Fear and rapture. What I hope for is that after a while they

will give up looking for me and resign themselves to the fact that

now and then they will be treated to another BAM, BOOOSH,

WHOOF!

Yesterday, I tried to write a letter to Masja. Not to send to her,but in

case something should happen and I couldn't talk or write any more.

A testament, say. It was late, there was no more Coke and I was

drinking the Bacardi straight. I was watching a bunch of ludicrous,

gaudily dressed idiots pressing a potato into an appliance so they could

peel the thing with a crank. You ended up with a single long, stringy

potato peel. It looked as though they were delighted by it.

What I nearly wrote – and god, how glad I am that I thought better of

it – is this: that my explosions have no preconceived intentions and

serve no purpose, that they are not a political act nor are they in any

way whatsoever to my own advantage or provide me financial profit.

For that reason, there was nothing else to it than to call them art.

It looks a little like the delight they took in the potato peel. They

apparently – certainly – want to sell that squeaky little cutter, so

they act all excited about the irritating, mile-long peel. But why? It

150 COPY PROOF
---
It was a small beginning. A grocery receipt. I found a mistaken

receipt from the Albert Heijn in my bag. Somebody had bought a

cake, on sale with the bonus card. They had the card in hand. The

bill was tallied, including the discount. No sooner was it paid for,

however, than he or she returned the cake and got the money back.

And I saw a senile old man standing at the check-out with the cake.

The cashier asked, Oh, Mr. Holten, is it somebody's birthday today?

Yes, my wife's. Oh, says the girl, but I thought she was dead. And he

is taken aback. He gives her back the cake and stands outside the

store for a half hour in the drizzle, trying to get his head together, and

then just walks on home.

For the company computers, the information from all those Albert

Heijn slips is something like soil analysis is for an oil company. But

the information has no face whatsoever, and selling is something

you do to a face. When the telephone rang in the evening, the lad at

the telemarketing centre called it my profile. Hundreds of questions

about brand names, shops in the neighbourhood, my interests in

sports, my political bent, my education. I wanted to tell him about

Mr. Holten and his cake, but the fellow stuck to his list of questions

and thought I was drunk. I became angry, which is of course not a

good idea.

Consuming is an art in its own right. If you are good at it, people look

up to you. Buying the right wristwatch in the right shop, the right

corkscrew, or vase, or stocks, or telephone, is not only satisfying, but

it makes you more attractive. That others find you attractive or that

you can make them jealous and covetous is an indispensable attribute

for borrowing money, having a nice job, sex opportunities, or getting

people to pay attention to the things you want to say.

Homo Henk was in Amsterdam last week, to see an exhibition about

advertising. It was called 'Advertisement Heroes', and he had brought

home a couple of booklets and a folder. It all looked like jolly good

nostalgic fun. Piggelmee the little Gnome, Joris Three-Pint, Loeki

Lion, Put a Tiger in your Tank. But there was also a sentence that

told what the reality of it all was like. Everybody is an advertising

hero. Everybody plays a leading role, everyone is living his life like

a commercial. There it stood, a little like parting respects to send

you on your way.

Good, I think. So I will consume. But then I will really consume, so

that there is nothing left over. The whole store, consumed, eaten up

in one fell swoop, and count on it, I won't stuff myself so full of bonbons

that I have to hit the antacid pills. I will not consume with my

wallet or my body, but with my fire. A great big bite, all the shelves

COPY PROOF 151
---
152 COPY PROOF
---
Good, I think. so I will consume.

but then I will really consume,

so that there is nothing left

over.

DIRk VAN WEElDEN

oPPosItIoNs

DIRk VAN WEElDEN

Poetry

bARbARA DIJkhuIs

& Product

JANJAAP RIJPkEMA

serves no purpose. It is a

meaningless gesture. I, like

many people, find explosions

pure, powerful events, frightening

and exhilarating, and

maybe even more delightful

because in the wink of an eye,

they reduce everything to rubble.

Why would I call it art?

Does that make the disintegrating

smithereens of the perfume boutique in Rijswijk

a more beautiful sight to watch? Does the ball of fire become more

intensely orange, the smoke blacker, the noise more thunderous?

Later, I lay in bed, surrendering, fairly paralytic, and I fantasized

about an ideal world in which people offered me a meal and a bed,

and hid me from the police. Friendly faces, people who like explosions,

ordinary disbelievers like myself, who do not believe in the

superiority of BMW, in the pureness of Grolsch beer or the high level

of civilization achieved by the purchase of as complete an insurance

package as possible. In my ideal world, I belong in the world, like the

weather does, like a hailstorm. Even a hailstorm has its admirers, its

friends. The politicians, the upholders of the law, the censors, the

salesmen disapprove of my explosions, but they have learned to live

with them. Lying here in my bed, I see myself travelling from city

to city and everywhere I go, causing storefronts to spew fire, flames

reaching high into the sky and big, billowing black clouds. Half

asleep, I compare it all to the wandering minstrel who brings along

his songs and his stories with him. Someone who travels on in

exchange for a piece of bread, a sausage and a little beer. Childlike

pleasure, inexhaustible, indestructible.

And so I fall asleep, forgetting my testament. As I sleep, I am not

angry, not humiliated or left out. That is why I want to set my sleepwalking

bombs and BANG, KABAAAAM! In an ideal world,

I would succeed with nary a victim, making the joy of the celluloid

blasts and those virtual onscreen explosions more real than real, a

pure, fantasy image, out of nothing, about nothing, without consequences,

without pain, sadness and loss. But everything would stop,

just for that split second. The heat, the deafening volume, the shock

wave, the concussion would all be real. For an instant there would be

nothing more than the bloom of destruction, as glorious, perfect and

empty as the clarity in the eye of a child singing aloud.

COPY PROOF 153
---
154 COPY PROOF
---
COPY PROOF 155
---
156 COPY PROOF
---
COPY PROOF 157
---
previous pages:

Images from the visual essay on

the supermarket

right:

As part of the supermarket study,

I conducted a test to see how

easily colour and form remain

recognizable in images of a brand

or group of products

158 COPY PROOF
---
COPY PROOF 159
---
160 COPY PROOF
---
COPY PROOF 161
---
162 COPY PROOF
---
COPY PROOF 163
---
oPPosItIoNs

DIRk VAN WEElDEN

Poetry

bARbARA DIJkhuIs

& Product

JANJAAP RIJPkEMA

or detail, the 'skin' and lettering.

Prefab buildings currently in

existence do have the tendency

to look very much alike. For

that reason, I ask myself

whether the manner in which a

building tells its story can in

fact be prefabricated. The

means that might be employed

to achieve this could include

the module form, the finishing

I have already been waiting for

the blast for so long.

the real one, the one that only

appears when the explosion

is so huge and so beautiful

that you forget what went

into the air.

DIRk VAN WEElDEN

These two interests come together in the theme park. Here, with

its attractions, all the visual and commercial disciplines combine

to achieve a certain effect. In the theme park, utopia is made plastic

– and plastified. Techniques are employed to disguise these

same techniques. In this paradise, history is applied in the form

of tableaux that disfigure that same history, forming it into an

attractive archetype. It is not about a past we collectively share,

but about a fantasy scenario with a happy ending.

Finally, the increasing media attention to violence in our society

has not escaped my attention. On the one hand, violence and excessive

strength are exalted. On the other hand, they become demonic

as soon as they appear in our personal living environment. Physical

violence leads to social unrest, but is in my opinion not the only

cause. Non-physical, structural violence lies at its roots.

The Explosion World® amusement park has violence as its basic

theme. In Explosion World®, the visitor can at last experience a

bombing from close by, live through a fire in a high-rise apartment

building, take a tour of Dante's Hell and even blow themselves up.

Explosion World® is a theme park that plays on our yearning for

the sensation of danger and violence. Violence as amusement.

Despite the appearance of danger, evoked by every conceivable

means, the safety regulations in the park are extremely strict, not

only because there is the threat of danger, but also because it

promotes efficient business and prevents legal claims. After Disney

World, Explosion World® is the safest place on earth.

I have developed the project in two parts. The first is made up of

promotional material targeting the fictional visitors to the park. The

second part shows how maintenance and service personnel (from

temporary job agencies) have to respond in certain situations.

I have tried to make it possible to imagine such a park, down to the

details.

164 COPY PROOF
---
Explosion World® (1999)

Explosion World® brings to gether a number of ideas and interests.

I n t h e f i r s t p l a c e ,

I am interested in the narrative aspects of architecture, in how a

building tells a story. A façade suggests something hidden behind

that exterior, whereas what is actually behind it is sometimes

something quite different, or maybe there is nothing at all. I am

also interested in prefabricated architecture. Modular building

makes it possible, at little expense and in rapid tempo, to build in

large volume. For many builidings , an architect is hardly required.

COPY PROOF 165
---
Redecorate

structures

from the past.

We hired the

UNA bomber;

as our interior

decorator.

War was what

people did

before there

was Explosion

World.

Benefit

from

instability.

Shifts in

morality are

opportunities.

More orange

on our streets.

Fun is

well spent

boredom.

Think

in

Worlds.

166 COPY PROOF
---
Boredom is the

flywheel of

capitalism.

The past

deserves

to be made

entertaining.

Suck the youth

out of the young.

Be a warlord

in suburbia.

Improve

natural

disasters.

The whole

world is

imitating

US.

Racism

is too

expensive.

Philosophy #1

Explosion World Corporate

philosophy. Part 1-17, from a series

of 200. Flyers, books and posters.

COPY PROOF 167
---
Philosopy #2

PREsENtAtIoNs AND tRAINING

for more information or free collectible cards

mail: explosionworld@freemail.nl

above: Investors meeting, April 1997,

Okura Hotel Amsterdam

left: 'Coöperating Contradictions'

Moodboard from a Management

training session.

right: Page from a physical test

manual for recruted employees.

168 COPY PROOF
---
Attractions

A sElEctIoN oF ExPlosIoN

WoRlD'xs bIGGEst AND Most

PoPulAR FEAtuREs

for more information or free collectible cards

mail: explosionworld@freemail.nl

above: The Arcade®. A shrine for

shoot'm up games characters.

left: Dante's Inferno®. A breathtaking

tour through Dante's Hell

COPY PROOF 169
---
Attractions

A sElEctIoN oF ExPlosIoN

WoRlD's bIGGEst AND Most

PoPulAR FEAtuREs

for more information or free collectible cards

mail: explosionworld@freemail.nl

above: Portacabin City®.

The heart of Explosion City, in

the heart of Explosion World.

Enjoy luxurious consumption

with the thrill of violent surprises.

left: Napalm Park®.

Cherish throbbing adrenaline

when Napalm-bombed by F15

Hornets.

above right: Bikini Beach Plaza®.

Get an experimantal tan, while

our scientists heat up this paradise.

right: Highway of hell®.

The most spectacular chases and

Car crashes observed from four

luxuruous vista points.

170 COPY PROOF
---
COPY PROOF 171
---
Merchandise

A sElEctIoN oF ExPlosIoN

WoRlD's MERchANDIsE

for more information or free collectible cards

mail: explosionworld@freemail.nl

Clockwise:

– I Love Explosion World- Logo, applied

on stickers, T-shirts, Lunchboxes

etc.

– Shared Action Marketing with

big corporations.

– Free computer game, distributed

through schools and playgrounds

– Explosion World Trooper Uniform.

Includes subscription to a magazine

and membership in Explosive-

Troopers®.

– Explosion World Brochure

172 COPY PROOF
---
Logistics

sAMPlEs oF

loGIstIc sYstEMs

for more information or free collectible cards

mail: explosionworld@freemail.nl

above: Page from a Management

behaviour instruction manual.

above right: Explosion World

controltower and central control

basement.

right middle: Rendering of Pandorra's

Box' contruction.

below right: Evacuation Procedure

for technical employees.

COPY PROOF 173
---
Logistics

for more information or free collectible cards

mail: explosionworld@freemail.nl

above: Parking and storage lots for

the 'Highway of Hell' attraction

below: Cross-section of CityBlow-

Main Street.

174 COPY PROOF
---
Largitecture

sAMPlEs oF PRE-FAb

coNstRuctIoNs FRoM coNstRuctIoN

EMPloYEEs MANuAl

for more information or free collectible cards

mail: explosionworld@freemail.nl

Façade Unit 'Vinex Pride'

Public Space Unit ­ 'Darth Vader'

Stackable Portacabin Unit 'Sobriety'

Portable Chemical Lab 'Columbaine'

Park Unit ' Flamingo'

COPY PROOF 175
---
oPPosItIoNs

MARtIN REINts

story

PAulINE hooGWEG

& collectivity

GERARD Fox

fact was not included – it was

too unreal. That is to say, the

post-war rise of the suburbs

was extensively documented,

because it was the metaphor for

the reconstruction. The fallow

earth of the building sites, the

cement mixers, the pile-driving,

the bricklaying, new residents

moving into the

umpteen-hundred-thousandth

home, the design of the kitchen – all of this was depicted. But life in

the suburb, this was hardly a subject of discussion. If it was spoken

of at all, it was in caricature fashion.

It would appear that in our day, everyday life has been rediscovered.

In Rotterdam in 1993, a large-scale festival was devoted to the

architecture of the Alexander Polder. Photographers such as Nick

Waplington and Jean Louis Schoelkopf made documentaries centred

on the residents of the neighbourhood. Waplington took panoramic

pictures of home interiors, with the intention of making not only

their similarities evident, but also their differences. Schoelkopf said

he was fascinated by the way people who lived in a given type of

uniform housing were able to express themselves in the interior.

This kind of documentary photography cut into the caricatured

image of these neighbourhoods, because the focus was on neither

the mass nor the monotonous, but on the individual who in fact

distinguishes himself, always and everywhere.

One also comes across similarly serious attention to life in these

neighbourhoods in painting and in literature. In August of 1995, an

issue of De Gids (the Guide) was entirely devoted to suburban

neighbourhoods, and included contributions by Rem Koolhaas,

Dirk van Weelden and Wouter Klootwijk. The problem facing

anyone who wants to say something about these neighbourhoods is

that there is a caricature in the way, a stereotype. The cliché is

insurmountable. You first have to manage to distract people's

attention from the cliché, because only then can your public

apprehend what you are trying to show.

Gerard Fox's visual stories deal adroitly with the cliché. For him,

the neighbourhood is the self-evident environment for what seem

like events, but if you want to put together a cohesive story about

it, you confront a shortage of facts. The fantasy that is consequently

set in motion makes the viewer part of the story. The collages of a

children's party in a back garden, of an interior with a television in

it, of the traffic in the street – they are called visual stories, but they

176 COPY PROOF
---
the Power of the cliché The suburban neighbourhoods: they typify

w h a t i s n o w t h e l a s t

century. They came about as healthy transitional districts for the

overcrowded city, whose 17th-century centre would now be called

the inner city. The con trast between city and country side became

blurred. In the city itself, the countryside pushed its way back in, in

the form of green patches and parks. In the outlying neighbourhoods,

the city imposed itself with roads and public transport.

In the second half of the last century, an important percentage of

employment facilities moved from the cities to outlying industrial

parks. In between the more expensive offices that remained in the

city centre, a new social life emerged in the evenings, nights and

weekends. Taking walks in the neighbourhood you lived in or in the

landscape along the edges of town fell out of fashion and disappeared.

A leftover of that seems to have survived in the form of grocery

shopping. The suburban neighbourhood is somewhat urban in character

because it is inhabited by city people, but it is also like a

village, lacking urban facilities. What can you say about it? What

else, except that – as they say – there's nothing happening?

In 1935, Martinus Nijhoff held what has since become his famous

lecture for the Volksuniversiteit in Enschede, about 'making verses

in times of crisis' and how his book, Awater came about. There is a

passage from his lecture about the suburban neighbourhoods of his

day, of which he said, 'If I walk through the new neighbourhood,

built on lease and speculation, I walk through a house of cards,

where people eat badly, heat their homes badly and only care for

one another out of fear of loneliness. The compact city centre,

which has already been there for centuries, will remain standing for

centuries longer than those hopeless little 'garden' cities, with their

front gardens and coloured floor lamps. In what way must poetry

make this virtually loose sand habitable again?'

The hopeless garden cities against the age-old little city centre.

Nijhoff put his finger on a far-reaching development. His view of

how crowds form was characteristic of his day: 'I began to see that

people did not live in the unreal little houses in the outlying neighbourhoods,

houses that stood like tents in the landscape. Where

people lived was in the offices, the factories, the hospitals, the

cafes, the train stations, in all the places where masses of people

came together.'

It is a familiar image: the crowds moving through the bustling inner

city. It was sketched in so many impressive books and films from

the first half of the 20th century, that it became the ultimate image

of the modern age. In the meantime, just out of sight of one another,

one new neighbourhood after the other was cropping up, but that

COPY PROOF 177
---
saying such as, 'The early bird catches the worm,' or a clichéd

ex pression: 'You can bet your boots on that'. The texts consequently

take on the structure of emblemata, the texts used as captions on

17th-century engravings. The engravings illustrated the expressions,

the texts gave the explanation and the saying or expression

itself was the superscript or subtitle.

Approximately the same thing happens in Pauline Hoogweg's use

of language as in Gerard Fox's images. Your attention is drawn to

the clichéd captions beneath the text. If the cliché were above

the texts, you would probably have quickly decided that there was

no need to read further. This presentation, however, arouses your

curiosity, and now you have a series of sentences to read that are

not difficult to understand, but that together, tell so incomplete a

story that they cannot serve as a self-evident reinforcement of the

cliché. A good example: He won't tell anyone/How he learned to

dance.//All's well that ends well.

It is a very big cliché: All's well that ends well. Its history is difficult

to trace. The expression is in any case far older than the phenomenon

of the suburban community, and the original significance of

such a worn-out phrase hardly even registers any more. But the idea

of someone who will not tell anyone how he learned to dance is so

mysterious that it captures your attention. As a reader, you want to

put together a logical story about it, but again, you do not have

enough facts. Why won't this protagonist tell his silly story about

learning to dance? By way of the cliché, your mind comes to rest on

what seems to me to be the actual subject of the text: what is there

about dancing that is interesting, how do you learn to dance, how

private can something that you do in public be? And what is good

about an ending? And if the ending is good, does that make everything

good? What does that entail? Pauline Hoogweg combines

these emblematic texts with photographs of unpre possessing

scenes that attract your attention because of the way they are cropped

and removed from the setting. This combination adds yet a little

more tension to the generalities in her texts.

Gerard Fox and Pauline Hoogweg have both succeeded in using

the cliché in such a way that the focus of the cliché is redirected,

leaning to something as ordinary as a suburb or someone who learned

to dance. They do not do so with the duplicitous pleasure of someone

who stands aloof from the commonplace, but with the involvement

of someone openly trying to see. One designer focuses on

the outer urban neighbourhood, the other on generally accepted

sayings or expressions. Because they have dealt with the cliché in a

non-clichéd manner, they both give their subject back its original

power. The strength of their work is the strength of the cliché.

178 COPY PROOF
---
arely tell a story at all. Because of the familiar details, the image

too is familiar. But because it is not clear exactly what is going on,

your curiosity is aroused and your gaze begins working through the

details of the collage. From that moment on, you have shaken loose

the caricature of these neighbourhoods that has existed for so long,

and you begin to have an eye for the reality that is taking place.

Gerard Fox's way of approaching the clichés from which his tale

is composed is festive and satisfying. He has developed a means of

saying something about the cliché by using the cliché.

A poem by Pauline Hoogweg is comprised of a series of short,

understandable sentences, a blank line and a concluding familiar

COPY PROOF 179
---
oPPosItIoNs

MARtIN REINts

story

PAulINE hooGWEG

& collectivity

GERARD Fox

And how a cow catches a hare

Fresh Morale (1997). I am a

reporter. On the sidelines, off

the field, I camouflage myself.

I listen to the things that hap -

pen and the memories they

leave behind. I rearrange them

as my own memory inspires

me to do. The result is a story,

whether or not it really happen

ed, but in any case convincing, in the sense that you want to

believe in it and allot some space to the things it contains. The

story offers a temporary order, something to grasp onto.

All's well that ends well?

What can be good about an

end? And if the end is good,

is everything good?

MARtIN REINts

Fresh Morale: A Word on Proverbs Interested in the cliché because

of the lack of nuance in the way it expresses something, it was

taken for granted that I would run into its kindred phenomenon,

the proverb. The proverb proved even more adept at relating selfsatisfied

truths. The manner of the telling has so much magical

clarity that you are quickly inclined to believe in it. I became

curious how true the truth was that is spoken by the proverb, and

whether we were here concerned with a genuine philosopher or just

a clever charlatan. The idea of putting it to the test began to evolve.

A Word on Proverbs in Regards to My Project I wanted to test both

the flexibility and the degree of truth in the proverb, and to do so by

means of short tales or films in which events from real life (this as a

partial concession to the proverb – everyday life is after all its common

arena) are told and subsequently coupled to a proverb. The

story or film relates an anecdote, a small drama, and the proverb

follows as a postscript. The resulting relationship can evolve in all

sorts of ways, as long as an exchange takes place between the two.

This interchange can comprise the story cancelling out the moral

of the proverb, or the other way around, with the proverb putting an

entirely new light on the story. This is made metaphoric – cutting,

syrupy, dry or brought into perspective – by way of humour, emotion,

disorientation, observation or surprise.

The story, as it were, pushes the proverb to the edge of the precipice,

and it goes into a free fall. It remains to be seen if it finds its

footing.

180 COPY PROOF
---
De kip legt een haan

de haan legt een ei

het ei komt uit

de uitkomst loopt weg

The hen lays a rooster

rooster lays an egg

out comes the chic

the hatchling's away

hoe een koe een haas vangt

You never know your luck

COPY PROOF 181
---
hij zegt niets maar

vraagt wat er te koop is

hij laat zijn gezicht zien

verbergt zijn handen in zijn zakken

hij vraagt hoeveel het kost

er is niets te koop

men kan het wel proberen

maar het is heel moeilijk

he says nothing more

asks what's for sale

he shows his face

hides his hands in his pockets

asks how much it costs

there is nothing for sale

it is very hard

try what you will

De kat uit de boom kijken

see which way the wind blows

182 COPY PROOF
---
het ruikt naar winter

het ruikt naar lente

het is de geur van het weer

hij trekt zijn laarzen aan

hij vergeet zijn handschoenen niet

hij bedenkt zijn hoed

hij zet hem op

hij pakt zijn sjaal

en kijkt in de spiegel

de lok valt voor zijn gezicht

hij veegt hem weg

de vrouw staat achter hem

hij pakt zijn geweer

en draait zich om

zijn hoed zakt scheef

zijn mond valt open

It smells of winter

it smells of spring

it is the scent of the weather

he puts on his boots

doesn't forget his gloves

thinks of his had

puts it on his head

picks up his scarf

and looks in the mirror

the hair falls in his eyes

he sweeps it back

the woman is behind him

he takes his gun

and turns around

his hat sags

his mouth drops open

Al is de leugen nog zo snel,

de waarheid achterhaalt haar wel

however swift the lie,

the truth will out

COPY PROOF 183
---
De vogel in de lucht zingt zijn lied

de lucht ziet grauw

de zon schijnt niet

het licht is grijs

de straten zijn grijs

de huizen en mensen

het grijs is geel en licht

de vogel zingt, de koe loeit

de koeien loeien, de vogels zingen

de hond blaft, het paard hinnikt

de dag breekt aan, de zon schijnt

iedereen gaat er snel vandoor

The bird in the air sings his song

the air is grey

the sun does not shine

the light is grey

the streets are grey

the houses and the people

the grey is yellow and light

the bird sings, the cow bellows

the cows bellow, the birds sing

the dog barks, the horse whinnies

the day breaks, the sun shines

everybody leaves in a hurry

De morgenstond brengt

goud in de mond

the early bird catches the worm

184 COPY PROOF
---
hij ligt in de tent

de wind waarschuwt

hij hoort de wind

de haringen zitten los

hij trekt het doek

nog strakker om zich heen

he lies in the tent

the wind a warning

he hears the wind

the herrings are loose

he pulls the cloth

more tightly around him

Die waagt, die wint

Nothing ventured, nothing gained

COPY PROOF 185
---
De vissenkom staat op de plank

de papieren worden nat

de vissen zwemmen

het regent knikkers

ze vallen en klinken

de deur gaat open

de vissen zwemmen er omheen

de kom loopt leeg

The fishbowl is on the shelf

the papers are wet

it's raining marbles

they fall and clatter

the door opens

the fish swim around it

the bowls runs empty

Wie niet sterk is, moet slim zijn

If the lion's skin cannot, the fox's shall

186 COPY PROOF
---
De vogels schrikken op

hij komt er aan

hij heeft het voer

de vogels hangen aan het gaas

ze zijn fladderig

nerveus en geel met rood

ze hebben geen honger

ze weten wat ze krijgen

ze krijgen meelwormen

ze hebben er genoeg van

The birds take flight

as he comes

he has the food

in the wire they hang

flittering

nervous and yellow and red

not hungry

they know what they are getting

they've had enough

mealworms

De één zijn brood

is de ander zijn dood

breath to one is death to another

COPY PROOF 187
---
hij blijft liggen in bed

hij droomt van een prinses

zij rijdt auto

ze razen over de snelweg

hij grist het stuur uit haar handen

nog net op tijd staan ze stil

hij stapt uit

en zwaait naar haar

he stays there lying in bed

he dreams of a princess

driving a car

they race along the highway

he grabs the wheel from her hands

they stop just in time

he gets out

and waves to her

zo gewonnen, zo geronnen

Easy come, easy go

188 COPY PROOF
---
De stoel aan de tafel schuift aan

de stoel aan de tafel schuift weg

de stoel aan de tafel valt om

trekt het tafelkleed mee

trekt de kopjes mee

de koekjes mee

de suiker mee

de lepeljes mee

de melk mee

de sigaretten en asbak

en kranten mee

de schoteltjes blijven staan

The chair at the table slides in

the chair at the table slides out

the chair at the table falls over

it pulls the tablecloth

pulls the cups

pulls the cookies

the sugar

the spoons

the milk

the cigarettes and ashtray

and newspapers

the saucers stay where they are

De wonderen zijn de wereld niet uit

Will wonders never cease

COPY PROOF 189
---
hij weet een plek

die plek

daar wil hij heen

hij gaat

de rivier maakt geluid

het ruist en spettert

beneden hem is er geroep

hij hoort stemmen

hij versnelt zijn pas

daar struikelt hij

ze roepen hem

hij zegt niets

hij verraadt niemand

hij glimlacht in het gras

he knows a place

that place

that's where he wants to go

he goes

the river makes noises

it rushes and spatters

below him a call

he hears voices

he quickens his pace

there he struggles

they call him

he says nothing

he betrays no one

he smiles in the grass

Een goed begin is het halve werk

A good beginning is half the work

190 COPY PROOF
---
hoe hij heeft leren dansen

vertelt hij aan niemand

he won't tell anyone

how he learned to dance

Eind goed, al goed

All's well that ends well

COPY PROOF 191
---
oPPosItIoNs

MARtIN REINts

story

PAulINE hooGWEG

& collectivity

GERARD Fox

The suburban housing of

Dublin has changed little in

form or format over the past

thirty years. The only change;

each individual housing unit

continues to get smaller.

Influence The influence of the

post-war suburb on contemporary

western lifestyles is

unquestionable. It has contrib

u t e d t o t h e

fashioning of nearly every aspect of today's generic 'home'. The

domesticated identity of Suburbia has been moulded by its representation

through popular culture and the general mass media. It

both feeds from and is fed by its own image. The symptoms of this

suburban identity contribute to an already accelerating process of

global cultural homogenisation. From the commercial media through

to children's education, the Suburban tract house 'home' is portrayed

as an all-encompassing standard. Some of Suburbias more

cynical critics could cite this stereotyping of the home as akin to

moral and social propaganda; It is what you are born in, it is what

you will live in, it is what you will die in.

the problem facing anyone

who wants to say something

about these neighbourhoods

is that there is a caricature in

the way, a stereotype.

MARtIN REINts

'The material home represents the concrete expression of saving for

a home of your own. Your advanced socialist may rage against private

property even whilst he acquires it, but one of the best

instincts in us is that which induces us to have one little piece of

earth with a house and a garden which is ours. My home is where

my wife and children are. The instinct to be with them is the

instinct of a civilised man.'

Sir Robert Menzies, Ex. Australian Prime Minister. 1

'It is remarkable how many case studies have been completed

without a serious engagement with the oral history of suburbanites.

In fact the evidence of most suburban studies ignores the testimony

of suburbanites themselves and instead concentrates on the published

perceptions of urban planners, architects and politicians

whose careers are invariably dominated by urban issues. Suburbia

has become a critical target understood through aerial photography.

It is understood as a scenario instead of a real world.' 2

Generics Since the post-war explosion of Suburban form in Europe

& America, there has been much academic writing and analysis on

the subject of suburban housing and on the society it has created.

Most of this writing subscribes to at least one of these two generic

critiques.

192 COPY PROOF
---
suburbia (1999) We make our buildings, then our buildings make

us: The term Suburb refers to a residential area usually found on

t h e p e r i p h e r y o f

a city. It is the meeting point be tween urban and rural. The literal

meaning of the word Suburb is geographic. It refers to the physical

structuring of the archetypal suburb. However, the term Suburbia

refers to the social and cultural sphere existing within this structure.

The Suburb is the hardware, Suburbia is the software. It is this

software that is of most relevance to my project.

Dublin suburbs Dublin city contains some of the fastest expanding

suburban sprawl in Europe. On the western outskirts of the city are

situated large clusters of large suburban areas. Little of this housing

is based on European public high-rise housing schemes, but is more

in tune with the American model of private low-rise homes. It is

this model that Dubliners have developed in the last thirty years.

'Houses, houses everywhere and not much else'. Every suburban

cluster is linked to the city-centre via motorway. Dublin seems to

be a city spreading out and onwards never looking back.

there are problems, The private housing developers who are

responsible for much of this suburban form will argue that they

are completely justified in continuing to build this same sameness

claiming that people will not buy what they don't want. (They also

face little resistance in the form of planning regulations or civil

law). Therefore they continue to build what is cheapest and what

has been proven to sell. Considering that tax incentives and government

housing grants for home buyers heavily favour the purchasing

of newly erected housing, the first-time house buyer can often be

faced with no real housing alternative except to buy one of these

units. This situation exists simply to encourage the city's construction

industry, an industry which is believed to play an integral role

in the progress of the state economy. Unfortunately this all continues

to happen with little or no regard for the consequences upon the

city, thus fanning the flames of the city's suburban sprawl.

In these areas of the city, implementation of 'infrastructure' is

somewhat inconsistent. These suburban clusters have begun to

spawn their own Americana style 'Mega-Shopping Malls' (shops,

cinema, Bowling alley...etc.) finally providing local service and

employment needs. Through the implementation of government

tax incentives, international manufacturing companies have also

recently begun to established factories in local industrial estates

thus providing more local employment. Unfortunately these developments

have all come to pass twenty-five years after some of these

areas were originally established.

COPY PROOF 193
---
Generic suburban critique No. 1 The Suburban Format

The formal layout and planning of generic suburban housing areas

has often been referred to as network architecture; A network of

static housing units which combine to produce assembled living

areas that more resemble electronic circuit boards than residential

areas; The suburban tract house.

Lewis Mumford, defines the 'Archetypal Suburban Form' in his

1961 publication 'The City in History'; 'Multitude of uniform,

unidentifiable houses, lined up inflexibility, uniform distances,

uniform roads, treeless communal wasteground, people of the same

class, people of the same income, People of the same age group,

witnessing the same television performances, eating the same

prefabricated foods from the same freezers, conforming in every

outward and inward respect to a common mould.' The suburban

format, consists of both an architectural and social protocol.

The manicured housing estate; Socially, Suburbia is in its purest

form a world of predominantly Middle-Class where people are seen

as 'Smug, homogenised, self-indulgent, and indifferent to the de stru c-

tive impact on the city' 1 . When all housing is constructed to a similar

format, aspiration and personal differentiation can often manifest

itself through the act of acquiring, consuming and com petitive

spending. Instead of achieving a proposed 'unified virtual village',

a newly built area can quickly evolve into a plantation of those

whose common ground repels through material competition

rather than bring together. Suburban housing itself now acts

as a social sieve whilst postal codes become labels of status. This

artificial village is confounded by an aesthetic sameness. This artificiality

is only reaffirmed by the commercial residues of moral

ideologies, ie. A system of standardised religion and processed family

mindedness which blurs an already superficial structure of generic

moral and social codes.

Generic suburban critique No. 2 The Commercial Rhetoric of

The Good life () 'I live in a lovely quite residential area.'

The Good Life() represents the commercial bastardisation of a

basic ideology that implies home ownership as the bastion of society.

It is this commercial mythology which takes wholesome family

values and neighbourliness as standard. The Good Life romance

finds its roots in the rural ideology of escapism and differentiation

from a chaotic city centre. The romantic suburb represents a meeting

point between nature and commerce. As a result, the rhetoric

of family and domesticity plays an important role in today's

commercial world. 'Healthy, wealthy and wise'. Domesticity meets

international, capitalistmodernization. The 'house' has become

the customers' prescribed home/castle with the relevant housing

194 COPY PROOF
---
Notes

1 & 2 'Suburban Discipline'

P. Lang & T. Miller, Princeton Architectural

Press, 1997.

bibliography

'Contact & Controle'

Wies van Moorsel, SUA, Amsterdam, 1992.

'Saving the City, How to Halt the

Destruction of Dublin'

Frank Mc Donald, Tomar Publishing, 1990.

'Dublin Crisis Conference Report'

Frank Mc Donald, Planning Seminar 1990.

'Planning, The Irish Experience'

Michael J. Bannon, Wolfhound Press, 1987.

'Good City Form'

Kevin Lynch, MIT Press 1981.

'Suburban Growth'

James H. Johnson, J. Wiley & Sons, 1975.

'Learning from Las Vegas'

Robert Venturi, MIT Press, 1972.

'The Death & Life of Great American Cities'

Jane Jacobs, Pelican, 1972.

'Los Angeles, The Architecture

of Four Ecologies'

Reyner Banham, Penguin, 1971.

'The City in History'

Lewis Mumford, Penguin, 1961.

'Dreaming the Rational City'

M. Christine Boyer.

'Public Planning in the Netherlands'

A. K. Dutt & F. J. Costa.

COPY PROOF 195
---
196 COPY PROOF
---
COPY PROOF 197
---
198 COPY PROOF
---
COPY PROOF 199
---
200 COPY PROOF
---
COPY PROOF 201
---
202 COPY PROOF
---
COPY PROOF 203
---
oPPosItIoNs

PAulINE tERREEhoRst

Normality

AlExANDRA lANG

& legibility

FlooR houbEN

A Walk through the city We

leave our house and set out. It

seems so simple, but how do

we really move forward? What

deter mine the signals or brainstorms

on which we base our

choices to go left or to go right,

to take one route and not the

other? How do we relate to the

other people we come across?

These are questions that the

hermit in the forest may be less likely to ask himself, although he

or she will have daily routines to mark his environment as he steps

over the fallen tree, past the river and the rabbit hole. Those who

live in the city know themselves to be a perpetual part of a system

of messages, of symbols. Anonymous passers-by evaluate one

another on the basis of external characteris tics. People find their

way according to a man-made environment, and that environment

is seldom neutral, the way the tree is virtually neutral. Every building,

too, is strewn with signs that make it possible for us to classify

it. Is it an office or a residence? Are the inhabit ants – based on the

curtains hanging in the windows – inventive or conservative people?

And we have not even mentioned the actual signs meant to

guide our behaviour: the more literal signs that direct or prohibit,

indicating who may and may not use which path – so the pedestrian

does not inadvertently find himself stranded on a superhighway.

Making judgements and finding our way are activities that can be

directed. Often, signs are not even required. A number of people

dress intentionally according to a certain norm, making themselves

a sign of something, and they are assured an appropriate reaction.

The businessman in a good three-piece suit and the young father on

rollerblades will certainly notice the difference when they stand

before a bank teller. The man-made environment is just as forceful

in directing behaviour. A business neighbourhood does not encou rage

street parties, while a park invites people to wander aimlessly, enjoying

their surroundings.

Not everyone seems to view this system of signs and signals as a

constraint, as a restricting corset from which they really must escape.

'City air is liberating.' It is the far less 'besignalled' and signposted

countryside that is experienced as the place that is not free. The

framework of the city even appears capable of offering freedom in the

regularity of its many parts. To disappear in the anonymity, not be

recognized, loose yourself in arranged patterns, is a wish that can

easily be fulfilled in the city, where so many buildings look alike,

where so much is geared to the masses and not to the individual.

204 COPY PROOF
---
estate as his prescribed kingdom. The designs of the majority

of housing schemes in Suburbia are dominated by the constraints of

traditional family mindedness, ignorant of all other social structures

of habitation eg, single parents, childless couples, retired

workers... etc. Each house on average consists of One Kitchen, One

Livingroom, Two Bathrooms (one up one down), Three Bedrooms

(one for parents, two for children), Front Garden and driveway (Big

Red Shiny car), Back Garden (Barbecue) and Garden Shed (barbecue

storage).

COPY PROOF 205
---
accustomed to the double entendres that today's advertising also

makes use of. Alexandra Lang's traffic signs offer an alternative to

this sport, a brief, lucid insight into what it all should be about, a

slightly alienating effect in an existence with a repetitiveness of

which we are happily not always fully aware. Being able to pull

back from that regularity, not having to watch out and therefore

refusing to play along with the game can be an interesting position.

But Lang does not accept that. She keeps us on the alert.

We leave our front door and go for a walk. What then do we do,

what do we see? According to Floor Houben, we make use of fixed

patterns. We adopt laws of order, arranging ourselves according to

patterns reminiscent of Chomsky's innate ideas – whose grammatical

framework was established long before the child began colouring it

in with his own personal vocabulary. Floor Houben observes human

behaviour. She unveils the identical signals that different people

use: scores of windows with the same curtains, dozens of front

doors with the same automobiles parked out front, dozens of identically-clad

Moslem women populating our picture of the street,

and dozens of patches of grass, garden fences that seem copies of

one another. Floor Houben is concerned with that order which

architects also employ in their work, with the need for

harmony to stave off chaos. Every human being orders his or her

environment. Anyone failing to do so for an extended period of

time is ripe for institutional confinement. With this yearning for a

light, pleasing, unencumbered order, Houben plays a surprising

game. She does two things. She classifies and disorientates.

Floor Houben does not pass judgement, but seems simply to be in a

state of wonderment about the diverse signs of order, the curtains,

the lawns, the fences that mark the passage from the public to the

private domain. She shows them off in a new way. The window

with the Fiberglas curtains as a poster, the hedgerow as a design for

panty hose – that lead that way to the most intimate of private

domains. Everything and everyone is equally capable of changing

into a product, even a billboard, as the prostitute in her flesh-coloured

dress all too obviously demonstrates. Even the trash bag provides a

place for advertising, and the neighbourhood watch fits on a poster.

Images of the ideal family can be cast in rubber, but do equally good

service as a print on a pair of white socks – the favourite colour of

the average man. Our craving for uniformity reveals itself in such

details. Houben herself goes farthest in this inclination to order,

arranging nail clippings and squashed mosquitoes so that they

produce a wallpaper design or an unusual bathroom tile. She is indefatigable

in applying her ideas to every imaginable location. She

adds a new layer to the apparent neutrality of this arranging of our

affairs, so that order no longer looks so simple, insignificant and

206 COPY PROOF
---
Floor Houben and Alexandra Lang have both conducted investigations

of the signs and signals found in public spaces in cities – but

their conclusions are diametrically opposed! Alexandra Lang took

the 'do-and-don't-do' signs and public advertisements that direct

our behaviour as her starting point. She replaces their messages

with incentives not to comply with the norm. Floor Houben,

in contrast, sooner emphasizes the orderly support that people

actually seek out in the city in the form of repetition, a framework,

or a pattern that a recognizable, familiar environment provides.

Of the two, Alexandra Lang reacts most strongly to her environment.

In almost every visual signal designed to influence our

behaviour, she recognizes an authority that would mould us to an

ideal: the obedient citizen, the well-heeled, healthy, reasonable

consumer, the perfect man and woman. As have many designers

before her (Holzer, Kruger, Wool, Wiener), she attempts to unmask

that authority. She shares their concern about public space being

filled up by texts that order us about, always showing us the way.

She does not interpret that concern in what would be at least as

constraining a warning as has sometimes been the case in the course

of the history of design. Instead, she combines the two dominant

systems of signs in public space – traffic signs and advertising

placards. The combination leads to an ironic commentary on both.

Her 'traffic signs' impel us to pause at the text, take a moment to

concentrate on the content. What, in fact, does 'a completely new

sense of colour' actually mean? Or, 'One cannot have everything

they want in life. Why not?' Why not, indeed.

By way of the texts and that ensuing moment of reflection, Lang's

work focuses on allowing those who use public space to relax – for

once, they needn't do a thing. She wants to create 'chilling-out'

spaces. At the same time – and this is a part of her work which she

does not make a problem of – her work continues to alert people

to conscious activity. A passer-by, a participant in human social

traffic, is also urged forward, to stop and think, for once, about the

texts he is presented with. No sanction follows, the way another

kind of sanction can result from ignoring a traffic sign. Equally,

there is no sanction for refusing to adapt to the dominant ideal.

Another kind of sanction is perhaps conceivable: that of intellectual

exclusion, banishment to the land of the ignorant, of those who do

not think about the images or texts that surround them. Those who

join in with the traffic in Lang's park will find it difficult to avoid

its rather compelling signs. They are forced to respond.

Carefully and meticulously, Lang has investigated a small, problematic

terrain. Herein lies her strength. But 'her' public space is filled

with a system of signs, a system that the visually literate, now

COPY PROOF 207
---
oPPosItIoNs

PAulINE tERREEhoRst

Normality

AlExANDRA lANG

& legebility

FlooR houbEN

chill-out places My choice fell

on the topic 'Man in public' as

the general public is controlled

to a large degree. Public spaces

incapacitate, isolate and influence

people externally. Due

to the forces in public spaces,

people see themselves far less

as individuals and start to define

and see themselves not through

the characteristics inherent in their own personality but through

other, that is to say external characteristics. This can above all be

seen in advertising in public, which always promises the consumer

that by using a certain product they will become a certain type of

person with very particular characteristics worth striving for, thus

corresponding to a certain ideal which constantly changes.

Advertising makes promises it cannot keep. For example, the manufacturers

of brand articles advertise by giving the buyers

of their products a distinctiveness and thus a personal identity.

However, in reality the buyer of such products belongs to a target

group, that is to say they are one of a number of 'like-mined' people.

Individuals feel the need to be part of a group. Advertising makes

use of this and the consumer finds it very difficult to escape. These

forces do not make it easy for the individual to find himself. It is

easier to escape from such forces when one is in harmony with

oneself. Man should first find his own, unique identity. These forces

become clear in public as well, especially in traffic in signposting.

the problem facing anyone

who wants to say something

about these neighbourhoods is

that there is a caricature in the

way, a stereotype.

PAulINE tERREEhoRst

We all know situations very well, in which external forces influence

everything we do. We observe certain laws, not least because we

know that violations are punished. At school, at work, in short in

every form of human co-existence, rules and standards prevail

which fundamentally influence our behaviour. External forces can

be weak or strong; we can see them as justified or arbitrary; in any

case we know that they restrict our scope of action. We cannot do

as we please on the world. However at least we feel as if we are lord

and master in our own homes, that is to say at home. We see the

thoughts that we think as our own. Our feelings can be pleasant or

painful, but they're ours. But above all we are convinced that we

can do what we like, within limits of course which are imposed by

the external forces.

It will be my task to provide people in every day life with chill-out

places in public, by placing certain signs to produce positive responses

in the observer in the controlled public space, to urge him to think about

himself and to communicate directly. This will be done with texts

placed in public spaces, which relate to certain familiar situations.

208 COPY PROOF
---
COPY PROOF 209
---
the following pages show a selection of traffic signs and public notices,

which in my opinion are extremely discouraging and alienating.

In Germany today, the landscape of traffic signs includes four categories of signs

1. Regulatory signs – Prohibitions

No Stopping

2. Regulatory signs – commands

Snow Chains Required

210 COPY PROOF
---
I have categorized the world of signs, posters and billboards in Germany today into ten categories.

Examples of four of these categories are included here, subdivided into respective types of signs.

creating a Mood

Moralistic text

Making only small mistakes is a good thing.

Learning from those mistakes is better.

COPY PROOF 211
---
3. Warning signs

Baustelle

4. Instructional signs

Anwohner

mit Parkausweis Nr

frei

Anwohner

mit Parkausweis Nr

frei

MAN KANN IM LEBEN

NICHT ALLES HABEN.

WIESO EIGENTLICH NICHT!

Parking for Authorized Persons Only

212 COPY PROOF
---
Was will man mäh?

Ambiguity

Mid

Light

Crisis

the Query

COPY PROOF 213
---
In order to create the resting places – 'chill-out' places – I am aiming for, it seems sensible to replace forceful elements in traffic signs with promotional texts,

aimed at the public and easy to interpret.

HAVE A

HIN

HIN

NICE DAY

UND WEG

UND WEG

AUGEN

AUGEN

DIE

DIE

FÜR

FÜR

I N N E

I N N E

S

S

F Ü R

IE

D

D

F Ü R

IE

214 COPY PROOF
---
"Stark ist, "Stark ist,

wer keine Fehler wer keine macht. Fehler macht.

Stärker, Stärker,

wer aus seinen wer aus Fehlern seinen lernt." Fehlern lernt."

"Stark ist,

wer keine Fehler macht.

Stärker,

wer aus seinen Fehlern lernt."

COPY PROOF 215
---
Was will man mäh?

Mid

Light

Crisis

Was will man mäh?

Was will man mäh?

Mid

Light Mid

Crisis Light

Crisis

216 COPY PROOF
---
Anwohner

mit Parkausweis Nr

frei

Anwohner

mit Parkausweis Nr

frei

Anwohner

mit Parkausweis Nr

frei

Anwohner

mit Parkausweis Nr

frei

MAN KANN IM LEBEN

NICHT ALLES HABEN.

WIESO EIGENTLICH NICHT!

MAN KANN IM LEBEN

NICHT ALLES HABEN.

WIESO EIGENTLICH NICHT!

Anwohner

mit Parkausweis Nr

frei

Anwohner

mit Parkausweis Nr

frei

MAN KANN IM LEBEN

NICHT ALLES HABEN.

WIESO EIGENTLICH NICHT!

COPY PROOF 217
---
this is a location for a traffic exercise that reflects reality in the form of a

model. the traffic circle serves as an example for building a model that

demonstrates the price we pay for signs in public spaces. the model also

makes it clear how sign texts impose on and interfere with one another.

218 COPY PROOF
---
COPY PROOF 219
---
oPPosItIoNs

PAulINE tERREEhoRst

Normality

AlExANDRA lANG

& legebility

FlooR houbEN

Products of behaviour (1999)

They are on offer in a promotional

brochure, but they only

exist on paper. Still, these

'pro ducts of behaviour' could

simply be produced. Houben's

diverse products are a kind of

commercial 'ready-mades'. They

are answers to the considerable

need for variety in our daily consumption,

a need evolved from the longing to distinguish ourselves

from others. This yearning, paradoxically enough, goes hand in hand

with our herding instincts, which explains why we seek that distinction

in (the repetition of) forms that we share with others.

Every human being orders

his or her environment. Anyone

failing to do so for an

ex tended period of time is ripe

for institutional confinement.

PAulINE tERREEhoRst

The external appearance of a product says something about the

behaviour of its users. In this way, products also represent human

need for security, control and recognition. These are three basic

requirements that strongly determine how our environment is put

together. In order to couple this onto something 'sellable', you have

to touch a receptive chord in the buyer. Visual motifs lend themselves

perfectly to this, because the surface appearance of a product

can serve as a vehicle and point of recognition. By viewing the

environment we live in as a product, it becomes possible to divide

that environment into a 'samples palette'. Every sample or visual

motif is a direct reflection of reality, and is therefore recognizable

for the potential buyer of a product. The cross-fertilization between

behaviour and product offers endless variations within the boundaries

it has itself created. In Products of Behaviour, everyone will find

something to suit his or her own taste.

220 COPY PROOF
---
Products of behaviour

COPY PROOF 221
---
1a

1b

1c

1d

1e

1f

1g

1h

2

3

4

222 COPY PROOF
---
5a

5b

1A-5b tERRItoRY/A predictable, stable environment where the individual moves

between continually repeated elements

1a-1h samples/Reality

2 house/Territory

3 Window/View

4 Poster/Snoop Culture

5a Action/Neighbourly Window Event: Spangen

5b Poster/Friendly Window

COPY PROOF 223
---
6a

6b

6c

6d

6e

6f

7a

8a

7b

8b

224 COPY PROOF
---
8c

6A-8c coNtRol/Correcting the body and the environment

6a-6f samples/Reality

7a,7b Wallpaper/Squashed Mosquitoes

8a-8c tiles/Nail clippings

COPY PROOF 225
---
9a

9b

9c

9d

9e

9f

9g

9h

10

11

12

226 COPY PROOF
---
13a

13b

13c

9A-13c sAFEtY/Restraining nature, creating territories

9a-9h samples/Reality

10 Auto/Hedgeprint

11 Flat/Green Experience

12 Poster/Park Green

13a-13c Panty/Hedgeprint

COPY PROOF 227
---
14a

14b

14c

14d

14e

14f

14g

14h

15a

16

15b

228 COPY PROOF
---
17a 17b 17c 17d

14A-17D REcoGNItIoN/Reflecting and directing the environment

14a-14h samples/Reality

15a-15b trees/Public Space

16 statuettes/Muslim

17a-17d socks/Pairs

COPY PROOF 229
---
U

COPY PROOF

A New Method for

Design and Education

Who's who at Post-st. Joost

Director

Jules van de Vijver

staff

edith Gruson

hugues C. Boekraad

Gerard hadders

Marten Jongema

Simon Davies

Wouter Vanstiphout

Geert Setola (through June, 1996)

External Jury Members

Marie helène Cornips

director of art and design, KPN

Nederland

Frans de la haye

industrial designer

Joke Robaard

photographer, visual artist

contributors to previous publications

Linda Roodenburg

former policy staff member,

Photography Institute; independent

consultant for photography

projects

herman Beck

professor of Phenomenology

of Religions at the Department

of Theology, University of Tilburg

Karin Spaink

writer, essayist on new media /

cyberspace, Amsterdam

Rob Kroes

professor of Americanology,

University of Amsterdam

Max Bruinsma

journalist, former Editor in Chief,

Eye Magazine, London

Visiting lecturers

evert van Ginkel

archeologist

Cor van de Lugt

forensic researcher

Ruud Moerkerken

journalist, media trainer

Len de Klerk

urban demographer, city of

Rotterdam

Wim van es

advisor on urban development

and planning

Klaas jan hindriks

journalist, media trainer

Piet de Jonge

curator, Boymans van Beuningen

Museum

Wim Pijbes

assistant director, Kunsthal

Rotterdam

Willem Oomens

policy staff member for cultural

affairs, city of Breda

Cassandra Wilkins

architectural historian

Ineke Smits

film director

Arthur Japin

novel and scenario writer

Wim Franssen

film historian

Ronald Lagendijk

copy writer

Jeroen Linssen

philosopher

Karel van der Waarde

graphic designer, information

graphics designer

Frans Godfroy

journalist

Prof. Bijlert

historian: Modern India

Prof. Gommans

historian: Ancient India

Jogi Panghaal

industrial designer, New Delhi

edwin Walvisch

photographer

hans Werleman

photographer

Linda Roodenburg

former policy staff member,

Photography Institute

Wanda Reiff

gallery owner/director

Jan eijkelboom

writer, poet, translator of english

poetry

Wiel Kusters

professor of literature, University

of Maastricht

Meghan Ferril

project director, Poetry in the

Stedelijk Museum Amsterdam

Bert Jansen
---
journalist for arts & culture,

NRC Handelsblad, Amsterdam

Wigger Bierma

graphic designer

Karel Martens

graphic designer, director,

Typografische Werkplaats,

Arnhem

Anette Lenz

graphic designer, Paris

Berry van Gerwen

graphic designer

Carel Kuitenbrouwer

journalist, design critic

Rob Schröder

graphic designer, director

Sandberg Institute, Amsterdam

Max Kisman

graphic designer

Lucas Verwey

urban planner

Joke Robaard

photographer, visual artist

Paul Donker Duyvis

visual artist

Geert van der Camp

visual artist

Suleyman Dönmez

Turkish community relations

advisor, city of Rotterdam

Ahmed Mokhtari

Morrocan community relations

advisor, city of Rotterdam

Irma Boom

graphic designer

Linda van Deursen

graphic designer

Armand Mevis

graphic designer

Department assistant

esther Lampe

students (1995-2000)

Judith Boon

Charles Crimmins

heike Czerner

Liesbeth Dierick

Barbara Dijkhuis

Stijn Druyts

Alan Fitzpatrick

Gerard Fox

Suzanne van Griensven

Rob hazendonk

Joost van der heijden

Tessa hofland

Pauline hoogweg

Floor houben

Lieke Jonker

Mischa Keijser

Jeroen Klomp

Alexandra Lang

Ruth Leene

heiko Liebel

Steffen Maas

Jantien Methorst

Jacek Mrowczyk

Niels van Ommeren

Sandra Oom

Jan Peeters

Jeroen Peetoom

Sheri Pressler

JanJaap Rypkema

Matthew Sanabria

Bianca Sistermans

Paul Snijder

Birgit Stuit

Ketherine Szeto

Andreas Tetzlaff

Minke Themans

Sanne Tulp

Marijn van Vilsteren

Daan Wormsbecher

Stef van Zimmeren

Peter Zuiderwijk
---
forensic detective

archeologist

corporate communication consultant

media trainer

museum curator

forensic detective

archeologist

corporate communication consultant

media trainer

museum curator

the profession;

designers

architects

visual artists

photogaphers

film-makers

the profession;

designers

architects

visual artists

photogaphers

film-makers

forensic portrait;

self portrait

imaginary portrait

the identity of the designer

deconstruction of the design elements

image, text, colour

forensic 3 squares portrait; #1

self found portrait image, text, colour

imaginary 3 squares #2 portrait

created image, text, colour

the 3 squares identity #3 of the designer

deconstruction hand-made image, of text, the colour design elements

image, text, colour

3 squares #1

found image, text, colour

3 squares #2

created image, text, colour

3 squares #3

hand-made image, text, colour

index and meaning;

visual essay

index and meaning;

visual essay

the process of identification;

introduction to:

anthropology

sociology

psychology

semiology

the process of identification;

introduction to:

anthropology

sociology

psychology

semiology

history of architecture and

urban development;

city excursions:

historical (paris, new delhi)

modernist (nagele)

reconstructed (rotterdam)

history postmodern of architecture (eurodisney, and euralille

urban development;

city excursions:

historical (paris, new delhi)

modernist (nagele)
---
text-genres;

literary writers

translators

journalists

essayists

editors

typographers

text-genres;

linguists

literary writers

translators

journalists

essayists

editors

typographers

linguists

schedule #1st year

schedule #1st year

visual essay

poetry in urban space

workshops;

scenario for film

design and communication

infographics

visual essay

poetry in urban space

workshops;

scenario for film

design for graduation activities

(printed matter, exhibition)

#1st proposal

design graduation and communication

project (2nd year)

infographics

design for graduation activities

(printed matter, exhibition)

#1st proposal

graduation project (2nd year)

reconstructed (rotterdam)

postmodern (eurodisney, euralille

text-genres;

introduction to poetry

history of representation

text-genres;

introduction to poetry

history of representation
---
U

COPY PROOF

A New Method for

Design and Education

Acknowledgements

Copy Proof is a publication of Post­

St. Joost, graduate programme of

the St. Joost Academy, hoge school

Brabant, Breda.

© 2000 St. Joost Academy, Breda

(www.stjoost.nl)/

010 Publishers, Rotterdam

(www.010publishers.nl)

ISBN 90 6450 398 2

Editorial concept

hugues C. Boekraad

edith Gruson

Gerard hadders

Gert Staal

compilation and Final Editing

edith Gruson

Staal & de Rijk/editors, Amsterdam

texts

hugues C. Boekraad

Gert Staal

Visual Essay on complexity

in Reading Design

Gerard hadders

Essays

h.J.A hofland

Martin Reints

Pauline Terreehorst

Dirk van Weelden

A.J.A. van Zoest

translation

Mari Shields, Amsterdam

Photography

Mischa Keijser

Bas Wilders (a.o.)

Design

Pauline hoogweg, Breda

Printing

Lecturis bv, eindhoven