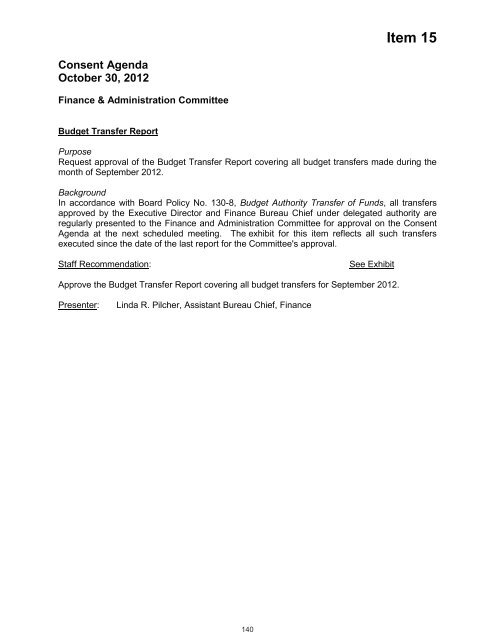 notebook - Southwest Florida Water Management District notebook - Southwest Florida Water Management District
Item 15

Consent Agenda

October 30, 2012

Finance & Administration Committee

Budget Transfer Report

Purpose

Request approval of the Budget Transfer Report covering all budget transfers made during the

month of September 2012.

Background

In accordance with Board Policy No. 130-8, Budget Authority Transfer of Funds, all transfers

approved by the Executive Director and Finance Bureau Chief under delegated authority are

regularly presented to the Finance and Administration Committee for approval on the Consent

Agenda at the next scheduled meeting. The exhibit for this item reflects all such transfers

executed since the date of the last report for the Committee's approval.

Staff Recommendation:

See Exhibit

Approve the Budget Transfer Report covering all budget transfers for September 2012.

Presenter:

Linda R. Pilcher, Assistant Bureau Chief, Finance

140
More magazines by this user