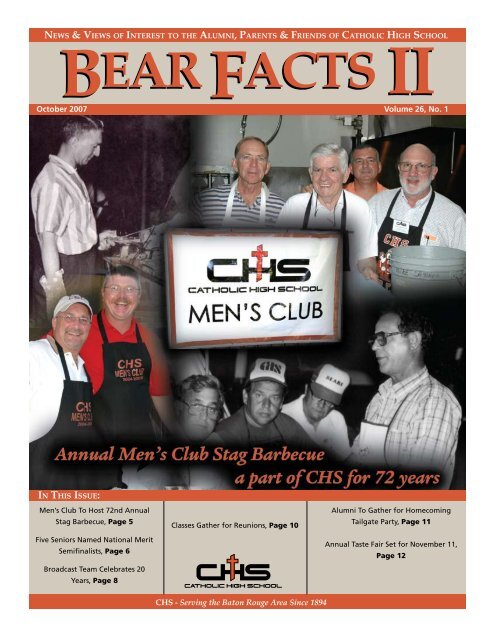 BEARFACTSII BEARFACTSII - Catholic High School
BEARFACTSII BEARFACTSII - Catholic High School
BEARFACTSII BEARFACTSII - Catholic High School
SHOW MORE
SHOW LESS
You also want an ePaper? Increase the reach of your titles
YUMPU automatically turns print PDFs into web optimized ePapers that Google loves.
Ne w s & Vi e w s o f In t e r e s t t o t h e Al u m n i, Pa r e n t s & Fr i e n d s o f Cat h o l i c Hi g h Sc h o o l

BEAR FACTS II

October 2007 Volume 26, No. 1

BEAR FACTS II

In Th i s Is s u e:

Men's Club To Host 72nd Annual

Stag Barbecue, Page 5

Five Seniors Named National Merit

Semifinalists, Page 6

Broadcast Team Celebrates 20

Years, Page 8

Classes Gather for Reunions, Page 10

Alumni To Gather for Homecoming

Tailgate Party, Page 11

Annual Taste Fair Set for November 11,

Page 12

CHS - Serving the Baton Rouge Area Since 1894
---
'40s

J.A. "Pie" Gaudin '48 and

wife Joyce celebrated their 50th

wedding anniversary in August

2007.

Daniel Atkinson

Sr. '53 and wife Jimmie celebrated

their 50th wedding anniversary in

June 2007.

Gordon Pugh '54, senior partner at

Breazeale, Sachse & Wilson in Baton Rouge,

was named secretary of the Public Affairs

Research Council.

Stephen Harmon Jr. '58 has joined the

staff of The Navigators, an international,

interdenominational Christian organization

based in Colorado Springs. He will serve as the

director of donor relations for the worldwide

military ministry.

Gary Polozola '63 has been

'60s

'50s

named general counsel for

Mesquite Fuels & Agriculture,

Inc. in Irving, Texas, a renewable

biomass company that produces

electricity throughout the United

States.

Van Mayhall Jr. '64 was honored at the

45th Annual Brotherhood/Sisterhood Awards

Banquet in August as a 2007 award recipient.

David Bock '65 retired from Total

Petrochemicals USA, Inc. on September 1,

2007 after 34 years of service.

Edward Couvillion '66 has had a

scholarship set up in his memory by his family

for graduate students in veterinary medicine at

Mississippi State University. Couvillion was a

leading researcher for MSU.

Thomas Carville '67, owner of Carco

Trophies & Awards, was honored as the

2006 Volunteer of the Year by the Awards &

Recognition Association at the International

Convention in Las Vegas. He is one of 46

Certified Recognition Masters in the world.

'70s

Wayne Frey '71 has been

honored posthumously in Lake

Charles with the Professionalism

Award, given by the Albert Tate

Chapter of the American Inns

of Court. The award promotes ethical and

professional standards among attorneys.

Tom Whatley '76 will be leaving Ocala

Civic Theatre as director of education after

four years to teach drama at Flagler Palm Coast

High School.

Jeffrey Mohr Sr. '78 was elected president of

the Independent Insurance Agents and Brokers

of Louisiana at the 105th Annual Convention

and Exposition held in San Destin, Fla.

Eric Brandt '79 has been named executive

chef at The City Club in downtown Baton

Rouge.

Steve Platt '79 is on the faculty of Sul Ross

IN THE NEWS

University in Alpine,

Texas. Steve teaches

biology at the graduate

and undergraduate level.

Maurice Coleman

'82, managing director

of Cherokee

'80s

Investment

Maurice

P a r t n e r s , Coleman '82

has joined

the Dean's

Advisory Council (DAC) at the E.J. Ourso

College of Business.

Erich Ponti '83

is a candidate for the

Louisiana House of

Representatives in District

69. Erich currently

serves as president of the

Louisiana Home Builders

Erich Ponti '83

Association.

Brent Silva '83

took office as 2007-08

president of the Society of Louisiana CPAs

(LCPA). He is a partner

with the Mandeville CPA

firm, Silva & Associates.

David Parker '84

has been appointed vice

president, general manager

of HCR Manor Care's

Mid-Atlantic Division.

He will be responsible

Brent Silva '83

for the company's skilled

nursing and rehabilitation centers.

Ray Post '86 was

promoted to general

manager of the Tunneling,

Sewer and Water Division

by Michels Corporation,

one of the top 10 utility

contractors in the United

Ray Post '86

States. Following the

retirement of the current

vice president, he will

assume the vice president

role.

John Zvonek '87 has been named a vice

president and general counsel of Burnett &

Company, Inc. in New Orleans, an independent

managing general agent and cover holder

providing local and underwriting services to

the London and U.S. insurance markets.

Anthony Crifasi '88 is a visiting instructor

of philosophy at the University of St. Thomas

in St. Paul, Minn.

Todd Howell '89 has completed his

Emergency Medicine Residency at Louisiana

State University Health Sciences Center, Baton

Rouge. He will be practicing full time in

the Emergency Department at Baton Rouge

2

General Medical Center.

For the past year, Dr.

Howell has been serving

as the associate medical

director for the Louisiana

State University Fire

and Emergency Training

Institute and has been

elected to the American

Todd Howell '89

College of Emergency

Physicians Louisiana Chapter, Board of

Directors.

'90s Gerard "Jerry" Von Gruben

'90 graduated from Ave Maria

School of Law in Ann Arbor, Mich.

in May 2007. He graduated from

the Franciscan University

in 1995, and worked in

Dallas, Texas for eight

years before beginning

Law School. He and

his wife, Cristy, will be

moving to Florida where

he will practice law.

Michael Matthews

'91 received an award

of excellence from the

Southwest Industrial Fabrics Association at a

convention held in San Antonio, Texas. The

award is in honor of Mrs.

Cindy Colson, who died

this past year of cancer at

the age of 31.

David

Brewerton '92

David Brewerton

'92 accepted the athletic

director and head football

coaching position at

Livonia High School

after serving one year as

offensive coordinator at Jesuit High School in

New Orleans.

Scott McDonald '92

serves as international

development director

with Horizons Computer

Learning Center. In

the last three years, he

has led the Franchise

Development efforts in

the Asia Pacific regions.

Michael

Matthews '91

Scott McDonald '92

Van Mayhall III '92 has been named

partner at Breazeale, Sachse & Wilson, L.L.P.

He practices in the areas

of Business & Corporate

Law and Insurance

Van Mayhall III '92

Regulatory Law. He is

a member of the Baton

Rouge and Louisiana

State Bar Association.

He serves as vice chair to

the Insurance Regulation
---
Committee of the Tort and Insurance Practice

section of the American Bar Association, as well

as chair of the Insurance Division of the Capital

Area United Way 2006 Campaign.

Brandon Conrad

'93 swam in the U.S.

Swimming Master's

Brandon Conrad '93

Championships in

Houston, Texas and

placed 1st in the nation

in the men's 200-meter

individual medley for 30-

35 age group, placed 4th in

the 100-meter breaststroke

and 7th in the 50-meter breaststroke. Brandon

will be moving to Washington, D.C. as a

business consultant for Apple.

Matthew Von Gruben '94 is the manager

of the Enterprise Rental Car Office on Jefferson

Highway in Baton

Rouge.

Capt. Josh Burton

'95, U.S. Army,

took command of

Headquarters &

Headquarters Command

4-227 ARB (Attach Recon

Battalion) which is part of

the 1st Calvary Division

that is currently deployed in Taji, Iraq. This

is his second tour of duty with Operation Iraqi

Freedom. He is scheduled to redeploy to Ft.

Hood, Texas later this year.

Brandon Holden '96

received his master's in

Brandon Holden '96

business administration

from the Harvard Business

School in June 2007. He

earned his undergraduate

degree from the United

States Military Academy

at West Point and served

five years in the Army,

including a year in Iraq. He has accepted

a position with Deutsche Bank, a global

investment bank, focusing

on leveraged finance

within the investment

banking group.

Matthew Byrd

'97, who lives in New

Orleans, is enrolled in the

University of New Orleans

teacher program. In the

Fall, he will be teaching

middle school science, while continuing his

studies at UNO to complete his master's degree

'00s

Josh Burton '95

Matthew Byrd '97

in education.

Christopher Moehle '00

was awarded the Cardiovascular

Research Training Grant. It is a

IN THE NEWS

FACULTY ALUMNI. Catholic High School currently has 15 alumni on faculty and staff.

Pictured here are front row (l to r) Keith Rumfola '01, Pete Boudreaux '59, Scott Manning

'01, Scott Losavio '95 and J.P. Kelly '92. Second row (l to r) are Ed Lamy '78, Hal Dupuy

'73, Jeff Nola '94 and Craig Saylor '98. Third row (l to r) are Tim Chustz '96, Steve Talamo

'84, Taylor Murphy '00, Tommy Prochaska '92 and Drew Losavio '98. Nsot pictured is Doug

Logsdon '02.

competitive National Institute of Health grant

awarded through the Cardiovascular Research

Center at the University of Virginia School of

Medicine.

Scott Pendarvis '00,

a McNeese State graduate

and former Cowboy

football standout, has been

named assistant director of

athletics/business manager

for the university's athletic

department.

Scott Pendarvis '00

Jonathan Booth

'01, an alumnus of LSU E.J. Ourso College

of Business and employed by KPMG's Baton

Rouge office, has received the Elijah Watt Sells

Award from the American Institute of Certified

Public Accountants. The award recognizes

outstanding performance on the Uniform CPA

Examination and is given to only 10 winners

annually. He received his master's in accounting

from LSU in May 2006 and his bachelor's of

accounting from LSU in December 2004.

Drew Samson '01

completed his studies at

LSU with a B.A. in Dairy

Science. He accepted a

position at Kleinpeter

Dairy in production.

Chad Blanchard '02

Drew Samson '01

graduated from Louisiana

Tech in May 2007 with

a degree in Mechanical

Engineering. He is employed with Schmidt &

Stacy Consulting Engineering in Dallas, Texas.

David Borne '02, a local musician, finished

second at the National Rock Paper Scissors

Tournament in Las Vegas.

Alec Breaud '02 graduated summa cum

laude in Finance and Economics from Spring

3

Hill College in May

2006 and is in Spring

Hill's MBA program.

Alec performed his flight

solo in 2000 and earned

his commercial captain's

license for charter boats.

He is the captain of the

Alec Breaud '02

Eye Lander, based in

Fourchon, La.

Michael Von Gruben '02 married and is

residing in New Orleans where he is continuing

his studies at the LSU Health Center School of

Dentistry.

Eric Hollier '03 graduated from LSU in

May with a B.A. in Mass Communication.

He has moved to New Orleans and is working

in Athletics Communications at Tulane

University.

BEAR FACTS II

Bear Facts II is published quarterly by

the Office of Public Relations.

Jan R. Breen, editor

Jennifer J. Rouse, assistant editor

Contributors:

Margie Alexander

Stacy Bourgeois

Greg Brandao '73

Sara Brignac

David Butler '77

Barbara Camp

Hal Dupuy '73

Katherine Ellis

Joni L. Owens

Glen Randow

We welcome the submission of material for

possible publication. Mailing address:

P.O. Box 65004

Baton Rouge, LA 70896
---
Ben Love '03 graduated cum laude with

honors from the University of Georgia in May

with degrees in International Business and

Spanish. He moved to Houston in July to

take a position with Barnes Distribution as a

customer sales specialist.

Jesse Samson '03 completed two years of

touring the United States with his band. He

discontinued his music

touring to begin a four

year program at ABC

to study Electricity and

Instrumentation.

Chris Williams '03, a

senior two-year offensive

Jesse Samson '03

line starter, was added

to the Outland Trophy

preseason watch list.

Since arriving on campus as an under-sized

line prospect, he has developed into one of the

most physical and talented offensive lineman in

recent Vanderbilt history. He started as guard

as a sophomore and was named second team

All-SEC last year by the league coaches. As

the season endured he got stronger, and did

not allow a quarterback

sack from his opposing

defender in the final 11

games.

Jourdan Cancienne

'04 was recognized by

the NESCAC for All

–Academic Honors as

a student athlete. He

attends Tufts University

in Boston, Mass.

Brett Blanchard '05 has won two art

contests at Southeastern Louisiana University.

He won the graphic division of the 2007

Student Spring Art Show. Brett also won the

design contest for the cover of "The Pick,"

a multi-department journal of outstanding

student works. His design

was chosen because "it is

clean and professional, yet

fun and trendy."

Andrew Cedotal '04,

a senior at Yale University,

was one of 11 Yale students

Andrew Cedotal '04

While in Singapore, he

spent eight weeks as an

intern working for the

Wall Street Journal – Asia.

The group took side trips

to Malaysia, Thailand,

Cambodia, Vietnam and

Indonesia.

Jeffrey Garidel '04

Jourdan

Cancienne '04

selected to participate in

this summer's Bulldogs

in Singapore program.

Jeffrey Garidel '04

IN THE NEWS

was one of eight LSU baseball players to make

the SEC Spring Honor Roll for last year.

Steven Primeaux '04 made the LSU

Chancellor's List in spring 2007.

Luke Zumo '04 has been invited to

participate in a European

tour next summer

sponsored by USA

Athletes International.

Luke has carried a 3.9

GPA over the past three

years at Loyola University

and is one of the anchors

for a team that finished

last year with the second

highest GPA in the nation for NAIA men's

basketball programs.

Matthew Caillet '05 made the LSU

Chancellor's List in spring 2007.

Martin Samson '05 is attending

Southeastern Louisiana University, where he

completed two years

working toward a

B.A. in Nursing. He

was inducted into the

National Society of

Collegiate Scholars and

Sigma Alpha Lambda

National Leadership and

Honors Organization

Martin Samson '05

and has been granted

membership in the

National Honor Society. He is employed

at Our Lady of the Lake Regional Medical

Center.

Justin Scott '05 spent the summer in

Mountain Valley, Calif. working as an intern

with Mozilla Corporation. He volunteered

his time for the past nine months helping to

develop new programs that enhance Mozilla's

Firefox Web Browser. In June, Justin went

to Japan for a development summit where he

was involved with the presentation of the new

developments for Mozilla.

Corey Williams '05 was awarded a

Certificate of Achievement and SWAC

Championship ring by the Grambling

State University Department of Athletics in

recognition of his outstanding performance at

the 2007 Track and Field SWAC Championship

in May 2007. He is a returning offensive

lineman/left guard for the Grambling Football

Team this football season.

Mark Fry '06 made

the Dean's List this

spring in the College

of Engineering at LSU.

He is a recipient of the

Pegues Scholarship and is

a sophomore majoring in

Mechanical Engineering.

4

Luke Zumo '04

Mark Fry '06

He is a member of Pi Kappa Phi fraternity

and the American Society of Mechanical

Engineers.

Pfc. Bryce Landry '06 graduated from

Army Basic Combat Training at Fort Benning,

Ga. in May 2007. He then

reported to Fort Gordon,

Ga. for 17 weeks for

his advanced individual

training. He graduated

in September 2007, and

reported to Fort Leonard

Wood, Mo. where he

assumed his occupational

duties as a Signal Support

Systems Specialist.

Travis Meyer '06 made the LSU Chancellor's

List in spring 2007.

Stephen Richard '06 made the LSU

Chancellor's List in spring 2007.

Gary Walker '06 made the LSU Chancellor's

List in spring 2007.

Will Lee '07 was one of 10 students chosen

to receive an all expense

paid trip to China with

LSU Honors College for

the summer. He studied

the Chinese language and

Calligraphy at the Tonji

University in Shanghai

Will Lee '07

Pfc. Bryce

Landry '06

and traveled to Beijing.

He experienced many

different parts of the

Chinese culture, including walking through the

gates of the Forbidden City, climbing the Great

Wall, exploring night life and even a Beijing

Opera.

Jonathan Vignes '07 was awarded the

Inter-Civic Council of Baton Rouge Service

Scholarship. The award is based on community

service.

23rd Annual Hall of Fame

Induction and Founders

Banquet

Hilton Baton Rouge Capitol Center

Thursday, December 6, 2007

Invitations will be mailed to

all donors who contributed

$1,000 or more from July 1,

2006 to June 30, 2007.
---
CHS Men's Club To Host 72nd Annual Stag Barbecue

By Jan R. Breen

The Catholic High Men's

Club will host the 72nd Annual

Stag Barbecue October 13, 2007

from 6 to 10 p.m. in the CHS

Union and courtyard. Tickets

are $15 in advance and $20 at

the door. Take-out orders are

served from 5:30 p.m. to 9 p.m.

Rudy Valenciano, chair

and past Men's Club president,

will oversee production of

more than 1800 steak dinners.

Alums and friends of CHS

have the opportunity to renew

acquaintances.

"What is so special about

this event is the camaraderie

that night," commented former

Men's Club President and

current Vice President Marvin

Borgmeyer. "You see three

generations gathered together

and you see the love these men

have for this institution. People

BARBECUE. The CHS Men's Club will host its 72nd Stag Barbecue. Members

preparing for the event include (front row, l to r) Junior Politz, Rudy

Valenciano, Mike Lamana '64 and Scott Pecue '79. Back row, (l to r) are

Kevin Brian '86, Men's Club President Wayne Dugas, Men's Club Moderator

Jason Hanks and Marvin Borgmeyer.

at the barbecue have a special

feeling about CHS and continue

to renew relationships they have

built through the years," added

Borgmeyer.

L.J. Dantin, former Men's

Club president and past Barbecue

Chair, has prepared the baked

beans and salad for the past 32

years.

"The Men's Club Barbecue

is a great gathering of graduates

and supporters of CHS and I

have enjoyed helping in any way

I can," commented Dantin.

Junior Politz, former

secretary of the Men's Club, has

worked the Barbecue for the past

30 years and oversees the ordering

and cooking of the steaks.

"I want to give back to CHS

what it has done for young men,

especially my two sons, Dale '81

and Russell '85. The Barbecue

is a time to gather together,

almost a big reunion each year,

and you see the spirit of CHS

everywhere," commented Politz.

LeClercq Bozeman, a 1942

graduate of CHS, holds the record

for attendance at 61 consecutive

Men's Club Barbecues.

Wayne Dugas serves as

president of the Men's Club.

Officers include Marvin

Borgmeyer, vice president; Kevin

Brian '86, treasurer; and Scott

Pecue '79, secretary.

5
---
Five CHS Seniors Recognized as National Merit Semifinalists

By Barbara Camp

Five members of the

Catholic High School Class

of 2008 have been named

National Merit Semifinalists by

the National Merit Scholarship

Corporation.

Approximately 1.4 million

juniors in 21,000 high schools

entered the 2008 National Merit

Program by taking the 2006

Preliminary SAT/National Merit

Scholarship Qualifying Test.

Semifinalists named in the 2008

National Merit Scholarship

Program represent less than one

percent of the U.S. high school

seniors and include the highest

scoring entrants in each state.

CHS National Merit

Semifinalists include James

By Jennifer J. Rouse

Harold D. "Hal" Dupuy

'73 has been named the Catholic

High School Development

D i r e c t o r

e f f e c t i v e

November 5,

2007.

Dupuy

will complete

30 years

of service

with the

Information

Technology

Division of the Louisiana

Department of Social Services

in October 2007. During his

time at the Department of

Social Services, Hal has served

as computer programmer,

applications project leader,

webmaster and director of

information technology project

management.

Dupuy, whose father, Percy,

is a 1936 CHS graduate, has

maintained an active status at

Catholic High since graduating

in 1973. He has served two

terms on the CHS Alumni

Board, is currently in his 13th

year on the CHS Men's Club

Executive Committee, and has

and Michael Tullier.

Gilbert, Matt Hiller, Crosby

Jurkiewicz, Andrew Townsend

and Michael Tullier.

James Gilbert is the son of

Dupuy Named Development Director

Hal Dupuy '73

National Merit Semifinalists are front row (l to r) Crosby Jurkiewicz,

Andrew Townsend and James Gilbert. Second row (l to r) are Matt Hiller

served as an adult facilitator for

eight years on the CHS and SJA

senior retreats.

"I am humbled by the

opportunity to serve the entire

Catholic High family in this

capacity. I look forward to

working with the administration,

faculty, students and their

parents, benefactors, alumni and

the many friends that share the

same love for CHS that I do,"

commented Dupuy.

"I am thrilled to have Hal

joining CHS as development

director," said Gene Tullier,

president of Catholic High

School. "His warm, friendly

personality, deep roots in the

CHS community and prior work

experience make him a huge asset

to CHS."

In addition to being a

graduate of Catholic High,

Dupuy earned a Bachelor of

Science in marketing from the

University of Southwestern

Louisiana.

Hal and his wife of 29 years,

Tyré, have two sons, Jordan '98

and Chad '00.

6

Shanwood and James Gilbert III

and attended St. George. Matt

Hiller is the son of Patti and

Michael Hiller and attended

Most Blessed Sacrament.

Crosby Jurkiewicz is the son

of Carole Lynn Jurkiewicz and

attended St. Aloysius School.

Andrew Townsend is the son of

Lisa and Marshall Townsend and

attended CHS in 8th grade and

St. Jude. Michael Tullier is the

son of Renée and Patrick Tullier

and attended Our Lady of Mercy

School.

Named National Merit

Commended Students were

Robert Clary, son of Jan and Bob

Clary, Chris Demas, son of Su

King and Charles Demas, Chad

Gremillion, son of Kim Weimer

and Brian Gremillion, and Chris

Heroman, son of Denise and

Mark Heroman.

DOCTORS. Six CHS alumni graduated from LSU Medical School in New

Orleans on May 19, 2007. Pictured (l to r) are Dr. Brad Culotta '99,

Dr. Chris Broussard '99, Dr. Scott Buhler '99, Dr. Brien Rabenhorst '98

and Dr. Jeremy Speeg '99. Not pictured is Dr. Jay Granier '88.

APPRECIATION. Faculty and staff members were recognized for their

years of service during the faculty/staff orientation on August 3, 2007.

Celebrating their service were (l to r) CHS Principal Brother Barry

Landry, SC; Dale Weiner, 20 years; Don Hood, 25 years; Steve Galliano,

20 years; Pete Boudreaux '59, 40 years; Glen Randow, 30 years; Pinney

Johnson, 15 years; and CHS President Gene Tullier. Not pictured is

Mary Lou James, 35 years.
---
Alumni Feature

Christopher Berry '93 Directs Music in Vatican City, Rome

By Jennifer J. Rouse

Christopher Berry '93 has

been selected as the director of

Liturgical Music at the Pontifical

North American College in

Vatican City State, Rome.

Chris began playing the

organ in middle school, and he

served as assistant organist of St.

Joseph Cathedral while a student

at Catholic High.

Berry has been a laureate

of numerous domestic

and international organ

competitions, and has been a

two-time semifinalist in the

National Competition in Organ

Improvisation sponsored by the

American Guild of Organists.

He has been a guest organist

at regional conventions of the

National Pastoral Musicians

association, and was an organist

for World Youth Day 1994 in

Denver, Colo.

Chris graduated cum laude

from the University of North

Texas, where he was a student

of Dr. Jesse Eschbach and was

the first organ scholar of the

Cathedral Santario de Guadalupe

in Dallas. While at North Texas,

he held the prestigious Helen

Hewitt Organ Scholarship and

was recognized in his senior year

as Outstanding Undergraduate

Student in organ.

In the summer of 1996,

Chris had the privilege of studying

in Paris with eminent French

organists Marie-Claire Alain and

Marie-Madeleine Duruflé. In

In Memoriam

As of September 13, 2007, the following alumni and friends of

CHS have died since the last issue of Bear Facts II. Please remember

them and their families in your prayers.

James Francis Abadie

Lucille LeJeune (Touchet) Alexander

Beau Ky Bennett

Fran Bourgeois

Dorothy Boyd

Paul Joseph "Capt" Cancienne

Nelson Baker Clothier

Sister Rita Maria Coco, S.C.N.

Charles Edwin Craig Jr.

Reba Cromwell

Catherine Radigan Cummings

Robert F. David '46

Huron J. "Sam" Ducote Jr.

Margaret Daquano Dauzat

Robert Eugene "Amigo" DeWitt

Elaine T. Delaune

Rose Nesbit Doiron

Susan K. Dornier

Marguerite "Margo" Smith Ebner

The Most Rev. Gerard L. Frey, D.D.

Bernard Oscar Gauthier

Clifford John Gillio Sr.

Anthony "Tuggie" Graphia '39

Jeremy Graphia

Brent Louis Griffin

Russell Anthony Guercio

Luke Fabre Jr.

Dr. Louis Fox

William Philip "Bill" Hackney, M.D.

Brenda Smith Hebert

Edward Higginbotham

Cecil J. Jarreau Sr.

Francis Michael "Mike"

Kleinpeter '46

Marion Landry

Diane Marie LeBlanc

Jerome Phillip "Jerry" Leggio III

Charles J. Lieux

Maj. Gerald L. "Jerry," (USAF ret.)

Marino '52

C. Dwight Marix

Charles L. "Cheese" Melancon

Margaret Mai Taylor Morgan

Joseph Monroe Mott Jr.

Lillian Alello Newman

Marguerite P. Ourso

James W. Parks

Edith Verret Pierce

Joseph T. "Rock" Reed

Marie Elvire Chassaignac Reynaud

Joseph Romeo Jr.

Roy Anthony Romano Sr.

Jerome Vincent "J.V." Silvio

Amy Vollenweider Sliman

Carlo Thomas "Speedy" Spedale

Guy Gibson Tanner

Vicki Rose Shelton

Alvin Joseph Vignes, M.D.

Helen D. "Honey" Vince

Kathleen McQuaid Walter

Gerald F. Wascom

Rita Lepine Webre

Ruth Murphy Wilkinson

Rachael Lynn Willis

7

ORGANIST. Chris Berry '93, a two-time semifinalist in the National

Competition in Organ Improvisation, has been selected as director of music

at the Pontifical North American College in Vatican City State, Rome.

1998, he was awarded a graduate

teaching assistantship in organ

at the University of Kansas,

from which he received a Master

of Music degree in 2002 as a

student of Dr. James Higdon.

In 2000, he received

a Rotary International

Ambassadorial Scholarship to

again study in Paris, where he

earned the Premier Prix as an

organ student of François-Henri

Houbart at the Conservatory of

Rueil-Malmaison, and studied

improvisation with Sophie-

Véronique Choplin, co-titular

organist of Saint Sulpice in

Paris.

Before accepting the

position in Rome, Chris was

director of music at the Roman

Catholic Church of the Holy

Trinity in New York City. While

in New York, he was heard on

Sirius Satellite Radio's (159 The

Catholic Channel) broadcast of

the daily morning Mass from

St. Patrick's Cathedral. From

2001-2003, Chris was assistant

director of music at the Basilica

of the National Shrine of the

Immaculate Conception in

Washington, D.C.

2007-08 Alumni Association Board of Directors

ALUMNI BOARD. The 2007-08 Alumni Association Board of Directors

are first row (l to r) Monty Buckles '93; Michael Acaldo '83; Patrick

Hannie '86; Scott Ritter '93; Billy Bourdier '55; Dr. James Hannie '52;

Blane Clark '77, Alumni Association president; Edward Sutton '93; Sam

Losavio '66; and Brother Eldon Crifasi, SC '39. Second row (l to r) are

Jeff Tanguis '77, Jimmy Prescott '97, Ken Litz '75, Duane Lato '75, Chris

Jones '95, Matthew Graham '99, Eddy Samson '66, David Broussard '55

and David Beach '96. Not pictured are Ben Brown '99, Dixon McMakin

'05, Andy Palermo '06 and Denny Vicknair '63.
---
CHS Broadcast Team Celebrates 20 Years on the Air

By Jan R. Breen

"Good night from the family

of Catholic High School."

For the past 20 years, fans

and friends of CHS have heard

this sign off at the end of the

live radio broadcast of Catholic

High football. The team of

Dick Walcott, Denny Braud

'56 and David Butler '77 along

with André Fourrier '68 have

given the CHS community the

opportunity to be a part of an

exciting football program that has

seen the team reach the playoffs

every year of the broadcast.

It would be, however, events

on two baseball fields that would

eventually bring the Bears on the

air for football in 1988.

In the summer of 1988,

Denny Braud met WIBR

General Manager Lou Campbell

ON THE AIR. André Fourrier

'68 oversees the funding for the

broadcast and all administrative

work.

on the CYO baseball field.

Denny broached the idea of a

broadcast with Campbell and

he was receptive to it. Denny

then ran into Dick Walcott at

an LSU baseball game and asked

Dick if he would do the play-byplay

if CHS had a live broadcast.

Dick agreed. Everyone gathered

at WIBR and the pieces were

coming together, except for one

final hurdle: how to pay for the

broadcast.

The CHS Men's Club was

approached to see if they could

help but they were already

committed to other projects

that year. One member, André

Fourrier, thought that he could

help, and offered to sell ads

GRAMBLING STANDOUTS. CHS graduates Revay Smith '05 (left) and Corey

Williams '05 (right) are leading the Grambling Tigers. Smith plays left

guard and Williams plays right guard.

TWENTY YEARS. (From left) Dick Walcott, Denny Braud '56 and David Butler

'77 have broadcast the football games for the past 20 years.

8

to underwrite the cost of the

production. He quickly put

together 14 sponsors and today

six of these sponsors are still

with the broadcast after 20 years:

Bolton's, Drusilla, Louisiana

Electric, Fourrier Agency,

Calandro's and Hawk's Nest.

The Bears made history with

their own live radio broadcast

in the fall of 1988 against

Woodlawn.

CHS won

31-21.

I n

the early

years of the

broadcast

CHS would

b o r r o w

W I B R ' s

equipment

The Bears made

history with their

own live football

broadcast in the

fall of 1988.

and then

return it after the game. Through

André's leadership, the Men's

Club soon bought the broadcast

equipment and continues to

update it from Marti, to phone

lines to cellular.

The broadcast team is one

of the best assembled. Dick does

the play-by-play and has been in

the radio and television business

since the '60s. He has covered

the LSU basketball games and

Southern football and basketball.

He is a graduate of Cathedral

High in Natchez. Dick feels a

strong bond with the Brothers

of the Sacred Heart because

they helped raise his dad. Dick's

son, Richard, is a 2005 grad of

CHS.

Denny, a 1956 grad, gives

the color analysis. He is also a

CHS Grizzly Great and his son,

Joseph Denis, graduated CHS

in 1983.

David, a 1977 graduate,

joined the team as statistician.

David has always kept the stats

for CHS football since his high

school days. David is also a CHS

Grizzly Great and had two sons

graduate CHS: David in 2005

and Stephen in 2007.

André is a 1968 grad of CHS

and has assumed the leadership

role in all of the administrative

work to make the project a

reality each year. He had two

sons graduate from CHS,

Carter in 1992 and Nathan in

1996 and Drew graduated from

Redemptorist.

Having traveled on the

road for 20 years, the broadcast

team has many stories including

the time Dick was accidentally

locked in

the opposing

team's locker

room and no

one found him

until halftime

so there was no

broadcast that

night. And,

the night CHS

played at East

A s c e n s i o n ,

their staff wanted to unplug the

broadcast phone lines before

halftime so they could order

pizzas for everyone. Fortunately,

someone had a cell phone to

order the pizza.

Dick Walcott, Denny

Braud, David Butler and André

Fourrier have given us 20 years of

football broadcasts and we have

heard records broken, last-play

victories, last-play heartbreaks,

10 – 0 records and more.

So, we say to our broadcast

team, "Thank you from the

family of Catholic High."
---
First Alumni Fishing Rodeo Draws 270 Anglers

By Glen Randow

The first CHS Alumni

Fishing Rodeo was held on June

22-23, 2007 in Fourchon, La.

The Friday night registration

party provided opportunities for

graduates as far north as Indiana,

east to Alabama and west to Texas

to reunite and share in memories

of their days at CHS. Each day

the anglers were treated to great

Louisiana cuisine provided

by Fritz Carville '95 and the

Catering Cajun of Louisiana.

"A group of us from the

class of 1975 and 1976 attended

the rodeo. It will certainly be

an annual event for our group,"

commented Mike Monk '75.

"I still cannot believe we had

270 participants in a first-time

event. This was a wonderful

activity for Catholic High

School," added Greg Brandao

'73. "The weather was ideal for

a full day of friendly, competitive

fishing."

The tournament results may

be seen at www.catholichigh.org/

alumni.

The 2007 tournament

committee members were

Jimmy Prescott '97, Daniel

Loup '97, Randy Richard

'97, Mike Matthews '91, Brad

Tuminello '81, Jim Richard

'74, Camp Matens '60, Rob

Hebert '98, Justin Suchy '00,

Ben Hebert '92, Danny Moran

'77 and John Balance. A big

thanks to the many sponsors

and to Brandon Landry '97 as

the title sponsor with Walk-On's

Bistreaux and Bar, The Roux

House, Happy's Irish Pub, and

Schlittz and Giggles.

Do not forget to mark

your 2008 calendar for the 2nd

Annual Catholic High Alumni

Fishing Rodeo. The date is

June 21-22, 2008 at the Port

Fourchon Marina and Inn.

Special Thanks to Our Fishing

Rodeo Sponsors

Title Sponsor: Walk-On's Bistreaux and Bar, The

Roux House, Schlittz & Giggles, Happy's Irish Pub

Food Sponsor: Catering Cajun of Louisiana

Golden Bear Sponsors: idocs, Recycling Foundation of

Baton Rouge, Jules Madere Creative Jewelers, Southern

Packaging, Inc., Modica & Dowden, Hebert Brothers

Engineering, Coca Cola, Crescent Crown Distributing, LLC

Grizzly Sponsor: Awning World, R&B Holding, LLC,

Forethought Consulting, Inc., Sign Express, Chris

Dimattia – New York Life, West Marine, Imperial

Sugar, Matthews General Contractors, Fourrier Agency,

Louisiana Yachting and Boating Center, LLC

Bruin Sponsor: Greenleaf Tree & Shrub Care, Ocean

Waves Sunglasses, National Property Inspections,

Bass Pro Shops, Plant Security, Bowie Outfitters,

Evans Investments, Louisiana Pest Control

Photography Sponsor: John Ballance

9

(Top) FISH. Displaying their

catch at the first Alumni

Fishing Rodeo are (l to r)

Danny Donaldson '84, Stephen

Richardson '84, Matt Marchand

'84 and Billy Loftin '84.

(Above) ANGLERS. Anglers

participating in the Fishing

Rodeo in Fourchon, La. were

(l to r) Billy Prochaska, Lyman

Thornton, Bill Prochaska '85

and Tommy Prochaska '93.

(Left) CATCH. (l to r) Jason

Geier '03, Blaine Bergeron '94

and Brad Tuminello '81 show

off their prize of the day at the

Fishing Rodeo.

Wedding Bells

Angela Antoinette Brown and Derrick Wayne Anderson '85...Denise

Michelle Beattie and Andrew Mallory Dolese '86...Claudia Houser and

Anthony Crifasi '88...Zelma Anne Murray and James Bernard Frederick

III '90...Camille Jeanette Walker and Timothy Sean Chapman '92...

Kristen Jensen and Bentley Chris Folse '92...Ann Nicole Makowski and

Brad Michael Hernandez '96...Sarah Jane Swift and Daniel Christopher

Hill '97...Kristin Leigh Boudreaux and Sam Crawford Pernici Jr. '97...

Rebekah Ka Yan Chan and Matthew Alexander Pine '97...Melanie

Marie Delaune and Collin Joseph Ford '98...Rachel Marie O'Malley and

George Wilton Town Jr. '99...Morgan Lee Derouen and Alvin Achille

Fairchild III '00...Erica J. Kaspar and Dylan Trivette '00...Sarah Elisabeth

Bourque and Jacques McKay Brousseau '01...Alexis Camille Bergeron

and Michael Bowman Irby '01...Amy Elizabeth Lambert and Scott

William Vierck II '01...Katherine Marie Perrin and Chad Blanchard

'02...Allison Claire Ward and Erik James Hoffpauir '02...Rachel Faith

Brower and Michael Joseph Von Gruben '02...Christina Marie Holley

and Matthew Ross Holmes '03.
---
Alums Gather for Reunions

CLASS OF 1987. Gathered for the class of 1987 reunion on the CHS

campus are first row (l to r) Rob Dille, Mark Emonet, Kyle Pope and

Randy Cangelosi. Back row (l to r) are Greg Gannuch, Andy Smith,

Burk Heroman and David Funes.

REUNITE. Rick Lea '77 (standing, left), who helped organize the class

of 1977 reunion, visits with (seated) Brother Donnan Berry, SC and

Brother Eldon Crifasi, SC '39.

"The reunion reminded us that the friendships we

made at Catholic High will last forever."

Jeffery Tanguis - Class of 1977

"Of all the four year stints or blocks of time in our

lives, it is incredible how the four years of high

school create such an inescapable bond - a feeling

of family, of unfettered friendship."

Randy Cangelosi - Class of 1987

CLASS OF 1982. (L to r) Lou Clouâtre, Dan Bankhead, Trey McGowan,

Tim Barfield, Darren Domas and Stewart Gordon enjoy dinner at the

Class of 1982 Reunion.

"Thank you to all involved in planning our 25

year reunion. It was a great weekend of fun, food,

stories and friends. For those who attended, it

was good to spend time with you guys. Let's use

this opportunity to stay in touch with each other

more."

Maurice Coleman - Class of 1982

10

CLASS OF 1997. Attending the class of 1997 reunion were (l to r) Adam

Serrano, Randy Guillaume, Brandon Landry, Anthony Piazza and Kostis

Plakidas.

"The CHS class of 1997 10-year reunion was a

special weekend to catch up with old friends, meet

their spouses/ dates, learn about their children

and find that each one of us has been able to move

on from Catholic High with good intentions and

great expectations. The reunion was well attended

and there was a resounding voice interested in

getting together more often to celebrate the years

we shared at CHS and the years we plan to share

in the future."

Brian Hightower - Class of 1997
---
Photo courtesy of Carl Enna '70

Fifth Annual Alumni Tailgate Party Set for October 25

By Glen Randow

The fifth annual Alumni

Homecoming Tailgate Party will

be held at Olympia Stadium on

Thursday, October 25, 2007.

Free jambalaya dinners,

prepared by Pete Hymel, will be

served to all alumni and their

families beginning at 5:30 p.m.

Look for the signs pointing to

the orange alumni tent which

will be located just outside the

home gate of the stadium. RSVP

is not necessary.

"It is a great opportunity to

reconnect with old friends and

meet new friends before watching

the Bears," commented CHS

Alumni Association President

Blane Clark '77.

Eugene and Janice Ponti Sr. Scholarship Fund Established

By Greg Brandao '73

Erich '83, Elizabeth and

Eugene Jr. '78, the children of

Eugene O. and Janice D. Ponti,

have established a scholarship in

their parents' names as a lasting

and significant way to recognize

their 50th wedding anniversary.

Eugene graduated from

St. Aloysius, a Brothers of the

Sacred Heart school, in New

Orleans in 1953. He was active

in the CHS Men's Club and

served as its president in 1978-

'79 and treasurer in 1977-'78.

Eugene reorganized the weekly

Bingo games, and his efforts

were so successful that proceeds

were used to air condition the

main building. He also organized

the first "Papa Bear" $10,000

raffle and implemented "Bear

Bucks" still in use at the annual

barbecue.

Janice was active in the

CHS Mothers' Club and served

in various offices. She assembled

the first CHS Student/Parent

Directory published by the

Mothers' Club and continued

working on the directory for

several years. Janice also was

involved in the CHS Fairs, an

event that was the predecessor of

the Mothers' Club Auction.

HOMECOMING 2006. Serving jambalaya at the 2006 Alumni Homecoming

Tailgate Party were (l to r) David Arrighi '73, Al Wintz '63, David Beach '96

and Bill Bourdier '55.

The Alumni Tailgate cochairmen

are Bill Bourdier '55

PONTI SCHOLARSHIP. The children of Janice (front center) and Eugene

Ponti Sr. (front right) have established a scholarship fund in honor of their

parents. Pictured with their parents are Eugene Ponti Jr. '78 (front left) and

back row (l to r) Erich Ponti '83 and Elizabeth Ponti Wilcox.

Erich and his wife, Amy,

live in Baton Rouge. They have

three children, Megan Slaven,

Emily, Andrew, a Catholic High

senior, and a granddaughter,

Erin. Erich is the owner of

Accent Construction Company,

president of the Louisiana

Homebuilders Association and a

candidate for state representative

in District 69.

Elizabeth resides in Flower

Mound, Texas, with her husband,

Stephen Wilcox, a Fort Worth

attorney, and son, Samuel.

Eugene Jr., lives in Monroe.

He is married to Suzanne

and has a son, Christian. He

11

and Denny Vicknair '63 with

Ben Brown '99, Eddie Samson

'66, and David Broussard '55

serving on the committee.

The Alumni Board of

Directors would especially like

to invite members of the 1937-

'38, '47-'48, '57-'58, '67-'68,

'77-'78, '87-'88, and '97-'98

football teams to attend this

event. Special nametags will be

available and we will recognize

members of the teams on the

field before the game. Former

players will be interviewed at

halftime on the radio broadcast.

You can purchase your

regular season game tickets

through the CHS Bookstore.

Tickets are $5 in advance or $7

at the gate.

owns and operates Gene Ponti

Communications, Inc., a

television production company,

and he owns the Sports City

Grill in West Monroe.

Eugene and Janice have

been members of Our Lady of

Mercy Parish for 41 years. They

are members of the Equestrian

Order of the Holy Sepulchre.

Eugene has served as a captain

of a Manresa Retreat group for

19 years and is a member of

Manresa's Board of Directors.

BROUGHT TOGETHER. (l to r) Dr. Phil Boudreaux '70 of New Orleans,

Rick Bahlinger '70 of Tulsa, Okla. and Carl Enna '70 of Little Rock, Ark.

attended the wedding of Bahlinger's daughter, Erin, in Springfield, Mo.

in May 2007. The three graduated from CHS in 1970 and all were

members of the Marching and Jazz Bands.
---
Parents Prepare for PAGE Phonathon in October

By Greg Brandao '73

PAGE phonathons were so

successful last year that PAGE

chaircouple, Matt and Gwen

Cotton, have decided to use

this approach again to contact

CHS parents. Phonathons are

scheduled for Sunday, October

21 for junior and sophomore

parents and October 28 for

8th grade, freshmen and senior

parents.

"Rolfe and Cary Miller did

such a great job as last year's

chaircouple in

instituting the

phonathons

that we are

happy to

follow their

lead and 'go

for it' again,"

said Matt. "We

are excited

about this

year's PAGE

p r o g r a m .

Our primary

goal is to achieve 100 percent

participation of all Catholic

High parents."

Serving with the Cottons in

PAGE leadership are Fermin and

Becky Montes de Oca, Russel

By Katherine Ellis

Shrimp remoulade, crab

and Valerie Primeaux, and Brian

and DD Dubreuil. Grade level

coordinators are Sissy and Ralph

Stephens '73, Bubby and Melissa

Burns, David and Stephanie

Anderson, Brad and Judith

Myers, Tony and Monica Zumo,

Ralph and Vicki Dauterive,

Milton and Jackie Graugnard,

Rolfe and Cary Miller, Steve

and Ann Delo, Steve and Jane

Sherman, Patti and Mike Hiller

'79, James and Lynn Finnegan,

Stephanie and Blake Hodges

'83, Amy

"Our primary goal

is to achieve

100 percent

participation of

Catholic High

parents."

and Paul

R a b a l a i s

'83, Brian

and Jan Petit,

Celeste Clark

and Jeanne

Tribou.

"We are

asking all

parents to

prayerfully

c o n s i d e r

a gift that

is appropriate for their family.

PAGE donations are essential

for the operation of our school

and directly benefit each

student," said Gene Tullier, CHS

president.

Eighth Annual Alumni Taste Fair Set for November 11

cakes, stuffed grape leaves,

seafood gumbo, boiled shrimp

TASTE FAIR 2006. Over 700 people attended the 2006 Alumni Taste Fair

and over 30 restaurants participated.

12

PAGE COUPLE. Serving as PAGE Couple for the 2007-'08 school year are

front row (l to r) Gwen and Matt Cotton. The Cottons have two sons (back

row, l to r) Sean '09 and Jacob '11.

PHONATHON TRAINING. Preparing for the PAGE Phonathon are (l to r)

Kevin Reed, Glen Fournet, Matt Cotton, Greg Brandao '73, Gwen Cotton,

Lynette Lacombe and Mary Lyn Dietz.

and barbecue ribs are just a few

of the selections at the Catholic

High School Alumni Association

Eighth Annual Taste Fair.

The event will be held on

Sunday, November 11, 2007

from 6-8 p.m. in the CHS

Gymnasium.

"Where else can you get a

taste of 30 restaurants, including

desserts and drinks, with no tax

or gratuity? Invite your relatives,

your neighbors, your friends and

your classmates," encourages

Taste Fair Chairman Dr. Jimmy

Hannie '52.

Tickets are $25 per person

($20 per individual dues-paying

Alumni Association member)

and may be purchased through

the CHS Office of Alumni

Relations or Alumni Association

Board members. Tickets can

also be purchased online at www.

catholichigh.org.

Proceeds from the Taste Fair

will benefit events sponsored by

the Alumni Association.

Over 700 people attended

the 2006 Alumni Taste Fair and

over 30 restaurants participated.

If anyone is interested in

participating as a restaurant,

corporate sponsor or volunteer,

please contact the CHS Office of

Alumni Relations at (225) 383-

0459 or by email at chsalum@

catholichigh.org.
---
From the Archives

Ring-N-Chat Directory Joint Project of CHS and SJA

By Sara Brignac

Every fall the Catholic

High Mothers' Club

puts together a phone directory

containing every student

and their parents' contact

information. This publication

was first officially published in

1951 as a joint project between

St. Joseph's Academy and

Catholic High students. It was

titled "Ring-N-Chat."

Tommy Wallace '52 was

the first editor of Ring-N-Chat.

In his opening letter to students

printed on the first page of the

publication, Wallace states "This

is the first major undertaking as

a project of both schools...CHS

and SJA should undertake more

projects together...to promote

stronger feelings between both

schools."

Other CHS students on the

Newchurch Scholarship Established

By Greg Brandao '73

Jennifer Newchurch Barks,

Professor Mike Newchurch

and John D. Newchurch

have established the Edwin

J. Newchurch Scholarship to

memorialize their father.

Ed's children describe their

father as an "academic who

enjoyed watching young people

learn" and as a "deeply spiritual

man." After completing 30 years

of service to Exxon, he joined the

Louisiana State University faculty

as a professor of environmental

studies. Ed taught Bible study

courses, conducted workshops

and led retreats for more than 30

years. He also enjoyed writing

poetry.

When Ed's wife, the late June

Eileen Charlet Newchurch, was a

child, her family could not afford

tuition. However, because of the

generosity of others, she was

able to attend Catholic schools.

After her death, Ed established a

scholarship in her memory at St.

Aloysius Elementary School.

Brother Eldon Crifasi, SC

'39, was a family friend and a

Ring-N-Chat staff were Buddy

Webre '53, Bill Couvillion

'53, Don

Gauthier '53

and Tommy

Barfield '53.

T h e

b o o k l e t

was divided

by grade

and then

alphabetized

with each

s t u d e n t ' s

name, address

and five digit

t e l e p h o n e

n u m b e r .

RING-N-CHAT. The first publication

of Ring-N-Chat was printed in

1951.

Printed in

the back of

the booklet

were the Alma Maters of both

schools, the 1951 CHS football

schedule, as well as the words

Edwin J. Newchurch

frequent visitor at the Newchurch

home. Because of the family's

relationship with Brother Eldon

and John's attendance at Catholic

High, Ed developed strong

feelings of support for CHS

and expressed to his children

his desire to "leave some money

for an academic scholarship at

Catholic High School."

Through the Edwin J.

Newchurch Scholarship, his

children honor their father

and continue a family legacy

of providing financial assistance

to students whose parents may

not be able to fully fund their

education.

13

to cheers. The very back pages

of the booklet contained paid

advertisements,

which helped to

offset the cost of

the printing.

Today the

publication is

much the same.

It includes

parents' names

and phone

numbers, as well

as information

about the school

d e p a r t m e n t s ,

Mothers' Club

calendar and

i n f o r m a t i o n

about the Safe

Homes program.

The Catholic High Archives

would like to thank Bob Downey

'55 for donating his 1955 CHS

(Right) DISPLAY. Greg Sepeda '86

(left) and daughter, Sloane, present

Alumni Director Glen Randow with

Sepeda's class ring for the display.

Ring Donors

gym bag to the Archives.

If you would like to view

the Catholic High Archives or

have an item you would like to

donate, please contact Catholic

High School at (225) 383-0397.

Spirit Yell Printed

in the 1951

Ring-N-Chat

"Back to the Woods Yell"

Go back, go back, go

back to the woods

You haven't, you haven't

You haven't got the goods

You haven't got the swing

You haven't got the jazz

You haven't got the team

That Catholic Hi has.

DONATIONS. Denny Vicknair '63 (left) and David Whatley '74

(right) present their class rings to David Beach '96 to be used in

the CHS Ring Display.

(Left) RING. Louis McHardy Sr.

'47 (left) donates his class ring to

the CHS Ring Display. Accepting

his donation is Glen Randow,

director of alumni relations.
---
Polozola '59 Honored as Former Student-Athlete at LSU

By Jennifer J. Rouse

Frank Polozola '59 has

been selected by Louisiana State

University as one of six former

student-athletes to represent

LSU as one of the "Stories of

Character" in celebration of

the 75th Anniversary of the

Southeastern Conference. In

celebration of this anniversary,

75 former student-athletes

in the SEC were chosen to

be highlighted based on

their distinction of positively

impacting their community,

state, region and nation.

The "Stories of Character"

will be presented during the

2007-2008 academic school year.

Polozola's story will be narrated

by CBS's Verne Lundquist on a

30-second radio spot that will

run on all 12 SEC member radio

networks as well as the SEC's

radio network which carries

various SEC Championships.

His story will also be highlighted

on a special section of the SEC

Web site dedicated to the SEC's

75th Anniversary.

Polozola, a former catcher

for the LSU baseball team, was a

member of the Tigers' SEC 1961

Championship team before

graduating from LSU to begin

his legal career.

Judge Polozola is a Federal

District Judge, a position he was

appointed to when nominated

by U.S. President Jimmy Carter

Catholic High School

2007 Mothers' Club Auction

Bears in Hollywood Sponsors

Platinum Level Sponsors

Arrighi Simoneaux Commercial Construction

Calvin's Bocage Market

Guy Hopkins Construction Co., Inc.

The Kelly Family – David, Jeri, Carter '03, Barton '05

Lamar Outdoor Advertising of Baton Rouge, Inc.

The Moran Group – Jim and Beverly Moran

Perry, Atkinson, Balhoff, Mengis & Burns, LLC

Reads-Perkins Moving Systems, LLC - Milton M. Perkins III '91

Gold Level Sponsors

A Dear Friend of Catholic High School

Hannis T. Bourgeois, LLP

Calandro's Supermarket, Inc.

R. J. Daigle & Sons Contractors, Inc. – Vance and Charlene Daigle

Secretary of State Jay Dardenne, Cathy, John '03, Matt '05

Mark A. O'Neal & Associates, Inc.

Petrin Corporation - Jim and Kit Hall

Select Properties, Ltd. Realty – Rick Hymel

Milton J. Womack, Inc., General Contractor

Orange Level Sponsors

Absolute Care Providers – Stuart and Rachel Sayes

Adams Collision, LLC – Boyd and Christi Adams

Ameriprise Financial – Steven A. Billings, CFP

Custom Auto Colors - Billy and Gina Rapp

Grover Properties, LLC – Roberto J. Aguilar

Guglielmo, Marks, Schutte, Terhoeve & Love

The Louisiana Insurance Center, Inc.

LUBA Workers' Compensation - David Bondy Jr.

in 1980. Prior to his

appointment to the

federal bench, Polozola

was in private practice

in Baton Rouge before

becoming a magistrate

for the Middle District.

He served as chief judge

before achieving senior

status.

Judge Polozola

played a key role in

helping establish the

Louisiana chapter of

the National Guard

Youth Challenge and

14

Job Challenge. The

program is designed

to assist at-risk youth,

between the ages

of 16-18, who have

dropped out of high

school. The program

not only assists young people

in attaining their GEDs, it also

counsels them on job skills,

citizenship, community service

LSU STUDENT-ATHLETE. Judge Frank Polozola

'59 will be featured as one of 75 "Stories of

Character" as a former LSU student-athlete in

celebration of the 75th Anniversary of the SEC.

Baby Bears

and leadership/followership.

Judge Polozola serves as a

member of the Catholic High

School's Board of Directors.

In Service to Our Country

These Catholic High Alumni, all serving in the

same unit, were deployed September 24, 2007 to

Iraq. Please keep these young men, and all men and

women in service to our country, in your prayers.

Maj. Gordon Hilbun '92

Cpl. Todd DuBois '97

Sgt. Garrett DuBois '01

Sgt. Clayton McDonough '01

Cpl. Christopher Brown '02

Lance Cpl. Andrew Bolton '04

Lance Cpl. James Rumfola '04

Lance Cpl. Aaron Bergeron '05

Lance Cpl. Thomas Bourgeois '06

Graham Joseph Waguespack, son of Glenda and Paul Waguespack

'85...Peter Gregory Beyer, son of Sherri and Greg Beyer '88...Luke

Alexander Alvarez, son of Amy and George Alvarez '89...Josephine

Anne Balhoff, daughter of Amanda and John Balhoff II '89...Harrison

Christopher Connolly, son of Kelly Stuart and Brian Connolly '89...

Ainsley Haze Brignac, daughter of Sara and Haze Brignac '90...

Helen Marie Von Gruben, daughter of Cristy and Jerry Von Gruben

'90...Kate Elizabeth Mattessino, daughter of Kelly and Jonathan

Mattessino '95...Kate Michel Hebert, daughter of Andrae and Rory

Hebert '97...Madison Elizabeth Dupuy, daughter of Elizabeth and

Jordan Dupuy '98.
---
Memorial and Honorary Gifts

The following are acknowledged for their gifts to Catholic High School from May 31, 2007 through September 12, 2007.

Ms. Eloise Y. Wall

Dr. and Mrs. Williams D. Wall IV

Mr. and Mrs. H. Randy Wilbourn

Mr. F. Wayne Frey '71

Col. (Ret.) Michael W. Bailey '74

Mr. and Mrs. Thomas M. Coco '71

Ms. Amy Frey

Mr. Evan W. Frey

Mr. and Mrs. Frederick W. Frey Jr.

Mr. Tyler S. Frey

Mr. and Mrs. Marcelian F. Gautreaux III '71

Mr. W. Wayne Gaudin Jr. '76

Mr. Chad A. Melancon '91

Mr. and Mrs. James T. Furrate '76

Mrs. Doris Macgowan

Mr. and Mrs. Edward C. Mayer

Ms. Regina McMakin, Dixon and Emily

Mr. W. Wayne Gaudin Sr. '37

Mr. Chad A. Melancon '91

Mr. Joseph Gimenez Sr.

Mr. and Mrs. Jim Fonte

Mr. Anthony J. Graphia III '39

Mrs. Dominic J. Graphia

Mr. Francis C. Jumonville Sr. '39

Mr. and Mrs. Gabriel J. Jumonville Sr. '42

Mr. F. Michael Kleinpeter Sr. '46

Mr. and Mrs. Leon R. Kleinpeter III '75

Mrs. Marion Landry

Diocesan Principal's Association

Mr. and Mrs. John K. Hoffman Sr. '72

Mr. and Mrs. Fielding H. Johnson Jr. '77

Mr. and Mrs. W. Joe Kelly

Mr. and Mrs. Rickie J. Mayer

Ms. Regina McMakin, Dixon and Emily

Mr. and Mrs. William C. Potter Sr.

Mr. and Mrs. Michael J. Sanders

Ms. Diane M. LeBlanc

Mr. and Mrs. George P. Balhoff

Mr. and Mrs. William L. Benedetto

Ms. Lynne Burkart

Ms. Sharon Cassiere

Ms. Mary B. Chevalier

Mr. Roland Dugas Jr.

Mr. and Mrs. Kenny Edwards

Mr. and Mrs. David J. Gianelloni '74

Ms. Theda Kittrell

Mr. and Mrs. Louis LeBlanc

Mrs. Abby McCurry

Ms. Garnett B. Pollard

Memorial Gifts

Mrs. Ann Arbour

Mrs. Chrystal Musgrove

Mrs. Margaret A. Coogan

Ms. Regina McMakin, Emily and Dixon

Dr. R. S. Crifasi

Mrs. Rita Nolan Dakmak

Mrs. Margaret Dauzat

Mr. and Mrs. Tommy Guarino

Mr. Robert F. David '46

Mrs. Helena B. Anderson

Mr. Thomas M. DeBlanc Jr. '87

CHS Class of '87

Mr. Huron J. Ducote Jr.

Ms. Sue Dicharry

Mrs. Margo Ebner

Mr. and Mrs. Will Baccich

Ms. Carolyn Barbor

Dr. and Mrs. Ernest D. Bateman

Mr. and Mrs. John H. Bateman

Ms. E. Renee Becker

Mr. and Mrs. Sidney M. Blitzer Jr.

Mr. and Mrs. H. Wallace Eversberg

Mr. and Mrs. Michael Gauthier

Mr. and Mrs. Randall Goodwin

Dr. and Mrs. Thomas A. Hansbrough

Mr. and Mrs. Nick Hansen

Mr. and Mrs. John E. Hendrix

Mrs. Kathryn A. Hessburg

Mr. and Mrs. Kevin J. Holley

Ms. Melissa B. Huckabay

Mr. Sammy Jobron

Junior League of Jackson

Mr. and Mrs. Philip E. Junker

Mr. and Mrs. Durand E. LeBlanc Jr. '62

Mr. and Mrs. Frederick Lemke

Mr. and Mrs. Bryan R. Lindsay

Ms. Lorene G. Martin

Mr. and Mrs. Charles S. McCowan Jr.

Dr. George Nomikos

Mr. and Mrs. J. Huntington Odom

Mr. and Mrs. Walter Parlange

Ms. Carol Patty

Mr. and Mrs. Randal D. Rebowe

Judge and Mrs. Melvin A. Shortess Sr.

Mr. and Mrs. M. Gregory Smith '85

Mr. and Mrs. Edgar E. Spielman Jr.

Mr. and Mrs. Dhu C. Thompson

Dr. and Mrs. E. V. Vignes Sr.

15

Mr. and Mrs. Raymond G. Post Jr. '57

Mr. and Mrs. Stuart P. Sayes

Mr. and Mrs. Ralph J. Stephens '73

Watson Wyatt & Co.

Mr. John "Wade" Whitty IV

Mr. and Mrs. David Williams

Mr. and Mrs. Eugene Ferniz

Mr. and Mrs. James Edmonson

Mr. Harthmuth Hindrichs

Ms. Jean Hindrichs

Mr. and Mrs. Gregory Vannice

Mr. and Mrs. Alan Young

Mr. Edgar Starns

Mr. and Mrs. Steve Sandahl

Mr. Jake Netterville

Mr. Scott Porta

Mr. Daryl Porta

Mr. Rufus LeBlanc Sr.

Mrs. Jennie C. Fonte

Mr. John Fonte

Ms. Marie Levraea

Mr. and Mrs. Jacob K. Orr

Mr. Leonard Mangelli

Mrs. Elizabeth H. Stuart

Mr. C.D. Marix

Mr. and Mrs. G.L. Bouchereau Jr.

Mr. and Mrs. Murray A. Forman

Mr. and Mrs. Joe Richard

Mr. Byron M. Monroe '91

Mr. and Mrs. John H. Bateman

Mr. C. Anthony Nolan '92

Mrs. Rita Nolan Dakmak

Mr. John H. Potts

Mr. and Mrs. Louis W. McHardy Sr. '47

Mr. Wade M. Ragan

Mr. and Mrs. Errol E. Labat '75

Mr. Richard Rhorer

Mr. and Mrs. Tommy Guarino

Mr. Roy A. Romano Sr. '42

Mr. and Mrs. Joseph Dillon Jr.

Mr. and Mrs. Tommy Guarino

Mr. and Mrs. Murphy W. Laurent

Mrs. Joseph M. Marino Sr.

Mr. Hillar C. Moore Jr.

Mr. Craig E. Samaha '71

Mrs. Rita Nolan Dakmak

Ms. Pamela Ann Samaha

Mrs. Rita Nolan Dakmak

Mr. B. Barrow Switzer '92

Mr. and Mrs. Leslie P. Gatz '64

Mrs. Ruth Wilkinson

Mr. and Mrs. Murray A. Forman

Honorary Gifts

Mr. John S. Butler '07

Mr. and Mrs. David T. Butler Jr. '77

Mrs. Jennie C. Fonte

Mr. and Mrs. Emil G. Nasser

Mr. Justin P. Hebert '07

Ms. Cheryl Hebert

Mr. David J. Helouin '74

Mrs. Maxine Helouin

Mr. Jason M. Naquin '05

Brother Barry Landry, SC

Mr. and Mrs. Kenneth E. Naquin

Brother Barry Landry, SC

Mr. Scott C. Naquin '02

Brother Barry Landry, SC

Mr. Clarke H. Williams '75

Mrs. Rosemary H. Williams
---
Catholic High School

P.O. Box 65004

Baton Rouge, LA 70896-5004

www.catholichigh.org

Address Service Requested

Nonprofit

Organization

U.S. Postage

PAID

Baton Rouge, LA

Permit #481

FACULTY DAY OF SERVICE. Faculty members Janet

Vidrine (left) and Peggy Patout (right) clean the

playground at BREC Independence Park. Over

100 CHS faculty and staff members spent the day

in service to community agencies.

David Butler '77

By David Butler '77

As Paul Rhorer

'77 and Ed Gassie '76

sat down to eat lunch,

one expected talk,

invariably, to turn to

the 1974 and 1975

State Cross Country

meets where both were

integral parts of those

two State Champion teams. Instead, the

fond memories that surfaced were not of

the meets, but rather the practices; for it was

the practices where they faced their toughest

competition on a daily basis.

Perhaps describing the practices as

competitive is an understatement. Coach

Pete Boudreaux '59 once described them in

a single word: "War." Somewhat ironically, it

was not Boudreaux who brought the intensity

to the practices, but rather the runners

themselves. Boudreaux's daily workout

instructions typically proved to be advisory

in nature as the group would take off running

without any real notion as to how long they

would run and where they might even wind

up. The only thing that was certain was that

the group would start and finish on Kleinert

Avenue. Where they went in between was

anyone's guess on any given day.

Gassie and Rhorer fondly recalled the

day the group reached Stanford Avenue and

someone remarked that they should run to

the State Capitol. Off they went for miles

to the capitol building and up all of those

stairs to the very top. They looked around

for several minutes before someone remarked

that it was time to go. They ran down the

stairs and back to Catholic High.

"We would not let anyone break from

Parents: If your son no longer lives at home, kindly send us his new address. If you also wish to receive

Bear Facts II at no cost, please phone (225) 389-0978 and let us know. Many thanks.

Sports In The Past

the pack. If someone tried to break away, we

ran them down. The last mile down Kleinert

was always a mad dash to the finish. As we

would approach Kleinert people would say

we are not racing in today, but someone

would get a little ahead and the next thing

we knew we were racing each other in,"

remembered Rhorer of the daily runs.

"Chris McGrew '76 always wanted to

run long and encouraged us to run different

places; it probably was his idea that we

ran to the top of the capitol building. At

the end of runs, Lionel Currier '76 would

always chastise us: 'We are NOT going to

race today.' Somebody, usually Paul Rhorer

I'll bet, would then get a step ahead and

of course then I would move up, because I

certainly was not going to let him beat me!

John Hollowell '77 or Les Roussel '76 or

someone else would then move up and all hell

would break loose as we ran down Kleinert

from Eugene to Parker, Lionel complaining

the whole way as he sprinted right along with

us," recalled Gassie of practice.

The groundwork for the competitive

practices was laid during the summer when

teammates would get together to run and

would run all over town with the same

competitive zeal. Quite frequently the team

would stop by Coach Boudreaux's house for

water, Kool-Aid or grape popsicles before

finishing their run.

"They expanded the distances our guys

were running. Greg Haase '73 and Delario

Eames '73 pushed the outer boundaries

to Stanford Avenue. This group went way

beyond that, running to the levee by the vet

school and beyond. It was not uncommon

for them to leave at 3 o'clock and come back

at 5," recalled Boudreaux of the group.

Ed Gassie '76 (left) and Paul Rhorer '77 (right)

lead the 1975 CHS Invitational field. This race

was the second of seven perfect finishes out of

the team's 11 races that season. This photo is one

of more than a hundred previously unpublished

photos discarded from the school yearbook files

that Gassie recovered and will make available

next summer in a memoir titled "Perfect:

Recollections of a Championship Season."

Gassie fondly recalled the orange shirts

they received as a reward for their hard

work put in during the summer, signifying

membership in the 500-, 600- or 700-mile

club.

"They were cheap orange shirts but you

coveted owning one. I still have my shirt

today," stated Gassie.

In recalling his teammates, Gassie

readily admitted that they brought out the

best in each other.

"They made me a much better runner

than I would ever have been without them,"

commented Gassie.