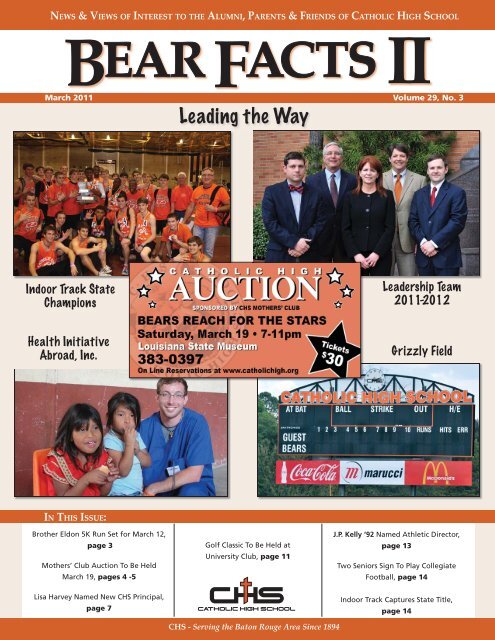 March 1, 2011 - Catholic High School
March 1, 2011 - Catholic High School
March 1, 2011 - Catholic High School
SHOW MORE
SHOW LESS
Create successful ePaper yourself
Turn your PDF publications into a flip-book with our unique Google optimized e-Paper software.
NEWS & VIEWS OF INTEREST TO THE ALUMNI, PARENTS & FRIENDS OF CATHOLIC HIGH SCHOOL

BEAR FACTS II

March 2011 Volume 29, No. 3

Leading the Way

Indoor Track State

Champions

Leadership Team

2011-2012

Health Initiative

Abroad, Inc.

Grizzly Field

IN THIS ISSUE:

Brother Eldon 5K Run Set for March 12,

page 3

Mothers' Club Auction To Be Held

March 19, pages 4 -5

Golf Classic To Be Held at

University Club, page 11

J.P. Kelly '92 Named Athletic Director,

page 13

Two Seniors Sign To Play Collegiate

Football, page 14

Lisa Harvey Named New CHS Principal,

page 7

Indoor Track Captures State Title,

page 14

CHS - Serving the Baton Rouge Area Since 1894
---
IN THE NEWS

'40s

Edward Picou Jr.

'49 was awarded the

Don R. Boyd Medal

For Excellence In Gulf

Coast Geology from

the Gulf Coast Association

of Geological Societies for

contributing a legacy to

Gulf Coast biostratigraphy

| Edward Picou '49

and counseling professional

organizations with wise

leadership, and continues to promote excellence in

geosciences education at every level.

D.R. Atkinson Sr. '53,

previously inducted into

the Spring Hill Athletic

Hall of Fame in 1944

for basketball, was once again

honored this year as a member

of the basketball teams that won

the Gator Bowl Championship in

| D.R. Atkinson '53 1955, the Senior Bowl in 1956 and

again in 1957. D.R.'s most valuable

election is to membership in the American College

of Trial Lawyers, an international group of lawyers

who are reputed to be the best in their profession.

'60s

'50s

Gayle Hatch '57 was inducted into the LHSAA

Louisiana Sports Hall of Fame in January 2011.

Hatch led CHS to its only district basketball

championship in a span of 40 years. His 37 points

and 24 rebounds in the State semi-final game

is still the best double-double in the LHSAA top

classification. Hatch averaged 34.5 points and 22.5

rebounds throughout the playoffs which is still a

state record. He went on to garner All-City, All-

District and All-State honors in basketball as well as

the Catholic All-American Team. Hatch also earned

MVP awards in football, basketball and track while

at Catholic High.

Tommy Miceli '63 was

named Medical Director

of the Year for 2010 by

the Louisiana Chapter

of Nationally Registered

Emergency Medical

Technicians. Dr. Miceli has

served as East Baton Rouge

Emergency Services Medical | Tommy Miceli '63

Director since its inception in

1982. The Service was awarded best in the nation

status in 1996 and 1999.

Graham Tujague,

M.D. '81 partnered

with Our Lady of the

Lake Regional Medical Center to

own and operate the Lake After

Hours urgent care centers. Lake

After Hours successfully expanded

| Graham Tujague '81

operations into Zachary and Brusly,

and opened a new urgent care

center just for children – Lake After

Hours Kids. Lake After Hours now has 10 locations

serving Greater Baton Rouge and Hammond and

treats more than 100,000 patients per year.

'90s

'80s

Cal Madere '90 sold his copier company IDOCS

in order to pursue and grow his four year old

company Tiger Shredding. In October 2010,

he acquired AAA Document Destruction and

merged it with Tiger Shredding.

DISTINGUISHED GRADUATES. Catholic High alumni were honored as Distinguished Graduates at a

Diocesan Banquet February 2, 2011. CHS President Gene Tullier (far left) and CHS Principal Brother Barry

Landry, SC (far right) congratulate CHS graduates recognized (l to r) Kevin Brian '86 for Our Lady of Mercy,

Hartman Brunt '08 for Catholic High School, Wayne T. Losavio '98 for St. Jude the Apostle, Dr. Bradley S.

Comeaux '94 for St. Louis King of France and Jonathan Bertsch '97 for St. George.

David Dellucci '91, retired

major league baseball

outfielder, was inducted into

the 2011 Louisiana American

Italian Sports Hall of Fame

at their annual banquet in

January.

| David Dellucci '91 Hans Lefebvre '02 was

promoted to Heavy

Oil Technical and Support Manager for

U. O. P. Honeywell and is working at

their Des Plaines, Ill. office.

Dwight LeBlanc Jr. '02 graduated from the

University of North Carolina-

Charlotte in the fall of 2007

receiving a B.A. in Physics

and minor in Mathematics.

Dwight was hired as a

Firefighter for the Charlotte-

Mecklenburg County Fire

Dept. He is in training at this

| Dwight LeBlanc '02 time and has become a leader

in his recruiting class. He now

resides in Charlotte, N.C.

Lloyd LeBlanc '02 graduated

from the University of North

Carolina-Charlotte in 2008

receiving a B.S. in Electrical

Engineering. He was hired

by the global company

Northrop Grumman

International as a Contract

Engineer II. Lloyd resides in

Miami, Fla.

| Morris LeBlanc '03

'00s

| Lloyd LeBlanc '02

Morris LeBlanc '03 graduated

from the University of North

Carolina-Charlotte in the

fall of 2007 receiving a B.A.

in Computer Science with a

minor in Mathematics and 26

hours of research toward a

Ph.D. Morris was hired by the

global company SSI-Schaefer

International where he is a

Software Developer. He resides in Charlotte, N.C.

| Matt Broha '07

Brandt Mayer '07 received

a B.S. in Accounting from

Louisiana State University in

December 2010. He plans to

attend law school in the fall

of 2011.

Matt Broha '07 earned the

Fred Dean Defensive Player of

the Year Award at the Louisiana

Tech annual end-of-year awards

banquet. Broha (6' 4", 255) had

44 tackles and nine sacks from

his defensive end position in

2010.

Alex Bonnecaze '10 has

received a congressional

| Brandt Mayer '07

nomination and will be

attending the U.S. Military

Academy at West Point in the Fall 2011.

BEAR FACTS II

Bear Facts II is published quarterly by

editor

assistant editor

Contributors:

www.catholichigh.org

2
---
Will Steele '94

ALUMNI

Brother Eldon 5K Run Set for March 12

(Right) FAMILY. Tre Hendry '90

(left) and wife, Brittney (right), and

daughters enjoy running the race.

For Race Results:

Log on to

www.catholichigh.org/alumni

and click on Alumni Events.

OUR DEAR FRIEND AND RUNNER. Sidney Arbour '31, a long-time participant of

the Brother Eldon 5K Run and friend of CHS, passed away on Saturday, February

12, 2011, at the age of 97. Sidney (above) enjoyed running the 5K with his family.

Race to Inspire

Will Steele '94

Blood Drive Recognition

Miles for Moz

The Miles for Moz 5K and Fun Run was held January 29, 2011, at The Burden

Center in Baton Rouge. Over 150 runners came out to support the efforts of

Brother Chris Sweeney '84 and the Brothers of the Sacred Heart to rebuild

a high school in Mozambique. There are presently 800 students attending

this school which is one of many recovering after the 20 year civil war which

ended in 1992. Funds from the Miles for Moz will assist the Brothers with

needed repairs to classrooms and dorms, building desks, beds and playground

equipment. Helping with the organization and fund-raising effort were

members of Health Initiative Abroad, Inc. and the 1984 CHS classmates of

Brother Chris. Coordinator of the race was Craig Sweeney, brother of Chris

Sweeney.

Members of the class of 1984 participating in the Miles for Moz 5K Race were

(l to r) Michael Broussard, Doug Henriksen, Rich Whitlow, Brother Chris, Patrick

Young, Matt Marchand and Steve Richardson.

Steve Berthelot '92, CHS Alumni

Blood Drive chairman, receives

the Achievement Award for Most

Outstanding in 2010 with a total

of 454 donations on behalf of

Catholic High School and the

Alumni Association presented

by Sherry Braud, Blood Donor

Recruiter for Our Lady of the Lake

Blood Bank.

2011 BLOOD DRIVE

April 12

3
---
MOTHERS' CLUB AUCTION

31st Mothers' Club Auction Set for March 19

Join the Bears as They "Reach for the Stars"

Jamie Wax '87

Master of Ceremonies

Jamie Wax '87

4

The Louisiana State Museum is the site for the Mothers' Club Auction.

There will be a live and silent auction, a car raffle and champagne raffle.

Music by Storywood

A Glimpse at the Live Auction

Plane ride in Stearman PT13 Trainer

Fleur-de-lis Pendant
---
(donated by Mr. & Mrs.

William Steele and

the VTones)

(donated by Mr. & Mrs.

Brody Saxon)

donated by

Frank Brian '82 and

Kevin Brian '86)

built

& donated by Mr. & Mrs.

Peter Rumfola Jr. '53

and Mr. & Mrs. Peter

Rumfola III '89)

MOTHERS' CLUB AUCTION

Live Auction Features Items Such as:

(

and Executive Chef Peter

Sclafani)

donated by

)

(donated by Scott Nelson,

M.D.)

donated by Dr.

Stephen Sherman)

donated by Mr. &

Mrs. Tom Adamek)

donated by

Mr. & Mrs. Tom Adamek)

donated by

Daryl Berger)

donated

Galleries)

(donated by Mr. & Mrs.

Norman Nolan '92 and

Mr. & Mrs. Dwayne

Honoré '83)

various donors)

(various donors)

(donated by Bassett

)

(donated by Ashleigh

Branstetter)

donated by

Dr. Anthony Stephens)

donated by

Steve and Ann Delo)

Champagne

$5

Tickets

5
---
ALUMNI FEATURE

Graduates Provide Health Services to Those in Need

By Jennifer J. Knight

Hartman

Brunt '08

Hartman Brunt (pictured left) and Matt Berlinger (right) help children in Panama.

MEMBERS. Members of Health Initiative Abroad, Inc. are front row (l to r) Jim Parks '08, treasurer; Sam Allgood '08,

vice president; Hartman Brunt '08, president; and Michael Kline '08, secretary. Back row (l to r) Matt Berlinger '08, Ben

Jumonville '08, Mark Clements '08, Adam Fontenot '08, Knox Kelly '08, Sean Gahan '08, Randy Roth '08, John Robert Butler

'08, Doug Crochet '08, Grant Williams '08, William Verrett '08 and Ethan Greenblatt '08. (Members not pictured are Jacob

Foy '08, Brandon Briggs '08, Daniel Nelson '09 and Reilee Morris, a 2009 graduate of Zachary High School and the only

female member of HIA, Inc.

6

Knox

Kelly '08

Sam Allgood '08

Michael

Kline '08Jim Parks

'08 John Robert

Butler '08

Matthew Berlinger

'08Ethan Greenblatt '08Jacob

Foy '08 Mark Clements '08

Randy Roth '08 Jeffrey

Roussel '08
---
LEADERSHIP

Lisa Harvey Named New Principal of Catholic High School

Kyle '98 Korey '02

Tyler '06

Brian

W. Hightower '97

Lisa Harvey

50 YEAR REUNION

and honoring the classes of

1951, 1946, 1941 and 1936

ADMINISTRATIVE TEAM. Serving on

the CHS Administrative Team with Lisa

Harvey are Tom Eldringhoff, Academic

Assistant Principal (top left); Dr.

Jason Hanks, Assistant Principal for

Instruction (top right); and Brian W.

Hightower '97, Assistant Principal for

Discipline (bottom left).

Saturday, May 14, 2011

Sacred Heart Church

and Catholic High School

Sponsored by the Catholic High School Alumni Association

7
---
CHS Mourns Loss of Hall of

Famer Frank Bologna '45

Frank Bologna '45

Frank Bologna '45

Gene

Paul

Richard Ribes

'65 David DiVincenti '70

Francis

Bologna '00David DiVincenti

Jr. '01 Jason Ribes '93

Justin Ribes '01

APPRECIATION

Photos from the Past

CAN YOU ID this photo of the 1926 Football Team? If so, contact the Archives at

(225) 381-9114 or malexander@catholichigh.org.

THANKS FOR IDENTIFICATION. The 1928 St. Vincent Saints, who went 9-0,

were as follows (first row, l to r) Pete Kleinpeter, Ed Corona, Charley Pocorella,

J.B. Heroman, Ernest Lessard, Francis Fourrier and Henry Fridge Hebert. Second

row (l to r) were Brother James, SC (Order of the Sacre Coeur or Sacred Heart),

Charles Gideon, Lawrence "Larry" Uter, Henry Heine, Austin Matthews, Toliver

Piper, Alfred Carville, Tommy Thomas, Simon Mansur, Carroll Grouchy, Austin

Mary and George "Doc" Fenton. Seated in front was Billy Peak, the team's

mascot. Coaches Thomas and Fenton were teammates on LSU's undefeated

1908 team. The 1928 Saints were the last to play for St. Vincent's Academy on

North Street, forerunner of the 1929 Catholic High Bears. (Henry Fridge Hebert

is the father of Henry F. Hebert, grandfather of Ryan H. Hebert, CHS '98, and first

All-State Football player for CHS-1929).

8
---
ALUMNI

Fourth Annual CHS Alumni Fishing Rodeo Set for June 24-25

Daniel

Loup '97 Randy Richard '97

Jimmy Prescott '97 Chris

Macaluso '94

Cal Madere '90 Jim Richard

'74Treye Weilbacher '91Brad

Tuminello '81Mike Matthews

'91 Camp Matens '60 Justin

Suchy '00 Dale Mouch '92

Carter Fourrier '92Ryan Perry

'95

Alumni Annual Appeal Phonathon

Hal Dupuy '73

Annual Fund Donations

FISHING AGAIN IN FOURCHON. Don't

miss an opportunity for GREAT fishing

again in Fourchon! Alumni, family and

friends are encouraged to make plans

now to attend the rodeo. See if your

team can catch the winning fish and

tip the scales for Joe Macaluso at the

weigh-in!

Upcoming Class Reunions

30-Year Reunion

Steve Williams '81

20-Year Reunion

John Walters '91

Richard Blackstone '91

Marc Tittlebaum '91

9
---
MOTHER-SON BREAKFAST

Mothers and Sons Enjoy Annual Breakfast

Michael

McDowell

Father

Michael Alello

Reid Burns

(Top) COMMITTEE. Gathered before the Mother-Son Breakfast are (l to r)

Cameron Hebert '13; Stacy Hebert, Mothers' Club vice president; Matthew Adler

'12; Suzie Adler, Breakfast assistant chair; Cullen Hodges '13; Stephanie Hodges,

Breakfast chair; Hayden Hodges '11; Diane Alello; Father Michael Alello '98,

guest speaker; Jerelyn Key, Breakfast co-chair; Christian Key; Toni Kirby, Mothers'

Club president; Drew Kirby '11; Brother Barry Landry, SC, CHS principal; Arlene

Audiffred, Mothers' Club moderator; and Gene Tullier, CHS president.

(Bottom left) Attending the Mother-Son Breakfast were (l to r) Susan Vincent and

her son Andrew Vincent '11.

(Bottom right) Austin Wong '11 (right) greets his mother Roz Wong before the

Mother-Son Breakfast.

Bears in Action

(Top left) GLOW IN THE DARK. The Student Council planned a Glow in the Dark Pep Rally.

(Top right) MATH NIGHT. CHS Mu Alpha Theta students volunteer at St. Aloysius Math

Night.

(Bottom left) BURGER BASH. Key Club Member Stephen Hurdle '13 serves hamburgers at

the Big Buddy Burger Bash in the CHS Union February 17.

10
---
ALUMNI

22nd Annual Golf Classic To Be Held at University Club

By Margie Alexander

Bear

Henry Hebert Sr. '30

From the Archives

Bobby Tuminello '46 Lt.

Col. John Jolissaint '35

Billy Hannaman

Bruin

Raymond Babin '55

Hal Dupuy

'73

GOLF CLASSIC. Attending the 2010 Golf Classic were (l to r) Jonathon Perry '02,

Jay Himmel '01, Robert Stuart '02 and Dale Cobb.

Dale LeBlanc '95

Jake Berret '84 Terry Orillion

'77Mark Stratmann '97Camp

Matens '60 Josh Rounds '96

Jay Himmel '01 Dane

Lambert '04

Golf Classic Sponsors

Title Sponsor

Corporate Sponsors

Cub Sponsors

11
---
ADDITIONS

Improvements to Grizzly Field Open 2011 Baseball Season

Nathaniel '09 Michael

'10

RENOVATIONS. Renovations to Grizzly

Field include a new scoreboard,

press box and seating.

Lynette and Gary Lacombe

llence

Hal

Dupuy '73

The 2009-2010

Annual Report

12
---
ATHLETICS

J.P. Kelly '92 Named Athletic Director

J.P Kelly

Pete Boudreaux '59

J.P. Kelly '92

Pete Boudreaux '59

the

Summer at CHS Offers Courses

in Academics, Arts and Athletics

GRANDPARENTS DAY

Friday, March 18, 2011

2 p.m. – Program in Gymnasium

2:45 p.m. – Reception in Union

Wedding Bells

Stuart Graves Sonnier '92

Christopher Hayden Hester '01

Martin K. Mackey '01 Michael

Flynn West '04 Adam Lindsey

Wilcox '05.

Baby Bears

Mike Moran '86

Anthony Plakidas '95…

Chris Bourke '06

13
---
SPORTS

Two Seniors Sign To Play Football at Collegiate Level

Lance

Callihan

Zack Oliver

Wilkerson.

14

Brian

Indoor Track Takes State Championship

Wrestling Captures Third in State; Soccer Reaches Playoffs

Zack Oliver (seated, left) is joined by his family (l to r) Barbara Oliver, Brian Oliver

'99 and Dennis Oliver. Lance Callihan (seated, right) is joined by (front, l to r )

mom Regina and father Willis and cousin Sylvia McKee. In the back are relatives,

Charles McKee, Julie Haynes, Wade Wilkerson, Carolyn Bergeron and Joseph

STATE CHAMPIONS. The Bears captured the Indoor Track State Title on February

19, 2011. This is the fifth consecutive state title for the indoor track team.
---
MEMORIAL & HONORARY GIFTS

There are many special occasions during our lives when we choose to memorialize or honor in a special way those we hold dear. The following

are acknowledged for their gifts to Catholic High School December 7, 2010 through February 15, 2011 in honor or memory of loved ones. Please

remember these alumni and friends, as well as their families, in your prayers.

MEMORIAL GIFTS

Mrs. Ann Arbour

Mrs. Blanche D. Arceneaux

Mr. Louis L. Arceneaux

Mrs. Edith L. Assaf

Mr. Durward P. Babin Jr. '43

Mr. Adam M. Barksdale '02

Dr. Vincent P. Bella Jr.

Mr. Frank M. Bologna '45

Dr. J. Perry Brandao

Mr. Benjamin C. Brown '99

Mrs. Rosa Mary Burns

Mr. Jules J. Cazayoux Jr.

Mr. Ronald S. Demouy '64

Mr. Steven W. Deumite '79

Mr. Stewart L. Dietrich '40

Mr. Harris J. Ducote

Ms. Annette G. Durand

Mrs. Audrey McGuire Ellis

Mr. M. Clyde Garrison Jr. '40

Brother Aquin Gauthier, SC '55

Mr. John G. Gayle

Brother Nicholas Geisenberg, SC

Mrs. Katherine Hall

Mr. Norman C. Heffron

Mr. Stanley L. Heine Jr. '44

Lynn and Gayle Hymel

Mr. Fielding H. Johnson '52

Mrs. Mary Anna Johnson

Mr. Gordon L. Jones '99

Mr. Francis C. Jumonville Sr. '39

Mr. Patrick B. Kennedy Sr. '52

Mr. V. Price LeBlanc Sr.

Mr. and Mrs. William H. Lindsey Sr.

Mrs. Vincent M. LoBianco

Miss Madeleine M. Lynch

Mrs. Marta H. McCarron

Mrs. Gayle O. Normand

Mr. David E. Patton

Mrs. Sharon Patton

Mr. Brent D. Pecue '80

Mr. Konstantine George Plakidas

Mr. Jordan T. Rourke '06

Mr. Ryan J. O. Sessums '03

Mr. Joseph V. Terracina

Brother Gordian Udinsky, SC

Dr. Rivers P. Wall III '86

HONORARY GIFTS

Mr. and Mrs. Ralph F. Alexander

Ms. Diane Bynum

Mr. John A. Ebner '87

Brother Carl Evans, SC

Mr. and Mrs. Paul M. Hebert Jr. '64

Dr. and Mrs. W. Todd Monroe '91

Mr. Stephen C. Rice '93

Mrs. Edith Thornton

Mr. E. Anthony Van Duzee '11

Mr. Patrick E. Van Duzee '13

Mrs. Janet Vidrine

As of February 15, 2011, the following alumni and friends of CHS have

died since the last issue of Bear Facts II. Please remember them and

their families in your prayers.

Sidney Vincent Arbour Jr. '31

Durward Paul Babin Jr. '43

Frank Marion Bologna '45

Robert Irby Didier Jr.

In Memoriam

Dominic A. Inzenga '46

Donald Claude Marrero '51

Harry James Moreau '44

Paul A. Prejean '40

15
---
Catholic High School

Address Service Requested

DONATION. The Assad Family donated a wooden

puzzle and wood carving of the gates of Catholic

High School carved by John Assad, father of CHS

graduates John '02, David '04 and Mark '07 (left), for

the Mothers' Club Auction. Accepting these gifts is

CHS Treasurer Margie Alexander (right).

Parents:

SPORTS IN THE PAST

Pete

Boudreaux's '59

Rusty Simoneaux '79

David Butler '77

Louis Simoneaux '48

Malcolm Landry

'48

Ed Fetzer's '48

Gerald Didier's '50

"The success of the team was

attributed to the versatility

of the players who could

play multiple positions."

Jerry

Marchand '49

Mel Didier '44

16