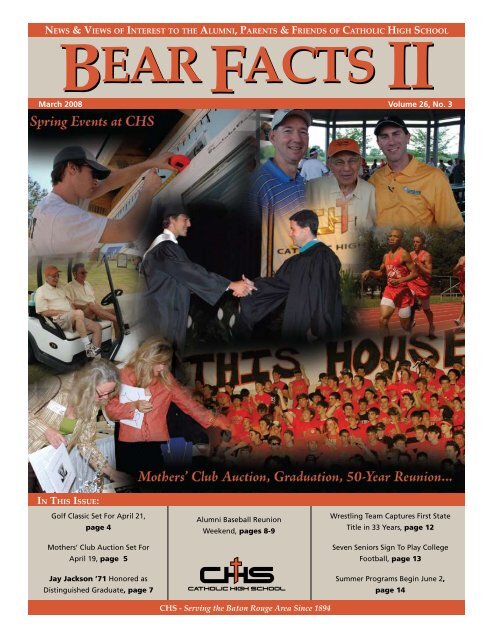 BEARFACTSII BEARFACTSII - Catholic High School
BEARFACTSII BEARFACTSII - Catholic High School
BEARFACTSII BEARFACTSII - Catholic High School
SHOW MORE
SHOW LESS
Create successful ePaper yourself
Turn your PDF publications into a flip-book with our unique Google optimized e-Paper software.
Ne w s & Vi e w s o f In t e r e s t t o t h e Al u m n i, Pa r e n t s & Fr i e n d s o f Cat h o l i c Hi g h Sc h o o l

BEAR FACTS

II

March 2008 Volume 26, No. 3

In Th i s Is s u e:

Golf Classic Set For April 21,

page 4

Mothers' Club Auction Set For

April 19, page 5

Jay Jackson '71 Honored as

Distinguished Graduate, page 7

Alumni Baseball Reunion

Weekend, pages 8-9

Wrestling Team Captures First State

Title in 33 Years, page 12

Seven Seniors Sign To Play College

Football, page 13

Summer Programs Begin June 2,

page 14

CHS - Serving the Baton Rouge Area Since 1894
---
James "Cooter"

Zimmerle

'50s '53, a

1975 CHS

G r i z z l y

G r e a t ,

was inducted into the

Redemptorist High

School Hall of Fame on James "Cooter"

Zimmerle '53

January 19, 2008.

Gayle Hatch '57

was inducted into the Louisiana Sports Hall of

Fame.

V a n '60s

Mayhall

'64 was

elected to

the Junior Achievement

2007-2008 Board of

Directors.

Gayle Hatch '57 Gerald "Jerry"

Arbour '65 was elected

to serve as President of the East Baton Rouge

Parish

'70s

School

Board.

Jacque

Lasseigne

'79 was honored as

distinguished graduate

for St. Thomas More

Catholic School at

the annual Diocesan

Distinguished Graduates

Award Dinner.

T o d d

Zeno '80,

Jacque Lasseigne '79

owner of

Z e n o ' s

S p o r t s

Center, has relocated

to the Big Leagues of

Baton Rouge premier

baseball training

facility.

James Fargason '81 has been awarded the

Lee D. & Cynthia C. Bloch Distinguished

Professorship in the JD/MBA Programs at

Louisiana State University.

Scott Woodward '81 has been named the

interim athletic director at the University of

Washington in Seattle.

Woodward has been

Washington's vice

president for external

affairs since 2004.

Hampton Crump

'82 has been named

Regional Manager

of Eastern Sales at

Paylocity Corporation.

Gerald "Jerry"

Arbour '65

'80s

Hampton Crump '82

IN THE NEWS

Erich Ponti '83

Erich Ponti '83

was elected to the

Louisiana House of

Representatives for

District 69. Erich was

appointed as the vicechair

for the Labor and

Industrial Relations

Committee.

Garth Roberts '85

was elected to the Junior

Achievement 2007-2008 Board of Directors.

Paul "Sonny" Marks '86 is an associate

with the Lake Charles Law Firm of Stockwell,

Sievert, Viccellio, Clements & Shaddock.

Kevin Brian '86 was elected to the

Junior Achievement

2007-2008 Board of

Directors.

Sid Bowden

'87 was honored as

distinguished graduate

for Sacred Heart

of Jesus School at

the annual Diocesan

2

Sid Bowden '87

Don't miss out on

Catholic High's Weekly

Newsletter Connections.

Catch the latest news every week

about CHS by receiving the

E-newsletter Connections on Tuesdays.

If you do not receive it, send

us your e-mail address at

jrouse@catholichigh.org.

Distinguished Graduates Award Dinner.

Dominic Palmintier '89 has joined Lamar

Advertising as a graphic designer.

Garret Graves '90 has been

'90s appointed by Governor Jindal as

the director of coastal affairs.

Kevin Franklin '93, former

NFL player, is co-owner of a new

Anytime Fitness facility located in Tallahassee,

Fla.

Chris Jones '95

received the 2007 Baton

Rouge Bar Association

President's Award

given annually by the

outgoing president for

service to the Bar during

the past year.

James "Jim" Knipe

Maurice Coleman '82

(third from left) was the

guest speaker at the LSU

Flores MBA Distinguished

Speaker Series. CHS

alums gathered with

Alumni Director Glen

Randow (second from

left) at a reception

after the speech. They

include (l to r) Stephen

Holliday '84, Michael

Schwartzenburg '00,

Brendan Helm '01 and

Alex Knight '01.

'96 has been named partner in the Law Firm

of Manasseh, Gill & Knipe, P.L.C., a Baton

Rouge firm specializing in criminal defense and

civil litigation.

BEAR FACTS II

Chris Jones '95

Bear Facts II is published quarterly by

the Office of Public Relations.

Jan R. Breen, editor

Jennifer J. Rouse, assistant editor

Contributors:

Margie Alexander

David Butler '77

Barbara Camp

Hal Dupuy '73

Glen Randow

Joni Owens

We welcome the submission of material for

possible publication. Mailing address:

855 Hearthstone Drive

Baton Rouge, LA 70806

www.catholichigh.org
---
Chris Guillory '96

has joined WFAA-TV in

Dallas, TX as a morning

newscast producer.

Daniel Waguespack

'98 was chosen as a

member of the 15th

Anniversary All-

Chris Guillory '96 Southern Collegiate

Athletic Conference

Basketball Team and is the only player in SCAC

history to earn first or second team honors all

four years in the league.

Jermaine Jack '99

graduated from the

Criminal Investigator

Training Program

at the Federal Law

Enforcement Training

Center and is now

serving as a Special

Agent with the U.S.

Social Security Administration, Offices of the

Inspector General and Office of Investigations.

Eric Epton '99 has accepted a position as

a Drilling Systems Operations Coordinator for

Baker Hughes INTEQ located in Houston, TX

and coordinates directional drilling operations

for the Eastern U.S. Region.

'00s

Adam Rogers '00 received his

m a s t e r 's

d e g r e e

f r o m

Boston University

School of Management

and is currently

working with Fidelity

Investments in Boston.

Morris LeBlanc '03

has been accepted in the

Jermaine Jack '99

Morris LeBlanc '03

By Jennifer J. Rouse

CHS Senior Hartman Brunt was

the recipient of the 2008 Louisiana Young

Heroes Award. The Young Heroes Awards,

presented by Louisiana Public Broadcasting

and the Rotary

Club of Baton

Rouge, honors

o u t s t a n d i n g

students in grades

4-12 who have

served their

c o m m u n i t y ,

o v e r c o m e

adversity or

inspired others

through their

IN THE NEWS

University of North Carolina-Charlotte PhD

program.

Hunter Territo '03 received two silver

awards in the Advertising Federation of

Greater Baton Rouge 2008 ADDY Awards in

recognition of outstanding creativity.

Jared Lewis '04 has been hired by

Halliburton for a summer project in Virginia.

Jonathan Alvarado

'04 of Navy received

the prestigious First Lt.

Ron Winchester Award

at a football banquet

held in Annapolis, Md.

Jonathan Alvarado '04

This award is presented

to an unheralded senior

recognized as an over

achiever and role model as selected by a vote of

his teammates.

Kevin David '06 was named to the

Oklahoma State University President's Honor

Roll with a 4.0 GPA.

Jeff Noel '07, a freshman at LSU, is

Hartman Brunt '08 Receives Young Heroes Award

deeds and strength of character. The Award,

now in its 13th year, received a total of 226

nominations and only eight heroes were

selected.

Brunt was a promising football and

basketball player before he suffered a severe

knee injury that severed the primary nerve to

his feet. A 4.0 student, he has received a long

list of academic honors while donating his

time to the Baton Rouge Food Bank, raising

money for hurricane relief and other causes,

serving as a student minister and tutoring

middle school students.

The winners and their families will be

honored at a luncheon at the Governor's

Mansion and a banquet at the LSU Tiger

Den Suites on April 16, 2008.

an Honors College Advocate and Director

of Campus Development for student

government.

Luke Zumo '04 has

been named to the District

6, College Division,

Second Team-ESPN

Academic All-District

Men's Basketball team.

Davis Rhorer '07, a

freshman at Notre Dame,

is one of the chief writers

SERVICE ACADEMY

BANQUET. Six Catholic High

School alumni attended the

Service Academy Holiday

Banquet on December 22,

2007 hosted by the United

States Naval Academy

Parents' Club at the Sheraton

in Baton Rouge. CHS alumni

attending were front row (l

to r) Eric Smith '07, USNA;

Anthony Breaux '04, USNA;

and Blake Tribou '05, USNA.

Back row (l to r) are Michael

Alch '04, USMA; Grayson

Young '06, USNA; and Sean

Gahagan '05, USMA.

for news for The Observer, Notre Dame's

student newspaper.

CHS Alumni

Fishing Rodeo

Luke Zumo '04

June 20-21, 2008

Port Fourchon Motel and Marina

Fourchon, Louisiana

Registration Party: Tuesday, June 17

Walk-On's Patio 6 p.m.

Fishing and Weigh-in: Friday, June 20 –

Saturday, June 21

Port Fourchon Motel and Marina

Awards for 1st thru 3rd places

Team Calcutta and Master Angler

categories as well!

If you are interested in contributing at

the Golden Bear, Grizzly or Bruin

sponsorship levels, please contact the

Alumni Office.

To register:

Please see the CHS Web site at

www.catholichigh.org, contact the

CHS Alumni Office at (225) 383-0459,

or e-mail the Rodeo Committee at

fishingrodeo@catholichigh.org.

3
---
19th Annual Golf Classic Set for April 21 at the Bluffs

By Glen Randow

The 19th Annual CHS

Alumni Golf Classic will be held

on Monday, April 21, 2008 at

The Bluffs Country Club and

Resort. This year there will be

two shotgun starts beginning at 8

a.m. and 2 p.m. The Title Sponsor

for this year's tournament is

Arrighi Simoneaux Commercial

Construction. Grizzly Sponsors

are Amedisys Home Health

Care, Cajun Industries, LLC and

McDonald's of Baton Rouge.

Entry fees include green

fees, cart fees, longest drive

contest, hole-in-one contest, red

blast & mulligan for each player,

registration gift card, drinks and

food on the course, breakfast and

lunch for 8 a.m. starters, lunch

and dinner for 2 p.m. starters.

The Grand Prize Giveaway

this year is a golf trip to Craft

Farms. Lunch will be provided

by Carrabba's Italian Grill and

dinner will be provided by Pete

Hymel. There will also be a 22nd

hole challenge and the Poker

Run game.

Brother Eldon 5K Run/Walk/Jog

GOLF CLASSIC. Preparing to tee off at the 2007 Alumni Golf Classic are (l

to r) Gene Tullier, CHS president; David DiVincenti '70; Barry Bernhard '70;

Stephen Panepinto '70; and Stan Barbier.

A maximum of 72

foursomes will be able to play

in this tournament. Confirmed

registrations will be based strictly

in the order of received paid

registration forms. This event is

open to all men and women and

is hosted by the CHS Alumni

Association. Proceeds from the

tournament will benefit the

Alumni Association Scholarship

Fund at Catholic High School.

The Bluffs Country Club

has offered a discounted price

at the lodge for anyone participating

in the CHS Golf Classic.

The lodge has a limited number

of rooms for Sunday night, April

20 and Monday night, April 21.

To make reservations for a round

of golf on Sunday and a room,

call (225) 634-5222, extension

200 or 235. E-reservations are

also available by contacting

emcdavid@thebluffs.com or

lodge@thebluffs.com. This offer

is available until April 1, 2008.

"This year's golf classic will

be one to remember in the years

to come. We're very excited about

the new venue and the chance to

play at one of the best courses

in Louisiana – The Bluffs. This

year the tournament will have

'Nike Town' on site where each

participant will be given a gift

certificate to pick out what

gift(s) best suits them. There

will be food on the course for the

first time and we will also present

a 'Grand Prize Give Away' — a

golf trip to Craft Farms in Gulf

Shores. Be sure to send in your

entry forms now due to the

limited tee times available,"

commented Golf Committee

Chairman Steve Maher '94.

Other members of this year's

Golf Classic steering committee

are Dale LeBlanc '95, Craig

Broome '93, Edward Sutton

'93, Scott Ritter '93 and Terry

Orillion '77.

Deadline to register is April

11. For further information on

the golf tournament contact

the CHS Alumni Office at

(225) 383-0459 or e-mail

CHSgolfclassic@catholichigh.

org.

4

(Top left) PARTICIPANT. Brother

Eldon Crifasi, SC '39 (right)

recognizes Patrick Gavin (left)

as overall male 5K winner at the

Annual Brother Eldon 5K Run on

February 23, 2008.

(Top right) 5K PARTICIPANTS.

Participating in the 5K were (l to

r) Mike and Jeannie Miller, Charles

Garner '10, Karen and Anastasia

Garner and Brother Ray Hebert, SC.

(Bottom left) WINNERS. Brother Eldon

Crifasi, SC '39 (left) congratulates Dick

Findlay, (center), first place winner

in the 80-89 age bracket and Sidney

Arbour '31 (right), first place winner in

the 90 and older age bracket.

(Bottom right) RUNNERS. Over 200

runners participated in the Brother

Eldon 5K Run and One Mile Fun Run/

Walk/Jog.

Results of Race

Log on to

www.catholichigh.org/alumni

and click on Alumni Events.
---
'Jazz It Up' for Mothers' Club Auction on April 19 at CHS

By Lisa Kleinpeter

Listen closely and you might just hear

a little music in the background. It's the

Mothers' Club members "jazzin' it up" as the

countdown continues for the 2008 Mothers'

Club Auction on April 19. Alumni, parents

and friends are invited to enjoy an evening

of great food, great company, music, and

the chance to bid on more than 200 items

featured in the silent and live auctions.

Best of all, someone will drive away

in a 2008 Saturn VUE from Gerry Lane

Enterprises, while another lucky guest wins

a beautiful fleur de lis pin valued at more

than $1,000 in the champagne raffle. Tickets

for both items can be purchased the night

of the event. Car raffle tickets are $5 each.

Champagne raffle tickets are $25.

And there's so much more! Art works,

furniture, gift certificates, entertainment...

Below are just some of the items featured in

the live auction:

Acrylic painting by Don Wright

(Donated by Dr. and Mrs. Brooks Cronan

'52)

Bilateral lasik surgery (Donated by Dr.

Scott Nelson)

An overnight stay at the Hilton Capital

Center (Donated by Hilton Capital Center)

A lovely painting (Donated by Bridget

and Jim Rush)

A fine piece of jewelry (Donated by Dr.

and Mrs. Robert Branstetter Jr.)

Hunting trip for four, entertainment for

eight (Donated by Lane Grigsby and Milton

Graugnard)

Dinner for 200 people and tent seating

(Donated by Wallace Powelle '72 and

William and Cynthia Steele)

Fine furniture (Donated by the Rumfola

Family)

A special getaway trip (Donated by

Malcolm Travel)

A David Yurman bracelet (Donated by

Lee Michaels Fine Jewelry)

Flowers for one year (Donated by Lori

and David Heroman '89)

Dinner at Little Village Restaurant

(Donated by Wayne Stabiler)

STEERING COMMITTEE. The Mothers' Club Auction Steering Committee pictured in front of

the Saturn VUE to be raffled at the Auction are front row (l to r) Joyce Jackson, Auction cochair;

Arlene Audiffred, moderator; and Janet McGinty, Auction co-chair. Back row (l to r) Cary

Kearny, Mothers' Club president; Karen LeBouef, car raffle; Lydia Lafleur, silent procurement;

and Gene Tullier, CHS president.

5

(Top right) GUITAR. This guitar, played

and signed by musicians such as Ron Wood

of the Rolling Stones and Tom MacLear

(Rod Stewart) will be featured in the Live

Auction.

(Top left) PIN. This fleur de lis pin, valued

at more than $1,000, will be the prize of

the champagne raffle.

(Bottom left) Painting. "Starlight," an

original acrylic on canvas by Don Wright,

was donated by Dr. and Mrs. Brooks

Cronan '52.

A set of pearls (Donated by Carolyn

Hebert)

Dinner at the Camelot Club (Donated

by Albemarle Corp. and John Steitz)

Zoom teeth bleaching (Donated by Dr.

Richard Wampold)

24 months of orthodontic treatment

(Donated by Dr. Stephen Sherman)

One-week stay at a vacation home in

North Carolina (Donated by Lisa and Tom

Adamek)

Football autographed by LSU Coach Les

Miles (Donated by R.W. Day and Associates)

One of the most unique items to be

auctioned this year is a guitar that was played

and signed by the following musicians:

Johnette Napolitano of Concrete Blonde,

Brian Setzer of the Stray Cats, Ron Wood of

the Rolling Stones, Dallas Hodge of Canned

Heat, Dave Mason of Traffic and Tom

MacLear (Rod Stewart).

Food will be provided by Bonanno's

Fine Catering.

And for the first time, an online auction

will be offered in conjunction with the event.

Items for bid will be available at www.

catholichigh.cmarket.com beginning April 1

and continuing through April 17.

Tickets to the auction are $20 per

person and may be purchased by calling

Leslie Falgoust at (225) 757-9884. Tickets

will also be available at the door.
---
Brother Cosmas Cazayoux Scholarship Established

By Hal Dupuy '73

The Brother Cosmas

Cazayoux, SC '45 Memorial

Endowed Scholarship has

recently been established by Dr.

and Mrs. Francis T. Cazayoux

'48 to honor his older brother

whose life was cut short by a

heart attack at 39 years of age.

Twenty of his 39 years were spent

as a Brother of the Sacred Heart.

Brother Cosmas Cazayoux, SC '45

Ring Donors

Brother Cosmas and Dr.

Cazayoux are two of the five sons

of James and Inez Cazayoux who

were educated at Catholic High

School by the Brothers of the

Sacred Heart. Their family has

remained close to the Brothers

throughout the years.

Brother Cosmas, who

entered the juniorate at

Metuchen in New Jersey, was

principal at Menard Memorial

High School in Alexandria from

1964 through 1967. He was

known as a very talented teacher,

as well as an excellent coach

and athletic director. Brother

Cosmas was ever-smiling with

a pleasant disposition, and he

related easily to young people

and always motivated them to do

their best. He touched the lives

of the many people he served,

so much so that the field house

at Holy Savior Menard Central

High School was named in his

memory. Brother Cosmas was

inducted into the CHS Hall of

Fame posthumously in 1968.

This scholarship, so

generously started by Dr. and

Mrs. Cazayoux, was fully funded

from "tax free" donations made

possible through the Pension

Protection Act of 2006, which

enabled donors who are 70 1/2

or older to make gifts to charities

using funds transferred directly

from their IRAs. Individuals

taking advantage of this did not

have to pay taxes on the amount

of the funds transferred.

If you are interested in

establishing an endowment

or scholarship, you may

contact CHS Director of

Development Hal Dupuy '73

at (225) 389-0978 or hdupuy@

catholichigh.org.

CHS Alumni Sporting Clay Shoot

Saturday, April 12, 2008

Location: Hunter's Run Gun Club

Port Allen, LA

Time: 8 a.m. - 1 p.m.

Registration: 7 a.m.

Format: 50 station walking target course

Lunch provided by

Serrano's Salsa Company

(Top left) Brother Eldon Crifasi, SC '39

(left) and Dr. Elmo Dean '61 (right) share

memories of their days at CHS as they

donate their respective class rings to the

Alumni Ring program.

(Top right) Brother Will McCue, SC (left)

accepts Paul Bologna's '78 (right) class

ring in honor of the Brothers of the Sacred

Heart and Sister Katie Brogdon.

(Bottom left) Ken Litz '74 (left) presents

the class ring of his late brother, Scott Litz

'83, to CHS Director of Alumni Relations

Glen Randow (right).

(Bottom center) Barbara Camp (right),

alumni events coordinator, accepts the

ring from John Kleinpeter '82 (left).

(Bottom right) Hal Dupuy '73 (right), CHS

development director, accepts the class

ring from 1966 graduate Greg Naquin

(left).

6
---
Mothers and Sons Gather for 22nd Annual Breakfast

By Jennifer J. Rouse

The CHS Mothers' Club

hosted the 22nd Annual Mother-

Son Breakfast on January 20,

2008 at the Holiday Inn Select.

One thousand mothers

and sons enjoyed the "Bears

Jazz It Up" theme. Decorations

included musical instruments,

centerpieces of top hats with

sheet music and greenery.

The guest speaker for the

event was Sean Reilly, COO of

Lamar Corporation. Reilly has

chaired the Governor's Advisory

Council on Ethics Reform

and serves on the board of the

Louisiana Recovery Authority.

Mothers and sons were

entertained by members of the

By Jan R. Breen

Jay Jackson, Class of

1971, was honored as Catholic

High's Distinguished Graduate

at the Diocesan Distinguished

Graduate Awards Dinner

on January 29 as part of the

celebration of Catholic Schools

Week.

Jackson is an active member

of St. George Parish and has

served on the Parish Council

of Ministers. He is a leader of

the St. George Prison Ministry

Team and has been a junior

high Catechist for 11 years. At

Catholic High he has helped

CHS Schola Cantorum, who

sang several selections. Senior

boys presented their mothers

with a long stemmed red rose and

all mothers received a souvenir

bookmark with a poem and a

silver saxophone charm.

"The Mother-Son Breakfast

is a time of fellowship which

celebrates the unique relationship

between mothers and their sons,"

commented Mothers' Club

President Cary Kearny.

Joni Herrmann served as

chair and Lisa Adamek served as

co-chair. Committee members

were Caroline Murphy, Tammy

Haupt, Ginger Cary, Karen

Garner, Kay Kenny and Margaret

Kling.

Jay Jackson '71 Honored as CHS

Distinguished Graduate at Banquet

with senior retreats, facilitated

Parent-to-Parent meetings and

volunteered with band and

Mothers' Club events.

Jay serves as Advertising

Account Representative at

The Advocate and received

the 2007 Baton Rouge Sales

and Marketing Executives

International Distinguished

Sales Award.

Jay is married to Joyce

Jackson and they have two sons:

Kyle, a 2007 graduate of CHS

and Bret, a sophomore at CHS,

and a step-daughter, Sara Kapp.

DISTINGUISHED GRADUATE. Jay Jackson '71 (second from left) was

recognized as Catholic High School's Distinguished Graduate at an awards

dinner on January 29. Pictured with Jay are (l to r) his wife Joyce, stepdaughter,

Sara Kapp; and sons Kyle '07 and Bret '10.

7

(Top) FRESHMEN. Freshmen gathered with their moms for the Mother-

Son Breakfast were (from left) Hayden Hodges '11 and his mother

Stephanie, Zack Oliver '11 and his mother Barbara and Derek Hannaman

'11 and his mother Vonda.

(Bottom left) A ROSE. Senior Brian Winders '08 presents a rose to his

mom, Jane.

(Bottom right) SENIOR HUG. Senior Micah Podorsky '08 gives his mom,

Terry, a hug.

Wedding Bells

Jodie Lynne Collins and Chad Lee Roubique '94...Julie Anne Stone

and Blair Gilley '95...Laura Elizabeth Landry and Anthony Joseph

Turnley '98...Madeline Subat and Dawson Ellis '99...Ashley Ponder

and Adam Foy '00...Amanda Albin and Keith Murphy '00...

Kristen Melancon and Daniel R. Bourgeois '02...Kirsten Aucoin

and Brandon Lloyd Bouchereau '97.

Baby Bears

Lawson Joseph, son of Stacy and Jared Juge '82...Claire Elizabeth,

daughter of Krista and Chris Valluzzo '87...Hunter James Gonzales,

son of Eva and Marco Gonzales '88...Claire Elizabeth, daughter of

Pam and David Hennessey '88...Amelia Marie, daughter of Tobie

and Scott Losavio '95...Grace Maraist, daughter of Angie and

Taylor Robertson '96...Jackson Charles and Aidan Travis, twin sons

of Angela Fail and Chuck Corder '97...William Wesley, son of Leslie

and Charlie Patout '97...Joey "Joey Win", daughter of Charlotte

and Justin Peno '00...Bentley Ann, daughter of Linsey and Brad

Bennett '02.
---
Former Catholic High Baseball Players Return Fo

By Jan R. Breen

More than 100 former

Catholic High baseball players

from seven decades gathered

February 15 and 16 for the first

CHS Alumni Baseball Reunion

Weekend.

The activities began on

Friday, February 15 when 120

alums and friends met for lunch at

Drusilla Catering Place Ballroom

to hear CHS Alumnus Mel

Didier '44, former coach of the

CHS State Champion Baseball

Team and currently scout for the

Texas Rangers, speak.

Alums gathered again

on Friday night for a baseball

alumni stag player draft at the

Law Offices of Moore, Walters,

Thompson. Brandon Kling

'98, who flew in from Australia,

was the first pick in the draft. The

weekend concluded Saturday

evening with the baseball game at

5:30 p.m. under the new baseball

field lights.

More than 50 baseball alums

from 1940s to 2006 played in

the game. A list of players can

be found on the CHS Web site

under alumni events.

1976 CHAMPIONSHIP TEAM. Members of the 1976 Championship

Baseball team attending the Baseball Reunion were front row (l to r)

Brian Eidt, Guy Hopkins, Dale Songy and Joey Thibodeaux. Back row (l

to r) were David Butler, Mike Atkinson and Brent St. Blanc.

Auburn Bryant '53

Brandon Kling '98

Orange

BROTHERS. Doug Politz '87, John Politz '82 and David Politz '85.

Chris Jones '95, Reunion chair

Kurt Ainsworth '96, Kevin Ainswort

Dellucci '91.

1953 CHAMPIONSHIP TEAM. Members of the 1953 Championship Baseball

team attending the Baseball Reunion were front row (l to r) Jerry "Buck"

Miller, James "Cooter" Zimmerle, Auburn Bryant, Billy Bourdier and Gaius

Ackman. Back row were (l to r) Coach Melvin Didier, D.R. Atkinson, Tommy

Barfield, Bill McGraw and Bill Barfield.

8

(l to r) Patrick Coogan '93, Hillar Moore and David

Dellucci '91.

(l to r) Ra

Powell '89.
---
Alumni Baseball Reunion Weekend Activities

Before the start of the

alumni game, members of the

1953 and 1976 State Baseball

Championship teams were

honored along with past head

baseball coaches which included

Didier and Don Trahan.

Members of the 1953 team in

attendance were D.R. Atkinson

'53, Bill Barfield '56, Tommy

Barfield '53, Bill Bourdier '55,

Gaius Ackman '58 (representing

deceased brother, Al), James

"Cooter" Zimmerle '53, Coach

Didier, Bill McGraw '54,

Auburn Bryant '53 and Jerry

"Buck" Miller '54.

Members of the 1976 team

in attendance were Guy Hopkins

'76, Brian Eidt '76, Dale

Songy '76, Joey Thibodeaux

'76, David Butler '77, Mike

Atkinson '76 and Brent St.

Blanc '76.

Chairing the event was Chris

Jones '95. Committee members

included Keith Constantino

'73, Patrick Coogan '93, Hillar

Moore, Antoine Simon '95, Josh

Ebey '99, CHS Alumni Director

Glen Randow and CHS Events

Coordinator Barbara Camp.

vs. Black.

(L to r) Billy Bourdier '55, Tommy Virgets '51, Mel Didier '44, Malcolm

Landry '48, "Cooter" Zimmerle '53 and Buck Miller '54.

FATHER/SONS. (l to r) Jason Wall '85, Brick Wall '66

and Travis Wall '89.

h '92, Pete Boudreaux '59 and David

Chris Demouy '93

Players from seven decades participated in the alumni game under the new

lights.

Bill McGraw '54

ndall Watts '89, Scooter DiVittorio '89 and Clay

Bill McGraw '54 Kurt Ainsworth '96

9
---
Neil Carmena, M.D. '49 Scholarship Established

By Hal Dupuy '73

The Neil Carmena, M.D.

Class of 1949 Scholarship is

the latest scholarship set up

in the Catholic High School

Development Office. This

scholarship, generously donated

by Dr. Carmena, was fully

funded through the use of the

Pension Protection Act of 2006,

and is the third such scholarship

e s t a b l i s h e d

through these

means.

W h i l e

at CHS, Dr.

Carmena was

part of the first

g r a d u a t i n g

class that

went through

12th grade.

He was named Salutatorian of

his graduating class, played end

in football and ran the 880 in

track.

Upon graduation of CHS in

1949, Dr. Carmena continued

his education at LSU, where he

Prayer Breakfast

received a B.S. in chemistry in

1953. His exceptional grades

allowed him to enter medical

school in 1952.

After completing medical

school, he interned at a San

Francisco hospital as part of a

Stanford University program.

He later served in the Air Force

as a flight surgeon for two years

in Japan. Upon his release from

the service,

C a r m e n a

in New

Orleans for

one year

and then

moved on

to the Henry Ford Hospital in

Detroit for two more years.

His love of the mountains

and water brought him and

his wife, Judy, to the west coast

and they eventually decided to

settle down in Las Vegas. The

Carmenas were blessed with

four daughters, but sadly he was

widowed in 1980 when his wife

passed away unexpectedly at the

age of 37.

Since his retirement in 2003,

he enjoys spending at least three

days a week playing tennis with

friends, and cherishes the time

he spends with his daughters and

his eight grandchildren.

Dr. Carmena is especially

grateful to the Brothers of the

Sacred Heart and to Catholic

High School for helping to form

him into the person he grew to

be.

"Many of the study habits

I learned at CHS helped me

greatly throughout my collegiate

and medical career. I hope

that through this scholarship,

someone will receive the many

benefits that I did from an

education at Catholic High

School," commented Dr.

Carmena.

If anyone is interested in

establishing an endowment

or scholarship, contact CHS

Director of Development Hal

Dupuy '73 at (225) 389-0978

or hdupuy@catholichigh.org.

Many of the study

began an

habits I learned at i n t e r n a l

m e d i c i n e

CHS helped me greatly s p e c i a l t y

Neil Carmena, M.D. '49

throughout my collegiate

and medical career. 2006-2007

Annual Report

is located on the

CHS Web site

www.catholichigh.org

under Development

Publications

10

(Top left) CLASS OF 1954. Attending the

Prayer Breakfast on January 26, 2008 were

former classmates (l to r) Rayne Lorio '54,

Kay Babin '54 and Blaise Solario '54.

(Top right) BREAKFAST. Buddy Webre

'53 (left) and June Webre (right) eagerly

await the delicious breakfast prepared by

Drusilla Restaurant and Catering.

(Bottom left) SPEAKER.

Father Trey Nelson '80

was the guest speaker

at the 2008 Prayer

Breakfast.

(Bottom right) CLASS

OF 1947. Eddie Fetzer

'48, Bill Hanegan,

Louis McHardy, Calvin

Golden, Randall

Lieux, Francis Furrate,

Bernard Fourrier and

Dan LeBlanc reunite as

members of the class of

1947.
---
More than 1,000 Grandparents Visit CHS Campus

More than 1,000 "special

guests" were on the CHS

campus on January 28. These

"special guests," better known

as the grandparents of Catholic

High students, were on campus

for a celebration that included

scripture, stories and song.

The afternoon began with

an introduction and Pledge of

Allegiance by Student Council

President Anthony Montes de

Oca '08, who served as master

of ceremonies for the event. A

prayer service was led by juniors

Jeremy Mannino '09, Phillip

Sander '09, and Ben Silverberg

'09. The prayer service included

a selection sung by the CHS/

SJA Schola Cantorum under the

direction of Steve Galliano.

The grandparents were

welcomed by CHS President

Gene Tullier and Director of

Alumni Relations Glen Randow,

and then treated to readings from

CHS students James Patterson

Grandparents Day

GRANDPARENTS. Sophomore Rob Johannessen (center) welcomes his

grandparents (l to r) Joanna and Doug MacPherson.

'09, Kenny Zielewski '11,

Brennan McQuiston '11 and

Nathan Black '11.

A special highlight of the

afternoon's festivities was an

Armed Forces Medley performed

by the CHS/SJA Band and

Chorus under the direction of

Band Director Duane LeBlanc

and Choral Director Steve

Galliano. During the medley,

members of the audience

proudly stood when the song

that represented their branch of

the service was played.

Following the program,

many grandparents and their

grandsons toured the campus

and enjoyed treats at a reception

hosted by the CHS Mothers'

Club. Ann Delo and Melinda

Francioni served as Mothers'

Club chairpersons for the

program and reception.

"We are honored to provide

the opportunity for grandparents

to visit our campus and to

spend special time with their

grandsons," said Hal Dupuy

'73, director of development.

"We hope that Grandparents

Day provides students and their

grandparents with wonderful

memories for years to come."

50-Year Reunion

Honoring the Class of

1958

May 24, 2008

Also honoring the Classes

of

1948, 1943, 1938, 1933

For information, contact

the CHS Alumni Office at

(225) 383-0459

(Top left) GRANDSONS.

Grandparents Sherry (left) and

Claude Vasser (second from

right) join their grandsons

(from left) Brandon Vasser '10

and Chris Vasser '10.

(Top right) GRANDMOTHERS.

Aaron Hall '10 (center) is

greeted by his grandmothers

Mildred Marchand (left) and

Julia Hall (right).

(Bottom

left)

GRANDPARENTS. Michael

Harrison '09 (center)

meets up with his

grandparents Lee and

Wanita Harrison following

the Grandparents Day

Program.

(Bottom right)

RECEPTION. Daniel

Sprunk '09 (center) brings

his grandparents Ned and

Patsy Borie refreshments

in the Union.

11
---
Wrestling Team Captures First State Title in 33 Years

By Jan R. Breen

Catholic High captured the

state wrestling title for the first

time in 33 years on February

9 and ended a 25-year reign of

Jesuit and Brother Martin in

New Orleans. CHS is the only

school outside the New Orleans

area to win a state wrestling title

in Division I.

Catholic High was tied with

Jesuit as the Bears approached

their final matches. CHS

needed one of its three remaining

wrestlers in the finals at 145, 152

and 171 to win an individual

title to give the Bears the state

championship. Second-seeded

Trent Fresina '08 defeated No.

1 Bernie Dupuy of Rummel 6-

4 at 152 and the result gave the

Bears 214 points, surpassing

Jesuit's 210.

Individual state champions

for the Bears were Blake Savoie

'09 – 112, Alex Hurst '08 – 119

and Fresina – 152. State runnersup

included Robert Town '08

Catholic High School captured the 2008 State Wrestling Championship on February 9. The Bears defeated Jesuit

and ended a 25-year reign of New Orleans schools.

– 130, Benjamin Carroll '09

– 145, and John Paul Luckett

'10 – 171. Luis Alexander '08

(135) placed third and Samuel

Knight '08 (125) and Michael

Love '10 (189) placed fourth.

Fresina was named

outstanding wrestler for the

meet.

Tommy Prochaska, a 1992

graduate of Catholic High,

12

Berryhill To Play College Soccer

By Jan R. Breen

Senior Ryan Berryhill has

committed to Mississippi College

to play soccer and has accepted

an academic scholarship to the

school.

Jason Coleman '07 Participates in Project Respond

By Jennifer J. Rouse

In July 2007, Jason

Coleman '07, accompanied by

Brother Chris Sweeney, SC '84,

traveled to St. Francis Secondary

School in Lusaka, Zambia as part

of the 2007 Project Respond, a

social justice initiative of the

Brothers of the Sacred Heart in

England.

The group spent

approximately three weeks

performing maintenance the

school could not afford. The

group built security walls,

replaced windows, built

classrooms and painted dorms.

In the afternoons, the group

would join the students in

playing soccer and basketball.

"I can honestly say that my

life was changed for the better,

and I want to return to Zambia

for an extended amount of

time," commented Coleman. "I

am going to go back as soon as

I can, and I will live there after I

graduate."

Jason traveled with his guitar

and taught songs to the students

at a local elementary school, St.

John's Basic School.

"The kids that I met on

the trip really inspired me with

their drive to learn. They try

harder than anyone I have ever

serves as head wrestling coach.

Catholic High has won two state

PROJECT RESPOND. Jason Coleman '07 helps students at the St. Francis

Secondary School in Lusaka, Zambia.

met. They truly energized me to

work hard and not slack at the

beginning of my college career,"

commented Coleman.

Jason is attending the

College of Charleston and

is majoring in International

Business.

wrestling titles – one in 1975

and 2008.

Berryhill is a three-year

letterman at Catholic High and

was lst Team All-District, All-

Metro and All-State in 2006.

"I chose Mississippi

College because I like the school

environment, the amazing

campus and the small teacher/

student ratio," commented

Berryhill.

Mississippi College, in

Clinton, Miss., is a Division

III school. The soccer program

is one of the strongest in the

division and has reached the

finals and semifinals in the last

two years.

Berryhill is the son of Brett

and Lucie Berryhill and plans to

major in business.

SOCCER. Senior Ryan Berryhill

(center) will continue his soccer

career at Mississippi College.

Congratulating him are his parents,

Lucie and Brett Berryhill.
---
Seven Seniors Sign To Play Football at Collegiate Level

By Jan R. Breen

Seven Catholic High seniors

have signed to play collegiate

sports. Adam Bertrand '08,

Gabe Guerrero '08, Spencer

Harrell '08, Todd Lee '08,

Ryan Lewis '08, DJ Ponder

'08 and Devan Walker '08 will

continue their athletic successes

at colleges in Texas, New Mexico

and Louisiana.

Bertrand has signed with

the University of Louisiana at

Monroe. He played on the

offensive line for the Bears

and was a three-year varsity

letterman. He was All-District

Honorable Mention his junior

and senior years.

"I chose ULM because I like

the coaches and the campus. I

hope to have the opportunity

to start next year," commented

Bertrand.

He is the son of Denis and

Diane Bertrand.

Guerrero will play for

Southeastern. A tight end for

the Bears, he was 2nd team

All-District his senior year and

Academic All-State Honorable

Mention.

"I really liked the coaches

and the way the program is

heading," commented Guerrero.

"Southeastern is growing and

they have great facilities."

Guerrero is the son of Luis

and Sol Guerrero and plans to

major in dentistry.

Harrell is headed to

Northwestern. He played wide

receiver for CHS and was a threeyear

varsity letterman. He was

1st Team All-District his junior

and senior years.

"I loved the coaches at

Northwestern and they have

a great game plan. I plan to

major in exercise science and

the program there is very good,"

commented Harrell.

BLOOD DRIVE. Catholic High was recognized by Our Lady of the Lake

Blood Bank as "Outstanding Catholic School" for collecting the most

units of blood over the course of last year. CHS collected 123 pints

of blood and blood products. CHS faculty member Ms. Nancy Herin,

(right) who organized the blood drive at Catholic High, accepted the

award from Stephanie Babin (left), Blood /Apheresis Platelet Donor

Recruiter for Our Lady of the Lake Regional Medical Center.

Signing to play collegiate football on February 6, 2008 at Catholic High School were (l to r) Gabe Guerrero,

Southeastern; Todd Lee, New Mexico State; Adam Bertrand, University of Louisiana at Monroe; Ryan Lewis, Rice;

Spencer Harrell, Northwestern; DJ Ponder, Tulane; and Devan Walker, Southeastern. Congratulating the seniors

were CHS Football coaches, back row, (l to r) J.P. Kelly '92, Gerry Garidel, Head Coach Dale Weiner, Andy Martin

and Paul Varnado.

Harrell is the son of Todd

and Colleen Harrell.

Lee will play for New Mexico

State. A tailback and corner

back for the Bears, Lee was a

three-year varsity letterman. His

honors include All-District, All-

Metro and Academic All-State.

"I chose New Mexico State

because of the coaches and the

feeling I had about the school,"

commented Lee.

Lee is the son of Todd and

Lesley Lee and plans to major in

chemical engineering.

Lewis is headed to Rice. He

was quarterback for the Bears and

a three-year varsity letterman.

Lewis holds three Catholic High

football records: Most Yards

Passing in a Career with 3,998;

Most Passes Attempted in a

Career with 464 and Most Passes

Completed in a Career with 246.

His honors include All-District

for two years, Offensive MVP,

All-State Honorable Mention

this year and All-Metro for the

past two years.

"Academics are outstanding

at Rice. I like the coaches, and

the players seem pleased with the

program," commented Lewis.

Lewis is the son of Max and

Rhonda Lewis.

Ponder has signed with

Tulane. He played quarterback

13

and wide receiver for the Bears.

He was a three-year varsity

letterman and was 2nd Team

All-District as a wide receiver.

He was also Academic All-State

Honorable Mention.

"Tulane is a great academic

institution. The football program

is on the rise and I think I have a

great opportunity to play football

and receive a great education,"

commented Ponder.

Ponder is the son of Donald

and Suzanne Ponder and plans

to major in political science.

Walker will play for

Southeastern. He was defensive

tackle for the Bears and

plans to play defensive end at

Southeastern.

He was All-State Honorable

Mention and named to the All-

District and All-Metro teams.

He was MVP in the Red Stick

Bowl All-Star game. He was also

named to the Coaches 1st Team

All-State.

"Southeastern is rebuilding

and I think the program has a

lot of potential. There is a great

engineering program there and

I plan to major in industrial

engineering," commented Walker.

Walker is the son of Melonie

Martin.
---
Indoor Track Achieves Second Straight State Title

The Bears won the State Indoor Track Title on February 23 at LSU's Carl Maddox Field House. Julian Parker '10 set

the school record in the 800 meter run and Andrew Rhorer '09 set the school record in the long jump. Catholic

High School has won six indoor boys titles under Head Coach Pete Boudreaux '59.

By Jan R. Breen

Catholic High achieved

its second straight Division I

Class 5A Indoor Track State

Championship and set a meet

record for the second consecutive

Summer at CHS Offers Courses in Academics, Arts and Athletics

By Jennifer J. Rouse

English, Guitar, Wrestling

and Spanish. These are a few of

the exciting camps being offered

in the 2008 Summer at CHS

camps.

Students will have the

opportunity to take courses in

algebra, geometry and English

and to improve their study skills

and Microsoft Office skills. For

the musically inclined, courses

will be offered in acoustic guitar

and percussion.

Once again, Summer

at CHS will offer a variety

of athletic courses as well.

Basketball, soccer and baseball

will be offered individually or as

a combo course. Weightlifting,

football and wrestling will also

be offered to summer campers.

"The CHS Summer

Program gives young men of

all ages a small experience

of Catholic High's academic,

art, and athletic programs,"

commented Summer Director

year with 81 1⁄2 points.

School records were set by

Julian Parker '10 in the 800

meter run and Andrew Rhorer

'09 in the long jump. The 1,600

and 3,200 relays ran two of the

Sherie LeBlanc.

Summer sessions will begin

June 2 and will conclude July 18.

Activities are offered for students

as young as eight years old.

Course times and exact dates can

be found in the Summer at CHS

brochure or on the CHS Web site

at www.catholichigh.org. The

registration mail-in deadline is

Friday, May 2, 2008. However,

if space allows, registrations will

continue to be accepted after

May 2 until the course is full.

Camp brochures may be

picked up in the front office of

the school or viewed from the

Catholic High School Web site.

Please contact Mrs. Sherie N.

LeBlanc or Ms. Nancy Patout

at (225) 383-0397 or summer

program@catholichigh.org for

questions regarding program

activities.

Activities taking place in the

Summer at CHS program include

academic enrichment, athletic and

extracurricular opportunities.

14

fastest times recorded in the state

meet in the last 15 years. The

Bears team of Casey Fitzgerald

'10, Kevin Taylor '10, Vince

LeDuff '10 and Jace Guerin '08

won the 1,600 relay in 3:26.96.

Taylor Sanford '10, Barrett

Miller '10, Rance Guerin '10

and Parker won the 3,200 relay

in 8:19.87.

Cody Muse '08 took third

in the shot put and Hunter

Brouillette '09 placed third

in the high jump. Miller also

captured second in the 1,600

meter while Philip Primeaux

'10 placed second in the 3,200.

"We qualified well and

knew we had a shot at the title

but didn't know we would totally

dominate the competition,"

commented Head Track Coach

Pete Boudreaux '59. "It was

an incredible performance and

CHS set a new state meet score.

The kids performed so well and

turned it up a notch at the state

meet."

Catholic High has won six

indoor state track boys' titles

under Head Track Coach Pete

Boudreaux.
---
Memorial and Honorary Gifts

There are many special occasions during our lives when we choose to memorialize or honor in a special way those we hold dear. The following are

acknowledged for their gifts to Catholic High School from November 28, 2007 through February 27, 2008 in honor or memory of loved ones. Please

remember these alumni and friends, as well as their families, in your prayers.

Memorial Gifts

Mrs. Ann Arbour

CHS Mothers' Club

Lt. Colonel, USAF Retired and

Mrs. John M. Jolissaint, Sr. '35

Mr. William J. Ashley '82

Dr. and Mrs. D. Mark Ortalano '79

Reverend Daniel R. Barfield, SJ '47

Dr. and Mrs. Louis R. Barfield, Sr. '89

Mrs. Frances Bergeron

Judge and Mrs. Don Aaron, Jr.

Mr. and Mrs. Paul W. Allen

Ret. T/Sgt. and Mrs. Willie T. Britt

Ms. Jean W. Gaspard

Mr. and Mrs. Clyde Goudeau

Mr. and Mrs. John W. Timon

Mr. Frederick R. Bonanno '43

Mr. and Mrs. Marion J. Cangelosi '43

Mr. Jay Bozant

Mr. and Mrs. Robert Brouillette

Mr. George F. Brogdon, Jr. '47

Judge and Mrs. Daniel W. LeBlanc '47

Mrs. Estelle J. Brousseau

Mr. and Mrs. Daniel J. Stari

Mr. David J. Carville, Sr. '32

Mrs. Erline B. Carville

Sr. Lydia Champagne

Lt. Colonel, USAF Retired and

In Memoriam

As of February 26, 2008, the following alumni and friends of CHS

have died since the last issue of Bear Facts II. Please remember them

and their families in your prayers.

Mary Helen Reulet Angelloz

Nona Corona Arbour

Francis G. Bergeron

Floyd A. Buras

Joseph H. Cotton Sr.

Robert Alexander Crick Jr.

Roy A. Dardenne Jr. '65

Guy B. "Brit" Davidson

Helen Wilkinson Davis

Jacques de Tarnowsky

Deacon Edgar Paul Dragon

Shirley May Ory "Tellie" Falgout

Fred W. Fleshman

Owen Anthony Gauthier '44

Anthony Gentile

Louise Markham Giamalva

Jeanne Ford Grenchik

Estella May Hastings

Josie Accardo Helouin

Troy L. Henderson '50

Evelyn Melancon Keller

Joseph Edwin Labauve '36

Lois Bourgeois Marix

Caryl Kay Werner McGinnis

Pamela Ann Montagnino

Jeter Moran

Mrs. John M. Jolissaint, Sr. '35

Mrs. Margaret Dauzat

Lt. Colonel, USAF Retired and

Mrs. John M. Jolissaint, Sr. '35

Deceased Members of the CHS Class

of 1954

Mr. and Mrs. Barry E. Cheatham '54

Mr. Gilbert deGruy and

Miss Juanita deGruy

Mr. and Mrs. Barry E. Cheatham '54

Mr. Joe DeLouise

Judge and Mrs. Daniel W. LeBlanc '47

Mr. Ronald S. Demouy '64

Mr. and Mrs. Paul H. Demouy '66

Mr. Stewart L. Dietrich '40

Mrs. Janet Dietrich

Mrs. Rose N. Doiron

Lt. Colonel, USAF Retired and

Mrs. John M. Jolissaint, Sr. '35

Mr. Huron J. Ducote, Jr.

Mr. and Mrs. Robert Brouillette

Mrs. Margo Ebner

Judge and Mrs. Daniel W. LeBlanc '47

Mrs. Shirley Falgout

Mr. and Mrs. Robert Brouillette

Mr. Edward H. Fetzer, Jr. '74

Mr. and Mrs. Pendery Gibbens

Judge and Mrs. Daniel W. LeBlanc '47

Madeline Ortlieb Nesbit

Vince Nola

Mark Olinde

Ruth Dauenhauer Phillips

Avonna Babin Caruso Pizzuto

Mary Elizabeth Artker "Betty"

Poche

Joseph Francis Polito

Dalton L. Pollet Sr.

Michael S. Ponson

Rudolph James Pourciau Sr '42

John Milton Rhorer

Magdalen Louise H. Rhorer

Theodore "Ted" Rhorer

Rocco Joseph Roppollo

George Baxter Russell

Dorothy C. "Dot" Sanchez

Byron Archibald Smith

Taft Peter Stablier Sr.

Olieus Joseph "Tut" Templet '50

Evangeline Himmel "Dimples"

Triplett

Sadie Daigle Vicknair

Guy J. Waggenspack, M.D.

15

Mrs. Nell Fetzer

Mr. and Mrs. Pendery Gibbens

Judge and Mrs. Daniel W. LeBlanc '47

Ms. Helen Fleniken

Mr. James C. Brown, Jr. '43

Mr. F. Wayne Frey '71

Mr. and Mrs. Frederick W. Frey, Jr.

Mr. and Mrs. Jimmy Magette

Mr. M. Clyde Garrison, Jr. '40

Mrs. Joanne Garrison

Mr. W. Wayne Gaudin, Jr. '76

Lt. Colonel, USAF Retired and

Mrs. John M. Jolissaint, Sr. '35

Mr. W. Wayne Gaudin, Sr. '37

Lt. Colonel, USAF Retired and

Mrs. John M. Jolissaint, Sr. '35

Mr. Owen A. Gauthier '44

Mr. and Mrs. Louis W. McHardy,

Sr. '47

Mr. Carl W. Gremillion, Sr. '52

Mr. and Mrs. Robert Brouillette

Mr. James A. Gremillion '51

Mr. and Mrs. Jay Levraea

Mr. and Mrs. Clifford X. Guillot '39

Mr. Denis M. Guillot '68

Mrs. Mary Heroman

Lt. Colonel, USAF Retired and

Mrs. John M. Jolissaint, Sr. '35

Mr. Joseph C. Hill, Sr. '28

Mr. and Mrs. John H. Bateman

Ms. Paula M. Berumen

Ms. Maralyn Cambre

Mrs. Lorraine D. Fourrier

Mr. and Mrs. D. Richard Gannon '51

Mr. and Mrs. Paul M. Hebert, Jr. '64

Mr. Herbert Higginbotham

Mr. and Mrs. Thomas L. Holliday '60

Dr. and Mrs. Robert G. Hussey

Dr. and Mrs. Lawrence M.

Kleinpeter '53

Ms. Alice LeBlanc

Mr. and Mrs. Hal B. Macmurdo

Mrs. Karen G. Martin

Mr. and Mrs. Louis W. McHardy,

Sr. '47

Ms. Marguerite D. Montgomery

Mr. Patrick B. Kennedy, Sr. '52

Mr. and Mrs. Paul M. Hebert, Jr. '64

Mr. F. Michael Kleinpeter, Sr. '46

Lt. Colonel, USAF Retired and

Mrs. John M. Jolissaint, Sr. '35

Mrs. Toni P. LaBorde

Mr. and Mrs. Robert Brouillette

Mrs. Marion Landry

Mr. and Mrs. Robert Brouillette

Mr. David C. Mestayer

Dr. and Mrs. Louis R. Barfield, Sr. '89

Mr. John L. Mestayer

Dr. and Mrs. Louis R. Barfield, Sr. '89

Mrs. Madeline O. Nesbit

Saia Electric, Inc.

Mr. Vince Nola, Jr.

Mr. and Mrs. Robert Brouillette

Mr. Mark Olinde

Mr. and Mrs. Robert Brouillette

Mrs. Ruth Phillips

Mr. and Mrs. Robert Brouillette

Ms. Bernadine Poche

Mr. and Mrs. Errol E. Labat '75

Brother Roy Reinecke, SC

Judge and Mrs. Daniel W. LeBlanc '47

Mr. Carl Schneider

Mr. and Mrs. John C. Connolly

Mr. David B. Shapiro '89

Dr. and Mrs. Louis R. Barfield, Sr. '89

Mr. Byron A. Smith

Mr. Barclay H. Brewer '91

Mrs. Dixie Suffrin

Mr. and Mrs. G. L. Bouchereau, Jr.

Mr. and Mrs. Randall C. LeJeune

Mr. Calvin C. Thomas

Mr. and Mrs. Brian L. Layman

Mr. Treg T. Tremont '86

Ms. Maurine G. Gauthier

Mr. Cliff Weimer

Mr. and Mrs. Robert Brouillette

Honorary Gifts

Mr. and Mrs. Mark Barker

Mr. John A. Ebner '87

Miss Nicole C. Couper

Mr. and Mrs. Scott A. Couper

Mr. and Mrs. Conrad B. Ebner '88

Mr. John A. Ebner '87

Mr. J. David Ebner, Jr.

Mr. John A. Ebner '87

Mr. John A. Ebner '87

Mr. J. David Ebner, Jr.

Dr. and Mrs. Rivers P. Wall

Mr. and Mrs. Paul M. Hebert, Jr. '64

Mr. and Mrs. Charles S. McCowan, Jr.
---
Catholic High School

P.O. Box 65004

Baton Rouge, LA 70896-5004

www.catholichigh.org

Address Service Requested

Nonprofit

Organization

U.S. Postage

PAID

Baton Rouge, LA

Permit #481

FOOD SCULPTURE CONTEST. The CHS Key Club

sponsored a Canned Food Sculpture Contest on

Sunday, March 2. Five CHS clubs participated and

helped donate 12 barrels of food to the Baton

Rouge Food Bank. Displaying their sculpture

of The Alamo were Spanish Club members (l to

r) Justin Huffty '09, James Patterson '09, Grant

Brumfield '09, Alex Kleinpeter '09, Luis Alexander

'08, Jimmy Jolly '08 and Mark Rolfsen '09.

By David Butler

'77

Sports in the

past became the

present as Catholic

High hosted its

initial baseball

reunion highlighted

by an alumni game.

Traveling from as far

away as Australia,

alums turned back

the years reliving their younger days playing

a boy's game and reminiscing about their

days in a Bruin uniform.

The inaugural game under the lights

on Catholic High's revamped baseball field

allowed alums to play their game before a

capacity crowd composed of wives, parents,

and children.

Brian Eidt '76, the winning pitcher

in the 1976 championship game, expressed

some initial hesitation that quickly vanished

as he donned his uniform one last time,

stepping into the batting cage with teammates

Dale Songy '76 and Guy Hopkins '76.

Watching in street clothes, Brent St.

Blanc '76, unable to restrain himself, said,

"Let me have a turn," and then stepped

into the cage trying to rediscover that

magical swing that once produced an extra

inning, pinch-hit homerun to cinch a state

championship.

Brad Thompson '81 eagerly put on the

catching gear. After the game he said, "It was

wonderful to play with so many friends and

to catch for Kurt Ainsworth '96, a former

major league pitcher and an Olympic Gold

Medal winner."

Parents: If your son no longer lives at home, kindly send us his new address. If you also wish to

receive Bear Facts II, please phone (225) 389-0978 and let us know. Many thanks.

Sports In The Past

Joey Thibodeaux

'76,

not willing to

forego a chance

to turn back the

clock, donned

a uniform to

get one more

o p p o r t u n i t y.

After lining out

to the pitcher,

he quickly left

smiling and

dashed off

with his wife

for a tuxedo

engagement and

certainly wishing

he could get just

one more at bat. SUSPENSE. Is the runner going to touch home plate before Brad Thompson '81

The highlight

for many was when Buddy LeBlanc

catches the ball?

'51, clad in blue jeans with a uniform shirt,

stepped into the batter's box. The oldest

player in the game, who had not been on

a field in more than 50 years, more than

held his own in that at bat. He excitedly

recalled the at bat and how close he came to

connecting, later while eating jambalaya.

James "Cooter" Zimmerle '53, a

member of the 1953 state championship

team, recalled the night: "I had no intention

of playing. I was coaching third base and

by the sixth inning I decided I was going

to bat. I was up to bat when someone told

me I needed a helmet. We did not use them

when I played. Patrick Coogan '93 was on

the mound and he took something off the

ball to give me a chance to hit. I ended up

walking. The crowd was excited as I reached

second and third on passed balls. It was a

tremendous experience."

Hopkins expressed the thought of

many when he confided that the butterflies

returned just as if he were playing for keeps.

They were certainly present as he stepped

into the batter's box to face a hard throwing

pitcher over 25 years younger. A subsequent

line drive single over second baseman Songy

relieved any anxiety. As Hopkins trotted

off first base to get his glove as the inning

ended, he was met by an ecstatic son who

was overwhelmed with a mixture of pride

and shock that his dad could really play this

game.

Perhaps Songy said it best, "It was great

to be a kid again."