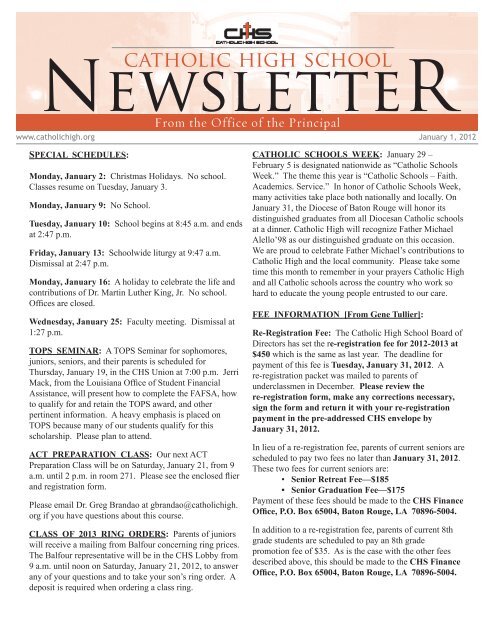 act preparation class - Catholic High School
act preparation class - Catholic High School
act preparation class - Catholic High School
SHOW MORE
SHOW LESS
Create successful ePaper yourself
Turn your PDF publications into a flip-book with our unique Google optimized e-Paper software.
NewsletteR

catholic high school

From the Office of the Principal

www.catholichigh.org January 1, 2012

SPECIAL SCHEDULES:

Monday, January 2: Christmas Holidays. No school.

Classes resume on Tuesday, January 3.

Monday, January 9: No School.

Tuesday, January 10: School begins at 8:45 a.m. and ends

at 2:47 p.m.

Friday, January 13: Schoolwide liturgy at 9:47 a.m.

Dismissal at 2:47 p.m.

Monday, January 16: A holiday to celebrate the life and

contributions of Dr. Martin Luther King, Jr. No school.

Offices are closed.

Wednesday, January 25: Faculty meeting. Dismissal at

1:27 p.m.

TOPS SEMINAR: A TOPS Seminar for sophomores,

juniors, seniors, and their parents is scheduled for

Thursday, January 19, in the CHS Union at 7:00 p.m. Jerri

Mack, from the Louisiana Office of Student Financial

Assistance, will present how to complete the FAFSA, how

to qualify for and retain the TOPS award, and other

pertinent information. A heavy emphasis is placed on

TOPS because many of our students qualify for this

scholarship. Please plan to attend.

ACT PREPARATION CLASS: Our next ACT

Preparation Class will be on Saturday, January 21, from 9

a.m. until 2 p.m. in room 271. Please see the enclosed flier

and registration form.

Please email Dr. Greg Brandao at gbrandao@catholichigh.

org if you have questions about this course.

CLASS OF 2013 RING ORDERS: Parents of juniors

will receive a mailing from Balfour concerning ring prices.

The Balfour representative will be in the CHS Lobby from

9 a.m. until noon on Saturday, January 21, 2012, to answer

any of your questions and to take your son's ring order. A

deposit is required when ordering a class ring.

CATHOLIC SCHOOLS WEEK: January 29 –

February 5 is designated nationwide as "Catholic Schools

Week." The theme this year is "Catholic Schools – Faith.

Academics. Service." In honor of Catholic Schools Week,

many activities take place both nationally and locally. On

January 31, the Diocese of Baton Rouge will honor its

distinguished graduates from all Diocesan Catholic schools

at a dinner. Catholic High will recognize Father Michael

Alello'98 as our distinguished graduate on this occasion.

We are proud to celebrate Father Michael's contributions to

Catholic High and the local community. Please take some

time this month to remember in your prayers Catholic High

and all Catholic schools across the country who work so

hard to educate the young people entrusted to our care.

FEE INFORMATION [From Gene Tullier]:

Re-Registration Fee: The Catholic High School Board of

Directors has set the re-registration fee for 2012-2013 at

$450 which is the same as last year. The deadline for

payment of this fee is Tuesday, January 31, 2012. A

re-registration packet was mailed to parents of

underclassmen in December. Please review the

re-registration form, make any corrections necessary,

sign the form and return it with your re-registration

payment in the pre-addressed CHS envelope by

January 31, 2012.

In lieu of a re-registration fee, parents of current seniors are

scheduled to pay two fees no later than January 31, 2012.

These two fees for current seniors are:

• Senior Retreat Fee—$185

• Senior Graduation Fee—$175

Payment of these fees should be made to the CHS Finance

Office, P.O. Box 65004, Baton Rouge, LA 70896-5004.

In addition to a re-registration fee, parents of current 8th

grade students are scheduled to pay an 8th grade

promotion fee of $35. As is the case with the other fees

described above, this should be made to the CHS Finance

Office, P.O. Box 65004, Baton Rouge, LA 70896-5004.
---
RE-REGISTRATION PROCEDURE [From Gene

Tullier]: The timely completion of the re-registration

process is critical to our effective planning for the 2012-

2013 school year. The re-registration process allows us

to accurately plan the number of sections of each course

needed, hire the appropriate number of qualified teachers

for these courses, order and acquire adequate instructional

materials, build a school master schedule and

individually schedule students in a manner that

accommodates as many of their needs and requests as

possible. Each of these things must be done accurately and

in sequence in order for us to have an organized start of the

school year in August. Because of the intricacies of

planning for the coming school year, I ask for your

cooperation in completing the re-registration process

accurately and in a timely manner.

As has always been the case, we do not ever want a student

to leave CHS solely because of the financial need of his

family. If your family's current financial circumstances

make it impossible for you to pay the full re-registration fee

by the scheduled due date, but you still want your son to

continue at CHS, please get in touch with me or

Finance Director, Mr. Stephen Norton, as soon as possible

to explore possible financial arrangements. Either of us can

be reached by phone through the school's main phone line,

(225) 383-0397 or by e-mail at gtullier@catholichigh.org or

snorton@catholichigh.org. However, because having

accurate enrollment projections as we begin planning for

next year is so critical, the following procedure will be

followed in all cases unless a specific financial arrangement

has been made with me in advance:

On February 6, 2012, a statement will be sent to any

parent whose account is in arrears or whose son's

re-registration form has not been submitted.

On March 6, 2012, I will send a personal letter to any

parent who has not paid re-registration or has not submitted

a re-registration form. This will be formal notification that

the student's 2012-2013 enrollment status is in jeopardy.

order to facilitate the payment of the re-registration fee.

GOLDEN BEAR DONORS: The Golden Bear is the

highest honor a student can receive for his work in

academics and extracurriculars. These awards are made

possible through donations by generous sponsors. A few

of these awards are available for sponsorship. If you are

interested in sponsoring a Golden Bear in your name or in

memory of a loved one, please contact Janet Vidrine,

activities director.

GRANDPARENTS DAY: Grandparents and

great-grandparents of all CHS students are invited to the

Grandparents' Day celebration on Friday, March 9, 2012,

at 2 p.m. Because of the size of the student body, students

will remain in their classes during the Grandparents' Day

assembly (except those involved in the program).

However, immediately following the assembly, students

will be dismissed from class to join their grandparents and/

or great-grandparents for an optional tour of the school and

a reception in the Union hosted by the CHS Mothers' Club.

Parents, please be sure to check Edline for a listing of

grandparents and great-grandparents. If your son's

"grands" are not listed, please contact Angie Allen at

aallen@catholichigh.org by Wednesday, February 1, 2012.

Invitations will mailed on Wednesday, February 8, 2012.

TEACHER E-MAIL AND VOICEMAIL: It is our

policy that parents should email or leave voice mail with

teachers about any necessary issue concerning students.

The best method is through email. It is our expectation that

teachers respond within a reasonable amount of time, at

least within two days. If you are having difficulty getting a

response from a teacher after leaving an email or voicemail,

please contact either Dr. Hanks at jhanks@catholichigh.org

or Mr. Eldringhoff at teldringhoff@catholichigh.org. It is

always best to try contacting the teacher first before

contacting an administrator.

On April 6, 2012, I will return the student's course

selection form to any parent whose re-registration payment

or forms are still not received. A letter accompanying the

returned course selection form will explain that the student

has been dropped from enrollment in CHS for 2012-2013

for failure to complete the re-registration process. I am

informing you of these procedures now so that you can plan

more effectively.

Re-registration payments will be due in full for each

student attending Catholic High, including those students

who are receiving any form of financial assistance.

Remember that for those selecting the 11 month tuition

payment plan, no tuition payment is due during January in
---
ACT

PREPARATION

CLASS

Where: Catholic High School Room 271

When: Saturday, January 21, from 9 a.m. until 2 p.m.**

Cost: $95 (covers book and all materials; $50 is non-refundable)

It has been proven that test anxiety, knowledge of test format and content, and knowledge of proper test-taking

skills and strategies can impact a test-taker's score on a standardized test such as the ACT. Did you ever wonder

why your test scores were not as high as you expected? Learn to do your best on the ACT.

This class will present:

• Ways to reduce test anxiety.

• Procedures for being mentally, psychologically and physically prepared for the test.

• Helpful hints for testing day.

• Content summary for the ACT.

• Examples of problems that frequently appear on the ACT.

• Strategies that will improve scores on any standardized test.

• Specific strategies for the items on the ACT.

• Scoring information for the ACT.

• Supplementary materials to guide study and final preparation for the ACT.

• Classroom instruction concluded with a "mock test."

Presenter: Dr. Greg Brandao

**Bring a bag lunch due to time limitations.

~~~~~~~~~~~~~~~~~~~~~~~~~~~~~~~~~~~~~~~~~~~~~~~~~~~~~~~~~~~~~~~~~~~~~~~~

Please detach this form and return to the Main Office by Tuesday, January 17.

REGISTRATION FORM - ACT PREPARATION CLASS

Please register__________________________________________ for the ACT Preparation

Class on Saturday, January 21, 2012.

Make checks payable to Catholic High School.

Student's email address: _____________________________________________

Parent's email address: ______________________________________________
---
January 2012

Happy New Year!

Thank You to all of the ladies on our committees for making the 2011 events a success. I look forward to

working with in this new year. Thanks for EVERYTHING you ALL do!

MOTHER/SON

BREAKFAST

Mark your calendar for the Annual Mother/Son Breakfast Sunday January 29 th .

Every CHS student and his mother, guardian or special friend is invited to attend. This breakfast celebrates the

relationships between sons and the special people in their lives.

Join us at the Crowne Plaza with pictures beginning at 9:30am and the program beginning at 10:30am. Also, help

us welcome back Bro. Barry Landry, SC as our special guest and speaker. We look forward to seeing everyone

there. You do not have to a Mothers' Club member to attend, ALL are welcome!!

Look for the Registration form and information sheet to be sent to you by mail in early January.

Please come and share this special moment with your son and the CHS community.

AUCTION NEWS!

Come and join our Master of Ceremonies, Kent Gonsoulin, Cajun Comedian, and the Buddy Boudreaux Jazz Band for the

2012 Catholic High Auction, presented by the Mothers' Club to be held on March 24, 2012. The event will once again be held

at the beautiful Louisiana State Museum in downtown Baton Rouge.

Car Raffle - Please remember to return your car raffle tickets. This year's Car Raffle offers the winner a choice of a

2012 Toyota Camry or a 3yr/36,000mile lease on a Lexus RX generously provided by Price LeBlanc Toyota Lexus - $5

donation/ticket. Also receive a coupon for one free package of Price LeBlanc Dah'lin Sausage on the back of each

ticket. Tickets have been sent home with your son. If you need additional tickets, please contact Liz Core at 936-

5759. All tickets, sold and unsold, are to be returned to the CHS office by January 27, 2012.

A special thank you to all moms and students assisting with our weekend ticket sales at area

merchants and churches. We are still in need of more Site Sale Volunteers! Please consider

donating a little of your time. Bring your sons - the students can earn B service hours for working site

sales...Contact Jeannine Calvit (calvitf2000@yahoo.com) to volunteer .We couldn't do it without you!

Champagne Raffle - This year's Champagne Raffle is an original design blue sapphire and diamond pendant necklace

generously donated by Jules Madere Creative Jewelers. Tickets for this raffle are $20 and can be purchased at the

Mother/Son Breakfast, Grandparent's Day and the night of the Auction. Only 300 tickets will be sold.

Proceeds from the event benefit the students of Catholic High. Join us for a night of fun and fellowship while

supporting CHS!