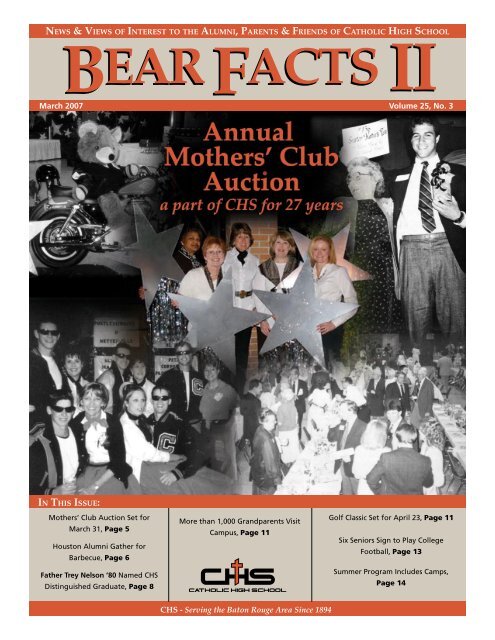 BEARFACTSII BEARFACTSII - Catholic High School
BEARFACTSII BEARFACTSII - Catholic High School
BEARFACTSII BEARFACTSII - Catholic High School
SHOW MORE
SHOW LESS
Create successful ePaper yourself
Turn your PDF publications into a flip-book with our unique Google optimized e-Paper software.
News & Views of Interest to the Alumni, Parents & Friends of Catholic High School

BEAR FACTS

II

March 2007 Volume 25, No. 3

In This Issue:

Mothers' Club Auction Set for

March 31, Page 5

Houston Alumni Gather for

Barbecue, Page 6

Father Trey Nelson '80 Named CHS

Distinguished Graduate, Page 8

More than 1,000 Grandparents Visit

Campus, Page 11

Golf Classic Set for April 23, Page 11

Six Seniors Sign to Play College

Football, Page 13

Summer Program Includes Camps,

Page 14

CHS - Serving the Baton Rouge Area Since 1894
---
'30s

Col. Van Mayhall Sr. '37

was inducted into the Louisiana

Veterans' Hall of Honor.

Dr. Niles Guichet

'47 was the recipient

of the prestigious Dan Gordon

A w a r d

presented by

the American College of

Prosthodontists at the

Annual Meeting held

in November in Miami.

This award was presented

Dr. Niles

Guichet '47

for lifetime achievements

and contributions at

the highest level to the

advancement of the

College and prosthodontics, dentistry, science

and the health professions.

'50s

Don Delaville '53 and his

wife Barbara celebrated their

50th wedding anniversary at an

open house

No v e m b e r

24.

John LaCarna '55 was

admitted into Mensa, the

International High IQ

Society. Retired president

of LaCarna Health Care

Consultants, Inc., he is

scheduled for recognition

in the forthcoming edition of Who's Who in

America. He has authored a text on vocabulary

development, and is

currently working on a

novel.

John Lewis '55 was

named a "Point of Light"

by the Washington, D.C.

Office for Volunteer

John Lewis '55

Efforts. He has

volunteered at the Food

Bank for 16

years and has received numerous

awards.

Dr. Stephen Lindsey '65, an

Ochsner rheumatologist,

was highlighted in The

Advocate's People section

for his treatment of

rheumatoid arthritis.

Danny McConnell

'69 received a 20-year

service pin from the Boys

and Girls Club Board and

was elected president of

'70s

'40s

John LaCarna '55

'60s

Dr. Stephen

Lindsey '65

the Hospice

Foundation Board.

Richard Carmouche '71 was

selected as a member of the board

IN THE NEWS

for the Baton Rouge

Growth Coalition for

2007.

Erich Ponti

'80s '83 was

installed as

the 2007

p r e s i d e n t

of the Louisiana Home

Builders

Erich Ponti '83

Association

during its annual meeting

on January 11. Ponti was

also honored as LHBA's

"Builder of the Year" for

2006.

Stephen Holliday '84

has joined the Office of

Alumni Relations at the

LSU Law Center. Holliday

is associate director for

alumni relations.

Brit D'Amico '85 has opened his own

physical therapy clinic, Feliciana Physical

Therapy, in Clinton, Louisiana.

George Sierant '90 was

promoted to the position of

Account Executive at Dell Financial

Richard

Carmouche '71

On the Cover

'90s

Preparing for the star-studded

"Bears in Hollywood"

27th Annual Mothers' Club Auction are

(back row, l to r) Regina Callihan, car

raffle chairman; Cary Kearny, Mothers'

Club vice president; and Joanne Roberts,

Mothers' Club president.

Front row (l to r) are Arlene Audiffred,

Mothers' Club moderator; and Beverly

Hymel, Auction chairperson.

Services, the financing arm of Dell, Inc. He

and his wife, Adrian, have relocated to Long

Island, New York, from Austin, Texas. Sierant

manages accounts in New Jersey, Connecticut,

Manhattan and Long Island. He and his wife

are expecting their first child.

Cullen Talley '90 competed in the Ironman

Florida in November 2006 which consists of a

2.4-mile swim, 112-mile bike and 26.2-mile

run totaling 140.6 miles in a time of 11 hours

and 27 minutes. He placed 524 out of 2200.

Winston DeCuir Jr. '91 has been named a

partner in the firm of DeCuir, Clark & Adams,

L.L.P. He practices in

the area of labor and

employment litigation.

He is a graduate of

Amherst College and

Louisiana State University

Law Center. He has been

with the firm for five years

and was previously an

associate at the firm of

DISTINGUISHED

G R A D U A T E S .

Catholic High

alumni honored

as Distinguished

Graduates during

Catholic Schools

Week were (l to

r) Father Trey

Nelson '80 (CHS),

Brian Patton '83

(St. George),

Tommy Stryjewski

'94 (St. Jude),

Bland O'Connor

'68 (St. Aloysius)

and Eric Hollier

'03 (Most Blessed

Sacrament).

Winston

DeCuir Jr. '91

BEAR FACTS II

Bear Facts II is published quarterly by

the Office of Public Relations.

Jan R. Breen, editor

Jennifer J. Rouse, assistant editor

Contributors:

Margie Alexander

Sara Brignac

Greg Brandao '73

David Butler '77

Barbara Camp

Katherine Ellis

Glen Randow

Joni L. Owens

We welcome the submission of material for

possible publication. Mailing address:

855 Hearthstone Drive

Baton Rouge, LA 70806

www.catholichigh.org
---
Fisher & Phillips, LLP in New Orleans. He

is also an adjunct professor of employment

and labor law at the Southern University

Law Center and served as chair of the Grants

Committee of the Katrina/Rita Lawyers Task

Force of the Louisiana Bar Association.

Jeffrey Fernandez '92 graduated from

Loyola University School of Law evening

division in December 2006.

Daryl Williams '92 competed in the

Ironman Florida with a time of 12 hours and

26 minutes, placing him

968 out of 2200.

Richard

Campbell '95

Richard Campbell

'95 serves as managing

director of Corporate

Realty Associates in

Birmingham, Ala. He is

responsible for all sales

and leasing activities.

Josh Rounds '96 was

promoted to director of

project services for Performance Contractors,

Inc.

Michael Alello '98 was

ordained as a transitional

deacon by Bishop Robert

Muench at St. Joseph

Cathedral on February 3.

Alello, a student at Notre

Dame Seminary in New

Orleans, will be ordained

on May 26, 2007.

Trent Bondy '98

Trent Bondy '98

has entered the management

program at LUBA

Workers' Comp in Baton

Rouge as an accountant

analyst. He also achieved

the designation of Certified

Workers' Compensation

Professional.

William Landry '98 is

the Corporate IT Manager for Finch Services,

Inc. in Westminster, Md. He married Stephanie

Dawes of Longview, Texas, in August 2006 and

they reside in Towson, Md.

John Cooper '99 was hired by the Hilton

New Orleans Riverside as the events manager,

responsible for all meetings and conventions.

Craig Schiro Jr. '99 has been assigned

the position of project engineer for Marathon

Petroleum's Garyville Major Expansion Project.

He is responsible for the electrical distribution

design and construction for the $3.2 billion

project.

Oscar "Jay" Boudreaux '00

'00s

Michael Alello '98

graduated from the University

of Houston cum laude in their

Conrad Hilton College for Hotel

and Restaurant Management in

IN THE NEWS

December 2006. He is employed with Hyatt

Regency in Atlanta, Ga., in the Catering

Department.

Chad Simmons '00 opened a Fossil Store in

New Jersey and will open several more stores in

the south, including Metairie, Lakeside Mall.

Timothy Boudreaux '01 graduated from

Louisiana State University in August 2006 with

a degree in Construction Management and a

minor in business. He owns and operates his

own company, Outdoor Concepts, LLC, which

specializes in irrigation,

landscaping, drainage and

lighting.

Chris Causey '01

graduated cum laude

from Louisiana State

University in December

Chris Causey '01

the U.S. Embassy in

Astana, Kazakhstan, as a

diplomatic intern for the

U.S. State Department

– Foreign Affairs.

2nd Lt. Jeremy

Duplechin '01 serves with

B Company, 1st Battalion,

12th Combined Arms

Battalion, as a fire support

officer.

Jonathan Bakke '02

2006 with a bachelor of

science in psychology.

He is now working at

Jonathan Bakke '02

graduated from Tulane

University in chemical

engineering. He was one

of two Valedictorians in

the School of Engineering's

class of 2006. Currently

he is studying chemical

engineering at Stanford

University.

2nd Lt. Jeremy

Duplechin '01

Philip Mayer '02

graduated magna cum

laude from Louisiana State

University in December

2006 with degrees in

electrical engineering and

computer engineering.

He is employed by System

Creations in Metairie.

Lane Garrett Garcia

ALUMS RETURN. (From

left) Ronald Gathe '92,

Kevin Franklin '93 and

Stephen Sterling '92

joined parents and friends

to congratulate six CHS

seniors who signed to

play collegiate football

at a gathering in the CHS

Union on February 7,

2007.

Philip Mayer '02

'03 graduated in December 2006 from the

University of Memphis where he attended on

an athletic scholarship. He received a B.B.A. in

finance and minor in risk management.

Travis "T-Bone" Wright '03, a senior at

the University of Tennessee, has been elected

captain of the Men's Swim Team.

Joseph Veron '04, a junior in electrical

engineering, has been elected co-captain of the

LSU Men's Swim Team.

Geoffrey Winkler '04 qualified for the

NCAA Division II swimming championship

in the 200m breaststroke at the Delta State

Send Us Your News

Please send us your latest news

Send to:

chsalum@catholichigh.org

3rd Annual Sports Shoot

Saturday, June 9, 2007

8 a.m. - noon

The Hunter's Run

$40 per participant

CHS alums and spouses, families

and friends of CHS invited.

12- and 20-gauge shells provided.

For more information, contact

Camp Matens '60 at (225) 769-9080
---
Invitational swim meet. His time

of 2:05:35 also set a Delta State

record. The NCAA championships

were held March 14-17 in Buffalo,

NY.

Benjamin Joel "BJ" Reine

'05 is attending Georgia Southern

University. He has achieved

Southern Conference academic

honor roll for the 05-06 school

year, maintaining a cumulative 3.3

GPA. He represents the soccer team

on the Student-Athlete Advisory

Board, Southern Conference All-

Academic Team, Phi Eta Sigma

National Honor Society and Delta

Epsilon Iota Honor Society. The

soccer team has had its best finish

in 10 years, where BJ started in 17

of 19 games. They were Southern

Conference Tournament runnersup

and regular season runners-up.

Kevin David '06, a freshman

at Oklahoma State, qualified for

the Dean's Honor Roll. He is a

member of the OSU baseball team

that set a record in the classroom

IN THE NEWS

for academic excellence. With the

finalization of the grades of the 39

players on the Cowboys' roster,

OSU's overall team grade point

average was 3.15, a school record

for baseball.

Pfc. John David Pitchford

Jr. '06 graduated from boot camp

at the USMC Recruit Training

Depot at Parris Island, SC, on

September 8, 2006. He is now

stationed at Camp Pendleton, San

Diego, Calif. He is continuing his

training in communications and

is scheduled

to ship out

in November

2007 on a

Navy vessel

and travel

to Japan,

A u s t r a l i a ,

Pfc. John David

Thailand and Pitchford Jr. '06

Iraq. He is

a member

of the 1st Marine Division, 5th

Regiment.

50-Year Reunion

Honoring the Class of 1957

June 2, 2007

Also honoring the Classes of

1947, 1942, 1937, 1932

For Information, contact the

CHS Alumni Office at

(225) 383-0459

FIGHTING IRISH.

Attending Notre

Dame are CHS

graduates (l

to r) Michael

Rolfsen '04 and

Michael Valluzzo

'04. Also

attending are

Trey Tumminello

'06 and Andrew

Walker '06.

Brother Eldon 5K Run/Walk/Jog

(Top left) BROTHER ELDON

5K RUN. Brother Eldon

Crifasi, SC '39 (center)

greets runners (l to r) Ben

Cherbonnier and Randy

Ellis '65, at the Brother

Eldon 5K Run/Walk/Jog

held February 24, 2007.

(Top right) RUNNERS.

Participating in the Brother

Eldon 5K Run were (l to r)

Sam Bass, Sissy Stephens,

Nathan Stephens, Ralph

Stephens '73, Joseph

Stephens and Andrew

Stephens.

Results of Race

Log on to

www.catholichigh.org/

alumni

and click on Alumni

Events.

FAMILY. Family members of Sidney Arbour '31 (left) attending

the race were (l to r) Tad Dechman, Vincent Arbour '72, Kit

Arbour and Jonathan Arbour (front). Sidney Arbour was the

oldest alum participating in the run.

STOP. Alumni assisting in the Brother Eldon 5K Run were

(l to r) Kyle Ferachi '94, Al Wintz '63, Blane Clark '77 and

Jimmy Prescott '97.
---
CHS Mothers' Club Celebrates with the 'Oscars' March 31

By Joyce Jackson

Lights...Camera...Action...will come

to fruition Bears style on Saturday, March

31, 2007, at 6 p.m., for the Annual CHS

Mothers' Club Auction.

Alumni, parents and friends attending

this year's Auction will enjoy an evening

themed "Bears in Hollywood." Experience

an atmosphere of celebration Hollywood

style with decorations replicating the vintagestyle

Oscars under the creative direction of

Liz Carlos and her committee.

A presentation of gourmet foods and

sweets will be provided by Leger's Catering

throughout the evening and will be worthy

of any Oscar after-party.

Two of the evening's highlights are the

Silent and Live Auctions. The Silent Auction

will begin at 6 p.m. with over 400 items in

all price ranges.

"Beautiful jewelry, collectible art,

professional services, trips and weekend

getaways have been donated to the CHS

Mothers' Club for this event," commented

Beverly Hymel, Auction chairperson. "This

should be an award-winning evening," added

Hymel.

Items that will be presented during

the Live Auction beginning at 8:30 p.m.

include:

Glider Swing (Donated by Mary Gayle

and Peter Rumfola '53)

Night at the Downtown Hilton,

Dinner for Six at the Little Village, brunch

and entertainment. (Donated by Individual

Vendors)

Two-of-a-kind silk-upholstered Accent

Chairs by renowned designer Mario Villa.

(Donated by Jim and Bridget Rush of Mid City

Upholstery in Metairie)

Bilateral Lasik Surgery (Donated by Eye

Care Surgery Center, Dr. Scott Nelson, M.D.)

Bouquet of Flowers (Donated by "The

Original" Heroman's Florist David Heroman

'89)

North Carolina vacation retreat in

Trillium Links & Lake Club (Donated by

Tom and Lisa Adamek)

Complete Orthodontic Package

(Donated by Stephen L. Sherman, D.D.S.,

M.S.)

Decorative Leaner Mirror (Donated by

Bassett Furniture Direct)

18k gold "Ruffle" and Tahitian Pearl

Earrings designed and made by Ashleigh

Branstetter. (Donated by Dr. and Mrs. Robert

M. Branstetter Jr.)

Dinner for 200 people and tent seating

(Donated by Wallace Powell '72, William and

Cynthia Steele and H & H Tent Specialties)

David Yurman Black Onyx Cuff Bracelet

(Donated by Lee Michaels)

Marsh Club Duck Hunting Trip

(Donated by Cajun Constructors, Inc., Lane

Grigsby and Milton Graugnard)

Handcrafted Sinker Cypress TV

Armoire (Donated by Bart Talbot of Southern

Plantation Shutters)

Saints Memorabilia, Football (Donated

by New Orleans Saints Organization)

Saints Tickets (Donated by Randal

Bergeron with Tesla Offshore, Inc.)

Elegant dinner for six at the Camelot

Club with CHS President Gene Tullier and

wife, Adriane, and CHS Principal Brother

Barry Landry, SC (Donated by Albemarle

Corporation)

Painting by Maria Boudreaux (Donated

by Maria Boudreaux)

Hall Table (Donated by The Rumfola

Family)

Cruise (Donated by Malcolm Travel)

Zoom Teeth Whitening (Donated by

Sinclair and Wampold)

One-Day, Two-Person Guided Tour

Fishing Trip (Donated by Gulf Coast

Outfitters)

42" Plasma TV (Donated by Frank

Brian '82 and Kevin Brian '86)

20" LCD TV, with six months of free

Cable TV (Donated by Frank Brian '82 and

Kevin Brian '86)

Free Cable (Donated by Cox

Communications)

Dinner for five couples prepared by

(Left) ARMOIRE. This handcrafted sinker

cypress TV armoire, donated by Bart Talbot

of Southern Plantation Shutters, is one of the

items being presented in the Live Auction.

(Top) FOOTBALL. The New Orleans Saints

Organization donated an autographed Saints

Football.

Father Trey Nelson '80, Brother Barry

Landry, SC, Brother Ray Hebert, SC and

Deacon Michael Alello '98.

Returning this year for a third appearance

will be the famed Champagne Raffle. A

limited number of tickets will be sold for $25

each. Ticket holders will be served a glass

of champagne during the evening, with one

of the glasses containing 14K White Gold

Diamond Drop Earrings, donated by Ken

Fellins Fine Jewelers.

Another highlight of the evening is the

drawing for the 2007 Toyota Camry from

Price LeBlanc. The drawing will be held

following the Live Auction. Raffle tickets will

be available for purchase during the evening

or in advance by calling Regina Callihan, car

raffle committee chair, at (225) 275-0730.

Other committee members are: Leslie

Falgoust, Monica Zumo, Carol Daniel, Diane

Bertrand, Kathy Barbay, Kathy Broha, Kelli

Espey, Ramona Talley, Laura Brock, Janet

Gremillion, Laura Simoneaux, Celia Gascon,

Aimee DeWit Butcher, Carol White, Amy

Schmidt, Cindy Zito, Joyce Jackson, Chris

Tam, Martha Constant, Cindy Dantin, Janet

McGinty, Joan Hinnenkamp, Stephanie

Anderson, Karen Darnall, Phyllis Barré and

Lenda Broussard. Arlene Audiffred moderates

the Mothers' Club, Margie Alexander serves

as financial advisor and Joanne Roberts is

Mothers' Club president.

Tickets to the Auction are $20 per

person and may be purchased by calling

Beverly Hymel at (225) 292-4316. Tickets

will also be available at the door.
---
Houston Alumni Chapter Gathers for Stag Barbecue February 10

By Glen Randow

The Houston Alumni

Chapter gathered for a Stag

Barbecue Saturday, February

10, 2007, at the SPJST Lodge

on Beall Street in Houston,

Texas. Thirty-three alumni

from the Houston area and 15

Baton Rouge alumni attended

the barbecue. Graduates in

attendance

e n j o y e d

hours of

reflecting

on their

m a n y

u n i q u e

experiences

at CHS.

"I sat,

ate and

talked with about 50 people

for the four hours that I was

there. It was great! There was

a strong sense of comfort and

family," commented Charles

D'Agostino '02.

Coordinating the gathering

were Nolan Keller '60 and

Philip D'Antoni '79. Supplier

and chef of the steaks, shrimp,

potatoes, salad and cobbler was

Greg "Duke" Dirksmeyer '72.

"If I could sum it up, it was

great to see men from all different

occupations and interests interact

with one another and to have so

much in common. No one there

was a stranger," commented

Stan Plauche '84.

Houston

a l u m s

It was like walking into a

family member's

or friend's home for a

holiday party or

Sunday lunch.

-Charles D'Agostino '02

assisting in

the phone

c o m m i t t e e

for the event

were Edward

C o r o n a

'48, Daniel

L o n g w e l l

'54, David

Malatesta '63, Michael

Whatley '71, Jay Harmon '78,

Philip D'Antoni '79, Alan

Svoboda '80, Stan Plauche

'84, Matt Jung '88, Marc

Tittlebaum '91, Daryl George

'92, Brian Comarda '95 and

Greg Determann '98.

"The attendance of so many

HOUSTON. Attending the Stag Barbecue in Houston were (l to r) John Rosso

'70; Brother Xavier Werneth, SC; Dale Willard '69; Kevin Southwick '71; and

Gene Tullier, CHS president.

Houston graduates at the recent

Houston Stag Barbecue showed

that the spirit of the Brothers

of the Sacred Heart is alive and

thriving in Houston, Texas,"

commented D'Antoni.

BARBECUE. Enjoying the Houston

Stag Barbecue were (l to r) Lane

Gauthier '71 and Brother Eldon

Crifasi '39, SC.

(Top left) HOUSTON. Houston

alums attending the Stag

Barbecue were (l to r) Richard

Balhoff '73 and Alan Svoboda

'80.

(Top right) BARBECUE.

Nolan Keller '60 (left), event

coordinator, assists Greg

"Duke" Dirksmeyer '72 (right),

provider of the evening's meal.

(Bottom left) ROAD TRIP. CHS alums traveling

from the Baton Rouge area to the Houston Stag

Barbecue were bottom row (l to r) Hal Dupuy '73,

Brother Xavier Werneth, SC and Monty Buckles

'93. Second row (l to r) Kevin Franklin '93,

Brother Eldon Crifasi, SC '39 and David Whatley

'74. Third row (l to r) Tom Losavio '74, Blane

Clark '77, Andre Clouâtre '81 and Denny Vicknair

'63. Back row (l to r) Lou Clouâtre '46; Jimmy

Prescott '97; Glen Randow, CHS alumni director;

Mitch Billings; and David Butler '77.

(Bottom right) SHIRTS. Displaying the "Geaux

Bears" T-shirts given to them by the CHS Alumni

Association were (l to r) Charles D'Agostino '02

and Alberto Tarajano '92.
---
Alumni Feature

Dr. Christopher Neck '82 Motivates Thousands by Example

By Jennifer J. Rouse

Discipline, good attitude,

public speaking and writing

are four skills Dr. Christopher

Neck '82 claims he learned

while at Catholic High School

and believes these skills are the

keys to his present success. Neck

has combined these attributes to

develop the self-confidence he

needed to inspire and motivate

others.

Neck was not a Man of the

Year nor a record-setting athlete

while a student at Catholic High.

He spent his high school years as

a self-proclaimed "loner" trying

to discover himself. It was only

after his graduation from CHS

that he realized he had been

developing the gifts and talents

in high school — talents that he

would later use to inspire

thousands of people to master

self-leadership, overcome

challenges and achieve their

goals.

"I can trace my success

back to my former teachers:

Brother Gordian, Lou Clouâtre

'46, Coach Randow and Mr.

Delacroix. They all sparked

things in me that made me

appreciate my gifts. Catholic

High prepared me to soar. I

learned how to fly at CHS but

did not get my wings until

graduation," commented Neck.

The skills Neck developed

during his years at CHS have

been the basis for his five books

and over 80 publications and

journal articles. Neck has been

published in journals such

as Journal of Organizational

Behavior, Academy of

Management Executive and

Human Relations. He has also

authored such books as Fit to

Lead: The Proven 8-week Solution

for Shaping Up Your Body, Your

Mind and Your Career; Wisdom

of Solomon at Work; and

Medicine for the Mind: Healing

Words to Help You Soar.

Medicine for the Mind is

used by many athletic coaches

as motivation for their players.

Each player on the Virginia

Tech basketball team owns

a copy of Neck's book. His

former classmate, University

of Louisiana at Monroe's Head

Baseball Coach Jeff Schexnaider

'82, refers to quotes in his book

to motivate his team before

ALL-STAR BOWL. Catholic High School was the recipient of a lap top

computer from the Army as part of the All-Star Football game. Catholic

High won the computer because the school had the largest student

attendance at the game. Participating in the All-Star Bowl were seniors

Thomas Broussard, Logan Roubique and Matthew Broha. Broussard

and Broha were named co-defensive players of the game. Lt. Col. Eric

B. Keys (right), of the U.S. Army Recruiting Battalion, presented the

computer to (from left) CHS President Gene Tullier, Thomas Broussard,

Logan Roubique, Matthew Broha and CHS Principal Brother Barry

Landry, SC.

LECTURE. Dr. Christopher Neck '82 (left) has taught Management Practices

to over 1,000 students each semester at Virginia Tech for the last 13 years.

games.

"A day doesn't go by when

I don't thumb through the pages

of his book to find something

that fits me or our ball club that

day. It hasn't failed me yet,"

commented Schexnaider.

Although Neck enjoys

writing, his first love is teaching.

He has taught

a management

practices course

to over 1,000

students at

Virginia Tech

each semester

for the past 13

years. His class

has the largest

enrollment at

Virginia Tech. Neck uses his

platform to inspire his students to

accomplish their goals regardless

of any obstacles or criticism. He

remembers being told he could

not finish his Ph.D. at such a

young age, that he could not

teach a class of 1,000 and that

he could not write a book at his

level of professorship. Dr. Neck

accomplished all of his goals. He

feels that he is now giving back to

Catholic High by helping others

to be their own person, set their

own goals and follow through

with their goals.

In addition to earning his

M.B.A. from Louisiana State

University and his Ph.D. in

Management from Arizona State

University, Neck has also excelled

physically. He began running

while in high school during his

lunch breaks and after school.

He was given special permission

by Brother John to run on the

track during lunch. After joining

the CHS cross country team,

Neck began

t r a i n i n g

for his first

m a r a t h o n

which he ran

his junior

year. Since

then, he has

c o m p l e t e d

over 12

marathons,

including the Boston Marathon,

New York City Marathon and

San Diego Marathon.

Chris admits he carries a

part of Catholic High with him

Catholic High prepared

me to soar. I learned

how to fly at CHS but

did not get my wings

until graduation.

every day. Before each exam

he quotes Brother Gordian by

telling his students, "Keep your

wits about you." He remembers

fondly how Brother Gordian

would always remind them that

they knew the material and they

were prepared.

Chris and his wife, Jennifer,

live in Blacksburg, Virginia with

their two children, eight-year-old

Bryton and four-year-old GiGe.

Dr. Neck's website is www.

chrisneck.com.
---
Father Trey Nelson '80 Named CHS Distinguished Graduate

By Barbara Camp

Father Trey Nelson '80

was honored as Catholic High's

2007 Distinguished Graduate at

a school-wide liturgy celebrating

Catholic Schools Week on

Friday, January 26.

Father Trey

graduated from

Catholic High

in 1980. He

obtained a

degree in

communications

from the

University of St. Thomas

in Houston, Texas, while in

residence at St. Mary's Seminary.

Nelson graduated from Notre

Dame Seminary Graduate School

of Theology in New Orleans with

a Master of Divinity. He was

ordained in 1988 and currently

serves as the pastor of St. Anne

and Assumption Parishes

and Immaculate Conception

Chapel in Napoleonville and

Plattenville.

"We selected Father Trey

as our distinguished graduate

because his service in the Church,

his outstanding ministry to so

many people, and his powerful

example of faith in God and

God's will for us make him the

kind of person we want to hold

up to our students as an example

to follow," commented Brother

Barry Landry, SC, principal of

Catholic High School.

Distinguished Graduates

from Catholic schools in the

Baton Rouge Diocese were

honored at the Catholic Schools

Distinguished Graduates Award

Dinner at the Marriott Hotel on

January 30, 2007.

The award recognizes

outstanding personal,

professional and community

achievements. Throughout

his life, Father Trey has

served as a witness to the

values that Catholic schools

profess. He has been an example

of how Catholic High School

educates people to take leadership

roles in the community and

Throughout his life,

Father Trey has served

as a witness to the

values that Catholic

schools profess.

beyond.

"The foundation of my

life consists of a few key blocks.

Family is, of course, at the top

of the list, because I have vivid

memories of the sacrifices that

my parents made for all seven

of us to attend

Catholic school.

Right up there

alongside my

family, though,

are the Brothers of

the Sacred Heart.

I have always been

inspired and motivated by their

life and ministry. I am enriched

by the bond that we share as

much now as I was then—if

DISTINGUISHED GRADUATE. Congratulating Father Trey Nelson '80 (center)

for being named Catholic High's Distinguished Graduate were (l to r) CHS

Principal Brother Barry Landry, SC and CHS President Mr. Gene Tullier.

not more so. Gospel Values.

Academic Excellence. Catholic

Tradition. All in the Spirit of the

Brothers," commented Father

Trey about the role of Catholic

education in his life.

In Memoriam

As of February 23, 2007, the following alumni and friends of CHS have died since the last issue of Bear

Facts II. Please remember them and their families in your prayers.

Charles Almon

Ann Bryant Wilbert Arbour

Paul G. Aubin Sr.

Camille A. Aucoin Jr. '45

Vincent Frank "Jocko" Bellipani Jr.

Virginia Crifasi Bongiovanni

Vivian Brown Bovard

Susan Sills Brandao

David Lee Braud '88

Larry P. Braud Sr.

Lee John Breaux

Lucille Morgan Martin Braud

Sister Louise (formerly Sister

Marie Emile) Broussard, C.S.J.

James Brousseau Jr.

Colette Elizabeth Brown

Theodore (Ted) Carroll '63

Stephen Wendel Cavanaugh

Patricia Ryan Cenac

Katherine Morris (Mrs. Sidney A.)

Champagne

Patricia Ann Chiniche

James Cresson

Ida Mae Ross Danna

Joseph Daquano

Urcela Decuir Darensbourg

Frances O'Brien Deavers

Henry Joseph "Hank" Didier

Vincent Samuel Dimattia

Rosa Mae Duplechin

Leighton Banks Ewell '39

Joseph A. Fisher

Frederick Wayne Frey '71

Clyde A. Fussell

Vivian Joseph "V.J." Gianelloni Jr.

Margaret Ann Idstein "Marge"

Gilmore

Laurence Monte "Maw-Maw"

Hanks

Jo-Ann Burrows Hardeman

Eddie Harelson '41

Sulcer Allen Harris Jr.

Barbara Cecile Bourgeois Hart

Nannie Lou McNeil Harvison

Georgia Pilcher Heine

Arnette F. "Sarge" Heintze Sr.

"Bill" William Michael Hightower

Zorretta "Zoe" Hippchen

Elaine Gordon Hoffman

Denis Curtin "Curt" Kelley

John Bart Keller

Margaret Anne Torrey Kleinpeter

Mary Elizabeth Kleinpeter, M.D.

Marguerite "Lucille" Gatz Landry

Rosemary Junot Kora

Frank V. LeBlanc '47

John Glynn LeBlanc '46

Keith T. LaBorde

Charmaine Marie Lacy

Paul A. Lauve

Darlene Siemann LaPlace

Clarence A. "Slim" Ledig '29

Lillian Mary McIntyre LeBlanc

Josie Romano Levatino

Mary Montagnino Marino

Robert Bruce Macmurdo

Charles W. "Chuck" McCoy

Gloria Termini McIntyre

Robert Cecil "Mac" "Pa Paw"

McReynolds

Rosalie Pecoraro Meredith

Bena S. Miceli

Andrew Joseph "Andy" Miciotto

Josephine Pizzillio Milazzo

Henry Lee "Hank" Mince

Sara Ann Schneider Mott

Robert Andrew "Bobby" Murtagh

'43

Anna Lucille Alesce "Lou"

Normand

Jules Charles Joseph Perilloux Sr.

Michael Jacob Pirello '72

Alvin John Pokorny

Edward G. Polozola '68

Laura Alice Becker Prejean

Maria Mercedes Ewell "DeeDie"

Pugh

Eugie Juanita (Poirier) Rachal

Ben F. Ragusa

John Joseph Ragusa '54

Dr. John S. Roussel Jr.

Reverend James Andrew Shortess

Andrew Ray "Andy" Simmons

P. V. Slocum Jr.

Loretta Andrus Spaht

Nedra Annette Norris Taylor

Shirley Ann Daspit Vicknair

Betty Devall Watts

Norman Joseph "Poppa" Wilton

Jr. '40

Daniel Arthur Wray Sr., M.D.

Mary Canella Zito
---
Over 1,000 Attend Mother-Son Breakfast February 4

The Catholic High School

Mothers' Club hosted the 21st

Annual Mother-Son Breakfast

on Sunday, February 4, 2007 at

the Holiday Inn Select Grand

Ballroom. Over 1,000 mothers

and sons enjoyed breakfast in

the ballroom that had been

transformed into "Bears in

Hollywood" a "Walk on the Red

Carpet," complete with giant

golden "Oscar Bears" and a large

black limousine.

Mothers and sons were

entertained by soloist Mark

Primeaux '07 along with the

CHS Advanced Men's Choir and

Schola Cantorum, the advanced

mixed choir. Each young man and

his mother had the opportunity

to commemorate the event with

a professional photo.

Guest speakers for the event

were Mayor Kip Holden and

Police Chief Jeff LeDuff.

"Our guest speakers were

fabulous. Mayor Holden quoted

scripture to give an inspiring

speech and Chief LeDuff was

so heartfelt as he complimented

our boys and challenged

them to be the future leaders

of our community. Le Duff

was accompanied by his wife,

Kassandra, and his mother, Mrs.

Norma LeDuff. This breakfast

was especially nostalgic for the

LeDuffs because their son, Kelly,

graduated from Catholic High

in 2001," commented Joanne

Roberts, CHS Mothers' Club

president.

Shelly Dick chaired the

event, with Patti Sollie and Sylvia

Gerace serving as her assistants.

(Bottom left) MOTHER AND SON.

C.J. Griffin '08 enjoys the Mother-

Son Breakfast with his mother,

Reneé Griffin.

(Bottom right) BREAKFAST. Over

1,000 mothers and sons attended

the breakfast including Event

Chairperson Shelly Dick (left) and

her son Barrett Dick '09.

Delario Eames Courage Award Presented to Sam Couvillion '76

SENIORS. Attending the 21st Annual Mother-Son Breakfast at the Holiday Inn

Select on February 4, 2007, were (l to r) Nicholas Fisher '07, Esclamonda

Fisher, Anadum Losso and Boriss Losso '07.

(Top left) PRESENTATION. At a schoolwide

assembly, February 16, 2007, Sam

Couvillion '76 (left) was honored as the

recipient of the Delario Eames Courage

Award. In attendance for the presentation

was Mrs. Mamie Eames (right), mother of

Delario Eames '73.

(Top right) CELEBRATION. Joining

Sam Couvillion '76 (center) after the

presentation of the Delario Eames Courage

Award were (l to r) Brother Donnan Berry,

SC and Couvillion's brother, Brother Bernie

Couvillion, SC '64.

CLASS OF 1976. Returning to the CHS campus to attend the presentation

of the Delario Eames Courage Award to their classmate, Sam Couvillion

'76, were (l to r) Joey Thibodeaux '76, Brent Hill '76, Dale Songy

'76, award recipient Sam Couvillion '76, Kenny Smith '76, Warren

Waggenspack '76 and former CHS teacher Lou Clouâtre '46.
---
Catholic High Wins Fourth Indoor Track State Title

By Jan R. Breen

Catholic High won the

Indoor Track State Title for the

fourth time and set a Division I

scoring record of 78 points.

Records continued to be

broken with Senior Jonathan

Keys' triple jump of 48' 4-1⁄4"

which set not only a school

indoor record but also was the

fourth best jump in the United

States this year.

Other school record holders

included Senior Jeremy Tinsley

in the 400 meter with a time of

51.11; freshman Julian Parker

'10 with a 2:01.83 time in the

800 meter run; and freshman

Philip Primeaux '10 with a time

of 10:01.62 in the 3200.

Although the Bears did not

win an individual event, CHS

qualified in every event and

scored points in all but one of 14

opportunities. Stephen Durel

'07 took third in the pole vault

and Jarrad Pitcher '07 captured

third in the 55 hurdles. The

3200 relay team took second and

the 1600 relay team also placed

second.

"It was an incredible team

effort," commented Head Track

Coach Pete Boudreaux '59.

We knew we were in the hunt

but never knew we were going to

dominate," added Boudreaux.

Catholic High has won the

Indoor Track State Title in 1991,

1997 and 2003.

Record holder Jonathan

Keys did not envision in his

freshman year that he would one

day hold a record in any event.

"I started my freshman year

not knowing what I could do

and I really wasn't very good,"

commented Keys. "With the

direction and help of Coach

Boudreaux, I discovered if

I worked hard I could be a

competitive athlete in the triple

jump. Once I saw I could

succeed, I worked even harder

in the summer and today I am

looking at running track in

college," added Keys.

Alumni Prayer Breakfast

INDOOR TRACK RECORDS. Jonathan Keys '07 (left) holds the school record

in the triple jump, and Julian Parker '10 (right) set a school record in the

800 meter. Keys also had the fourth best jump in the nation this year.

Wedding Bells

Claudia Jean Housen and Anthony Crifasi '88...Peggy Eileen

Bordelon and Bradley Thomas Lowe '91...Jaime Catherine Swindle

and Lance Champagne Griffon '92...Leah Blaize and David Balhoff

'96...Lauren Guidry and Matt Aicklen '97...Stephanie Dawes

and William Landry '98...Heather Ann Robinson and W. Kevin

LeBlanc '98...Erin Michelle Englert and Jeff Darrell Dunaway

'00...Samantha Bacon and Stephen Olivier '01.

Photos by Spencer Jurkiewicz '07

(Top left) ALUMS. Attending the

Alumni Prayer Breakfast on February

3, 2007, were Jimmy Prescott '97 and

Blane Clark '77.

(Top right) GATHERED. Reunited for

the Prayer Breakfast were (l to r) Dr.

Francis Cazayoux '48, Buck Langlois

'49 and Jules "Pie" Gaudin '48.

(Bottom left) CLASS OF 1947.

Members of the Class of 1947

gathered for the annual Alumni

Prayer Breakfast were front row

(l to r) Louis McHardy, Calvin

Golden and Bernard Fourrier.

Back row (l to r) Francis

Furrate and Bill Hanegan.

(Bottom right) BREAKFAST.

Attending the Alumni Prayer

Breakfast were (sitting) Russell

Hicks '45 (back row, l to r)

June Hicks, Martha Dietrich,

Russell Dietrich '45 and Gerald

Didier '45.

10
---
More Than 1,000 Grandparents Visit CHS Campus

By Dr. Greg Brandao '73

More than 1,000 of the

biggest fans of CHS students

visited school on Valentine's

Day.

These "fans," better

known as the grandparents of

Catholic High students, were

on campus for the celebration

of "Grandparents: God's Gift of

Love."

The grandparents were

treated to performances by the

CHS/SJA Chorus and Band and

readings from CHS students

Chad Gremillion '08, Gordon

Newman '08, Randy Roth '08

and Jeffrey Roussel '08. A prayer

service was led by seniors John

Gross, Trey Johnson and Ooby

Williams. Student Council

President John Steitz '07 served

as master of ceremonies and

grandparents were addressed by

By Glen Randow

The 18th Annual Catholic

High School Golf Tournament,

sponsored by Manda Fine Meats,

will be held Monday, April 23,

2007, at Pelican Point Lakes and

Links courses.

A jambalaya lunch will be

provided by Pete Hymel and

appetizers as well as dinner will

be provided by Carrabba's Italian

Grill on the course. Deadline for

entries is April 8, 2007. Entry

forms may be downloaded from

the CHS Alumni website or

by calling the Alumni office at

CHS Principal Brother Barry

Landry, SC and Director of

Alumni Relations Glen Randow.

Following the program,

many grandparents and their

grandsons toured the campus

and most enjoyed treats

provided by CHS moms. Vicki

Brooks and Ann Delo served as

Mothers' Club chairpersons for

the program and reception.

"We are honored to

provide the opportunity for

grandparents to visit our campus

and to spend special time with

their grandsons," said Joni

Owens, associate director of

development. "We hope that

Grandparents' Day provides

students and their grandparents

with wonderful memories for

years to come," added Owens.

18th Annual CHS Golf Classic

Set for April 23 at Pelican Point

(225) 383-0459.

The 2007 tournament

chairman is Edward Sutton '93

and committee members are

Steve Maher '94, sponsorship;

Craig Broome '93, food and

beverage; and Terry Orillion

'77, prizes.

"The CHS Golf Classic is a

great time for alumni and friends

to gather together and enjoy a

great afternoon of food and golf

as well as supporting the CHS

Alumni Association Endowment

Fund," commented Sutton.

GOLF COMMITTEE. Serving on the 18th Annual Alumni Golf Classic

Committee are (l to r) Terry Orillion '77, Stephen Maher '94, Edward Sutton

'93 and Scott Ritter '93.

11

(Top) GRANDPARENTS. Jimmy and Deany Gravois visit their grandsons

(from left) Justin Sinclair '09, Connor Sinclair '10 and Matt Sinclair '07.

(Bottom left) TOUR. Cody Menard '09 (center) shows his grandparents (l to

r), Charles and Lenelle Menard, around campus.

(Bottom right) RECEPTION. Enjoying the reception following the

Grandparents' Day program were Nellie Barra and her grandson Josh

Duncan '08.

Class Rings Received for Program

By Glen Randow

The Catholic High Class

Ring Program has begun to

receive donations of class rings

and class medals from alums and

families of alums.

The family of Fred LeBlanc

'16 donated a St. Vincent's

Academy alumni medal to

the CHS Alumni office. The

family members presenting

the medal were Fred LeBlanc

Jr. '43, Patrick LeBlanc '45,

Daniel LeBlanc '47 and Jane L.

McMahon.

The program's objectives

are to preserve the history of

each class, to exemplify the

long-standing tradition of the

school, and to perpetuate the

rich heritage of the Brothers of

the Sacred Heart.

Also donating rings were

C.G. Mouch '55, Andrew

Robichaux '77 and John

Bergeron '70. Anyone interested

in donating a class medal, class

token or ring may contact the

Alumni Office at (225) 383-

0459.

DONATION. C.G. Mouch '55 (center)

donated his CHS class ring to the

Ring Display Program. Accepting

the ring were (l to r) Director of

Alumni Relations Glen Randow and

CHS President Gene Tullier.

Photos by Brother Xavier Werneth, SC
---
Friends of Catholic High Gala Set for Saturday, March 24

A "Friends of Catholic High

Gala" is scheduled for Saturday,

March 24, 2007.

"This is an 'I love Catholic

High School, I love the fine men

it turns out, and I intend to be

part of the continued growth

and recognition of the school as

a national leader in education'

event developed for those in

a position to offer substantial

financial support to the school,"

according to event chaircouple

Nick and Carolyn Hebert,

parents of Todd '88, Jason '93,

Ryan '96 and Nicholas '03.

The gala will begin at

the home of Jim and Dana

Bernhard with cocktails and hors

d'oeuvres. From there, guests will

be transported by motorcoach

to The Irene W. Pennington

Rooftop Terrace and Sculpture

The Development Office

is working on annual appeals to

alumni and friends of Catholic

High School.

"We are hoping to develop

something new and unusual

that will capture the attention

of our alumni and friends. Our

most important message is,

'Please participate,'" said Dr.

Greg Brandao '73, director of

development. "Many times we

hear, 'I can't make a large gift

right now,' so the person does not

make any contribution. Large

numbers of alumni and friends

making any size gift, from $5 to

$5,000, can make a huge impact

Garden at the Shaw Center

for the Arts for a sunset dinner

provided by Juban's. The evening

will include performances by

entertainer Jamie Wax '87,

singer Ned Fasullo '89 and the

Annual Appeal Advances Mission

EVENING PERFORMANCE. (From left) Jamie Wax '87, Hugo Andricain '89

and Ned Fasullo '89 will perform at the Friends of Catholic High Gala.

for our boys. We welcome and

appreciate any gift."

Alumni and friends

can expect to receive appeal

information in late April or early

May.

The goal for annual alumni

giving is $125,000 and the goal

for friends is $100,000.

"The alumni and friends

annual appeal proceeds are line

items in the CHS Foundation

budget, so these gifts directly

impact the financial condition

of CHS and help to advance

the mission of our school," said

Brandao.

Fabulous Big Band Orchestra,

and vocalist Hugo Andricain

'89. The dinner blessing will

be sung by Father Greg Daigle

'77.

Minimum donation for

a couple to attend this event is

$2,500.

"We are not sending

invitations to current parents

or our graduates because we are

using other means to ask for their

financial support," according to

Director of Development Dr.

Greg Brandao '73. "Certainly

if anyone who does not receive

an invitation, including grads

or parents of current students,

wants to attend, we would love

to have them join us," added

Brandao.

For more information,

please contact Nick and

Carolyn at (225) 756-3521 or

nickpcarolyn@bellsouth.net or

Brandao at (225) 389-0978 or

gbrandao@catholichigh.org.

BEARS, BEARS AND MORE BEARS. Mr. Jason Darensbourg's first hour

Algebra I A class displays their school spirit.

Baby Bears

Avery Ann, daughter of Charlene and Wade A. Lilly '83...Addie

Elizabeth, daughter of Monique and Kyle Carmouche '88...Luke

Matthias, son of Amanda and John T. Balhoff II '89...Ainsley Helen,

daughter of Whitney and William Barfield Graves '89...Davis Paul,

son of Jody and Scott Emonet '90...Emerson LeeAnne, daughter of

Laura and Brian Ross Andrews '92...Maximo Wylder, son of Trish

and Ryan Gaudin '92...Michael Trent, son of Laura Read and Trent

Griggs '93...Averie Ellen, daughter of Aimeé and Adam W. Harris,

M.D. '94...Cohen Reid, son of Britney and Dale G. LeBlanc II

'95...Hudson Charles, son of Angela and Josh Rounds '96...Isabella

Keller, daughter of Aimee and John Geier Jr. '98.

HONOR BAND. (From left) Chris Demas '08, Aaron Caffarel '08 and

Nathan Bush '10 participated in the District IV Honor Band and were

joined by CHS Band Director (right) Mr. Duane LeBlanc.

12
---
Six Seniors Sign To Play Football at Collegiate Level

By Jan R. Breen

Catholic High Seniors

Matthew Broha, Thomas

Broussard, Henry Minor, Jason

Peters, Logan Roubique and

Jeremy Stewart have signed to

play collegiate football in 2007.

Matthew Broha has

committed to Louisiana Tech.

A defensive end for the Bears,

Broha was named to the All-

District and All-Metro teams

and was honorable mention All-

State. He was the co-defensive

player of the game in the All-Star

Bowl Game.

"I like the academic program

at Louisiana Tech," commented

Broha. "The football program is

great and they have outstanding

coaches starting with Head

Coach Dooley. I also believe I

will have an opportunity to play

early," added Broha. He will be

playing defensive end at Tech.

Broha is the son of Kathy

and Max Broha and plans to

major in business.

Thomas Broussard is

headed to Samford University

in Birmingham, Alabama.

Broussard played free safety at

CHS and was a punt returner.

He was All-District, All-Metro

By Sara Brignac

The archives collection

contains many memorabilia items

that were used to display school

spirit. There is a banner from

the 1946 basketball

championship game,

pennants dating back

to the 1950s, as well as

letterman jackets and

sweaters from almost

every era of Catholic

High history.

One of the very

first bumper stickers

was donated to the Catholic

High Archives by Charles

Domma '51. It was actually

an "auto window transfer" that

would be put in the rear window

SIGNING. Signing letters of intent to play collegiate football were (from left) Henry Minor, University of Central

Arkansas; Logan Roubique, University of Central Arkansas; Jason Peters, Georgia Tech; Jeremy Stewart, Stanford;

Matt Broha, Louisiana Tech; and Thomas Broussard, Samford.

and All-State and was codefensive

MVP with Broha in

the All-Star Bowl.

"I could picture myself in

the environment at Samford.

It is like home," commented

Broussard. "The academics are

great and you have one-on-one

with the teachers, very much

like CHS," added Broussard.

He believes he will have the

opportunity to play next year as

free safety and on special teams.

Broussard is the son of

Darlene and Thomas Broussard

and is undecided about his major

Archives Includes Stickers

of a car. This particular transfer

was never used because Domma's

father did not want to put it on

the family car just in case it would

"alienate any customers who

were Baton Rouge

High or Istrouma

High School fans,"

recollects Domma

on purchasing the

transfer for 25 cents

while in Brother

Michael's 1947

eighth-grade class.

If you would

like to view the Catholic High

Archives or donate, please

contact CHS Archivist Sara

Brignac (225) 389-0978 or

sbrignac@catholichigh.org.

next year.

Henry Minor has signed to

play at the University of Central

Arkansas in Conway, Arkansas.

Minor was a running back,

receiver and cornerback for the

Bears and received the Most

Improved Player award at the

CHS Sports Convocation.

"Central Arkansas has

one of the highest rates of

student-athletes to graduate,"

commented Minor. "They

have great academics and a great

coaching staff," added Minor.

He plans to play running back

and receiver for UCA.

Minor is the son of Jeannetta

Minor and Henry Minor and is

undecided about his major.

Jason Peters has committed

to Georgia Tech. Peters, the

Gatorade Circle of Champions

Player of the Year for Louisiana,

was All-District, All-Metro

MVP and All-State. He was also

named to the 5A All-Academic

Team.

"I believe in the program and

the people I will be working with

at Georgia Tech," commented

Peters. He will continue to play

defensive end at Georgia Tech.

Peters is the son of Monica

and Douglas Peters and will

major in biology.

Logan Roubique has signed

with the University of Central

Arkansas. Center for the Bears,

13

Roubique was All-District, All-

Metro and All-State. He was

honorable mention in the Class

5A All-Academic Team.

"UCA has a great premed

program," commented

Roubique. "In football, I can

be a part of a program that will

be successful every year," added

Roubique. He will play center

at UCA.

Roubique is the son of

Melanie and Rodney Roubique

and he plans to major in biology

or chemistry.

Jeremy Stewart has

committed to Stanford

University in Palo Alto,

California. Stewart was a running

back for the Bears and was All-

District, All-Metro MVP, All-

State honorable mention and

Class 5A All-Academic Team.

"Stanford has a great

combination of academics and

athletics," commented Stewart.

"I want to be a part of helping to

turn the program around," added

Stewart. He will be playing

running back for the Cardinals.

Stewart is the son of Gloria

and John Stewart. He plans to

major in engineering.

Since 1988, Catholic High

has had 93 graduates sign to play

collegiate football. There are

currently 12 graduates playing

collegiate football and three

graduates in the NFL.

Photo by Brother Xavier Werneth, SC
---
Summer at CHS Offers Academics, Arts and Athletics

By Jennifer J. Rouse

Algebra, band, basketball

and adventure. These are a few

of the exciting camps offered

in the 2007 Summer at CHS

camps.

Students will again have

the opportunity to get ahead

this summer with courses in

algebra, geometry and English

or to improve on study skills and

ACT preparation. In its third

year as part of Summer at CHS,

the Adventure Camp will once

again offer five days of fun while

exploring southern Louisiana's

best attractions. Additionally,

students will be able to expand

on their musical skills in one of

two band courses offered.

Once again, Summer at

CHS will provide a variety of

athletic courses. Basketball,

soccer and baseball will be offered

individually or as a combo

course. Weightlifting, football

and golf will also be available to

summer campers.

Memorial and Honorary Gifts

There are many special occasions during our lives when we choose to memorialize or honor in a special way those we hold dear. The following are

acknowledged for their gifts to Catholic High School from November 18, 2006, through February 16, 2007, in honor or memory of loved ones. Please

remember these alumni and friends, as well as their families, in your prayers.

Memorial Gifts

Mrs. Ann Arbour

Mrs. Nell Brousseau Bergeron

Dr. and Mrs. Charles I. Black

Mr. Charles W. Gauthier

Mrs. Margaret K. Hannaman

Mr. and Mrs. Francis C.

Jumonville Jr. '73

Mr. and Mrs. John A. LaBauve Jr. '47

Judge and Mrs. Daniel W. LeBlanc '47

Mr. and Mrs. P. J. Mills Jr. '51

Ms. Camille Morgan

Mr. and Mrs. Ralph J. Stephens '73

Mr. and Mrs. Michael G. Whatley '71

Mrs. Edith L. Assaf

Dr. and Mrs. David Assaf IV '89

Mr. John A. Bani '38

Associated Grocers, Inc.

Ms. Mary H. Burns

Mr. and Mrs. James P. Doré

Mrs. Carmen H. Fourrier

Mrs. Lorraine D. Fourrier

Judge and Mrs. Daniel W. LeBlanc '47

Ms. Cheryl A. Payne

Dr. and Mrs. Carlton H. Sheely II

Mr. John H. Barber Sr.

CVT Surgical Center

Mr. and Mrs. E. Mark Evans

Mr. and Mrs. Frederick W. Frey Jr.

Mr. and Mrs. Shawn Lackey

Summer sessions will begin

June 4 and will conclude July 20.

Activities are offered for students

as young as eight years old.

Course times and exact dates can

be found in the Summer at CHS

brochure or on the CHS website

at www.catholichigh.org. The

registration mail-in deadline is

Friday, May 4, 2007. However,

if space allows, registrations will

continue to be accepted after

May 4 until the course is full.

Camp brochures may be

picked up in the front office of

the school or viewed from the

Catholic High School website.

Contact Margie Alexander

at (225) 381-9114 or

malexander@catholichigh.org

for questions concerning registration,

and Mrs. Sherie N.

LeBlanc at (225) 383-0397 or

summerprogram@catholichigh.org

for questions regarding program

activities.

Mr. Vernon L. Parenton and

Mrs. Kathleen A. Andrus

Mr. and Mrs. William W. Pecue II '78

Mr. Wallace Bernard

Mr. and Mrs. Frederick J. Esnard '64

Mr. and Mrs. Michael J. Veazey Sr.

Mr. Fred Joseph Borne Sr. '34

Mr. Fred J. Borne Jr. '71

Mrs. Susan S. Brandao

Mr. and Mrs. Marvin E. Borgmeyer

Mr. and Mrs. Paul H. Demouy '66

Mr. and Mrs. James P. Doré

Mr. and Mrs. Murray A. Forman

Mr. and Mrs. Fielding H.

Johnson Jr. '77

Mr. F. Michael Johnson '06

Mr. and Mrs. W. Joe Kelly

Dr. and Mrs. Leonard M. Lopoo '86

Mr. and Mrs. Wayne T. Losavio '98

Mr. and Mrs. Brent J. Melancon '88

Mr. and Mrs. Joseph E. Melancon Jr.

Mr. and Mrs. Jules J. Noel IV '87

Mr. and Mrs. David M. Ourso '64

Mr. and Mrs. Ralph J. Stephens '73

Mr. and Mrs. Michael G. Whatley '71

Mr. Alfred J. Carville Sr. '30

Mr. and Mrs. Jules J. Noel IV '87

Mrs. Lorraine Cary

Mr. and Mrs. Don Houde

Mrs. Katherine A. Champagne

14

Activities taking place in the

Summer at CHS camps include

academic enrichment, athletic and

extracurricular opportunities.

Mr. and Mrs. Leo A. Cavell '44

Mr. Ronald S. Demouy '64

Mr. and Mrs. Paul H. Demouy '66

Mr. Steven W. Deumite '79

Dr. and Mrs. Michael A. Leggio '80

Mr. Michael J. Didier '72

Mr. Henry J. Didier

Mrs. Vera Didier

Mr. Stewart L. Dietrich '40

Mrs. Janet Dietrich

Mr. Mathew P. Falgoust

Mr. and Mrs. Errol E. Labat '75

Mr. Frederick W. Frey '71

Mrs. Helena B. Anderson

Mrs. Mary Barber

Mr. and Mrs. F. M. Beaird Jr.

Boehlke's Tri Star Storage, LLC

Dr. and Mrs. Charles W. Breaux

Mrs. Lillian C. Broussard

Mr. and Mrs. Orland M. Brown Jr.

Mr. Paul E. Burton

Mr. and Mrs. William F. Chavanell

Mr. and Mrs. Russell L. Fowler

Mr. and Mrs. Jack Giammerse Jr.

Mrs. Mary Ann Gorsich

Mr. and Mrs. Kendrick J. Guidry

Mr. and Mrs. Kelly Harrison

Mr. and Mrs. Warren B. Kirsch

Mrs. Ruth W. Knox

Mr. and Mrs. Anthony Lea

Mr. and Mrs. Sidney J. LeJeune Jr.

Mr. and Mrs. Tracey Leonard

Mrs. Sybil D. Metrailer

Mr. and Mrs. Charles W.

Montgomery

Mr. and Mrs. Richard L. Pastorek

Mr. and Mrs. Scott Raley

Mr. and Mrs. Gene Robinson

HiNooners Luncheon Club

Ms. Mary A. Savoie

Mr. and Mrs. M.L. St. Julien

Ms. Cecile W. Zietz

Mr. James N. Garrett

Mrs. Yvonne Smith

Brother Giles, SC

Dr. and Mrs. William H.

Lindsey Jr. '45

Mr. Michael D. Gomes '07

Mr. and Mrs. J. Pierre

Boudreaux Sr. '59

Charlene, Matt and Joe Guarisco

Mr. and Mrs. Steven M. Hitt

Mr. Joseph E. Harelson '41

Mr. and Mrs. J. Pierre

Boudreaux Sr. '59

Mr. and Mrs. Donald P.

Kershaw Sr. '50

Mr. Arnette F. Heintze

Mrs. Shirley L. Penfield

Mr. and Mrs. Michael H. Reitz '70
---
Mr. and Mrs. Gary Wilks

Brother Justinian, SC

Dr. and Mrs. William H.

Lindsey Jr. '45

Mr. D. Curtin Kelley Sr. '56

Ms. Christine E. Angelloz

Mr. Michael S. Barton

Lt. Col. and Mrs. Michael J.

Frenzel '60

Mr. and Mrs. Michael Gauthier

Mr. and Mrs. L. Joseph

Persac Jr. '43

Ms. Antoinette Post

Dr. and Mrs. Carlton H. Sheely II

Mr. and Mrs. Richard Thompson

Mr. Nelson Labat

Mr. and Mrs. Errol E. Labat '75

Mr. Colby S. LaPlace Sr. '36

Mr. James F. Cooper

Mr. and Mrs. James P. Doré

Mr. and Mrs. Tom F. Phillips

Mr. and Mrs. Paul S. West

Mr. Frank V. LeBlanc Jr. '47

Mrs. Nell Brousseau Bergeron

Mr. and Mrs. Sebastian M. Di Palma

Mr. and Mrs. Neal Frederick

Mr. Jerry M. Hammons

Mr. Florent Hardy Jr.

Mr. and Mrs. Holt B. Harrison

Judge and Mrs. Daniel W.

LeBlanc '47

Mr. and Mrs. Gerald J. Leglue

Mr. and Mrs. Louis W.

McHardy Sr. '47

Mr. and Mrs. P. J. Mills Jr. '51

Morrilton Rotary Club

Mr. and Mrs. Howard L. Reitz

Mr. Clarence A. Ledig '29

Mr. and Mrs. Francis C.

Jumonville Jr. '73

Mr. and Mrs. Ralph J. Stephens '73

Mr. Stanley P. Lemoine

Judge and Mrs. Daniel W.

LeBlanc '47

Mr. Sean J. McKnight '95

Ms. Patricia M. Hutchins

Mrs. Catherine Messina

Mr. and Mrs. M. Dwayne Johnson

Mr. John A. Messina

Mr. and Mrs. M. Dwayne Johnson

Mr. Earl V. Patterson Jr.

Hannis T. Bourgeois, LLP

Mr. Charles J. Perilloux

Mr. Louis C. Cambre

Dr. and Mrs. Michael Fakouri

Ms. Val Hubbard

Ms. Bernadine Poche

Mr. and Mrs. Errol E. Labat '75

Mr. Edward G. Polozola '68

Mrs. Grace O. Castro

Honorable and Mrs. John L.

Dardenne Jr.

Mr. and Mrs. Ralph E. Domas '68

Mr. and Mrs. Francis C.

Jumonville Jr. '73

Dr. and Mrs. James A. Laville Sr.

Mr. and Mrs. P. J. Mills Jr. '51

Moore Walters Thompson Hoover

Thomas Papillion & Cullens

Mr. and Mrs. William W. Root

Ms. Linda Switzer

W.D. Schock Company, Inc

Memorial and Honorary Gifts

Mr. Salvatore P. Provenza Sr.

Mr. and Mrs. Guy A. Modica Sr.

Mr. John J. Ragusa Sr. '54

Mr. and Mrs. Philip L. Fritz

Michael, Jay and Evan Fritz

Mr. Charles R. Roth

Mrs. Horace P. Crochet

Mr. and Mrs. Gerald G. Menard

Mr. Andrew R. Simmons

Ms. Linda Levet

Mr. and Mrs. James D.

Simmons Sr.

Mrs. Stella Skapura

Mr. and Mrs. Dale Aucoin

Mr. and Mrs. Stan N. Labat

Brother Oliver Solvas, SC

Dr. and Mrs. William H.

Lindsey Jr. '45

Mr. B. Barrow Switzer '92

Mrs. Dorothy Switzer

Ms. Linda Switzer

Mr. Terry L. Switzer

Mr. Ted S. Tomeny

Mr. Sidney V. Arbour Jr. '31

Mr. and Mrs. F. Thomas

D'Aquin Jr. '48

Mr. and Mrs. James W. Jolly Jr. '75

Mr. and Mrs. J. Gerard Jolly '70

Mrs. Margaret C. Jolly

Mr. and Mrs. James Kelly

Mrs. Mary Clare LaCour

Judge and Mrs. Daniel W.

LeBlanc '47

Mr. and Mrs. Felipe Martinez

Mr. and Mrs. Louis W.

McHardy Sr. '47

Mr. and Mrs. P. J. Mills Jr. '51

Mr. and Mrs. L. Joseph Persac Jr. '43

15

Brother Luke Tressel, SC

Dr. and Mrs. William H.

Lindsey Jr. '45

Mr. Don Verret

Mr. and Mrs. Paul Grisaffe Jr.

Mr. Norman J. Wilton Jr. '40

Mr. Anthony A. Agosta

Mrs. Susan Bordelon

Mr. and Mrs. T. Alexander

Bourgeois '42

Mr. and Mrs. Leonce C. Bourque '43

Mr. and Mrs. Albert R. Chapple

Mr. and Mrs. Chris Chapple

Ms. Evelyn Dixon

Ms. Marlee Magee

Mr. and Mrs. Jeffrey M. Mohr '78

Ms. Shirley Montz

Dr. Daniel A. Wray

Ms. Sara K. Bartkiewicz

Mr. and Mrs. Tom Bartkiewiez

Mr. and Mrs. Charles E. Baxley

Mr. and Mrs. George B. Benton

Mr. and Mrs. Marvin E.

Borgmeyer

Mr. and Mrs. André F. Boudreaux '96

Mr. and Mrs. Daniel J.

Broussard '70

Mr. and Mrs. Hebert H. Butt

Mr. and Mrs. Frederick C.

Capdevielle

Carolyn E. Warner Trust

Mr. Michael A. Cascio Jr.

Mrs. Michelle B. Chauvin

Ms. Helen Clatterbuck

Ms. Jacquelyn A. Creaghan

Gordon R. Crawford & Associates

Mr. and Mrs. Leroy Harvey

Mr. and Mrs. Donald P.

Kershaw Sr. '50

Second Century of Excellence

By Dr. Greg Brandao '73

Parents of current 8th

and 9th-graders will be invited

this spring to participate in the

Second Century of Excellence

Capital Campaign.

Through the generosity

of many CHS benefactors,

more than $8 million has been

generated toward acquisition of

property and construction of two

new buildings on campus. The

Health and Physical Education

Center (2002) and the Brother

Gordian Udinsky, SC Science

Center (2005) have provided

"state-of-the-art" facilities for

CHS students.

"Because current students

directly benefit from these new

buildings, we are asking their

parents to help us to complete

our payments by contributing

to the capital campaign," said

Brother Barry Landry, SC,

principal.

Brother Barry will visit each

of the freshmen and 8th graders

in their Religion classes on

Wednesday, March 28 to provide

them with information about

the capital campaign. At the

same time, parents will receive

campaign materials by mail,

including a DVD entitled "The

Catholic High Story" produced

by Pat Shingleton, father of

Michael '03.

"I am so grateful to the

Brothers of the Sacred Heart and

the faculty and staff of Catholic

High for the wonderful education

Michael received. I encourage

all parents to participate in this

campaign and help CHS," said

Shingleton.

Mr. and Mrs. F. Michael

Kleinpeter Sr. '46

Dr. and Mrs. Lawrence M.

Kleinpeter '53

Mr. and Mrs. Vincent A.

Kleinpeter Jr. '67

Mr. and Mrs. Gerald J. Leglue

Mrs. Elizabeth Nanncy

Mr. and Mrs. Ernest D. Ott

Mr. and Mrs. Glynn Bourque

Mr. and Mrs. Murphy H. Roberts

Mr. and Mrs. Robert J. Smith

and the Henderson boys

Ms. Gay Young

Honorary Gifts

Mr. and Mrs. F. M. Beaird Jr.

Mr. and Mrs. Gene Robinson

Brother Eldon Crifasi, SC '39

Dr. and Mrs. Oscar A. Cruz '79

Mr. John A. Ebner '87

Dr. and Mrs. Rivers P. Wall

Mr. Sidney B. Flynn

Mr. Paul Baudoin

Brother Aquin Gauthier, SC '55

Ms. Kate E. Brady

Mr. and Mrs. John C. Monroe

Mr. and Mrs. Paul M. Hebert Jr. '64

Mrs. Barbara H. Magruder

Mr. and Mrs. Charles S.

McCowan Jr.

Mr. Michael S. Kelly '11

Mr. and Mrs. Larry S. Kelly

Brother Ivy J. LeBlanc, SC '63

Mr. and Mrs. Randolph J.

Bonnecaze '65

Mr. David M. Suarez '72

Ms. Kimberly S. Brousseau

Mr. and Mrs. Charest D. Thibaut III '67

Mr. and Mrs. Wayne T.

Losavio '98

CHS Alumni

Fishing Rodeo

June 22-23, 2007

Port Fourchon Motel

and Marina

Fourchon, Louisiana

Prizes will be awarded

including a team

"cash calcutta."

The Rodeo Committee has

reserved three large offshore

charter boats for those who

would like to participate,

but do not have a boat

of their own.

To register:

please see the CHS website,

contact the CHS Alumni

Office, or email the

Rodeo Committee at

fishingrodeo@catholichigh.org.
---
Photo from the 1982 Bruin

Catholic High School

P.O. Box 65004

Baton Rouge, LA 70896-5004

www.catholichigh.org

Address Service Requested

Nonprofit

Organization

U.S. Postage

PAID

Baton Rouge, LA

Permit #481

YOUTH BUILD. Matthew Bizot '07 participates

in the Habitat for Humanity Youth Build. Every

weekend in March, Catholic High students will

help build a house.

By David Butler

'77

The Ouachita

gym was rocking as

Catholic High faced

Richwood in the

1981-82 AAA State

Basketball Semi

finals. The game

was only part of the

team's adventure as

the bus trip home from Monroe proved to be

memorable in its own way.

The game, characterized by constant

lead changes and surges of momentum,

found Catholic High upsetting highly

favored Richwood 77-73. CHS hit 28 of 34

free throws in the contest and 10 of 13 free

throws in the last five minutes with Robert

Nobles '82 hitting 4 of 5 in the final 33

seconds.

It was a jubilant team

that entered the locker

room after the contest.

"We were all

celebrating and then

Coach Randow comes

running in jumping up

and down. He jumped

into my arms and nearly

killed me," recalls Maurice Coleman '82.

The post-game celebration continued

as the team showered and then went back

into the gym and began jumping to see who

could place a bear sticker the highest on a

backboard.

"Our Greyhound charter was rocking

as it left Monroe and by the time the bus

reached Winnsboro, about 30 miles down

Parents: If your son no longer lives at home, kindly send us his new address. If you also wish to receive

Bear Facts II at no cost, please phone (225) 389-0978 and let us know. Many thanks.

Sports In The Past

the road, the enthusiasm had not diminished.

Suddenly, a Winnsboro policeman pulled the

bus over for speeding and the driver was issued

a citation. When the bus started to leave the

engine sputtered, died and the driver could

not get it started again. All the other busses

were on the highway ahead of us," recalled

Coach Randow of the trip home.

The policeman, noticing that the bus

was not moving, came back to investigate

the predicament. Radioing the station to call

Greyhound, it was learned that a bus would

not be available until five or six o'clock the

next morning. The policeman, also wearing

the hat of school bus driver, went to get his

school bus and then transported the team to

the police station.

The team ended up sleeping wherever

space could be found, whether in a small

courtroom, the lobby or a few jail cells. Andy

Adler '82 recalls he and

another person slept on

top of the judge's bench.

"I was so tired and

so worn out from the

game and excitement

that I slept on one of

the wooden pews in the

courtroom," commented

Paul Judice '83.

"I was so pumped up, I couldn't sleep.

I hung around the lobby and am not

sure if I slept at all that night," stated Jeff

Schexnaider '82.

Like Shexnaider, manager Stan Plauche

'84 could not sleep and recalls staying up

with Coach Randow and Coach Jay Gardiner

reliving the game.The next morning another

Greyhound bus appeared and the team

The team ended up

sleeping wherever they

could...courtroom, the

lobby or a few jail cells.

JUMP SHOT. Jeff Schexnaider '82 was a member

of the basketball team that upset Richwood in the

1981-82 AAA State Basketball Semifinals.

arrived home about 7:30 a.m.

Team members still have fond memories

of the game and the eventful trip home.

"This game has special significance for

me. I pass the police station numerous times

each year and each time I pass it, I have fond

memories of the game and the team. For a

while I coached at Ouachita High School

and Hershel West was the basketball coach.

Coach West coached Richwood in that game

and he and I relived that game many times.

This year my son, Ray, played a junior high

game at the old Ouachita gym. As soon as I

entered the gym, the memories of the game,

the team and the bus ride home came back to

me. I'll never forget that experience," added

Schexnaider, now the head baseball coach at

University of Louisiana at Monroe.