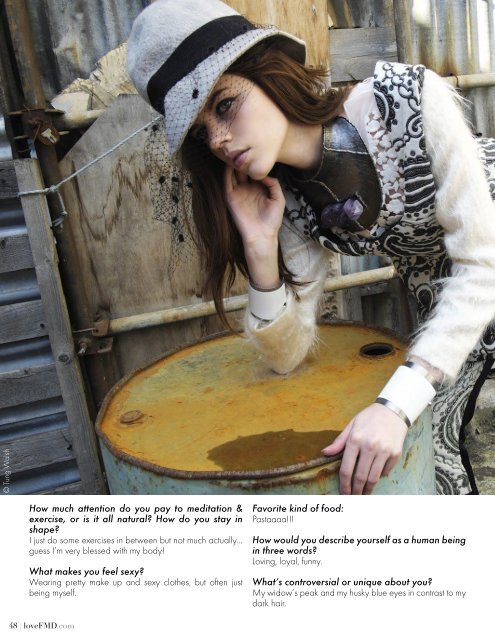 #LOVEFMD
Our loveFMD Magazine aims at providing the full elegancy of the world of fashion in a new form and furthermore, we are reinventing the publishing of magazines with an innovative and unique marketing concept that unifies an interactive print and digital publication. Stay tuned and watch out for something new at your newspaper stand!
© Tung Walsh

How much attention do you pay to meditation &

exercise, or is it all natural? How do you stay in

shape?

I just do some exercises in between but not much actually...

guess I'm very blessed with my body!

What makes you feel sexy?

Wearing pretty make up and sexy clothes, but often just

being myself.

Favorite kind of food:

Pastaaaa!!!

How would you describe yourself as a human being

in three words?

Loving, loyal, funny.

What's controversial or unique about you?

My widow's peak and my husky blue eyes in contrast to my

dark hair.

48 | loveFMD.com
More magazines by this user