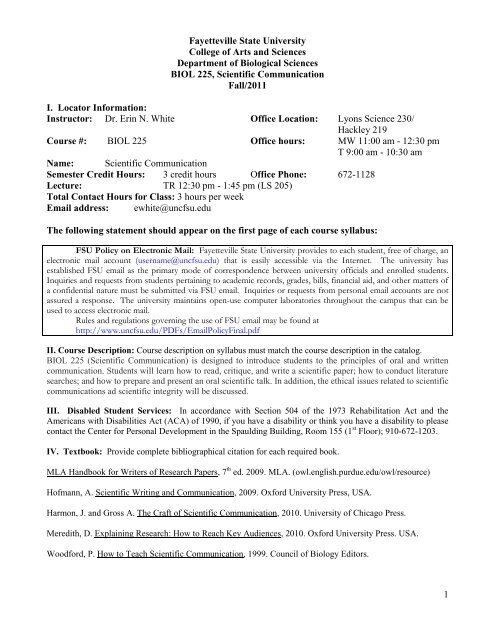 BIOL 225 - Fayetteville State University
BIOL 225 - Fayetteville State University
BIOL 225 - Fayetteville State University
SHOW MORE
SHOW LESS
You also want an ePaper? Increase the reach of your titles
YUMPU automatically turns print PDFs into web optimized ePapers that Google loves.
Fayetteville State University

College of Arts and Sciences

Department of Biological Sciences

BIOL 225, Scientific Communication

Fall/2011

I. Locator Information:

Instructor: Dr. Erin N. White Office Location: Lyons Science 230/

Hackley 219

Course #: BIOL 225 Office hours: MW 11:00 am - 12:30 pm

T 9:00 am - 10:30 am

Name: Scientific Communication

Semester Credit Hours: 3 credit hours Office Phone: 672-1128

Lecture: TR 12:30 pm - 1:45 pm (LS 205)

Total Contact Hours for Class: 3 hours per week

Email address: ewhite@uncfsu.edu

The following statement should appear on the first page of each course syllabus:

FSU Policy on Electronic Mail: Fayetteville State University provides to each student, free of charge, an

electronic mail account (username@uncfsu.edu) that is easily accessible via the Internet. The university has

established FSU email as the primary mode of correspondence between university officials and enrolled students.

Inquiries and requests from students pertaining to academic records, grades, bills, financial aid, and other matters of

a confidential nature must be submitted via FSU email. Inquiries or requests from personal email accounts are not

assured a response. The university maintains open-use computer laboratories throughout the campus that can be

used to access electronic mail.

Rules and regulations governing the use of FSU email may be found at

http://www.uncfsu.edu/PDFs/EmailPolicyFinal.pdf

II. Course Description: Course description on syllabus must match the course description in the catalog.

BIOL 225 (Scientific Communication) is designed to introduce students to the principles of oral and written

communication. Students will learn how to read, critique, and write a scientific paper; how to conduct literature

searches; and how to prepare and present an oral scientific talk. In addition, the ethical issues related to scientific

communications ad scientific integrity will be discussed.

III. Disabled Student Services: In accordance with Section 504 of the 1973 Rehabilitation Act and the

Americans with Disabilities Act (ACA) of 1990, if you have a disability or think you have a disability to please

contact the Center for Personal Development in the Spaulding Building, Room 155 (1 st Floor); 910-672-1203.

IV. Textbook: Provide complete bibliographical citation for each required book.

MLA Handbook for Writers of Research Papers, 7 th ed. 2009. MLA. (owl.english.purdue.edu/owl/resource)

Hofmann, A. Scientific Writing and Communication, 2009. Oxford University Press, USA.

Harmon, J. and Gross A. The Craft of Scientific Communication, 2010. University of Chicago Press.

Meredith, D. Explaining Research: How to Reach Key Audiences, 2010. Oxford University Press. USA.

Woodford, P. How to Teach Scientific Communication, 1999. Council of Biology Editors.

1
---
Because of the rapid advances in the biological sciences, another primary source for students will be research

literature. Arrangements will be made with Chestnutt Library staff to conduct a training session to familiarize

students with the various methods for conducting literature searches, the organizations of the library, and the

location of journals and reference material relevant to the biological sciences. A list of other textbooks and

reference materials is included in the Bibliography section of this syllabus.

V. Student Learning Outcomes

Upon completion of this course, students will be able to:

1. Describe the basic principles of scientific communications.

2. Identify the components of a scientific paper.

3. Read and analyze a scientific paper.

4. Identify types of editing and scientific styles currently in use.

5. Use the scientific literature and Internet resources to write a literature review, powerpoint presentation,

poster, etc.

6. Evaluate a scientific paper in terms of quality, style, etc.

7. List and explain the elements of a good oral presentation.

8. Prepare an abstract.

9. Design and present an oral/poster presentation.

10. Prepare a research report using the research literature.

11. Discuss ethical issues related to scientific communication.

12. Apply different disciplinary approaches to a topic or theme.

13. Apply skills and knowledge from one course to master material in another course.

14. Demonstrate the tools required to work collaboratively with other students.

15. Use a variety of well established reading strategies demonstrate how to make connections, show

relationships, and use evidence as a support tool in the sciences.

STUDENT COMPETENCIES:

Upon completion of this course, students should be able to demonstrate the following Department of

Public Instruction (DPI) and National Science Teachers Association (NSTA) competencies:

1. Relate the concepts and principles of science to contemporary, historical, environmental, technological, and

societal issues (DPI, 4.0; NSTA, 5.4).

2. Locate resources; design and conduct inquiry-based, open-ended investigations in the sciences; interpret

findings, communicate results and make judgments based on evidence (DPI,5.0; NSTA, 5.5)

VI. Course Requirements and Evaluation Criteria -

a. Grading Scale –

Final Grades are calculated on a four-point system and affect a student's grade point average as

indicated below. Faculty members will delineate in each class syllabus the methods and evaluative

criteria for determining final grades in the class.

(http://catalog.uncfsu.edu/ug/academicregulations/grades.htm)

b. Attendance Requirements –

Students are required to read the University attendance policy very carefully. It will be

enforced in all classes as follows.

Students are expected to attend all class meetings, laboratories, and other instructional sessions for all courses in

which they are enrolled. Students are also expected to arrive to class on time and remain in class for the entire

scheduled period. When students must miss class(es) for unavoidable reasons, i.e., illness, family emergencies,

or participation in official university sponsored activities – they are responsible for informing faculty of the

reasons for the absences, in advance if possible, and completing all missed assignments. Faculty members

will indicate in their syllabi the conditions for making up missed assignments.

2
---
During the first half of the semester/term, faculty will assign an interim grade of "EA," Excessive Absences, for

students whose class absences exceed 10% of the total contact hours for the class. Students who receive EA

interim grades must either withdraw from the class or resume attendance. Students who resume attendance must

consult with the instructor about completion of missed assignments. The EA is not a final grade, so students

who are assigned an interim grade of EA, but do not withdraw from the class, will receive a final grade based on

the evaluation criteria for the class.

http://catalog.uncfsu.edu/ug/academicregulations/classattendance.htm

Please note that the WN grade is no longer in effect. Students must not expect faculty to withdraw them

from classes.

BIOL 225 Attendance Requirements: Attendance and punctuality are MANADATORY. Students are

expected to arrive on time and remain until dismissed by the instructor. Students are responsible for notifying

the instructor in advance of reasons for late arrivals and early departures. Students who attend all classes, are

punctual, and sit near the front of the room where they can hear and see better tend to attain higher achievement

than their peers. In this regard the more you can become actively involved in the class (study with classmates,

participate in class discussions, and ask questions) the better you should do in the course.

Class Attendance:

Although attendance and punctuality are not normally used in the calculation of the grade (see

course requirements), there appears to be as direct correlation between these variables and

final grades. Students who attend all classes, are punctual, and sit near the front of the room

where they can hear and see better, tend to attain higher achievement than their peers. In this

regard the more you can become actively involved in the class (study with classmates,

participates in class discussions, and ask questions), the better you should do in the course.

c. Graded Assignments --

Since this is a writing course, all assignments and exams will be graded on spelling, grammar,

composition, format, and appearance, as well as content. All writing assignments must be typed.

Two (2) exams, worth 50 points each, will be given during the semester. Exams will include both

objective and discussion type questions. Students are expected to take all exams on the scheduled dates.

A make-up exam will be considered only if an excused absence has been approved in advance of the

exam date.

A written literature review paper and associated oral presentation will be required on a scientific topic of

the student's choice. The literature review paper must consist of a minimum of 15 double-spaced typed

pages and must included at least 10 references including 5 research journal articles, 2 web resources and

3 other sources. Oral presentation and outline and draft of the paper will be due prior to the final

submission. A detail rubric will be provided later in the semester.

Homework assignments will be made based on the lectures and reading assignments. Students will also

be required to read and interpret research articles and discuss these in class. Class participation will be

monitored and evaluated based on class discussions. Questions from research paper discussions may be

included on the exams. Students will be required to maintain a portfolio containing all writing

assignments, drafts, and other works completed in the course. The objective of the portfolio is to

demonstrate improvement, therefore students may be required to correct and resubmit assignments or

other work. Every assignment and revision must be maintained in your portfolio (1" 3 ring binder

notebook). The portfolio will be collected at midterm and the end of the semester.

3
---
GRADING CRITERIA POINTS PERCENTAGE OF FINAL

GRADE

Exams (2 @ 25pts ea) 50 25%

Homework/Assignments/Discussions 100 15%

Journal Articles (4 @ 50 pts ea) 200 25%

Presentations (4 @ 25 pts ea) 100 20%

Daybook E-folio 50 15%

*TOTAL *500

100%

(number of

total pts

may vary)

*The instructor reserves the right to modify the grading criteria as deemed necessary.

Students will be notified of any such changes.

GRADE EQUIVALENCIES:

90-100% = A

80-89% = B

70-79% = C

60-69% = D

59% and below = F

d. Policy on Missed or Late Assignments -

Students are required to take all EXAMS ON THE DATE THEY ARE SCHEDULED. Make-up

exams/presentations WILL NOT be given unless the student has made special arrangements with the

instructor prior to the exam/presentation date and presents a written excuse before the third class

period following the initial date of a test. Only in very unusual cases will any exceptions to these rules

be made.

Work handed in or reported LATE WILL NOT be accepted, unless accompanied by a valid written

excuse. If you miss an assignment due to an unexcused absence, it WILL NOT be accepted. If a

student is absent, then they can make up the assignment if a proper excuse is provided. (This applies to

Lecture only!)

If you must be absent unavoidably, ask a friend to get your assignment, take notes for you, and pick up

any handouts. You are also responsible for demonstrating an understanding of content covered in class

on the day of the absence. Students are required to attend all classes regularly and to keep appointments

when they are scheduled. An absence, excused or unexcused, does not relieve the student of any

course requirement.

Other: Student Behavior Expectations - The instructor will respect all students and will make every effort to

maintain a classroom climate that promotes learning for all students. Students must accept their responsibility

for maintaining a positive classroom environment by abiding by the following rules:

1. Students are expected to arrive to class on time, remain in class until dismissed by the

instructor, and refrain from preparing to leave class until it is dismissed.

2. Students are not permitted to sleep in class.

3. Student relationships among peers must be respectful at all times.

4. Students are not permitted to wear headphones or other paraphernalia that may be distracting to

the classroom environment. Students are not permitted to tape or record the class lectures or lab

reviews.

4
---
.

5. Students must refrain from any activity that will disrupt the class; this includes turning off cell

phones and pagers. Cell phones and pagers are not allowed to be operational during

lecture.

6. Students are not permitted to use profanity in the classroom.

7. Students should not pass notes or carry on private conversations while class is being conducted.

8. Students are not to wear hats, caps, do-rags, or scarves. This applies to males and females.

FSU Policy on Disruptive Behavior in the Classroom (Optional)

The Code of the University of North Carolina (of which FSU is a constituent institution) and the FSU Code of

Student Conduct affirm that all students have the right to receive instruction without interference from other

students who disrupt classes.

FSU Core Curriculum Learning Outcome under Ethics and Civic Engagement (6.03): All students will "prepare

themselves for responsible citizenship by fulfilling roles and responsibilities associated with membership in

various organizations." Each classroom is a mini-community. Students learn and demonstrate responsible

citizenship by abiding by the rules of classroom behavior and respecting the rights all members of the class.

The FSU Policy on Disruptive Behavior (see FSU website for complete policy) identifies the following

behaviors as disruptive:

1. Failure to respect the rights of other students to express their viewpoints by behaviors such as repeatedly

interrupting others while they speak, using profanity and/or disrespectful names or labels for others,

ridiculing others for their viewpoints, and other similar behaviors;

2. Excessive talking to other students while the faculty member or other students are presenting information or

expressing their viewpoints.

3. Use of cell phones and other electronic devices

4. Overt inattentiveness (sleeping, reading newspapers)

5. Eating in class (except as permitted by the faculty member)

6. Threats or statements that jeopardize the safety of the student and others

7. Failure to follow reasonable requests of faculty members

8. Entering class late or leaving class early on regular basis

9. Others as specified by the instructor.

The instructor may take the following actions in response to disruptive behavior. Students should recognize that

refusing to comply with reasonable requests from the faculty member is another incidence of disruptive

behavior.

1. Direct student to cease disruptive behavior.

2. Direct student to change seating locations.

3. Require student to have individual conference with faculty member. At his meeting the faculty member will

explain the consequences of continued disruptive behavior.

4. Dismiss class for the remainder of the period. (Must be reported to department chair.)

5. Lower the student's final exam by a maximum of one-letter grade.

6. File a complaint with the Dean of Students for more severe disciplinary action.

Students who believe the faculty member has unfairly applied the policy to them may make an appeal with the

faculty member's department chair.

VII. Academic Support Resources –

Biol 225 Selected Course Material on Blackboard 6.0 at http://blackboard.uncfsu.edu/

Internet sites:

1. http://www.uncfsu.edu/writingcenter/index.htm (FSU – The Writing Center)

2. http://writing.eng.vt.edu/ (Virginia Tech)

3. http://owl.english.purdue.edu/ (Purdue Writing Lab)

5
---
4. http://www.wisc.edu/writing/ (Wisconsin Writing Lab)

5. http://athena.english.vt.edu/%7EIDLE/Gym2/index.html (Virginia Tech Grammar Gym)

Study Strategies (Center for Academic Success at Louisiana State

University:http://appl003.lsu.edu/slas/cas.nsf/$Content/Study+Strategies+About?OpenDocument

Smarththinking Online Tutoring:

VIII. COURSE OUTLINE/ASSIGNMENT SCHEDULE

WEEK

TOPIC

1 Course/Class Introduction/Review of the Syllabus

2 Scientific Literature: Different Formats, Abstracts, Literature Reviews,

Journal Articles, Journal Reviews, etc.

3 Word Choice/Personal Abstract

4 Word Location/Personal Abstract

5 Word Location/Grammar & Technical Style

6 Journal Article/Utilizing the Library for Research - Worskshop

7 Manuscripts - Research Papers & Journal Articles

8 Literature Review (Topic) - Review Article

9 Literature Review - Review Article/Writing Assignment

10 MIDTERM EXAM / FALL BREAK

11 Literature Review - Review Article/Writing Assignment

12 Literature Review - Research Article/Writing Assignment

13 Literature Review - Research Article/Writing Assignment

14 *Writing Day*

15 Presentations

16 Presentations

17 FINAL EXAM(December 6 12:00 pm - 1:50 pm)

Course outline may change at discretion of instruction and syllabus amended as necessary.

IX.

TEACHING STRATEGIES

The primary mode of instruction in this course will be lecture, discussion and interactive classroom

activities. Following presentation of concepts and principles related to scientific communication and

reading comprehension strategies, examples will be presented/discussed and interactive hands-on inclass

activities will be conducted. Some in-class group assignments will be given as well as in-class

writing assignments. In addition, discussions on reading the research literature, scientific writing, and

oral presentation of the research project will be given. Students will be provided with material on how to

prepare and present an oral presentation, how to read and evaluate a research journal article, and how to

cite material used in preparation of an oral or written presentation. Multimedia will be incorporated into

the lectures and presentations as appropriate.

X. BIBLIOGRAPHY

Students are encouraged to review each current issue and read appropriate articles in the science

journals available in the C. W. Chesnutt Library (See Complete List Below). Students are also

encouraged to make full use of the Internet resources, including Medline which is available through the

Chesnutt Library's Pubmed System or through the NIH/NML website at www.ncbi.nlm.nih.gov. Other

web resources include:

1. www.hum-molgen.de (which contains numerous resources for genetics)

2. http://highwire.stanford.edu/lists/freeart.dtl

6
---
3. http://www.sciencedirect.com (provides access to journal articles online and for downloading)

BOOKS

1. Matthews, J. R., Bowne, J.M., and Matthews, R. W. (1996) Successful scientific writing: A step-bystep

guide for the biological and medical sciences. Cambridge: Cambridge University Press.

2. The Council of Biology Editors (1994) Scientific Style and Format: The CBE Manual for Authors,

Editors, and Publishers (6 th ed). Cambridge: Cambridge University Press.

3. Dodd, J.S. (1997) The ACS Style Guide (2 nd ed). Washington, DC: American Chemical Society.

4. Lang, G. & Heiss, G. D. (1984). A practical guide to research methods (3rd ed.). New York:

University Press of America.

5. Manly, B.F. J. (1992). The design and analysis of research studies. Cambridge: Cambridge University

Press.

6. Heaney, R.P. & Dougherty, C. J. (1988). Research for health professionals: design, analysis, and

ethics. Ames: Iowa State University Press.

7. Lohban, C. S. & Schefter, M. (1992). Successful lab reports: a manual for science students.

Cambridge, MA: Cambridge University Press.

8. Grinnell, F. (1987). The scientific attitude. Boulder, CO: Westview Press.

9. Bauer, H. (1992). Scientific literacy and the myths of the scientific method. Urbana: University of

Illinois Press.

10. Kanare, H.M. (1985). Writing the laboratory notebook. Washington, DC: American Chemical

Society.

11. Enrich, N.L. (1983). Experimentation & statistical validation: a practical working guide. Malabar,

FL: R.E. Krieger Publishing Company.

12. Locke, L.F. et al. (1987). Proposals that work (2nd ed.). Newbery Park, CA: SAGE Publications

13. Day, R.A. (1988). How to Write & Publish a Scientific Paper (5th ed.). Oryx Press.

14. VanAlstyne, J.S. & Trill, M.D. (2002). Professional & Technical Writing Strategies-

Communicating in Technology & Science (5th ed.). Upper Saddle River, NJ: Prentice Hall.

NOTE: THIS COURSE IS SUPPORTED BY A BLACKBOARD WEBSITE. STUDENTS SHOULD

VISIT THIS SITE REGULARLY TO REVIEW COURSE REQUIREMENTS AND ASSIGNMENTS.

Journals available in Chestnutt Library or on-line. (NOTE: The list is not a completely

inclusive listing)

Applied Environmental Microbiology

Bioscience

Biochemistry & Cell Biology

Biotechnology & Bioengineering

Biochemistry

Biochem et Biophys Acta (BBA)

Biochemistry & Molecular Biology Education

Biotechnology & Applied Biochemistry

7
---
Bioorganic Chemistry

Cell

Chemical Reviews

Chemical & Engineering (C & E) News

Critical Reviews in Biotechnology

Emerging Infectious Diseases

Developmental Biology

Developmental Cell

Developmental Genetics

Gene

Genesis

Genes to Cells

Experimental Cell Research

EMBO

The FEBS Journal (EJB)

European J. Biochem

Ethics

Journal of Molecular Biology

Journal Applied Physiology

JAMA

Journal of Biological Chemistry (JBC)

Journal of Bacteriology

Journal of Cell Biology

Journal of Chemical Education

Journal of Sci. Education & Teaching

Journal of Organic Chemistry

Journal of Medicinal Chemistry

Microbiol. and Molecular Biol. Reviews

Microbiological Reviews

Molecular Microbiology

Molecular Cell

Nature Biotechnology

Nature Structural Biology

Nature Genetics

Nature

Science

Scientific American

Science Education

Trends in Biochemical Sciences (TIBS)

Quarterly Review of Biology

Developmental Genetics

PNAS

Protein Science

Trends in Genetics

Trends in Parasitology

8