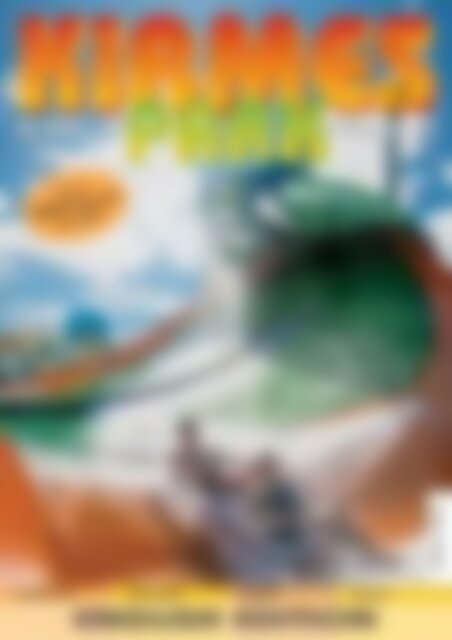 KIRMES & Park REVUE (English) CN Amazone (Vorschau)
Create successful ePaper yourself
Turn your PDF publications into a flip-book with our unique Google optimized e-Paper software.
N o 208

& Revue Gebühr

11/2014

11/2014

€ 9,50

£ 8,00

$ 13,00

Gebühr

bezahlt

B 14432

Visit us!

IAAPA Orlando

Stand 3043

VDZ No 77467

CN AMAZONE

ENCOUNTER BANSHEE

EAS 2014

ENGLISH EDITION
---
&

Revue

INDEX

ISSN 1436-6525

appears 12 x per year

■ Gemi Verlags GmbH

Pfaffenhofener Straße 3

85293 Reichertshausen

Tel.: +49 (0) 84 41/40 22-0

Fax: +49 (0) 84 41/718 46

info@gemiverlag.de

www.kirmesparkrevue.de

■ Managing Directors

Gerd Reddersen

Rudolf Neumeier

■ Chief Editor

Karl Ruisinger

■ International Representative

Translation, Advertisements

Agi Reddersen

Tel.: +49 (0 ) 84 41/8 10 57

Fax: +49 (0 ) 84 41/8 61 05

www.ag-advertising.de

Kirmes.A@t-online.de

■ Editorial Manager "Kirmes"

Ralf Schmitt

■ Editorial Manager "Park"

Frank Lanfer

■ Representative Great Britain

Michele Emmett

Tel.: +44(0)7811 915118

michele.emmett@googlemail.com

■ Representative USA

Shari Viox

Tel.: USA 314-477-8224

Shari@VioxLLC.com

■ Calendar of Events

Richard Veldhuis

■ Production

Westner Medien GmbH

■ Printing

Kössinger AG Schierling

■ Advertisements

GEMI Verlags GmbH

■ Sales and Marketing

Gerd Reddersen

■ Subscriptions

DataM-Services GmbH

Postfach 91 61

97091 Würzburg

Tel. +49 (0) 931/4170-178

(Mo-Do 8-17, Fr 8-15)

Fax +49 (0) 931/4170-179

services-abo@verlagsunion.de

■ Cover

Tony Hanscomb

ESU (European Showmen's Union):

Info: Page 78

Applies to advertisement price list 1/12

from 01.07.2012

All rights reserved. No part of this magazine

may be duplicated or published without written

permission from the publisher. This prohibition

also pertains to the commercial duplication

by copying, input into an electronic

database, and duplication onto a CD-ROM.

NOVEMBER 2014

KALEIDOSCOPE

Facts – Observations – Short Portraits . . . . 4

NEW PRODUCTS

Premières and Announcements . . . . . . 14

A LOOK FORWARD

Soest – Basel. . . . . . . . . . . . 26

PREMIÈRE

Encounter . . . . . . . . . . . . . 38

SPECIAL

Lepe (ES) . . . . . . . . . . . . . 44

A LOOK BACK

Reports about Specially Selected Events . . 52

NOSTALGIA

Oldtimer Parade in Crange . . . . . . . 68

PORTRAIT

Alpen Blitz . . . . . . . . . . . . . 72

COASTER

Banshee . . . . . . . . . . . . . 80

WATERPARK

CN Amazone . . . . . . . . . . . . 86

EXHIBITION

EAS 2014 Amsterdam . . . . . . . . . 90

SPECIAL

European Star Award 2014 . . . . . . 110

PREVIEW

Calendar of Events . . . . . . . . . 120

Certified active member of the

YOUR ENTRANCE TO OUR WEBSITE

3
---
KALEIDOSCOPE

20 YEARS "ENTENKÖNIG"

Hook-a-duck from Michael

Zahn and Monika Zahn-Kleuser

Text & Photos: Nils Benthien

For 20 years, Monika

Zahn-Kleuser and Michael

Zahn have been successfully

touring their hook-aduck

throughout Germany.

The couple had toured a

mobile bar when Monika

Zahn-Kleuser came up with

the idea of the hook-a-duck.

Over the years it has

become a habit with many

Monika Zahn Kleuser and

"Entenkönig" Michael Zahn

(rear) with their daughters

Michelle, Lisa, and Jessica

(f.l.t.r.)

friends and colleagues to call Michael Zahn the

"Entenkönig", or Duck King. All members of the

family, including the now adult daughters, have

contributed and brought to fruition many ideas. As

a result, every partaking child gets a "fishing

permit", and after fishing 10 times, receives a

certificate from the "Entenkönig" as a bonus. Moreover,

the children can watch children's films at the

attraction. The duck house (size: 6 m x 2.5 m) is

elaborately and lovingly decorated. A special

feature is the large duck at the attraction which welcomes

the visitors. In summer, a short jet of water,

and in spring and autumn a short blast of air issue

from from the duck's bill. The showman family Zahn-

Kleuser are still very happy with its attraction and

will remain loyal to it.

■

KIDS RACER

Text & Photos:

Norman Vogt

Frederick Feuerstein

and his "Kids Racer"

kiddie quad track

At the Frankfurt Dippemess in

the autumn, Frederick Feuerstein

celebrated the première

of his "Kids Racer" quad track

that he took over from a

private individual a couple of

months ago.

Prior to its première, the

young Frankfurt showman

prepared the quad

track for touring, building, for example, a

backflash with racing motifs and equipping

the whole construction with small

crash barriers. At the attraction, with

ground measurements of 19 x 15 metres,

seven to ten quads are available to children,

who are allowed to take a ride from

the age of five – all wearing safety helmets. A preopening

was held at a minor event in Stromberg

prior to the Dippemess. As a rule, children very

much enjoy the rides on the low-powered quads,

powered by a two-stroke engine. The quad track

is loaded and transported on one transport

vehicle.

■

4
---
SCHLITTENFAHRT

Text & Photos:

Uwe Holzmann

New owner: On 19 th September,

Yvonne, Kay, and Philip Thelen

from Nienburg celebrated their

première with the "Schlittenfahrt"

that they had purchased

from the Noack firm this

summer, at the Oktoberfest in

Hanover.

Yvonne and Kay Thelen have

already operated the "Top In"

dodgem track and several

bakeries for a number of years.

After all, Kay Thelen had grown up

with his parents' travelling

confectionery operation, and has

successfully managed several

other operations in this sector. The dodgem track has

been operated by Yvonne Thelen's family for some

decades now. The Inge Bruch firm from Andernach had

purchased the "Schlittenfahrt", built by Mack in 1980,

and operated it up until late 1993. In 1990, the tunnel

was removed, the light grid and light assemblies in the

rear section of the track were extended and the front

was newly designed by the afaw firm. After several

changes of ownership (for a short term it was also "at

home" in the then "new" federal states), the construction

was taken over by Hans Noack from Lemgo in

2002, technically and visually overhauled, and quite

successfully operated throughout Germany up until

2013. Due to his advanced age, Hans "Seppi" Noack

wanted to part with the "Schlittenfahrt", and in Kay

Thelen he found a successor who will operate the

attraction together with his 20-year-old son Philip. The

attraction has already been equipped with a LED-light

system and new arms, and now its gondola frames will

be overhauled by an expert firm to meet the

DIN EN 13814 standard during the coming

winter. Supported by his parents, Philip

Thelen, who has already acquired the

necessary experience from the build-up and

operation of his parents' dodgem track, wants

to operate a family-friendly "Schlittenfahrt"

providing pure ride fun in order to gain

regular guests and 'repeat' riders. This

concept turned out to have been very

successful already at the Oktoberfest 2014 in

Hanover, when the newly purchased ride was

veritably besieged.

■

Philip and Kay Thelen

From the archive:

the attraction in 1980 (l.)

and after the redesign in 1990

5
---
KALEIDOSCOPE

LOS CHURROS

"Los Churros"

attraction from Ramona and

Michael Frickenschmidt

Text & Photos: Nils Benthien

Since the beginning of this

year, Ramona and Michael

Frickenschmidt from Osnabrück

have been touring

their new "Los Churros"

attraction, in which they

prepare the popular

Spanish national Churros

pastries.

The sales wagon has been

designed as a Spanish Finca

matching the product on offer,

and was built according to

their own ideas with axles that

can be hydraulically lowered by their friend, a

mechanic. The attraction has ground measurements

of 4 x 2.50 m, and has been equipped with LEDlighting.

Roofed-over dining areas are available on

both sides. The Churros dough is prepared according

to the original Spanish recipe, and the pastries

are offered with three different chocolate and eight

fruit sauces. For the Maiwoche event in Osnabrück,

the timber-frame and the slate roof were covered in

yellow and white, and for Christmas the red interior

panelling will be decorated with black and white foil.

In addition to their sales wagon, Ramona and Michael

Frickenschmidt continue to tour their model railway

training show.

■

PIT & ESTHER LENGNER

Text & Photos:

Helmut Bresler

Pit and Esther

Lengner: After decades with the

Wall of Death now touring the

"Jump Street" Miami

There was an unexpected encounter at the

Kirchweih in Nürnberg-Langwasser, where Pit

Lengner, called "Kamikaze-Pit" and his wife Esther

presented their Miami.

In the caravan after closing time, he talks about the good

old days on the vertical Wall of Death for hours on end,

rousing a lot of memories and getting all 'glossy-eyed'.

Pit is, and remains a motorbike fan born in Stuttgart/Bad

Cannstatt; one who has practised the sport under

extremely dangerous conditions, one who has toured the

major fairgrounds of the world and has also appeared at

the Munich Oktoberfest. But the world has changed, and

the show booth at Volksfest events may well have no

future. The organisers place the attraction off the circuit

course and the visitors do not seem to have time for a 15

to 20-minute show programme. Pit Lengner does not get

any younger either; he is now 61 years old. Time has

required action, and they have changed the attraction.

The "Jump Street" Miami, consisting of one transport

vehicle, featuring smoke effects and trick fountains, is

now its successor. Pit and Esther are happy though that

the Wall of Death they sold will live on. It is built up as a

fully operational attraction in the huge "Motorcycle Pedia

Museum" near New York, where the show booth, including

the transport rig, is fully operational. Every winter the

couple are to be found relishing a trip down memory lane

whenever performances are held. They have been on

tour for 35 years now and have put down their life story

in writing. The result is a 220-page book including a

large number of photos describing their career, without

steering clear of the less fortunate strokes of fate in their

lives. For those interested, the book costs €20, Title: "Ein

Leben für die Steilwand". Authors are Esther and Pit

Lengner, published by Huber Verlag, Mannheim 2012.

ISBN: 978-3-927896-41-3 .

■

6
---
KONGA –

Das Themenkarussell

DIE HÖCHSTE UND EINZIGE VOLL

THEMATISIERTE RIESENSCHAUKEL DER WELT.

Über 30 Themeneffekte,

Original Soundtrack,

KONGA Safari-Crew im

stilechten Outfit

• QUALITÄT

• INNOVATION

• ZUVERLÄSSIGKEIT

Unsere Neuheiten

2015:

Tropischer

Wasserdampf-Effekt

am Ausgang

Die Nr. 1

Riesenschaukel

Bewegliche Affenfigur mit

Spritzwasser-Effekt

King Kong-

Rüttelplatte

Nebel-Vulkan

Luftzug-Effekt

+ weitere GROßE

KONGA-Überraschungen

in 2015

Sebastian Küchenmeister | www.konga-schaukel.de München | www.konga-schaukel.de

| www.facebook.de/kongaschaukel

– JETZT BUCHEN!

www.facebook.de/kongaschaukel | Büro: 089 - 51506128 | Mobil: 0176 - 63350309
---
The Dutch Court has now given

a verdict on "knock-off 'Freak

Out' type KMG rides". KMG

Manager Peter Theunisz advised

the Kirmes & Park Revue of the

relevant details.

COPIES & PLAGIARISM

"A Dutch showman was operating a copy of the

KMG 'Freak Out', built by a Czech manufacturer,

and KMG had brought this matter to court. This

ride came from the same manufacturer as

several other copy rides. Similar copies are

produced by other manufacturers in Poland,

Hungary, the Czech Republic, Bulgaria; and in

Asia. On Thursday, 2 nd October 2014, the Dutch

Court decided that the 'Freak Out' is protected

by copyright law and that Czech copies (under

the name of Hang Over) infringe our copyright.

Style effects, model details, technicalities

employed, colours, and decorations are copied

"1-on-1". According to the judge, the manufacturer

and owner have neither investigated

possible solutions to build a similar ride that

does not infringe our copyright, nor have they

attempted to give this ride a design that

distinctively differs from the KMG 'Freak Out'.

According to the verdict, it is not just the colour

scheme but also the (wrongly) used techniques

that prove that the manufacturer and owner have

built and operated a copy ride of the KMG

'Freak Out'.

The owner is no longer allowed to operate this

copy ride in the Netherlands and he will be fined

for every day the ride will be open for public use

in the sum of €20,000. Moreover, he also has to

pay all trial expenses, and the ruling also means

that the owner cannot sell the ride to any

potential buyers in Europe, the US, Australia or

elsewhere. KMG will take legal action against a

possible new owner or buyer in any of these

countries. KMG is not against the sale of the

copy ride to any foreign market where KMG is

not represented. We, the company of KMG,

would like to point out that we may and will make

claims against potential buyers of these copy

rides, and naturally will take legal action against

any manufacturer or buyer who constructs or

operates an illegal copy of the 'Freak Out'.

Moreover, there is the option to contact KMG

directly to find out if it is possible to purchase a

license for such a ride. The 'Freak Out' is subject

to copyright law. Of course, it will be necessary

to investigate in each country and in each

particular case if a copy is infringing this copyright.

In Europe we have jurisprudence, which

means that different courts in different countries

will comply with the verdict of the initial legal

case.

■

10
---
NEW PRODUCTS

WILD AMAZONAS

Filling a product gap:

"Wild Amazonas" from Kaiser

Text & Photos:

Norman Vogt

Alexander Kaiser from Frankfurt celebrated a

successful première with his "Wild Amazonas"

kiddie water ride at the Bad Vilbel Markt.

He built the attraction that provides children with

an adventurous ride in canoes through the jungle

and passing lizards, monkeys and crocodiles,

completely on his own. Even though Alexander

Kaiser came up with the idea of building a water

ride for children eight years ago, he was able to

set about realising his plan only last year. The

tracks and canoes were ordered at suppliers, and

the construction was then built on the company

premises in Frankfurt – a procedure that lasted for

a number of months. The entrance area is a

container completely covered with wood, and the

roof was decorated with bast mats and bamboo.

Alexander Kaiser attached special importance to

providing decorative elements that were both

plentiful and as authentic as possible along the

14
---
NEW PRODUCTS

The attraction after sundown

– beautifully illuminated

course, which was set out in meticulous detail.

While kiddie water rides are, for example, presented

on fairgrounds in Luxembourg and France, the

"Wild Amazonas" is a unique ride in Germany. The

ride, with standard ground measurements of 14 x

8.50 m can be built up in different sizes. Depending

on the space available, the

construction that boasts 6

canoes – each accommodating

three children – can also be built

up with a depth of 14 m. Two

pumps provide the required

flow of water, and in the evening

hours the ride through the

jungle is lit by spotlights. It

takes about one day to build up

the construction with electrical

requirements of 32 kW, which is

relocated loaded on two transport

vehicles. After its première,

the "Wild Amazonas" made

further guest appearances at

the Laternenfest in Bad Homburg

and at the Frankfurt Dippemess.

■

Kaiser

Alexander and Cheyenne

15
---
NEW PRODUCTS

JUMBO

"Jumbo" from Kolmax Plus

built for the Ordelman firm

Text & Photos:

Patrick Vanstipelen

Johan Ordelman

With "Flying Elephant", the

Czech manufacturer Kolmax

Plus also produces multi-arm

rides for children.

With the "Jumbo" one of those

rides has just been delivered to

The Netherlands for showman

Johan Ordelmann. After its

première at the fair in Nijmegen,

the ride toured on to Venlo and

Gorinchen. Adults can easily

partake in the fun, accompanying

their children.

■

16
---
NEW PRODUCTS

Première in Weert:

"The Tower" from Ordelman/

Fun Projects

The fourth transportable Freefall

Tower from Austrian manufacturer

Funtime (following the

examples for Goetzke, Zinnecker,

and Maier) was completed

punctually by the delivery date

agreed upon at the end of

September. The owners of "The

Tower", as the construction is

called, are Ad Ordelman and his

son Willy from The Netherlands,

who will tour the attraction

together internationally under

the company name Fun Projects.

Text:

Ton Koppei

Photos: Ton Koppei, Paul Storimans,

Norman Vogt

The Tower

Actually, it is already the Ordelmans' second

Freefall Tower, as innovative Ad Ordelman

already presented and gathered initial experience

with an attraction like this back in 1999.

However, it was a much smaller version then, built

by the Italian manufacturer Fabbri. As previously

mentioned, "The Tower" is the fourth transportable

tower delivered by Funtime. In contrast to its

predecessors, this attraction features a quite

striking difference – the rotating gondola. In the

autumn of 2013, Ordelman approached Funtime

explicitly asking for an appropriate suggestion

with regard to a rotating gondola.

After a number of calculations and negotiations,

it turned out that a gondola function

like this was feasible but only if it was accompanied

by a reduction in the number of seats.

The new, more compact gondola has the

same weight as the 24-passenger construction.

A larger rotating gondola would have required a

new construction of the tower – and the project

would have exceeded the acceptable financial

budget. As a result, the Ordelmans' new Tower

has 18 seats instead of 24. The rotating gondola

provides passengers with a terrific view in all

directions and allows for a varied ride pattern.

Depending on the number of passengers, the

gondola does one to four rotations at the highest

point, before the freefall. Currently, "The Tower"

requires four transport vehicles; with one centre

trailer constructed as an articulated vehicle, the

20
---
NEW PRODUCTS

"The Tower" in detail

21
---
other one as a trailer. Due to limited space on

Dutch fairgrounds, a backflash was deliberately

omitted. With a special permit from the Dutch city

of Weert, where the attraction celebrated its

première, it was possible to commence with the

build up on the Monday, so that the attraction was

ready for operation in time for the opening of the

fair on Friday afternoon. "The Tower" immediately

turned out to be the top attraction at this year's

Weert Fair, being very well accepted by the

public, with very long queues forming in front of

the attraction, particularly in the evening hours.

With Nijmegen and Breda, another two large

Dutch events were on the tour schedule after

Weert, before "The Tower" travelled to Hong

Kong, where it will be presented as one of the

highlights at a 70-day event. In March 2015, the

attraction will be back in Europe in time for the

beginning of the new season.

■

22
---
NEW PRODUCTS

XXL APRÉS SKI

Text & Photo:

Norman Vogt

Baby and Toni Denies

For the coming year, the showman

firm Denies-Kipp from Bonn

has announced a new, fully

themed giant swing that is to

commence operation in March

2015 - the "XXL Aprés Ski".

As was the case with the previous

model that the company will now

part with, this construction is also built by KMG. "After

six years of 'XXL', we have decided in favour of this

new purchase", says Toni Denies. "The theming in

particular", he continues, "is to provide a distinctive

contrast to other swings and bring new highlights."

The last "XXL" appearance under the management of

Denies-Kipp is to be in Dinslaken in November. In

addition to a theme design (among others a 3D backflash)

from BB Decorateurs, the new attraction is to win

over the public by way of its expansive details, such

as lockers where passengers can lock their mobiles

and other valuable objects during the ride, available in

an "Ice Bar". Nitrogen canons are to be built in to

provide special effects. Moreover, the attraction will be

equipped with the latest LED-technology, spotlights

and lighting elements – with a 5-metre tall, swinging

"Schneegipfel", or "snow summit" on the top of the

attraction, being the "icing on the cake", so to speak.■

Mike Cattin

AIR BAG JUMP

"Air Bag Jump" – Jumping from

different heights

Text & Photos:

Patrick Vanstipelen

The "Air Bag Jump" jumping construction is

a novelty in Belgium.

Mike Cattin will present the construction at,

among other venues, the autumn events in

Tongeren and Hasselt, Belgium. The principle of

the attraction is quite simple and easy to explain:

Visitors pay €5, are taken to the top on a mobile

scissor lift platform and can jump down into a

large air cushion (from different heights); a

'purist' form of a "Freefall", so to speak! ■

24
---
677 th ALLERHEILIGENKIRMES SOEST

Text: Michael Petersen

Photo: Stadt Soest

For decades, the Soest city centre has been transformed into probably

the most beautiful fairground in Germany from the first Wednesday

after All Saints' Day up until the following Sunday. This year, the

rides will make their rounds right in the historic medieval city centre

and between romantic timber-framed houses from 5 th to 9 th

November. Once again more than 1 million guests from near and far

are expected to come to the 677 th staging of the largest medieval city

fair in Europe.

The showmen look forward to Soest, as it is the last occasion to earn

money during the fairground season. Even though the city centre is

narrow and full of nooks and crannies, and despite strict safety

regulations, free spaces of more than 50,000 m 2 can nonetheless be filled

up with rides, funhouses, sales wagons, games booths, snack and

beverage stalls. For years, the city authorities have succeeded in newly

laying out the Allerheiligenkirmes and providing visitors with both novelty

and old-established attractions. This year, more than 400 showmen have

received coveted contracts for the oldest fair event in Westphalia,

officially documented for the first time in 1338. From more than 1,700

applications, the organisers have put together a fair event with a number

of novelties and relocations. In addition to 17 kiddie rides, 25 large rides

and funhouses were contracted this year. Built up directly in front of the

railway station will be the "Breakdance No.2" (Bonner), "Alex Airport"

(Goetzke) and the "Chaos Airport" (Haberkorn) as a novelty for Soest.

With Oberschelp's "High Impress", Howey's "Happy Sailor", and

"Artistico" from Köhrmann, an attractive ride trio will be available to the

visitors at the entrance to the medieval city centre. Following further along

the course, there will be the looping swing (von Olnhausen) and, as

another novelty for Soest, the "Fahrt zur Hölle" ghost ride (Dom-Jollberg).

Moreover, Schmidt's "Transformer" and the "Super Hupferl" (Scheidacher)

will be built up on their traditional site on Hansastraße. The market

square, forming the heart of the Allerheiligenkirmes, will be occupied this

year with the Musik Express from Krause as an indispensable classic ride

and Markmann's "Nessy", als well as "Hexentanz" (Markmann) and – as

yet another Soest novelty – the "Jekyll and Hyde" Propeller from Thelen.

On the square north of the St. Petri Kirche the "Bellevue" Ferris Wheel

(Bruch) will provide its passengers a magnificent view with Gusowski's

"Phoenix" whirling its passengers through the skies in front of it, whereas

H.O. Schäfer will invite the public to a ride on the "Shake & Roll" on the

south side of the church.

With the "Spuk" (Sipkema-Lütjens), yet another debutante will be built up

near the city hall, directly adjacent to St. Patrokli Kirche, and Wendler's

Wave-Swinger will retain its traditional site next to the Topfmarkt. The

square at Großer Teich will accommodate the "No.1" dodgem track

(Isken), "Wilde Maus" (Münch) and the most spectacular Soest novelty,

the "Skyfall" free fall tower (Goetzke). With the "Traumgenerator" another

debutante will be built up in front of St. Maria zur Wiese church, followed

by Krameyer's "Big Monster", the Soest cult ride. Directly adjacent to

Theodor Heuss Park, the "Beach Jumper" (Wegener), "Big Wave" Miami

(Milz), and the "Hard Rock Drive" dodgem track will retain their traditional

sites. Moreover, Pott's historic market will invite the public to a trip down

27
---
www.spuk-geistercoaster.de

Spuk-Kombination aus

Geister- und Achterbahn

Fotos: King

Wir bedanken uns für das Vertrauen.

Recklinghausen, Ulm, Rudolstadt,

Blasheim, Pützchen, Eisleben

und zum Saisonende Soest.

Planen Sie jetzt mit uns für 2015!

Richard Sipkema • Tel. 0151 / 16 93 46 64
---
Die zweistöckige Familien-Geisterbahn

Planen Sie

jetzt mit uns

für 2015!

Bram v/d Molengraft-Sipkema • Tel. +31 613 256 032

Fotos: King
---
The layout plan of the 677 th Soest Allerheiligenkirmes

(subject to change)

memory lane at the well-known and successful location opposite the

market square, where the "Jahrmarkt im Fackelschein" (market illuminated

by burning torches) makes the most striking visual impression. The

Sunday prior to the opening will be an interesting day for fairground fans,

due to the fairground vehicles arriving in the city, the build-up of

attractions beginning, and the information booth, providing a cornucopia

of merchandising products including the very coveted collector pin

featuring the Soest Jägerken in a limited edition of 5,000 pieces, being

already open. For once, the Soest Jägerken this year will be clad in a

black, red and gold outfit and decorated with a football featuring four

golden stars. Moreover there will be an ample selection of pointed caps,

postcards, a scarf, cigarette lighters and other products. The Soest

tourist information office will hold a backstage tour on this very Sunday.

On 2 nd November, a journey through the history of the Soest Allerheiligenkirmes

can be experienced in the Soest fairground cinema in Johannes-

Gropper-Saal at the Patroklushaus. At 1 p.m., 3.30 p.m. and 6 p.m., the

development of the Allerheiligenkirmes from 1930 to the year 2000 will

be presented in video sequences – most of which have never been

shown before – coming from private archives, at an entrance fee of €3.50.

A fixture in the event programme is the large horse market with a traction

engine market, market criers, farm supplies, and a large bric-a-brac

market held on the area from Osthofentor up to Thomätor on Thursday.

For more information about Allerheiligenkirmes (including supporting programme):

www.allerheiligenkirmes.de

■

30
---
Das Spaßkarussell für Jung und Alt!

Deutschlandweit absolut einmalig:

16 unterschiedliche Fahrweisen – Freifall- & Wassereffekte

Keine Überkopf-Fahrt

Hohe Publikums-Effizienz

Der BEACH JUMPER – immer die beste Wahl!

Attraktive Ruhezonen

mit Strandkörben

Zum Saisonfinale auf der

Soester Allerheiligenkirmes

Geringer Platzbedarf: Front 17 Meter • Tiefe 18 Meter. Unseren Stromverbrauch ersetzen wir durch eine eigene Photovoltaik-Anlage komplett selbst.

Wir bedanken uns für das in uns gesetzte Vertrauen und

empfehlen uns für die neue Saison. Buchen Sie uns jetzt!

www.schausteller-wegener.de

Harvey Wegener • Bremen • Tel. 0177/6832972 o. 0163/2537767 • Mail: harveywegener@yahoo.de
---
A LOOK FORWARD

544 th HERBSTMESSE BASLE

Sometimes the Herbstmesse

also takes place in the

exhibition halls – here an

impression from last year

INFO

The opening hours at the

Basle Herbstmesse:

The Petersplatz fairground

will be opened daily from 11

a.m. to 8 p.m. On Barfüsserplatz,

Petersplatz, Münsterplatz

and Kasernenareal,

the attractions will be open

from midday to 10 p.m. from

Sunday to Thursday and

from midday to 11 p.m. on

Friday and Saturday. The

fairgrounds all around the

Basle exhibition grounds

and the exhibition hall will

open their gates from 11

a.m. to 10 p.m. from Sunday

to Thursday and from 11

a.m. to 11 p.m. on Friday

and Saturday.

■

Text: Rolf Orschel

Photos: Norman Vogt

The success story of the Basle Autumn Fair, the

oldest and largest fair event in Switzerland,

began on 27 th October 1471. It opens a fortnight

before St. Martin's Day and closes on the

following third Sunday every year. On Saturday,

25 th October at 12 o'clock this year, the sounding

of the bell from the tower of the Martinskirche will

open the 544 th edition of the event, which will

close on Sunday, 9 th November. The bric-a-brac

and experience market on Petersplatz will once

again be open two days longer, up until Tuesday,

11 th November.

The Basle Autumn Fair is more than a Chilbi or fair

event. With its more than 540-year tradition and its

special customs it is one of the city's cultural assets.

As a traditional city-centre fair, the event attracts

about one million locals as well as national and international

guests to Basle every year, and ranks

among the fair events with the highest turnover in

Switzerland. Almost five hundred sales and handicraft

stalls, snack and beverage booths, as well as

ride and funhouse attractions of every kind offering

something for everybody, will spread across seven

fairgrounds and the exhibition hall 3. Due to the

special charm and flair of its varied kinds of fairgrounds,

the Basle Autumn Fair is highly popular

32
---
Wir freuen uns sehr, auch in diesem Jahr mit unserem KULT-KLASSIKER, dem ORIGINAL MACK-CALYPSO

an der BASLER HERBSTMESSE dabei zu sein und unsere zahlreichen Fans aus nah und fern sowie unser

anspruchsvolles und treues Basler Publikum einmal mehr restlos begeistern zu können.

Der zuständigen Bewilligungsbehörde danken wir herzlich für

das uns entgegengebrachte Vertrauen und empfehlen

uns allen Veranstaltern für die Saison 2015.

www.calypso-chilbi.ch Paul Läuppi & Crew Hotline: 0041 79 330 62 39

with the Basle citizens. Every single fairground has

its own concept and enjoys masses of visitors,

especially at the weekends. The fair and market unit

from the foreign relations and marketing department

at the authorities of the Canton of Basle are

responsible for the organisation of the Autumn Fair.

With the selection of attractions and the layout of the

individual fairgrounds, the organisers once again

succeeded in putting together an appealing and

exciting Autumn Fair, taking into consideration the

topography of the different city-centre fairgrounds.

From the perspective of all seven fairgrounds, the

Petersplatz will offer a very special flair. Families in

particular will be attracted to this fairground by many

sales stalls, culinary delicacies, kiddie rides and a

Punch and Judy show. Moreover, the idyllic fairground

also accommodates the so-called "Hääfelimäärt",

where ceramic wares have been sold for

time immemorial. In the so-called "family corner"

visitors will encounter a Punch and Judy show, two

kiddie rides, a chain ride, a kiddie Ferris Wheel and

a pony ride. Moreover, children can play at the "Robi

Spielaktion" for a couple of Francs under supervision,

enabling their parents to enjoy a stress-free

stroll across the Hääfelimäärt. From the Barfüsserplatz

visitors can proceed on to the Münsterplatz,

the actual origin of the Basle Herbstmesse, in just a

couple of minutes.

Apart from the Ferris Wheel providing a magnificent

view across the city, this area will accommodate

mainly family-friendly ride attractions this year;

namely the Musik Express, "Flying Swinger"

dodgem track, slide, and

"The Game", as well as two

kiddie rides and a Jet Ride

for the younger visitors.

After a short walk from the

Münsterplatz, visitors will

reach the Barfüsserplatz in

the city centre, known as

"Seibi" or "Barfi" to the

citizens. As almost everybody

has to pass this

square, this fairground,

which will entice the public

with the "Swing Up", the

"Free Style" Miami and a

kiddie ride this year, is

quite crowded throughout

the event. The Kasernenplatz,

used as a fairground

only since 1995, will be

largely dominated by

speedy rides. This year,

visitors will be able to enjoy

the "Super Chaos" swing,

A good orientation for

visitors is this sign giving

information about the

individual exhibition locations

33
---
Das Original

Zum Saisonfinale in Basel

Beste na tionale

und int er na tionale

Refer enzen

Jetzt das

original buchen!

Wir bedanken uns bei unser en Vertragsp ar tner n

für die vertrauensv olle Zusammenarbeit

und empfehlen uns für die neue Saison.
---
Die Live Action Show

der Extraklasse

Die Live Shows werden indiv iduell

dem Familienpublikum

angep asst

www .panic-r oom.eu

Bernhar d Lemoine Live Product ion Show

Berlin • Tel. 0157 31360000 oder 0163 7787400

Mail: liv eact ion @hotmail.de
---
The most spectacular

Basle-novelty: Freefall Tower

"Swiss Tower" from H.O. Maier

After the good reception

last year, once again at Basle:

the "Wiener Prater

Geisterbahn"

"Maxximum", "Breakdance", "Discovery",

"Euro Coaster", "Spring

Tower", "Panic Room", "Allotria",

"Disco Labyrinth" and a kiddie ride in

this location. With the "Swiss Tower",

the fairground, located within walking

distance from the Kasernenplatz or
---
eachable by the tram route No 6 will offer a top

novelty ride, along with the "Calypso", "Mocca

Cup", "La Sauterelle", "Tower", and the walkthrough

construction "The Tunnel". On the opposite

side of the street visitors access the exhibition hall

from the Riehenring, where the "Wiener Prater

Geisterbahn", "Telecombat", simulator, dodgem

track, "Surf Dancer" Hully Gully, looping swing and

the "Funhouse" will provide a colourful mixture of

ride and funhouse attractions this year. From the

exhibition hall, it is only a couple of metres to the

Rosental area. On this traditional fairground, visitors

always encounter a mixture of exciting and familyfriendly

attractions; this time there will be the "VIP

Schaukel", "Star Flyer", "Crazy Run", "Freddy´s

Company" dodgem track and the nostalgic "Rössliritti"

carousel.

The variety of ride attractions and coasters –

unrivalled in Switzerland – on all the fairgrounds and

in the exhibition hall, will be rounded off by an

ample and colourful mixture of every kind of

concession stalls, snack and drink booths offering

culinary delicacies, as well as many kinds of

confectionery.

■

This time on the Messeplatz: "Calypso"
---
PREMIÈRE

Première at the Munich

Oktoberfest: Karl Häsler's

"Encounter"

Is there a more exclusive venue

than the largest Volksfest in the

world, the Munich Oktoberfest,

to celebrate the world première

of a major new showman

attraction? No, there isn't. However,

if the première does not go

smoothly due to various circumstances

and problems occur,

this special première venue can

easily turn into a curse, as there

may well be no other Volksfest in

the world that enjoys more

publicity and media attention

than the Munich Oktoberfest.

Text: Ralf Schmitt

Photos: Ralf Schmitt, Norman Vogt,

Heiko Schimanzik

Encounter

To clear matters up right from the outset: all the

technical problems occurring at the première in

Munich can easily be solved. "Häsler would not be

Häsler if he could not manage", Karl Häsler proclaimed

in Munich! The construction base of the new

"Encounter" was the basic structure of the unforgetable

"Sensorium" theatre, of which there is nothing

much else left.

The "mental" foundation evolved in Karl Häsler's

brain; namely to present a transportable show

attraction never seen before at a Volksfest. The

concept of the show in brief:

38
---
In detail: paybox,

waiting and entrance area

Initially, visitors only watch – but gradually they

become part of a scientific experiment which goes

badly wrong in the end. Accompanied by loud noise

and wafts of mist, the creature created by the

scientists, escapes from the seemingly safe protective

glass of the huge metal cylinder standing in

the middle of the auditorium.

Visitors enter an old deserted factory building and

take a seat in an auditorium (80 seats – in four-row

sections to the right and left). The 7-minute show

begins:

39
---
PREMIÈRE

A view into the

auditorium and at the seats

– here some still with the

shoulder restraints, later

removed

A view of the technology

The entire show is accompanied by sound effects

created by the Frankfurt artist and composer

Christian Wildermuth, who was also responsible for

The liberated creature seems to be moving around

the room -now completely dark - and due to the

numerous effects partially integrated into the seats,

the monster seems to be very, very close to the

visitors! That's a brief description of the script and

story so far.

40
---
PREMIÈRE

The show begins

the sound at the "Sensorium" and the "Traumgenerator".

The Art Studio Bernhardt was contracted

for the design and artwork of the imposing

"Encounter" façade, and did a fantastic job.

The time for the Wiesn drew nearer, and eventually

the transport vehicles arrived at the Munich

Theresienwiese, the attraction was built up, and the

little problems, "issues" and delays took their

course. At the official media tour shortly before the

beginning of the Oktoberfest, Karl Häsler could

explain only in his own words what was to happen at

his Wiesn novelty in front of the "Encounter" – the

participants could neither enter

the attraction nor get a life experience!

The first Oktoberfest

weekend went by – but the doors

to the "Encounter" remained

locked. During the first opening

week, the attraction was open at

least occasionally – and Karl

Häsler told the Munich tz newspaper:

"Some of the technology

works. The rest will be repaired

during the night." Moreover, the

"sound and light system and the

mechanics integrated into the

seats simply did not work

properly." Up until the end of the

Oktoberfest, the "Encounter" was

operating most of the time – but

only with a limited programme.

The entrance fee was reduced

from the original €8 to €5. However,

at the paybox, visitors were

not told however that the show could be experienced

only with limitations. Therefore it was no wonder that

many "Encounter" guests were quite disappointed

when they stepped out of the two exits at the end of

the show. Karl Häsler felt deeply sorry for them, and

did not mince matters in a short interview with the

Kirmes & Park Revue, but explained some of the

problems in detail. For example, according to the

TÜV the shoulder restraints at the seats had to be

dismantled as the passengers' shoulders would

have been subjected to a weight of more than 15 kg.

Moreover, due to delays at the suppliers of the seats,

A frightening creature

escapes from the huge metal

cylinder – and seems to be

moving around the auditorium

among the visitors

41
---
PREMIÈRE

Karl Häsler's

"Encounter" at the première

in Munich

a number of planned effects could not be realised –

such as the "head massage spider" that emerging

from the upper section of the seats to give visitors

the impression that the escaped creature was

crawling over their heads. Moreover, Häsler told the

Kirmes & Park Revue that for safety reasons a grid

had to be mounted in the middle of the auditorium,

which had never been planned for. Furthermore,

there will also be changes made to the waiting area

where, among other requirements, screens are to be

installed. At the end of the interview Häsler was convinced

that the construction will operate to its full

extent – with all the planned effects – in the coming

weeks. Visitors will be able see this for themselves

at the only other appearance of the attraction during

this season at the Hamburg Winterdom. ■

42
---
Baujahr 2014

DIN EN 13814

Auch 2015 auf Erfolgstour:

Störzer's STAR DANCER

16 Sitzplätze

Front 17 m

Tiefe 19 m (mit Fassade)

Flughöhe 22 m

Keine Schaukel!

Nach erfolgreichem Start

empfehlen wir uns

für die Saison 2015.

Foto Tim

E-Mail: starprofi@aol.com • stoerzersascha@aol.de • Buchungs-Hotline: 0178/8114104 und 0177/828 45 97

Sascha & Alexander Störzer GbR • Büro Greiendorfer Weg 24 • 91315 Höchstadt a.d.Aisch

Nach einer rundum

gelungenen Premiere

auf dem

Münchner Oktoberfest

empfehlen wir uns

für die Saison 2015!

Günther & Jasmin Merkl

München

Tel. 0163–3299666

Mail: g.merkl@gmx.net

Foto: Georg Winter
---
SPECIAL

Calm before the storm:

the crowd on the fairground

slowly increased only from

9 p.m.

The small community in the

Spanish province of Huelva in

Andalusia is located some 6 km

off the Atlantic Coast, not far

from the border with Portugal. In

August, one week after the Feria

de Huelva (the largest Volksfest

in Andalusia), the smaller but

very attractive Volksfest in Lepe

is held.

Lepe (ES)

nougat cover, to the classic variations with sugar

and cinnamon. In the evenings the streets and

pathways to the fairground are illuminated by many

Text & Photos: Norman Vogt

Classic rides:

Skid ride and dodgem track

Even though the fairground is located on the outskirts

of the town, it can be easily reached on

foot. For the Feria, a section of the access road to

the town centre is closed to road traffic, and given

over to accommodating numerous booths and

stalls serving national specialities. In addition to

Spanish delicacies, visitors who love pizza, hamburgers

and sausages also get their money's

worth. Among the culinary favourites – particularly

favoured by the local public – are without doubt the

Churros offered in ample varieties, ranging from a

palatable pudding filling enclosed by a strong

44
---
SPECIAL

"Tagada" with

illuminated backflash, and

mini-coaster "Tokito"

fairy lights and LED ornaments. About a dozen

games booths, such as dart and cans throwing

operations, shooting galleries and Continental pick

stalls were spread across the area this time. On the

evening of our visit to the event, rides began to

make their rounds at 9 p.m. – initially with modest

attendance. Later on however, almost all of them

operated at full capacity up until late at night – even

the kiddie rides made their rounds until well after

midnight! The layout of the harmoniously occupied

small fairground was well worth seeing. Top

attractions were the "La Ufo" track ride, on which

brave passengers were pulled up some 40 m and

45
---
SPECIAL

A selection of round

and track rides at the Feria

in Lepe

46
---
aced down again after the gondola was released.

"Extreme" was the name of the on-site swing very

popular especially with adolescent visitors and built

up next to the track ride.

The selection of

ride attractions mainly meant

for families, adolescents, and

children

47
---
SPECIAL

A typical Spanish

Volksfest peculiarity, the

fairytale or "witch" attractions

On these attractions

entertainers play an important

role – incorporating the

passengers in their jokes

Also presented was the "Tren Los Niños" railway

attraction enjoying cult status in Spain. It is available

in umpteen versions and can be encountered

at many events throughout the country. Here the

railway, going round in circles with two clowns who

"annoy" the passengers in a witty way, is not the

only entertainment offered to visitors. Often one of

the two clowns was waiting for the train in the inner

area - equipped with black light - and followed the

train to the outside. It did not take long, however,

before the train disappeared into the dark again,

accompanied by loud applause and much

laughter, for the game to begin again. The "Super

E.T." Tagada with an amply illuminated backflash

also provided a lot of fun.

48
---
Several

attractions are also available as

junior versions. Inflatables are

included in the entertainment

contingent

49
---
SPECIAL

Kiddie rides and track rides

are built up a number of times

A goal wall shooting and

sweet delights in Lepe

The operator really knew how to entertain the

public with funny interludes during the ride. As a

result, large crowds were constantly forming in

front of this ride. The show was accompanied with

many fog and light effects. The Saltomontes ride

"Flipper" built up directly next to it

was very popular especially with

the family public.

The regular attractions on Spanish

fairgrounds – and naturally also

presented in Lepe – are "Toro

Locos" constructions, where the

public sit on a beam designed as a

buffalo. After the start, the beam first

turns gently to the right and to the

left. Shortly after that it also lifts and

lowers – and with accelerating

speed most of the guests fall down.

The winner is the "rider" who holds

fast to one of the beams for the

longest time. The younger visitors

were able to try out their skills in a

"Toritos Locos" kiddie version of

this attraction, which was not only

great fun for the children, but also

for the parents watching their

offspring desperately holding fast

to the beam, but only to finally fall

down in the end. A dodgem track,

which had come directly from the

earlier Feria de Huelva, caused

quite a furore due to its opulent light

show, with a lot of neon lights, fog

and laser effects, as well as its

larger-than-average track.

Further rides presented were the "Latigo

Andalucia" Zic-Zac and the "La Carcel" Rainbow

version, where passengers can complete the ride

standing. Annoying factors were the loud music

from the loudspeakers and the extreme noise level

at most of the rides. Those thinking there is a recordbreaking

noise level on Dutch fairgrounds would

soon think again in Lepe! Conversations in front of

the attractions were impossible unless people

shouted very loudly at each other. Also on offer was

a varied and ample selection of kiddie rides. In

addition to the aforementioned "Locos", a kiddie

Saltomontes, various kiddie rides, the "Tokito"

roller coaster, the "Turtles" track ride and a dodgem

track were available for the younger guests. ■

50
---
A LOOK BACK

CRANGE

Probably the most popular

photo motif at the Crange Fair

Guest star at the

opening at the Crange: Heino

rocking the Bayern-Zelt tent

Text: Michael Petersen

Photos: Michael Petersen, Norman Vogt

"So geht Kirmes" or "so goes the fair" was the

slogan of the 579 th Crange Fair, which once again

enticed about 4.3 million visitors from 1 st to 10 th

August. At the end of the event it may well be said,

"Yes, this is really the way a fair goes."

Even though the weather was not exactly ideal

throughout the event, Crange was nonetheless spared

both heavy rain falls and excessively high temperatures

this year. Visitors rushed to the fairground every

day, bringing most of the showmen good to very good

results. Visitor attendance was particularly high during

the two weekends and on Family Day, with the last

Saturday being extraordinarily well frequented. The

President of the German Federal Showmen and

Marketers Association, Hans Peter Arens, said this

was the final Saturday with the highest attendance he

could recall. The Crange Fair was opened in the richly

decorated Bayernfesthalle early on the Friday afternoon,

in the presence of more than 2,500 early waiting

guests, including about 500 guests of honour invited

by the city authorities. The opening ceremony started

with a small mishap, however – the procession of the

traditional flags into the beer tent was not accompanied

as usual by music! This did not distress DSB

President Albert Ritter though; he simply asked the

guests to stand up and accompany the flag-bearing

procession by rhythmically clapping their hands. In the

meantime, Vice Chancellor Siegmar Gabriel had entered

the beer tent through a side entrance, and accompanied

by the tune "Glück auf - der Steiger kommt" (an

old miners' song), Lord Mayor Horst Schiereck and

other guests proceeded into the beer tent. After the

traditional tapping of the keg and brief speeches the

52
---
Telefon 0178-4496865

E-Mail:

thilojanssen1@web.de
---
guest star Heino performed,

earning a chorus of whistles

for his greeting "Dear Herne

residents".

Heino gave his performance in

his new rocker outfit, and enthralled

the public with his rock

cover songs, and at the end of

his show, he also sang his own

well-known hits.

Fairground director Sabine

Marek had once again carried

out a number of changes. With over-the-top rides, the

section opposite the Alpina Bahn made a rather

crowded impression, however.

"Flasher", "High Energy" and "The King" were too

much of a good thing for this limited space. The

Bremen row accommodated the "Wilde Maus", the two

novelties "Mega King Tower" and "Horror Lazarett",

and there was a small nostalgic corner between the

"Twister" and the "Bodenmühle". The Crange

debutantes "Geisterstadt" and "Predator" established

a conspicuous new presence. All in all, 17 round rides,

14 kiddie rides, 9 fun house attractions, show booths

and walk-through constructions, 7 major rides, 5

dodgem tracks, 2 ghost rides and a water ride were

spread on the 11-hectare fairground this year. The ride

and gastronomy passes could also be bought online

this time and were quickly sold-out. The souvenir shop

at the Crange gate was very well frequented this year,

and the new merchandising products sold like hot

cakes. This year, visitors were able to book "Crange-

Erlebnisse" (Crange Experiences) from the Stadt-

GROSSENHAIN

marketing Herne. On offer also were culinary rides on

the Ferris Wheel, special seats in a box with service for

the fireworks display, a backstage tour, a fairground

tour for children and a culinary stroll across the fairground.

These experiences were offered in a beautiful

brochure and were sold-out in no time. As they turned

out to be real hits, further experiences are to be added

to the programme. Crange is a family-friendly fair experiencing

an upward trend, and nobody has to worry

about its fruitful, enduring existence. Actually, there

was generally only positive news to report, and the

Crange review should have been excellent this year.

Unfortunately, the final report on this year's Crange Fair

proved to be negative in almost all the media however,

as shortly before the closing fireworks event there was

a mass brawl involving some 60 participants at a

dodgem track in which two police officers were also

injured. This incident is under investigation, and next

year appropriate measures are to be taken to ensure

that such an incident will not occur again, marring the

otherwise positive results.

■

A LOOK BACK

A piece of ride nostalgia at

the Crange: The "Twister"

A fairground section in

Großhain from the Ferris Wheel

perspective

Text:

Photos:

Rolf Orschel

Lisa Liebold

This year, the district town near

Meißen was host to the "Tag der

Sachsen" ("Day of the Saxons")

celebrated for the 23 rd

time. The largest city, association

and Volksfest event in

Saxony has always been held

on the first weekend in

September since 1992.

On the "Wochenende der

Sachsen", or "Weekend of

Saxons" from 5 th to 7 th September,

hundreds of thousands of visitors

rushed to the town to get to know

the Saxon customs, the flair of the

town and the Saxon savoir vivre,

as well as extensively celebrate.

55
---
A couple of days before build

up, the Auenstraße fairground

was completely flooded. On the

muddy ground it was hard to

manoeuvre the transport

vehicles

Throughout the event, the town was divided into

three event zones; a cultural zone in the town centre

with numerous presentation stalls, stages and

events, a sport and play zone in the Sportpark

Husarenviertel, and a rest area in the town park. All

over the town, sports clubs, choirs, and music

groups provided a happy atmosphere. Moreover,

entertainment and concerts involving popular rock

bands and pop stars were offered on the 15 entertainment

stages and four media stages in the town

centre. In terrific weather conditions, visitors seized

the opportunity to get an insight into the work of

craftsmen, stroll around the market stalls, or try out

the large number of participatory offerings. On the

11,000 m 2 Auenstraße fairground, on the edge of the

cultural zone, an amusement park was built up,

organised by the showmen Klaus Kunze and Olaf

Liebold from the Dresden Showman Association.

Continuous rain during the week prior to build up had

changed sections of the area into a lake land that

eventually turned muddy. At times the water was

about 20 cm deep, so that a number of showmen

were able to move their transport vehicles on the fairground

only with the help of several traction units.

After the event, the showmen had the resulting deep

ruts removed. As there was not enough power available,

the large attractions were connected to three

powerful generators. The selection of fairground

attractions offered entertainment for everybody.

Rides presented were the Ferris Wheel from

Schubert, "Breakdance" (Meyer), "Flipper" (Splitt),

"Top In Express" (Bachmann), "Drop Attack"

(Bereit), and the "Mexico City" family coaster (Walkhoefer-Fischer).

The show and fun sector was represented

by the ghost ride from Hünniger and the

"Crazy Outback" walk-through construction (Hofmann-Jehn),

and younger visitors were able to enjoy

a carousel, a Jet Ride and a track ride. Three Continental

Pick Stands, three shooting galleries and a

hook-a-duck invited the public to try their luck and

marksmanship, and a bakery as well as a number of

snack, confectionery, and beverage operations

provided the visitors with food and drinks. Due to

marvellously sunny weather and pleasant temperatures

visitors virtually besieged the event especially

on Saturday. As the fairground was also well

attended on the other days, the showmen were quite

satisfied with their financial results. On the Saturday

evening at about midnight, a fireworks display

changed the Großenhain sky into a colourful sea of

lights. The highlight of the three-day event was the

festival procession on Sunday with 4,000 participants.

Shown in 170 pictures societies and clubs

wound through the town for two-and-a-half hours. ■

VERL

Text & Photos:

Nils Benthien

"Little Dancer" at the

"Verl Leben"

From 5 th to 7 th September, this year's staging of "Verl

Leben" was celebrated in the town centre of Verl

near Gütersloh.

On the Friday afternoon, the event was opened at the

Ferris Wheel on Kühlmannplatz by Mayor Paul

Hermreck. Immediately after the opening, free rides

could be enjoyed at all the ride attractions for a quarter

of an hour. New for Verl was the speedy "Kick Down"

56
---
Schießen

auf

höchstem

Niveau!

...ausschließlich von der Familie betrieben

Farbwechselnde RGB LEDs

mit 50 verschiedenen

Programmen

Für den Herbst 2015 planen wir eine

einzigartige Neuheit in der Schießbranche!

Wir bedanken uns bei den Entscheidern

vom Hamburger Dom, Crange, Vechta,

Blasheim, Brakel, Hannover Schützenfest,

Schloss Holte, Lippstadt, Minden, Herford,

Bielefeld, Gütersloh, Ennigerloh, Rinteln.

Und zum Abschluss der Saison

auf Klässchen in Lemgo.

Wir empfehlen uns für die Saison 2015!

Karl-Heinz Osthold • Minden

Tel. 0178 / 85 32 458

Andre Osthold • Minden

Tel. 0152 / 54 24 49 57
---
ide from Maik Landwermann. During his stroll across

the fairground the mayor insisted on making

announcements over this ride's p.a. system. With

Landwermann-Henschel's "Caesar´s Wheel", a Ferris

Wheel was once again presented at the event after a

long absence. Moreover, visitors encountered the

Musik Express (Noack-Ahrend), dodgem track

(Dorenkamp), "Air Race" Miami (Bartels-Geibel), and

the "Montgolfiere" (Zarnikau). The younger visitors

were able to enjoy several kiddie rides this time. A

number of sweet stalls, snack, games and sales

booths rounded off the entertainment contingent. The

supporting programme included a music festival on

the meadow next to the grammar school, a car show,

a kiddie flea market and an open shopping Sunday,

marking the end of the event.

■

HAMM

in Verl

View from the Ferris Wheel

Text & Photo:

Nils Benthien

The 25 th edition of the

Stunikenmarkt in Hamm/

Westphalia was held from 19 th

to 23 rd September. The event,

named after the local

merchant Johann Bernhard

Stuniken, always takes place

on the third weekend in

September.

Up until the 1960s, the fair

attractions were built up on

Richard-Matthei-Platz in the

town centre. Due to the square

being developed, the fair could

no longer be held here, but was

relocated to the outskirts. After

prolonged negotiations between

the Showman Association

Hand in Hand and the Hamm

authorities, the Stunikenmarkt

has again been held in the town

centre, spread out all around Paulus-Kirche since

1990, and has enjoyed great popularity with both

the local population and the showmen. This year,

the organising showman association succeeded in

presenting a harmonious fairground with about 90

showmen. Santa-Monica-Platz accommodated

the "Super Gaudi" Miami (Schneider-Sonntag),

Musik Express (Wendler), the "Voodoo Jumper"

(Schäfer), "1001 Nacht (Hartmann) and "Hexentanz"

(Markmann). Built up all around Paulus-

Kirche were the dodgem track (Isken), "X-Factor"

(Deinert), "Geister Hotel" (Burghard) and the

"Around the World" (Cornelius). The younger visitors

were able to enjoy the kiddie rider (Isken), the

"Bounty" kiddie swing-boat (Bossle), "Safari"

kiddie trackride (Wendler) and the kiddie chain

ride (Schneider). Moreover, a number of games

and snack booths could be encountered. The

event was opened on Friday afternoon by Lord

Mayor, Thomas Hunsteger-Petermann, and the

Chairman of the showman association, Uwe

Röhrig. In addition to free beer and ginger bread

elephants, visitors were able enjoy free rides for

half an hour at all rides, where long queues had

already formed prior to the opening. Tuesday was

the designated Family Day with considerably

reduced prices and the market was closed with a

fireworks display.

■

The "Around the World"

Ferris Wheel from Cornelius

in Hamm

59
---
A LOOK BACK

FRANKFURT AM MAIN

Many novelties at the

Dippemess im Herbst

Text & Photos:

Norman Vogt

The Frankfurt Dippemess is the largest and oldest

Frankfurt Volksfest and is held twice a year. While

the fairground on Ratsweg opens its gates for three

weeks in April, the "Dippemess im Herbst" (Dippemess

in autumn), as it is now officially called,

always takes place in September, this time from 12 th

to 22 nd .

The organising Tourismus und Congress GmbH

succeeded in contracting many novelties for the Main

metropolis this year. Making first-time appearances

were the "Predator" (Löffelhard), "Sky Trip" (Hartmann),

"Atlantis Rafting" (Vorlop), the "Jekyll & Hyde"

Propeller (Thelen), "Chaos Airport" (Haberkorn), and

the "Roue Parisienne" Ferris Wheel (Burghard-

Kleuser) along with the "Breakdance" (Schramm),

"Wellenflieger" (Roie), "Wilde Maus" (Göbel), "Jaguar

Express" (Geisler), and the "Alpha 1". Rides presented

once again were "The Game" (Weber) and the

60
---
A LOOK BACK

"Atlantis Rafting" and

Ferris Wheel in Frankfurt

"Fantasy Drive" ghost ride (Heinen), which stepped in

for another ghost ride at short notice, as well as the

"Adventure Shuttle" (Sottile), two dodgem tracks and

various kiddie rides. Moreover, many games and

snack booths, some of them with cosy beer gardens

invited the visitors to linger and enjoy. The showmen's

review of their financial results ranged from dissatisfied

to disappointing, as after a weak first weekend, the

weekdays turned out to be a financial disaster for some

of them.

Business was very good on the Family Day though,

and on the second weekend visitor attendance was

much better than on the first. Nevertheless, turnover

losses could not be made up for. Due to extensive

advertising, the layout of the fairground, and the

varied supporting programme, a considerably higher

number of visitors had been expected. One can only

hope that this year's poor résumé was nothing but a

flash in the pan, and that future events will succeed in

matching former results.

■

ROSTOCK

Welte's "Sound Machine"

in Rostock

Text & Photos: Kai Morawetz

The Hanse Sail in Rostock is the largest maritime

Volksfest in Mecklenburg-Western Pomerania.

Since 1991 it has been enticing numerous large

and traditional vessels and more than one million

visitors to the Hanseatic city every year during the

second weekend in August. With more than 200

traditional vessels and many unique ships from 12

nations, this year's 24 th staging of the event was

as "maritime" as never before.

In addition to the meeting of proud windjammers,

lovingly preserved traditional vessels and museum

ships, visitors were able to enjoy a colourful Volksfest

with interesting cultural and entertainment offerings

for everybody for four days. The event was held

across seven venues; in the city harbour, on the

premises of the former Neptun shipyard, at Gehldorf

Ufer, in the IGA Park, in Warnemünde, Hohe Düne

and on the Warnow, as well as on the Baltic Sea itself.

The event was focused on several core themes: Ships

in action, sailing trips, a colourful market, varied

entertainment programmes, competitions in the

sailing stadium, the gunner meeting and the Mini-Sail

in the IGA-Park. Seven stages, a colourful market and

a fairground with ride and funhouse attractions, as

well as a colourful assortment of concession stalls

organised by the Großmarkt Rostock GmbH, shaped

the scenes in the city harbour. The selection of ride

attractions was somewhat disappointing this time,

though.

62
---
Ausschreibung

Kirmes Uden – 10 Tage –

die schönste Kirmes der Niederlande!

Eine große Innenstadtkirmes, täglich von 13.00 bis 01.00 Uhr.

Die Udener Kirmes hat in den Niederlanden einen guten Namen.

Kirmes Uden – 17. bis 26. Juli 2015

Bewerbungsschluss ist der 03. Dezember 2014.

Anmeldeformulare können Sie downloaden unter www.kermisuden.nl

Kirmes

Uden

17. bis

26. Juli 2015

Weitere Informationen erhalten Sie bei Platzmeister P. Donkers

unter Tel. 0031 (0)6 225 029 84.

Gemeente Uden

Postbus 83, 5400 AB Uden NL
---
"Breakdance" (Groß) and

"Speedy" (M. Welte) in Rostock

Above all, visitors missed a large coaster or water

attraction, as well as another speedy ride. The

heralded crowd puller cancelled its contract at short

notice and could not be replaced with another one.

For the first time, the "House of Horror" walk-through

construction (Plaenert-Schieck) was presented at the

Hanse Sail. Other attractions built up were the

"Liberty Wheel" (Gormanns), "Wiener Sportrad"

(Taube), "Speedy" family coaster (M. Welte), "Musikladen"

(Hedt), "Sound Machine" (K. Welte),

"Drachen" mini coaster (Thiede), "Fantastic World"

Simulator (Walkhoefer), "Breakdance" (Groß),

"Berliner Rutsche" (Bungardt) and the dodgem

tracks "Hot Wheels" (L. Welte) and "Hot Cars" (Rathsack).

Moreover, the "No Limit" Propeller (van

Reeken), and the "Shaker" Miami (Venekamp) had

come from the Netherlands once again. The younger

visitors were able to enjoy the "Happy Cars" kiddie

ride, a kiddie chain ride, the "Dschungel Trip" and a

kiddie carousel.

The kiddie carousel from Köllner was relocated to

another site, where it could be fully built up with roof

and rounding boards at long last. In the last few years,

this ride had always been placed in front of a

restaurant, where it had to do without a roof so that

the guests in the restaurant had an unobstructed view

of the traditional vessels sailing by. A number of

snack, confectionery and beverage operations

provided the visitors with food and drinks.

Financial results differed depending on the sector.

While operators of ride and funhouse attractions were

satisfied or very satisfied, business at snack and

beverage operations did not live up to expectations.

"The 24 th Hanse Sail was a successful trial run for the

25 th event next year. Preparations and the

organization of this 'Silver Sail' are a big chance for

all of us to further enhance the quality and the sustainability

of this wonderful maritime festival,"

summarized the Rostock Lord Mayor Roland

Methling.

■

MUNICH

Text & Photos:

Ralf Schmitt

Punch and Judy show

and Ferris Wheel in Munich

"Sommerfestival impark14" –

this monstrous verbal contrivance

is the name of a

summer entertainment, consisting

of an appealing fairground

combined with many

other attractions and activities

in the centre of Munich.

The 33 rd staging of the summer

event was held in the Olympiapark

from 31 st July to 24 th August

this year offering, among other

attractions, wave and wake

boarding, daily live music from

Theatron Musiksommer, a beach

bar, a booth mile for shopping

and strolling, culinary delights

from all over the world, and showmen

attractions.

64
---
Built up this year was the tall Ferris Wheel (Willenborg) known from the

Oktoberfest, along with the omnipresent Munich "Mondlift" Enterprise

(Zehle), "Wilde Maus" (Münch), "Jumanji" (Haas), a dodgem track, the

nostalgic "Calypso" ride (Winheim) and the "Königliche Fahrt ins Blaue"

(Fellerhoff), as well as a number of well-chosen kiddie rides and games

booths. Moreover, fireworks displays were held on 7 th and 21 st August,

and every Tuesday kiddie days attracted visitors with reduced prices.

The gourmet mile with seating possibilities providing a view of the

Olympic Lake, offered specialities from Asia, Morocco, Spain, Turkey,

Bavaria and America, including vegetarian delicacies, as well as the

best from Tex-Mex cuisine. While it was open daily from 11 a.m. to 1

a.m., opening hours at the summer festival were Monday to Wednesday

from 1 p.m. to 10 p.m., Thursday and Friday from 1 p.m. to 11 p.m.,

Saturday from 11 a.m. to 11 p.m. and Sunday from 11 a.m. to 10 p.m.

Omnipresent is the time-honoured Olympic stadium, frequently used

for events and concerts all year round, with its still impressive roof

structure.

■

66
---
Visit us at

IAAPA Orlando

Booth 1839

Visit us at

IAAPA Orlando

Booth 4424
---
OLDTIMER PARADE IN CRANGE

Text & Photos:

Michael Petersen

On the occasion of the Crange Fair, the "1 st Oldtimer

Parade" with numerous historic showmen vehicles was

held on Monday, 4 th August. Initiator of the parade was

Albert Ritter, Chairman of the Historische Gesellschaft

Deutscher Schausteller, or Historical Association of

German Showmen.

The organisation of the parade was energetically supported by

the Herne Public Order Office and the Arbeitsgemeinschaft der

Schausteller, or Showmen Associations' Working Group, in

North-Rhine Westphalia. The response exceeded the

organisers' expectations by far. With considerable optimism

they had expected 25 vehicles at the most, but there were in

fact many more! All in all, more than 70 vehicles, including just

a few modern traction units took part in the parade. The

participating vehicles, ranging from historic tractors and towing

vehicles from the 1960s and 1970s to the latest traction units,

clearly demonstrated the technological development of

mobility in the showman industry. Additionally presented were

veteran cars, regular motor vehicles with caravans and trucks

from the post war years. Even old fire engines used for

protection against fire at the Crange Fair joined the parade.

Showmen had come with their historic treasures from all over

Germany, many of them not even being participants in the

Crange Fair. The car park at the Bochum Jahrhunderthalle,

where a historic fair has been held in wintertime for some years

now, had been chosen as the meeting point. After a communal

breakfast and the subsequent inspection of the vehicles, the

Oldtimer Parade began at 1 p.m. The course proceeded

through Bochum up to the Herne city hall, where Mayor Horst

Schiereck climbed on board, before it went on to the fairground.

"I would never have dared to dream that so many showmen

colleagues would put their treasures on the road for our very

first parade. I am truly overwhelmed!" said initiator Ritter on his

arrival with the troupe at the fairground, where he introduced

every vehicle to the visitors. At the end of this superb event

covered by the media in every detail, every participant

received a certificate of honour. That done, there were extensive

joint celebrations!

■

68
---
NOSTALGIA

69
---
PORTRAIT

Built by Zamperla:

Spengler's "Alpen Blitz"

The Swiss showman family

Spengler from Zurich have been

operating track rides since 1980,

when Konrad Spengler purchased

the "Alpen Blitz", built by the

Schwarzkopf firm, which celebrated

its highly successful

première at the "Grün 80" horticulture

exhibition in Basle. The

successor to this track ride is

being toured to this day.

Text & Photos: Norman Vogt

Konrad Spengler Jnr. and

Konrad Spengler Snr.

Alpen Blitz

Even though the first roller coaster was very well

accepted by the public on the Chilbi fairgrounds,

Konrad Spengler sold the attraction to

Germany in the early 1990s as the construction was

too large for most of the Swiss fairgrounds. Since

1992, the Spengler

family has been touring

with the "Alpen Blitz",

which was built in Italy.

This attraction was built by the Zamperla firm

in 1991 for the Swiss showman Fritz Müller,

who sold it on to Konrad Spengler after only

one season. The "Alpen Blitz" from Zamperla

is a compact construction of a size almost

ideal for Swiss fairgrounds. The complete coaster

requires only two transport vehicles, with the

centre trailer being incorporated into the coaster as

the station. It takes about one-and-a-half days to

build up and half a day to dismantle the coaster.

72
---
PORTRAIT

The train in detail

The train, operated by two friction drive wheels and

headed up by a small steam engine, accommodates

a maximum of 20 passengers per ride. The

train is strikingly painted in the national colour of

red.

73
---
Spengler's "Alpen Blitz"

appears at 15 to 20 events in

Switzerland every year

The backflash, which was not included at the time

of purchase, was painted with Swiss alpine motifs

by Rudi Höhner. The pleasant ride goes through two

tunnels and past additional decoration elements

purchased and integrated into the coaster by

Konrad Spengler. The Spengler family presents the

"Alpen Blitz" at 15 to 20 events per year. Apart from

minor events, the tour schedule also includes the

Knabenschießen in Zurich and the events in

Geneva and Lucerne. Countless passengers were

able to enjoy the ride fun offered by the coaster

during the last 22 years. To this day, the speedy ride

running through two steep curves attracts the

family public and adolescents, and enjoys loyally

returning guests on many fairgrounds. The "Alpen

Blitz" has a front length of 28 metres, a 17 metre

depth, a maximum track height of 5 metres, and

electrical requirements of 30 kW.

■

74
---
Visit us at

Booth 5154 & 7220

IAAPA Orlando
---
Mülheimer

Gottestracht 2015

580jähriges Schützenfest & Volksfest

vom 04. bis 07. Juni

Für diese weit über die Grenzen Kölns bekannte Veranstaltung

werden Fahrgeschäfte jeder Größenordnung, Randgeschäfte

und interessante Schaustellerbetriebe gesucht.

Festplatz Köln-Mülheim

unter der Mülheimer Rheinbrücke

Bewerbungen an:

St. Seb. Schützenbruderschaft Mülheim am Rhein

Von-Ketteler-Str. 85 • 51061 Köln

Werner Weinkoth • Tel. 0175/22 31228

E-Mail: werner.30@online.de

Dieter Osselmann

VOLKSFESTTERMINE 2015!

im Herzen der Stadt Velbert

MAIKIRMES VELBERT

vom 01.05. bis 05.05.2015

HERBSTKIRMES VELBERT

vom 02.10. bis 05.10.2015

Zu diesen Veranstaltungen werden Geschäfte aller Art gesucht.

Die Bewerbungen sind getrennt mit Lichtbild,

genauen Maßen sowie Stromanschlusswerten einzureichen an:

Dieter Osselmann • Teichstraße 12 • 40822 Mettmann

Absagen werden nicht erteilt.

Anzeigenschluss für das Dezemberheft ist Montag, 10. November
---
European Showmen's Union

Europäische Schausteller-Union

Union Foraine Européenne

International non-government organisation (NGO) • Established in 1954

President Albert Ritter

Showmen Discussed International Questions and Problems

Extended Presidium Meeting of the ESU in Amsterdam

the hope of the ESU to once again receive an audience

with the Pope at the Vatican next year.

Representative of the European Showman Union

were invited in December 2012 by the "Pontifical

Council for the Pastoral Care of Migrants and

Itinerate People" and were received by Pope

Benedict XVI. In the name of the European Showmen,

President Albert Ritter presented the Pope

with a carousel horse with the original coast of

arms of the Holy Father.

At the end of the Amsterdam ESU meeting, a joint

tour was undertaken of the Euro Attractions Show

exhibition and RAI congress centre.

Representatives of eight ESU-Associations met up in Amsterdam for an international exchange of

opinions

Photo: ESU

Show persons from eight member associations

of the European Showman Union met up on the

23rd September in Amsterdam for a regular

meeting.

During the extended Presidium meeting current

themes were discussed such as toll charges,

taxation rights, transport and traffic questions,

the safety Norm 13814 for ride constructions,

schooling as well as the recognition of

the European Volksfests as a World Cultural

Heritage.

During the ESU meeting Scottish colleagues

informed about the continuing problems caused

by double fee demands when applying for Volksfest

licences in their country. The ESU considers

the fee demand to be simply a "rip-off", which is

contrary to the EU-guideline 2006/123/EG. The

presidium confirmed the support of the ESU of

Scottish showmen.

As finale, President Albert Ritter reported about

Publishing Information

Publisher:

European ________________________

Showmen's Union (ESU)

Responsible for contents:

Albert Ritter, rittera@dsbev.de

________________________

Editor:

Christoph Jansen, jansenc@dsbev.de

________________________

Address:

Europäische Schausteller-Union

c/o Deutscher Schaustellerbund e.V.

Am Weidendamm 1A • D-10117 Berlin

Tel.: 0049 (0)30 590 09 97 80

Fax: 0049 (0)30 590 09 97 87

E-Mail: mail@dsbev.de

Internet: www.esu-ufe.eu

Association representatives from the Netherlands,

Belgium, Great Britain (together with the Scottish

section), Sweden, France, Finland, Austria and

Germany travelled to Amsterdam to discuss with

colleagues the progress of the current season, and

strategic political points for the future.

In the matter of "professional driver qualification"

the presidium emphasised the demands of the

European Showman Union for a European wide

exemption rule, as already is the case in the

Netherlands, Switzerland, Belgium and Germany.

A qualification for showmen in Europe is not necessary

as showmen are not professional drivers.

They transport their own inventory to reach the

Volksfest grounds to earn their salary. According

to the ESU there is a clear definition between

commercial freight transport and the showman

profession. The ESU announced a relevant written

confirmation will be available to the national

member associations.

Amsterdam is a regular host to ESU-meetings

Photo: Enrico-Eisert / pixelio.de
---
COASTER

The world's longest

Inverted Coaster was built

by B&M and stands since

2014 in the beautiful Kings

Island in the US state of

Ohio

According to legend, a banshee

is the supernatural appearance

of an old woman emitting earsplitting

wails who always appears

near a river when the

death of a family member is imminent.

And so this was the way

that Kings Island could cope

with the death of a quite young

family member "Son of Beast",

the location of which this new

record coaster has taken over.

Text:

Michael Badelt

Photos: Michael Badelt,

Marcus Gaines

Banshee

Mystical legends here or there, in the case of

the new Inverted Coaster from the Swiss

company Bolliger & Mabillard in the beautifully

landscaped Kings Island near Cincinnati, it

appears that "Banshee" was only able to fulfil its

assignment a little later than planned. As its supports

were rammed into the ground on the slope in

the immediate vicinity of the Arrow Suspended

Coaster "The Bat", there was no death to report as

only the station was left from the "Son of Beast".

Earlier this attraction was the highest wooden

coaster in the world, at times operating with

looping. The station appeared to be used as a

haunted house for Halloween at that time. "Son of

Beast" (RCCA, Stengel) was demolished in 2012,

after only just 12 years and many modifications

(the looping was already removed during the

winter break 2006/2007), when it became obvious

that a trouble free resumption of operation was no

longer realistic (the attraction was at a still stand

since 2009).

80
---
By the way, this was not the first coaster at the park

that had to go out of operation after only a short

life cycle. The previously mentioned attraction

"The Bat" had a predecessor of the same name

from 1981 to 1983, interestingly the same ride type

and from the same manufacturer. However in

those days the applied construction methods

were simply not developed enough for a

Suspended Coaster, so it was first in 1993 that this

still existing construction – originally known as

"Top Gun" – actually opened. Following a name

change to "Flight Deck" due to the separation from

Paramount in 2008, it was renamed "The Bat" in

2013, conforming to its history and fitting to the

expected new acquisition in the neighbourhood,

and continues to offer a lot of ride fun,

fitting perfectly into the terrain.

The last mentioned has also been of good use

to "Banshee", with the station sensibly being

placed considerably nearer to already existing

paths at the theme park and the bordering

theme area (e.g. equipped with a "Giant

Frisbee" from Huss), which happily doesn't

make the way to the entrance into an endless

mountain climb. This also has the advantage

that the lift and the first drop can be very well

seen by all park visitors. The waiting line leads

initially over a cemetery, which gives the required

atmosphere in the evening hours.

Those who look closely can discover a grave

stone here, reminding one of the previous

resident of this park area, the "Son of Beast".

After passing the beautifully laid out cemetery,

visitors continue on unceremoniously to the

scanty waiting area, before being able to climb

the steps to the station. After arriving at the

station it doesn't take long before passengers can

take their place in one of the three trains, each

equipped with eight rows of four. It's here at the

very latest that the first innovations are revealed,

which are unknown in this form until now on an

Inverted Coaster from B&M. Firstly there is no lifting

floor under the course, which on the one hand

speeds up the loading process significantly, but

on the other hand the smaller passengers – the

construction allows participation of passengers

from 1.32 metres – find it more difficult to have

comfortable access to the large and comfortable

seats.

An overall view from the

96 metres high "Eiffel Tower"

81
---
COASTER

With a breathtaking

height difference of 51

metres the "Banshee" is not

the highest Inverter but the

longest in the world

FAST FACTS

■ Opening: 18 th April 2014

■ Track length: 1,257 m

■ Lift height: 45.7 m

■ Track difference: 51 m

■ Max. speed: 110 km/h

■ 7 inversions

■ Ride time: 2 min 20 sec

■ Pure ride time (1 st drop to

final brake): 65 sec

■ 3 trains each with 8 cars,

per car 4 pass.

■ Capacity: 1,650 p.p.h

■ Manufacturer: Bolliger &

Mabillard, Switzerland

■ Operator: Kings Island,

Kings Mills, Ohio, USA

A morbid theme, and

allusions everywhere of past

attractions

New Restraints for Maximum Freedom

The second innovation for an Inverter is the

restraint system. In this case it's the already known

combination of flexible vests and protruding

restraints with lap padding on Wing Coasters from

the same manufacturer. Even the smallest head

bang is ruled out as a result, which increases ride

anticipation. The only point of criticism about this

system is that the vests are so stiff that they begin

to press uncomfortably. Naturally the task of the

system is to keep the upper torso in position, but

a minimal reduction of the pressure would

contribute to general ride

comfort.

Following successful start

clearance, the train reaches

the lift after a slow left curve,

bringing passengers to the

maximum height of 50.9 m.

Once reaching this point the

"Banshee" gives a bloodcurdling

scream that can be heard from far away,

before it travels into the long first drop downwards

with expected vehemence. This is followed by a

dive loop and a vertical looping that has already

been travelled through on the lift – a lovely and

infrequent motive. Passing the waiting area guests

reach the Zero-g-Roll before going into the back

section on the slope. Relentlessly and with full

power "Banshee" rips the passengers in the

"Pretzel Knot" into the depths, and robs all of any

orientation. The special characteristic here is that

this section is no longer on the same level as the

station. With that, a number of elements as well as

82
---
the deepest part of the Pretzel Knot are under the

station level, which leads to a total height difference

of around 63.4 metres. Hardly has this

powerful element found its horizon again, another

vertical looping follows, before travelling upwards

in a long right curve again.

Extremely Long Coaster with No Brakes

The well disposed B&M riders can at this point

expect the block brakes on the attraction that

believe it or not has a track length of 1,257 metres

– a world record for an Inverted Coaster – and a

three-train operation. Luckily this expectation

doesn't come about; instead riders travel at a

comfortable pace into an In-Line-Roll, which is a

novelty for the Swiss firm.

And at this very time the correct choice of restraint

system is proven, as the classic shoulder restraint

used until now would not give enough hold, due

to its not quite ideal adaption to varied torso sizes.

As finale, passengers travel through a powerful

helix upwards, and are then transported upwards

to the station level, before the ride is given a good

dose of the final brakes, and the ride comes to an

end.

The entrance leads to the

"Haunted Hill" – and not only

during the Halloween season

83
---
COASTER

In contrast to the

predecessor "Son of Beast"

the track course of

"Banshee" can be seen very

well by all park visitors

"Banshee" is packed with an enormous number of

experiences from beginning to end, and is mostly

comparable to the countless number of compact

constructions from B&M, for example "Batman",

"Nemesis" or "Black Mamba". With "Banshee"

B&M has managed to impart the very same

feelings on a large attraction. It's very rare here

that passengers have time to even take a breath

and orientate themselves, although

most of the elements

have been experienced in similar

succession and form. Only

the In-Line-Roll of this type is new

and unusual for the ride characteristics

of an Inverter. Positive is

the waiver of an often disturbing

block brake, and simultaneously

moves the well-established team

to high performance, as this type

of capacity monster has to be

sent on its way efficiently.

In finale one can only say that Kings Island Theme

Park has presented a great hit to the public. On

the one hand a gap in what the attractive park

offers has finally been closed, and on the other,

the park presents its guests here with a beautifully

smooth but very intensive attraction, which has

been very well received by the targeted visitors

groups.

■

FUN FACTS

The new B&M inverted coaster "Banshee" can

give thanks to its name not only due to myths

and legends, but also to the fact that the Cedar

Fair Group to which Kings Island belongs, had

already registered the "Banshee" name as a

trade mark for coasters in 1995. All the same it

was the attraction known these days as "Mantis"

that originally was to carry this name. Due to

negative press reports regarding the name, the

project was renamed "Mantis" even before the

opening. The original logo design was then

reused later for the "Steel Force" at Dorney Park.

The name "Banshee" however remained unused

until the announcement from Kings Island

last year.

■

84
---
Visit us at

IAAPA Orlando

Booth 5137

Visit us at

IAAPA Orlando

Booth 3454
---
WATERPARK

The unusually colourful

design of "Humungaslide" is

without a doubt one of the

optic highlights of the park

and simultaneously lively

and speedy fun

The first themed water park in

Thailand opened on the 3 rd

October 2014 – the Cartoon Network

Amazone Waterpark in

Bang Saray. Additionally this

project is the first water park

worldwide with a theming

according to the popular Cartoon

Network characters.

CN Amazone Waterpark

Text:

Stefan Rothaug

Photos: Tony Hanscomb,

CN Amazone

Another slide highlight is

"The Omnitrix", a huge

"Sphere"-slide that is designed

after the Ben 10 Planets and

has a starting point of a 23

metres height

Located only 20 minutes by car from the tourist

stronghold Pasttaya, the new water park mainly

targets the 20 million foreign tourists that visit Thailand

every year. The capacity of the 6.5 hectare

sized park is one million annual visitors, and is

operated by the Thai company Amazon Falls Co.

Ltd, which had also developed the park in cooperation

with the Cartoon-Network-licensor Turner

Broadcasting.

Themed water parks are not a world novelty. Countless

parks around the globe have the tropics, the

Amazon or the Caribbean as theme.

More unusual themes can be found for example at

Disney's Blizzard Beach. However that what is

normal in "dry" theme parks such as attractions or

whole theme areas with "intellectual property" (IP),

in other words licensed characters or brands

(mostly from the area of film and television), have

86
---
not spread very far into the water park sector. One

of the very few exceptions are the Lego water parks

in Northern America and Malaysia. Particularly with

the opening of the "Legend of Chima" themed

areas in both US-parks in California and Florida,

operator Merlin Entertainments Group has now also

set the water park on IP.

Interestingly, Lego's toy series "Legend of Chima"

also has its own television series on the children's

channel Cartoon Network, which is very popular in

South East Asia. However with a completely

themed water park with the characters from Cartoon

Network, the makers of this water park step

into totally new waters.

The park was already in test operation at the end of

July, before being officially opened at the beginning

of October. It is divided into ten zones, six of which

however are retail shops, a food court, an event

stage, a spa, and other similar things. The real

theme areas in that sense are four in total until now:

the "Omniverse Zone", the "Adventure Zone", the

"Megawave Zone" and the "Cartoonival".

"Omniverse" is themed according to the cartoon

series "Ben 10", and is the thrill-zone at the park.

The signature ride is without any doubt the

"Humungaslide". As all other slides at the park, this

23 metres high Racing-Slide has been supplied by

Turkish manufacturer Polin.

The water playground

offers 150 different features

87
---
In addition to all the thrill

slides there is also a resting

zone and a large Lazy River

Artificial wave surfing is

also offered in the new water

park, which is located directly

in the Bang Saray Bay

"Humungaslide" is structurally identical with constructions

at other parks that are operated there

with the name of "King Cobra" – a ride concept that

in 2012, 2013, and also in 2014 was bestowed the

European Star Award. Here in the "Omniverse Zone"

the slide of the same construction type, themed

after the "Ben 10" villain dinosaur, is once again a

convincingly different theme.

On the "Intergalactic Racers" four persons are able

to slide in competition. In the "Goop Loop" with trapdoor

start, thrill seekers experience 2.5 g when they

slide into a looping after a 12 metres high freefall.

The "Omnitrix" pipe slide flows into a funnel with

sound and projection. "Alien Attack!" is a traditional,

100 metres long pipe slide, and "XLR8tor" is a 17

metres high speed slide.

The second slide theme area is the "Adventure

Zone" where guests Finn and his friends from the

cartoon series of the same name meet up. Eyecatcher

here is the "Jake Jump" slide, where guests

can slide along Jake's body in a double boat. Overall

the slides are more family friendly here as in the

neighbouring "Omniverse" area. In addition to "Jake

Jump", the funnel slide "Banana Spin" invites guests

to take part in a slide party. The third attraction

"Rainfall Rainicorn" is also a family friendly tube

slide. Not far from the "Adventure Zone" is the entrance

to the 335 metres long Lazy River "Riptide

Rapids" that travels completely around the "Omniverse"

and "Adventure Zone" areas.

In addition to the "Megawave Zone" that comprises

of a wave pool and the Flowrider-double

88
---
construction "Surfarena", the water play area

"Catoonival" rounds off the offers at the park."Meet

& Greet" with cartoon heroes from Cartoon Network

is a permanent part of the experiences, and in this

form is a real novelty for a water park.

One thing that all the theme areas have in common

is the unbelievable colours and theming of the

water slides, which are without comparison worldwide.

Manufacturer Polin has been well known for

this feature for a long time, for example with its

already mentioned, the mulitple award winning

"King Cobra". However all other slides can be

described as spectacular, alone due to their

colours, with which together with the well known

characters, the water park will without a doubt

receive a lot of attention.

Considering the matter internationally, the Thai

water park branch has up until now played a minor

role. For a long time South Korea has been the

country with the most water park visitors in Asia;

according to AECOM it's there that 5 of the 15 most

visited Asian water parks can be found. It was first

with the opening of the currently most strongly

visited water park worldwide in Guangzhou from

the Chimelong-group that China has also appeared

on the water park map.

Due to the climate and the relatively low investment

costs, water parks are ideal for project developers

in South East Asia, and it's to be expected that there

will be further water parks opening in the near

future. Another large water park, the Ramayana

Waterpark currently under construction, is also

located in Pattaya. The

opening is planned for

2015. With construction

costs of one billion Baht

(around 24 million Euro),

the investment is similarly

as high as the CN Amazone

Waterpark. Whilst all

slides for Amazone have

been delivered by the

Turkish manufacturer

Polin, the Ramayana Water

Park will be equipped by

Canadian manufacturer

WhiteWater West.

Pattaya is located just two

hours from Bangkok, and

insofar long established

water park operators in the

capital city of Thailand

have to be prepared for

new competition. ■

An unbelievable number of

colours, in part even

translucent

The Boomerang slide

"Jake Jump"

89
---
EXHIBITION

This time the EAS

flags were not dominant in

the entrance area as other

exhibitions were also taking

place at the same time

The Euro Attractions Show 2014

took place in Amsterdam from

the 23 rd to 25 th September at the

RAI exhibition centre, and once

again broke all records. During

its eleven year history, there

were a record number of exhibitors,

exhibition area, and visitors.

EAS 2014 Amsterdam

Text:

Wolfgang Payer

Photos: Wolfgang Payer,

Marcus Gaines,

Frank Lanfer,

IAAPA,

divers

On the evening of the first

exhibition day, exhibitors and

visitors met up at the Opening

Reception at the Strand Zuid

Around 10,750 visitors attended the event this

year, and in comparison to the EAS 2013 in

Paris, that is an increase of 26%. Visitors attended

from more than one hundred different countries,

and 441 companies from 36 countries presented

their latest products. Parallel to the exhibition,

more than 1,800 guests took part in the seminars

and lectures with different themes such as mobile

management, social media, brand-name products,

employee development strategies, innovative

technology, and much more.

The exhibition commenced as always with the

Opening Ceremony. This time those responsible

had thought out a very successful introduction

with a film showing Vice-President Karen Staley

reading the morning paper that announced that

the EAS was starting that day. She immediately

made her way by bicycle, horse, and vintage car,

and arrived on time. After the end of the film she

arrived at the exhibition hall in person, in the same

vintage car and in the same Dutch traditional

costume that could be seen in the film.

90
---
Visit us at

IAAPA Orlando

Booth 2647
---
The Opening

Ceremony opened the EAS

exhibition with the successful

film appearance of Karen Staley

(above together with Liseberg

boss Andreas Andersen)

The Kirmes & Park Revue

and the special edition were

available at the KPR stand as

well as on other locations

The evening Opening Reception took place after

the first exhibition day on the Strand Zuid, which was

conveniently located between the two exhibition

halls. Many exhibition visitors and exhibitors were

able to enjoy a reunion in a cosy atmosphere.

For a number of exhibition visitors the day was not

over however, as after the ending of the Opening

Reception the Kirmes & Park Revue event took

place. The winners of this year's European Star

Awards voted by an international trade jury were

honoured and celebrated on the premises of the

trendy Heineken Experience World.

Alphabetical Review / IAAPA Review

In this year's EAS exhibition report we are

presenting a summary of imminent new projects.

In part some have already been mentioned in our

last exhibition reports or past KPR editions. As

long as they are current, they may well be listed

once again. Additionally we must also mention

that the IAAPA exhibition report (planned for the

Kirmes & Park Revue, January issue 2015) will

review and elaborate on all new and important

projects.

92
---
Visit us at

IAAPA Orlando

Booth 5131
---
Always a little

annoying when the EASexhibition

has to be divided

into two halls – but this was

surprisingly positive at

Amsterdam: both exhibition

halls were completely booked

out and very well visited

EAS 2015

The next Euro Attractions

Show 2015 will be guest

of the Swedish city of

Gothenborg from the 6 th to

the 8 th October. And an especially

atmospheric EAS

exhibition is to be expected,

as the exhibition area is located

directly next to the famous

Liseberg-Park, where many

of the special and evening

events such as the Opening

Reception will take place, as

well as the European Star

Awards.

■

abc rides

Madame Tussauds in Singapore will receive an Indoor

Boat Ride and the Hello Kitty Park in Shanghai

a "River Splash" and a "Maibaum". The company

will also install an 18 metres high and 250

metres long "Indoor Compact Water Coaster" with

vertical lift in a shopping centre in China.

Funtime

The Austrian manufacturer will be – how could it

be any different – flying high again next year. A

rotating gondola is used on the model "Skyfall",

and the first example from this new series went to

the Dutch showman Ordelmann, and went into operation

at the same time as the exhibition. An

around 80 metres high "SkyScreamer" will be

erected at Six Flags Mexico, and in Orlando on the

I-Drive in the immediate vicinity of the planned

Ferris wheel "Orlando Eye", a 140 metres high "Star

Flyer". The future record breaker will have a spectacular

peak that will be able to be seen from far

away. Funtime is also planning a completely new

type of attraction for the Prater, which will be a real

adrenalin machine.

94
---
Visit us at

IAAPA Orlando

Booth 4627
---
EXHIBITION

The design of the

Gerstlauer "Sky Fly"

created for Familypark

Neusiedlersee shows a lot

of promise

Gerstlauer

Intamin

Intamin: the 40 metres high

Water Coaster for the Hello

Kitty Park in Anji, and the 27

metres Looping Coaster for an

unnamed park

A new model of the "Sky Roller" has been developed

by the Schwabian manufacturer in which

case only the gondola cross is elevated. For the

safety of the riding guests, an automatic restraint

locking system will be in use. The older model had

a construction height of 22 m; the new attraction

will be offered with a 35 m height. Customers may

choose either 16 or 24 individual seats. The attractive

"Sky Fly" that is similar in its mode of operation

but due to its slanting flight radius will also

be delivered a number of times in 2015 – to a

Taiwan park, to Dreamworld Australia, and the

Familypark Neusiedlersee. The last mentioned

has also ordered the smallest coaster in the world

("Kiddie Racer"). Further along, a 12 m high and

181 m long "Shuttle Family Coaster" will be delivered

to Adventure City in Anaheim (California),

a 22 m high and 361 m long "Euro Fighter" to the

SindiPark Casablanca, Morocco, and a "Lunched

Infinity Coaster" to Powerpark, Finland.

Basically, the Swiss company offered three new

ride systems in the areas of coaster, flume ride and

freefall, the prototypes of which all went into operation

this year. In the case of coaster it was the new

"Gringotts-Coaster", however Intamin according to

Universal may not reveal any technical details. In

the Log Flume section Intamin presented the

"Chiapas" ride opened at Phantasialand, which is

very convincing being fully packed with new

technical innovations. The company name of this

ride is "Flume Ride 6 with Backdrop", whereby the

number six represents the seating capacity of one

boat. A further development of Intamin's "Gyro

Drop" is the "Sky Jump", which will open at Busch

Gardens Tampa. The new feature here is that the

gondola is tipped forward during the fall to 95°.

Future construction deliveries will be a "10 Inversion

Coaster", (height 33 m, length 875 m) for Hopi

Hari in Brazil, an "LSM Launch Coaster" in Europe,

a water ride in Great Britain, and a 120 m high

96
---
Suspended seats in comparison:

left from Mack Rides

for an "Inverted Powered Coaster"

without inversions, and

right from KumbaK for a Suspended

Looping Coaster

Adventureland in the USA

will receive a Spinning Coaster

from Mack Rides

Ferris Wheel in the USA. And after the Turkish

Vialand in Istanbul has already been supplied with

an abundant ride supply, there's another large

contract from a new Turkish theme park project developer:

Ankapark in Ankara ordered a "10

Inversion Coaster" a "Jet Ski Coaster" and an "LSM

Launch Coaster", a 435 m long Rapid Ride, a 50

m high and 422 m long "Hyper Splash" and a 45

m high "Flying Island". Additionally, as already

proved by other manufacturers as well, China is

once again a large sales market: a "Looping

Coaster" will go to Romon World (27 m high, 560

m long), Hello Kitty in Anji will receive a 35 m high

"Coaster Wheel", and an unnamed park has ordered

a Mega-Coaster (77 m high, 1,505 m long), a

Water Coaster (40 m high 475 m long), a "Gyro

Drop" (80 m high) a "Flying Island" and a "Reverse

Freefall Coaster".

Jora Vision

Kolmarden Zoo in Sweden (Parks & Resorts

Scandinavia) has a new area called "Bamse's

World", with the main character being the figure

Bumser Bear, which is a famous cartoon figure in

Sweden. The area has a size of 20,000 m 2 and will

receive themed rides and playgrounds.

KumbaK

New seats have been developed which can be

used on a Vekoma SLC. The seats are very noticeable

due to a soft and comfortable restraint system,

whereby the principle is similar to seatbelts

in cars, and with that hardly cause any hindrance

during the ride.

Mack Rides

The new "Inverted Powered Coaster" at Europa-

Park caused a lot of interest. Almost all large park

chains showed interest in this attraction Nevertheless

there's (still) silence regarding potential

customers for such a ride a la "Arthur". But on the

other hand information was supplied about the

following customers: Hainan R&F Ocean Paradise

("Boat Battle" and "Twist 'n' Splash"), Adventureland,

USA (Spinning Coaster; 382 m long, 17 m

high), Xian (Mega Coaster; 1,290 m long, 61m

high, 115 km/h speed, 1 Looping, 1 Zero-G-Roll,

2 trains each with 24 seats), Forellenhof Plohn

(Powered Coaster; 266 m long), DivoOstrov

(Launch Coaster; 1,056 m long, 38 m high, 100

km/h speed) and Wanda Nanchang ("Twist 'n'

Splash").

98
---
Visit us at

Booth 2024 & 2231

IAAPA Orlando
---
EXHIBITION

An "X-Train" front car

with a new type of restraint

system from Maurer Rides

Maurer Rides

Modelachterbahn.de

Maurer has further developed its X-Car to an X-

Train, which apparently will be a lot smoother when

operating due to the axle steering device and the

spring loaded side wheels. The new train is also

built according to the Euro Code 3 Norm. The

seats are now multimedia capable and have a

touch screen. The park for example can present

its own advertising on this screen during the time

spent in the station or videos during the ride. New

LED-lighting can also be installed according to

customer requirements. The first delivery of an "X-

Train" will be delivered to Ningbo in China, and

Hershey Park will be supplied with a "Spinning

Coaster 2000", which as an indoor version will be

themed with UV and black light features.

Many German school children and students exhibit

a coaster model that they have worked on and perfected

for years, and continue to do so. However

there are already signs of a whole lot of innovations

and inventive genius for which they have been distinguished

in the German competition "Jugend

Forscht" (Youth Research): for example the ride

course having track switches inbuilt so that the

passengers can control the coaster cars individually.

This is the second coaster model from

the young researchers – their first was also a moving

working model that has been on display at

Hansa-Park since 2011. Possible participation

sponsors at the EAS were such companies as

Bolliger & Mabillard, Vekoma Rides, and others.

100
---
The first indoor water park

for the Plopsa Group will come

into being in Belgium and be

designed as a Viking snow

landscape on 4,000 m 2

(Design: M2Leisure)

Plopsa Group

For the first time the Plopsa Group also took part

as exhibitor and not only to present a model of its

new "Plopsaqua" indoor water park that will go into

operation in April 2015 at Plopsaland de Panne,

but also to be present as licensor. With the internally

well known characters like Maya the Bee,

Wickie the Viking, Tabaluga, Heidi and others, the

group aims at giving other theme parks the

opportunity to realize attractive kiddie and family

areas.

Reverchon

Reverchon presented three new rides at the exhibition:

a "Compact Mini Flume", a new Rafting

construction, and a "Swinging Coaster". In the

case of this coaster concept the riding guests sit

back to back. The cars can also rotate at 180°, and

the seats are so mounted that they can swing out

freely in each curve on a carrier.

rollercoasterrestaurant

This new restaurant chain from Heine-Mack, with

restaurants already operating at Europa Park,

Nürnberg, and Hamburg, plans to expand, hence

the representation at the EAS exhibition. Food and

drinks are transported to the relevant tables on

tracks similar to a coaster. Currently there are

plans for further branches – one in November

2014 in Abu Dhabi with 380 seats and another for

Sochi in 2015.

Reverchon's new coaster

idea that already has a prototype

is a type of Suspended Coaster

that runs above the tracks

102
---
www.intaminworldwide.com

See us at

IAAPA Attractions Expo

Booth #3824
---
The "Biga-Coaster" and

the complete Sunkid/Heege

team of 25 years

Vekoma Rides: a 360°

cinema for Roermond, and the

"Giant Boomerang" that opened

a few weeks ago in Sochi

Sunkid

Sunkid presented a coaster train at the exhibition

designed for Vekoma's Boomerang, with the first

delivery already going to the Vienna Prater. The

train only has a lap restraint instead of shoulder restraints,

and can also be equipped with an audio

system. Although the train was designed for only

Boomerang type of rides initially, it can be fitted to

all other types as well. Further along, exhibition

visitors could also take a closer look at a singlerider

car from the "Biga-Coaster". The track course

of this model can be installed on the smallest of

spaces; the first installation being on the transportable

showman attraction, "The Tower Event

Centre".

Technical Park

A very special gimmick could be admired at the

Technical Park EAS stand: a new ride concept

presented as a Lego-model. The exhibit was

invented and built by the young German, Thomas

Hölderle. The ride characteristics probably could

best be described as a new type of combination

of the "Transformer" called ride (from Mosers

Rides) and the so-called "Move It" (from KMG) to

create a new ride sensation.

Vekoma

The Dutch manufacturer is also running in top

form, and it's particularly the erection of indoor attractions

in shopping malls in the upcoming

months that are on the programme. For example

a custom-designed "Motorbike Launch Coaster"

and an unusual "Dive Pretzel Loop Coaster" which

will open in the Berjaya Mall in Peking, and two

shopping malls in the Ukrainian capital of Kiev will

also be happy about an upgrade with attractions

from Vekoma: Respublica Mall will receive a custom-designed

Junior Coaster, and the Lavina Mall

a 395 m long Family-SLC. The Outlet-Centre in

Roermond in the Netherlands near the German

border will receive an "I-Ride Panoramic Flight

Simulator", a "V-Ride Adventure Theatre Simulator"

and a "D-Ride Ranger Interactive Dark Ride"

shortly before the opening.

Thomas Hölderle and his Lego model at Technical Park

stand (along with the European Star Award for "Vertigo")

104
---
EXHIBITION

A remarkable

project from Zamperla that

concentrates on the

increased integration of

disabled persons, offering

many solutions

Videoimage

Zamperla

Videoimage in cooperation

with Aquarena, has

developed an Onride

photo point for water

slides. The first installation

was built into the Therme

Soltau, with the requirement

that there were no

injuries to riding guests by

protruding parts. The lens

of the equipment had to be

treated so that there is no fogging up.

When a bathing guest uses a slide, photo

information is stored on the guest ID-Band.

Following the ride the guest can see the photo for

30 seconds, and then can choose between

having it printed out in the evening at a self-service

terminal, or having it forwarded per email by way

of a QR-code.

An interesting project from Zamperla named

"E-Motion-Park" addresses people who despite

physical or intellectual disabilities wish to visit a

theme park. This programme contains not only

special ramps but also light and sound signals for

the hearing impaired or partially sighted visitor. For

example Braille could be mounted at the entrance

area, and a park plan could also be offered in

Braille – and there could also be small "touch"

models of ride constructions available.

In this way the park experience could be almost

the same as for those who are not disabled. The

programme has been designed according to all

relevant safety and health standards. The

necessary information can be called up by the

disabled visitor at special Info-Points. Naturally

technical adaptation is necessary for cars and

gondolas, in order to attain a simple passenger

loading procedure.

Marshall Hill, owner of Funland

Hayling Island and

committee member of BALPA,

purchased a Track Car Ride from

Zamperla

106
---
Visit us at

IAAPA Orlando

Booth 4428
---
Guests at the Polin stand: the operator of the Istralandia Waterpark opened this

year (also in photo are the European Star Awards for the water slide "King Cobra")

Premier Rides: Joanna Guy and Sara Ingram

(right) with the European Star Award

ProSlide also won an award

Thrilled Vittorio Fabbri, Sascha Czibulka and Reinhold Spieldiener from Intamin

108
---
An interesting concept: a completely inflatable (and transportable)

water park offered by the manufacturer the inflatables factory

Multi-storey climbing worlds were presented by the specialist Kristallwelten

CORRECTION

Unfortunately a regretable mistake

was made in the Award

Special Edition as well as the last

EAS edition in the category of

"Europe's Best Family Rides":

naturally the current novelty

"Angkor" at the Spanish Port

Aventura Resort comes from Mack

Rides, and the opening year was

also not 2011, but in actual fact only

in 2014.

■
---
SPECIAL

The handmade glass

sculptures for all first,

second, and third place

winners of the European

Star Awards

As already mentioned in our exhibition

report, this year's Euro

Attractions Show had many new

exhibitors, showed a visitor

record, and offered many highlights.

One of them of course

was the bestowing of the

European Star Awards.

Text:

Frank Lanfer

European Star Award

Photos: Wolfgang Payer,

Frank Lanfer,

ParkWorld

Jim Seay from American

manufacturer Premier Rides

had his example signed

personally by Steve Van den

Kerkhof, CEO Plopsa Group

STAR AWARD ONLINE

The best theme parks and

attractions in Europe can be

found in the past October issue

and in our special edition, as well

as online:

www.kirmesparkrevue.com/esa14

Already for the third time now, Europe's leading

trade magazine, the Kirmes & Park Revue, presented

this independent award, dedicated explicitly to

the European theme park industry.

Awards at Heineken Experience World

The event took place on the evening of the first day

of the exhibition in the famous and trendy Heineken

Experience World in the city centre of Amsterdam.

There the awards were bestowed on all five best

placed theme and water parks in eleven categories.

And for the first time it was not only the first,

but all second and third place winners which

received the exclusive, handmade glass sculptures

– both park operators and manufacturers. Our

heartfelt congratulations once again to all prize

winners!

The Selection Criteria

This award has been created with the assistance of

an international team of experts voting the rankings

in eleven different categories, acknowledging the

efforts within the European theme park branch, and

bringing attention to entrepreneurial courage and

exceptional innovations.

Choices could be made from all theme parks

throughout Europe, including Russia and Turkey,

with the minimum criterion of at least one ride

attraction at the park.

The Members of the Jury in 2014

This year's changed trade jury is intended to keep

the European Star Award young and exciting – and

so we were able to have the following jurors cast

their independent votes in 2014 (in alphabetical

order):

■ Michael Badelt (Intya, Germany)

■ Natalia Bakhlina (LDP, Great Britain)

■ Anastasia Buzhor (EAAPA, Russia)

■ Victor Cavaller (Garmisch Consulting Group, Spain)

■ Matteo Crepaldi (Aerospace Engineer, Italy)

■ Rik Engelen (Lawyer, Belgium)

■ Dr. Michael Faber (Landesmuseum für Volkskunde)

■ Dr. Felix Fritz (TÜV Süd, Germany)

■ Marcus Gaines (Media Producer, Great Britain)

■ Bart Gees (The Coca-Cola Company, Belgium)

■ Dr. H. Jürgen Kagelmann (Profil-Verlag, Germany)

■ Mario O. Mamon (IAAPA President, Malaysia)

■ Francois Mayné (OOPARC, France)

■ Frédéric Pastuszak (Architekt, France)

■ Wolfgang Payer (Ingenieur, Austria)

■ Jochen Peschel (IP Lawyer, Germany)

■ Marek Pisarski (Magazyn Atrakcje, Poland)

■ Stefan Rothaug (Wirtschaftswissenschaftler,Taiwan)

■ Dr. Igor Rodionov (RAAPA, Russia)

■ Dennis L. Speigel (President ITPS, USA)

■ Marc Spies (Soziologe, Germany)

■ Dr. Werner Stengel (Stengel GmbH, Germany)

■ Francis Stokkel (Project Manager LeisureCert, USA)

■ Dr. Sacha Szabo (Cultural Management, Germany)

110
---
SPECIAL

Almost 200 invited guests enjoyed the Heineken Experience

World taking part in good discussions with colleagues, enjoying a

lot of music, and naturally this year's European Star Awards

■ Prof. Dr. Torsten Widmann (Duale Hochschule Baden-Württemberg,

Germany)

■ Andrej Woiczik (freizeitpark-welt, Germany)

■ Melanie Yankers-Lauterbach (Chefredakteurin Kabel 1, Germany)

■ Stefan Zwanzger (The Theme Park Guy, UAE)

■ Further along, votes were cast by the following editorial members

of the Kirmes & Park Revue: Frank Lanfer, Agi Reddersen,

Karl Ruisinger, and Ralf Schmitt.

Further information about our jury members this year as well as

the prize winners can be found in our special award issue, which

naturally can also be viewed online and downloaded free of

charge.

Our heartfelt thanks go to all jury members, friends and sponsors,

who with their support, have contributed to the successful awards

occasion. We are particularly proud about the fact that The Coca-

Cola Company was our main sponsor again.

■

Welsh star soprano Lauren Francis and pop star Keith Tynes from

The Platters sang a duet together for the first time, and led through the

evening event

Agi Reddersen (KPR, International Representative) was given

prompt and friendly assistance from our colleagues from the Park World

Magazine, Mark Burgess and Jacqui Hunter, putting the golden wrist

bands on guests from our sponsor YouChip

111
---
Sophie Bolliger having a conversation with Michael Mack (left)

Mike Oswald (ProFun; former General Manager Yas Waterworld

& Ferrari World) and Sascha Rigling (Mack Rides; centre)

F.l.t.r.: Klaus-Michael Machens (VDFU), Sieglinde Wagner-Haigerer and Erich Wagner

(Fantasiana), Willy Walser (abc rides), Dr. Ulrich Müller-Oltay (VDFU)

Dennis L. Speigel (President ITPS; former

IAAPA Chairman) und Frank Lanfer (KPR)

Bart Gees, Travel & Leisure Manager The Coca-Cola Company

"The European Star Award is becoming an annual fixed part of the

EAS program for a lot of key stakeholders within the major European

Theme Parks and ride suppliers. A casual event where the industry

can socialize and celebrate the great attractions that make our

business so exciting."

Jacob Helenius, Head of Development at Tivoli

"We are tremendously proud of the fact that 'Vertigo' has been

named 'Europe's Best Attraction', and we are incredibly pleased. It's

the craziest ride we have and a ride that gives the biggest rush.

You're subjected to a g force of 5.2 when you're spun around at 100

kilometres an hour. And it's unique."

Andreas Andersen, CEO and President Liseberg Group

"Liseberg is a proud recipient of two European Star Awards, and

these awards really mean something – to our guests, to our employees

and to me. I keep them in a very prominent place in my

office."

Erich Wagner, Owner Fantasiana Erlebniswelt Straßwalchen

"We view this award as encouragement for even more great

investments with the corresponding background, so that the smaller

parks in comparison to the big ones still remain in the visual field, in

order to make our visitors happy. We are currently planning a new

attraction, and I think that this attraction will also be worthy of an

award."

112
---
Steve Van den Kerkhof, CEO Plopsa Group

"This is a reward for our work.'Sky Scream' is a unique coaster

throughout Europe. We are very happy about this recognition. It is

also an honour because two parks from the group were awarded a

prize."

Jim Seay, President Premier Rides

"We are extremely proud that 'Sky Scream' was selected for a

European Star Award in the category of 'Best New Rides 2014'. It

was an honour to work with the Plopsa Group, one of the fastestgrowing

and most successful entertainment companies in Europe.

The Holiday Park staff was passionate about creating a first-class

highly-themed thrill ride unlike any other in Europe. The results speak

for themselves."

Werner Nowotny, Maintenance Manager Merlin Oberhausen

"Merlin Entertainments is proud about so many awards. 'Kirmes &

Park Revue' is a valuable magazine for the industry in view of

inspiration and information. But it also fits our Merlin value: '…make

it fun."

Jean Pierre Joyaux, Project Manager Parc du Futuroscope

"This recognition underlines the creative and collaborative work between

the Futuroscope Teams, the Ubisoft Company, and artistic

partner Circus Agency, which specializes in animation and digital

special."

Christoph Kiessling, Vice-President Siam Park

"We feel very proud hand honoured about the third award in a row

as 'Europe's Best Water Park'. The repeated award is for us a

wonderful incentive to continue our work with the same love of detail

as before."

Michael Mack, Member of the Executive Board Europa-Park

"I'm really thrilled about this award for 'Arthur' as one of the top

novelties in Europe. It is the pay-off for many years of hard work, and

a reward for my family, the complete team, and naturally also Mack

Rides, who have all played a significant part in this really unique

attraction. The award for 'Arthur' will definitely have a place of honour

in the attraction. To be considered as the best theme park in Europe

by such a trade jury that is comprised of real branch experts, is for

us a huge honour, and at the same time also an incentive for the next

years and decades."

Yann Caillère, CEO Parques Reunidos

"We are very proud of the awards our parks and attractions in Europe

have received, which are recognition of the passion we at Parques

Reunidos put into innovating and optimizing our assets to create

even better experiences for our customers."

Tolga Alişoğlu, CEO Vialand

"Vialand as the youngest theme park in Europe is a proud recipient

of two European Star Awards. These awards are very important not

only for our Turkish guests but also for our guests in the surrounding

area which extends from Middle East to Russia and Balkans."

Søren Kragelund, President Fårup Sommerland

"We are very pleased to have received the prize, especially because

this is the second prize that 'Orkanen' received within a year. Last

year, when 'Orkanen' was built and launched it was immediately

recognized as the second best new coaster in Europe. We believe

that we have managed to build a roller coaster that is both wild and

fun – and at the same time children from 1.05 meter are allowed to

try it. 'Orkanen' emphasizes Fårup's values, which is all about fun

and good times for the whole family. Furthermore, the combination

of technology and design is also a success."

Christoph Andreas Leicht, Owner Hansa-Park

"Both of this year's awards are an occasion for

elation, and will serve as an incentive for the

future to continue the same way: that our name

continues to symbolize, and to continue to delight

our visitors. The award 'Best Family Park Europe

Place 3' fills us with a lot of pride in particular,

because not only all our personnel are equally

honoured, but we are also in the league of awardwinning

leading performers in Europe."

113
---
Michael Mack (Member of the Executive Board, Europa-Park)

happily receiving the Award "Europe's Best Theme Park" from KPR

editor Frank Lanfer

Giovanni Modena (Operations Director, PortAventura) and

Choni Fernández (Director for Procurement, PortAventura) are

thrilled about second place in the category "Best Theme Parks"

Eric Cosset (Director Park Operations, Disneyland Resort

Paris) received 3 rd place in "Europe's Best Theme Parks" and simultaneously

also 1 st place in "Europe's Best Family Parks" (down)

In the category "Europe's Best Theme Parks" Tivoli Gardens

reached a good 5 th place – Jacob Helenius (Head of Design, Tivoli)

and Will Gurley (Designer Tivoli; right)

Christoph Andreas Leicht (Owner,

Hansa-Park) thrilled about 3 rd place in category

"Europe's Best Family Parks"

Werner Nowotny (Merlin Entertainments

Oberhausen) receiving the 3 rd and 4 th

places for Legoland Deutschland

114
---
Steve Van den Kerkhof (CEO

Plopsa Group) received 5 th place for

Plopsaland de Panne

The title "Europe's Best Water Park" was

gladely received by Christoph Kiessling (Vice

President, Siam Park)

Costa Caribe is the second best waterpark;

here Oriol Garcia (Press Officer) with

Choni Fernández (both PortAventura Resort)

Patrick Kastner (Marketing,

Officer,Tropical Islands) happy

about 3 rd place

Torsten Schmidt (Wiegand-

Maelzer) received the 4 th place on

behalf of Galaxy

"Helix" was honoured as "Europe's Best New Ride" – much to

the joy of Andreas Andersen (President, Liseberg Group) and

Christian von Elverfeldt (Managing Director, Mack Rides)

"Arthur" is the second best novelty in Europe,

much to the satisfaction of Jakob Wahl (Executive

Assistant, Europa-Park) and Christian von Elverfeldt

F.l.t.r.: Premier Rides President Jim Seay, his colleagues Sara Ingram and

Joanna Guy and Steve Van den Kerkhof (CEO Plopsa Group) are thrilled that "Sky

Scream" at Holiday Park achived 3 rd place in "Best New Rides"

115
---
"Nefeskesen" at the Turkish Vialand was also

voted as one of the best novelties in Europe – very

happy were Gerard Slenders (Intamin) and Cem Tuna

(Operations Manager, Vialand)

"Shambhala" was also awarded "Europe's Best Steel Coaster"; the prizes

were received by Giovanni Modena and Choni Fernández (PortAventura) as well

as Sophie Bolliger (Head of Marketing, Bolliger & Mabillard)

The prize for the second best steel coaster ("Expedition Ge-

Force") was received by Steve Van den Kerkhof (Plopsa Group) and

Sascha Czibulka (Executive Vice President, Intamin AG)

The 3 rd best steel coaster according to the votes was "Orkanen";

the prize was given to Har Kupers (Technical Director, Vekoma Rides)

and Rasmos Altenborg (Archifunture / Architekt Fårup Sommerland)

Benoit Spriet (CDA Productions) and Sophie Bolliger (B&M)

receiving 4 th place for "OzIris" at Parc Astérix

"blue fire" was also among the top 5; here Dr. Volker Klaiber

(Director Operations, Europa-Park) with Christian von Elverfeldt (Mack)

116
---
Sascha Czibulka (Intamin) and Werner Nowotny (Merlin) thrilled

about the 1 st prize "Colossos" at Heide-Park, for the titel "Europe's Best

Wooden Coaster"

Andreas Andersen (Liseberg) and Sascha Czibulka

(Intamin) happy to receive 2 nd place for "Balder"

Dirk Engelhardt (Representative

Great Coasters) glad about 4 th

place for "Joris en de Draak"

Yann Caillère (CEO Parques Reunidos) and

Sascha Czibulka (Intamin) with 1 st place for

"DiVertical" at Italy's Mirabilandia

"Poseidon" at Europa-Park was totally in

front in "Europe's Best Water Ride" category;

here Michael Mack and Christian von Elverfeldt

Eric Cosset (Disneyland Resort Paris) receiving

1 st place once again for "Twilight Tower of Terror" at

Disney Studios Park

The 2 nd place in the category "Best Dark Rides" went to "Raving Rabbids":

Jan Maarten de Raad (CEO JoraVision), Jean-Pierre Joyaux (Chief Project, Parc

du Futuroscope) and Florence Adelbrecht (JoraVision)

117
---
Yann Caillère (Parques Reunidos) received 3 rd place in segment

"Europe's Best Dark Rides" for the Gerstlauer-Indoor-Coaster "Van

Helsing's Factory" at Movie Park Germany

Particularly proud were Sieglinde Wagner-Haigerer and

Erich Wagner (Owner, Fantasiana Straßwalchen) about the 5 th

place for their Indoor Freefall Attraction "Knights Ride Tower"

PortAventura, here Giovanni Modena and

colleague Choni Fernández, also receiving 1 st place for

the new Family Ride "Angkor" from Mack

This year the kiddie coaster "Die Schlange von Midgard" was honoured

as 2 nd best Family Ride in Europe, about which Christoph Andreas Leicht

(Hansa-Park) was very pleased

3 rd place prize for "De Grote Golf" at Plopsaland was received by Nicola Masin (Europe Sales Manager, Zamperla) and Steve Van den Kerkhof

Roby Gasser (Owner, Connyland) was awarded 4 th place in category

"Europe's Best Attractions" for his novelty "Mammut Tree"

118
---
Maria and Mathijs Bembom from French OK Corral

reached 5 th place with their Jetski attraction "Alligator Island"

from Zierer

Fabio Martini and Marco Grigolo (both Technical Park) as well as

Jacob Helenius and Will Gurley (both Tivoli Gardens) very pleased

about 1 st place in category "Europe's Best Attractions"

Managing Director Gerd Reddersen (left) awarded 5 th place in

category "Europe's Best Attractions" to Froukje Knijpstra and Theo

van Zwieten (both Mondial) for "SynKope" at Terra Mítica

Mariano Alarcón and Christoph Kiessling (both Siam Park)

received 1 st place for "Kinnaree" from ProSlide as best water slide

Europe

Söhret Pakis (Director of Marketing, Polin) received 2 nd place

for the "King Cobra" at Aqualand Fréjus and 5 th place for "Super

Combo" at Aqua Fantasy Resort

Paul Chutter (Vice President Sales, WhiteWater West) and

Grant Poje (European Vice President Sales, WhiteWater West)

happy about the 3 rd place for "Family Rattler" at Aqua-Lazika

119
---
PREVIEW

A calendar of events can be found here for the month of

November in alphabetical order. Additional information

about individual events is listed below.

■

A■ Altenburg 25.10.-02.11.

■ Altenburg 28.11.-21.12.

■ Apolda 28.11.-30.11.

B■ Bad Bergzabern 25.10.-02.11.

■ Bad Salzungen 29.11.-21.12.

■ Bad Schwalbach 07.11.-11.11.

■ Bautzen 28.11.-21.12.

■ Bergheim 24.10.-02.11.

■ Berlin 24.11.-04.01.

■ Berlin-Mitte 24.11.-28.12.

■ Berlin-Mitte 24.11.-28.12.

■ Berlin-Spandau 26.11.-28.12.

■ Bielefeld 24.10.-02.11.

■ Brandenburg/Havel 29.11.-21.12.

■ Bremen 17.10.-02.11.

■ Brockum 01.11.-04.11.

C■ Chemnitz 28.11.-23.12.

■ Cochem 07.11.-10.11.

■ Cottbus 27.11.-23.12.

■ Crottendorf 31.10.-02.11.

D■ Dahlenburg 31.10.-02.11.

■ Darmstadt-Arheilgen 31.10.-04.11.

■ Detmold 26.11.-30.11.

■ Dielheim-Balzfeld 08.11.-11.11.

■ Dietzenbach 31.10.-04.11.

■ Dinslaken 07.11.-11.11.

■ Dortmund 29.10.-02.11.

■ Dreieich-Offenthal 01.11.-04.11.

■ Dresden 11.10.-02.11.

■ Dresden 27.11.-23.12.

H■ Halle/Saale 24.11.-23.12.

■ Hamburg 07.11.-07.12.

■ Herborn 07.11.-10.11.

■ Herzogenaurach 07.11.-10.11.

■ Hochheim/Main 07.11.-11.11.

■ Horn-Bad Meinberg 07.11.-09.11.

■ Hoyerswerda 25.10.-02.11.

I■ Ittlingen 08.11.-11.11.

J■ Jena 25.11.-22.12.

■ Jülich 07.11.-10.11.

K■ Karlsruhe 31.10.-10.11.

■ Kempten/Allgäu 24.10.-02.11.

■ Kirchdorf 08.11.-12.11.

■ Kirchheim/Teck 31.10.-03.11.

■ Köln-Deutz 31.10.-09.11.

L■ Leipzig 25.11.-21.12.

■ Lindau/Bodensee 08.11.-11.11.

■ Ludwigshafen/Rhein 30.10.-04.11.

M■ Magdeburg 24.11.-30.12.

■ Marktoberdorf 08.11.-10.11.

■ Minden 01.11.-09.11.

■ Möckmühl 07.11.-10.11.

■ Mölln 31.10.-03.11.

■ Münster 25.10.-02.11.

■ Pirmasens 07.11.-09.11.

■ Plauen 25.11.-21.12.

■ Plön 07.11.-09.11.

Q■ Quierschied 09.11.-11.11.

R■ Rauenberg-Rotenberg 08.11.-10.11.

■ Recklinghausen-Süd 31.10.-02.11.

■ Rheda-Wiedenbrück 14.11.-17.11.

■ Rimbach/Hessen 31.10.-03.11.

■ Rinteln 31.10.-03.11.

■ Rodgau-Dudenhofen 07.11.-11.11.

■ Rostock 27.11.-22.12.

■ Rothenburg/Tauber 25.10.-02.11.

S■ Schlangen 31.10.-02.11.

■ Schlüchtern 07.11.-11.11.

■ Siegen-Weidenau 31.10.-04.11.

■ Soest 05.11.-09.11.

■ Sondershausen 31.10.-03.11.

■ Speyer 23.10.-02.11.

■ Staßfurt 28.11.-30.11.

■ Stendal 24.10.-02.11.

■ Stralsund 27.11.-22.12.

T■ Trier 31.10.-09.11.

U■ Unna 31.10.-03.11.

V■ Viernheim 07.11.-12.11.

W■ Walsrode 31.10.-02.11.

■ Wangen/Allgäu 15.11.-17.11.

■ Weimar 25.11.-04.01.

■ Westerstede 31.10.-03.11.

■ Willich-Schiefbahn 08.11.-10.11.

■ Worms 24.10.-02.11.

■ Wurzen 31.10.-09.11.

Z■ Zetel 08.11.-12.11.

■ Zwickau 25.11.-23.12.

■ CH Affoltern a.A. 25.10.-02.11.

■ CH Altdorf 15.11.-16.11.

■ CH Arbon 01.11.-02.11.

■ CH Baar 15.11.-17.11.

■ CH Basel 25.10.-09.11.

■ CH Bern 22.11.-07.12.

■ CH Buchs/SG 07.11.-09.11.

■ CH Frauenfeld 29.11.-01.12.

■ CH Gossau/SG 22.11.-24.11.

■ CH Mendrisio 08.11.-11.11.

■ CH Schlieren 07.11.-10.11.

■ CH Triesen/FL 15.11.-16.11.

■ CH Uster 27.11.-28.11.

■ CH Wil/SG 15.11.-18.11.

■ F Albertville 18.10.-02.11.

■ F Ancenis 04.10.-03.11.

■ F Angers 08.11.-30.11.

■ F Annecy 22.11.-07.12.

■ F Bordeaux 10.10.-02.11.

■ F Carcassonne 22.11.-07.12.

■ F Cognac 17.10.-02.11.

■ F Concarneau 01.11.-30.11.

■ F Dijon 25.10.-12.11.

■ F Gisors 18.10.-16.11.

■ F Lyon-Croix Rousse 05.10.-08.11.

■ F Mans, le 25.10.-16.11.

■ F Nancy 25.10.-16.11.

■ F Perpignan 25.10.-23.11.

■ F Pontoise 06.11.-19.11.

■ F Rochefort 08.11.-30.11.

■ F Rouen 24.10.-23.11.

■ F Vannes 18.10.-02.11.

■ GB Aberystwyth, Card 17.11.-17.11.

■ GB Aberystwyth, Card 22.11.-24.11.

■ GB Aberystwyth, Card 29.11.-01.12.

■ GB Belper, Derbys 30.10.-01.11.

■ GB Birmingham 05.11.-05.11.

■ GB Brecon 03.11.-04.11.

■ GB Bury St Edmunds 27.11.-30.11.

■ GB Cardiff, S. Glam. 13.11.-04.01.

■ GB Chester 27.11.-04.01.

■ GB Edinburgh 27.11.-04.01.

■ GB Hinckley, Leics 21.11.-22.11.

■ GB Liverpool 09.11.-23.12.

■ GB London 20.11.-01.01.

■ GB London 22.11.-04.01.

■ GB Long Eaton 20.11.-22.11.

■ GB Loughborough 12.11.-15.11.

■ GB Malton, 14.11.-06.12.

■ GB Milton Keynes 30.10.-09.11.

■ GB Nottingham 19.11.-04.01.

■ GB Ottery St. Mary, 01.11.-05.11.

■ GB Plymouth, Devon 20.11.-03.01.

■ GB Pontefract, W. Yorks 29.10.-03.11.

■ GB Swansea 13.11.-04.01.

■ GB Worcester 27.11.-30.11.

■ I Legnano 18.10.-16.11.

E■ Eberswalde-Finow 31.10.-09.11.

■ Eltville/Rhein 31.10.-03.11.

■ Erfurt 25.11.-22.12.

F■ Frankfurt/Oder 28.11.-22.12.

N■ Neckargemünd 07.11.-10.11.

■ Neubrandenburg 29.11.-21.12.

■ Neuruppin 30.10.-09.11.

■ Nidda 01.11.-03.11.

■ Nortorf 31.10.-02.11.

■ Nottuln 08.11.-10.11.

International

■ A Klosterneuburg 13.11.-16.11.

■ MC Monaco 25.10.-16.11.

■ NL Gorinchem 31.10.-08.11.

■ NL Maastricht 29.11.-30.12.

■ NL Rotterdam 22.10.-02.11.

■ NL Winschoten 29.10.-03.11.

G■ Gera 27.11.-23.12.

■ Gera 18.10.-02.11.

■ Greifswald 28.11.-21.12.

■ Großefehn 31.10.-02.11.

O■ Ochtendung/Maifeld 08.11.-11.11.

■ Osnabrück 24.10.-02.11.

P■ Parchim 31.10.-03.11.

■ B Brüssel 28.11.-04.01.

■ B Hasselt 22.11.-04.01.

■ B Lüttich 04.10.-11.11.

■ B Lierre 31.10.-17.11.

■ B Mons=Bergen 07.11.-07.12.

■ B Niel 08.11.-17.11.

■ B Ostende 03.10.-02.11.

■ PL Breslau=Wroclaw 21.11.-23.12.

3. OCTOBER (FRIDAY)

B Oostende=Ostende

■ Oktoberfoor

until 02.11.

120
---
4. OCTOBER (SATURDAY)

24. OCTOBER (FRIDAY)

PREVIEW

B Liège=Luik=Lüttich

■ Foire d'Octobre until 11.11.

F Ancenis

■ Luna Park until 03.11.

5. OCTOBER (SUNDAY)

F Lyon-Croix Rousse

■ Fête Foraine until 08.11.

10. OCTOBER (FRIDAY)

F Bordeaux

■ Foire aux Plaisirs until 02.11.

11. OCTOBER (SATURDAY)

01307 Dresden

■ Herbstfest until 02.11.

Dresdner Schaustellerverband

Riesenrad, Monster, Breakdance, Musik Express,

Geisterbahn, Scheibenwischer

Participants: ca. 45

17. OCTOBER (FRIDAY)

28195 Bremen

■ Freimarkt until 02.11.

Stadtamt Bremen, Marktverwaltung

Parkour, Musik Express, Psycho, Event Tower,

Breakdance, Toboggan, Happy Traveller,

Alex Airport, Wellenflug, Commander, Down

Town, Happy Sailor, Gladiator, Euro-Rutsche,

Wildwasserbahn, Top Spin, Hexentanz, Looping

the Loop, Rotor, Black Hole, City Skyliner,

Riesenrad, Atlantis Rafting, Flash

Participants: ca. 335

F Cognac

■ Luna Park until 02.11.

18. OCTOBER (SATURDAY)

07545 Gera

■ Herbstvolksfest until 02.11.

Kultur- & Veranstaltungsmanagement/Gera

Riesenrad, Cortina Jet, Breakdance, Flipper,

Achterbahn, Aqua Velis

F Albertville

■ Fête Foraine d'Automne

until 02.11.

F Gisors

■ Fête Foraine de la Saint Luc

until 16.11.

F Vannes

■ Foire aux Oignons until 02.11.

I Legnano

■ Luna Park until 16.11.

22. OCTOBER (WEDNESDAY)

NL Rotterdam

■ Najaarskermis until 02.11.

23. OCTOBER (THURSDAY)

67343 Speyer

■ Herbstmesse until 02.11.

Stadt

Chaos, Breakdance, Riesenrad, Taiga Jet, Sky

Glider

33607 Bielefeld

■ Herbstkirmes until 02.11.

Schaustellerverein/Bielefeld

G-Force, Music Shop, Flying Swing, Geisterbahn,

Psychodelic

39576 Stendal

■ Oktoberfest until 02.11.

ASV Stendal/Tangerhütte

49074 Osnabrück

■ Herbstjahrmarkt until 02.11.

Stadt

Big Spin, U 3000, Fun Street, Round Up, Crazy

Farm, Schlittenfahrt, 2 x Musik Express, Top

Spin, Breakdance, Kettenflieger

Participants: ca. 150

50126 Bergheim

■ Hubertusmarkt until 02.11.

F.von der Gathen/Elsdorf

Time Factory, Riesenrad, X-Factor, Top Spin,

Breakdance, Beach Party, Achterbahn, Haunted

Mansion, Kiddy-Coaster

Participants: ca. 100

67549 Worms

■ Allerheiligenmarkt until 02.11.

Stadt

87435 Kempten

■ Kathreinemarkt until 02.11.

Stadt

Techno Power, Happy Monster, Amazonas,

Riesenrad

Participants: ca. 35

F Rouen

■ Foire de la Saint-Romain

until 23.11.

25. OCTOBER (SATURDAY)

02977 Hoyerswerda

■ Herbstkirmes until 02.11.

04600 Altenburg

■ Herbstmarkt until 02.11.

48143 Münster

■ Herbstsend until 02.11.

Stadt

XXL, Tanz der Vampire, Breakdance, Turbo

Force, Berg & Tal, Wellenflug, Musik Express,

Circus Circus, Riesenrad, Power Tower, Gaudi

Hütt'n, Ghost

Participants: ca. 235

76887 Bad Bergzabern

■ Herbstmarkt until 02.11.

91541 Rothenburg/Tauber

■ Herbstmesse until 02.11.

Stadt

CH Affoltern a.A.

■ Herbstchilbi until 02.11.

CH Basel

■ Herbschtmäss until 09.11.

Riesenrad, Musik Express, Rutsche, Flying

Swinger, The Game, Swing Up, Free Style,

Euro-Coaster, Disco-Labyrinth, Allotria, Maxximum,

Panic Room, Super Chaos, Discovery,

Spring Tower, Breakdance, The Tunnel, La

Sauterelle, Calypso, Swiss Tower, Sky-Flyer,

VIP-Schaukel, Freddy's Company, Crazy Run,

Surf Dancer, Simulator, Telecombat, Prater-

Geisterbahn, Fun House, Take Off, Silbermine

Participants: ca. 500

F Dijon

■ Fête de la Foire Gastronomique

until 12.11.

F Mans, le

■ Foire de la Toussaint until 16.11.

F Nancy

■ Foire d'Automne de la Pépinière

until 16.11.

F Perpignan

■ Foire Saint-Martin until 23.11.

MC Monaco

■ Foire Attractive until 16.11.

29. OCTOBER (WEDNESDAY)

44137 Dortmund

■ Hansemarkt mit Nostalgiekirmes

until 02.11.

GB Pontefract, W. Yorks

■ Statutes Fair until 03.11.

NL Winschoten

■ Adrillenkermis until 03.11.

30. OCTOBER (THURSDAY)

16816 Neuruppin

■ Martinimarkt until 09.11.

INKOM Neuruppin GmbH

Riesenrad, Der Burner, Breakdance, Shake,

Halloween

Participants: ca. 75

67059 Ludwigshafen/Rhein

■ Herbstzauber until 04.11.

LUKOM/Ludwigshafen

Himalaya, Simulator

Participants: ca. 30

GB Belper, Derbys

■ Autumn Fun Fair until 01.11.

GB Milton Keynes

■ Fun Fair until 09.11.

31. OCTOBER (FRIDAY)

04808 Wurzen

■ Herbstvolksfest until 09.11.

09474 Crottendorf

■ Schützen-Kirmes until 02.11.

16225 Eberswalde-Finow

■ Eberswalder Herbstkirmes

until 09.11.

19370 Parchim

■ Martinimarkt until 03.11.

Stadt

Riesenrad, Mega King Tower, The King, Breakdance,

Musikpalast, Voodoo Jumper, Spukschloss,

Simulator, Fantastic World, Crazy

Outback

Participants: ca. 85

21368 Dahlenburg

■ Martini-Markt until 02.11.

Gemeinde

23879 Mölln

■ Herbstmarkt until 03.11.

Stadt

Konga, Viva Mexico, Breakdance, High Impress

Participants: ca. 175

24589 Nortorf

■ Herbstmarkt until 02.11.

26629 Großefehn

■ Martinimarkt until 02.11.

26655 Westerstede

■ Herbstmarkt until 03.11.

29664 Walsrode

■ Herbstmarkt until 02.11.

Stadt

Shaker, Polyp, Musik Express

31737 Rinteln

■ Herbstmesse until 03.11.

Stadt

Nostalgie-Riesenrad, Jump Street, Musik Express,

Wellenflug, Twister-Coaster

Participants: ca. 160

33189 Schlangen

■ Herbstkirmes until 02.11.

45661 Recklinghausen-Süd

■ Allerheiligenkirmes until 02.11.

50679 Köln-Deutz

■ Herbstvolksfest until 09.11.

GKS/Köln

Riesenrad, Crazy Mouse, Breakdance, Musik

Express, Avenger, Booster, 1001 Nacht, Hawaii

Swing, Gladiator, Geisterbahn, Rutsche,

Krumm & Schief Bau, Crazy Island

Participants: ca. 90

54293 Trier

■ Allerheiligen-Messe until 09.11.

Arge Weeber-Dierichs/Bad Kreuznach

57076 Siegen-Weidenau

■ Allerheiligenkirmes until 04.11.

K.D.Schneider/Dortmund

Breakdance, Aqua King, Musik Express, Looping

the Loop

Participants: ca. 35

59423 Unna

■ Katharinenkirmes until 03.11.

Stadthalle Unna

Breakdance, Musik Express, Apres Ski Party,

Riesenrad, Scirocco

Participants: ca. 90

63128 Dietzenbach

■ Kerb until 04.11.

P.Stein/Rödermark

64291 Darmstadt-Arheilgen

■ Kirchweih until 04.11.

Stadt

64668 Rimbach/Hessen

■ Kerb until 03.11.

65343 Eltville/Rhein

■ Weinlesefest und Kappeskerb

until 03.11.

Verkehrsverein & P.Roie/Frankfurt

Musik Express, Air-Crash, Taumler

73230 Kirchheim/Teck

■ Gallusmarkt mit Vergnügungspark

until 03.11.

Stadt

Adrenalin, Musik Shop, Miami, Rio

Participants: ca. 30

76137 Karlsruhe

■ Herbstjahrmarkt until 10.11.

Stadt

Cobra, Wilde Maus, Breakdance, Shake, Go-

Kartbahn, Riesenrad, Nostalgie-Kettenflieger,

Intoxx, Dance Express, The Beast

Participants: ca. 130

99706 Sondershausen

■ Martinimarkt until 03.11.

Fa.Petra-Maria Hammer/Menterode

B Lier=Lierre

■ Novemberfoor until 17.11.

121
---
PREVIEW

27245 Kirchdorf

■ Herbstmarkt until 12.11.

Closed on Monday and Tuesday

Gemeinde

GB Malton, Yorks

■ Hirings Fair until 06.12.

Only on Friday and Saturday!

NL Gorinchem

■ Najaarskermis until 08.11.

1. NOVEMBER (SATURDAY)

32423 Minden

■ Herbstmesse until 09.11.

Minden Marketing GmbH

Schlittenfahrt, Breakdance, Katz & Maus,

Musik Express, Devil Rock, Disco Swing,

Street Fighter, Freak

49448 Brockum

■ Großmarkt until 04.11.

Gemeinde

Heisse Räder, Riesenrad, Free Style, Breakdance,

Tal der Könige, High Impress, Cobra

Participants: ca. 250

63303 Dreieich-Offenthal

■ Kerb until 04.11.

Gebr.Hausmann GbR/Langen

63667 Nidda

■ Martinimarkt until 03.11.

Stadt + A.& S.Walldorf Giessen

CH Arbon

■ Herbstmarkt until 02.11.

F Concarneau

■ Foire de la Saint Martin until 30.11.

GB Ottery St. Mary, Devon

■ Tar Barrels Fair until 05.11.

3. NOVEMBER (MONDAY)

GB Brecon

■ November Fair until 04.11.

5. NOVEMBER (WEDNESDAY)

59494 Soest

■ Allerheiligenkirmes until 09.11.

Stadt

Alex Airport, Big Wave, Breakdance, Chaos

Airport, Jekyll & Hyde, Phoenix, Shake, Wilde

Maus, Beach Jumper, Riesenrad, Happy Sailor,

High Impress, Looping the Loop, Musik Express,

Nessy, Spuk, Super-Hupferl, Transformer,

Traumgenerator, Wellenflug, Artistico,

Hexentanz, Big Monster, Sky Fall, Fahrt zur

Hölle

Participants: ca. 430

GB Birmingham

■ Bonfire Fair

until 05.11.

6. NOVEMBER (THURSDAY)

F Pontoise

■ Foire Saint-Martin

until 19.11.

7. NOVEMBER (FRIDAY)

20359 Hamburg

■ Dom-Markt until 07.12.

Behörde fürWirtschaft Verkehr Innovation

Wellenflug, Breakdance, Wilde Maus, Geisterhotel,

Eclipse, Konga, Predator, Flipper, Sky

Dance, Viva Mexico, Double Jump, Rotor,

Love Dream, Dom-Dancer, Geisterbahn, Teststrecke,

Rock & Roller Coaster, Rocket, Shaker,

Riesenrad, Dom-Geister, Apres Ski Party,

Encounter, Happy Family, Omni, Magic House,

Irrgarten

24306 Plön

■ Herbstjahrmarkt until 09.11.

32805 Horn-Bad Meinberg

■ Horner Kläschenmarkt until 09.11.

35745 Herborn

■ Martinimarkt until 10.11.

Veranstaltungsbüro Wagner/Buseck-Beuern

36381 Schlüchtern

■ Kalte Markt und Kirmes

until 11.11.

Stadt

Starlight, Riesenrad, Taumler, Hip Hop Fly

Participants: ca. 300

46537 Dinslaken

■ Martinikirmes until 11.11.

Stadt

Crazy Mouse, Wellenflug, Booster Maxxx, Riesenrad,

Breakdance, Tal der Könige, Disco

Jet, XXL, Haunted Mansion, Super Mario

World, Go-Kartbahn, Jumper, Looping the

Loop, Voodoo Jumper

Participants: ca. 150

52428 Jülich

■ Christinakirmes until 10.11.

Stadt

56812 Cochem

■ Kirmes until 10.11.

63110 Rodgau-Dudenhofen

■ Kerb until 11.11.

P.Stein/Rödermark

65239 Hochheim

■ Hochheimer Markt until 11.11.

Hochheimer Wohnungsbaugesellschaft mbH

65307 Bad Schwalbach

■ Martinimarkt until 11.11.

K.Laux & Sohn/Wiesbaden

66953 Pirmasens

■ Novembermarkt until 09.11.

Stadtmarketing Pirmasens

68519 Viernheim

■ Kerwe until 12.11.

69151 Neckargemünd

■ Bohrer-Katharinenmarkt

until 10.11.

Stadt

American Trip, Bungee-Trampolin, Hollywood

Star

74219 Möckmühl

■ Martini-Markt until 10.11.

91074 Herzogenaurach

■ Martinikirchweih until 10.11.

B Mons=Bergen

■ Foire d'Automne until 07.12.

CH Buchs/SG

■ Jahrmarkt mit Chilbi until 09.11.

CH Schlieren

■ Chilbi until 10.11.

8. NOVEMBER (SATURDAY)

26340 Zetel

■ Zeteler Markt until 12.11.

Closed on Tuesday

Gemeinde

Free Style, Riesenrad, Psychodelic, Musik Express,

Breakdance, Halloween, Polyp, High

Explosive

47877 Willich-Schiefbahn

■ Herbstkirmes until 10.11.

48301 Nottuln

■ Martinimarkt until 10.11.

Stadt

56299 Ochtendung/Maifeld

■ Kirmes until 11.11.

J.Meyer & Sohn OHG/Neuwied

69231 Rauenberg-Rotenberg

■ Martini-Kerwe until 10.11.

W.Lowinger/Wiesloch

69234 Dielheim-Balzfeld

■ Kirchweih until 11.11.

I.Reimund/Sinsheim

74930 Ittlingen

■ Kirchweih until 11.11.

I.Reimund/Sinsheim

87616 Marktoberdorf

■ Herbstmarkt until 10.11.

88131 Lindau/Bodensee

■ Jahrmarkt until 11.11.

Stadt

Riesenrad, Top Spin, Musik Express

Participants: ca. 40

B Niel

■ Fête Foraine until 17.11.

CH Mendrisio

■ Fiera S. Martino until 11.11.

F Angers

■ Foire Saint-Martin until 30.11.

F Rochefort

■ Fête Foraine until 30.11.

9. NOVEMBER (SUNDAY)

66287 Quierschied

■ Martinikirmes until 11.11.

GB Liverpool

■ One Christmas in the Park

until 23.12.

12. NOVEMBER (WEDNESDAY)

GB Loughborough, Leics

■ November Fair until 15.11.

13. NOVEMBER (THURSDAY)

A Klosterneuburg

■ Leopoldifest until 16.11.

GB Cardiff, S. Glam.

■ Winter Wonderland until 04.01.

GB Swansea, South Wales

■ Winter Winterland until 04.01.

14. NOVEMBER (FRIDAY)

33375 Rheda-Wiedenbrück

■ Andreaskirmes Rheda until 17.11.

Stadt

Jekyll & Hyde, High Impress, Star Club, Jump

Street, Rutsche, Irrgarten, Simulator

Participants: ca. 170

15. NOVEMBER (SATURDAY)

88239 Wangen/Allgäu

■ Martinimarkt until 17.11.

Fa.Gebauer/Konstanz

Freddy's Circus, Kettenflieger, Bungee-Trampolin,

Flipper, Happy Monster

CH Altdorf

■ Chilbi until 16.11.

CH Baar

■ Markt/Chilbi until 17.11.

CH Triesen/FL

■ Tresner Kelbi until 16.11.

CH Wil/SG

■ Othmari-Markt until 18.11.

Closed on Monday

17. NOVEMBER (MONDAY)

GB Aberystwyth, Card

■ November Fair (First) until 17.11.

19. NOVEMBER (WEDNESDAY)

GB Nottingham

■ Winter Wonderland until 04.01.

20. NOVEMBER (THURSDAY)

GB London

■ Festive Fair until 01.01.

GB Long Eaton

■ Chestnut Fair until 22.11.

GB Plymouth, Devon

■ Winter Festival until 03.01.

21. NOVEMBER (FRIDAY)

GB Hinckley, Leics

■ Tin Hat Fair until 22.11.

PL Breslau=Wroclaw

■ Weihnachtsmarkt until 23.12.

22. NOVEMBER (SATURDAY)

B Hasselt

■ Winterland until 04.01.

CH Bern

■ Lunapark until 07.12.

CH Gossau/SG

■ Klausmarkt until 24.11.

F Annecy

■ Foire Saint-André until 07.12.

F Carcassonne

■ Foire Foraine de Novembre

until 07.12.

GB Aberystwyth, Card

■ November Fair (Second)

until 24.11.

Closed Sunday

GB London

■ Hyde Park Winter Wonderland

until 04.01.

122
---
24. NOVEMBER (MONDAY)

06108 Halle/Saale

■ Advent-Weihnachtsmarkt

until 23.12.

Stadt

10178 Berlin-Mitte

■ Weihnachtszeit am Roten Rathaus

until 28.12.

Laubinger/Fredersdorf

Riesenrad

10178 Berlin-Mitte

■ Weihnachtsmarkt Wintertraum

am Alexa until 28.12.

Charles Blume Vergnügungsbetriebe/Hude

10789 Berlin

■ Weihnachtsmarkt Berlin

City West until 04.01.

Schausteller Verband Berlin e.V.

39104 Magdeburg

■ Weihnachtsmarkt until 30.12.

Closed on December 24 and 25

Magdeb.Weihnachtsmärkte GmbH

Riesenrad, Mäuse-Spektakel, Rutsche

25. NOVEMBER (TUESDAY)

04177 Leipzig

■ Weihnachtsmarkt until 21.12.

Riesenrad

07703 Jena

■ Weihnachtsmarkt until 22.12.

JenaKultur, Märkte und Stadtfeste

Riesenrad, Cortina Jet

08056 Zwickau

■ Weihnachtsmarkt until 23.12.

08523 Plauen

■ Weihnachtsmarkt until 21.12.

99084 Erfurt

■ Weihnachtsmarkt until 22.12.

Stadt

Riesenrad

99423 Weimar

■ Weihnachtsmarkt until 04.01.

26. NOVEMBER (WEDNESDAY)

13591 Berlin-Spandau

■ Weihnachtstraum am Rathaus

until 28.12.

Th.H.Wollenschläger/Falkensee

Time Factory

32756 Detmold

■ Andreasmesse until 30.11.

Stadt

Artistico, High Impress, Schlittenfahrt, Venezia,

Musik Express, Breakdance, Scheibenwischer,

Simulator

Participants: ca. 240

27. NOVEMBER (THURSDAY)

01067 Dresden

■ Striezelmarkt until 23.12.

03046 Cottbus

■ Weihnachtsmarkt until 23.12.

COEX Veranstaltungs GmbH & Co. KG

07545 Gera

■ Weihnachts- und Märchenmarkt

until 23.12.

Stadt

18055 Rostock

■ Weihnachtsmarkt

until 22.12.

Großmarkt Rostock GmbH

18439 Stralsund

■ Weihnachtsmarkt until 22.12.

Meisel & Peters GbR/Anklam

CH Uster

■ Uster Märt until 28.11.

GB Bury St Edmunds/Suffolk

■ Christmas Fayre until 30.11.

GB Chester

■ Winter Wonderland until 04.01.

GB Edinburgh

■ Christmas Wonderland Winter

Festival until 04.01.

GB Worcester

■ Christmas Fair until 30.11.

28. NOVEMBER (FRIDAY)

02625 Bautzen

■ Bautzener Wenzelsmarkt

until 21.12.

04600 Altenburg/Thüringen

■ Weihnachtsmarkt until 21.12.

09111 Chemnitz

■ Weihnachtsmarkt until 23.12.

Nostalgie-Riesenrad

15234 Frankfurt/Oder

■ Weihnachtsmarkt und Kirmes

until 22.12.

IGIS e.V. Frankfurt/Oder

17489 Greifswald

■ Weihnachtsmarkt until 21.12.

Großmarkt Rostock GmbH

39418 Staßfurt

■ Weihnachtsmarkt until 30.11.

Stadt

99510 Apolda

■ Lichterfest until 30.11.

Stadt

B Brussel=Bruxelles=Brüssel

■ Kerstmarkt/Weihnachtsmarkt

until 04.01.

29. NOVEMBER (SATURDAY)

14770 Brandenburg/Havel

■ Weihnachtsmarkt until 21.12.

17033 Neubrandenburg

■ Weihnachtsmarkt until 21.12.

36433 Bad Salzungen

■ Weihnachtsmarkt until 21.12.

CH Frauenfeld

■ Klausmarkt until 01.12.

GB Aberystwyth, Card

■ November Fair (Third) until 01.12.

Closed Sunday

NL Maastricht

■ Kerstmarkt Magisch Maastricht

until 30.12.

No responsibility for accuracy!

Die Stadtmarketing Witten GmbH

sucht attraktive Fahr-, Schauund

Belustigungsgeschäfte für:

Frühlingsvolksfest Witten-Annen

mit verkaufsoffenem Sonntag 20.03.– 23.03.2015

Himmelfahrtskirmes 14.05.– 18.05.2015

mit Weindorf

592. Zwiebelkirmes 04.09.– 07.09.2015

mit historischem Umzug, Zwiebelmarkt

und verkaufsoffenem Sonntag

Bewerbungen mit Angaben über:

Art und Warenangebot des Geschäftes

Anschrift mit Telefonnummer

Größe des Geschäftes (Front, Tiefe, Höhe)

einschl. blinder Fronten

Aktuelles Farbfoto des Geschäftes

Anzahl der mitgeführten Pack- und Wohnwagen

Angabe der kW-Anschlusswerte

... bis spätestens 30.11.2014 an die

Stadtmarketing Witten GmbH

Körnerstraße 8, 58452 Witten

Die Bewerbungen begründen keinen Rechtsanspruch auf Zulassung

oder auf einen bestimmten Platz.

Zulassungsbescheide ergehen ausschließlich in schriftlicher Form.

Sollte bis zum 31.01.2015 kein Vertrag beim Bewerber eingegangen sein,

gilt das gleichzeitig als Absage.

Weitere Infos: www.stadtmarketing-witten.de
---
❑

❑

❑

ABONNEMENT-AUFTRAG

Ich bestelle hiermit die nächsten 12 Ausgaben von KIRMES & PARK Revue ab Heft-Nr.

zum Abonnementpreis von 96,– € inkl. 7 % MWSt. und Versand (Deutschland)

Ich bestelle hiermit die nächsten 6 Ausgaben von KIRMES & PARK Revue ab Heft-Nr.

zum Abonnementpreis von 51,– € inkl. 7 % MWSt. und Versand (nur innerhalb Deutschlands)

Ich bestelle hiermit die nächsten 12 Ausgaben von KIRMES & PARK Revue ab Heft-Nr.

❑ Europa Normalpost zum Abonnementpreis von 114,– € inkl. Porto und Versand

❑ Europa Luftpost und Übersee zum Abonnementpreis von 126,– € inkl. Porto und Versand

Ich wünsche die angekreuzte Zahlungsweise:

❑ durch Bankeinzug. Die Einzugsermächtigung erlischt mit Kündigung des Abonnements.

IBAN

BIC

❑ gegen Rechnung. Bitte kein Geld einsenden, Rechnung abwarten.

❑ per Kreditkarte. Bitte ankreuzen: ❑ Visa ❑ Mastercard ❑ Diners Club ❑ American Express

Karten-Nr.:

gültig bis:

Das Abonnement verlängert sich jeweils um ein weiteres Jahr, wenn es nicht spätestens 6 Wochen vor Ablauf schriftlich gekündigt wurde.

Name

Straße

PLZ/Ort Datum Unterschrift

Bitte einsenden an: Gemi Verlags GmbH, Postfach, 85291 Reichertshausen

Diese Bestellung kann ich innerhalb von 10 Tagen schriftlich bei der Gemi Verlags GmbH, Postfach, 85291 Reichertshausen widerrufen.

Die Widerrufsfrist beginnt 3 Tage nach Datum des Poststempels meiner Bestellung. Zur Wahrung der Frist genügt das rechtzeitige Absenden.

Ort/Datum

Unterschrift

✂

❑

❑

❑

SUBSCRIPTION-ORDER

I order the next 12 editions of the KIRMES & PARK Revue in english from issue Nr.

at a subscription price of 102,– € incl. 7 % MWSt. and postage (Germany)

I order the next 6 editions of the KIRMES & PARK Revue in english from issue Nr.

at a subscription price of 57,– € incl. 7 % MWSt. and postage (Germany)

I order the next 12 editions of the KIRMES & PARK Revue in english from issue Nr.

❑ Europe normal post at a subscription price of 120,– € incl. postage and handling

❑ Europe airmail and other countries at a subscription price of 132,– € incl. postage and handling

❑ I will pay by credit card. ❑ Visa ❑ Mastercard ❑ Diners Club ❑ American Express

Card Nr.:

Expiry Date:

❑ I require an invoice.

The subscription is automatically extended a further year if a written cancellation is not received 6 weeks prior to the end of the subscription.

Name

Street

Postcode/City Date Signature

Please send to: Gemi Verlags GmbH, Postfach, 85291 Reichertshausen

This subscription order can be called in writing within 10 days by notifying Gemi Verlags GmbH, Postfach, 85291 Reichertshausen, Germany. The

time limit for cancellation begins 3 day after the date of posting my order. The time limit is ensured and proved by the timely posting of cancellation.

Date/City

Signature

124
---
Ihr Partner für das Schaustellergewerbe

D-34613 Ziegenhain • Kasseler Str. 44 • Tel. 0 66 91 / 35 36 • Fax 0 66 91 / 59 97

mail@Dietz-Fahrzeugbau.de

www.Dietz-Fahrzeugbau.de

Ausspielungswagen Moderne Verkaufswagen nach nach Ihren Wünschen

FOR SALE

Menus, Aprons, and Wallets

in imitation leather with embossing

according to your

requirements. WÖLK ART.

Tel. + 49 (0) 6381/70763

www.woelkart.de

"Flasher Turbine" Mondial,

height 62 m Tel. + 49 (0)

662334675 (French) Tel. + 49

(0) 685107950 (German)

PURCHASE

Searching for Breakdance to

buy. Offers to Gemi Verlag

GmbH – Code K02-11/14

Searching for Ferris Wheel,

would prefer Nauta-Bussink

33 m. Contact Gemi Verlag

GmbH – Code K03-11/14

Cash buyer searching for

cars from ride type L'Autopede

from Belgium, please offer

all you have. Tel: + 31

653486142

EMPLOYMENT

Polish manpower – find personnel

from Poland here Tel.

0048604891314

CONTACTS

Ausschankhütte

(Fabrikat: Schmäding Hütten)

zu verkaufen

Größe 7 x 5 Meter

Tel. 0177– 83 55 428

VERKAUFE

20 Reverchon Furyo

Autoscooter-Wagen

sehr guter Zustand

Preis p. Stück: € 18.000,-

Tel. 0171-777 37 88

Hello! We are searching for

nice people who would like to

make a theme park and fairground

tour with us! We are

from the Trier area. Simply

contact us at Gemi Verlag

GmbH – Code K01-11/14

Zu verkaufen:

3 Etagen

Belustigung

• Namhafter deutscher

Hersteller

• Modernste Bauart

• Interessanter Preis

Anfragen unter Chiffre

K04-11/14 an

Gemi Verlags GmbH, Postfach,

85291 Reichertshausen

•

BUDERO

THE TARPAULIN

FOR THE SHOWMAN

• • • • • •

•

• • • • • • • •

• • • • • • • • • • • •

All types of tarpaulins according to

your requirements, for large and small

ride, show, and walk-through operations

BUDERO B.V.

Vrijkenstraat 2

6088 PA Roggel NL

Ph. (0031) 475/492445

Fax (0031) 475/494390

www.budero.com

Zu verkaufen: WIRTSHAUS

● Rustikaler, begehbarer Ausschank

● 9 Meter Front, 4,50 Meter tief

● neuwertig (nur 4 x aufgebaut)

● Auch ideal für Weihnachtsmarkt

Unikat – Fabrikgeschäft (kein Eigenbau), Baujahr 2011

Zu besichtigen in Hamburg. Weitere Infos:

Peter Heitkamp, Tel. +49 (0) 163 41 48 481

Karussells der Spitzenklasse

R. VÖLZ

Industriestr. 3

44577 Castrop-Rauxel

Tel. 0 23 67/83 37

Fax 0 23 67/17 67

Nach wie vor liefern wir:

Schindeldächer,

Reetdächer, Mauerwerke

www.karussell-voelz.de

125
---
For Sale:

Technical Park

Trailer mounted

very good condition

Streetfighter"Chaos"

with control-paybox

built July 2004

...nach 17 Jahren "Probezeit"

und zwei Söhnen, Louis & Lenard

trauen sie sich endlich!

Am 29.10.14 machen sie es auf dem

Standesamt in Uslar amtlich:

der "High Impress Imperator" Frank

und unsere Steffi.

Wir wünschen zu diesem Schritt alles,

alles Gute und viele glückliche Jahre!

Deine Eltern und der Taufter!

price and particulars: Michael Harris

Ph. +44 7775 816316, Email: michaeldharris@hotmail.co.uk

Weihnachtsmarkt Düsseldorf-Benrath

in der Fußgängerzone (Hauptstraße)

vom 20.11. bis 20.12.2014

Für das "Benrather Weihnachtsdörfchen" werden Händler mit

weihnachtlichen Artikeln gesucht, wie z.B. Holzfiguren aus dem

Erzgebirge, Glaskunst, Spielwaren, Kunsthandwerk, Geschenkartikel,

sowie Floristik, Schmuck und Lederwaren.

Die Verkaufshütten (4,50 x 2,00 und 3,00 x 2,00 m) können nur

vom Veranstalter gemietet werden. Alle Hütten sind in der Gestaltung

dem Benrather Schloss nachempfunden.

Schriftliche Bewerbungen mit Angabe des Warenangebotes bitte

an den Veranstalter:

Franz Bruch • Sohlstättenstr. 14 • 40880 Ratingen

Tel. 02102 / 44 92 56 • Mobil 0172 / 217 69 57

Informationsmaterial schicken wir Ihnen gerne zu.

Service

KIRMES SALES POINTS ON THE FAIRGROUND

In November & December the

is available at the following:

• Gera Herbstvolksfest (18. 10. bis 02. 11.) bei "Aqua Velis"

• Dinslaken Martinikirmes (07. 11. bis 11.11.) bei "Montgolfiere"

• Hamburg Winterdom (07. 11. bis 07. 12.) bei "Happy Family"

• Rostock Weihnachtsmarkt (24. 11. bis 22. 12.) bei "Montgolfiere"

Die

Stadt Kleve /Niederrhein

sucht für die

Großkirmes 11.07. - 19.07.2015

attraktive Fahr- und Schaugeschäfte

- insbesondere Familiengeschäfte -

Bewerbungen mit den üblichen Unterlagen

(exakter Flächenbedarf, aktuelles Foto, KW-Anschlusswerte)

werden bis zum 25.11.2014 erbeten an die

Stadt Kleve

Fachbereich 32 – Öffentliche Sicherheit und Recht

Postfach 1955 • 47515 Kleve

Zulassungen ergehen schriftlich in Vertragsform. Mündliche Absprachen sind nicht

rechtsverbindlich. Bewerber, die bis zum 15.02.2015 keine Vertragsunterlagen erhalten haben,

müssen davon ausgehen, dass sie nicht berücksichtigt werden konnten. Ein gesonderter

Bescheid erfolgt nicht. Bewerbungsunterlagen werden nicht zurückgesandt.

126
---
Rolf Auf dem Berge

Lawyer

Focal point: transportation law and claims for damages

Member of the Association of Transportation Law

of the German Bar Association

Am Markt 14

49565 Bramsche

Telephone +49 (0) 54 61/ 30 30

Telefax +49 (0) 54 61/ 26 41

Mobile +49 (0) 172 / 30196 94

E-Mail: info@auf-dem-berge.de

Schausteller-Versicherungen

Transport – Haftpflicht – Kfz

Altersvorsorge – Unfall – Kranken

Klaus Rübenstrunk

Hagener Straße 244 • 44229 Dortmund

Tel.: (02 31) 9 76 10 20 • Fax: (02 31) 9 76 10 21

Mobil: 0171 / 828 58 68

E-Mail: vb-ruebenstrunk@t-online.de

APPRAISAL-OFFICE

Gerd Römgens

Expert appraisal for the Showman Industry, Damages,

Conservation of Evidence, and Appraisal Reports

Tel. +49 (0) 171/ 264 89 29 and +49 (0) 2154/208308

Fax: +49 (0) 2154 / 20 83 13

Mail: sv-buero-roemgens@arcor.de

www.sv-roemgens.de u. www.roemgens.de

Gerd Römgens • Jupiterstr. 17 • 47877 Willich

www.kirmesparkrevue.de

M

I

N

I

–

A

D

V

E

R

T

I

S

M

E

N

T

S

Text

❑ IN THE NEXT POSSIBLE EDITION

www.gemiverlag.de

4 lines:

11,- €

5 lines::

14,- €

6 lines::

17,- €

7 lines::

20,- €

8 lines::

23,- €

9 lines::

26,- €

10 lines::

29,- €

PLEASE COMPLETE IN BLOCK LETTERS AND WITH SPACE BETWEEN WORDS!

❑ IN EDITION NR./MONTH

Text price for 1x Edition €

❑ Please insert my advertisment under a code number (Cost 5,– €) €

❑ Specimen copy (5,50 € incl. postage & handling per edition) €

❑ The advertisment should appear for months (Multiply by total price) €

❑ 10 % discount for 12 months ❑ 5 % discount for 6 months €

❑ The total amount can be debited to my credit card, details below. TOTAL €

❑ Visa ❑ Matercard ❑ Diners Club ❑

Card-Nr.

Christian Name

Street

City/Date

Expiry date

Surname

Postcode/City/Country

Signature

American Express

Basic

rate for

1-3 Lines:

8,- €

categories

(please mark with a cross)

❑ For Sale

❑ Purchase

❑ Job Market

❑ Business

Connections

❑ Deadlines

❑ Contacts

❑ Model Construction

YOUR MINI-AD WILL ALSO BE PRESENTED FREE OF CHARGE UNDER WWW.KIRMESPARKREVUE.DE!

FOR FORMAT ADVERTISMENT

please contact us on

Tel. 49 (0 ) 8441/40 22 13

Please send to:

Gemi Verlags GmbH

Postfach

85291 Reichertshausen

Please complete

without fail!

– Publication only by advanced payment or credit card. –

127
---
Service

KIRMES FOR SALE IN RAILWAY STATION BOOK SHOPS

✘ shows where ENGLISH VERSIONS are available

• 01069 Dresden, Wiener Platz 4

• 01097 Dresden-Neustadt, Schlesischer Platz 1

• 01109 Dresden, Wilhelmine-Reichard-Ring 1

• 04109 Leipzig, Hbf, Willy-Brand-Platz 5

• 06112 Halle, Hbf, Bahnhofplatz 1

• 06844 Dessau, Fritz-Hesse-Str. 7

• 10117 Berlin-Friedrichstr., Georgenstr. 14-18

• 10178 Berlin, Alexanderplatz, Dircksenstraße

✘ 10178 Berlin, Ladenzeile / Abgang S-Bahn

• 10243 Berlin, Am Ostbahnhof

• 10623 Berlin, Fernbahnhof Zoo

• 10829 Berlin-Südkreuz/West, Neumannstr.

• 12439 Berlin-Schöneweide, M.-Brückner-Str. 42

• 12521 Berlin, Flughafen-Schönefeld, Terminal D E G

• 12681 Berlin, Boxberger Str. 3-9 / Haus 3 / Halle 2 West

• 13405 Berlin, Flughafen Tegel, Haupthalle, Bon Voyage

• 16515 Oranienburg, Stralsunder Str.

• 18055 Rostock, Hauptbahnhof

✘ 20099 Hamburg, Hbf., Glockengiesserwall

• 20354 Hamburg, Bahnhof Dammtor, Theodor-Heuss-Platz

• 21337 Lüneburg, Bahnhofstr.

• 22335 Hamburg, Flughafenstr.

✘ 22765 Hamburg, Paul-Nevermann-Platz

• 23558 Lübeck, Am Bahnhof

• 24114 Kiel, Sophienblatt 27-29

• 24145 Kiel, Bunsenstr. 1c

• 25980 Westerland, Tinnumer Str. 11

• 26122 Oldenburg, Hauptbahnhof

• 26125 Oldenburg, Wilhelmshavener Heerstr. 32

• 26382 Wilhelmshaven, Bahnhofsplatz 1

• 26721 Emden, Bahnhofsplatz

• 26789 Leer, Bahnhofsplatz

• 27472 Cuxhaven, Bahnhof Haus 1

• 27570 Bremerhaven, Friedrich-Ebert-Str. 73

• 27749 Delmenhorst, Wittekindstr. 10/ZOB

✘ 28195 Bremen, Bahnhofsplatz 15

• 28199 Bremen, im Flughafen, Flughafenallee 20

• 29525 Uelzen, Am Bahnhof

• 30159 Hannover, Ernst-August-Platz 1

• 30669 Hannover, Flughafen, Terminal A

• 31134 Hildesheim, Bahnhofsplatz

• 31582 Nienburg, Bahnhofstraße

• 32052 Herford, Bahnhofsplatz 1

• 33102 Paderborn, Bahnhofstr. 29

• 33330 Gütersloh, Willy-Brandt-Platz-2

• 33602 Bielefeld, Hauptbahnhof

• 34117 Kassel, Bahnhofsplatz 1

• 34131 Kassel, Wilhelmshöher Allee 253

• 35037 Marburg, Bahnhofstr. 33

• 35390 Gießen, Bahnhofstr. 102

• 37073 Goettingen, Bahnhofsplatz 1

• 38102 Braunschweig, Berliner Platz 1

✘ 39104 Magdeburg, Bahnhofstr. 68

• 40210 Düsseldorf, Hauptbahnhof

• 40474 Düsseldorf, Flughafenstr. 120 T.B

• 41061 Mönchengladbach, Europaplatz

• 41236 Mönchengladbach, Bahnhofstr. 66

• 41460 Neuss, Presse & Buch im Bhf., Theodor-Heuss-Platz

• 42103 Wuppertal, Döppersberg 37

• 42277 Wuppertal, Berliner Platz 15

• 42283 Wuppertal, Winklerstraße 2

• 42697 Solingen, Bahnstraße 5

• 42859 Remscheid, Bahnhofsplatz 12

• 44137 Dortmund, Koenigswall 15

• 44629 Herne, Bahnhofsplatz

• 44649 Herne, Heinz-Rühmann-Platz

• 44787 Bochum, Buddenbergplatz, Süd-Ausgang

✘ 45127 Essen, Hauptbahnhof

• 45468 Mülheim, Dieter-aus-dem-Siepen-Platz 3

• 45657 Recklinghausen, Große Pferdekamp Str.

• 45879 Gelsenkirchen, Im Bahnhof

• 46045 Oberhausen, Hauptbahnhof

• 46395 Bocholt, Hindenburg Str. 1

• 46446 Emmerich, im Bahnhof

• 46535 Dinslaken, im Bahnhof

• 47051 Duisburg, Mercatorstr. 17

• 47798 Krefeld, Im Hauptbahnhof

• 48143 Münster, Berliner Platz

• 48431 Rheine, Hauptbahnhof 1

• 49074 Osnabrück, Im Bahnhof

• 49356 Diepholz, Am Bahnhof

• 50169 Kerpen, Bahnhofstr. 9

• 50667 Köln, Bahnhof 1

• 50667 Köln, Trankgasse 11

• 50679 Köln-Deutz, Otto-Platz 7

• 52064 Aachen, Bahnhofsplatz 2a

• 52351 Düren, Hauptbahnhof

• 53111 Bonn, Am Hauptbahnhof

• 53173 Bonn-Bad Godesberg, Moltkestr. 43

• 53721 Siegburg, Europaplatz

• 53879 Euskirchen, Bahnhofstraße

• 54292 Trier, Bahnhofsplatz 1

• 55116 Mainz, Bahnhofsplatz 1

• 55543 Bad Kreuznach, Europaplatz

• 56068 Koblenz, Bahnhofsplatz 2

• 57072 Siegen, Am Bahnhof 16

• 58089 Hagen, Berliner Platz 3

• 58239 Schwerte, Bahnhofstraße 35

• 58452 Witten, Bergerstr. 35

• 58644 Iserlohn, Bahnhofsplatz 2

• 59065 Hamm, Willy-Brandt-Platz 1

• 59227 Ahlen, Bahnhofsplatz

• 59423 Unna, Bahnhofstr. 74

• 59494 Soest, Bahnhofstr. 2

• 59759 Arnsberg, Bahnhofstr. 136

✘ 60051 Frankfurt, Im Hauptbahnhof

• 60594 Frankfurt, Diesterwegplatz 51

• 61169 Friedberg, Hanauer Str. 44

• 63450 Hanau, Im Hauptbahnhof

• 63739 Aschaffenburg, Ludwigstr. 2, Hbf.

• 64293 Darmstadt, Platz der Deutschen Einheit

• 64625 Bensheim, Amershamplatz 1

• 65190 Wiesbaden, Bahnhofsplatz 2

• 65428 Rüsselsheim, Im Hauptbahnhof

• 65929 Frankfurt-Höchst, Dalbergstr. 1

• 66111 Saarbrücken, Im Hauptbahnhof

• 66424 Homburg, Im Bahnhof

• 66538 Neunkirchen, Bahnhofstraße

• 66606 St. Wendel, Mommstr. 2, Bahnh.

• 66740 Saarlouis, Bahnhofsplatz 11

• 67434 Neustadt, Bahnhofsplatz 4

• 67547 Worms, Hauptbahnhof

✘ 67547 Worms, Bahnhofstr. 11

• 67655 Kaiserslautern, Bahnhofstraße 1

✘ 68161 Mannheim, Bahnhofsplatz 17

✘ 69115 Heidelberg 1, Willy-Brandt-Platz 5

✘ 70173 Stuttgart, Arnulf-Klett-Platz 2

• 70174 Stuttgart-Mitte, Th.-Heuss-Passagen

• 70372 Stuttgart/Bad Cannstatt, Bahnhofstr. 30

✘ 71032 Böblingen, Talstr. 18

• 71638 Ludwigsburg, Bahnhof 14-18

• 72072 Tübingen, Europaplatz 17

• 72764 Reutlingen, Bahnhofstr. 3

• 74072 Heilbronn, Bahnhofstraße 30

• 74321 Bietigheim-Bissingen, Bahnhofspl. 1

• 74889 Sinsheim, Friedrichstr. 25

• 75175 Pforzheim, Bahnhofsplatz

✘ 76137 Karlsruhe, Bahnhofsplatz 1

• 76227 Karlsruhe, Hauptbahnstraße 1

• 76646 Bruchsal, Bahnhofsplatz 12

• 78462 Konstanz, Bahnhofsplatz 43

• 79098 Freiburg, Bismarckallee 3

✘ 80335 München, Hauptbahnhof, Arnulfstr. 3

✘ 81667 München, Orleansplatz 10

• 84032 Landshut, Bahnhofsplatz

• 85356 München-Flughafen, Südallee 1

• 86150 Augsburg, Viktoriastraße 1

• 86154 Augsburg, Ulmer Str. 53

• 87435 Kempten, Bahnhofplatz

• 87509 Immenstadt, Bahnhofstr. 39

• 87527 Sonthofen, Bahnhofstraße

• 87561 Oberstdorf, Bahnhofsplatz 1

• 87700 Memmingen, Bahnhofstr. 3

• 89073 Ulm, Hauptbahnhof

• 89312 Günzburg, Bahnhofsplatz 5

✘ 90411 Nürnberg, Flughafenstr. 100

✘ 90443 Nürnberg, Bahnhofsplatz 9

• 92224 Amberg, Kaiser-Ludwig-Ring 5

• 92318 Neumarkt, Bahnlinie 5/HBF

• 92637 Weiden, Bahnhofstr. 28

• 93047 Regensburg, Bahnhofstr. 18

• 94032 Passau, Bahnhofsplatz 29

• 94315 Straubing, Bahnhofsplatz 13

• 95028 Hof, Bahnhofsplatz 12

• 95326 Kulmbach, Bahnhofsplatz 1

• 95444 Bayreuth, Bahnhofstr. 20

• 95615 Marktredwitz, Bahnhofsplatz 7

• 96052 Bamberg, Ludwigstraße 6

• 96215 Lichtenfels, Bahnhofsplatz

• 96450 Coburg, Lossaustr. 4

✘ 97070 Würzburg, Bahnhofstr. 4

• 97424 Schweinfurt, Im Bahnhof

• 99084 Erfurt, Willy-Brandt-Platz 12

128
---
Bitte liefern Sie

Anzeigendaten

als pdf oder jpg

mit mindestens

300 dpi Auflösung

per E-mail an:

anzeigen@

gemiverlag.de

International

Representative

Advertisements:

AG Advertising

Tel. +49-8441-81057

Fax +49-8441-86105

Kirmes.A@t-online.de

Ihr Partner für das Schaustellergewerbe

D-34613 Ziegenhain

Kasseler Str. 44

Tel. 0 66 91 / 35 36

Fax 0 66 91 / 59 97

mail@Dietz-Fahrzeugbau.de

www.Dietz-Fahrzeugbau.de

635. Diepholzer Großmarkt

vom 17.09. bis 20.09.2015

Traditionelles Volksfest mit Krammarkt,

Gewerbeschau und Viehmarkt

Bewerbungen mit den üblichen Unterlagen

bis zum 31.12.2014 erbeten an:

Stadt Diepholz • Rathausmarkt 1 • 49356 Diepholz

KREISSTADT

KORBACH

Kiliansmarkt vom 4. bis 7. Juni 2015

Bewerbungen mit Angaben über Art und Größe des Geschäftes

(Frontlänge, Tiefe usw.) sowie der mitgeführten Fahrzeuge (LKW, PKW,

Pack- u. Wohnwagen usw.) sind bis zum

30. November 2014

an die nachstehende Adresse zu richten:

Hansestadt Korbach - Ordnungsamt -

Postfach 1660 • 34486 Korbach

Eine Selbstauskunft ist der Bewerbung beizufügen. Rückporto in Briefmarken

ist beizufügen – sonst keine Nachricht bei negativer Entscheidung. Neben dem

Standgeld wird gemäß § 71 Gewerbeordnung ein Werbekostenbeitrag erhoben.

Meldungen begründen keinen Rechtsanspruch auf Zulassung.

KREIS- UND HANSESTADT KORBACH • Der Magistrat – Ordnungsamt –

Verkaufswagen bis 3,5 to

speziell nach Ihren Wünschen gefertigt

HILDENER

ITTERFEST

23.-26. Oktober 2015

Bewerbung an: Hildener Werbegemeinschaft e.V.

Klusenstr. 22 • 40723 Hilden • Mob. 0177/259 94 58 • Fax 02103/493 56 09

178 Jahre Wolfhager

Vieh- und Krammarkt

vom 16. bis 19. Juli 2015

Das größte VOLKS- UND HEIMATFEST im Landkreis Kassel

Zeitlich und geographisch günstig für Sie zwischen dem

Fritzlarer Pferdemarkt und dem Paderborner Liborifest gelegen.

Bewerbungen interessierter Inhaber (auch Stammbeschicker) von

Verkaufs-, Vergnügungs- und Fahrgeschäften bis 01.12.2014

(Farbfoto mit Rückporto) an den Magistrat der Stadt Wolfhagen

Andreas Schmidhuber, Burgstraße 33-35, 34466 Wolfhagen

Fax 05692/602-77 131, Tel. 05692/602-131

E-Mail: andreas.schmidhuber@wolfhagen.de

Bewerbungen ohne Farbfoto werden nicht berücksichtigt.

129
---
Heidenheimer

Volksfest 2015

vom 14. Mai

bis 25. Mai 2015

Bewerbungen mit den üblichen Unterlagen sind bis 10. Dezember 2014 zu richten an den Veranstalter

Manfred Popp, Kellerstraße 9, 89522 Heidenheim

Sollten Sie bis 15. Januar 2015 keine Antwort erhalten, so betrachten Sie dies als Absage.

Frühjahrs- und Herbstplärrer 2015 in Bamberg

vom 01.05. bis 17.05.2015 und

vom 09.10. bis 25.10.2015

Für unsere Volksfeste suchen wir

attraktive Geschäfte aller Art.

Bewerbungen bis zum 10.12.2014

mit den üblichen Unterlagen an die

Stadt Bamberg – Ordnungsamt –

Maxplatz 3, 96047 Bamberg

Tel. 0951 87 1263, Fax 0951 87 1970

E-Mail: tino.brandt@stadt.bamberg.de

Wir bitten um Verständnis, dass Absagen nicht erteilt werden.

Ausschreibung

Heddesdorfer Pfingstkirmes

in Neuwied / Rhein

Das größte Volksfest am Mittelrhein

22. bis 26. Mai 2015

Zur Durchführung eines einheitlichen und transparenten Bewerbungsverfahrens hat die

Stadt Neuwied Bewerbungsformulare und Vergaberichtlinien entwickelt. Eine Bewerbung

ist nur unter Verwendung dieser Formulare möglich. Sie können im Internet unter

www.neuwied.de/pfingstkirmes.html heruntergeladen, unter kirmes@neuwied.de als

Datei, bzw. bei der Stadtverwaltung Neuwied mit einem adressierten und mit 1,45 € frankierten

Rückumschlag angefordert werden.

Bitte richten Sie Ihre komplette Bewerbung mit aktuellem Bildmaterial schriftlich an:

Stadtverwaltung Neuwied, Amt für Stadtmarketing, 56562 Neuwied. Bewerbungsfrist

ist der 30.11.2014. Maßgebend für die Fristeinhaltung ist der Poststempel. Bewerbungen

ohne offizielle Bewerbungsformulare und Bewerbungen per Mail können nicht berücksichtigt

werden. Für jedes Geschäft ist ein separates Bewerbungsformular einzureichen.

Der Eingang von Bewerbungen wird nicht bestätigt, auch wird kein Anspruch auf

Zulassung begründet. Zulassungen erfolgen ausschließlich schriftlich in Vertragsform.

Schriftliche Absagen werden nicht erteilt. Es gelten die aktuellen

Richtlinien für die Zuteilung von Standplätzen auf der

Heddesdorfer Pfingstkirmes.

Die genauen Zulassungskriterien entnehmen Sie bitte den

Bewerbungsunterlagen.

•

BUDERO

TARPAULINS

• • • • • •

Contact person also for Germany

D. Hinzen

Tel. (0031) 6 531450 03

•

• • • • • • • •

• • • • • • • • • •

US-Trailer

& Zubehör

aus Elkhart, Indiana

Tel. 06195-960507

www.trvtrading.com

Tel. 07191/ 34 0135

www.miba-electronic.de

Wet Protect Feuchtigkeitsschutz

Fax 07191/ 34 0136

Die einzige Modellbahn

im Ausstellungswagen

www.modellbahnschau.de

Telefon 01 72 / 5 38 56 79

130
---
Visit us at

IAAPA Orlando

Booth 1969