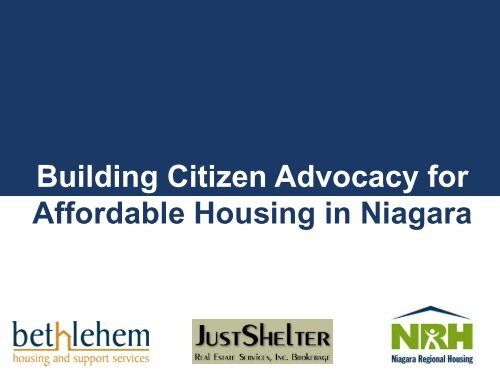 Building-Citizen-Advocacy-for-Affordable-Housing-in-Niagara-Social-Justice-FINAL
Building-Citizen-Advocacy-for-Affordable-Housing-in-Niagara-Social-Justice-FINAL
Building-Citizen-Advocacy-for-Affordable-Housing-in-Niagara-Social-Justice-FINAL
SHOW MORE
SHOW LESS
Do you know the secret to free website traffic?
Use this trick to increase the number of new potential customers.
Building Citizen Advocacy for

Affordable Housing in Niagara
---
History of Social

Housing in Niagara

Dick Halverson

Development Consultant
---
Almshouses

• Funded by alms

(donations for the needy)

and taxes

• Grew out of 10 th century

hospices for pilgrims

• Almshouses still active in

Britain serving 35,000

Burford England – Built 1457, rebuilt 1829

Served 10 widowed and single women
---
Current co-op building – 1984
---
Houses of Refuge

• Related to 18 th c. British

workhouses.

• Enlightened social movement to

serve the deserving poor

• Houses of Refuge Act of 1890 –

grants to counties to purchase

45 acres of farm land

Dunnville House of Refuge – by

1905 all counties were required to

have a house of refuge.

• Local reeve and council decided

who was deserving

• Gradually served only seniors
---
Common Themes to 1945

• Institutional – Sick, weak, insane, elderly, orphaned, or poor.

All were inmates.

• Work is essential character building

• Deserving vs. Undeserving Poor

• Segregated – out in the country, at the edge of town,

separate buildings.

• Governments augmenting individual or church led charity
---
First Federal Program

1945 Veteran's Housing
---
Ontario Housing Corporation

1967- 1975

84,000 Units

Regent Park, Toronto

McLaughlin St., Welland
---
Federal / Provincial Programs

• 1978 – 1992 Federal and then Provincial programs (some combined)

– New Construction (mostly)

• Subsidized interest rates for 35 to 50 years

• Operating subsidies

• Maximum unit costs for construction leading to poor quality

buildings

• Private non-profit and cooperatives

– Rent Supplements for private rentals
---
Programs Stop and Start

• 1993 Feds announce it will not fund new programs with

mortgage subsidies

• 1995 394 projects cancelled in one day of "common sense"

• 2001 Housing devolved to municipalities

• 2005 Canada / Ontario Affordable Housing Program (AHP)

– Grants (roughly 60% of costs) to build units rented at 80% of

market average for 25 years

– Non-profit and for-profit developers
---
Funding Changes Again

• 2007 Focus starts to turn to rehabilitation and retrofit of old

stock

• 2009 Families and singles remain greatest need. Feds

require new AHP units be for seniors and disabled only.

• 2010 Province affirms community based planning for housing

and homelessness solutions

• 2011 "New" funding – all programs now in one pot but less

money - Very little new housing
---
Current Mix in Ontario

Municipal Non-Profits

238,000 Units
---
Common Themes After 1945

• Institutional – Affordable housing sector created as advocates

and providers - CHFC, ONPHA

• More than housing is needed supportive programs for

mental health, life skills training

• Segregation of the poor – still kept apart at the edge of town,

separate buildings/complexes

• Resentment – NIMBY ("Not in my backyard!") deserving vs.

undeserving

• Governments playing hot potato with funding
---
Niagara

Snapshot

Lora Beckwith

General Manager
---
What is Unaffordable Housing?

Housing is considered unaffordable when 30% or more of a

household's income goes towards shelter costs

Homeowners

• There are 118,785 owner households in the Niagara CMA

• 22,535 (19%) of these households are in unaffordable housing

• Average income: $35,352

• On average these households exceed their monthly housing

budget by $491

Rental Units

• There are 40,855 rental households in Niagara CMA

• 17,830 (43.6%) of these households are in unaffordable housing.

• Average income: $21,103

• On average these households exceed their monthly housing

budget by $336

Statistics Canada, National Household Survey, 2011
---
Who in Niagara is living in

unaffordable housing?

Households living in unaffordable housing broken down by household type

38.4% of all lone parent households are living in unaffordable

housing compared to 14.7% of two parent households
---
Income and Employment in Niagara

Unemployment in Niagara is 8.6% this is the highest unemployment

rate of all major metropolitan areas across Canada

$40,000 and Over

68.6% (119,885 households)

$30,000 - $39,999

10.3% (17,970 households)

$20,000 - $29,999

10.0% (17,535 households)

$10,000 - $19,999

7.8% (13,660 households)

$0 - $ 9,999

3.2% (5,625 households)

• 21% of households in Niagara have

an income of less than $30,000

• Sales and service occupations

make up 30% of jobs in Niagara

• An affordable rent for an individual

making minimum wage would be

$430 per month

• Average market rent:

– One Bedroom- $733

– Two Bedroom- $872

– Three Bedroom- $1,012
---
Rental Housing

The rental housing in Niagara consists of older stock with

considerable capital replacement needs

• The rental stock in Niagara is aging, with 58% of units built over 40

years ago

– Only 3% of the current private market rental stock in Niagara has

been built between 2001 and 2011 compared to 7.8% in Ontario

– Estimates indicate a need for capital funding over the next 10

years in excess of $130 million for the existing affordable

housing stock

• Construction of purpose built rental housing is down as it is not

considered as good an investment compared to ownership

development
---
Affordable Housing Waiting List

Currently households wait between 1.25 and 12 years

to get into housing depending on

the location and type of unit they request

• Over 6,000 households (11,015 people) are on the affordable

housing waiting list in Niagara:

– 37.2 % are senior households

– 29.3 % are households without dependents

– 33.4 % are households with dependents

• Over the past 10 years the waiting list has increased by 60%
---
Affordable Housing Stock

There are over 8,200 units of affordable housing in Niagara under various programs

Bach. 1 Bed 2 Bed 3 Bed 4 Bed 5 Bed

Total

Units

NRH Owned 70 1,761 208 509 165 45 2,758

Housing Provider

48 1,381 1,382 1,101 69 2 3,983

Rent Supplement 456 159 30 1 0 646

New Development 530

Housing Allowances 285

Total 118 3,531 1,749 1,640 235 47 8202

• The majority of bachelor and one bedroom units are mandated for seniors.

• Only 11.5% of the current stock is available for households between the ages of

16 and 54. These households have the longest wait times for affordable

housing.
---
Consequences of Poverty

The Report "Are the Consequences of Poverty Holding Niagara Back?"

by the Niagara Community Observatory indicates that poverty costs Niagara

$1.38 billion per year

Without secure housing it is difficult for individuals or families

to succeed in other areas.
---
10-year Housing and Homelessness

The plan is based on four goals:

Action Plan (HHAP)

Developed through consultation with residents, service providers and

other stakeholders, the HHAP considers the entire housing continuum

and provides a ten year plan to achieve the vision of "A Home for All"

• Goal 1: Housing people who do not have a home

Improve access to services, invest in programs (Housing First, transitional housing,

homelessness prevention etc.)

• Goal 2: Helping people find and retain their home

Expand supports and financial assistance to assist households

• Goal 3: Increasing opportunities and options across the housing

continuum

Retain, protect and increase the supply of rental housing and affordable housing

through financial incentives and planning policies

• Goal 4: Building capacity & improving the effectiveness of the housing

system

Increase housing awareness and coordinate resources
---
On the Ground

Look at Affordable Housing

Lori Beech

Executive Director
---
Transitional Supportive Housing

•27 unit apartment security

building

•Temporary subsidized housing

•Intake Worker

•Life Skills Programs

•On-site Support Workers

•Early Learning Centre

Bethlehem Place, Welland Ave., St. Catharines
---
Permanent Supported Housing

•Two 40 apartment security

buildings in Niagara Falls and St.

Catharines with four units in each

for people with disabilities

•Three community homes with 10

apartments

•13 Households in Housing First

rental units

•Integrated Living Model Approach

•On-site Support Workers

Kenmore Court, Kalar Road, Niagara Falls
---
Community Outreach Programs

•Four Early Learning Centres

•Activities and Community Development

program at Genesis Court location

•Skills of Success

•Community Support Workers
---
Referral Sources

/ Reasons for Referral

Homelessness

•At Risk of Homelessness

•Homelessness

Poverty

•Low income

Wayside

House

Self Referrals

Family Breakdown

•Needing Basic Life Skills

•Parenting Skills Needed

•Family Breakdown

•Unfamiliar with Resources

•Child Reunification

Abuse

•Victim of Abuse

•Victim of Domestic Violence in Past Year

•Safety Concerns

•Pattern of Domestic Violent Relationships
---
Support Services Critical

to Housing Success

Individualized and client-driven supports recognizes that individuals are

unique, and so are their needs.

Once housed, some people will need minimum supports while other people

will need supports for the rest of their lives. Support services may address

housing stability, health and mental health needs, and life skills.

Here's what some of our clients said . . .

"I hope that you always have this service at your buildings because I am only one story out of a whole

building full of stories. I know that the services provided by both the Community Support Worker and

Property Manager at Kenmore Court are used regularly. I am so grateful for this service offered, and I

know in my heart my grandson and I would still be trying to open these doors to get help if these things

were not available in the building for us. Thank you, thank you, thank you for having these services

available for us!!!!"

". . . I have joint custody of my son. I still work closely with my Community Support worker from

Bethlehem who really helped me with my custody rights and continues to meet with me on a regular

basis. I also have a great place to live through Bethlehem's housing program. If it wasn't for

Bethlehem helping me get back on my feet and get my son back I don't know where I would be today."
---
Housing First Model

Province wide 'Housing First' program is a recovery-oriented

approach to ending homelessness that centers on quickly

moving people experiencing homelessness into independent and

permanent housing and then providing additional supports and

services as needed.

Homeless Hub 2013

Affordable housing organizations such as Bethlehem:

• Partner with landlords in a positive supportive relationship

• Administer the program

– Housing First includes a component of subsidized housing

• Provide the supports specific to the individual's needs
---
The Future and Advocacy

What can you do?

Dick Halverson

Development Consultant
---
The Likely Future

1. No new massive Federal/Provincial funding for affordable

housing

2. Proponents will have to cobble together funds – by any

means

3. Tax laws will change to provide American style private

sector investment in affordable housing

4. Alternative financing and home ownership (equity building)

will be a trend

5. Energy efficiency, CMHC flexibility, social finance,

fundraising, and partnerships will be become more

important
---
Municipal Contribution

• Municipalities are now funding partners

– Development Charge and fee waivers

– Land donations

– Property Tax relief or deferment

– Loan guarantees

• As of right zoning for affordable housing

– Accessory suites

– Granny flats

– Mixed use commercial/residential zoning
---
Advocacy

1. Support education on poverty

2. Don't discuss deserving vs. underserving

3. Insist all have a right to safe, affordable housing, as a matter

of justice

4. Recognize most affordable housing efforts are Band-Aids,

that a lack of affordable housing is systemic, rooted in

income inequality

5. Encourage all sectors to coordinate participation - all have

a role and responsibility

6. Seek to end segregated poverty housing as normal practice

7. Advocate for a Guaranteed Livable Income
---
Federation of Canadian Municipalities

Federal Budget Campaign

1. Encourage your local council to pass a resolution

supporting the campaign.

2. Write a personal letter to the Minister of Employment and

Social Development Canada. (Respond to any response.)

3. Write a letter to the editor of your local newspaper.

4. Organize a housing roundtable in your community.

5. Tweet about the #housingcrunch

6. Talk to your local MP about housing issues in your

community. (Talk to council members.)
---
Final Comments

1. Become involved in local efforts to create, sustain, or

support affordable housing. Talk is cheap. Credibility as an

advocate comes with personal action and participation.

2. Make this personal by seeking appropriate housing for

yourself. It is hard to promote housing justice when your

own home demonstrates inequality.
---
Thank you!