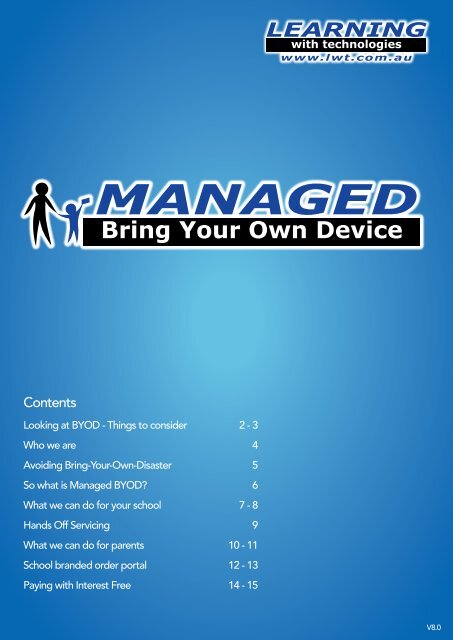 Bring Your Own Device MANAGED - Learning with Technologies
Bring Your Own Device MANAGED - Learning with Technologies
Bring Your Own Device MANAGED - Learning with Technologies
SHOW MORE
SHOW LESS
You also want an ePaper? Increase the reach of your titles
YUMPU automatically turns print PDFs into web optimized ePapers that Google loves.
with technologies

LEARNING

www.lwt.com.au

MANAGED

Bring Your Own Device

Contents

Looking at BYOD - Things to consider 2 - 3

Who we are 4

Avoiding Bring-Your-Own-Disaster 5

So what is Managed BYOD? 6

What we can do for your school 7 - 8

Hands Off Servicing 9

What we can do for parents 10 - 11

School branded order portal 12 - 13

Paying with Interest Free 14 - 15

V8.0
---
Looking at BYOD - Things to consider

How BYOD will affect Learning Outcomes

? Picture a classroom of 20 - 30 students, each with their own units, many

of them completely different. A combination of battery life, different

sized units, operating systems, wireless security and differing versions of

applications will make it hard for teachers to meet learning outcomes.

How BYOD will affect your parent community

It can be very easy to use BYOD to push unit costs and servicing issues to

your parent community but schools need to consider the impact this is

going to have and the long term affects for the school itself.

The Operating Experience - Virtual Desktops or Standard Image

Ensuring each student has the same platform to learn from is critical

to allow teachers to educate effectively. [Problems such as "That web

page doesn't work on my device" or "I don't have that app" will make

it impossible to use the technology in the classroom.] Standardising the

environment can be accomplished by either a standard image (SOE) or

virtual desktops (VDI). A standard image requires you to have the ability

to manage the unit the student purchasess whereas virtual desktop has

infrastructure costs associated with it that for many will be unsustainable in

the long term.

'

How will BYOD affect your

Learning Outcomes?

'

2 Learning with Technologies - Managed Bring Your Own Device
---
Equality

Units not working, dead batteries, units under repair and students with

faster machines than others, are all things that can make it difficult to

provide an equitable learning experience to students.

Bullying and Protecting Students

It's a fact kids will be kids and BYOD may lead to an environment of

competitiveness, physical damage to other students machines and so forth.

Unmanaged devices will also mean the school has no ability to protect

students from unwanted content.

Tablets or Notebooks

Tablets make great research and basic creativity tools whereas notebooks

can provide the ability to generate and create full documents. Teaching to

each device varies and begs questions such as if you should have both in

the classroom at the same time.

Parent purchase control

Even where the school sets a minimum specification for units, unfortunately

many parents do not understand technology and will buy either what's

cheapest or whatever the local retail store is trying to push off the shelf.

BYOD implemented well will attract parents

YThere will be a lot of schools moving to BYOD in the coming years and that

those that implement a program that assists parents, will increase student

Ynumbers

over time.

'

You can't control what a retail

store sells to a parent

'

Learning with Technologies - Managed Bring Your Own Device

3
---
Who we are

One of the largest Education Resellers in Australia.

Learning with Technologies (LWT) was established in 2001 and is today one of

the largest I.T. hardware providers in Australia and is Acer's largest Government

Education Reseller in Australia.

We have 4,500 education customers across Australia and supply approximately

75,000 desktops, notebooks and servers every year to Schools, Universities,

TAFEs, Government Departments and funded agencies.

We provide our customers with a one stop shop for all I.T. purchasing. Our

website lists in excess of 13,000 products and offers a full online solution to

manage your IT procurement.

LWT enjoys a mutually beneficial relationship with Acer Australia (Acer Gold

Reseller) and several other major hardware vendors.

Our longstanding partnership with Acer has seen LWT achieve Acers Education

Reseller of the Year Award for several years running, most recently we have been

presented with the Acer Reseller of the Year Award.

Accolades

Some awards that we have won

HP Achievers

Club 2013

Acer Computer

Australia

Education Reseller

of the Year 2012

Learning with

Technologies

Education Reseller

of the Year 2010

Channel Partner of the Year

2011

Learning with

Technologies

Education Reseller

of the year 2009

LWT Systems

4 Learning with Technologies - Managed Bring Your Own Device
---
Avoiding Bring-Your-Own-Disaster

You can't control what a retail store will sell your parent community.

It's almost guaranteed that if parents buy a unit themselves many will opt

for the cheapest option available.

Unfortunately many of these units aren't suitable for school.

So what can go wrong?

Short battery life

Probably the most critical

problem of all. Cheap laptops

generally have a 2 to 3 hour

battery life - meaning students

won't have a machine to use

after 11:00 AM.

Long repair times

Turn around time on warranty

repairs for retail customers is

generally over 2 weeks and

is Return To Base. It means

hassles for parents and big

requirements on loan units.

Slow wireless connectivity

Most schools operate on the

faster more scaleable 5 GHz

band. Most cheap laptops only

support 2.4 GHz meaning more

wireless issues for schools.

KG

Bad backs

Weight is a serious issue when

considering everything

students have to carry to

school. Many cheap laptops

weigh around 3 kgs. It's

generally recommended that

devices be no more than 2 kgs.

$$

High repair costs

Out of warranty repairs such as

damage can cost upwards of

$400 from a retail shop. Quite

often more than the machine

in the first place. They are also

Return To Base warranties,

making it a hassle for parents.

Mixed operating experiences

Apple/Windows/Android all

operate differently making it

hard for teachers to teach. You

need the same device or a

solution that brings the same

operating experience to all

devices.

Decreased speed

Slow performance of devices

in the classroom will end up

slowing down everybody as the

teacher waits to get everyone up

and running.

L

Upset parents

For many schools BYOD

is aimed at easing the

burden put on schools but

implemented poorly will have

angry parents lining up.

Learning with Technologies - Managed Bring Your Own Device

5
---
So what is Managed BYOD?

LWT provides a managed BYOD service that incorporates letting parents

purchase directly from us, allowing schools to continue to manage IT

hardware by providing a standard platform to maintain SOE (Standard

Operating Environment) images on devices and reducing ongoing service

headaches.

School branded Online Order Portal

WWW

We can create a school branded online order portal where parents pay us

directly via a number of payment methods.

See pages 12 and 13 for more details.

Finance options approved online

Our portal offer parents the ability to pay by Interest Free with instant

online approval. It removes messy paper work that can delay delivery to

parents.

We can deliver direct to parents

School handouts can be messy and put a lot of strain on school resources.

It also generally delays delivery to parents especially those who purchase

early in a program. We can deliver direct to parents with Australia Post

eParcel meaning parents can pick up their unit from their local post office

when it suits them.

$

WARRANTY

We handle all payments

We take all the payments directly so your admin staff don't need to worry

about collecting money from parents.

Imaging of units

By using a managed BYOD program, a school can continue to implement

an SOE if required. We can have units pre-imaged before delivery. Having

an SOE can help a school reduce infrastructure costs as requirements for

Virtual Desktop environments are negated. For Victorian Government

Schools that choose compatible hardware, this means we can preinstall

eduSTAR which the education department has now licensed for student

owned machines.

Onsite warranty and Onsite Accidental Damage Insurance

Service can be supplied onsite meaning quick turn arounds and no hassles

returning products to base.

6 Learning with Technologies - Managed Bring Your Own Device
---
What we can do for your school

Help reduce the Four Big Costs

Managed BYOD can reduce your costs across the board in four major areas.

$

Cost of devices

By letting parents puchase directly, the school will shift the cost of

hardware away from the school.

Infrastructure

By maintaining the ability to supply units with a standard image means

schools can avoid the need for expensive infrastructure such as VDI (Virtual

Desktop Infrastructure).

Ongoing administration

By LWT handling the paperwork, payments and deliveries, we can ease

the pressure and load on school administrative staff. Our sales and

administration teams can work directly with school staff and parents alike.

Ongoing maintenance

We can help minimise ongoing warranty and maintenance issues for the

school, significantly increasing the time IT staff have for more core activities.

Managed BYOD can reduce

'your costs across the board

'

Learning with Technologies - Managed Bring Your Own Device

7
---
What we can do for your school

1:1 Specialist can come to you to discuss how your program can work

We have dedicated staff that specialise in 1:1 programs that have

experience in explaining the pros and cons to school staff and parents

alike. With over 100 successful 1:1 programs in schools across Australia,

our record and reptuation speak for themselves.

Assistance with School Parent Nights and school committee meetings

Our staff are able to visit your school so that you can hold meetings and

get staff together to discuss your options. Our 1:1 specialists regularly

attend school parent nights outside of normal business hours.

Assistance with image creation

Have an image automatically connect to a domain.

We have specialised equipment that is able to install operating systems on

multiple units at the same time. This saves the school technicians countless

hours and frees up the school network.

Dual boot - Home image and school image

Enable students to choose between multiple working environments.

They can keep personal files separate from school and day to day tasks.

Student owned devices needs some flexibility but a school image will allow

you to lock them down at school

Enabling a school image on units will provide extra security for school

teachers and technicians. Keep student devices safe by governing what

they are able to use and access.

Professional Development in 1:1 programs and Windows 8

LWT works in conjunction with authorised Professional Development

educators and holds regular events to ease the concept of Windows 8 in

to schools who run older operating systems.

Infrastructure review

Our staff can visit your school and advise on where your network can be

improved. Adding multiple units to a schools infrastructure generally means

upgrades and adding to existing equipment.

8 Learning with Technologies - Managed Bring Your Own Device
---
Hands Off Servicing

We diagnose

Our technicians are trained to quickly fault find, diagnose and repair

problems out on site.

Reimaging service

We have the ability to image units and restore them to factory default

or apply different operating systems to units. (Software licences must be

current)

We bill parents where required

We will only invoice parents or ask for payment once the student takes

ownership of their machine - This keep it fair and easy for parents.

Online helpdesk

i Having a dedicated service phone line enables schools to talk with a real

person instead of an automated system or message bank.

LWT also offers an E-Portal system allowing you to log and track your

service requests online when it suits you.

Collection points for students at school

LWT can set up collection points at each school for students to drop their

damaged units to. We can then collect the units and have them repaired.

'

We will only invoice parents or ask

for payment once the student takes

ownership of their machine

'

Learning with Technologies - Managed Bring Your Own Device

9
---
What we can do for parents

Access to education pricing

??

?

WARRANTY

$

LWT is a long time partner of Acer Computer Australia and as a direct

reseller we have access to discounted education pricing with commercial

grade onsite service. Through Managed BYOD these savings are passed

on to your parents.

School selected unit ensure's their child has the right unit for their education

Our specialty is education, so we know what works for students and

classrooms. All day batteries, fast processors, tough exteriors, and scratch

resistant glass screens - these attributes are what children need in todays

school environments.

Onsite Warranty, Insurance and Out of Warranty repairs equals less hassle

We have onsite technicians covering Melbourne, Geelong, Ballarat, Ararat,

Bendigo, Echuca Shepparton, Sale and Gippsland areas. Onsite warranty

means that parents don't have to take their childs broken unit into a shop or

repair agent - our technicians come onsite to repair units.

'

Onsite warranty means that parents don't have

to take their childs broken unit into a shop

'

10 Learning with Technologies - Managed Bring Your Own Device
---
Quick turnaround service means students keep learning

Many retail warranties are Return to Base and generally take at least

2 weeks from initiation to completion. Our programs feature tailored

Service Level Agreements (SLA) created to meet your school's needs –

in most cases 'Next Business Day' is our standard response time (Metro

areas). Loan units can be built into your program to be used as an instant

replacement for students and the damaged unit will be repaired within the

terms of the SLA.

We keep repair costs low

LWT has a dedicated 1300 toll free number dedicated to warranty and

service repairs and provide our own local helpdesk to minimise downtime.

In addition, we keep more than $80,000 worth of spare parts locally to

ensure service and warranties are met on time and to keep down costs.

Accidental Damage Repairs Onsite with Instant Approval

If your student's unit is dropped, stepped on, driven over, pulled off a desk,

fallen out of locker, lid has been closed with a pen on the keyboard, or had

a liquid spill then it's a bad day! Luckily accidental damage repairs can be

requested in the same way as any hardware failure. Our technicians will

carry out the repairs except for motherboard level repairs that will need to

be sent to Acer in Sydney.

'

'

Loan units can be used as an instant

replacement for students

Learning with Technologies - Managed Bring Your Own Device

11
---
School branded order portal

LWT can create a dedicated link for your parents to see details of units and place

their orders. Our portal contains information to help parents through the process.

1. An order process link - detailing the order

process step by step.

2. A frequently asked questions link to assist

with any questions they may have.

3. An innovative side by side graphical

comparison so they can choose the best

product for their needs.

Parents would simply head to our website

order portal at

http://www.lwt.com.au/orders/yourschoolname

If you'd like to see a sample please go to

http://www.lwt.com.au/orders/demo

Side by side icon comparison

for quick referencing

We have notebook and

tablet models that are

geared for education and

classroom environments.

Make a quick specification

comparison by viewing the

attribute icons for each unit.

These indicate the key

differences between units.

Frequently asked questions

We try to make the process as easy as possible for parents and the FAQ

provided on the site helps answer some of the more common questions

when purchasing.

Place your order

Once you have chosen your products, just fill out the order form at the

bottom of the page.

Use your home or work address as the delivery address.

12 Learning with Technologies - Managed Bring Your Own Device
---
Confirm your order

Review your order on the

'Confirm your Order' screen.

This will allow you to check

your details, delivery address

and products chosen.

Then select the payment

method type.

Payment method types

Direct

deposit

Credit card and Paypal

Choosing credit card or

PayPal takes you to a secure

Westpac payment portal

where you can enter your

payment details.

Direct Deposit and Over the Phone

These payment methods submit your order to us without payment and we'll send

you an invoice to pay on. Please note we do not process orders until we receive

payment.

If an error occurs

If a payment method fails you'll be redirect to an LWT page with the option to

choose another payment method. Like so:

Learning with Technologies - Managed Bring Your Own Device

13
---
Paying with interest free

What is interest free?

The smarter way to pay for your child's device. Manage your payments over time,

without paying any interest during the interest free period.

99

Unlike other finance options, you own the device

99

Apply online and get a response in 60 seconds

99

Pay no interest during the promotional period

A payment option to suit you

At LWT we offer a choice of repayment options, allowing you to choose the

finance option that best suits your individual needs.

$0 Interest

Pay your purchase before the end of the promotional period and pay $0 interest.

Annual fee

For Gem Visa a $99 annual fee applies after your first purchase and on the

anniversary of that first purchase every year afterwards.

Any one of these four cards can be used to make Interest Free purchases

If you don't have a card yet, you can apply for a Gem Visa online today.

14 Learning with Technologies - Managed Bring Your Own Device
---
How to purchase with interest free

Purchasing with interest free is easy. Select your preferred payment term and then

click on 'Apply for a Gem Visa Card' or 'Pay with my existing card'

Interest free Terms and Conditions

Available to approved customers only.

Minimum monthly repayments may be required during the interest free period

and interest and repayments are payable after the interest free period.

Paying only the minimum monthly repayment will not pay out the loan before the

end of the interest free period.

Other fees and charges are payable.

This notice is given under each product's conditions of use.

Visit gemvisa.com.au, gecreditline.com.au, gomastercard.com.au or

buyersedge.com.au for details.

Credit is provided by GE Capital Finance Australia (ABN 42 008 583 588),

Australian Credit License number 392145, trading as GE Money.

Learning with Technologies - Managed Bring Your Own Device

15
---
Learning with Technologies

Unit 6 / 27 Thornton Crescent

Mitcham VIC 3132 Australia

Tel: 1300 550 717 Fax: 1300 550 718

Warranty Service and Repairs: 1300 556 788

Email: sales@lwt.com.au

Certified System

Quality

ISO 9001

Environmental Management . ISO14001

OHS Management . AS/NZS 4801

Global-Mark.com.au ® Global-Mark.com.au ®

www.lwt.com.au