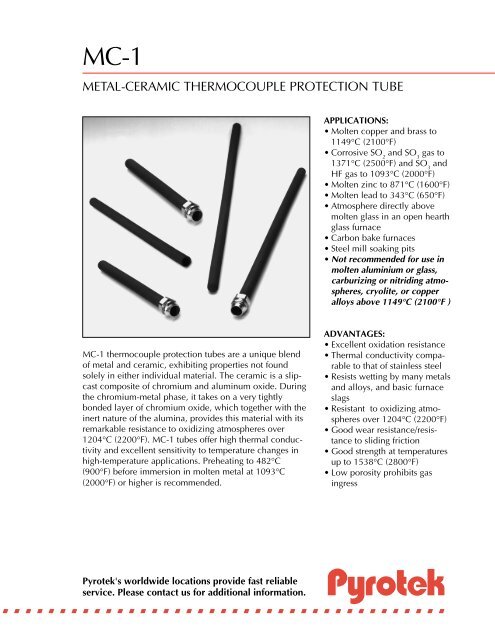 MC-1 Metal Ceramic TCPT - English (Letter) - Pyrotek
MC-1 Metal Ceramic TCPT - English (Letter) - Pyrotek
MC-1 Metal Ceramic TCPT - English (Letter) - Pyrotek
SHOW MORE
SHOW LESS
You also want an ePaper? Increase the reach of your titles
YUMPU automatically turns print PDFs into web optimized ePapers that Google loves.
MC-1

METAL-CERAMIC THERMOCOUPLE PROTECTION TUBE

APPLICATIONS:

• Molten copper and brass to

1149°C (2100°F)

• Corrosive SO 2

and SO 3

gas to

1371°C (2500°F) and SO 3

and

HF gas to 1093°C (2000°F)

• Molten zinc to 871°C (1600°F)

• Molten lead to 343°C (650°F)

• Atmosphere directly above

molten glass in an open hearth

glass furnace

• Carbon bake furnaces

• Steel mill soaking pits

• Not recommended for use in

molten aluminium or glass,

carburizing or nitriding atmospheres,

cryolite, or copper

alloys above 1149°C (2100°F )

MC-1 thermocouple protection tubes are a unique blend

of metal and ceramic, exhibiting properties not found

solely in either individual material. The ceramic is a slipcast

composite of chromium and aluminum oxide. During

the chromium-metal phase, it takes on a very tightly

bonded layer of chromium oxide, which together with the

inert nature of the alumina, provides this material with its

remarkable resistance to oxidizing atmospheres over

1204°C (2200°F). MC-1 tubes offer high thermal conductivity

and excellent sensitivity to temperature changes in

high-temperature applications. Preheating to 482°C

(900°F) before immersion in molten metal at 1093°C

(2000°F) or higher is recommended.

ADVANTAGES:

• Excellent oxidation resistance

• Thermal conductivity comparable

to that of stainless steel

• Resists wetting by many metals

and alloys, and basic furnace

slags

• Resistant to oxidizing atmospheres

over 1204°C (2200°F)

• Good wear resistance/resistance

to sliding friction

• Good strength at temperatures

up to 1538°C (2800°F)

• Low porosity prohibits gas

ingress

Pyrotek's worldwide locations provide fast reliable

service. Please contact us for additional information.
---
AVAILABILITY:

Tube lengths

22.9, 30.5, 45.7, 61, 76.2, 91.4, 106.7, 121.9 cm

9, 12, 18, 24, 30, 36, 42, 48 in

Note: Special lengths and fittings are available upon request.

Connector fittings

3/4" NPT

3/4" NPT

1" NPT

3/4" NPSM

0.500" Bore

1" NPT

+ 1

5 16

8 -

32

3

7 ± 1

16

8

5/8"

A ± 1/16"

2-1/2"

2-1/2"

3/4"

Type A

EMT connector, gland compression,

zinc plated steel

body with zinc plated malleable

iron nut.

TYPE B

Cold rolled steel fitting with

1-3/8" Hex, cemented to the

tube. Provides threads for

head and furnace mounting.

TYPE C

Same as type B except provided

with internal thread.

TECHNICAL DATA

Density

5.8 gm/cc

Hardness

34 Rc

Thermal conductivity

17 BTU-ft/ft 2 -hr°F

Coefficient of thermal expansion

5 x 10-6 in/in/°F

Flexural strength

45,000 psi

Compressive strength

110,000 psi

ID size

Will pass a 33/64-inch diameter

x 2-inch long probe through the

full length of the tube.

Straightness

3/16-inch per foot of length

as measured chord to arc

Chemical Composition

Cr-77%, Al 2

O 3

-23%

Advanced Metals Processing Technology

Note: the physical and chemical properties listed represent typical, average values obtained in accordance with accepted test methods

and are subject to normal manufacturing variations. They are supplied as a technical service and are subject to change without notice.

PRINTED IN THE USA BY PYROTEK, INC. • E. 9503 MONTGOMERY AVE. SPOKANE WA 99206

PHONE (509) 926-6212 • FAX (509) 927-2408 • PY-03-97-390

www.pyrotek.info• e-mail: info@pyrotek.info