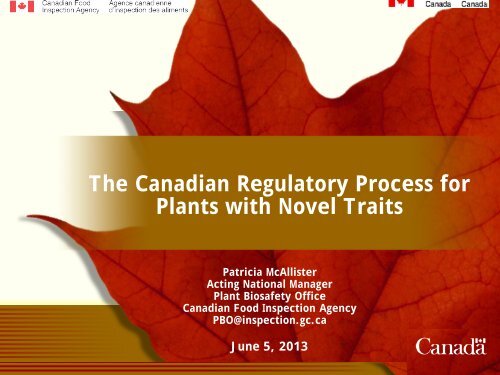 Patricia-McAllister
Patricia-McAllister
Patricia-McAllister
SHOW MORE
SHOW LESS
You also want an ePaper? Increase the reach of your titles
YUMPU automatically turns print PDFs into web optimized ePapers that Google loves.
The Canadian Regulatory Process for

Plants with Novel Traits

Patricia McAllister

Acting National Manager

Plant Biosafety Office

Canadian Food Inspection Agency

PBO@inspection.gc.ca

June 5, 2013
---
Overview

• What plant products of biotechnology does Canada

regulate?

• Who are the Canadian regulatory bodies?

• Novelty determination

• Regulatory pathway for PNTs

• Assessment Principles for PNTs, Novel Foods /Feeds

• Summary
---
Canada regulates novelty.
---
Seeds Act and Regulations:

A plant with novel trait (PNT) is defined as:

• plants into which one or more traits have been intentionally

introduced, and

• where the introduced trait is both new to cultivated

populations of the species in Canada and has a potential to

affect the specific use and safety of the plant with respect to

the environment and human and animal health
---
Food & Drugs Act and Regulations

A novel food is defined as:

• A substance, including a microorganism, that does not

have a history of safe use as a food;

• A food that has been manufactured, prepared,

preserved or packaged by a process that:

> has not been previously applied to that food, and

> causes the food to undergo a major change
---
The Feeds Act and Regulations

• Only feed ingredients that have been approved and evaluated

by the Animal Feed Division may be used in livestock feeds;

approved ingredients are listed in Schedules IV and V of the

Feeds Regulations

• Any feed ingredient that is new (i.e. not listed in the

Schedules), or has been modified such that it differs from

conventional parameters, is required to undergo a pre-market

assessment. This concept applies to all novel feeds, including

those derived through biotechnology.
---
Novelty triggers

• A PNT being assessed for unconfined release may also trigger a

novel food / feed assessment by HC and /or Animal Feed Division

of CFIA

> A PNT is not necessarily automatically considered a novel

food/feed, and vice versa. For example:

− GM turfgrass would be a PNT, but not a novel food or feed

− GM timothy would be PNT, novel feed, but not novel food

− GM cotton would be novel food and feed, but would not trigger

environmental assessment (not grown in Canada)
---
Co-ordinated Authorizations

• Authorizations are co-ordinated under HC and CFIA's

"no split" approval policy (2000)

> Crops determined to be novel by the respective groups

> If multiple groups determine a crop to be novel then:

− Assessors work together to evaluate the product

− Authorization of the product is co-ordinated

> Used to minimize the potential for unapproved products to

enter the Canadian environment, food or feed supplies.
---
Unique Process in Canada!

• Focus is on the product not the process used to develop it

> Regulated product can be developed by any breeding

processes such as: conventional breeding, genetic

engineering (GE), mutagenesis, etc.

> This approach allows Canadian regulatory system to

efficiently adjust to any new developments in the science

of plant breeding

• Biotechnology is defined differently globally

> some use narrower definition focused on GE
---
Mandatory Pre-Market Regulatory Requirements

Novel Plant Products

Environmental

Assessment

(CFIA - Seeds Act)

Livestock Feed

Assessment

(CFIA - Feeds Act)

Novel Food

Assessment

(Health Canada - Food

and Drugs Act)

Confined or

Unconfined

Release

(conditions may be

applied)

Authorized

Livestock Feed

Ingredient

No Objection

Human Food Use

• Other regulatory requirements may apply prior to commercial use

• Commercialization is a decision of the product developer

10
---
Why Regulate Feed?

Feed versus Food, consider:

• Daily feed consumption

• Limited variety

• Different components are consumed

• No processing or different processing

• Animal health and production

• Food chain (milk, meat, eggs)
---
Feed Assessments – The Purpose

• The purpose of all feed assessments is the same - to

ensure that the feed is:

> Efficacious for the intended purpose and

> Safe in terms of:

− animal health,

− human health (food residues)

12
---
Novelty Determination

• It is the proponent's responsibility to characterize their plant

and to self-identify to the CFIA a product requiring

authorization for environmental release

• The CFIA has the ultimate decision-making authority in

regulatory status determination and reserves the right to

require the proponent to provide scientific justification for

determination that a plant is not a PNT

• The assessment is science-based and case-by-case
---
Regulatory Approach:

Product, not the Process

Is the plant intended for release into the

environment?

Yes

Is there a history of the use of the

germplasm prior to 1996 in the Canadian

environment?

Are there new traits that were not

previously observed within a distinct,

stable cultivated population of seed of this

species in Canada?

Has a significant change occurred in traits

that were previously observed within a

distinct, stable cultivated population of this

species in Canada?

No

No

No

No

Yes

Yes

Yes

Exempt if kept in

containment

Exempt

PNT

Not new
---
Regulatory Pathway for PNTs

Ongoing communication with regulators

Introduction of PNT

Import or Domestic

Contained Use

Laboratory, Greenhouse

Confined Release

Research Trials – Risk Management

Unconfined Release

Risk Assessment & Management

Commercialization

- - Industry Decision - -

Import Application

Evaluation (PBO)

Confined Field Trial

Application

Evaluation (PBO)

Environmental

Assessment (PBO)

Novel Food/Feed

Assessment

(HC/CFIA)

± Variety Registration,

± PMRA

Notification

of

provinces,

±PMRA

If applicable
---
Regulatory Approach for the Environmental

Release of PNTs

• Confined Releases

• Risk = Hazard x Exposure

> Environmental hazard is unknown or not fully characterised

> Regulatory program concentrates on environmental exposure

evaluation and mitigation

• Unconfined releases

> Environmental exposure of a known risk (maximum exposure is

assumed)

> Regulatory program concentrates on environmental hazard

evaluation* and stewardship, where required

*Sometimes referred to as "safety assessments" to distinguish them

from quantitative risk assessments
---
Confined Research Field Trial Program

• Purpose: to provide an opportunity for plant developers to

cultivate their PNTs in an agronomic setting while minimizing

environmental exposure

• All trials are subject to conditions intended to minimize

persistence and spread of the plant in the environment and

prevent contamination of feed and food with unapproved plant

material

> Each field trial is inspected by CFIA multiple times to assess

compliance with conditions

> Research purposes only
---
Unconfined Environmental Release Program

• Purpose: To allow the release of a PNT into the environment

with limited or no restrictions

> May require stewardship plans (eg: herbicide tolerance,

insect resistance management)

• Authorized products have been assessed to be as safe as

comparable products with a history of safe use

> Does the addition of 1 or more traits change the plant's

impact on the environment in comparison to the same crop

being grown in an agricultural setting?

• Authorized products are not handled differently from their

conventional counterparts
---
Scientific Information Required in PNT Application

• Identification and Classification

> Taxonomy, history of use and organism description

• Intended use of the PNT

• Description of Novel Trait(s)

• Detection Method

• Molecular and Agronomic Data

OPTIONAL: Participation in public

'Notice of Submission' Initiative
---
Environmental Safety Assessment:

5 Main Criteria/Pillars

PNT Environmental Safety Assessment considers:

1. Potential for PNT to become a weed or invasive

2. Potential for gene flow from PNT to related species

whose hybrid offspring may become a weed or invasive

3. Potential for the PNT to become a plant pest

4. Potential impact of PNT on non-target organisms

5. Potential impact of PNT on biodiversity
---
Food and Feed Safety Assessments:

8 General Considerations

1. History of safe use

2. Dietary exposure

3. History of organism(s)

4. Characterization of the derived line in relation to parental varieties

5. Genetic modification considerations

6. Nutritional Considerations

7. Toxicological and allergenicity considerations

8. Chemical considerations
---
Assessment Principles

• Tiering of data requirements:

• The degree of scientific support required is adjusted based on

the complexity/familiarity of the product

• Case-by-case

• Products can vary greatly in terms of their characteristics

• No one set of prescribed data requirements is feasible

• Data requirements are, instead, determined on the basis of the

characteristics of the product in question

• Familiarity:

• With particular products/characteristics

• With assessing particular products/characteristics

• Valid Scientific Rationale

• Can be used in place of data or to bridge data
---
Assessment Principles

Other Principles:

• Weight of Evidence

• It is the sum of the overall data submitted that provides the

context for determining efficacy and safety

• Efficacy/Safety

• The assessment considers the likelihood that unintended

effects may be present in the modified plant in question.

• Comparators

• Must be appropriate for the product in question
---
Decision Making and Post-Authorization

• Ask for more information

• Authorize

• Authorize with conditions

• Refuse authorization

• No split approvals (Food/Feed/Environment)

• Separate Decision Documents posted on CFIA and Health Canada

websites

• Applicant is required to notify CFIA and HC if/when new

information on PNT becomes available

• Compliance monitoring of conditions of authorization by CFIA
---
Special Case: Stacked Events

• After a PNT is authorised for use by the CFIA the plant can

then be traditionally bred to develop new varieties.

• A "stacked product" is the result of using traditional crossbreeding

to combine two or more previously authorized

PNTs.

• The PBO must be notified prior to intentional release into the

environment of stacks.

• Within 60 days of notification - informing the proponent of

any concerns the PBO may have regarding the unconfined

environmental release of the stack.
---
Summary

• Product-based regulations

• Authority within regulations for departments to

approve products derived from biotechnology after

completion of safety reviews

• Once authorized, products of biotechnology are not

treated differently than other foods/feeds/crops.

Note:

you should plan on 24 months or more from submission to

authorization.
---
For More Information Concerning Novel Foods and

Plants With Novel Traits in Canada

Novel Foods

Health Canada Web address:

http://www.hc-sc.gc.ca

HC-Novel Foods Web address:

http://www.novelfoods.gc.ca

Novel Feeds

Animal Feed Division address:

http://www.inspection.gc.ca/

animals/feeds/eng/1299157

225486/1320536661238

Plants With Novel Traits

CFIA Web address:

http://www.inspection.gc.ca

CFIA–Agricultural Biotechnology

Web address:

http://www.inspection.gc.ca/

english/sci/biotech/biotech

e.shtml