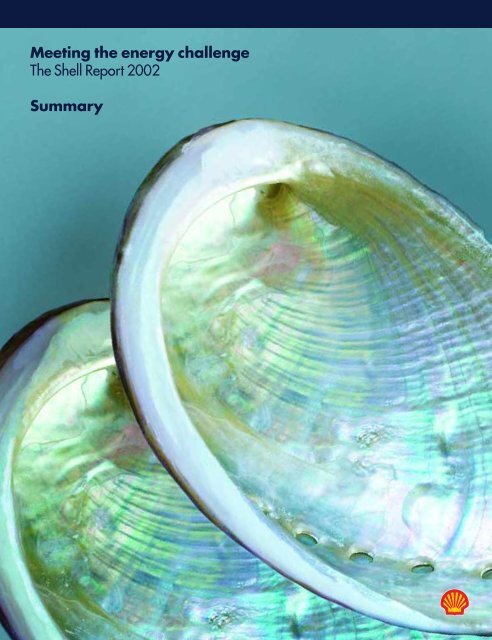 Meeting the energy challenge The Shell Report 2002 Summary
Meeting the energy challenge The Shell Report 2002 Summary
Meeting the energy challenge The Shell Report 2002 Summary
SHOW MORE
SHOW LESS
You also want an ePaper? Increase the reach of your titles
YUMPU automatically turns print PDFs into web optimized ePapers that Google loves.
Meeting the energy challenge

The Shell Report 2002

Summary
---
By 2050 the world will double its use of energy. Most growth will be in developing countries,

as billions of people escape from poverty. Despite greater efficiencies, demand from developed

nations will continue unabated.

The daunting challenge is to satisfy these rising energy needs without damaging health, blighting

local environments and threatening vital natural systems. Hence our theme this year: "Meeting

the Energy Challenge".

We have asked Mark Malloch Brown, Administrator of the United Nations Development

Programme, to give his perspective on the challenge (page 8). And throughout the report

we show how Shell is responding, often working with governments, non-governmental

organisations, local communities and industry partners.

This, the summary of our sixth annual Shell Report, shows the progress in 2002 of the

Royal Dutch/Shell Group of Companies in contributing to sustainable development.

For the first time, we present a new way of reporting and assuring "hot spot" sites and issues.

We also provide more in-depth case studies that give an insight into how Shell people are

contributing to sustainable development in their daily work.

We hope this report helps you make up your mind about our progress and stimulates your

thinking on practical steps that governments, industry and consumers can take to move towards

a more sustainable energy system.

Find out more about our work on www.shell.com. Tell us what you think about our progress

– and this report – by using the "Tell Shell" system on our website.

Contents

Message from the Chairman 1

The year at a glance 2

About Shell 4

The energy challenge 8

Economic performance 10

Environmental performance 12

Social performance 14

Case studies 17

Assurance and basis

of reporting 24

Our Business Principles 25

Don't take our word for it

KPMG and PricewaterhouseCoopers LLP, have prepared a report

(page 24), summarising the assurance work completed for those

elements of the Shell Report as indicated by the following symbols

+

. For an explanation of these symbols, see page 24.

In some cases, independent panels have also examined our

performance. We report their comments and findings. "Hot spots"

are indicated by this symbol .

Employee sustainable development photography contest

During 2002, we ran a photography competition in partnership with

The National Geographic Society. Photographs were received from more

than 40 countries on the theme of "sustainable development in action".

Several of the entries, indicated by this symbol , are included.

Want to know more?

Read the full Shell Report at www.shell.com/shellreport
---
Message from the Chairman

1 The Shell Report

Across the world, concerns about the economic and political climate and the threat of terrorism

have all combined to make us feel less secure. In these difficult times it becomes even more important

that Shell companies live up to the highest standards. It is also vital that we are not blown off course

by short-term pressures. Taking a long-term view is essential to operating in a sustainable manner.

That long-term approach was central to the World Summit on Sustainable Development in

Johannesburg. It was a great privilege to be present at the Summit and I am proud of the role

played by Shell, and other progressive business leaders, in developing projects that will impact

the lives of many people, not least the world's poorest.

One of the clearest messages from the Summit was that meeting future energy demand will

be a key challenge over the next fifty years. Global energy demand is expected at least to double

and energy producers will need to seek ways of meeting those needs, whilst minimising the

effect on the environment and doing business in a socially responsible manner.

That means ensuring our own operations are run efficiently and this report outlines how Shell

met its 2002 target on greenhouse gas emissions. It means looking at ways of making cleaner

and more efficient fuels from hydrocarbons. Our investment in natural gas projects will play

a major role in this respect. We also continue to work actively to make solar and wind power

competitive and support the development of an infrastructure for hydrogen fuels.

Our commitment to contribute to sustainable development is not a cosmetic public relations

exercise. We believe that sustainable development is good for business and business is good

for sustainable development. Last year's financial results were encouraging, in a very difficult

business environment. However, the corporate scandals of the past year underlined that good

financial performance must be accompanied by the highest standards of governance. Shell's

Business Principles assurance process ensures we meet and maintain those standards.

At the heart of those principles is respect for our staff and their safety. The helicopter crash

in the North Sea and a number of fatalities in road accidents showed the need for constant

vigilance to ensure that our operations are as safe as possible.

We have always been determined that the Shell Report should openly and honestly outline

our performance. It shows that we have performed well this year, but we know there is still

more to be done to ensure that sustainable development objectives are delivered consistently

across all our operations.

The lesson of the Johannesburg Summit was that business can really make a difference.

I am committed to ensuring that we continue to use all our skills to live up to those expectations,

both in the way we run our business and in the contribution we make to the wider communities

in which we work.

Sir Philip Watts

Chairman of the Committee of Managing Directors
---
The year at a glance

The year at a glance

Performance

Economic performance

• Earnings of $9.2 billion

• Return on average capital employed

(ROACE) of 14%

• $25 billion of capital investment, including

$11 billion in key acquisitions

• Highest hydrocarbon production in recent

history of 4 million barrels of oil equivalent

per day

• Motorists rank Shell top brand for sixth

year running

Environmental performance

• 2002 greenhouse gas emissions reduction

target met

• Phase out of continuous gas venting

nearly completed

• Improved spills performance

Social performance

• Mixed performance on safety

• Highest overall reputation within the

energy sector

• Increasing involvement in international

public-private partnerships

• More staff feel respected by Shell

• Progress towards senior leadership

gender target

2 The Shell Report

Highlights and lowlights

Global sustainable development awards

Shell was ranked top of the energy sector

in the Dow Jones Sustainability Index.

The index tracks the financial performance

of companies that have made sustainability

a key driver of business strategy.

The Malampaya Deepwater Gas-to-Power

project in the Philippines won a Partnerships

Award – sponsored by the UN Environment

Programme and the International

Chamber of Commerce – for its approach

to sustainable development.

World Summit on Sustainable

Development

The business community was a full participant

at the World Summit on Sustainable

Development (WSSD) in South Africa. Shell

was well represented and helped to launch

several new public-private partnerships.

Sir Philip Watts welcomes Kofi Annan to the

Business Day at the WSSD.

Building capacity

The Shell Foundation and World Resources

Institute established the WRI Center for

Transport and the Environment (called

EMBARQ) to encourage sustainable solutions

to urban transport.

The Shell Center for Sustainability was

established at Houston's Rice University and

Shell companies in Norway and the UK

established sustainable development

professorships at local universities.

Resolving differences at Norco

A Joint Statement of Success was signed by

the Norco refinery and petrochemical plant

in Louisiana, USA and the local community.

It recognised the steps taken to meet

concerns about the plant's environmental

and social performance.

Loss of life

Fifty-three Shell employees and

contractors lost their lives at work during

2002. Eleven died when a helicopter crashed

in the North Sea.

Security

Shell companies in 13 countries experienced

significant security incidents, including war, civil

unrest or violent crimes. In particular, security

incidents at operations in the Niger Delta

remain a concern. Significant efforts continue

to protect Shell people and assets against

potential threats, including terrorism.

Dealing with legacies

Plans were progressed with local authorities to

clean up two sites contaminated with pesticides

from previous operations – Paulinia and

Ipiranga in Brazil.

External criticism and protests

Shell was the subject of criticism and received

a "Greenwash award" from pressure

groups at the WSSD.

There were local community protests about

the environmental performance of the SAPREF

refinery in South Africa, a Shell joint venture

(Group interest 50%) (page 23).
---
Meeting the energy challenge

A year of acquisitions

Enterprise Oil was bought, boosting

production in the North Sea and bringing

forward our first oil production in Brazil

to 2003.

Enterprise Oil's Nelson platform in the

North Sea.

Pennzoil-Quaker State Company, the

leading marketer of passenger car motor oils

in the USA, was acquired, making Shell a

global leader in lubricants.

Shell completed the acquisition of Texaco

interests in the Equilon and Motiva joint

ventures in the USA, the latter in conjunction

with Saudi Refining Inc. A major programme

to rebrand Texaco stations to Shell has been

launched and integration and best practice

sharing with the rest of Shell are being

actively pursued.

Shell purchased its partner's 50% share in the

Shell and DEA Oil joint venture, which has

interests in five refineries – including two which

are integrated with ethylene crackers – and

some 3,000 service stations in Germany.

Shift to gas

Go ahead was given for a $3.5 billion

(Group interest 25.6%) investment to expand

the Nigeria Liquefied Natural Gas (NLNG)

project (page 18).

3 The Shell Report

In Venezuela, Shell was chosen to partner

with PDVSA and Mitsubishi Corporation

in the planned $2.7 billion Mariscal Sucre

LNG project.

The North West Shelf Joint Venture in

Australia (Group interest 22%) was selected

to supply over three million tonnes a year

of LNG to China through the Guangdong

LNG terminal.

Plans were announced to study the feasibility

of a world-scale Gas to Liquids plant in

Qatar, to produce up to 140,000 barrels

per day of super-clean oil products from

natural gas (page 18).

China

Negotiations moved ahead on the West-East

gas pipeline project to bring gas to China's

fast-growing coastal cities. Together with the

UN Development Programme and PetroChina,

Shell conducted a social impact survey along

the 4,000km route of the proposed gas

pipeline (page 22).

Go ahead was given to start building the

$4.3 billion (Group interest 50%) Nanhai

petrochemicals complex. An environmental

and social impact assessment based on

international standards has been published

(page 22).

A contract is being negotiated with Sinopec

to establish a joint venture retail network of

some 500 stations in Eastern China.

West-East gas pipeline project, China.

Tomorrow's energy today

An additional 100 MW of wind energy

generating capacity was acquired in the USA,

bringing our total to 240 MW globally.

Shell Solar became one of the world's

largest solar photovoltaic businesses,

with 13% market share, after buying out the

remainder of its joint venture with Siemens

and E.On. Tough market conditions and

product oversupply led to a decision to close

production capacity in the Netherlands

and Germany.

Shell Solar supplies additional power for the

Munich Trade Fair Centre, Germany.

Shell Hydrogen invested $7 million in a

company specialising in hydrogen

purification technology – vital for future

development of fuel cells – and announced

plans to build Tokyo's first hydrogen

refueling station.

Shell took a 22.5% stake in Iogen Energy

– a Canadian company with a promising

technology that could lower the cost

of converting plant waste into ethanol

for blending with gasoline to reduce

greenhouse gas emissions.
---
About Shell

What we do

We are a global group of energy and petrochemicals

companies, operating in over 145 countries and employing

more than 115,000 people.

We are best known to the public for our service stations and for

exploring and producing oil and gas on land and at sea. But we

deliver a much wider range of energy solutions and petrochemicals

to customers. These include transporting and trading oil and gas,

marketing natural gas, producing and selling fuel for ships and

planes, generating electricity and providing energy efficiency advice.

We also produce and sell petrochemical building blocks to industrial

customers globally. These go into plastics, coatings and detergents

used to make many modern products like fibres and textiles, insulation,

medical equipment and components for lighter, efficient vehicles.

Exploration and Production

Searches for, finds and produces crude oil

and natural gas. Builds and operates the

infrastructure needed to deliver hydrocarbons

to market.

4 The Shell Report

— Oil pipeline

— Gas pipeline

— Electricity

— Feedstock

Gas & Power

Liquefies and transports natural gas, develops

gas markets and infrastructure, develops

gas-fired power plants and engages in the

marketing and trading of natural gas and

electricity. Converts natural gas to liquids

to provide clean fuels.

Renewables and Shell Hydrogen are small, but fast-growing businesses

investing in making renewable and lower-carbon energy sources

competitive for large-scale use.

Shell companies do not produce coal or nuclear power.

• Shell companies produce more than 3.5% of global gas and

approximately 3% of the world's oil, similar to other major private

oil and gas companies.

• We produce 13% of the world's solar panels.

• Every four seconds a plane is refueled by Shell Aviation.

• In that time, 1,200 cars visit a Shell service station.

Oil Products

Markets transportation fuels, lubricants and

speciality products. Refines, supplies, trades

and ships crude oil and petroleum products.

Provides technical consultancy services.
---
Our strategic direction

We aim to be the world leader in energy and petrochemicals.

We intend to deliver superior total shareholder returns

in our industry through:

Delivering robust profitability – solid earnings, competitive returns

and strong cash generation resilient to a broad range of economic

and geopolitical conditions. We achieve this through capital discipline,

active portfolio management, personal accountability, operational

excellence and cost leadership.

Demonstrating competitive edge – developing and leveraging our

ability to attract people of the highest calibre and diversity; constantly

innovating to meet changing customer needs; and leveraging the

strongest brand in our industry, our technology and our extensive

Chemicals

Produces and sells petrochemical building

blocks and polyolefins globally.

5 The Shell Report

Renewables

Generates "green" electricity and provides

renewable energy solutions. Develops

and operates wind parks; manufactures

and markets solar systems.

global reach. We operate in full alignment with our Business Principles,

including our commitment to sustainable development, and view this as

critical to maintaining our competitive edge.

Robust profitability and competitive edge fuel value growth –

moving the Group towards its aspired portfolio, which comprises:

• Growing the proportion of Exploration and Production and

Gas & Power assets in the Group's portfolio

• A gradual shift towards gas as the fuel of choice

• Profitable growth and cash generation in Oil Products and Chemicals

• Development of a material new income stream

• Increased exposure in North America, Asia and offshore Africa.

Other activities

Other business activities include:

Shell Consumer, Shell Hydrogen

and Shell Trading.
---
About Shell

How we work

Our values

Our core values of honesty, integrity and respect for people define how

we work. These values have been embodied for more than 25 years in

our Business Principles which, since 1997, have included a commitment

to support human rights and to contribute to sustainable development.

The Principles apply to all Shell employees everywhere. We go to great

lengths to ensure they are implemented in all Shell-operated companies.

We also actively promote our Principles with joint venture partners,

contractors and suppliers.

We have three Group-wide policies: our Business Principles (which

include our no bribes and no political payments policies); our Health,

Safety and Environment (HSE) Policy; and our risk and internal control

policy to assess and manage business risks. In addition, we have global

standards for important areas of our business covering, for example,

governance, financial control and accounting, security, diversity and

inclusiveness, environmental management and emissions from our sites,

biodiversity, health management and animal testing.

Our internal assurance letter process helps us to monitor whether we

are living by our Principles. The executive responsible for each Shell

business and country operation must inform our Committee of

Managing Directors every year, in writing, whether his or her

organisation has acted in line with Group policies and standards.

This assurance process was further strengthened in 2002.

Corporate Governance

We are committed to the highest standards of integrity and

transparency in corporate governance. Our Parent Companies'

Supervisory Boards both have a majority of independent directors

and key board committees are headed by non-executives.

Evolving measurement and reporting

We support efforts to develop common measuring and reporting

guidelines. For example, we are a charter member of the Global

Reporting Initiative (GRI), support the greenhouse gas reporting protocol

being developed by the World Business Council for Sustainable

Development and the World Resources Institute, and are working with

our industry associations on guidance for the oil and gas industry.

Meaningful measuring and reporting should combine quantitative

measures with more in-depth reporting on key issues or locations.

In 2002, we improved our measurement and reporting along

these lines.

6 The Shell Report

Key performance indicators (KPIs). We report here on 11 of

our original 16 quantitative measures of our performance worldwide,

five more than in 2001. We have also refined our environment and

safety KPIs, highlighting the six global environmental and safety

parameters that we think reflect Shell's principal worldwide impacts.

The five new KPIs are based on people's views of our performance.

Three (treating staff with respect, diversity and inclusiveness in the

workplace, and integrity) focus on staff and make use of the third Shell

People Survey. The other two new measures (external perception of

environmental performance and overall reputation) come out of our

new annual Reputation Tracker survey.

Most of the KPIs now in use are aligned with our Shell-wide scorecard.

The financial, environmental, safety and diversity indicators all have

quantitative improvement targets.

Of the remaining five original KPIs, two have proven more useful as

local tools (business alignment and human rights). Two more have

become part of our wider social performance management effort

(social performance and quality of engagement). We will continue

working on the final KPI (innovation) in 2003.

"Hot spot" reporting involves in-depth case studies on some of the

most important issues or site level challenges we face. In 2002, we

ran a trial with four cases, marked with the following symbol :

community development in Nigeria (page 17); Shell and BP SA

Petroleum Refineries (SAPREF) in South Africa (page 23); resettlement

at the Nanhai petrochemicals complex (page 22); and animal

testing (page 23).

External assurance

KPMG and PricewaterhouseCoopers LLP (PwC) continue to provide

assurance over those aspects of the report marked with the symbols

as explained on page 24. They also play an important role in

challenging the entire text and our thinking on reporting. In addition,

we have made further progress on a new assurance model suitable

for reporting on "hot spot" case studies. It combines assurance over

processes and controls by KPMG and PwC with checks on our actual

performance by independent experts knowledgeable on the topic.

See www.shell.com/sustain for an explanation of the assurance

work performed in 2002 on our four "hot spot" cases. We will refine

this model in 2003.
---
Embedding and integrating sustainable development

At this stage, our biggest challenge in operationalising sustainable

development is consistent delivery across all of our operations.

Below are three areas where we made noteworthy progress in 2002:

Investment proposals for new projects

Before we agree to invest, we require major new projects to meet

specific social and environmental criteria. These are:

• Carbon costs. We make projects pay for the greenhouse gases

they emit. It helps us understand the impact of these carbon costs and

design our projects with lower emissions. In 2002, we extended the

use of carbon costs to nearly all investment projects and acquisitions.

• Impact assessments and plans. Projects must undertake social,

health and environmental impact assessments, including biodiversity

impacts, in line with Shell guidance. The Nanhai petrochemicals

complex in China (page 22 ), illustrates how this works in practice.

• Shell HSE standards, such as no continuous flaring in new projects,

must be met.

• Stakeholder engagement plans that include all affected

or interested parties must be in place.

The focus in 2003 will be on applying these checks consistently.

7 The Shell Report

1995 2000 2005

2010 +

Weaving together economic,

environmental and social strands –

sustainable development is being

integrated into key business

practices and the appraisal and

reward of individual staff.

Appraisal and reward systems

We have made sustainable development count in the evaluation

and remuneration of our senior staff. Social and environmental

considerations currently account for approximately a fifth of the

Shell scorecard, which defines how we appraise our performance

and impacts the bonuses of all senior executives. Our businesses

also include sustainable development considerations in their

performance scorecards.

Sustainable development learning

We are integrating sustainable development more systematically

into our leadership development, training and internal communications.

The goal is for all staff to understand the concept and its relevance

to their jobs and to have the skills and enthusiasm they need to put

sustainable development thinking into practice.

Priorities for embedding sustainable development in 2003 will be:

• Further developing our sustainable development learning initiative

• Building the skills and processes needed to improve the social

performance of our projects.
---
The energy challenge

The energy challenge

How can the world deliver all the energy

needed for development over the next

50 years without pollution levels that

damage health, blight local environments

and threaten vital natural systems?

For Shell, helping to meet this challenge

is at the core of our contribution to

sustainable development.

The challenge has three main parts:

Over a third of humanity – more than two billion men, women, and

children – remain dependent on traditional biomass such as firewood,

agricultural residues and charcoal. This not only has a high toll on

human health and the local environment, but often damaging

social effects.

At the World Summit for Sustainable Development in Johannesburg,

the critical role of energy services in helping meet the Millennium

Development Goals – an ambitious plan with the goal of halving

extreme poverty by 2015 – was explicitly acknowledged for the first

time. There was widespread agreement that reaching nearly all the

plan's targets – from primary education to gender equality – will require

much greater volumes and quality of energy services. But ensuring that

these are delivered in both sufficient volume and with proper regard

to environmental impact, will require the full engagement of the private

sector and the development of innovative private-public partnerships,

incorporating both business and civil society.

The practical obstacles cannot be underestimated, but nor can the real

opportunities, particularly for companies and governments with the

vision and commitment to try to seize them. For information on UNDP

energy activities visit www.undp.org

8 The Shell Report

Mark Malloch Brown, Administrator

of the United Nations Development

Programme, reports on the challenge

of providing access to modern energy

for the 40% of the world who live

without it.

Providing access to modern energy for the poor

As Mark Malloch Brown describes (left), poverty and

a lack of modern energy go together. The world needs to:

• Provide reliable electricity to the two billion people without it

• Make modern fuels like Liquefied Petroleum Gas (LPG) available

to over two billion people using traditional fuels

• Spread cleaner, safer technology for using traditional fuels.

Today Shell is:

• Building markets for solar power, for example through our

commercial rural solar power business (page 19)

• Growing our LPG business and providing kerosene for domestic use

• Helping tackle the health effects of traditional fuels.
---
Meeting growing demand for fossil fuels while reducing

environmental and social impacts

By 2050, we expect the world to double its energy demand.

Developing countries will need five times more. Fossil fuels will

remain important, but people are unlikely to tolerate increased

pollution, the burden of extra infrastructure and the possible effects

on the climate. The world needs to:

• Deliver the extra energy needed

• Minimise the environmental and social impacts from extracting

and delivering fossil fuels

• Ensure local communities benefit from energy production

• Increase energy efficiency

• Market more natural gas and develop cleaner transport fuels.

Today Shell is:

• Continuing to explore for and produce oil and gas

• Working to develop new gas markets in fast-growing regions (page 18)

• Reducing the environmental impacts of its operations, for example by

cutting emissions and discharges (pages 12 to 13)

• Lowering the environmental impact of producing oil from oil sands

(see www.shell.ca)

• Working with others to better manage the social impacts of its global

operations for example in China (page 22), Nigeria (page 17) and

South Africa (page 23)

• Introducing cleaner transport fuels.

At Shell's Middle Distillate Synthesis plant in Malaysia, waste synthesis gas that was previously

emitted, is now used to fire the steam boilers, significantly reducing gas consumption and flaring.

Photograph by Jan Zander, Shell MDS Sdn bhd, Malaysia.

9 The Shell Report

Shifting towards a low-carbon energy system

The world needs low-emission and low-carbon energy. It will take

more than a decade before alternatives with large-scale potential

(solar power, fuel cells and bio-fuels for transport) can compete

effectively. It will take another several decades before they deliver

a large share of our energy. The world needs to:

• Reduce the cost of alternatives like solar (now at least 10-times

more costly than electricity from fossil fuels or nuclear)

• Prepare the distribution infrastructure, regulations and markets

• Find ways to capture greenhouse gases from fossil fuels cheaply

• In the meantime, use more natural gas and affordable wind power.

Today Shell is:

• Working to reduce the costs of solar power

• Supporting the development of hydrogen fuel cells and the necessary

fuel infrastructure

• Looking for cheap ways to capture greenhouse gases from fossil fuels

• Bringing more natural gas to market (page 18)

• Expanding its wind power business.

Find out more

Our long-term energy scenarios describe two possible routes to

a sustainable energy system (see www.shell.com/scenarios).
---
Economic performance

Economic performance

Generating robust profitability

Successful financial performance is essential to our sustainable

future and contributes to the prosperity of society. We seek to

achieve robust profitability by improving ROACE, delivering

projects, establishing new legacy assets and ensuring capacity

for dividend growth.

Financial performance

In 2002, Shell had full year adjusted earnings (on an estimated current

cost of supplies (CCS) basis excluding special items) of $9,218 million,

23% lower than in 2001. It should be noted that adjusted CCS

earnings is not a measure of financial performance under generally

accepted accounting principles in the Netherlands and the USA.

Oil prices were higher than in 2001, but refining margins were at their

lowest for a decade. Profit margins in our petrochemicals business

remained poor. Despite these conditions, the Group generated an

operational cash flow of $16.4 billion and delivered a return

on average capital employed (ROACE) of 14%, which compares

favourably with industry peers (graph 2). ROACE is the industry

standard to measure how profitably a company uses its assets.

Investment and divestment

Directing our capital to where it can generate the highest return

remains a top priority. We include social and environmental

considerations when we decide where to invest to ensure that returns

are truly sustainable over the lifetime of our projects (page 7). In 2002,

we invested $25 billion, our highest investment level in recent history.

$11 billion was spent on four key acquisitions – see the Year at a

Glance (page 2) for more details.

1 Total shareholder return* 1993 – 2002

% per year

17.59 BP

16.27 Total

13.05 Shell Transport

12.07 ExxonMobil

11.73 Royal Dutch

10.43 ChevronTexaco

0 5 10 15 20 25

* Total shareholder return is calculated as the total of stock appreciation and

yield from reinvested dividends before taxes. The figures above are based

on quarterly reinvestment of gross dividends expressed in dollars. Data for

Total, ChevronTexaco and ExxonMobil before the effective date of their

respective mergers were replaced by data from the acquiring entities.

Source: Bloomberg.

10 The Shell Report

2 Return on average capital employed

(ROACE) for oil majors*

%

98 99 00 01 02

Shell

Competitor range (BP, ChevronTexaco, ExxonMobil, Total)

* Shell ROACE figures are calculated as CCS earnings plus the Group share

of interest expenses after tax, as a percentage of the Group share of average

capital employed. The figures for other oil majors are Shell estimates based

on publicly available information, which may have been prepared on

a different accounting basis and have not been subject to assurance.

Financial position and reserves

We can pride ourselves on a very strong balance sheet and financial

position. We continue to hold our triple-A credit rating. Group capital

employed, the accounting measure for the amount of assets operated

by the company, grew by 28% to $83 billion. $14 billion of this growth

stems from our 2002 key acquisitions, including the effect of acquired

debt. At the end of 2002, we had $1.6 billion in cash on hand, while

our debt as a percentage of our capital employed was 24% (within our

target range of 20–30%).

With energy demand set to double by 2050, and alternatives decades

away from being competitive on a large scale, we continue to grow

our oil and gas reserves. We have proven reserves equivalent to more

than 13 years of current production. We expect our production

capability to grow by an average of 3% per year. In 2002, our oil

production increased by 7% compared with 2001. Gas production,

which we see as a strategic bridge to a lower-carbon future (page 18),

grew by 5%. We added 1.17 barrels to our oil and gas reserves for

every barrel we produced.

Tell Shell

"Presumably directors and managers should be working to the best

of their abilities at all times – I therefore see no need for their financial

enhancement at a time when profits and share prices are falling

whatever their cause."

UK

25

20

15

10

5

0

3 Brand share of preference 2002

First preference

number of countries

Texaco/Caltex 1

Other 13

Mobil 0

Esso 3

BP 2

Shell 30
---
Dividends and shareholder return

In 2002, Royal Dutch and Shell Transport grew their dividends by 3.6%

and 3.0% respectively. We returned $1.3 billion in cash to shareholders

through share buy backs. It was a terrible year for stock markets. In

absolute terms, Royal Dutch and Shell Transport stocks declined 26%

and 13% respectively. However, the two stocks showed strong relative

performance, outperforming the national indexes, with total shareholder

returns in the 1993–2002 period of 12% and 13% per year respectively.

Delivering value to customers

Customers are the lifeblood of our business. We seek constantly

to strengthen existing customer relationships and develop new

ones. We strive to meet and exceed customer expectations by

designing and delivering highly attractive and innovative

products and services.

Serving consumers and business

Every day, we serve more than 25 million customers in more than

100 countries with transport fuels and convenience goods through our

retail outlets. We have the largest retail network under one brand in the

world. For the sixth year in a row, Shell was the preferred energy brand

for private motorists in the 50 countries surveyed in our Shell Global

Brand Tracker research. Shell led in 30 countries, 10 times more than

our nearest global competitor (graph 3), and was placed second in

another 10 countries.

Our one million commercial and industrial customers trust us to provide

them with a wide range of products, such as:

• transport fuels and lubricants

• products for manufacturing and construction, including petrochemicals

to make fibres and plastics, and bitumen to surface roads and roofs

• power generation fuels, including natural gas.

The big growth markets for lubricants are China, India and Russia.

Developing and transition countries are among our fastest-growing

fuels markets.

Innovative products and services

We are constantly looking to improve our products and services to meet

changing customer needs. We have introduced tailored fuel brands

such as Shell Pura, Shell Optimax and Shell V-Power into

46 markets to meet customer demand for reduced environmental

impact and improved engine performance.

11 The Shell Report

We have extended our range of services to help our industrial

and commercial customers save money and cut their emissions.

New services include the trading of greenhouse gas emission credits

via Shell's Environmental Products Trading team, sales of pure carbon

dioxide, full factory maintenance services and energy advice.

Shell is investing in fuels of the future that can help reduce emissions.

We are increasing market penetration of cleaner fuels, such as

reformulated gasoline and diesel, and working to commercialise fuels

from crops (bio-fuels), that can be blended with gasoline or diesel to

reduce emissions further. Shell Hydrogen is supporting hydrogen fuel

cell development (see www.shell.com/hydrogen).

Tell Shell

"Having been a former Shell dealer, I am glad to see the company

moving into the renewable energy systems. I would encourage the

company to aggressively research and develop a practical fuel cell that

would utilize hydrogen to produce the electricity, that we as a nation

and the world, need."

USA

Competition and fuel pricing

We support the spread of competitive markets and seek to compete

fairly and ethically, and within applicable competition laws. In 2002,

we produced "Competing Fairly – an Antitrust Primer for Shell Staff",

to help our people in this area. We continue our efforts to be transparent

on fuel pricing. For example, our fuel pricing website in Australia lets

customers compare daily pump prices at the Shell stations in their

neighbourhoods (see www.shell.com.au/petrolpricing).

In 2002, we were either found guilty or settled out of court in two

competition cases involving allegations of gasoline price fixing with

other energy companies.
---
Environmental performance

Environmental performance

Protecting the environment

The natural environment supports all human activity. We

continually look for new ways to reduce the environmental

impact of our operations, products and services throughout

their life.

We made good progress in 2002, beating our reduction targets for

greenhouse gas emissions, gas flaring and spills.

HSE data presentation for 2002

During 2002, new acquisitions (page 3) have made a material

difference to the HSE data we report. For clarity and comparability,

we report our 2002 data in two ways:

• Old portfolio: includes data from the operations we controlled

at the start of the year. Unless otherwise specified, we report on

this basis below.

• New portfolio: actual data from all operations for the time that

they were under our operational control. New portfolio data are

shown in the relevant graphs.

In 2002, we started to integrate Group HSE reporting systems at

the new acquisitions. The work is not yet complete. The data from

the acquisitions have therefore not been subject to assurance, but will

be included in the 2003 assurance process.

Our 2002 reduction targets were based on the old portfolio. We have

set new improvement targets for 2003 and 2007 for flaring, spills and

energy efficiency, based on the new portfolio. We have also restated

our 1990 greenhouse gas (GHG) baseline (see page 24) and set our

2010 climate change goals (see page 21).

4 Reduction in Global Warming Potential*

million tonnes CO2 equivalent

114

90 00 01 02 02

baseline

target

not assured

old portfolio

new portfolio (including new

acquisitions, assurance not provided)

* see Flaring.

101 103 103

94

12 The Shell Report

106

02

5 Global Warming Potential targets

123

million tonnes CO2 equivalent

115

117

90 03 10

baseline projection target

restated

Environmental Key Performance Indicators

Global warming potential

Responding effectively to climate change is strategically important to

our business. Our response begins with reducing GHG emissions from

our own operations. We beat our target to reduce emissions to 10%

below our 1990 baseline in 2002. We achieved the reductions from

our 1990 baseline by almost eliminating continuous venting of gas and

reducing continuous flaring of gas during oil production. Compared

with 2001, emissions were also lower because of reduced throughput

in our refineries, lower oil production levels and corresponding flaring

in Nigeria. Our future target is to manage GHG emissions so that they

are still 5% or more below the 1990 baseline by 2010 (graph 5).

Flaring

In 2002, we flared 7.6 million tonnes, beating our target to reduce

flaring by 22%. This was mostly due to lower oil production in Nigeria

(primarily because of OPEC quotas). Data quality uncertainties remain

in Nigeria and an improvement programme is underway. Our longterm

target is to stop continuous flaring by 2008.

Spills

In 2002, our spills were the lowest since we started reporting in 1996,

beating our 2002 target and improving significantly on our

disappointing performance in 2001(graph 6).

External perception of environmental performance (New KPI)

For the first time we report on the perception of our environmental

performance by external stakeholders, using the new Reputation

Tracker survey. Our industry scored badly. However, against our

6 Total spills

thousand tonnes

19.3

9.9

17.8

6.6

8.5

7.4

97 00 01 02 02 02 03 07

target

targets

old portfolio

new portfolio (including new

acquisitions, assurance not provided)

sabotage (assurance not separately provided)

6.5

4.8
---
main competitors, Shell scored highest in this area, with approximately

one quarter of all respondents ranking us "the best" or "one of the

best companies".

Other parameters

See www.shell.com/shellreport for information on our emissions

of ozone-depleting substances, nitrogen oxides and sulphur dioxide

and our discharges to water.

Tell Shell

"Your only goal (like everybody else's) is short-term maximising of profits.

Maybe your little brochure is a start, but we need some unbiased,

impartial and credible proof that you actually are doing something

substantial to combat global warming and environmental decline."

Unknown

Fines, settlements, compensation payments and liabilities

Shell companies paid a total of $0.6 million in fines related to HSE

incidents . In addition, settlements and compensation payments

were made, the largest of these were in the USA, where Equilon paid

$43.2 million as a result of two incidents: a rupture and explosion of

the Olympic pipeline in 1999 and alleged MTBE contamination of

groundwater in the South Tahoe area of California.

At the end of 2002, the total liabilities being carried for environmental

clean-up, decommissioning and site restoration were $4,325 million.

The more than 40% increase since 2001 relates principally to the

new acquisitions.

Legacies

We reported in 2001 on how we were responding to the concerns

of local residents in Paulinia, Brazil about pesticide contamination

at a former Shell agricultural chemicals plant that we sold in 1993.

In 2002, many of the local residents accepted our offer to buy their

homes and relocated. We focused on developing a plan for

remediation and long-term monitoring to satisfy local stakeholders.

We are also developing plans with the local authorities for remediation

and monitoring at the Ipiranga Terminal, a fuel depot still owned by

Shell in Sao Paulo City, where pesticides were also made.

13 The Shell Report

Management systems

HSE management systems are in place and our programme to certify

major installations to the ISO 14001 standard is virtually complete.

The challenge now is to implement such systems in all the new

acquisitions. We expect to complete this process by the end of 2005,

except for Pennzoil-Quaker State Company where a plan will be

finalised in 2003.

Managing resources

Efficient use of natural resources (for example, energy, land,

water) reduces our costs and respects the needs of future

generations. We constantly look for ways to minimise their use.

Energy efficiency KPI

We used a similar amount of energy in 2002 as we did in the previous

two years. Improving our energy efficiency – using less energy for every

tonne we produce – saves money and reduces our environmental

impact. We have not seen a systematic improvement. Our ageing oil

and gas fields need more energy. We are making a more energy

intensive mix of chemical products. And we are producing new fuels

which take more refining energy to make today's cleaner transport fuels.

However, we will be taking further action to improve energy efficiency.

Ambitious programmes are underway in both our Chemicals and Oil

Products businesses in support of their new one- and five-year

improvement targets. These two businesses have also developed new

measures for reporting their energy efficiency. Programmes such as

Energise will be progressively introduced in all our refineries

worldwide. Chemicals has started Energise programmes in France

and the Netherlands. Energise seeks to improve energy efficiency

with limited capital expenditure.

Water

We aim to use less water, especially in water-stressed areas. For

example, Shell's chemicals plant in Singapore, which imports drinking

water from Malaysia, saves 50,000 tonnes of water a year by reusing

process water when making styrene and propylene oxide (base

materials for many plastics).

Waste

We continue to look for new ways to reduce waste, including turning

it into saleable products. For example, our Chemicals business is

experimenting with a partnership to recycle used soft-drink bottles

(made from polyethylene terephthalate – PET) into building materials,

in a Shell study in Mexico.
---
Social performance

Social performance

Respecting and safeguarding people

We aim to treat everyone with respect. We strive to protect

people from harm from our products and operations. We aim

to respect and value personal and cultural differences and try

to help people realise their potential.

Safety

We deeply regret that 51 people lost their lives at work during 2002

(seven Shell staff and 44 contractors). Two further fatalities occurred

in the acquired companies. Shell staff throughout the world were

saddened by the loss of 11 people in a tragic helicopter accident.

We measure fatalities by the Fatal Accident Rate (FAR), which is the

number of company and contractor fatalities per 100 million hours

worked. Our performance has been disappointing. In the short-term,

we aim to continuously reduce the number of fatalities. Our long-term

target is zero. For Total Reportable Case Frequency (TRCF), our broader

measure of safety, we met our target and achieved a best ever

performance for the fourth consecutive year. Gathering complete and

accurate data from our distribution contractors in some parts of Africa

will be the focus of attention in 2003.

Health

We measure the health of our employees in terms of Total Reportable

Occupational Illness Frequency (TROIF). It was 2.1 illnesses per million

hours worked in 2002. We developed a series of Minimum Health

Standards last year. These cover areas such as health risk assessment –

the basis for our health management – health incident reporting and

investigation, and human factors engineering in new projects. We

have adopted a target across Shell to implement the Standards by

the end of 2003.

7 Fatal accident rate – company

employees and contractors

per 100 million exposure hours

9.0

8.2

5.2

old portfolio

new portfolio (including new

acquisitions, assurance not provided)

14 The Shell Report

6.4

6.3

97 00 01 02 02

8 Total reportable case frequency

– company employees and contractors*

per million exposure hours

4.1

old portfolio

new portfolio (including new

acquisitions, assurance not provided)

* see Safety.

3.2

2.9

2.6 2.6 2.6

Security

We need to protect our people, assets and shareholders' investments

without undermining human rights in the countries where we operate.

We have a Group Security Standard that defines the way that Shell

companies should manage security. With ongoing concerns about

terrorism and potential conflict, significant efforts continued in 2002

to protect Shell people and assets against potential threats. Thirteen

countries reported significant security incidents during 2002, including

war or civil unrest and violent crimes (including killings) at retail sites.

Security was of particular concern for our Niger Delta operations due

to attacks on company staff at construction sites, hostage taking and

wilful damage to pipelines.We use armed security only when it is a

legal or government requirement, or where there is no acceptable

alternative to manage the risk. In 2002, Shell companies in 23 countries

used armed security. In all cases where Shell staff are used for armed

security, our Guidelines on the Use of Force and Rules of Engagement

are followed. In two countries, where armed security is provided by

contractors, they do not operate in line with our Guidelines. Plans are

in place to correct this situation.

Respect for staff KPI

In the Shell People Survey, 78% of people said that "where I work,

we are treated with respect", up from 73% in 2000 and 8% above

the norm for high performing companies, according to benchmarking

by the research company that conducted the survey.

Diversity and inclusiveness

Diversity and inclusiveness means both visible differences such as

age, gender, ethnicity and physical appearance, as well as underlying

differences in thought styles, religion, nationality and education.

We use a three-part key performance indicator to monitor our progress:

2.4

2.0

97 00 01 02 02 02 03 07

target targets

9 Gender diversity

%

Senior leadership

Management

5.8

7.8

7.9

8.3

7.2

8.9

9.2

10.4

Data aggregation not subject to assurance in 1999.

94.2

92.2

92.1

91.7

92.8

91.1

90.8

89.6

15.4

84.6

17.1

82.9

Supervisory/Professional 17.7

82.3

18.9

Women Men

81.1

Target 2008: Increase to 20% the number of women

in senior leadership positions.

+

99

00

01

02

99

00

01

02

99

00

01

02
---
• Group diversity targets – by the end of 2002, 8.3% of senior

leaders were women. This is up from 2001, but still behind our target

of 20% by 2008 (graph 9). In 2003, our target is also to have local

nationals in place, or with the skill and seniority to be able to

fill all Country Chair* positions. In 2002, we had suitably qualified

local nationals for 78% of these positions.

• A diversity and inclusiveness indicator – based on questions

from the Shell People Survey. The favourable response rate to these

questions averaged 70%, which was higher than the average for

high performing companies.

• Diversity and Inclusiveness Standard implementation – at the

end of 2002 we reviewed our progress. Results show that most efforts

to date have focused on communicating the Standard and developing

implementation plans.

Tell Shell

"While I applaud Shell for investing in wind technology, their human

rights record is deplorable beyond our imaginations. When Shell

is ready to have a human conscience then we as consumers will start

to have some trust in their deeds and they won't have to spend so

much on greenwashing."

Unknown

Human rights

Support for fundamental human rights is embedded in our Business

Principles. It also needs to be matched by clear action. In 2002, we

issued 5,000 copies of our new training guide on Human Rights

Dilemmas, which has been reviewed by Amnesty International and Pax

Christi. It helps managers understand their responsibilities and identify

* One manager acts as the senior representative of the Group and is called the "Country Chair" in a country

or group of countries, whether or not he or she is actually chairman of the local companies.

10 Estimated spend on goods and

services*

Inside country –

international

contractors and

suppliers 20%

Outside

country 15%

* Based on information provided by Country Chairs.

15 The Shell Report

Inside country –

local contractors

and suppliers 65%

* In companies where we do not have 100% ownership of equity,

the figure has been adjusted to represent only the "Shell share".

actions they can take to support human rights. We have also developed

a compliance tool for Shell companies with the Danish Centre for

Human Rights (see www.humanrightsbusiness.org/pages/hrca).

For our approach to human rights in practice, see pages 17, 22 and 23.

"We've been working with Shell for over three years, developing a

human rights compliance assessment. We chose to partner with Shell

because they are serious about understanding the issues and open

about how they are addressing them."

Dr Margaret Jungk, The Danish Centre for Human Rights

Working hours and wages

No Shell employee is paid less than the legal minimum wage, nor has

to work more than 48 hours a week. Rewards for senior staff are linked

to how they help Shell contribute to sustainable development (page 7).

Unions and staff forums

We do not stop any employee from joining a union and almost a fifth

of Shell employees are estimated to be members. Nearly all employees

have access to a staff forum, a grievance procedure or a support system

such as helplines, independent counsellors, doctors or ombudsmen.

Child labour

We go to great lengths to prevent the use of child labour and discourage

its use by suppliers or contractors. Our primer "Business and Child

Labour" provides guidance to Shell managers and practical examples

of how Shell companies are addressing this issue. Every Shell employee

is above the legal age of employment. The youngest Shell employee is

14 and works part-time (Saturdays and school holidays) in a retail

station in the Netherlands.

11 Social investment (Shell share*) + 12 Reputation – Shell versus competitor

in 2002 by country income level (UNDP) global performance

total $96 million

% identifying company as "the best" or

"one of the best"

High income

countries 59%

Low income

countries 22%

Medium income

countries19%

35

25

General

public

Shell

Nearest competitor

45

Local special

public

33 32

35

Global

special public

69

40

Business

partners
---
Social performance

Social performance

Benefiting communities

Wherever we work we are part of a local community.

We will constantly look for appropriate ways to contribute

to the general wellbeing of the communities and the broader

societies who grant our licence to operate.

The 2002 Financial Times World's Most Respected Companies survey

listed Shell among the five companies expected to make the most impact

on social and economic issues in developing countries. We contribute

to local communities and societies by:

• Delivering safe, convenient and affordable energy and petrochemicals.

• Paying more than $9 billion in 2002 in corporate taxes and cash

royalties. These revenues can make a significant contribution to a

country's development, if managed effectively.

• Employing more than 115,000 people, approximately 90% of whom

are local staff.

• Spending more than an estimated $25 billion, 65% of our total spend,

with locally-owned contractors and suppliers (graph 10).

• Making voluntary charitable investments. In 2002, The Shell

Foundation (www.shellfoundation.org), our independent charity,

granted approximately $10 million to 25 projects around the world.

Individual Shell companies spent almost $96 million, 40% of it in low

or medium income countries (graph 11).

• Behaving with integrity, which is good for our business and good for

society. Our policy is simple – we do not make or accept bribes or

facilitation payments. Intermediates or agents can only be used if they

do not compromise business integrity. We want to improve our

detection and performance, and are increasing the availability of

hotline numbers or whistle-blowing schemes to allow employees to

raise concerns without fear of reprisal.

Tell Shell

"I'm amazed and annoyed that you have to endure all the traffic

[on the Tell Shell Forums] from the folk who apparently blame you for

everything from mischaracterization of innocent wolves, to colonialism

in Nigeria, to single-handedly destroying the rainforest and the ozone

layer... All before lunch."

USA

Our operations can also have disruptive impacts on local communities.

We aim to work together with communities to better manage these

disruptions. For example at Norco – our refinery and petrochemical

plant in Louisiana, USA – we signed a Joint Statement of Success with

our neighbours in 2002 to recognise the progress made by Shell and

our joint venture, Motiva, in reducing our emissions, rebuilding trust

and improving the quality of life in a local community concerned about

environmental and safety incidents.

16 The Shell Report

Social performance is how well we manage disruptive impacts

and generate benefits for communities where we operate. We have

operations where our performance is among the best in industry.

Our Malampaya project in the Philippines was one of 10 projects

to win a Partnerships Award at the World Summit on Sustainable

Development in 2002. Our challenge is to deliver this good social

performance consistently everywhere we operate. Our Social

Performance Management Unit is helping us build the skills to do this.

Working with stakeholders

We affect – and are affected by – many different groups of

people, our stakeholders. We aim to recognise their interest

in our business and to listen and respond to them.

Working with a full spectrum of stakeholders

We work with a wide range of stakeholders: governments; our

customers and business partners, such as suppliers and manufacturers;

our employees; and the communities where we operate. We also work

with non-governmental organisations and academic institutions, including

the Smithsonian Institution, The World Conservation Union (IUCN) and

Fauna and Flora International on biodiversity (page 20), the Pew Center,

Environmental Defense and World Resources Institute on climate change

(page 21), Amnesty International, the Danish Centre for Human Rights

and Pax Christi on human rights (page 15), and Transparency International

on business integrity. See www.shell.com/workingtogether for

details on our approach.

Public-private partnerships

We are involved in a growing number of international public-private

partnerships between business, individual donor governments, and

international agencies, such as the UN and World Bank. For example

see page 19 for our work with international agencies to promote rural

solar power and page 22 for our work with UNDP in China. We are

a founding member of the UN Global Compact.

Tell Shell

"Nigerian people must be acknowledged and respected, as well as

benefited by oil extraction, after all it is their homeland resources being

utilised. Until Shell shows more respect for these people and shows

more care for the Earth we will not buy your oil."

Unknown
---
Case studies

Community

development

in Nigeria

The issue

Local communities must see concrete benefits

from the oil and gas produced beneath their feet.

Nigeria's Niger Delta shows vividly how

important it is to meet this challenge. All of

Nigeria's oil and gas comes from here and the

nearby offshore area, but the region remains

underdeveloped. In the past, too few benefits

came back to these communities, and monies

that did come back were often poorly spent.

In the last two years, our new democratic

government has begun to address the problem.

In 2000, it established the Niger Delta

Development Commission (NDDC) to co-ordinate

development in the region. It also committed

to return 13% of federal oil and gas revenues

to the Delta.

As the money begins to flow, the challenge

becomes distributing it fairly and managing

it well. This is an enormous task. It will take

some time before the communities clearly see

the benefits they have been promised.

17 The Shell Report

In the meantime, the issue continues to dominate

local politics. It has led to widespread agitation

by youths, whose protests again last year led

to disruption of oil and gas production as well

as sabotage, kidnapping, hostage taking and

assaults on staff.

Lending our support

The Shell Petroleum Development Company

of Nigeria (SPDC) – which operates a joint

venture with the Nigerian National Petroleum

Corporation (NNPC), Total and Agip in which

Shell has a 30% share – has been in the Niger

Delta for over 60 years, in good times and bad.

We produce more than 40% of the oil and

gas in the Delta.

In 2002, the joint venture partners were

required by law to support the NDDC with

$48 million. This was in addition to our own

community development programme, which

spent $67 million and completed more than

280 projects. This does not include other

community spending such as compensation

payments, pipeline surveillance contracts, and

spill clean-up activities.

For us, 2002 was a year for improving the

basic delivery of our programme, based on the

findings of the external reviews we undertook

in 2001. For example, the 2001 KPMG review

of our community development management

systems led us to improve the way we classify

and document projects and track our spending.

As a result, we can now report more accurately

and demonstrate what we spend on our

programme. Our community development

approach is to move away from cash

payments (which some community groups

demand instead of development projects)

Olukayode

Soremekun,

in charge of

developing

Nigeria's

Corporate

Community

Development

Programme,

reports.

and improve the overall quality of our projects.

We've made progress, but I can tell

you, it hasn't been easy for us. We continue to

get almost daily demands for cash payments.

External assurance

External assurance remains important for

improving our processes and demonstrating our

integrity. In 2002, our independent stakeholder

panel consisting of 11 representatives from

development organisations (including the World

Bank, UNDP, National Petroleum Investment

Services, World Health Organisation, Friends

of the Niger Delta) and Nigerian government

agencies assessed a representative sample (43%)

of our projects completed in 2002. The conclusion

was that 93% were functional and 75% successful.

The panel made a set of recommendations for

improvement, including an assessment of the

long-term sustainability of our projects. We will

be following up these recommendations in 2003.

See our 2002 Shell Nigeria Report for the results

(www.shell.com/nigeria).

Operating in the Niger Delta will continue

to be challenging until the communities begin

to see more widespread benefits. This requires

governmental, non-governmental and industry

groups working more closely together and with

the local community. NDDC's master plan for

the Delta is capable of providing the muchneeded

framework. We are fully committed

to playing our part.
---
Case studies

Natural gas – our

bridge to the future

Like many people, I am convinced that natural

gas will be an important bridge to a cleaner,

lower-carbon energy future. It may take 20 years

or more before alternative sources of power or

heat, like solar energy, become competitive. In

the meantime, demand for electricity will have

nearly doubled and we will need a clean,

affordable fuel to meet this growth. This is where

gas will be critical in bridging the gap. Oil will

however, continue to meet the growing demand

for transport fuels for the foreseeable future,

with gas a promising source of hydrogen in cars

if fuel cells replace conventional engines.

Why is gas the bridge? Because it is convenient,

cost competitive, relatively abundant, and the

cleanest burning fossil fuel. It is already the fuel

of choice for the power industry, for both

environmental and economic reasons.

A combined cycle gas-fired power plant

generates as little as half the carbon emissions

of a modern coal-fired plant. We see global

demand for gas doubling over the next 20 years.

Making this a reality requires large investments

by energy companies and support from

governments. Gas is often found long distances

from markets, requiring expensive pipelines

or special facilities to liquefy and transport it.

It also requires us to address safety, local

environmental and social impacts.

18 The Shell Report

Shell's gas strategy

We are committed to growing our gas business

aggressively and profitably. To be allowed to

grow, we must work together with stakeholders

to minimise environmental impacts and ensure

our activities benefit those communities involved.

Whether we are producing gas near an

endangered whale population off Sakhalin Island

in Russia or in an area with local communities

in the West of China, we need to meet the

sustainable development challenges head on.

We are expanding in new and established

markets, building on our leadership position in

liquefied natural gas (LNG) and developing new,

more efficient and cost effective technologies.

Developing new and growing

established markets

We are helping develop gas markets in the Asia

Pacific region. Our efforts in China are discussed

on page 22. We are also continuing to explore

for new gas reserves to grow our production,

for example in the US Rocky Mountains and in

Canada. We are continuing to grow our business

in liberalising European markets and in North

America, including increasing access to imported

gas via pipelines and LNG.

Strengthening our lead in LNG

Liquefying natural gas enables us to deliver cleaner

energy to distant markets. Our new LNG project

on Sakhalin Island will supply key markets in Asia

Linda Cook, Chief

Executive of Shell

Gas & Power,

reports.

Pacific. Our project in Venezuela will supply

markets in the Atlantic Basin. To access growing

markets in India, we are constructing a LNG regasification

terminal in Hazira. Our joint venture

in Nigeria contributes to reducing flaring by

capturing the gas produced from remote oil fields

and turning it into saleable LNG for customers in

Europe and the USA. Our developments in

liquefaction technology have halved unit capital

costs and increased efficiencies in energy used

over time. Work done in 2002 by one of our

joint ventures in Australia, in conjunction with the

Rocky Mountain Institute, indicated the potential

for further reducing energy use profitably.

Gas to Liquids technology

Producing ultra-clean liquid fuels is a further option

to capture the environmental benefits of natural

gas. Our Gas to Liquids plant in Malaysia has

been in operation since 1993. We are pursuing

prospects for building world-scale facilities, with

particular focus on the Middle East. We are also

working with the automotive industry and heating

equipment manufacturers to fully capture the fuel's

environmental benefits and anticipated efficiency

improvements. Increasing process energy

efficiency is of particular interest. Our R&D efforts

aim to minimise the impact on global warming.

Further information

Find out more about our gas business at

www.shell.com/gas
---
Shell Solar's rural

operations

Photovoltaic (PV) panels turn sunlight directly

into electricity, safely and with no emissions.

For most of the estimated two billion people

without access to modern electricity and living

in villages "off-grid", PV is practical, and for

governments, one of the cheapest ways to deliver

electricity. And with access to power, come many

benefits – light at the flick of a switch, cleaner

indoor air, extra hours for study or work,

connections to the world for example via

television, radios and phones.

Shell's commitment to off-grid solar

Shell is committed to building a profitable

business from selling, installing and servicing

PV systems in off-grid rural areas, as one part

of its overall PV strategy. Many more of our

panels are used in projects connected to the grid.

But the off-grid market has real growth potential,

as more governments focus on bringing electricity

to the rural poor.

The practical challenges

Our rural PV projects are small, but fiendishly

complex. After four years in the field, our people

know all about the challenges. The first is

establishing a local presence in remote areas.

Then there's payment. The PV system has to be

paid for by customers with no bank accounts and

little cash. Effective partnerships are needed with

local credit providers to ensure customers can pay

for their systems in small installments. Finally there

is basic logistics. Cash and PV systems have to be

moved between branches and customers without

going astray, often with no phones or roads.

Making it happen

With perseverance and support from partners,

we've already achieved a lot. Over the past four

years we have launched operations in Sri Lanka,

India, Philippines, China and South Africa,

making us one of the world's largest rural

solar retailers. We have invested more than

$10 million, established more than 35 remote

rural "Shell Solar Centres", created more than

600 local jobs and connected more than

23,000 customers (with plans to double this

number in 2003). In Sri Lanka (picture right),

19 The Shell Report

for example, we have sold roughly 15,000

systems in three years and broken even

financially. Our presence has helped

spawn a local industry. We now have three

Sri Lankan competitors.

The Sri Lankan business succeeded because

of grants from the Global Environment Facility

(GEF) and credit for our customers from SEEDS

– a local micro-finance organisation. Sellers

received $100 on average for every PV system

installed, which helped reduce the price of

systems and offset the cost of setting up in remote

areas. And while few customers have $500 to

buy a solar system, many can afford a $100

down payment and roughly $10 per month over

five years. With both sellers and credit available,

a competitive market flourished.

A call for action

Rural solar's potential remains largely

untapped. If realised, it would improve many

more people's lives, and dramatically increase

the demand for solar panels, driving down the

cost of making them.

We are calling for a concerted effort by

governments, international agencies and the

solar industry to develop this market. At the

Damian Miller,

Director of Rural

Operations for

Shell Solar, reports.

World Summit on Sustainable Development,

we lobbied for the launch of a "One Million

Solar Homes Fund". In partnership with the GEF,

this has now grown into the "Five Million Fund",

which aims to provide five million people

with some form of renewable electricity within

five years.

Following the Sri Lanka model, the Fund would

provide per connection grants – $150 million

in total – and support the establishment of credit

facilities. Shell would then aim to connect

150,000 homes, with other, hopefully local,

companies connecting the rest. The GEF has

indicated its intent to provide $60 million in

grants for off-grid renewable energy, and

discussions are underway with other donors.

Further information

Find out more about our solar business at

www.shell.com/solar

"In India, Shell Solar is unique among PV

suppliers in going all the way to the customer's

door step, with quality products and after-sales

service; and we are proud of it."

N.P. Ramesh, General Manager,

Shell Solar India
---
Case studies

Protecting

biodiversity

Challenges

Our mission at The World Conservation Union

(IUCN) is to encourage and assist societies to

conserve the integrity and diversity of nature

and ensure natural resources are used in a fair

and ecologically sustainable way. Biodiversity

is IUCN's business.

Energy companies impact biodiversity directly

through land use and pollution or indirectly

through the use of their products. The purpose

of my secondment is to work with Shell to

minimise its impacts on biodiversity and to

identify opportunities for it to play a positive

role in biodiversity conservation.

Progress

Shell is the first energy company to establish

a Biodiversity Standard. It commits all Shell

companies to respect protected areas, maintain

ecosystems and contribute to conservation.

Shell has shown it can meet this Standard in

projects from Gabon in Africa to the Stanlow

refinery in the UK (photograph, right). But I have

also seen operations where Shell is struggling

to deliver. That tells me Shell has a lot of work to

do, particularly in joint ventures and acquisitions,

before it can apply its Standard everywhere.

I have been working to develop tools, which

integrate biodiversity into Shell's business

practices. In 2002, I helped create a system

to warn planners when projects are in or near

sensitive environments, integrated biodiversity

into Shell's internal guidelines for assessing the

environmental impact of its projects, and

developed a management primer to introduce

managers to biodiversity issues.

Shell has successful partnerships with

conservation organisations, such as IUCN,

the Smithsonian Institution and Fauna and Flora

International. For example, Shell is working with

IUCN in the Energy and Biodiversity Initiative

20 The Shell Report

(EBI), a collaborative project between four energy

companies and five conservation organisations.

The results of this collaboration will be shared

with others in the energy industry in 2003.

Protected areas

Shell and the rest of the energy industry need

to go further and commit not to explore or extract

oil and gas from the most sensitive areas of the

world. The conservation community has worked

for over a hundred years to create a global

network of areas protected because of their

natural or cultural value. We are seeking to

shield the most sensitive parts of that network

from the impacts of industry.

I understand that Shell needs to think carefully

before making such a step. I have been

helping Shell understand whether this

would significantly limit its current

operations and future business plans.

I have also been helping to increase

understanding between the

conservation community and

business, with the hope of resolving

some of the conflicts, uncertainties

and mistrust that surround this

debate on protected areas.

Overall impressions

I have greatly enjoyed

working with Shell as it has

given me an opportunity

to see how a major

company is striving to

integrate biodiversity

concerns into its

business. I have been

impressed with the

level of commitment

shown within Shell at

all levels, from the

engineers on the

West-East gas

pipeline project in

Andrea Athanas,

seconded to

Shell for two years

from The World

Conservation Union

(IUCN), reports.

China to the Chairman, Sir Philip Watts.

Increasing that commitment in a challenging

business environment will be difficult, but is

critical. Shell has made good progress on

biodiversity, but it still has a long way to go.

Further information

Find out more about Shell's approach at

www.shell.com/biodiversity, the EBI

at www.celb.org/ebi.html and IUCN's

activities at www.iucn.org

Shell UK Stanlow has created a pond as part of efforts to actively

manage its land for biodiversity. The pond is used by schools to give

local children the opportunity to learn about wetland biodiversity.

Photograph by Nigel Fenwick, Shell UK Oil Products, Stanlow.
---
Progress on

climate change

The challenge

The emission of carbon dioxide (CO 2), mainly

from burning fossil fuels, and other greenhouse

gases (GHGs) could be changing the global

climate. Long-term effects are not fully

understood, but we share the widespread

concern. We believe action is needed now

to eventually stabilise GHG levels in the

atmosphere without hurting economic and

social development.

With energy demand expected to double

by 2050, stabilisation could take more than

a century. Achieving it will require sensible

action by governments, consumers and energy

companies. As a start, we must all use energy

much more efficiently. We will also need to use

more natural gas for power and heat instead

of coal. Finally, the world must also shift to

low or zero-carbon alternatives such as solar,

bio-fuels and fuel cells running on hydrogen,

as these become competitive and widely

available (see www.shell.com/scenarios for

two possible paths to stabilising GHG emissions).

Shell's response

In 1998 we set clear targets to reduce GHG

emissions from our own operations. We beat

our 2002 target (page 12). By 2010, we want

our GHG emissions to be 5% or more below our

1990 baseline, even while we grow our business.

This will be done by ending continuous flaring

at our oil production sites and substantially

improving energy efficiency in our operations.

We factor the costs of GHG emissions into nearly

all our new investments (page 7).

We will also continue to expand and improve

our offering of lower-carbon products. We

need to drive down the costs of these alternatives

to meet customer demands for low-cost and

convenient energy.

The icebergs in Antarctica seem to be melting very quickly...

this really brought home to me the effects of global warming

and the importance of our focus on sustainable development.

Photograph by Genevieve Granger, Societe des Pétroles

Shell, France.

21 The Shell Report

We are developing options for cleaner transport

fuels (page 11), building our solar (page 19)

and wind power businesses and expanding gas

supplies (page 18).

We actively support practical regulations by

governments that give companies the confidence

to make long-term investments to reduce GHG

emissions. For example, we welcome the

European Union (EU) proposals for a mandatory,

EU-wide emissions trading scheme. We have

completed a three-year internal CO 2 trading trial

and are sharing our knowledge and experience

with governments.

Progress in 2002

In 2002, we continued to prepare ourselves

for a low-carbon future:

Preparing for the Kyoto protocol. By the

end of 2002, 100 countries had ratified the

Kyoto protocol and many governments are

acting to meet the targets. We expect emissions

trading to play an important role. For example,

the UK has started an Emissions Trading System.

Our UK oil production facilities have joined –

capping their CO 2 emissions more than 10%

below their 1998–2000 baseline emissions

by 2006. The EU trading system will start in

2005 and we will join it.

We have created an environmental trading

business within Shell Trading. This team traded

in the UK and Danish CO 2 markets in 2002

as well as in the SOx and NOx markets in the

USA. Our new trading business will enable

us to use credits from the Clean Development

Mechanism (CDM).

David Hone, Group

Climate Change

Adviser, reports.

This is a UN programme – still in development –

that encourages investment in low-carbon energy

projects in developing countries. Investors will

gain credits that can be traded on international

GHG markets. Shell projects under consideration

for CDM include developing geothermal power

in El Salvador and providing solar power for

homes in India and Sri Lanka (page 19).

Energy efficiency. See page 13 for our efforts.

Further information

Find out more about our activities and position

at www.shell.com/climate

"Shell, as a world leader in the energy

business, is an example to be copied insofar

as it writes climate change into its business

plan. As a result of Shell's own work in

developing GHG emissions trading, and

as befits a "first-mover", Shell will be better

prepared than most when the EU's emissions

trading scheme starts."

Jos Delbeke, Director, Environment

Directorate-General, European Commission
---
Case studies

Shell in China

I am living in a country that will likely triple its

economy within 20 years, according to the

World Bank. Energy and petrochemical use

will grow sharply. The extra energy needed by

China between now and 2020 is equivalent to

all of Western Europe's energy demand today.

Air pollution is already a serious problem in

many Chinese cities. With coal meeting 70%

of today's energy needs, China's greenhouse

gas emissions are the second highest in the

world. The government is committed to delivering

tomorrow's energy in a sustainable way and

we are working closely with our Chinese

partners to help develop the clean energy

and petrochemicals the country needs to grow.

Developing gas: West-East project

The West-East gas project moved forward

in 2002. It will develop gas from China's major

reserves in the West and transport it more than

4,000km to the fast growing cities of the East.

When completed the project will deliver

approximately a third of China's current gas

demand. We are a potential investor in the

project and, as part of a group of international

companies, signed a Joint Venture Framework

Agreement with PetroChina in 2002.

22 The Shell Report

Working with our partners to manage the

environmental and social impacts of such a

complex project remains a challenge. We have

agreed environmental and social standards with

PetroChina, and completed extra environmental

and social impact assessment work to

international standards. This included one of the

largest social impact surveys ever done in China.

It was carried out by UNDP, which interviewed

approximately 10,000 people along the

pipeline's path (see www.unchina.org/undp/

documents/siasurvey).

This work has led to environmental and

social management plans being developed,

including plans for dealing with protected

areas, cultural heritage sites and reserves,

and managing biodiversity.

Quality transport fuels and

renewable energy

Shell is also selling high quality lubricants

in more than 250 Chinese cities, is setting up

a joint venture with Sinopec for 500 service

stations, and is part of a project in Xinjiang,

Western China, to deliver solar electricity

to up to 78,000 rural homes.

Tan Ek Kia,

Country Chair of

Shell Companies in

North East Asia,

reports.

Resettlement at Nanhai petrochemicals

complex

In 2002, we gave the final go-ahead to build

a large petrochemicals complex in Daya Bay,

Southern China, a $4.3 billion project in which

CNOOC Petrochemicals Investment Limited and

Shell each have a 50% share in a joint venture

company, the CNOOC and Shell Petrochemicals

Company Limited. It is Shell's largest investment

so far in China. The joint venture is working

with the government to mitigate the impact on the

environment and manage social issues related to

the project. The joint venture is committed to meet

international social and environmental

standards, including Shell's Business Principles.

A full environmental and social impact

assessment was completed in August 2002

(see www.cnoocshell.com).

As with many projects in China, people

needed to be relocated. We have developed

a Resettlement Action Plan (see

www.cnoocshell.com) in line with World

Bank standards to help manage this process.

The move is being carried out by the government

in accordance with this plan. Nearly 1,500

families were moved in February 2002 to

accommodation better than they left to allow

site preparation to begin. Another 900 families

living close to the site will be moved in the

middle of 2003. The joint venture company

is monitoring the resettlement, and a team of

external experts led by Robert Barclay (an

internationally-recognised resettlement expert),

started a programme of checking progress

of the resettlement every six months.

We also asked the UNDP to review the

resettlement programme. Their report is

expected to identify areas for further

improvement of resettlement practices

that can be applied elsewhere in China.

Stakeholder consultation on

the West-East gas project.
---
Case studies

Winning back

trust at SAPREF

Some of the biggest challenges for refiners are to reduce emissions and

incidents and contribute to social development. Delivering continual

improvement in social and environmental performance is important

to earning your neighbours' trust.

The issue

Regretfully, we haven't yet got it right at SAPREF, Southern Africa's largest

crude oil refinery and a 50:50 joint venture between Shell and BP. Like

many companies operating in South Africa, in the past we had limited

communication with the local community. In recent years we discovered

that we had been significantly under-reporting our sulphur dioxide

emissions because of a miscalculation and we had too many incidents,

including a major leak in an underground pipeline in a residential

area. This combination of practice and events resulted in widespread

community concern and is reflected in some of the recent protests

against us.

Addressing the underlying problems

When you lose trust, you need to admit it, learn from your mistakes and

take positive action to rectify the situation. In 2002, we commissioned

$49 million worth of plant to reduce our environmental impacts. Included

in this was new plant to reduce sulphur emissions by 40%, which we

achieved in the fourth quarter. We have maintained ISO 14001

certification, which helps to tighten our environmental management

system and drive further improvement. To improve transparency, we

Animal testing

Shell products must be safe for people and the environment.

Unfortunately, animal testing is sometimes necessary, either because

it is required by law, or because there is no accepted alternative.

Energy and petrochemical companies are relatively minor users of

animal testing. We use officially approved facilities and our data show

that we do not test on cats, dogs or monkeys. We have committed

funding and staff time to organisations working to develop alternatives.

A significant proportion of Shell's animal testing is carried out through

industry consortia (groups of co-producer companies) – a method of

reducing the numbers of animals used.

Our Group Animal Testing Standard is based on the "3 Rs" principle:

reduce the number, refine the tests, and replace them with alternatives.

This year, we implemented the Standard in all Shell companies and

made it part of our internal assurance system. We have also invited

external scrutiny. An independent Panel of experts reviews our

Standard and its implementation.

23 The Shell Report

Richard Parkes,

SAPREF Managing

Director, reports.

produced our Environmental and Social Performance Report (see

www.sapref.com) and hired more people to work on community

dialogue. I now meet regularly with community members to report our

progress on the petrol remediation project and listen to their concerns.

Assurance and advice

To help rebuild trust, we also sought assurance and advice from other

parties. PricewaterhouseCoopers Inc provided assurance over parts

of our 2001 Performance Report. A team of international experts,

including two independent consultants, are helping us prepare a longterm

plan for increasing local community dialogue and involvement.

We've already started to implement some recommendations from

these reviews. I know we still have a long way to go, but I am

personally involved in achieving continual improvement and trying

to rebuild our neighbours' trust.

The Panel concluded, that:

• The Shell Group Standard on animal testing and its accompanying

implementation strategy represents a commendable attempt to

achieve and advance good practice in the field

• Shell properly pursues a proactive approach to influencing

regulatory practices.

The Panel also suggested we make several improvements, which are

all underway:

• Assign clear responsibility for keeping up to date with laboratory

best practice

• Pay more attention to how testing laboratories respond to

animal distress

• Investigate alternatives to using fish to monitor the biological

effects of effluent.

For the Panel's full report and summary data see

www.shell.com/testing/panelreport
---
Assurance and basis of reporting

Message from the Independent Auditors

Over the five years we have provided assurance over information in the Shell

Report, we have aligned our approach with emerging standards. In 2002, building

on our work to provide a high level of assurance on certain information, we have

developed an approach to enable us to provide assurance over Shell's reporting

on "hot spots". Next year, evolution of the overall assurance approach will continue

to further integrate the input of external experts and panels.

Three symbols have been used to describe the scope of our work:

At Group, Business and Operating Company (OC) level we obtained an

understanding of the systems used to generate, aggregate and report the data

for these parameters. We assessed the completeness and accuracy of the data

reported by visiting OCs to test systems and data, performed a review of all

the data reported and assessed data trends in discussion with management.

We tested the calculations made at Group level. We did not obtain assurance

Assurance Report

To: Royal Dutch Petroleum Company and The "Shell" Transport and Trading

Company, p.l.c.

Introduction

We have been asked to provide assurance over selected data, graphs and

statements of the Royal Dutch/Shell Group of Companies reported in the Shell

Report and reproduced in this Summary Report. We have marked these statements

with the symbols below. This Report is the responsibility of management. Our

responsibility is to express an opinion on the data, graphs and statements indicated,

based on work referred to above in "Message from the Independent Auditors".

In our opinion:

The data and graphs (together with the notes), properly reflect the performance

of the reporting entities for each parameter (SE – for portfolio as at 31 December

2001) marked with this symbol.

The statements marked with this symbol are supported by underlying evidence.

In addition the data for each parameter marked + are properly aggregated

at Group level.

Basis of opinion

There are no generally accepted international environmental, social and economic

reporting standards. This engagement was conducted in accordance with the

International Standards for Assurance Engagements. Therefore, we planned and

carried out our work to provide reasonable, rather than absolute, assurance

on the reliability of the data and statements marked with the symbols and ,

and on the accuracy of the Group level aggregation process for data marked + .

We believe our work provides a reasonable basis for our opinion.

Basis of reporting

The basis of reporting is as follows:

• The financial data are aggregated from Group companies, together with

partnerships, joint ventures and other interests using the accounting and

consolidation principles used in the Royal Dutch/Shell Group of Companies

Financial Statements. For more information refer to www.shell.com

• The HSE data are aggregated from all companies, partnerships, joint ventures

and other interests that are under Shell operational control plus a number of

companies to which Shell companies provide operational services. A list of these

Operating Companies can be found at www.shell.com/hse. We report these

HSE data on a 100% basis even where the Group's interest is less. Unless otherwise

stated in the text, the HSE data reported are based on our global "HSE Performance

Monitoring and Reporting" guideline. A copy of this guideline can be found at

www.shell.com/hse

• The remaining data, unless otherwise specified, are aggregated from all companies,

partnerships, joint ventures and other interests either under Shell's operational

control or where the Shell entity is responsible for the activities concerned. We report

these data on a 100% basis, unless otherwise specified.

Operational control means entities in which a member of the Royal Dutch/Shell

Group of Companies has full capacity to introduce and implement the Group's HSE

Policy and the Statement of General Business Principles. However, no data are included

for Pennzoil-Quaker State Company, which came under our operational control in

the fourth quarter of 2002.

24 The Shell Report

+

over Safety and Environmental (SE) data reported by OCs acquired during

2002, for the reasons set out on page 12. Our SE work was therefore only

completed for the Shell portfolio as at 31 December 2001. For the economic

parameters, we also checked that they are properly derived from the audited

Financial Statements of the Royal Dutch/Shell Group of Companies.

We determined that the statements marked with this symbol are supported by

underlying evidence at Group and/or local level. Our work included interviewing

Shell people as well as external panels where these have been established,

reviewing systems and documentation and confirming the accurate use of

information derived from external sources. We also checked that panel

comments, where presented, were derived from and reflect full report findings.

At Group level we tested the accuracy of the data aggregation process for

data received from a complete set of responses from countries in which Shell

operates. We did not provide assurance over the reliability of the data reported

by those countries.

Assurance work performed

In forming our opinion, we carried out the work summarised above in "Message

from the Independent Auditors". We used a multi-disciplinary team, comprising

financial auditors and environmental and social specialists. We also examined

this Report to confirm consistency of the information reported with our findings,

and with information included in the Shell Report.

Considerations and limitations

It is important to read the data and statements in the context of the reporting policies

and limitations below, and the notes to the graphs. Environmental and social data

are subject to many more inherent limitations than financial data given both their

nature and the methods used for determining, calculating or estimating such data.

We have not provided assurance over all contents of this report, nor have we

undertaken work to confirm that all relevant issues are included. We have not

carried out any work on data reported in respect of future projections and targets.

Where we have not provided assurance over previous years' data it is clearly

shown. We have not carried out any work to provide assurance over the

completeness and accuracy of the underlying data for the parameters aggregated

at Group level, and marked with + .

It is also important that, in order to obtain a thorough understanding of the financial

results and financial position of the Group and the environmental, social, economic

performance of the Group, the reader should consult, respectively, the Royal Dutch/

Shell Group of Companies Financial Statements for the year ended 31 December

2002, and the Shell Report 2002.

5 March 2003

The Hague

London

Limitations

We recognise that there is a level of uncertainty over the reliability of the data included

in this Report as a result of a number of limitations associated with, for example:

• Differing interpretations of reporting guidelines – e.g. social (including health and

safety) data may be affected by variations in local cultures, practices and laws.

• Measuring, calculating or estimating the data – e.g. emission calculations can be

based on industry-wide standards, spill volumes have to be estimated.

• Differences between the reporting requirements prescribed by Shell and regulatory

authorities – e.g. our definitions of waste and spills.

The comparability of the data can also be affected by a number of factors including:

portfolio changes, alteration in determination methods and improvement in

information systems.

External assurance of safety and environmental data

Data from six safety and environmental KPIs (old portfolio): fatalities, TRCF, GWP,

flaring, energy efficiency and spills, together with fines, are subject to assurance by

our independent auditors, KPMG and PricewaterhouseCoopers LLP.

Restatement

The 1990 greenhouse gas baseline has been restated to reflect the new acquisitions.

Estimated 1990 emissions from our four Equilon refineries were 5.7 million tonnes

CO2 equivalent with an additional 3.4 million tonnes from the three DEA refineries.

The baseline has therefore been increased from 114 to 123 million tonnes.
---
Our Business Principles

Principle 1 – Objectives

The objectives of Shell companies are to engage

efficiently, responsibly and profitably in the oil,

gas, chemicals and other selected businesses and

to participate in the search for and development

of other sources of energy. Shell companies seek

a high standard of performance and aim to

maintain a long-term position in their respective

competitive environments.

Principle 2 – Responsibilities

Shell companies recognise five areas of responsibility:

To shareholders

To protect shareholders' investment, and provide

an acceptable return.

To customers

To win and maintain customers by developing

and providing products and services which offer

value in terms of price, quality, safety and

environmental impact, which are supported by

the requisite technological, environmental and

commercial expertise.

To employees

To respect the human rights of their employees,

to provide their employees with good and safe

conditions of work, and good and competitive

terms and conditions of service, to promote the

development and best use of human talent and

equal opportunity employment, and to encourage

the involvement of employees in the planning

and direction of their work, and in the application

of these Principles within their company. It is

recognised that commercial success depends

on the full commitment of all employees.

To those with whom they do business

To seek mutually beneficial relationships with

contractors, suppliers and in joint ventures and

to promote the application of these principles in

so doing. The ability to promote these principles

effectively will be an important factor in the decision

to enter into or remain in such relationships.

To society

To conduct business as responsible corporate

members of society, to observe the laws of the

countries in which they operate, to express support for

fundamental human rights in line with the legitimate

role of business and to give proper regard to health,

safety and the environment consistent with their

commitment to contribute to sustainable development.

These five areas of responsibility are seen as

inseparable. Therefore, it is the duty of management

continuously to assess the priorities and discharge

its responsibilities as best it can on the basis of

that assessment.

The companies in which Royal Dutch Petroleum Company and The

"Shell" Transport and Trading Company, p.l.c. directly or indirectly

own investments are separate and distinct entities. But in this Report

the collective expressions "Shell", "Group" and "Royal Dutch/Shell

Group of Companies" are sometimes used for convenience in

contexts where reference is made to the companies of the Royal

Dutch/Shell Group in general. Likewise the words "we", "us" and

"our" are used in some places to refer to companies of the Royal

Dutch/Shell Group in general, and in others to those who work in

those companies. Those expressions are also used where no useful

purpose is served by identifying a particular company or companies.

25 The Shell Report

Principle 3 – Economic principles

Profitability is essential to discharging these

responsibilities and staying in business. It is a

measure both of efficiency and of the value that

customers place on Shell products and services. It is

essential to the allocation of the necessary corporate

resources and to support the continuing investment

required to develop and produce future energy

supplies to meet consumer needs. Without profits

and a strong financial foundation it would not be

possible to fulfil the responsibilities outlined above.

Shell companies work in a wide variety of changing

social, political and economic environments, but

in general they believe that the interests of the

community can be served most efficiently by

a market economy.

Criteria for investment decisions are not exclusively

economic in nature but also take into account social

and environmental considerations and an appraisal

of the security of the investment.

Principle 4 – Business integrity

Shell companies insist on honesty, integrity and

fairness in all aspects of their business and expect

the same in their relationships with all those with

whom they do business. The direct or indirect offer,

payment, soliciting and acceptance of bribes in any

form are unacceptable practices. Employees must

avoid conflicts of interest between their private

financial activities and their part in the conduct

of company business. All business transactions

on behalf of a Shell company must be reflected

accurately and fairly in the accounts of the company

in accordance with established procedures and be

subject to audit.

Principle 5 – Political activities

Of companies

Shell companies act in a socially responsible

manner within the laws of the countries in

which they operate in pursuit of their legitimate

commercial objectives.

Shell companies do not make payments to political

parties, organisations or their representatives or take

any part in party politics. However, when dealing

with governments, Shell companies have the right

and the responsibility to make their position known

on any matter which affects themselves, their

employees, their customers, or their shareholders.

They also have the right to make their position

known on matters affecting the community, where

they have a contribution to make.

The manufacturer of the paper used for the cover and internal pages

of the Report is accredited with the ISO 9002 Quality Assurance and

ISO 14001 Environmental Management Systems and is registered

under EMAS (Eco-Management and Audit Scheme). The paper

carries the Nordic Swan environmental label for low emissions

during manufacture.

Of employees

Where individuals wish to engage in activities in

the community, including standing for election to

public office, they will be given the opportunity

to do so where this is appropriate in the light of

local circumstances.

Principle 6 – Health, safety and the

environment

Consistent with their commitment to contribute

to sustainable development, Shell companies have

a systematic approach to health, safety and

environmental management in order to achieve

continuous performance improvement.

To this end Shell companies manage these matters

as any other critical business activity, set targets

for improvement, and measure, appraise and

report performance.

Principle 7 – The community

The most important contribution that companies

can make to the social and material progress of the

countries in which they operate is in performing their

basic activities as effectively as possible. In addition

Shell companies take a constructive interest in

societal matters which may not be directly related

to the business. Opportunities for involvement – for

example through community, educational or

donations programmes – will vary depending

upon the size of the company concerned, the

nature of the local society, and the scope for useful

private initiatives.

Principle 8 – Competition

Shell companies support free enterprise. They

seek to compete fairly and ethically and within the

framework of applicable competition laws; they will

not prevent others from competing freely with them.

Principle 9 – Communication

Shell companies recognise that in view of the

importance of the activities in which they are

engaged and their impact on national economies

and individuals, open communication is essential.

To this end, Shell companies have comprehensive

corporate information programmes and provide

full relevant information about their activities to

legitimately interested parties, subject to any

overriding considerations of business

confidentiality and cost.

The Sustainable Development team, Shell International, thank:

Dr Sebastian Berry of Spoken Word Ltd and Peter Knight of

Context for writing, Williams and Phoa for design and production

using Ringmaster®, Butler and Tanner for printing and John Ross

for cover photography.

Ringmaster® is the registered trademark of Automatrix plc.
---
www.shell.com

Tell us what you think –

about Shell, our performance,

our reports or the issues we face.

Join the global debate – we value

your views.

"Tell Shell" at

www.shell.com/tellshell

or e-mail us at

tellshell@shell.com

Annual Report and Accounts 2002

The Annual Reports of Royal Dutch Petroleum

Company and The "Shell" Transport and

Trading Company, p.l.c.

Also available at

www.shell.com/annualreport

Summary Annual Report

and Accounts 2002

Abridged versions of the Annual Reports

of Royal Dutch Petroleum Company

and The "Shell" Transport and Trading

Company, p.l.c.

Contact any of the addresses below for copies of publications

Shell International B.V.

FSK Division, PO Box 162, 2501 AN The Hague, The Netherlands

Tel: +31(0)70 377 4540 Fax: +31(0)70 377 3115

Shell International Limited

PXXC (Publications), Shell Centre, London SE1 7NA, UK

Tel: +44 (0)20 7934 5293 Fax: +44 (0)20 7934 5555

Shell Oil Company

1270 Avenue of the Americas, Suite 2320, New York, NY 10020, USA

Tel: +1 212 218 3113 Fax: +1 212 218 3114

The Shell Report 2002

A review of how Group companies are

living up to our Business Principles and

contributing to sustainable development.

Also available at

www.shell.com/shellreport

The Shell Report 2002 Summary

Abridged version of The Shell Report.

Financial and Operational

Information 1998–2002

Five years' financial and operational

information about the Group, including

maps of exploration and production

activities. Also available at

www.shell.com/faoi

Statement of General

Business Principles

Fundamental principles that govern

how each Shell company conducts

its affairs. Also available at

www.shell.com/sgbp