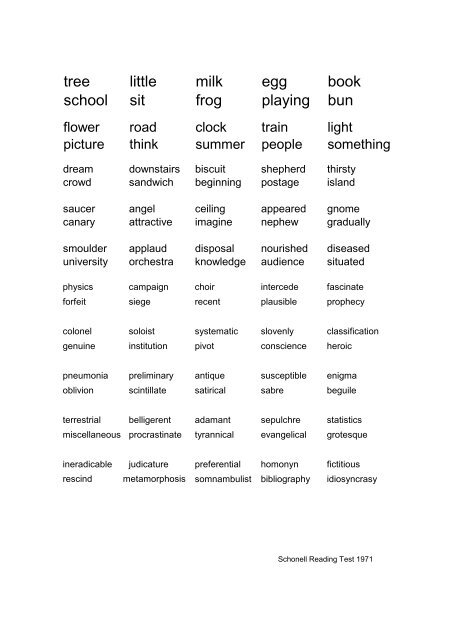 Schonell Reading Test - THRASS
Schonell Reading Test - THRASS
Schonell Reading Test - THRASS
SHOW MORE
SHOW LESS
You also want an ePaper? Increase the reach of your titles
YUMPU automatically turns print PDFs into web optimized ePapers that Google loves.
tree little milk egg book

school sit frog playing bun

flower road clock train light

picture think summer people something

dream downstairs biscuit shepherd thirsty

crowd sandwich beginning postage island

saucer angel ceiling appeared gnome

canary attractive imagine nephew gradually

smoulder applaud disposal nourished diseased

university orchestra knowledge audience situated

physics campaign choir intercede fascinate

forfeit siege recent plausible prophecy

colonel soloist systematic slovenly classification

genuine institution pivot conscience heroic

pneumonia preliminary antique susceptible enigma

oblivion scintillate satirical sabre beguile

terrestrial belligerent adamant sepulchre statistics

miscellaneous procrastinate tyrannical evangelical grotesque

ineradicable judicature preferential homonyn fictitious

rescind metamorphosis somnambulist bibliography idiosyncrasy

Schonell Reading Test 1971
---
SCHONELL READING TEST 1971 PROCEDURE

Instructions For Administering The Test

The Test should be given in a friendly atmosphere in which the child is thoroughly

at ease. It should not take place within the hearing of other children.

Younger children or weaker readers should start the test at the beginning. Better

readers can start at a later group of ten words. If any words is failed, however, the

preceding group of ten words is given until all ten are read correctly. Credit is then

given for all words preceding this point. Testing is discontinued when ten

consecutive words are failed. The Reading Age (RA) for the total number of words

correctly read is given in the table below.

The temptation to help the child should be resisted. He should not, for example, be

asked to repeat a word that he has almost but not quite pronounced correctly nor

should he be given any clues as to how to attack a particular word.

Credit should not be given unless the word is clearly correct e.g. 'flowers' for

'flower' is incorrect as is 'postage' when the last syllable is pronounced as the word

'age'.

Total number of words read correctly and Reading Age in years and months

0.1= 6y 0m

2 = 6y 0m

3 = 6y 2m

4 = 6y 4m

5 = 6y 5m

6 = 6y 6m

7-8 = 6y 7m

9 = 6y 8m

10 = 6y 9m

11-12 = 6y 10m

13-14 = 6y 11m

15 = 7y 0m

16 = 7y 1m

17-18 = 7y 2m

19 = 7y 3m

20-21 = 7y 4m

22-23 = 7y 5m

24 = 7y 6m

25-26 = 7y 7m

27 = 7y 8m

28 = 7y 9m

29 = 7y 10m

30 = 8y 0m

31 = 8y 1m

32 = 8y 3m

33 = 8y 3m

34 = 8y 4m

35 = 8y 5m

36-37 = 8y 6m

38 = 8y 7m

39 = 8y 8m

40 = 8y 9m

41 = 8y 10m

42 = 8y 11m

43 = 9y 0m

44 = 9y 1m

45 = 9y 2m

46 = 9y 3m

47 = 9y 4m

48 = 9y 5m

49-50 = 9y 6m

51 = 9y 7m

52 = 9y 8m

53 = 9y 9m

54 = 9y 10m

55 = 9y 11m

56 = 10y 0m

57-58 = 10y 1m

59 = 10y 2m

60 = 10y 3m

61 = 10y 4m

62 = 10y 5m

63 = 10y 6m

64 = 10y 7m

65 = 10y 8m

66 = 10y 9m

67 = 10y 10m

68 = 11y 0m

69 = 11y 1m

70 = 11y 3m

71 = 11y 4m

72 = 11y 5m

73 = 11y 6m

74 = 11y 8m

75 = 11y 10m

76 = 12y 0m

77 = 12y 1m

78 = 12y 2m

79 = 12y 3m

80 = 12y 4m

81 = 12y 5m

82 = 12y 6m

83+ = 12y 6+