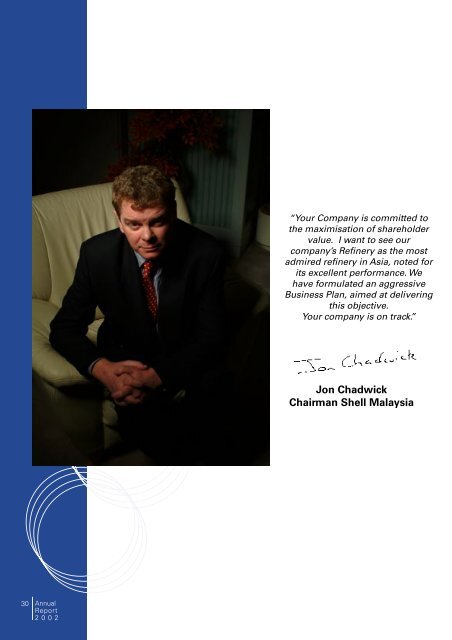 Jon Chadwick Chairman Shell Malaysia
Jon Chadwick Chairman Shell Malaysia
Jon Chadwick Chairman Shell Malaysia
SHOW MORE
SHOW LESS
Create successful ePaper yourself
Turn your PDF publications into a flip-book with our unique Google optimized e-Paper software.
30 Annual

Report

2002

"Your Company is committed to

the maximisation of shareholder

value. I want to see our

company's Refinery as the most

admired refinery in Asia, noted for

its excellent performance. We

have formulated an aggressive

Business Plan, aimed at delivering

this objective.

Your company is on track."

Jon Chadwick

Chairman Shell Malaysia
---
Chairman's Review

On behalf of your Board of Directors, I am pleased to present

the Annual Report of Shell Refining Company (Federation of

Malaya) Berhad ("SRC") for the year ended 31st December

2002.

Our Business Environment

While the current conflict in the Middle East could negatively

impact the world economy, it is nevertheless slowly recovering

from its previous downturn and from the September 11, 2001

tragedy.

In their recent National Budget announcement, the

Government introduced changes in fiscal and monetary

policies to mitigate the impact on Malaysia of a slowing global

economy. Additional measures have also been taken lately to

boost the capital market in Malaysia. Based on the positive

GDP growth in year 2001, your Board of Directors are confident

that the domestic economy will continue to recover steadily.

The positive GDP growth has had a positive impact on the

demand for petroleum products. Domestic demand for

petroleum products grew by 6.9% (+3.5% in 2001). The sales

of automotive Gasoil substantially increased by 21.4%

(-12.6% in 2001) and motor gasoline by 5.1% (+6.3% in 2001).

In the industrial sector, industrial Gasoil sales dropped by 8.6%

(+16.1% in 2001) and aviation fuel decreased by 5.5% (+2.9%

in 2001). LPG sales has registered an increase of 0.9% (3.1%

in 2001).

Sales of petroleum products in Malaysia

(2001 & 2002)

' 000 bbls

80.000

60.000

40.000

20.000

0

Retail Commercial LPG

Sector

2001

2002

However, refining margins which are dependent on market

forces i.e. the relative movement of crude oil and product

prices, remained under pressure as a consequence of

continued refining capacity surpluses, and the volatility of both

crude and product prices. The overhang in refining capacity

will remain for some time obliging your company to vigorously

pursue all efficiency gains.

Throughout 2002, local crude prices moved quite steadily from

approximately US$ 20 per barrel to US$ 32 per barrel. On the

other hand, the movement of product prices (MOPS) have

been more volatile, fluctuating widely between the range of

US$ 19 per barrel to US$ 34 per barrel.

USD/bbl

USD/bbl

Sales Malaysian of petroleum Crude products Prices in 2002 Malaysia

(2001 & 2002)

35.00

30.00

25.00

20.00

15.00

10.00

5.00

0.00

Sales of petroleum products in Malaysia

Product Prices (MOPS) 2002

(2001 & 2002)

40.00

35.00

30.00

25.00

20.00

15.00

10.00

5.00

0.00

Jan-02

Jan-02

Feb-02

Mar-02

Apr-02

Jan-02

Feb-02

Mar-02

Apr-02

May-02

May-02

Jun-02

Jun-02

Jun-02

Jul-02

Aug-02

Sep-02

Oct-02

Jul-02

Month

Aug-02

Our Production and Sales

In June 2002, the refinery's long residue catalytic cracker (LRCC

Unit) successfully underwent its first major turnaround

involving a complete shutdown of the unit in June to undertake

statutory inspection as well as planned maintenance, repair

and modifications. It is pleasing to highlight that the refinery

continued to operate strongly throughout 2002 with a high

level of availability. Plant availability remained in excess of

97%, as in 2001. 39.3 million barrels of crude oil and condensate

were processed during the year, reduced by 2% compared to

2001.

Malaysian crudes and condensate continued to form 63% of

the crude diet, with the remainder coming mostly from the

Far East.

Sales volumes reduced slightly from 43.5 million barrels in

2001 to 41.4 million barrels in 2002, a reduction of some 5%.

Consequently, the sales turnover also reduced by 3% from

RM 4,601 million in 2001 to RM4,458 in 2002. The reduction in

Annual 31

Report

2002

Sep-02

Oct-02

Nov-02

Nov-02

Dec-02

Nov-02

Dec-02

Tapis

Labuan/Miri

ULG97

ULG92

Kero

Gas Oil
---
production and sales volumes were due to the LRCCU

turnaround in June.

Gasoil and gasoline continued to be the major products of

the refinery, forming 70% of total production. Due to the

shutdown of the bitumen production unit in late 2001, the

refinery has since then, ceased to produce bitumen.

million bbls

32 Annual

Report

2002

Sales Crude of petroleum and Feedstock products Processed in Malaysia -

Sources (2001 of Supply & 2002) (2002)

Malaysia

63%

Sales of Refinery petroleum Intake products and Sales in Malaysia

(2001 (1996 & - 2002)

46.0

44.0

42.0

40.0

38.0

36.0

Sales of petroleum Profits before products taxation in Malaysia

(2001 & 2002)

RM millions

200

150

100

50

1996 1997 1998 1999 2000 2001 2002

124

Middle East

6% Far East

31%

77 74

93

157

1996 1997 1998 1999 2000 2001 2002

4

198

Total

Intake

Sales

Our Financial Results

The Board of Directors is pleased to report that your company

achieved a turnaround in financial performance during the

year, recording a net profit after tax of RM 152.93 million

compared to a net loss after tax of RM 0.15 million in 2001.

Inventory holding gains arising from the increase in crude oil

prices at the end of the year were a key contributor to this

performance. Even with the LRCCU's major turnaround

expenses incurred in the year, manufacturing expenses only

increased by 4% due to your company's relentless efforts in

cost management. Declining interest rates during the year also

caused borrowing costs to reduce substantially.

Our Earnings Per Share and Dividend

Earnings per share for 2002 were 50.98 sen compared to

–0.05 sen in year 2001.

I am pleased to announce that your Board of Directors is

recommending a final dividend of 15 sen per RM 1 unit of

stock, making a total gross dividend for the year of 18 sen per

unit of stock for the reporting year. This is an increase over the

previous year's total gross dividend of 15 sen per unit of stock

(i.e. 3 sen per unit of stock higher).

Sales of petroleum Earnings products per sharein

Malaysia

(2001 & 2002)

Sen

60

50

50.98

40

37.3

37.2

30

24.5 24.8

16.8

20

10

0

-10

(0.05)

1996 1997 1998 1999 2000 2001 2002

Our Business Improvement Initiatives

Sen per share

To further improve product yield and to increase the efficiency

of the refining process, we embarked on a Hydrocarbon

Management Review (HMR). This initiative will continue in

2003.

The Refinery participated in a benchmarking exercise

conducted by Solomon Associates (based in USA) in order to

gauge our performance against all refineries worldwide. The

key performance indicators used in this exercise were Non-

Energy Cash Cost (NECC), Maintenance Index (MI),

Operational Availability (OA), Corrected Energy and Loss (CEL)

and Shell Manpower Index (SMI).

The NECC target set for the Refinery establishes a strong

stretch for SRC (being a relatively small capacity refinery) to

drive cost performance. We have in place a cost management

process which includes monthly reviews by the Management

Team to help promote a cost focus culture across the

organisation. We had a major achievement with regard to the

OA target and this was made possible by the low unplanned

shutdown of the main units and by the successful turnaround

in June. On the other hand, a structural improvement will need

to be done to achieve our CEL target. The Company also gave

emphasis to a productivity improvement programme in order

to improve the SMI result.
---
After the successful conclusion of the turnaround, the first

cycle Vision, Mission and Objectives (VMO) were reviewed

for realignment with the East Zone's VMO. The 2003 Business

Plan for the Company was finally formulated based on the six

objectives identified.

Our Commitment to Sustainable Development

Your Company's commitment to sustainable development is

evident from the Shell General Business Principles and our

commitment to the Health, Safety, Security and Environment

(HSSE) Policy adopted by Shell companies worldwide. HSSE

has always been the Company's utmost priority and the

refinery always approaches the management of these matters

systematically by setting yearly targets and standards, and

continuously measuring, appraising and reporting of

performance against such targets.

You will be proud to know that your Company won the "Best

Environmental Reporting 2001" award from the "National

Annual Corporate Report Award (NACRA)" organisation. Shell

Malaysia has also been awarded the "Best Environmental

Report 2001"by the Association of Certified Chartered

Accountants (ACCA).

Our People

Our people are our Company's strength.

We provide our people with good and safe conditions at work,

competitive terms and conditions of service. We, actively

promote their development, the best use of human talent and

equal opportunity employment. Your Company also

encourages the involvement of people in the planning and

direction of their work. The refinery makes it a point to manage

diversity and inclusiveness as a critical business activity. We

respect cultural and personal differences.

To ensure continuous improvement and excellence in the

Company's operations and to enable your Company to meet

challenges in the future, emphasis has been placed on to the

development of our people in order to upgrade their

competencies and capabilities.

Outlook for the Future

The market scenario for the oil and gas sector will remain

uncertain. Ongoing developments in the Middle East has

caused the crude prices to remain volatile.

The SRC Management

Team.

Your Company cannot rely on an improvement in refining

margins - we believe a structural over capacity will remain for

some time to come.

Apart from enhanced health, safety, security and environment

as well as people management , focus will be given to asset

integrity, maximisation of margin and structural costs

reduction. Only by aggresively pursuing further cost

efficiencies will your company thrive.

On behalf of the Shell Refining Company (Federation of

Malaya) Berhad, I would like to thank the Board, Management,

staff and contractors for their efforts during the last year. Their

continuing commitment, high performance, and loyalty inspire

our confidence in the future of your Company.

Jon Chadwick

Chairman

Some members of our diverse, talented workforce.

Annual

Report

2002

33